Day-Trip to Cambria, Wis.
June 25, 2011
Photos by Dave Ingles
After a mostly cool, gloomy, and damp week, it was time for a getaway with good weather called for on Sat., June 25. Carol has been curious about the windmill trains Wisconsin & Southern has been moving from Janesville, off the UP, to Cambria, Wis., end of the former Milwaukee Road Northern Division to Portage, Wis., on the main line, so that was our target as we set out around 9:30 a.m. CN was quiet up to Slinger, so our first stop was WSOR's shop area at Horicon. The last "Skunk," the former black IC SD20 "Paducah rebuilds" on the property, now is parked by the old MILW Horicon depot, as were WSOR's A-B-A E9's and passenger cars, which were not in a shootable position.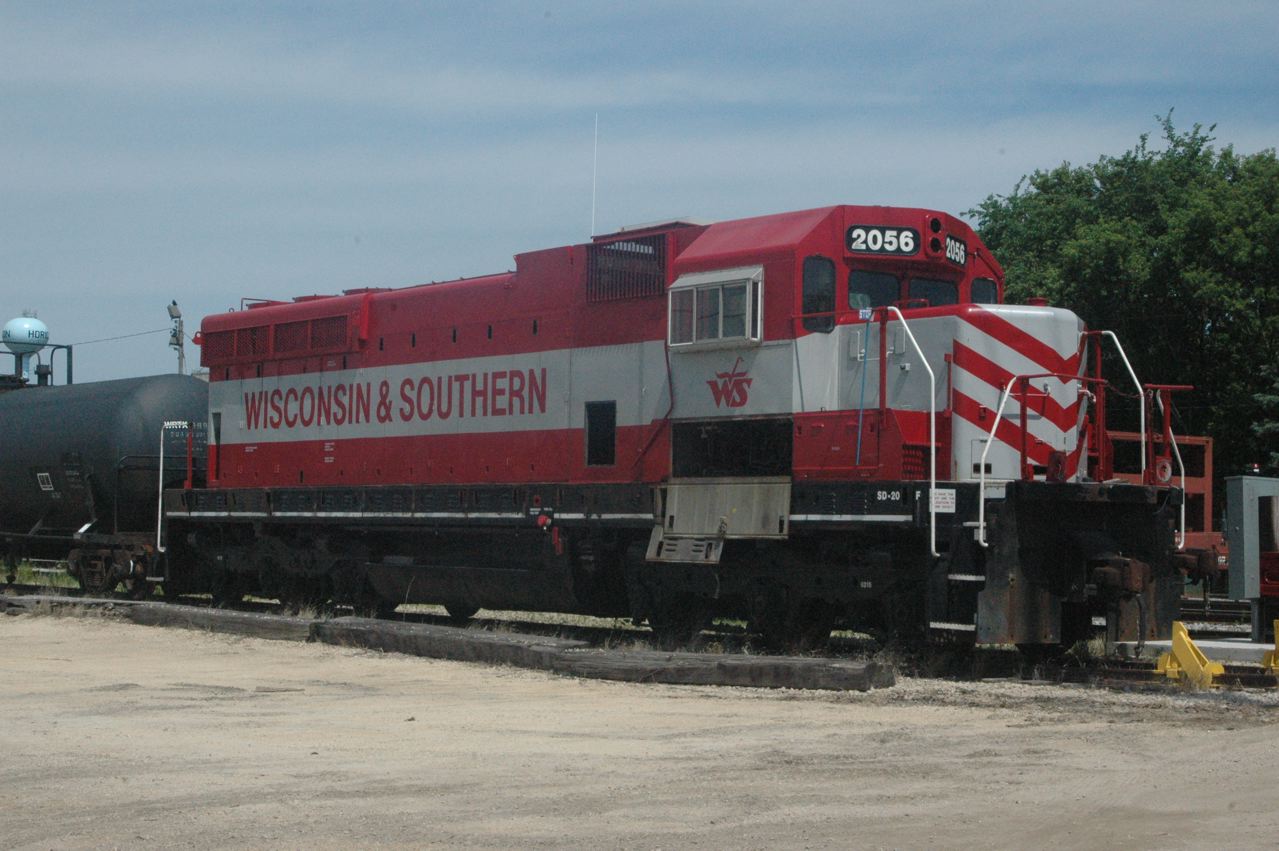 The only units on hand I needed a photo of were these two unrepainted ex-National of Mexico GP38's. Time here is 1105.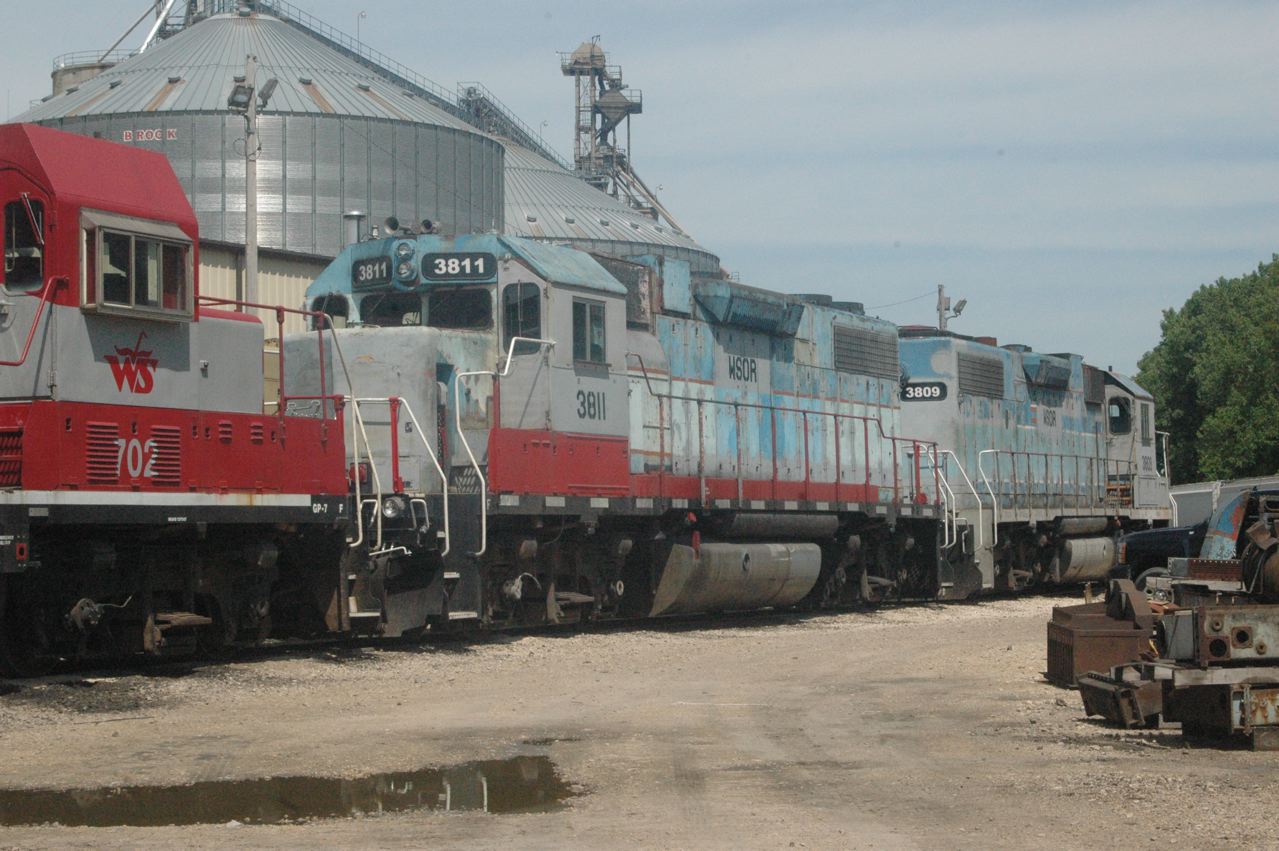 I hadn't been in Fox Lake, Wis., since the old Milwaukee Road branch-line loop track was still in. This was a spur off the Northern Division at Fox Lake Jct., west of Beaver Dam. The Fox Lake depot, at the "top" of the loop, is now a local museum, with track intact. The rest of the loop is a marked walking trail. This view looks northeast at 1150.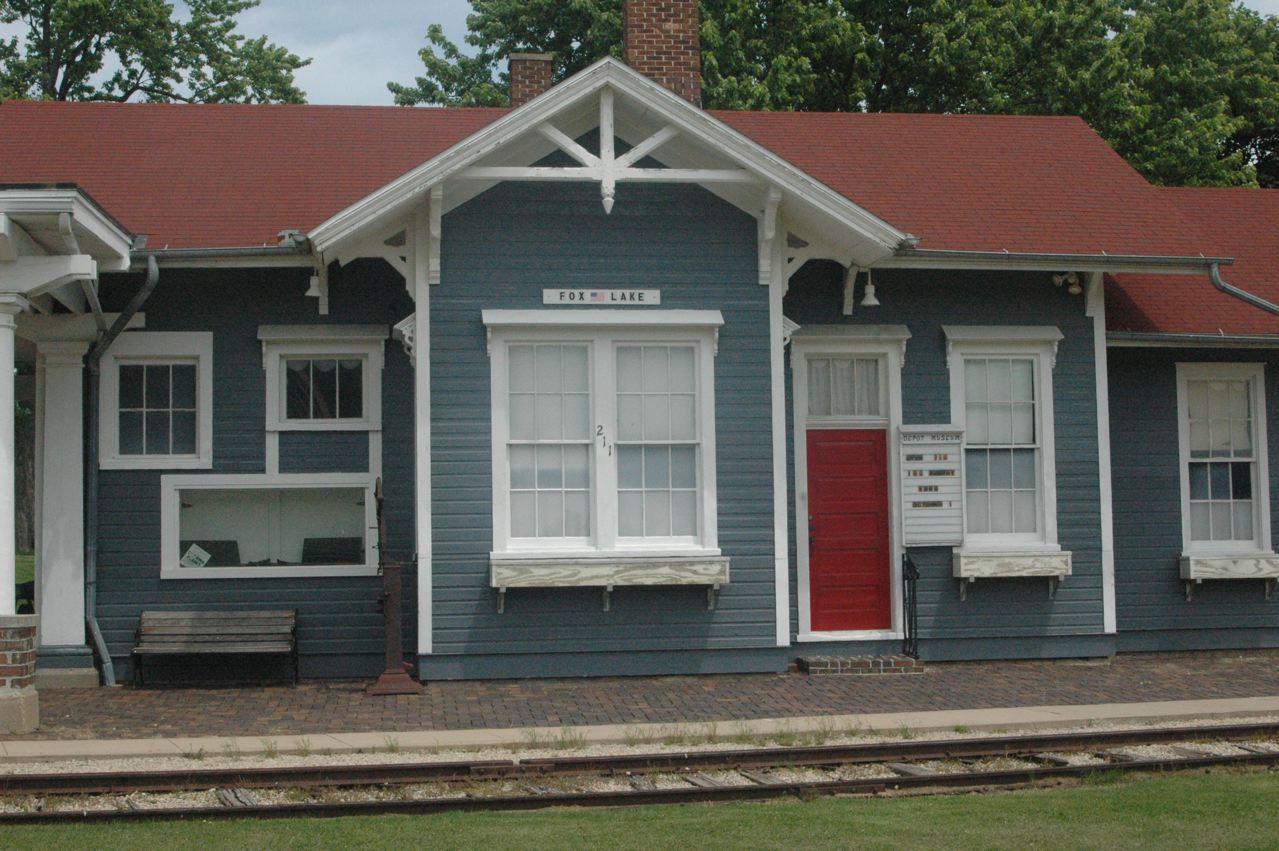 Looking west, with the original MILW station sign intact, in front of sheds moved in from elsewhere as part of the historical museum.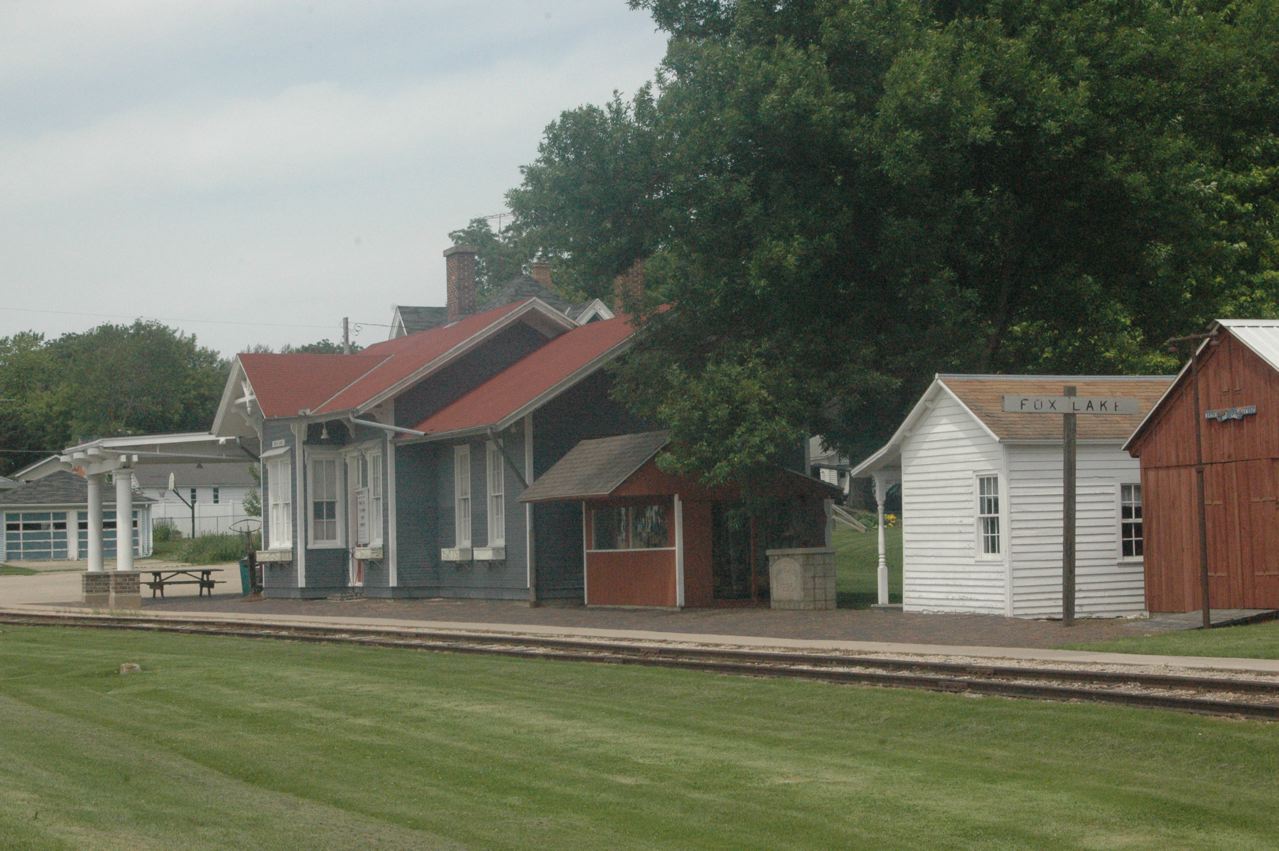 I could not resist this classic auto-dealer sign in downtown Fox Lake.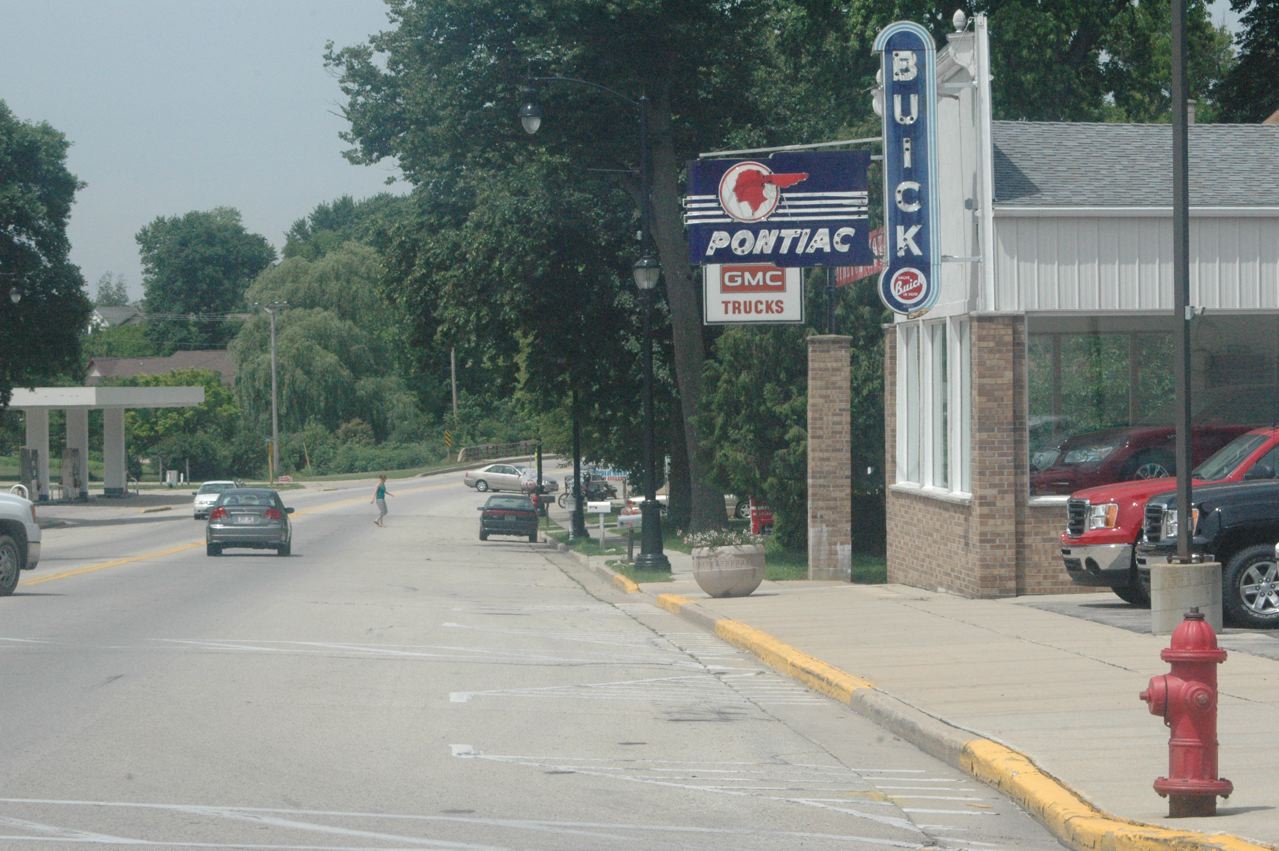 Here, east of Cambria a couple of miles, is Carol's target -- the unloading site for the windmill farm blades that  WSOR has been moving up here. In Horicon, we spotted a few long flats loaded with blades in the West  Yard. There is apparently no side track here, but west of the site is a mainline derail device. This view looks southeast from County Road B at 1215.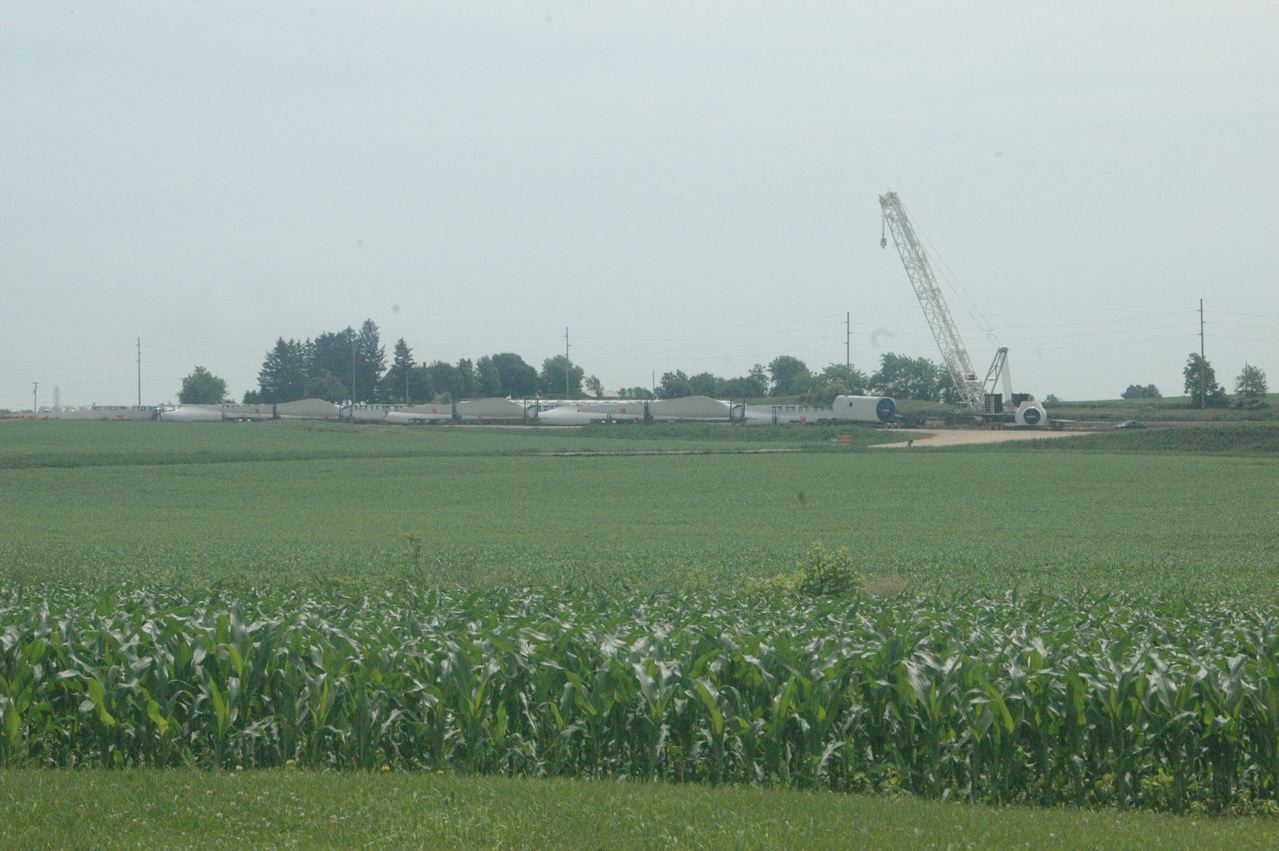 A private farm lane west of the unloading site gave us this view, to the east.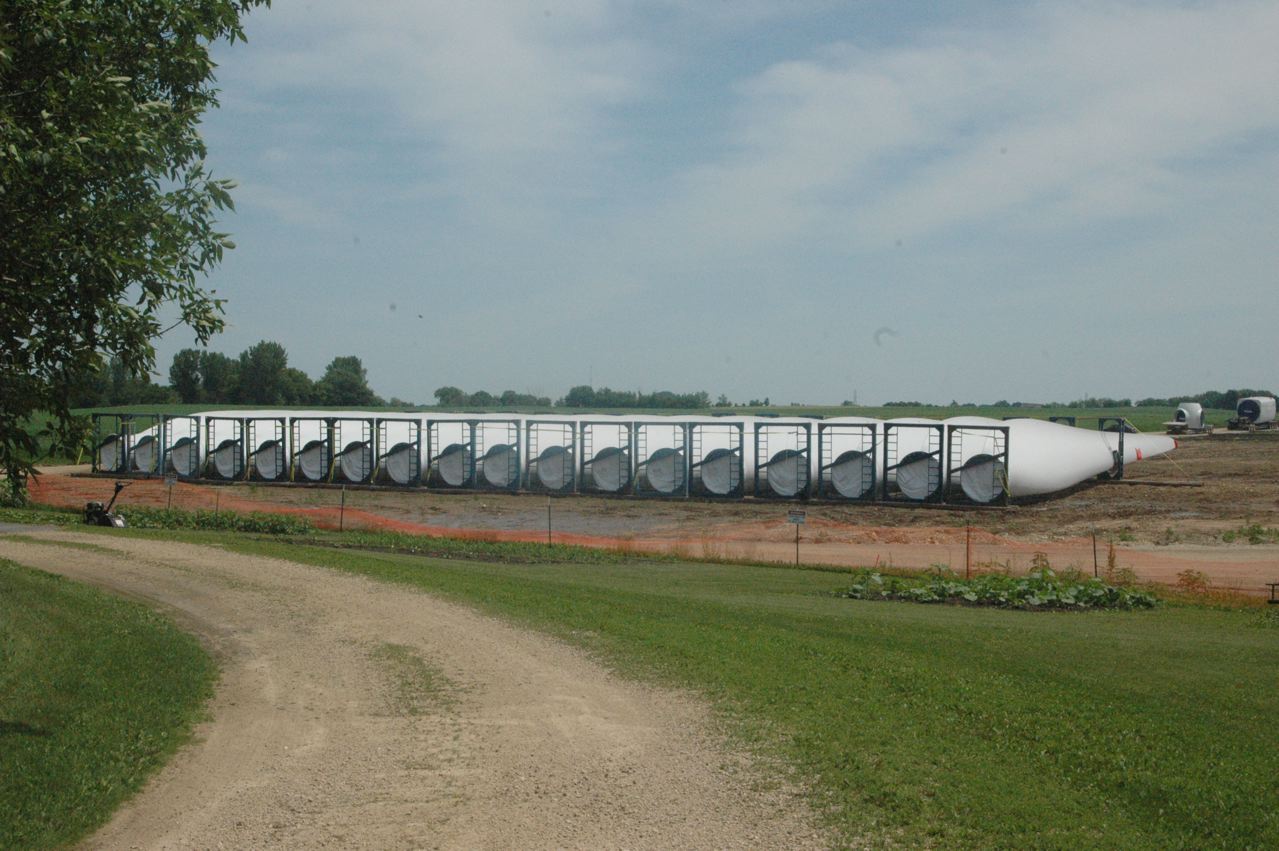 The WSOR track is to the right. North of the highway, directly to the left here about a half mile, is a new gravel road for the trucks to take the components to the area where the windmills are being erected. I didn't take photos, but one completed windmill and about a half dozen "trunks" already erected, marked the ultimate destination site of these fascinating machines.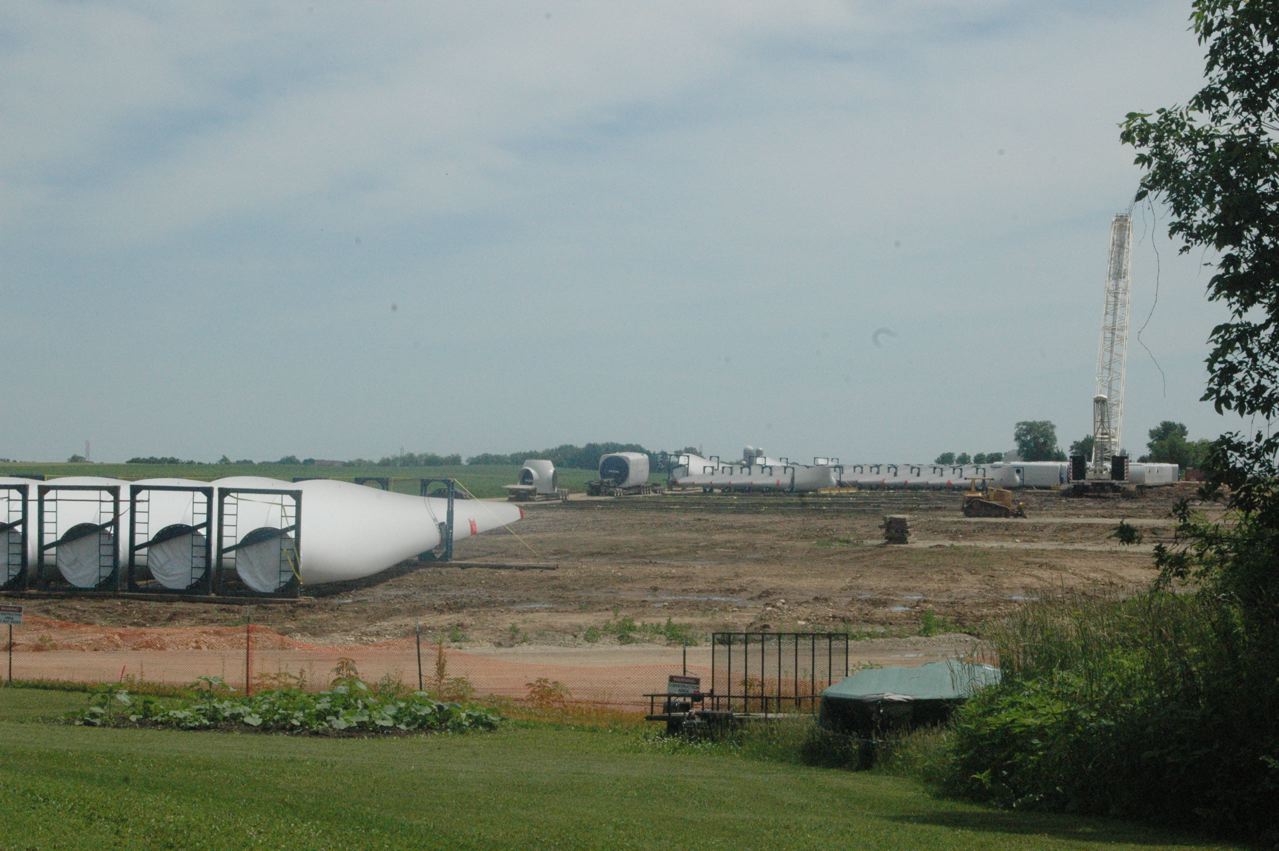 We drove thru Cambria, which I don't recall ever having done, and saw this large Didion grain mill at the southeast edge of town. WSOR does quite a lot of business here, obviously. We drove on south a couple of miles when I decided I should take this photo, and drove back for it, at 1230.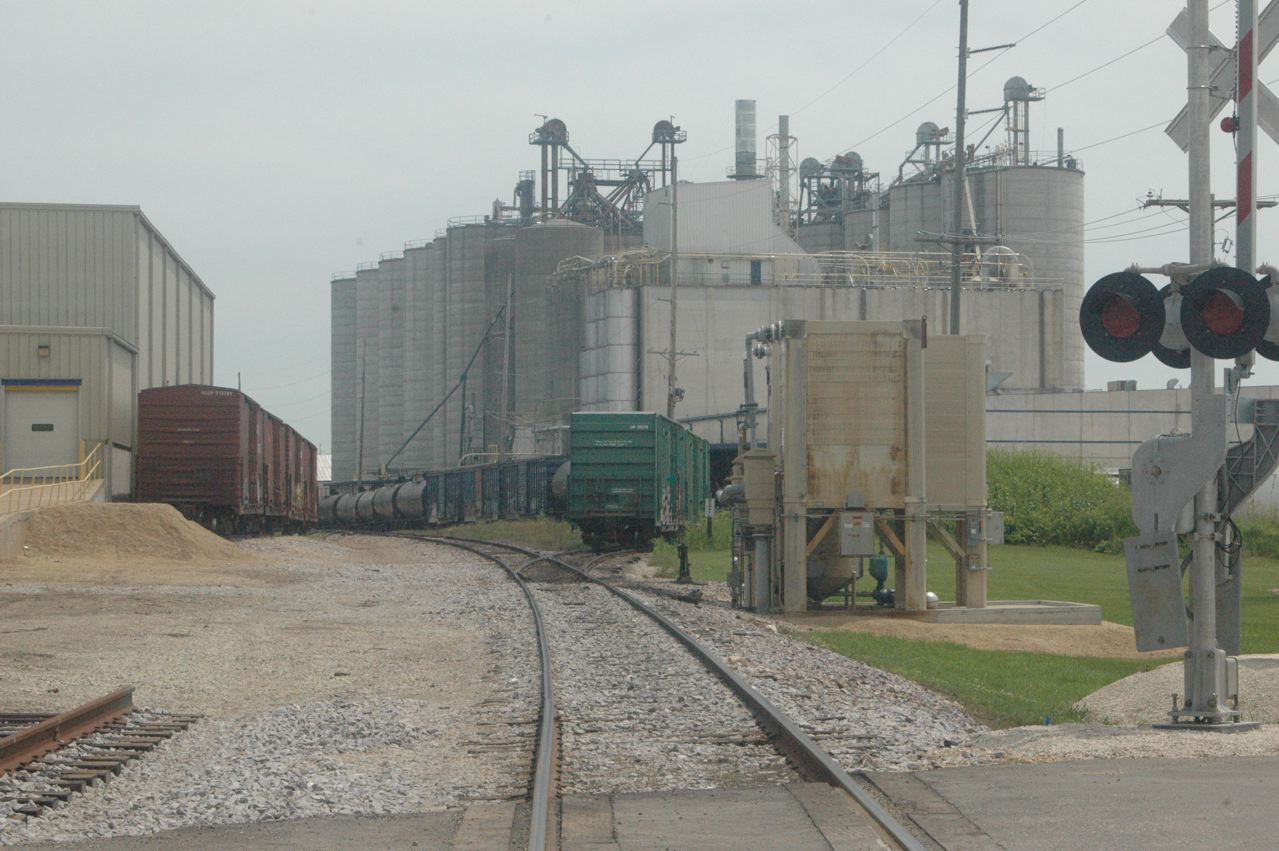 Luckily we did that! WSOR normally doesn't work the lines north or west out of Horicon on Saturdays, I thought, so I had put the scanner on CP, intending to target Amtrak's eastbound Empire Builder next. Right after the photo above, Carol spotted engines to the east and said, "Those are engines, and they are moving!" (The headlight on this end was not on yet.)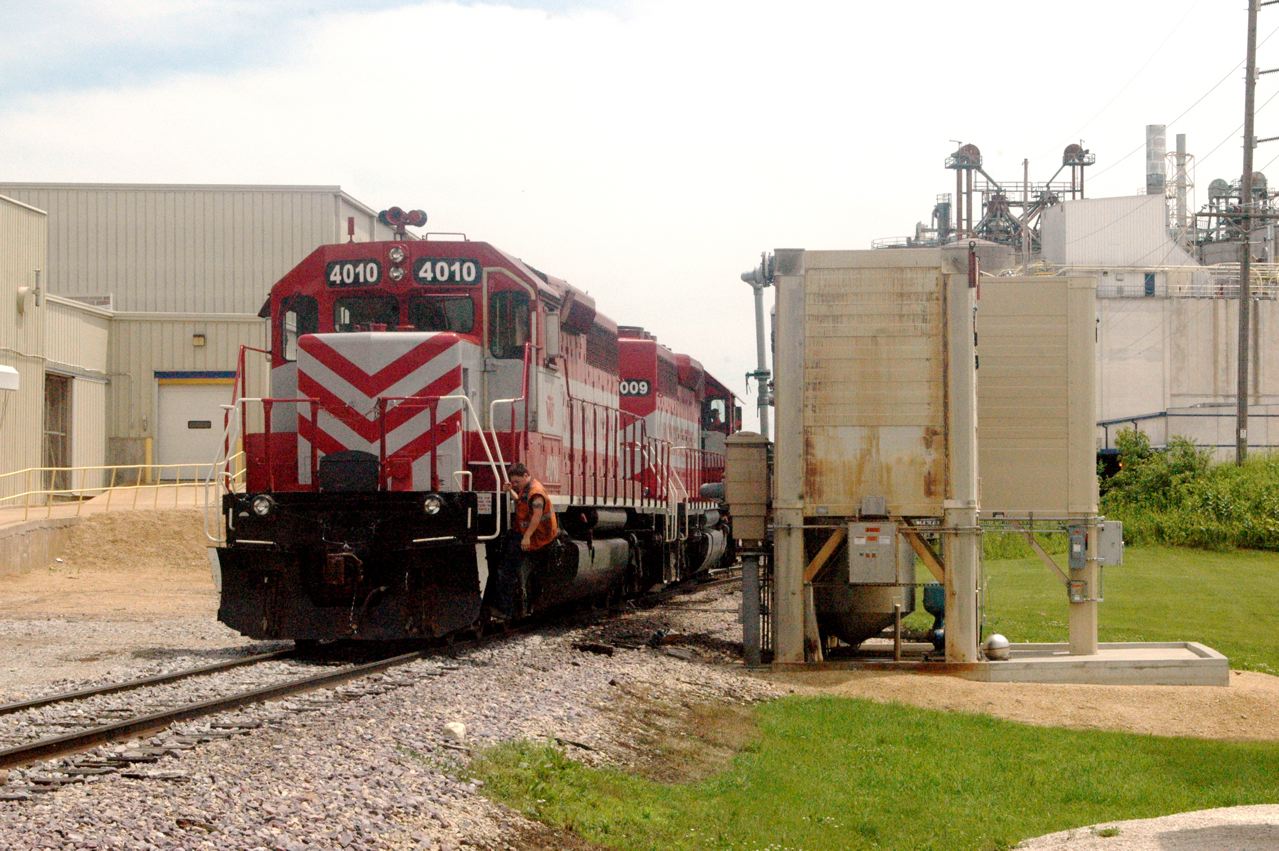 The two SD40's stopped, the conductor threw a switch, and the SD's moved west to fetch 10 boxcars. It was truly serendipitous timing for me!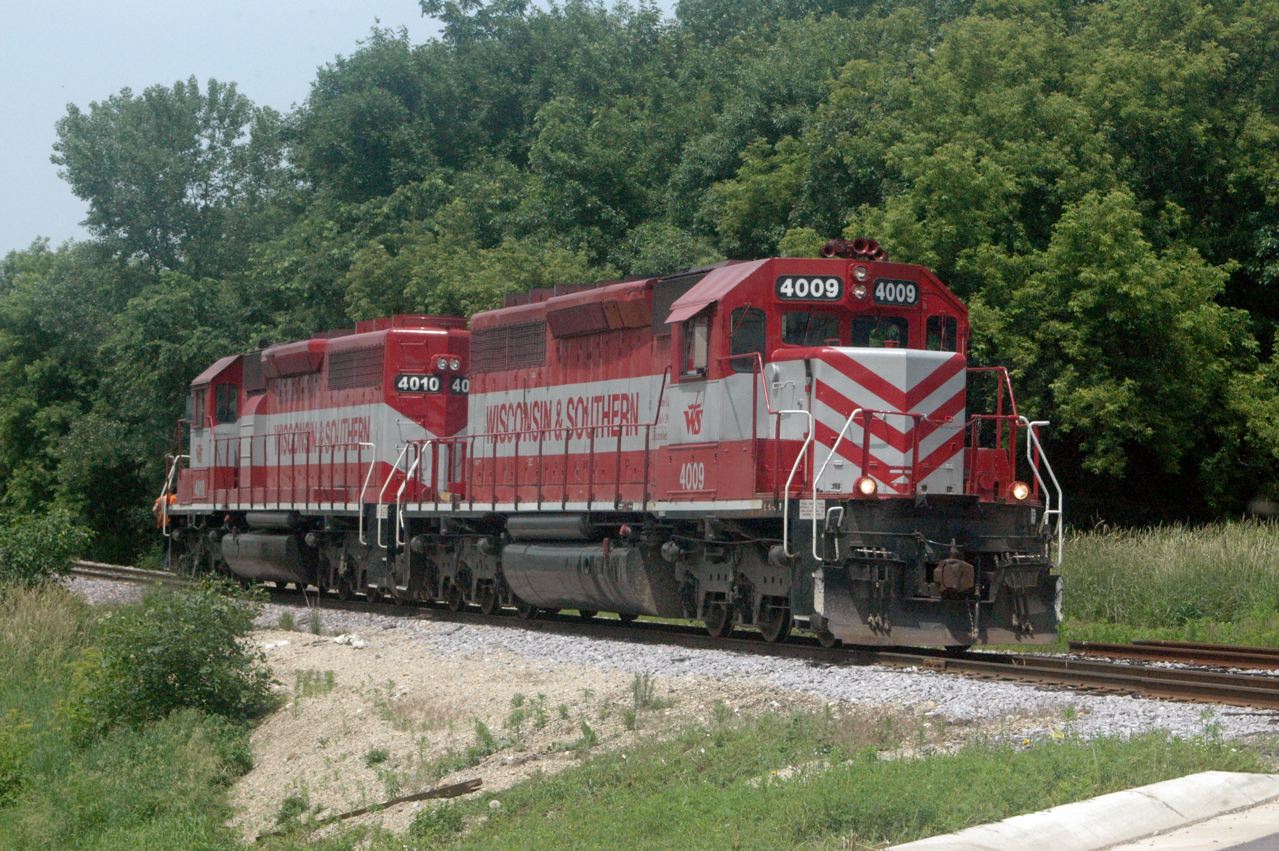 A private grade crossing to a Conservation Clubhouse offered access to the sunny side as the units went into a siding. Mileage is from Chicago, via Milwaukee.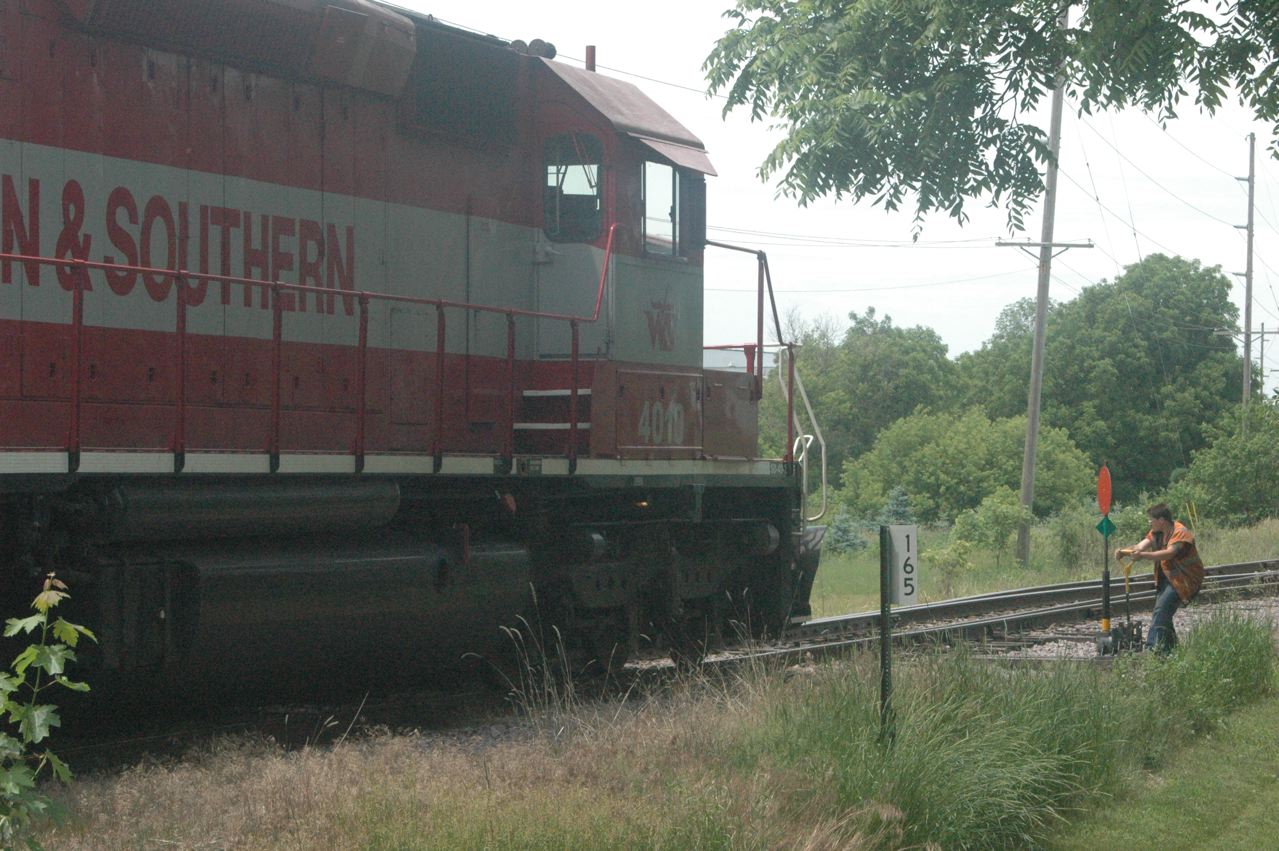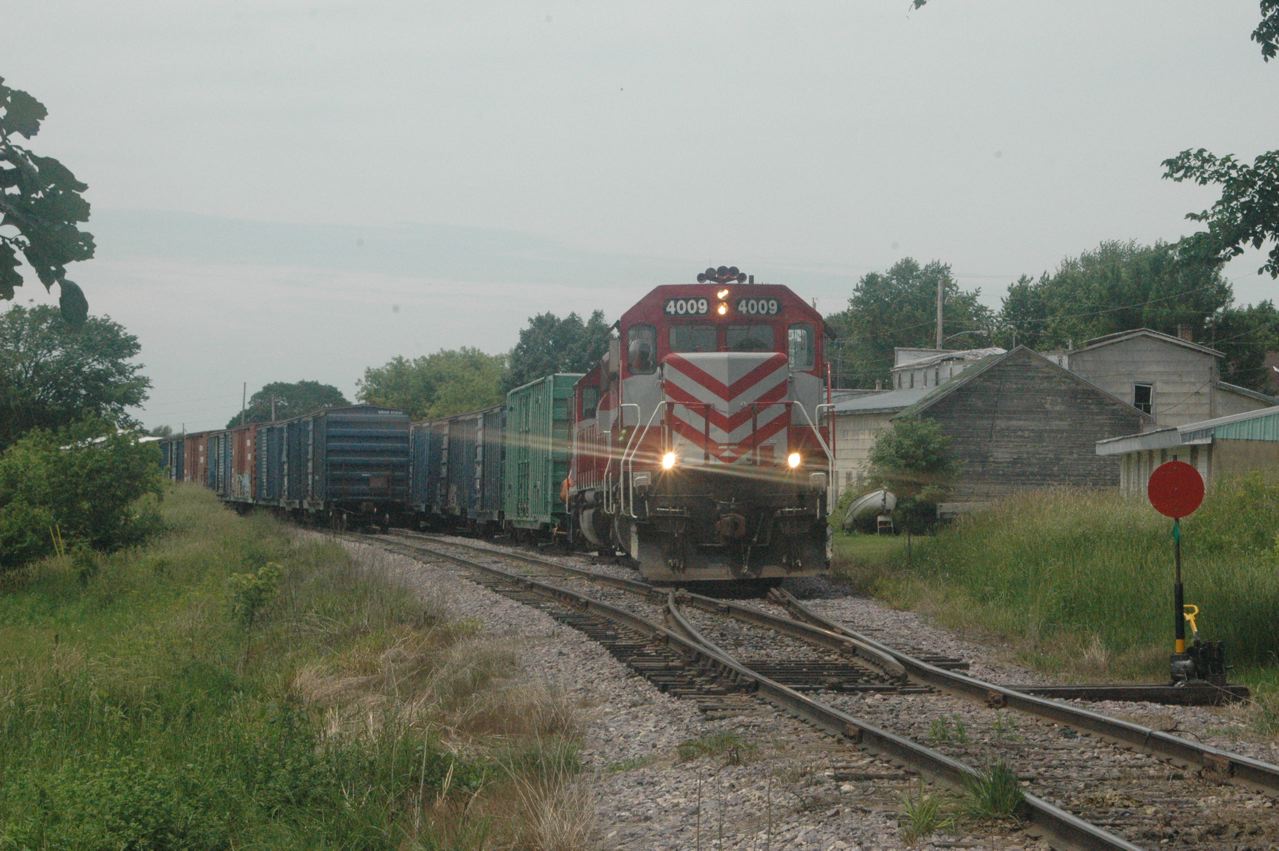 He crossed Route 146 and went on into the yard by the Didion mill; we headed on south on 146 to Columbus. Time: 1245.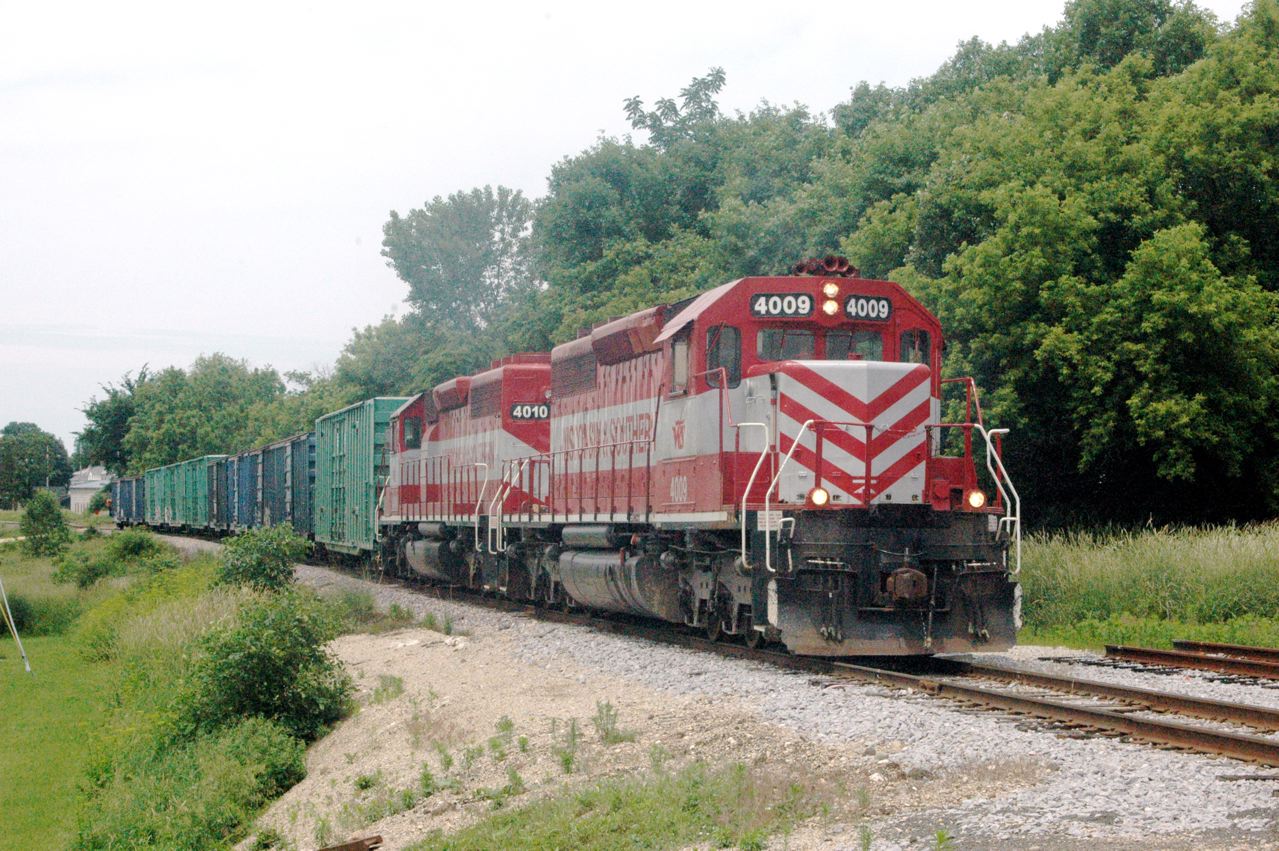 Astoundingly, according to Amtrak's "Julie," #808, the stub MSP-CHI Empire Builder again running since Minot, ND, is inundated with floodwater, was running about 16 minutes late. This gave us time to work the WSOR train in Cambria and get down into Columbus to the depot for photos. Our friend Craig Willett is engineer, Winona-Milwaukee, on Saturdays.
I had time for some quick interior photos, my first opportunity with digital. #8 is due at Columbus at 12:57 p.m.
Ahead of #808, having beaten him to the switch at Dodge West where two main tracks begins (it extends through Reeseville, across Reeseville Marsh, and into Watertown), was CP #280, 8637/6040 at 1312, on Track 1, nominally the westward track.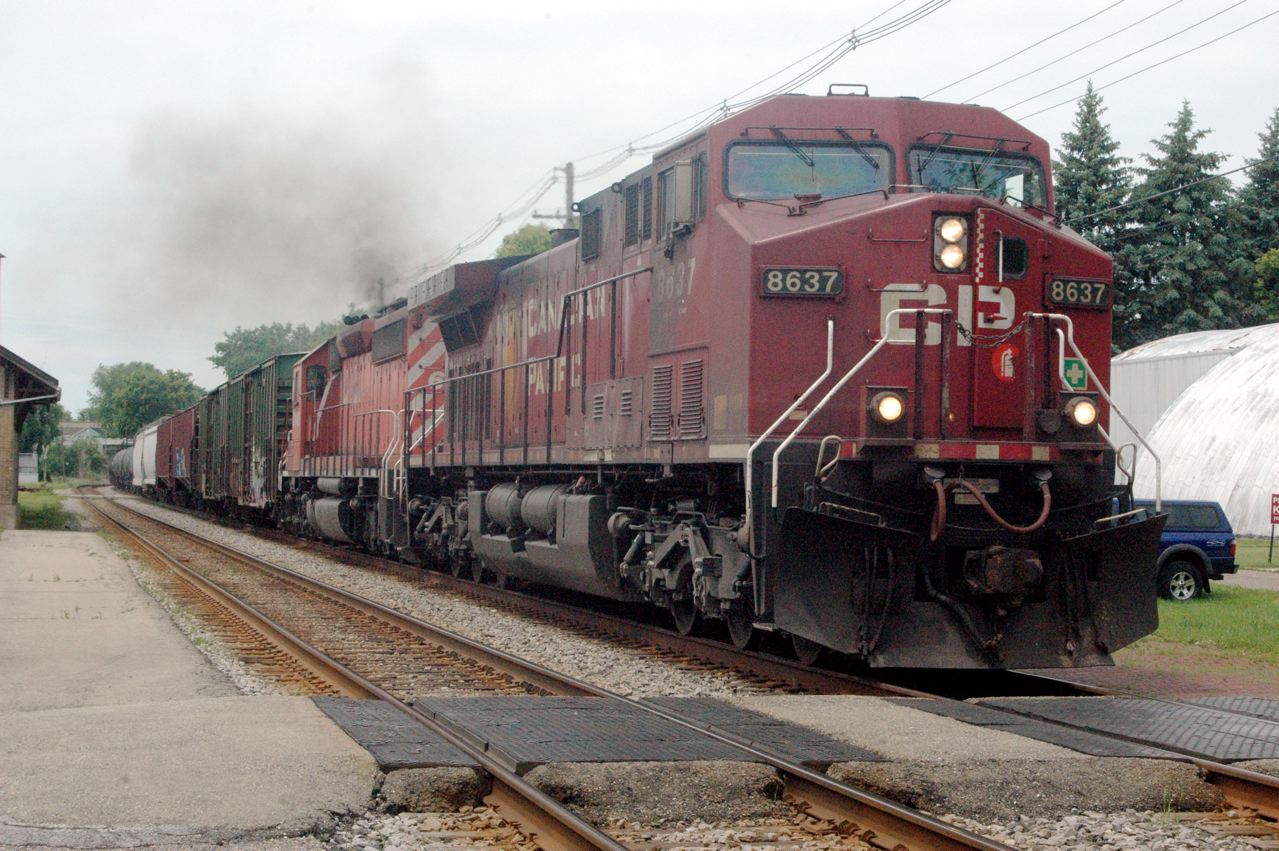 #280 was still slamming through as Craig brought #808 in at  1313 hours, 16 minutes off schedule: 205/195, 4 cars.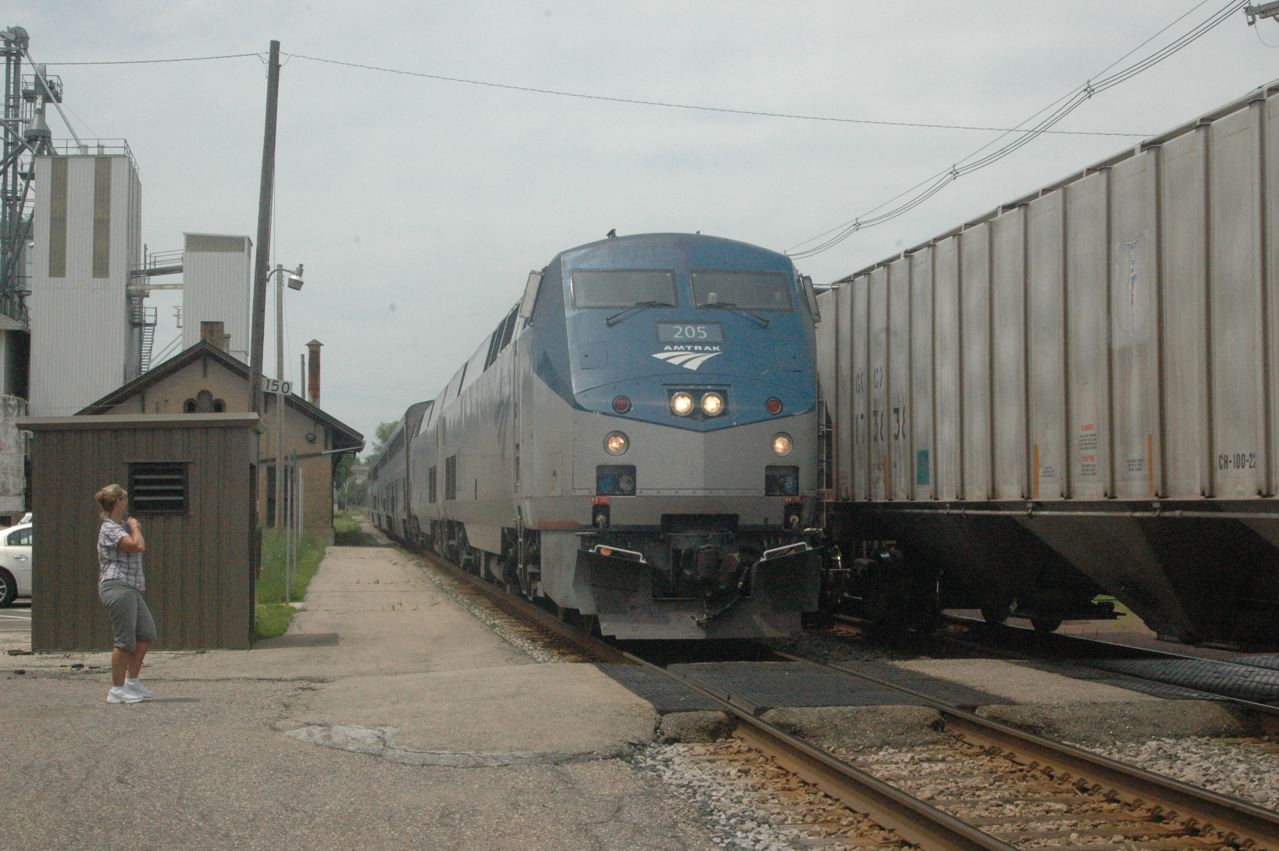 Lead car is a coach-baggage; Columbus, nominally the stop for Madison about 30 miles southwest on 4-lane Route 151, handles checked baggage.
After lunch, we headed south for Marshall on Route 73, and "logged" this new community of Deansville (OK, I'd been thru it on an Amtrak detour in the 1970s). If there is ever Milwaukee-Madison higher-speed rail, this is the line to be rebuilt! WSOR has faithfully put station signs at each community on its system. This is the old MILW Watertown-Madison route.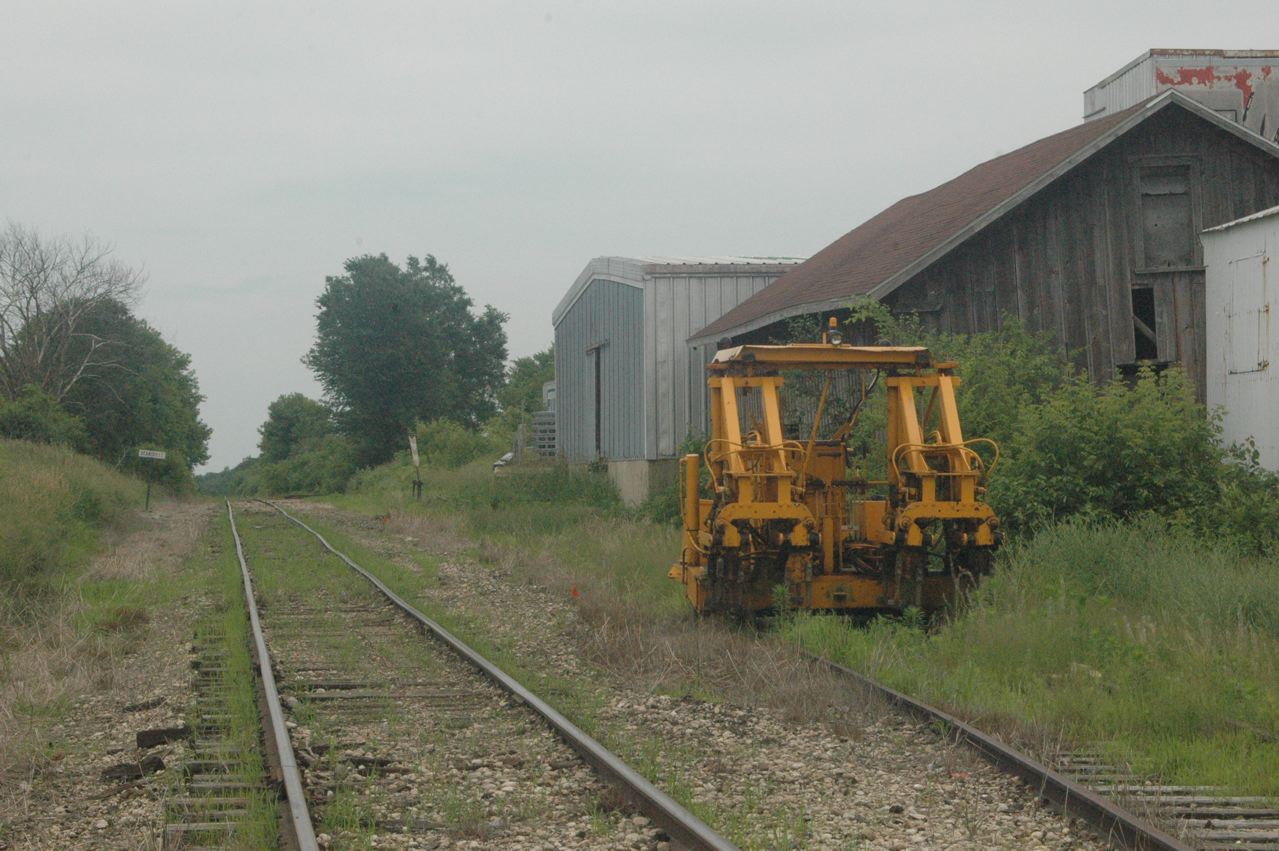 "Little A-Merrick-a," a Merrick-family-run amusement park on Marshall's east side, runs its park-size railroad, a loop about a full mile or more long, with steam on summer weekends. They employ two other 4-6-2's on the "Whiskey River Rail Way" besides this one, which is #12 and one I do not recall seeing in steam before. The "regular engine" has been the tall and handsome #1919, while the third is the smaller and colorful #1956, the "Daylight" engine in SP colors, also called the "Gene Autry" engine for its previous owner; it is lettered "Melody Ranch Special" on its tender. For photos of these other two, go to my 2009 file on this operation at http://condrenrails.com/JDI/Whiskey-River.htm.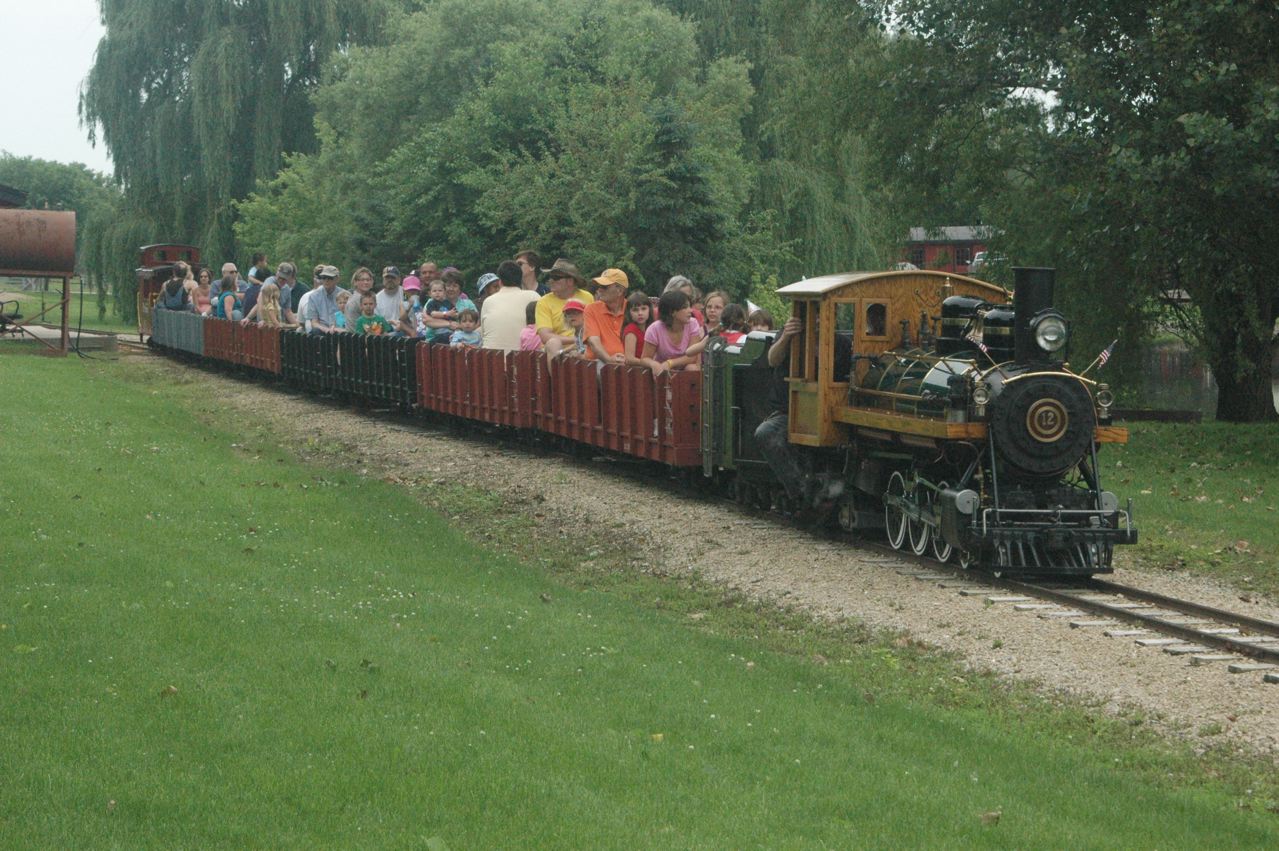 The "double-track" portion, which includes the train-storage tunnel, is nicknamed the "Sherman Hill" section -- well, at least by our local railfan gang!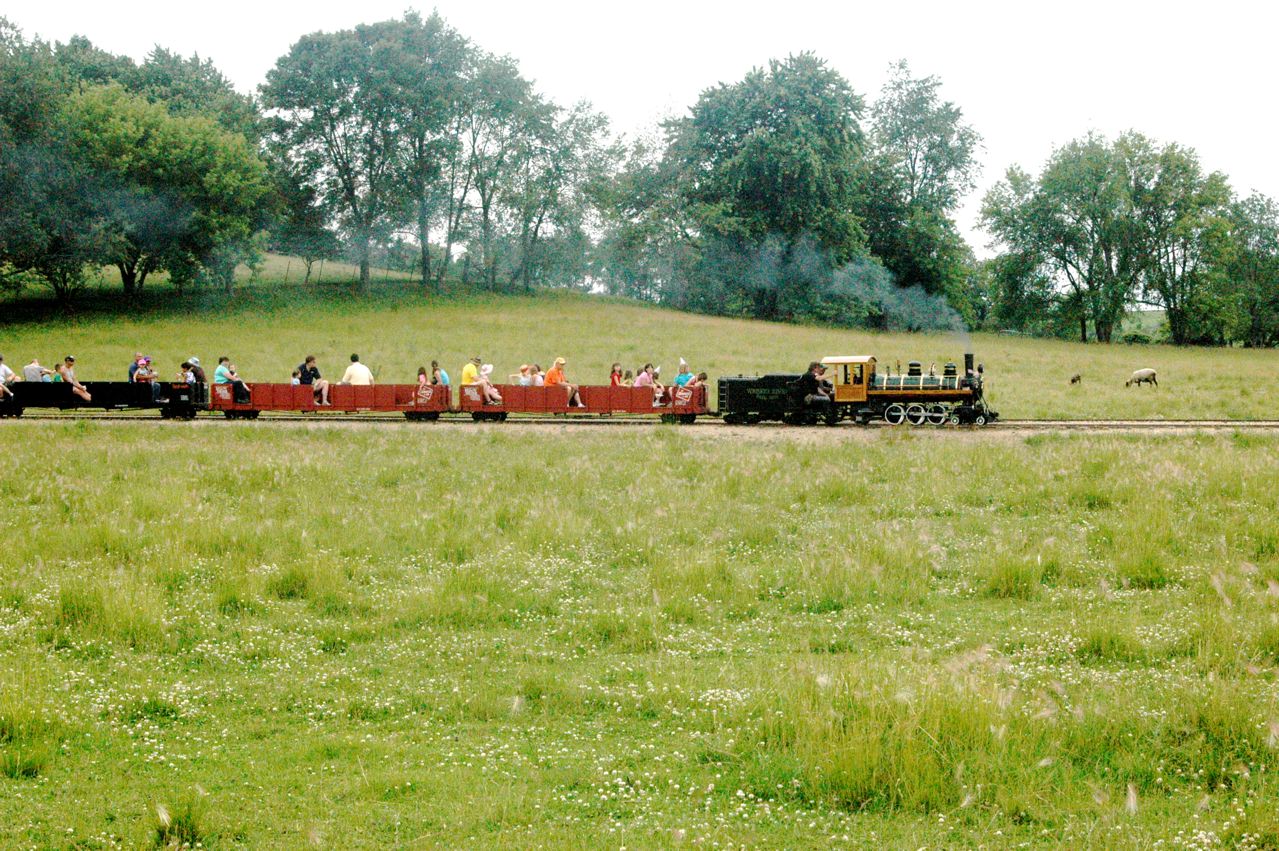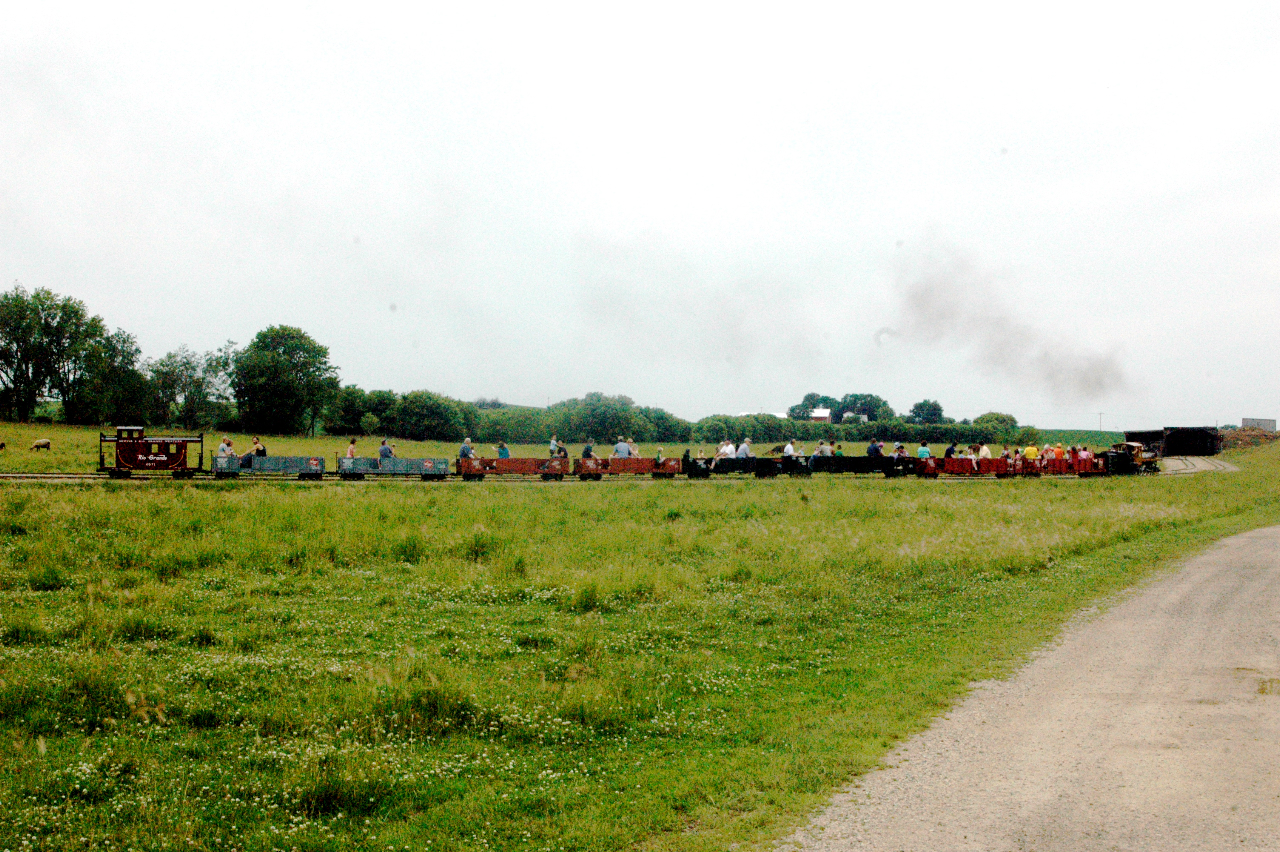 Yes, that's a llama at left among the sheep; the park owns many "wild" animals, which roam the farmland the railway cuts thru. To get onto the driveway to the picnic park for these shots, we drove across what must be one of the few cattle-guards in Wisconsin, made of the park's railroad rails, of course!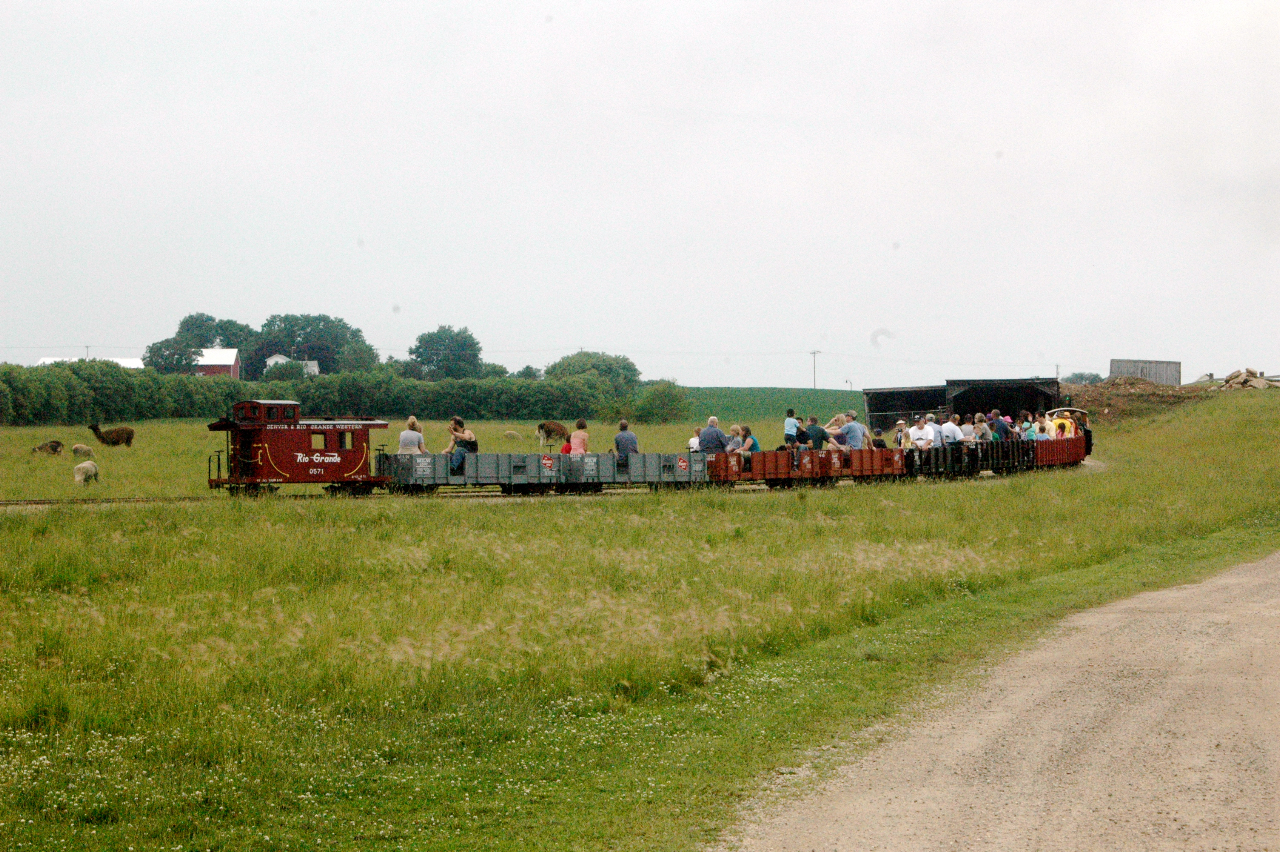 At the west end of Watertown, where the small yard is along the Madison line, this marks the change from CP to WSOR ownership. It is difficult to imagine this line rebuilt for higher-speed passenger trains, and that isn't going to happen soon, if ever.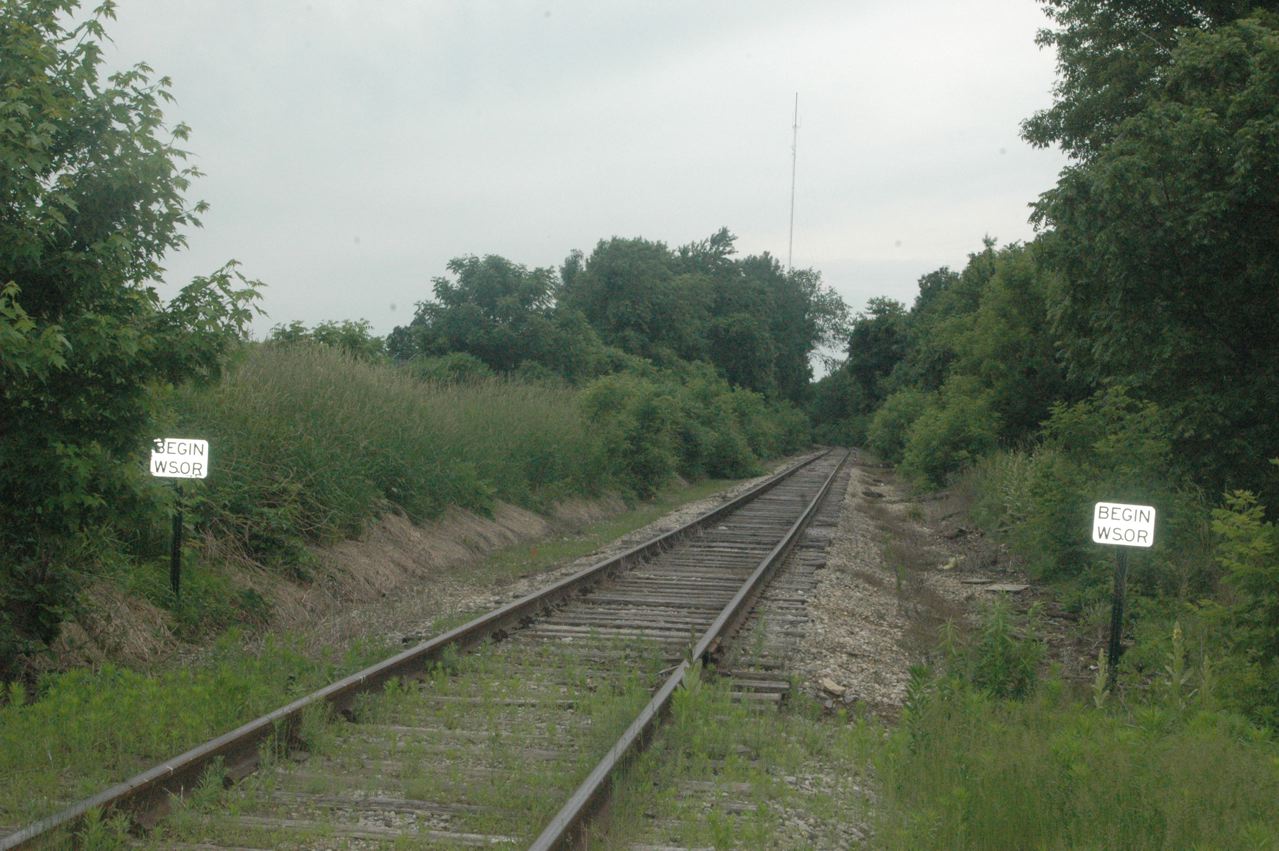 Down at Jefferson Jct., a leaser GP40 was parked north of the diamond. UP continues to hang onto and run this branch from Clyman Jct. thru Clyman, Watertown and Johnson Creek to Jeff. Jct. here and then Jefferson proper, and to one customer at the north end of Ft. Atkinson.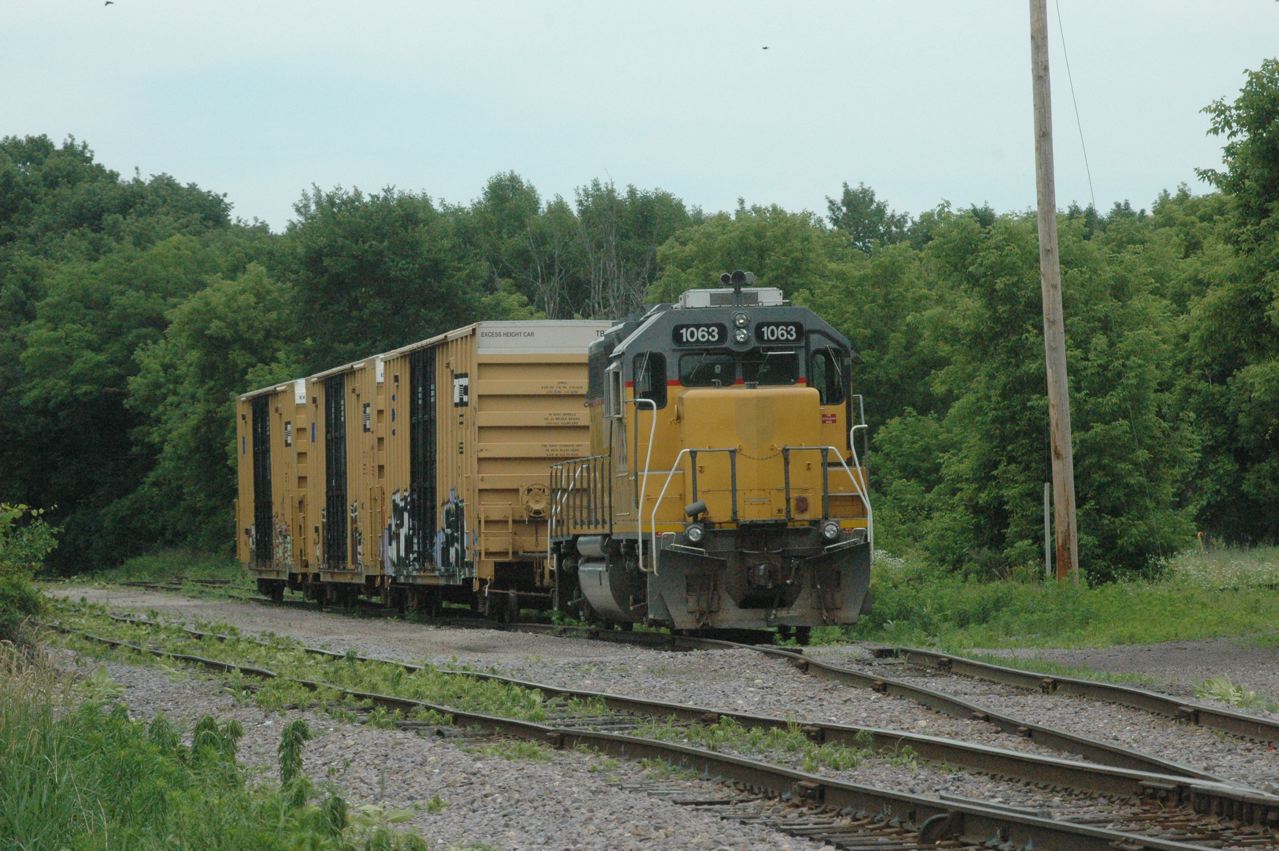 With the sky having become overcast, not in the forecast, we meandered back north to the CP and homeward, vs. going to Janesville etc., to the south. Approaching Nashotah Siding to meet a freight is Amtrak #807, 131/11 and 4 cars, at 1629 hours.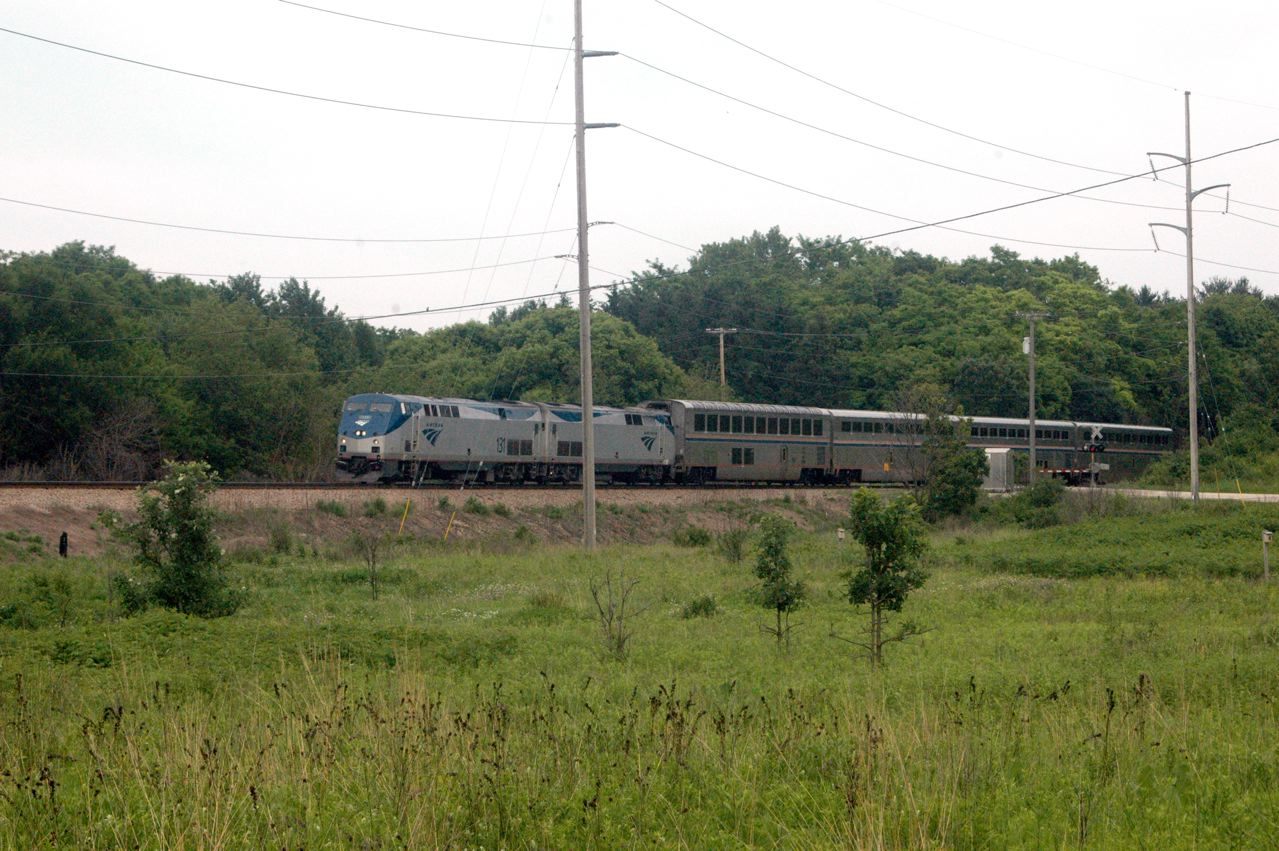 CP 2nd #280, all auto tri-levels with 6025/Soo 6040/CSX 8427/CP 8501/8762 and 67 cars, was meeting #281 at Cooney Siding west of Oconomowoc when we got back to the CP around Ixonia, just west of Cooney; #281 had had brake problems and was not ready to go. His lead unit was 8887, so we chose to try to catch up with 2nd #280, with this much more exotic diesel consist. He is clearing Nashotah Siding here at Vettleson Road in Delafield at 1634 hours.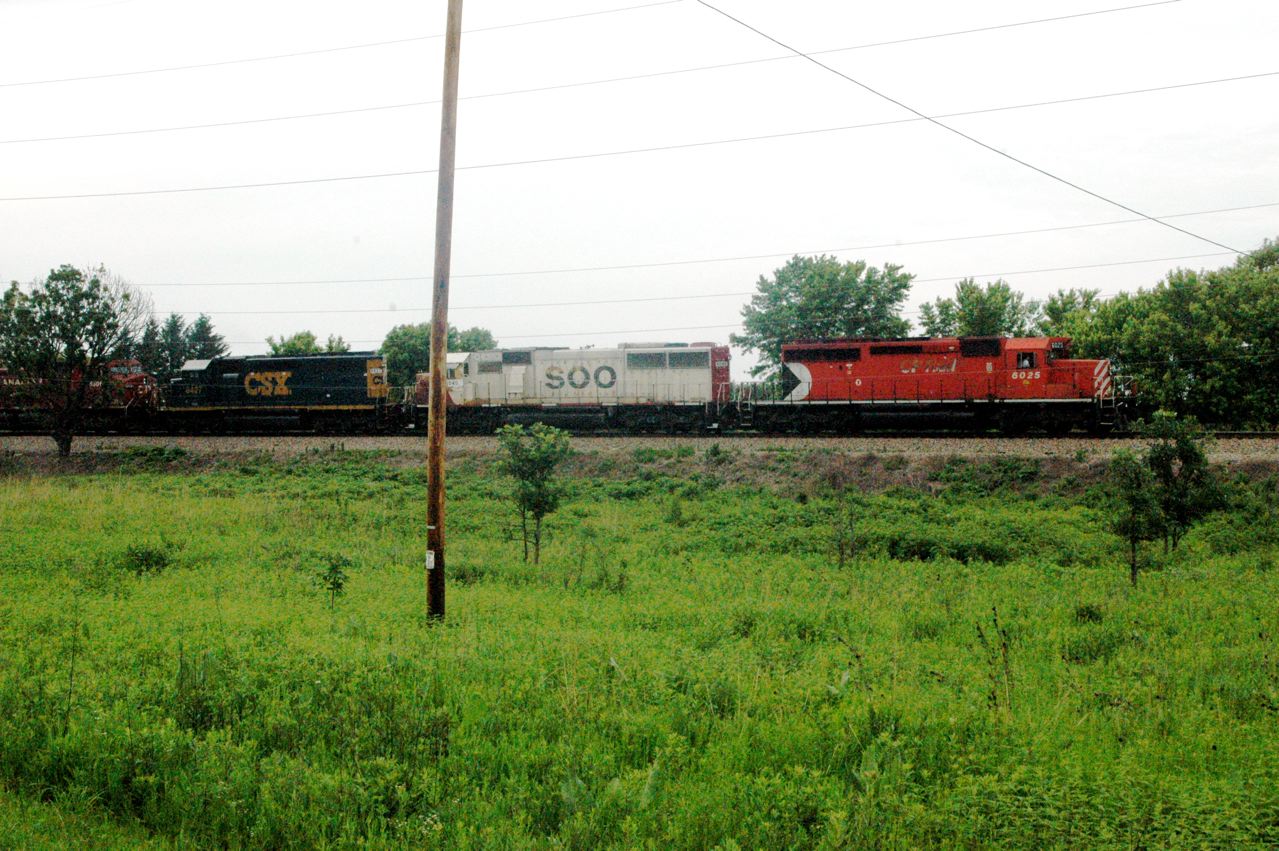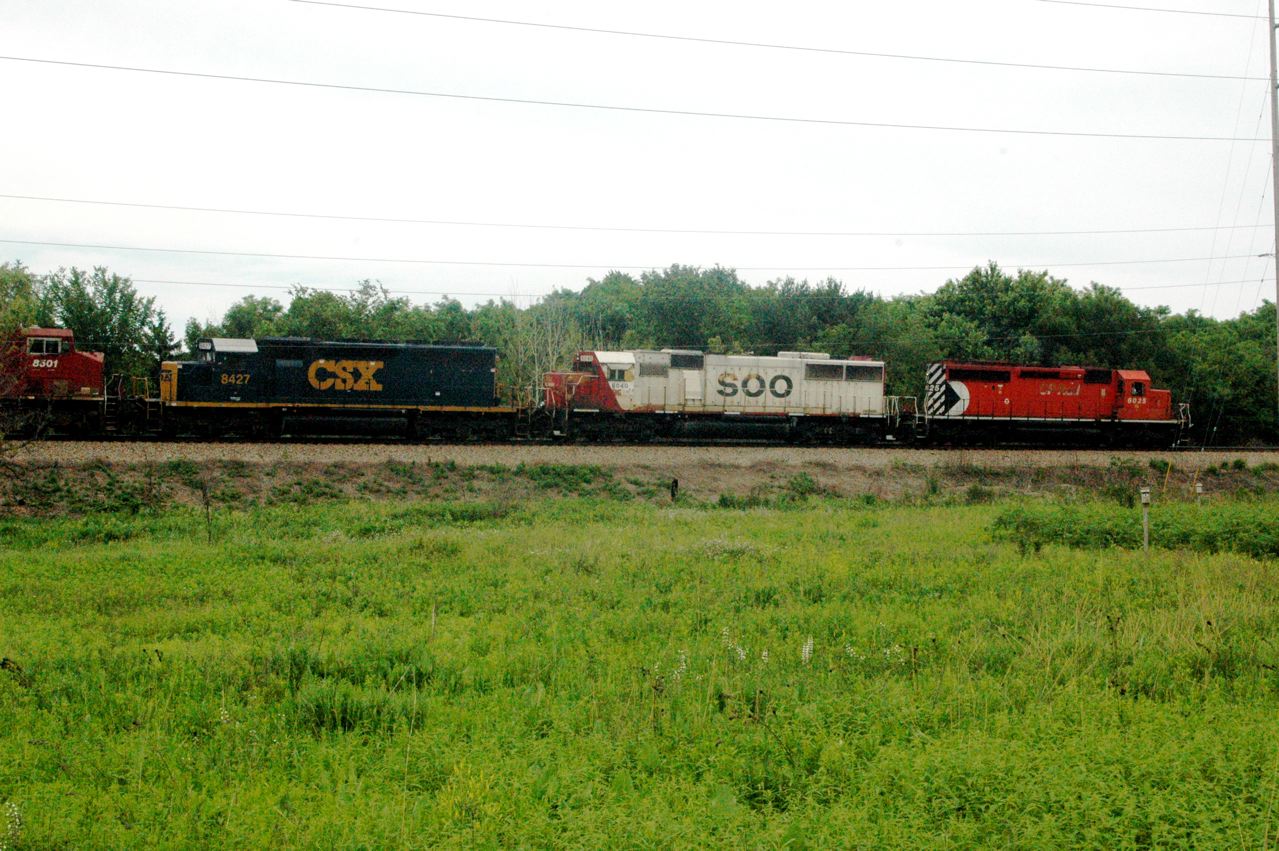 We scooted on ahead for a "normal 3/4 view" at Forest Grove Road in Pewaukee, at 1648 hours.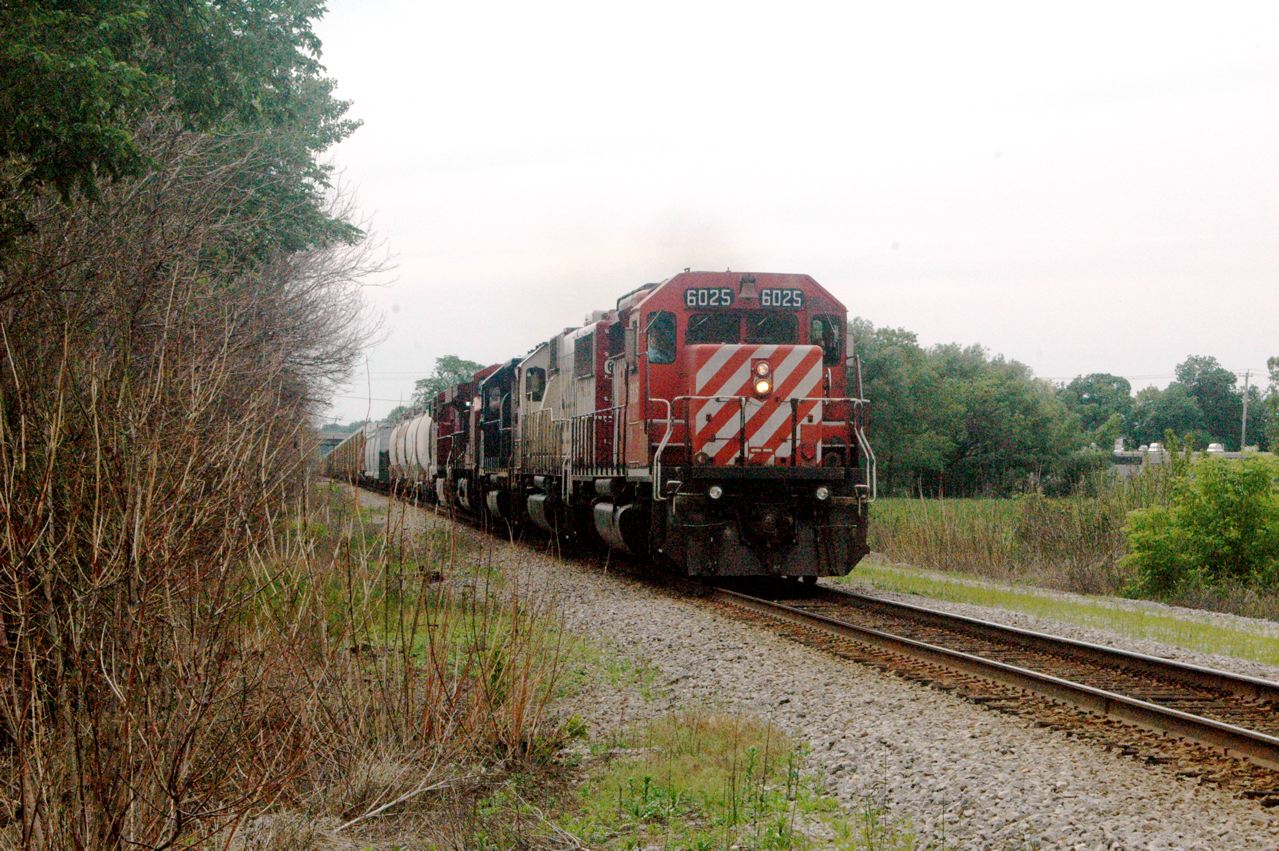 After this, we went by Duplainville and saw a northbound CN freight leaving the siding behind IC 2708/CN 2629 at 1658 hours, having just finished a set-out on the third track along the siding. He was following another northbound we heard hit the detector north of Sussex. So, with the CN to be quiet, CP already quiet, we adjourned for an early dinner out. As we left the restaurant in Pewaukee, CP #276 flashed by with an all-DM&E-SD40 consist of yellow-blue, white leaser, and CP red up front, but we were just too late to get a photo. We drove home and watched on TV as NASCAR racers finished the Road America course up at Elkhart Lake, then the Brewers whip the Twins and the Cubs lose to the Royals, always a good combination of events!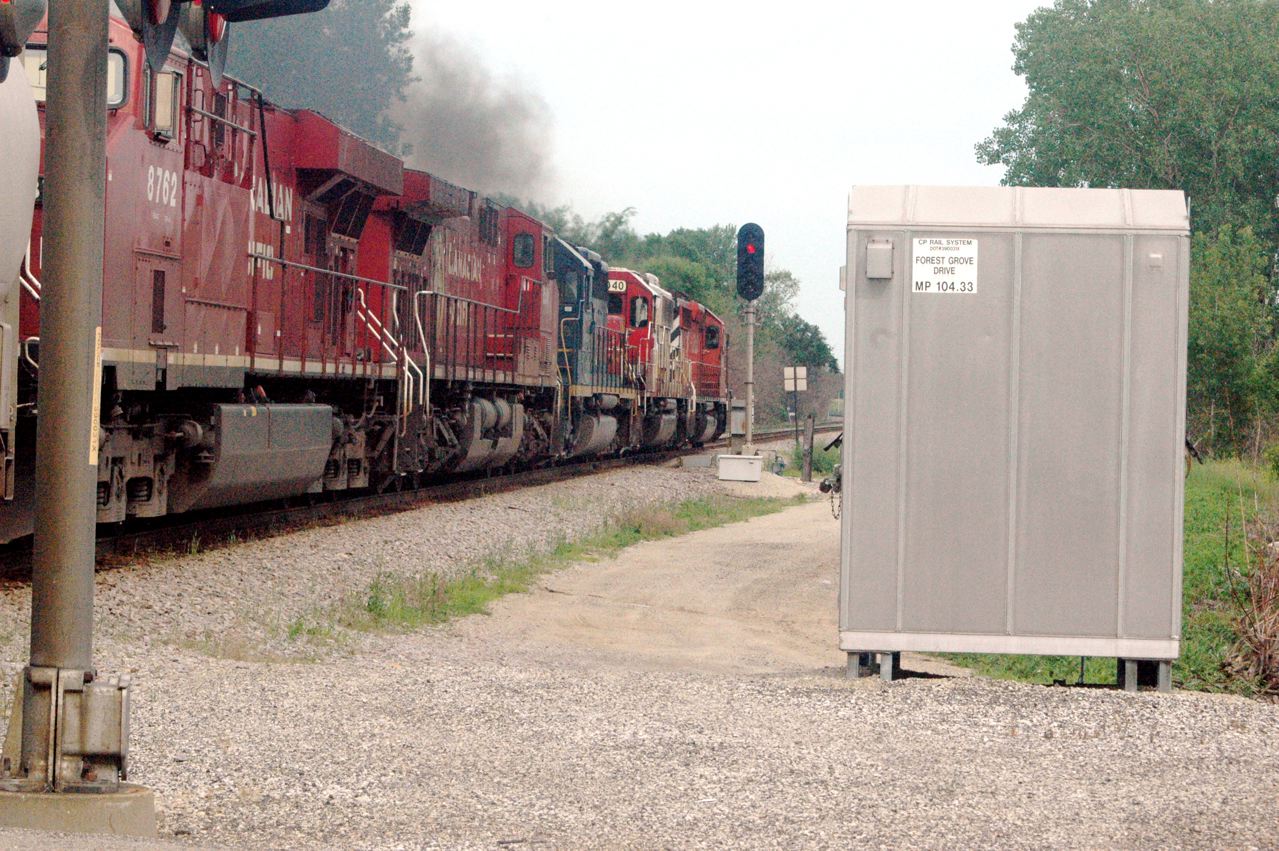 This page was designed and is maintained by Mike Condren. If you have materials
that you would like to contribute, contact me at mcondren@cbu.edu