Condren Family 2011 Vacation Aug. 21st
Digital Photos by Mike Condren
On our way into the park from West Yellowstone, we found this herd of mule deer.
The steam was really rising from the springs as the air temperature was 39 degrees.
The carcus of some large animal, possibly a buffalo.
We then continued our drive into the park until we ran into a traffic jam caused by a buffalo walking down the middle of the highway.
We next stopped at Gibbon Falls to get some shots.
At the Gibbon Falls, we saw signs for controlled burns.
We shot more hot springs/geyzers in the Norris area. These emitted sulfur dioxide as well as steam and gave the characteristic odor.
We saw a flock of Canadian geese in the Norris area.
We decided to drive up a rough dirt road to the top of Mt. Washburn.
That is our Chrysler PT Cruiser loaner with the door open.
A petrified tree.
Orange Spring Mound near Mamouth Hot Springs.
| | |
| --- | --- |
| A water fall along the highway from Mamouth Hot Springs and Norris Geyzer Basen. | |
Roaring Moutain
| | |
| --- | --- |
| This sign is inside the Information Center | |
This is a field of hot springs along the road from Old Faithful to Madison where we turn to head west to West Yellowstone, WY.
The mountain in the distance looks snow covered. It was cold enough the night before as the car thermometer showed 39 degrees in the valley. It had rained the afternoon before.
I spotted this Yellow Belly Marmount along side of the road and turned around to get a shot.
Along the road from Madison to West Yellowstone, WY, we found these mule deer grazing.
We drove thru McDonald's and then headed west the 10 miles to Idaho. We turned around in Idaho and then went back into the Park to find animals looking for water at dusk.
Another view of what may be a freshly snow covered peak.
This view shows the valley that the highway uses to get into Yellowstone Park from the west along the Madison River.
This UP display was on the east side of West Yellowstone, WY on the highway into the park.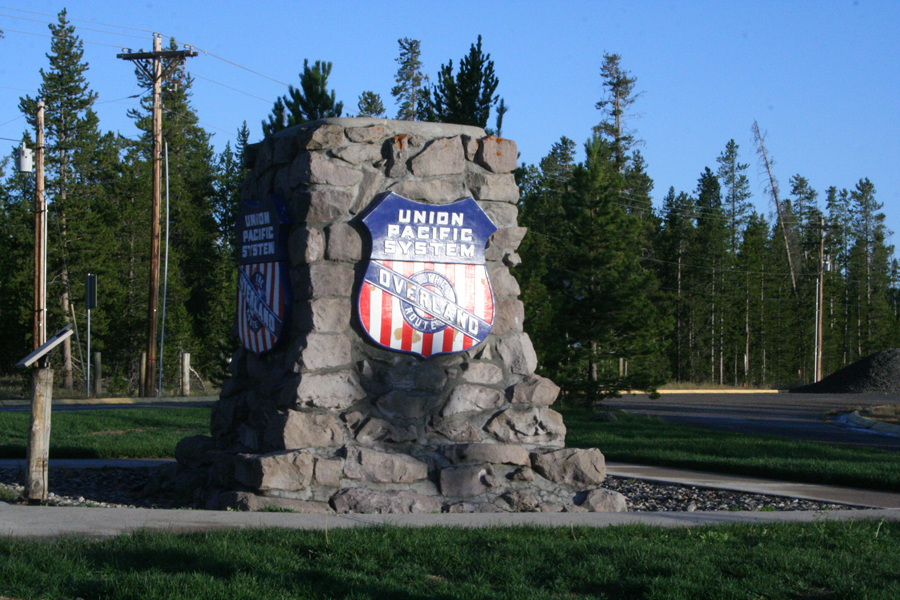 The first wildlife that we saw were these Canadian geese and ducks.
We discovered a mule deer at the bridge over the Madison River.
We discovered more mule deer up river in the prairie land on this side of the river.
We returned to the bridge and discovered several cars parked along the road. We stopped, and I got these images with my cell phone.
This page was designed and is maintained by Mike Condren. If you have materials
that you would like to contribute, contact me at mcondren@cbu.edu