Little Rock Express
Digital Photos
Images by Kenny Young
June 4, 2011
On June 4th, Frank Greene, David Sutter, Mike Binkley and Kenny Young chased the Little Rock Express with Union Pacific's steam locomotive UP 844 pulling, from St. Louis MO to Cape Girardeau MO via, Union Pacific's Line in western Illinois. The line ran pretty much parallel to Highway 3. We managed to photograph him at ten different locations. We avoided the scheduled stops as they were inundated with throngs of railfans and sightseer's . We used that opportunity to jump ahead and setup for the next run-by.
Having just left the yard, UP 844 is pulling it's train on the MacArthur Bridge west approach in St. Louis MO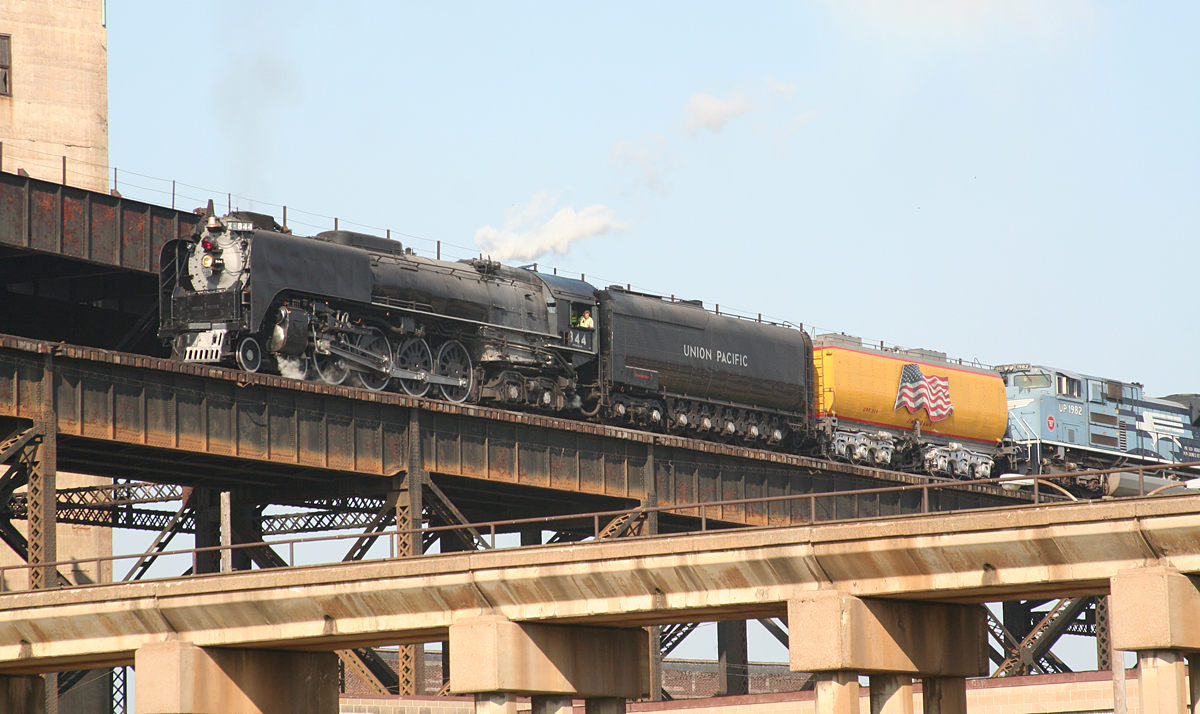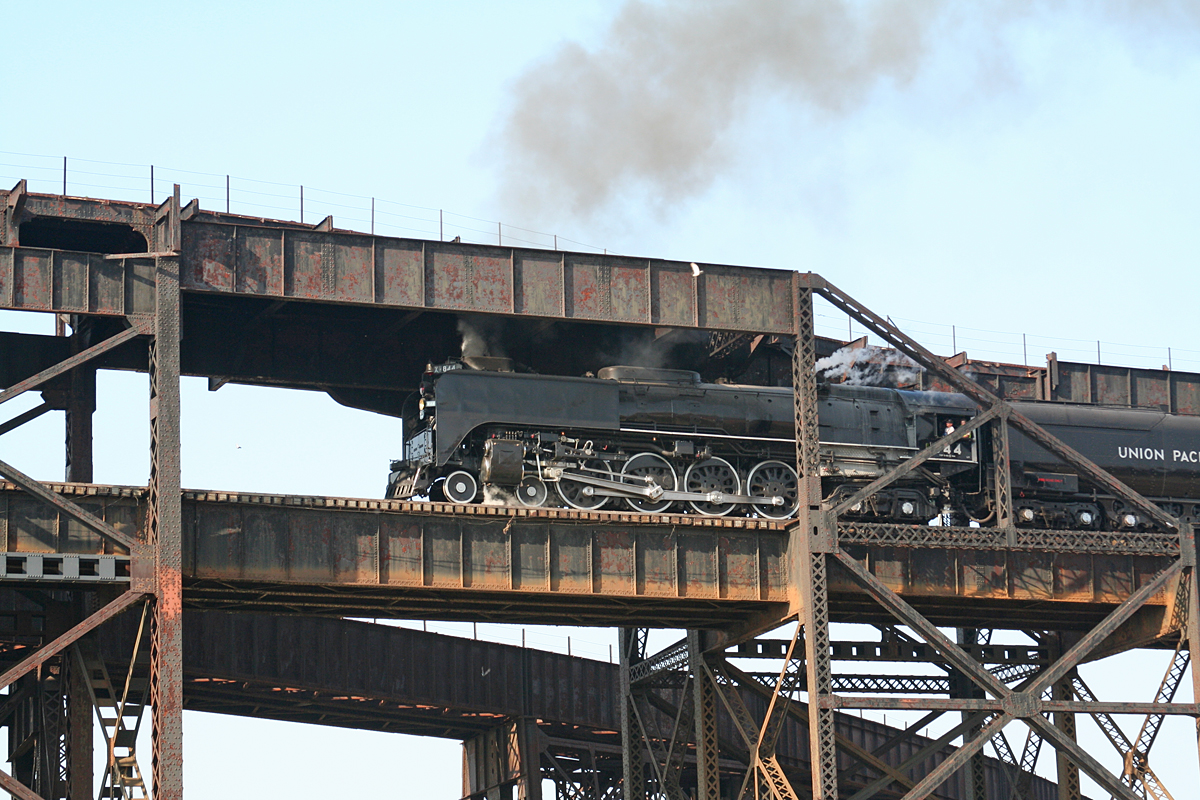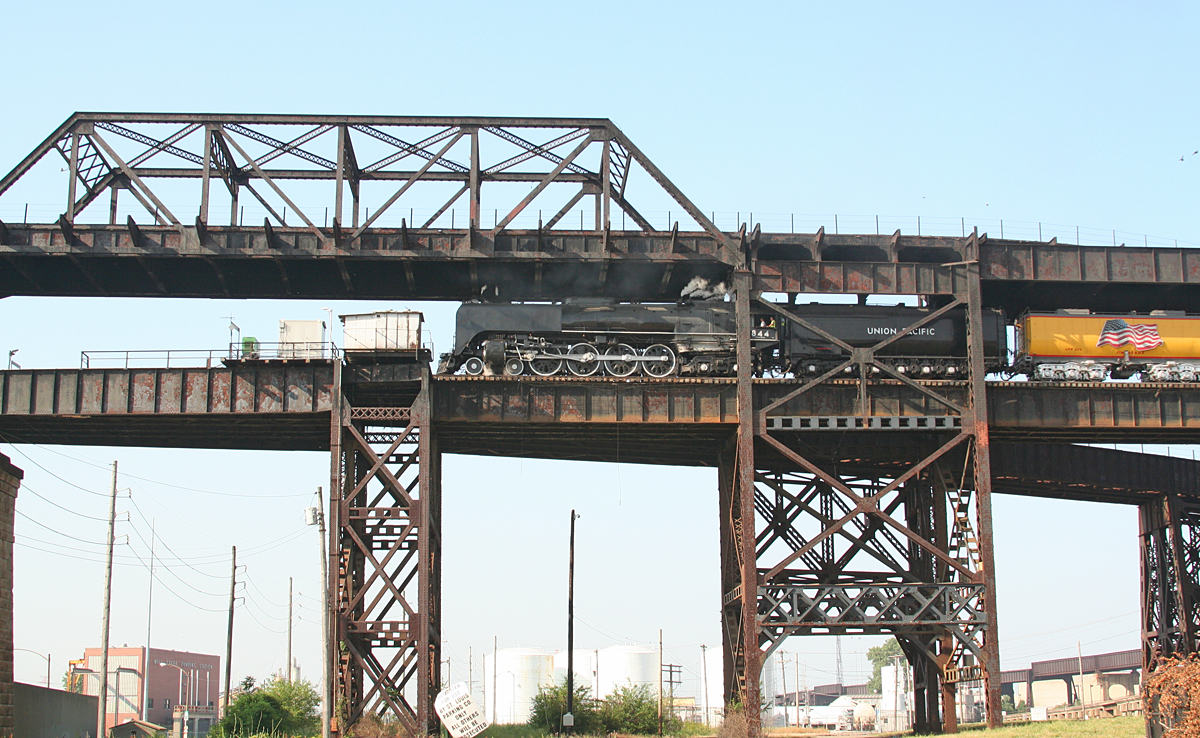 and on the first span of the MacArthur Bridge heading east to Illinois.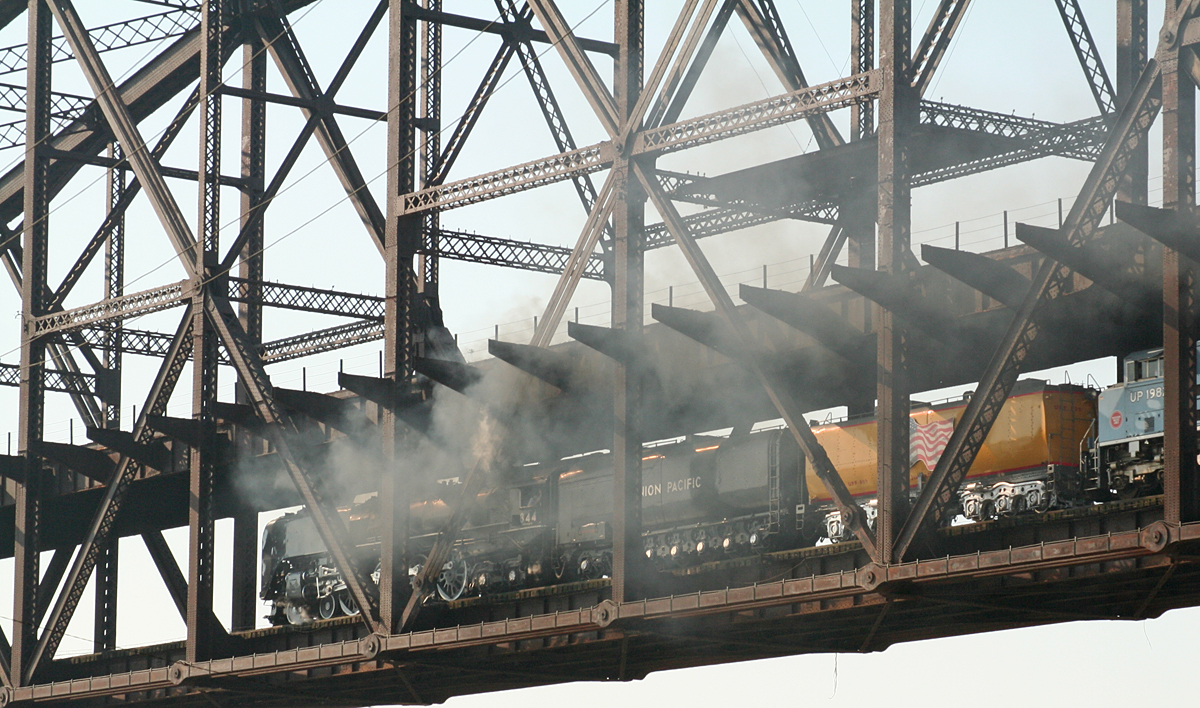 While waiting for the arrival of UP 844, a SB train headed by a Ferromex locomotive heads south into UP's yard in Dupo IL.  Fans are evident everywhere!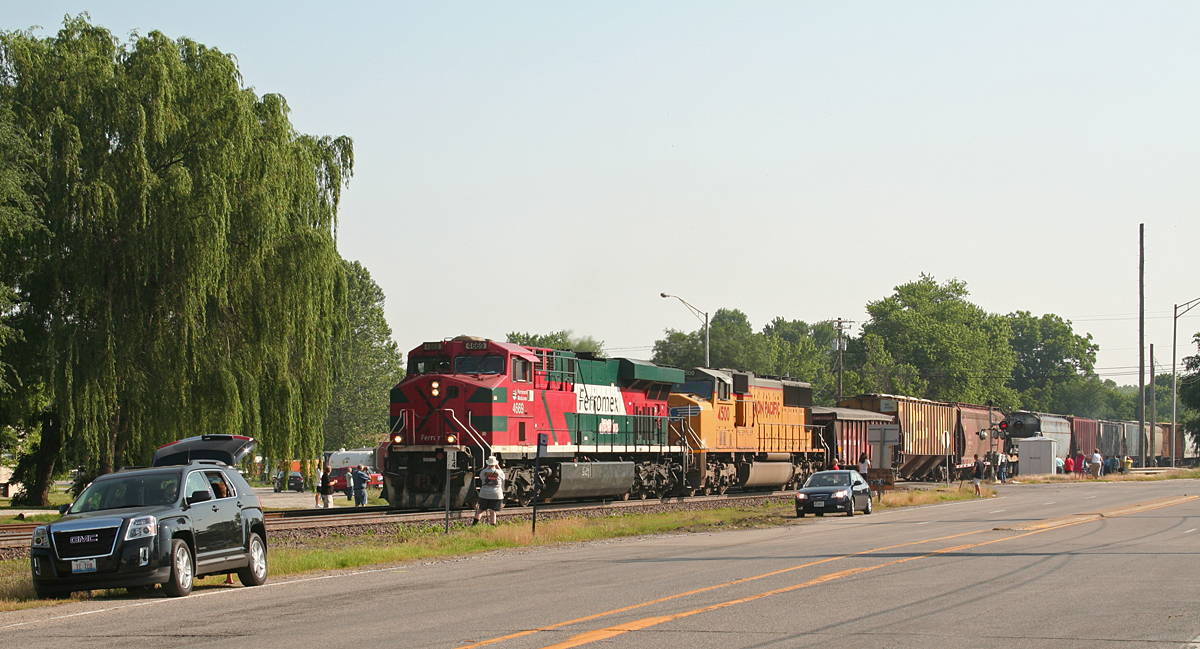 UP 844 arrives at Dupo IL. Guy in truck just pulled out as train arrived.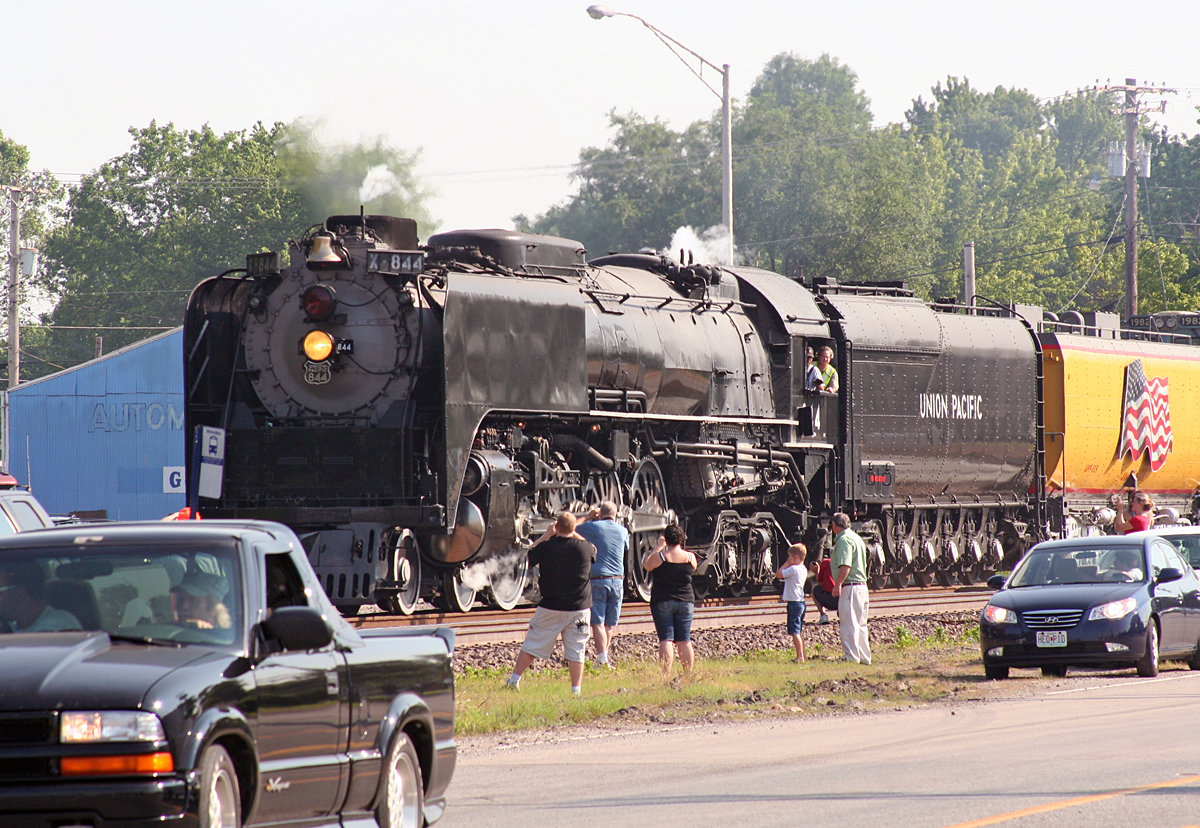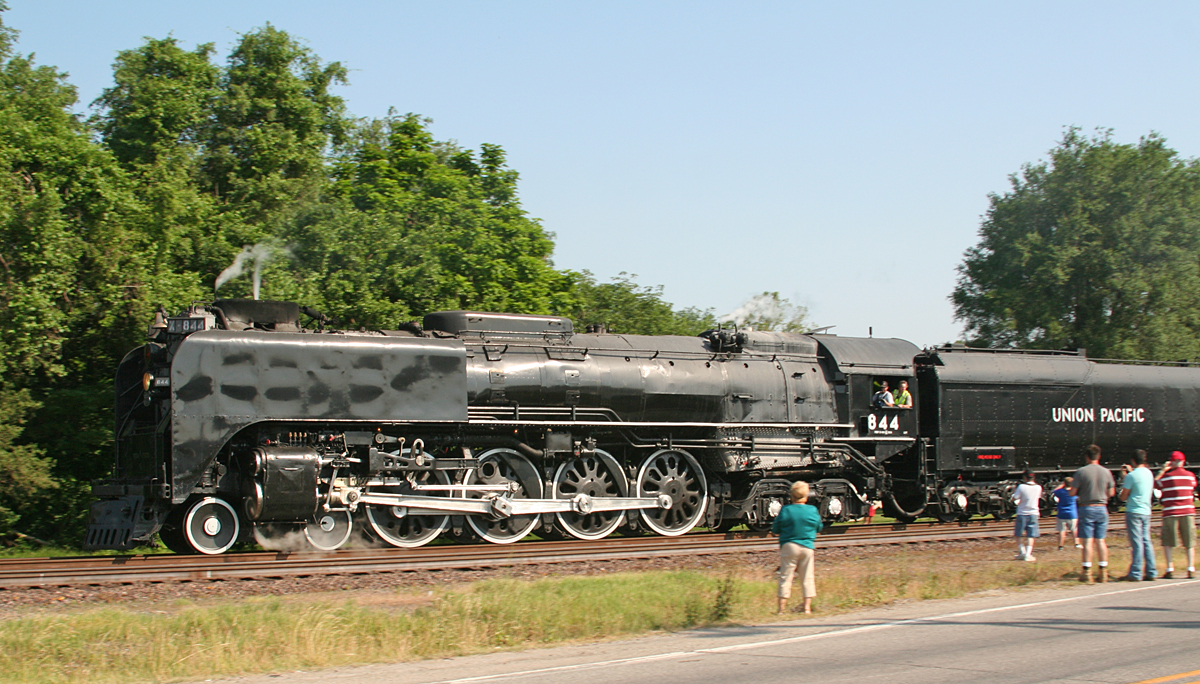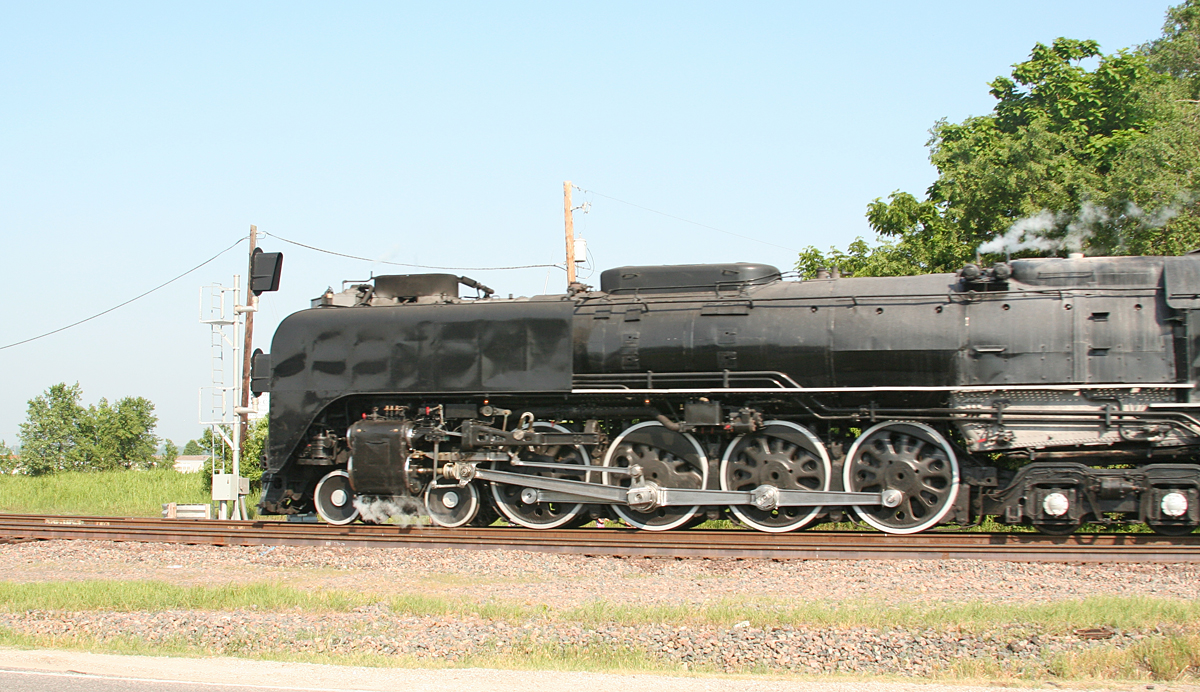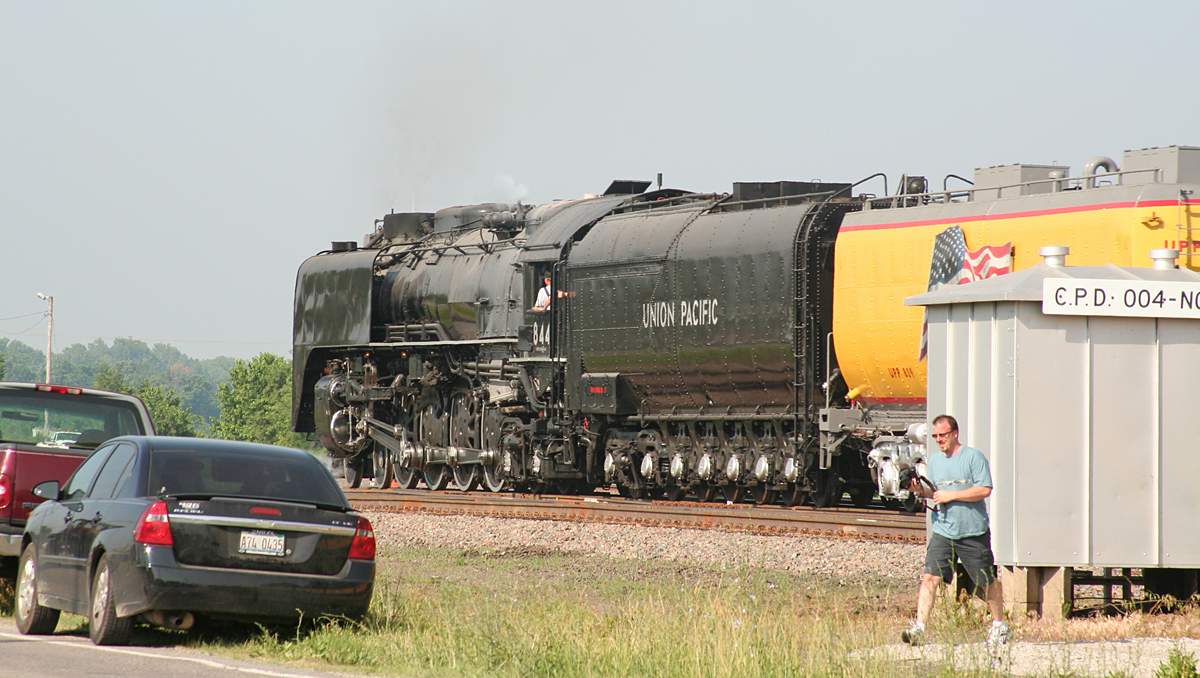 Railfans gather on the Highway 51 bridge in Chester IL. About 10 minutes before UP 844 arrived, a police cruiser arrived and told them to leave the bridge as it was unsafe for pedestrians (no sidewalks). After the cruiser left, many returned to their positions on the bridge. Nothing was gonna stop them from their appointed rounds!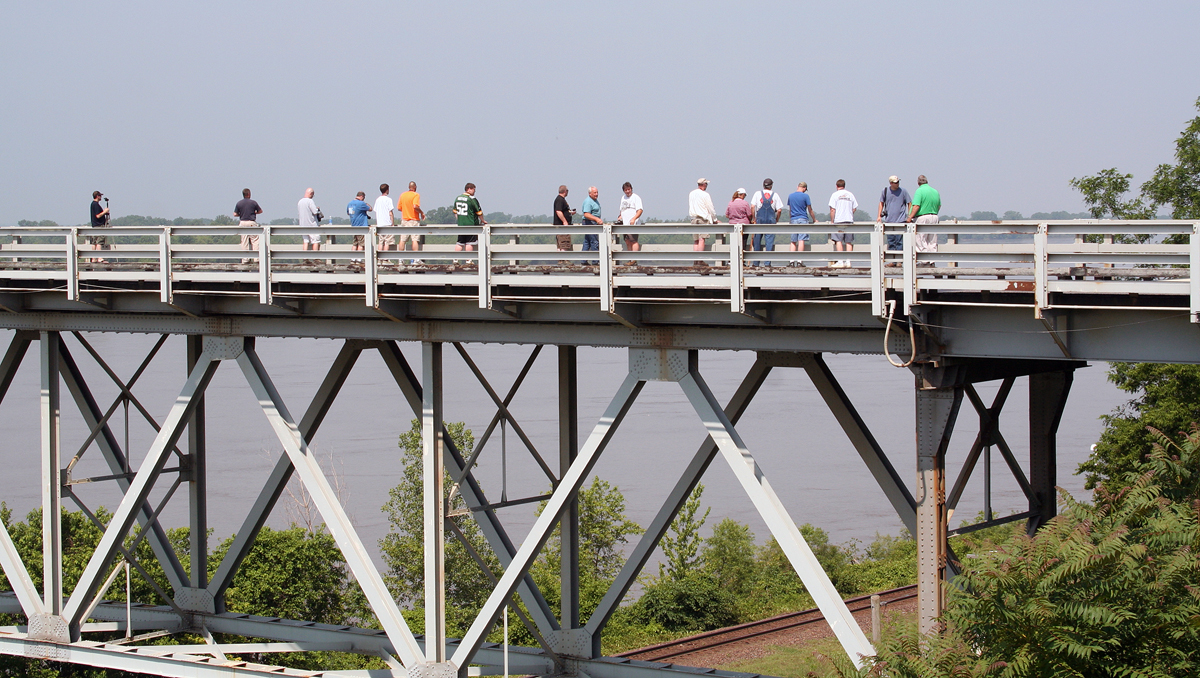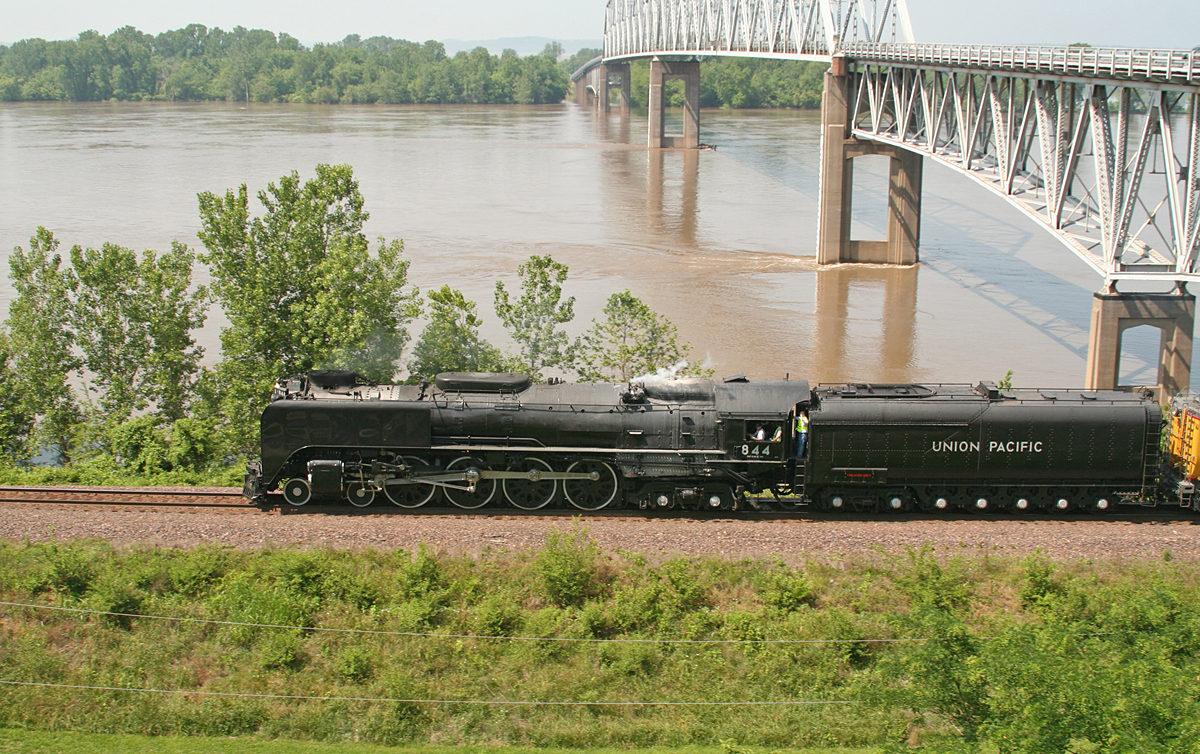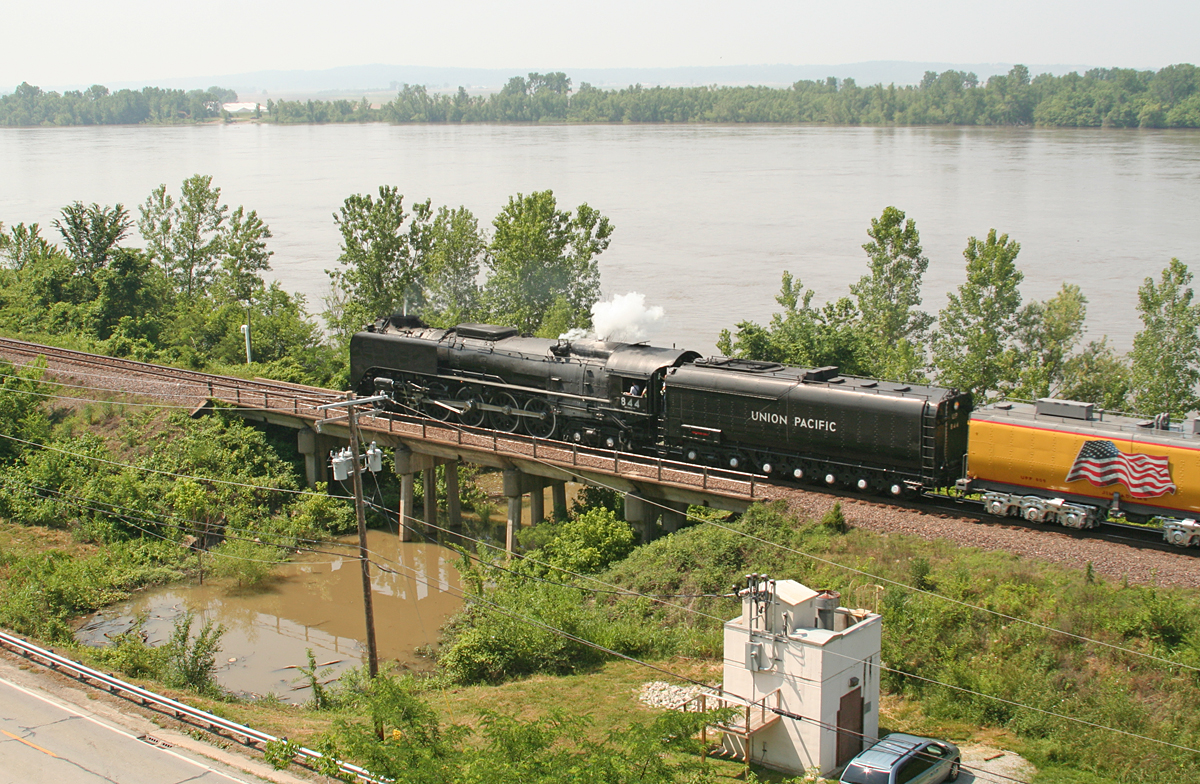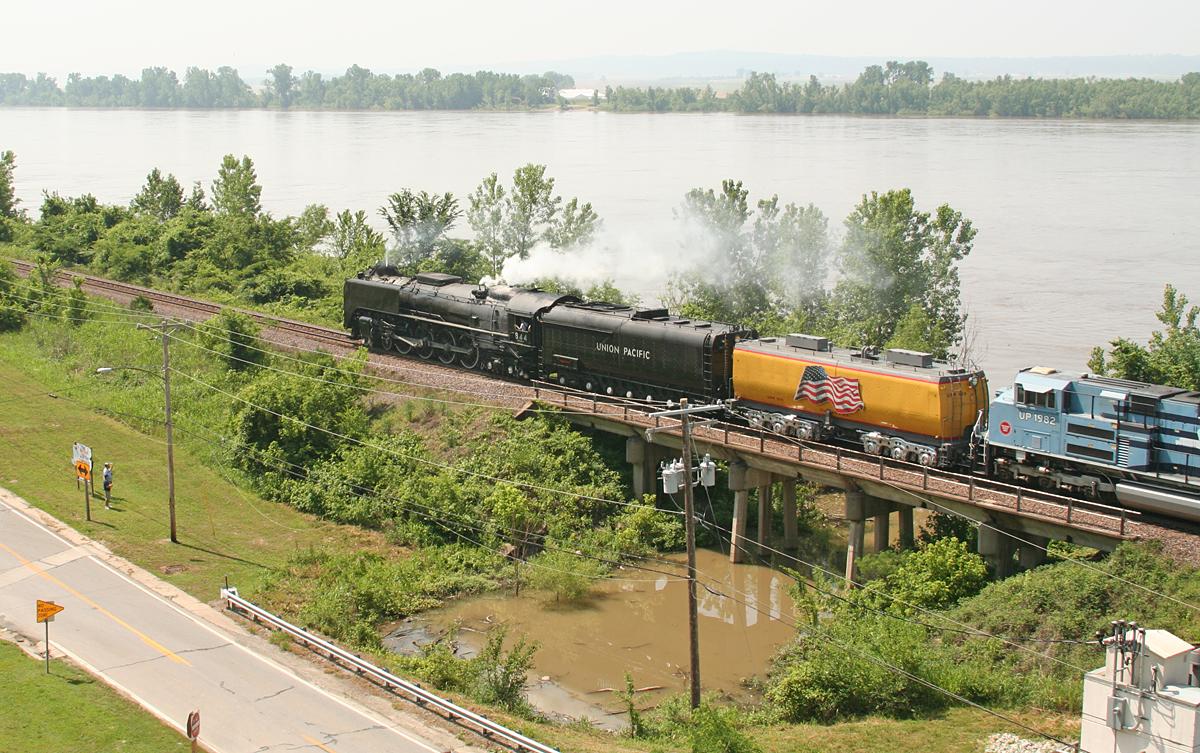 Jones Ridge IL.  The day before we caught three trains here.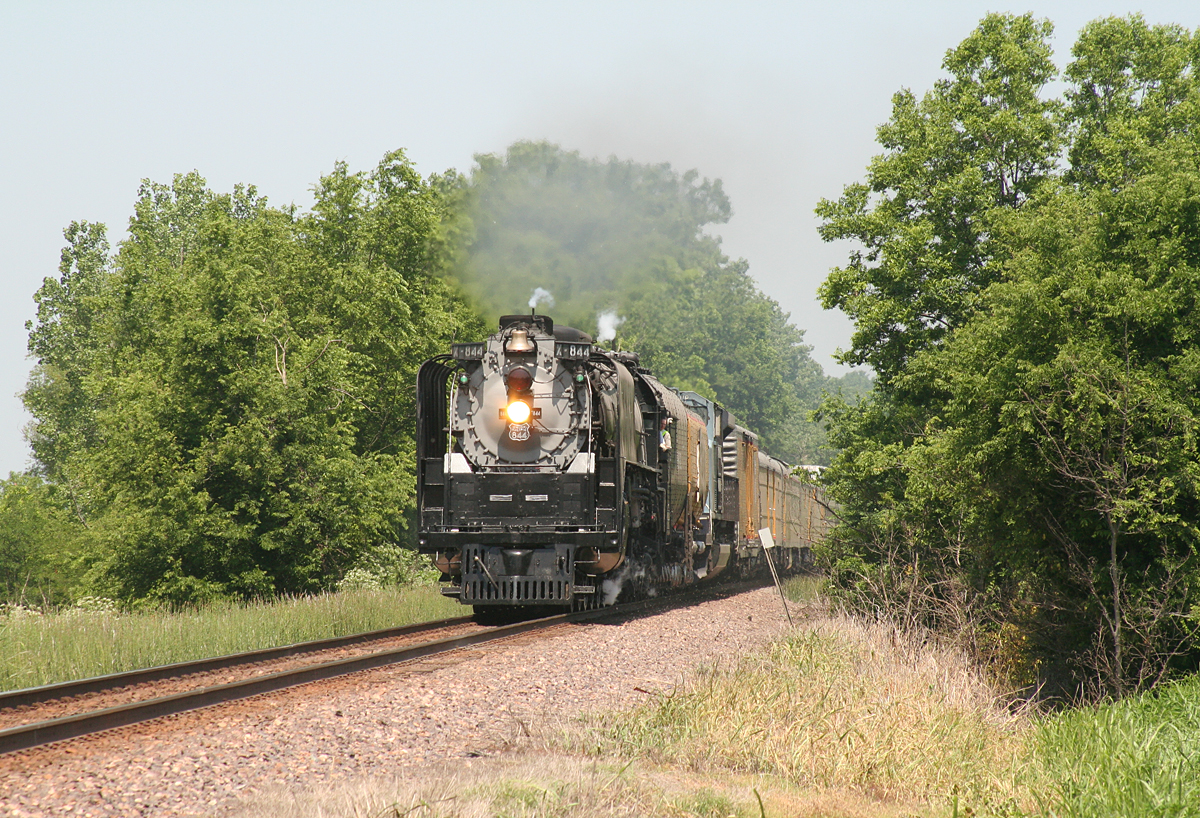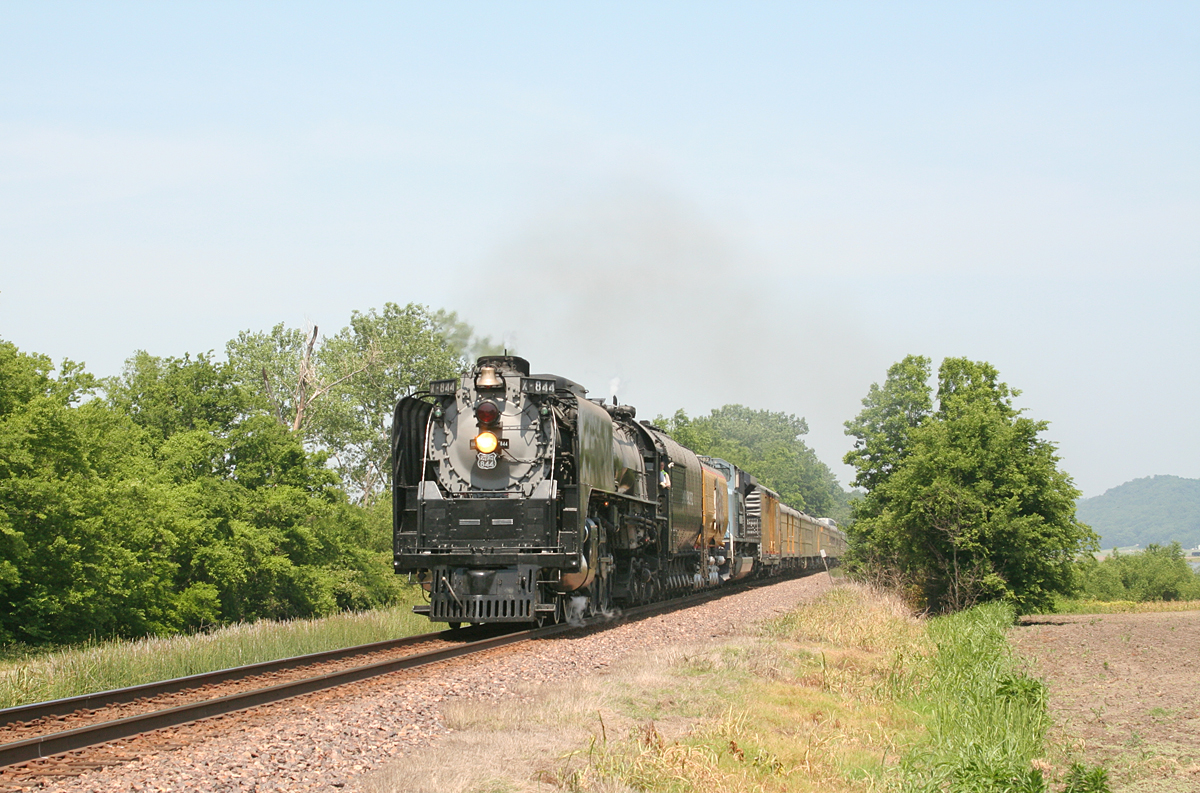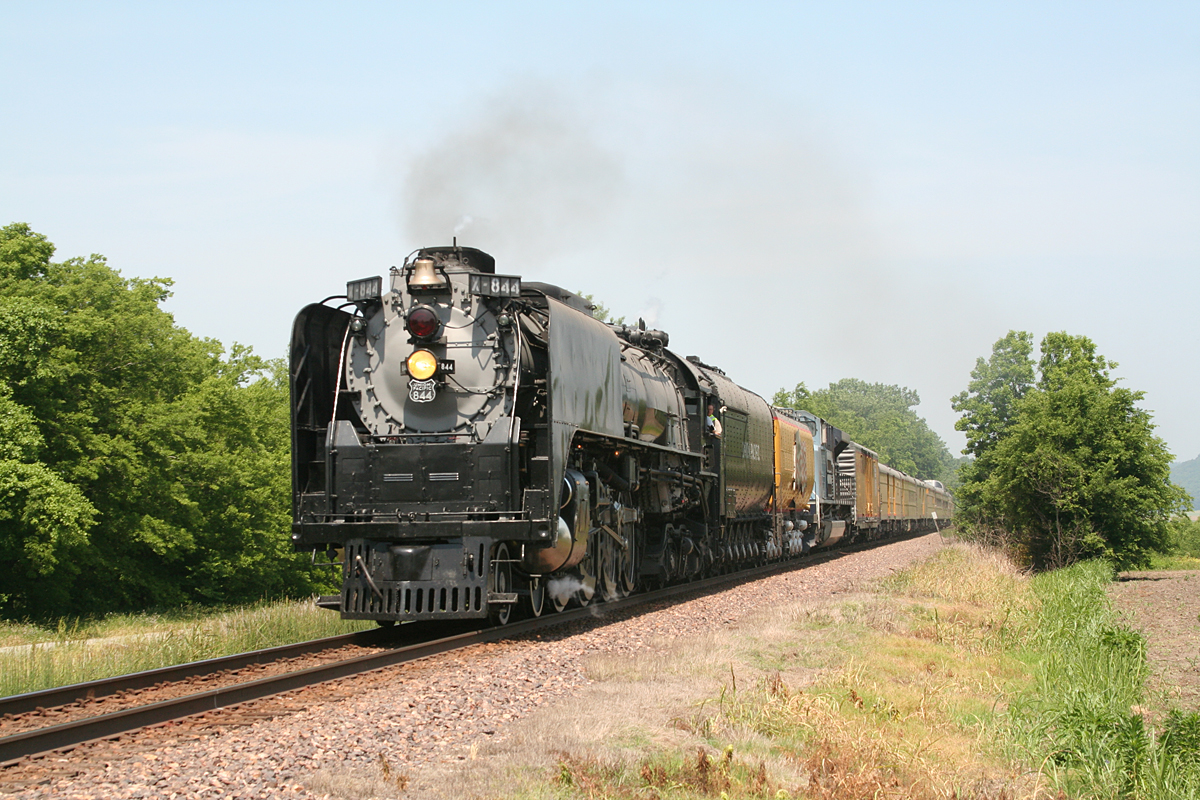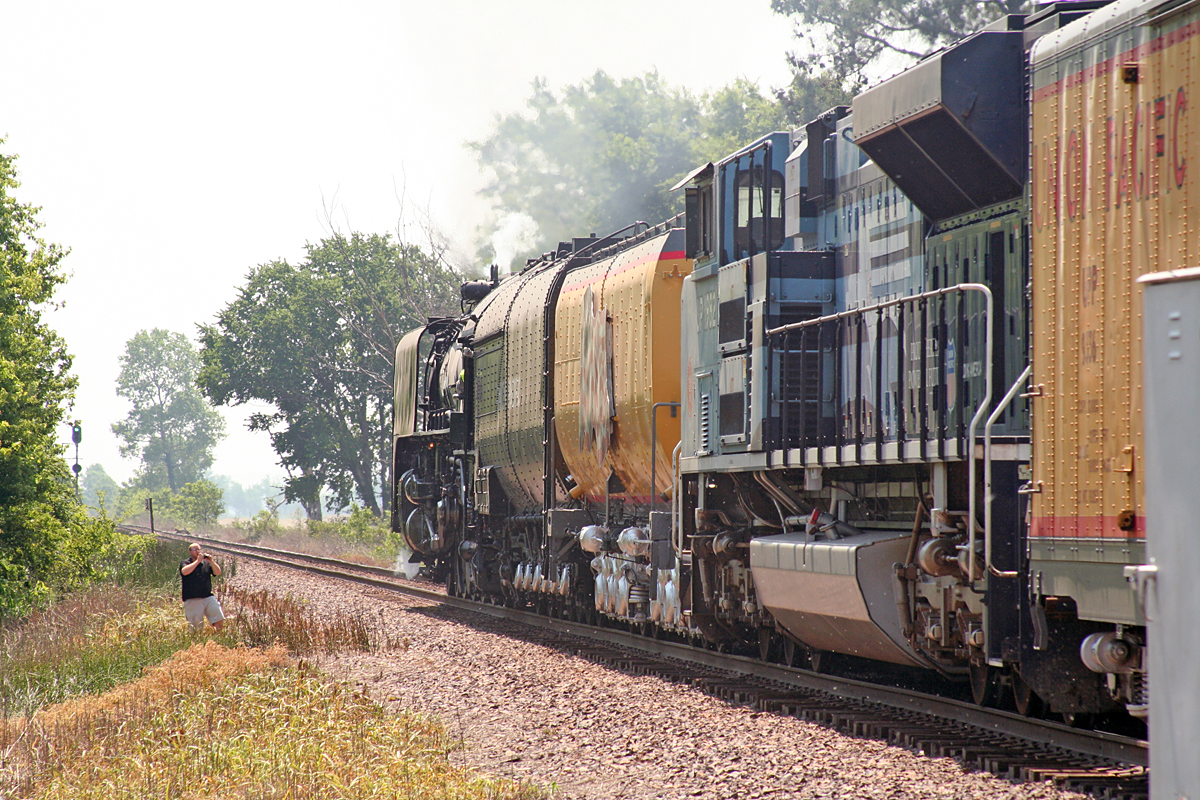 While waiting on the levee road for our steamer, this intermodal train came thru. He stopped at an intermediate red then proceeded south. The bridge is over the the Big Muddy river. Location is Aldridge IL
Lots of railfans gather and wait for about an hour or so.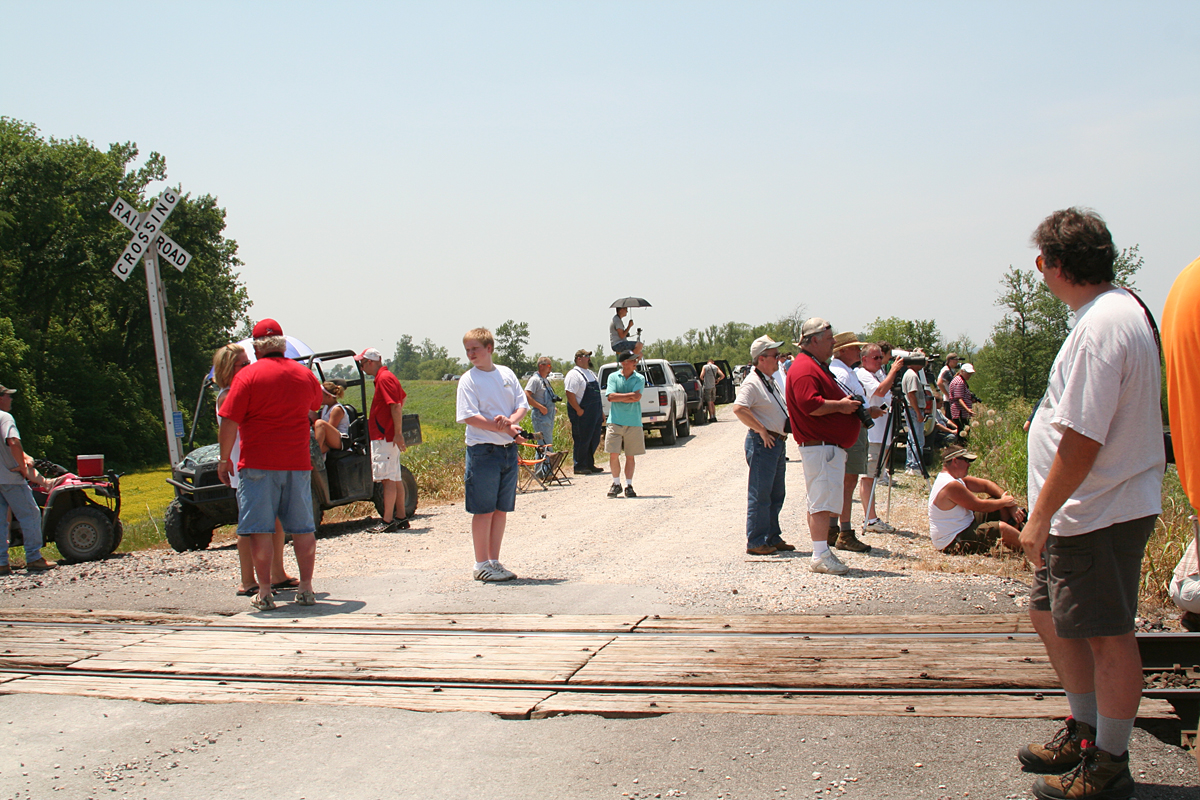 | | |
| --- | --- |
| And she came slowly as she got stopped at the intermediate signal too. | |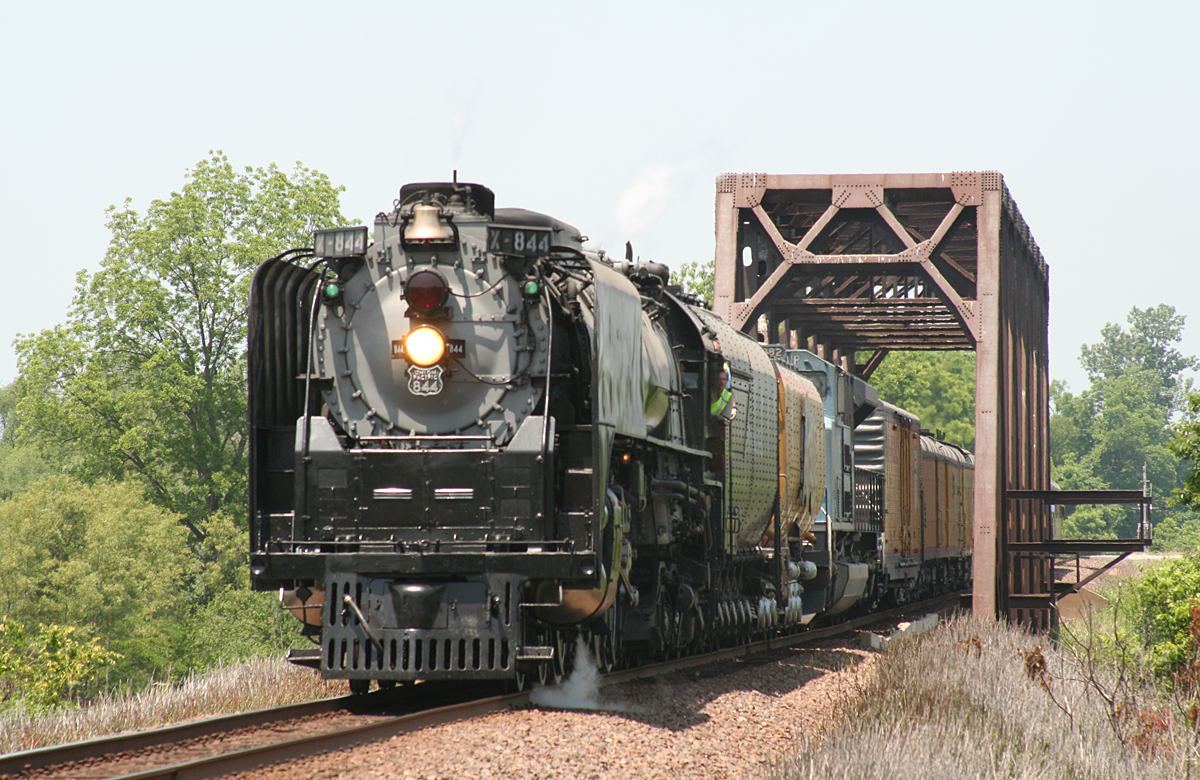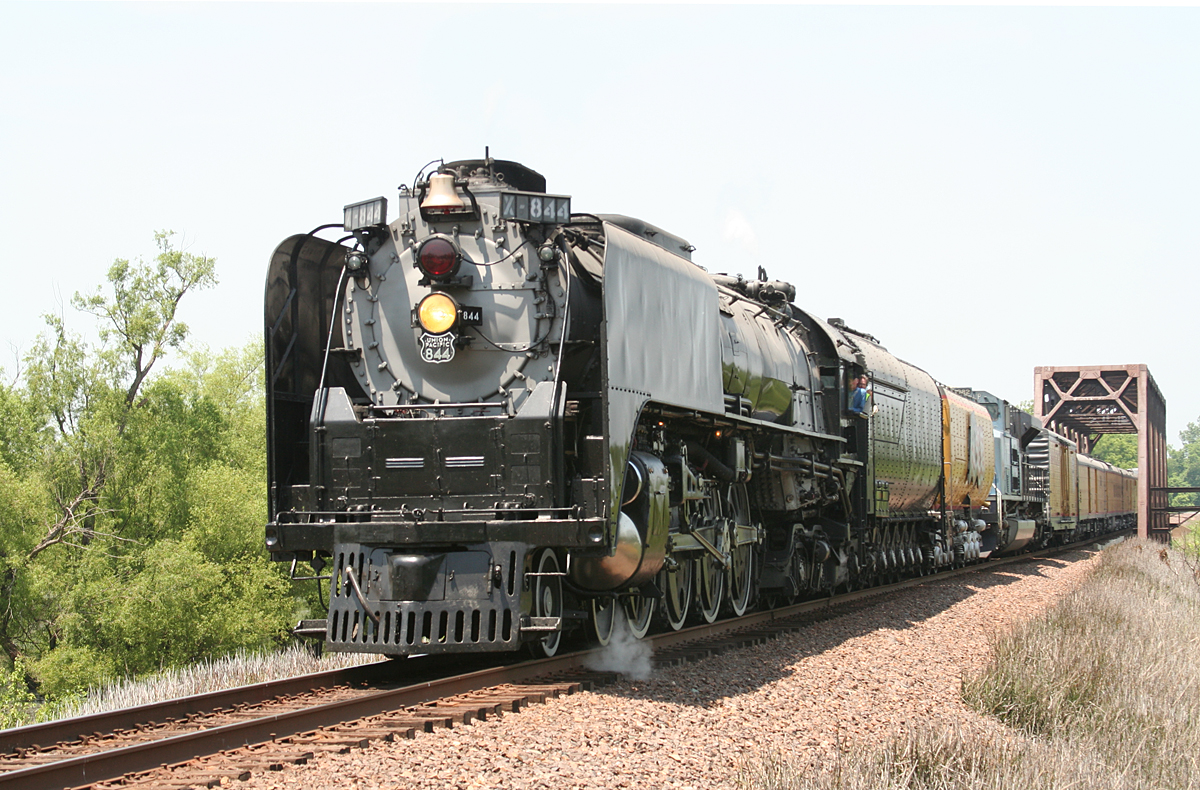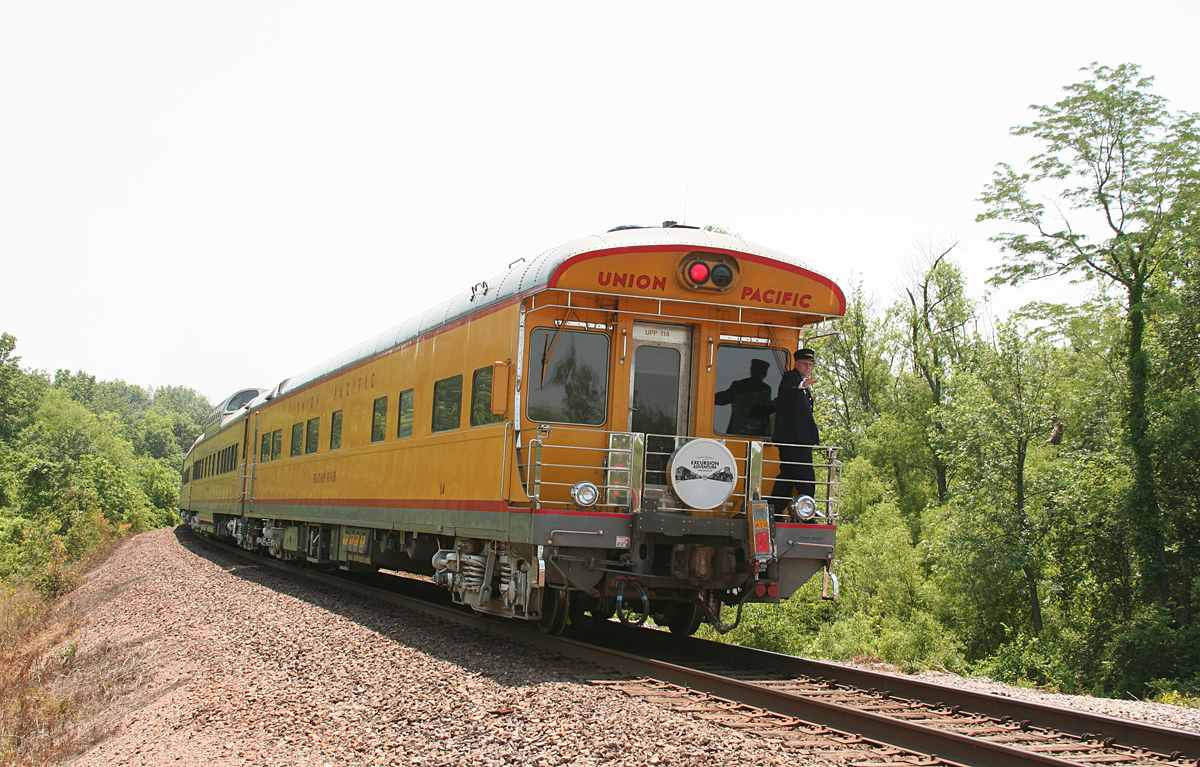 UP 844 coming out from the old MoPac signal bridges at Wolf Lake IL.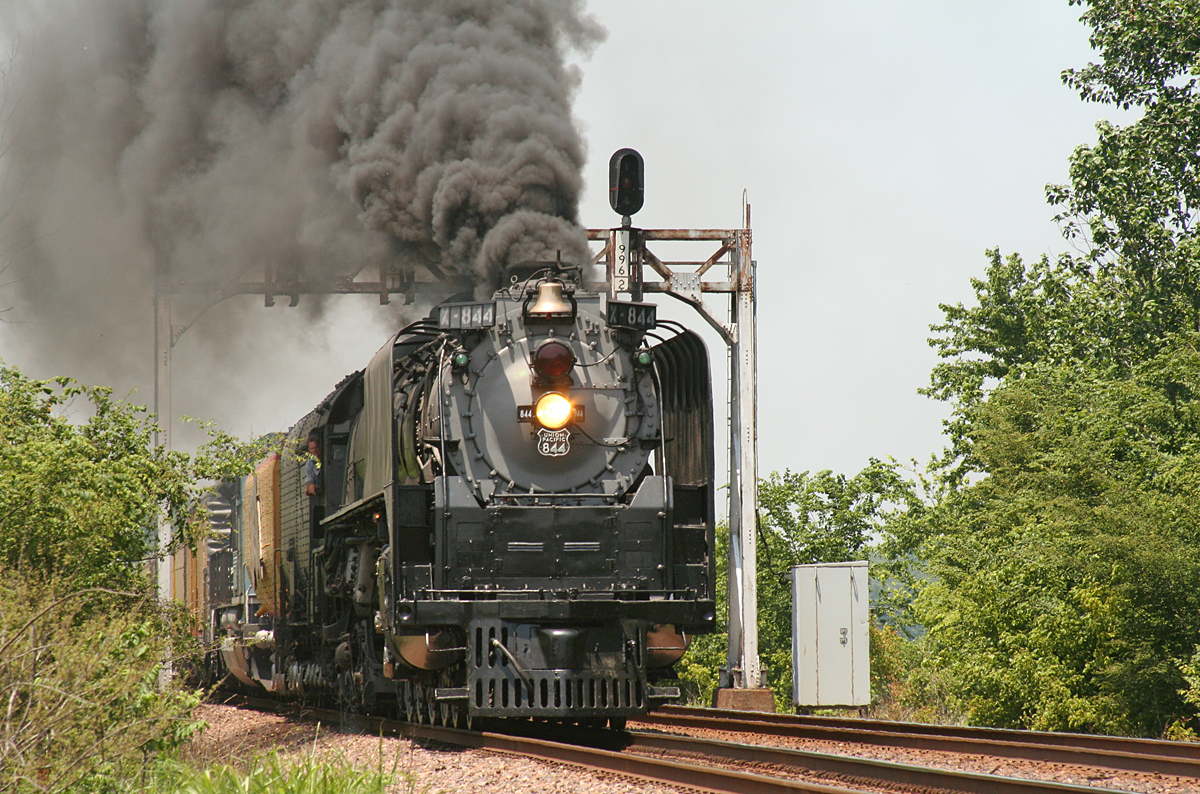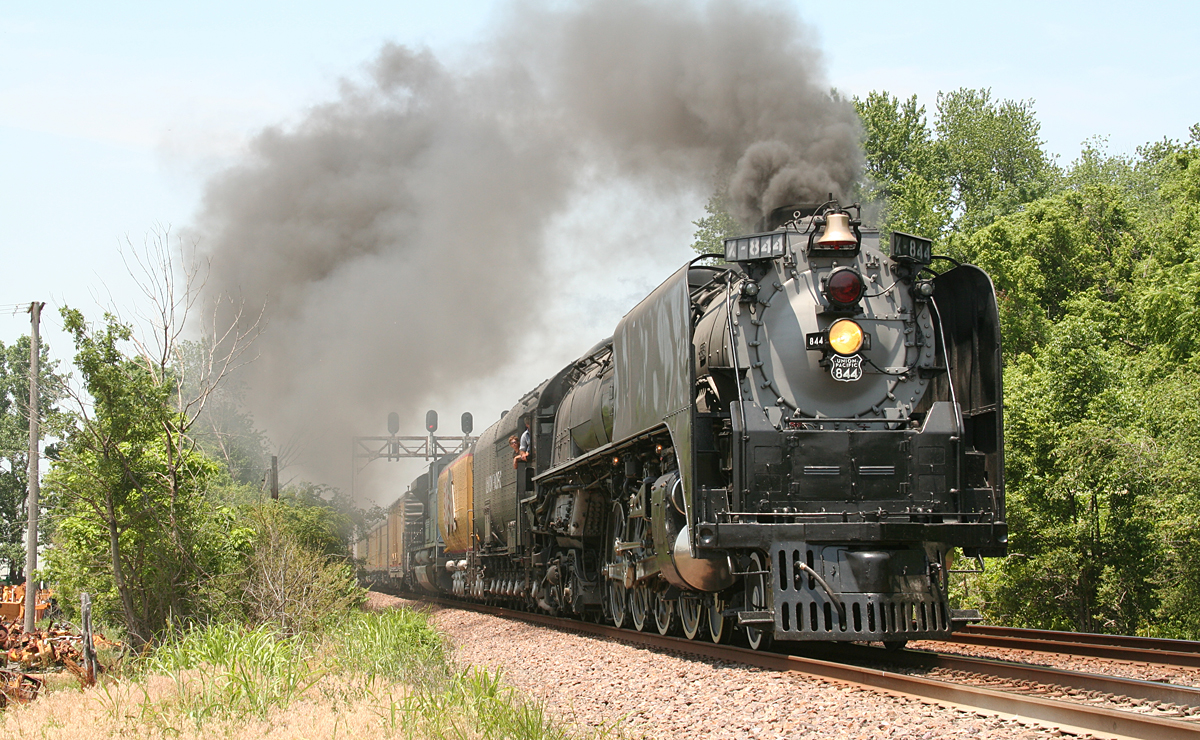 Lucky kid!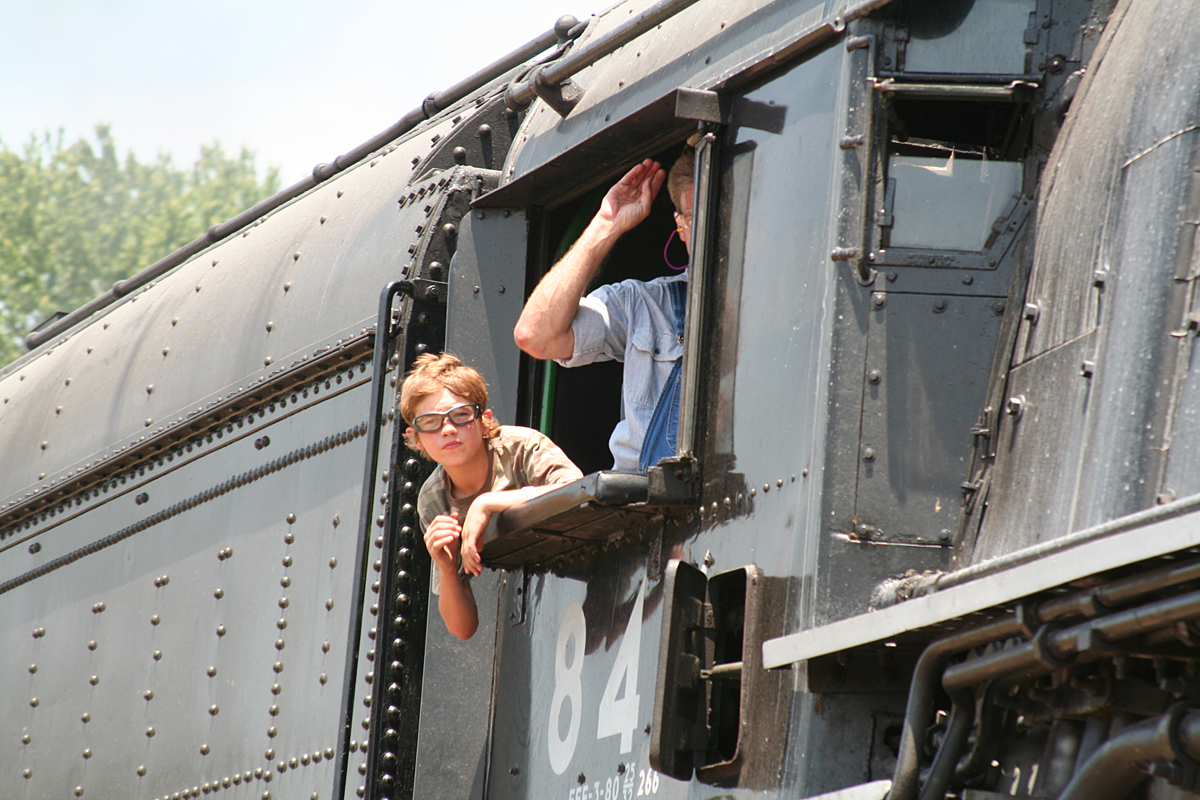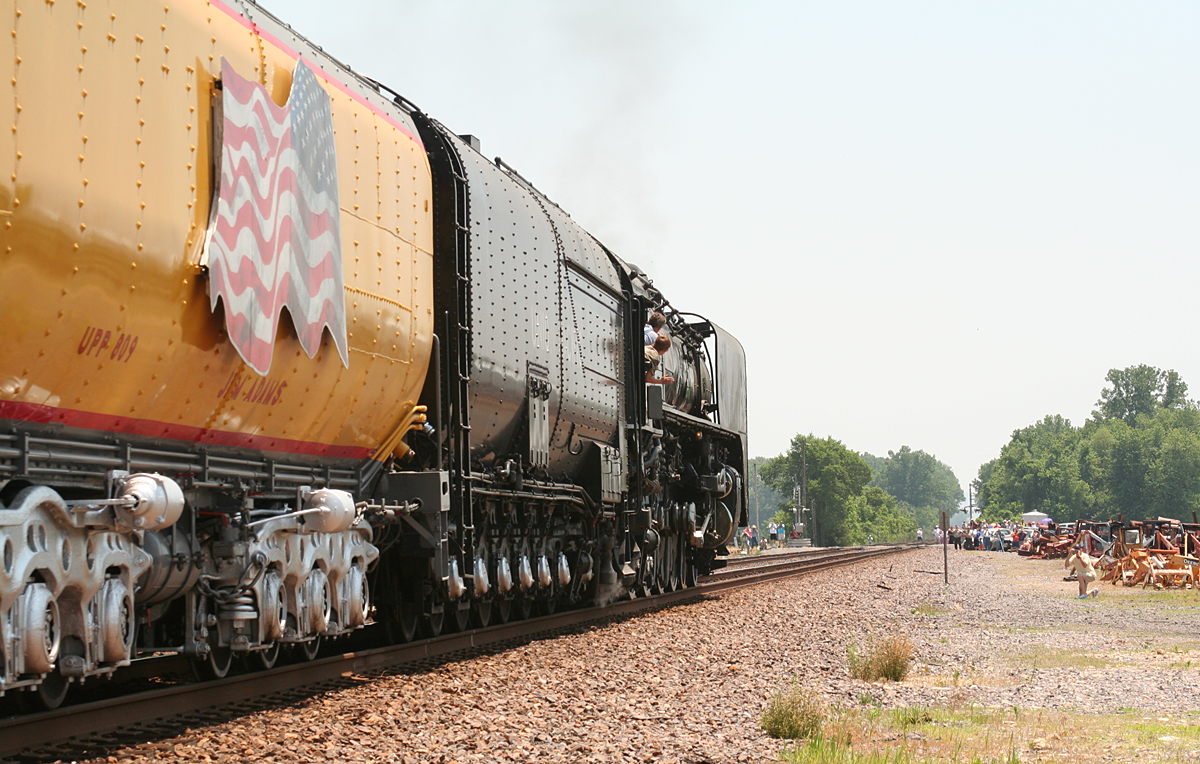 Conductor waving at the throngs of fans!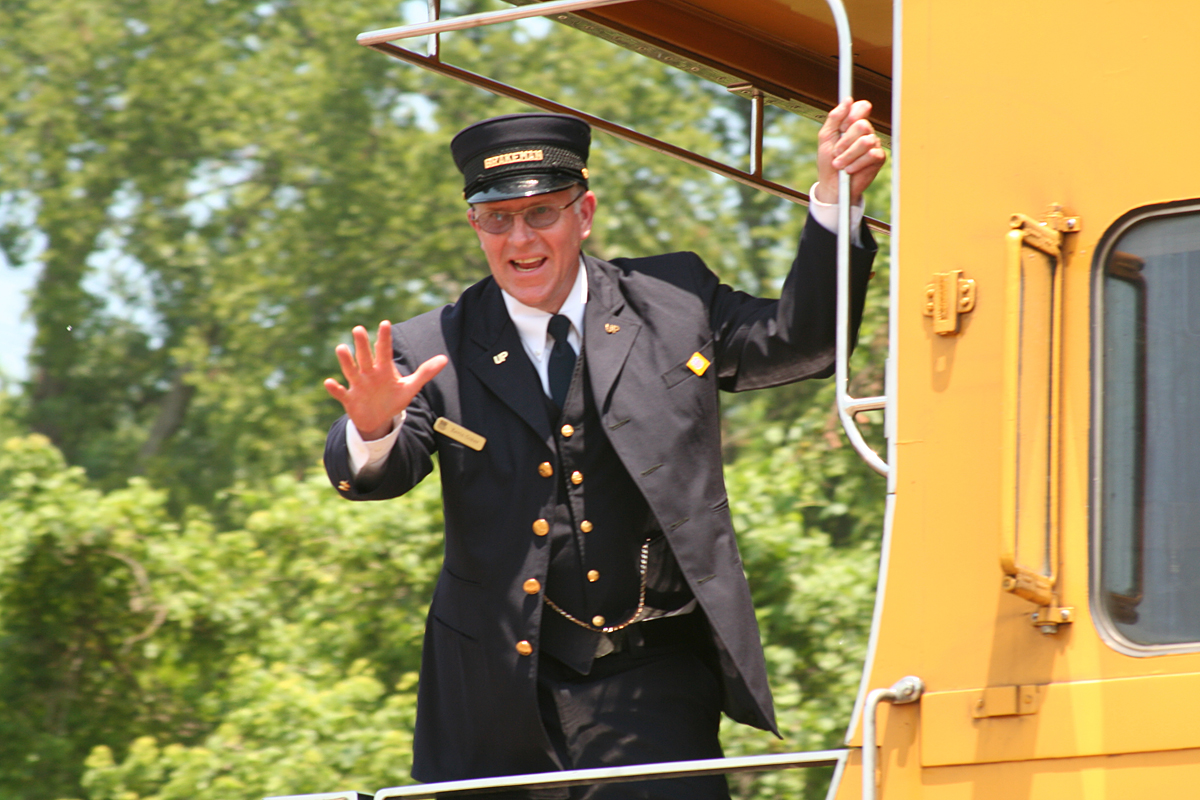 Big thumbs up!
Picturesque location for photography. This is just south of Wolf Lake IL.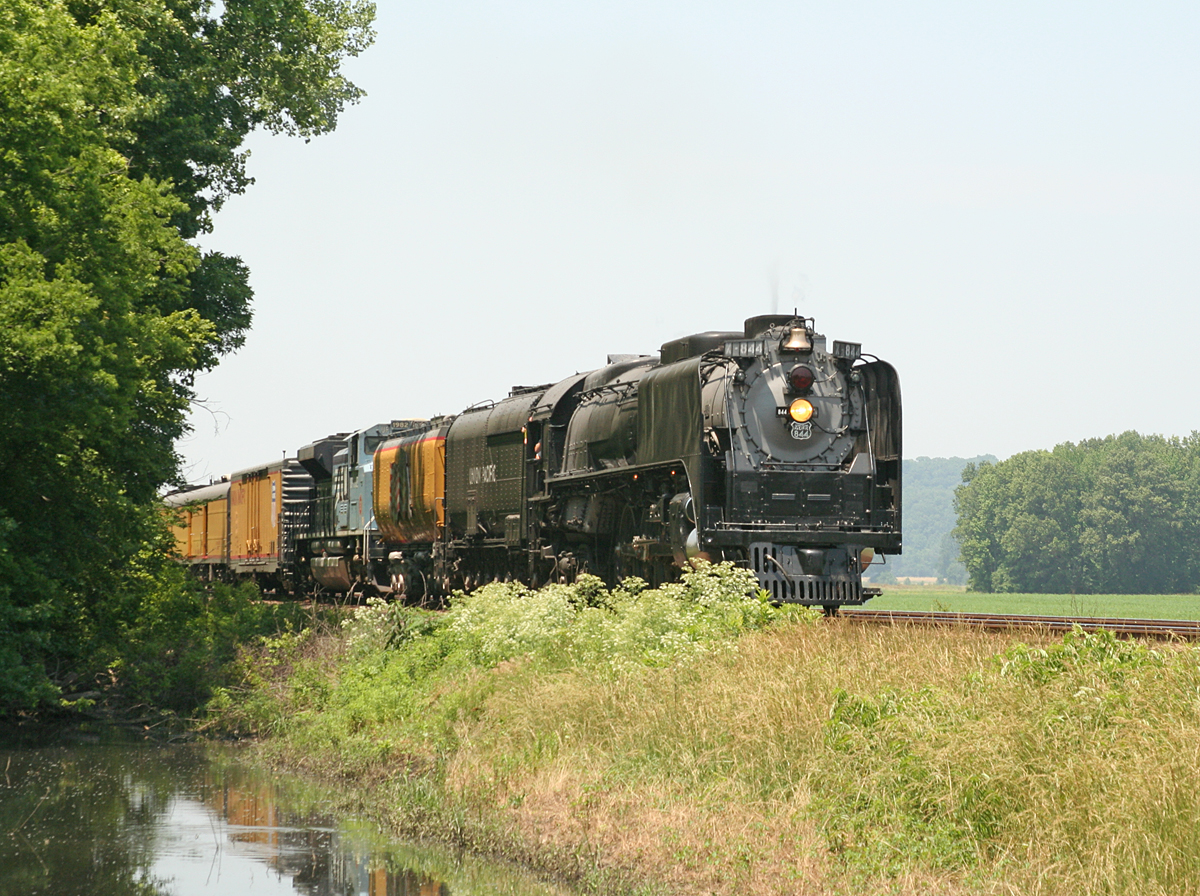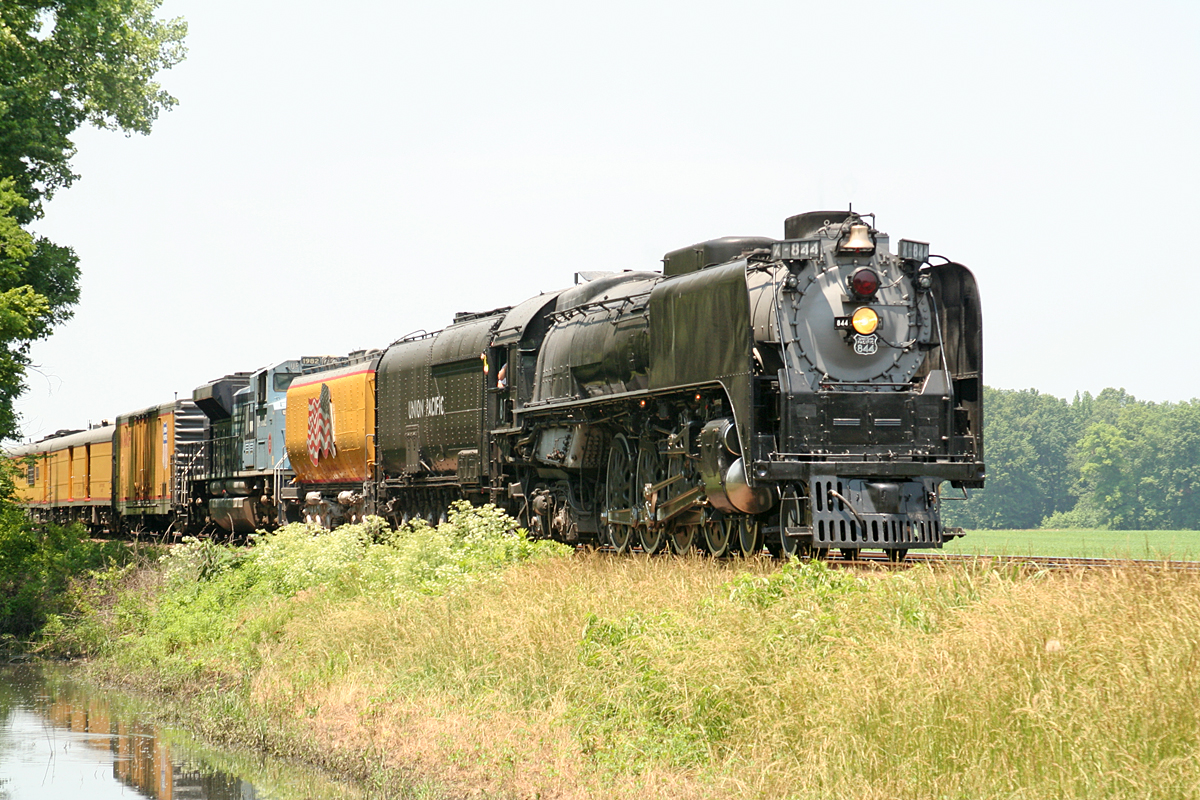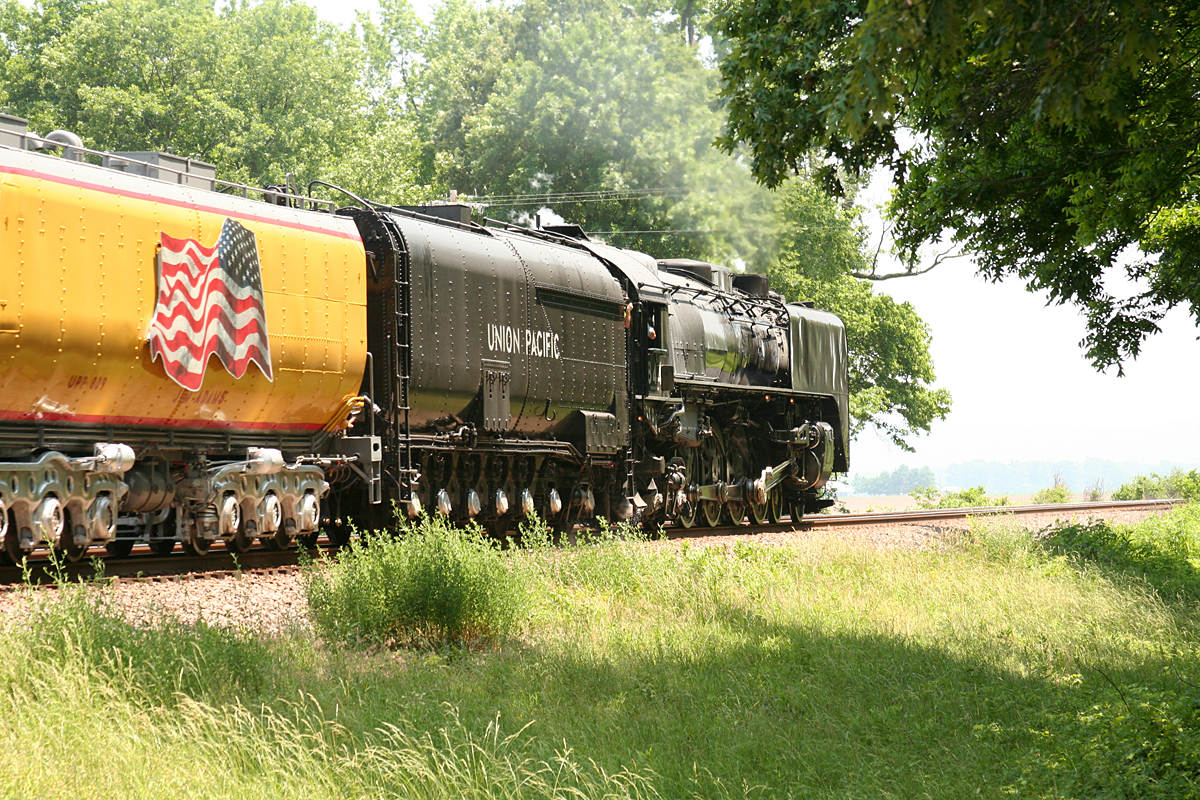 Ware IL. Shot with the Hubble Scope! That is, a Canon 100 to 400 zoom.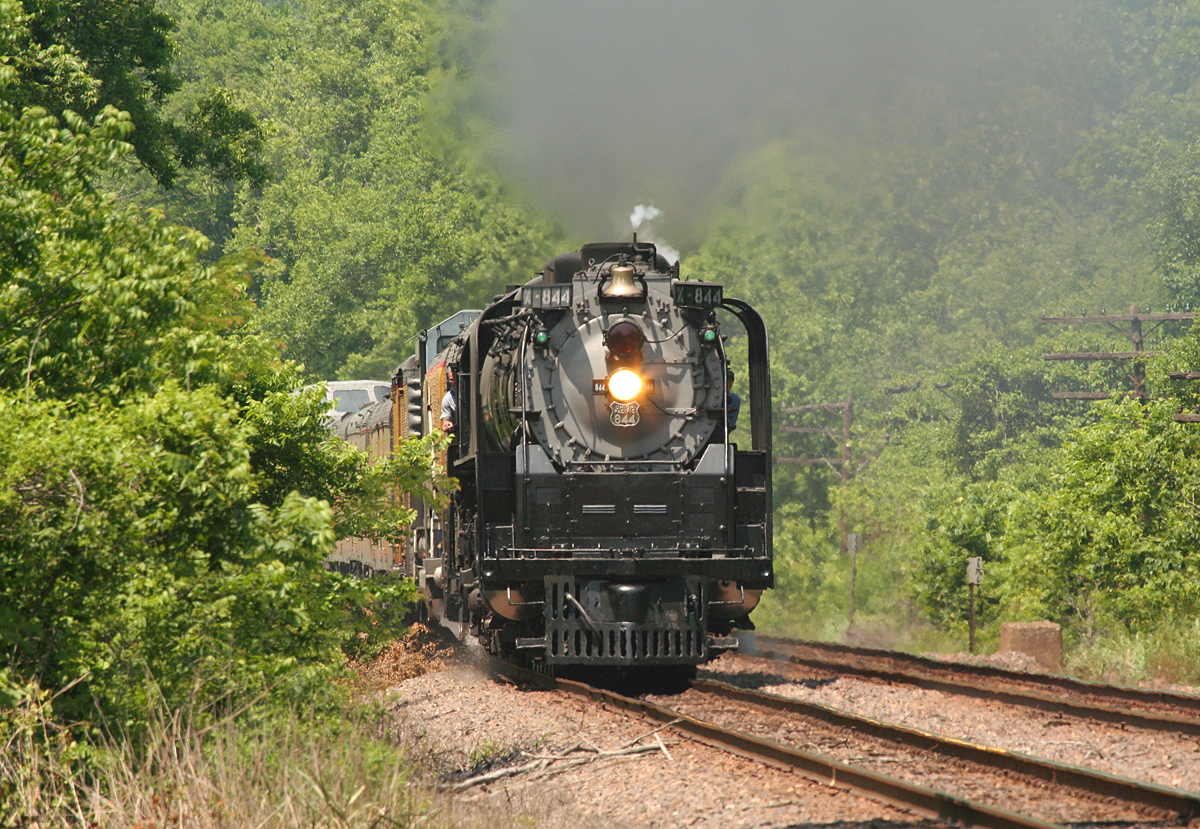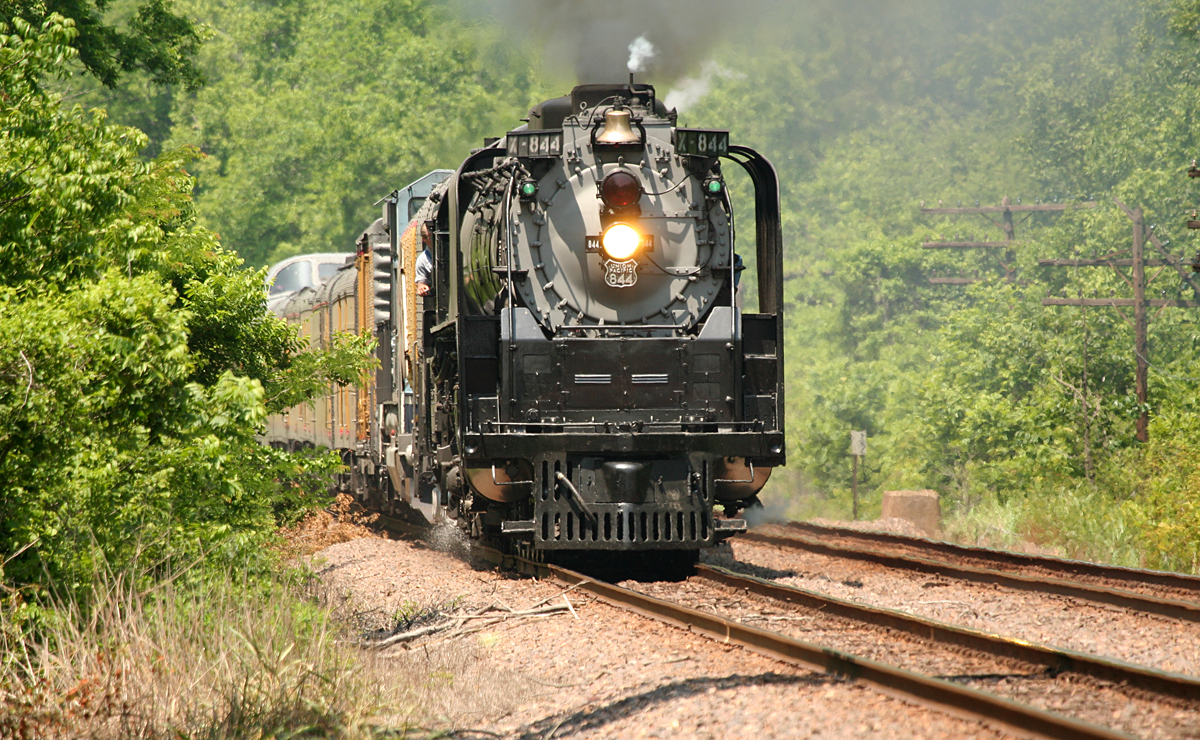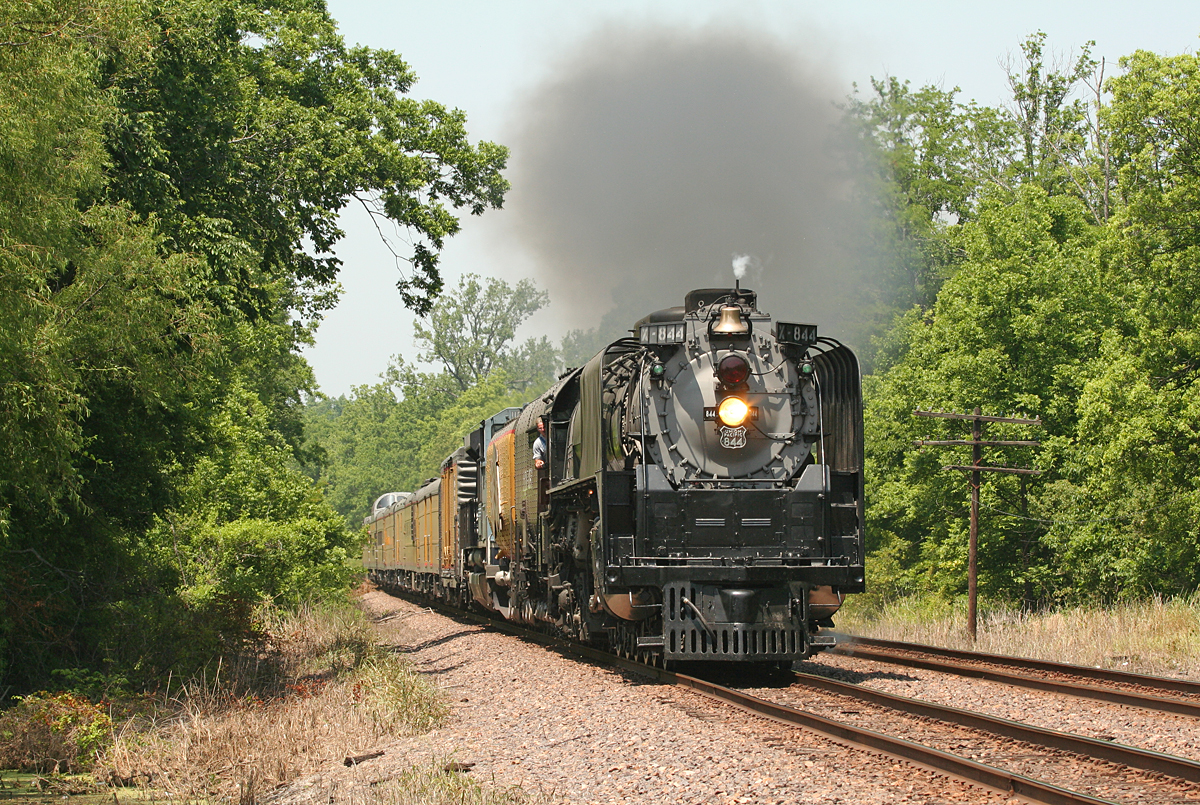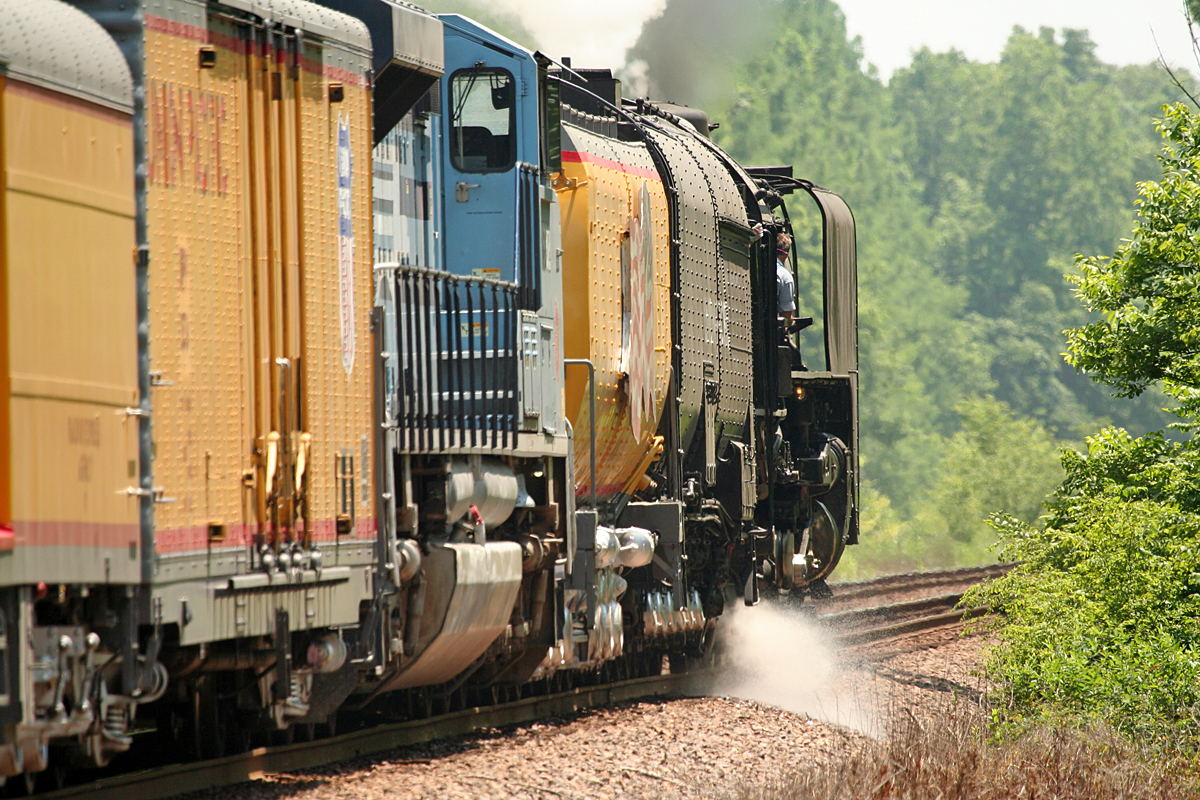 While waiting for UP 844, this BNSF mixed freight headed south on the BNSF's River Sub at Cape Girardeau MO.
The Little Rock Express is seen backing down to Cape Girardeau MO. She crossed the Mississippi River at Thebes IL and continued west to Rockview MO where she entered BNSF territory. She then backed all the way to Cape Girardeau.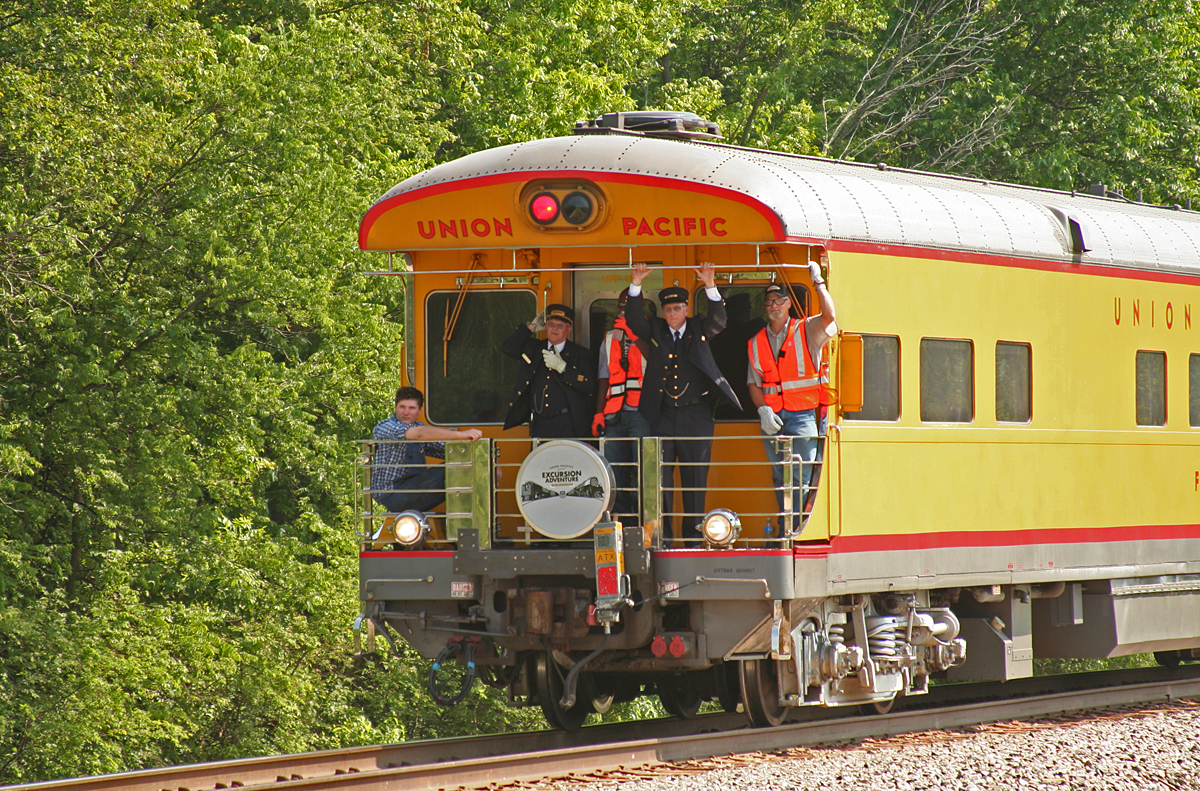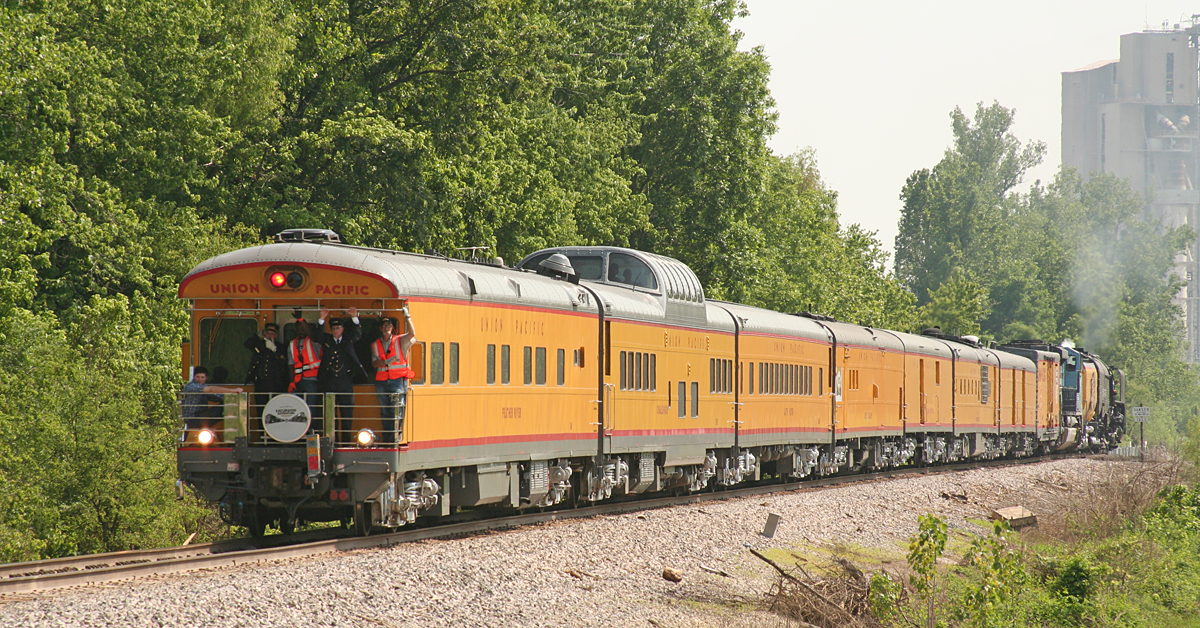 Reflections in the water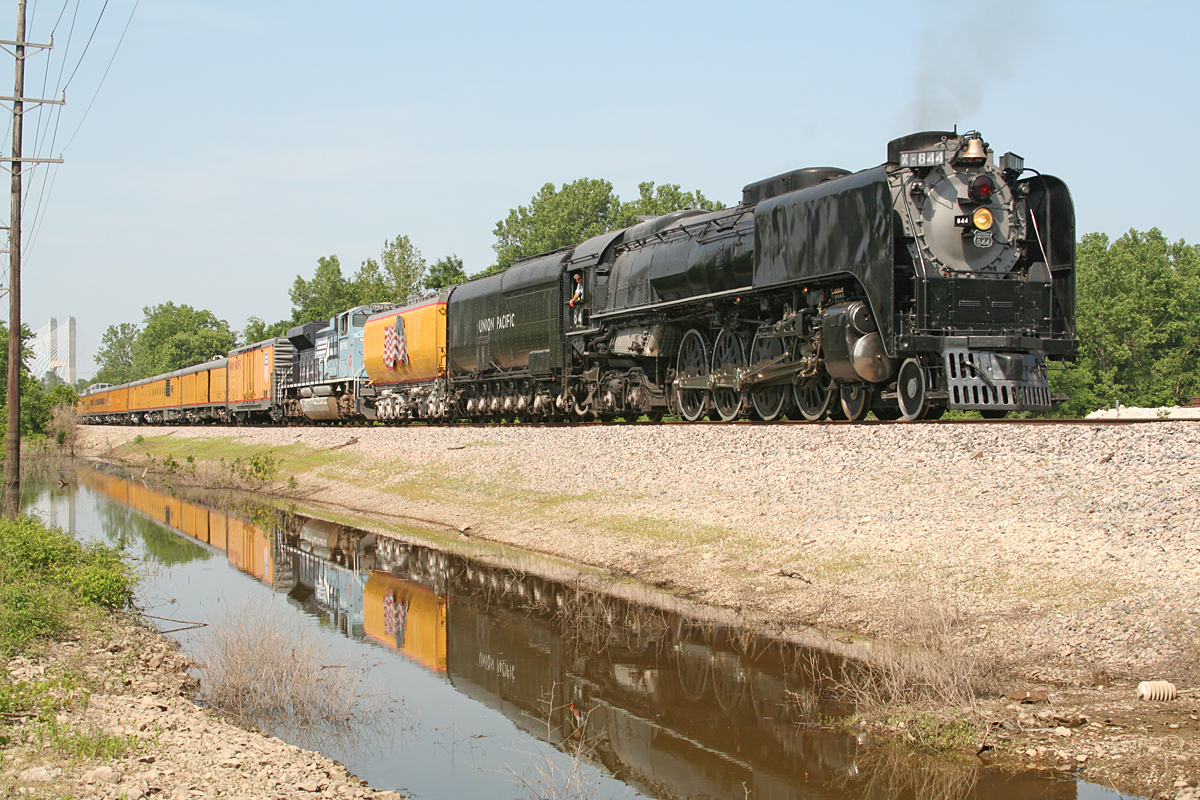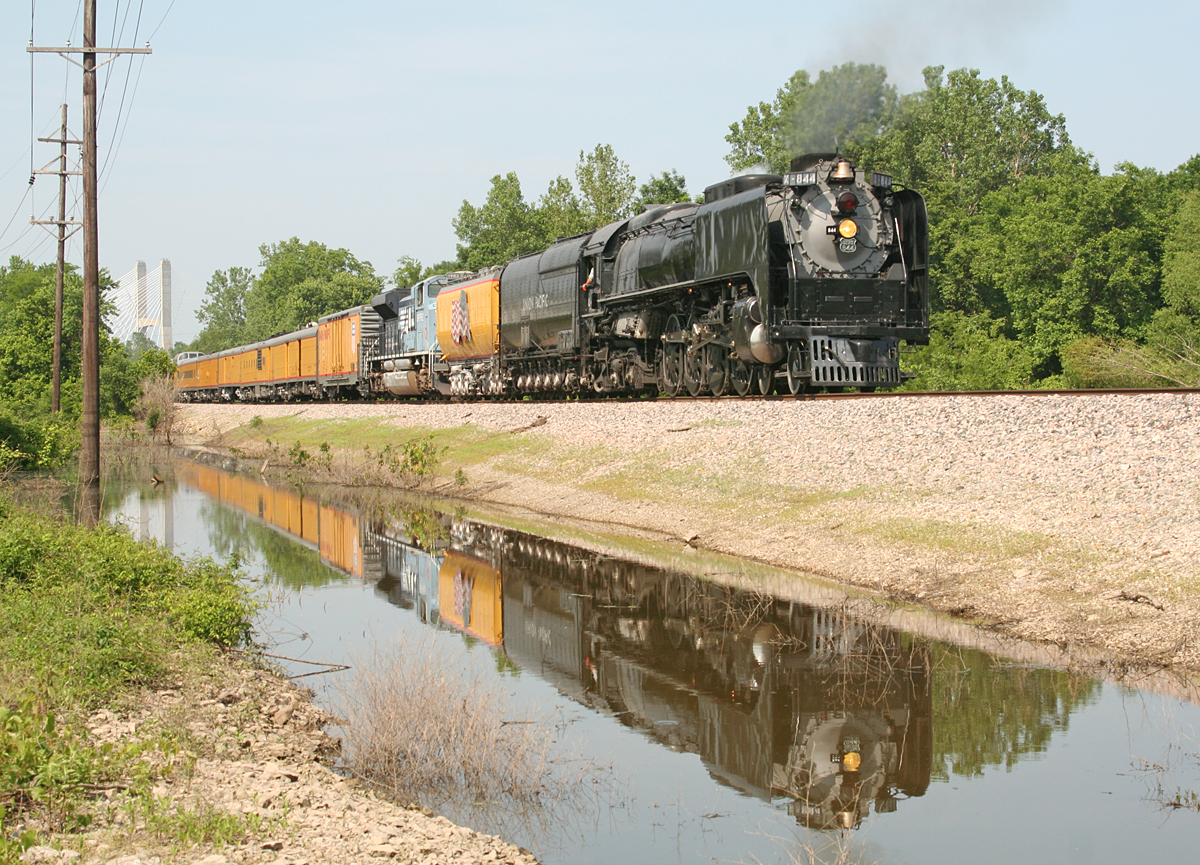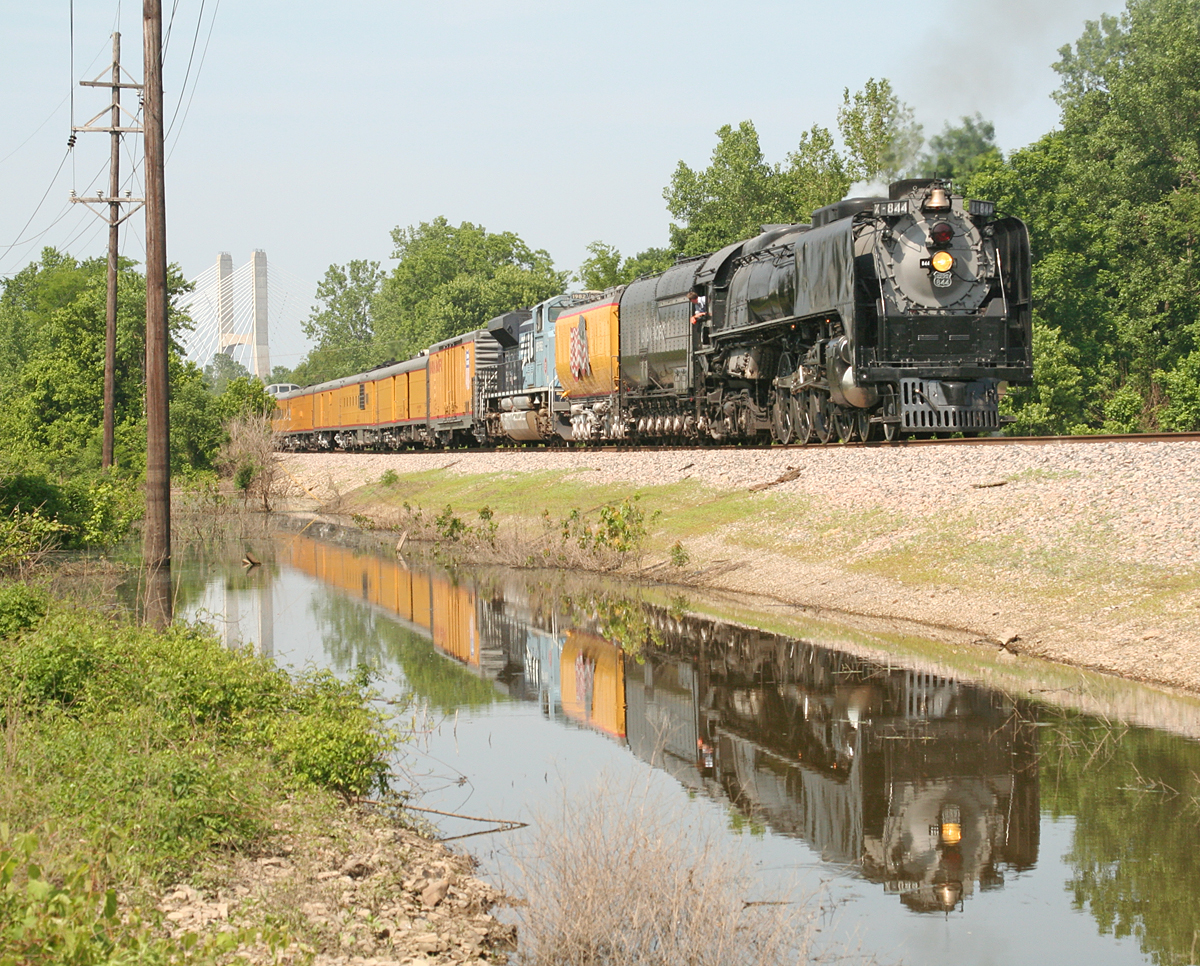 UP 844 in Cape Girardeau MO.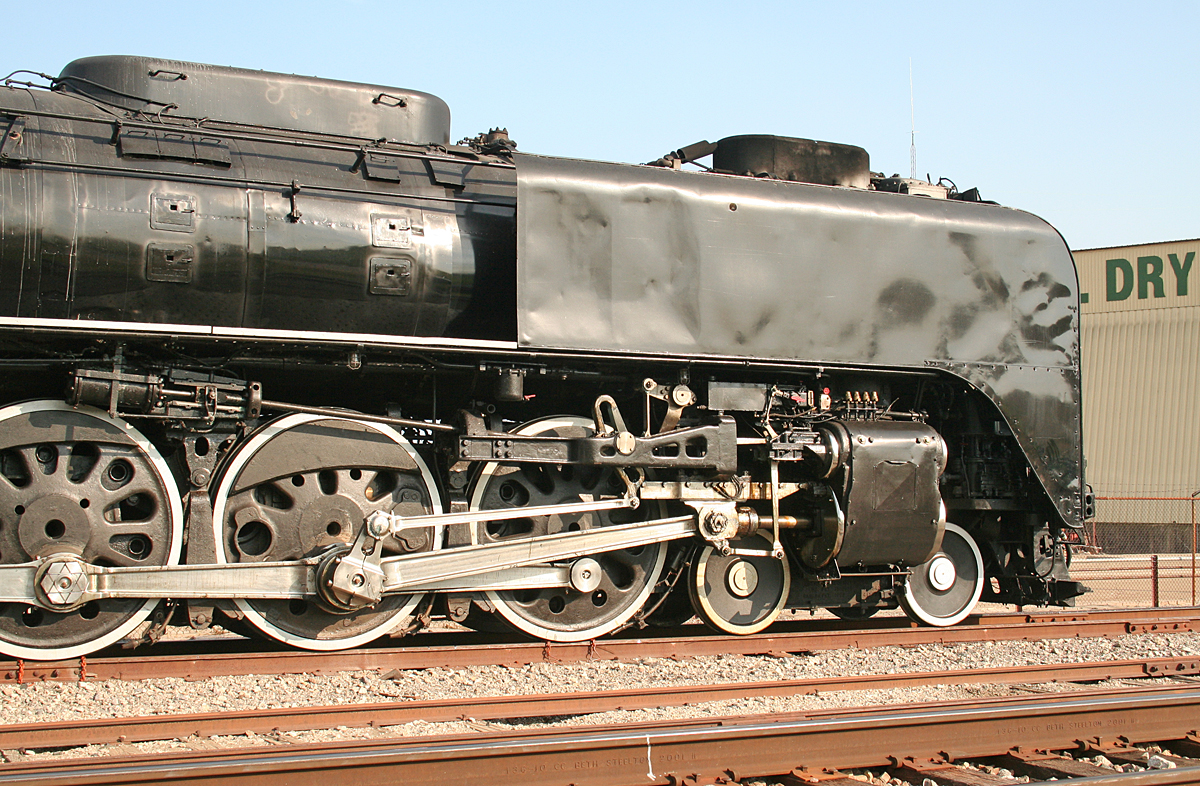 UP 844 with the new beautiful cable stayed bridge as a back drop.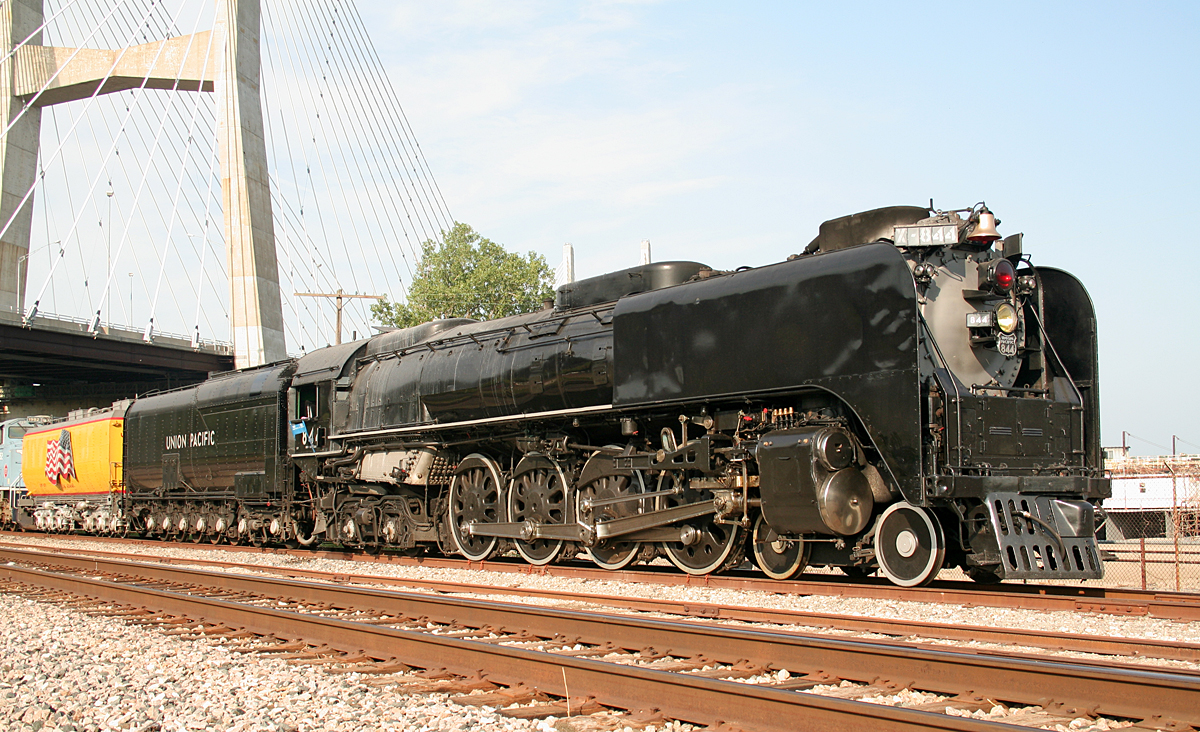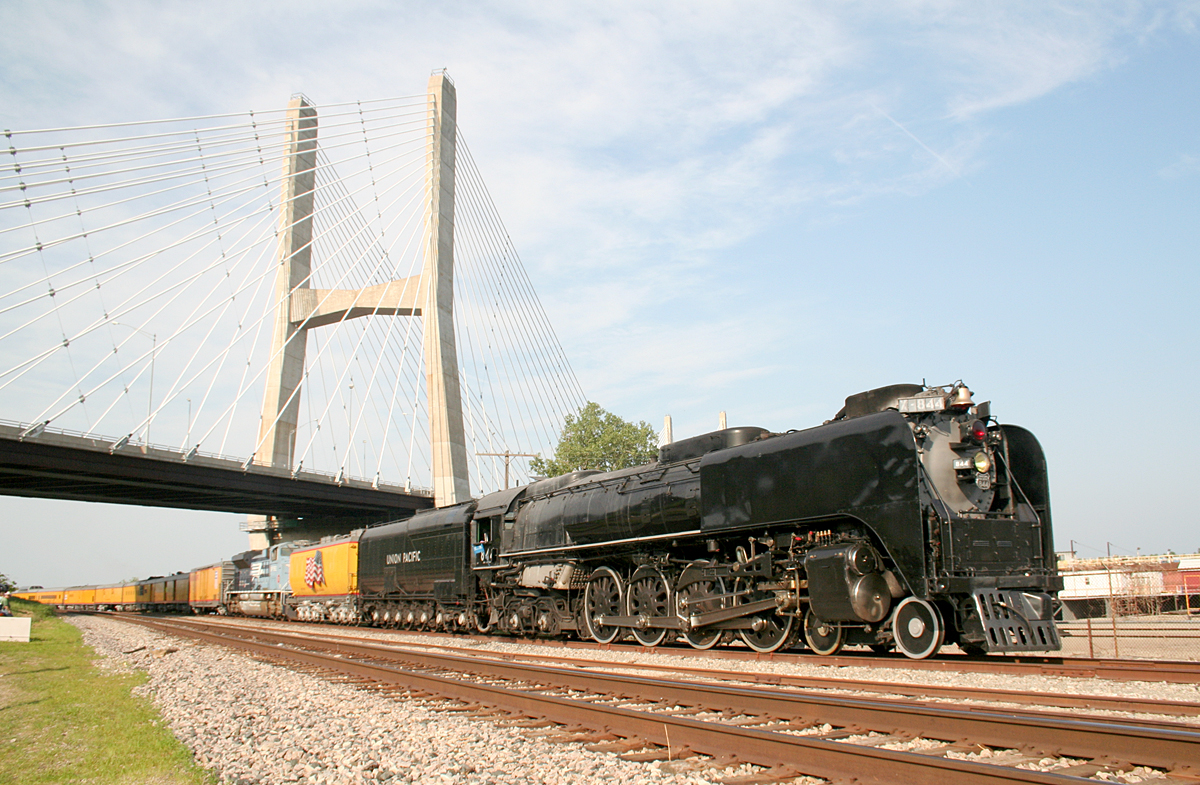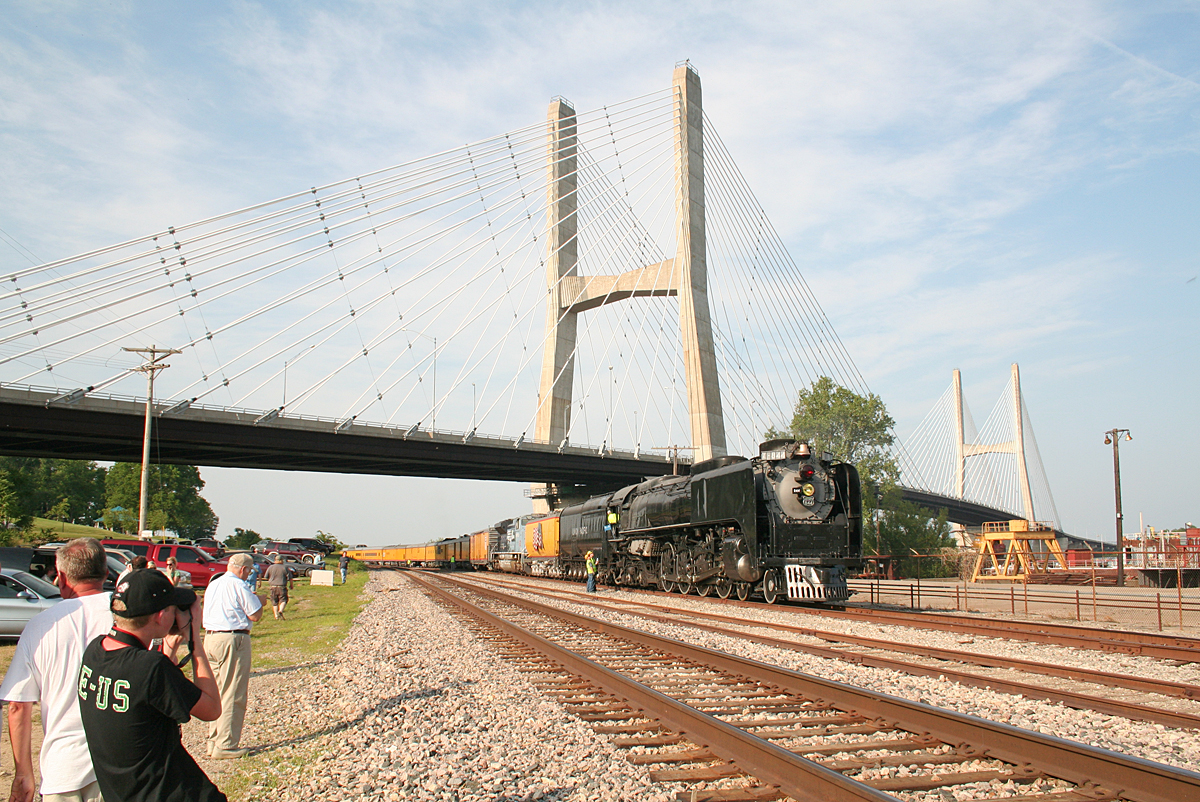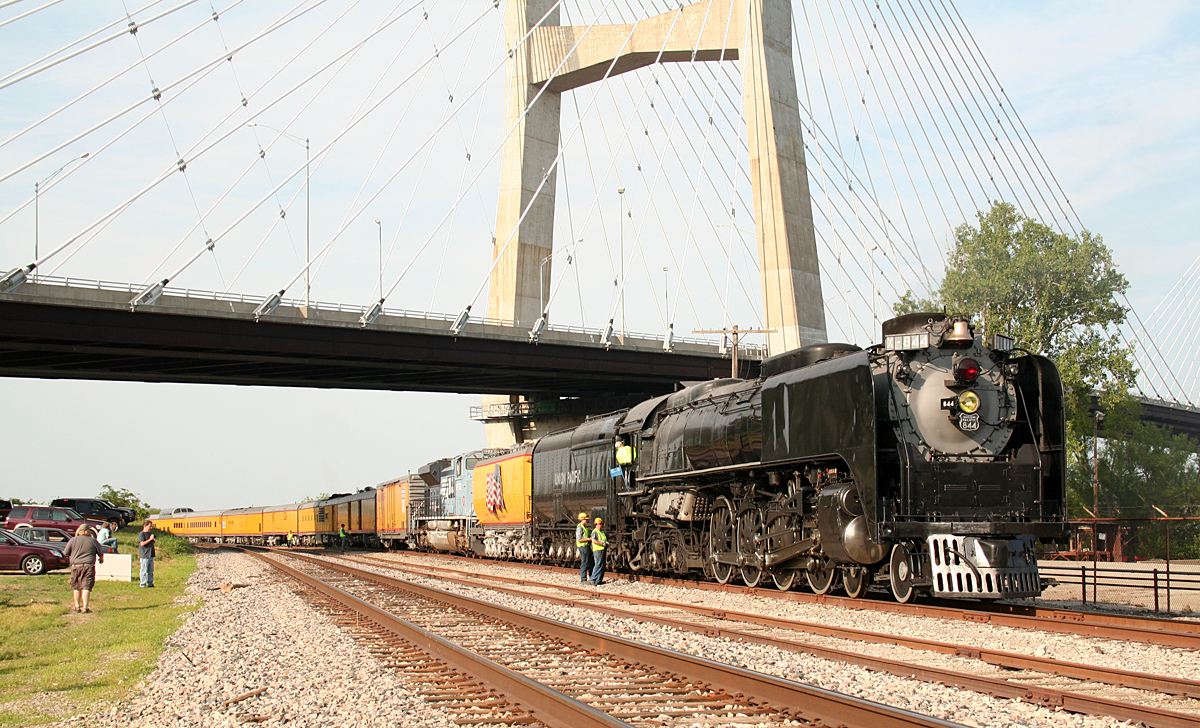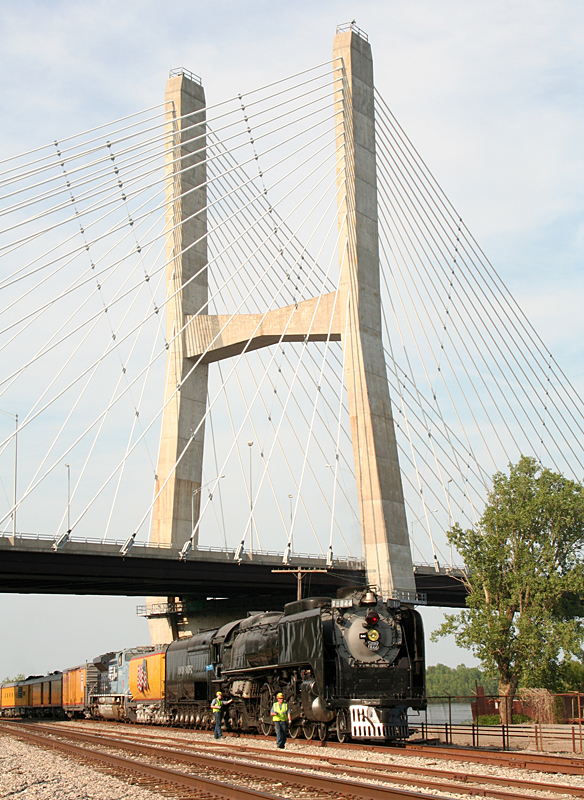 More photos of UP 844 on display in Cape Girardeau MO. While the throngs of admirers were milling around, we chose to rest and eat at the Port of Cape Girardeau restaurant. It faces the sea wall and the River Sub. Great place to eat and relax. The building served as General Grant's Headquarters during the Civil War. When we returned, most of the fans had left the scene leaving us plenty of opportunity to take unobstructed photos of the giant Northern.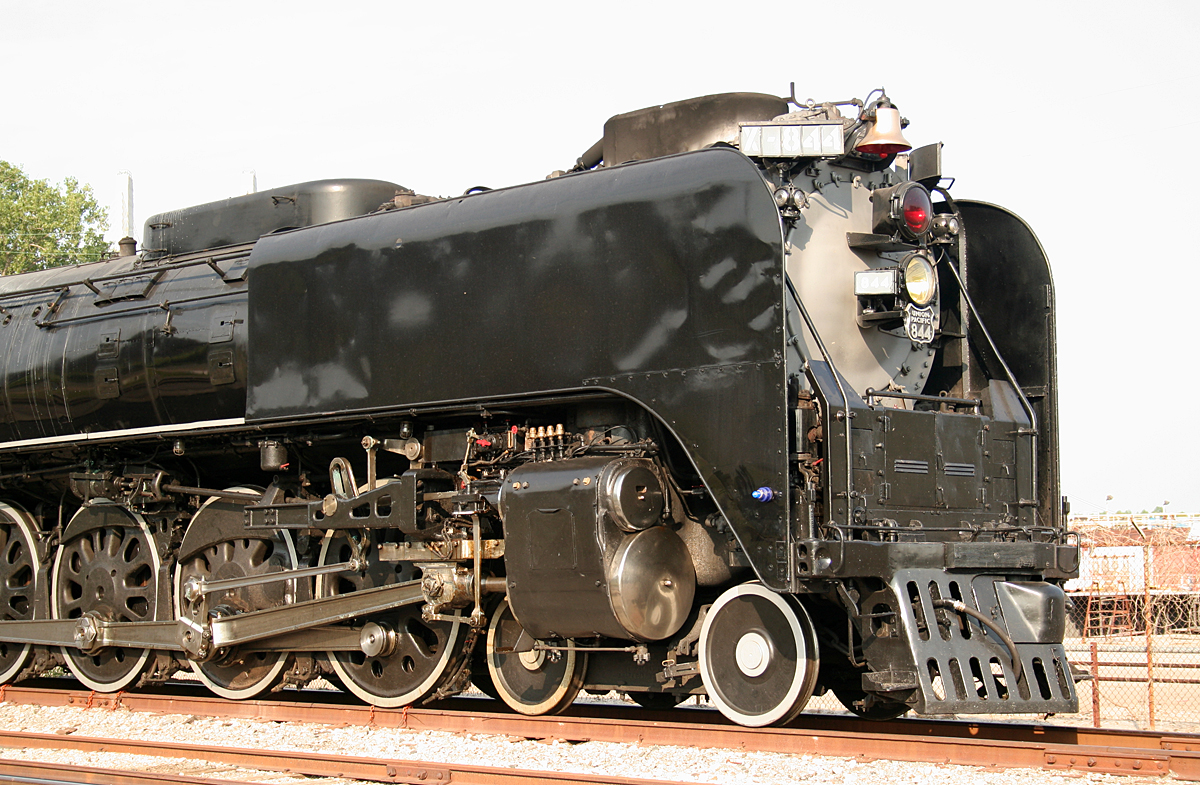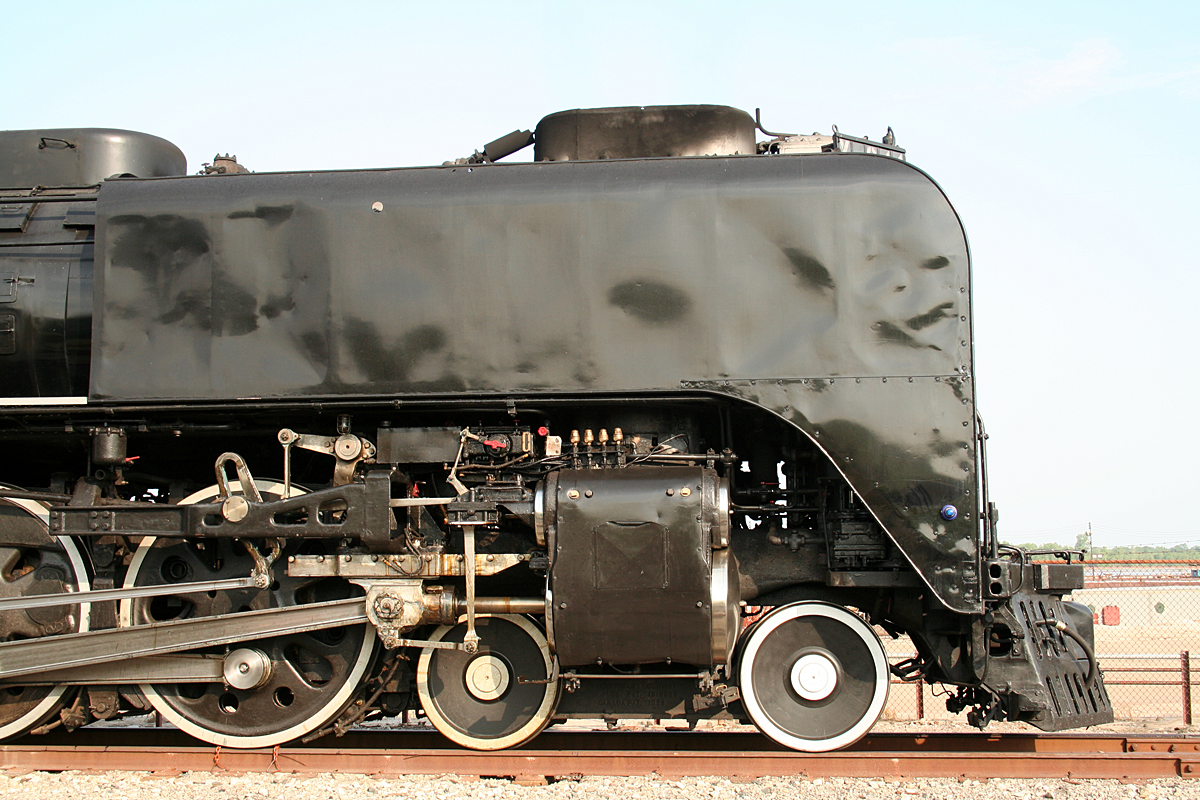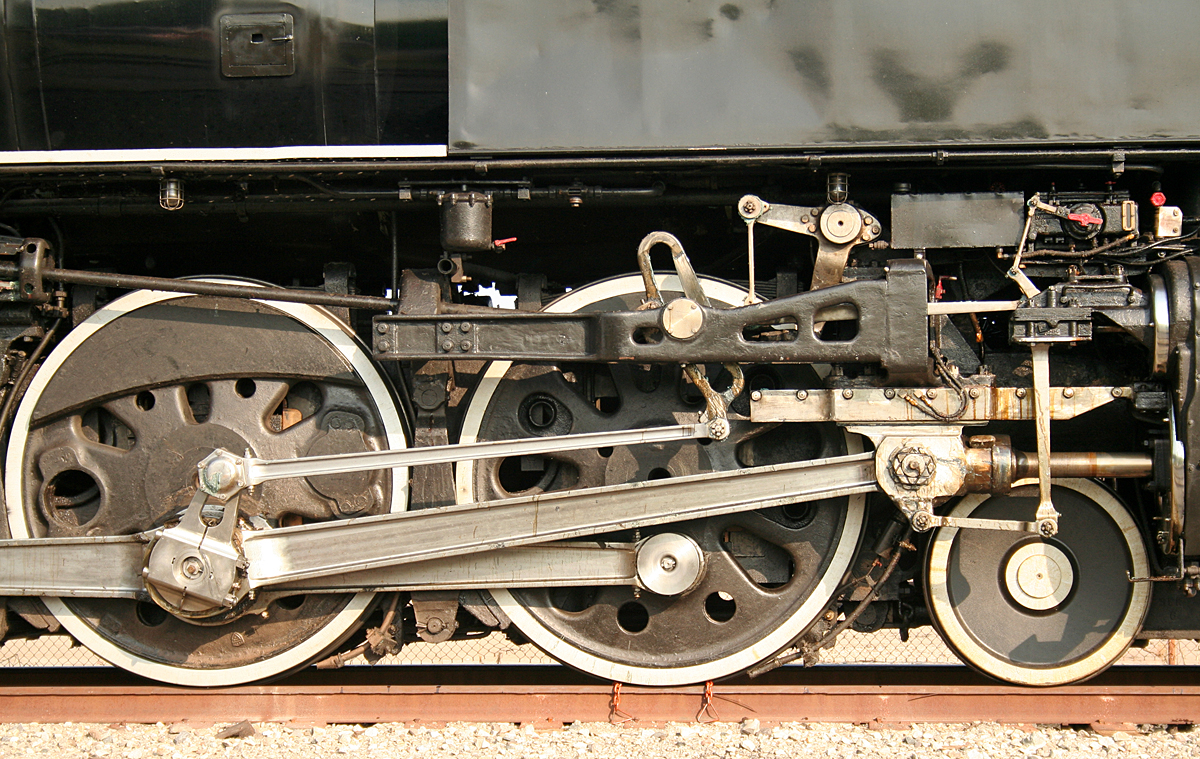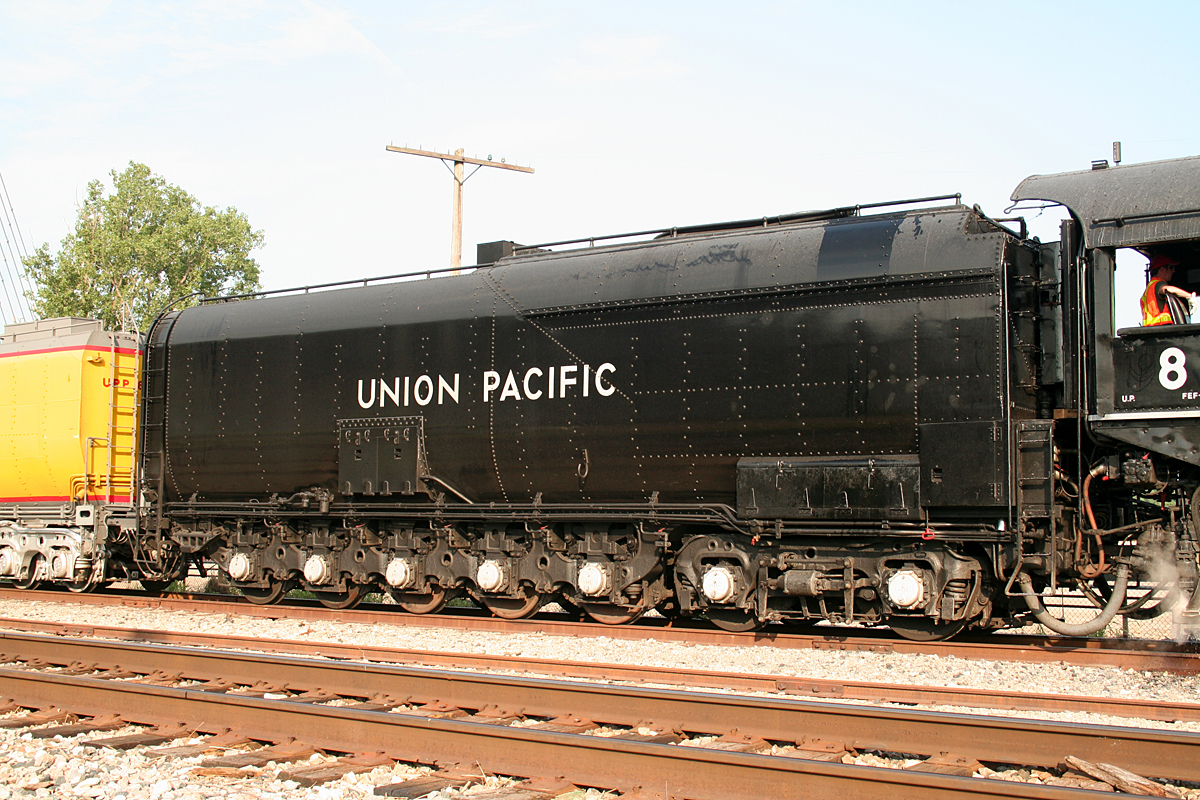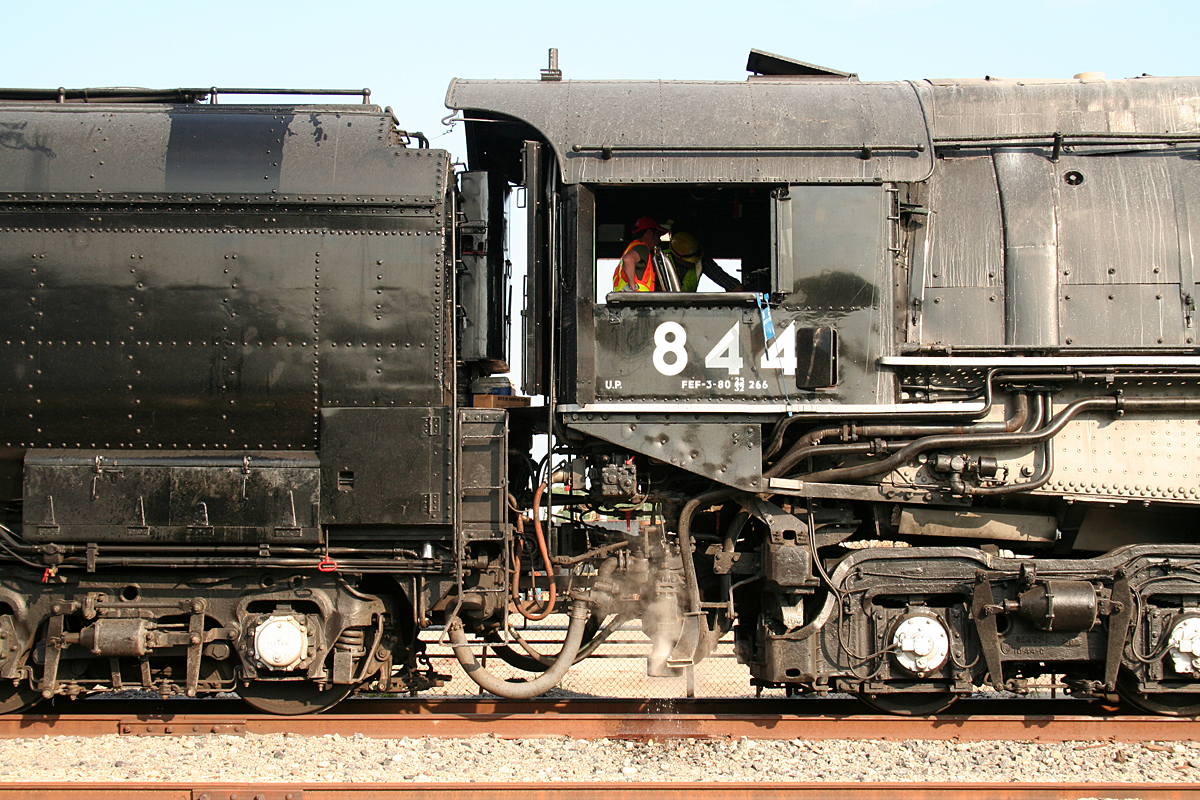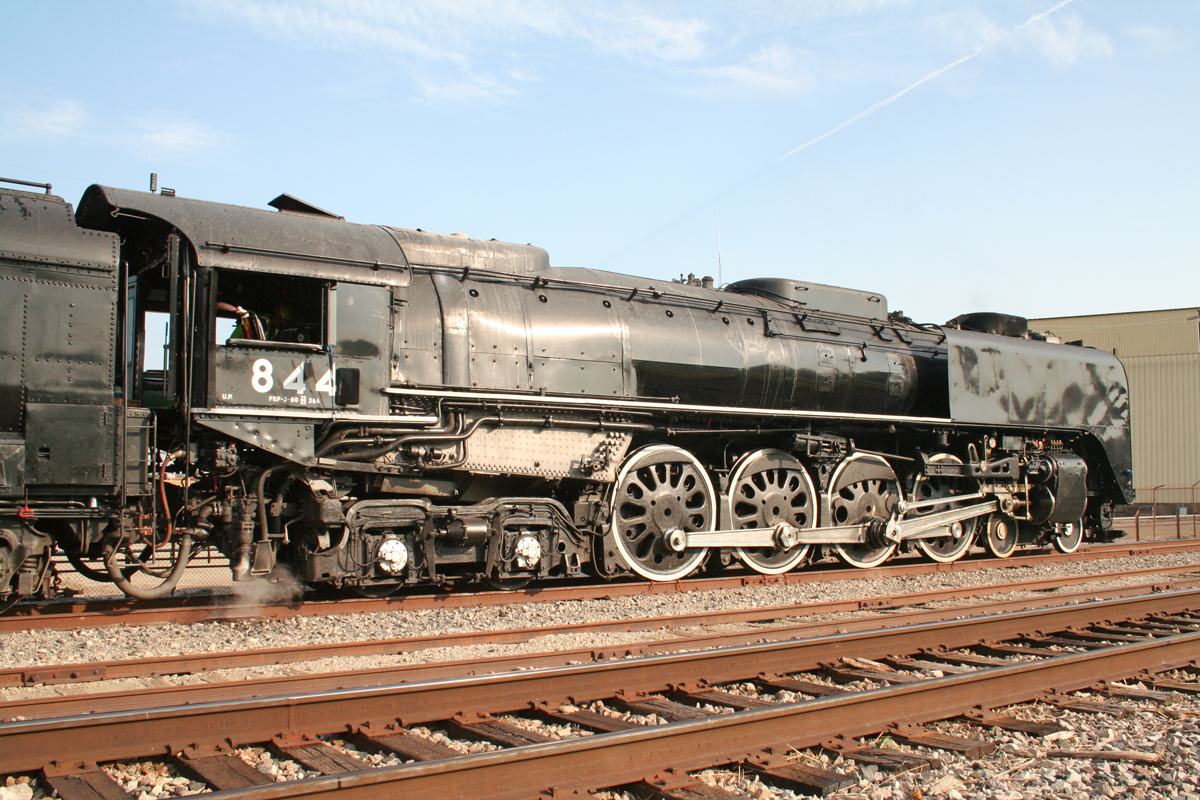 | | |
| --- | --- |
| Crew in the process of shutting UP 844 down for the evening. | |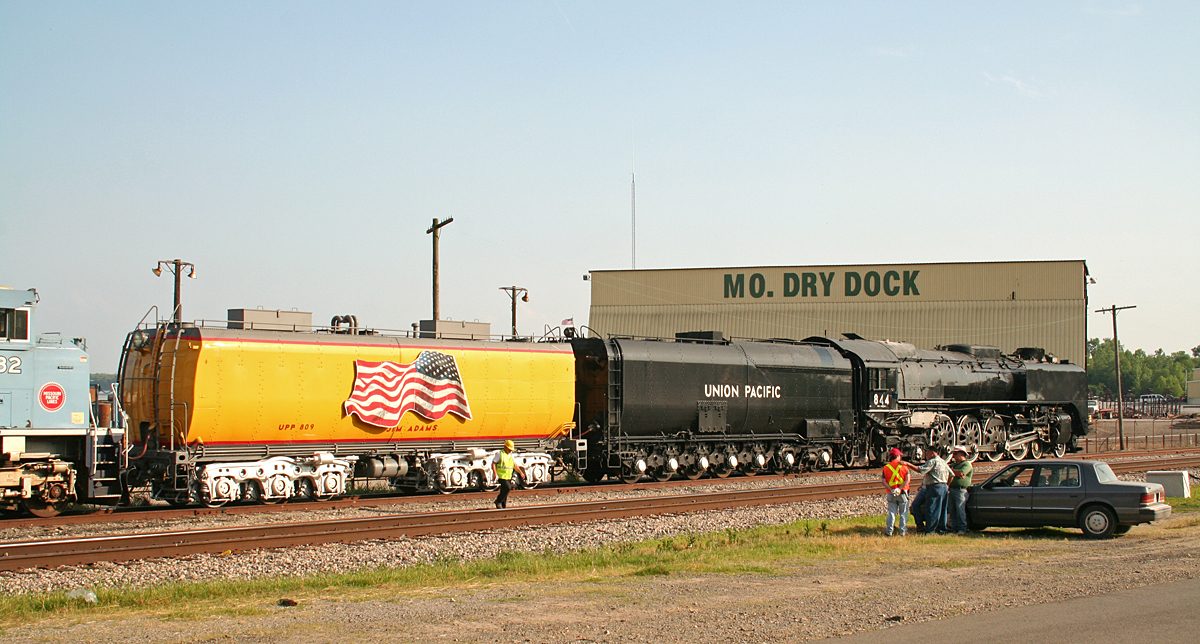 MoPac inspired SD70ACe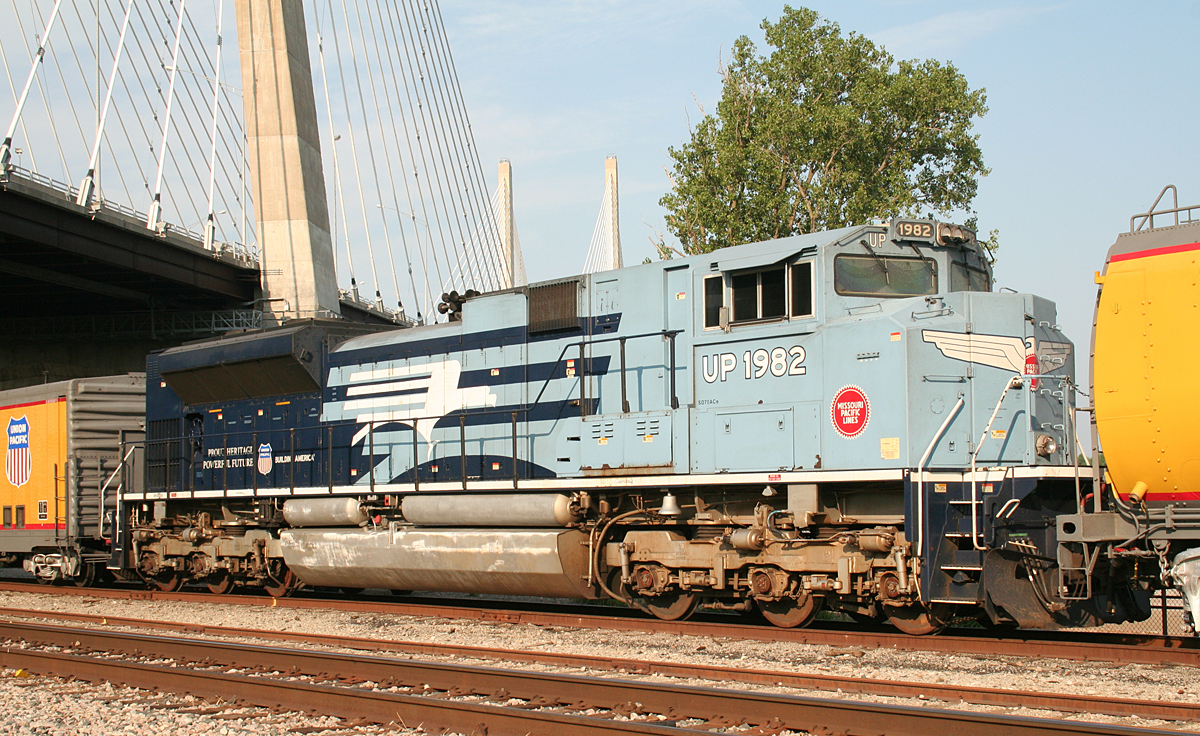 UP's water car!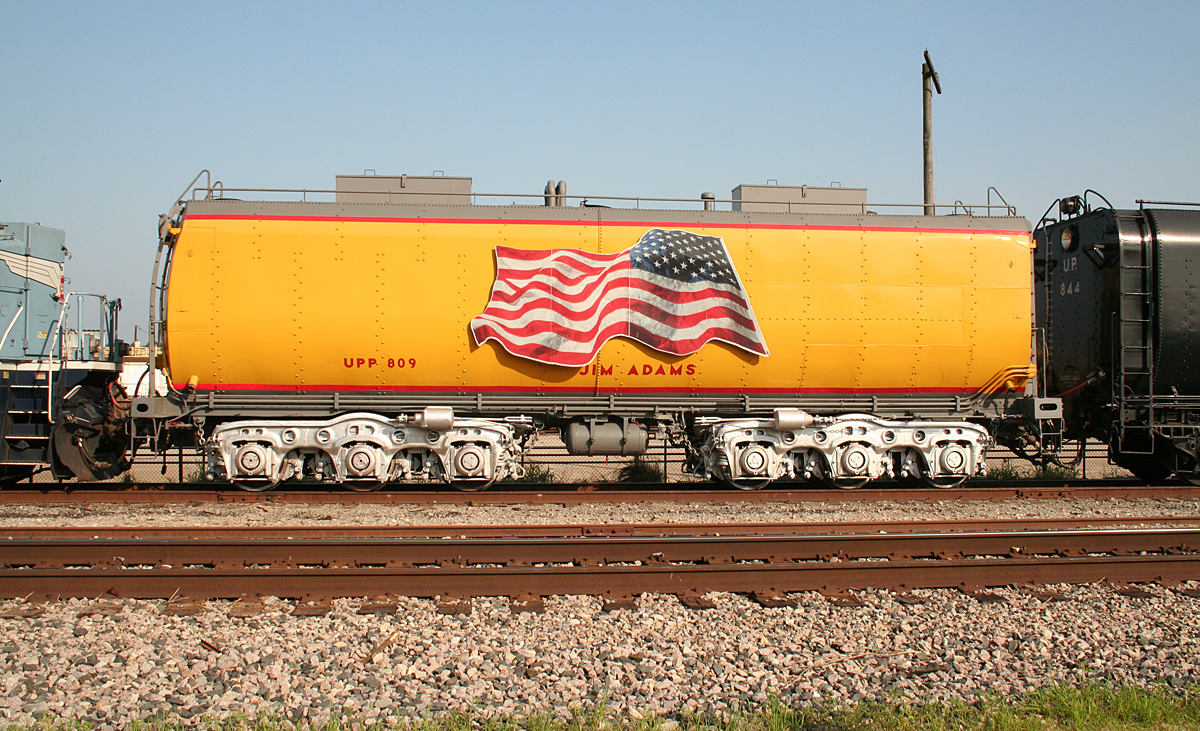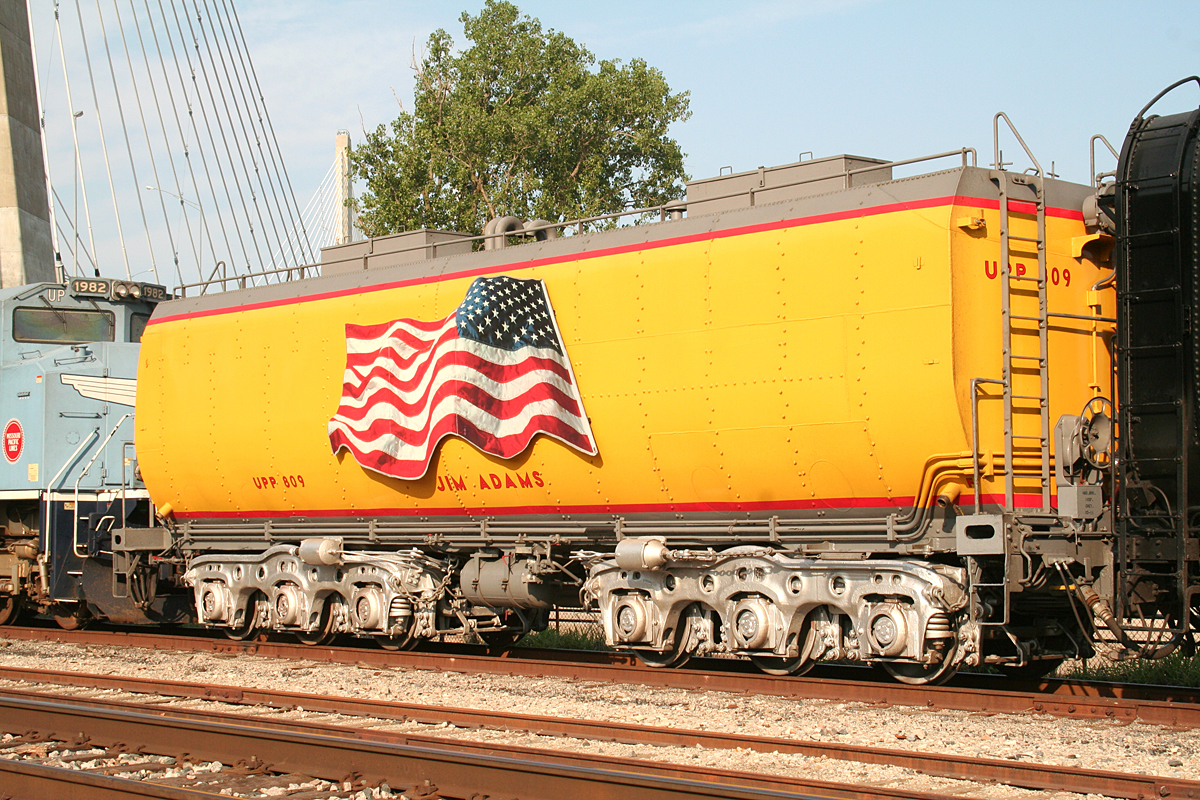 Part 2
Covers Images in AR & OK
by Mike Condren
This page was designed and is maintained by Mike Condren. If you have materials
that you would like to contribute, contact me at mcondren@cbu.edu