Some of My Railfan Friends
by Mike Condren
My oldest railfan friends date back to the late 1950s when I was in high school and a member of a model railroad club in Ft Smith. Among the members were a couple of friends, Gordon Mott and Bill Robins.The two photos below were taken by my Mother upon the passage of UP 3985 through Van Buren. First picture shows Gordon Mott and his father, man in black suit with back to camera. Half of my Father's face is seen at the extreme right of the picture. Gordon and I even were in the same Trig class at the University of Arkansas in the Fall of 1960.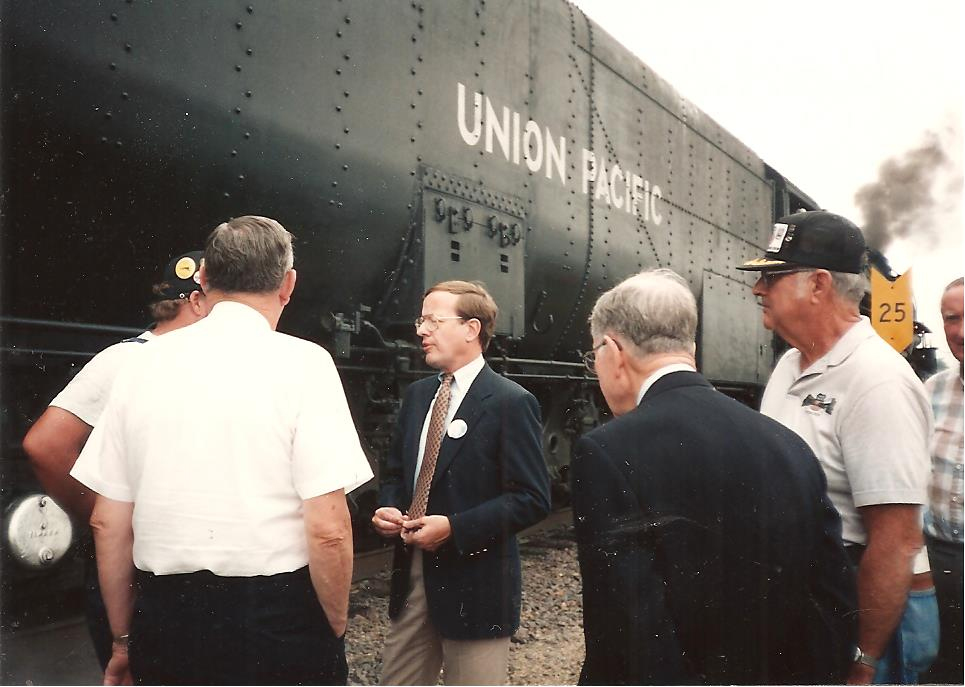 In this picture, Bill Robins is seen with the hat, my father, Stewart Condren, to his right, and Bill's son, Tim. The man on the left is Kenneth Dempsey who worked over the years for the Midland Valley and later the MoPac.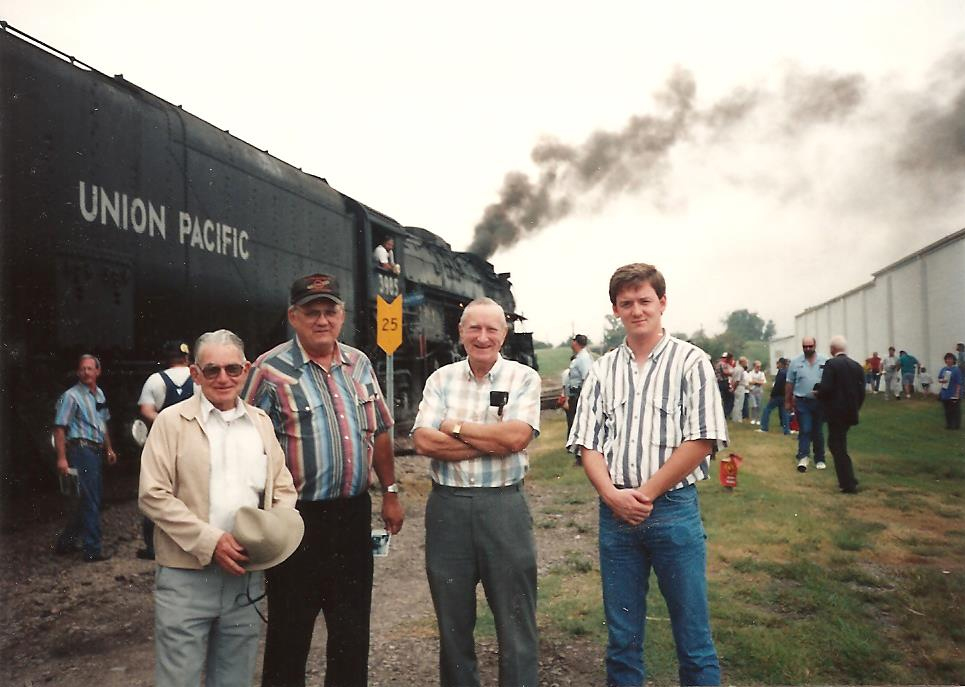 Both photos by my Mother, Margaret Condren
Gordon introduced me to his friend Louis Marre when Lou got home from Notre Dame for the summer of 1960. I hung around the Creekmore Park railway where Lou was the conductor during 1960. For the summer of 1961 Lou was hired as the engineer and Gordon as conductor of the Creekmore Park railway. Gordon had to go to Colorado for the last 2 weeks of the summer, and I took his place as conductor. The following photo of Louis Marre, in cab of steamer, and me with flag, was taken on Labor Day 1961 by new friend Jerry Pinkepank. That was the Last Day for us on FS&ECP.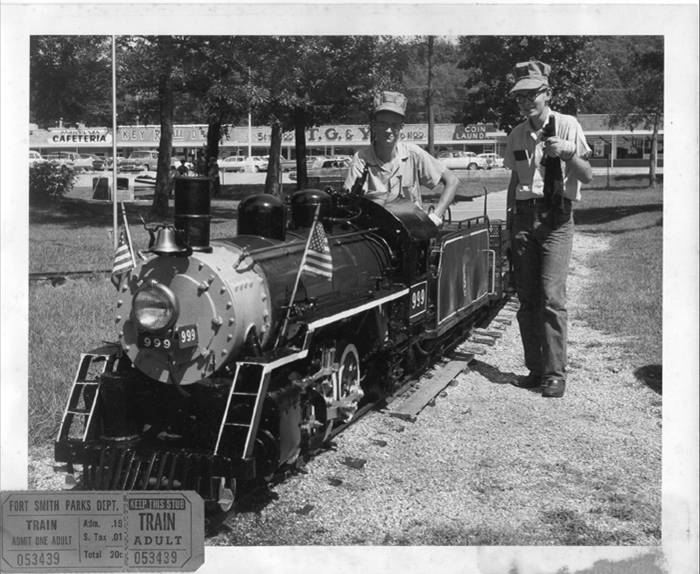 Photo by Jerry Pinkepank
I first met Charles "Granny" Draper when he was one of the two regular engineers on the Frisco "Meteorite". I rode with him many times from Van Buren to Fayetteville in the cab. When the crew assignment for that train changed to Springfield, MO with the extnesion of the run to there for the connection with the Meteor, Granny took a job on the switch engine in Ft. Smith. I regularly rode with him on Saturday mornings when I was home from college, sitting on the heater behind the engineer's seat in the cab of a Baldwin VO1000.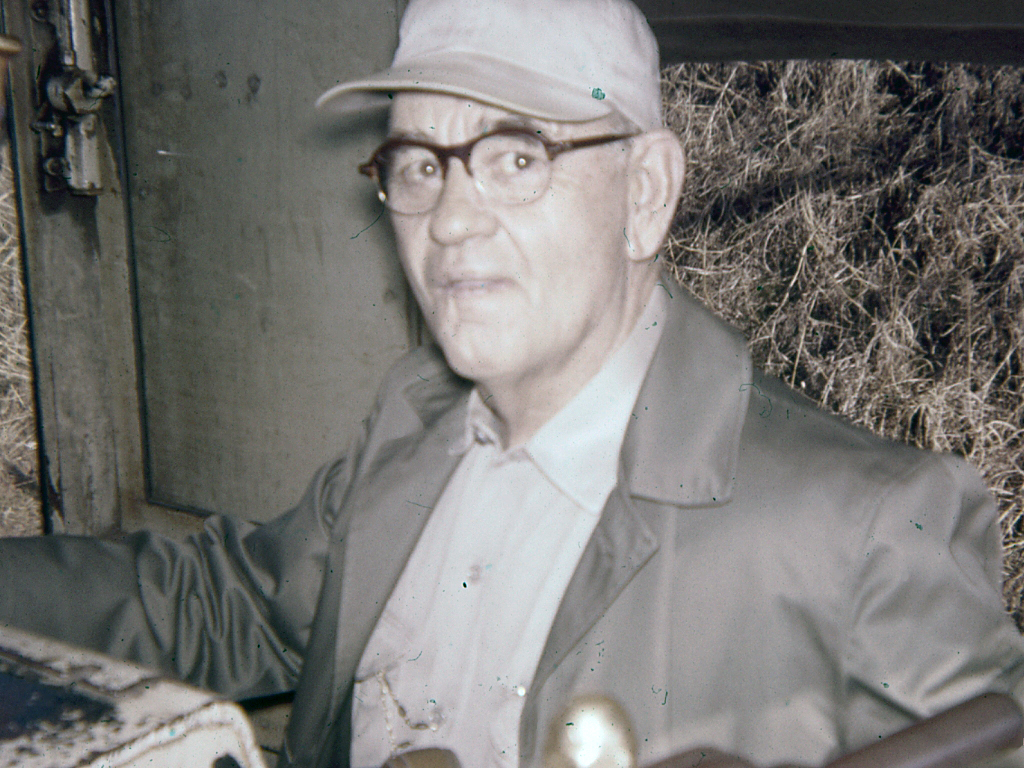 Mike Condren Photo
This photo was taken on Jan 3, 1963 as we waited for the KCS #1, "Southern Belle" at Forest Park, MO on our way to Pittsburg and Parsons, KS. I was shooting my Argus C3 "brick".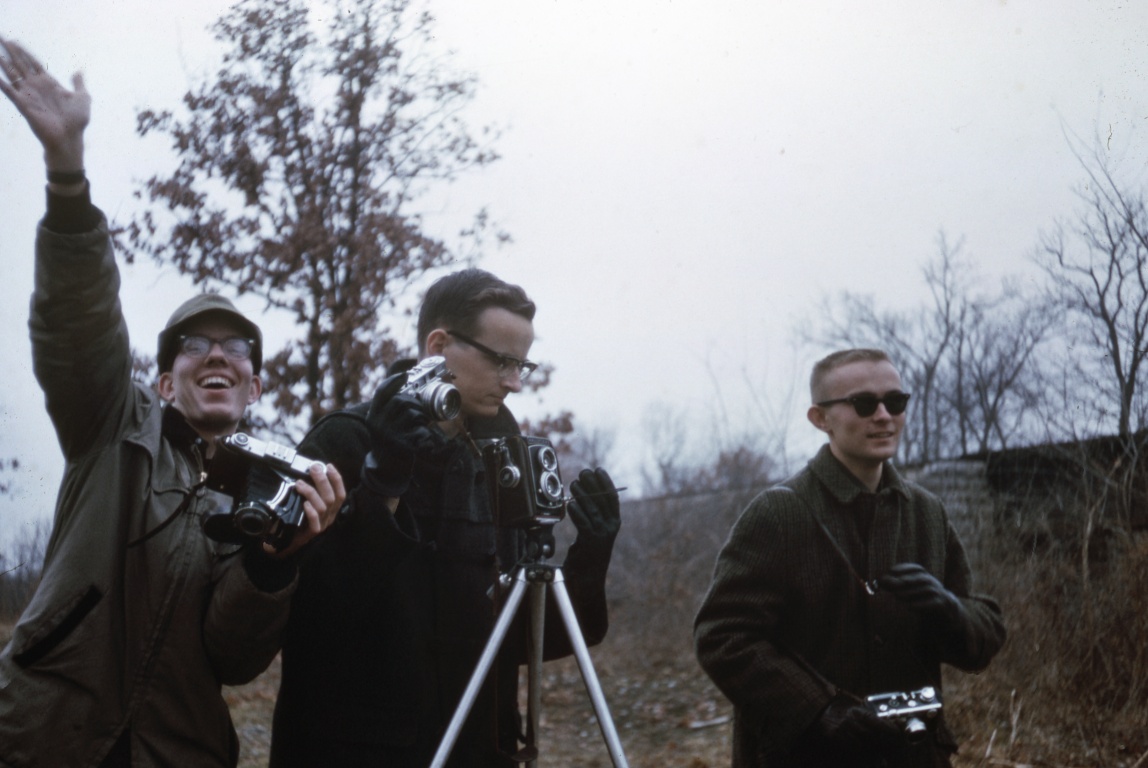 Photo by Dave Ingles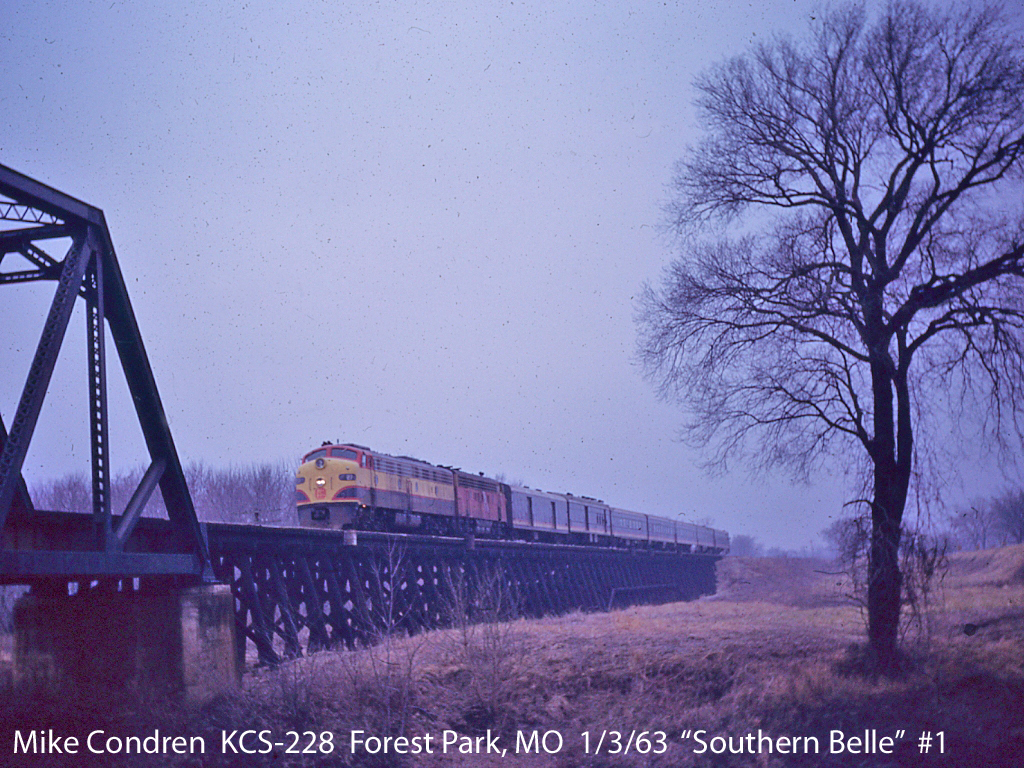 In Arlington, WI in 2007, while waiting for the local, Ray Peacock took a picture of two long time friends out for an afternoon and early evening of railfanning. Dave Ingles is the friend at right.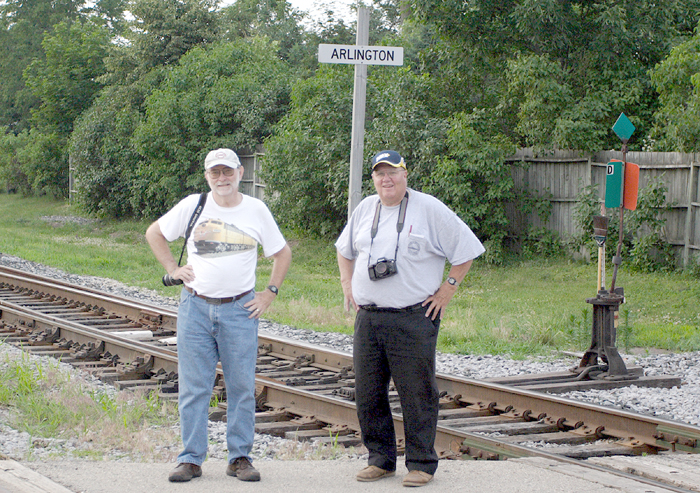 This somewhat recent photo shows long time friends: l to r J. David Ingles, Louis Marre, and R. R. Wallin. Gordon Mott introduced me to "Lou" Marre in the summer of 1960. Gordon introduced me to "Dick" Wallin while on a CB&Q #4960 fan trip in the spring of 1961. Gordon and "Lou" introduced me to "Dave" Ingles in Jan. 1963. This photo was taken at the Wallin's 50th wedding anniversary party in Springfield, IL in 2013.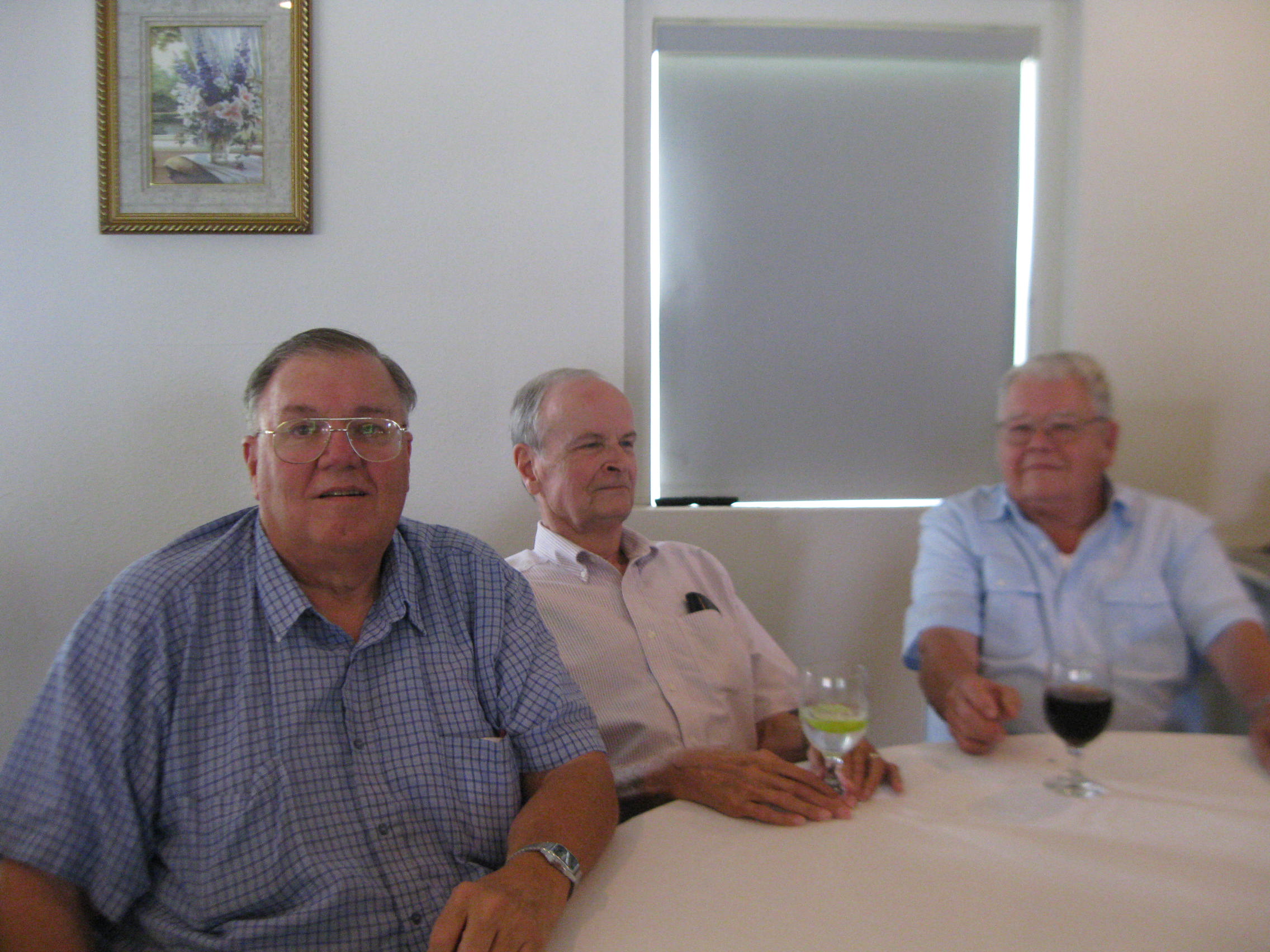 I met Tony Marchiando while a grad student at Rolla. Tony Marchiando is seen sitting on top of a Frisco boxcar parked on the siding opposite Frisco steamer 1501 in Rolla, MO. I also met John Beirne, who took the picture, at Rolla.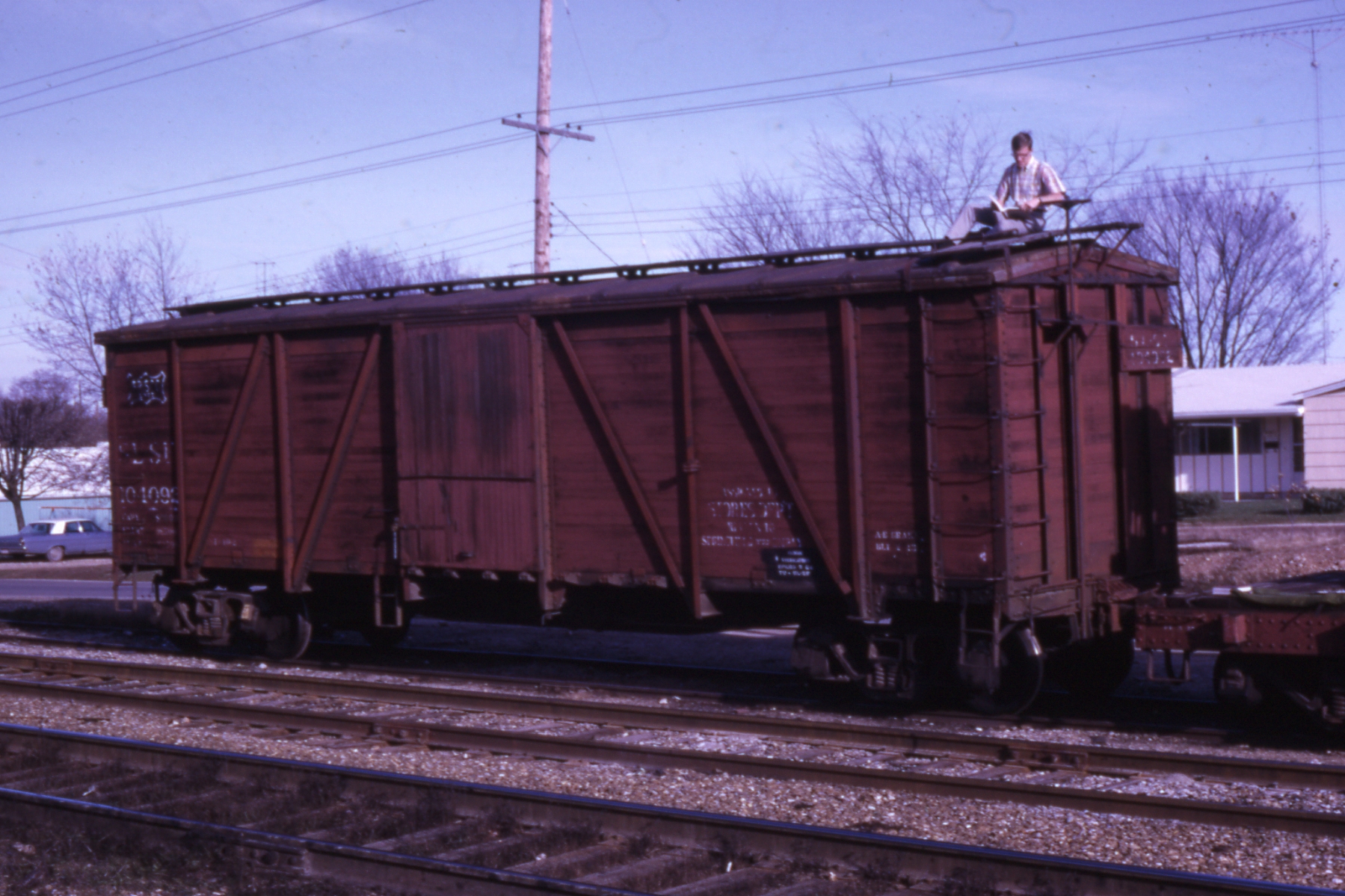 Photo by John Beirne
| | |
| --- | --- |
| Tony was John's roommate and another engineering major. This photo of Tony and me was taken on a trip to Centrailia, MO to chase the N&W mixed train to Columbia, MO. We chased lots of trains while at Rolla. | |
In the early days in Rolla, John and Tony lived in Thomas Jefferson Residence Hall. About once a month we would gather down stairs and piece together track and run trains on the floor. Her we see, l to r, John Keating, me, and Bill Welsch.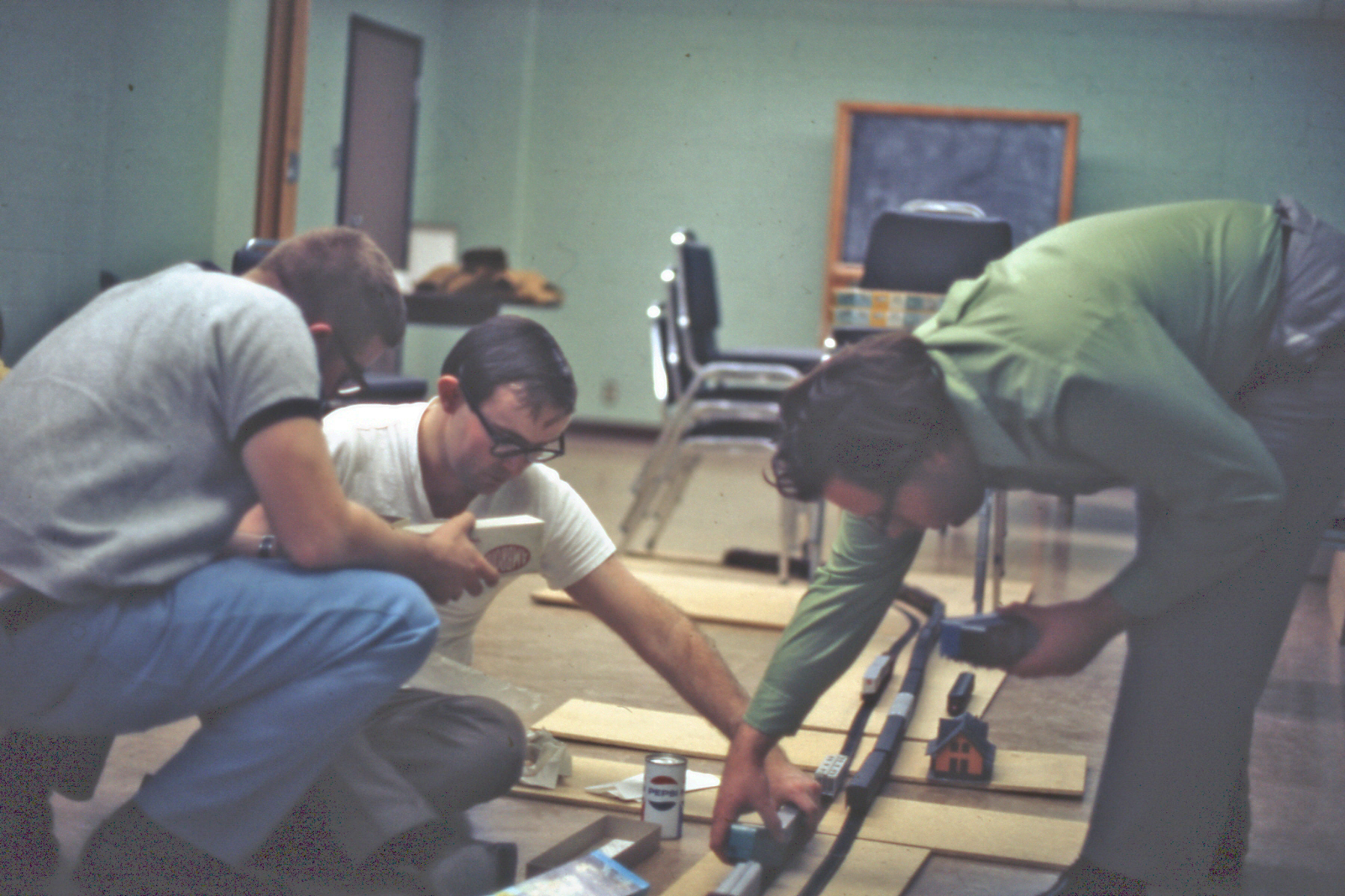 Here we see Tony and me working on a project with Charlie Galberez checking it out, again in Thomas Jefferson. Charlie dropped out of school at UMR and joined the Navy. Several of us visited Charlie in Chicago when he was stationed at Great Lakes Naval Station. He was later killed in a car accident .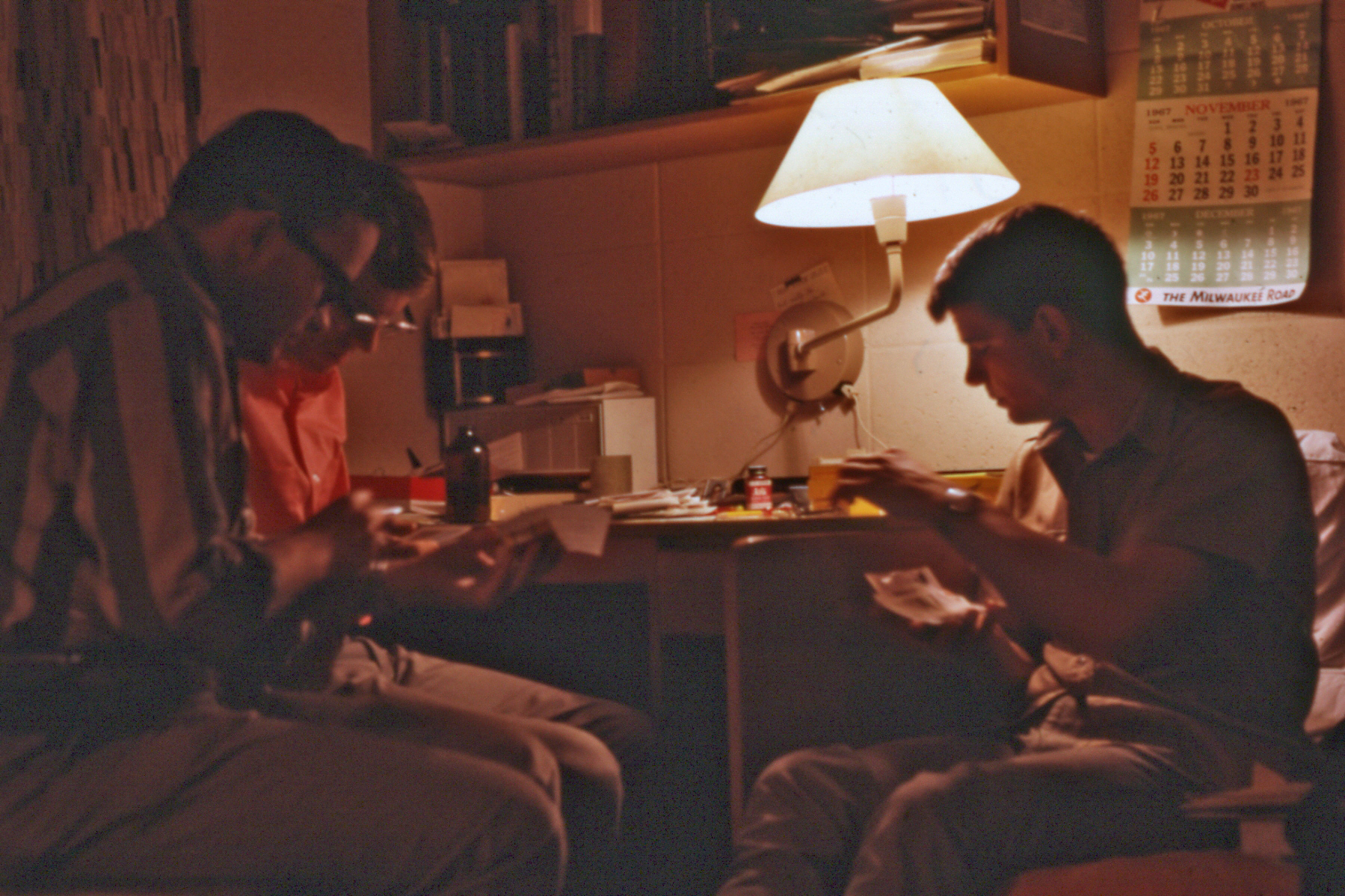 Photos by John Beirne
Here we see Tony at North Western station in Chicago during that visit to see Charlie. Is he thinking how he would like to own this bilevel? Today he and his brother Andrew own the ex-Frisco 14-4 sleeper Cimarron River.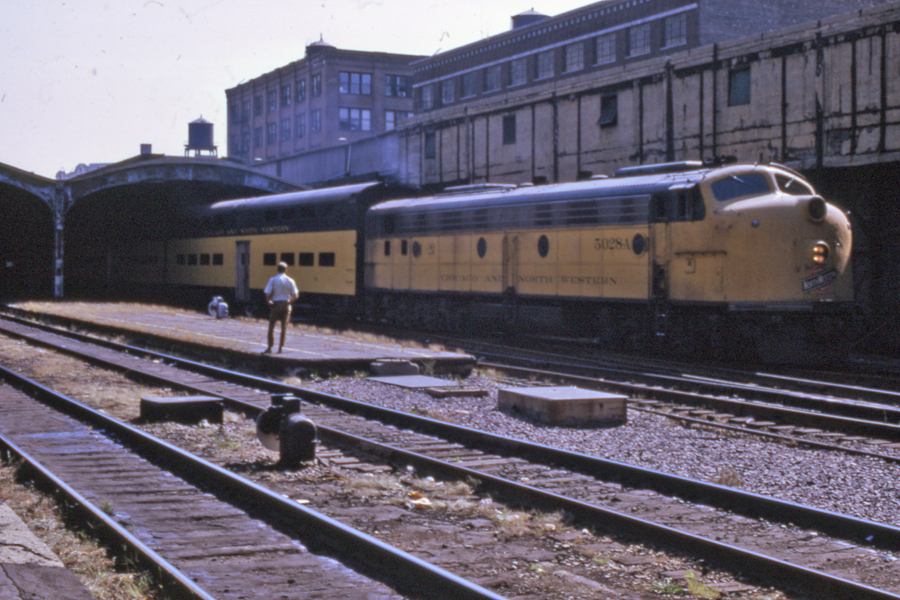 Photos by John Beirne
The Rolla Boys, l to r: Mike Condren, Bradley Brice, Tony Marchiando, and John Beirne. Brad had been in one of my Physical Chemistry Labs for which I was the lead grad assistant.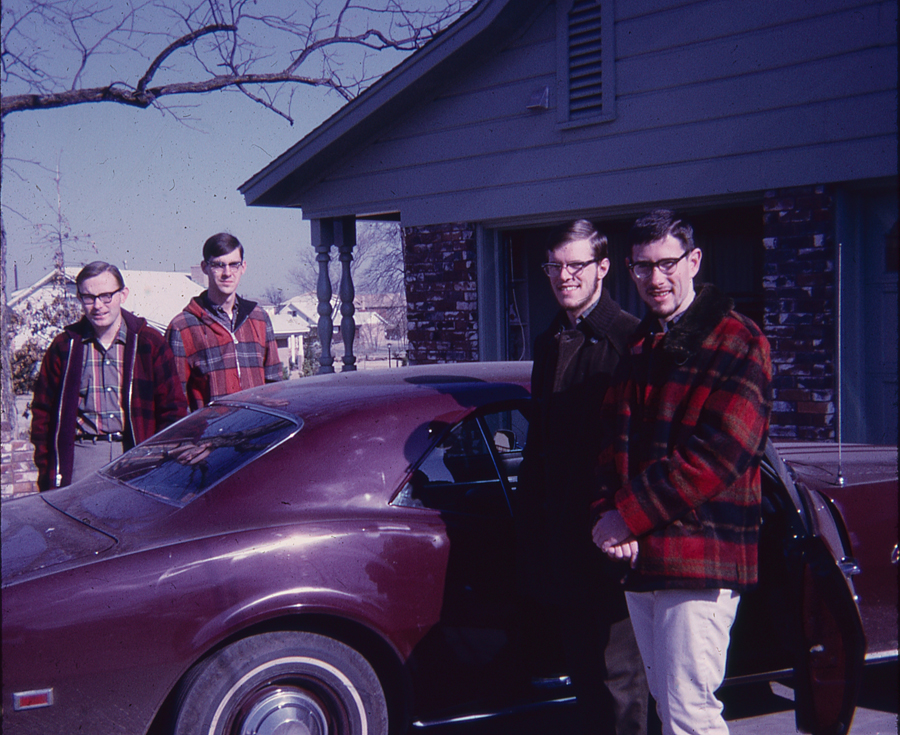 Photo by Margaret Condren
| | |
| --- | --- |
| The Rolla student chasers visited the Flying Scotsman train, seen here on display in St. Louis Union Station, had a glass of ale in the observation car, and had their picture taken by the future Mrs. Ann Beirne beside the main driver of the locomotive. L to r: Tony Marchiando, driver Chase 3; Mike Condren, driver Chase 1; and John Beirne, driver of Chase 2. At the time of the chase John and Tony were living in a second floor apartment in a building next door to the building that Mike's second floor apartment was in. Need I say that there were lots of slide shows in my apartment where the projector was a permanent fixture in the living room outside the "slide closet". | |
In May 1970, the Welsches alerted me to a caboose tour of Kansas City railroads. Seen here are Bill, Paul, and Mrs Welsch who worked in the ATSF passenger office in Union Station.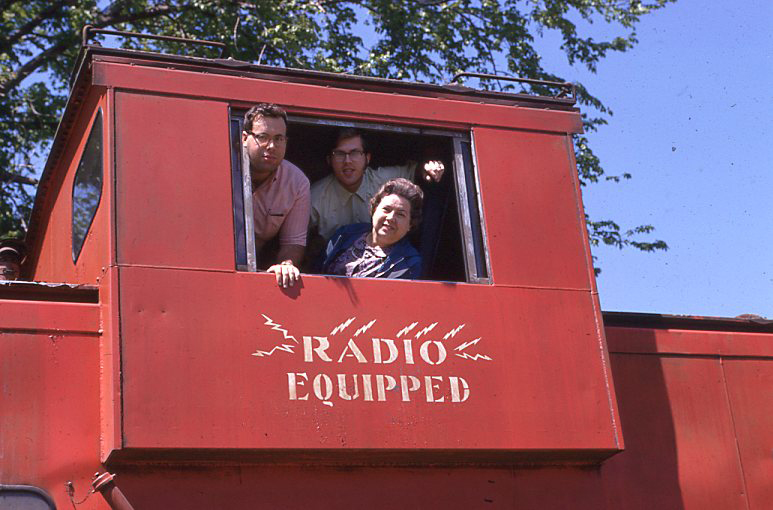 | | |
| --- | --- |
| In the vestibule of the last hi-level car was our fellow student and railfan, Paul Welsch who worked as a "car attendant" during the summer. | |
| | |
| --- | --- |
| David McDonald is seen in the park at Pampa, TX in March 1976 on our way to Colorado to ride the Rio Grande Zephyr to Salt Lake City and return. | |
David Johnston was the first railfan that I met after we moved to Memphis. I ran into David at a hobby shop and we planned a Saturday of shooting trains my first full weekend in Memphis. He introduced me to Steve Forrest that day while Steve was working in the Kentucky Street tower.
Photo by Mike Condren at Central Station Centennial Slide Show
This image of the CTC panel in Kentucky St. tower in Memphis on March 3, 1986. The operator is Steve Forrest. This was shortly before the "tower" was closed and control switched to Omaha.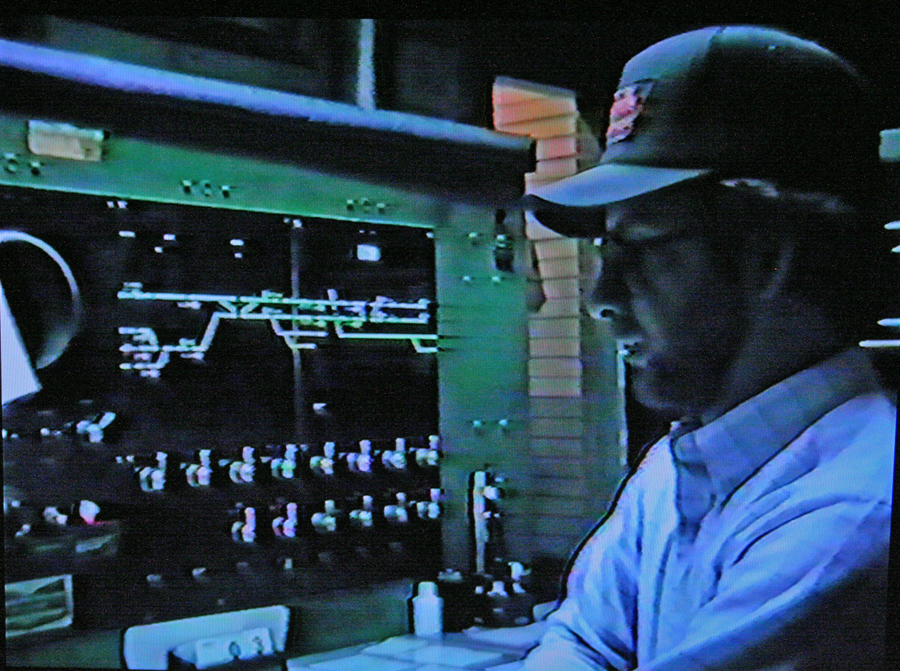 Image collected from a video shot by Mike Condren
| | |
| --- | --- |
| The Young twins at Little Rock Union Station on Aug. 20, 2005. Jim Young is left of the signal with Kenny Young to the right, was a student in my 8:00am CHEM 115 class during the Fall of 1982. He became a regular worker and operator on my layouts in our homes in Memphis. He also helped move my layouts to Tahlequah in 2011. | |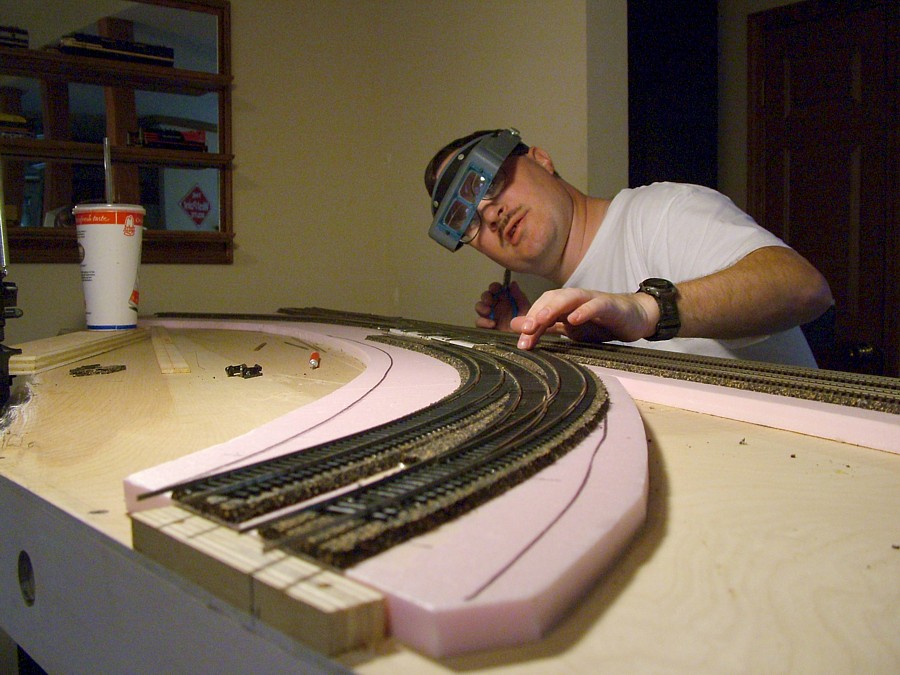 Photo by ?
Here are friends, Kenny Young and Frank Greene. We lost Frank on Wednesday Sept 2, 2015 in Atlanta. There was a memorial service for him at the future site of Memphis' Railfan Park at CN Jct on Nov 7, 2015.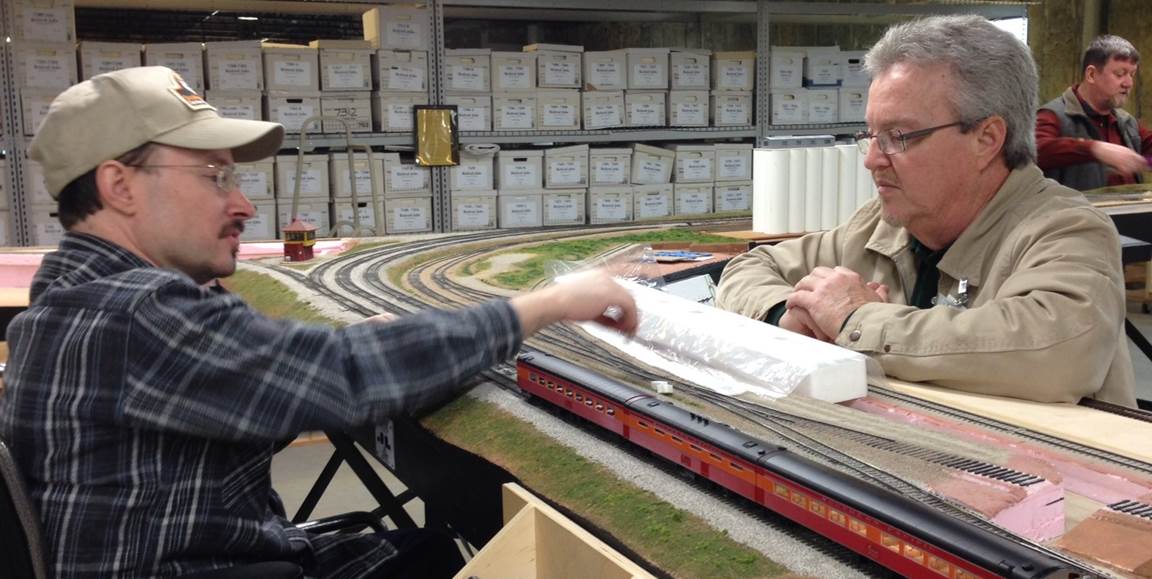 Photo by ?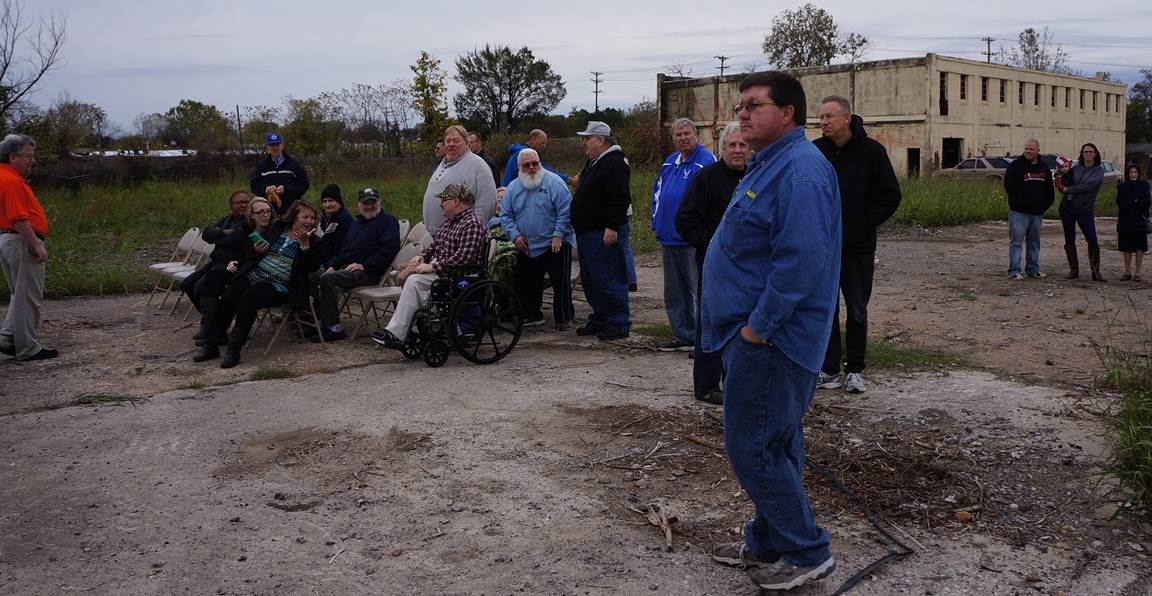 Photo by Mike Allison
Terry Foshee, left, and Phil Gosney, right, were seen at the Central Staton Centennial on Oct. 3, 2014. Terry was another of the first railfans I met in Memphis. He ran with David Johnston and Steve Forrest. All were regulars at slide shows in our living room in our first home in Memphis on Northwood Drive. I met Phil while we still lived on Northwood Drive. He is an Amtrak engineer in CA and a major contributor to the Memphis Historical Railroad Pages website.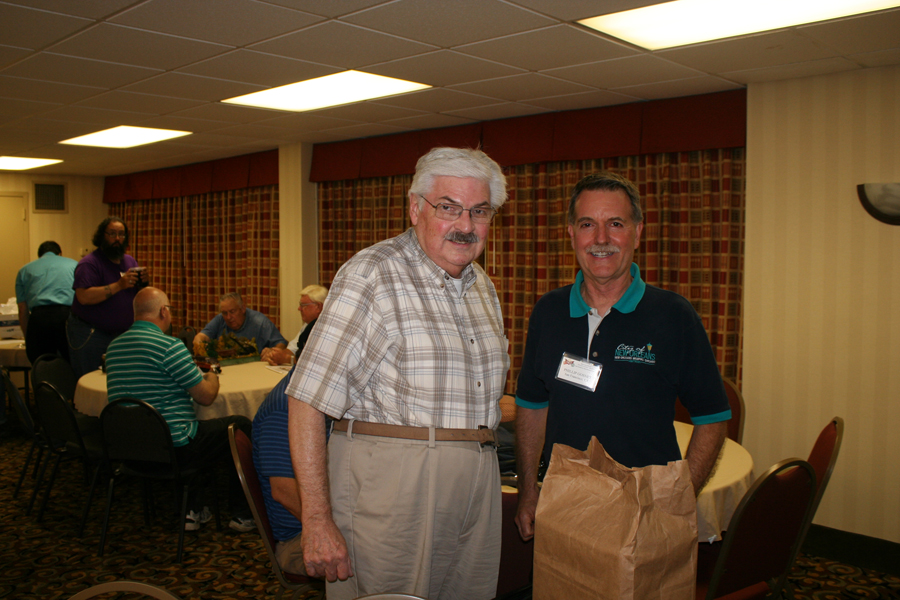 Photo by Mike Condren at Central Station Centennial Slide Show
| | |
| --- | --- |
| Another long time friend from the late 1960s is David McDonald. "Dave" ran the Goldenspike Hobby Shop for many decades, supplying me with material for my layouts. After he retired, Dave became a volunteer car attendant for the Arkansas & Missouri passenger service, working the Van Buren to Winslow "turn" passenger train. This photo shows Dave and I after his work day on the train in Van Buren after Jan and I moved to OK. | |
I first met J R Christenberry when he was a switchman on the Frisco in Ft Smith in the early 1970s. We were both members of the Fort Smith Model Railroad Club which had its layout in the warehouse behind David McDonald's home. "Jim" arranged over the years for me to ride a caboose to Winslow and back and a cab ride to Jenson. After the BN took over the Frisco, Jim moved to the KCS where he became an engineer. His back was injured when his train hit a tractor trailer. He got a medical retirement from that accident and later became a flagman for construction companies along the KCS right of way. Here we see "Flaggman Berry", as he is known, flagging near Decatur, AR. In this job he talks to the train crews and alerts the workman of any approaching trains.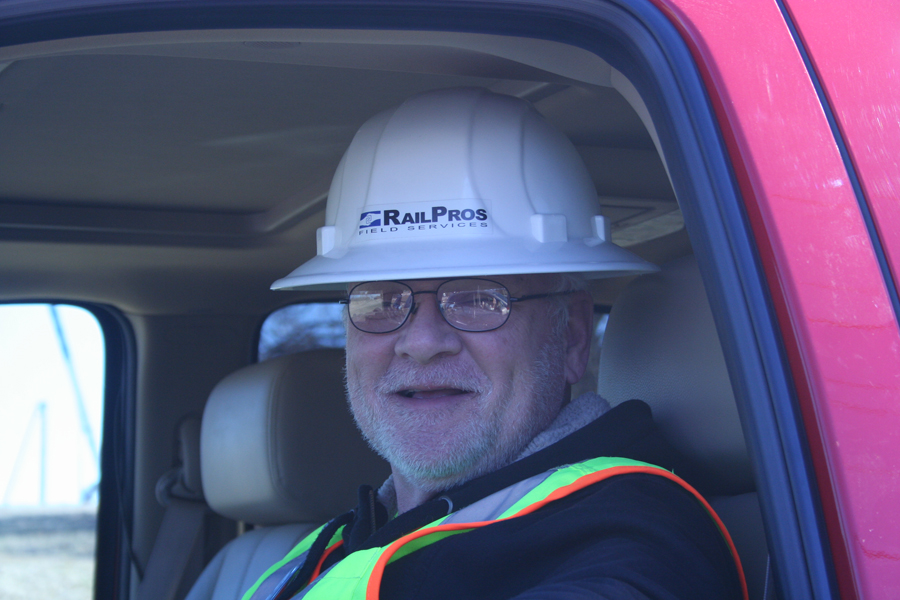 | | |
| --- | --- |
| In June 1973, Jim Christenberry and I met "Big John" Locke while his KCS train was stopped in the siding at Rich Mountain, AR. "Big John" later would introduce us to his family, his parents and his brother James. His father let me up into the cab a couple of times allowing me to shoot a meet at Page, OK. | |
James and I rainfanned together several times. Unfortunately, James suffered from Cystic Fibrous which limited what he could do. He arranged for us to tour the backshops at Pittsburg, KS. James always had a smile on his face as seen here. In 1988 his illness finally won. He is buried in a grave overlooking the north end of the KCS yard in Heavener, OK. James never got to work for the KCS like his father and brother, but they arranged this photo of James at the controls of a locomotive.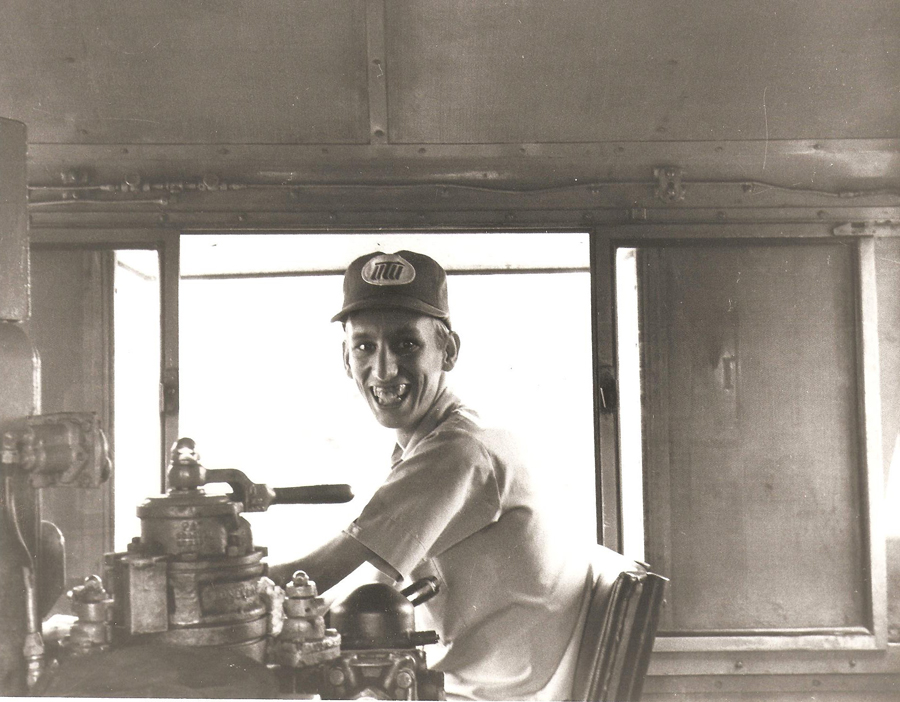 | | |
| --- | --- |
| Frisco 1522 was a participant at the June 1990 NRHS National Convention in St Louis. The engine is seen outside Union Station with Matt and Mike Condren, Kenny Young and David Raymo. Peter Limper, from the CBU faculty, joined us for the chase to Newburg. | |
Contributed by David Raymo
David Raymo was a CBU student when he joined our son Matt and I for one of the "Frozen Weed Weekends" along the KCS. Here Dave is seen standing by the sign at Blue Cut, a neat location poplar with KCS fans because of its neat location with the Ouachita Mountains in the background. As a CBU student Dave was a regular worker on my layout.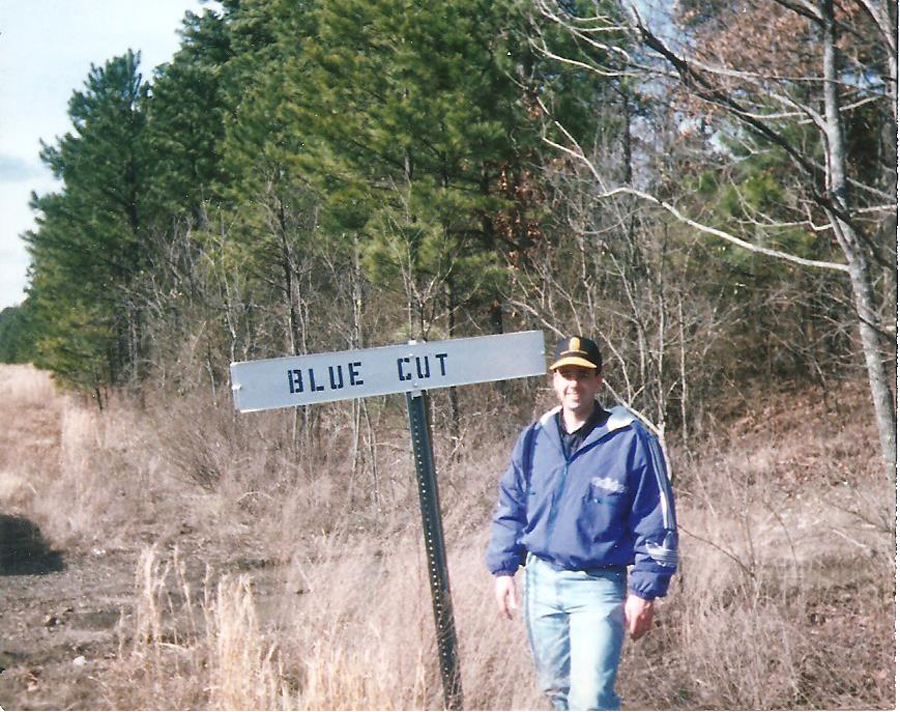 In the 1990s Memphis railfans gathered trackside at Kansas Ave, expecially on weekends. Many of us would bring chairs and even grills to cook hot dogs. Here we see David Raymo, Mike and Matt Condren, and Kenny Young. Occassionaly train crews would stop for a hot dog.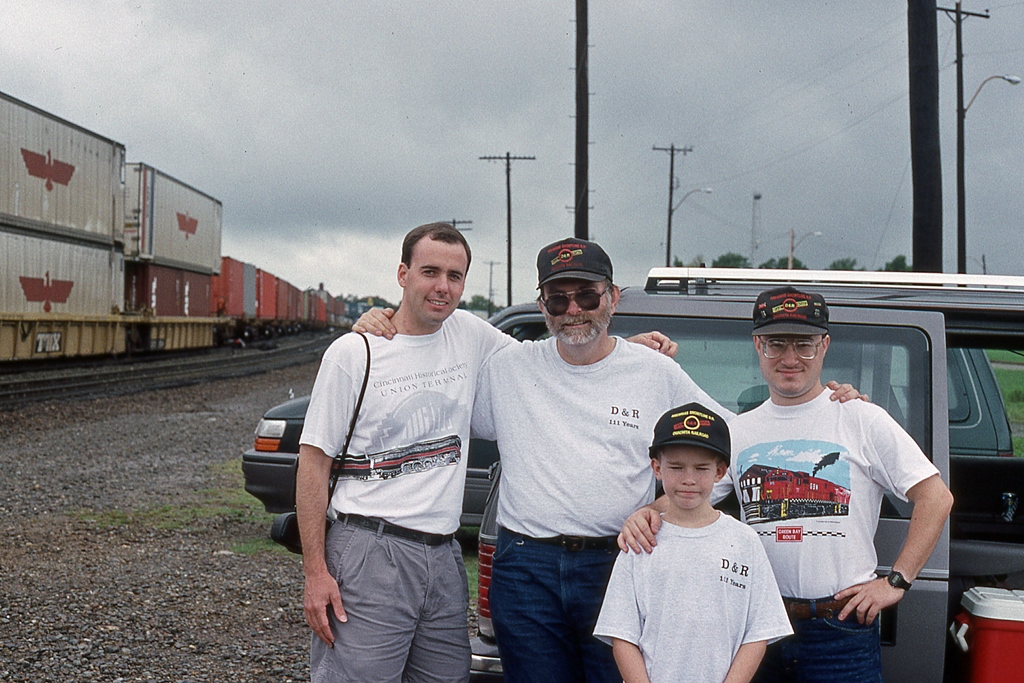 Contributed by David Raymo
I met Sam Gray, left, through friend Kenny Young. He is seen here preparing for the Centennial of Memphis Central Station on Oct. 4, 2014.
Photo by Mike Condren at Central Station Centennial
Early in 1999 during my first sabbatical at UW-Madison, Dave Ingles, Matt Condren, and Jerry Pinkepank are seen together at Willow Creek Road, IN. Jerry was in the middle of a meeting at UW in Madison.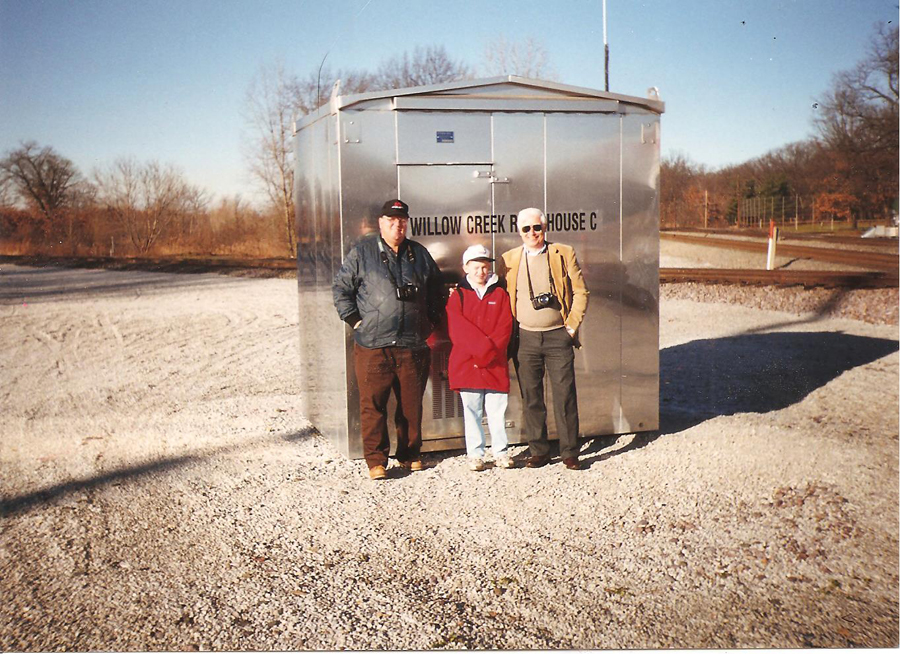 The Rochelle Railfan Park courtyard has Andy Oliva and Kenny Young standing at the top in May 1999 near the end of my first sabbatical at the University of Wisconsin-Madison. Both Andy and Kenny had been CBU students. Kenny was one of my first students at CBU, in CHEM 115 at 8am in 1982. He was a major contributor over the years to the construction of my layout, helping on Friday nights for about 25 years. He even helped to convert the car port into the train room in our second Memphis home.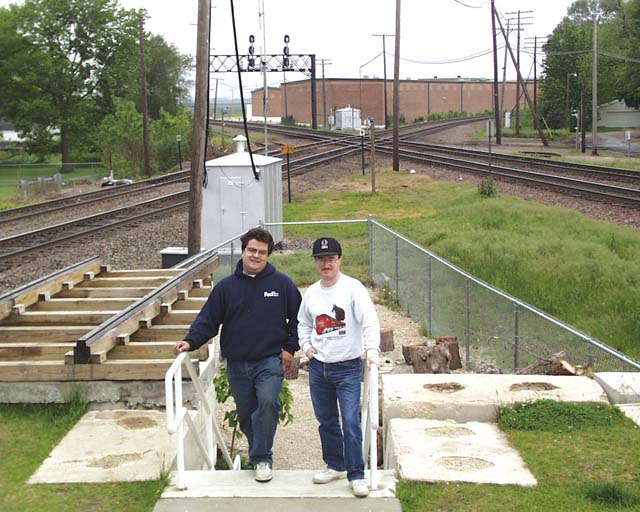 David Raymo rode Amtrak to Chicago where I met him. We railfanned the area with Dave Ingles who took this photo with my camera while we were in LaPorte, IN. I later dropped Dave Raymo off at Joliet Union Station so he could catch a train back to St Louis.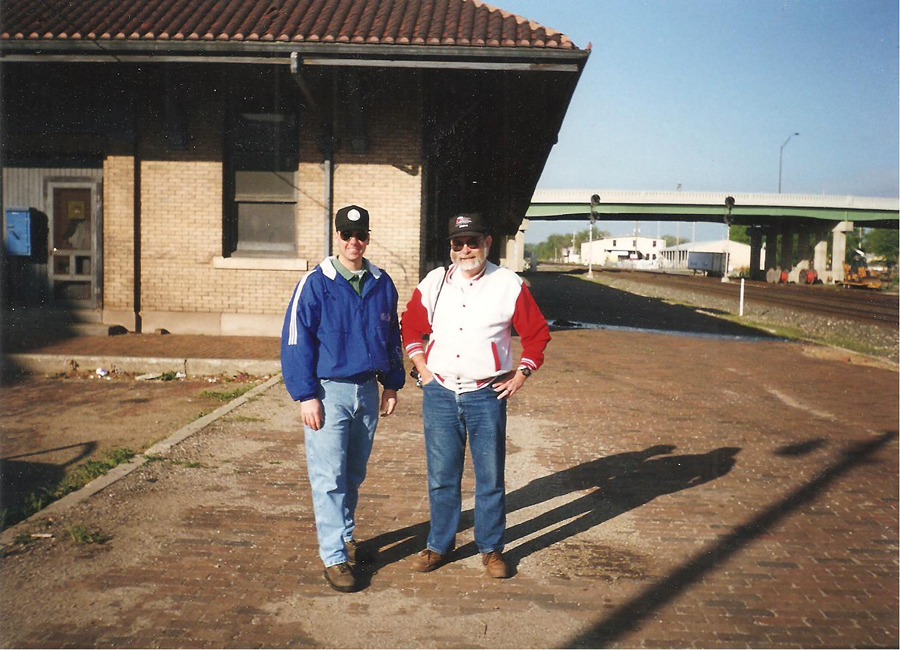 Old friend Tony Marchiando and his car, "Cimarron River", were on a special that stopped in Memphis.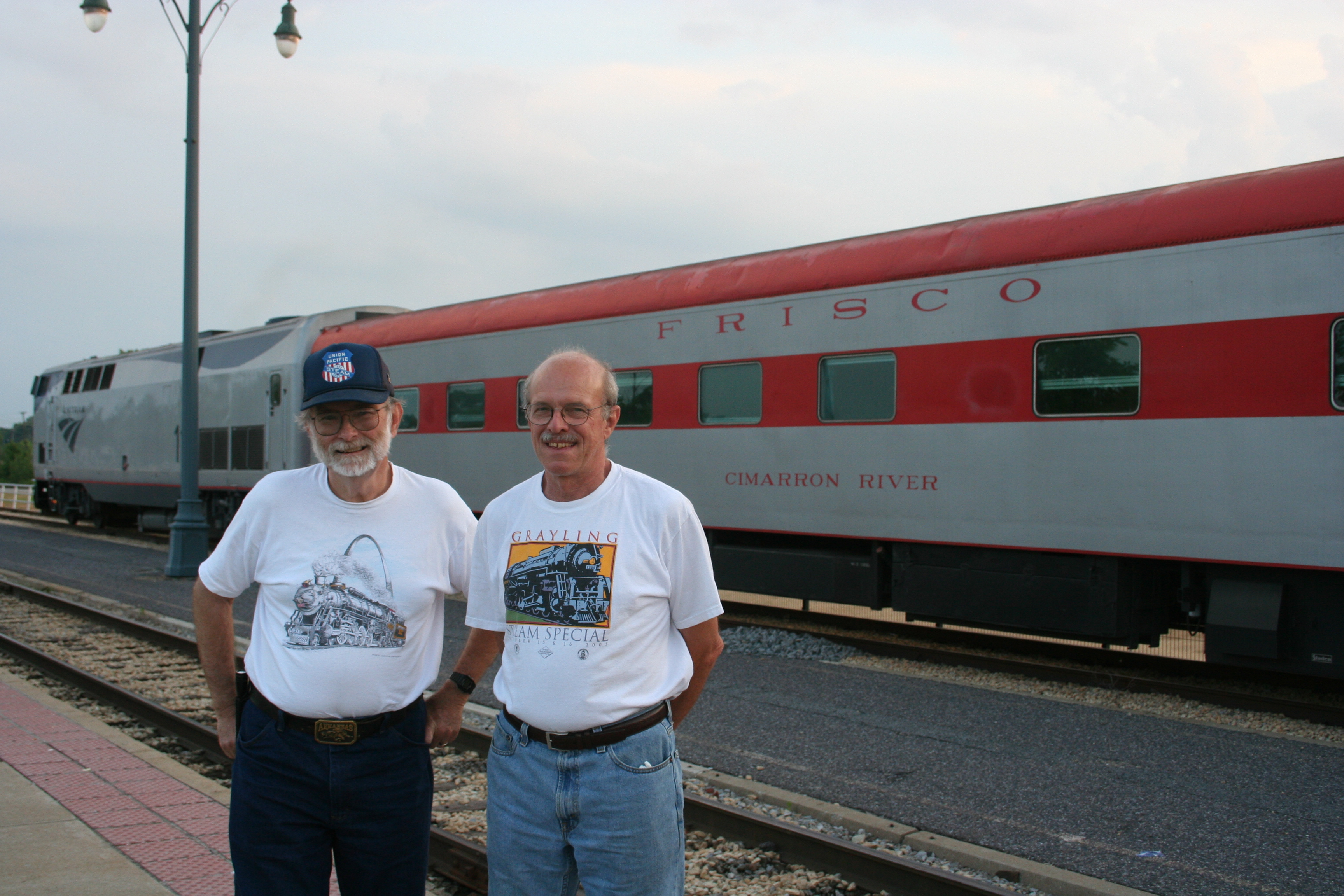 This gathering was for the release of the book about the Dardanelle & Russellville Railroad. Left to right: Mike Condren, Clifford Hull, Naomi Hull holding the book, President of D&R Bill Robbins, Bill Pollard, and his wife Sharon. Does anyone know the ID of the boy?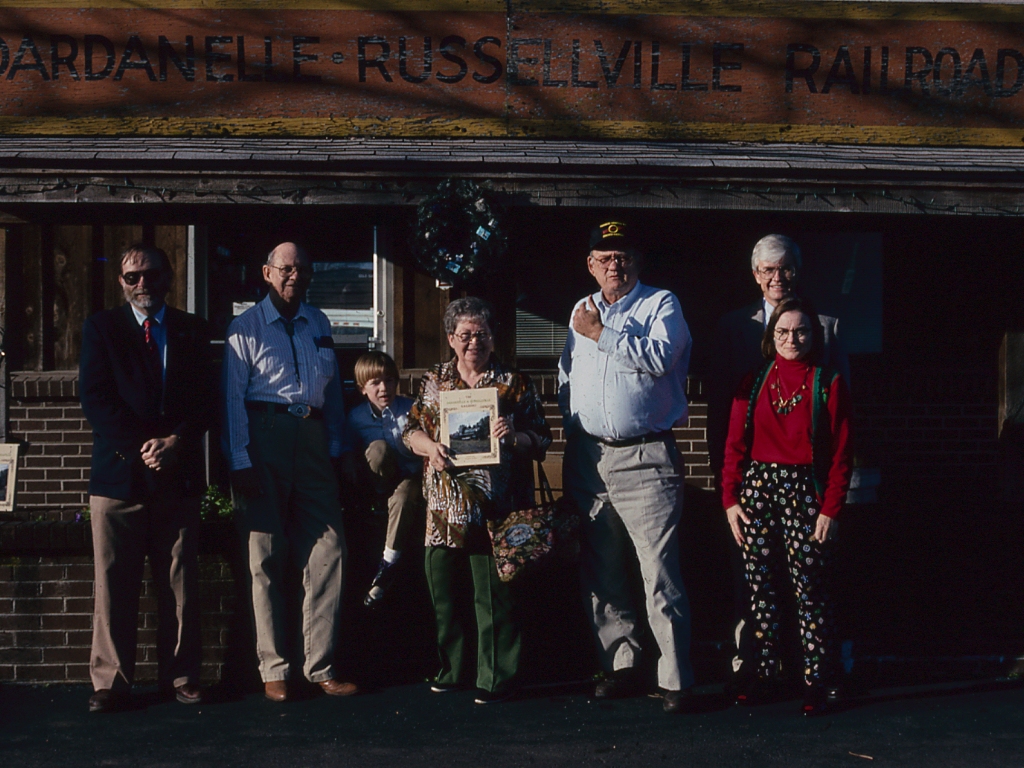 The former 1960 Rolla boys l to r: Mike Condren, John Beirne, and Tony Marchiando. This photo was taken in KC Union Station in 2013 at the end our trip from St Louis on the Cimarron River, celebrating its 65th anniversary and the 65th birthday of Tony. Jan and I had to return to OK while the others continued to CA on the Cimarron River.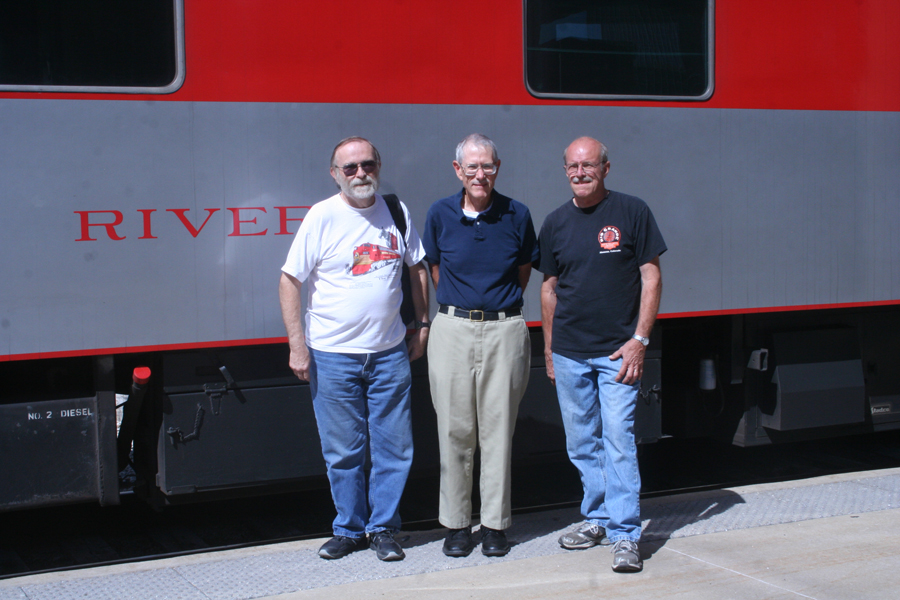 Photo by Jan Condren
Seen here are, l to r, Kirk Reynolds, Phil Gosney, and Jack Ferry, in Memphis for the Centennial of Central Station. Kirk is my newest "Railfan Friend", I met him at the pictured Kansas Ave site in Memphis earlier in the day. Phil, I have known for decades. Jack, I met on the KCS "Santa Train" in 2012. He is a long time friend of Phil's.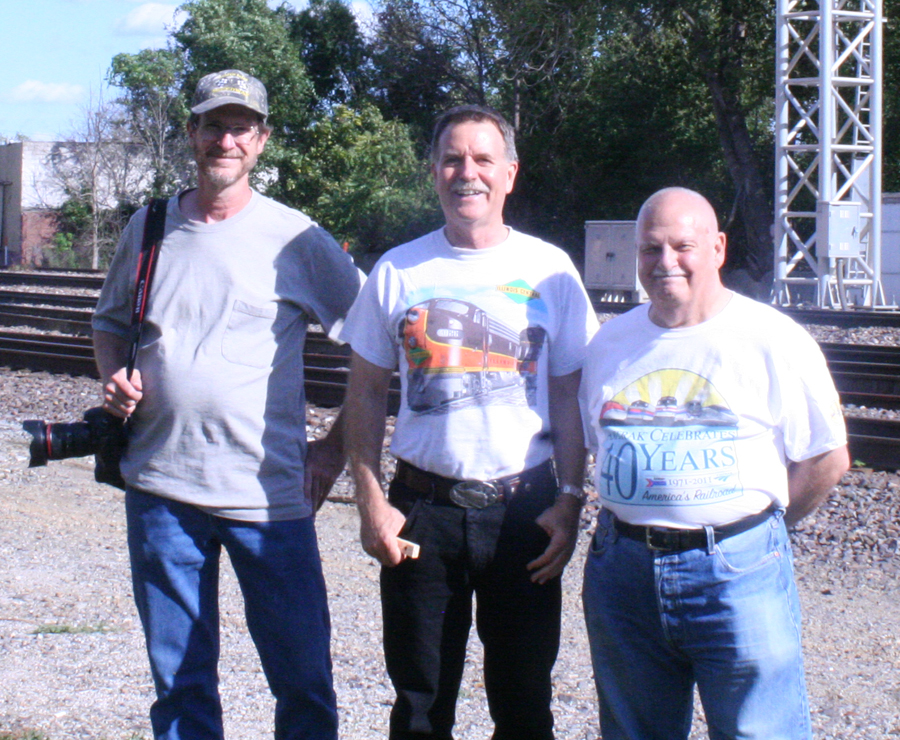 Photo by Mike Condren
Me, Jack Ferry, and Phil Gosney at Kentucky St in Memphis on Oct 4, 2014.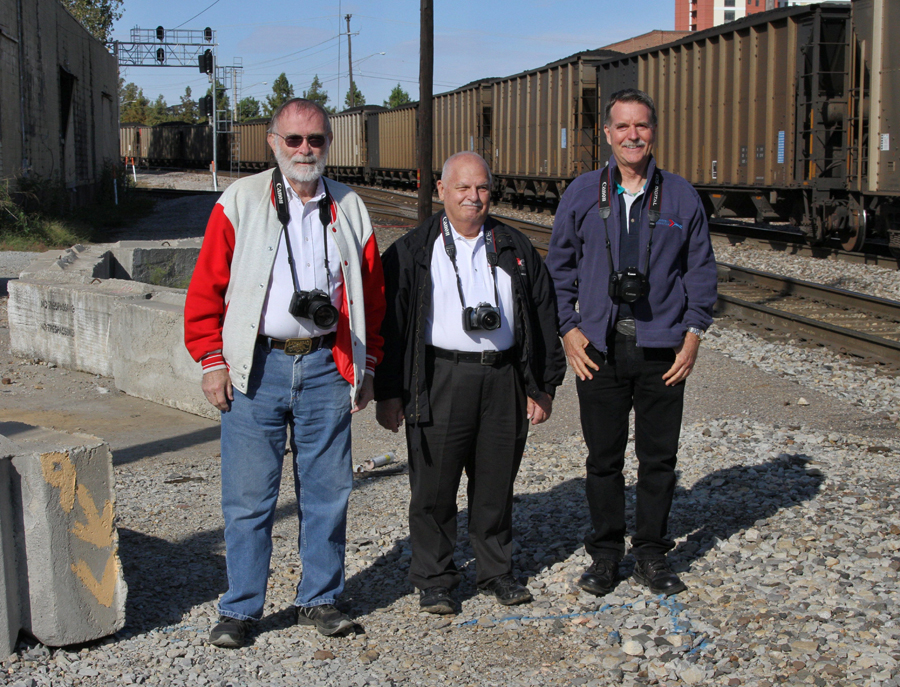 Photo by Kirk Raynolds
Several members of the Tuesday Night Slide Group gathered at the Culver's on WI-20 at I-94 west of Sturtevant.
Left side of table: l to r: Brian Schmidt (blue shirt, cap), Denny Hamilton (shades on top of his head), Bob Baker (red shirt) and Otto Dobnick (blue shirt)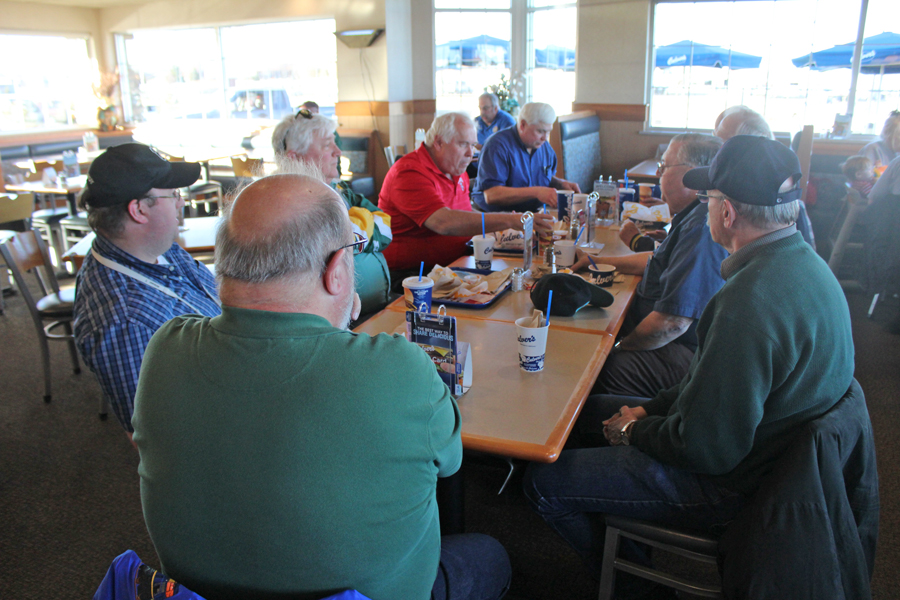 Left side of table: l to r: Craig Willett, Rick Moser, Nick Tharalson, Dave Ingles, Mike Patrick, and Bob Fontana (end of table).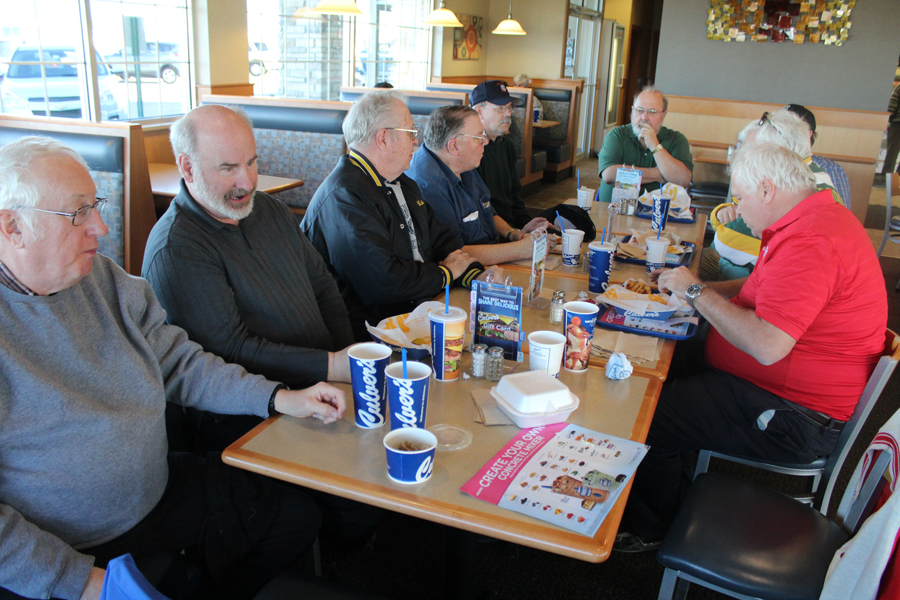 | | |
| --- | --- |
| A&M engineer Andre Ming has been a friend since the mid-1970s. He was the engineer for the A&M excursions for National Train Day on May 9, 2015. | |
I have not yet located photos of all of my many railfan friends. For some, I need to shoot a picture the next time I see you.
This page was designed and is maintained by Mike Condren mcondren@cbu.edu.