Train Festival 2009
Photos by Peter Limper
except as noted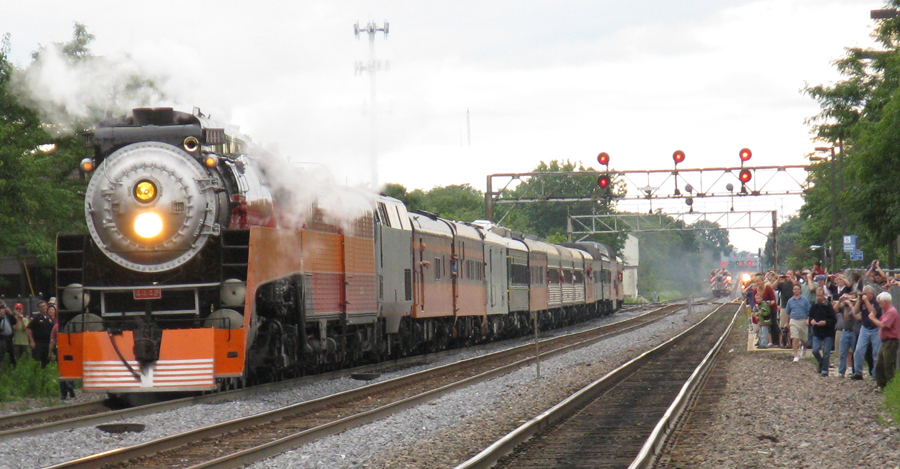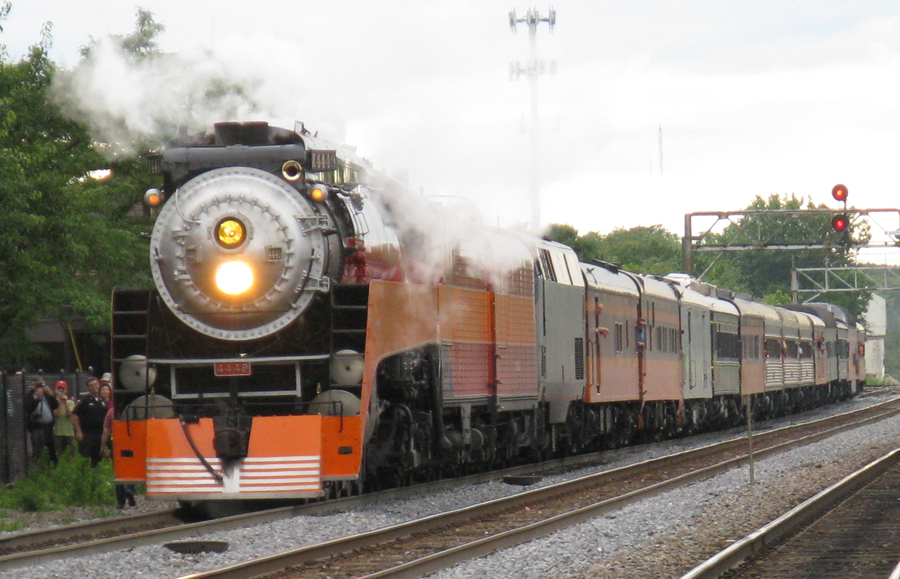 Bound for Train Festival in Michigan, SP 4449 leaves Naperville on the BNSF, near the end of a Twin Cities-Chicago run, 7/18/09.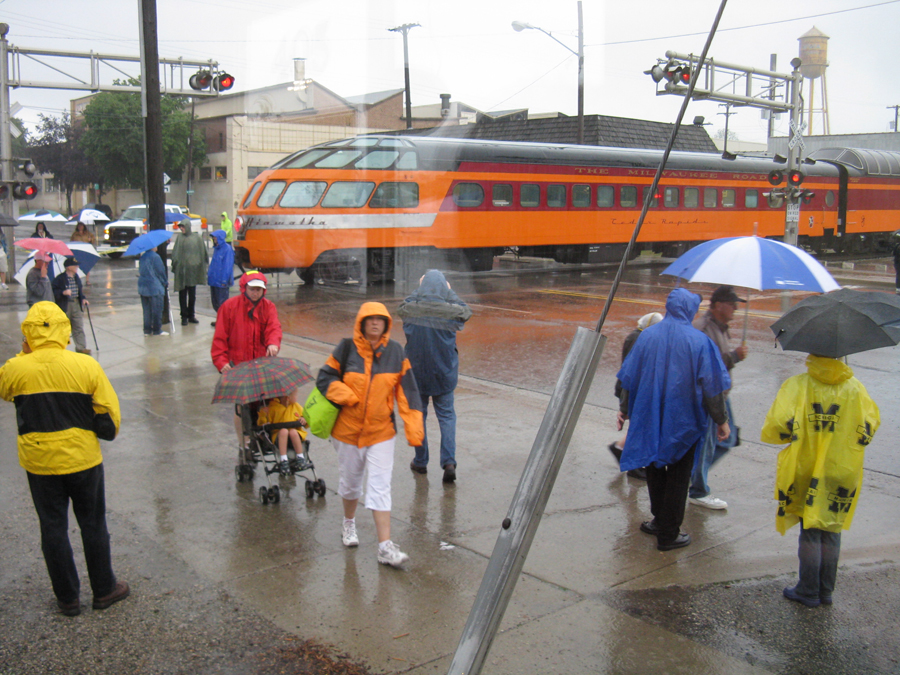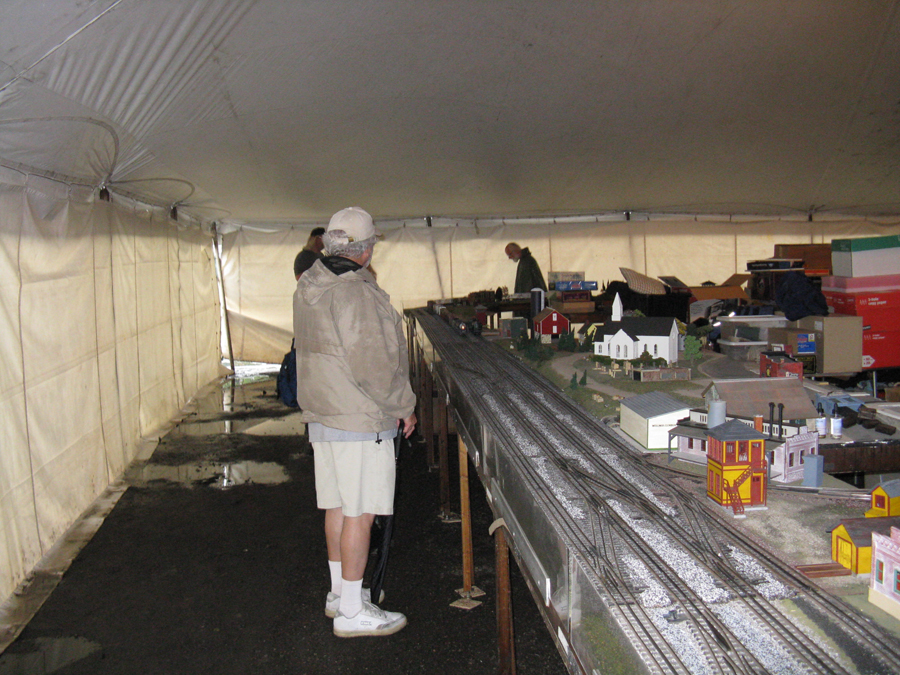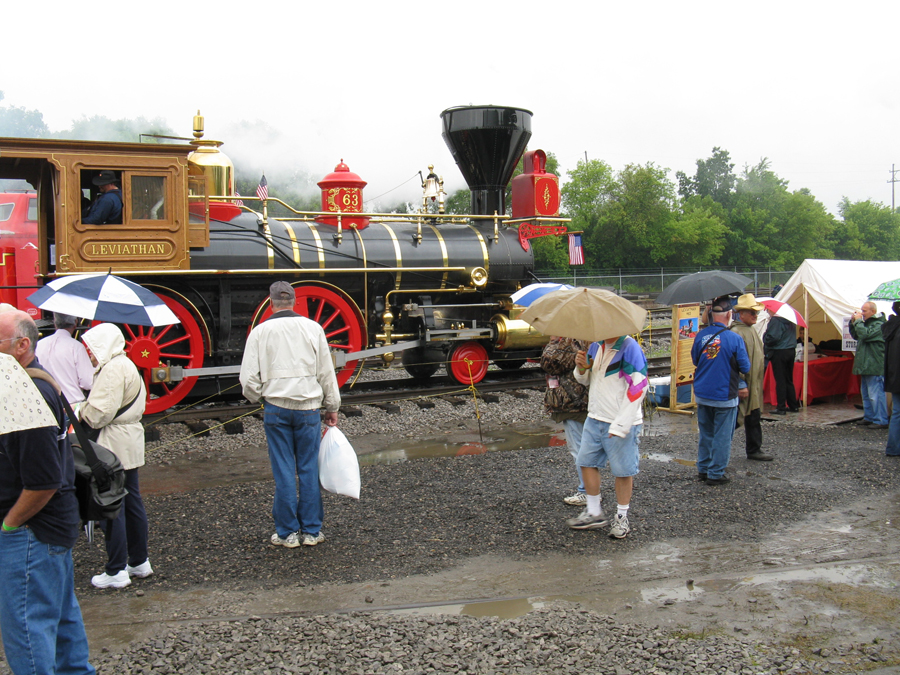 A rainy opening morning at the Train Festival in Owasso, MI, 7/23/09.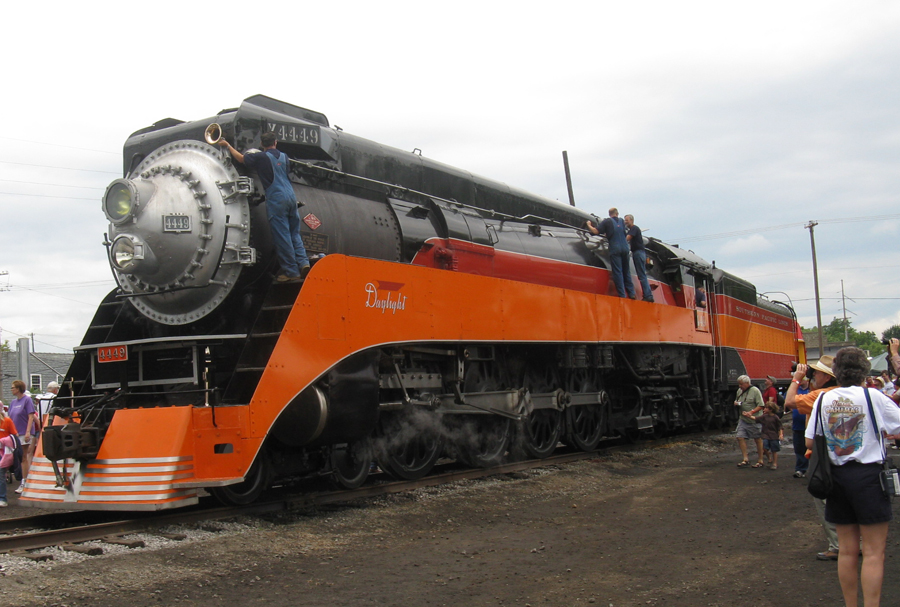 SP 4449 was one of eight locomotives displayed under steam at the Festival. It pulled all-day excursions on Thursday and Friday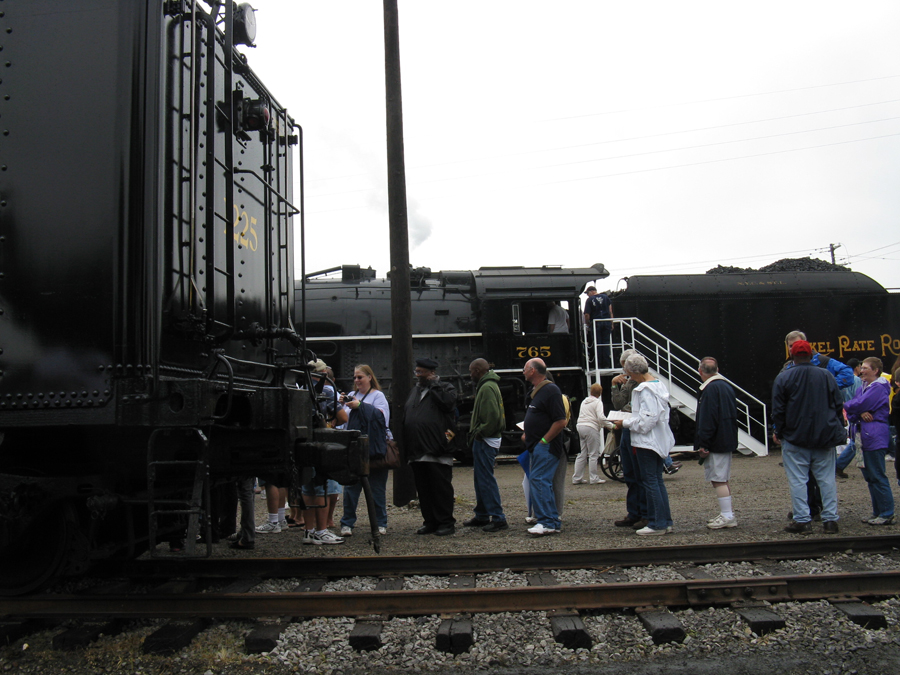 Two Berkshires, both Lima graduates from the 1940's, were on display: NKP 765 and PM 1225.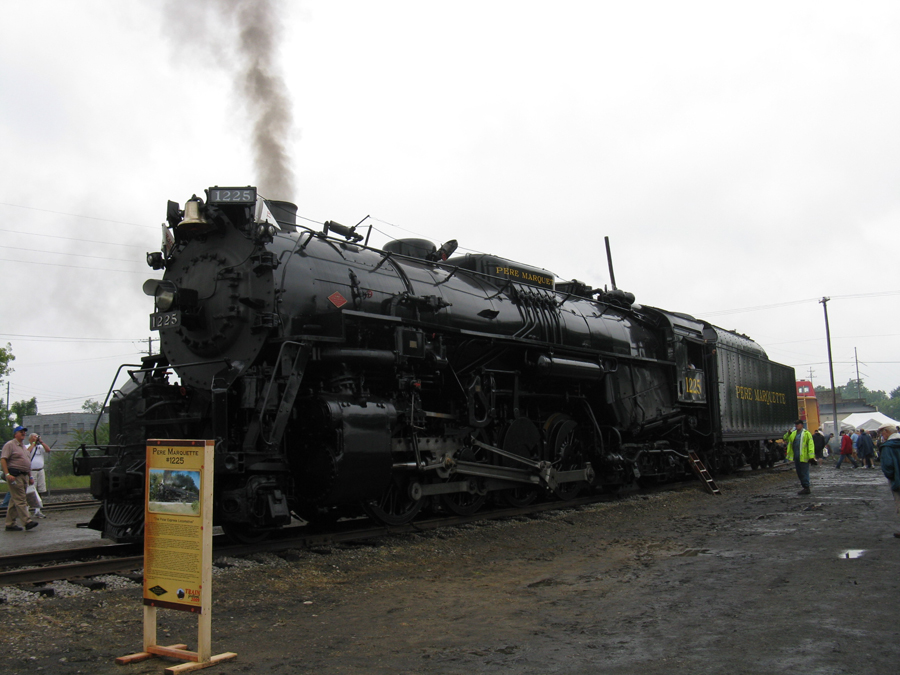 PM 1225 belongs to the host organization, the Steam Railroad Institute, and was the model for the engine in the animated film 'The Polar Express.' She blew a boiler tube while on static display Friday, and 765 substituted on the Saturday excursion.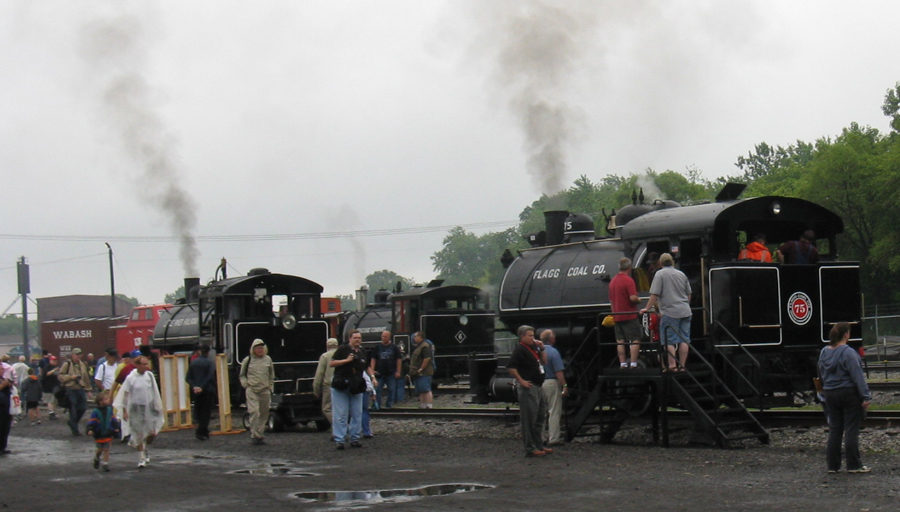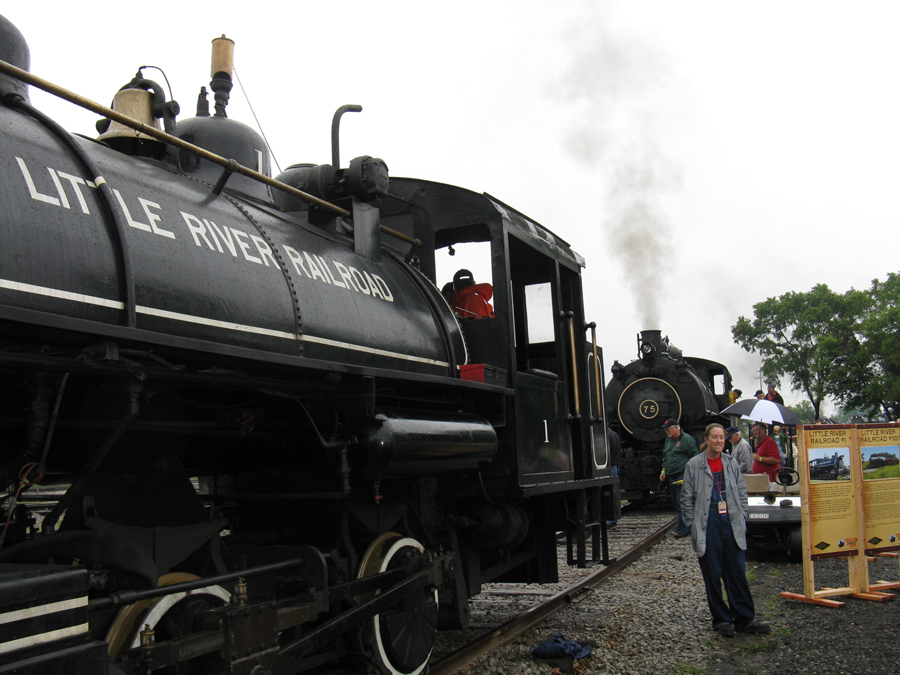 Three 0-4-0 tank engines were displayed: Flagg Coal Co. #75, Viscose #6, and Little River #1.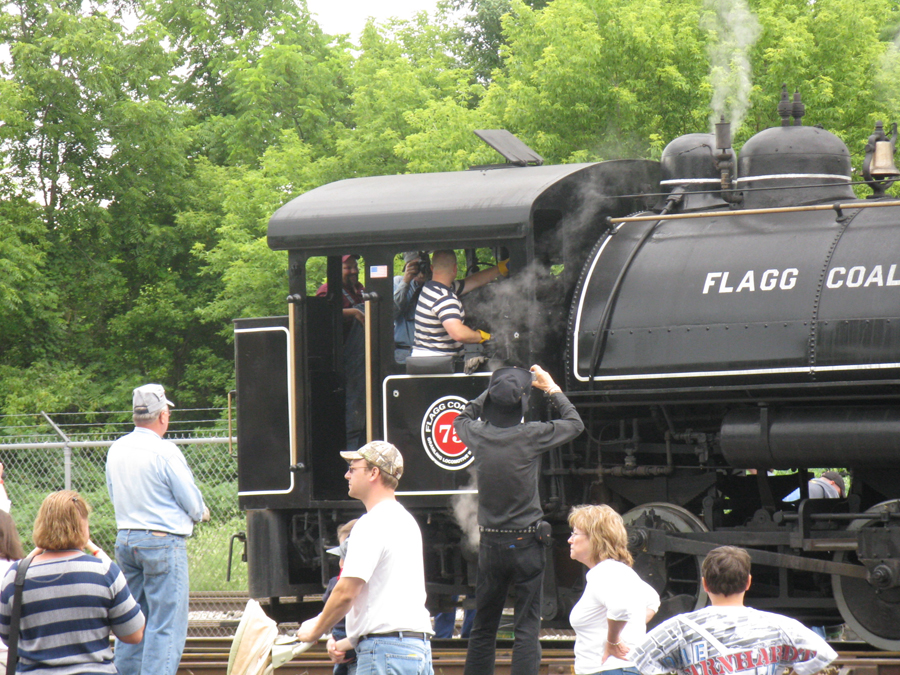 One of many visiting engineers gets his 15 minutes at the throttle of #75.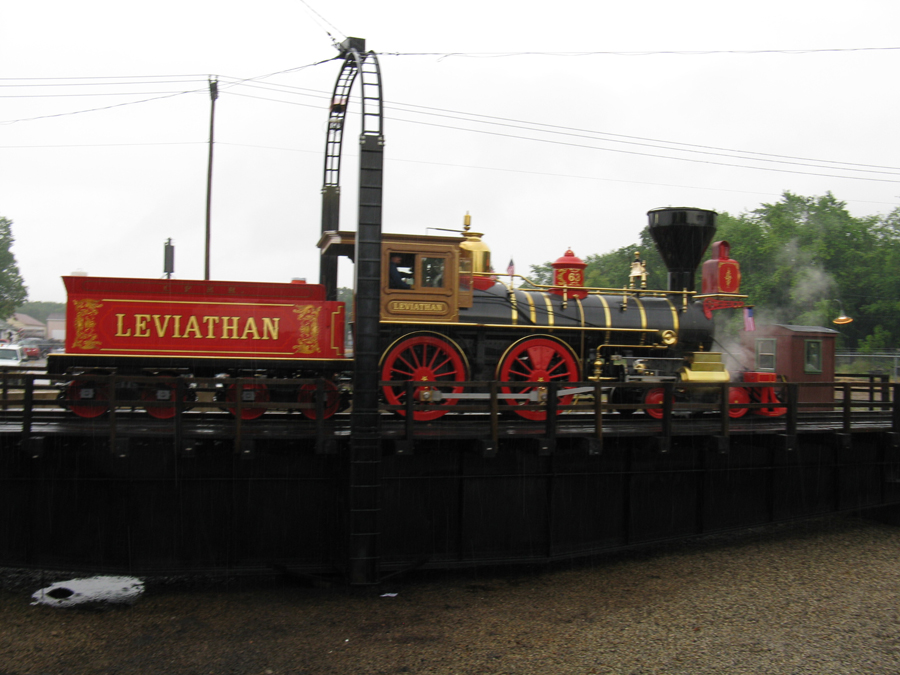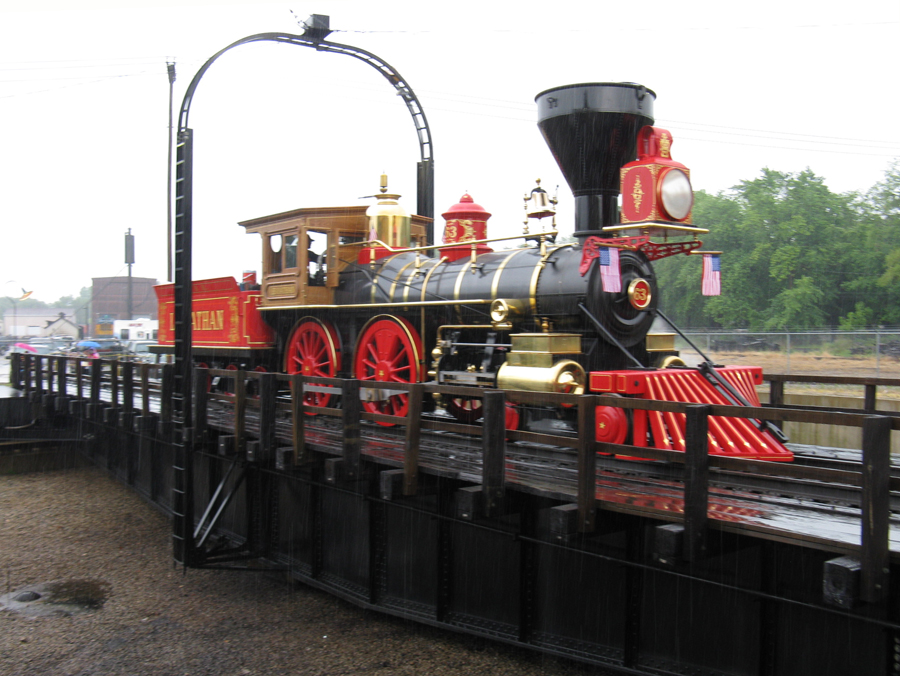 No. 63 'Leviathan' is a just-completed twin to CP's 'Jupiter' which participated in the Golden Spike Ceremony in 1869. The engine was periodically given a 360 degree spin for photographers.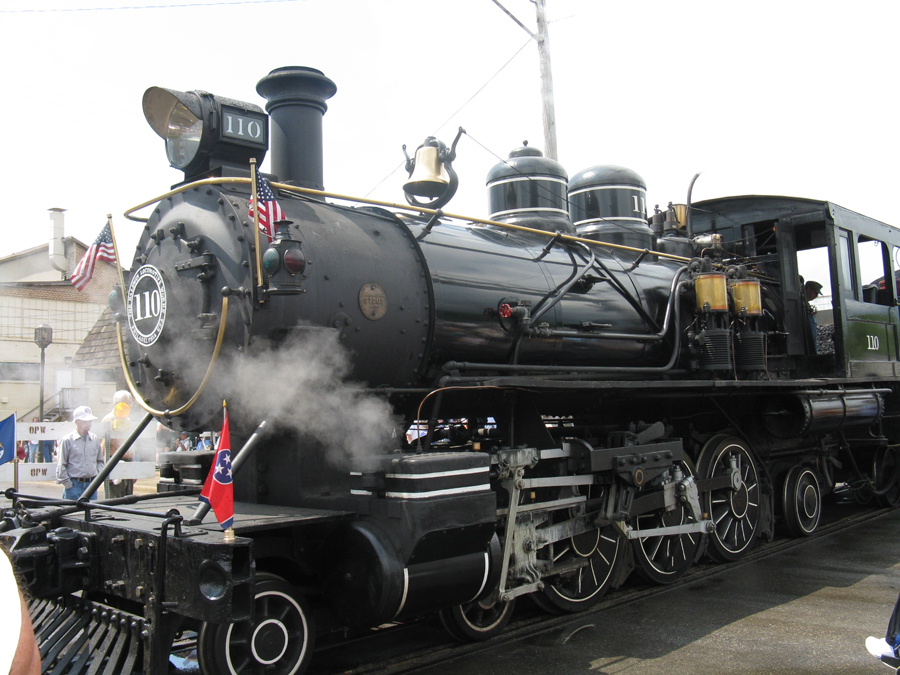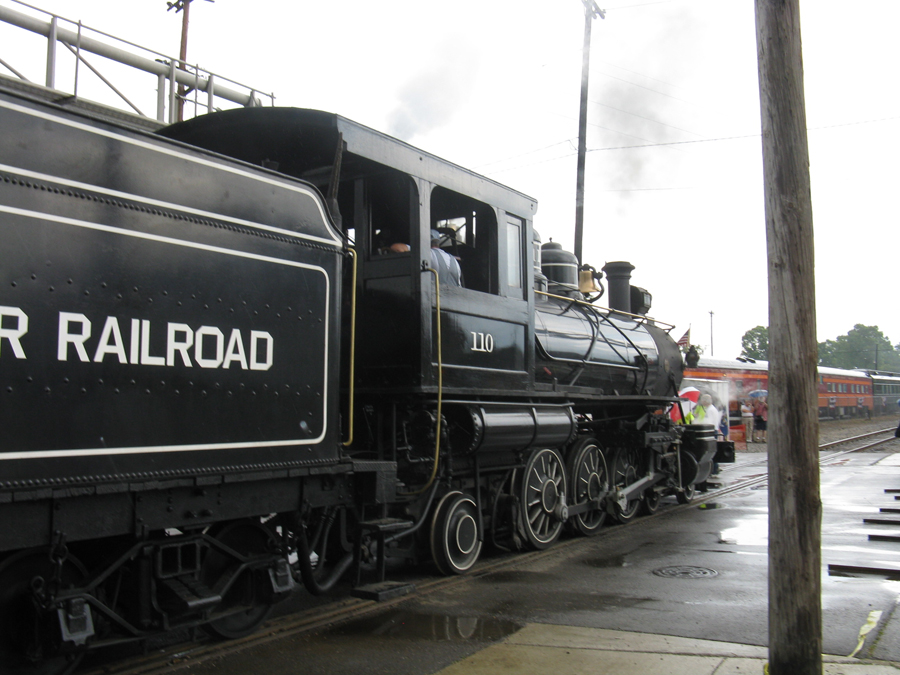 Little River #110 is the smallest operating standard gauge 4-6-2 in the US. She pulled hourly excursions all during the Festival.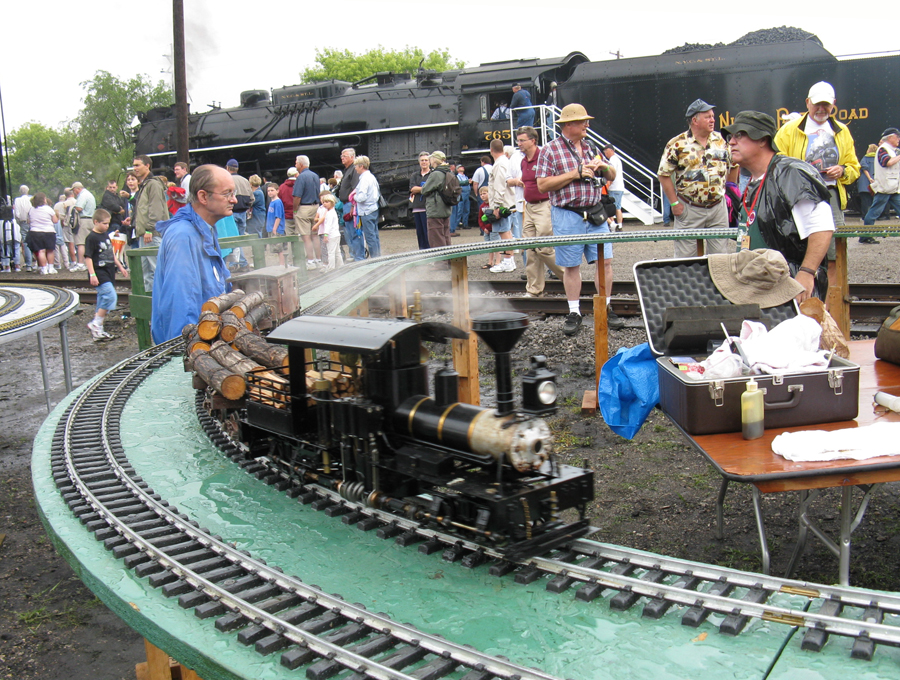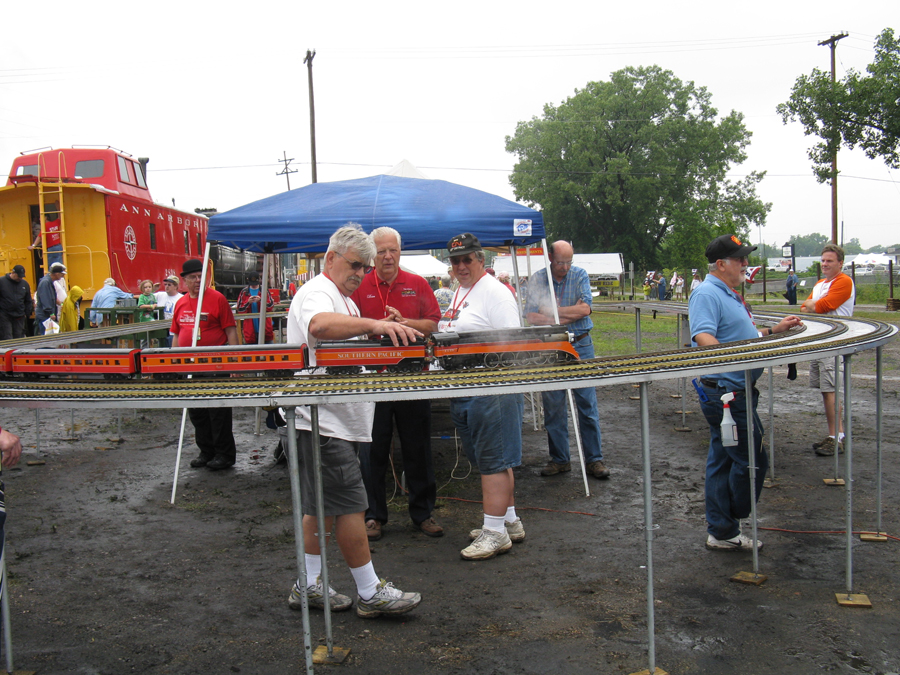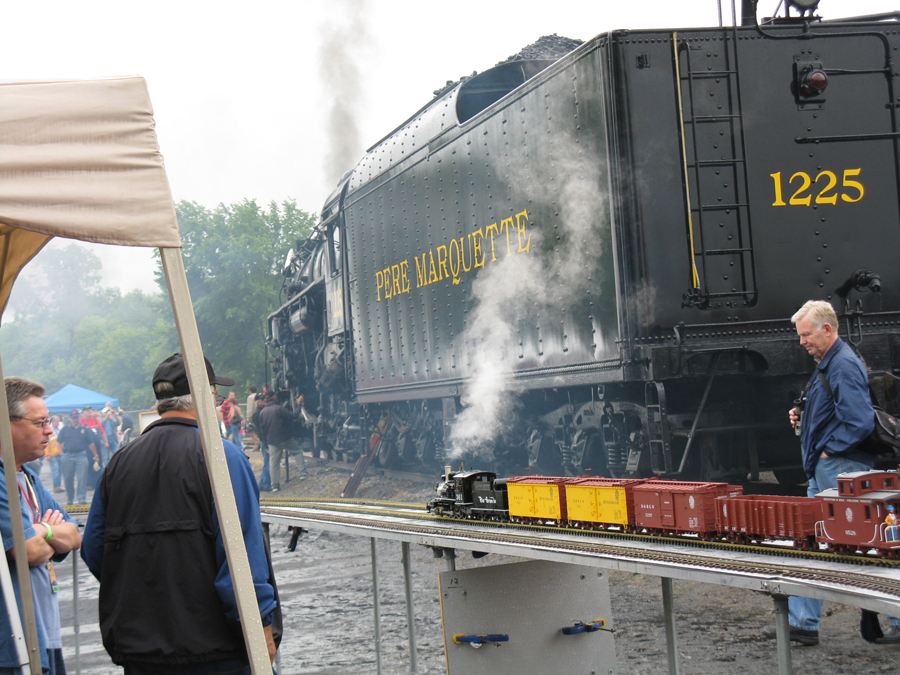 A variety of live-steam engines operated on loops of #1 gauge track.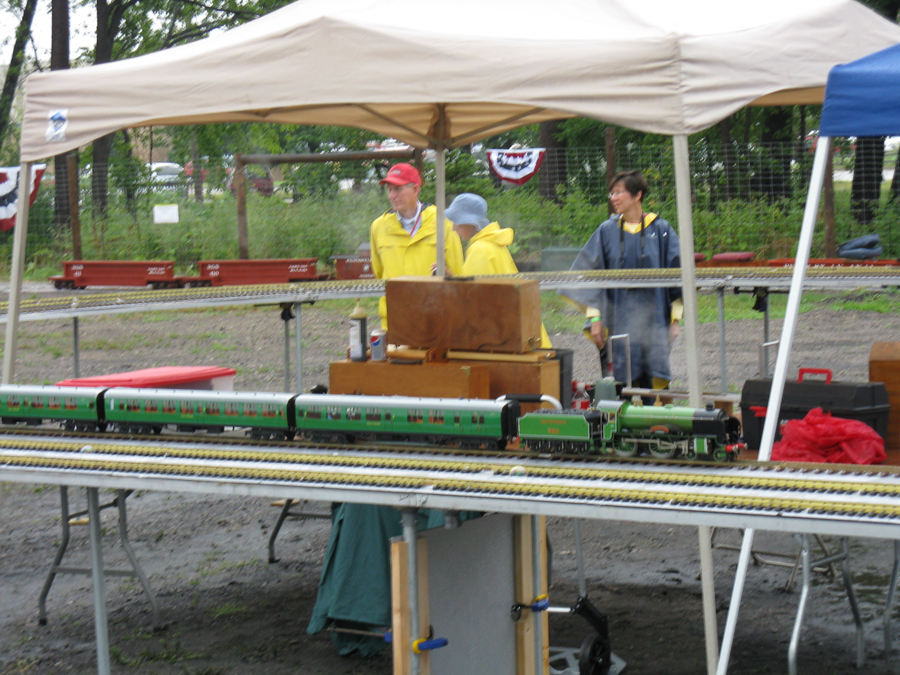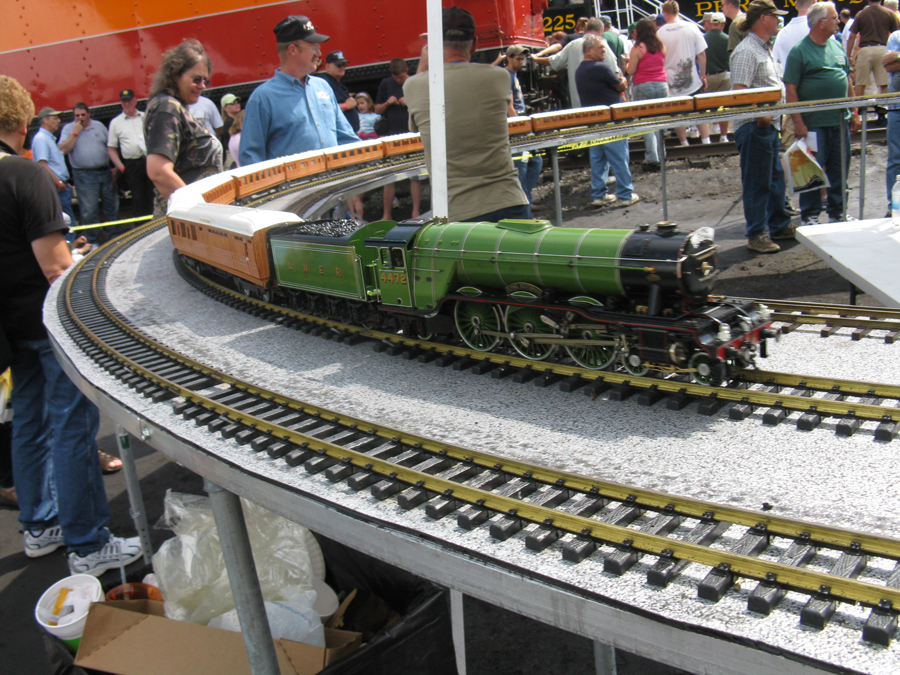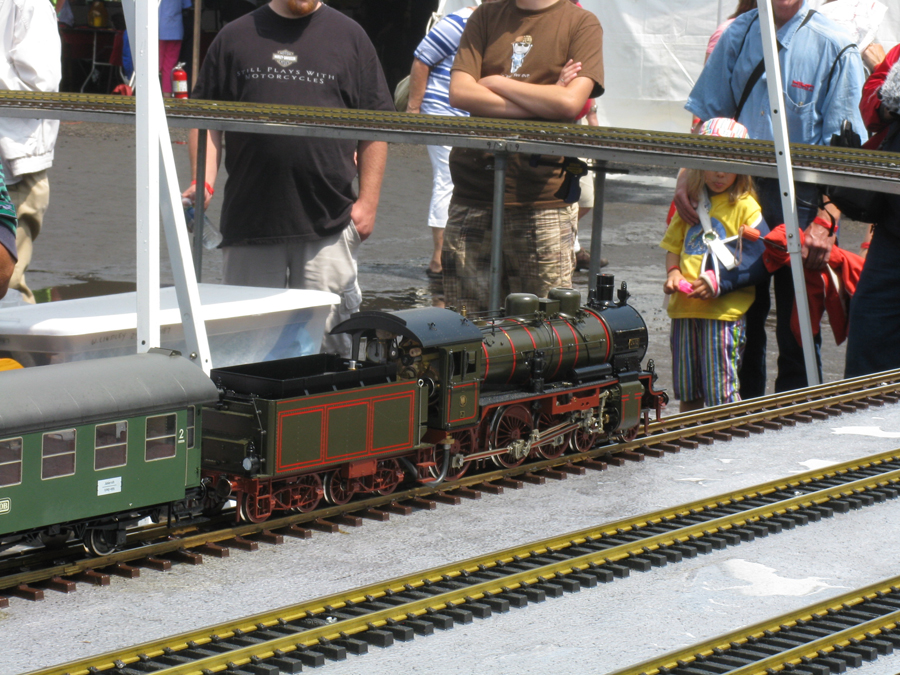 British and German prototype live steamers.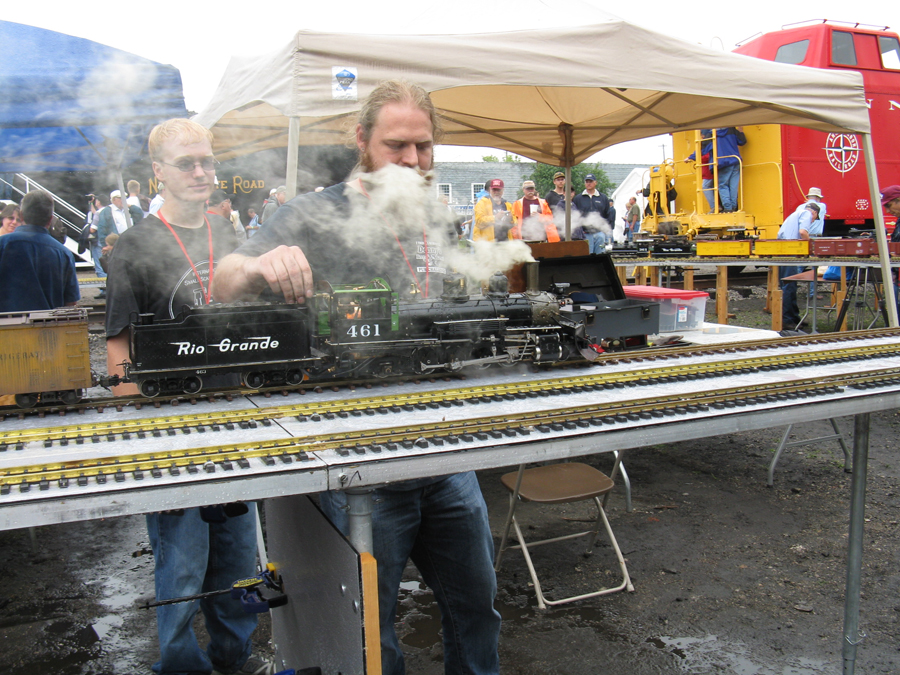 While most of the engines use butane or alcohol as a fuel source, #461 is a true coal-burner.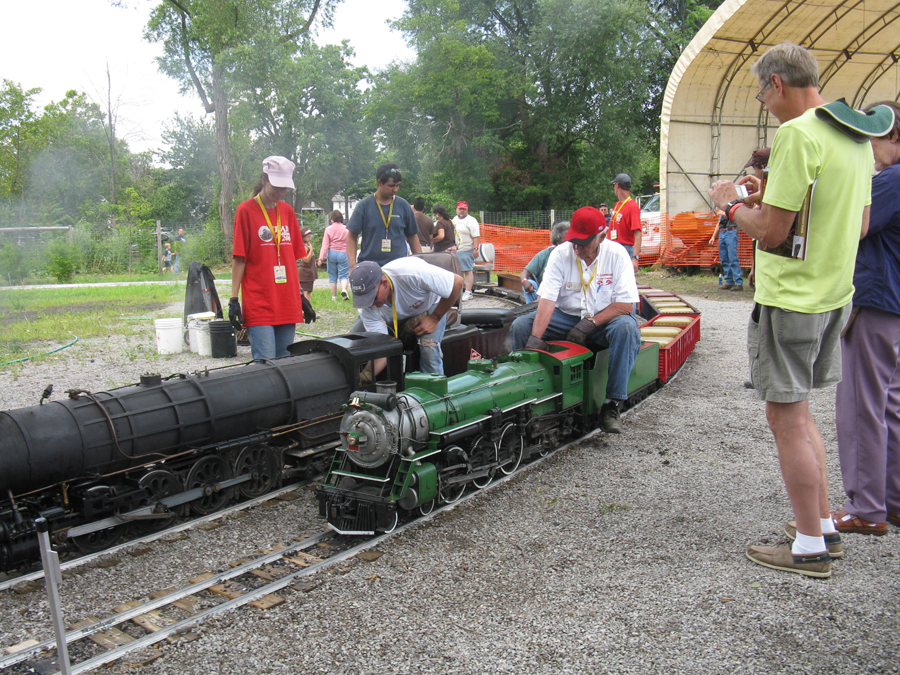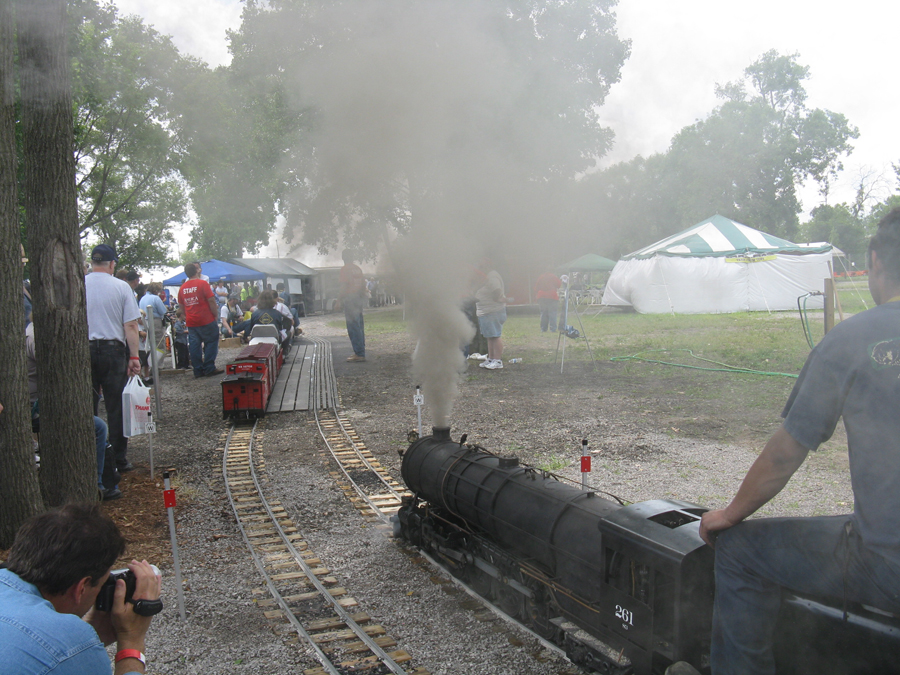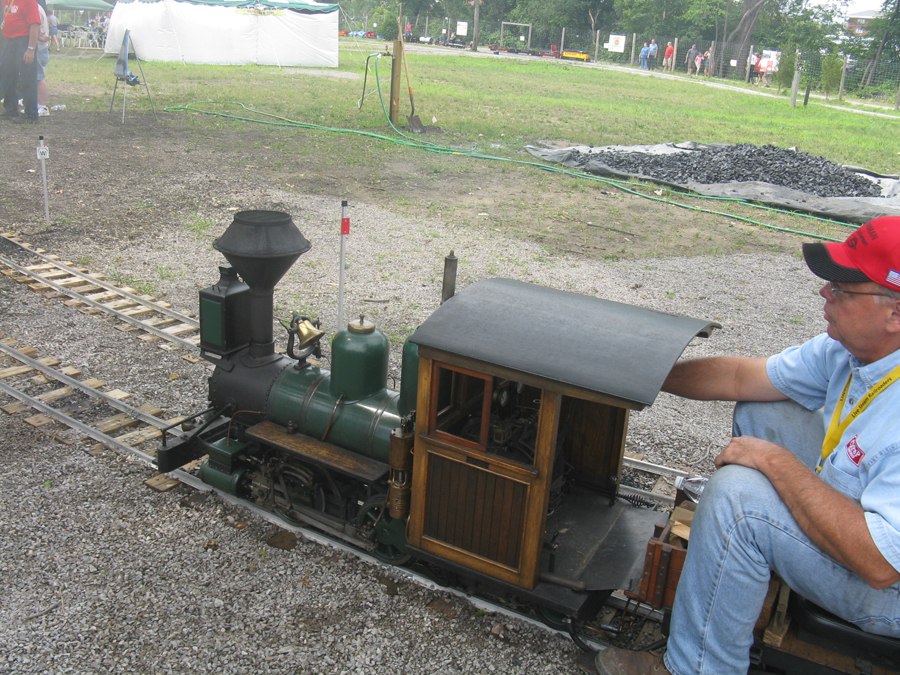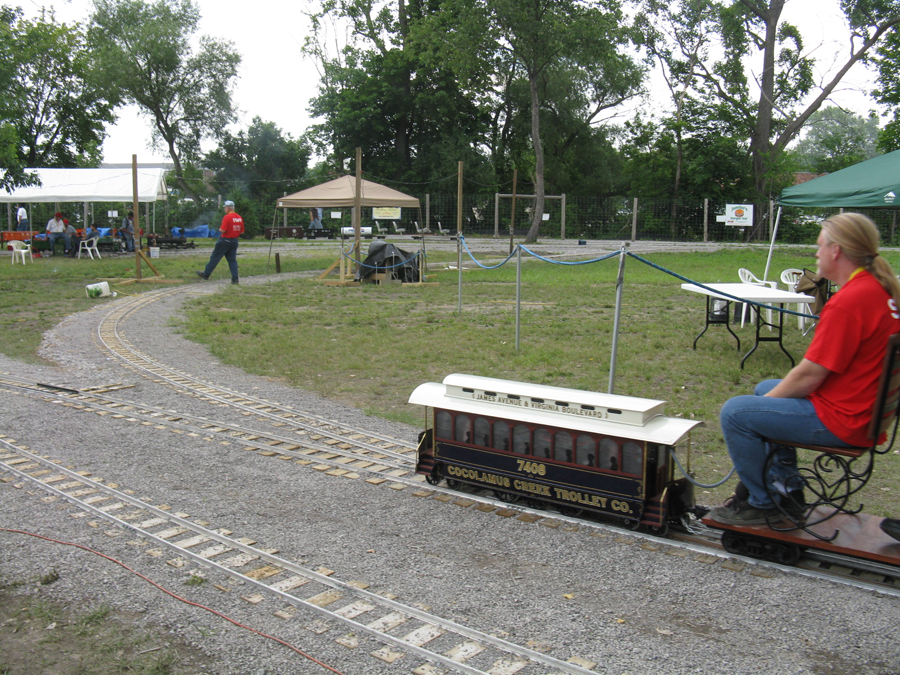 Passengers were carried on a 7 1/2" gauge line using an assortment of motive power.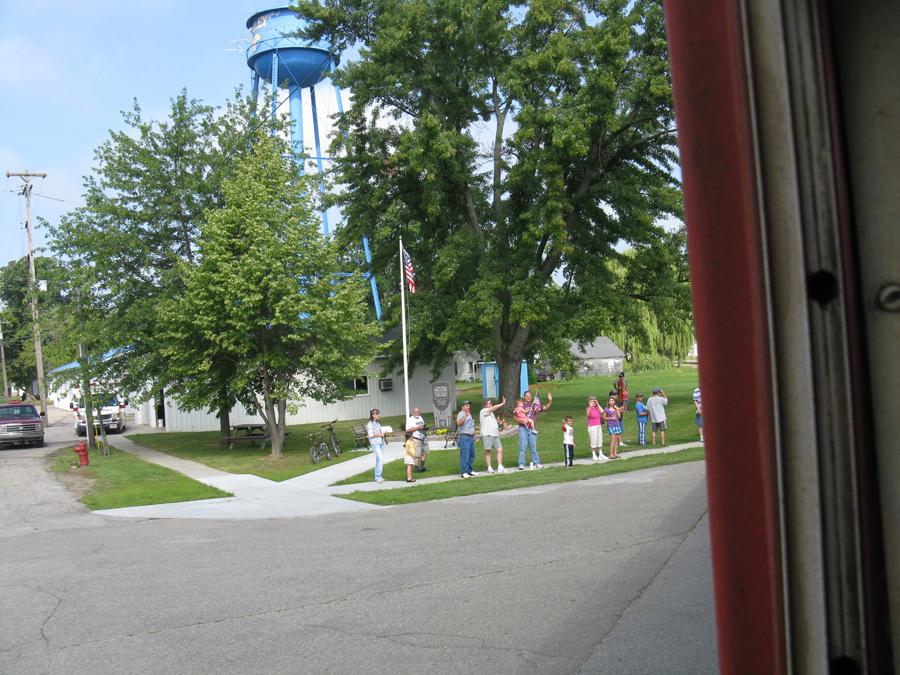 Daily excursions were run between Owasso and Alma. Although the distance was only about 40 track-miles, the trip took over two hours each way. Here the train passes Ashley, about mid-way on the trip, as seen from an open-window coach.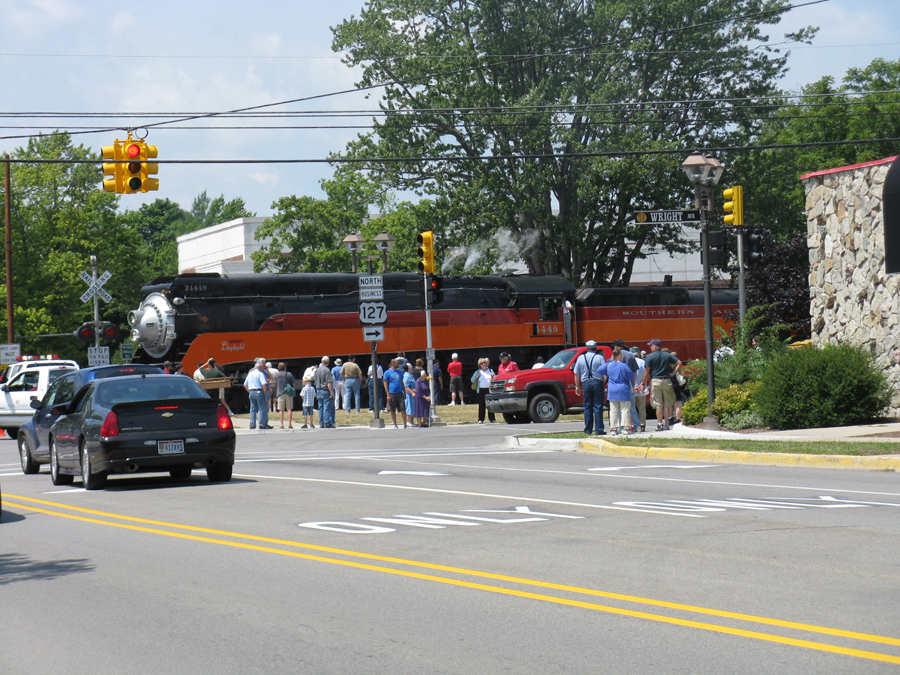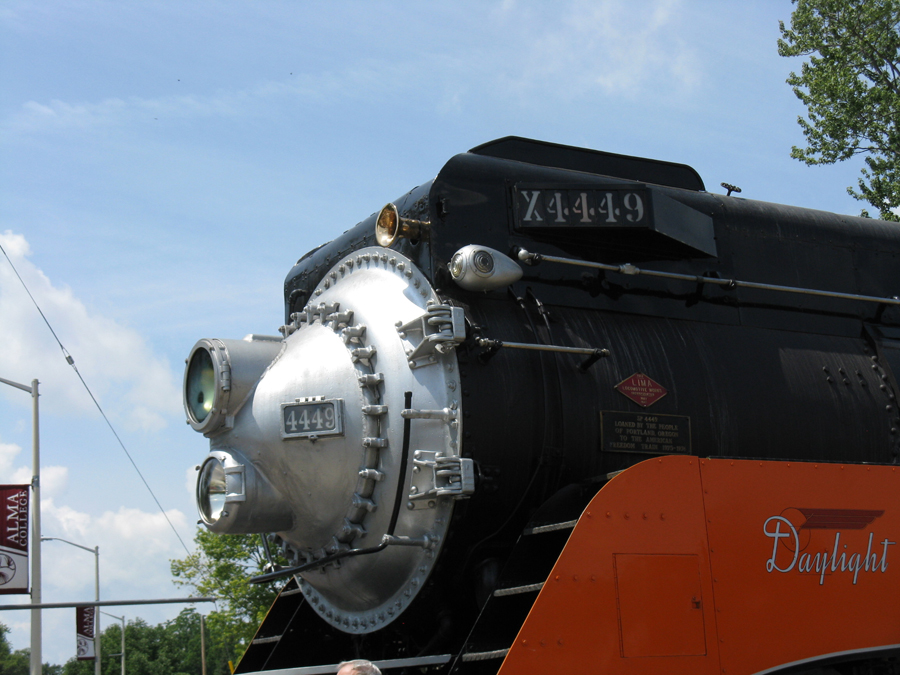 On Friday, 4449 has been turned and prepares to take the train back from Alma to Owasso. The track is part of a former Ann Arbor RR line from Toledo to the Lake Michigan ferry port of Frankfort. It still carries freight.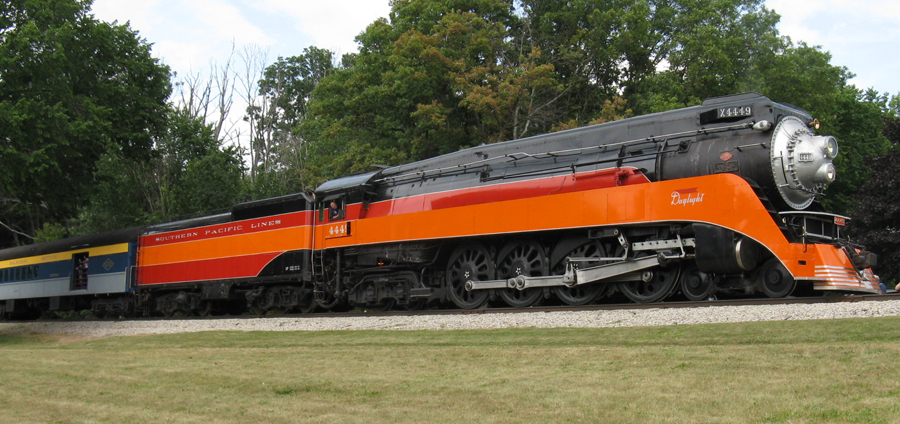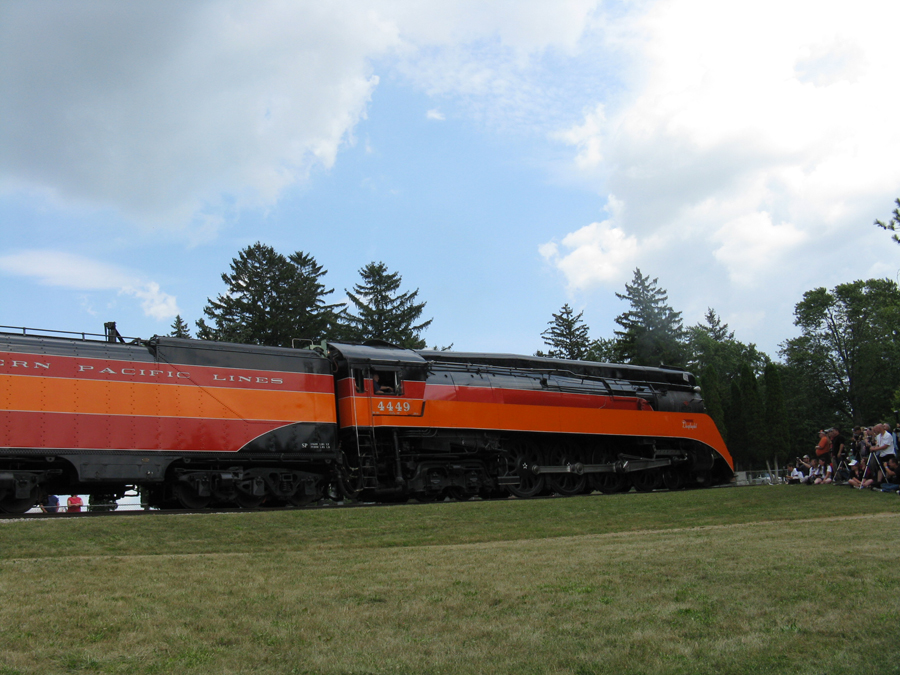 Run-bys were held on the return trip at a park near Ithaca.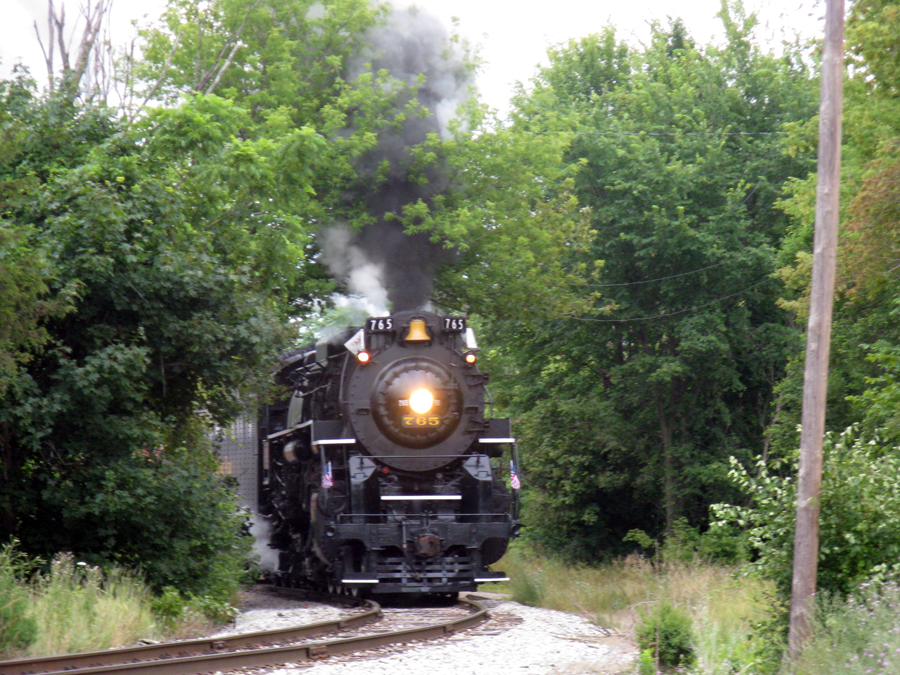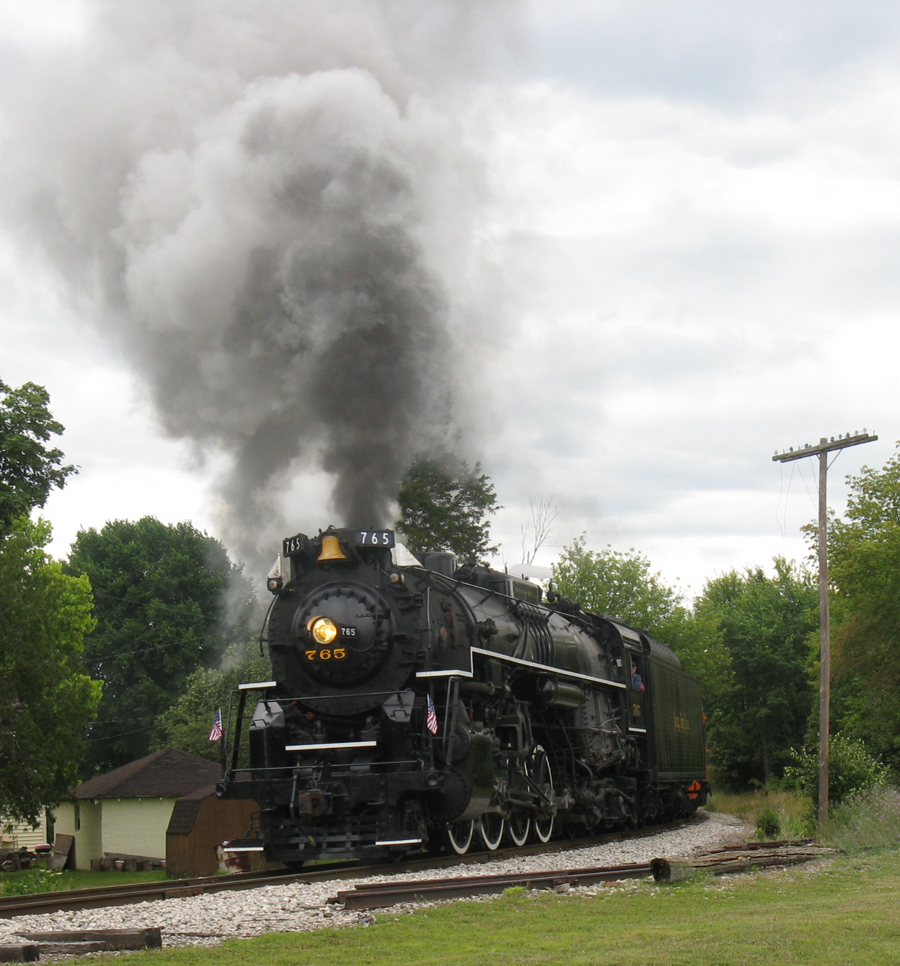 NKP 765 leaves Owasso on the Saturday excursion.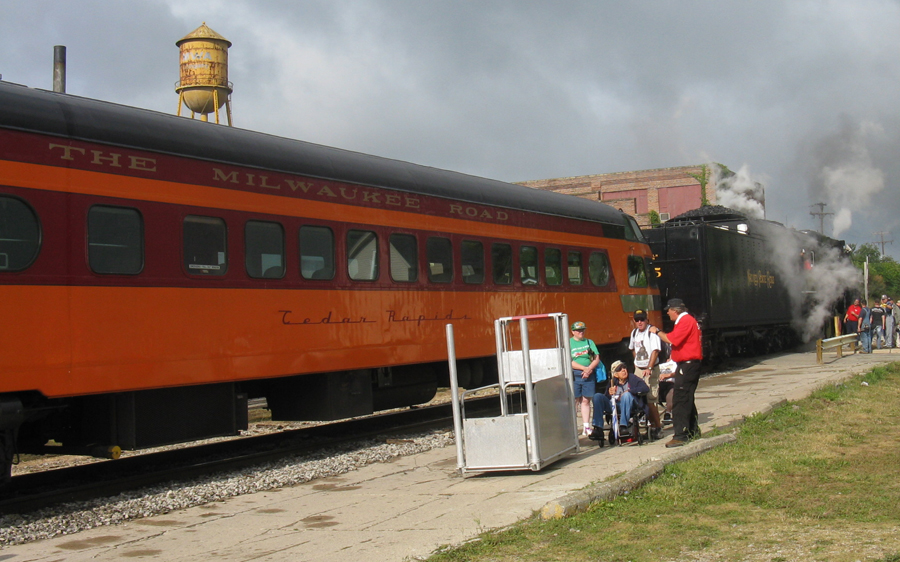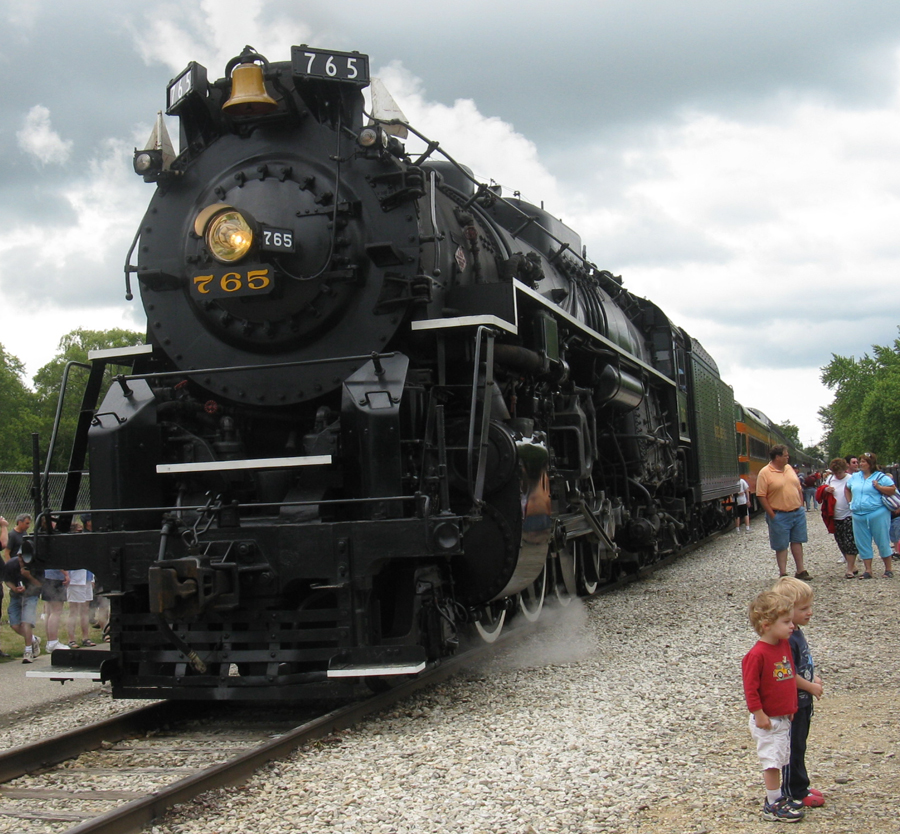 Sunday after arrival in Alma. After problems trying to turn the entire train on the first trip, the train ran observation-first outbound, and only the engine was turned at Alma.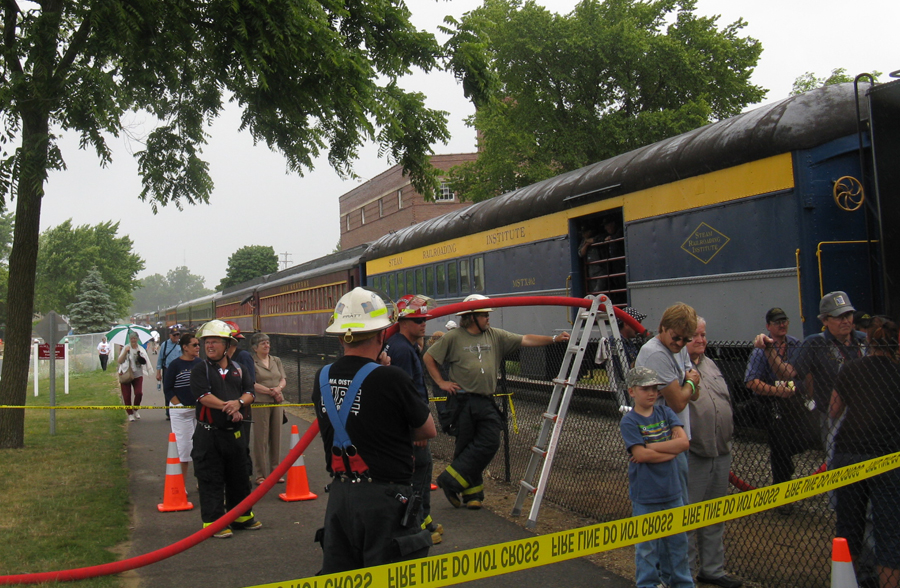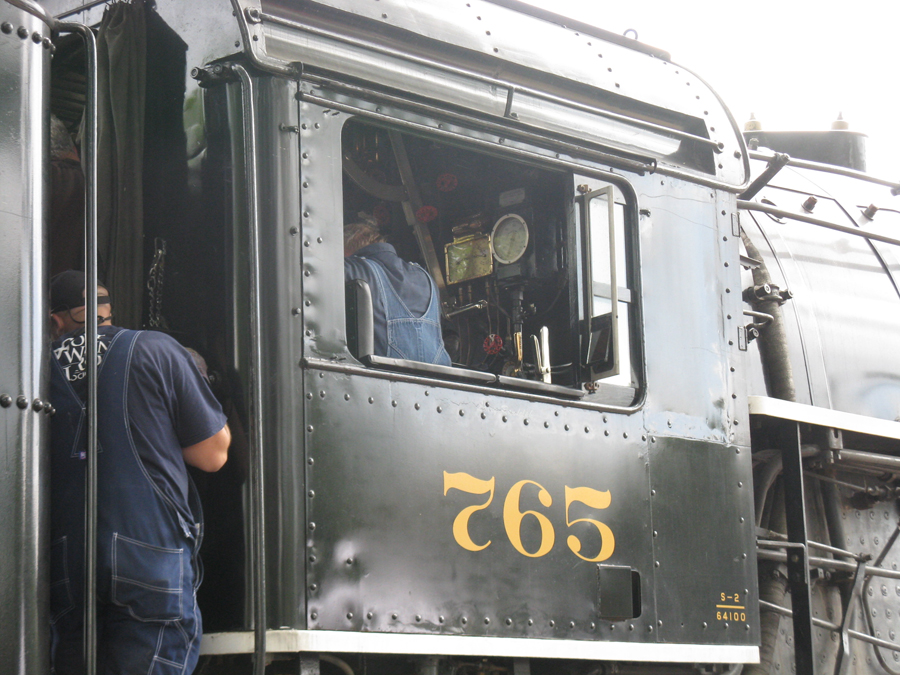 The Alma fire department waters the engine, and the crew prepares for the return trip.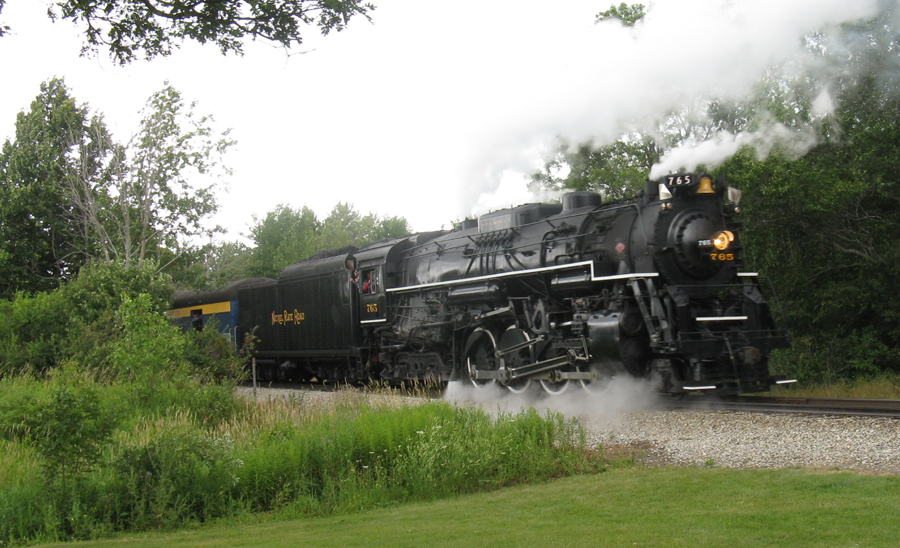 A run-by of 765 at Ithaca.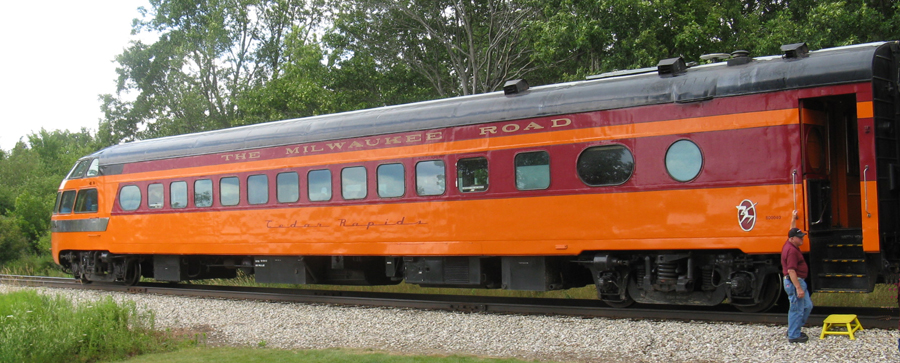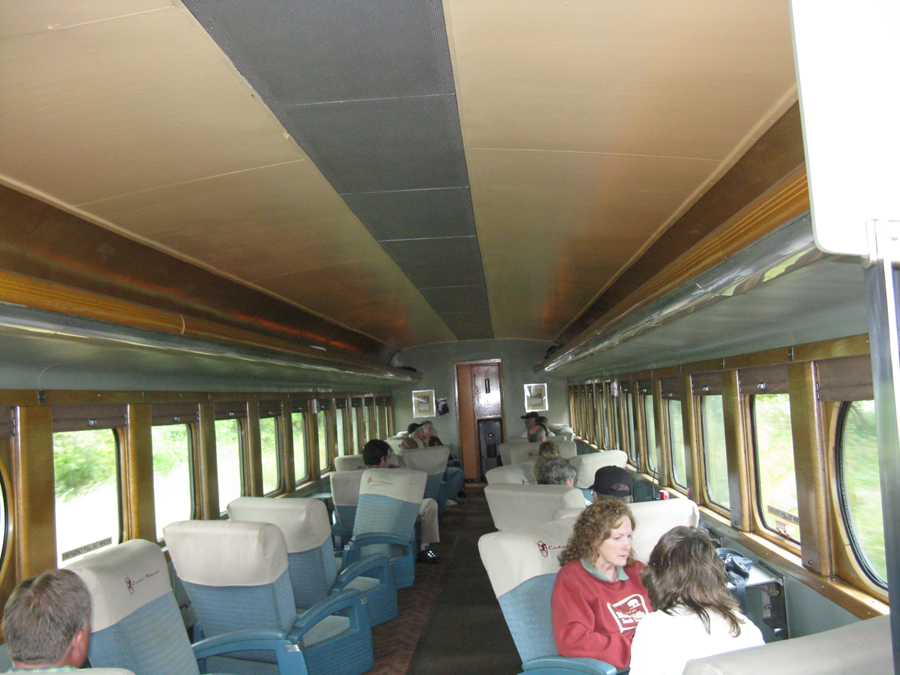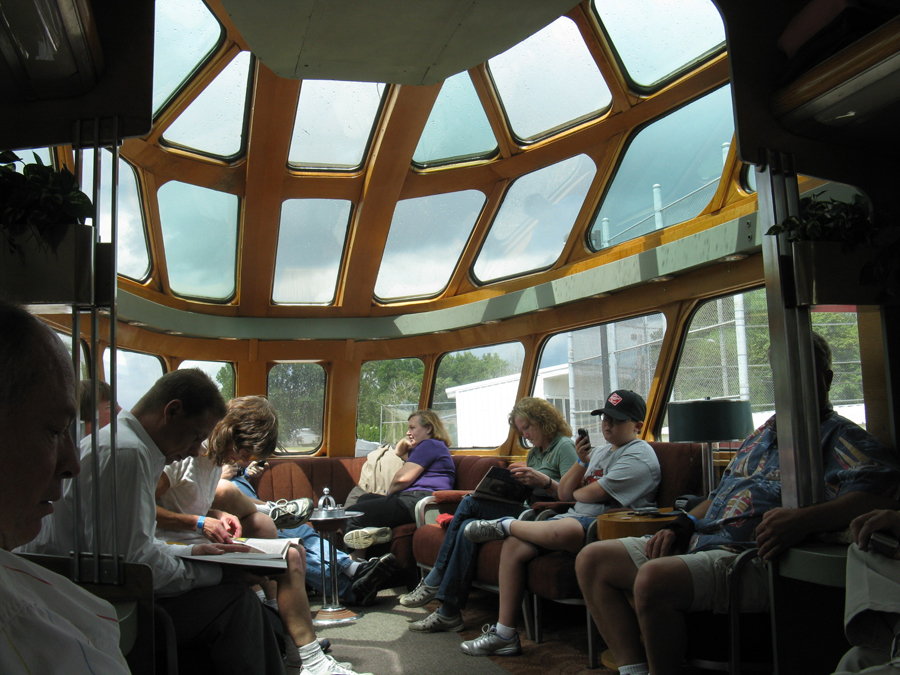 One of the Milwaukee's unique "Skytop" parlor-observation cars brought up the rear of the train on the return trip to Owosso.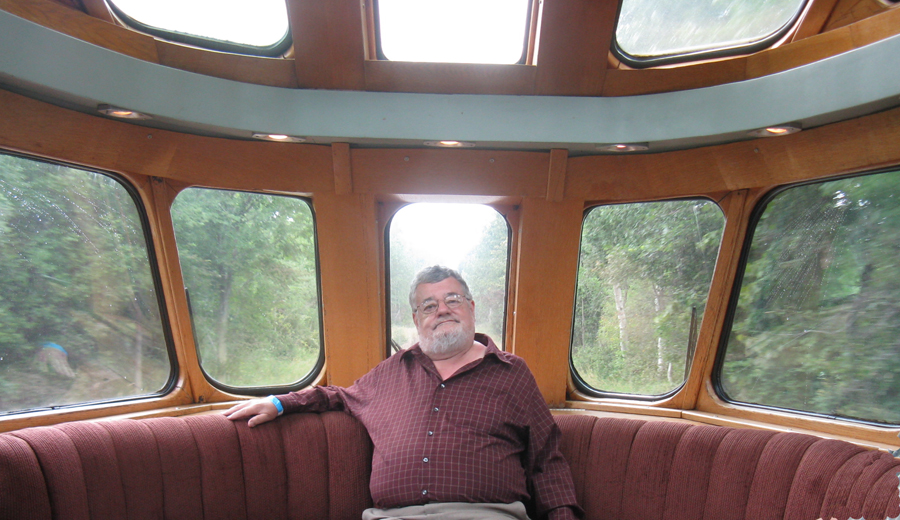 The photographer relaxes in the rear lounge as the Sunday trip, and the Festival, draw to a close.
Additional photos by Carol and Dave Ingles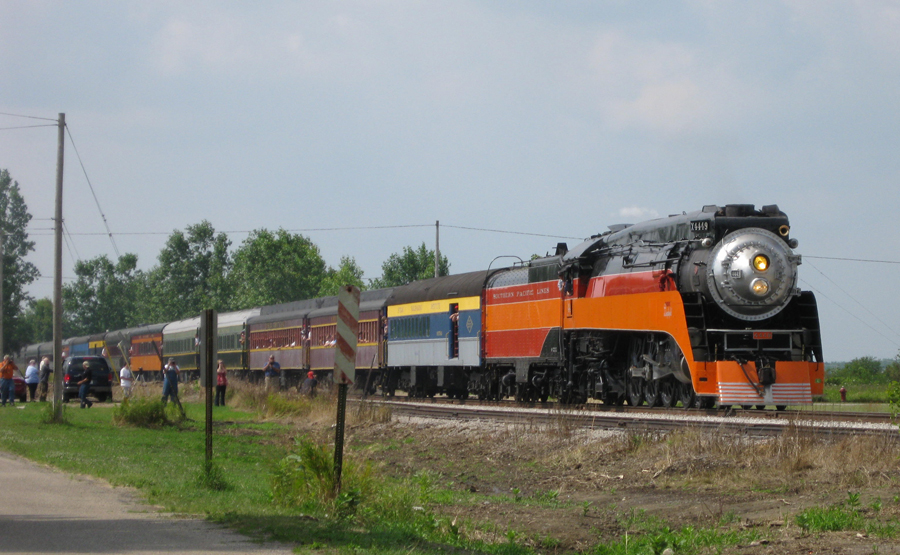 Photo by Carol Ingles
SP 4449 South on Great Lakes Central (formerly Ann Arbor, later Tuscola & Saginaw Bay), Ashley, Mich., 7/23/09.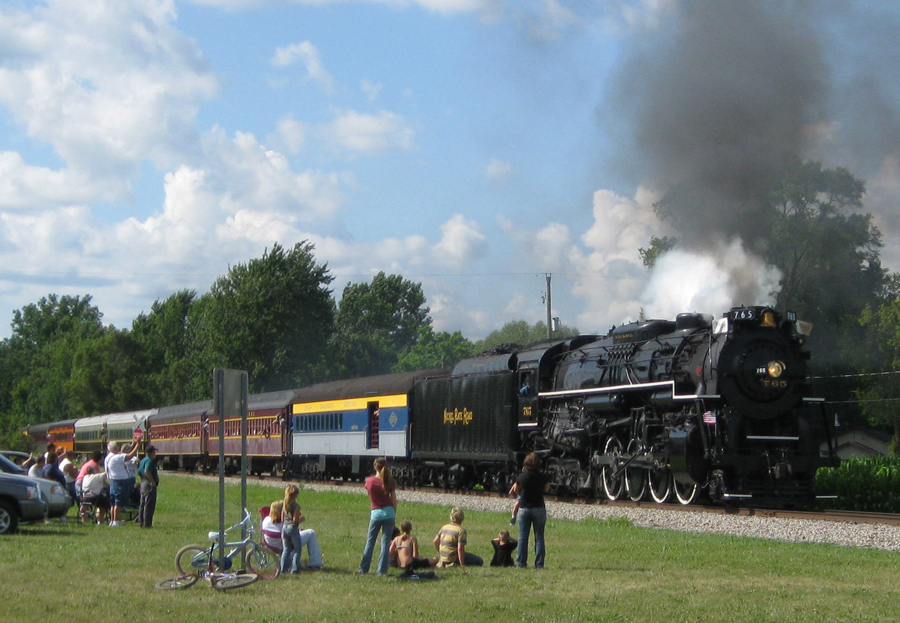 Photo by Carol Ingles
Nickel Plate Road 2-8-4 765, southbound on Great Lakes Central, 7/25/09 (subbing for Pere Marquette 1225) on return leg of all-day excursion as part of Owosso Steam Festival. Bannister, Michigan.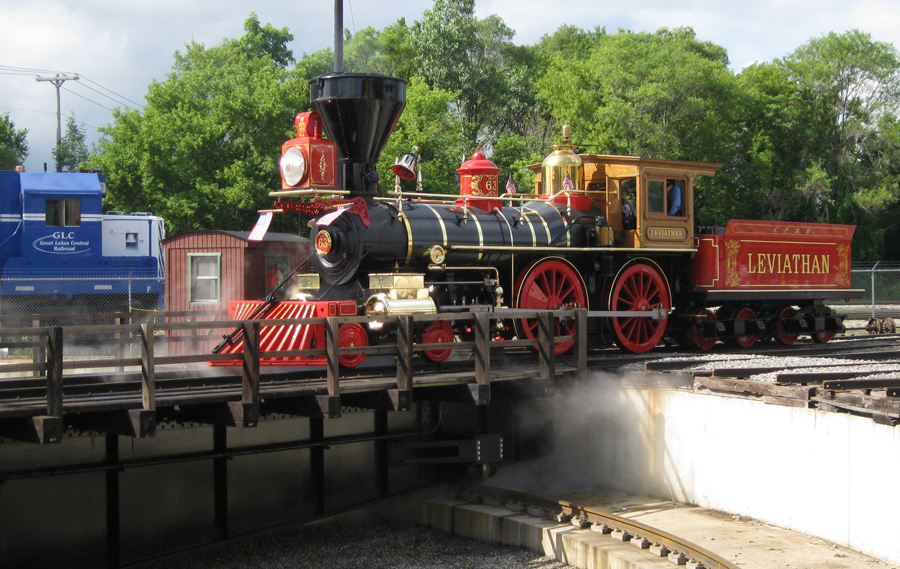 Photo by Dave Ingles
The brand-new replica of Leviathan. Owosso, Mich., Steam Railroading Institute, 7/26/09.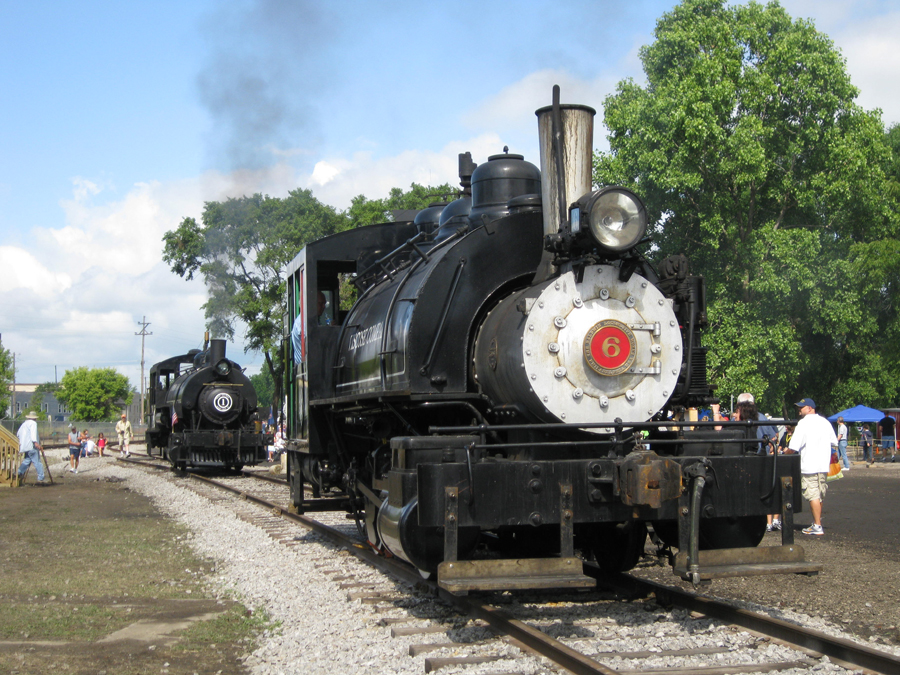 Photo by Dave ingles
Viscose Co. 0-4-0T #6 (foreground), Little River 0-4-0T #1 (rear); Owosso, Mich., Steam Railroading Institute, 7/26/09.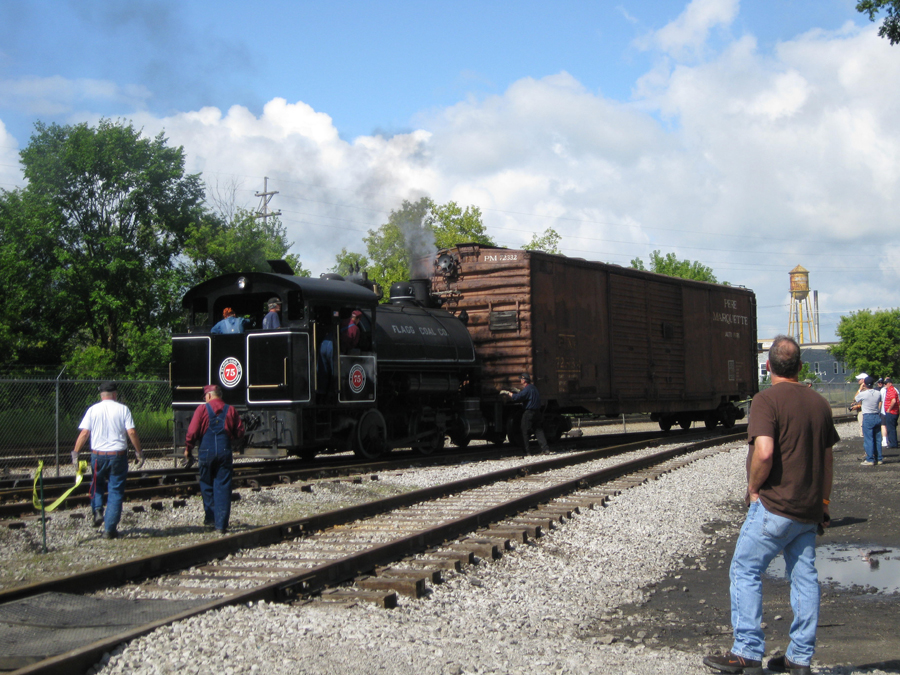 Photo by Dave Ingles
Steam Railroading Institute's Flagg Coal 0-4-0T no. 75, Owosso, Mich., 7/26/09.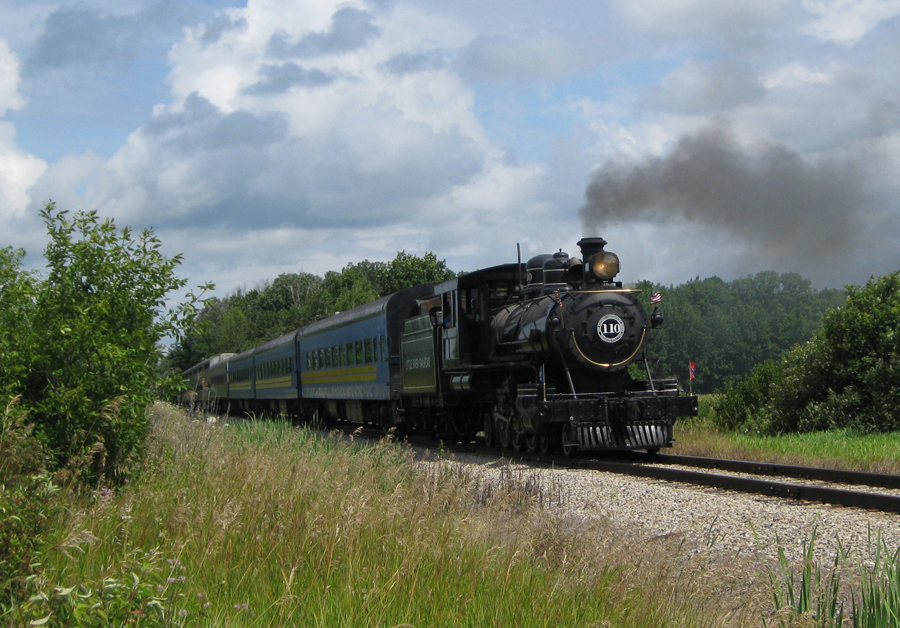 Photo by Carol Ingles
Little River Railroad 4-6-2 No. 110, on shuttle train during SRI's steam festival, north of Owosso on ex-NYC Chesaning branch, 7/26/09, photo by Carol Ingles Engine trucked up from Coldwater, Mich. for festival (along with 0-4-0T No. 1).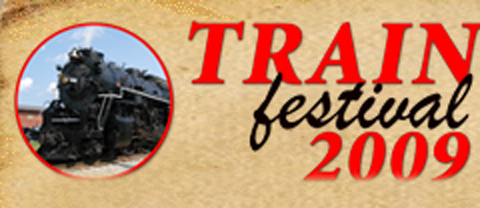 This page was designed and is maintained by Mike Condren. If you have materials
that you would like to contribute, contact me at mcondren@cbu.edu