European Train Travel Photos
September, 2009
by Peter Limper
From September 16-25, 2009, I traveled by train in France and Germany, beginning and ending with trips on the Eurostar Channel Tunnel train between London and Paris. The London terminus of Eurostar service is newly-reopened St. Pancras station.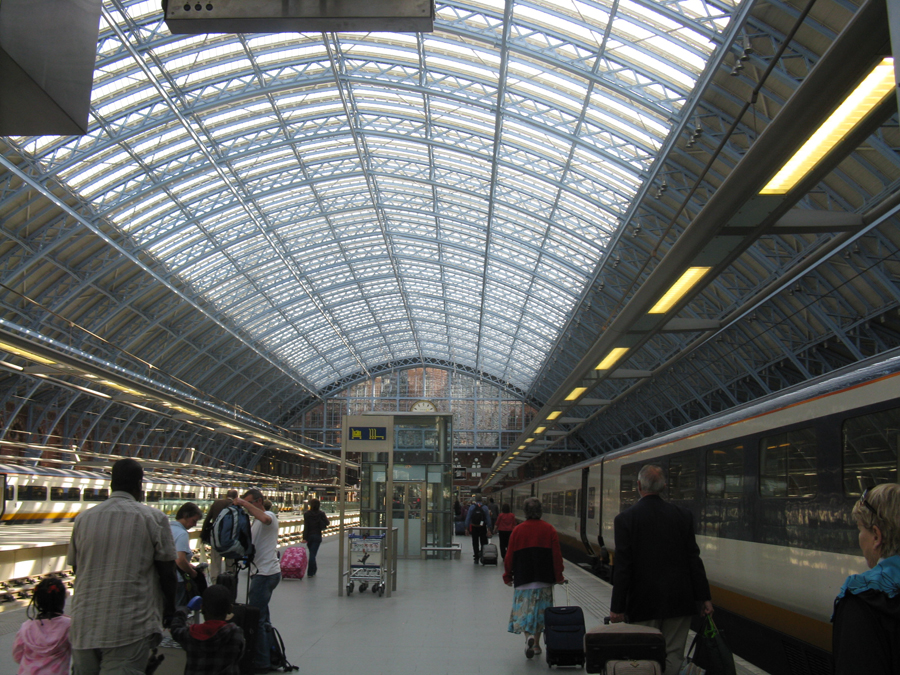 The Eurostar trains consist of 18 articulated passenger cars (grouped in two 9-car sets) with an electric locomotive on each end. The trains can reach speeds of 186 mph, and make the London-Paris trip in 2½ hours.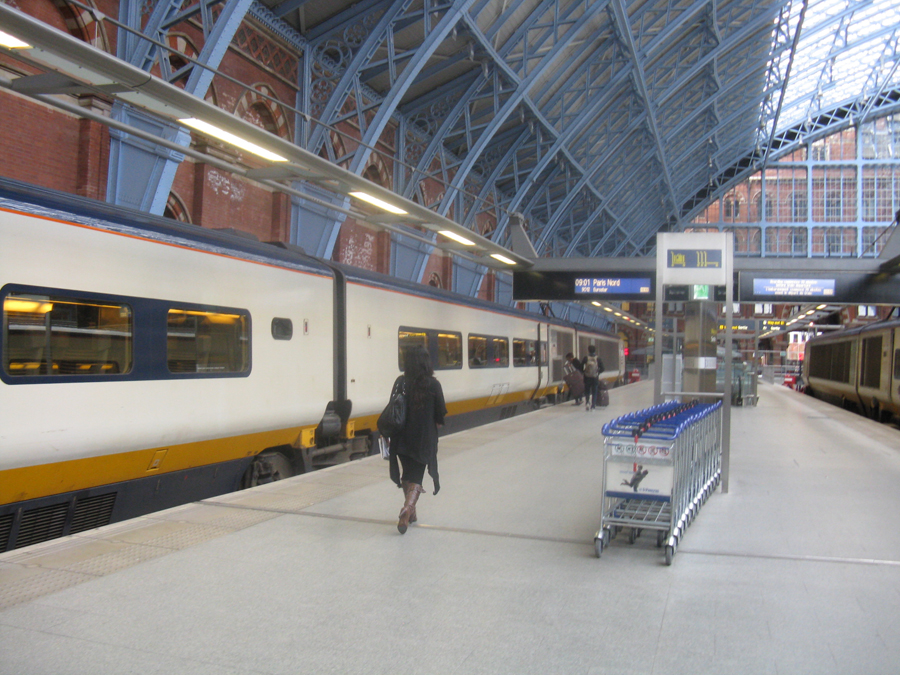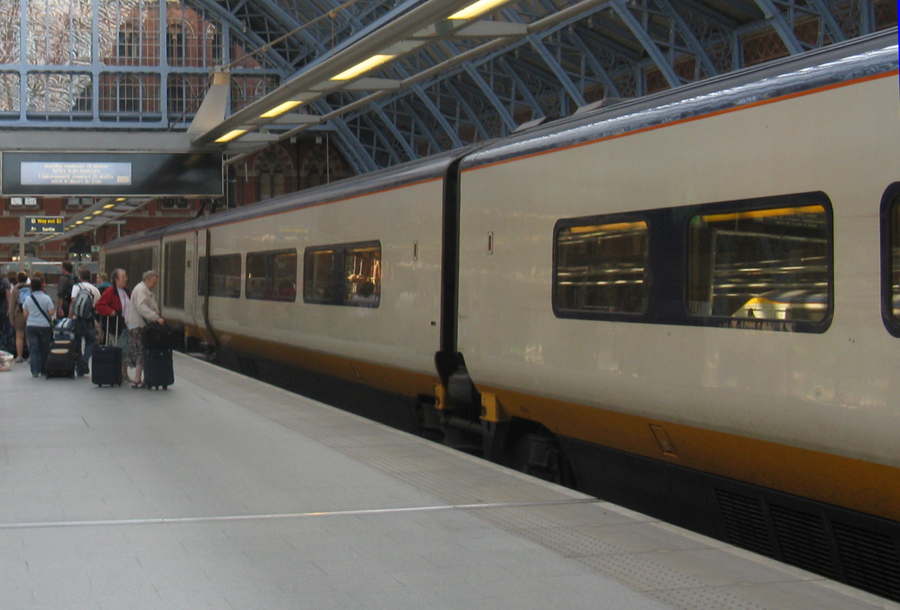 In Paris Eurostar trains arrive and depart from the Gare du Nord station. (Like Chicago when I was growing up there, London and Paris have several passenger stations serving different lines and destinations.)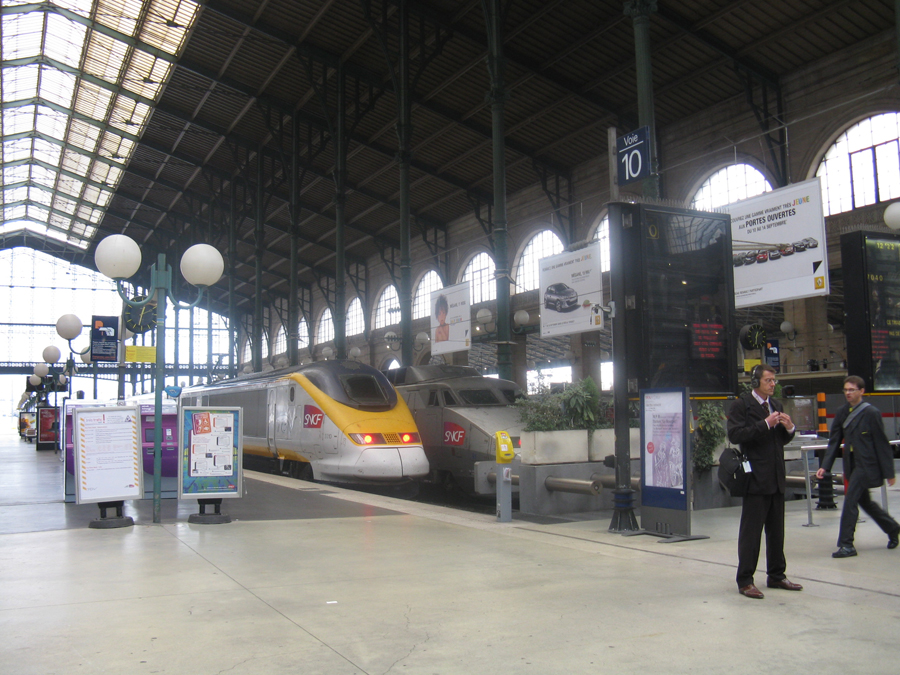 I also saw this typical French electric locomotive at the Gare du Nord.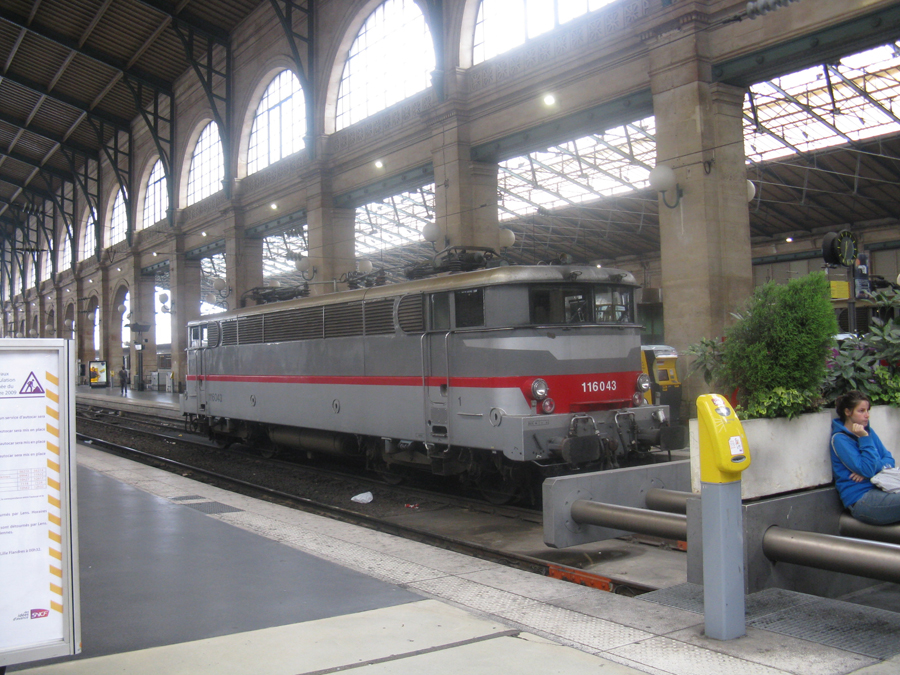 From the Gare du Nord I walked a few blocks to the Gare de l'Est, where I caught a TGV train for Mulhouse, in the Alsace region of France.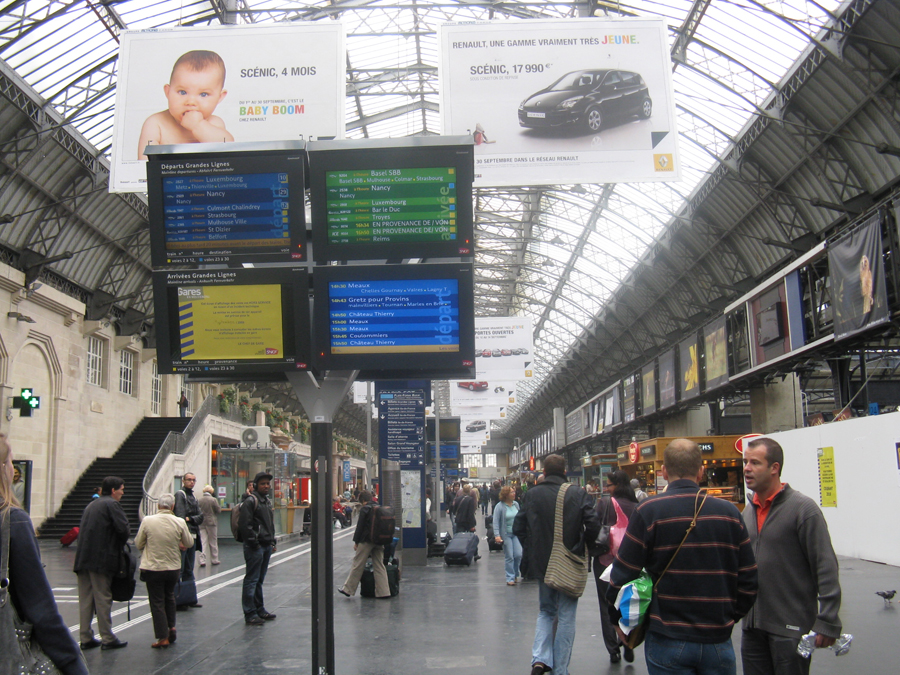 The French TGV (Train à Grande Vitesse) train sets are mechanically similar to the Eurostar trains, having articulated passenger cars with a locomotive on each end. The train I rode was on the new (and still incomplete) East line, where top speeds of almost 200 mph are reached.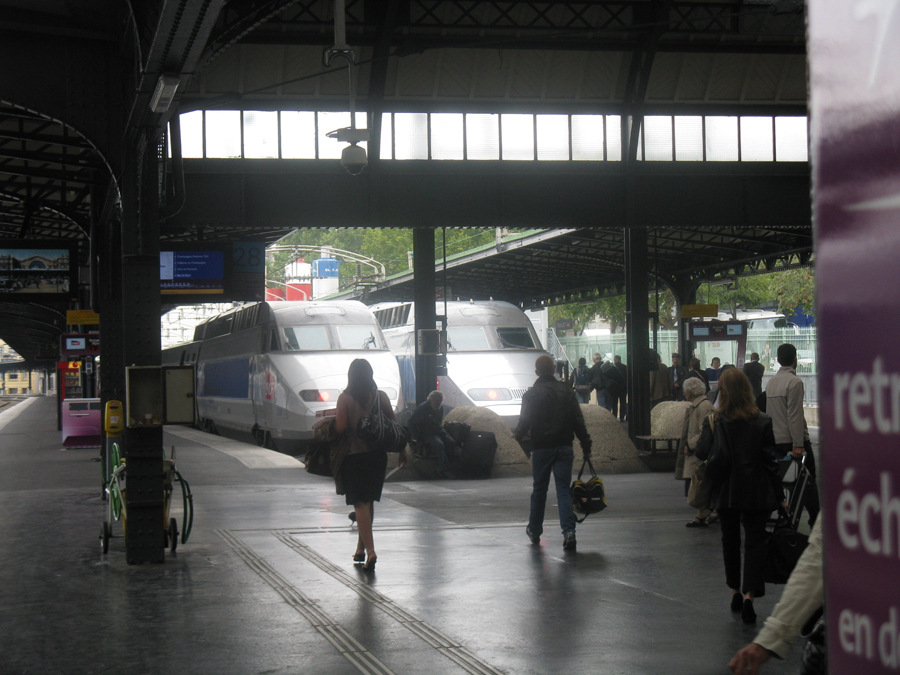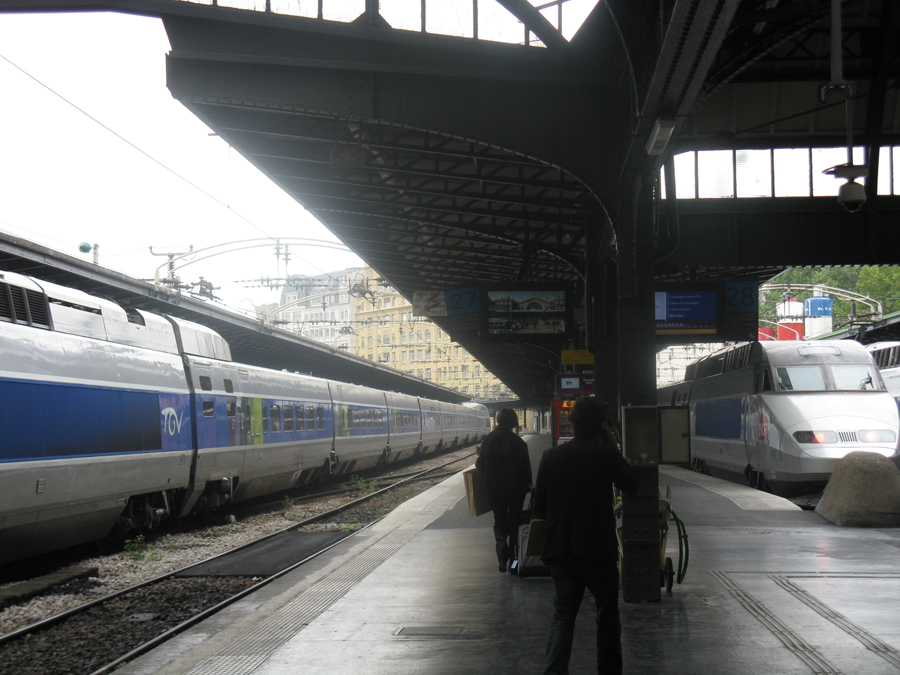 After visiting the French National Railway Museum in Mulhouse on September 17, I took a local train to the busy junction station at Strasbourg, near the French-German border.
While waiting for a connecting train to Munich I spent almost two hours on the platforms of the Strasbourg station. It is a passenger train-watcher's dream, with a variety of trains arriving and departing every few minutes.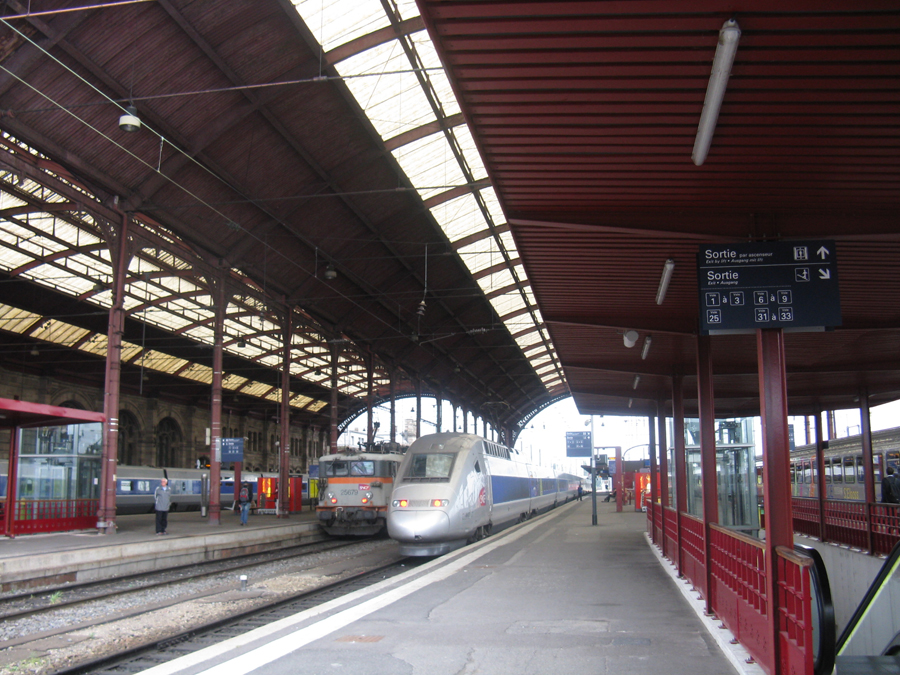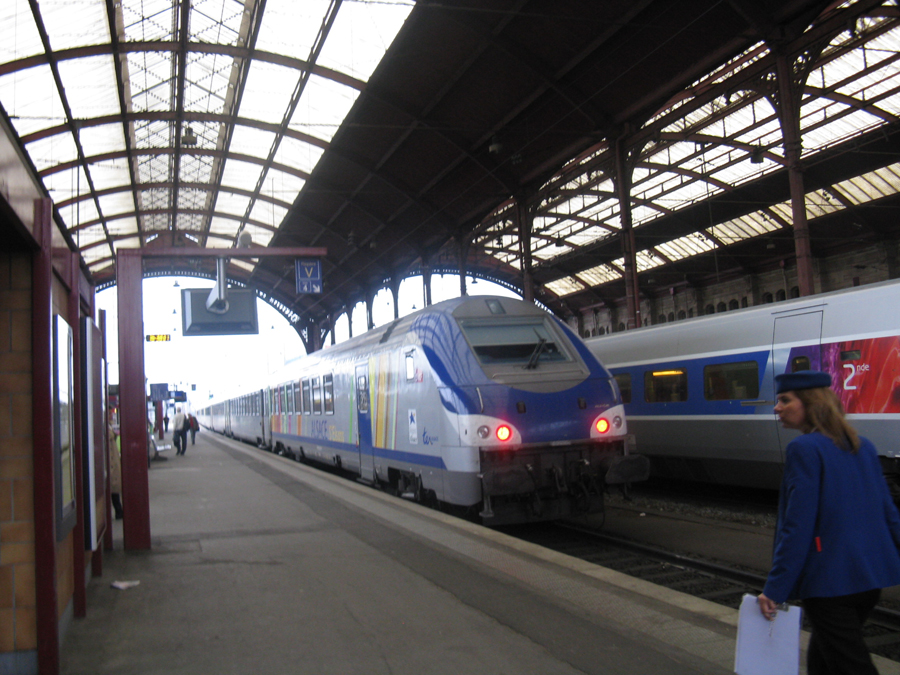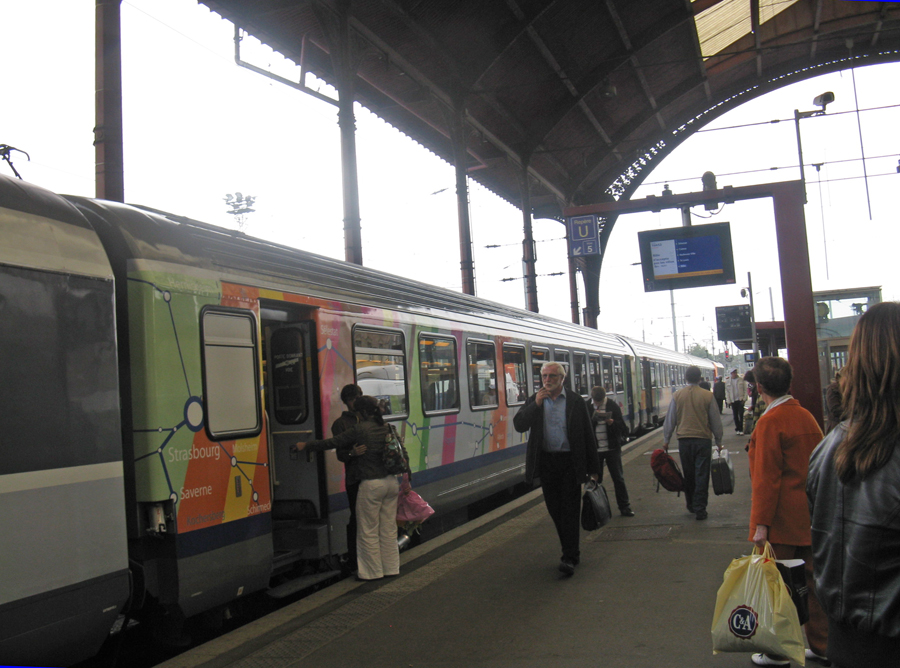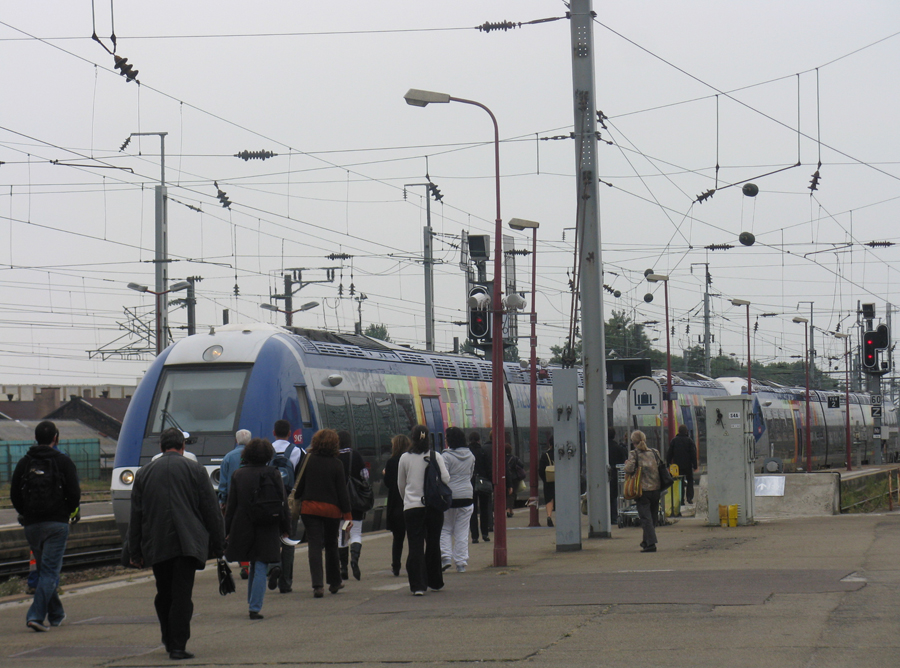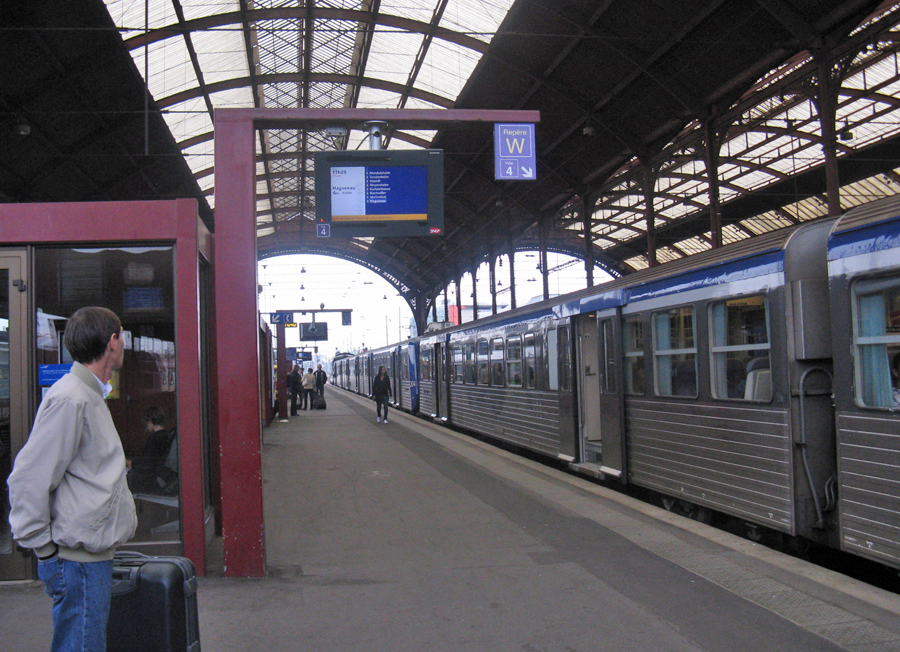 Many trains are pulled by an electric locomotive, but are often double-ended with a control cab in the end coach for push-pull operation.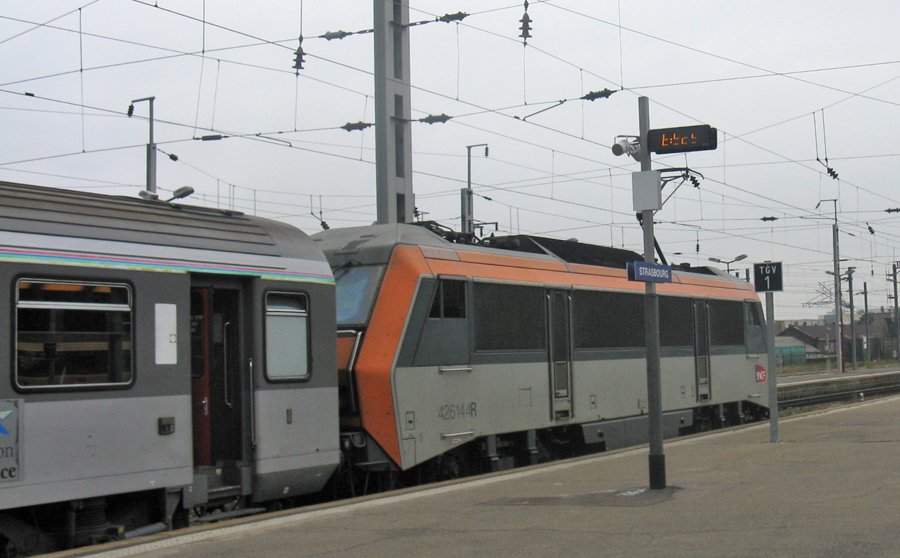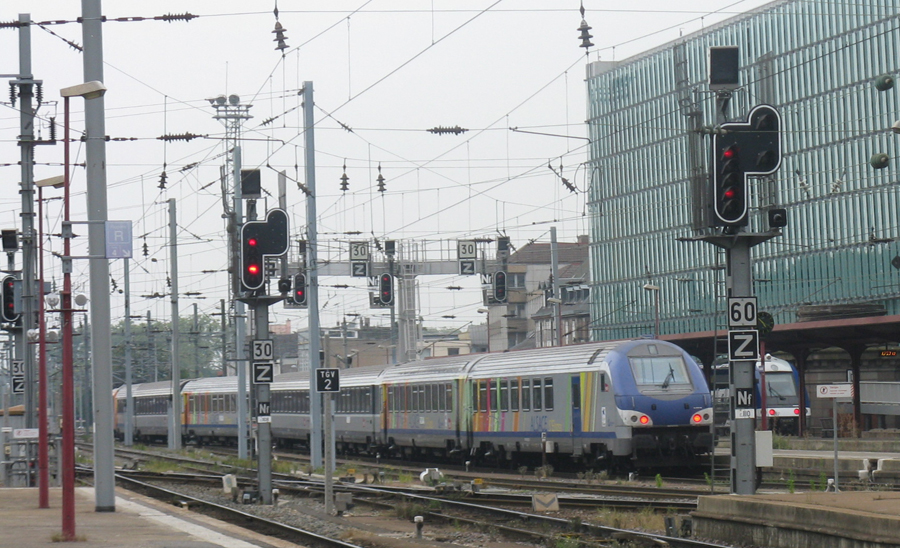 Although French railways are mainly electrified, I saw a few diesel locomotives in Strasbourg.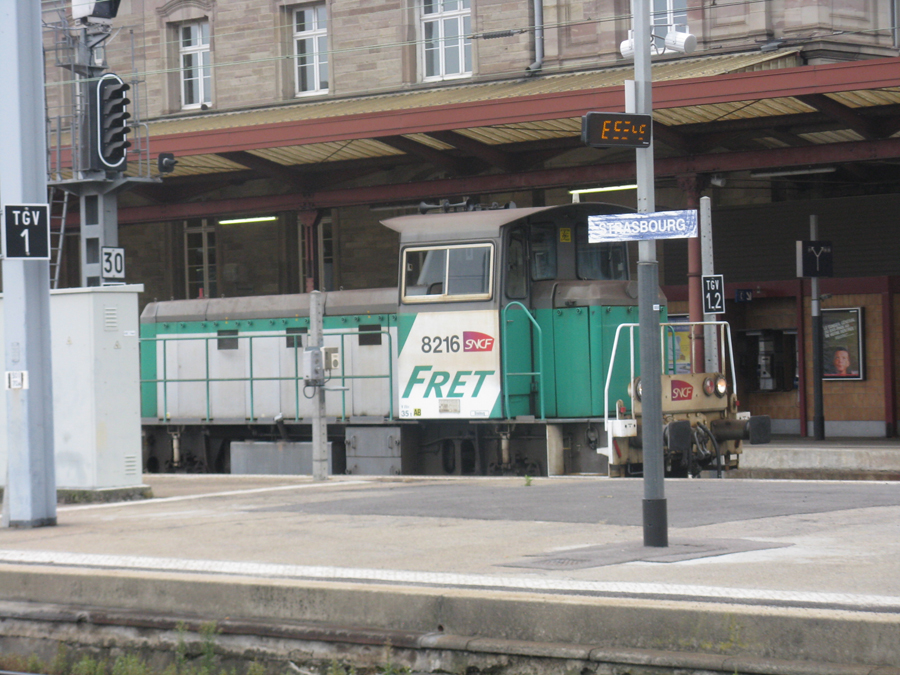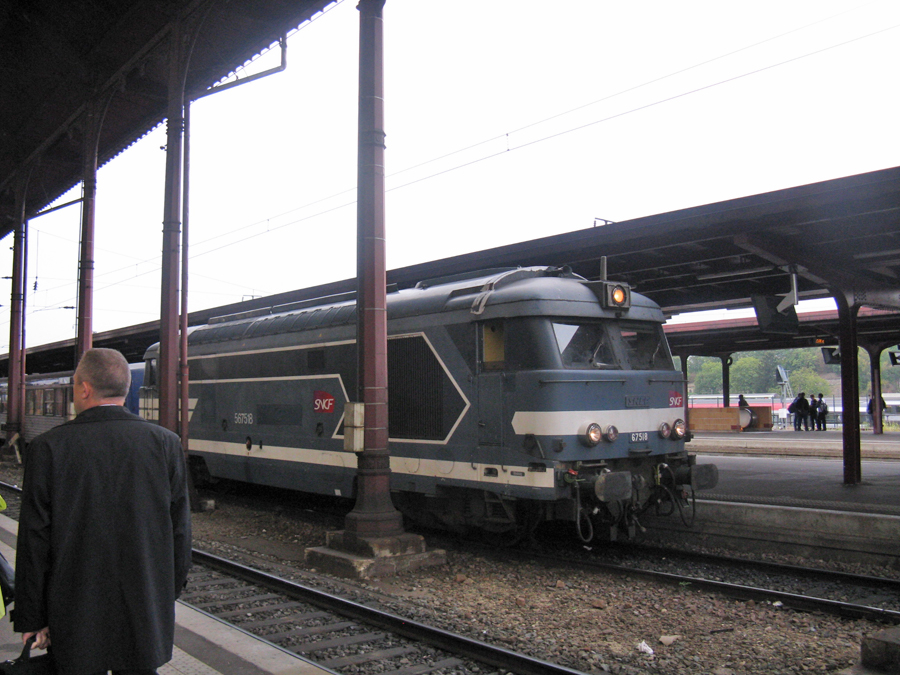 I also saw several more TGV trains.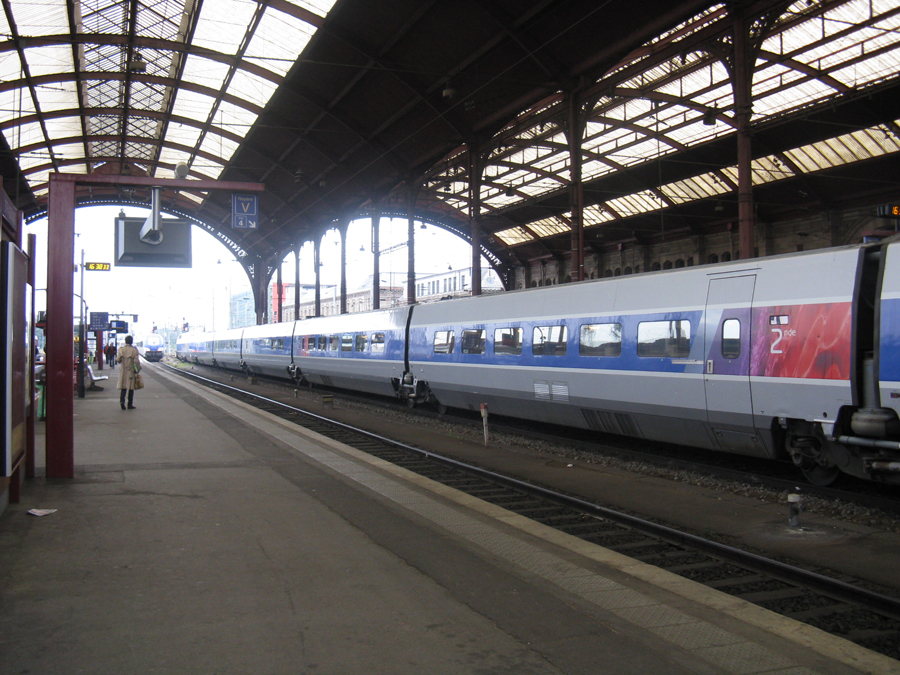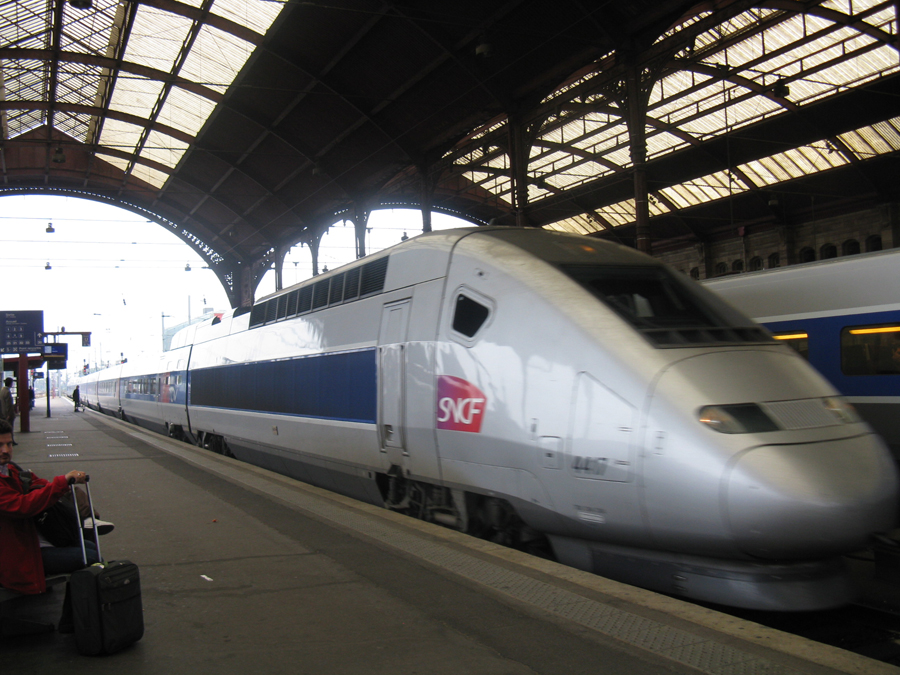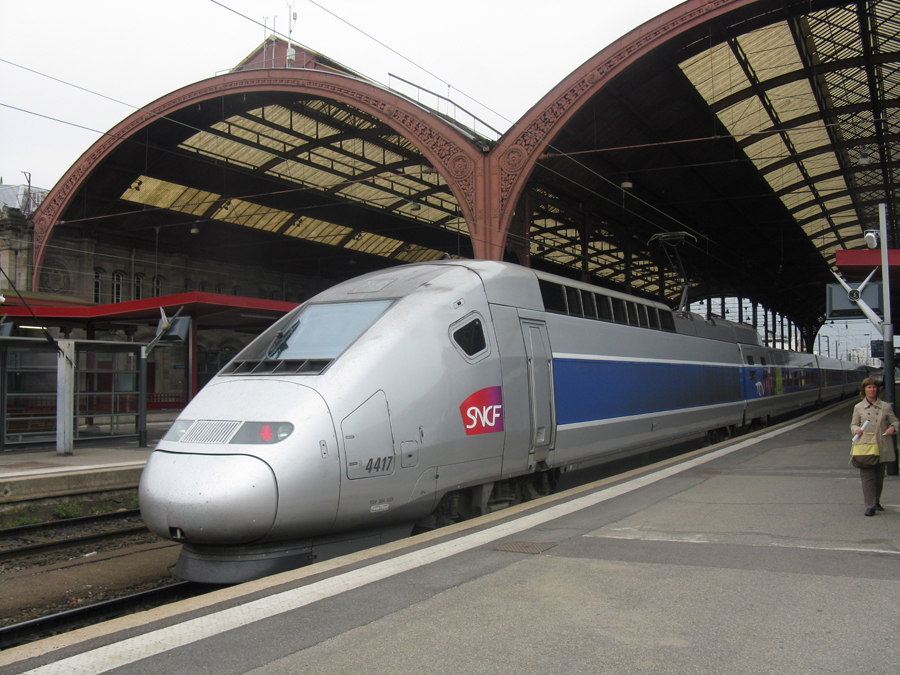 The train I took from Strasbourg to Munich was a TGV type, but it did not attain high speed on this particular line.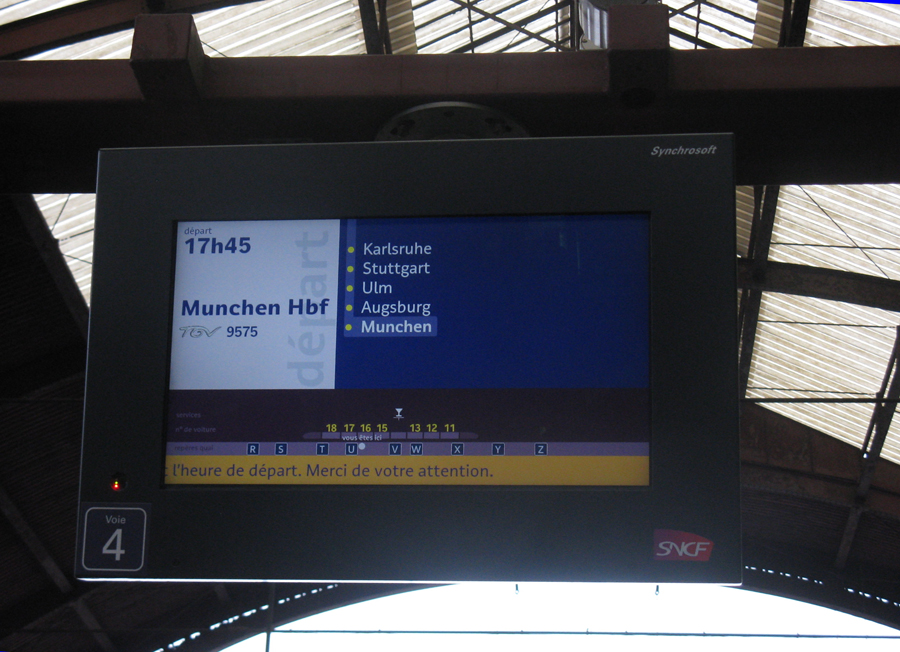 Munich central railway station (Hauptbahnhof), another busy terminal.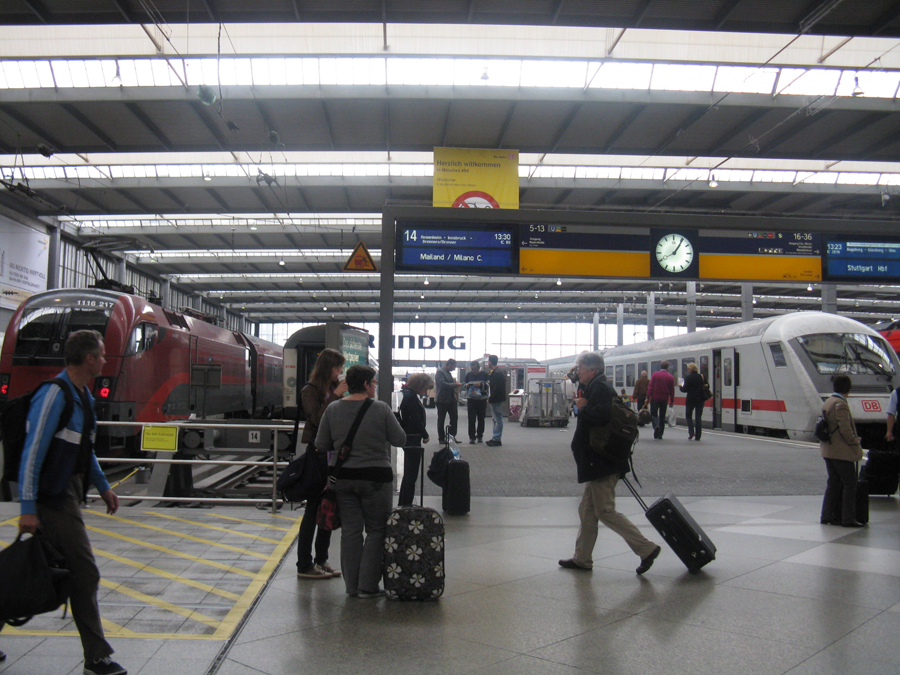 After spending two days in Munich (and attending the opening parade for Oktoberfest), I boarded an Intercity Express train (ICE) for Berlin. This is an electric MU train (actually two train sets coupled together) with power trucks under every car. I believe these are ICE-3T sets with a tilting feature for curving routes.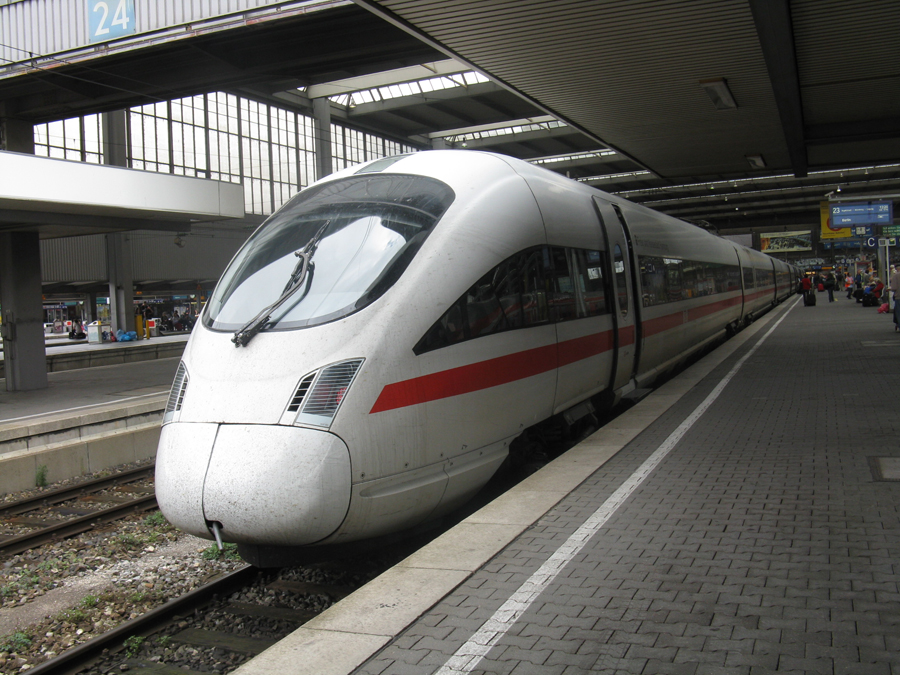 Passengers were provided with a folder with detailed schedule and other information for this specific train. (Only two of the twelve pages are shown.) The cheerful bearded dude did not seem to be on my train – can you imagine him in an Amtrak ad?
Although the ICE-3 sets are capable of higher speeds, the train took almost 6 hours for the scenic 670 km (416 mile) trip from Munich to Berlin, reaching a top speed of about 100mph.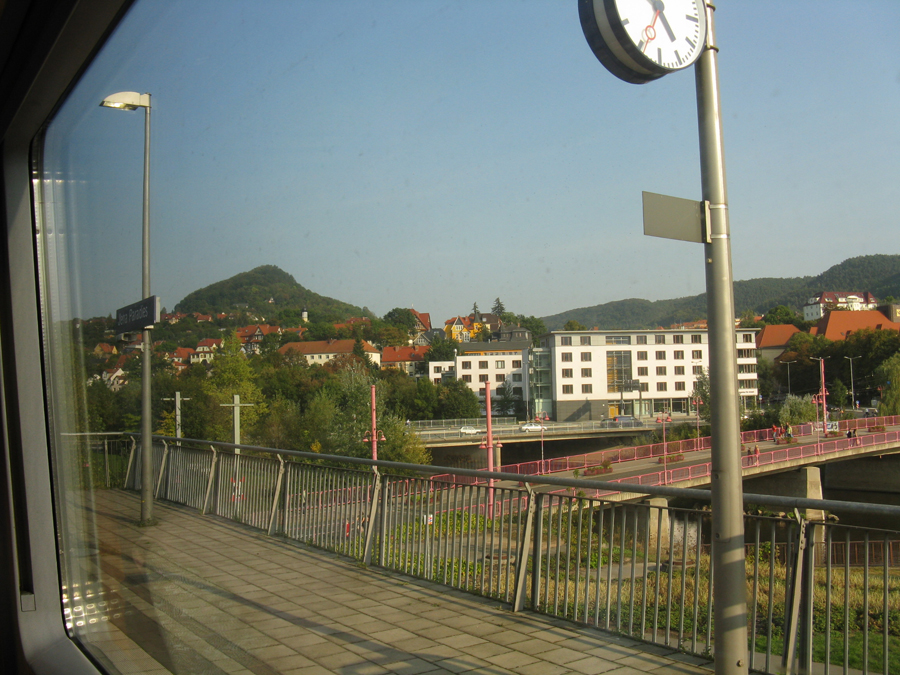 I spotted these auto-rack cars from the train. Apparently the ubiquitous European graffiti painters do not target these cars, since they are not covered like their American counterparts.
My seat was in a first-class compartment in the lead car, and I discovered that I could go to a forward "lounge" area where I could literally look over the engineer's shoulder through a glass partition.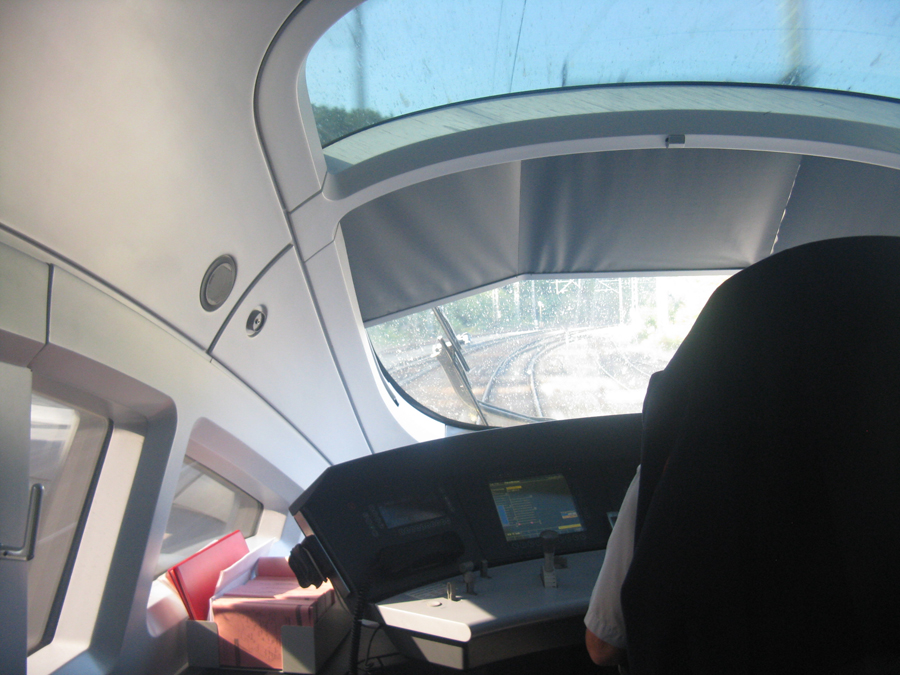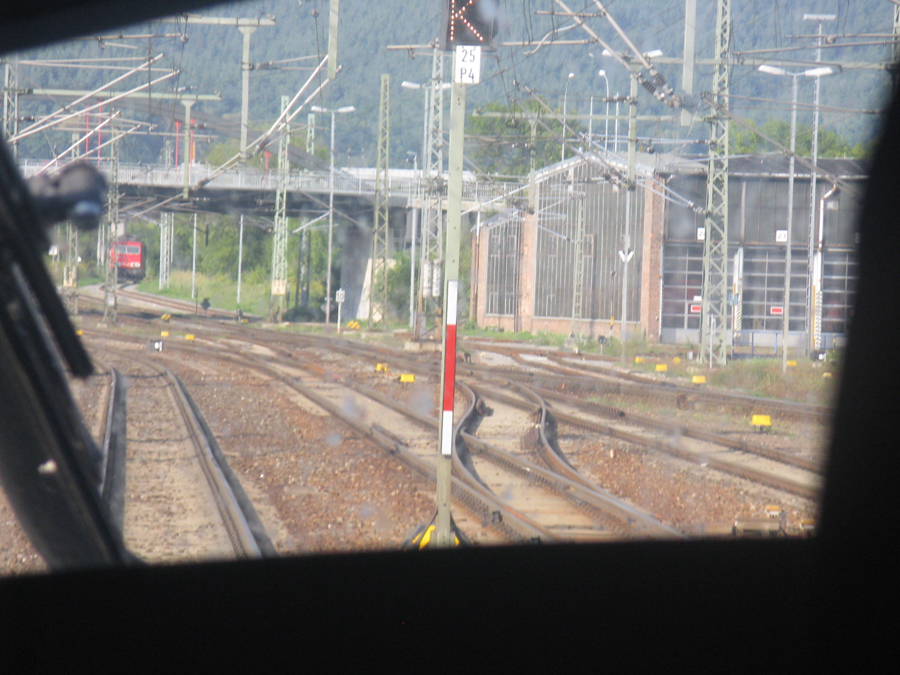 The train passed this structure which is presumably a former steam roundhouse now used by diesels.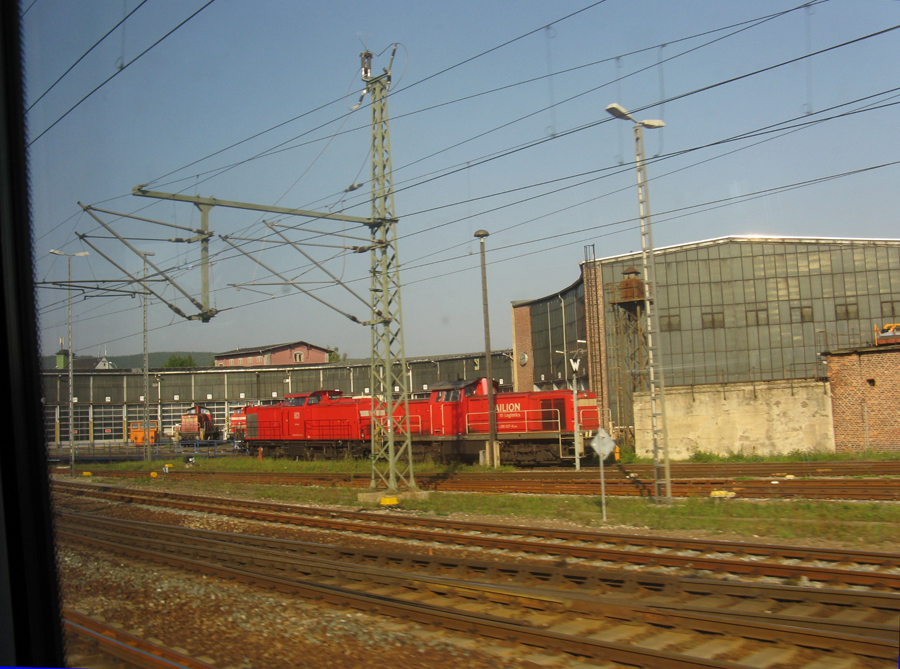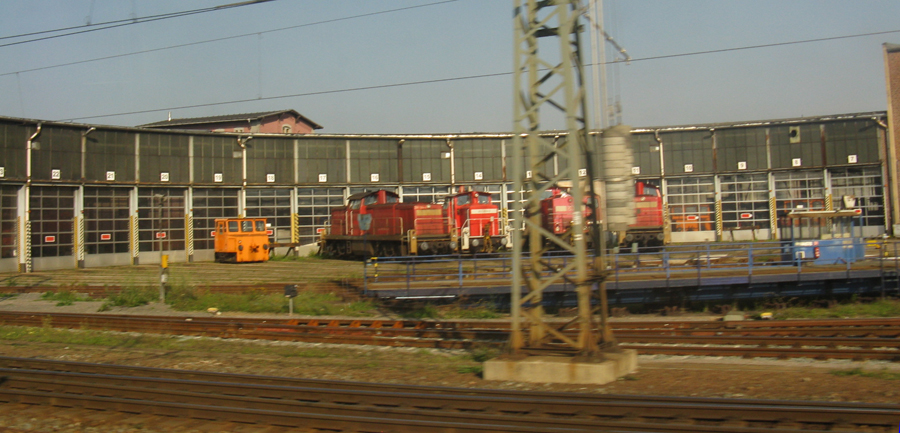 The train terminated at the spectacular new Berlin Central Station (see "Trains" magazine, September 2008), which opened in 2006. Seeing this station was one of my major reasons for visiting Berlin.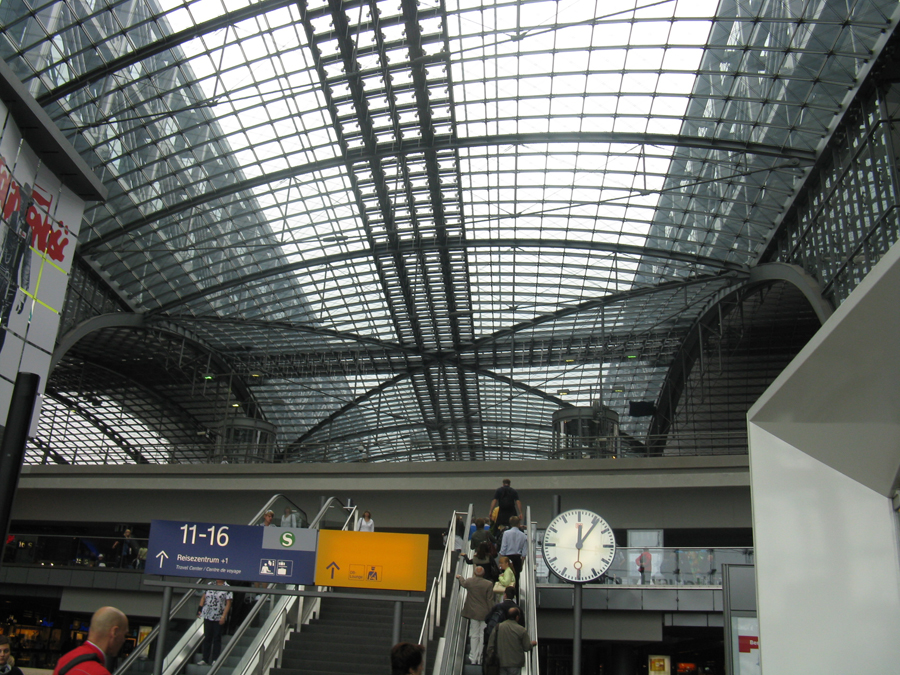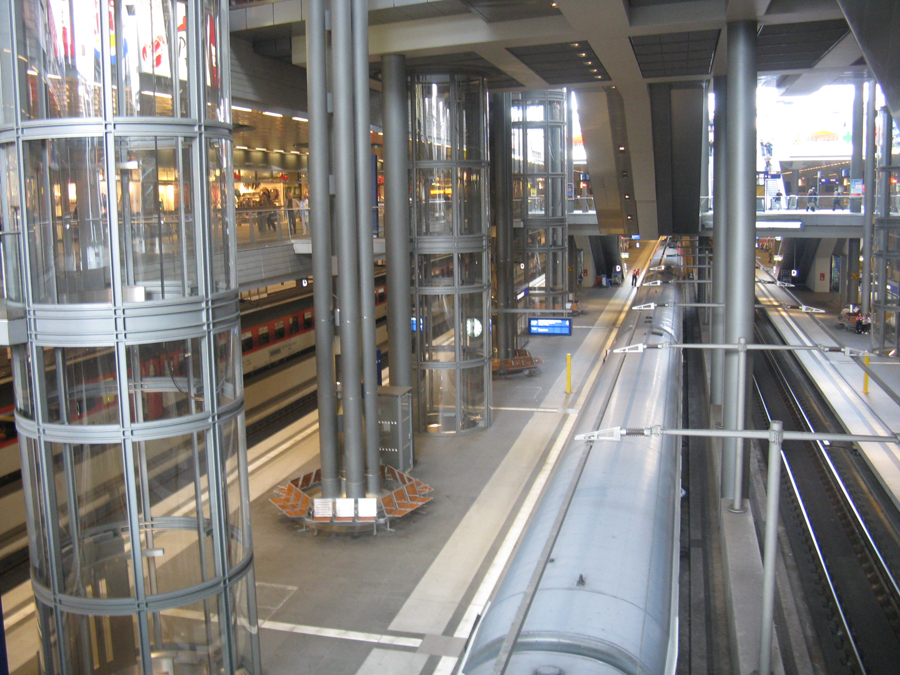 North-south trains arrive and depart at platforms on the lowest level of the station.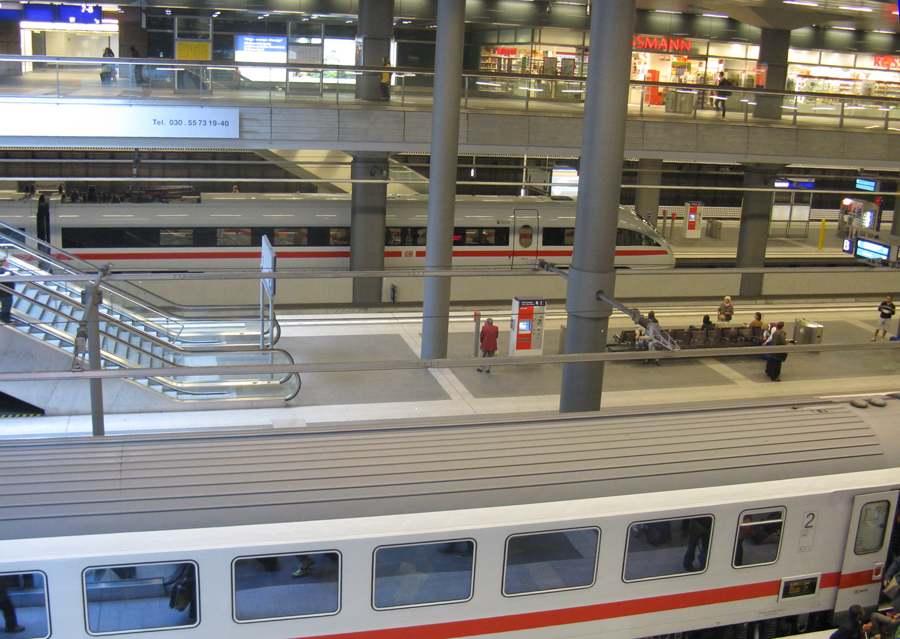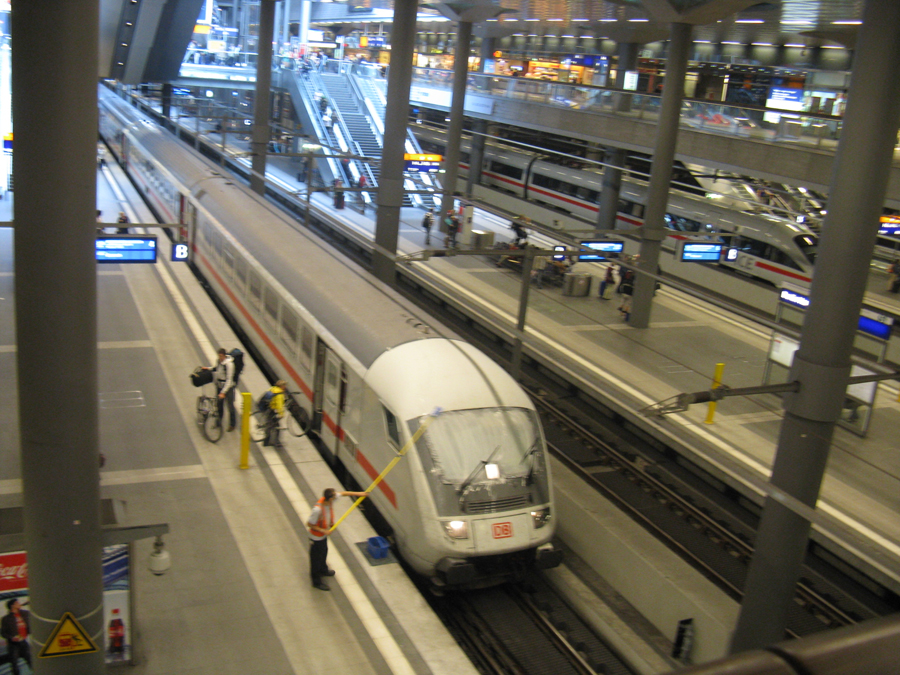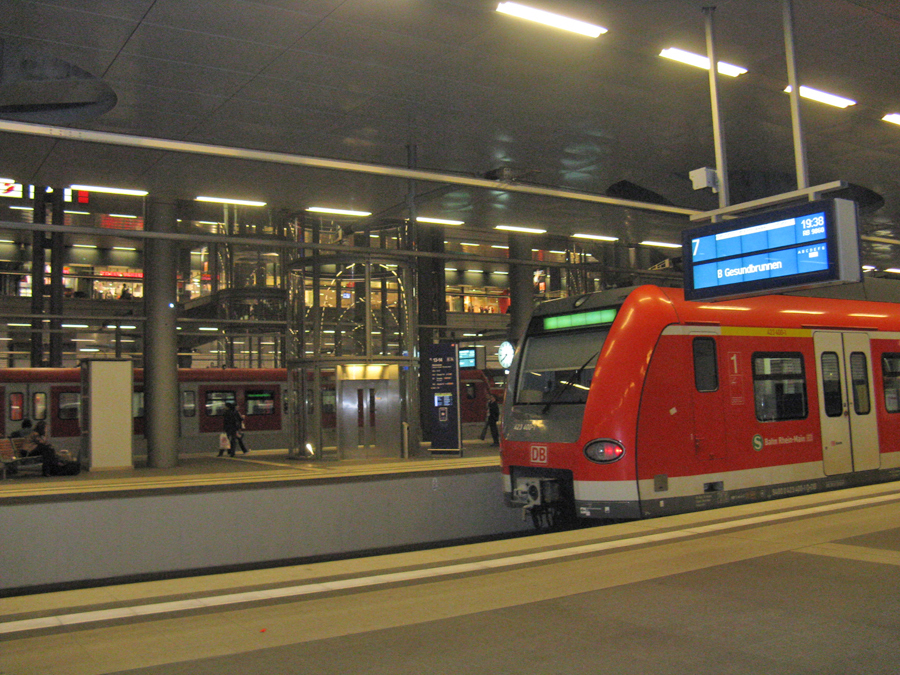 Several levels above, east-west tracks cross the station concourse and extend under a large glass train shed which bisects a group of office buildings above the station complex. The platforms on this level serve both through and local (S-Bahn) trains.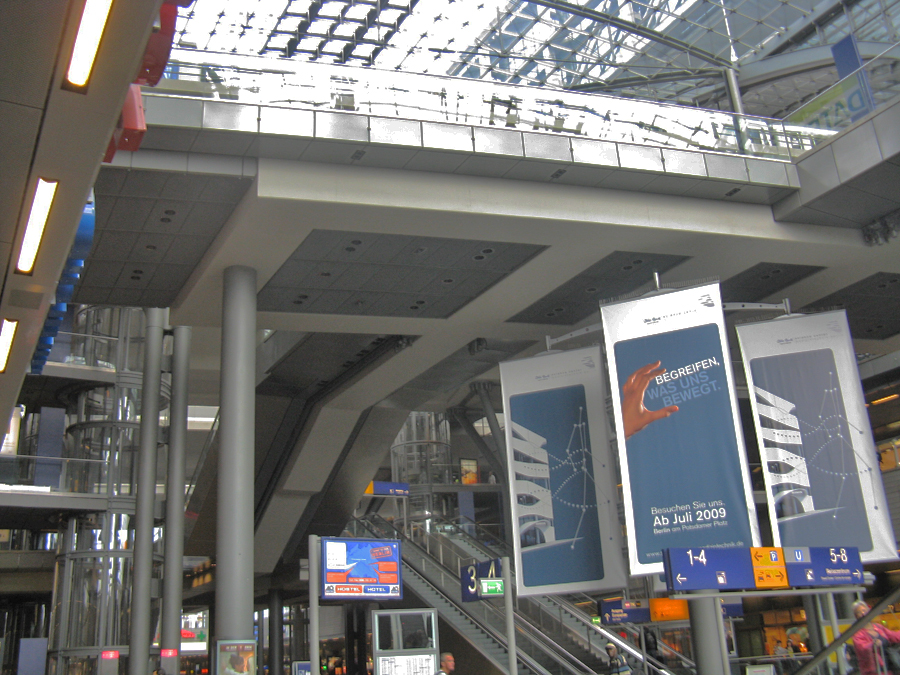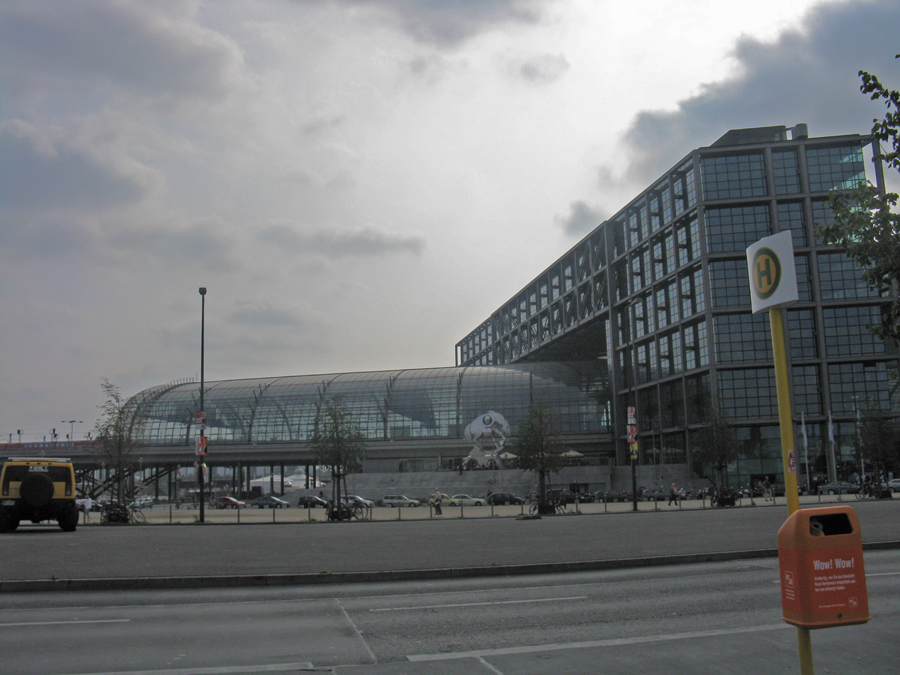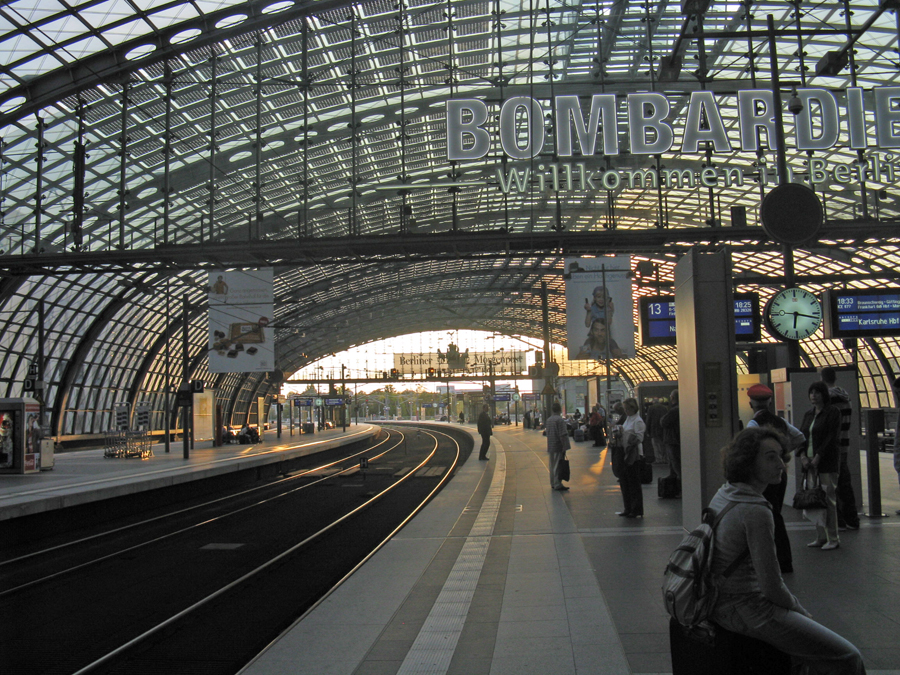 There are so many stores and other businesses on the intermediate levels that some Berliners call the station "a shopping mall with trains."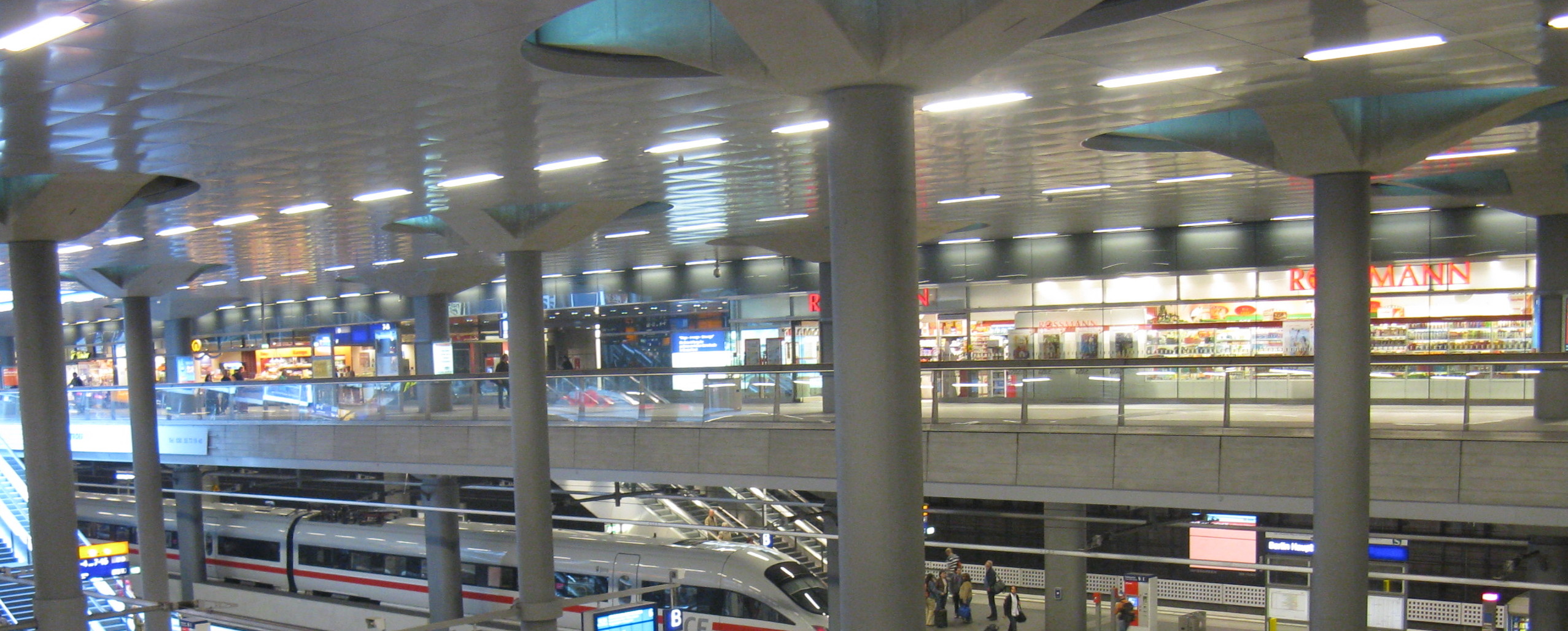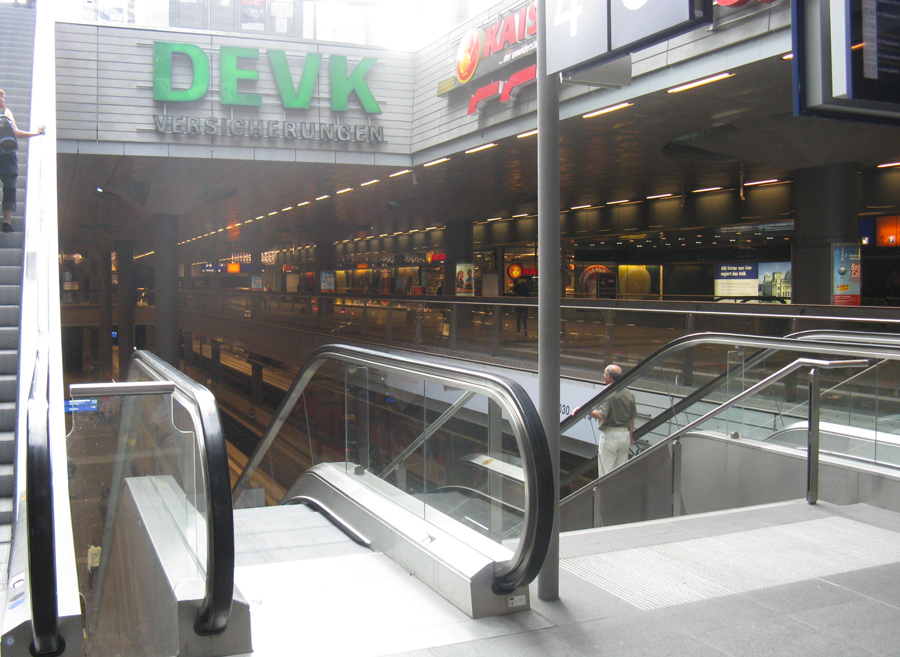 On the night of September 21-22 I took a "City Night Line" train from Berlin to Paris. The train, shown here after arrival at Paris Est, was made up of older equipment.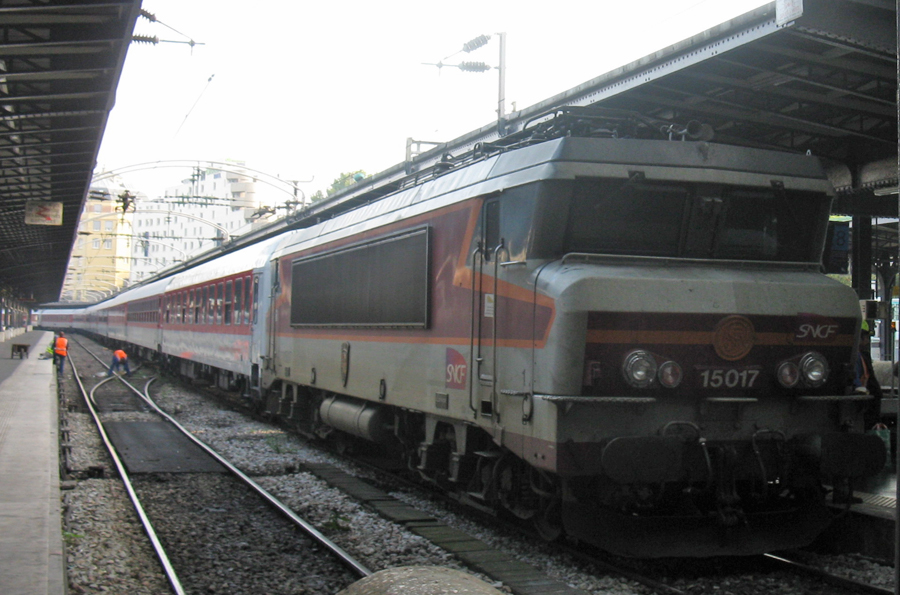 I did not visit the dining car since my ticket included breakfast served in my first-class single sleeping compartment (which had a full bath including shower!). Most high-speed trains I rode had buffet counter-service cars much like those on the Acela Express, with food that was adequate at best.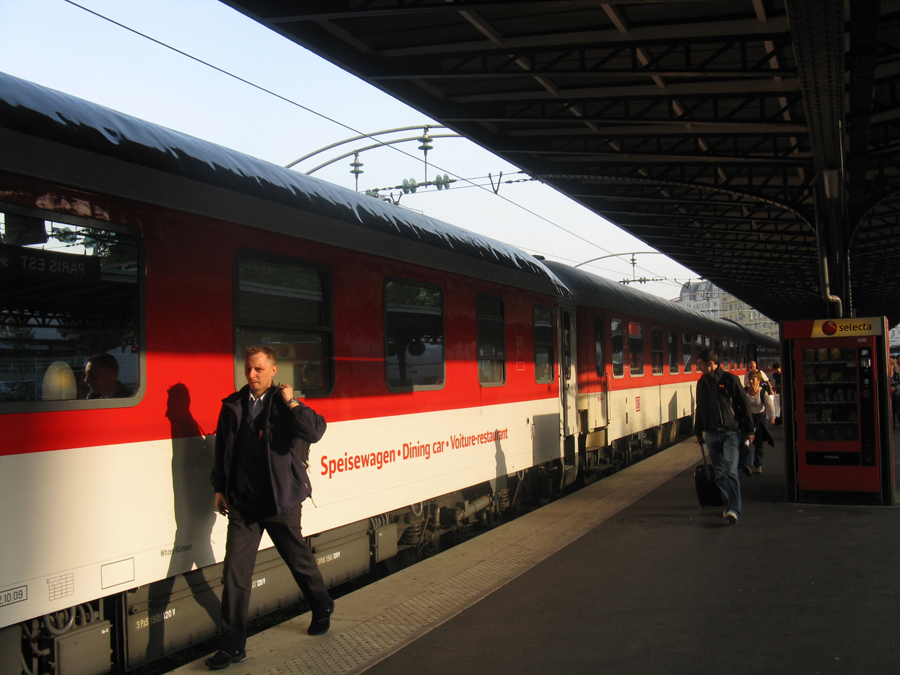 On September 25 I once again took a Eurostar train from the busy Gare du Nord station back to London. In nine days I traveled on seven "mainline" passenger trains as well as several local and subway systems. I was impressed by the smooth quiet ride, comfort, and punctuality of the trains I rode. (Only one TGV was late, by about 25 minutes.) I would certainly encourage any passenger train fans who can manage the trip to check out European rail travel.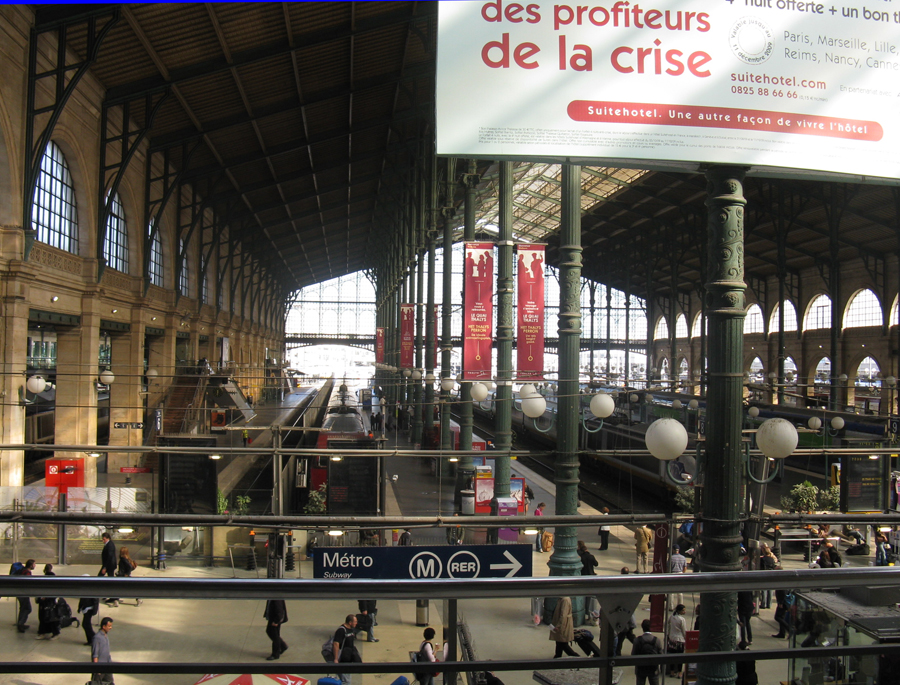 This page was designed and is maintained by Mike Condren. If you have materials
that you would like to contribute, contact me at mcondren@cbu.edu