Gordon and I met up on the band trip to the state band competition in Hot Springs. We went to the Missouri Pacific station and shot the night train sitting there in the station. We then watched as the afternoon train arrive with through cars from Chicago.
After graduating from high school, I drove Mother to Batron Rouge to Dad's graduation from the School of Banking of the South at LSU. We then went for a few days in New Orleans. On our trip back to Van Buren, we headed north to Hammond, LA and the Louisiana Eastern at a gravel pit north of town. There we found one of the largest private, steam locomotive collections in the world. The switchers used for moving the cars of gravel were done for the day but still hot! I was warned to watch out around them but was given free rein to explore. I remember climbing into the cab of a Nickel Plate Hudson in the collection. I also remember seeing a T&P tender painted in MP Eagle colors. This was my first up-close exposure to hot steam engines.
Speaking of steam engines, my collection of personal photos of steam engines taken are located as part of My 20th Century Steam Photos and 21st Century Steam web sites.
During the summer of 1960 Gordon introduced me to Louis Marre who was home from college at Notre Dame. He was working as the conductor on the minature steam train in Creekmore Park in Ft. Smith. I hung around the train alot that summer and got to know Louis quite well.
In Sept. 1960 I started college at the University of Arkansas in Fayetteville. I rode the train from Van Buren or Ft. Smith to Fayetteville on Sunday nights. Gordon introduced me to Charles "Rabbit" Lewis, the porter on the passenger train.
One night Gordon and I rode the train to Monett. We rode in the cab of the GP7 from Fayetteville to Rogers. When we got to Monett, we took black & white photos using Gordons large flash unit. We then rode the train back to Fayetteville, getting back there about 5am.
I started going to the station in Fayetteville every night and visiting with the crew. I got to know both engine crews. I could recognize who was the engineer by his horn play. I then started getting cab rides with Mr. Taylor. One night Mr. Taylor was supposed to be the engineer. However, the horn play was not right. It turned out that Mr. Taylor had had a stroke on Winslow Mountain and the fireman had to bring the train into town. They took Mr. Taylor to the hospital in an ambulance, but he did not recover. I was asked to go to tell his grandson, a Razorback basketball player, who lived near me on campus.
On Dec. 27, 1960 I took my first out of town railfan trip. I rode to the D&R in North Dardanelle with Bill Robbins in his white '57 Chevy with red interior. Later he would own the D&R but at that time he was an airplane mechanic. Before ownership of the D&R, Bill would hire out on the Rock Island and work as a brakeman and then conductor between Little Rock and Memphis. Gordon Mott and Louis Marre also were along on this trip. It also proved to be my first ride in the cab of a steam engine, D&R #9, a 2-6-0. We rode it out to the big curve north of the shops area and then returned after a couple of runbys.
I then went with the Razorback band to Dallas for the 1961 Cotton Bowl. On New Year's morning I went to Dallas Union Terminal and took pictures, including shots of DUT #7, a 0-6-0 switcher.
In the spring of 1961 I made my first railfan trip to Little Rock with Gordon. In Morrelton I shot my first slide with my Kodak Brownie Starflash, a photo of MP GP7 4321. In North Little Rock we discovered some stored Balwin road units and the one of a kind E-unit designed for the "Delta Eagle" passenger train from Memphis to Tallulah, LA.
Later that spring Gordon and I would ride the Frisco to St. Louis to ride a CB&Q fan trip to Hannibal, MO. This was to be my first formal steam fan trip. Our train was late getting into St. Louis Union Station. By the time we got to the Burlington yard, the excursion train was gone. We decided to ride the Rock Island/Burlington "Rocket Zephyr" to Hannibal that afternoon. That was my first and only ride in a square ended solarium car. We stayed the night in a cheap hotel in Hannibal, across from the station. I met Dick Wallin on that trip. He had driven over from Central Illinois. That morning we drove around Hannibal while waiting for the fan trip to return. We then rode the fan trip back to St. Louis. Wouldn't you know, the fan trip was late getting back to St. Louis, and we missed our train back to Fayetteville. We rode a trolley out to Washington University and stayed in the Sigma Alpha Epsilon fraternity house, Gordon being a SAE brother. The next day we rode the trolley back into town and then out another trolley line. We then rode a couple of buses out Big Bend Road to Barrett Station Road. We walked down to the National Museum of Transport only to find that it was closed. We found a hole in the fence and wandered around the museum grounds for a while. We walked back to Big Bend Road and caught a bus back to the Frisco Webster Grove station. We pooled our money and shared one hamburger while waiting for our train back to Monett and then Fayetteville.
During the summer of 1961, Louis Marre was hired as engineer for Ft. Smith's Creekmore Park steam train. Gordon Mott that summer was hired as his conductor. With both of them working at the park, I spent lots of time helping them with what ever needed doing. They rebuilt the trucks of all of the passenger cars, and I hauled the trucks back and forth to the foundry. The last two weeks before Labor Day, Gordon had to be in Colorado so I was hired as his replacement. For Labor Day we decorated the locomotive with American flags. Jerry Pinkepank, on a visit with Lou, took our official photo. I also got some time as engineer.
The next day, Jerry, Gordon, Louis, and I started a trip around the state of Arkansas taking pictures of trains. Our first stop was the MP shops in North Little Rock. We had learned that the fuel racks were off limits to railfans. So we tried a new approach, wearing white shirts and ties amd carrying clip boards! No one came close to us, we had to be "officials"! We then headed to Pine Bluff and the offices of the Cotton Belt. We wanted official permission to tour the shops there. In the Chief Mechanical Officier's office, we signed releases and talked to the Chief Mechanical Officer. While we were in his office, he got a message from Sacremento that the last of the Cotton Belt FTs were to be retired.
We were invited to return the next day to tour the Running Repair and Engine Servicing Area of the new hump yard. During the tour we took pictures of the new GP20s and Alco aligators. The aligators were not proving to be good pullers as delivered. The long short hood was too light, causing the nose to jump up and down under load. The Cotton Belt tried ballasting the nose with concrete to get better traction.
After leaving Pine Bluff we headed to Warren, AR and the Warren & Saline River Railroad that was supposedly still running steam. Their last engine, ex-Army 2-8-0 #1702 would gain fame after it went to the Reader Railroad and starred in the movie "This Property is Condemned" with Natalie Wood, Robert Redford, and Charles Bronson. That day the engine was on a steam line from the saw mill's stationary boiler. From there we headed to Reader and their offices and shops. We discovered that the train with 2-6-2 #108 was at the other end of the line at Waterloo and the asphalt plant. We headed there. Jerry and Gordon decided they would like to ride the caboose and got permission. Lou and I were to chase the train, take pictures, and meet them at Reader, which we did.
After leaving Reader, we headed, first for Hot Springs, and then Mountain Pine and the shops of Dierks Forest logging railroad. We arrived after dark and the engines were already in the shed for the night, but we explored their engine house with a couple of hot logging engines. After that we headed back to Ft. Smith through a driving rain storm from the remains of a hurricane that hit the Gulf coast.
That trip resulted in me being added to the new locomotive newsletter that Jerry mailed from his home at 2200 South Rundle Street, East Lansing, MI. That newsletter later would go commercial as "Extra 2200 South" and lead to the first book on diesel locomotive identification, "Diesel Spotters Guide".
The University of Arkansas again played in the Cotton Bowl game on New Years Day. As a band member, I got a "allowance" by the band for food. I scrimped on food and had enough money left to buy my first 35mm camera, an Argus C3, the "brick". I would use this camera for the next few years.
During April of 1962, Gordon and I made a trip to Springfield, MO. Along the way we shot a couple of Frisco trains in Aurora, MO. By the time we got to West Shops in Springfield, they were deserted and we wandered through the various buildings. I was impressed to see newly cast steam engine bells with the Coonskin engraved to be presented to special friends, much like the one presented to former President Dwight Eisenhower and on display at his Gettysburg farm. Outside was one of the last remaining steam engines, 4-8-4 #4519. I had been recording the builders numbers of various Frisco locomotives. I remember discovering that this steam engine had a builders number higher that the diesel switchers used by the Frisco in Ft. Smith.
Later the #4519 would be cut up by President Louis Menk along with several other steamers in St. Louis. After "Menk the Fink" became President of the Burlington, he would scrap steam engines like their 4-8-4 #5632.
The year of 1963 was very memorable. First was a trip with Louis Marre, Gordon Mott, Dave Ingles, and me chasing the KCS to Pittsburgh, KS and then over to Parsons, KS and the MKT. Both the KCS and MKT were managed by members of the Deramus family. The shops in Parsons were basically deserted. We finally found the shop foreman in his office. There was no one else around the shops. Among other things I climbed up into the cab of E7 #101C which was one of two MKT E7s bought for the 1948 Texas Special, a joint operation of the MKT and Frisco.
For Easter Break I made a trip to visit Louis Marre at Notre Dame. I rode coach overnight on the Frisco to St. Louis. I then rode the Gulf Mobile & Ohio "Abraham Lincoln" in the round end parlor observation to Chicago. I rode the bus that served the various terminals there from Union Station to La Salle Street Station. I rode coach on the New York Central "New England States" to South Bend where Louis picked me up. We hung around to watch and shoot the "20th Century Limited". On Easter Sunday, we attended mass at Sacred Heart church on the Notre Dame campus before having lunch in the campus hotel. We then spent the afternoon trackside at the station in South Bend, including taking each others photo at the end of "Hickory Creek", the famous round end observation of the "20th Century Limited". I used that shot as my Christmas card later in the year.
During my week there, we visited the NYC hump yard at Elkhart, IN, the South Shore shops in Michigan City, the GTW shops in Battlecreek, MI, and the Monon shops in Lafayette, IN. After our trip to Michigan City, IN, we shot the "Broadway Limited" at Hobart, IN.
That spring it became known that I was going to work for the Missouri Pacific as a vacation replacement fireman. One trip in the cab of the Frisco "Meteorite" back to Fayetteville, the engineer invited me to sit down in the engineer's seat around Lancaster and run the passenger train. I ran until the "station sign" for Mountainburg. I had never run an engine before and had little idea of how to operate the train brake so I got up and let the engineer run the rest of the trip to Fayetteville. That was such a thrill!
When school got out for the summer, I reported to the yard office in Van Buren for my training as a fireman. There was some training in the Rule Book. I also had to work as a trainee on the various jobs out of Van Buren. I rode in the cab of the Van Buren switcher one shift. The fireman that I observed was Leonard Condren, a second cousin! I observed the fireman on the Ft. Smith switcher. However, switchman friend L. C. "Gus" Gustin, the person who got me the opportunity, did not think I was learning much sitting in the cab, and had me move out onto the battery box on the rear of SW1 #6612 so I could better observe the signals of the men on the ground. That was an important part of the learning process in that the fireman sometimes had to pass signals to the engineer when the man on the ground was on the fireman's side of the engine.
I spent two nights working as a trainee of the hostler helper, the person who worked under the supervision of the hostler in preparing engines for service on trains. There were other trainees both nights. The first night, the hostler, who knew me from hanging around the yard, started telling me what he wanted done as he knew I had some knowledge and none of the other trainees had any idea of where to put sand, how to fuel the engines, how to check the water in the cooling system, and how to flush the toilet retention tank! I worked from midnight till we finished the next morning, usually 10 or so hours. Working nights in the river valley meant mosquitos. I learned quickly that after finishing filling the sand at one end of the GP7, I should walk over the exhaust and get fumigated with the exhaust. The other trainees got bit alot. I did not!
My next assignment was to ride the local to Coffeyville, KS and then ride a through freight back to Van Buren. That was a real experience. We left Van Buren around 8am on the local. We worked lots of industries along the way. We even dropped ballast along the Arkansas River north of Gore, OK. We had a late lunch in Wagoner, OK. We finally were getting short on time and skipped work, getting into Coffeyville 15 hours 45 minutes on duty, 15 minutes under the "Law" which was 16 hours in 1963. My fellow trainee and I stayed up, eating a very late dinner while awaiting our ride back to Van Buren. The through freight that we rode made only one stop, at Okay, OK, to set out cars for the KO&G. Somewhere around Muldrow a road grader crossed in front of us giving everyone a scare. After arriving in Van Buren, I got a ride home and crashed. I worked my way up to "first out" on the extra board, meaning I would get the next call for work when a regularly assigned person was not available. I had my bag packed, but I never got that call! Instead I got a call from the office of the trainmaster that "St. Louis" had ruled me ineligable to work as I wore glasses and did not have 20:20 vision without them, the rule at the time.
My next 1963 adventure was a 5-week trip to Canada. The Gustins invited me to go with them on their annual trip to Vermont and Canada to visit his family. Gus had been my Boy Scout Master. Francis had been my 4th Grade teacher. They had team taught me at Sunday School. They were close family friends. Gus, Francis, their dog, and I set off on our trip. East of Rolla I was asked to drive. Although I had been driving for 5 years, it was with an automatic. They had a manual. Getting it up to 80mph was an experience. US66 in those days was different from today. None of it was I-44 yet. At Cuba, MO, there was even a 4-way stop sign! I drove to just outside St. Louis. We had lunch at a Road Side Park in Illinois. We had supper at a restaurant on the east side of Indianapolis, IN. We finally stopped for the night on the east side of Richmond, IN. The day there were short stretches of I-70 between Richmond and Columbus, OH where we took I-71 to the Ohio Turnpike south of Cleveland. East of Cleveland we took I-90 which in New York state was the New York State Thruway. North of Syracus, NY, we took US11, spending the second night at Watertown, NY. The third day we went across northern New York to Rouses Point where we crossed Lake Champlain into Vermont. We drove across northern Vermont to Newport and then to Derby Line where Gus' sister Heleen lived. After a short visit, we then crossed into Canada at Beebe, Que, bought some supplies and headed to the cabin on Fitch Bay along Lake Memphremagog. When I left home I was a 125-lb weakling. However, splitting firewood and other activities at the cabin changed that. When I got home I was 140-lb and much stronger. We periodically traveled to Newport for church and other activities. I took pictures of CP, Boston & Maine, and Quebec Central locos. I shot pictures of the CP/B&M passenger train composed of RDCs, a mixture of CP and B&M cars.
One side trip involved driving past the "Man in the Mountain". Nearby there was a wildlife park with one each of all of the different types of geared steam locomotives. From there we headed to Mt. Washington. I rode the cog railway to the top of the mountain and back. What a ride. Not fast, but a very steep climb. On the way down our two one-car trains took siding near the top, and met two one-car trains on their way up the mountain. Four steam engines in one shot!
We fished in the lake. We also swam in the lake in the afternoon. One morning I thought that I would take a swim. I dived off the end of the dock. The water felt like ice so I did not stay in it long. I never tried that again.
In 1965 I applied to several graduate schools and was accepted to the University of Missouri at Rolla, which had been the Missouri School of Mines and Metallurgy when I applied. Rolla is about 100 miles west of St. Louis along Route 66. Friend Dave Ingles agreed to meet me in St. Louis and show me the railroad sites. That occured at the beginning of May. I rode the Frisco from Fayetteville to St. Louis. That one day was so useful that years later I showed St. Louis natives where things were. After exploring St. Louis we drove to Springfield, IL and watched slides at Dick Wallin's before heading to Jacksonville and Dave's dorm room for the night. The next day we explored Springfield and then on to Decatur. After exploring the N&W, former Wabash there, I caught a train back to St. Louis, my first dome car ride. At St. Louis I got some shots from the 21st Street viaduct over the station leads before riding the Frisco back to Fayetteville.
In August my folks and I drove to Rolla to explore a place for me to live. We settled on a room with a young family on the south side of town. On our way back home, we stopped at Springfield, MO and I photographed the 4 passenger trains which met there each afternoon. Already these trains were scheduled for discontinuance and reinvention as the Frisco cut all other passenger trains within the month. I had hoped to be able to continue riding the Frisco from home to graduate school. That was not to happen.
During the drive home I discovered that brass importer Pacific Fast Mail in their ad in Model Railroader was requesting suggestions for engines to model. I wrote them that they should do the Frisco 1500-series 4-8-2s and 1600-series so called Russian decapods, 2-10-0s. They eventually imported both models, the 1600-series engines in multiple runs. While still in graduate school I was able to buy one of each by saving my money.
That first year of graduate school I spent many a lunch hour trackside shooting the westbound trains, the "Will Rogers" and later "Oklahoman" as well as a Red-Ball freight. I also made as many trips to St. Louis as was possible. The Burlington operated a fan trip from St. Louis to Hannibal, MO which I chased in something less than perfect weather. On several occassions that year I met family at Roaring River State Park near Cassville, MO. On those trips and trips home to Ft. Smith, I always toured the yards and passenger station at Springfield, MO.
Sometime during my first two years in grad school I met a couple of fellow railfans from the St. Louis area who remain close friends, Tony Marchiando and John Beirne. We railfanned together alot over the next few years while we were at Rolla. At first they lived in Thomas Jefferson Residence Hall where we would gather about once a month and set up track in the basement and run trains. Several other modelers would join us. In Tony's room, he spray painted 3 AHM E8s for me, 2 Frisco and 1 KCS. He also painted cars for my Frisco and KCS passenger trains. Tony and John next lived in a room in a boarding house near the Post Office. Later John and Bill Welch lived together in an apartment next door, and we watched slides in my apartment many a night during the last of those years. Tony, in partnership with his brother Andrew, went on to purchase a former Frisco 14-4 sleeper from CN and operate it as Meteor Rails in excursion service. John made a career of railroading with Southern, Illinois Terminal, and finally retiring from Norfolk Southern. Tony still lives in the St. Louis area. John retired in Roanoke, VA at the end of his career.
December of 1966 was tuff on me as I developed pneumonia. I was still too weak to drive home for Christmas so a friend drove me to the Ft. Leonard Wood airport, and I flew to Ft. Smith. After Christmas Lou Marre and I went looking for the new white SD40s in his Jaguar X-KE. We caught most of the new units in our chase all the way to DeQueen. To get back to Rolla, my folks drove me to Monett where I rode the "Oklahoman" to Rolla, my only ride on that train.
The year of 1966 was very eventful. During Spring Break I visited Louis Marre at Dayton, OH where he was a faculty member of the University of Dayton. This time, I had to drive as passenger trains were not convenient. Dayton still had some passenger trains which we shot at Union Station. We also shot the other railroad action in Dayton. At the time Dayton was one of the few cities that still operated trolley buses which we also shot. One day that week we drove down to Cincinnati where we shots working locomotives of all of the major builders, ALCo, Baldwin, Lima, Fairbanks Morris, EMD, and GE. WHAT A DAY!
During the summer of 1967, my parents and I drove to our firends cabin in Quebec. Our plan was to attend Expo 67 in Montreal. I got to shoot some trains in Quebec and Vermont. We stopped by Steamtown in its original Vermont home. However, due to restrictions by the state, no steam was running, pollution issue. We then toured Boston. I got to wander among stored New Haven engines south of South Station. In New York I got to go to Grand Central Terminal. In Washington, DC, I got my first and only shot of a Pennsylvania Railroad GG1 on a passenger train plus power being serviced at the engine terminal along the main line.
During late spring the Frisco dropped its "Oklahoman" passenger train through Rolla. At the end of the year, they dropped the last of their passenger trains, the "Southland".
In August 1969 John, Tony and I made a trip to Chicago to meet up with a friend from Rolla days, Charlie Galbers. Charlie had joined the Navy and was stationed at Great Lakes. We shot passenger trains at all of the downtown stations, many from Roosevelt Road overpass over their station leads. We even rode the South Shore out to Gary and return. However, during that ride, someone broke into John's car and stole my camera bag with my B&W camera and several rolls of exposed slide film. In 1970 John, a friend of his, and I drove up to Galesburg and spent the day shooting mainly passenger trains along the CB&Q and ATSF.
Later that summer Bill Welch and I drove to North Freedom, WI for railfan weekend at the Mid-Continent Museum. We saw several steam engines running that day, including D&R #9. We even saw a double header. We then drove down to Madison and spent the night, my first of many nights in Madison. The next morning we drove to Union, IL and the Illinois Railway Museum where we rode street cars and interurbans. We then drove to the Relic Museum near Elgin, IL where we rode interurbans. We drove back to Rolla. A long weekend with lots of driving and not much sleep.
Still later in the summer Tony and I drove his brother Andrew to the University of Illinois-Urbana-Champaign. We shot several passenger trains at the station before I ripped the seat of my pants getting up onto the station platform.
In May of 1971, Amtrak began its take over of most passenger trains in the Uniter States. I drove from Rolla to Jefferson City, MO for the first day, May 1. I shot several of the new Amtrak trains that summer.
In 1971 I completed grad school and got my first teaching position at The College of the Ozarks in Clarksville, AR. At the time Clarksville was on a stub ended branch of the Missouri Pacific which had once been the mainline of the Little Rock & Ft. Smith. In the 1930s the mainline had been relocated nearer the Arkansas River. In the 1960s the west connection back to the main had been cut by the construction of I-40. For railroad action, I mainly went to either Ft. Smith or Little Rock. I made friends in Ft. Smith with David McDonald and Jim Christenberry among many others. I became an active member of a model railroad club in Ft. Smith. I also became an active member of the Arkansas Railroad Club in Little Rock, a local chapter of the National Railway Historical Society. These relationships lasted until my relocation to Memphis in 1981.
In the summer of 1972, my parents and I took a vacation to Colorado. It was timed around a Union Pacific steam fan trip from Denver to Laramie, WY behind 4-8-4 #8444. On that trip, I timed the train making 80mph for at least 2 miles, 2 miles in 90 sec.
The day after my trip I shot the Amtrak "City of Everywhere" with #8444 leading the Amtrak diesels on its return to its Cheyenne home terminal.
During our vactaion we toured many sites of former narrow gauge railroads, including the Rio Grande Southern line from Ridgeway to Durango. In Ridgeway we saw the locations of the filming of the John Wayne epic "True Grit" about Ft. Smith and Indian Territory criminals.
In Durango we rode the train to Silverton and return. We then drove to Chama, NM and the, then new, Cumbres and Toltec Scenic narrow gauge tourist operation of the former Denver & Rio Grande Western line. We drove on to Alamosa, CO for the night and then rode the train from Antonito, CO to Chama, NM, returning via charter school bus.
I created this display in the downstairs hallway display cases in the Smith Science Center of The College of the Ozarks.
During my Spring Break 1976, David McDonald and I drove to Denver. When we arrived the weather was a nice spring day. We stopped for lunch and ate it outside. We checked into a motel and decided to then drive to Golden to visit the Colorado Rail Museum. We got on I-70 west, and I thought that something was strange, we could not see the mountains of the Frontal Range. As we approached Golden, we discovered why. It was a spring snow storm with huge flakes! We explored the museum until closing and then returned to our motel after grabbing some supper. It snowed all night. We found several inches of snow on my car the next morning. We feared that we would not be able to get to Union Station in downtown Denver. However, traffic had kept the streets clear of any significant amount of snow, and we got to our train in plenty of time.
The main purpose of this trip was to ride the non-Amtrak Rio Grande Zephyr which used the D&RGW equipment from the pre-Amtrak California Zephyr days. On our ride to Salt Lake City, we traveled over the mountains and through Moffat Tunnel. We rode through several snow squalls. We spent the night in Salt Lake City and then returned to Denver on the train the next day. The last snow squall the day before was in the moutains of Utah, producing beautiful scenes on our return trip. As we approached Denver, we could see the lights from our dome seats as we decended the mountains.
The next day we headed west out of Denver on I-70. As we approached the Eisenhower Tunnel, my Chevy Monza was down in second gear with the accelerator on the floor with us doing 20mph! Inside the tunnel, we started down grade and the car was able to get to 40mph. We finally got back to the speed limit after we got out of the tunnel and the limited air. We spent that night in Leadville. The next morning we shot the BN train heading for Climax, see below.
We continued our trip over Tennesse Pass. At one point we were driving through a cut that both the highway and the D&RGW used. Suddenly there was a train coming at us! We screamed as I grabbed my camera for a shot. David thought that we were about to wreck and go off the side of the mountain. Later we caught a train on the tracks below us from a point on a high bridge over a canyoun. We continued our trip by exploring several of the point of interest to fans of the Colorado narrow gauge railroads before returning to Arkansas.
When Jan and I got married, we drove from Clarksville, AR to Camp Welcome, Que. On the way I shot a few train pictures. In Dearborn, MI we toured Greenfield Village. I bought a book that listed fan trips running from Toronto to Niagura Falls. We spent the night after Dearborn in Toronto. I read about these trips to discover that such a trip would be leaving the next morning behind CN 6060. We took some other train pictures. I made the mistake of showing the unedited pictures to the new in-laws. They did not appreciate the train pictures.
Before starting our summer at the University of Arkansas in 1980, we made a trip to CO and northern NM. We drove to Colorado Springs where we toured the Air Force Academy. We then drove on to Denver and visited with one of Jan's cousins. As we approached Denver, the red sky was obvious from the eruption of Mount St. Helens. We also visited the Colorado Rail Museum in Golden where I learned about how we might be able to chase a D&RGW freight. We caught such a freight at the Big 10s near the base of the Frontal Range. We chased that train up the mountain all the way to the East Portal of Moffat Tunnel.
| | |
| --- | --- |
| We then headed to Georgetown where we spent the night. After exploring Georgetown, we headed west on I-70 to Silver Plume. We saw a steam train running on the Georgetown Loop tourist line. We stopped at an overlook to better see the steam train. We spotted some chipmonks, even hand feeding them. We then drove to Leadville and Glenwood Springs. Our hotel room at Glenwood Springs was across the street from the railroad station. We watched the Rio Grande Zephyr make its stop at the station. Our sightseeing led us to Ridgeway where John Wayne's "True Grit" town scenes were filmed. We then headed over Red Mountain pass where the snow was higher than the roof of our car. In Silverton we watched the arrival of the steam trains from Durango. After sightseeing Silverton, we headed for Durango where we spent the night. We had reservations to ride the steam train to Silverton the next day, but Jan was sick the next morning. We got our reservations delayed, and I got to chase the train, photo above. After riding the steam train and spending a 3rd night in Durango, we headed east to Chama, NM. A friend had a hobby shop there. As I entered the store the owner asked if I was there to chase the rotary snow plow. I immediately turned around and headed up Cumbres pass where we caught the steam snow plow pushed by 2 steam engines on Tanglefoot curve, photo at right. We chased the steam train most of the morning until it made its water stop at Los Pinos Tank and the tracks left the highway. This was one of the highlights of our trip. We then headed towards home through Raton, NM. | |
We moved to Memphis in August of 1981. In May of 1982 I experienced my first "Sentimental Journey" excursion on the Southern. That year was the only season that the Southern was running their steam program excursions with the ex-C&O 2-8-4. I rode the train the first day and joined a group of local railfans to chase the train on the second day. Over the next few years the Southern ran excursions with the ex-Southern #4501 2-8-2 and the ex-S&A #750 4-6-2. One of those excursions is pictured below.
In 1994 I began a new phase of my career when I was selected to participate in the Summer Research Program for the Solid State sponsored by the National Science Foundation. I spent 8 weeks that summer at the University of Wisconsin-Madison. I did not have a car but I could easily shoot the local action of the Wisconsin & Southern which served the campus, a new line for me. At the end of the summer I had to return to Binghamton, NY for an exit seminar. After that was over I flew to Philadelphia where I was scheduled to change planes. Instead I took SEPTA to 30th Street Station and then on to Wilmington, DE where I spent several hours shooting action on the North East Corridor before riding a Metroliner to New Carrolton, MD where the family met me for some time in the DC area. My association with UW continued for the next 16 years, including 2 year long sabbaticals where I had a vehicle to chase the local action. I also met up with old friend David Ingels who introduced me to a group of railfans in the Milwaukee area. It was about this time that the Railfan Park opened at Rochelle, IL where I have watched trains several times, see image below. I also got to explore the Chicago area rail activities.
The March 2001 issue of Trains editor Dave Ingles described me as "Mike Condren bows to few others on matters Frisco, ...." in describing my "Fallen Flags Remembered" feature in the Spring 2001 issue of Classic Trains describing the Frisco, St. Louis-San Francisco.
In the Spring 2008 issue of Classic Trains, David Ingles described my web page of the Muskogee Roads as "the first virtual historical society"; Muskogee Roads Historical & Technical Society's Web Site.http://condrenrails.com/FSVB/Midland-Valley.htm
During August of 2011, Jan and I took our first vacation without kids since 1980. This was mainly a sightseeing vacation aimed at Mount Rushmore, where neither of us had ever been, and Yellowstone National Park, where I had not been for 65 years. That said, we headed north and then west along US30 across Nebraska, paralleling the Union Pacific's "Overland Route" double track mainline beginning at Grand Island, NE, see below.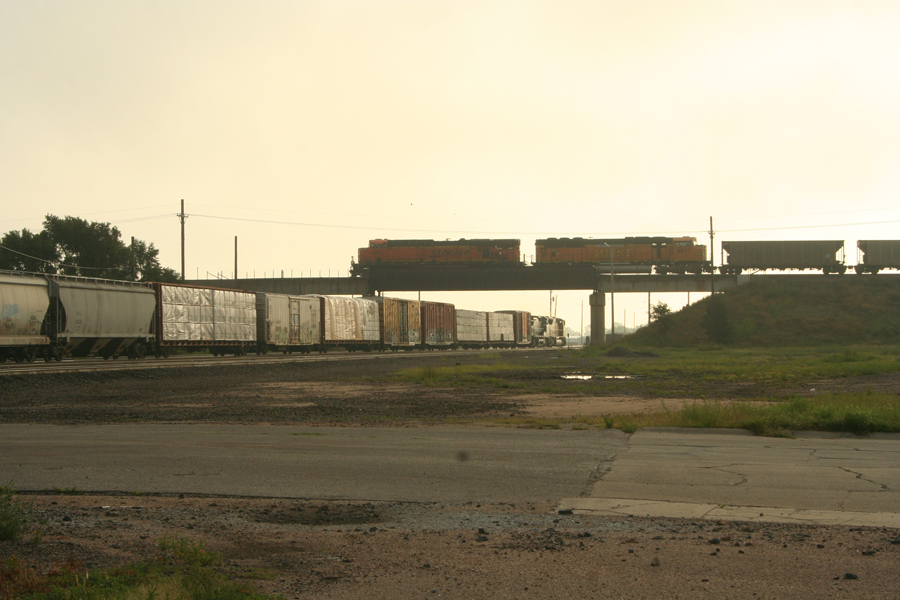 From Grand Island we followed US30 west to North Platte and the Golden Spike Tower at Bailey Yard.


On our return to OK we spent the night in Denver after a few minutes in Caboose Hobbies.
In July 2012 I took the trip of a life time. Long time friend Tony Marchiando was offering a trip on his ex-Frisco 14-4 sleeper Cimarron River from St. Louis to Chicago then on to Manitowoc, WI where we boarded the coal fired steam, former railroad car ferry, S S Badger to cross Lake Michigan. We then went to Grand Rapods, MI where we spent the night on the Cimarron River. The next morning we traveled back to Chicago and the next day back to St. Louis. The trip is covered with the web site S S Badger.
Here are four views inside Roomette 7
Here is the car itself at the end of the trip with my gear next to the vestibule steps.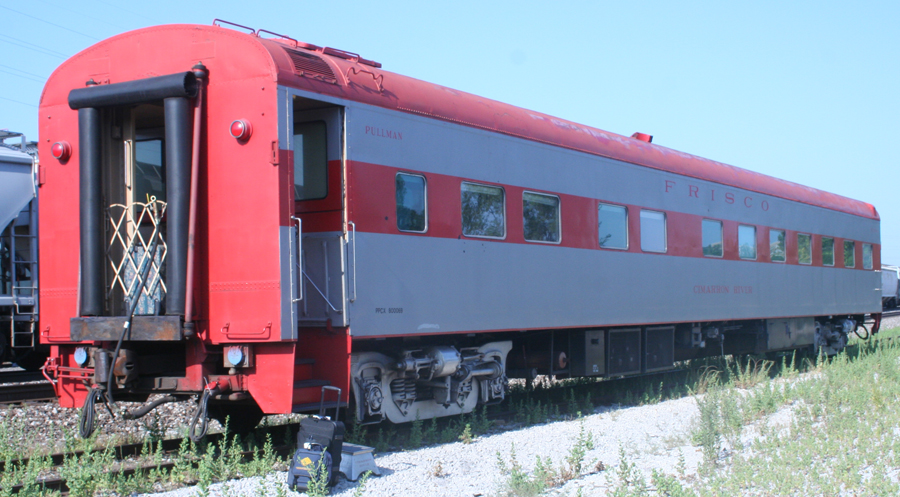 In 2013 I was asked to identify the cars in two aeril photos of Frisco passenger trains, the "Meteor #10" and the "Black Gold" for Classic Trains magazine. The pictures appeared as the "Bird's Eye View" feature in the Spring 2013 issue of Classic Trains, my third "Bird's Eye View" feature for the magazine.
In Sept. 2013 Jan and I were invited to join John and Ann Beirne, Andrew Marchiando, and Tony Marchiando on the 65th Anniversary trip on "Cimarron River" from St Louis to Kansas City. The group who made the trip are l to r: John and Ann Beirne, Mike Condren, David Graham, Jan Condren, Tony Machiando, Bob Still, and Earl Harting. Not pictured is Andrew Marchiando who took the photo. We had to return to Tahlequah while the others continued the trip to the west coast.