Memphis Poplar Avenue Station
Contributed by Bill Strong
Poplar Street Station was located at Poplar and Front. This station was used by both the IC and Y&MV. This station was opened in 1890. The top part of the tower was removed in 1931, on instructions from the city building inspectors. The original imposing structure was rased in 1939. It was from this station that John Luther "Casey" Jones left on April 30, 1900 on his ride to glory. There is a historical marker dedicated to that at the corner of Front and Poplar. The stone retaining wall is still in place.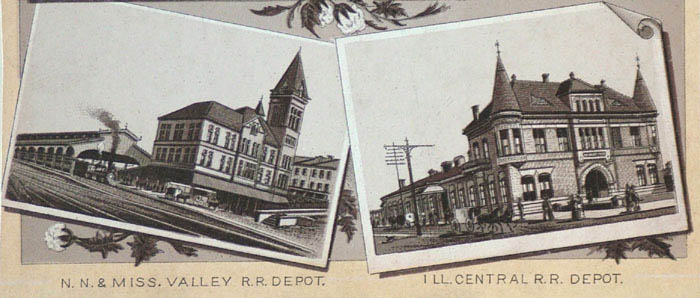 History Department, Memphis/Shelby County Public Library & Information Center
Contributed by Bill Pollard
1895 brochure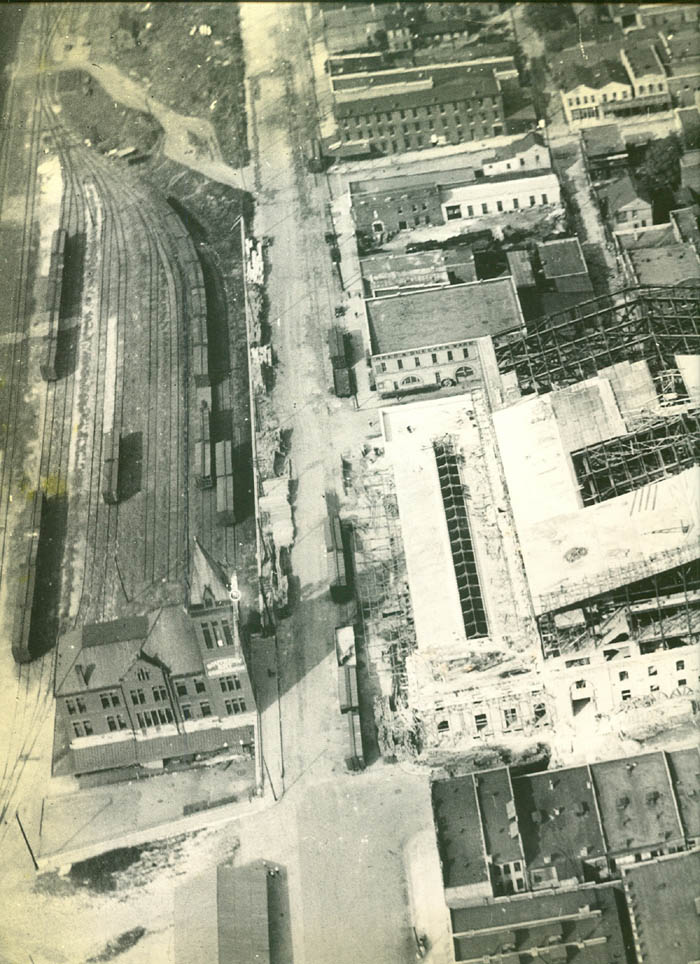 Contributed by Bill Strong
This aerial view of Poplar Ave. Station was taken in 1924, note the absence of train shed and passenger cars as well as Ellis Auditorium under construction. The sign on the front of the station appears to say "Southern Art Cooperative". Larger image available.
This smaller facility continued in use as a secondary station until the 1960s. In the later years it was a stop for only a few trains with the stop for northbound trains eliminated first. By April 1956, trains 3, 15, and 25 stopped southbound, and only #8 northbound. In 1960-61 the northbound stop was eliminated, but the 3 southbound trains continued to stop. In early 1966, the stop of #25 was eliminated, leaving only #3 and #15, both early morning arrivals. The station finally disappeared from public timetables with the April 1967 issue.
For information about the Memphis Union Station.
For information about the Memphis Central Station.
For information about the Other Passenger Stations of Memphis.
For information about the The evolution of Memphis passenger stations.
If you have materials that you would like to contribute,
contact Mike Condren at mcondren@cbu.edu