Memphis Railroaders
"Mr. Martin" who once stood every morning at Walnut Grove and Holmes
waving to the passing motorists wrote the following
which appeared in Railroad magazine in 1963.
| | |
| --- | --- |
| | Lloyd Beacher Stebelton (1891-1989) was a WWI vet...and is buried at the Memphis National Cemetery.. |
| Contributed by Grand Nephew Dwight Dickson | |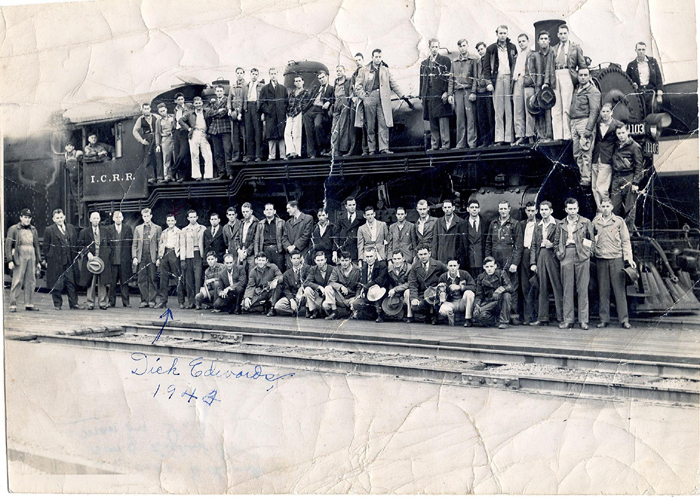 Contributed by Richard P (Dick) Edwards Jr
"During WWII the Illinois Central started using 16 year olds to work on the railroad. I was one along with many others. I did not stay," writes Dick Edwards. Can we identify others in this photo? Larger View Dick describes his time on the railroad.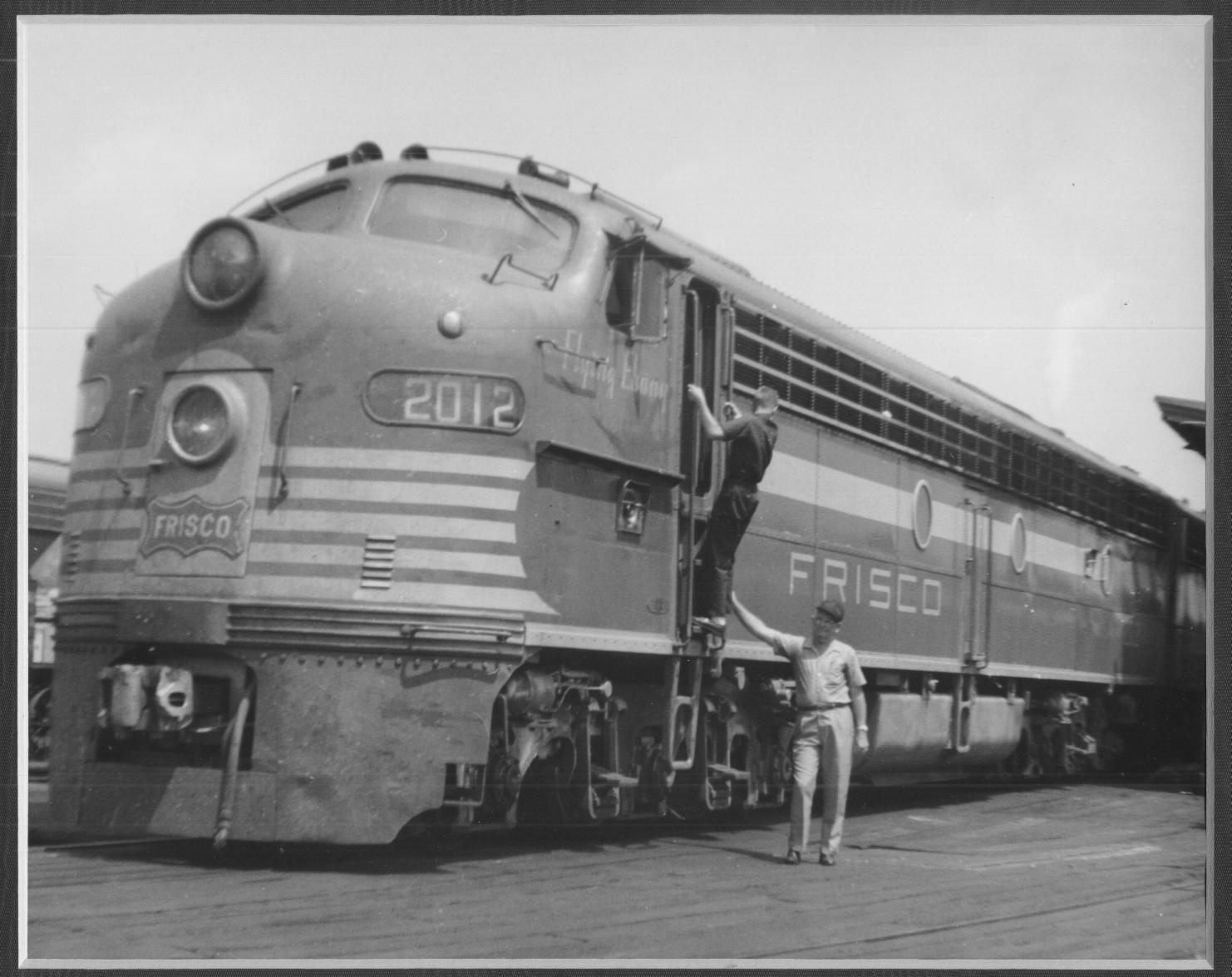 Phil Gosney Collection
Engineer E. H. Ellis poses at the front of Frisco's southbound "Kansas City-Florida Special" in April, 1964 at Central Station. That is a young Phil Gosney descending the cab of E-8 2012, named "Flying Ebony" after Mr. Ellis allowed a cab visit before his departure to Amory, Mississippi. The train continued onto Birmingham.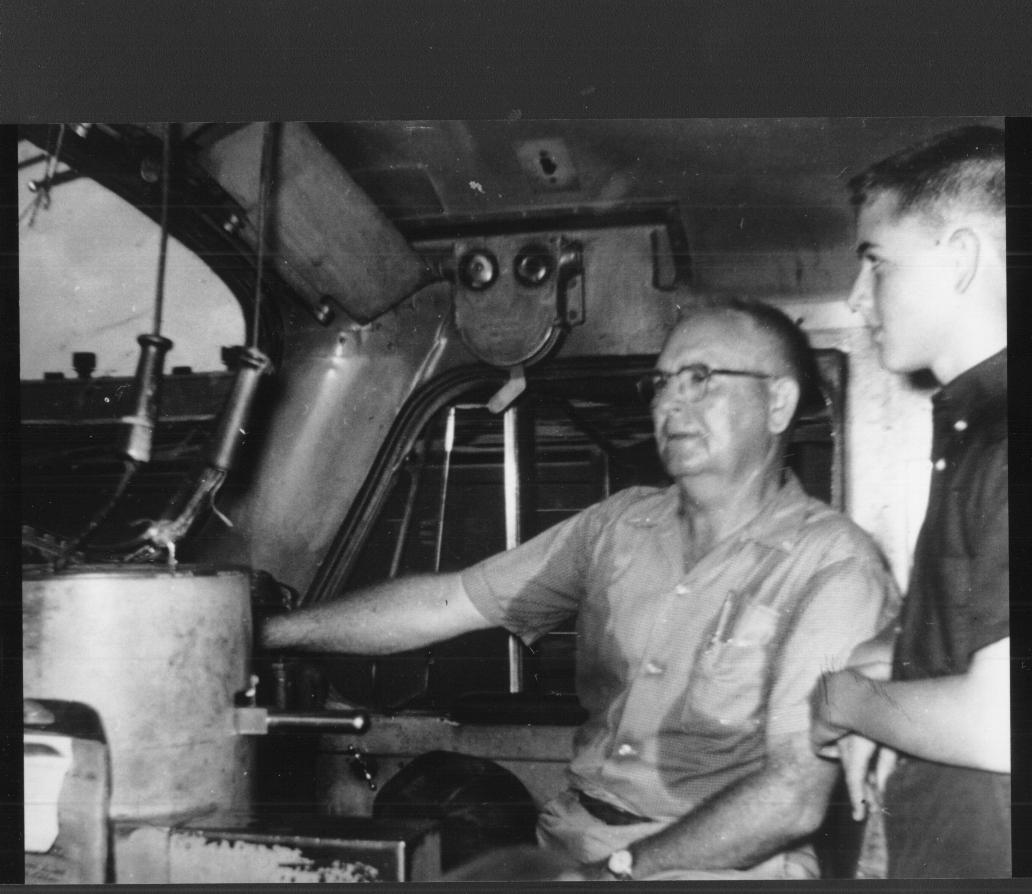 Phil Gosney Collection
Frisco Engineer Elijah Ellis gave Phil Gosney a quick cab tour of E-8 2012 "Flying Ebony" at Central Station. Looks like it was a hot day in April, 1964.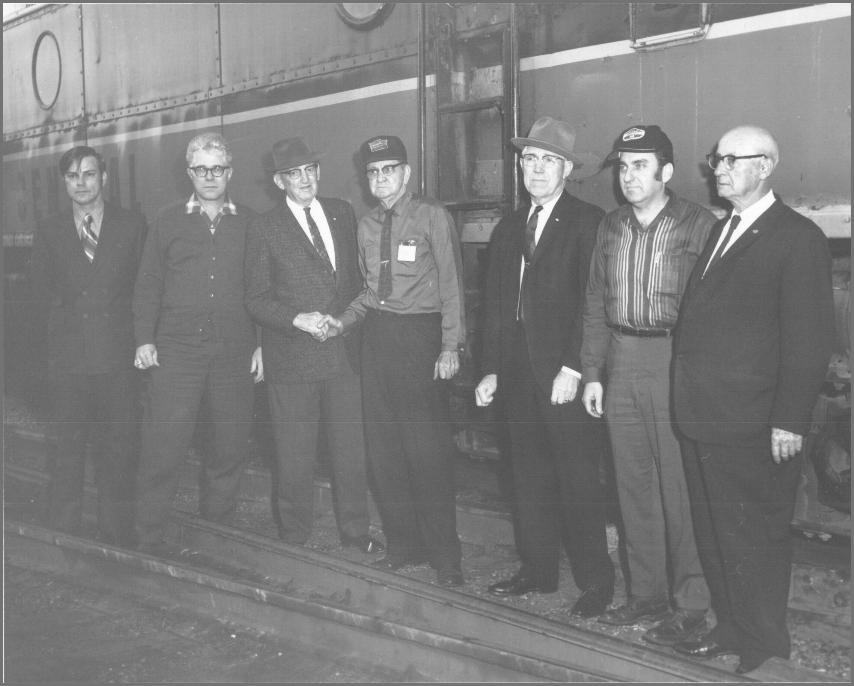 Phil Gosney Collection
For Raymond Brown, his last trip was a monumental event. He had completed 50 years service with the IC and was the senior engineer on the division! Along for this last run was his wife and family, riding back in the coaches. He had his son, Charlie, working as his fireman on that last run, as well. The train was southbound No. 1, the "City of New Orleans", and they both operated the train from N. Cairo to Memphis on March 29, 1971. The No. 1 engineer was running train No.1. On hand to congratulate Raymond upon arrival at Memphis Central station were fellow enginemen who worked for the IC as well.
The gentlemen in this photo are Illinois Central engineers out of Memphis. Left to right, they are Tommy Brown, (Nephew of Raymond Brown.), Jimmy Minton, Dave Barnett, outbound engineer Memphis to Canton, MS, Raymond Brown (Completing 50 years and 9 months service with the IC!), Forrest Minton, Charles Ray "Charlie" Brown, (Raymond's son and fireman this trip.), and Agate Craven.
The following list of railroaders is supplied by Amtrak engineer Phil Gosney:
"Illinois Central Employees I knew in Memphis:
Robert Powell Reed, Locomotive Engineer,uncle of Phil Gosney.
Monroe Sawyer, Locomotive Engineer.
Charles Ray Brown, "Charlie", Locomotive Engineer.
Ray Moulder, Conductor.
Richard Duke, Electrician.
Ester Smith, Ticket Agent, Central Station.
Frisco Employees in Memphis:
Elijah H. Ellis, Locomotive Engineer.
Paul J. David, Locomotive Engineer.
Forrest Duschell, Locomotive Engineer.
James Campbell, Locomotive Engineer.
"Pete" Lowry, Switchman.
Homer Bryant, Switchman.
Dee Stafford, Switchman."
Return to Memphis Historical Railroad Pages Home Page This site is maintained by the Arkansas Boston Mountains Chapter of the National Railway Historical Society located in Springdale, Arkansas



Home of THE ARKANSAS SCRAMBLER
For questions, email arkyrail at outlook.com