Twin-Steam Weekend Part 2
Monticello's SOU 2-8-0
and other Eastern Illinois items
Oct. 17
Photos by Dave Ingles
After an overnight in Champaign, our first target Sunday morning was to photograph Amtrak's Texas Eagle detouring on UP's ex-C&EI route, which it had been doing in 9-day-on, 9-day off stretches while trackwork was going on south of Springfield on the regular ex-GM&O route. I'd ridden the detour Oct. 2-3, and knew #22 passed through Tuscola, not far from Champaign, at 10:40 a.m. I noted on the computer that morning that #22 now was leaving St. Louis earlier on detour days, and after a to-go breakfast which we ate at trackside in Tolono (neither CN nor NS ran anything), we hustled on down to Tuscola to be there by 10 a.m. In town, we forgot about Amtrak #390 from Carbondale, which slammed through and surprised me, even tho I'd noted its scheduled Champaign time. Having heard #22 hit a UP detector west of Tuscola and thinking we might have missed him, we started out for Villa Grove, the crew-change point, then saw the train heading into Tuscola as we got on US 45 to go north. So by doing 80 on the county road, I got to Villa Grove ahead of him and got these shots, which probably better show the detour situation, as Tuscola shows nothing obvious if you don't know the town. As usual, #22 only stopped for about 3 minutes to change pilots.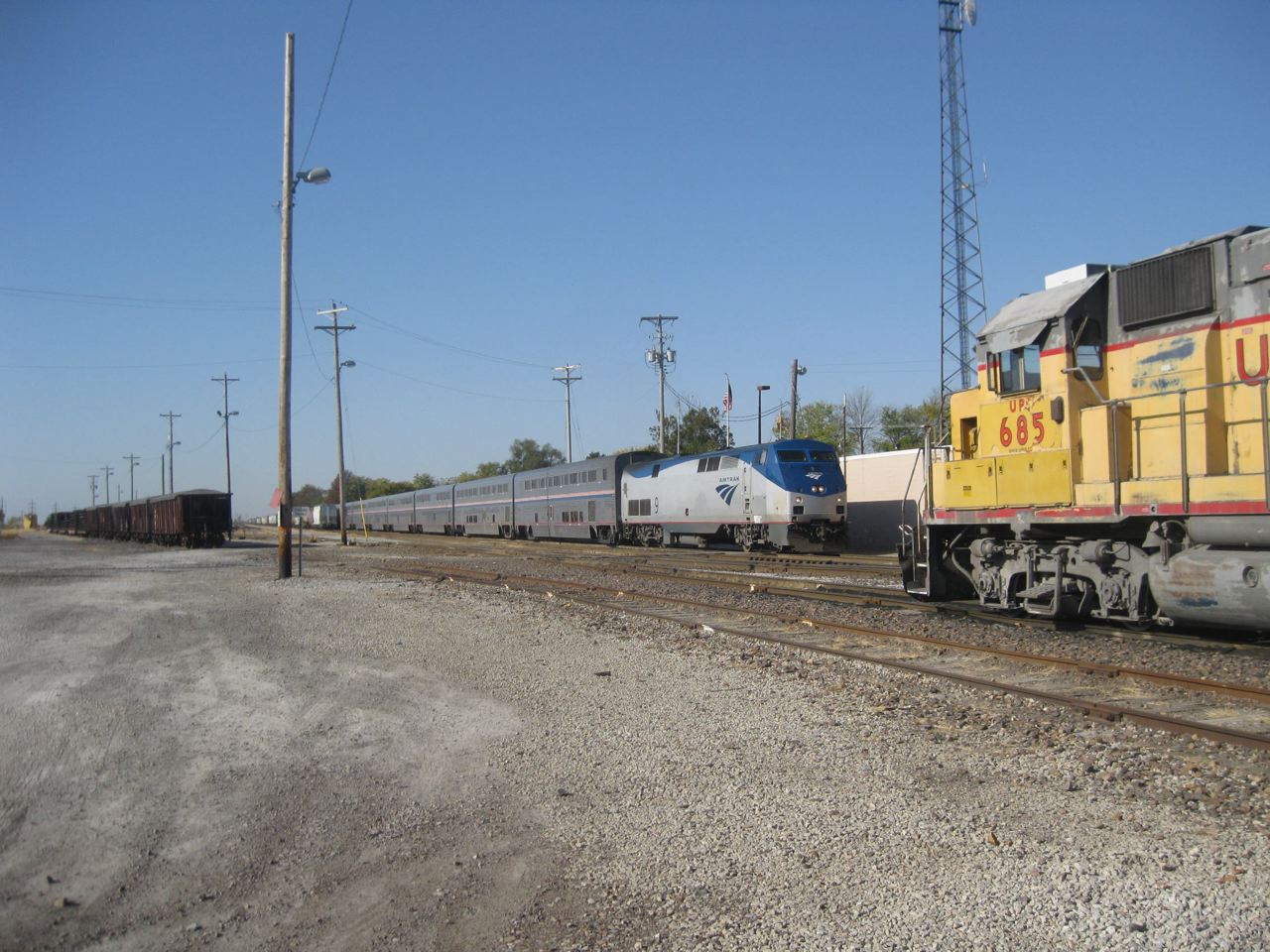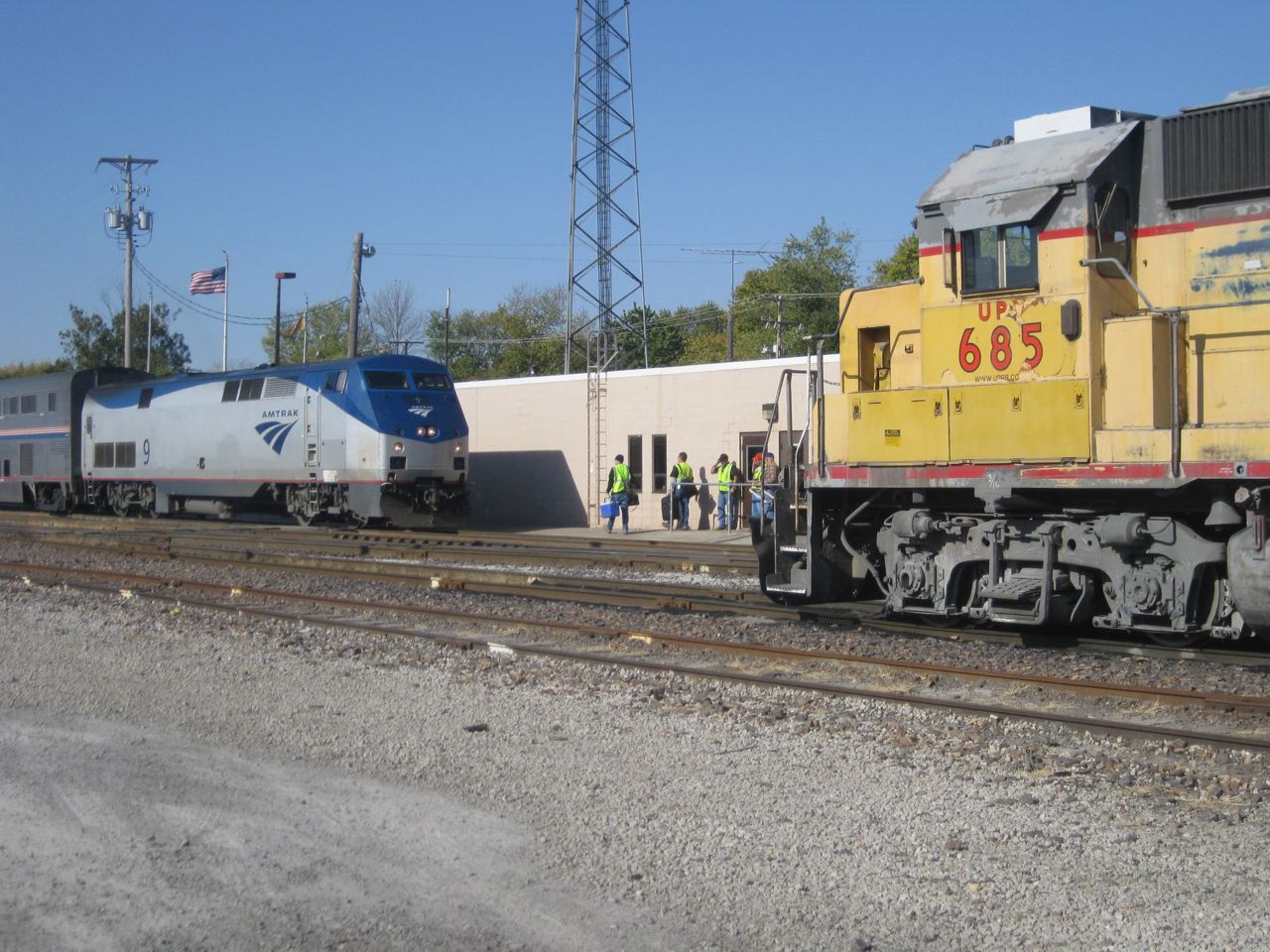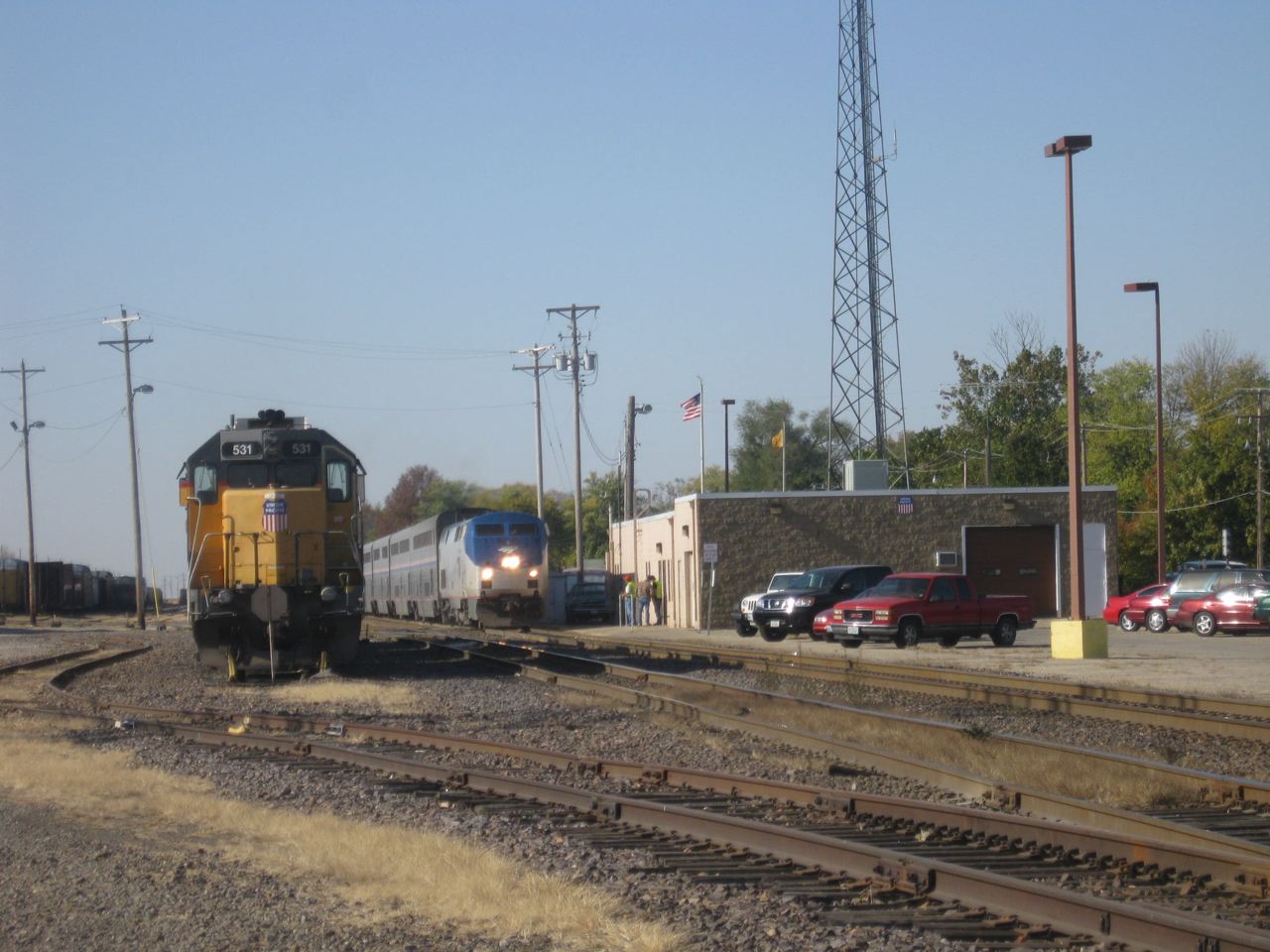 Leaving Villa Grove at 10:10 a.m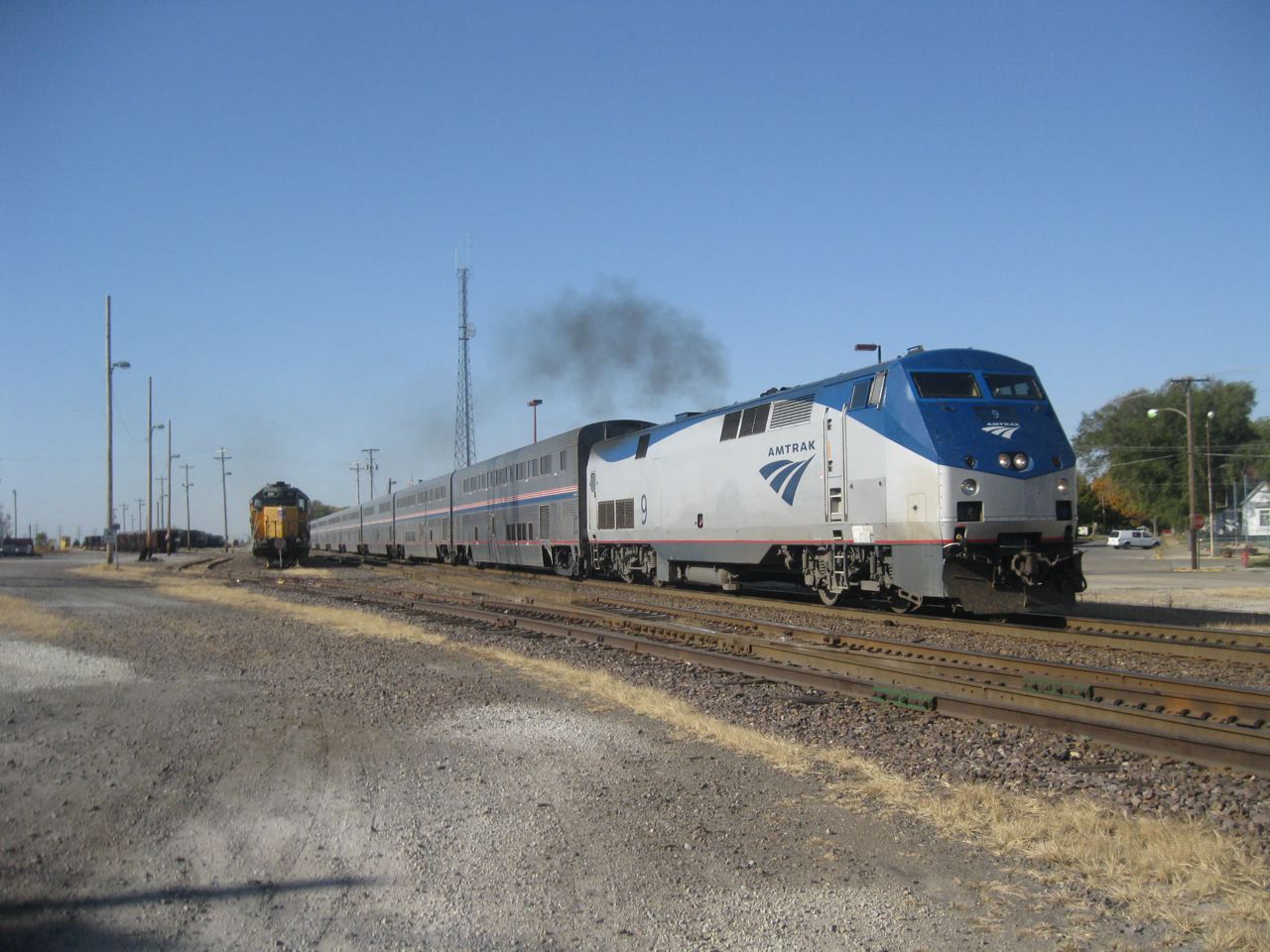 A westbound UP freight was waiting at the west end of Villa Grove yard for #22 to pass, so we quickly beat it down Ill. 105 and west on US 36 back to Tuscola. Crossing the CSX ex-B&O Decatur line in Camargo, we saw a westbound work train, but didn't stop, and made it to the US 36 underpass west of Tuscola in time for this shot, at 10:31. Engines 3868-1299-NS 2535, 71 cars, possibly a run-thru train off the NS's old Wabash/N&W main at Sidney, bound for Salem on the line to Arkansas.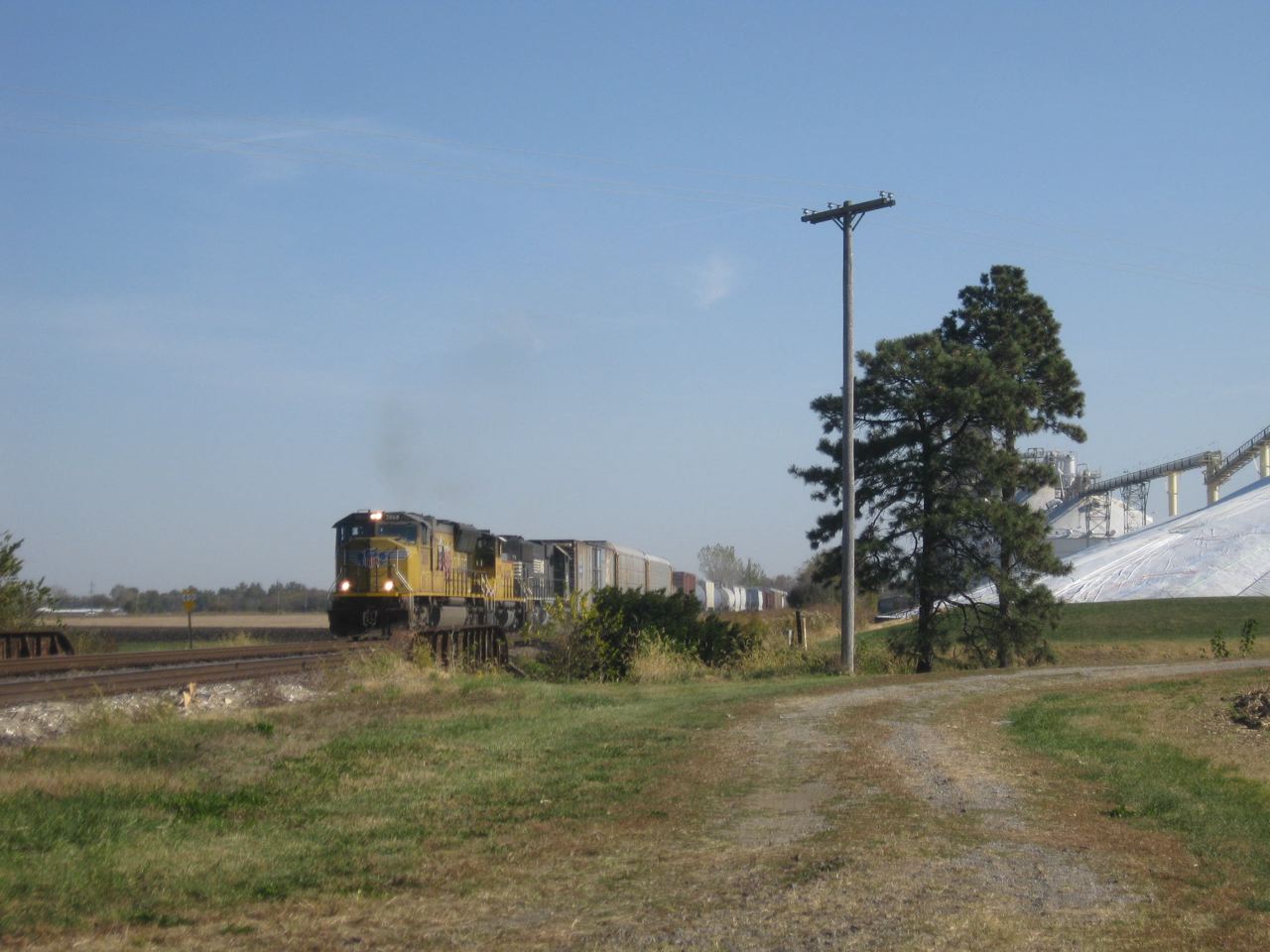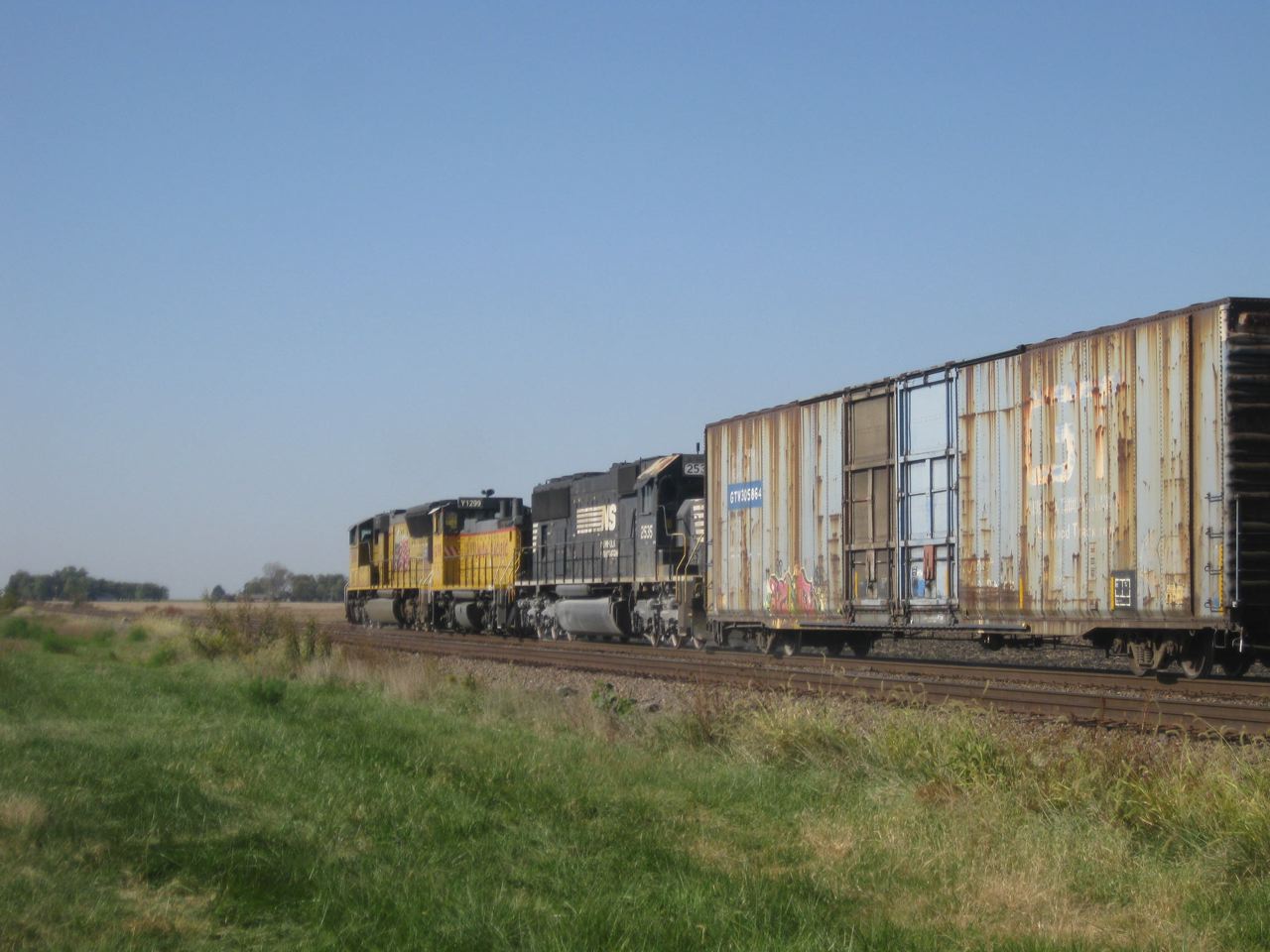 Having missed Amtrak #390, I wanted to get #391, the southbound counterpart. He was running a bit late, and radio talk had a southbound CN freight going in at Tolono so #391 could go past him. Didn't happen. We waited forever at North Tuscola until finally, at 11:32, this guy showed up: 5354-5739, 158 cars, typical CN "land barge." Don't know what the d.s. was up to, but he really screwed Amtrak. The town of Tuscola isn't really good for IC mainline access, hence our hanging out up here in the country 2 miles north; I'm glad we did!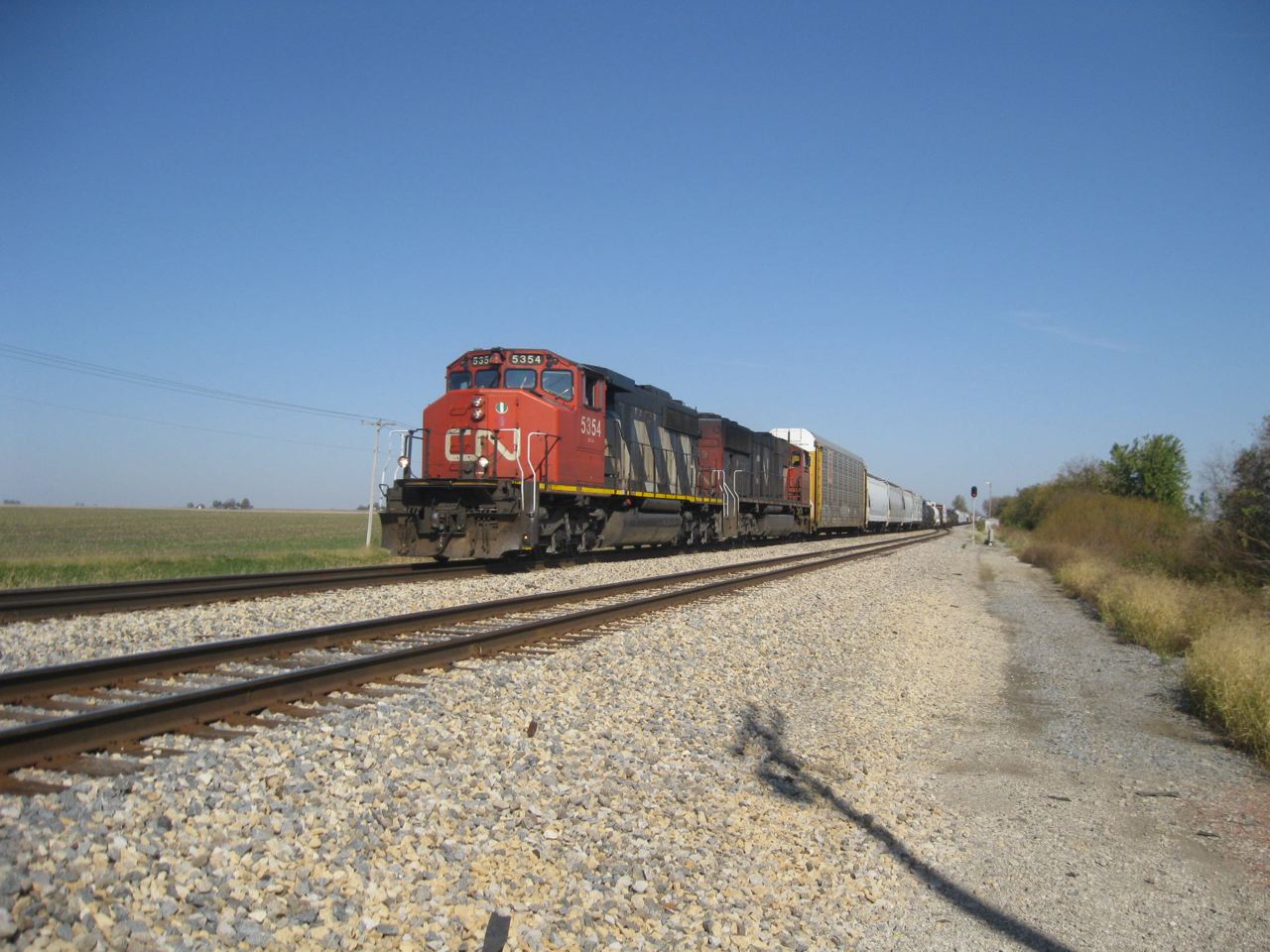 Meantime, you see, a northbound had showed up, hanging back south of the Tuscola UP-CSX diamond. The big grainery at right in distance is the same one in the UP shot above; it's where an early unit train IC sponsored originated, and I believe is served by both CN and UP.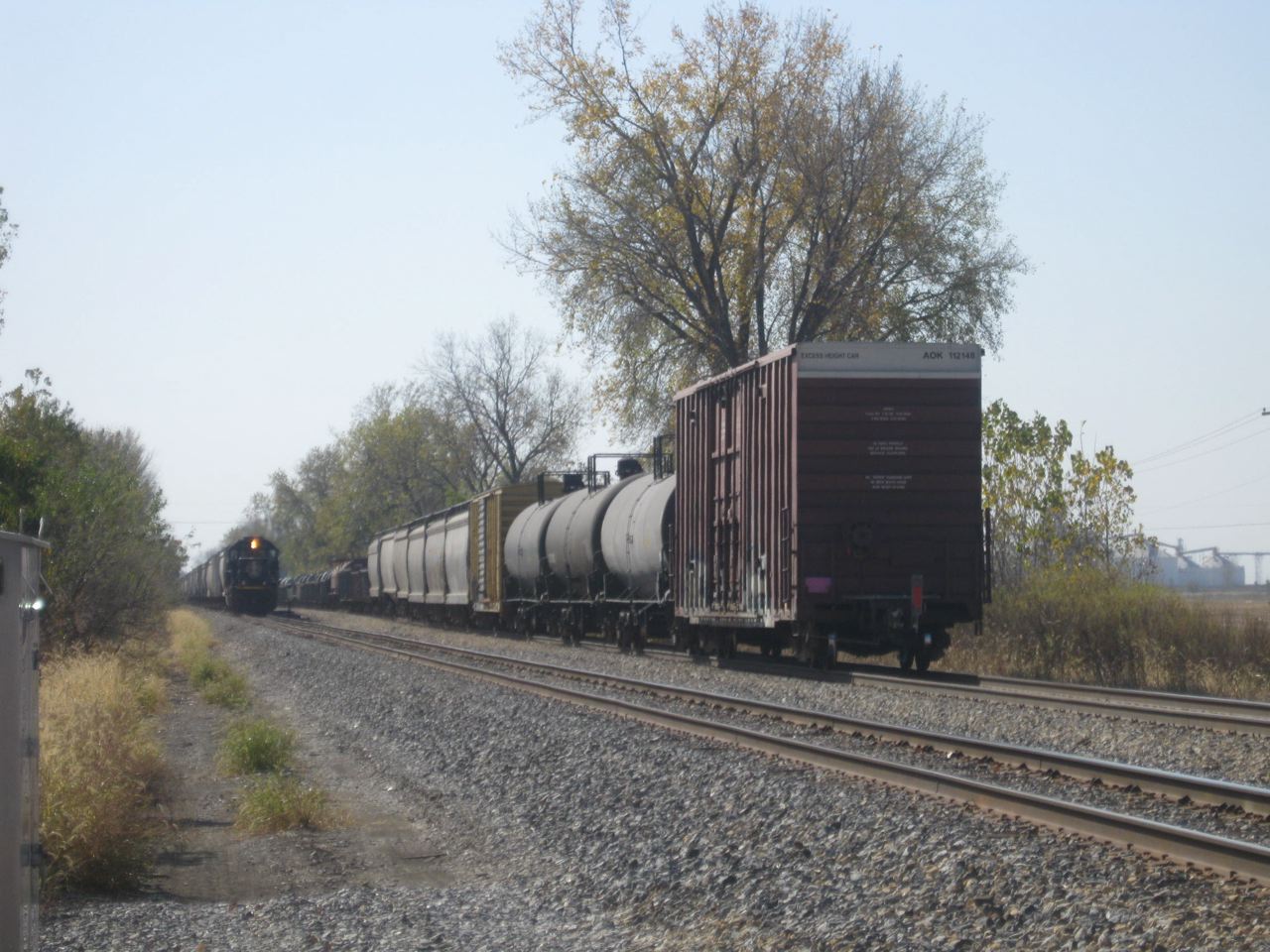 Amtrak #391 arrived at 11:41, engine 824 and 7 cars, the first two Horizon cafe-table cars, probably deadheading. The northbound #390 also had 7 cars.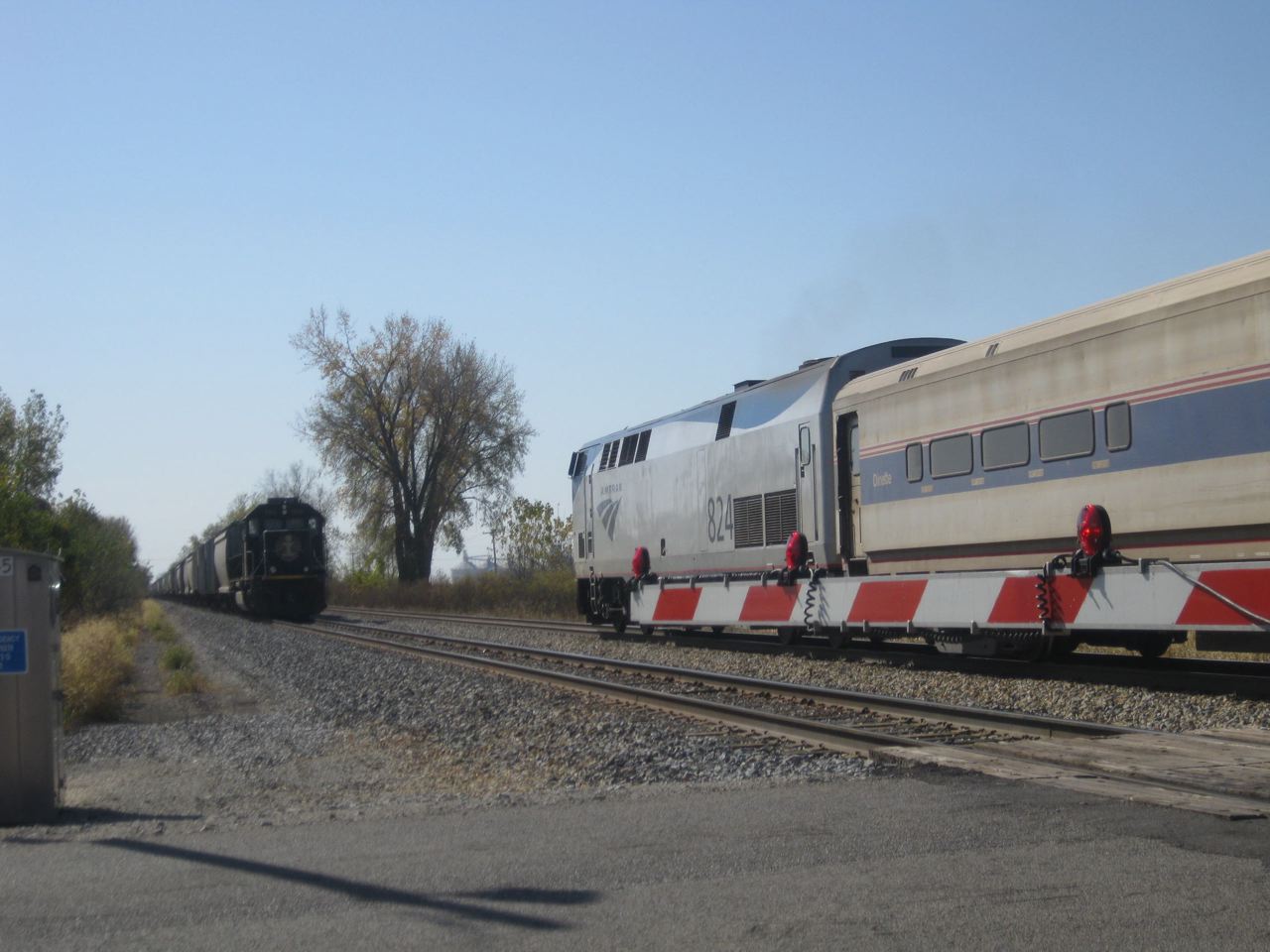 The northbound leaves at 11:45, IC 1016 with 84 cars. Amtrak has pulled up behind the southbound freight and will back out and run by him.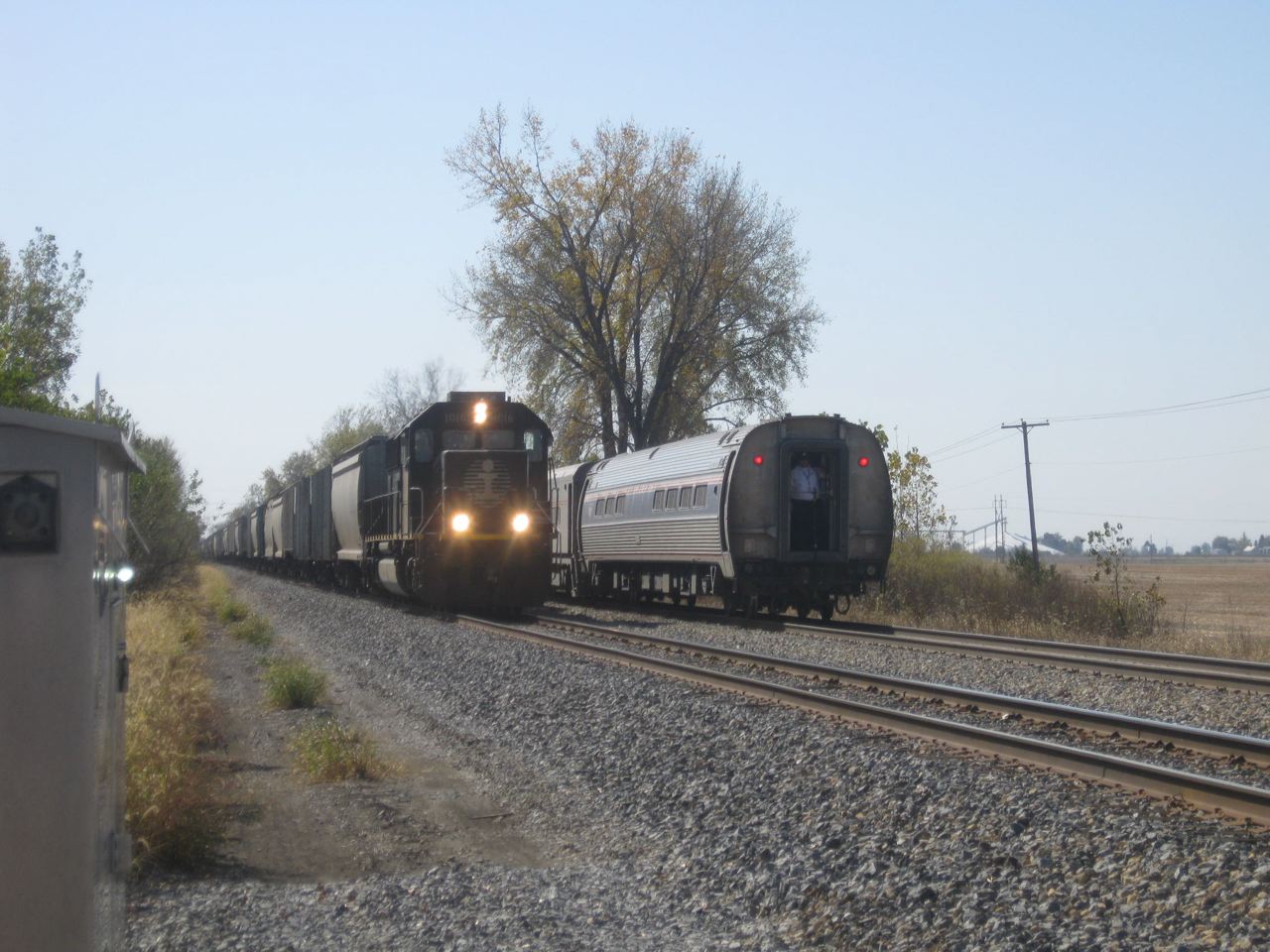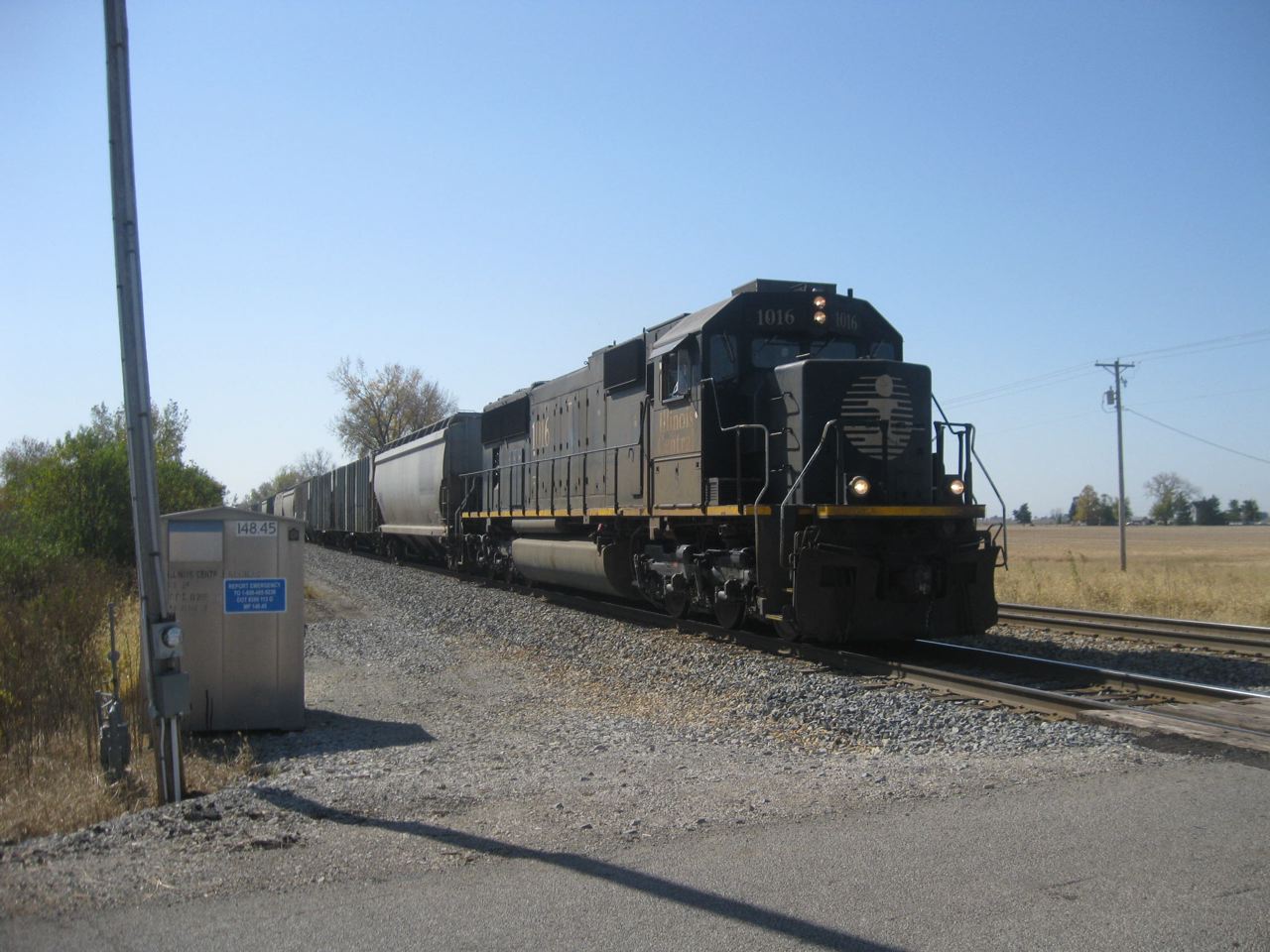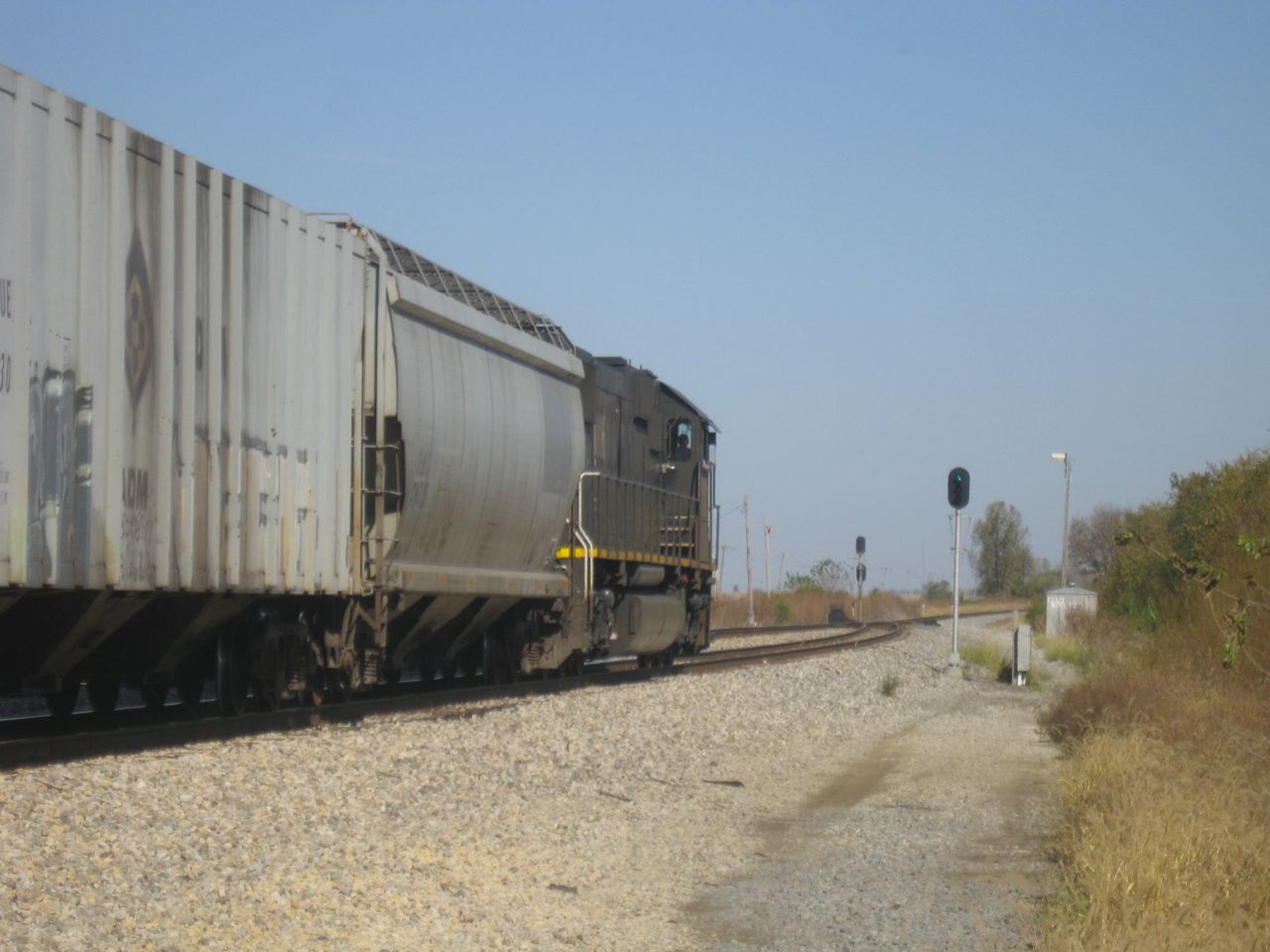 I greeted the conductor with "Helluva way to run a railroad, right?" and he just chuckled as he also said hello. Amtrak would finally leave Tuscola over an hour late! This is the business-class/cafe car, usually on one end or the other of the Illinois state-supported trains.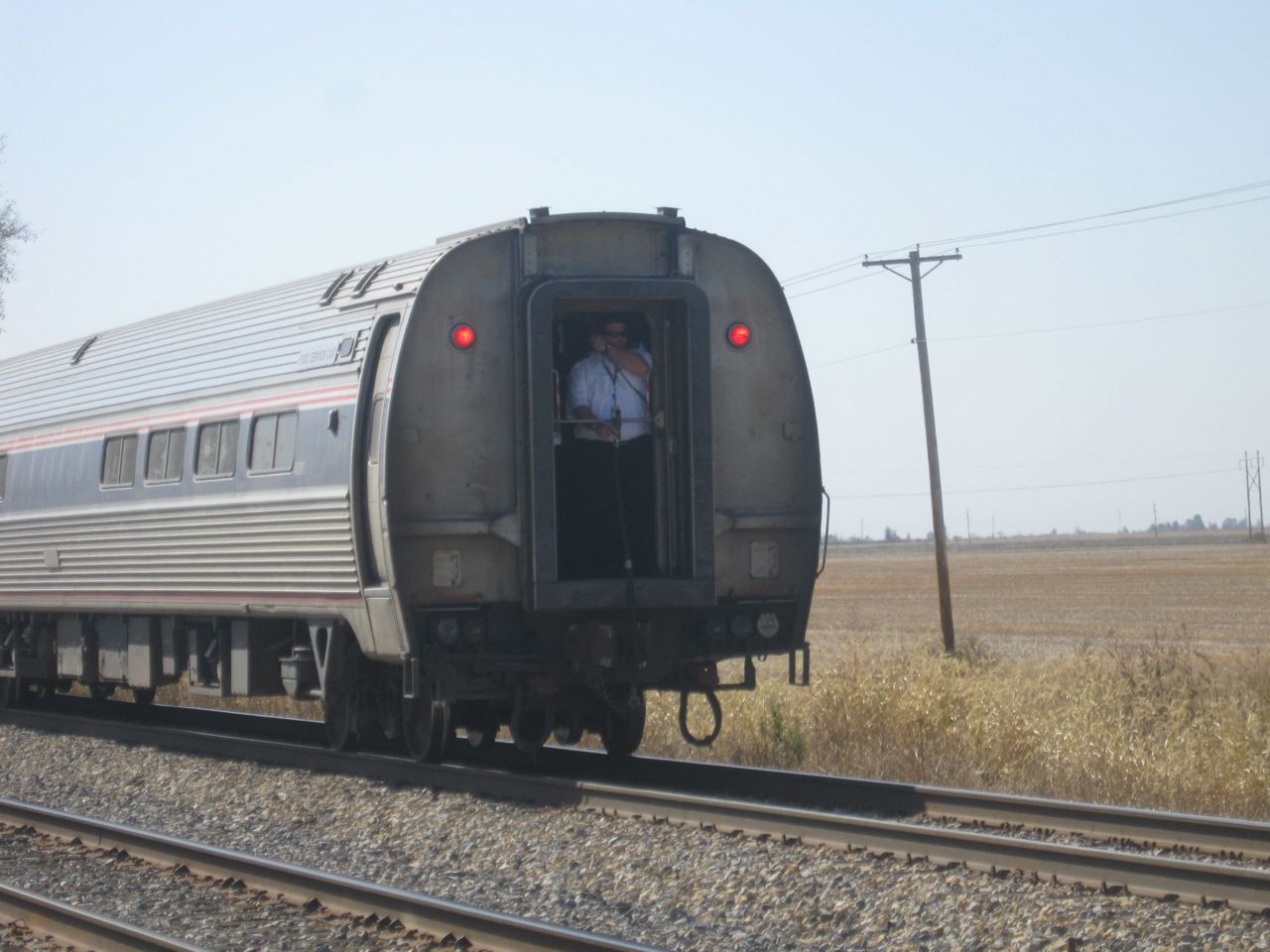 Since I had two "runbys" here, I used digital on one and slides on the other.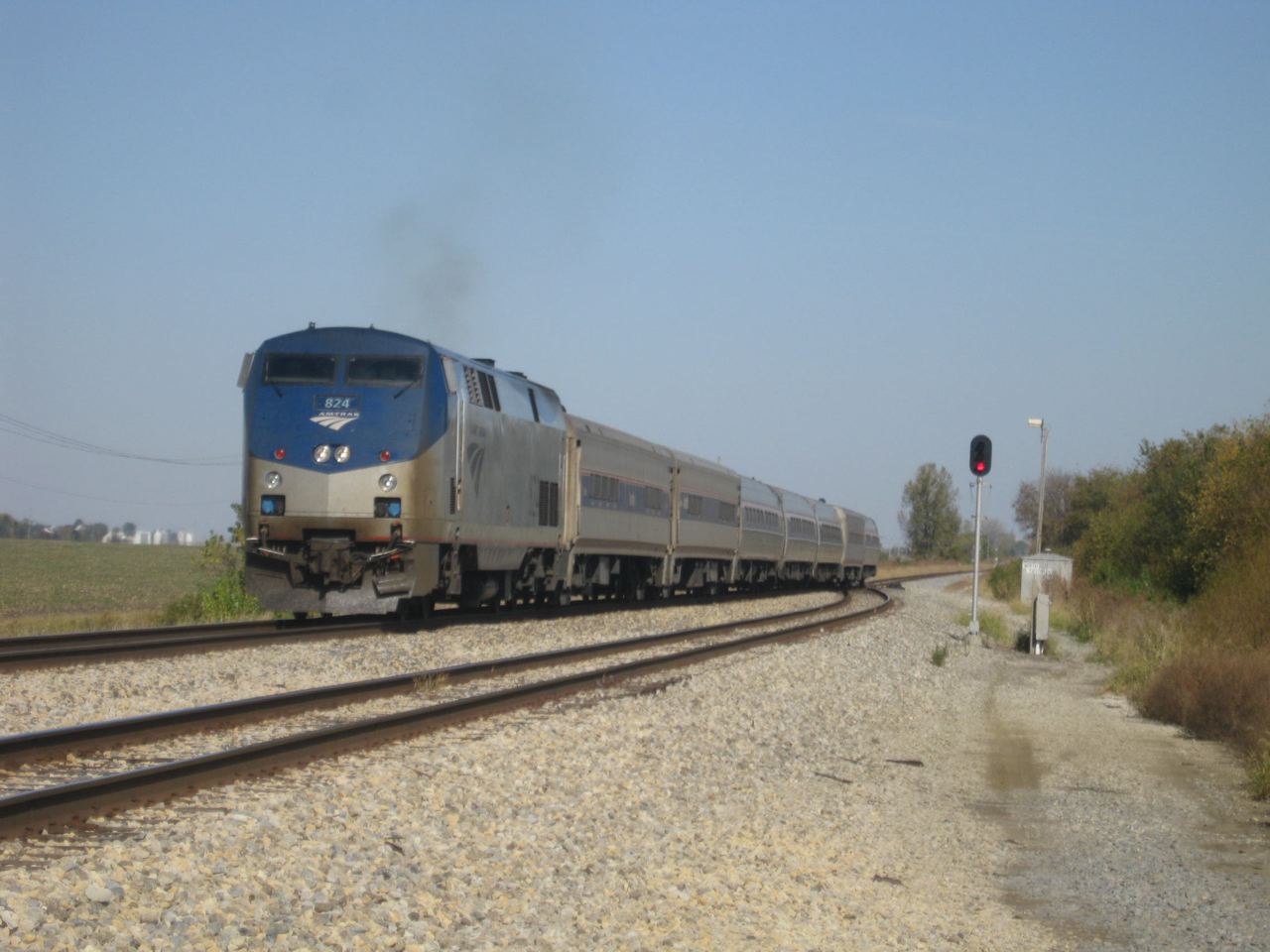 With that circus over, it was time to check out the CSX work train. After a potty stop/lunch to-go at Mickey-D's in Tuscola, we found him to be a rail train, laying down new CWR on the line to Decatur, just west of Camargo, with a GP40/slug combo up front, 6917/2220. No chance out here for a shot from the sunny side. It's about 12:20 pm now. The Monticello steamer was to begin its 3 runs from the museum at Nelson's into town about 1 p.m.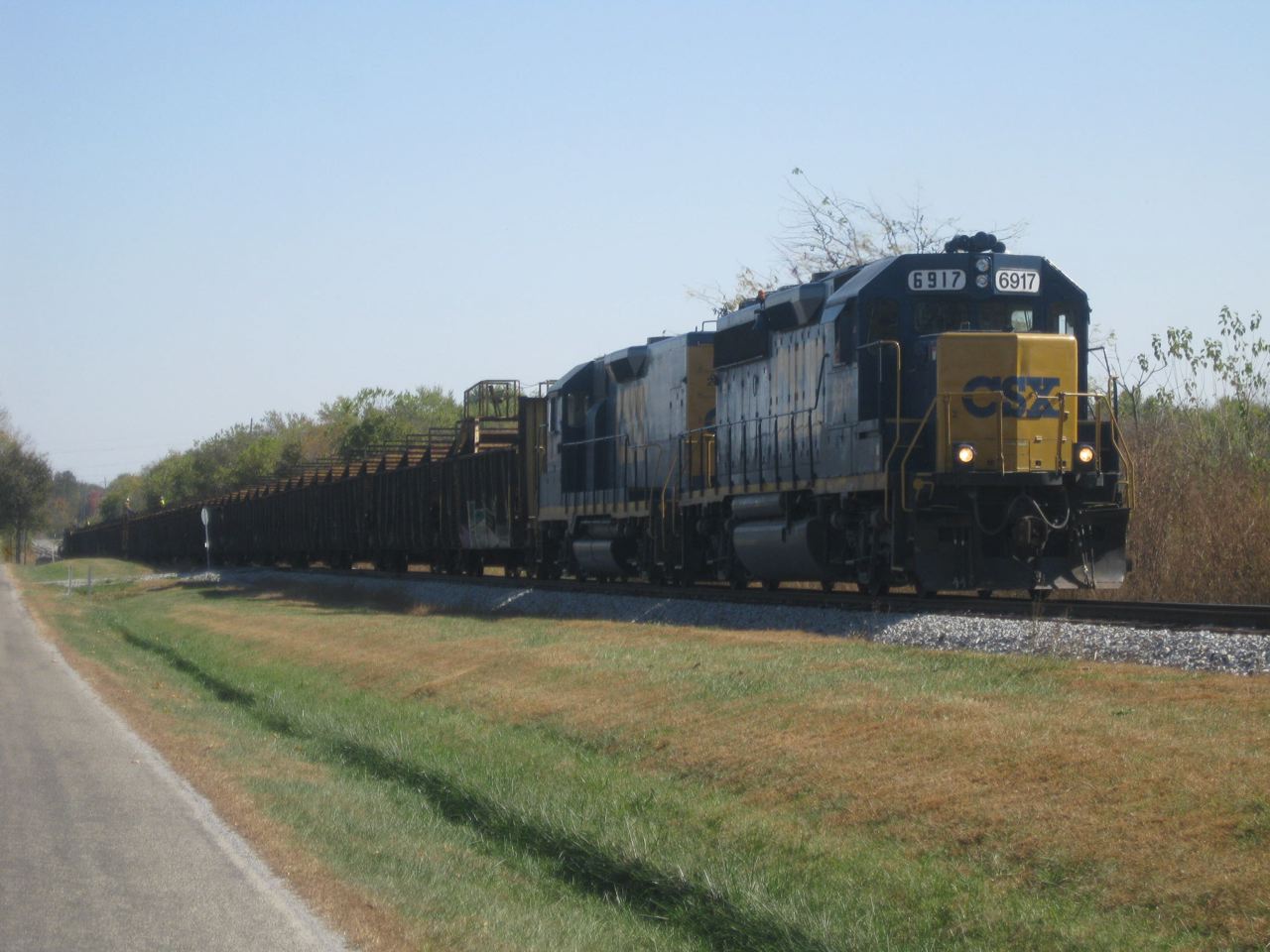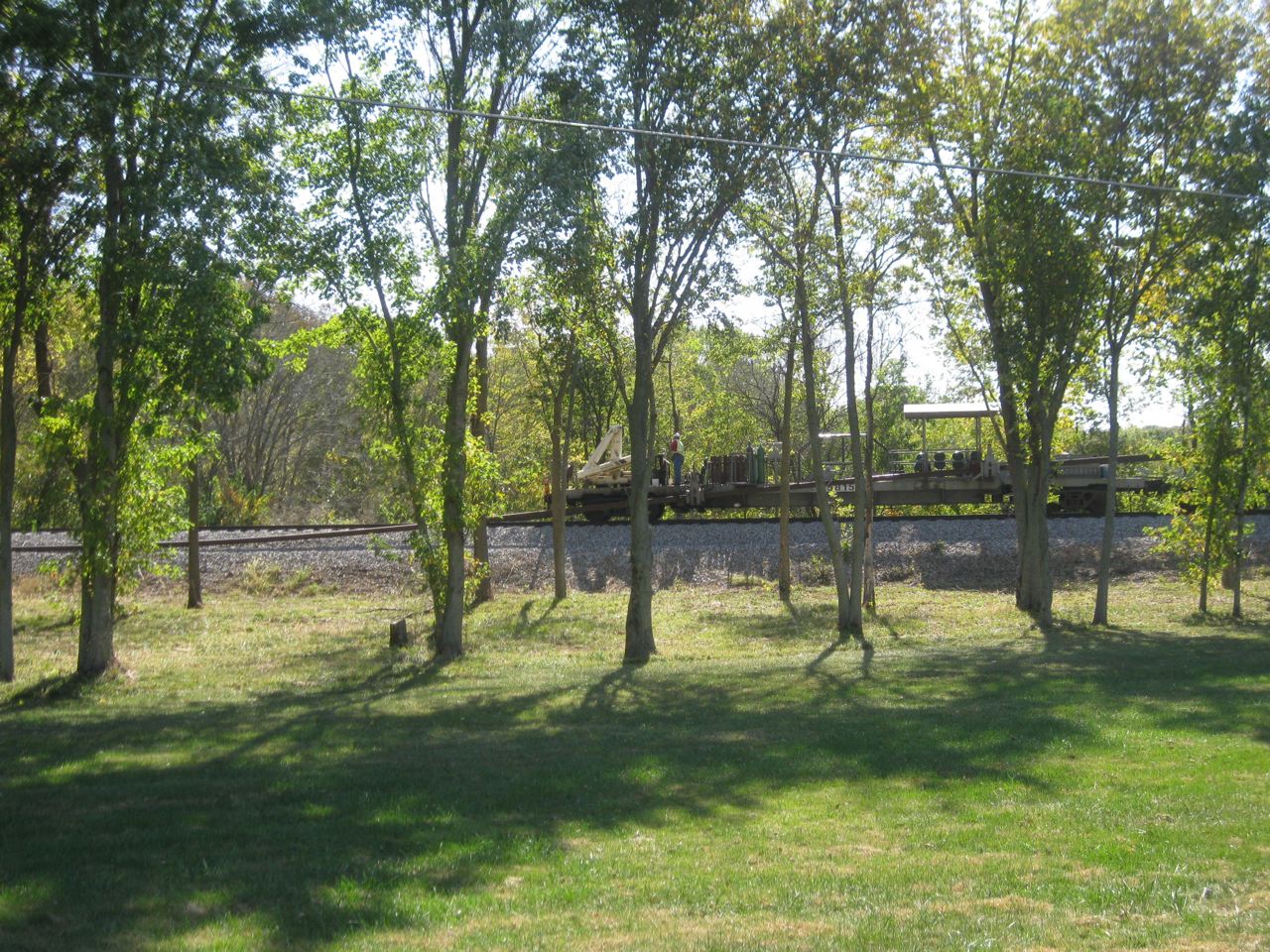 Radio talk indicated more action on UP, so it was back to Tuscola and out west of town another mile, as a stacker overtook a merchandiser that had left Villa Grove while we were in Comargo.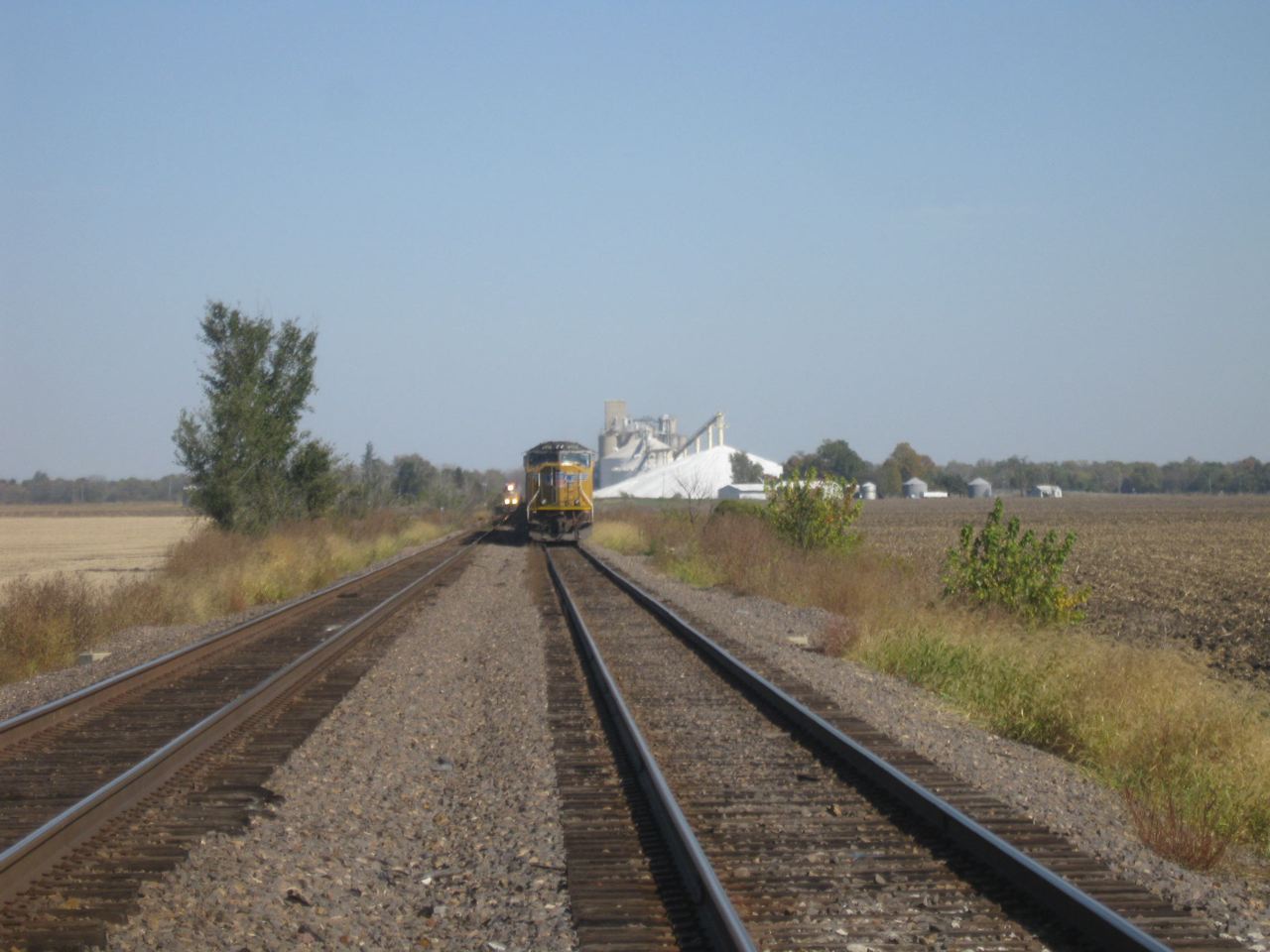 Close-ups were slides; this is stacker 3789-4162-CSX 8745 with 202 axles, at 12:48 pm.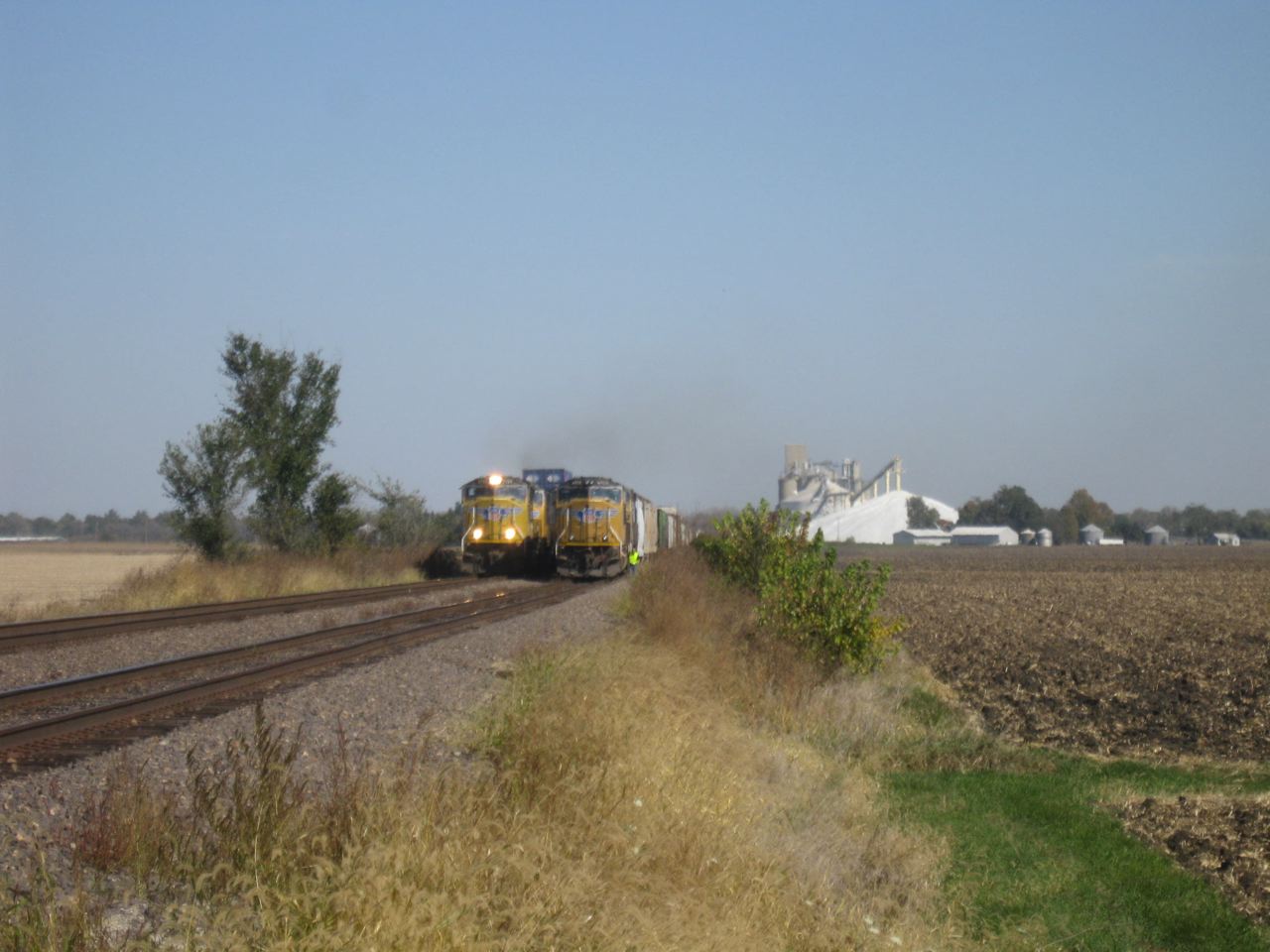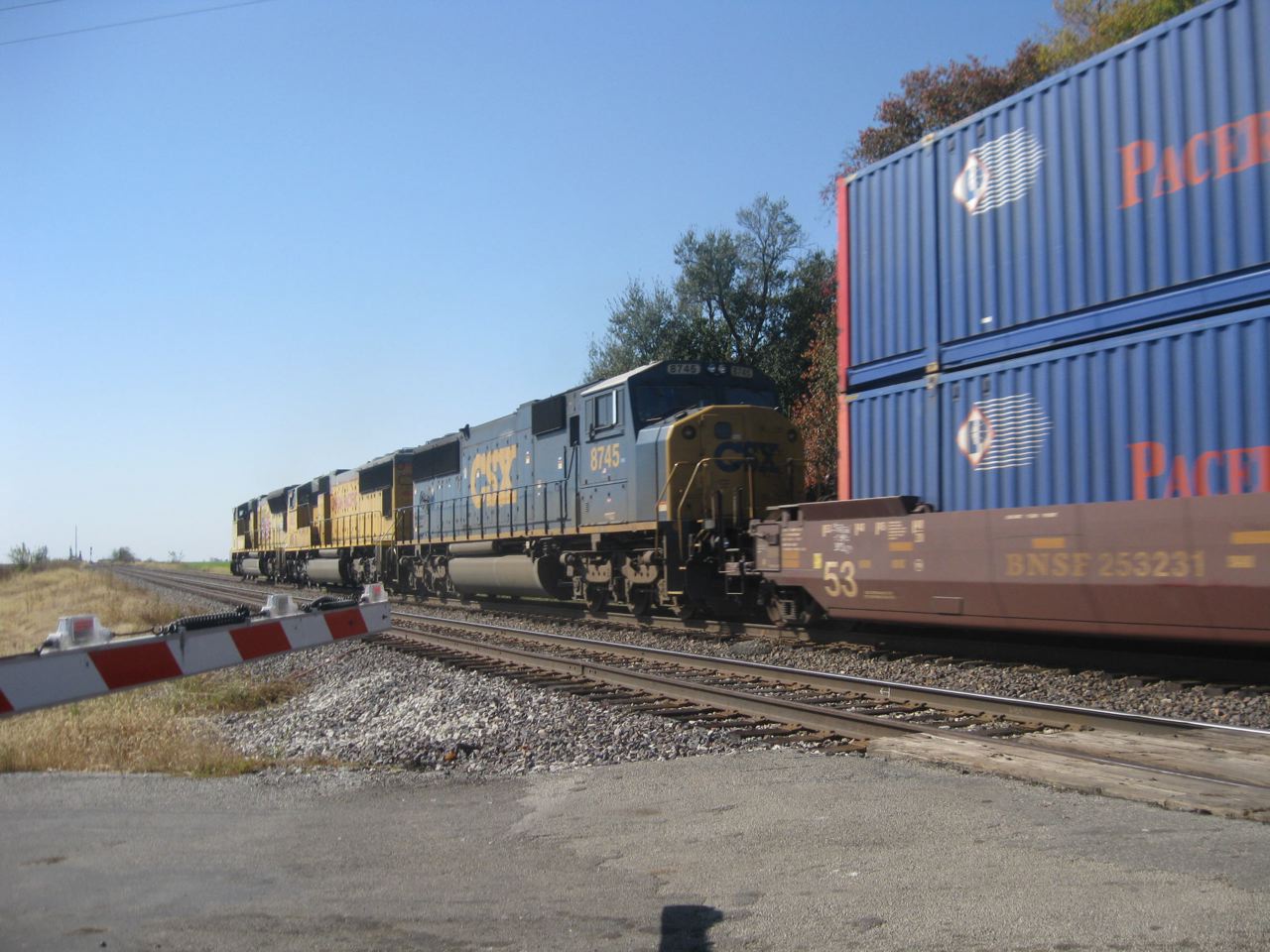 The merchandiser gets under way at 12:54: 4958/9726, 121 cars.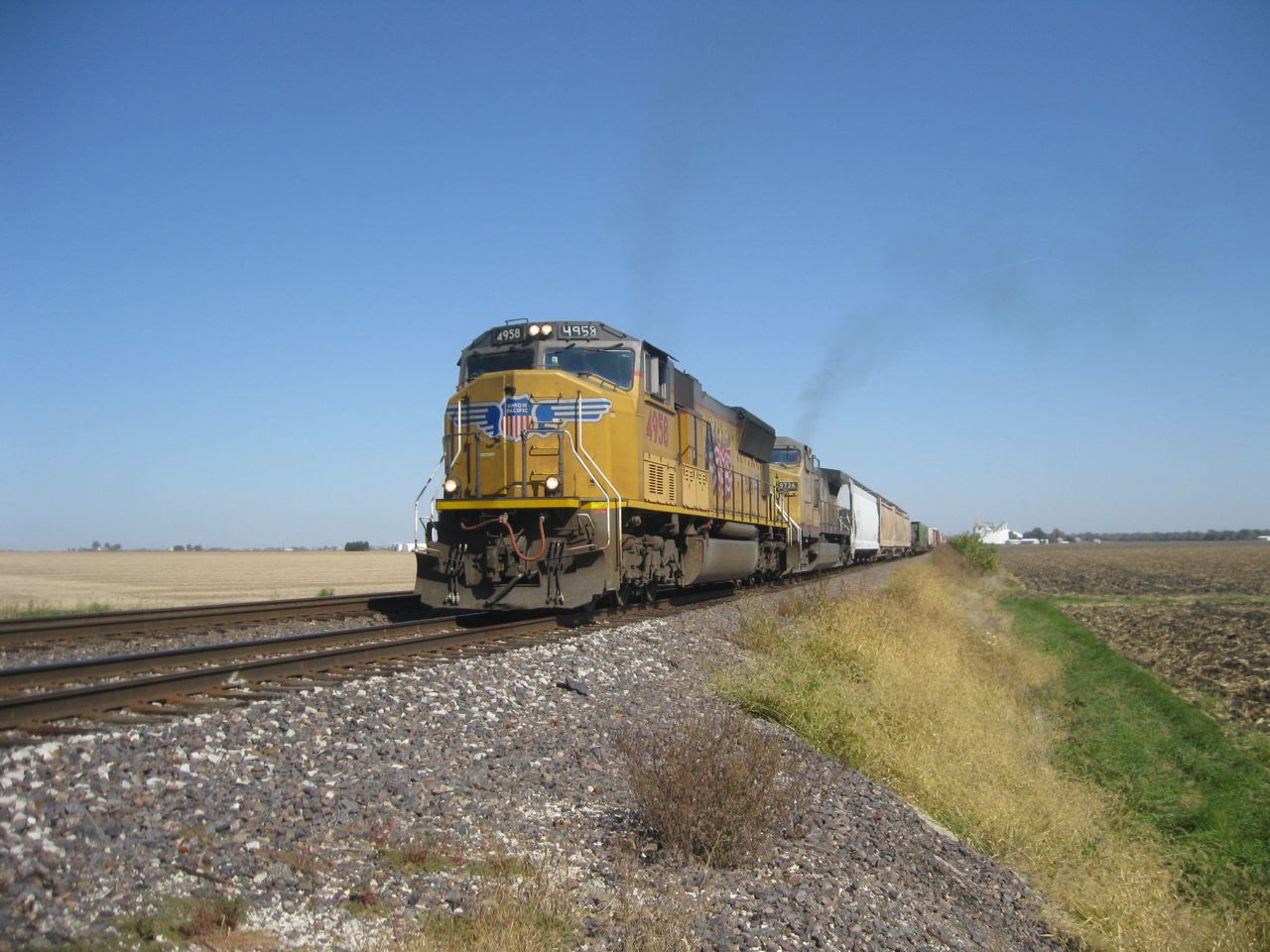 Driving back north to Tolono to get on the road west to Monticello, CN gave us one more southbound, at Tolono: 5613-5634, 154 cars, 1:19 pm.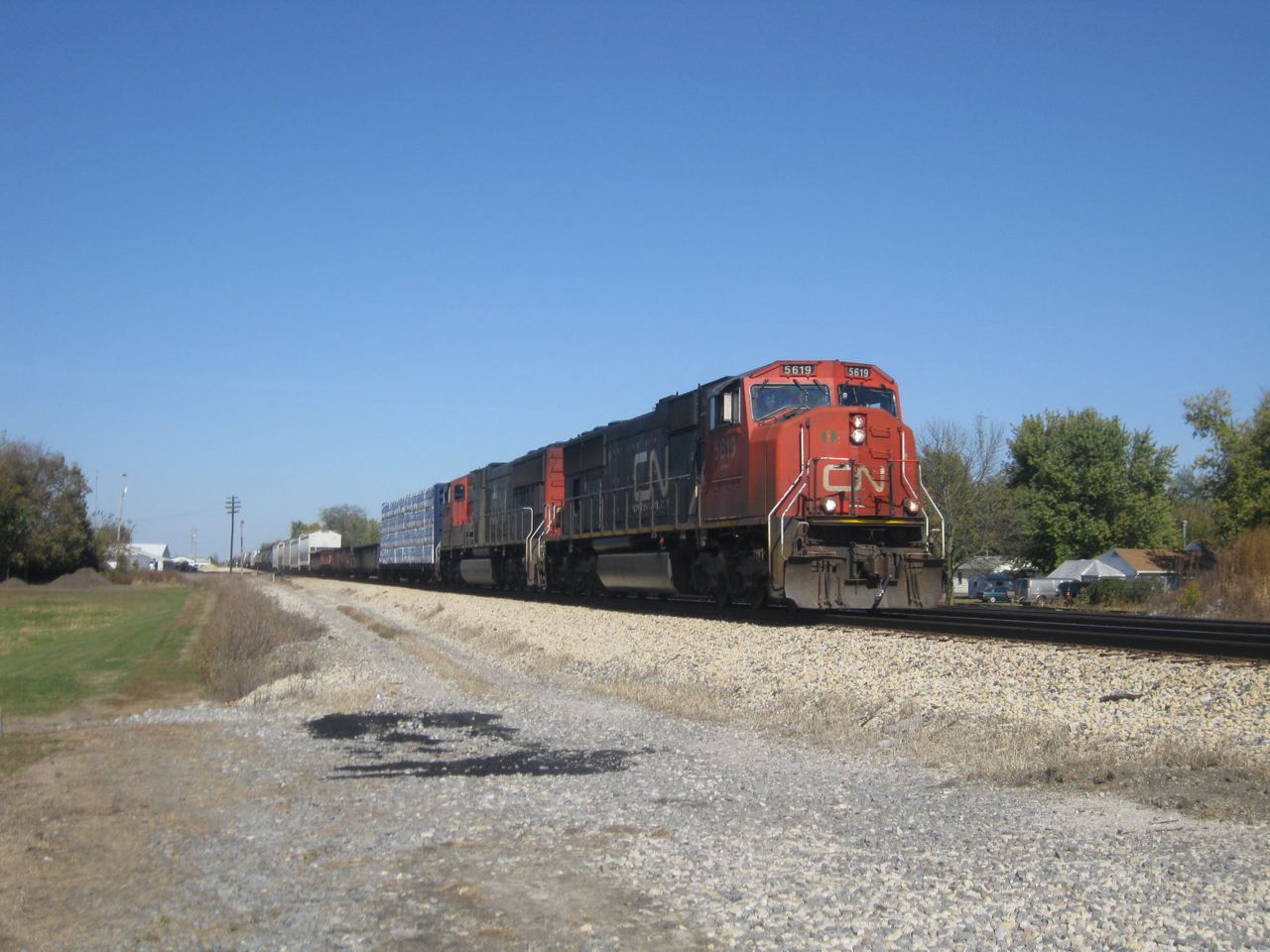 Here she is, newly steaming Southern 2-8-0 401 at the Monticello Railway Museum, ready to take the 2 p.m. train south. To both photo and ride behind her, I chased her southbound twice and rode the northbound "push" leg in between, while Carol drove out from town to the museum.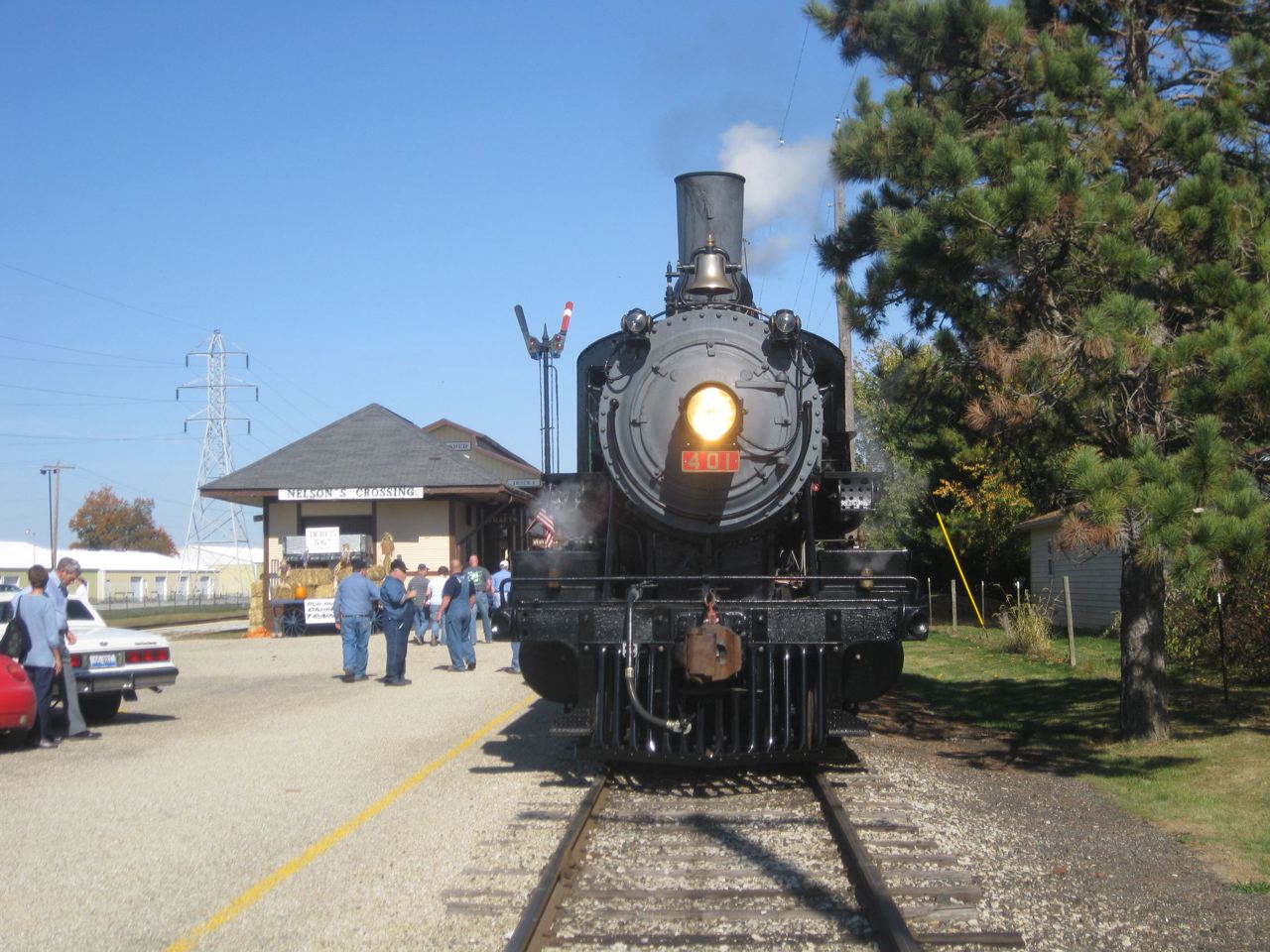 There is one grade crossing in between the museum and town, so while the train backed out of the Nelson's station area, we headed south and set up. Since it was the 2nd run of the 2nd day of the weekend, there was not a big crowd of photographers. The museum runs about 4 miles of trackage on a former IC branch, tho this station track above is on old Illinois Terminal right of way.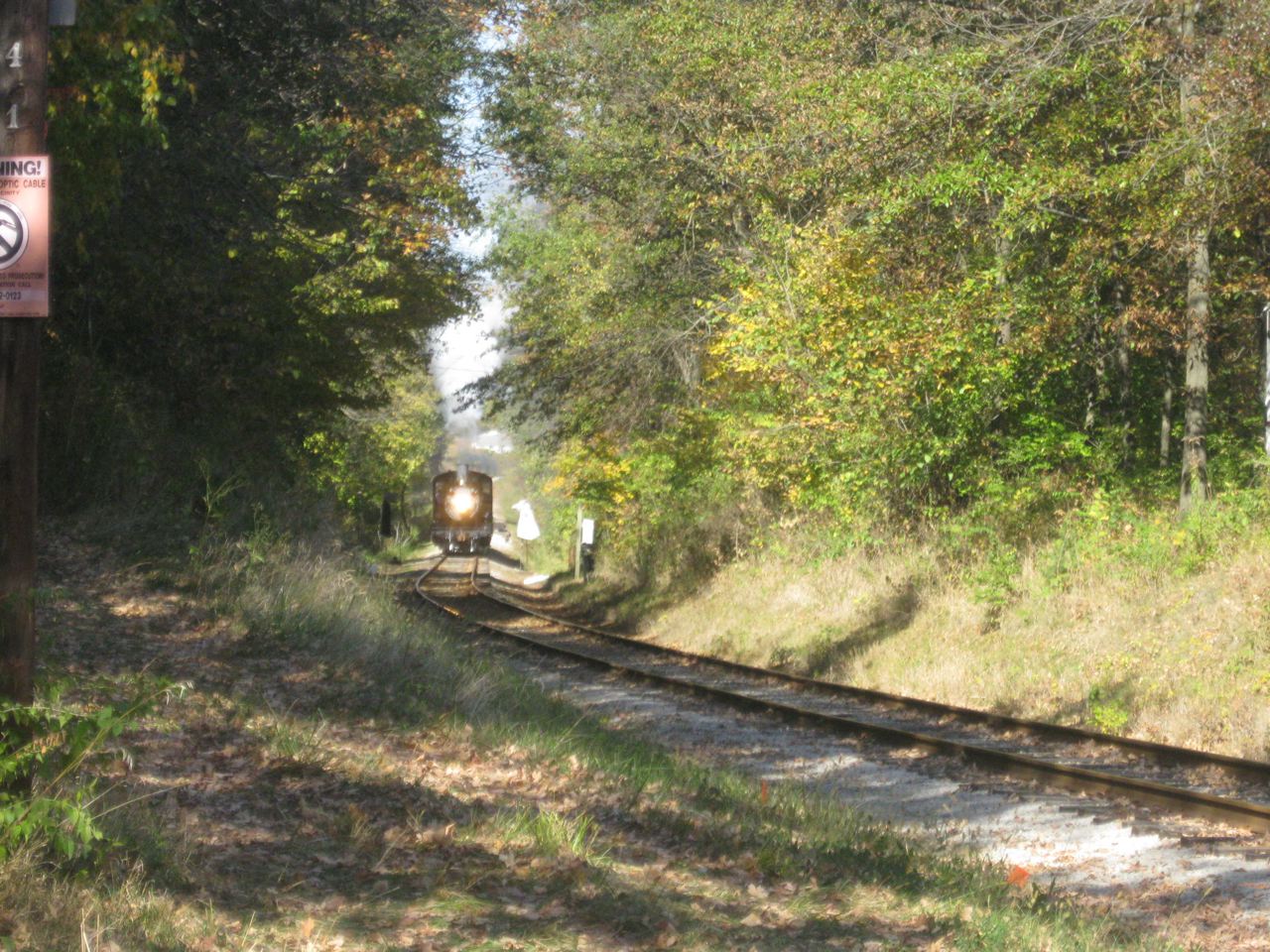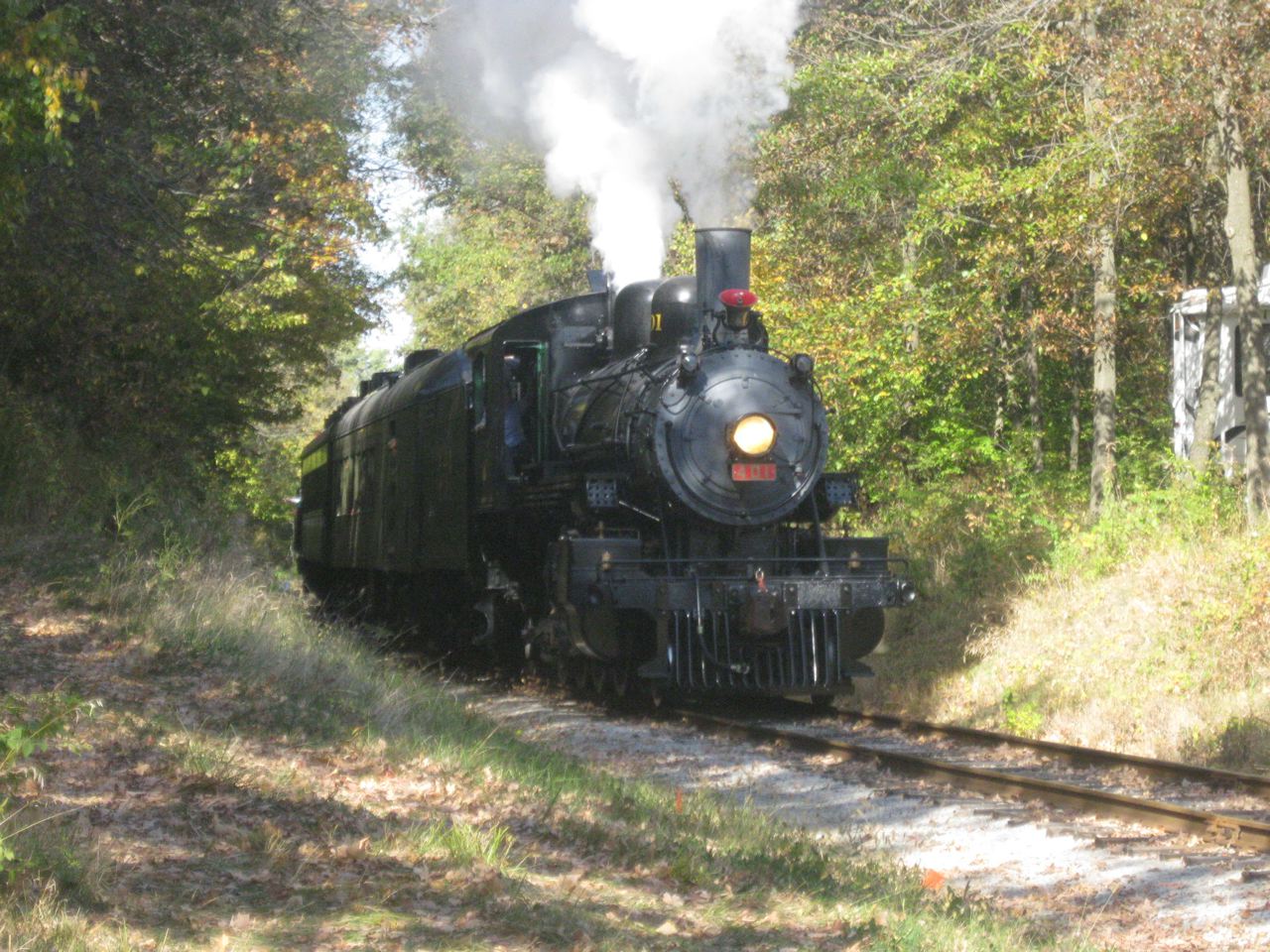 A few grade crossings in northeastern Monticello also offer nice spots, but you have to hustle to get here.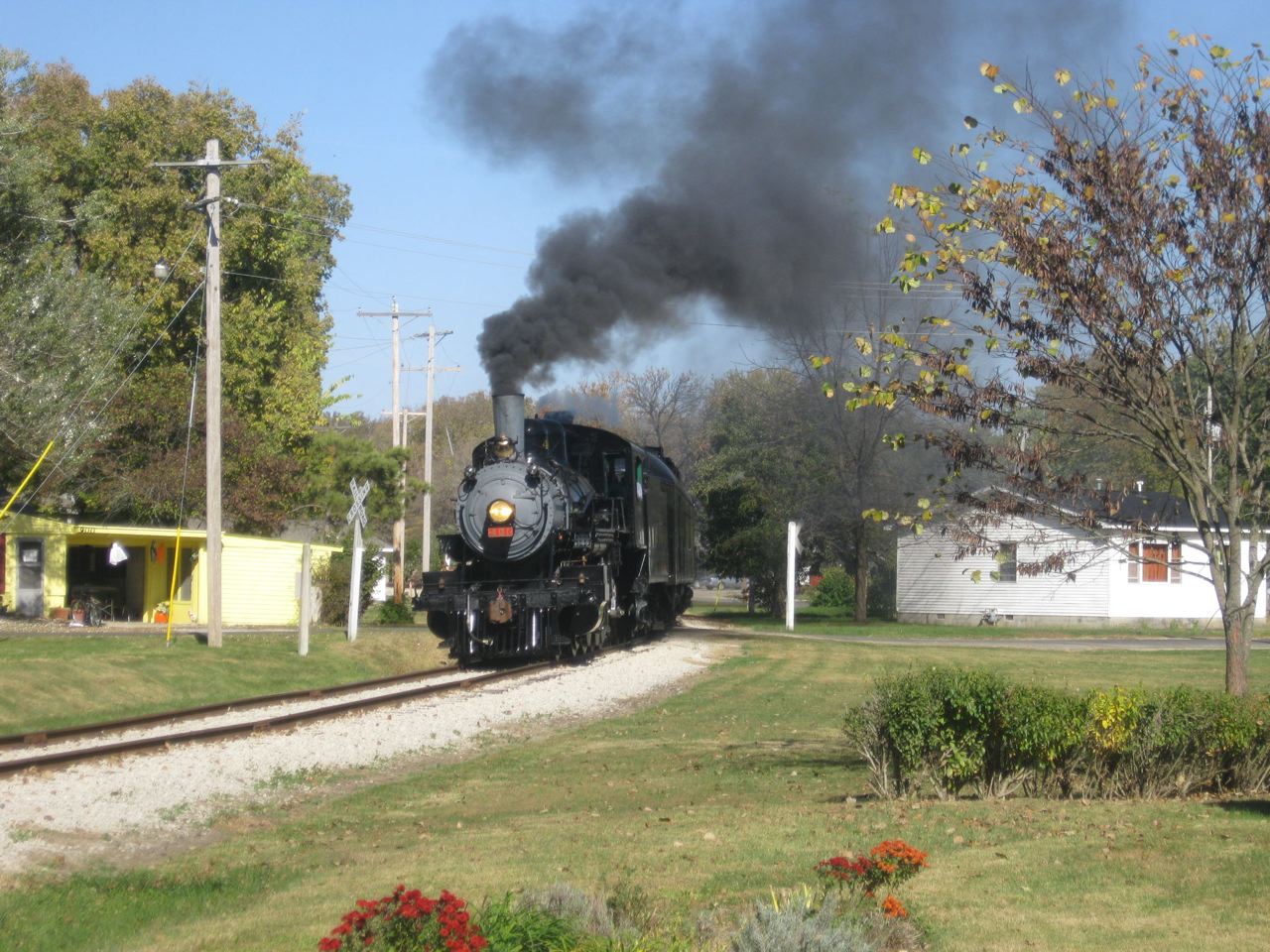 The consist is an IC combine, RI coach, NKP flatcar, and Wabash caboose -- all good central Illinois railroads! Even Southern served Illinois, into St. Louis.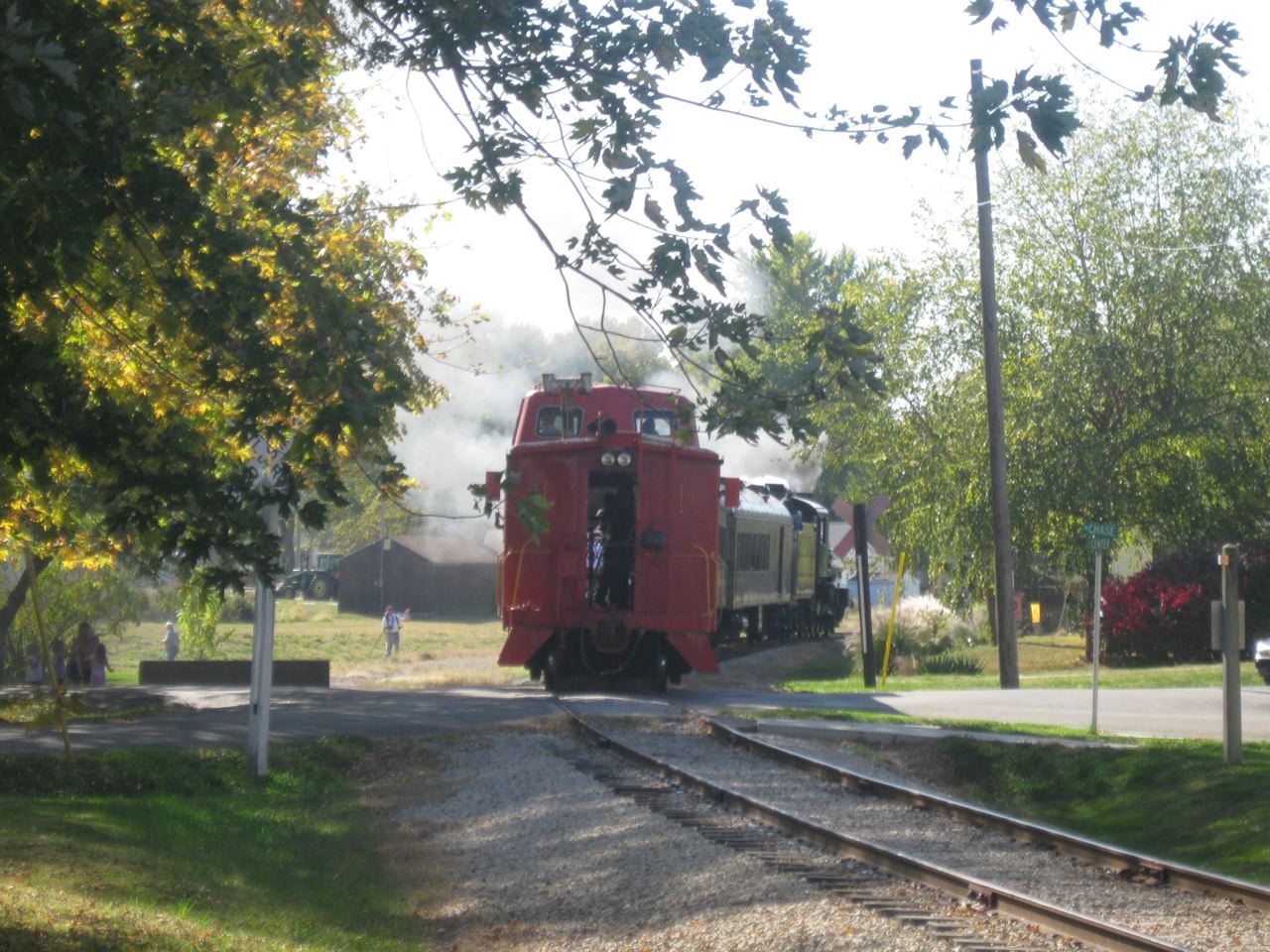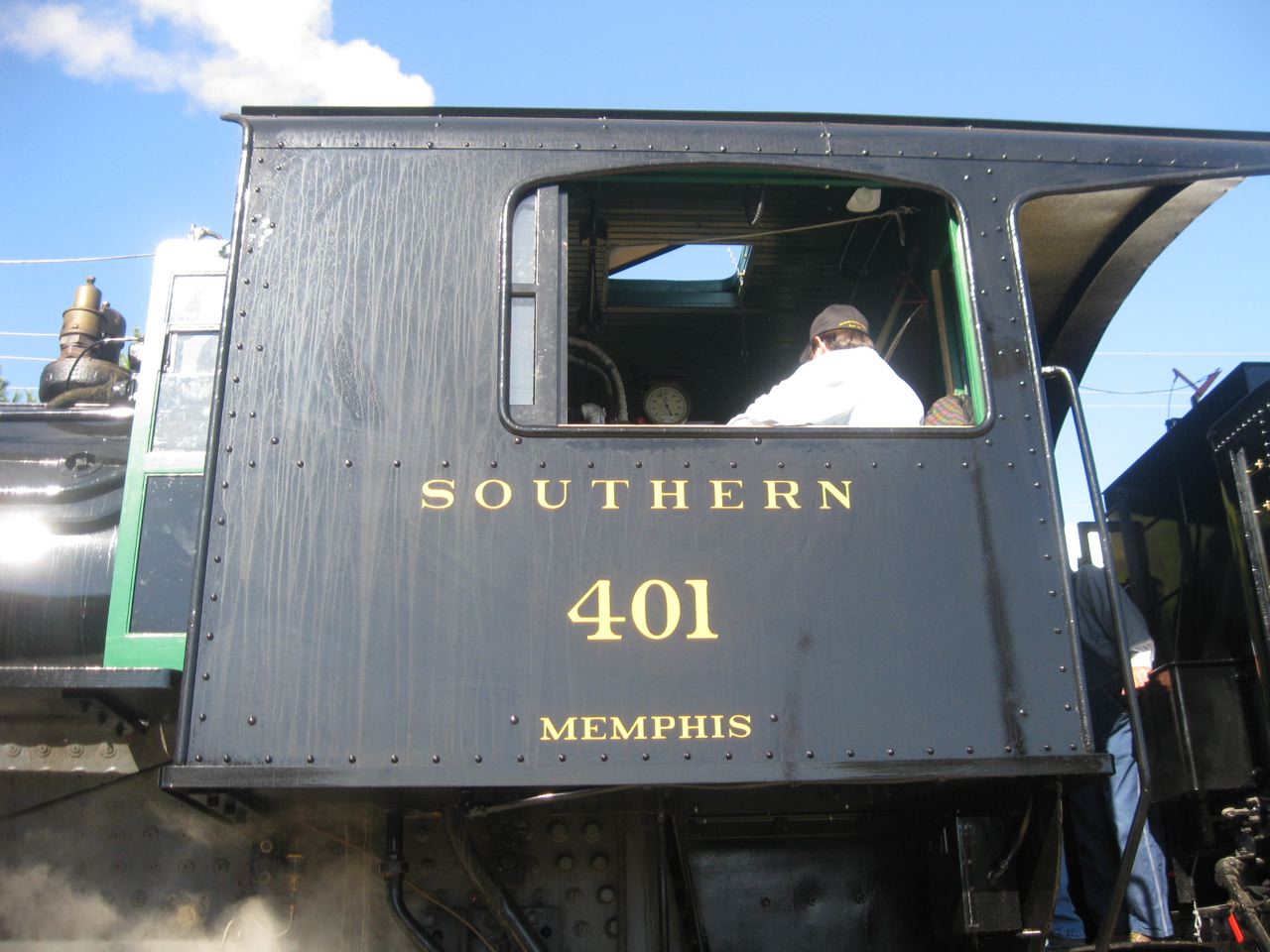 | | |
| --- | --- |
| Detail shots at Monticello depot, whose building is the relocated Wabash station from a few blocks west, on the old Chicago-Decatur main, the museum's connection to the world. The Museum usually furnishes equipment each December for an employees' Santa Train on NS out of Decatur. | |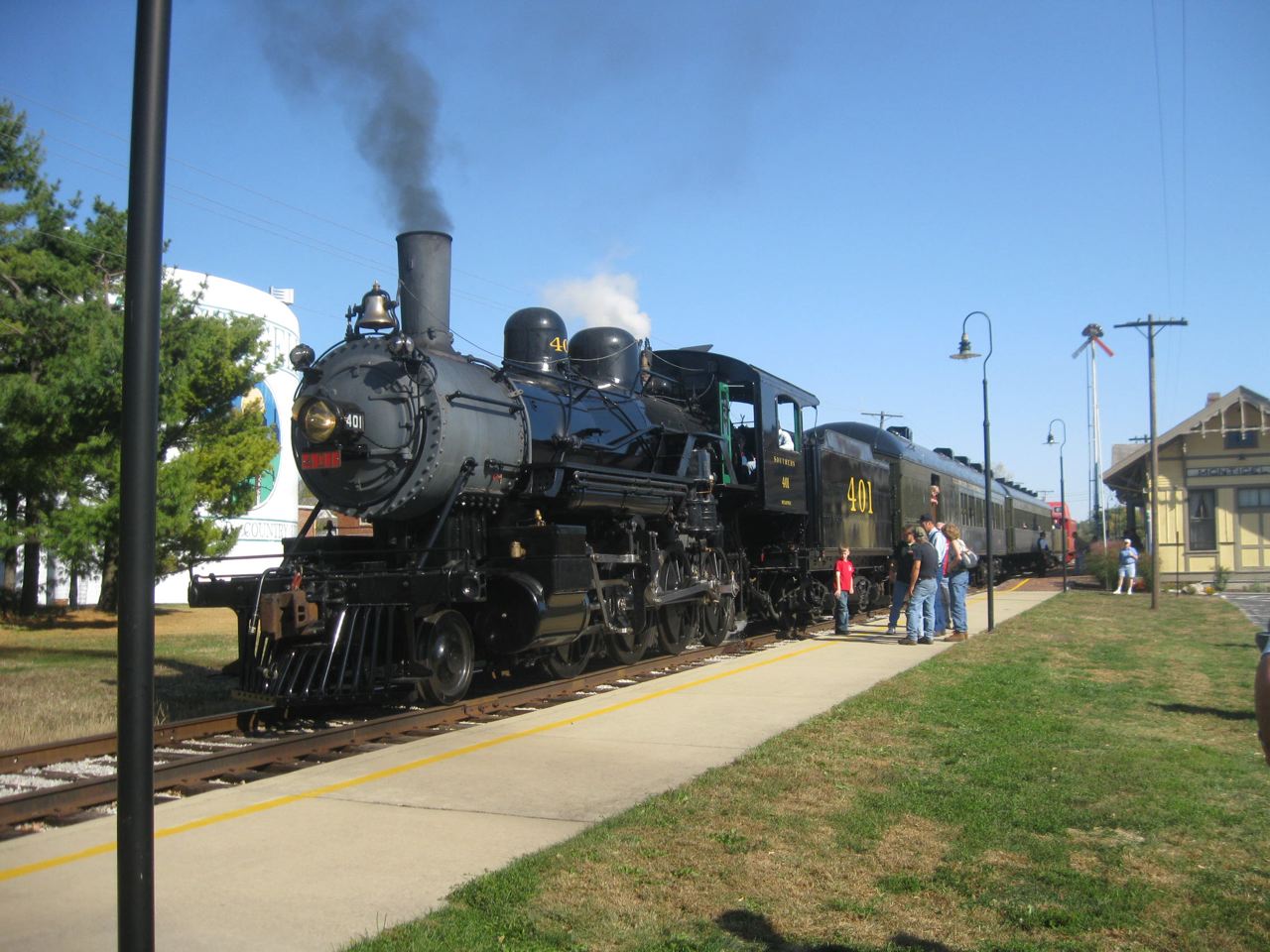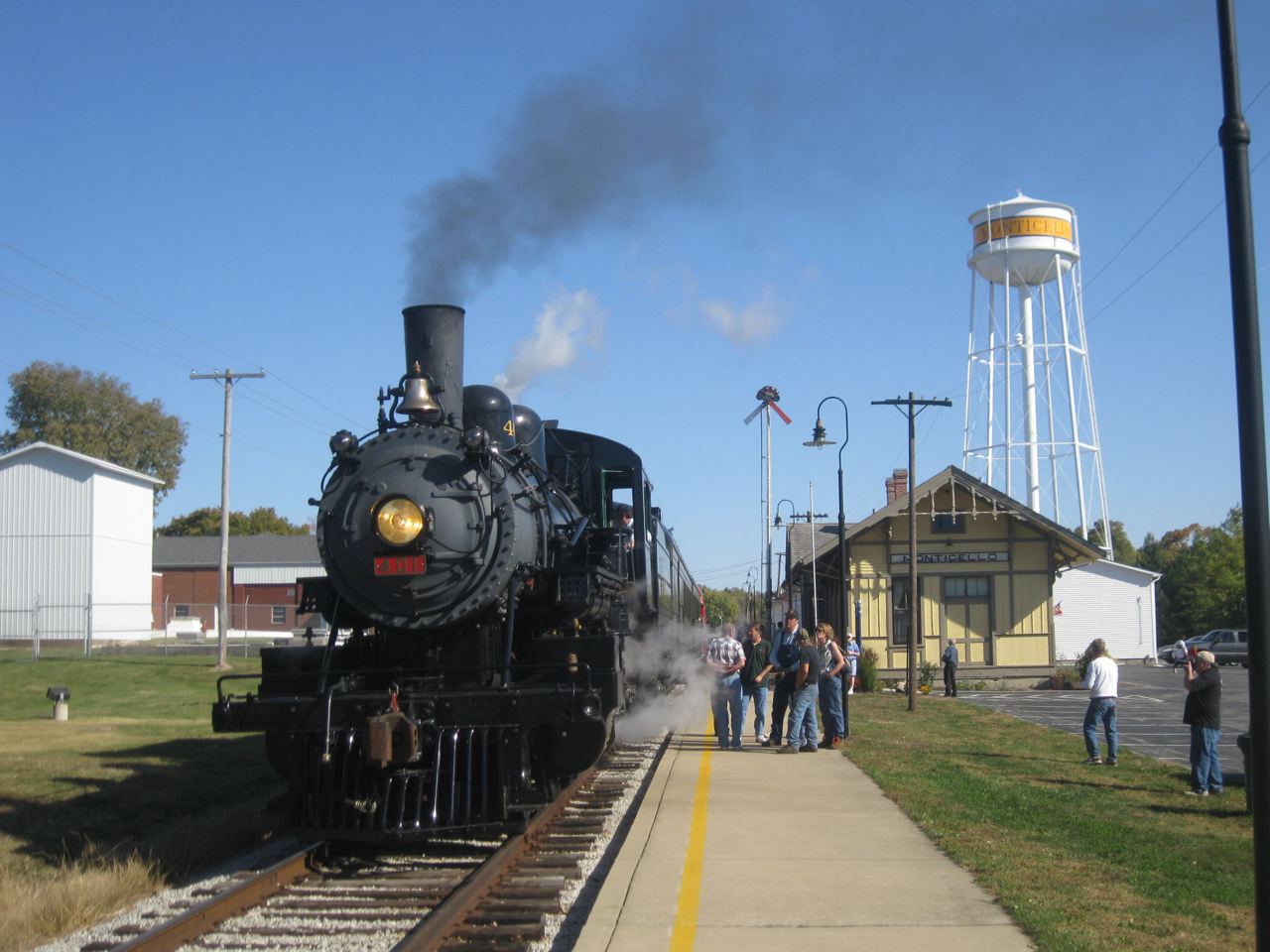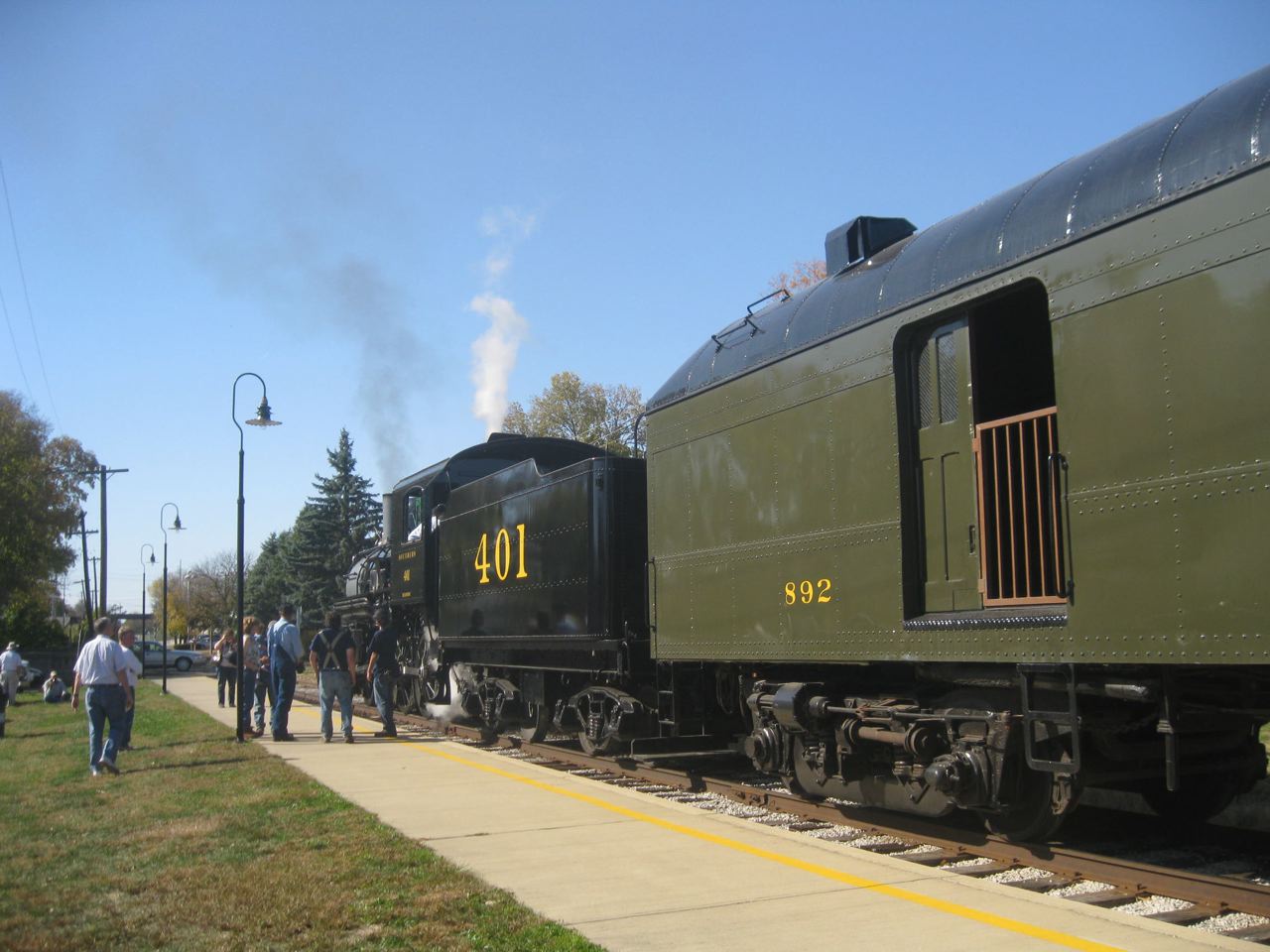 Having bought my ticket ($11 senior rate) at Nelson's, I boarded the train and rode the flatcar north on this pleasant sunny day in the 70's with a breeze, for the "push" north.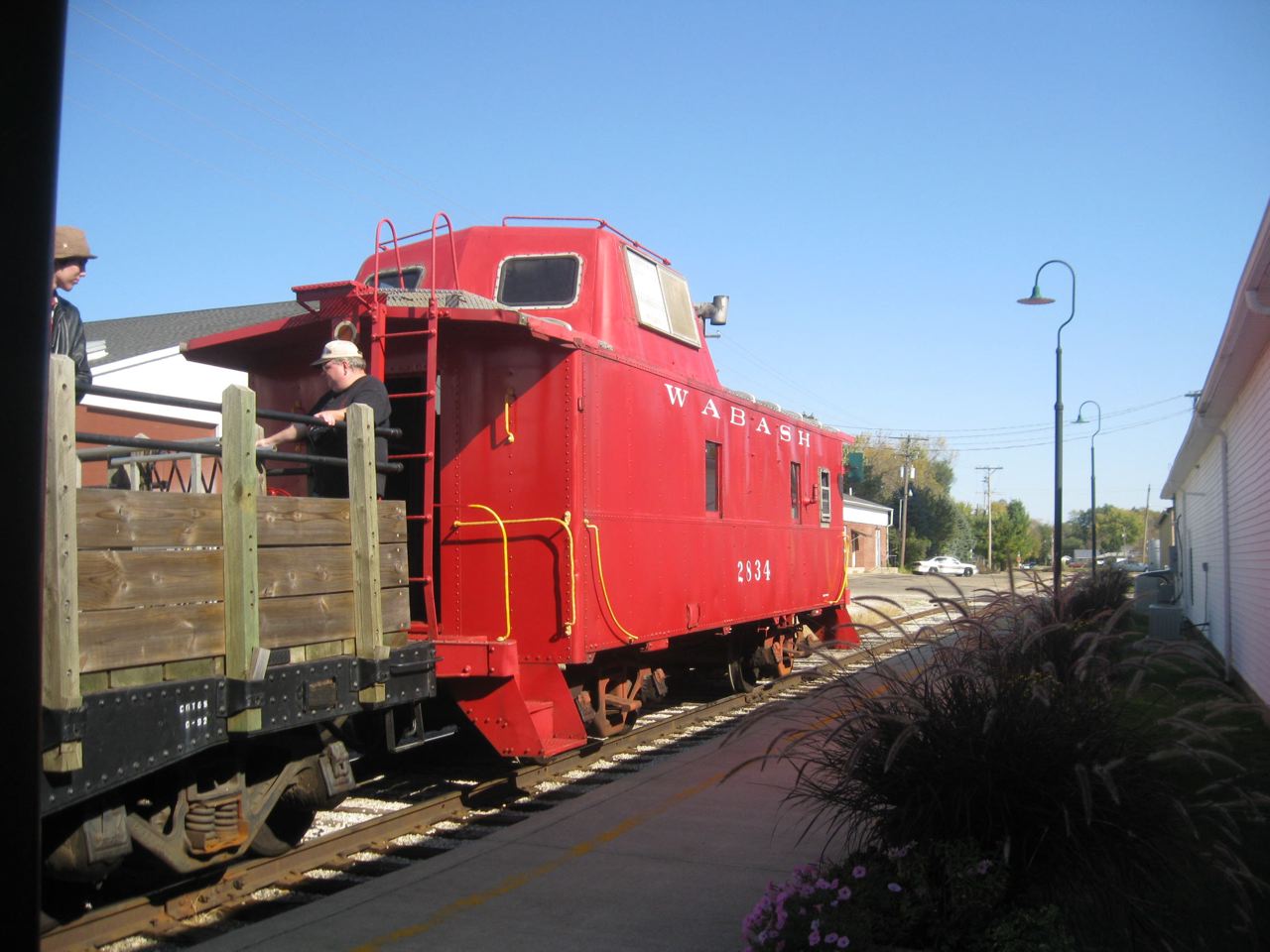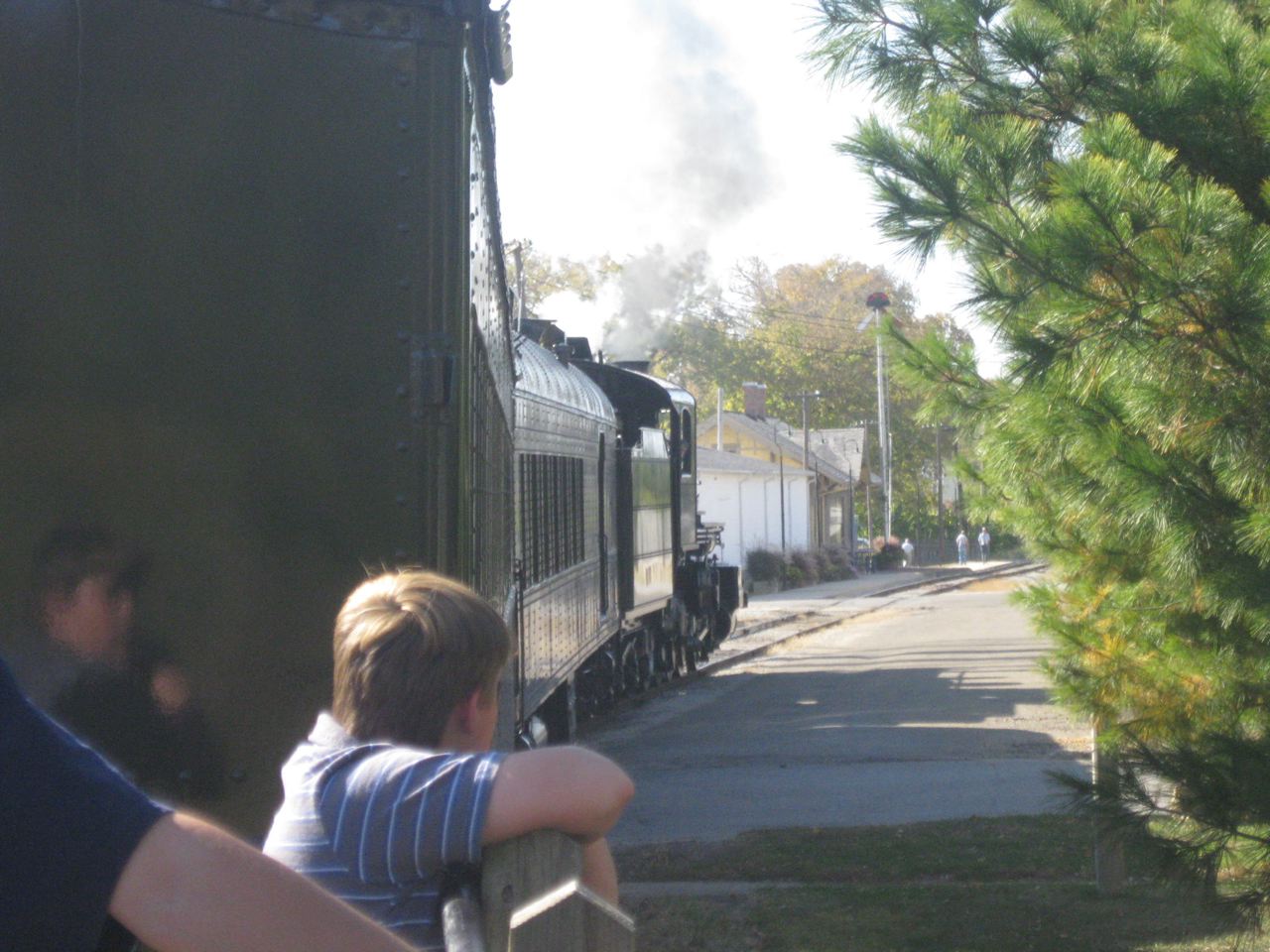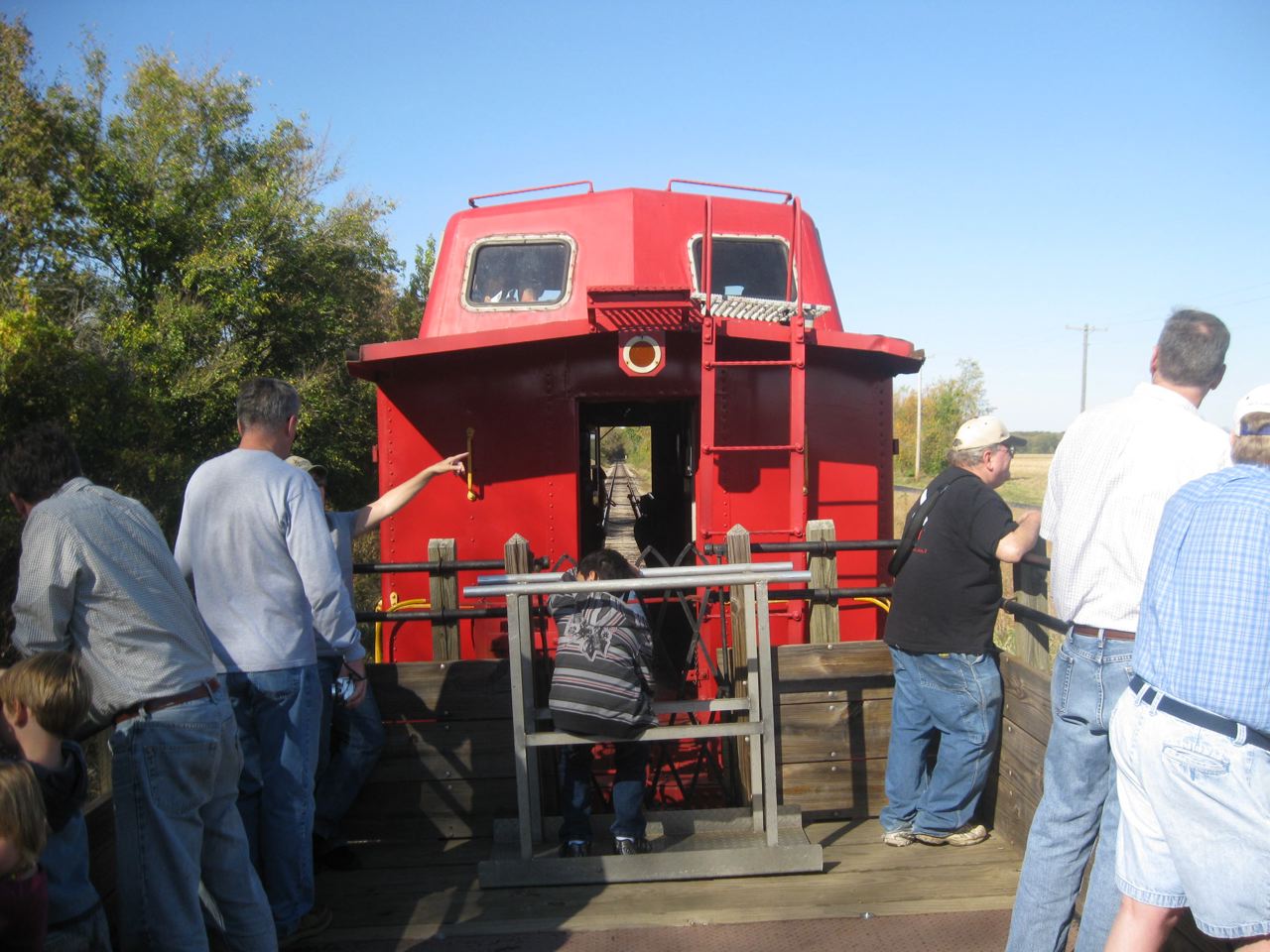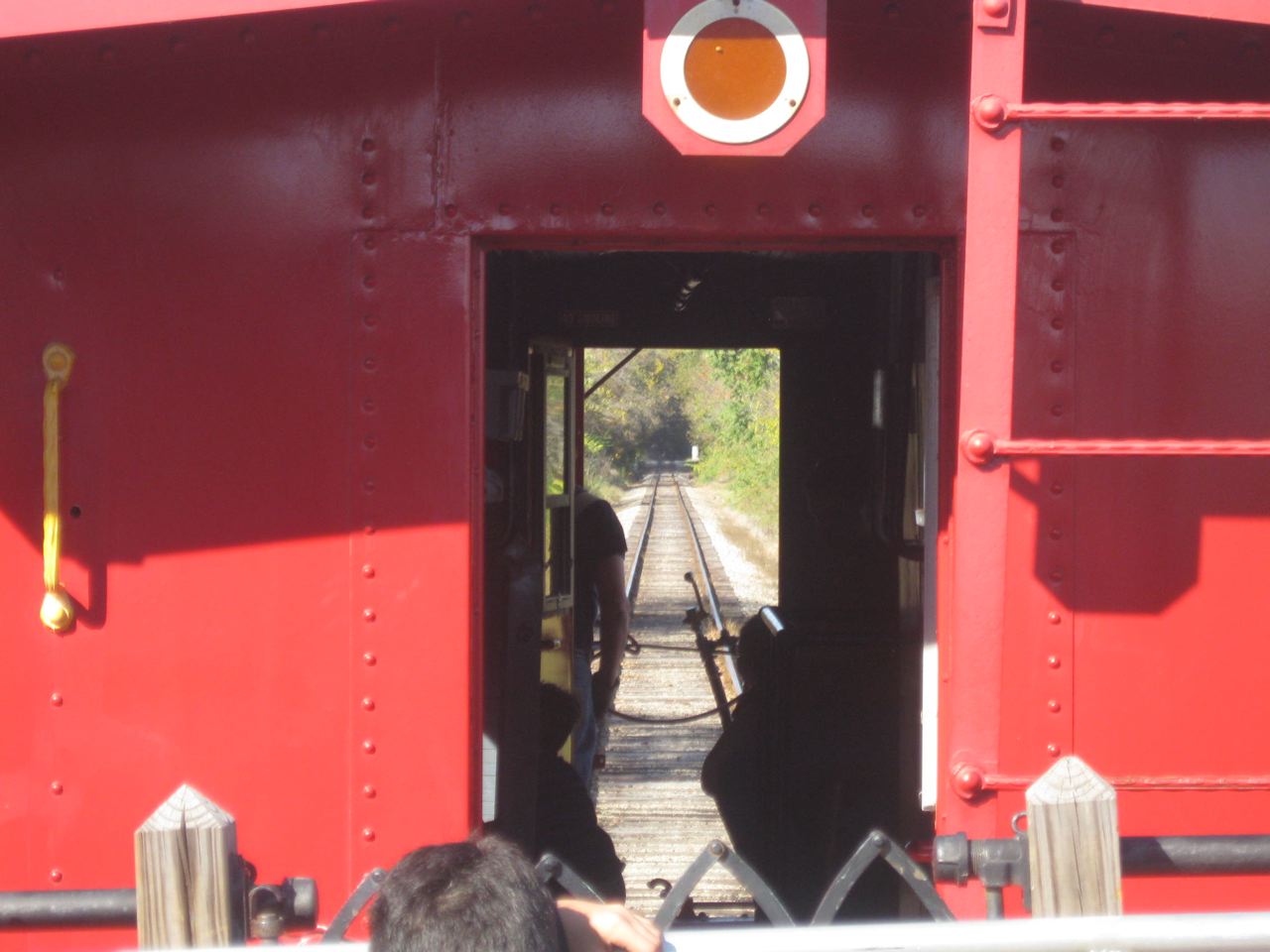 The museum has much equipment from other Illinois roads.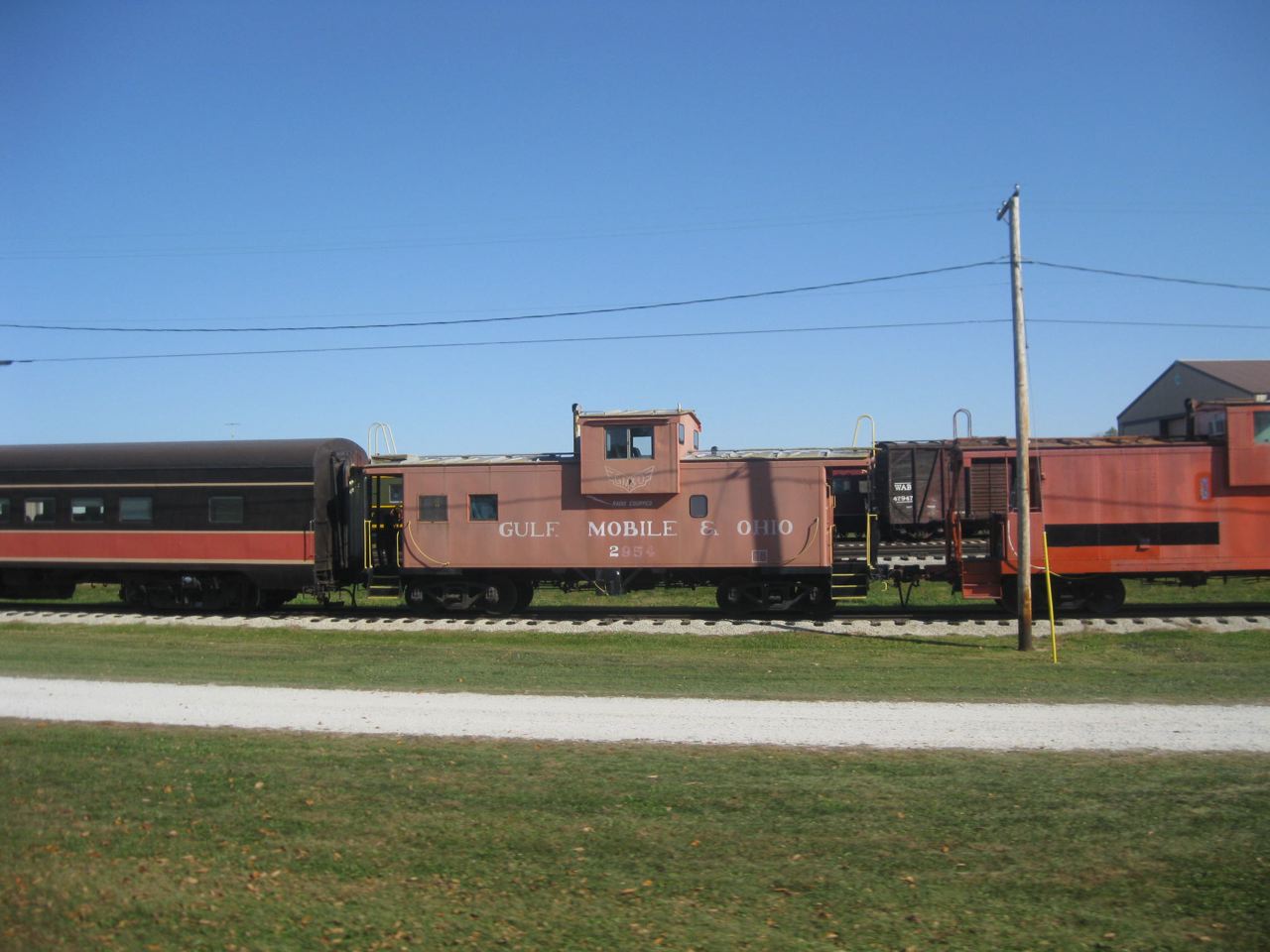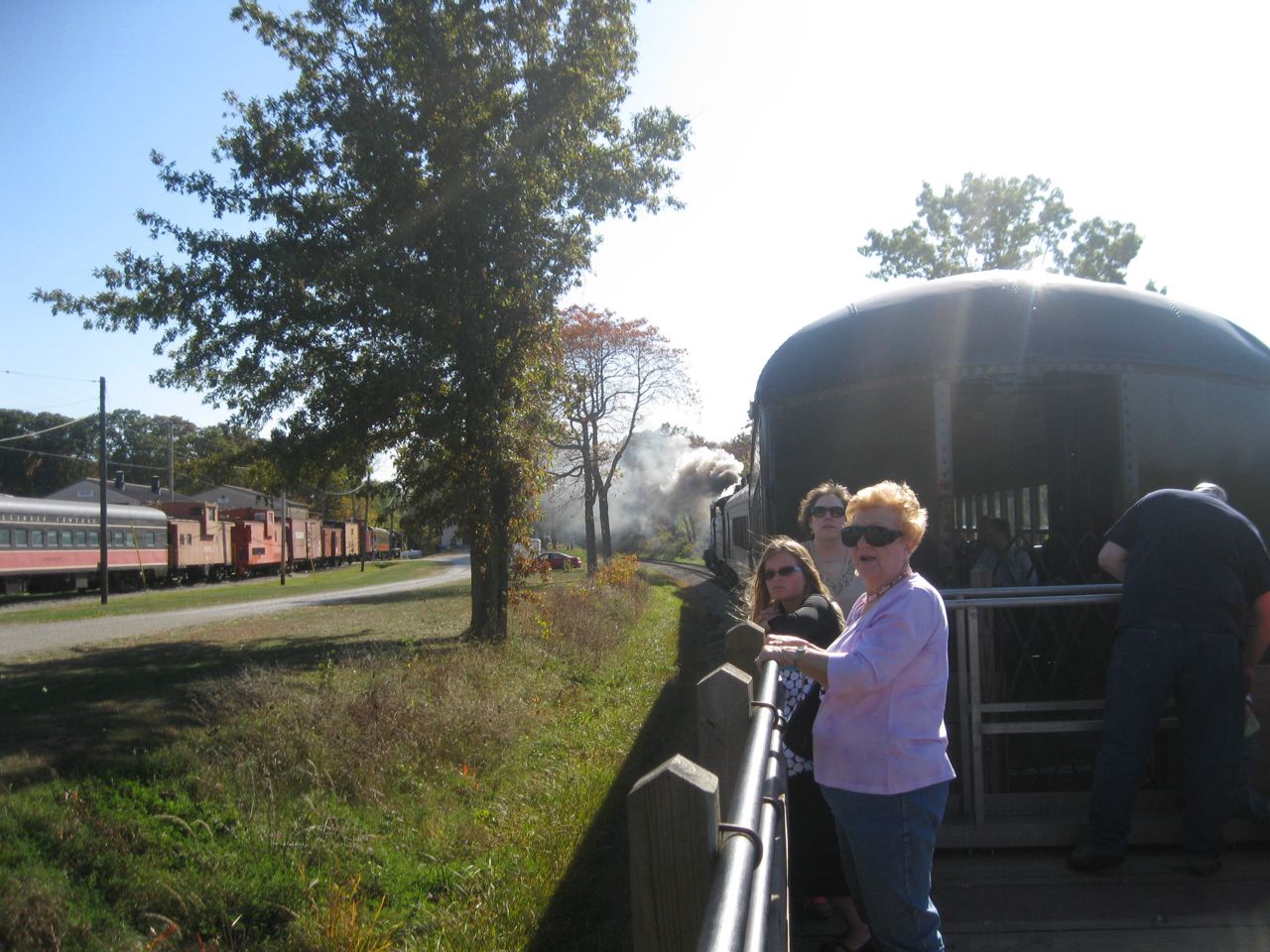 The train pushed back thru Nelson's Crossing to as far north toward White Heath as possible, about 1 mile south of the town, where the museum is earning money storing revenue tank cars. The 44-tonner here is from Lincoln Sand & Gravel in Lincoln, Ill. The D&H baggage car is likely one of the ex-GM&O ones GM&O bought and re-lettered but never repainted to red and maroon (meaning GM&O never repainted a single one!).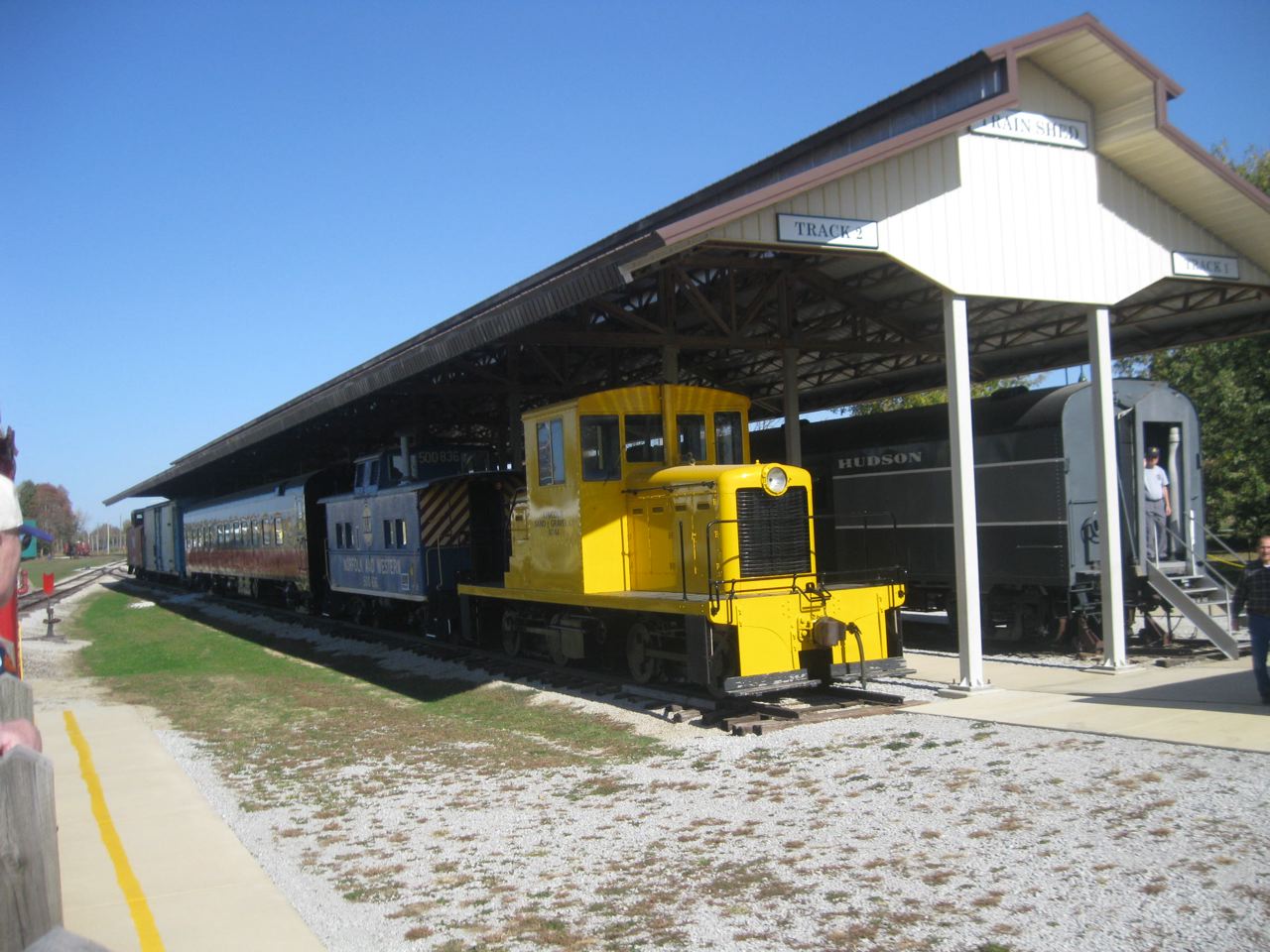 Coming back into Nelson from the north, about 3 pm. The other steamer is a Republic Steel 0-6-0, used years ago but now inoperable. The museum usually runs a CN FPA4-FPB4, an ex-LIRR RS3 painted IC, a MILW NW2, and/or its Wabash F7.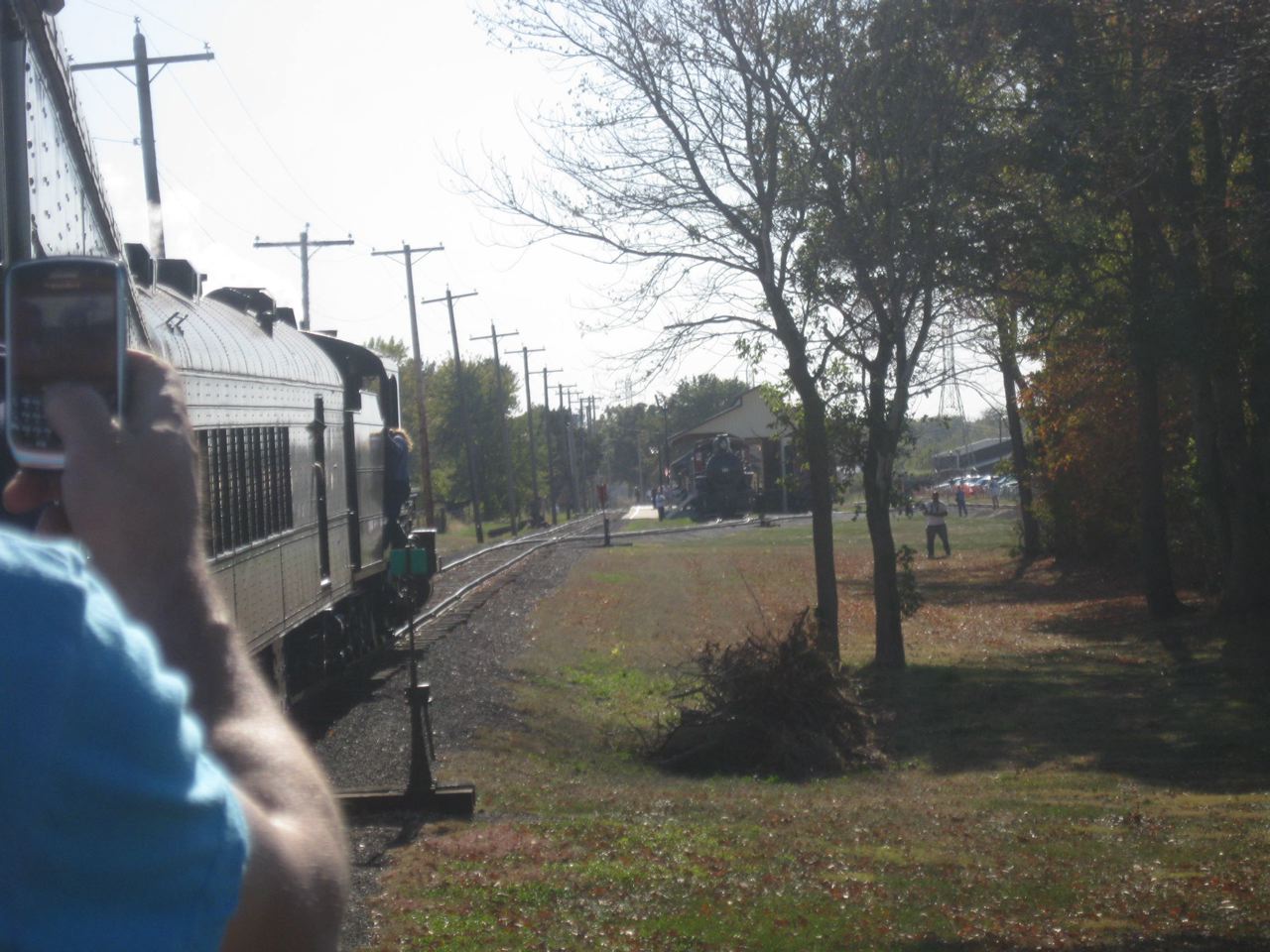 Here's the Lincoln unit close-up. We're off the train, will chase it into Monticello on the 3:30 departure, last one south for the day.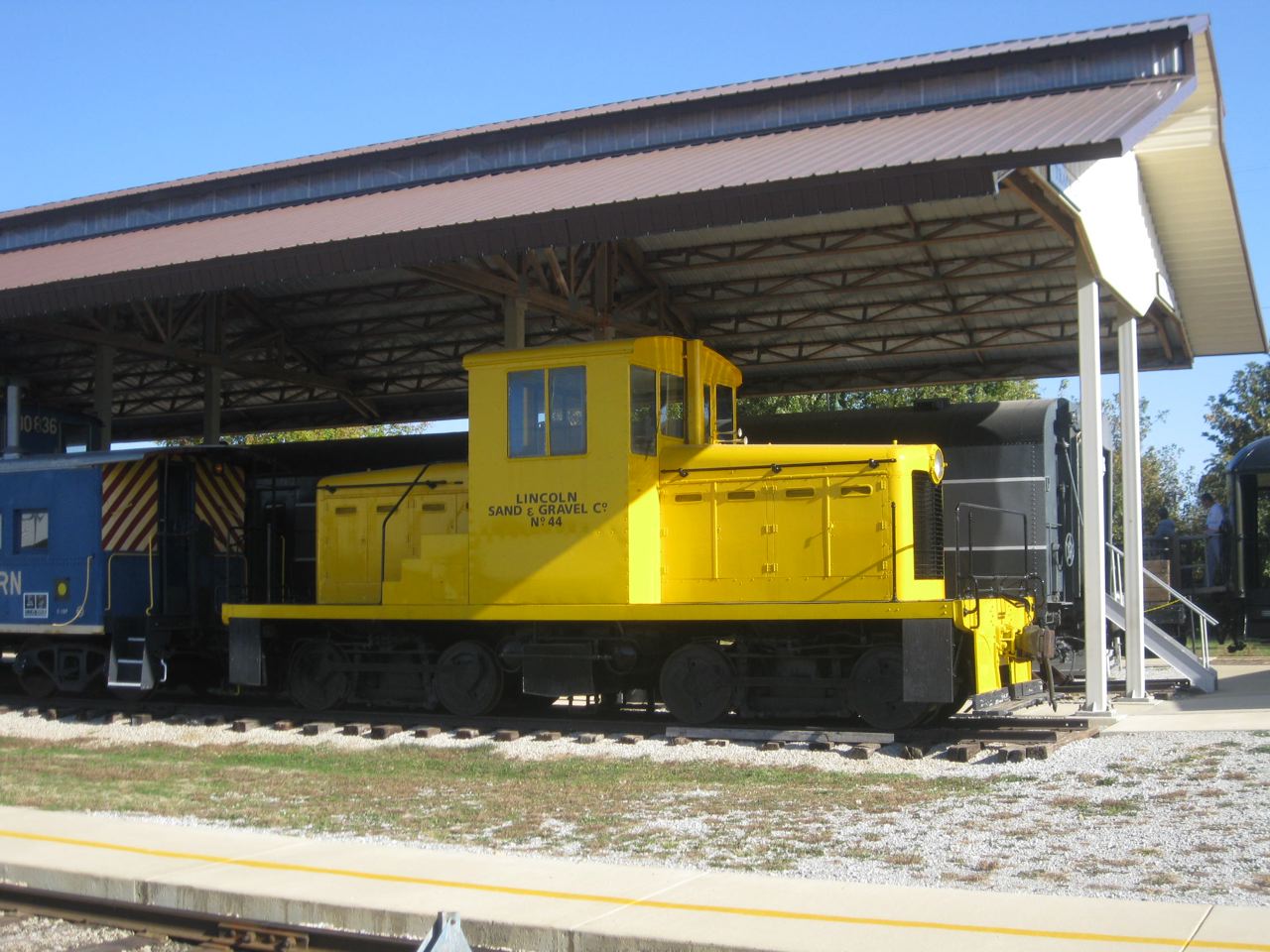 She has backed up on the ITC alignment to head south.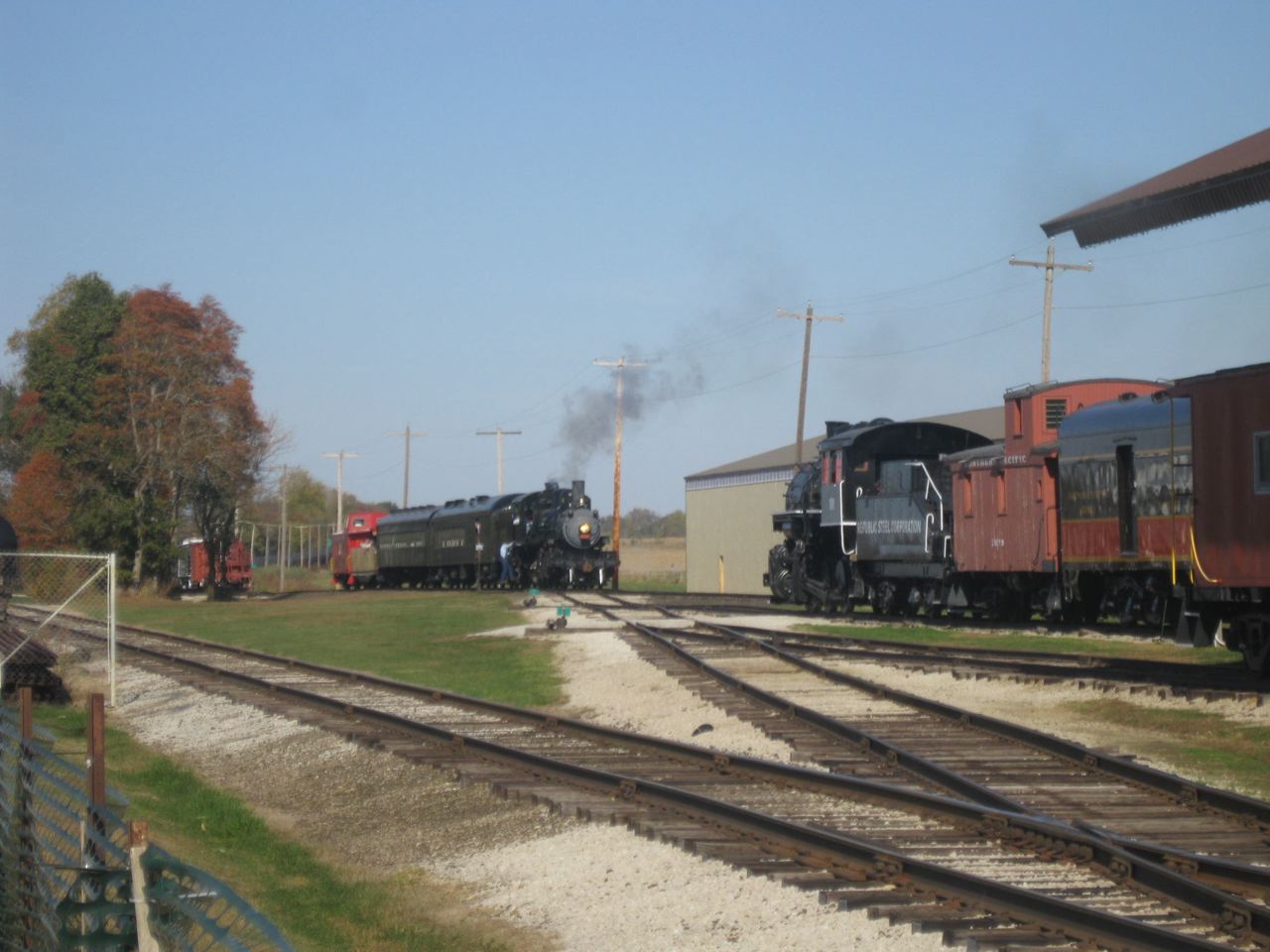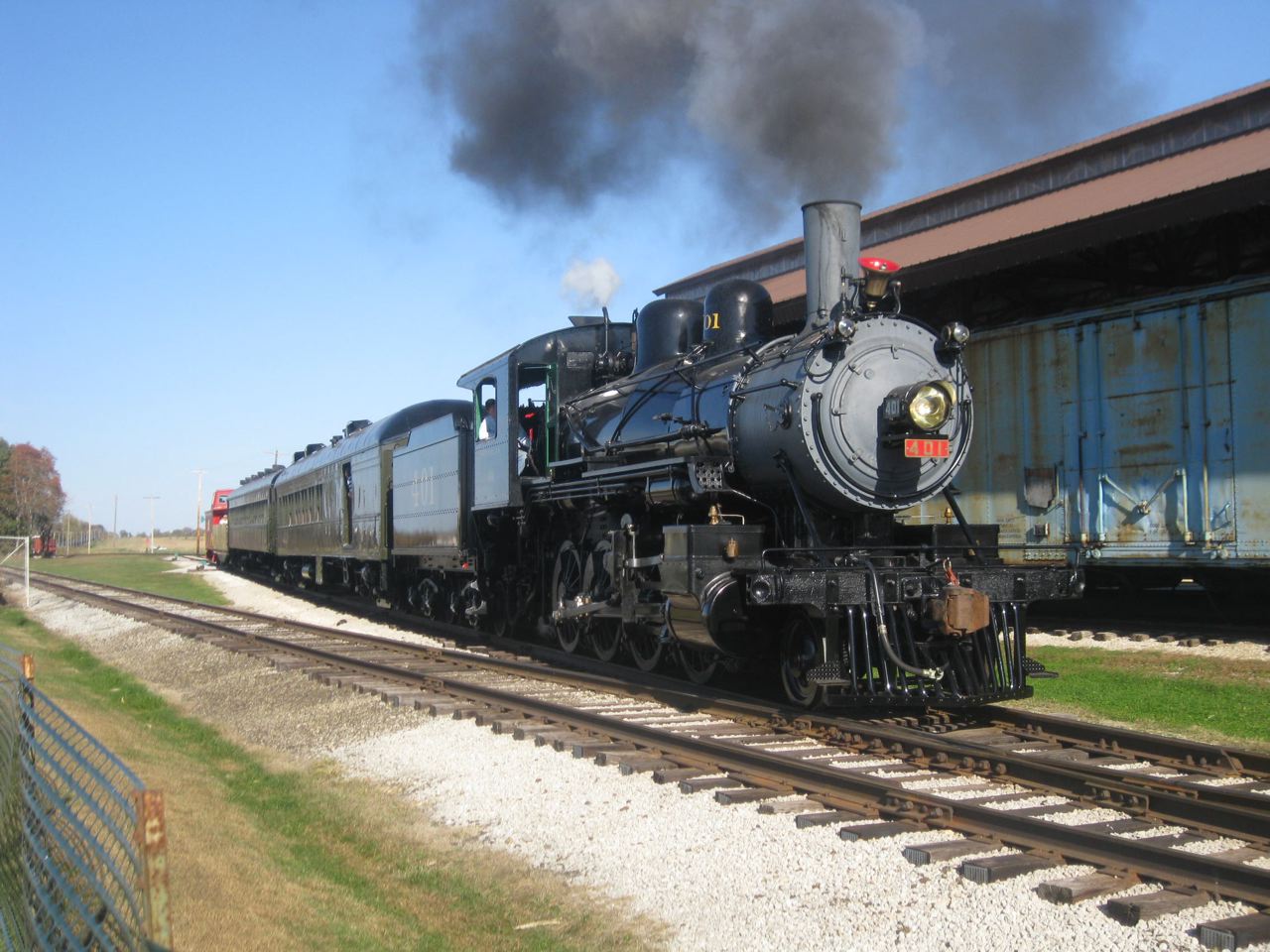 Coming into Monticello about 3:45.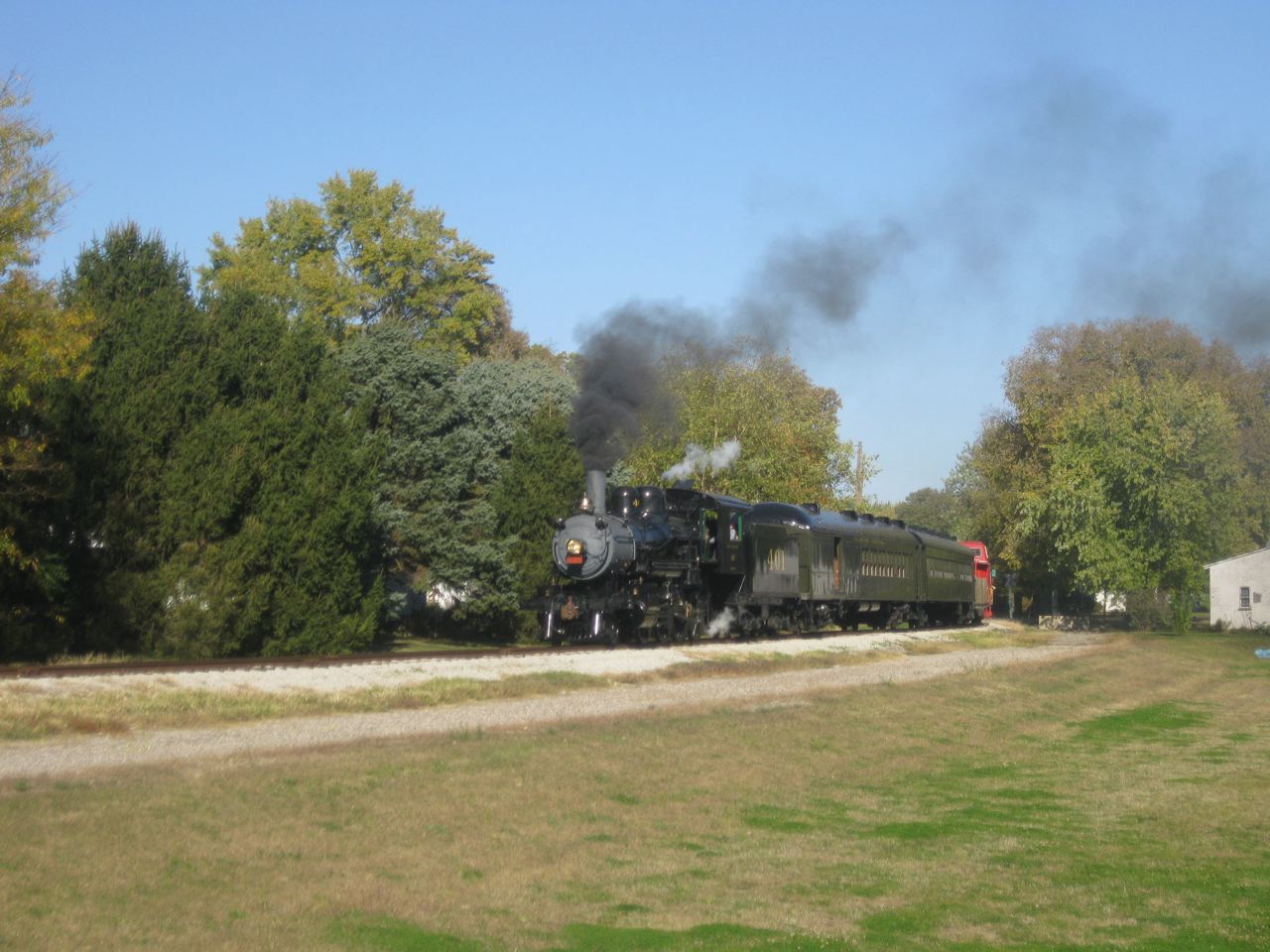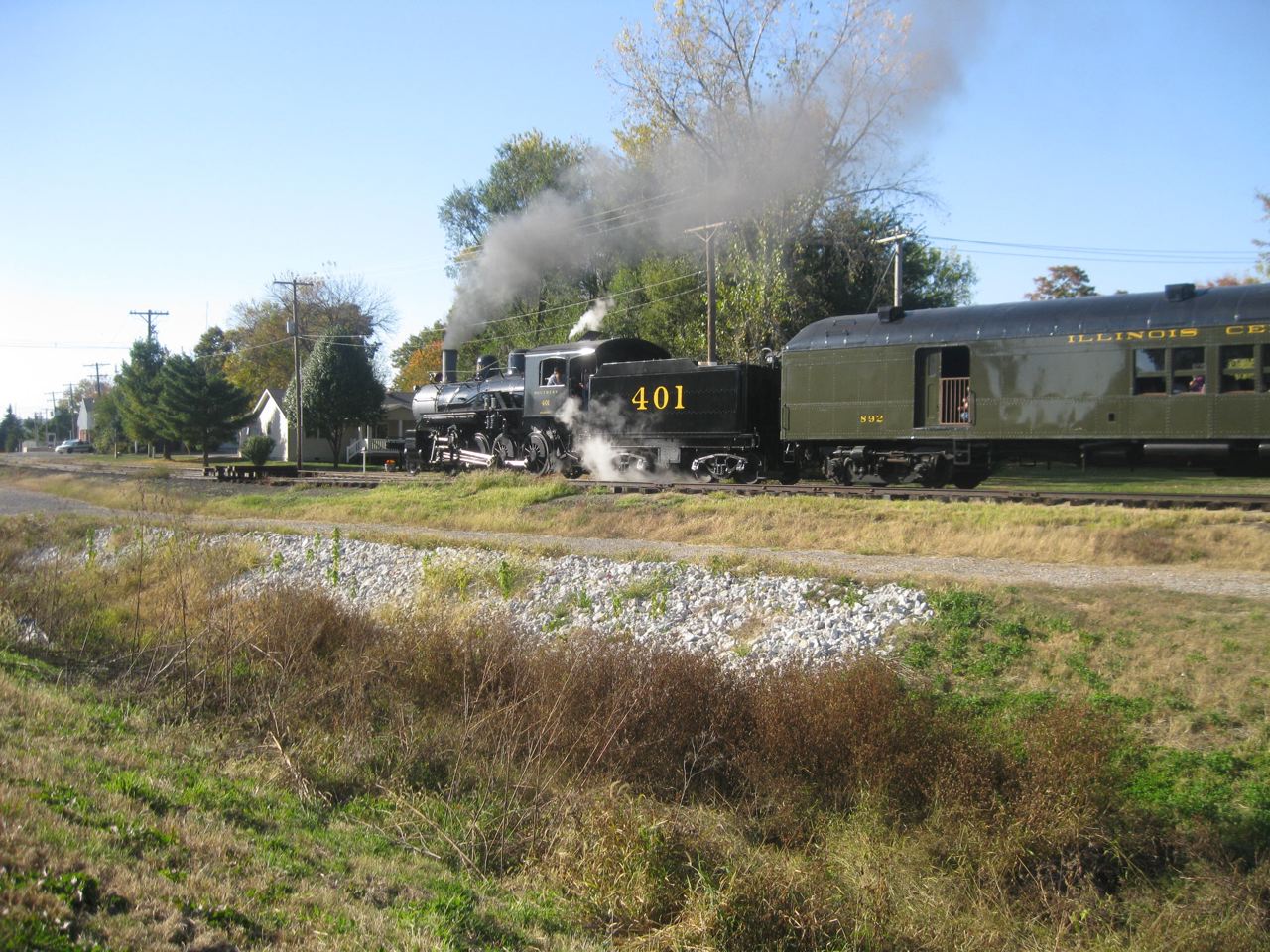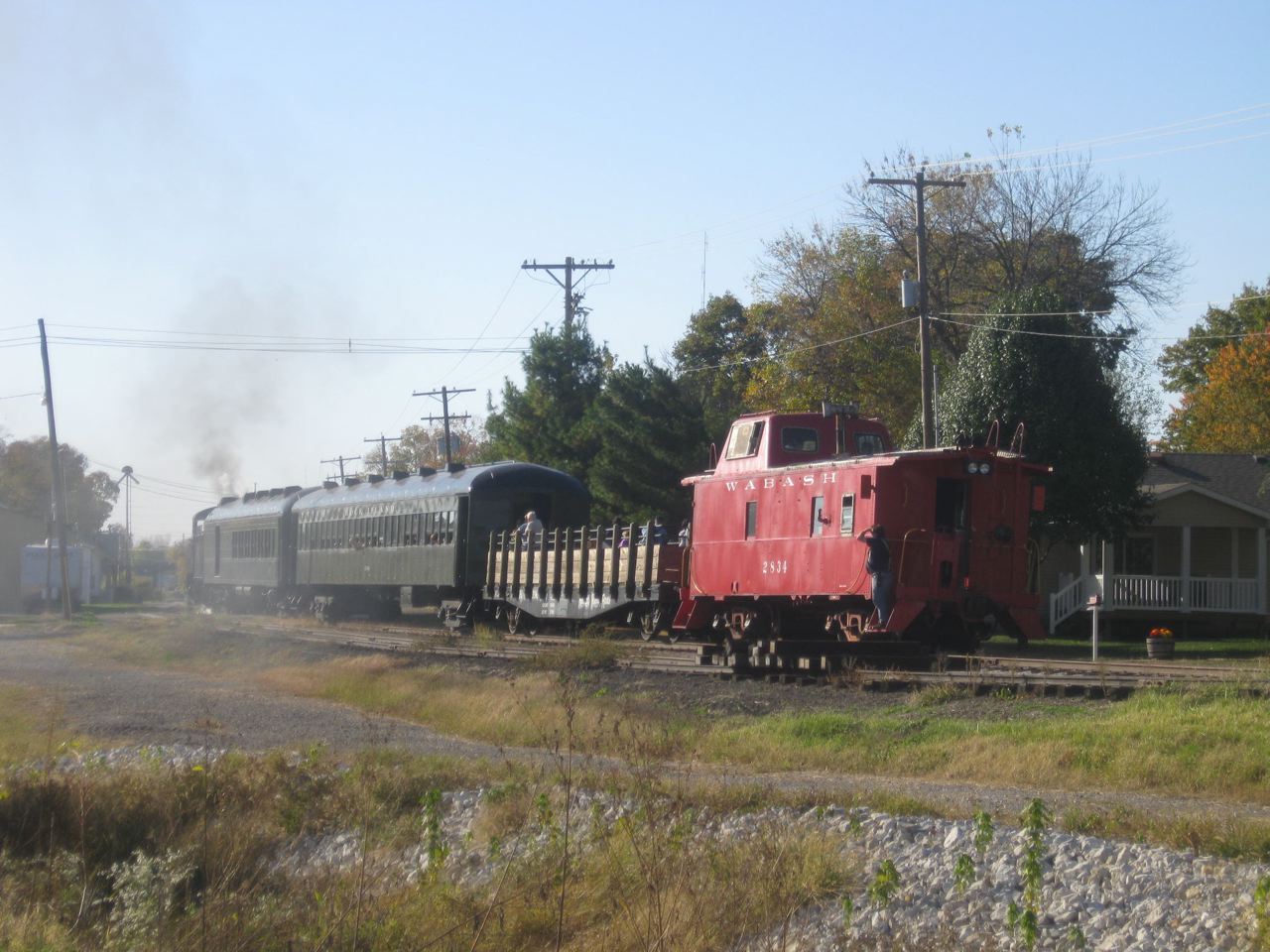 Friends Steve and Donna Smedley of Atlanta, Ill., and son Sam were on hand; hadn't seen them in ages. He's a photographer for the Bloomington Pantagraph newspaper and a frequent contributor to TRAINS, etc.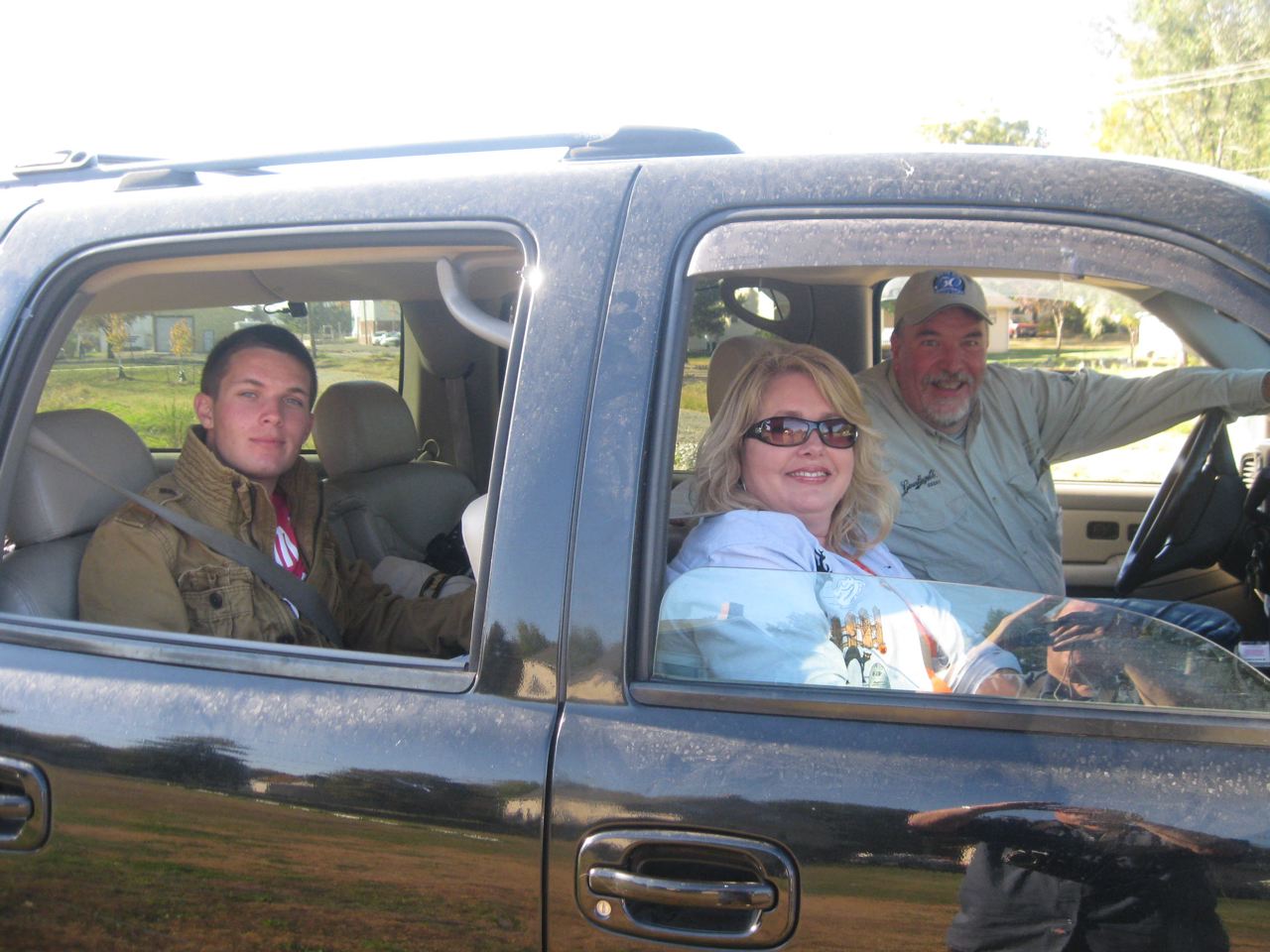 Heading home, we took back roads to Clinton and Bloomington. Clinton, an old IC division point, has this pair of GP38's there for a local, 9617 ex-IC and 9562 ex-GM&O; there is still a 3-track yard, a small office building, and that's it.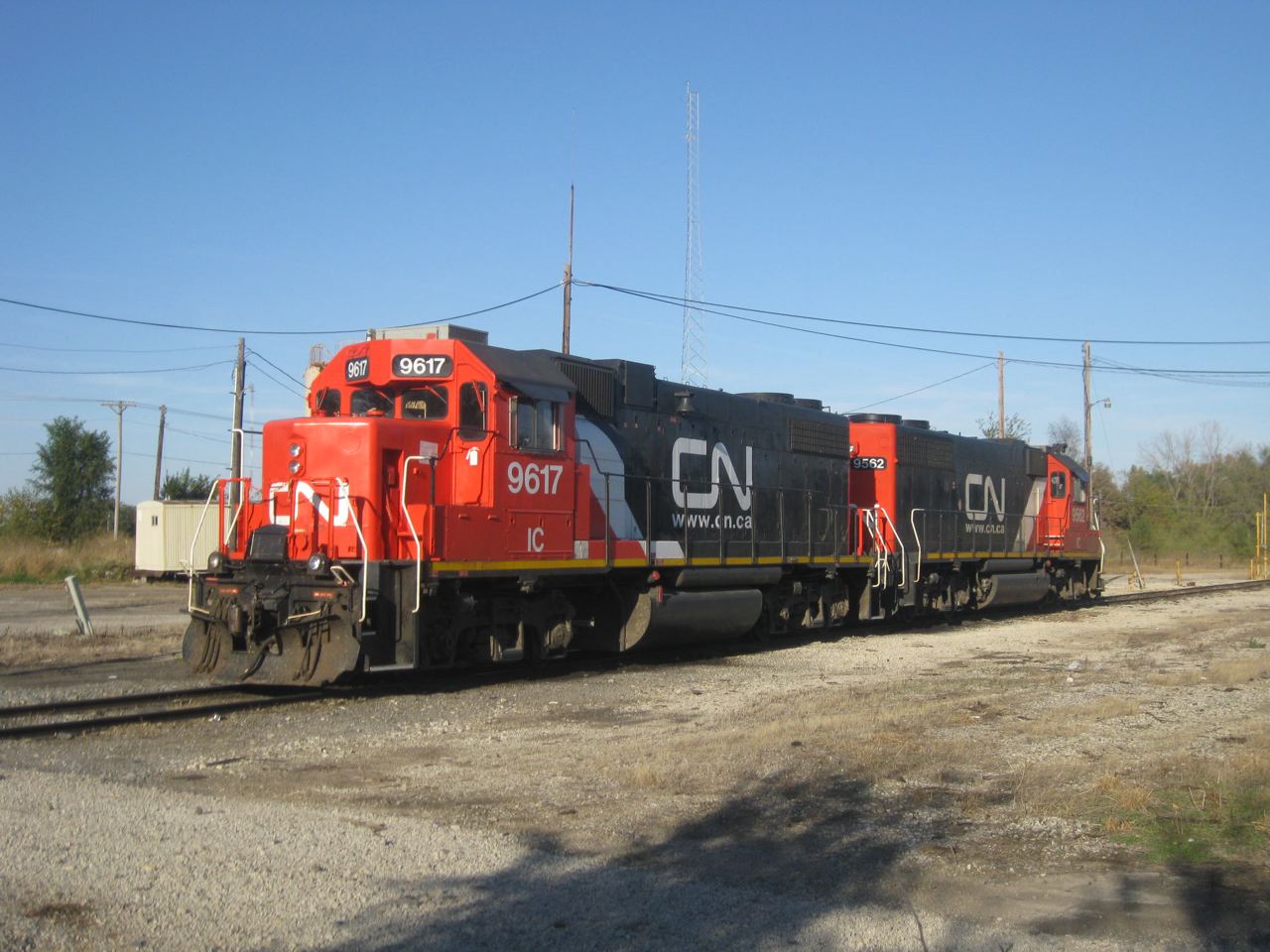 The roundhouse area was straight ahead.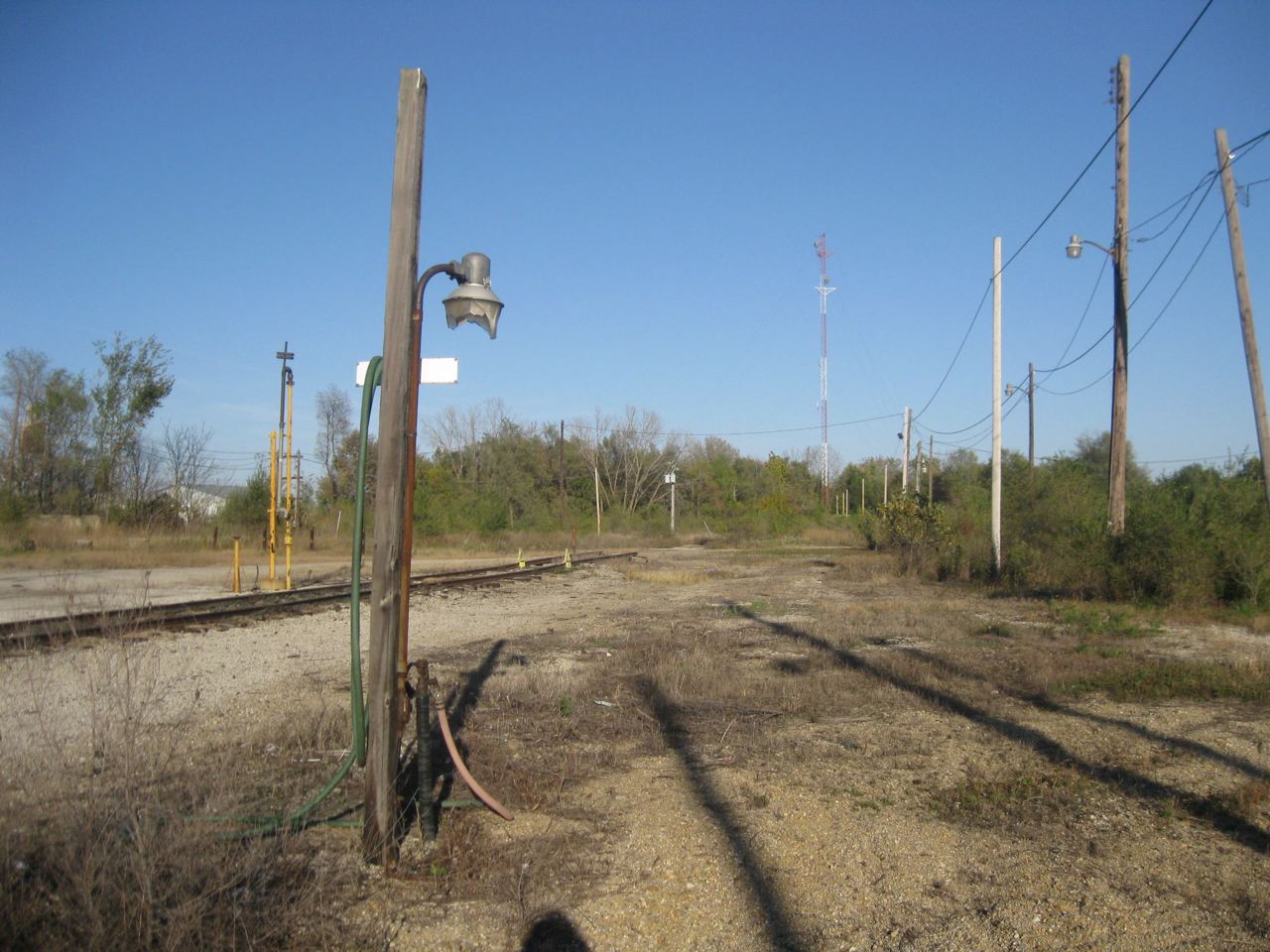 The old city route of US 51 thru Clinton has this overpass.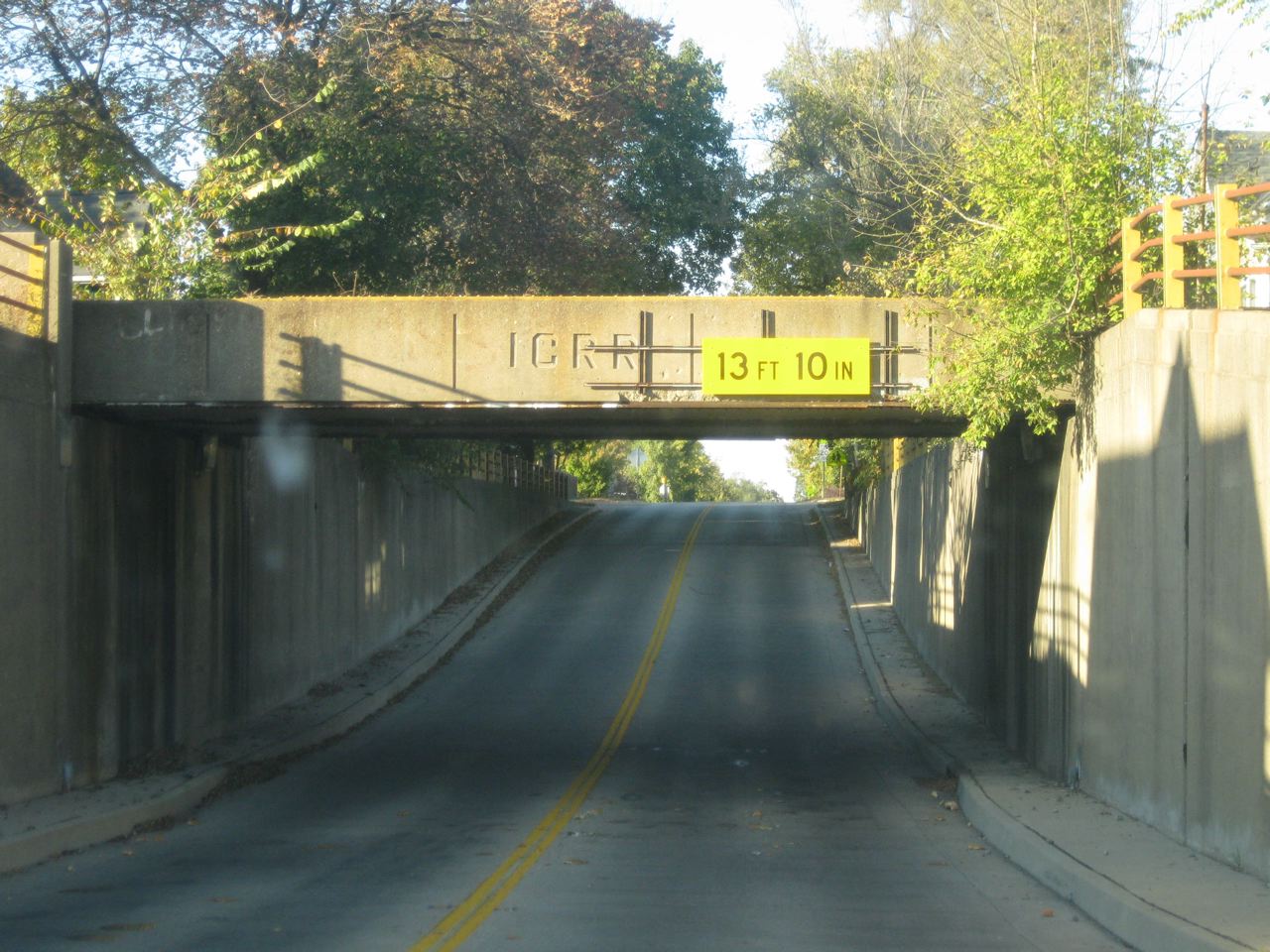 At a grainery at Heyworth is this Alco S2, I'd bet ex-Grand Trunk Western from the number.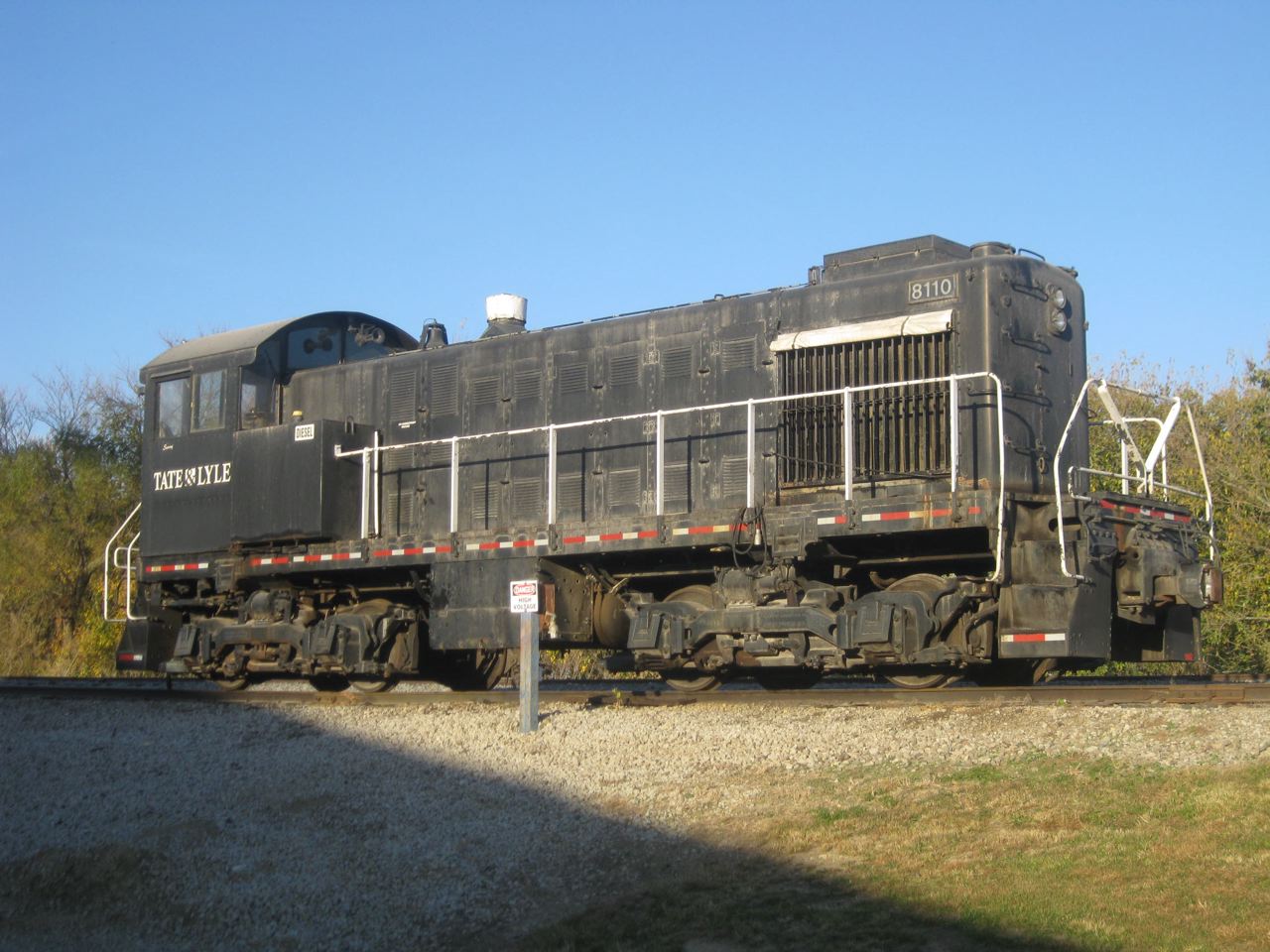 Also in Heyworth is this display caboose . . . on original track, in- place, on the original IC "charter line."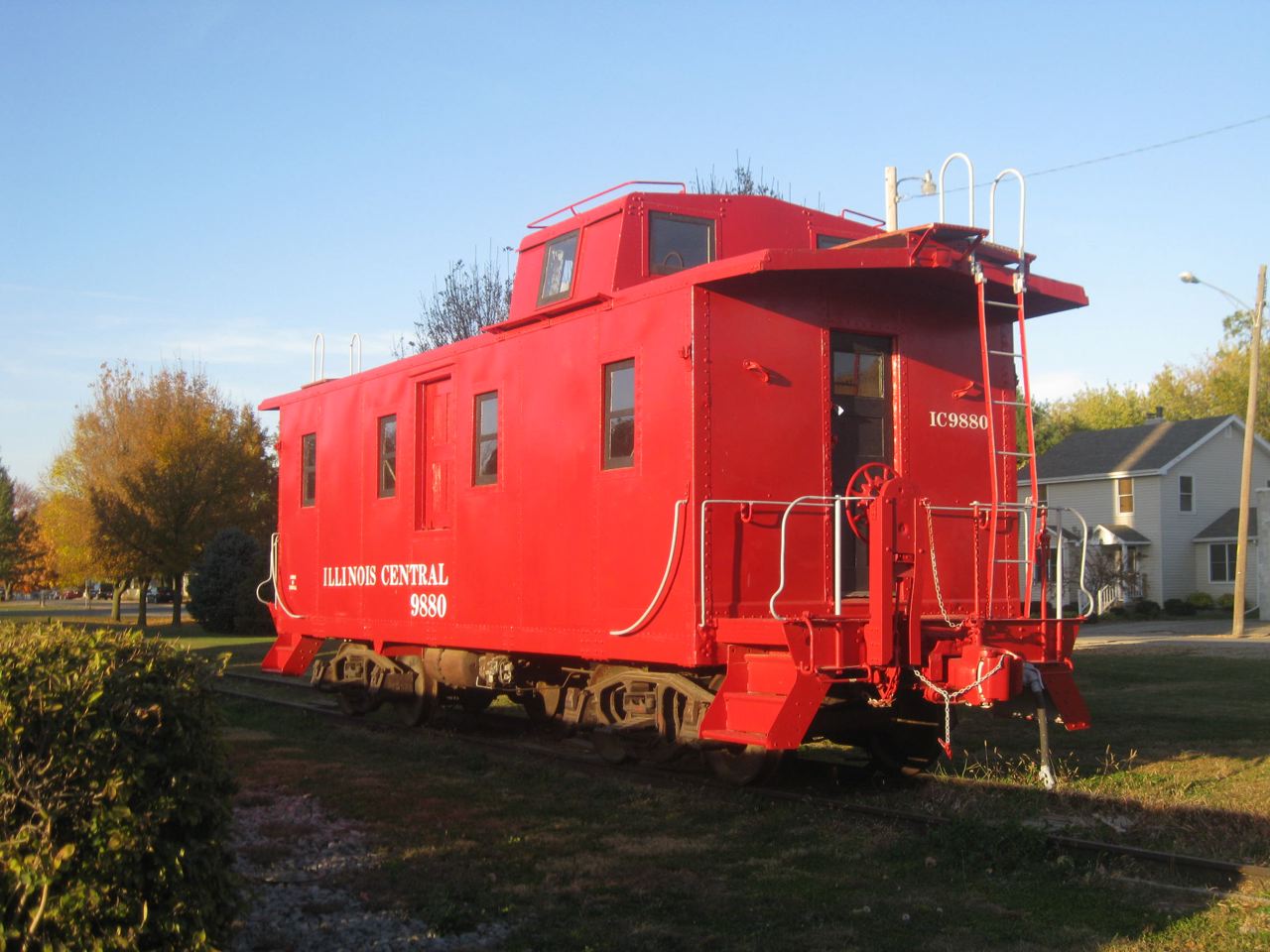 Sunset from the I-39 interchange road at Lostant; we had supper in Mendota, watched Amtrak #383 leave, and headed home, arriving about 9:30 p.m.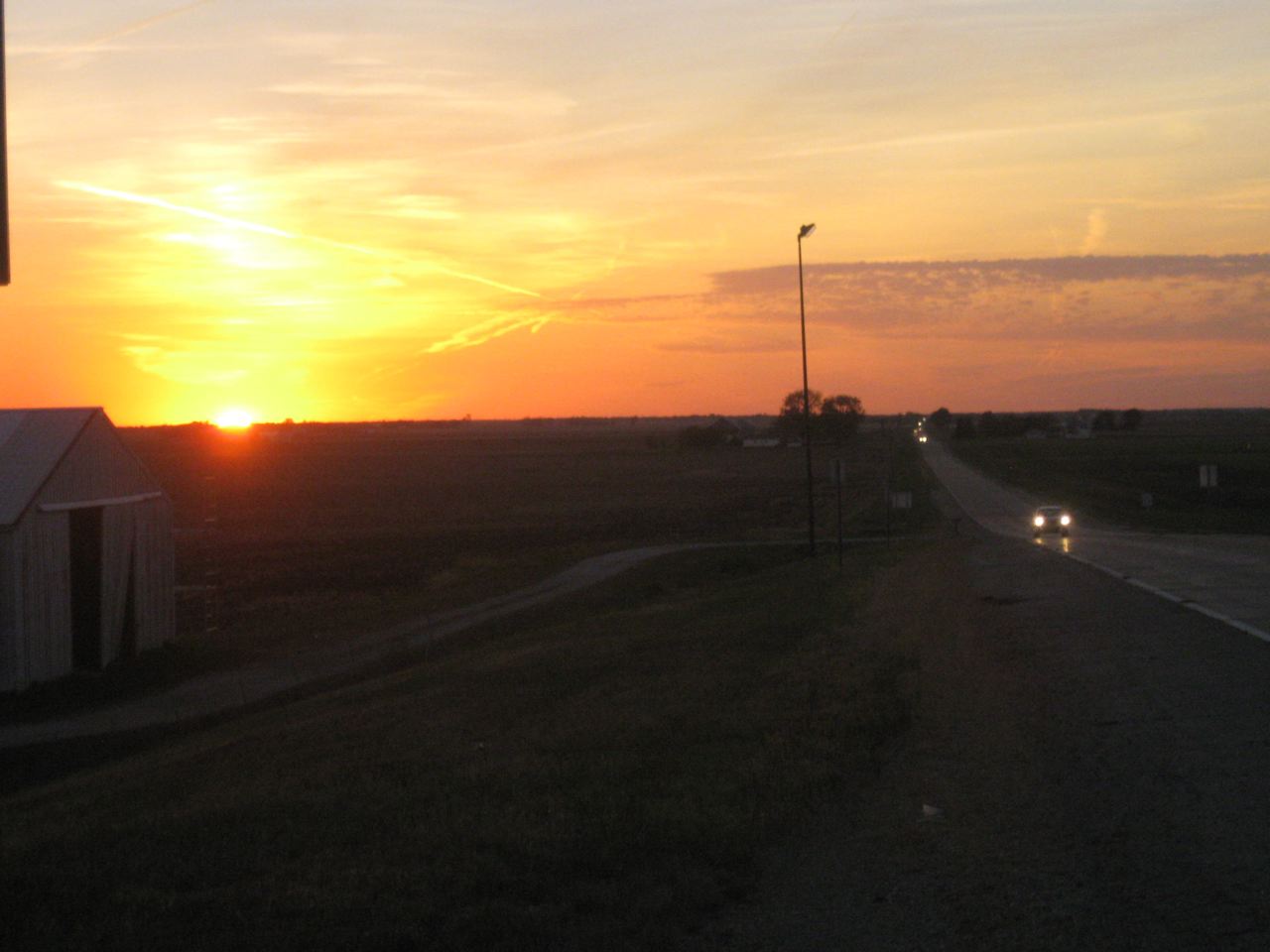 This page was designed and is maintained by Mike Condren. If you have materials
that you would like to contribute, contact me at mcondren@cbu.edu