Summer 2013 Local Action
by Dave Ingles
On June 7th when Carol & I returned from Harvard and the UP Safety Train (see separate file on the website) to Waukesha, we went to shoot Amtrak #7, a routine consist, then I dropped her off at home and went back downtown, where I found a southbound CN line-up at the Grand Avenue home signal. I returned to the White Rock Ave. crossing by Frame Park, where good light lingers, and at 5:07 got this southbound welded-rail train behind an unusual duo: 5405, one of the former Oakway SD60s CN has obtained, and GTW 5955, one of the ex-KCS joint-control SD40-2s.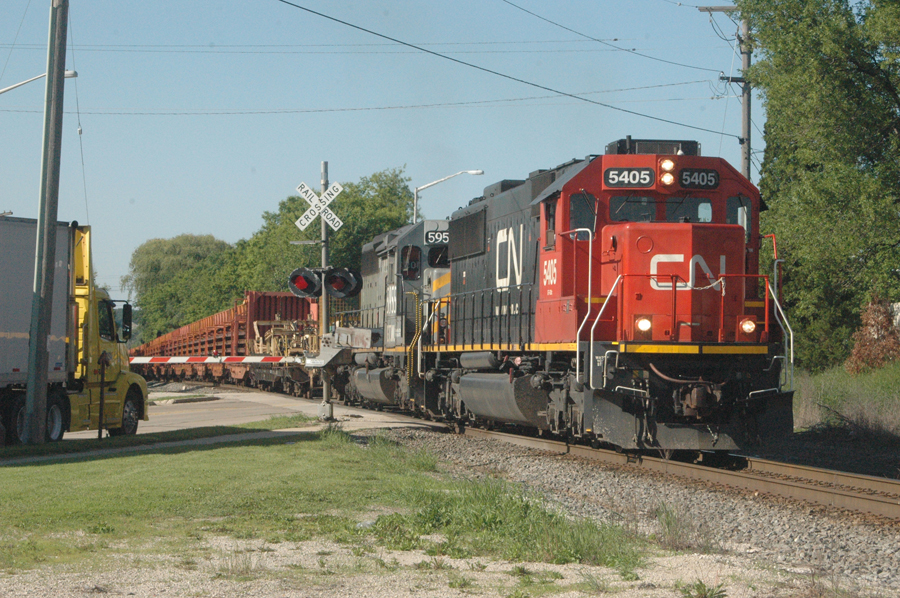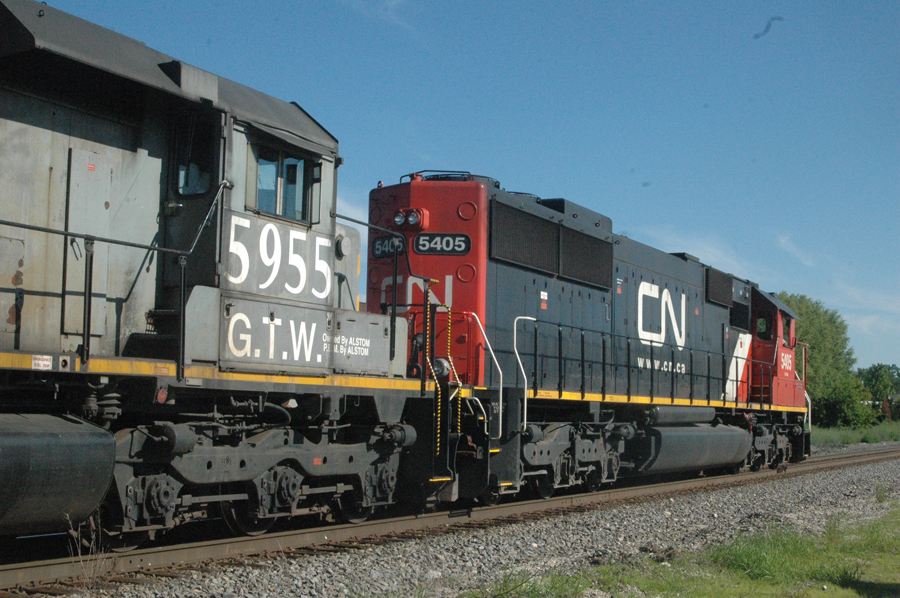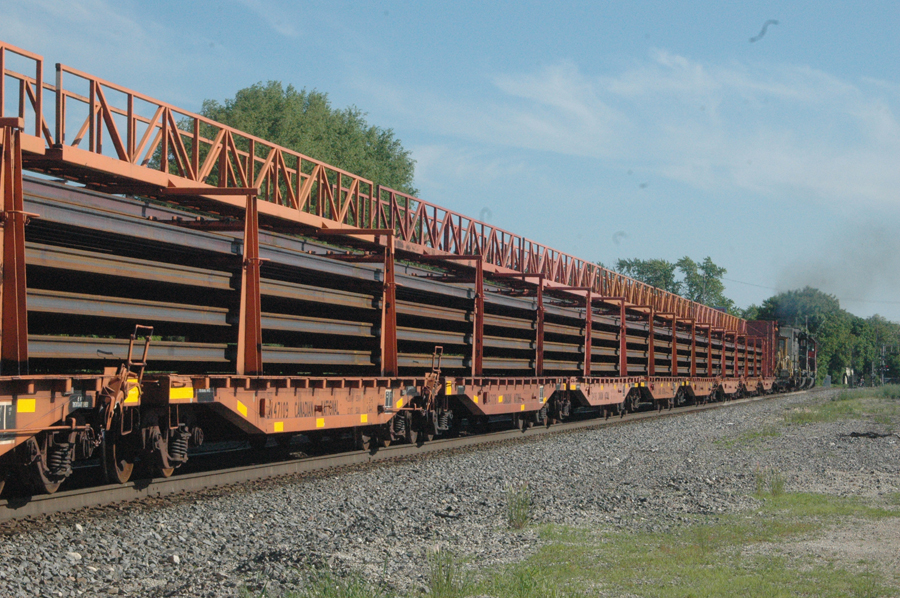 After supper, I went back to White Rock, where at 7:04 I got the daily Janesville-Horicon WSOR train, with 55 cars behind SD40-2s 4009/4030/4010/4079. The 2nd unit had been 4025 for the road's 25th anniversary, had then been redone for the 30th. WSOR is now part of the WATCO family, but WATCO says WSOR will keep its singular and attractive red and silver scheme. We shall see.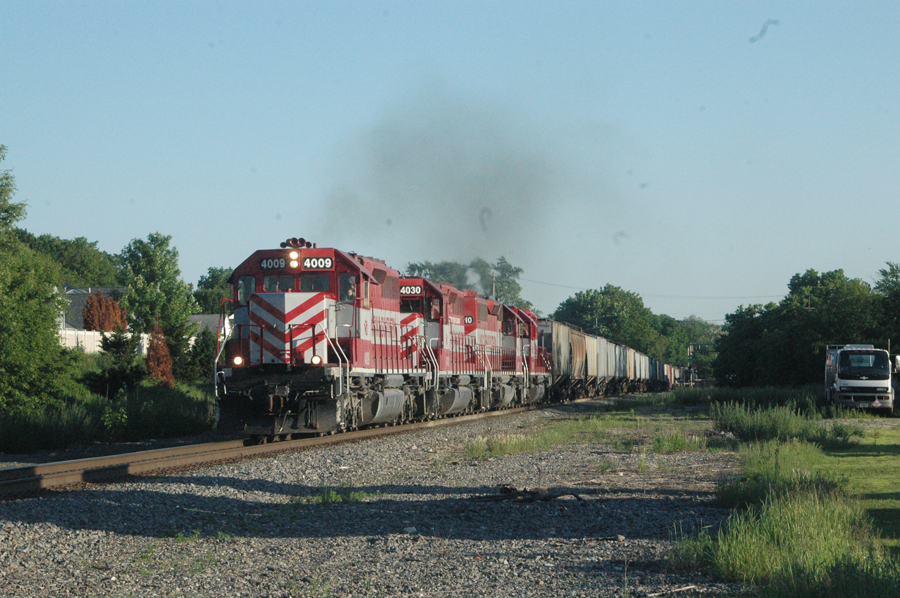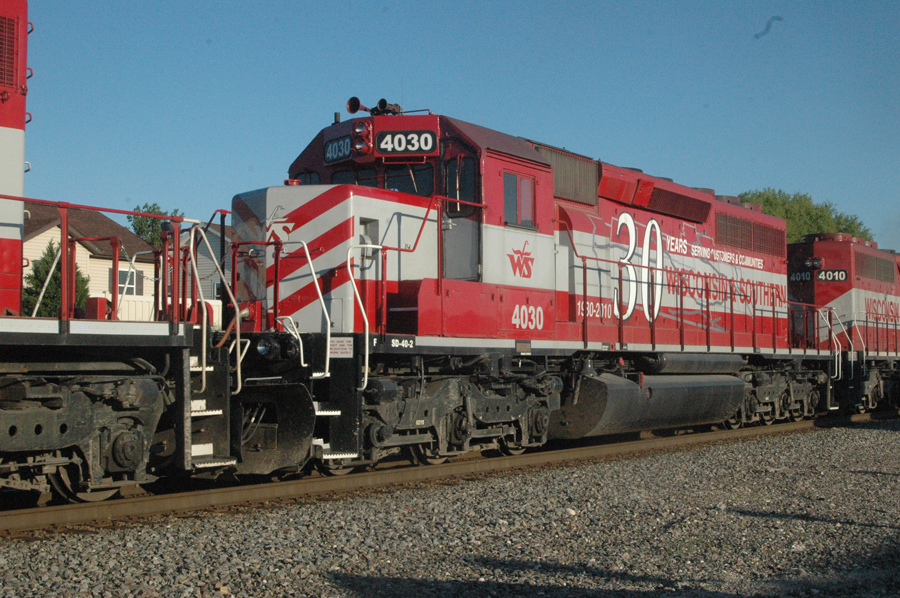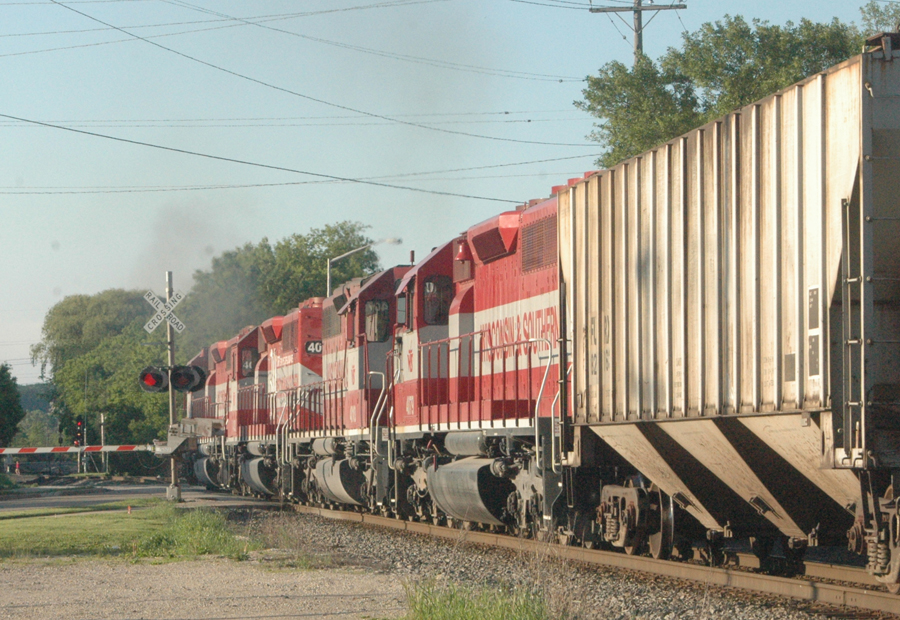 The WSOR met CN #446 at Waukesha siding, just to the north, and at

7:12

he passed me behind NS 9556/CN 5486, the 2nd unit being another one of the Oakways.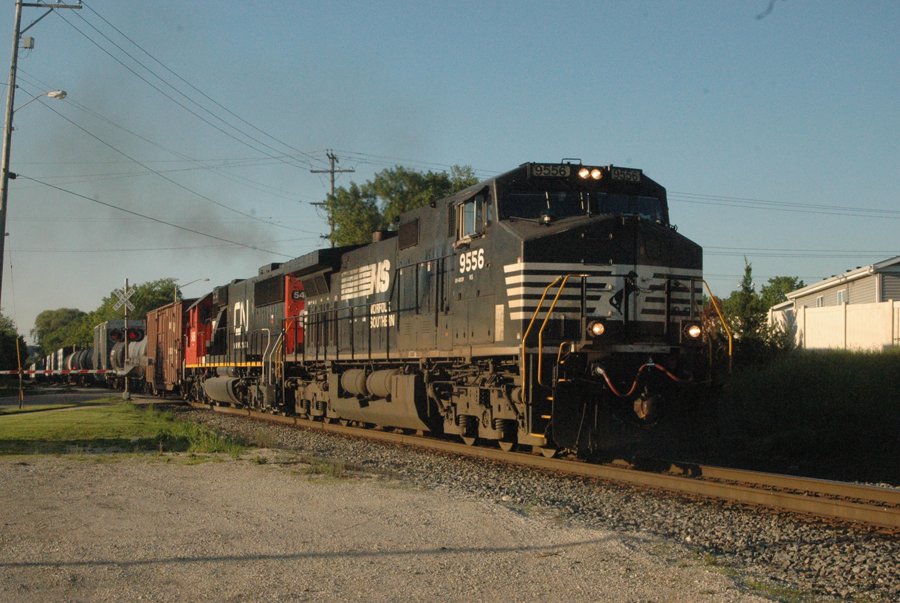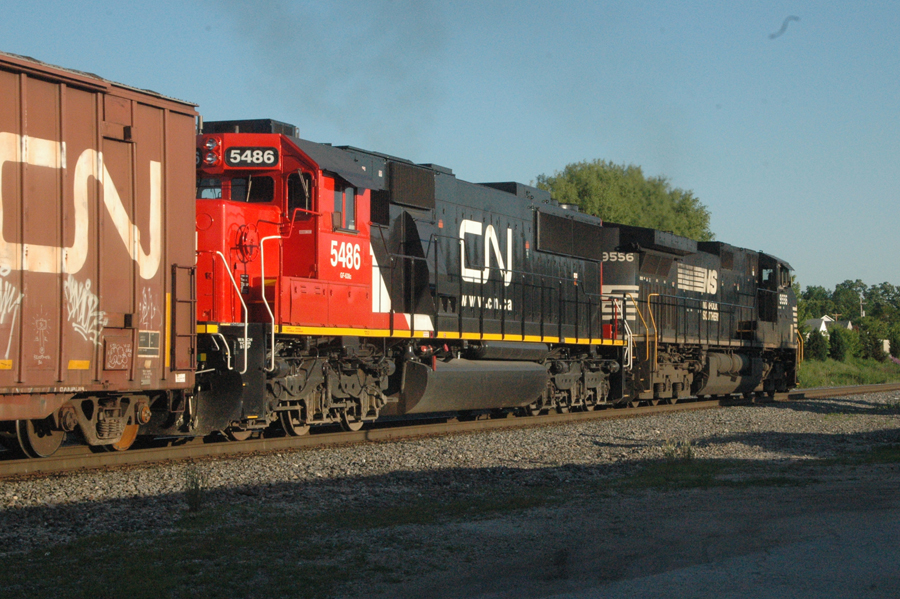 We were enjoying a nice, not-too-warm summer, so the Lake Pewaukee lakefront in that village offers some good photos, until mid-July when the trackside weeds grow out of control. On

June 9

, I was out, despite less than optimal light, at the parking lot on the site of the old Milwaukee Road Pewaukee depot, across from the lakefront, when Amtrak #8 came thru about 90 minutes late behind engines 134/175, with ex-CB&Q PV Puget Sound on the tail. Lateness was the norm all summer for #8, usually incurred in North Dakota account increased oil tank-car traffic and/or track work, especially on the Minot-Grand Forks-Fargo leg. A friend of Brian Schmidt's from Ohio was visiting; that's him with the tripod set-up.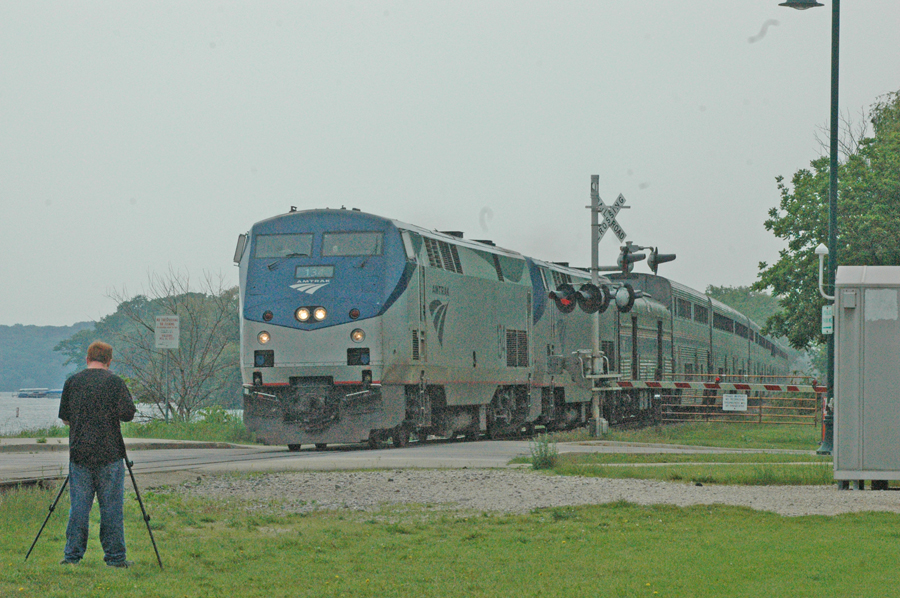 A half hour later, in Waukesha, I stumbled on this CN southbound, with 5798/5708/2573, a routine consist except for the fresh looking paint on the lead unit. I am not the biggest fan of CN's SD75 fleet, as normally they look not so good.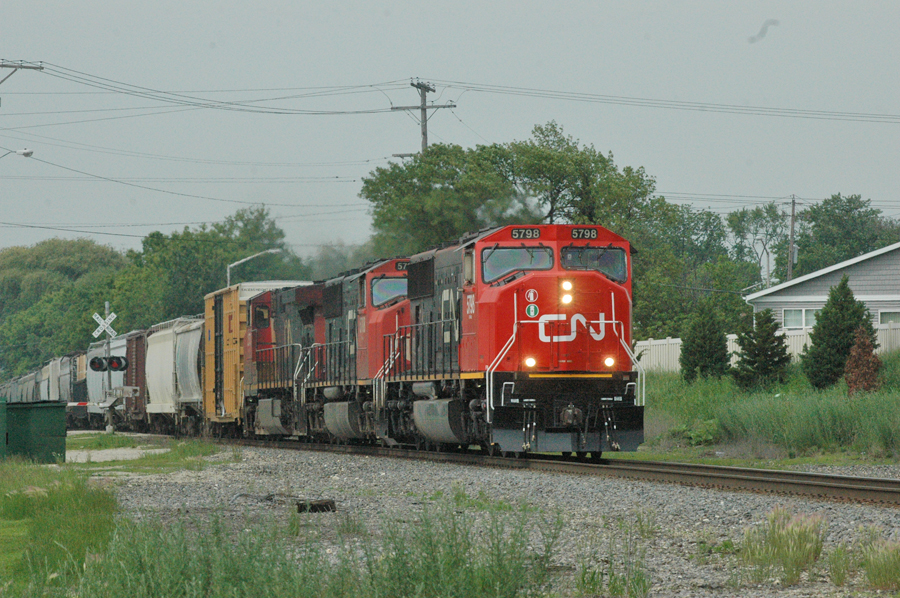 On

June 12

, four PV's on the back of Amtrak #8, on the return leg of a big West Coast circle trip on Amtrak's Chief, Starlight, and Empire Builder by retiring KCS President Mike Haverty and family, were to come through, so I was trackside. I shot counterpart #7 at Pewaukee, about 15 minutes late at

4:37

, on the curve east of the old depot side just east of the lakefront, behind units 14/12 with the usual 12 cars. The sunlight was nice.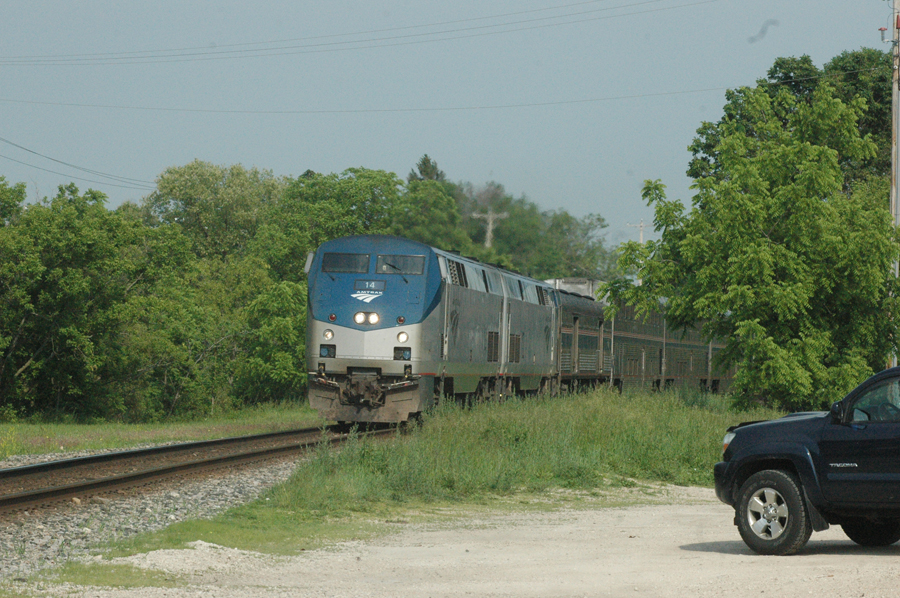 Twenty-two minutes later, Denny Hamilton & I got "clouded" as #8 came through at

4:59

, over 3 hours late, so I didn't bother with a front-end view of the units (185/165), just the going-away and the rear end with the two PV's and two KCS business cars.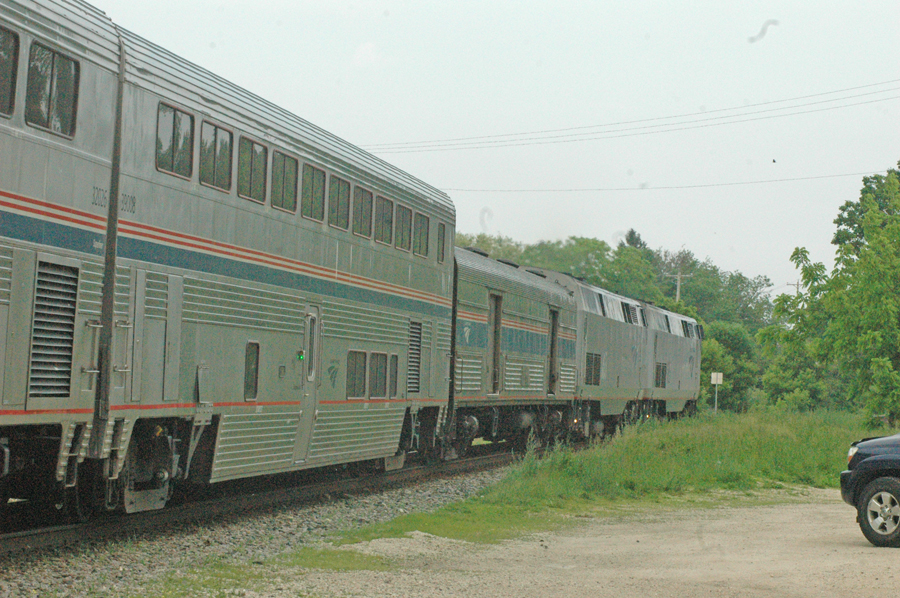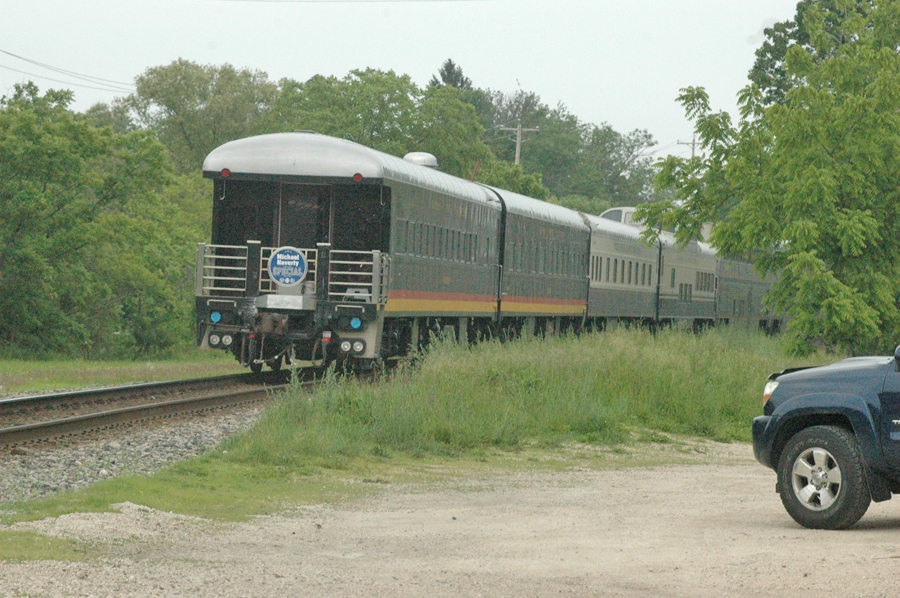 The next day, Thursday, June 13, found me at the lakefront and environs once more. At 3:20, I shot a 90-minute-late #8 at Parkside Lane along the lake's north shore, units 81/71 and the usual 12 cars.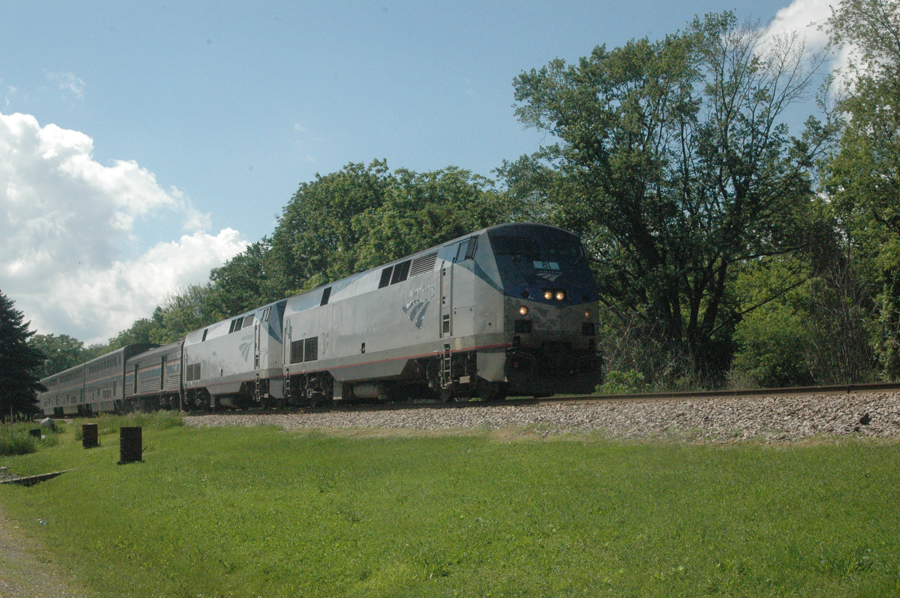 Amtrak met the "trilevel" train (now usually with a "fill" up front) #281 at CP's "Pewaukee," a mile east at the end of double track, so I sat in the shade of the patio of the replica station the village has built as a "lake house" (restrooms, summertime commissary) next to the grade crossing of Wisconsin Ave., what decades ago was U.S. 16 (the 4-lane north of the village now is Wis. 16). At

3:31

#281 came by behind GE's 8738/8722. It was nice to shoot some fresh angles.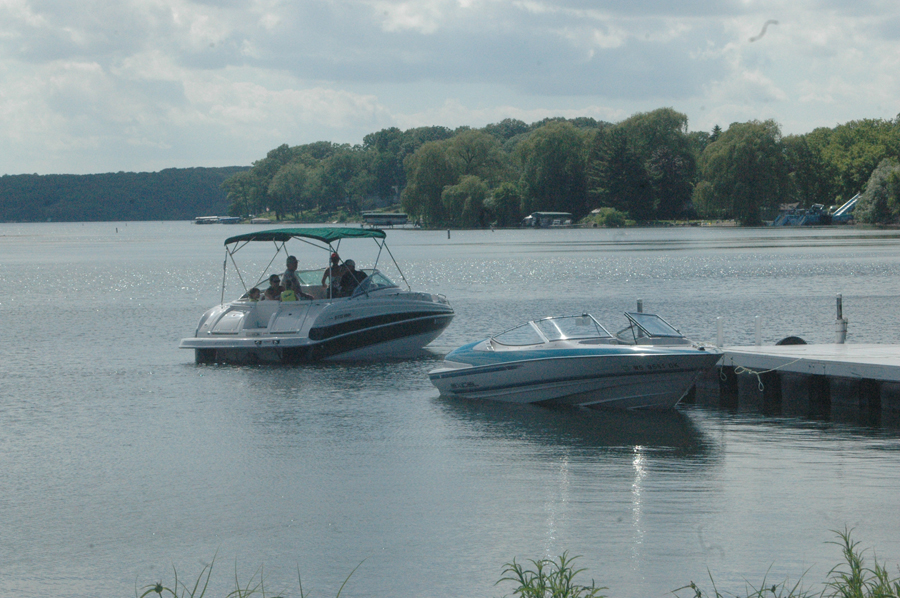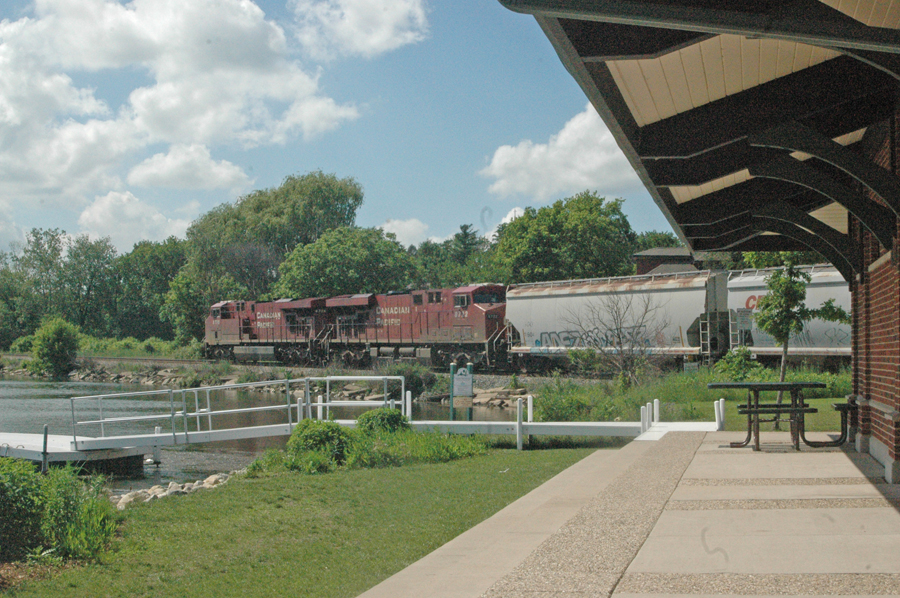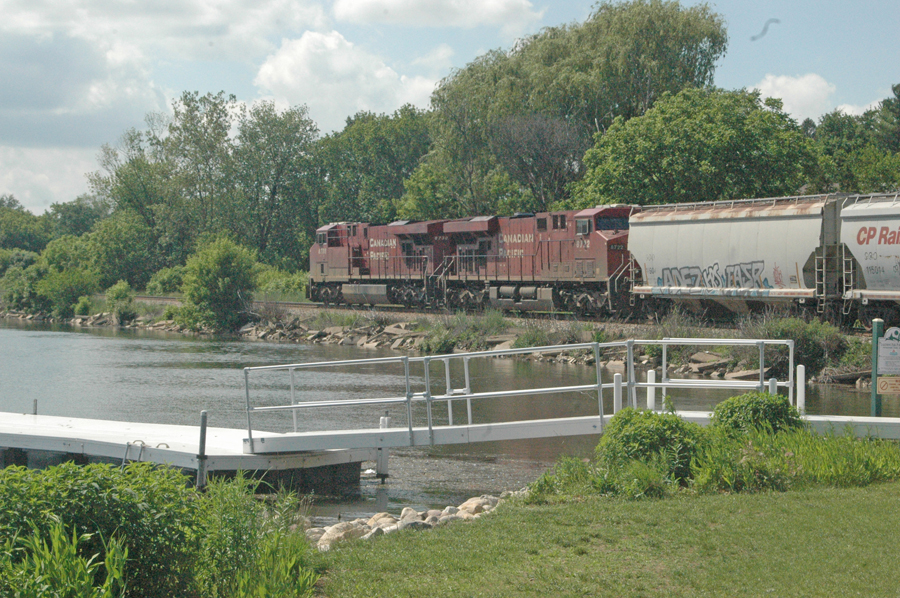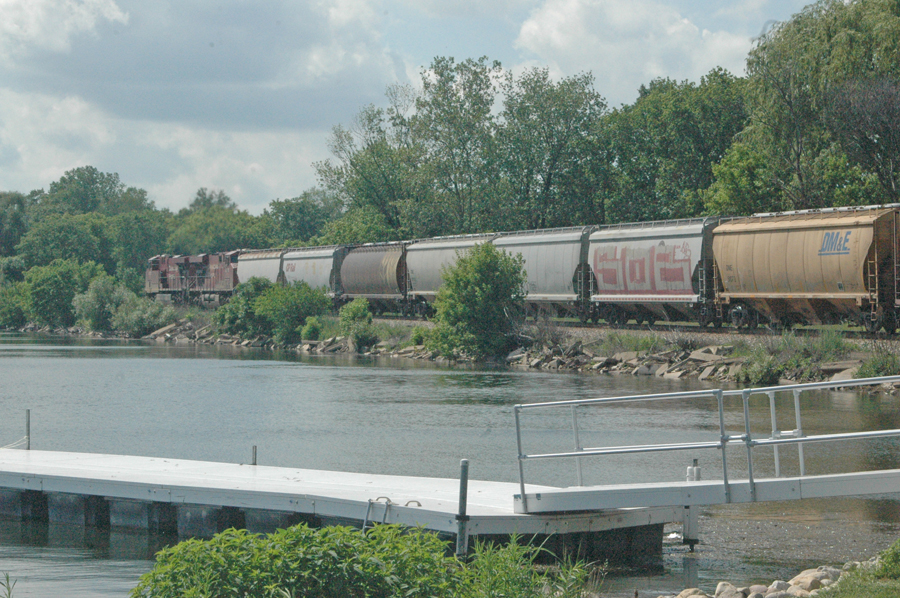 Trains and boats are not the only lakefront scenery.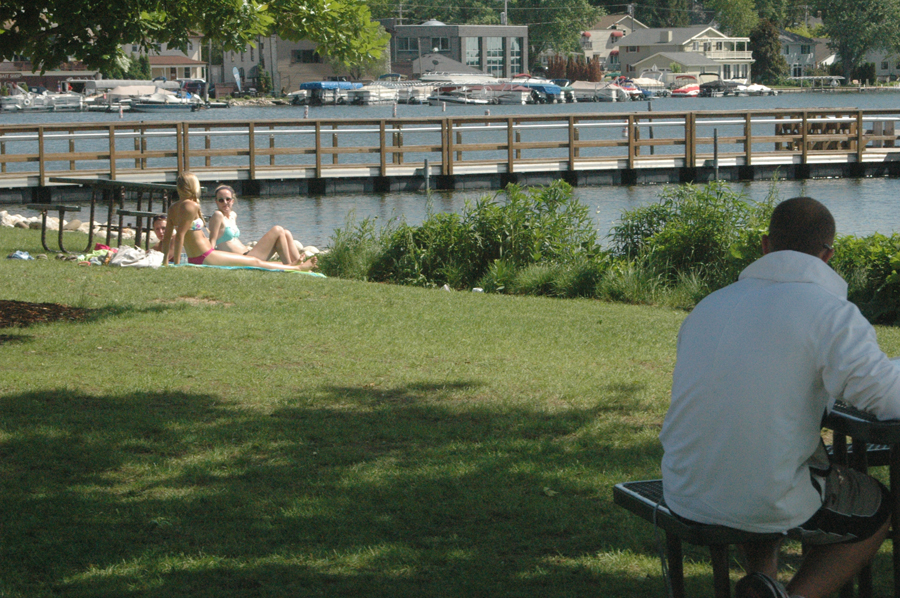 For Amtrak #7 I went to the dead-end residential trackside lane in Brookfield at MP 101, and he came by on-time at

4:16

behind engines 185/165, same as on #8 the day before, which is halfway common.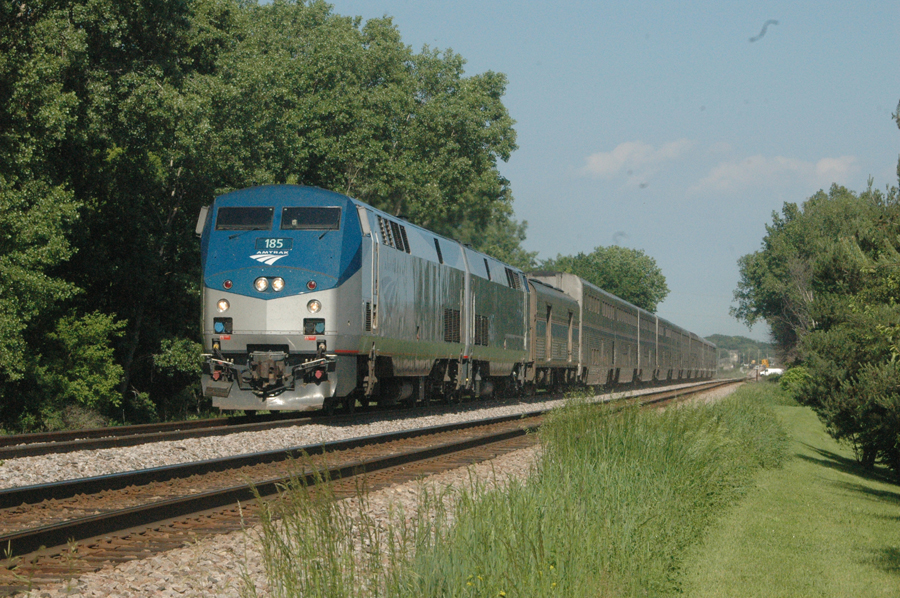 On

June 22nd

, I happened to be in Waukesha as this CN southbound came thru at

3:37

, units 5788/BCOL 4613/5758 with 111 cars.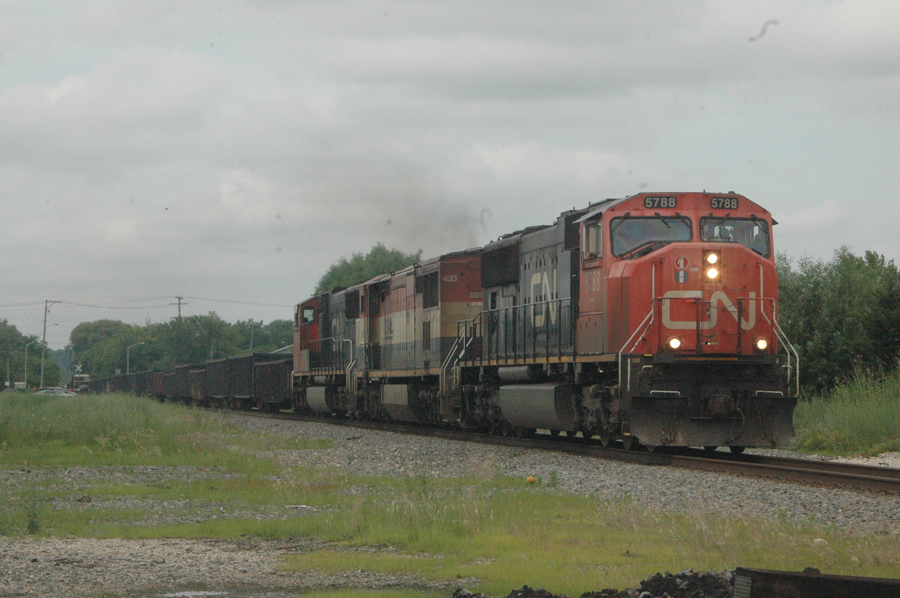 A week later, on the 29th, I got this northbound in the south end of town at Amron siding switch, led by 5723/2154, the latter one of the former Santa Fe "Warbonnet" GE's that CN has acquired.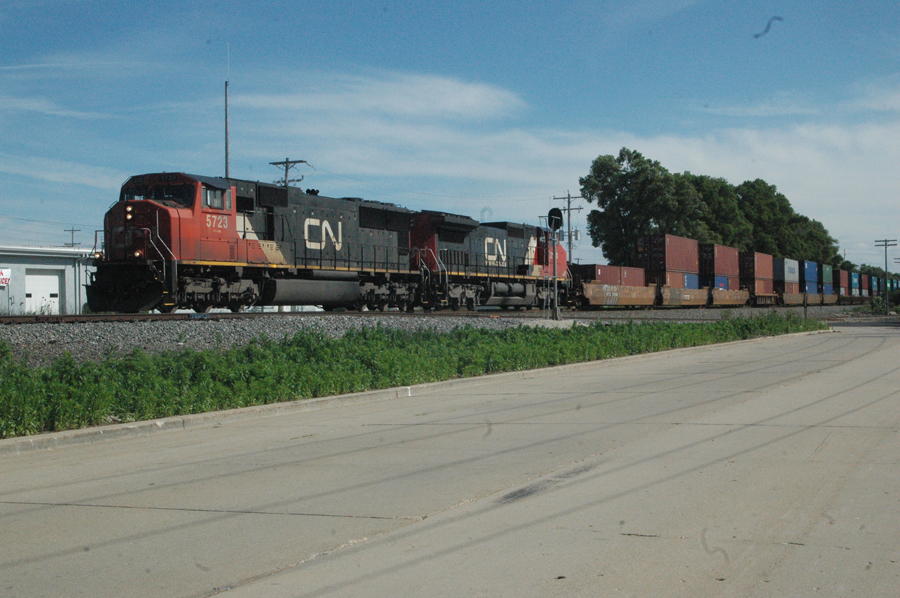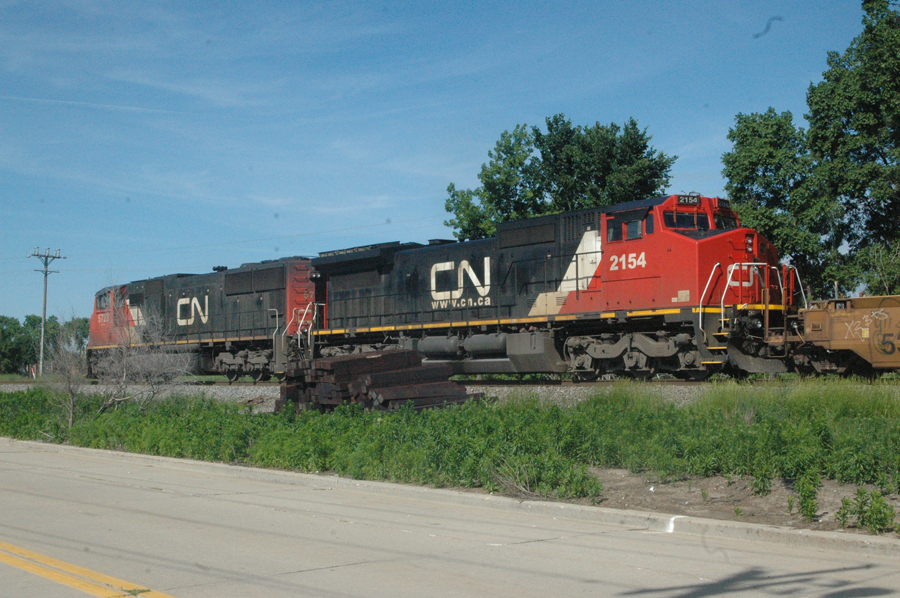 June local photography concluded on the month's last day, with #7 being the highlight, thru Duplainville on-time at

4:15

with engines 121/124 and 15 cars including 3 PV's on the rear end, ex-CB&Q sleeper Silver Rapids and Silver Lariat and ex-Santa Fe sleeper Palm Leaf.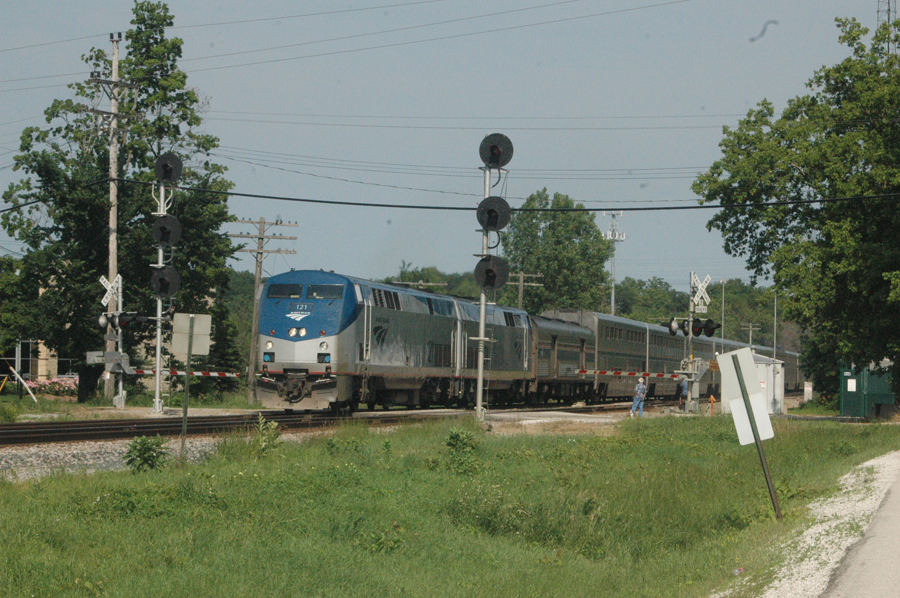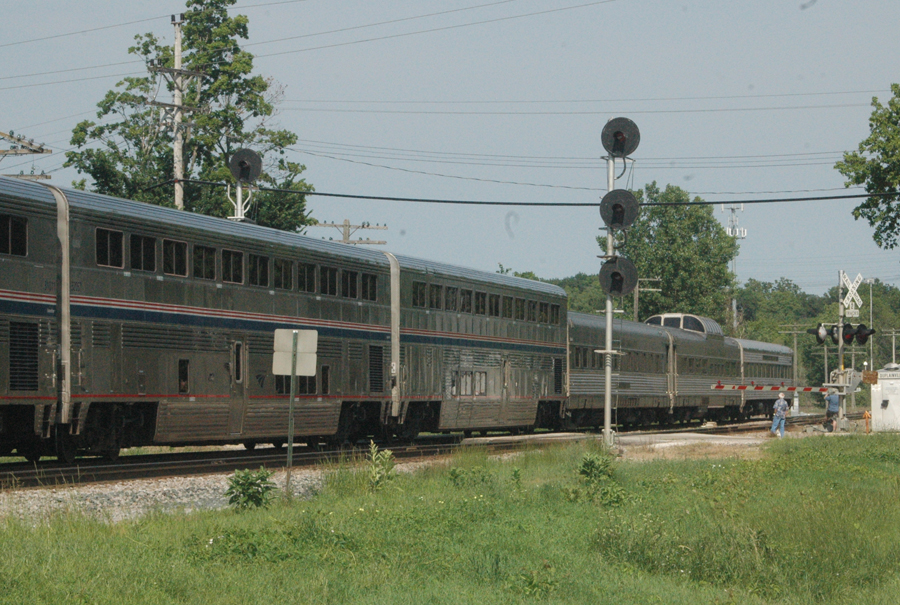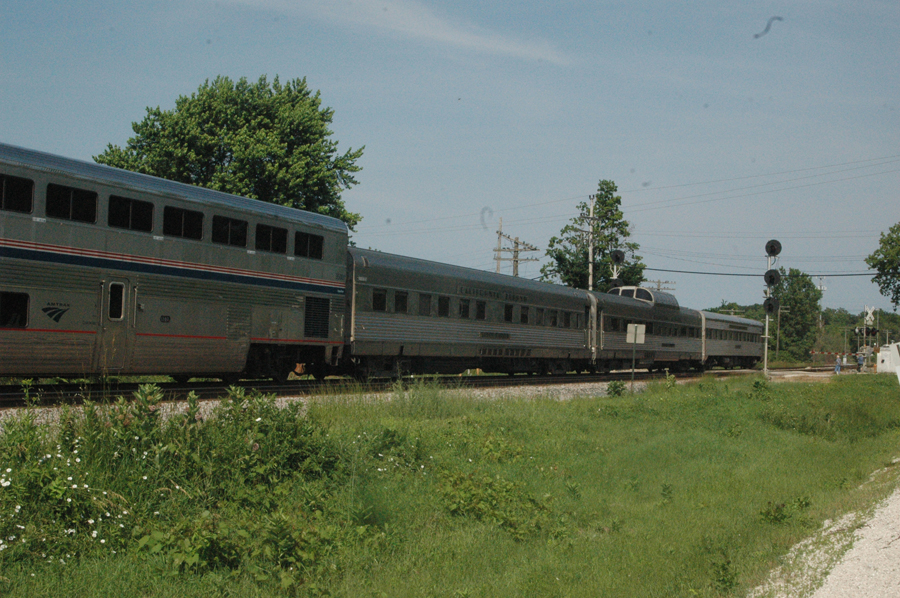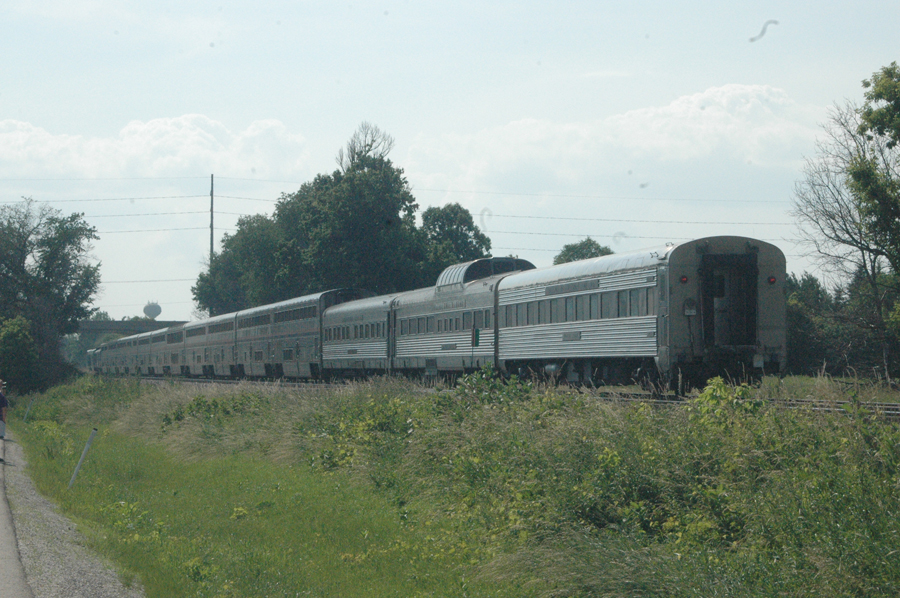 The last train of the day, and month, was this CN southbound in Waukesha at

5:25

, 101 cars behind IC 1024/CN 5607; I rarely catch the IC SD70s leading, although it happens now and then.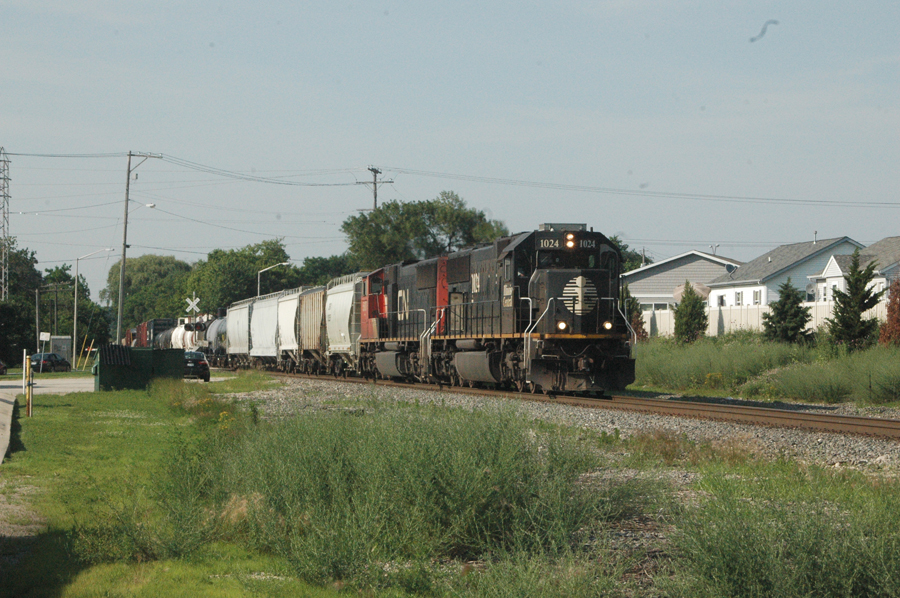 This page was designed and is maintained by Mike Condren. If you have materials
that you would like to contribute, contact me at mcondren@cbu.edu