Quad Cities Train Festival, 2011
Rock Island, Ill., July 21-24
Wednesday, July 20
Steam to Quad Cities from West and East
Photos by Dave Ingles
The IAIS 2-10-2's were coming to Rock Island from Iowa City, where daily freight CBBI (Council Bluffs, IA-Blue Island, IL) had set out freight cars for them.
With the freight running ahead, we heard enough on the scanner to begin our day waiting for him at the Central Park Blvd. grade crossing in far western Davenport. Here he is at 9:48 a.m. with 506/511/504 and 48 cars.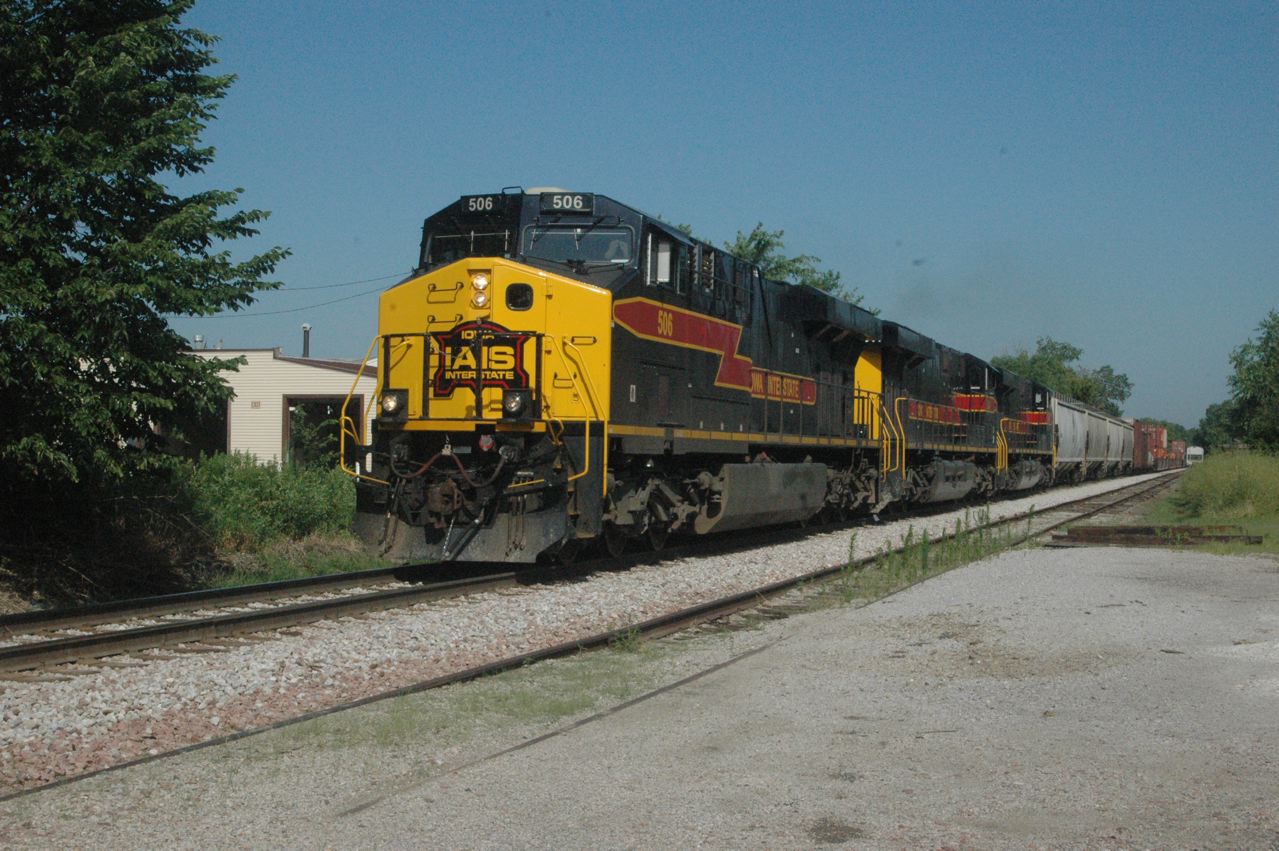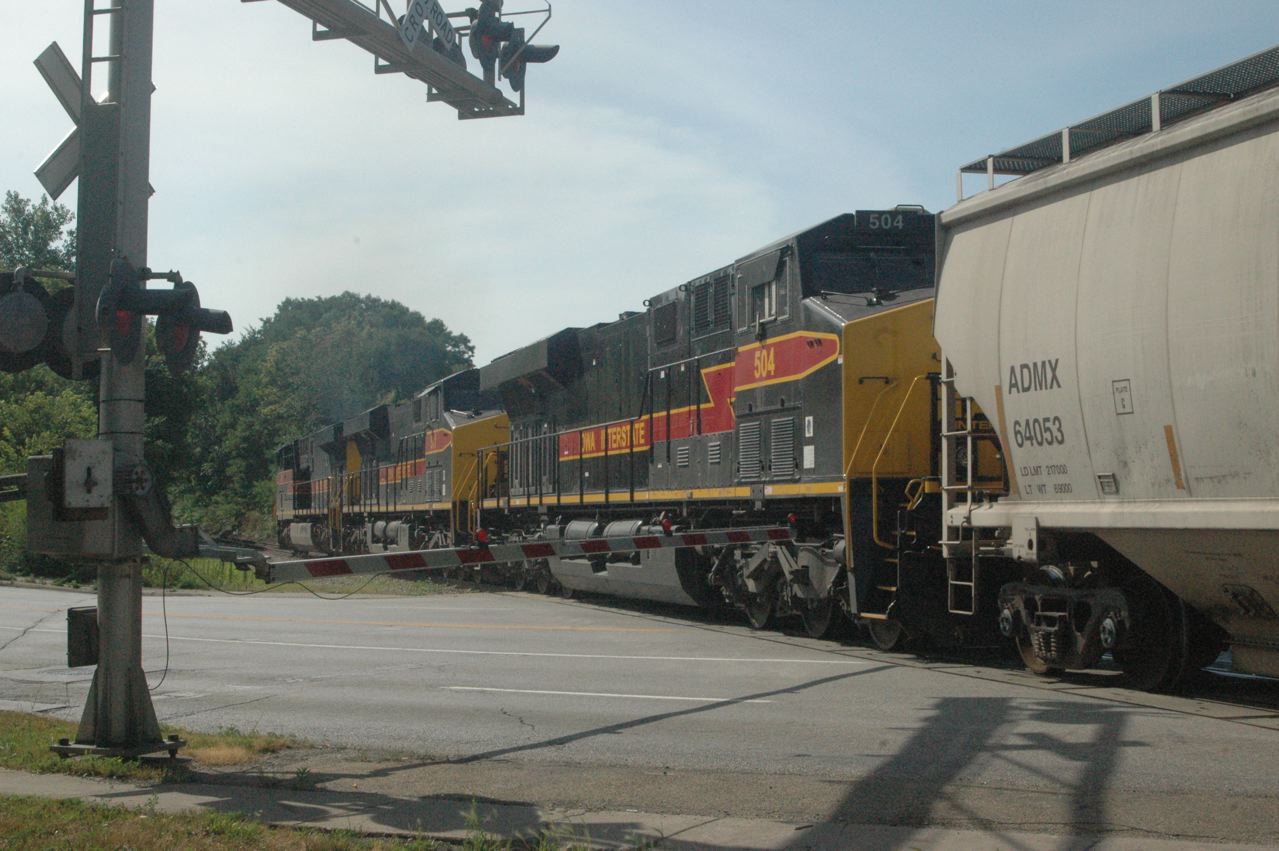 As we headed west on U.S. 6, we heard by radio that the steamers would meet westbound counterpart freight BICB at Wilton; the passing siding is west of town. Not knowing there was a grade crossing where the freight held back, out in the woods around a curve, we hung around in town with numerous other photographers after the steam train had arrived, wanting to photograph it coming by the preserved Wilton depot. So we missed a freight photo, but finally drove out and took this view of the ad-hoc service stop, after the freight had cleared allowing workers to be on the left side of the engines. Time: 11:10 a.m. The train had 55 loads (plus the two business cars and the idling GP38 at the end) for 7,078 tons, which IAIS boss (and hard-core fan) Henry Posner claimed to be a 21st century U.S. steam-hauled tonnage record, beating his own engines' previous one set in 2008.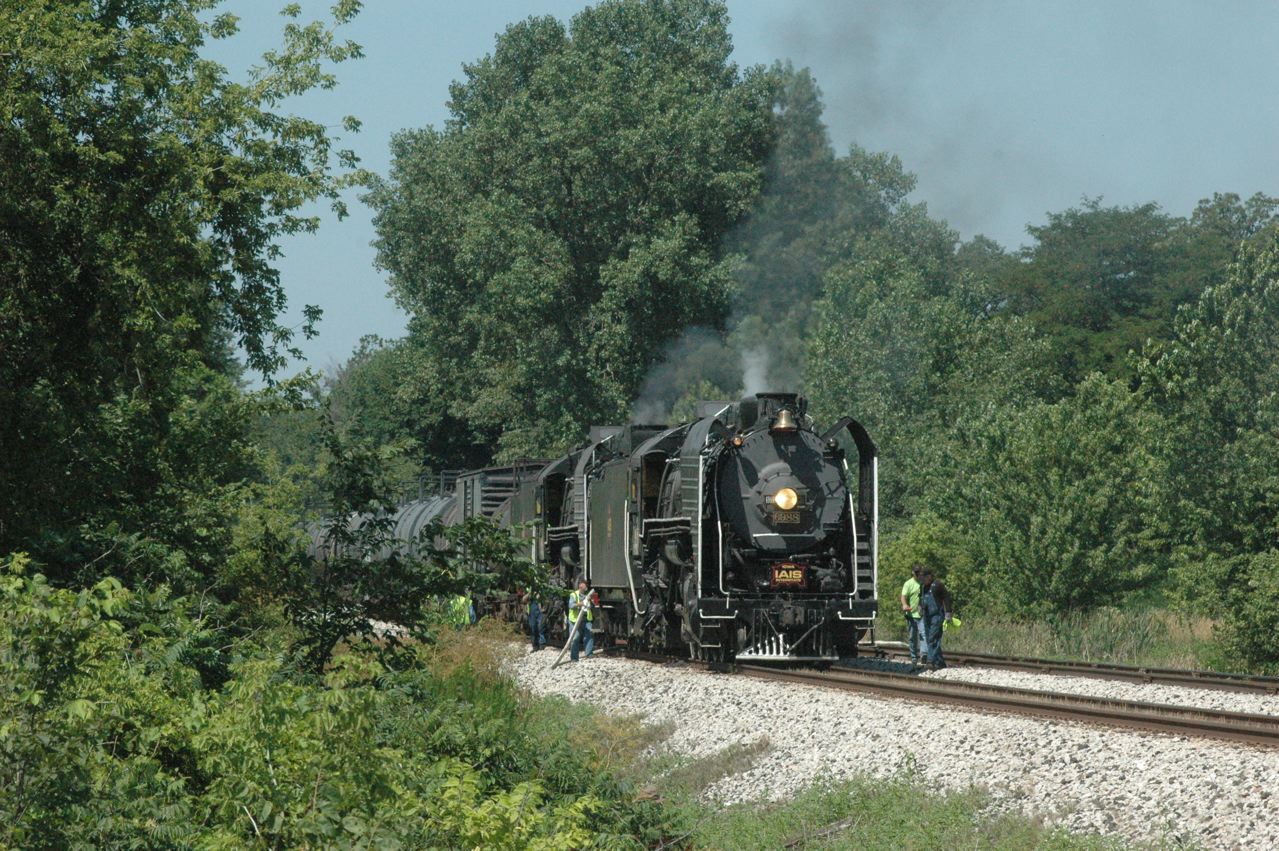 A couple of "journalists" (aka foamers) were on hand: TRAINS Editor Jim Wrinn and CLASSIC TRAINS Editor Rob McGonigal. Mr. Wrinn reportedly drove 75 mph straight from suburban Milwaukee to West Liberty, Iowa, leaving at 6 a.m. and arriving 10 minutes before the steamers did!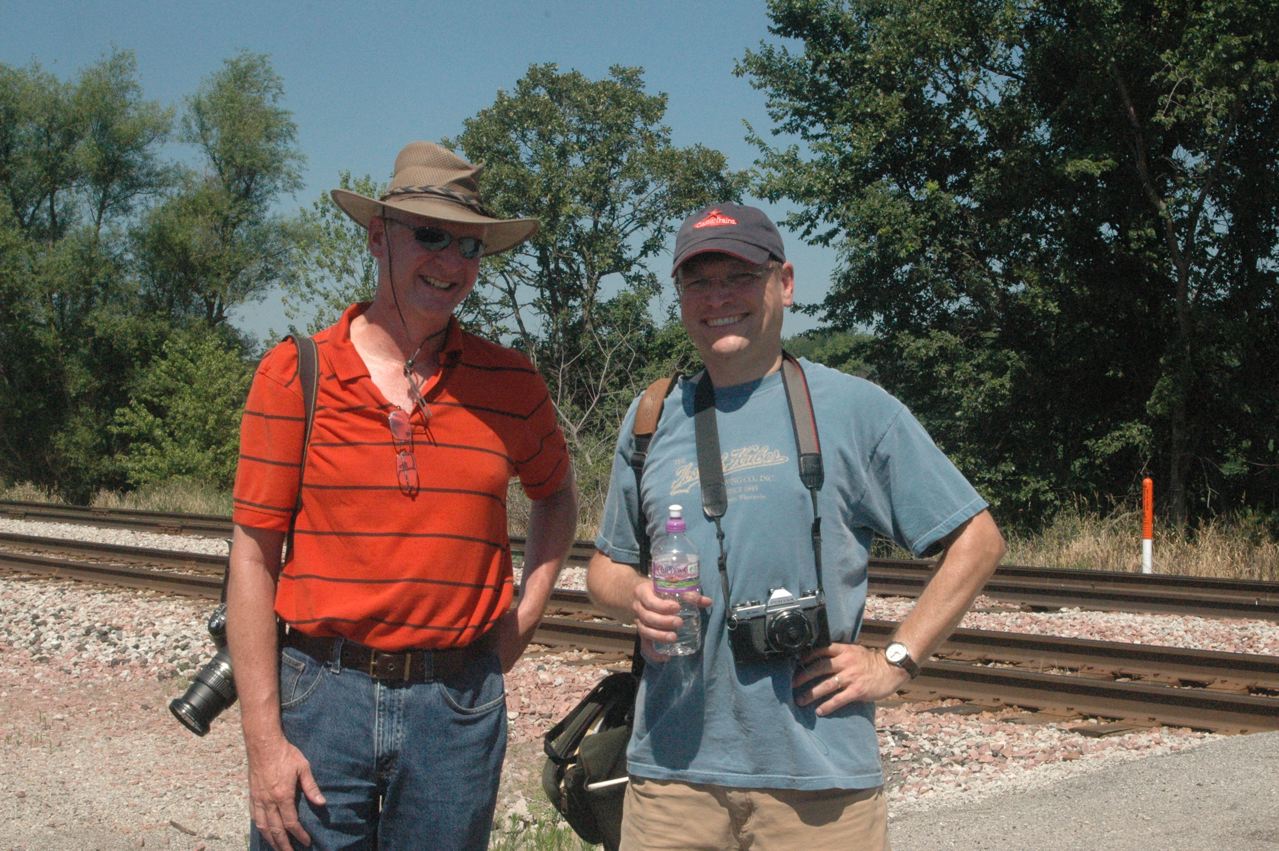 The steel mill at the west end of Wilton has this EMD SW1001 switcher, photographed (strong telephoto, cropped) from the north from the county road. IAIS gets a lot of business from this outfit.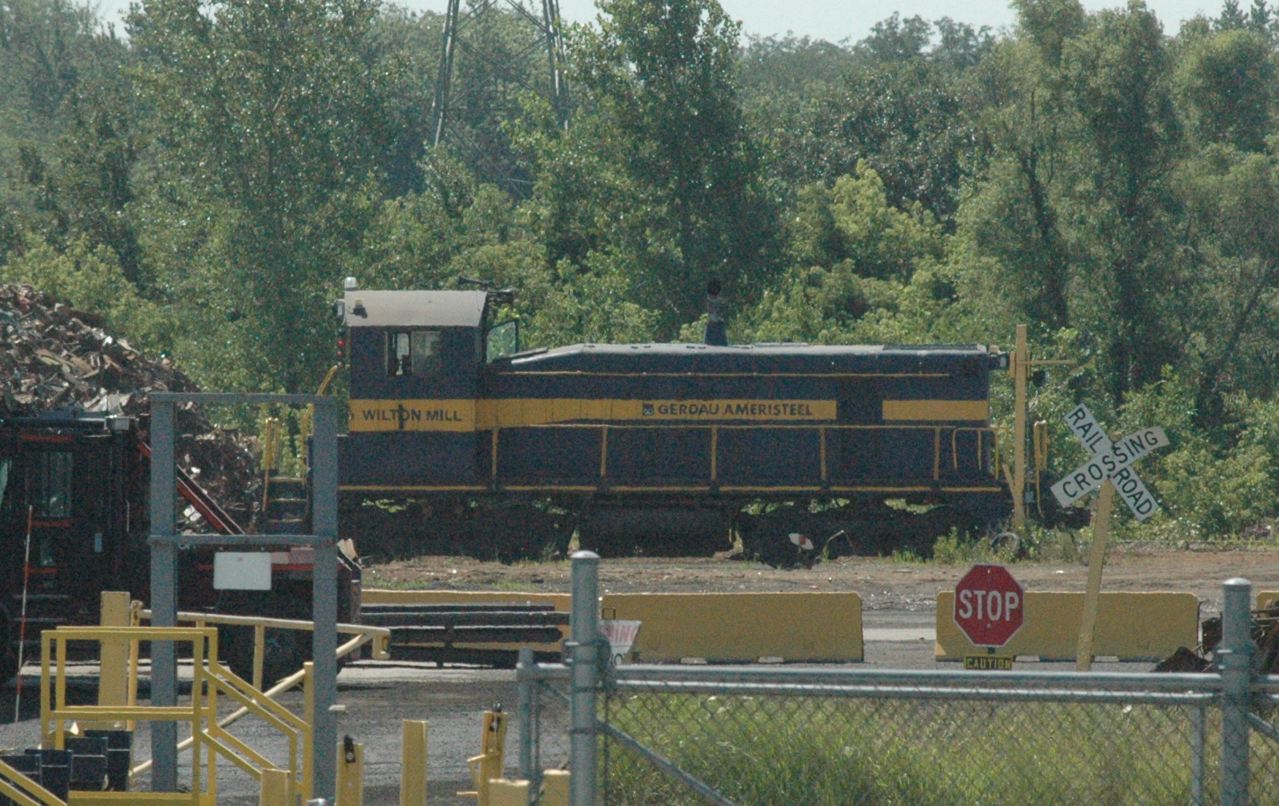 Finally at 11:51 a.m. the doubleheader stormed thru Wilton, providing quite a show. The ex-MILW caboose on display at far left is lettered for the Rock Island (!). There used to be a branch take off to the left of the depot, where the caboose is.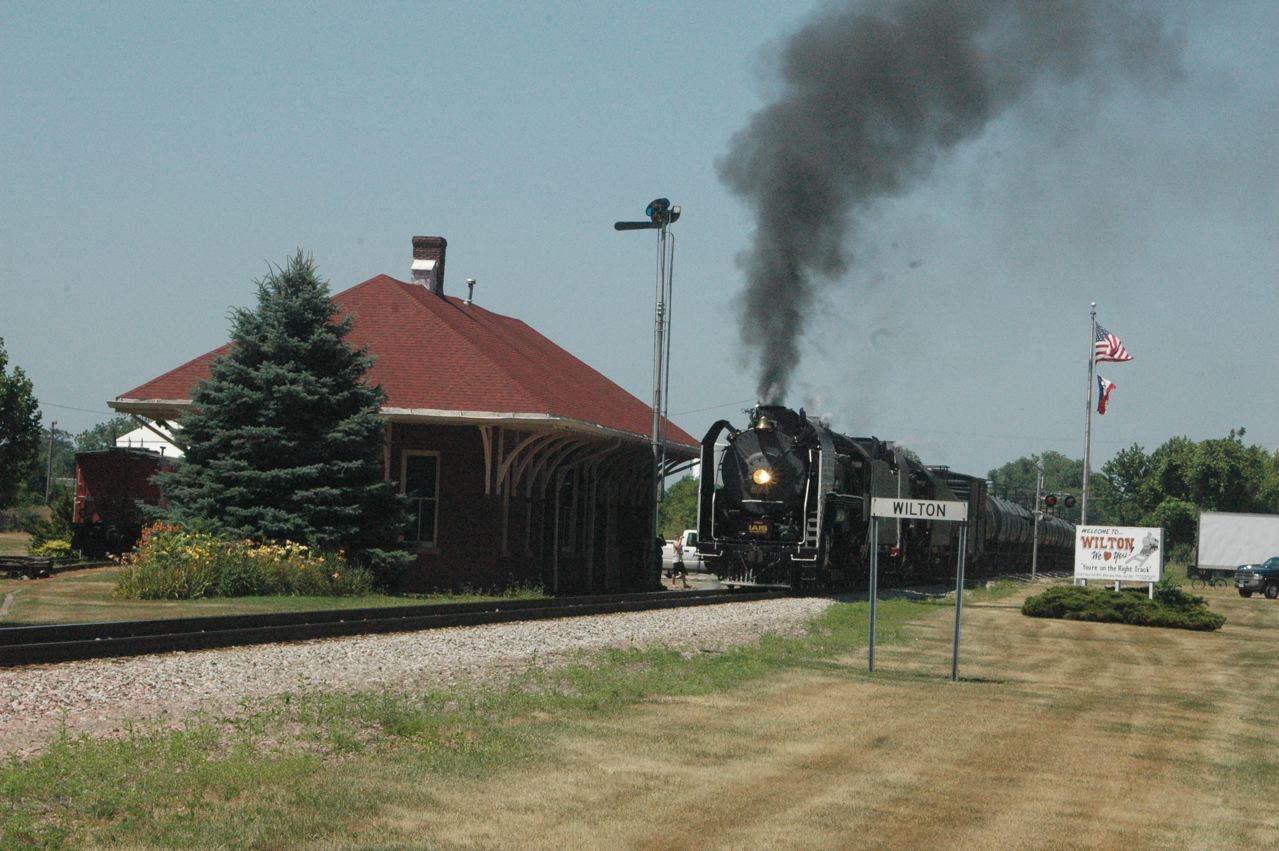 The first two "loads" on the freight were the 2-10-2's water and tool cars.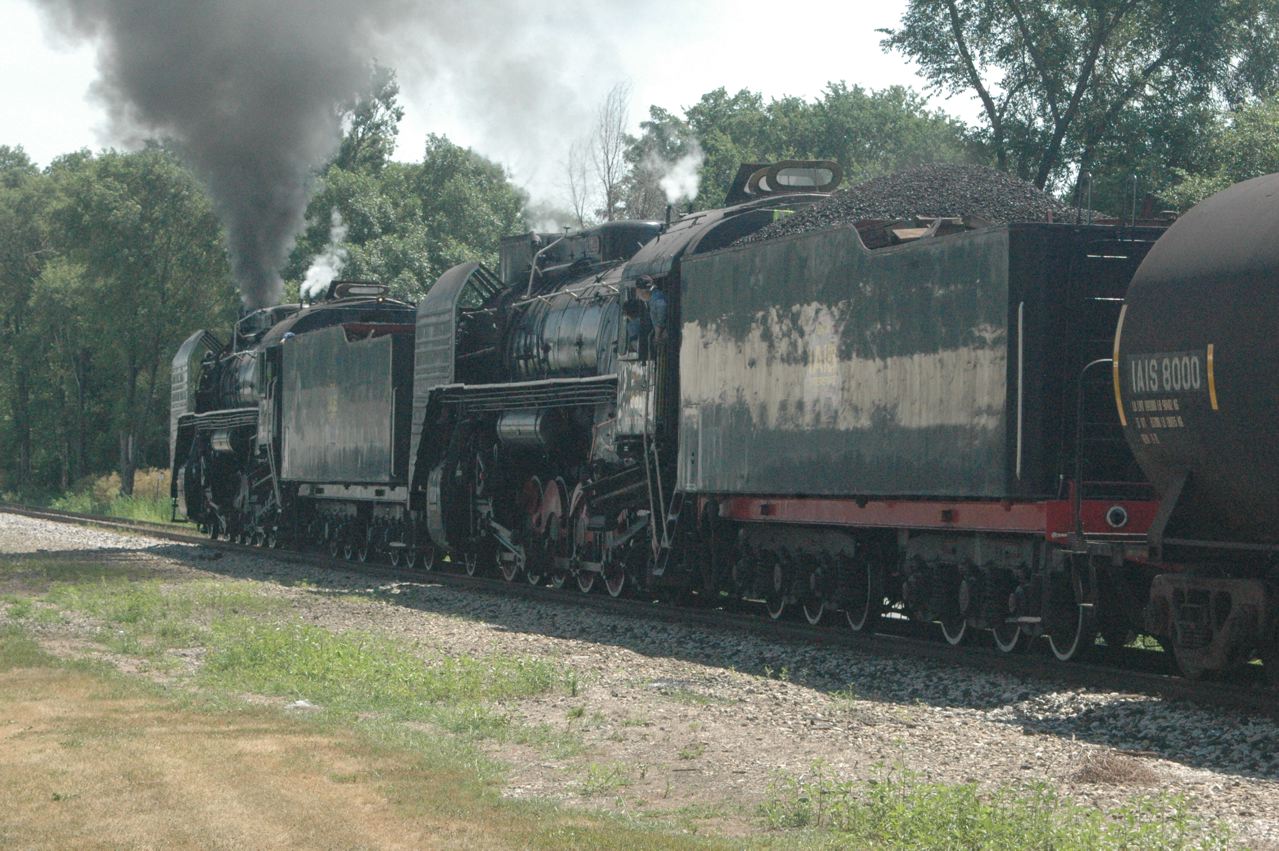 Pacing along U.S. 6 east of Wilton -- couldn't resist.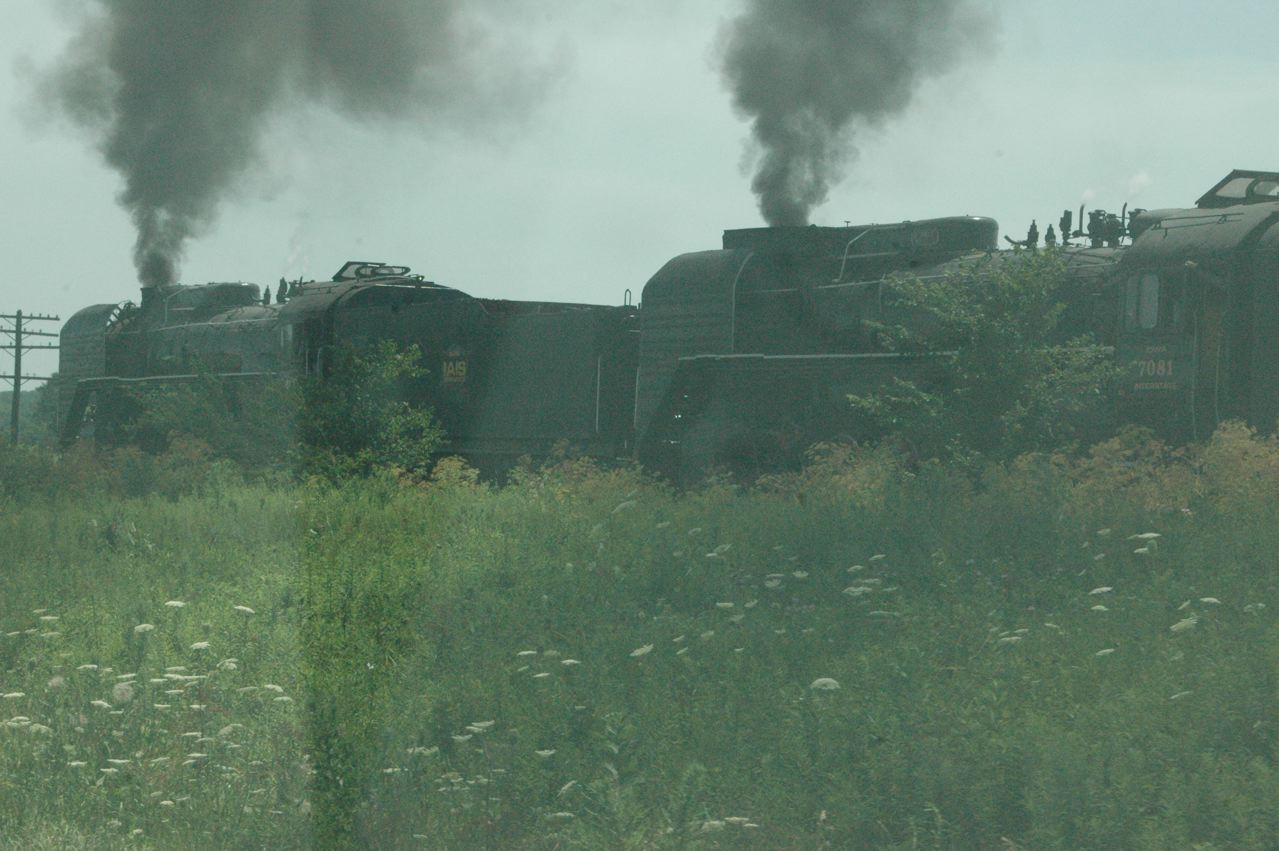 West of Durant is a nice long curve; time is 12:03 p.m.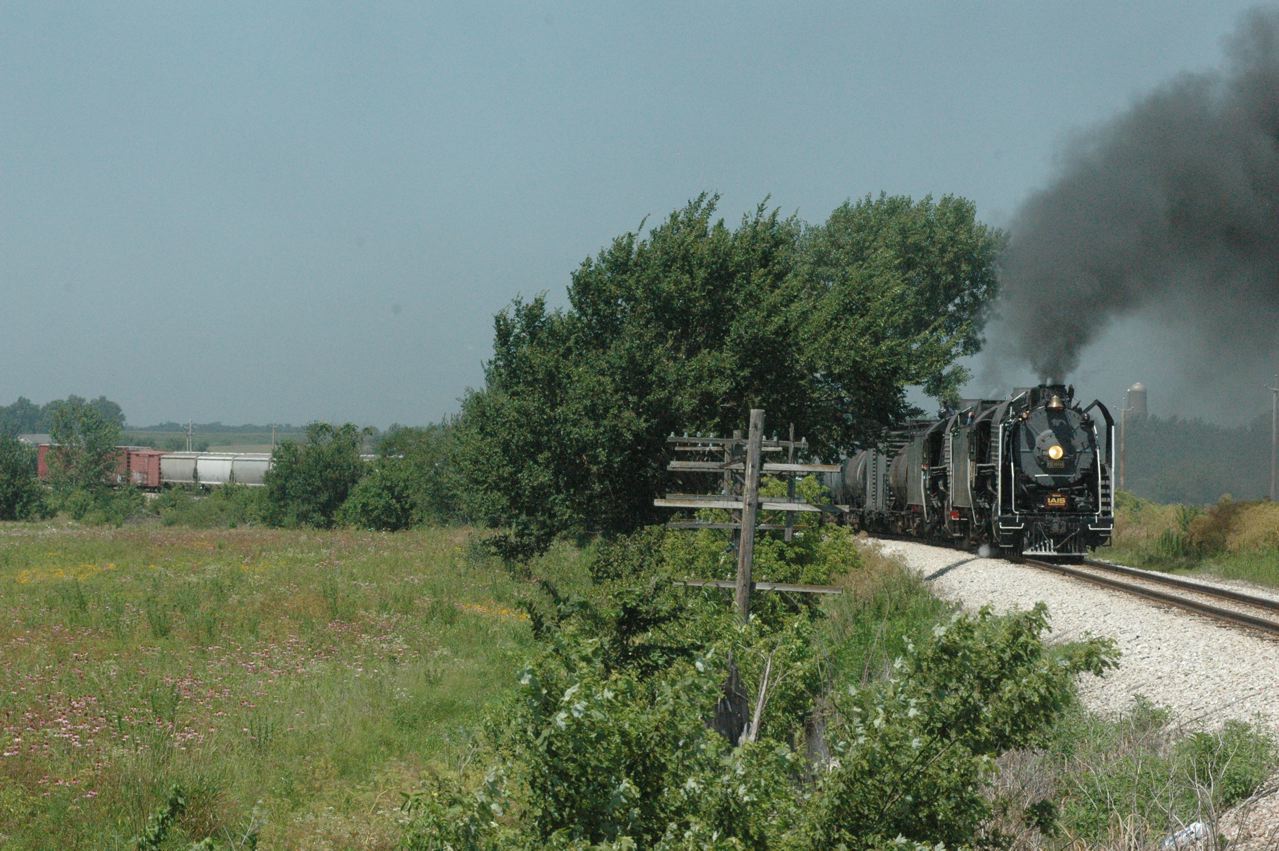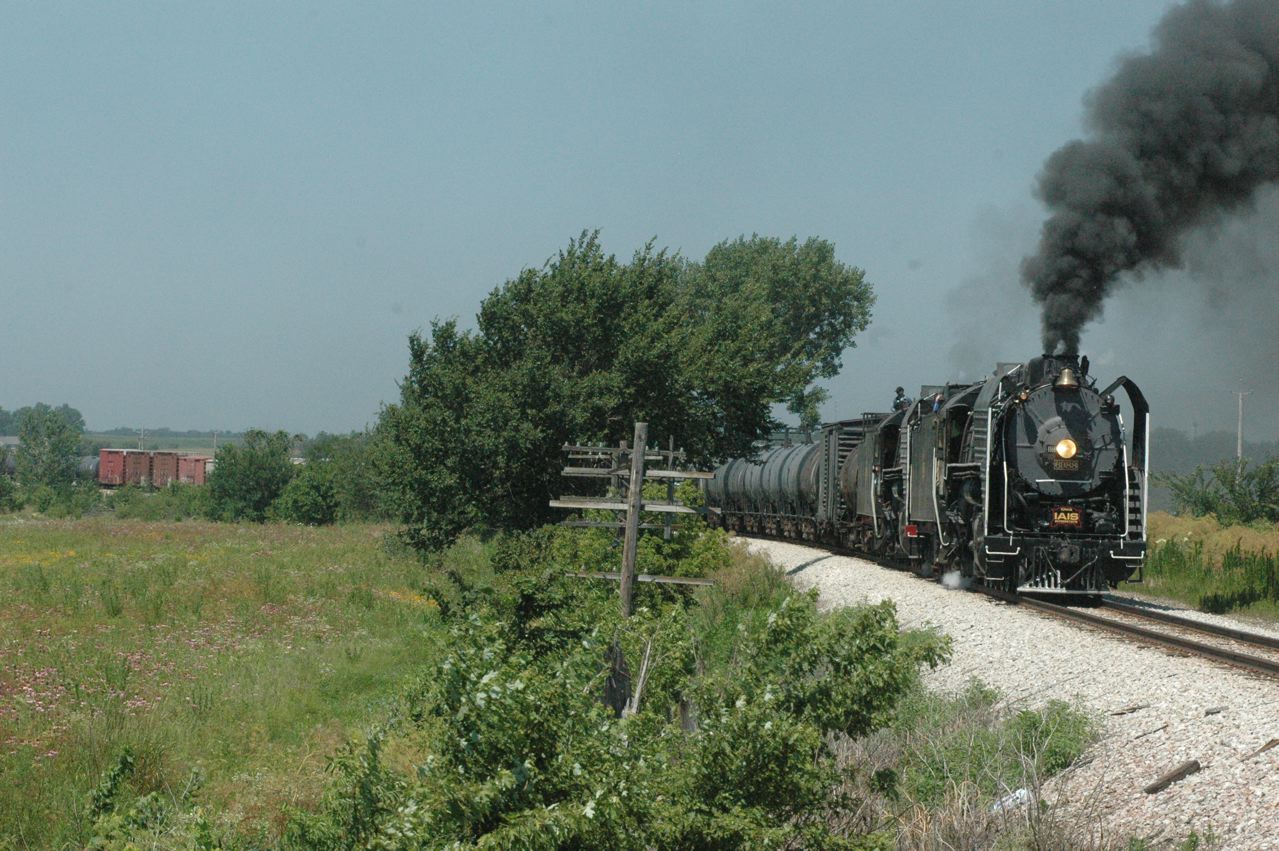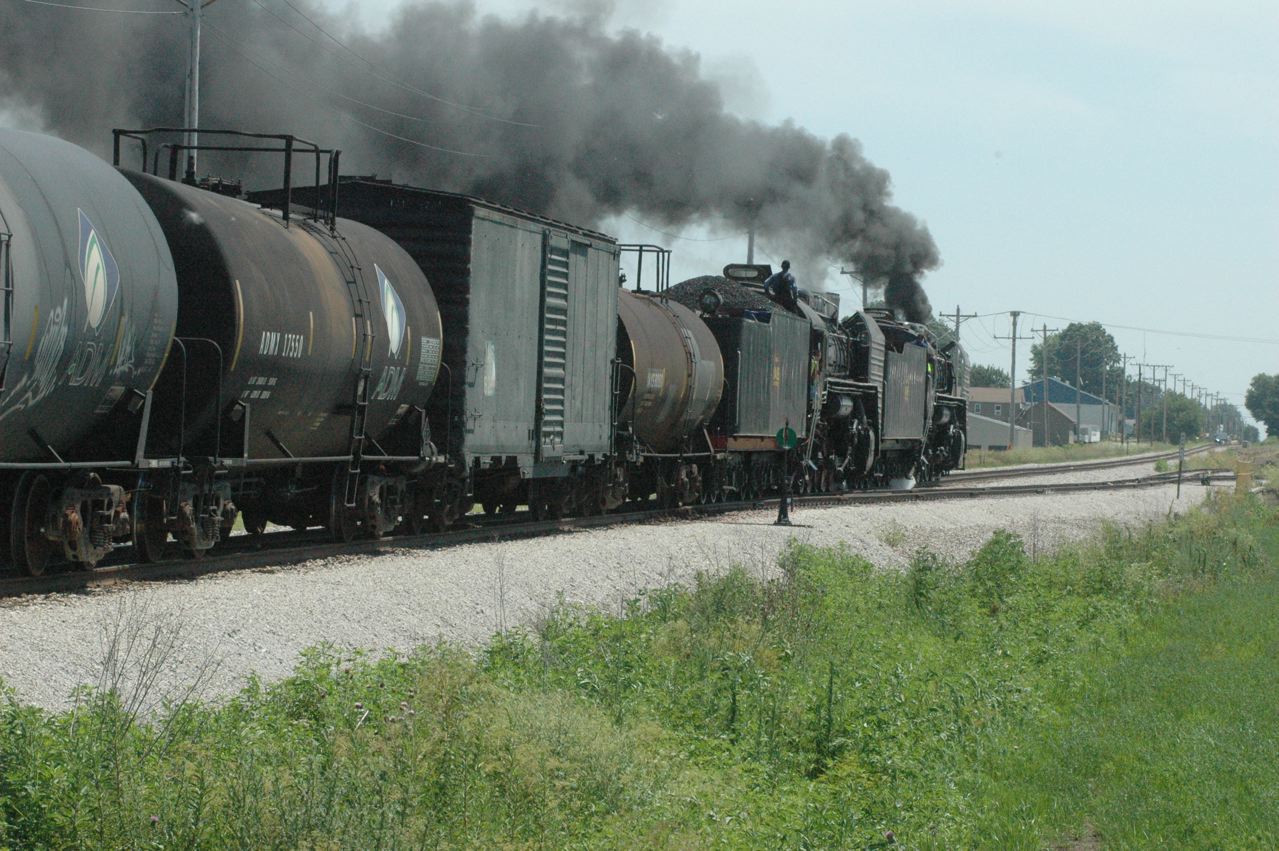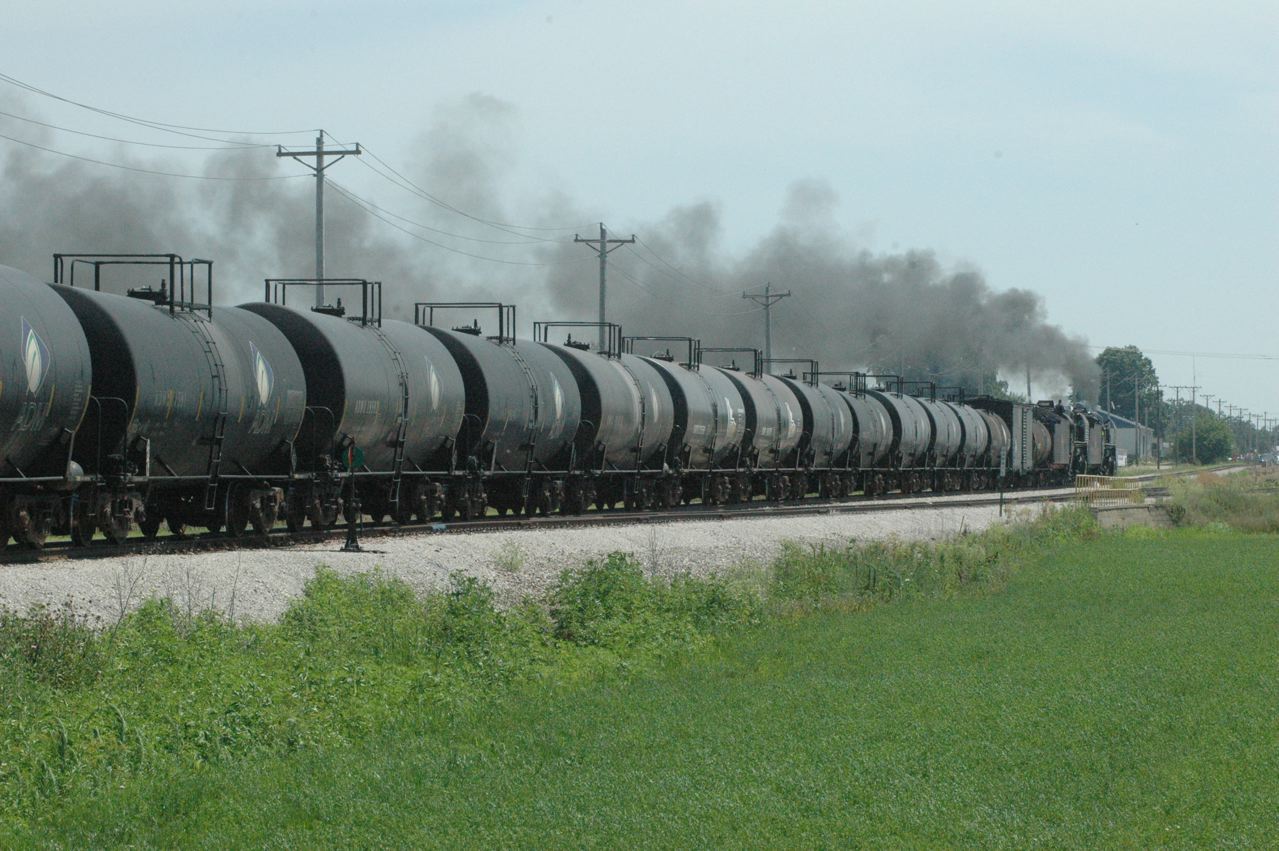 The "pusher" and the biz cars, Hawkeye and Abraham Lincoln -- going to the Festival to haul VIP's on the day's steam shuttle trains. The cars look like a KCS color scheme, but that's a coincidence, as IAIS's colors, as on the diesels, are black and gold for the University of Iowa, and include red for Iowa State Univ. in Ames, whose colors are red and yellow.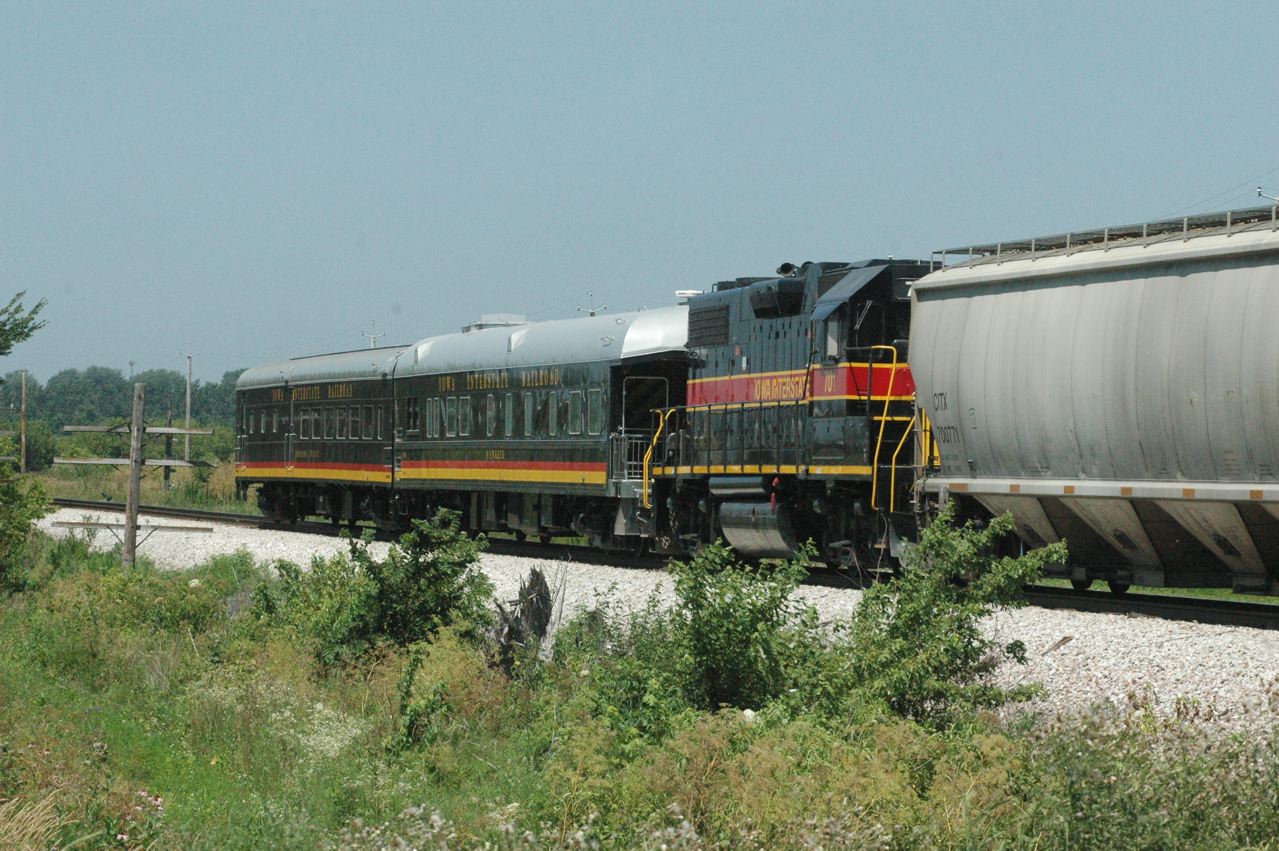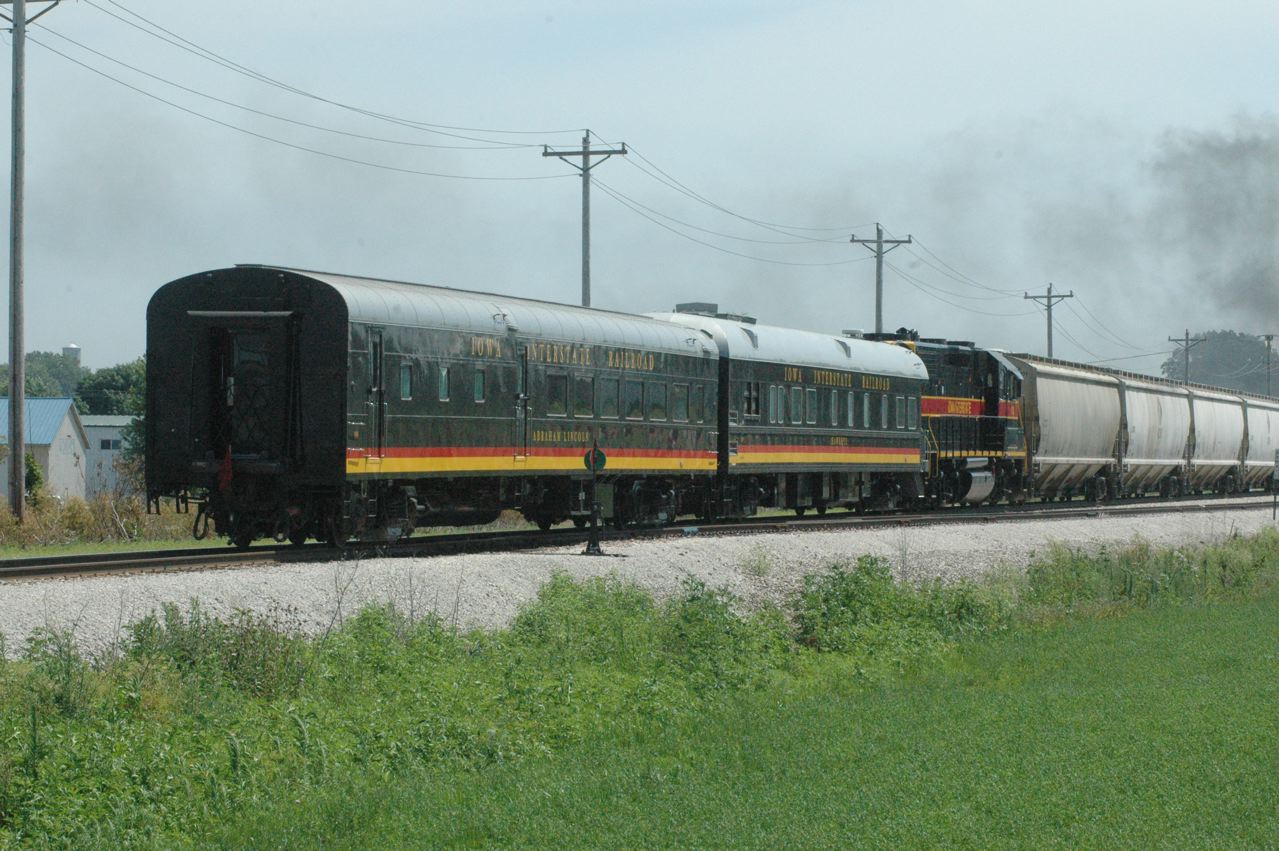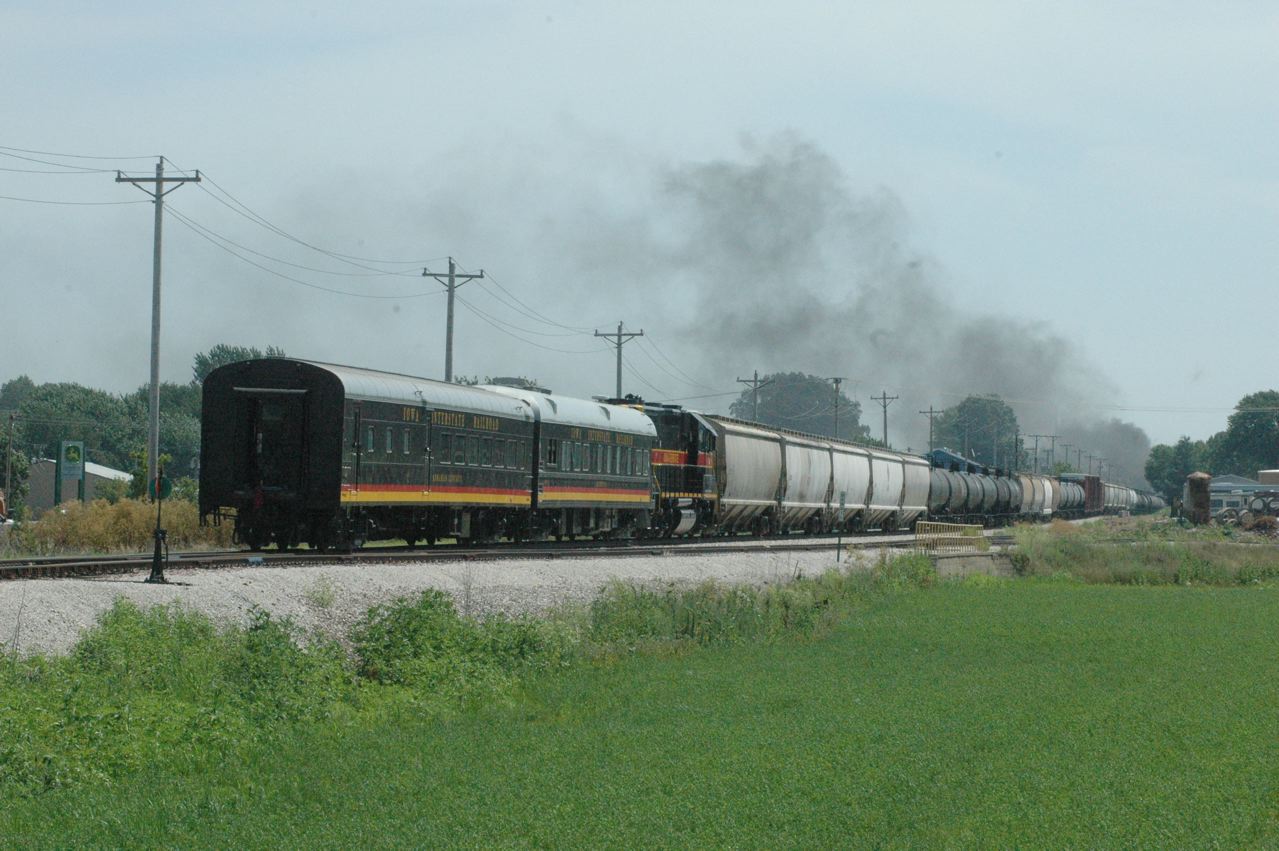 From Durant we drove to the east side of Walcott, where the doubleheader on the freight in 2008 had made its service stop, a nice wide-open area at a county road crossing. The time: 12:23 p.m.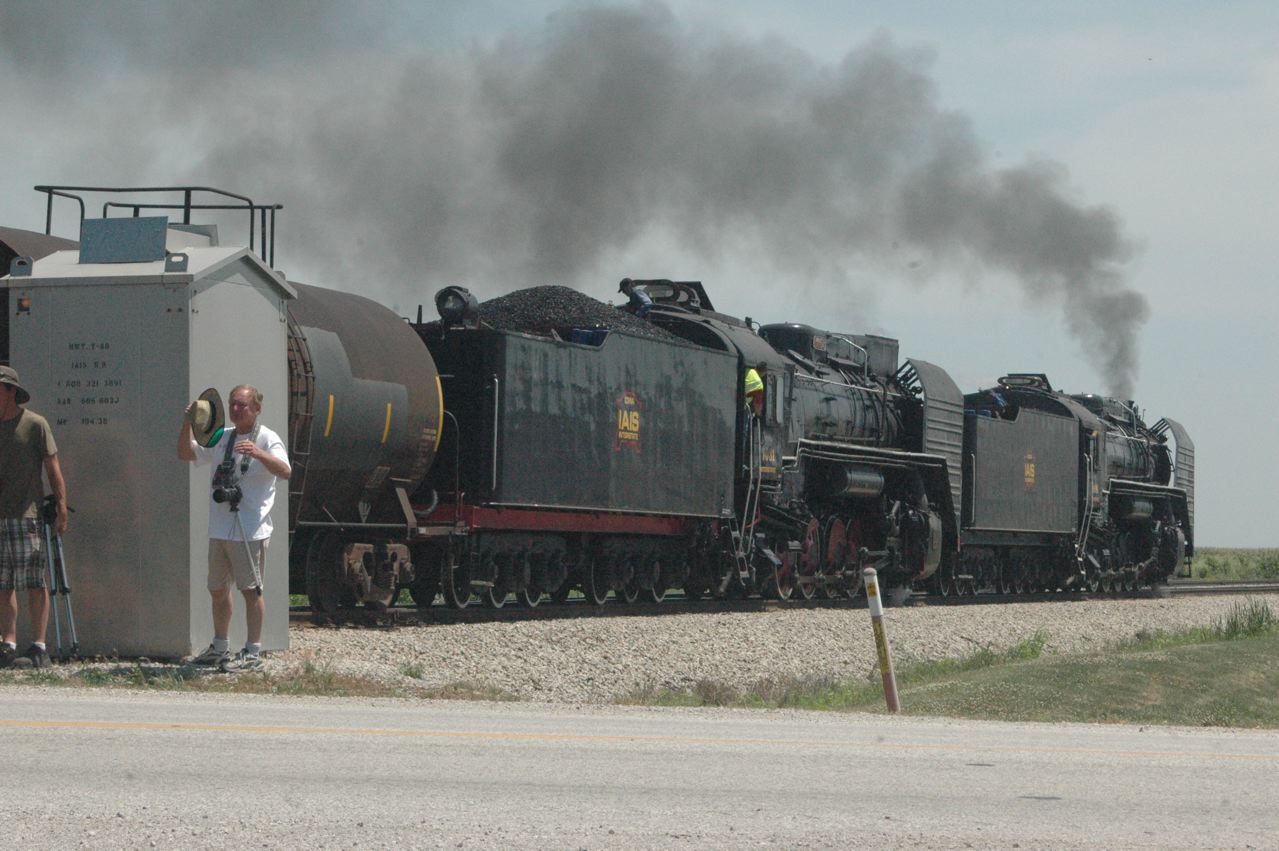 It's not only "guys" who are out shooting the steamers -- and these ladies were on their own, not with a boyfriend or significant other.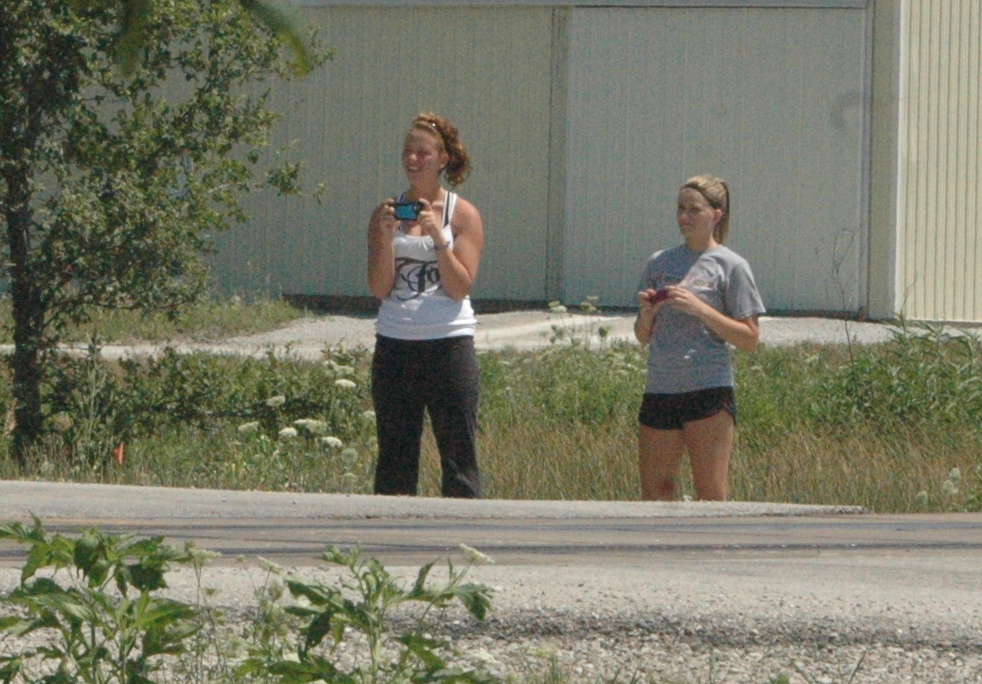 From afar on U.S. 6, to the north, we had a bit of nice pacing, where the corn wasn't too high to see across the fields. In some places, we saw 8-foot-high cornstalks, a testament to the good growing season this year. If this shot doesn't say "Iowa," I don't know what does. Of course I was wearing my "Field of Dreams" cap. Time here: 12:30.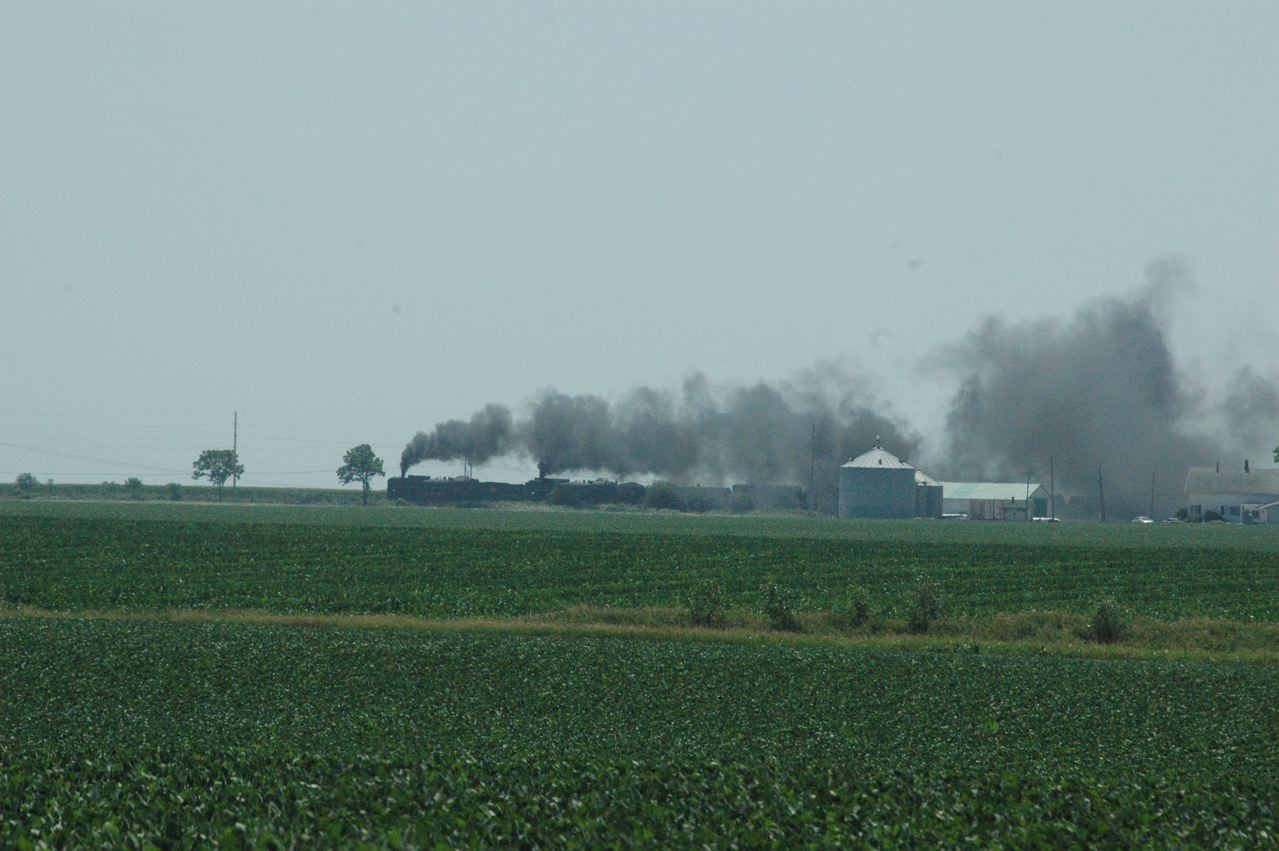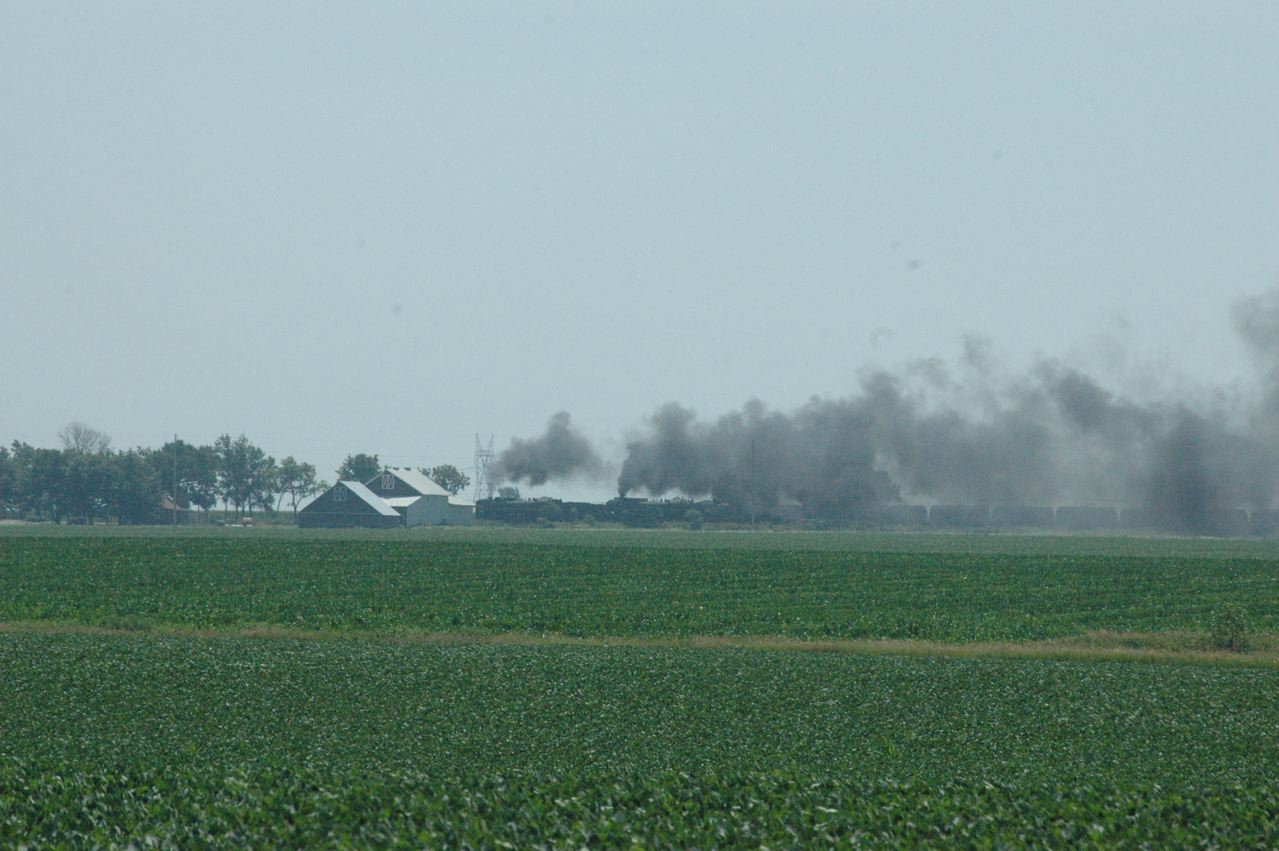 Back to Central Park Blvd. in Davenport for our last doubleheader shot, at 12:43 p.m. IAIS has "American-ized" (its word) 6988's front end.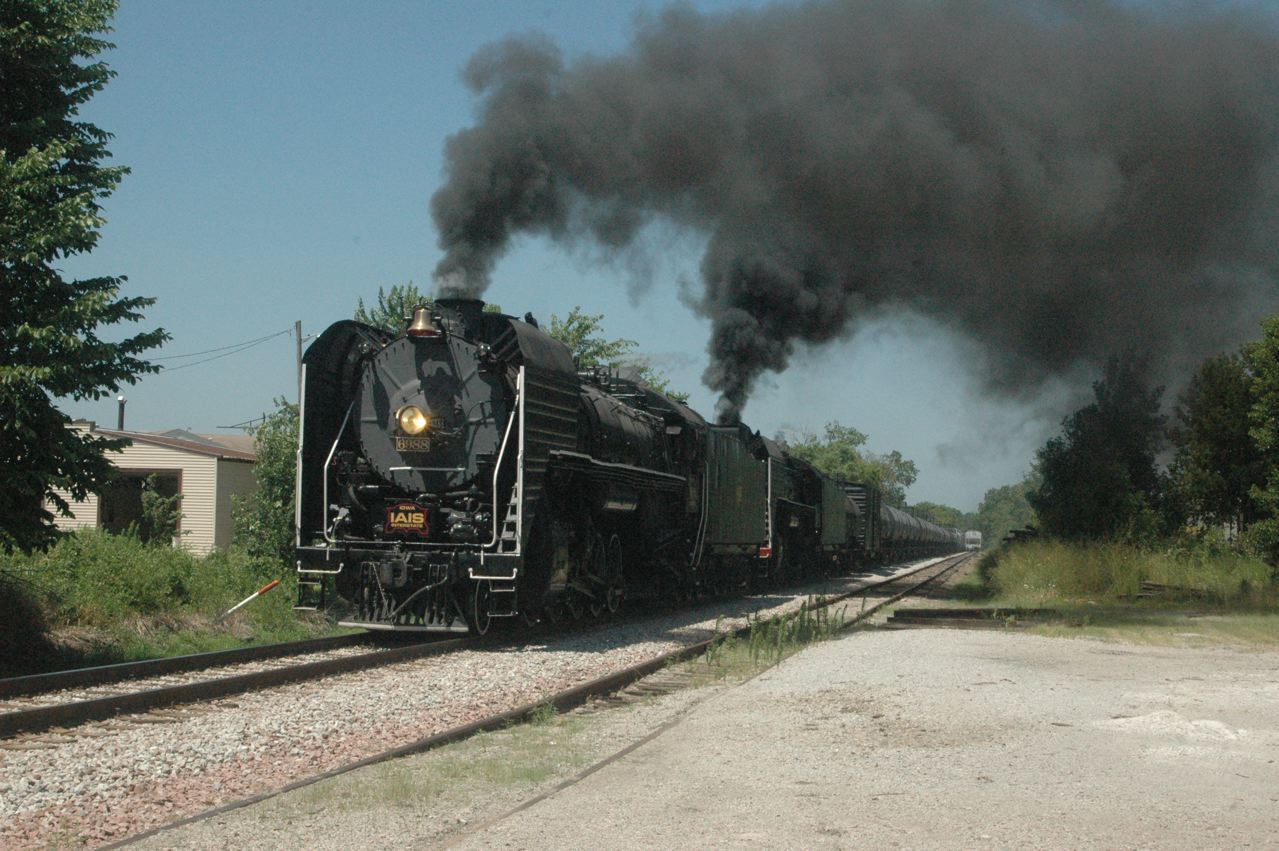 | | |
| --- | --- |
| We adjourned to a Maid-Rite, located by our GPS, "Julie Garmin," just a mile away in west-side Davenport. MR is a Carol favorite. Purists like the "old" sort of grungy Maid-Rites, but these new "diner" style ones are fine with us. | |
| | |
| | |
We stopped by the 17th St. yard to make one more photo of the Zephyr, at 1:30 p.m.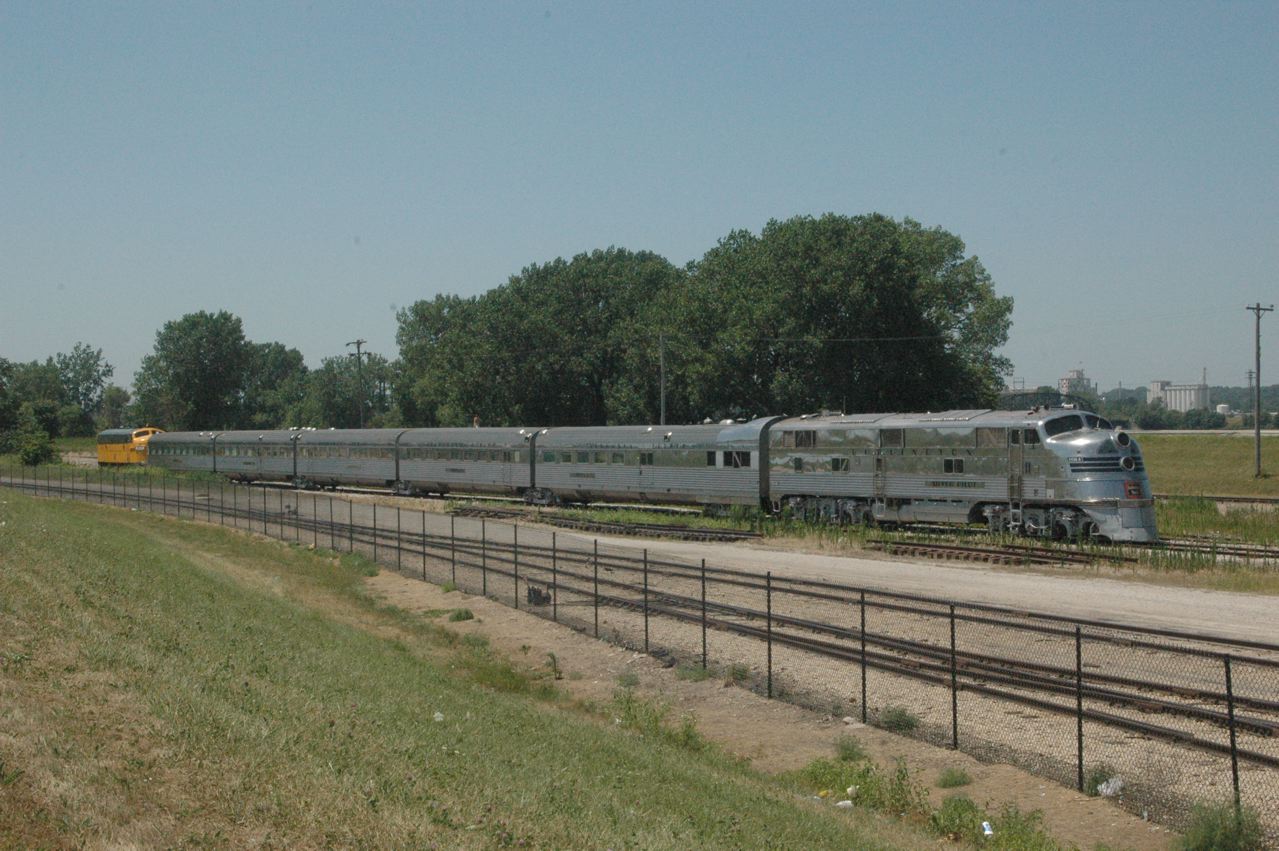 The next train was an unexpected treat, given a warrant west on IAIS that we heard on the radio, a Kansas City Southern grain empty, engines 3913/3924 with 80 cars, which we zoomed back over the Centennial Bridge to photo in the brick-street-running along W. 5th Street near Missouri Division Jct. at 1:40. This was my first good trackside sighting of a "Southern Belle" scheme unit, and the only other halfway decent shots I'd gotten of any of these was on the NS at Meridian, Miss. -- see the "Southern Explorer" trip in May 2010, part 7, at my 2009-2010 page:  http://condrenrails.com/JDI/index.html  Note that this unit lacks the boxed "KCS" initials on the nose.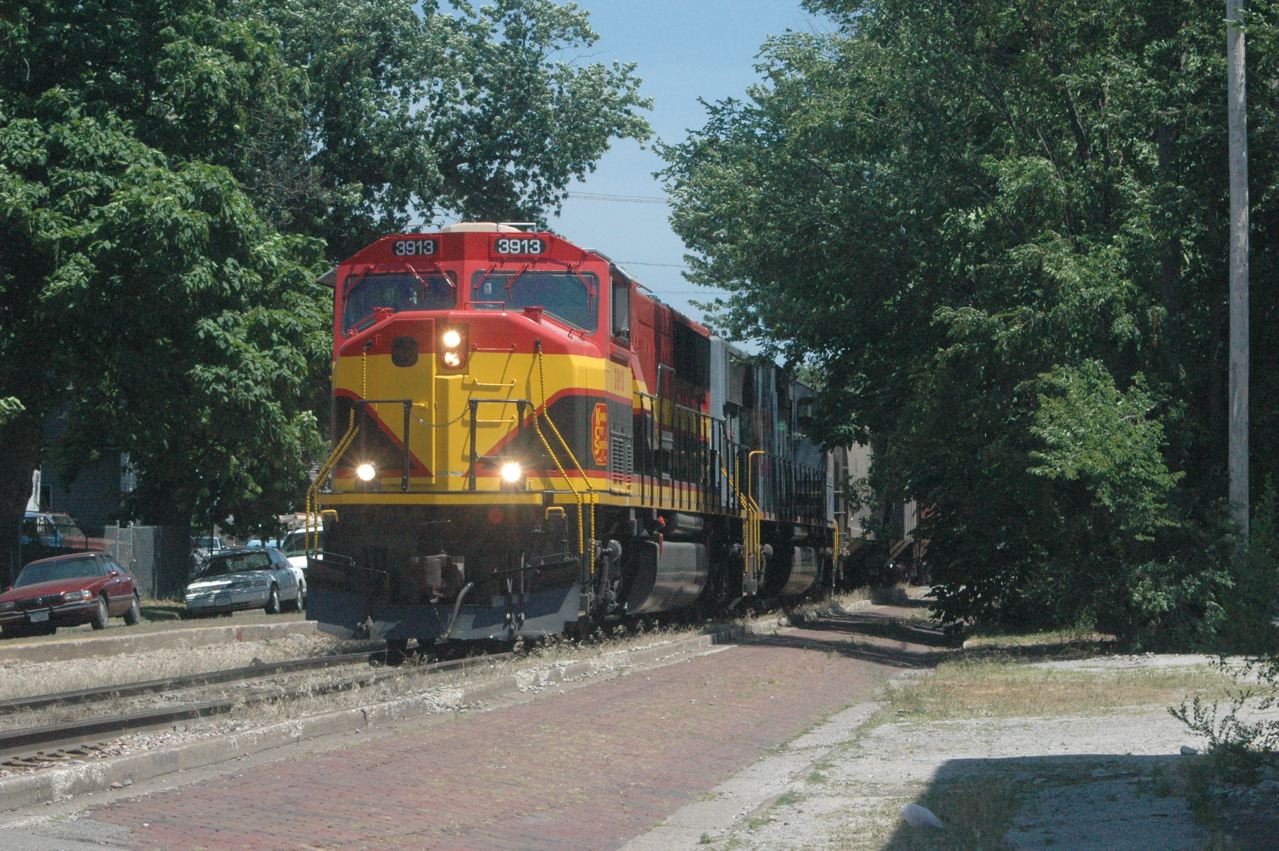 After the KCS passed, an IAIS track inspector set his hi-rail vehicle on the rails.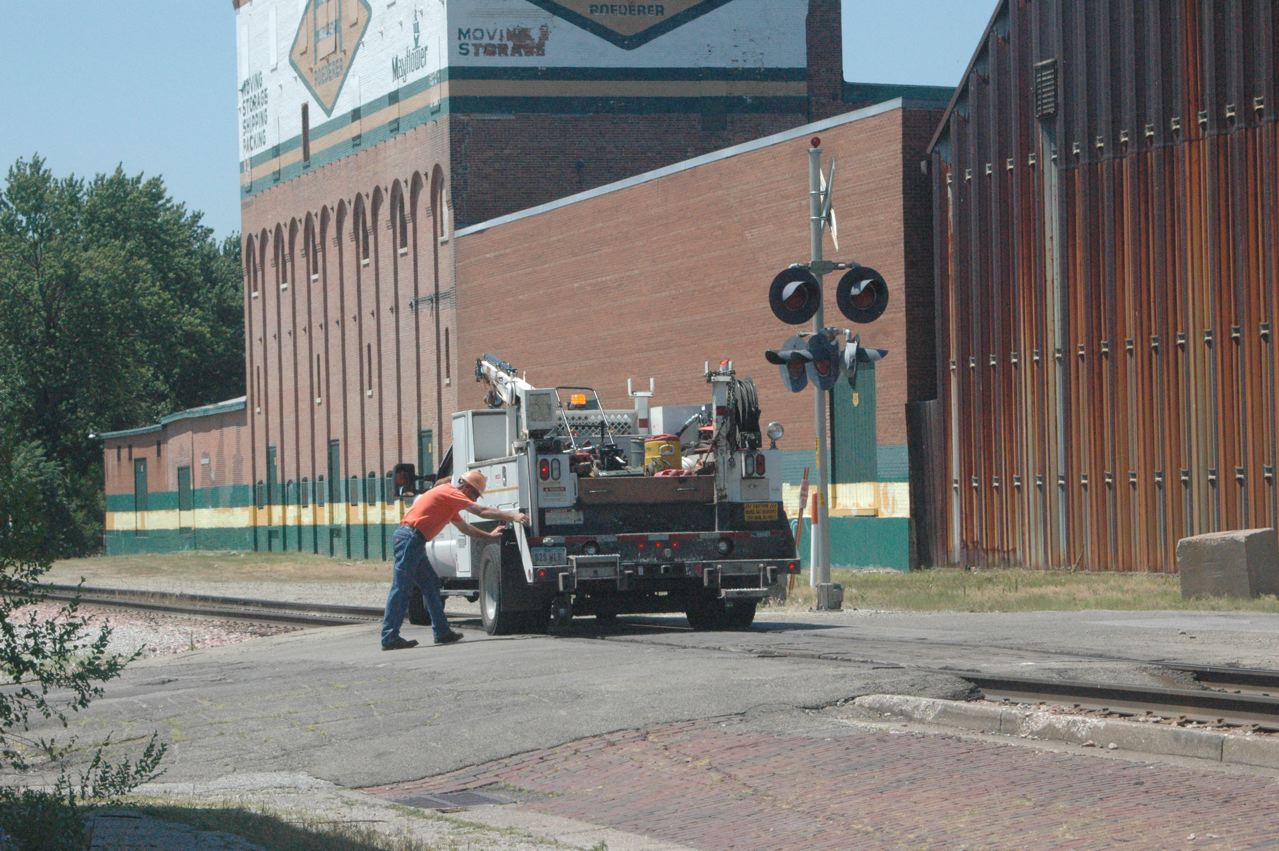 | | |
| --- | --- |
| Downtown Davenport: I assume this station also has a fire truck, not just a hose? | |
Over in the yard in Rock Island, at 44th St., we found this SD38-2. We were generally heading east to intercept NKP 765 coming west.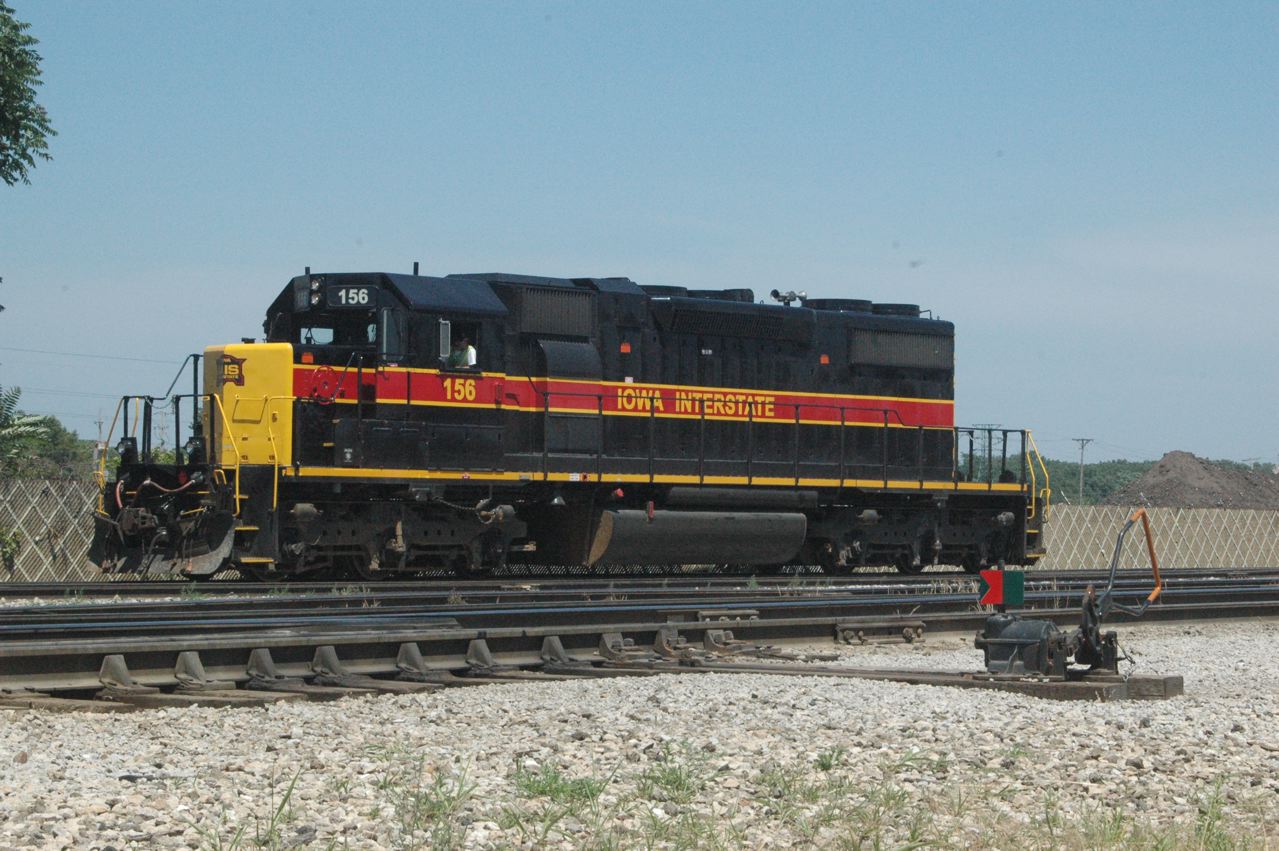 BNSF's daily Galesburg-Clinton (Iowa) train, GAL-CLN, is trying to get thru the Quad Cities to the Iowa side, where it will use old "Dry Line" rights on CP up to Clinton; this is more typical power, two B-B GE's, than the three units we saw on Tuesday afternoon.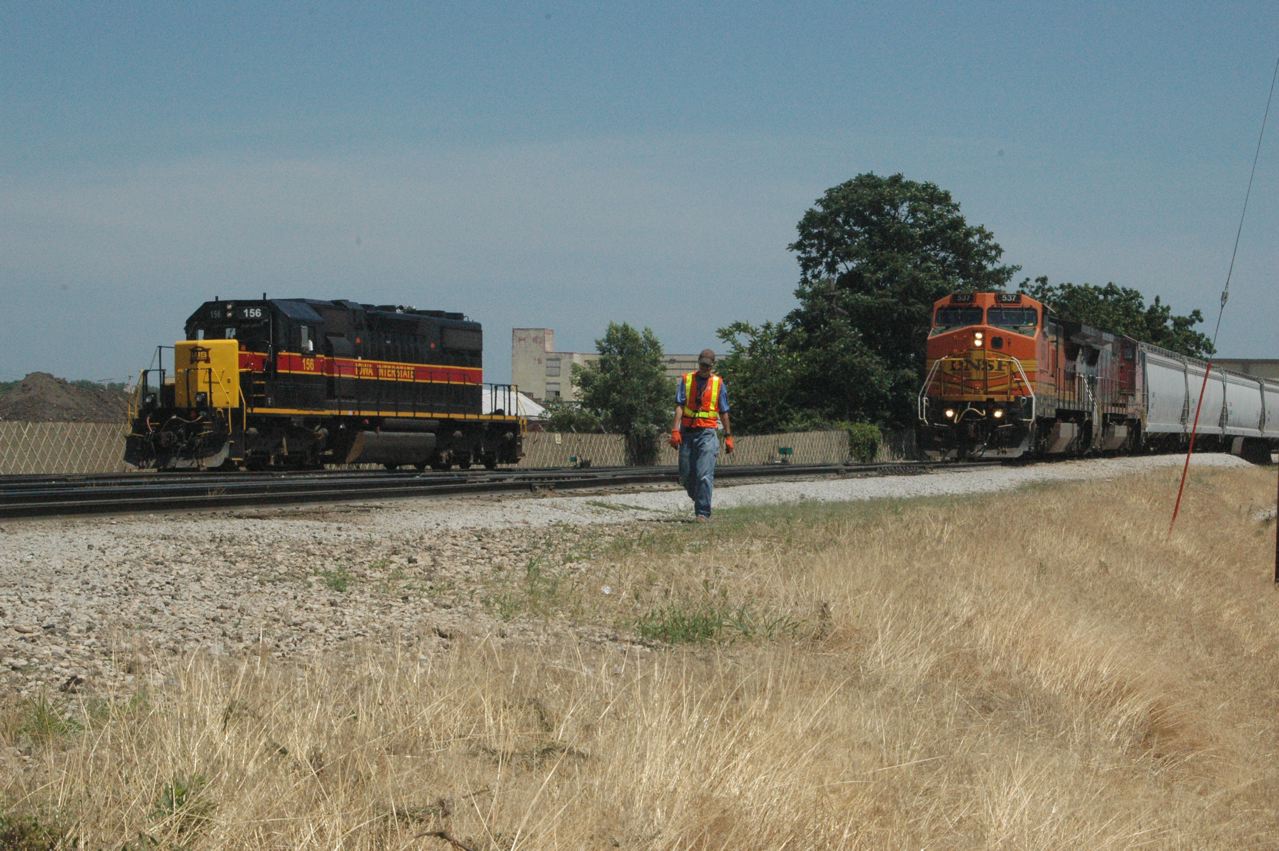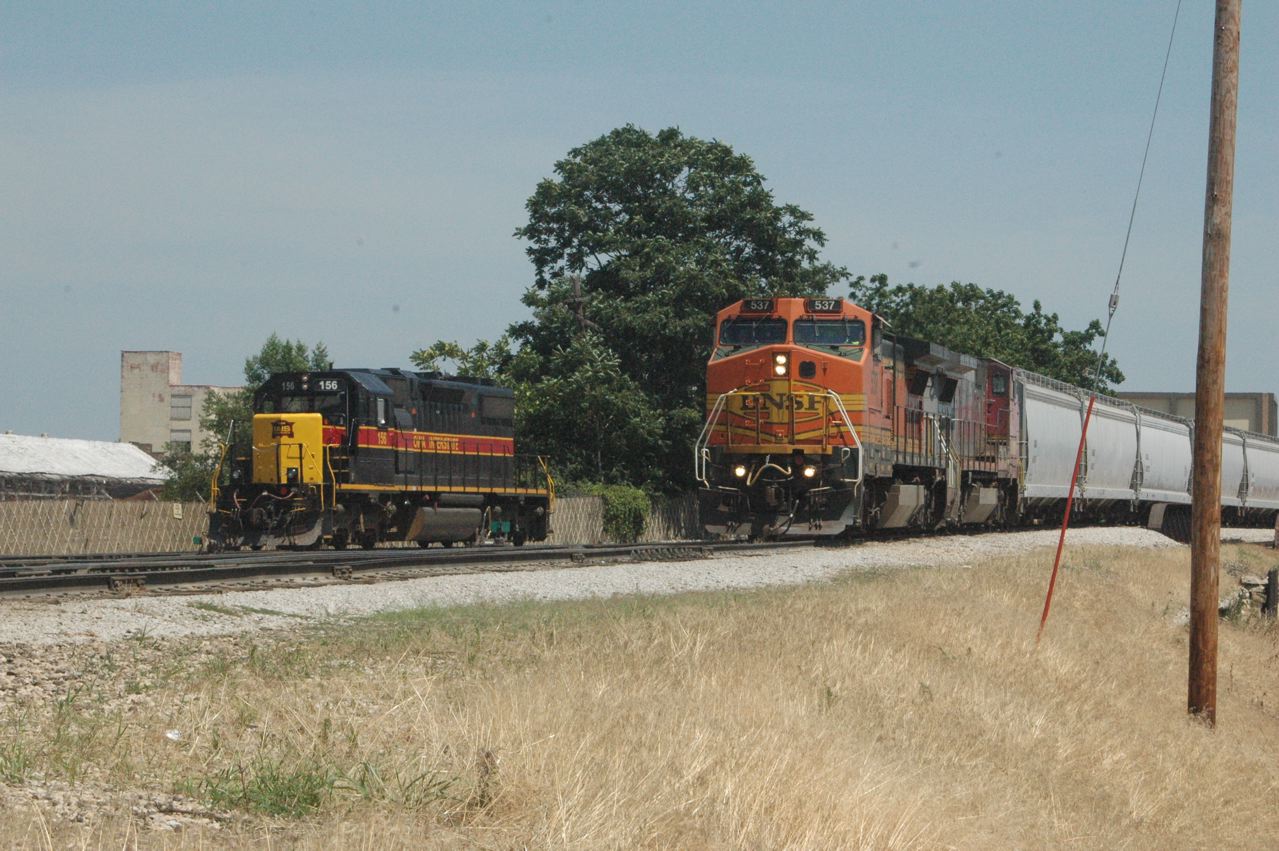 Engines are 555/537, wtih 46 cars; time is 2:04 p.m.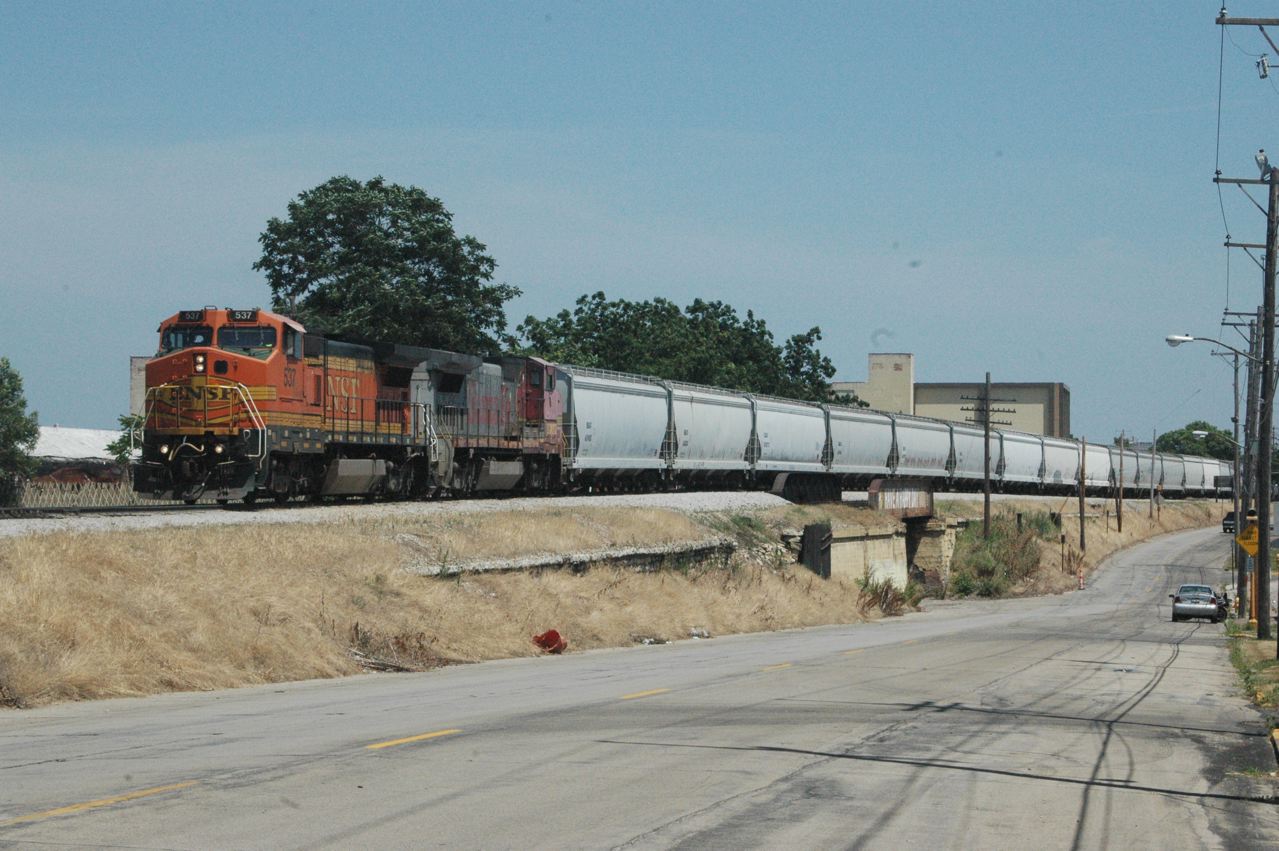 Jim Wrinn and Rob McGonigal were way ahead of us in pursuing an interception of NKP 765 as we headed east on I-80, so from their reports we got off onto U.S. 6 at Atkinson and barely made it to the east end of town when we saw him, so stopped and had time only for a slide at 2:46 p.m. He was making better time than he had been. Our next shot, the best IMHO, was at Chicago St. at the east extremity of Geneseo, at 3:00 p.m.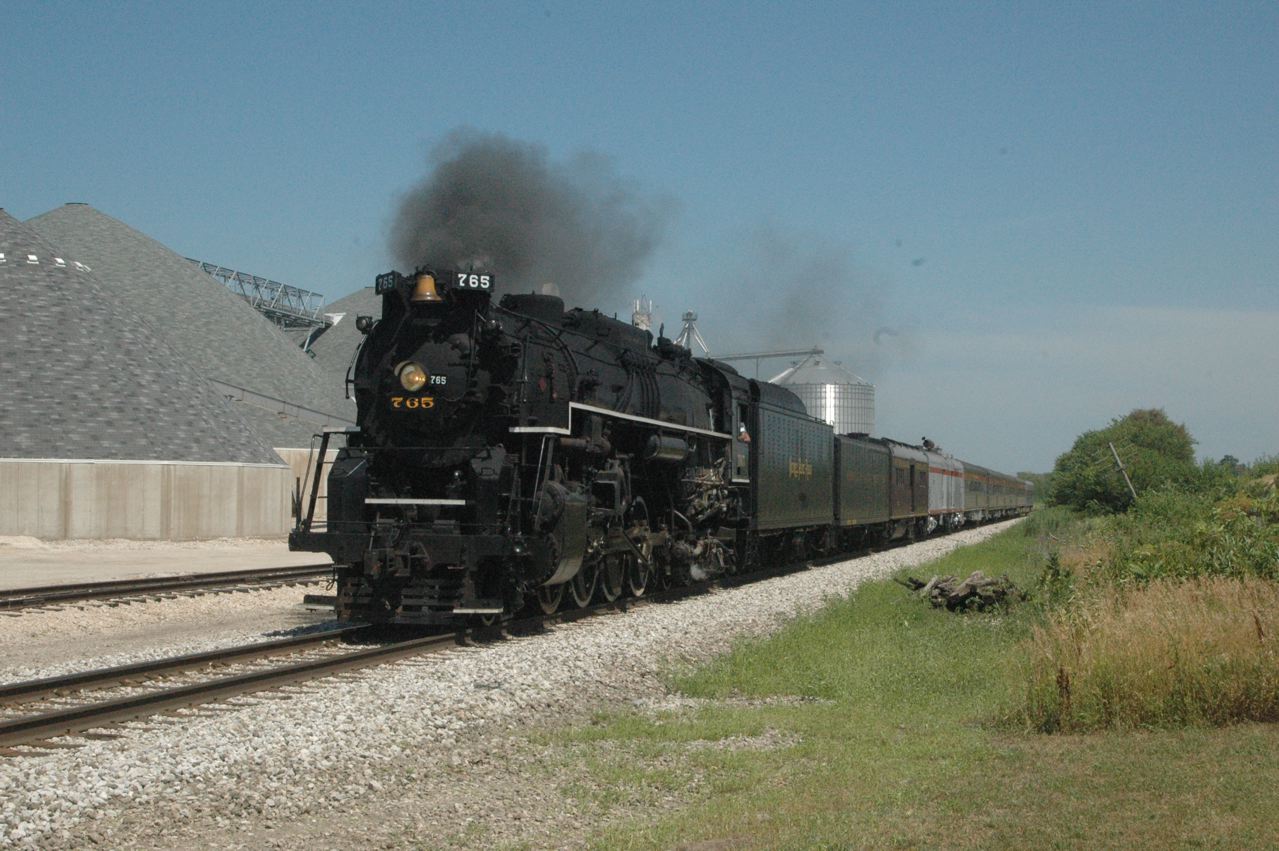 | | |
| --- | --- |
| His 7-car passenger train, "pure" with only the N&W 1218's canteen car to break up a "natural" baggage-car/coaches look, was a delight. | |
Wrinn and McGonigal had joined us at Chicago St., and we found them at Colona, our next stop. This is where IAIS used to cross BNSF's "Peavine," but after a derailment a few years ago took out the diamond, the railroads made it a pair of switches.
The Berkshire showed up at 3:25.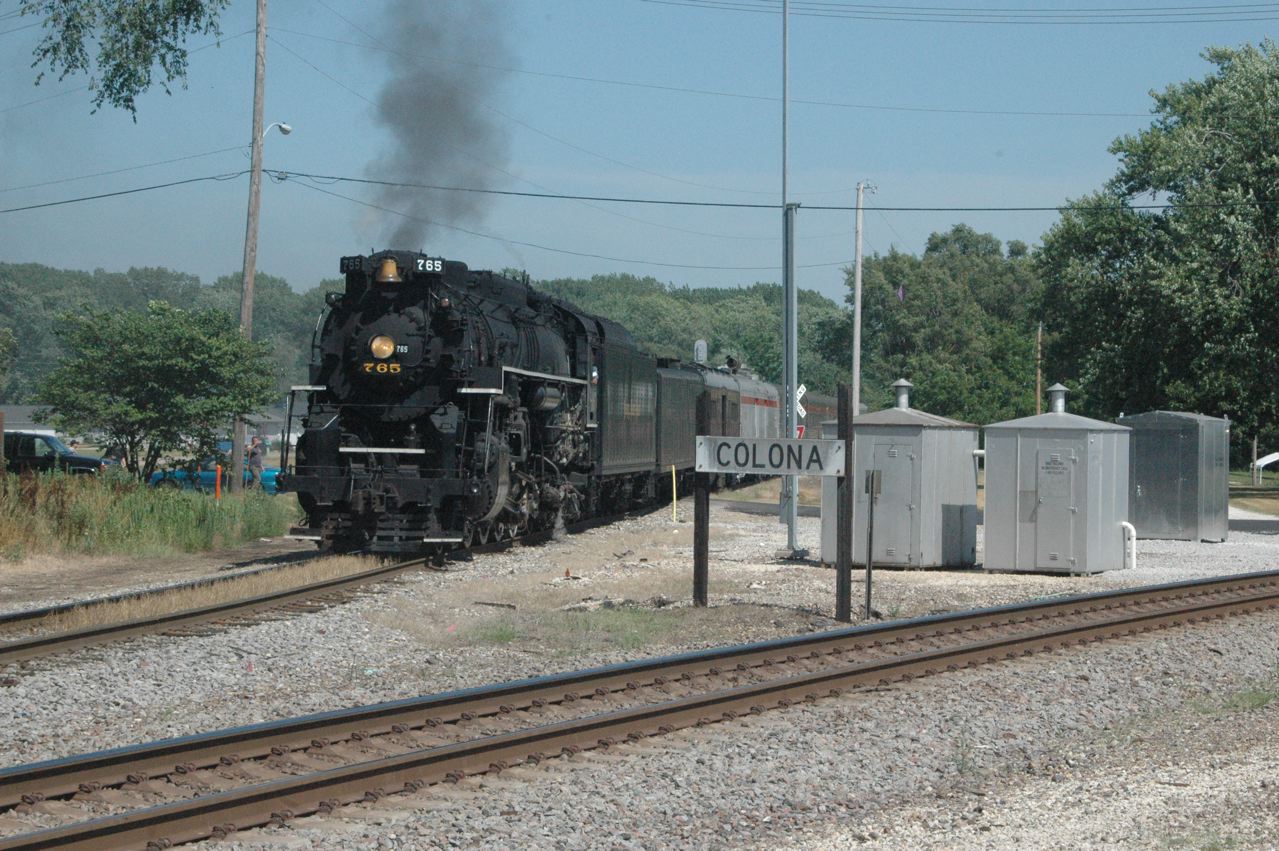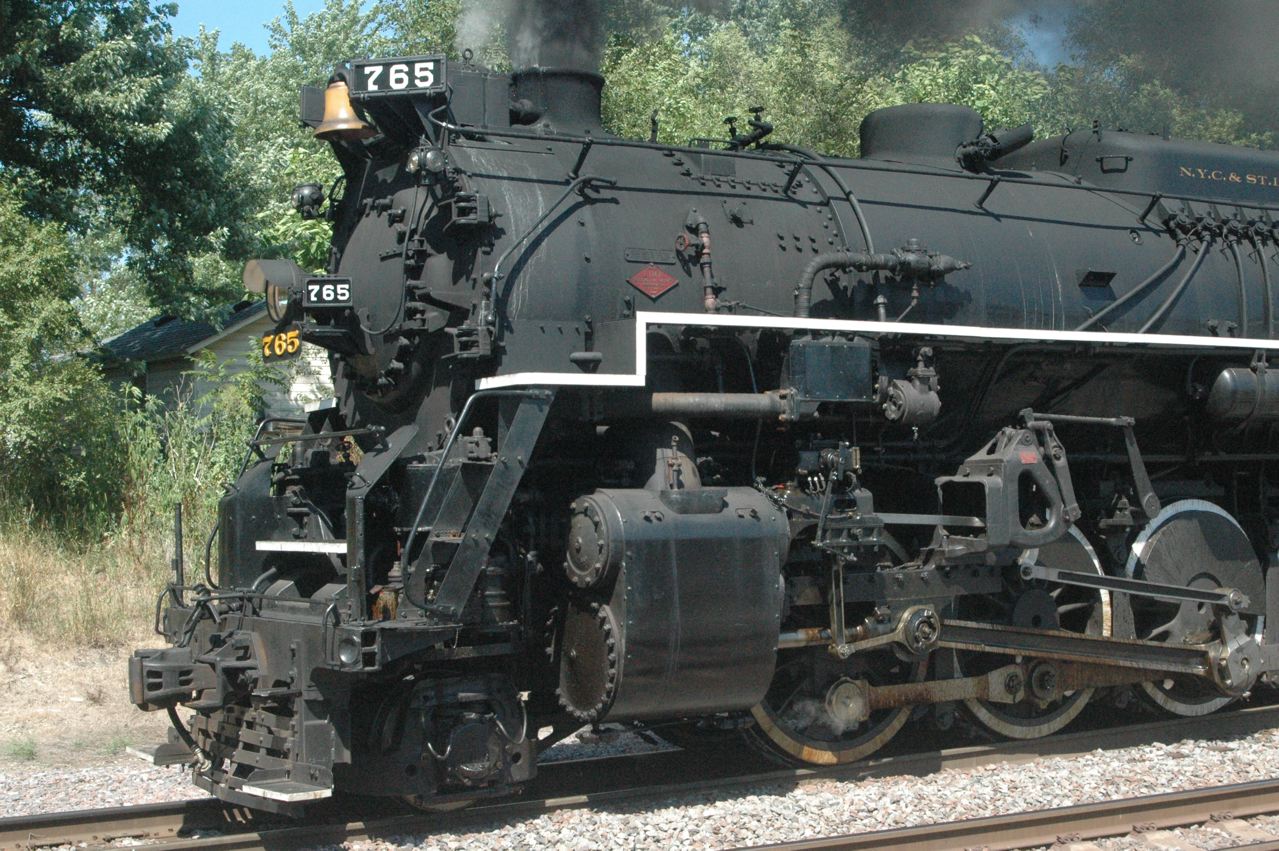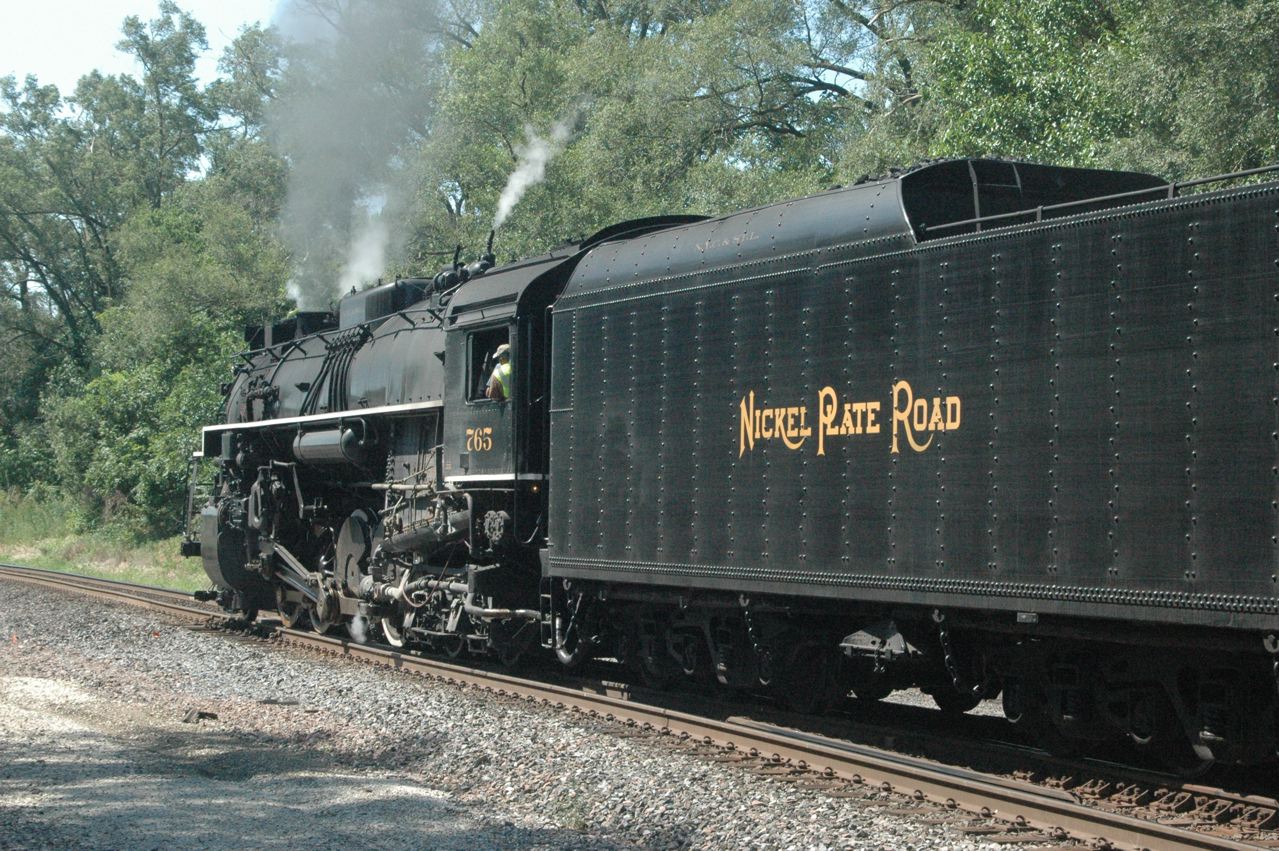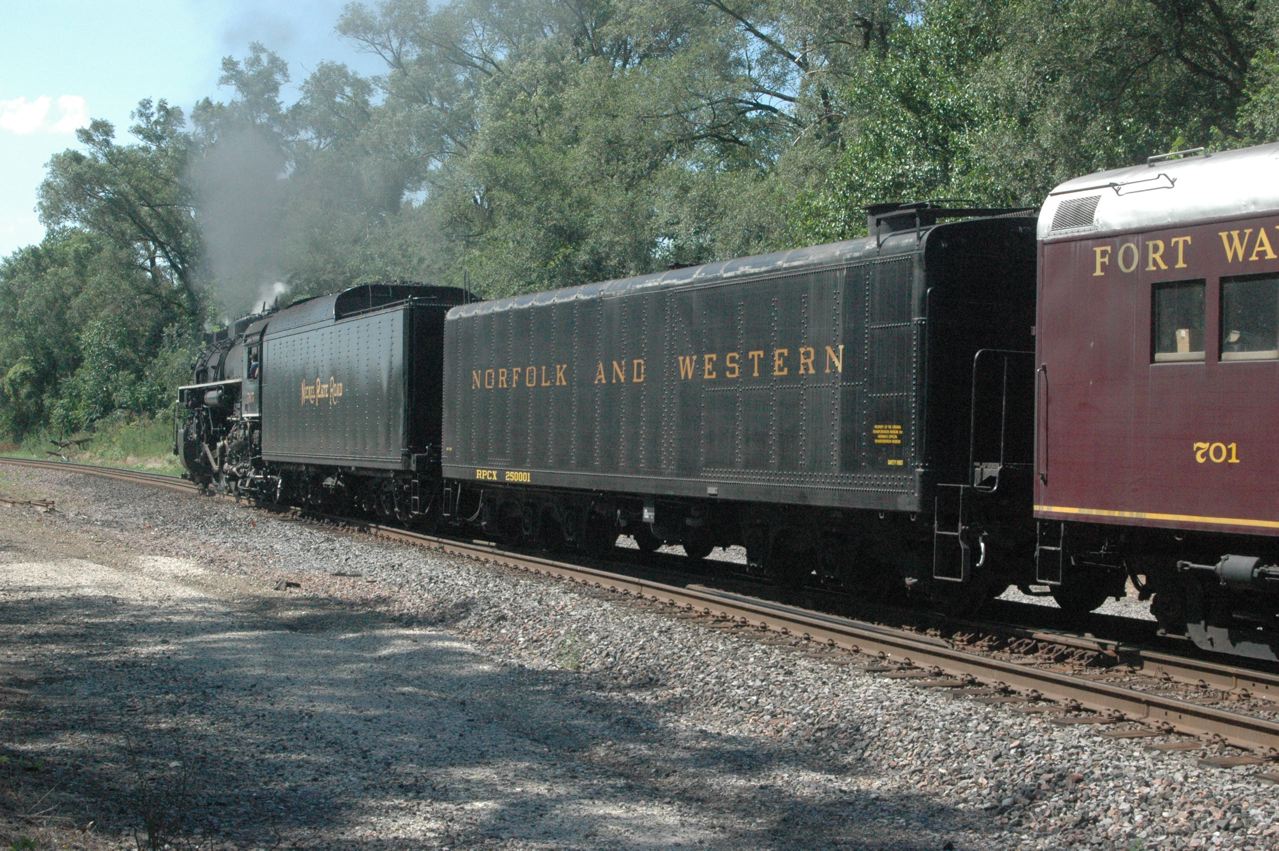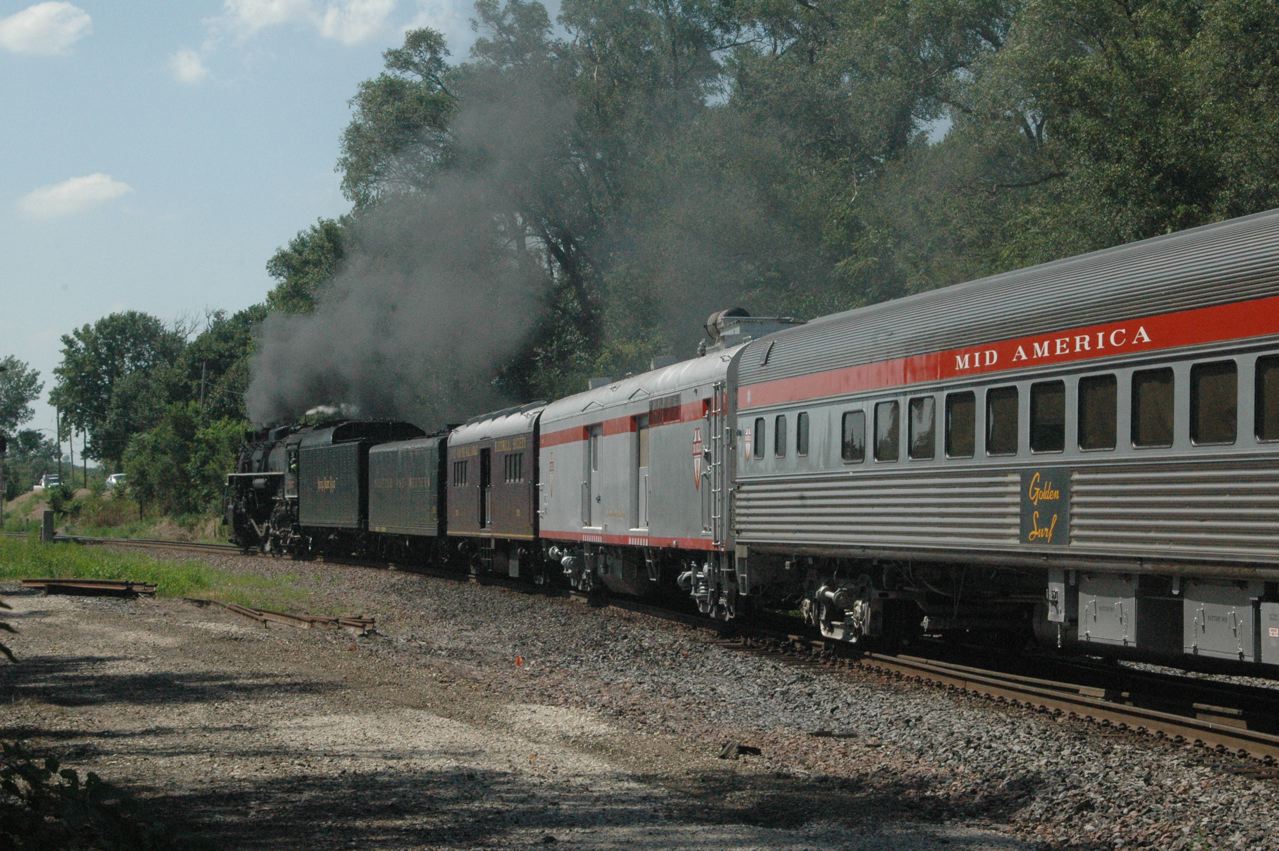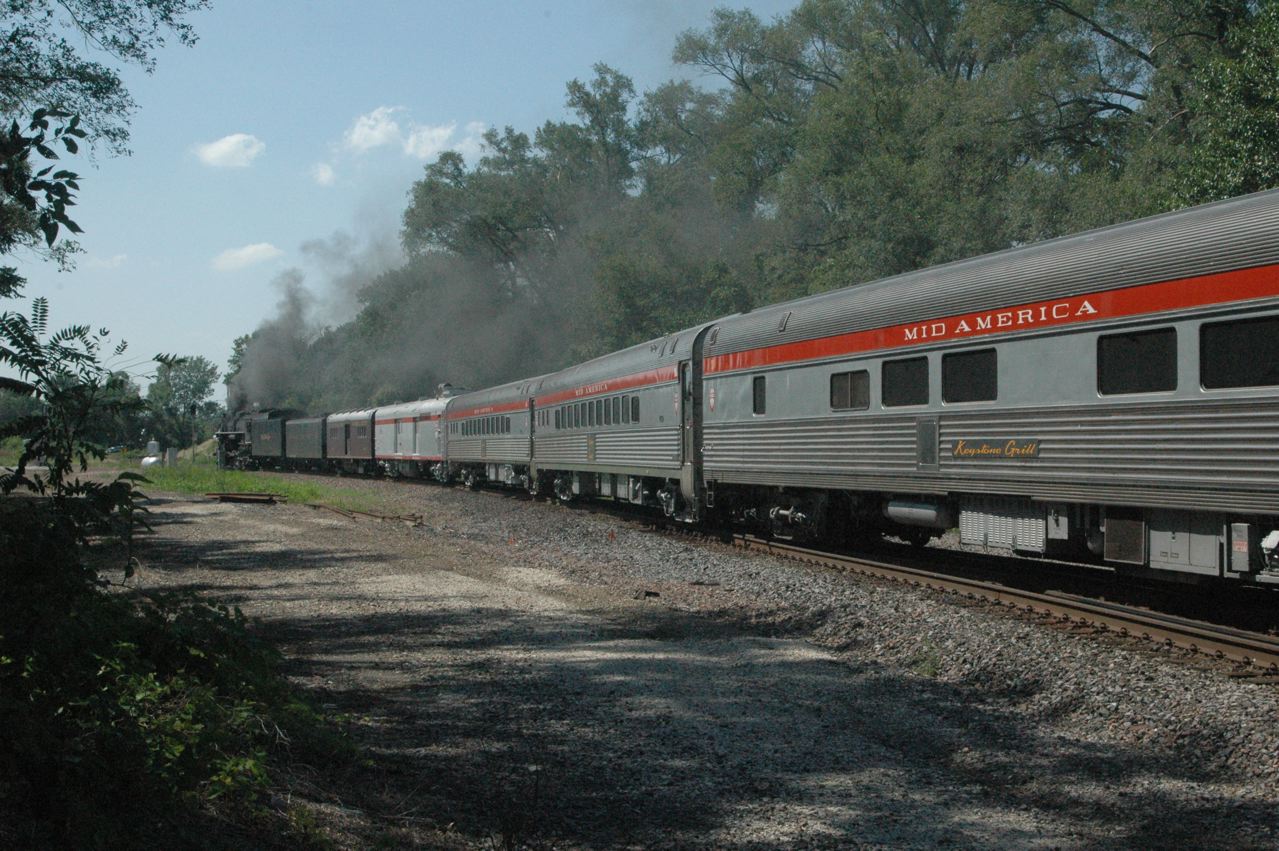 The rear car is named "Reveler," same as an old ex-PRR observation, privately owned, that had served as parlor car during the latter years of the Chicago-Rock Island "Quad City Rocket" that RI operated thru the 1970's after not joining Amtrak. From  Colona west on the IAIS, it's yard limits -- i.e., 10 mph. We did not remember the Rock River bridge (see the next day's file), and so blew that shot.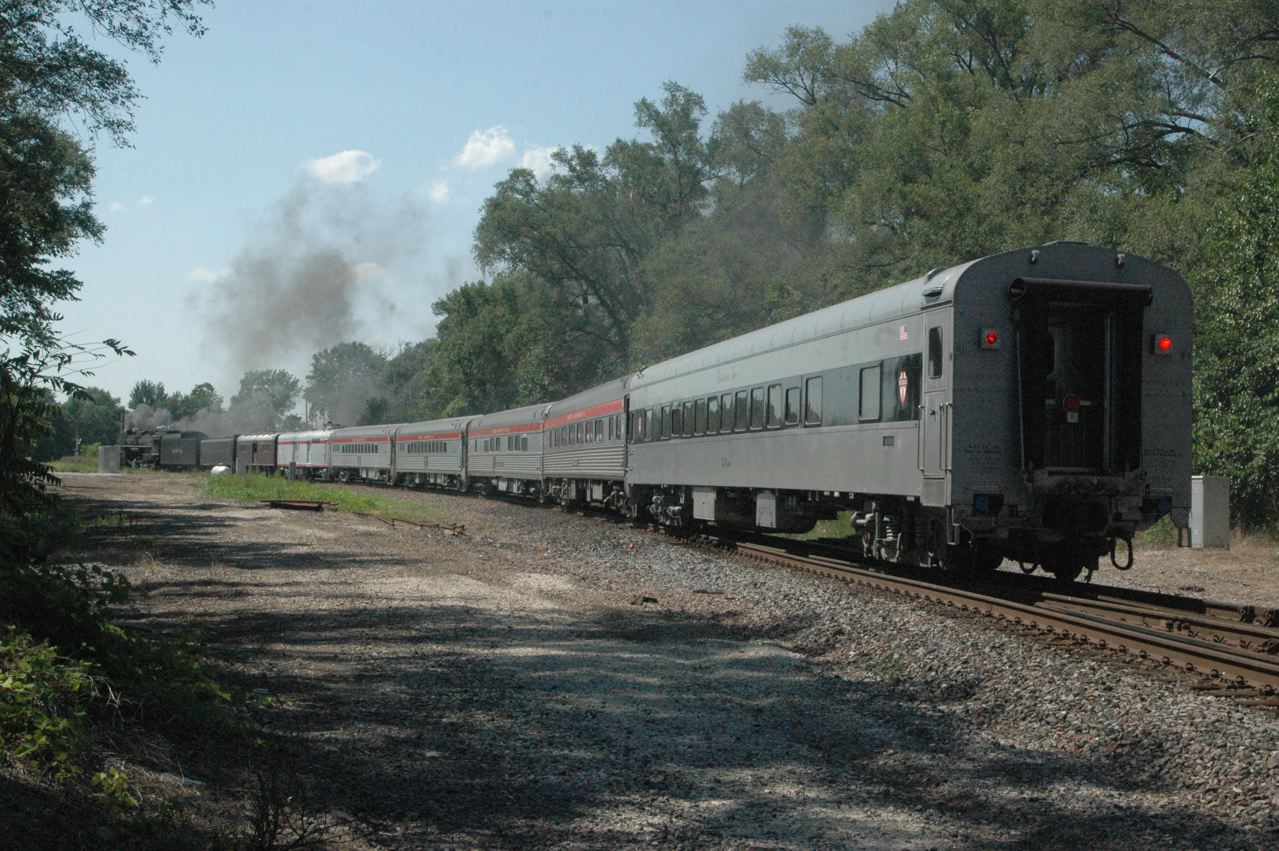 We set up in Silvis opposite the old RI shops, now National Railway Equipment's facililty, for the next shot, at 3:46.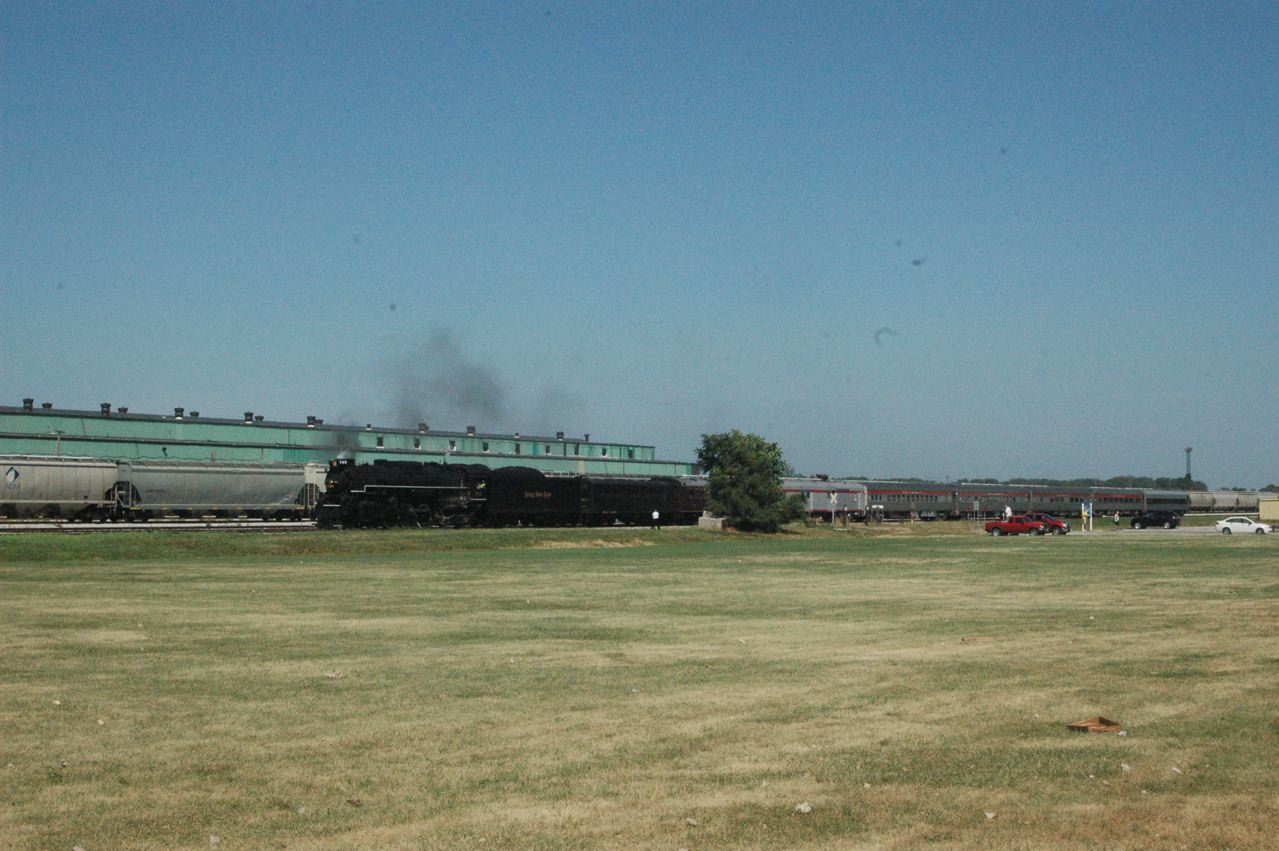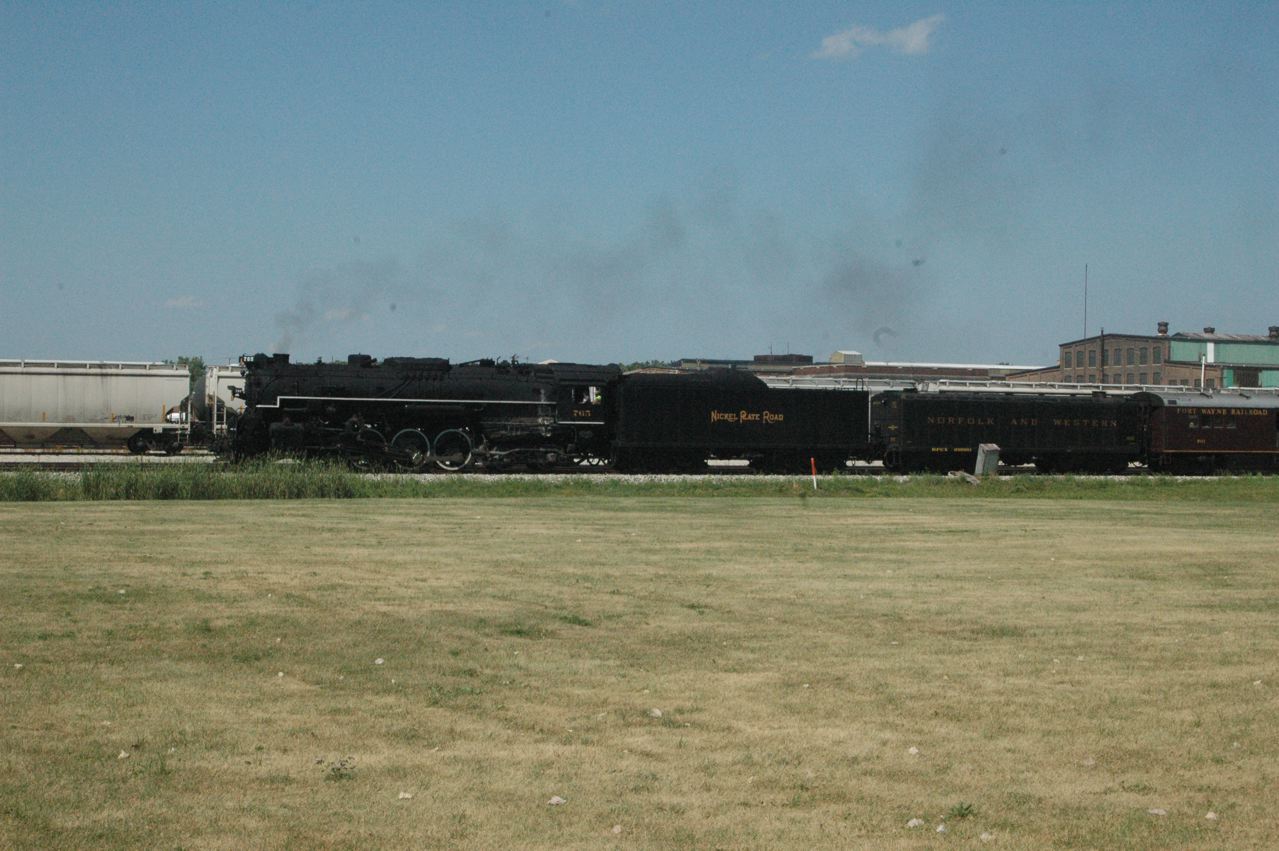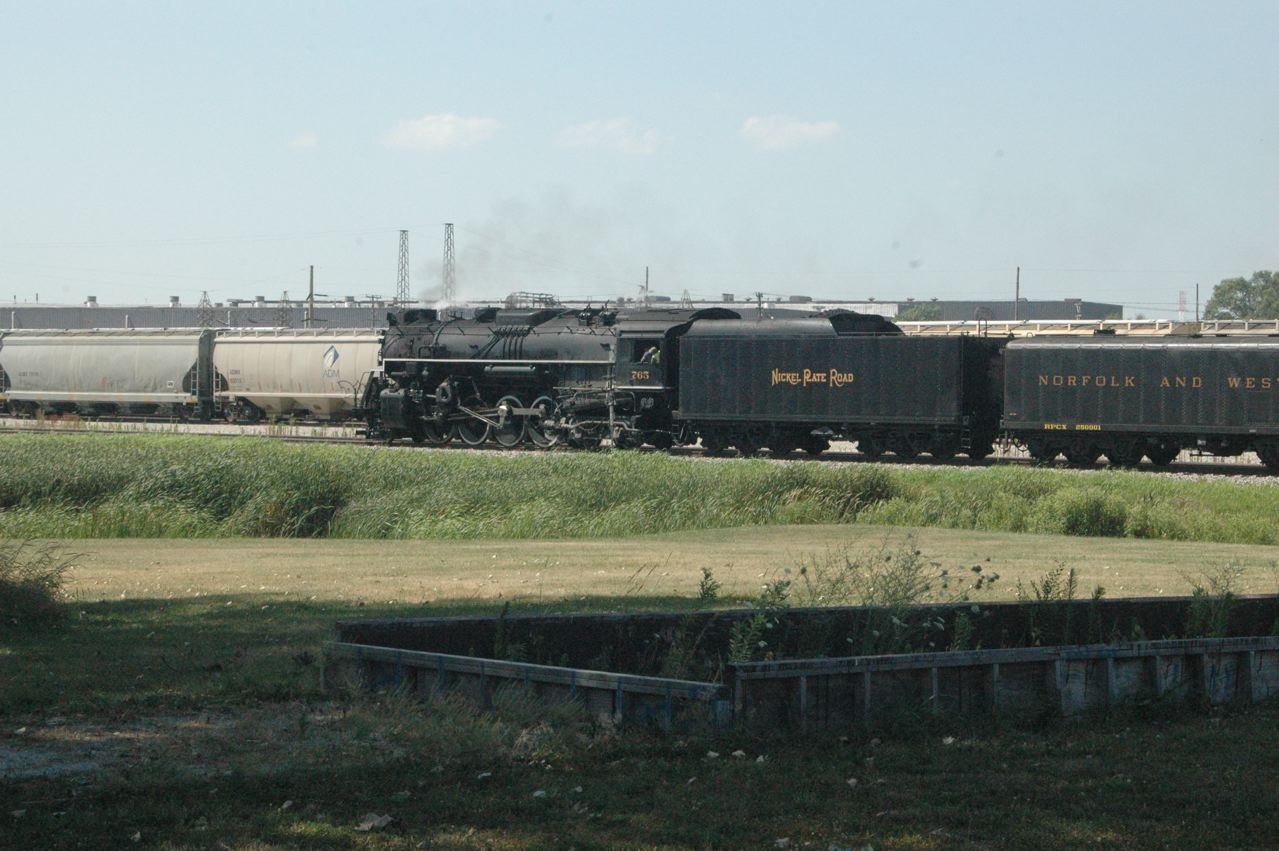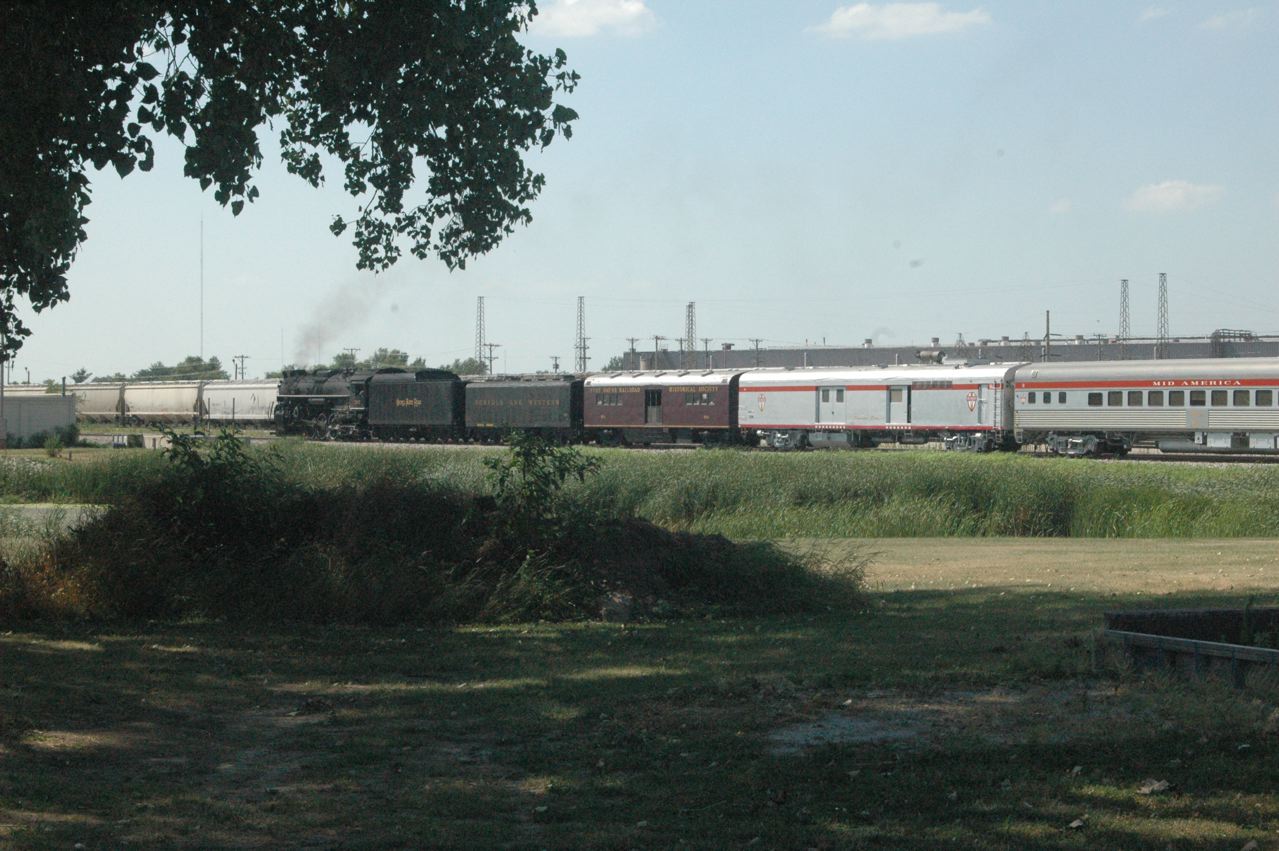 | | |
| --- | --- |
| I like Mid-America's new "SP-like" look! | |
From 2008 I remembered a BN-style "Moline" sign and found it again for our final 765 sequence, at 4:09 p.m. Used to be, thru Moline and East Moline, the Dry Line (DRI&NW), Rock Island, and CB&Q/BN had their own tracks. Now between 44th St. in Rock Island and East Moline Jct. it's the old BN line only, but IAIS dispatches it.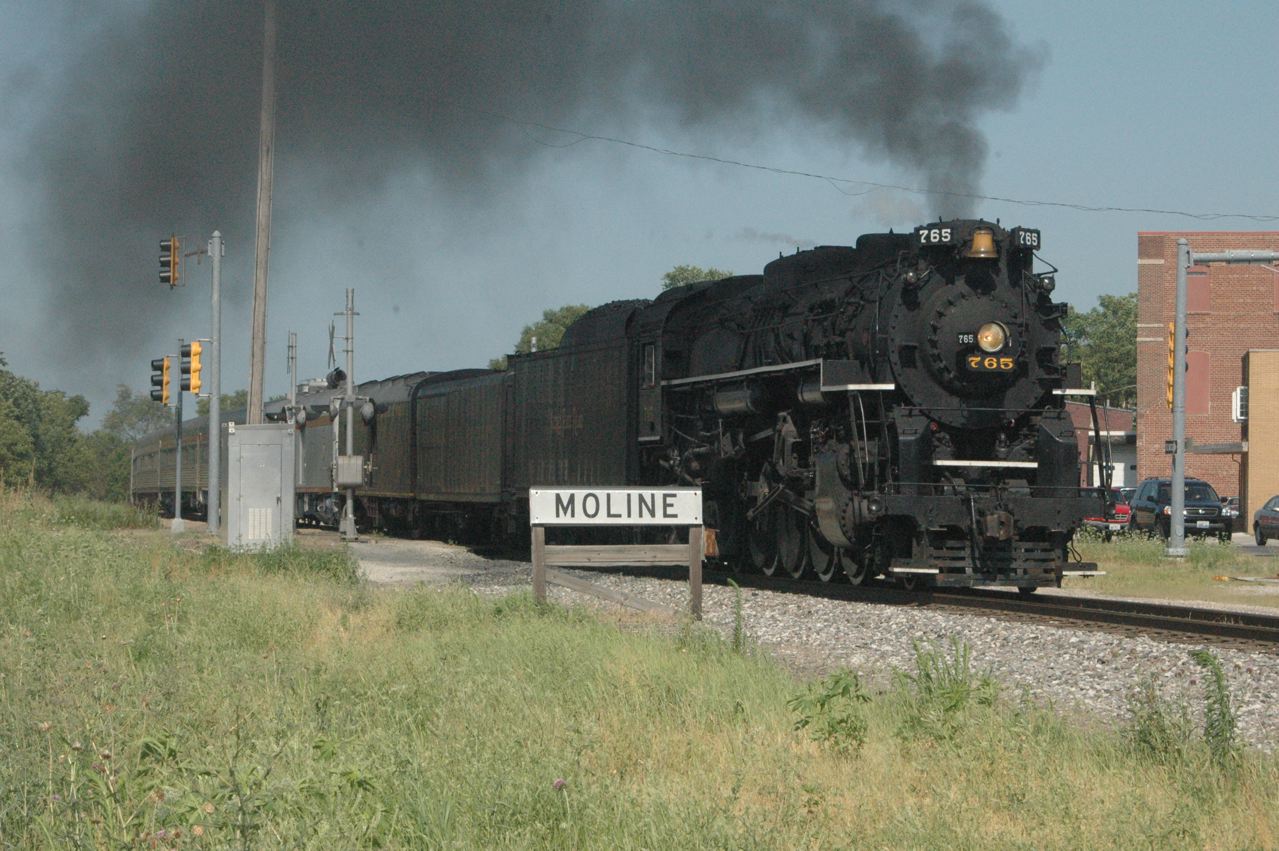 Mid-America car is headquartered in the Illinois suburbs of St. Louis.
Heading for the "government bridge" (aka "Arsenal bridge"), which links the isle of Rock Island with Iowa, we found this viaduct, which I didn't recall from 2008. The bridge was open for barge traffic, so we wound up turning around and using the Centennial Bridge to go to Davenport and eventually to our motel in northern Bettendorf. It was nice to quit a bit earlier on this hot day!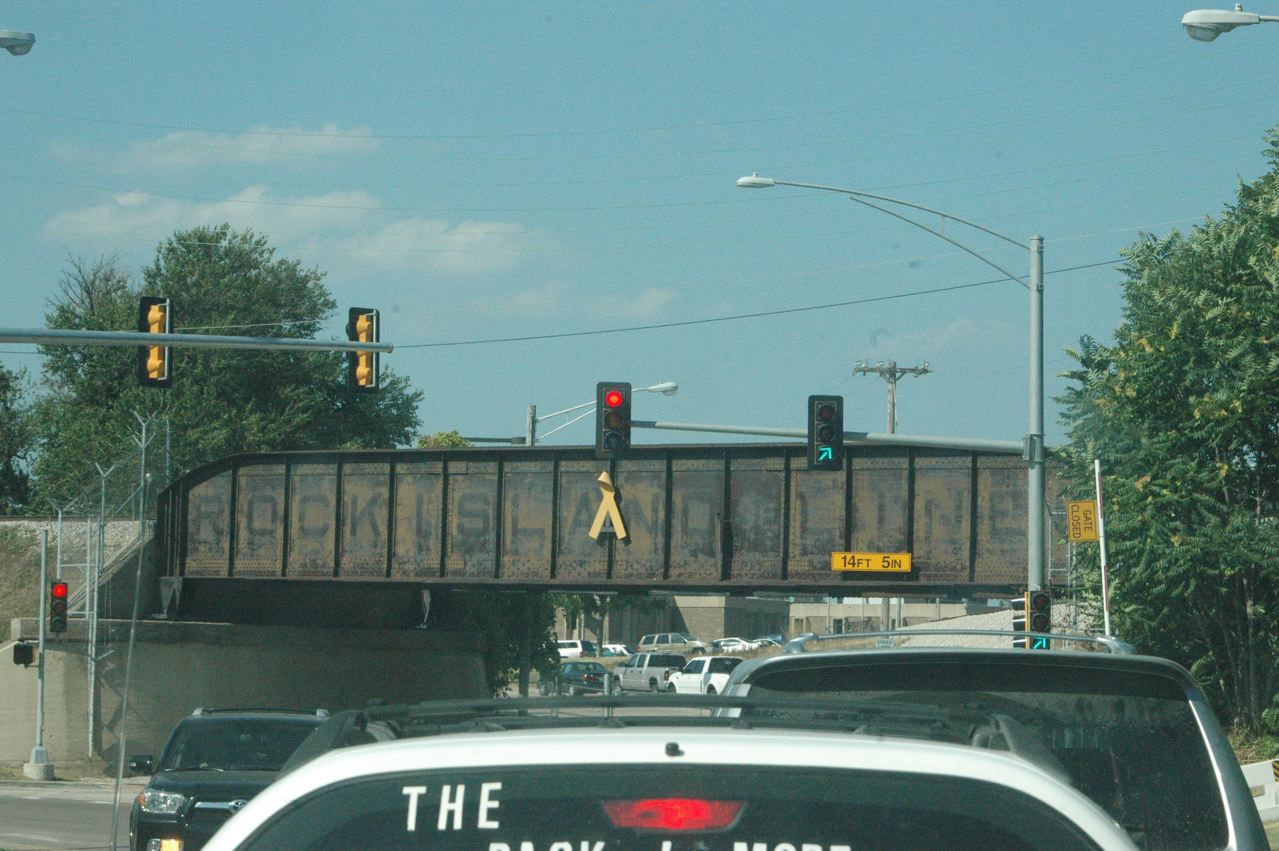 This page was designed and is maintained by Mike Condren. If you have materials
that you would like to contribute, contact me at mcondren@cbu.edu