High Iron Travel's "Southern Explorer"
Rare Mileage Excursion
May 25-30, 2010
Part 8, New Orleans-Greenwood, Miss.
New Orleans, from my room in Hotel le Cirque on Lee Circle.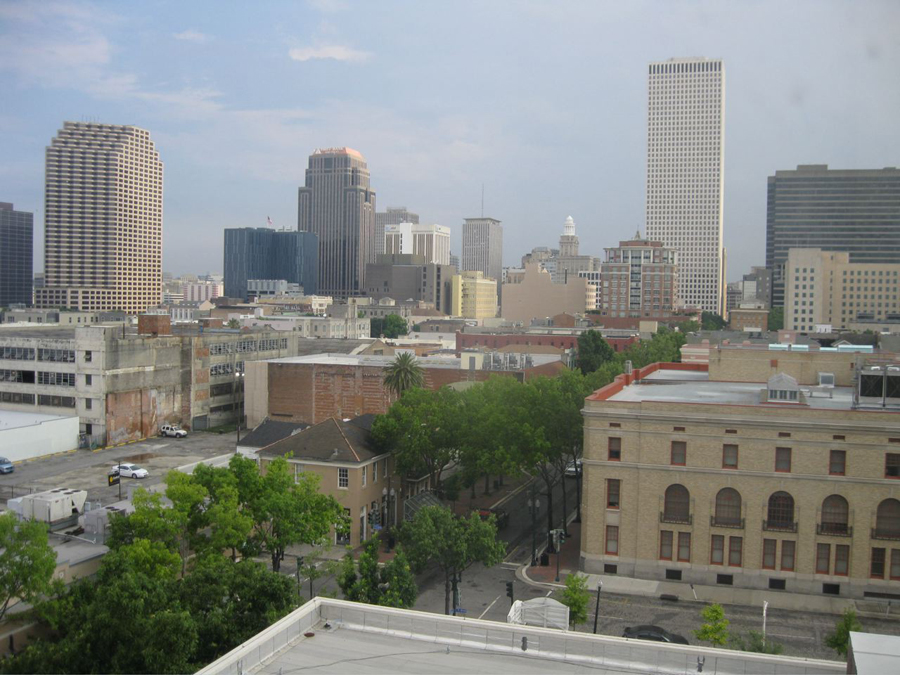 | | |
| --- | --- |
| Westbound St. Charles car, viewed from my hotel room | |
Eastbound car, heading north (toward NOUPT) from Lee Circle; it will turn right and head for Canal St.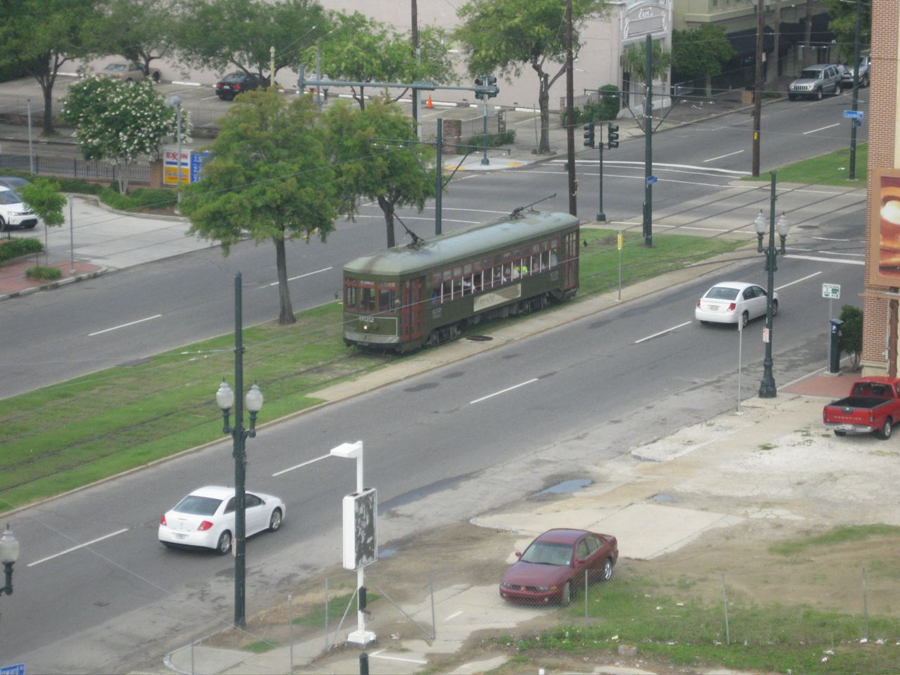 Mike Rose and I stashed our bags at the depot, rode in a taxi with Phil Bush of DC to his motel, left his bags, and walked to Canal St. to ride that car line; we'll board this car. Mike and I would be on Amtrak #58 today, and Phil on #20 tomorrow, home to DC. Canal St. streetcar extension had not been resuscitated when I was last in NOLA.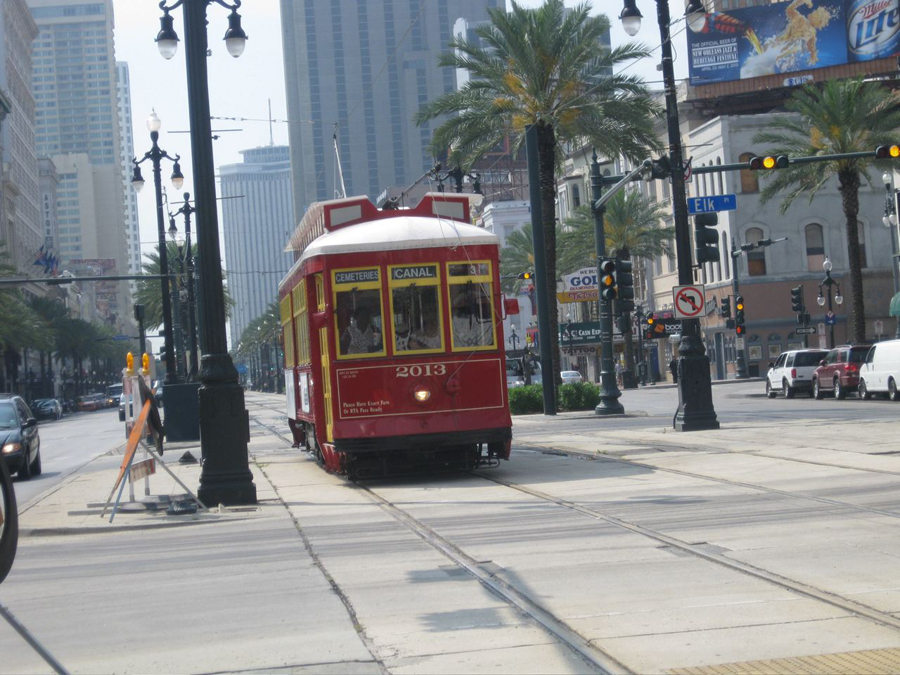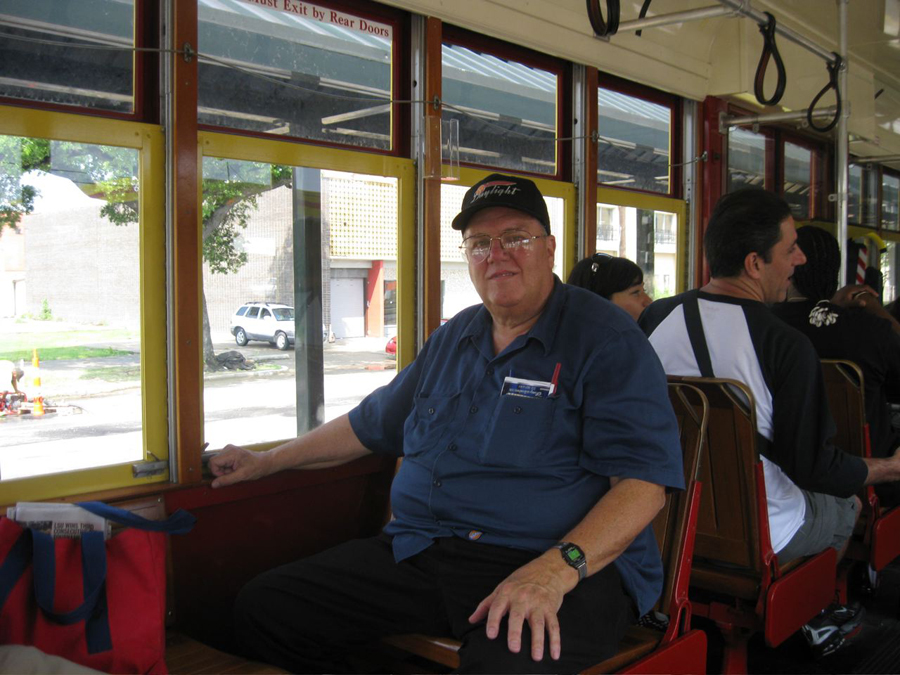 | | |
| --- | --- |
| Phil, smile -- it's air-conditioned! | |
Canal St. meet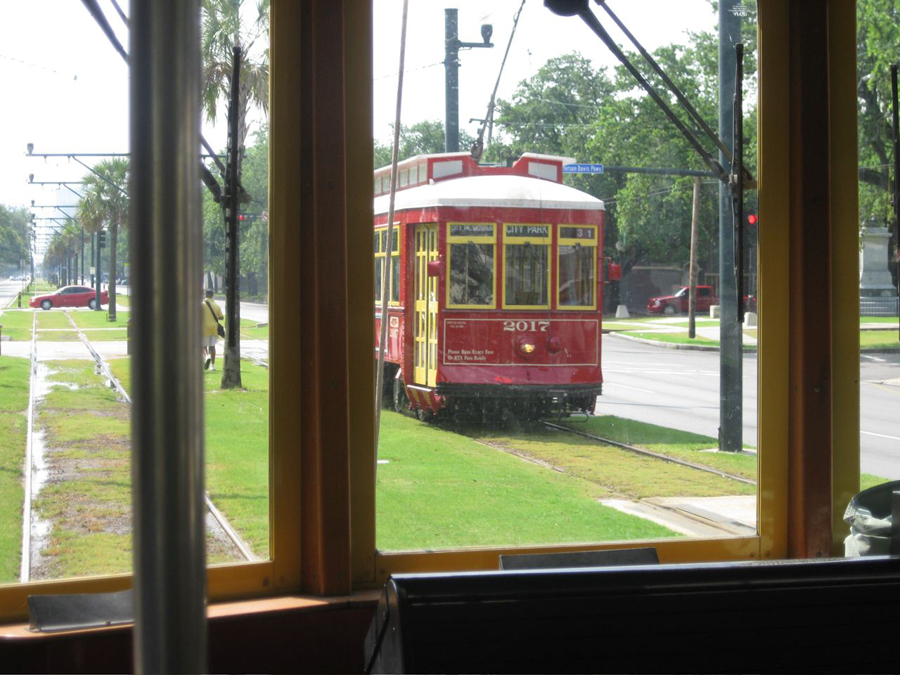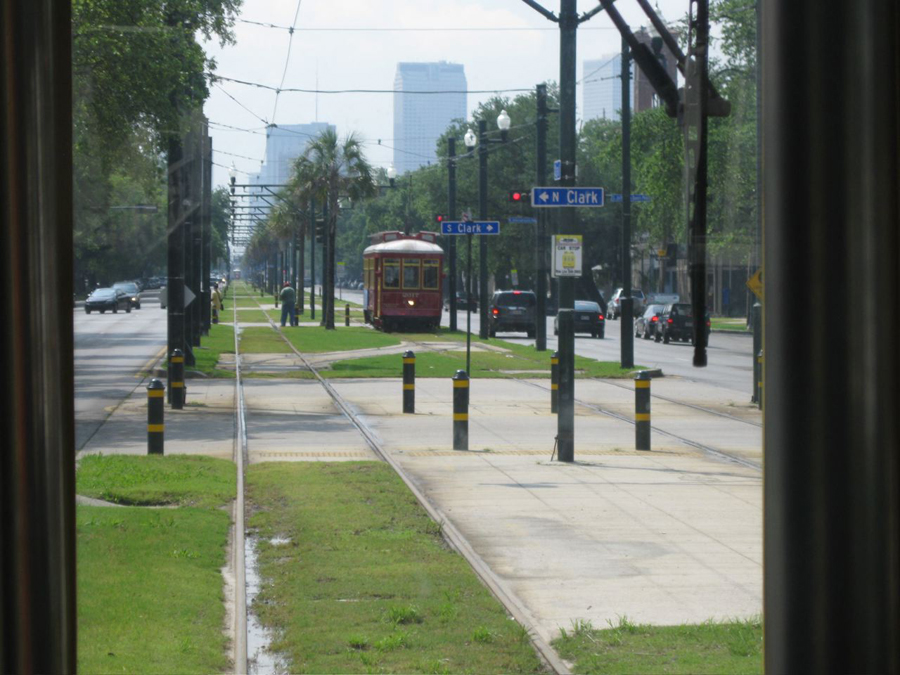 Looking back at the end of the line.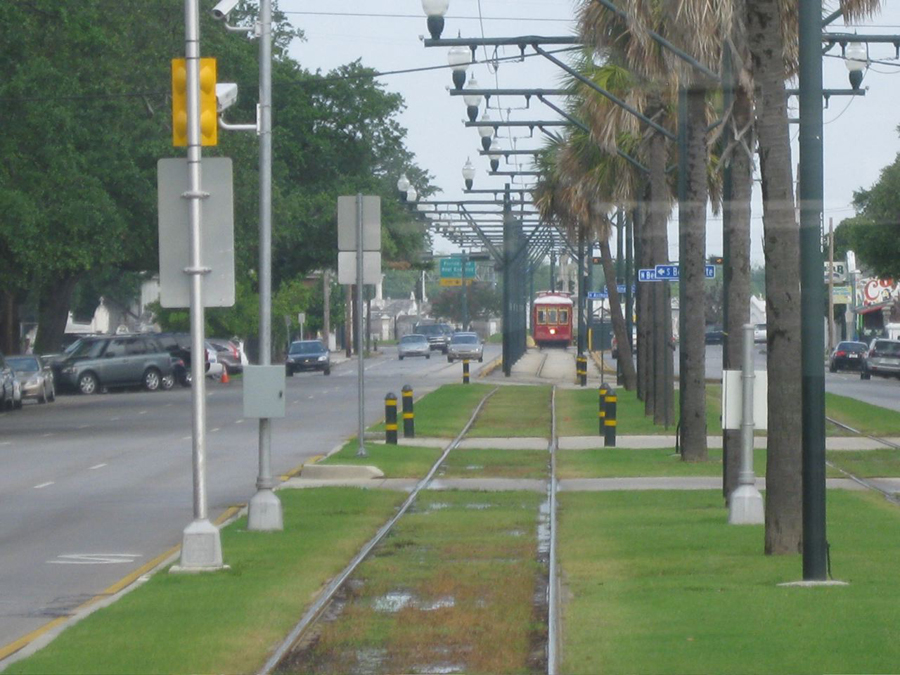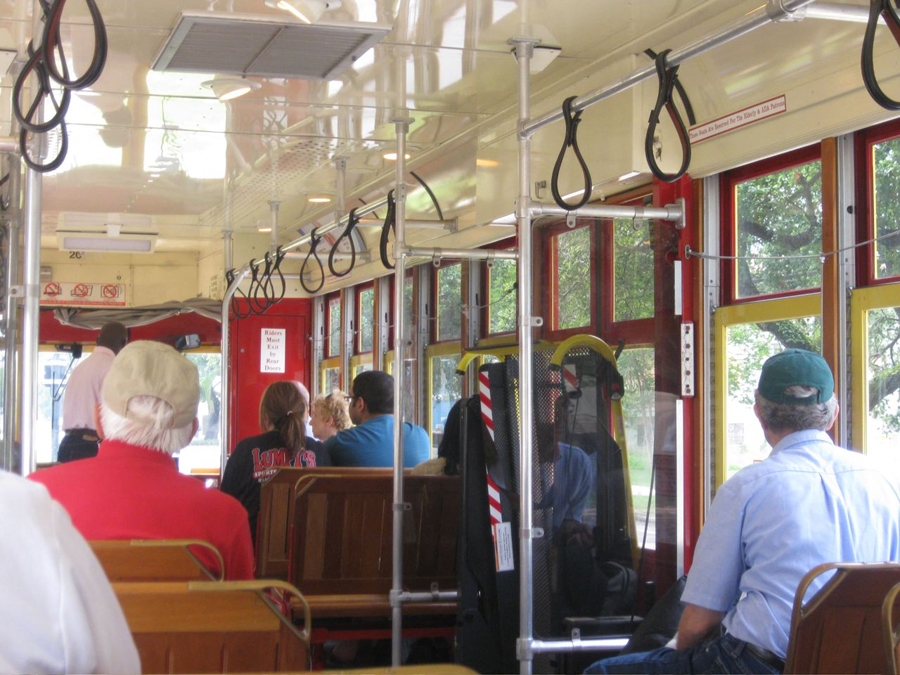 Foot of Canal St.; we walked around the corner to ride the Riverfront line.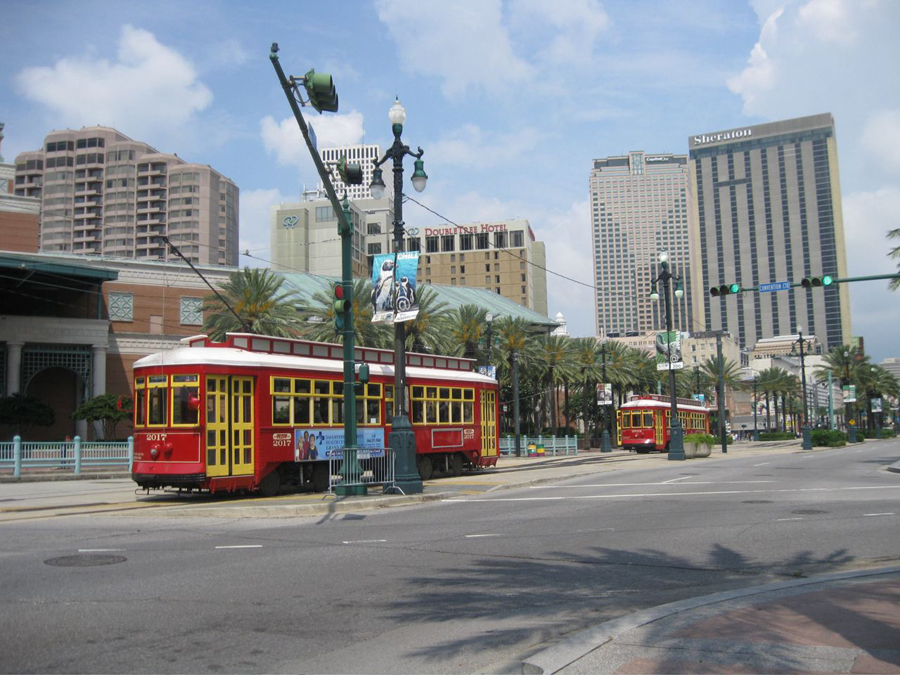 First car to show, after a bit, was westward; we boarded, rode to end, flipped back. Turns out only one car was in service. NOPB is replacing the north track, so only 1 in service.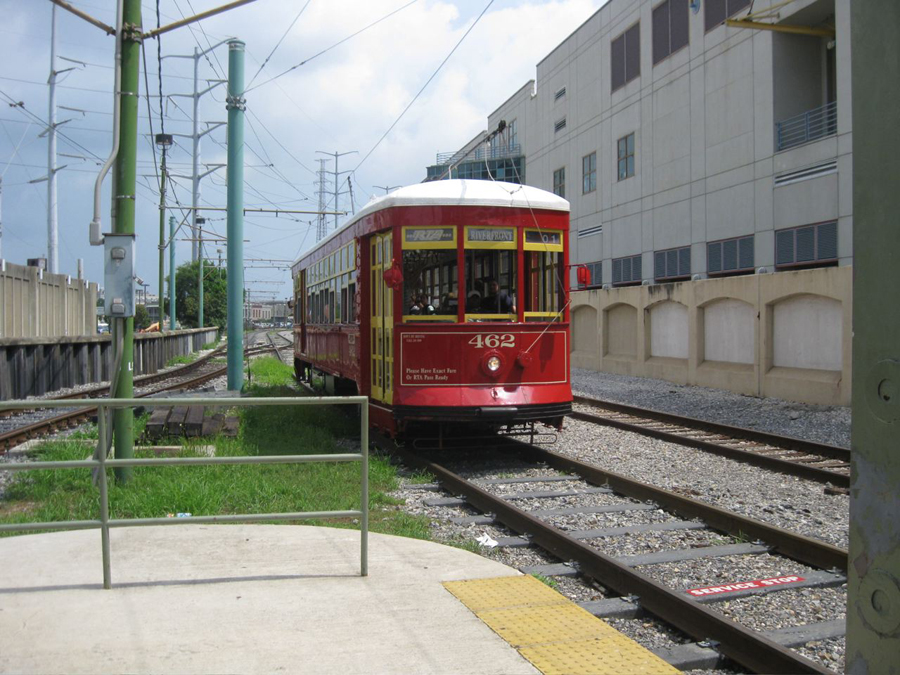 West end, Julia St.; this 2nd in-service car will follow ours east, but about 30 minutes later.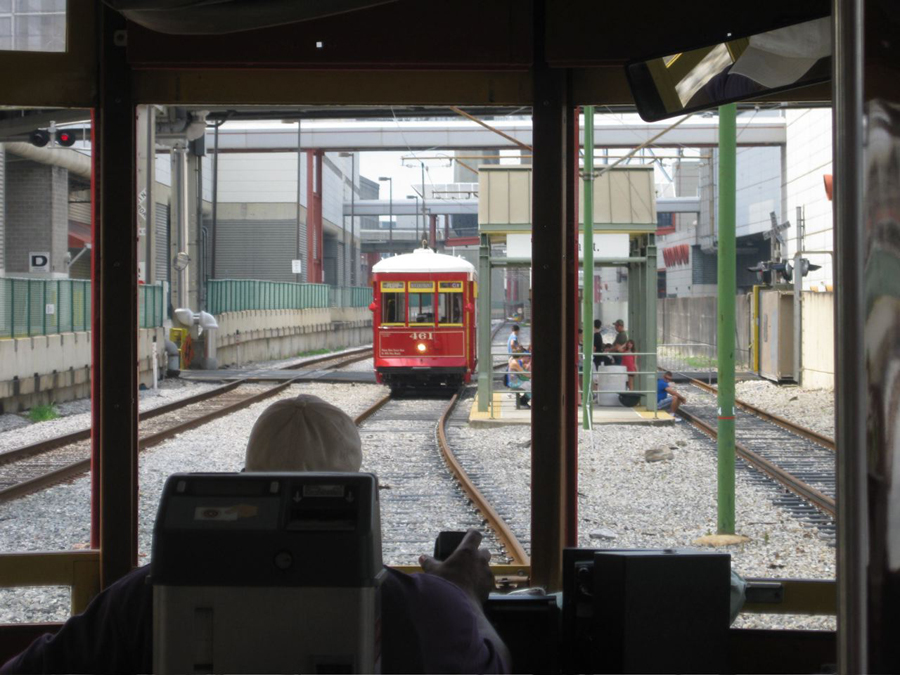 It's the Riverfront Line, on the river. I had ridden only a small part of it in the 1990's.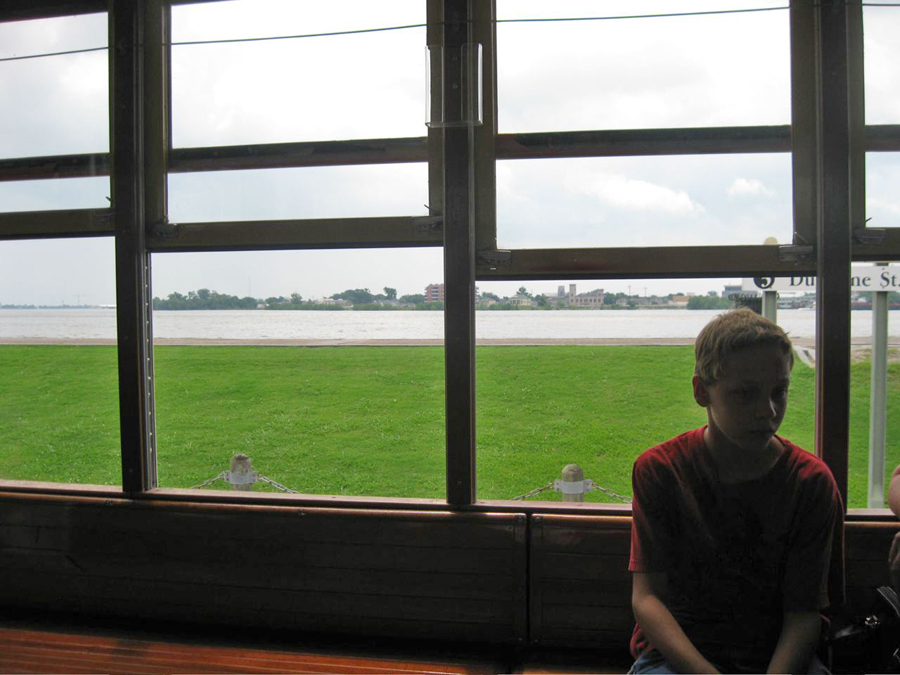 East end; so many people going to the Quarter were wanting to board cars (ours had filled to SRO going east), that after waiting a while, Mike and I went to the hotel visible here at left and got a taxi for the depot, as time was marching on toward our Amtrak departure time.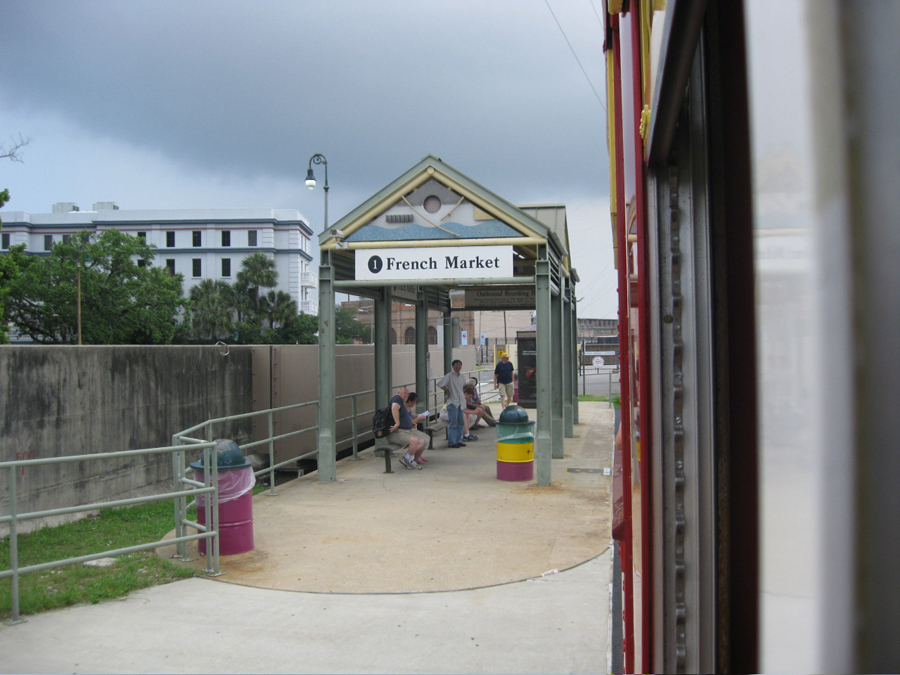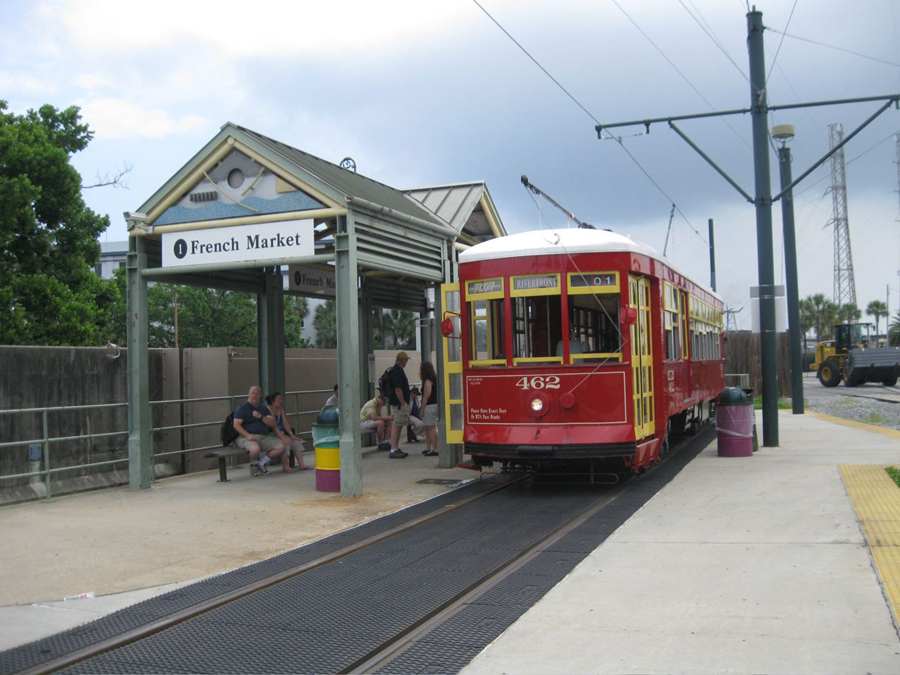 Lunch from Subway in the depot and relaxation in the Magnolia Room, then time to board #58, City of New Orleans, for its 145 pm departure.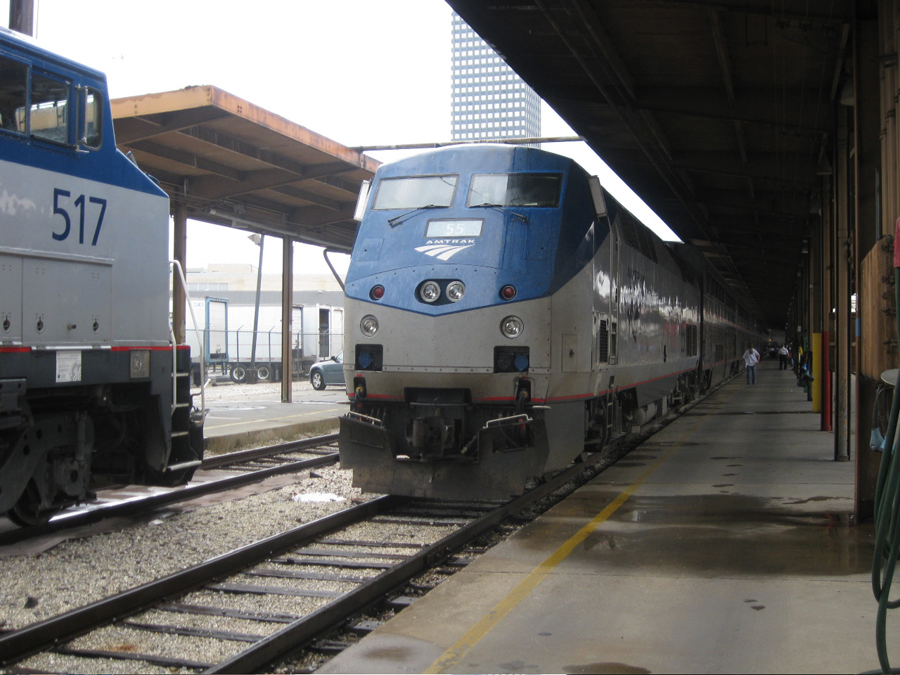 Sightseer lounge was nice and cold with the A.C. Mike and I had the H room downstairs until Memphis, so we hung out here. At Memphis, we changed to two roomettes vacated there, in the dorm car.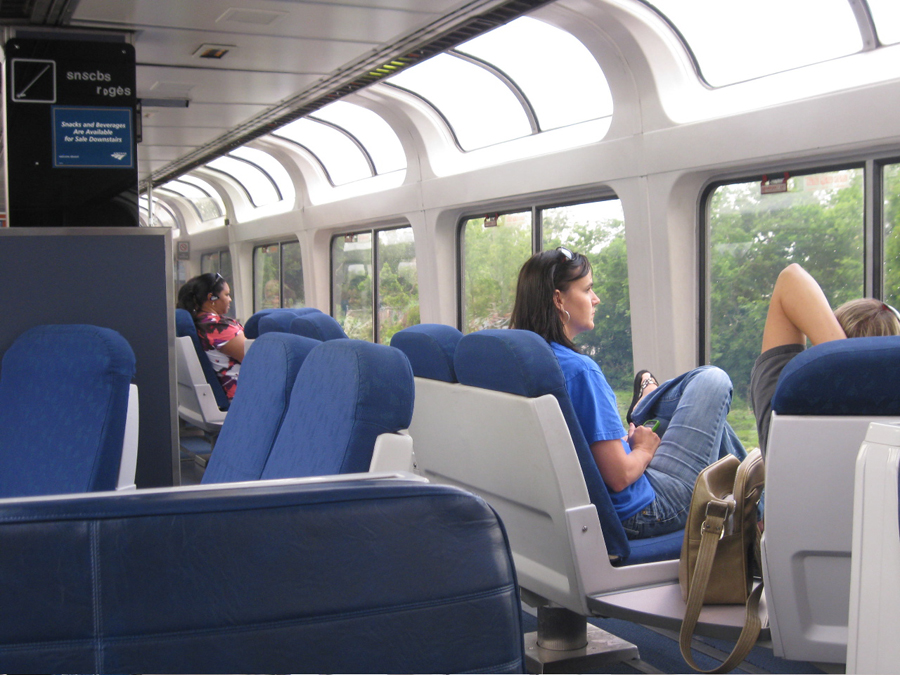 Along Lake Pontchartrain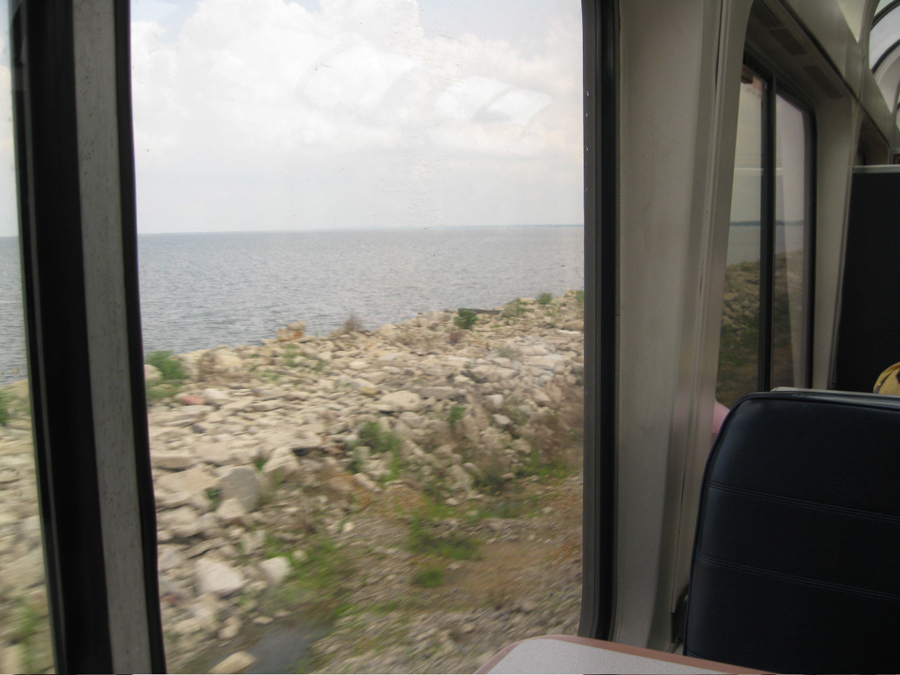 Greenwood is crew change and smoke stop.
I swear I saw the IC emblem and took this photo, not noticing the woman smoking .. at least she was outside!
Old and new signage at Amtrak station.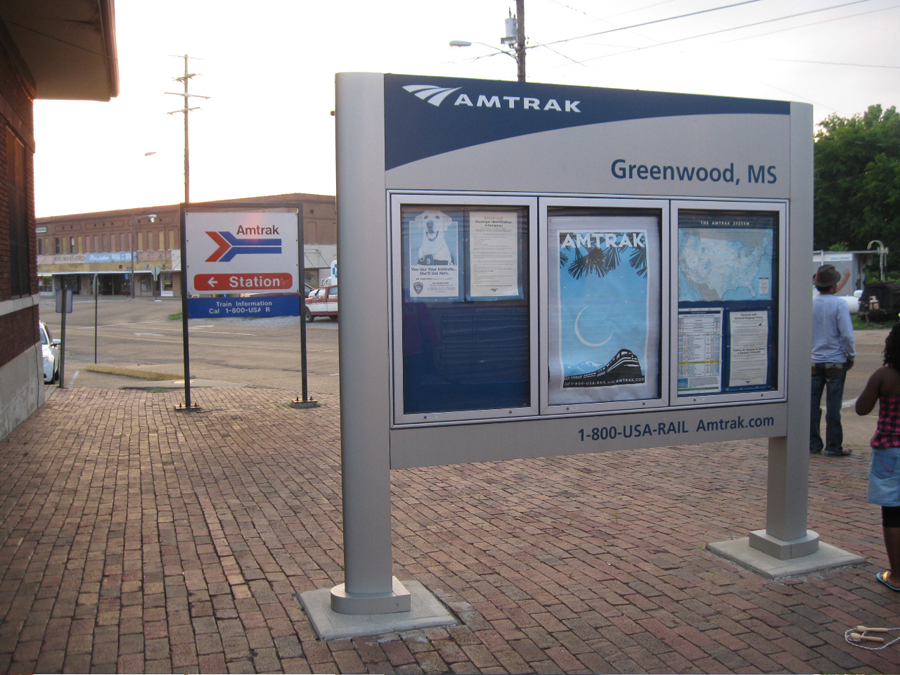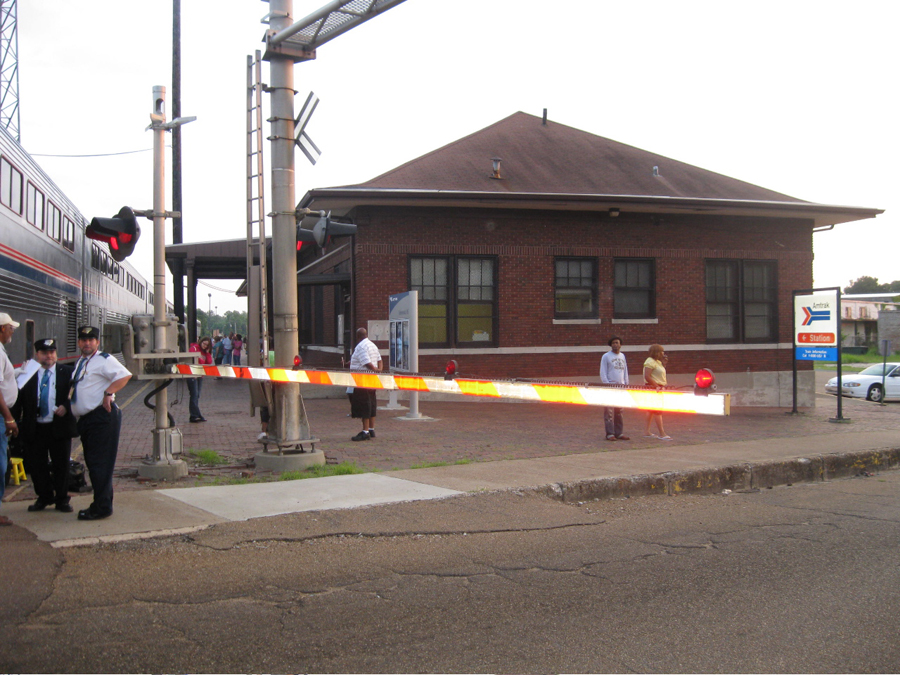 Next morning we were only 13 minutes late into Chicago. This train has a lot of recovery time in its schedule. Thanks for your attention. -- Dave Ingles
This page was designed and is maintained by Mike Condren. If you have materials
that you would like to contribute, contact me at mcondren@cbu.edu