September 2013 Local Action
by Dave Ingles
We enjoyed a relatively warm and dry September, with fall color just beginning to appear in the last few days of the month. After returning from our Labor Day weekend trip to Illinois (see separate file on the web page), the first notable local occurrence took place on the 7th. I had gone out just to look at, and maybe shoot, Amtrak #7, choosing Forest Grove Road in Pewaukee, near our daughter's place. The train came by with engine No. 1 leading, 202 trailing and 11 cars as usual, on time at

4:22

. This is not the first time i've caught No. 1 on this train, but it's always nice to see.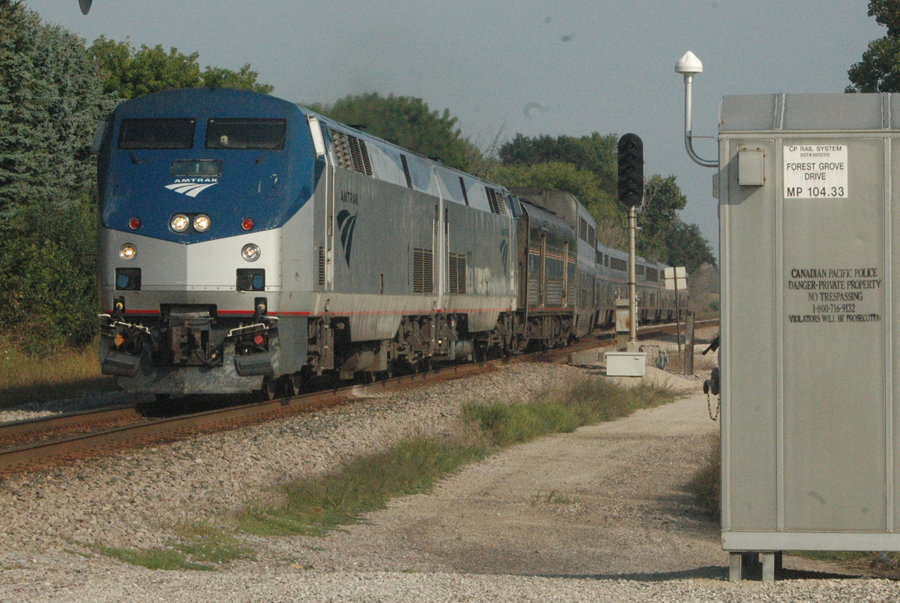 As I was driving toward Duplainville expecting to go home, as nothing else on either CP or CN was evident, Terry Norton called me. He lives by the CN  main line (was Soo Line when he moved there four decades ago!) in Grayslake, Ill., and reported that his wife Joyce had "seen an odd blue unit" trailing on a northbound CN train which was getting close to our area. So I detoured to Duplainville and waited, and didn't wait long, as it showed up at Green Road at

4:40

. It is train #491 behind 8843/2439/NRE 3600 (dead in tow). I include this first shot, not of high quality, as much to show the orange barrels, as Green Road, which parallels the CP on the north for a couple of miles and is a key route in reaching Duplainville, is undergoing a much-needed thorough rebuilding. The road is to be closed for the 2nd week of October for CN to re-do the crossing, as the new paving was done on this segment in October's first days, but the new alignment is slightly north of the old, at the tracks, so CN needs to put new paving in and relocate at least one set of crossing gates a bit.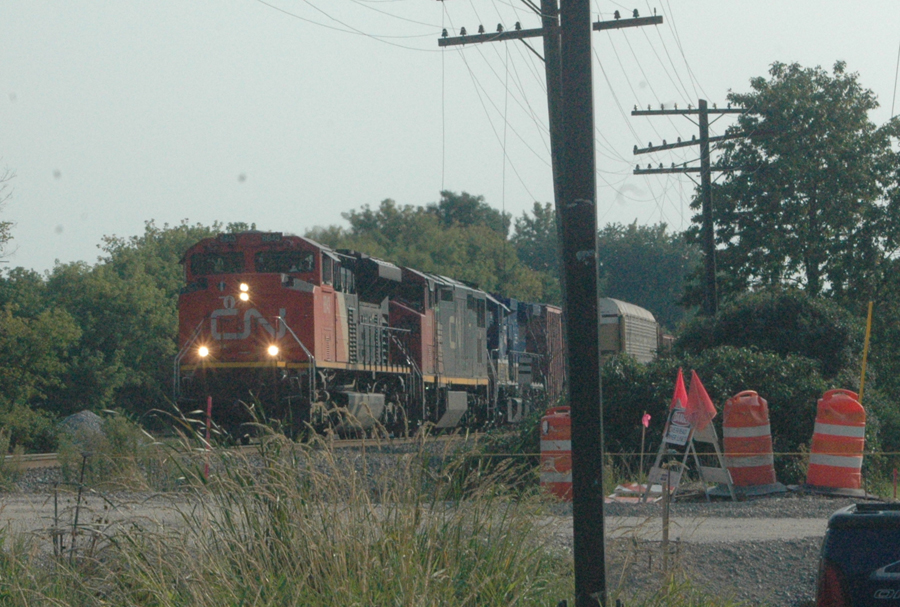 Since #491 is a train that makes a set-out on the track alongside Duplainville siding, I went up north for portrait shots, including slides on the Spring Creek bridge. These other shots below are up near Weyer Road where the train stops to make the set-out. I later obtained this information on the NRE unit from friend and diesel expert Greg McDonnell of Galt, Ontario: "That thing has been around for a while; it debuted at RSI in MPLS two years ago and recently demonstrated on IHB. I believe that was its first demonstration. In case you were wondering, it's a 2GS36C-DE, built on the frame of MP 3231, an SD40-2 that has certainly crossed your path!" We later found out that NRE 3600 was headed for a demonstration on the Lake Superior & Ishpeming.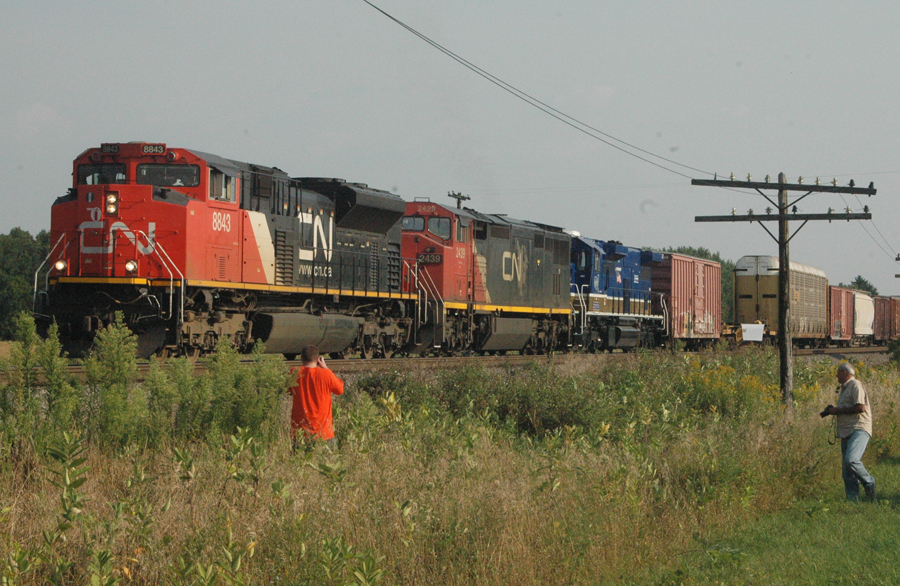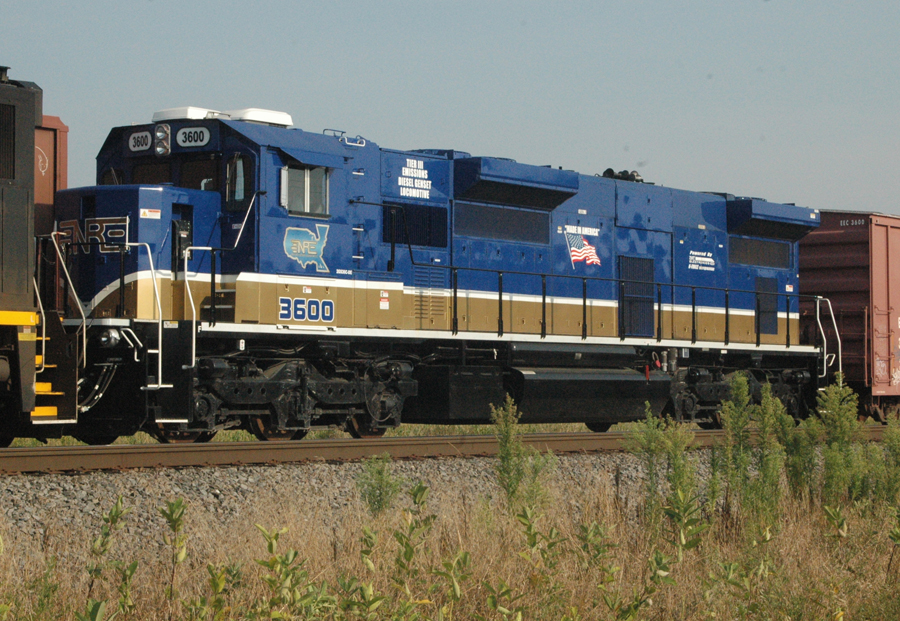 | | |
| --- | --- |
| | |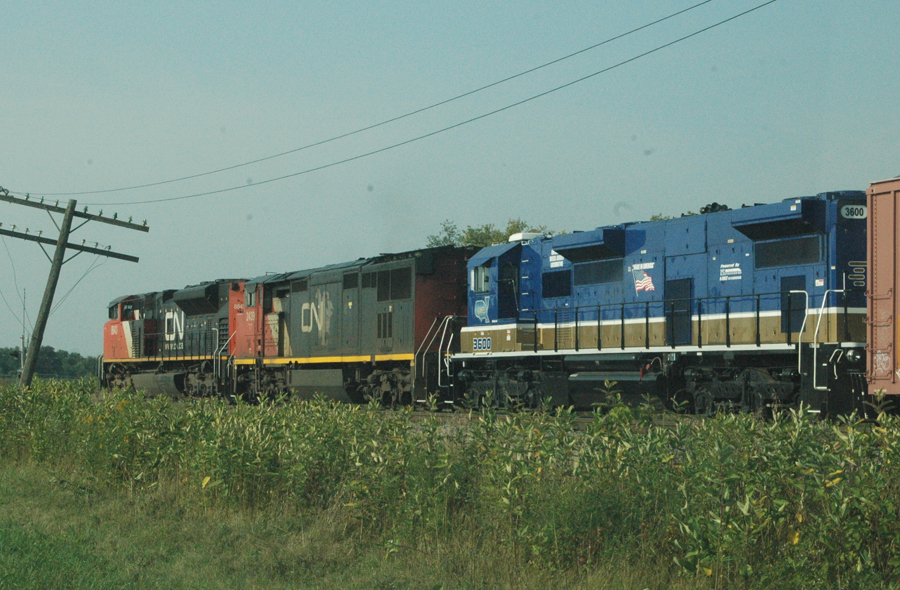 | | |
| --- | --- |
| | |
On Sept. 9th, I made sure to go into downtown Milwaukee to get Amtrak #8, the eastbound Empire Builder, at slow speed, because on his rear were cars from the last Iowa Pacific - High Iron Travel Corp. "Explorers," tabbed the "Rocky Mountain Explorers," which ran from Salt Lake City to Butte, Mont., to Minneapolis-St. Paul. I'd ridden many of the Explorer trips beginning in 1987, but needed so little new mileage (one or two branch lines) on this one that it was not worth the big four-figure price. Many of my "rare mileage collector friends" were on it, however, and the weather was good, so Carol and I parked downtown west of the depot on the access road under the big "Marquette interchange" (I-94, 43, 794) to await the train, which kept getting later. First came #7, out of the depot on-time at

3:55

, engines 23/41 and 11 cars, standard for the post-summer-season.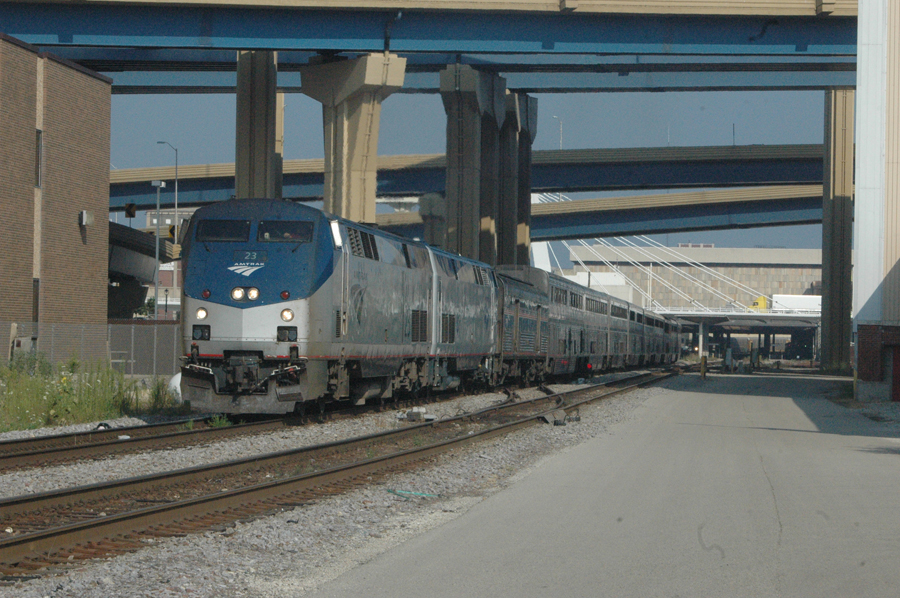 Behind him was CP #281, with an unusual set of two UP units for power, 4083/4830, and 72 cars, at

4:01

.
Finally #8 toddled in at

4:21

, with engines 137/815 and 15 cars, including the 4 Explorers cars on the back: "Mid-America" Sleeper Lounge (NYC) Swift Stream; Frisco sleeper Cimarron River; IPH (SLRG) Great Dome Prairie View (GN), used as the diner; and PV Caritas.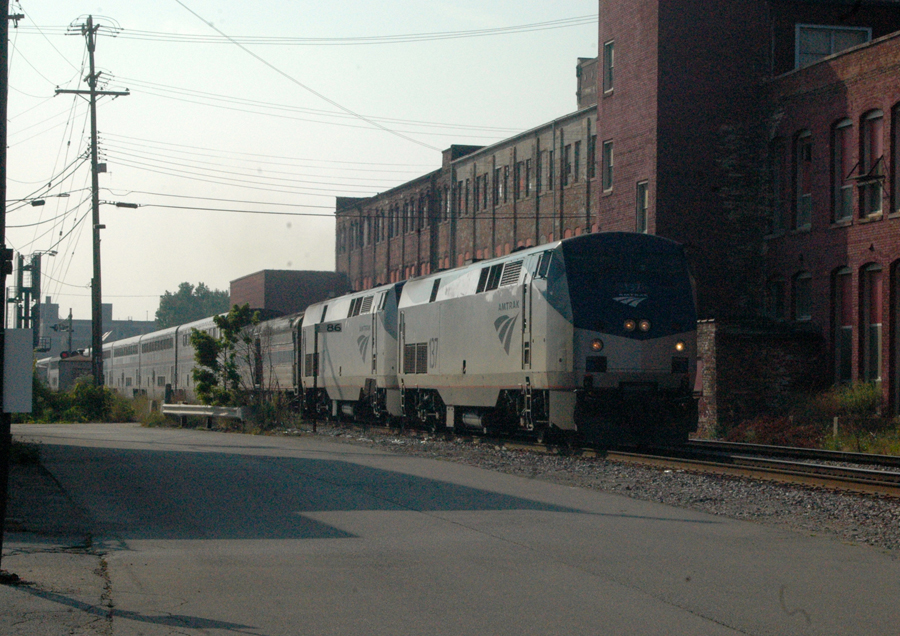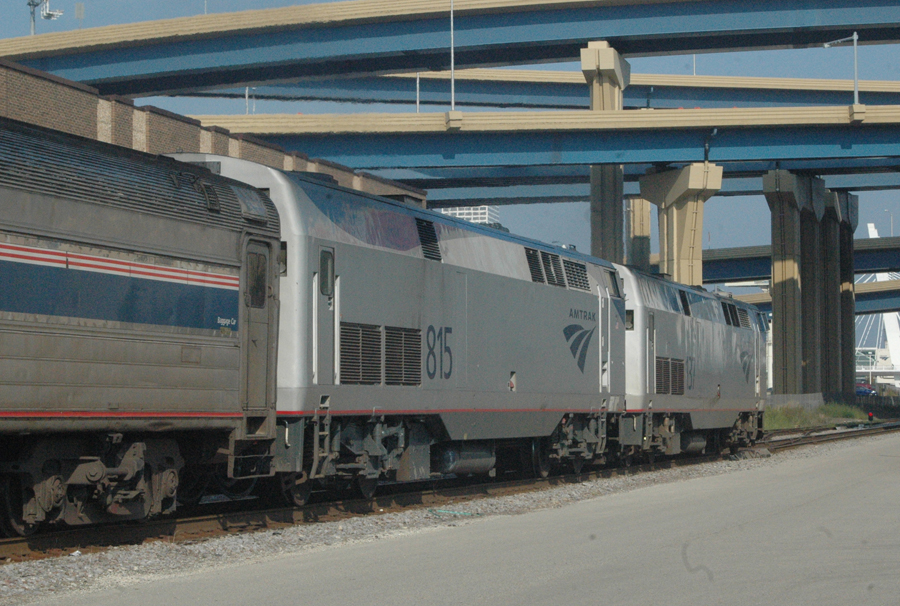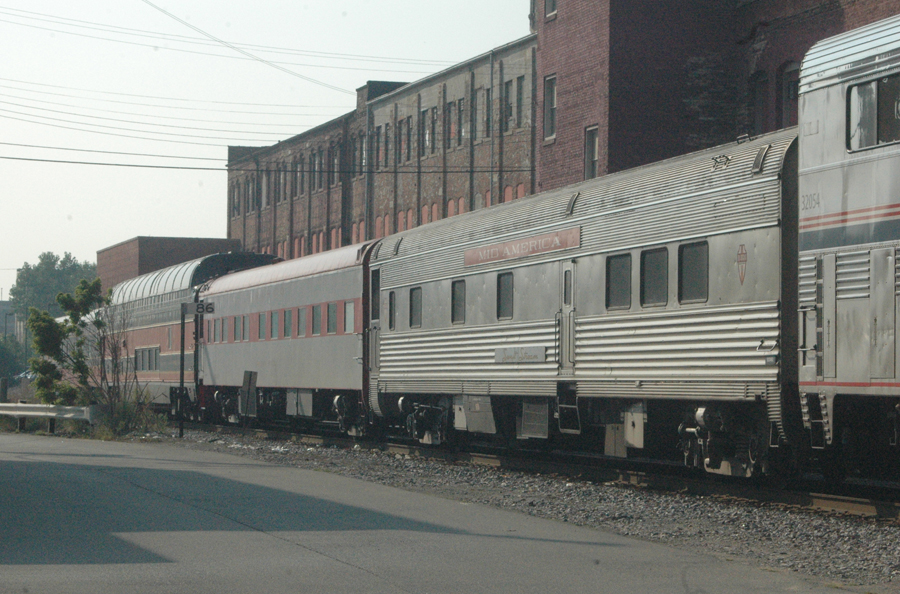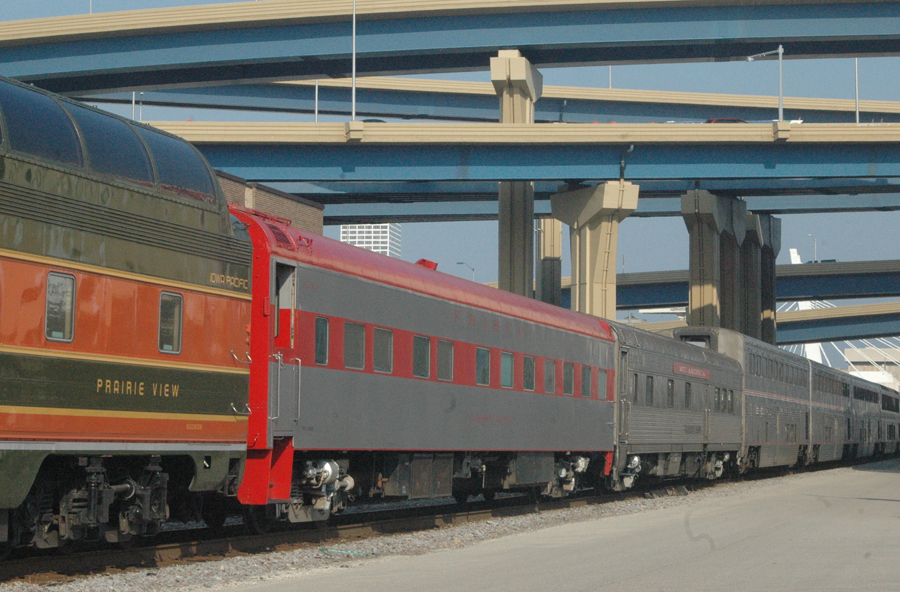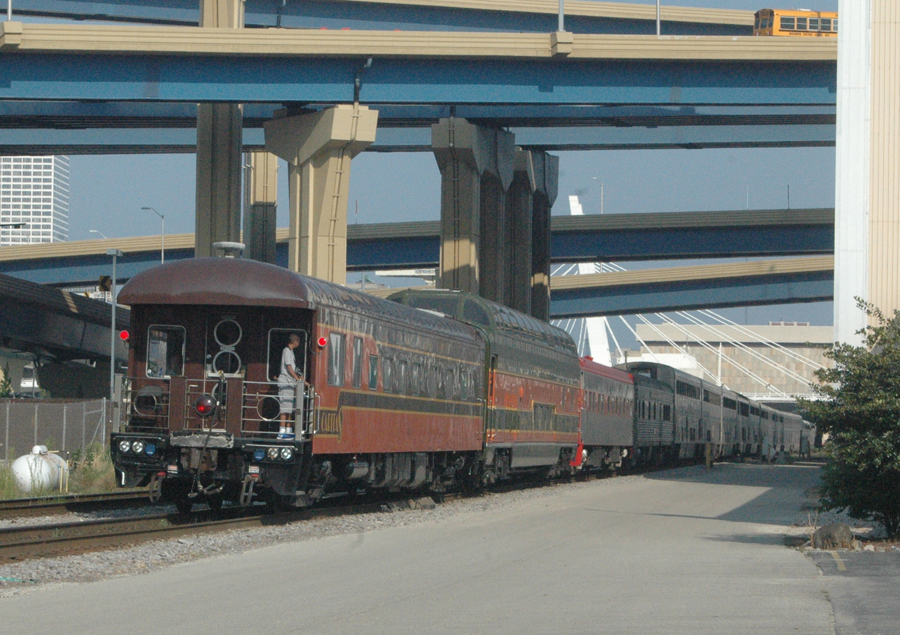 As I expected, the train stopped with the PV's hanging out to the west in good light for photos. In the close-up of the Caritas's platform are 4 good friends and traveling companions for many miles over the years (from left): Art Bliss, ex-Bostonian now of Phoenix, taking my picture; Al Butler of Boston, retired Conrail track supervisor; "Captain" Phil Bush of D.C. (no relation to the presidents, tho he voted for them); and in the plaid shirt, Phil Kondziela, retired sanitation engineer of Stamford, Conn.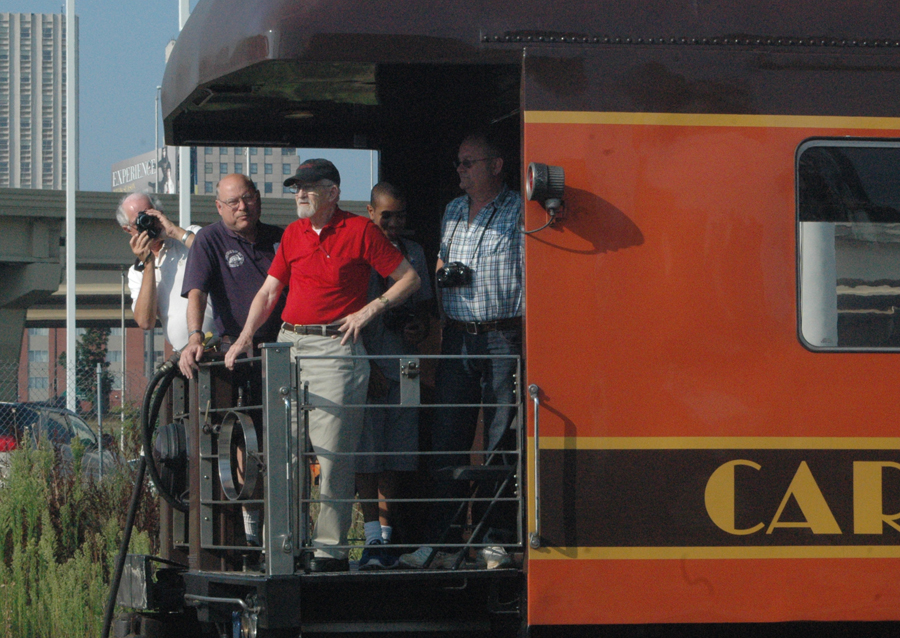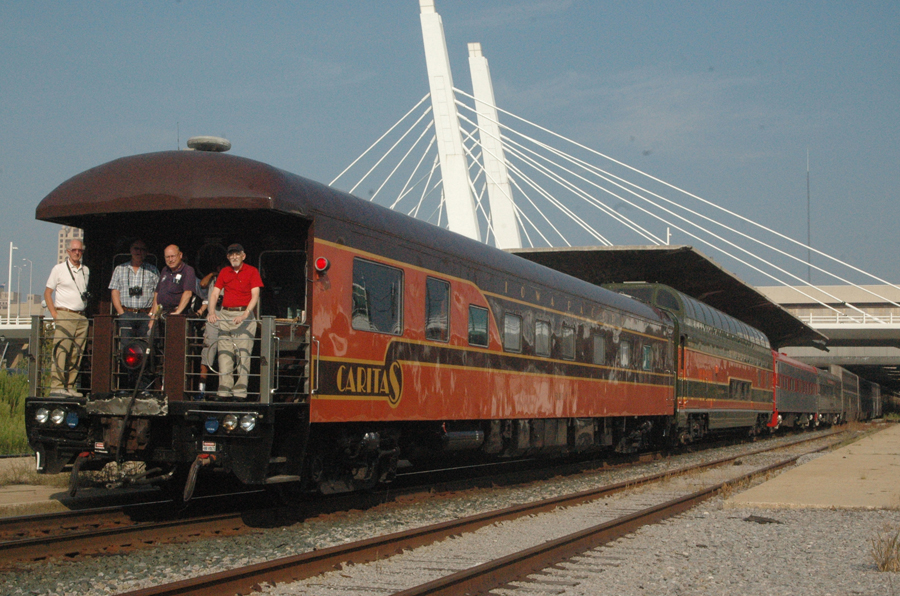 On the ground behind the Caritas is local Waukesha friend Otto Dobnick, who was an Explorers passenger and arranged for mutual friend Denny Hamilton, also his neighbor, to pick him up. After the train pulled out, I snapped the shot of both of them from across the platforms. The PV's had gone from Chicago to Salt Lake on the Zephyr, and I believe all the mileage on this caper from Denver around to the Twin Cities was new for Otto, as he had ridden the Zephyr west of Denver only on a detour via UP thru Wyoming. The Explorers used (in olden terms) UP from Salt Lake to Butte, NP north to Garrison and then east to Terry, Mont., then MILW across South Dakota and on GN up to Benson, Minn., and then east on GN to the Twin Cities. Included were side trips on Eastern Idaho RR (ex-UP branch) and the Butte, Anaconda & Pacific.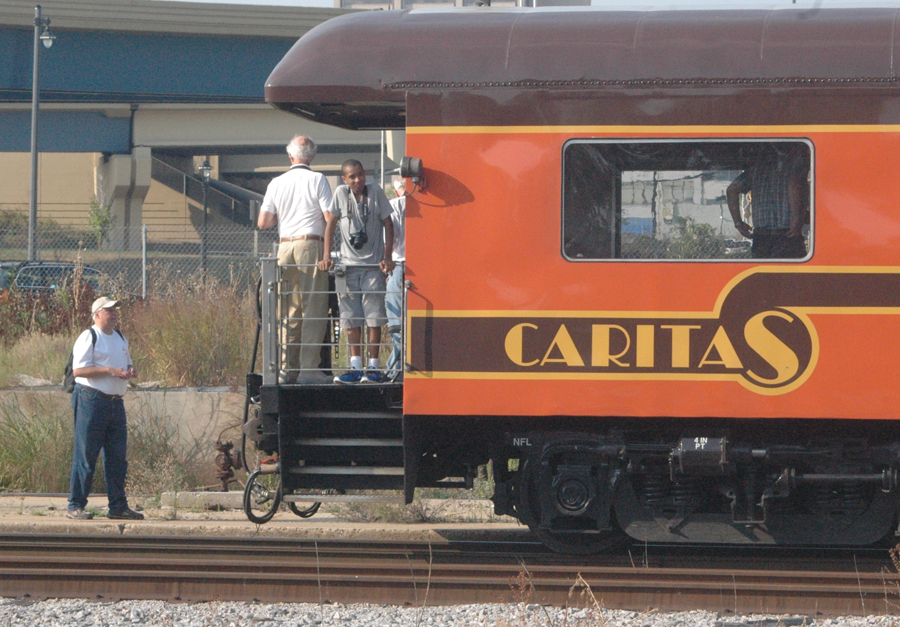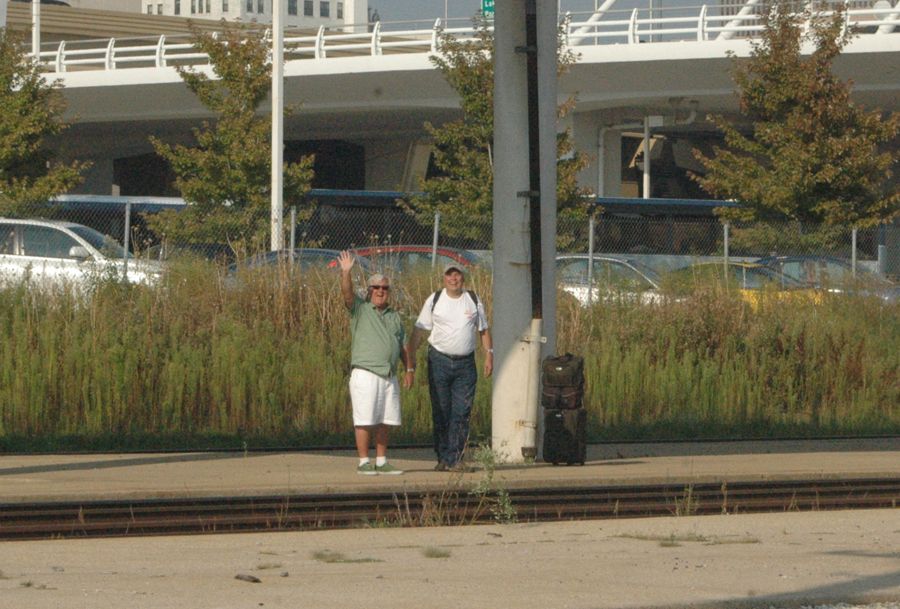 Before we leave the subject of the Rocky Mountain Explorers, here are 2 photos, shot and provided by Rick Moser, of 3 of the cars going west on Amtrak #5, the California Zephyr, at Naperville, on

August 30th

, headed for Salt Lake City to begin the special train's journey north and east back to the Twin Cities.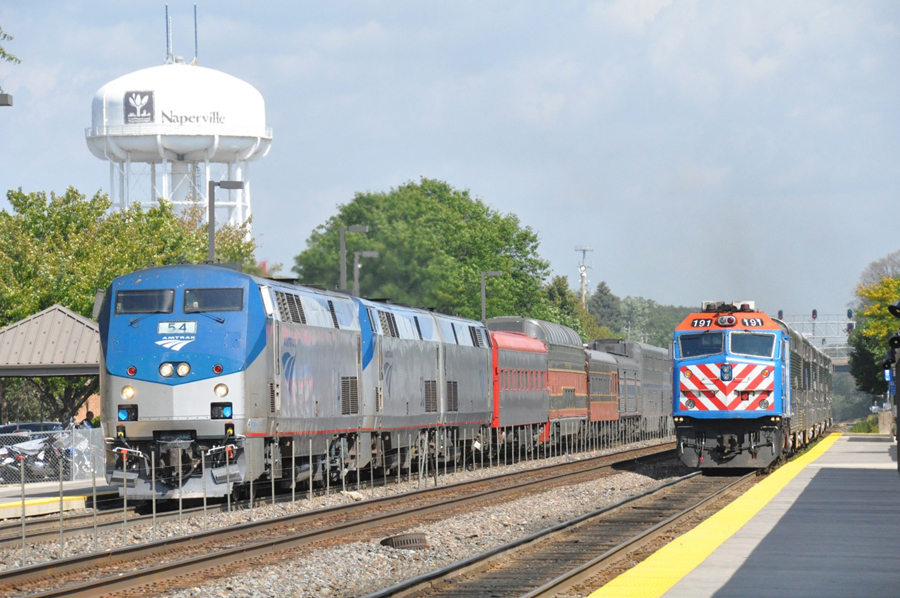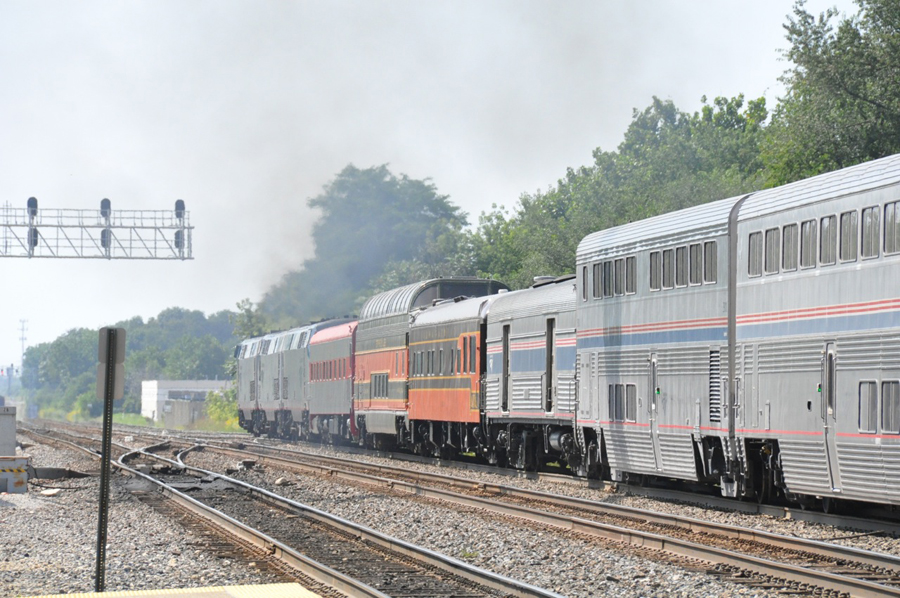 On 9/11, I was at Brookfield to watch Amtrak #7 and caught CP's Milwaukee-Watertown "patrol" (local) returning at

4:08

behind GP40 2057 with 4 cars, the "bandit" unit still in what's left of Milwaukee Road orange and black. The merger was in 1985!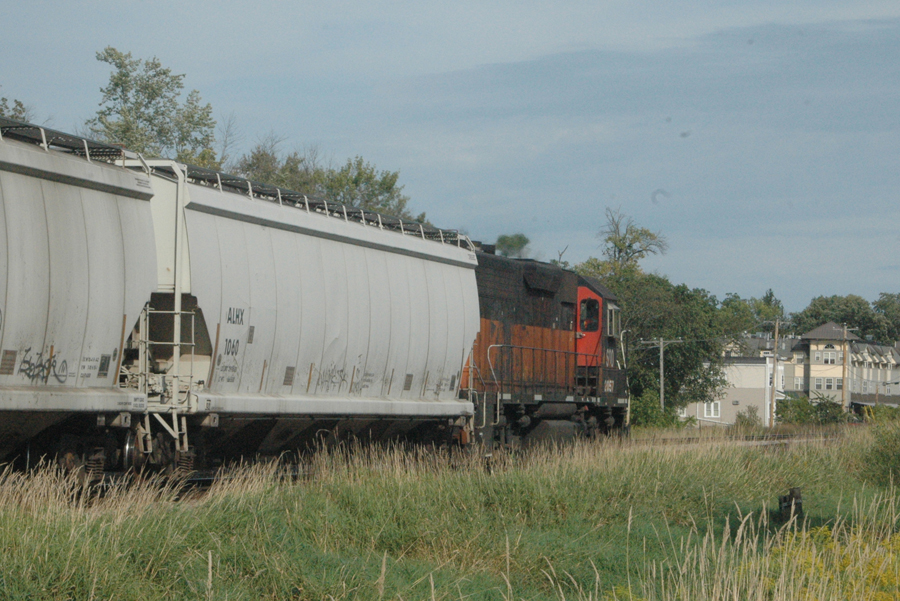 The Empire Builder came by soon after, at

4:15

behind 124/130 with the usual 11 cars.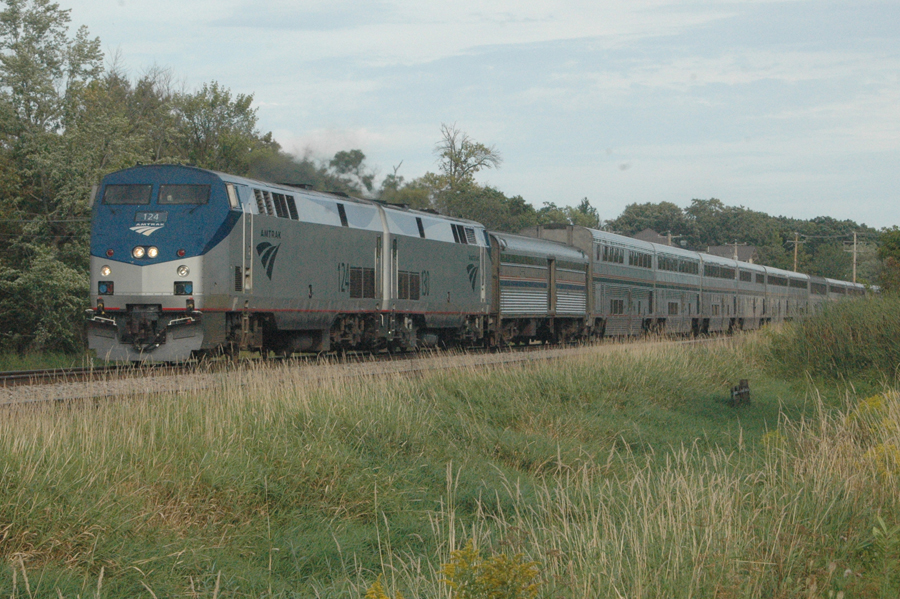 On the 14th, despite dark weather, I went back to the endangered Brookfield depot to get the Empire Builder, first taking this portrait, for which the D70 flashed (look at the station sign), from the adjacent condo parking lot north of the tracks.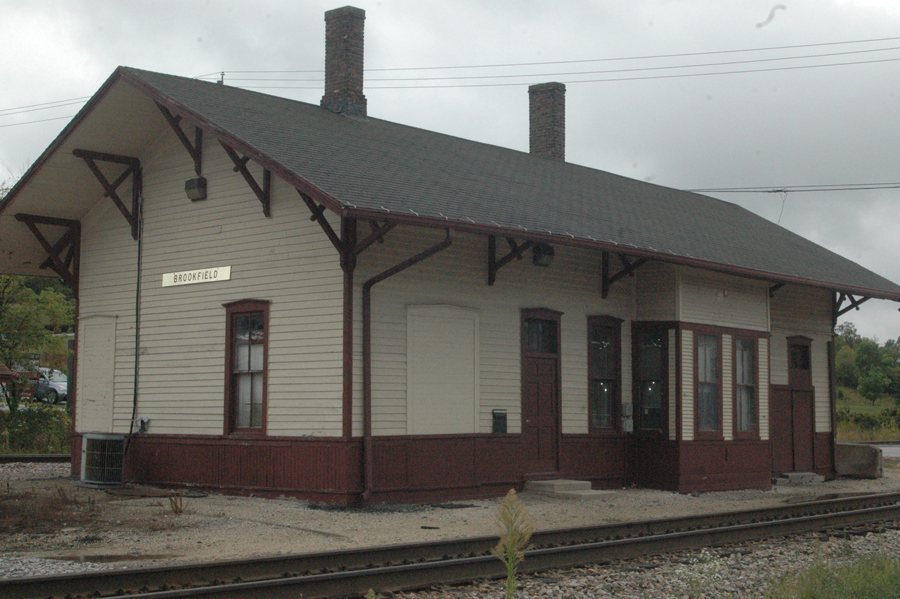 Running over 2 hours late as usual, #8 swung around the curve at

4:05

with engines 117/72 and 11 cars.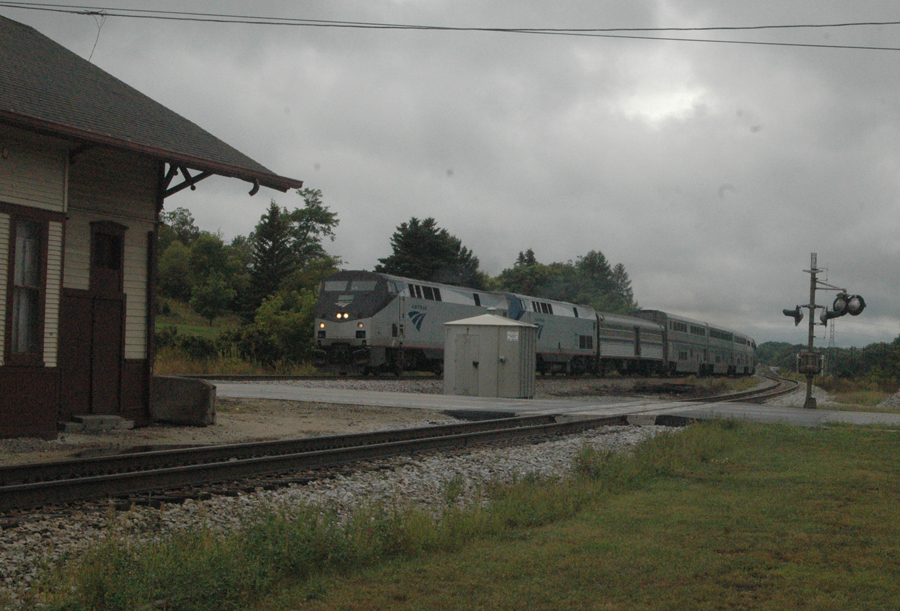 The sun then popped out a bit for this photo of the restaurant/condos sign (the storage facility is separate, to the east),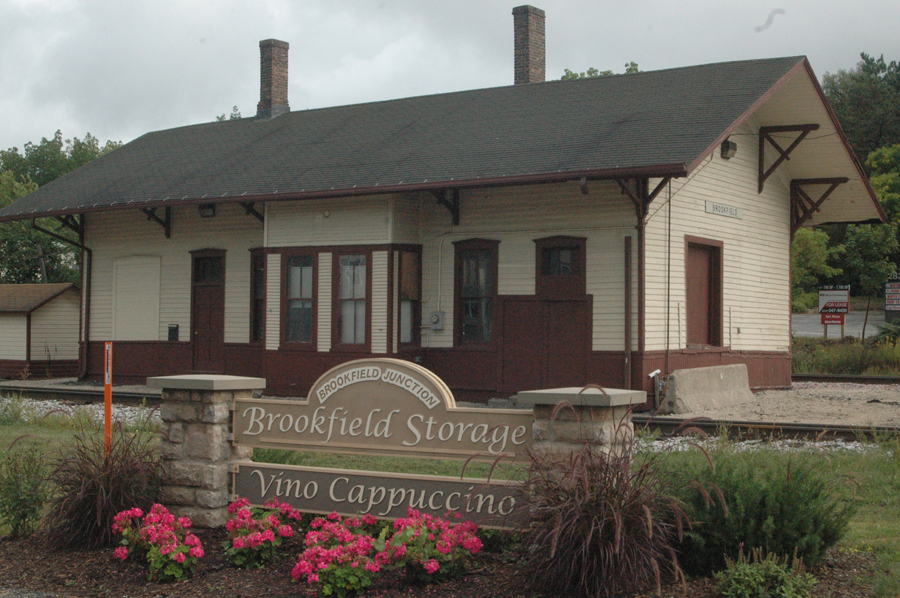 Soon, spot-on-time at

4:13

, came #7 with engine 93 leading a "Cascades" F59 engine, 465, and the usual 11 cars.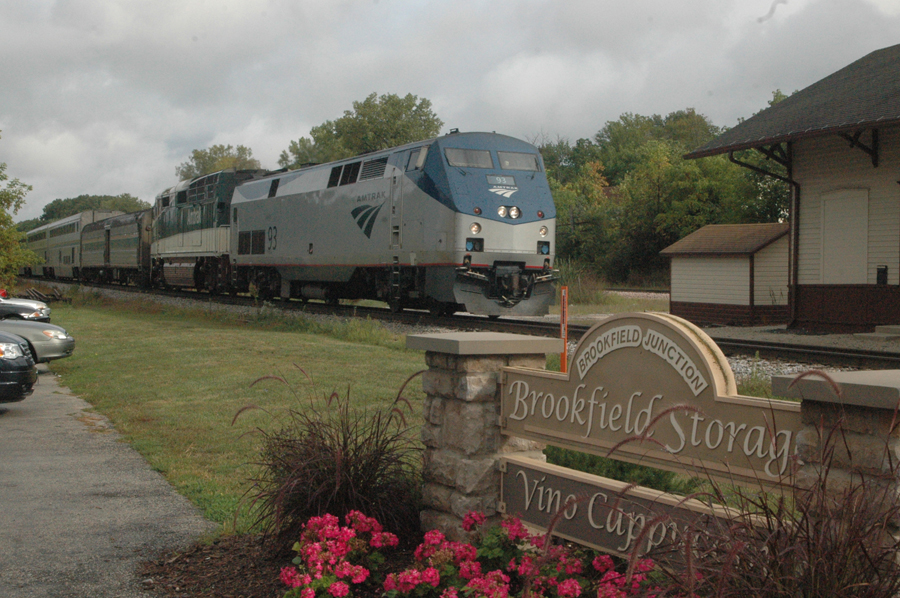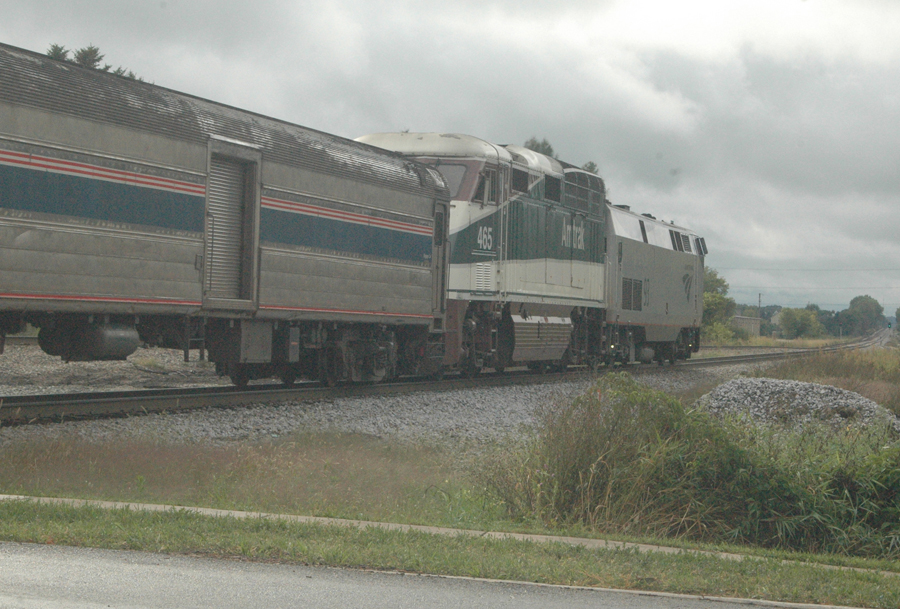 From this Brookfield parking lot, one can look west down the CP main for over 2 miles, and I noticed the lineup for Track 2 stayed lined eastward, so with the sun trying to emerge I crossed the tracks to the drive into the city maintenance garage and recycling facility for this shot of CP #282, which undoubtedly had taken siding for #8 to pass him at either Cooney (Oconomowoc) or Nashotah, behind units 8715/8895 at

4:19 p.m.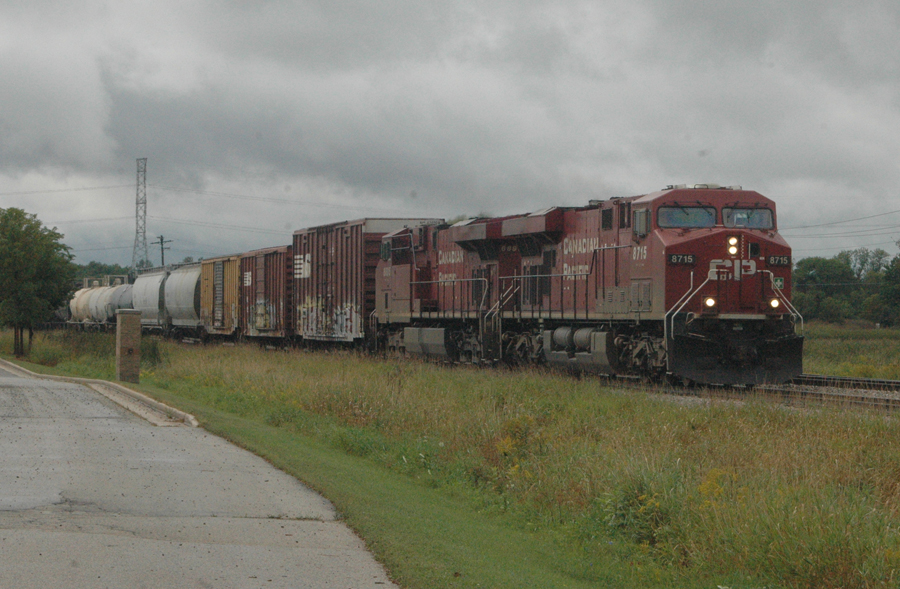 This is just a nice, sunny-day shot of Amtrak #8 at the Pewaukee lakefront, on Sept. 16th with engines 130/1 and 11 cars, at

3:19

, only about 90 minutes late.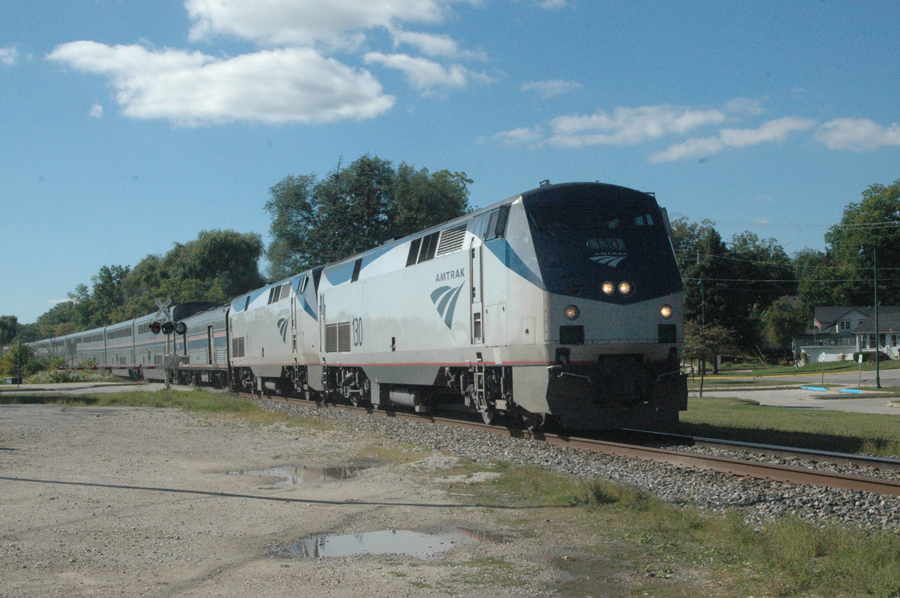 Next, at

3:41

, was this CN northbound on the Spring Creek bridge north of Duplainville crossing, behind units 2572/5692.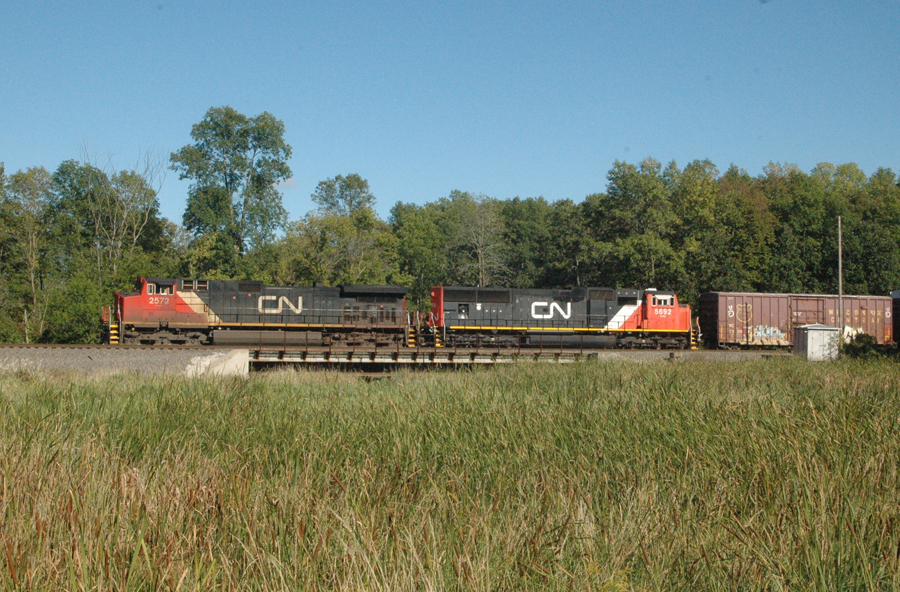 Pretty day, great spot, MP 101 on a dead-end residential street in Brookfield, finds #7 by on the 16th on-time at

4:14

behind 71/73 with 11 cars.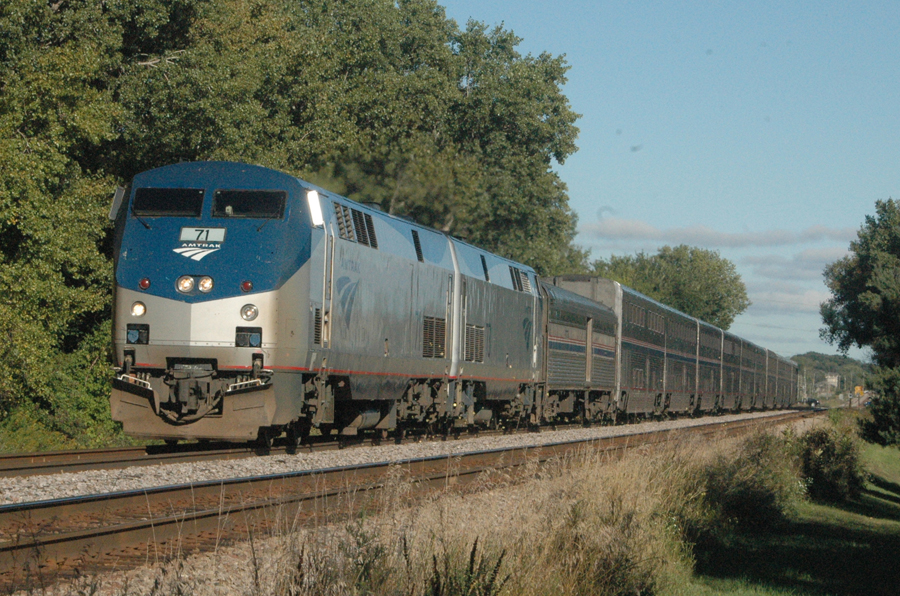 At Joseph Road south of Duplainville, a dead-end industrial street, a CN southbound with 2281/IC 1008 at 4:30p.m.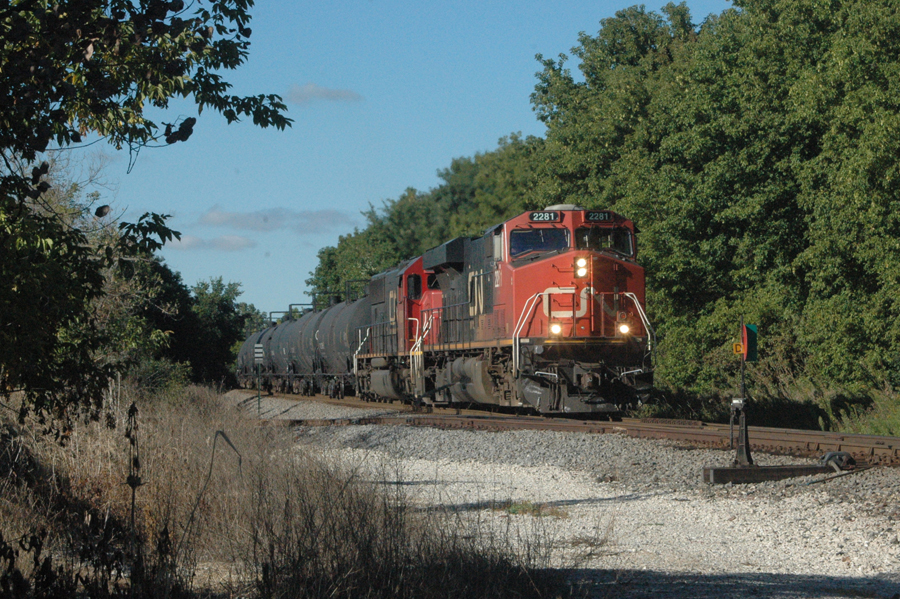 For a slide show at Sturtevant on the 17th, Jeff Madden and I left early to beat rush-hour traffic and hung out on the CP's C&M main line, altho the weather was off and on cloudy. First was Hiawatha #338 at Caledonia with NPCU 90413, 6 cars, and P42 55 pushing, at 3:20.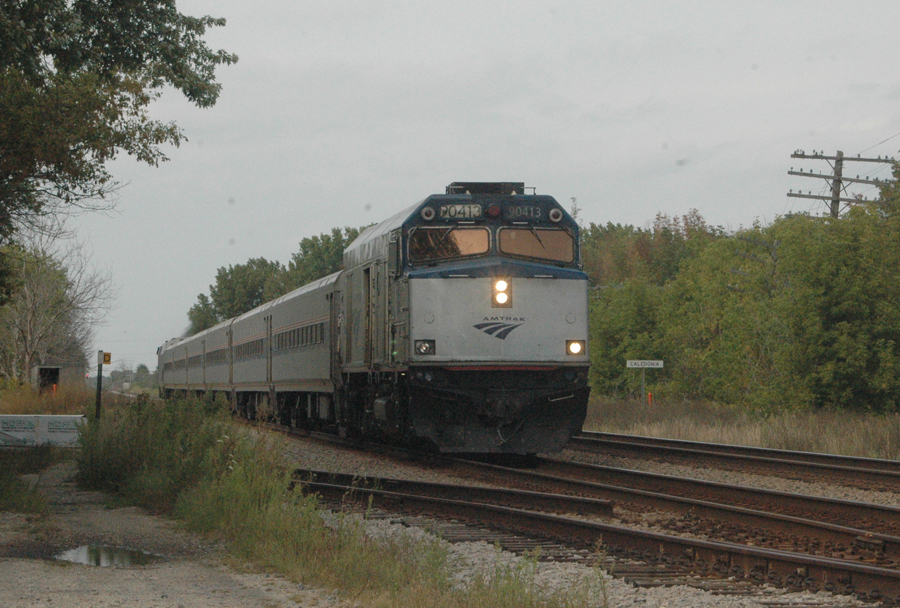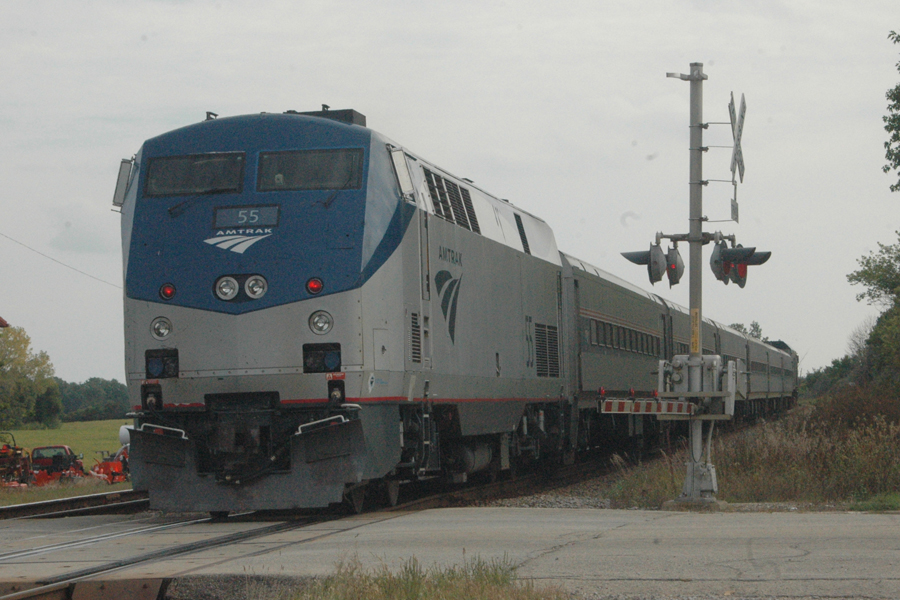 Five minutes later came #7 behind 130/6 with the usual 11 cars.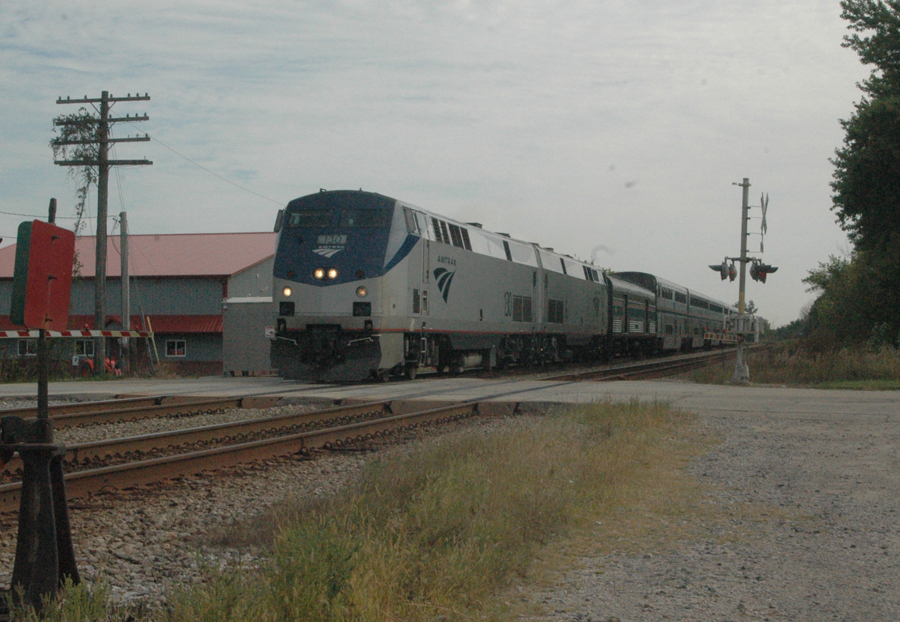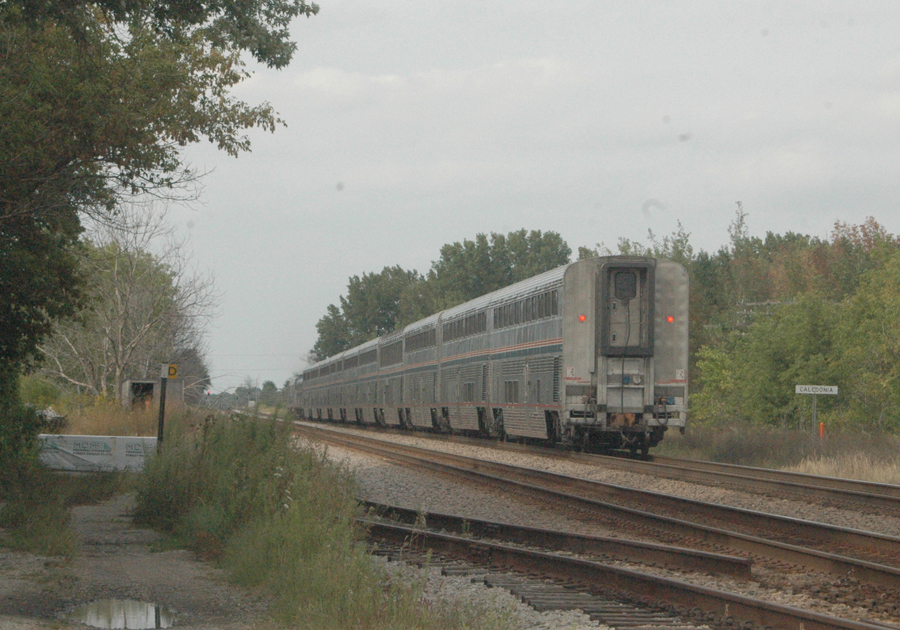 Next up was CP #281 behind a lead unit I think was 9779/Soo 4409/CP 8728 at

3:43

, with 36 miscellaneous cars and then 75 trilevels. A solid consist of trilevels is perhaps my favorite type of "unit train" for photos.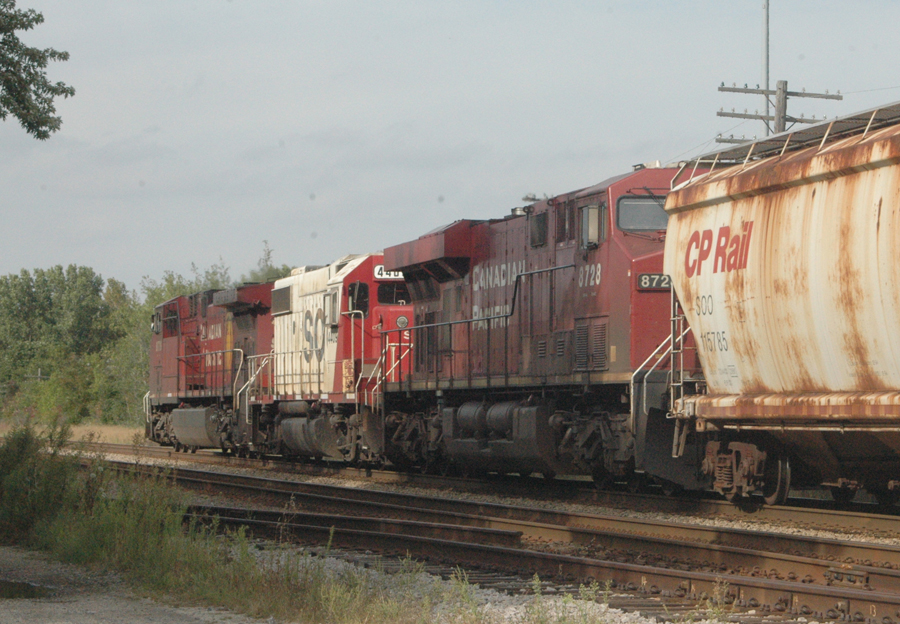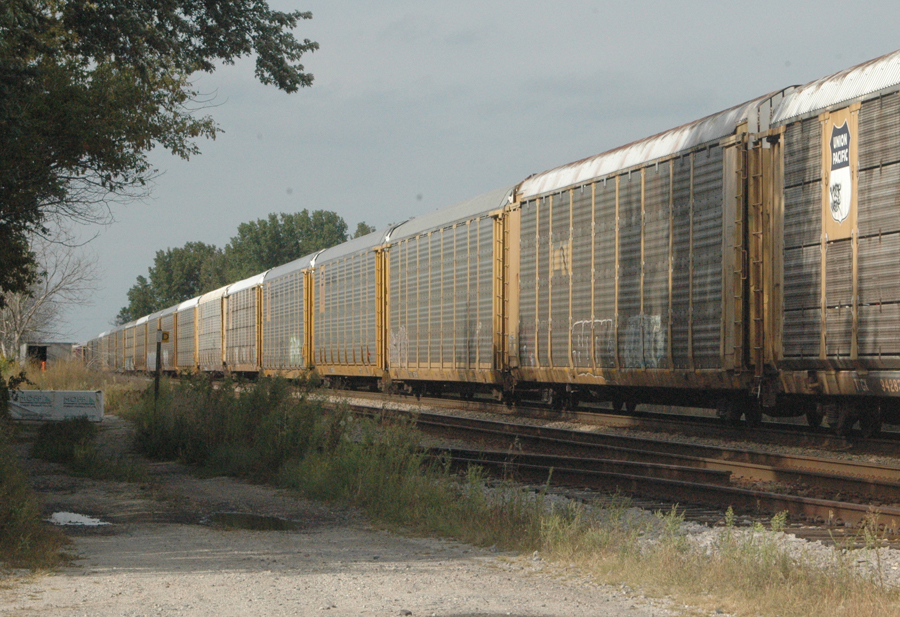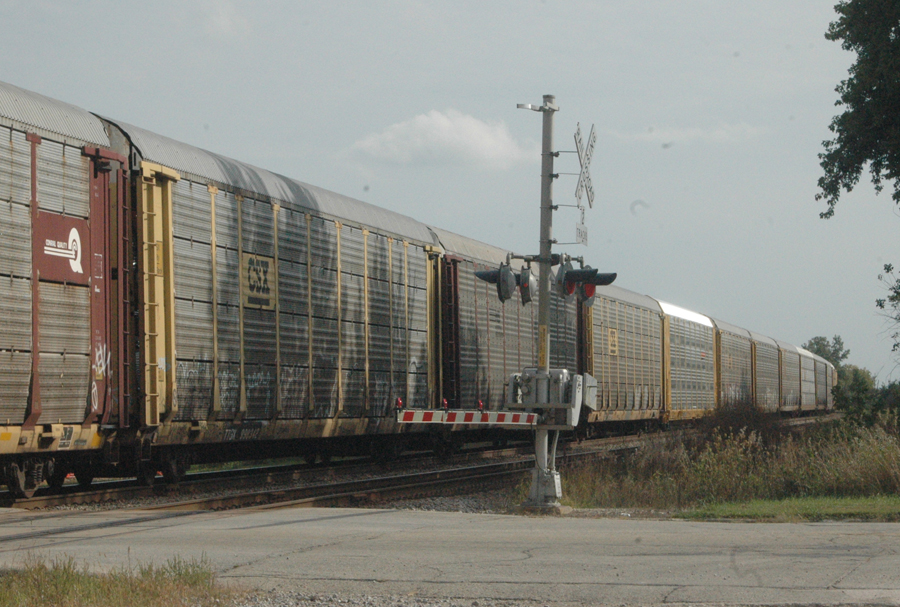 We were in Jeff's SUV, and his scanner is better than mine, so we were scanning and heard of a southbound UP train over on its Milwaukee Sub, a couple of miles east of the CP, so we blew off the other Hiawatha set and set up at the old Waxdale location, where a MILW line from Sturtevant into Racine (the east end of the old "Southwestern") used to cross the C&NW. The name comes from an adjacent Johnson's Wax plant. At

4:16

came an empty Sheboygan coal train with 6500/5955 up front and DPU 6057 on the rear. This ended our pre-slide-show photography.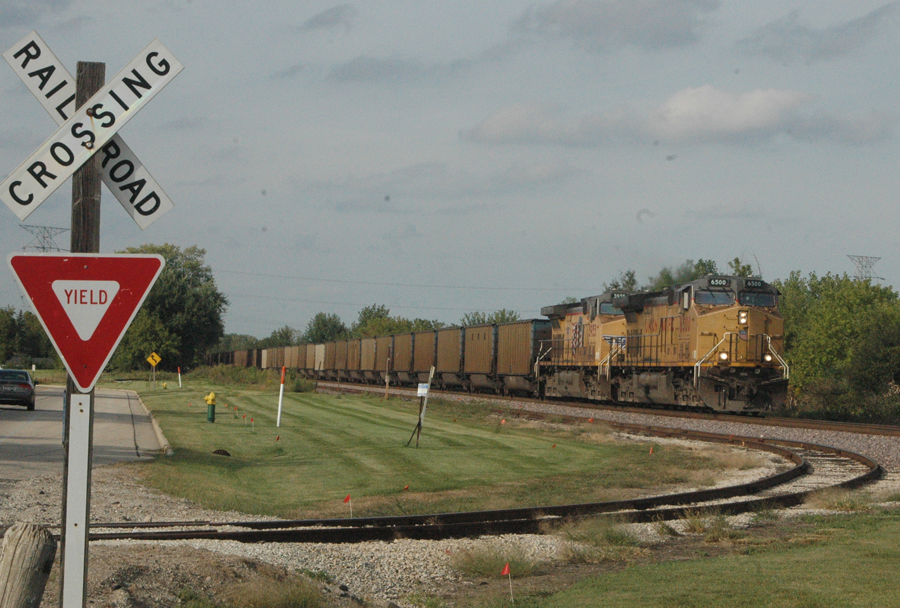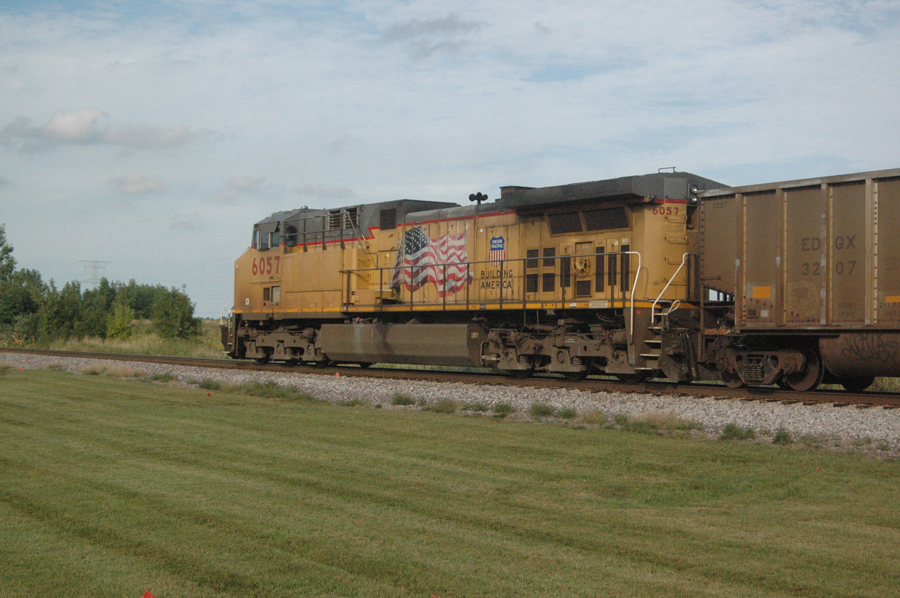 Next day I was at Duplainville for the Empire Builder, but just as it approached, I was surprised by CP local G67 returning from Watertown with 5 cars behind Soo GP38 4438, at

4:16

.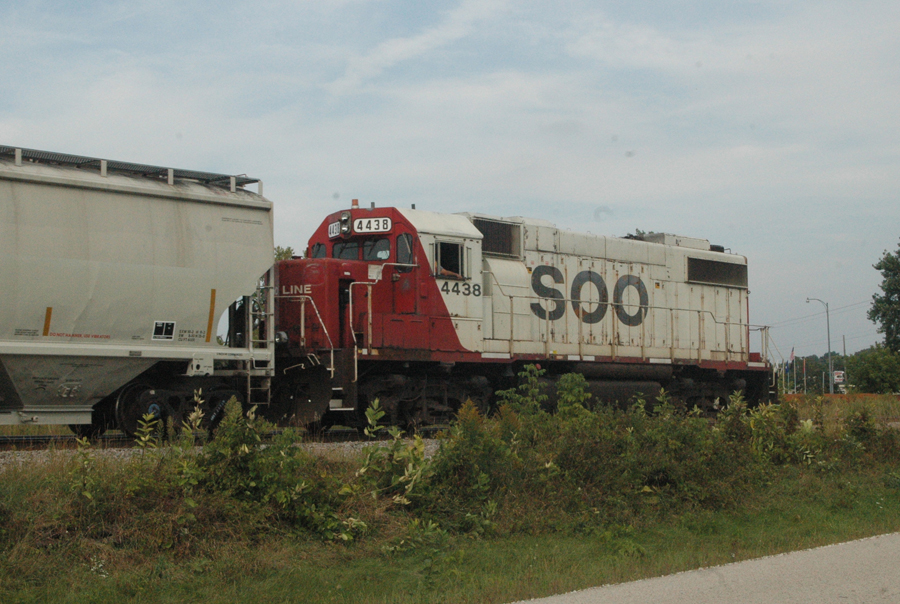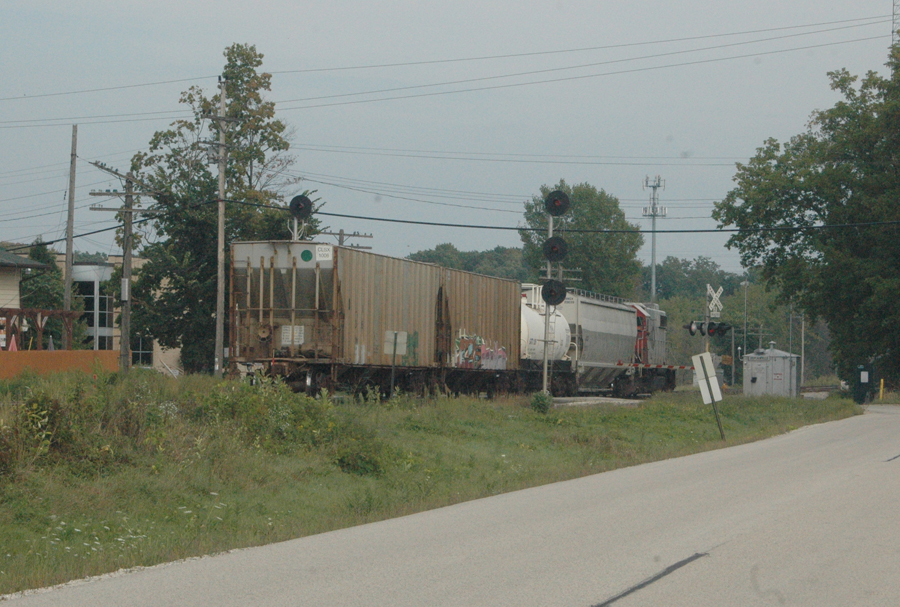 Nothing special, but less than a half minute later #7 came by, engines 87/5 with 11 cars. The engines met the Soo local just east of the diamond.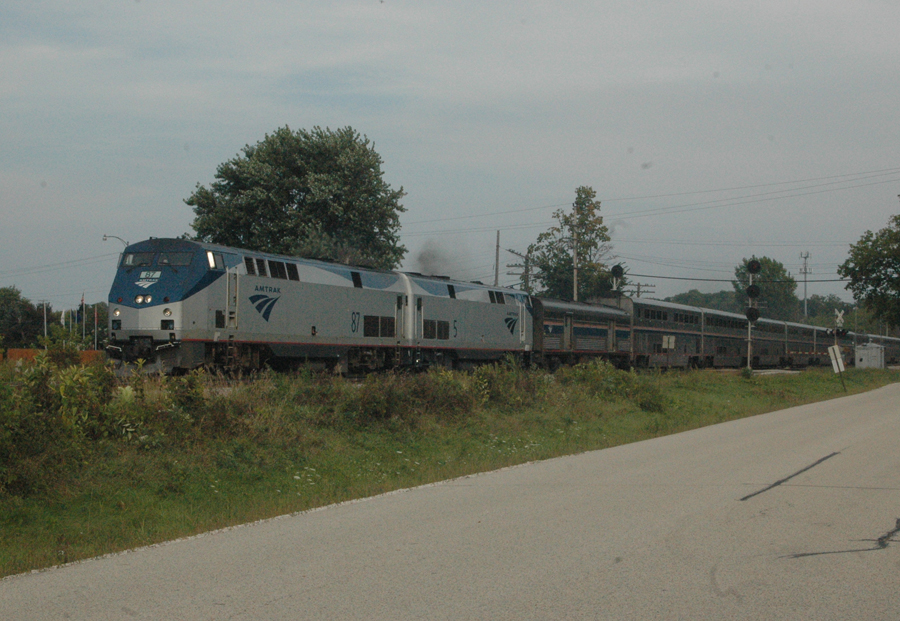 This year's AAPRCO (private car owners) convention was held in Napa, Calif., with a special Amtrak train running there from Seattle via the "Inside Gateway." Not enough  new miles for me to go out and ride or attend, but we were aware of two consecutive days of #7 moving PV's west from Chicago coming up. The first day, Sept. 21st, was dark, but I went out anyway, to Pewaukee lakefront, and the train came by with units 71/72/821 and 16 cars, including ex-CB&Q siblings Puget Sound and Sierra hotel on the rear, about a half hour late at

4:56 p.m.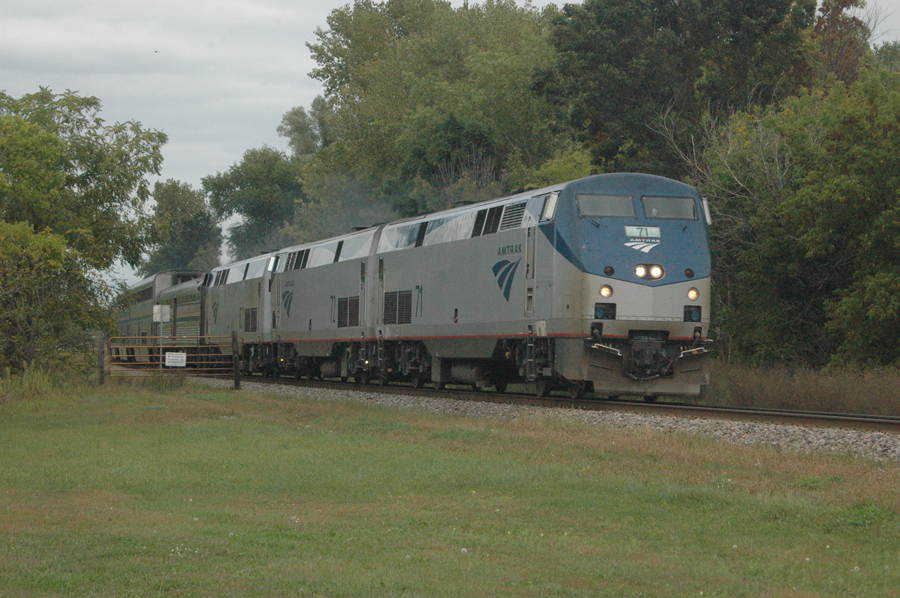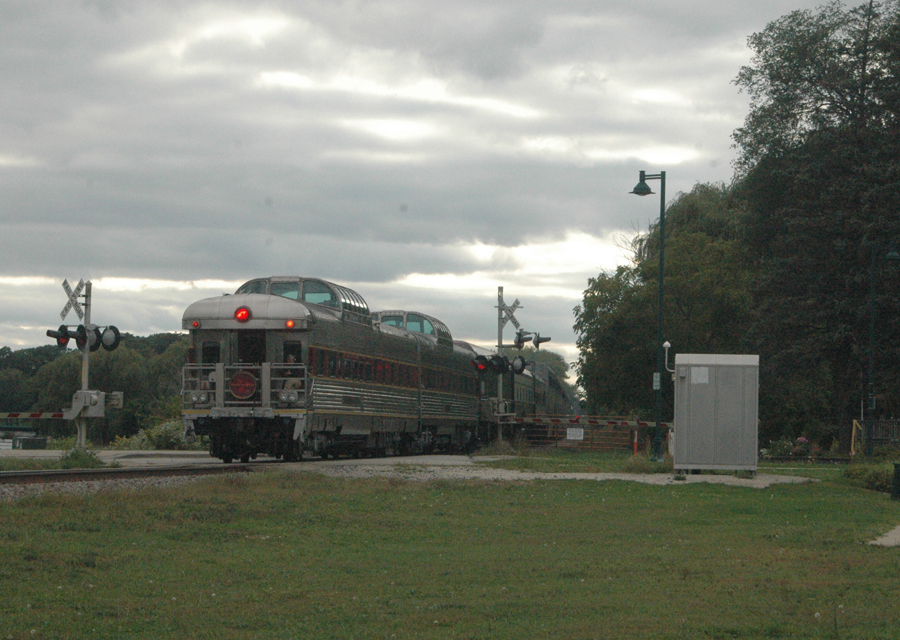 That train met eastbound #8, running 3 1/2 hours late, at Nashotah, so I stuck around for him, with 11 cars behind units 41/6 at

5:11

, photographed at the next crossing east, Oakton Ave/Clark St/Capitol Drive.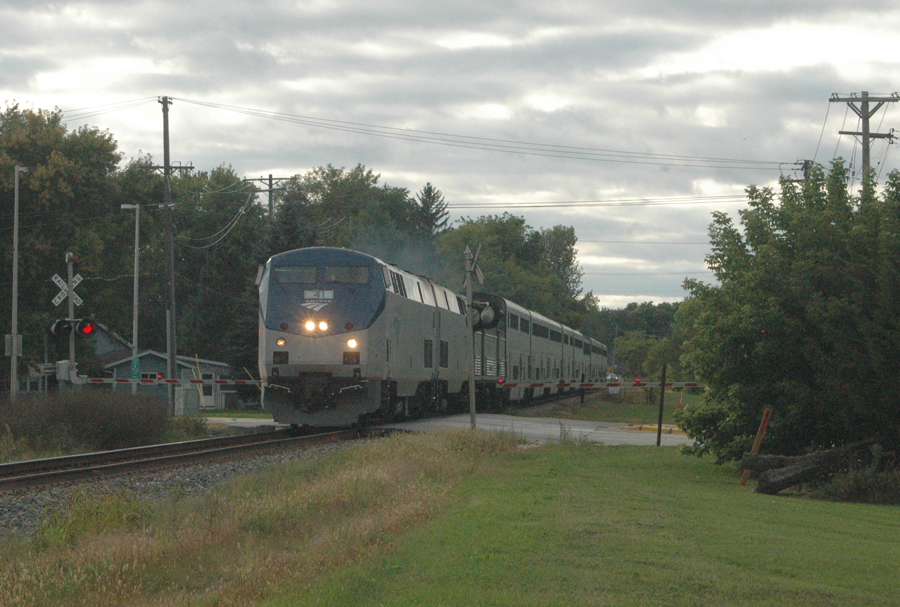 The next day, Sept. 22nd, was sunny, and I was at Duplainville when #7 came by with engines 41/6/99 and 18 cars at

4:29

, about 12 minutes late. The 7 PV's included two in Wisconsin & Southern colors and the 3 cars from Cincinnati including one in L&N colors, an SP sleeper, and an NP dome.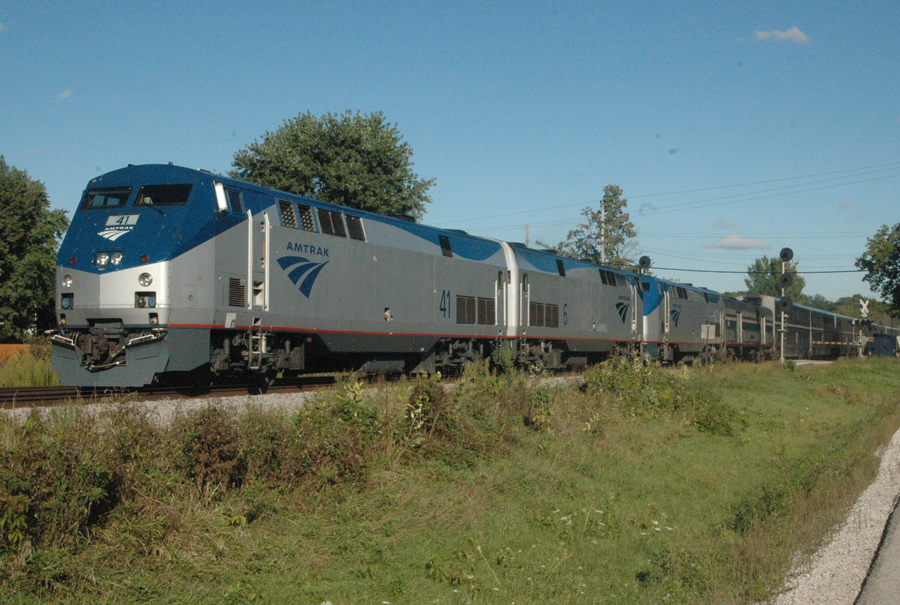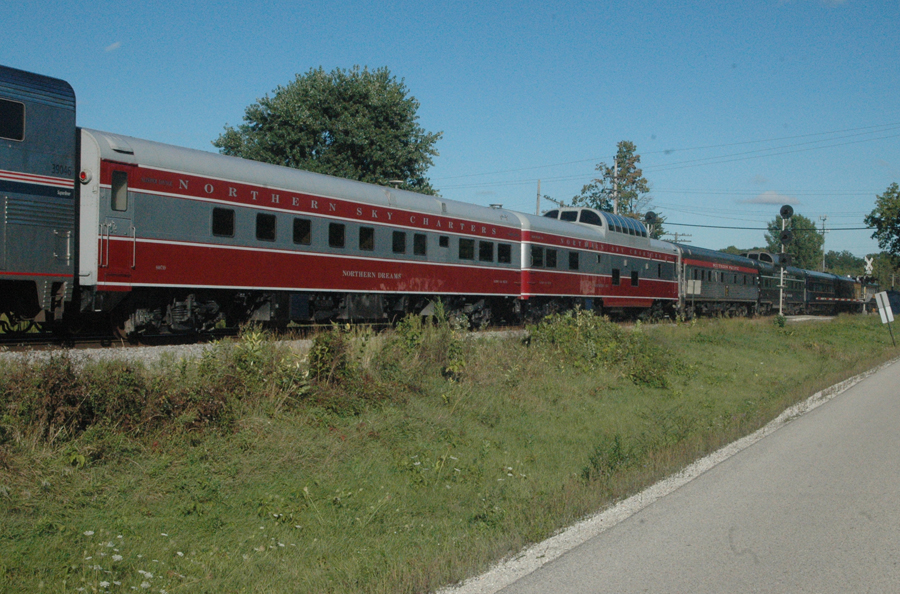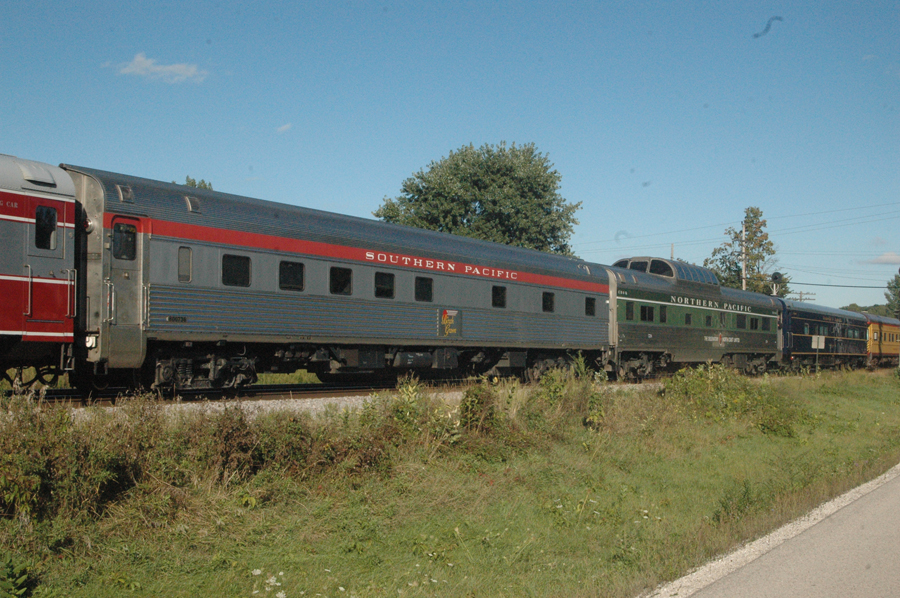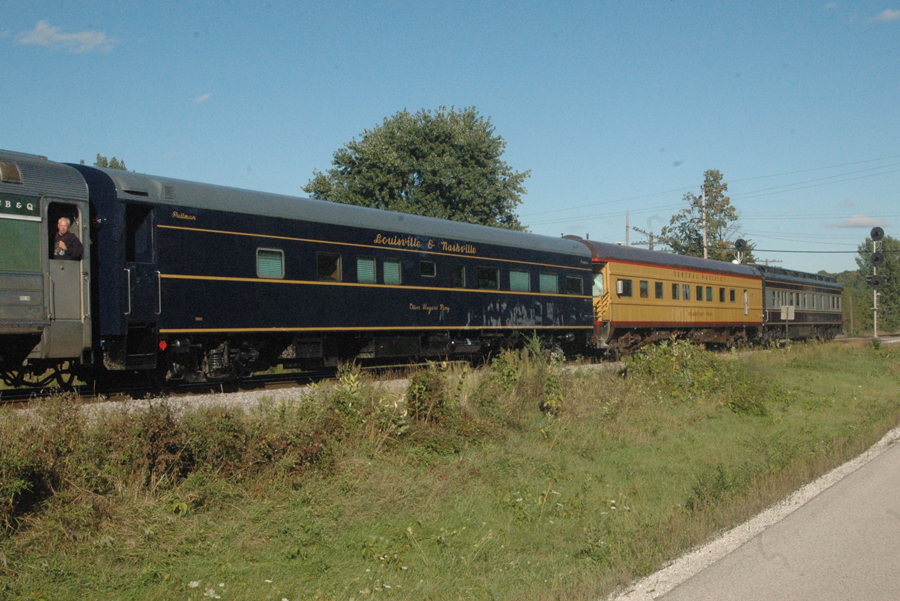 Besides the PV's on Amtrak #7, we'd heard one of the new CP "ECO" road units was leading #281, and sure enough, No. 5014 led CEFX 1057 on the train as it passed us at

4:40

with 64 miscellaneous freight cars and then 55 trilevels for a total of 119 cars. Note that CP #288 had taken to Track 1 at Pewaukee to wait for #281 to pass Duplainville; #281 and #7 had come out parallel to each other on the two mains.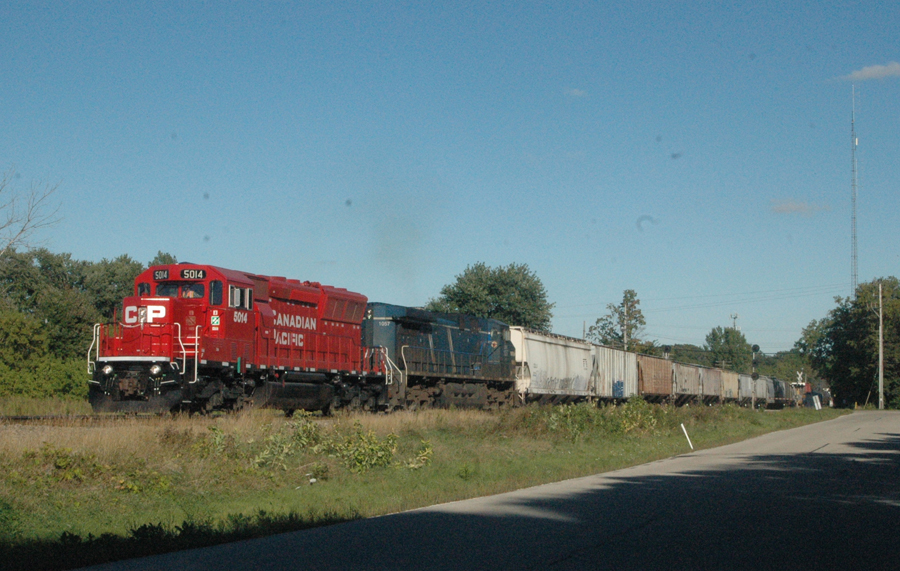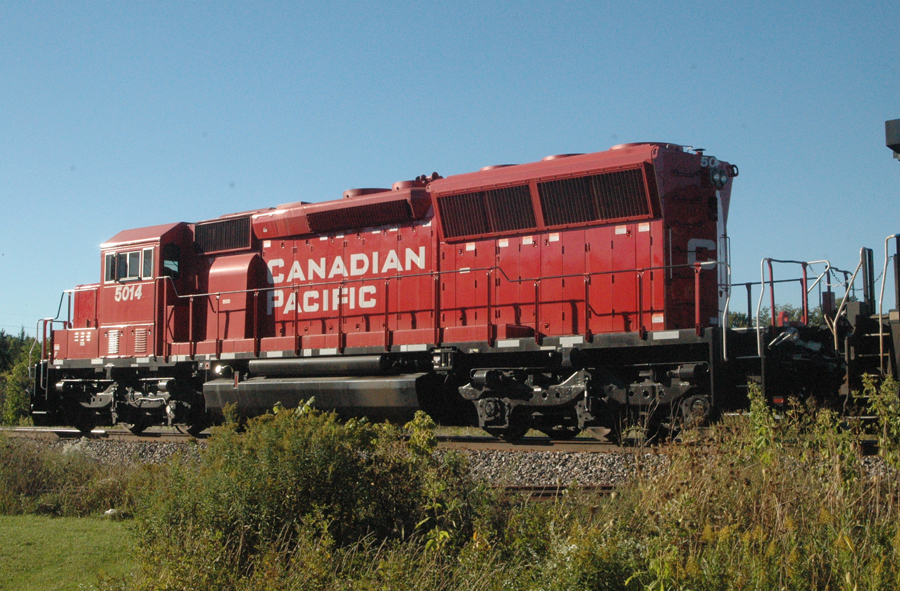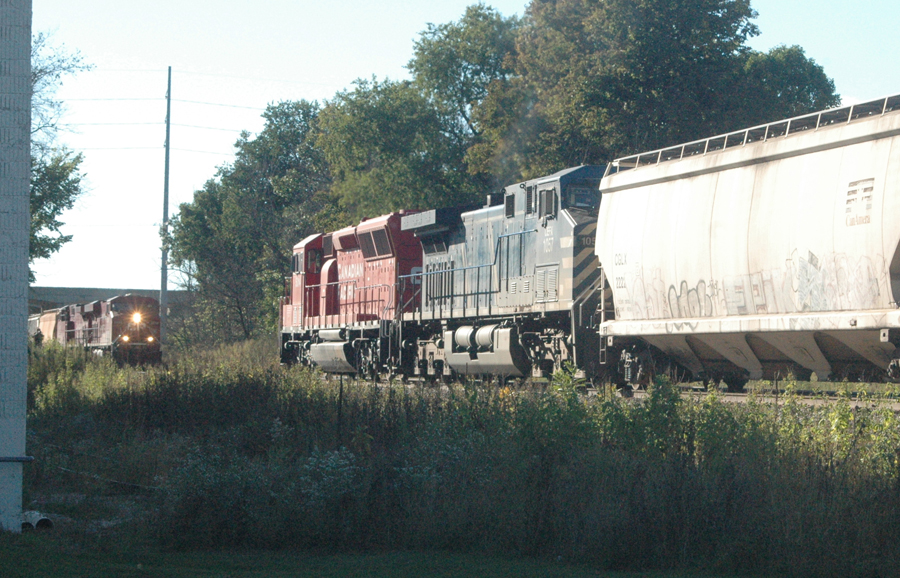 Unusual in the consist of this #281 was a bunch of loaded coil-steel gondolas toward the front. There is usually one or two articulated TTX tri-level duos in #281's consist, however, so I finally shot one close-up.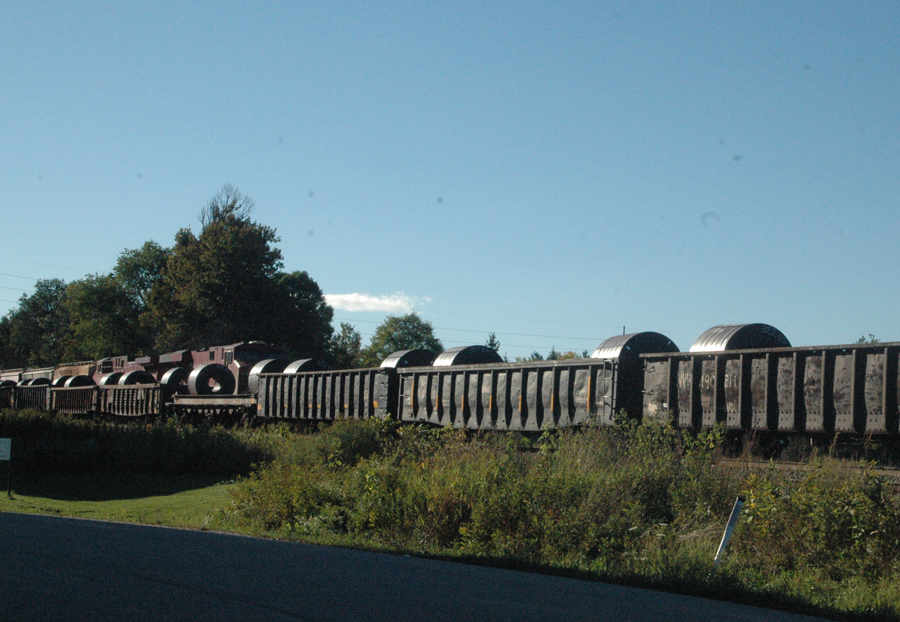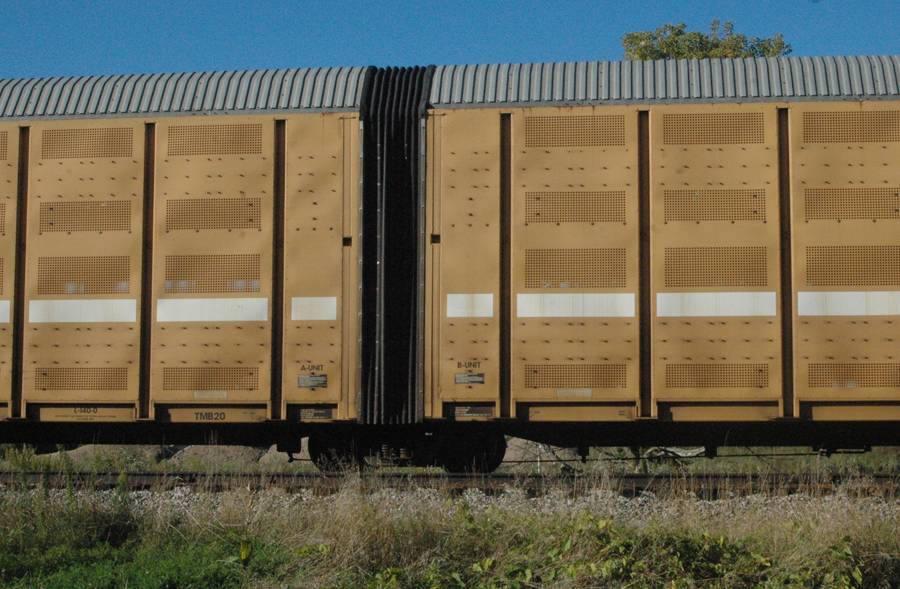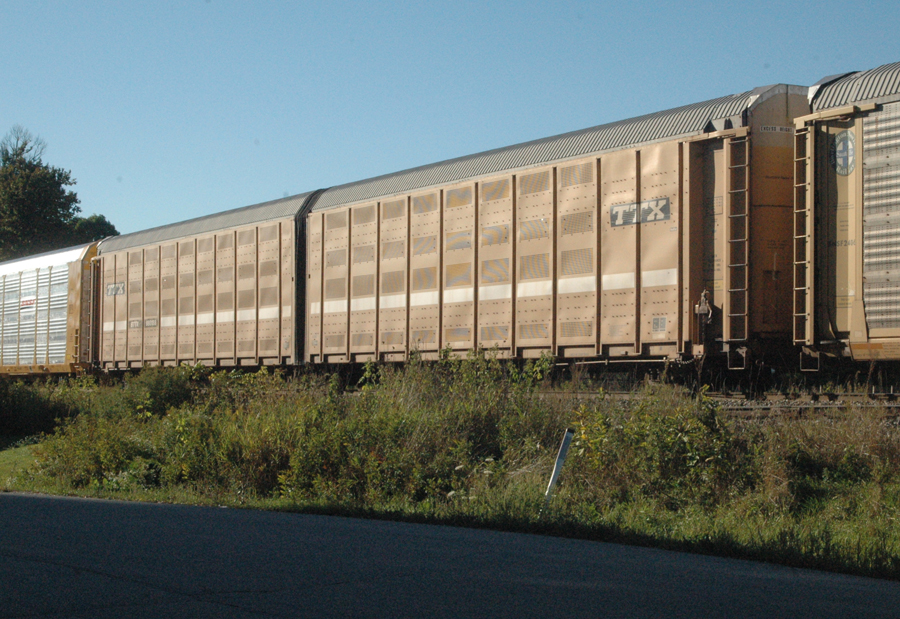 At

4:53

, #282 started to pull, ready to cross over to Track 2 with 8886/8561 and 109 cars.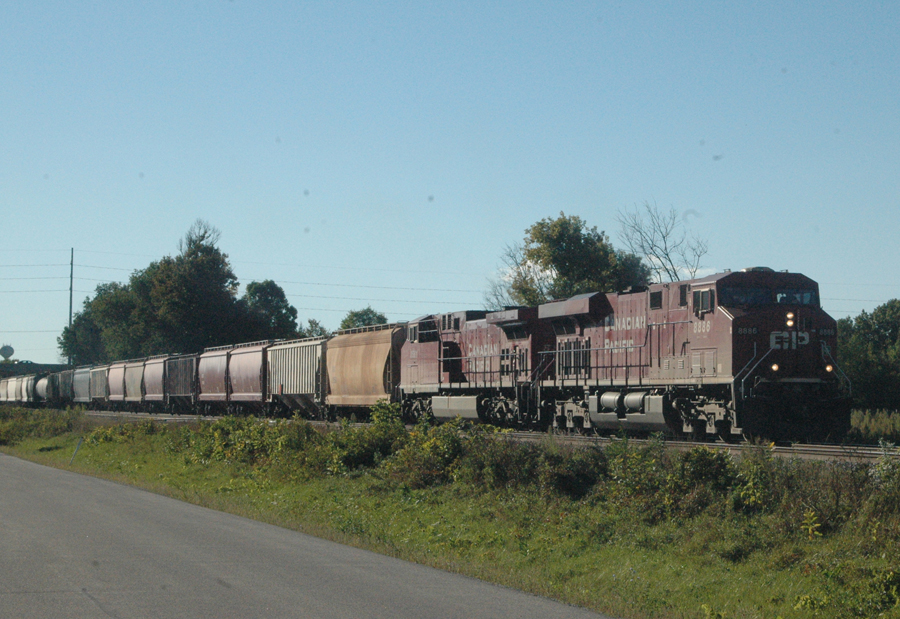 CN stack train #119 was next, but surprised us, and all I got was a slide of him up north on Spring Creek bridge with units 5518/2676 at

5:08

. He met #446 on Duplainville siding, so I set up at Joseph Road south of the diamonds for him, engines NS 8997/9711 and 88 cars at

5:18 p.m.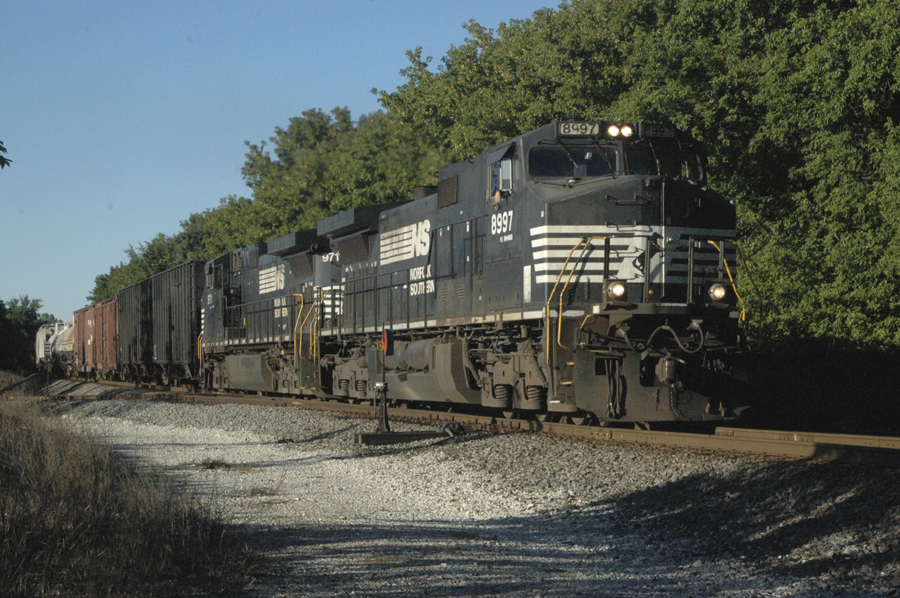 Highlight of the month locally occurred on Sept. 24th, when the word was out that, finally, an NS Heritage unit had shown up on the run-thru train to Shops Yard at N. Fond du Lac, going thru Waukesha around 3 or

4 a.m.

, and expected to come back south on #446 during the afternoon. And so, with the decades-long slide series of "oddballs passing Waukesha depot," that is where I set up for my shot. Many of the local gang were strung out at various places from Ackerville, up near Slinger, and Vernon siding, south of Waukesha, plus Terry Norton was alerted to get him at Grayslake, Ill. I did some work at Kalmbach, then left, grabbed a bag lunch at home, and just sat trackside in Waukesha and read. My first train was this southbound with 5747/2151 at

1:09 p.m.

, with a mixed consist but 23 trilevels on the rear. I'm at Broadway Ave. downtown, across the street from the depot.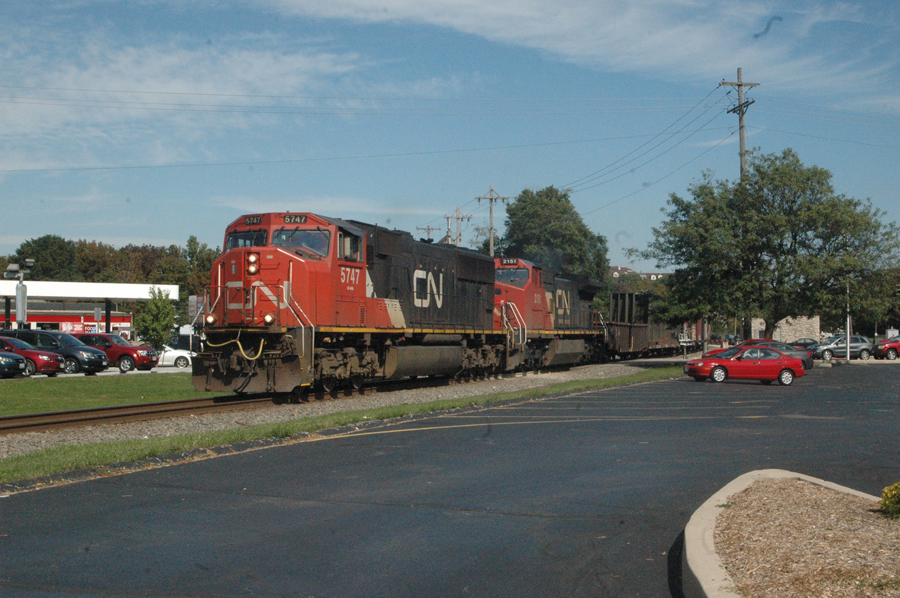 Next was CN #119 northbound, with 8838/2402/5764 at

1:44

, having met the 5747 South at Vernon siding.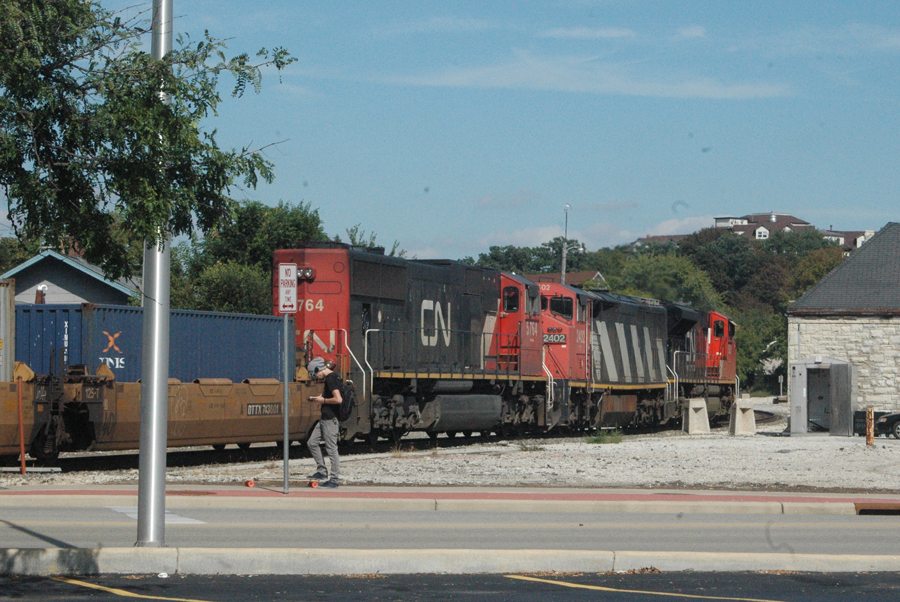 CN #446, with NS 8025, the Monongahela Rwy Heritage unit, leading 9600, passed the depot at

2:12 p.m.

This is only the 5th NS Heritage unit I've seen in person, after the Wabash and Illinois Terminal ones behind NKP 2-8-4 765 a year ago, the NYC unit leading an eastbound CP train thru Duplainville, and the Central of Georgia one trailing on an eastbound at Kendallville, Ind., in July 2013. Various other files on the website have all these shots.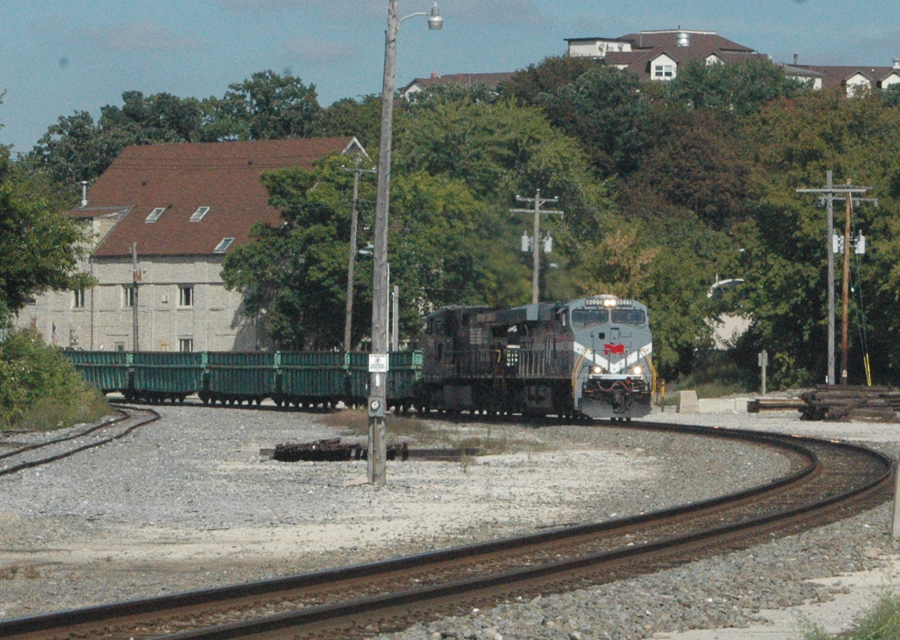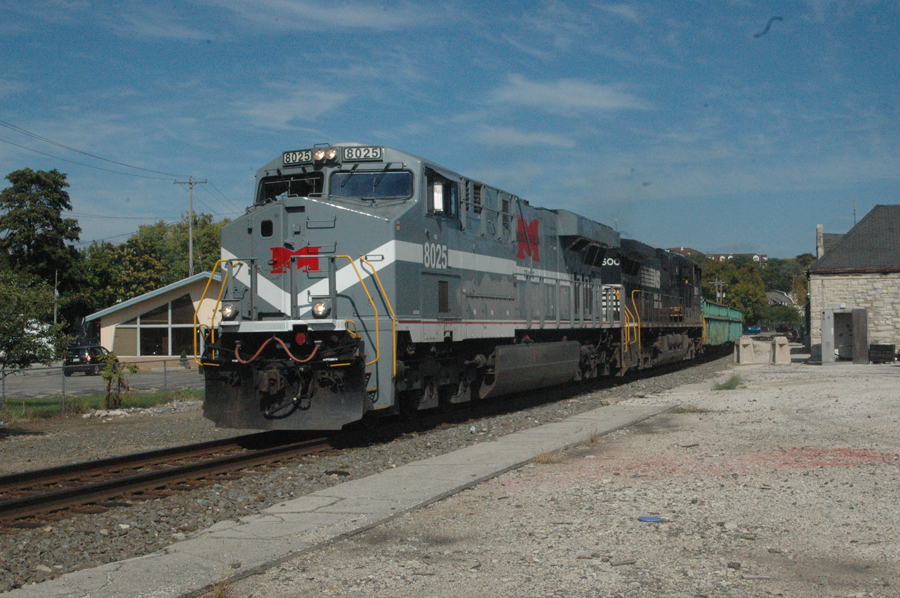 I stayed out for the afternoon, in such good light, and wound up getting four more trains. First was a meet of CN stack train #198 and #341 at the north end of Duplainville siding. Weeds prevented me from getting a good "meet" shot, so I settled for this action shot of #198 at the Highway K crossing, engines 8800/5686 at

3:34 p.m.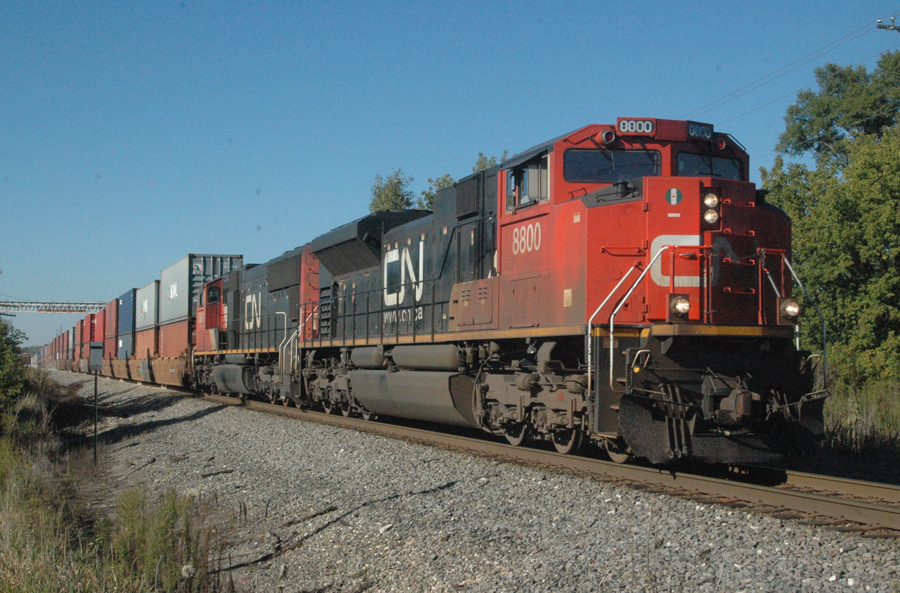 I then went up to Sussex for #341, engines 2551/2195 (the latter ex-Santa Fe) with 129 cars, passing the parked Quad/Graphics business cars at

3:55

.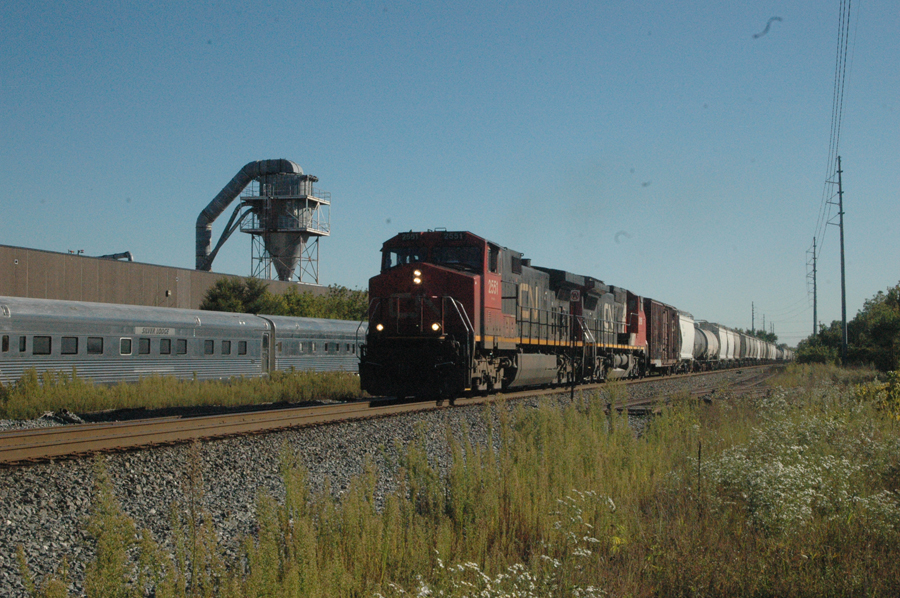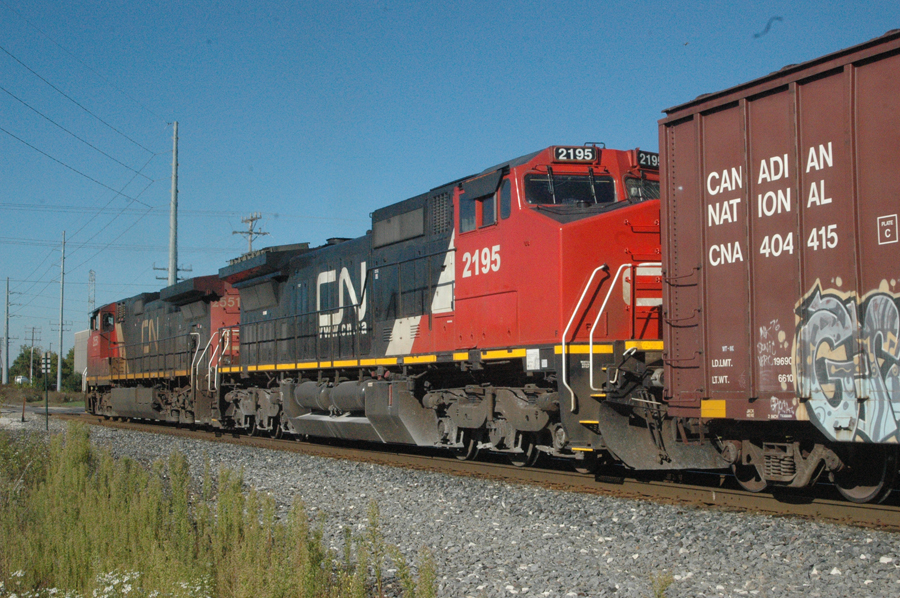 Reminders of Wisconsin Central, now gone 12 years (it only existed for 14) are still daily sights in some CN trains, such as these pellet cars in #341, bound for a plant near the Wisconsin-Michigan border.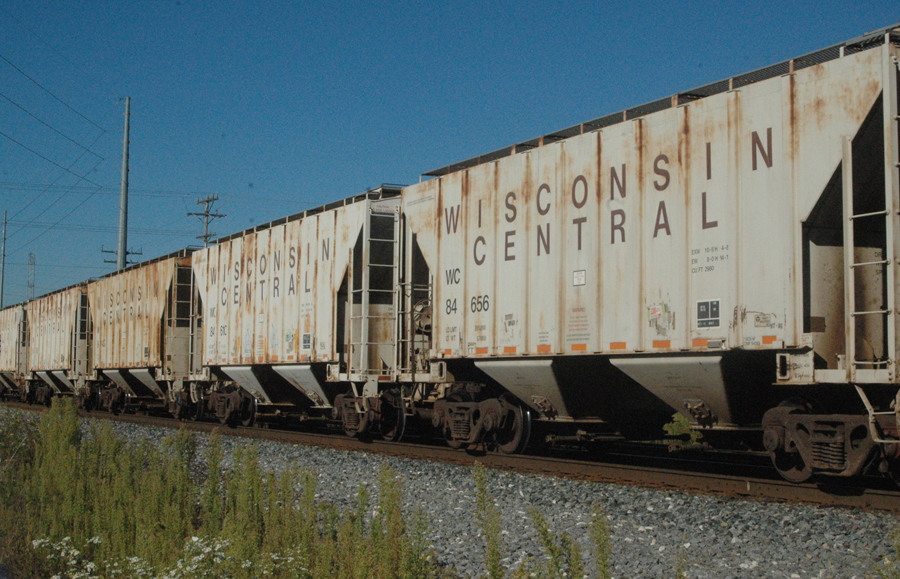 Behind #341 was this train, 8964/8848 with 67 cars including 56 trilevels, which I stayed at Sussex for, getting him passing the Quad/Graphics cars at

4:07

.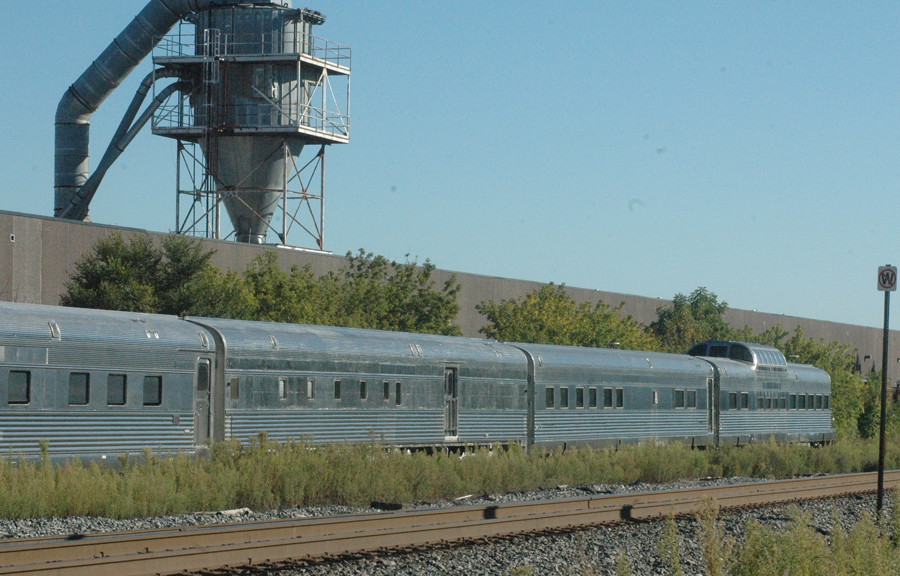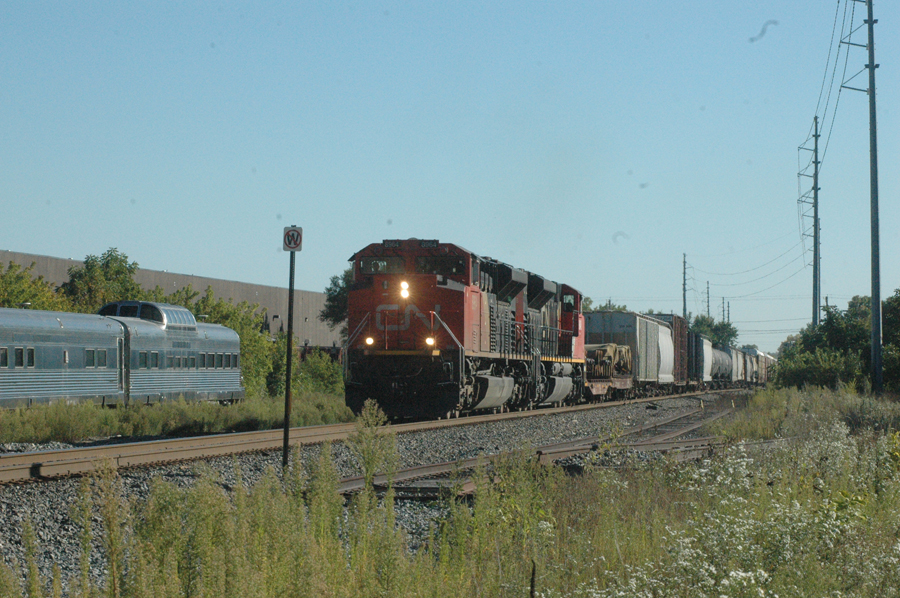 Catch of the day, other than the NS Heritage unit of course, was CP #289, which I almost missed, having deliberately blown off Amtrak #7 while at Sussex. I was south of Duplainville, headed home until I heard a d.s. call to him on the radio, so I hustled back and got him at

4:34

with 4 SD40-2's: IC&E 6404/CP 5906/CP 5964/DM&E 6078. Normally when I'm out solo, without my "clerk" (Carol) to record engine numbers, times, etc., I snap "throwaway" digital frames to get trailing-unit engine numbers, but these being SD40's, I can't bear to throw them out and so am sharing them. The two "CP's" are, I think, among 20 or so leased by DM&E/IC&E before CP absorbed those roads (as DM&E, folding IC&E into DM&E). The rear one is renumbered into the DM&E series. Fortunately for us viewers, CP's business is up and so these old hogs continue in service.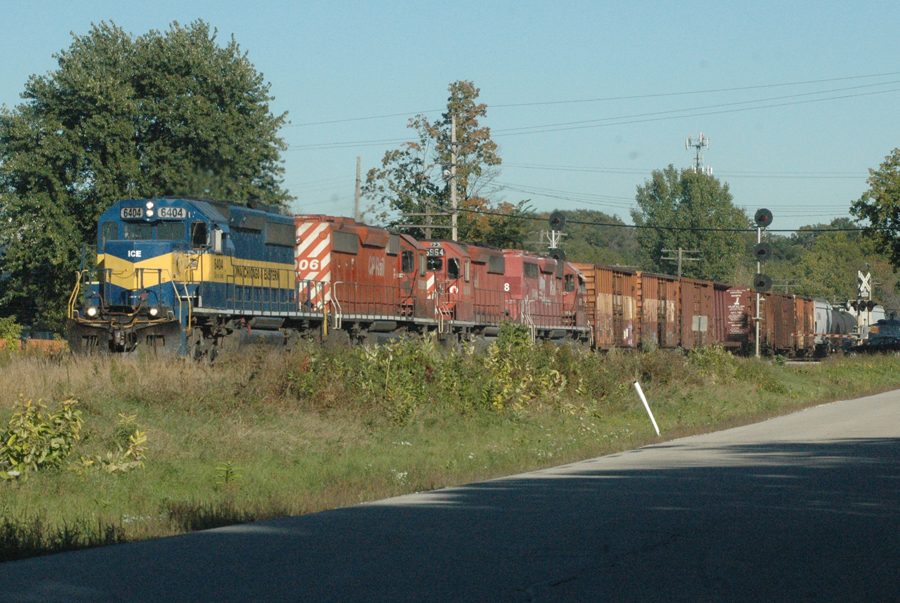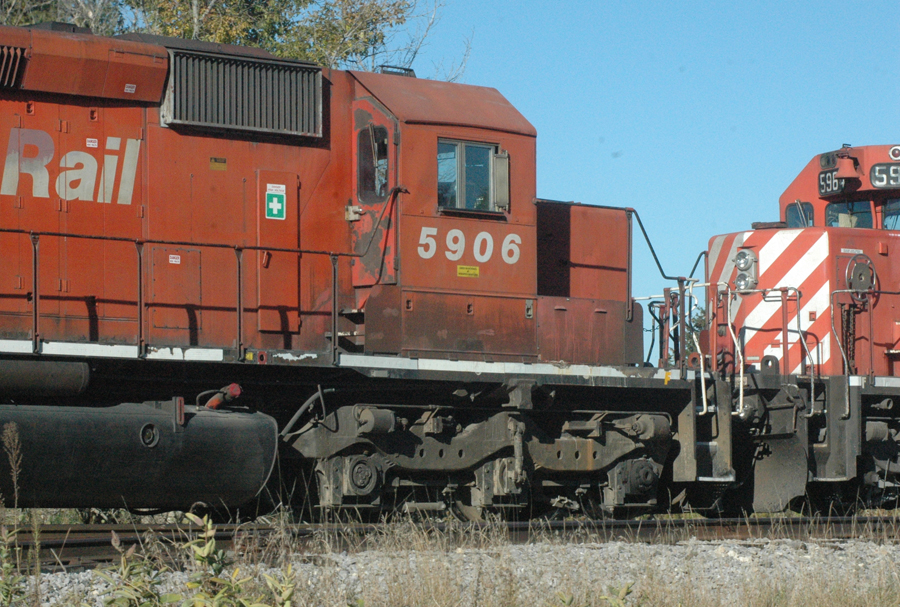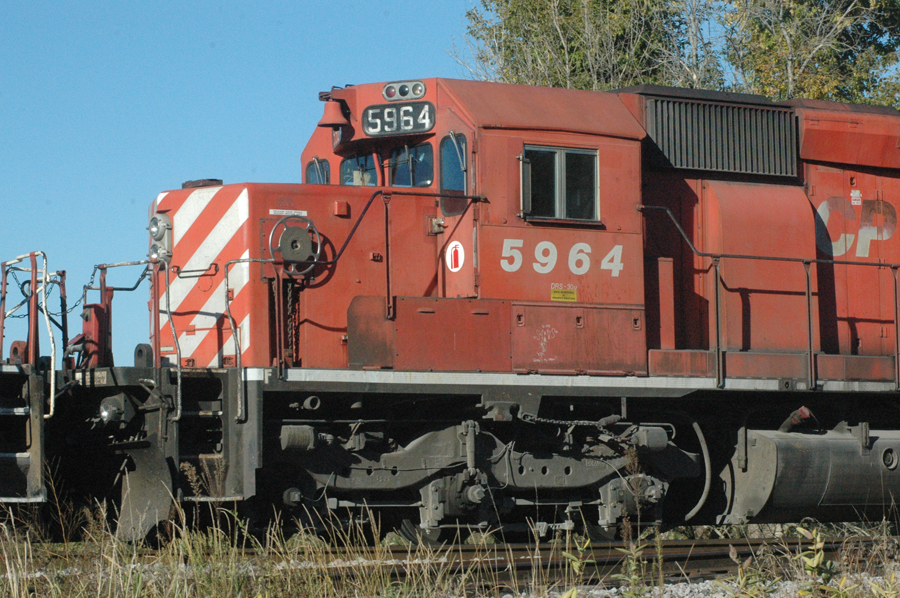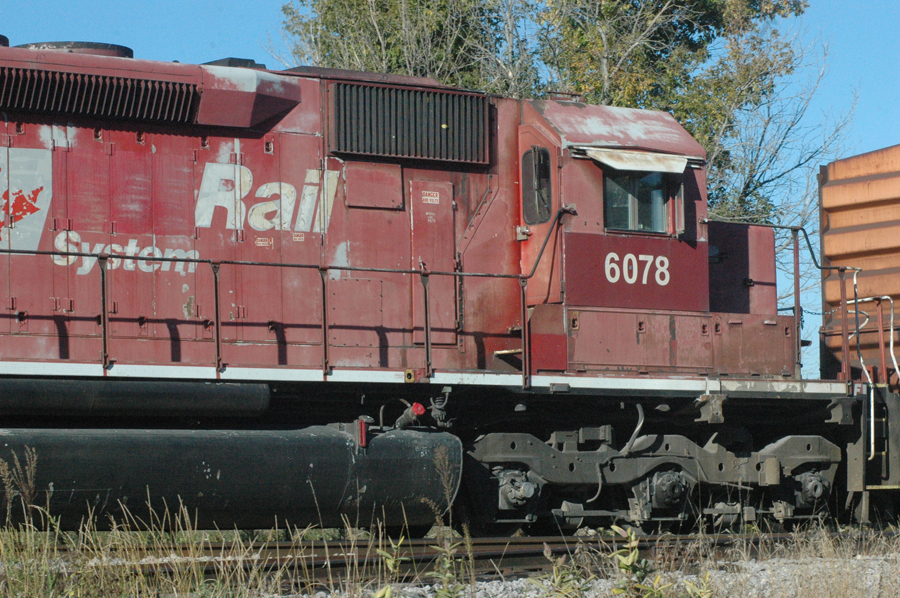 Friday

the 27th was another nice day,so we headed west in mid-afternoon. First, up at Duplainville siding, came a 126-car potash unit train with units 8915/2593 up front, at

2:48

, then DPU's 2447/2670 75 cars from the front.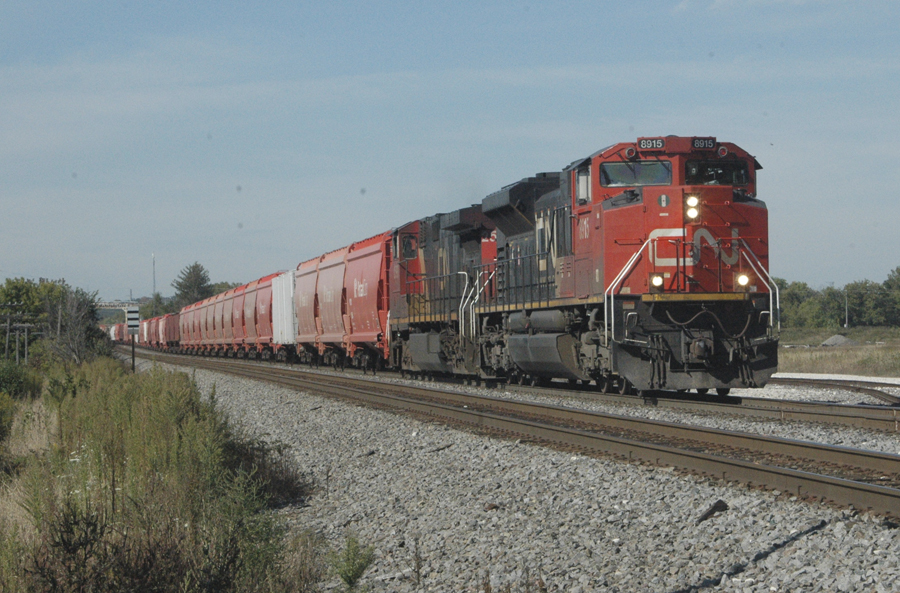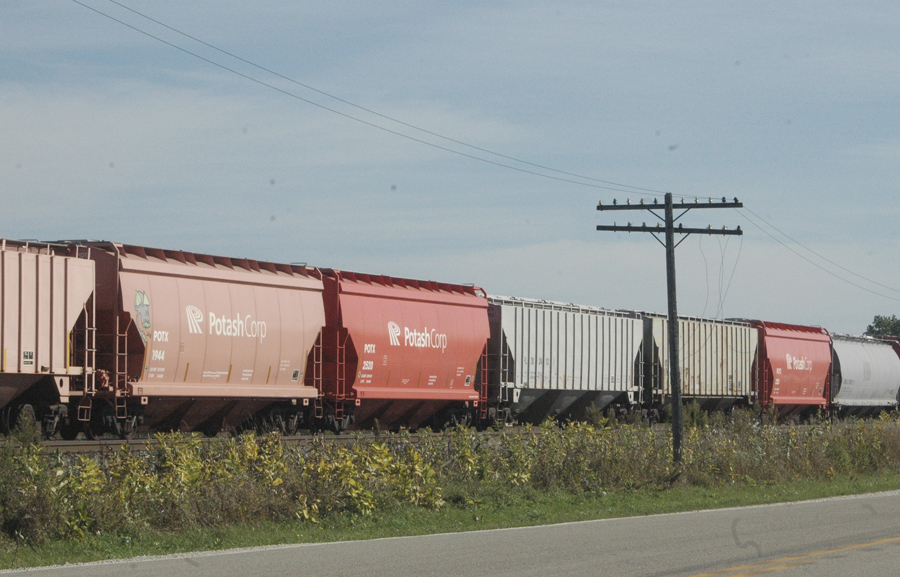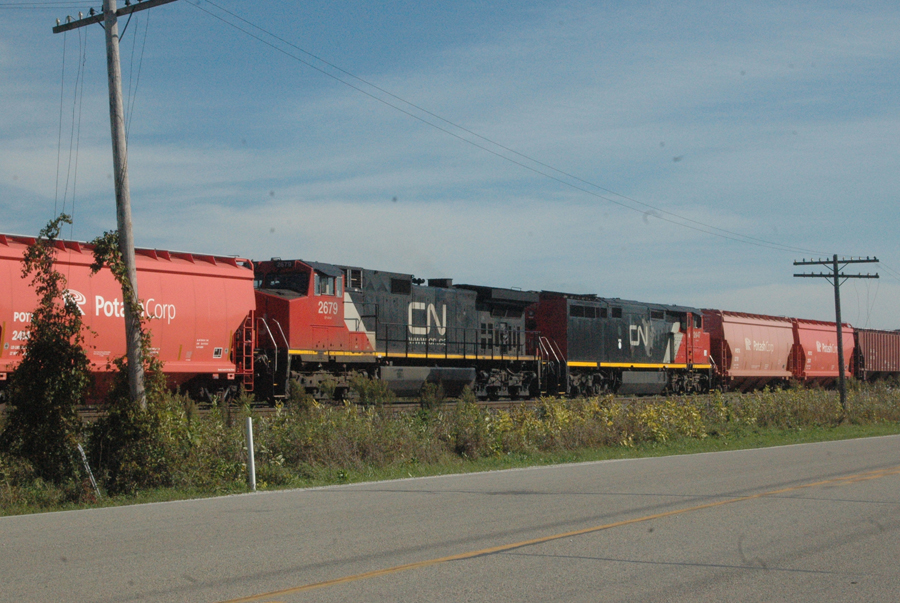 Many of the potash hoppers had the "Do Not Hammer on Car" warning, but given the proclivity of many railroaders relying on a ball-peen hammer to "fix most anything," one wonders how loyally that admonishment is followed :-)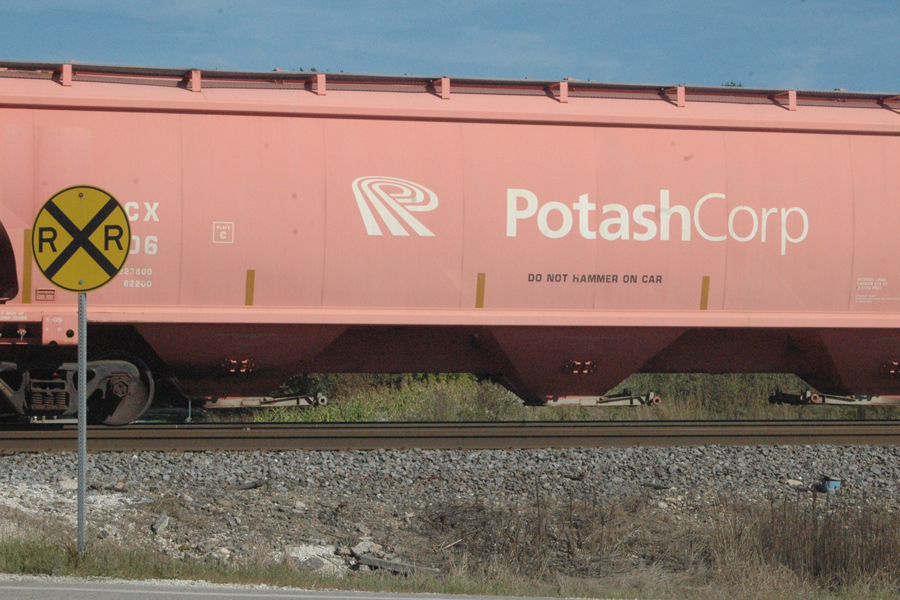 The potash train was in the siding, so we set up at Spring Creek for the n.b. he was meeting, which was stack train #197 with 117 wells behind 8857/5639 at 3:04 p.m.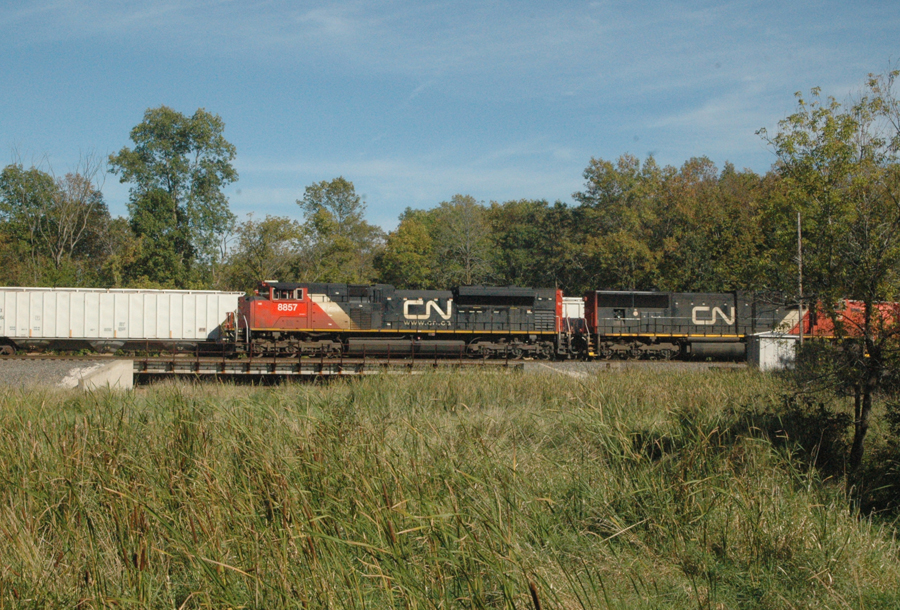 We then moseyed west, but CP was quiet until we got near Nashotah, where we set up on the curve at Vettleson Road when we saw this eastbound stack train, with 143 wells behind 9709/8812 at

3:48

.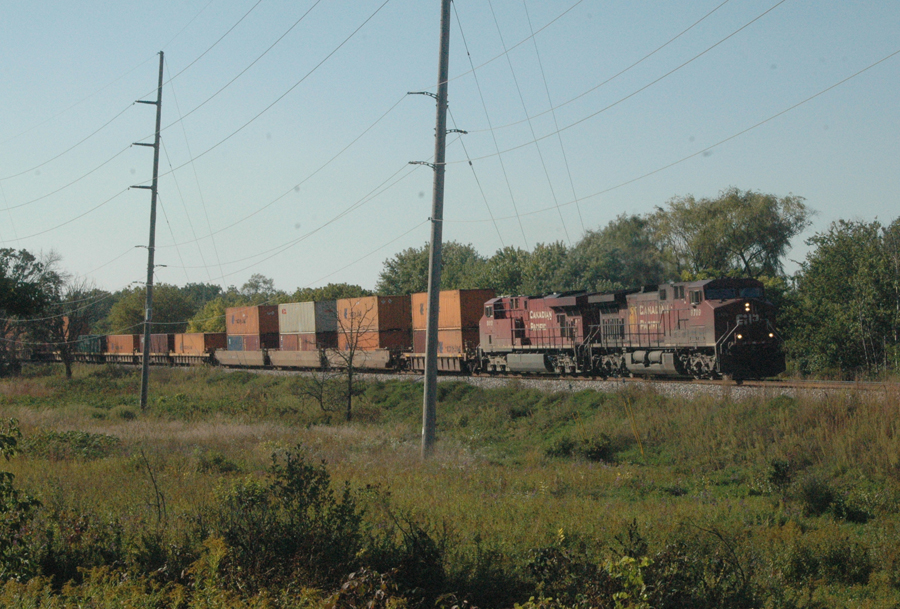 The "tallgrass prairie" on the curve between the track and the road is a nature field managed by a nearby school.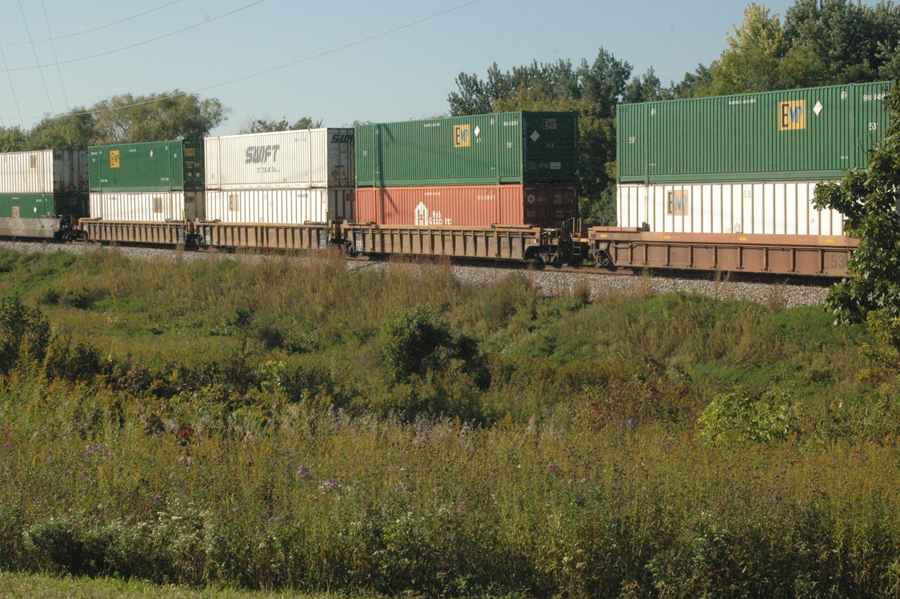 We then went on to a favorte vantage point, good in either direction, a dead-road farm residence road  just east of Ixonia and west of Cooney siding, for Amtrak #7, which sped by behind units 41/6 with 11 cars at

4:46

, on-time.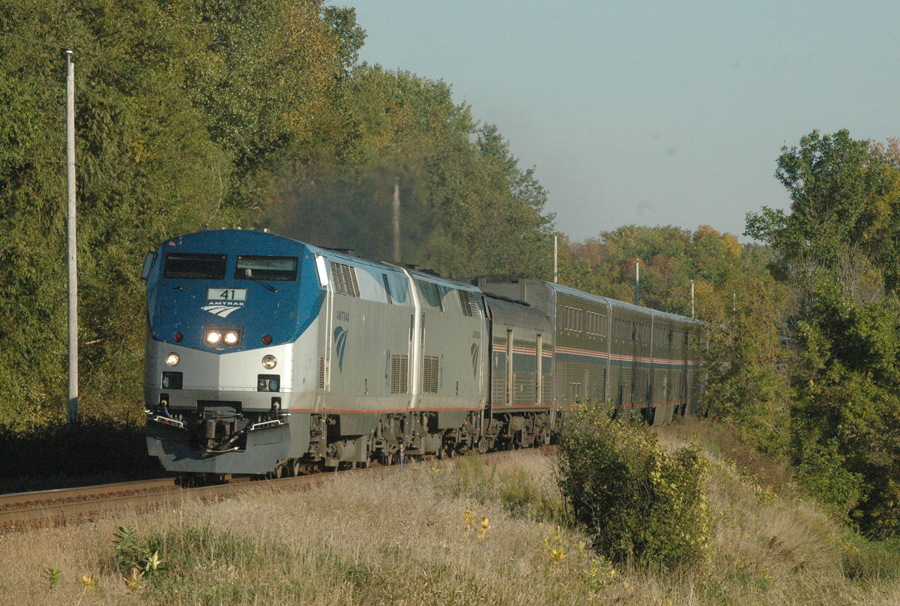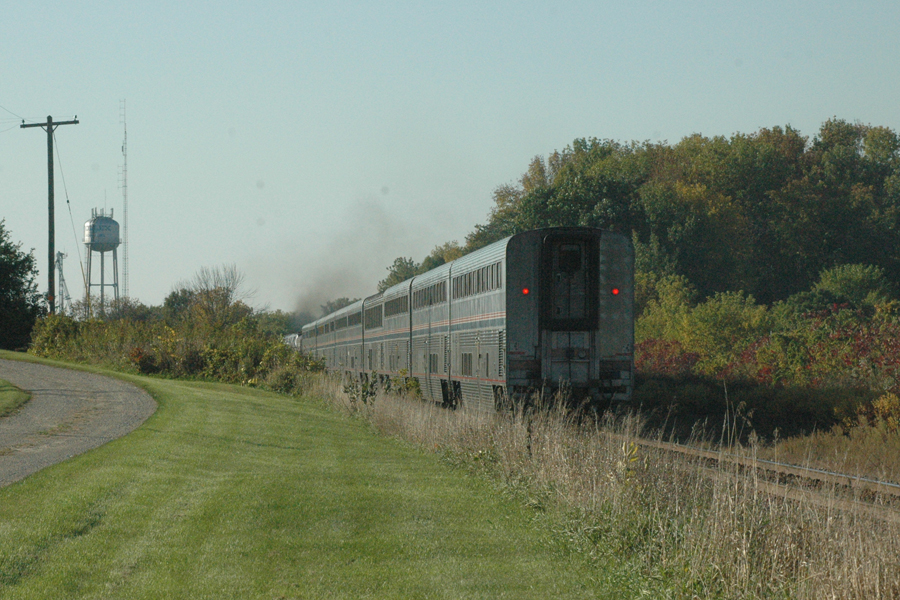 The bridge at Ski Slide Road, near the residence of TRAINS' Production Editor Angela Pusztai-Pasternak and her family, provides a great vantage point from the south in the middle of Cooney siding. The bridge serves two roads, also an east-west one that rises to T at the bridge, giving an elevated look to the west. A week before, we had a fish-fry dinner date out in Oconomowoc, and had camped here hoping we'd get Amtrak #8, which was still about a half hour away, but he fell down more and we had to abandon the attempt, else we'd be late for dinner. So figuring we'd see something else -- #8 was still an hour away and the sun was beginning to get low, but #281 hadn't come -- we went back to Ski Slide from Ixonia. Alas, in the intervening week, the farmer had cut about half the corn that had formed a nice triangle you could shoot over for a "glint" shot of Amtrak #8, but we stuck around anyway. Railfan friend Bob Gallegos showed up, so we had a nice chat before #281 came by, 92 cars behind unit 9583/8786, 44 grain empties followed by 48 trilevels. We finally gave up on #8 and settled for this sequence.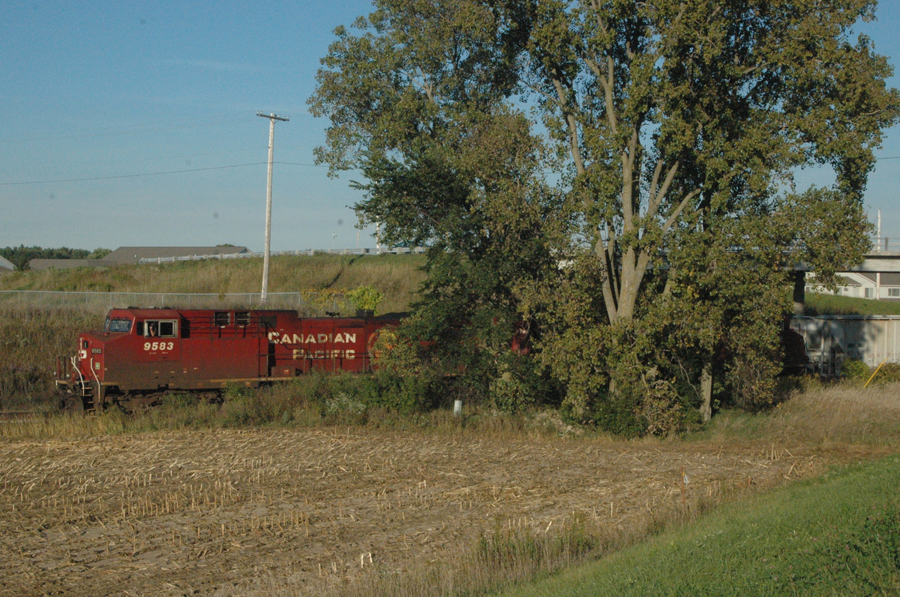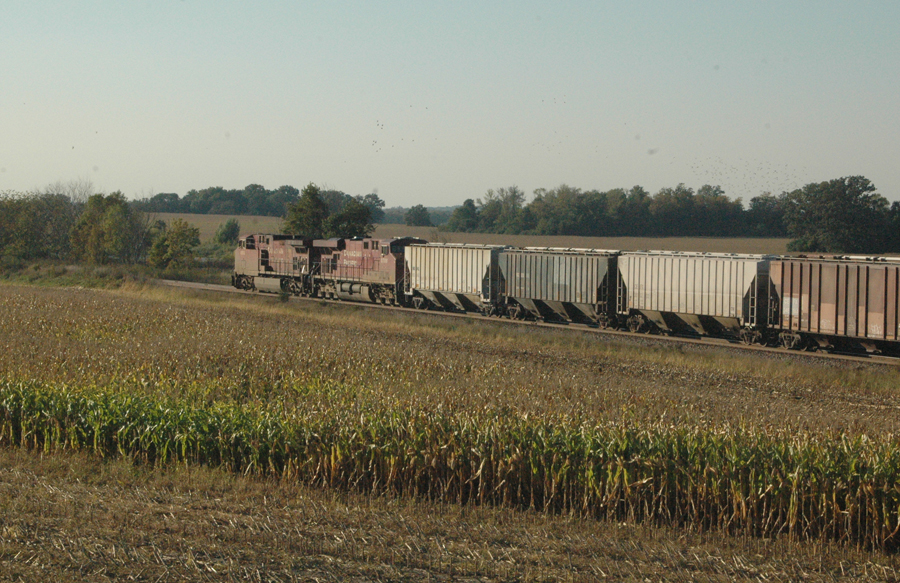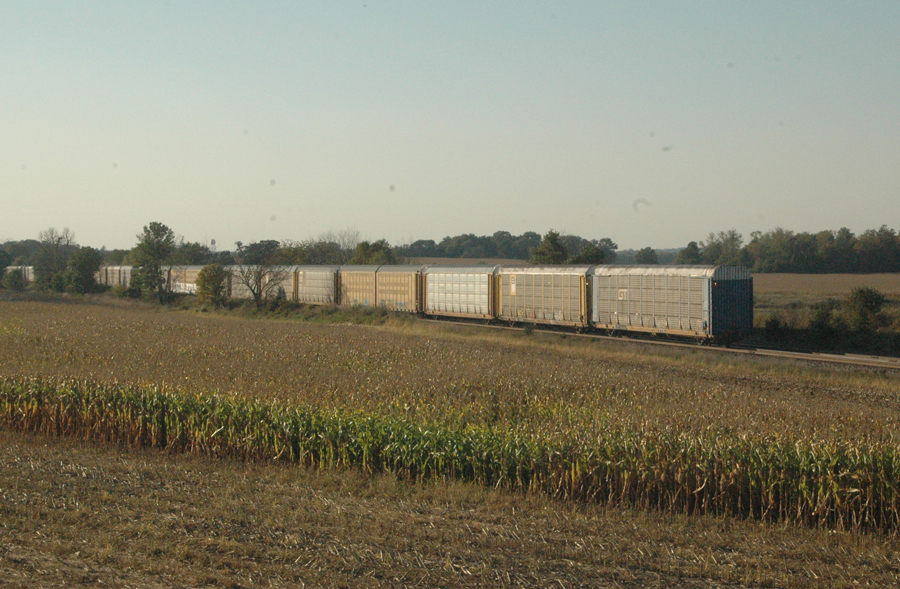 On Sunday

the 29th we went out to East Troy again, trying to find their Twin Cities car 1583 in sunlight, as an ex-Twin Cities friend from Iowa, Nick Tharalson, is searching for slides of her. Alas, the museum had two 2-car trains in use, Chicago L cars and South Shore  Line cars, because the tourist trap at their northern station outside Mukwonago, The Elegant Farmer, was deep into "pumpkin fest" with hundreds of families with kids everywhere, traffic jams, etc., so we contented ourselves with shooting the South Shore care (had gotten the L cars a few weeks before).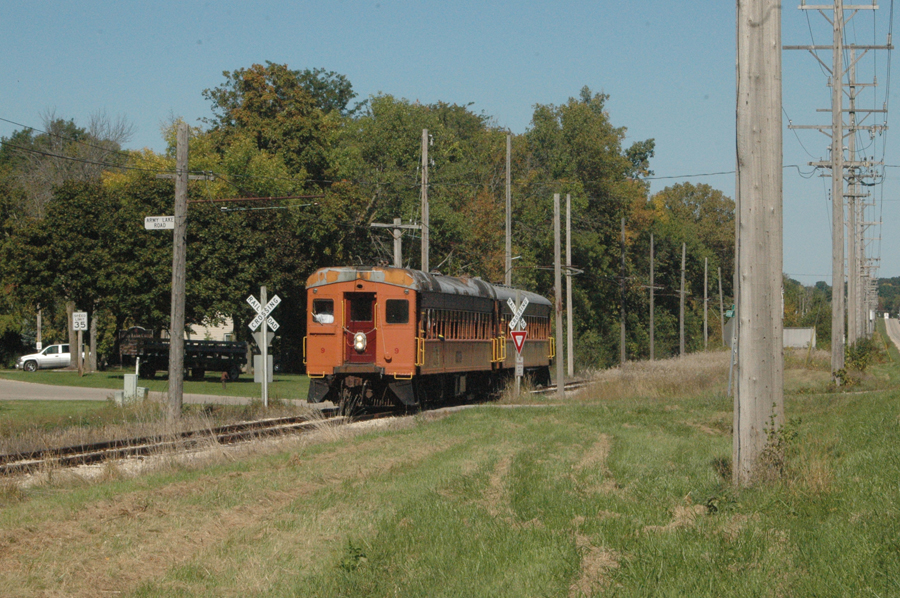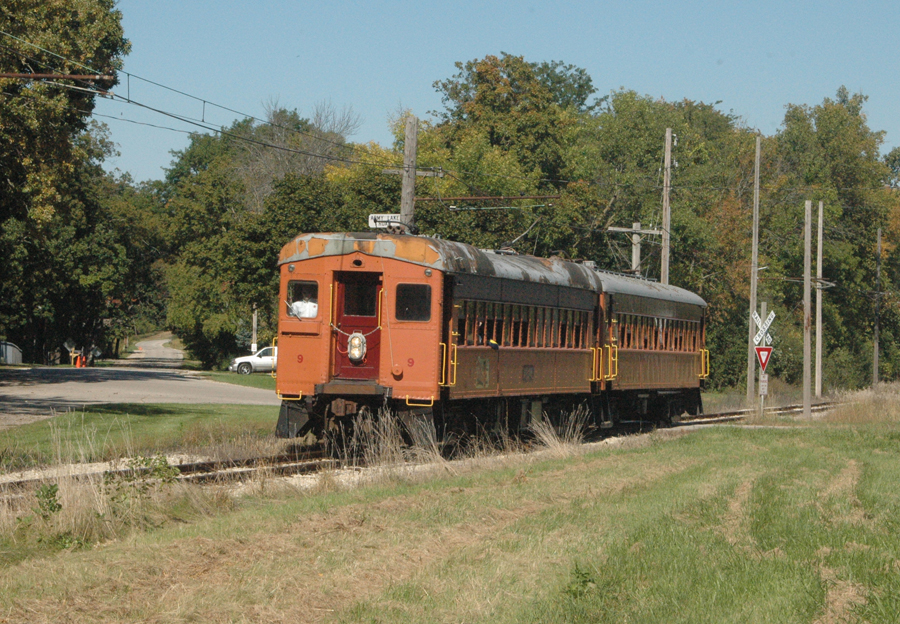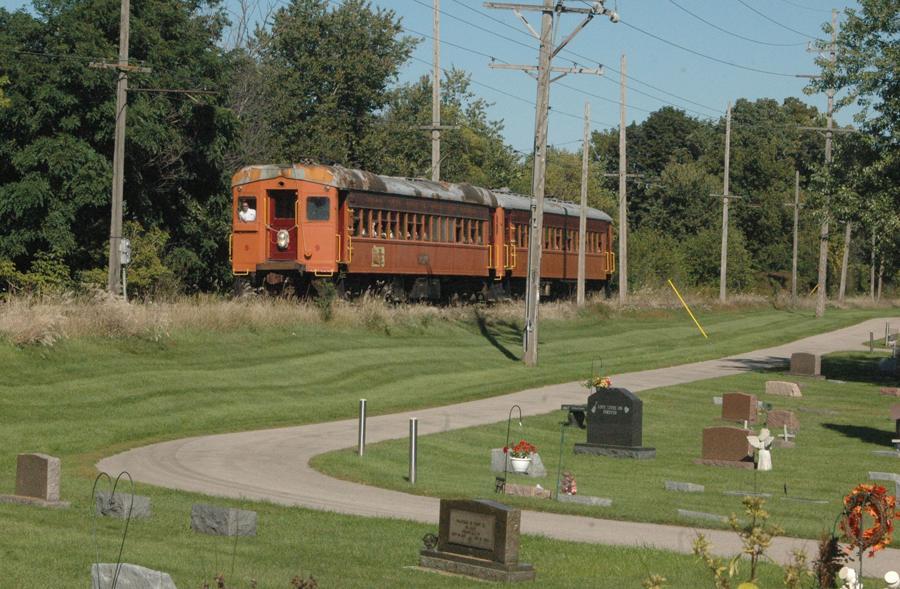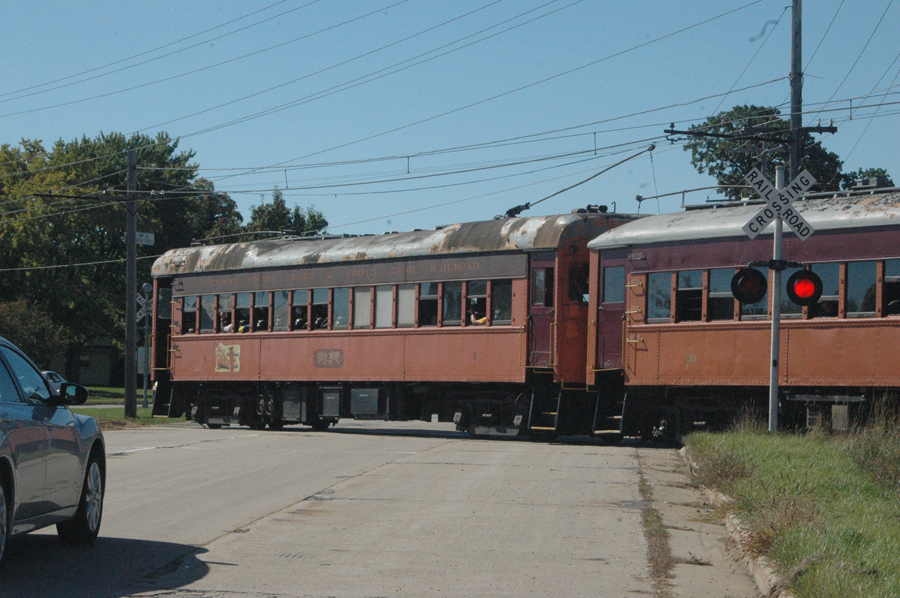 Up at Duplainville, we encountered CN #446 arriving behind 5750/2439 at

4:03

.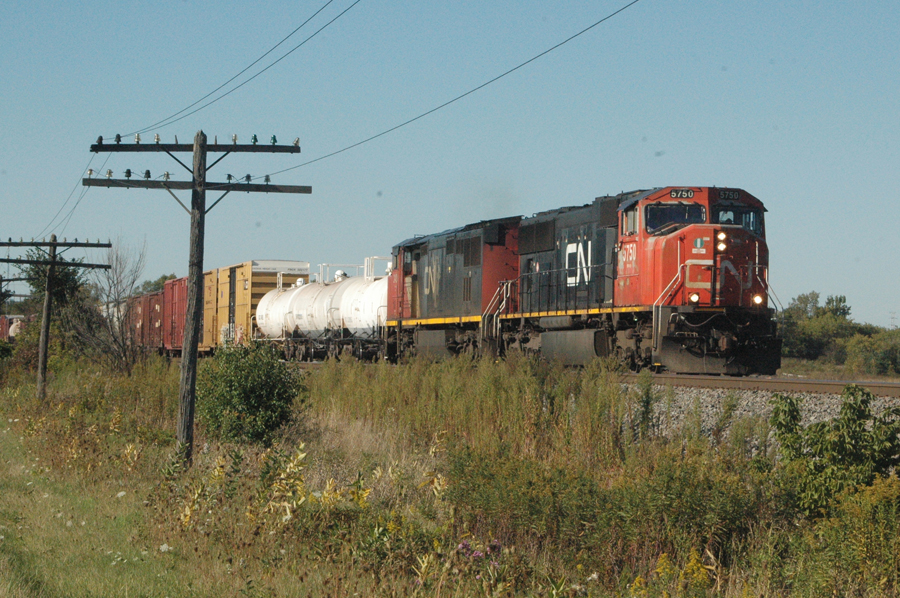 It was time for Amtrak #7, tho, so we hustled back to the diamond, and I climbed the warehouse garage stairway nearest the old siding (switch now removed), which I prefer not to do on weekdays when workers are in the building. Doing so gets you above the weeds which have been really bad this year. A nice surprise was a P32 trailing -- units 175/507 with 11 cars, spot on-time at

4:16

.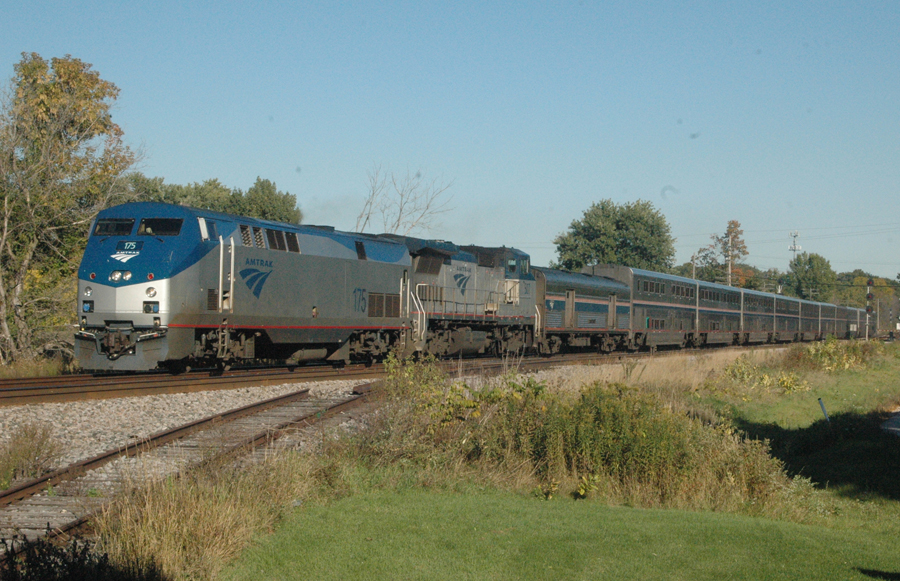 With it being a quiet

Sunday

and no traffic, I wanted grade-crossing shots on CN to show the progress on the Green Road rehab project. The blacktop was done from Duplainville Road east, but it hadn't been striped yet. Train #491 obliged at

4:30

, with units 2279/BC 4618. I've cropped in on this shot to show the repainted BCOL engine and the nice WC covered hopper -- slides came first, and the nose of unit 2279 is behind trees.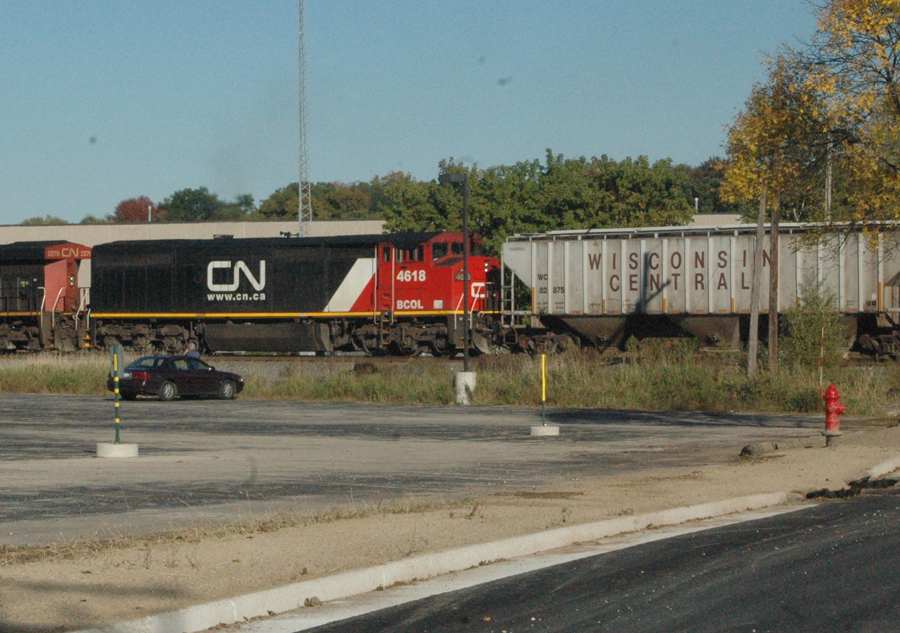 Here's the usual view, up at Weyer Road, 3 minutes later. It's

Sunday

, no set-out for #491.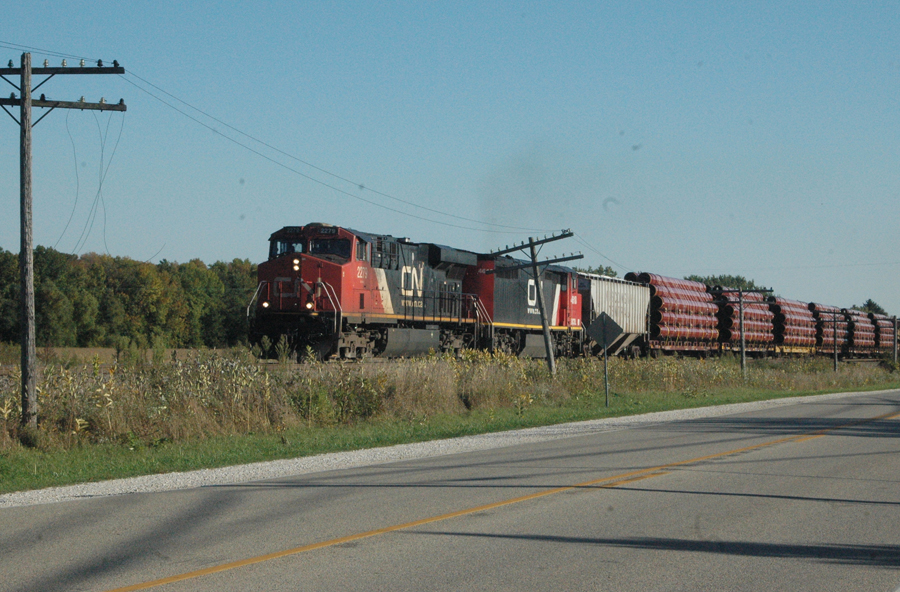 The last day of September was another sunny one. Trying for a repeat on the Green Road angle in late afternoon, I went up there and got CN stack train #197 at

4:03

behind 2197/BC 4605, the lead unit an ex-Santa Fe. The first photo was actually made later, but is presented for context with the sign up by the crossing. Note that the far gate/flasher installation now is aligned with Green Road's north curb, so it'll have to be moved a bit when CN does the work. The south gate pole also will get moved a bit closer to the pavement, I suspect.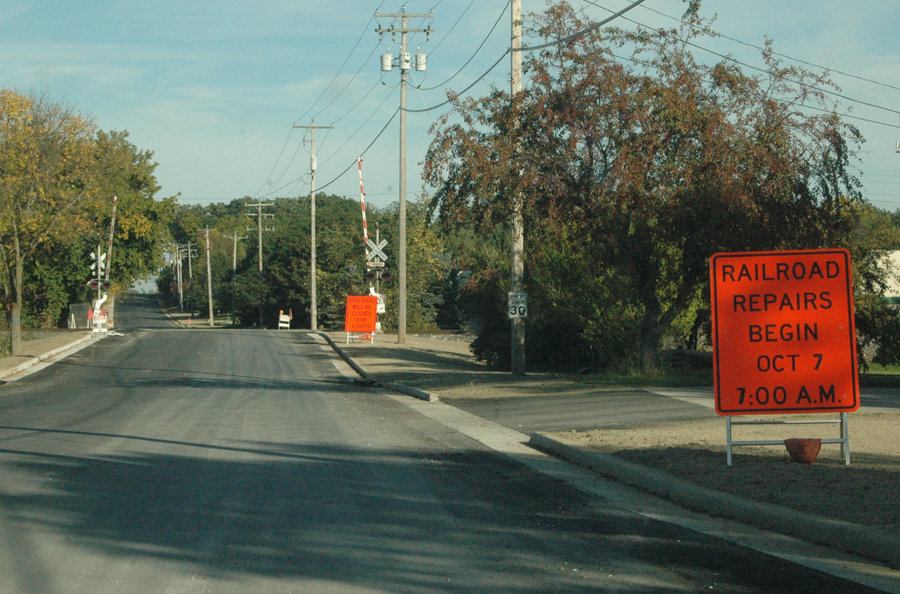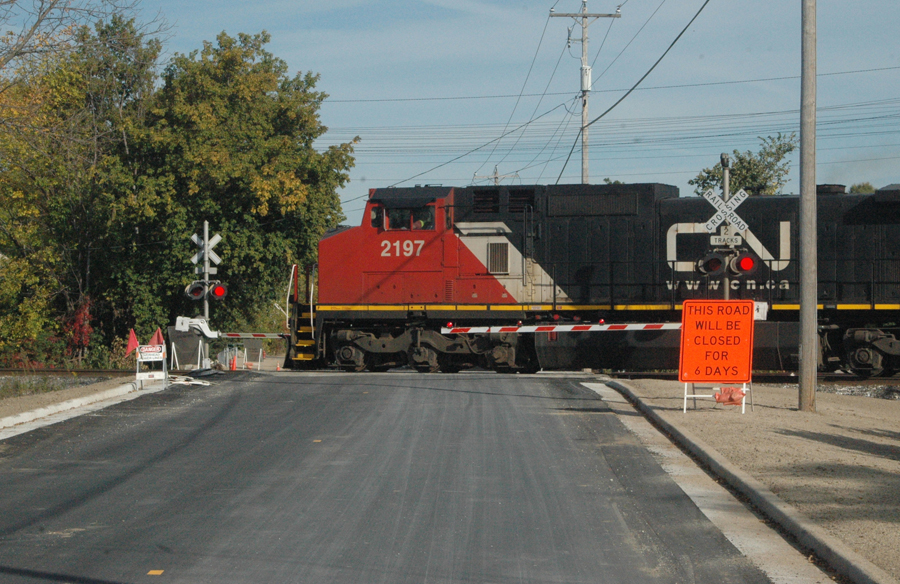 It was time for Amtrak so i didn't follow #197 north. In fact, #8 was running late and actually slowed down so the dispatcher could get #197 across first, as his crew was reported to be on short time and they wanted him in between the Duplainville switches to change crews. So I zipped back to Marjean Lane and got a nice shot of #8 powering up, units 93/816 at

4:09

. He was working on 3 hours late by this time.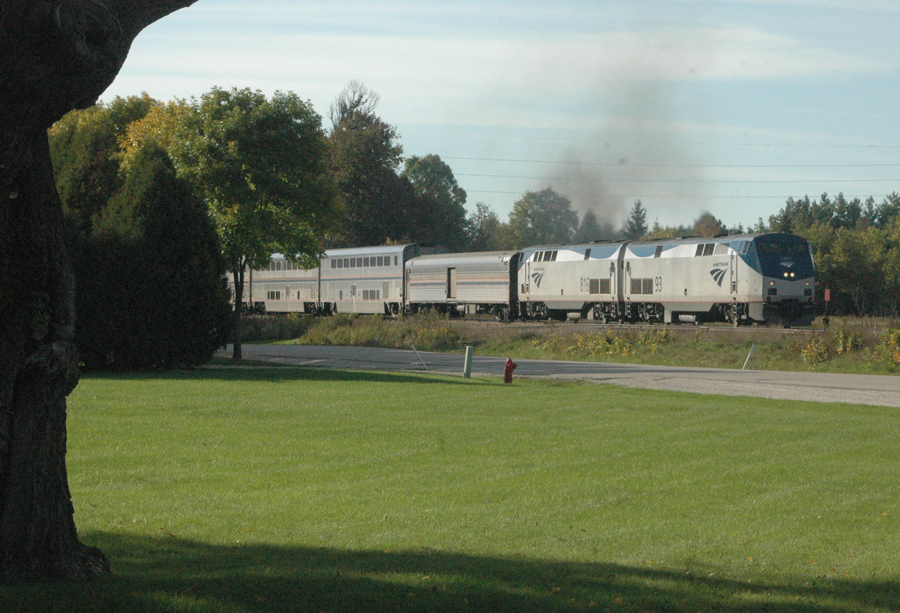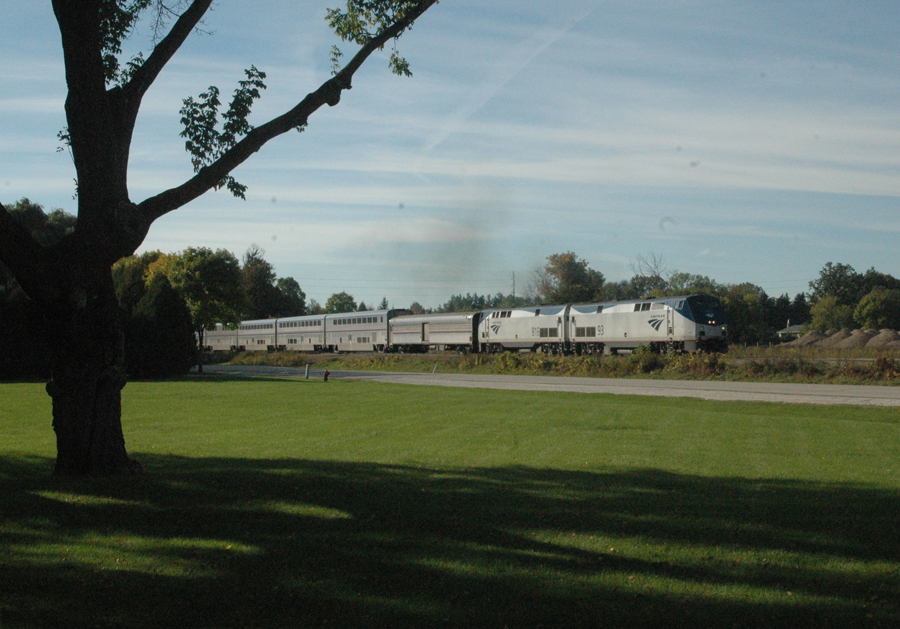 He met #7, on-time as usual, over in Brookfield. Here is #7 at Duplainville, engines 158/24 at

4:16

.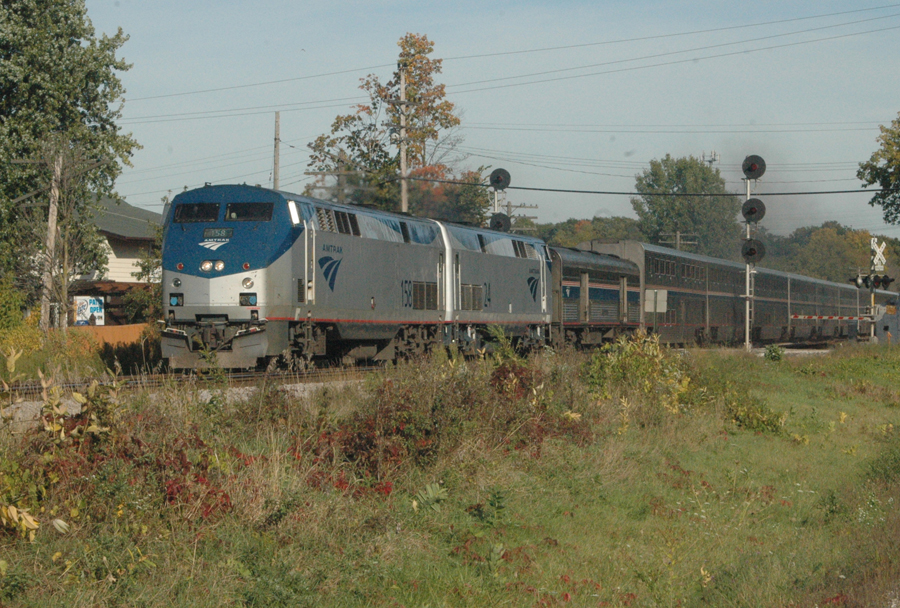 I went up to Weyer Road and found #197 already re-crewed, just starting out at

4:25

.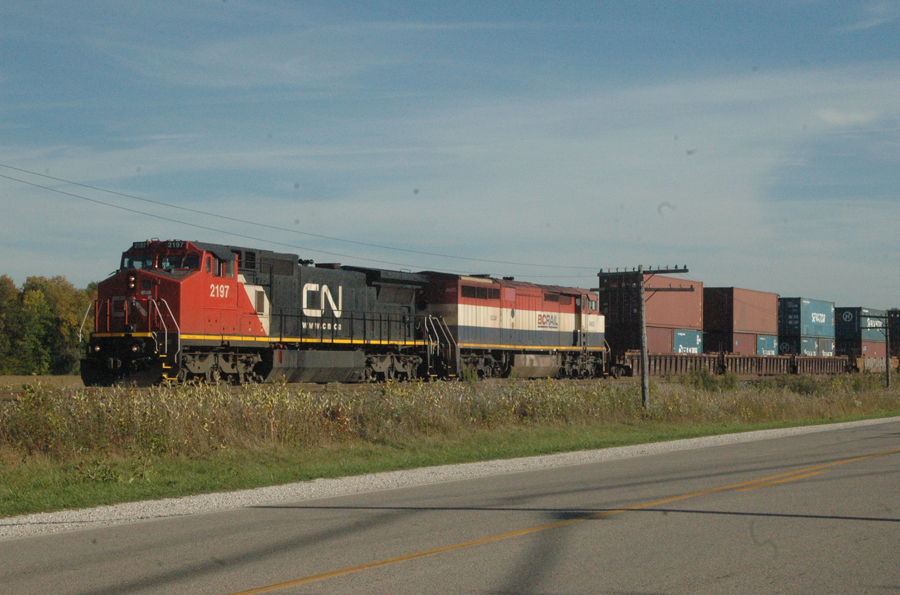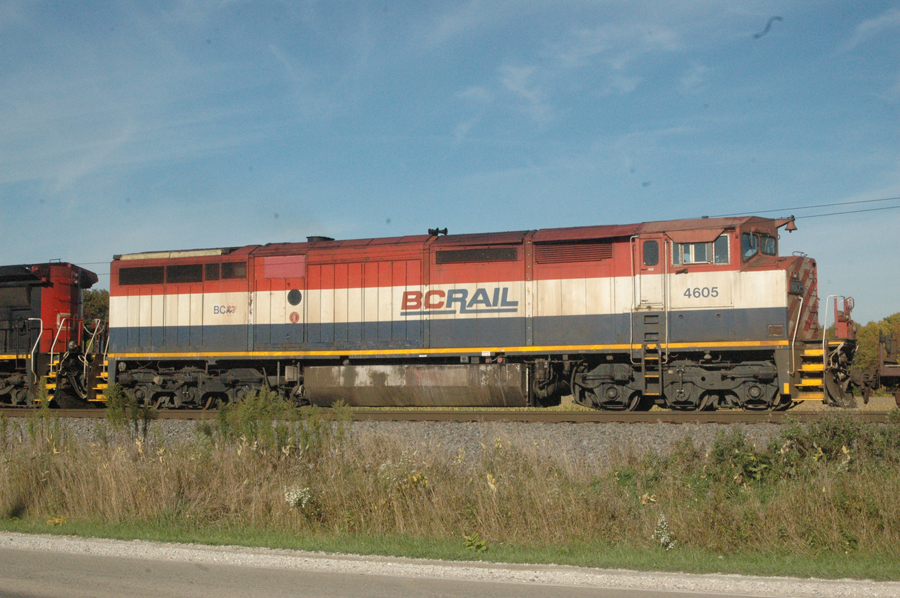 The capper on the day, and the month, was CP #289, which I learned about by radio after I'd passed Duplainville headed home and so made a quick U-turn and got him at

4:40

, engines 9625/IC&E 6416/DM&E 6367.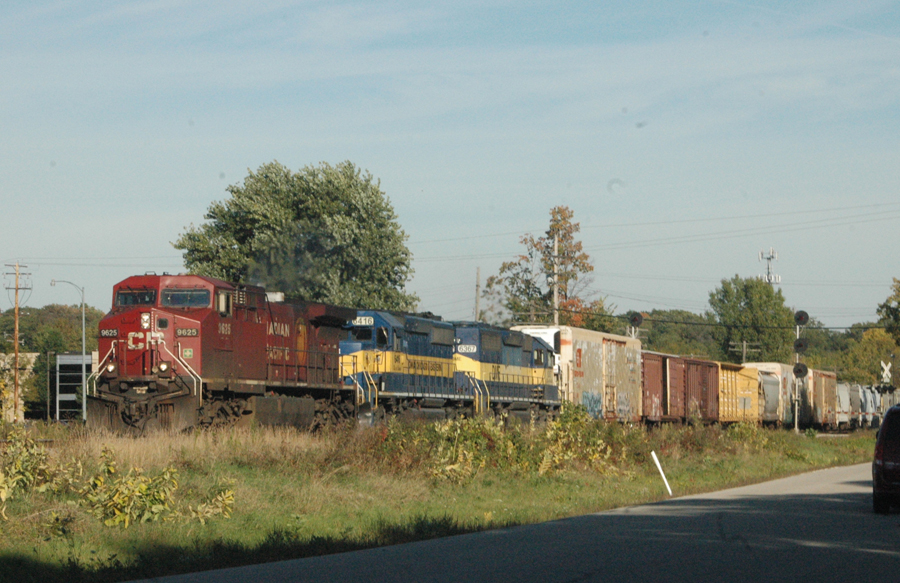 This page was designed and is maintained by Mike Condren. If you have materials
that you would like to contribute, contact me at mcondren@cbu.edu