Driving home from NRHS Scranton 2010 Convention
Photos by J. David Ingles
After the NRHS convention, Rick Moser and I took 3 days to drive home. On Sunday we rode the noon train of tourist line Middletown & Hummelstown, just east of Harrisburg, Pa., 5-miles up an old Reading branch; visited Harris Tower in Harrisburg; and drove on to Altoona for the night. Monday in late morning, under threatening skies, we visited Horseshoe Curve, my first time there on the ground since 1969! We ate lunch trackside at Cresson, after a brief stop in Galllitzin where we saw no trains. Then we drove on to Mansfield, Ohio, for the night, stopping basically only for a brief visit at Wheeling & Lake Erie's facility in Akron, the former Akron, Canton & Youngstown yard. On Tuesday we meandered from Mansfield to Toledo, hunting down depots but centering on 90 minutes in Fostoria, where NS's ex-NKP main crosses CSX's ex-B&O and ex-C&O mains. Then after lunch at a Steak n Shake in southwestern Toledo, we drove back to Chicago and then Milwaukee in record time, basically non-stop, averaging 67 mph in driving (all Toll Road or freeways) plus 3 pit stops totaling 25 minutes. Jane Moser drove over from Naperville to Hinsdale to meet us and pick up Rick about 5:45 p.m.; i was home in Waukesha by 7:15; we put 2500 miles on the minivan.
Middletown & Hummelstown uses one of its 65-ton GE center-cabs on the tourist train, which goes north to about a mile short of Hummelstown on a scenic line along a creek and the old Union Canal. For its infrequent freights, it has Alco T6 1016, ex-Newburgh & South Shore (Cleveland, Ohio), one of the last two domestic Alcos built (NSS 1017 was the other). Also on hand are Western Maryland Alco S6 151, and the Conrail historical society's caboose 21165 plus other assorted trolleys, rapid-transit cars, and cabooses.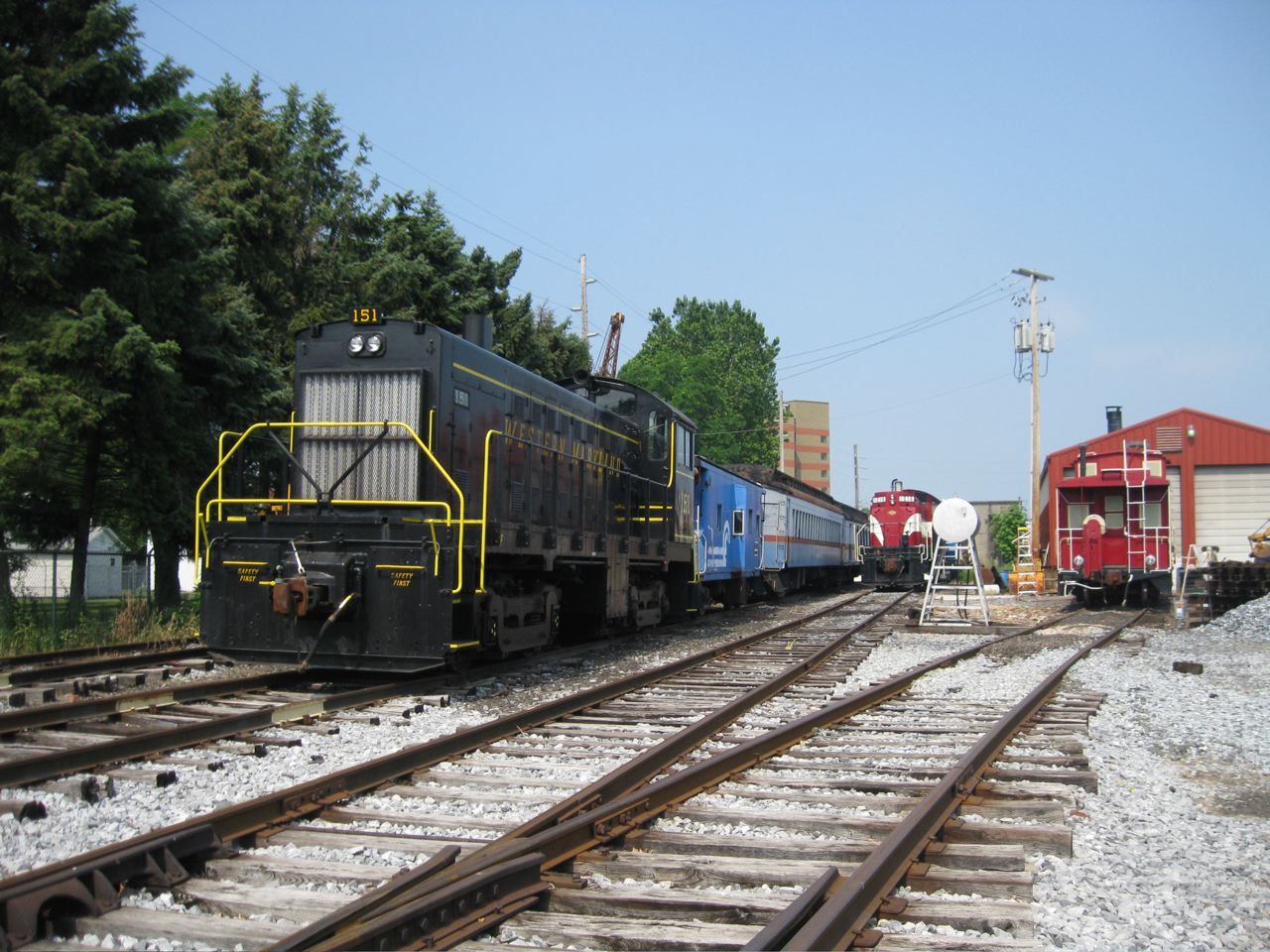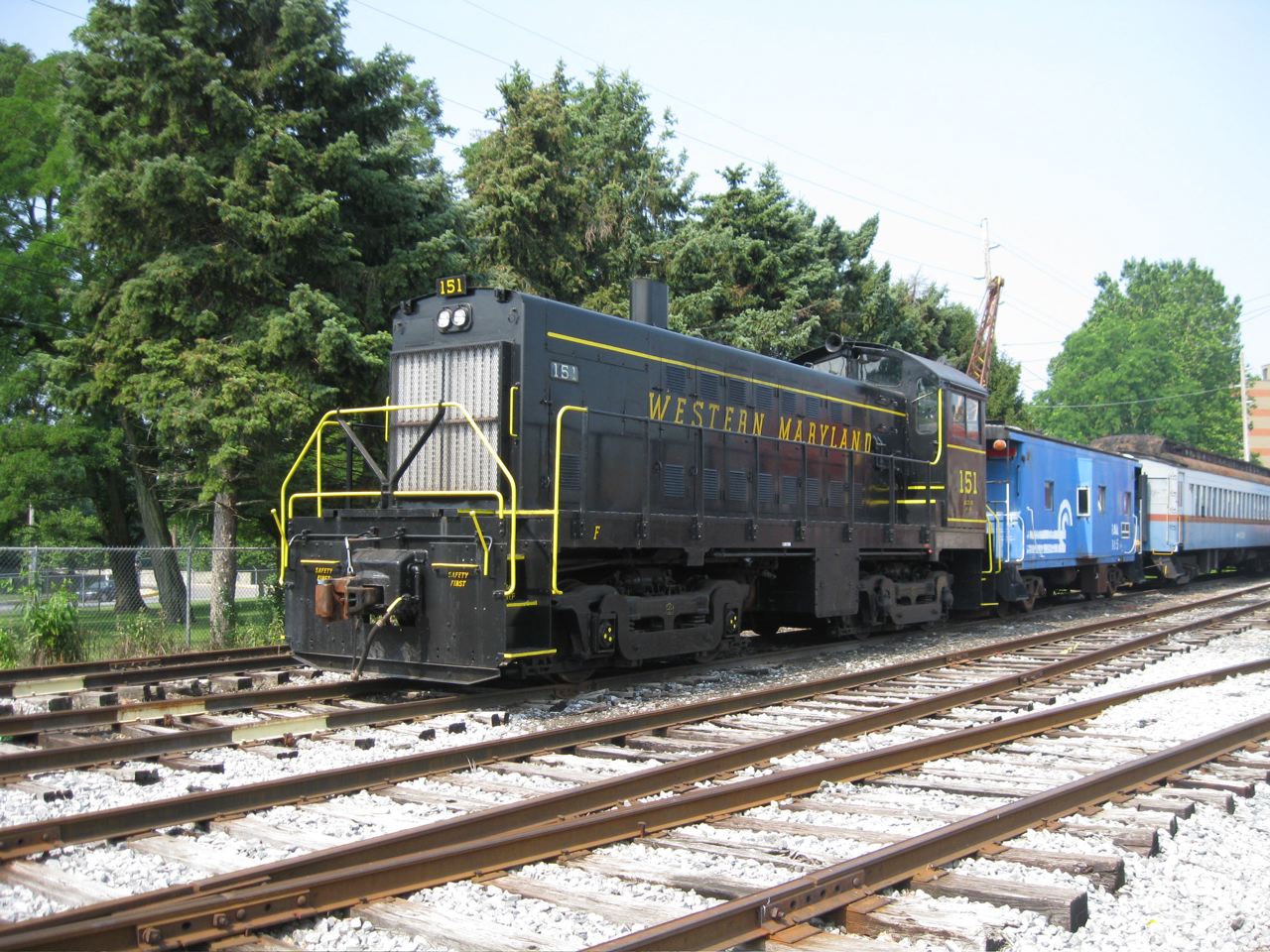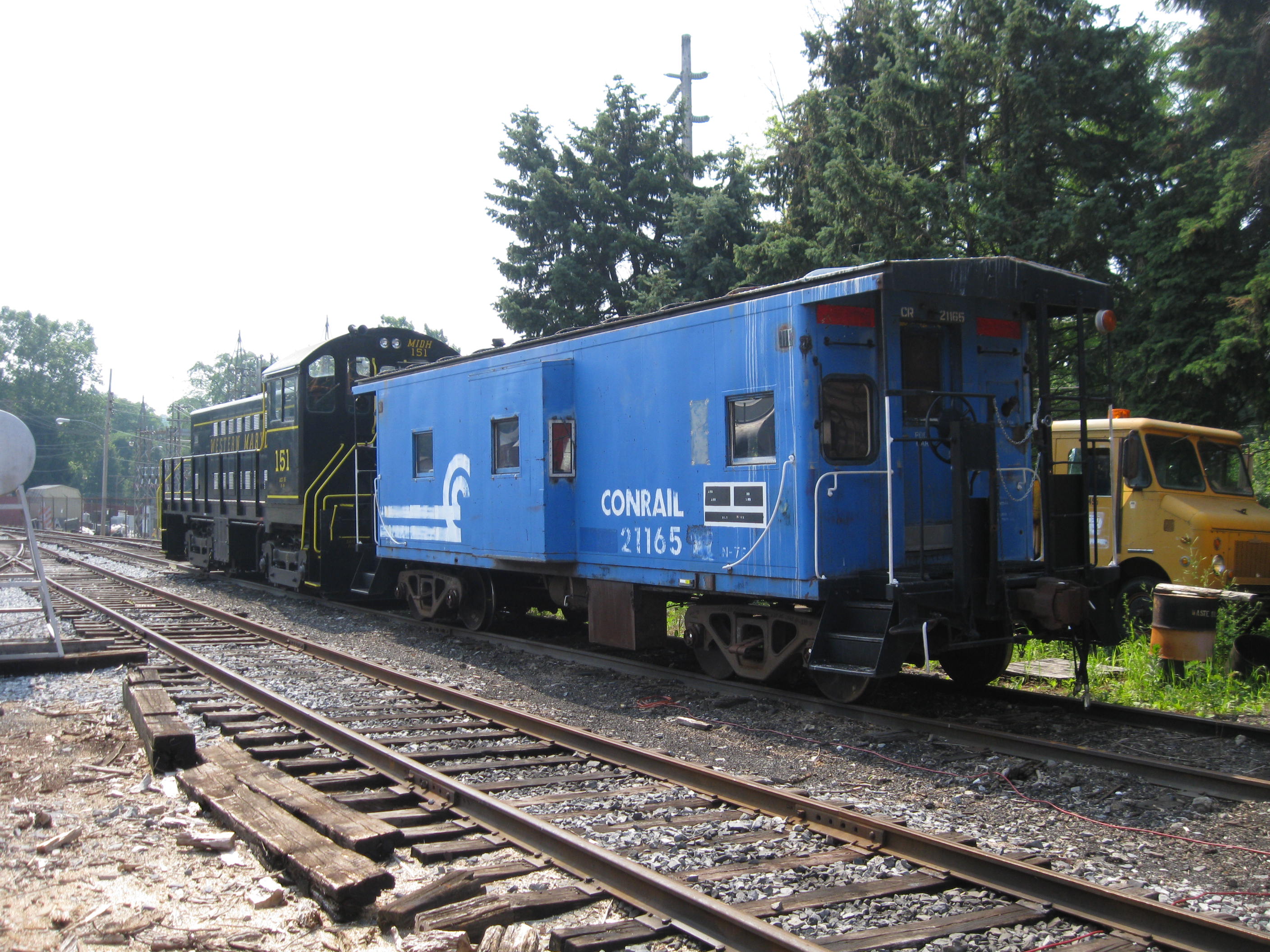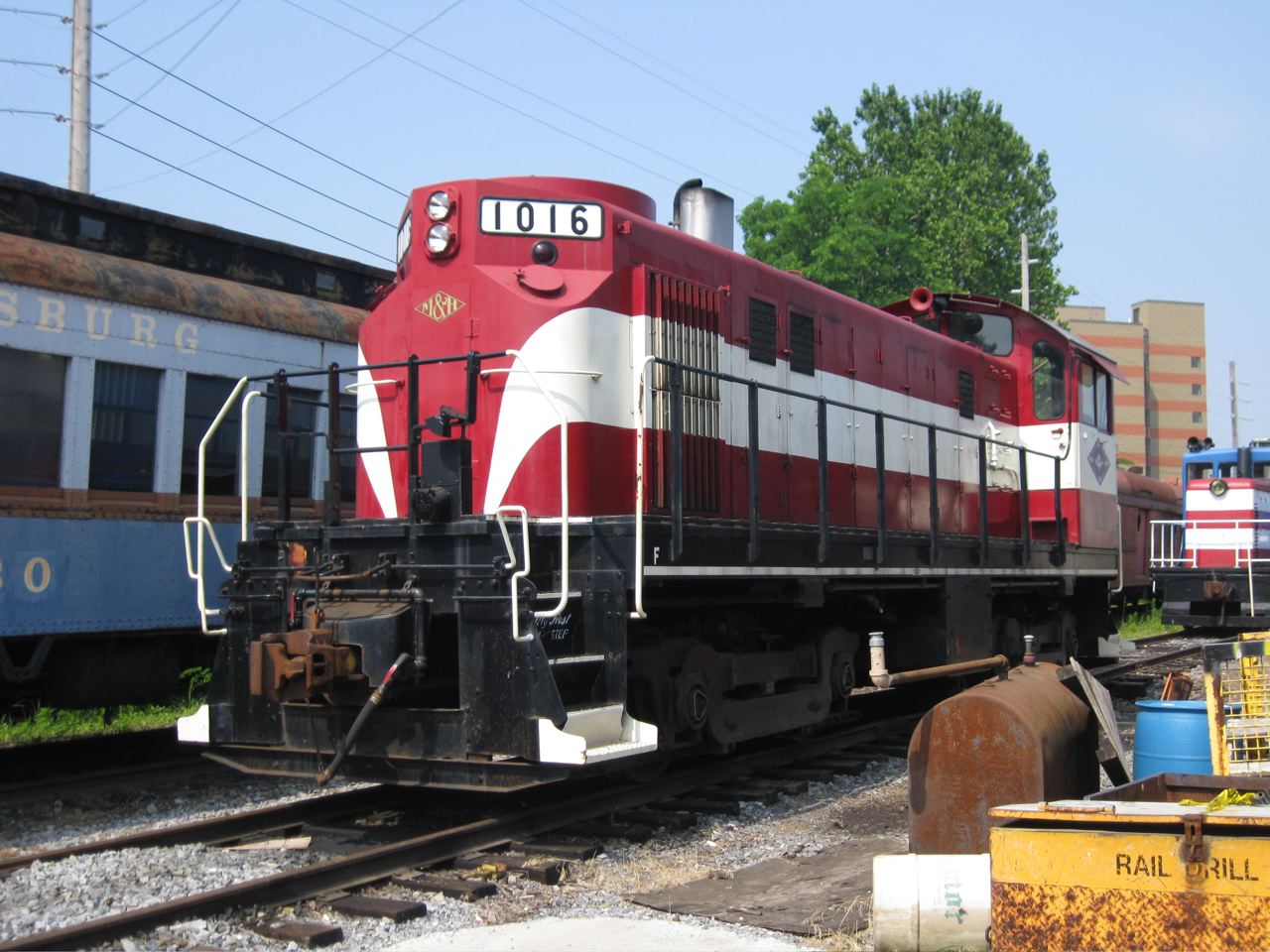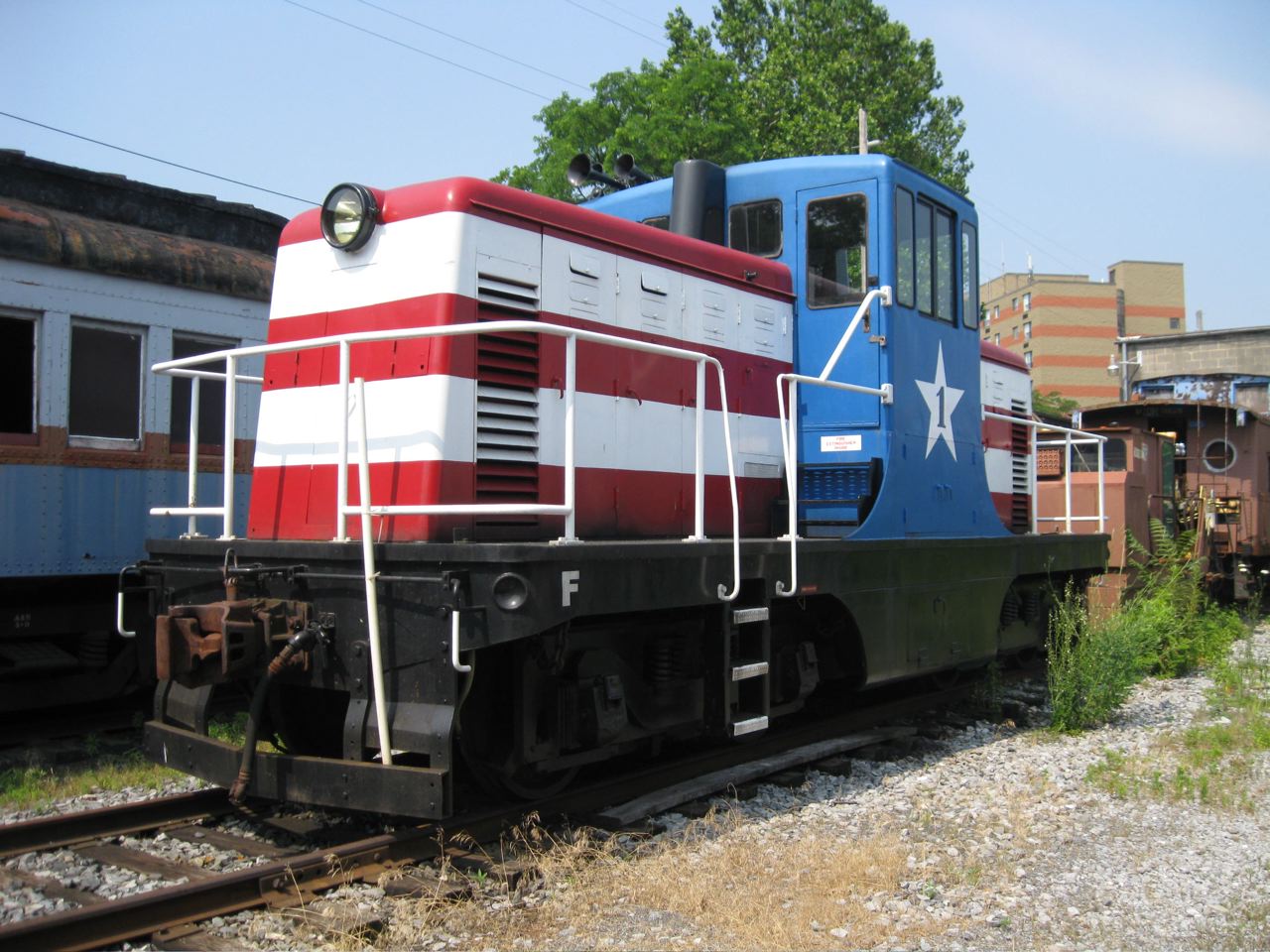 Our train at right, plus two ex-SEPTA PCC streetcars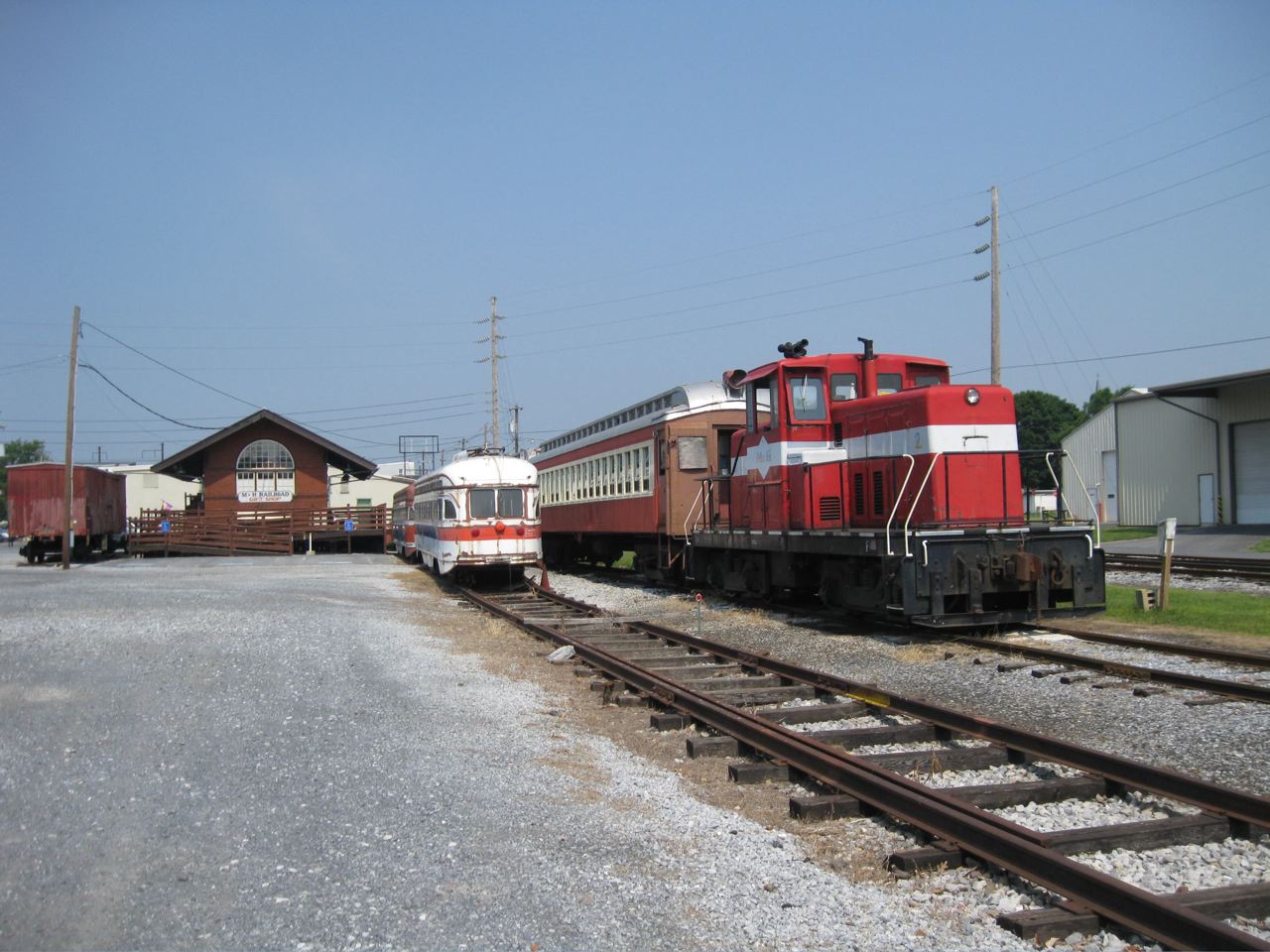 From SEPTA, but a Chicago L native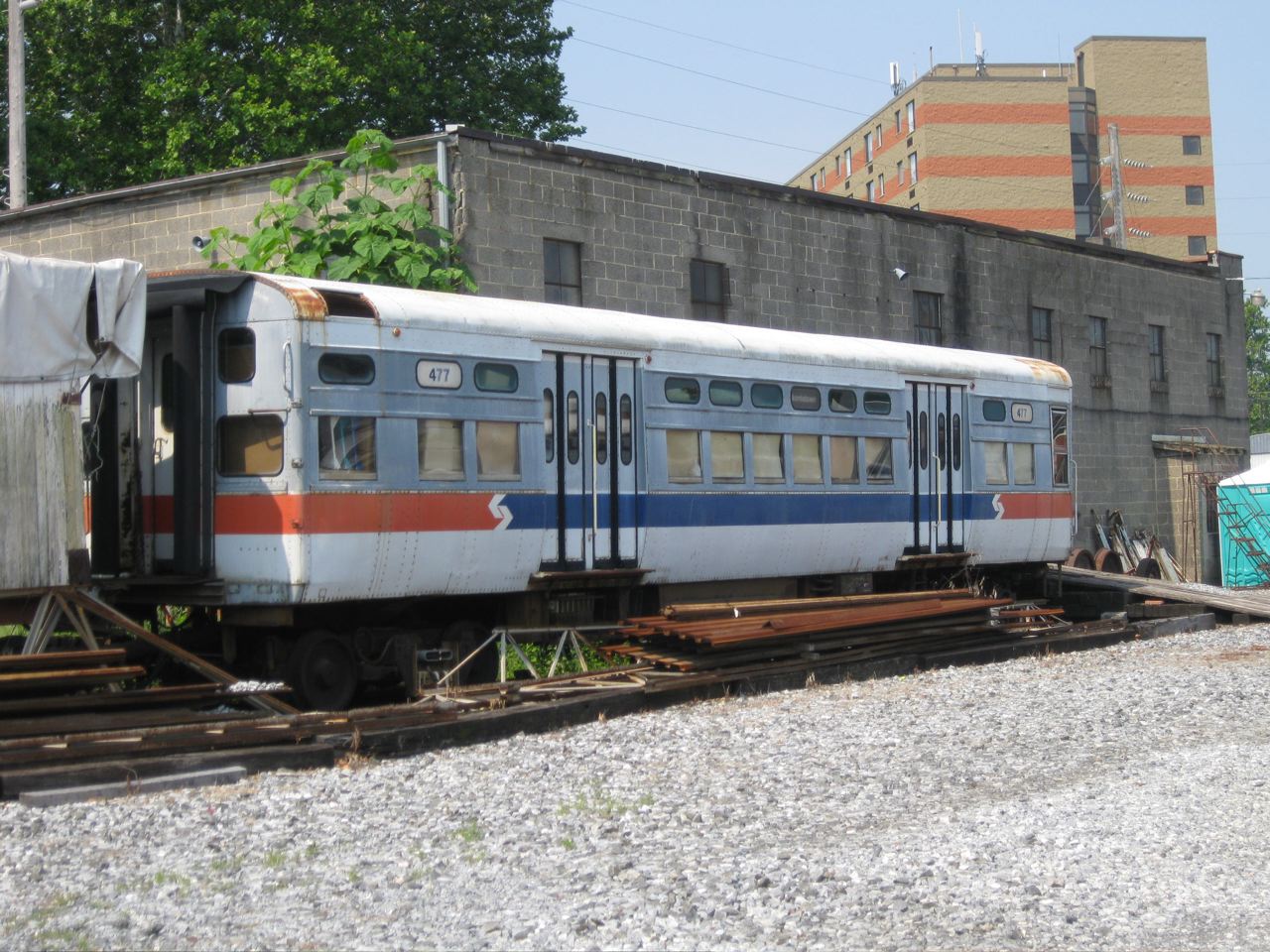 Amtrak Harrisburg-New York Keystone train 666 arrives Middletown at 1150; M&H is only 2 blocks away, so no sweat making the noon train, since we had our tickets already.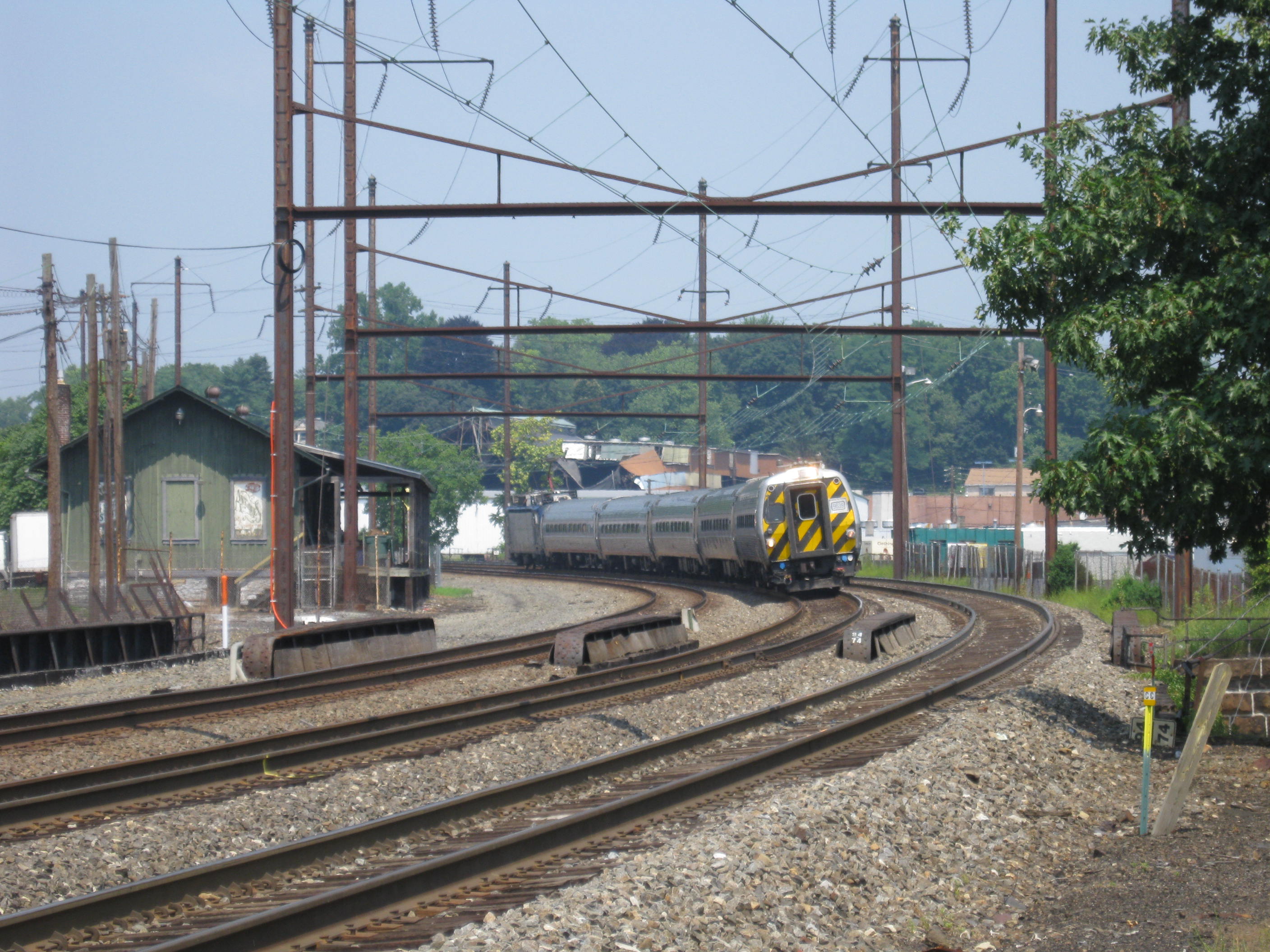 This new Amtrak station signage is showing up everywhere, but so far, I have seen no public mentions of the program.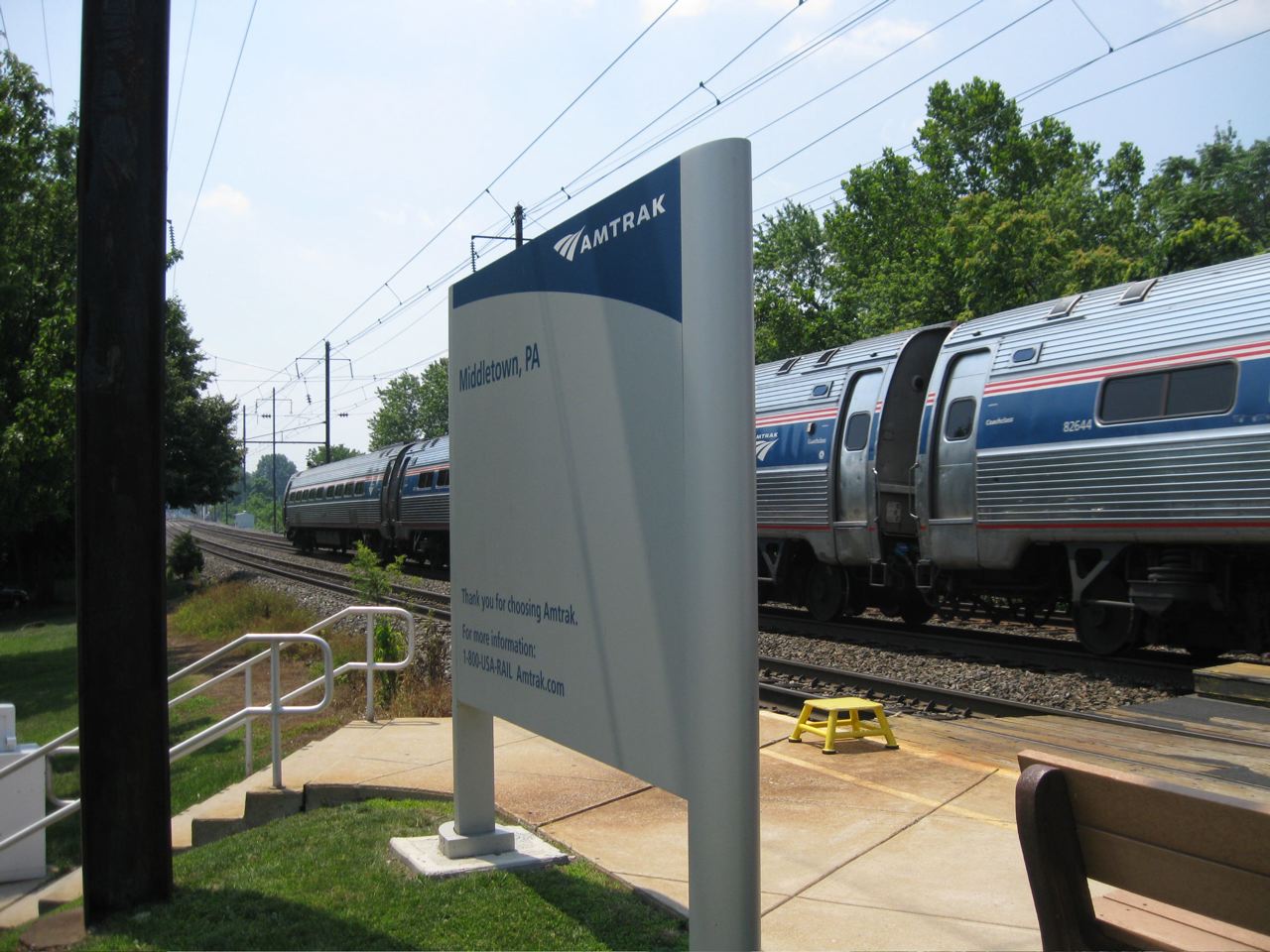 Looking east as the AEM7 pushes the train toward Lancaster. The track at right is not wired; NS uses this for freights between the Port Road (along the Susquehanna River from Perryville, MD) and Harrisburg, and when we first got to Middltown, we missed a westbound NS stack train. Amtrak has redone the signals, so while purists may rail at the green and red colors in the position light signal heads, they still have a definite PRR look (with maybe a tinge of B&O?).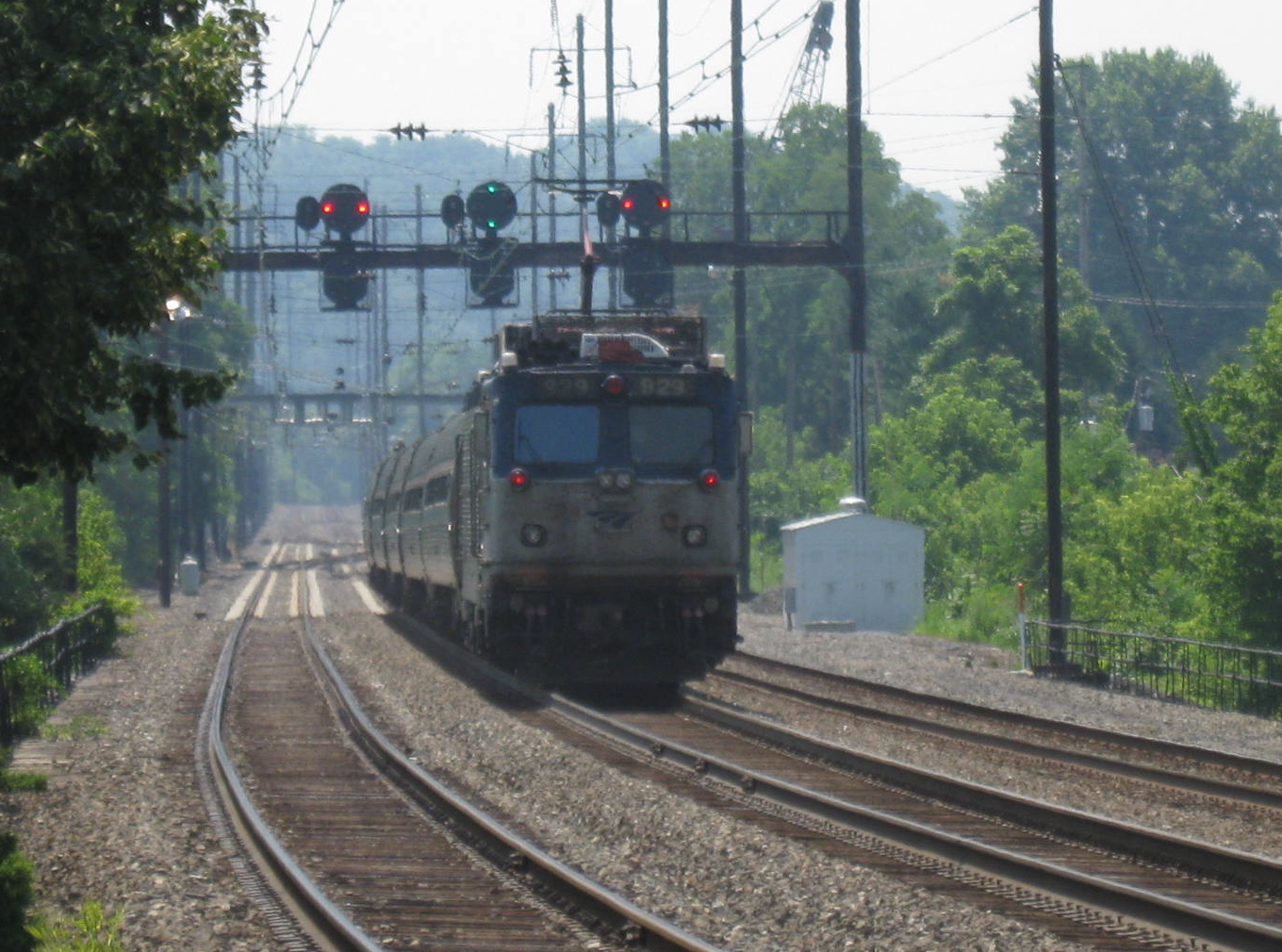 On board the M&H. The narration was informative and not intrusive. Yes, it's another ex-DL&W M.U. car. Has anyone conducted a national tourist-line census of how many of these survive in tourist use?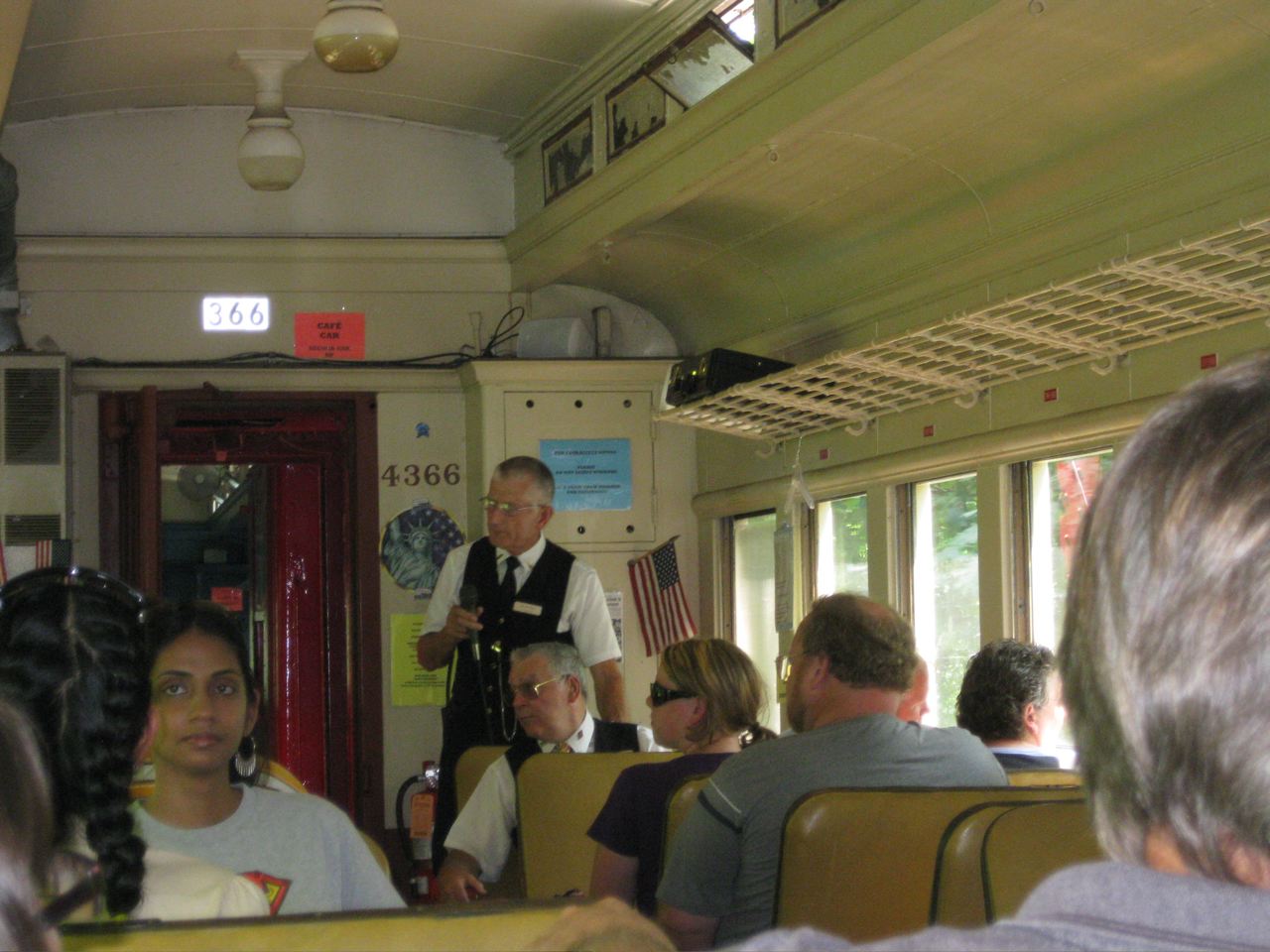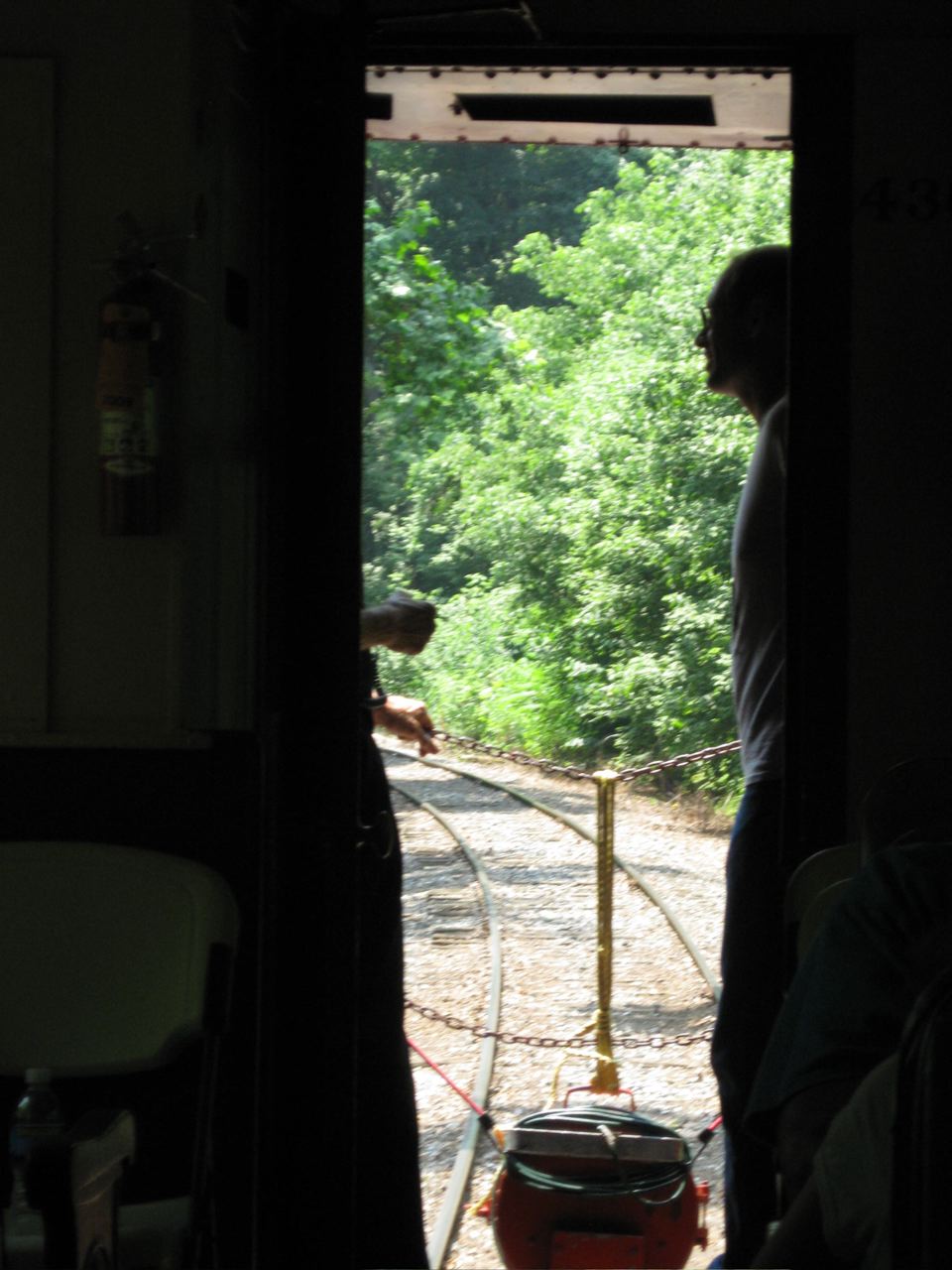 At Altoona, we slept-in because we could. The weather was off and on, mostly "off" (clouds, then some rain). Here's Alto Tower in downtown Altoona, still active.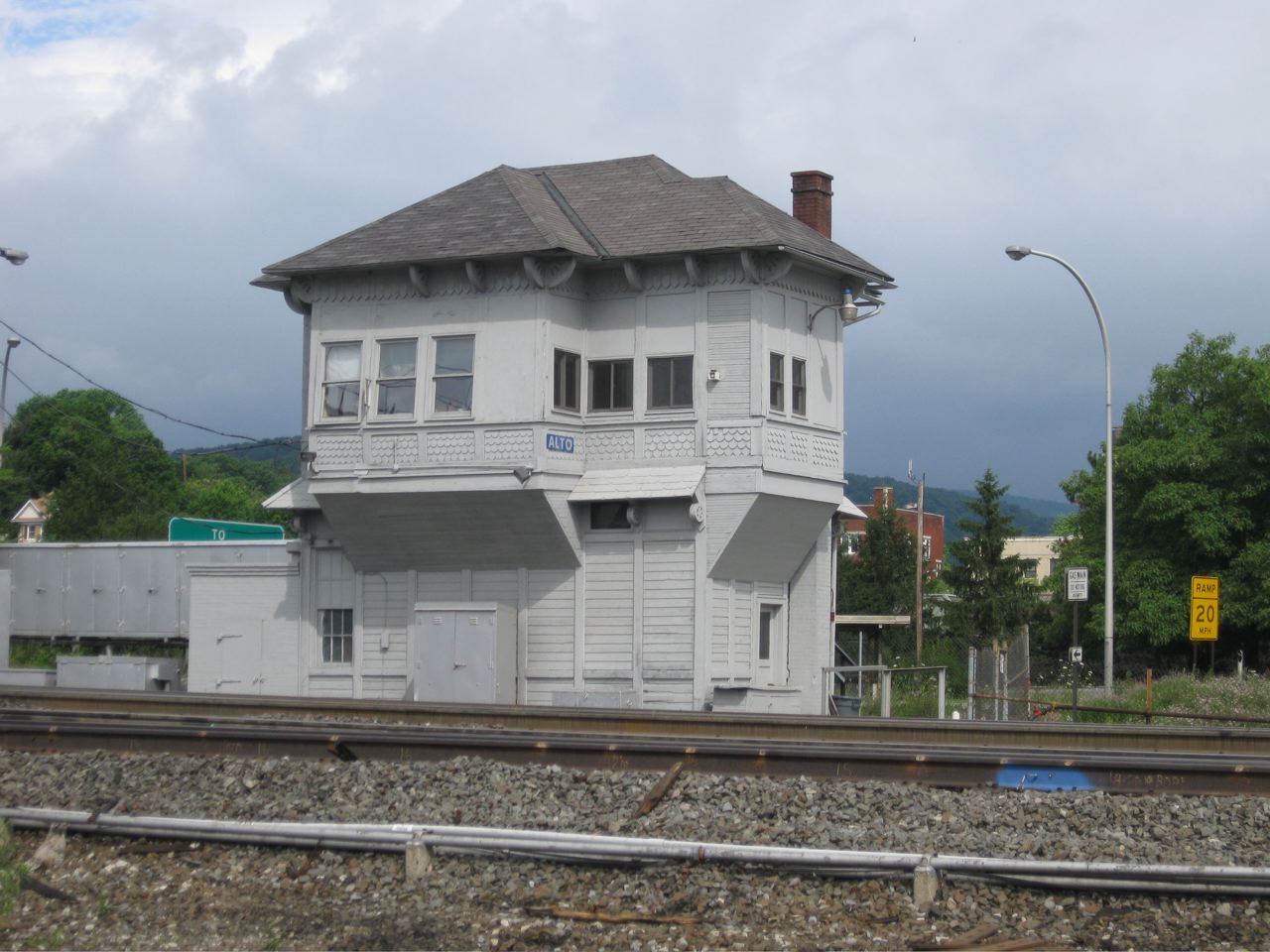 PRR observation lounge Mountain View rides the turntable at the Railroaders Memorial Museum.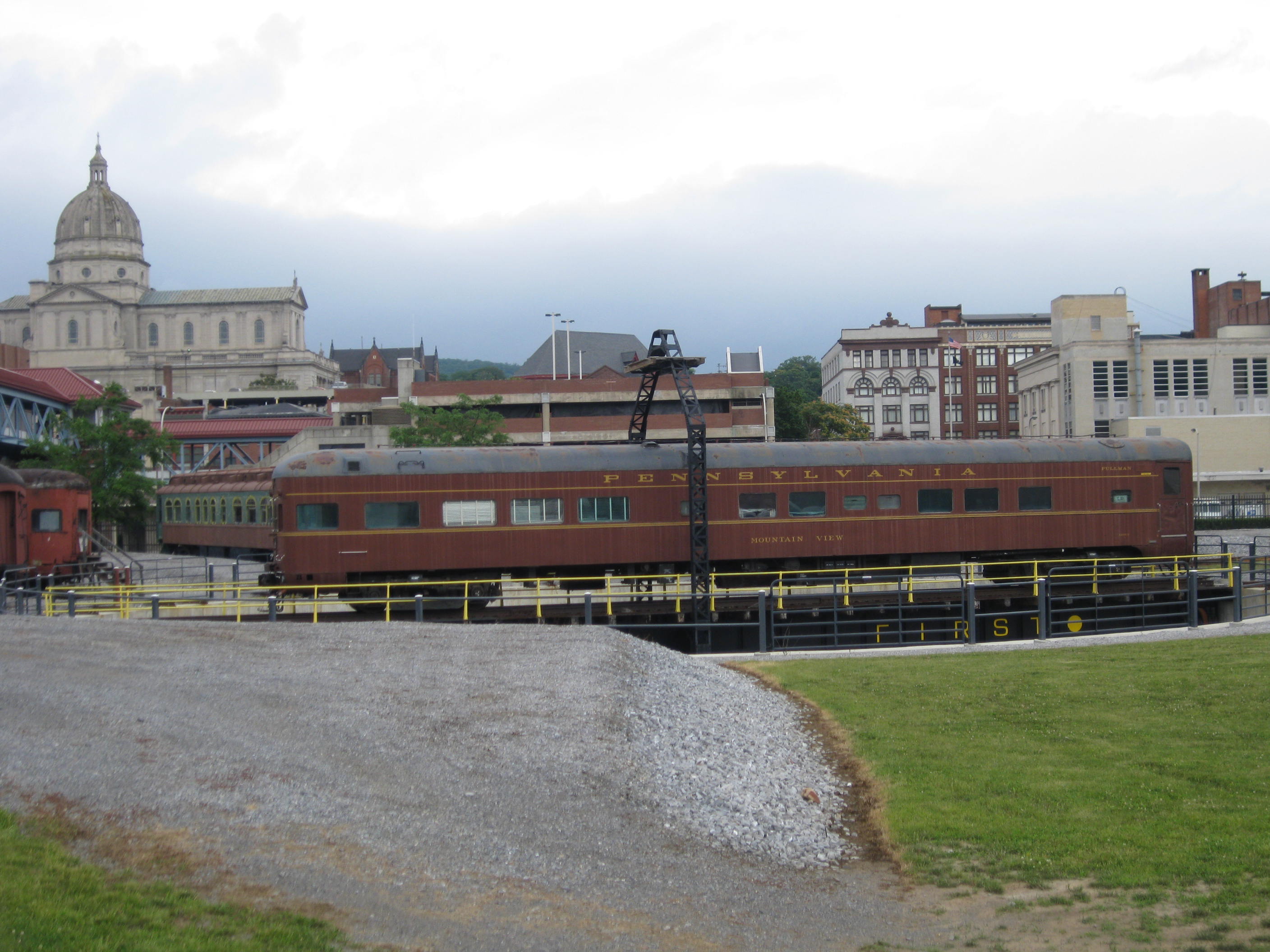 Horseshoe Curve is managed as an adjunct of the museum. Adult price to get in is $6. It opens at 10 a.m. and closes at 6 p.m., which in summer seems a bit restrictive. We listened to the 7-minute historical video in the welcome building, and it was educational.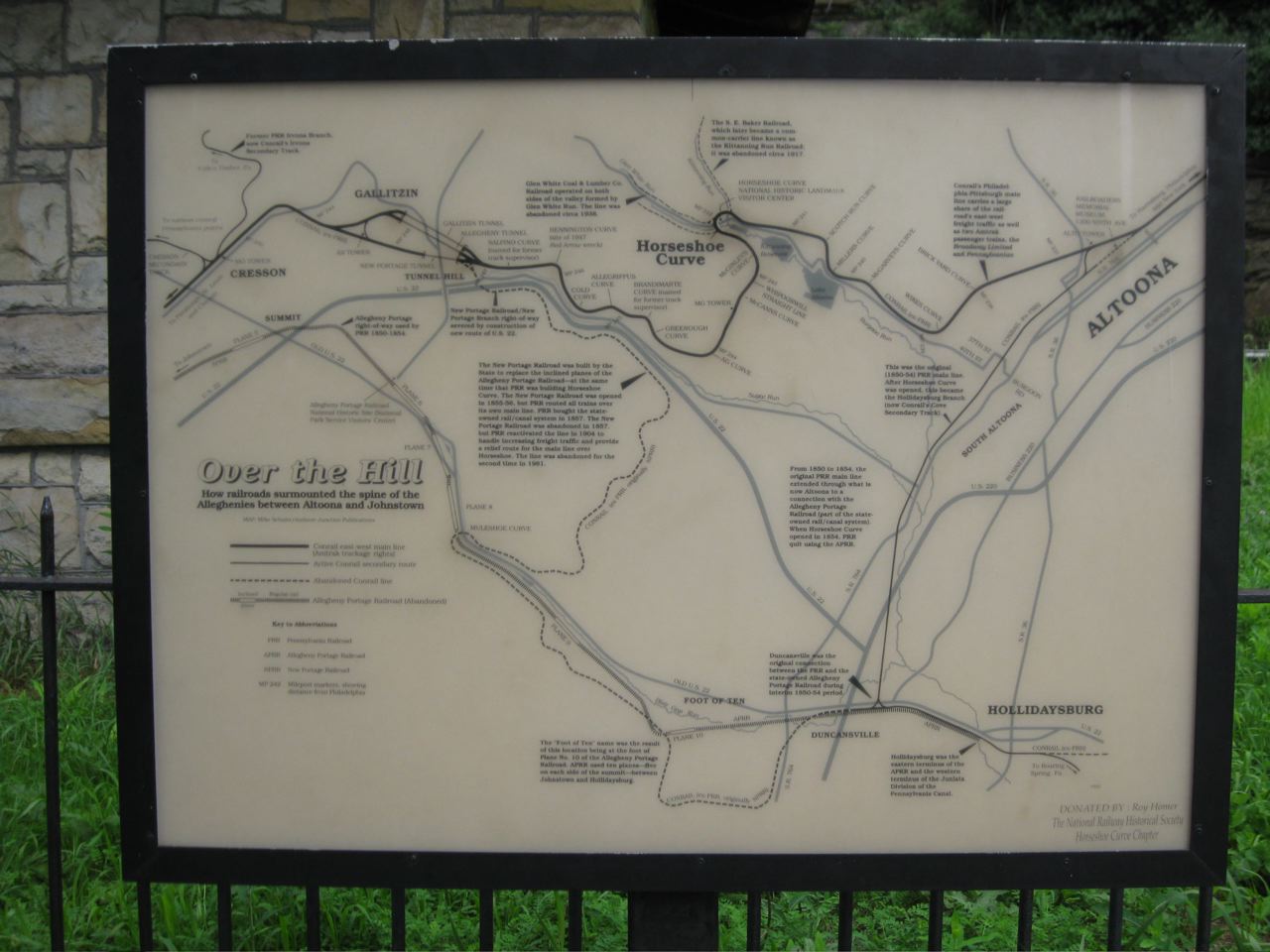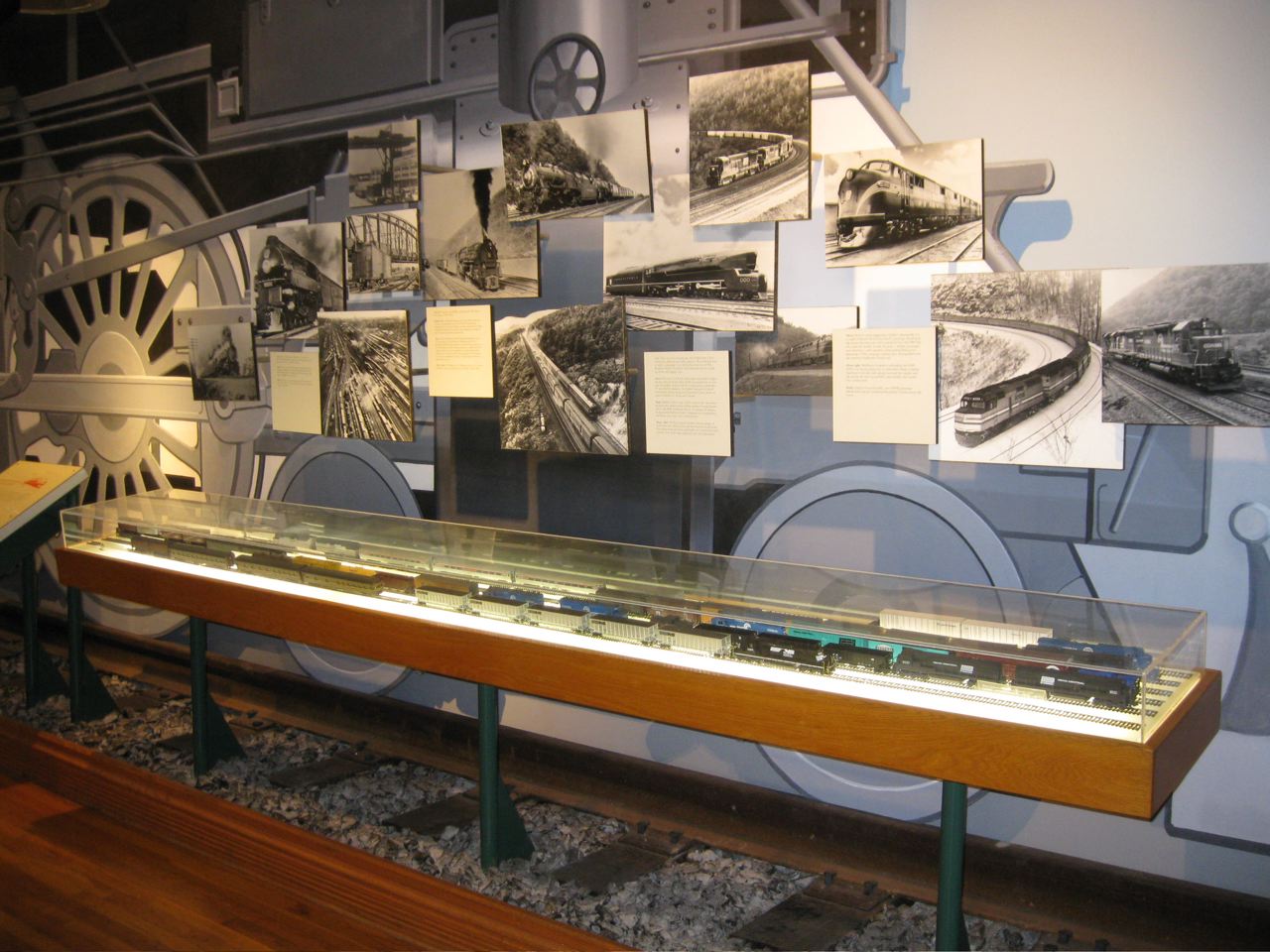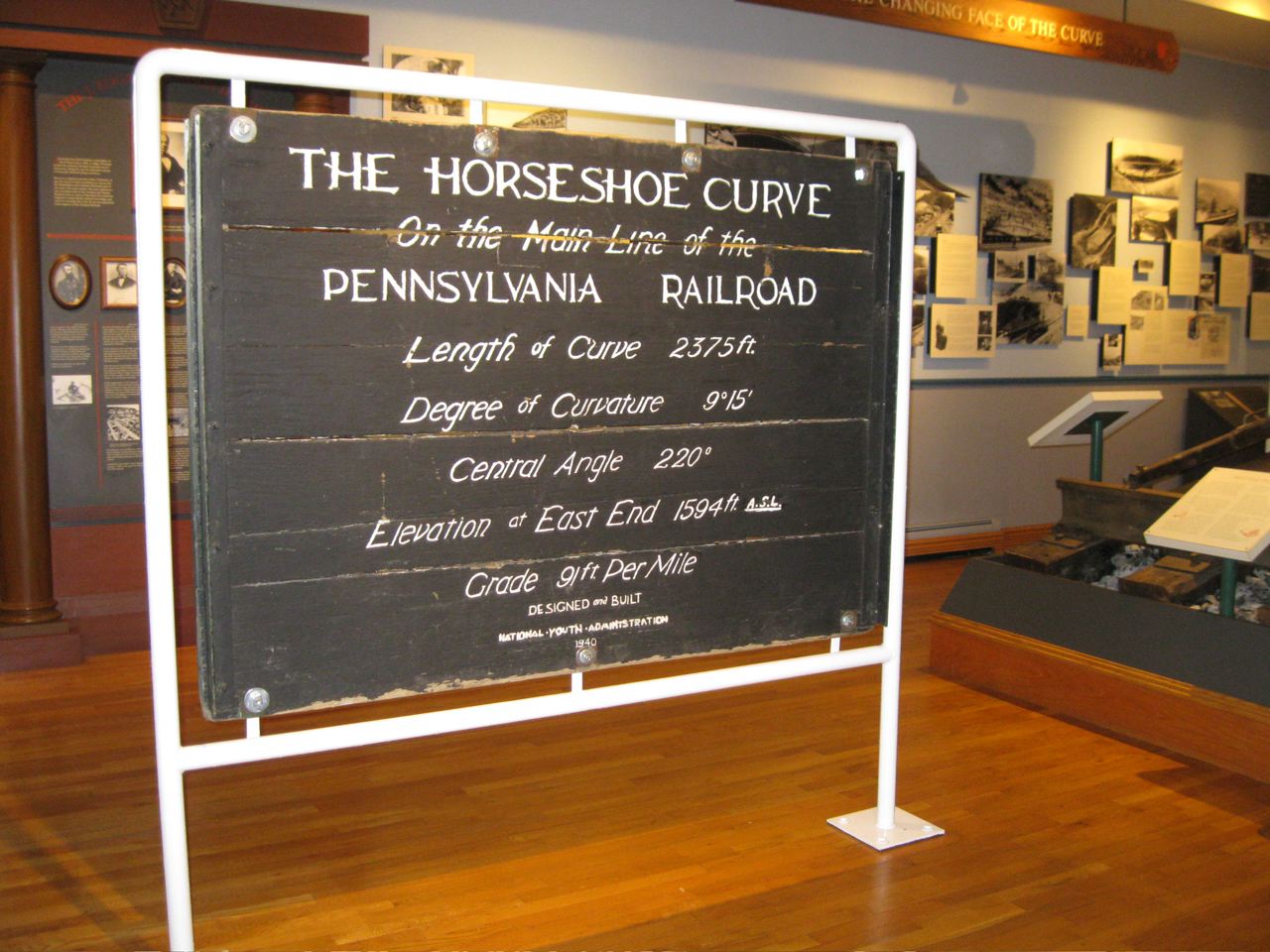 | | |
| --- | --- |
| | The funicular (is that "mileage"?) runs on the hour and half hour, and we are told on-demand if crowds are large enough. On this cloudy, muggy, rain-threat morning, there were only a couple dozen of us visitors. |
We saw only two moves in almost an hour before a heavy rain arrived, this westbound coal empty and a light set of pushers. The foliage growth pretty much makes a telephoto lens here almost needless.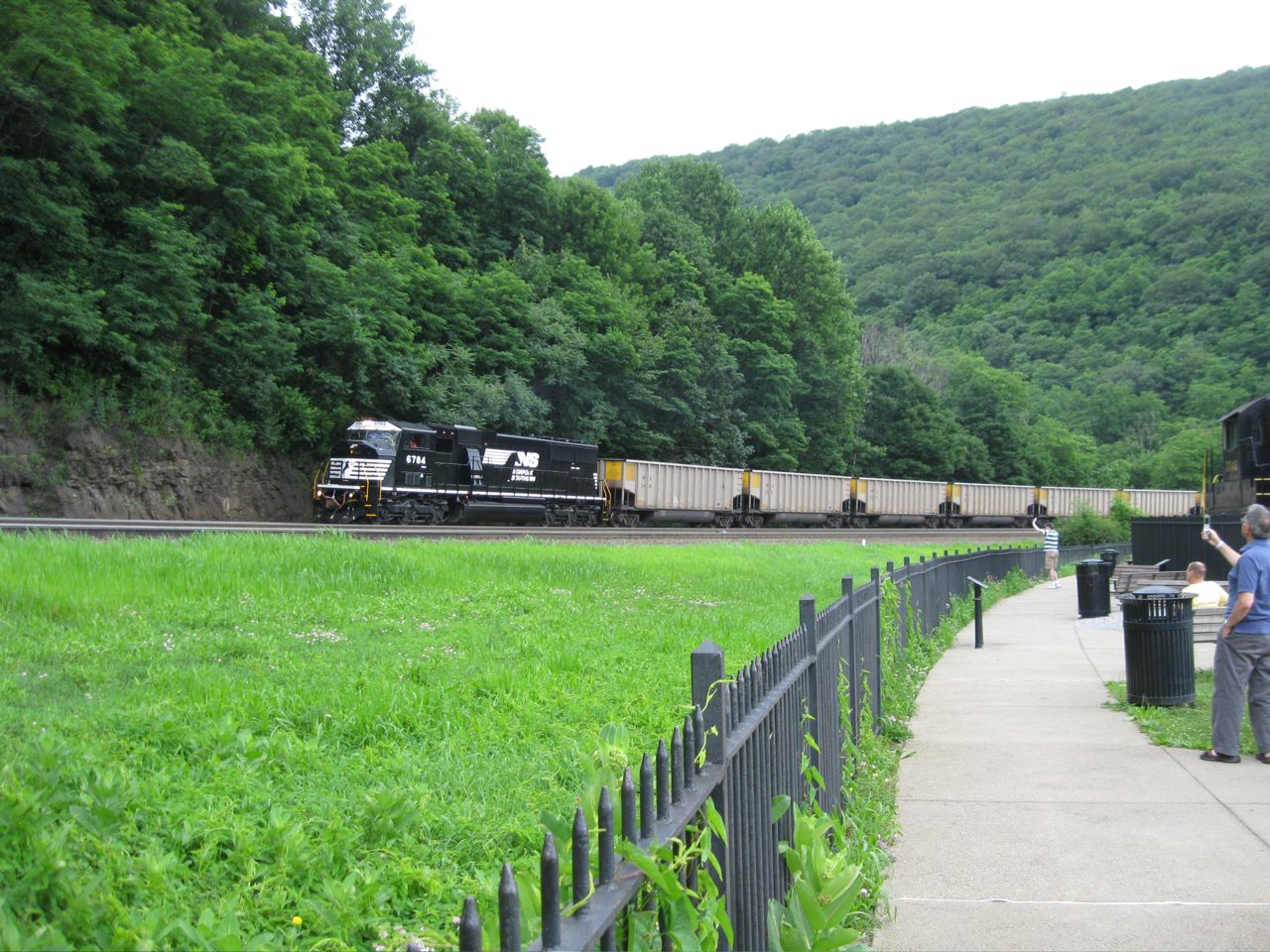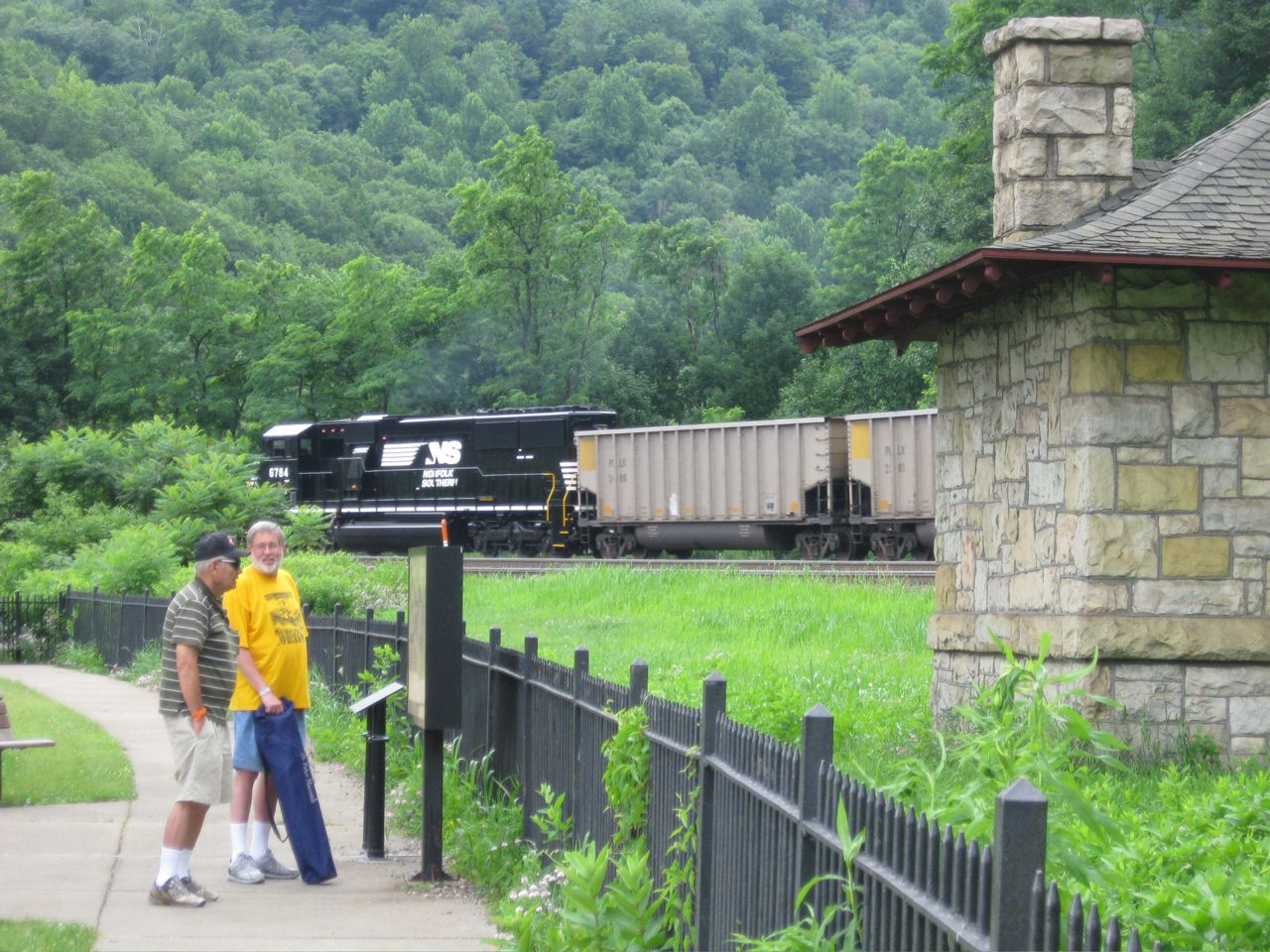 Yes, one telephoto digital frame was exposed :-)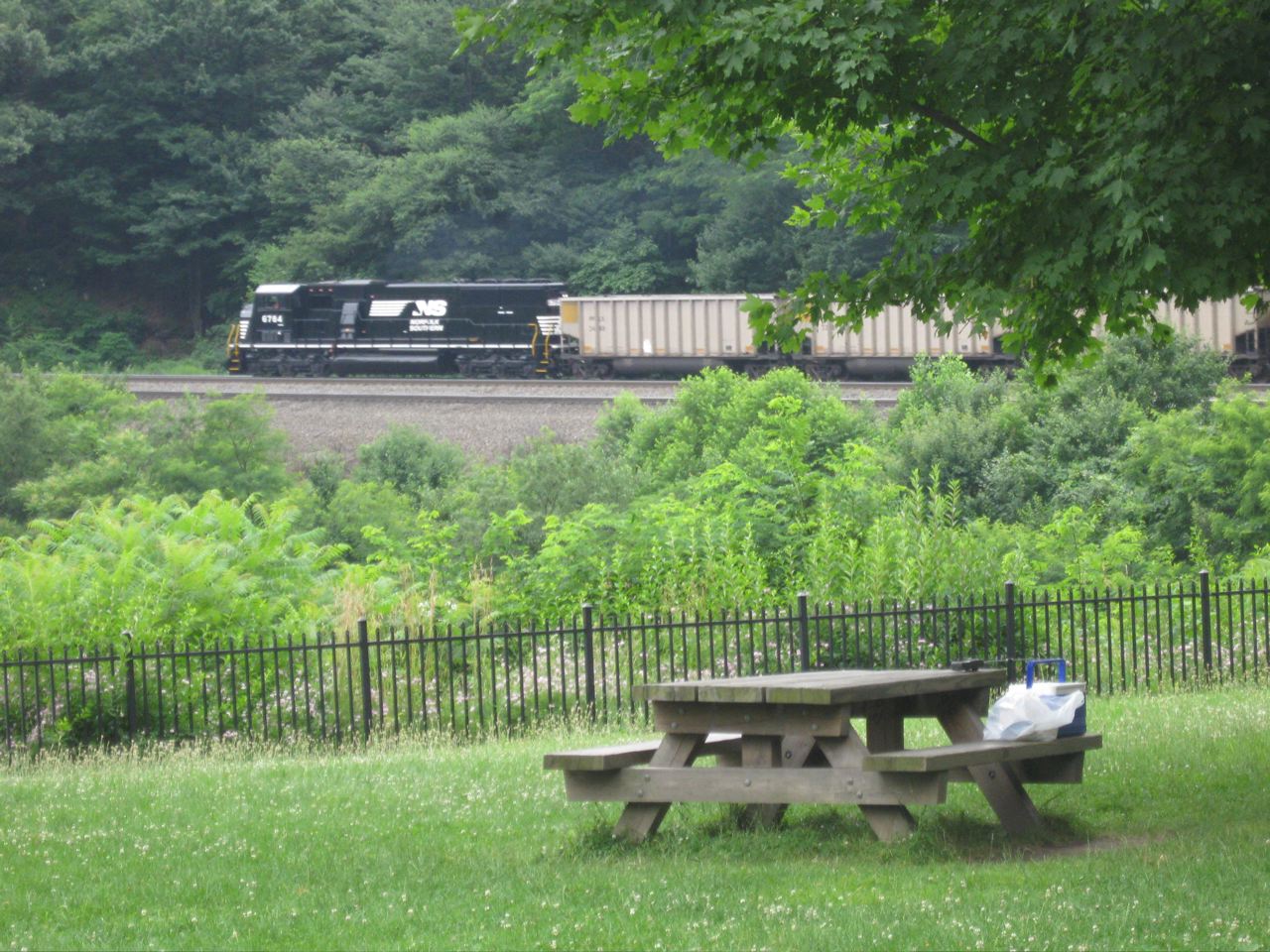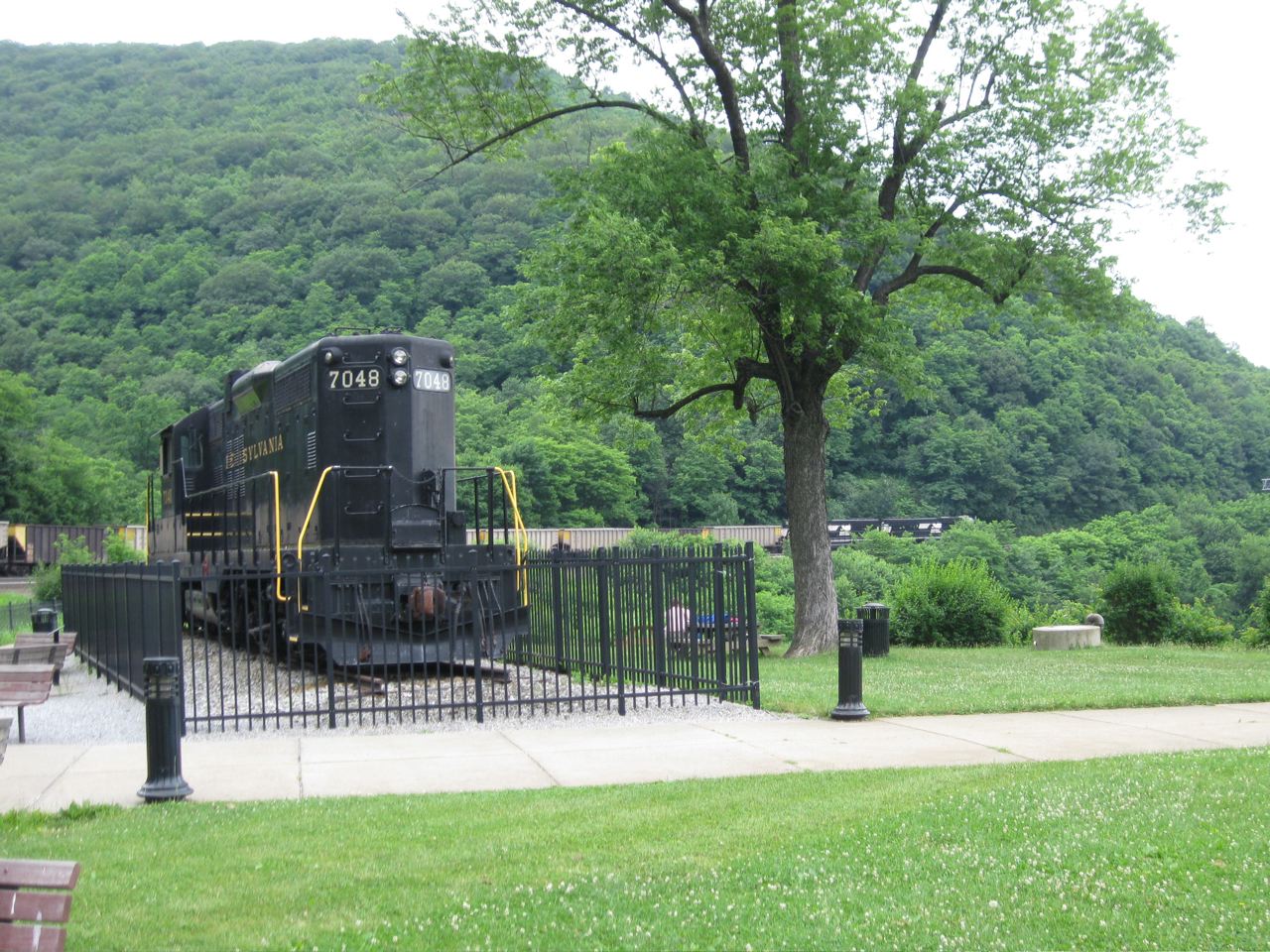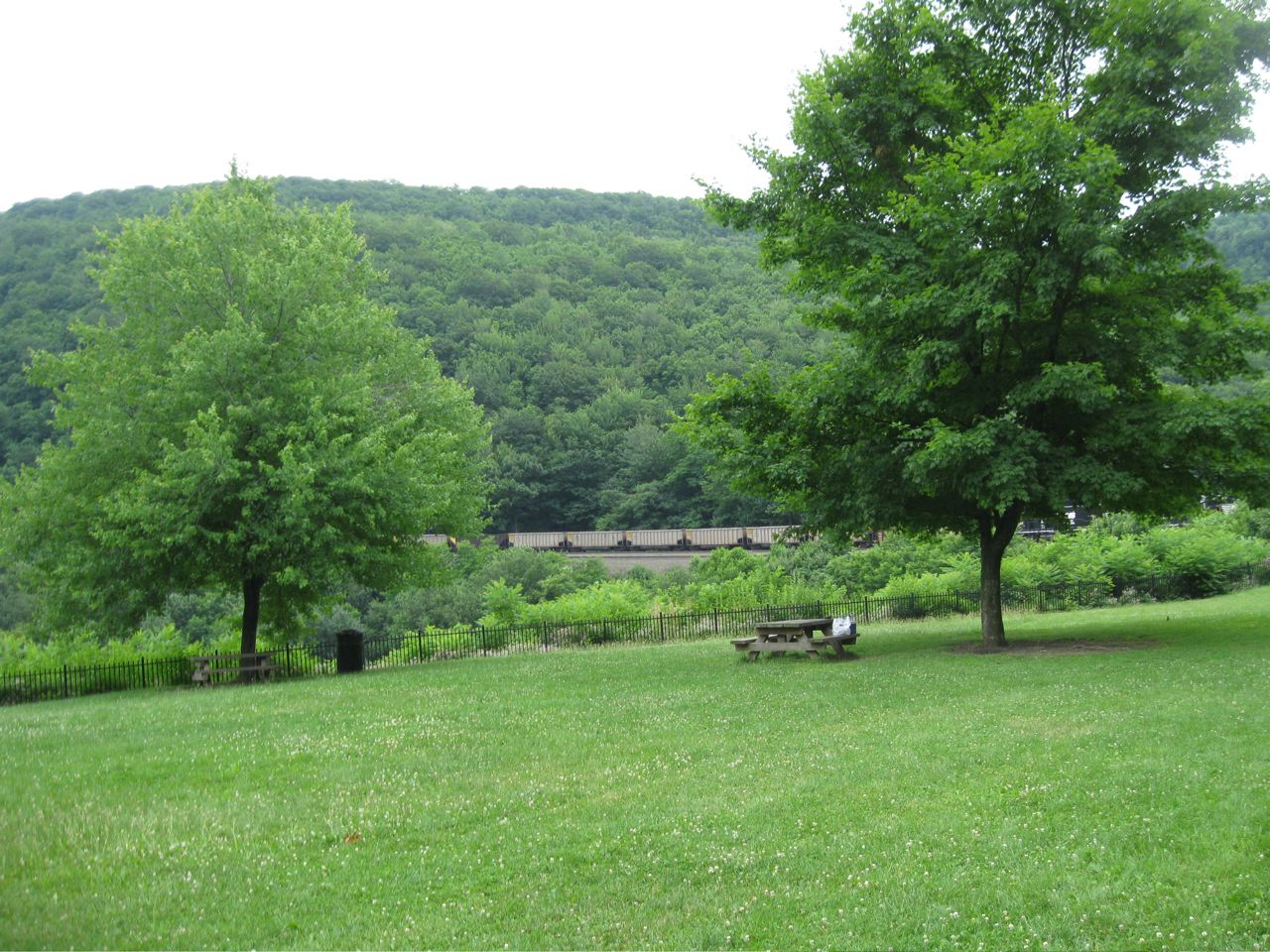 OK 2 telephoto frames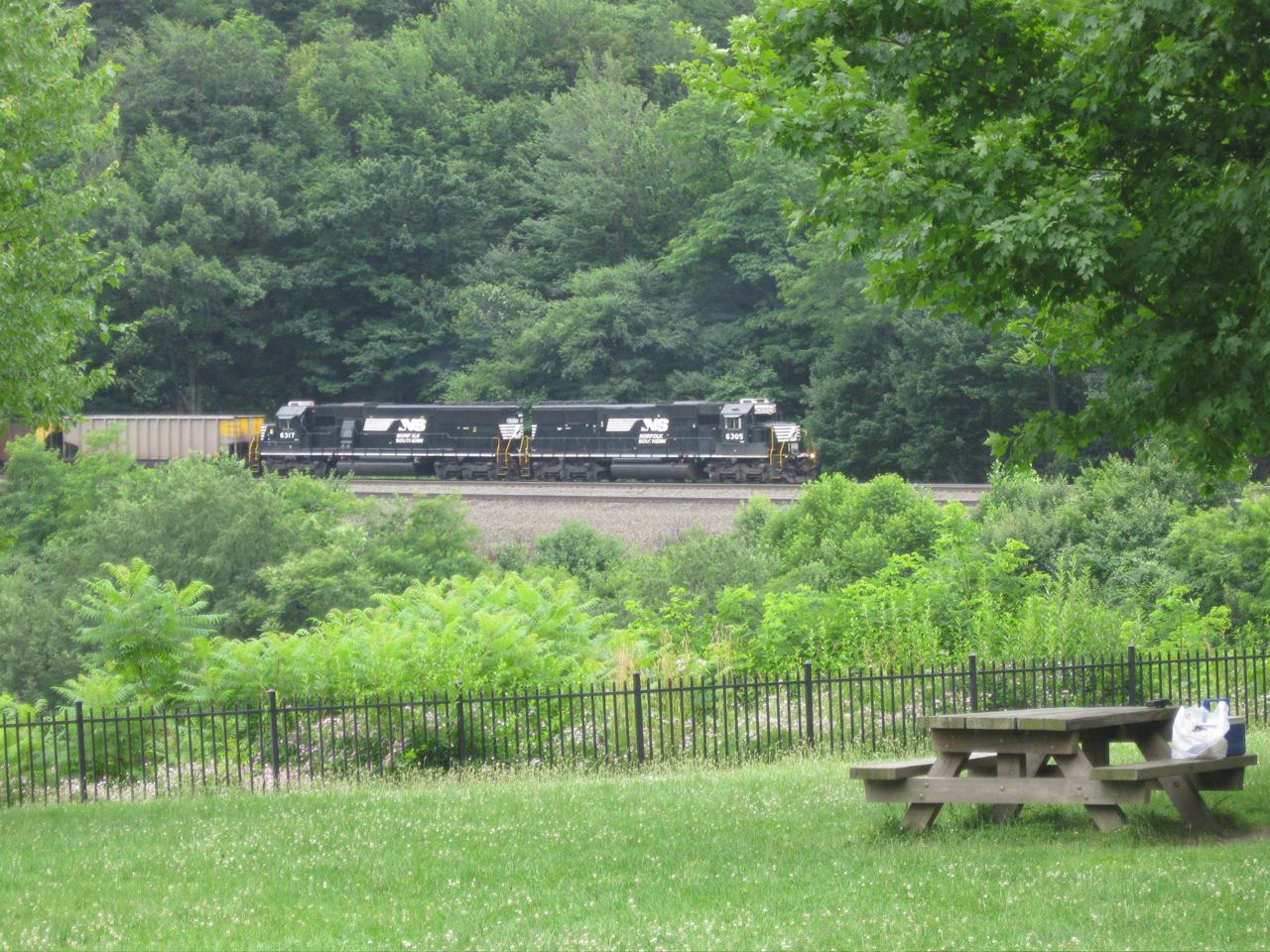 It's pouring rain, but by the time we got to the bottom, it had stopped.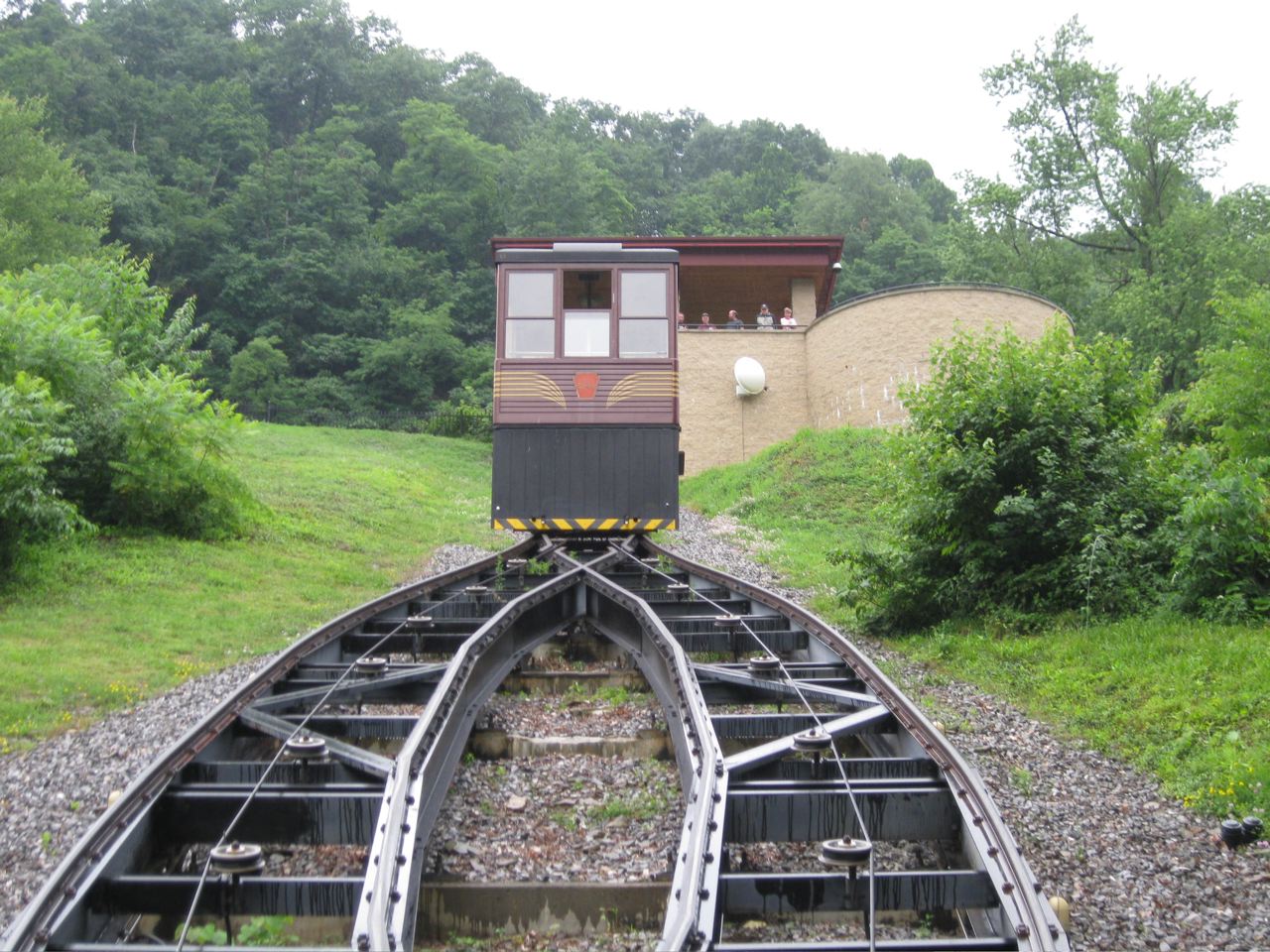 I intend to return to Gallitzin when NS runs some trains!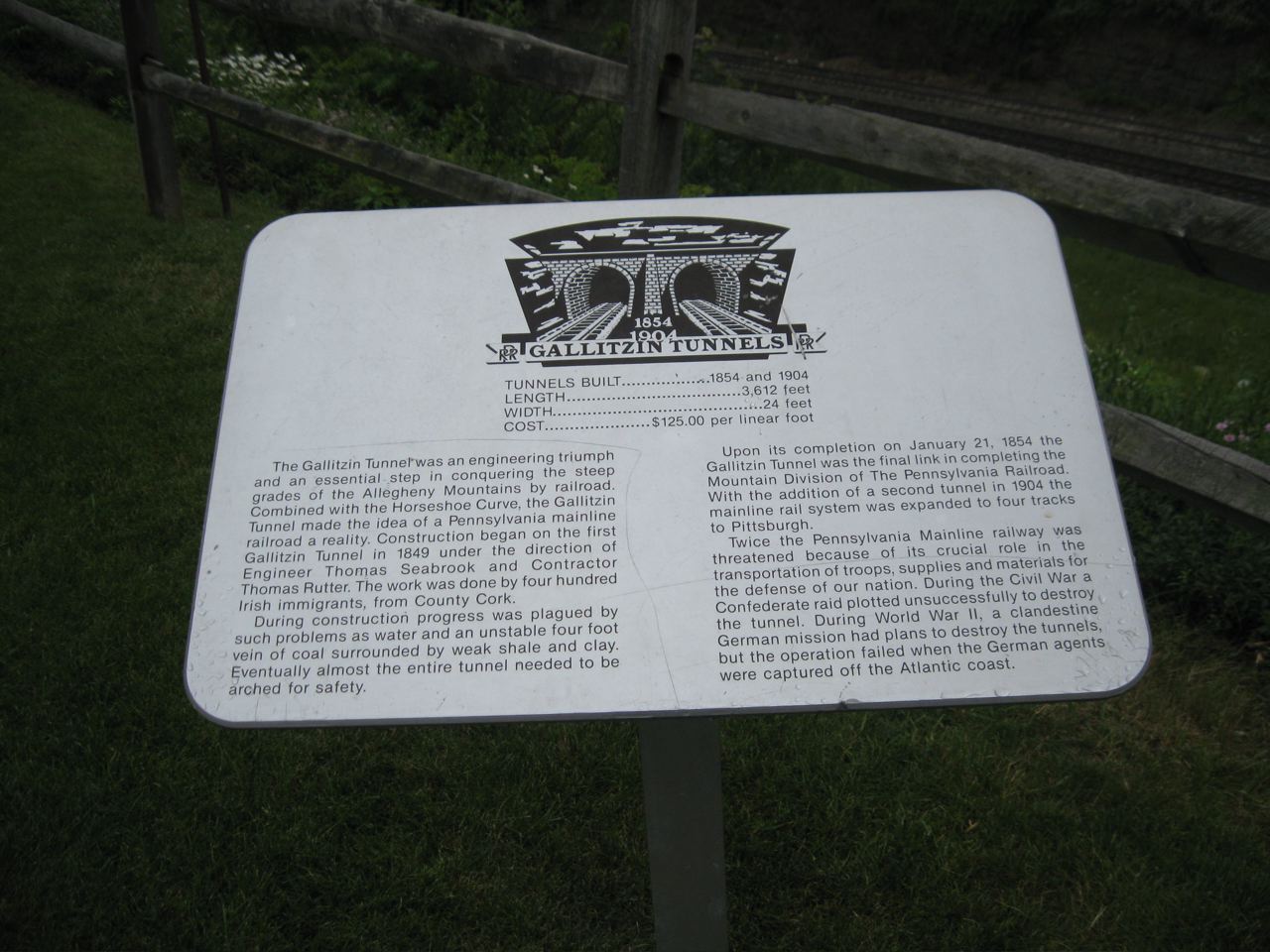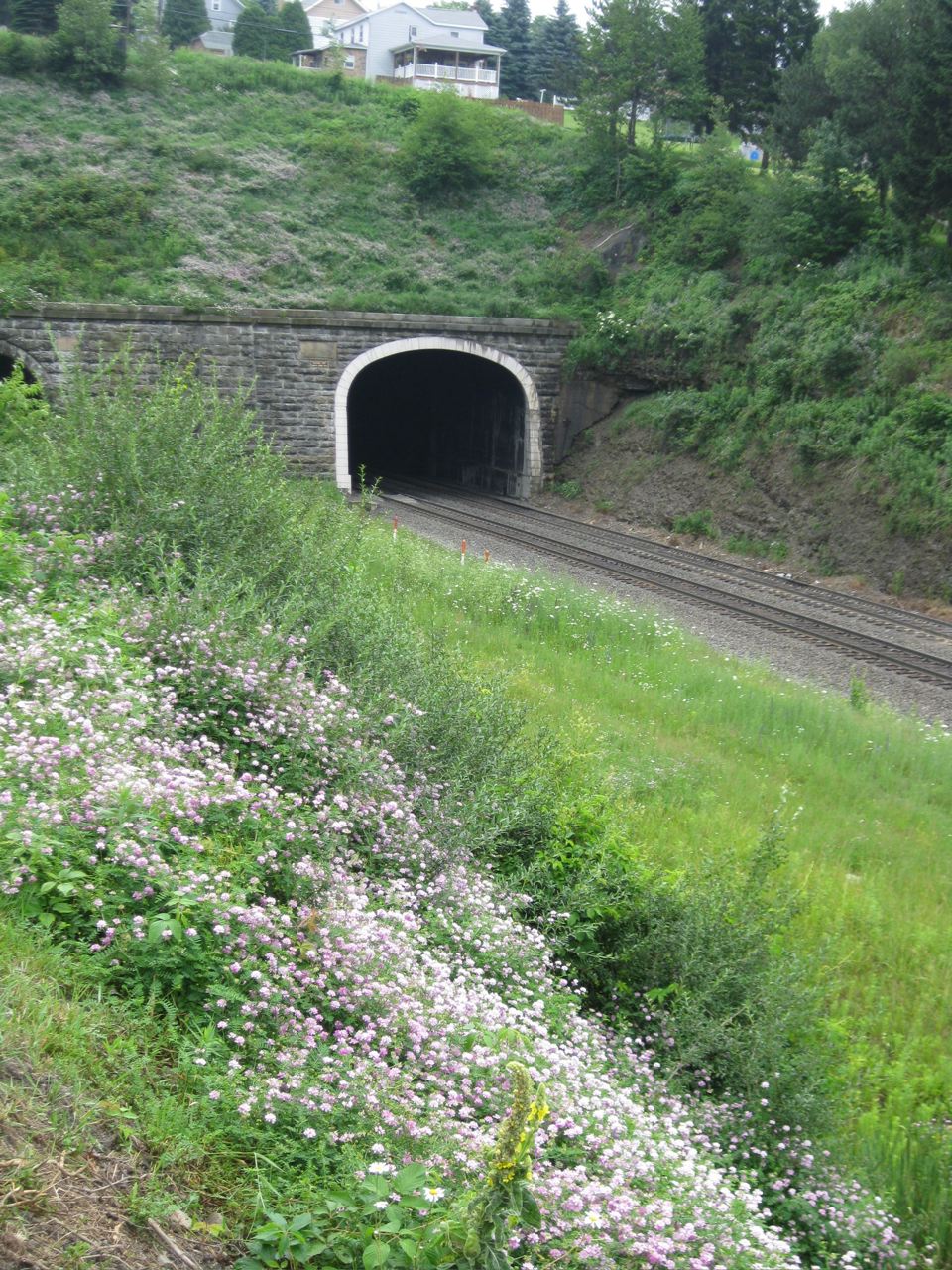 Cresson is the pusher station; RJ Corman's units were tucked way back in their yard to the north (on the line to Clearfield, Pa.), and inaccessible. Area NS pushers still include ex-Conrail SD40-2's, as here, plus recent Altoona-rebuilt SD50's, now called SD40-3's, in the 6300 series.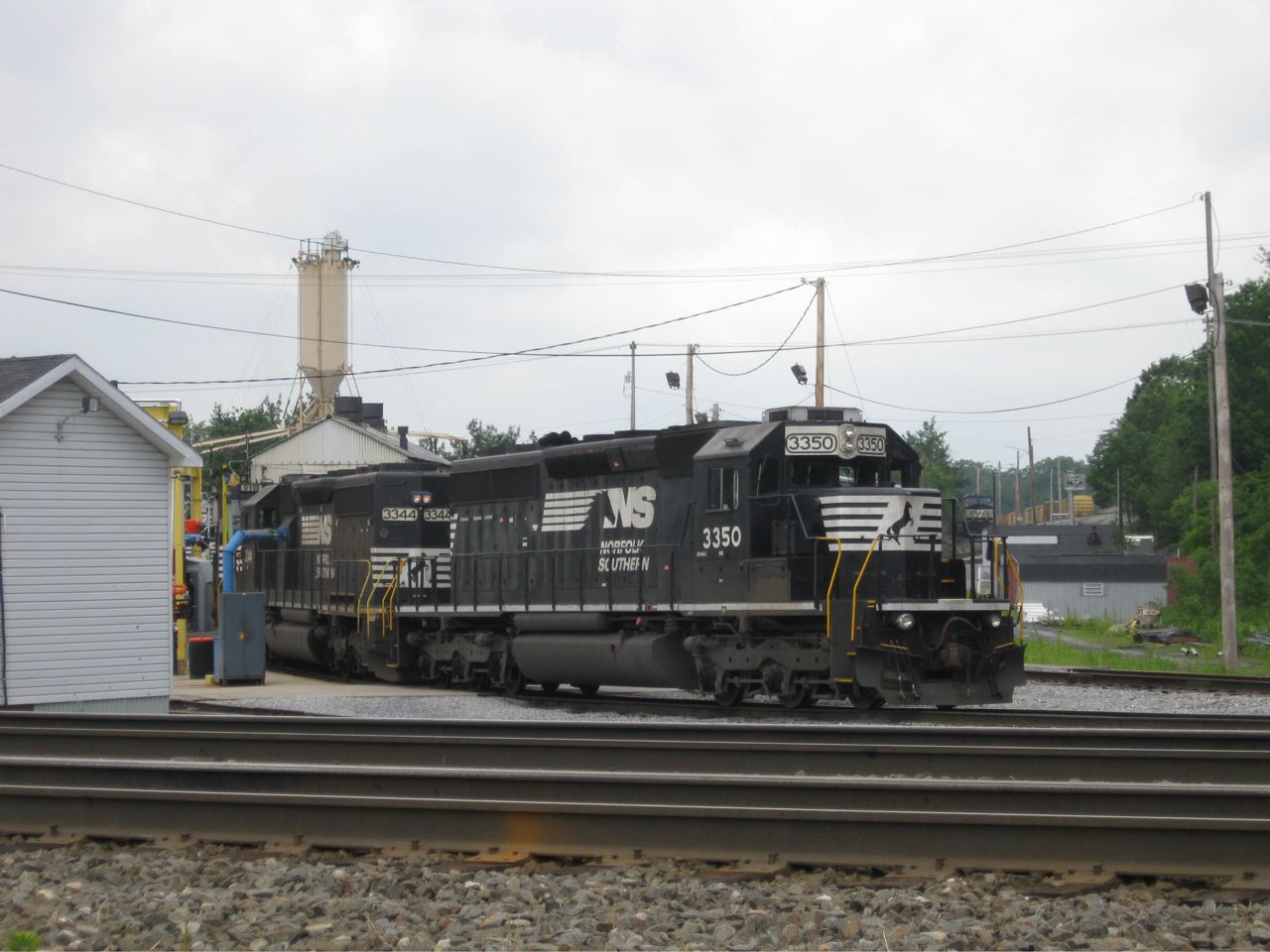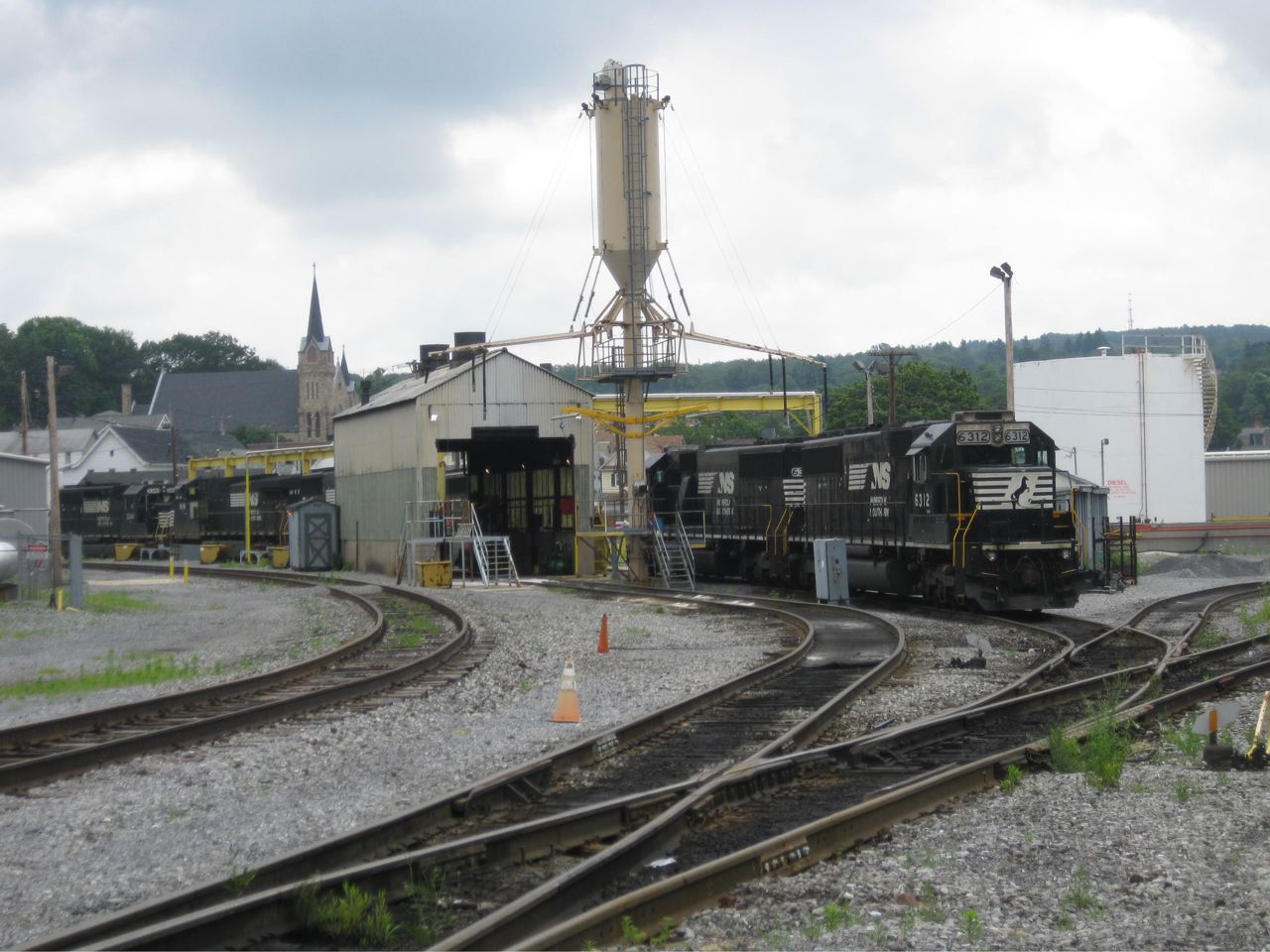 One road and pusher set came out of the terminal, but then just went and parked to the west. We just missed an eastbound stacker with NS- UP-NS power, while fetching lunch at Sheetz's to eat at trackside.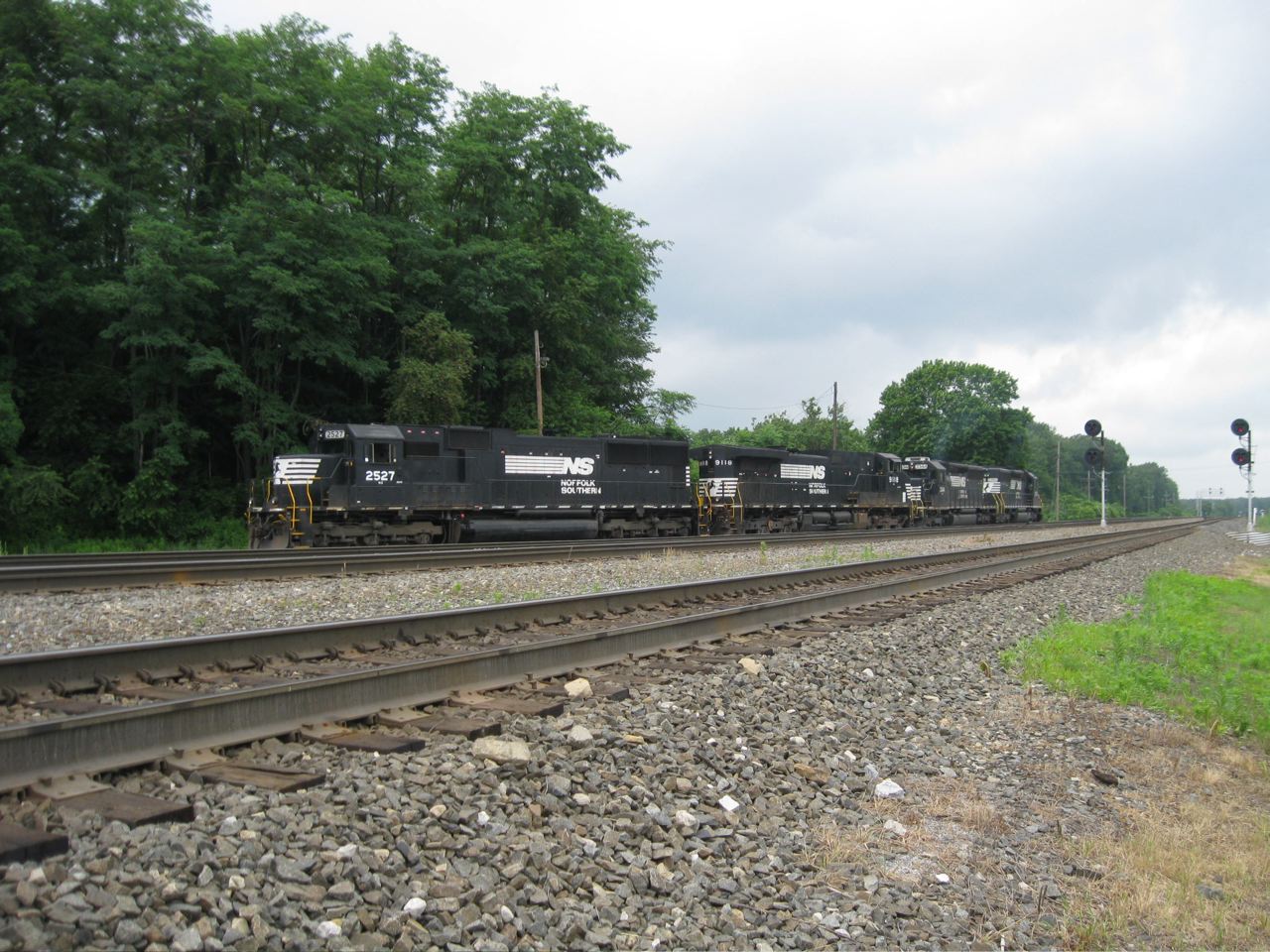 At W&LE's Akron facility were three units: SW1500 1502 lettered for the Akron Barberton Connecting, the old Akron & Barberton Belt; an ex- NS high-nose GP35 (ex-SOU or S&A, judging from the Alco trucks); and the GP35 that W&LE has lettered for Pittsburgh & West Virginia, a "heritage unit" if you will. Lines of P&WV, the original W&LE, and AC&Y comprise today's "Wheeling," whose official scheme is pattered after Rio Grande's, as you can tell.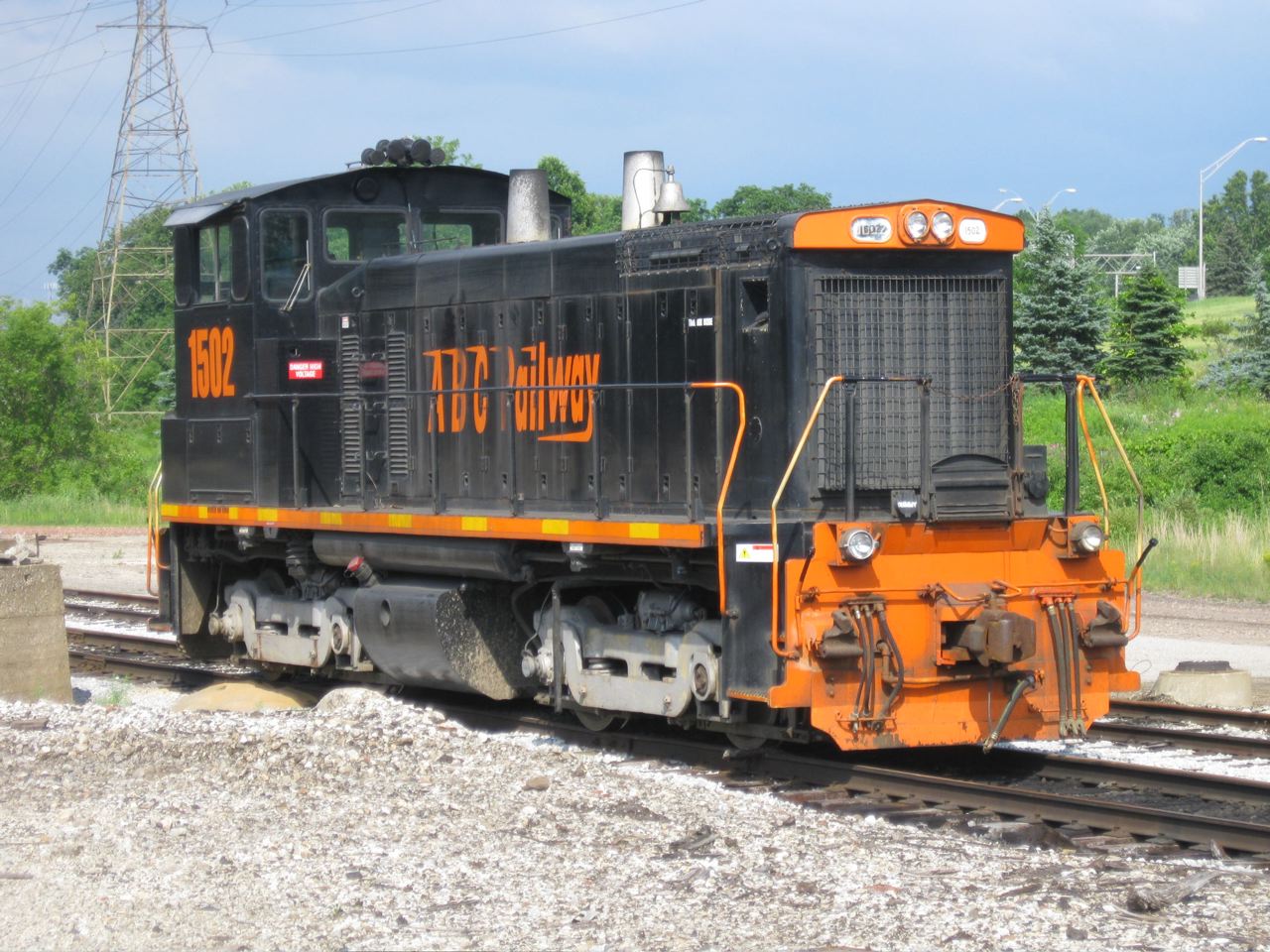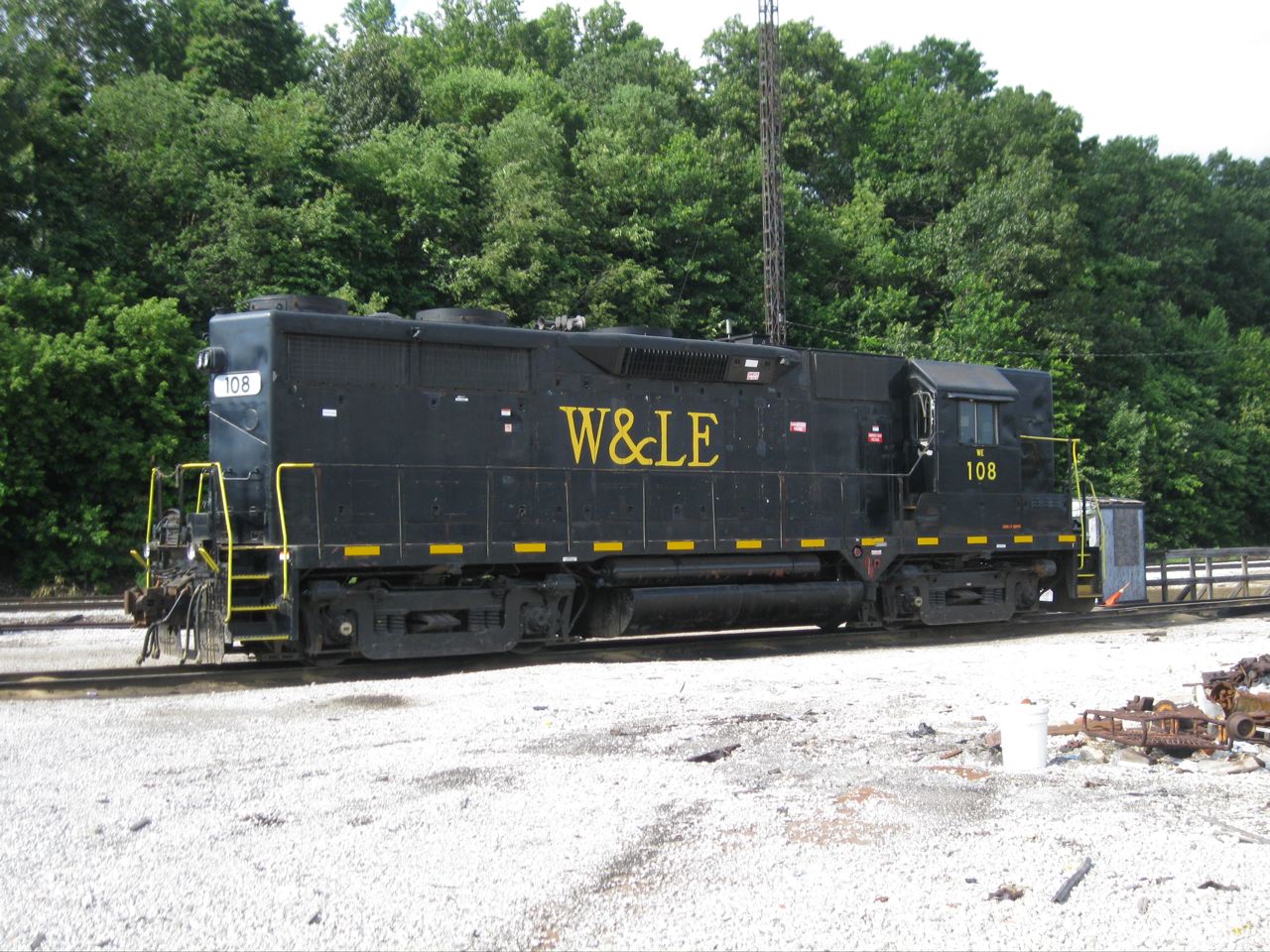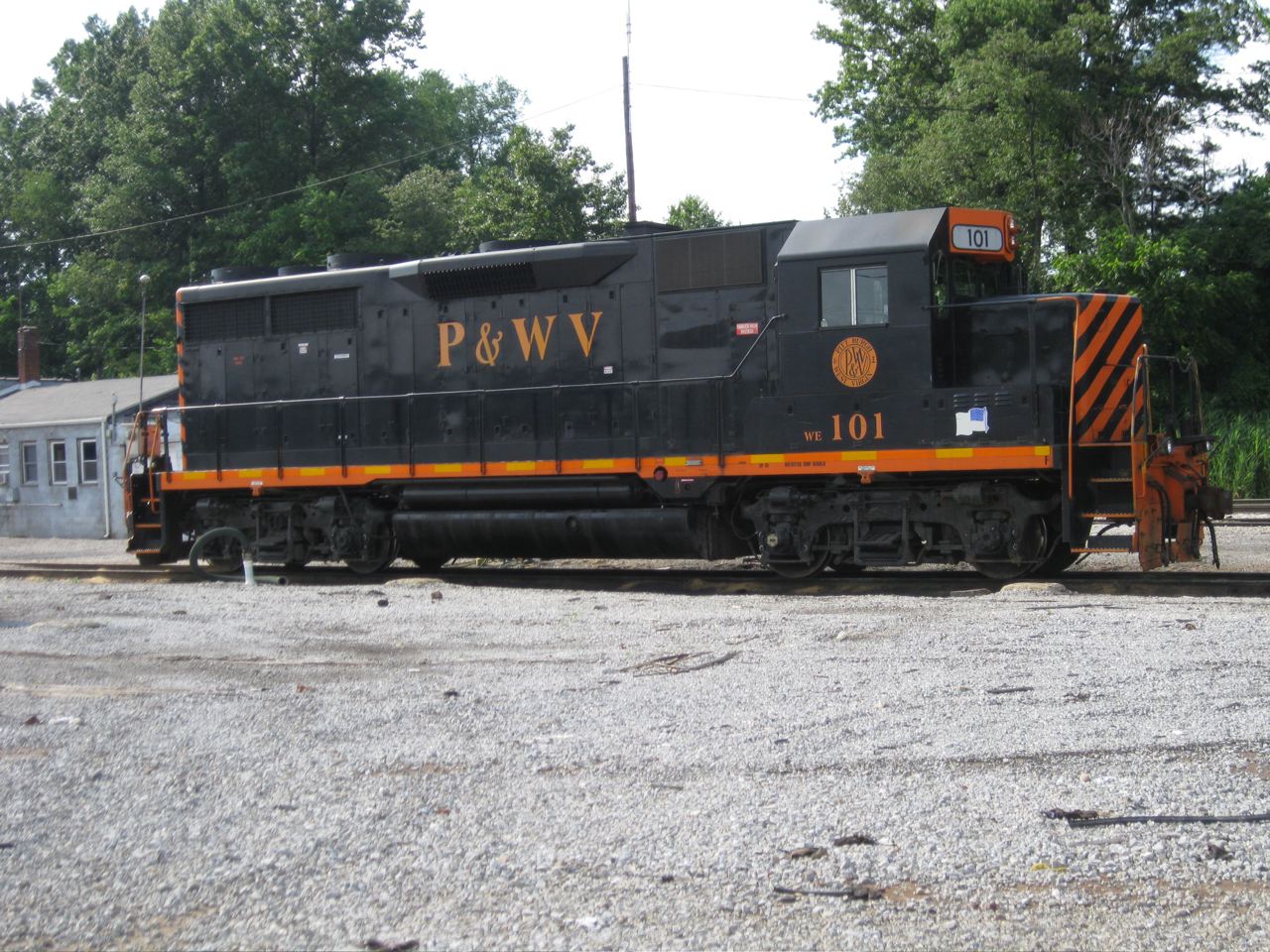 Ashland Railway runs some ex-Erie mainline trackage in the Mansfield- Ashland, Ohio, area; this GP9 was parked near downtown Mansfield. From the bell, I'd guess maybe ex-C&O or ex-NKP, since no dynamic braking.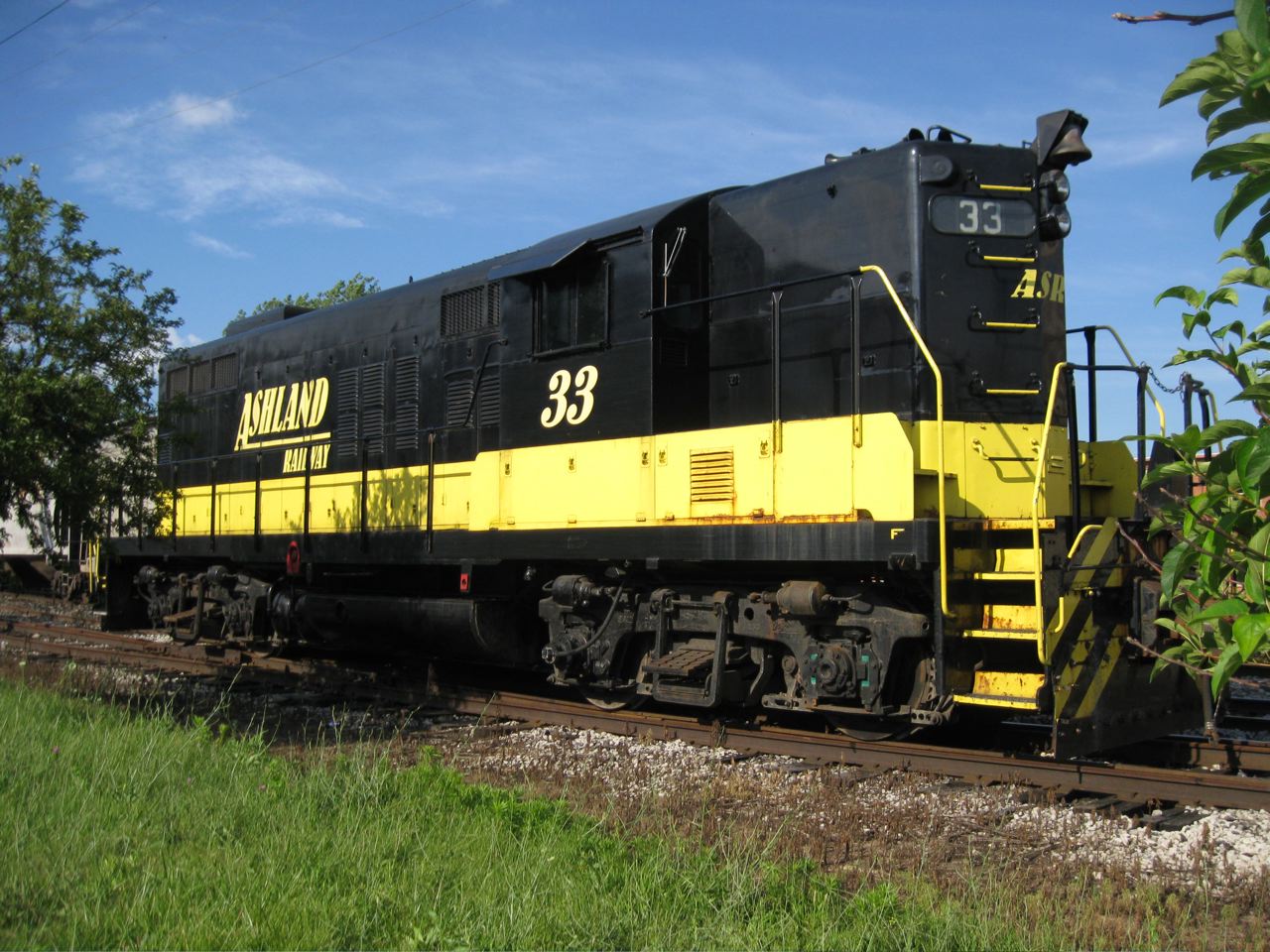 Generally, I've avoided including depot pictures in these galleries, to keep the size down. But Galion, Ohio's Big Four depot rates an exception. We would not finally attain sunny skies, as a stubborn front moved extremely slowly, until between Carey and Fostoria, as we followed US 30 (including some old Lincoln Highway) to old US 23 and then I-75 in going up to Toledo to express it home.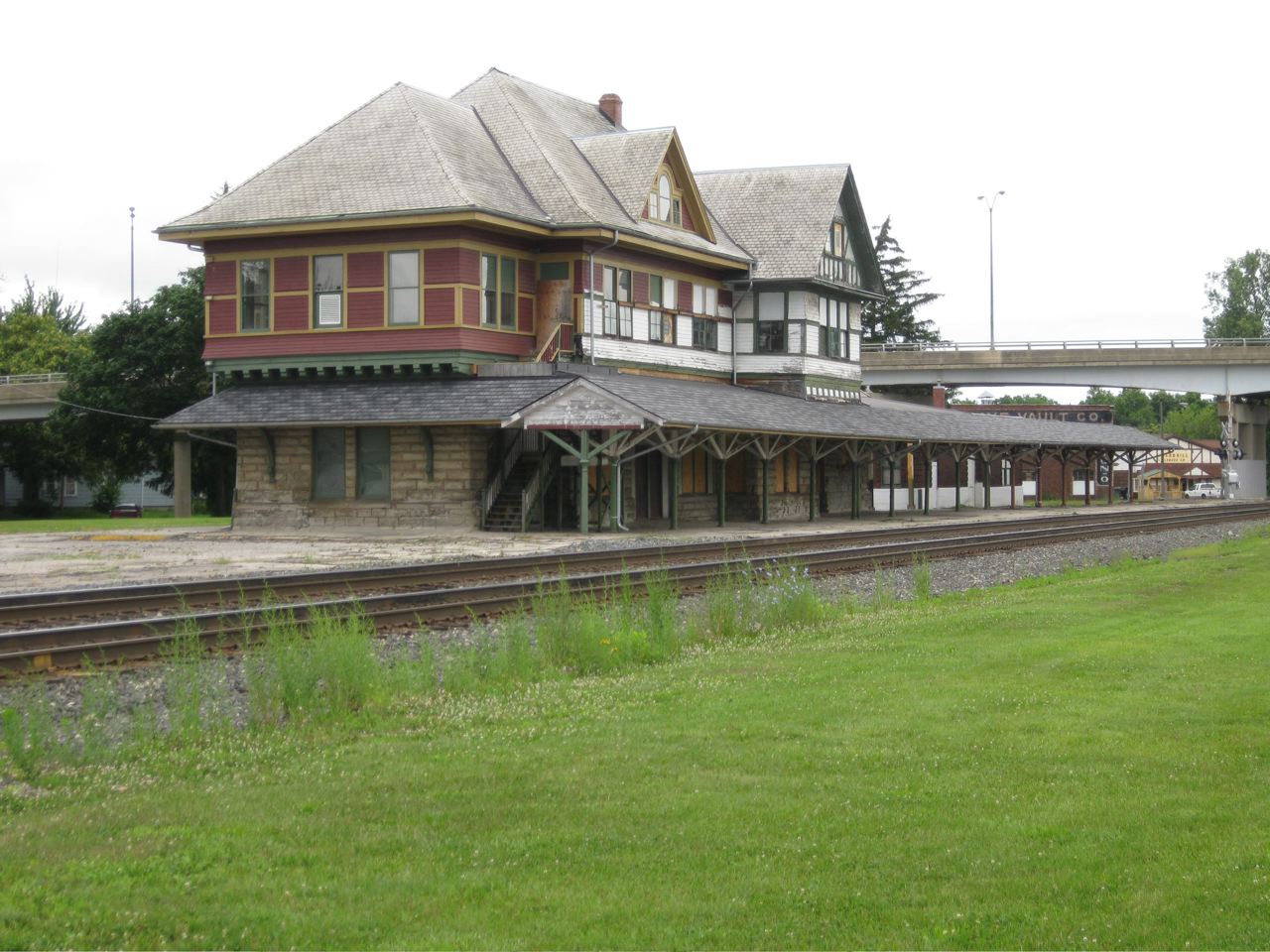 | | |
| --- | --- |
| Bucyrus was a PRR crossing (PFW&C main and the Sandusky-Columbus line), but only the old Toledo & Ohio Central (NYC system) depot survives. | |
Rick says the individual who owns this stuff has a Web site; this is on the old Lincoln Hwy. at the west edge of Bucyrus, and includes a miniature railroad loop.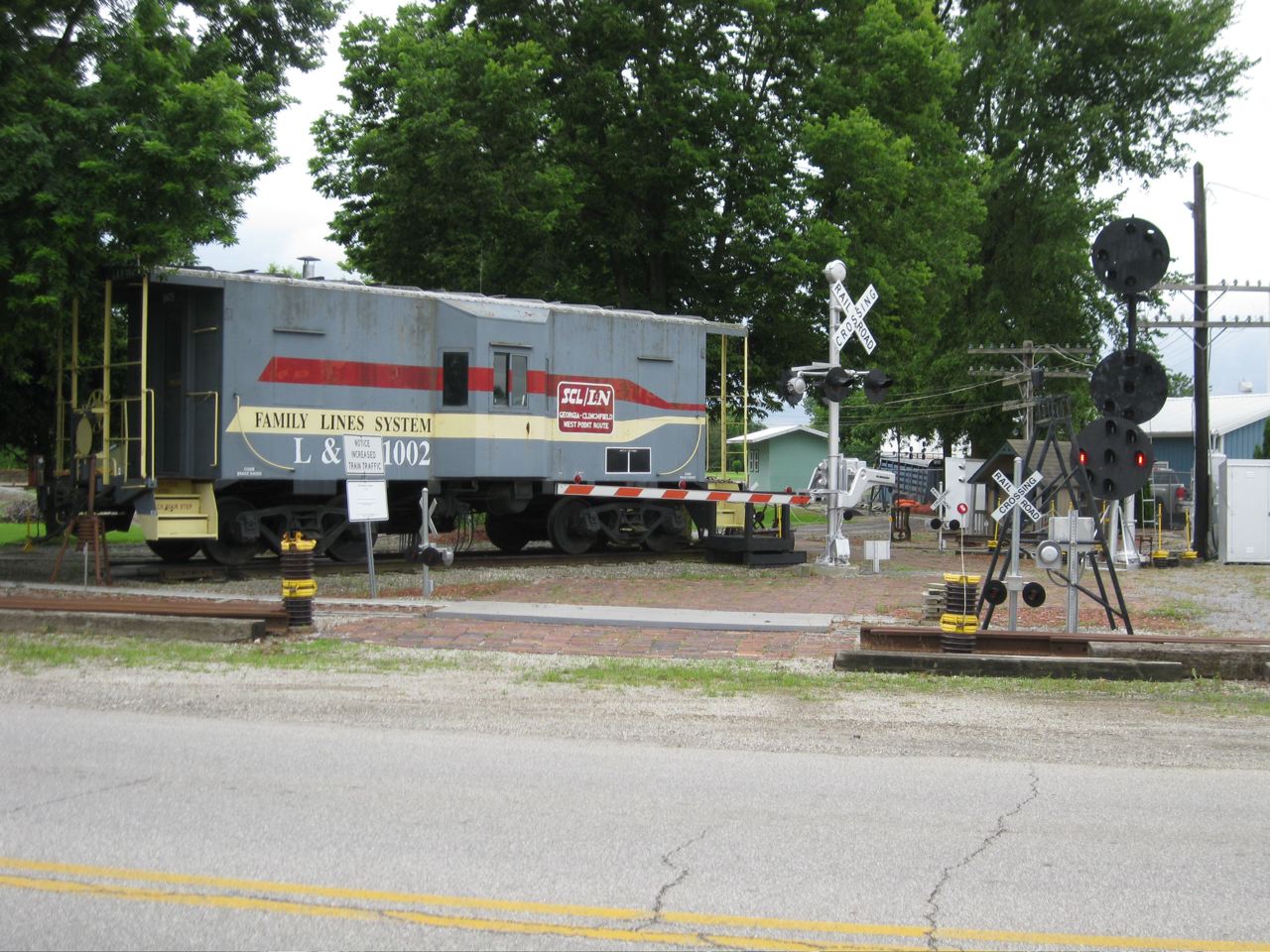 The Lincoln Hwy. is not always US 30, much of which now in Ohio is 4- lane and bypasses the towns.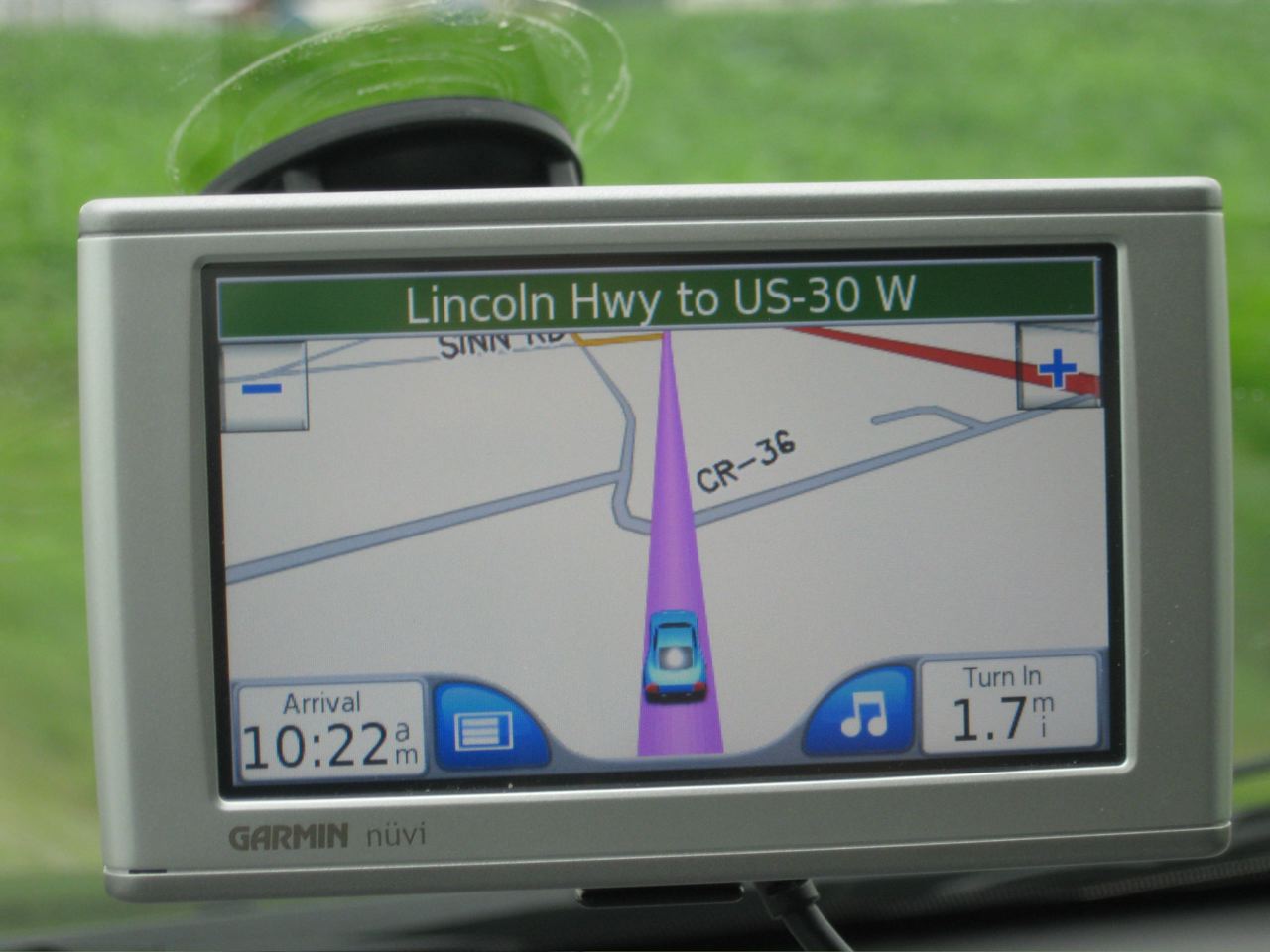 Carey was next; in my Detroit days in the 1960's, we'd make day trips down here to Fostoria and Carey, but if you went on to Marion, you usually would need to make it an overnight trip. This is an ex-NYC system depot.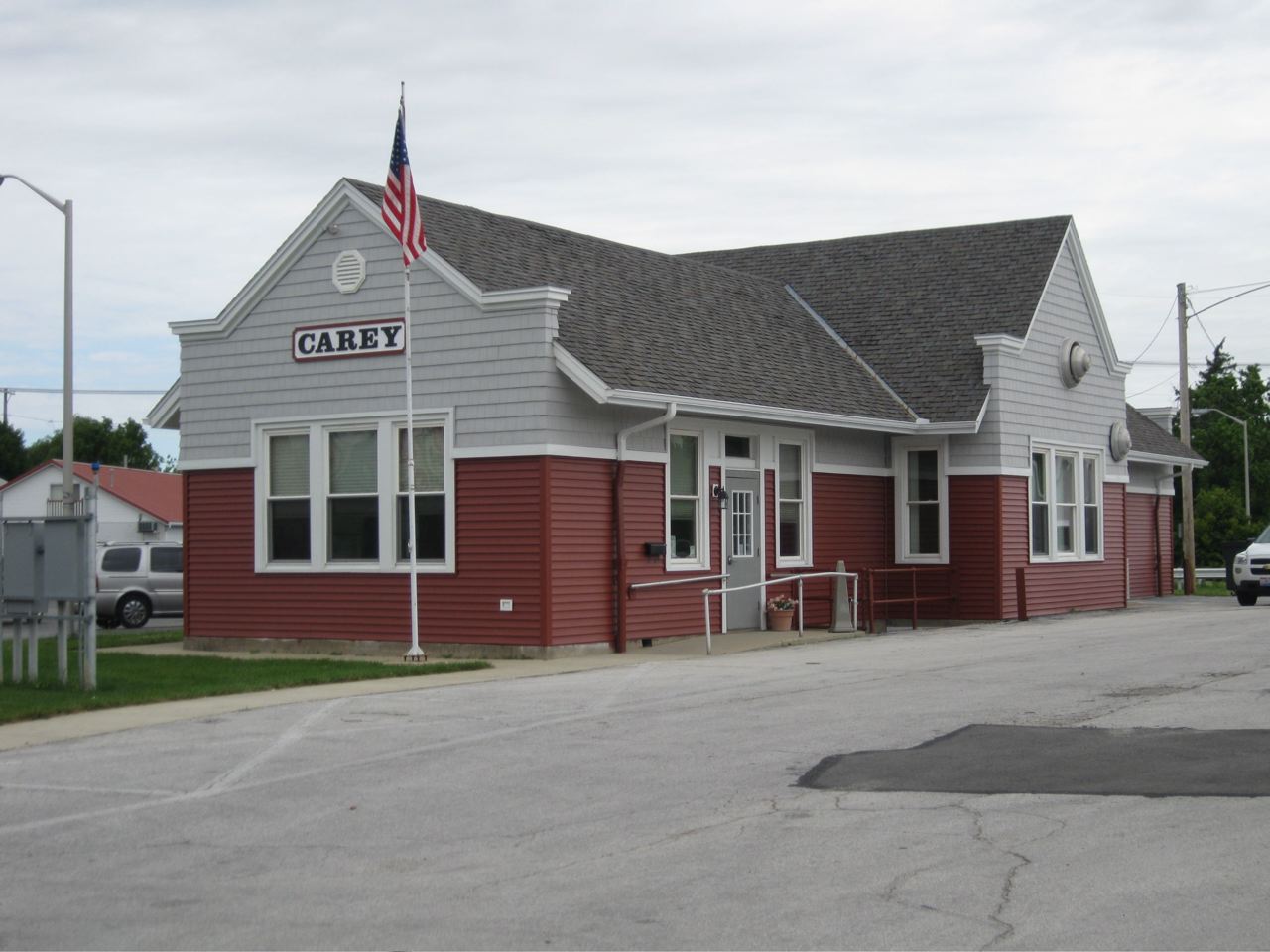 C Tower (a cabin) on the C&O main, where the AC&Y and Big Four used to cross, survives, sort of.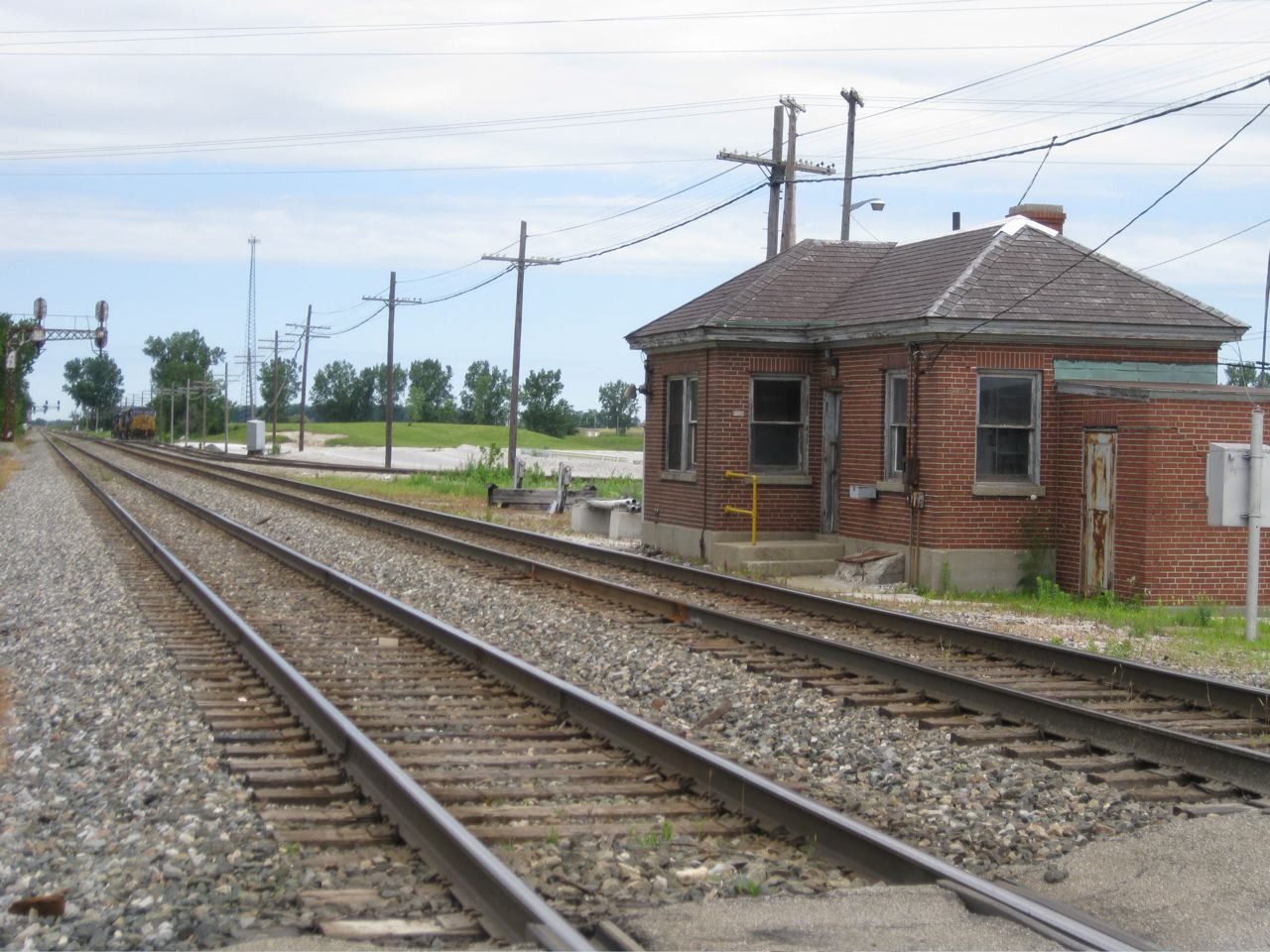 In AC&Y days, diesels would be at the servicing area in town. Now the W&LE units are kept at the yard office east of town a mile or more.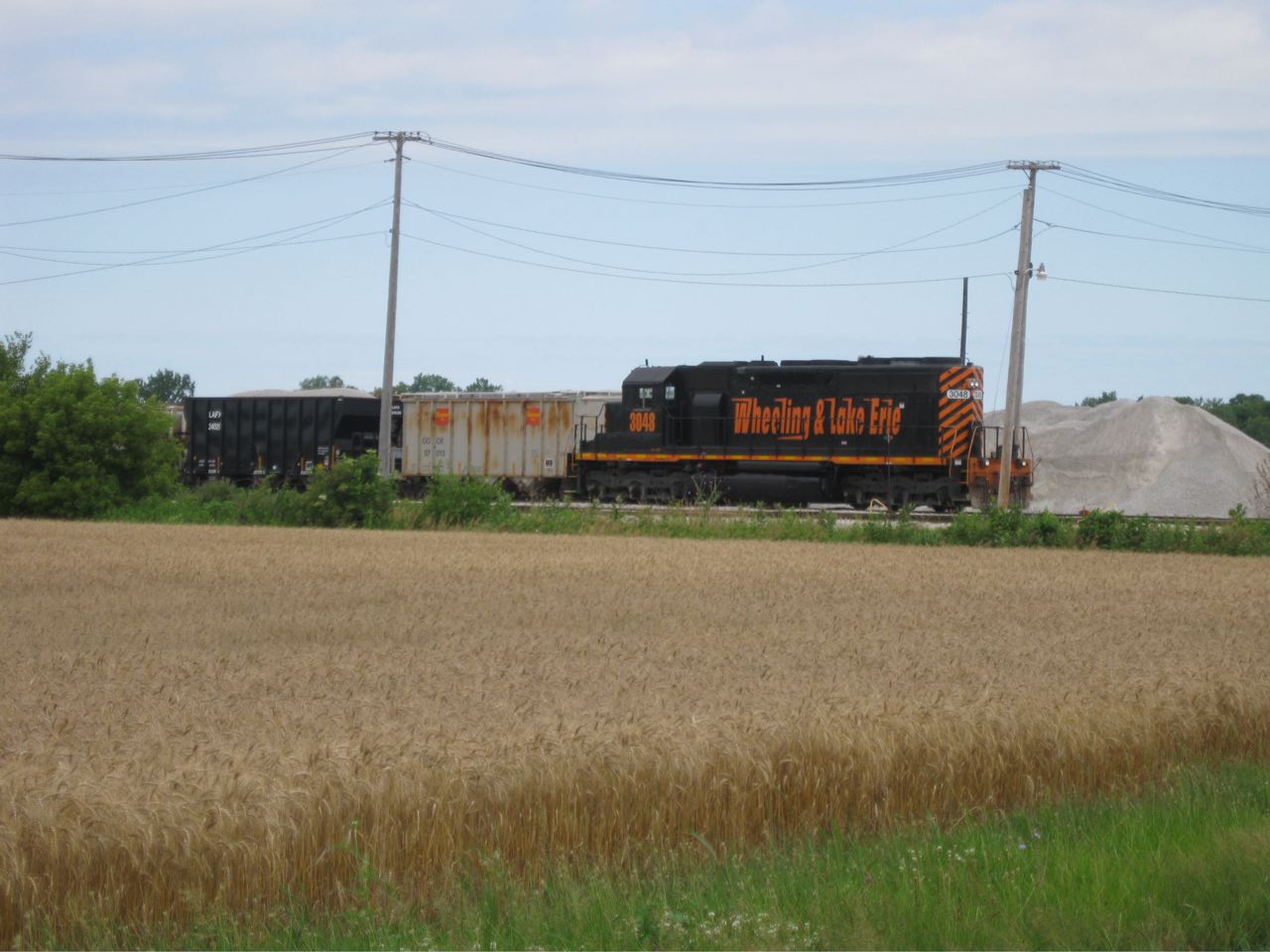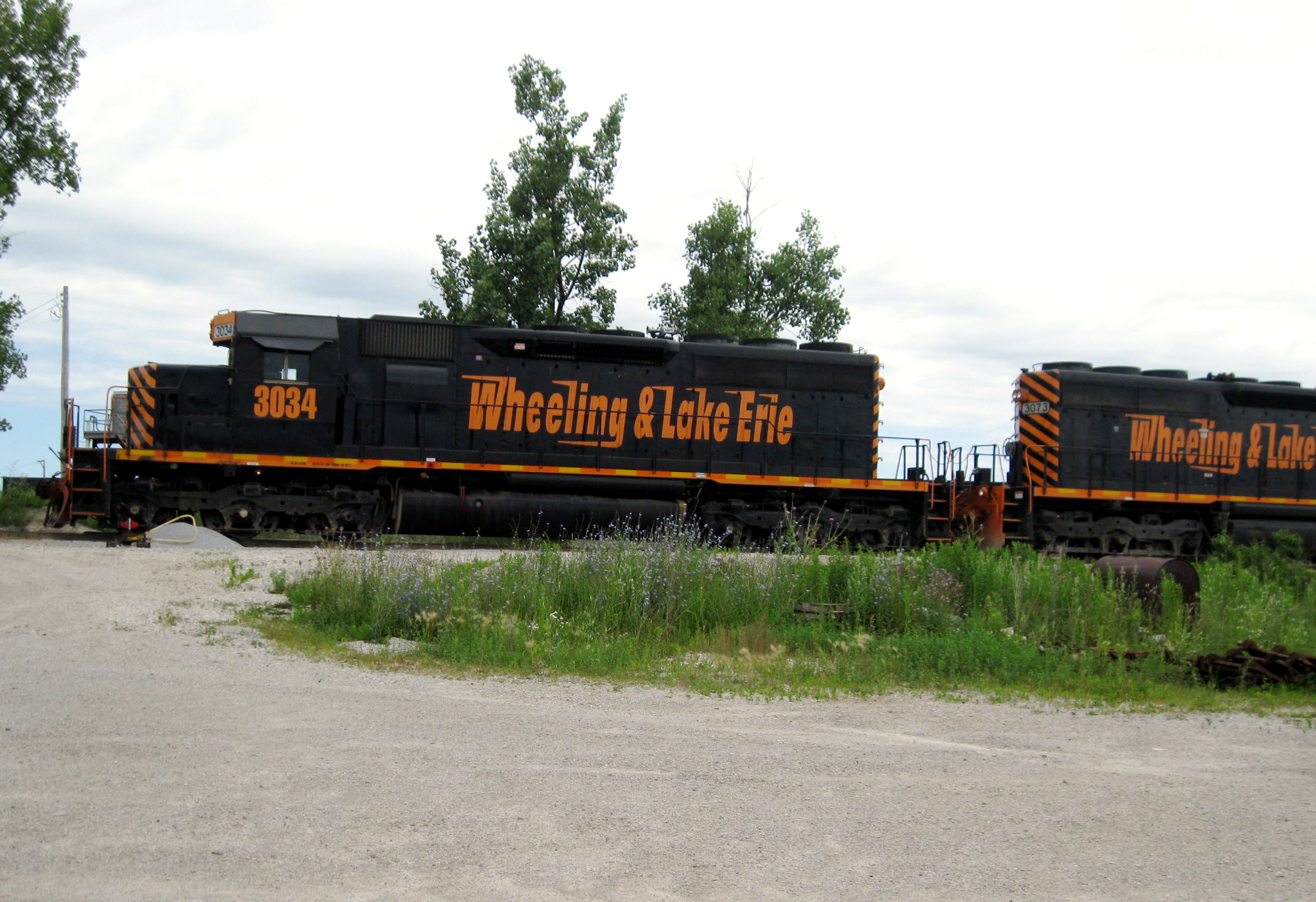 The 6382, out of GM's lease fleet but now with W&LE markings, may be ex-Milwaukee Road.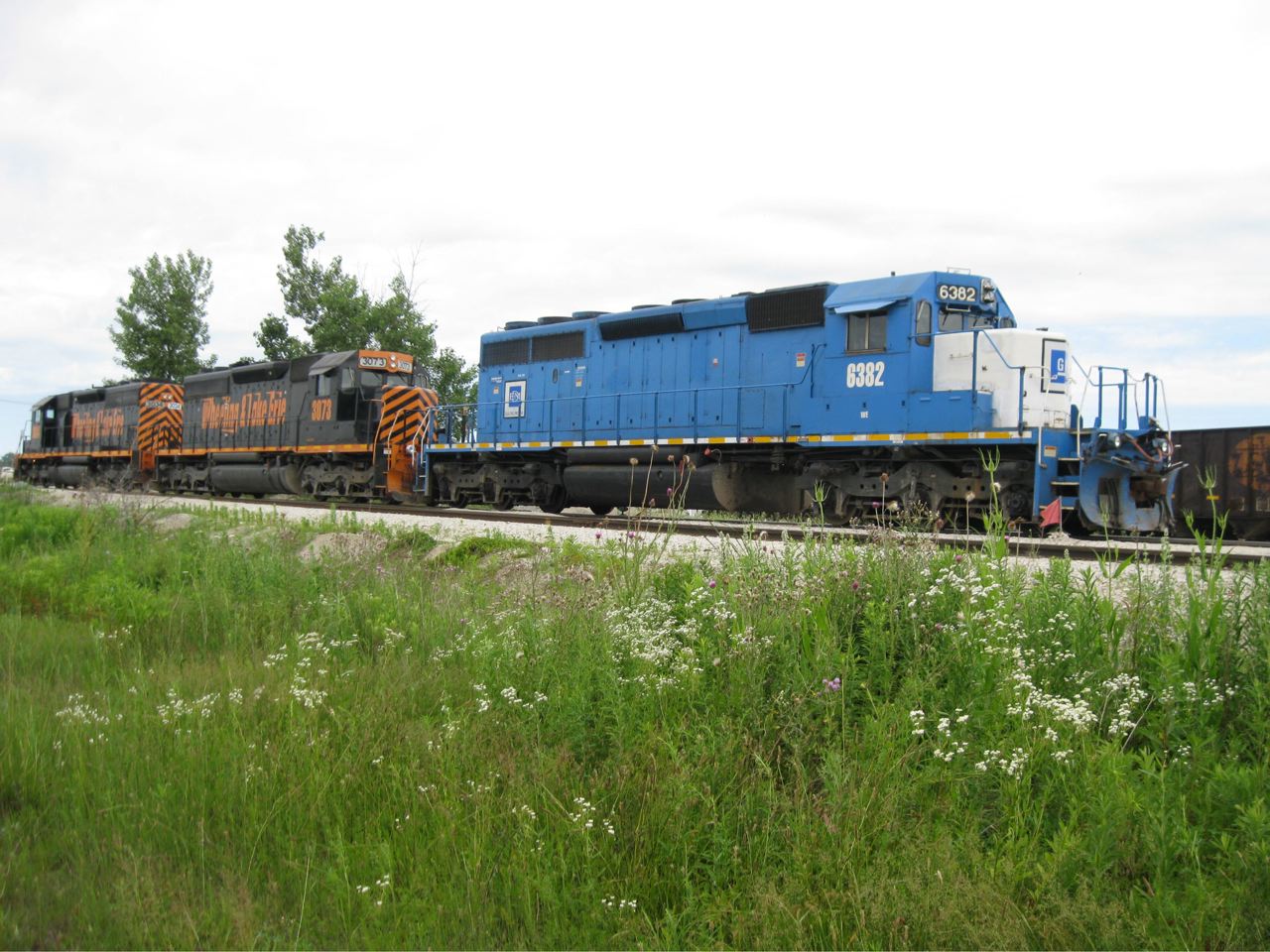 An SW1 of indeterminate lineage was working in the adjacent National Lime & Stone facility, a big AC&Y customer in the day, and still quite active, with traffic for both W&LE and CSX.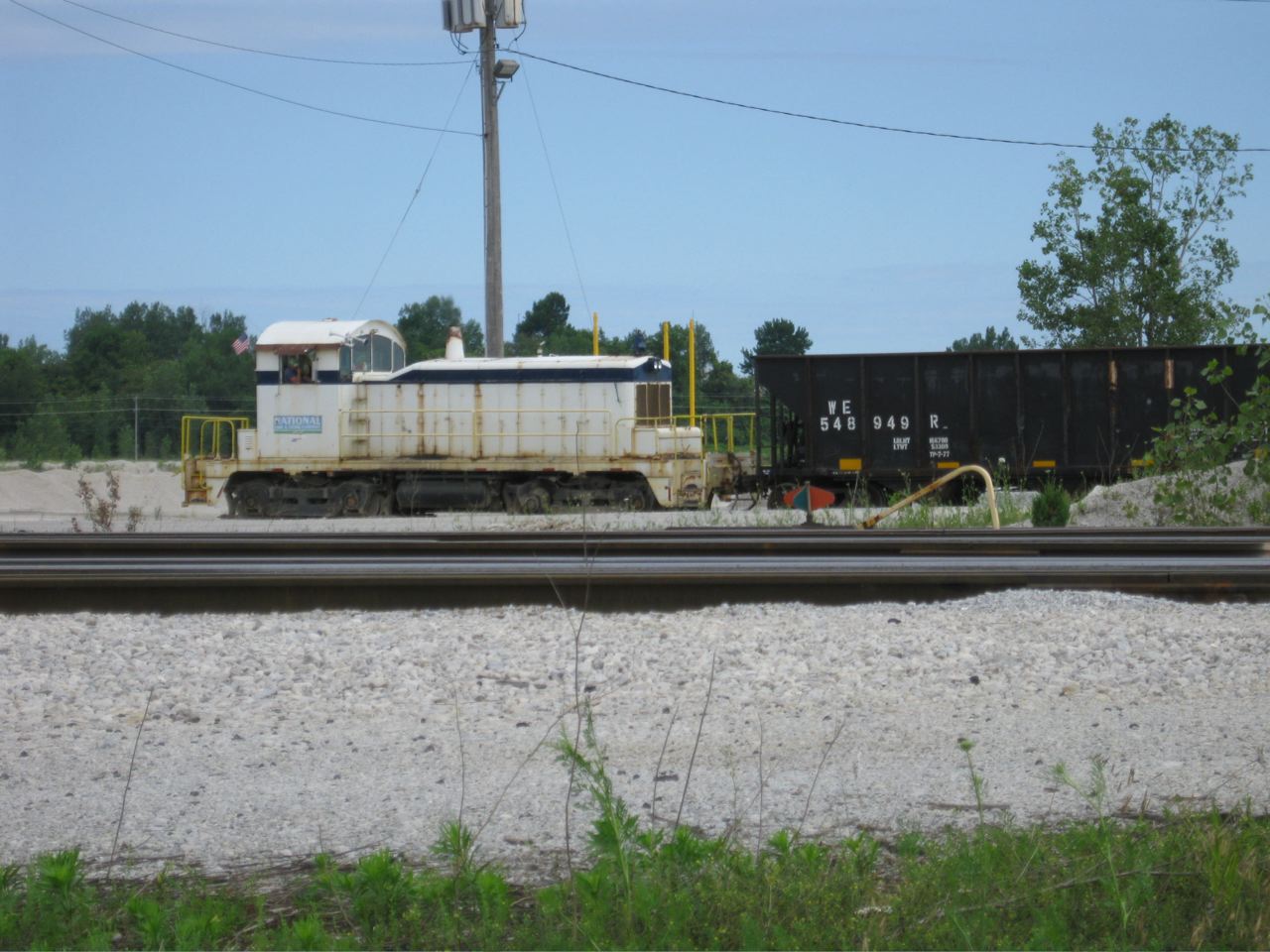 In 90 minutes, Fostoria provided only 3 trains (probably because it now was sunny?): this westbound train on NS, with BNSF power; an NS local heading west with an ex-SOU SD40-2; and one CSX local job bringing trash gondolas out of the old C&O yard onto the old B&O. We did photograph all remaining depots and towers in town, though, the obvious "F Tower" that still controls the interlockings (didn't do a digital, though -- it hasn't changed); the B&O depot; the old Toledo & Ohio Central depot (ED Note: from Aaron W. Gonya, President of the Fostoria Rail Preservation Society, "structurally it's fairly sound despite it's appearance and we are in the planning process to relocate it to the railfan park"), the old Lake Erie & Western depot (offices, downtown; ED Note: from Aaron W. Gonya, "being restored where it sits in it's original location"); two C&O offices; and a brick interlocking tower that guarded the T&OC-LE&W- C&O diamonds at the north end of town, which was a revelation to me. These photo conclude our tour. Fostoria will be target of a future visit, so I can compare trains with the NKP, B&O, and C&O trains I shot there in the 1960's!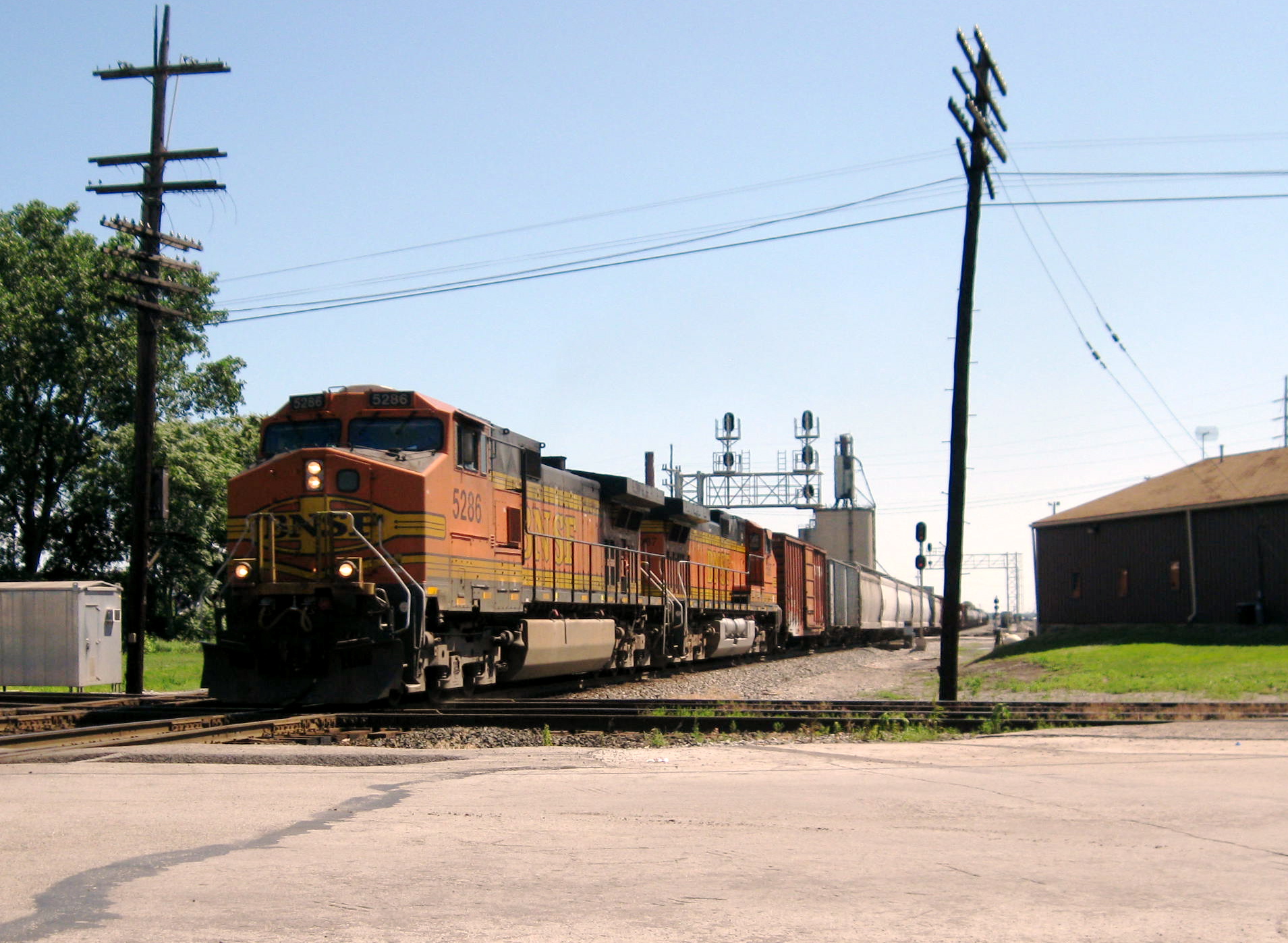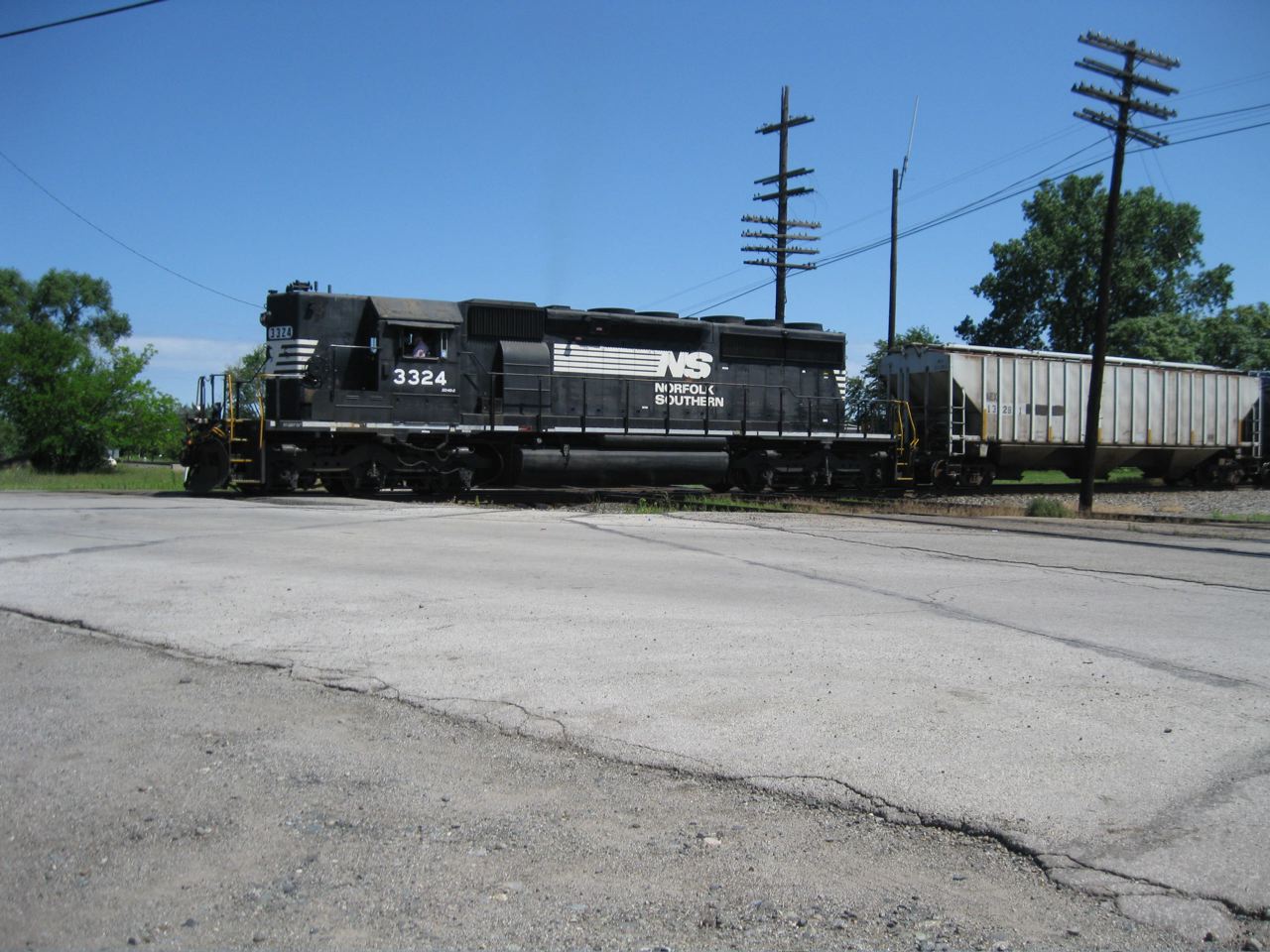 LE&W depot in downtown Fostoria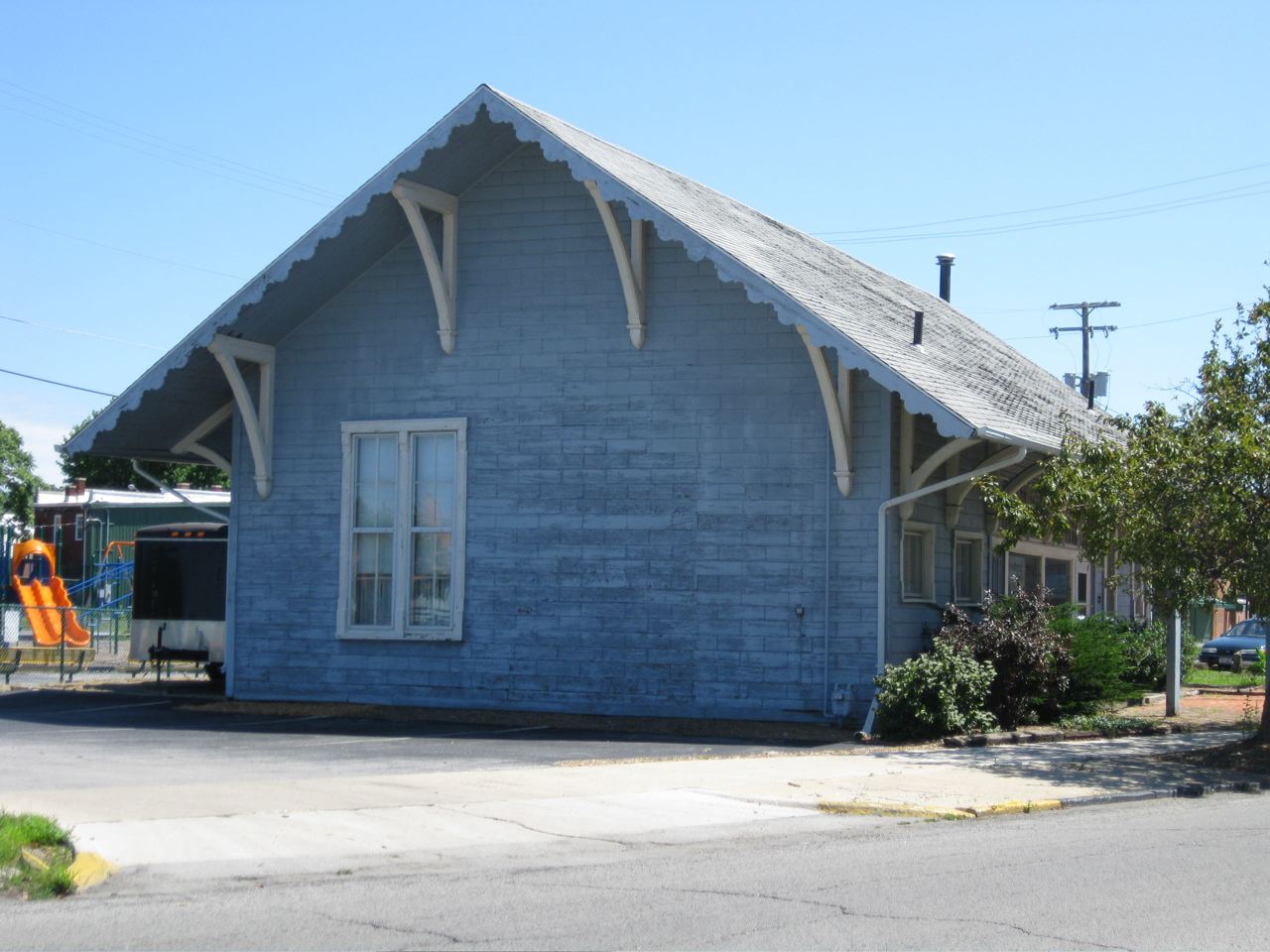 Derelict old T&OC depot northeast of downtown. T&OC was a New York Central property, while LE&W was Nickel Plate.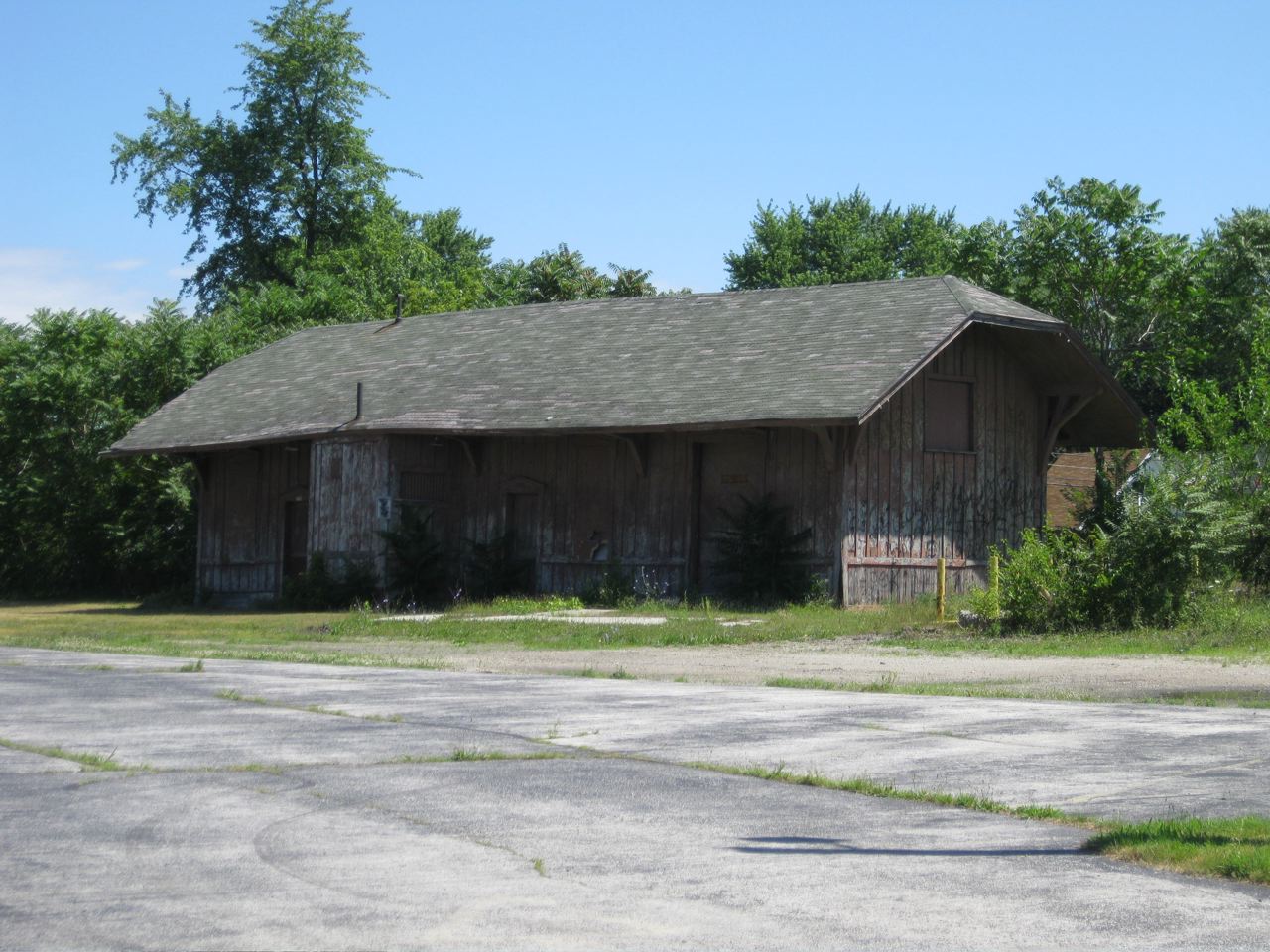 B&O depot, which served Amtrak until 2005.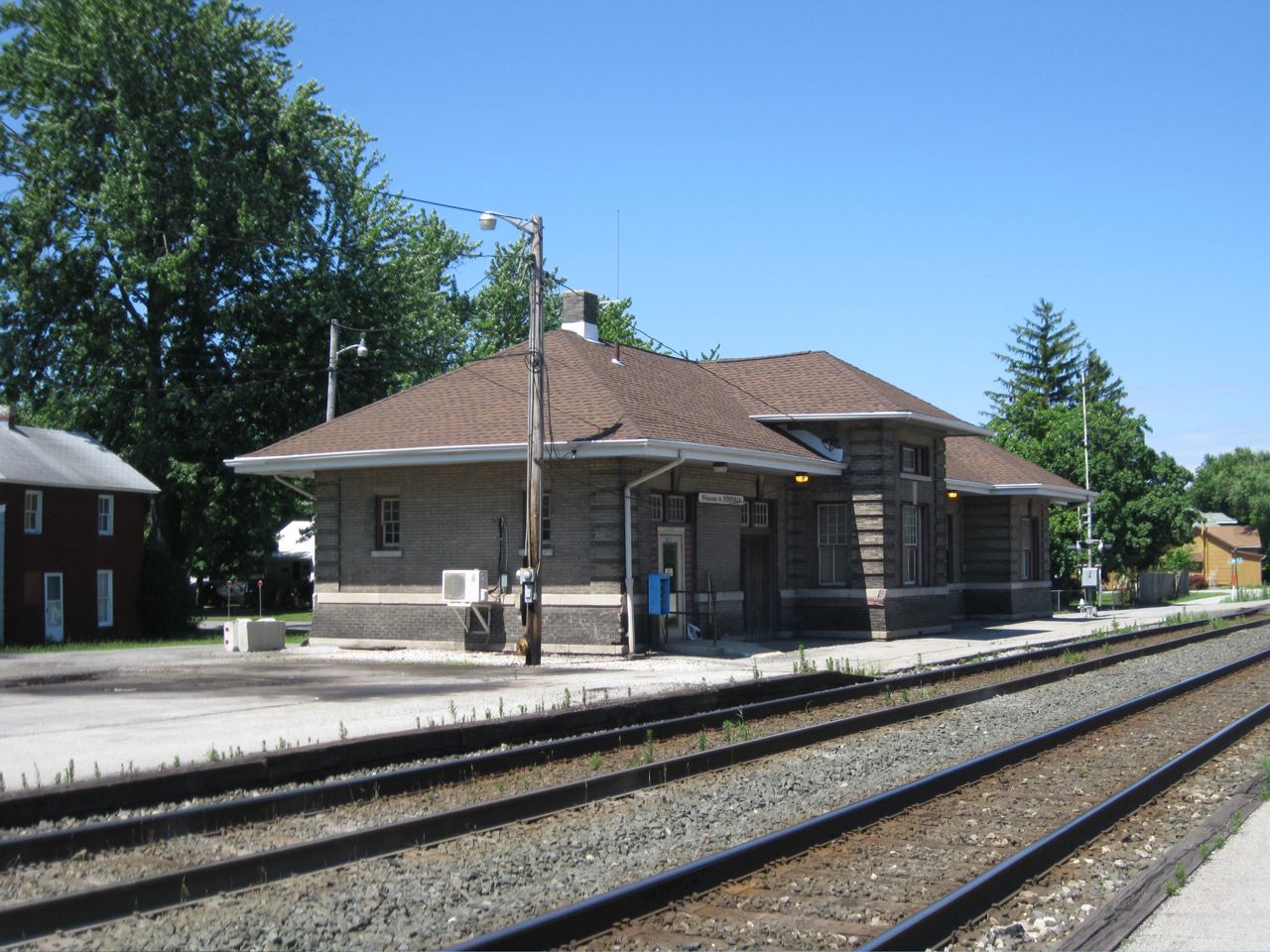 Coming off C&O around the connection onto westbound B&O.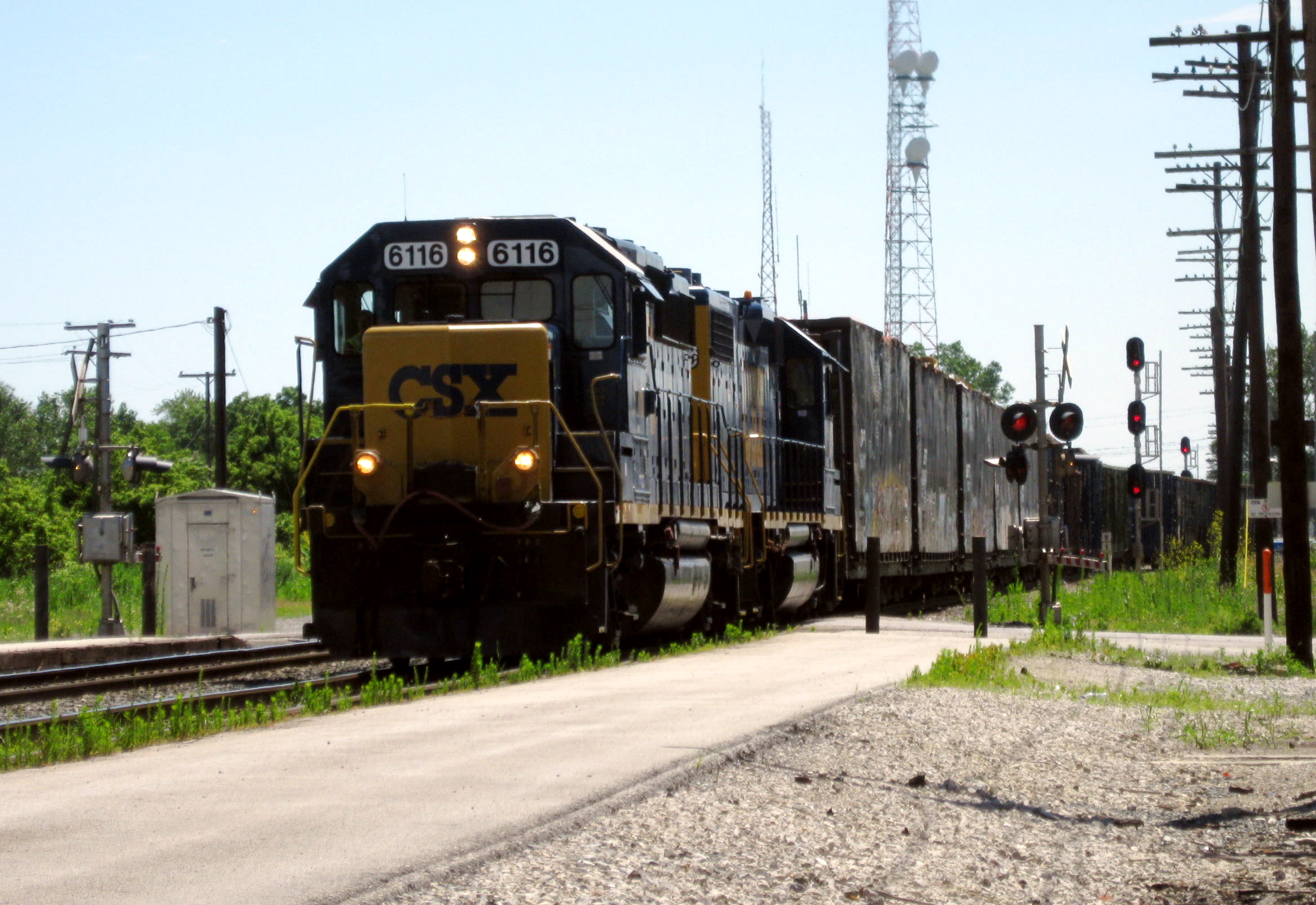 Tower that controlled T&OC-LE&W diamond; the C&O (CSX) double-track main is at far right; you can see a lineside pole.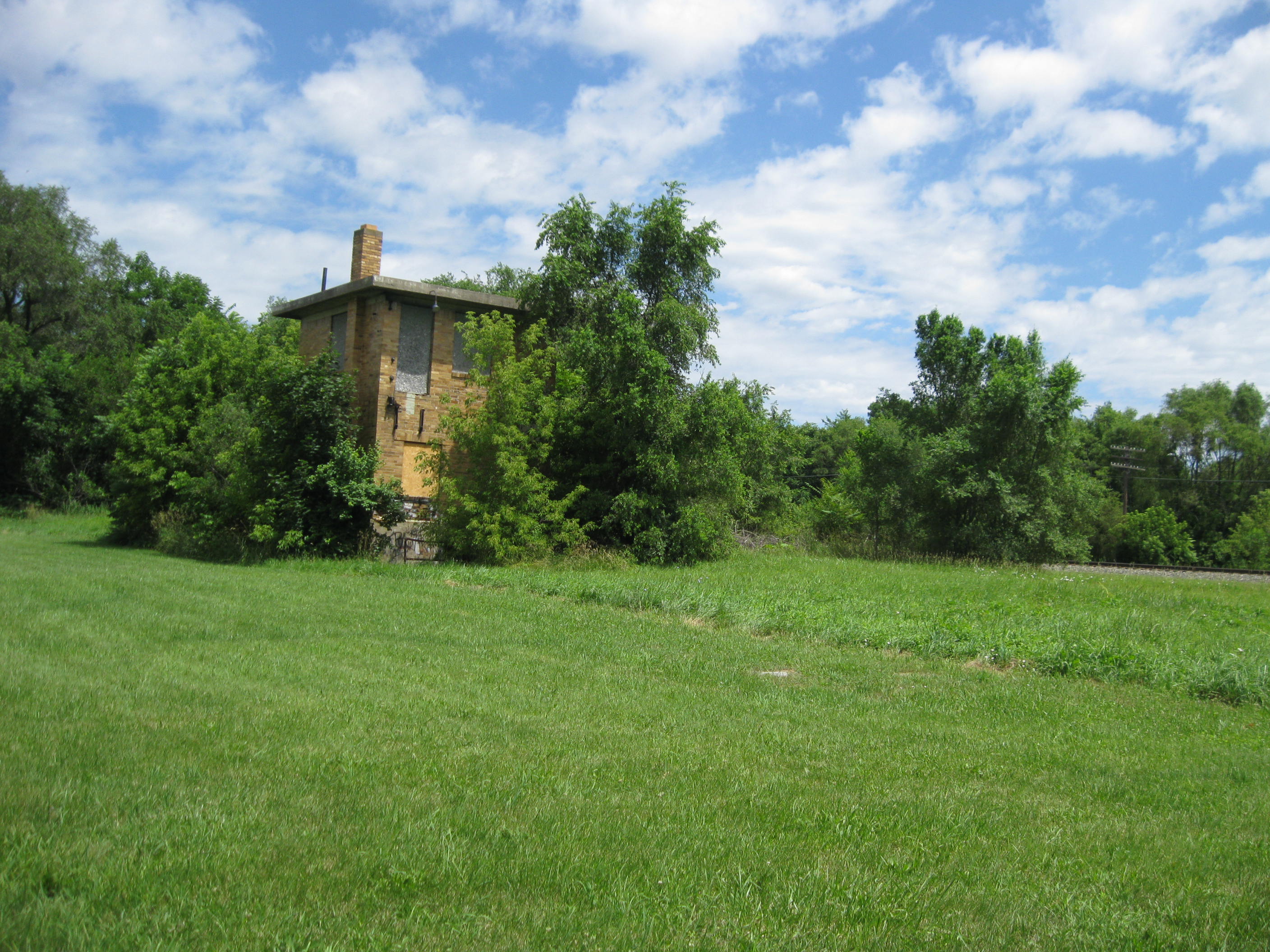 Last shot of the trip was this depot at North Baltimore, O., on the Chicago main line. Typically, CSX had not run any trains in two hours thru Fostoria, or here, although during the morning, including at Crestline and Galion, we did see two or three parked.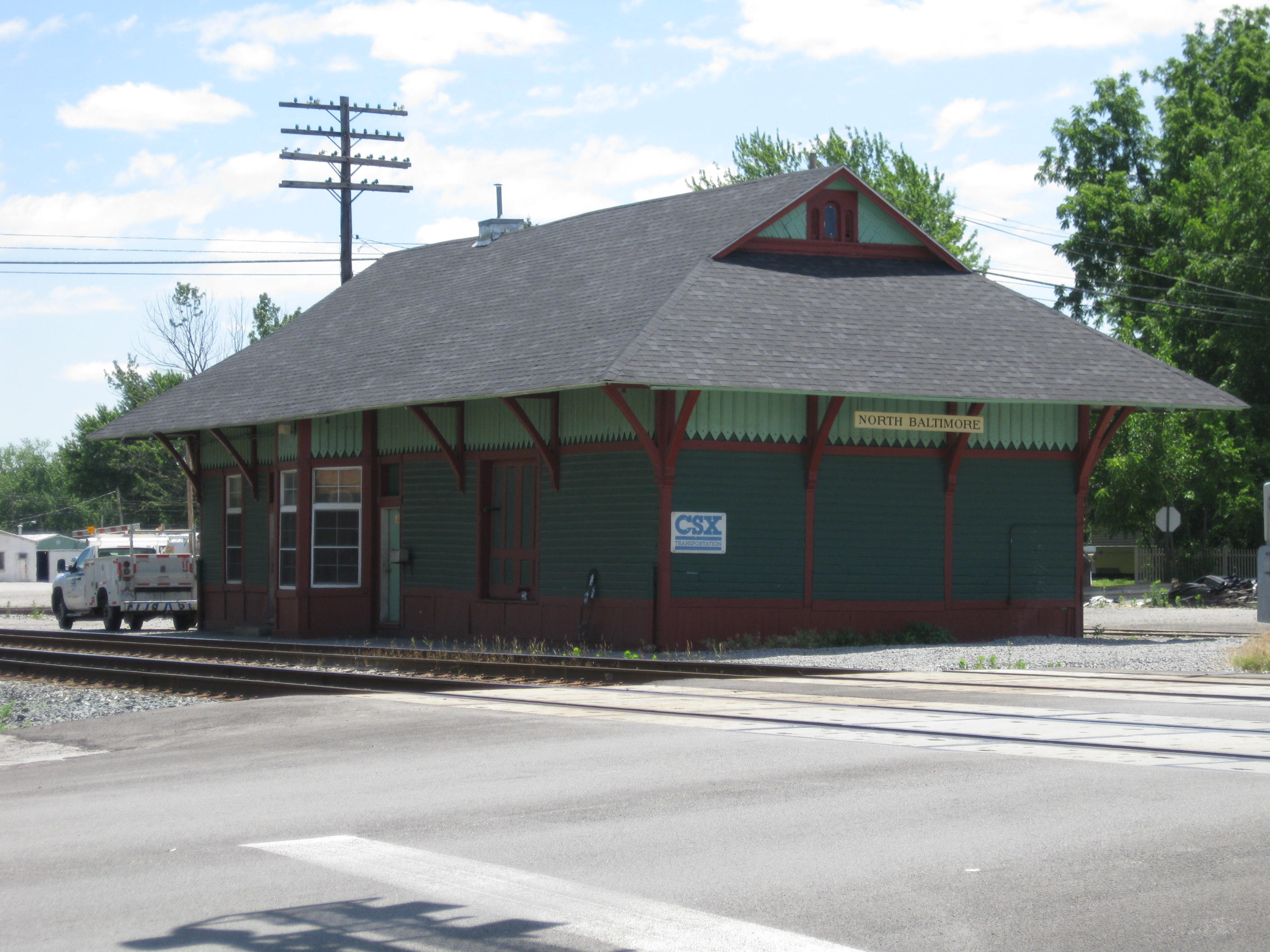 This page was designed and is maintained by Mike Condren. If you have materials
that you would like to contribute, contact me at mcondren@cbu.edu