North Carolina Trip
Waukesha to Wilmington
November 1-4, 2010
Photos by Dave Ingles
In the first week of November, Carol and I drove from Waukesha to Wilmington, NC, to attend the wedding of a local friend's son, Terry Madden, to Camille Morgan of Wilmington (her Dad's name is David Morgan!). It was our first time in that part of the Tar Heel State. This was a family and "scenery" trip, with railroading as an afterthought. Railroading came in just a few short spurts, as we spent only three nights on the road in each direction.
Not counting a CN train we saw leaving Schiller Park when we got off the Tri-State Tollway near O'Hare for an early lunch-and-pit stop, the first stop with any kind of railroading was on I-65 at Remington, Ind., our 2nd pit stop, where the TP&W mini-yard was mostly empty; two units, both leasers and not in RailAmerica paint, were parked out to the east, unreachable by car without driving along the tracks not worthy of a telephoto attempt. So I shot the "hub" sign for maybe the 3rd or 4th time. At one point in time in history it had a BN emblem, too, as BN (before the BNSF merger) was in some kind of partnership with TP&W, but the intermodal business never really developed.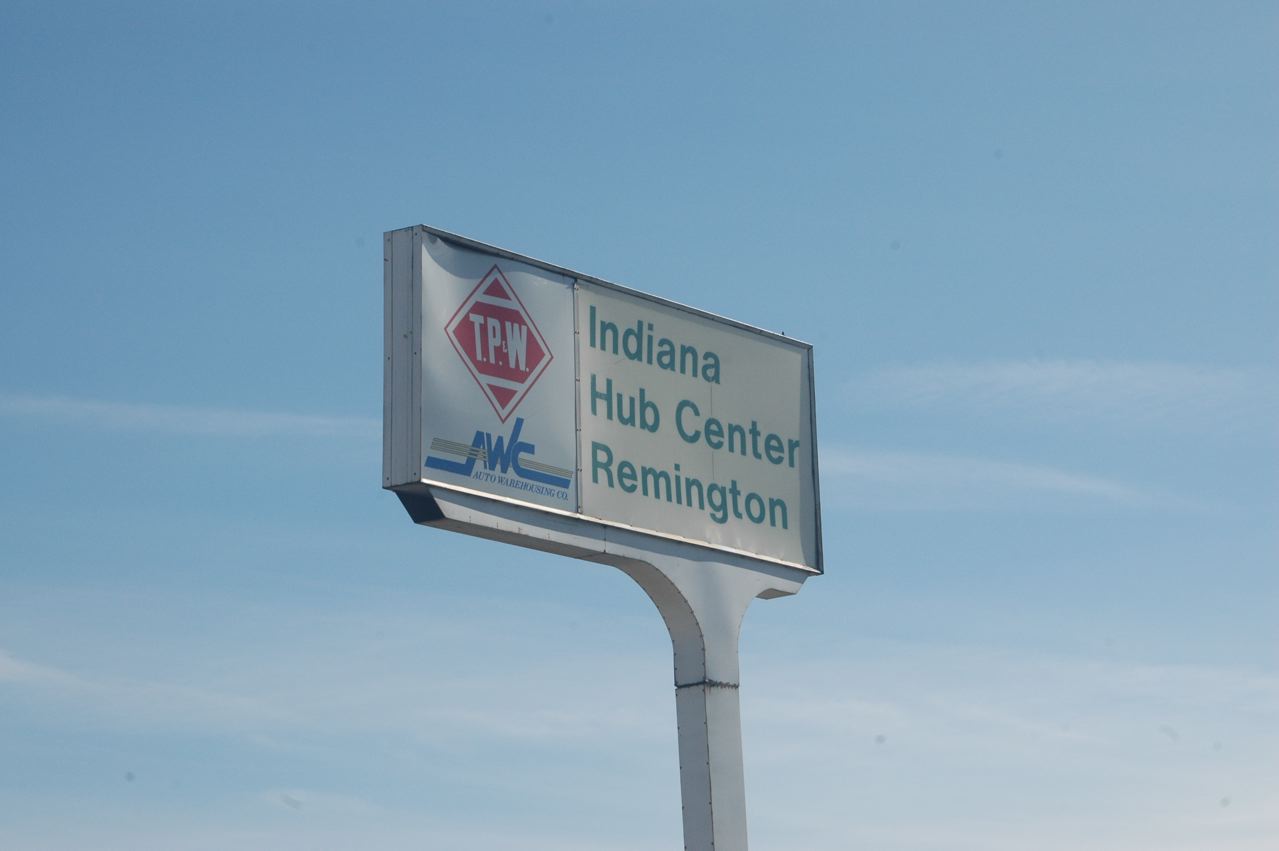 At Lebanon, Ind., I finally drove I-65 around the town and found this PRR keystoned underpass. There are at least two others in Indiana, at Valparaiso on the Lincoln Hwy., US 30, and in Richmond, Ind., on the old National Road, U.S. 40. There is also a rare one on US 31 near Kokomo with "PC" interlocked worms where the keystones are on this one. PC only existed for 8 years, 1968-1976, so we know the age of that bridge.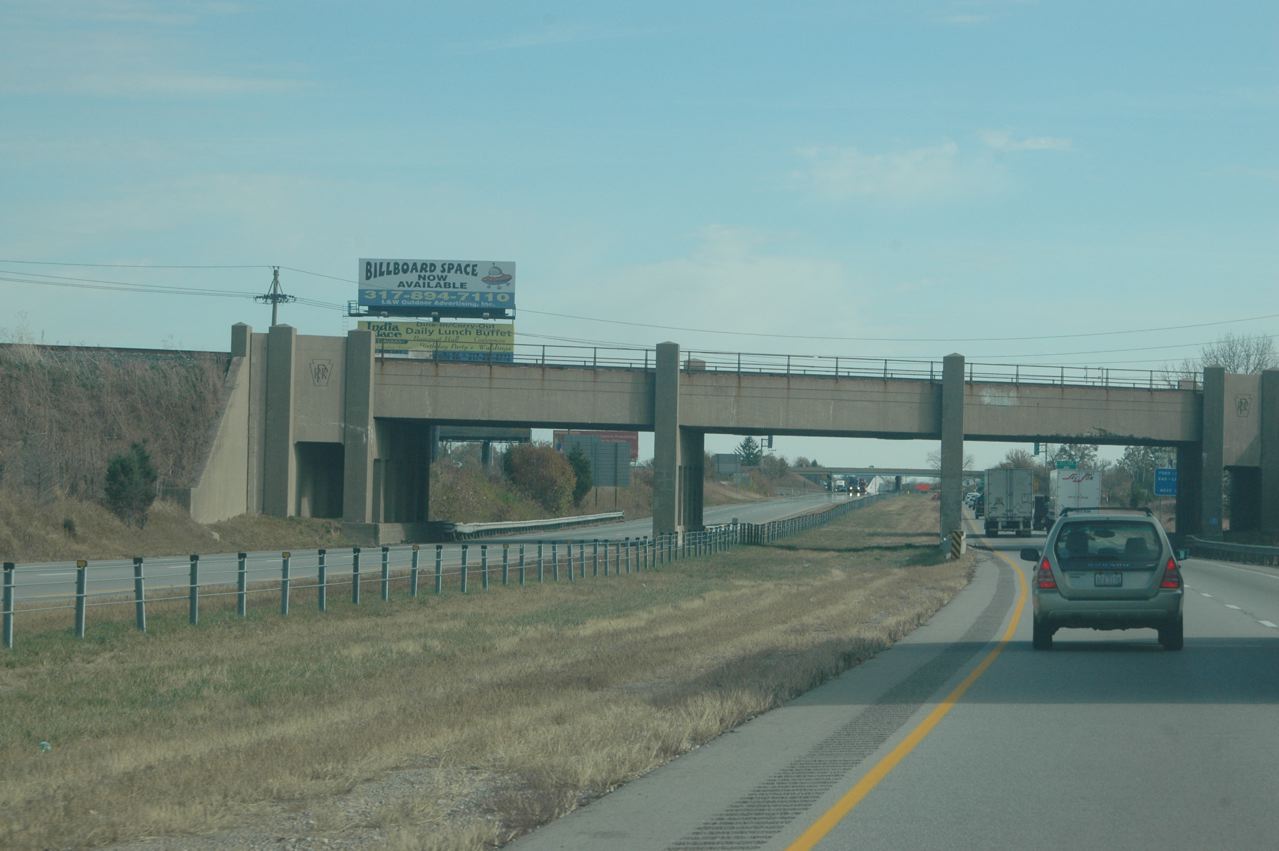 Carol steered, while I shot the D70.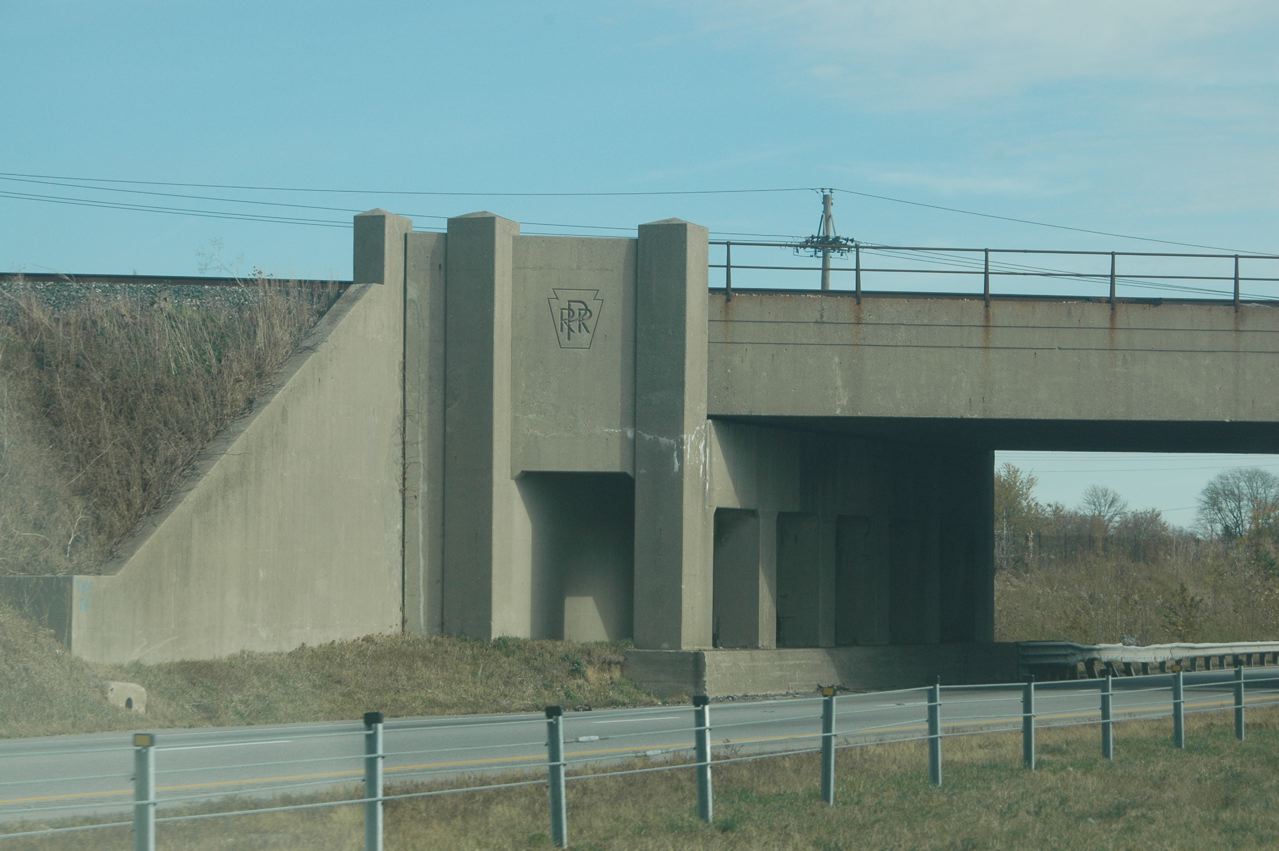 In Indianapolis after a gas stop on the east side off the Interstate 465 bypass, we poked around to go see Amtrak's Beech Grove Shop, and just before that drove thru the yard office parking lot at CSX's Hawthorne Yard, south of the old B&O line to the east and just east of the old Indianapolis Union belt line. It amounts to CSX's main city yard, the big Avon hump yard being several miles west of the city. We didn't linger, and photographed only from the car.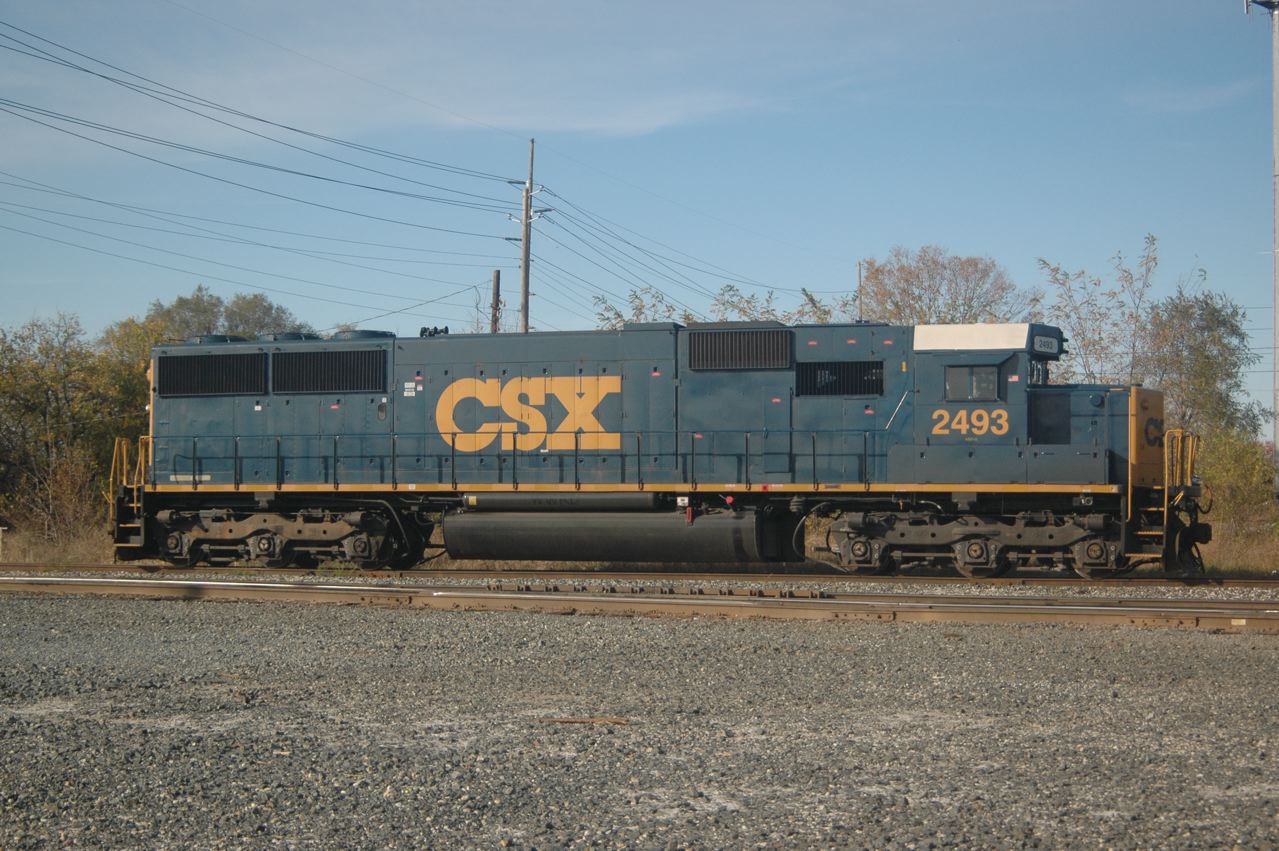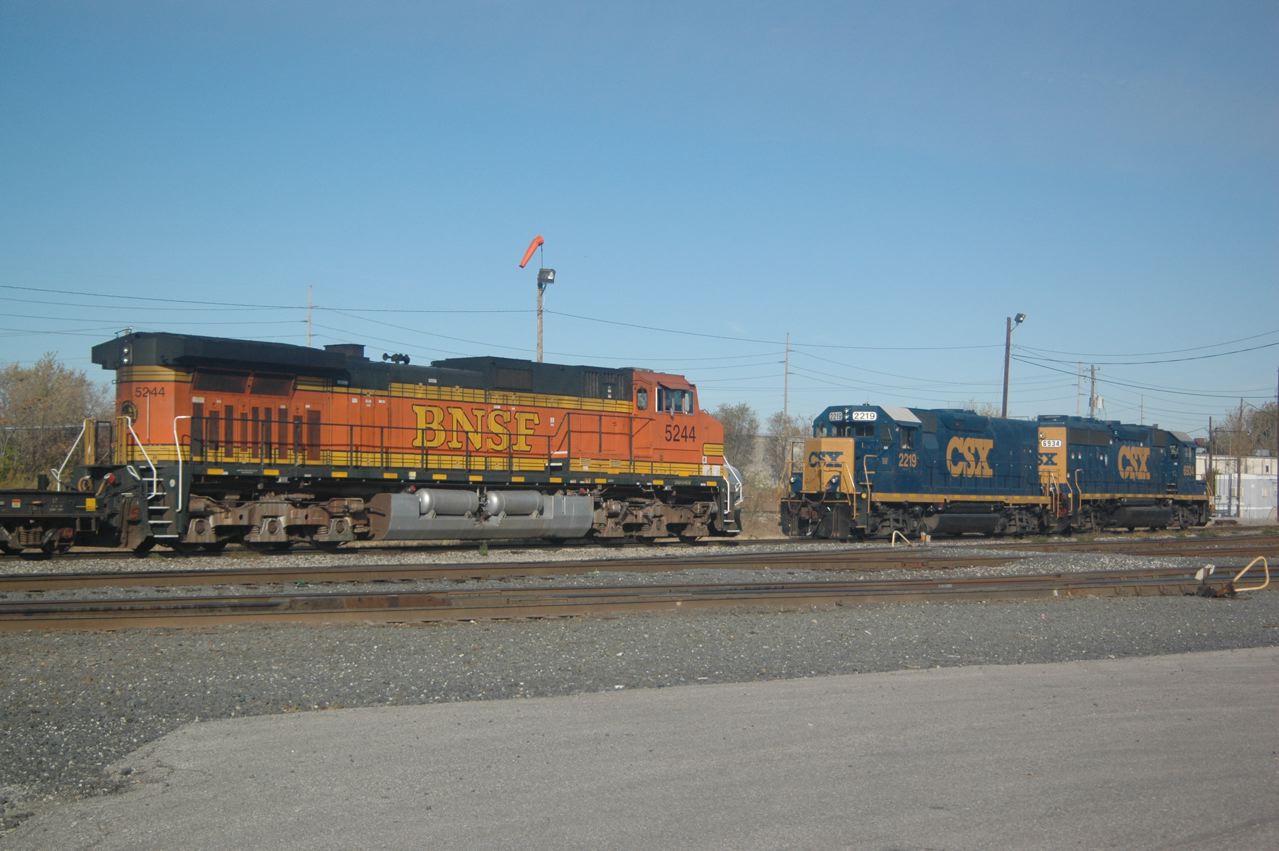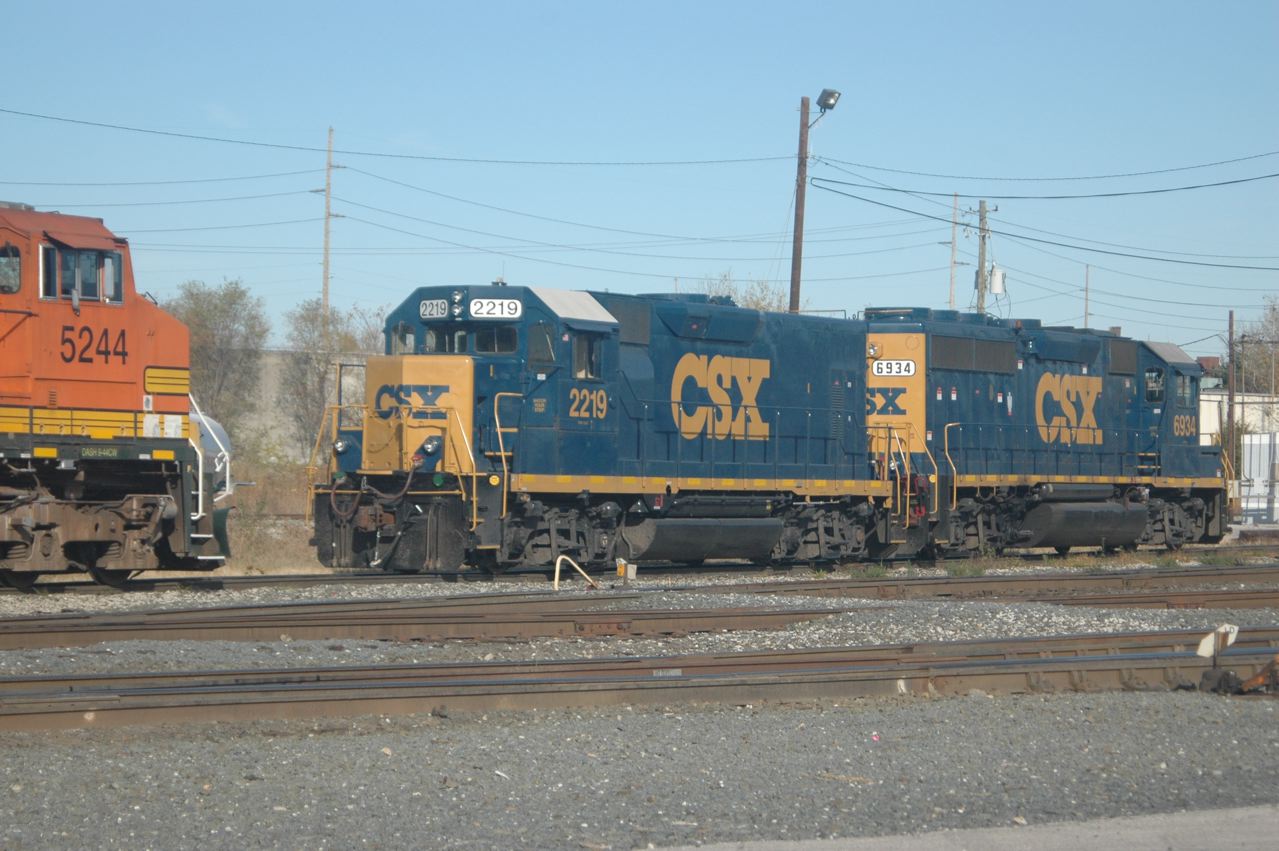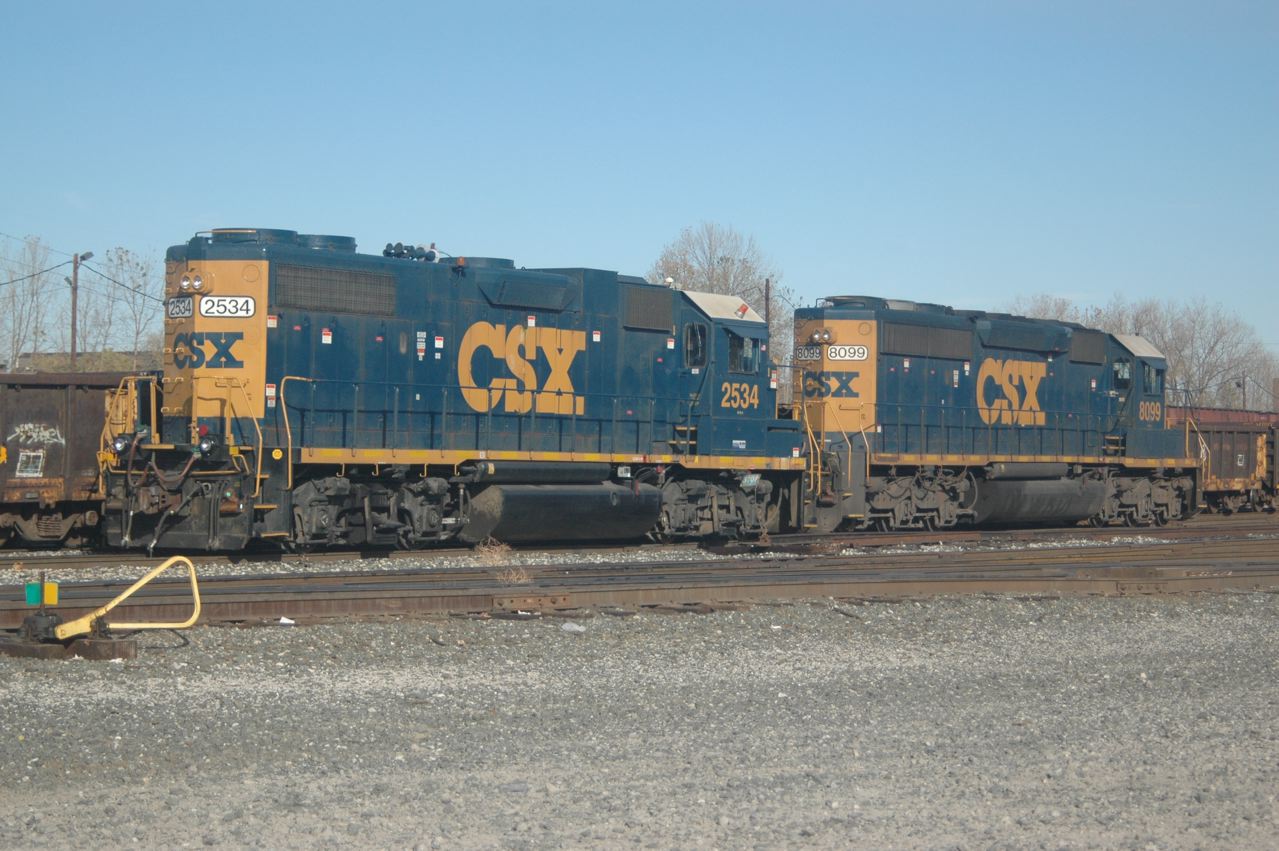 Beech Grove Shop's land area is so big it offered few good camera views, even thru the fence, that were worth it. A couple of lines of dead Superliners and also locomotives were west of the shops; these views are from the employees parking lot on the south side. The first time I was here, in the 1960's, it was still NYC's back shop, and a lot of Baldwin Shark-noses, FM cab units, and the like were in storage here.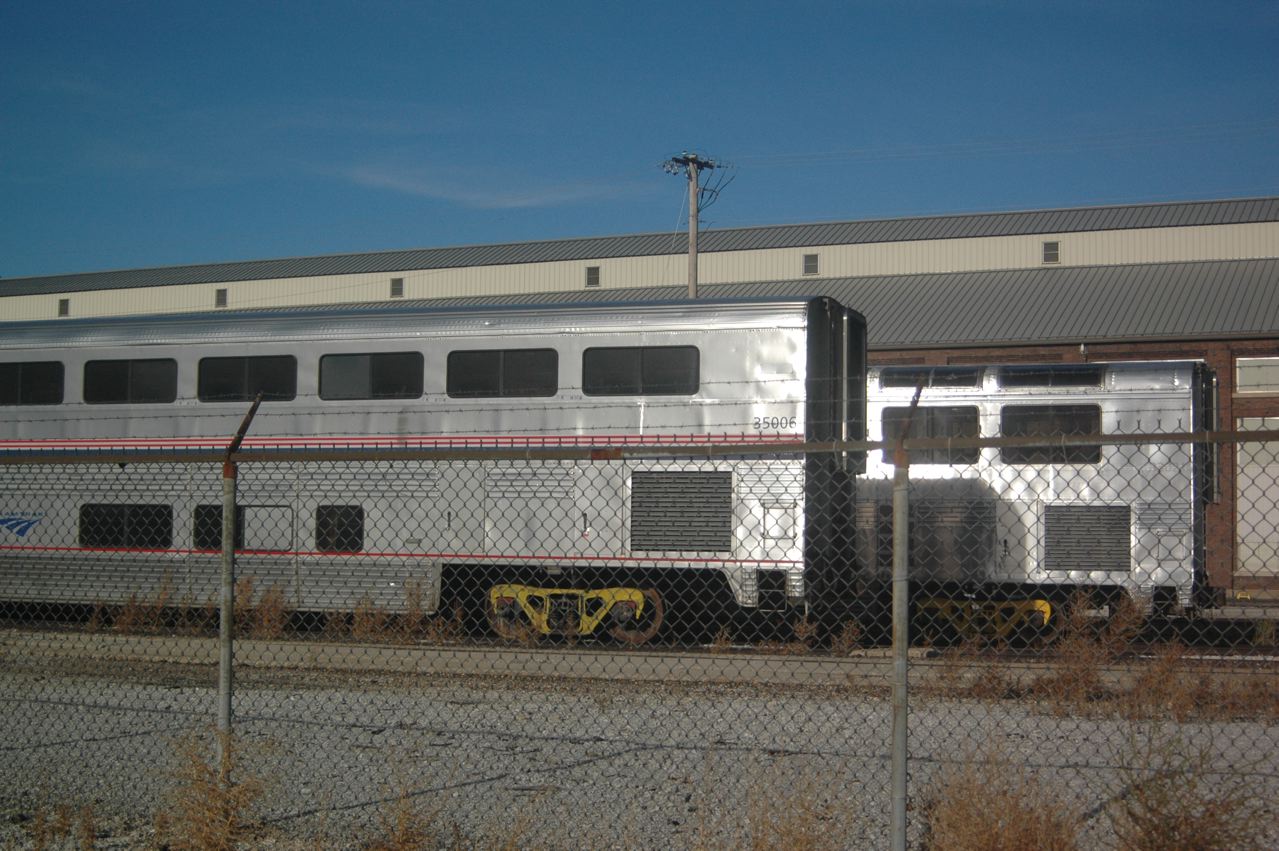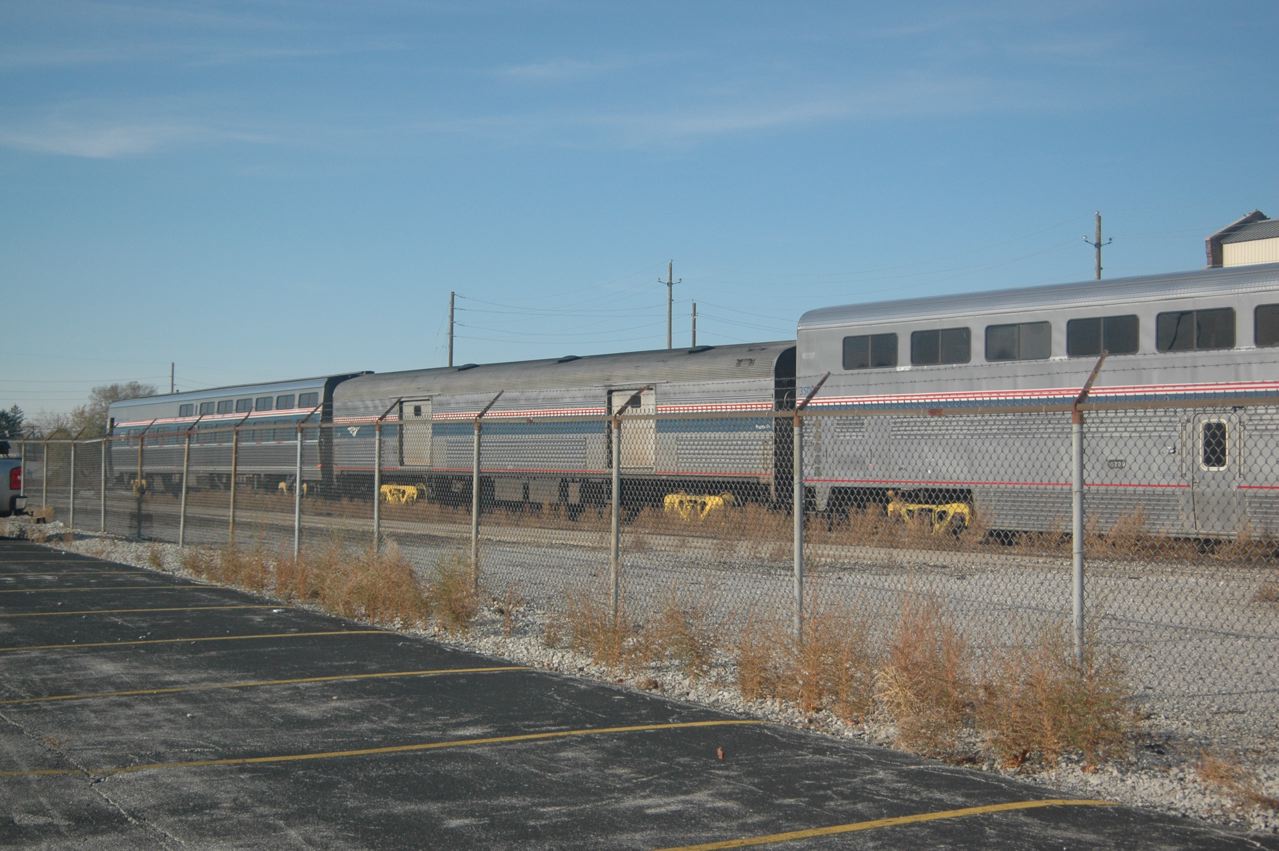 We headed east on I-74. West of Greensburg on the old Big Four Cincinnati-Indianapolis line, now a short line, is a huge fairly new Honda auto plant, with these two contract-firm switchers within telephoto lens distance from a back road.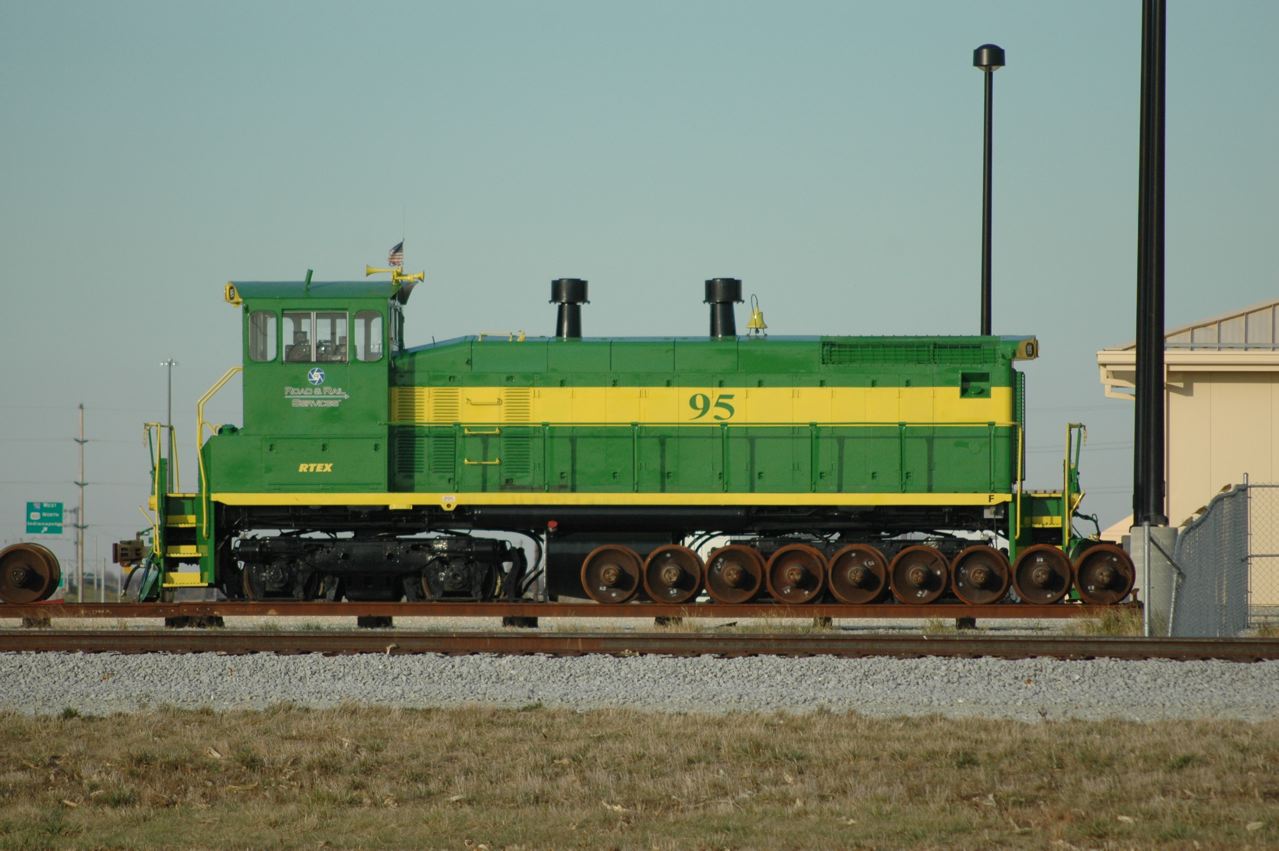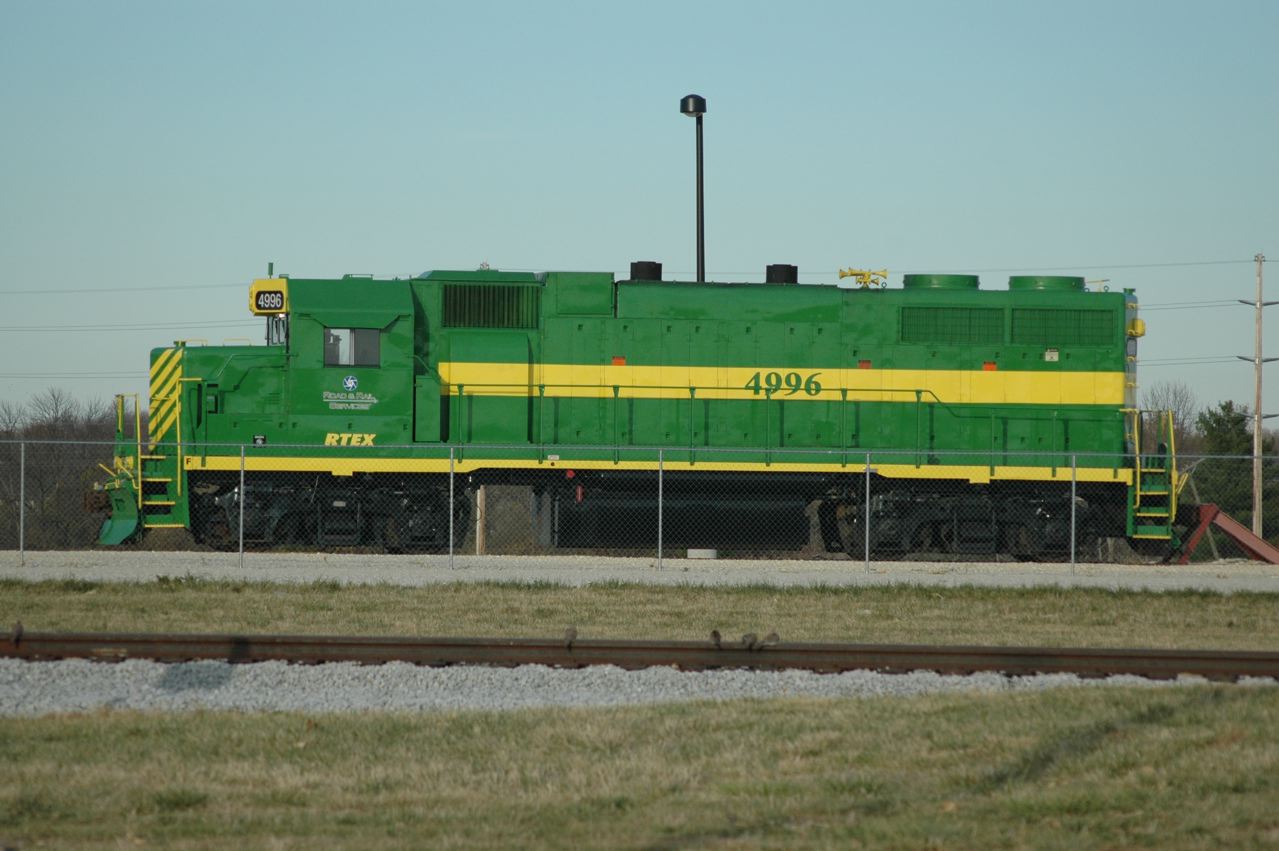 After an overnight at Batesville, Ind., we circled Cincinnati on the southerly I-275 bypass and then took 4-lane Ohio Highway 32 east to 4-lane U.S. 23, which runs north up the Scioto River Valley from Portsmouth to Columbus. At Lucasville, Ohio, not far north of Portsmouth, we encountered this northbound NS coal load.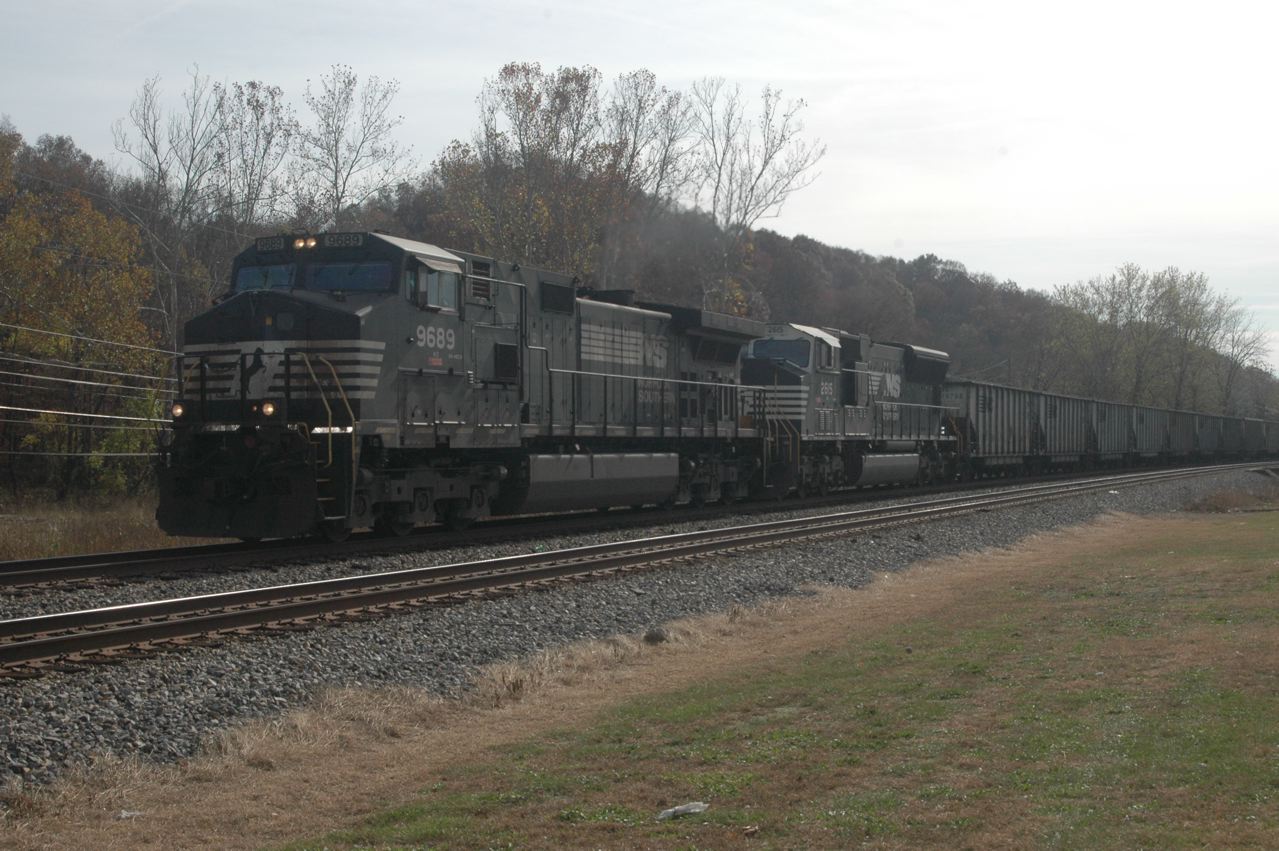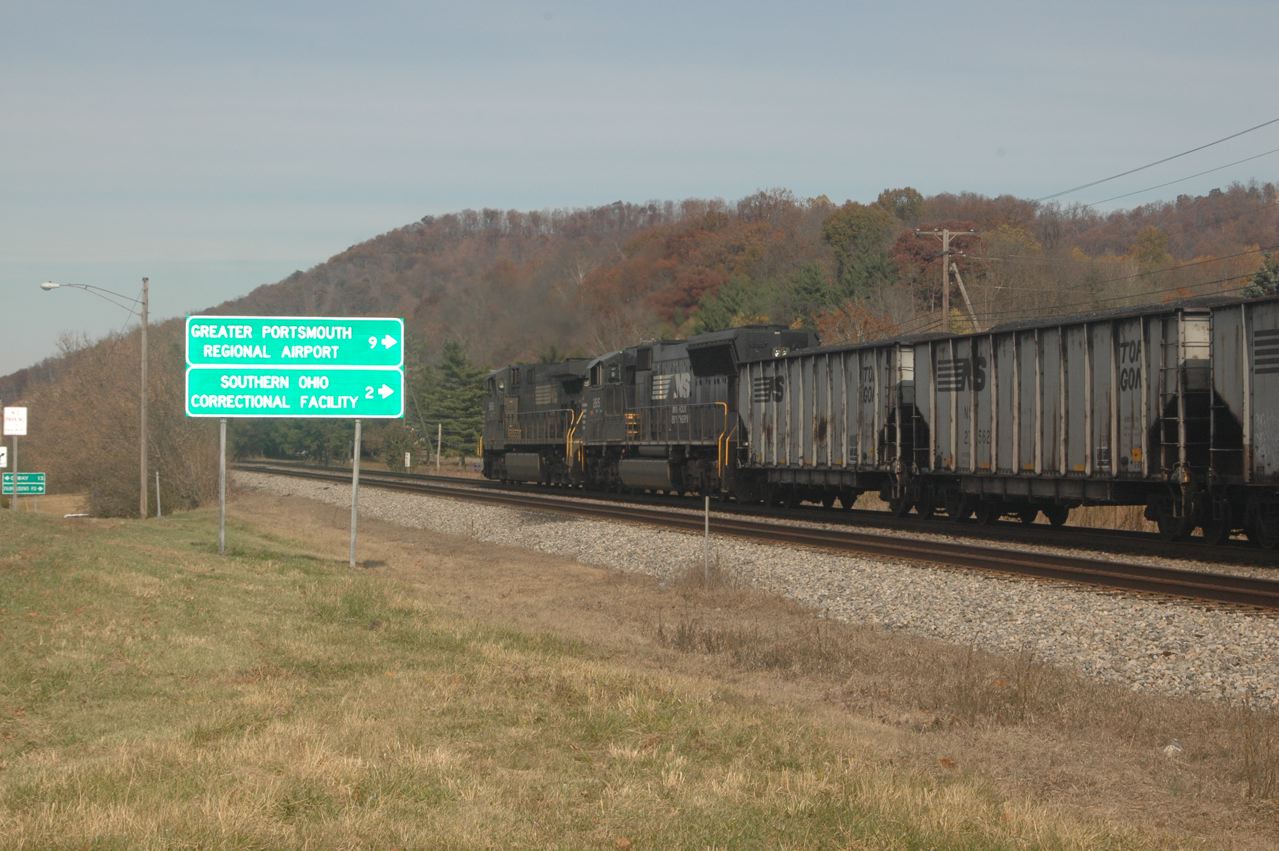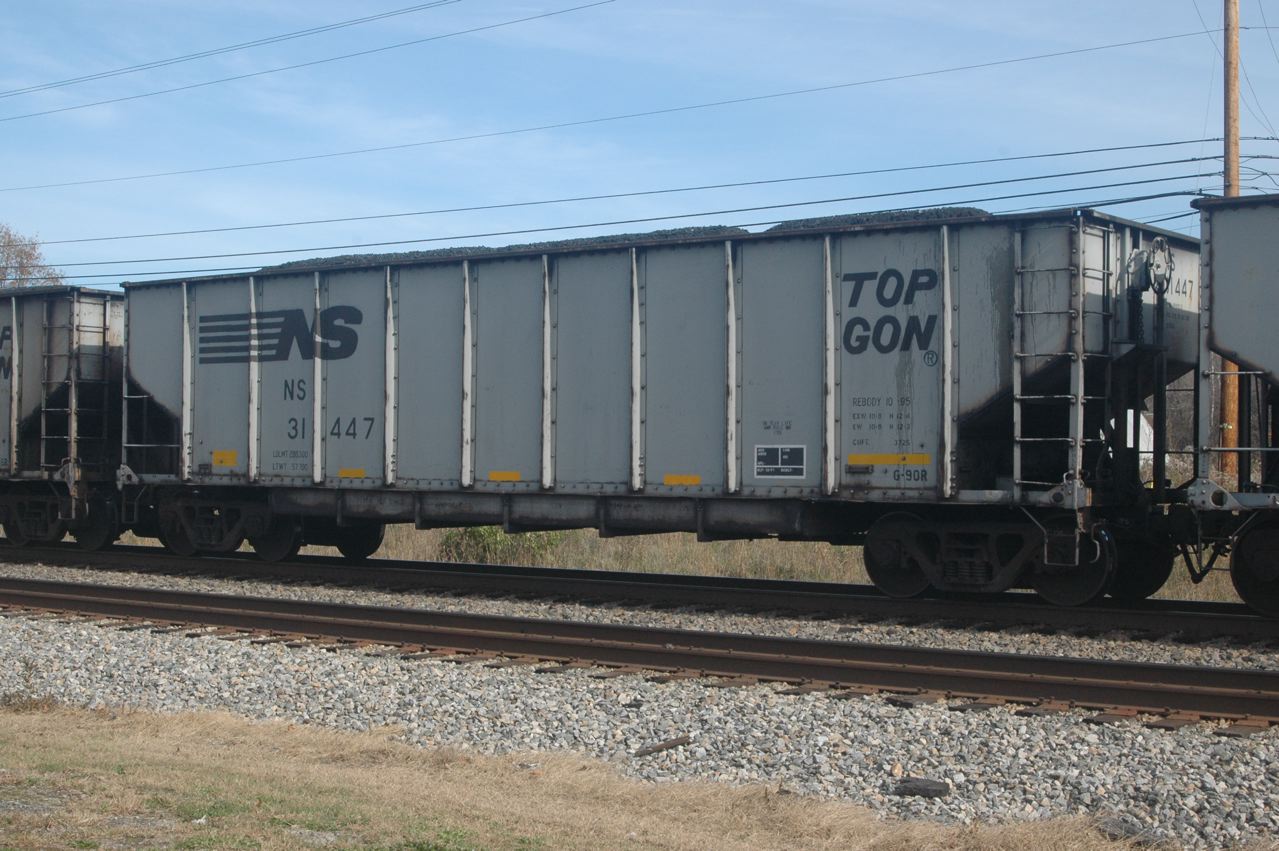 After lunch in Portsmouth, and a going-away-only slide of an eastbound stack train that surprised us, I moseyed around the big NS yard on the east side of town. I hadn't been to Portsmouth Yard since I was a teenager in the late 1950's, when with my Dad (who was at DT&I's Jackson, Ohio, shop on business), we went down to see some 0-8-0's at work, then a couple years later when Alco T6's had taken over. This is at the west end of the yard.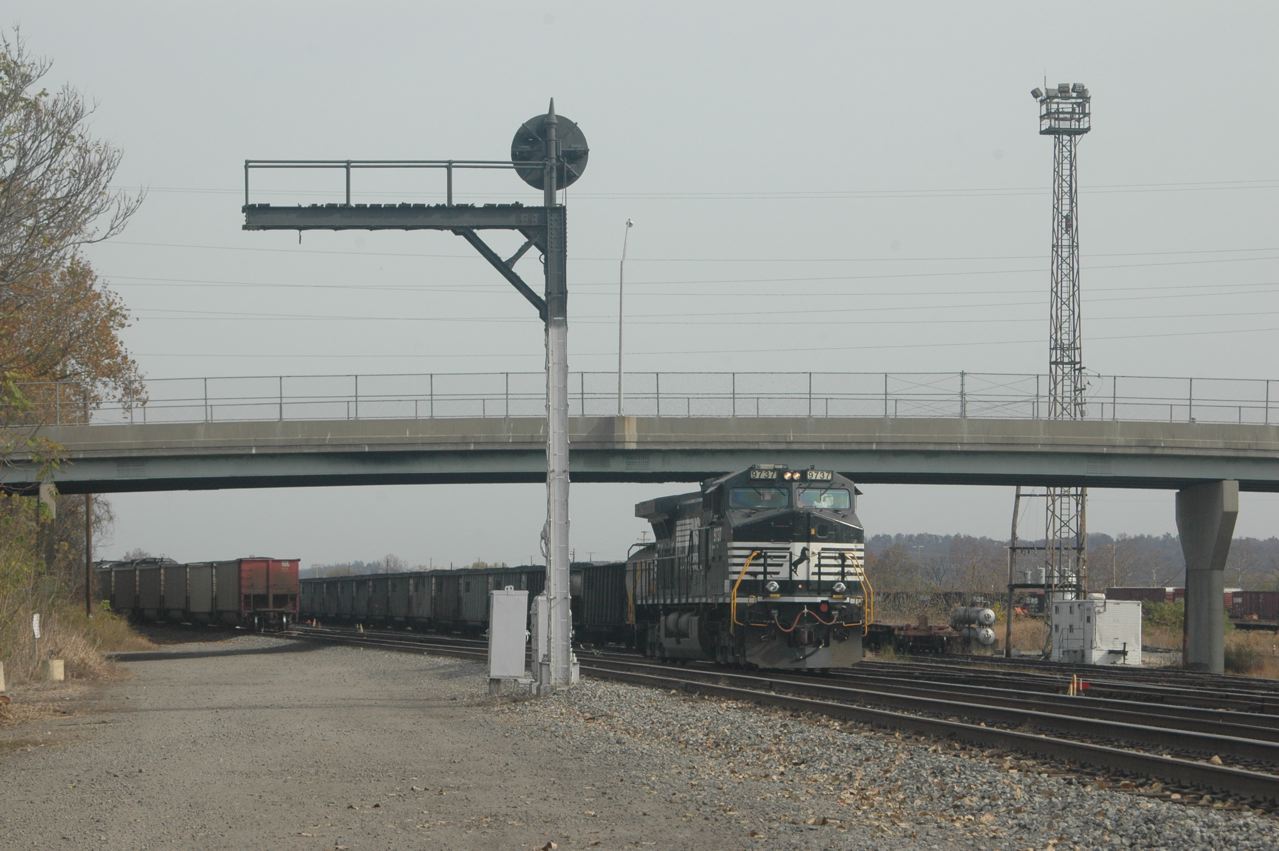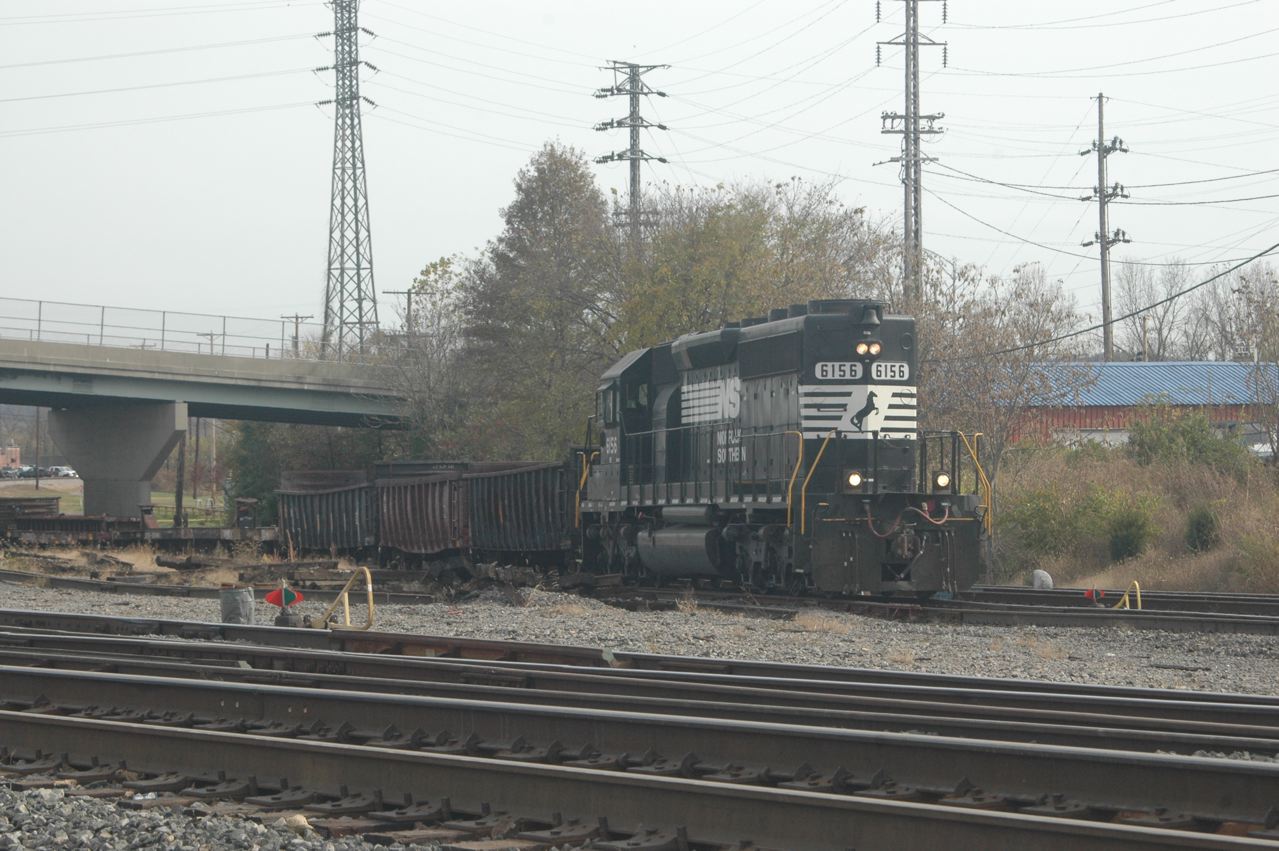 While taking a look at the Ohio side of CSX's giant landmark Limeville Bridge over the Ohio River, at Sciotoville, Ohio just east of Portsmouth, after finding a suitable parking spot off a side street, what should appear but a northbound CSX ethanol train! The NS (N&W) main line is just across the limited-access 4-line US 52 highway here; the NS tracks are not really visible in this view.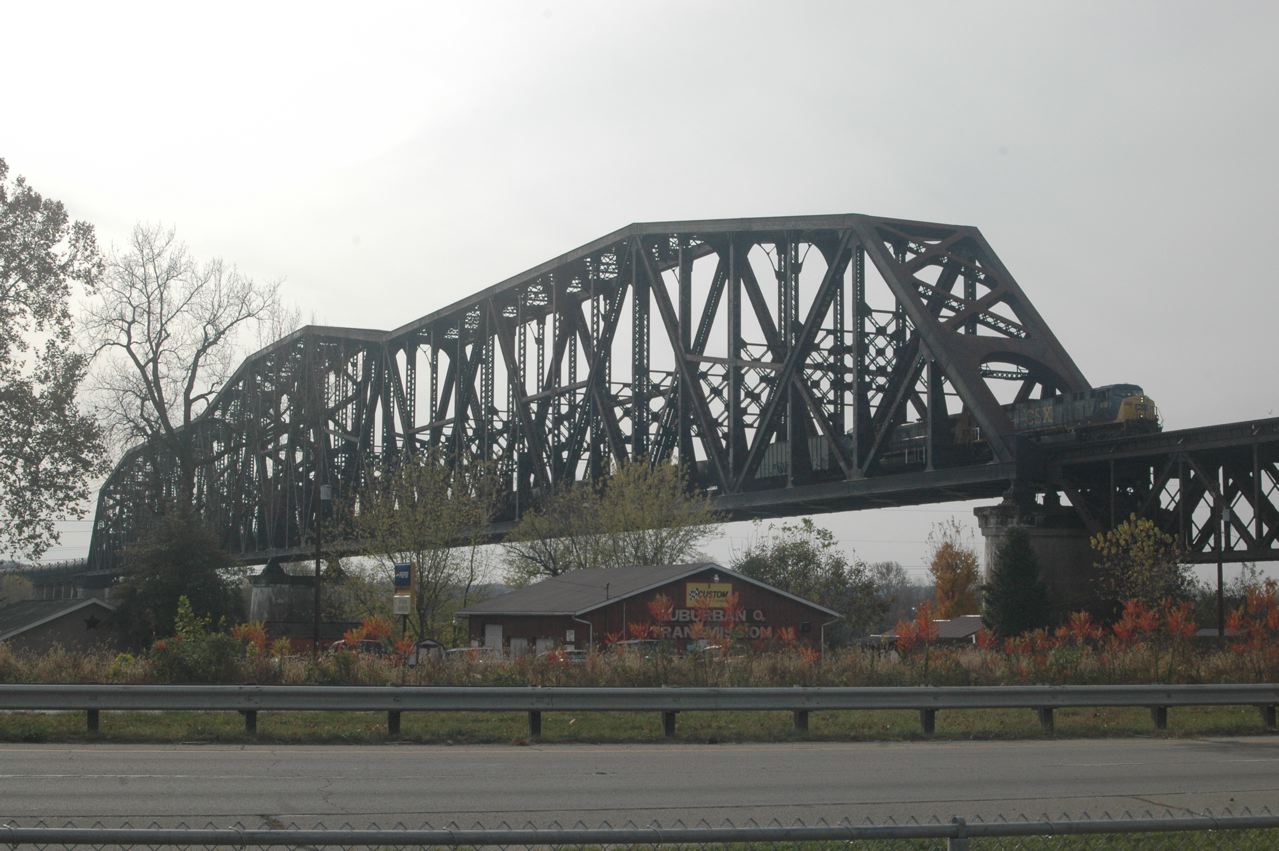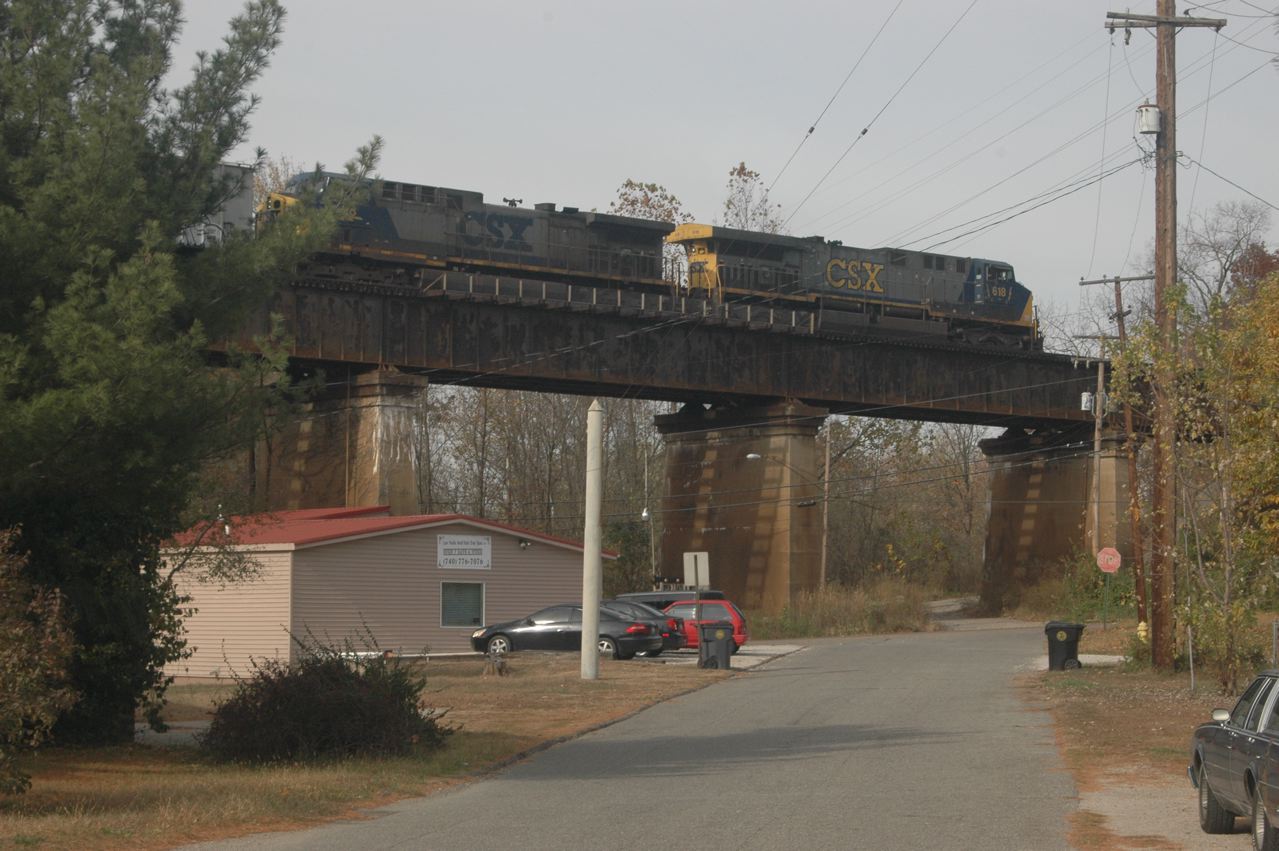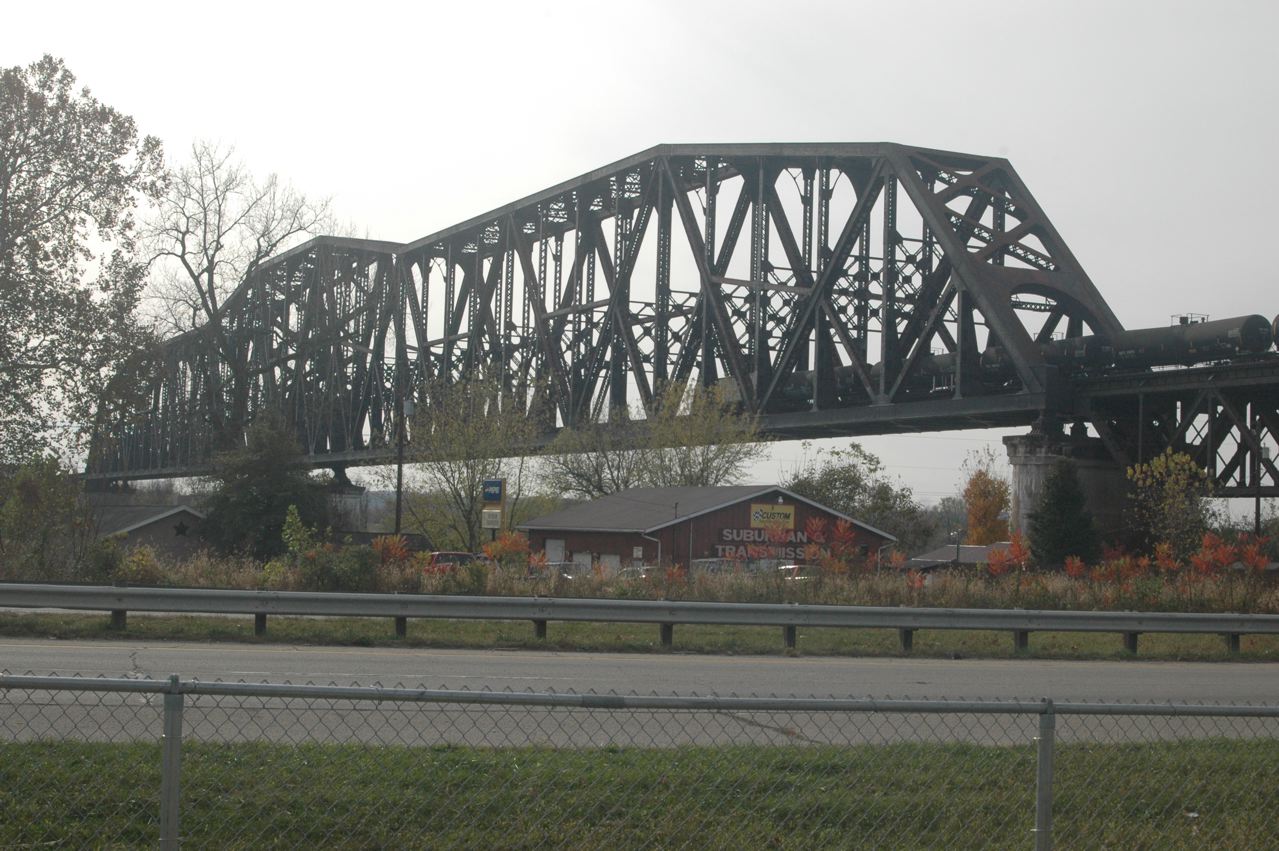 Next stop was Ironton, Ohio, where I had to inspect the remnant of the south end of the old DT&I, its street running down toward the N&W diamond and a waterfront yard. I never saw or shot a DT&I train in Ironton, just up in Jackson, where the car shop was, but my Dad took photos here. This view looks north up ... what else, Railroad Street!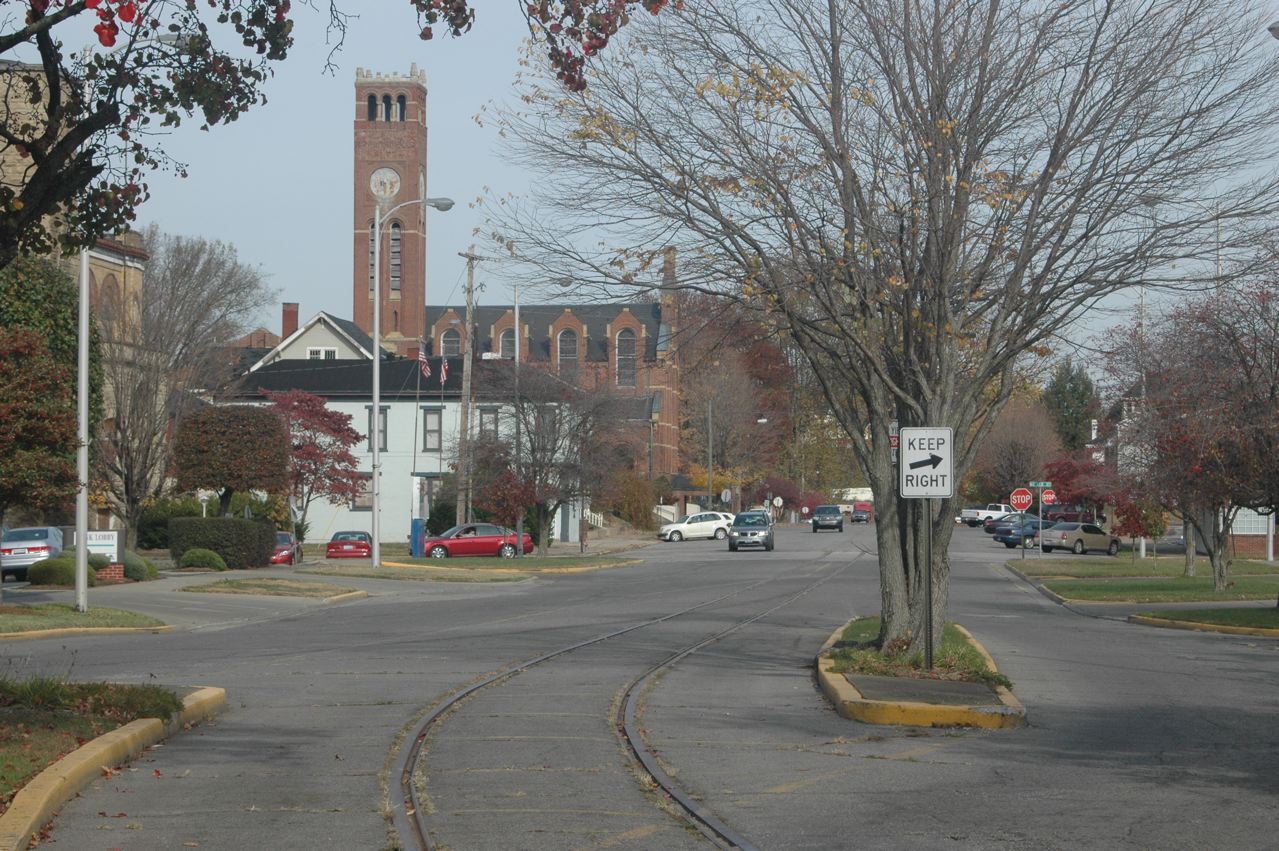 The N&W station now is Austyn's Restaurant. The bridge at right is the Highway 93 span across the Ohio River to Russell, Ky., home of the big former C&O yard and shop. After visiting the Ironton waterfront, we'd go over to Russell.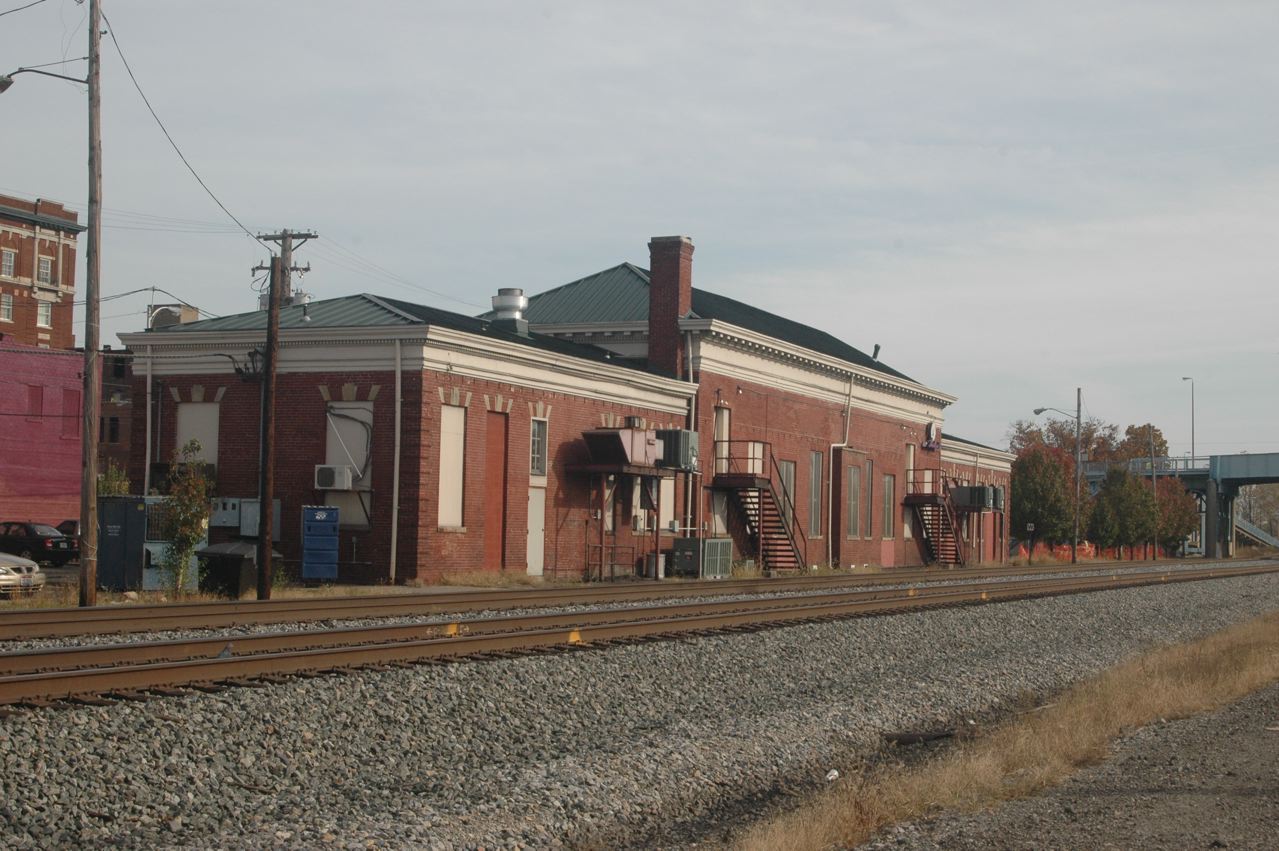 On the river side of Ironton's floodwall is a small park, water access for boats, and these murals on the floodwall.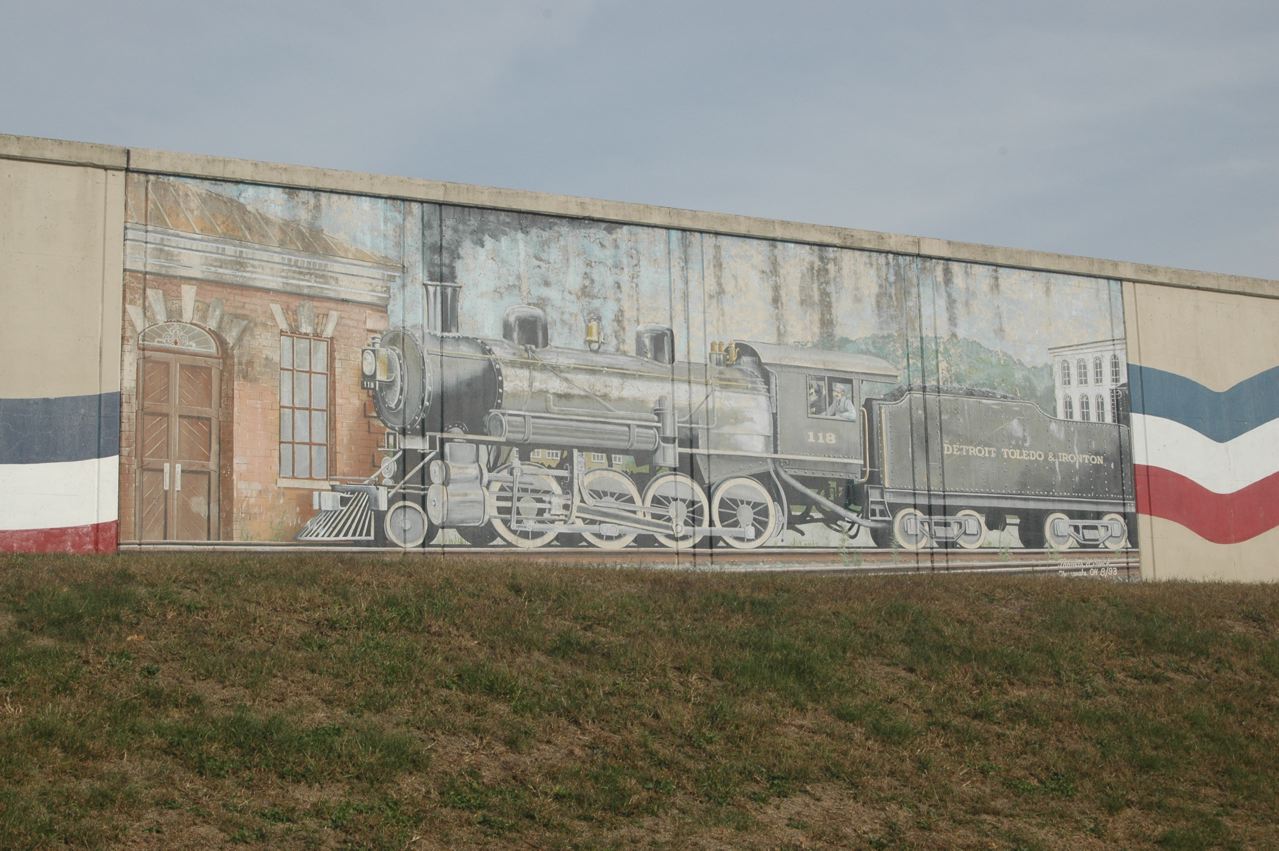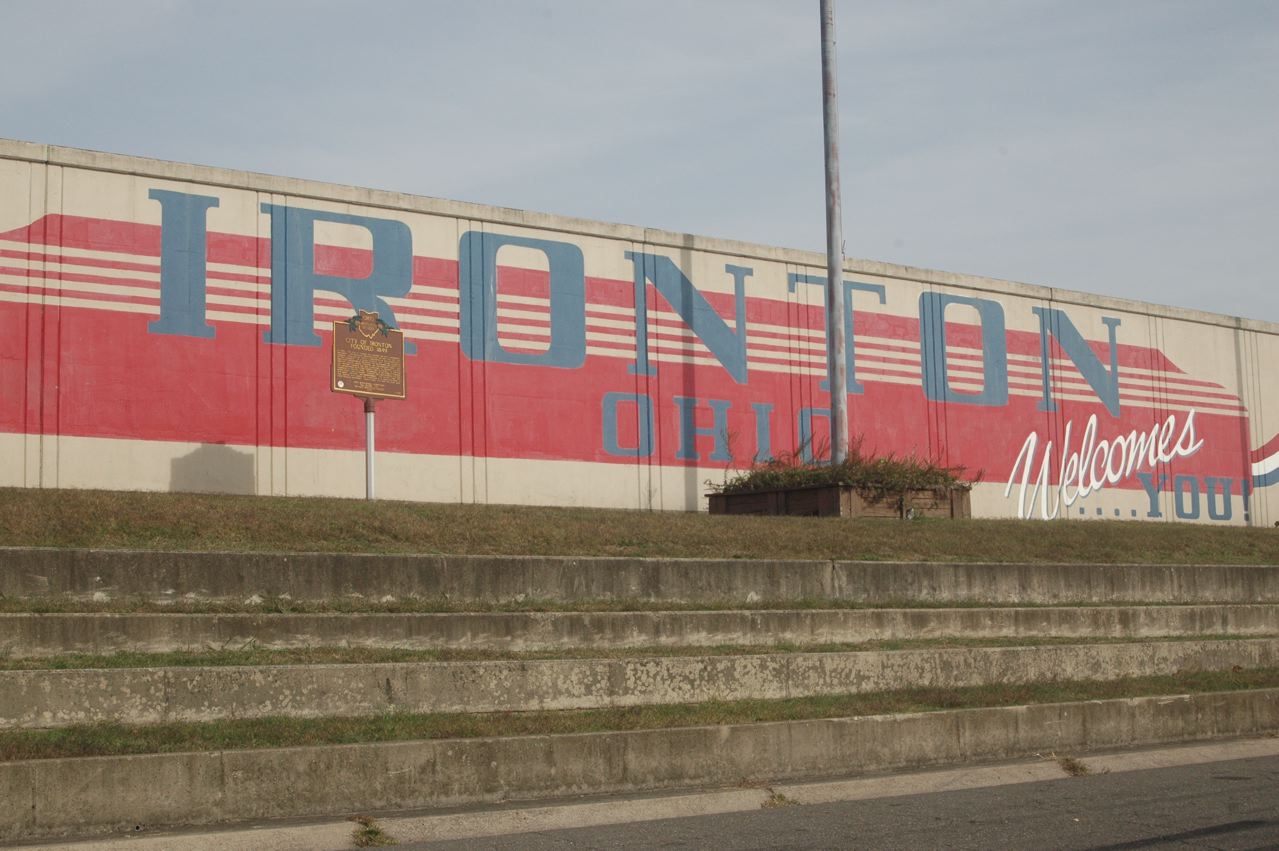 This car is not on the preserved cars list in Dwight Jones' 2008 book, "Cabooses of the DT&I" (he owns at least one of the real ones) and so likely is an N&W car. I'll check my preserved caboose book if I can find it.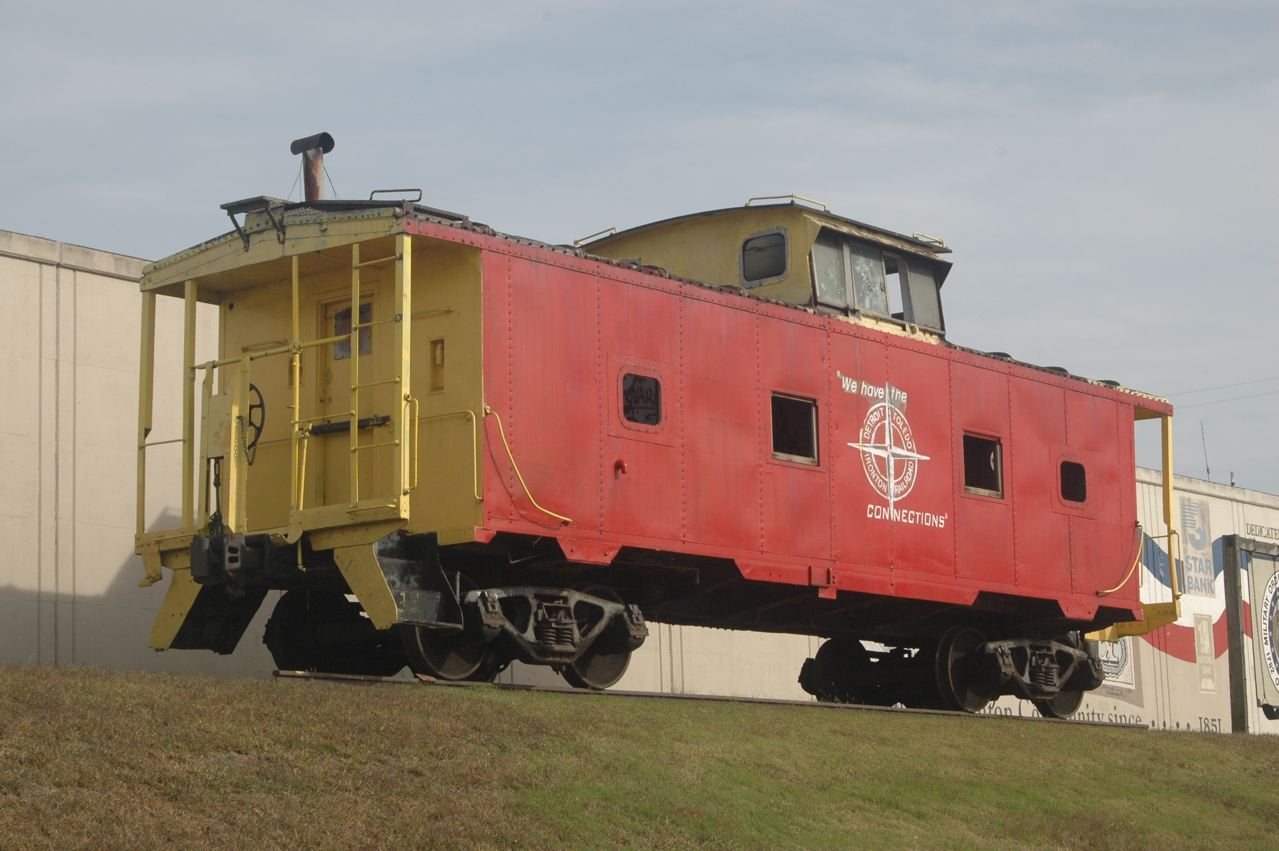 Since we dilly-dallied on the riverfront, we were treated to this westbound stack train just as we were leaving. This is the "Heartland Corridor" that NS just enlarged tunnel on in West Virginia to allow double-stacks to get to the port of Norfolk area.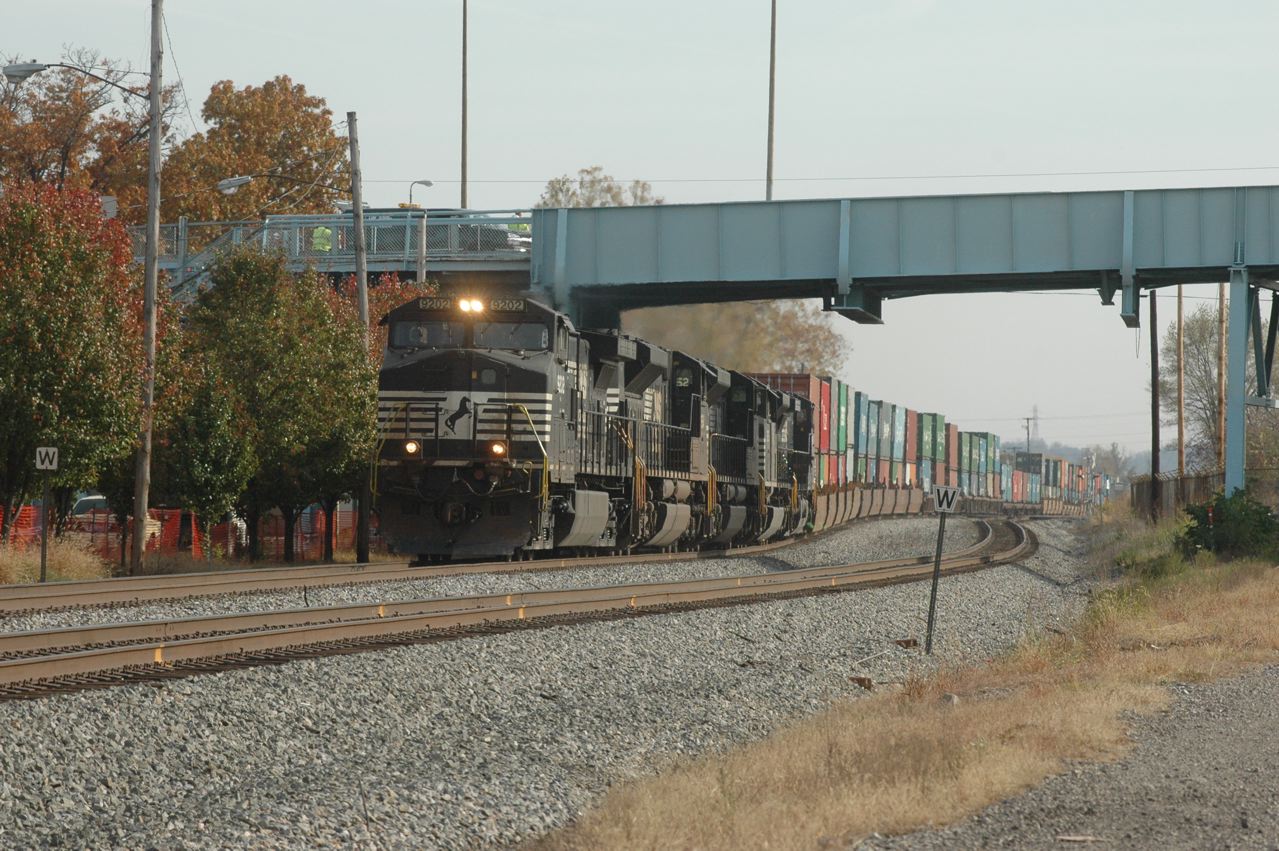 Front of the N&W station, now restaurant.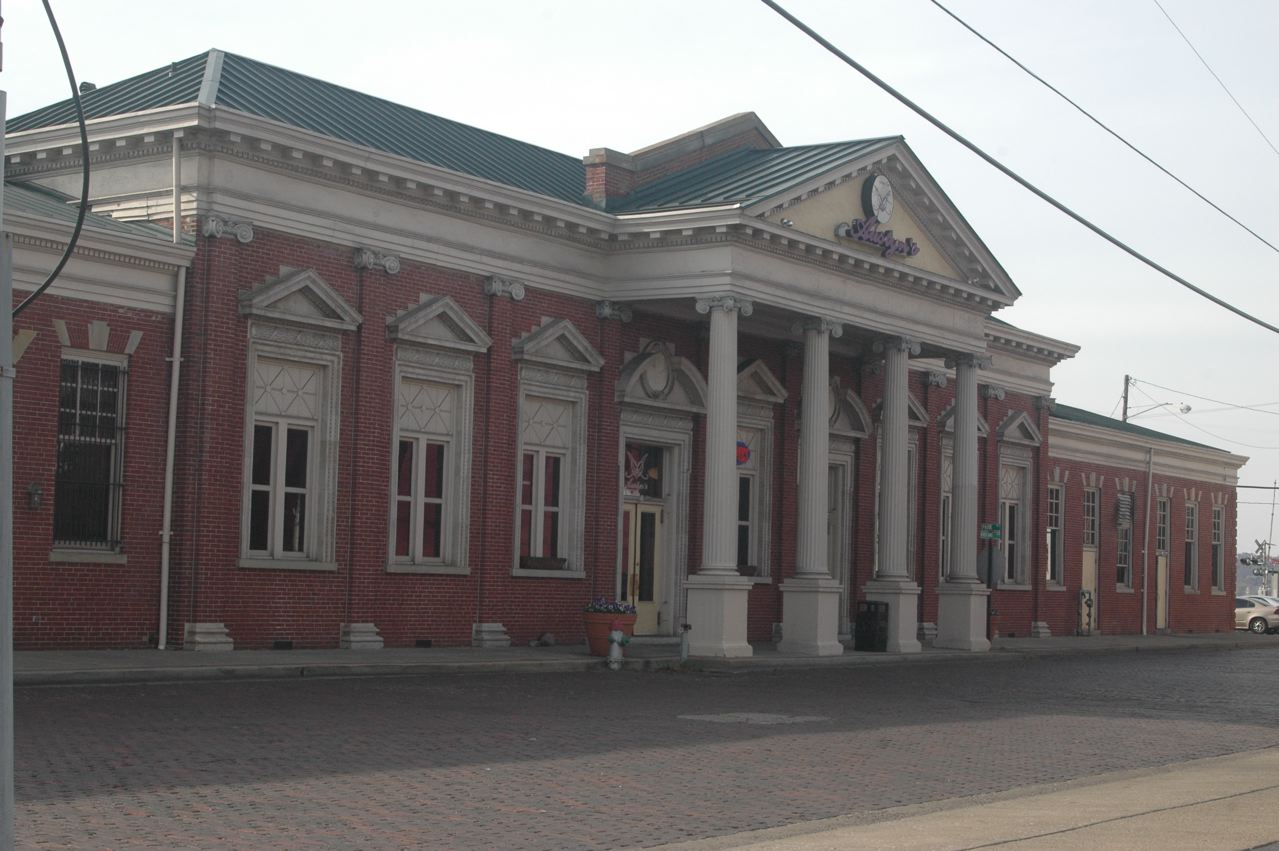 The narrow bridge to Russell.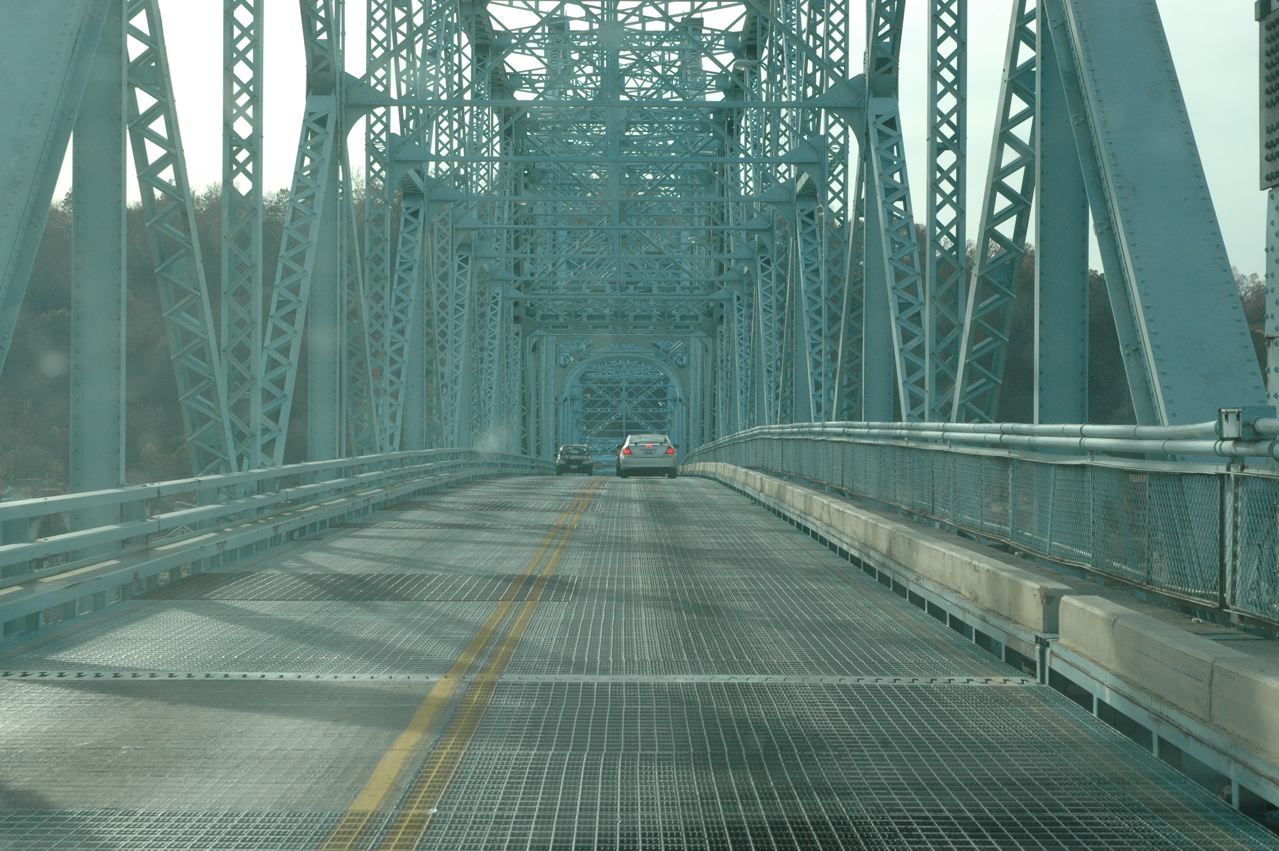 We poked around the periphery of the east end of Russell yard, and did drive up into the roundhouse parking area.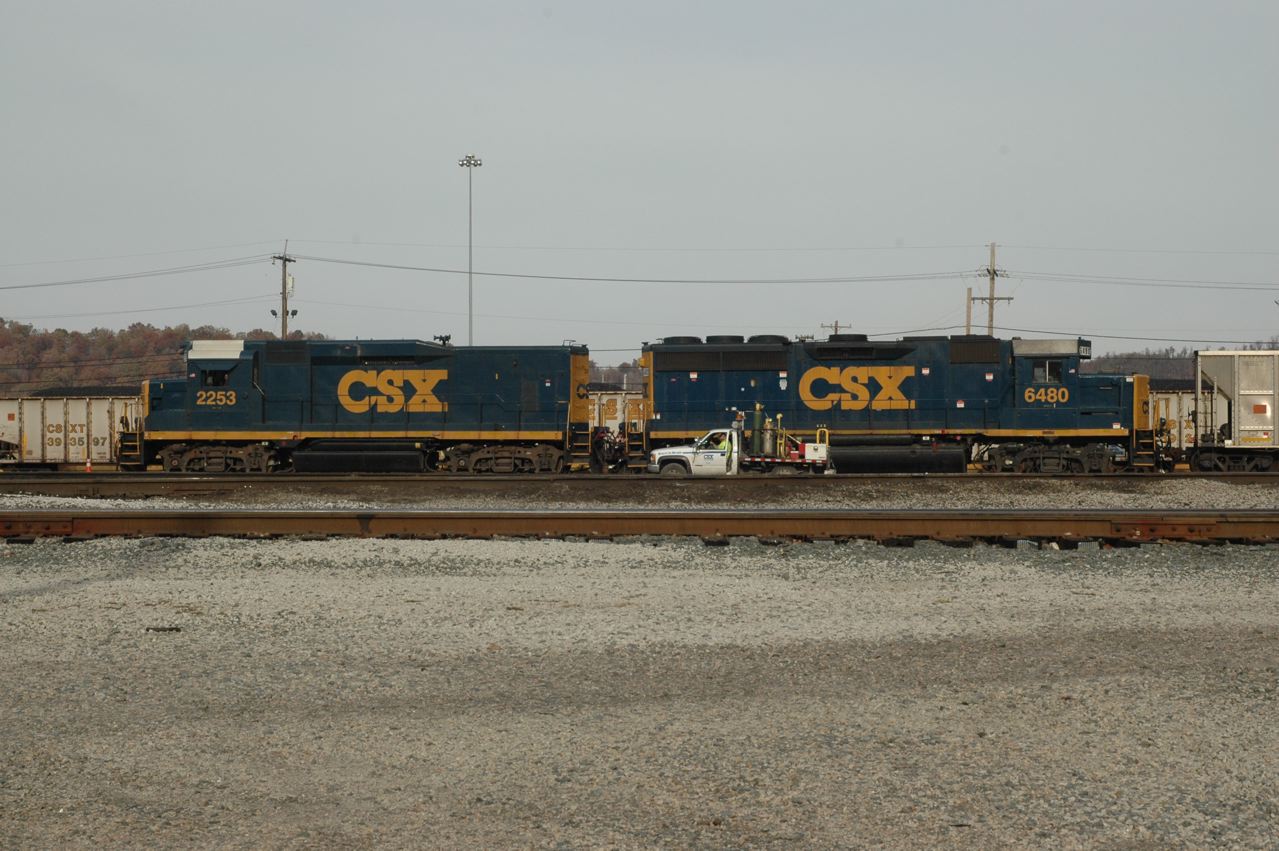 Westbound train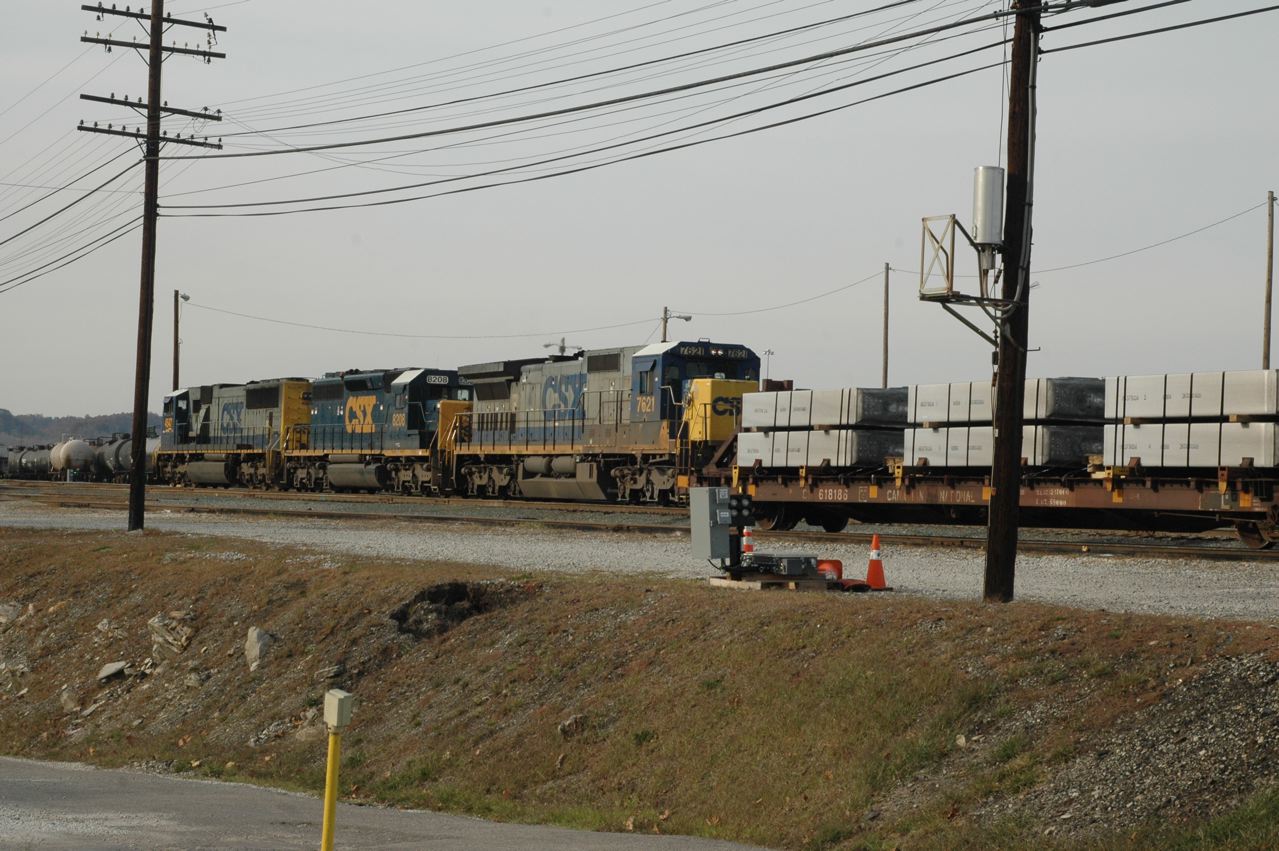 Mural on a Russell building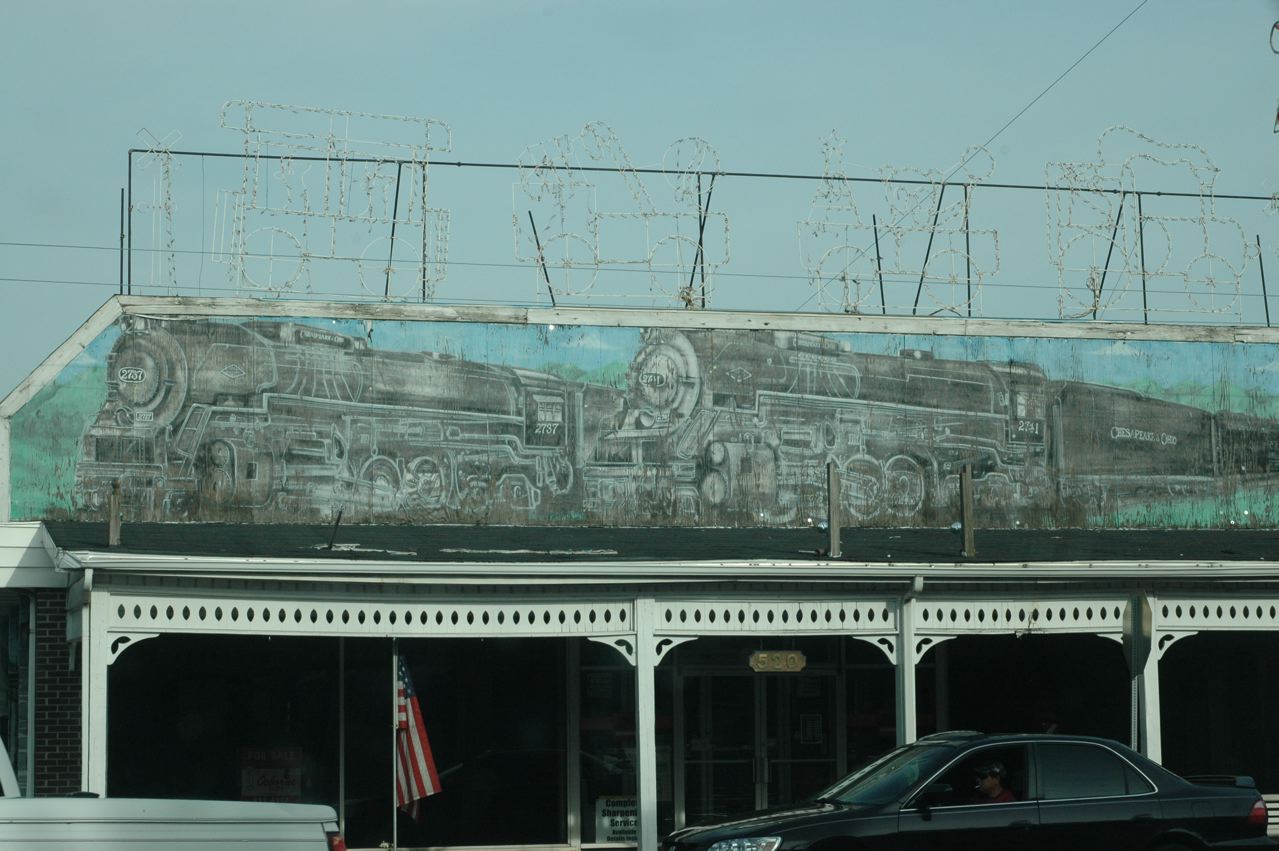 Units by the roundhouse; I was first at Russell in the late 1950's, with my Dad, when a bunch of stored 2-8-4 Kanwhas and 2-6-6-6 Alleghenies were in long dead-lines.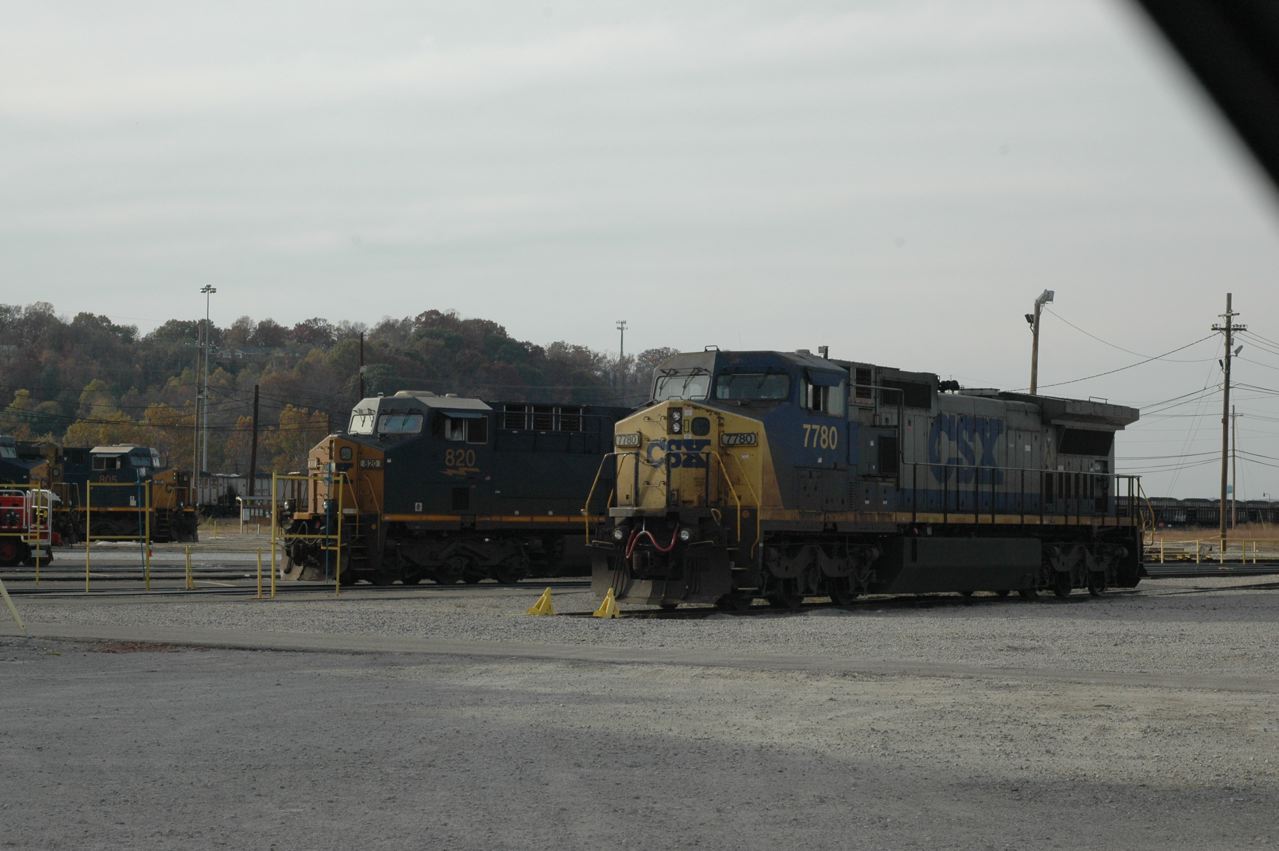 Depot and RU tower at Russell, preserved.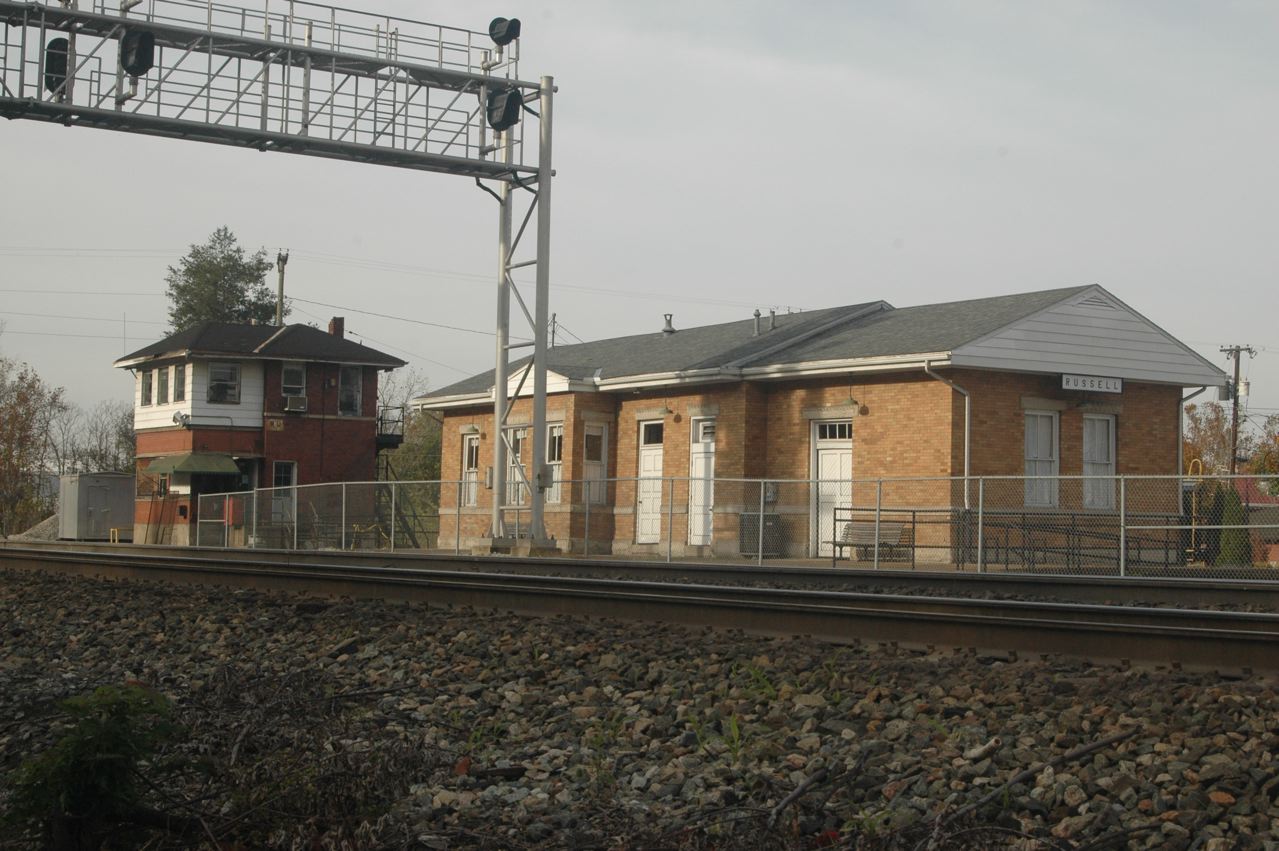 Former C&O depot at Ashland, Ky., now a bank.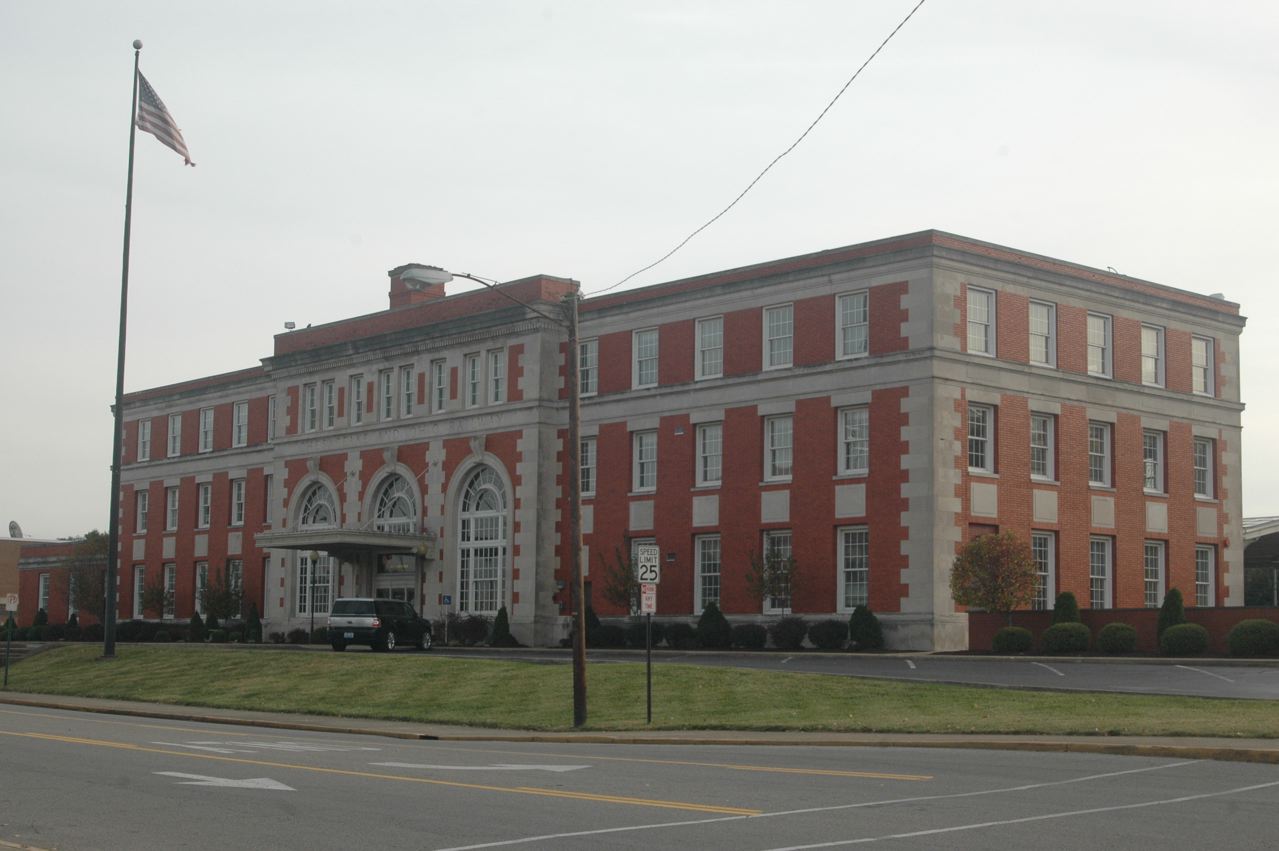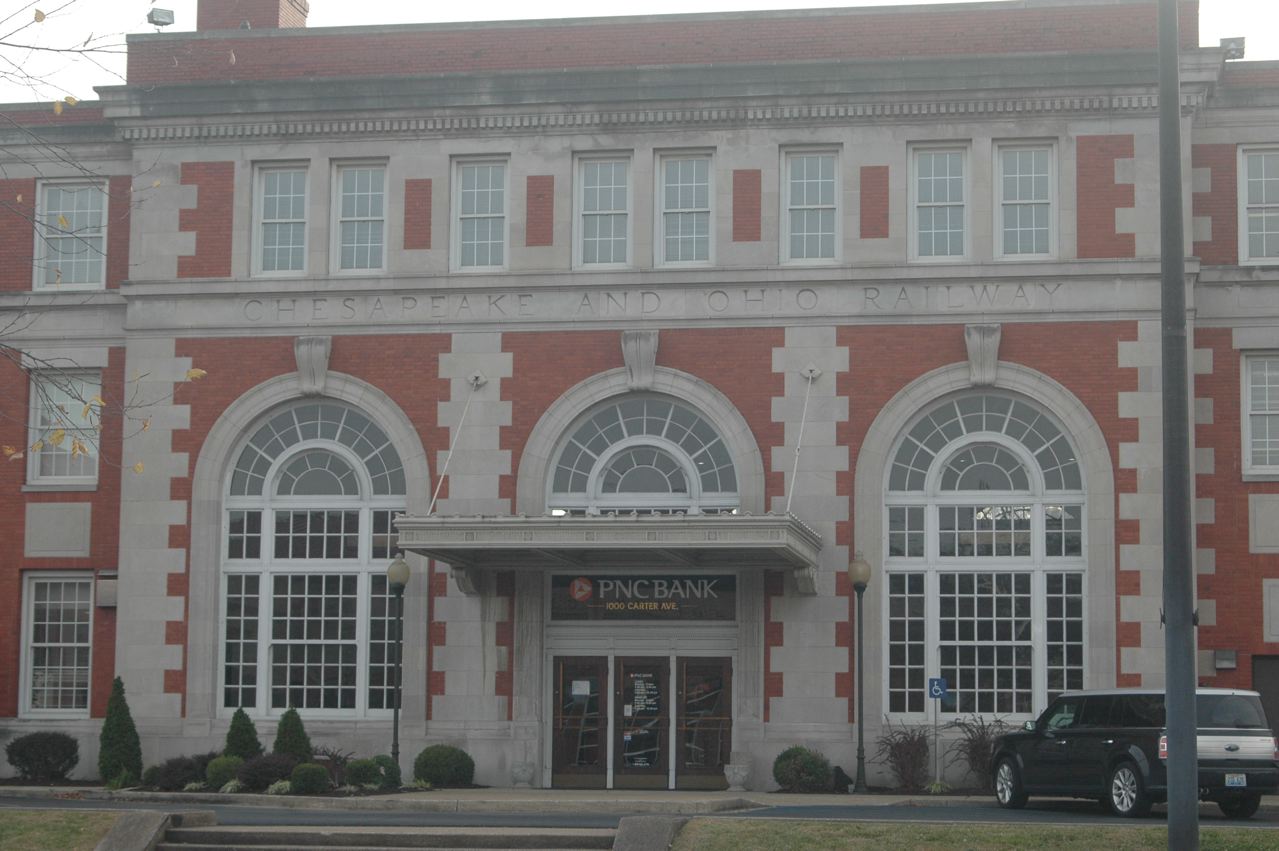 Former interurban depot a couple of blocks away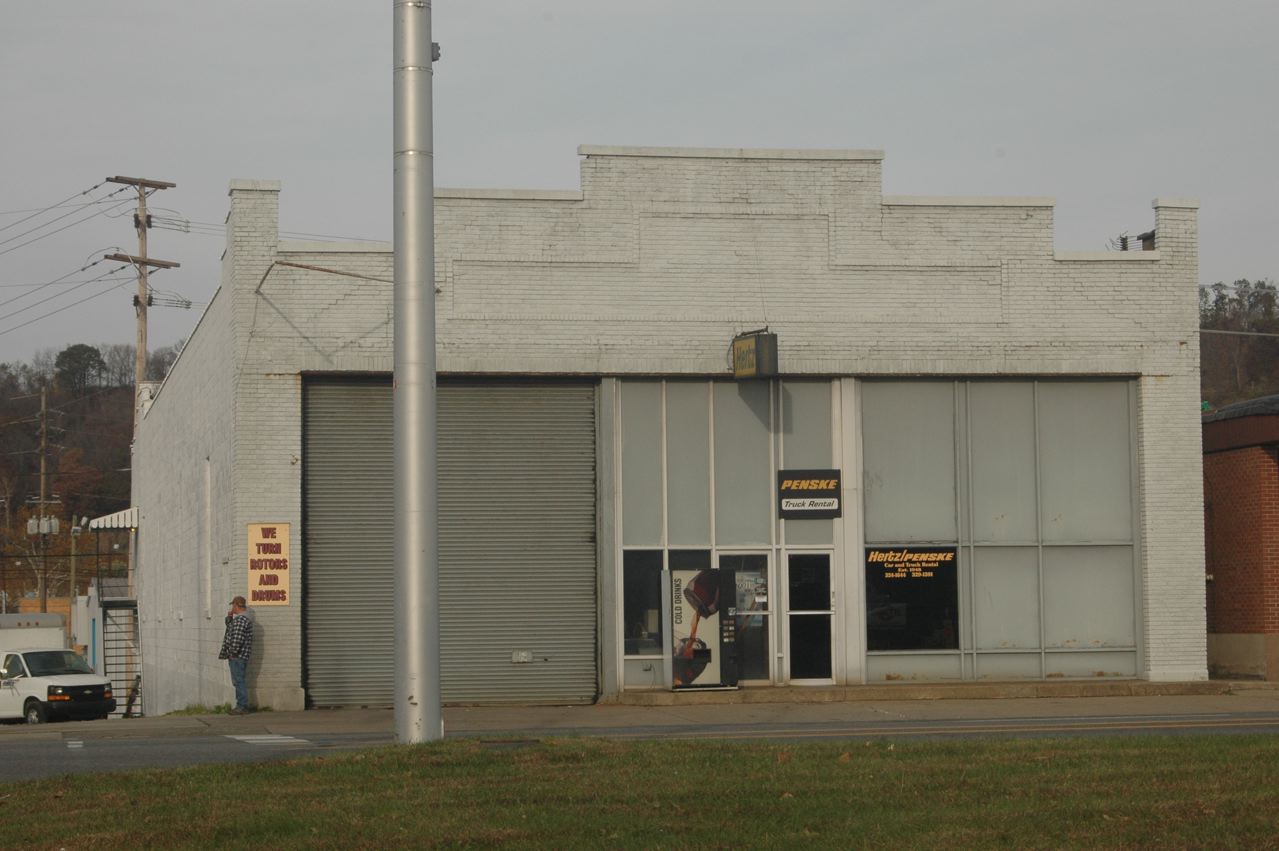 AK Steel plant engine just west of Ashland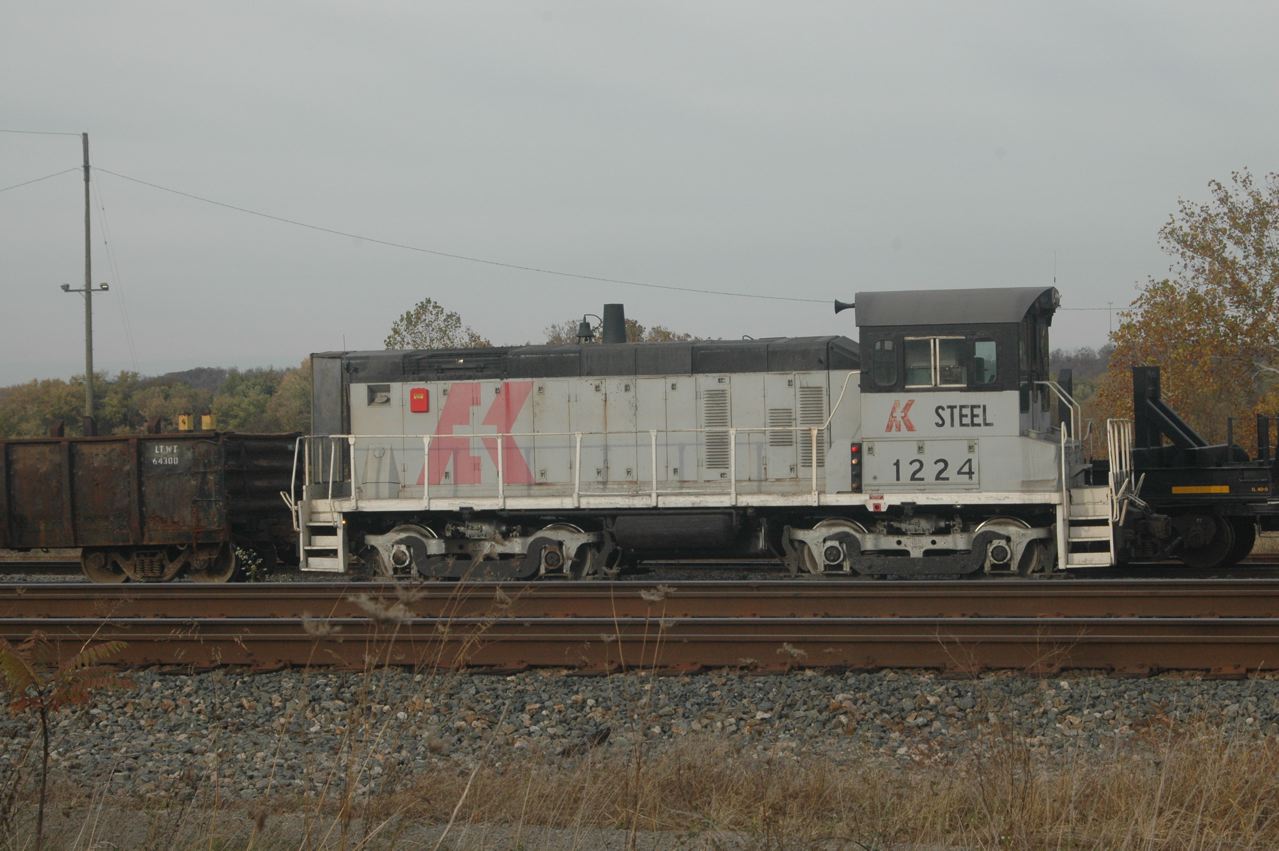 Ex-C&O freight house, adjacent to platform where Amtrak Cardinal stops now in Ashland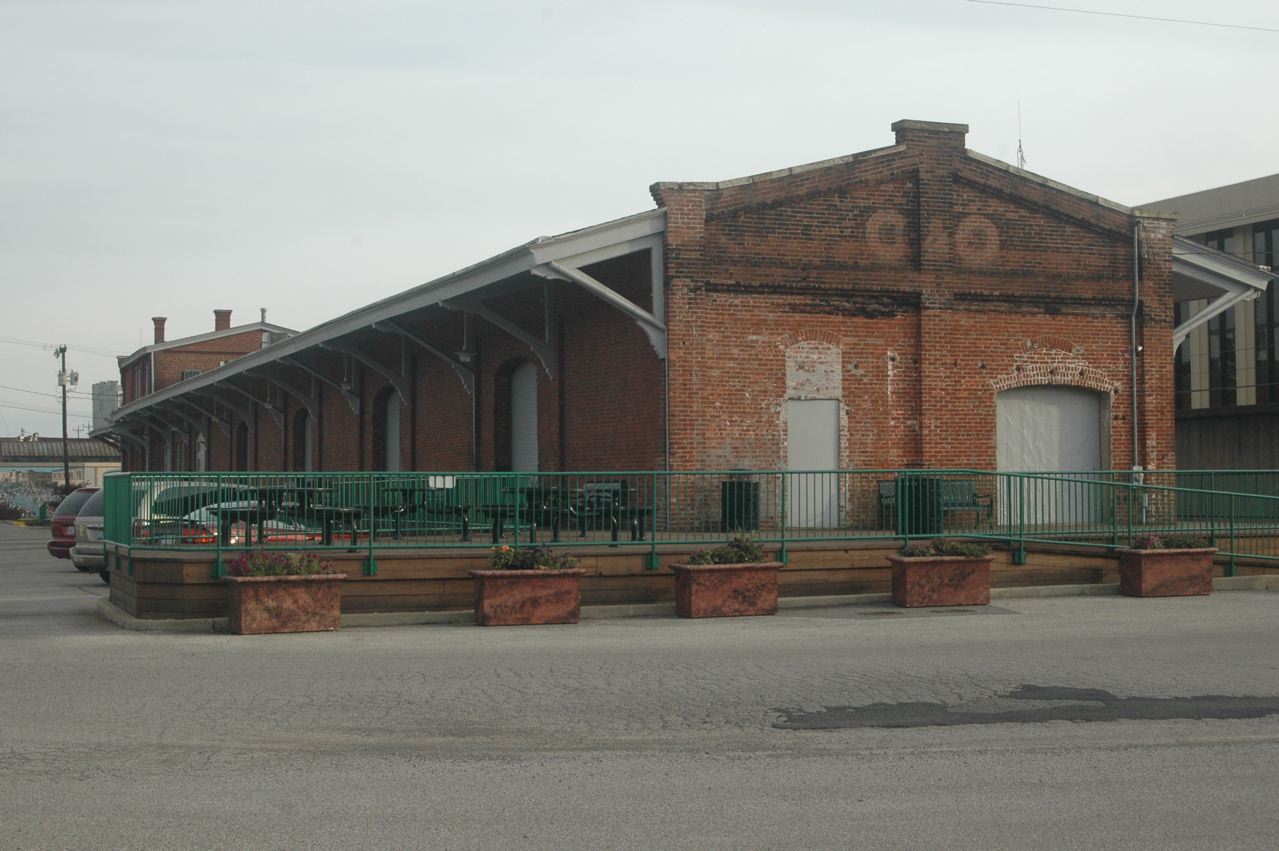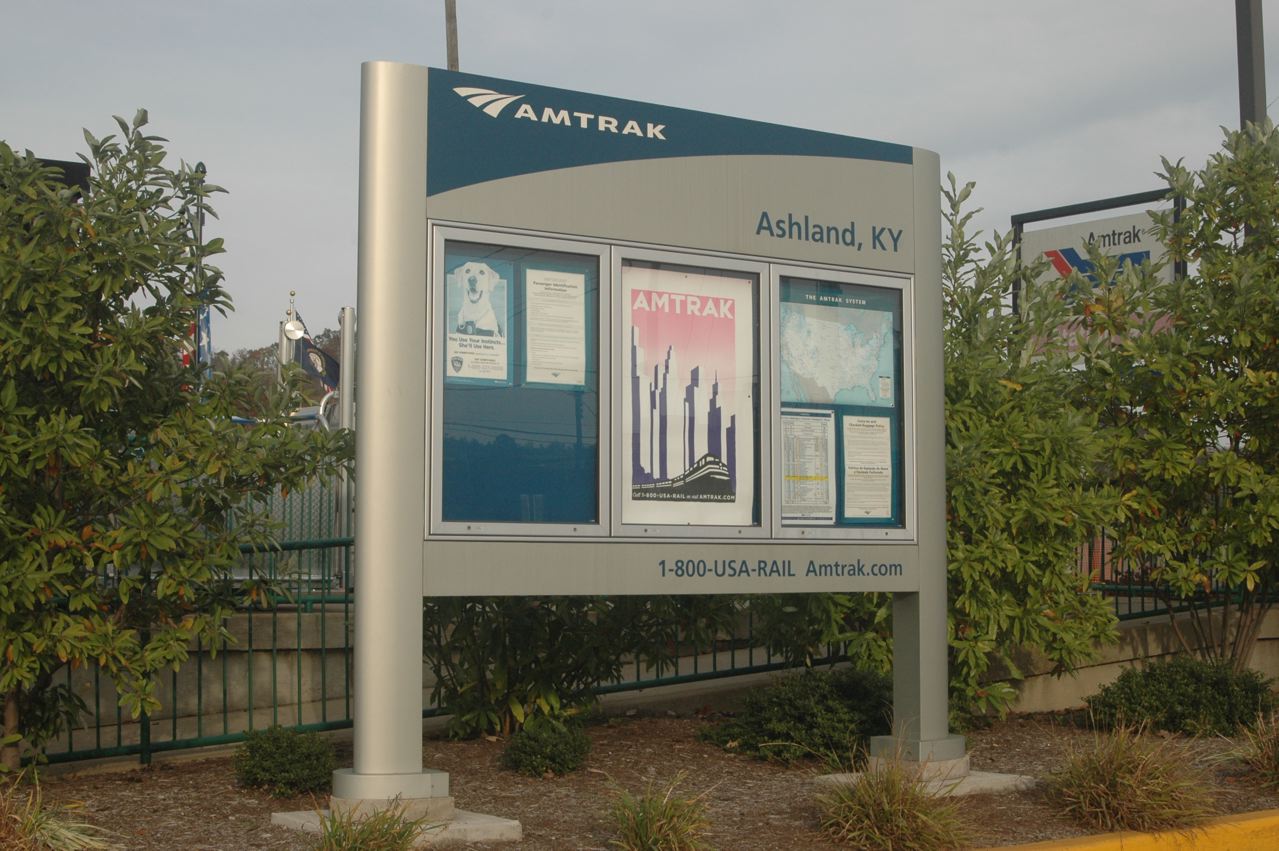 CSX freights over east toward Catlettsburg; neither was moving, typical of all CSX freight I see ... everywhere! They are the UP of the East!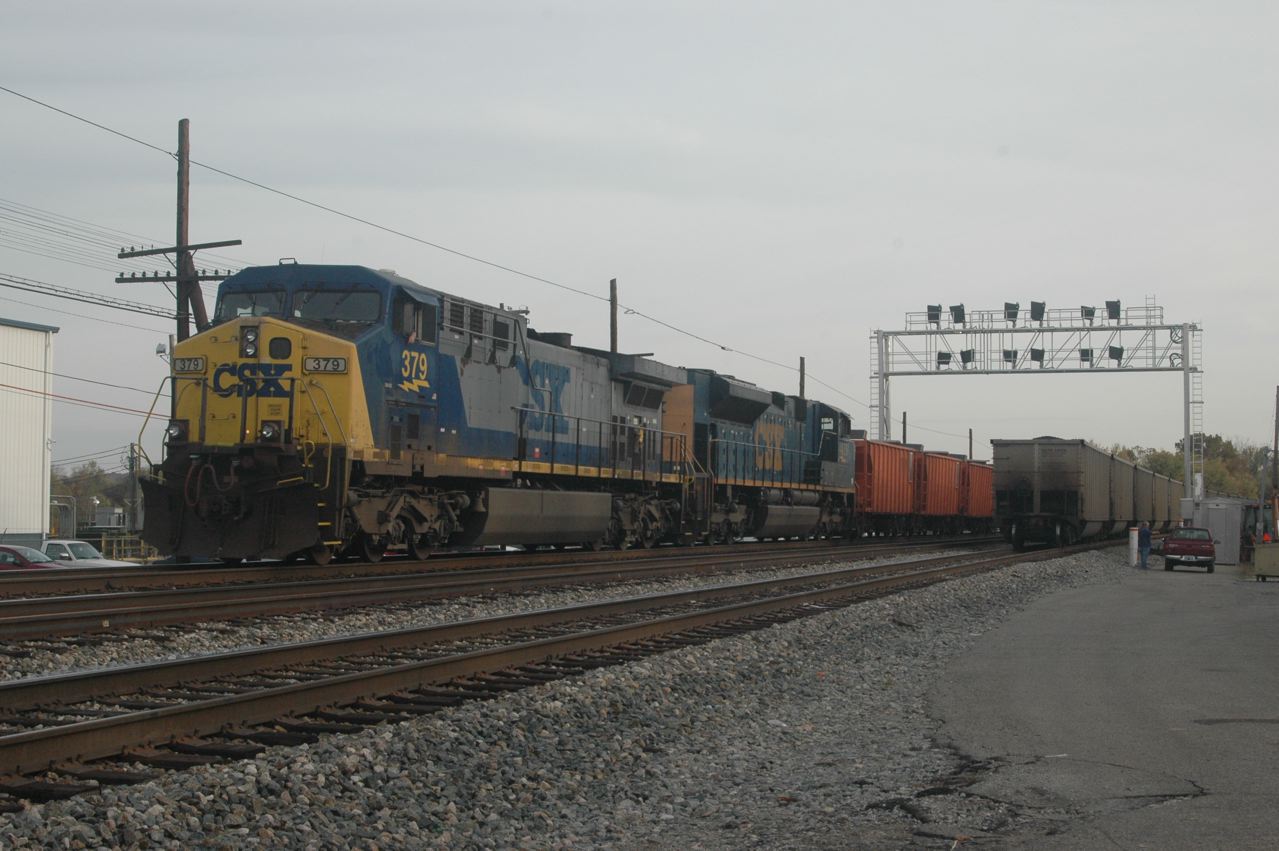 These light engines WERE moving.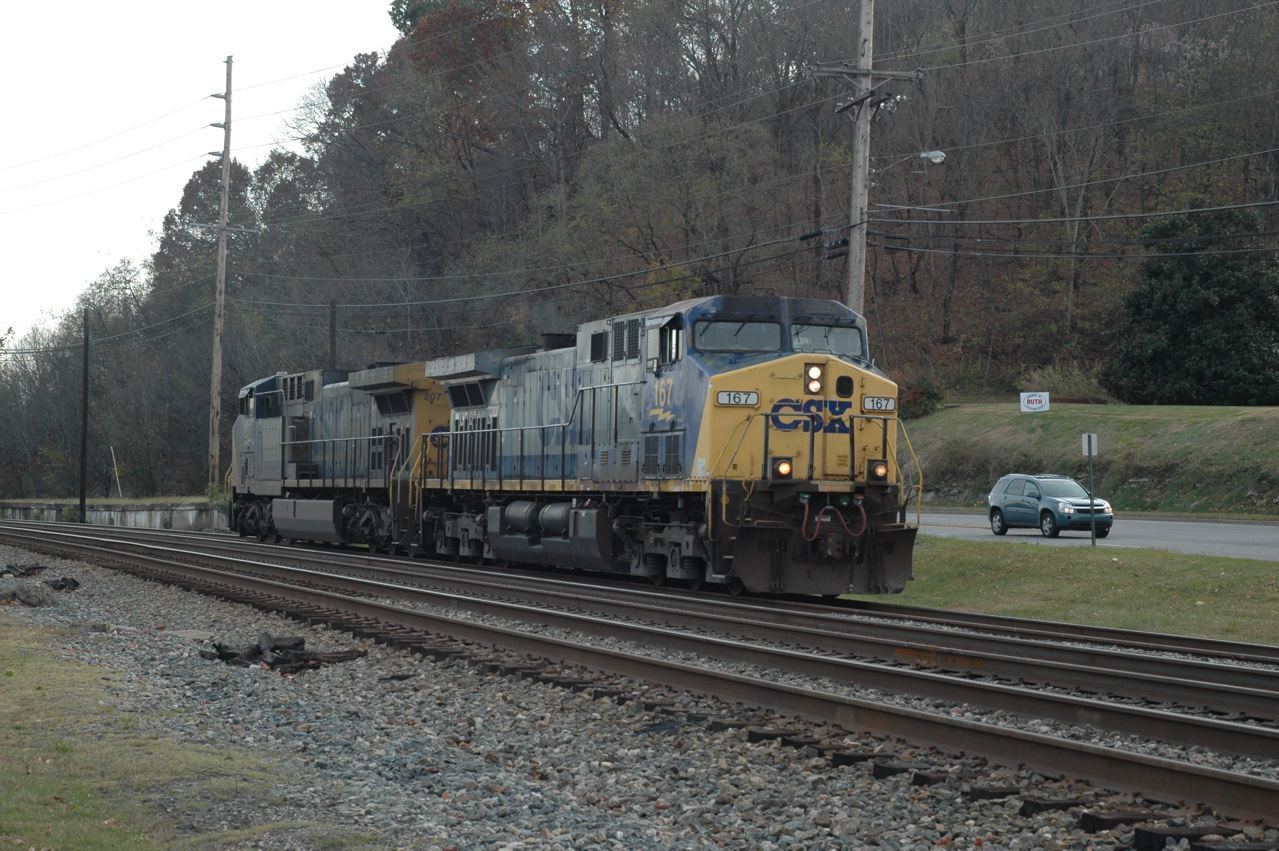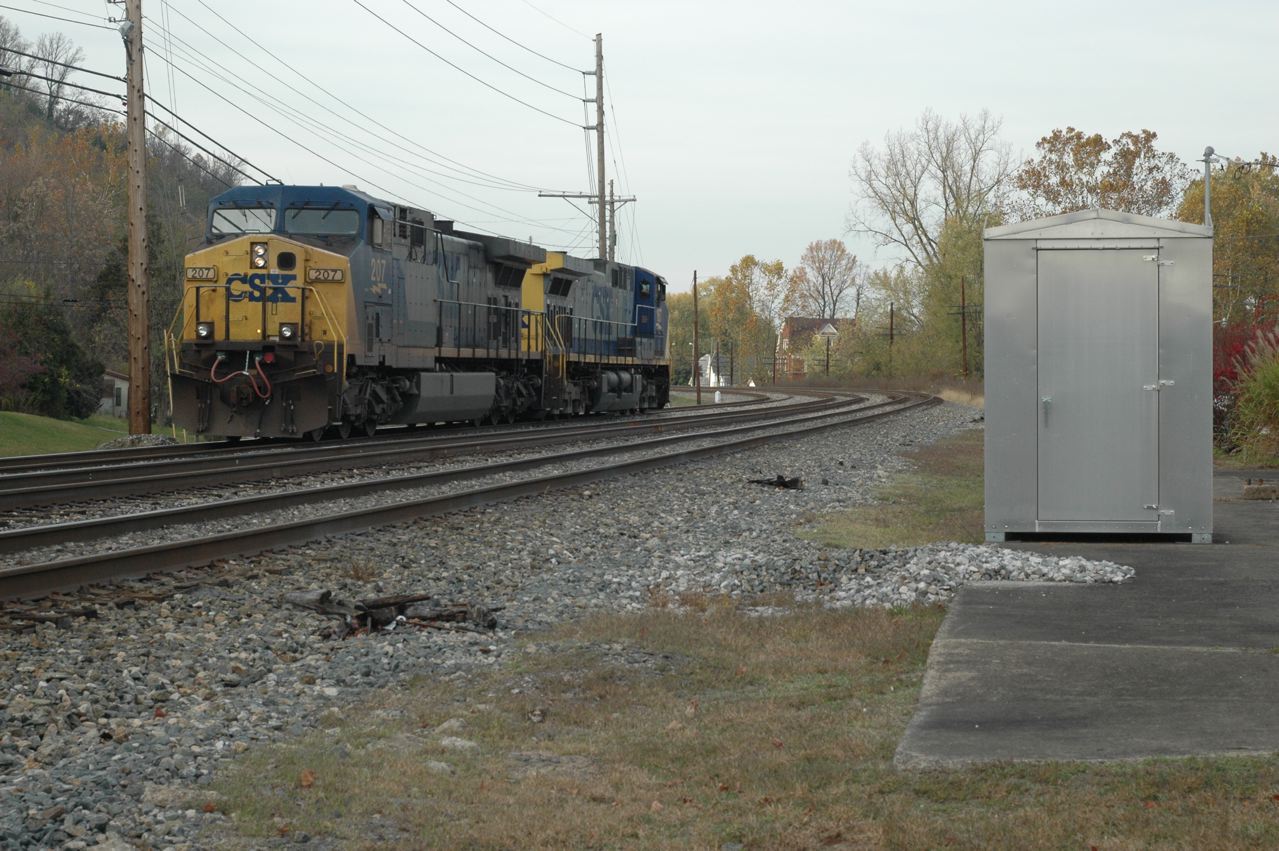 Abandoned tower at BS Jct. near Catlettsburg, Ky. While the initials could stand for railroading (or life) anywhere, this is for "Big Sandy," the line south to Shelbiana, Elkhorn City, and the former Clinchfield Railroad.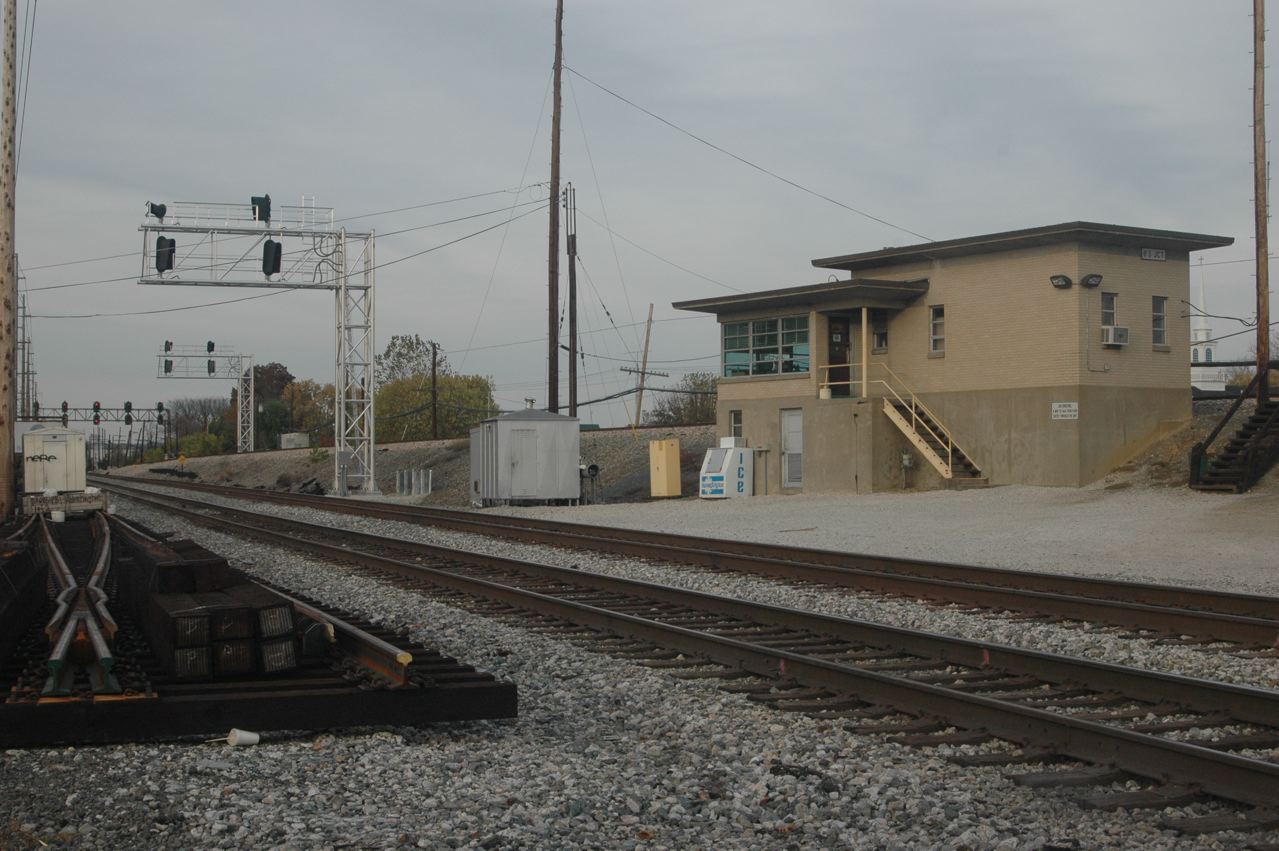 We parked for a while by CSX in Kenova, W.Va., and while nothing on CSX moved, of course, just as we were pulling away a westbound NS surprised us overhead, and I managed this grab shot; he's on the long bridge over both the CSX and the Ohio River.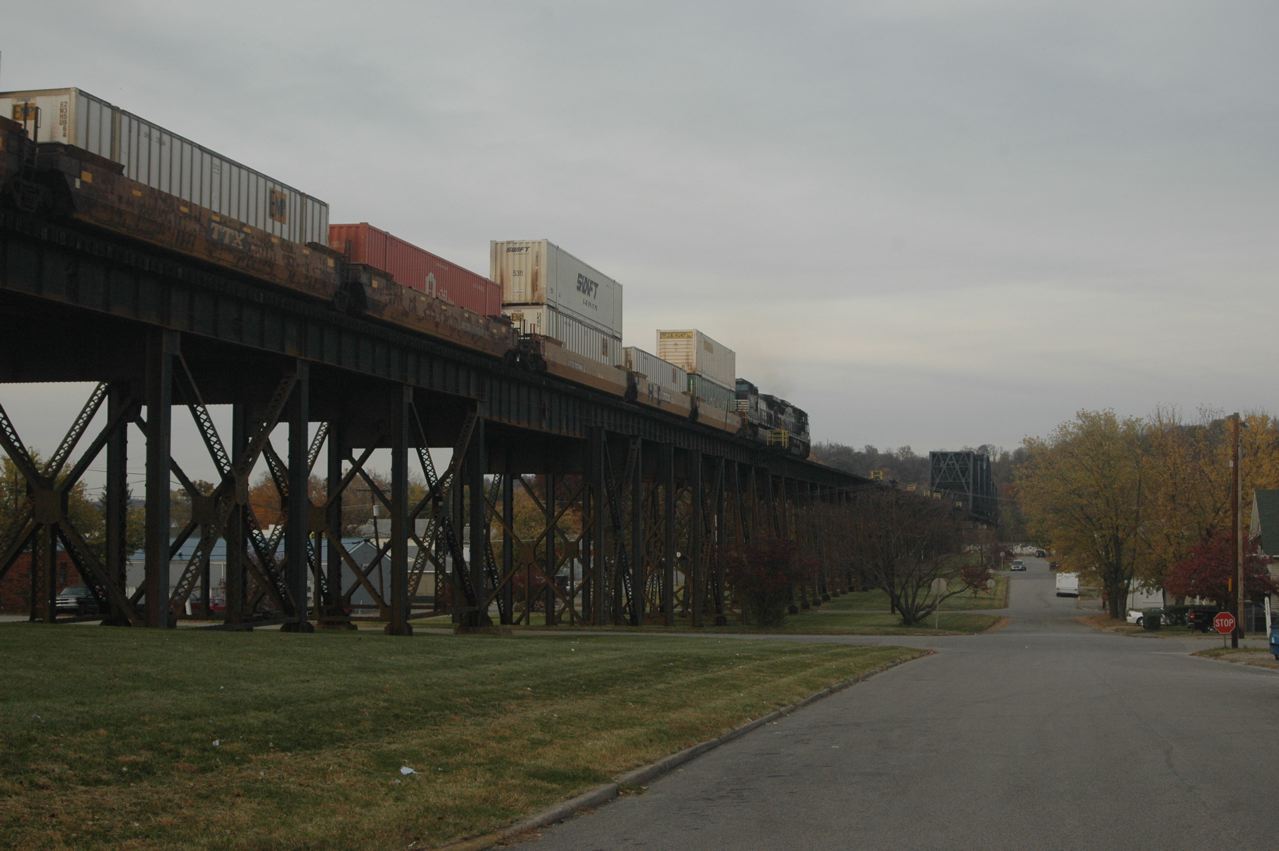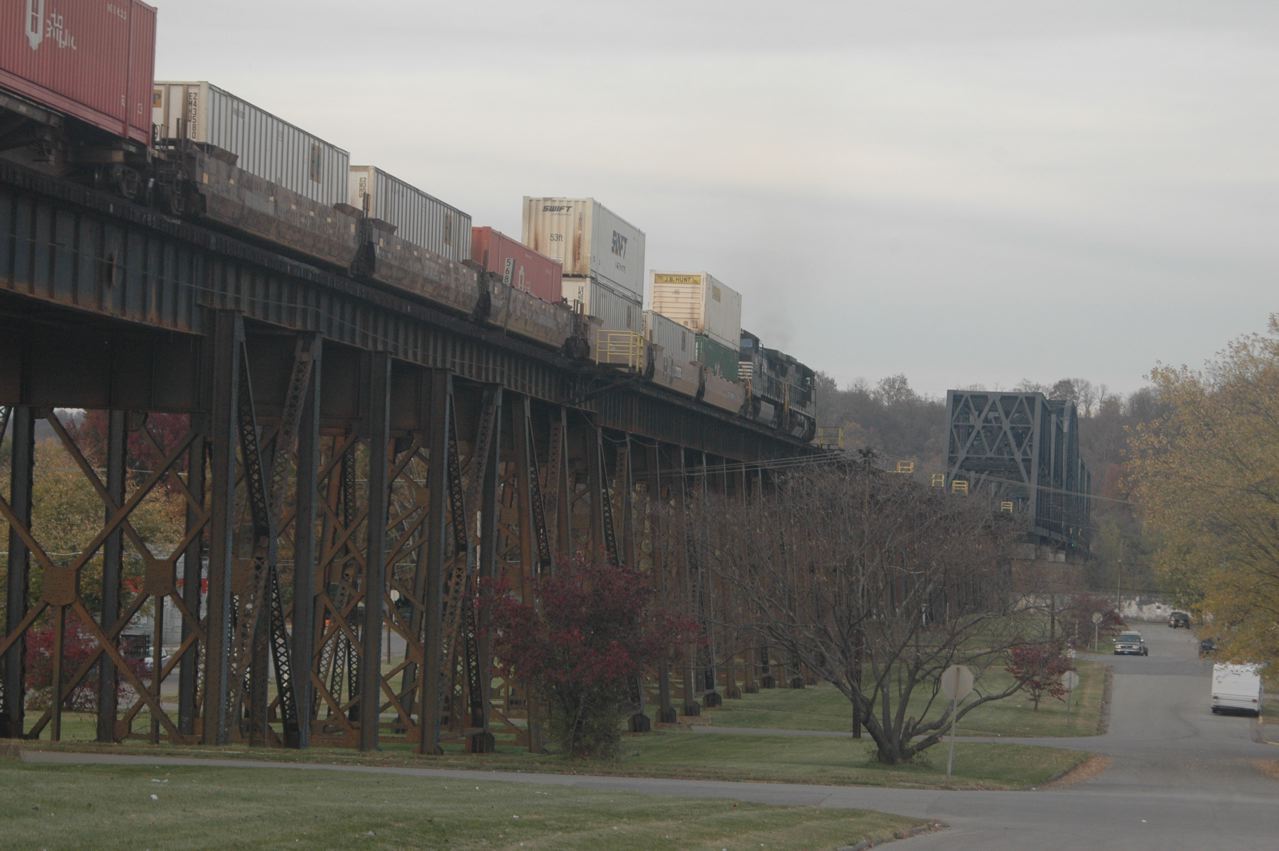 | | |
| --- | --- |
| We dined at sunset at West Virginia's only Steak n Shake, in Barboursville off I-64 just east of Huntington (which we skipped entirely). Next day, the same franchisee was opening his 2nd SnS, but in Pikeville, Ky., not West Virginia. We then drove on to Charleston for the night, getting a nice view of the lit-up downtown and then the capitol after dark, en route to our motel on the city's east end. | |
Electing to sleep in on what I found to be a cloudy morning, instead of shooting Amtrak #50, the Cardinal, near our motel (I'd ridden it to Charleston a week before and shot it at the depot there when I detrained), we begin our railroading by poking around Montgomery, and the old Handley yard of C&O just to the west. I'd never been here by car, and in fact that would be true for all points this day. The place is abandoned, but CSX did have one train "on display," parked, no crew, as usual for me.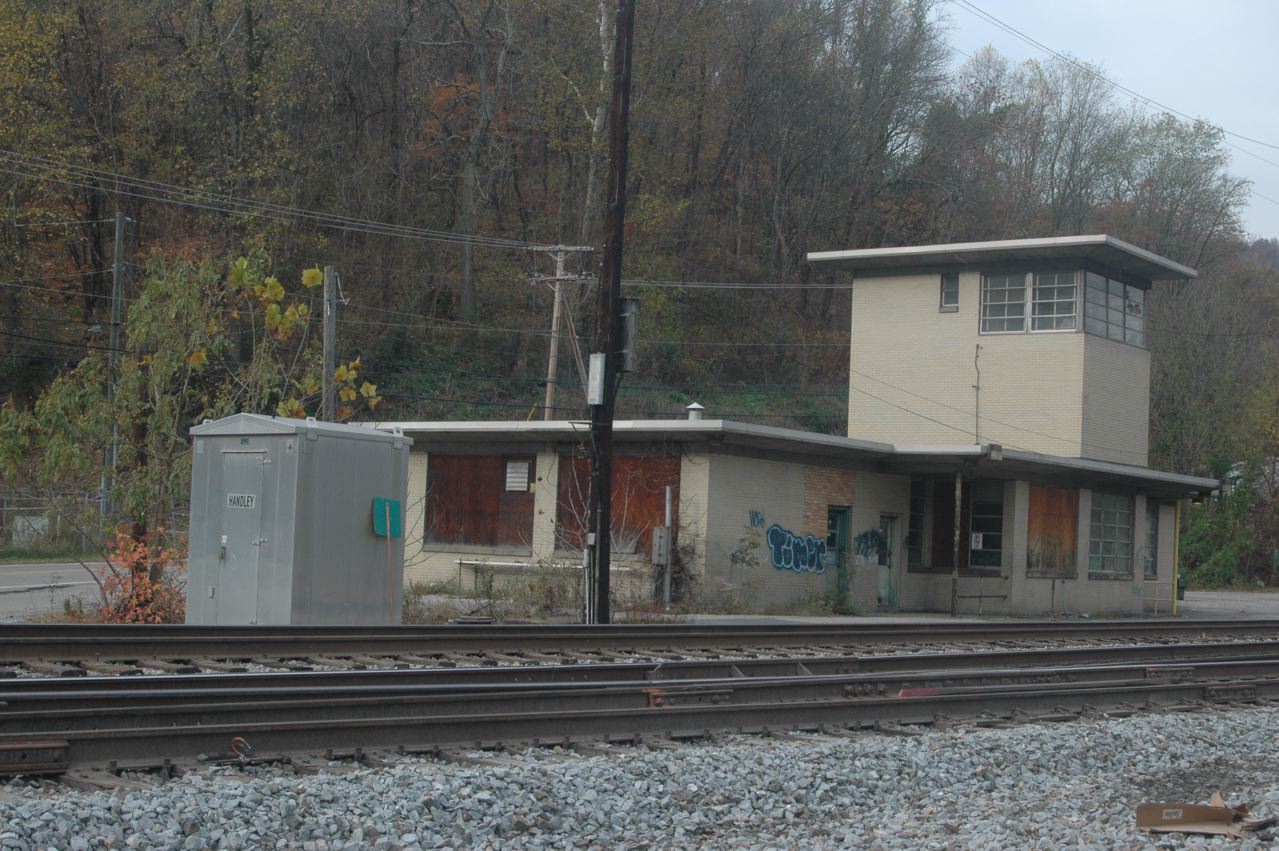 This photo made at 10:27 a.m.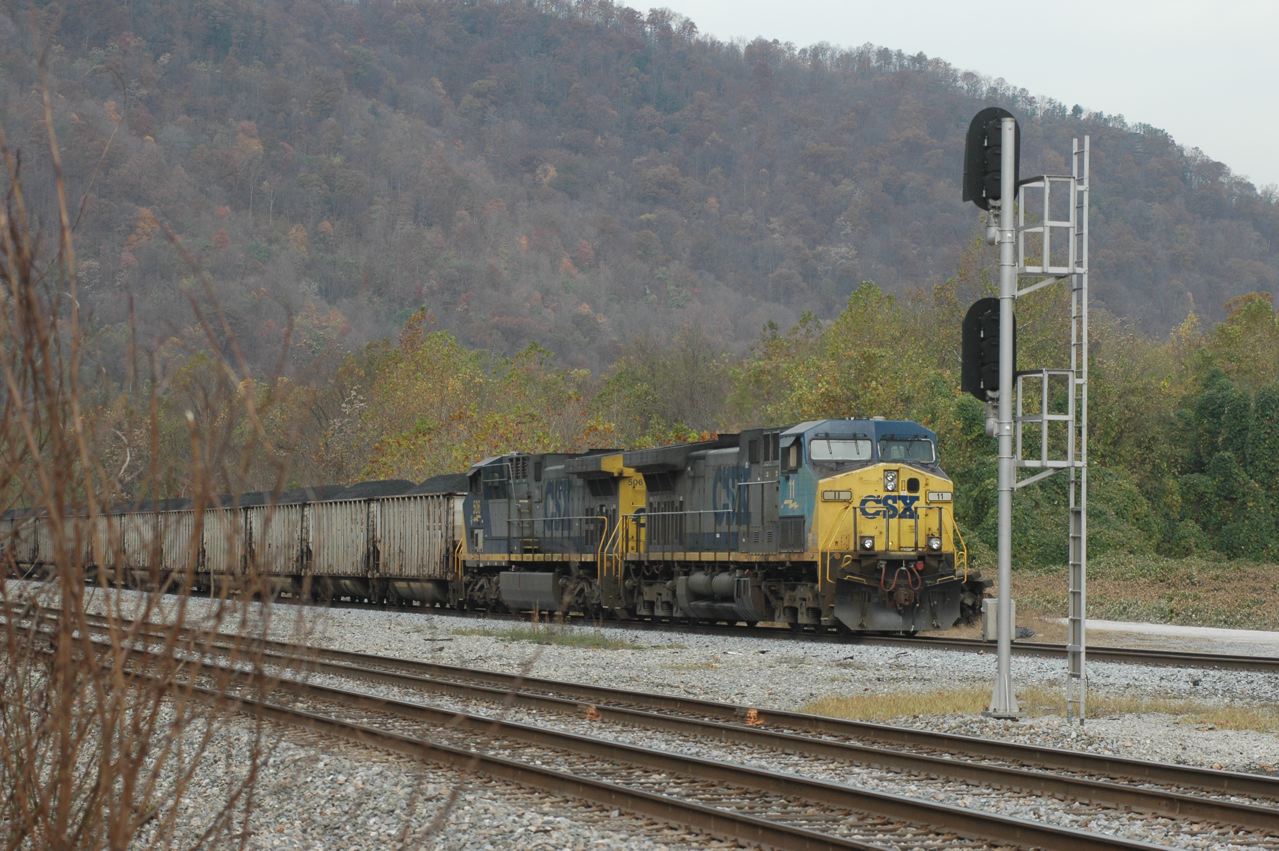 West Virginia Tech campus is nearby, but how many students would ride a triweekly train here?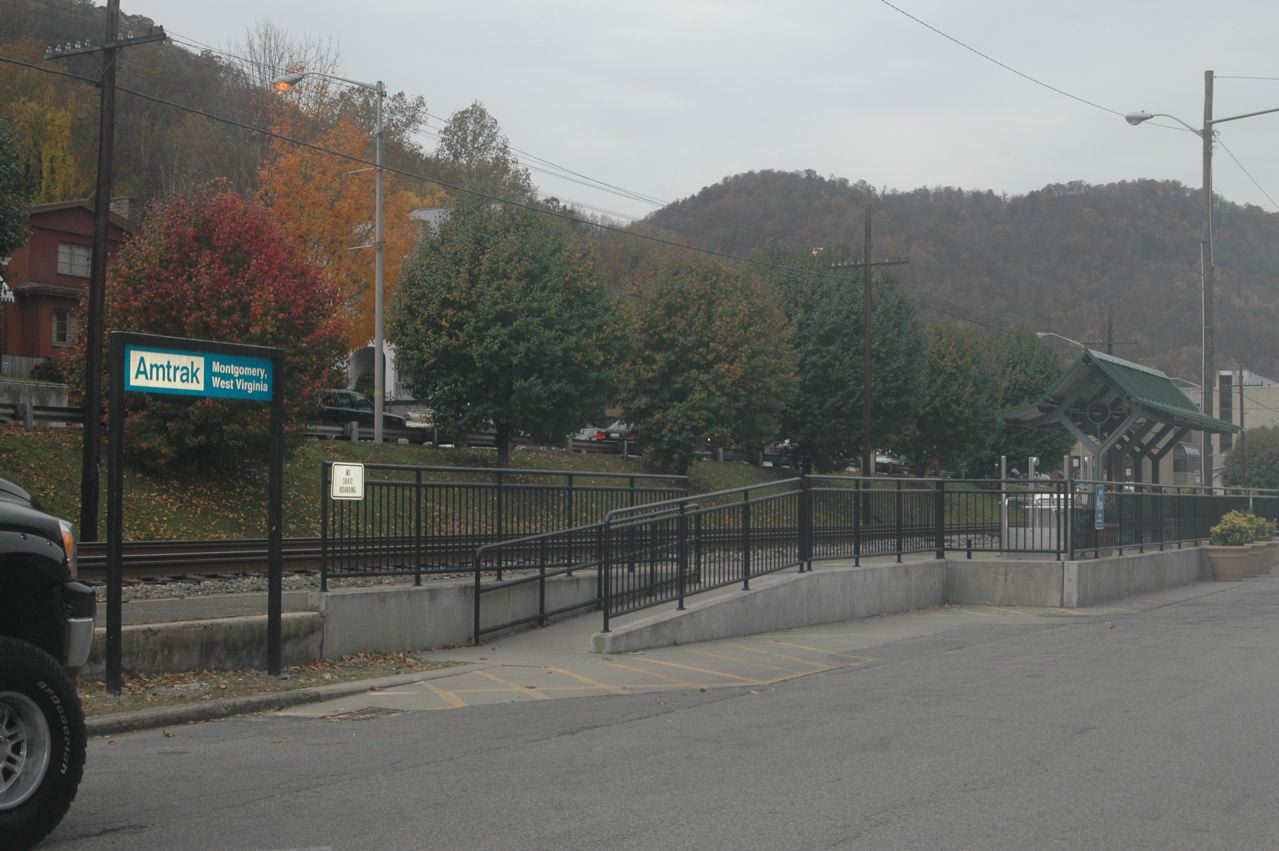 NS's ex-NYC line thru Charleston is on EVERYBODY's need list for mileage collectors (except for an NS employee or two whom I know, I suspect), and at Alloy, W. Va., it was NS's turn to present parked trains.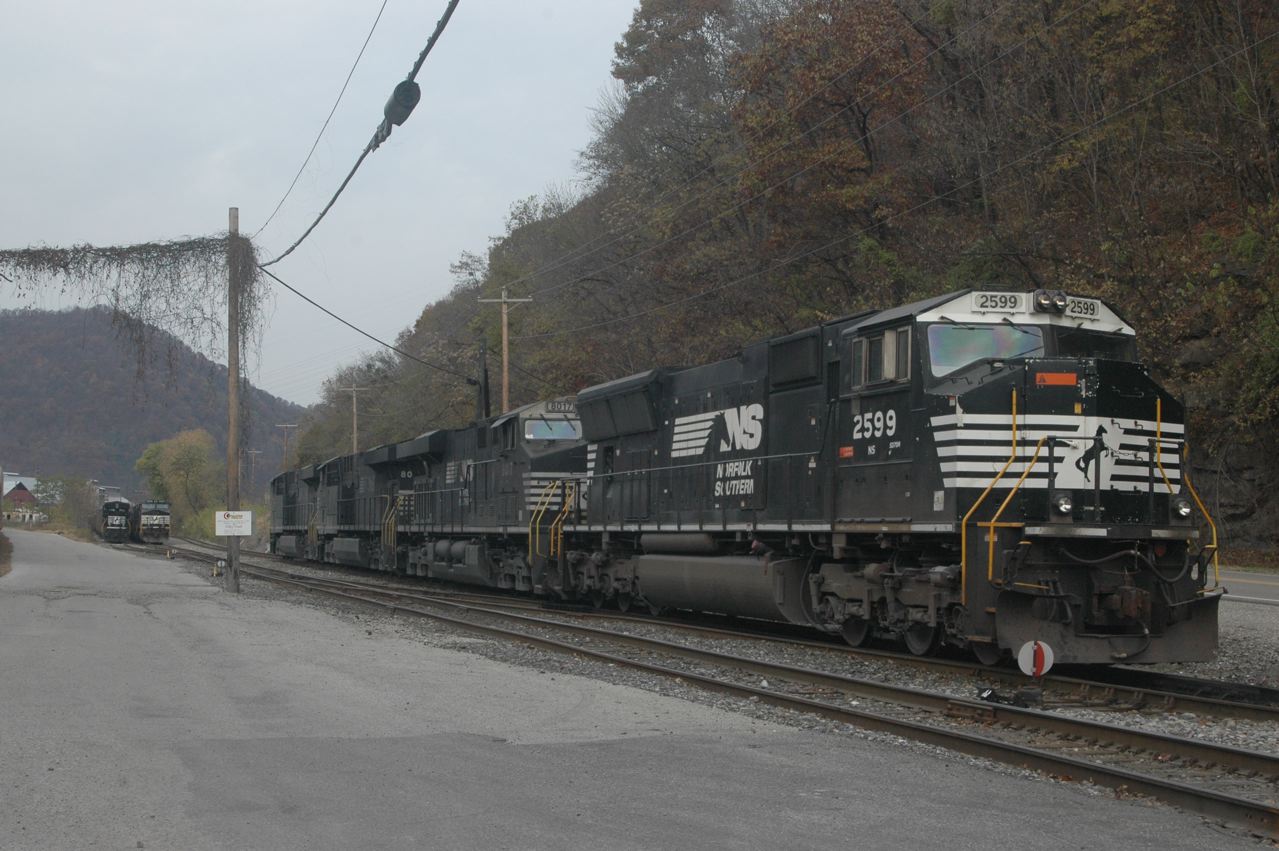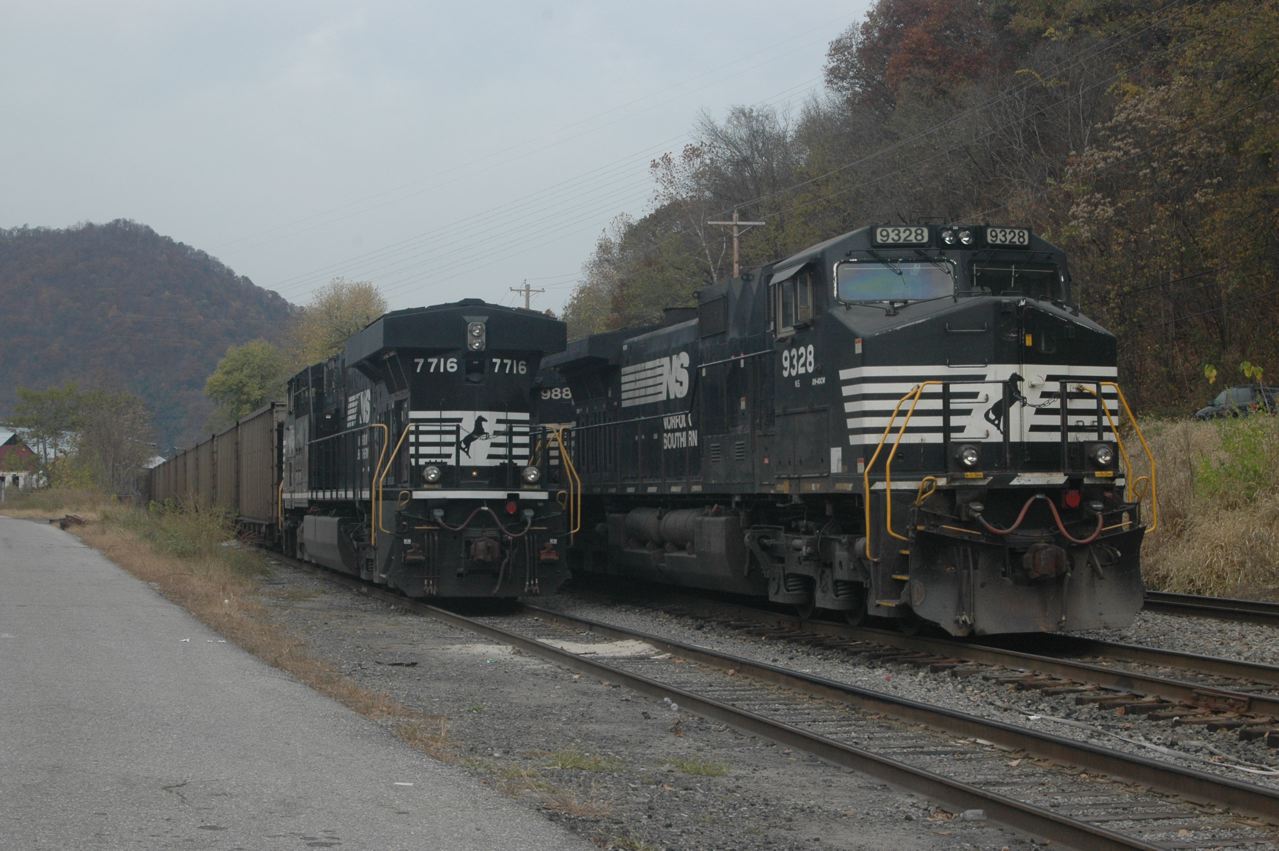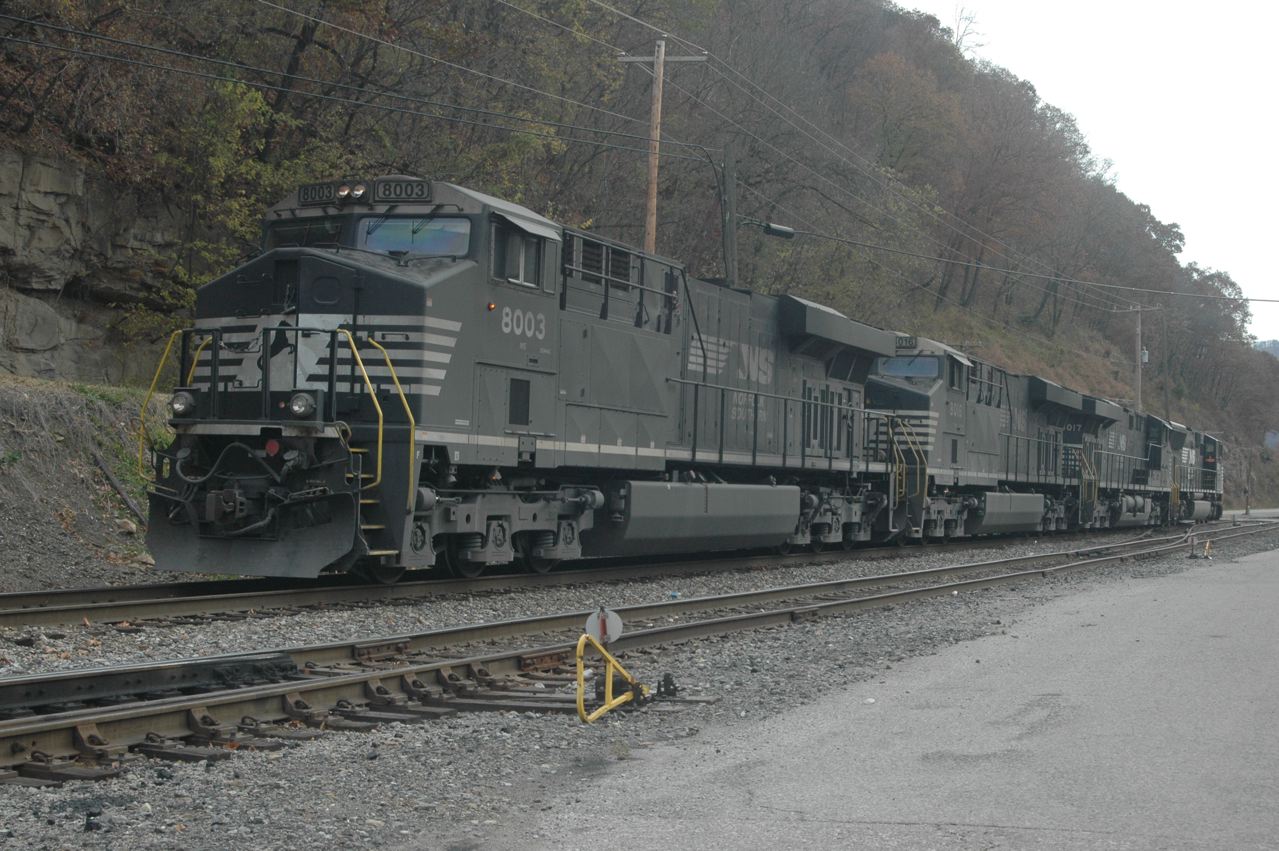 This view is basically a 180-degree from the three above, and a city block or less to the east. It's a place legendary for those of us who know "classic era" railroad maps, being Deepwater Bridge, W. Va., site of "DB Tower," basically the west end of the Virginian Rwy. and the site, I believe, of VGN-NYC interchange. An old Guide shows VGN passenger service on west into Charleston, but given the geography, I suspect that was on NYC rights.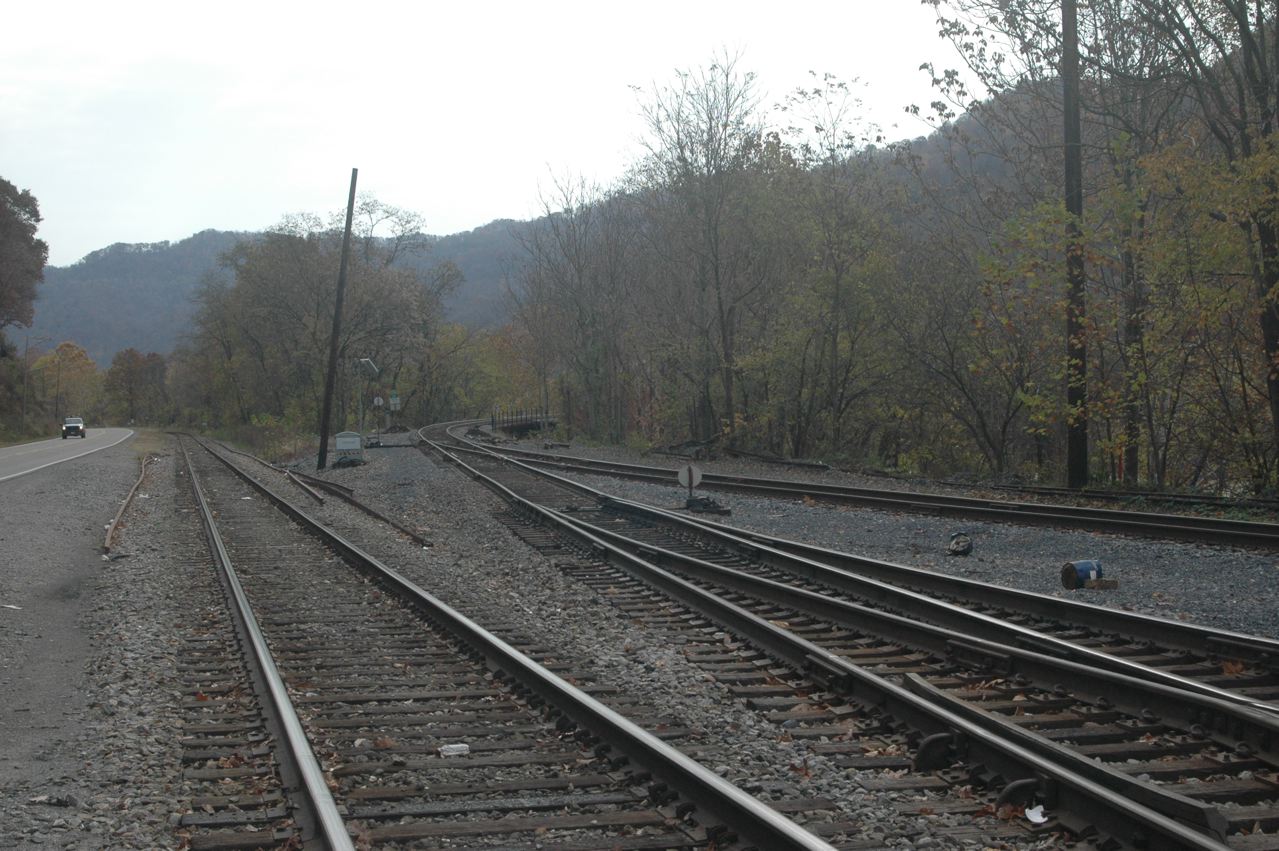 Famous for following the BNSF "Transcon" out in Texas and New Mexico, US 60 also follows some notable trackage in these parts, at least to me :-)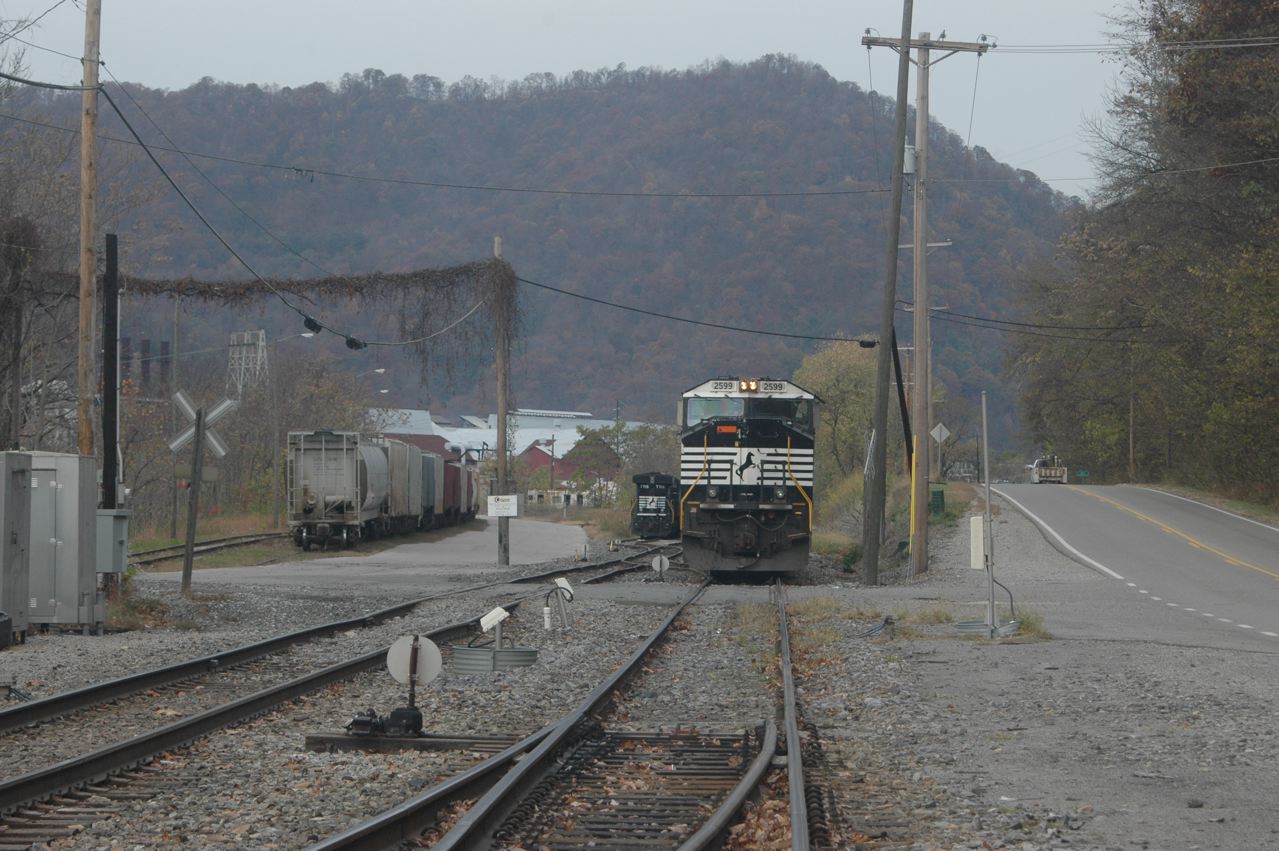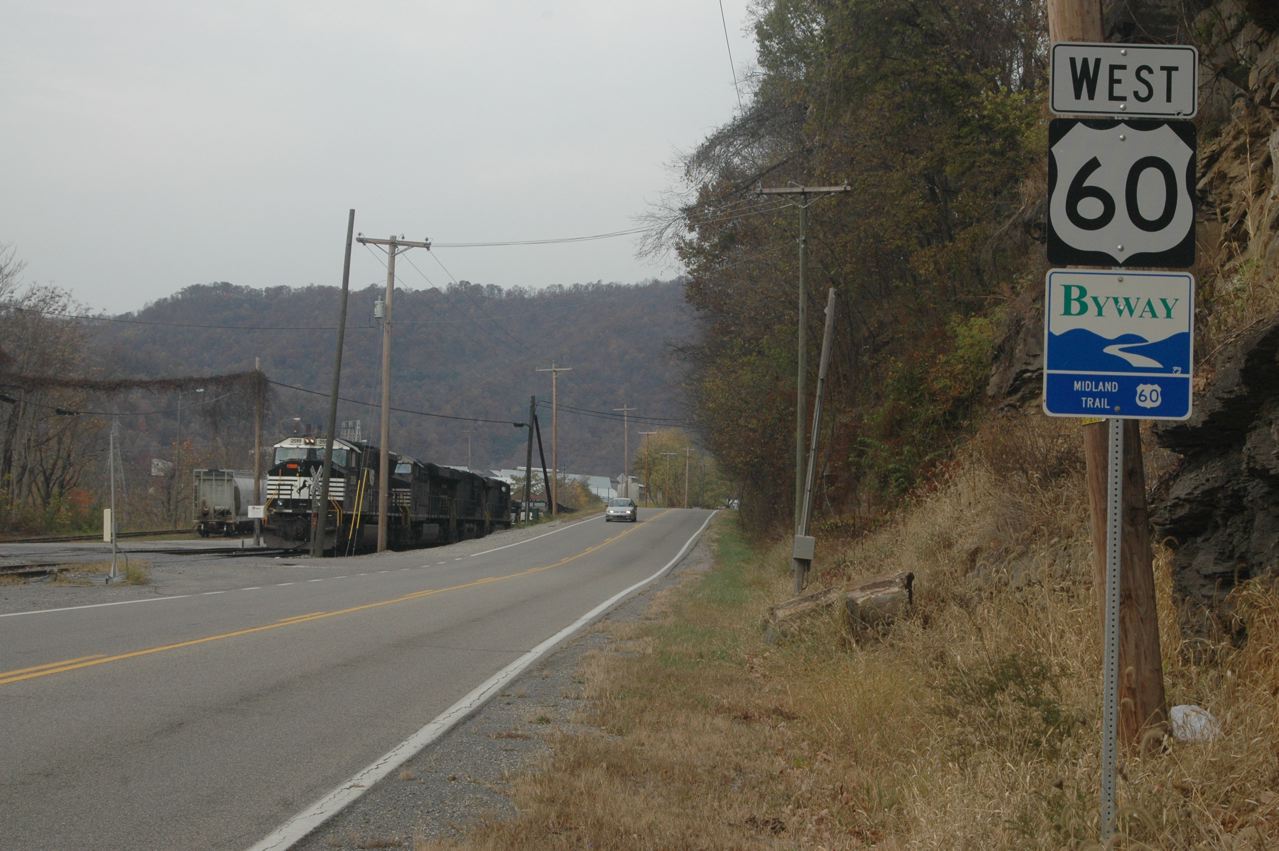 There goes the Virginian across the Kanawha (Ka-NAW) River.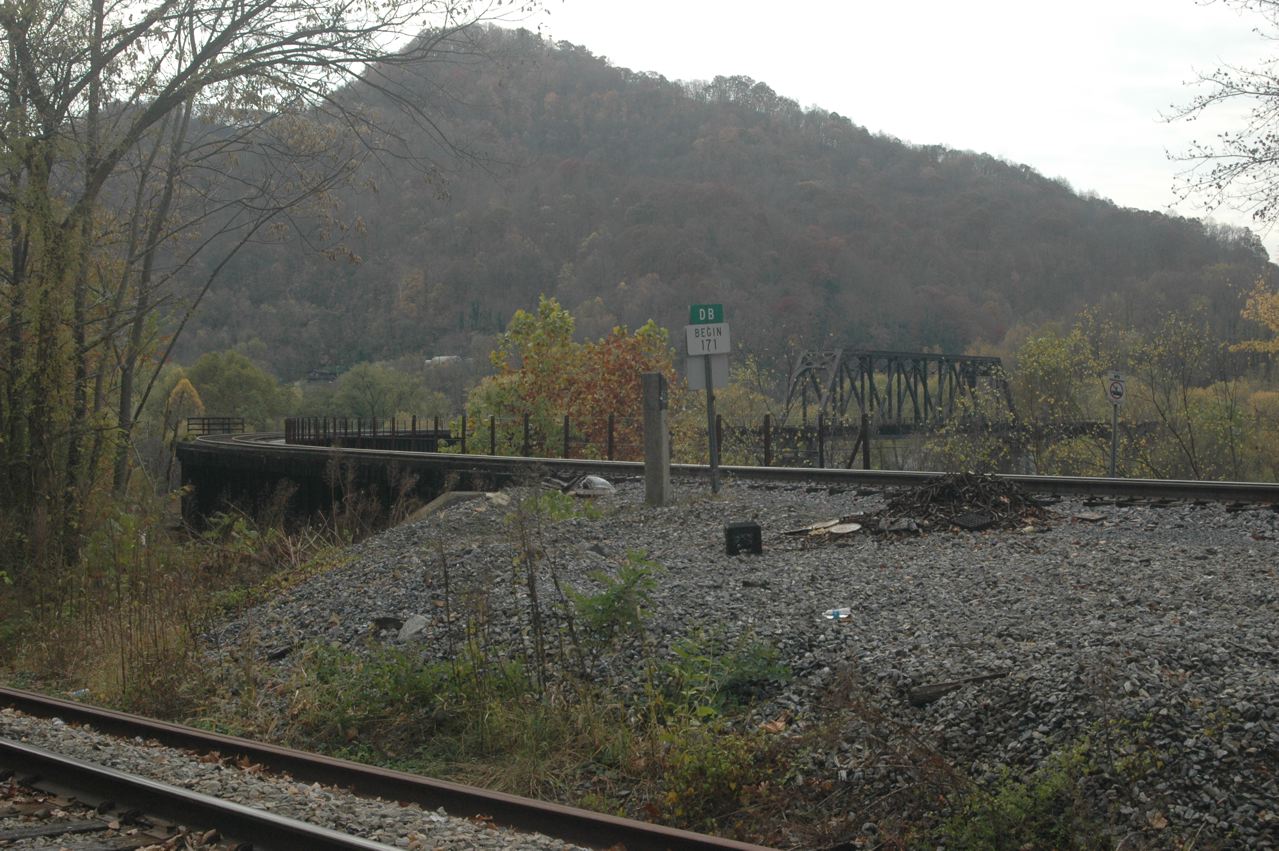 The restored (city offices) NYC depot at Gauley Bridge, W.Va.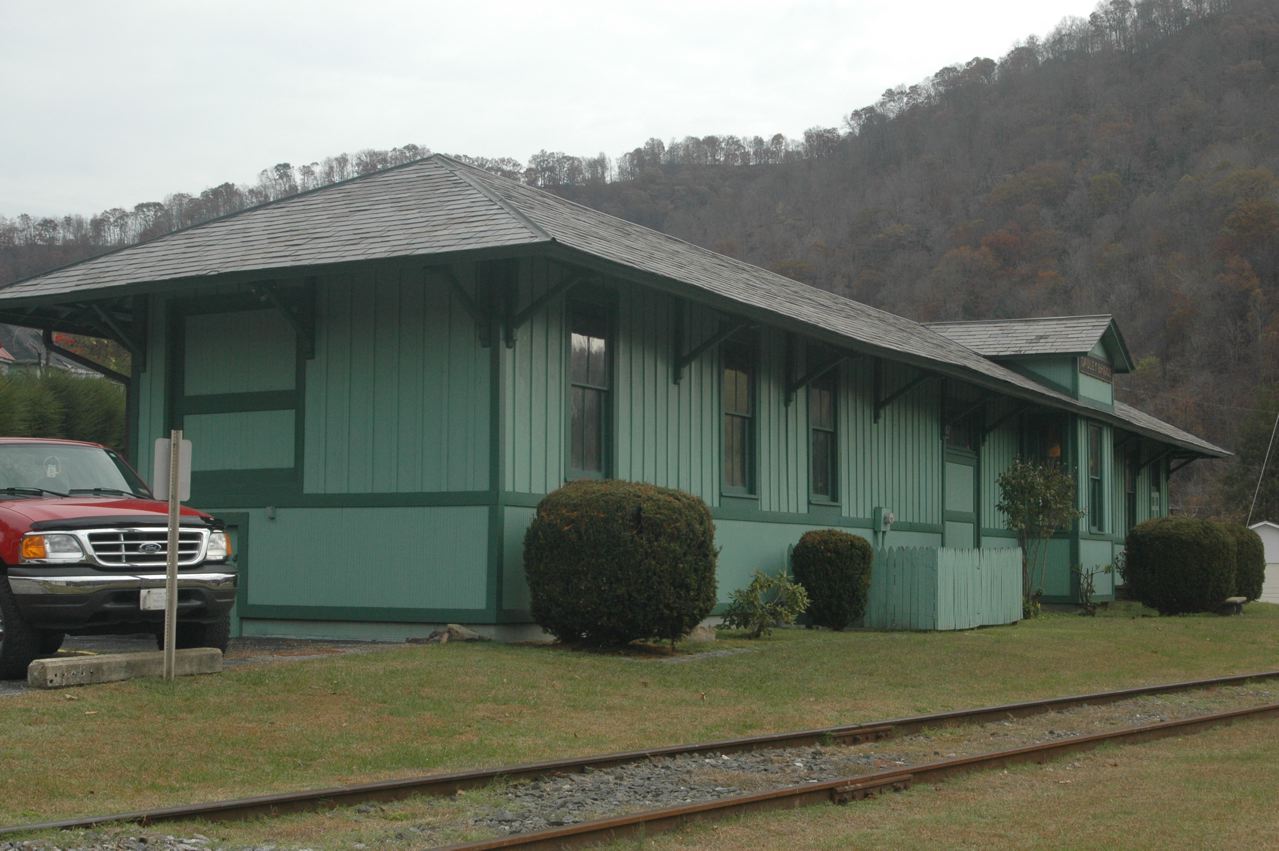 Note the original NYC sign!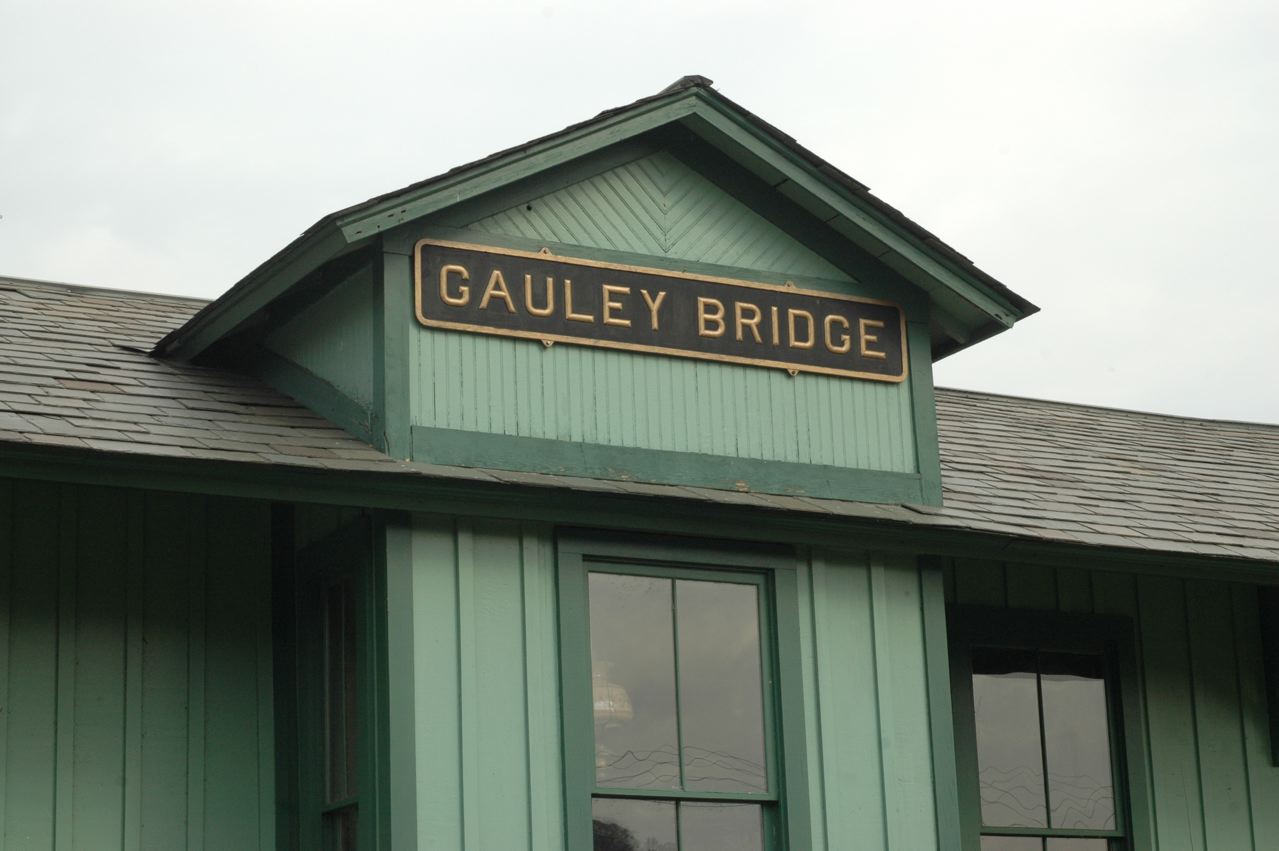 Those are CSX's ex-C&O mainlaine tracks across the river, and soon after this shot we saw, at a distance, an eastbound train. From Hawks Nest (a few photos on) I could still HEAR it to the east, but no longer see it.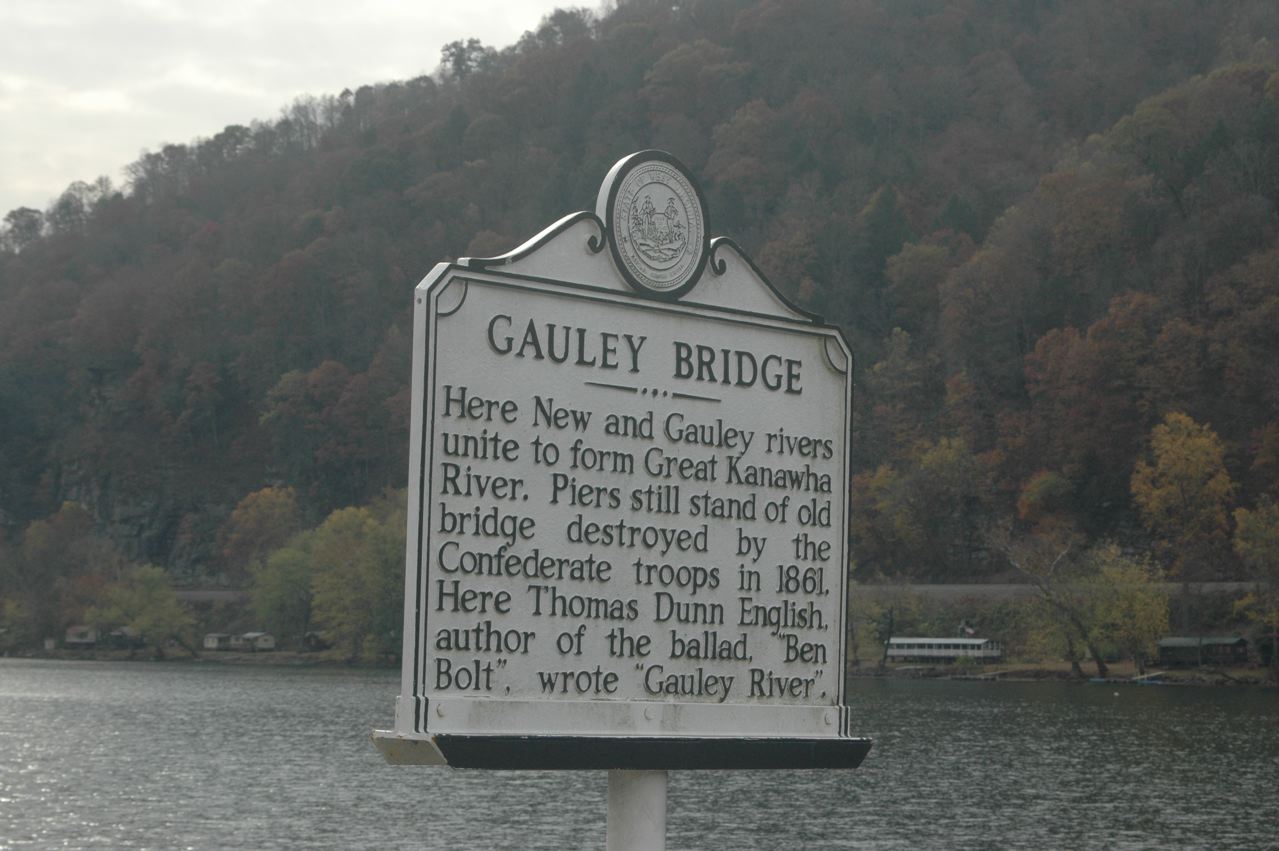 Across the Gauley, here is the old K&M Jct. depot, turned 180 degrees from the tracks; at least I think that's what this is.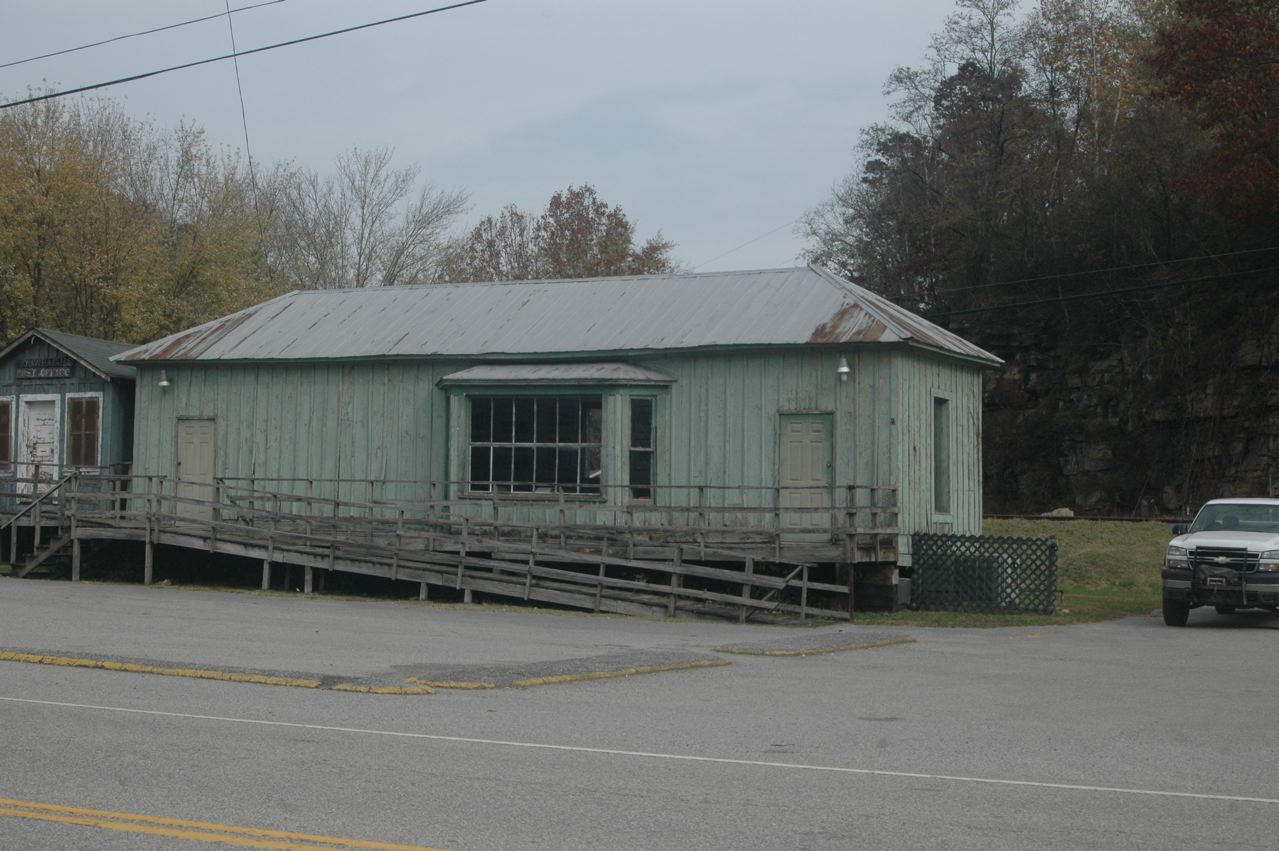 I'd never been to Hawk's Nest, so here I am, not on the best of days, tho not raining. We look east.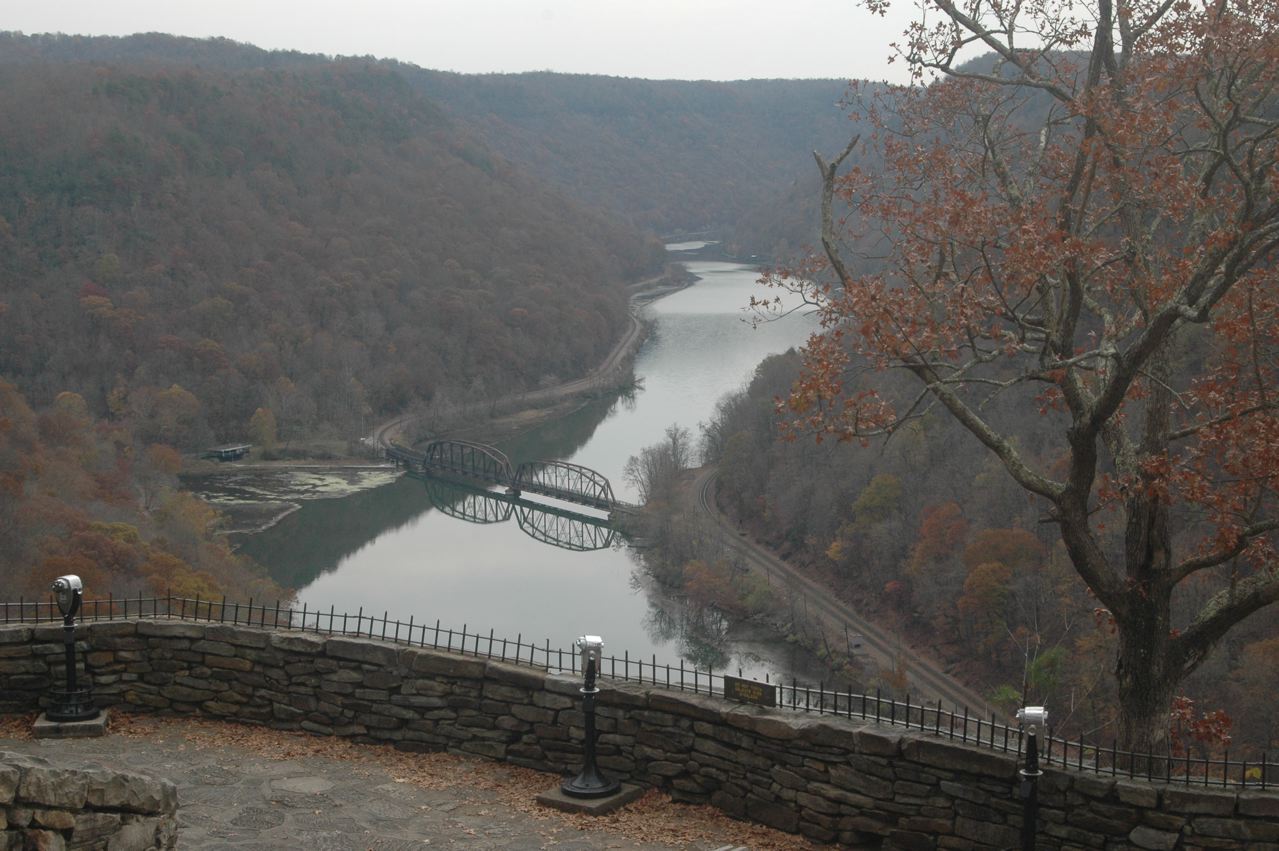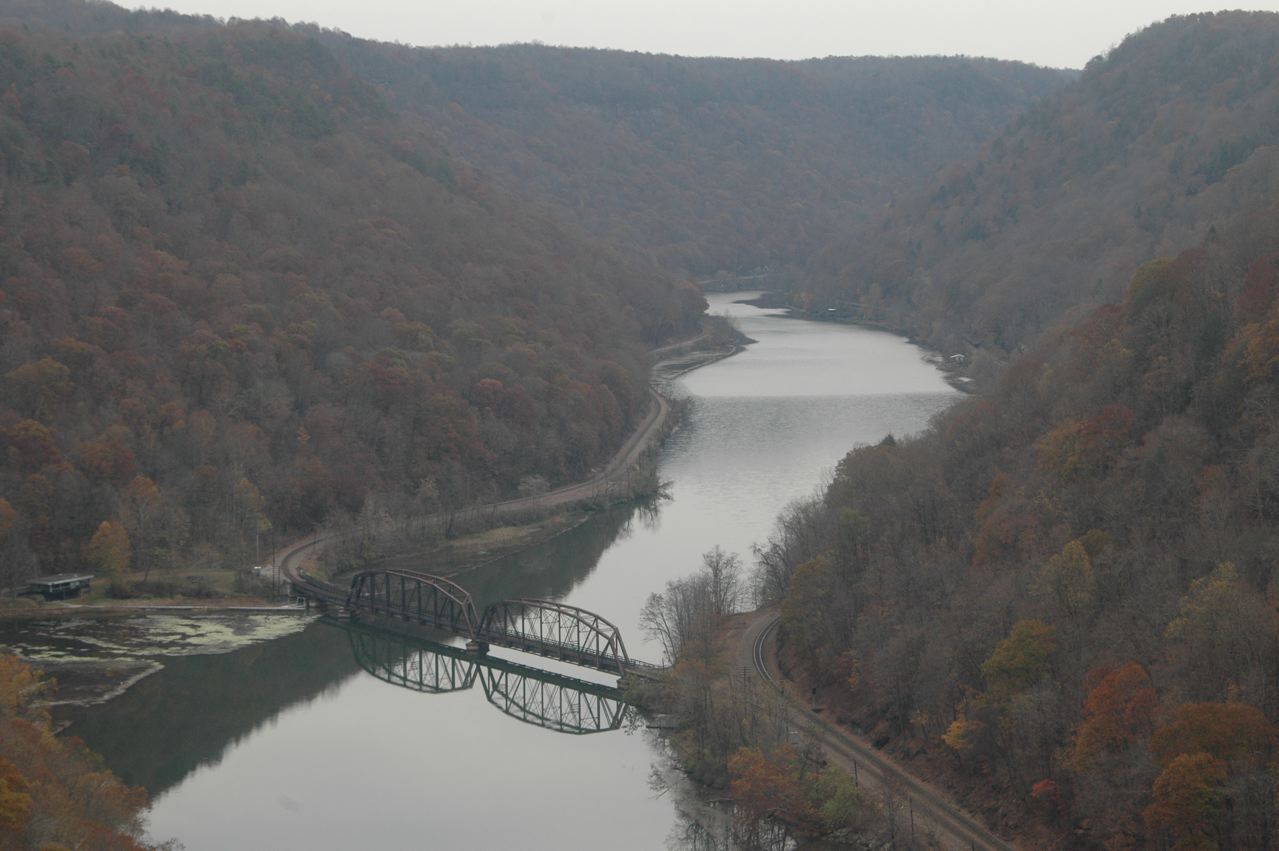 | | |
| --- | --- |
| We look south (downriver on the New) here. | |
Another view east walking back to the car. It's not a long walk to the overlook.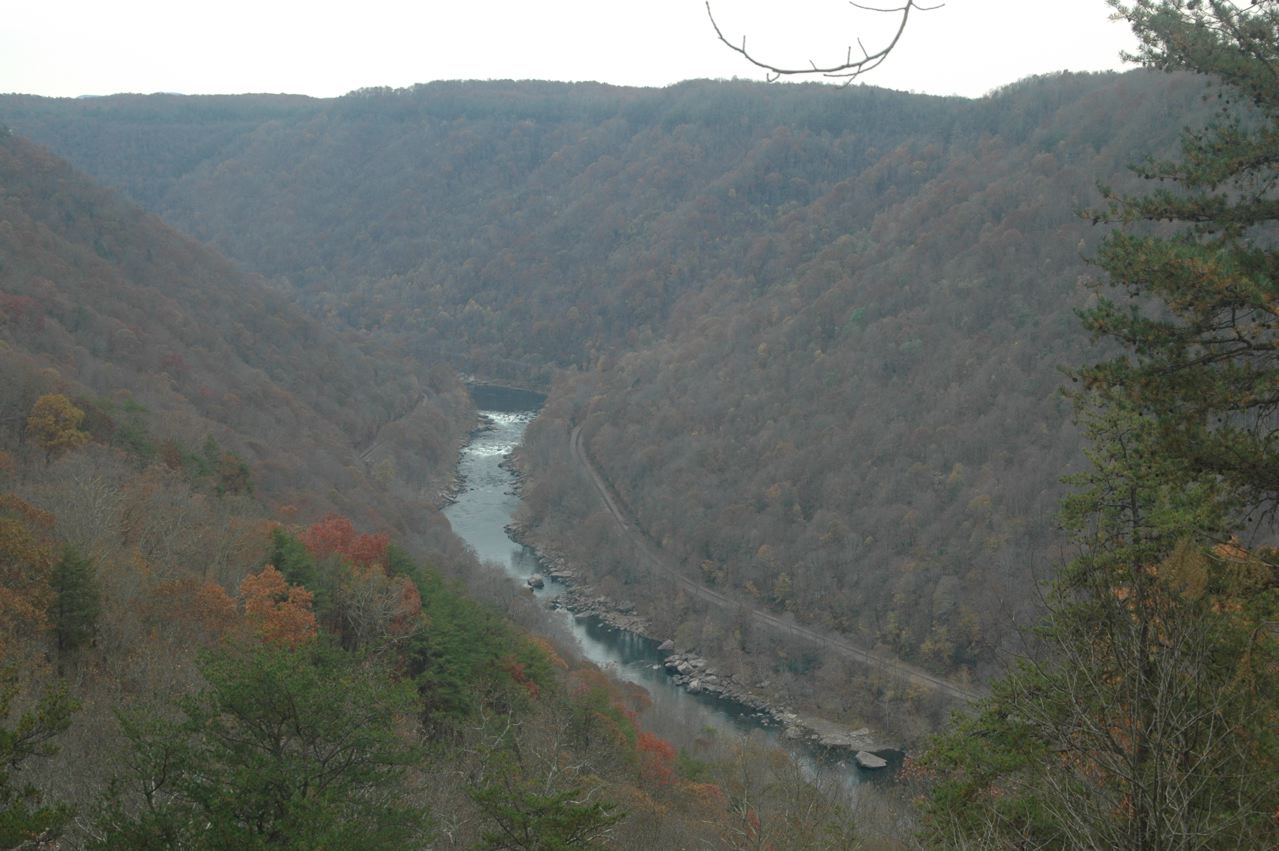 The famed New River high bridge, where the base-jumpers do their thing in October, has a nice visitor center. Many road signs in the area warn of the bridge's closure to highway traffic on "Bridge Day."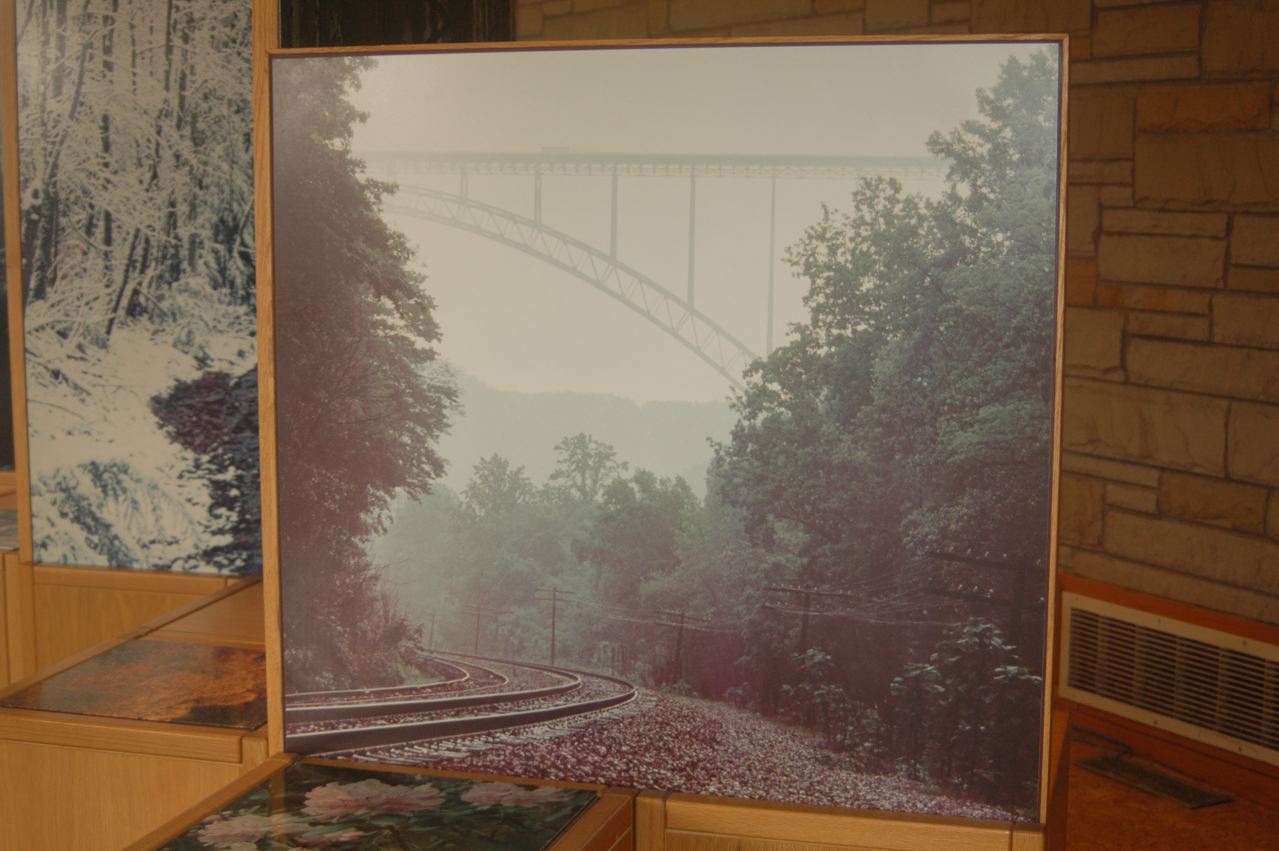 | | |
| --- | --- |
| View looking southwest from the visitor center. The highway is 4-lane. | |
Thurmond painting with a 2-6-6-6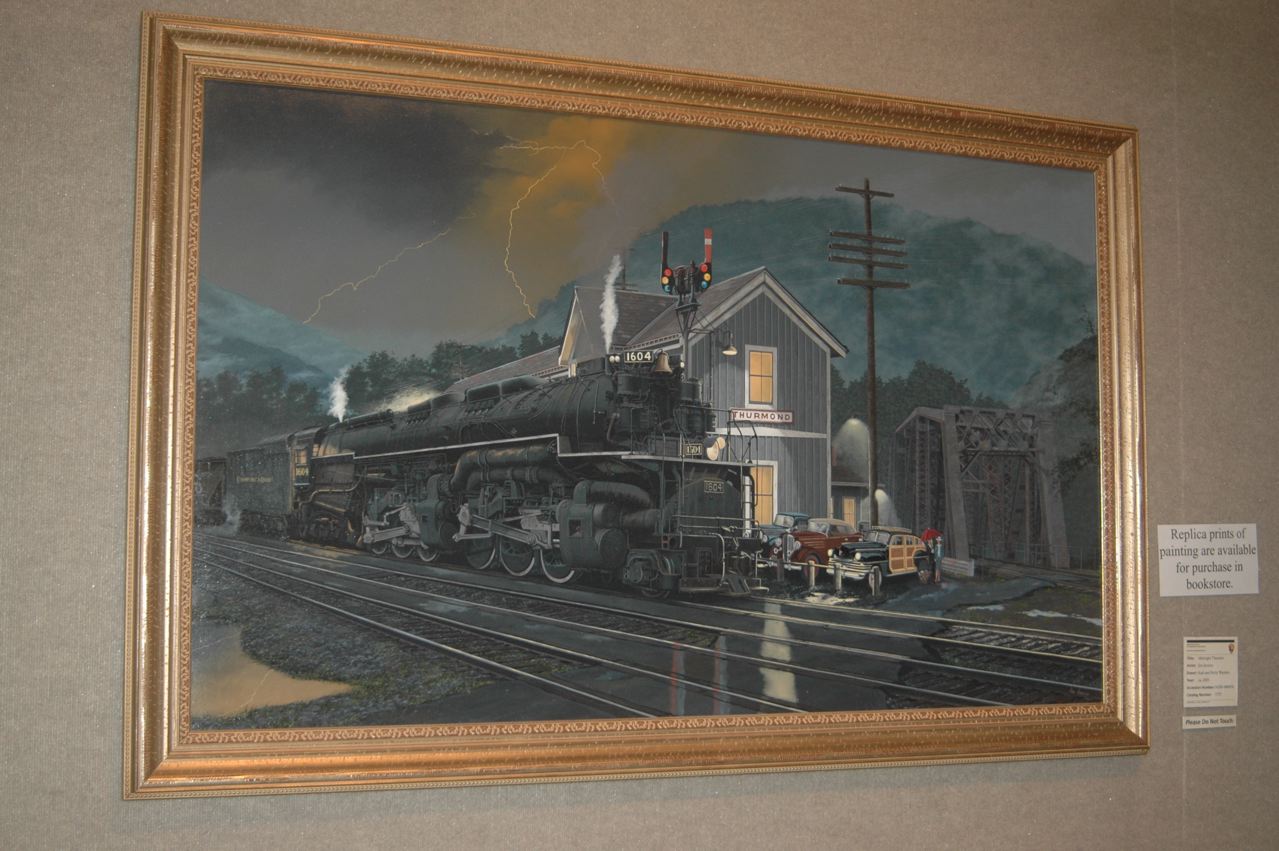 After lunch in Beckley (no railroads there), we went on to Princeton, W. Va., once a big point on the Virginian. A replica depot has been built and houses a museum. This leaser unit was sitting by itself, but before we left town, an NS crew showed up and went to work with it.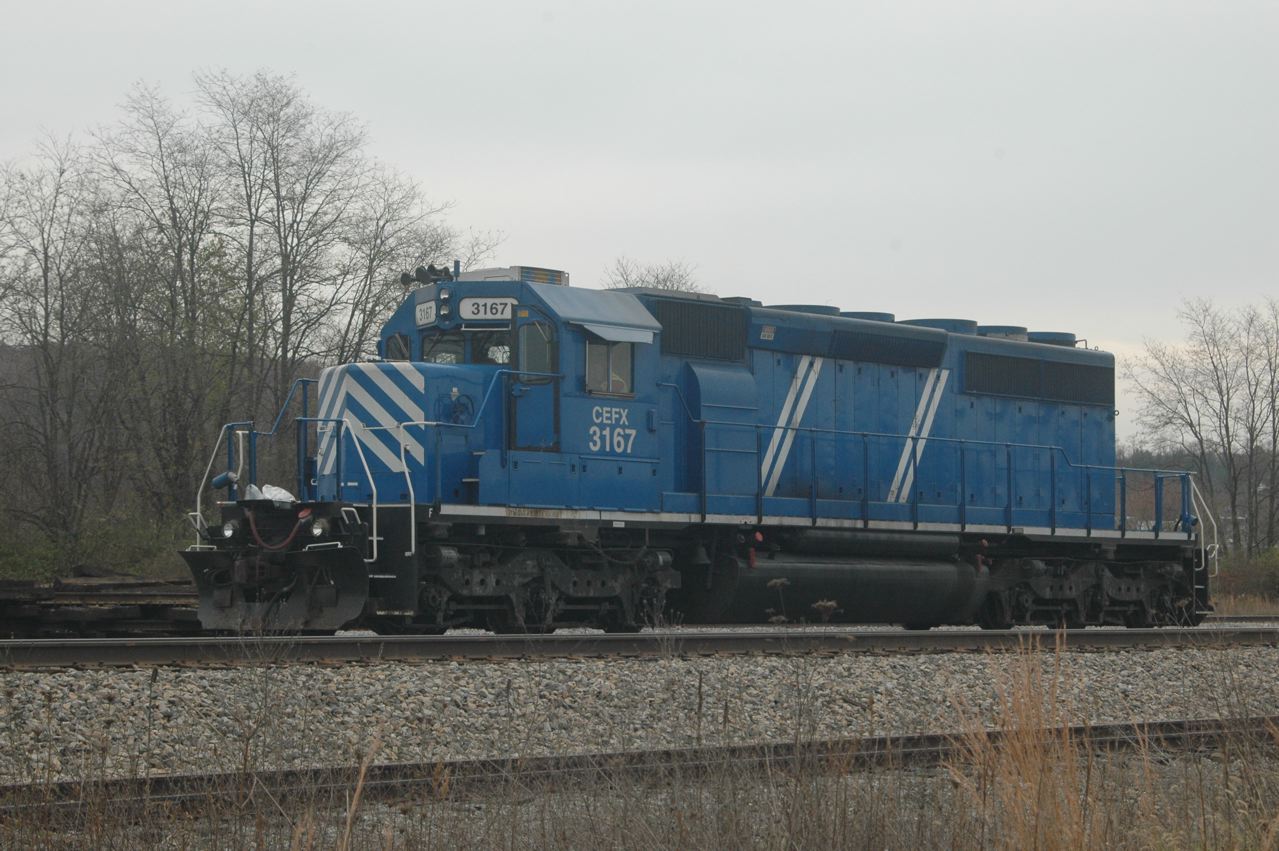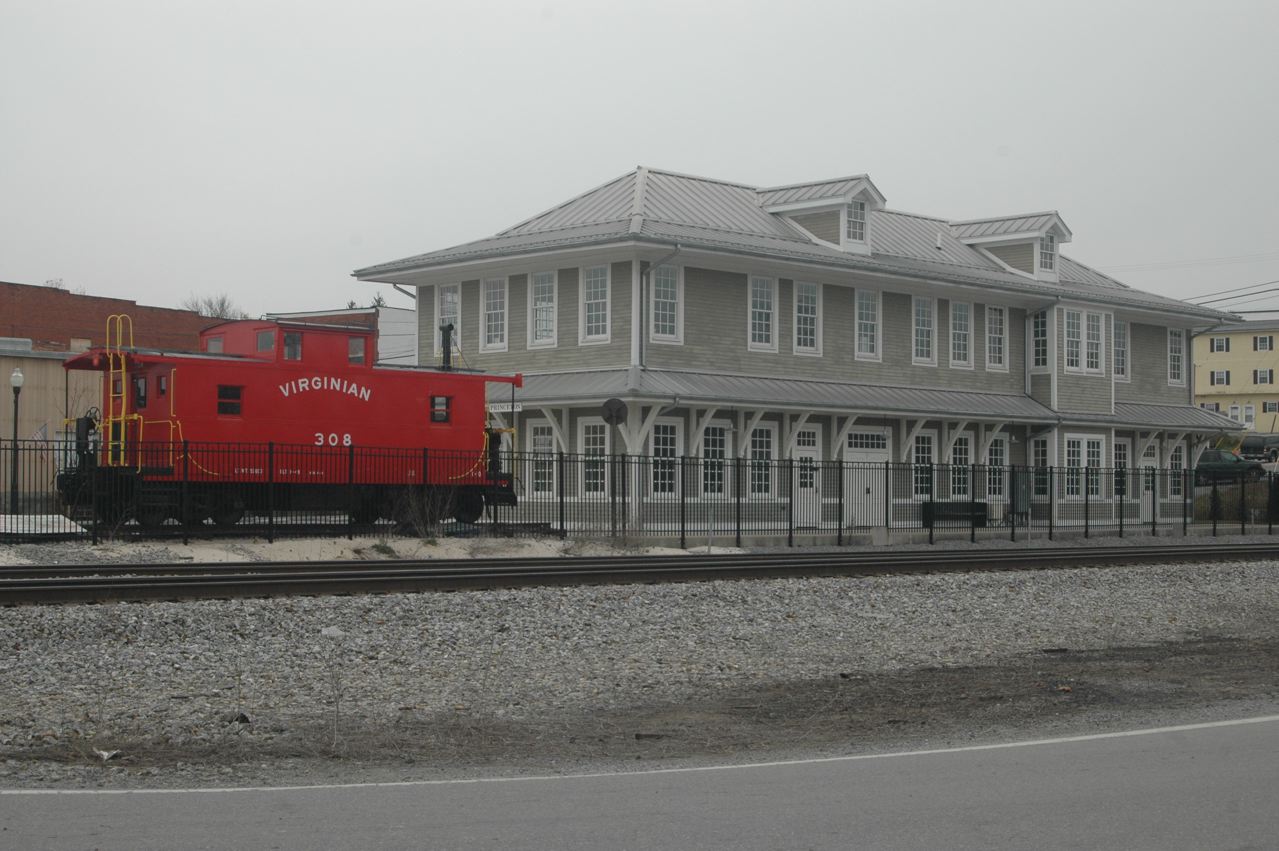 A hamlet south of Princeton and east of Bluefield HAD to be visited. It's on the the old N&W main line, but this was the only visible "evidence."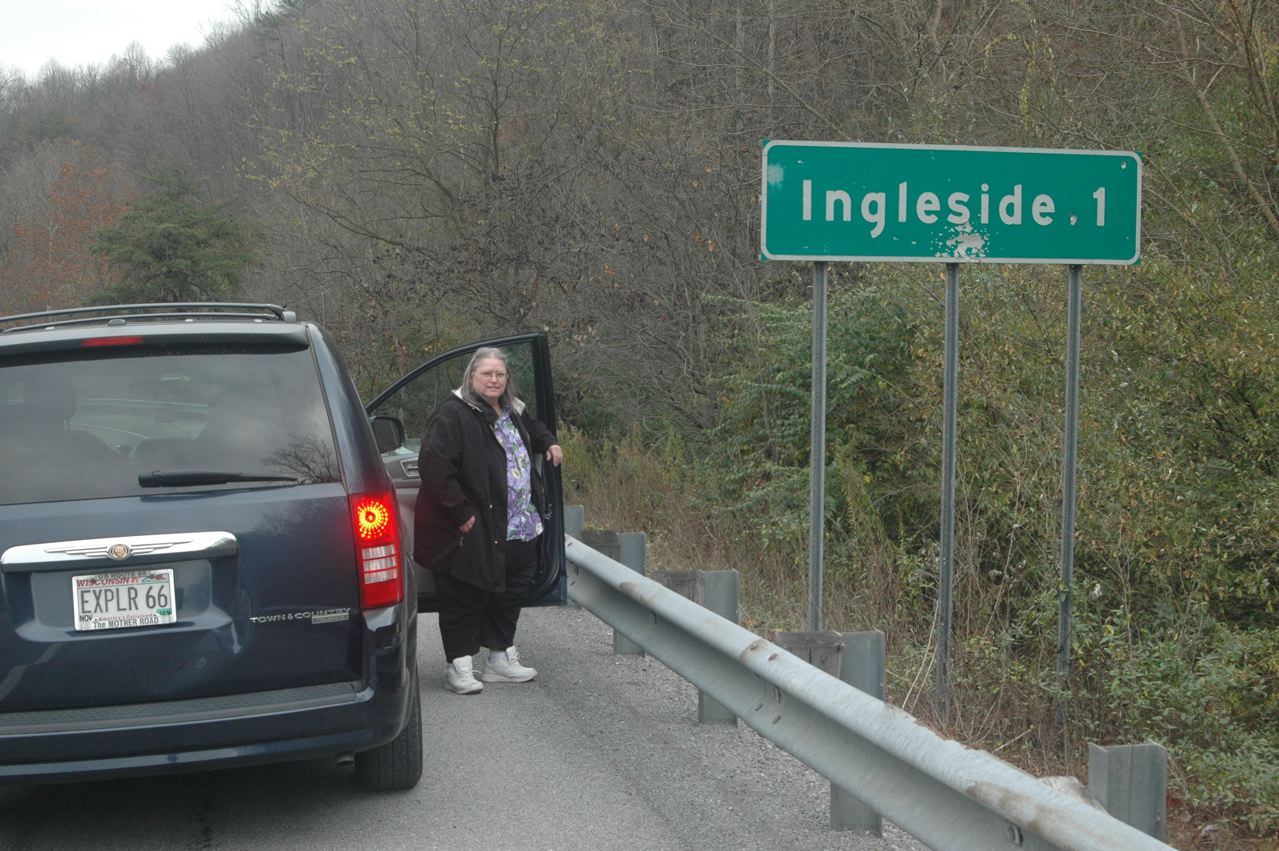 I'd never been to Bluefield by car; we just missed an eastbound coal load departure.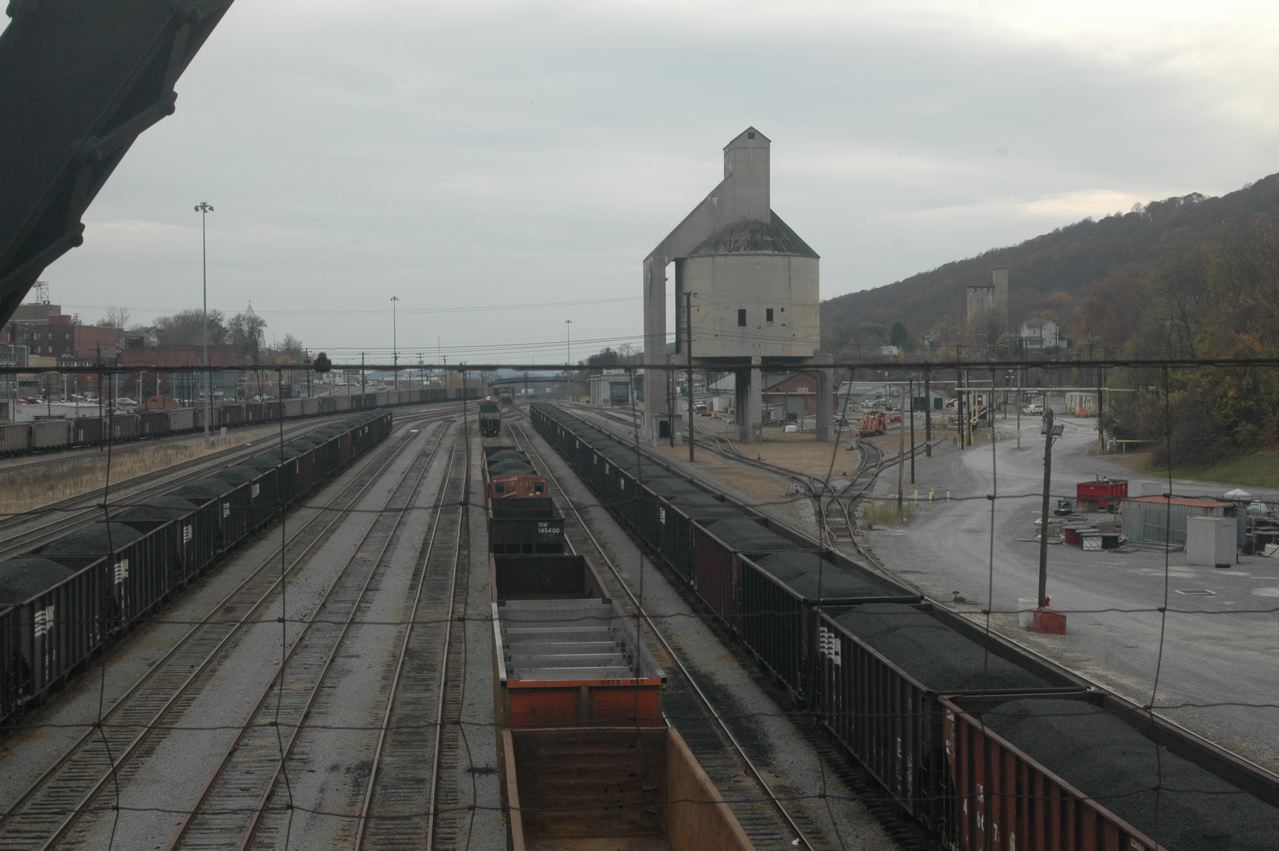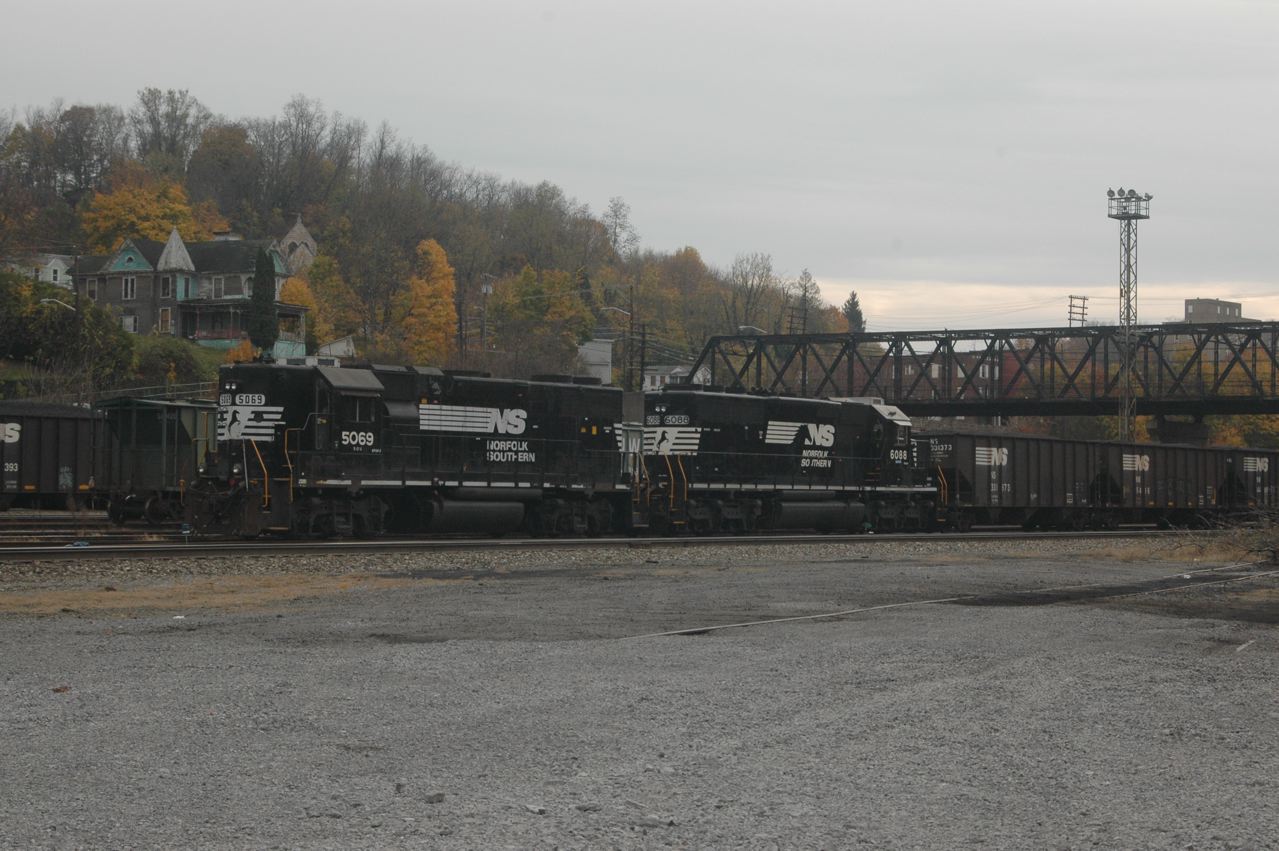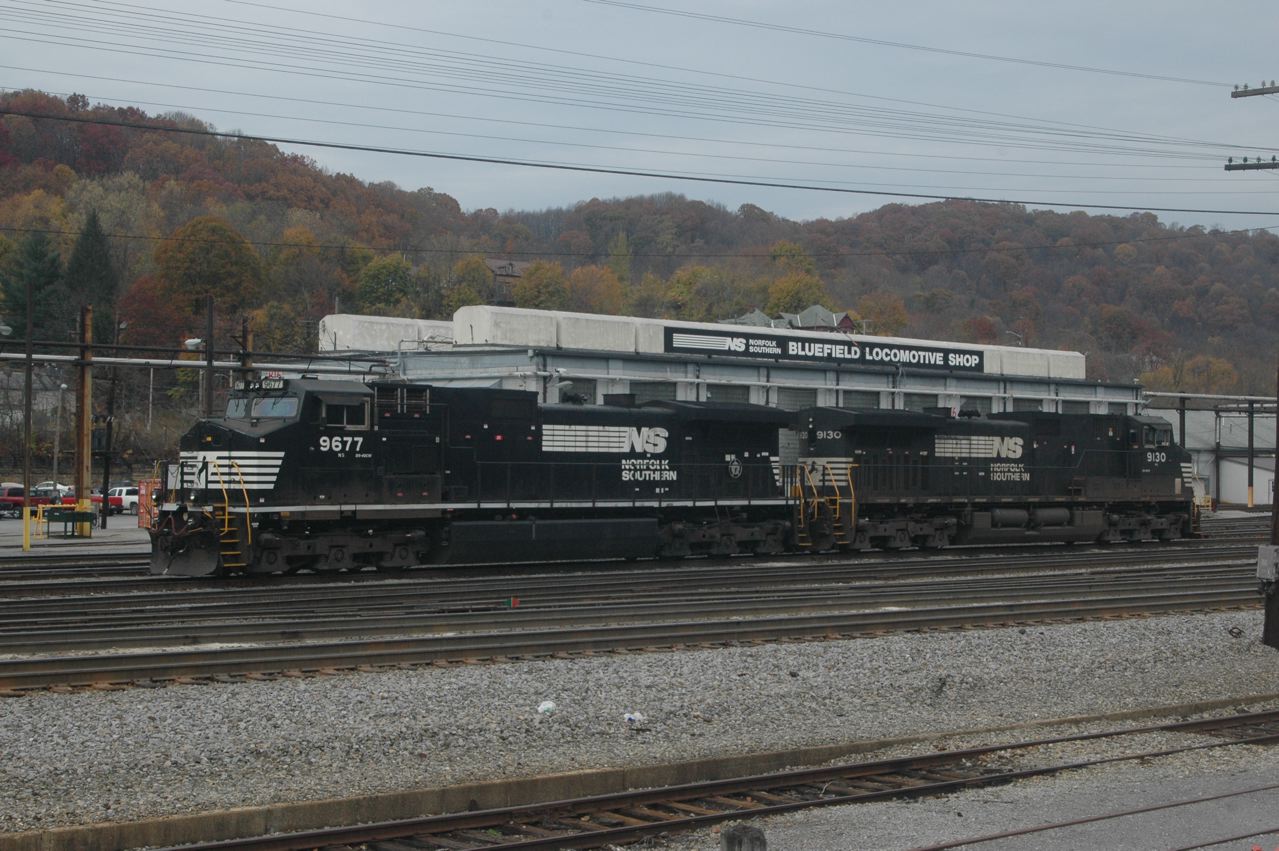 Our next port of call was Mt. Airy, NC, home of Andy Griffith and the prototype for the TV series' "Mayberry," and the first thing we saw was the boarded up ex-Atlantic & Yadkin depot. Track looked semi-active, probably a short line; it's down and off to the left.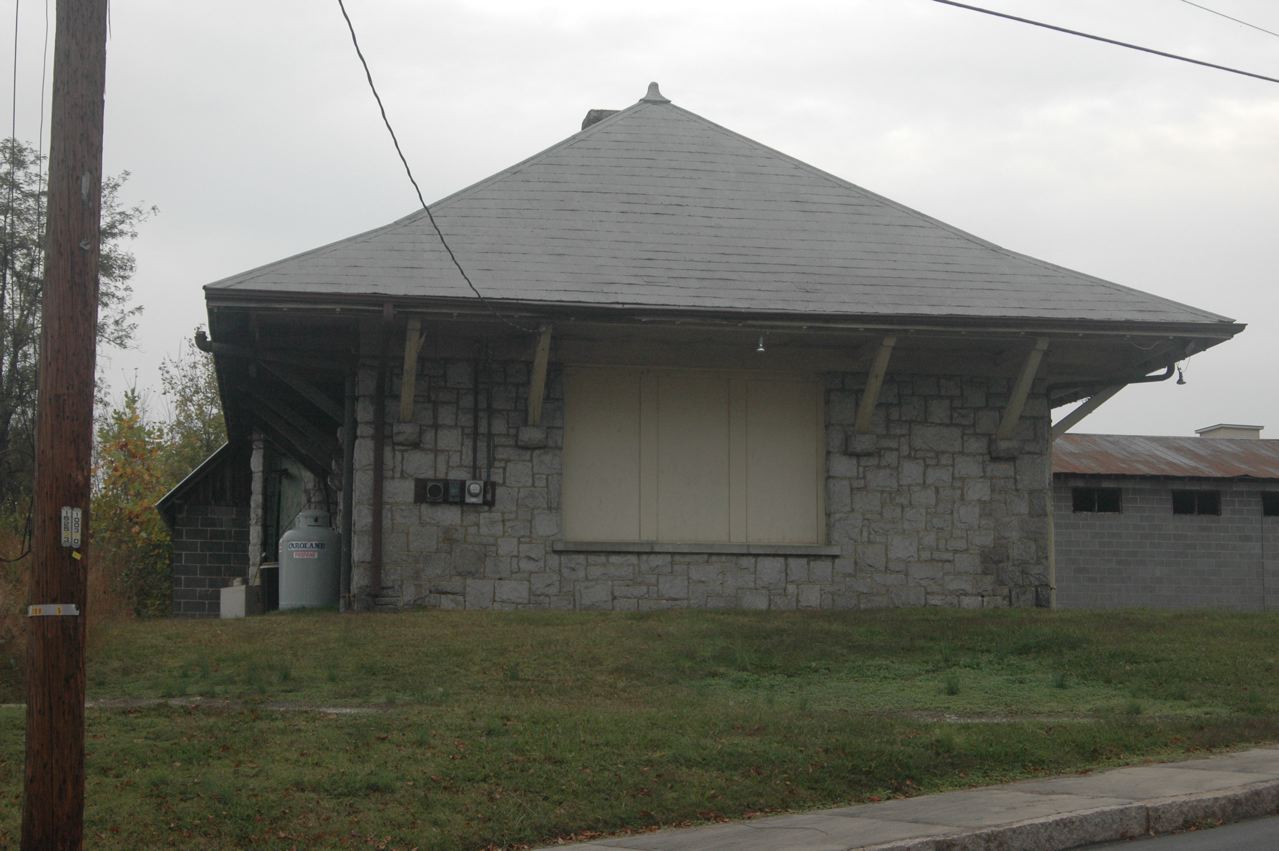 Griffith's home 1935-1966, now rent-able by visitors.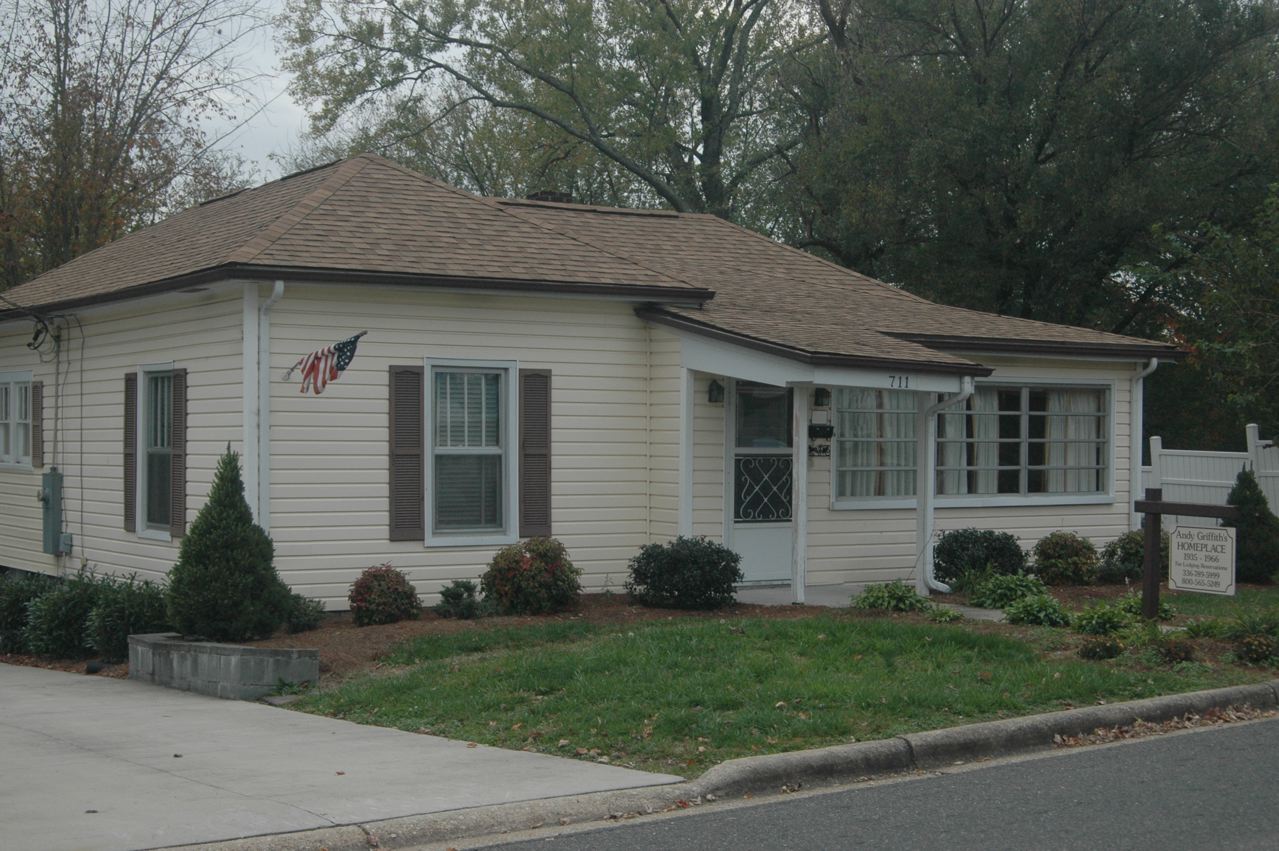 One of the "tourist trap" replica type Mt. Airy businesses. When he's in NC these days, Griffith I believe lives on the shore, maybe around Wilmington.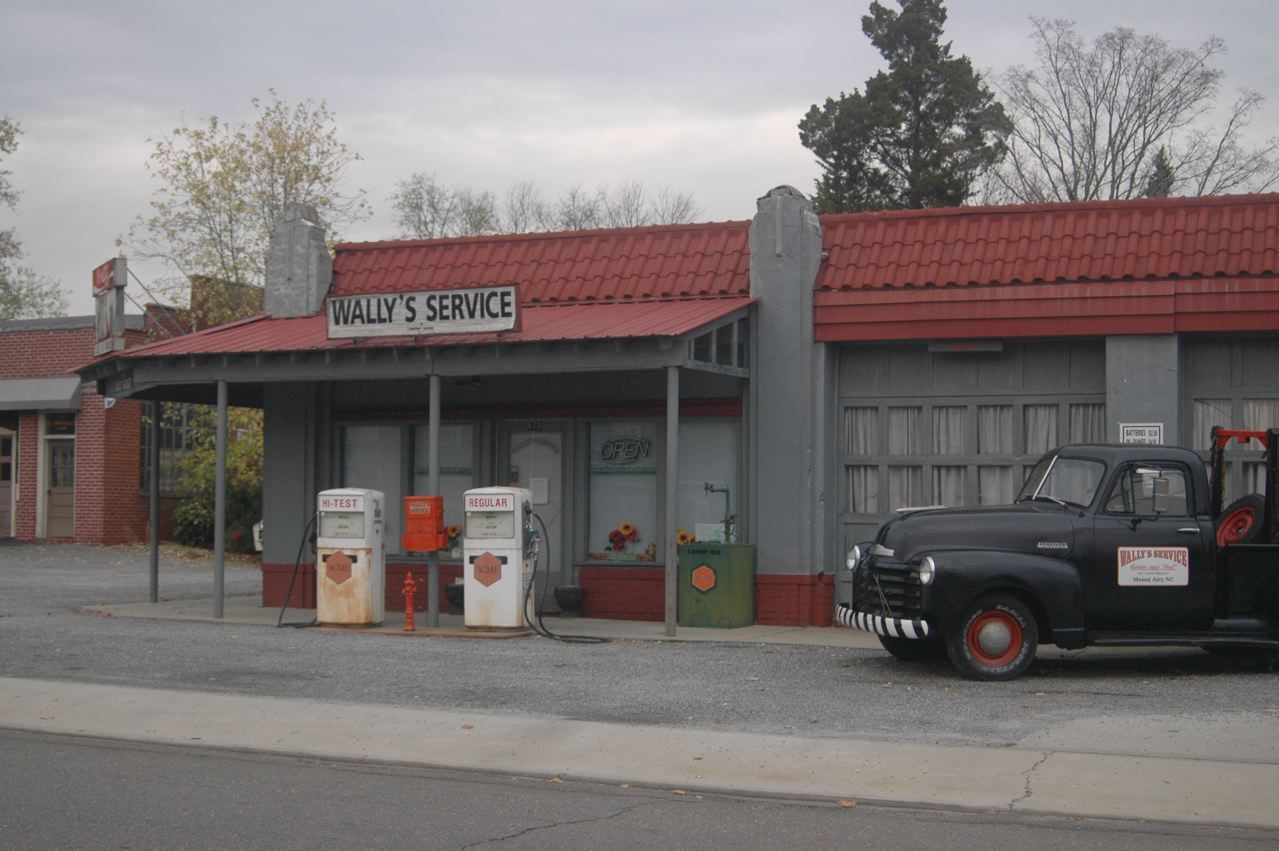 Anything for the tourist dollar. Fortunately, it was late in the day and everything was closed. As darkness gathered, we drove on to Greensboro for the night.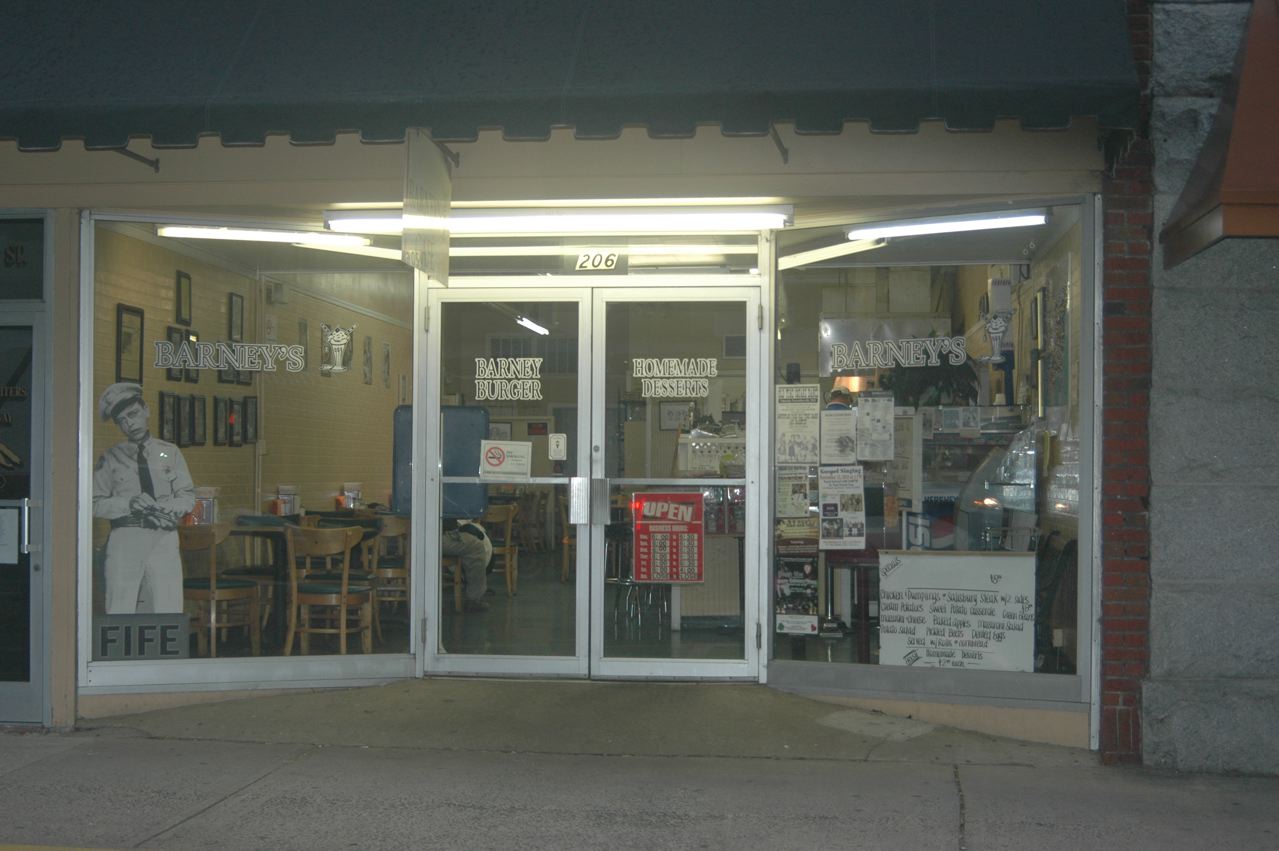 The next day was very rainy until almost Wilmington. We were well past Raleigh before I slowed down, got off the Interstate, and wandered a bit. This is the old ACL depot in Faison, N.C.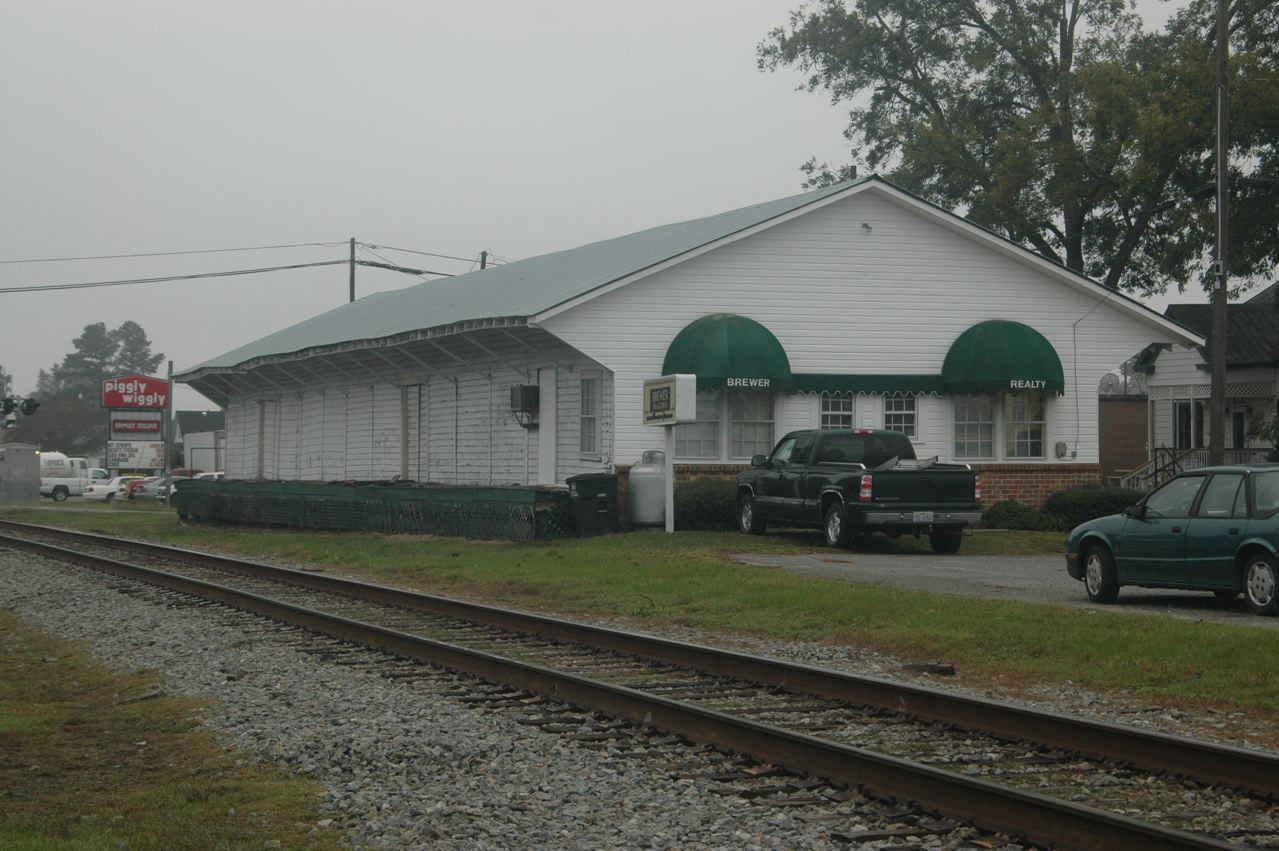 An old ACL line, now CSX, down the main drag in Mt. Olive, in the pouring rain again. We were detouring off the Interstate to visit Kinston, Lenoir City, and New Bern. Saw no trains moving all day.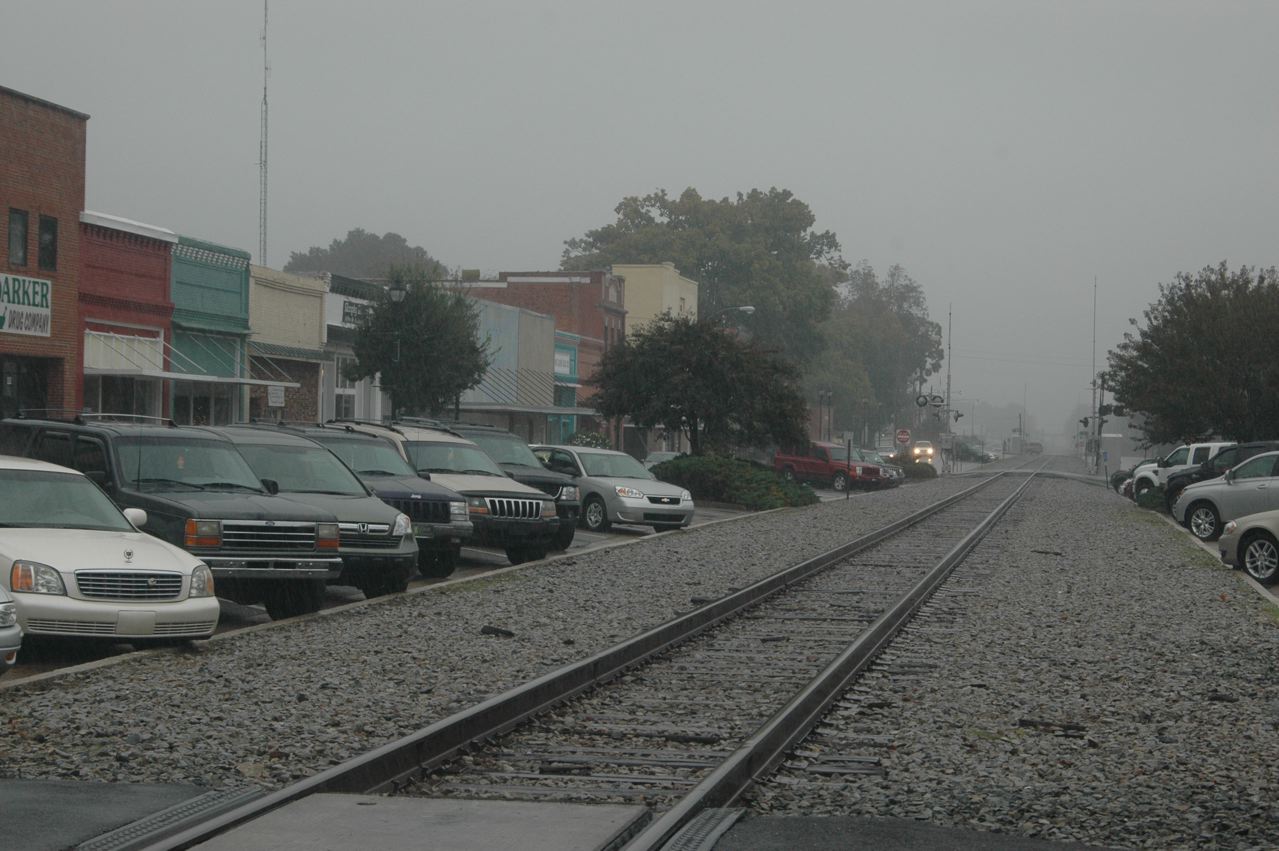 Still raining in Kinston, home of this CSA ironclad vessel.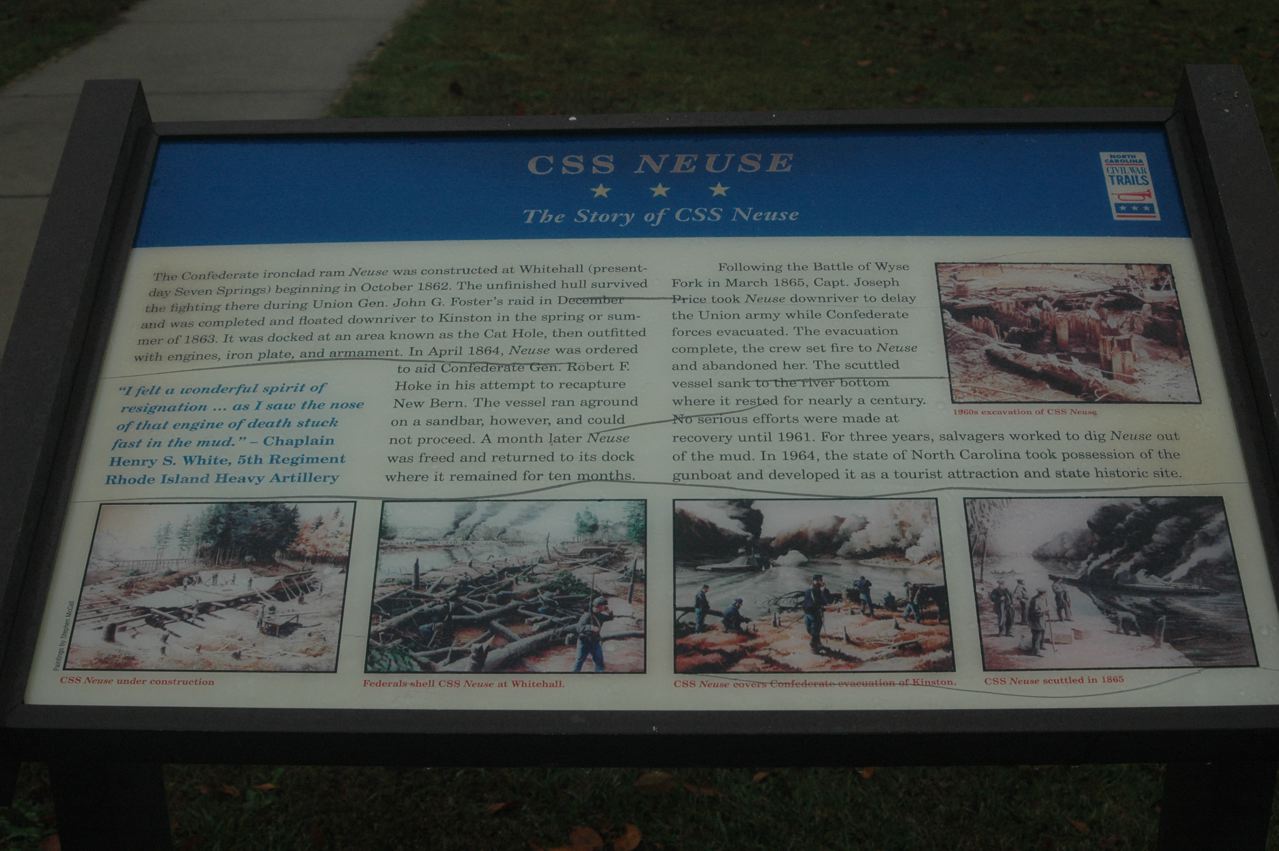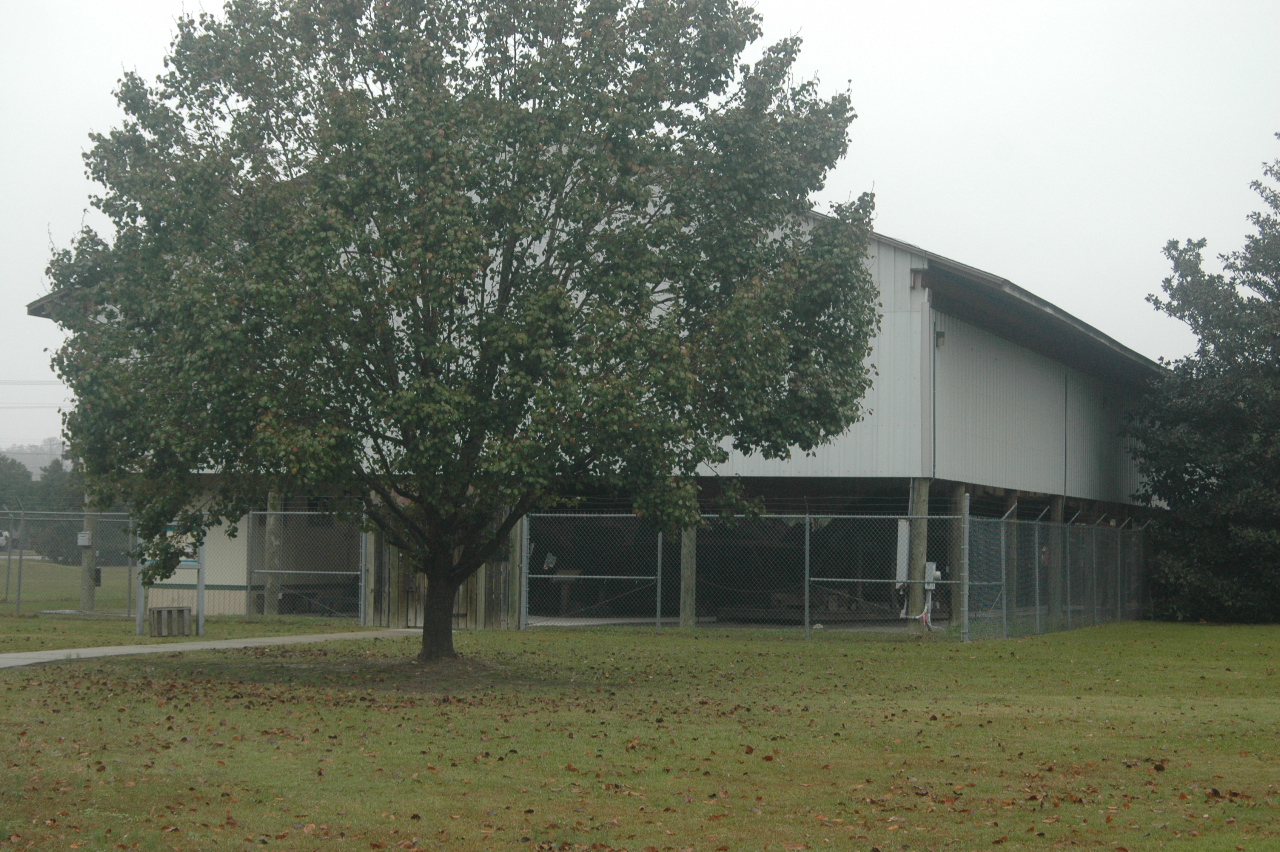 | | |
| --- | --- |
| One thing we didn't know until we approached New Bern was that in a corner drugstore downtown was where Pepsi-Cola was "born." We had to stop! That's Carol's Pepsi-One can; I'm a Diet Pepsi guy. | |
We parked right by the store (and did buy souvenirs), fortunately, as it began raining again.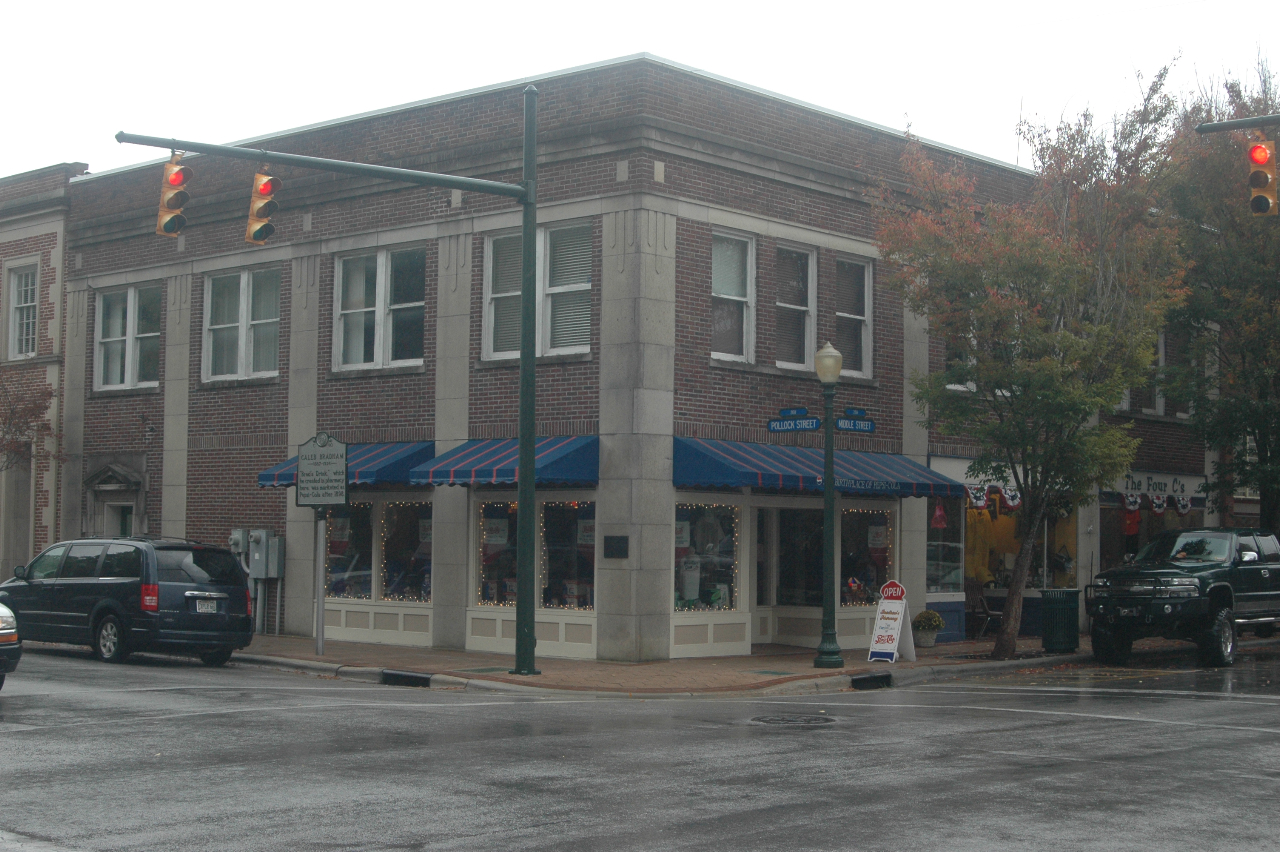 I missed out riding the NS line (state-owned North Carolina Rwy.) thru here to Morehead City a few years ago because of a conflict with a live concert in Waukesha by hometown guy guitarist/inventor Les Paul, but found the line goes right down Hancock St. thru town. Depot is at west end of street-running.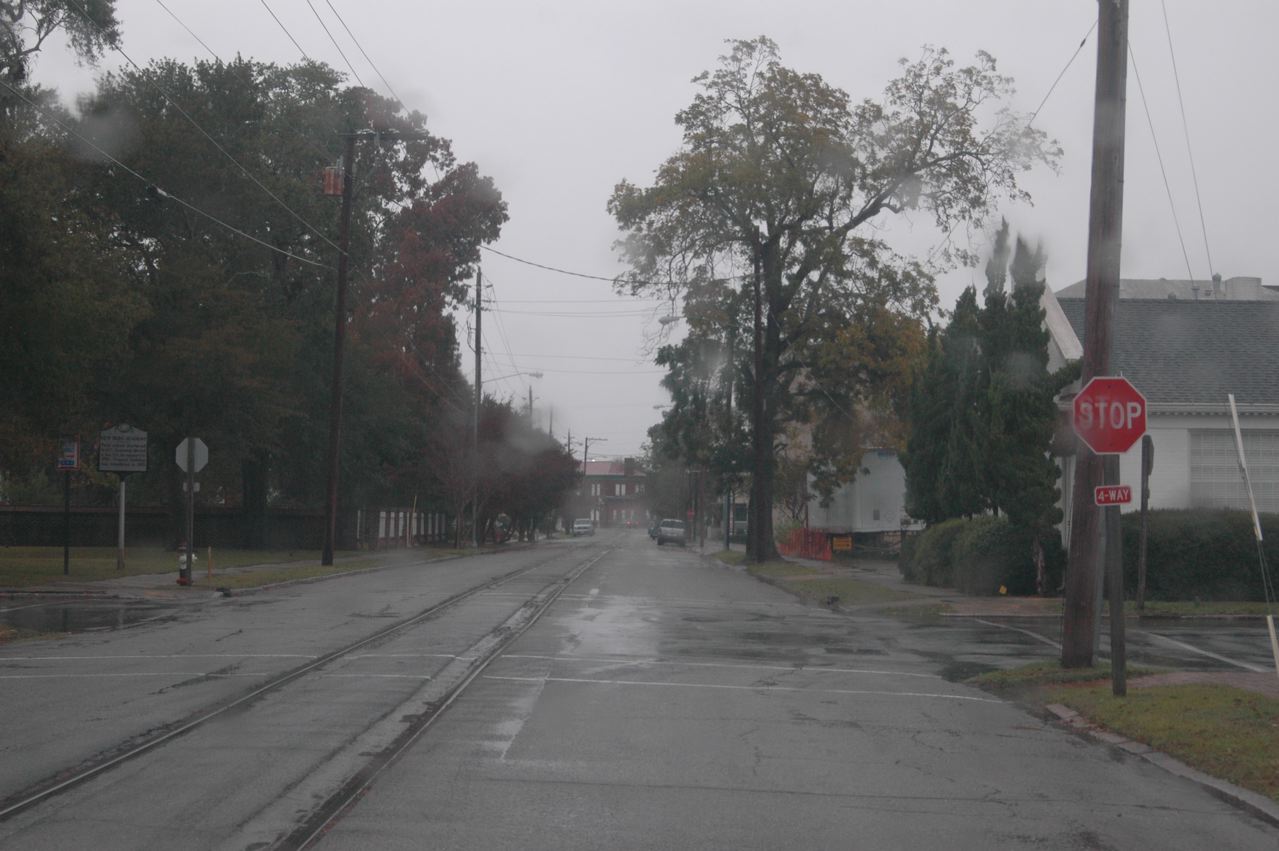 Since I went to college in Jacksonville, Ill. we HAD to drive thru Jacksonville, NC, and lo, found the old ACL depot. I had done no depot research for this trip (did so in Wilmington for trip home), just as well with all the rain here. Less than an hour later we arrived in Wilmington, and the sun had come out! This concludes our eastward trip photos.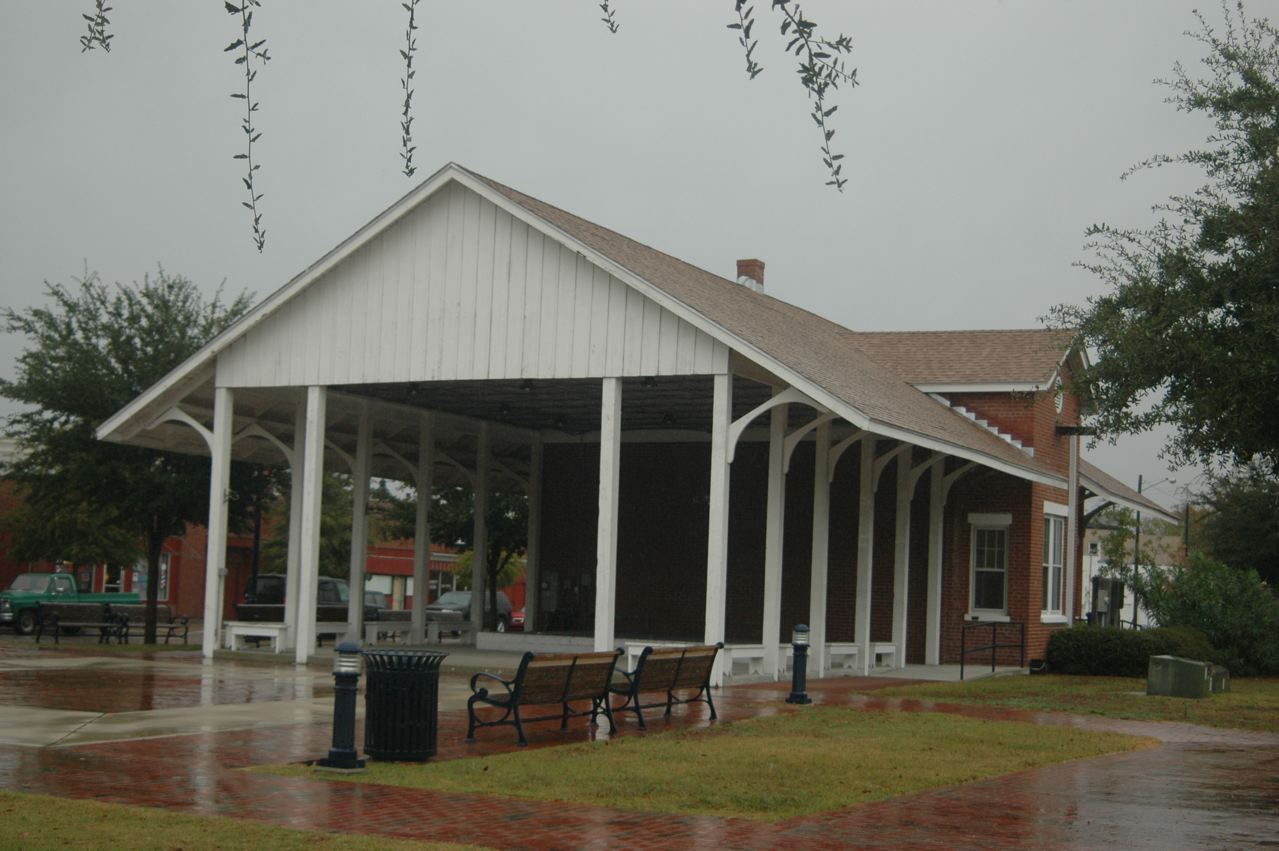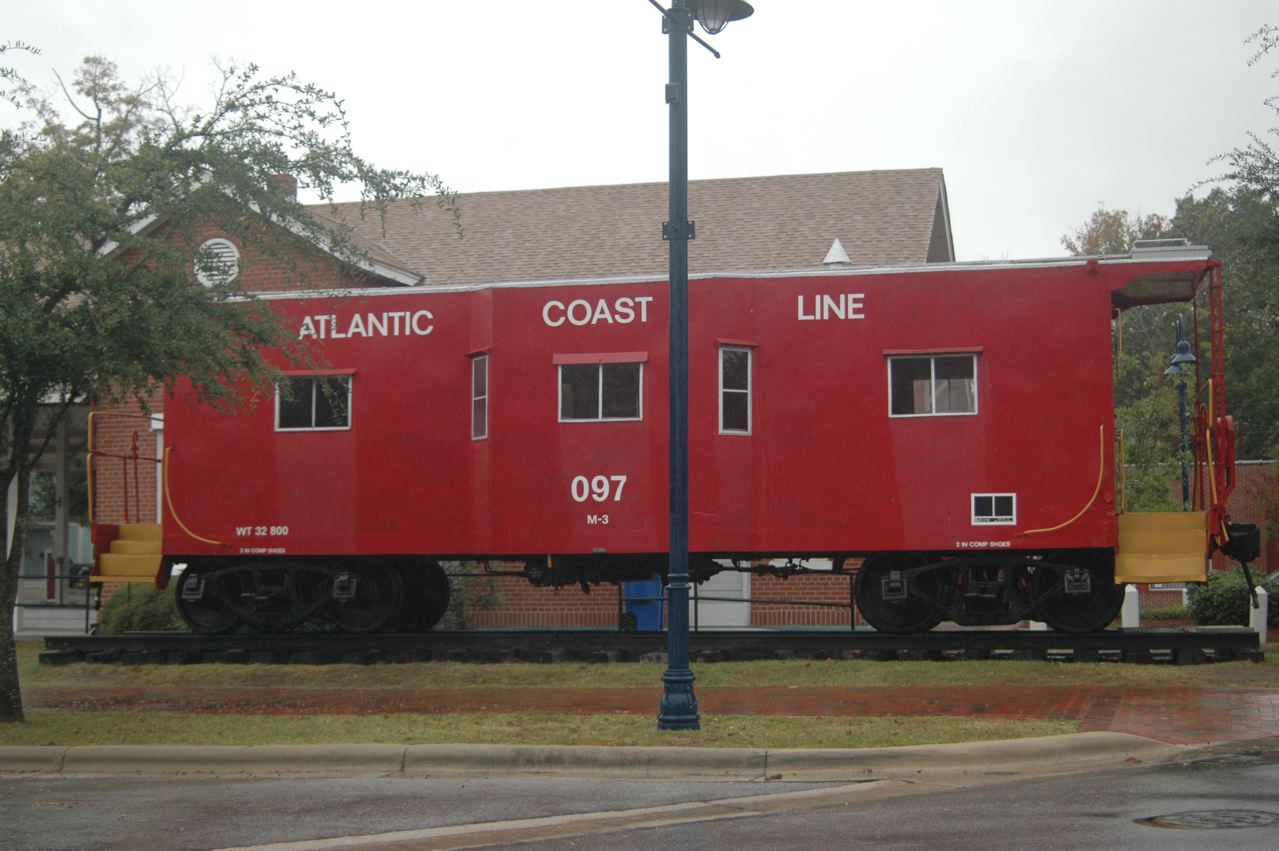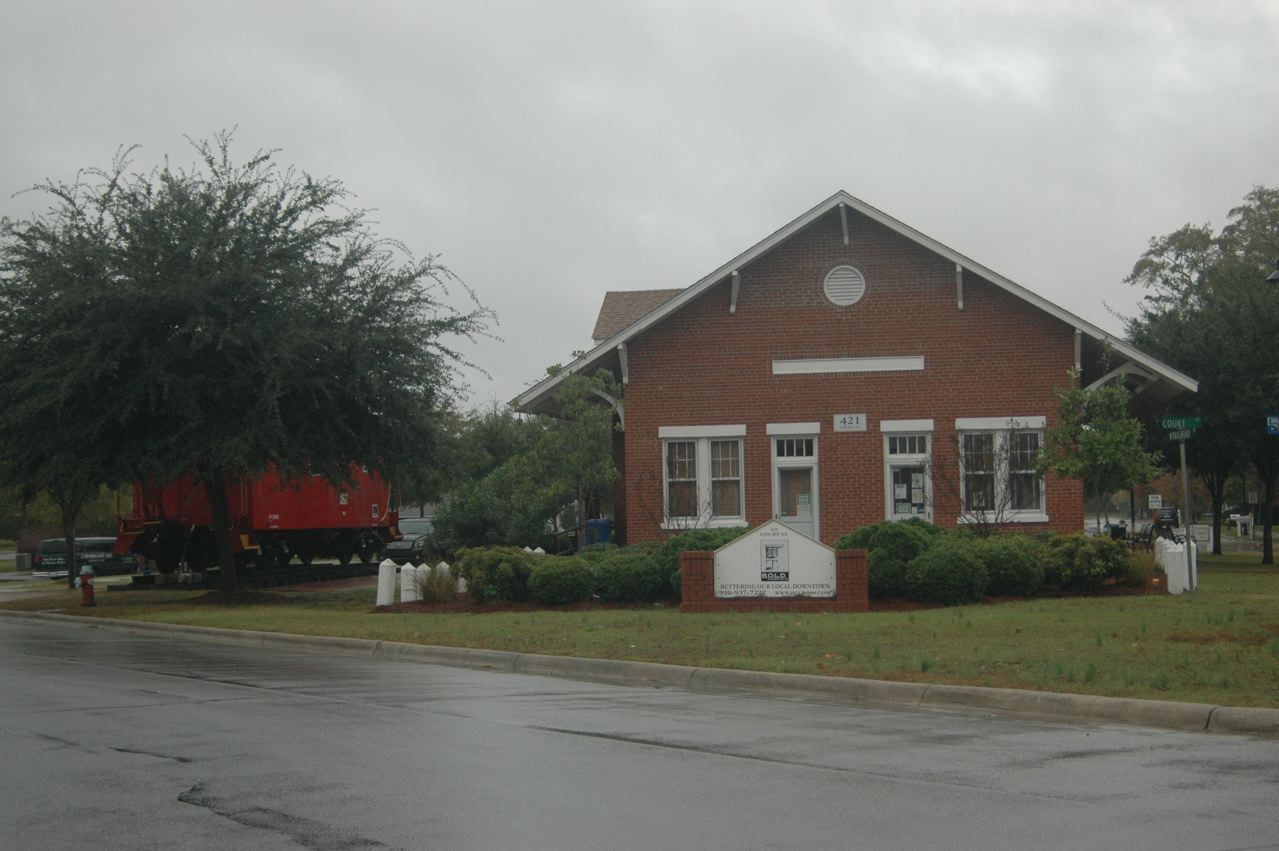 This page was designed and is maintained by Mike Condren. If you have materials
that you would like to contribute, contact me at mcondren@cbu.edu