March 2016 Local Action
by Dave Ingles
After a quiet (lamb-like?) February, March came in like, well, a small lion, with an inch or three of light snow on the 1st, so since it was blowing around nicely, as the day progressed I decided to go out at least for Amtrak. He's been running on-time in both directions, so I went to Pewaukee, where I can shoot from the van, for what so far is maybe my nicest "snow action" shot so far this winter (I don't go out much when it's snowing and the roads are a mess): Units 116/169, 11 cars, 4:16 p.m.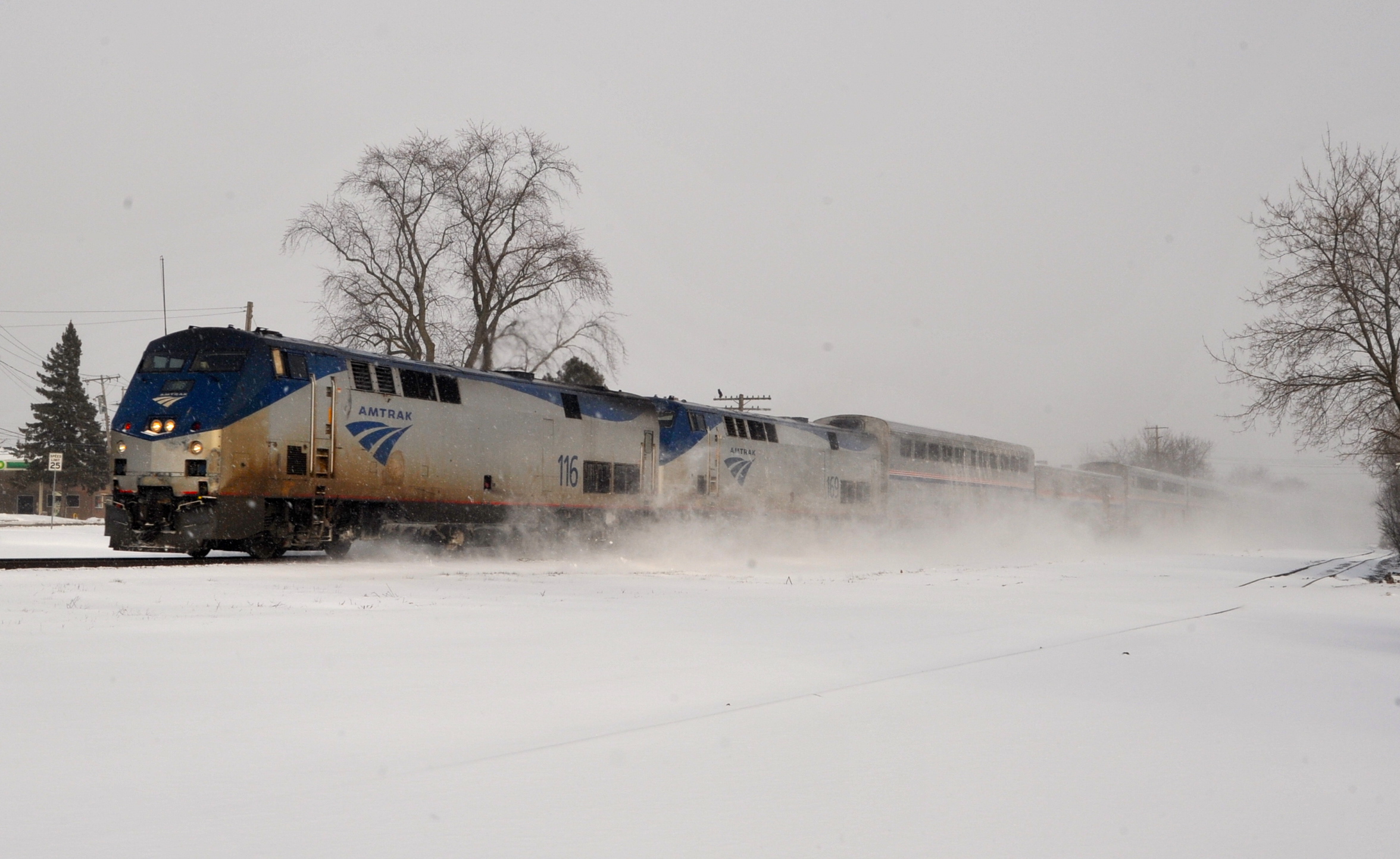 Going home via Duplainville, I lucked out into the usual northbound CN stack train along Duplainville Road, 2890 up front and 2859 as DPU, shot from next to my van on the shoulder, at 4:35.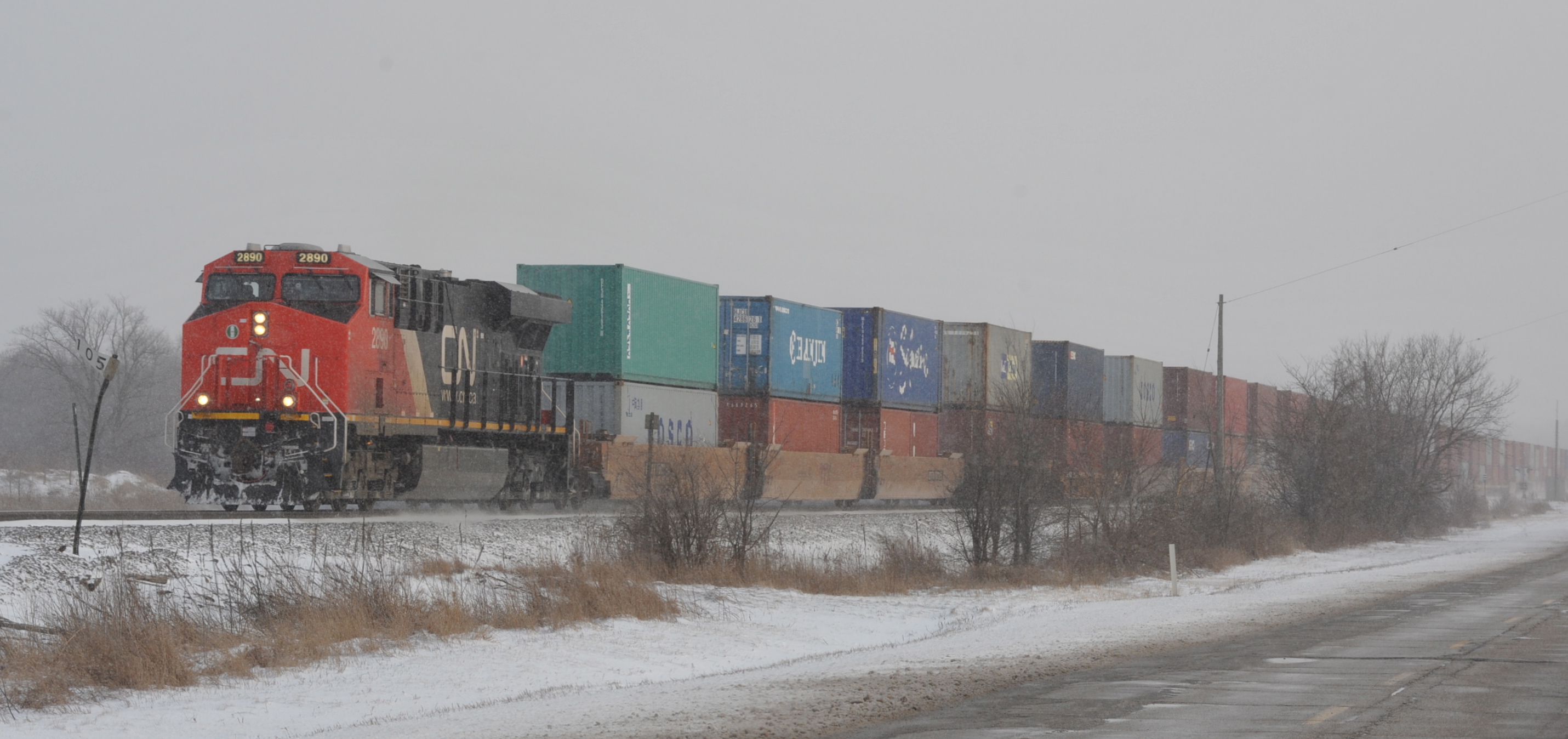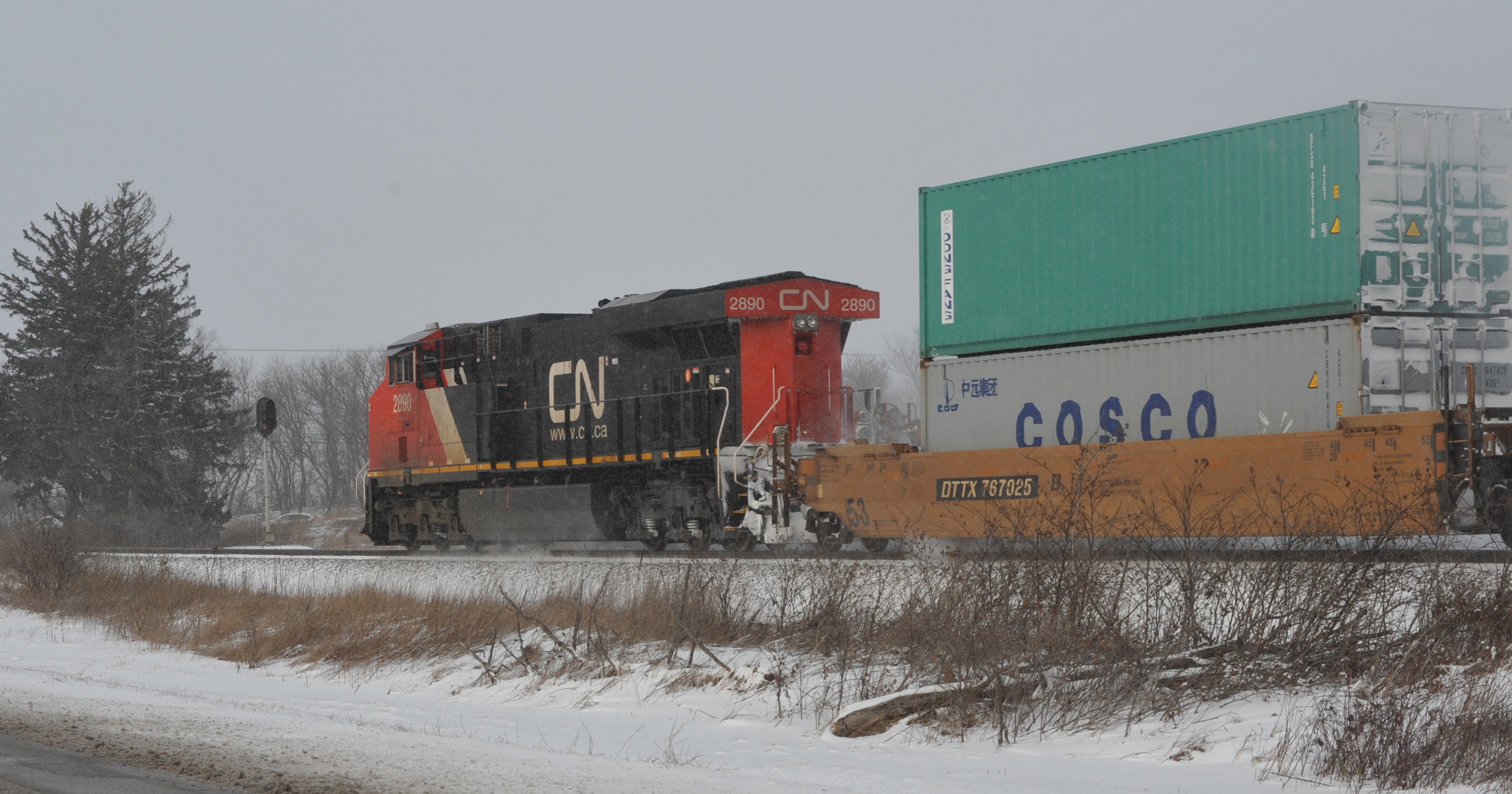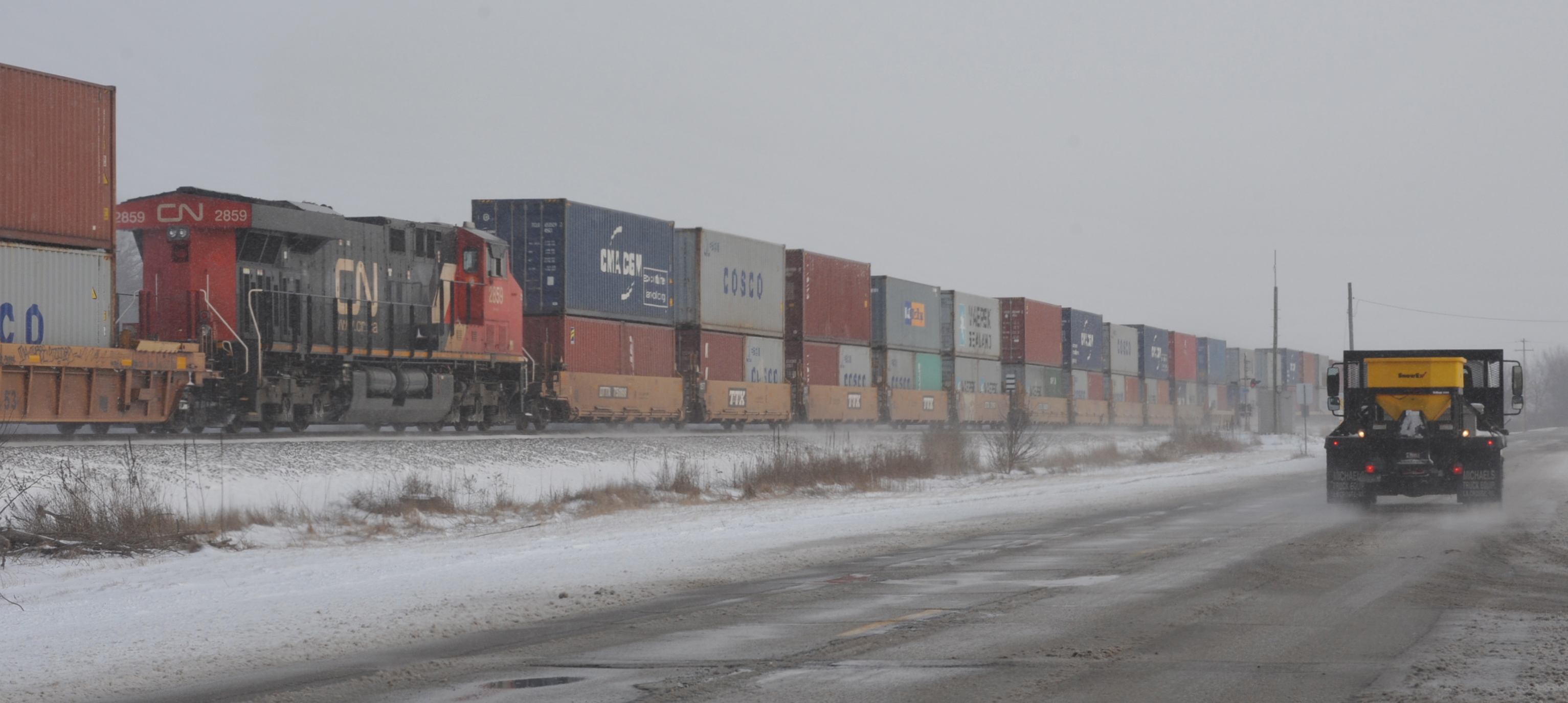 Things often happen in threes, and sure enough, as I went south, here came CP #199, undoubtedly out of Milwaukeee right behind Amtrak #7, at 5:02 in a surprising glimmer of pre-sunset sunlight, behind CP 8768/UP 5517. The "snow kicking" follow-up shot is almost as the change from the trilevels up front and the usual double-stacks to the rear. The third shot was after I got back in the van and looked in my rear-view mirror and couldn't resist.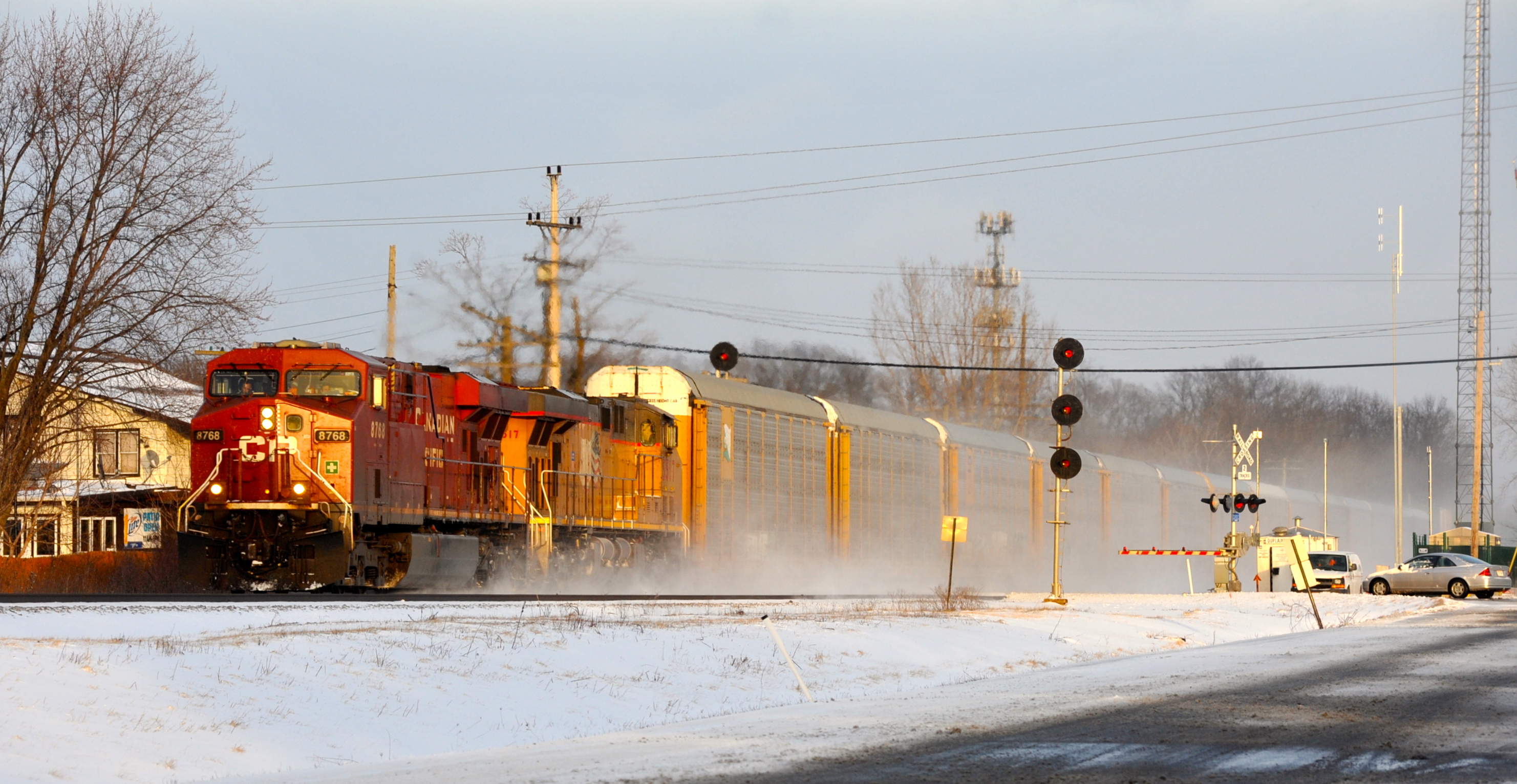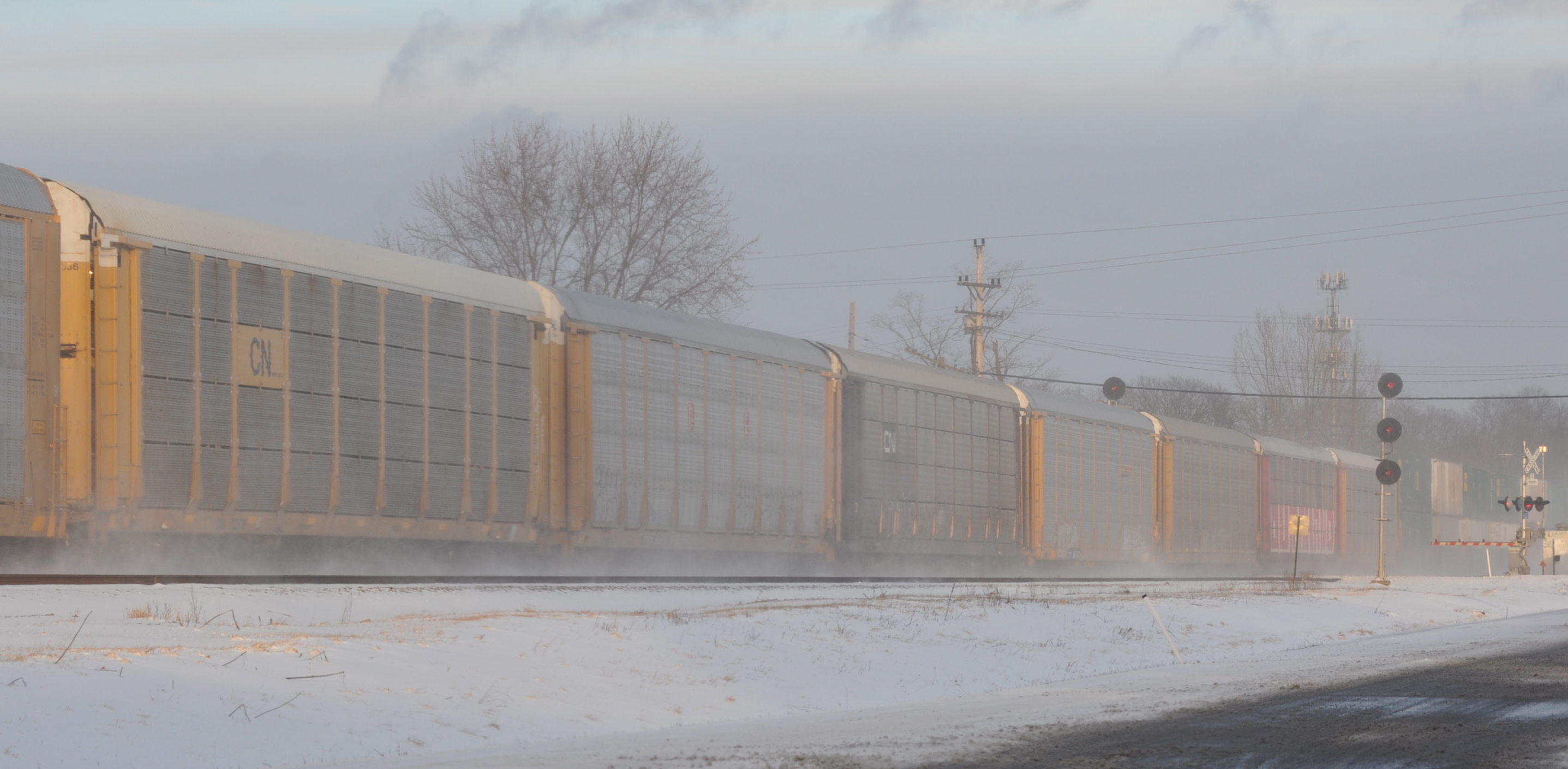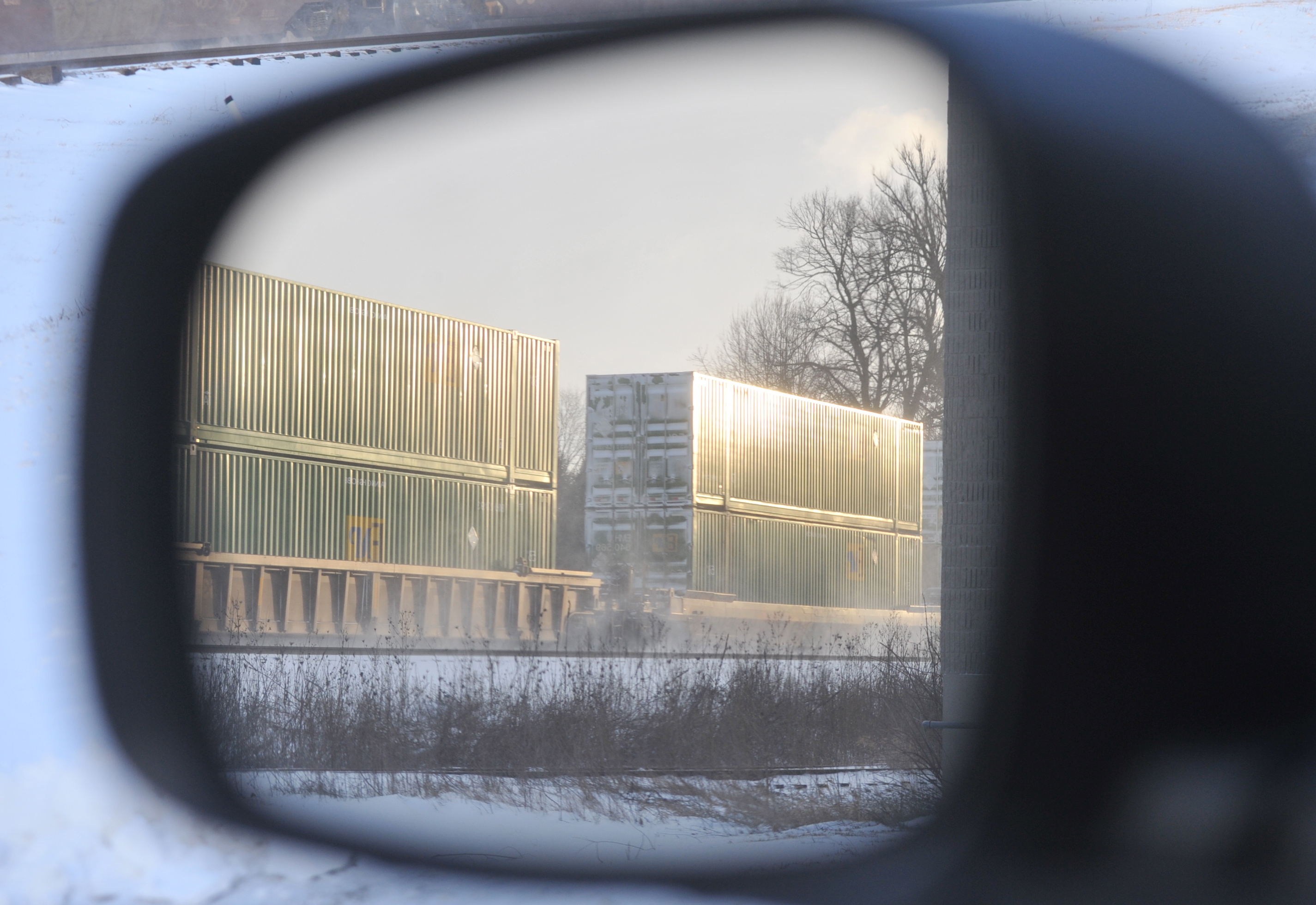 Three days later, on March 4th, we still had some snow cover and sunlight, so here's Amtrak #8 at Pewaukee lakefront, units 13/97, 10 cars, at 1:37, spot on-time.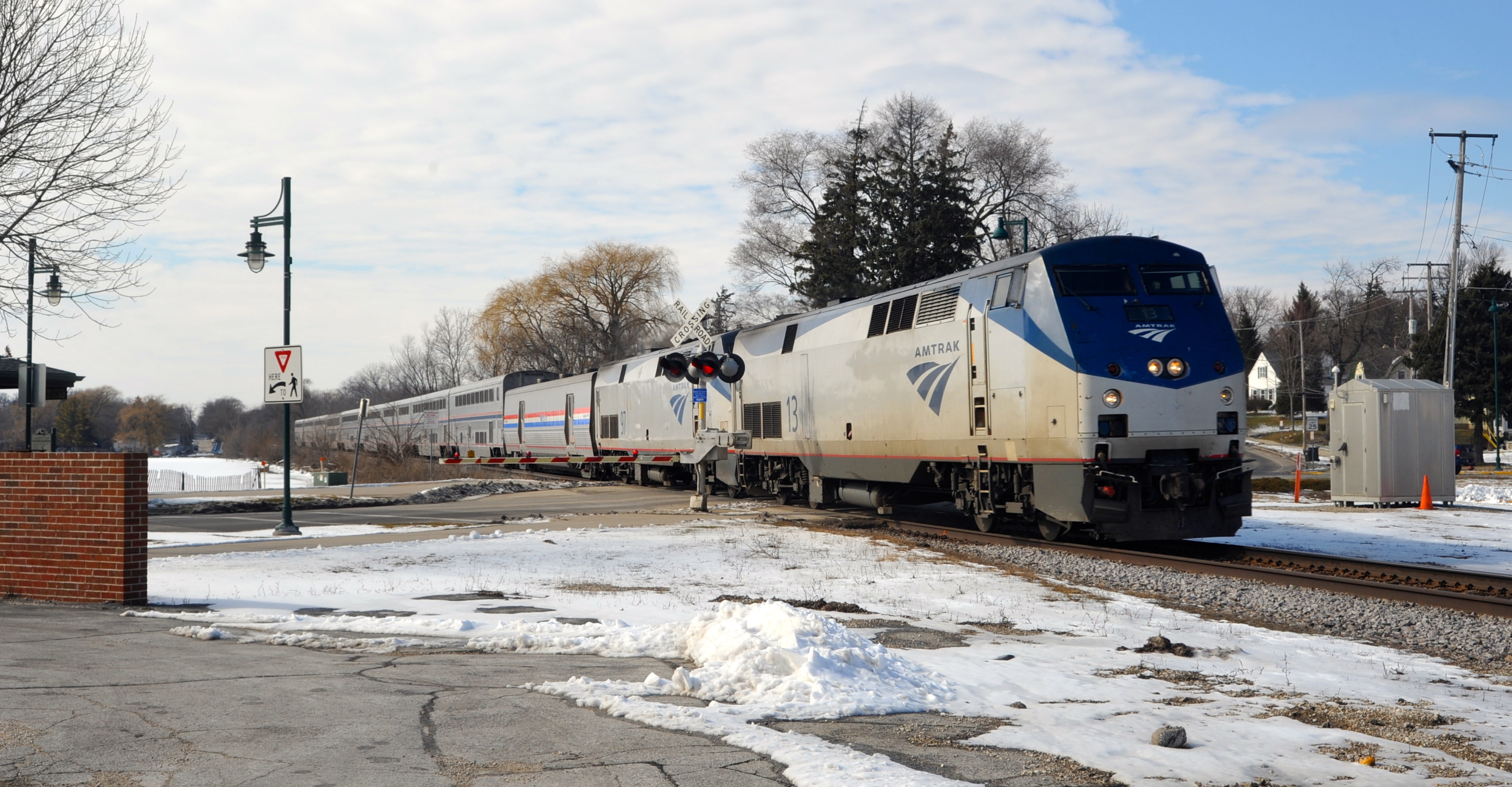 I then caught the usual CN northbound stacker at 1:55 along Duplainville Road, but nothing worth presenting here, single unit 2847 up front with DPU 2922 mid-train. I went to Duplainville and parked on the shoulder, but CP #281, with CSX 3141/3211, caught me by surprise and I got only a poor going-away shot at 2:27. I was expecting a southbound CN train, and was ready for it and got a good shot from the same road-shoulder location as the units crossed the CP at 2:34: units 2034 (ex-C&NW)/BCR 4604 up front, no DPU.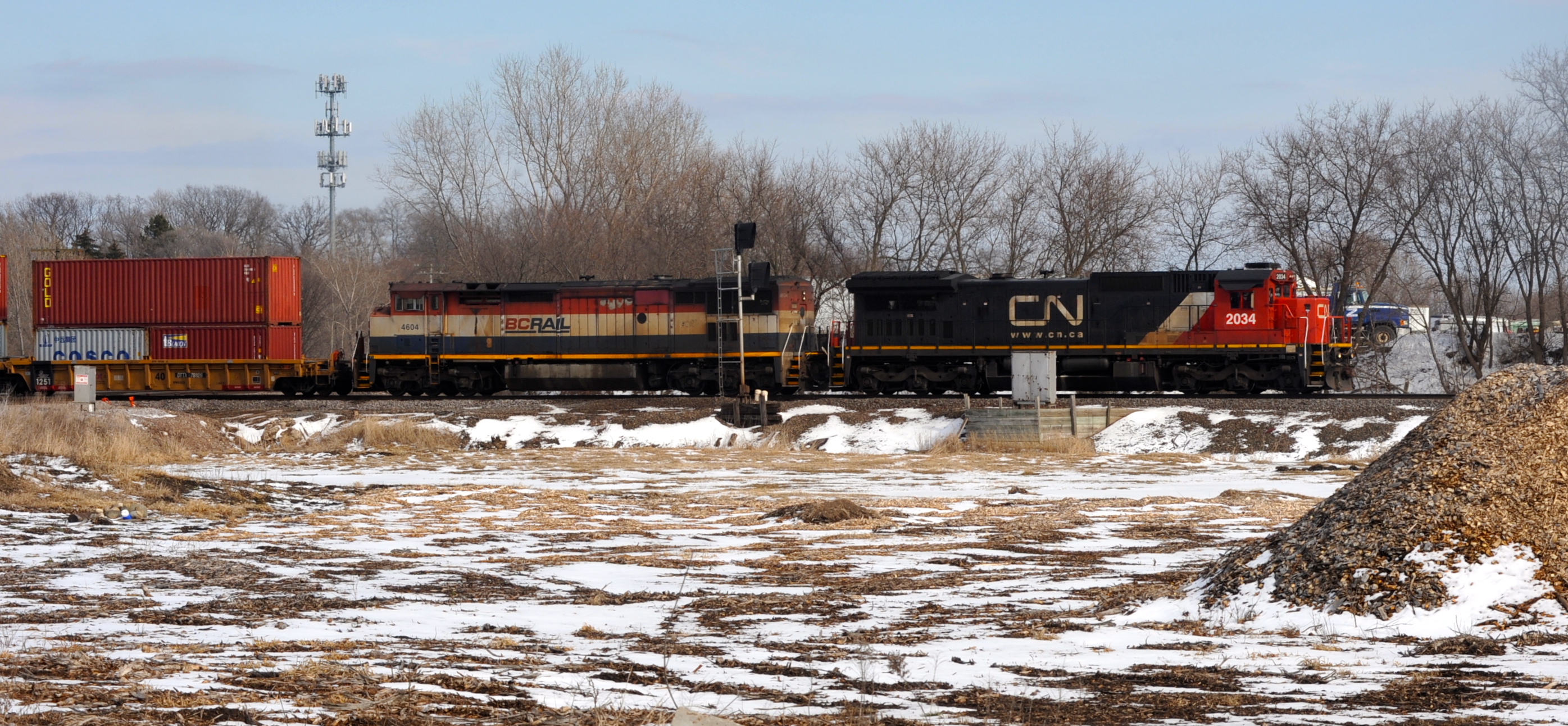 Two days later, on the afternoon of the 6th, I got a call from Terry Norton in Grayslake, Ill., who lives trackside on CN, about northbound #347, led by another ex-C&NW Dash 8. I'd been in town earlier and seen CN #446 (the NS connection, if that's the right number anymore), but the power was mundane and the light not that great, so I let him go: 2810/2821 on the point and DPU 3010, at 11:22. But when Terry called, the light was better, so out I went and waited on "Cemetery Hill" along West Avenue on Waukesha's south side. He drifted down the hill at 2:17 behind 2003/2410. We may not have the correct train number, but this is the train that takes gathered empty center-beam lumber flats back to Canada; the designation, or these cars, used to be on #341. I counted 17 misc. cars up front and then 111 center-beams!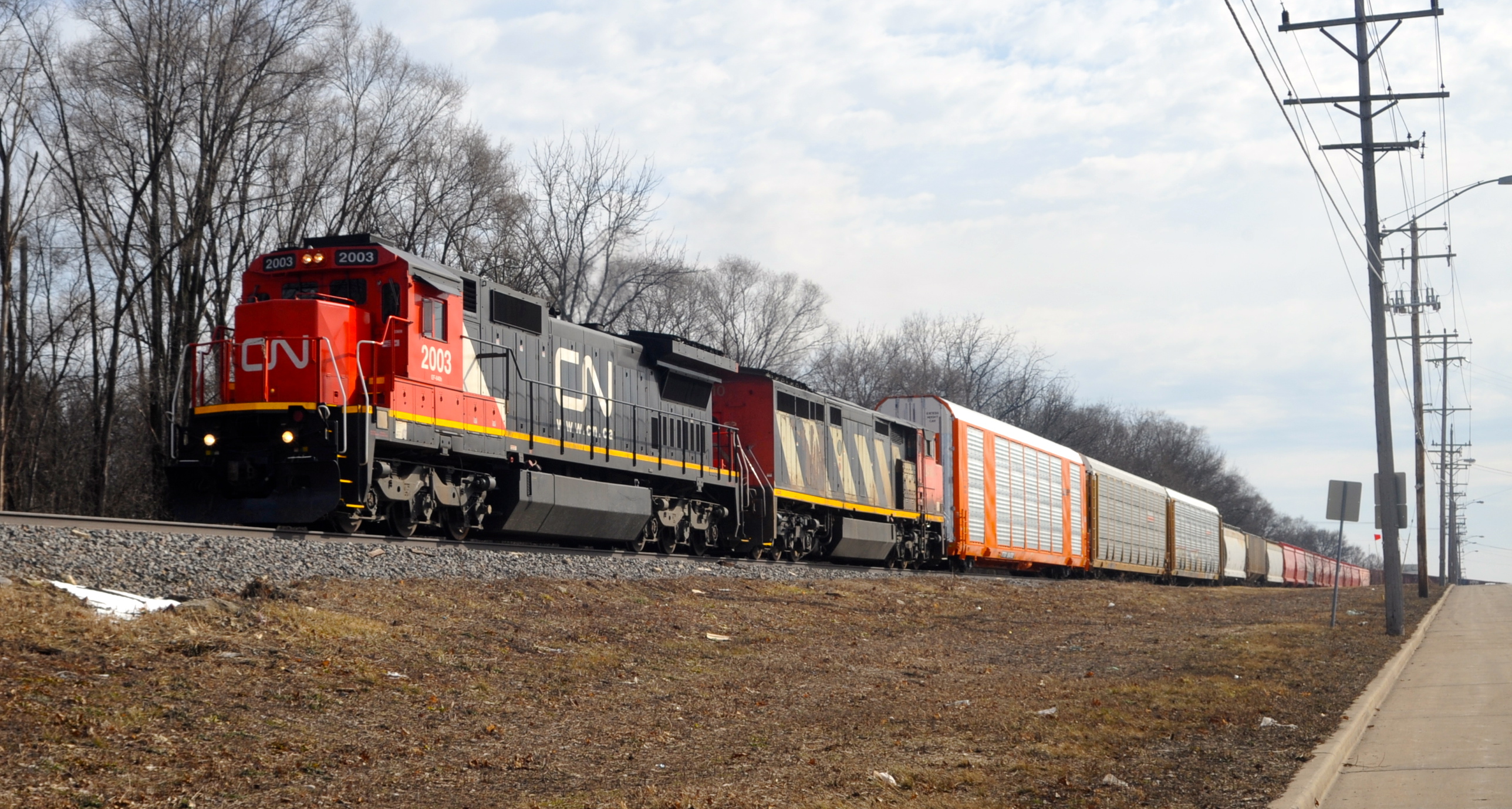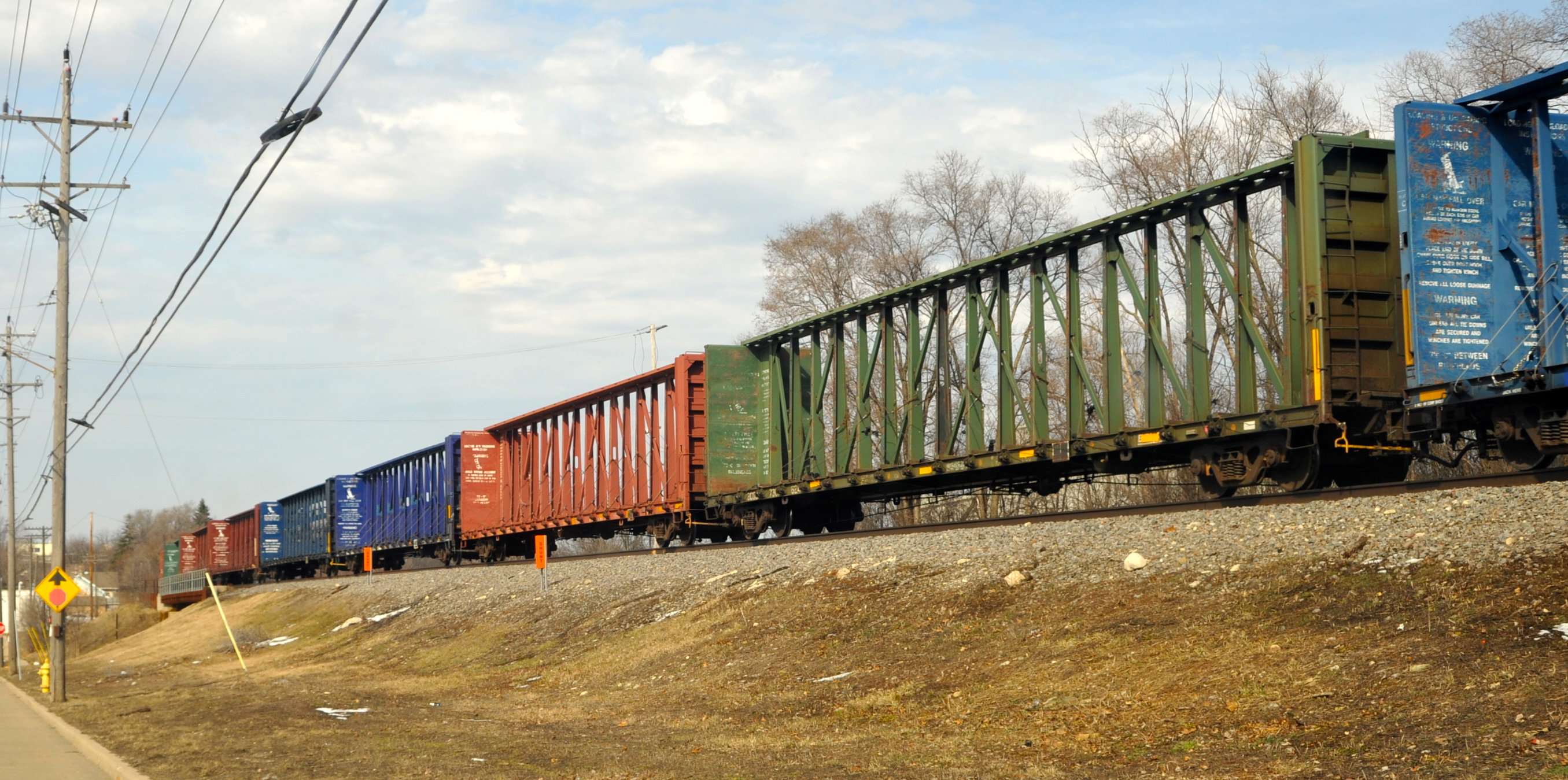 Monday, March 7th was sunny, so I went out in the afternoon, starting with Amtrak #8, running about 10 minutes late. I enjoyed the warm day just sitting on a park bench at the "faux depot" pavilion on the lakefront in Pewaukee and got the train coming by at 1:38 p.m. The "F40 bag" control car behind the P42s surprised me, and I didn't get a sharp view to show its number, but I think it's 90251, behind GEs 118/124, with the usual consist.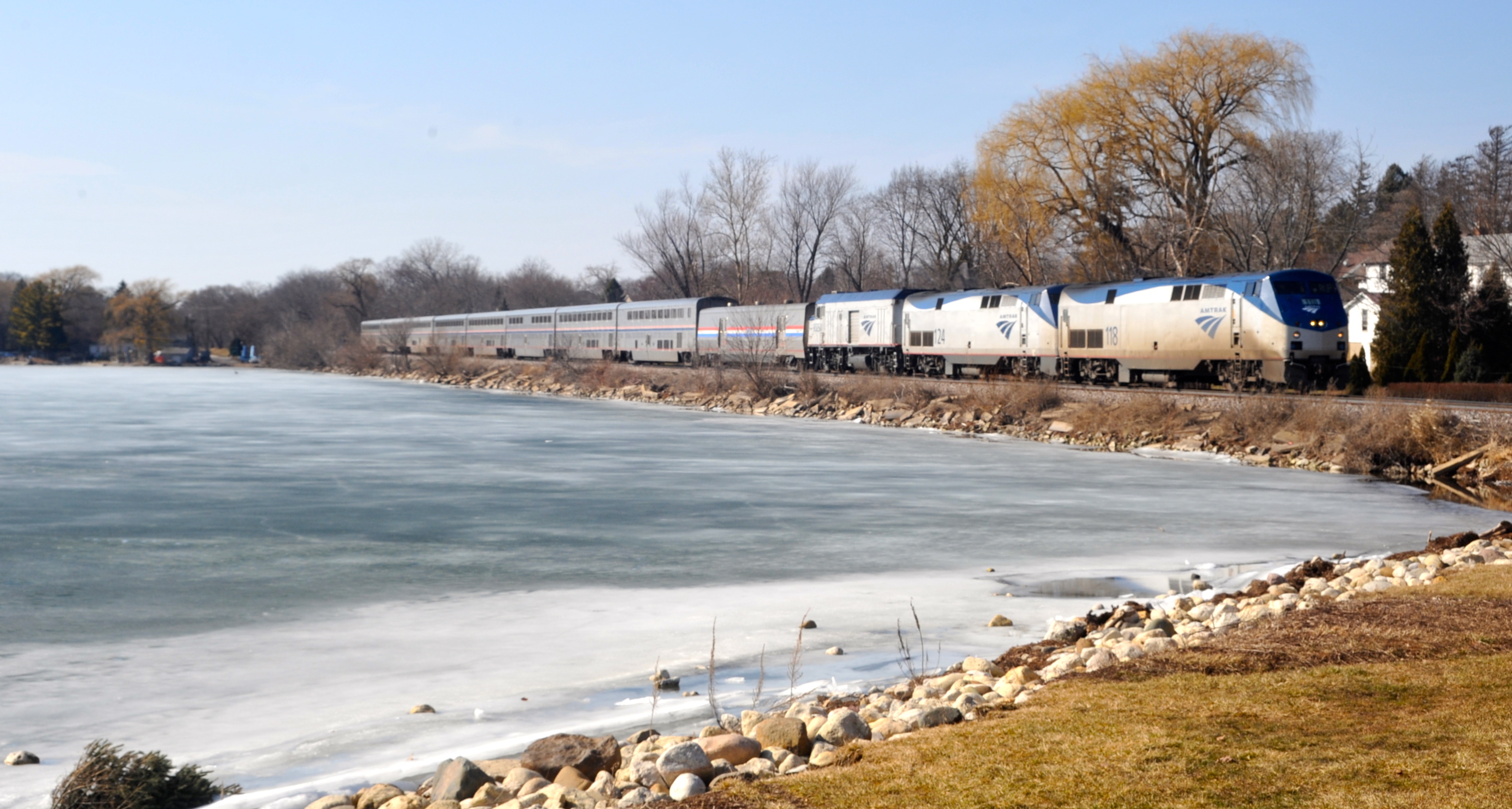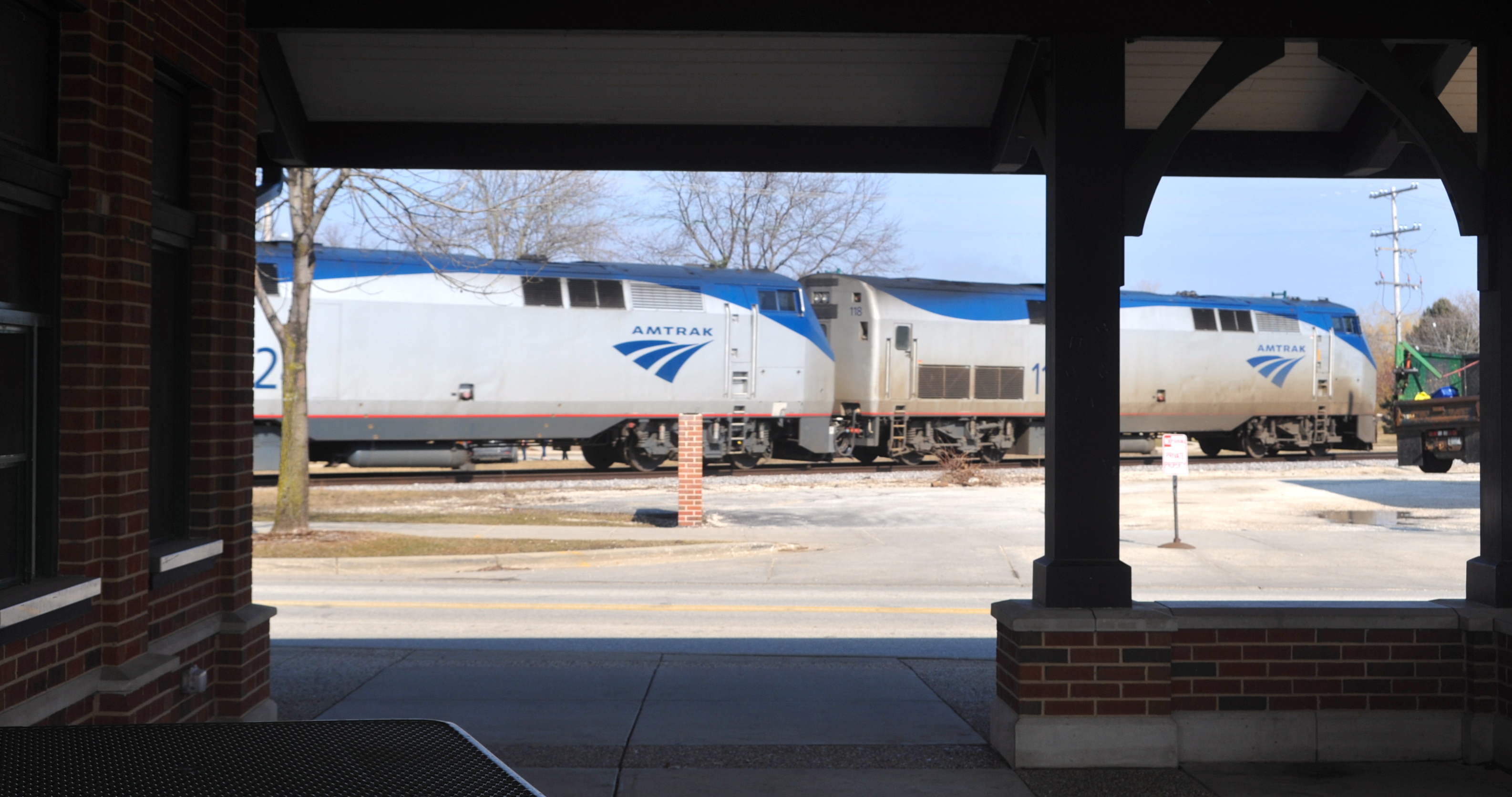 At 2:08 I just missed a good shot of CN southbound stacker #198, with the same old GE power we always see, but behind him at 2:42 was this southbound loaded ethanol train -- a rarity on CN lately, it seems -- with 2856/2926 up front and DPU 2834 on the rear. I shot the head end at Milepost 103 by the Capitol Drive overpass, but am not including the DPU shot account lack of quality.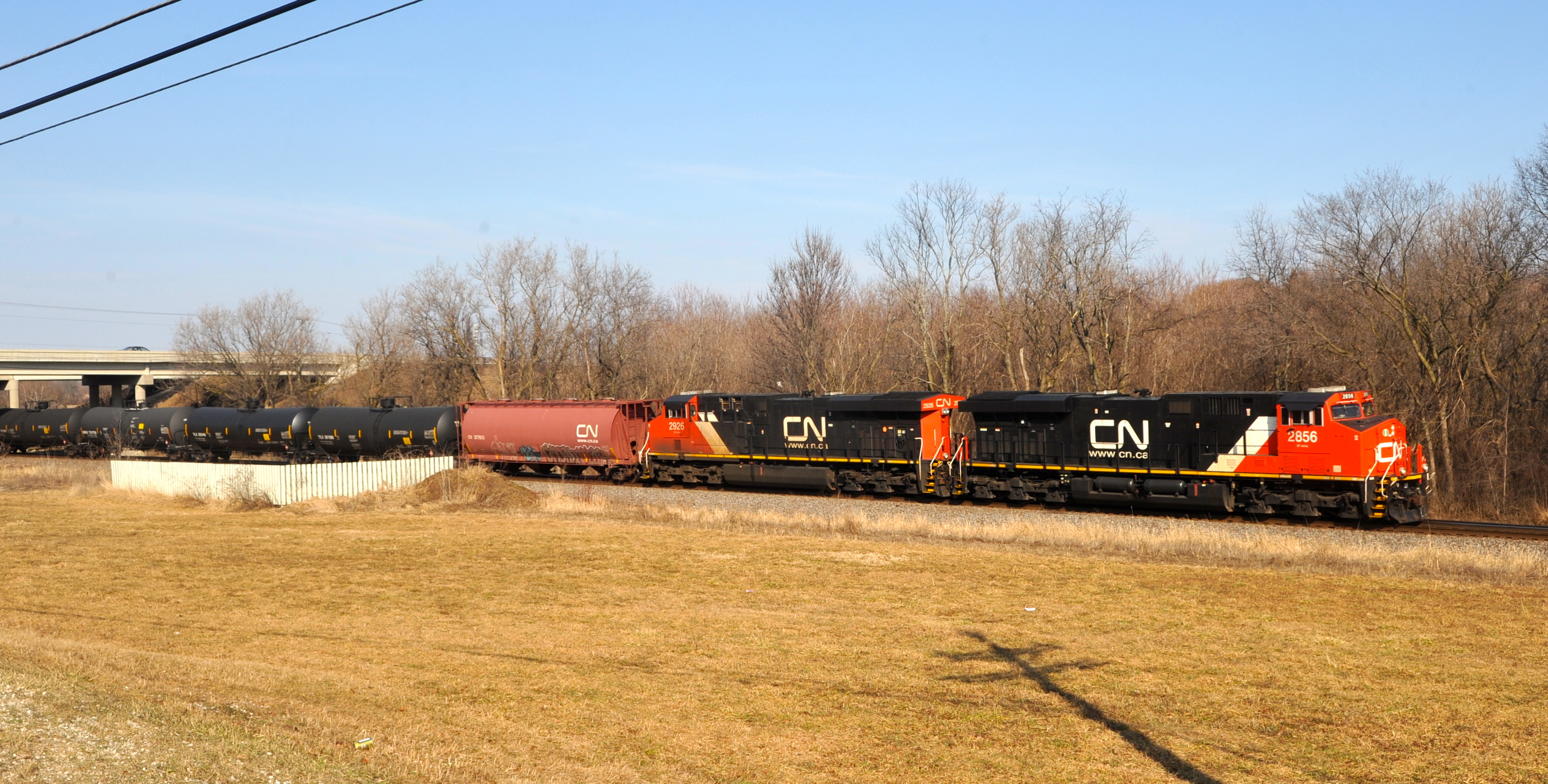 Behind the ethanol train by a half hour was stacker 2/198, with 2228/8936, also at Milepost 103 by the Capitol Drive overpass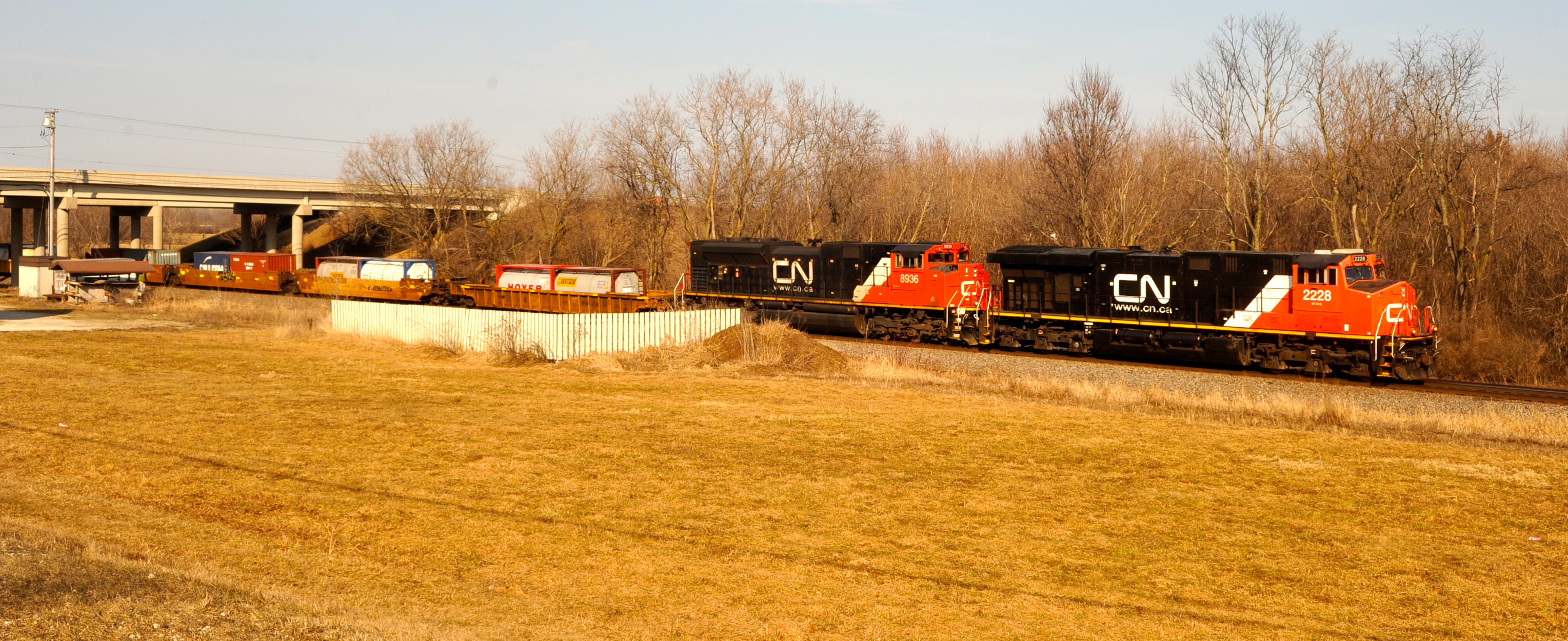 The parade continued at 3:49 as a 121-car CN #348 crossed the CP diamonds with 3025/3019/2826 on the point. I have no argument with CN power when it's as clean as these 3000s are.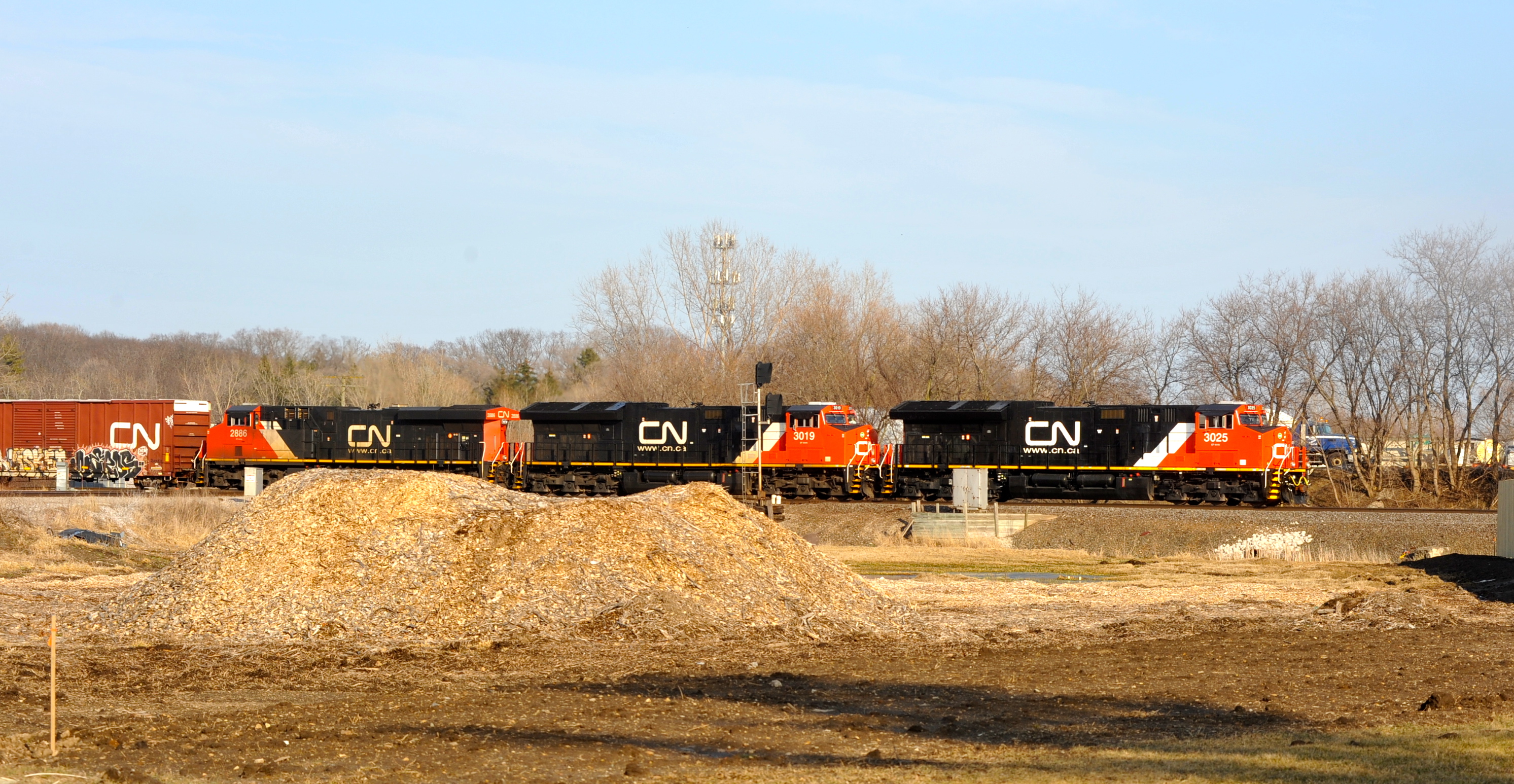 The sky "got milked up" a bit with high ice clouds by the time Amtrak #7 was due, and I went out to Parkside Road, a dead-end residential street on Pewaukee Lake's north shore. This is outside the Village of Pewaukee, and residents have barrels on the slope between the track and street in which to burn their trash, so we call this "Trash Barrel Lane." I've photoshopped out the barrels here just for fun. The train is on-time at 4:17 with units 81/15 and the usual 10 cars.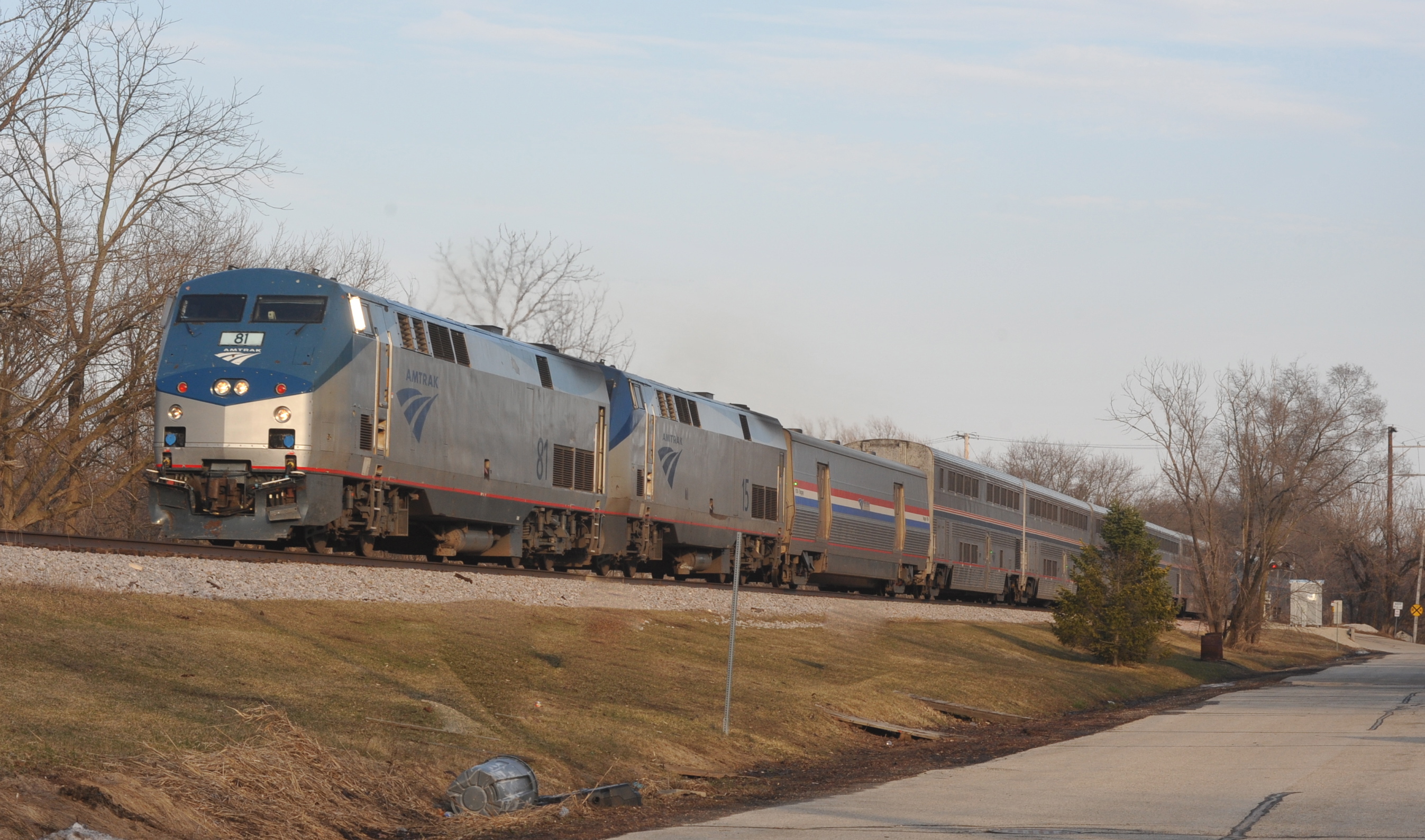 As I drove back into the village, sure enough, making up for the lack of action on CP was #199, leaving the double track right behind the Empire Builder, so I quickly parked at the lakefront. It seems I now am in need of a new short zoom lens, as this one will not always focus properly if not on wide angle, so I apologize for the fuzziness, but I had to shoot the young fans with their telephotos on the north side of the track as the train came by at 4:23, units 8861/8702 with 24 trilevels up front, followed by 91 container wells of stacks, for a total of 115 "cars" the way I count.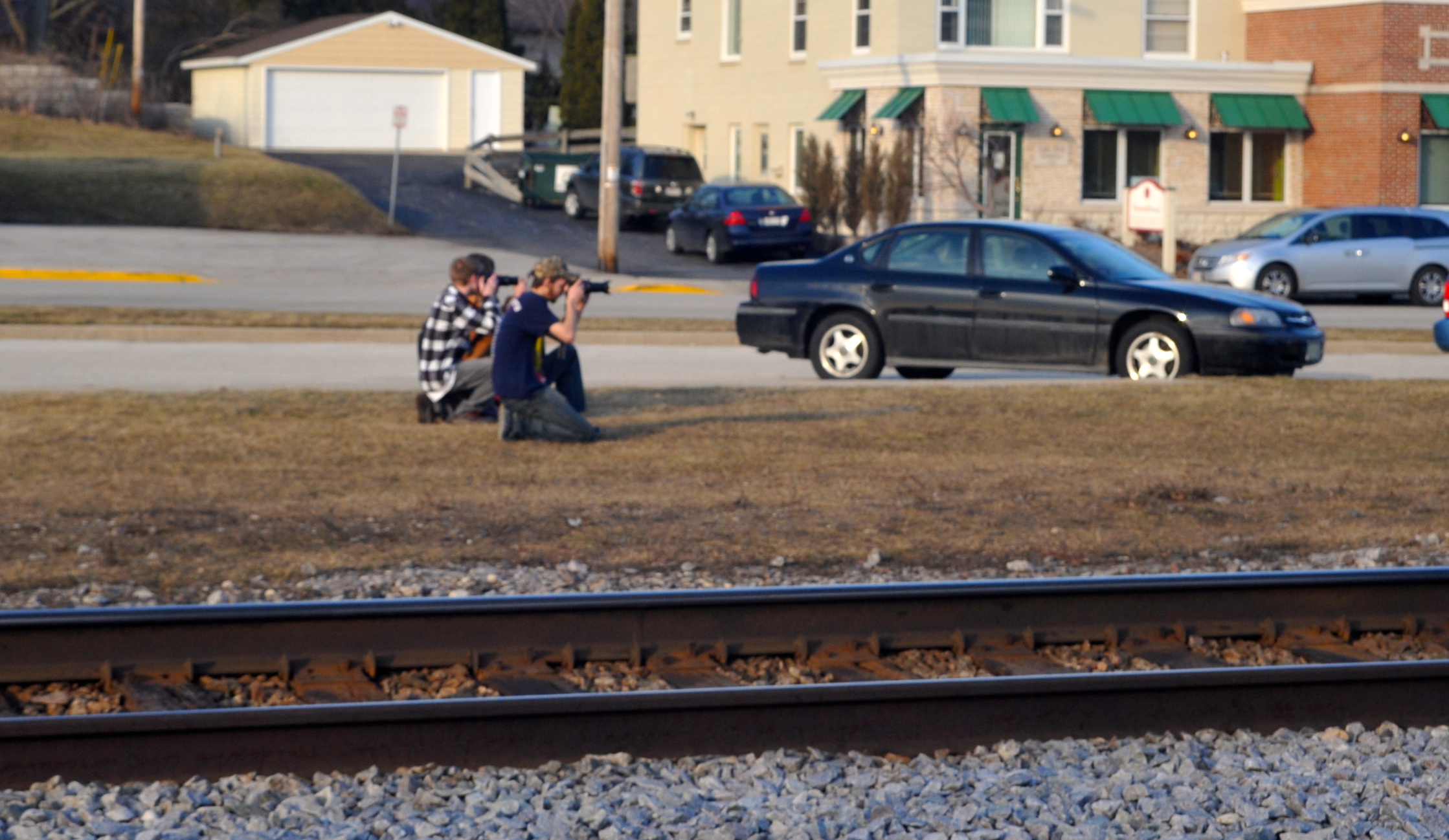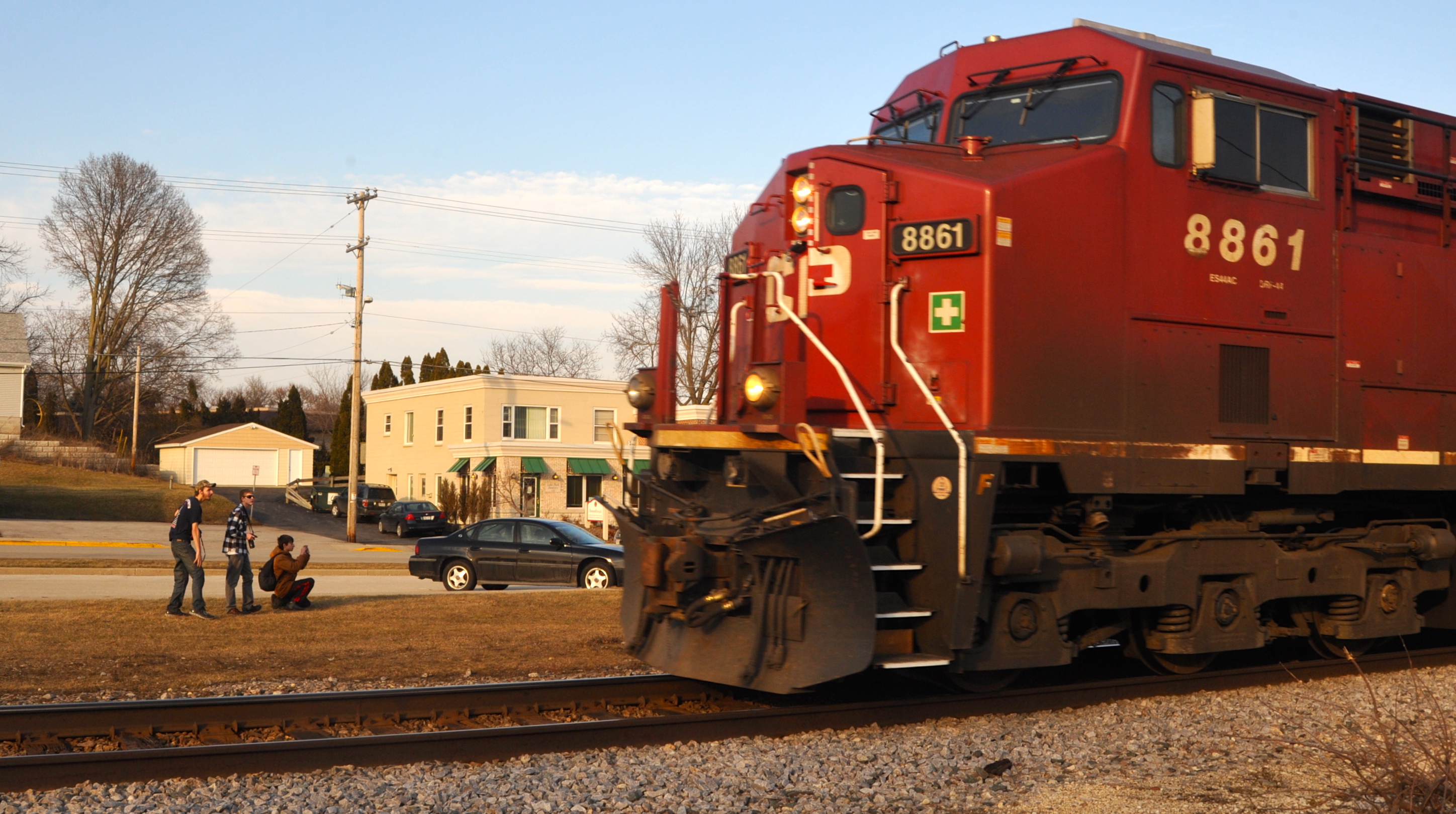 I went back into Waukesha and saw a northbound CN lined up, so waited north of the depot and got him at 4:47. i'll call him 2nd #199, with 2821 up front at Arcadian Avenue and DPU 2810 2/3 back in the train, at the depot itself 3 minutes later, juxtaposed with local L504's unit, ex-DT&I GP38 6226 (built as DT&I 226) tied up.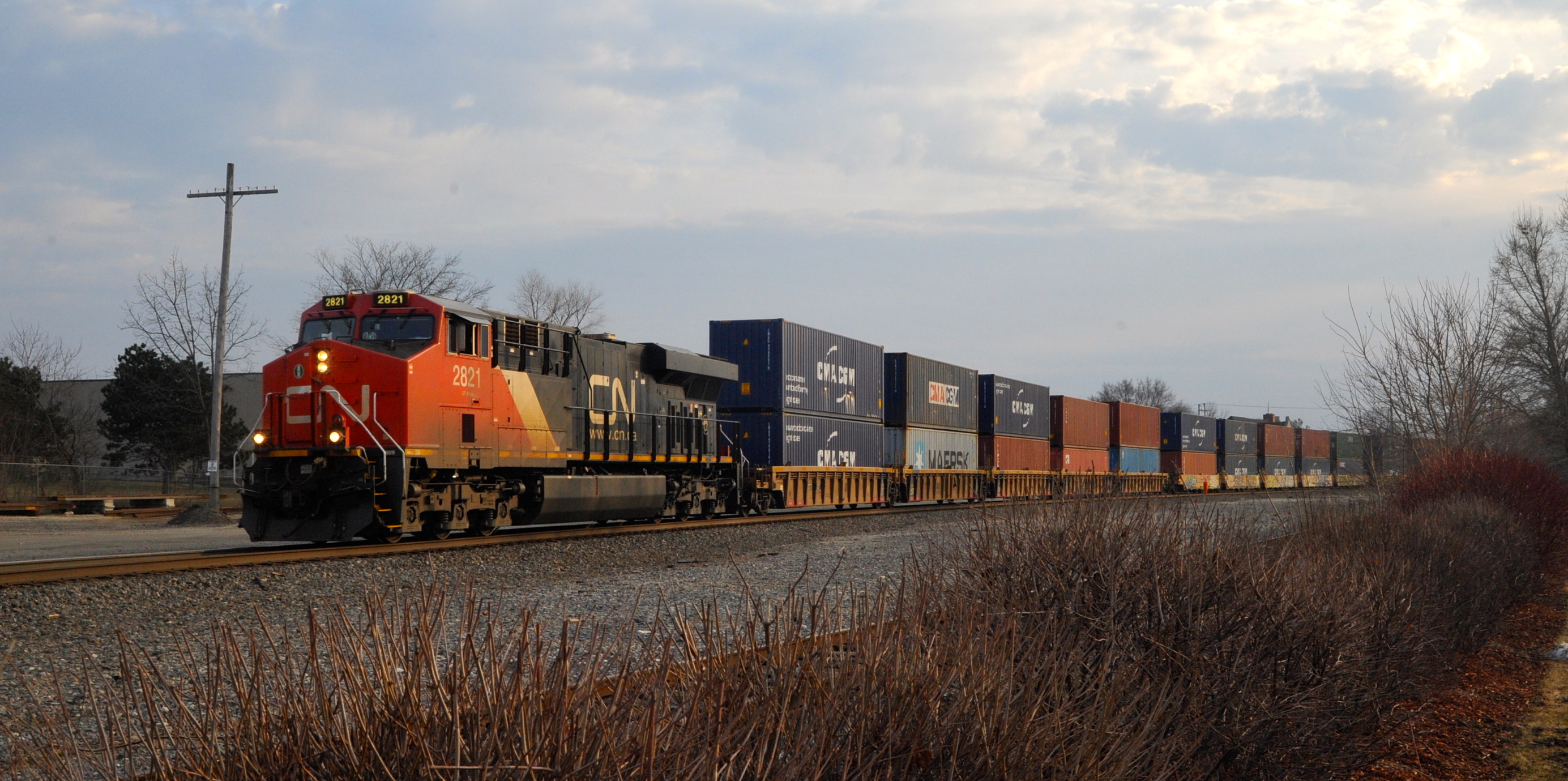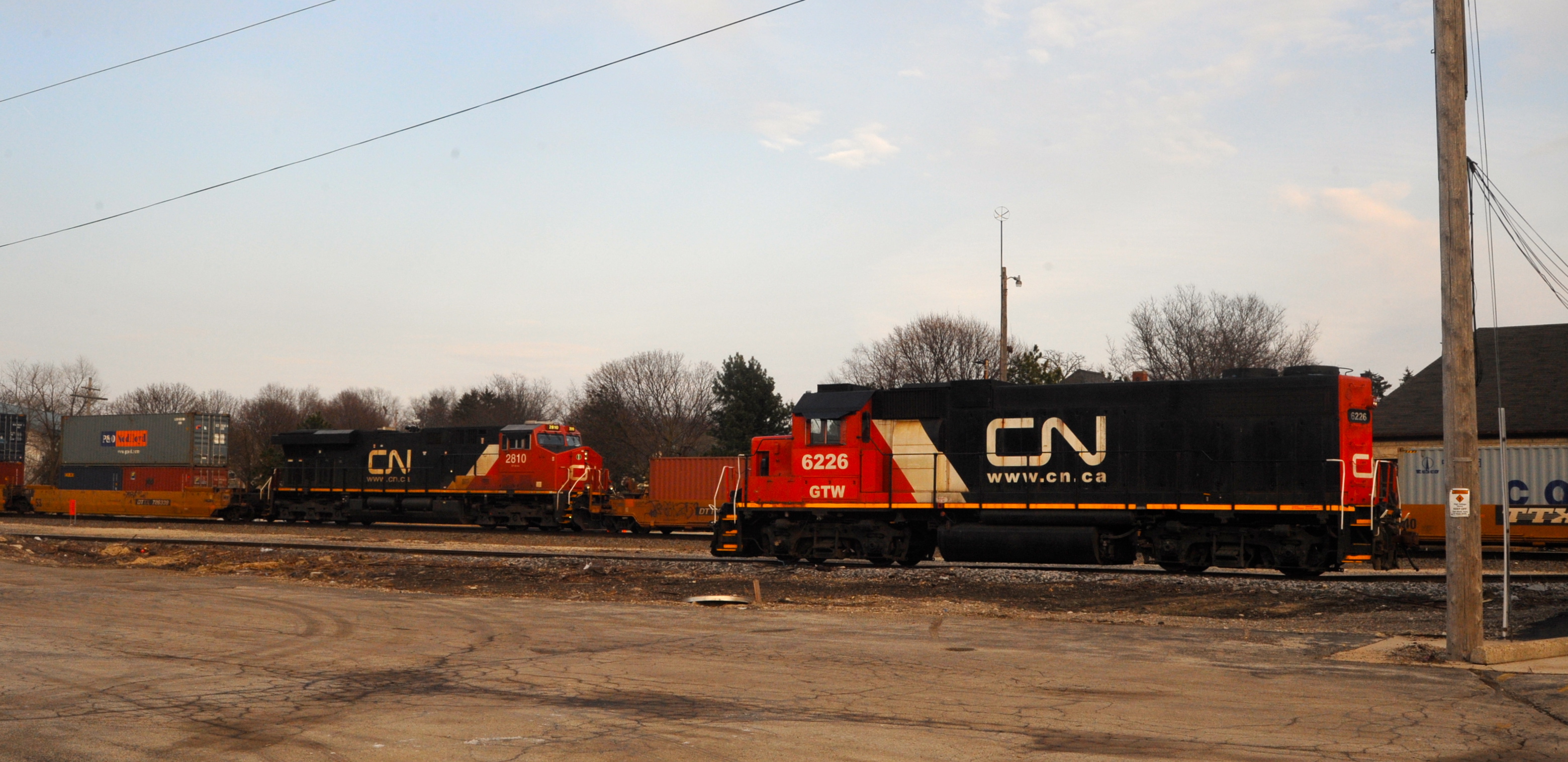 That would be my last shot of the 6226 for now, as CN seems to be swapping local units more frequently lately, as on March 10th I found tied up IC 3115, still in the 1987 back-to-black as "Gulf-less" Illinois Central, a scheme I am in the minority of liking.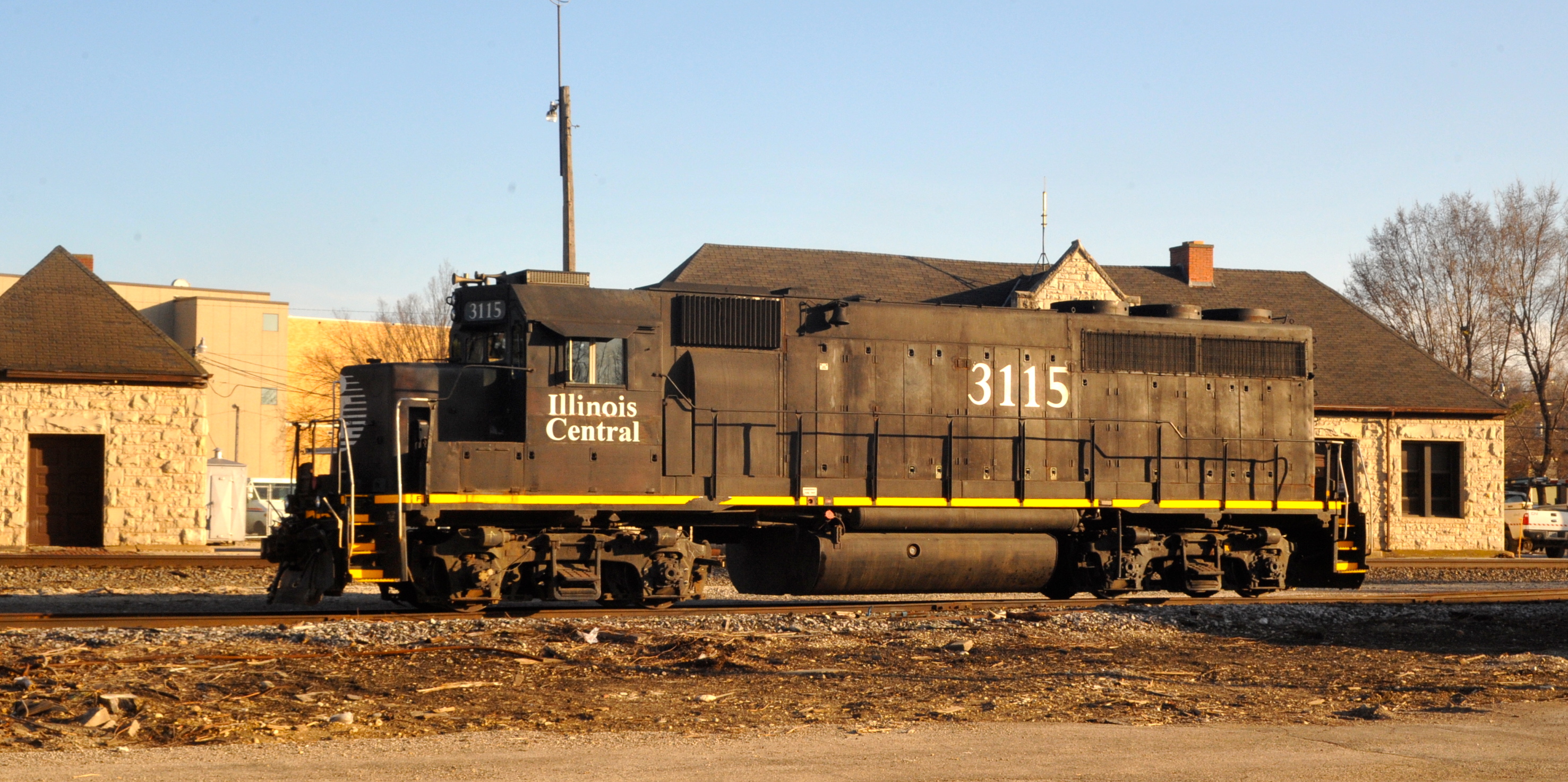 March 25th, Good Friday, turned out to be a sign of Spring, with warming temps and a sunny sky. Southeasern Wisconnsin had caught a break on Thursday and overnight, getting nipped only by the southern edge of a storm system that was moving northeast and dumped up to 8 inches of thick, wet snow across a large swath of the central portion of the state, from the SW corner up thru Green Bay. We had rain and some sleet during the day Thursday, and about an inch of snow, with an ice component, was on the ground in the morning. I endeavored to head out "early" (for me) and get a train with still some snow cover, before it melted, which it did by mid-afternoon. I was lucky, going into Waukesha to check CN's signals, and soon encountering train #348, which I shot across the Carroll University Dunbar Building's parking lot at 10:38 a.m., icy snow still covering portions of the parking lot and the roofs and hoods of student cars in the lot. The train had 109 cars behind 2903/2810, two of the usual GE ES44s.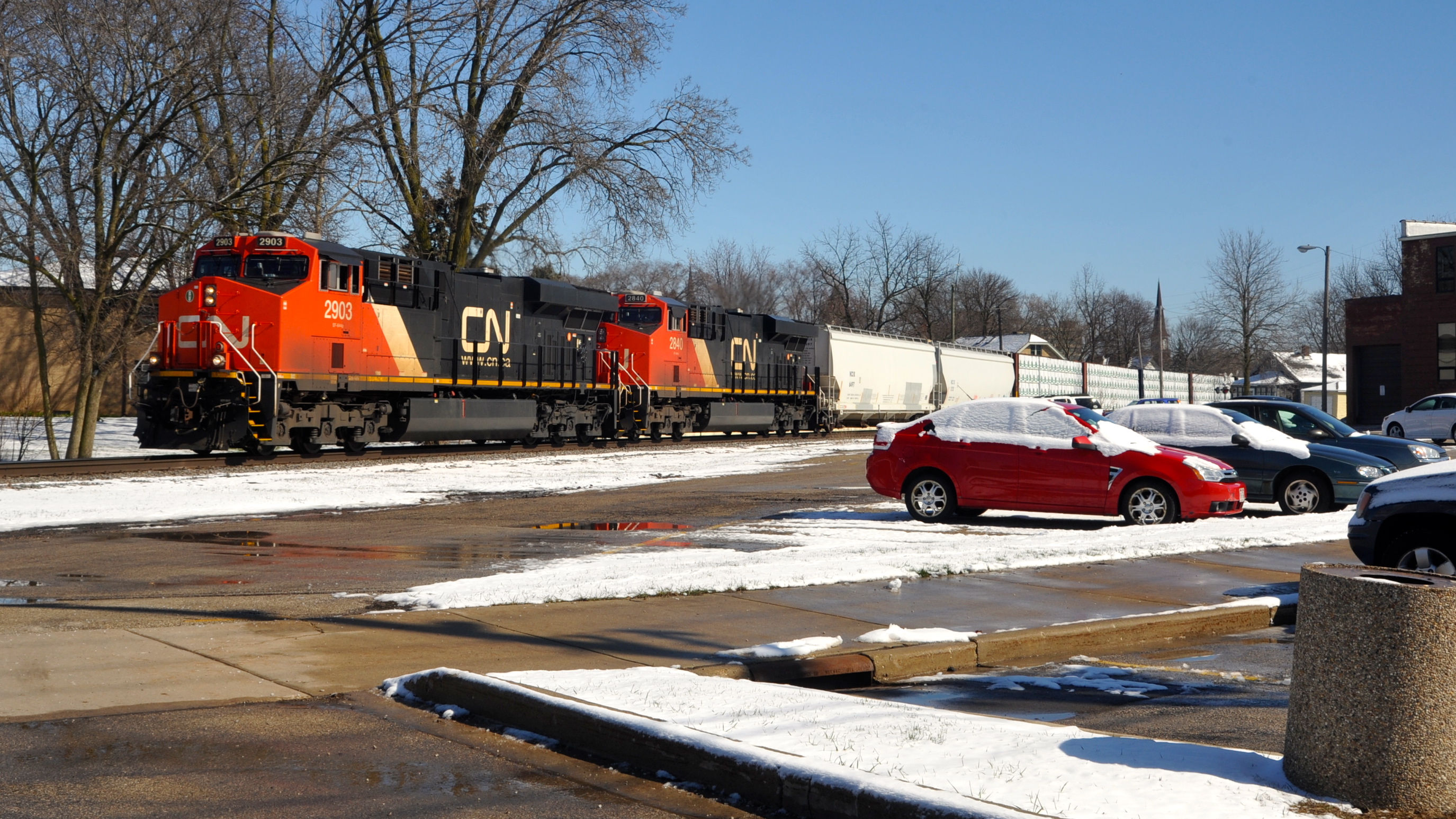 I went back home, then out again in time for Amtrak #8, running spot on-time as he has been doing lately. I parked on the sunny side of the CP main at Pewaukee's lakefront, and had barely parked when here came an eastbound freight, trying to outrun Amtrak into Milwaukee. Time: 1:22, with units CSX 3042/8808 (nice to see an SD40-2!) and an even 100 cars. The ground still had traces of piled-up plowed snow.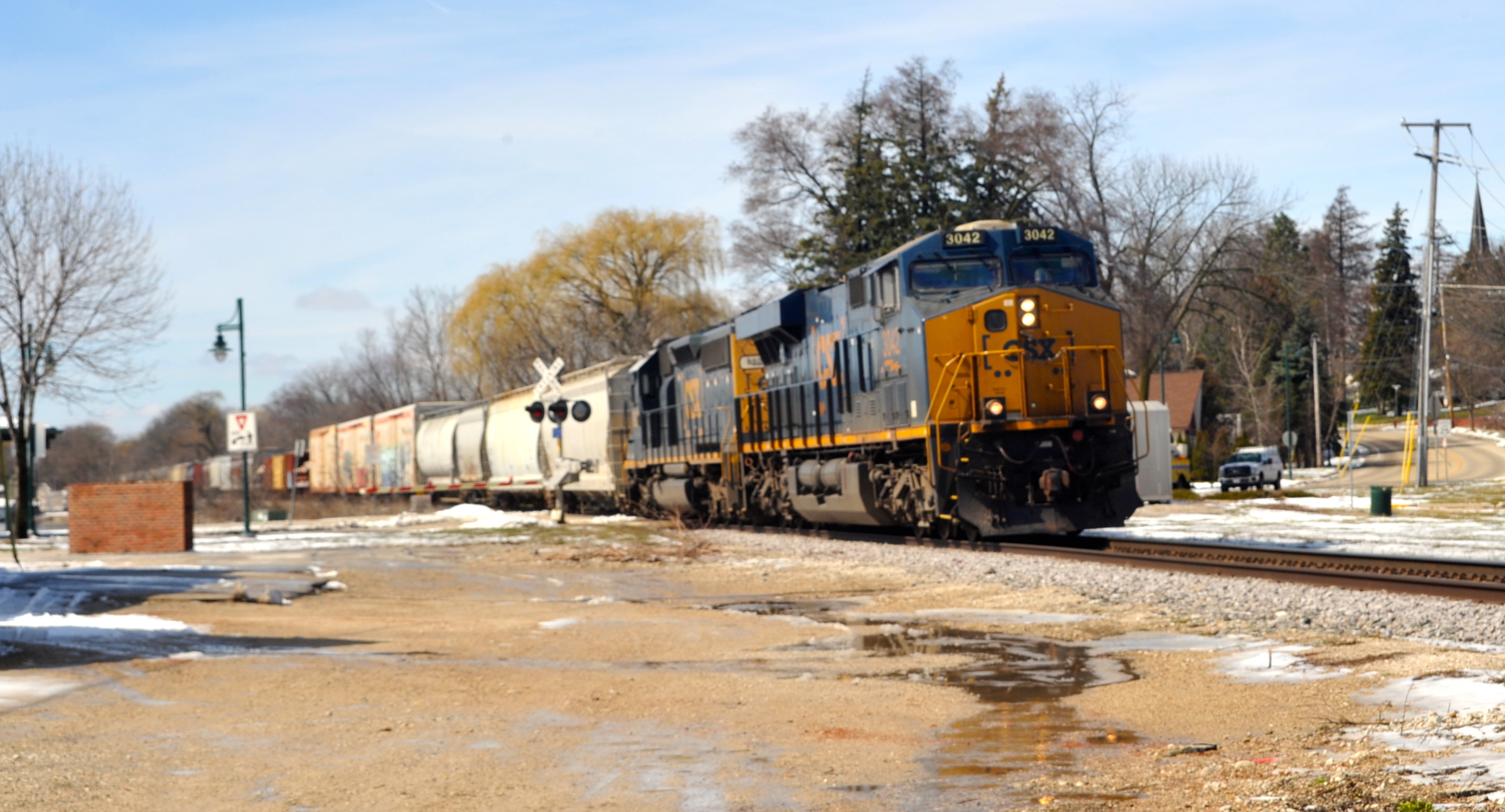 Amtrak got delayed just a bit, passing me at 1:43, about 5 minutes later than the ideal 40 minutes from Columbus, with units 84/169 and the usual 10 cars.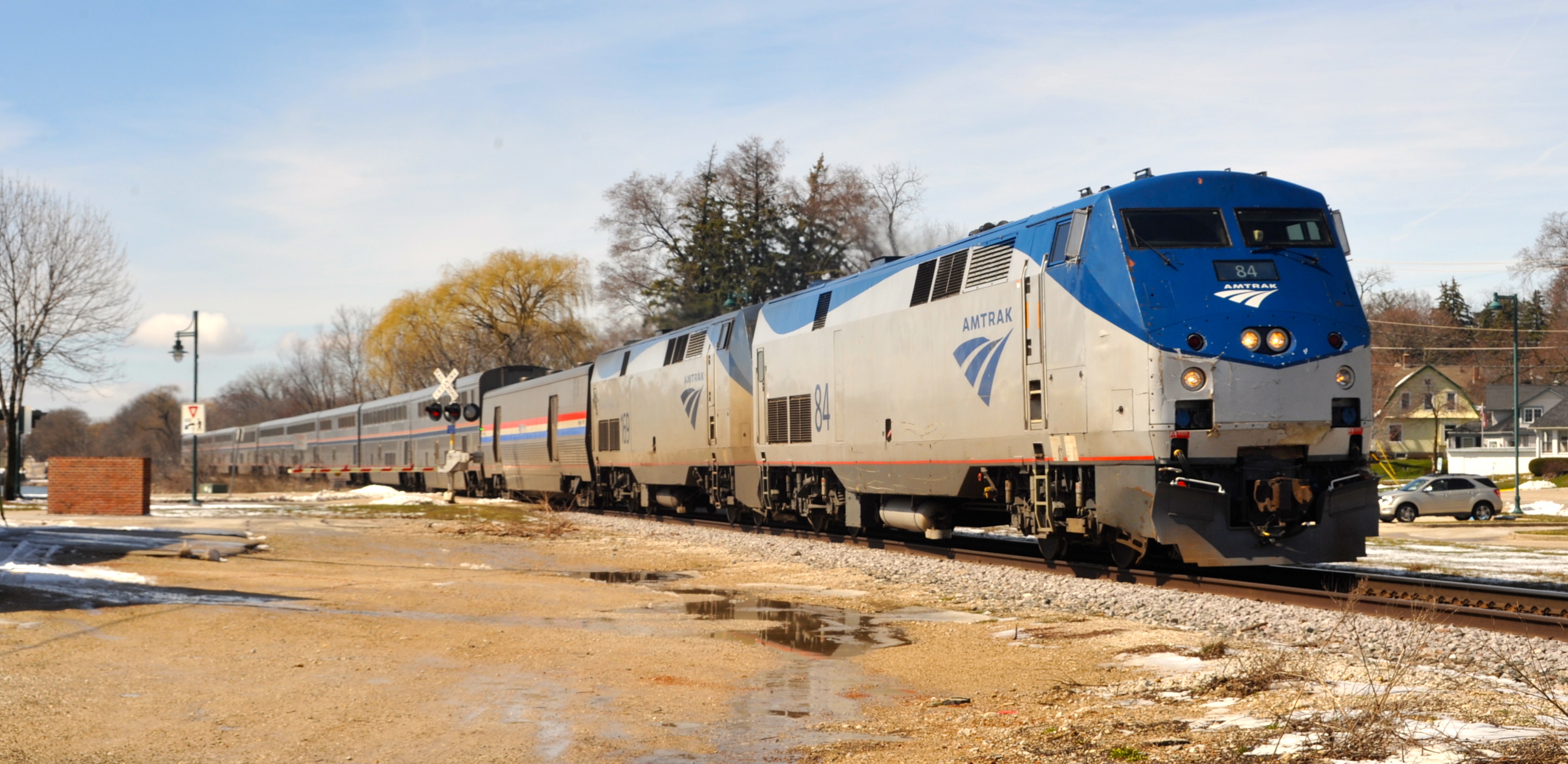 Thinking I'd head on home, I went via Duplainville and stumbled into a bunch of CN action. Fortunately I'd had time to grab some chicken nuggets as a "lunch" en route from home to Pewaukee. As I approached the CN, a northbound was passing, so I zoomed up to the Spring Creek bridge for a shot: units IC 2712/8014 at 1:57.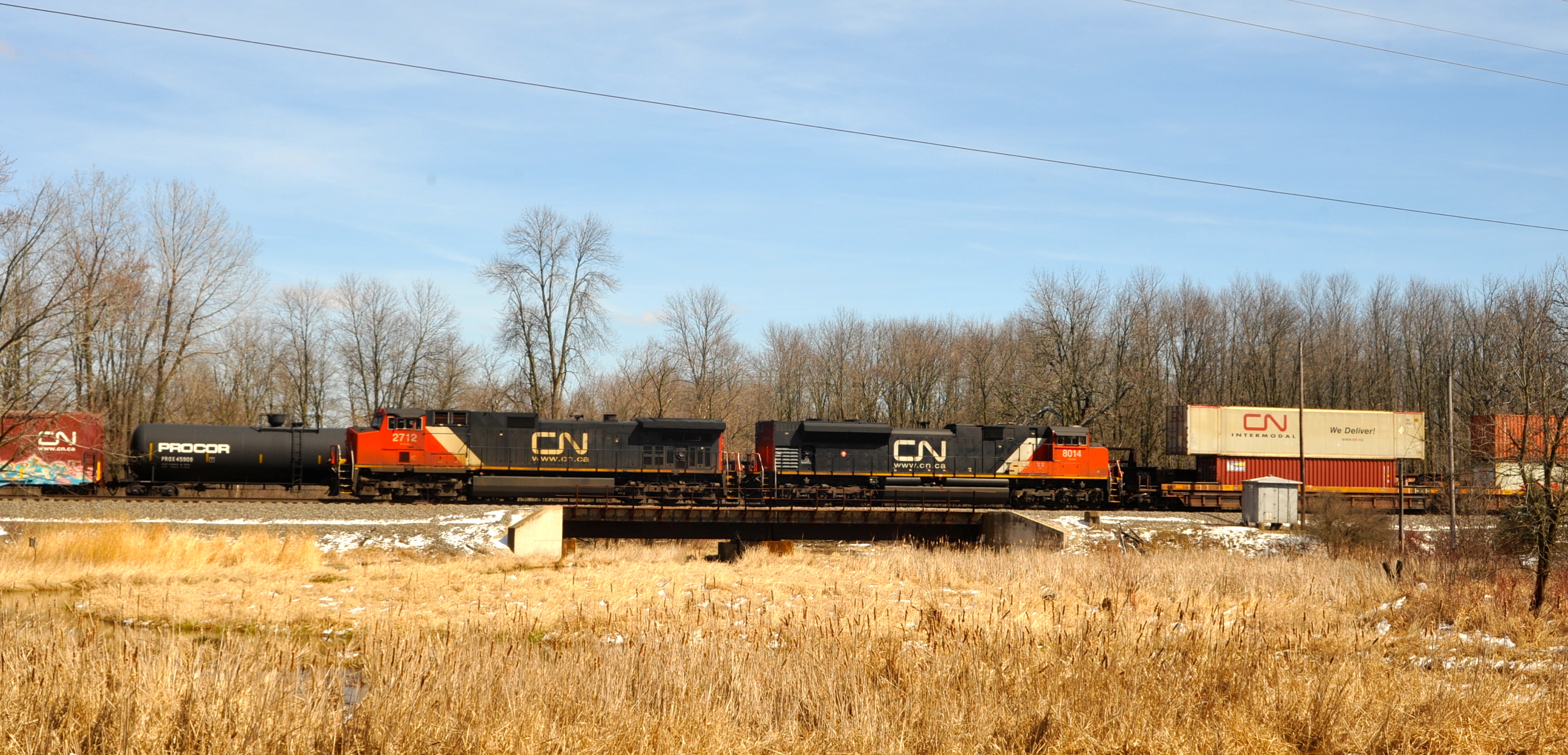 As I'd driven north, being just ahead of the northbound's units, I'd spotted two trains in the passing siding, first obviously local L504 since it was a short consist (most of which was hidden behind Quad/Graphic's Duplainville plant, its first of now many). Parked not far behind his train was another southbound. With a better light angle this time of day just south of Duplainville -- there is a slight curve a quarter mile south of the diamonds -- I went to the dead-end Joseph Road and parked, figuring I might get the two southbounds there. Not so fast, ES44-breath!
Anatomy of a Pick-Up and Set-Out
L504 pulls up short of the Marriott Lumber spur switch at 2:06 pm, with the first 2 cars being lumber loads he'll exchange for 2 empties. The conductor (2-man crew) dismounts to separate the engine, IC 3115, from the cars and walks over to throw off spur's derail, and I think also to open the gate across the spur into the customer's property. At 2:15 the light engine comes south and clears the switch, which the conductor realigns for the spur, and then heads into the siding ("heads" because the unit is facing north). At 2:21 the engine comes out of the siding with the 2 empty lumber center-beams, and pushes north to his consist, coupling up at 2:23. The conductor walks north to separate the 4th car from the 5th; at this point cars 3 and 4 are the lumber loads that will be spotted. At 2:27 the engine pushes the 4 cars into the siding. After separating the loads from the empties at the customer's dock, the engine comes back with the 2 empties, entering the main at 2:34. One minute later, the siding switch realigned, he shoves the 2 empties back toward his train, coupling up at 2:36. After completing the coupling, the conductor walks to the siding's derail to reinstall it on the rail, which he completes at 2:43. At 2:44 — 38 minutes after arriving — the train leaves for Waukesha with 29 cars, a pretty long consist for this train to be taking into town from the set-out track up north at MP 104.5 along the Duplainville passing track. I would entitle this entire maneuver "safe, but slow." It was fascinating to listen to the crew's radio exchanges, being careful to follow all of today's safety rules. I hope my presence did not inhibit them, and I suspect not, for I got a friendly wave from the conductor in IC 3115's left-hand seat (closest to me) as they left for town.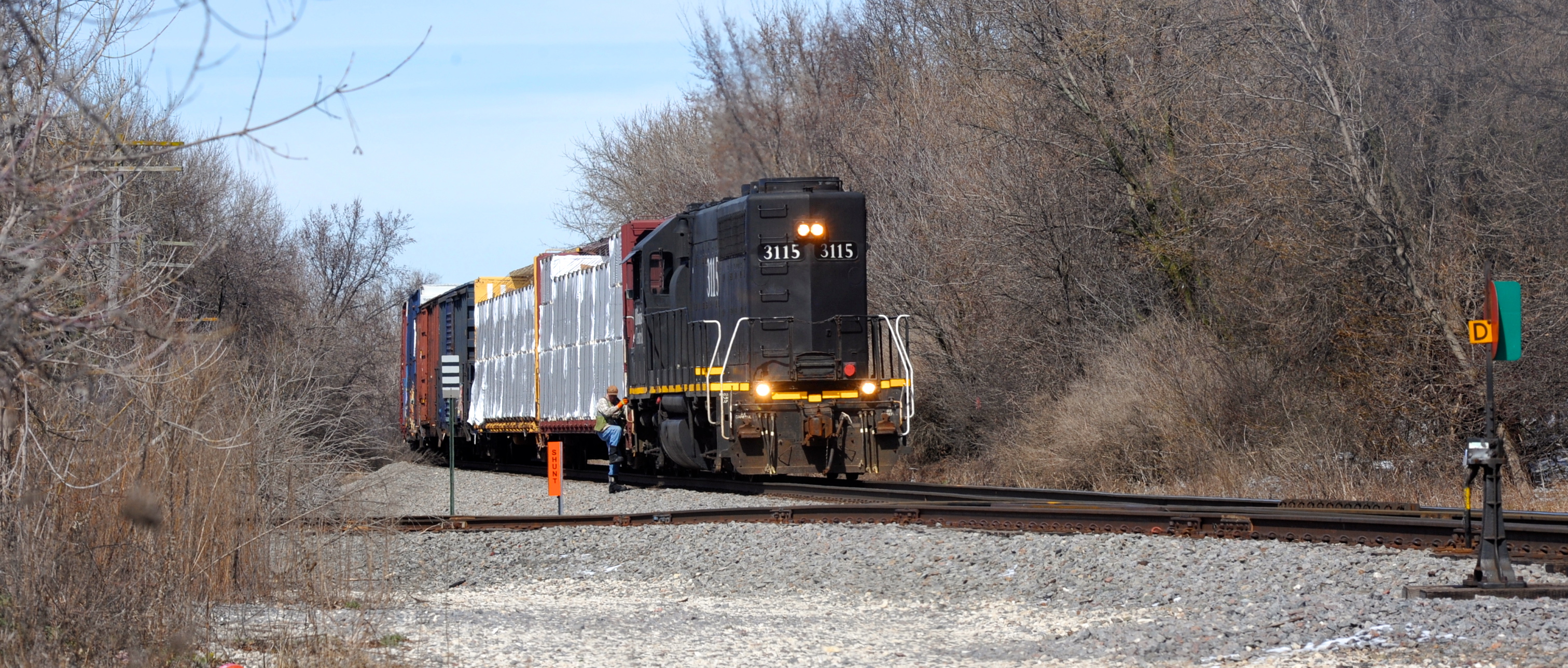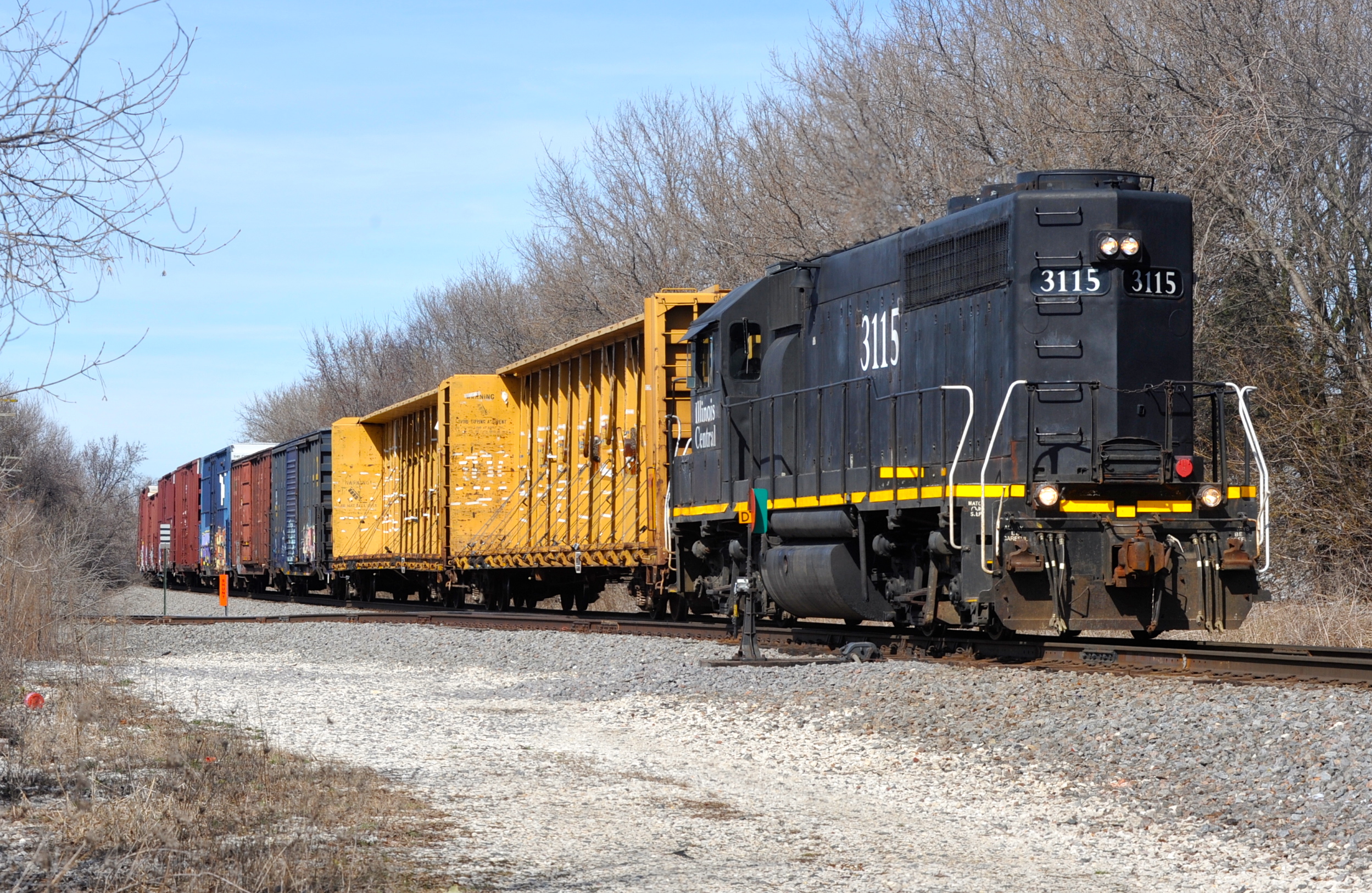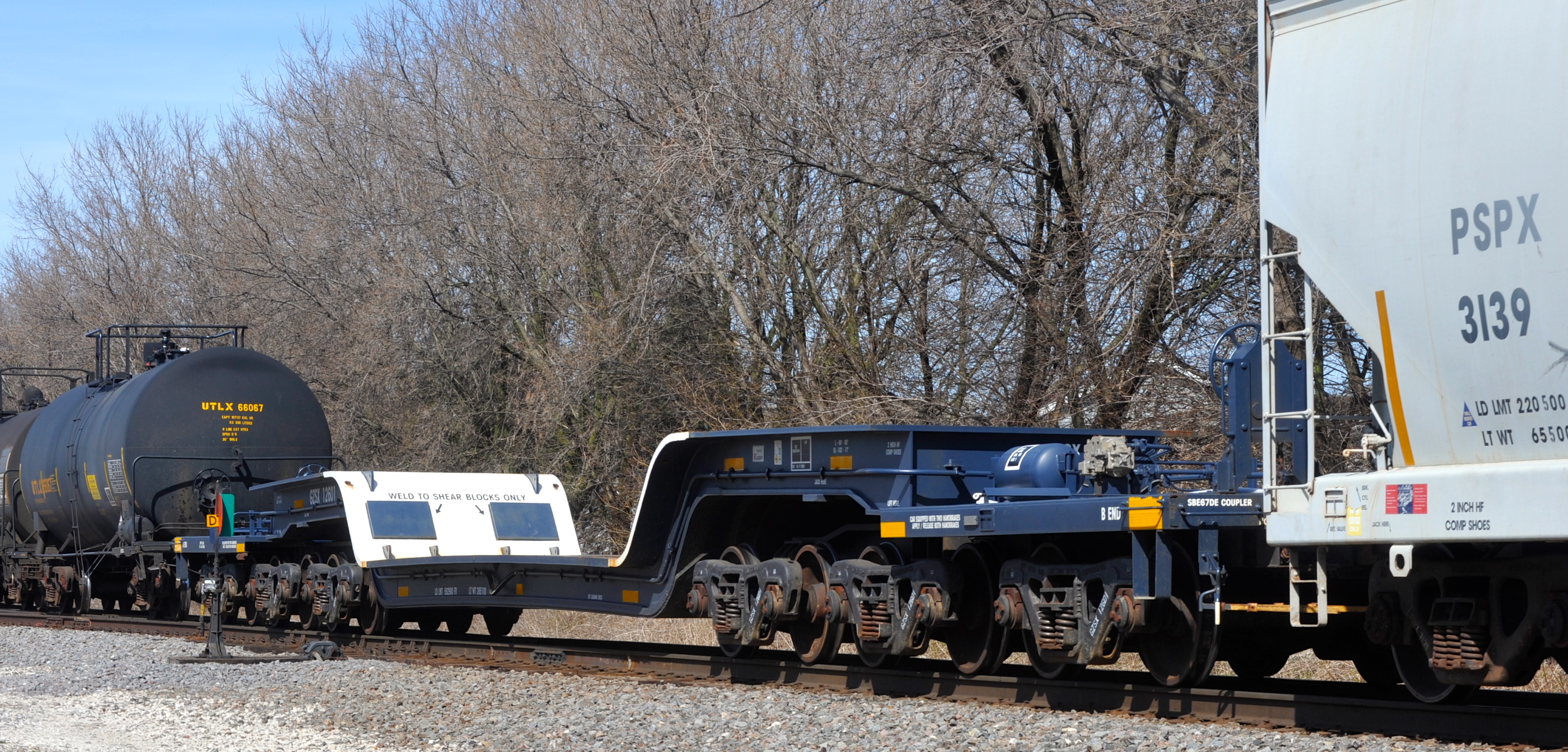 After L504 went on into Waukesha, I waited a bit for the southbound road freight parked behind him to follow. Nothing happened for 20 minutes, so I drove back to Duplainville. The southbound hadn't moved, so I figured -- rightly as it turned out -- there was a northbound to get through first. For something different, I set up at Milepost 103, on the curve just south of the Capitol Drive overpass. At 3:14 the train showed up, merchandiser #341, with 2244/8881 up front. Note in the photo that the Milepost 103 is at the rear ladder of the lead unit, and CN's official "Duplainville" signpost is silhouetted against the gray covered hopper, first car behind the trailing unit. The going-away shot looks thru underneath the Capitol Drive overpass.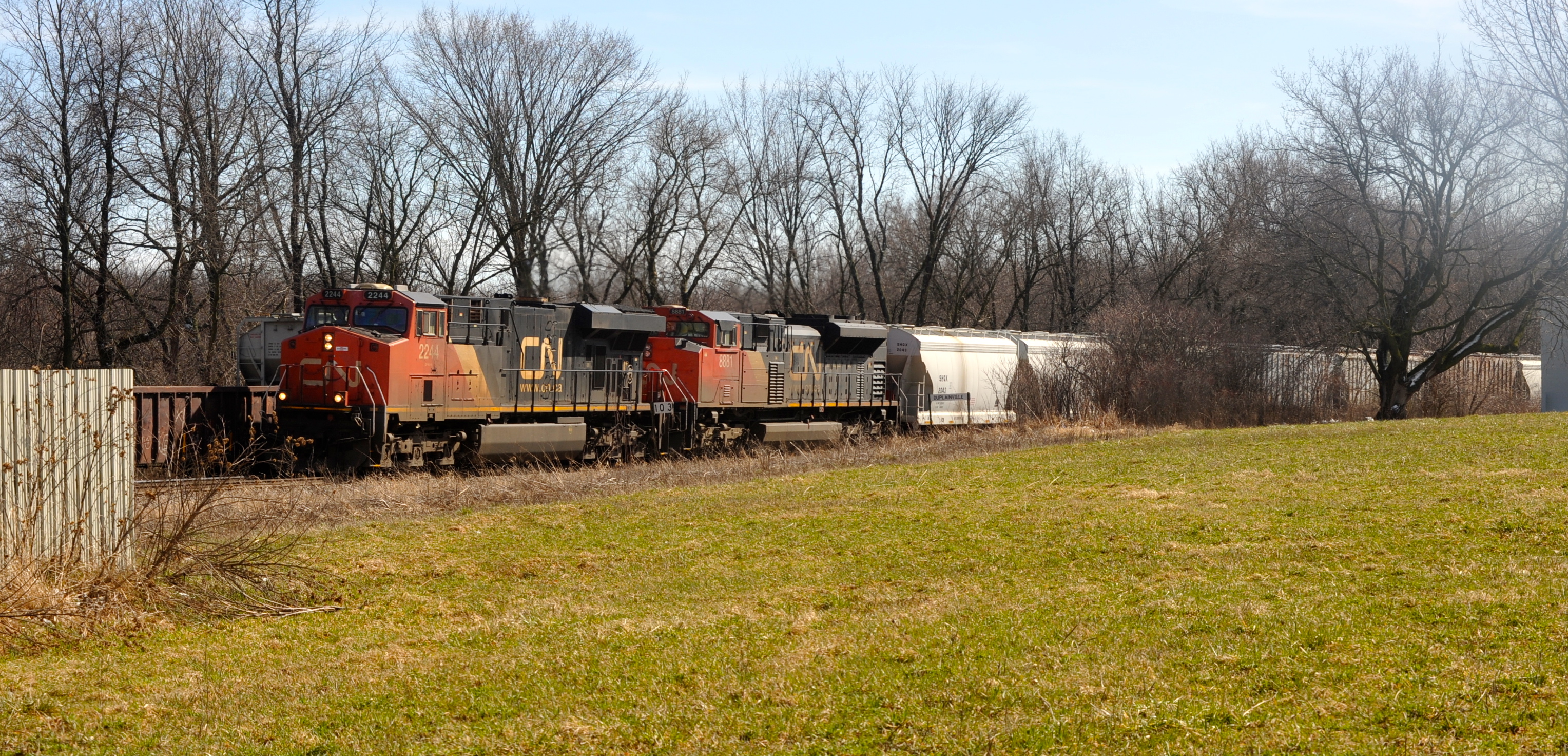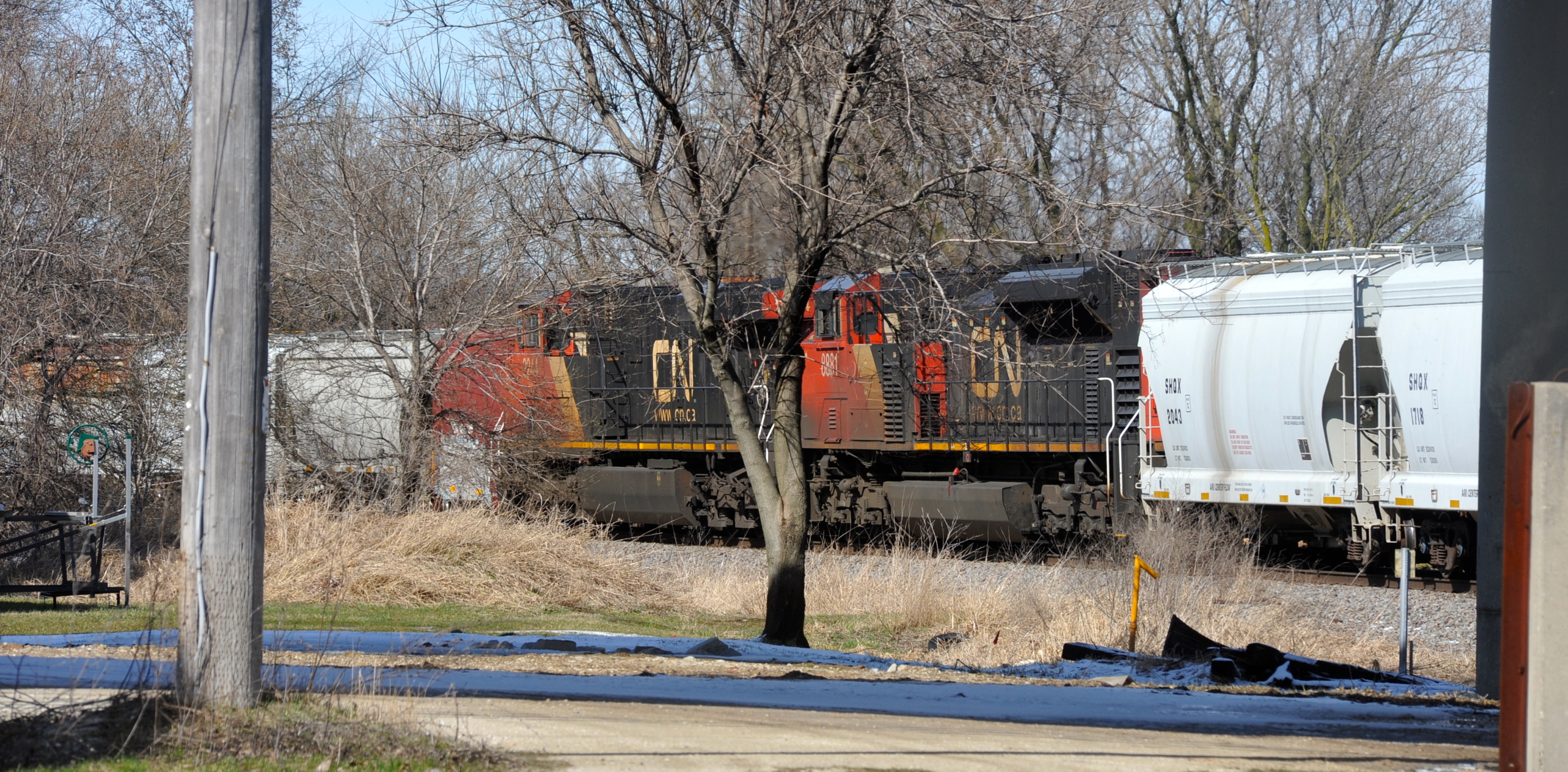 All this time, CN activity was delaying me from my next "appointment," a flexible-time stop at the new home of TRAINS staffer Brian Schmidt and his fiancé Erica Shulz, who will wed April 30. They had just bought a split-level home on Waukesha's northwest side and wanted a few of us who were free to stop by for a look. I took the next photo from the Green Road CN crossing at 3:32, showing that #341 had stopped with his rear car near the southbound's units, the lead one of which is 2271.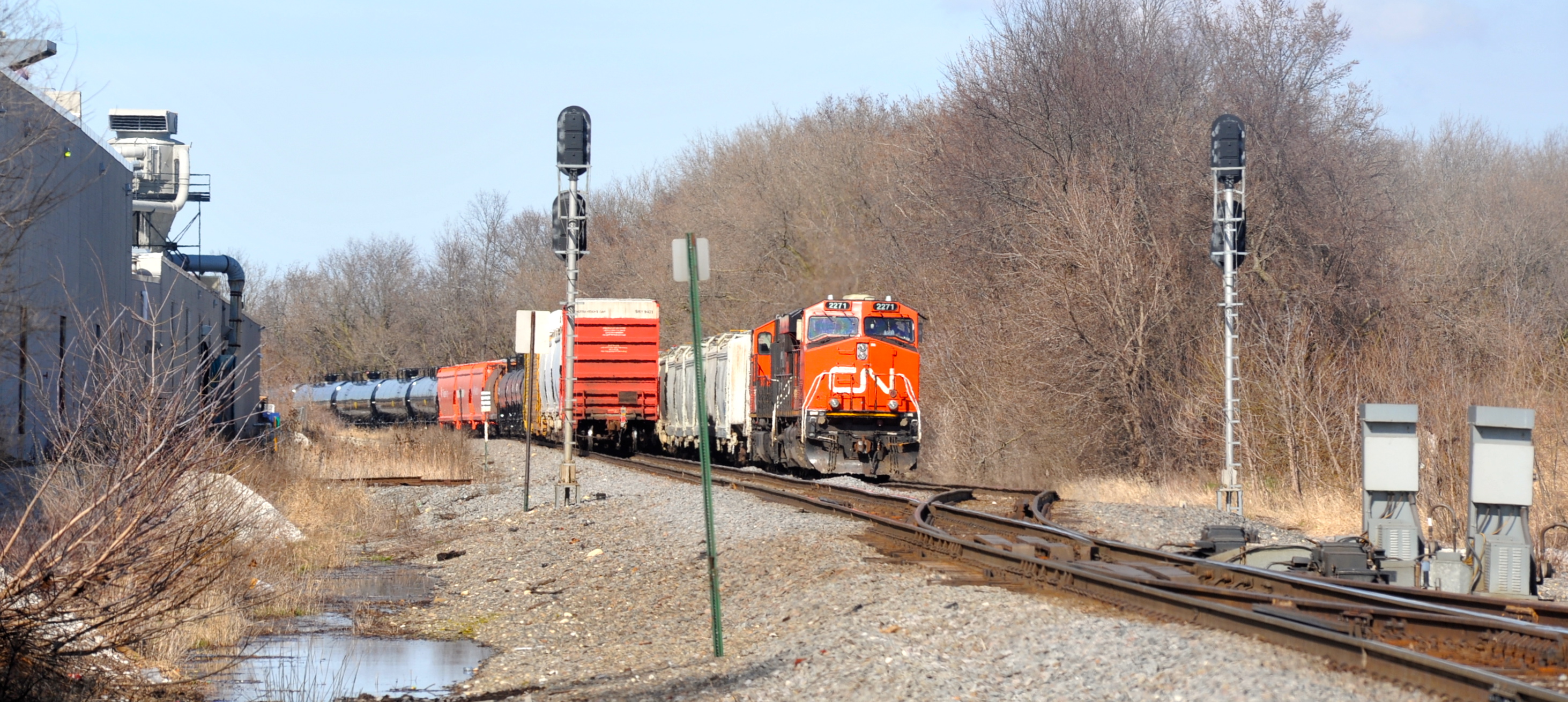 Activity by fans on Marjean Lane at Duplainville tipped me off that a CP train was about to go thru, so I stayed for that, #199 at 3:43 with units 8533/8898 and 146 cars, 18 trilevel auto racks up front with 128 container wells behind; this is a typical makeup lately for this train.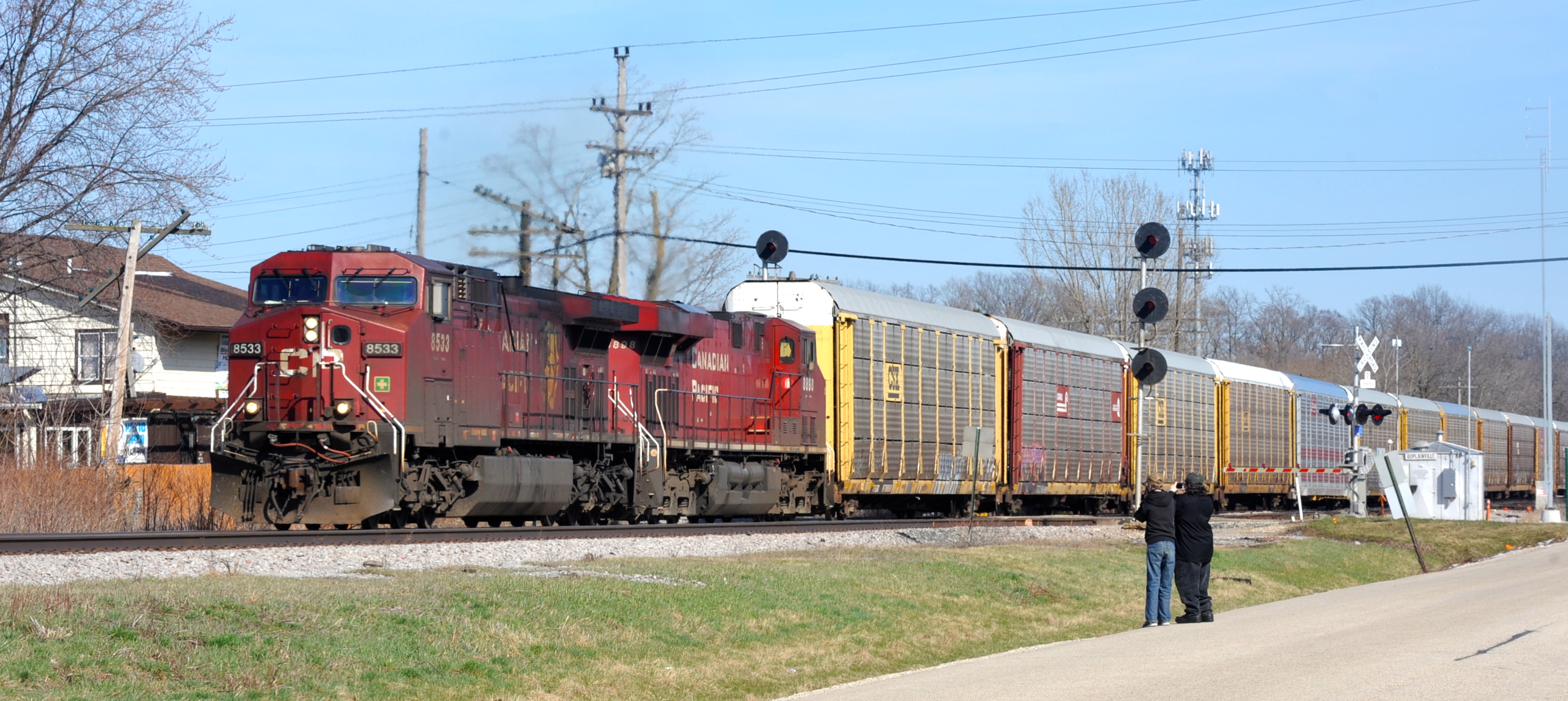 I then blew off Amtrak #7, operating on-time, to stop by Brian and Erica's house. Afterward, en route home, I checked the CN signals in central Waukesha, lined up for a southbound. It was not the 2271 South, which I never saw, so I assume he went on south while I was at Brian's new house. This turned out to be a stack train, I'll call it second #198, with 8857 up front, 158 wells, and 2295 as rear-end DPU at 5 p.m. sharp. I then went home to conclude a surprisingly profitable day for train photography.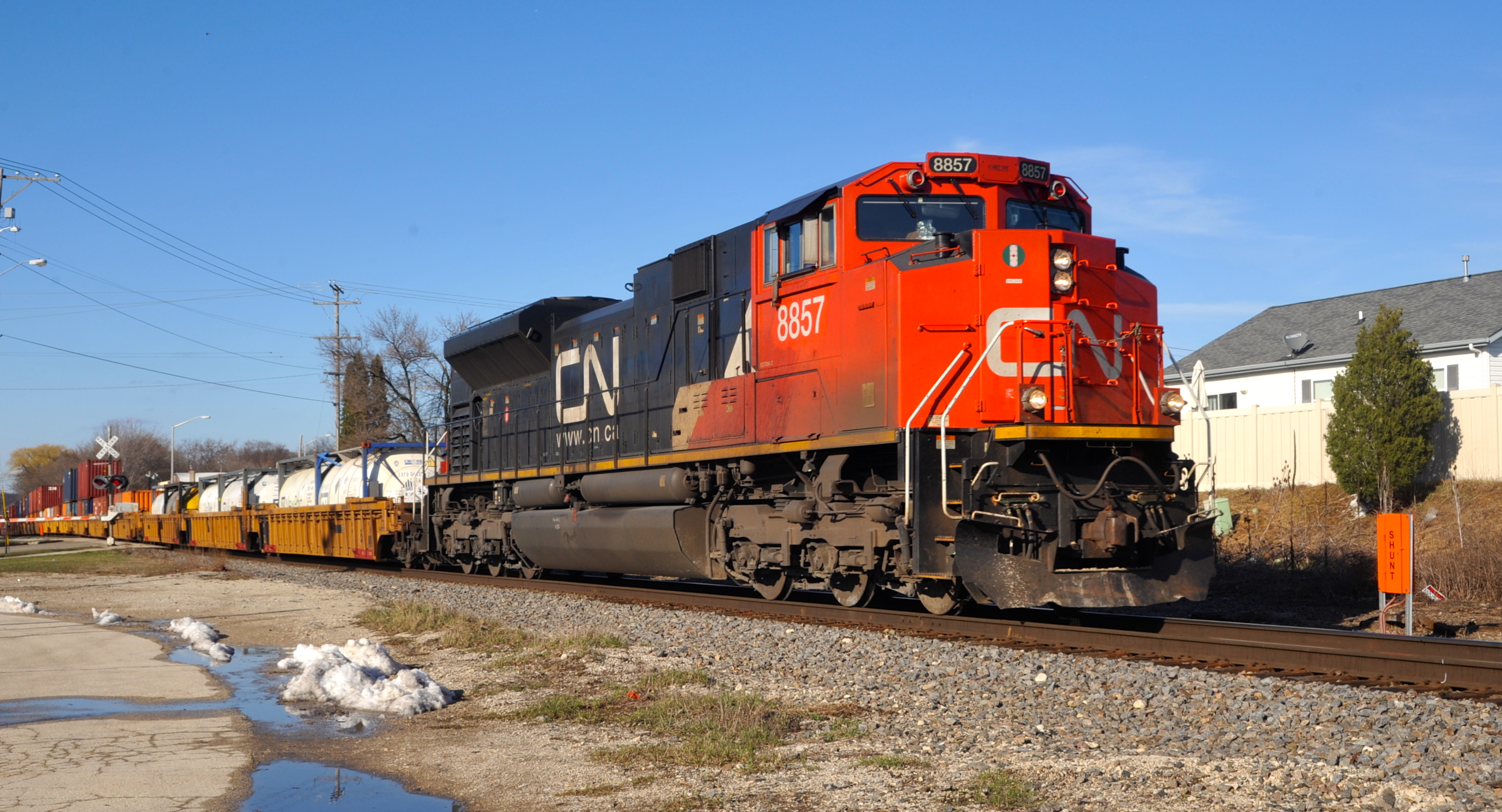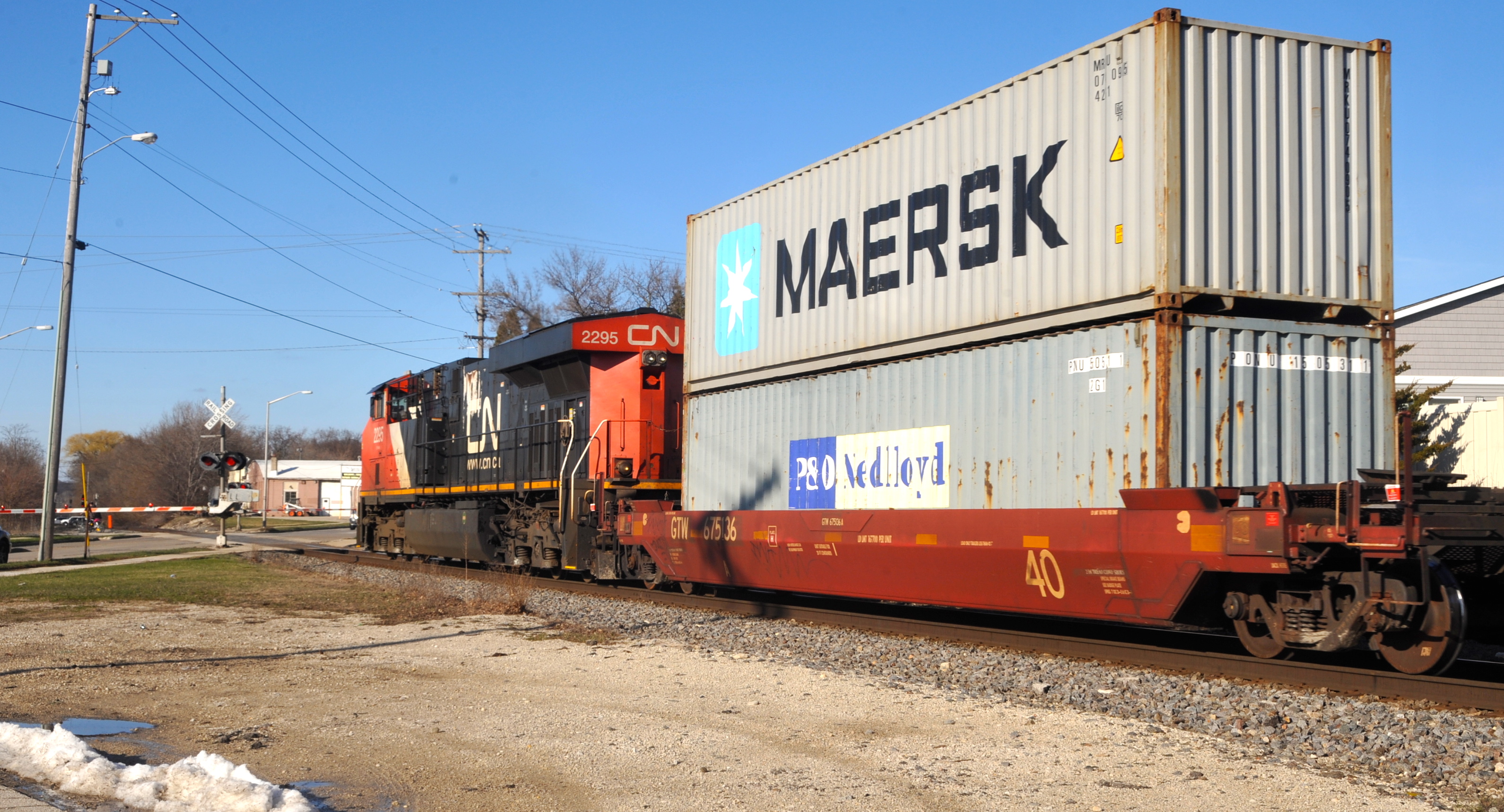 After the surprisingly successful Good Friday outing on March 25th seeing 9 trains, the next day I went 0-for-4, seeing four trains but unable to shoot a single one, proving life evens things out. As I went into Waukesha to check things out, a southbound CN manifest was going thru, power not seen; in taking Carol to the grocery in Pewaukee, a CN stacker was going under us at the Highway JJ viaduct; a short CP #281 eluded me as I drove back toward Duplainville while she was at the store; and finally, a CN northbound stacker was going by as we headed home. I hadn't even seen any of the motive power. I put the camera away. I did expose one frame while Carol was at the grocery -- the piles of ties trackside at CP at Oakton Street, and some of the 8 blue DM&E gondolas from which they'd been unloaded for Spring trackwork season. This takes a favorite photo spot off the table for a few weeks, alas.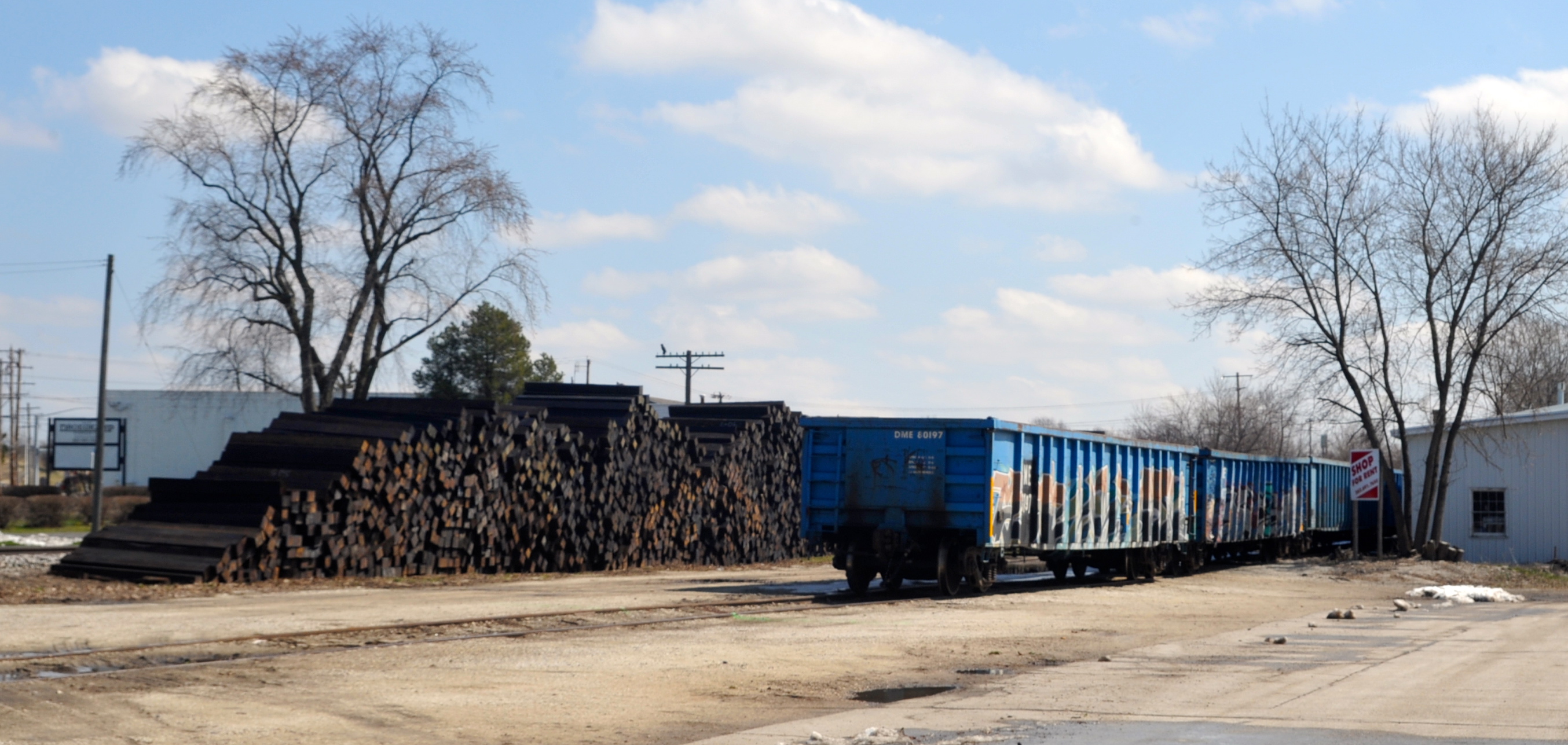 Easter was a tad better. I headed out to watch Amtrak #8, on-time as usual, intending to go to Pewaukee, but a westbound CP nullified that, so I shot him at Duplainville -- #281, with two of three units being unusual 4-motor power for this train: 4424/4617/8751, with 41 trilevels forward and then 88 miscellaneous cars for a total of 129, by Duplainville at 1:31. The day was overcast with sprinkles, and I'd intended to shoot from the north side, but I guessed right and did not do that, as #281 was dogging it thru the interlocking in anticipation of not having to stop for Amtrak #8 to pass, which is what happened. Amtrak's engines, 124/118, passed me with their 10 cars at 1:38.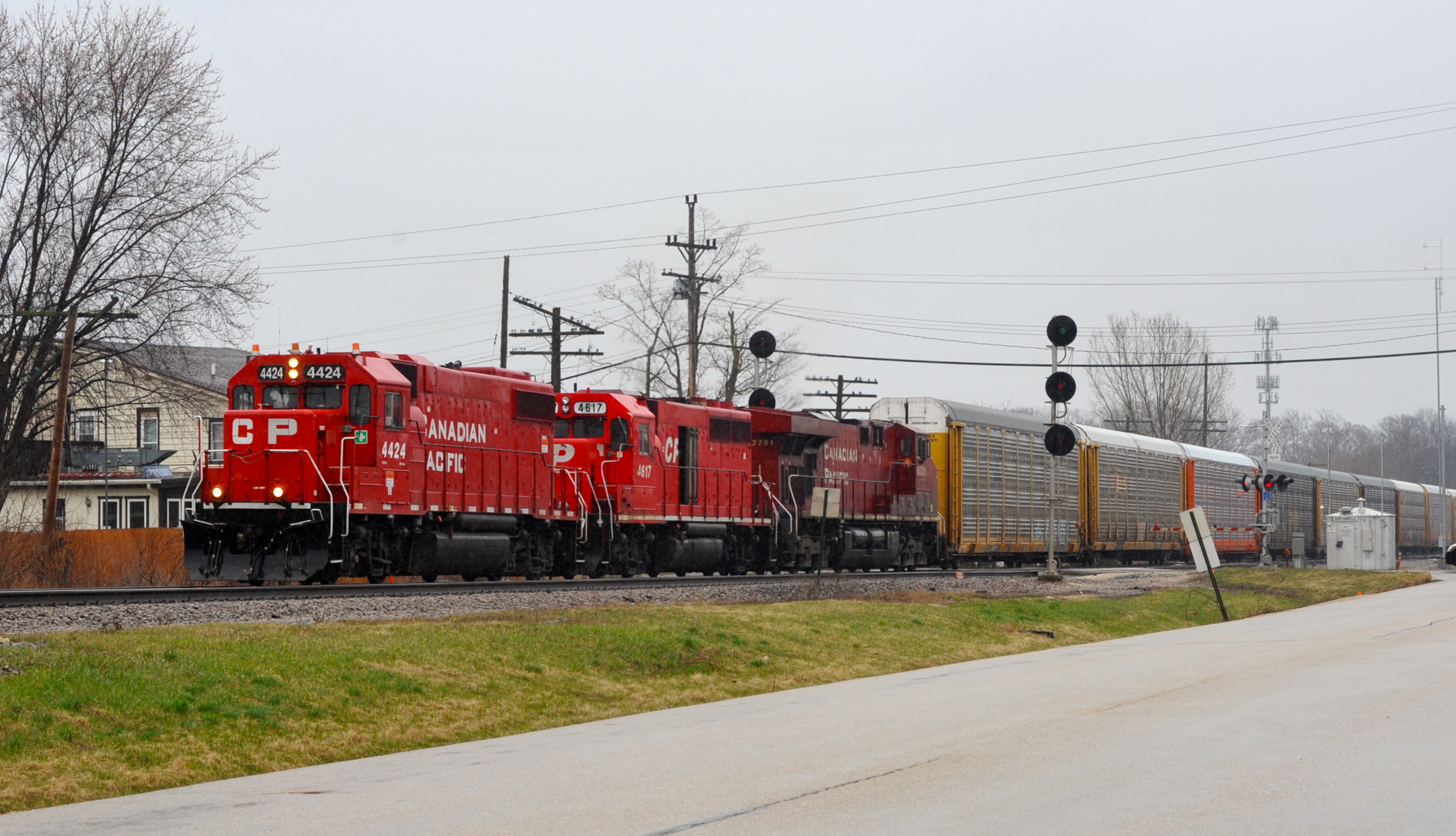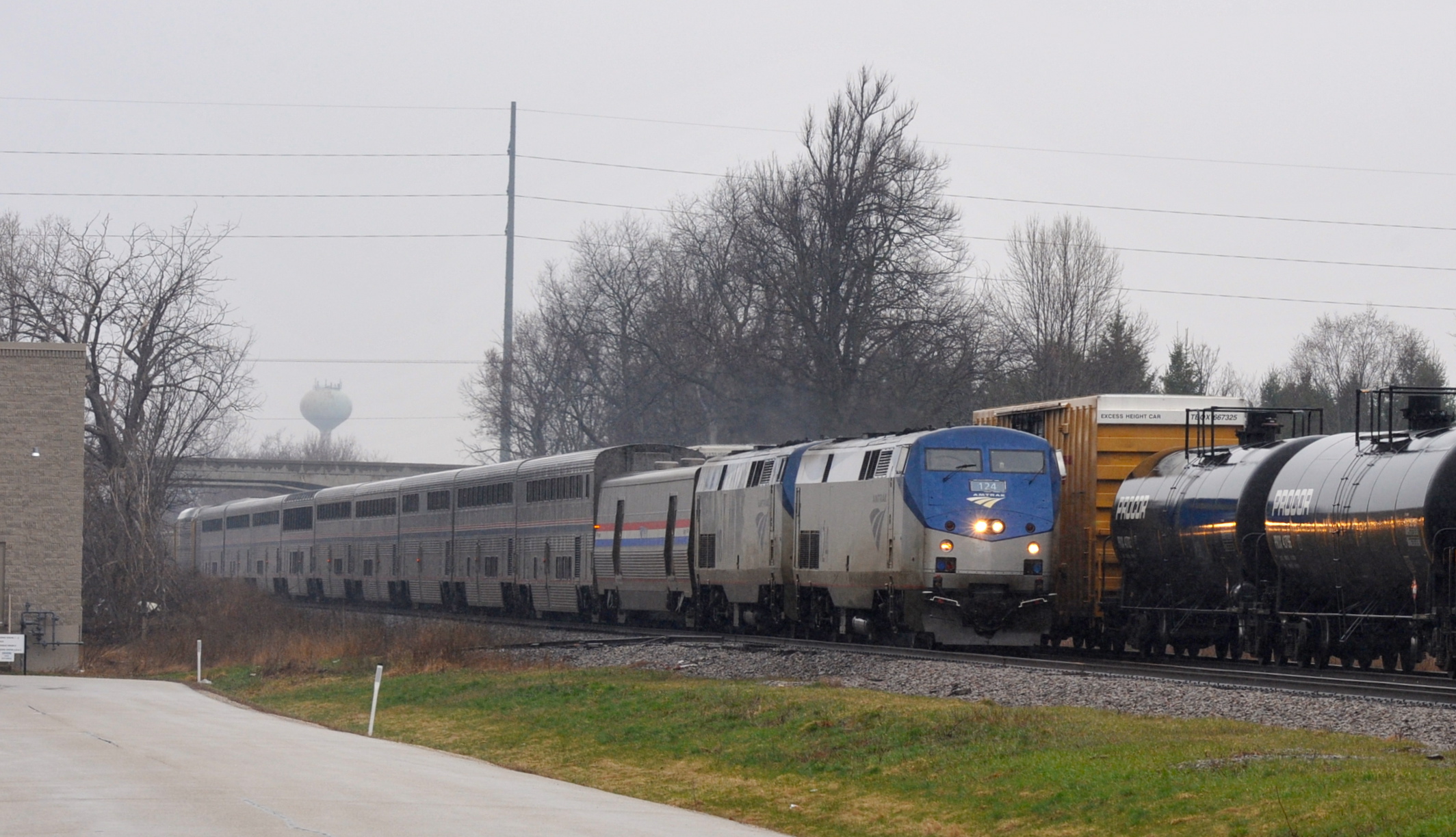 Tuesday the 29th was sunny, and friend Nick Tharalson from Iowa was coming to town for a slide show, so of course a bunch of freights went thru before he arrived, and all he and I saw in mid- to late afternoon was Amtrak #7. I started out as I often do by going out to watch Amtrak #8, again on-time, which for a change I shot across an open area in Pewaukee at the Forest Grove Road crossing, from the shoulder of Hickory St., a dead-end to several industries. Someday this view probably will be blocked, and meantime, the leaves are not out yet. Engines 79/157 with 10 cars at 1:38 pm.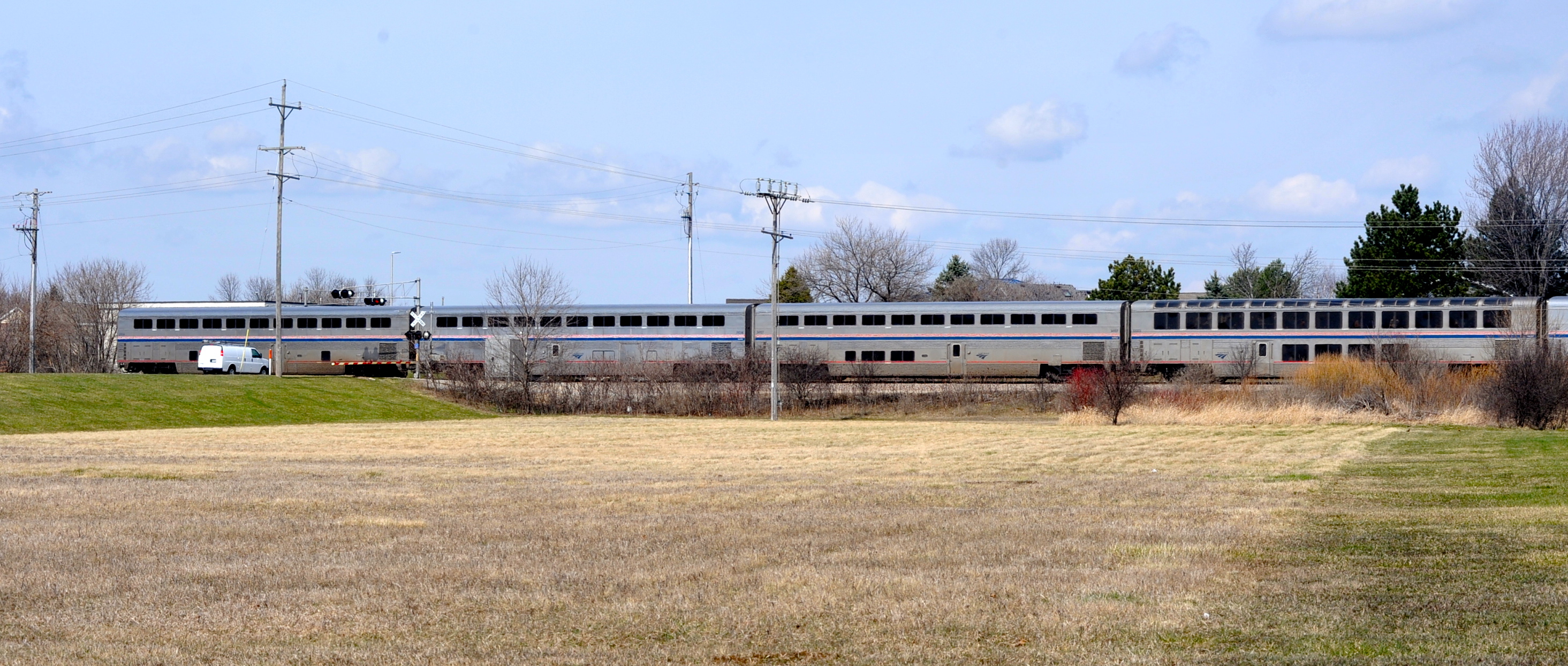 Back at Duplainville, as I'd guessed the usual midday northbound CN stacker #199 had to wait on #8, so I went north for a better light angle and tried another "different" view, from the shoulder of the road just north of MP 104, engines 8894/5633 (EMDs for a change!) at 2 p.m. Often this field is planted in corn during summer, and the property owner across the road got sensitive about thoughtless fans on the old driveway. In WC days, we'd shoot nice telephotos from trackside here.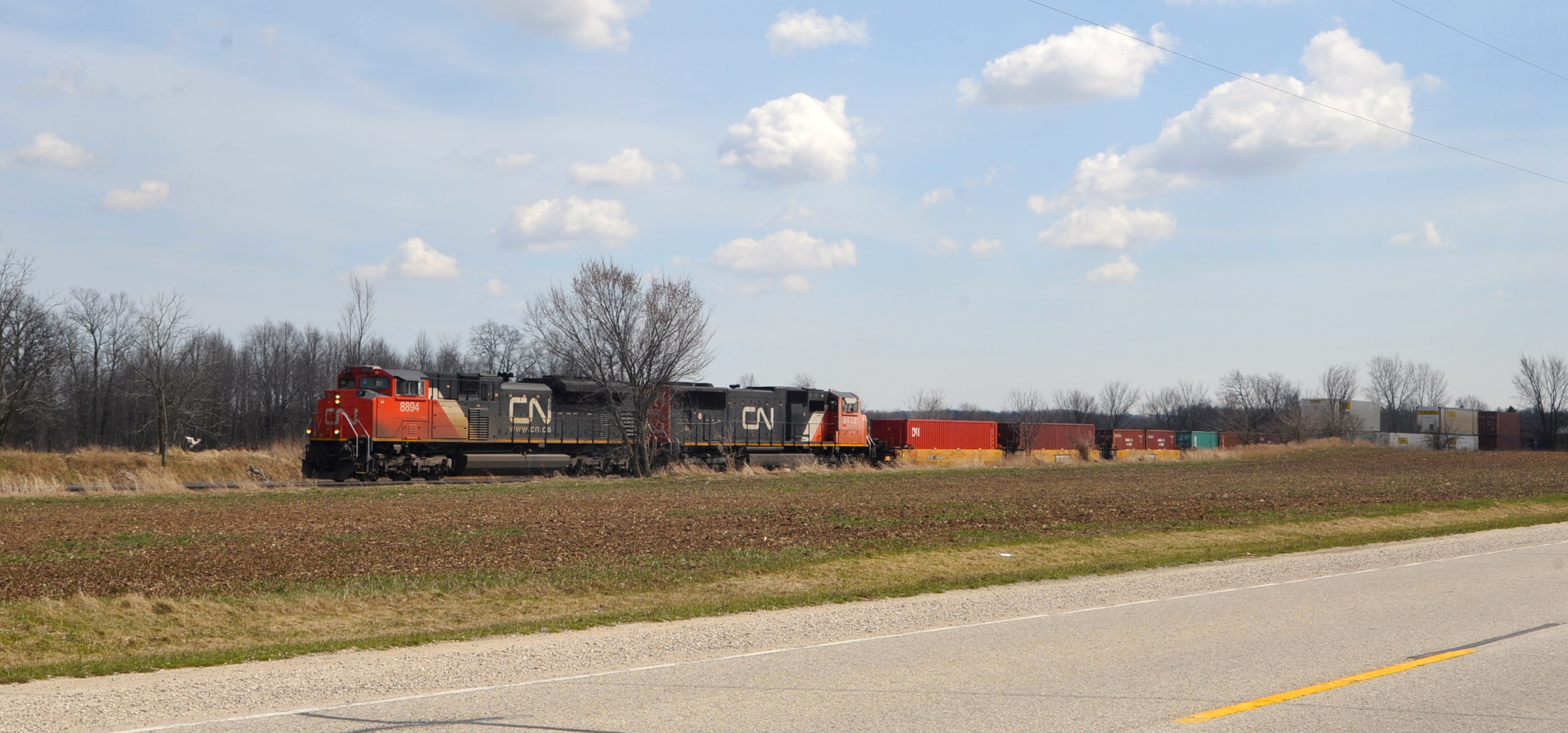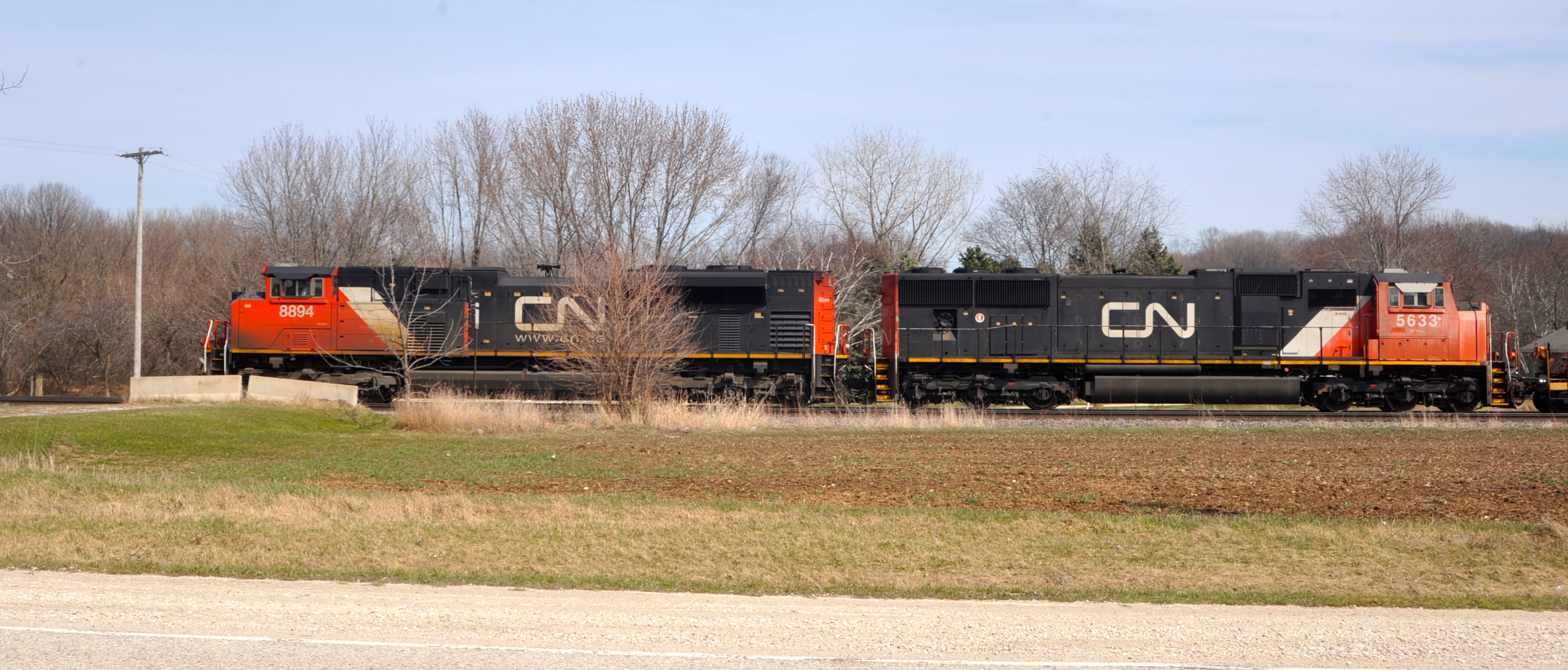 Just on a hunch (scanner not in car) I hustled back to Duplainville just in time to cross ahead of CP #289 (I think), and so just pulled off the road for these broadsides, engines CSX 3302/NS 8010, at 2:03 p.m.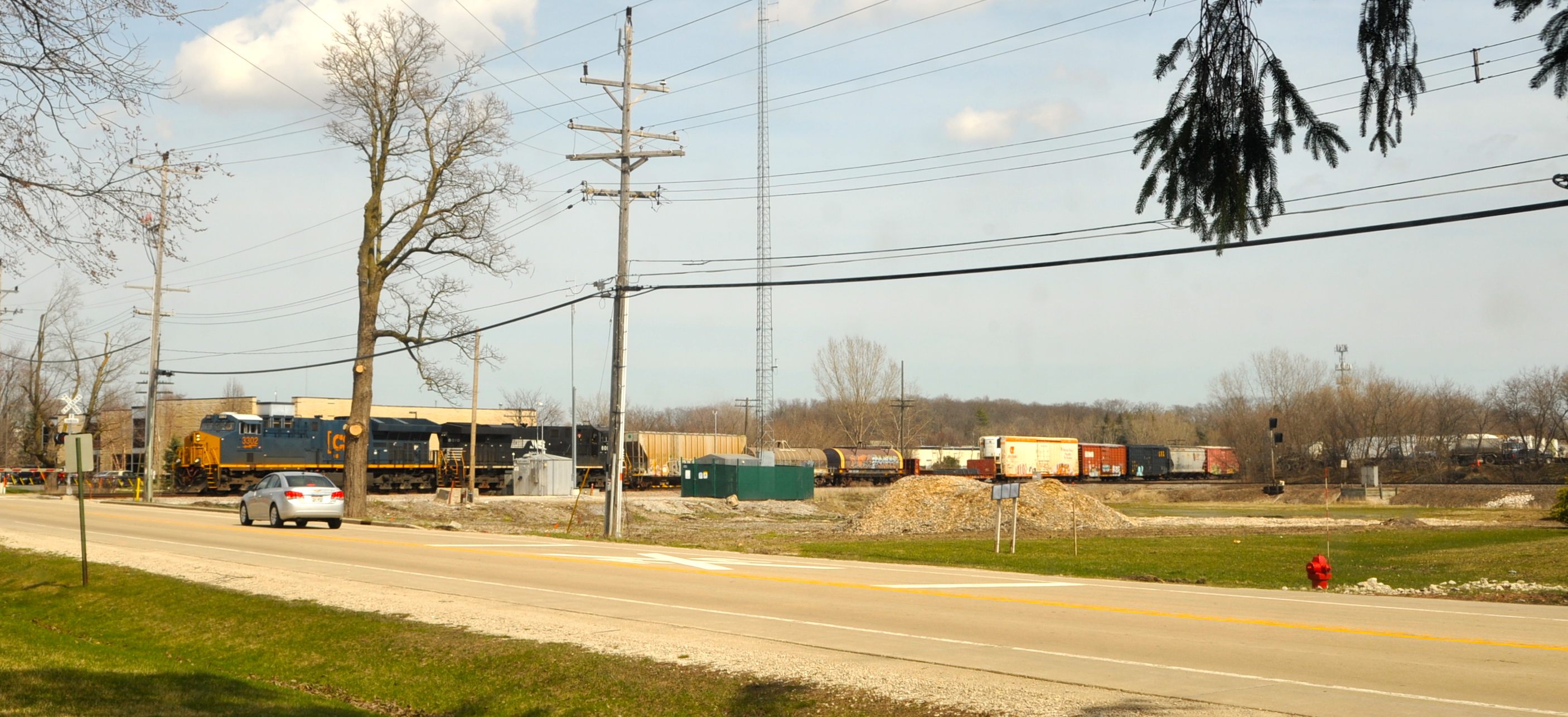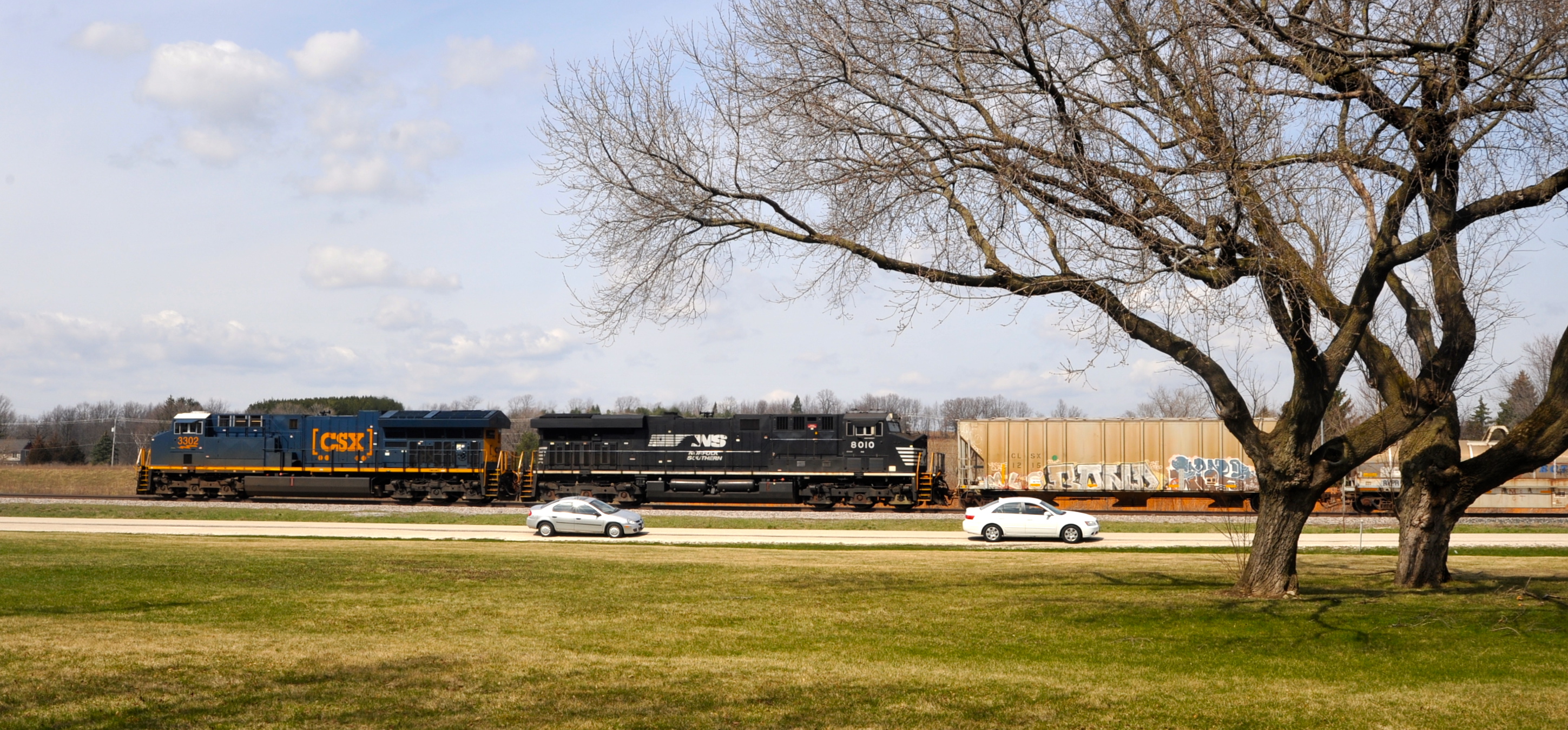 CN #199 was meeting #446 (the NS connection, whatever his number is these days) at Duplainville, so for a better light angle vs. down the street at Dupy, I headed into Waukesha, got clear to the south side of town -- and got clouded! I shot it anyway, on Cemetery Hill along West Avenue, engines 2298/2012 with 118 cars at 2:23.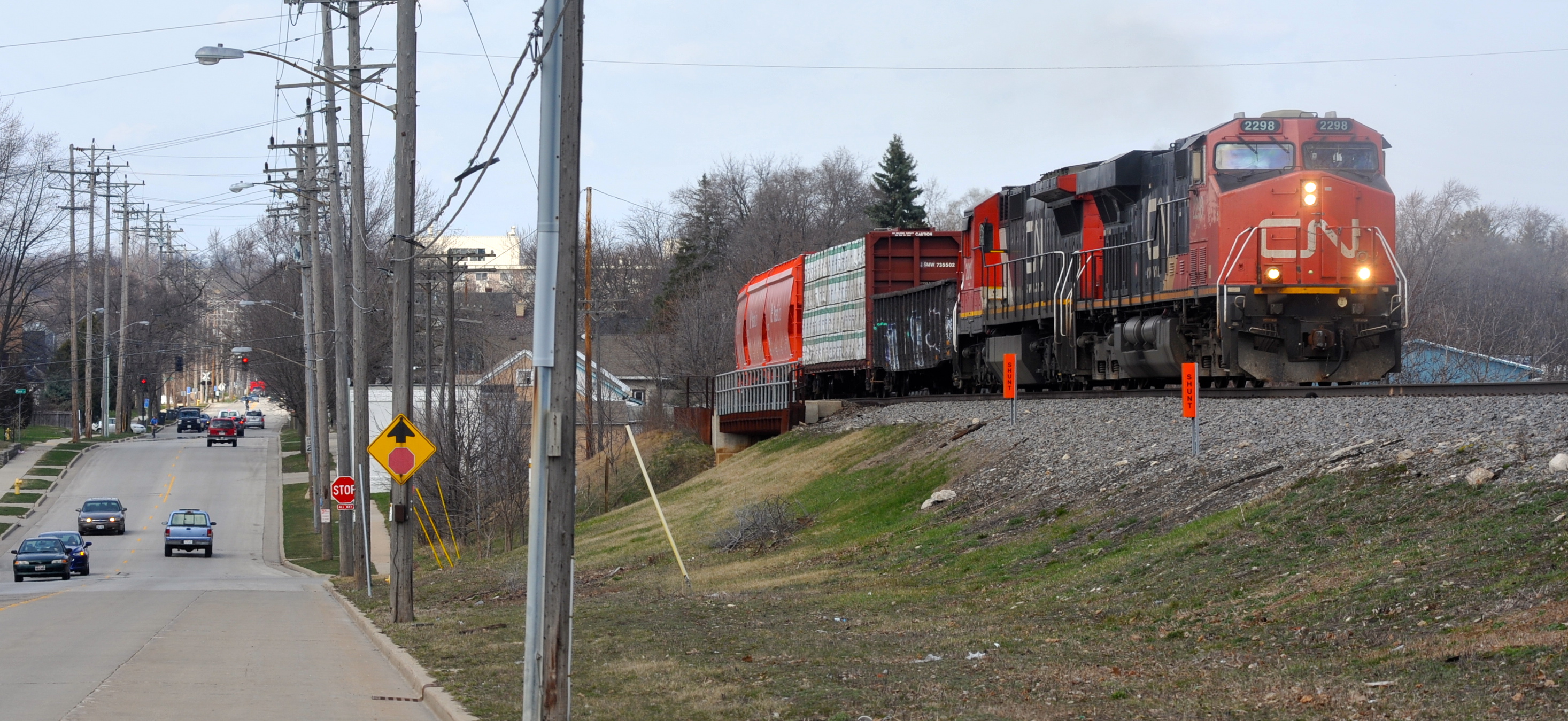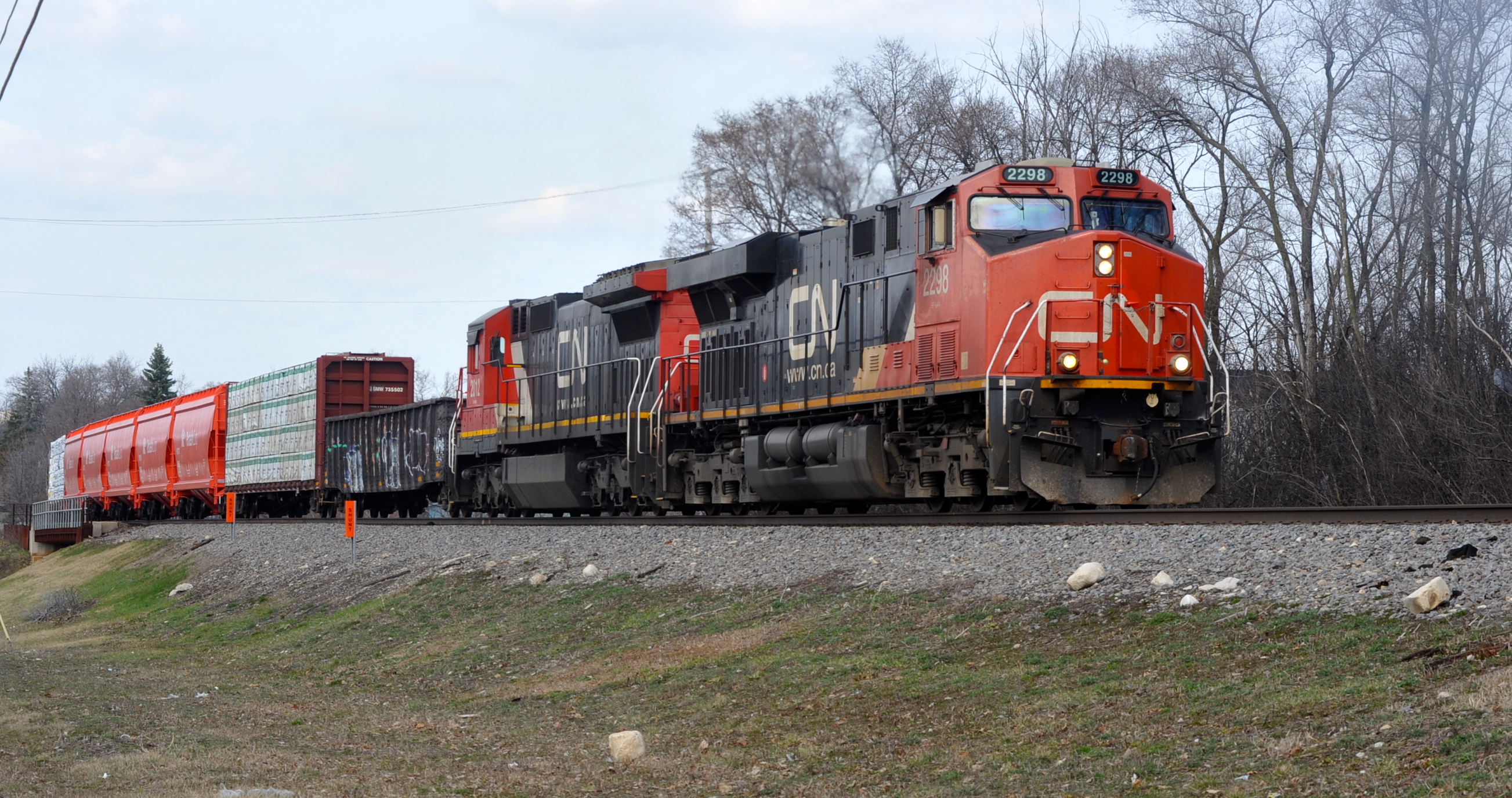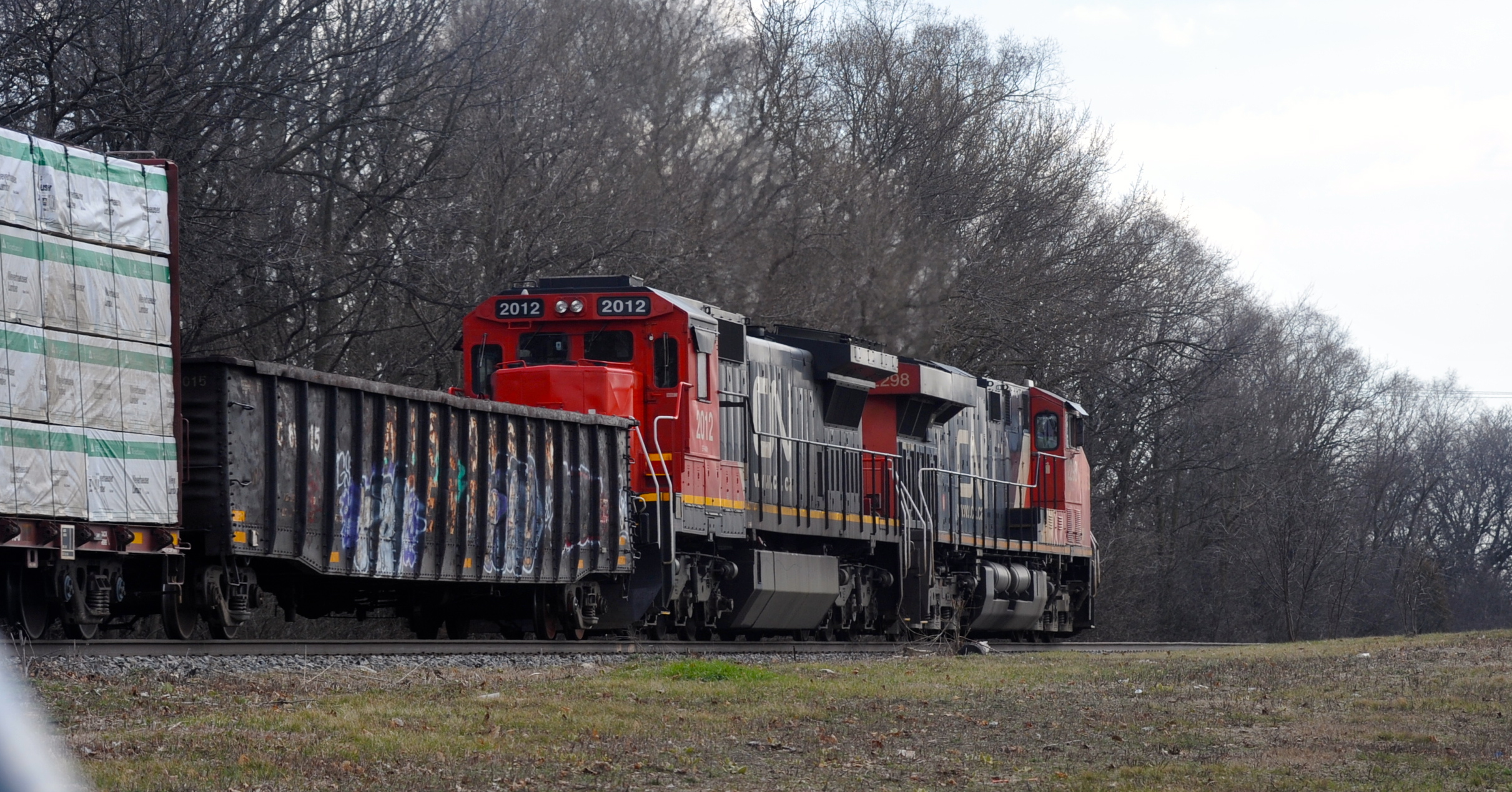 I waited trackside for a bit, just to see if #446 might meet something south at Vernon, but no, next up was yet another southbound, which turned out to be an 82-car train of Herzog ballast hoppers behind 2622/8827/2123, which I shot at the former Main St. yard site at 3:04 p.m.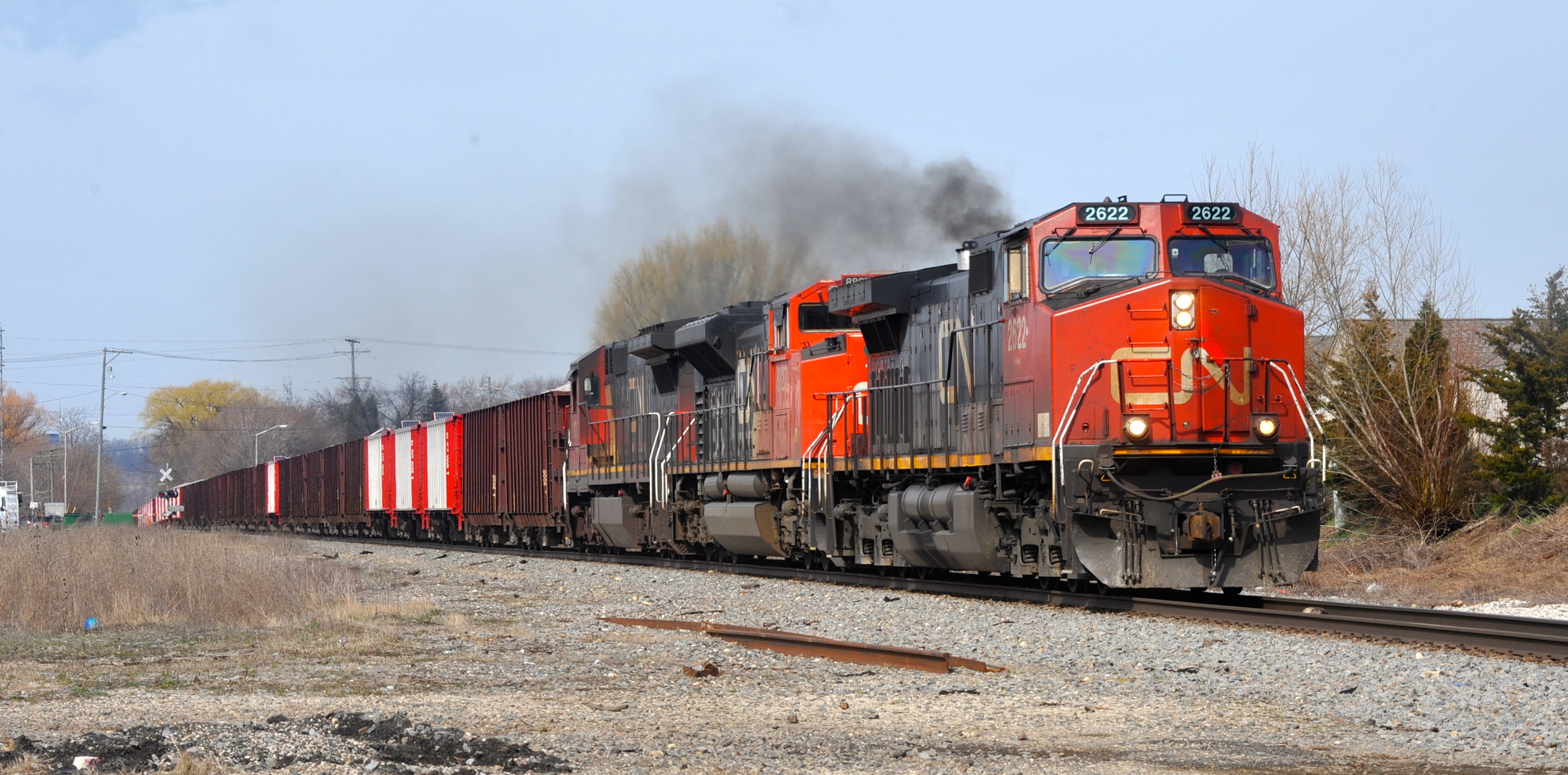 I then returned home to pick up stuff for the slide show, went over to the Super 8 to pick up Nick, and all we'd see would be Amtrak #7, on-time at Duplainville at 4:13 with 122/45 and the usual 10 cars. I didn't even get out of the van as Nick went to the road's edge for the usual better angle, but I shot anyway -- just as a big truck went thru the frame to constrict me, of course. That is not Nick in the first photo, he was directly to my left.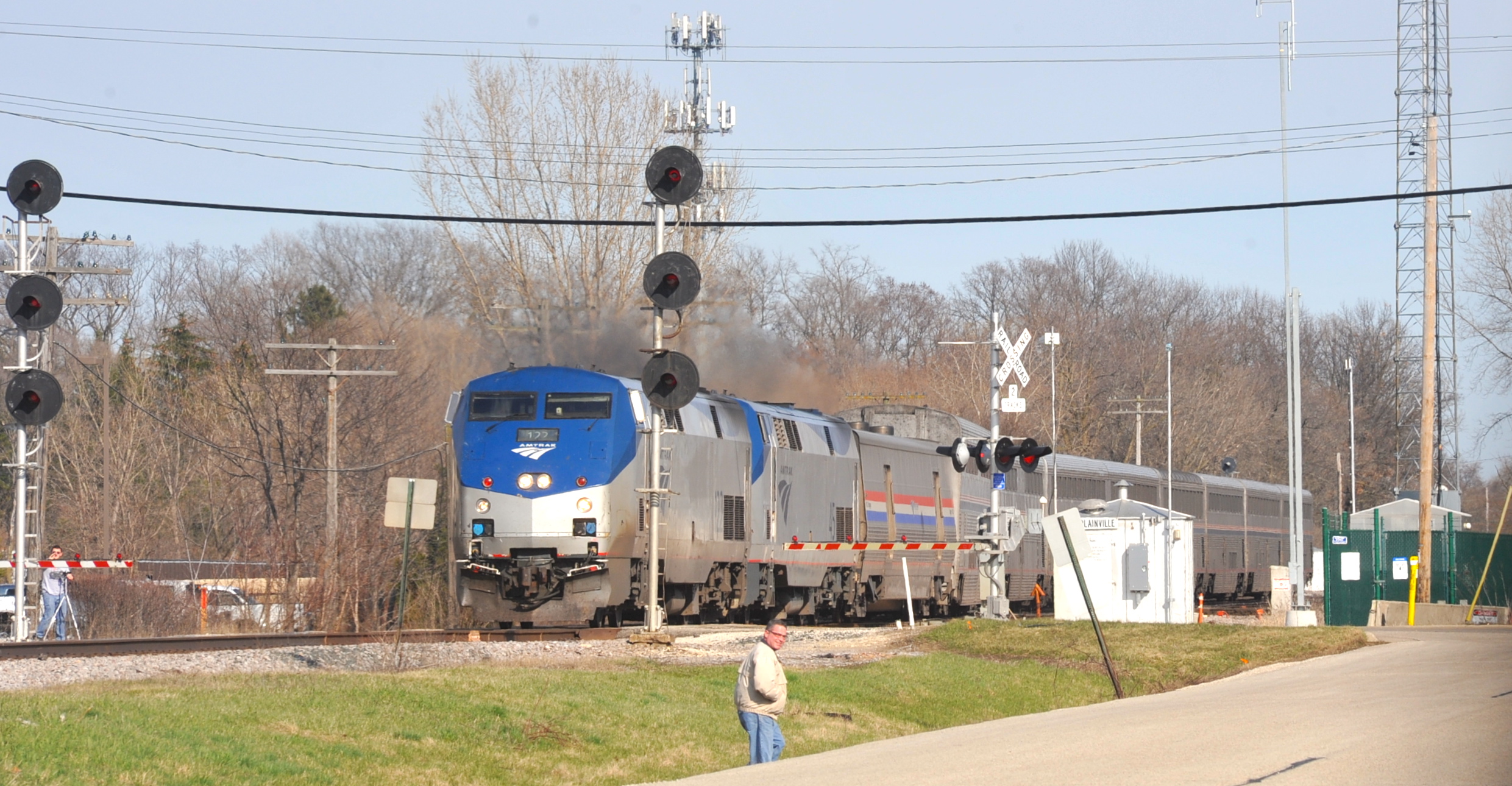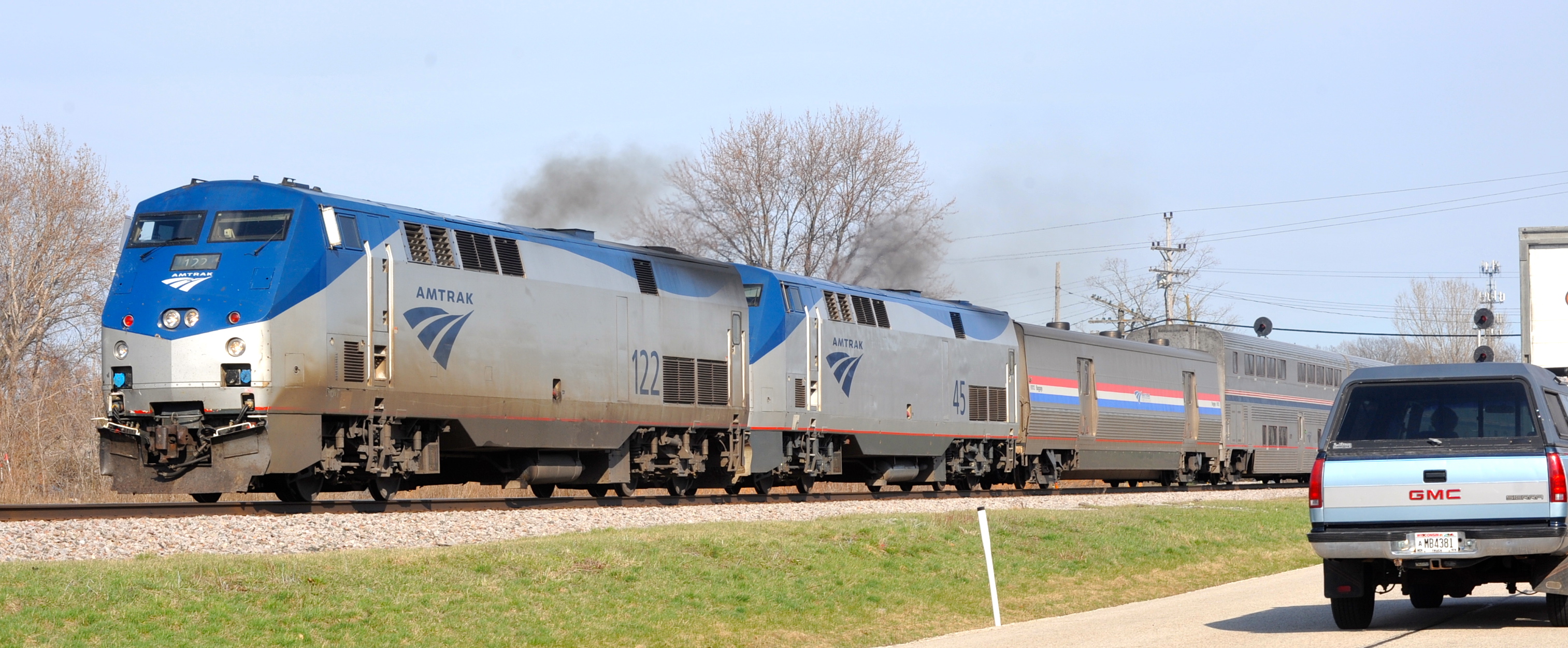 Next day, March's last, got me out briefly on an afternoon of mixed sun and clouds during which I was quite lucky. Checking ATCS at home, a CN southbound was coming into Waukesha, and I wound up at Grand Avenue for him with a brand-new GE leading: 3056/8832/2502, at 3:57.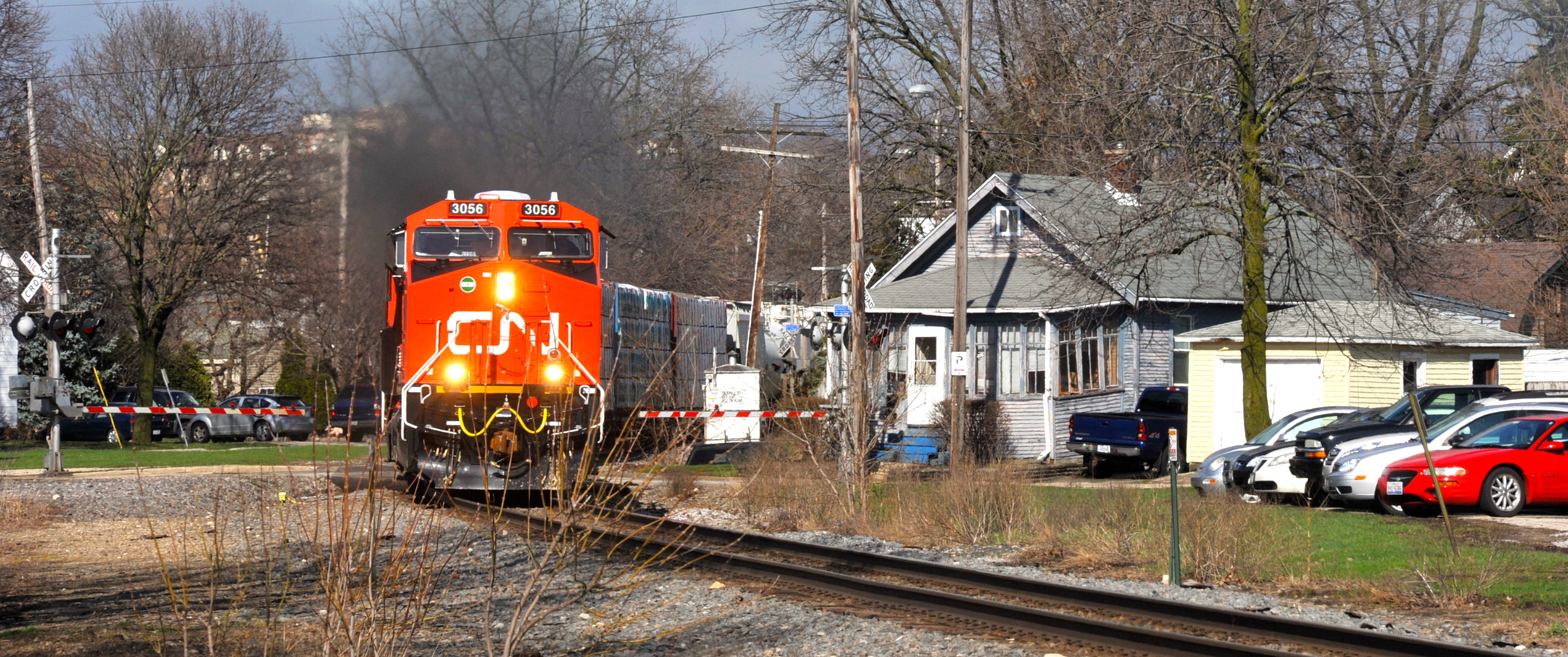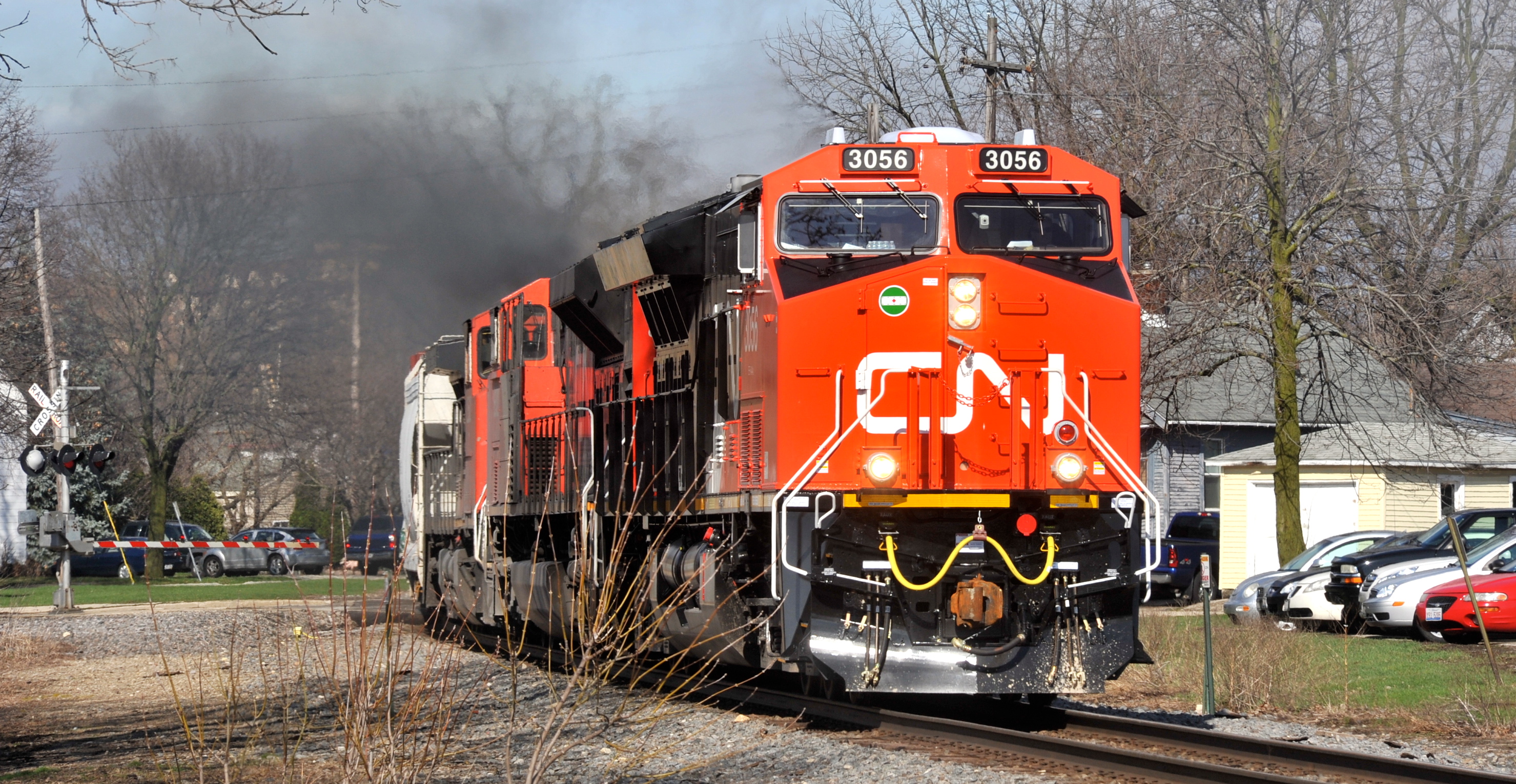 As the CN engines passed, I noted I probably had enough time to get to Duplainville to see Amtrak #7, on-time as usual, which I planned to shoot from the north side since I have 4011-zillion south-side shots of him here, and from ATCS I knew he was lined thru on Track 2. I had no time to go to another spot, so I just parked on the road shoulder and got these slightly different angles to finish my March rail photography, virtually all close to home.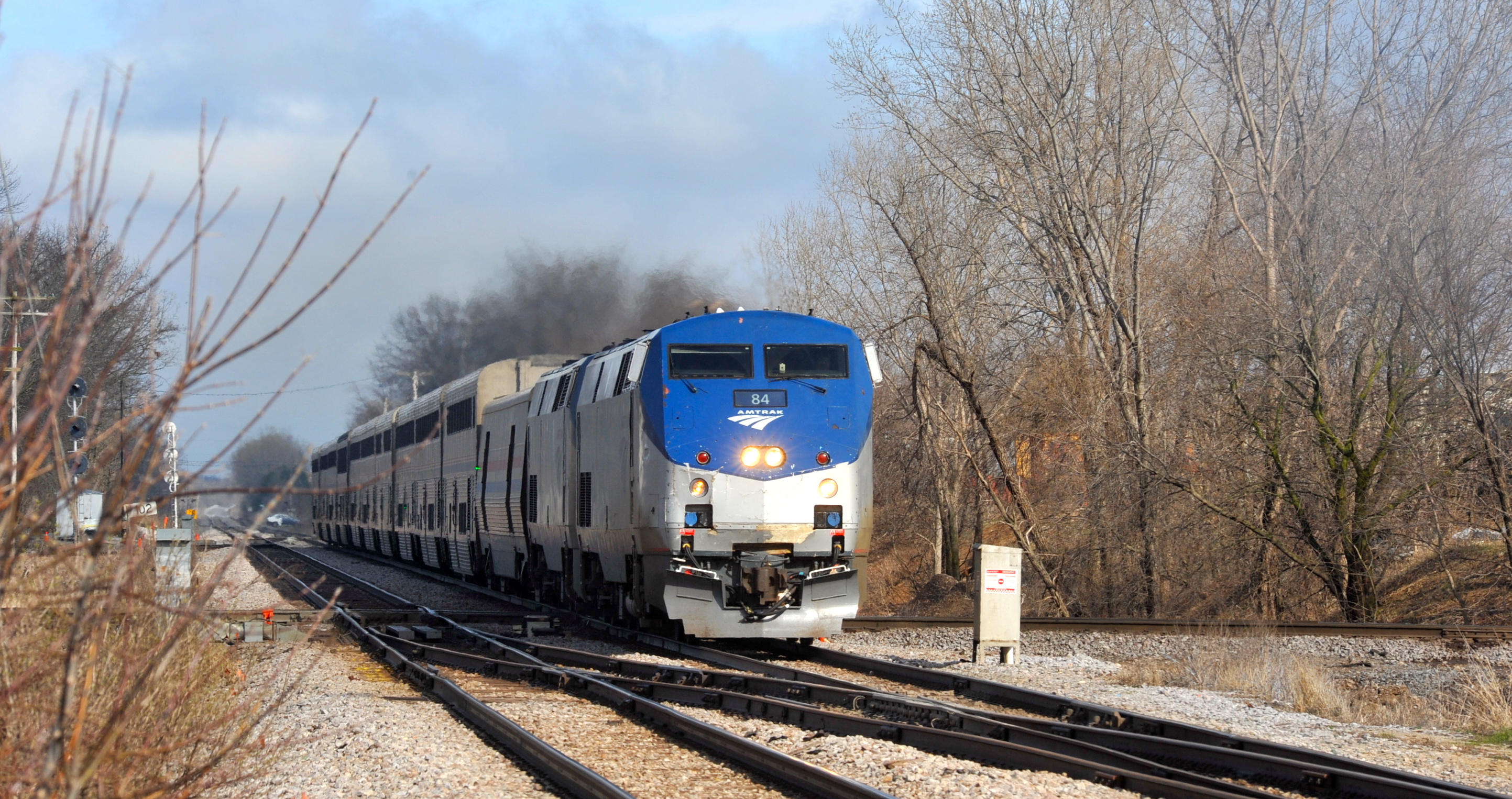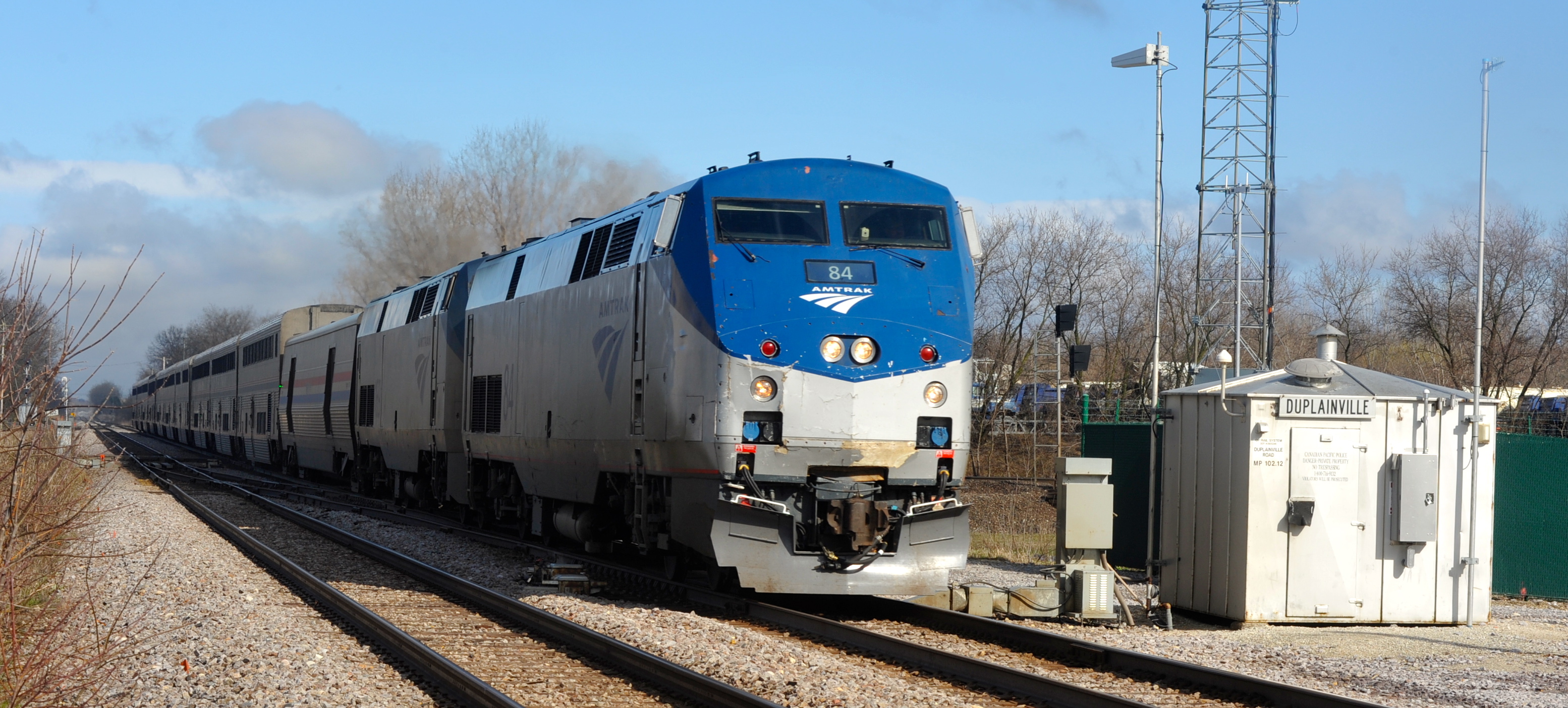 This page was designed and is maintained by Mike Condren. If you have materials
that you would like to contribute, contact me at mcondren@cbu.edu