Prairie du Chien-Savanna-Rochelle
Oct. 7-8, 2011
Photos by Dave Ingles
We began Friday morning, Oct. 7, by driving across the river from Prairie du Chien to Marquette, Iowa, to check out the DM&E/IC&E situation, and to gas up at cheap Iowa prices for the day. Carol snapped these shots of the Iowa river bluffs from the passenger side of the van, as there is room with a wide shoulder to go slow, and traffic was pretty much nil.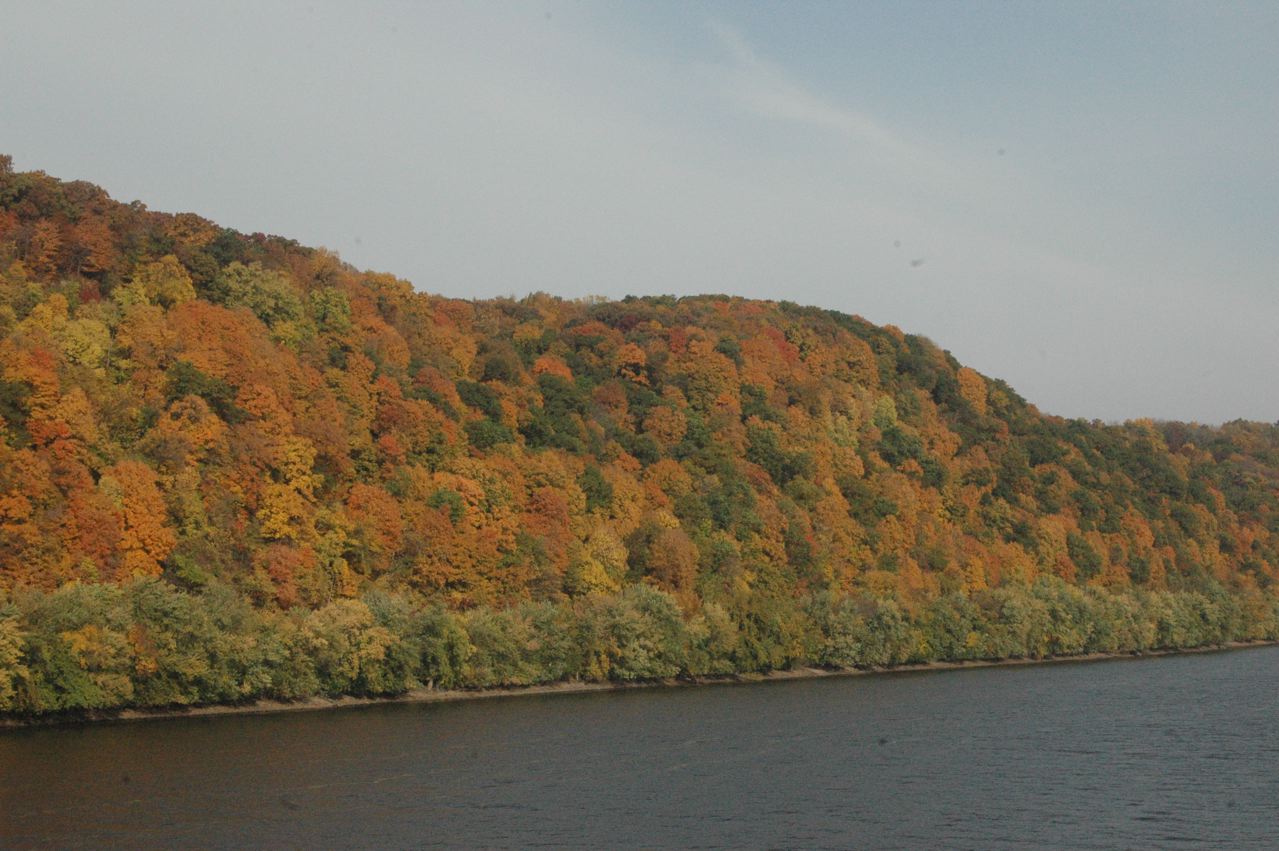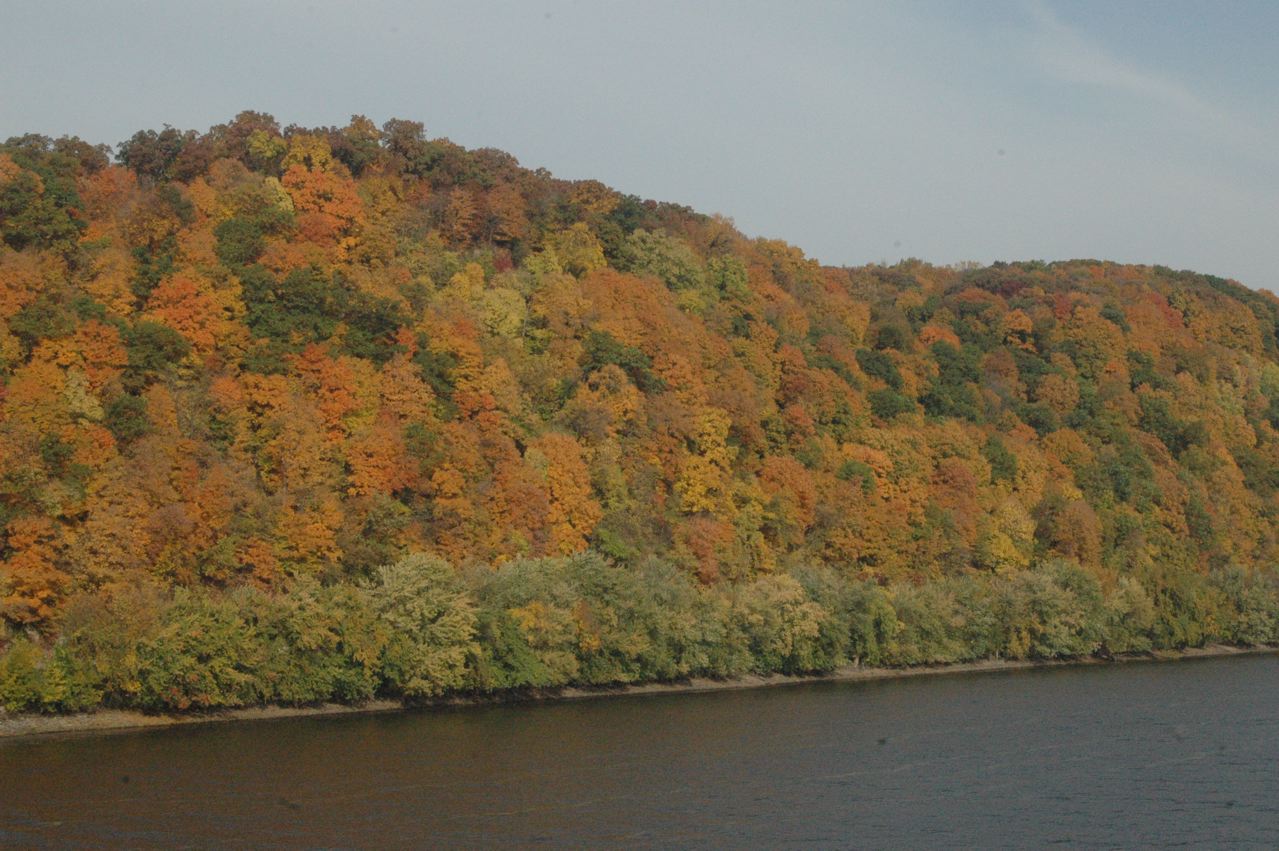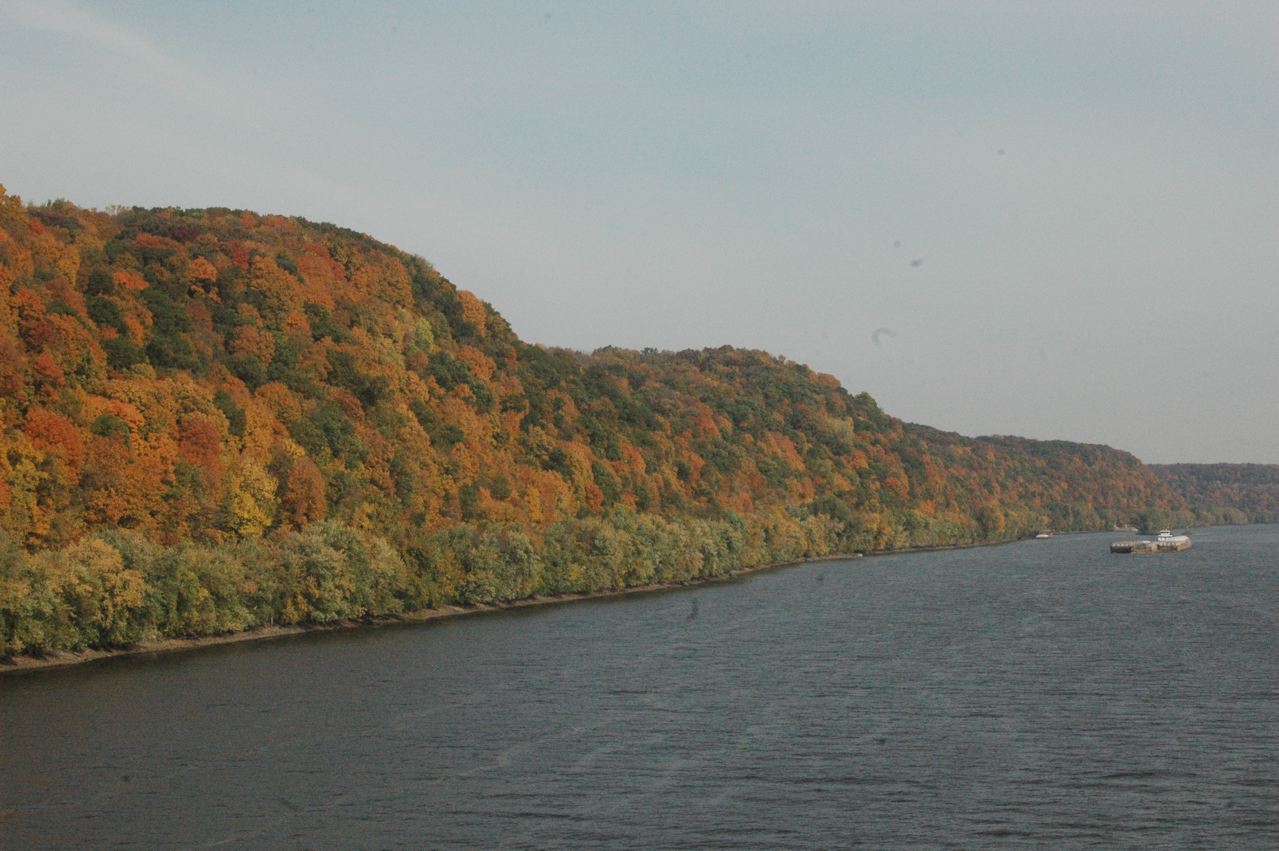 The scanner was silent, and  the only railroad item of interest was this parked SD40-2, at 9:25 a.m.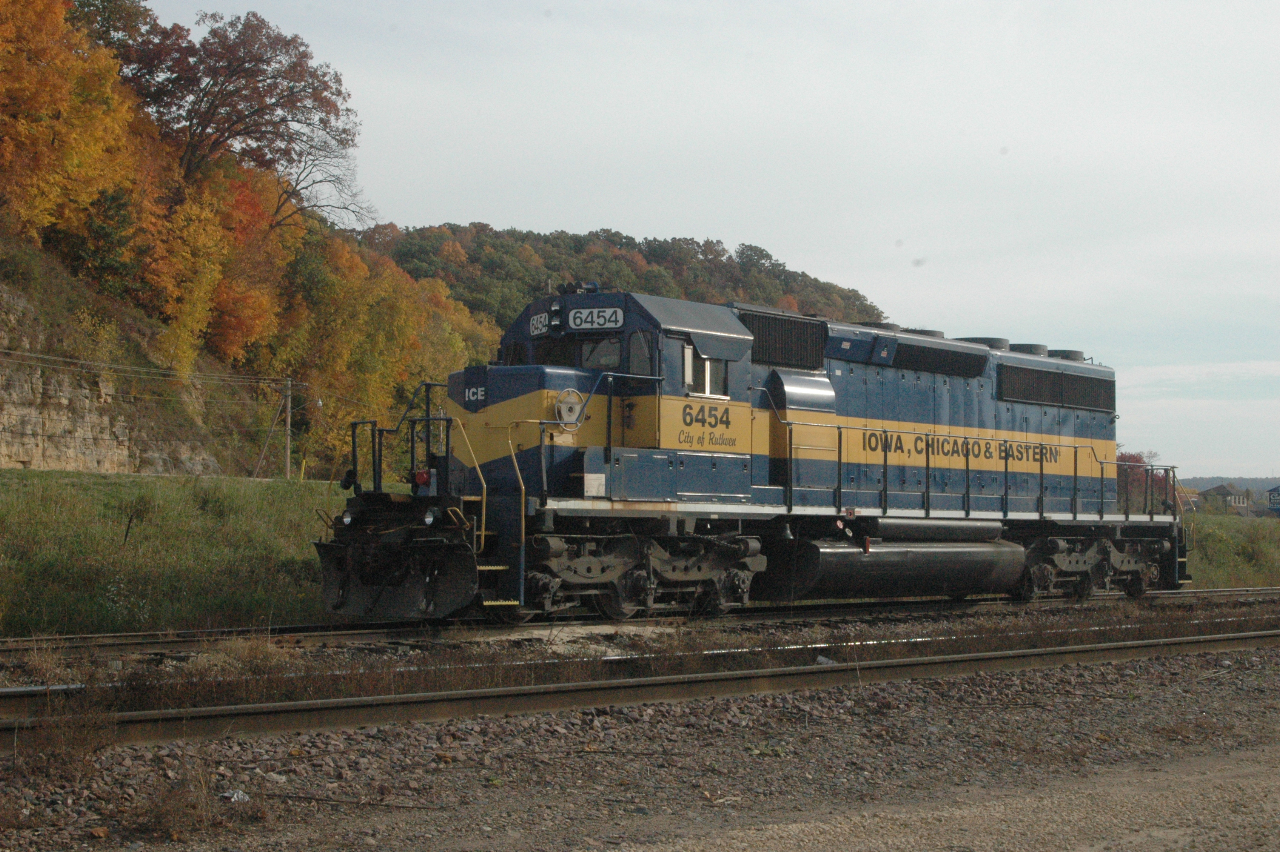 Driving back to the Wisconsin side, Carol shot these looking downriver.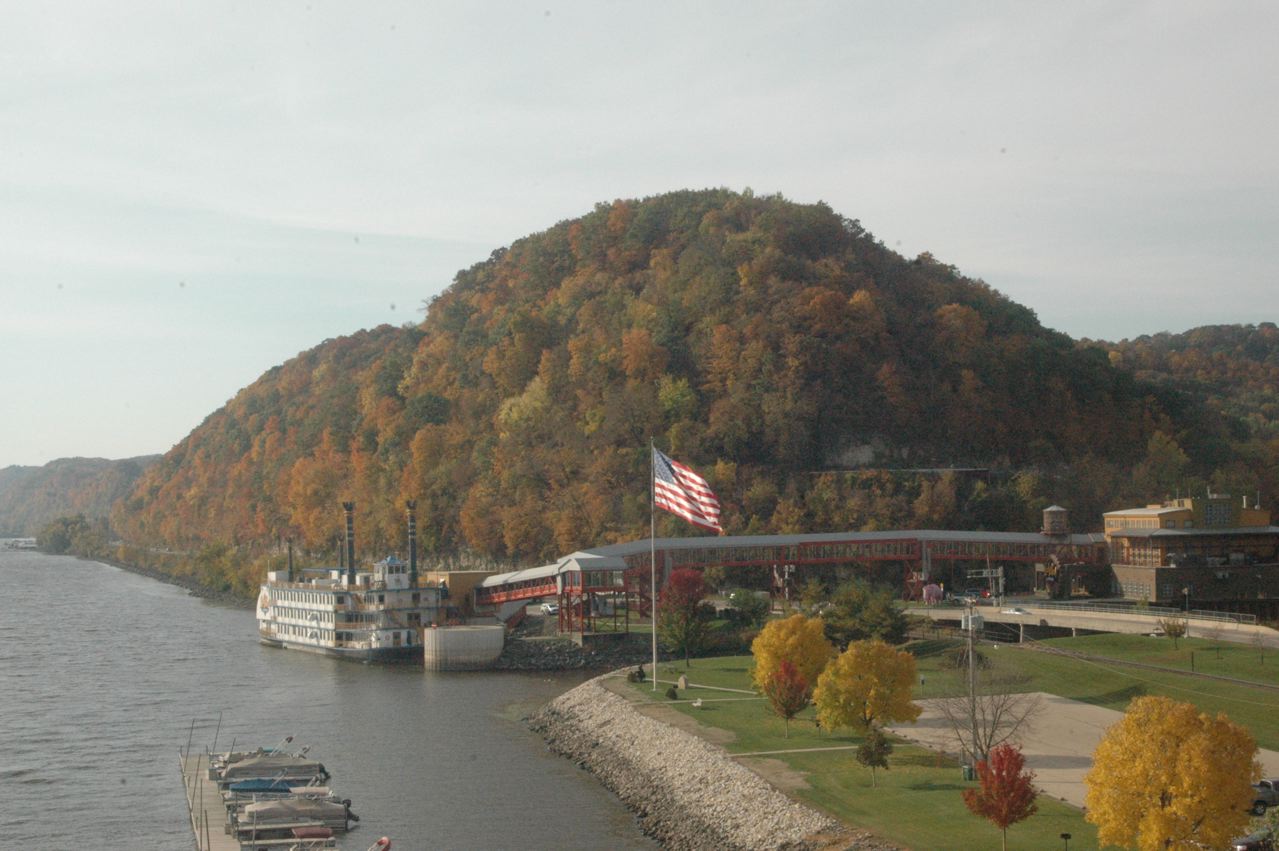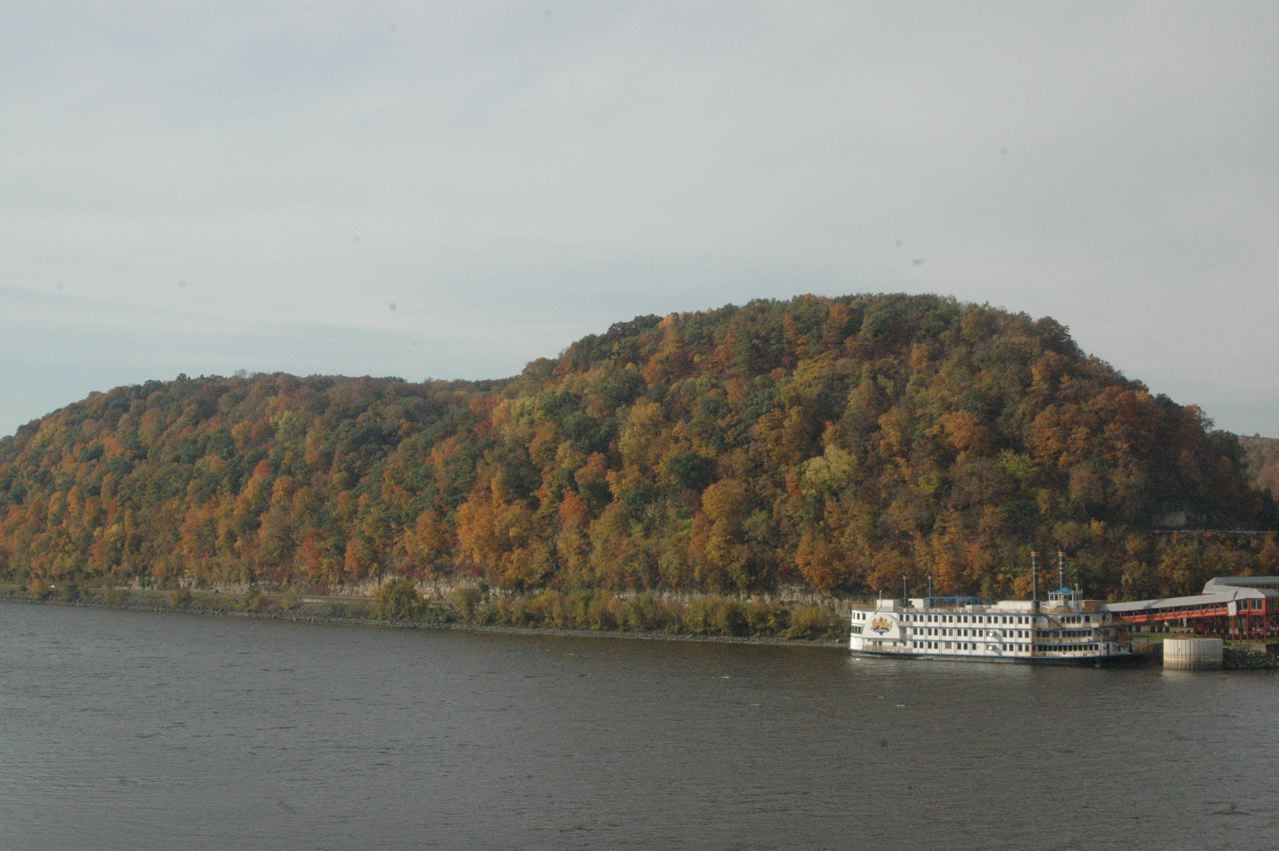 We had been monitoring the BNSF Aurora Sub channel and knew nothing was imminent (though from our motel we heard numerous trains during the night), but we expected a couple of trains within an hour or less, and yes, the work window was back in effect at 10 a.m., but I think one track must have remained open, at least some of the time, as events would play out. Meanwhile, we went onto the island at PDC to shoot the WSOR job, currently triweekly out of each end at 2 p.m. on alternate days. He had come in after sunset at some time and tied up, and of course against a cut of freight cars on his sunny side. Time here is 9:45. He had quite a long train, 30 cars or more, and many hoppers were on hand in town here. The depot you see beyond the cars at left is a replica.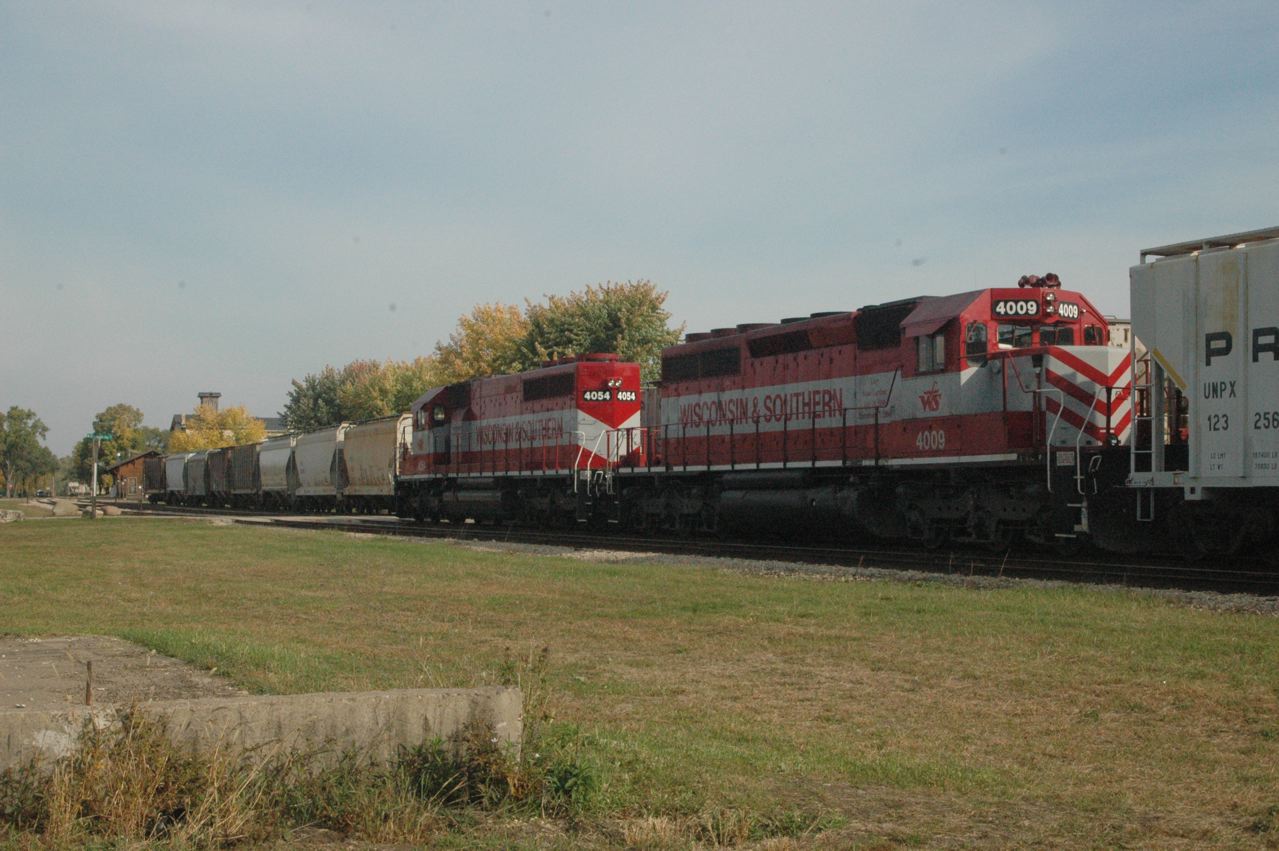 Since the railroad is not along the highway south of PDC, except Wyalusing-Bagley, we chose to stay in town for the only three trains we knew to be headed our way. The first almost caught us by surprise, near the depot, at 9:57: units 5419/7314/613 (scruffy Warbonnet) on a 63-well stack train.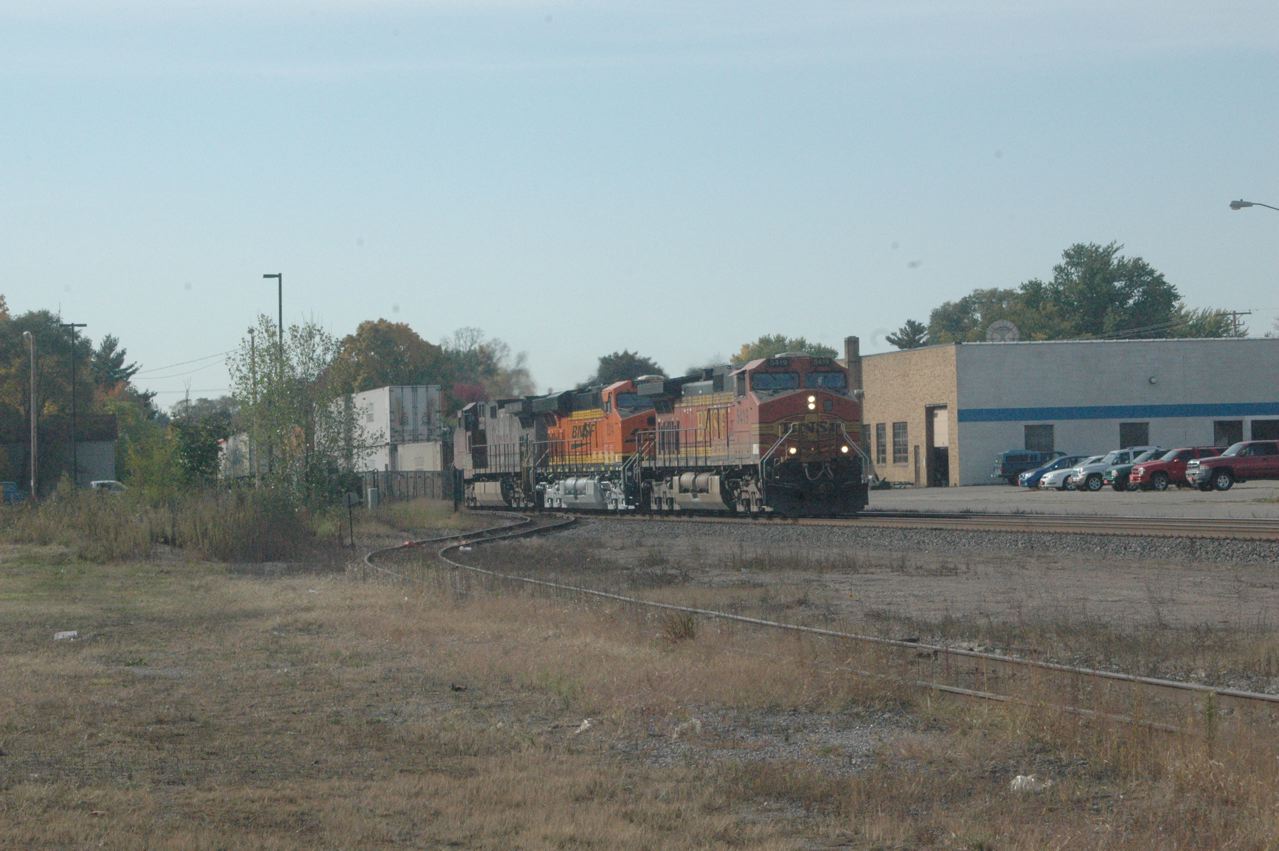 Next was another westbound stacker, 781/4573 West, at 10:27 with 81 wells.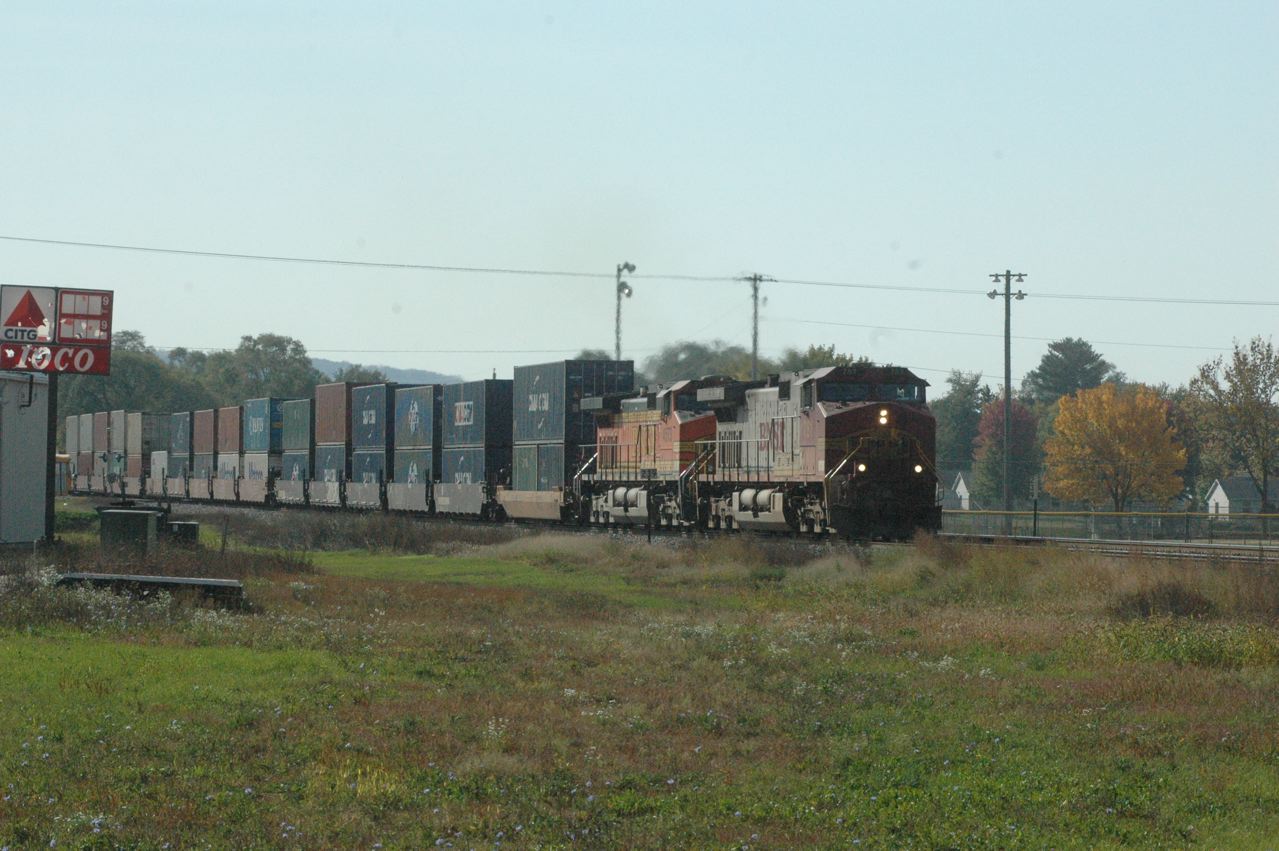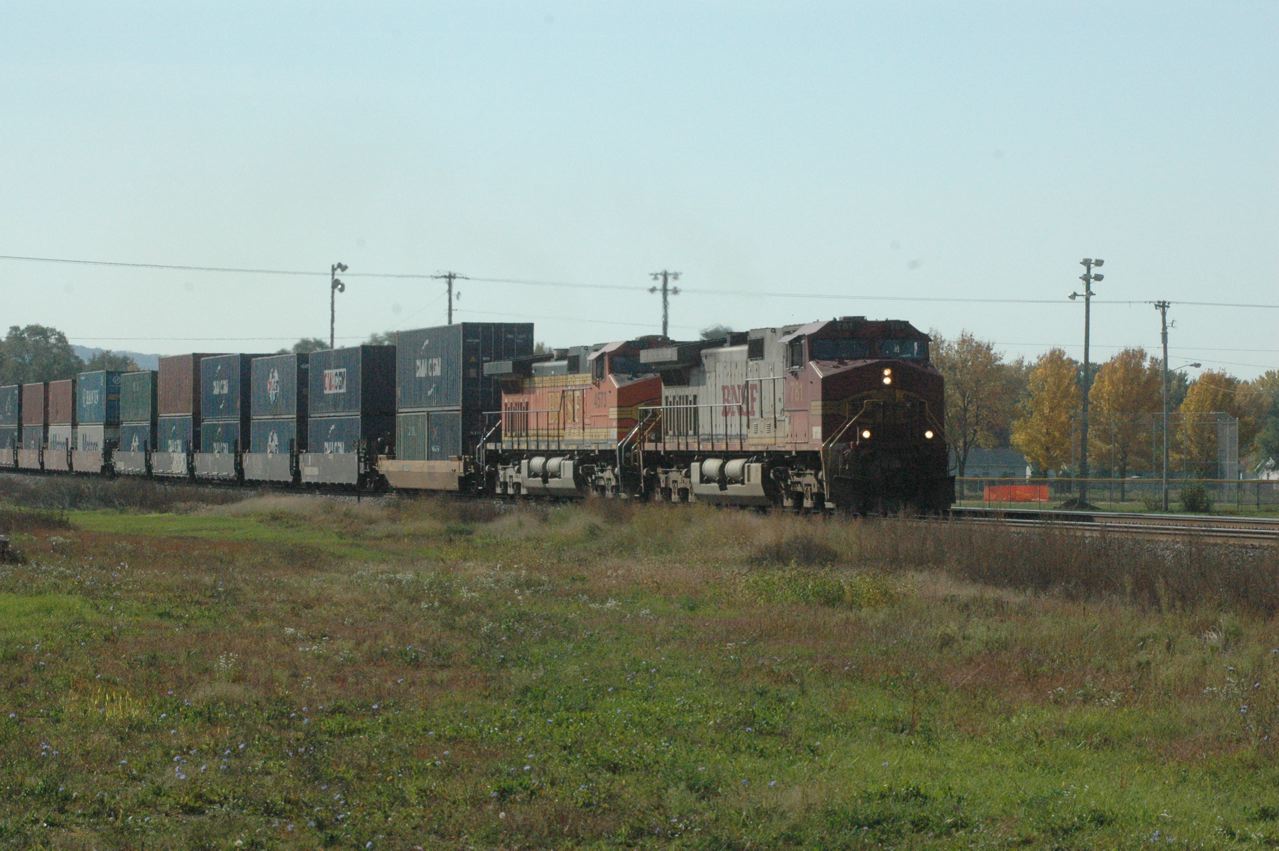 I'd heard the eastbound coming, and it was touch-and-go if we'd see him or not, acct. the westbound. This is the same grade crossing at 10:29, engines 4767/5516 with 74 wells; engine 4767 passed 781's "FRED" less than a city block out of the photo here!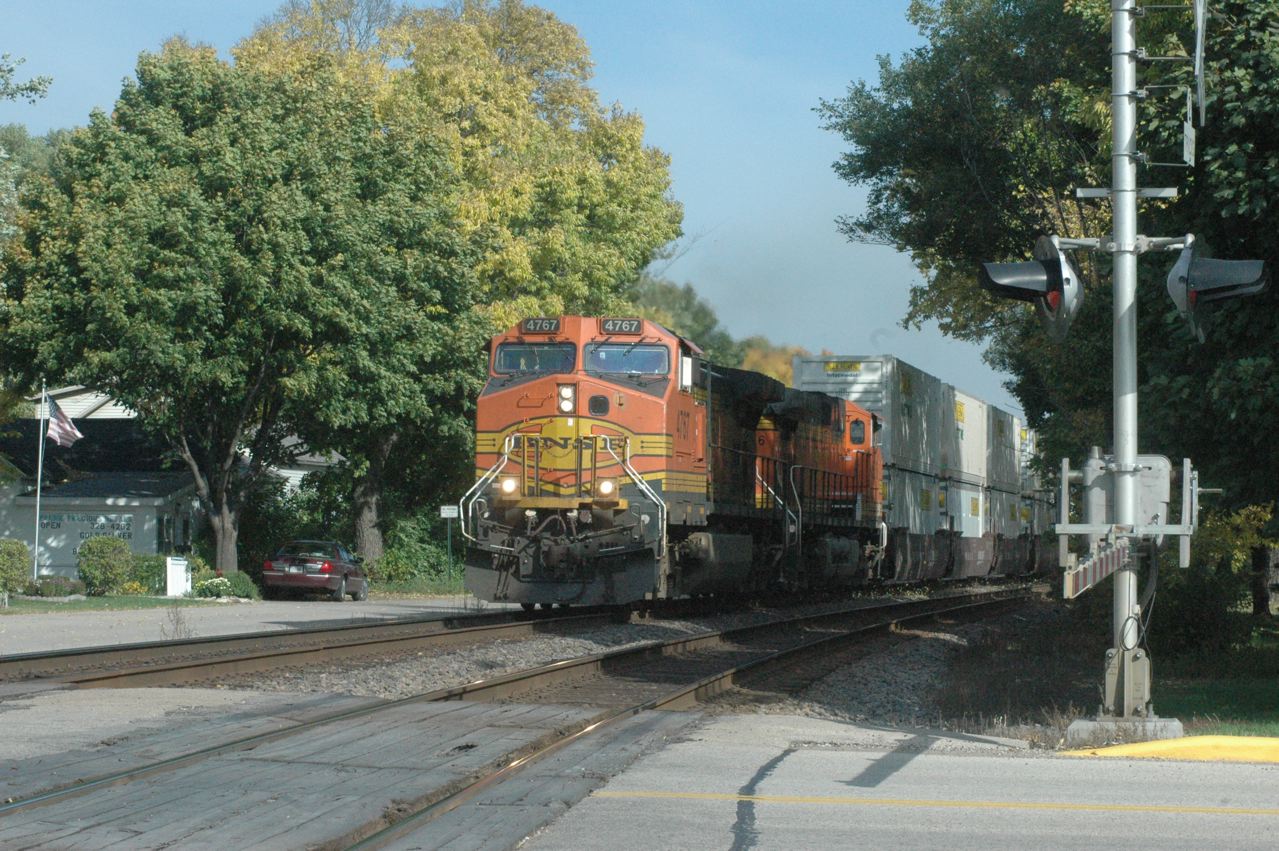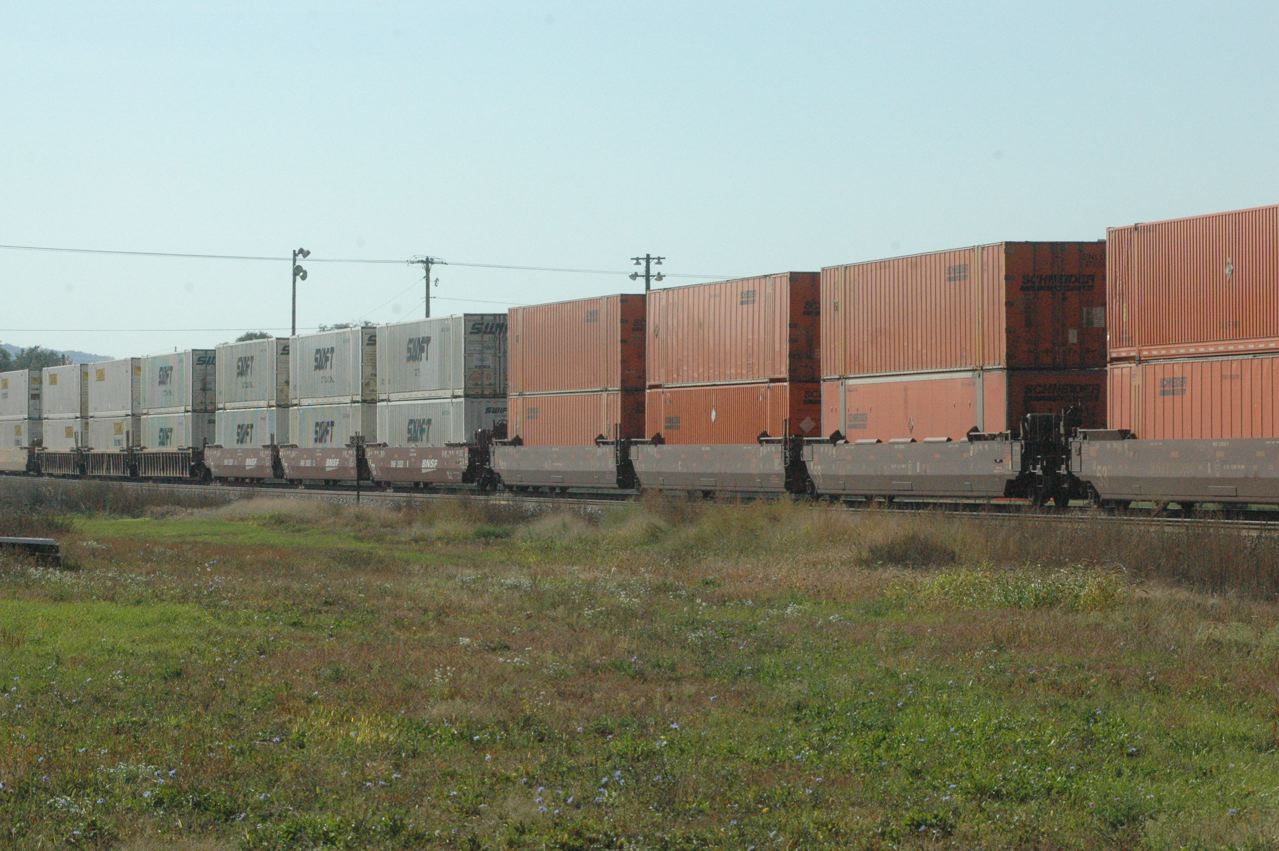 With no other trains expected, we sauntered south on the highways, regaining the river at Cassville, where we saw the private toll ferry coming back from the Iowa side. Time: 11:30.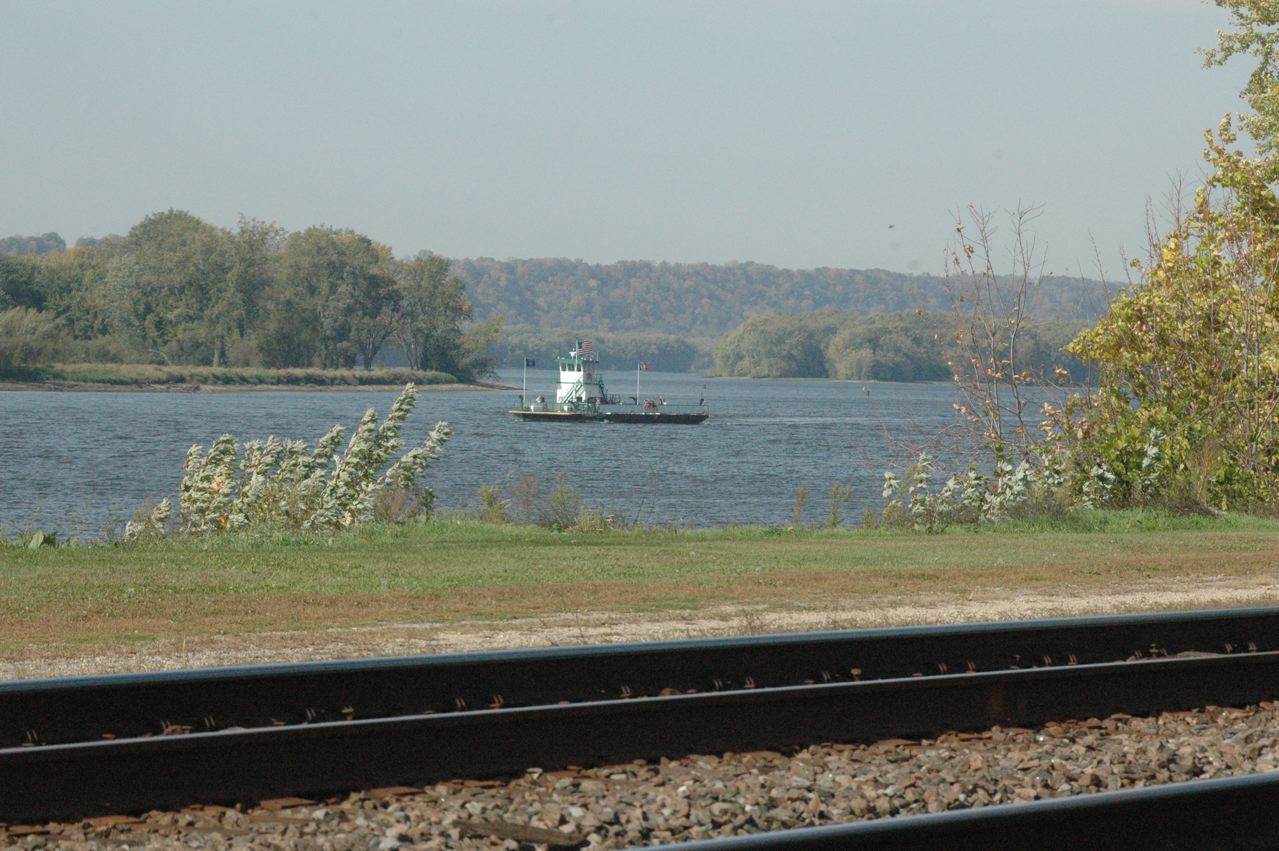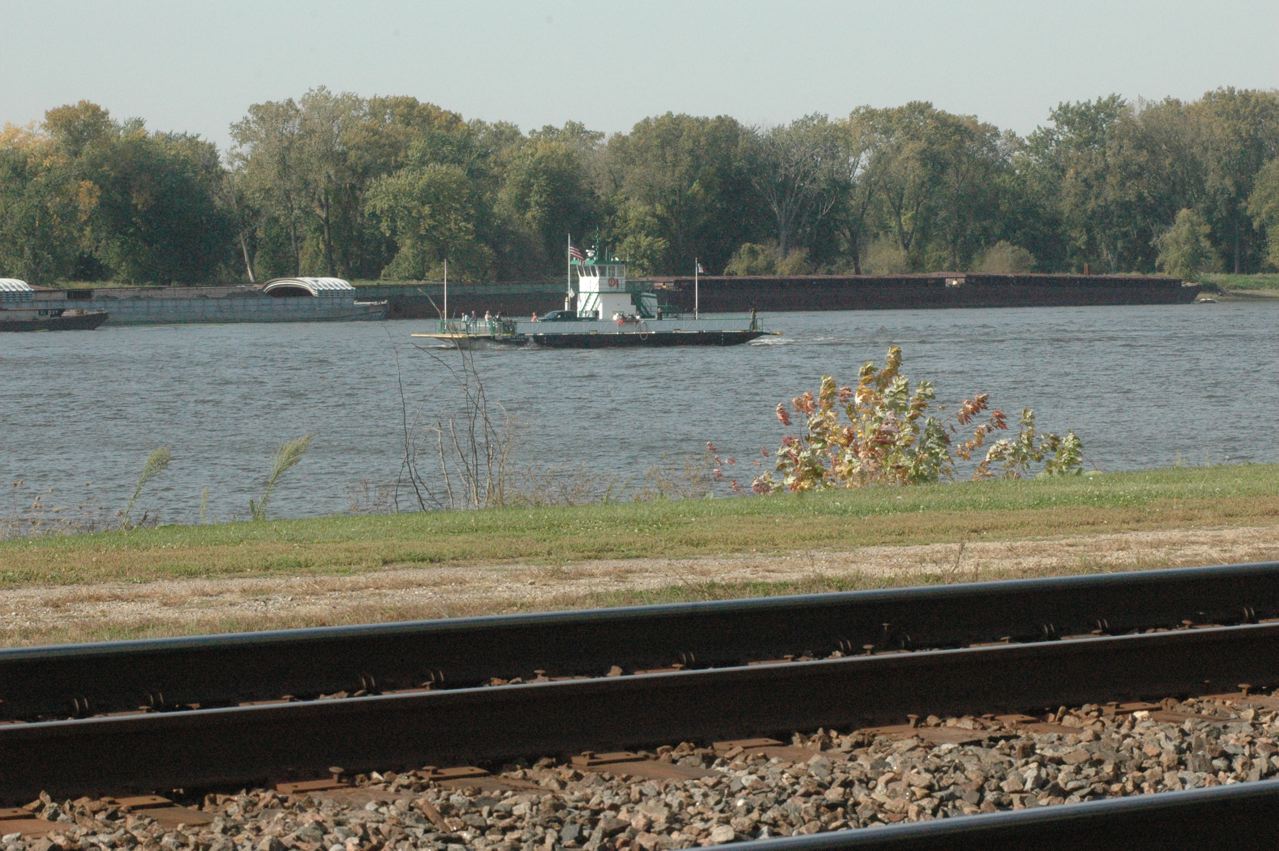 | | |
| --- | --- |
| Cassville has a stretch of accessible, open, straight double track, but we didn't linger as the radio had been silent. When we again briefly regained the river near Potosi, we poked around some, as we kept hearing of a westbound BNSF at Galena and East Dubuque, powered by two NS units. We never did see this train. But in anticipation of it, we found access under the tracks out onto a National Wildlife Refuge Peninsula at the riverfront downhill from the Potosi village, and wound up spending two hours relaxing here. We found one spot looking downriver at the railroad and the colorful bluff. This view looks back east toward the railroad underpass. | |
A little after noon we heard a rumble, and an eastbound surprised us. His power was 9628/9809, the same pair of "coal" SD70MAC's in the "Grinstein" scheme that we'd shot the afternoon before, westbound, at Wyalusing, which means they turned back at Northtown in the Twin Cities. My D70 misfired, but I did get a slide of the units in the center of this frame's scene below, and my intent is to get it scanned and inserted here. Meantime, you'll have to make do with two views. one mid-train and one at end-of-train, at 12:13 p.m. The train had 47 wells or trailers' worth.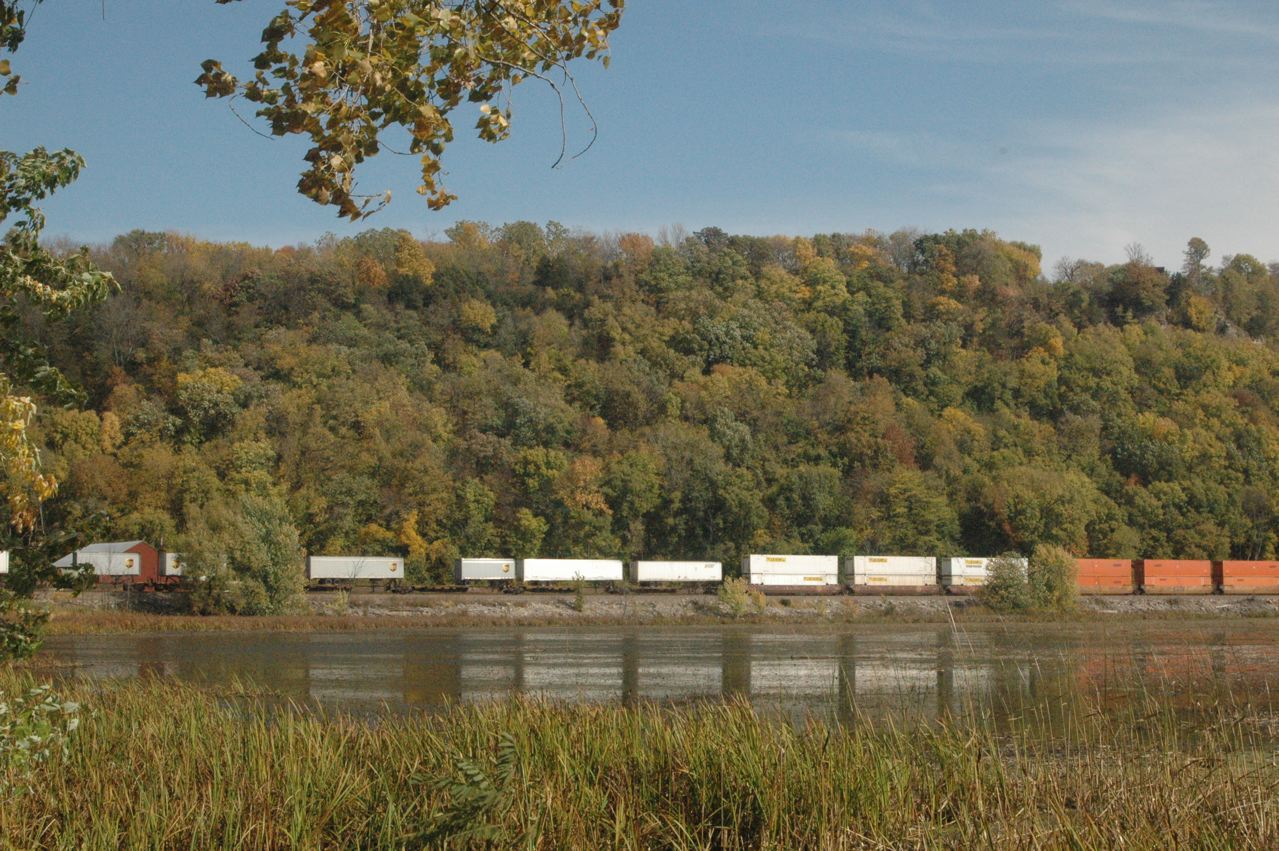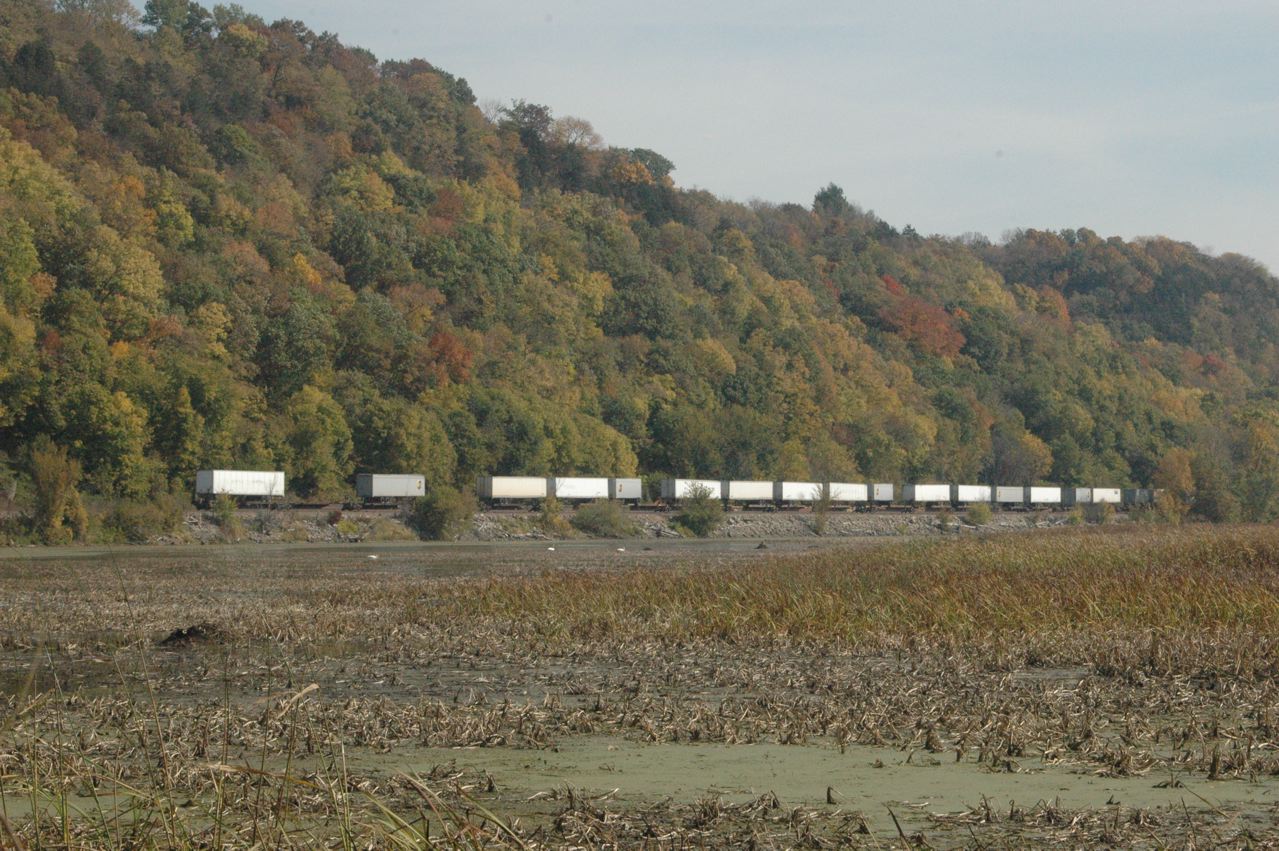 An hour later, after we'd consumed a "snack lunch" from on-board provisions, another rumble was heard and this eastbound guy showed up, 4829/704 East, with 56 trailer spots, 1:14 p.m. Meantime, the NS guy was still at East Dubuque, from radio talk, so with hunger pangs and more miles to travel, we bailed from here and went to Route 35 thru the hills and down to East Dubuque, where nothing was imminent, of course.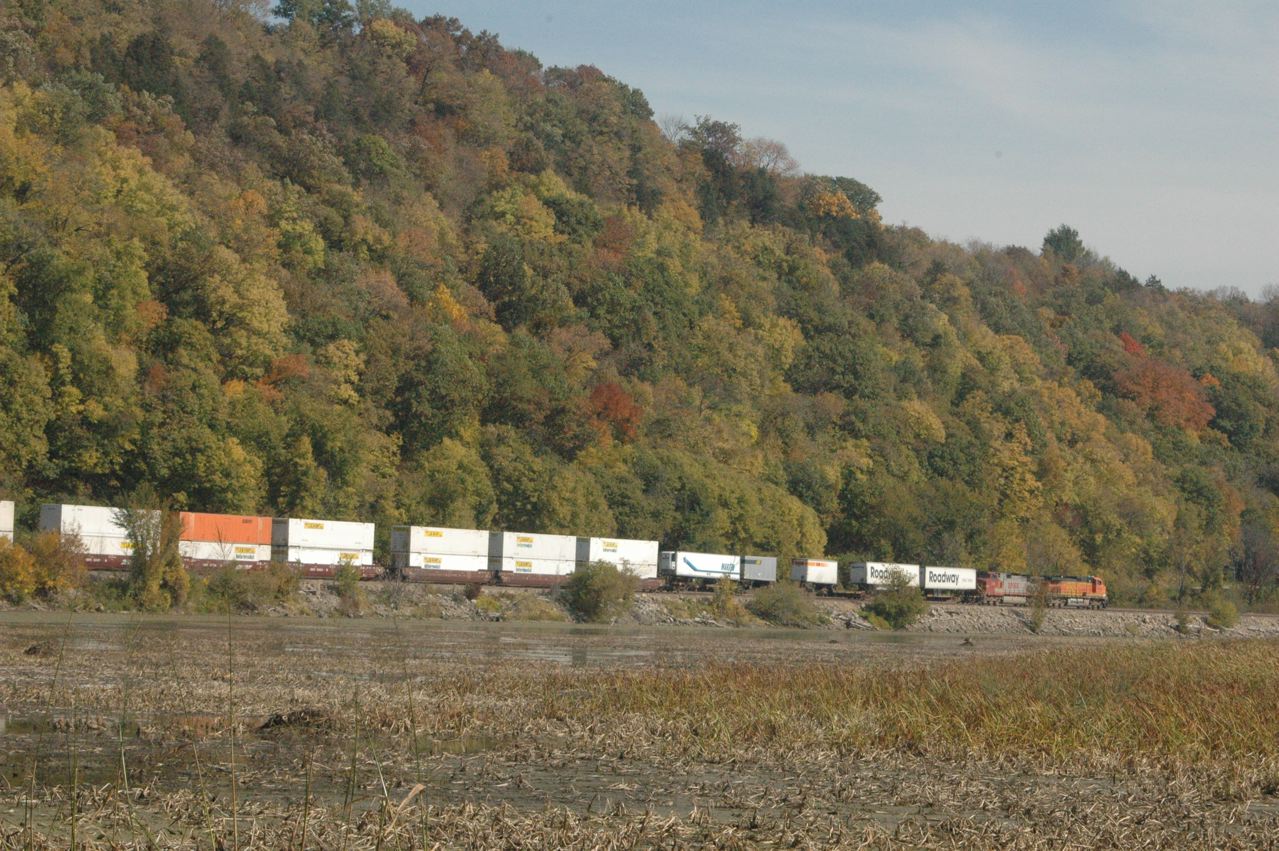 On the Iowa side, in Dubuque, this CN/IC local was tied up. Time is 1:55 p.m. We caught lunch at a Hardee's (not our first choice, but the only other outlet where 151, 67, and 52 divide was a McDonald's, which was CLOSED!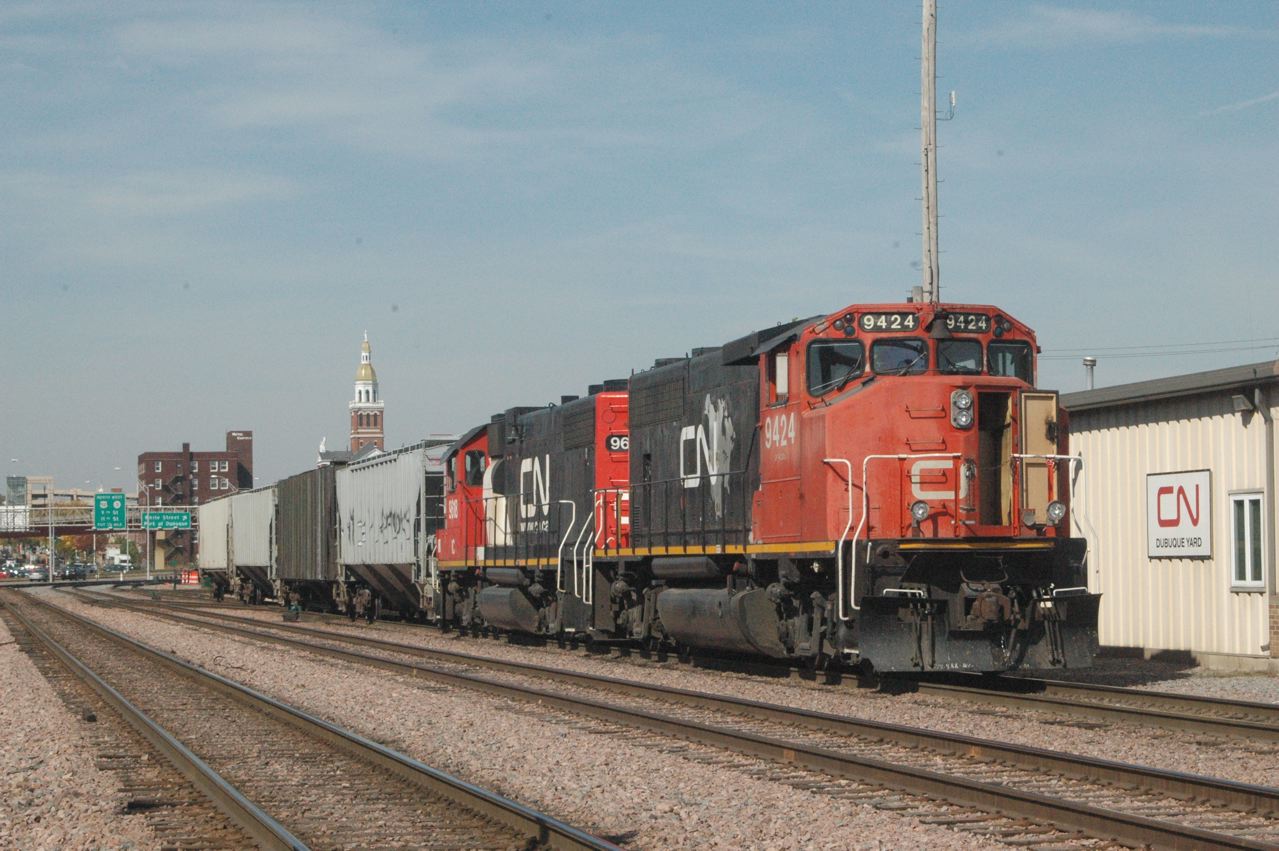 We drove US 52 down the Iowa side thru Bellevue, narrowly escaping getting trapped by, or in the middle of, the local high school's homecoming parade. Naturally, the IC&E had no traffic, though at the Sabula wye, we did see this guy that had come up from Nahant (Davenport) and was turning east for Chicago. He was too far away to get engine numbers, even with the binoculars. Time is 3:22 p.m.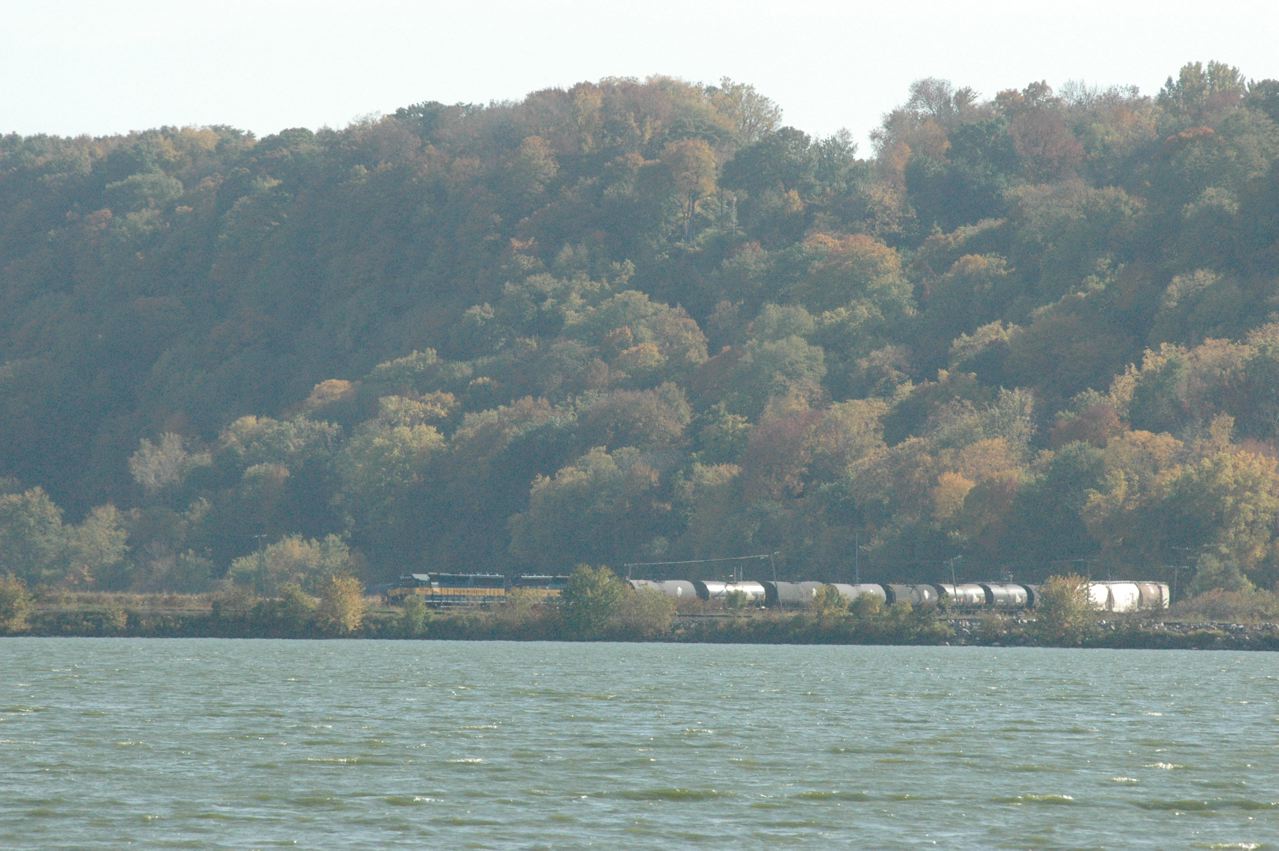 After securing our motel (Super 8 -- Savanna offers little choice, but it's a nice one, tho expensive), we returned to the boat ramp on the riverfront south of the 52 bridge to await BNSF's awakening for the afternoon. You do get the shot of the "tow" bound upriver in what is labeled a "tow-away zone," don't you? Hey, we were bored, no trains!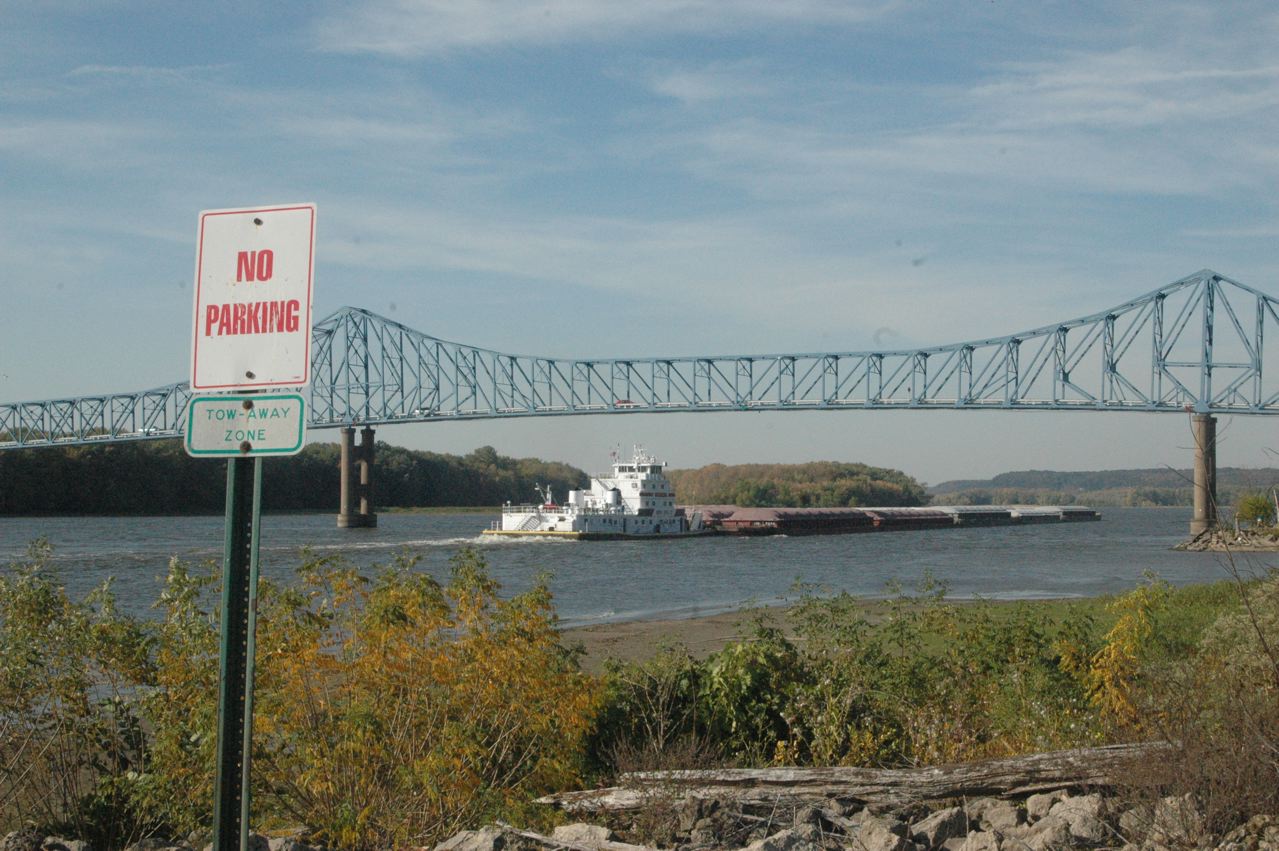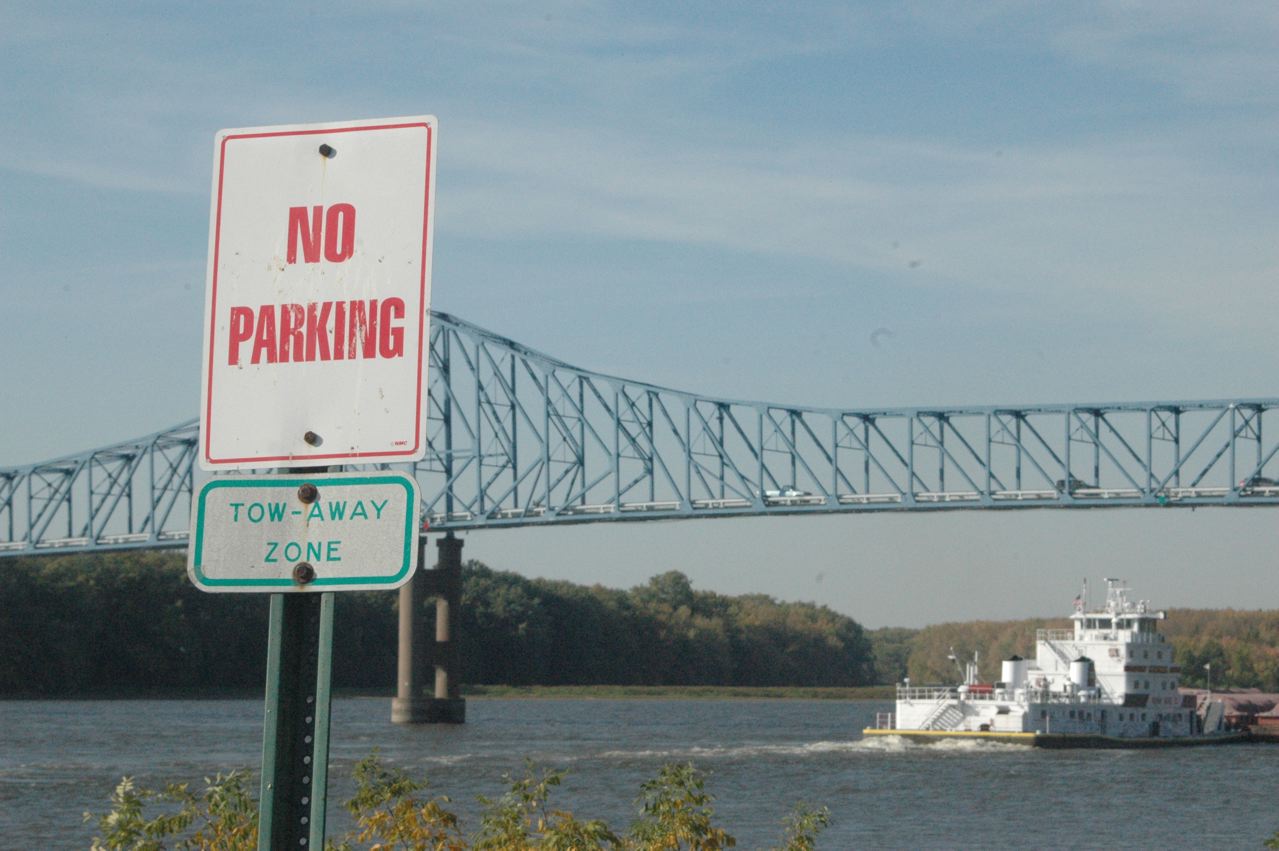 The river makes a 90-degree turn left, going upriver, north of the Palisades State Park, and the tow has made that turn. Time is 3:55.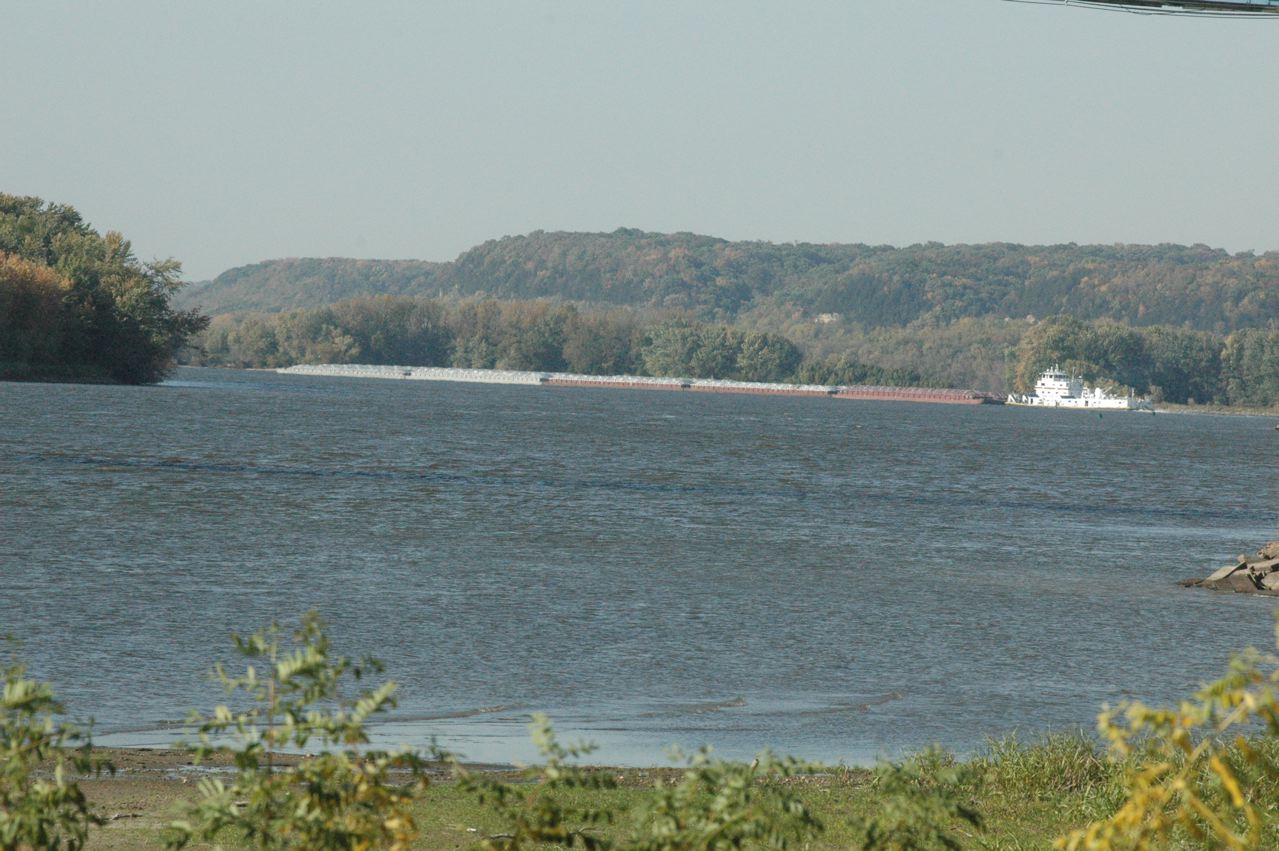 The little pleasure craft "Twilight" showed up, and pulled to shore down in town. I have not Googled her to see what she's all about. Time: 4:10. She does have a steam-sounding calliope, though!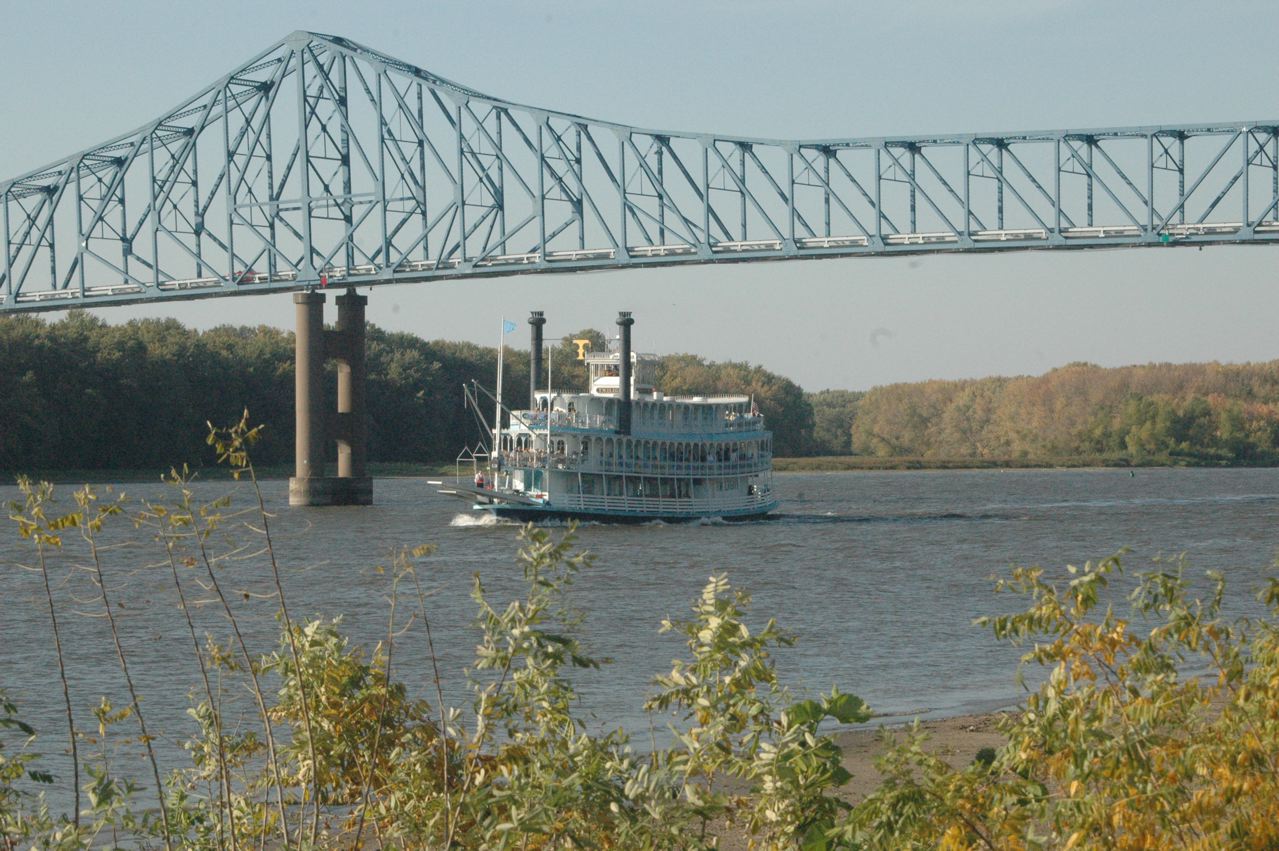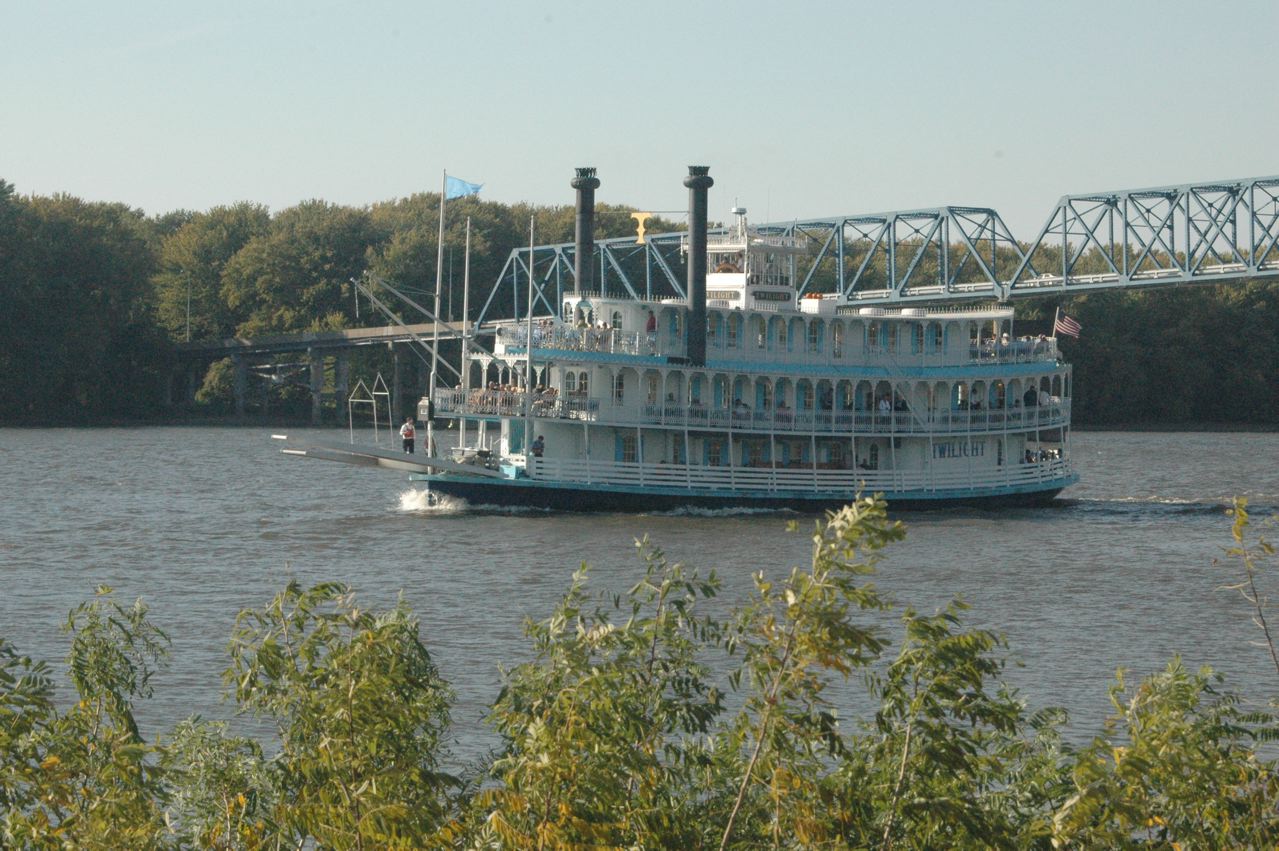 BNSF's Aurora Sub reawakened around Savanna soon thereafter, with this eastbound grain train behind only CSX 325 showing up at 4:14. He had only 35 cars. The signals are where CTC begins for eastbounds, and trains give up their track warrants from Graf (in La Crosse) soon hereafter. Also, of course, westbounds off the C&I and Peavine are receiving warrants, which alerts to their approach.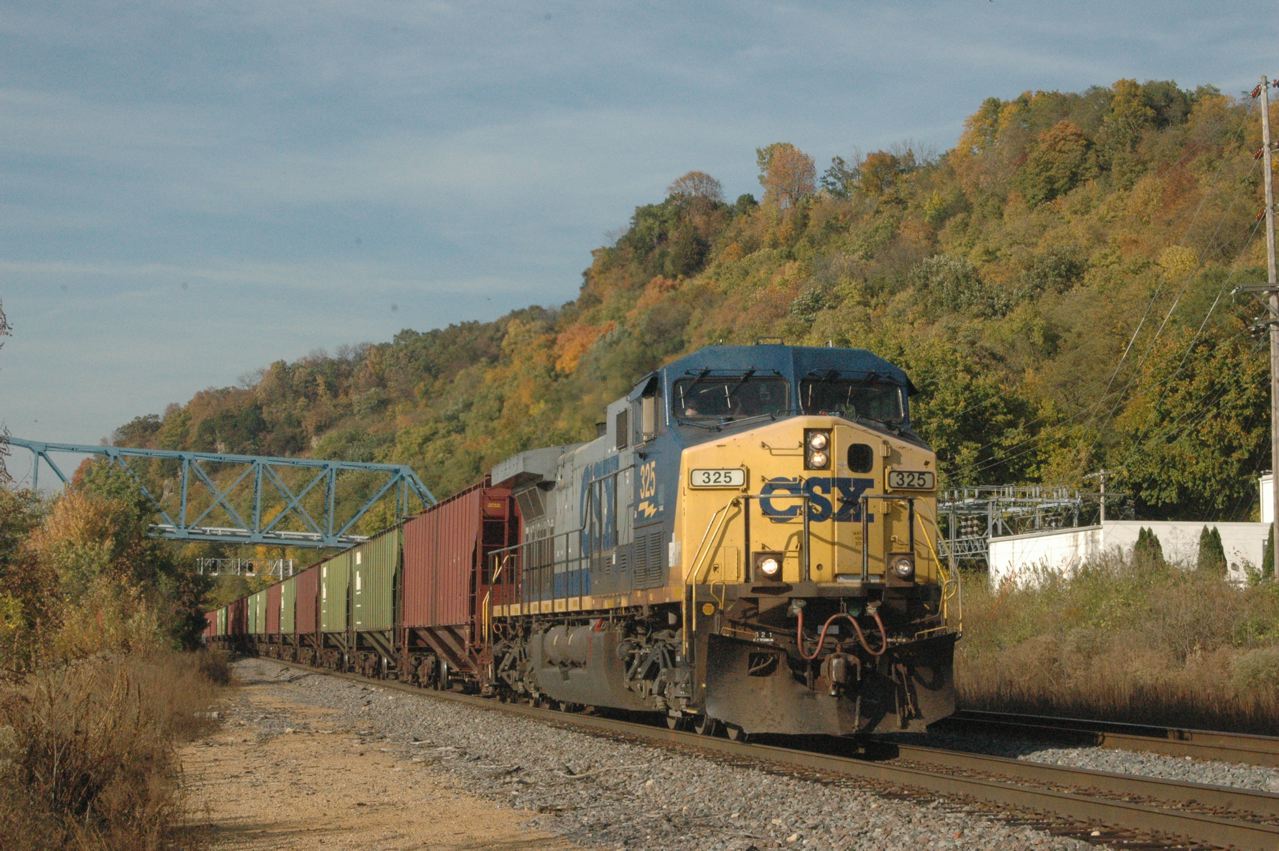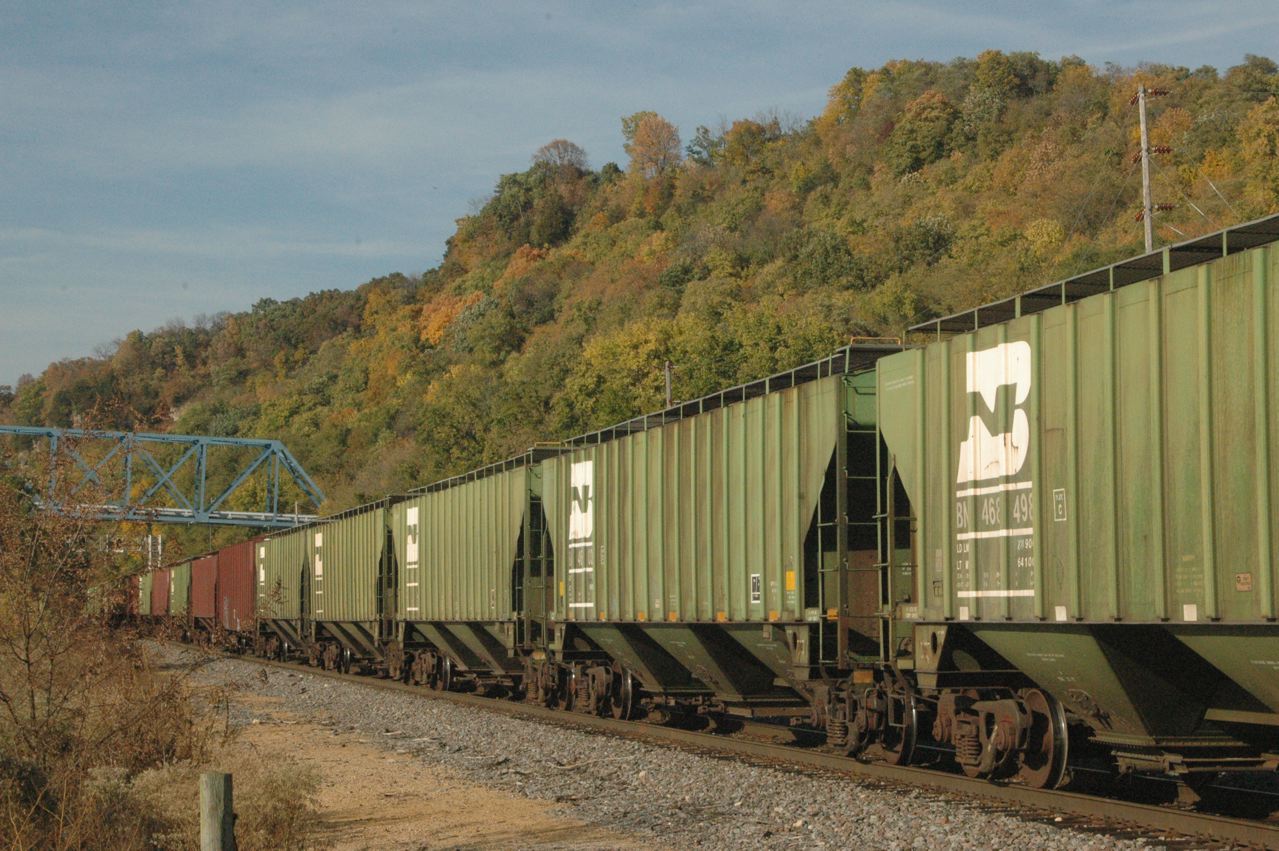 One of those westbounds was coming at us, sooner than I realized. I'd heard references to him earlier on the scanner, but not checking the channel, had assumed it was a train on the CN/IC Iowa Division. Nope, it's CN 2437 and BCOL 4621 with 97 cars, at 4:19 with 97 cars. We are at MP 145, from Chicago.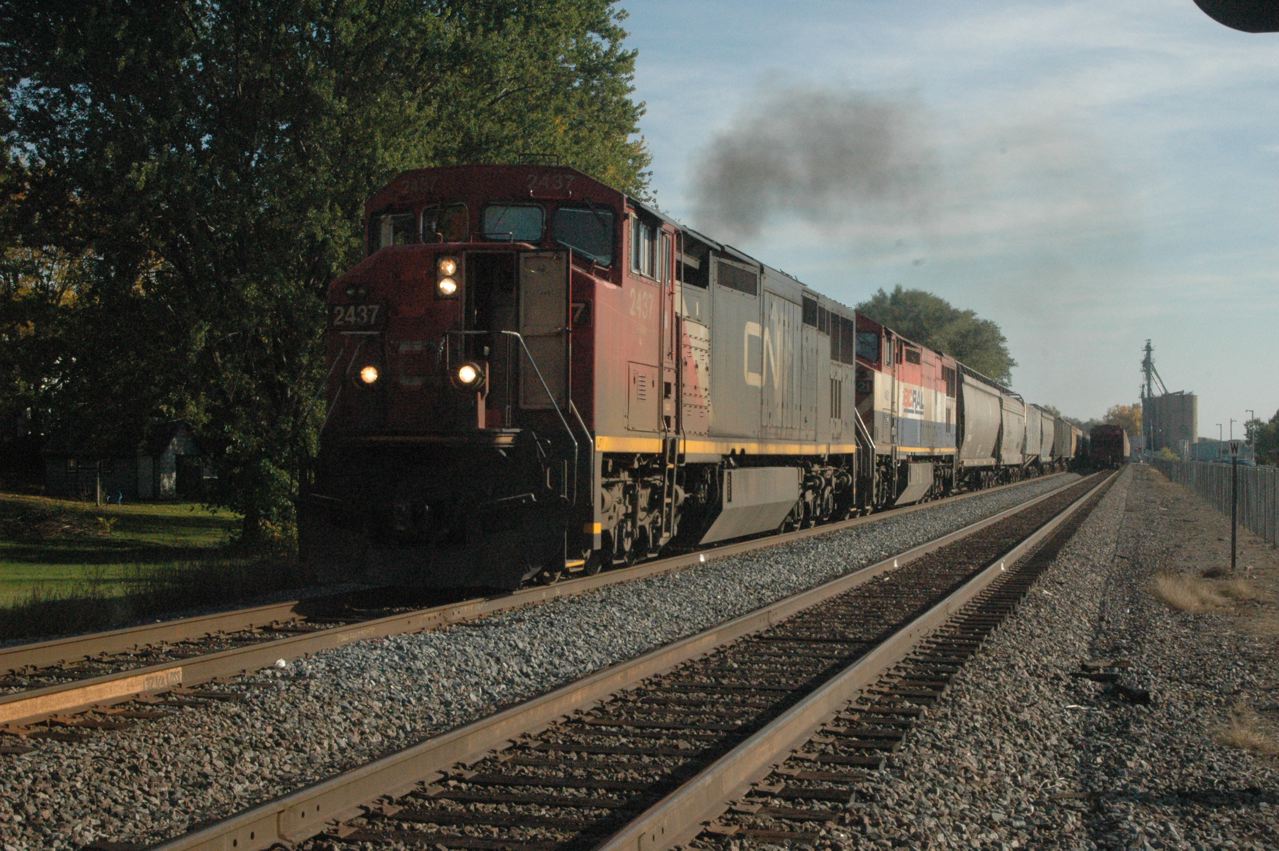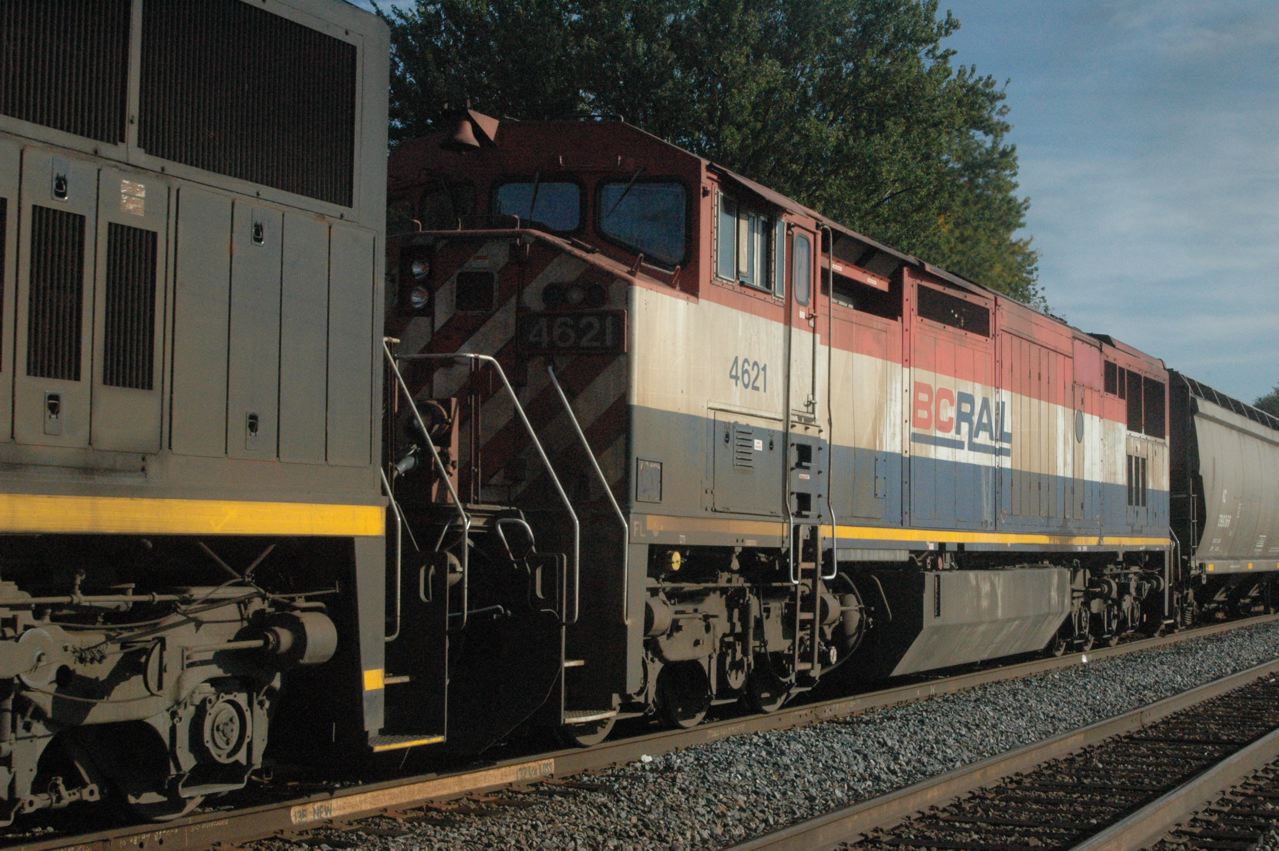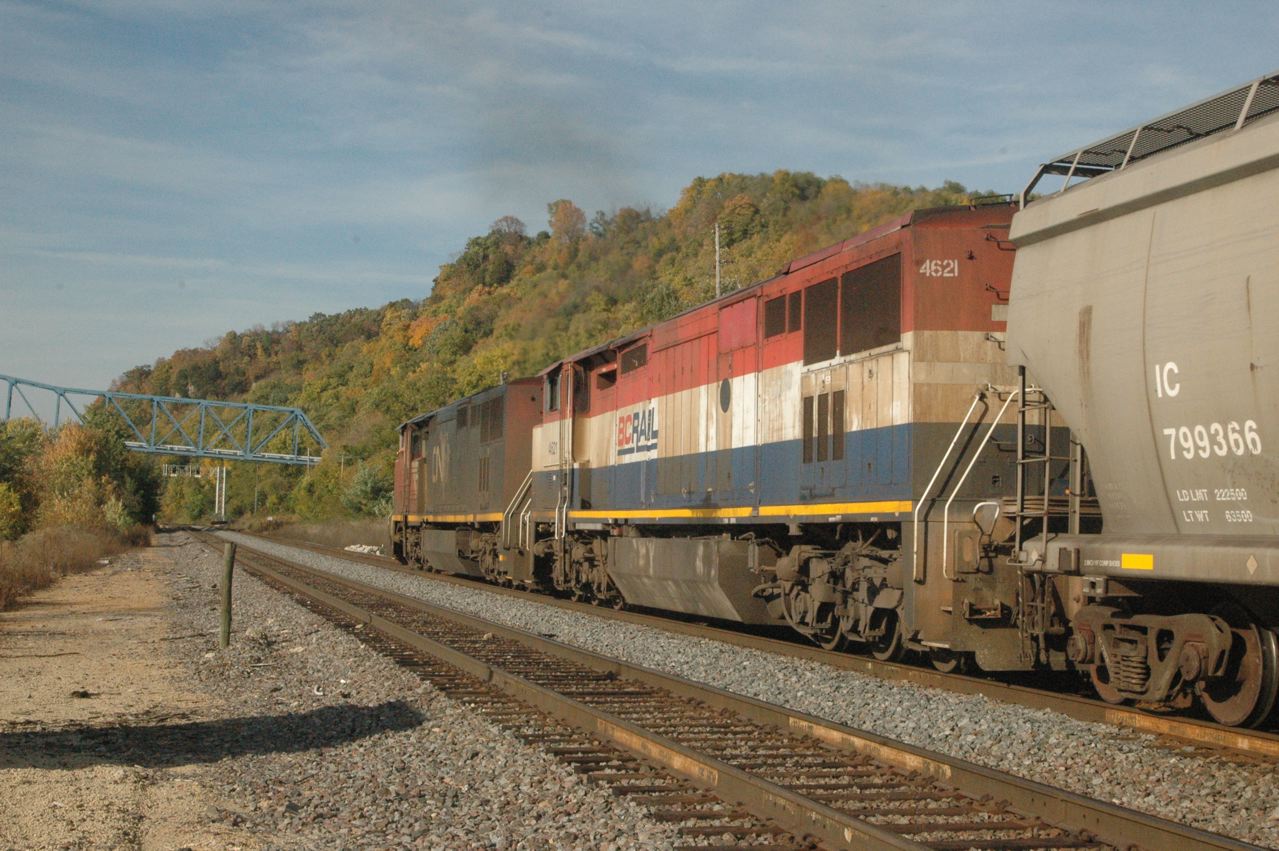 With another westbound expected, we chose a change of scene and went to a boat ramp crossing opposite the north road entrance to Mississippi Palisades State Park, about 4 miles north (TT west) of Savanna, MP 149. Units are 7571/5347 with 96 trailer spots, at 4:35. This led the expected trio of westbound "Z" trains seen in the Rochelle region in the 1 to 3 p.m. time period.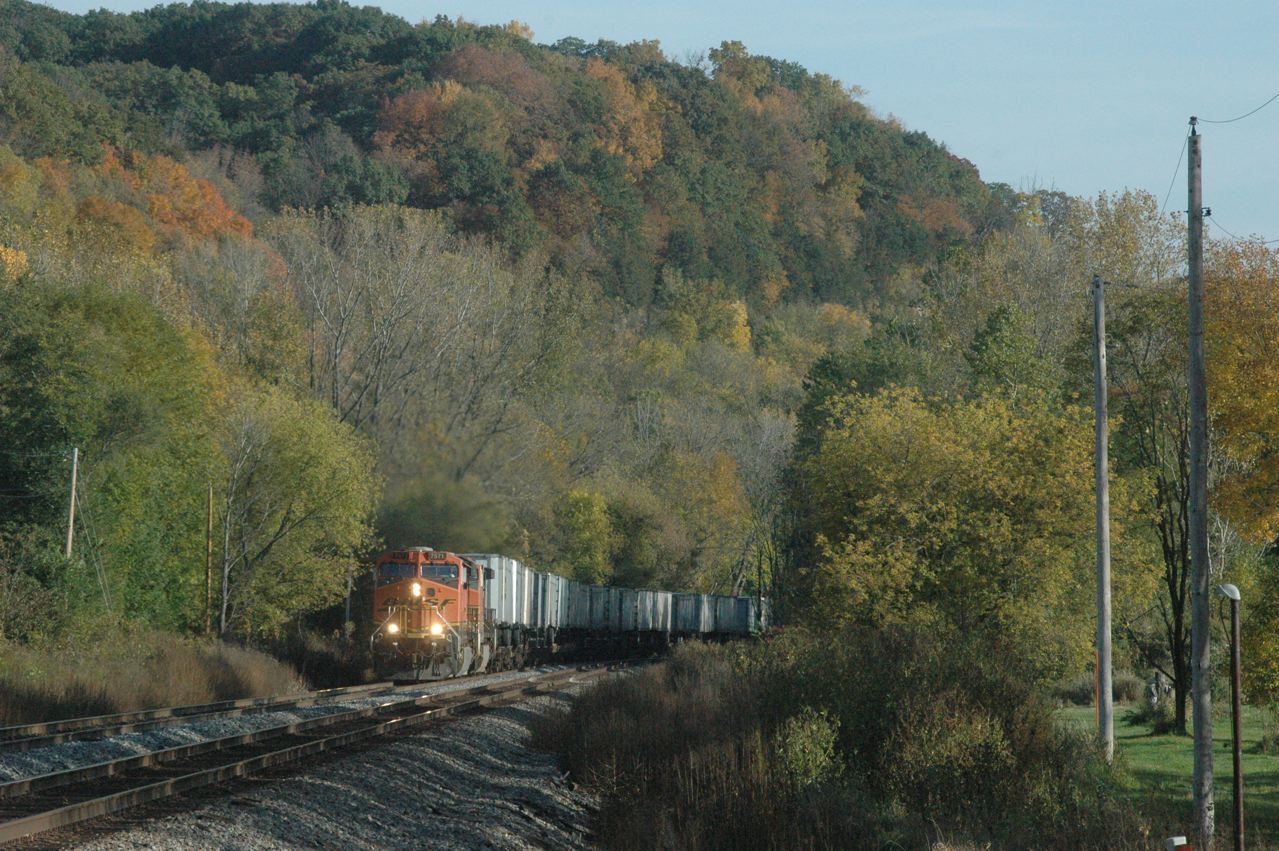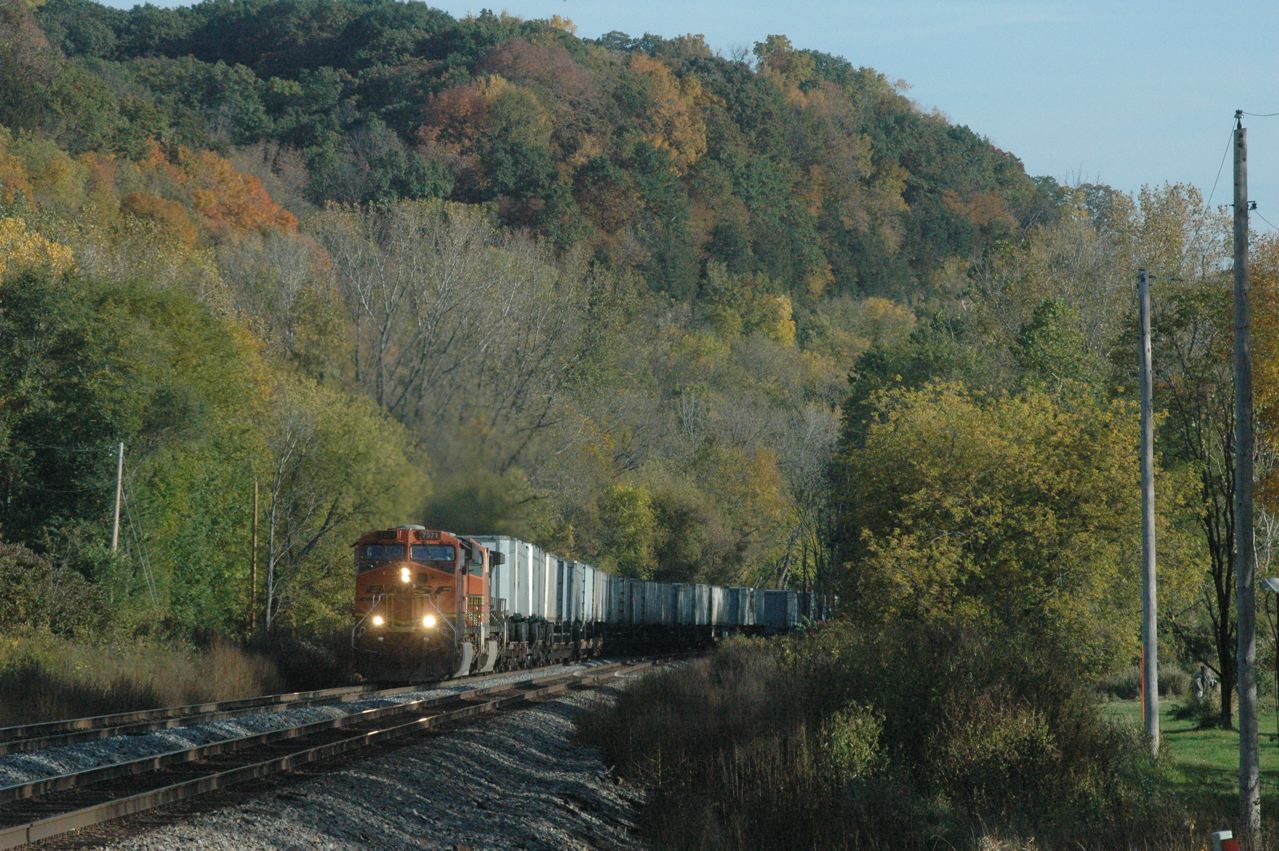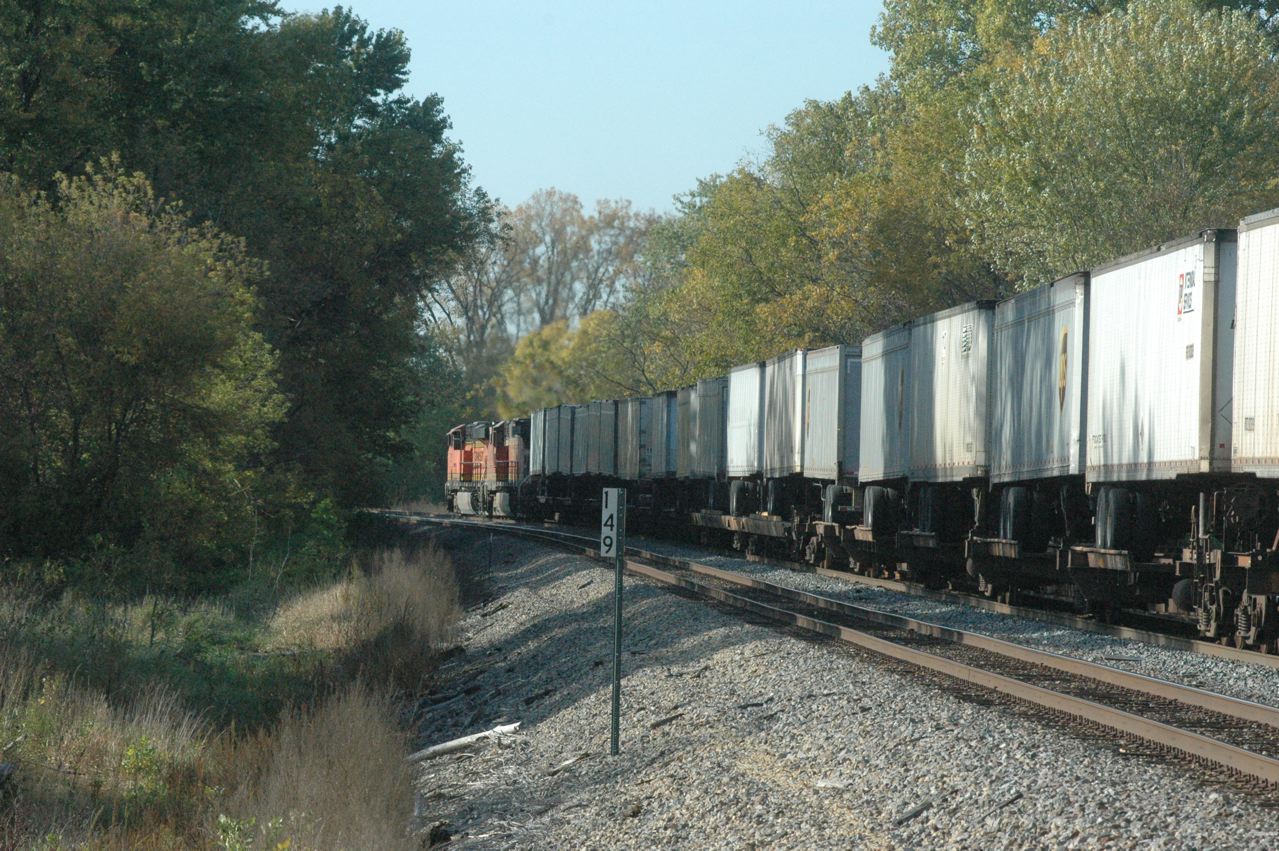 Driving back south, I pulled off on Route 84's shoulder at 4:40 to shoot this 200mm shot "straight up" at the park overlook platform, where I would be in the morning. The afternoon views here are good, too, especially for westbounds, but we had insufficient time to go up there. The south road in the park is closed by a washout, and it takes a good 10 minutes to go into the park, south on the park road, and into this parking lot for the overlook, and then walk down the path to it. Trains were coming!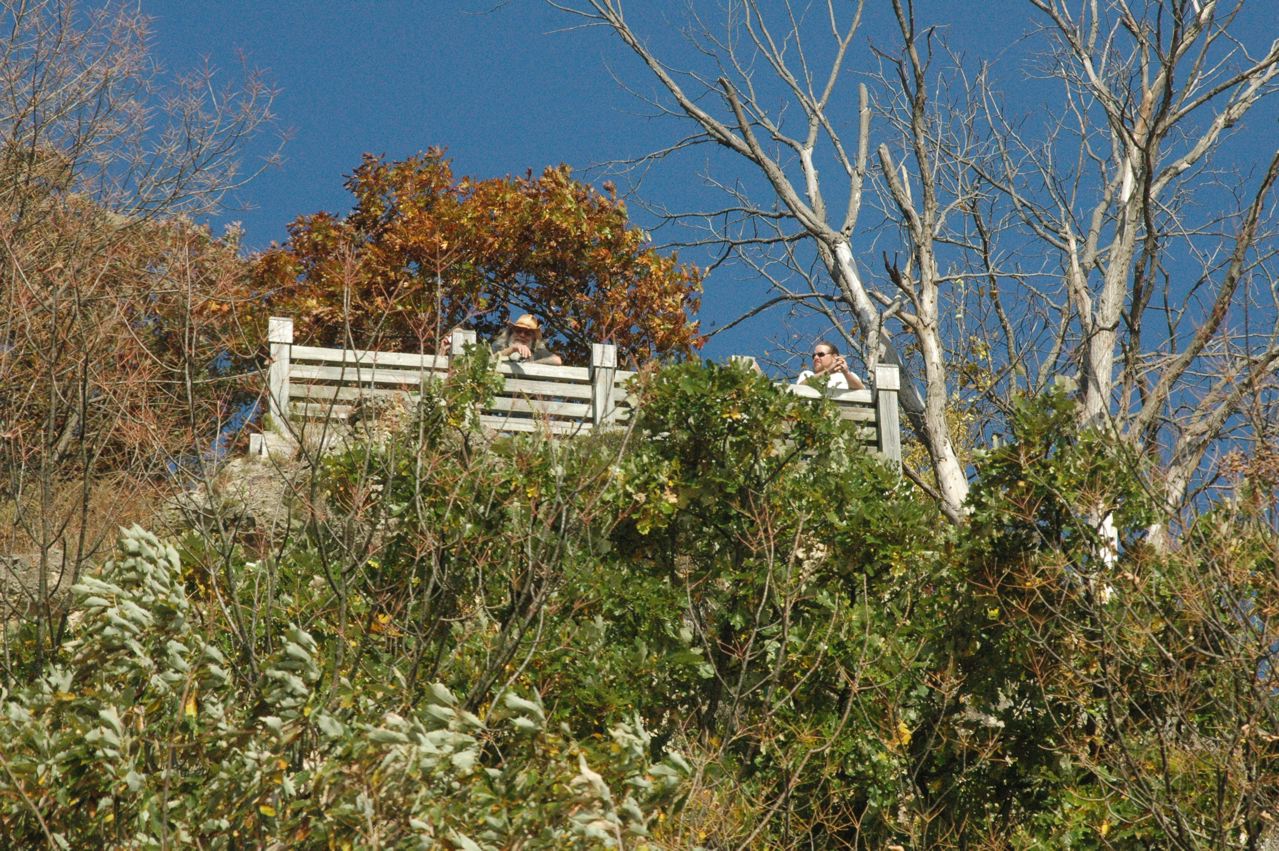 Specifically, this one, 5246/4973 East, with 116 cars, at 4:53. I'm half-parked on the shoulder, but I wasn't stopped long, just time for a shot, but worth it!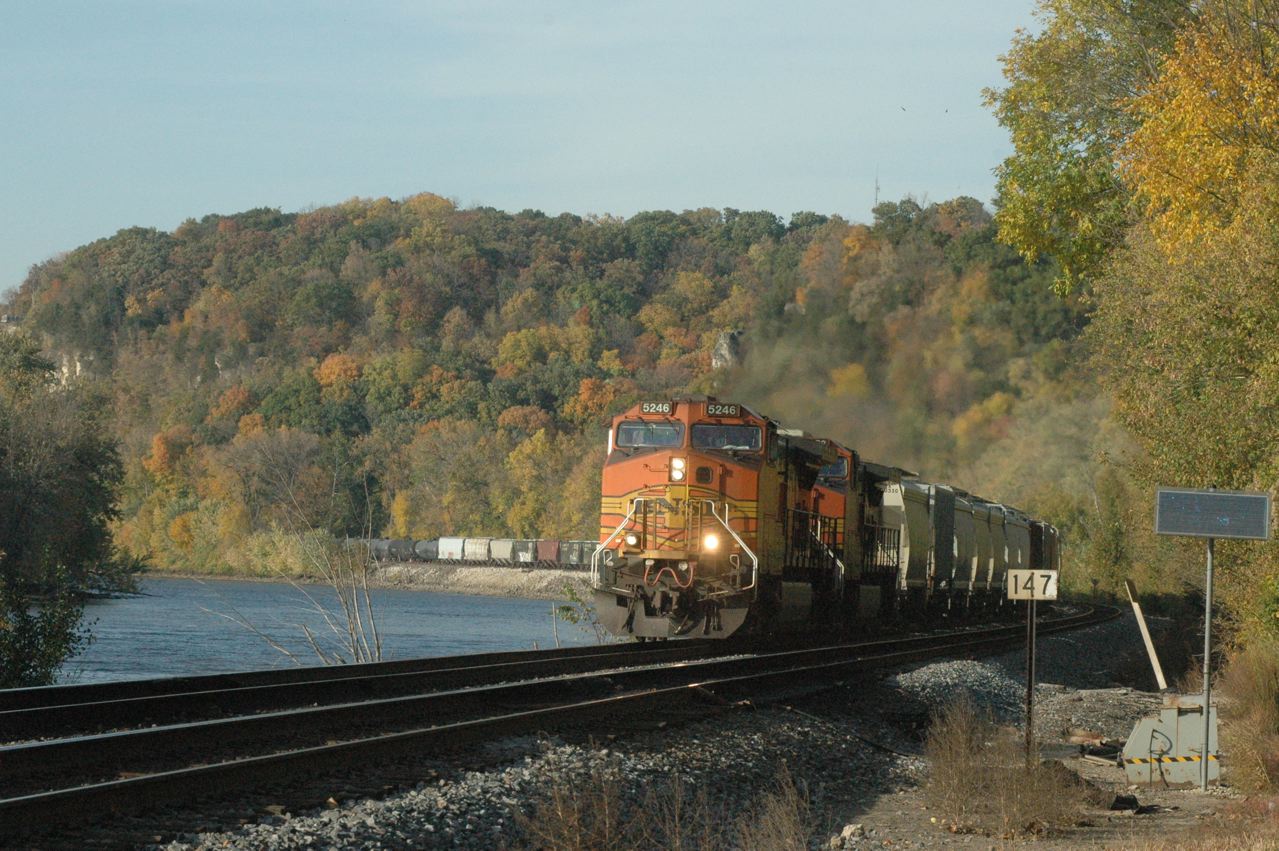 We zoomed on back to the boat ramp and just beat this train across, 4756 West with 4084/4435/4164 behind him and 68 wells, at 4:49.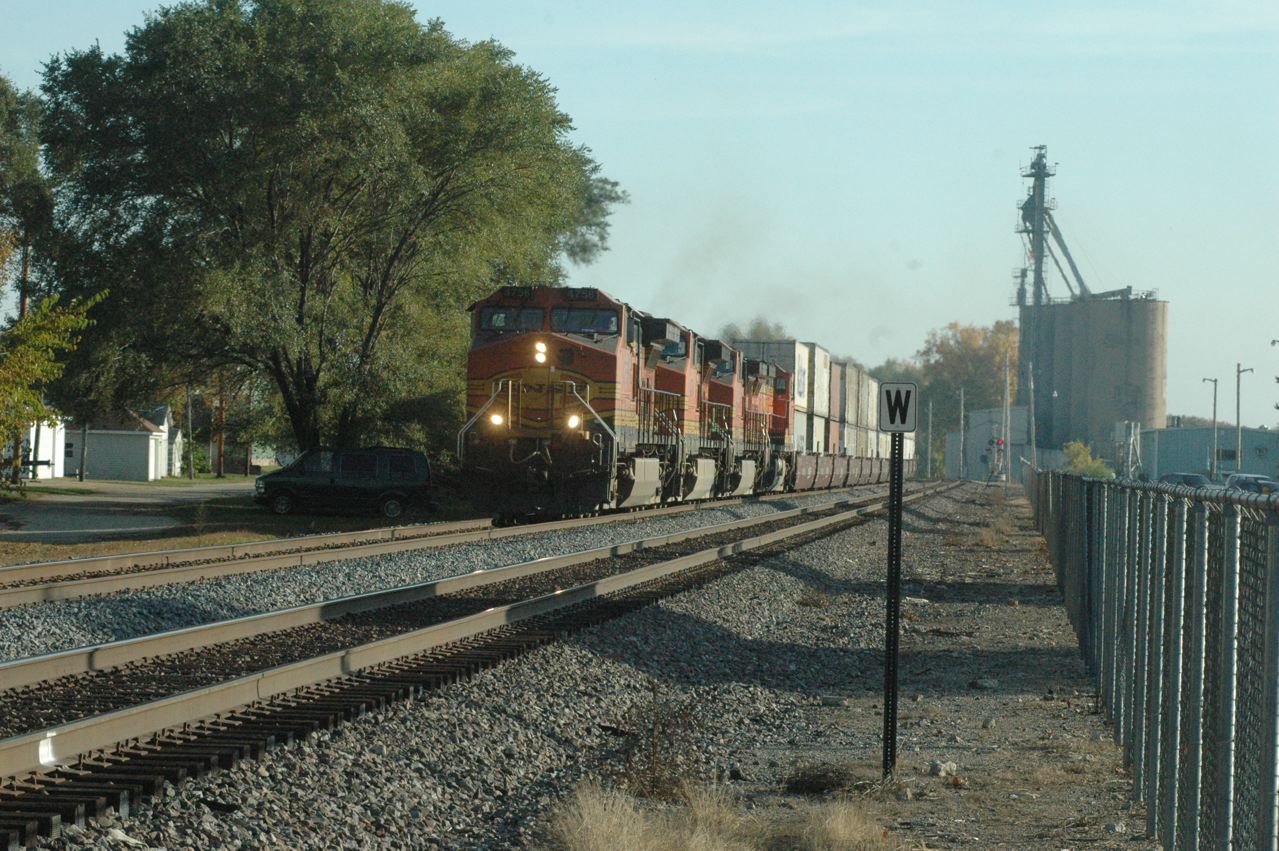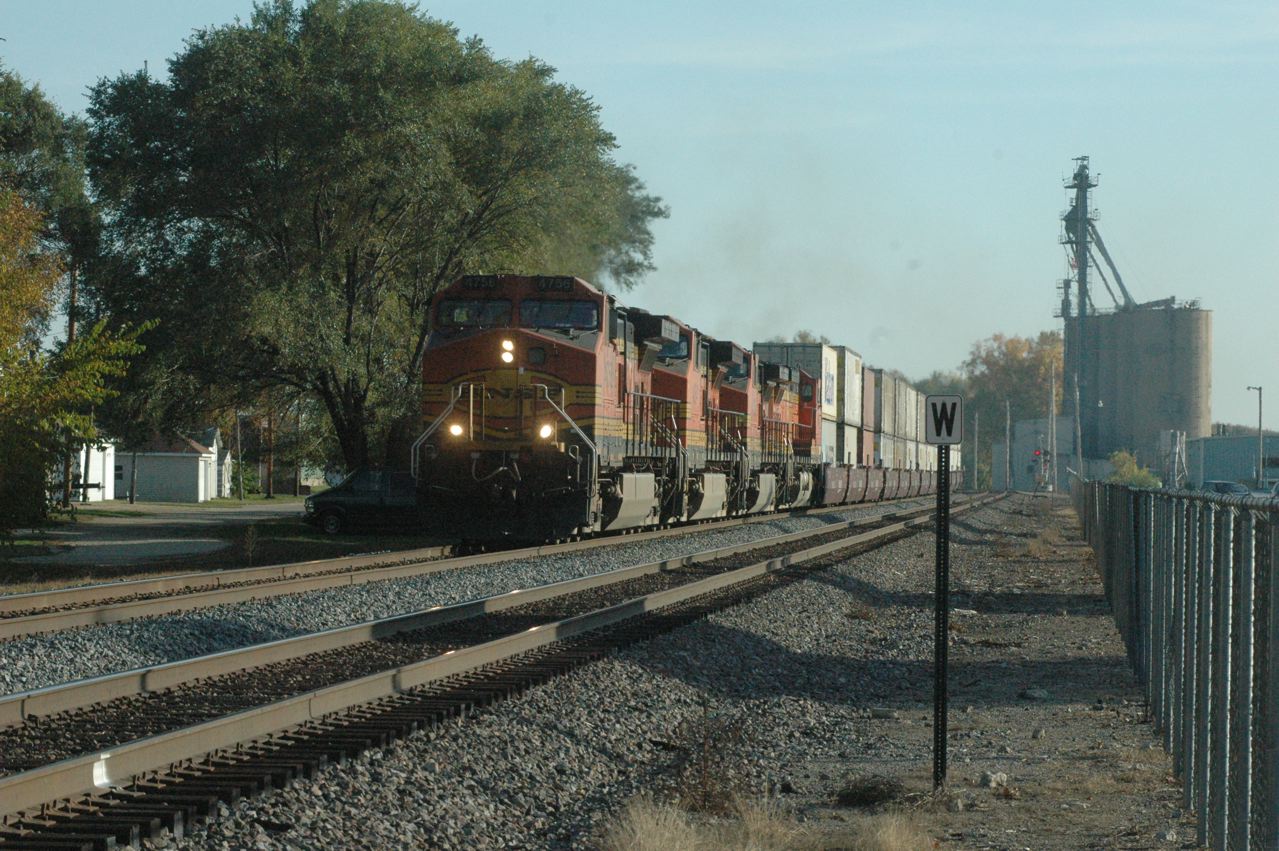 I then turned around and shot this running meet of the 5246 East, which had slowed for the signal for some reason. We had heard the DM&E/IC&E tying up the diamond, but I don't recall if it was in this time period or not. The BNSF was getting frustrated, though, as it was a local or a road guy switching in the yard, repeatedly crossing the BNSF. It's a common problem, I think.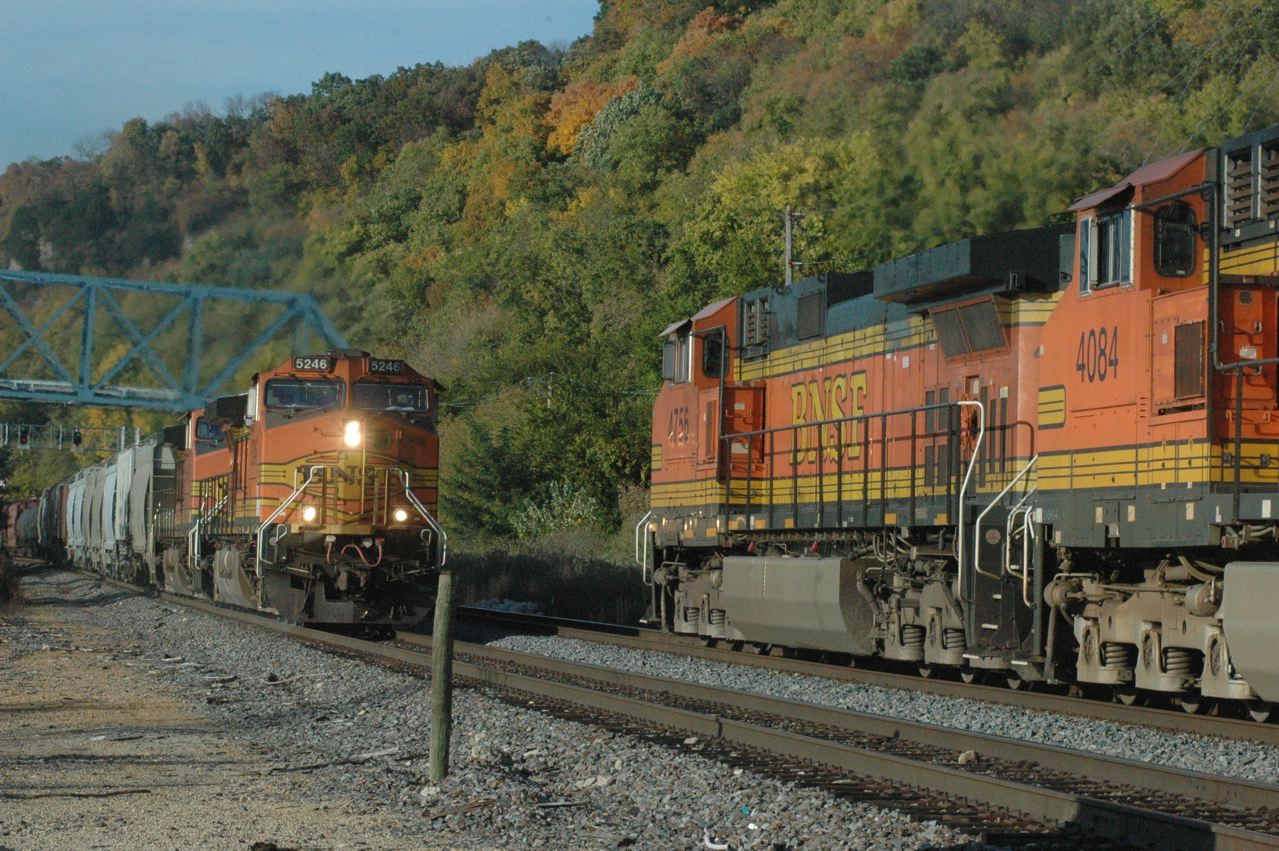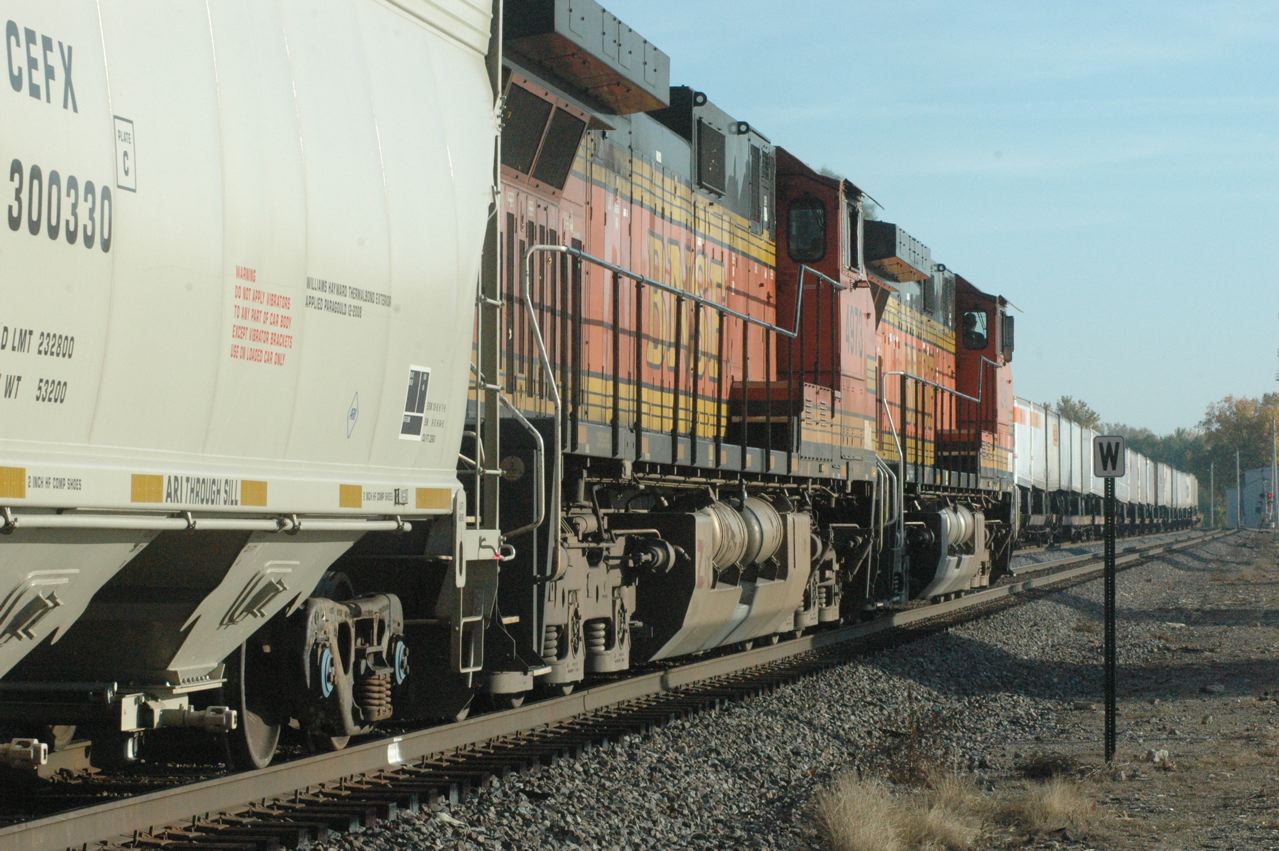 We were expecting another westbound and had gone thru town and into the parking lot by the BNSF yard office, and the local, I assume from Eola beginning his return, moseyed up from the yard and stopped. Units: 4100/4406, at 5:35.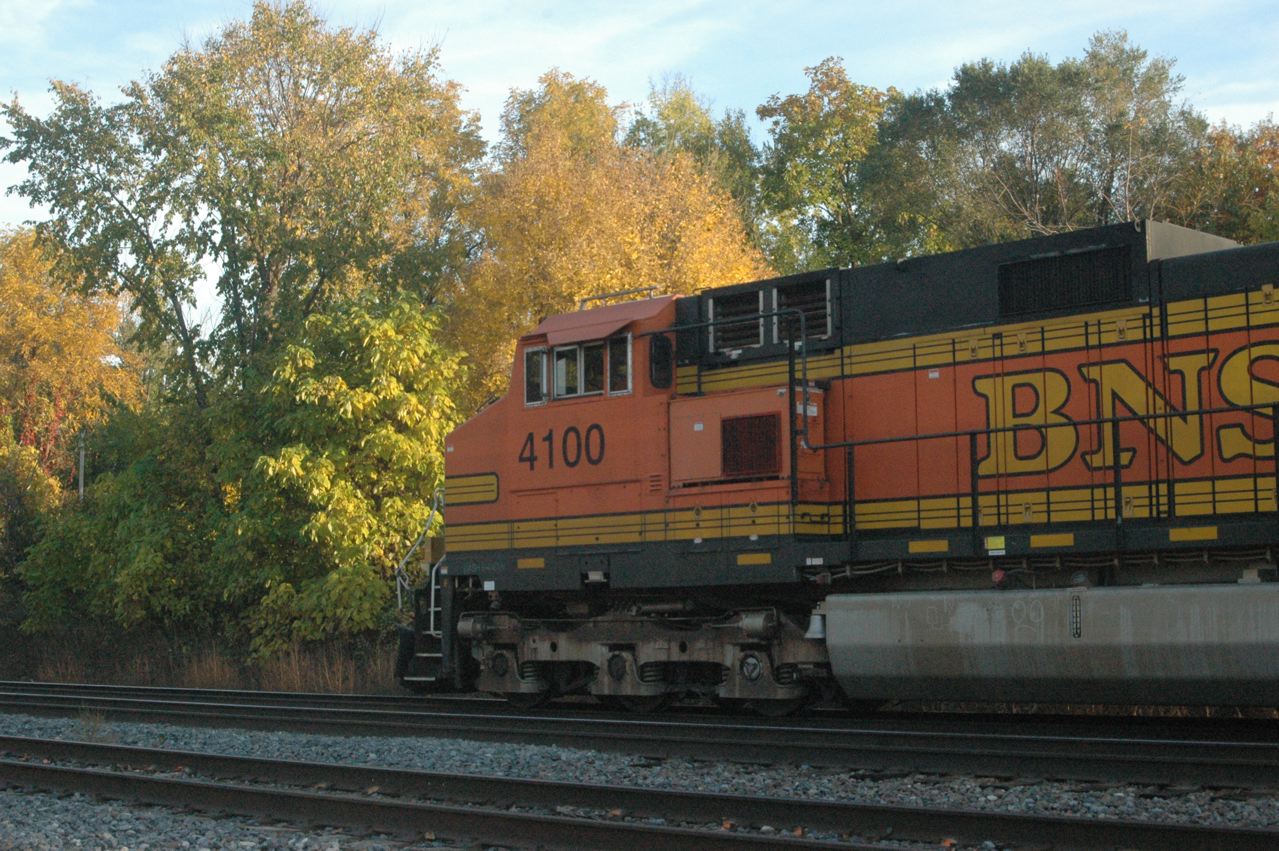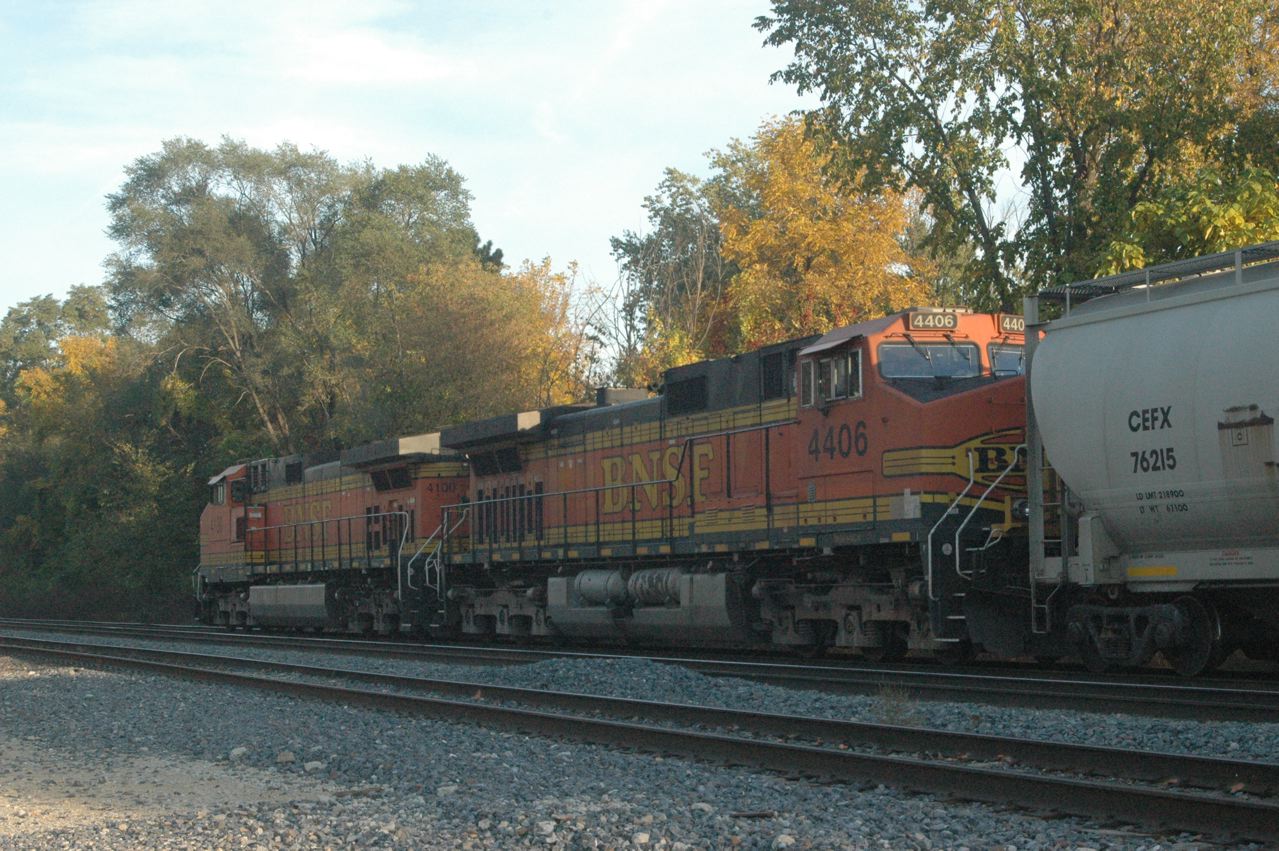 We returned to the riverfront, best point for last sunlight, and concluded the day's shooting with this guy, 5240/977 West, at 5:44. Then off to the motel, watching the Brewers-Diamondbacks, and a late supper.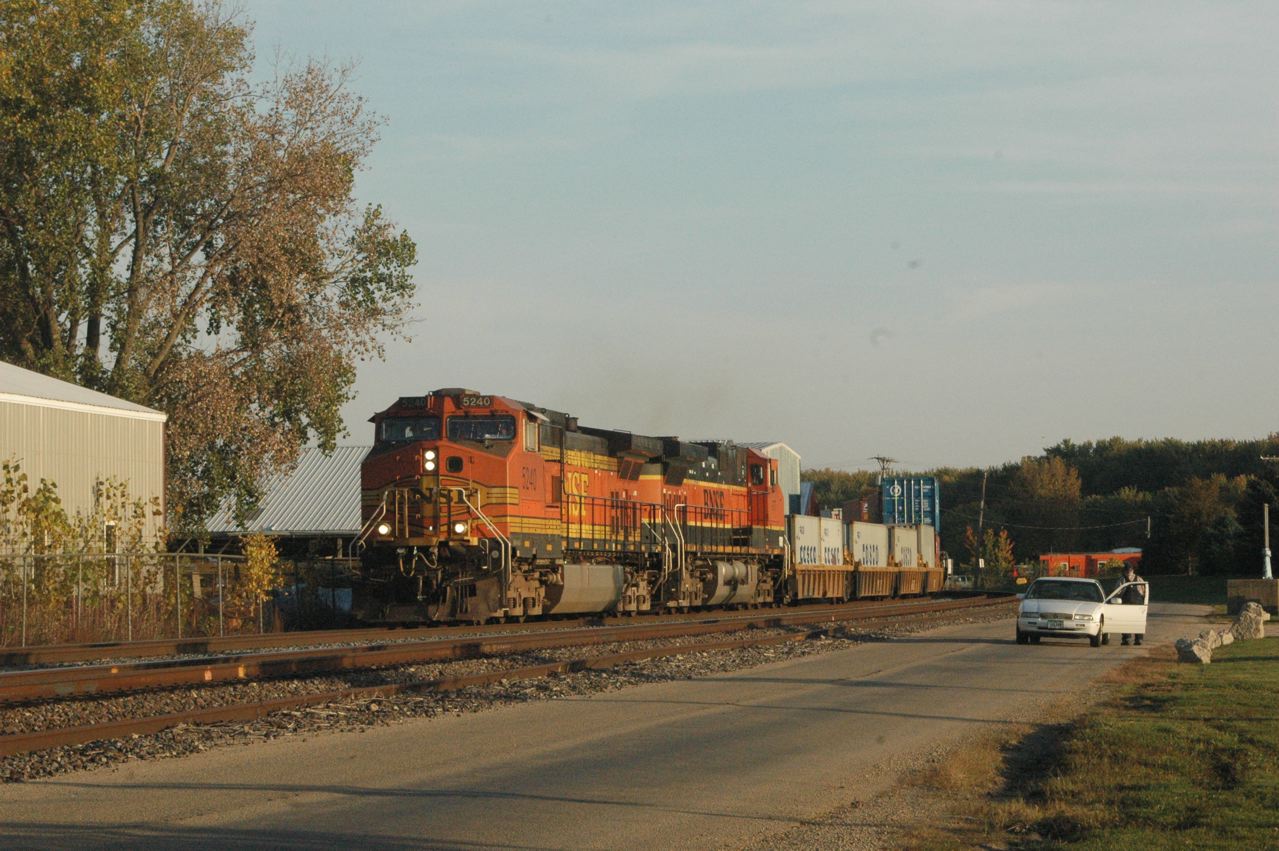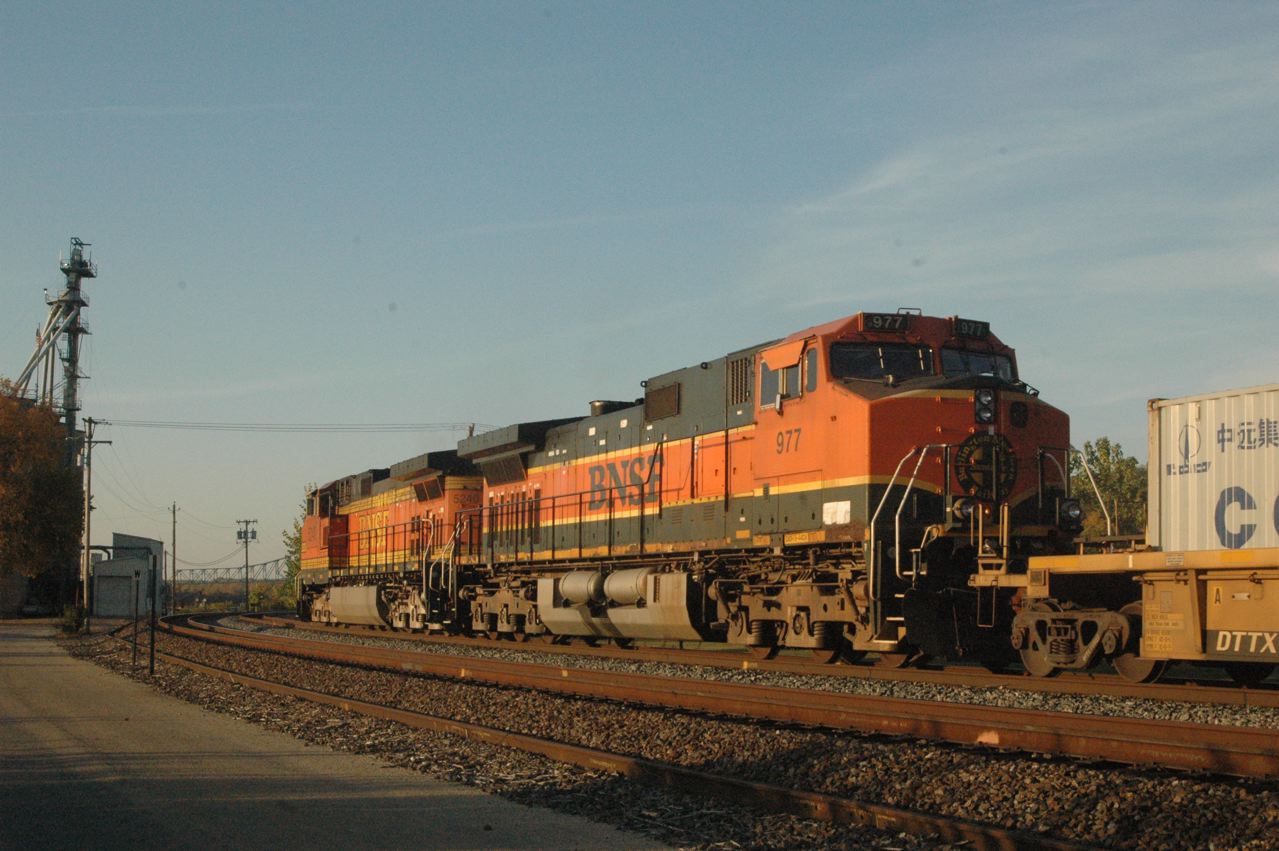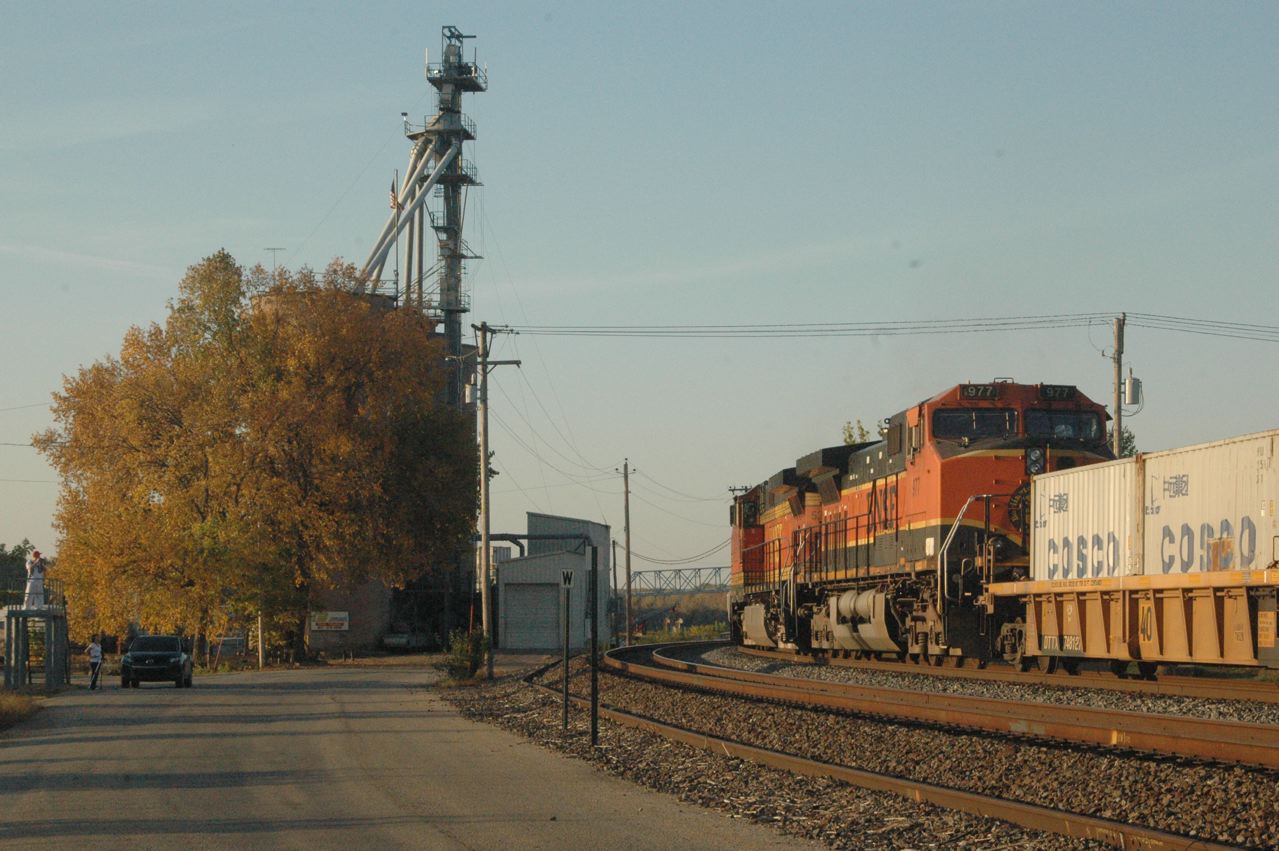 As I've stated, a long goal of mine had been to be in Mississippi Palisades State Park on the wooden overlook above the BNSF Aurora Sub, during fall color. After 20 minutes on the platform on Saturday morning, Oct. 8, I was rewarded with one in each direction within 10 minutes, so with the park crowding up (it being Sat.), I called it "mission accomplished. This first view is from the parking lot of an overlook north of "the spot," but you can't see the tracks from here. You can see Iowa, however! Time: about 9:20. We had to wait to give the sun some time to get onto the tracks, in spots, but while in town before coming up here, no trains had come through.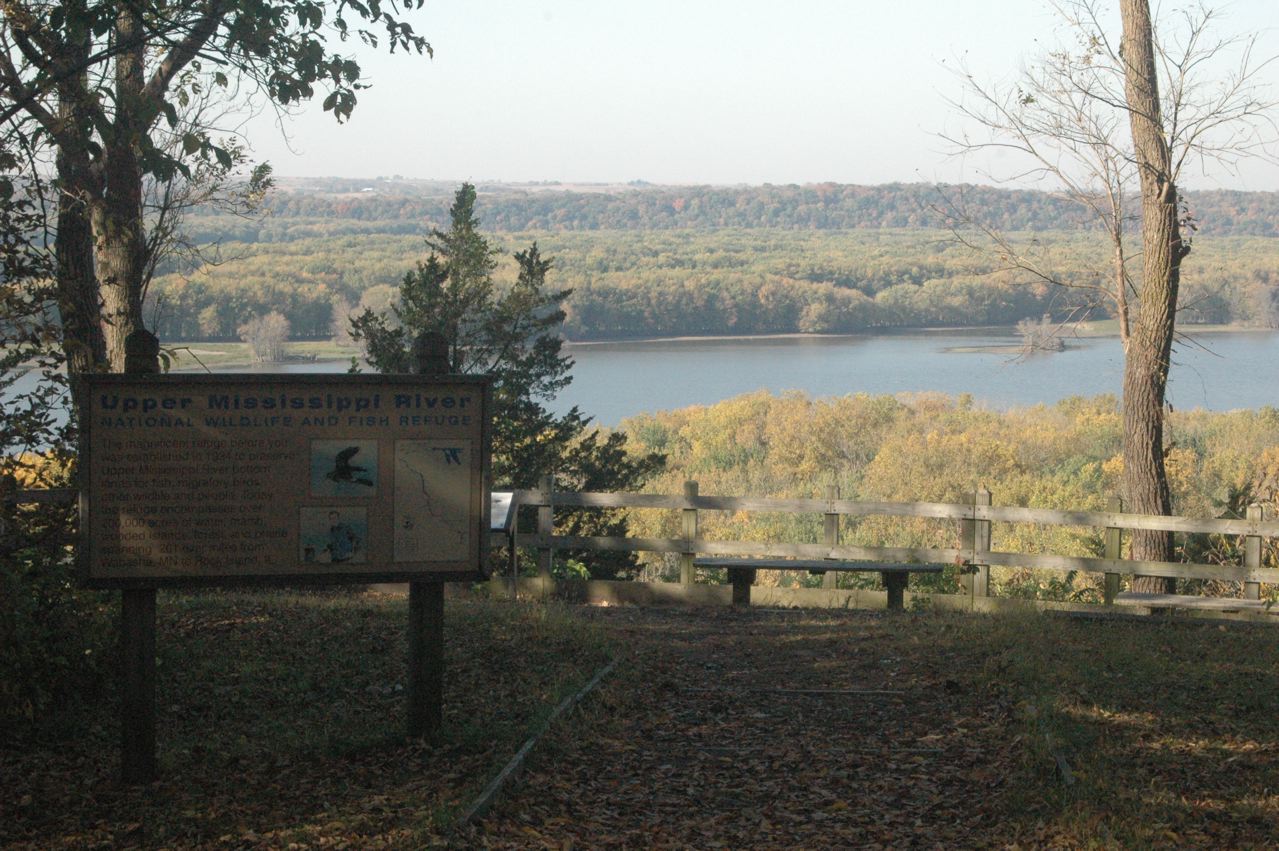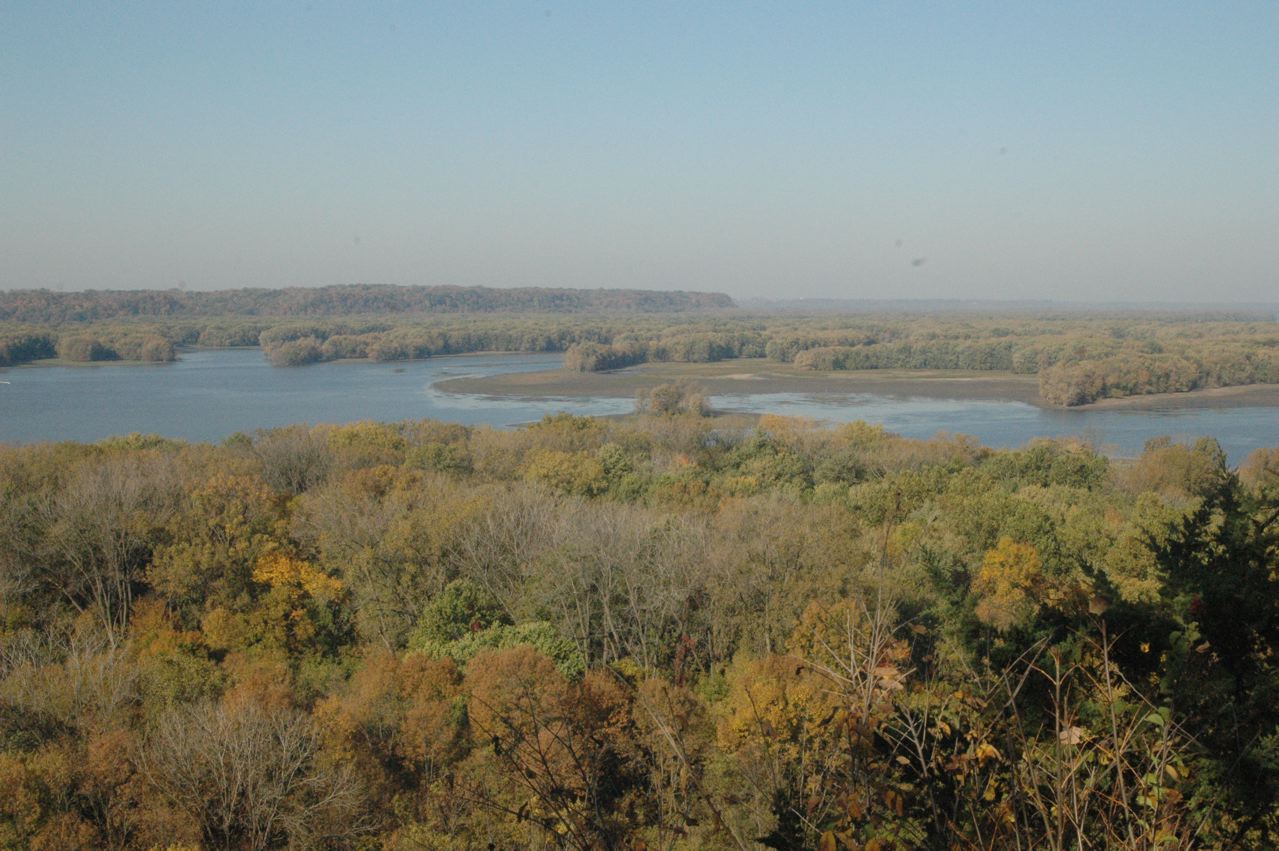 This is taken from the series of shallow steps on the path from the parking lot to the overlook platform. I got onto the platform about 9:25, hoping I'd have to spend not much more than an hour for a train or two. I forgot my pocket scanner in the van, though, and Carol's cell phone had no service in the parking lot (mine on the platform did), so she was unable to communicate any radio chatter to me. No matter, it was a gorgeous morning to just sit and watch the world up here.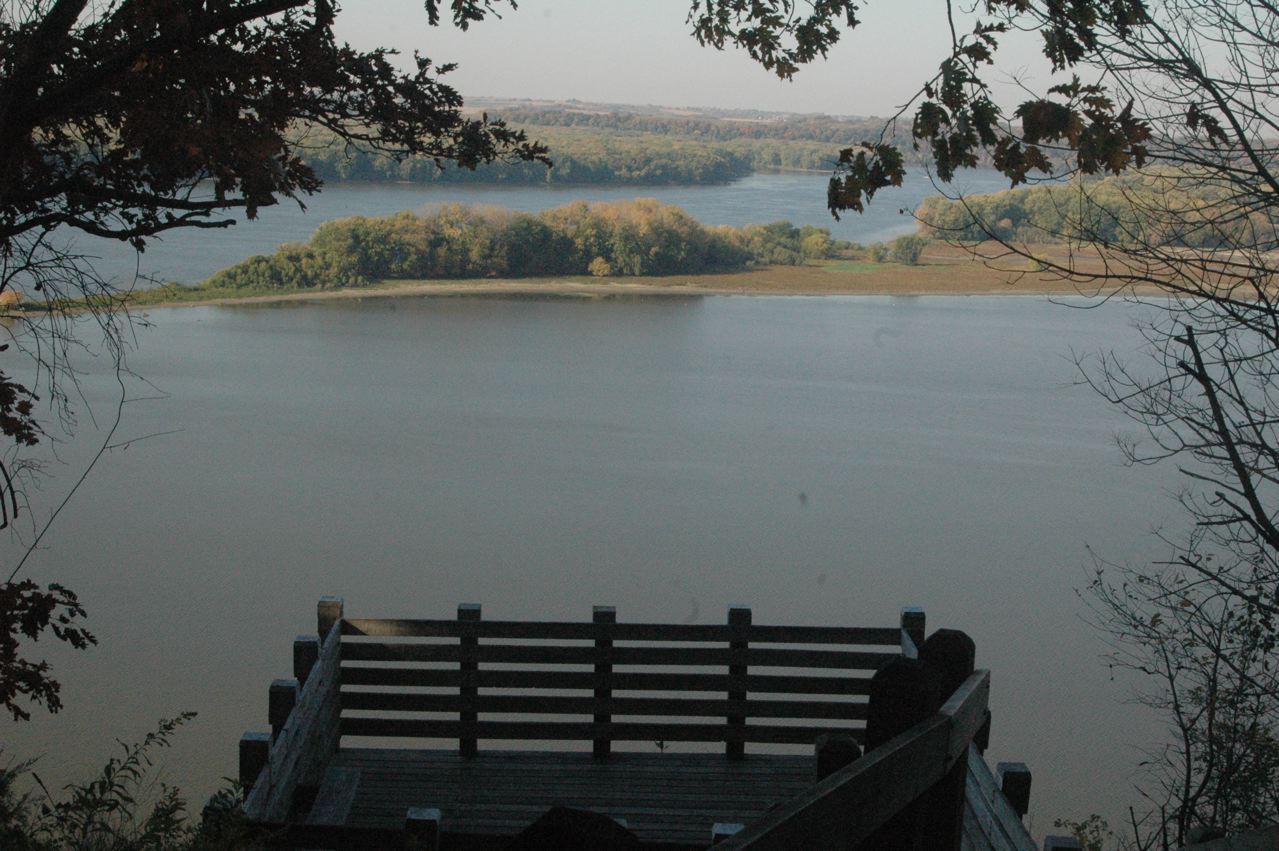 I took this just in case no trains showed up.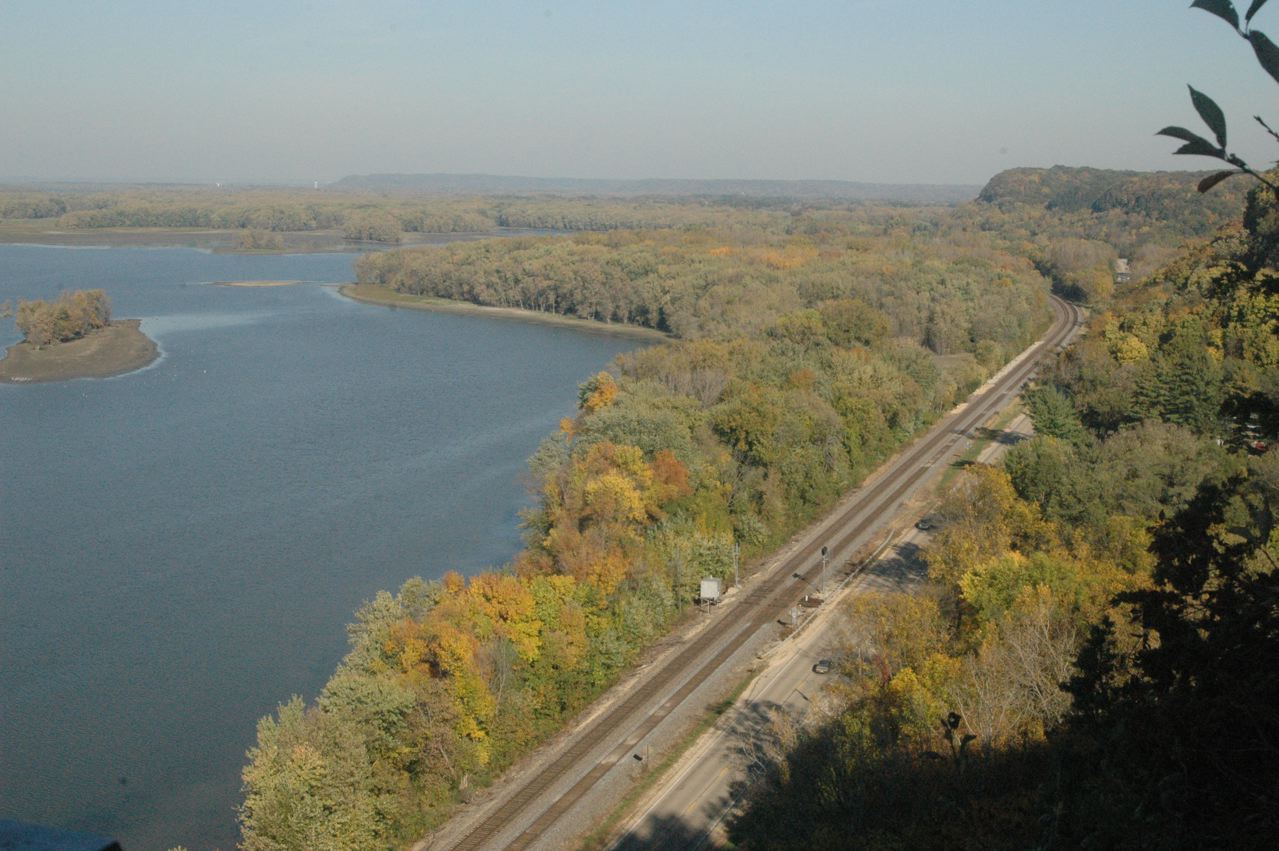 | | |
| --- | --- |
| Looking south; you can see how, with the sun low and off to your right in late afternoon, this is a dandy angle. That's the US 52 bridge at north end of Savanna visible. | |
Patience is a virtue and was rewarded at 9:47 with this guy, 4726 East with scruffy Warbonnet 928 trailing, 68 cars, and DPU 4367, on the rear; time of passage, 9:47 to 9:50. Only one other couple was present, not railfans, but they did photograph the train! I also took their photo with their camera.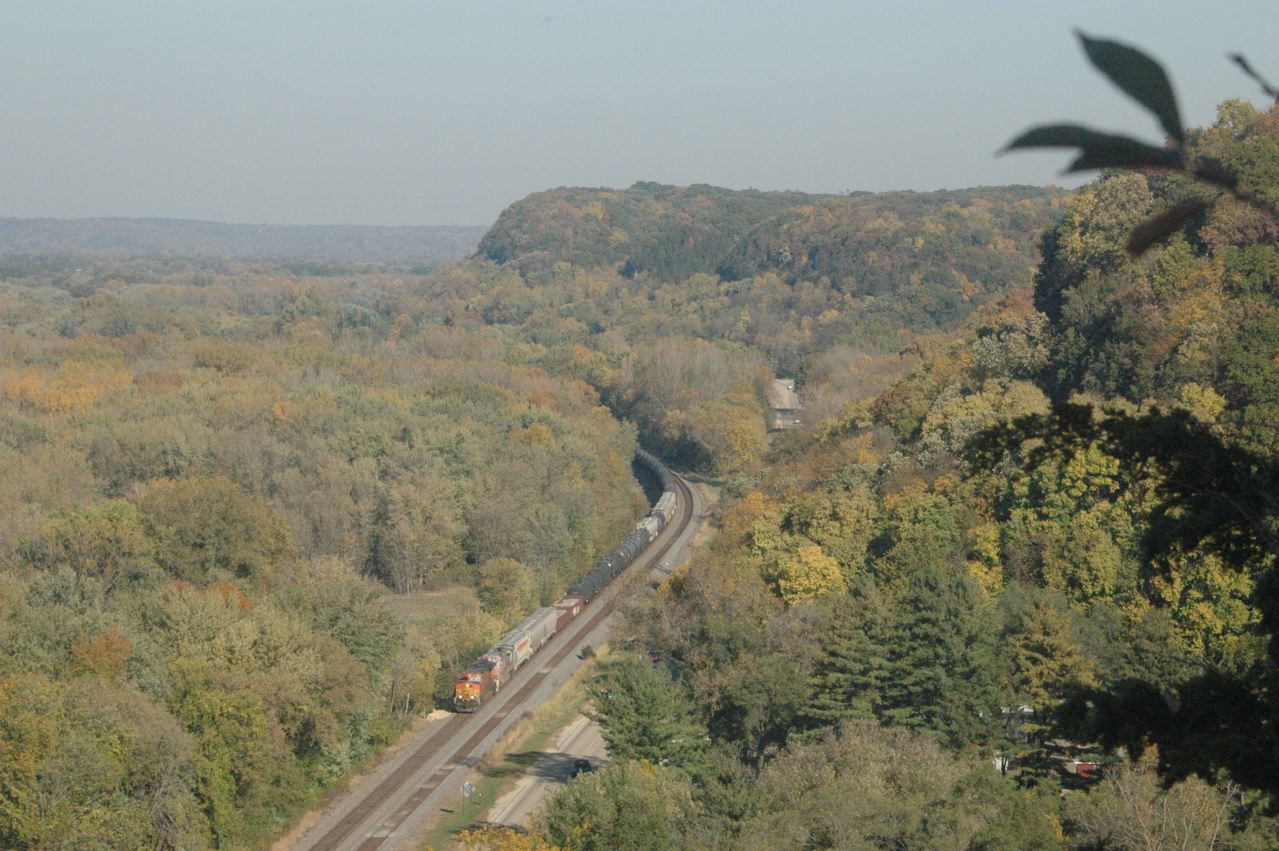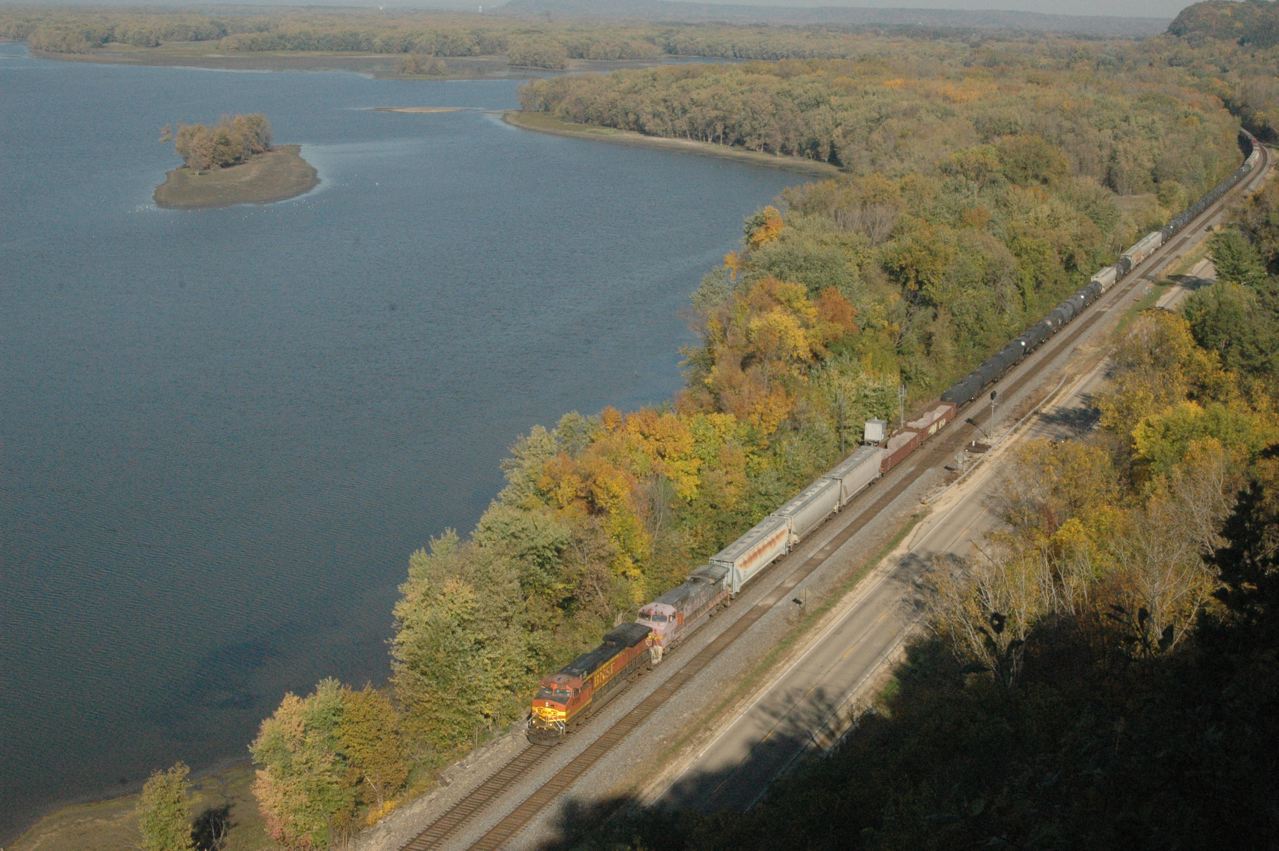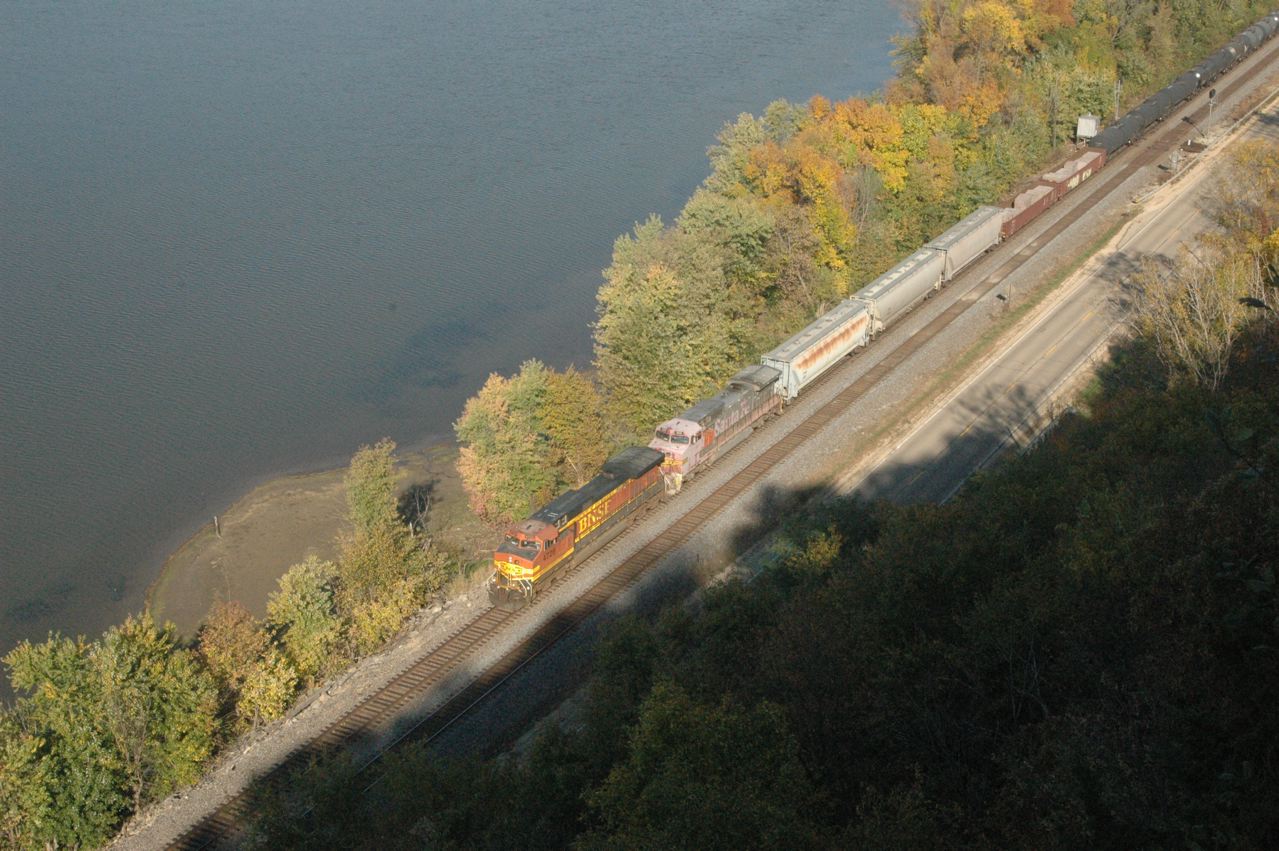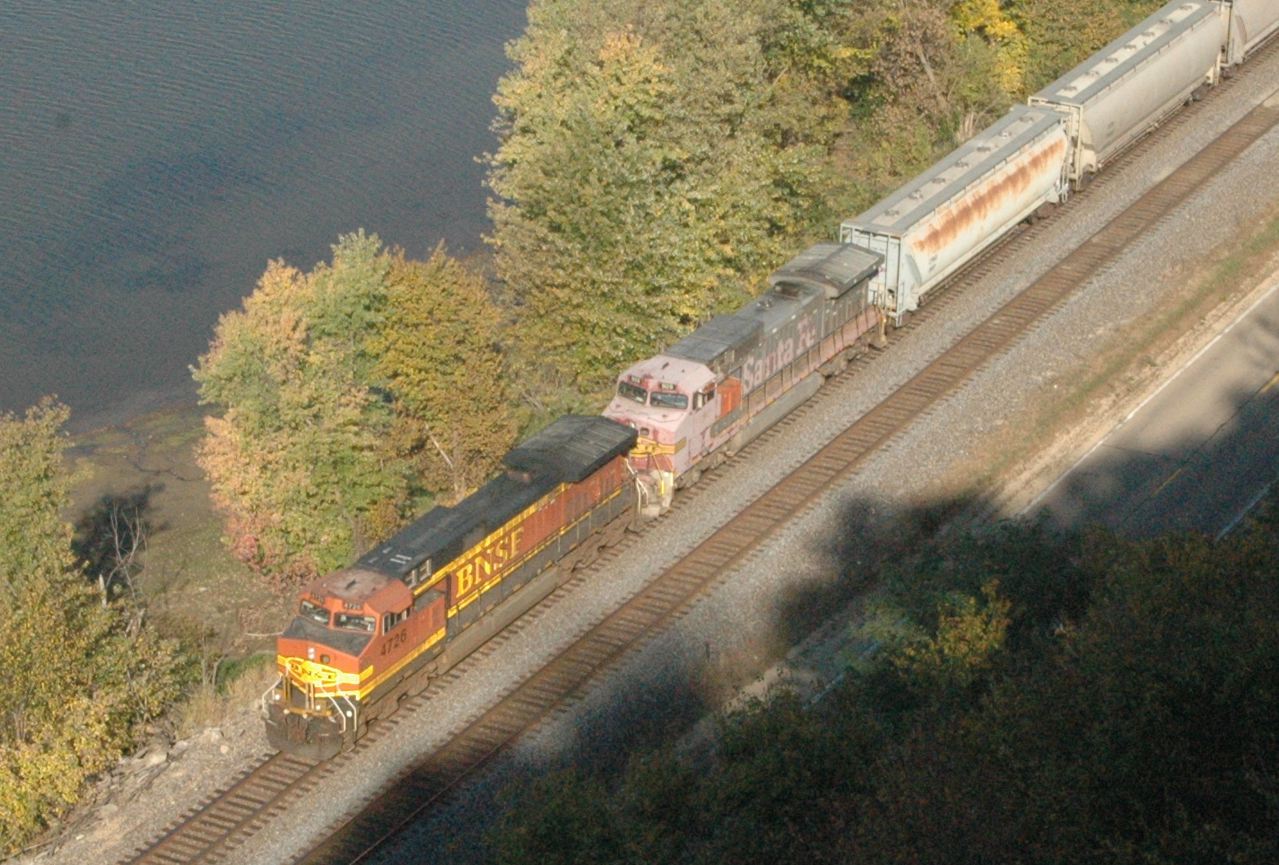 | | |
| --- | --- |
| No sooner had 4726 gone on into Savanna than 678 WEest, with Cascade Green BN 8134 trailing and 58 cars, showed up at 9:58. | |
Thoroughly satisfied, I pulled up stakes. At least two other families, with kids, had come to the platform, and I met more on my way back up to the van and then driving out. Time to move on. Plenty of color to the east, and it was the day to go home.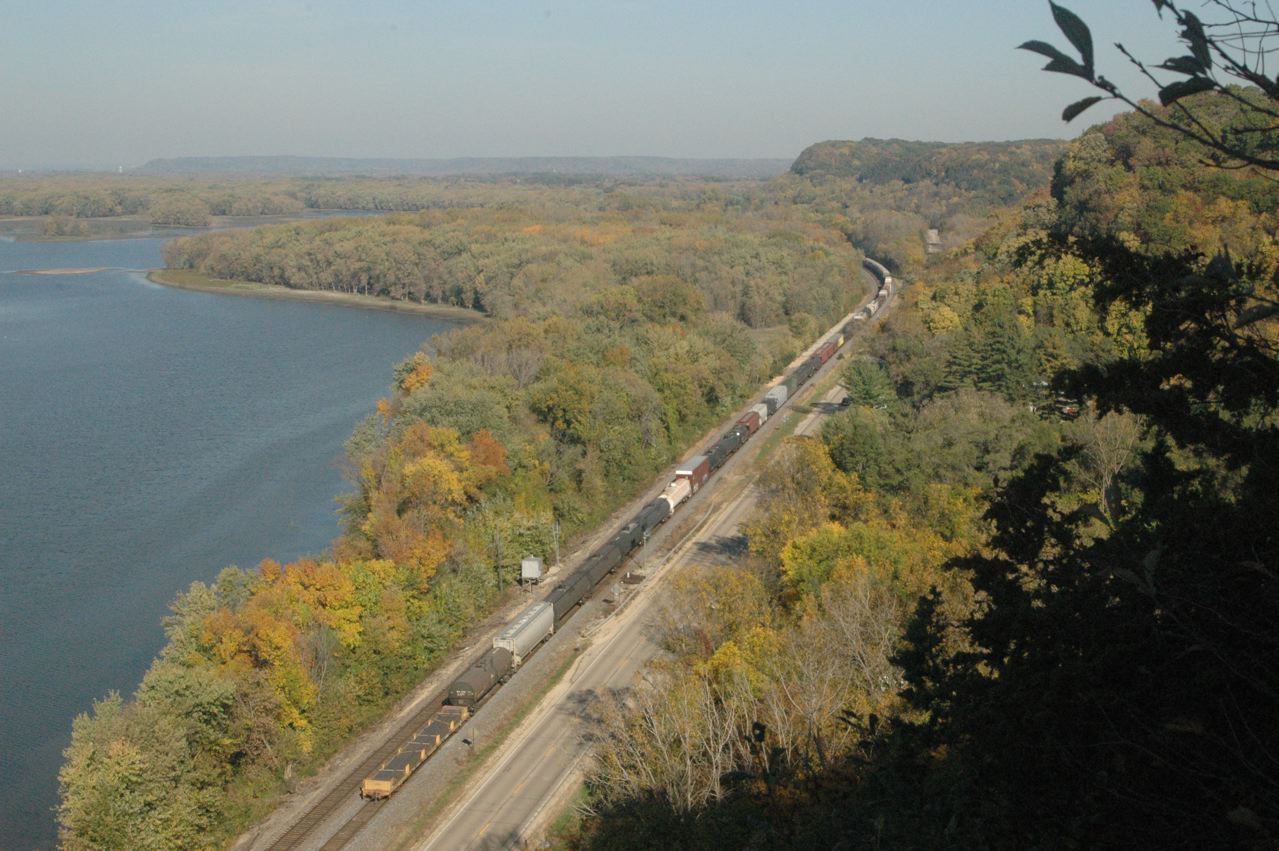 We were barely down out of Miss. Palisades State Park when we heard the detector to the west and pulled over on 84's shoulder for this eastbound ethanol train, whose diesels i gave my "consist of the day" award: "Northern" 1109/"Warbonnet" 712 with 61 cars, at 10:10 here.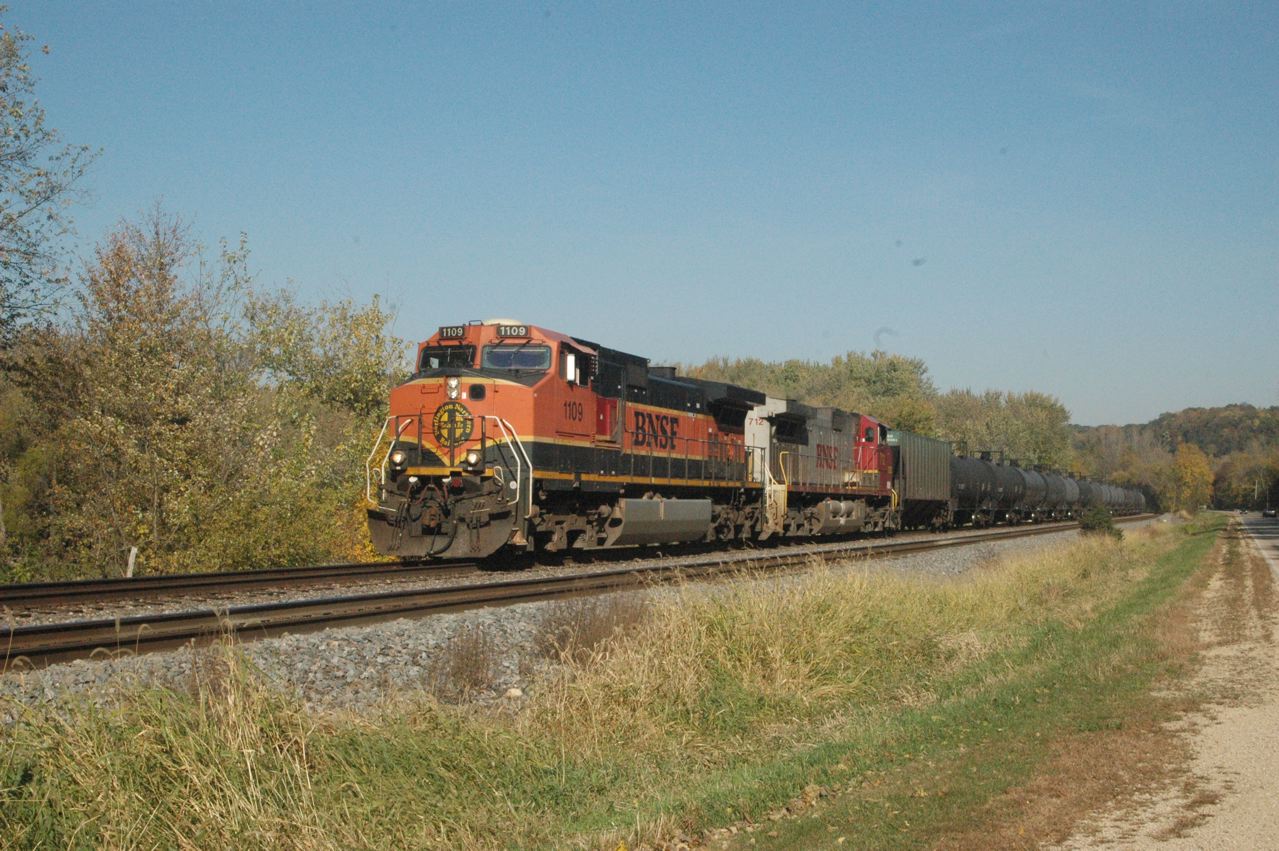 Why not give the Warbonnet/Cascade green westbound duo the day's award? First, I was high above it, and second, that Warbonnet was scruffy. This one was good; this is 10:31 south of the boat ramp crossing in Savanna after he got slowed up getting the signal. We are parked not far from the old CB&Q passenger depot site, I believe; it's been gone for decades, maybe since Amtrak's startup. La Crosse's came down in 1974.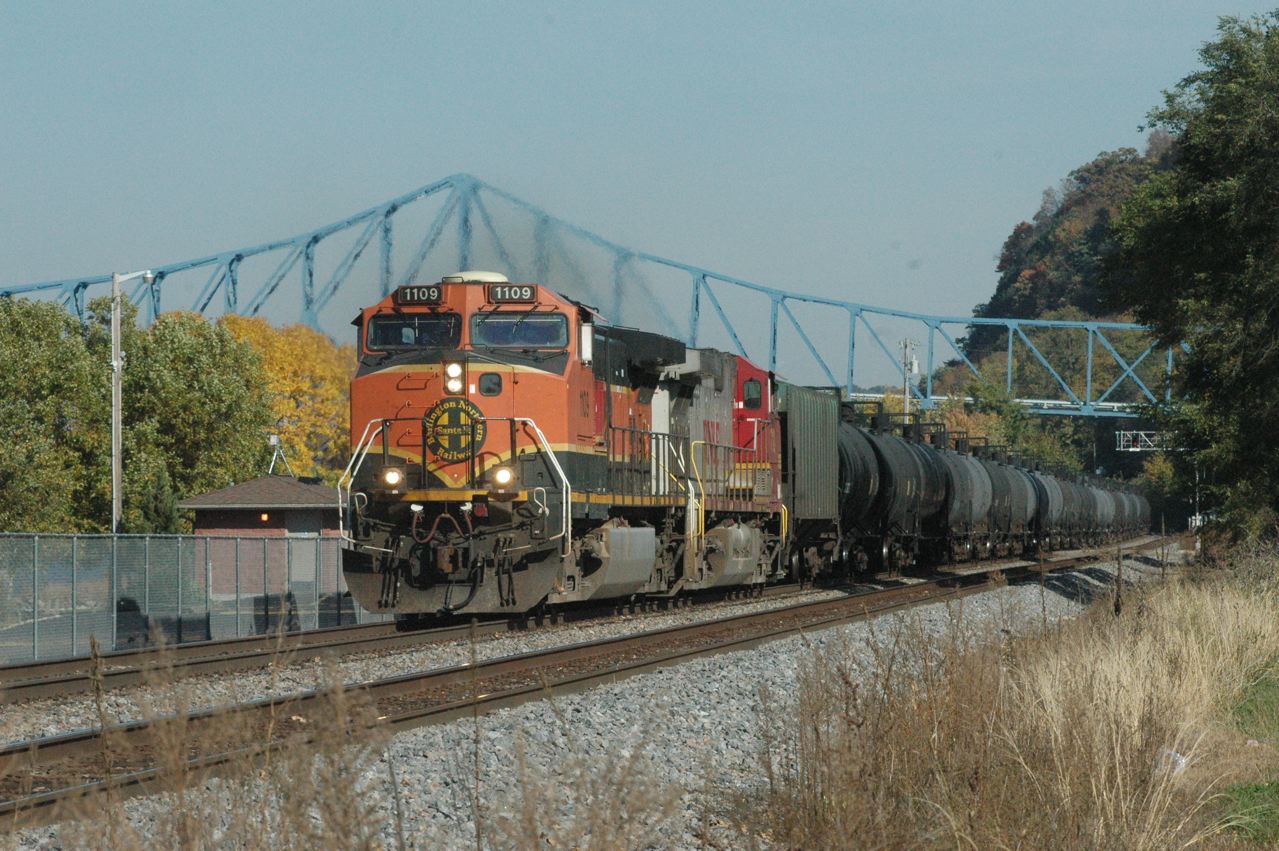 The scanner was quiet, so I just took Big Cut Road south for no reason other than to reinforce to Carol what a cool place Burke siding is.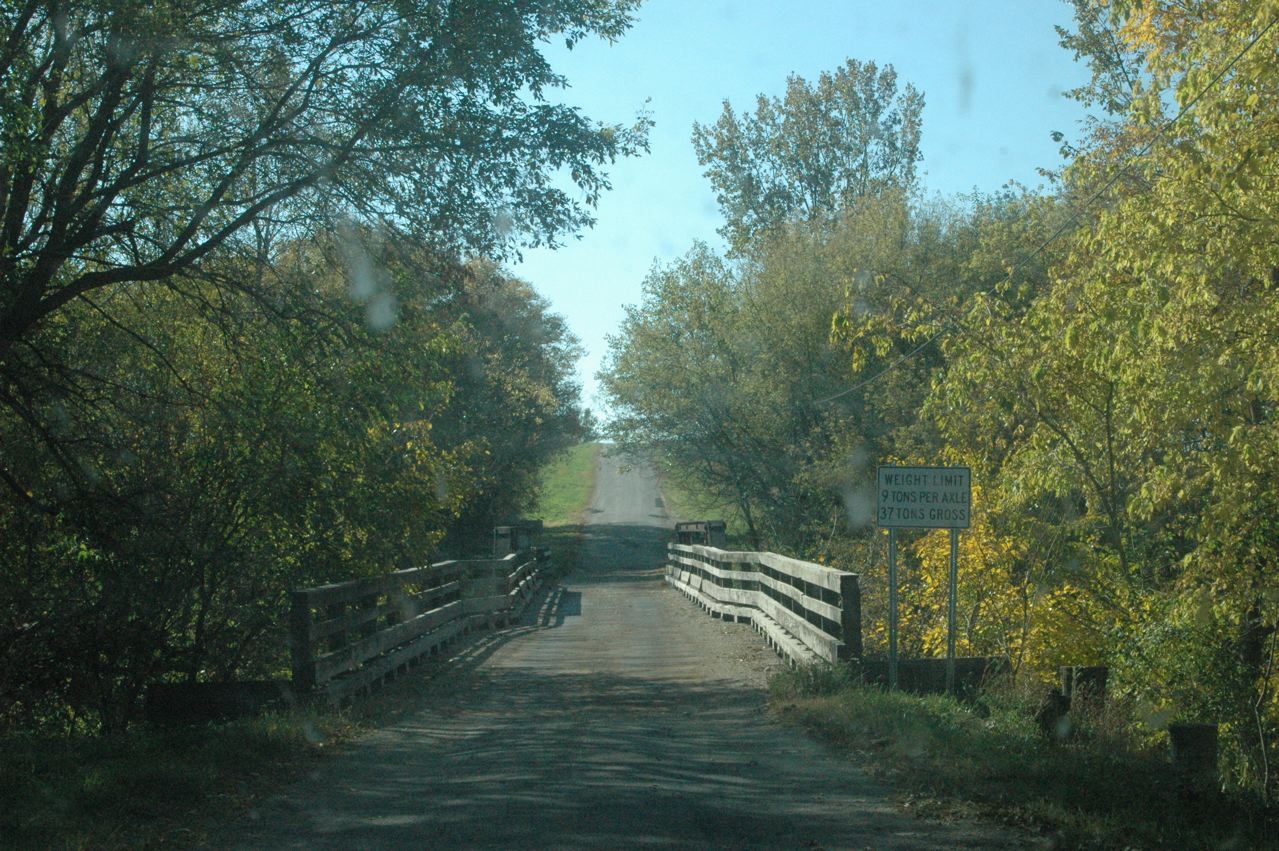 Well, guess what -- there sits our eastbound with the DPU I shot from the overlook platform an hour before this shot at 10:55. Obviously he awaits a westbound, so we waited too. The ethanol train, meanwhile, had headed down the Peavine to Galesburg. A touring couple from Sterling on a big Harley stopped, and waited a while, and took photos of what you see here, but he wasn't into trains and  they headed on, doing a back-roads trip all weekend, nice people.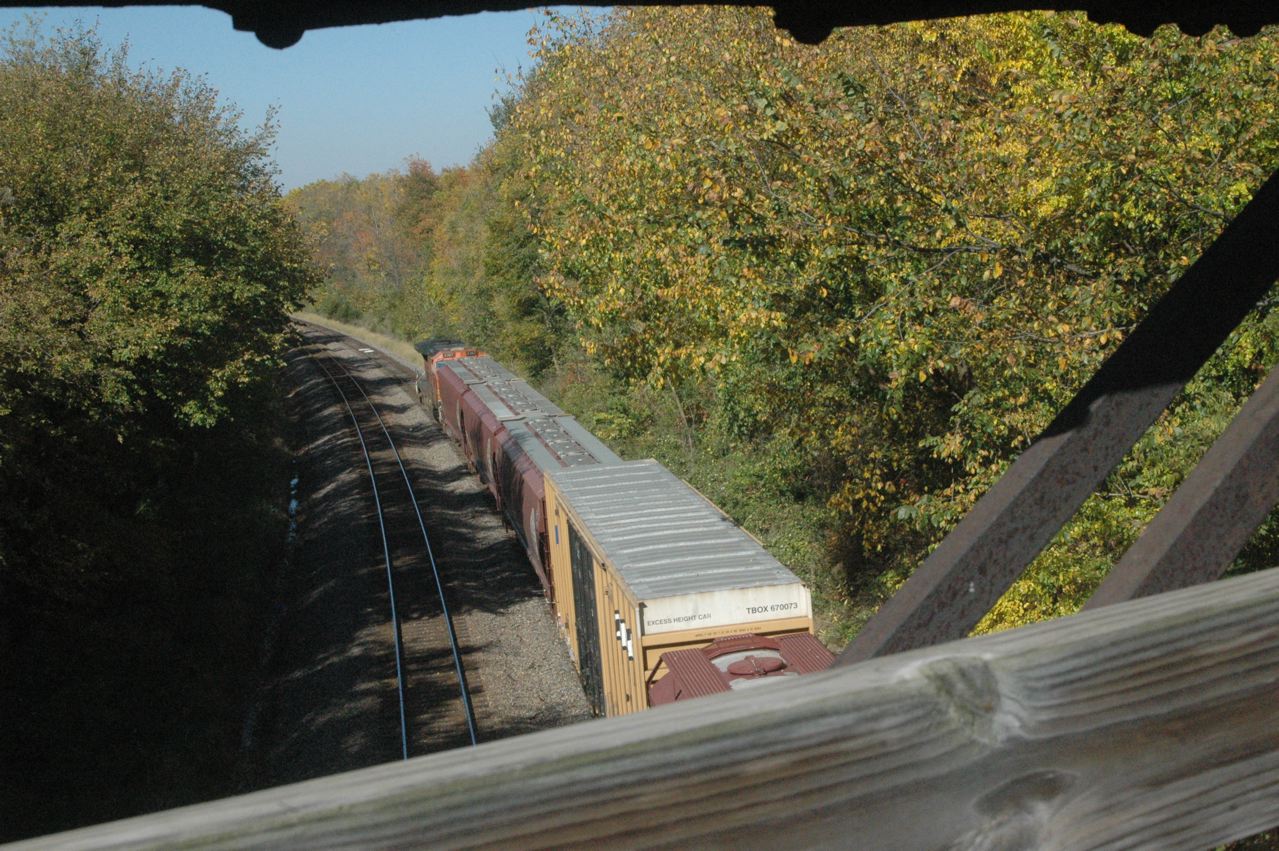 In case the westbound never showed up, I shot this showing part of the road bridge.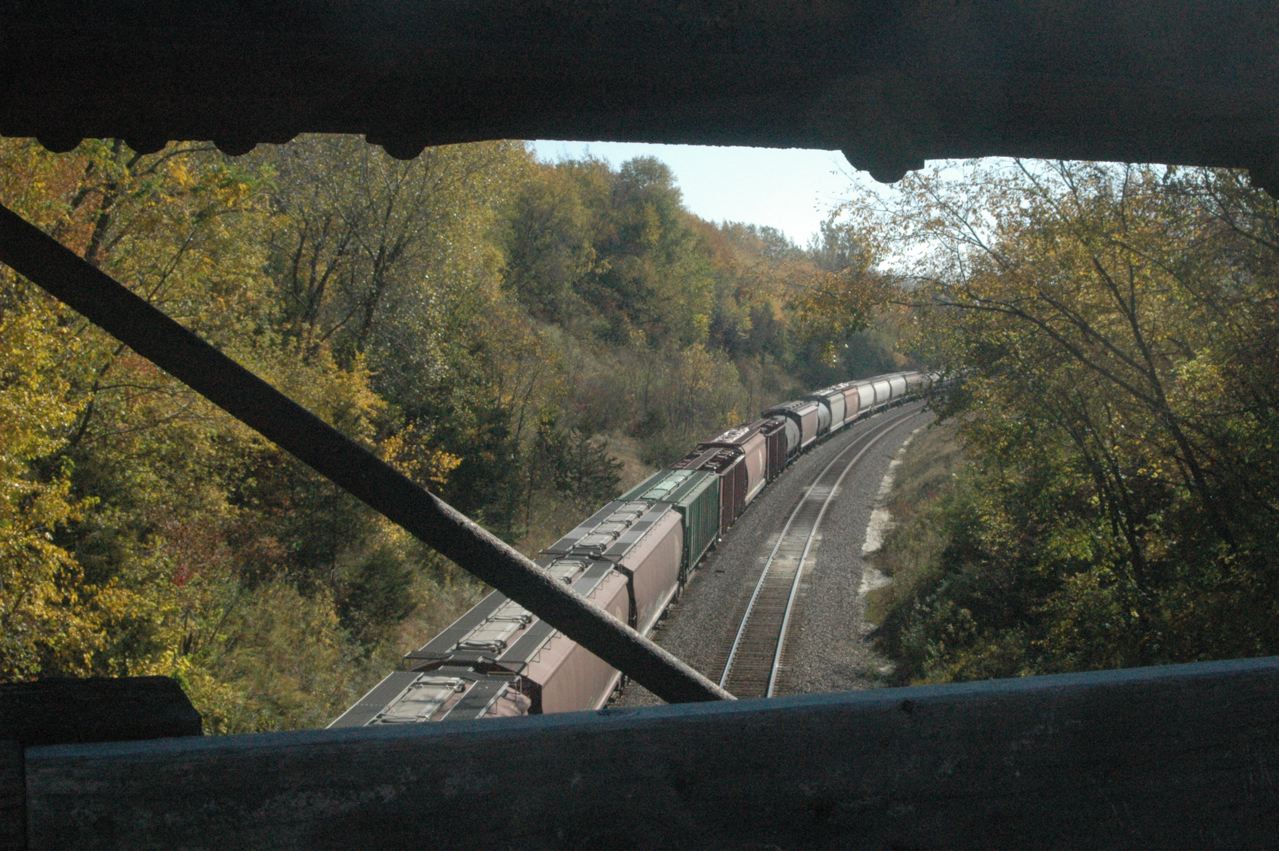 Finally the westbound showed up, 4108/NS 9945 with 74 wells or cars, at 11:20.  First frame, not cropped.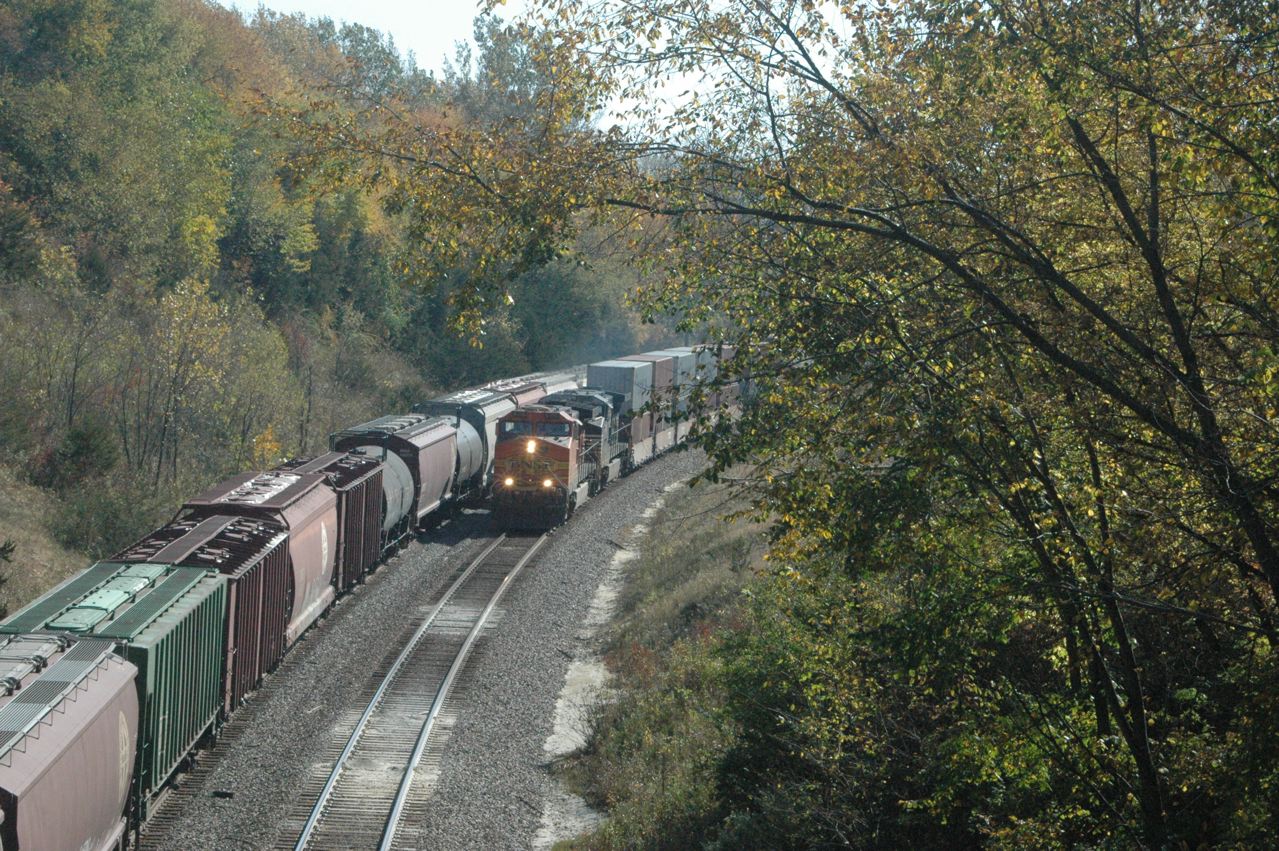 Second frame, not cropped.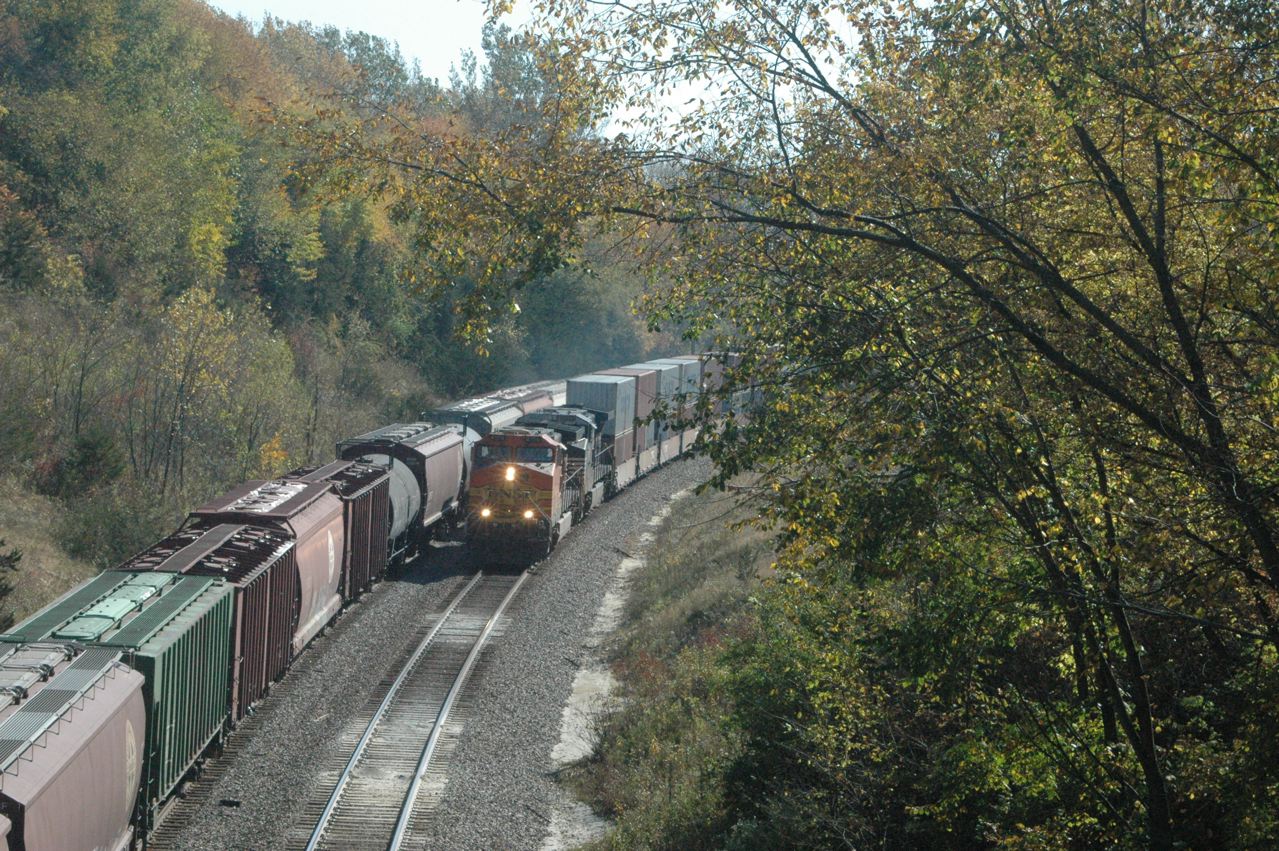 Second frame, cropped. I used the 50mm for close-up slides.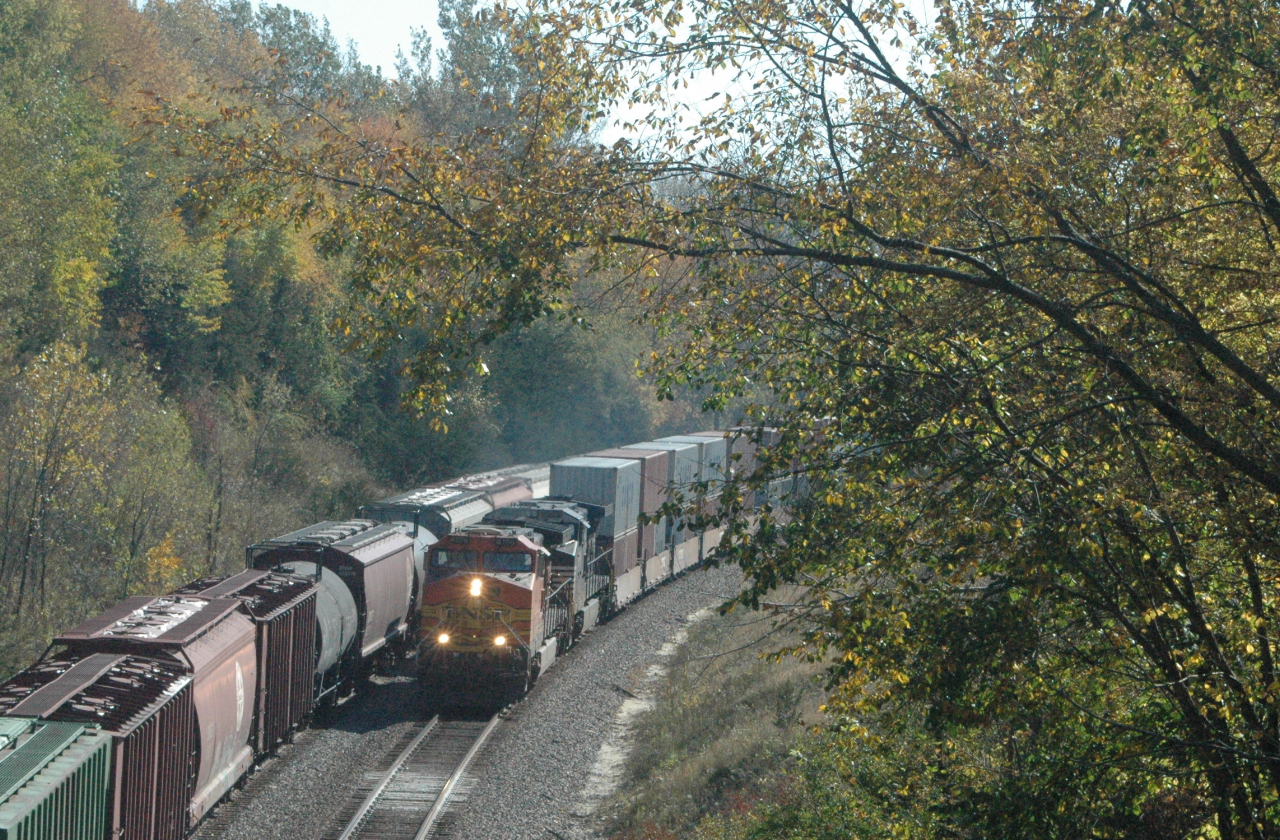 We used gravel roads, which I try to avoid (hard to do right around here) to check East Burke, figuring this guy would light up and go, but he didn't. Time  here is about 11:26 or 27. We had to keep going, even if there was a second westbound, which there was. We went as fast as we could via crooked back roads to the north-south road down toward Argo Fay, but the next westbound went over the road/creek trestle just as we went under it, and I knew that would happen when I heard the detector to the east. One other fan was there, shooting it; the train had CSX 4770 and two NS units, and passed at 11:33. Oh, well, ya can't get 'em all. This eastbound, BTW, would never show up the rest of our day, so the crew must've gone on the hog-law; I never heard another radio transmission about it, and we were within sight or sound of the C&I the rest of the day.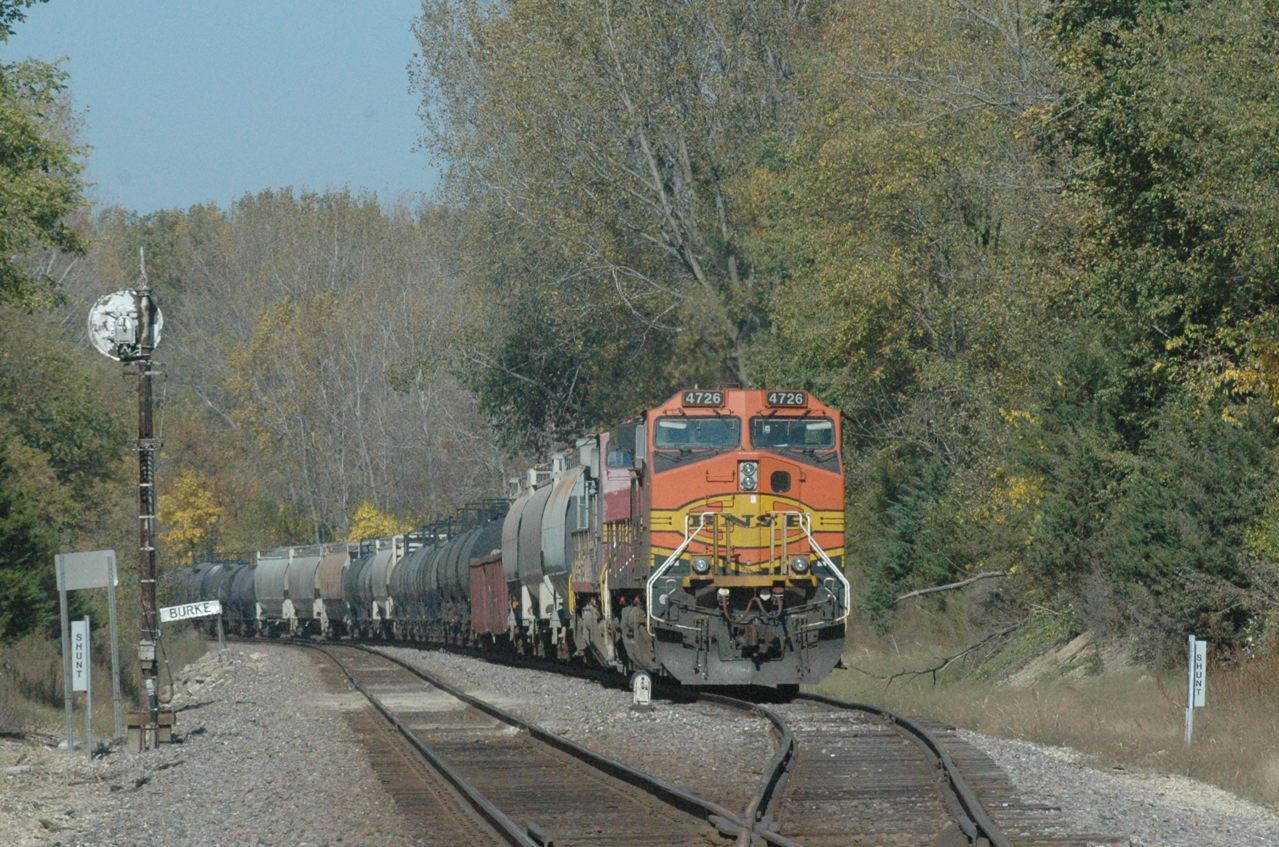 When there are no trains, you shoot other stuff. Here's the highway underpass at Milledgeville. There are no emblems on the north side.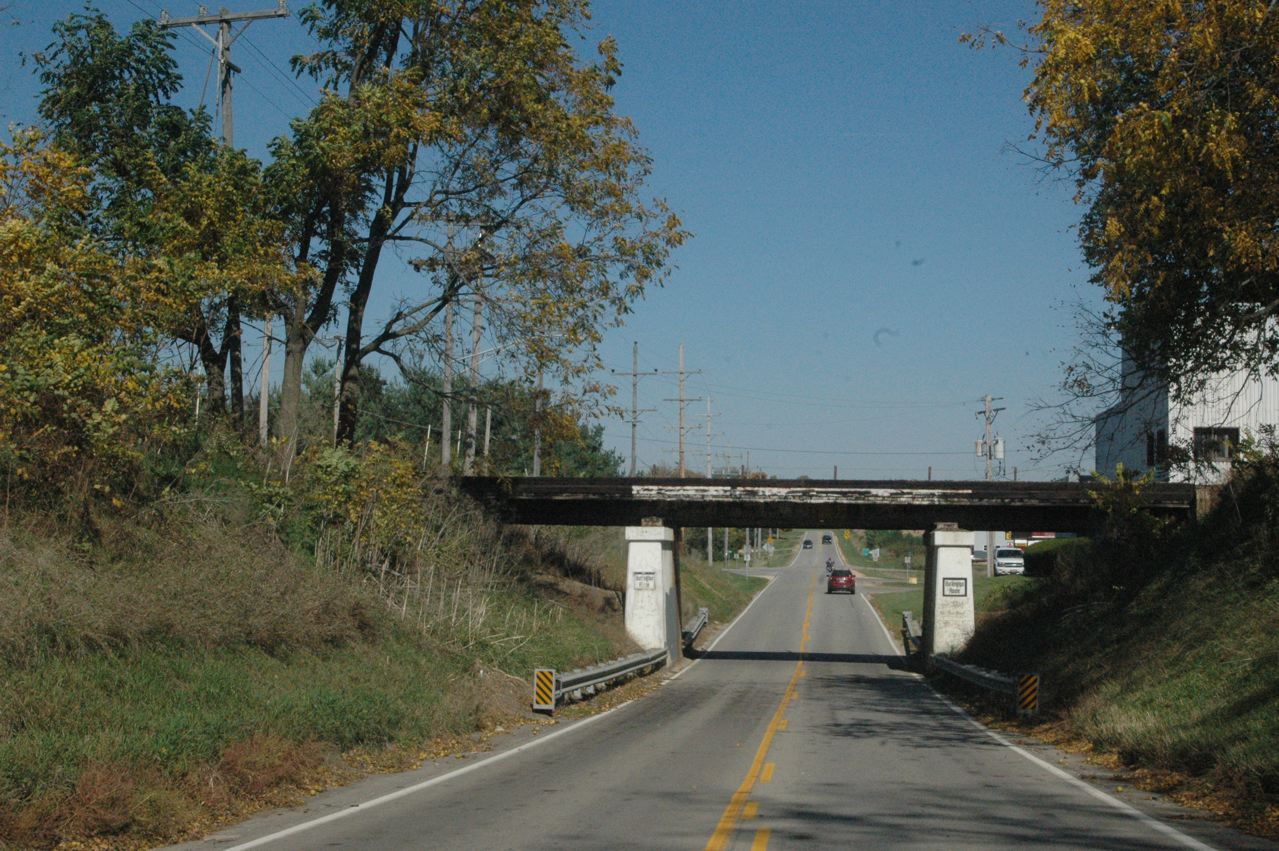 Between Milledgeville and Hazelhurst, which is west of Polo, there is a grade crossing (gravel road) halfway between two overhead bridges (paved roads), Milepost 119, obviously. This looks west.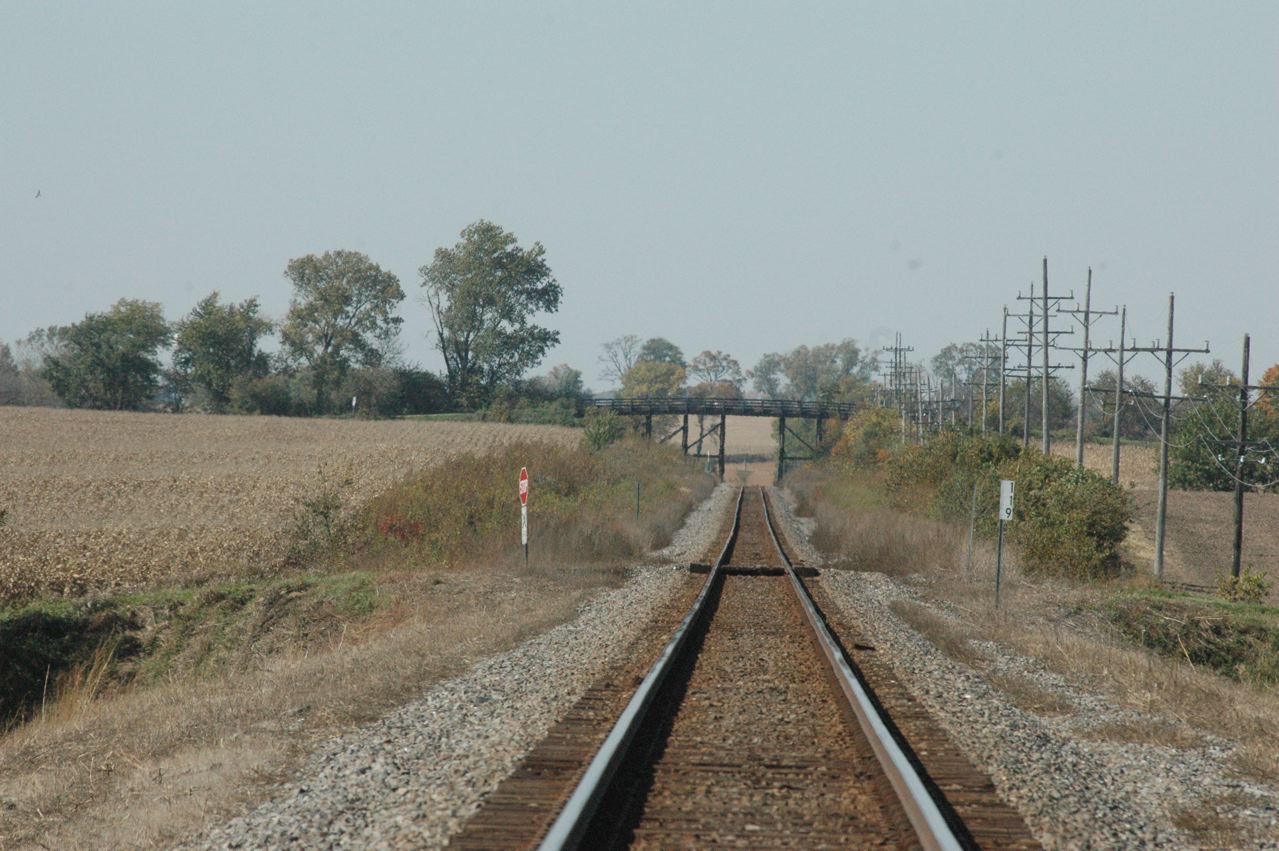 Well, make that one overhead bridge. This looks east, and that bridge is ETTS'ed, first "rainbow" bridge to come down on this part of the C&I in several years, that I recall.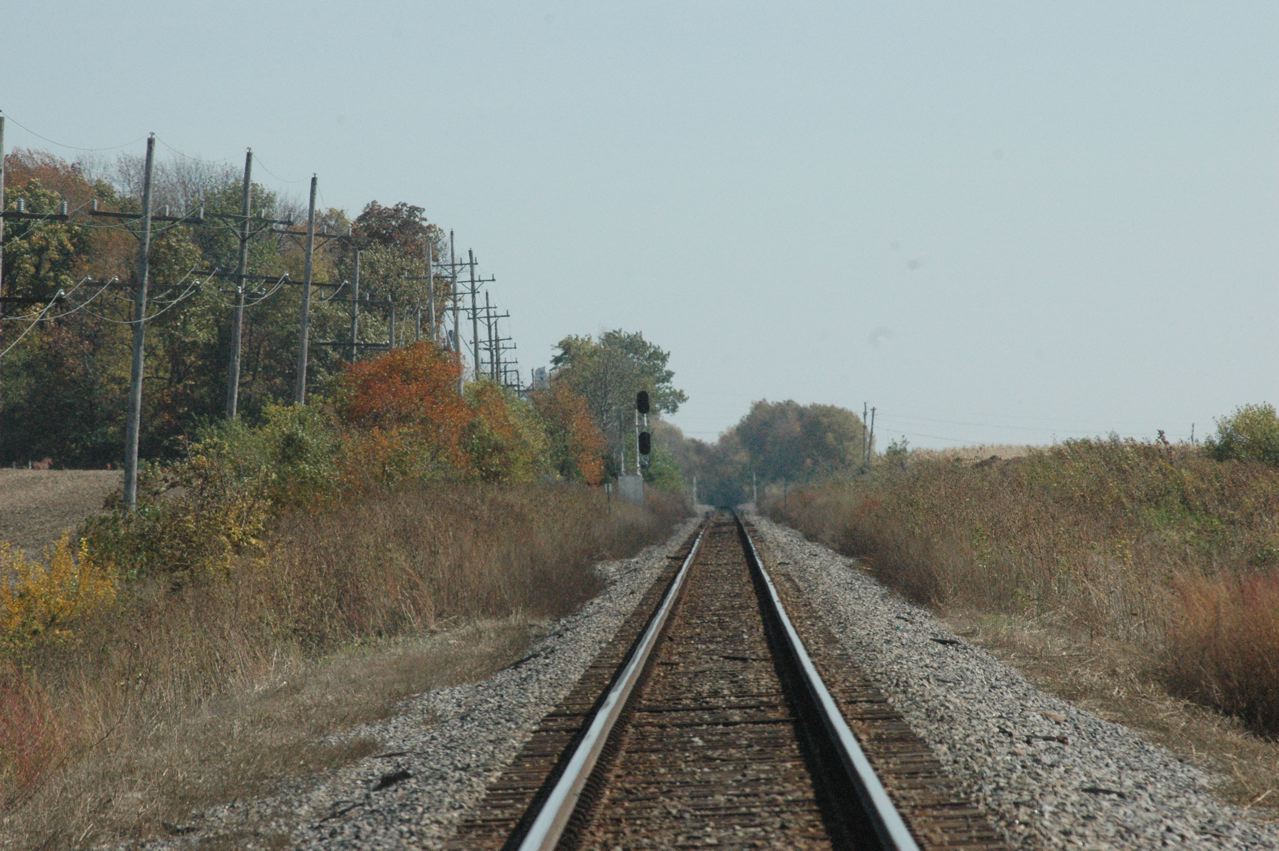 West of Polo and north of the C&I is a new grain loader with loop track and a train on it. We could not see any power on it, and we could not get to where the mainline switch is.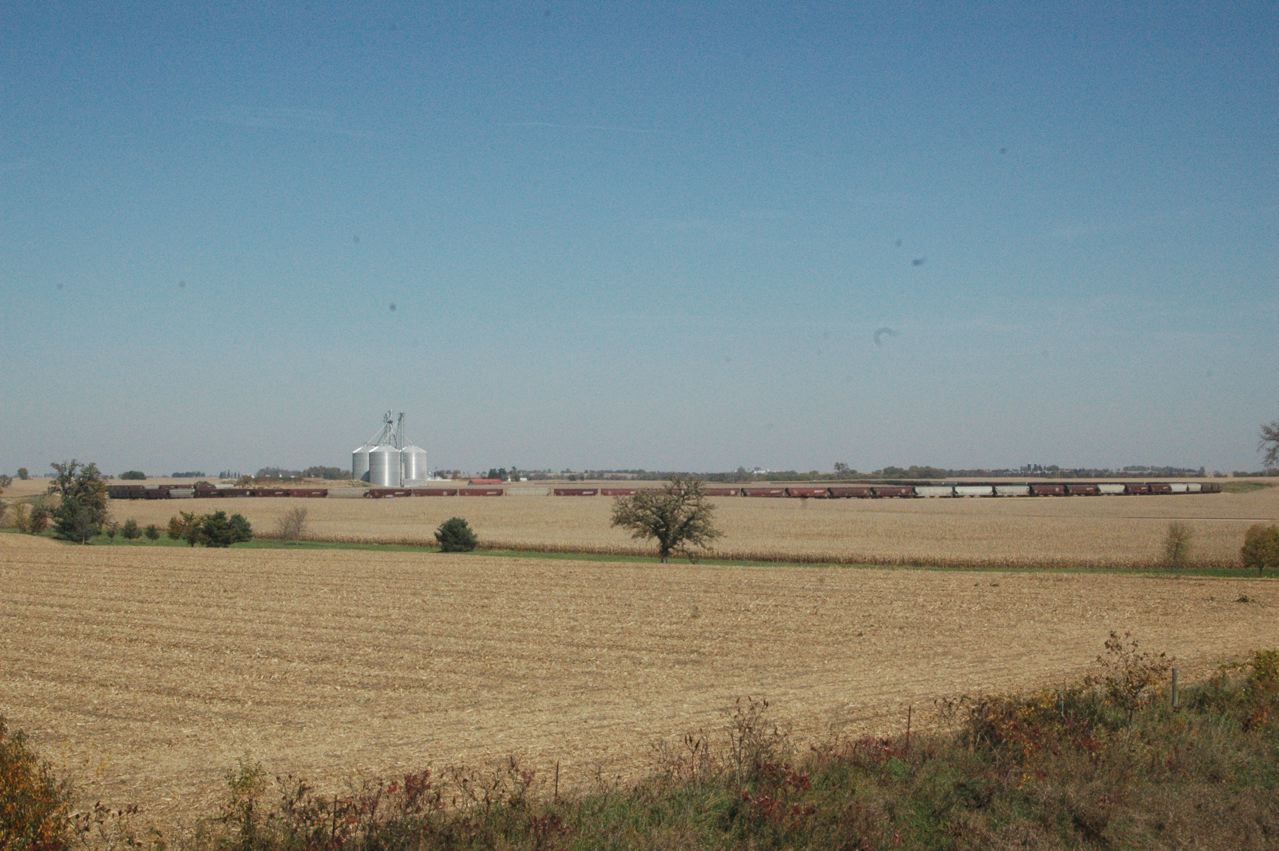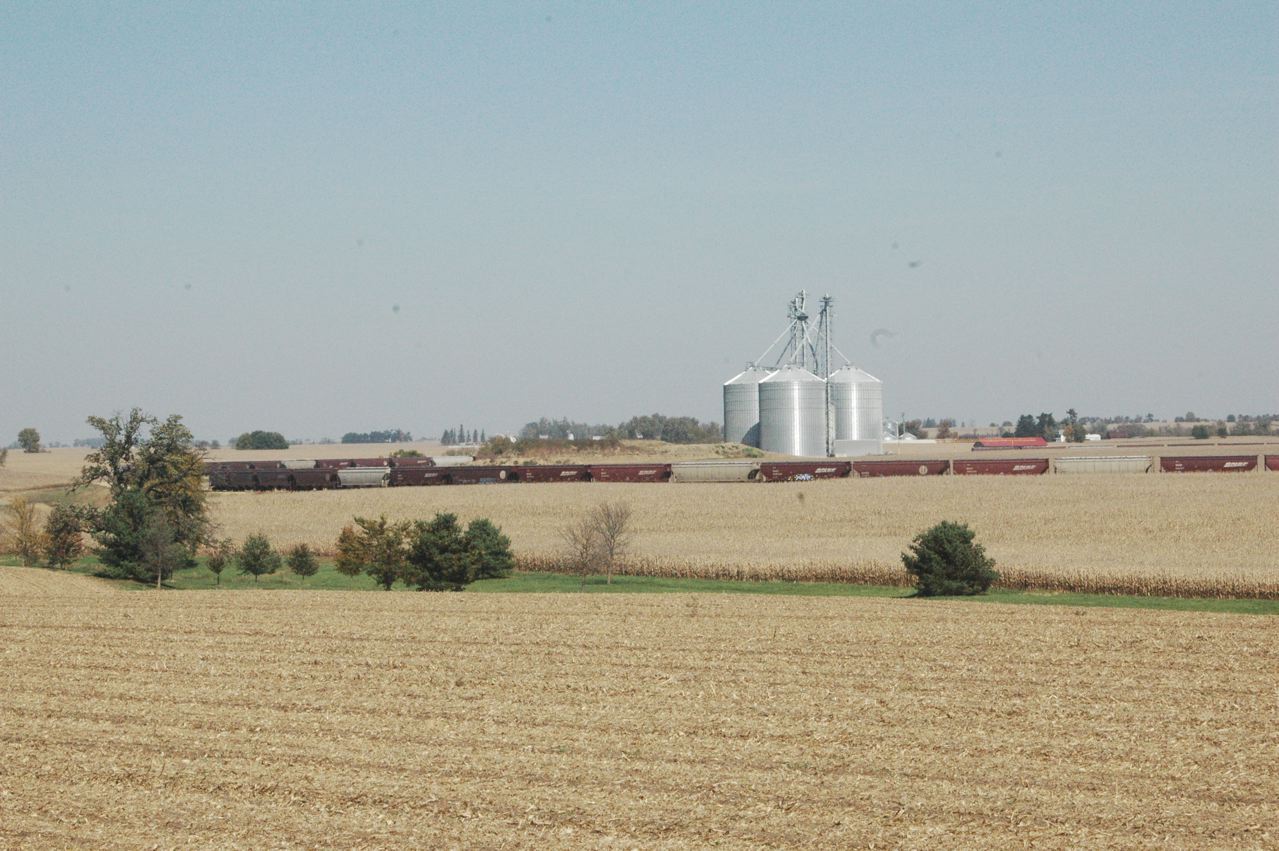 From Polo we drifted in to Oregon, and with no BNSF activity apparent, stopped for a Subway to-go, hit Route 64 to cross the Rock River, and drove east and then south to Chana to eat at trackside. We half expected to see our train that had been parked at East Burke, but we never did. We did not have long to wait here just west of the west Chana siding switch, though, when this guy showed up: 7571/5347 with 37 stack wells and 64 TOFC trailers at 1:15 p.m. This is the same power we shot the afternoon previous at the boat landing crossing north of Savanna, so obviously both were Chicago-Twin Cities trains. I'm actually sitting in the van, having put my sandwich down, to make this shot :-)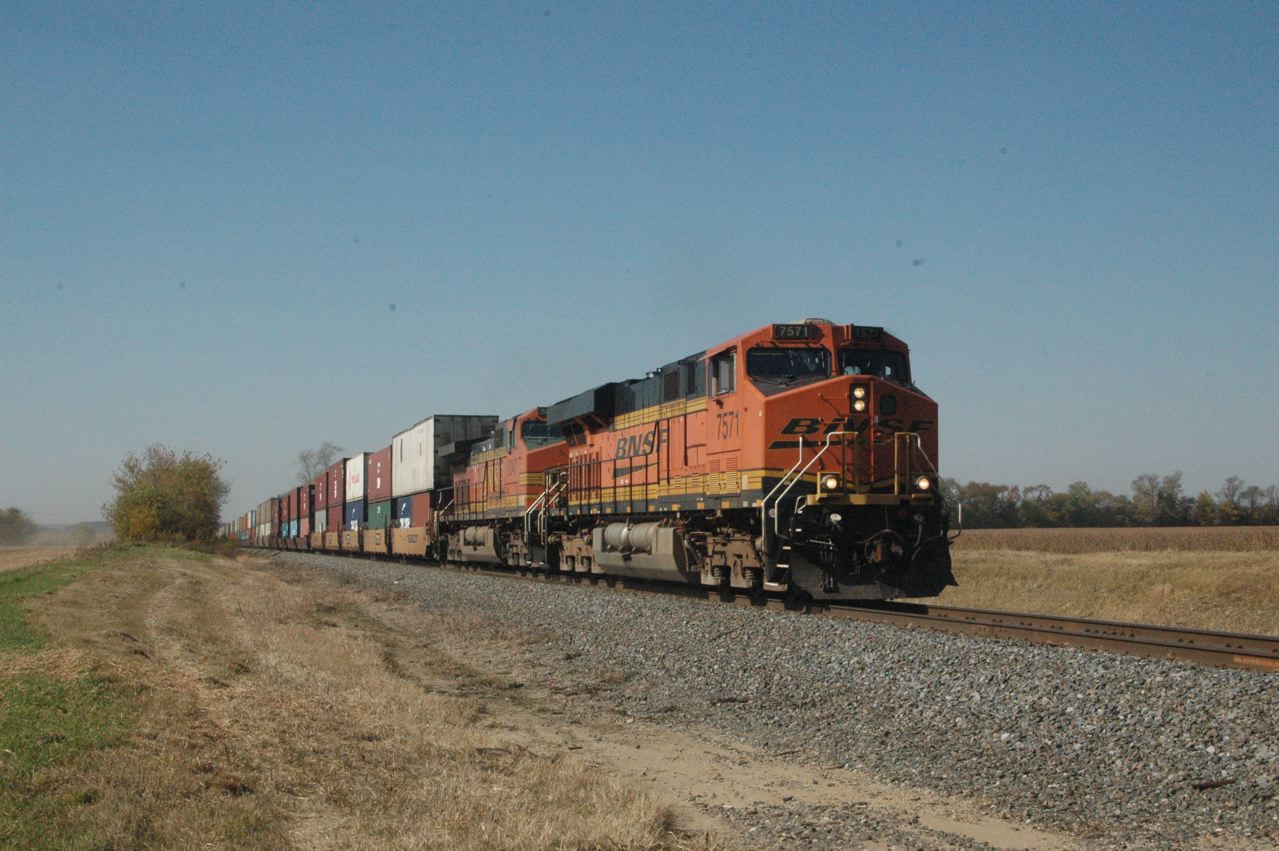 We had time to do some scouting ahead toward Flagg Center, for fall color in relation to the spots I well knew about for good shots, before we heard the detector west of Chana again, and got this eastbound at Knoll Road at 2:00 p.m., units 4590/967/5336 and 35 wells. The horses in the pen at left wandered away before the train got close, alas.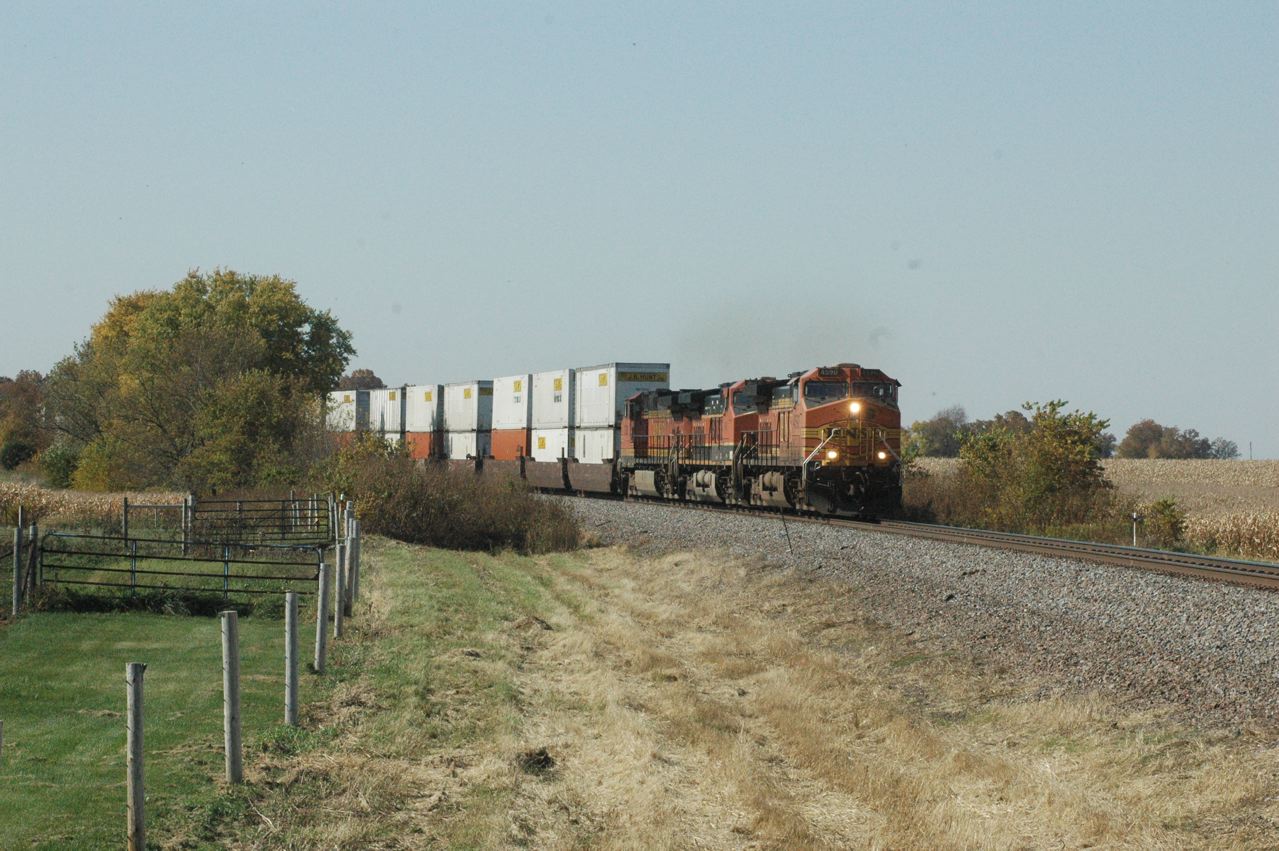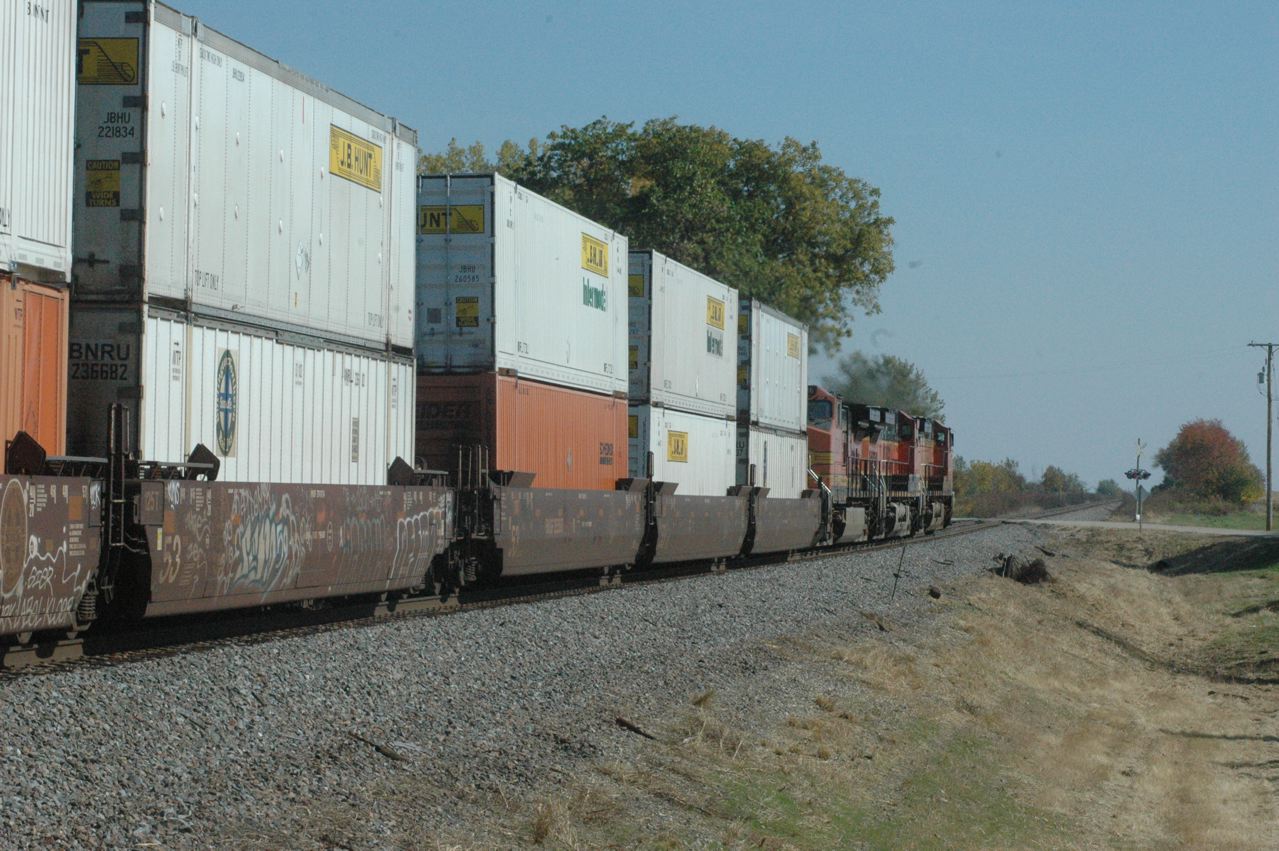 Passing thru Rochelle, there was no reason not to shoot, for the zillionth time, the local assigned engine. Time is 2:36. We were headed on east, which we hadn't planned to do, because an MofW gang was working on a crossing in Lee, and the two eastbounds we just shot were now staged at Steward, end of the two main tracks through Rochelle. The westbound threesome were not yet in the picture, so might as well go get two trains we'd seen already another time.
This is the 7571 East at Paw Paw Road, just east of I-39, at 3:05.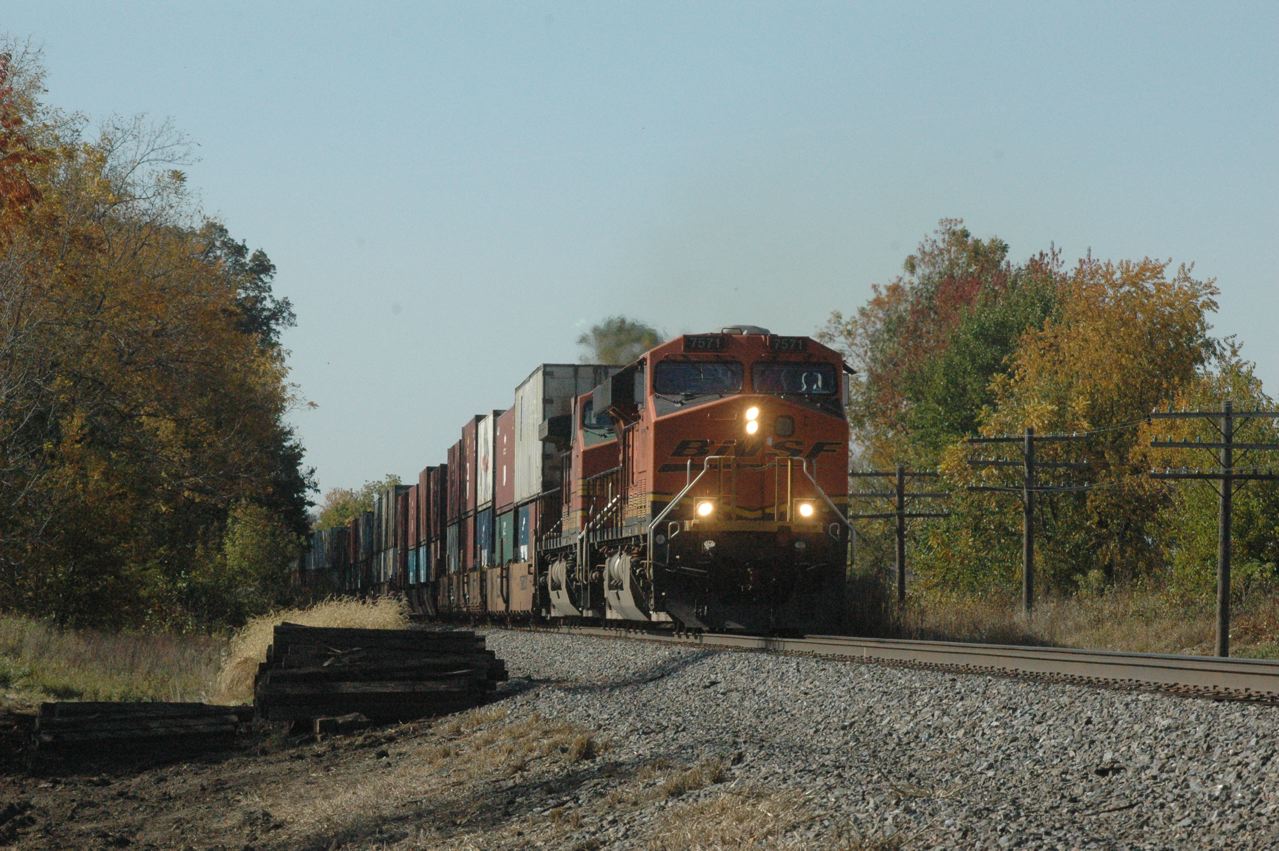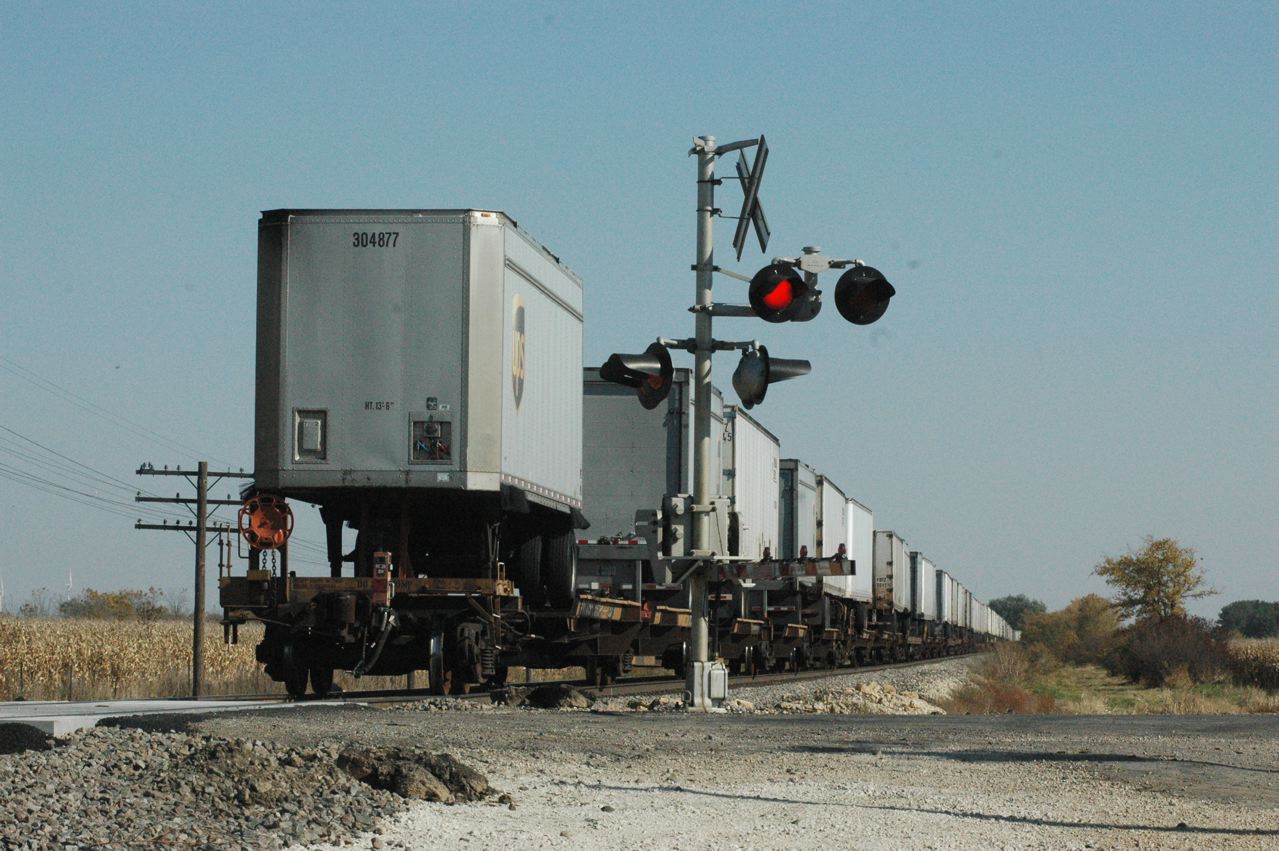 Paw Paw Road was nice, but east of there are opportunities for across-the-field angles, so we went east a mile or two to get the 4540 East again, from 3:17 thru 3:22. The guys at Lee had cleared up, but 4540 was running on 7571's block and going at only moderate speed.






Before any westbounds showed up, we went back to Rochelle and looked for perhaps a UP train, no luck, then the Chana detector went off again, so we went to MP 84 west of the Rochelle diamond for this guy, 7839/1078/5249/784 East, at 4:04 p.m. He got slowed up, don't recall why, don't think we saw a UP at a distance, but if we did, I ignored it :-)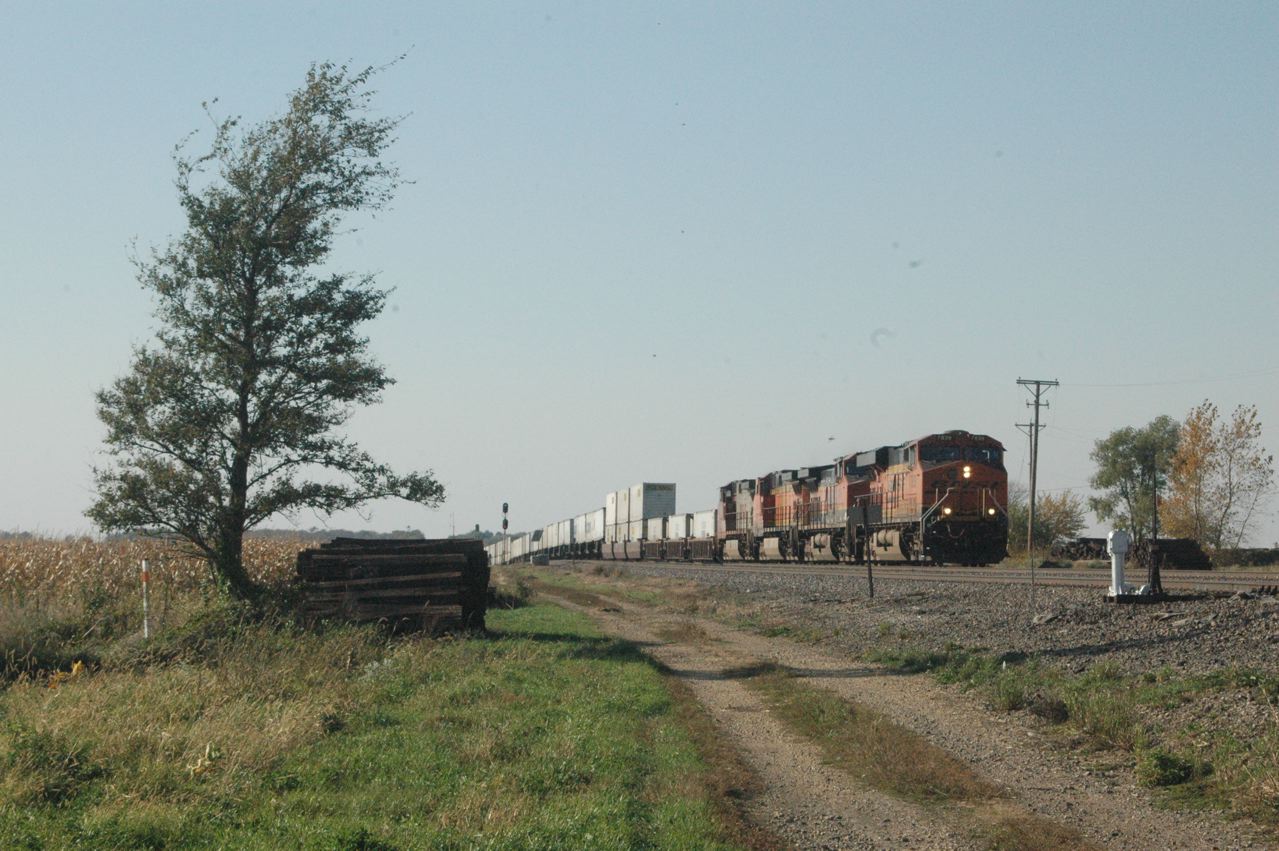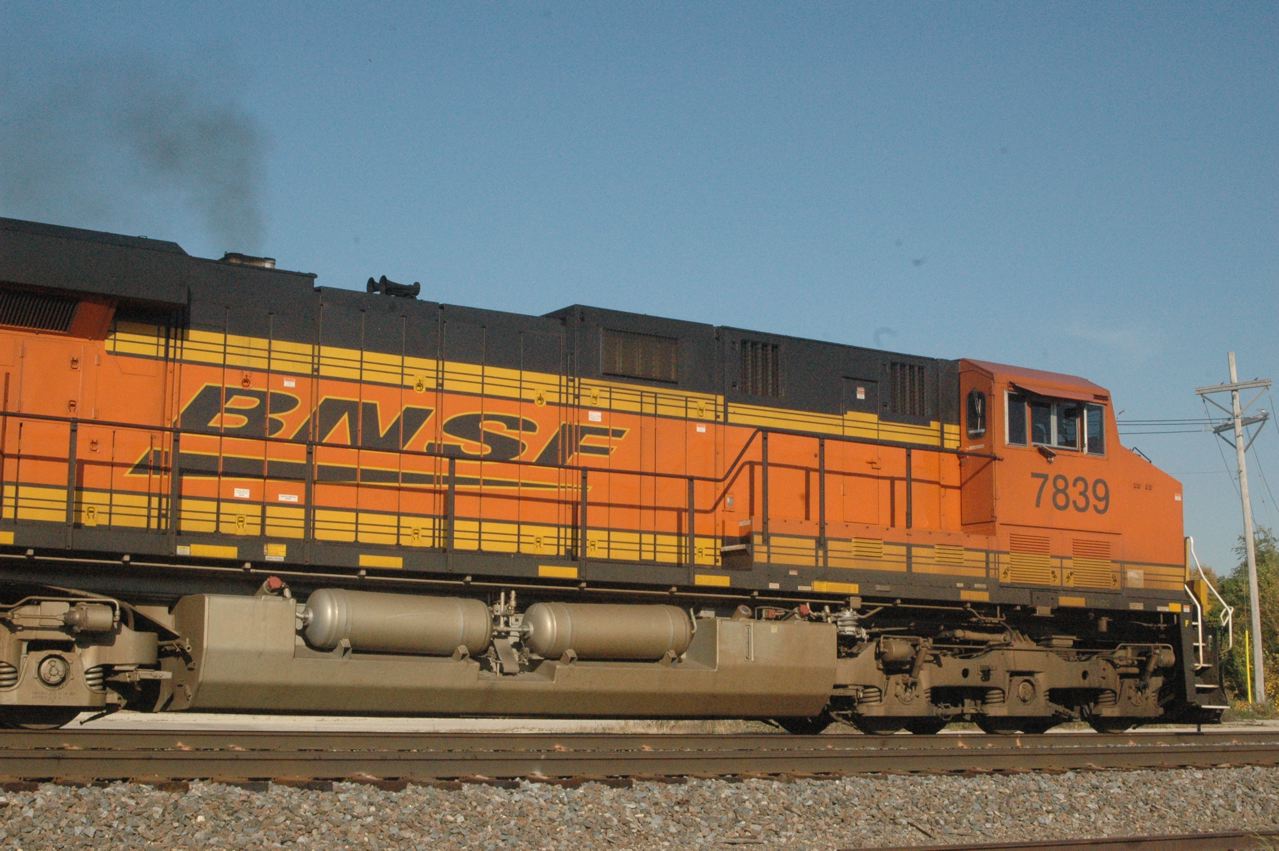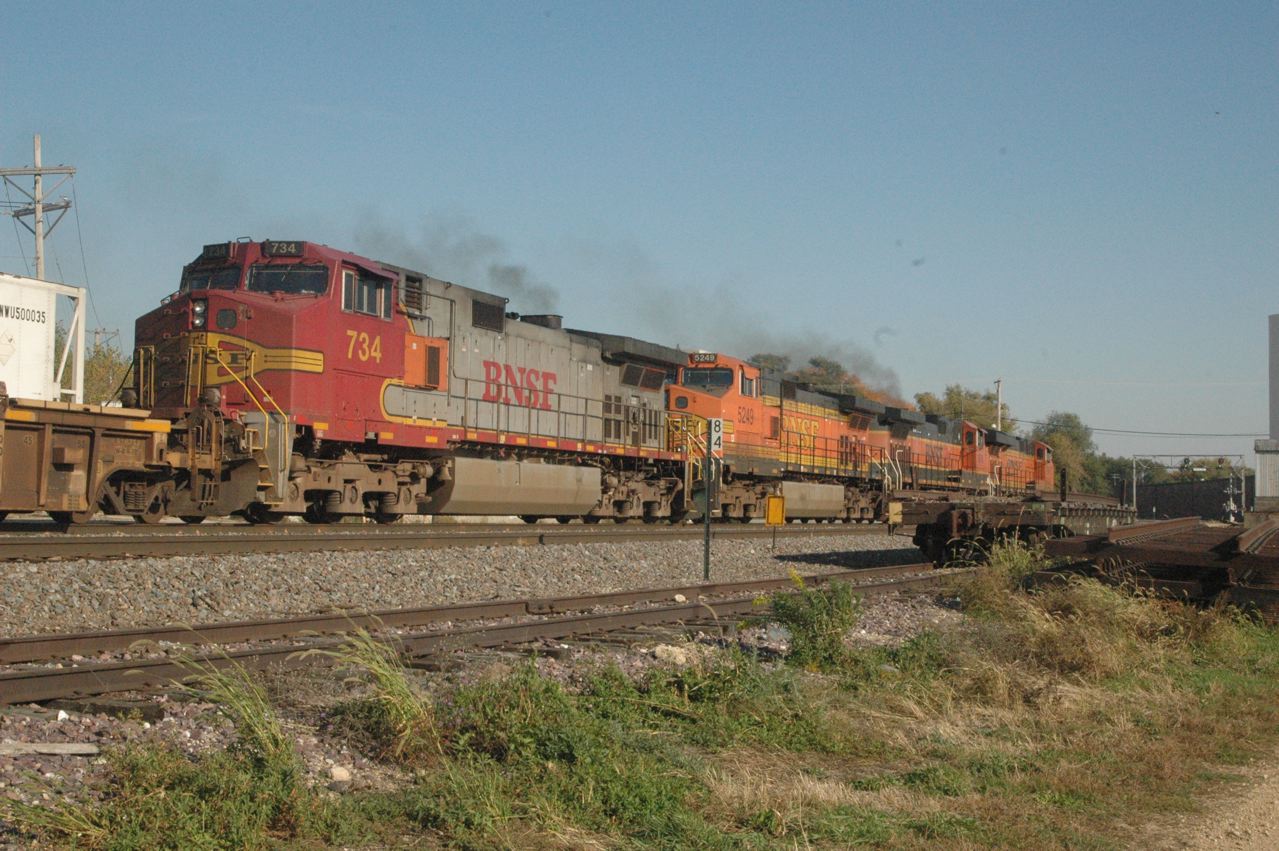 The eastbound played "hold the diamond" as we sped west and north into Flagg Center to barely get this westbound, first of "the trio," with 6758/1000/NS 7523, at 4:14 p.m.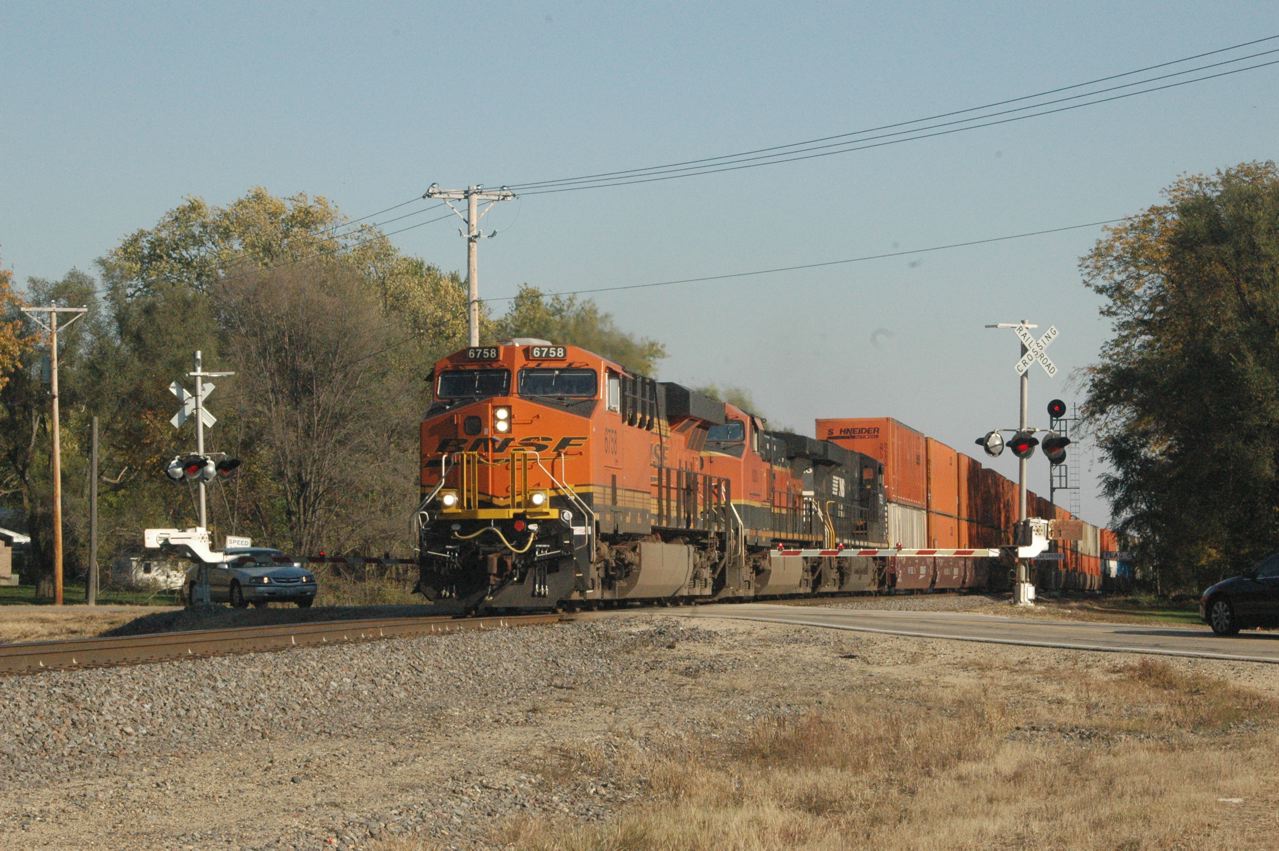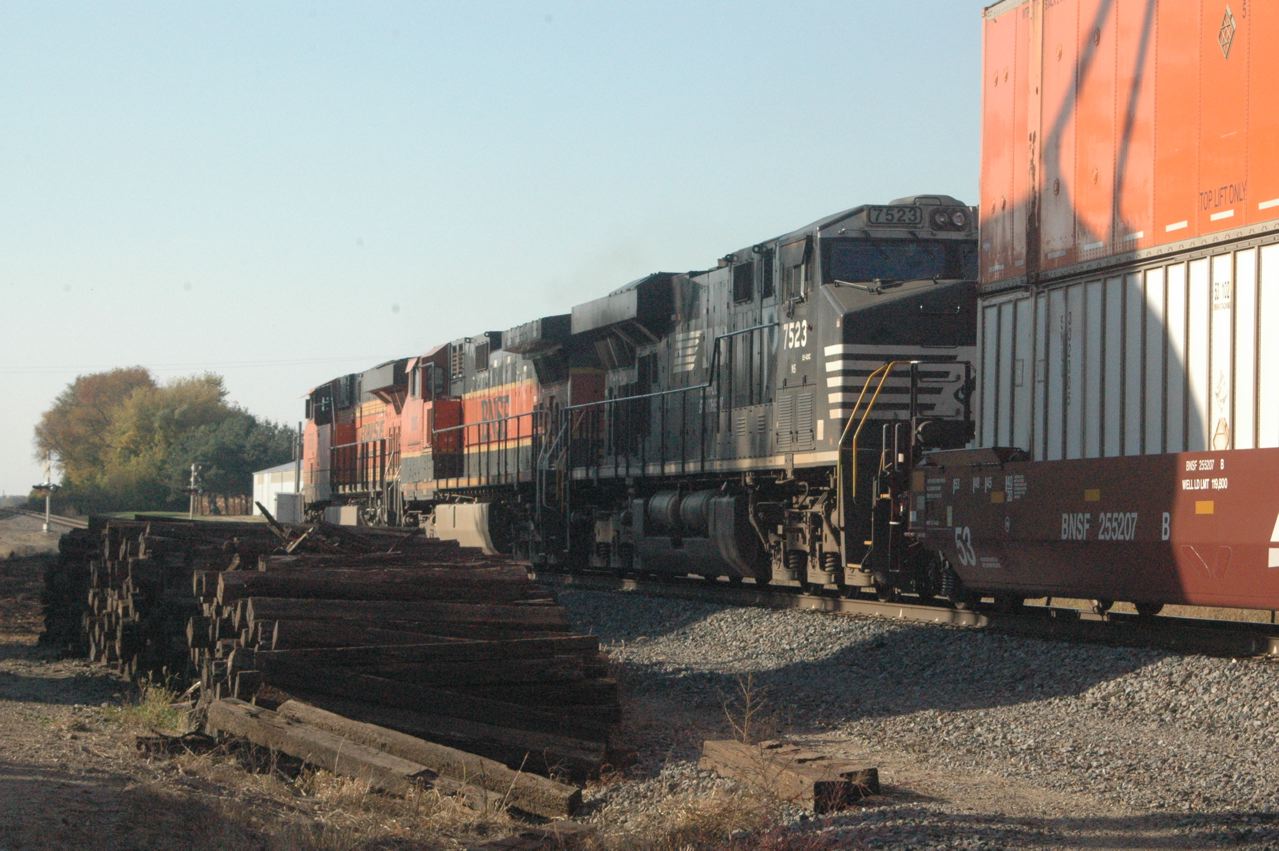 He was going to meet the local at Chana, so we hustled back to East Chana crossing, which we had checked out earlier, and barely got the local pulling out of the siding: 4600/1072 with 30 or so cars at 4:27.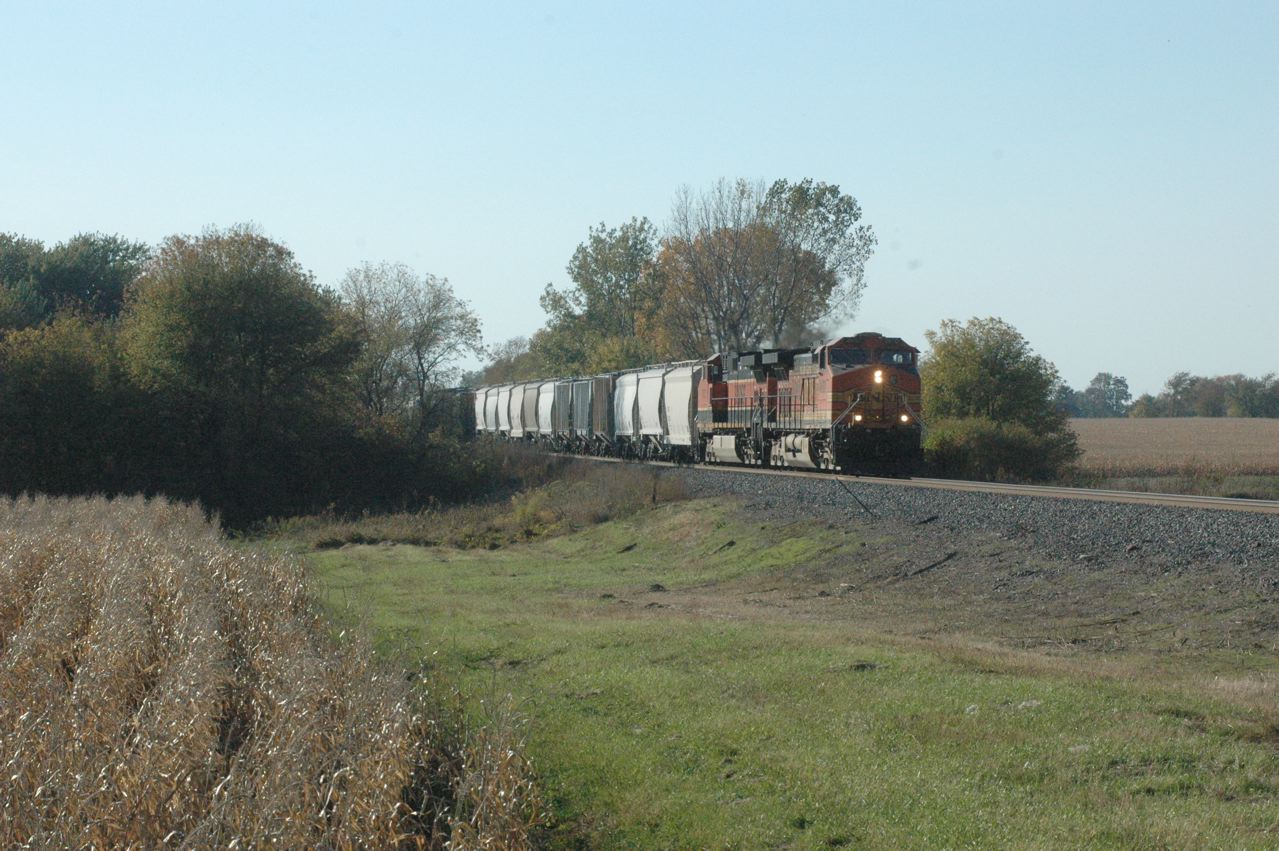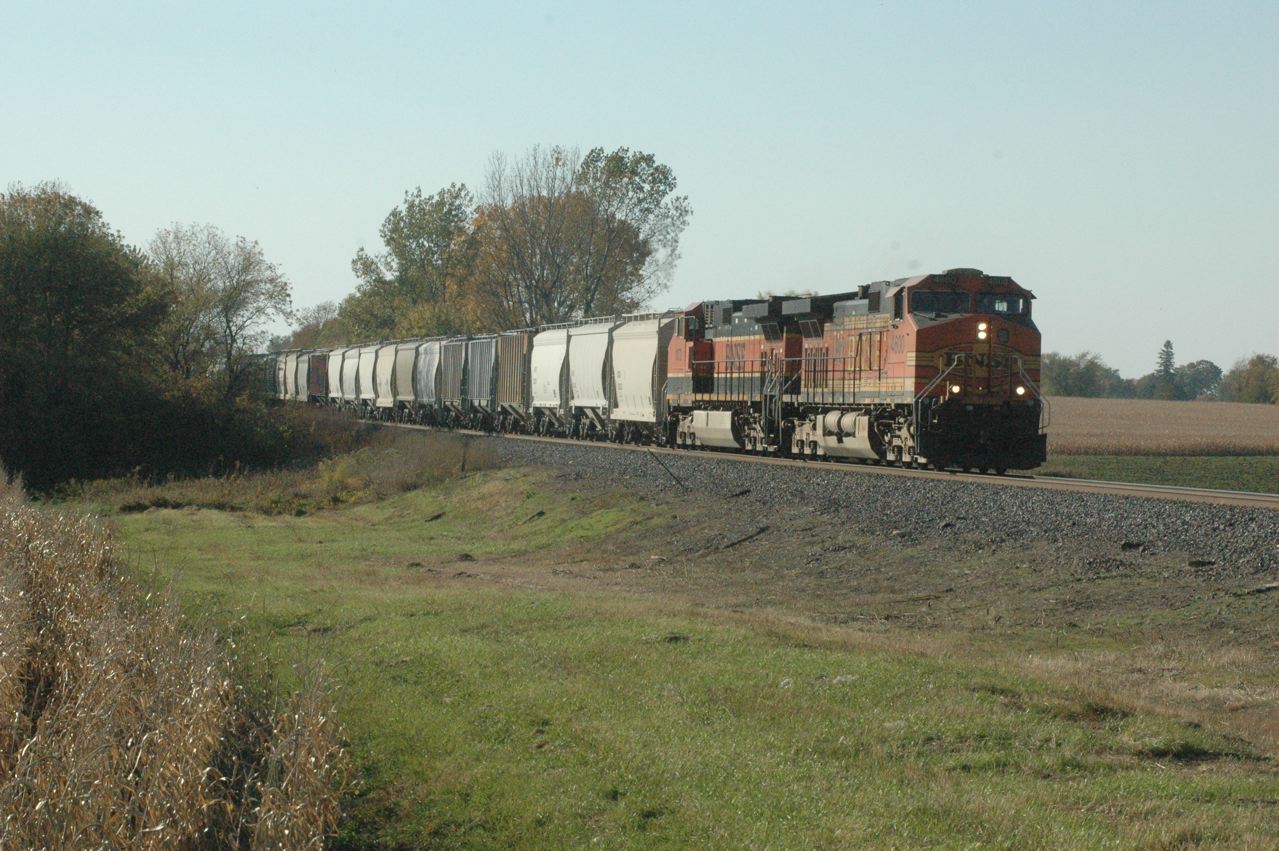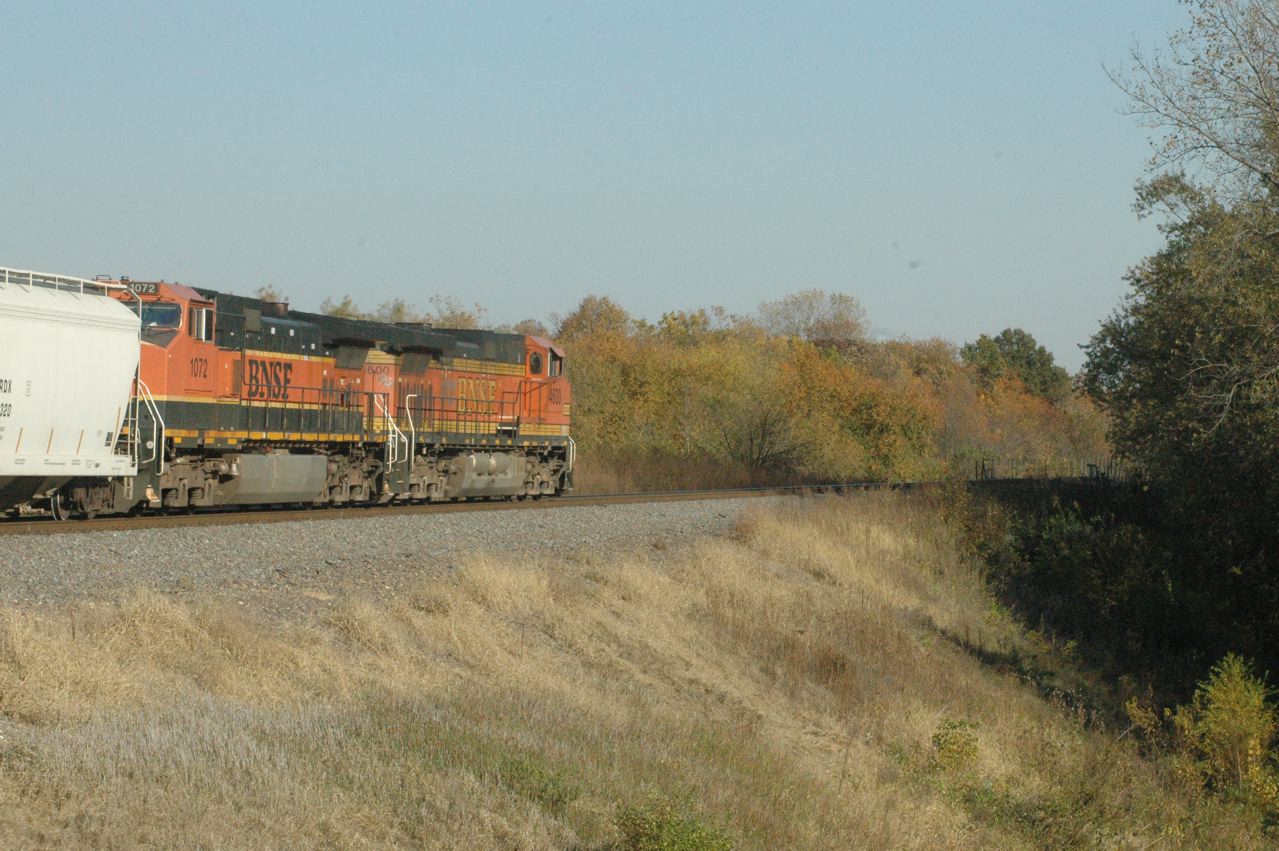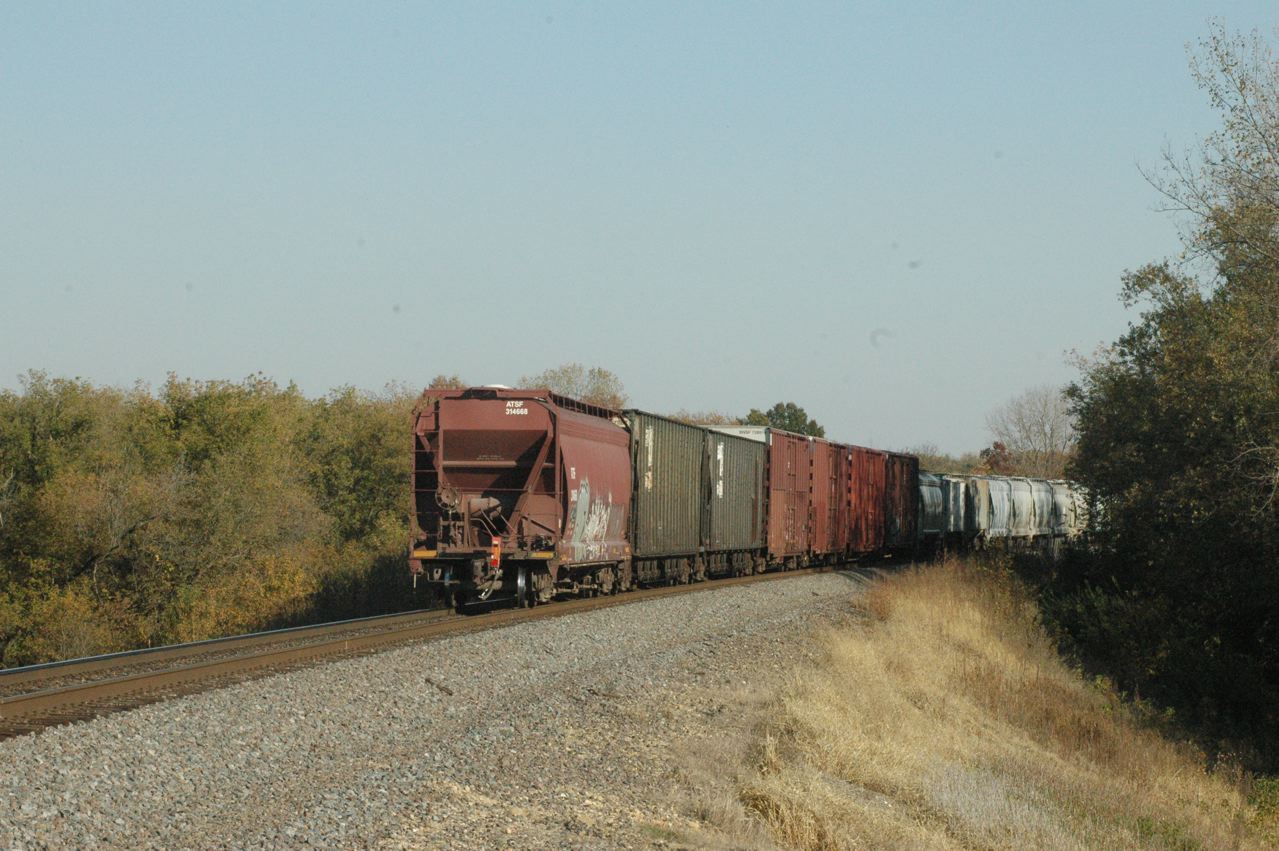 Although he had a meet at Flagg Center, we held fast here for my preferred afternoon angle here, on a westbound, for 4617/7421/4615 with 84 trailers at 4:49.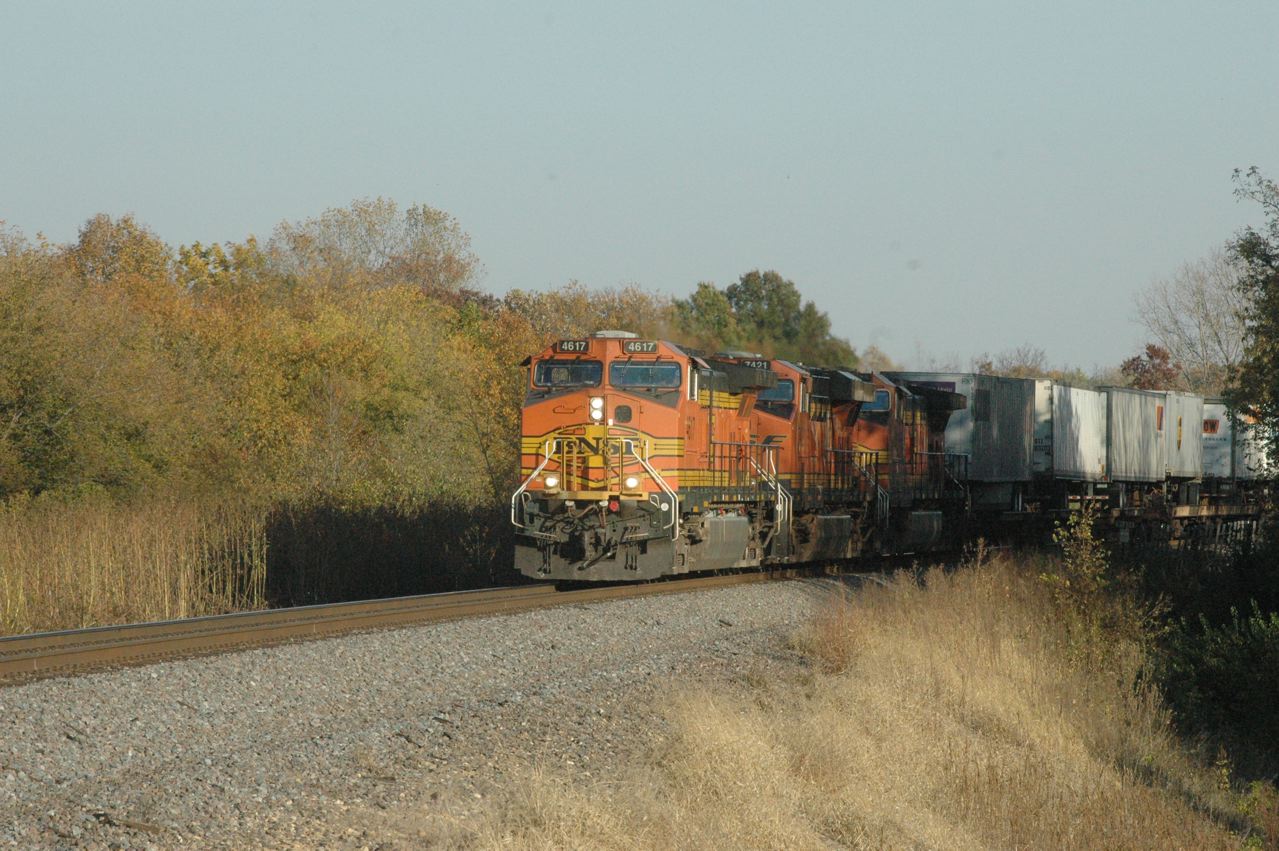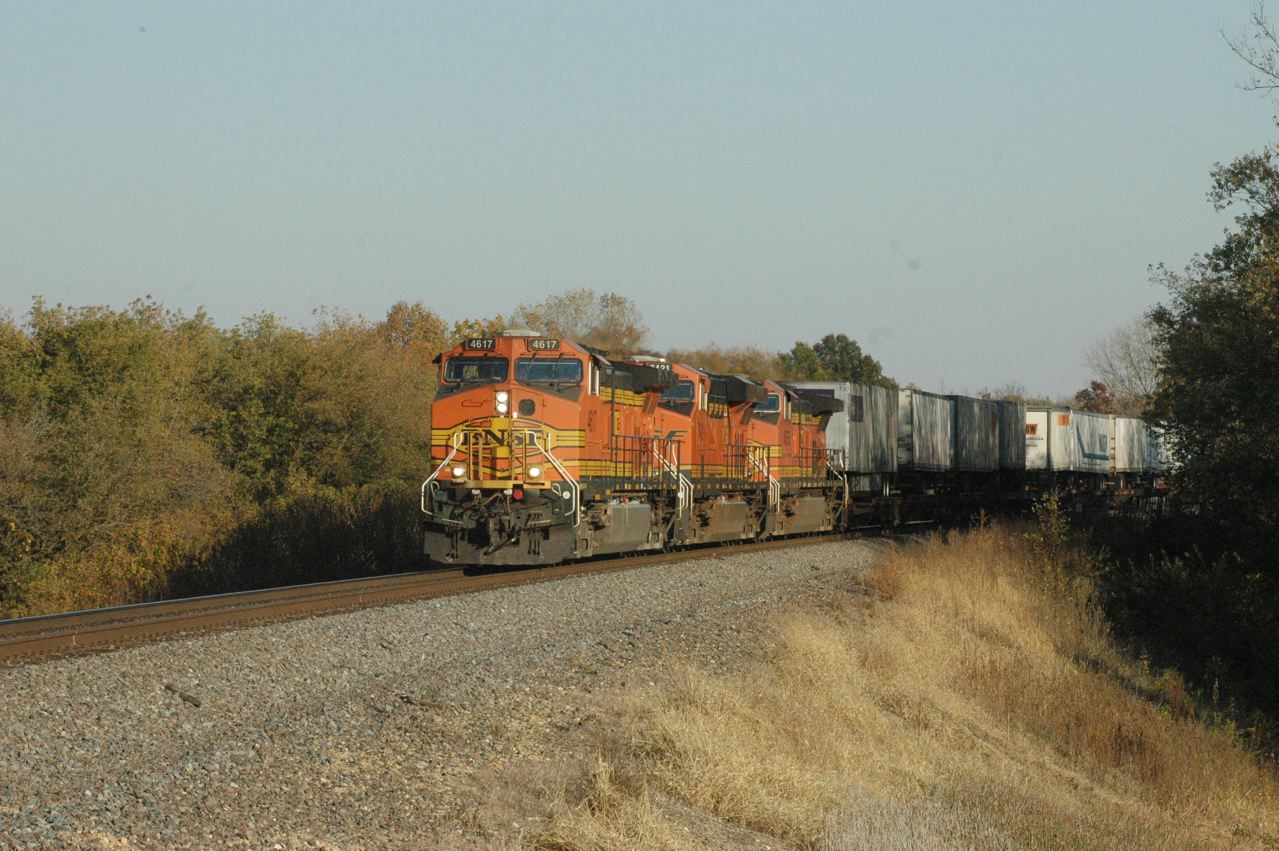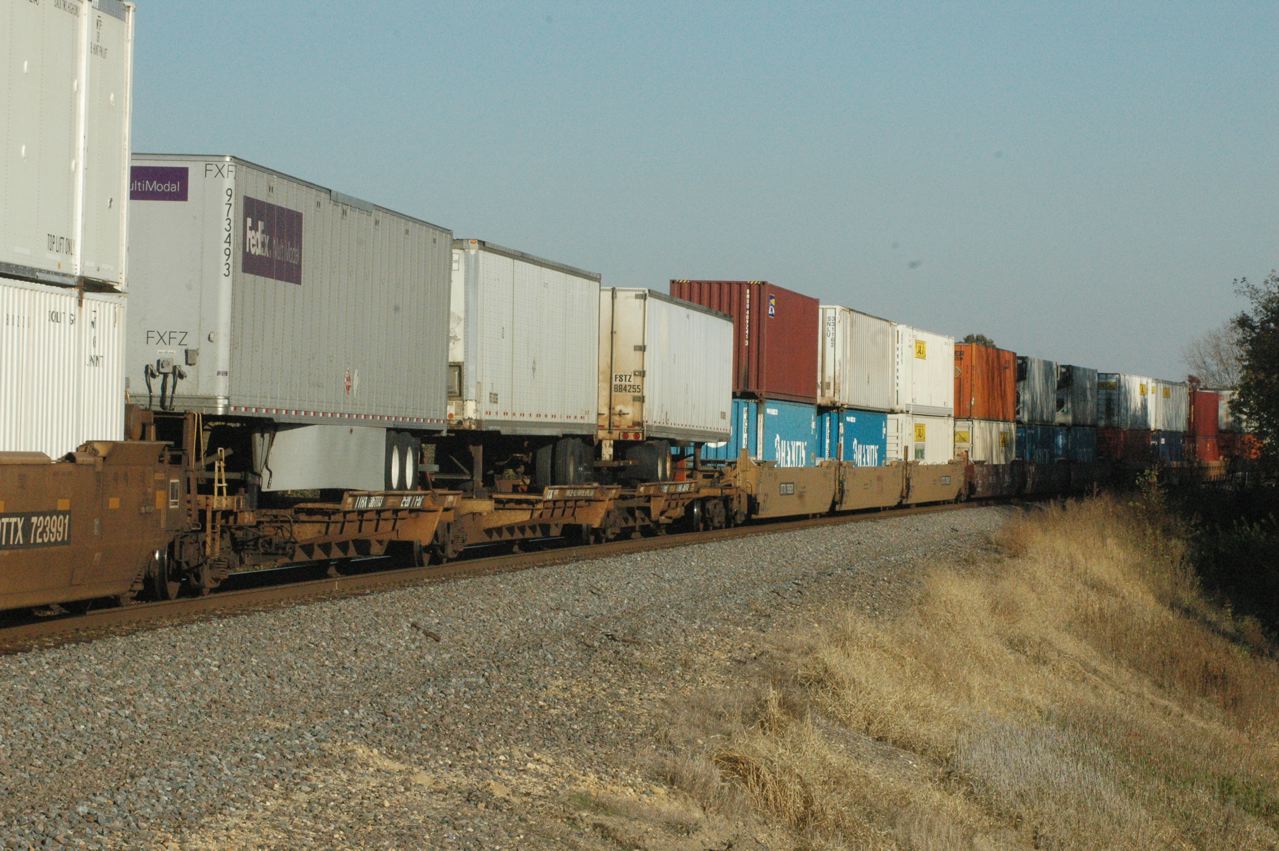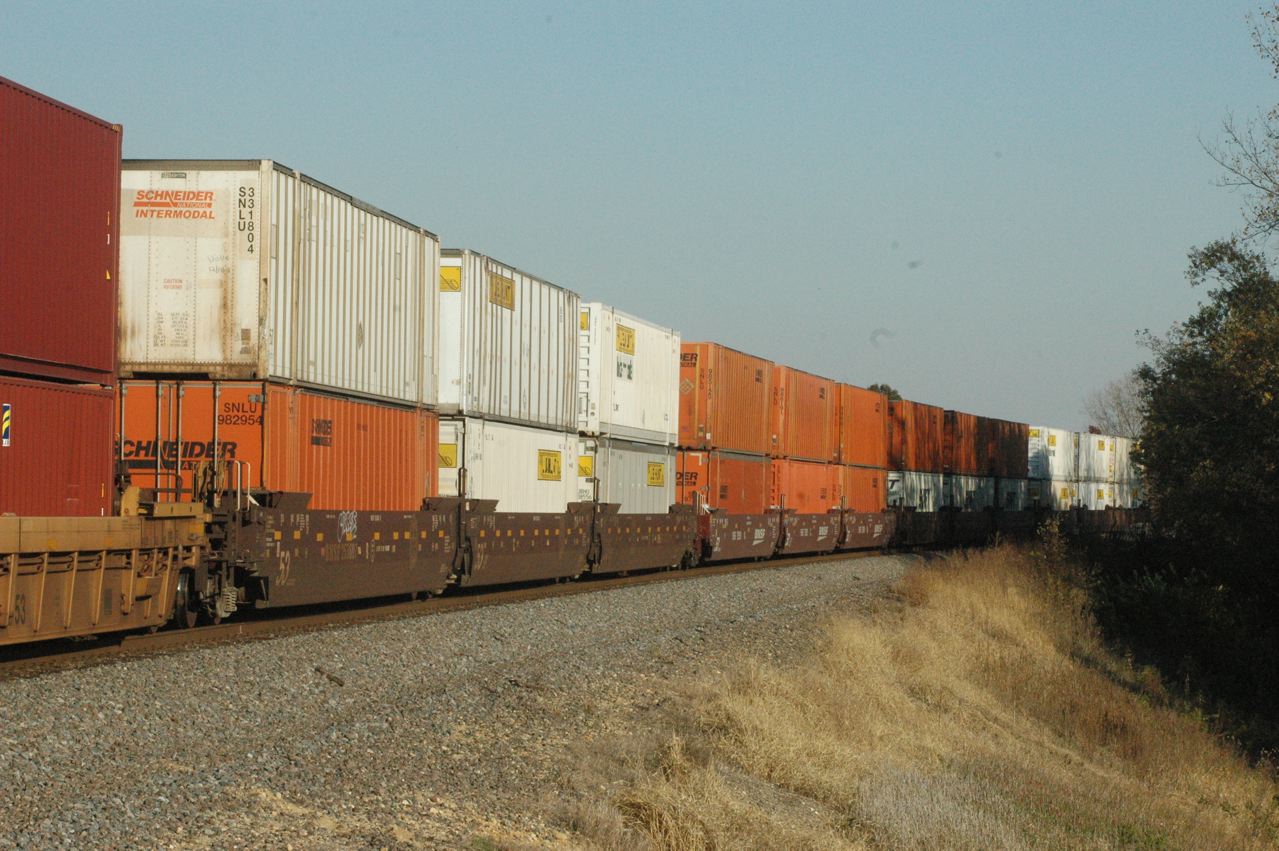 Back into Rochelle, and OK, here's our token UP train, an eastbound stacker with 7399/3879, 41 wells, and DPU 7899, at 5:14, at First Avenue crossing.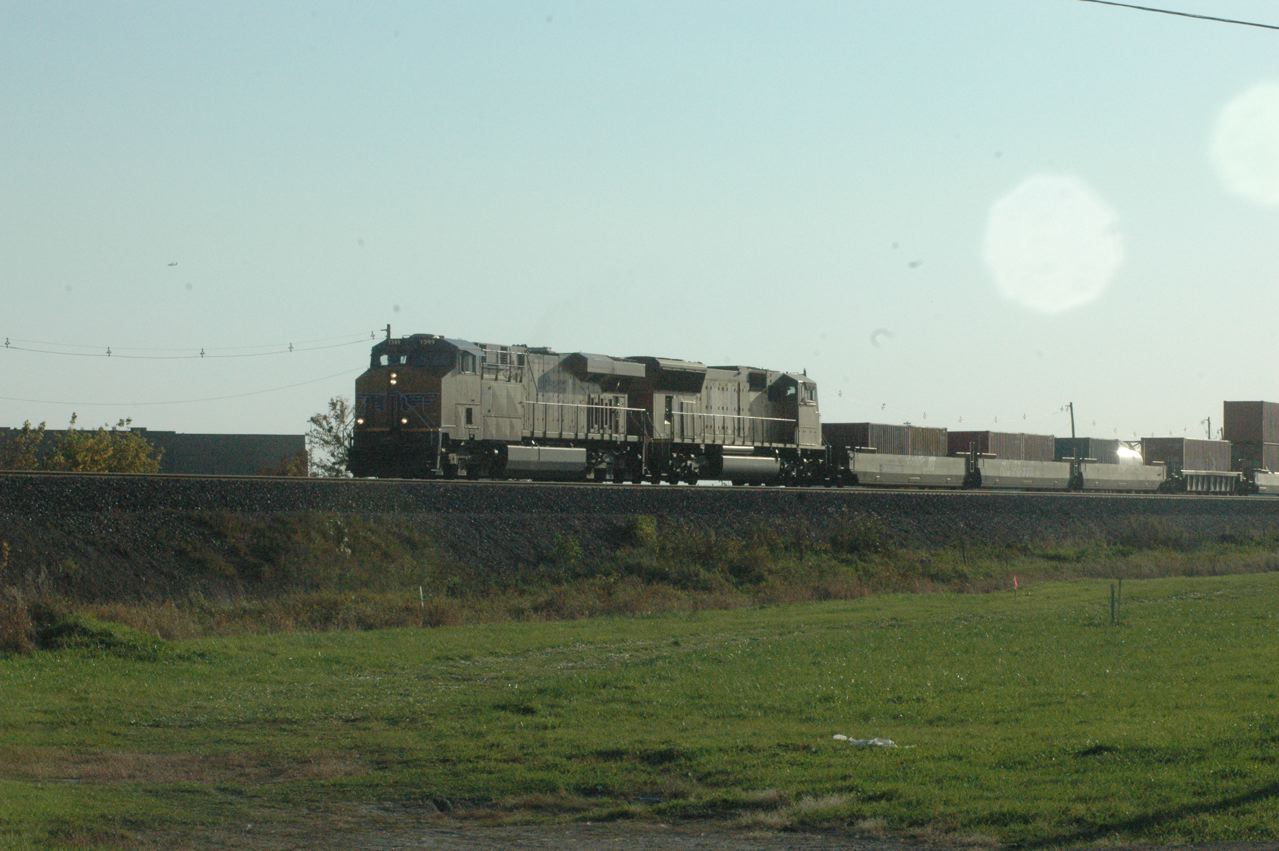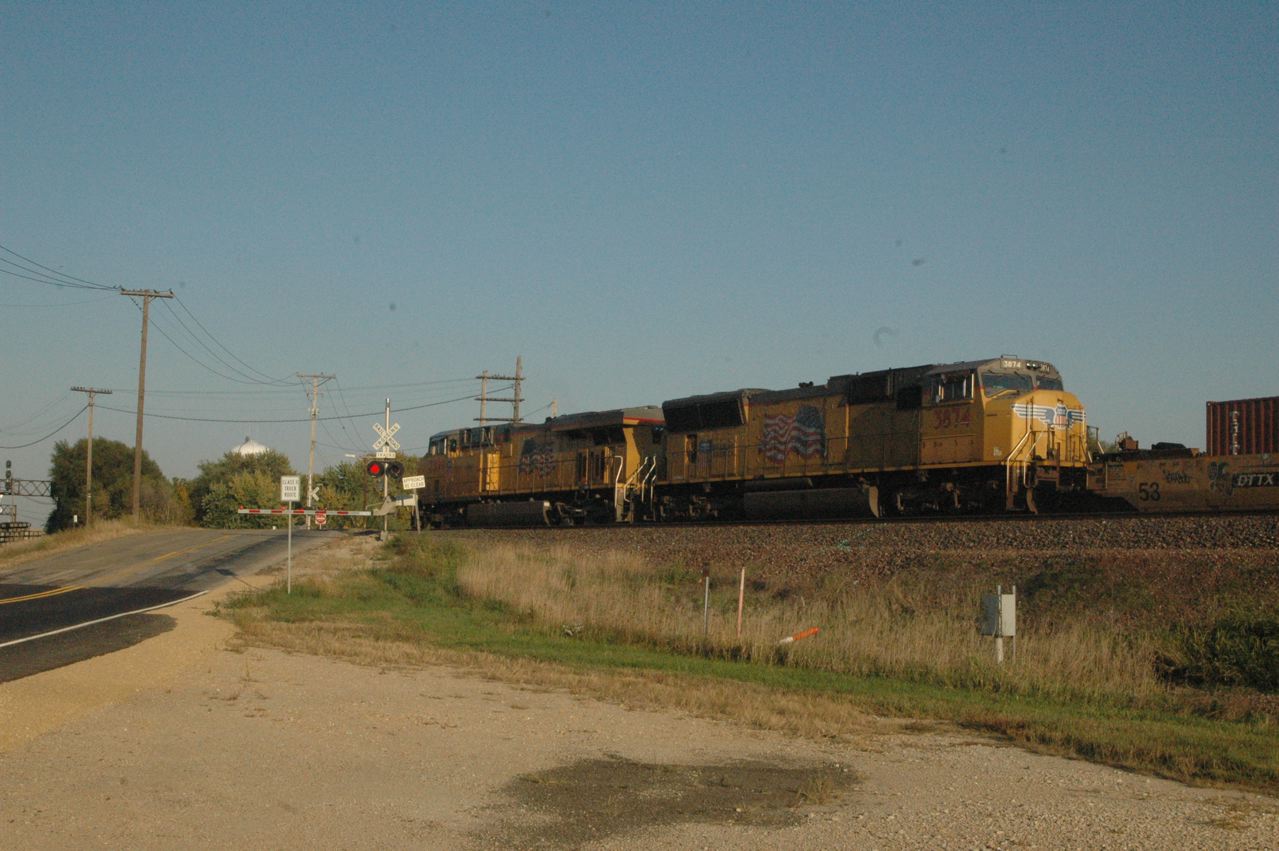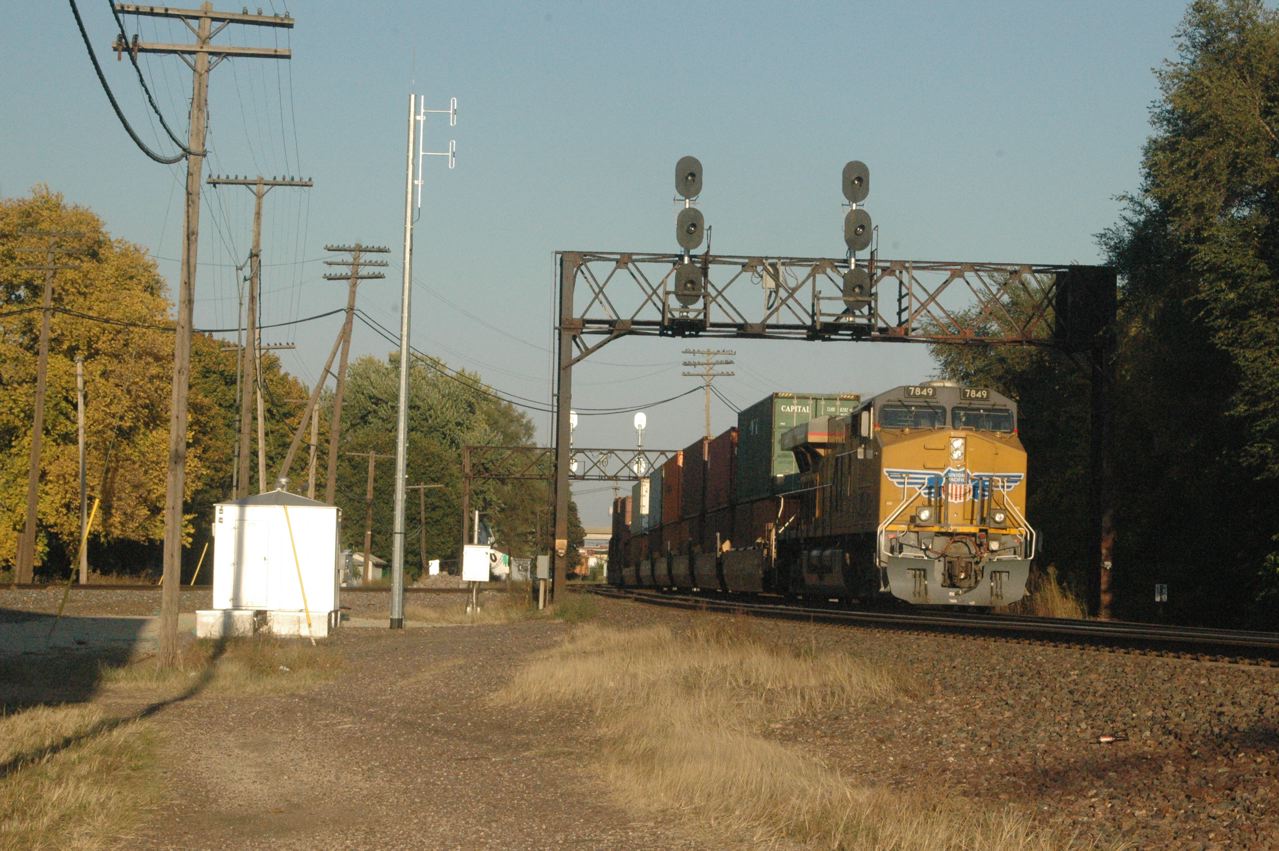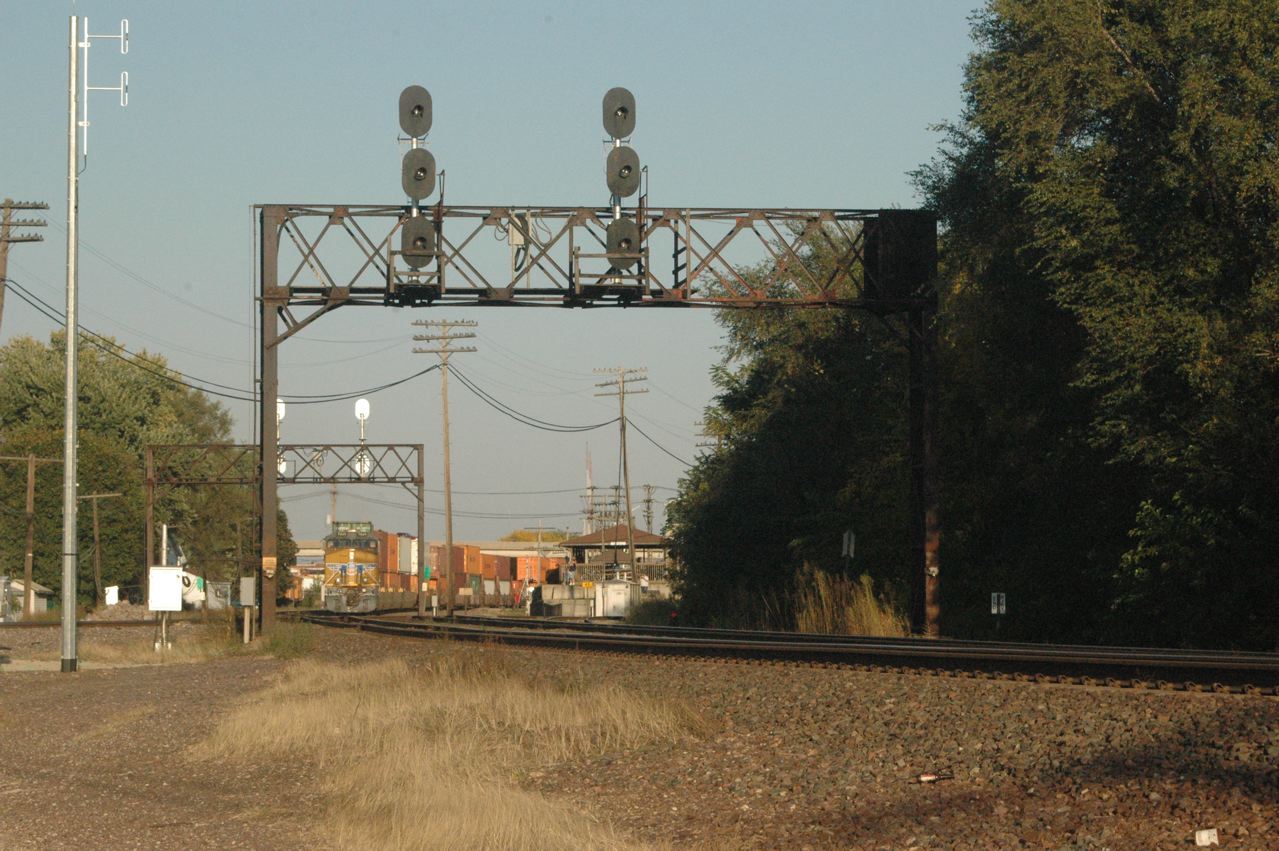 Knowing the third westbound BNSF train was due before sundown, we went back to the Lincoln Highway west crossing (Route 38) just west of the diamond, where I got into a lenghty conversation with Randy Garnardt, of the Rockford area, whom I've known thru NWI Chapter NRHS, tho we had to re-introduce to recognize each other (hey, we're getting old). While tallking, we easily ignored two more UP trains before the BNSF finally showed up, 5787/5879 West, with 122 cars, at 5:45. We hit Interstate 39 at 6:00 p.m. and were home by 7:35, in time to go get a bring-home supper and relax in front of the TV, concluding a wonderful 4-day trip!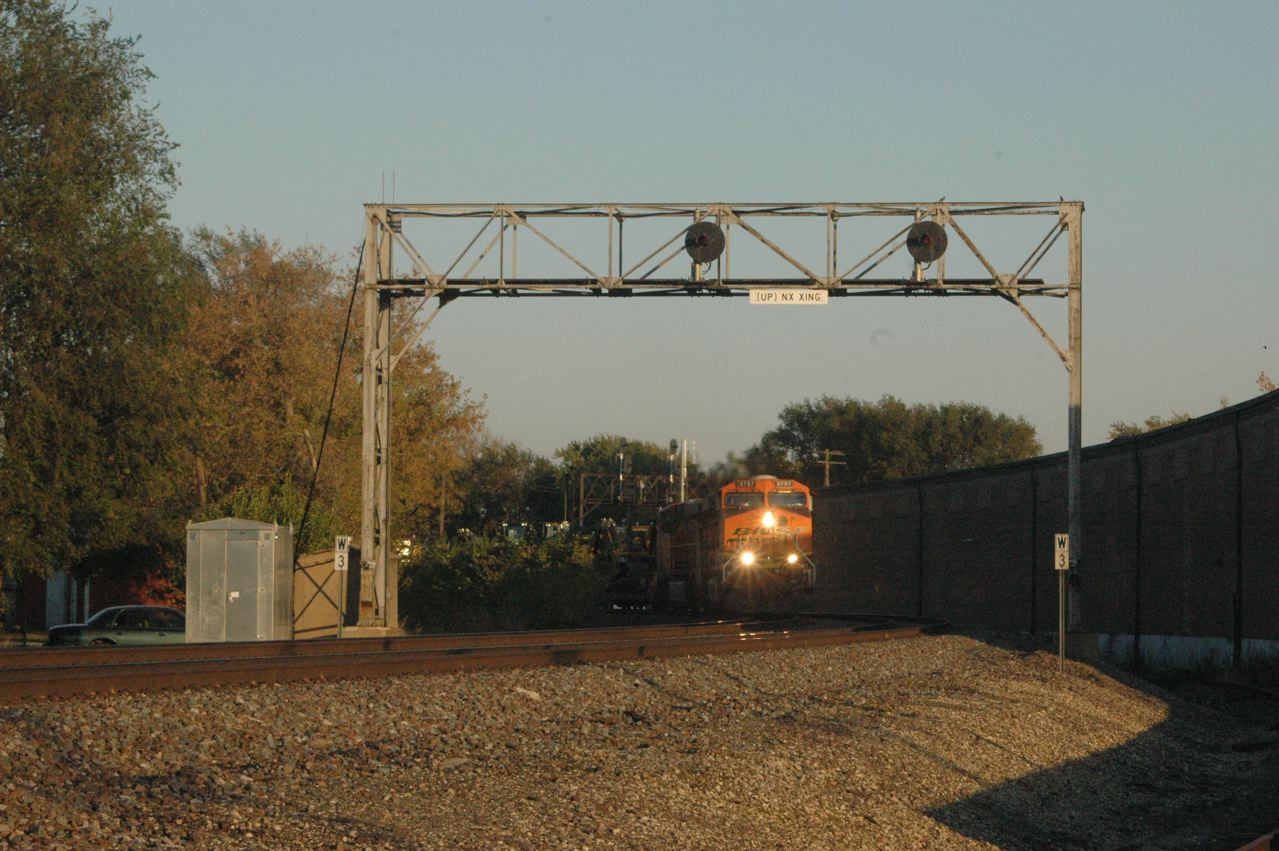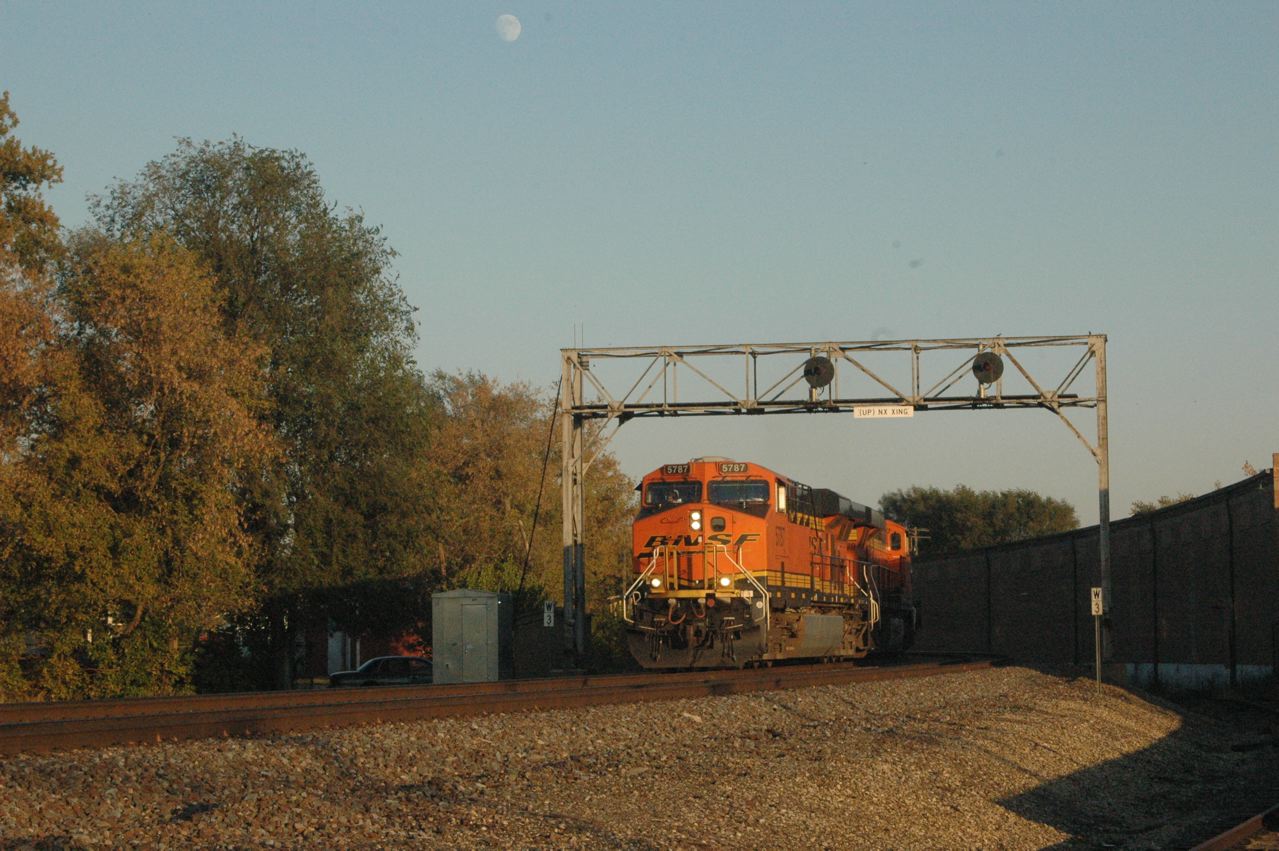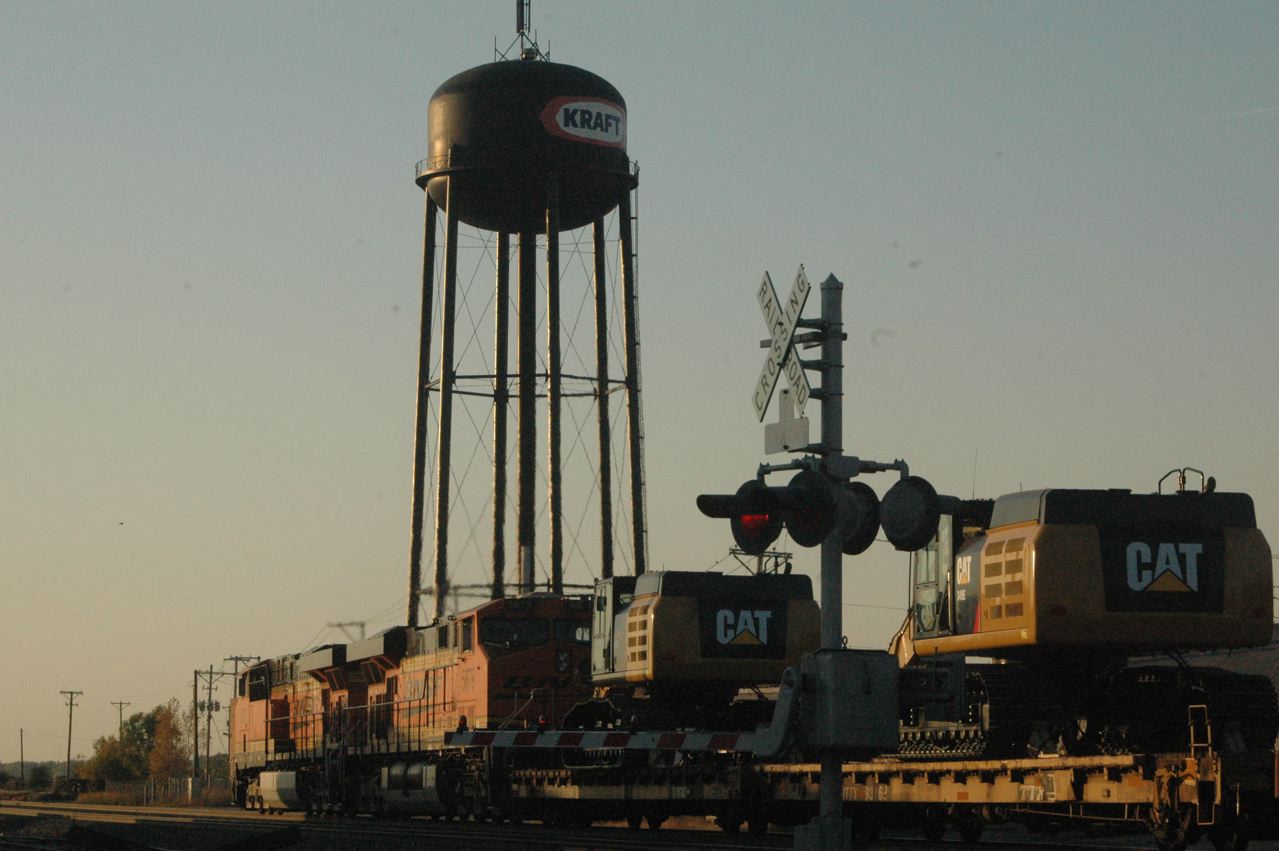 This page was designed and is maintained by Mike Condren. If you have materials
that you would like to contribute, contact me at mcondren@cbu.edu