April 2011 Local Action
Photos by Dave Ingles
After returning from California on April 7th (see separate section with those photos), on the 9th I'm back trackside locallly, at Duplainville, as CP #282, with 9546/Soo 6062, sits and waits for Amtrak's westbound Empire Builder to approach and cross over. It's 1605 hours.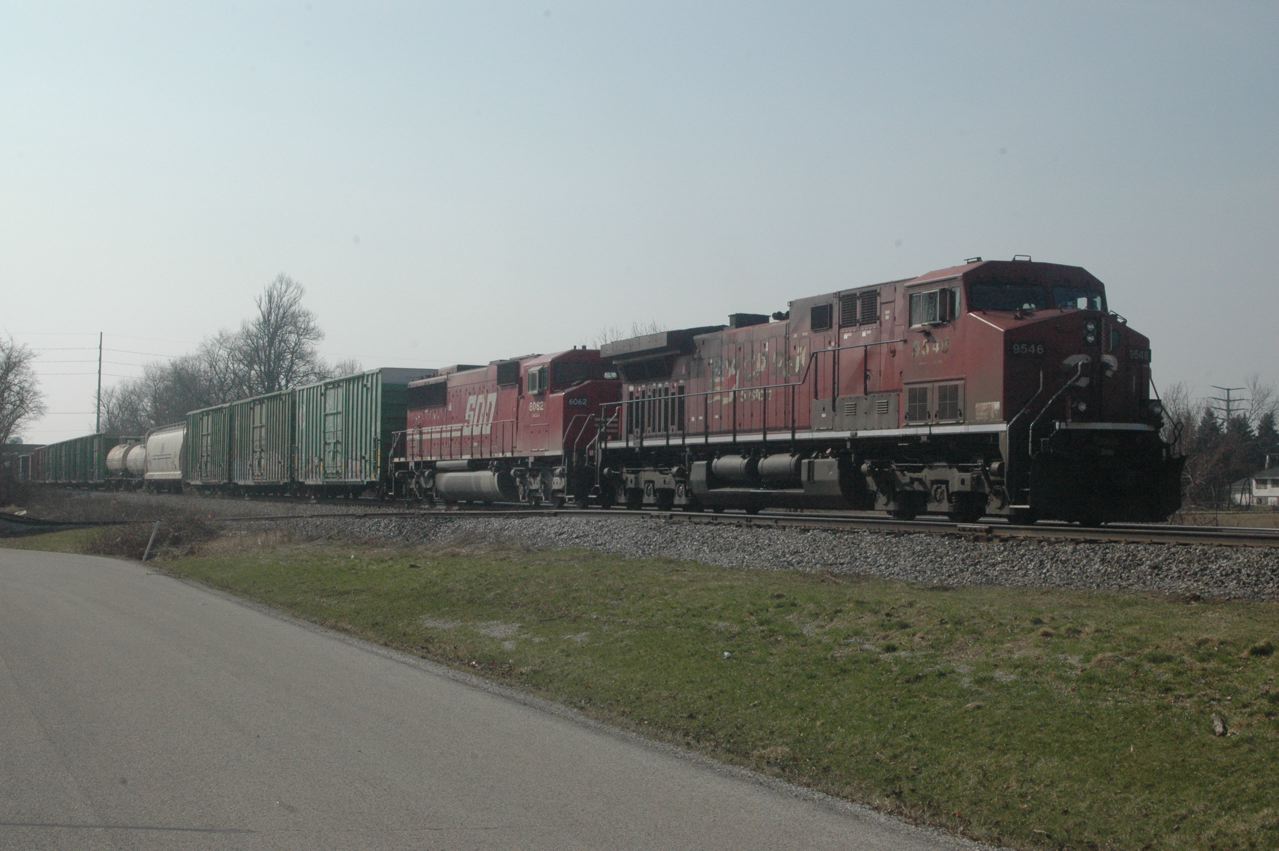 Soo bought three batches of 21 SD60's, the last 5 of the final order being SD60M's with wide noses. The first group of 21 have been returned to the lessor, and 11 of them wound up on Indiana Rail Road, with the others in a lease fleet and seen first, in storage, at Glendive, Mont., in 2009, then with some on the Alabama & Gulf Coast in 2010 and reported on other roads.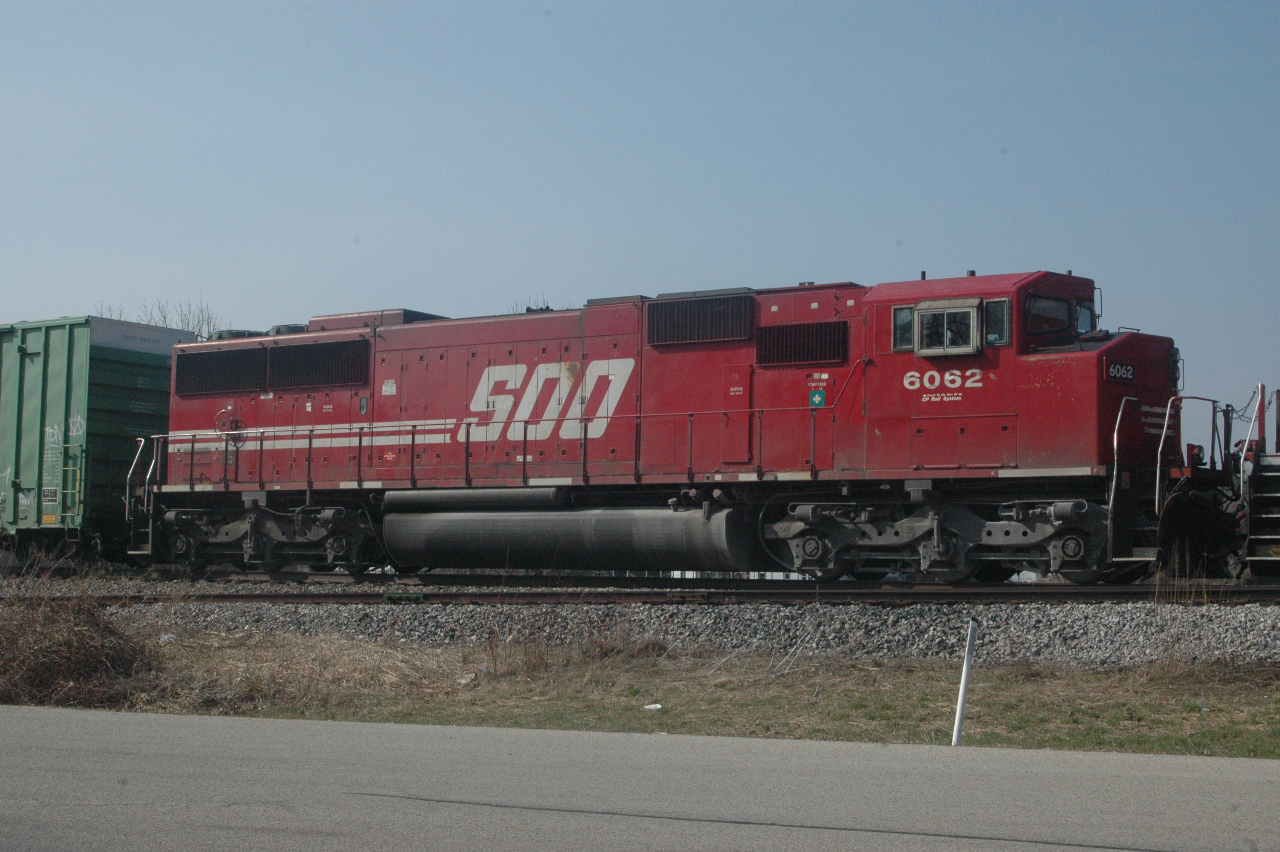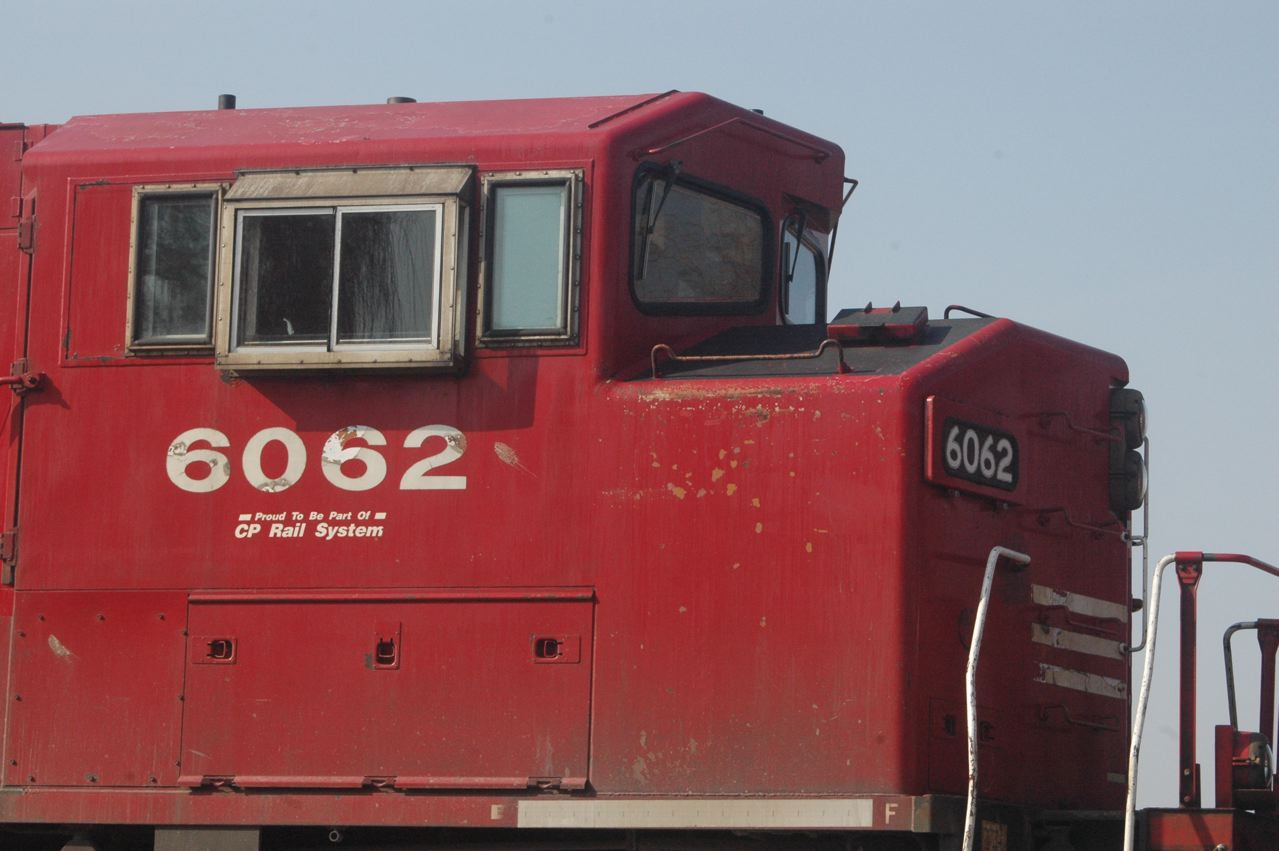 We went into Pewaukee for Amtrak, this being an #807 operating CHI-Twin Cities only, with a lounge and 3 coaches, while the train was unable to operate west of the Cities. Whether for flooding, a BNSF derailment or what, I forget, it happened so much off and on this last winter. Time is 1626, a few minutes off, with 198/823, the latter one of the P40's Amtrak is rebuilding.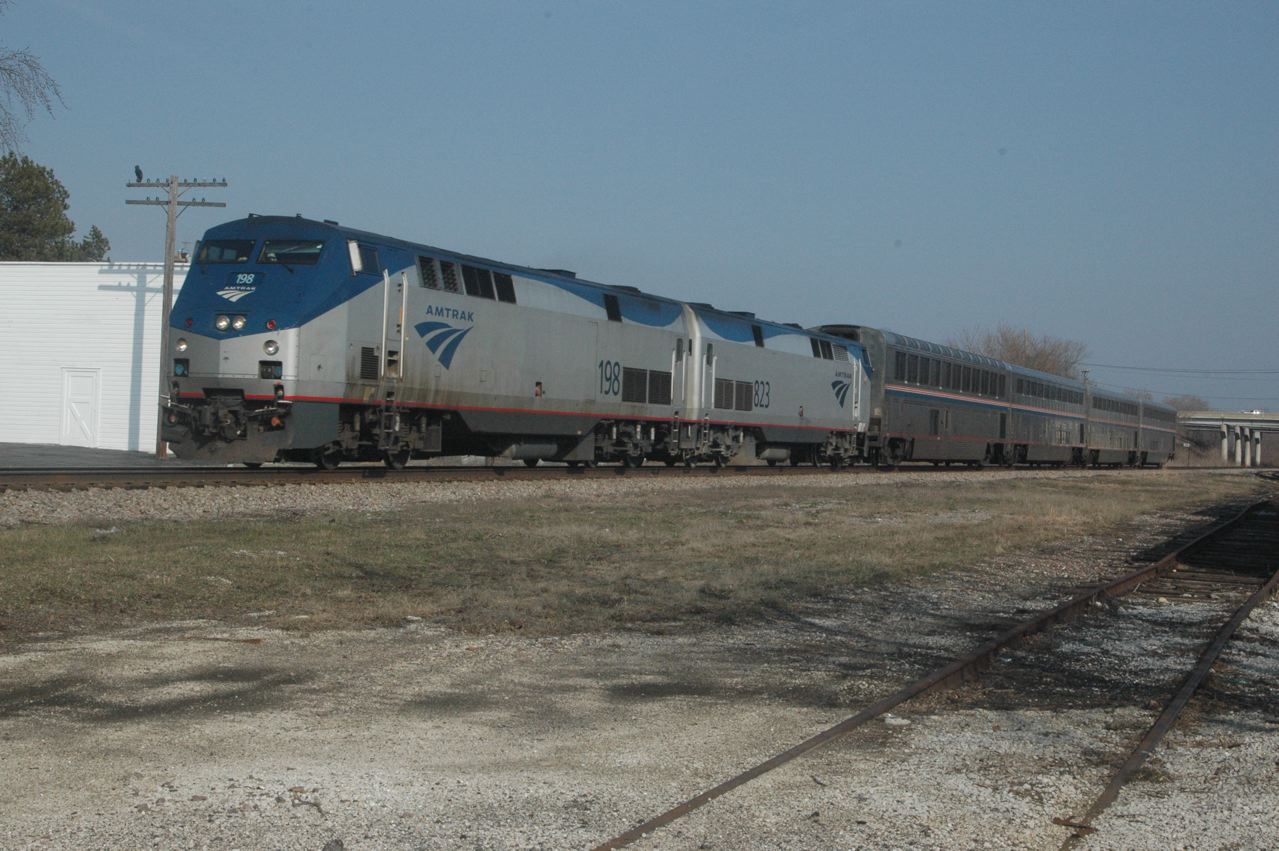 Up at North Duplainville switch 14 minutes later I am just in time to get CN #335 leaving, after either making a set-out, having a meet, or both. It's 2453 and 2440, two of the early GE wide-nose, Draper-Tapered Dash 8-40CM's, 55 of which came to CN in 1990 (30) and 1992 (25). They really sound like good ol' GE's barking!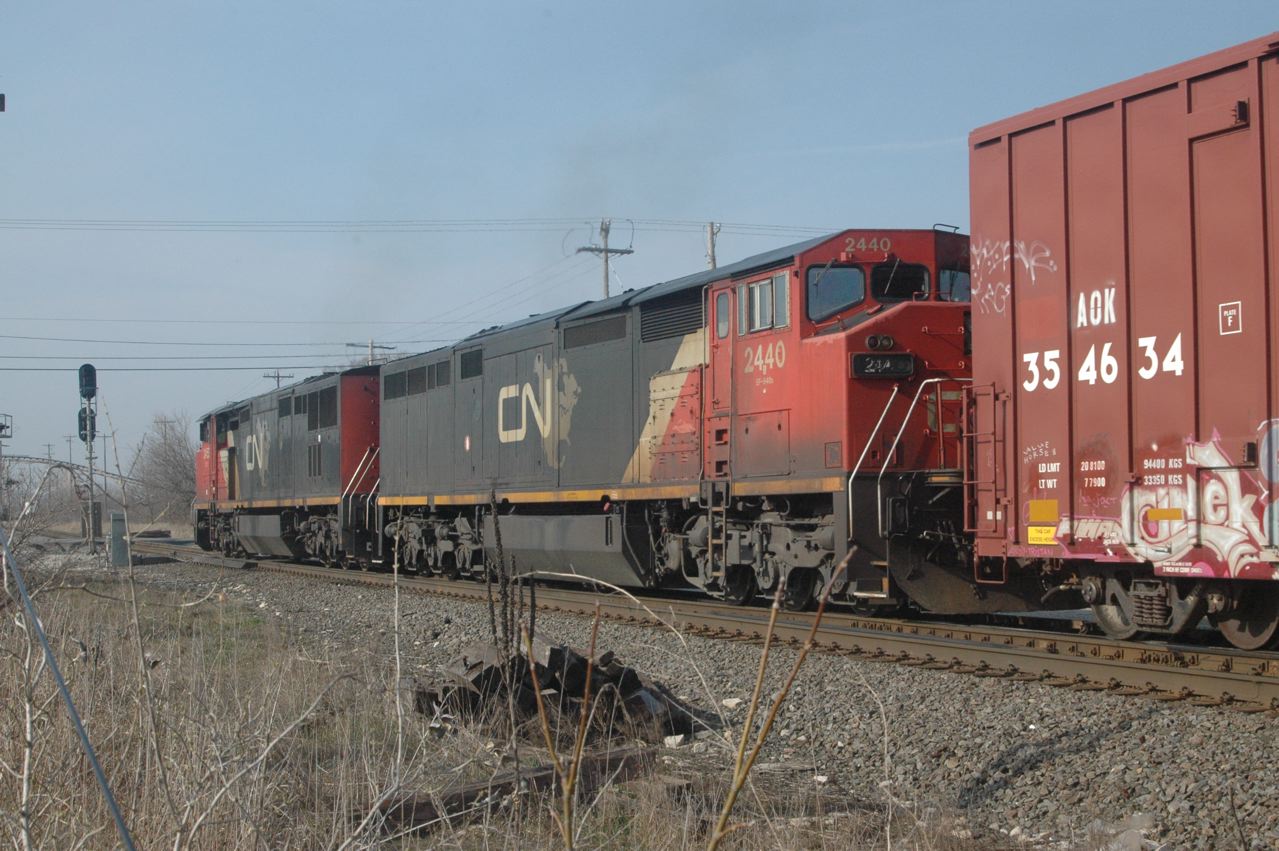 At 1642 at Duplainville, here is Amtrak #807 crossing over, engines 96/14, with 4 cars, 25 minutes late at 1642 hours.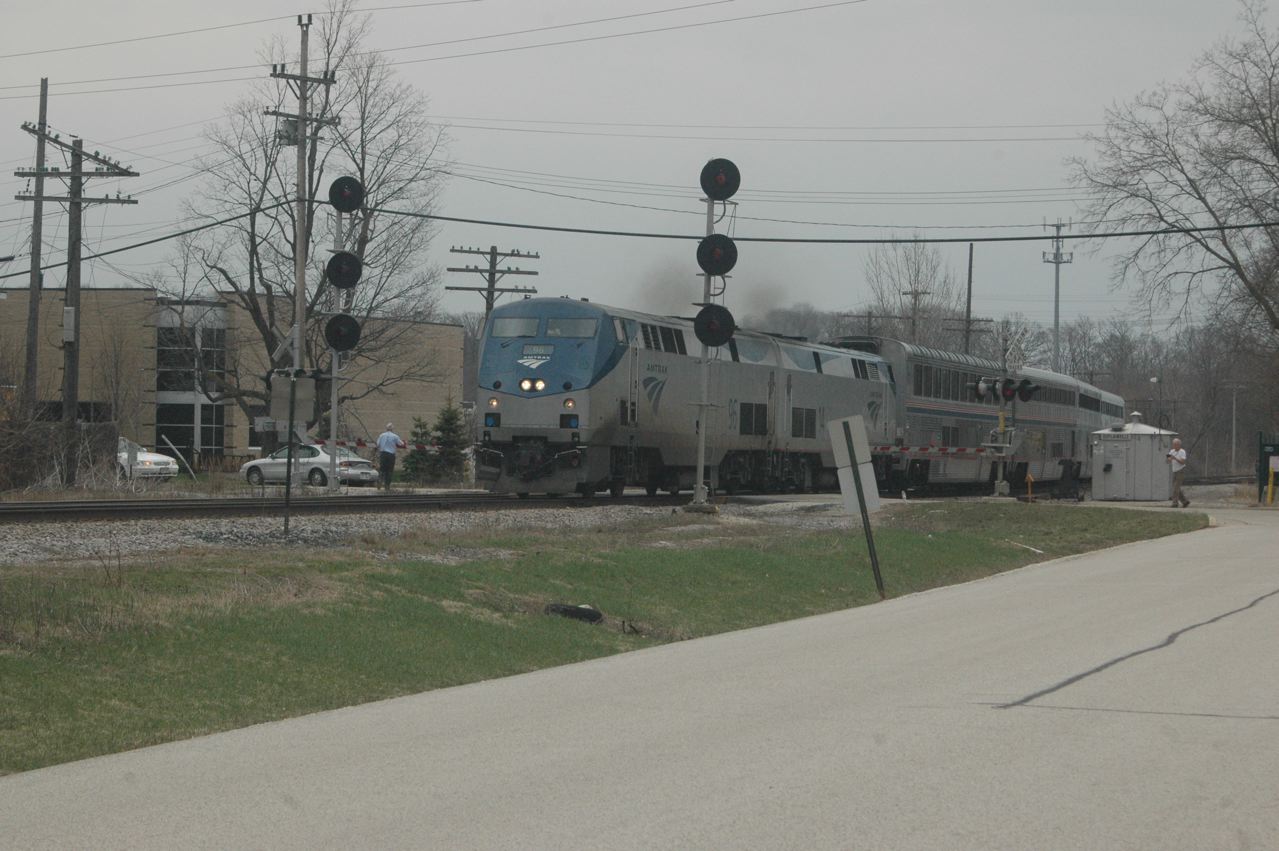 The Builder is still running CHI-MSP only, and on April 13th we're at Pewaukee's lakefront for #808, engines 79/174 at 1335 hours, spot on-time of course.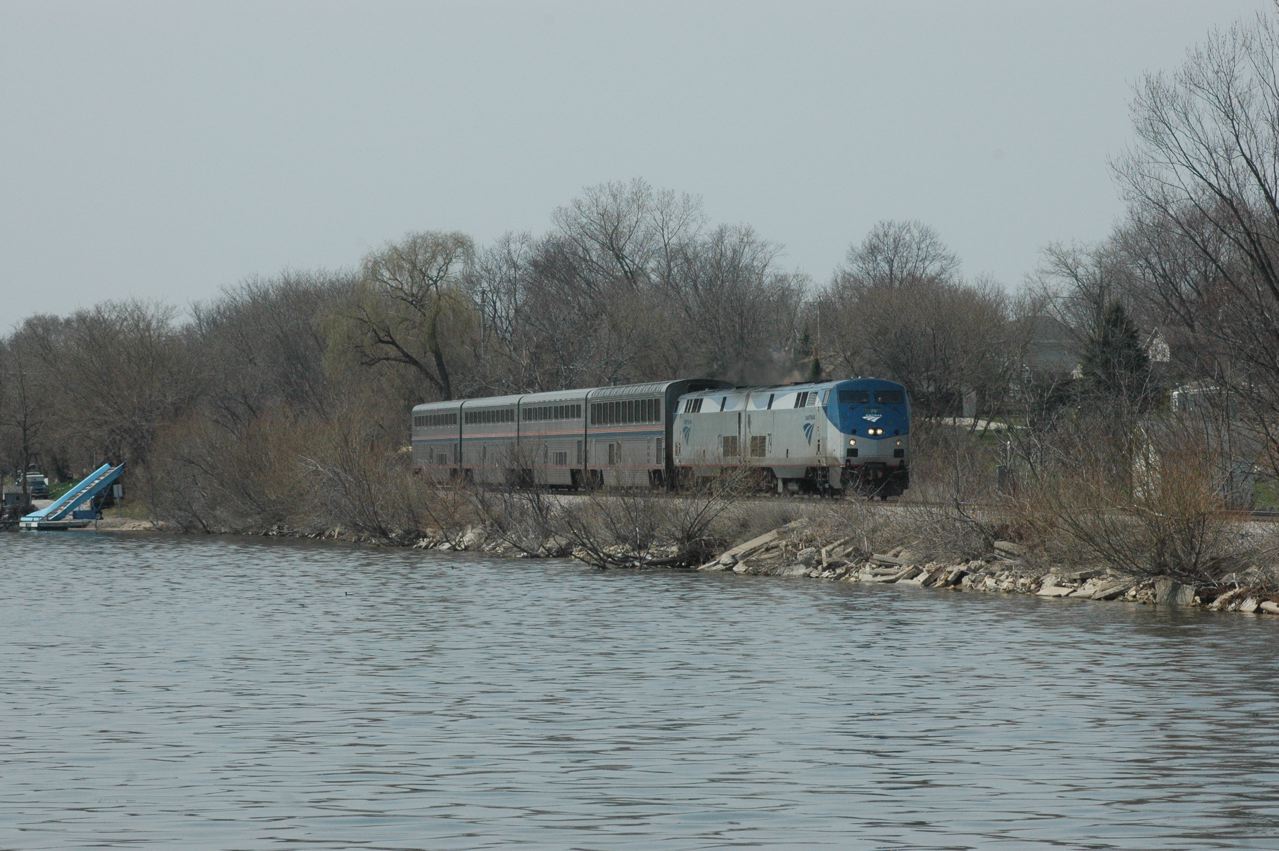 For amusement, a tiny seaplane (can we call it that?), takes off and circles the Lake Pewaukee village lakefront.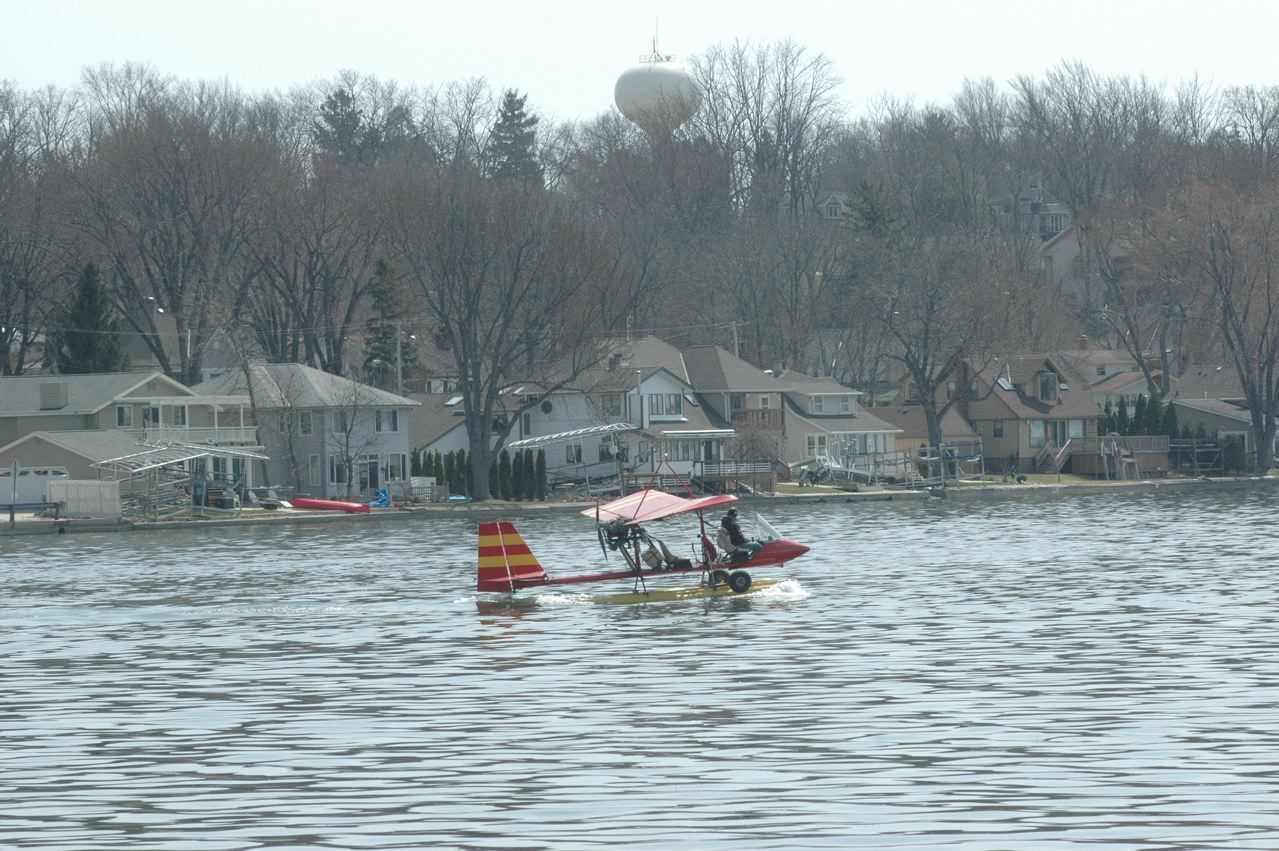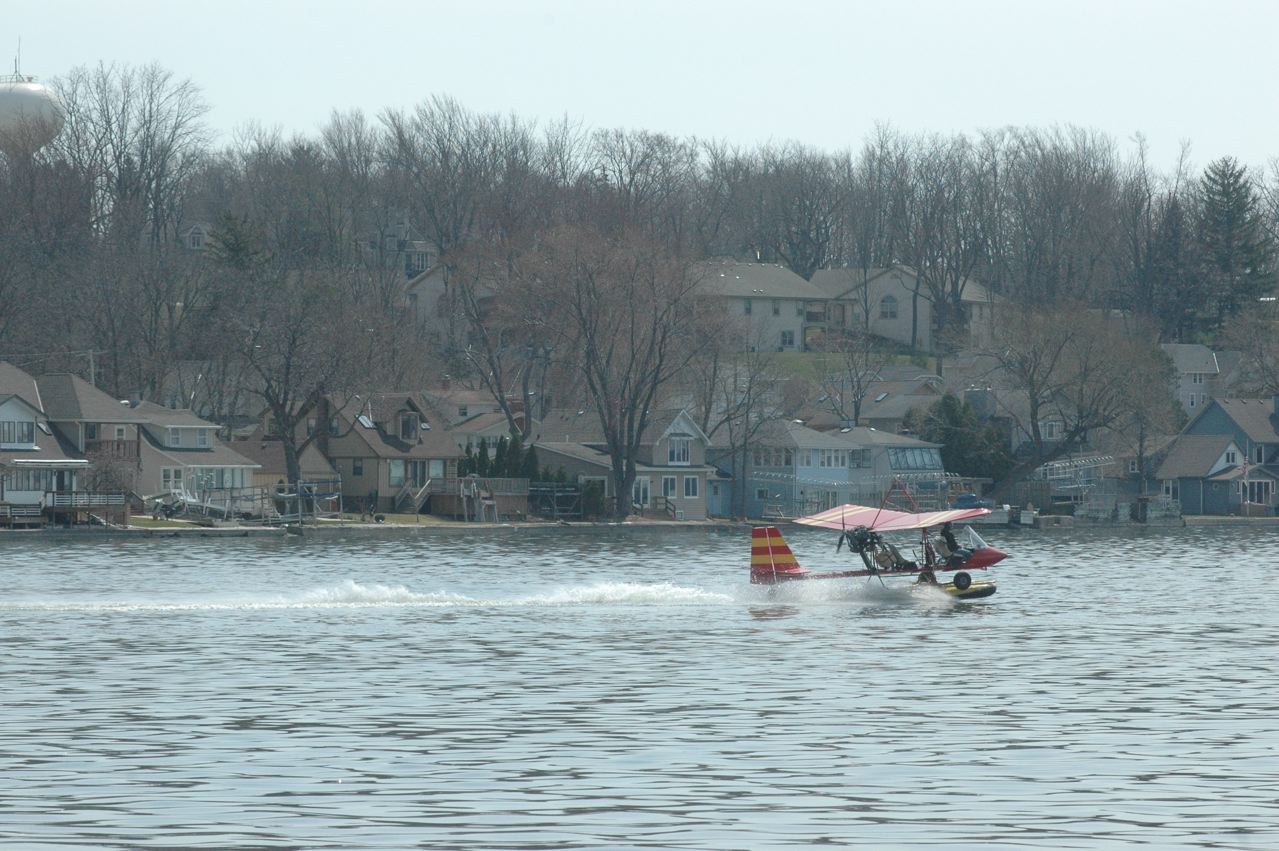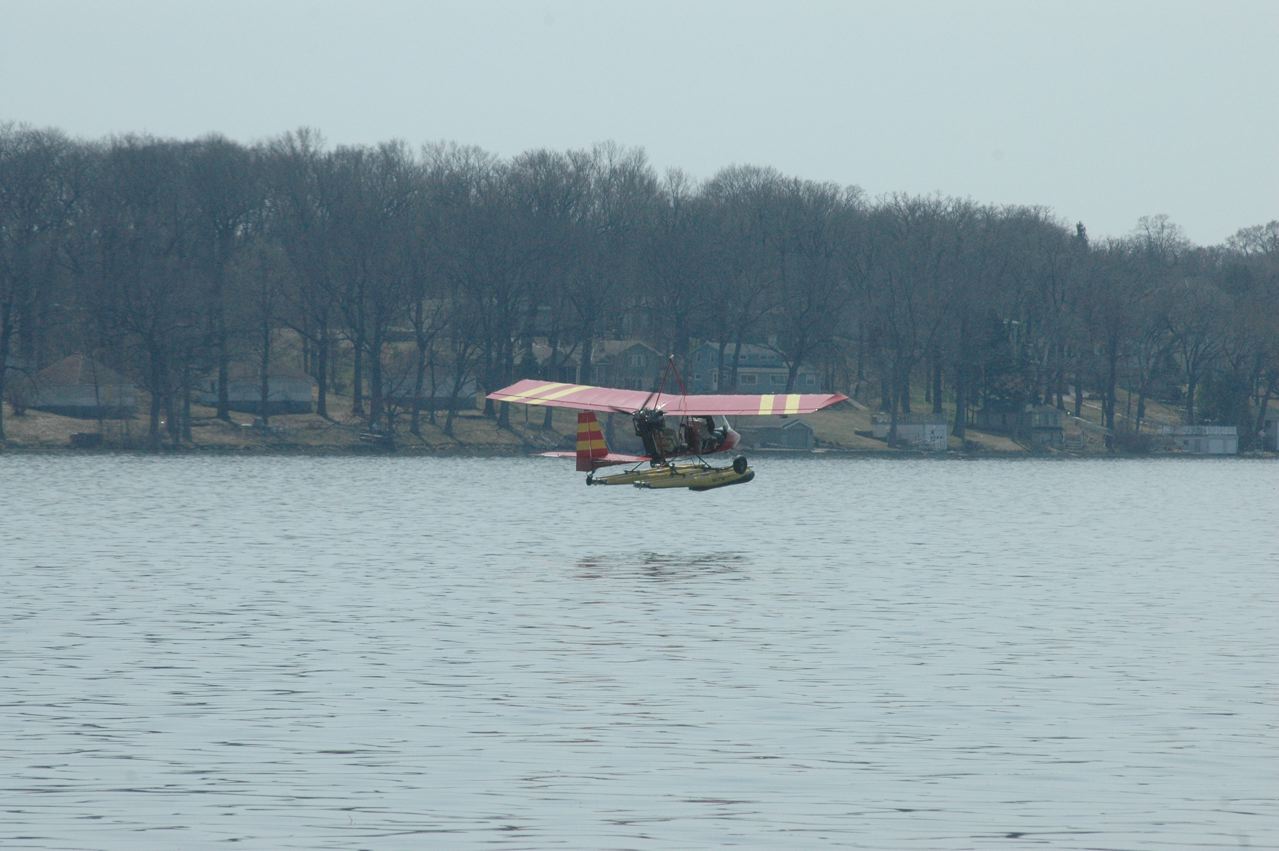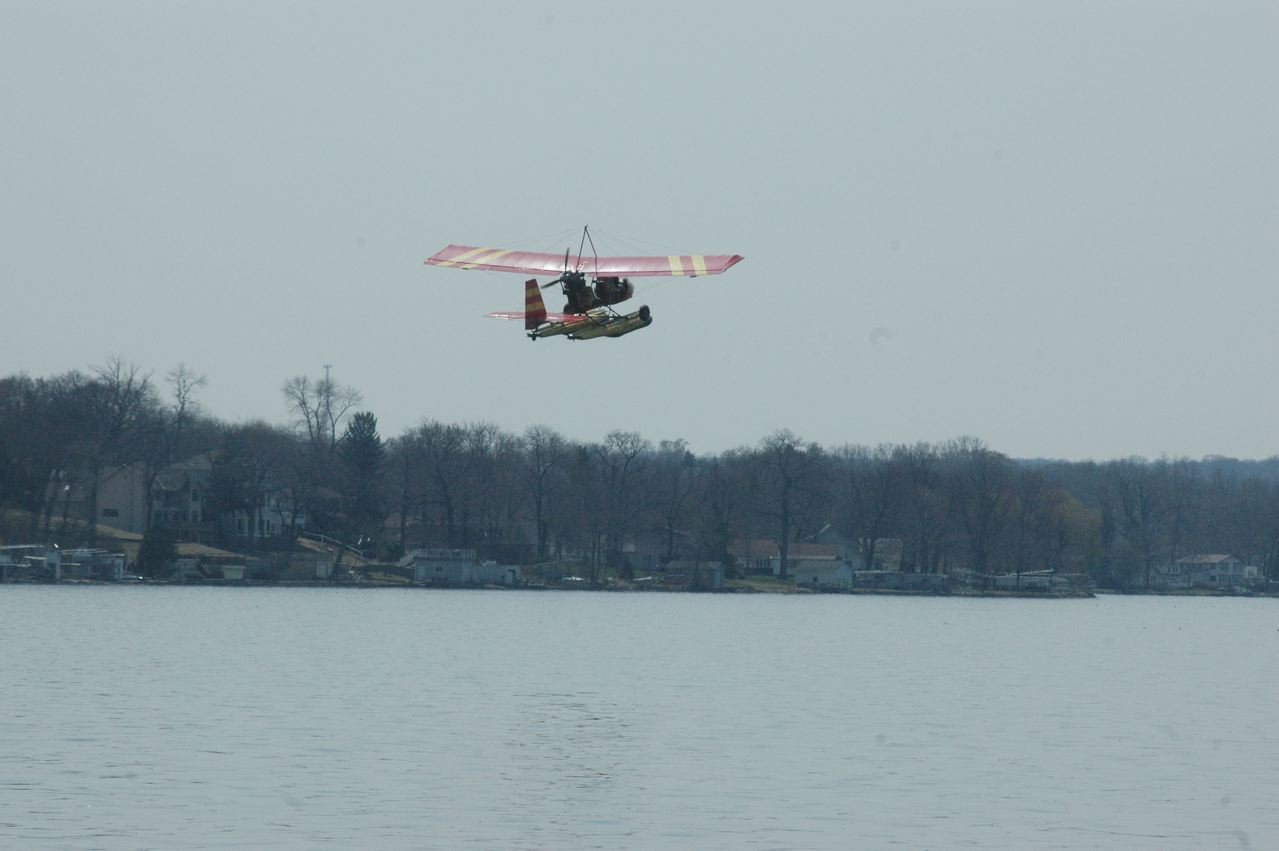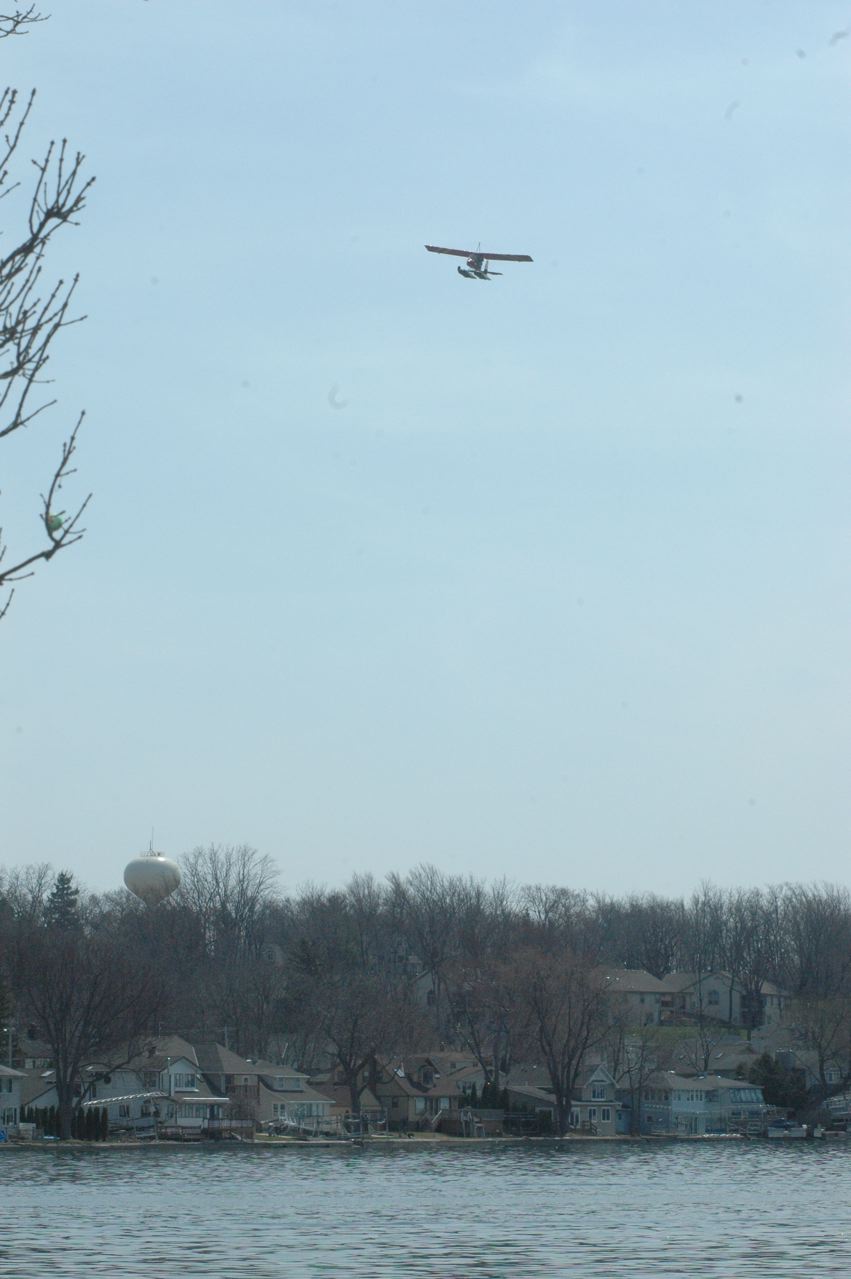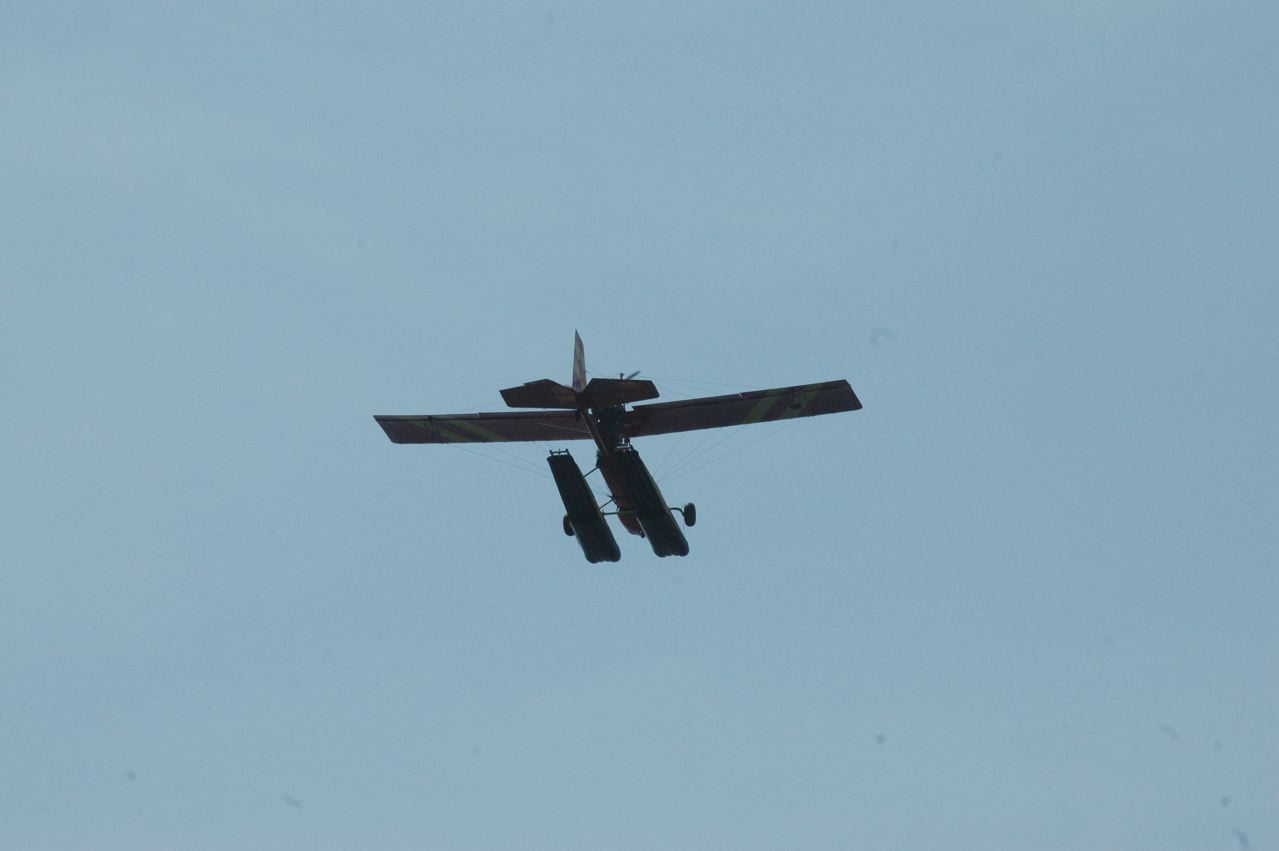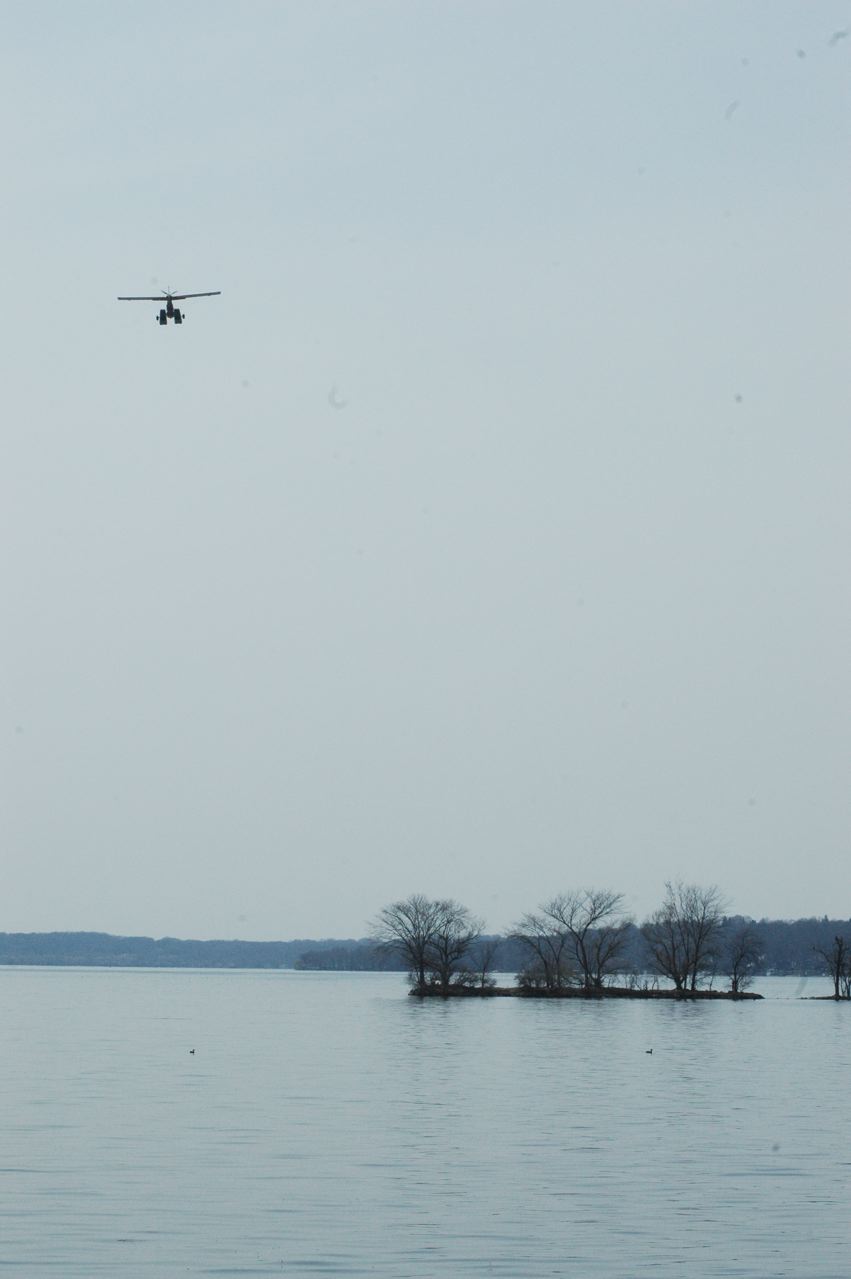 Back to railroading. It's CP #299, engines IC&E 6400/IC&E 6432/Soo 6024/CP 8522, waiting at CP's current "Pewaukee" for #807 to pass by, at 1628 hours, just a few minutes off the Builder's schedule. Historically, MILW's "Pewaukee" was the depot across the street from the lakefront, then it was Soo's Pewaukee at MP105 a half mile west of here, under the Hwy. 16 freeway overpass, where crossovers were located. When Soo single-tracked the line, this spot became "Pewaukee."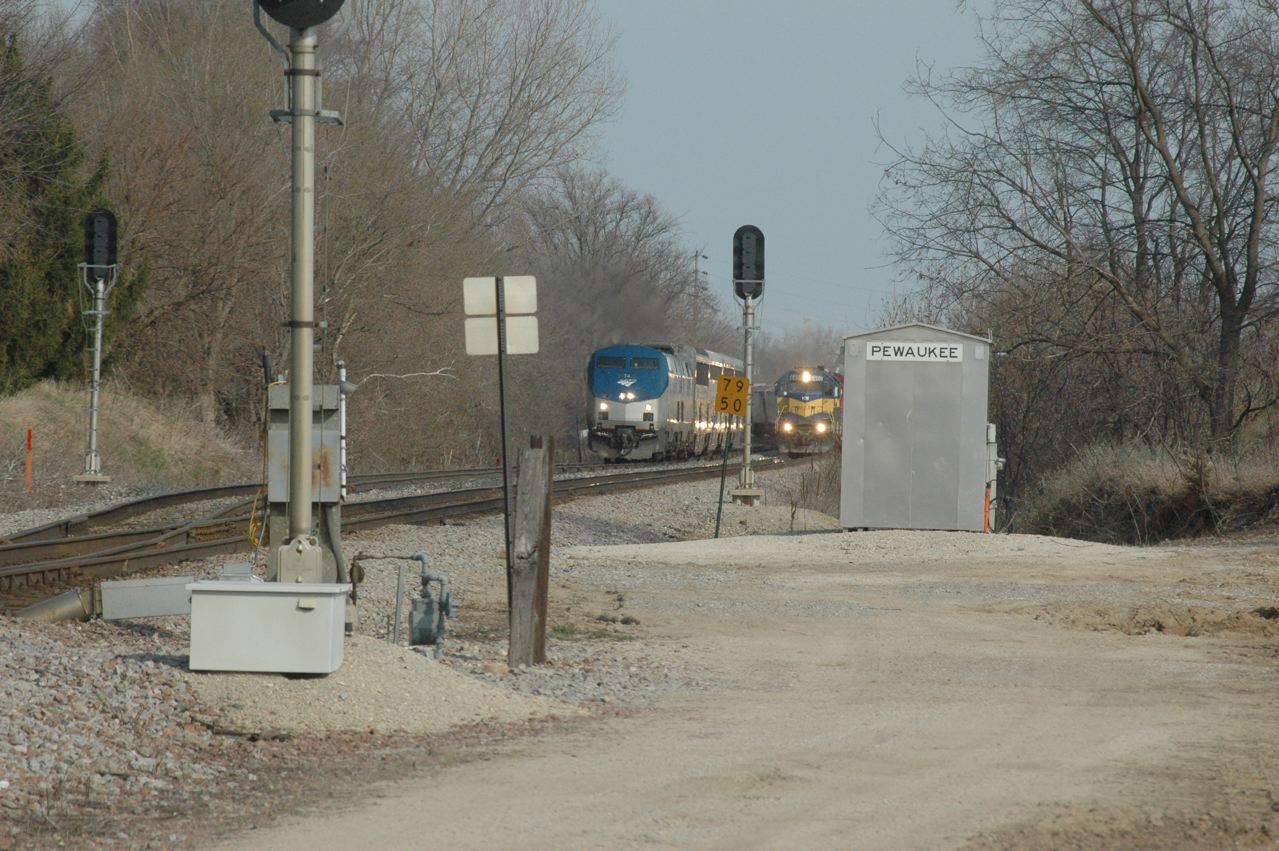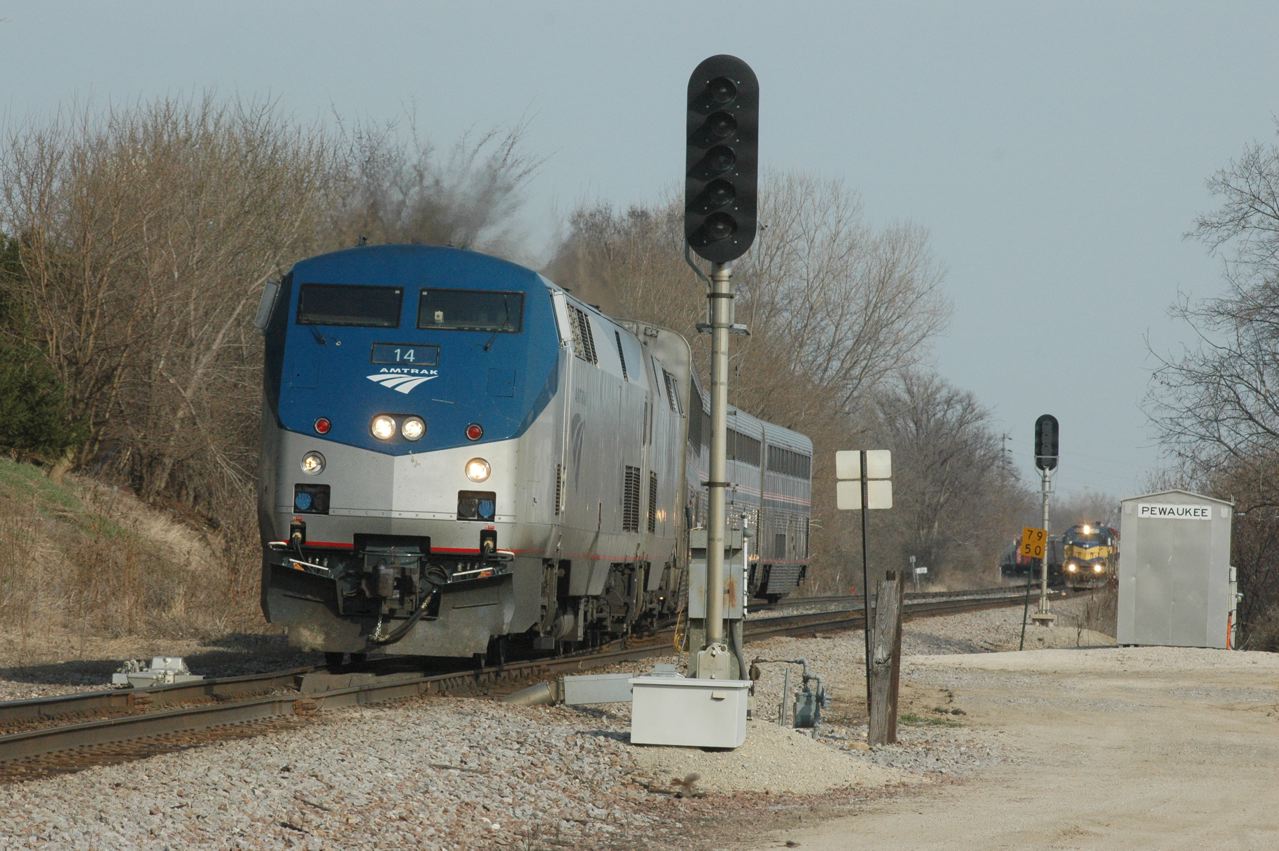 CP #299 leaves at 1631.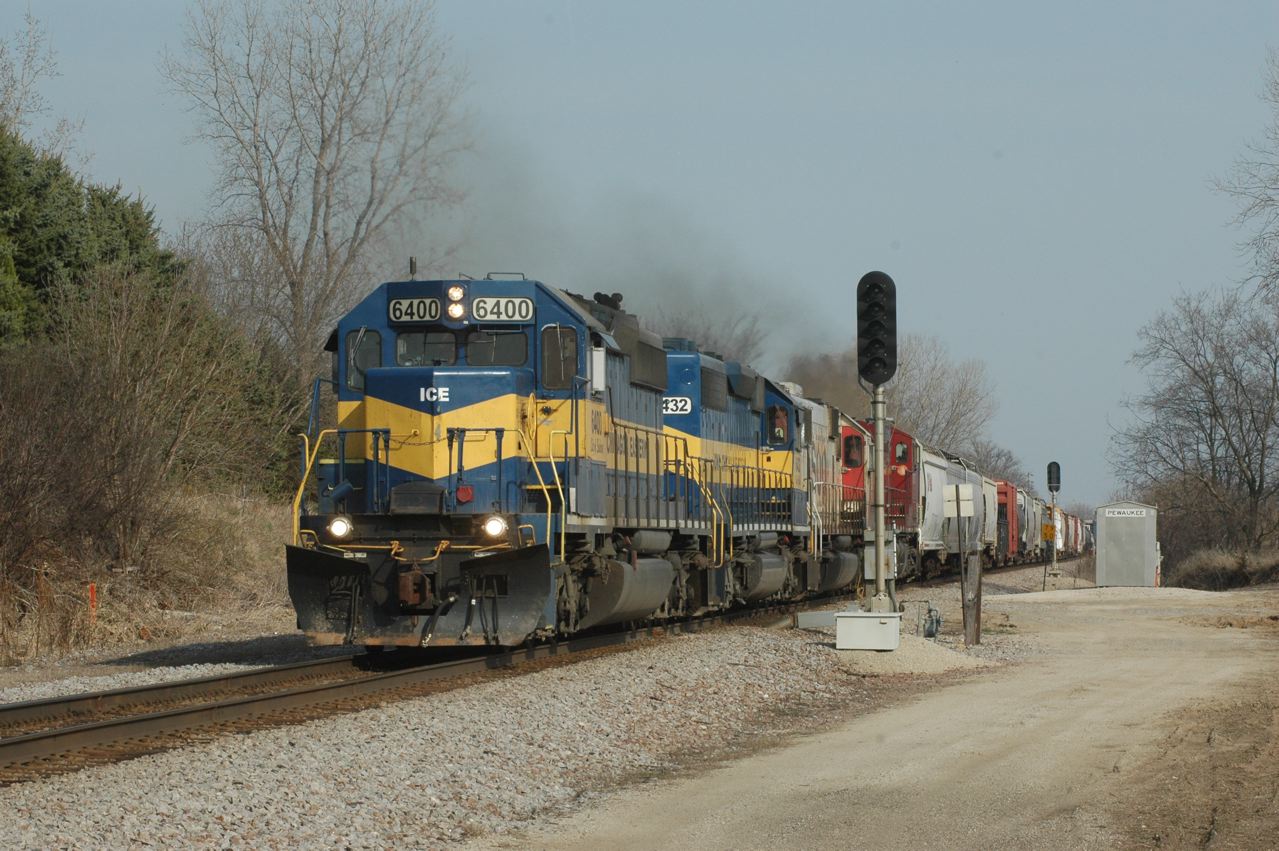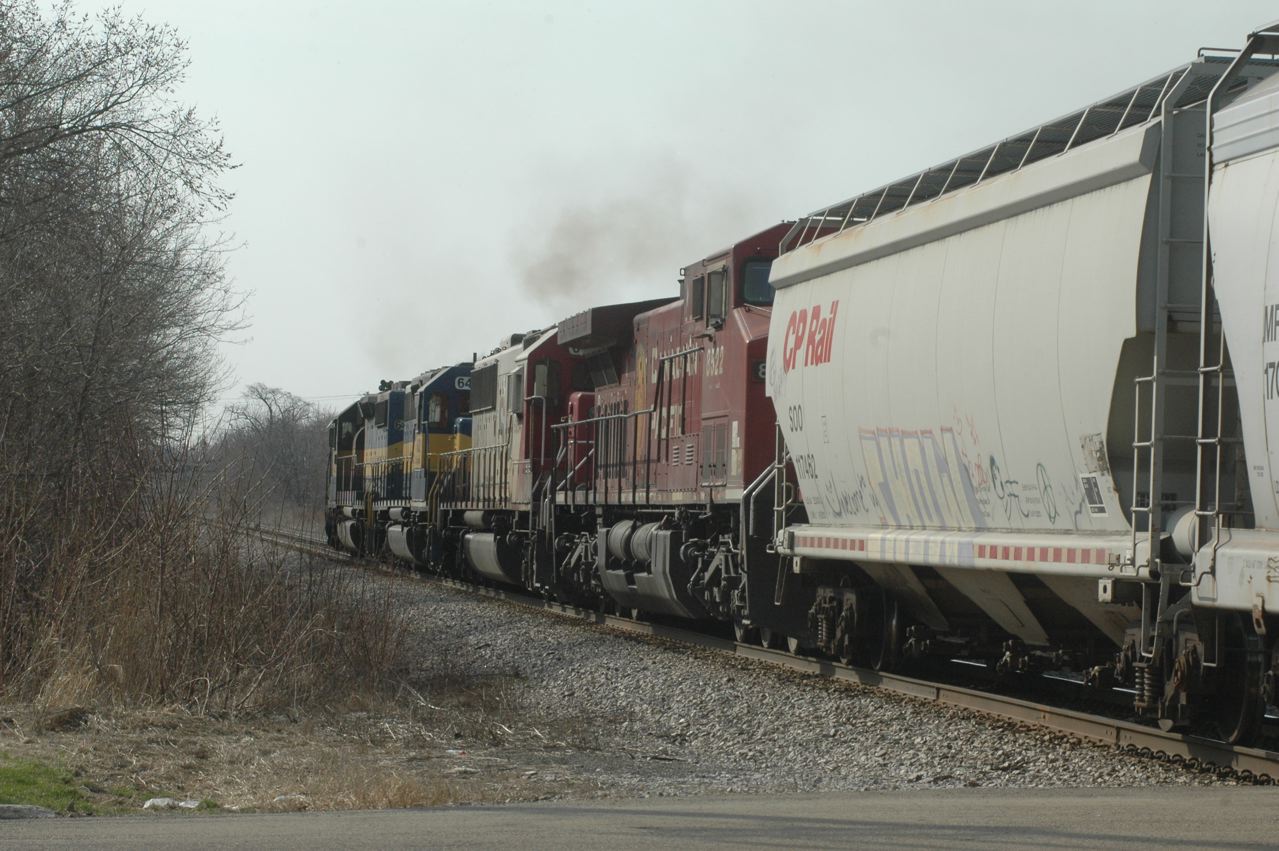 It's April 15, and CN #446 is coming thru Waukesha at 1415 with 126 cars behind 2684/IC 2455/5729/IC 1031. The local unit is GTW 5857, which finally relieved the ugly looking CN GP40W 9513 in factory paint (or what is left of it), but this bird stayed only a few days and I did not get to shoot a close-up. so I've fudged a close-up copy of this guy after the road train here. We now have (as of mid-May) the blue GTW 4905 again.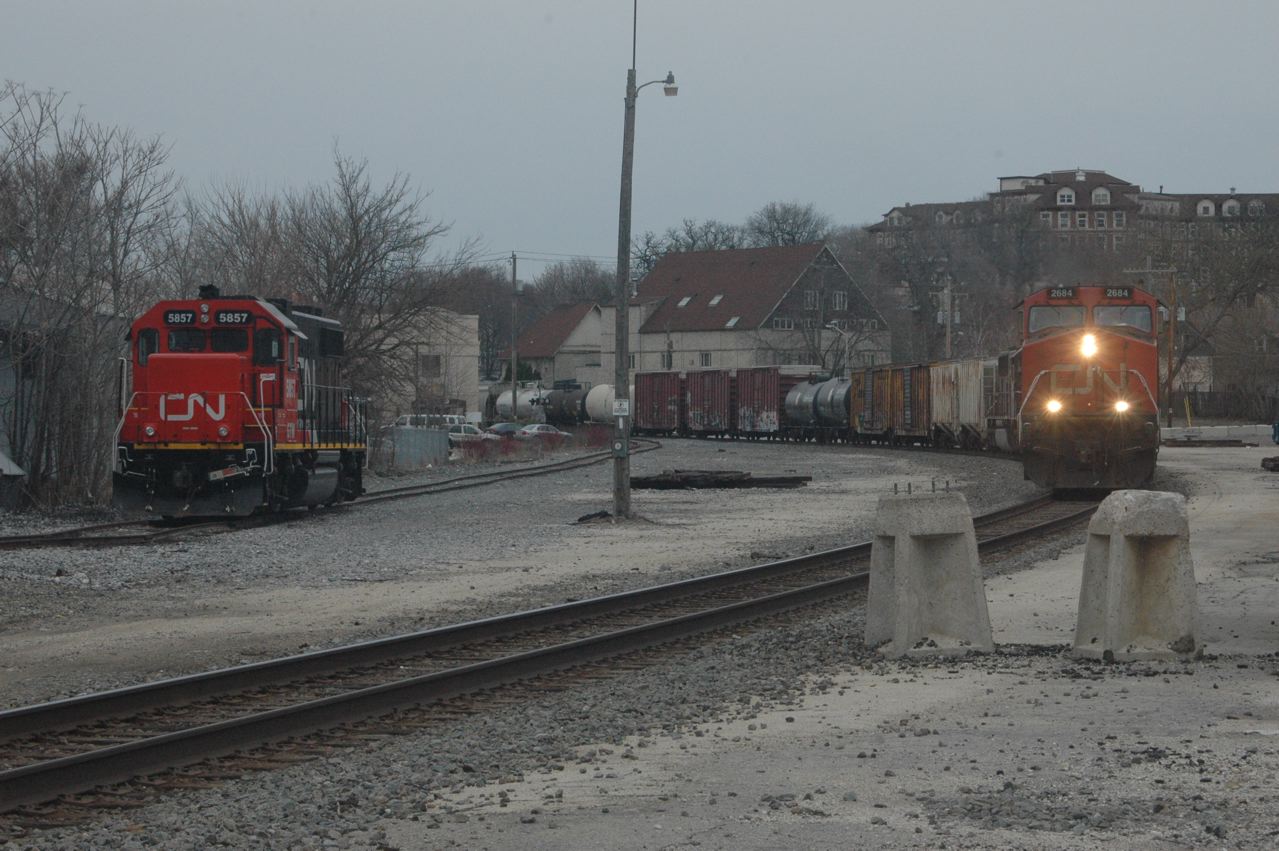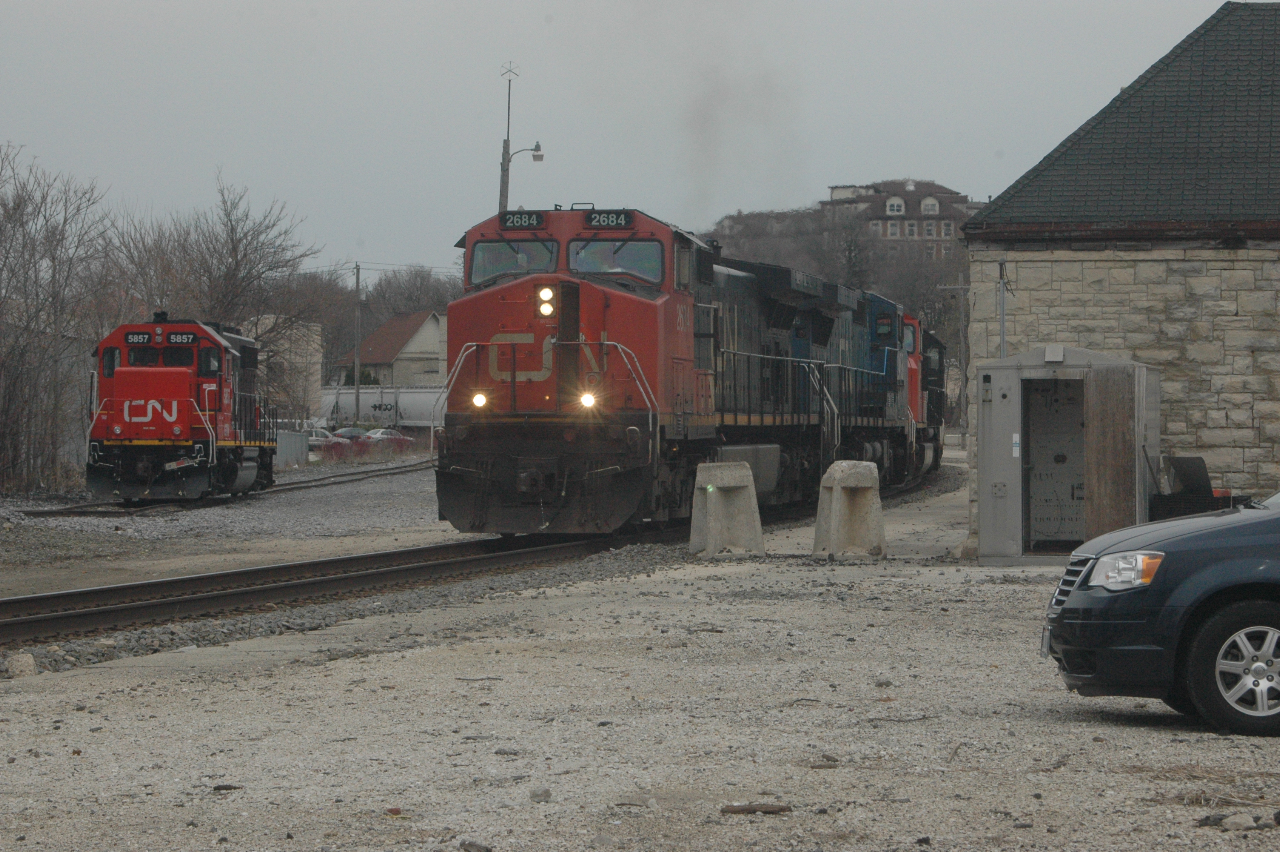 These are the old LMS GE's from Conrail days, assigned to the IC when CN got 'em. We like to think of them as London, Midland & Scottish units :-)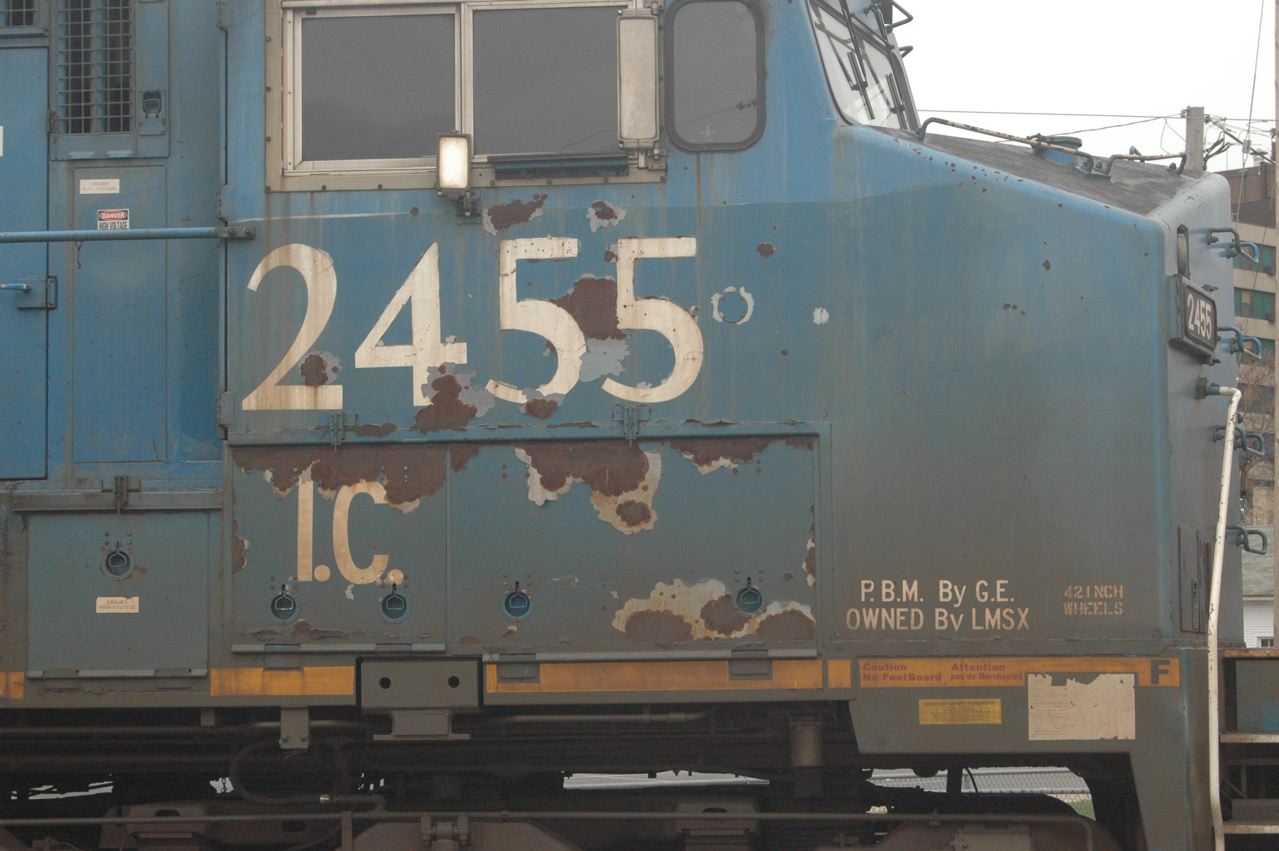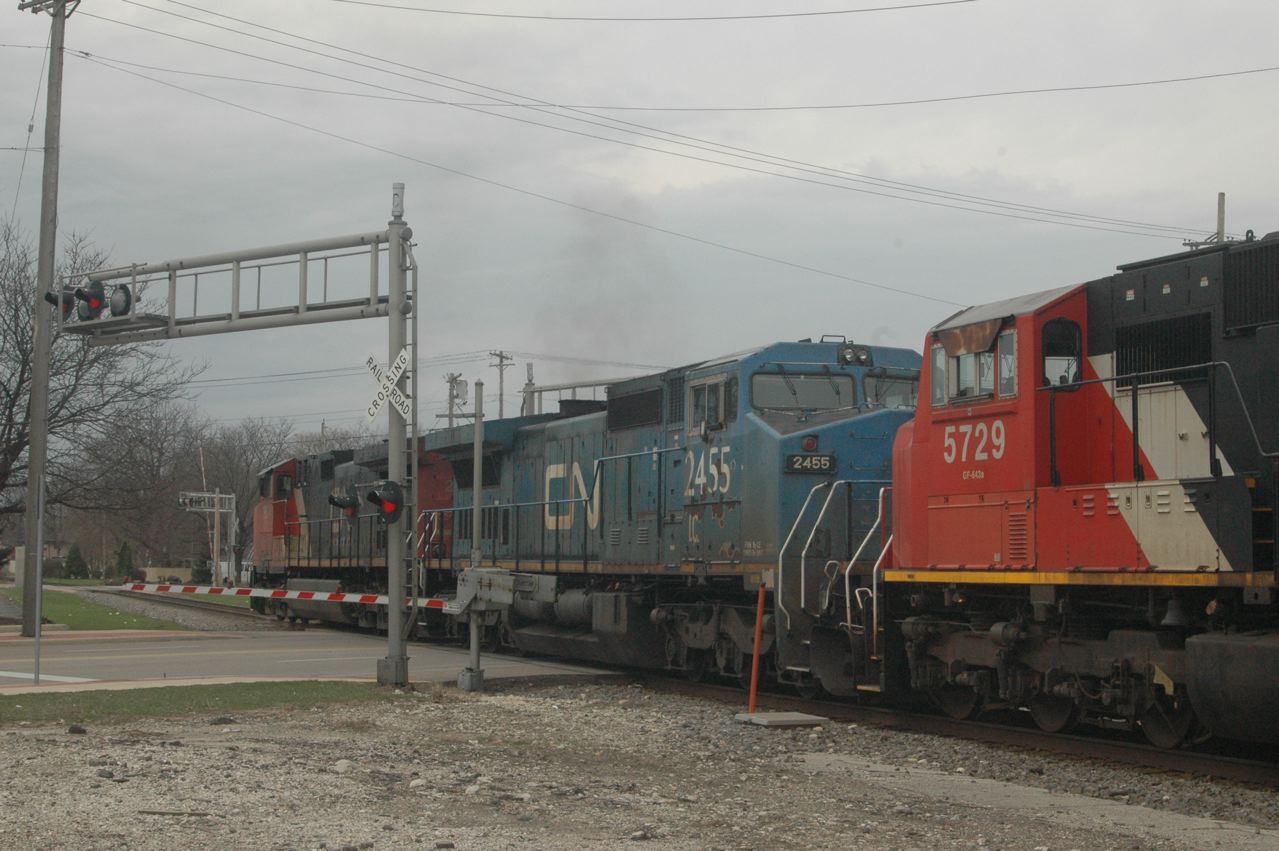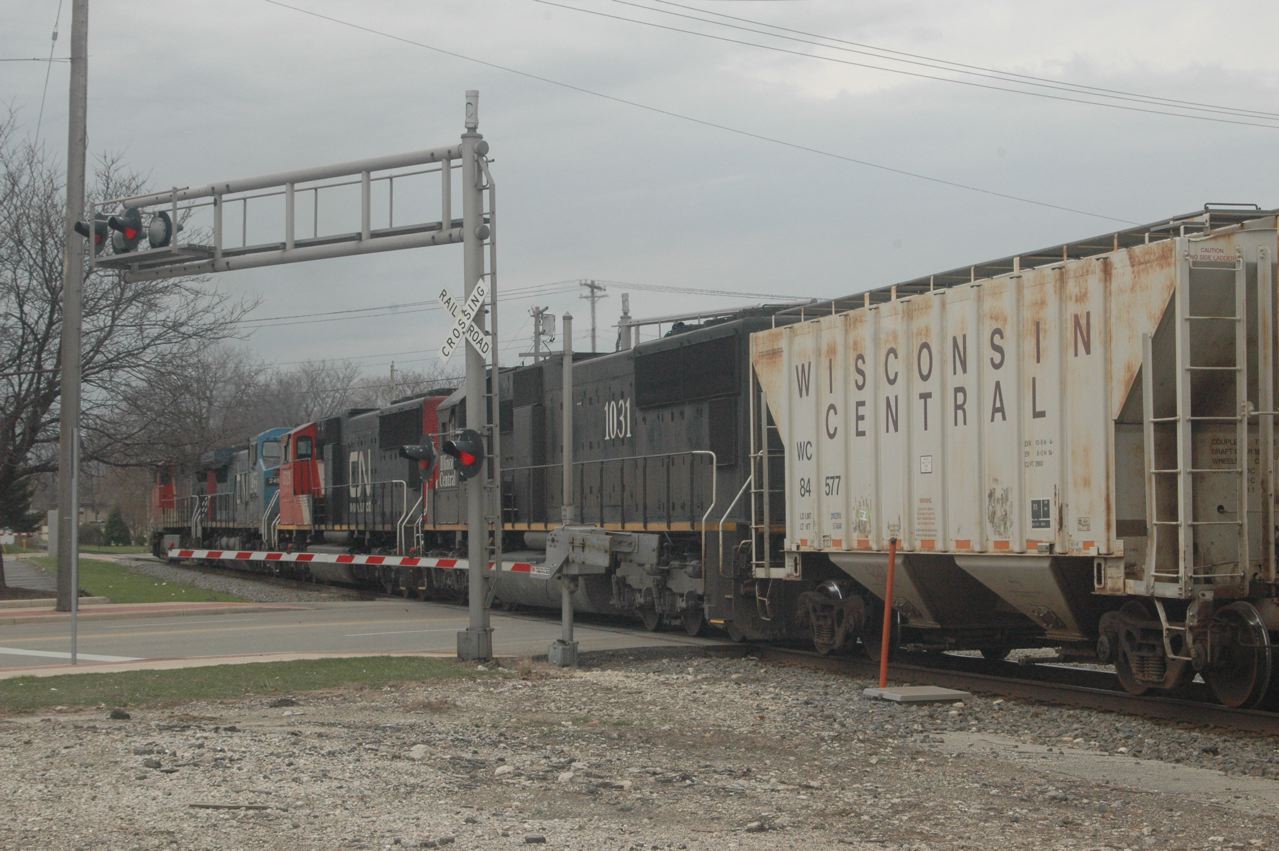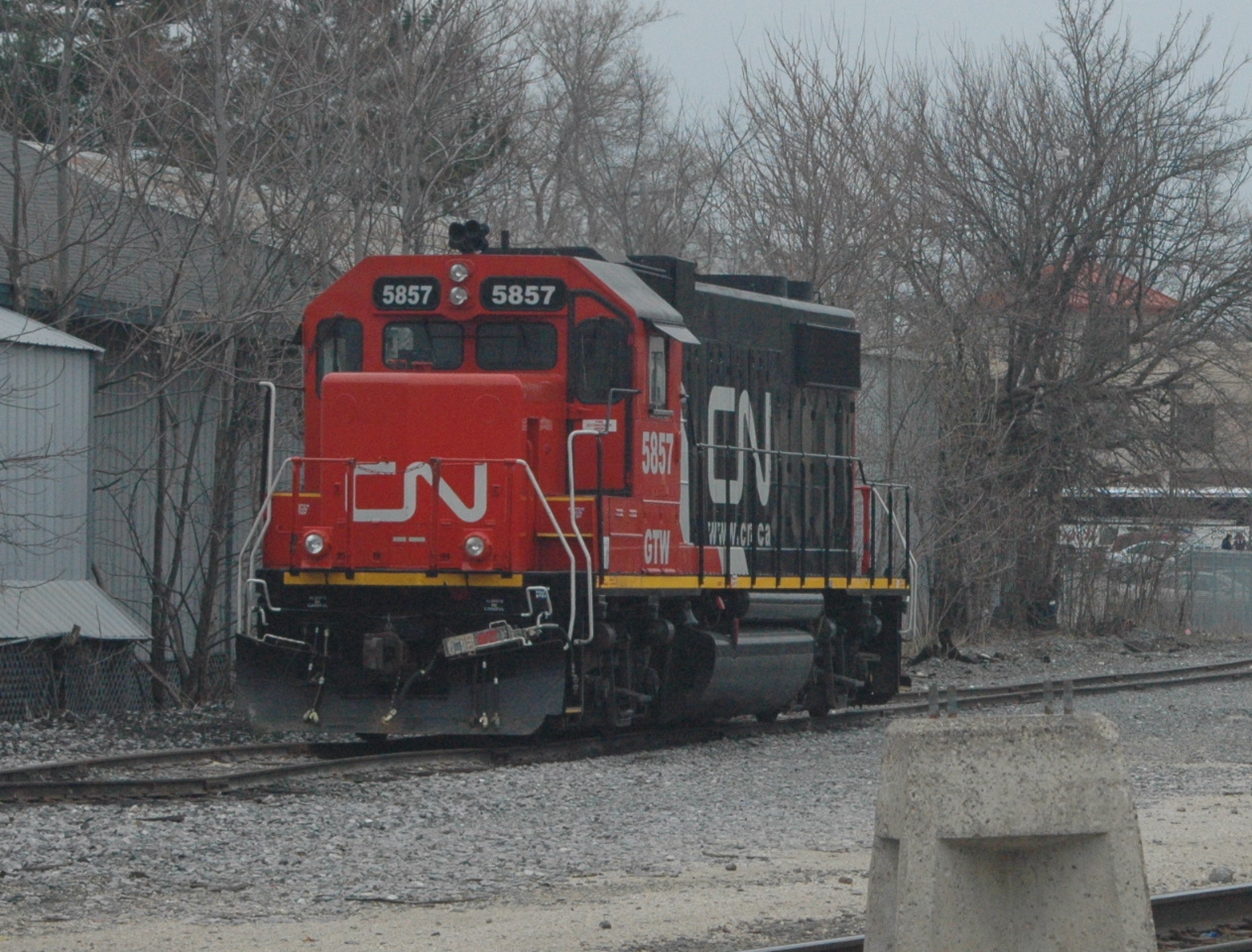 Nothing special about this #7 at Capitol Drive in Pewaukee (that's the Hwy. 16 freeway bridge in distance) except the train is back to full strength and it's sunny out. Engines 79/174 again, 11 cars, 1618 spot on-time.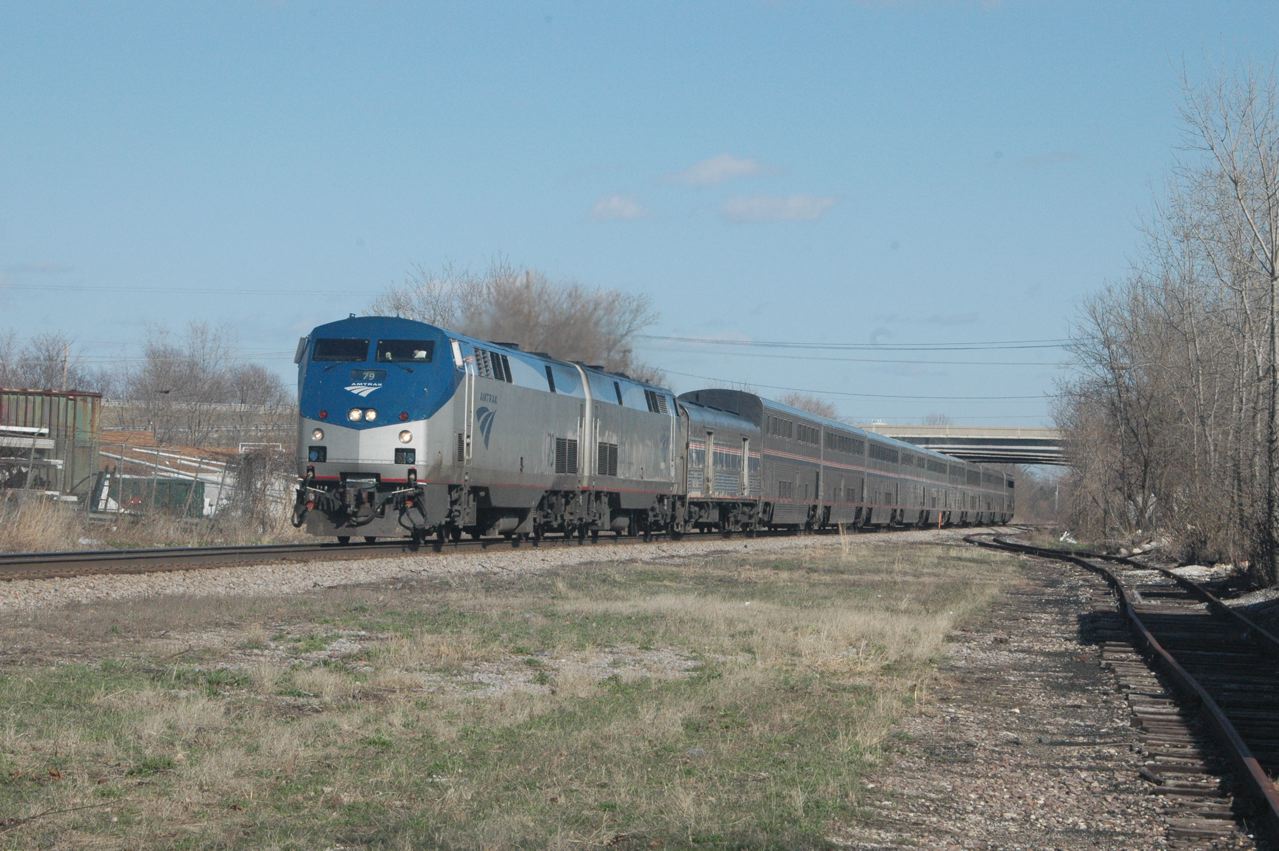 Well, a little bit special -- Mr. Willett is in the fireman's seat, waving, as he has either a trainee or an extra board man at the throttle. One day, perhaps this one, Craig "fired" while his son Scott, who's on the Extra Board, was at the throttle.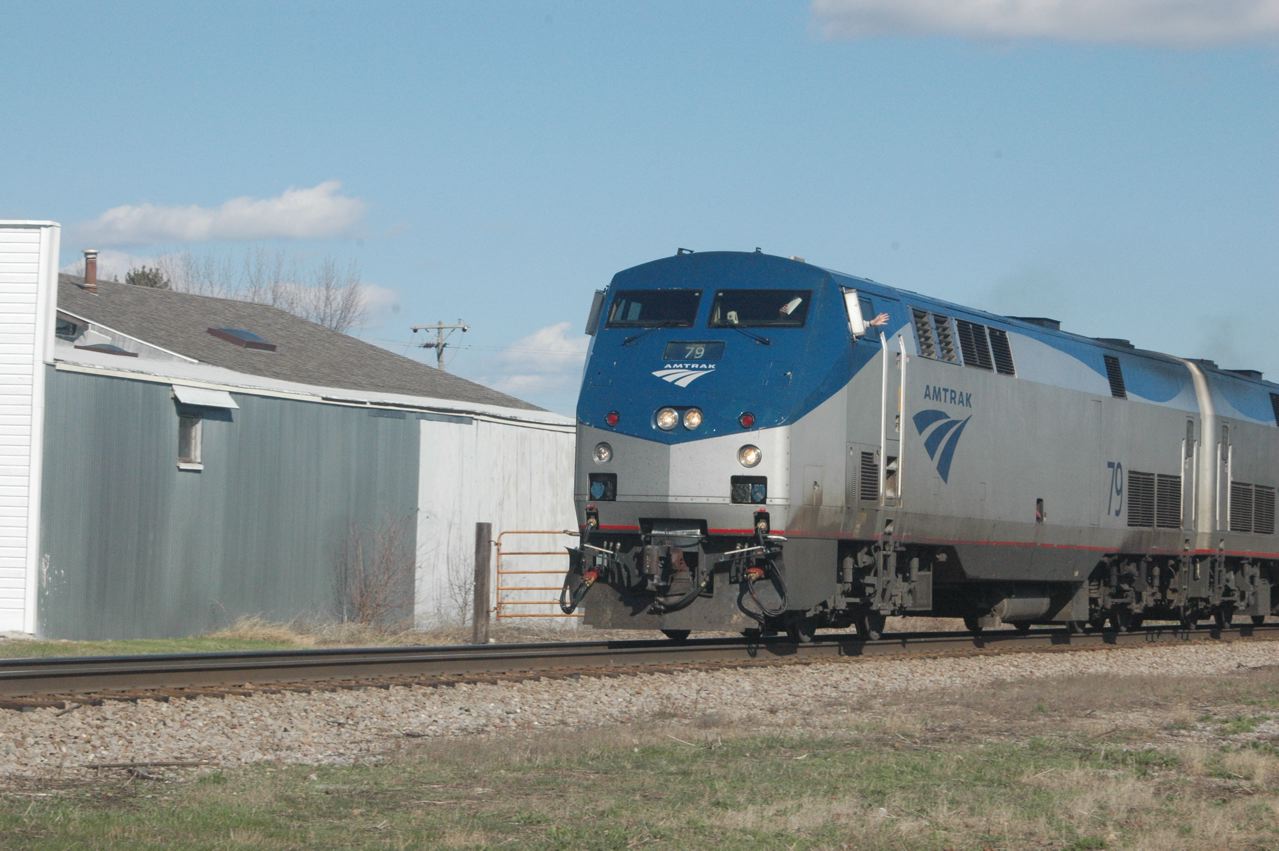 CN local L510 comes down from Fond du Lac each night, bulletined to Waukesha but usually turning back at either Duplainville or Ackerville (farther north), and often working at Ackerville in early morning. This day for unknown reason he came to Waukesha and tied up, and I was lucky to find him just going to work on April 21st at 905 a.m., with IC 6204. Our own local, L504, with GTW 4905 again, would soon follow him, but I didn't stick around. Turns out to be my first shot of the 6204 in the slide file, couldn't believe it!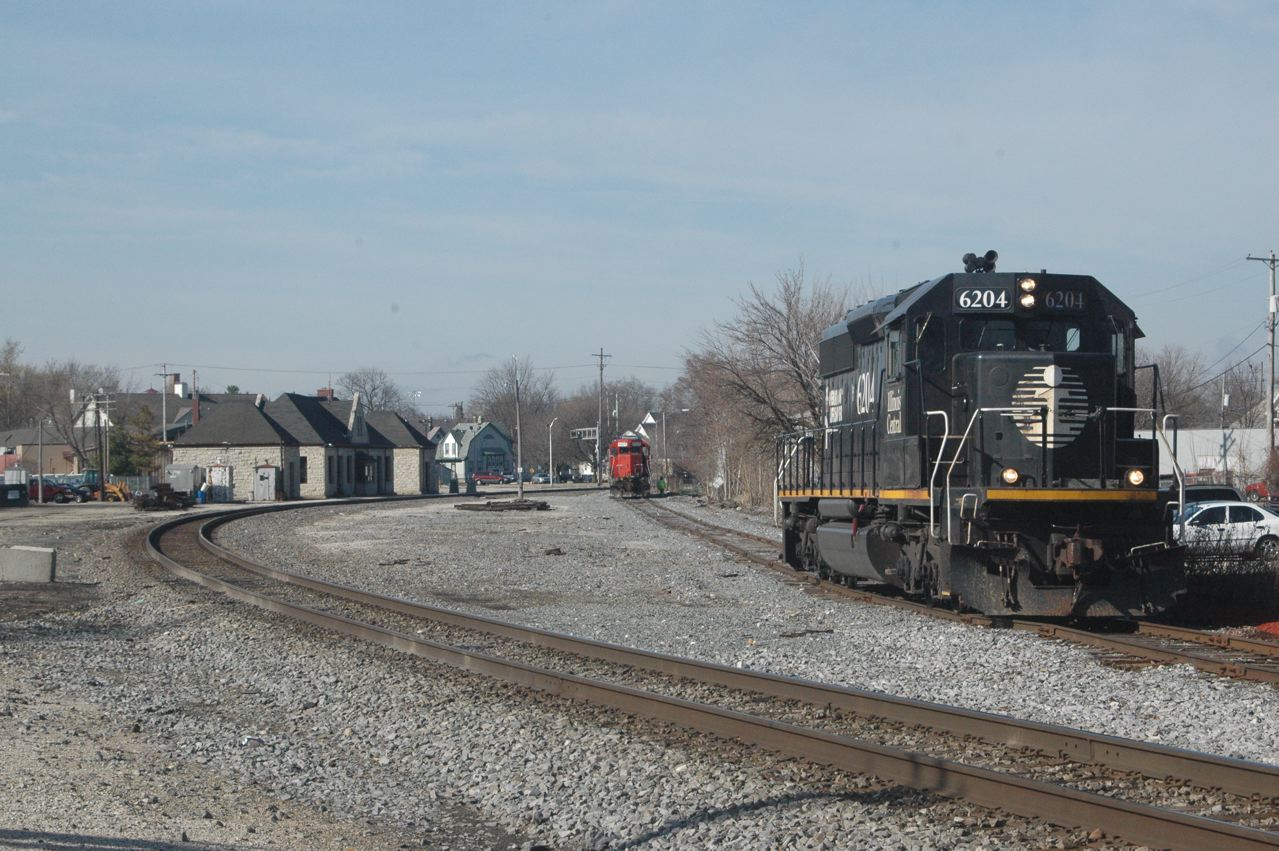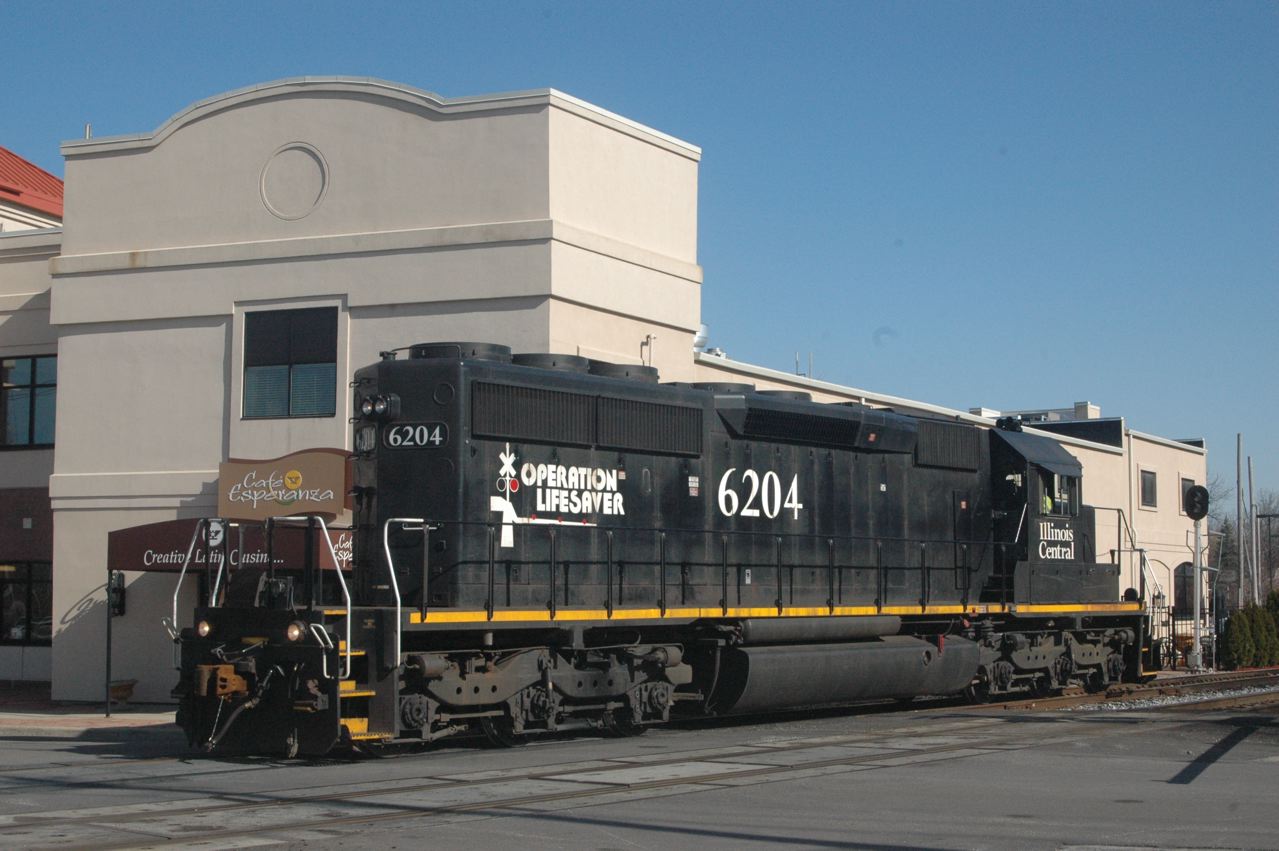 Out at Duplainville at 1130, I've missed a westbound as a hi-rail toddles eastward.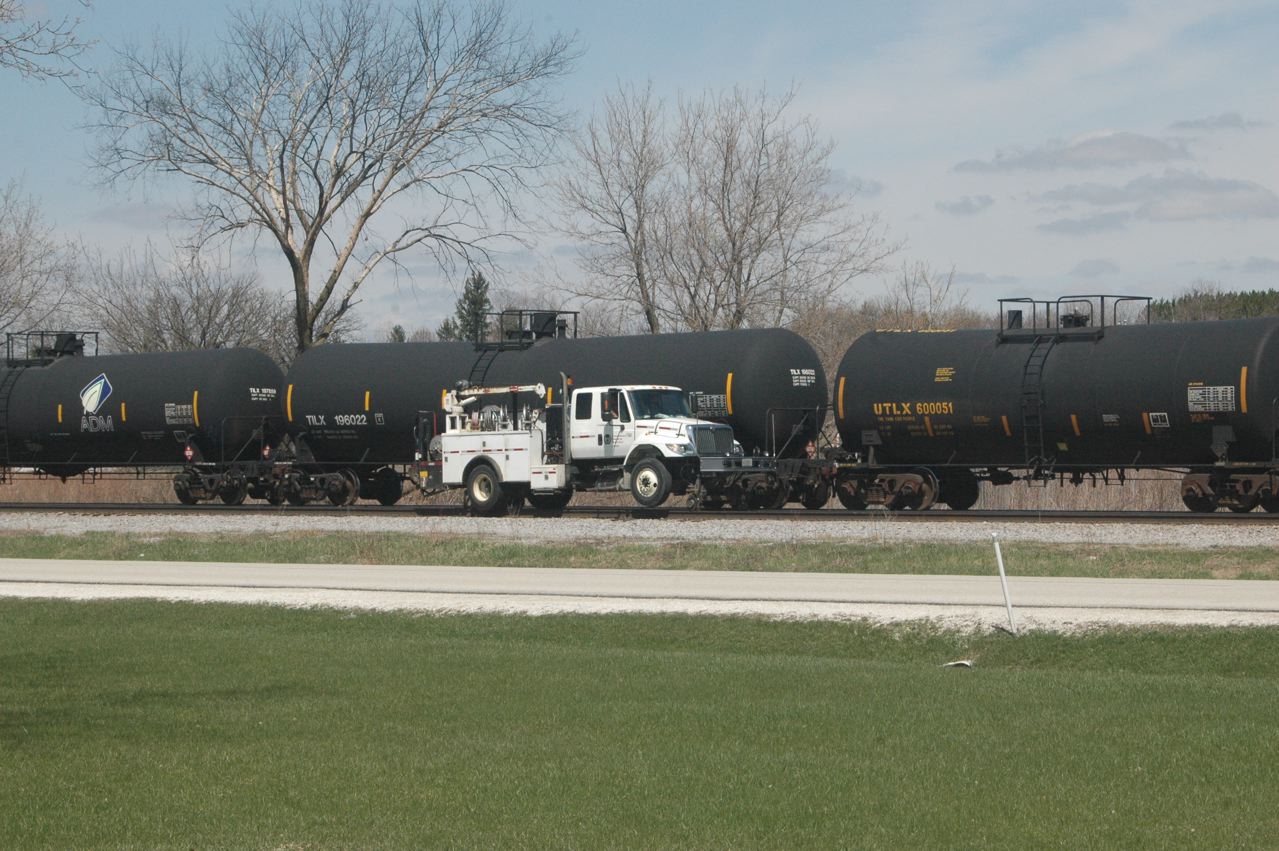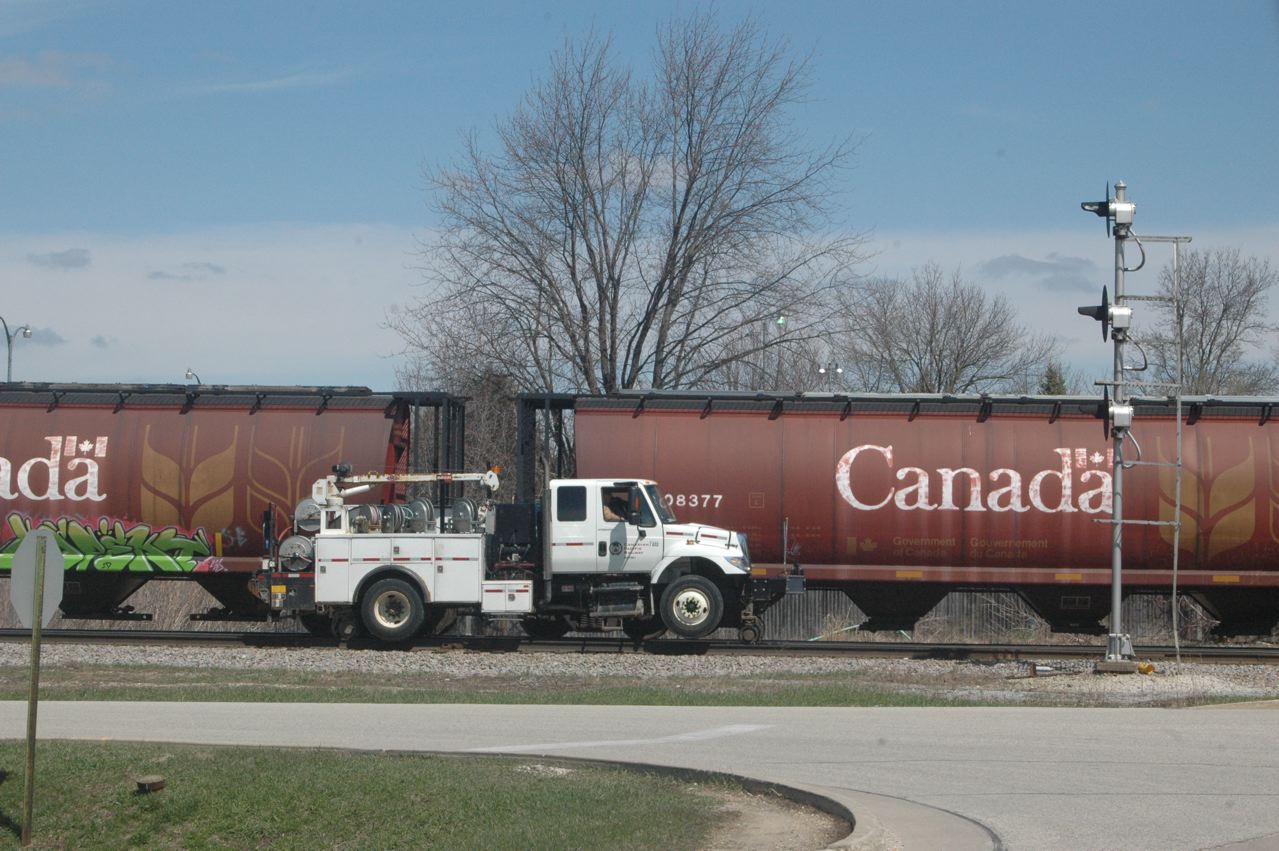 Now this CN #446 has a unique diesel consist, for behind the regular 8851/5740 is a refugee from the coal trains, UP 6203 in SP-patch paint. It's 1135 at Duplainville, Green Road crossing, and he has 65 cars.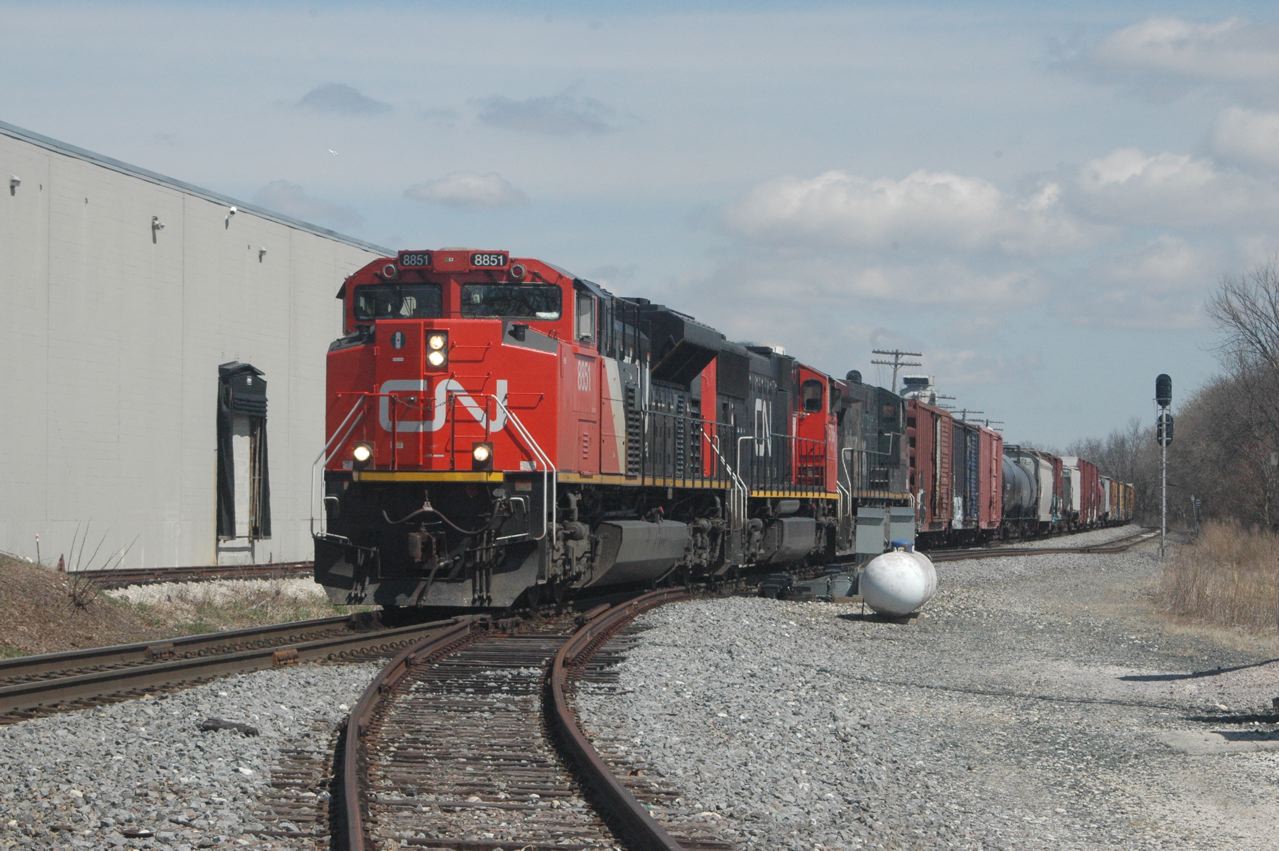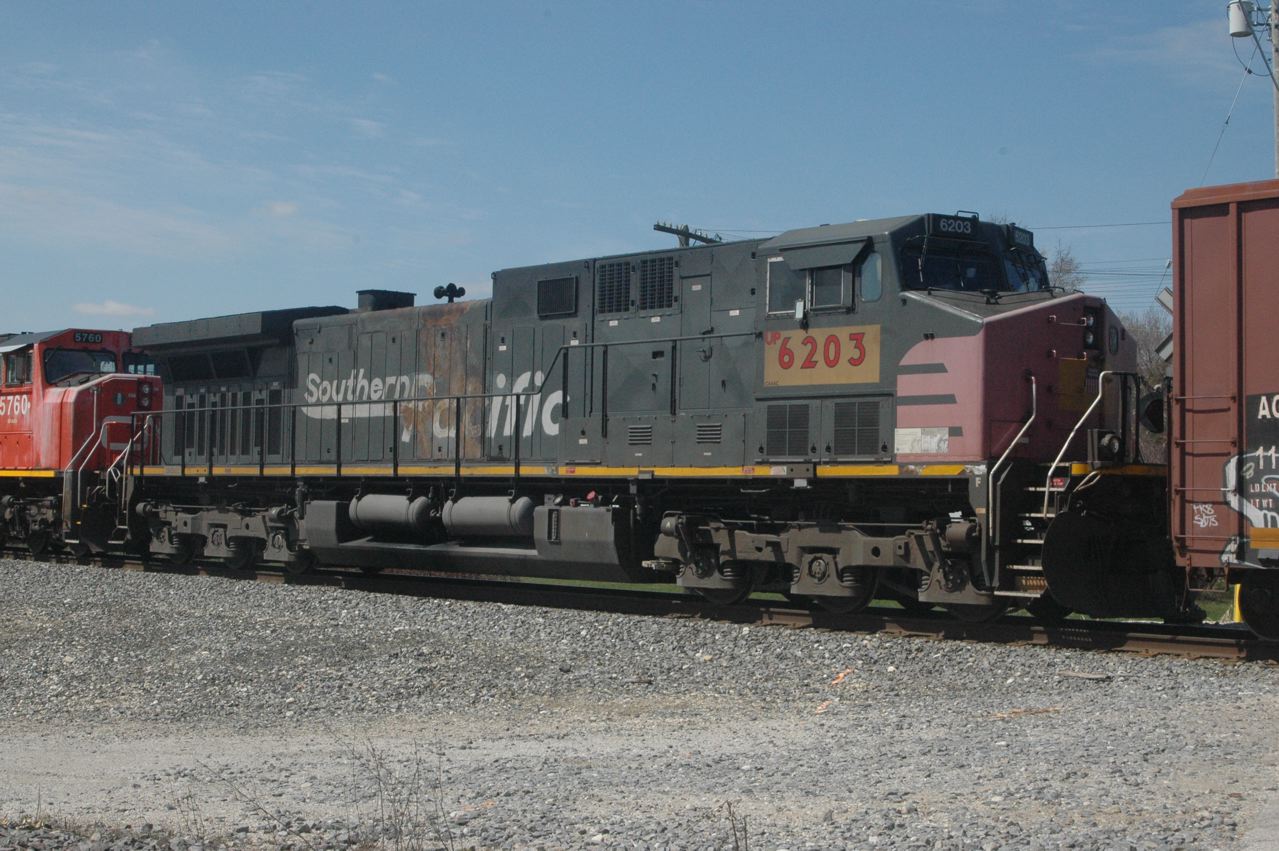 Behind him is #198 with 5750/2606 at 1150 hours.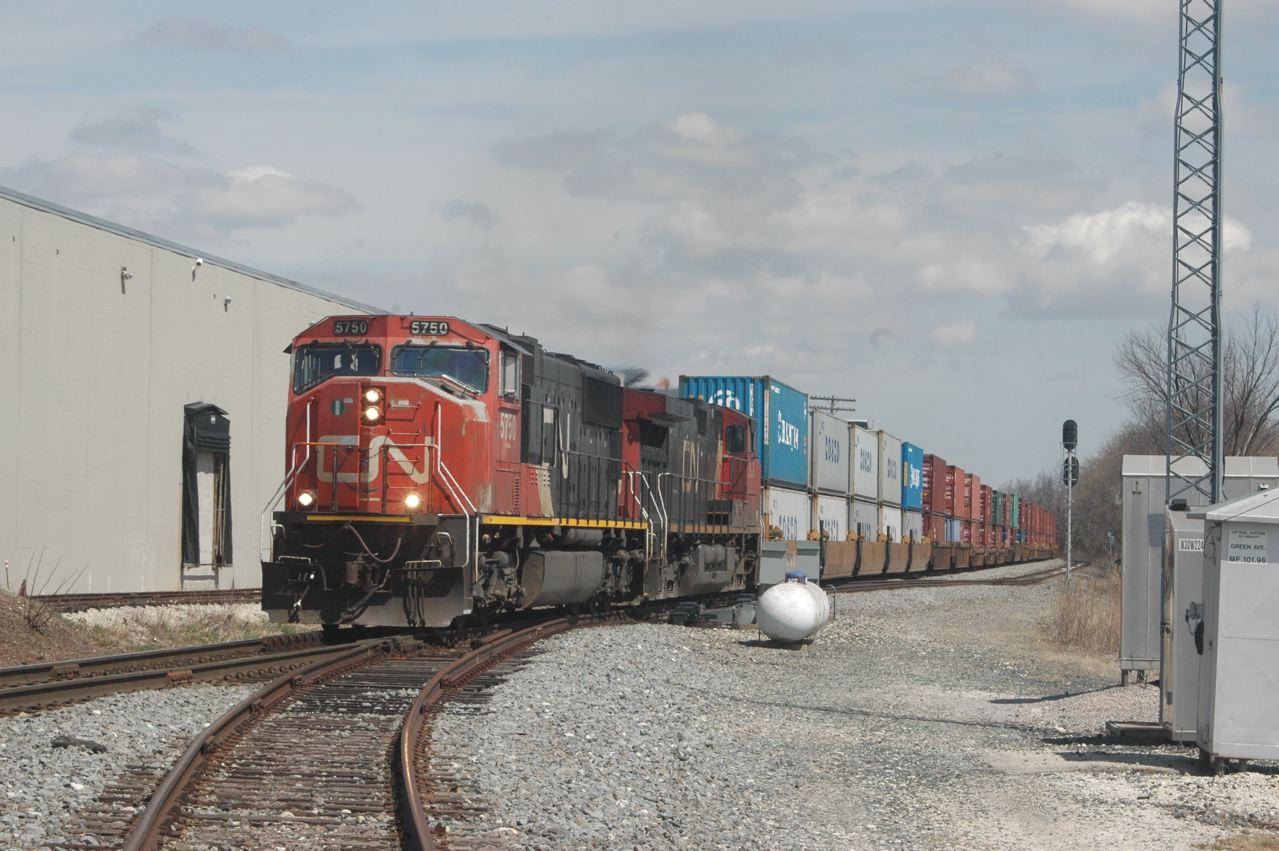 Later that day, at 1528, I'm out again for the Empire Builder and first get CP 2nd 282 with 9510/CITX 1059 at 1528 hours.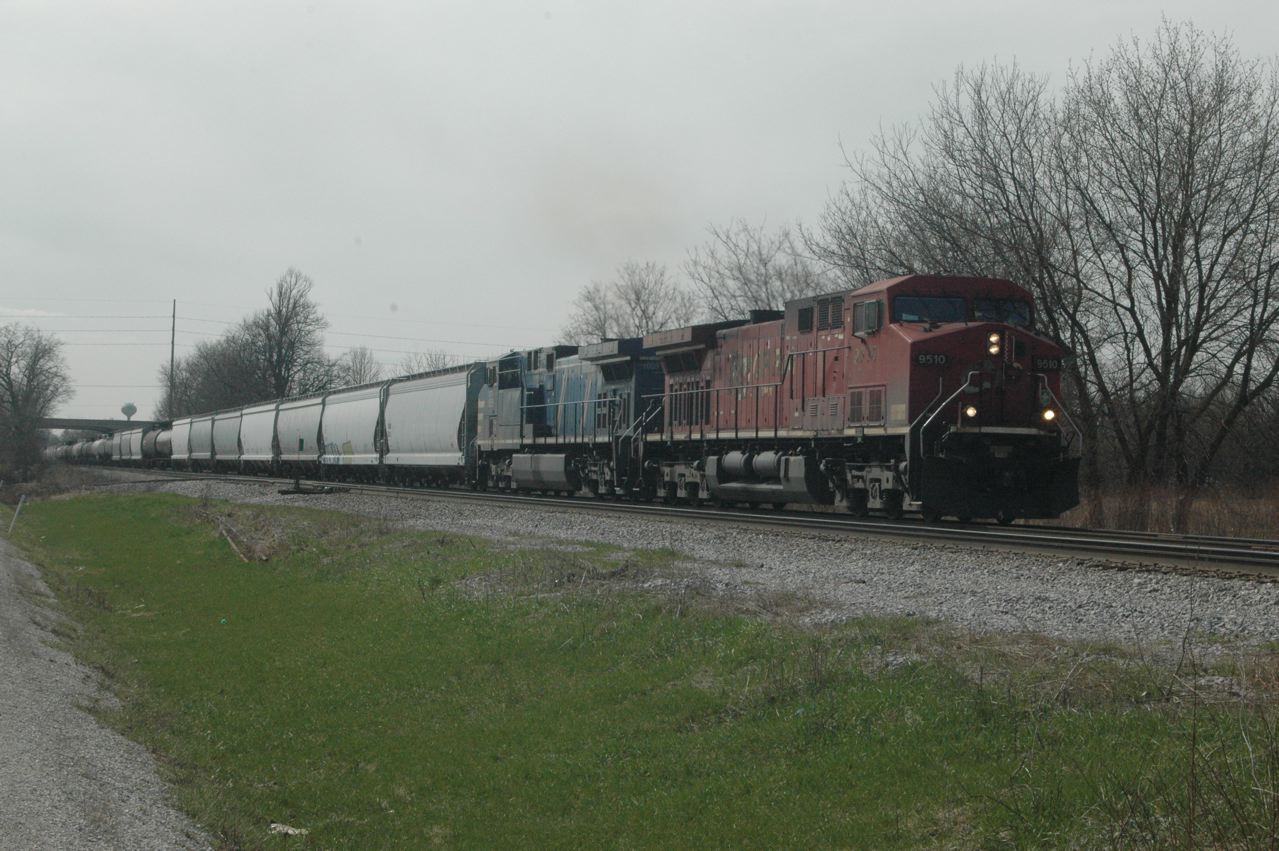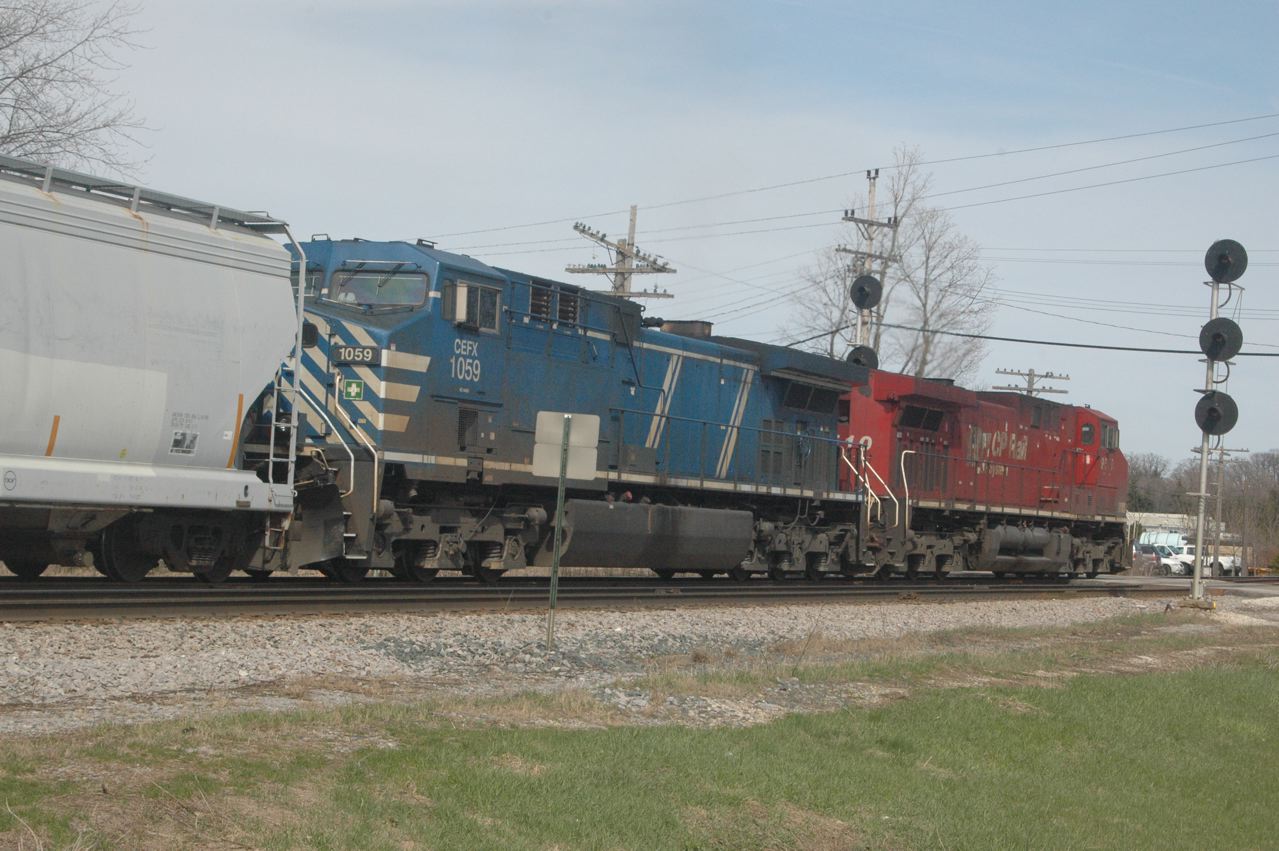 Following him is #280 with the consist of the week, Soo 6060/6023, with 84 cars, at 1538.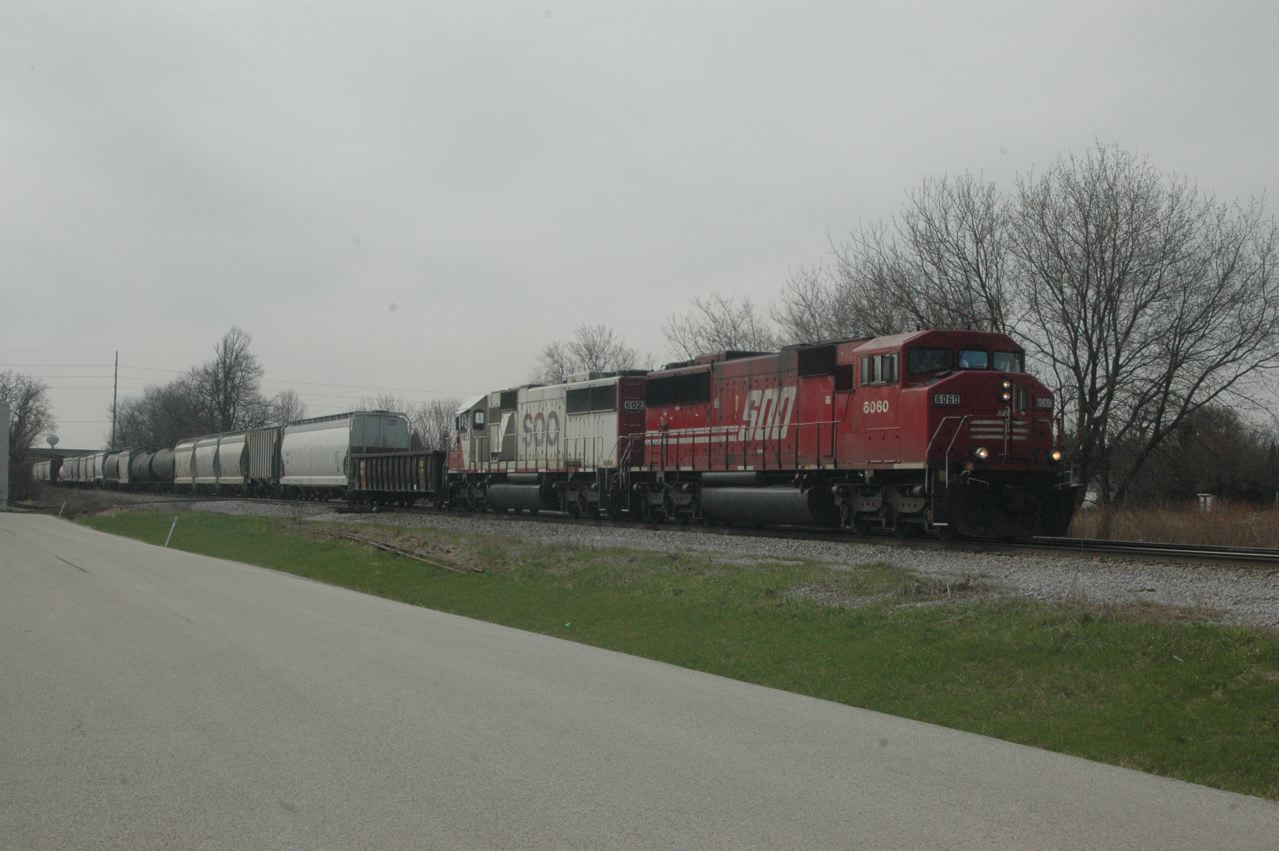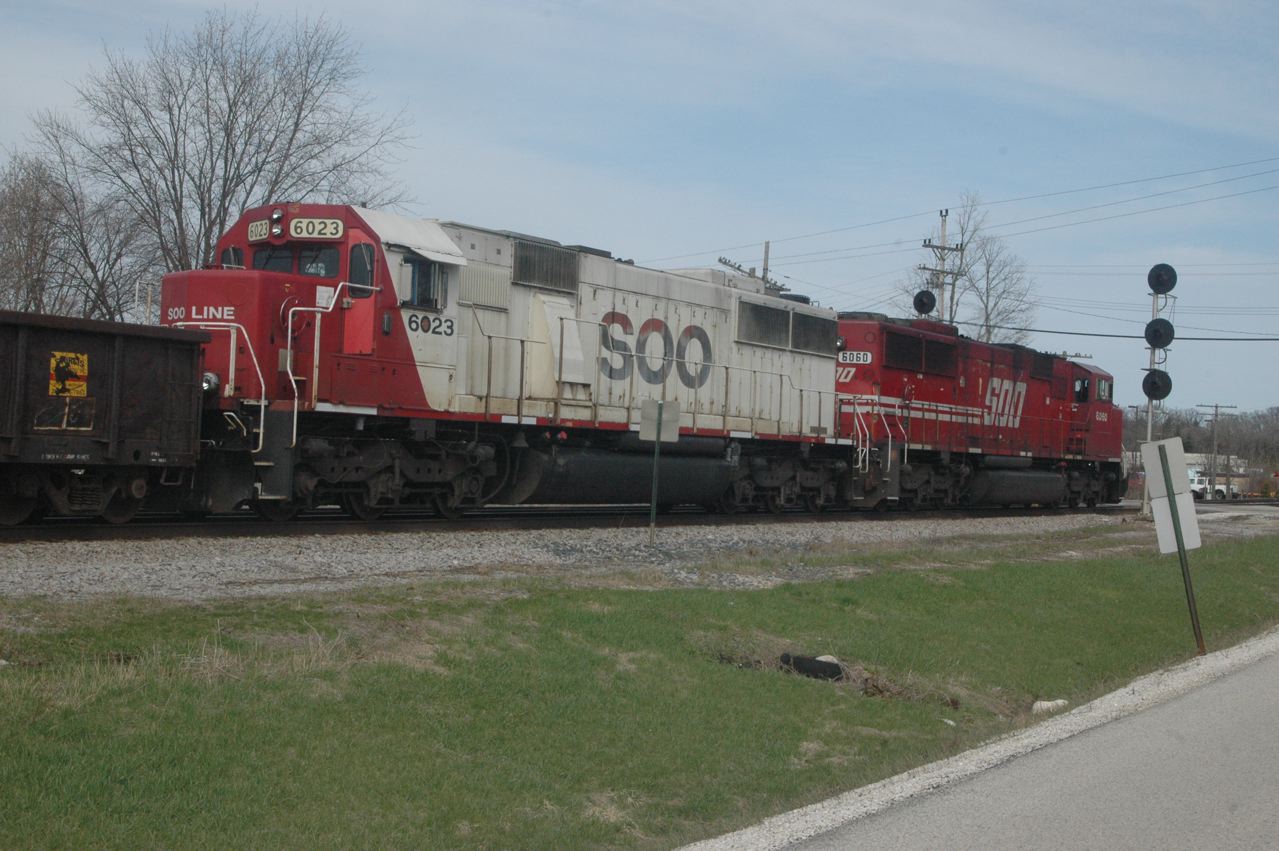 Back in town, L504 on his way home from Burlington comes by the Waukesha depot with 16 cars at 1612 hours.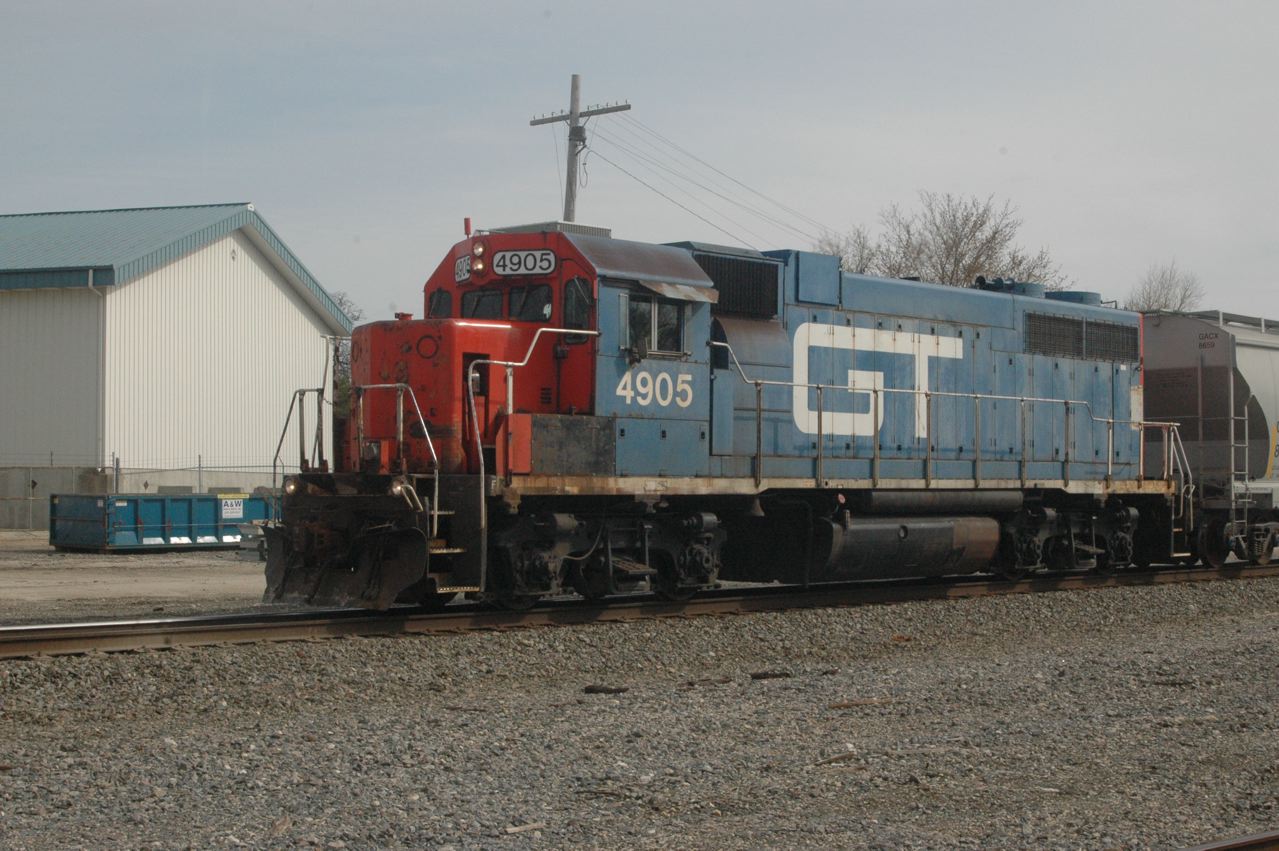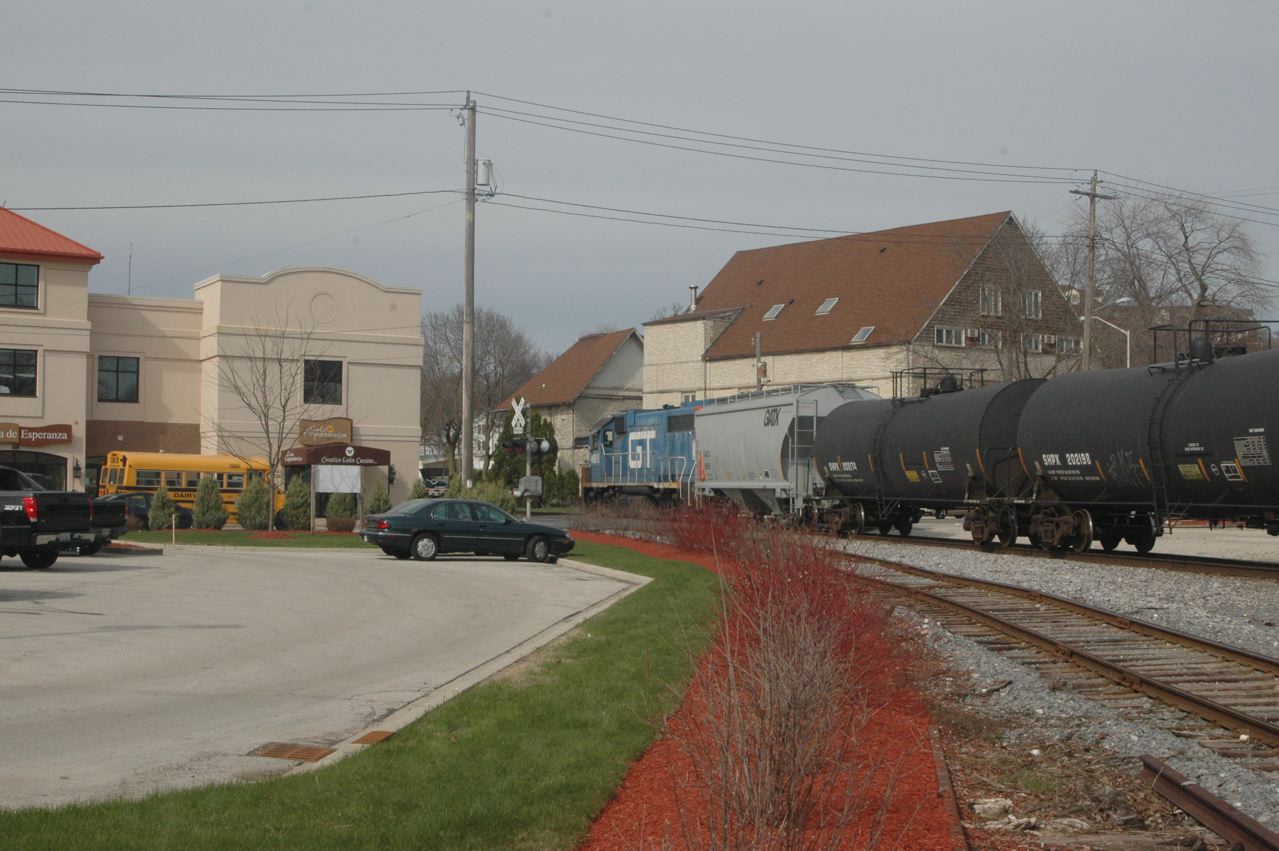 Logs are loaded, and lumber is unloaded, at Mukwonago. I don't know any more about it :-)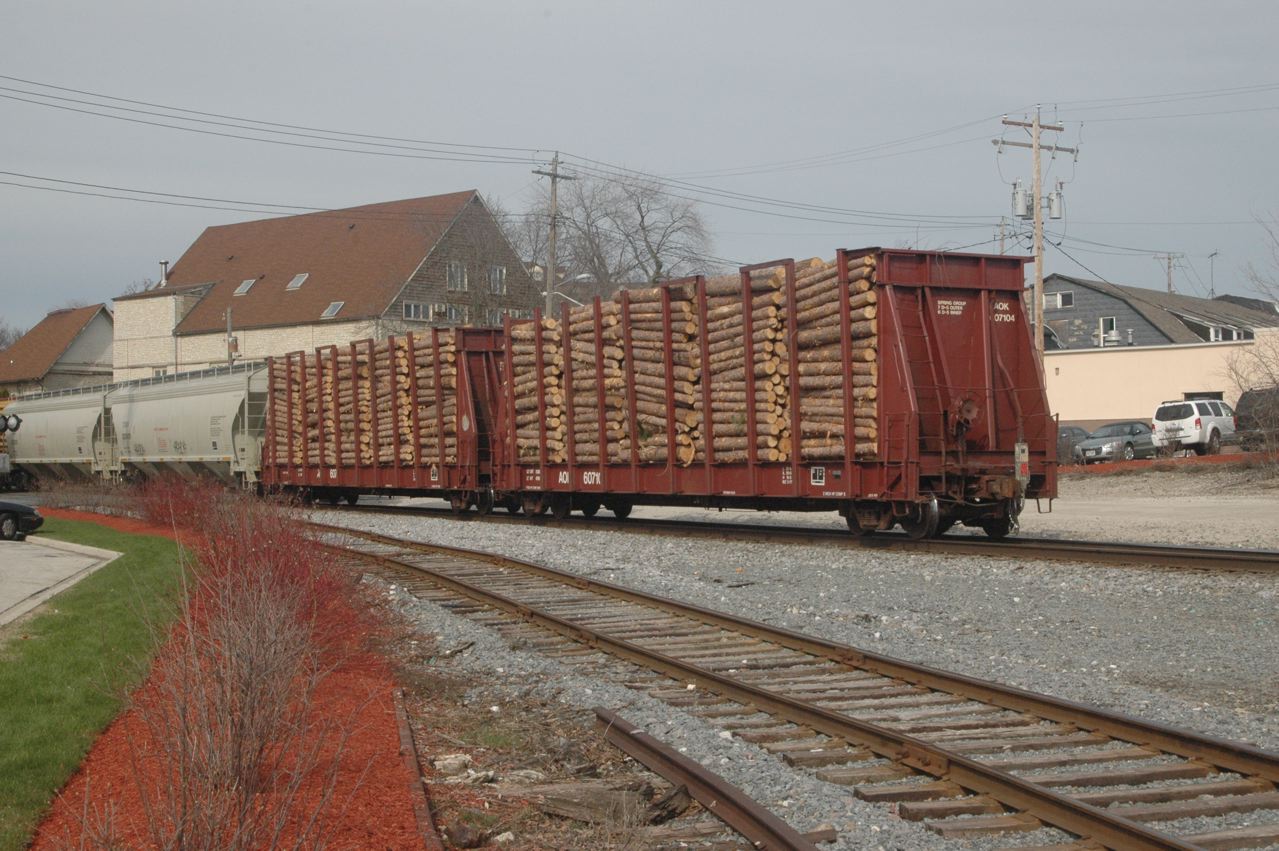 Mr. Willett is at the throttle on April 22 as #7, with 114/163 and 11 cars, crosses over at 1615 hours, on-time. CP has had a habit of parking crewless trains west of here on Track 1, severely impacting dispatching as there is no crossover between here and Grand Avenue in Milwaukee. Such constrictions have delayed Amtrak, and CP moving freights, a lot. Don't know if it's Canadian flooding residue service issues, lack of crews, congested yards at Portage and St. Paul (for floodwater problems there), or a combination.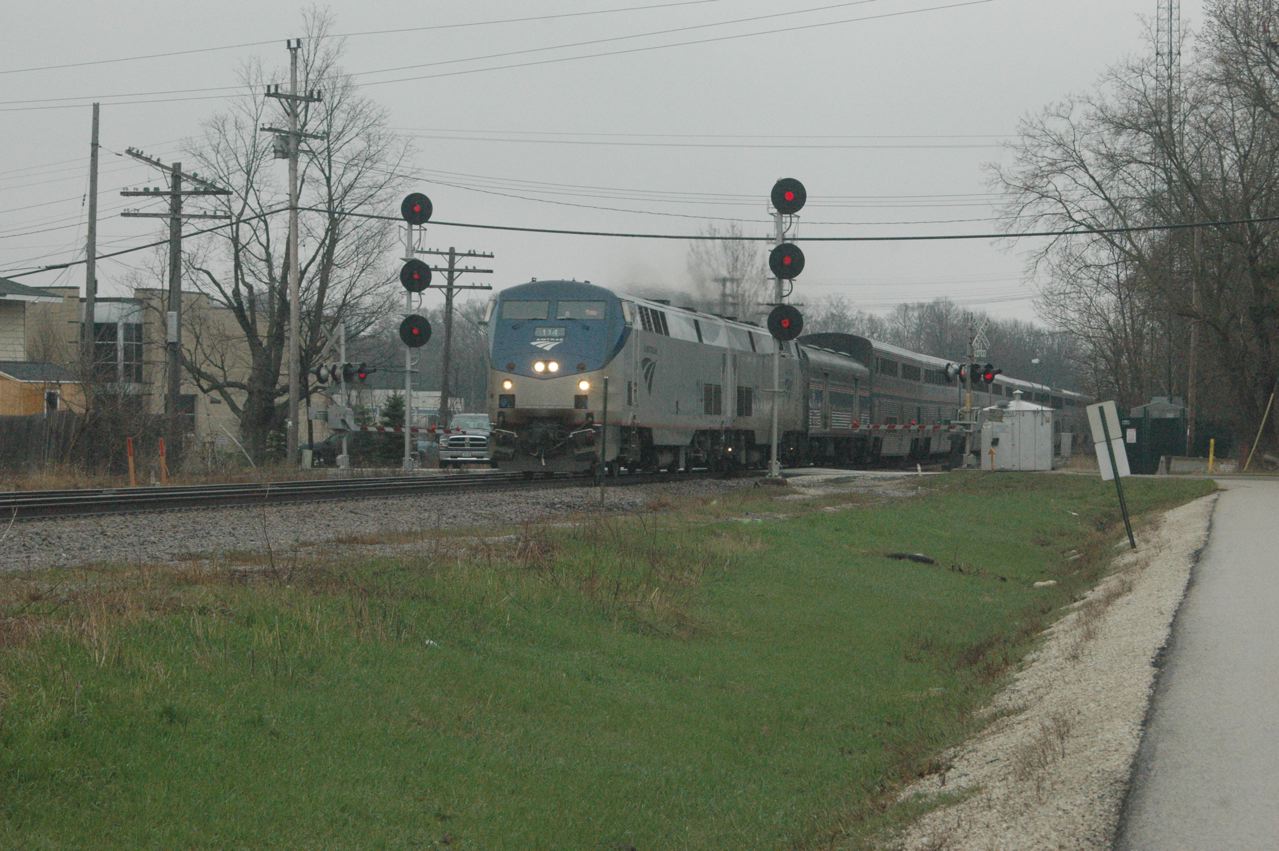 Yes, it's Craig Willett "firing" and waving again!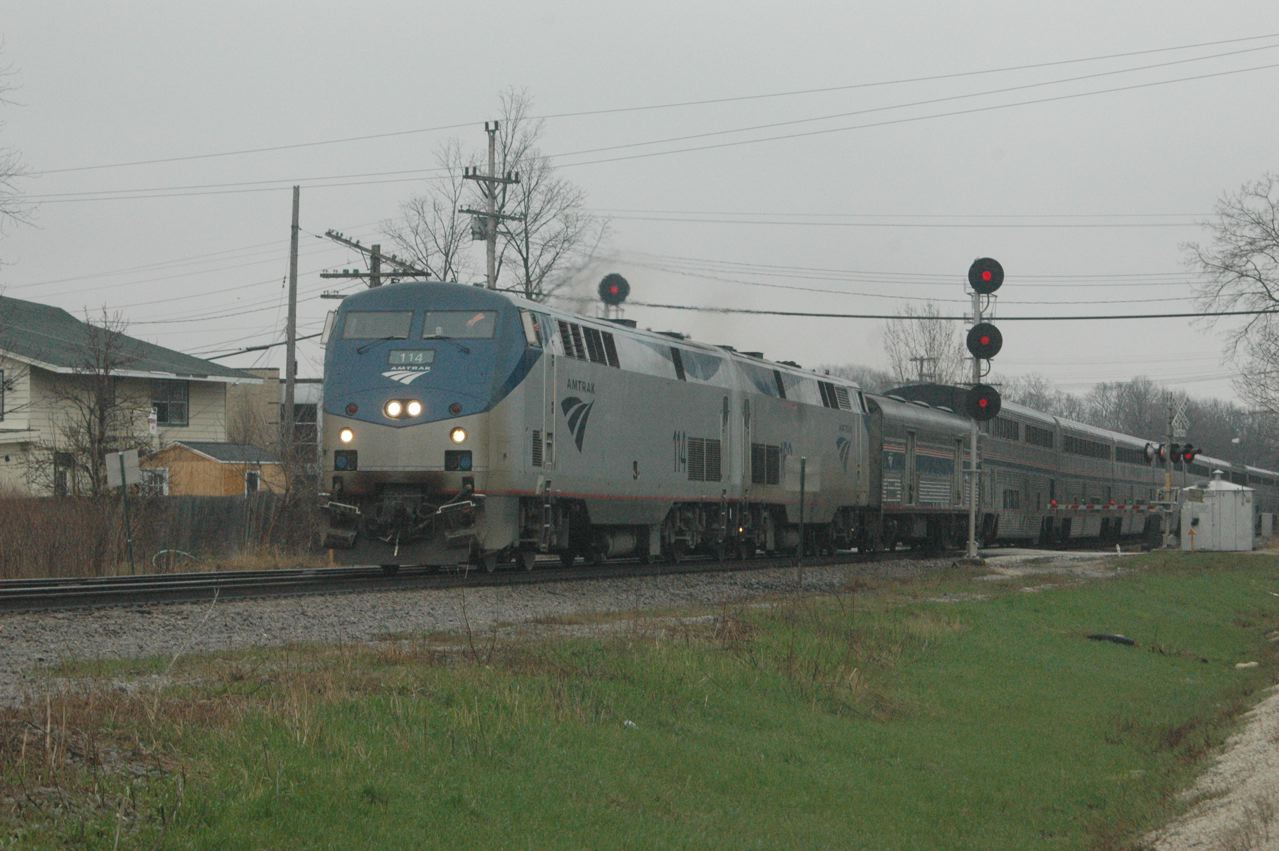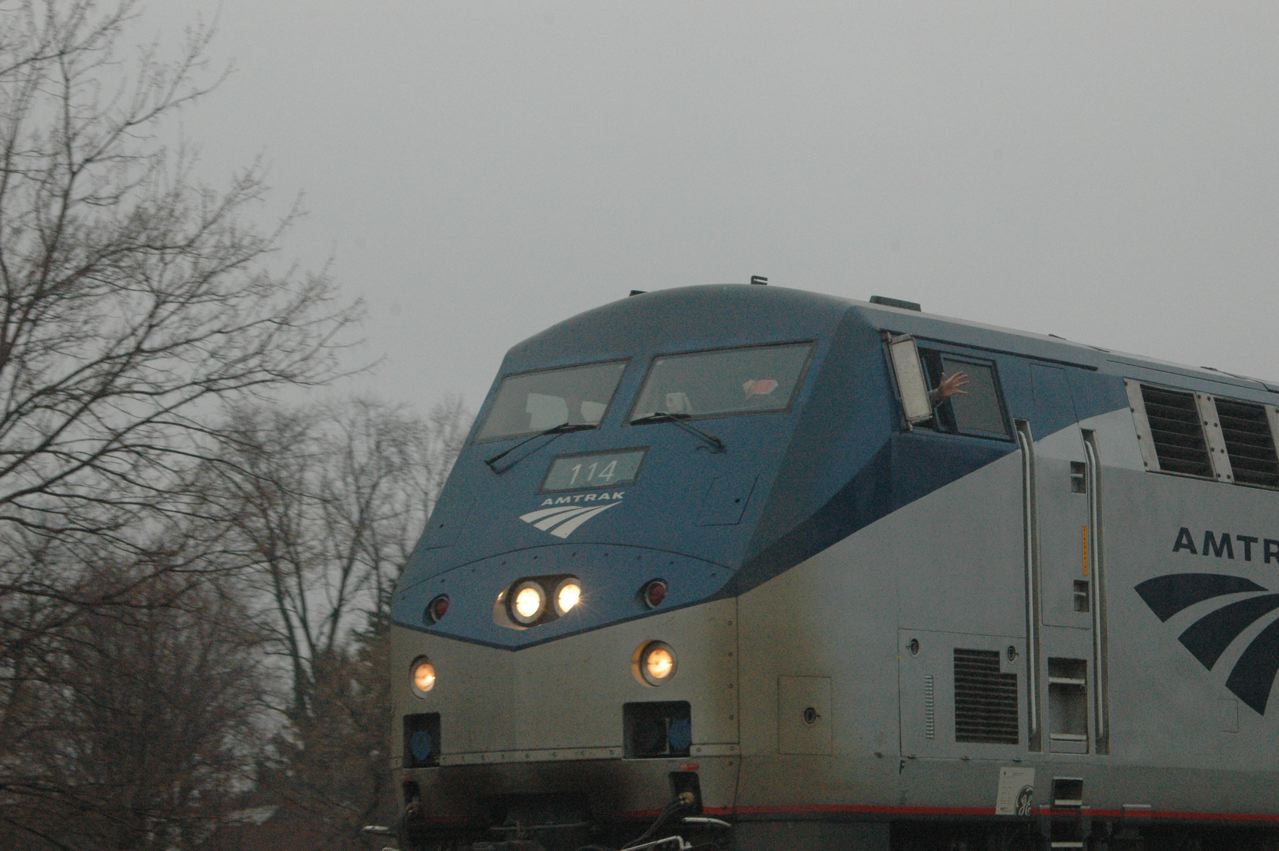 We can't see her, but if she wasn't busy (not likely, given Milwaukee-boarding passengers 20 minutes ago), Car Attendant Rebecca Kutak, whom 3 of us had in our sleeping car from California back to Chicago on the California Zephyr a few weeks ago, is handling the Portland coaches on #27, her first trip on the Builder. She had e-mailed that she'd "wave at me." Her routes include the Zephyr, the Portland section of the Builder, the San Antonio section of the Eagle, and the Boston section of the Lake Shore. I made sure Mr. Willett introduced himself to her, and told her to tell him to give her a good smooth ride, which isn't really necessary as he is a top-notch engineer.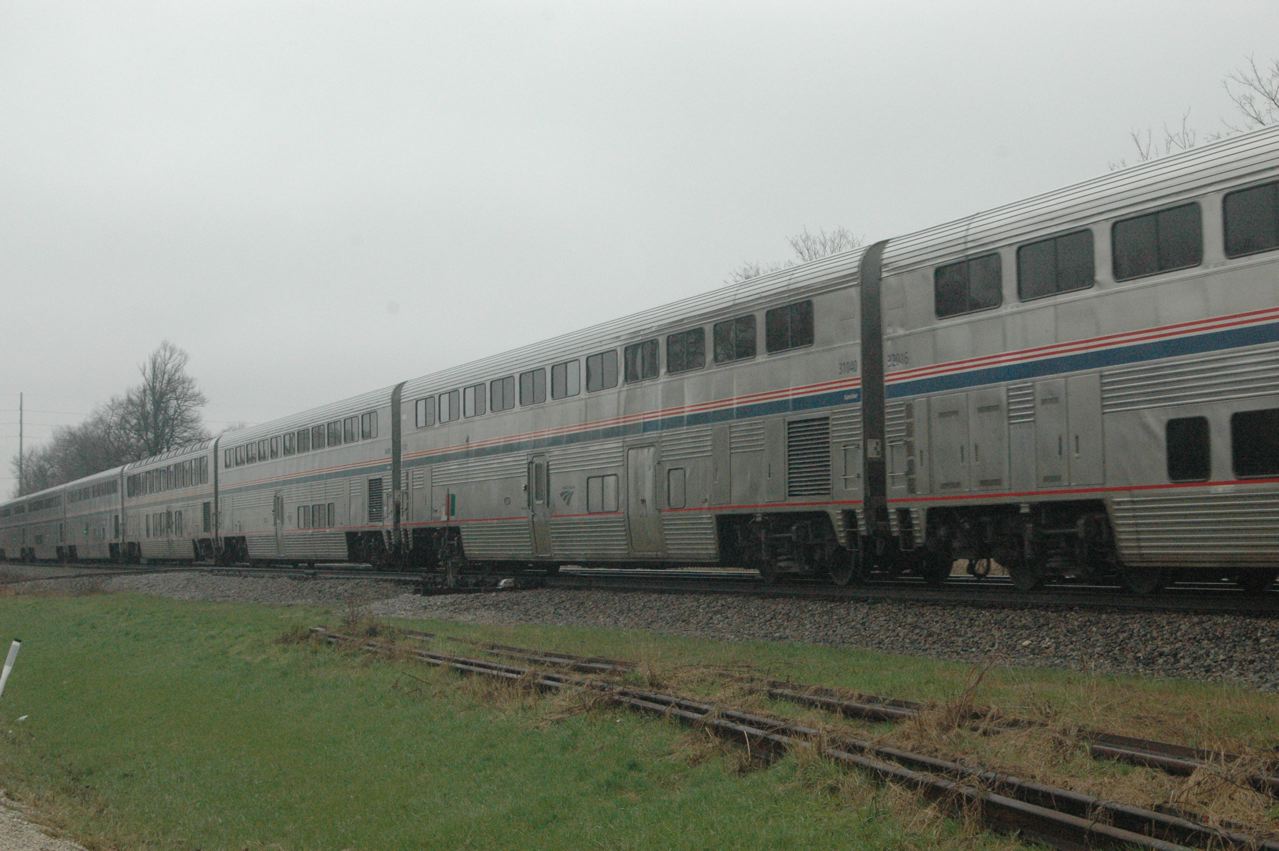 It's April 22 and a dreary day. We've watched Mr. Willett go thru Duplainville on #7, and then hearing of a "special cars" train on the Wisconsin & Southern, we go into Waukesha to see what's up. Turns out it's a 60-car train of wind turbine blades, received off the UP in Janesville and bound for Cambria, Wis., on the WSOR, first of at least two (that I've seen) such shipments. Engines 4051/4008, in town at 1631 hours.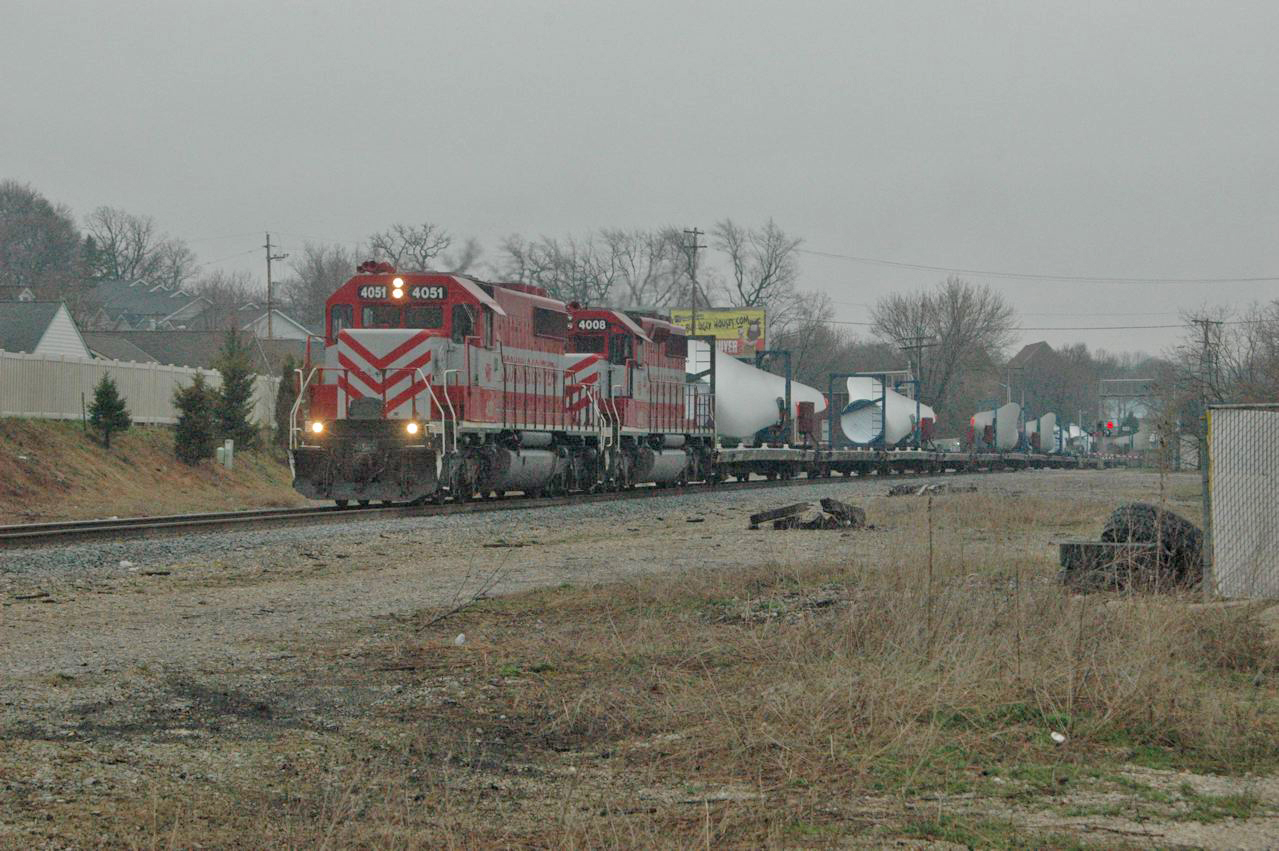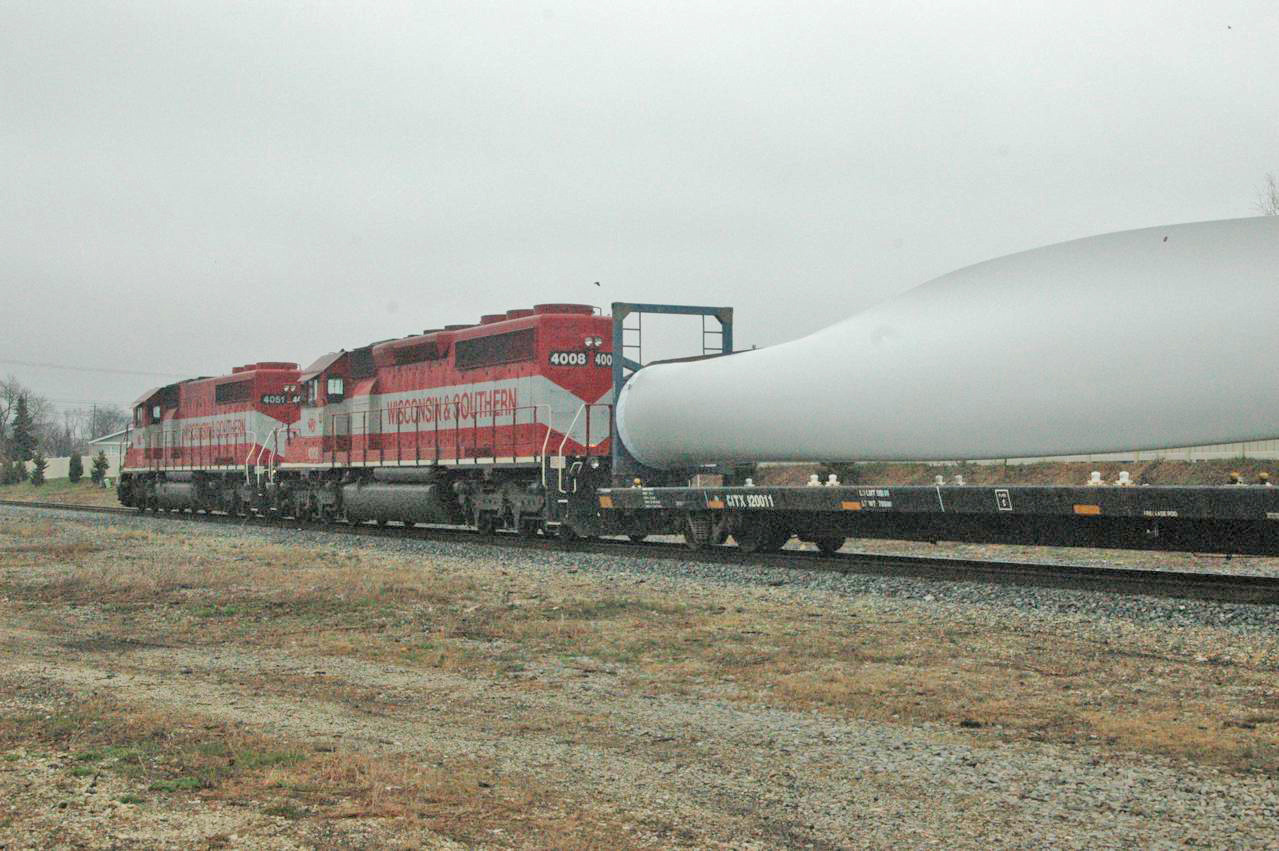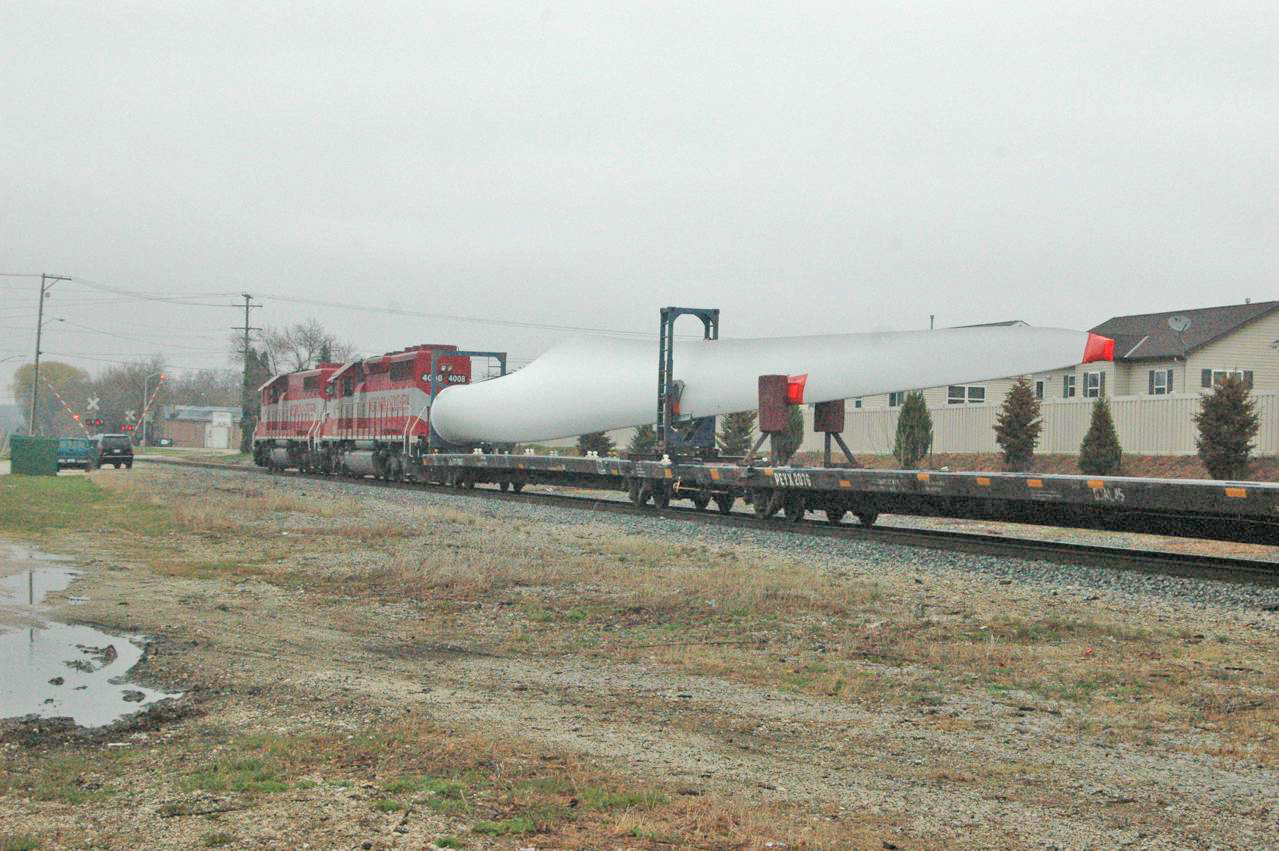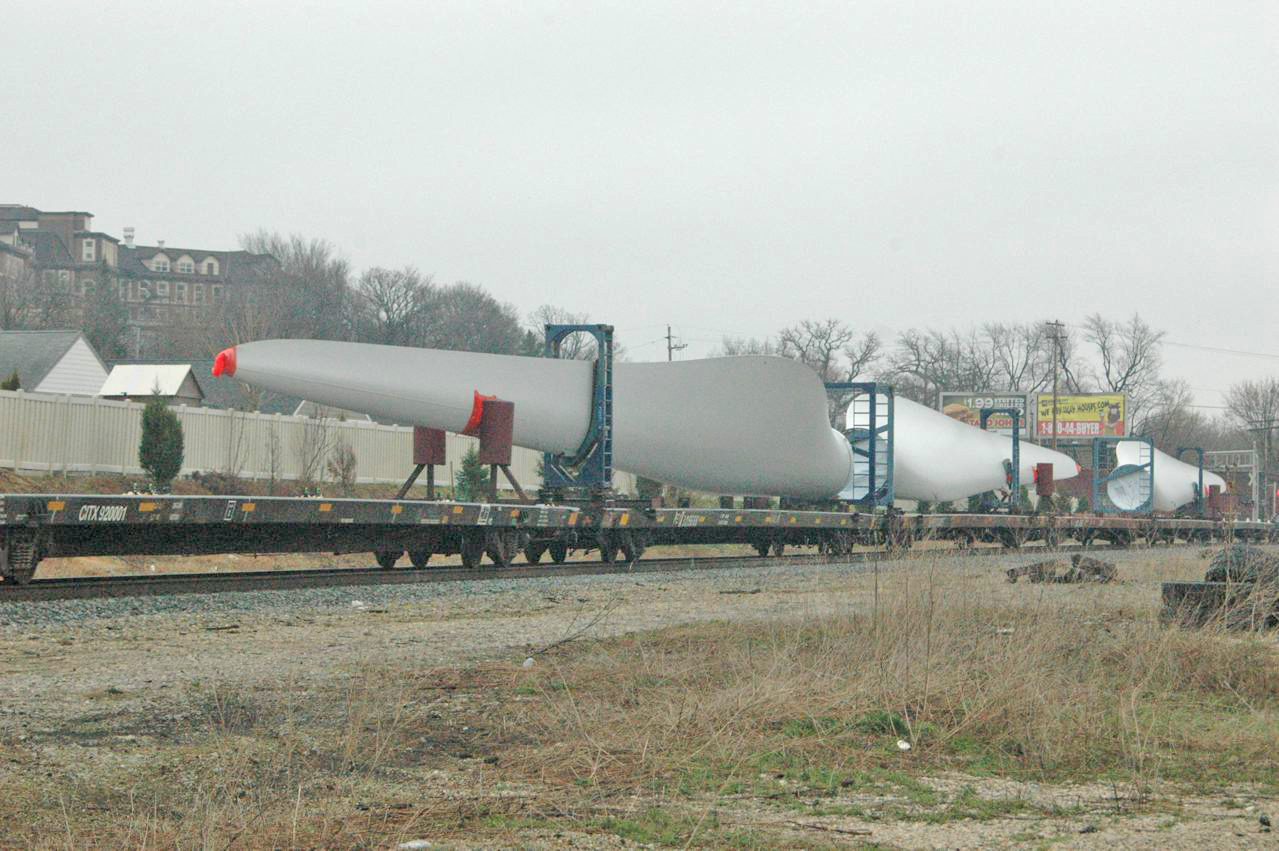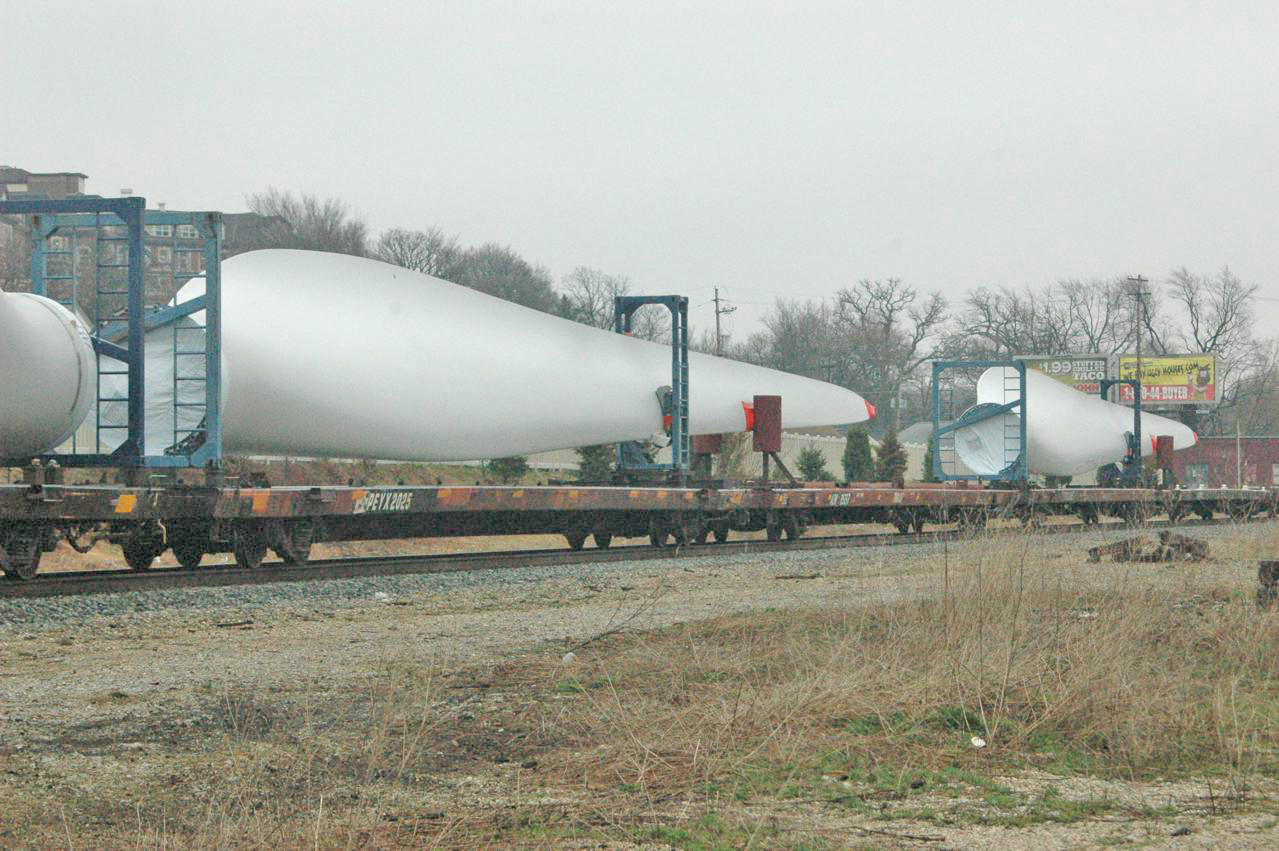 Next day, April 23, is a nicer day, and here is Mr. Willett on #8 at Pewaukee lakefront, engines 47/51, 1514 hours, about 90 minutes late. I positioned myself for the going-away shot with the high-gas-price sign (this station is notoriously higher than anything in the area), and darned if a pedestrian walking a dog crossed just about the time I made this shot, rating some extra whistling in anger by the engineer. The ped stopped short of walking thru my going-away shot, perhaps because I had the big telephoto lens on my slide camera, and he couldn't miss what I was doing.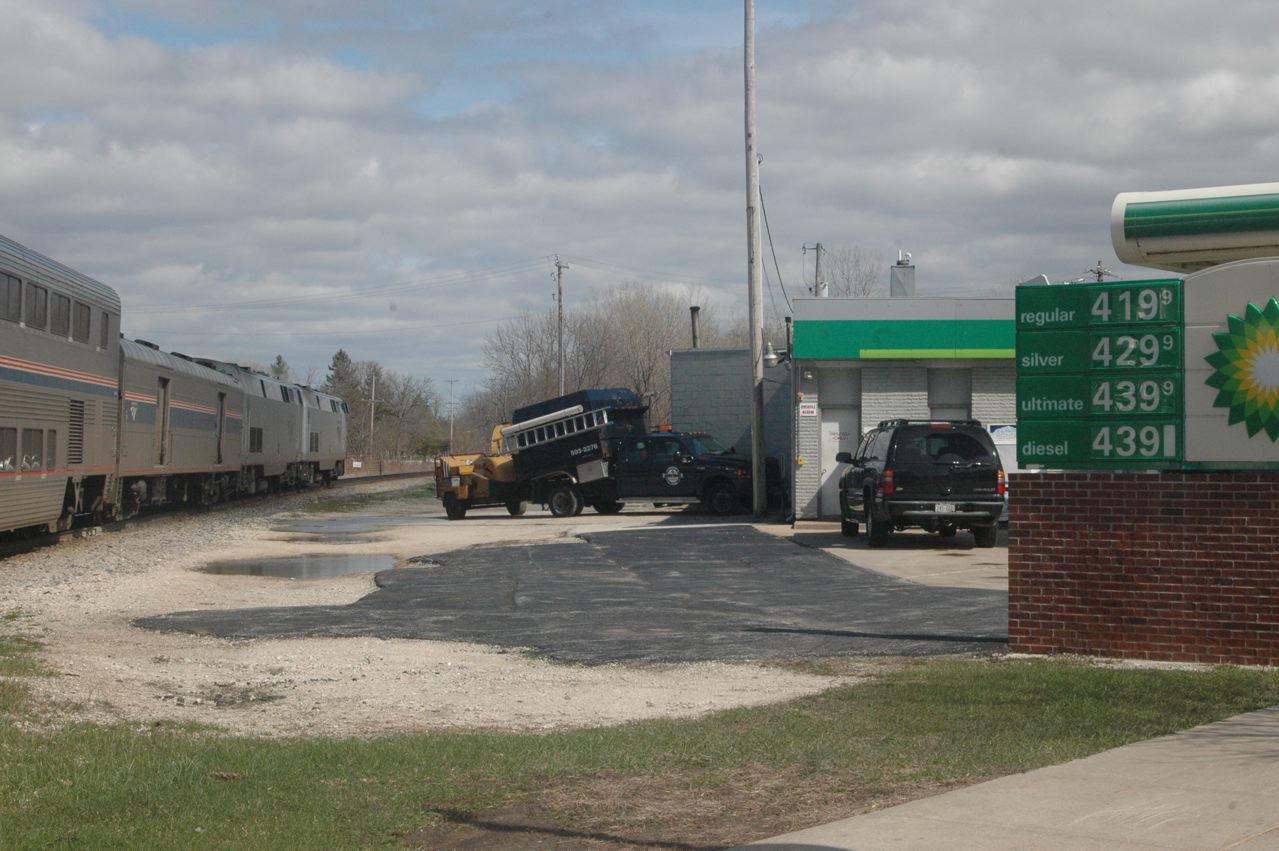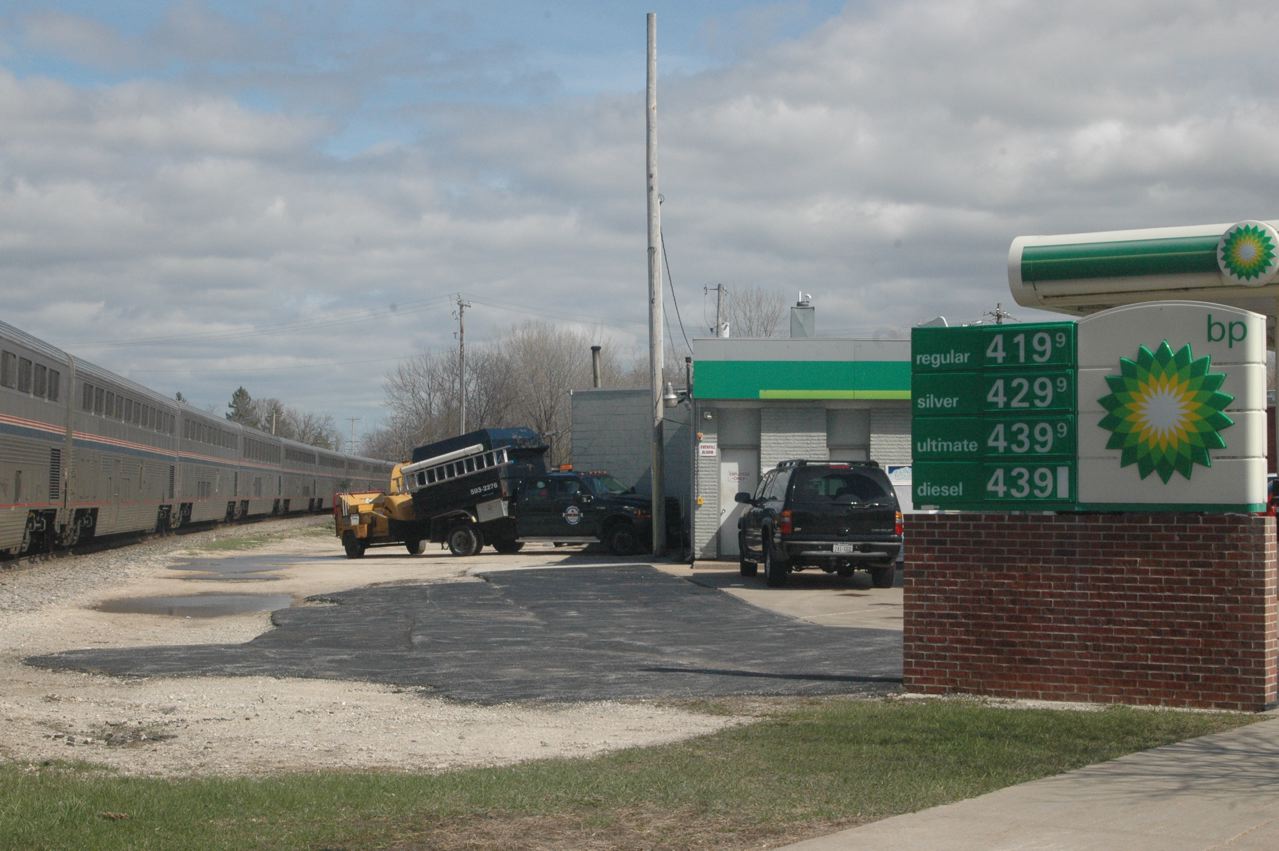 On Sunday, the 24th, there was little enough traffic on busy Hwy. 164 at Waukesha's east end to stop and have Carol take photos of the UP (ex-CNW) track coming into town, which apparently will see no more trains, to the one shipper behind the trees on the right in this first, westward looking, photo. ETTS, UP in Waukesha!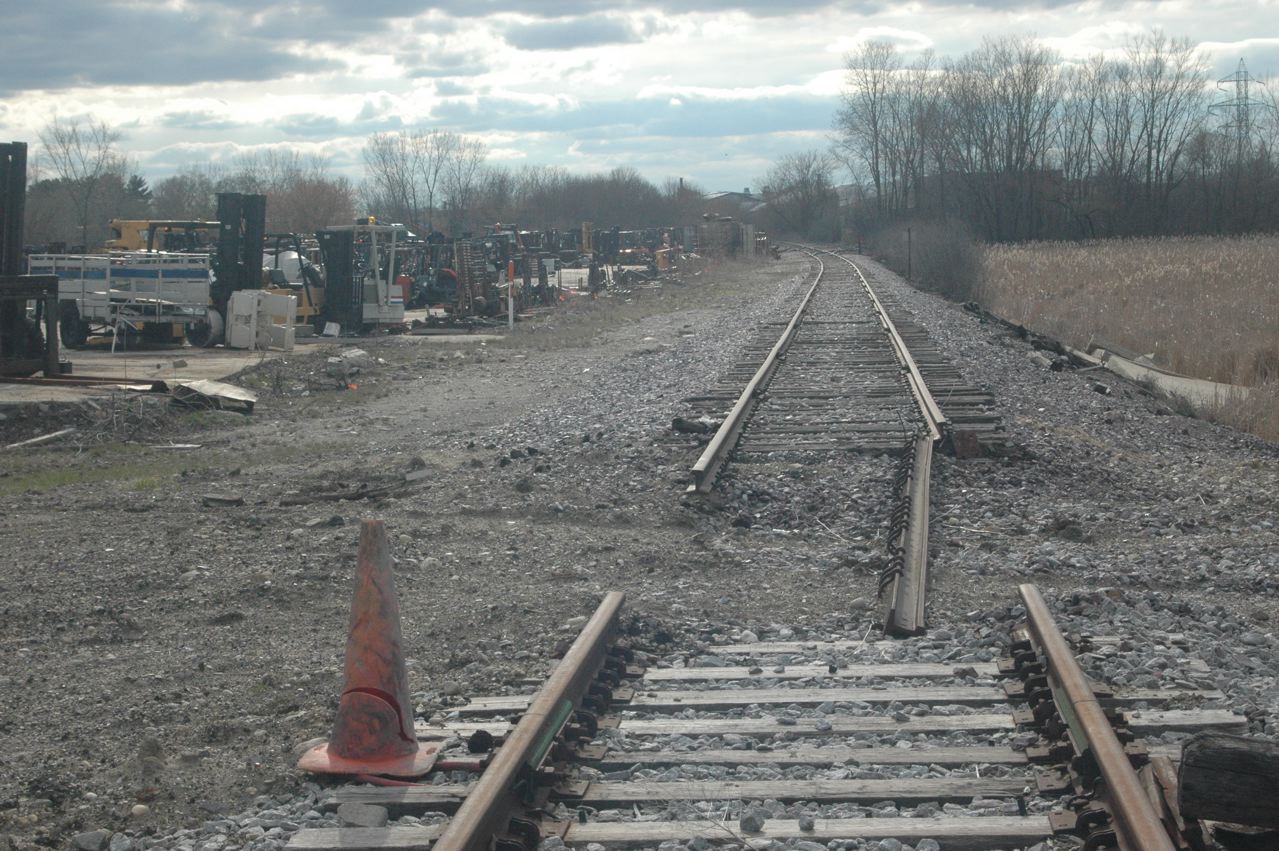 Looking east at the back of the red paddle. There are no businesses on this line west of the New Berlin industrial park about 4 or 5 miles east of here.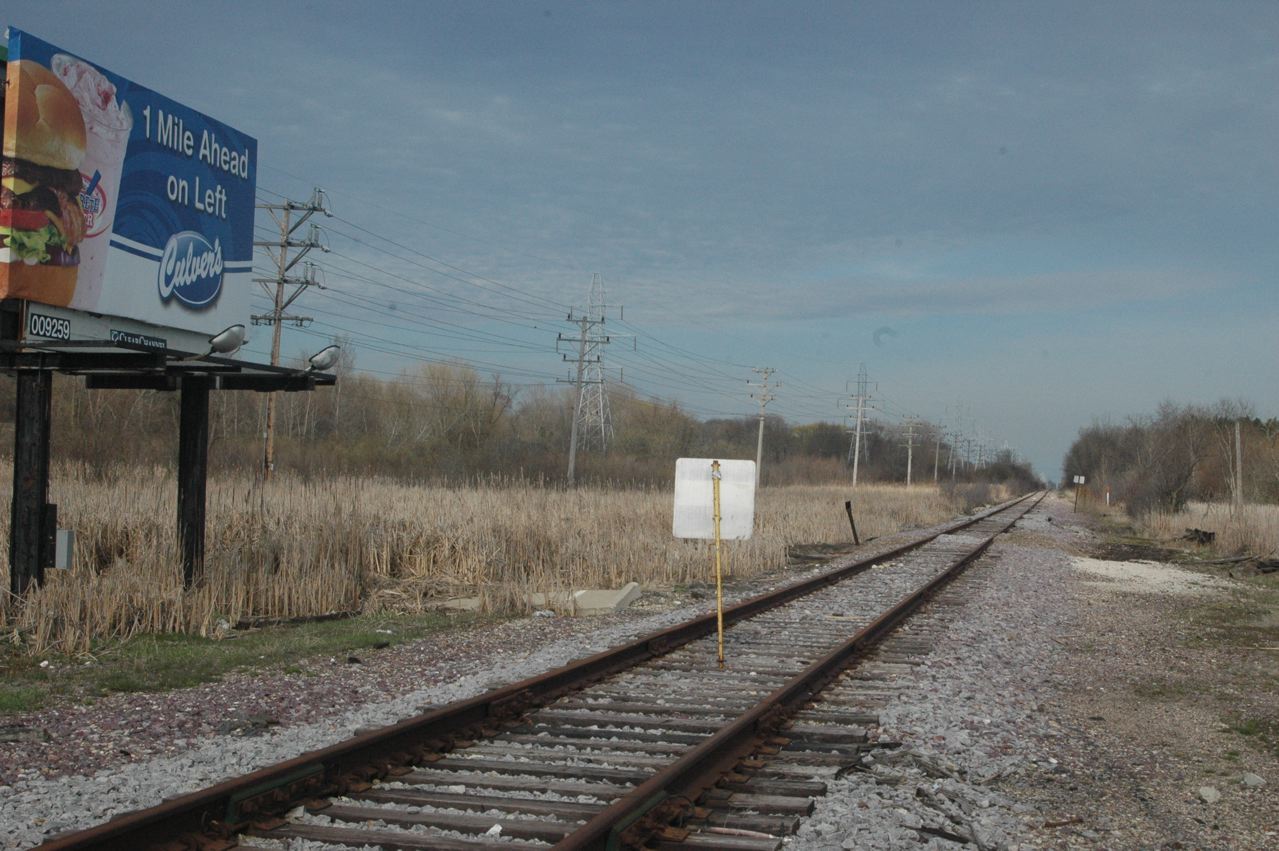 After a week of solid clouds and/or rain, and cool temps, Friday, April 29 will be a goodie, so Carol and I set out for Bulrington for lunch, where the Charcoal Grill is not only on the CN (ex-WC, ex-Soo, nee original WC) main line, but whose interior is festooned with all kinds of railroad photos, historic local ones up front and around toward back, famous and much-seen posters, emblems, photos, etc. We begin by waiting for a lined-up southbound CN at the south end of Waukesha, at the West Ave. crossing near the Amron spur; it's #336 with 5757/8878 and 76 cars, at 1104 a.m.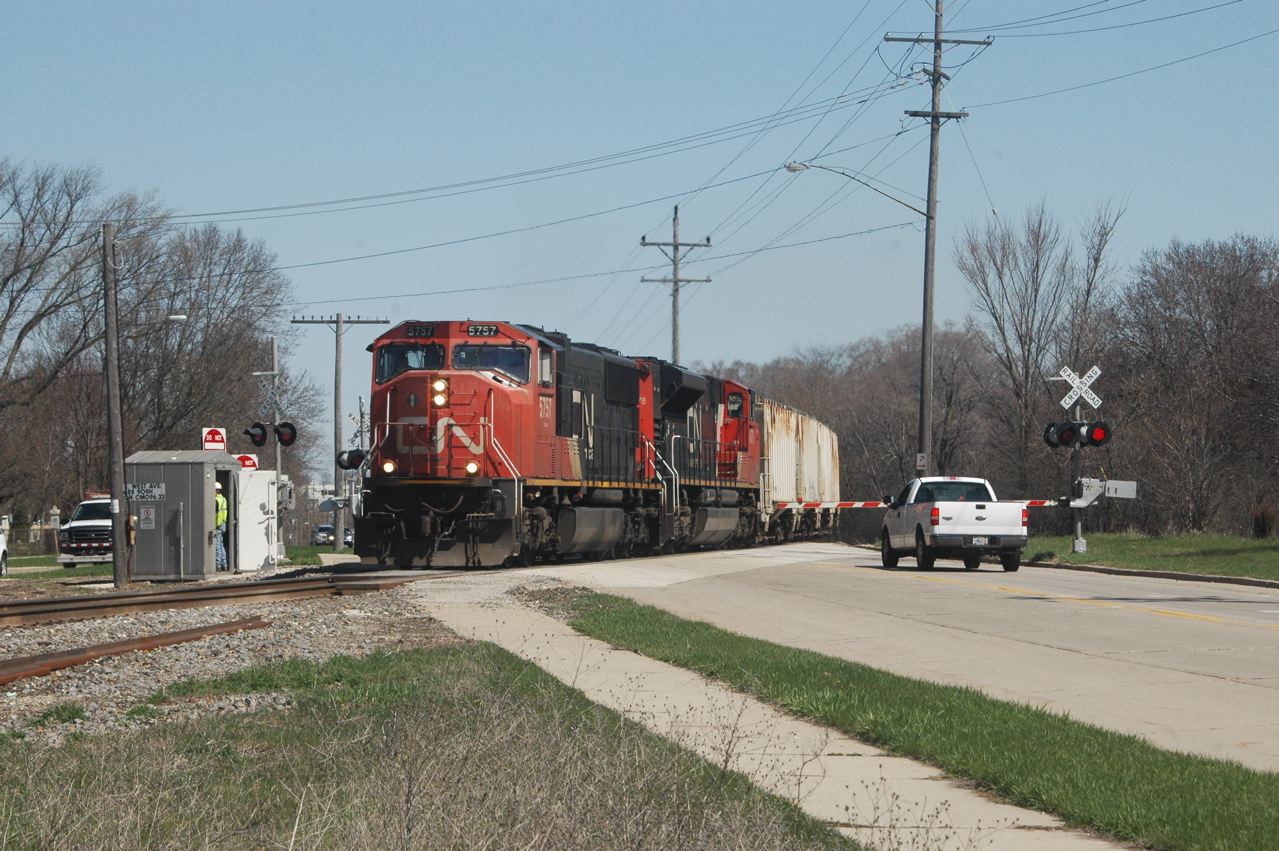 In Mukwonago we hear a false readout on the MP 94 detector. Nothing shows up, so I shoot these images of local business on CN which I hadn't known existed. This explains the loads of logs going north thru Waukesha, to attach to presumably southbound thru trains. The depot used to be just to the right here. The May 9, 2011, "photo of the day" on TRAINS web site shows Soo's Laker passing that depot in 1963. Trains Associate Editor Andy Cummings lives not far from the CN tracks in this town.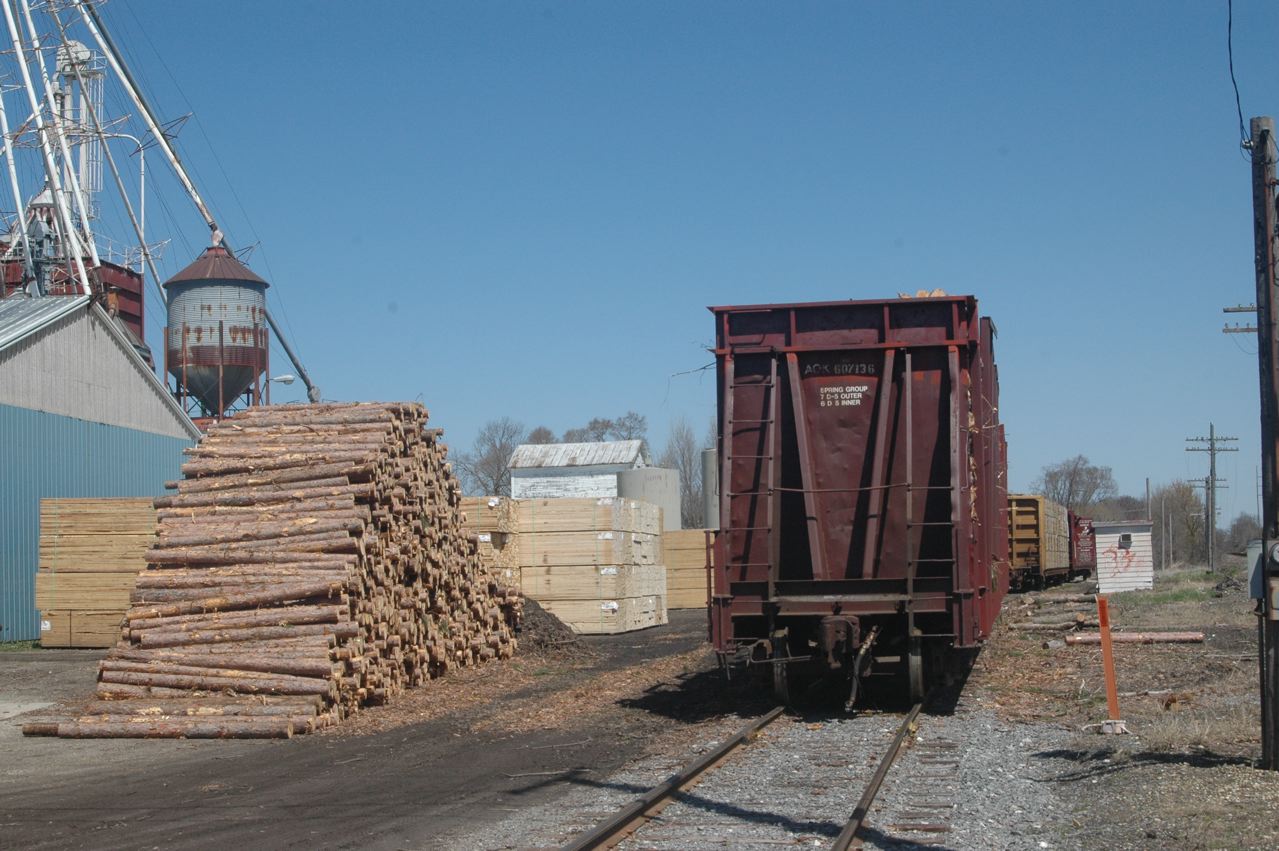 Lumber is being off-loaded from the center-beam car.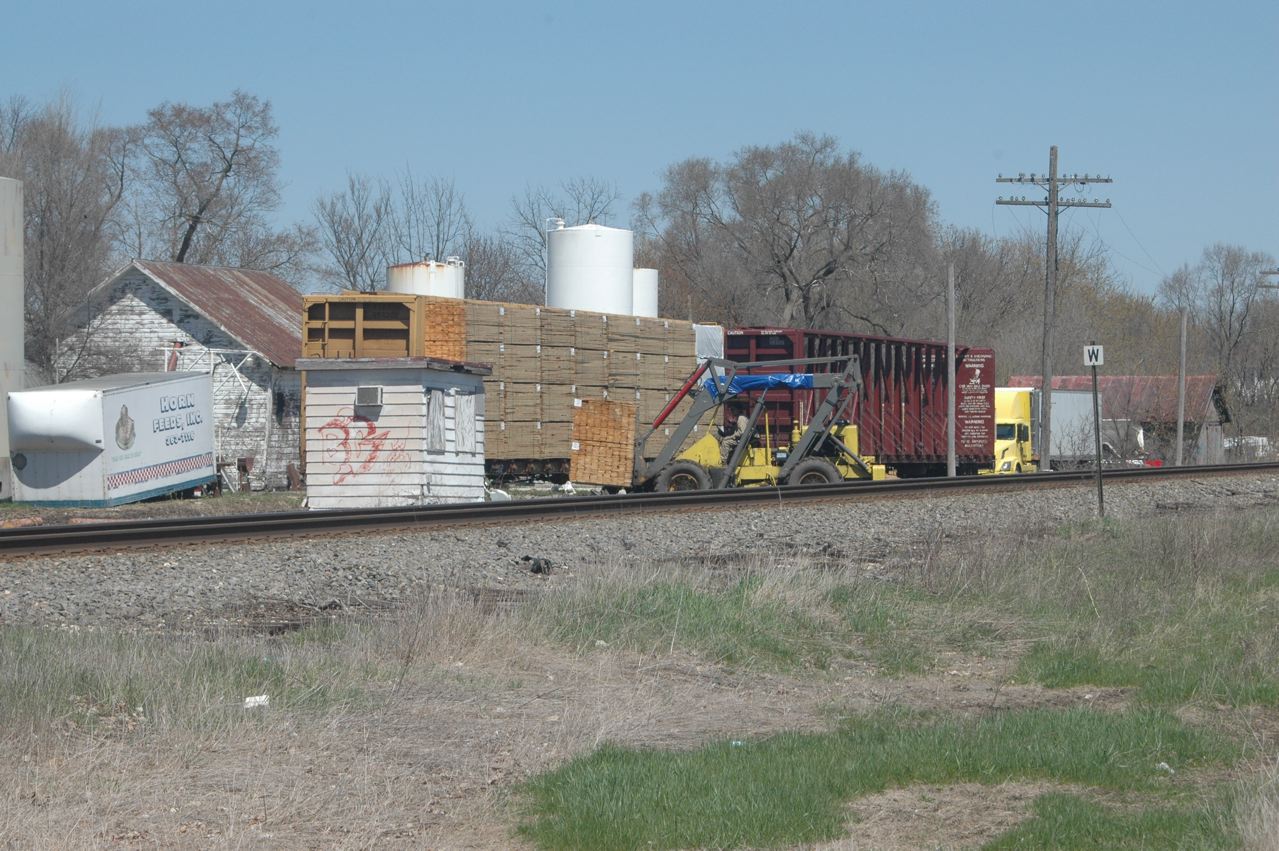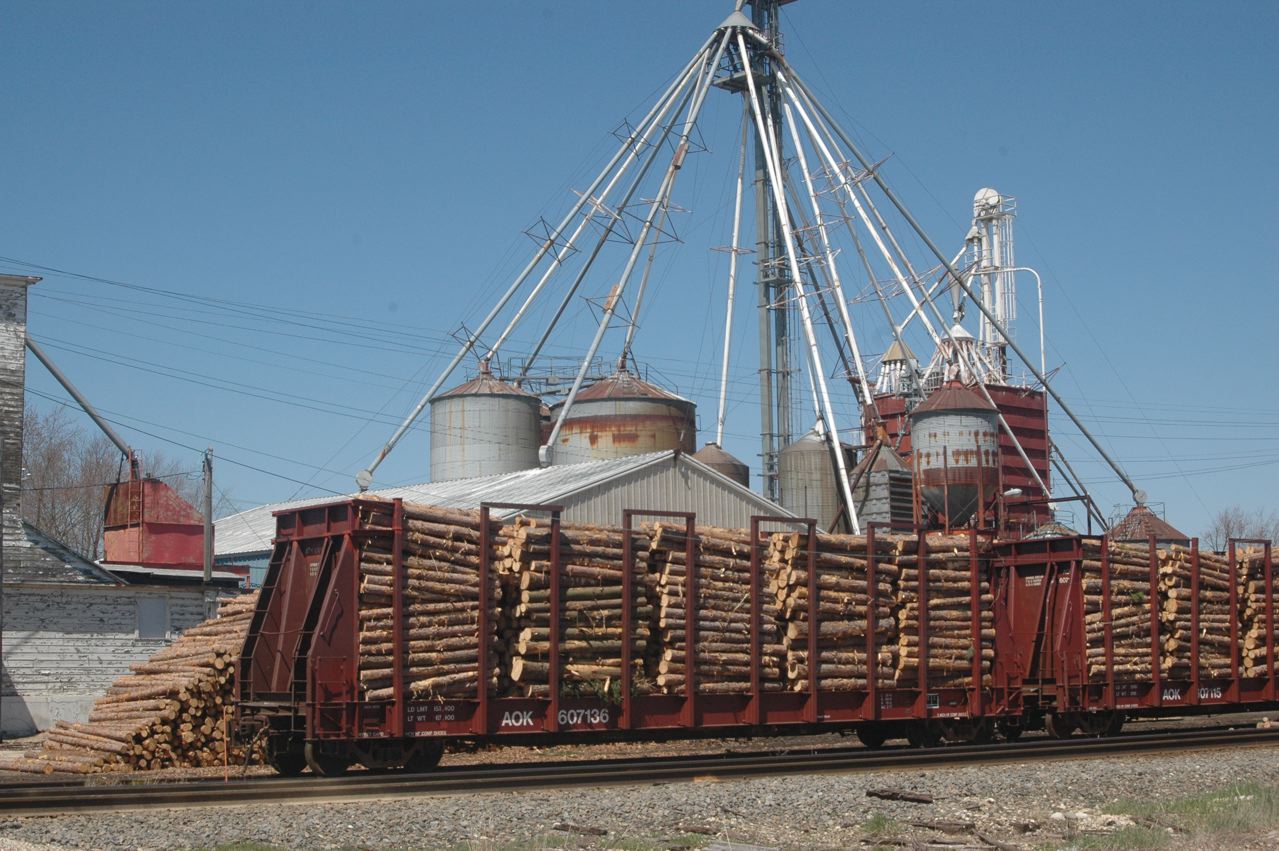 We had a nice lunch, and a nice drive, and didn't see another train. Even local L504 didn't go to Burlington this day! No matter. We go where the action is, which is, as usual, Duplainville. This is #8 w/ 47/64, 11 cars, at 1543 hours, about 2 hours late.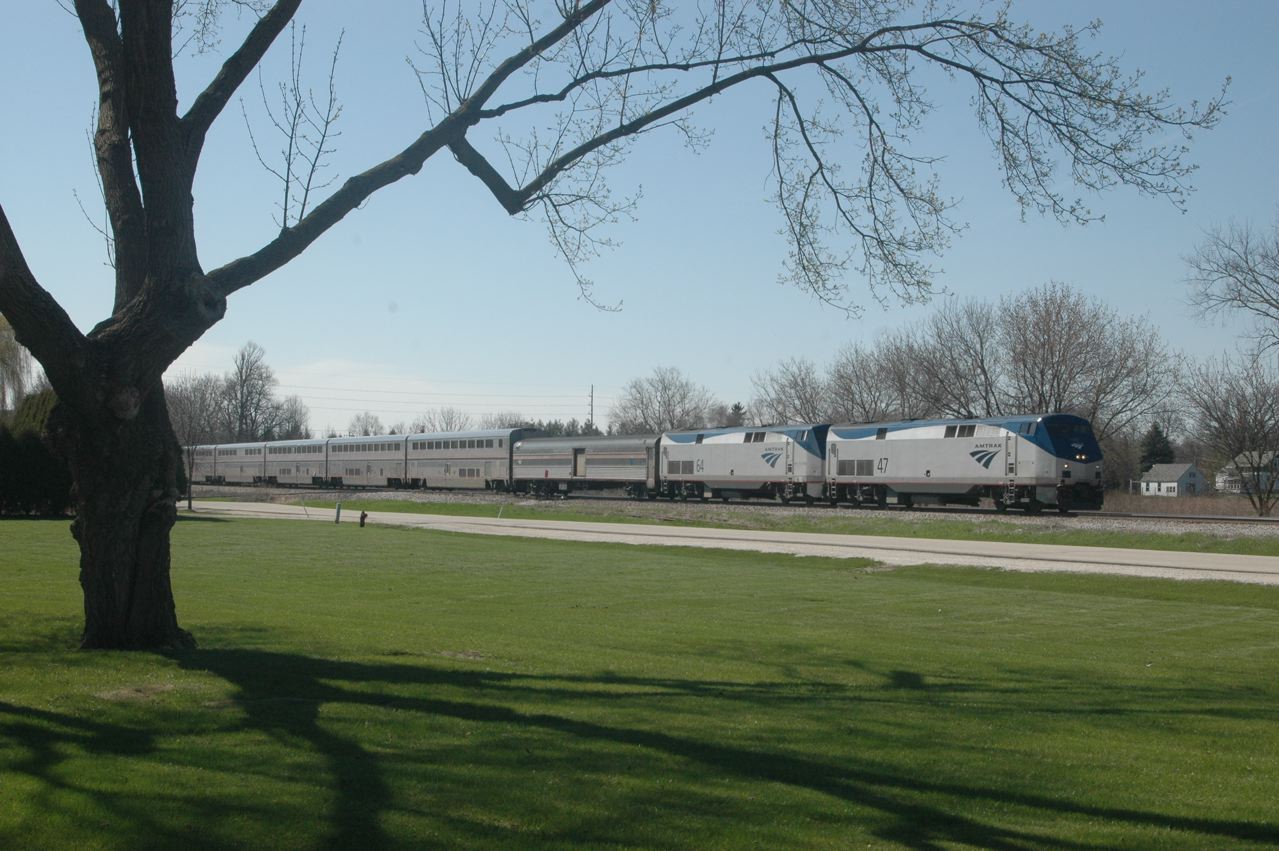 Unit of the day is CN 2141, one of the repainted ex-Santa Fe Warbonnet GE's, at Frame Park in Waukesha leading 5715 and 75 cars on train #446, at 1558 hours. We saw him near Duplainville from afar and raced bad traffic into town to get this!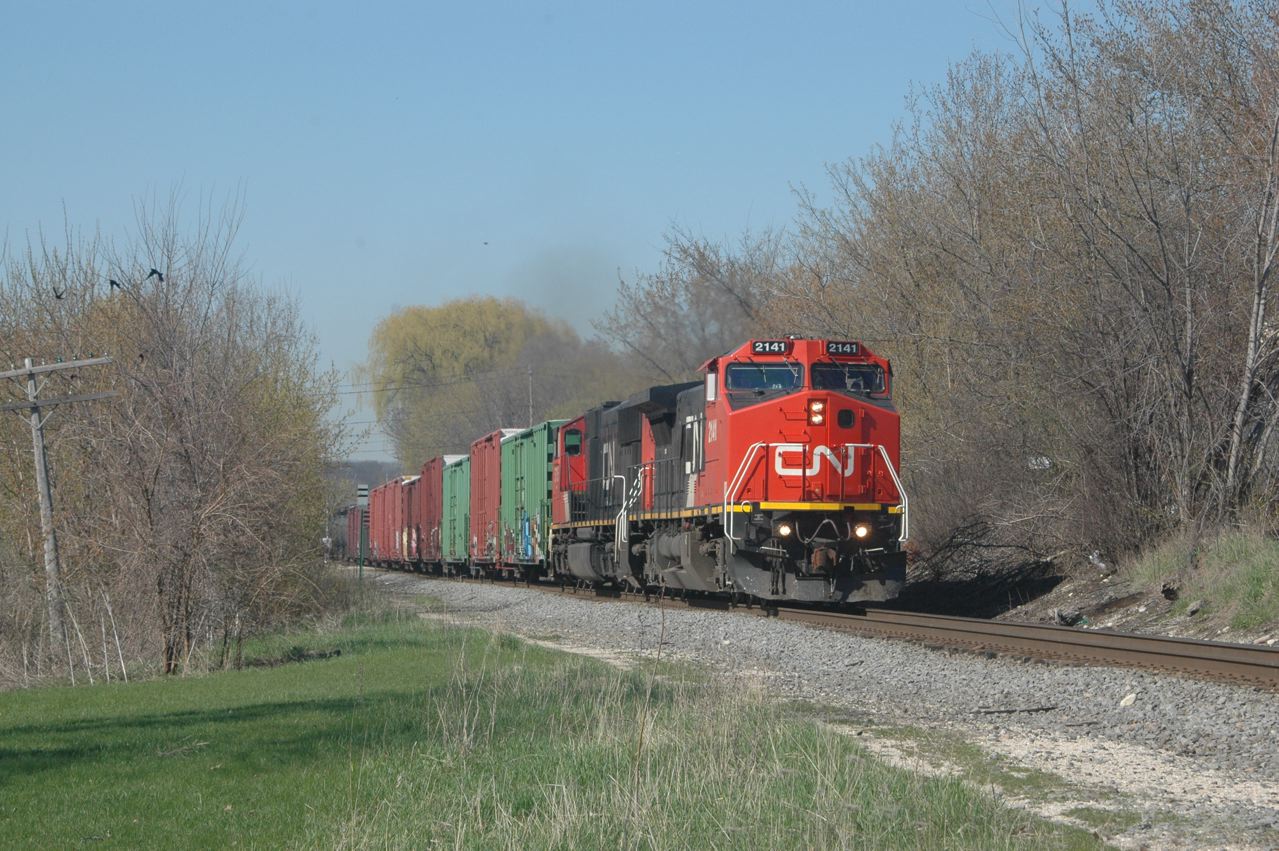 Back at Duplainville, CP #281 is stopped east of Springdale Road so as to allow Amtrak #7 to go by him and clear a dead train parked on Track 1 west of the diamonds. The conductor is off to roll-by Amtrak. It's about 1610.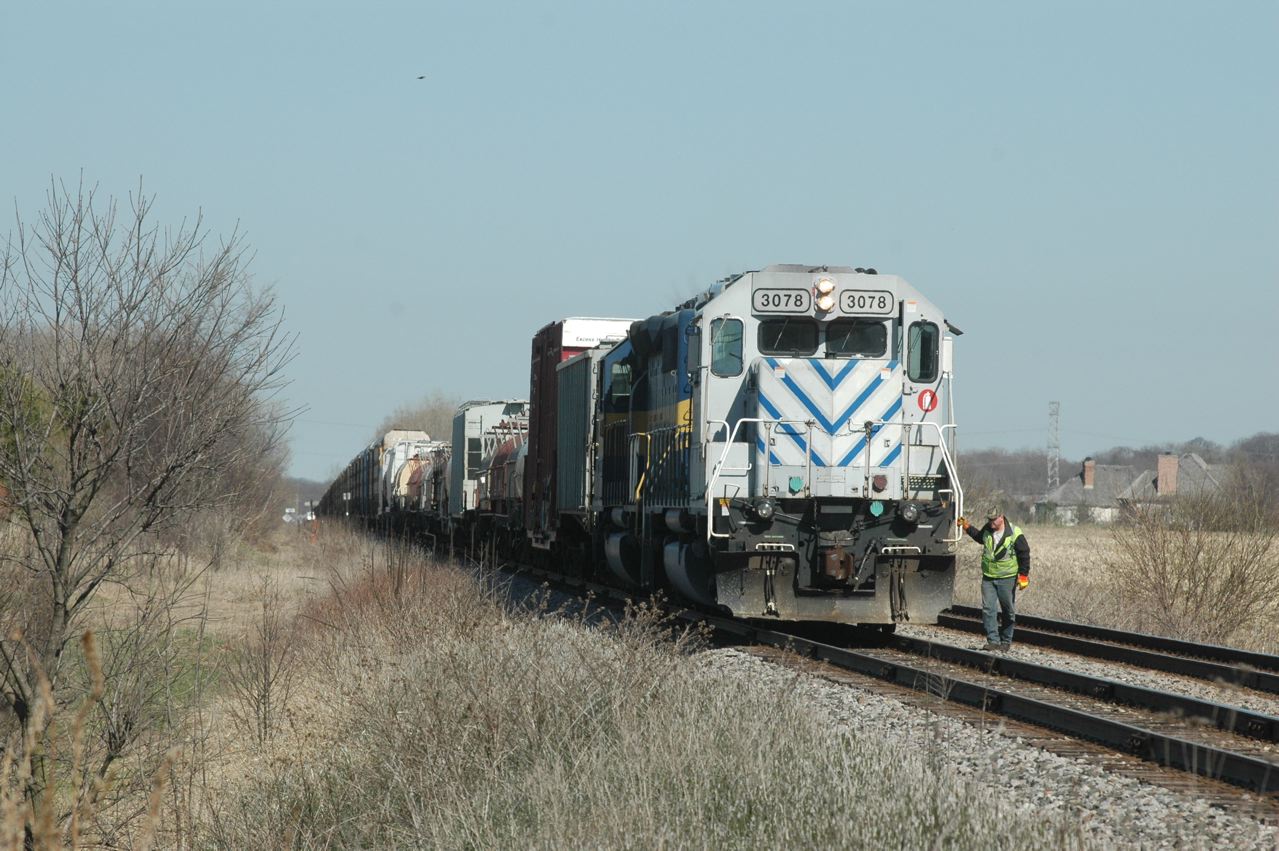 The view from Springdale crossing, south side.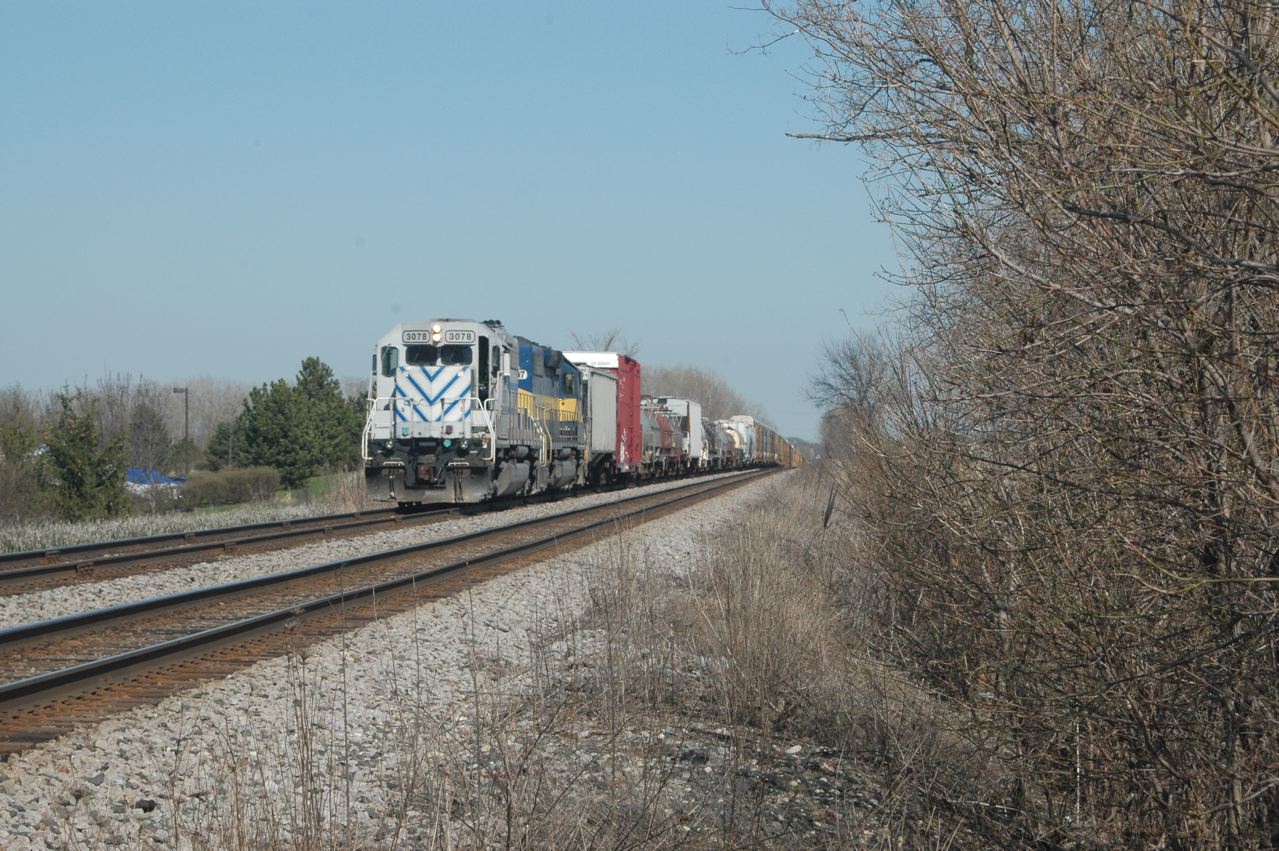 Here comes #7, 174/51, 11 cars, at 1616.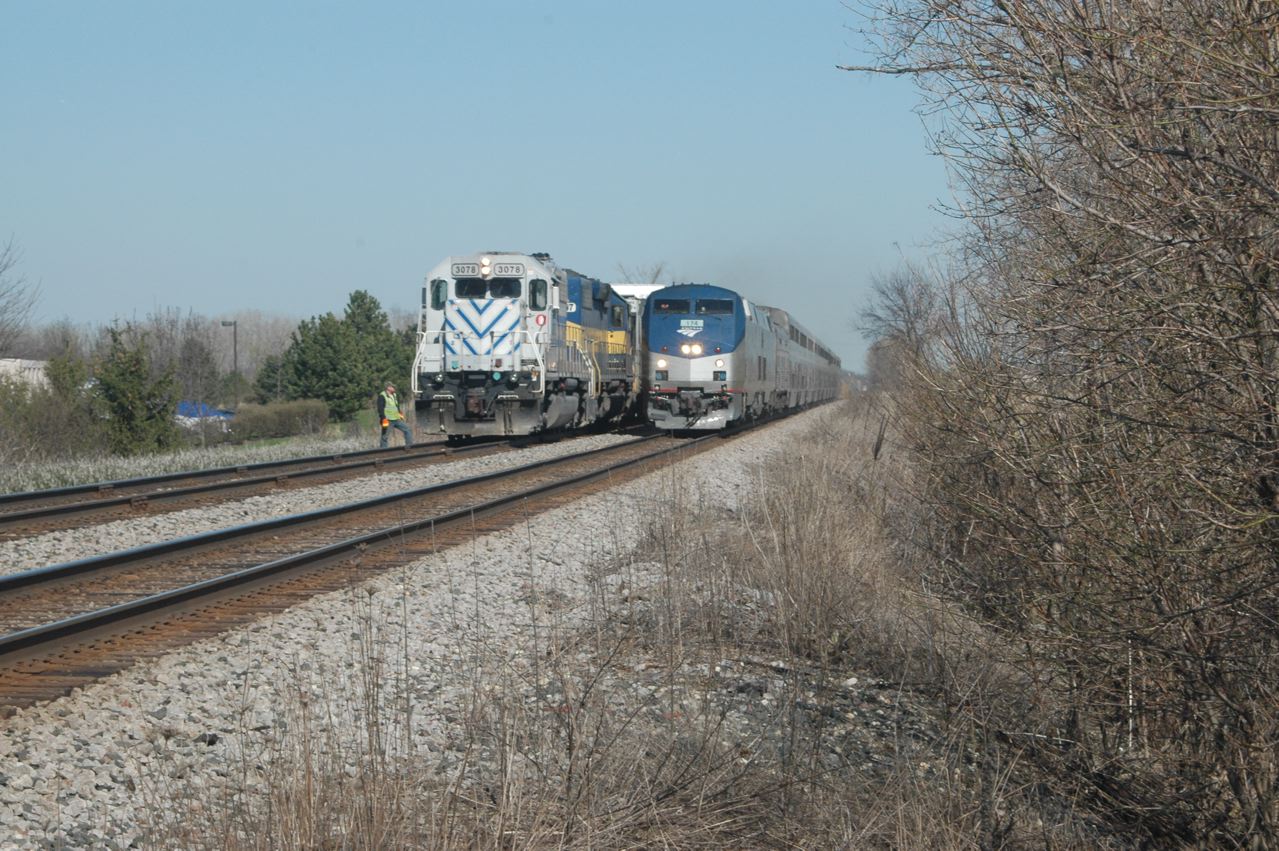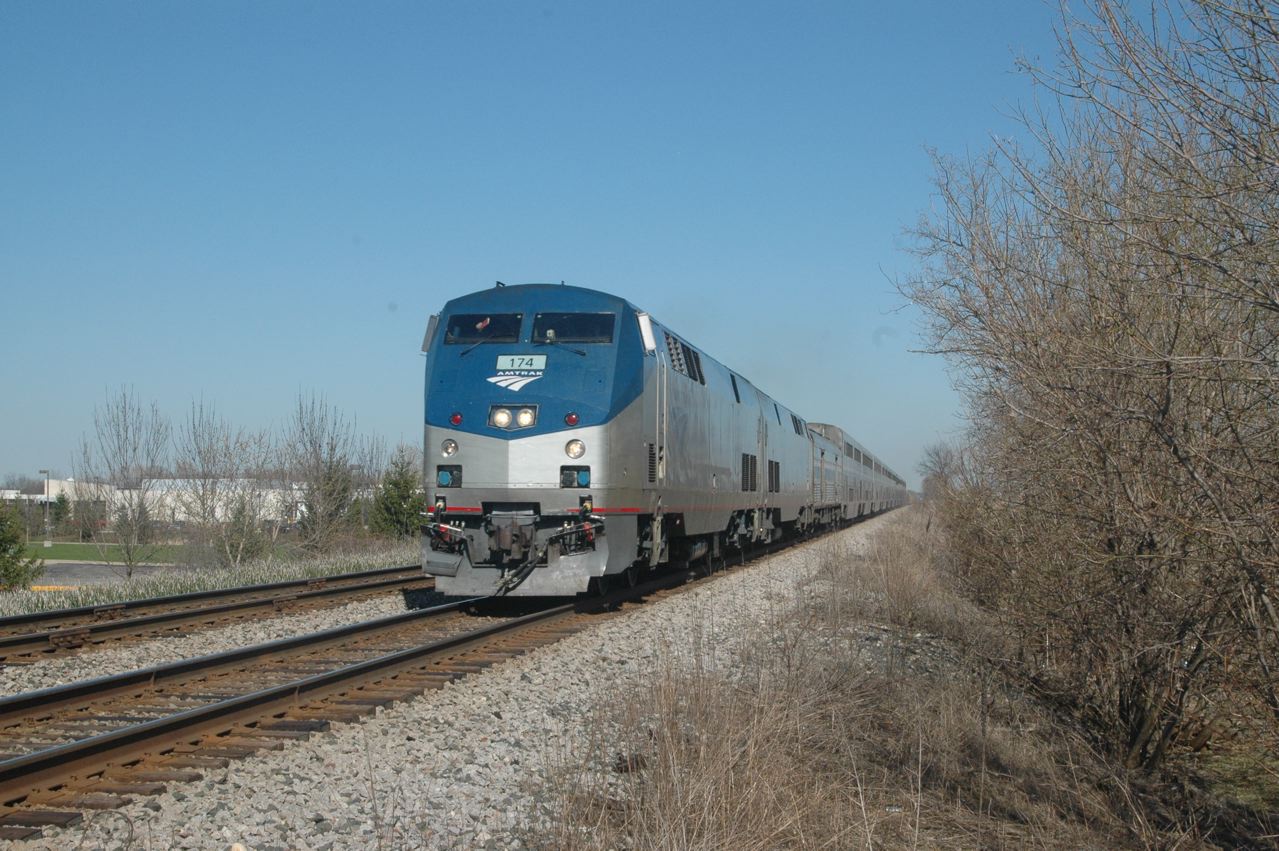 CP #281 leaves at 1619, CITX 3078/IC&E 6437, 70 cars.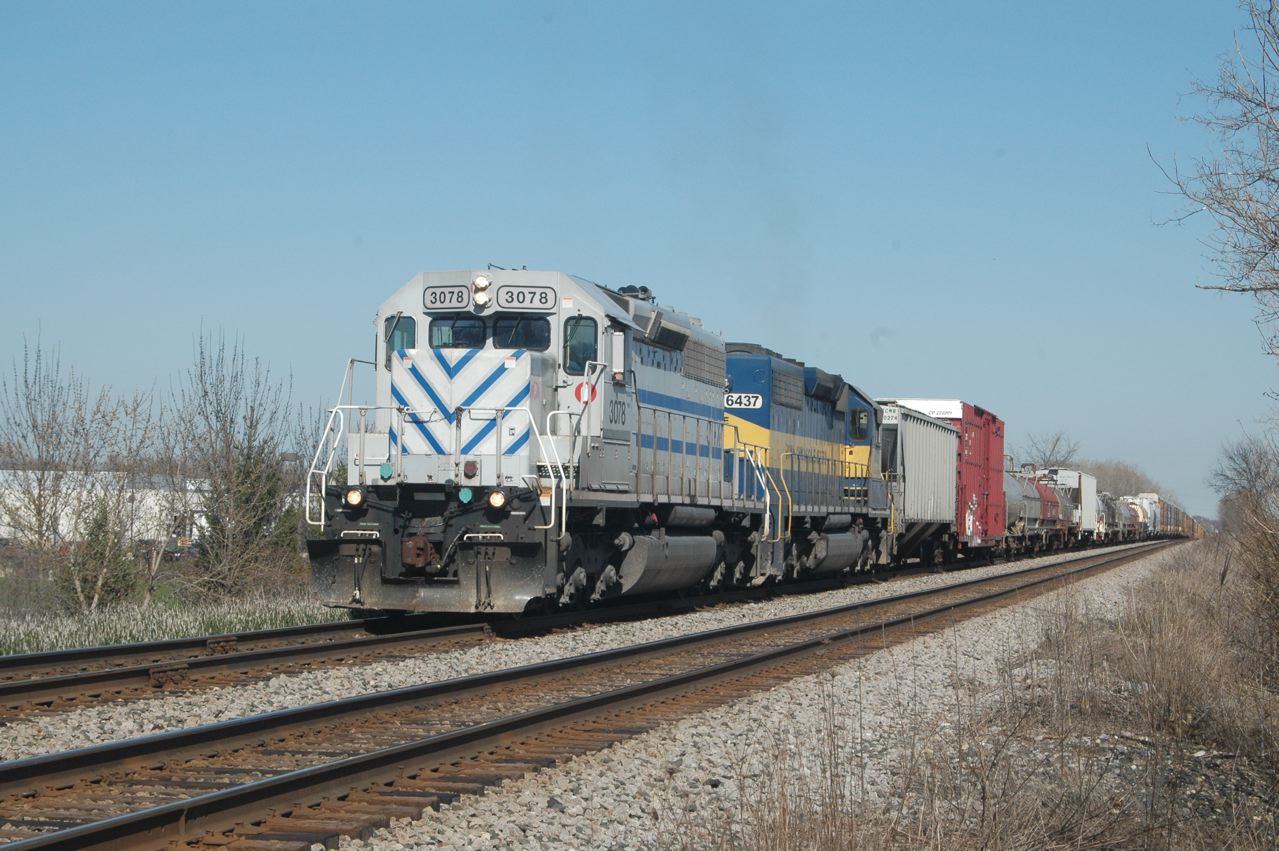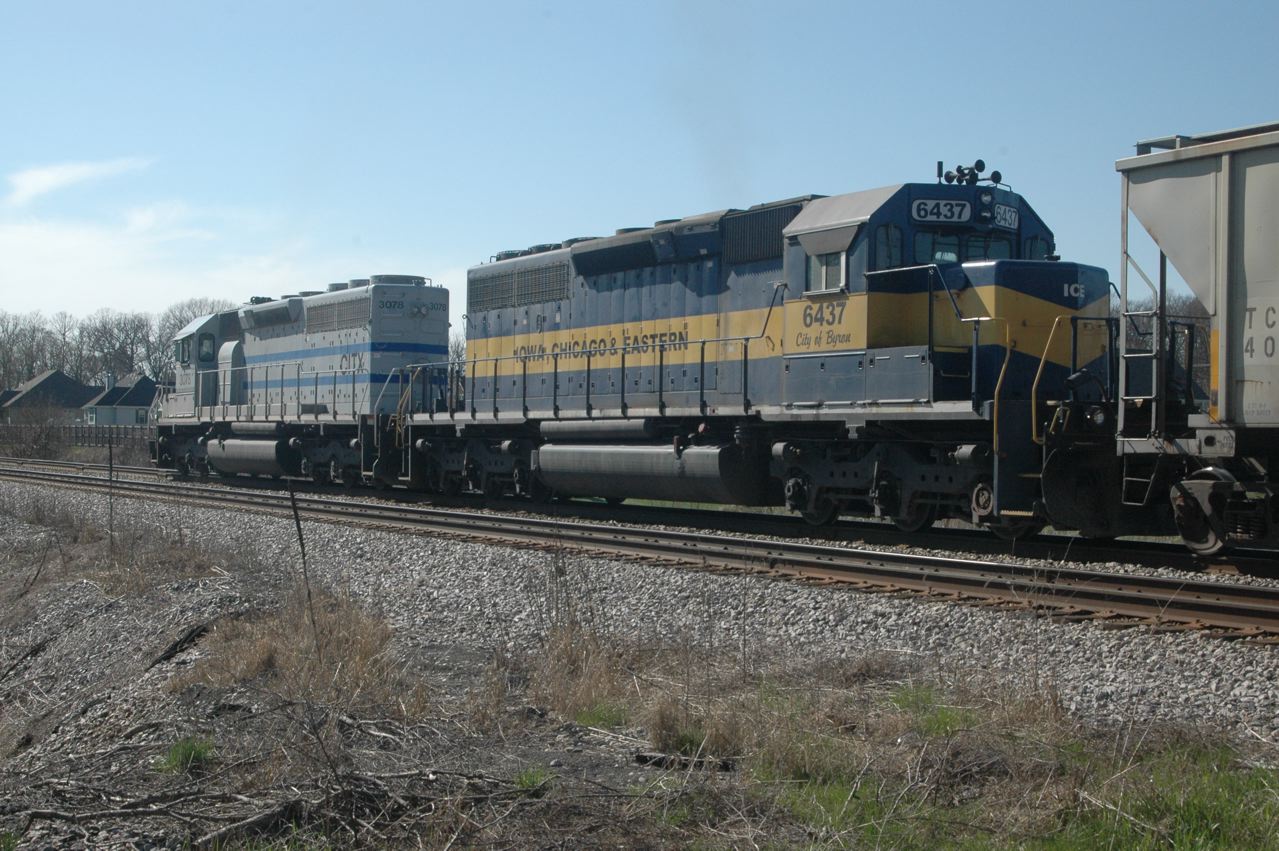 Behind him, at Duplainville at 1648, is 94-car #299, with CEFX 1045 as power.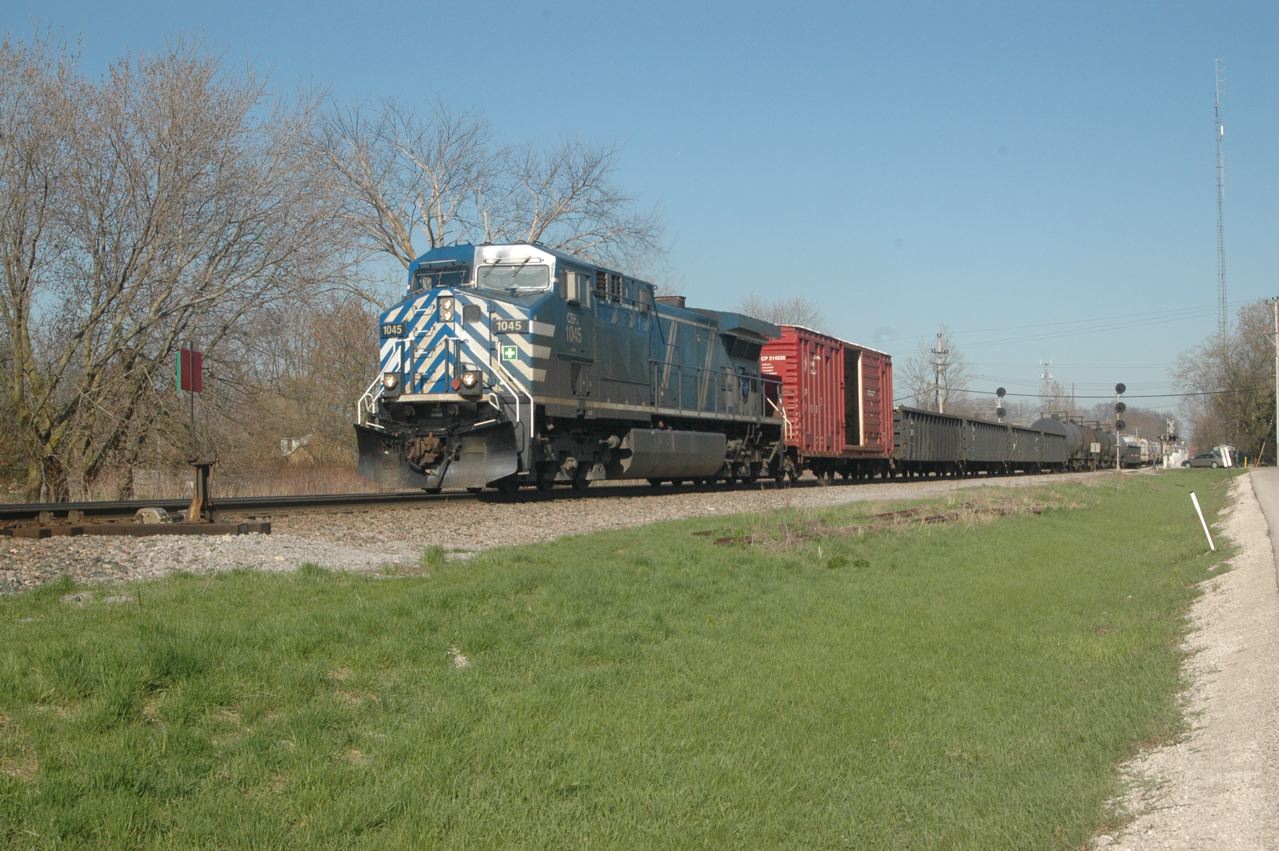 Then the CN parade really begins, having been backed up by the morning's and mid-day's work window. This is #335, 2548/2589, with 141 cars, at MP 103. In the siding is a southbound, possibly #446, which pulled in around 1600 hours. It's now 1707!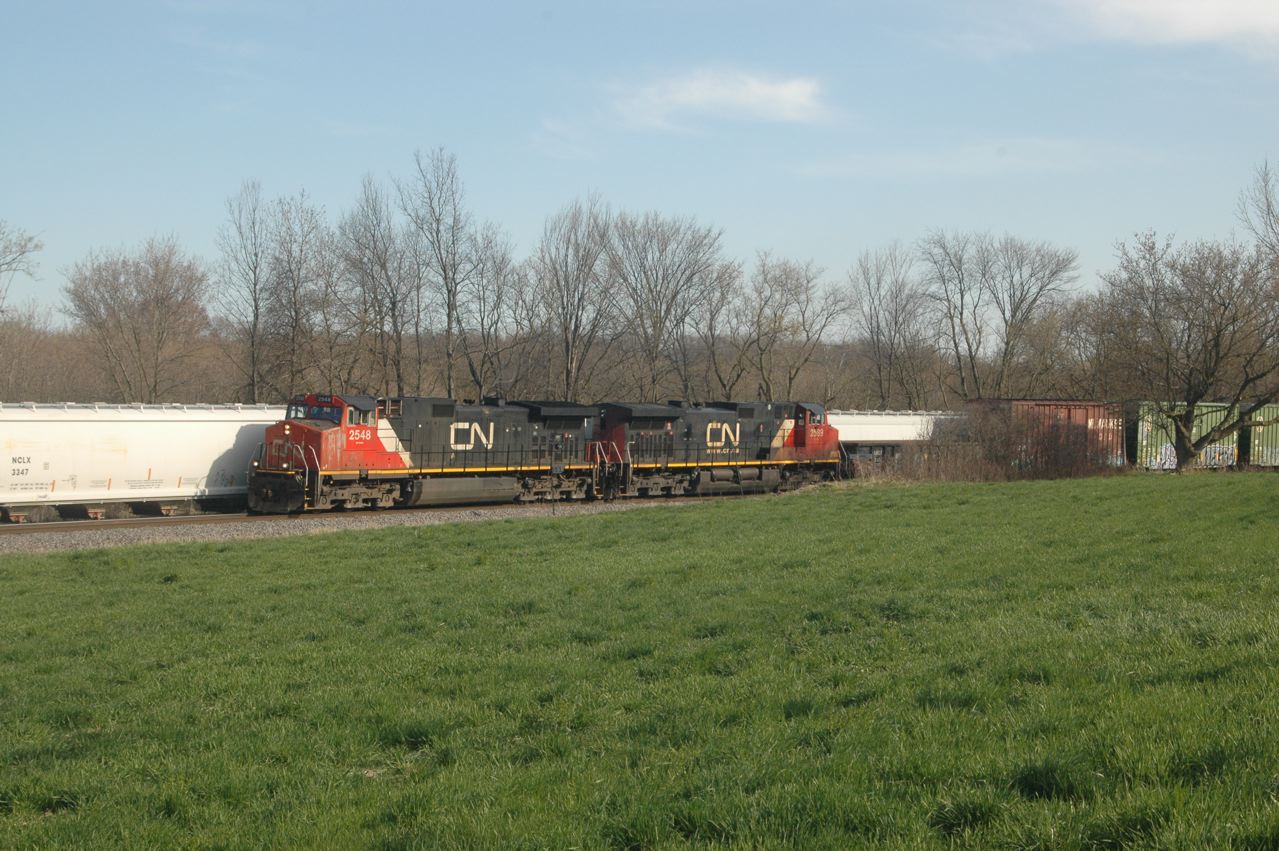 I thought the Minnesota, Dakota & Western ex-MILW boxcar, juxtoposed with regular Duplainville train-watcher Ron Wischer and his brand-new (that day) wheels, made an interesting composition. Ron helps manage a furniture store in West Allis, and once worked for C&NW.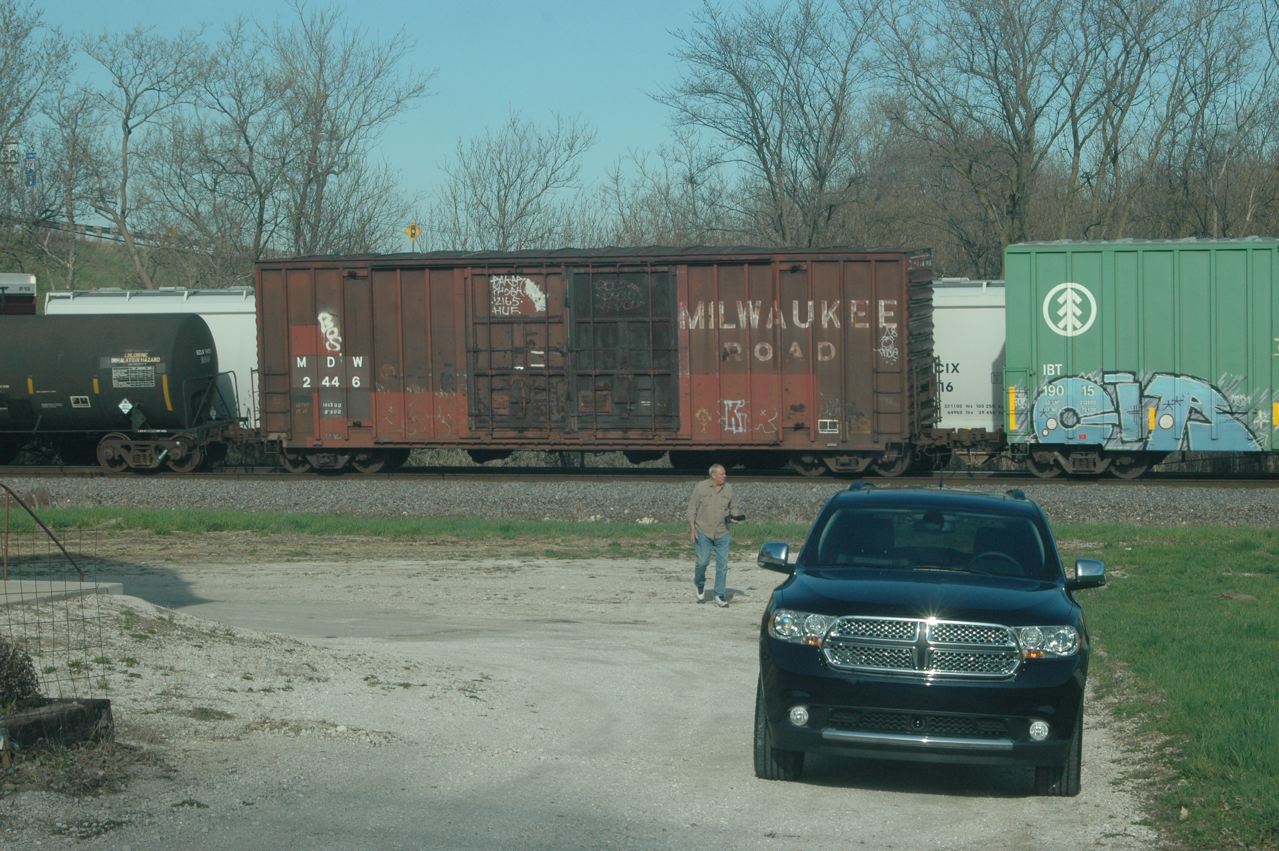 Next up is CP #661, a grain empty with CSX 7858/440 as power, 87 cars, at 1715.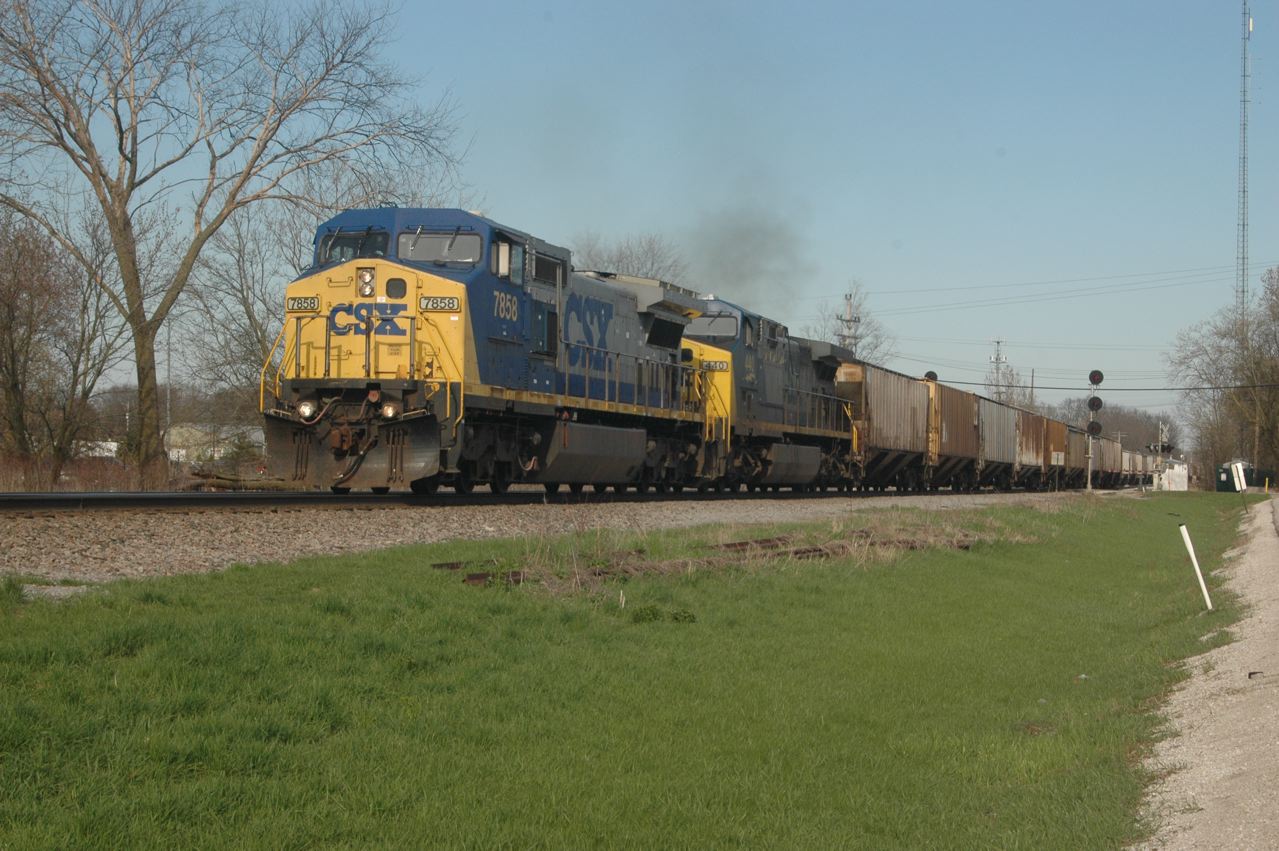 Waiting at Joseph Road south of the diamonds for the southbound CN, we are surprised by another northbound, #341, with 8824/2248 and 127 cars; it's 1728.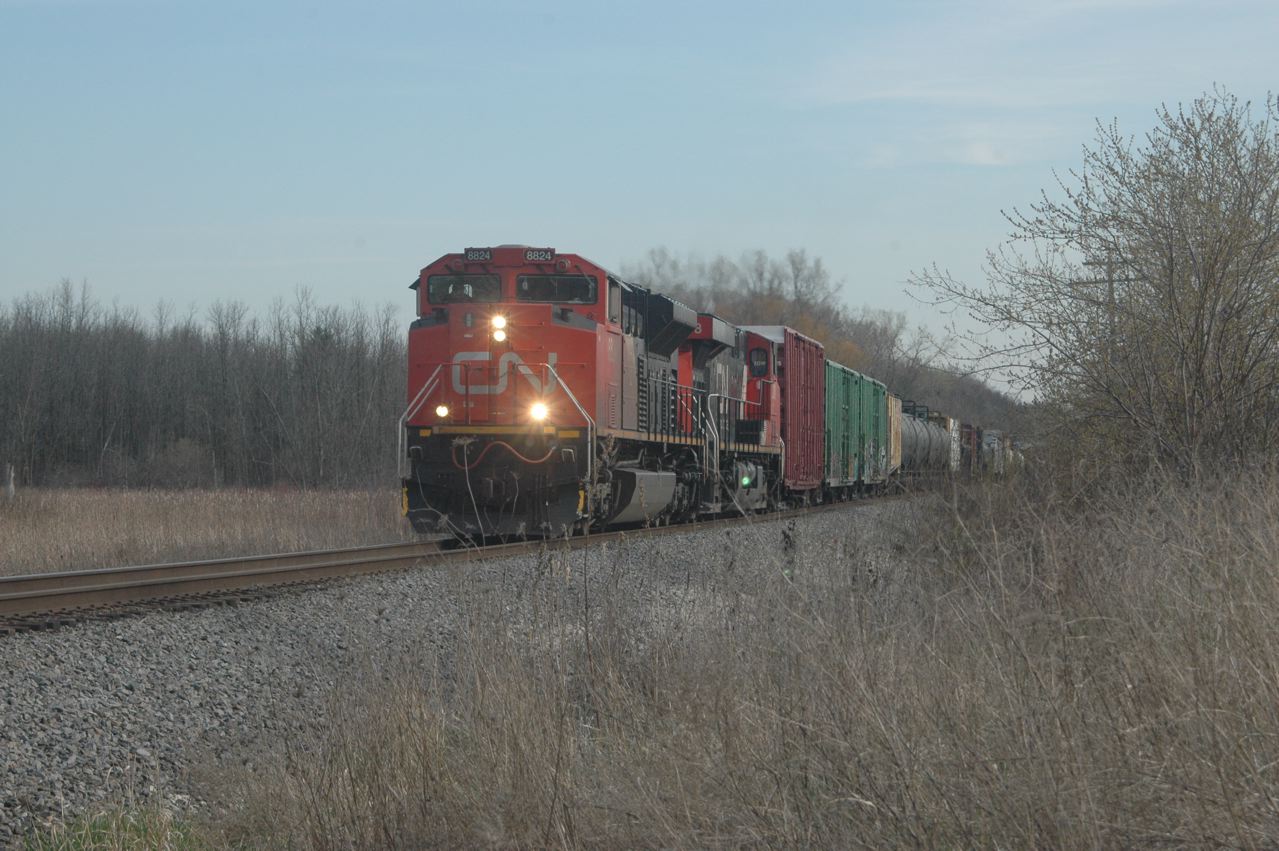 Finally, after waiting at South Duplainville for over 100 minutes, here comes the southbound, with 8809/8949/UP 6631, at 1745 hours; back 130 cars is DPU 8866, followed by 17 more cars. No wonder they held him at Dupy, the longest passing siding in the immediate area.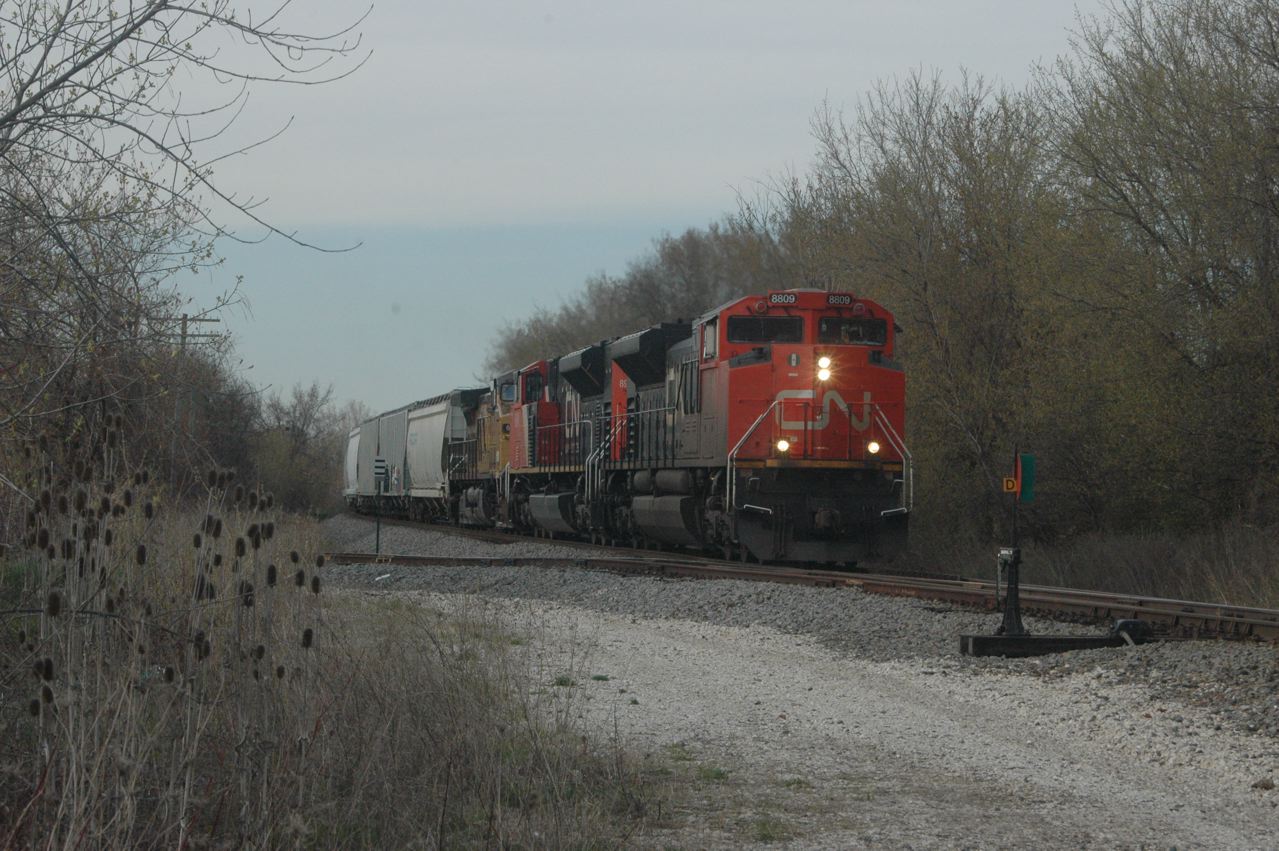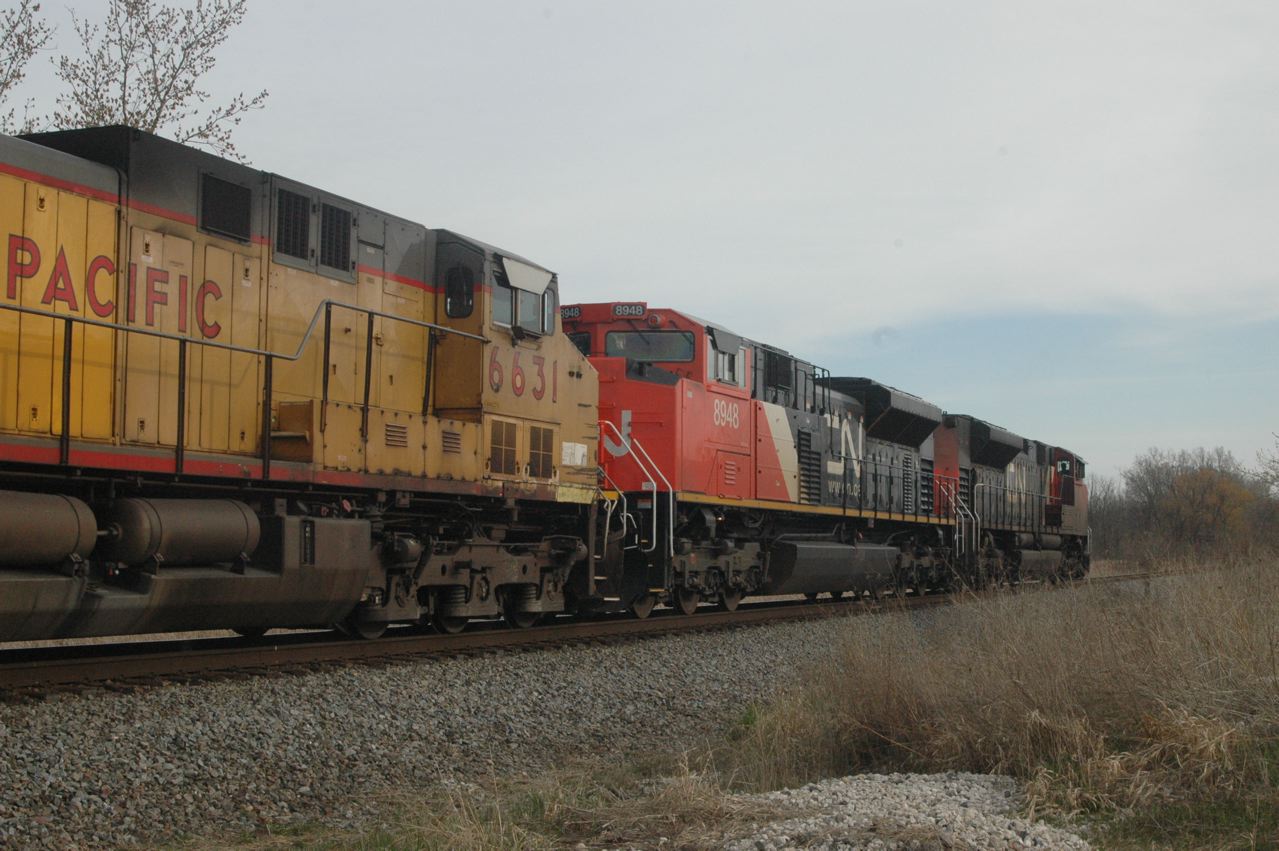 Here's the DPU, thru the open passenger window.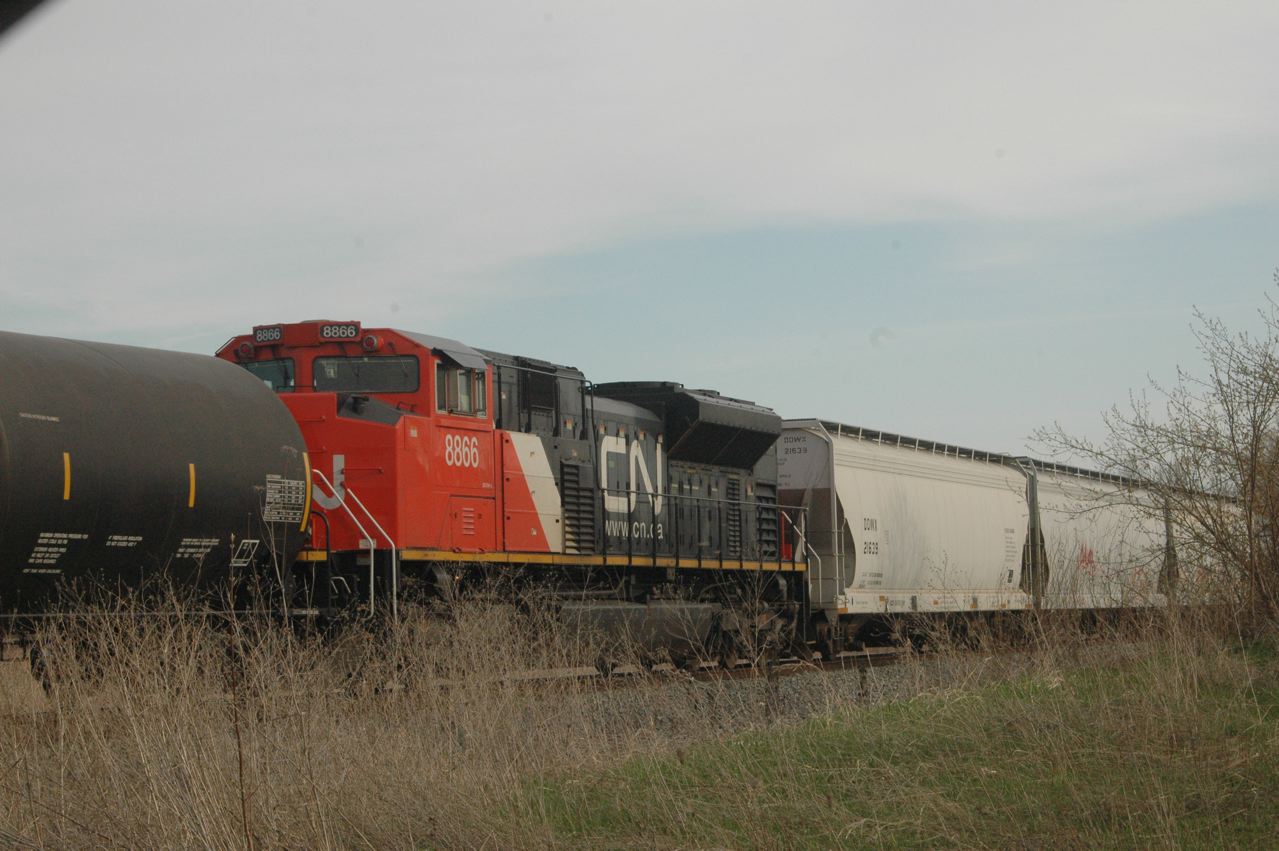 L504's light engine, finally going to work for the evening shift, which is usually just Quad/Graphics up at Sussex and stuff around Waukesha, passes MP 103 to finish our day.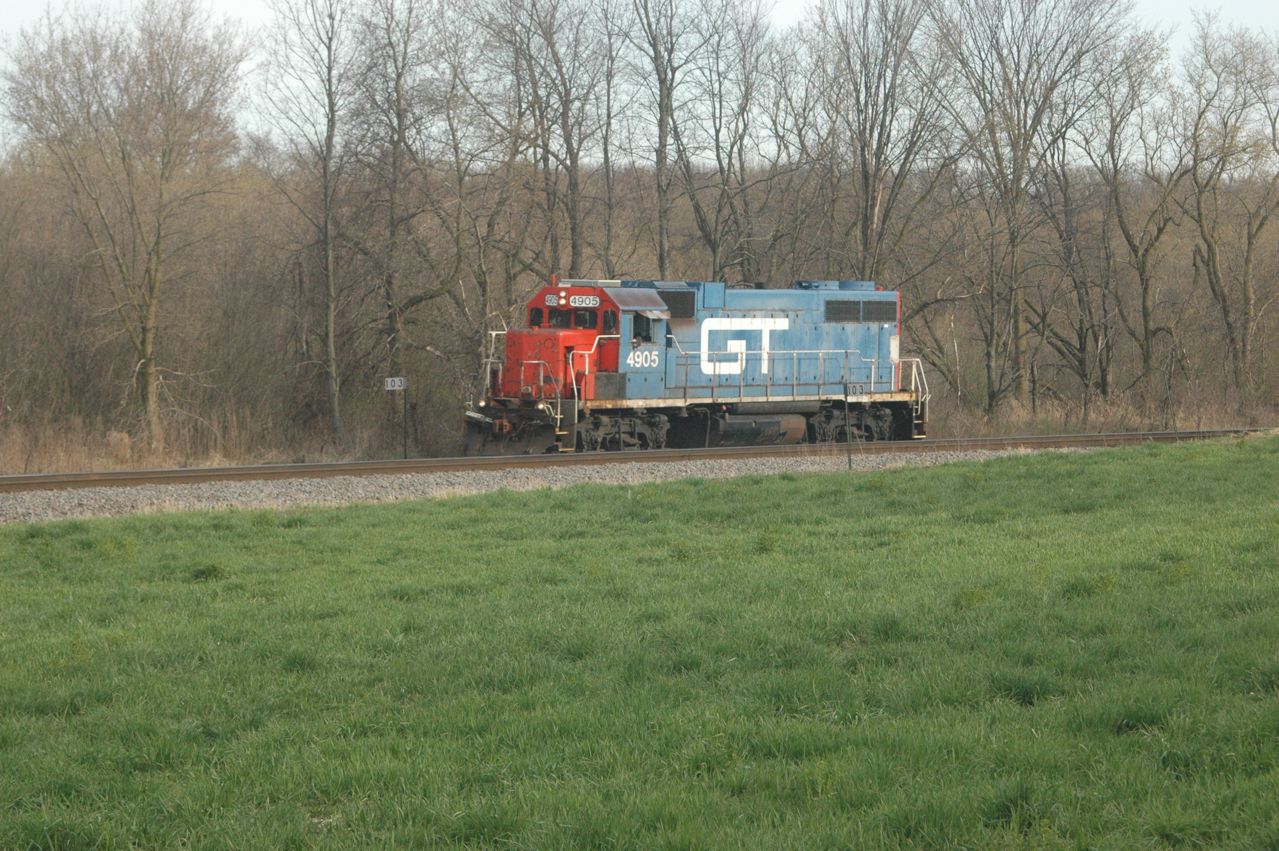 Finally a nice sunny Spring Saturday, the 30th, to finish a long winter and late-arriving Spring. April was the area's 2nd wettest in recorded history, and Chicago's wettest. Ours was also about 10 degrees cooler than normal, on average, and saw 30-some percent of available sunlight, quite low. But we will not complain, what with all the flooding, tornados, etc., in other parts of the country. On another tip from Terry Norton in Grayslake, I abandon a leisurely morning at home and bolt trackside, Terry having heard of this train asking permission to enter CN at Grand Avenue in Waukesha. Turns out he was already in town, and passing some CN signal maintainers, they reported he had some sticking brakes. So he stopped up in the yard around MP 100, which is inaccessible to the public. I waited up at Green Road at Duplainvile for 40 minutes for him to get things straight, but had those brakes not stuck, I would have missed him entirely. It's 1015, and he'll take 6 minutes to pass with only the 4050 hauling again, 60 loads for Cambria. Lots of talk about "receving a train from the UP" (at Janesville) during the brake-fix operation.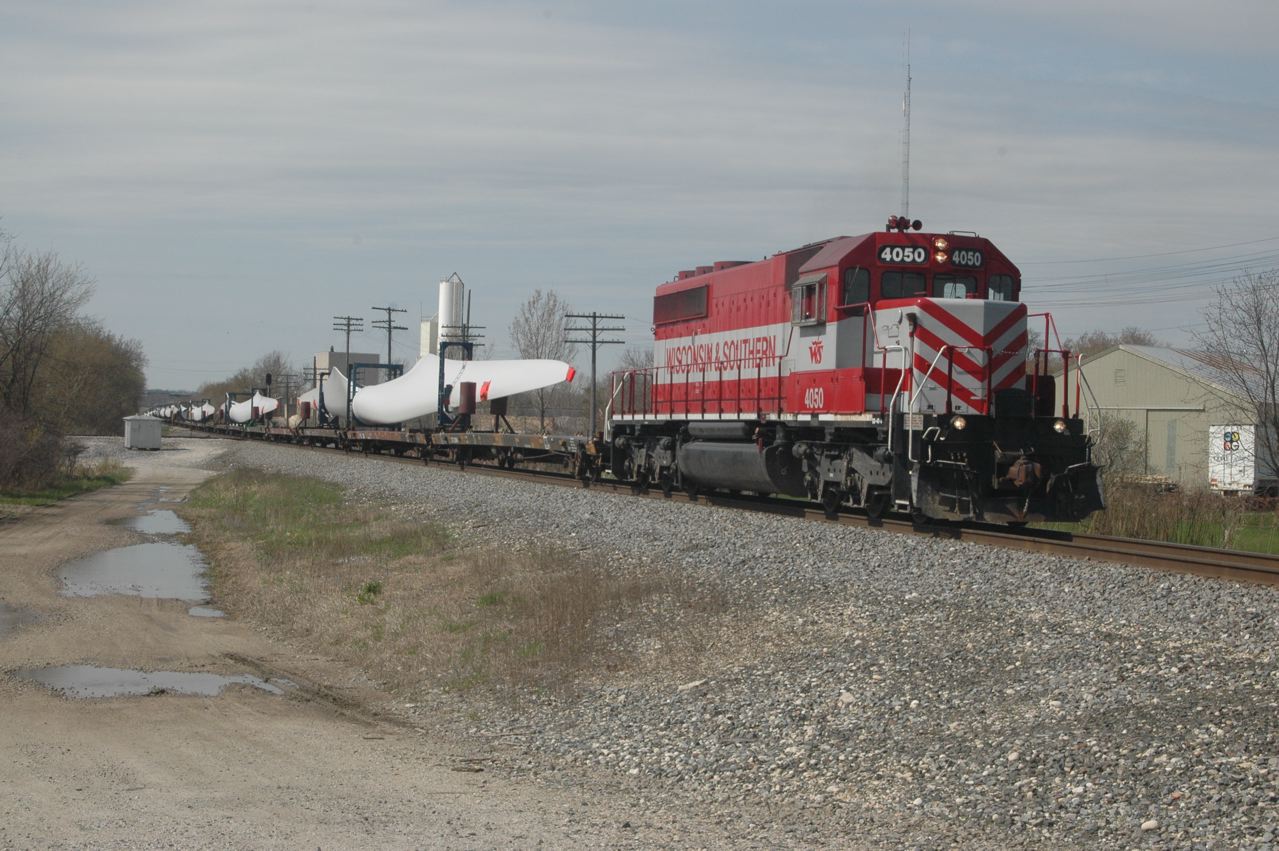 Note the train waiting north of the south siding switch; it's #340; the passing track in Waukesha was occupied by M/W forces.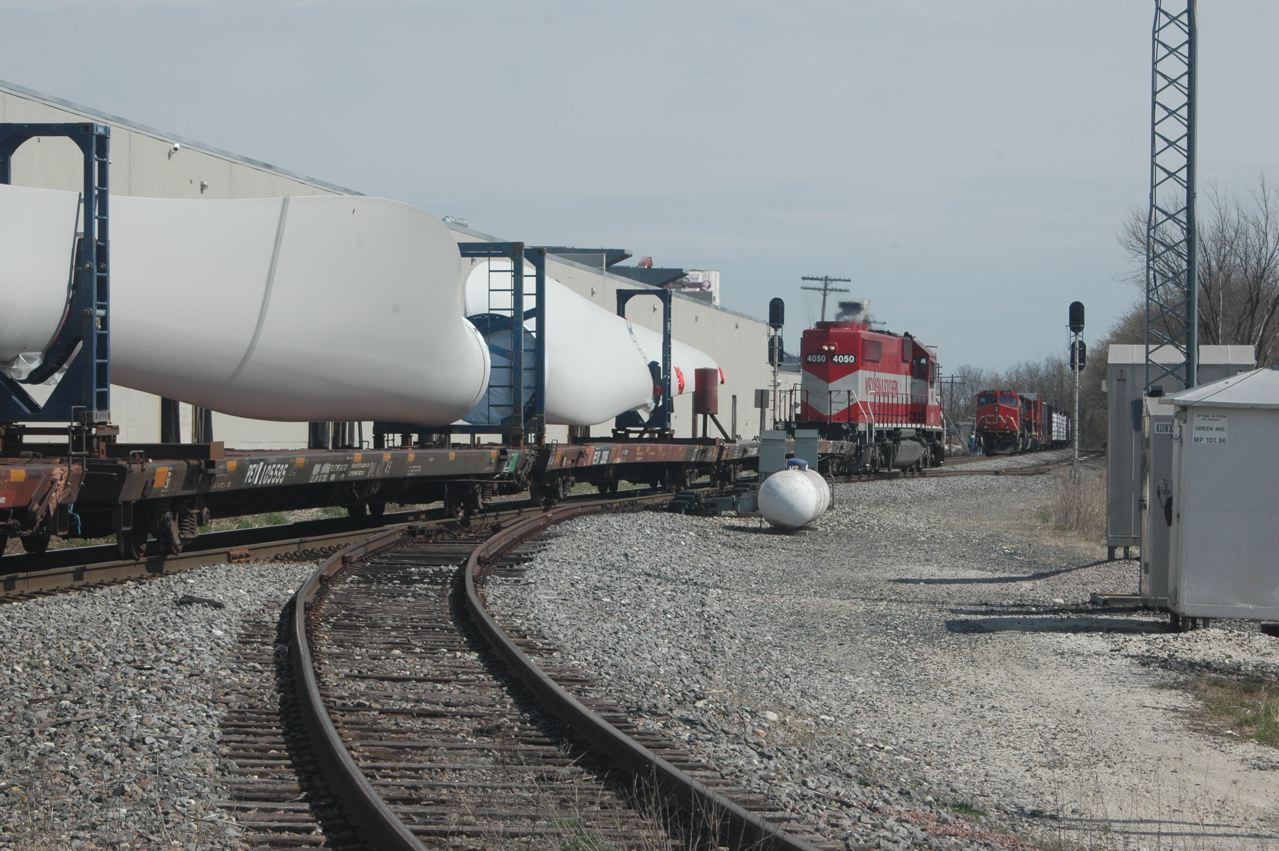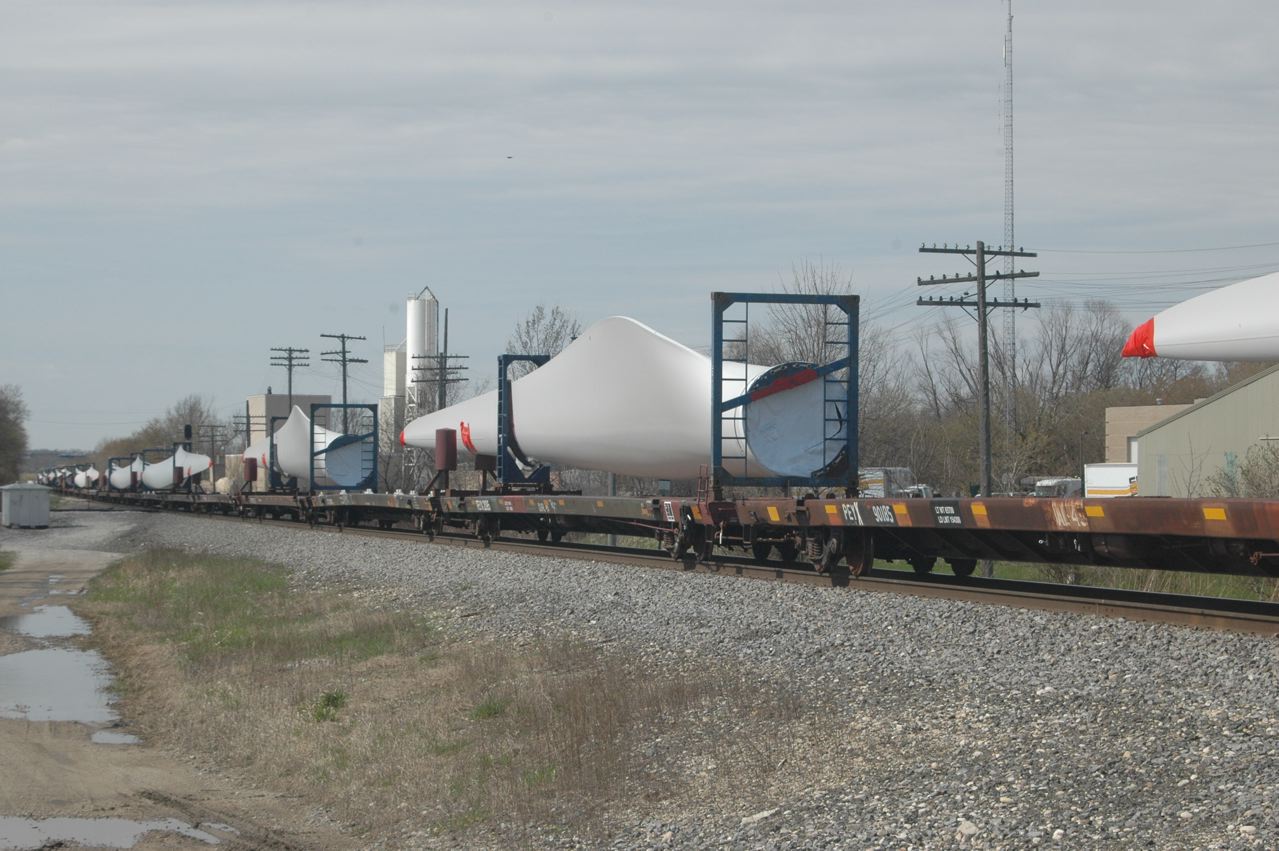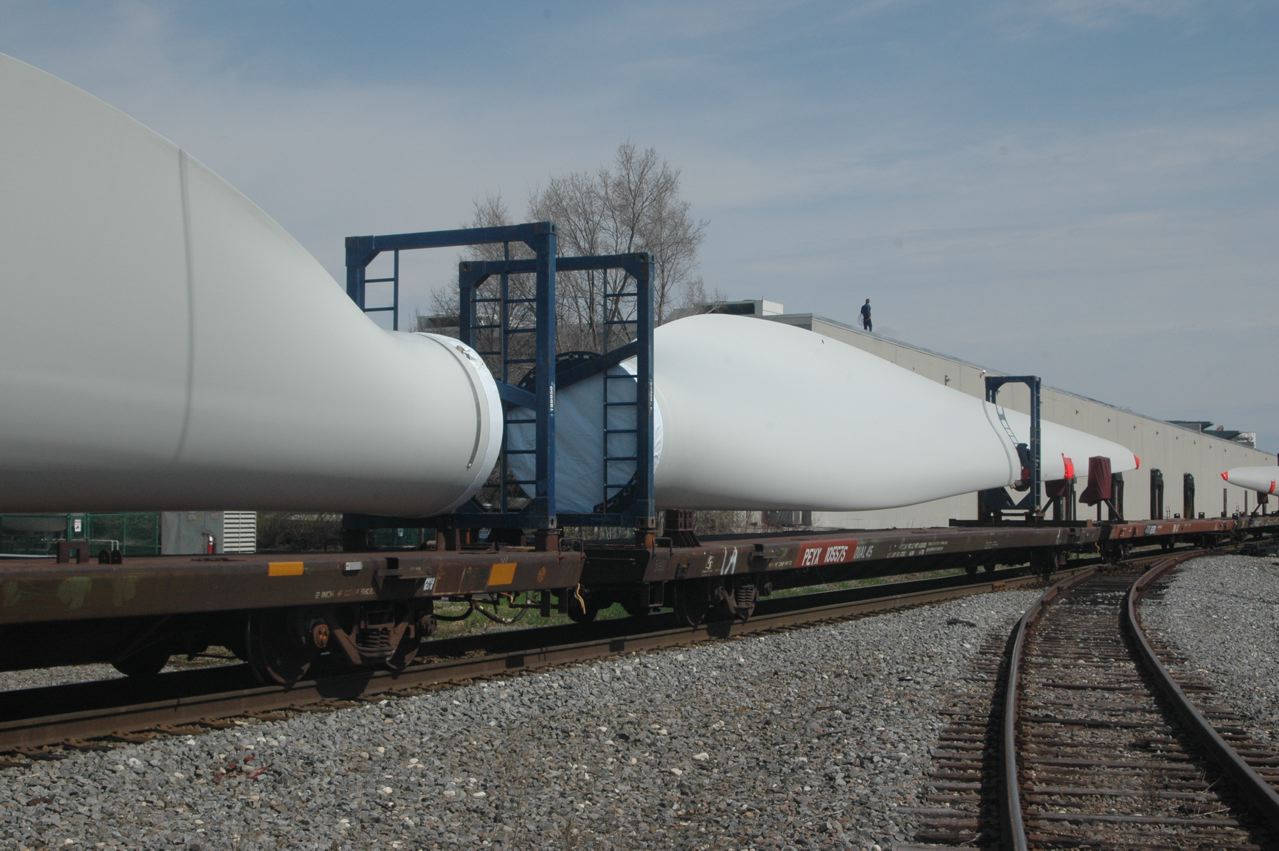 Here's #340, 2538 and 5764 with freshly painted WC SW1500 1552 in tow, plus 105 cars, leaving at 1027; he cleared at 1031.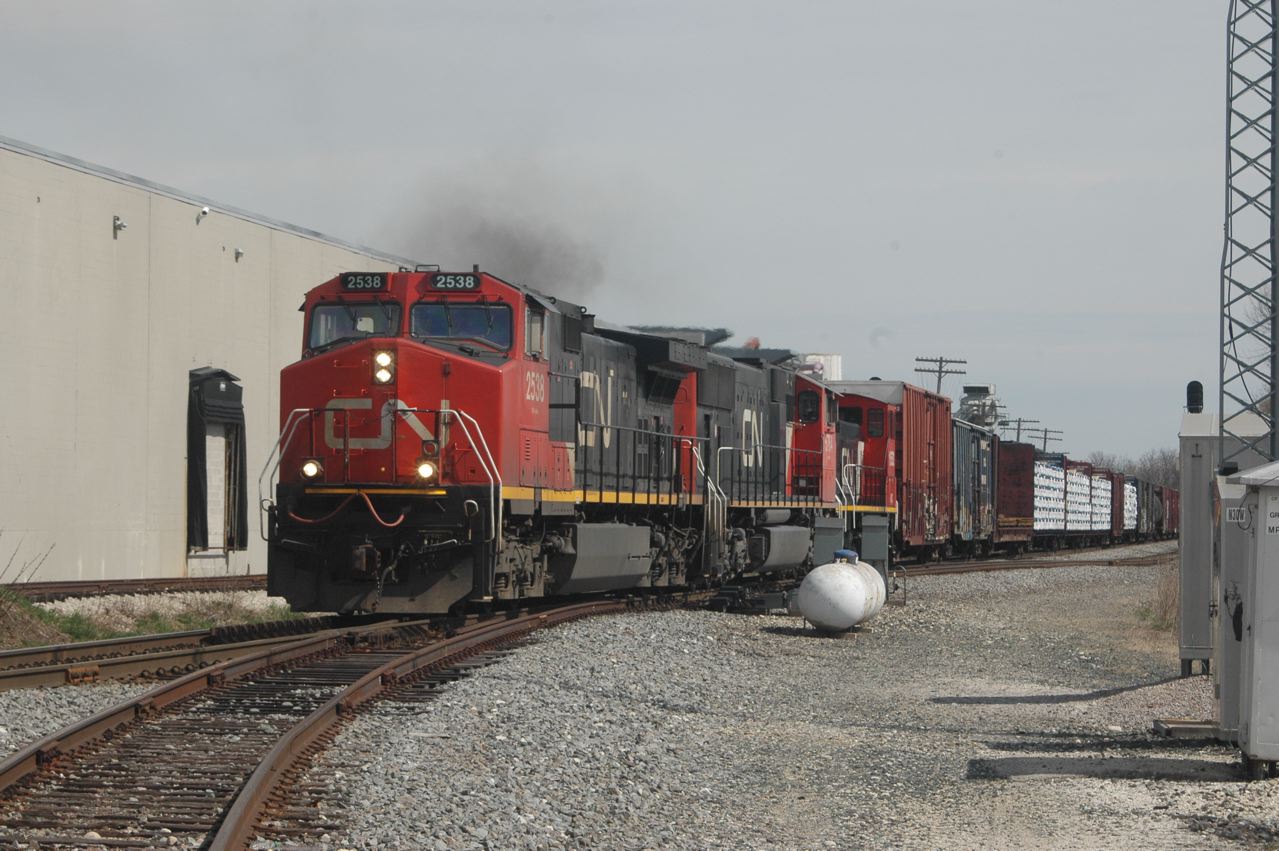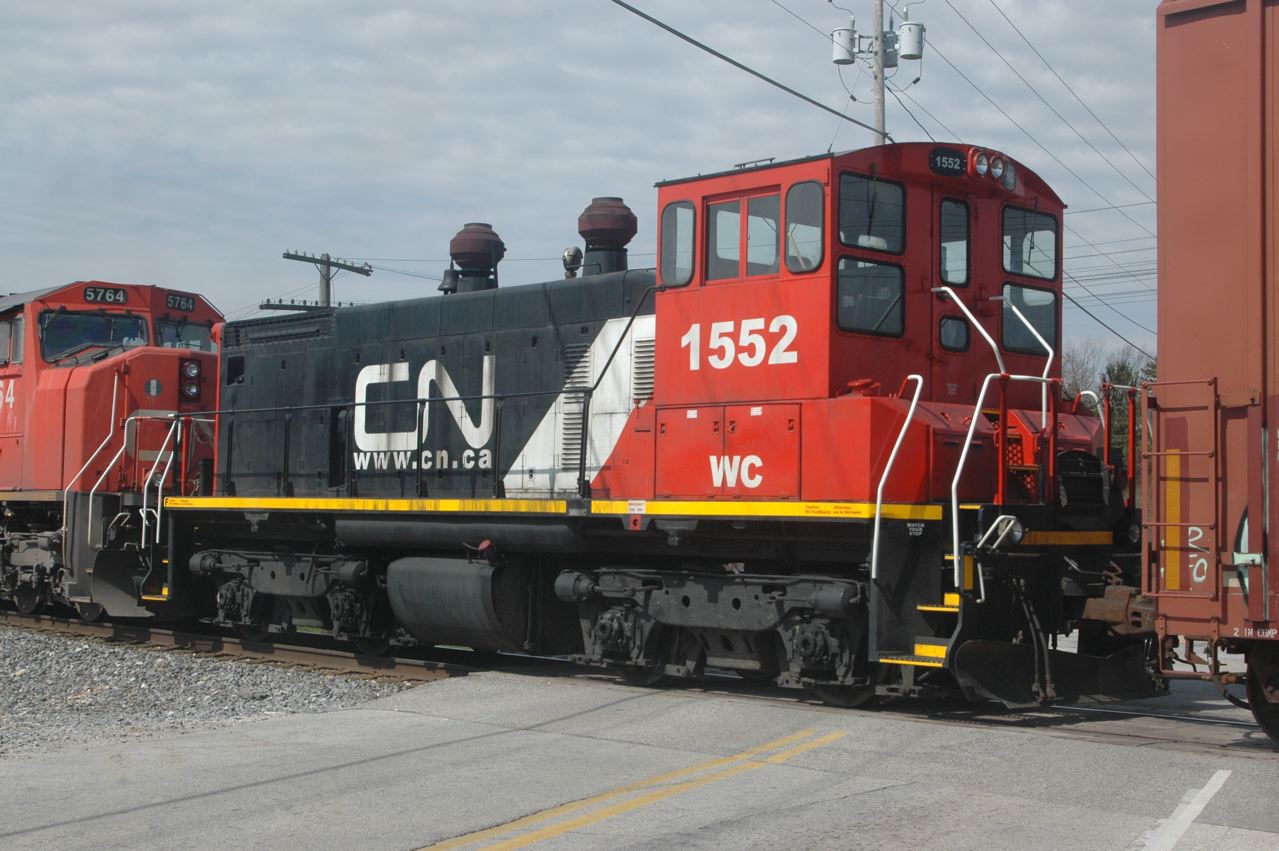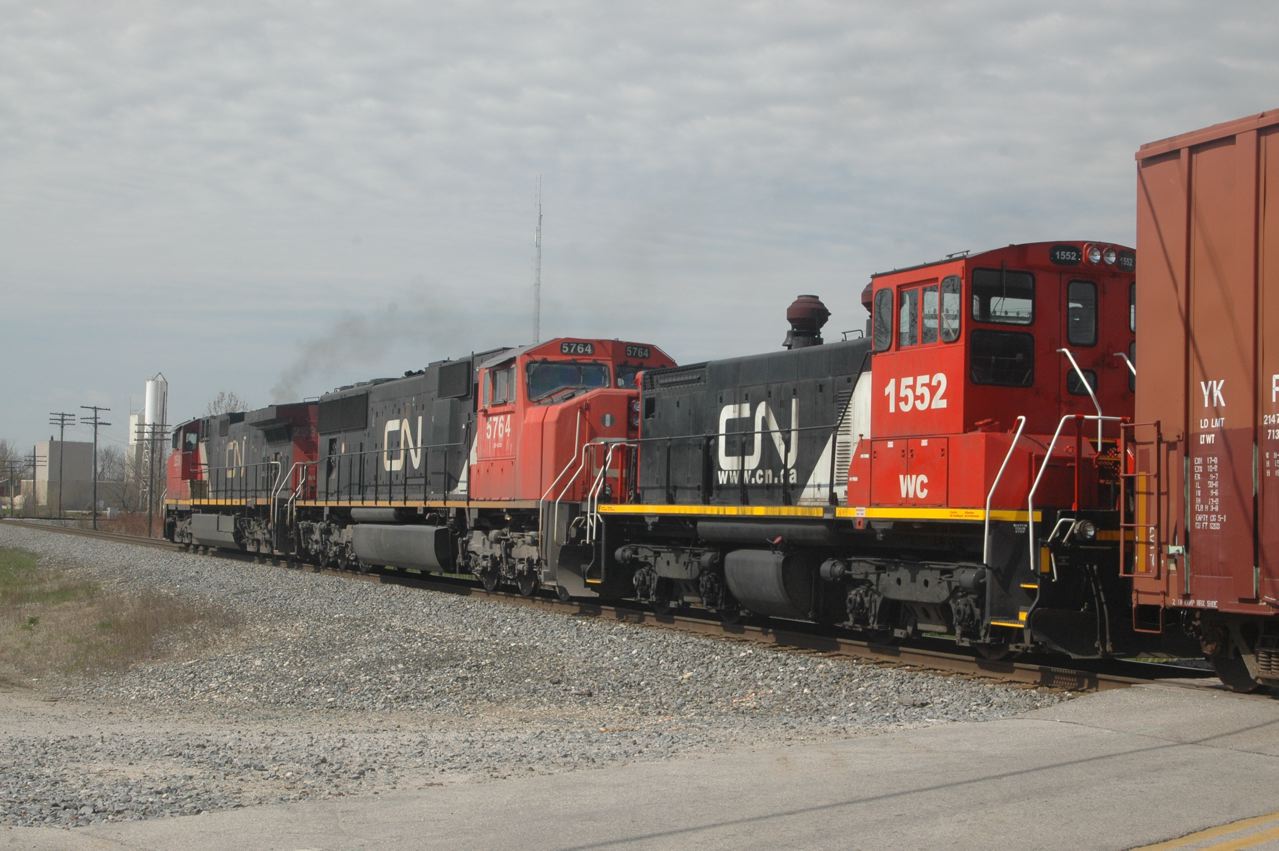 Two groups of CN ballast cars; the light gray one is SSAM markings with "Wisconsin Central System" emblem, unusual.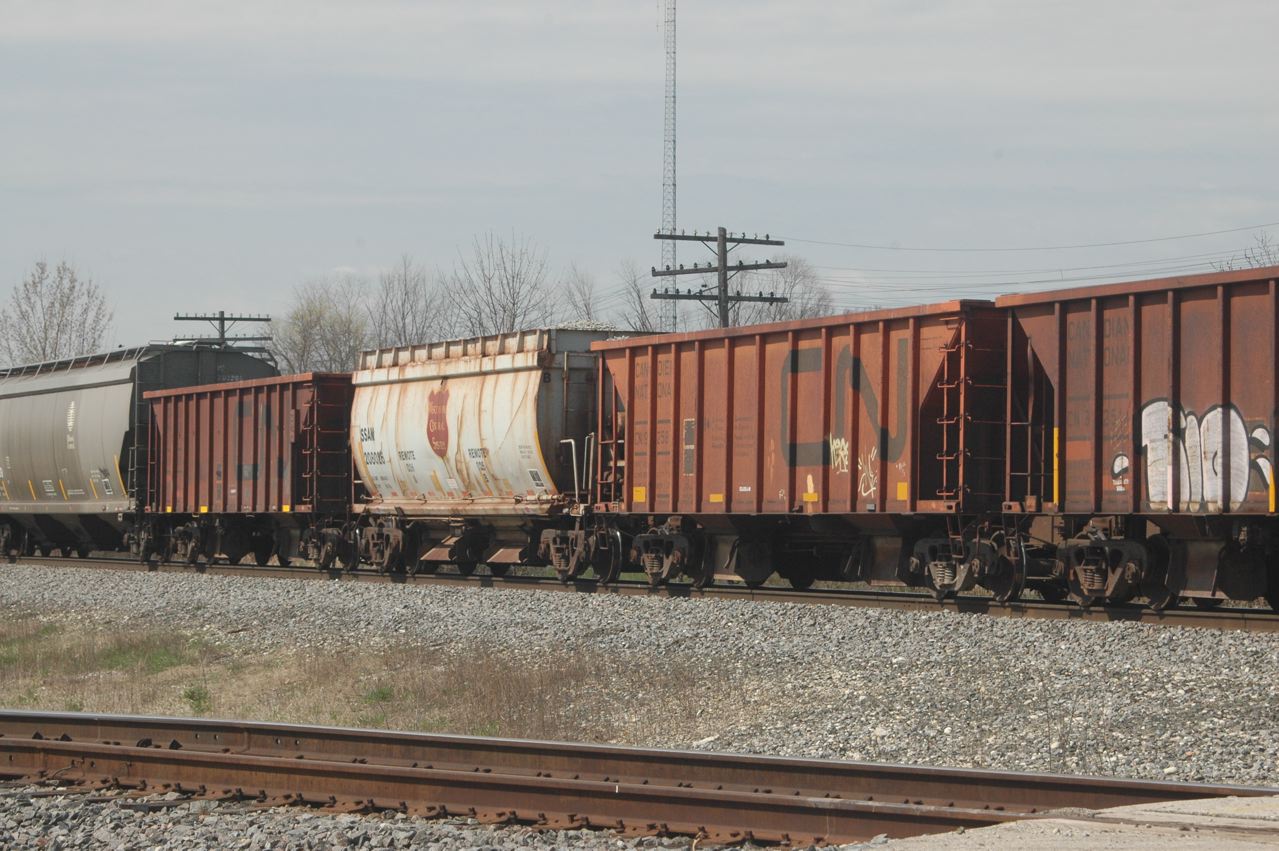 A mini-unit-train rip-rap outfit brought up the rear.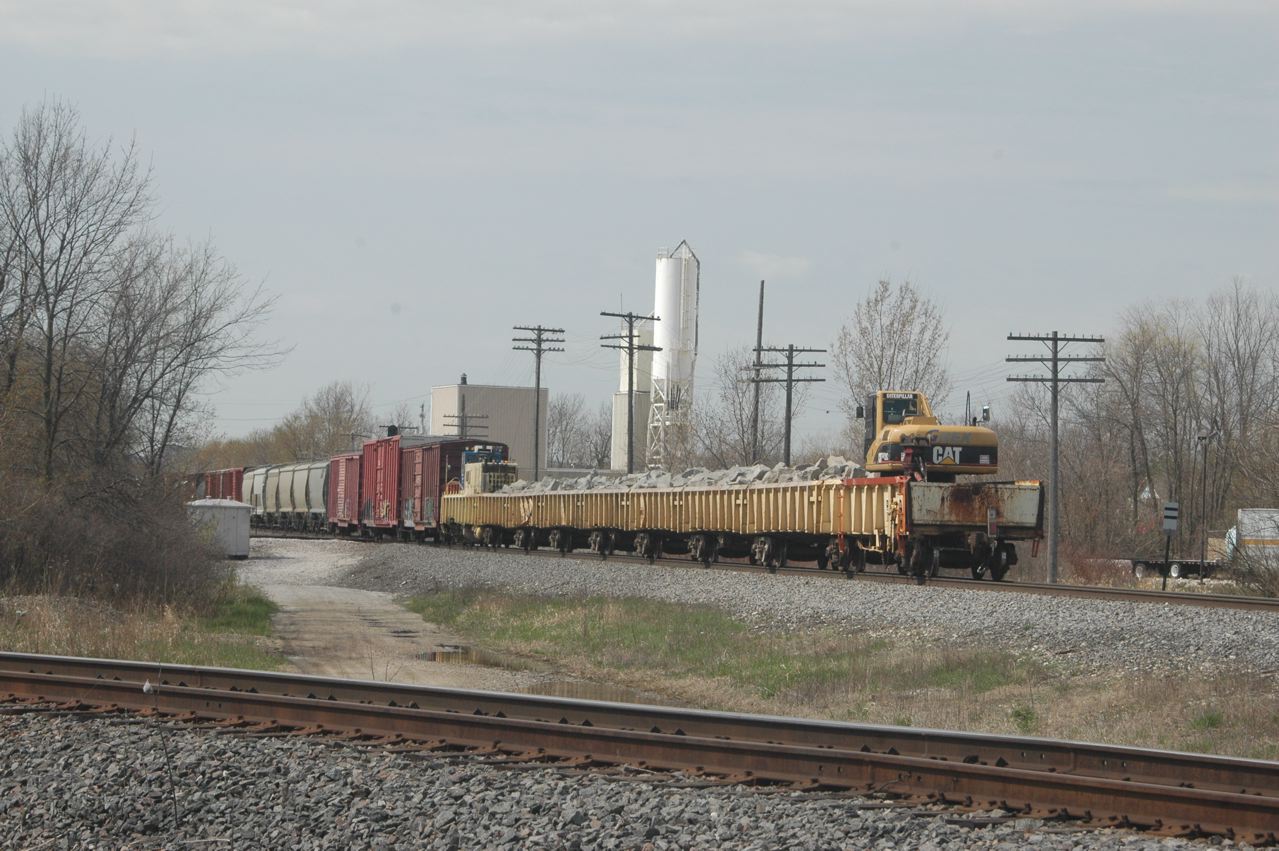 Back out in the afternoon expecting the usual flurry of action. this is CP #280, 9657/HLCX 6731, with 75 cars at Dupy at 1546 hours.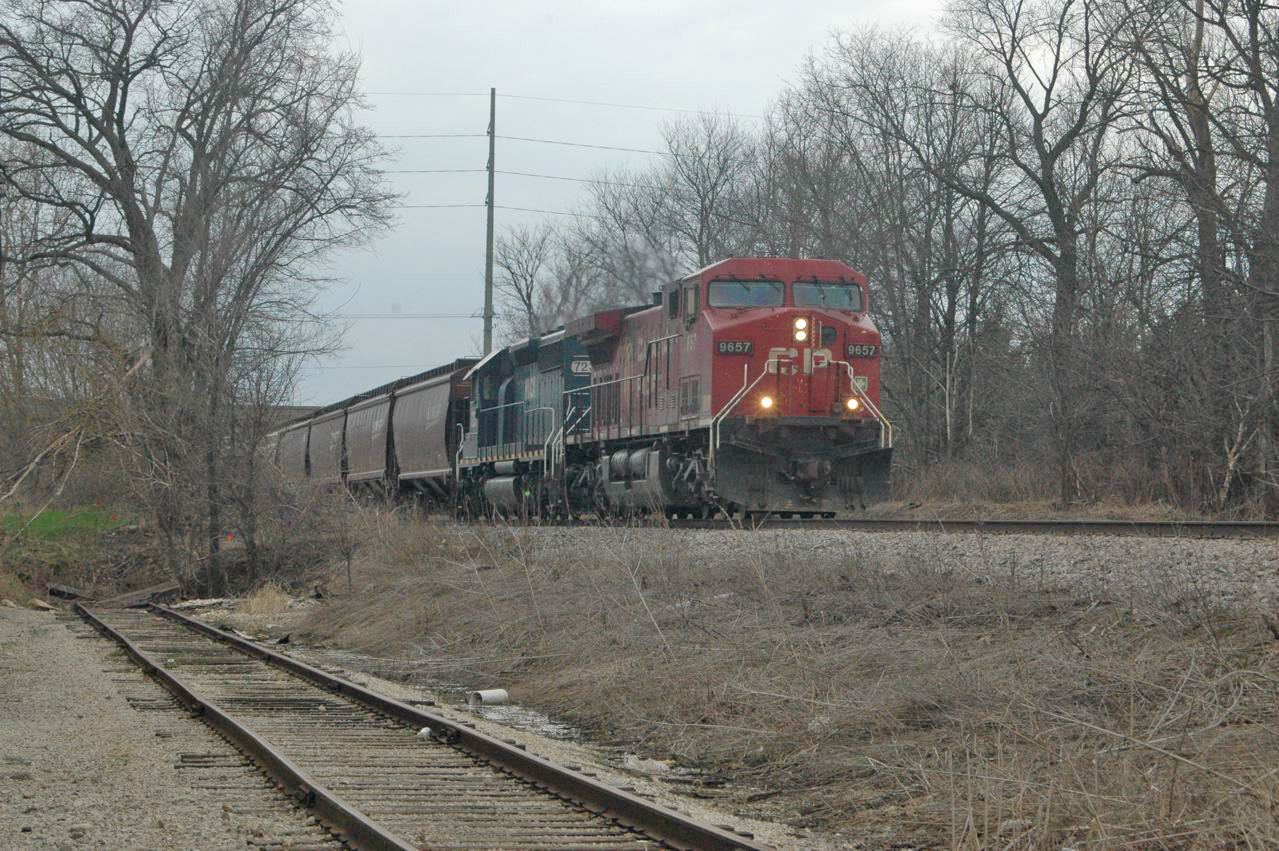 Lots of foamers out with me, a typical Saturday afternoon.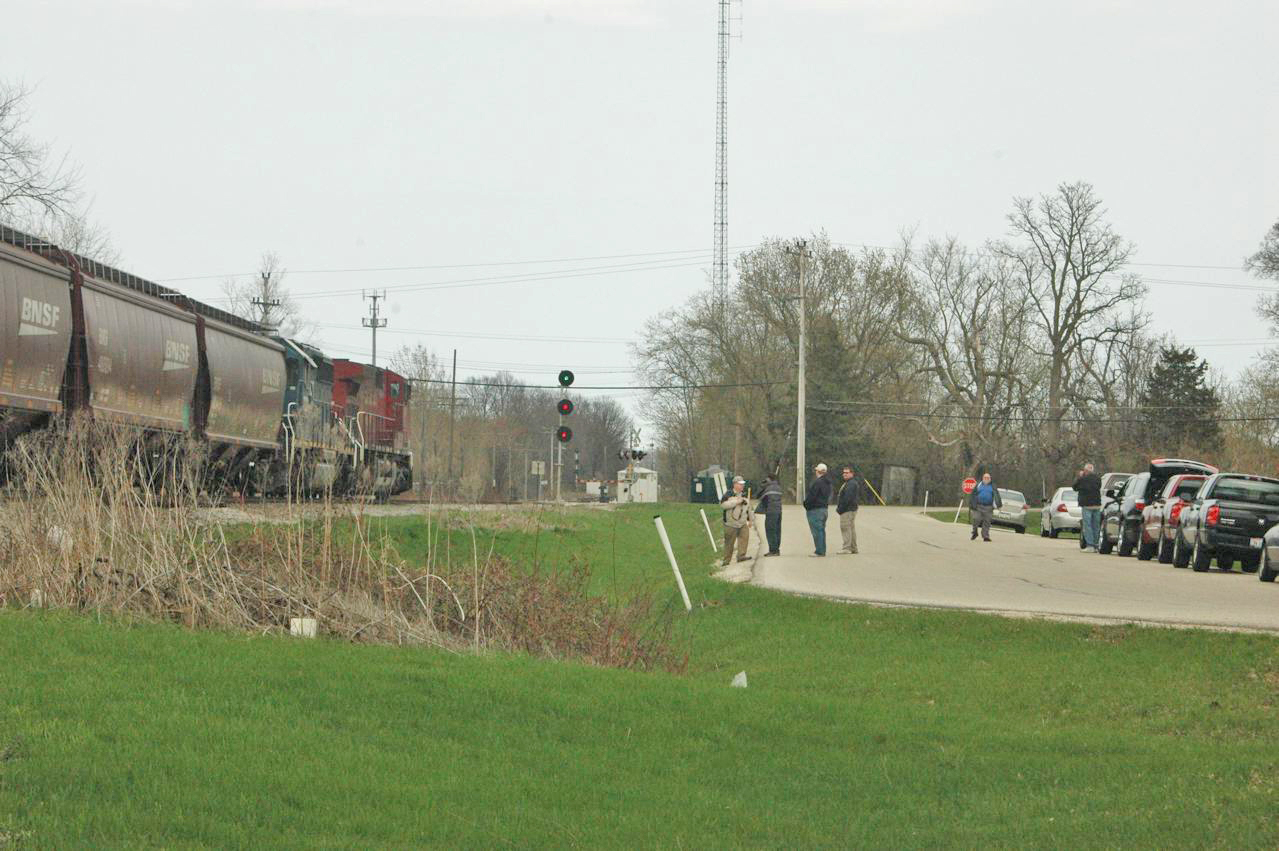 It's clouded up, now here is #8, 1601 hours, over 2 hours late, with 45/55/ and 12 cars. Tomorrow we'll be sure to photo an Empire Builder, as it'll be May 1, Amtrak's 40th birthday. That'll be in a May file to be posted later.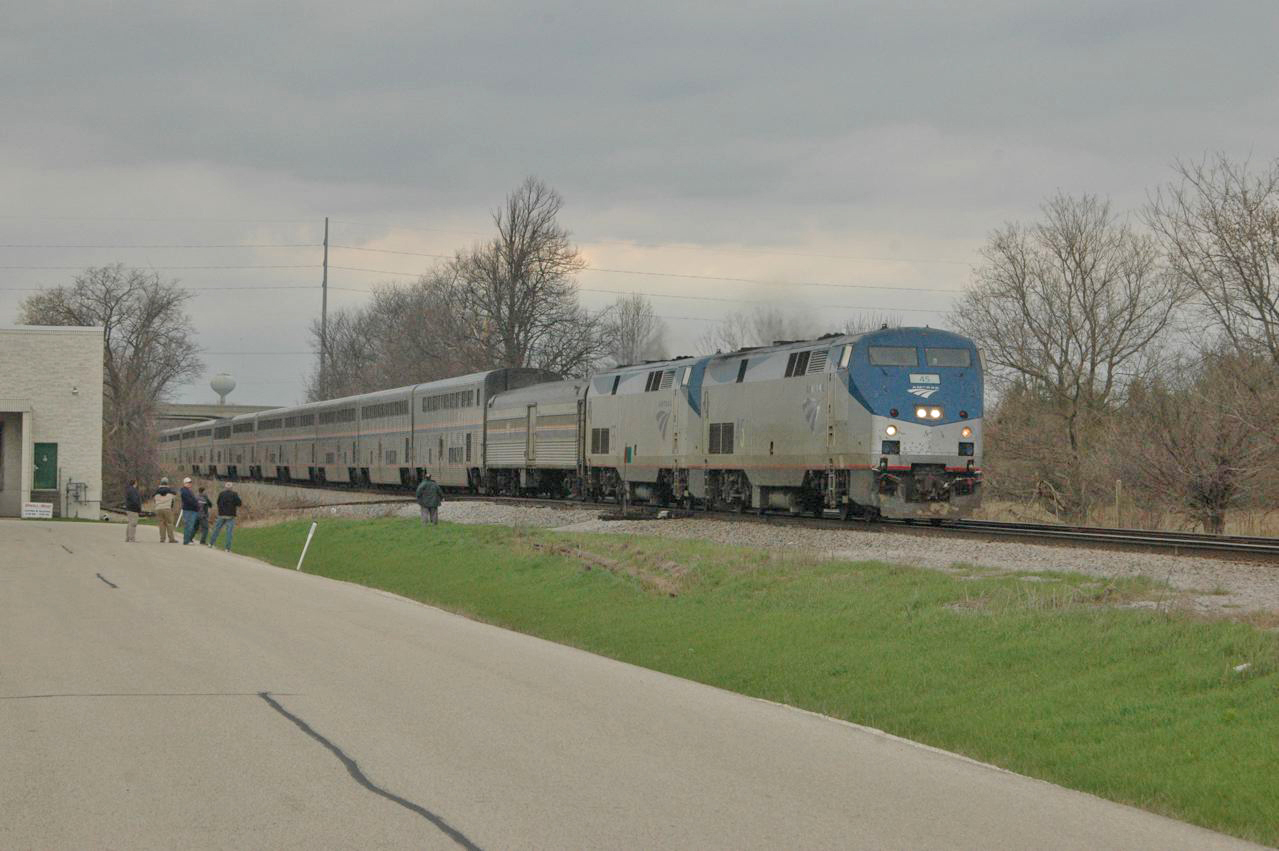 This page was designed and is maintained by Mike Condren. If you have materials
that you would like to contribute, contact me at mcondren@cbu.edu