June 2011 Local Action
Photos by Dave Ingles
We begin June 2011 with the return leg of Amtrak's Heritage unit 156 leading train #808, the MSP-CHI "Baby Builder," past the Pewaukee lakefront on June 2nd. Trailing unit is 11, with 4 cars, on-time at 1336 hours.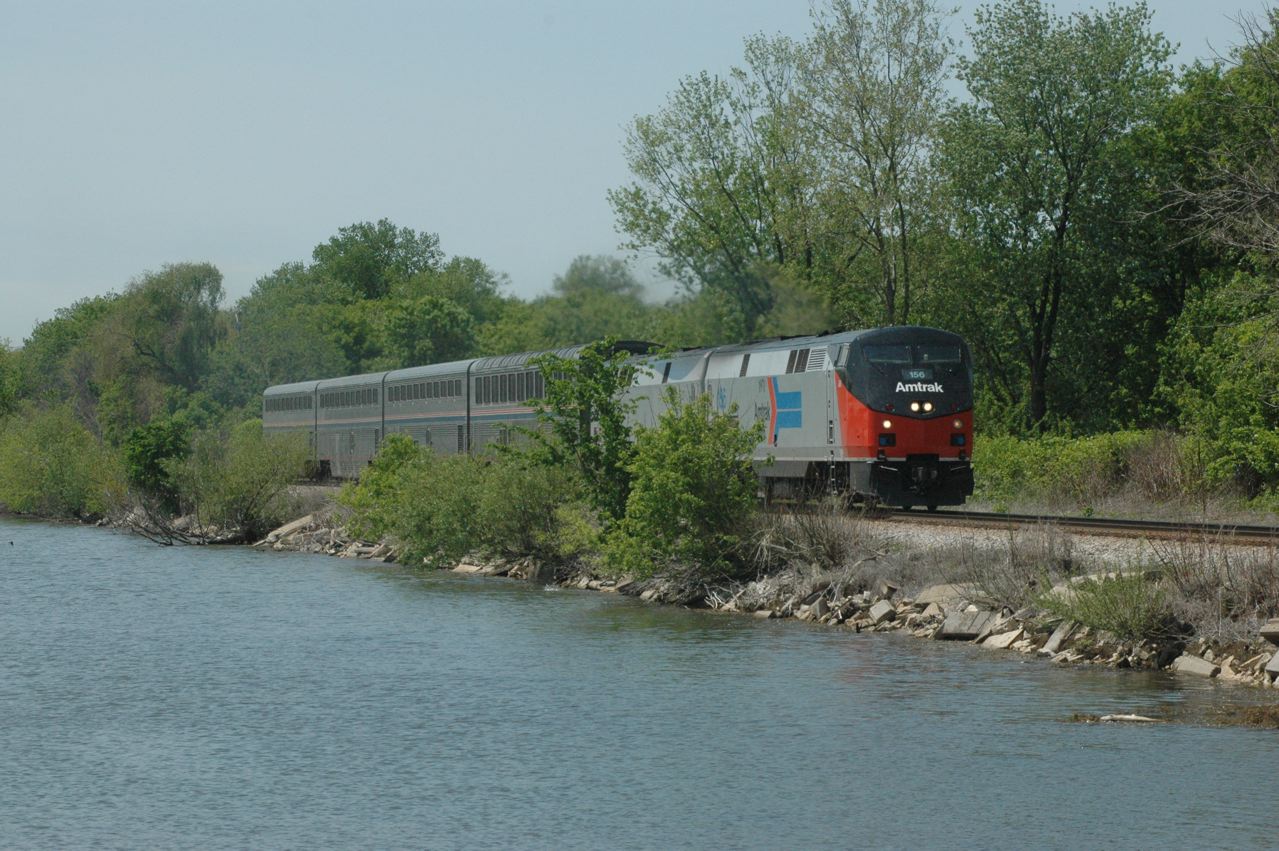 Waiting for #808 at CP's "Pewaukee," end of two main tracks from Milwaukee, is CP #281 behind 9674/Soo 2041/Soo 4449, 97 cars, by us at Oakton Ave. (extension of Capitol Drive) at 1342.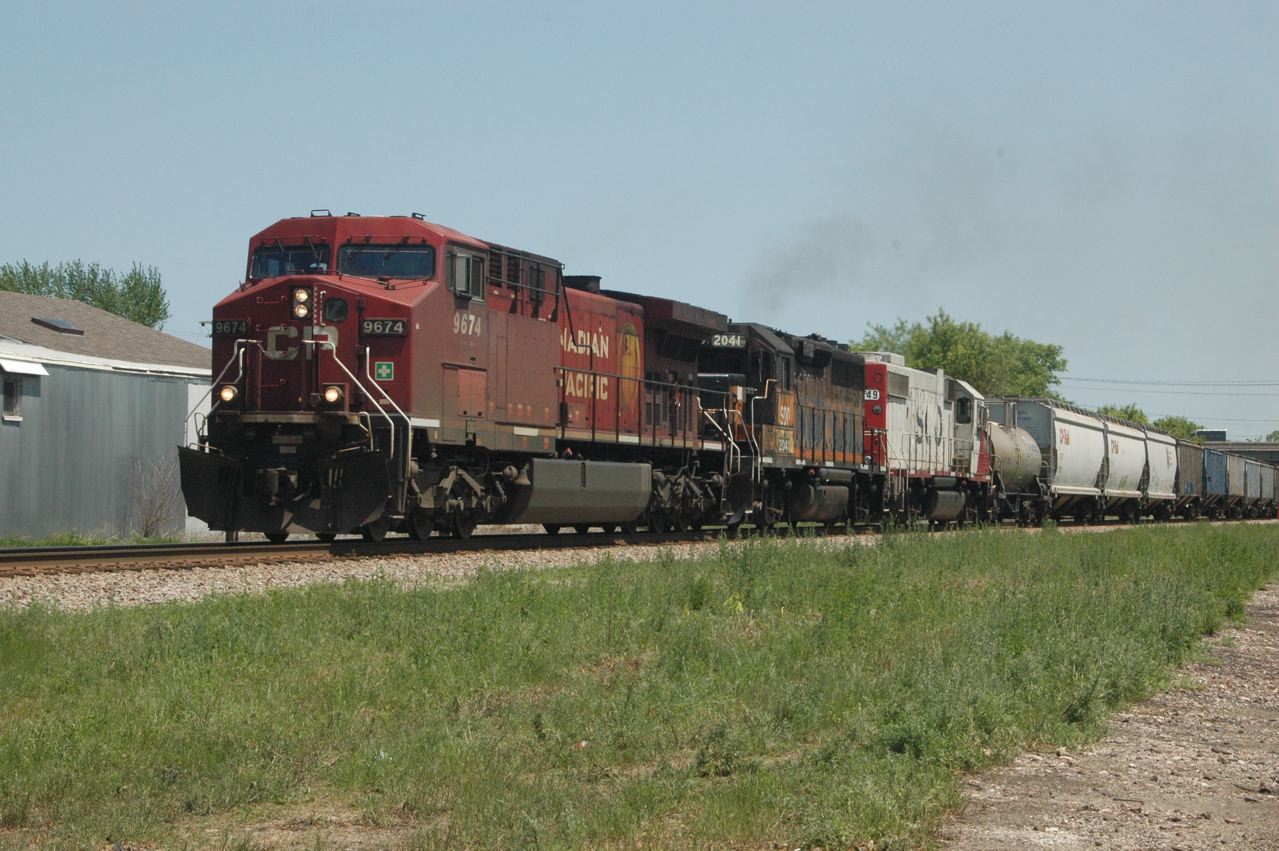 During this week, there were 3 "Baby Builder" trainsets in the rotation, and one had two rebuilt P40's, 816/815, coming thru Brookfield with 4 cars on June 4 at 1336 hours, a few minutes early.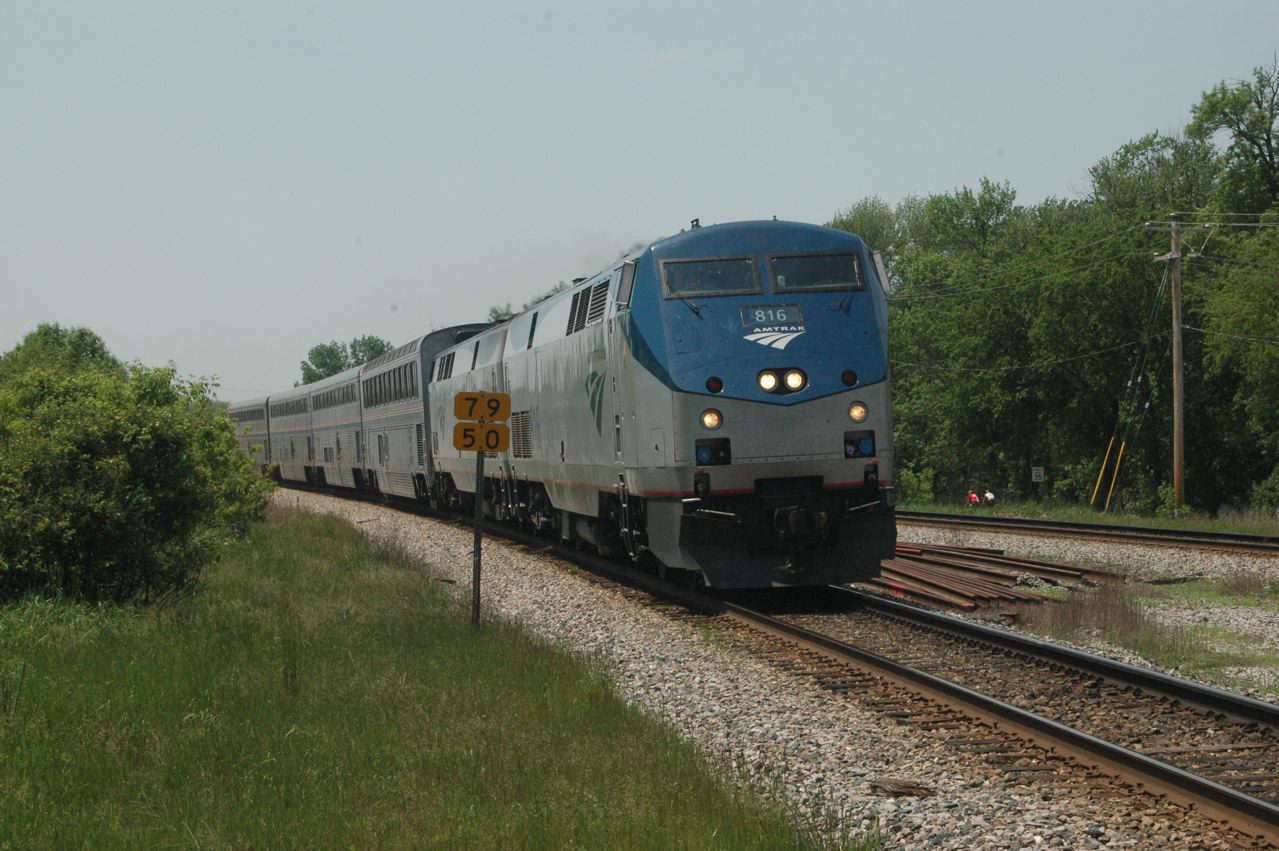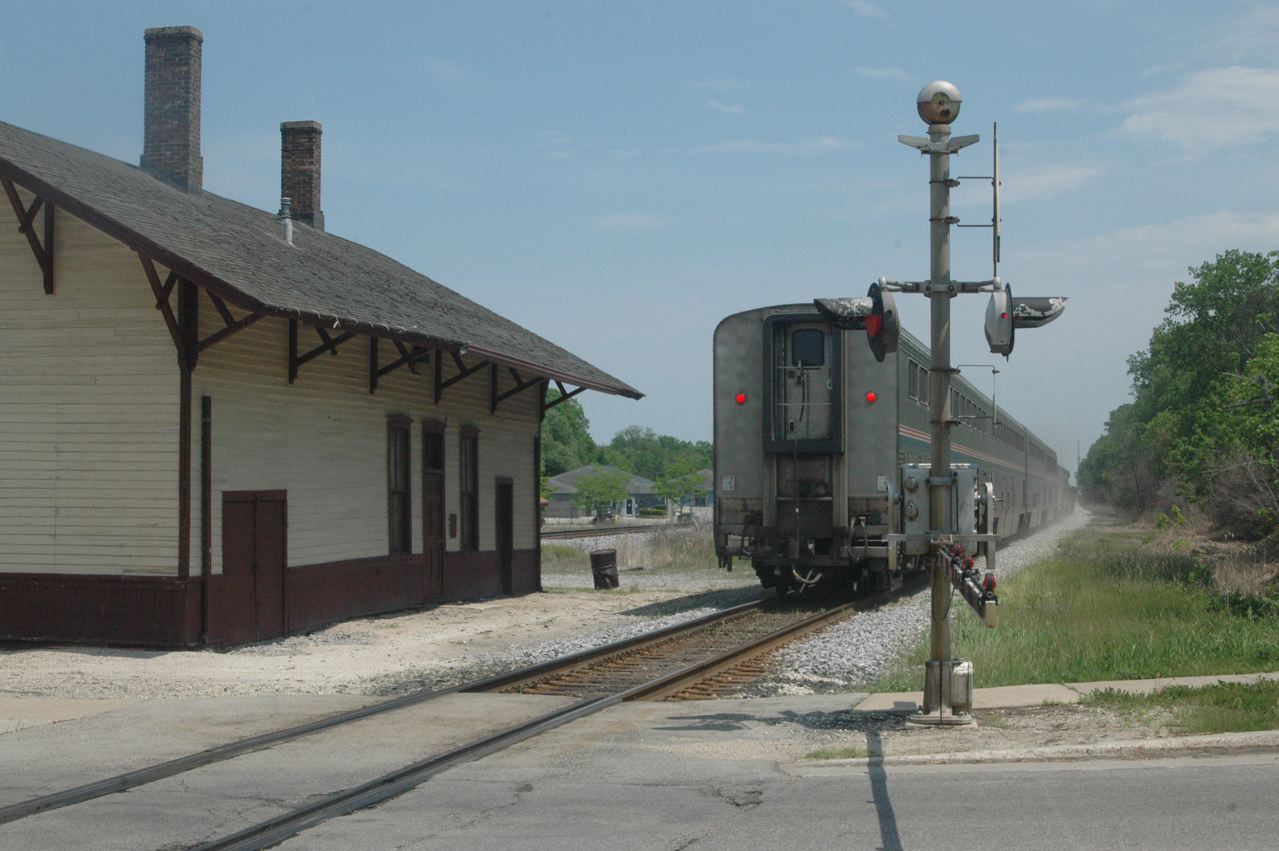 Normally the Sightseer Lounge is either forward or rearmost on these short Builders, but this day it is 3rd in the consist. One of the coaches is a 31000-series coach-baggage car, with room in the lower level for checked luggage. This is MP101 in Brookfield on June 4 at 1614, spot on-time, with eng 51/194 and 4 cars as usual.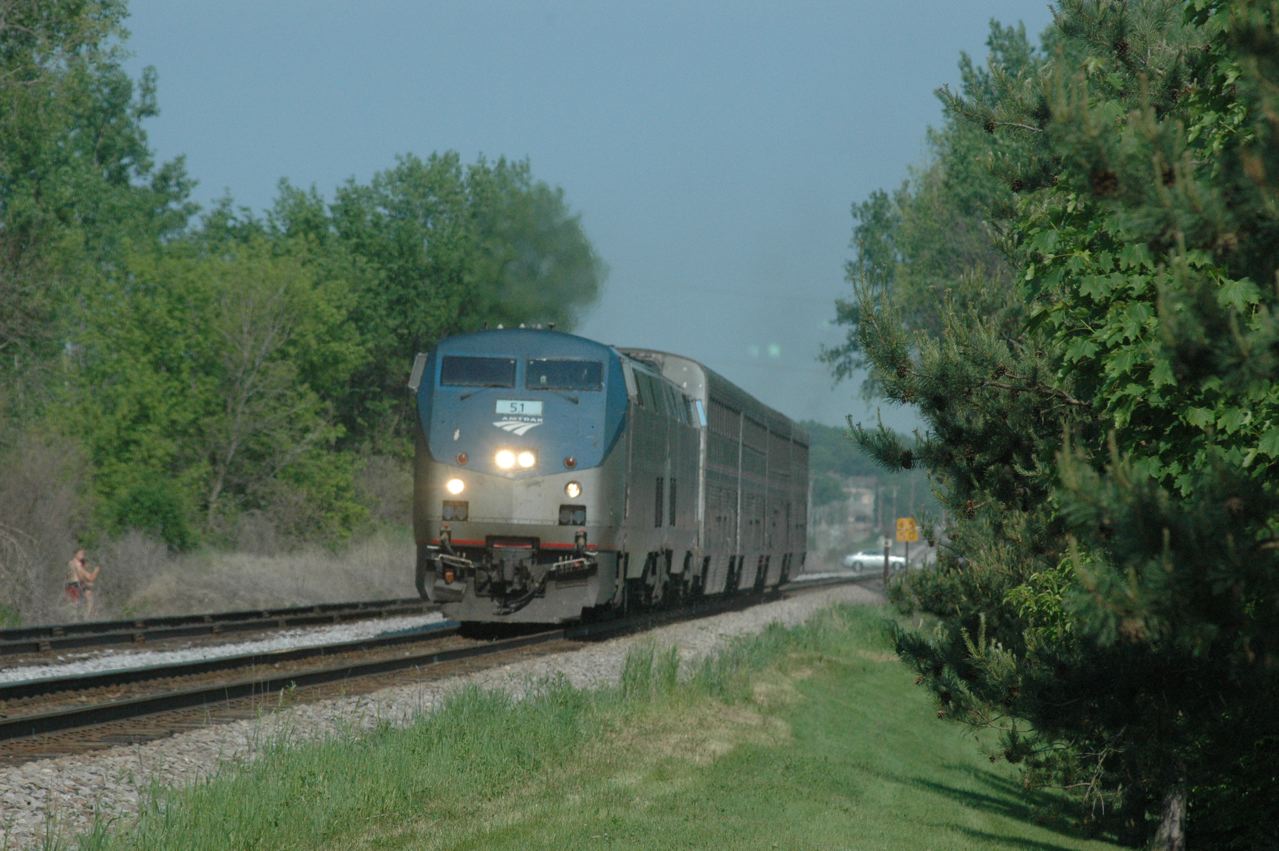 On Sun., June 5th, with Carol attending a baby shower for a friend's daughter, I went to the C&M Corridor, aka the MKE-CHI line, aka Canadian Pacific's main line, having been alerted that the 4th and final Amtrak Heritage P42 that I had not seen, #145, was on one of the Hiawatha sets. This is train #336 with NPCU (non-powered control unit, aka "F40 bag") 90413, 6 cars, and--surprise--a P32 (formerly aka "Pepsi cans") as motive power, #508. As normal, the converted F40PH locomotive is on the south end, the motive power unit on the north end. The NPCU's on the Hiawatha trains do carry checked baggage, with roll-up doors on their flanks. Time here is 1326 hours.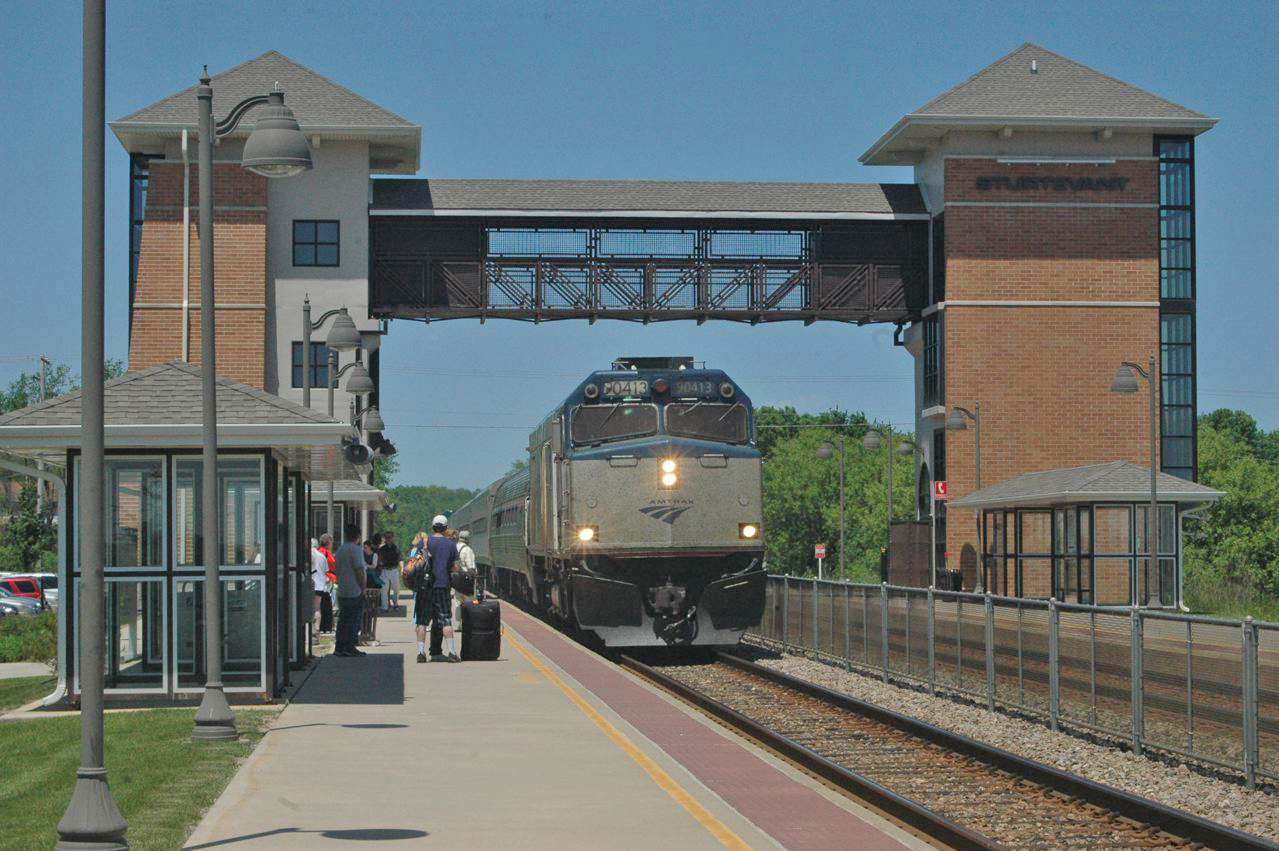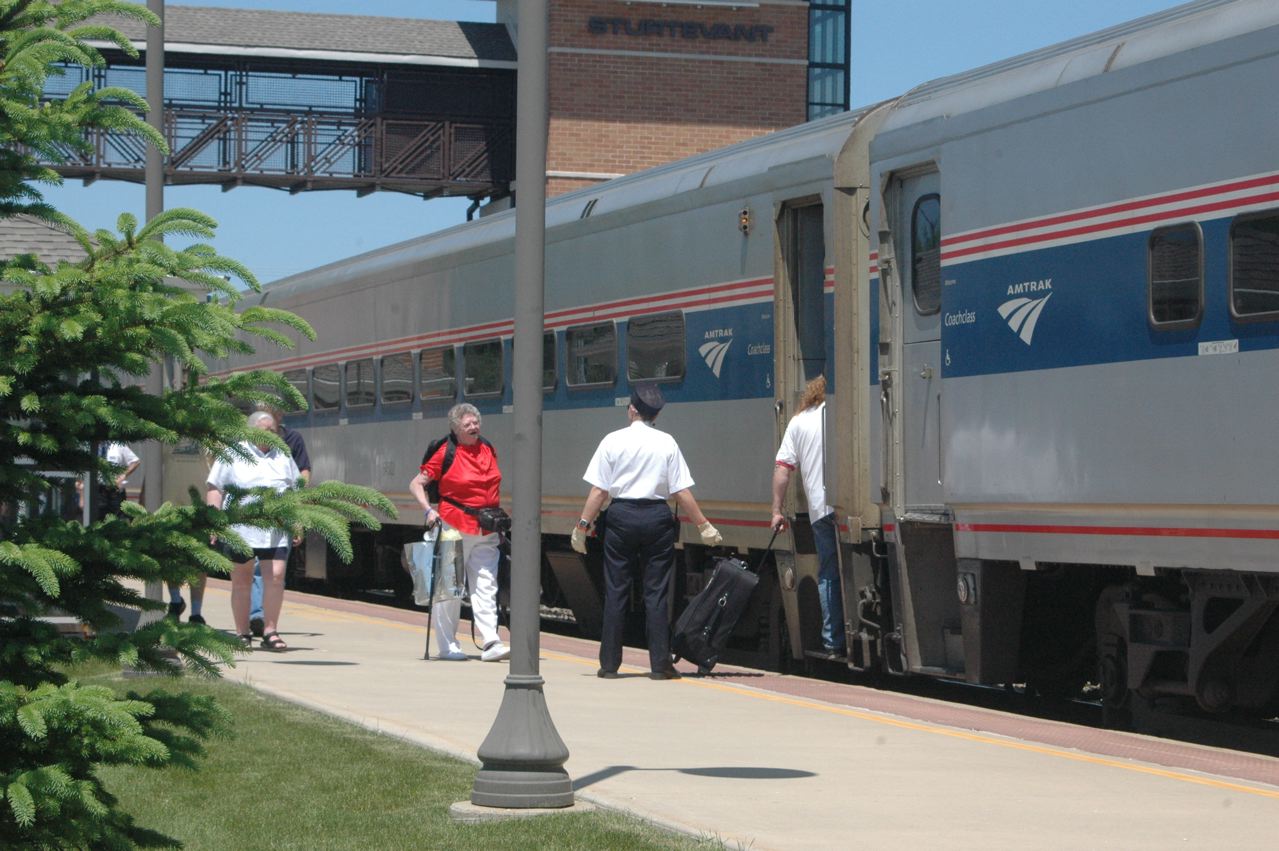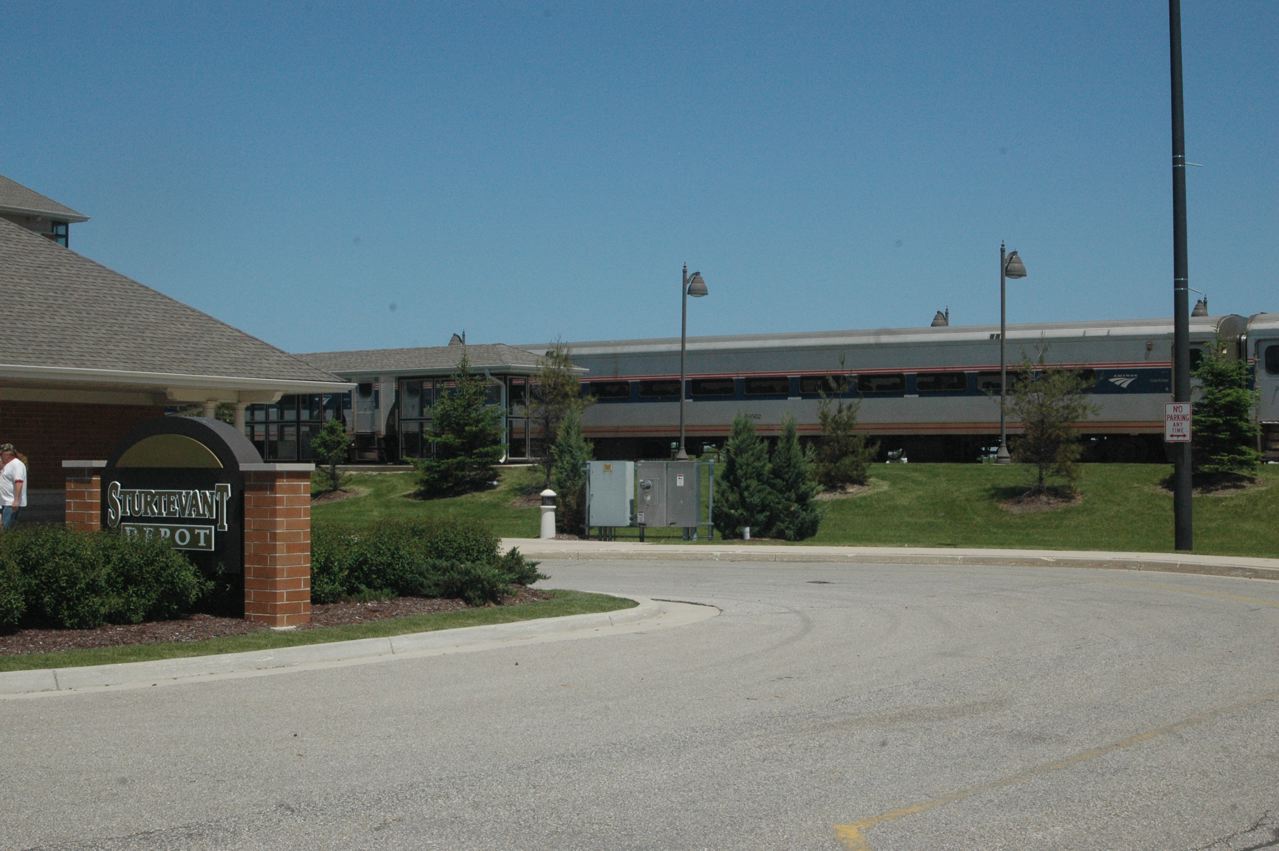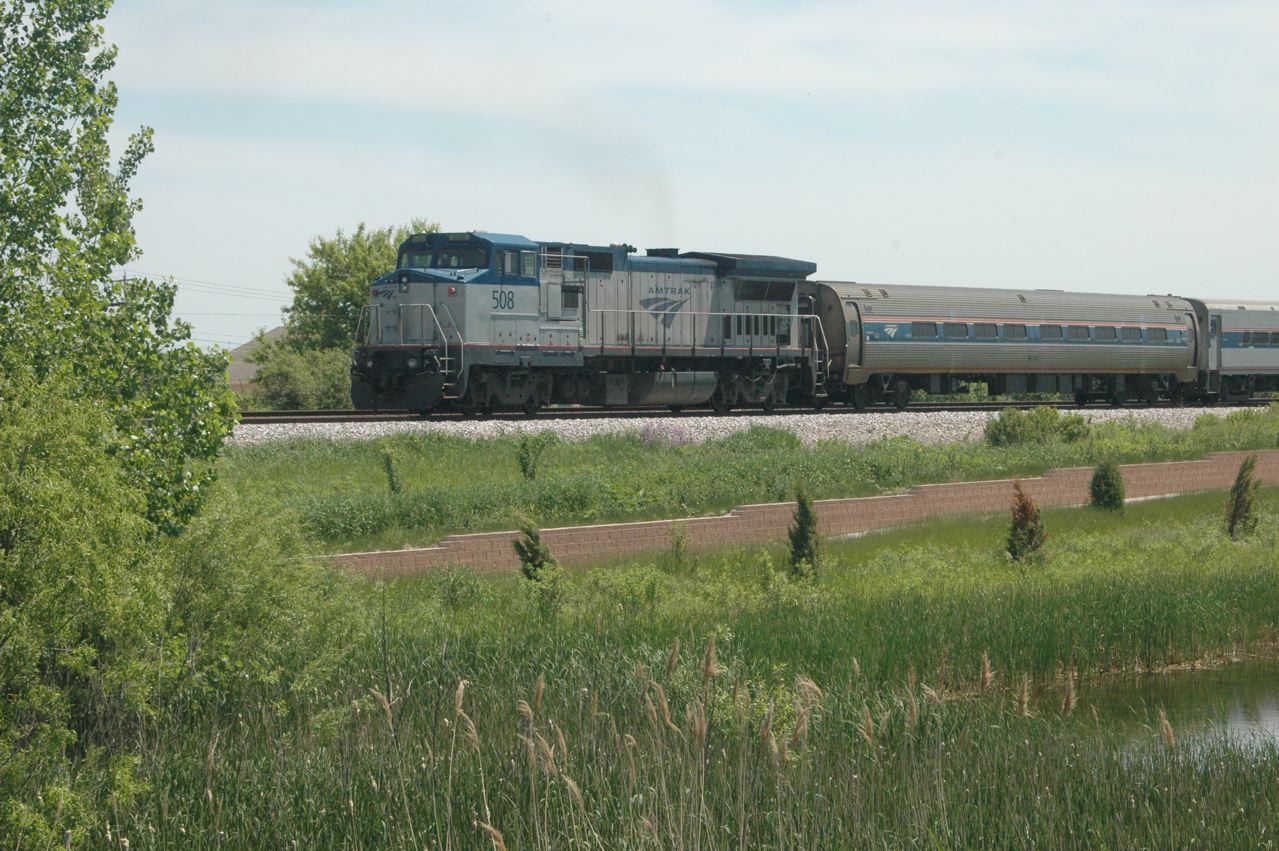 OK, pardon an aside here: I have recently re-arranged my iPhoto library to be arranged by time and date, not roll number. This resulted, to our amusement, in -- on this day -- the baby shower photos being intermixed with my train photos taken at the same time about 40 miles away! (Carol was using the little Canon Power Shot digital camera at the party, and I was using the Nikon D70 "35mm" size.)  So pardon the next frame here, taken at 235 pm (or 1435 railroad time) of our daughter Suzy, at left, and the mother-to-be, Jeannette Madden Haen, at right. The Haens live near us in Waukesha; Jeannette's parents are Jeff and Janet, who live in Wales, 10 minutes west of Waukesha. Jeannette, incidentally, is named for the community east of Pittsburgh, Pa., on NS's former PRR/PC/Conrail main line, as her Dad's Madden clan is from that area. Both these ladies are 30, and don't look it!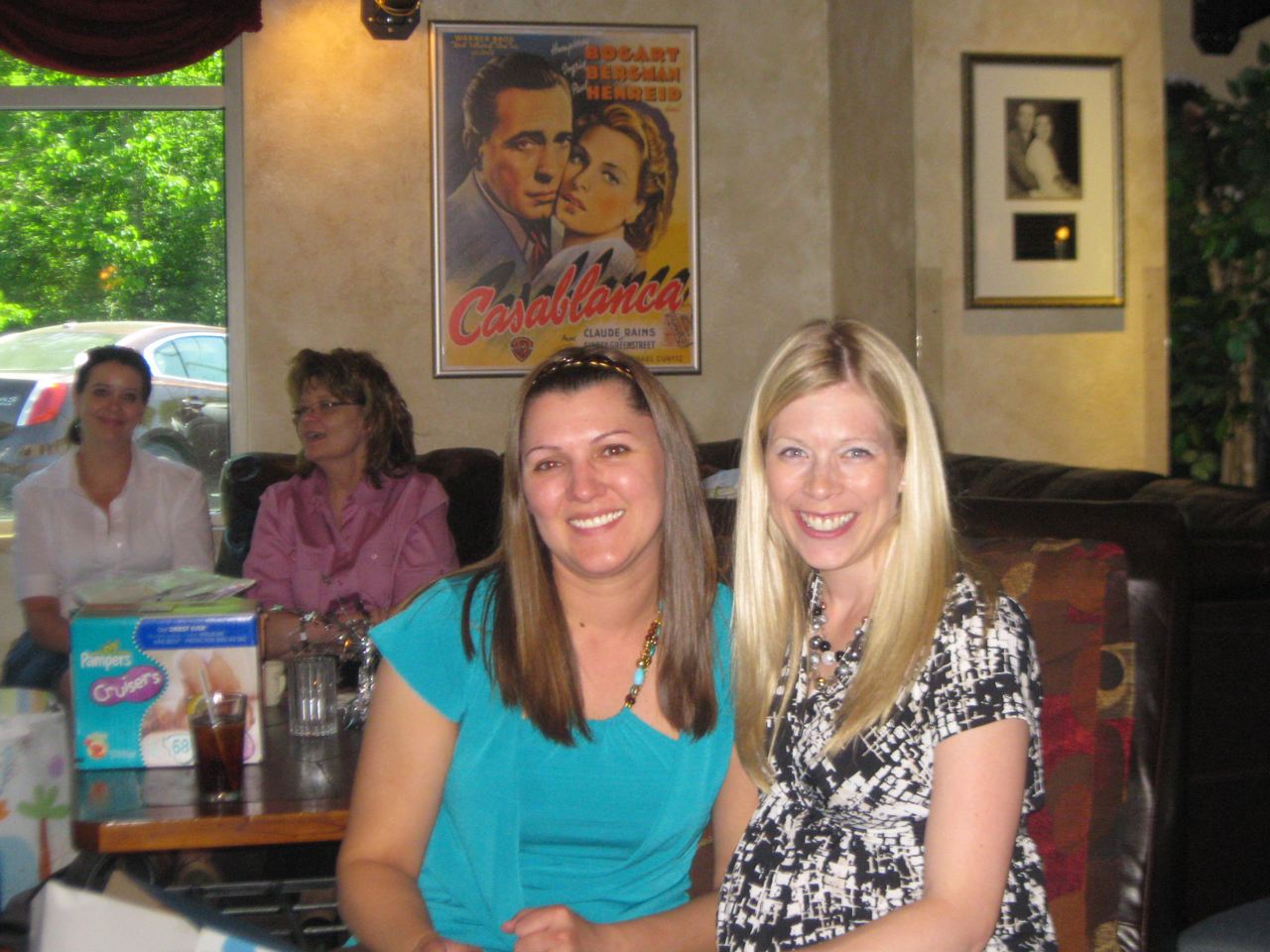 | | |
| --- | --- |
| Meanwhile, back at Sturtevant, at 1342 hours, comes CP #198 south (timetable east) behind 8669/9593 with 47 cars. Freight traffic was a bit light on this afternoon. | |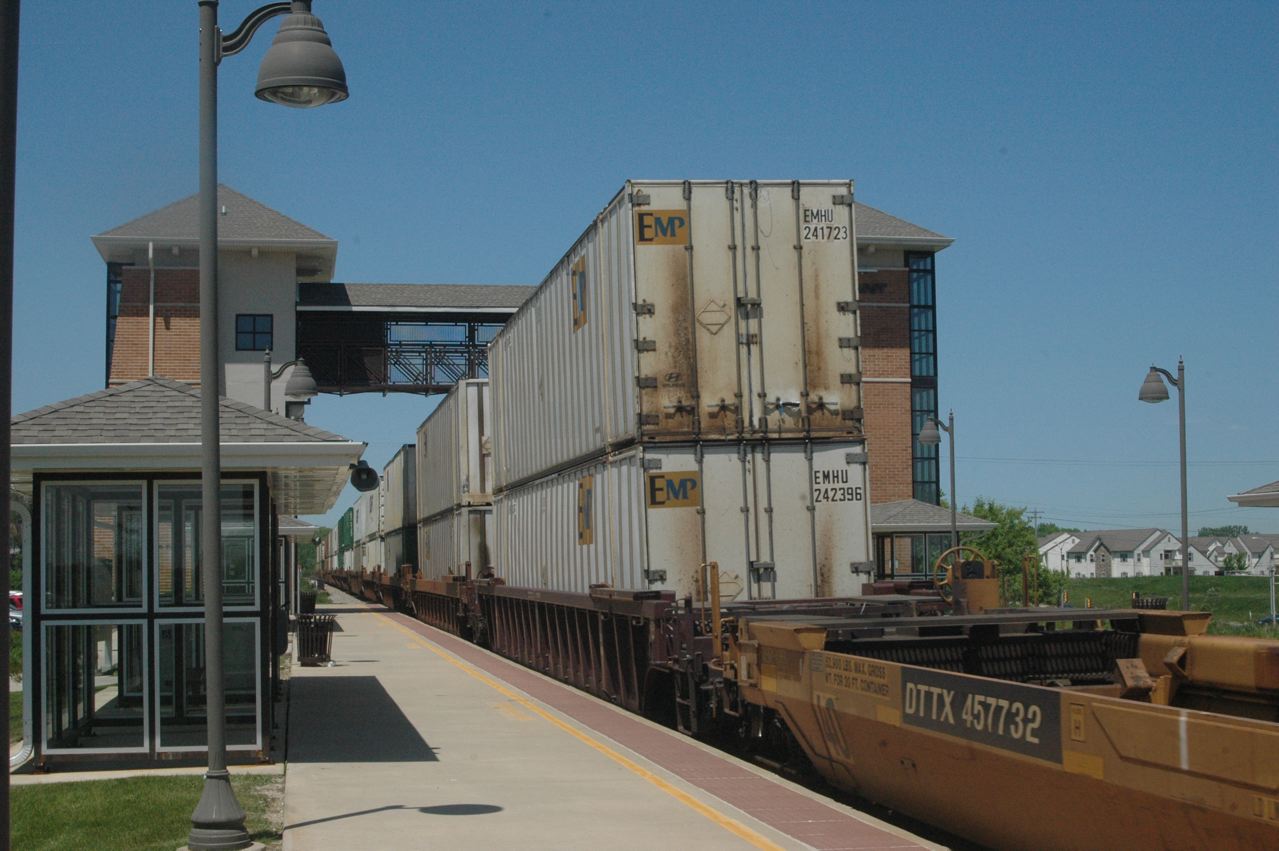 The Heritage unit shows up as promised on Hiawatha #335 at 1408, with the usual 6 cars plus NPCU 90224 on the rear. The NPCU's keep their original F40PH road numbers with "90" added on the front. This Heritage may be my favorite, though the dark-blue "NEC" scheme on #184 (see Paducah Trip file) is a close 2nd.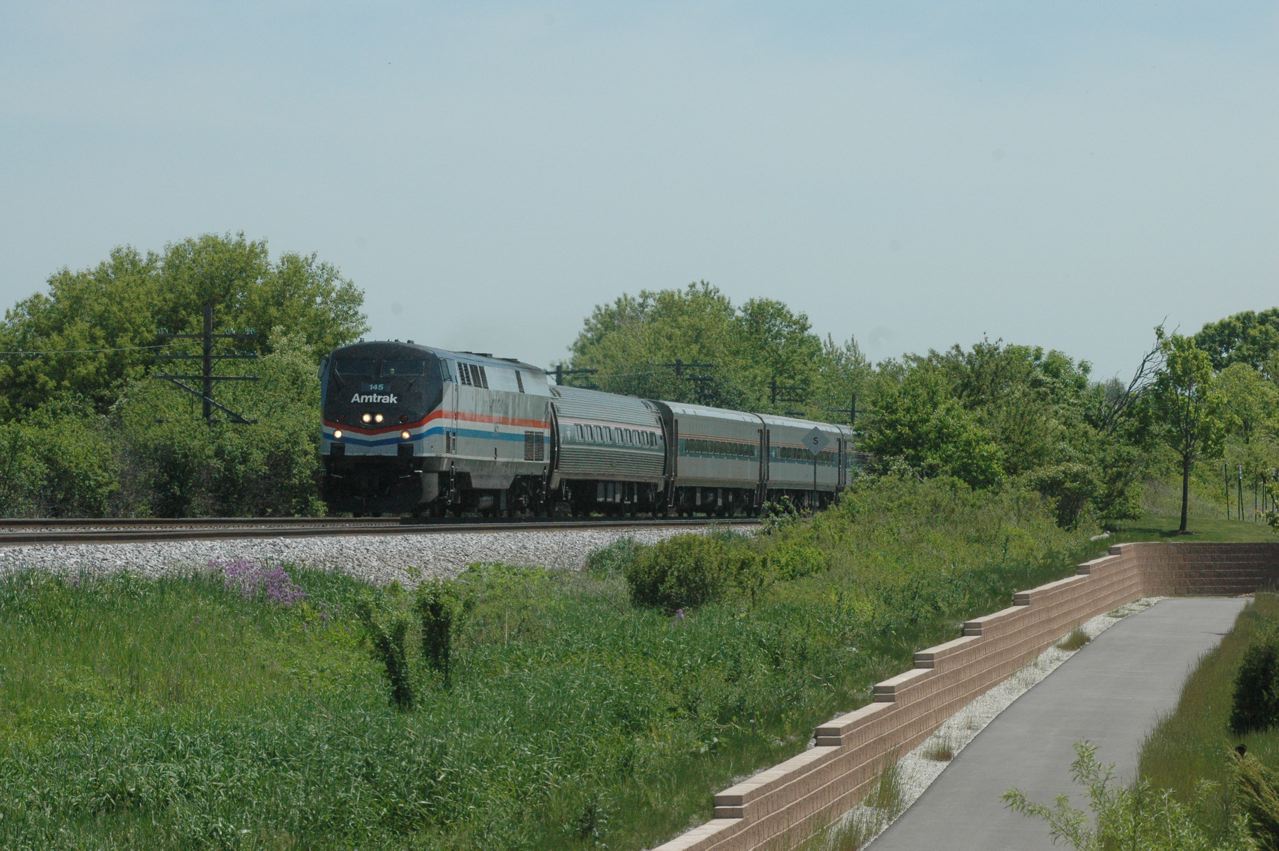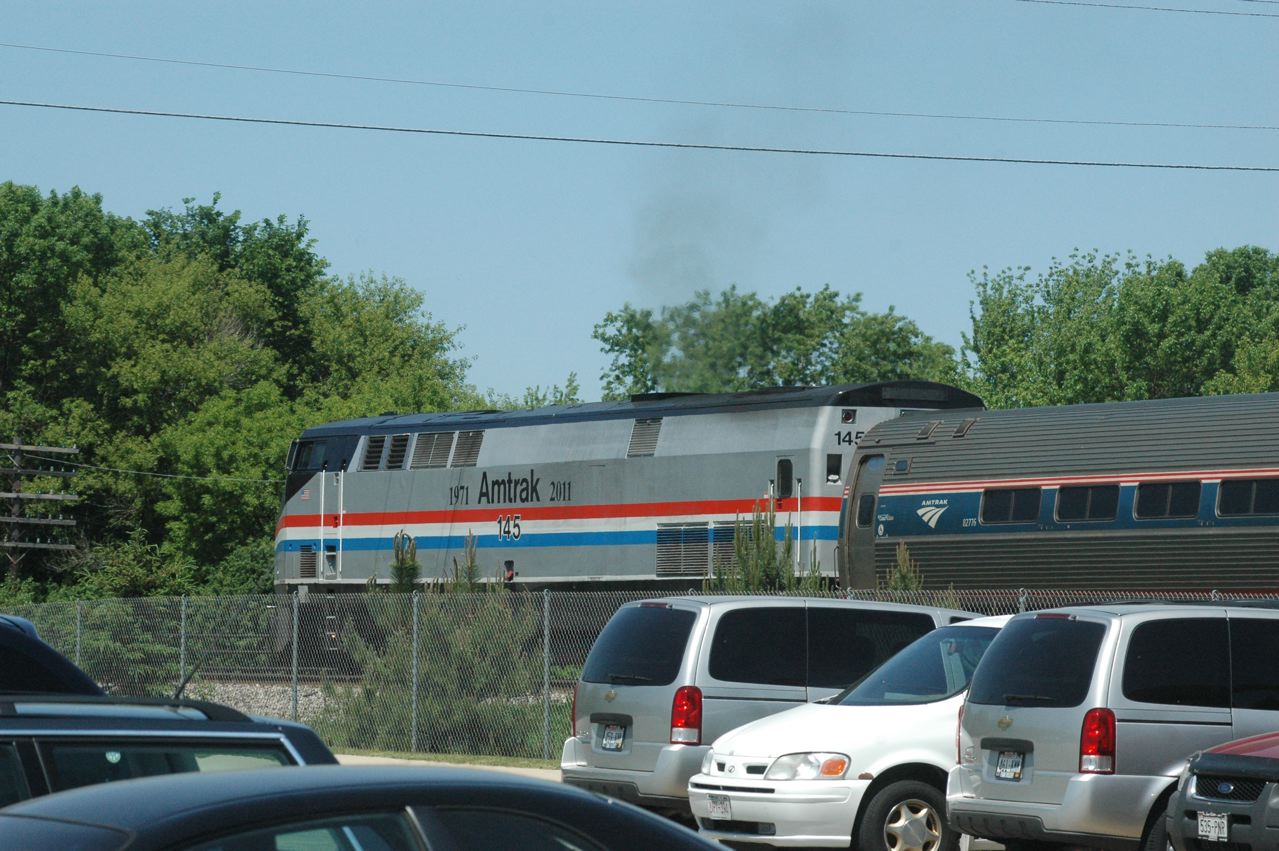 Another of the few freights to be seen was CP #276, "the DM&E train," passing Kraut Road in Franksville at 1500 behind DM&E 6201/IC&E 6429/CEFX 3181 with only 29 cars. They were flying low! The DM&E system (Chicago, Winona, and Twin Cities south and west to western Minn., Iowa, and Kansas City) is rare in that virtually all its road power is SD40-2's. Few carriers, especially of any size, can say that anymore. CP owns DM&E (and IC&E was officially merged into DM&E upon purchase by CP), but pretty much maintains it as a separate operation.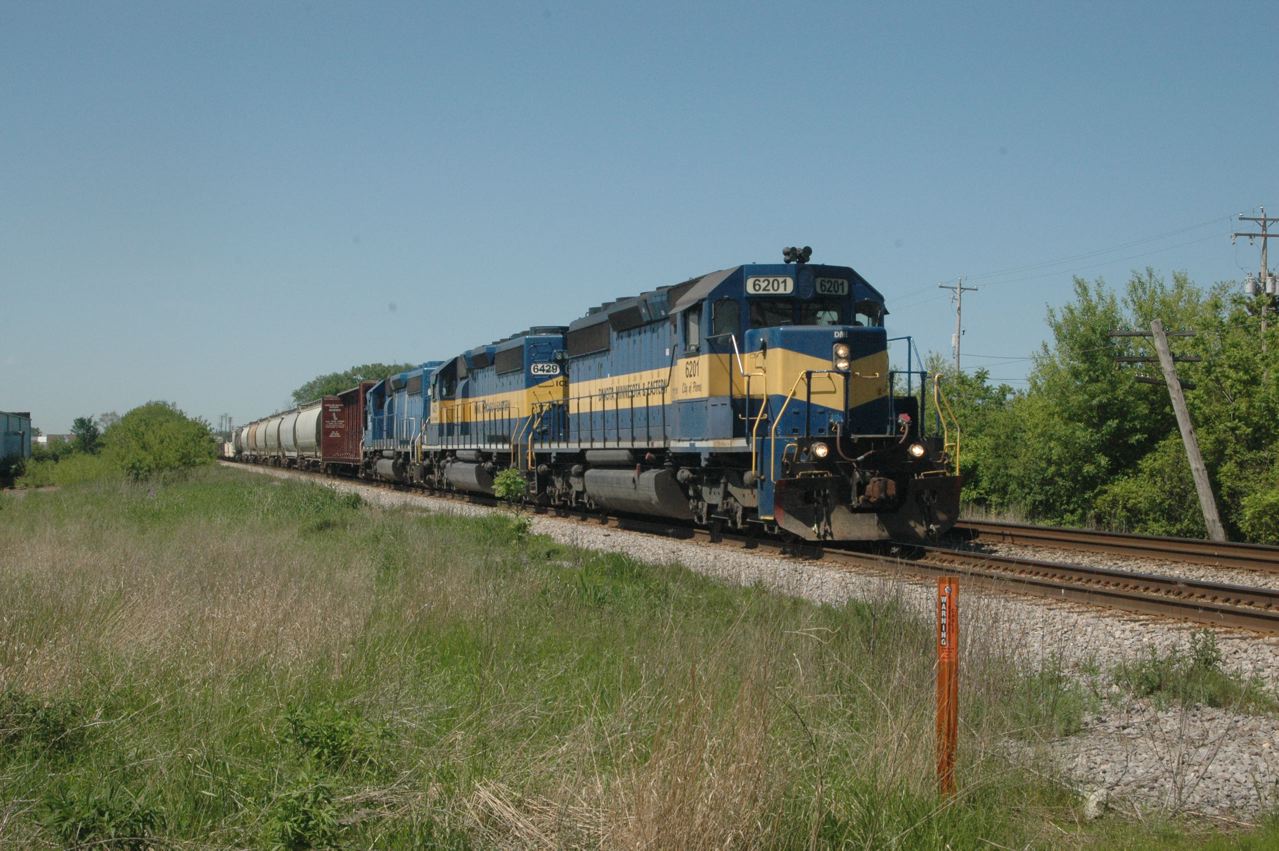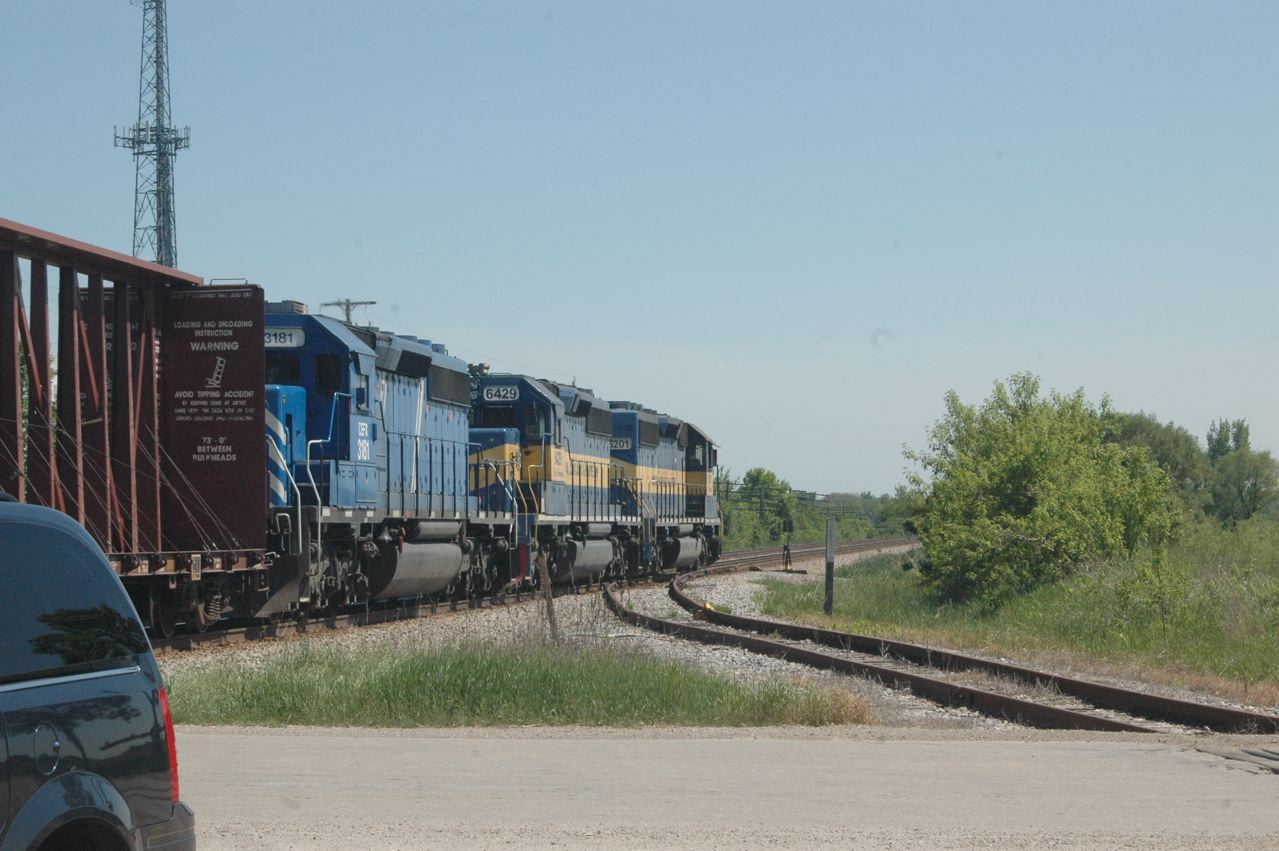 Back to Sturtevant (SVT to Amtrak) for Hiawatha #338 at 1525 hours with the Heritage unit trailing. In between this shot and the one above I did photograph Amtrak #807, with Craig Willett at the throttle, with units 816/815 again, at Franksville at 1516, but at that speed I took only a slide.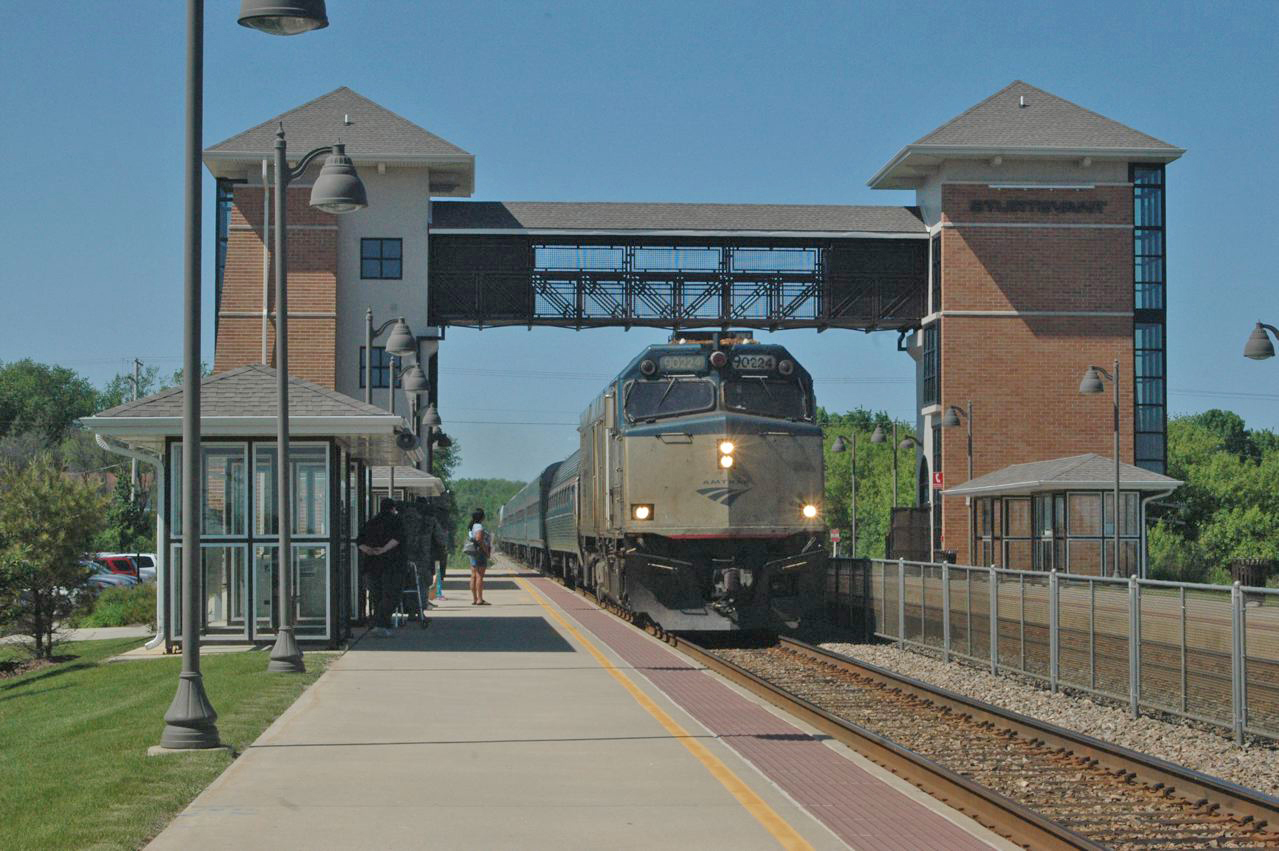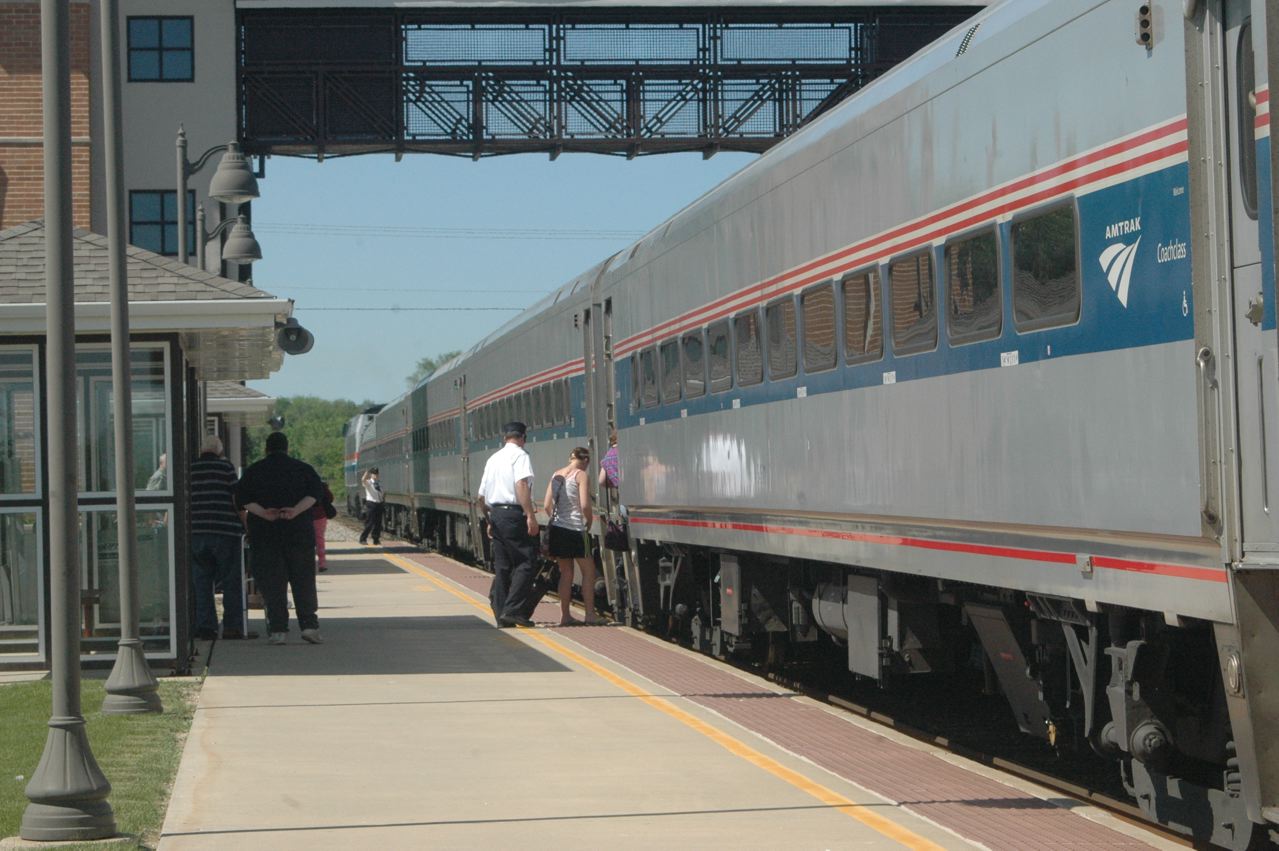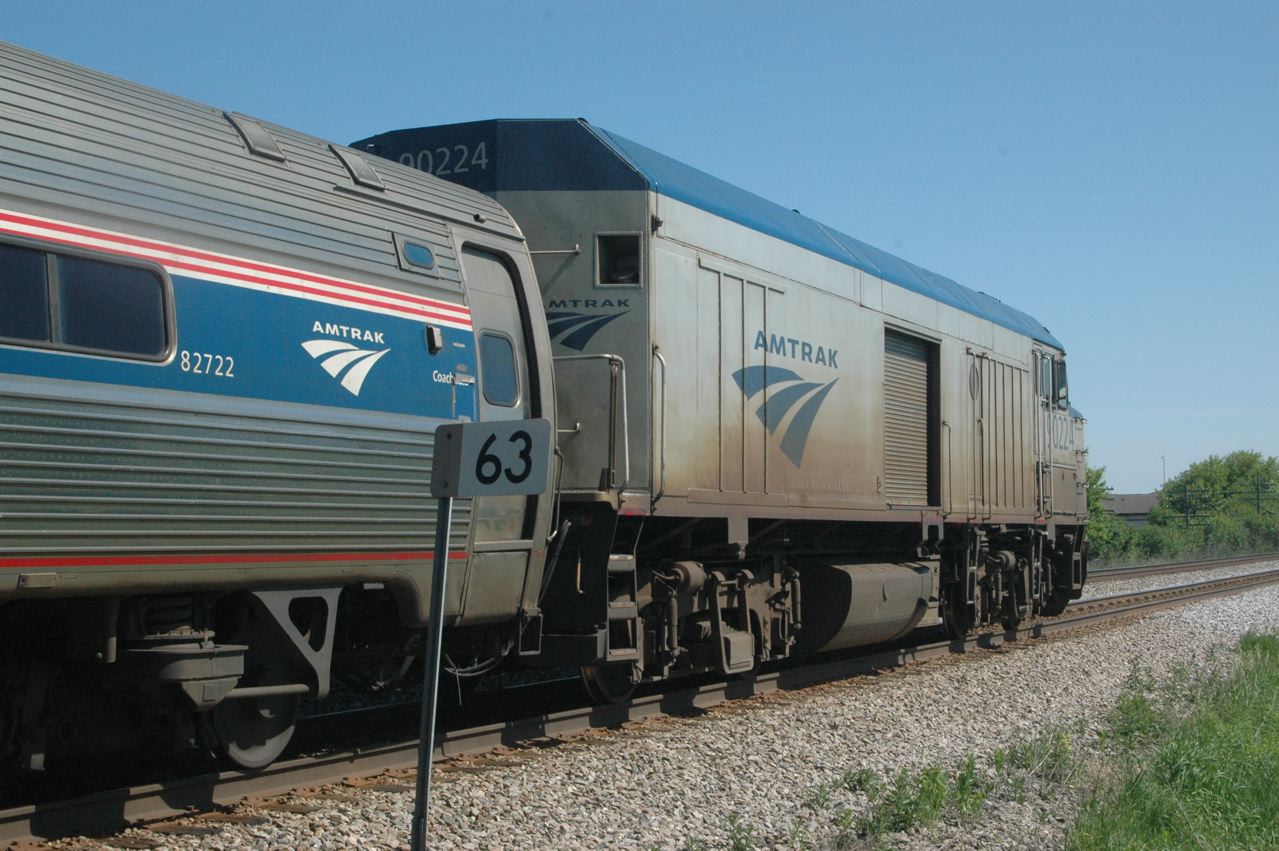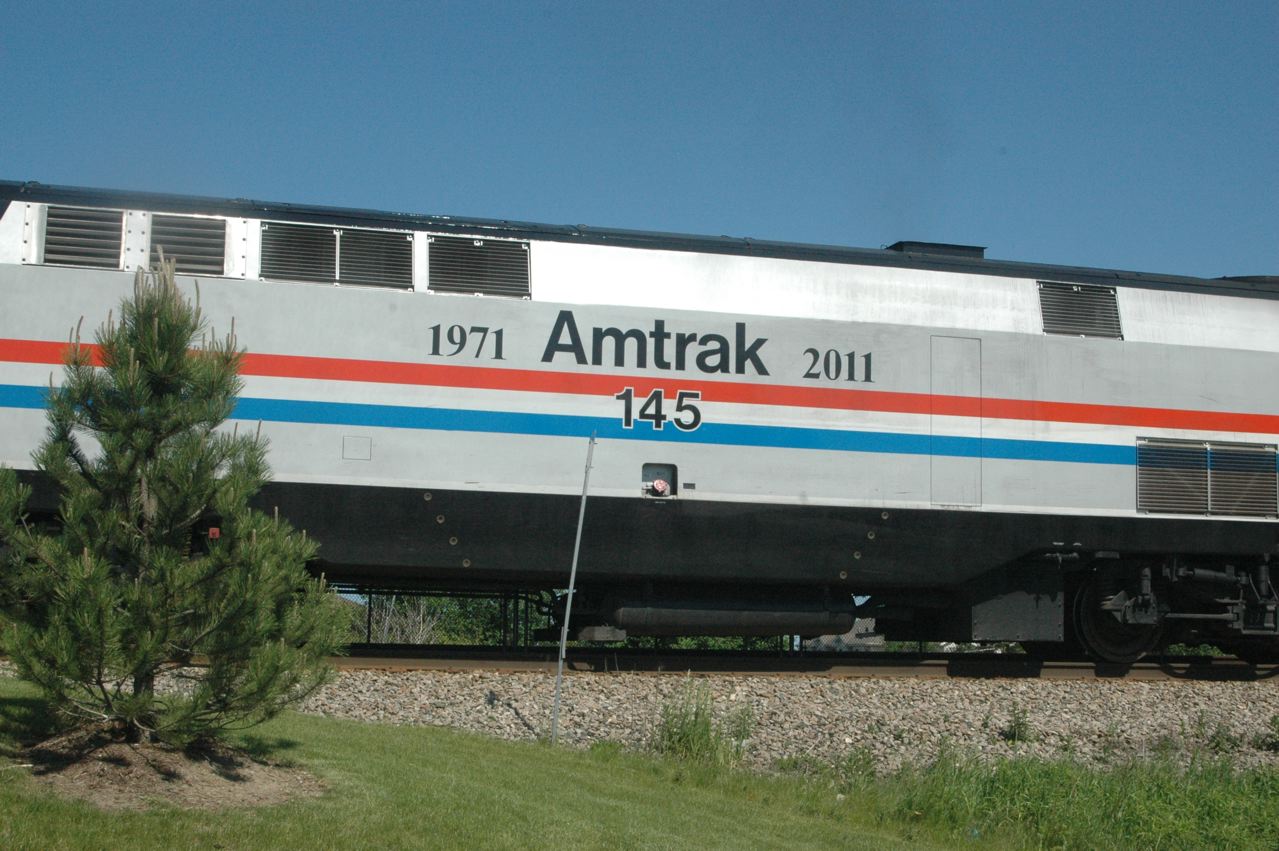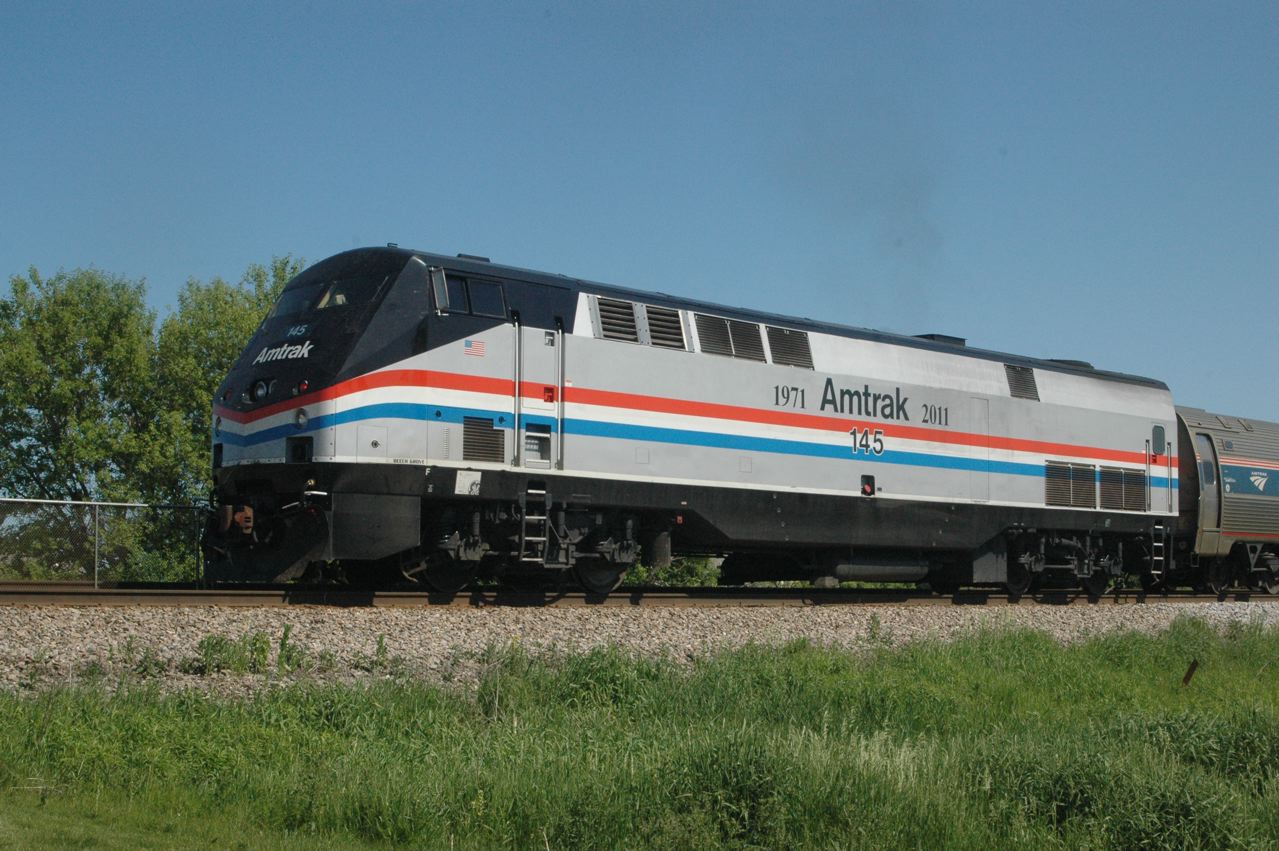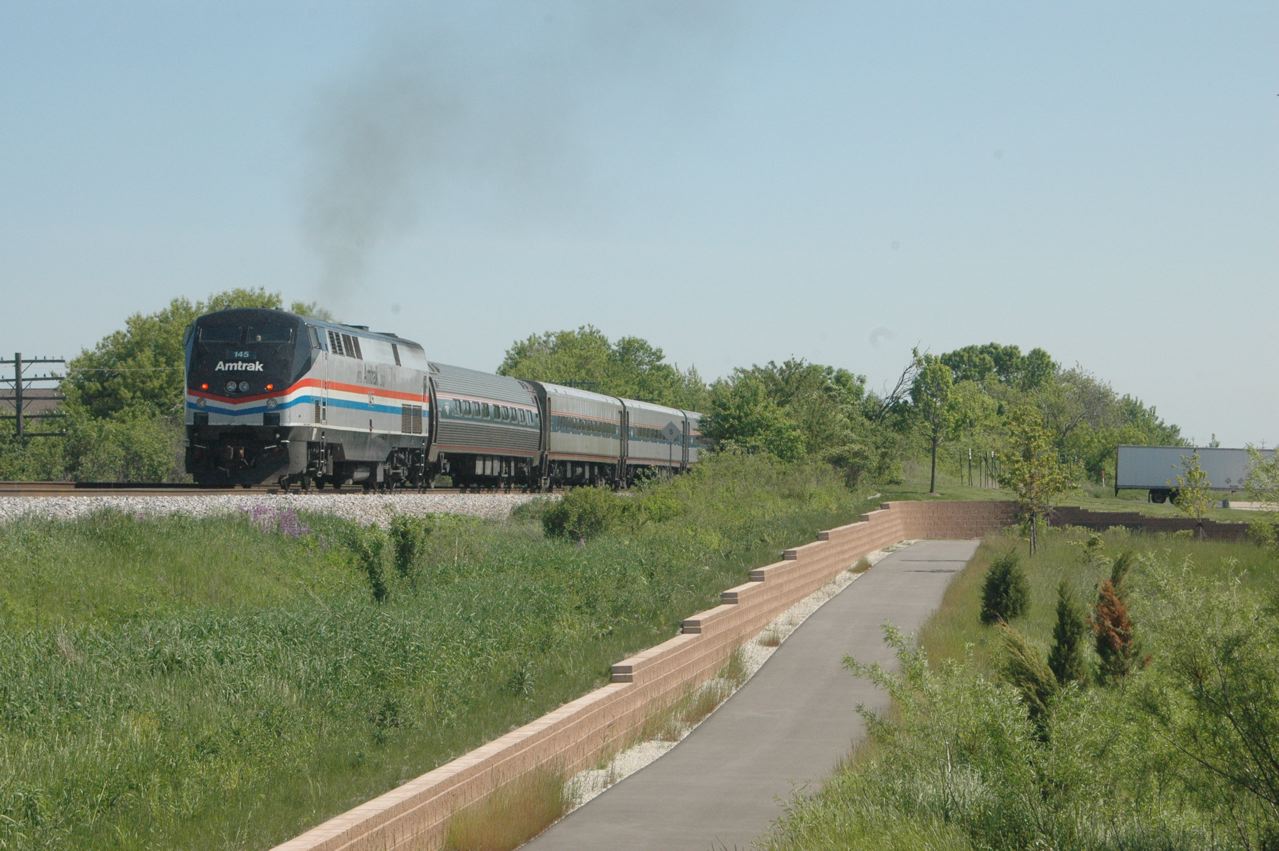 En route home, I waited for Hiawatha #337 to catch up with me at Puetz Road in Oak Creek, the last grade crossing before Milwaukee city limits (and there are only two between city limits and the passenger station), at 1627, with the 508/90413 trainset.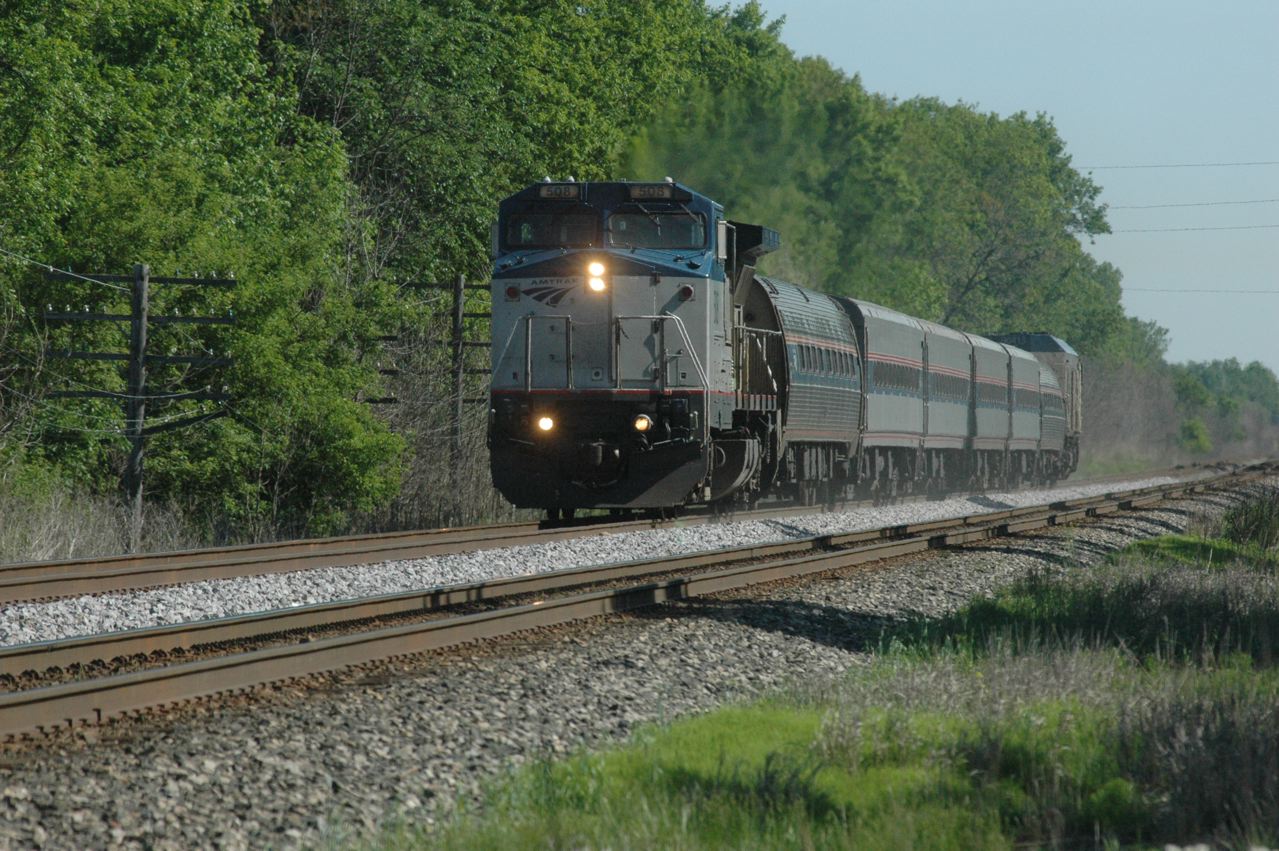 June 17 marked one of the last, if not the last, "complete" large Empire Builders to leave Chicago for the west coast. This is Duplainville at 1620 hours with old friends 815/816 and 13 cars, engineer Willett at the throttle, waving his orange timetable as is his custom.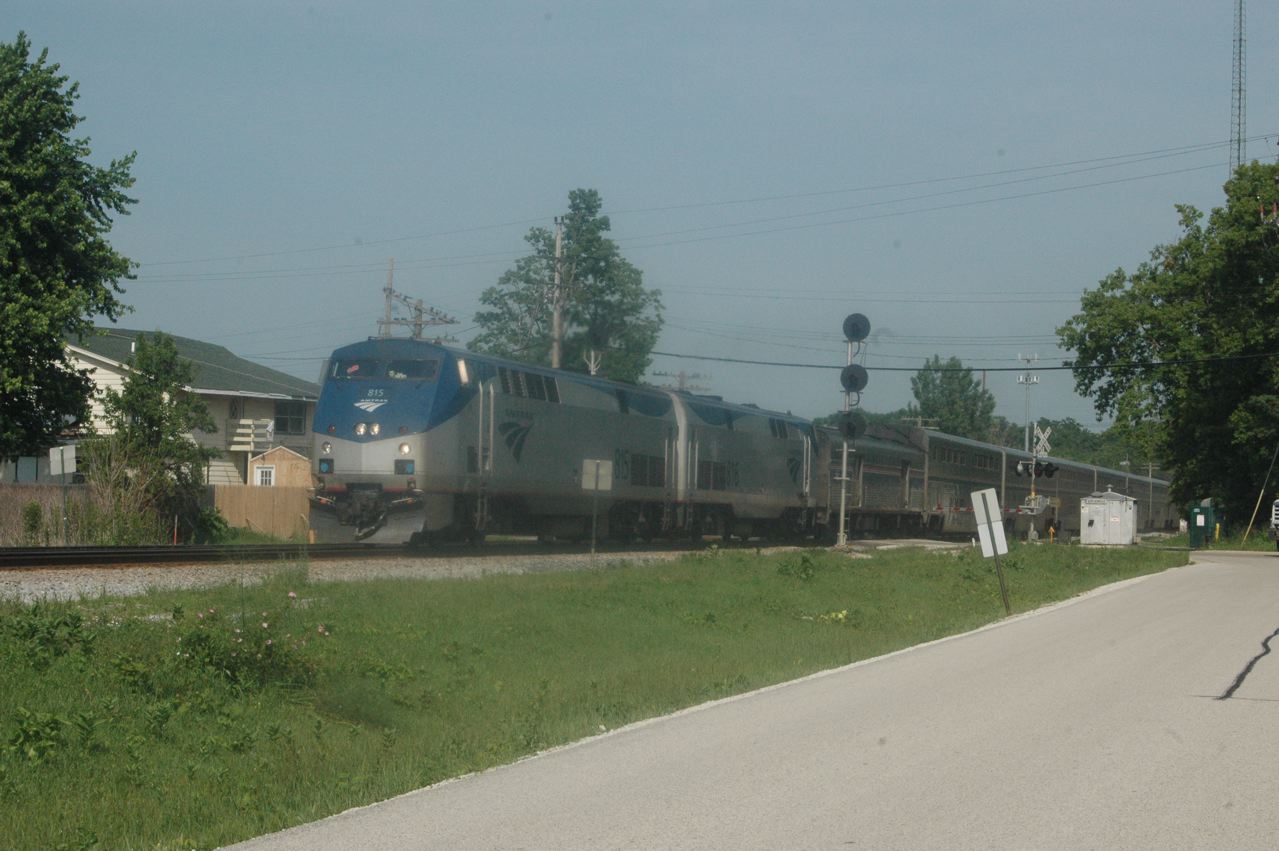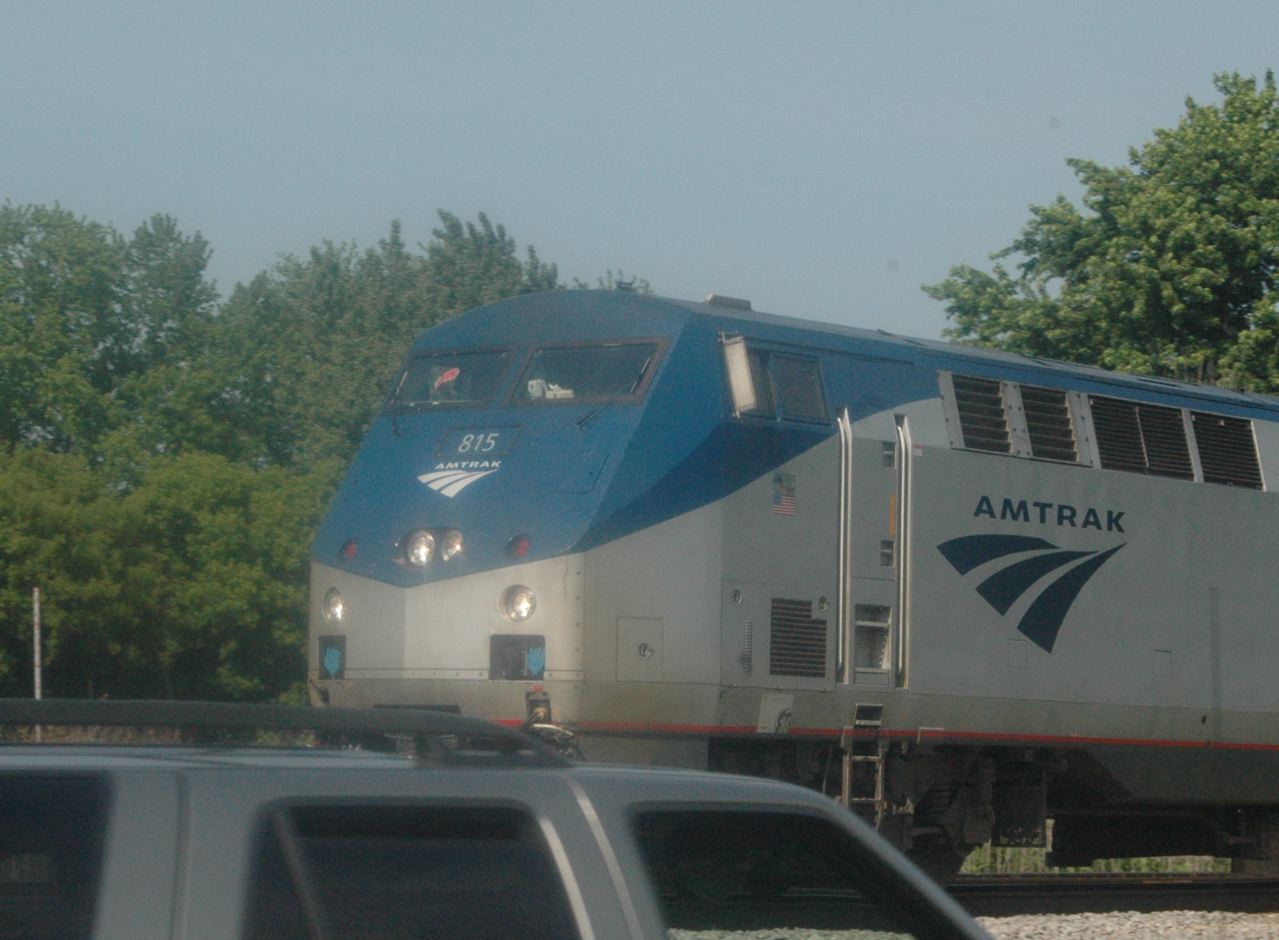 Iowa Pacific's ex-Santa Fe full-dome-lounge, formerly the Nenana in Alaska tour service, was on the rear, deadheading out west for the NRHS convention upcoming in Tacoma. Some private cars had to go to Seattle via Los Angeles for the convention after the Builder ceased thru service again account more flooding in North Dakota.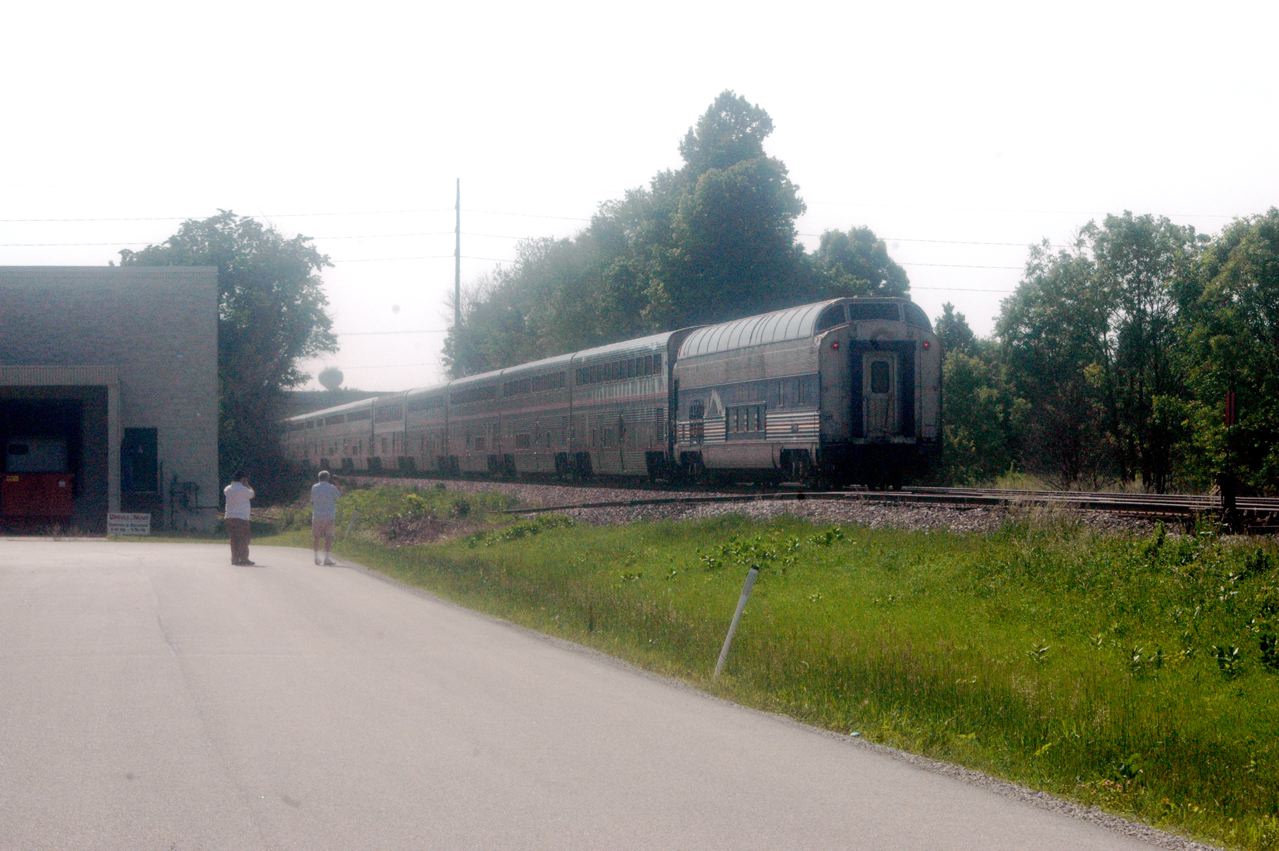 It being a nice day this Friday, we rode west and let CP #283 catch up with us at Vettleson Road in Delafield, just east of the Nashotah passing siding. It's 1717 hours, units 8831/8714 with 132 cars.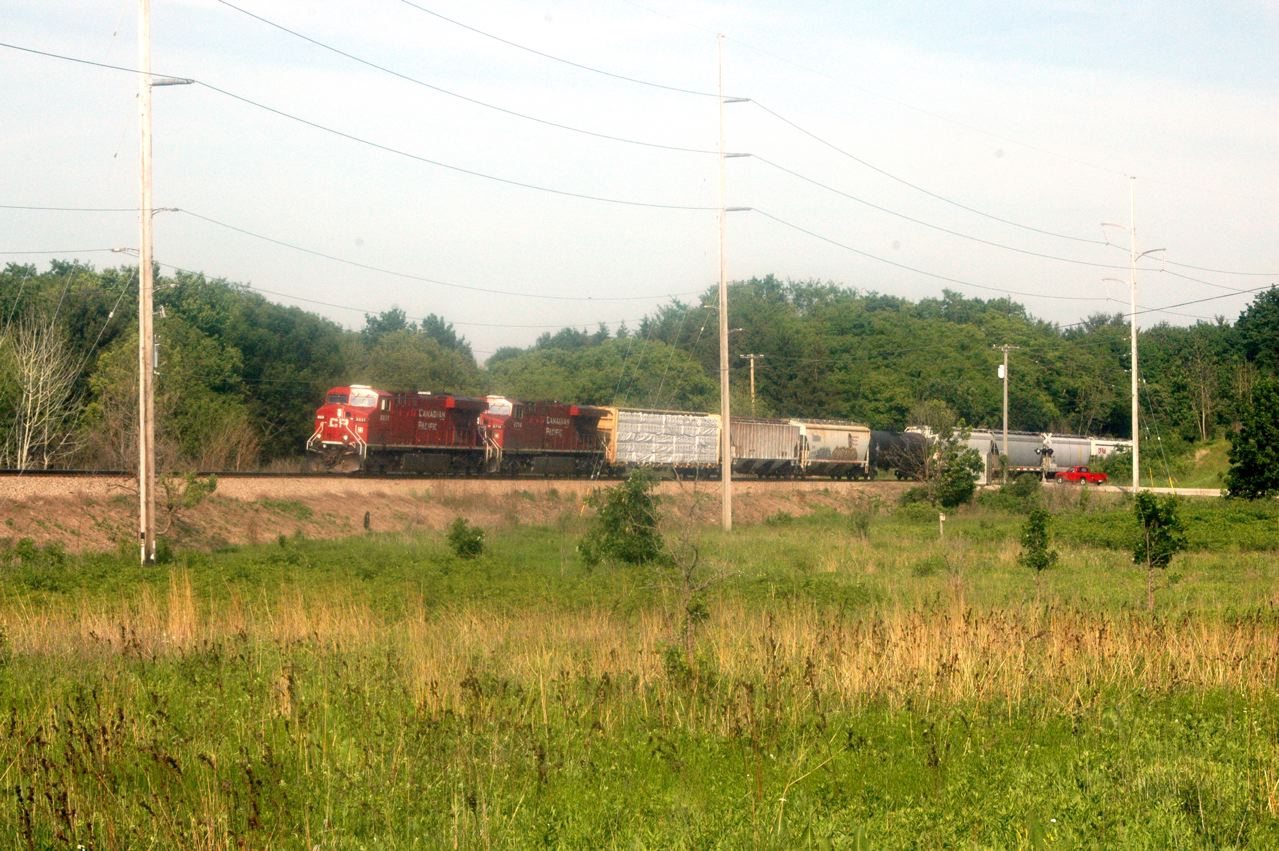 At Nashtoah, Milwaukee-Watertown local G-67 was waiting for #283, then resumed his homeward trek to Milwaukee: units Soo 4445/4410 with 11 cars at 1737 hours. Soo's roster of 53 GP38-2's, now with only 2 missing via wrecks years ago, plus CP's ex-MILW GP38-2's and a few GP40's, both ex-MiLW and ex-Soo with a few other rebuilds thrown in, still do all the local work from and including Bensenville Yard in Chicago to Portal, N.D., and Thief River Falls, Minn. The amazing thing is that well over half of them still wear original Soo red and white, and they do it pretty well for their age. It's a favorite fleet of this photographer, and getting two back-to-back on this local was a treat, as G-67 often has only one unit, and/or a mix of one of these with a red one of some kind (Soo or CP red).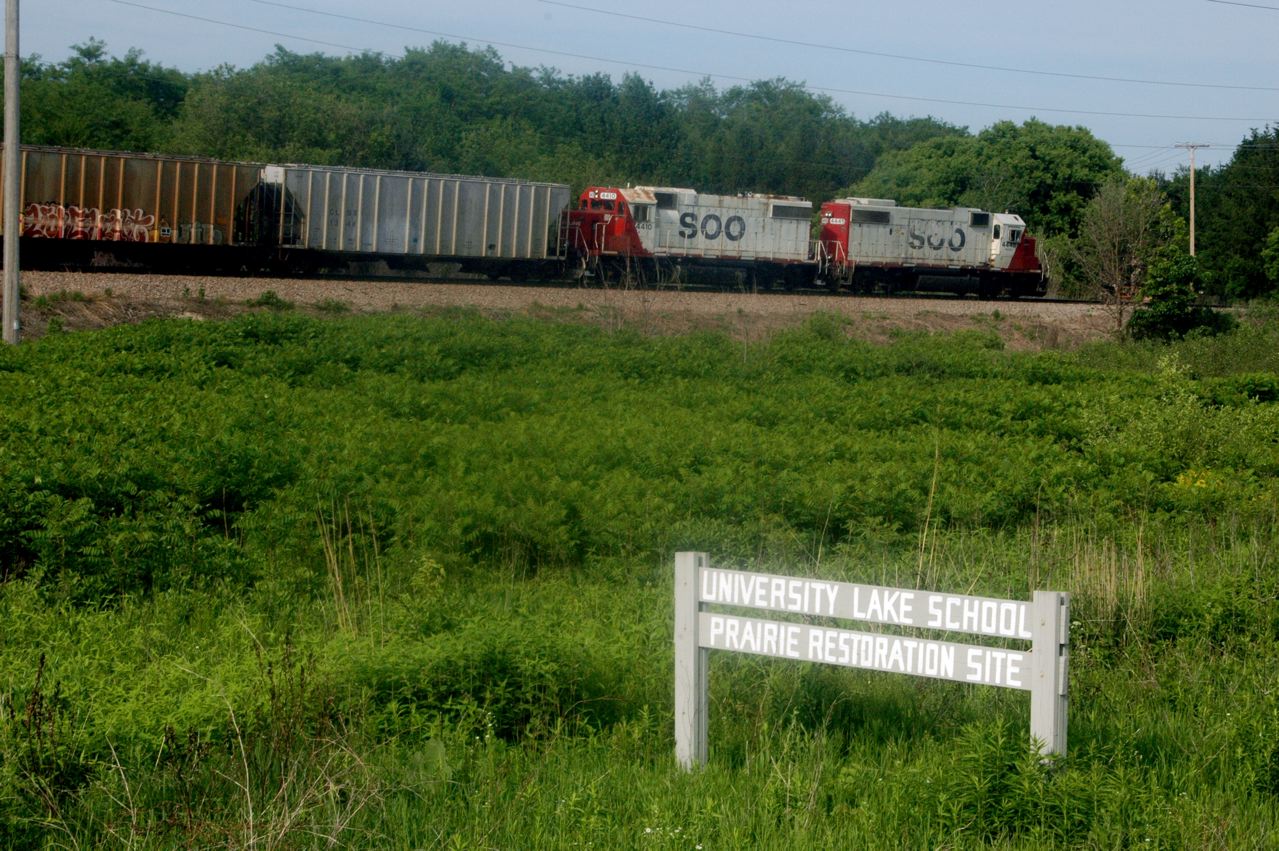 During a half-day of "work" (well, I do get paid) at Kalmbach on June 21, the word was out that two Indiana Rail Road SD90MAC's were called out of Portage on an empty coke train for Chicago, so I detoured home via Duplainville, and sure enough, they showed up at 1218 wih 74 cars, units 9006/9005, my first sighting of this class.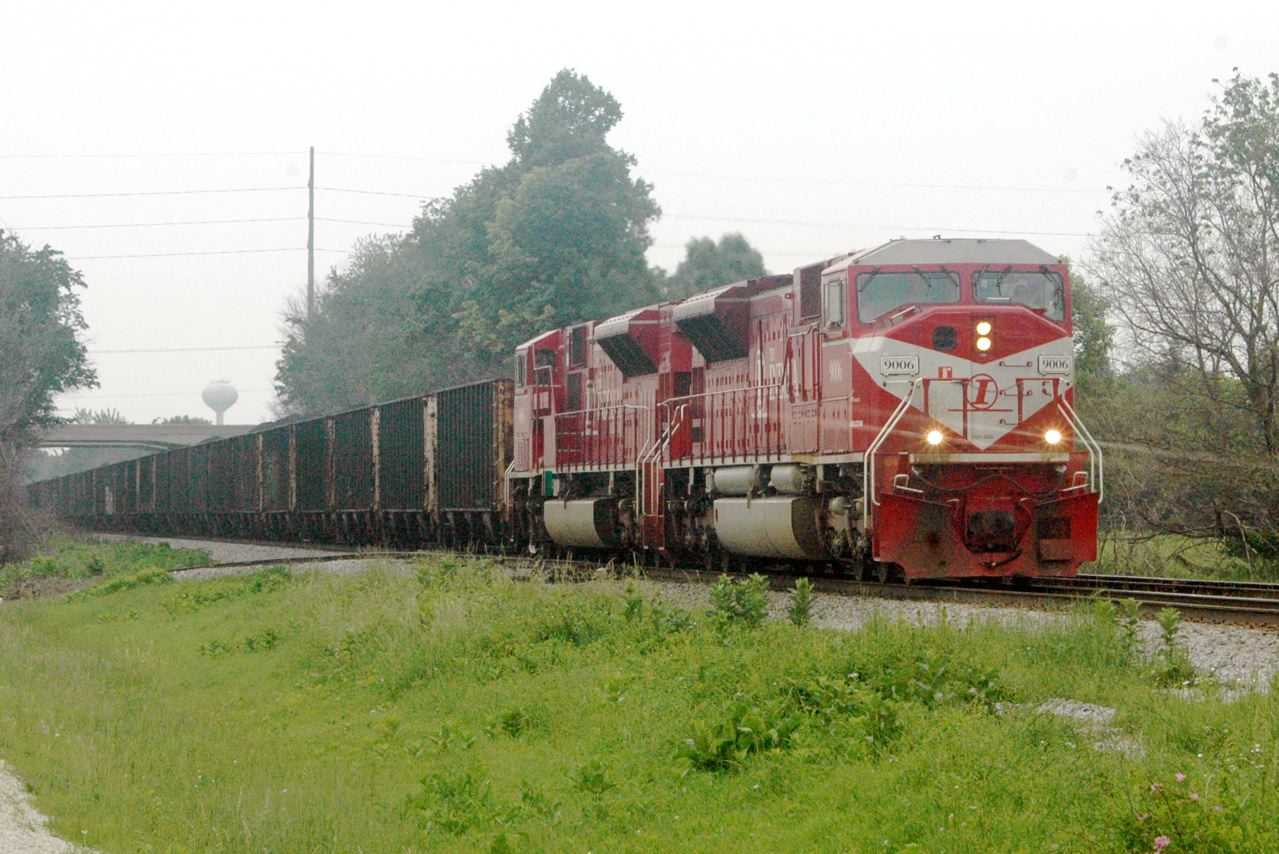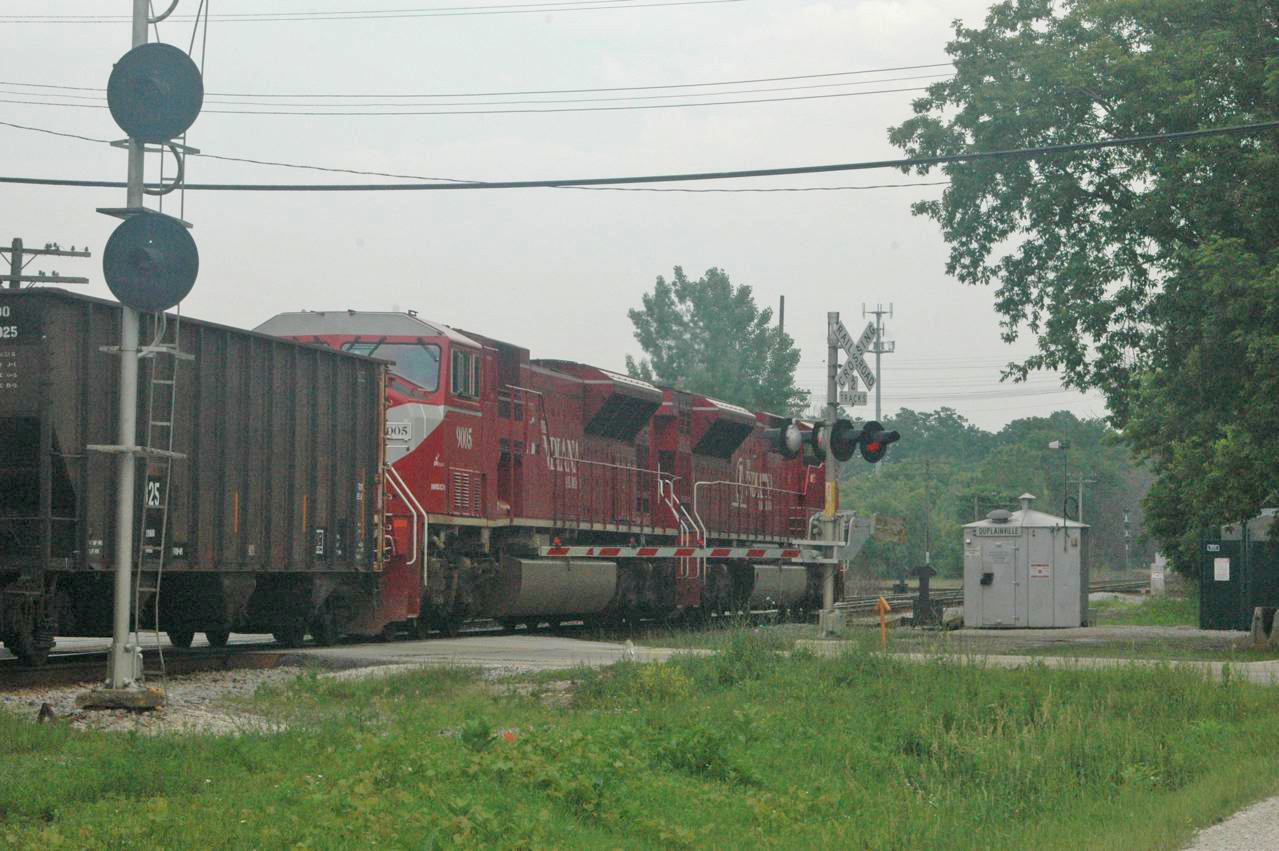 On June 24, a Friday, I was out to see what was about; this is #808 at Brookfield with 205/145 and 5 cars, Mr. Willett at the throttle; note the lounge is 2nd back.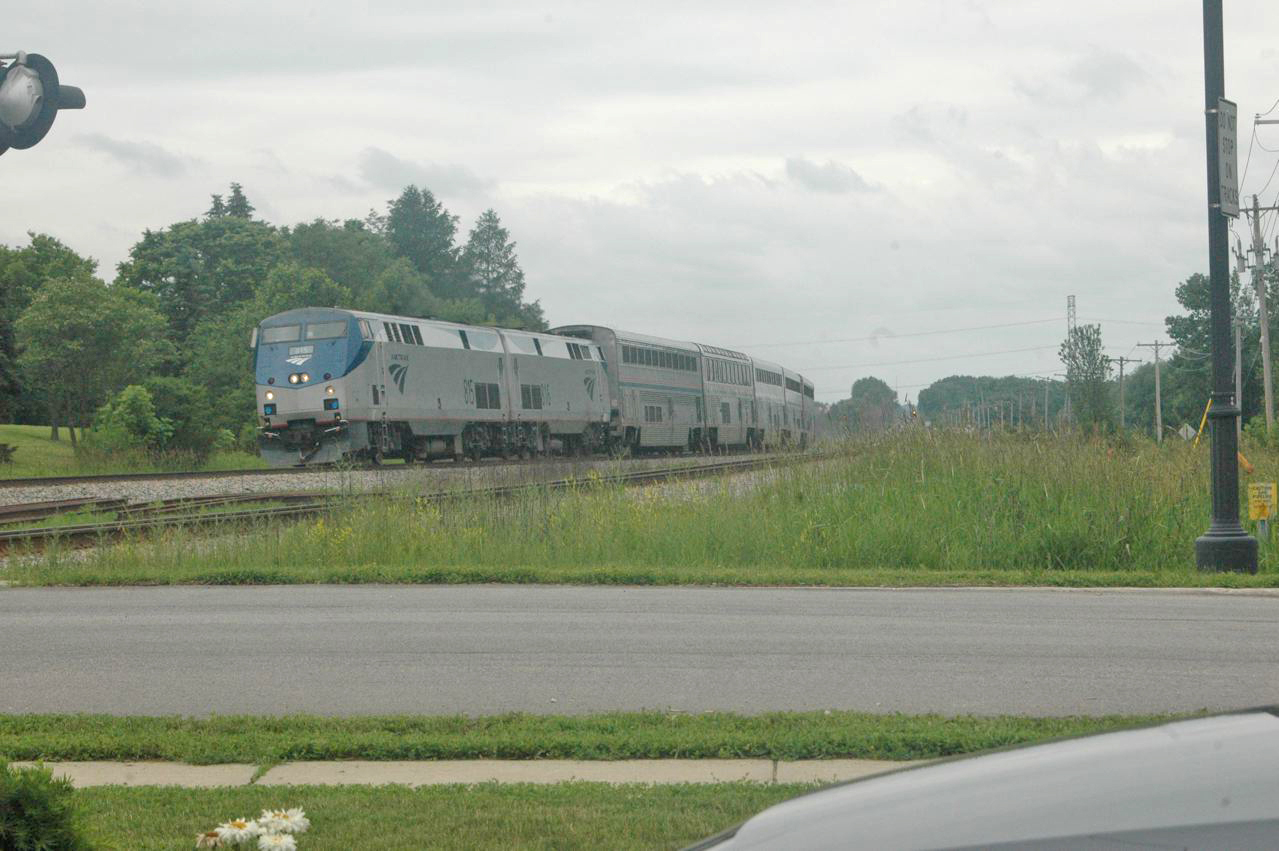 On the way to a haircut in Waukesha, I had just enough time to nab CN #199 entering Waukesha behind 2620/8012 at 1455 hours.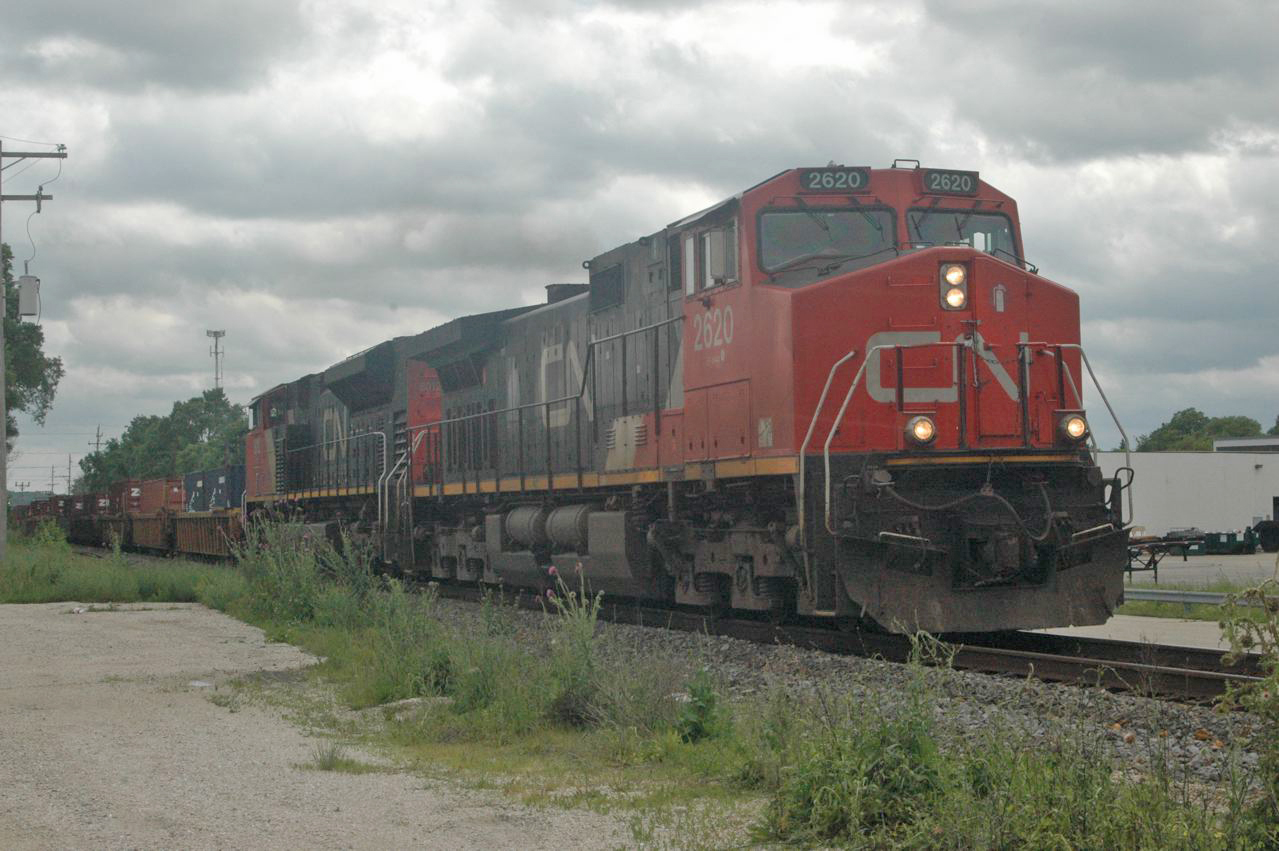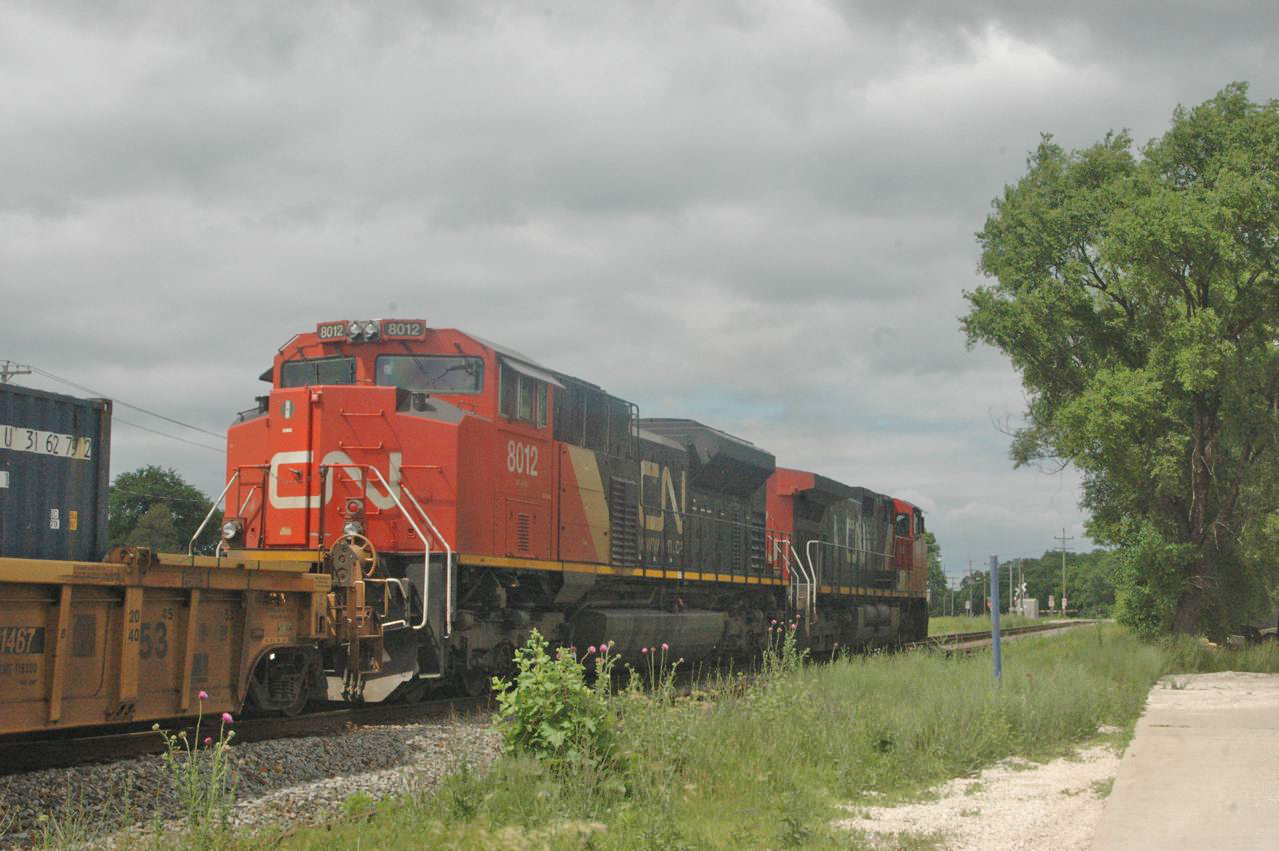 After #807 passed, I was at MP 101 in Brookfield to get G-67 returning east behind Soo 2010/CP 3015 with 9 cars at 1650 hours. The 3015 is one of four in that series CP assigned to St. Paul years and years ago, and they've never gone back to Canada.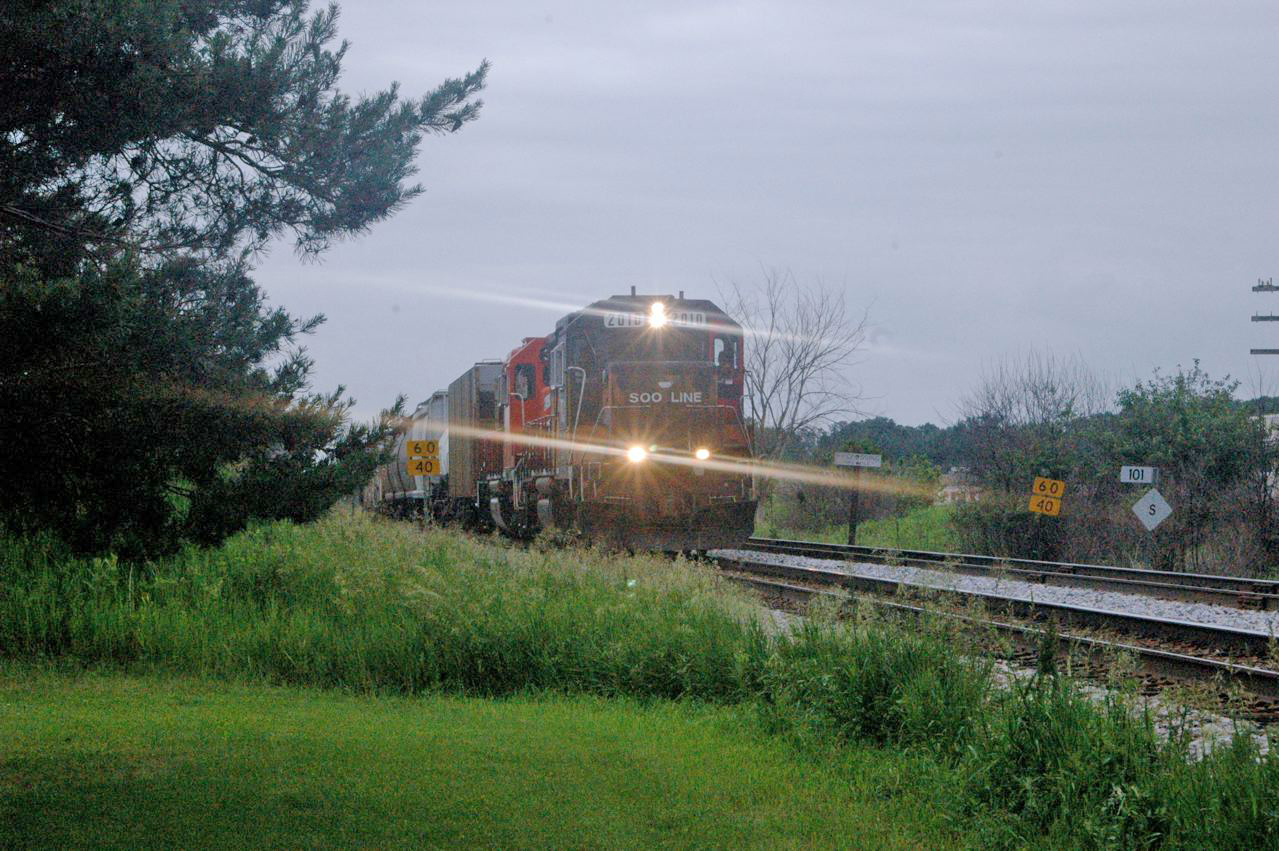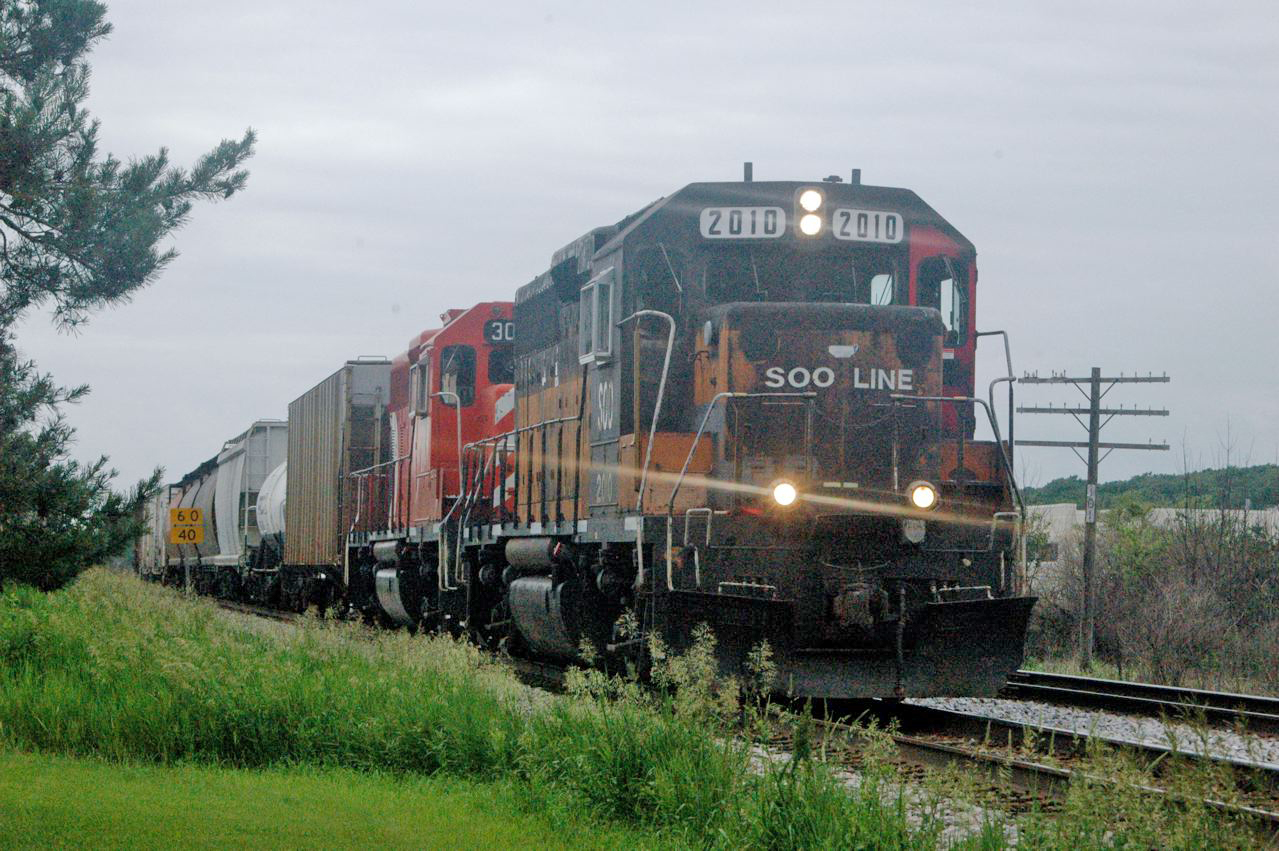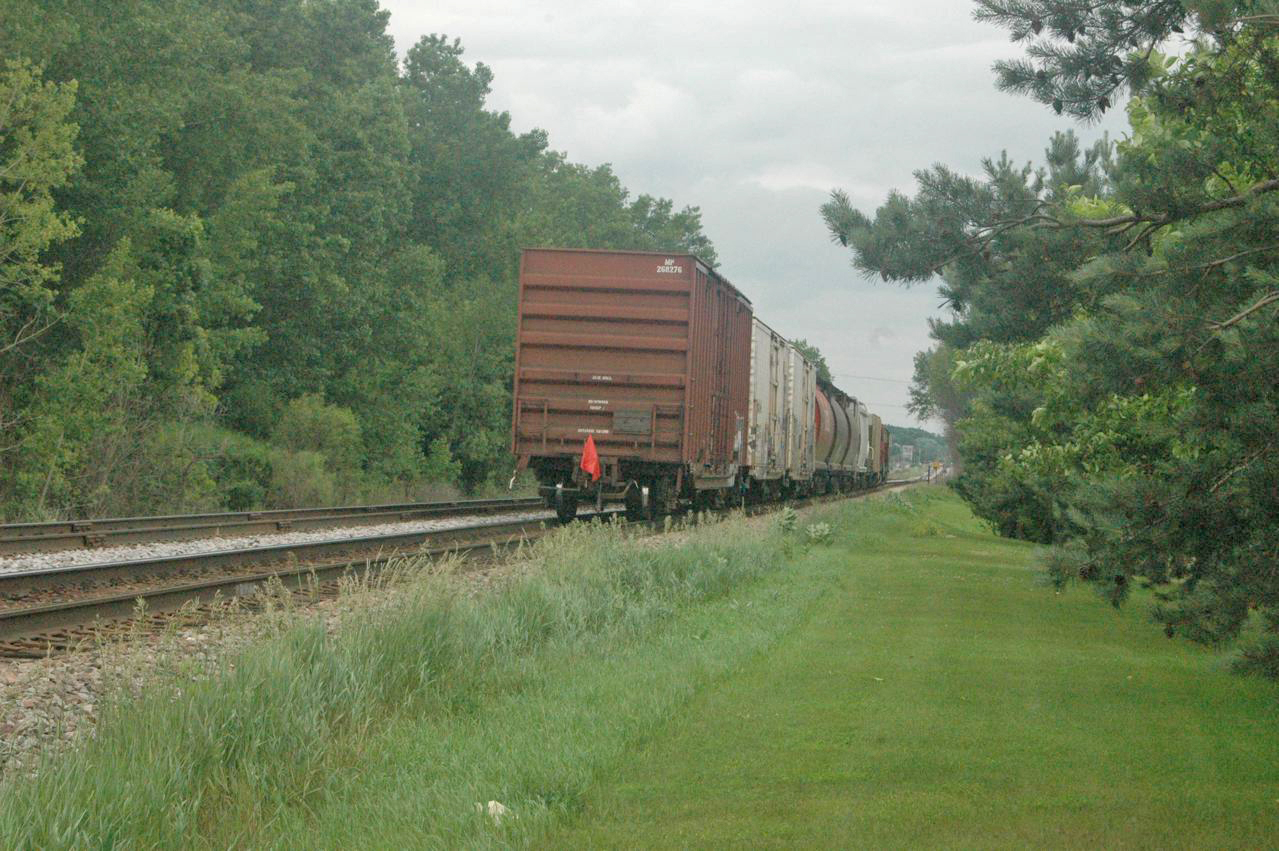 Sunday afternoon, June 26, was nice enough to go out, the big objective being to finish a roll of film (remember that?) in the slide camera (remember slildes?). Here is a CN southbound at MP 104.25 behind 8900/8925 with 139 cars at 1637 hours, on Duplainville siding for a meet.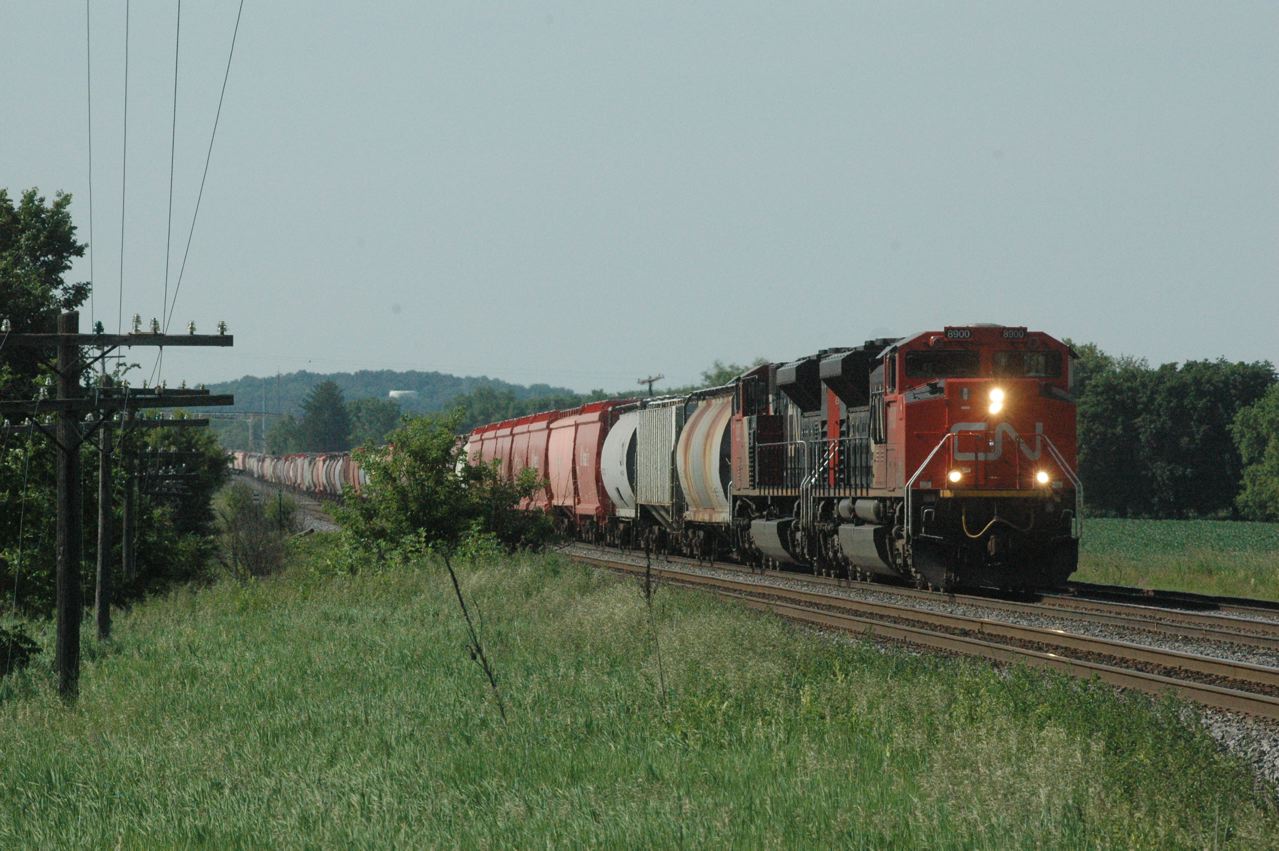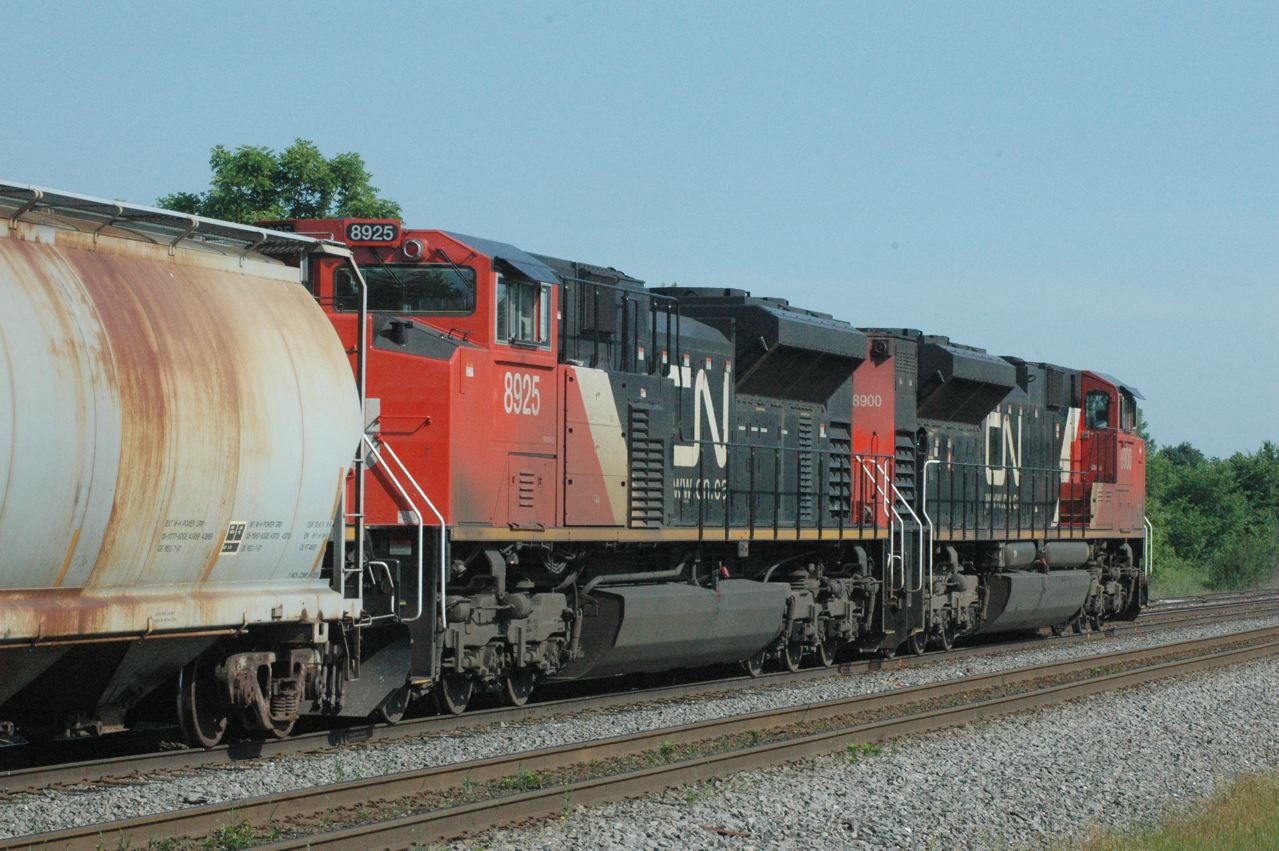 DPU's, seen on long CN trains occasionally, were 95 cars back: IC 1003/CN 2340.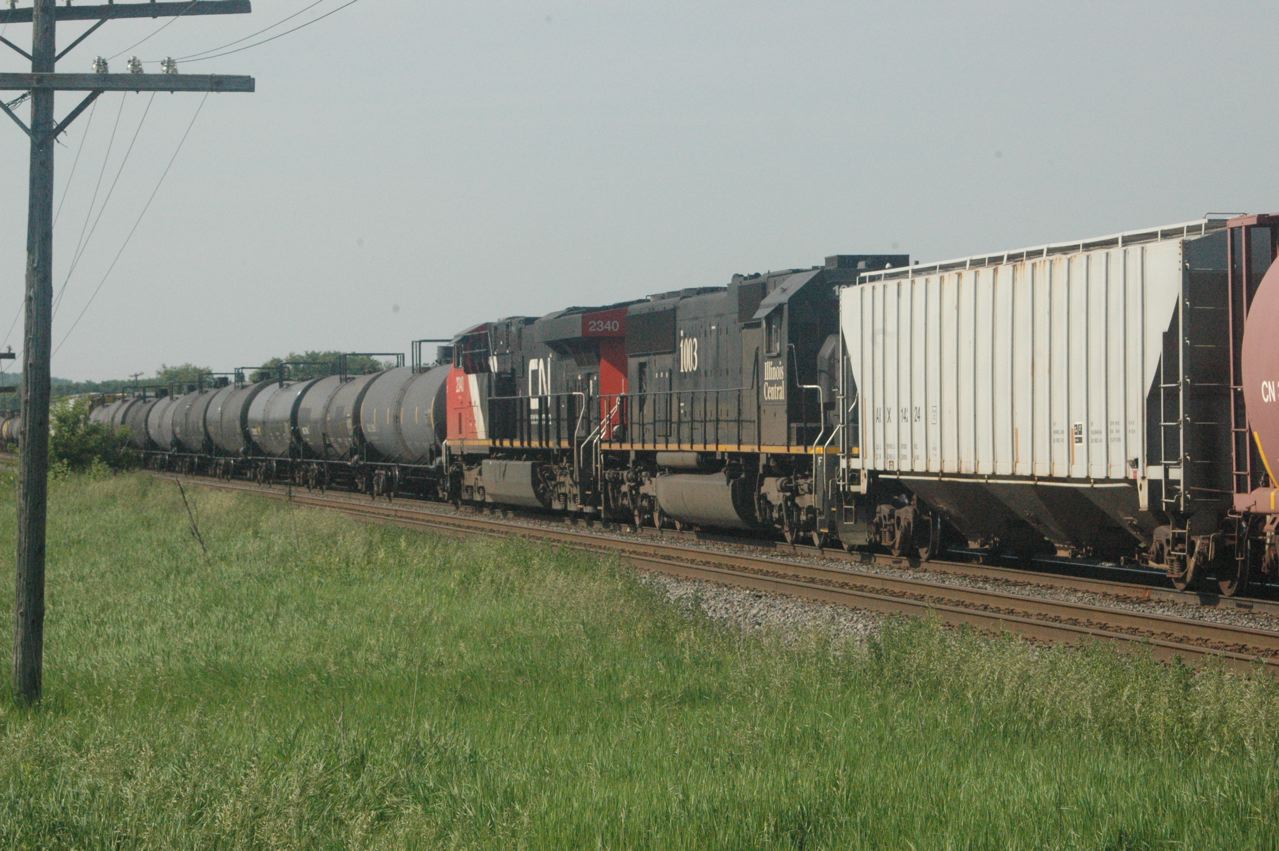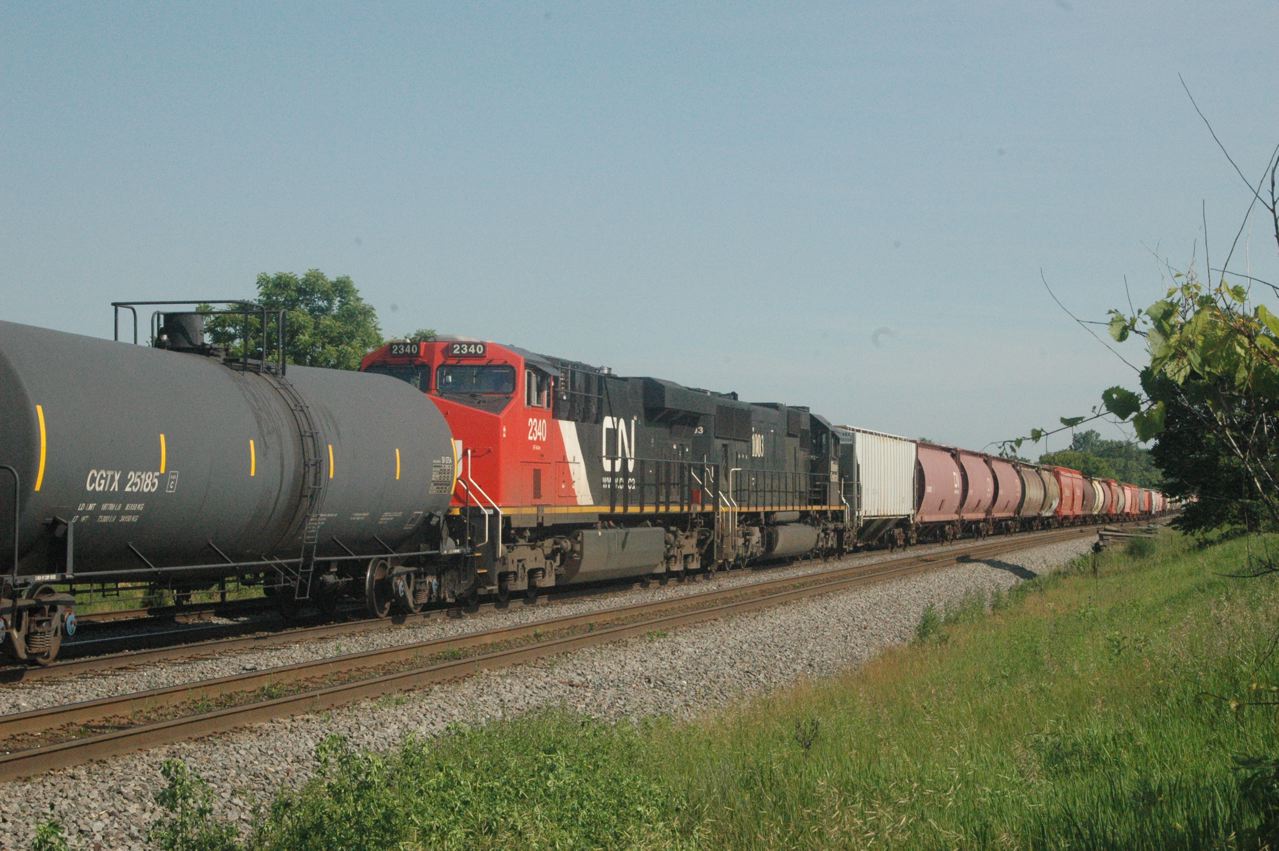 The meet was with stacker #199, coming at us at 1702 hours with 66 wells behind 2694/5741, about as ho-hum CN power as we see virtually every day. We'd already seen Amtrak #807, at Pewaukee lakefront at 1621, more or less on time, with 5 cars behind 199/205, but I shot only a slide, aiming to unload that roll.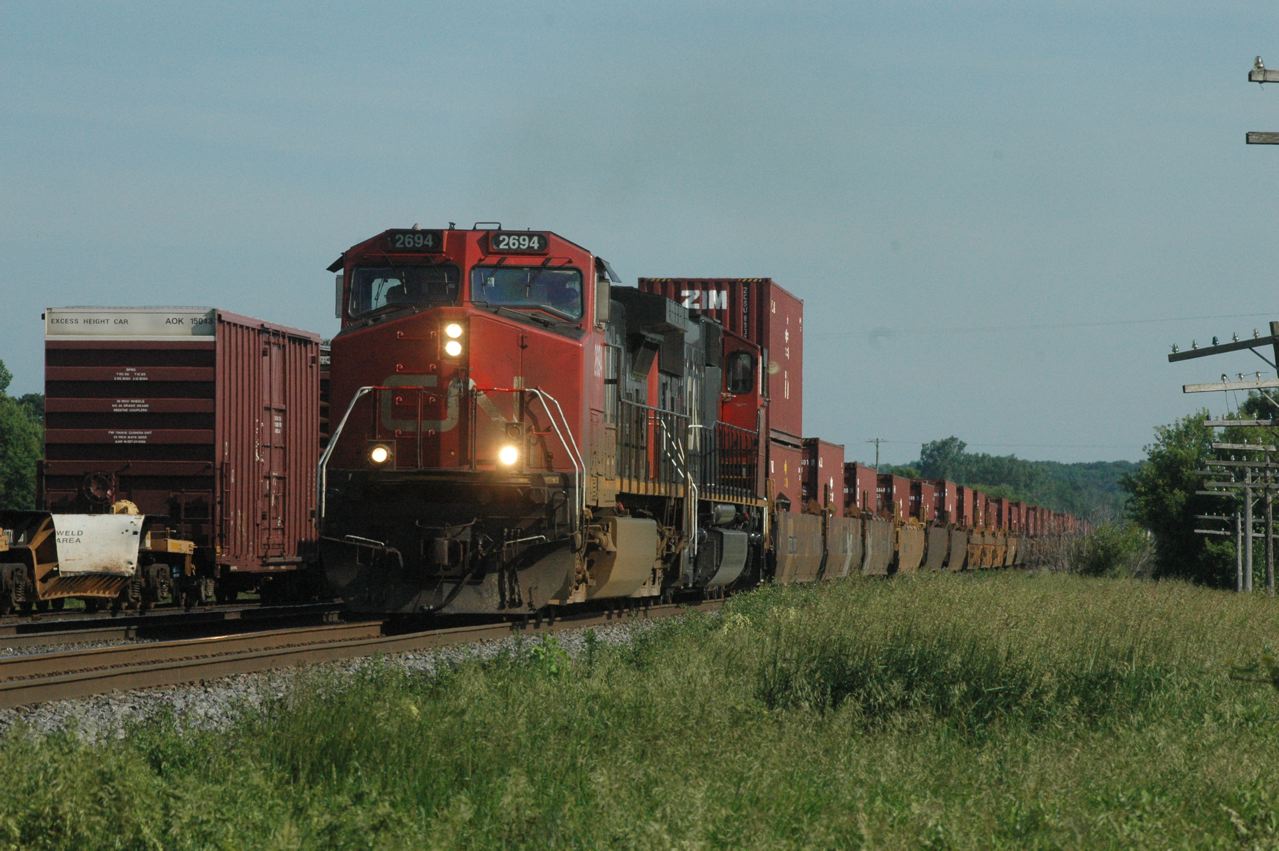 Next day, June 28, got a big 145-well #198 in Waukesha at 1445 hours, more routine power in 5695/2546.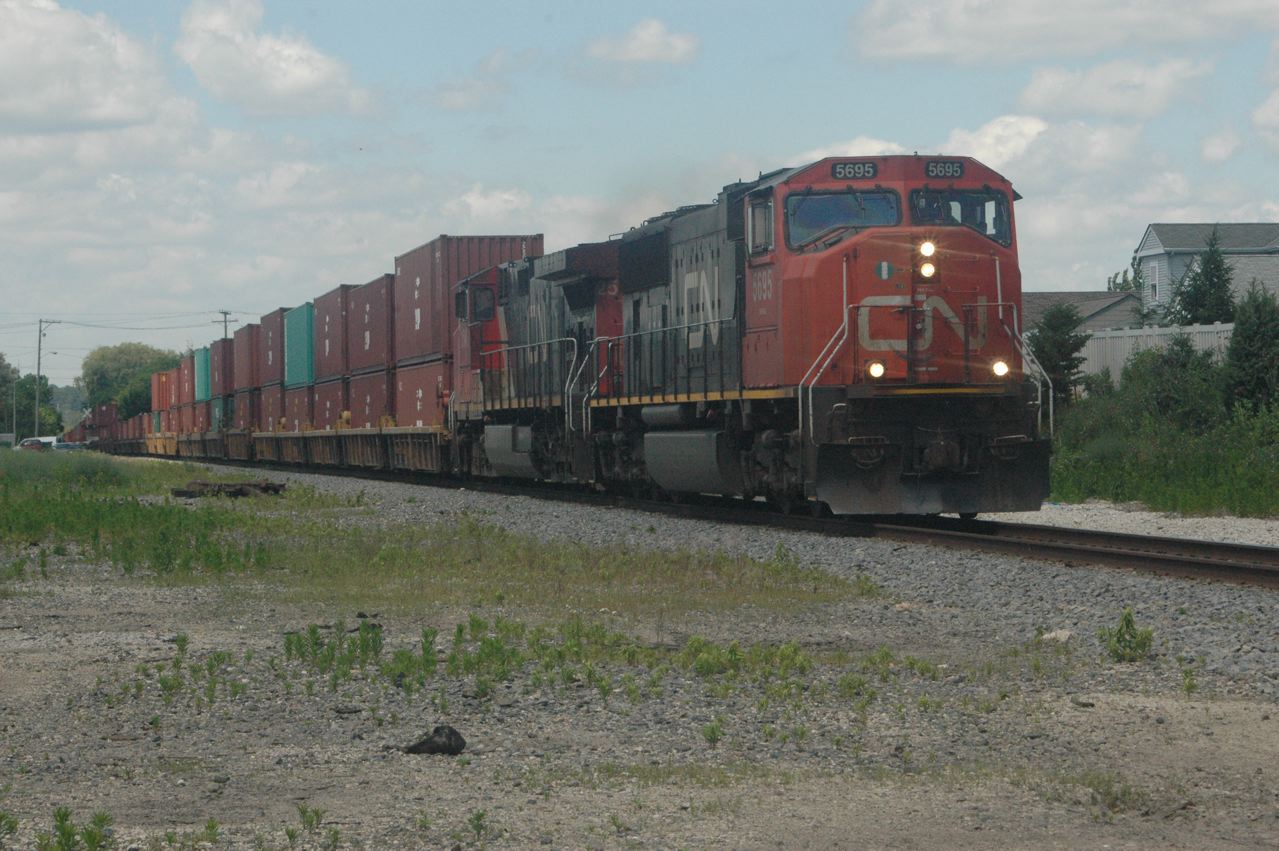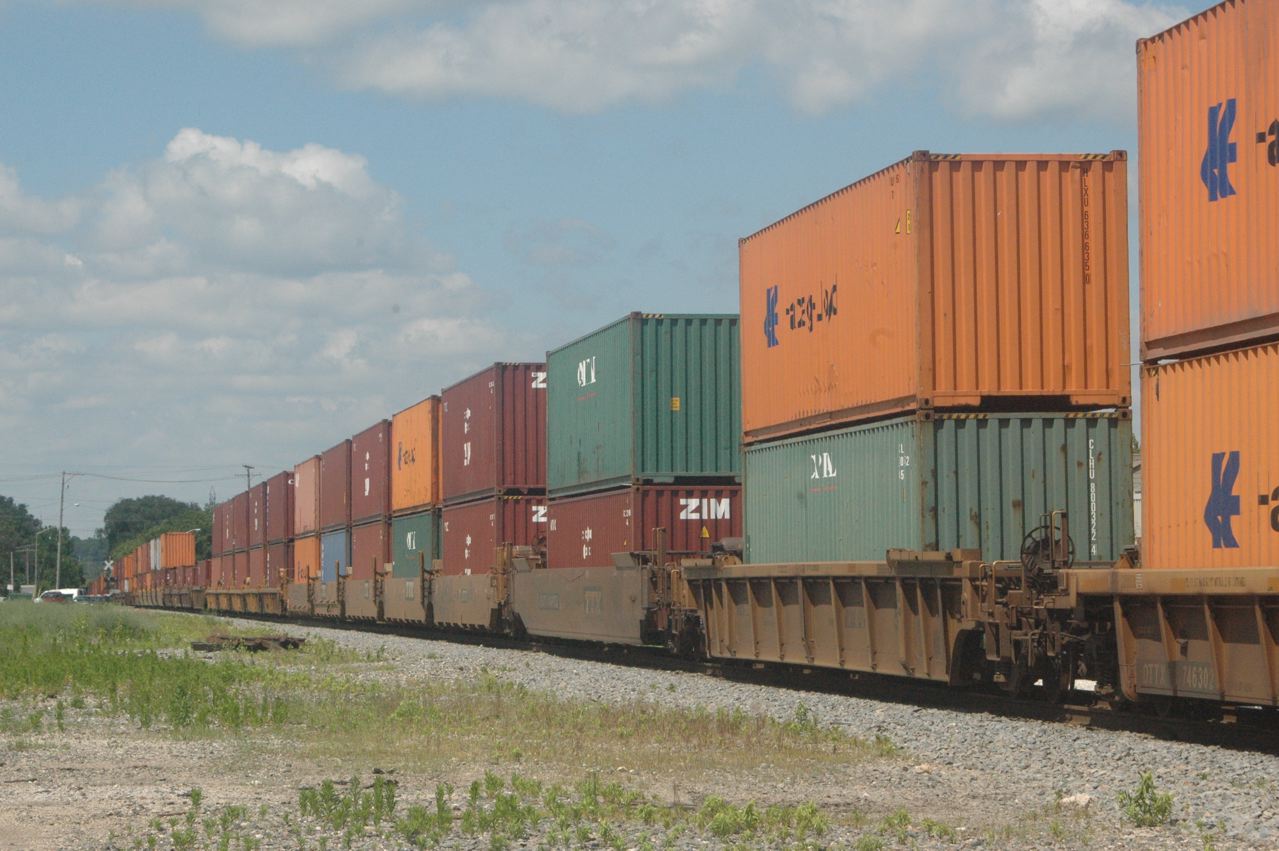 We thought we were done for the day but then got a call from a Kalmbach colleague about a CN coke train coming out from Milwaukee on the CP trackage rights behind an unusual power duo. These are the only trains to use the Duplainville connection these days; CP takes the trains into MKE from the Twin Cities (I believe), and CN runs light power downtown to fetch them. I do not know how the empties are handled, and I believe these trains go to Green Bay. On the connection at 1652 a half hour behind Amtrak #807 are IC 1020/BCOL 4641 with 63 cars.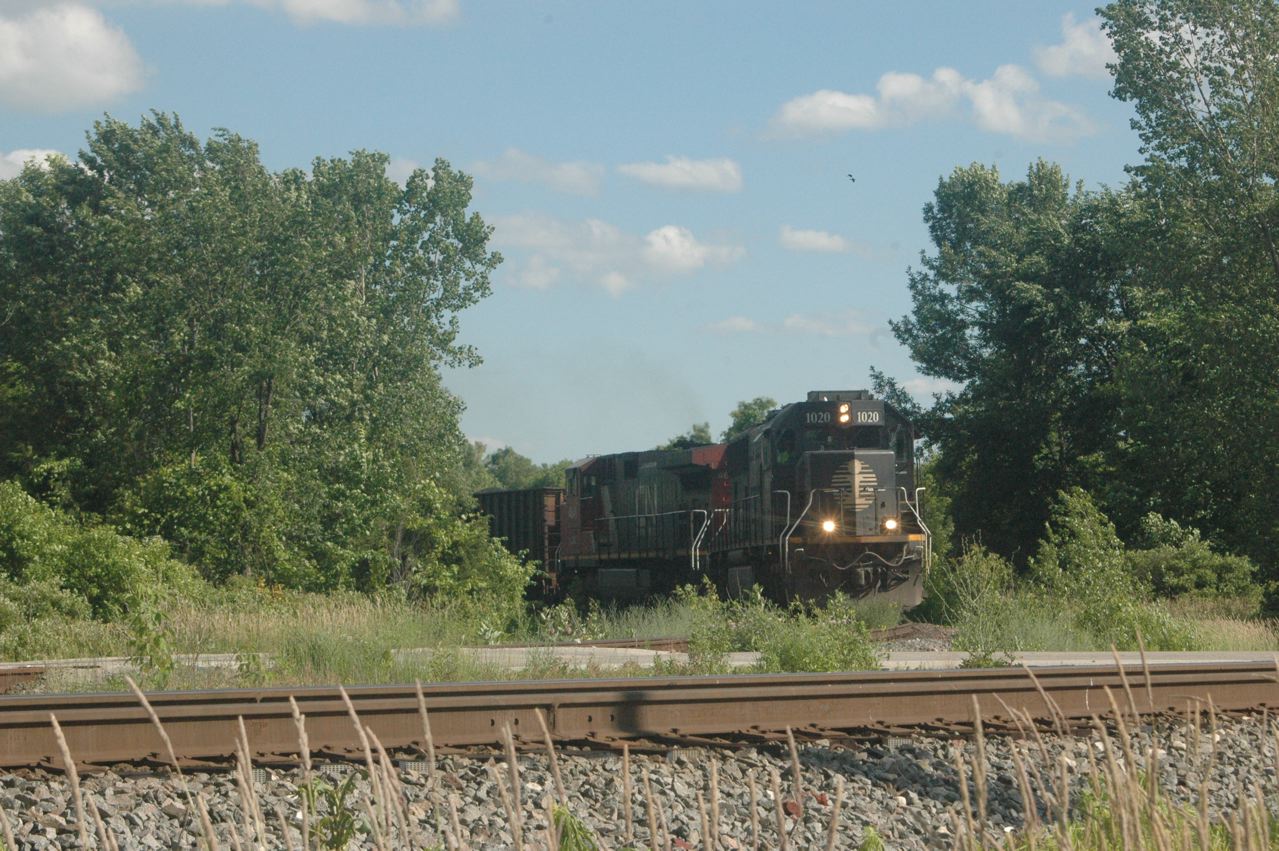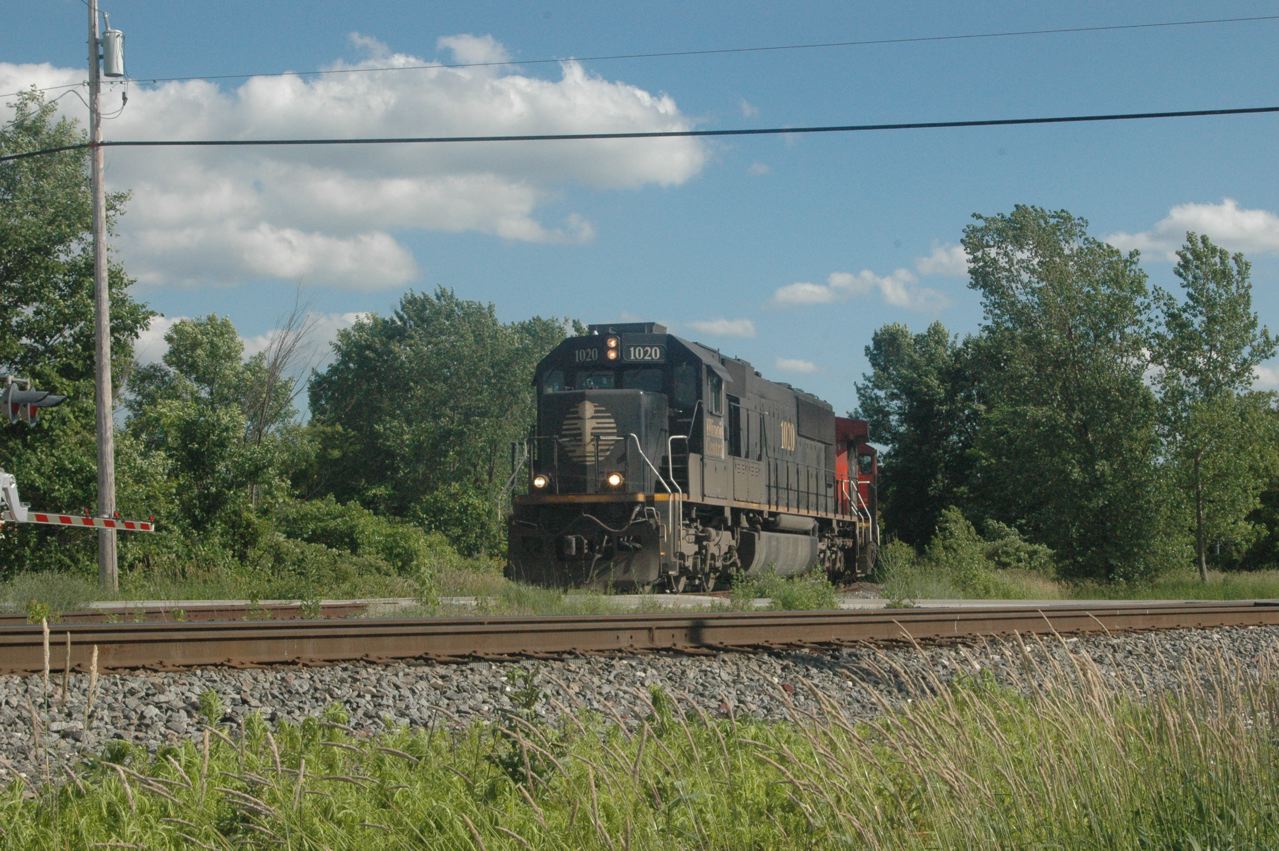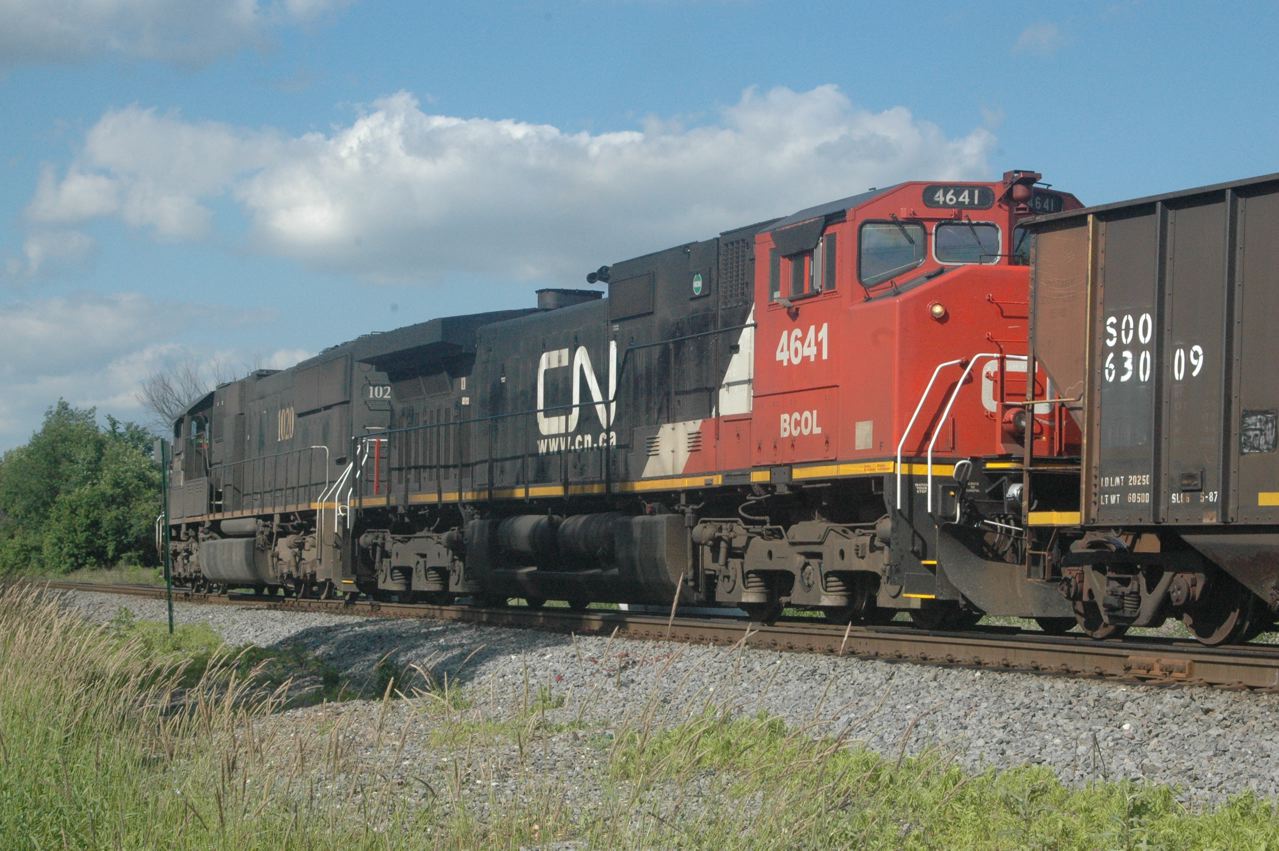 Over Spring Creek bridge, on the main and gaining momentum, at 1658.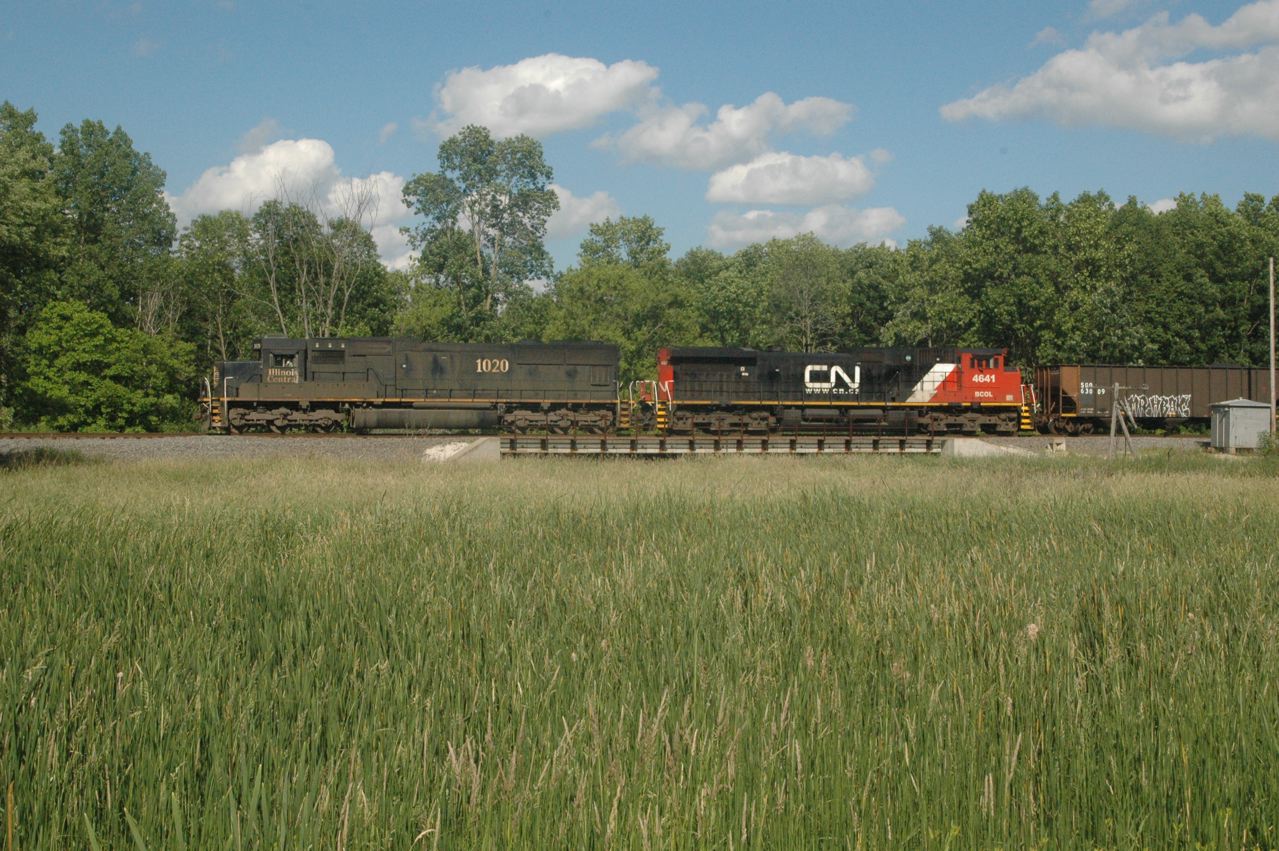 Meanwhile, up at Weyer Road, CN #335, behind 2521/2443, had made a setout and waited for the coke train to go (which I shot here only as slides), then follows him north with 70 cars at 1711. This concluded June 2011 local action.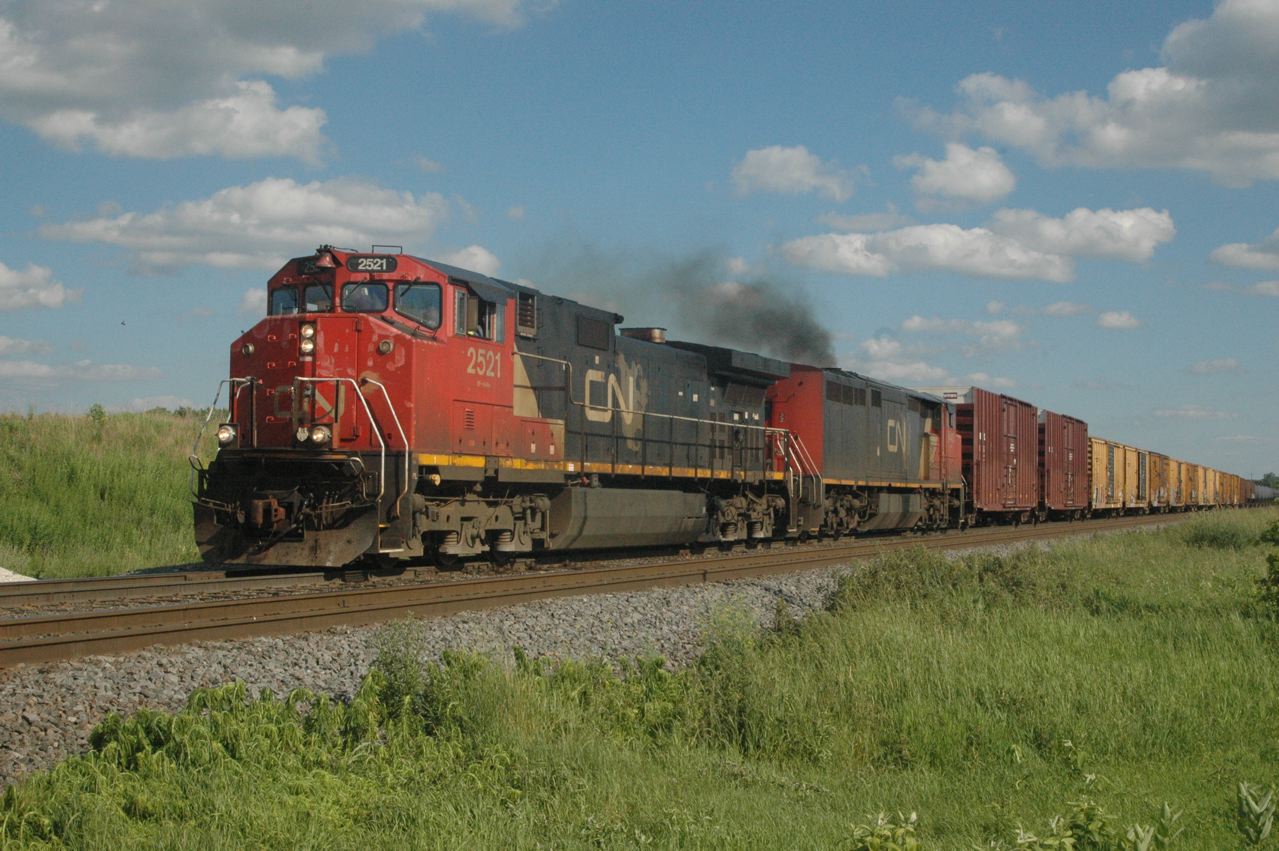 This page was designed and is maintained by Mike Condren. If you have materials
that you would like to contribute, contact me at mcondren@cbu.edu