July 2013 Local Action
by Dave Ingles
"Patrolling" my usual haunts around Duplainville on July 1st, this CN southbound showed up at 5:17 pm with 2547/2426 up front. Always nice to see those "fat engine" Dash 8s with the "Draper Taper" still chugging along, tho most are kind of dirty.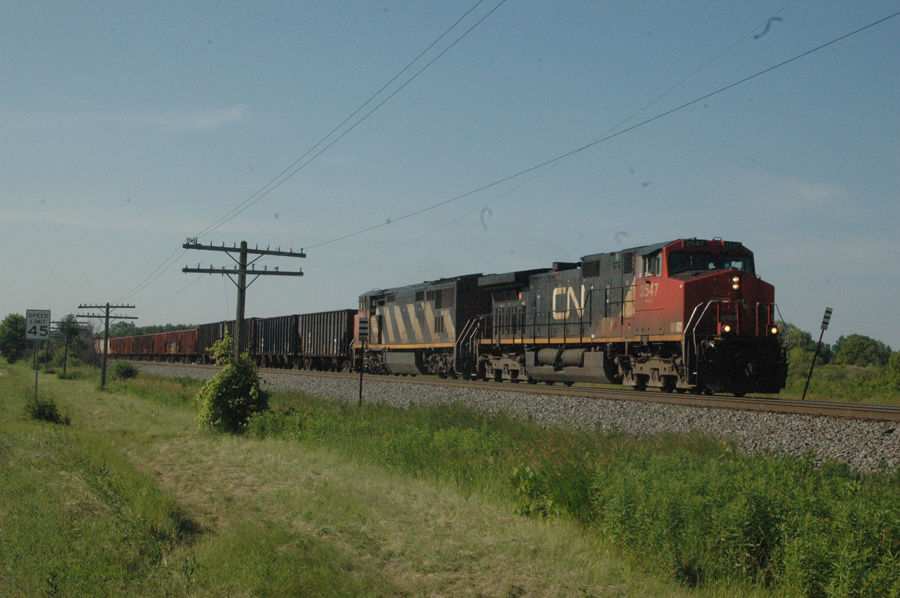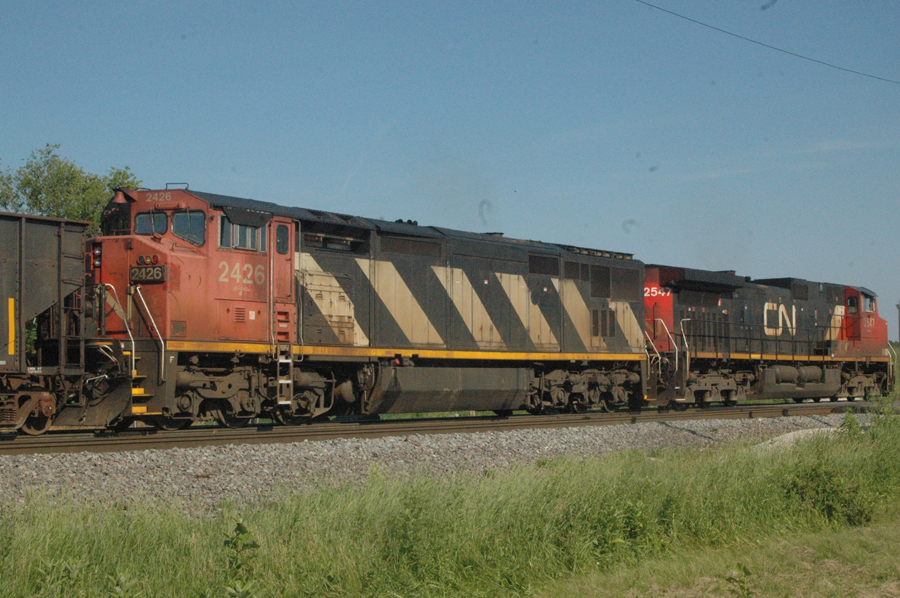 At

5:48

, his meet on Duplainville siding showed up, northbound stacker #119 behind IC 2726/CN 5695, IC 2517, IC 1000/CN 2234, with 113 conttainer wells and 33 trilevels -- with ONLY the 2726 on-line under power! Needless to say, CN's trying to "save on fuel" had this guy crawling by the time his rear end cleared "Dupy," with the front on Sussex Hill.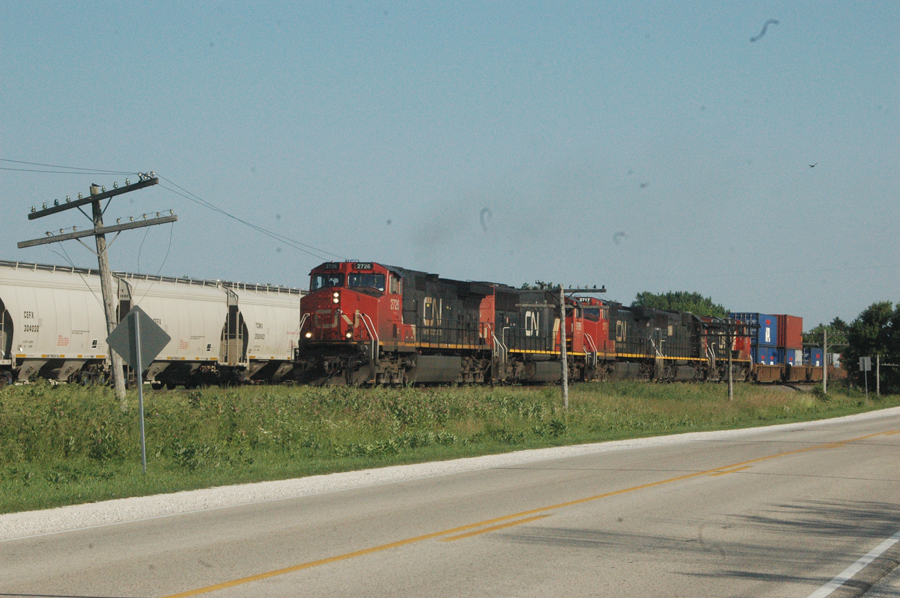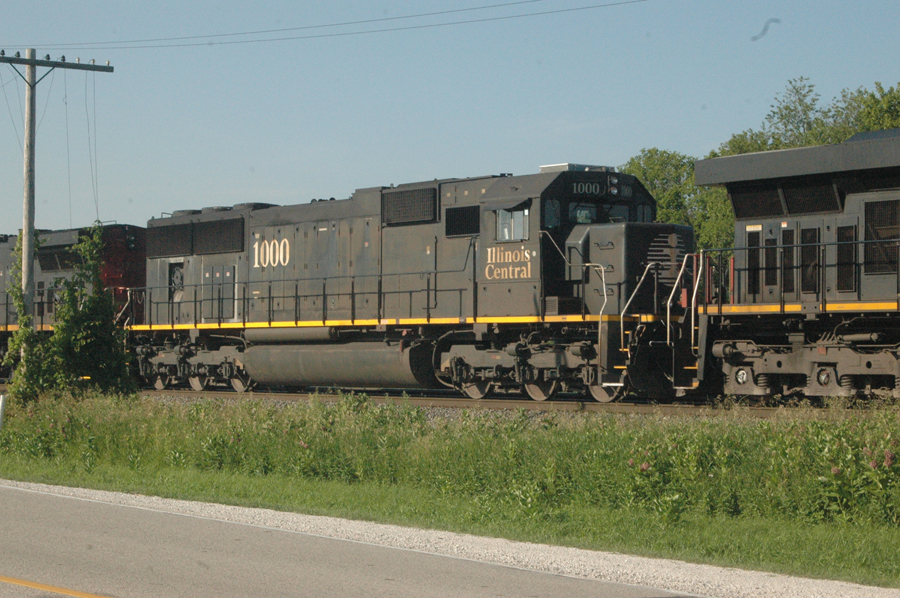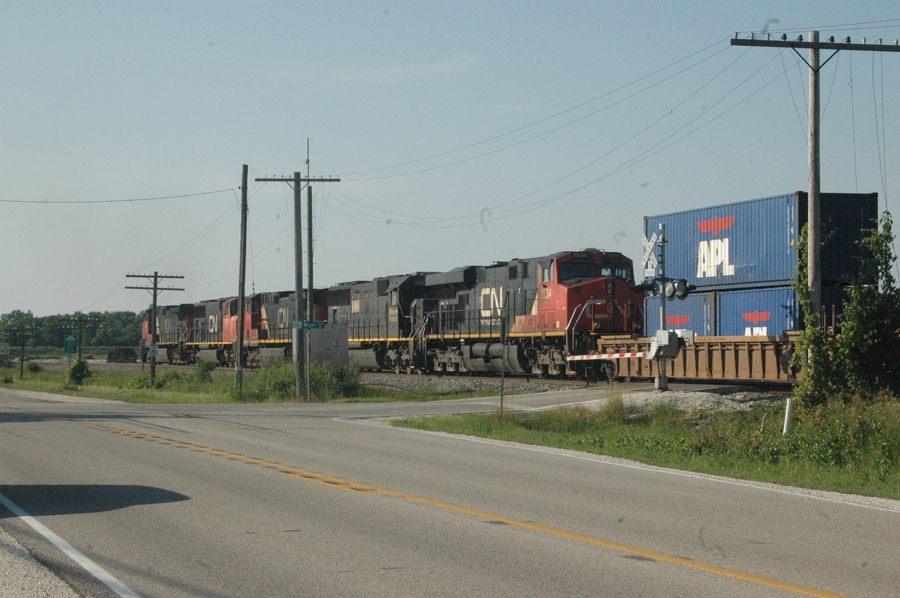 Next morning, in Waukesha, I was at the Grand Ave. interlocking (where WSOR diverges west) at Carroll University for this northbound behind CN 2300/BCOL 4612 with 76 cars at

10:37 a.m.

At the far left are brand-new Carroll dorms on the west side of Grand Avenue itself.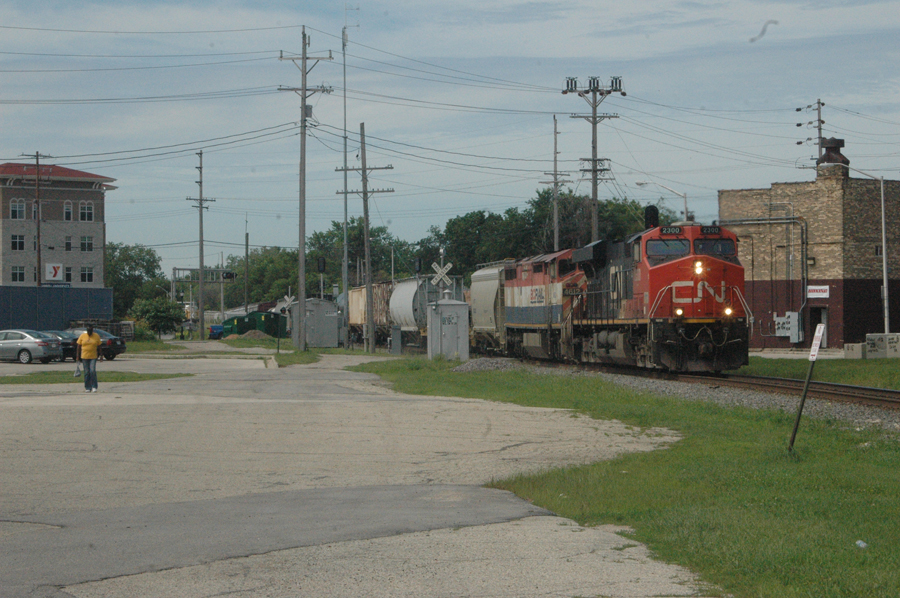 That same afternoon, I was at Duplainville and got CP #281 behind 9676/9817/8882/4611 with 116 cars (47 miscellaneous ahead of 69 trilevels) at

2:49

.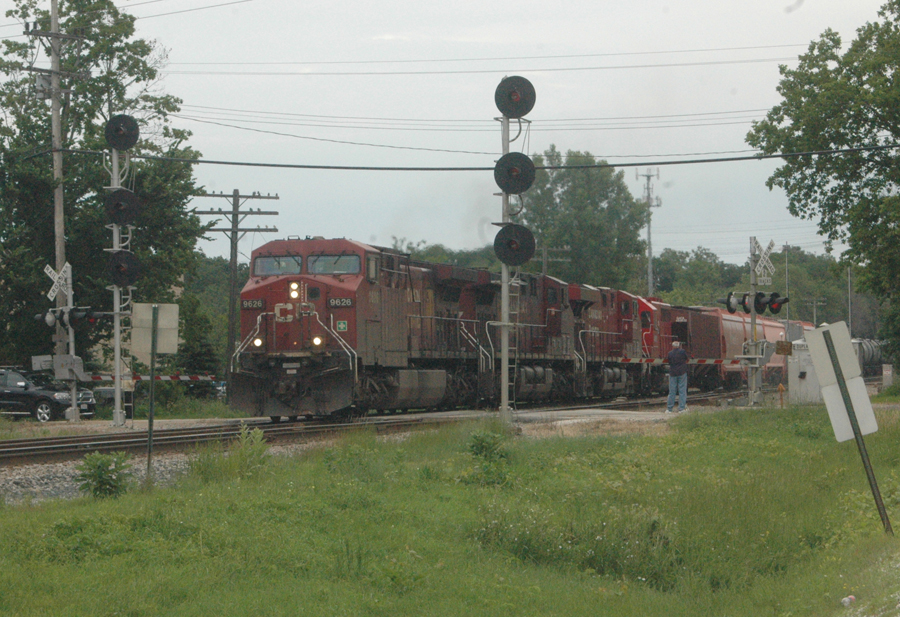 Considering the weather, I purposefully let two CN's go with no photos, a southbound with 2 units and northbound  #491 behind 2551/3666/5346, the last an SD40-2 with a wide nose, which we don't often see anymore. At

3:08

, another southbound showed up, but this one was worthy of photos, weather or not. It was led by BCOL 4646, one of a small group of normal-cab blue-and-white GE's, CN 2686, and IC 1007, with 130 cars.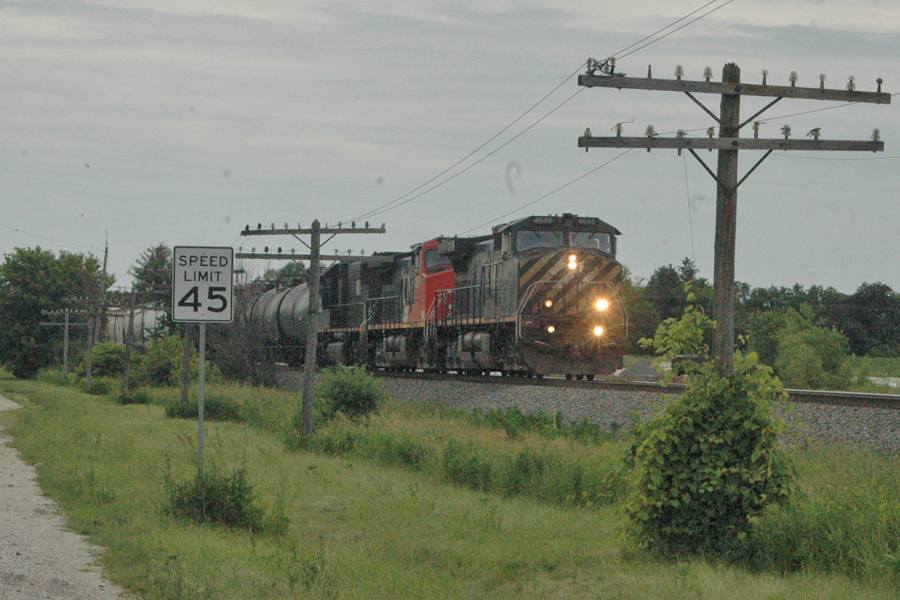 This BCOL unit was worth trying to get a second sequence down in Waukesha, so off I went, and got him passing Grand Avenue at

3:24

.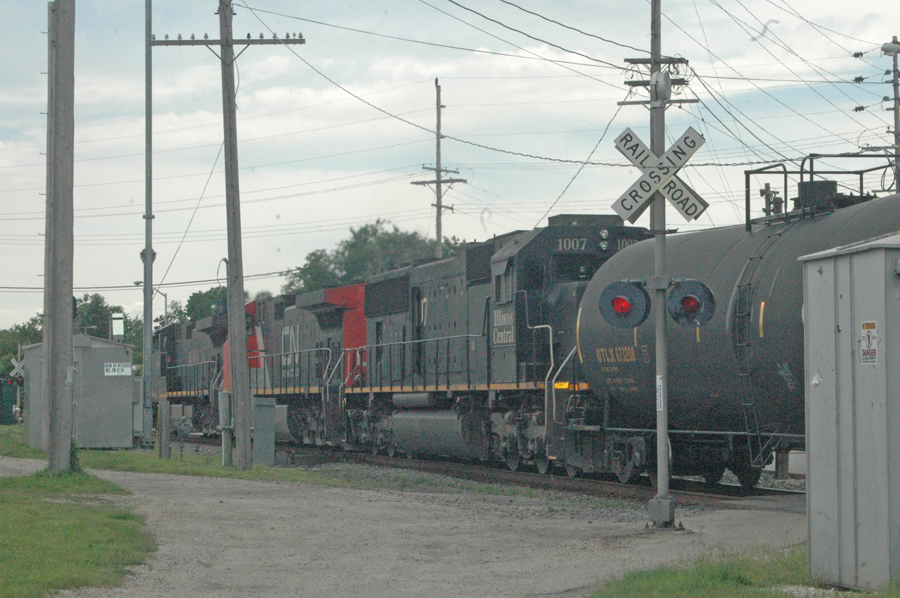 On

July 4th

, the morning was sunny so I went "patrolling" and found the CN local from Fond du Lac, L510, still up at Duplainville siding. Normally he's headed back north around

7 a.m.

or so. He's had for weeks the EJ&E 660/IC 6204 duo you see here, photographed at

10:08 a.m.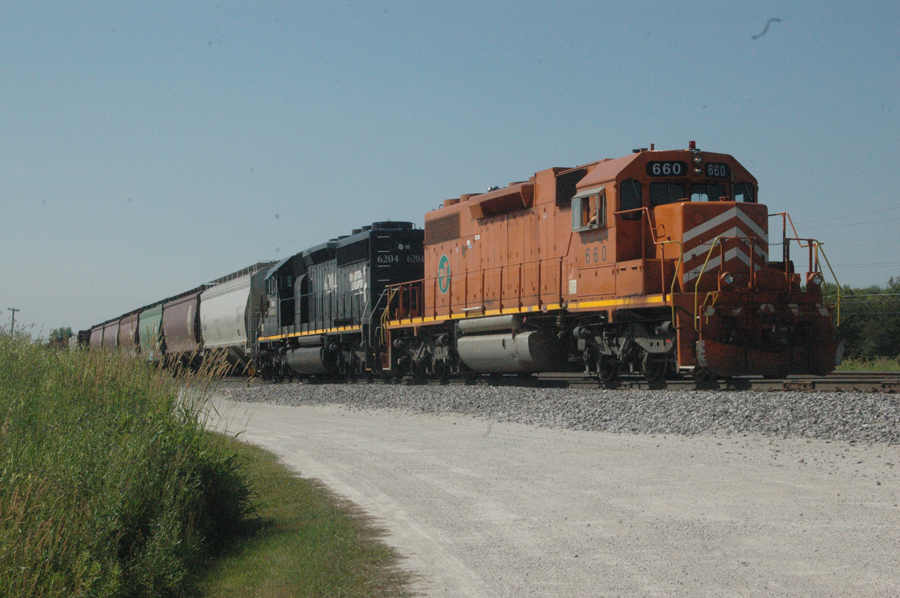 My next encounter was with the WSOR Horicon-Janesville train, in Waukesha, but I got only slides, at

10:26

. Twelve minutes later, CN stack train #198 came thru Grand Ave. behind 2595/2649, being paced by a man on a bicycle.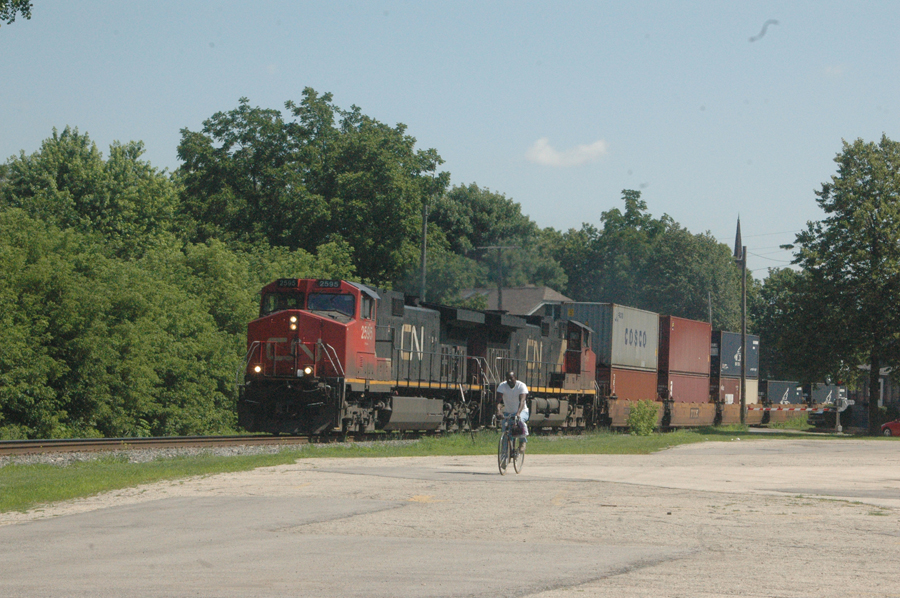 Later on, at Duplainville, for a slightly different angle, since Marjean Lane wasn't full of parked railfan vehicles, I shot this view of Amtrak #8, engines 165/121 and 12 cars, a

3:55

, about 2 hours late.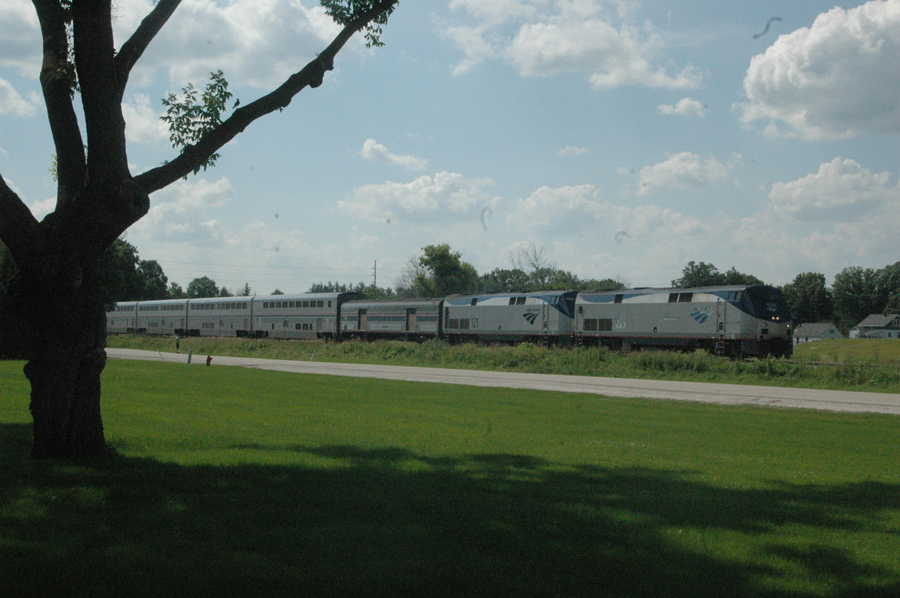 A little bit later, this eastbound, which probably followed Amtrak out of Nashotah siding, units 8901 / CEFX 1023 with 101 cars at

4:18

.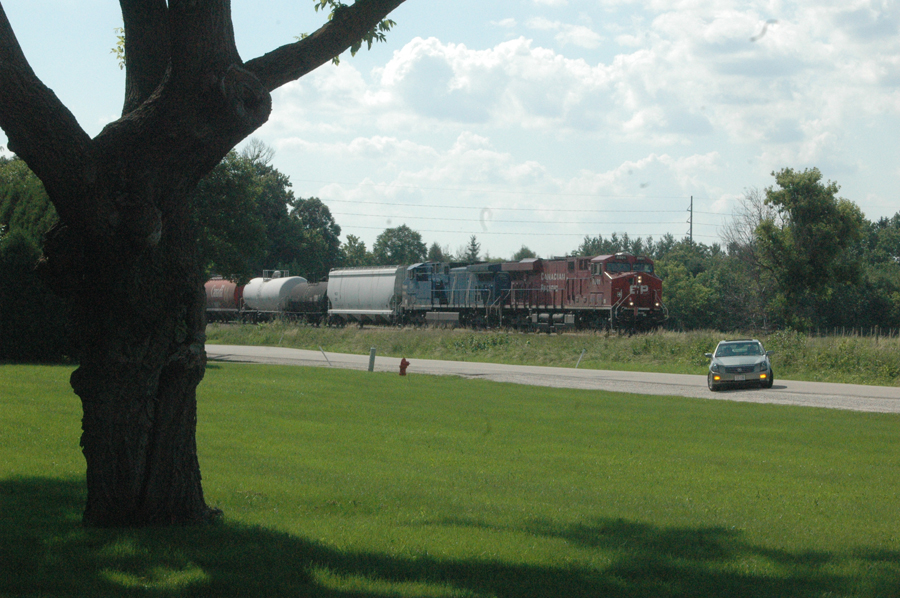 At 4:33, CN #445, which often has NS power, came across the Weyer Road crossing toward the north end of Duplainville siding behind 7686/7702 with 154 cars, a train length not uncommon anymore on CN.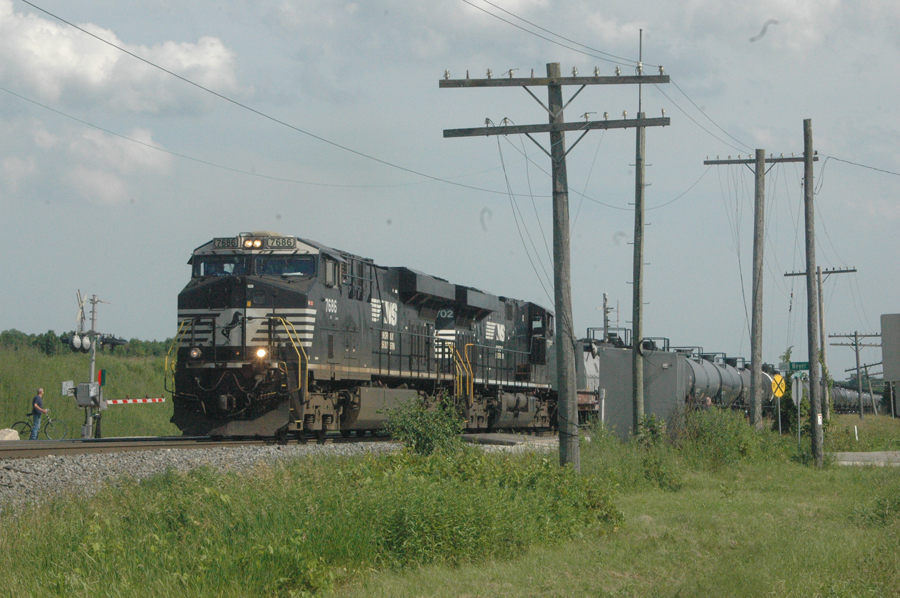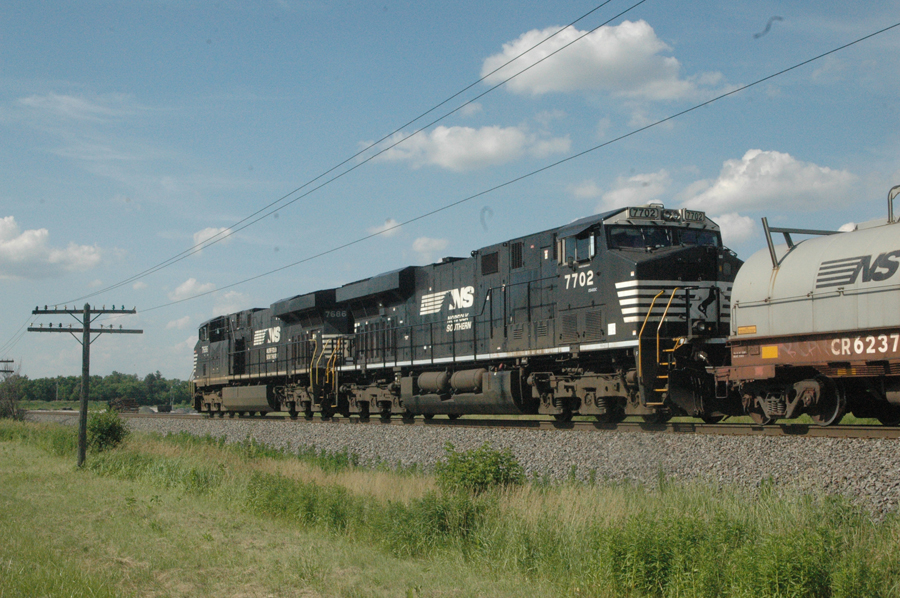 After Amtrak #7 went by, nothing different than usual, two northbound CN trains finished the

4th of July

action. First was stack train #119, across the diamonds at

5 p.m.

sharp behind CN8933/BCOL 4617 with 124 wells. I shot him again up Duplainville Road a couple of miles near Weyer Road.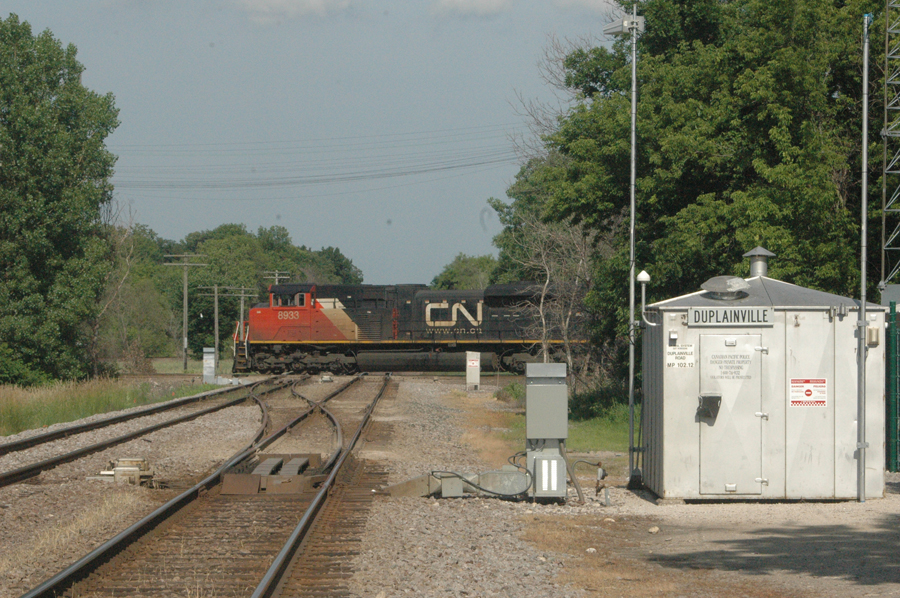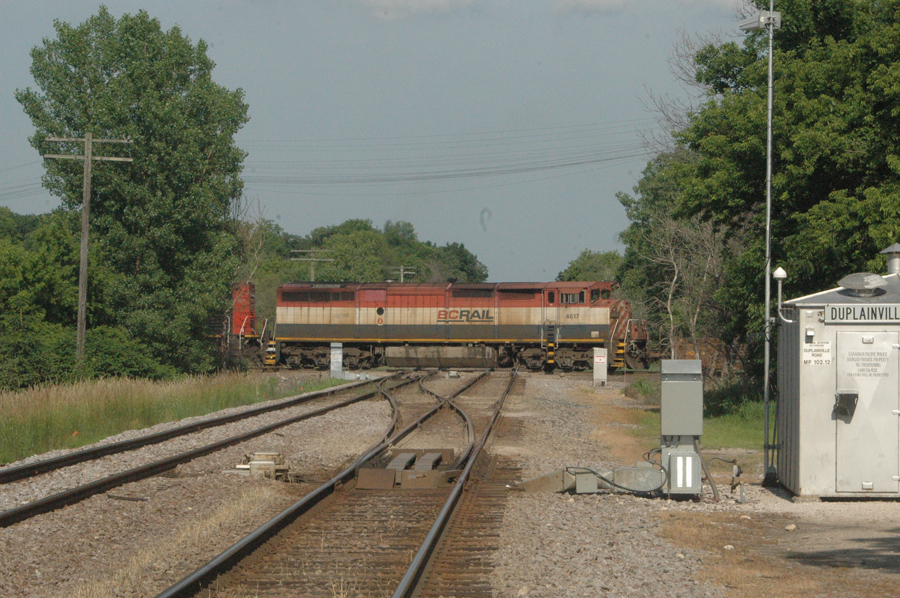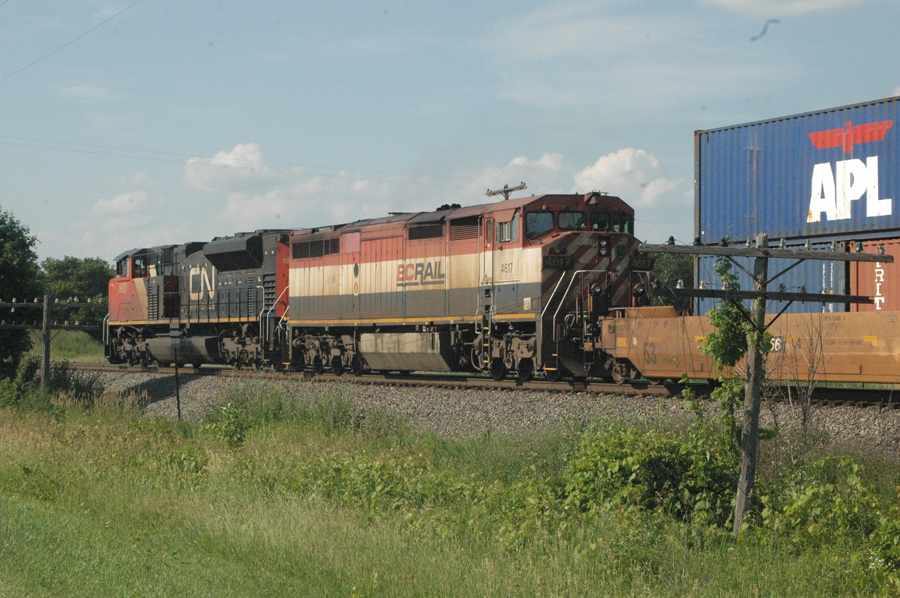 Not far behind him was #491 with the 2451/5549/2528, across the CP at

5:14

and pulling toward Weyer to make his usual set out at

5:23

. I shot a portrait of the middle unit because of its fresh paint, and in the old paint scheme yet! The Dash 8-40CM's, such as lead unit 2451, date from the early 1990s, while the 5549 is among 58 of 62 surviving SD60F's from 1989. That transformer on the deep-well flat is from the factory in the industrial park on the southwest side of Waukesha, one of two customers CN serves on the "Amron spur," named for a former company where the mainline switch is located. You'll see "Amron" as a photo site in numerous captions on my website, it has great afternoon light.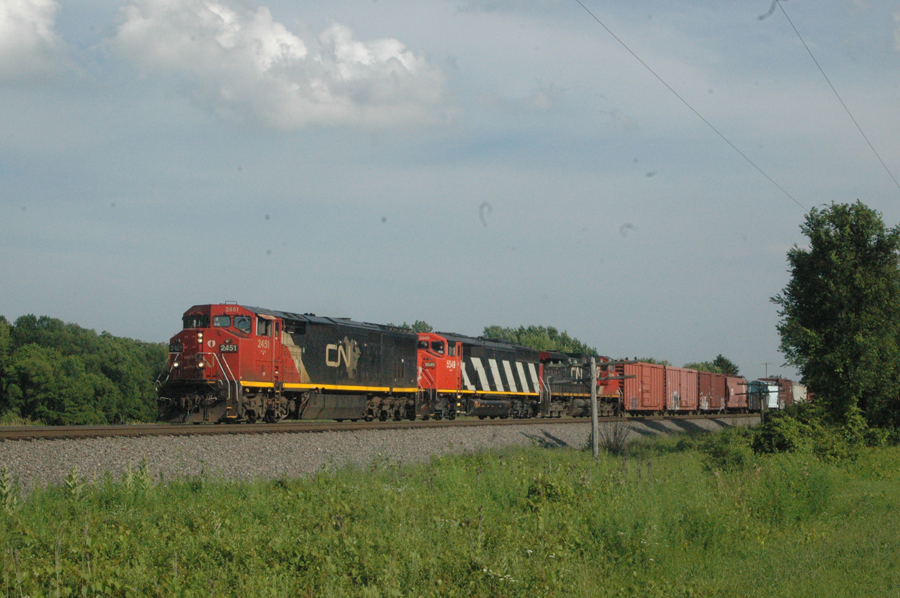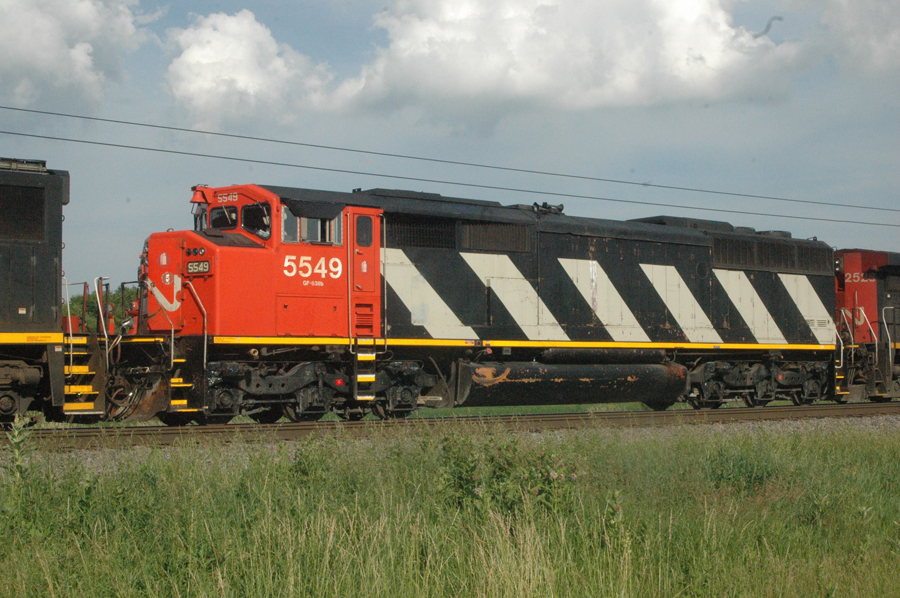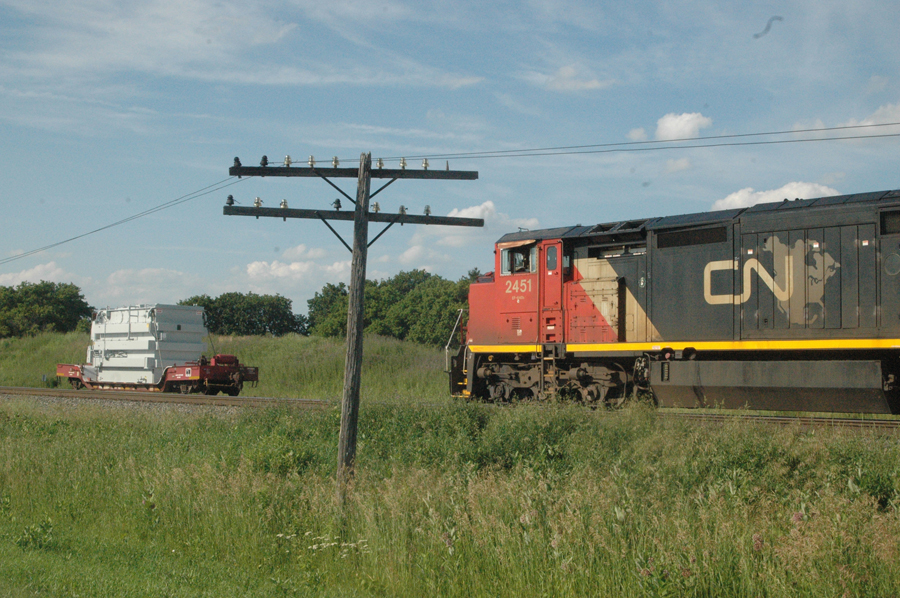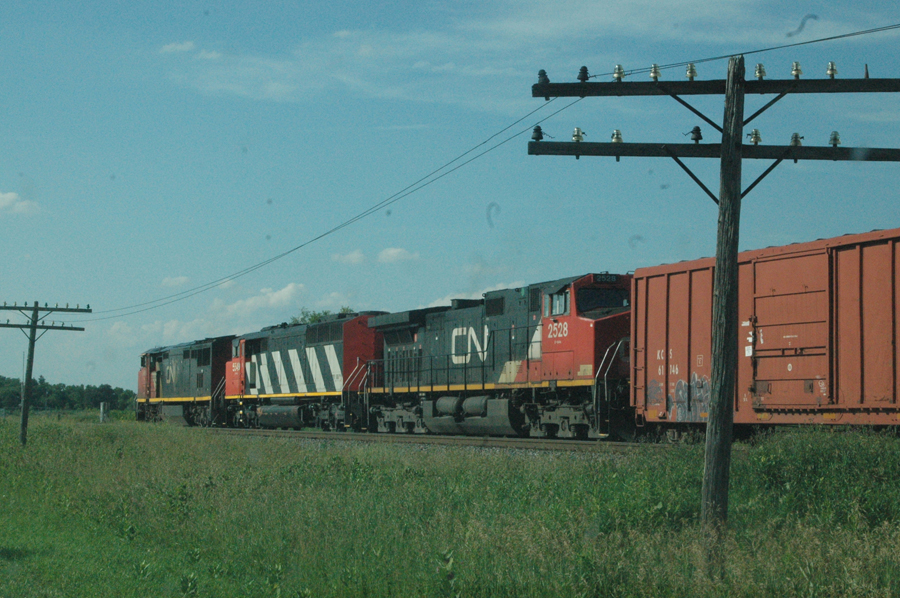 Remember that EJ&E SD38-2 660 that has been assigned "forever" to local L510, the nocturnal Fond du Lac-Duplainville turn? Well,on

July 5th

it had to pinch-hit for the unit — a 9400-series GP40-2W whose number I did not note, since it had just replaced IC 9572, one of the 14 ex-GM&O GP38-2's still on hand, and I figured I'd see it again — on the Waukesha-based L504 road-switcher job. So here was a rare, first-time, opportunity to photo an EJ&E unit parked at our local depot. I figured it would be temporary, since the afore-mentioned Amron spur will not take a 6-motor unit, curves are too sharp. So here we are on

July 6th

at the depot with the 660.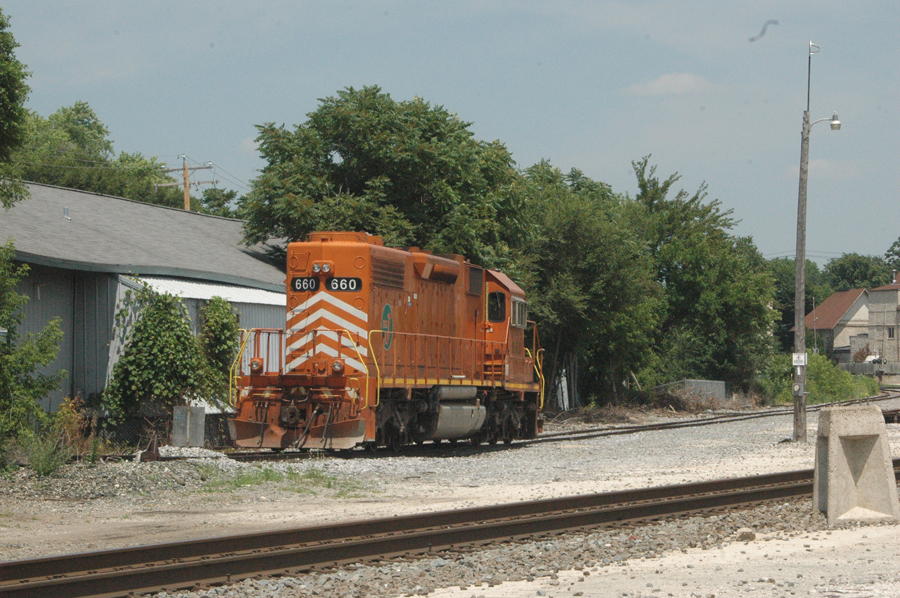 Some time after the portrait, I was out and about and knew a northbound was coming, so I set up near the depot to get it going by the EJ&E unit ("the" going-away view is a slide). Power is 5724/BCOL 4615, my first good look at one of the few of the 26 BCOL Dash 8-40CM Draper-taper "fat engines" to have been repainted CN. He was by at

1:30

, so I followed him north and shot hiim again, north of Duplainville diamond, at

1:52

.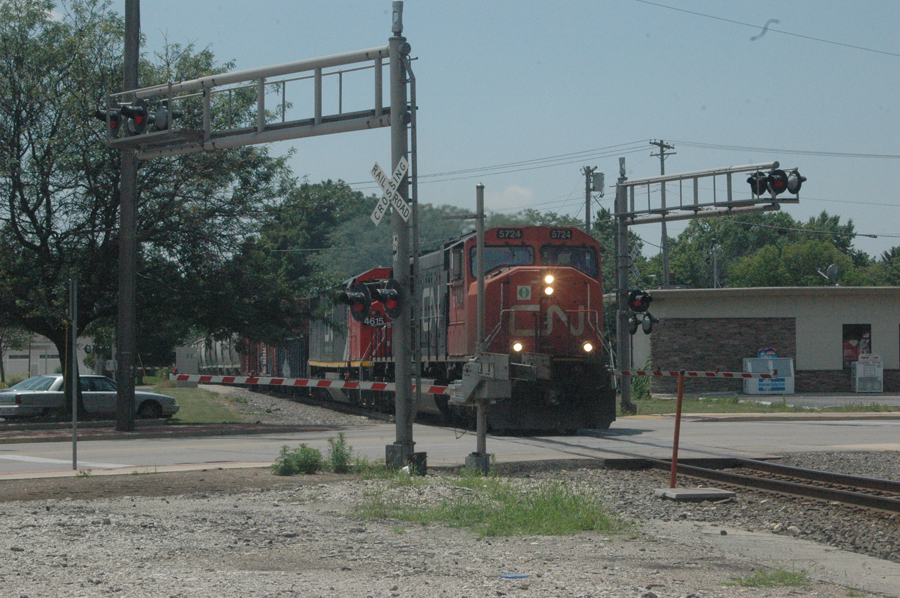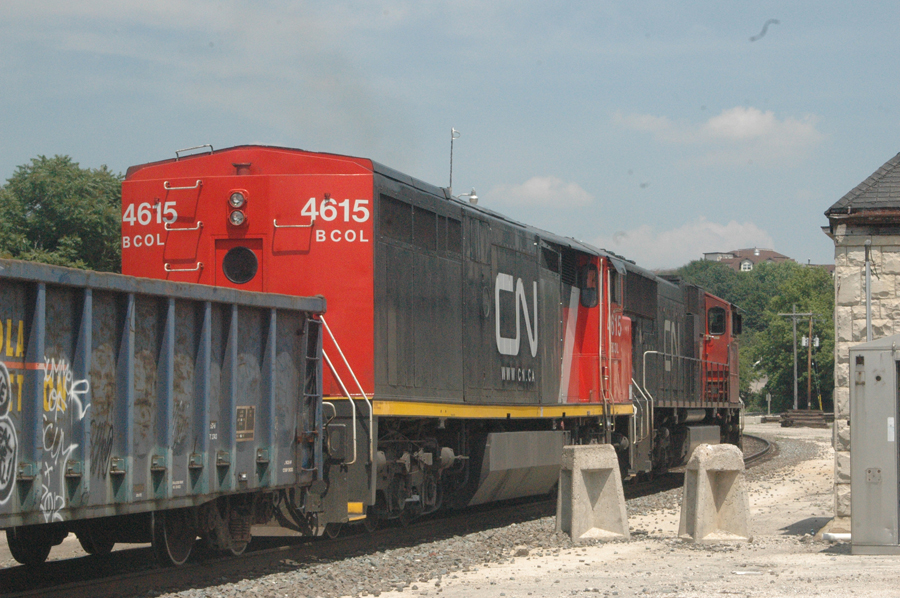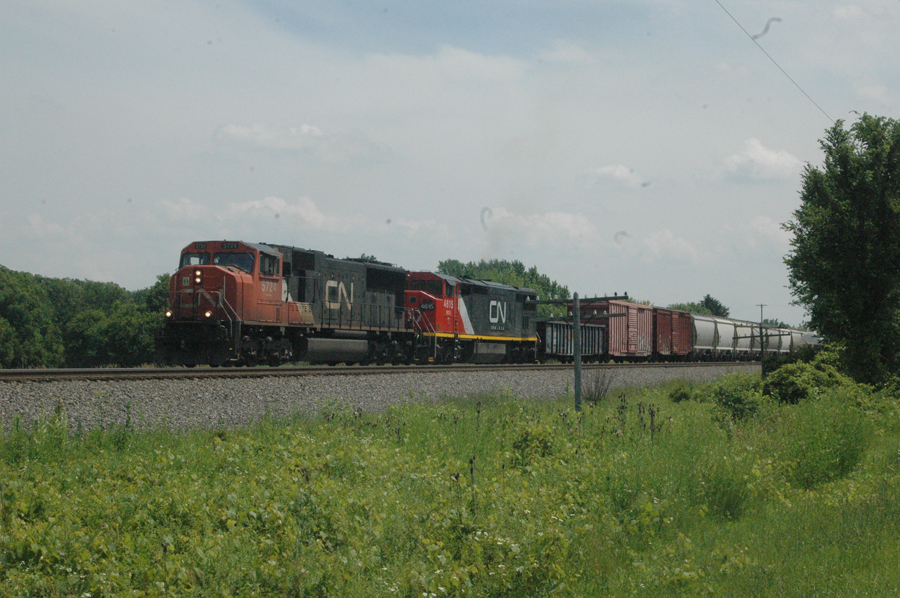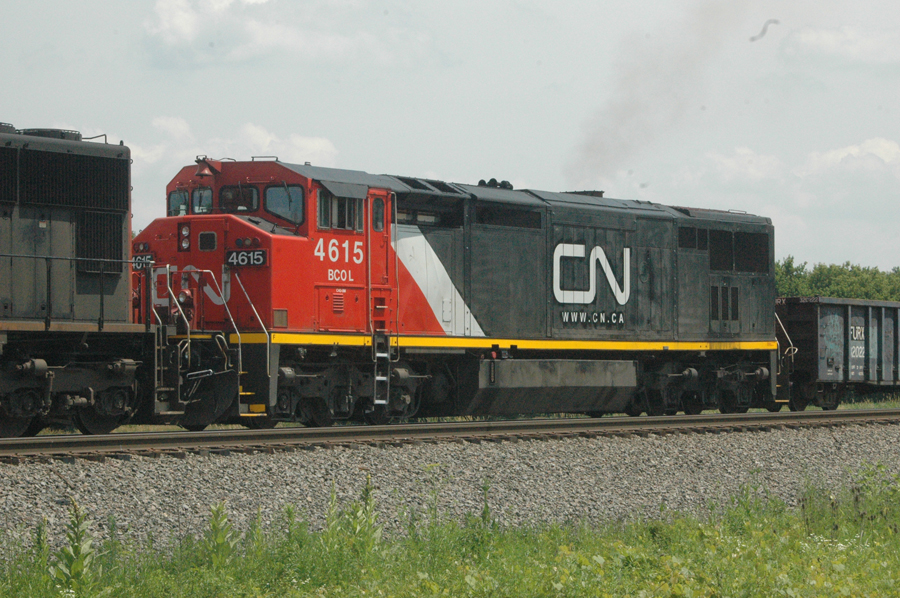 When a soutbhound was to come on the scene, I headed back into Waukesha to photo him passing the parked EJ&E 660. Turns out it was #446 with a deluxe consist, of NS 7686/BCOL 4625/CN 8881, allowing for a "four-railroad shot" with the J unit, by the depot with 149 cars at

2:17

.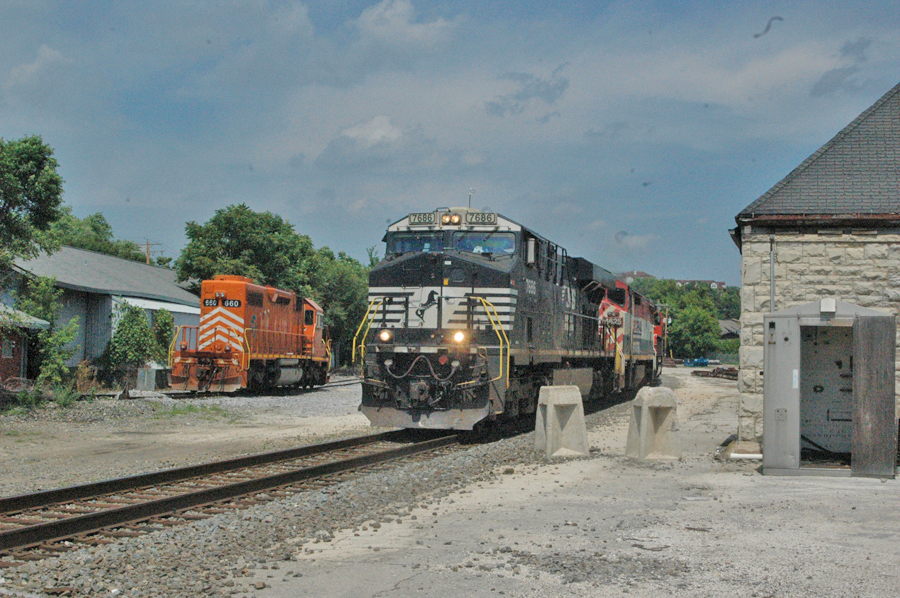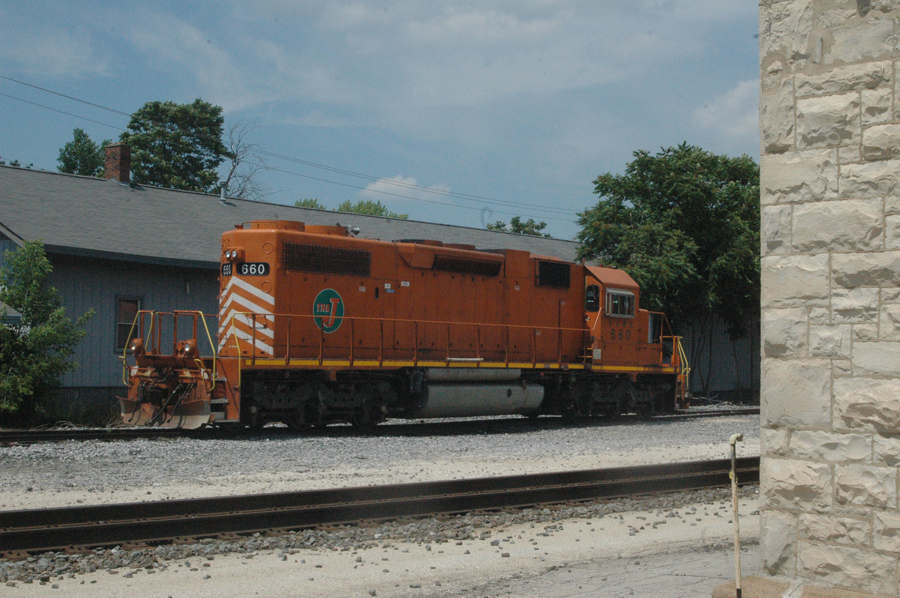 Later on in the afternoon, after CP #281 and Amtrak #8 had passed, with nothing unusual worth photographing, I was parked at the Weyer Road corner about

4:30

when CN #491 showed up with two new CP ECO units and a GMTX leaser switcher in tow. Undoubtedly the CP units were bound for delivery, from Mayfield, Ky., which is on the former IC Paducah-Fulton line now run by Paducah & Louisville, to the Twin Cities. A southbound CN was due, as was Amtrak #7, running 45 minutes or so late, so things were hectic. In fact, hectic enough that I never did shoot #491 from the head-end, with its routine consist of 2508/2623 ahead of CP 5014/CP 5015/GMTX 167, an SW1500. The lead unit, 2508, was especially grungy anyway.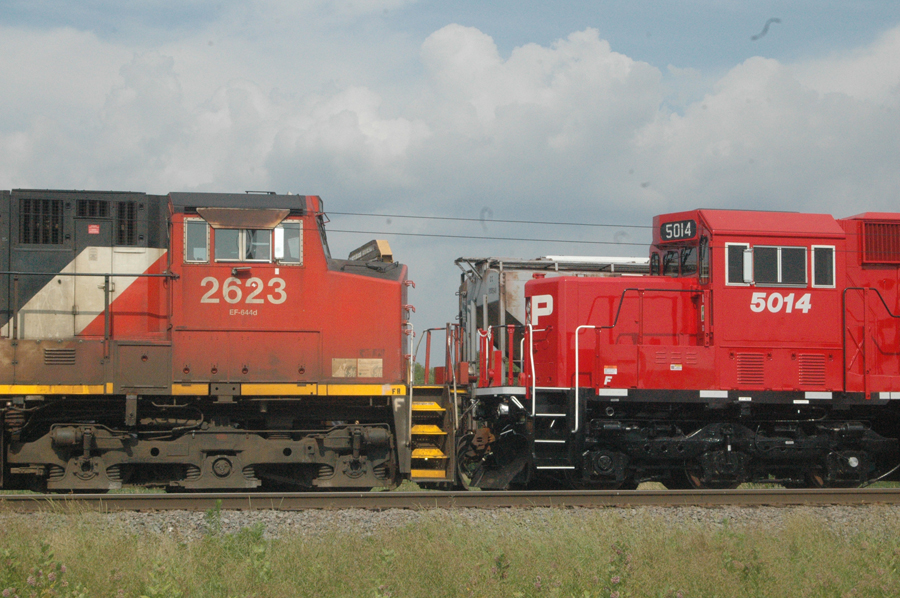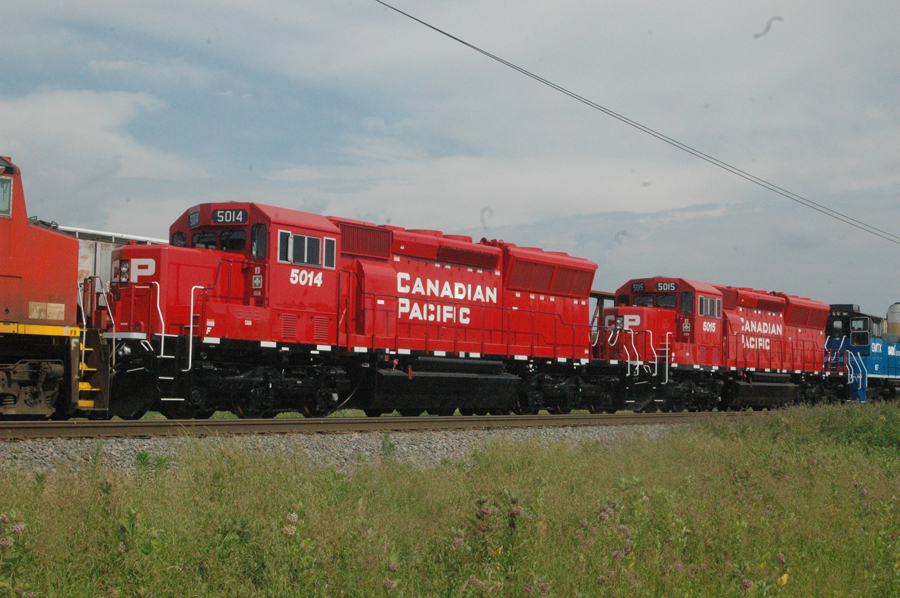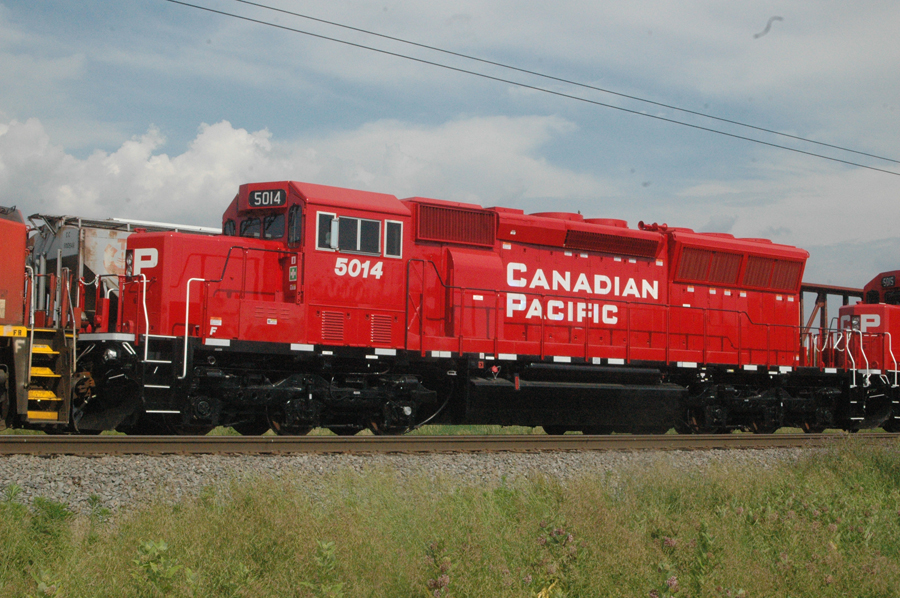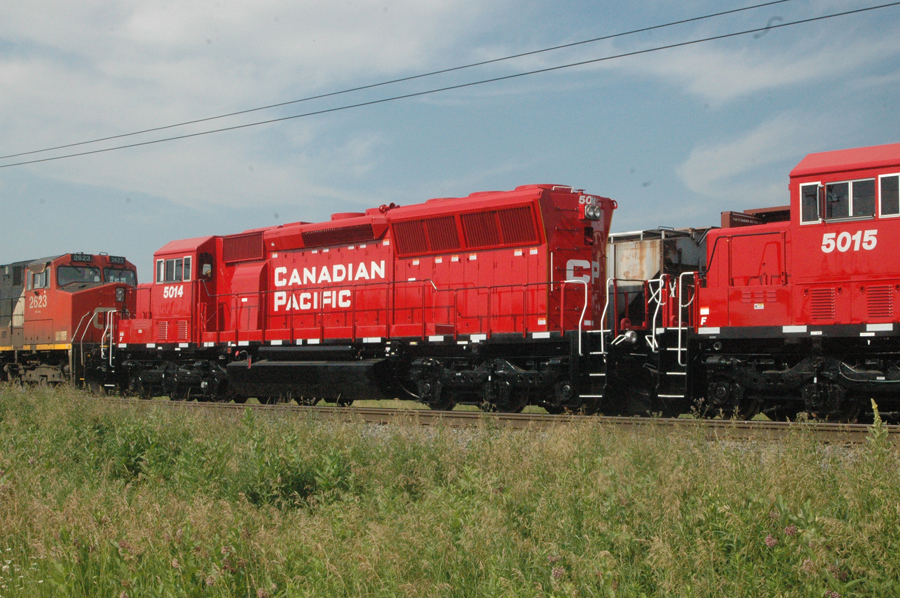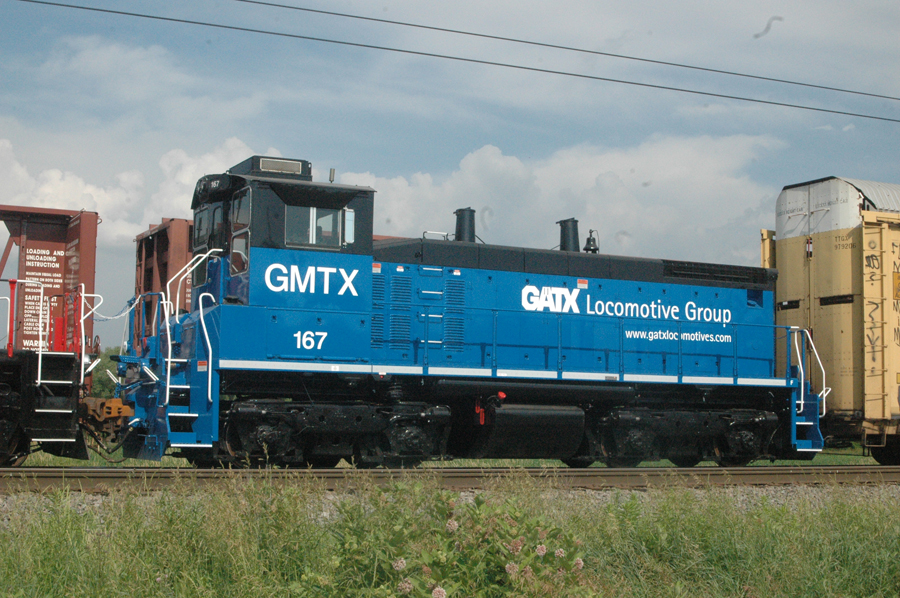 As soon as i'd shot my portraits of the new stuff, here came the southbound, with an ultimately shootable pair of former Oakway SD60s, CN 5467/5413, which I shot meeting #491, and then at the MP 103 curve by the Capitol Drive overpass. Thinking he might be held for Amtrak #7, I was a bit off the ball when he kept rolling, and I was just too late for a third encounter at Joseph Road, the dead-end street south of the diamonds that is good in afternoon light.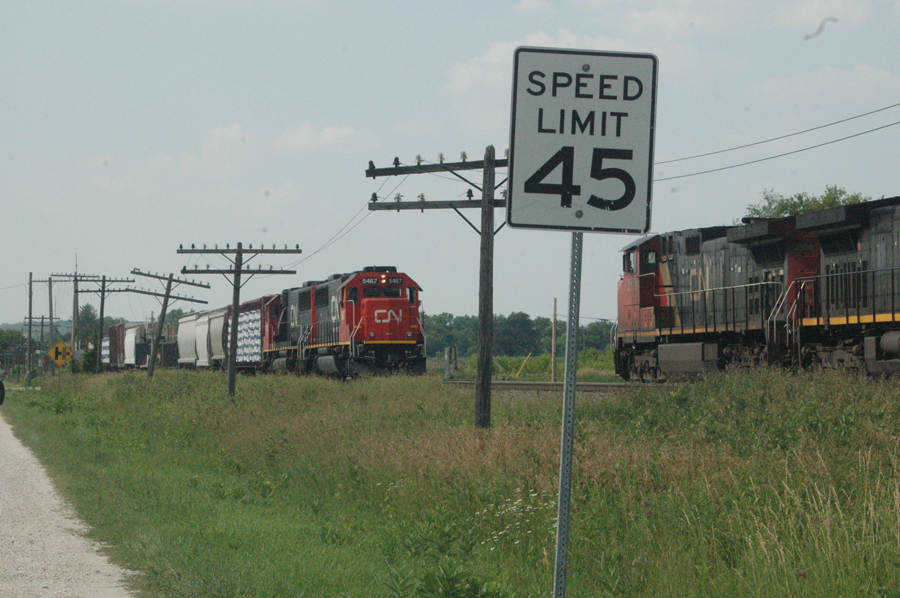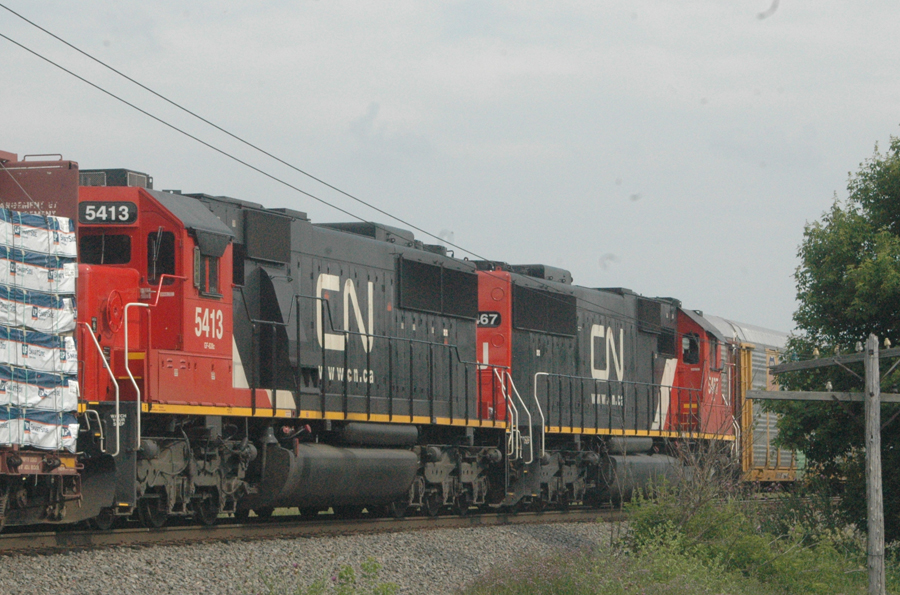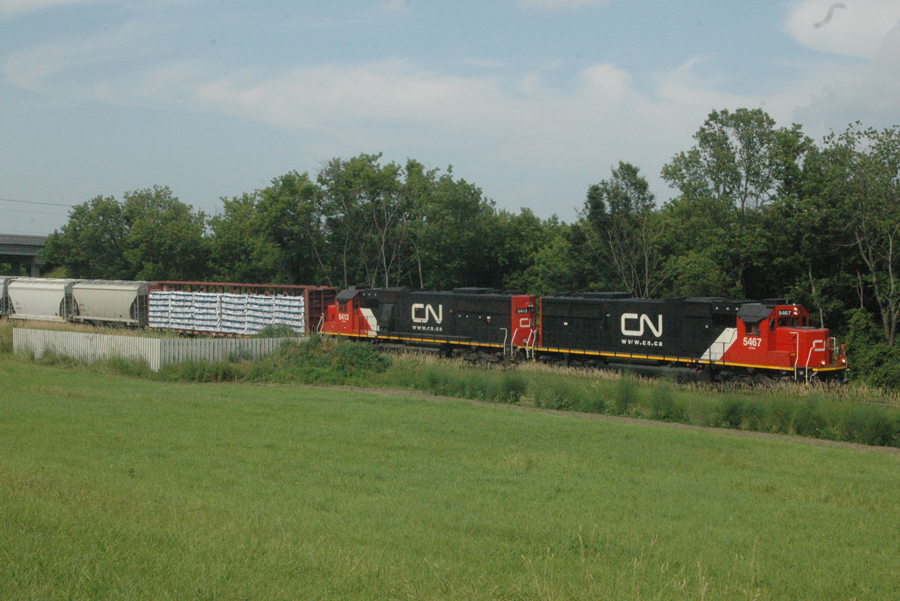 July 6 action finished up with Amtrak #7 passing Duplainville at 5:03, about 50 minutes late behind units 160 and 7 (yes, we've seen #7 LED by No. 7 occasionally) with 12 cars. For once I chose a different photo angle, as the weeds had become very bad at Duplainville, and many other places, during our dry July.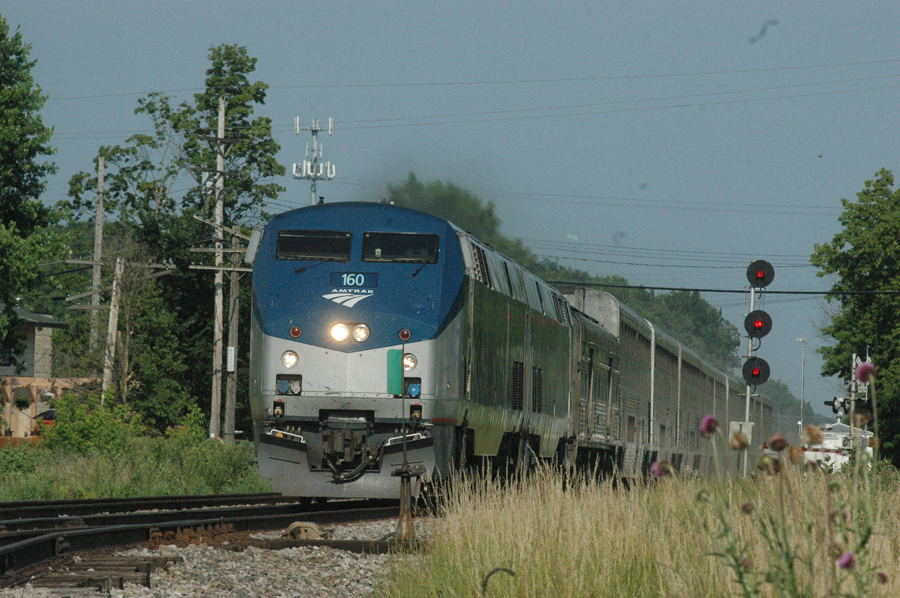 On

July 10th

I was out at Duplainville to watch Amtrak #7 go by, but right about his due time, CP stack train #198, running much later than usual, showed up behind GE's 8951/8829 (with 91 wells, as it turned out -- I counted as he left) at

4:18

, just about the time the Empire Builder is due. CP MofW forces were working on Track 2 to the east, so #198 had to wait until Amtrak went by to cross over and head east. No. 7 came by at

4:28

, about 12 minutes past optimum, with units 165/59 and the usual 12 summertime cars. The usual number of local railfans were out to watch Amtrak pass; many of them are watchers, and don't take pictures.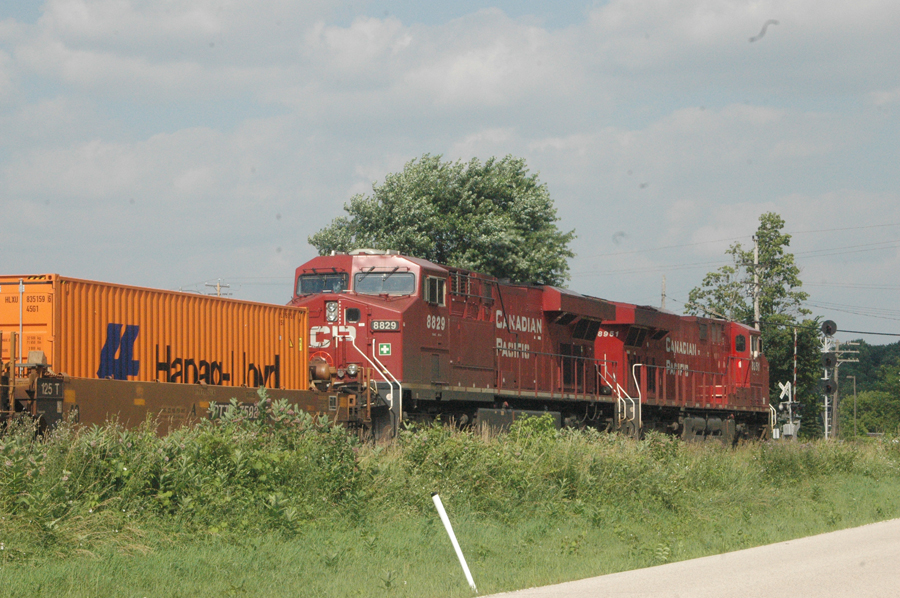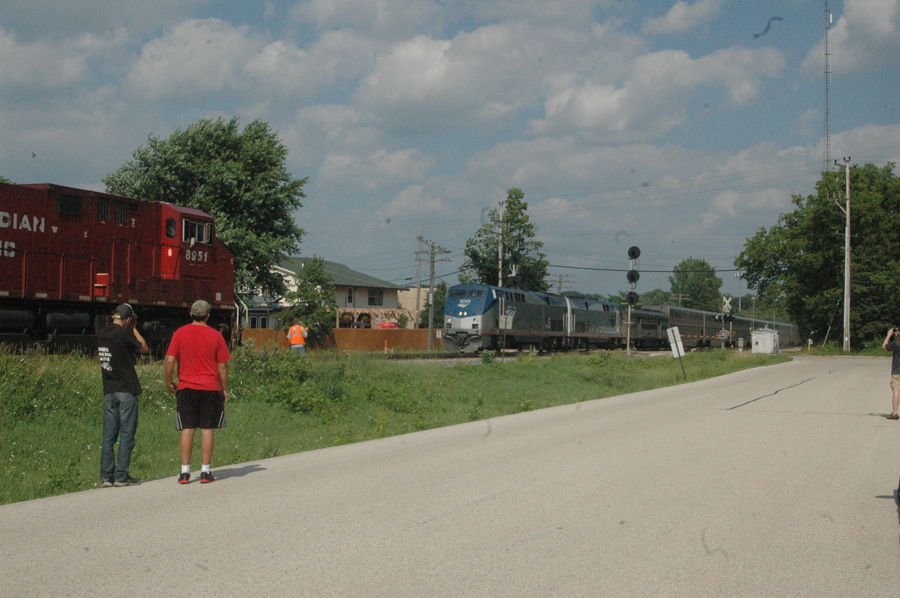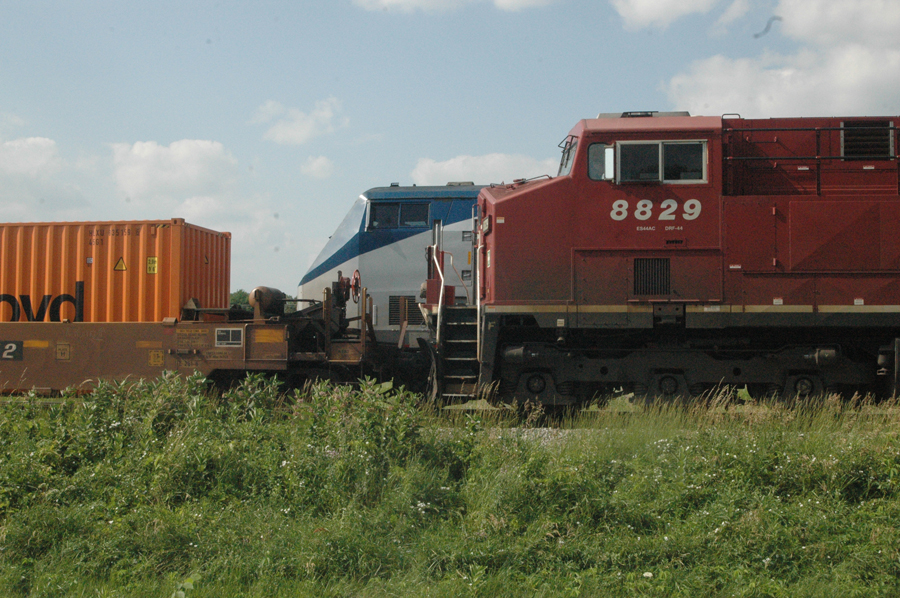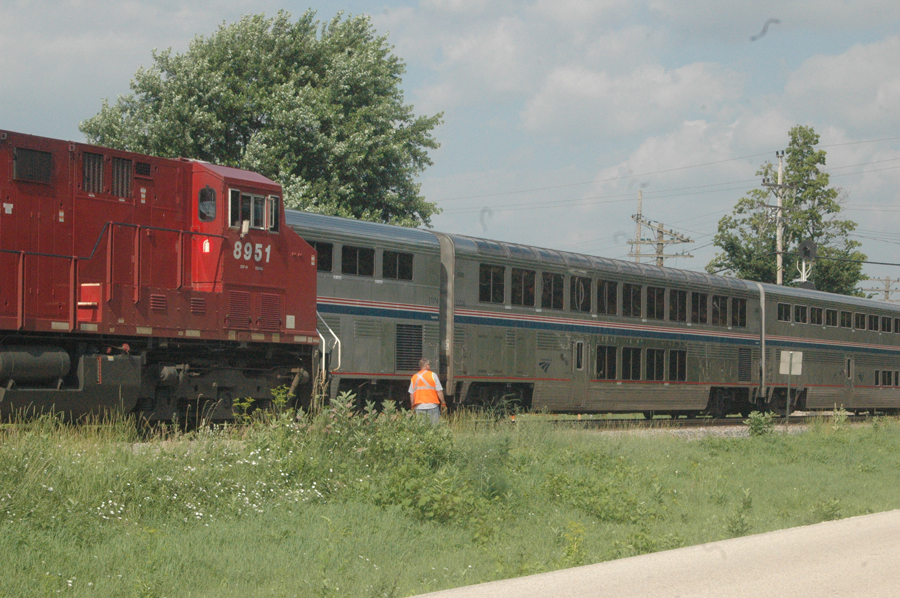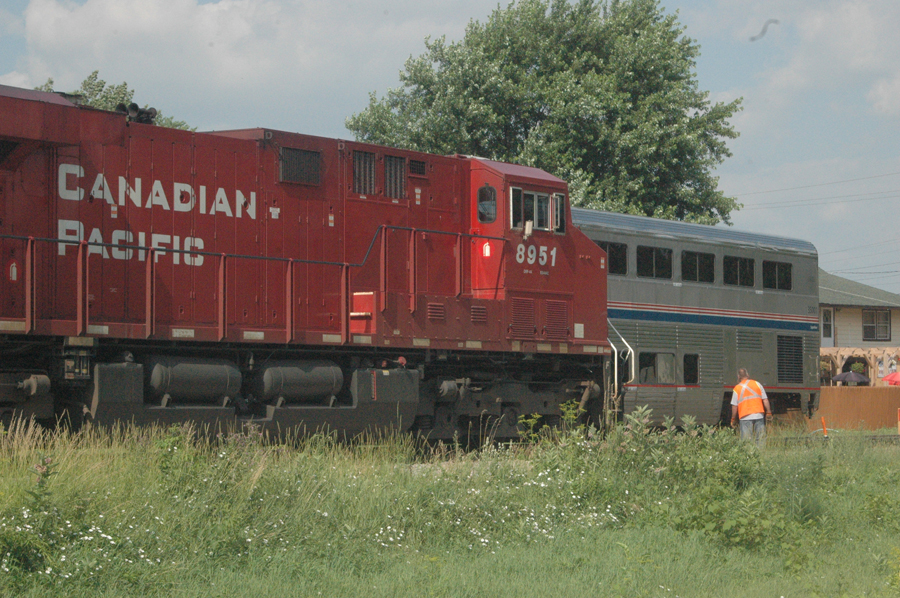 The day's penultimate action occurred in Waukesha when CN #446 came by the old "City Yard" (or "Main Street yard,' aka "The Main Yard") at

5:21

behind 2627/!C 1024.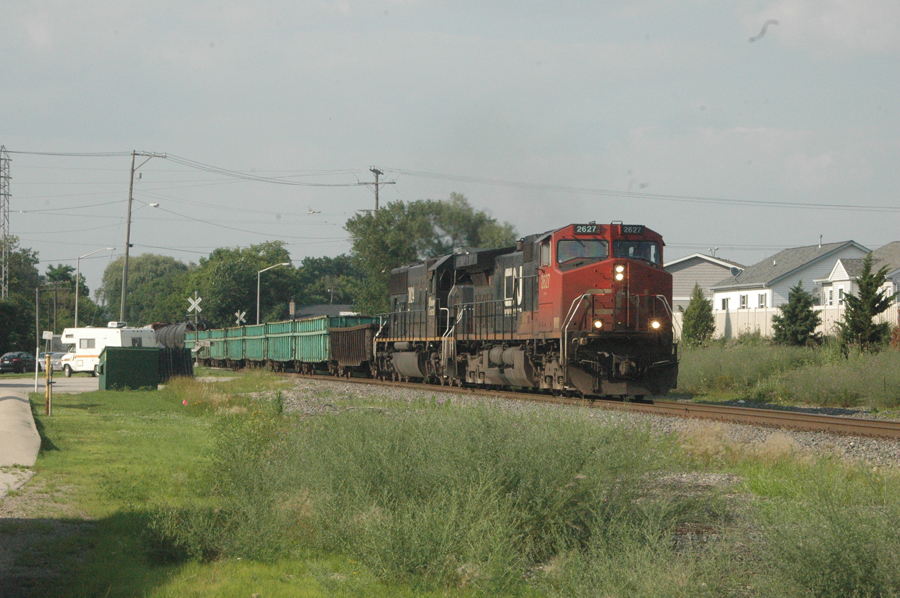 The day finished off when, as soon as #446 cleared Grand Avenue, CN gave the Wisconsin & Southern's daily Janesville-Horicon train, running a bit ahead of its normal time (dusk or so here), to come into town and enter the CN main at Grand Avenue. The train runs 24 miles or so north on CN trackage rights to regain its own line at Slinger, Wis. He came by the "CityYard" site at

5:53

behind 4050/4052/4077 with a relatively short train of 43 cars (we've seen well over 100 sometimes), and I went home for dinner.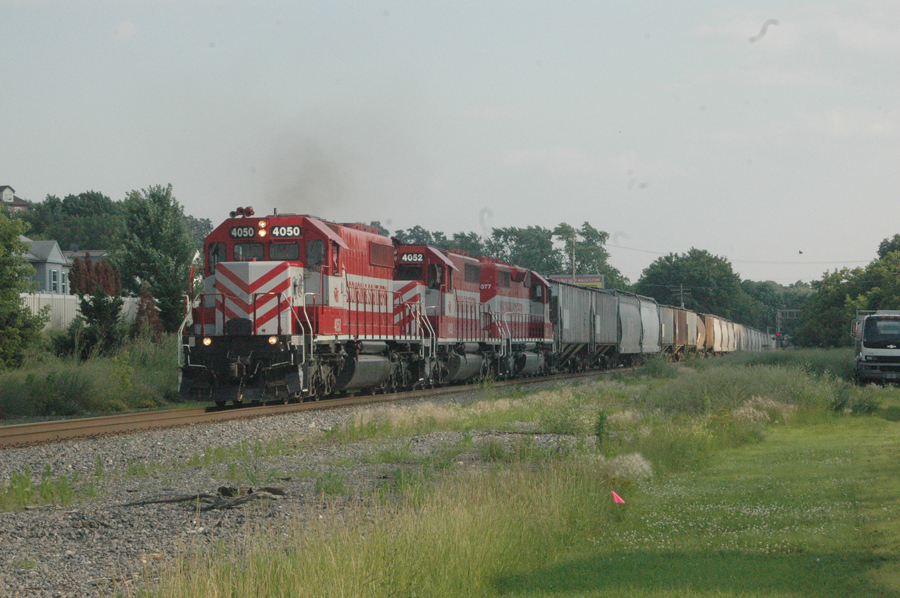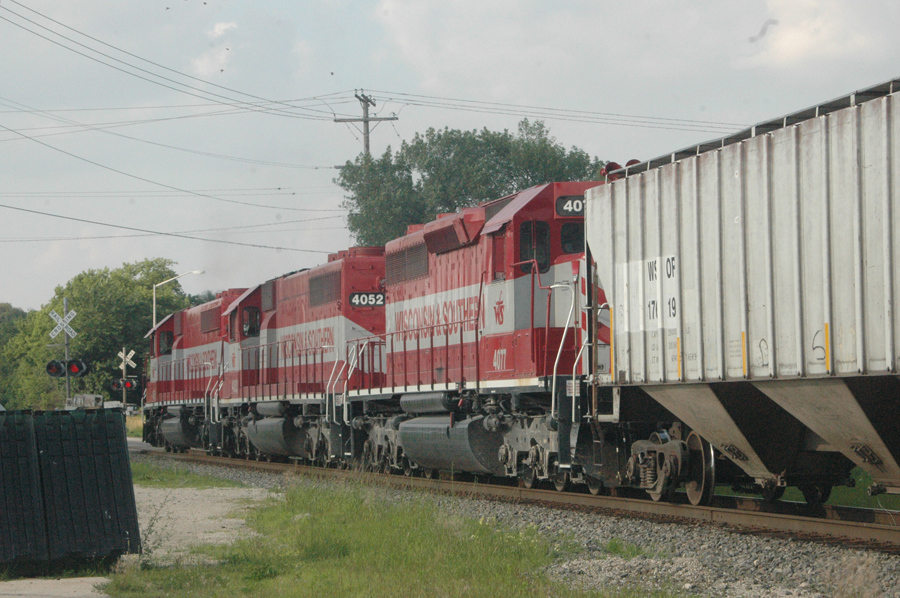 Biggest news of the month locally was the appearance of Amtrak's latest "Heritage" or specially painted unit, P42 No. 42, honoring our nation's military veterans, to highlight an Amtrak initiative to hire as many returned veterans as it can. The unit, in Beech Grove shops for regular work, was chosen because it is now Amtrak's 42nd year. After making a round trip from Chicago to Quincy, it was put on a Hiawatha set for a couple of days. Despite the midday light, adhering to the "shoot it now in case something changes" philosophy, and knowing which of the 2 "Hi" train sets it was on but not which end that unit #42 was on (even tho the motive power is usually on the north end), Carol and I went to Sturtevant on

July 11th

to photo #333 at

12:30 p.m.

, was running a few minutes late. The sign is on CP's new metal building at the old depot site.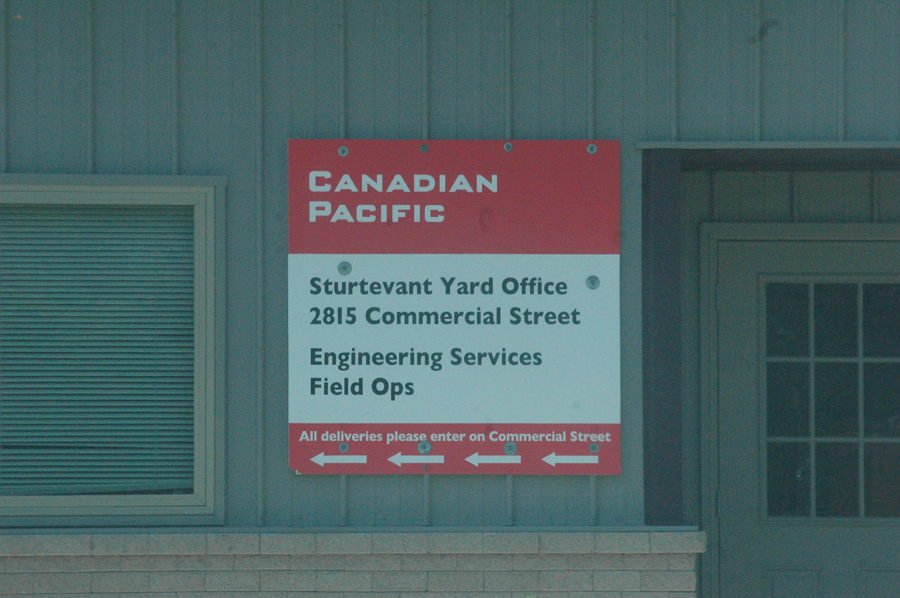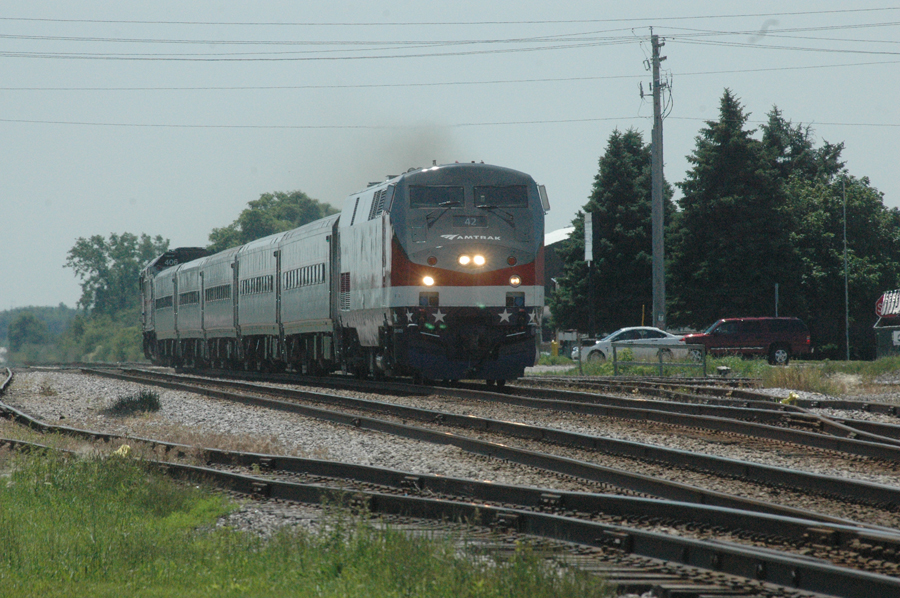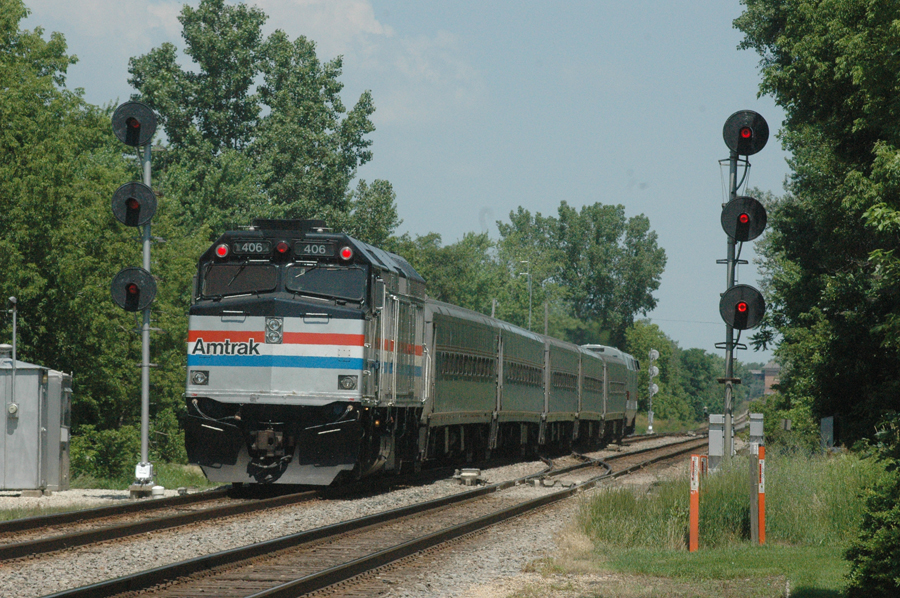 Action was predictably slim, but we did encounter CP #289 at Highway C, running on Track 2, at

12:53

behind units 9727/9629.
For the southbound return of the set, we went to the new Sturtevant station, so I could also get good shots of the NPCU on the south end, #406. Note that while this control-cab unit retains its former F40 number, with no "90" prefix, it is not like the other NPCUs since it still has its HEP capability, and is in Heritage paint and with the birthday inscription on the flanks. Normally it handles Amtrak's "event train," the cars whose interiors have displays about Amtrak's history, for the 40th Anniversary tour (see separate file on the website (http://condrenrails.com/JDI/index-2011.html). Normally 406 is on one end of the event train (the 40th Anniversary train with some changed displays inside), and Heritage P40 #822 is on the other. But this year, 406 would pair up with 42 after this short Midwest stint to attend some military-themed events out West.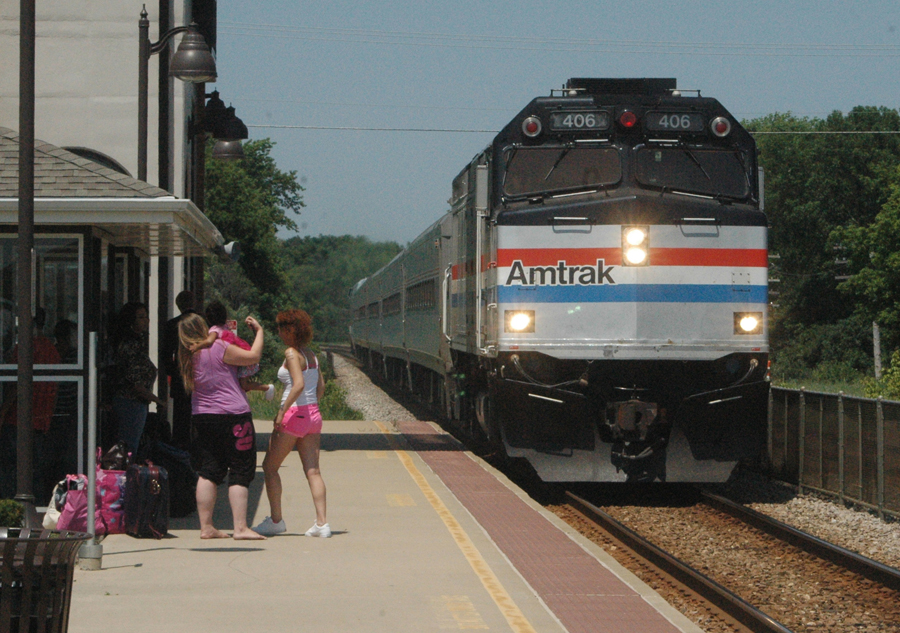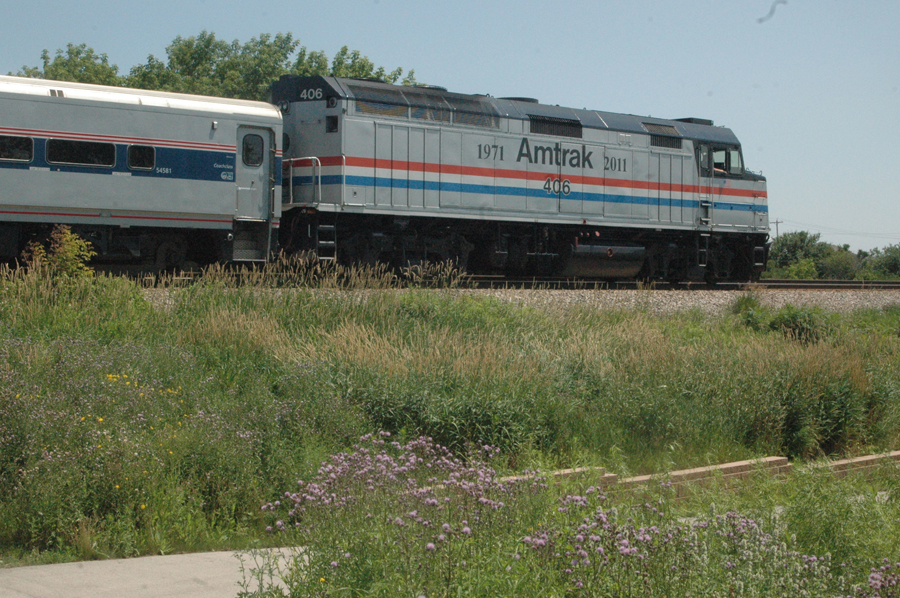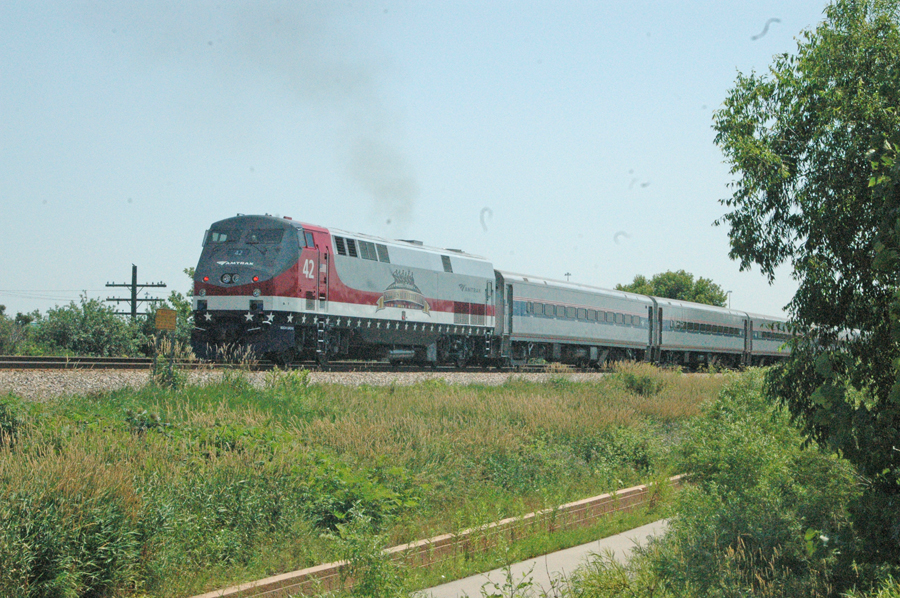 Although we missed a shot of CP #281, being out of position, its usual two big red GE's were nothing unusual. We did hang around Sturtevant for the other Hiawatha set, on train #335, whose rear end is shown passing the old depot site with NPCU 90413 (ex-F40 413) bringing up the rear, at 2:12. Power unit was 55. The metal building at the left is CP's new "office" that the sign pictured above is attached to.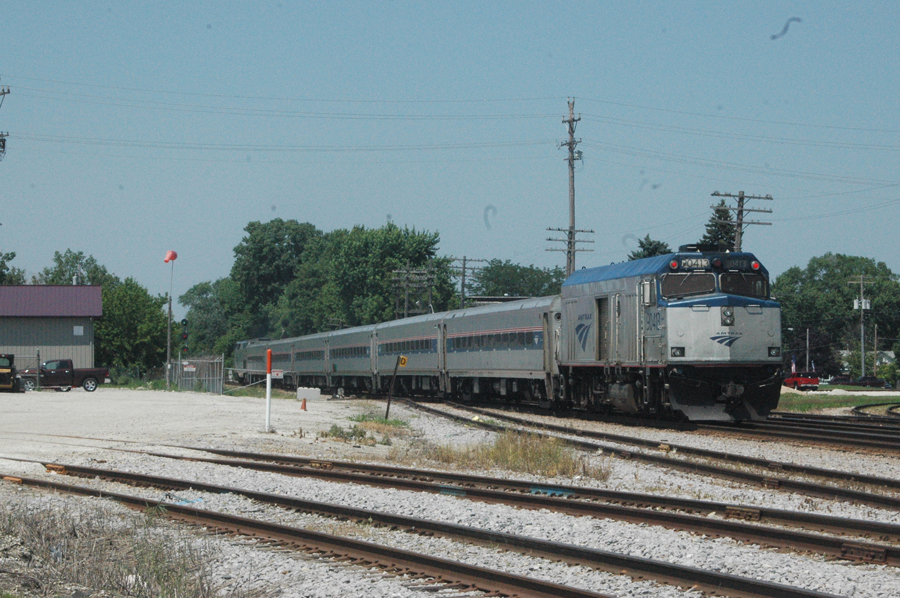 With no other apparent freight action, we returned to Waukesha so I could drop off Carol, and then I went to downtown Milwaukee to get better-lit shots of #42 on train #337. But first came #7, which I shot pulling out of the station on-time at 3:55, units 160/204 with 12 cars,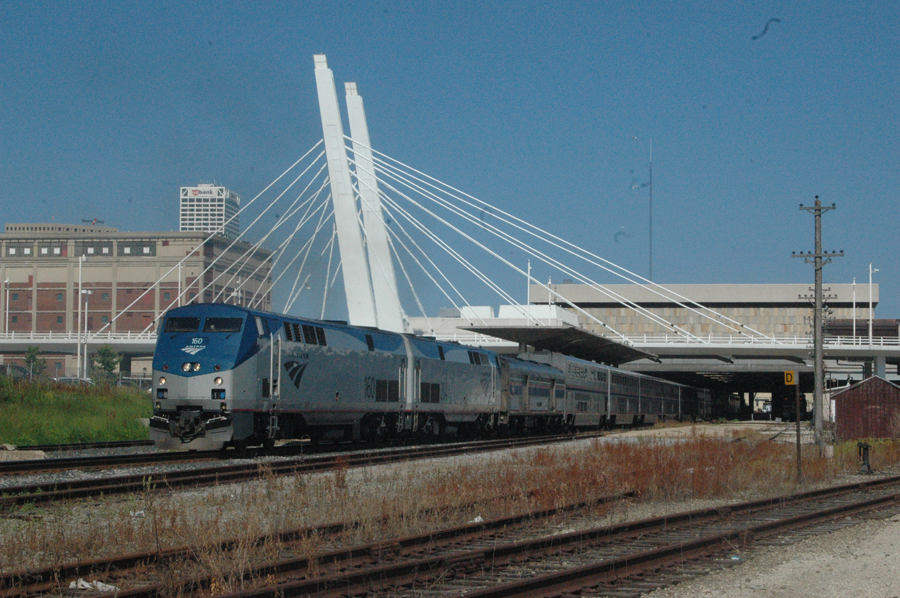 "The gang (was) all here" for #337 -- the TRAINS Magazine bunch, I mean. After checking out a couple of other spots and finding none better than the curve right outside the depot which crosses Plankinton Avenue, I parked ... and was soon joined by the TRAINS crowd.  From left are Steve Sweeney, Brian Schmidt, an unknown fan, and Matt Van Hattem. Hey guys, you missed the bus!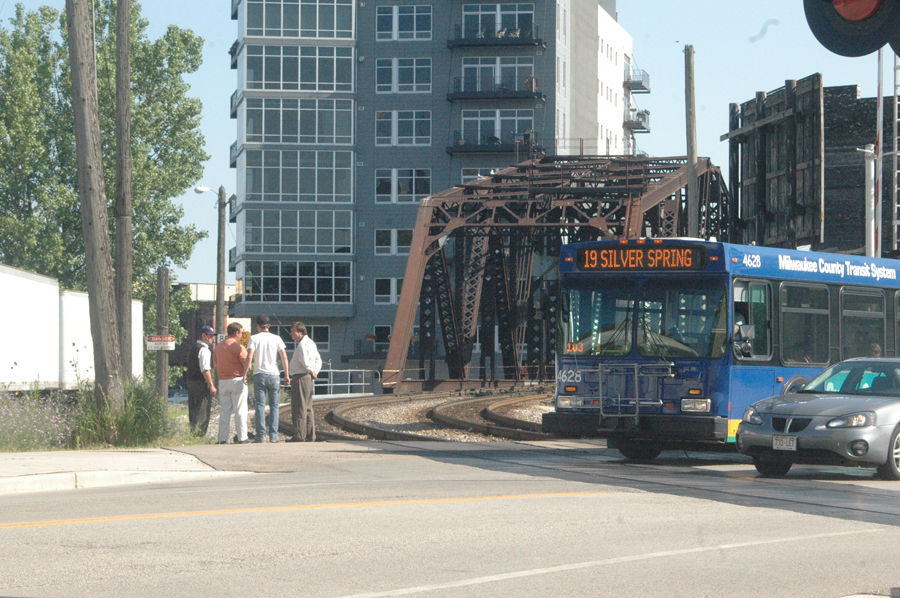 The train showed up a few minutes late at 4:46. This set had been running late all day, tho making up time at the layovers, because it had had to set out a bad-order coach in Chicago in the morning -- the consist was 5 cars instead of the usual 6. Two Hiawatha sets bounce back and forth all day on the 7 round trips (6 on Sunday -- the earliest morning runs are daily except Sunday).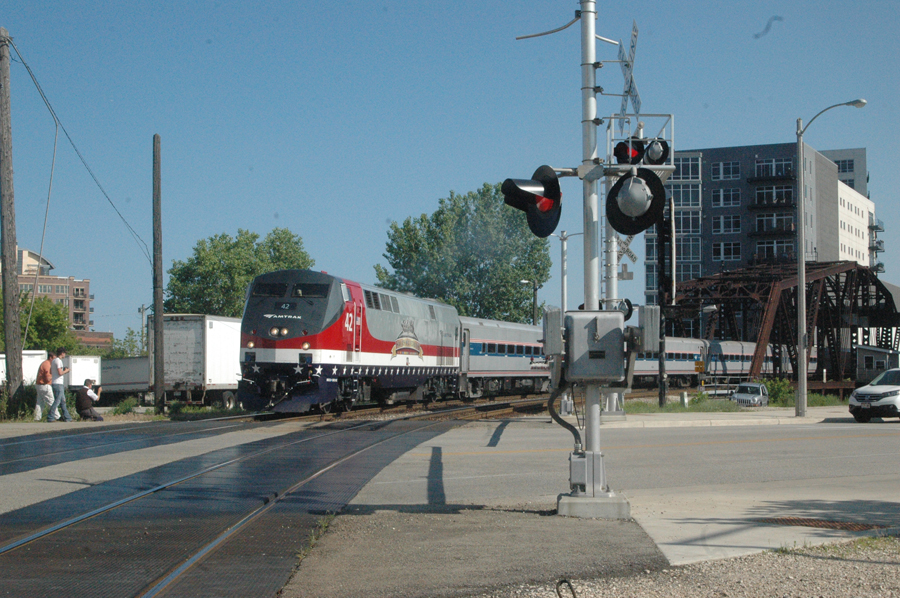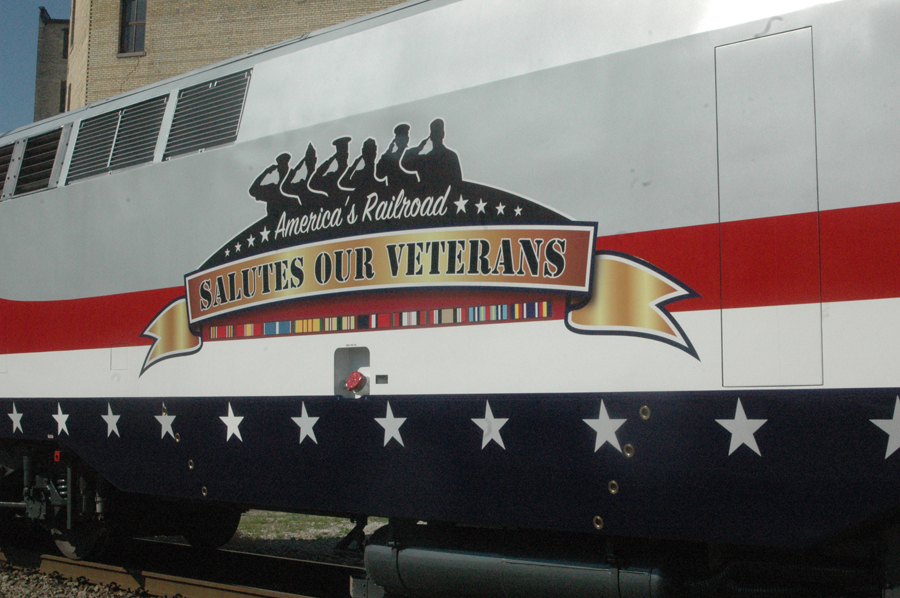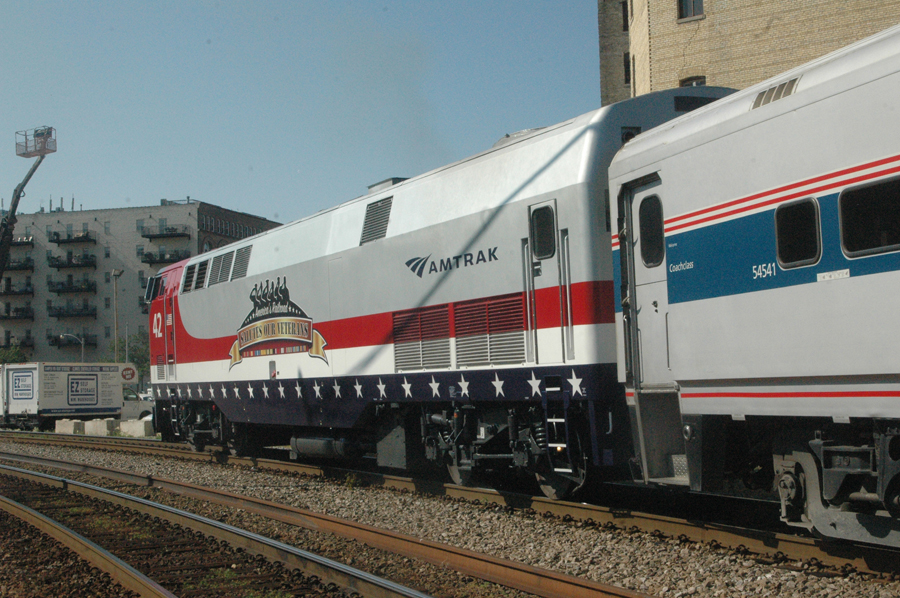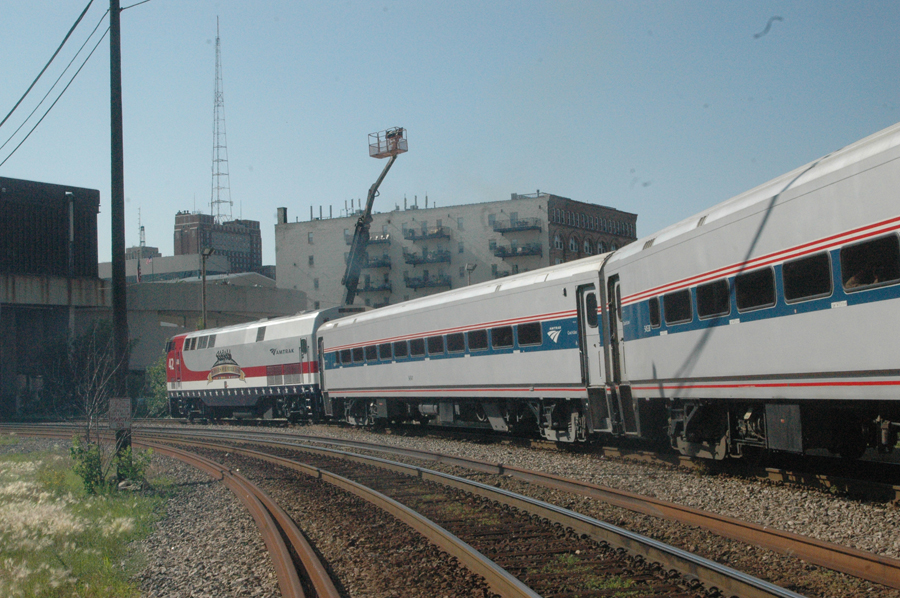 Jim Wrinn, at right with the sport coat, also was on hand, but picked a different angle.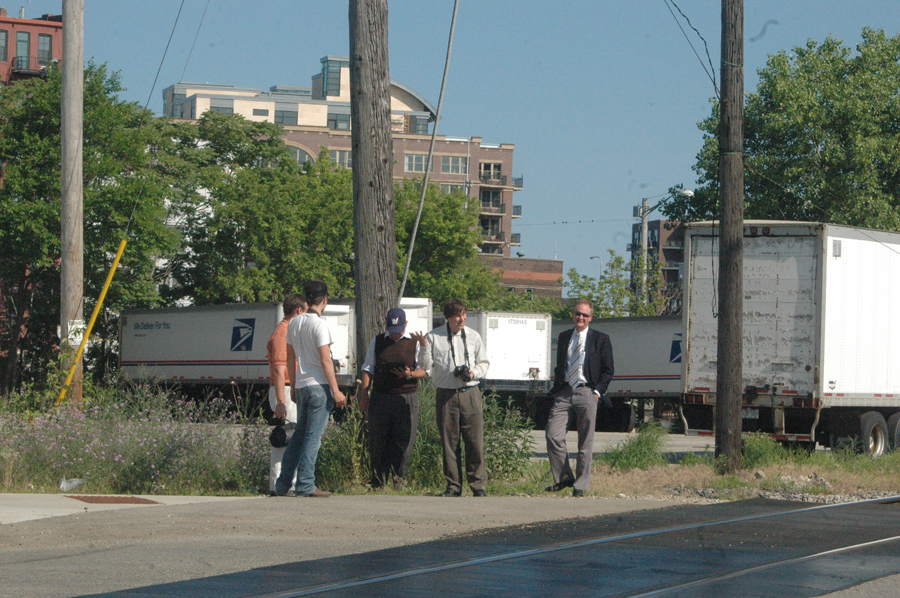 The engineer on #337 was Scott Willett, who had been told by his father, our friend Craig, to pull the train a bit farther to the west when he stopped in the depot, so the entire unit #42 would be out from under the trainshed. Scott complied -- hey, it's his Dad giving him an order, not just a "request."

This enabled us onlookers to get some portrait and close-up views of #42. And I think they must've made an announcement about the unit on board, because several passegners, after disembarking, walked up to look #42 over, and some took pictures. The light was a bit head-on, but no one complained!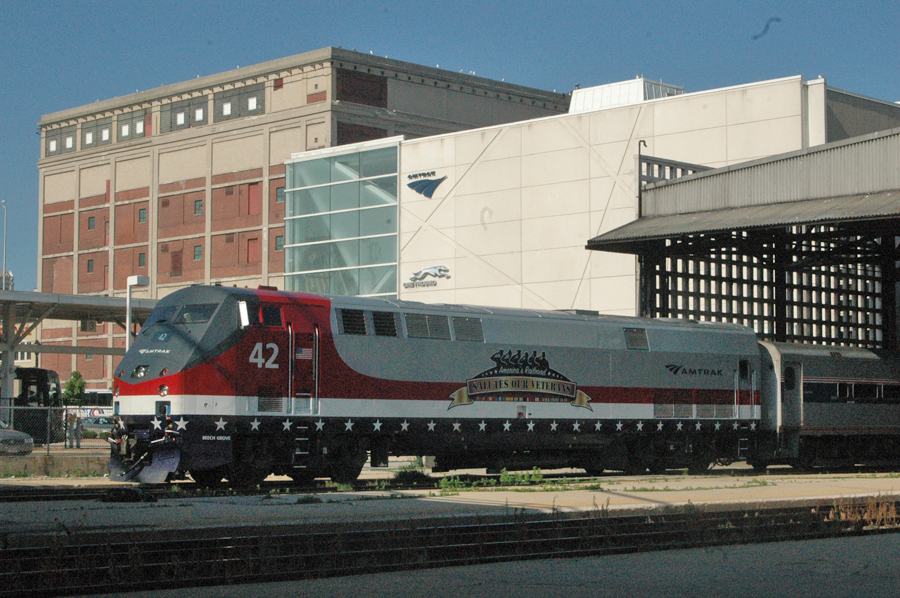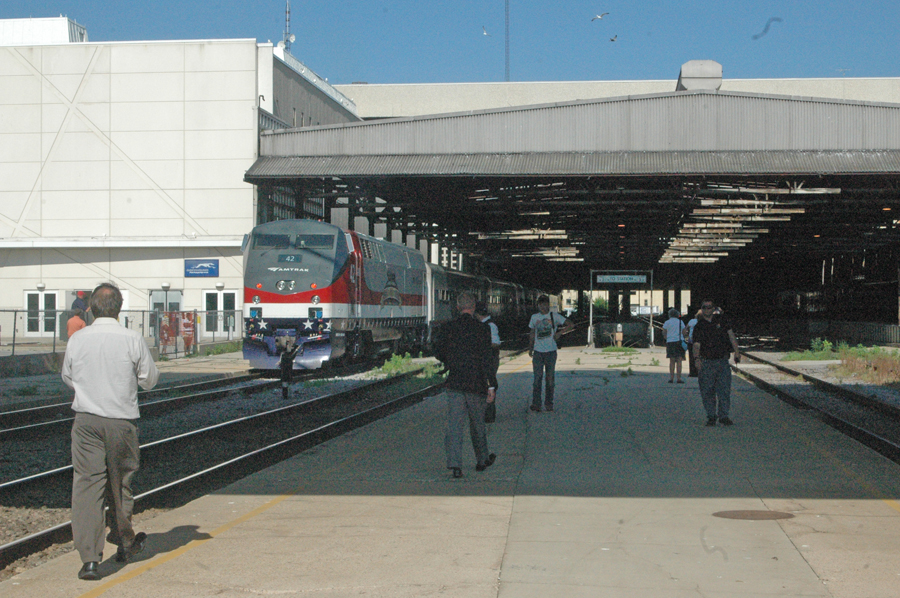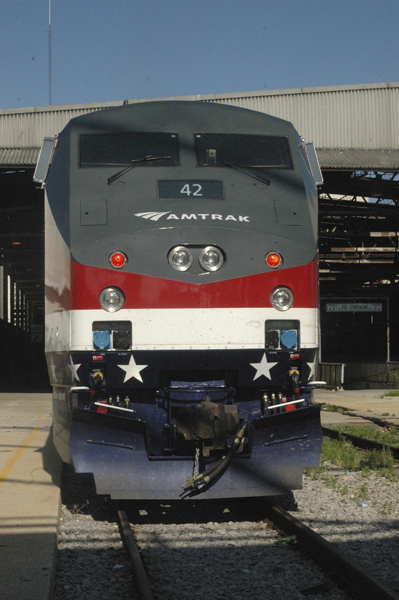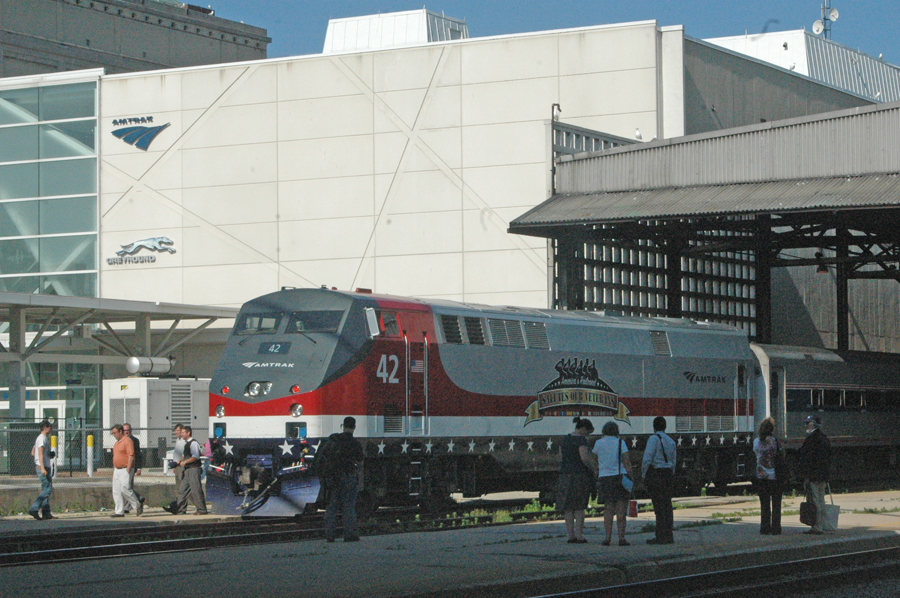 That's T.J. Van Haag, a Walthers employee, former Amtrak conductor (he was conductor on the "Heifer Zephyr," the short-lived Amtrak Chicago-Janesville, Wis., train, when I rode it), and mutual friend of the Willetts and many of us in the local gang, who is taking a photo.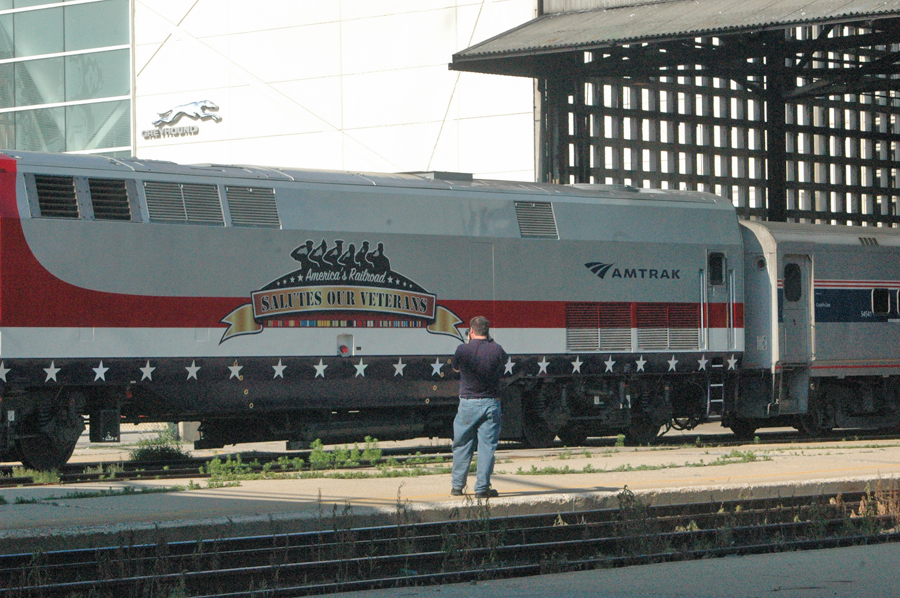 Amtrak's special unit stayed on the Hiawatha for at least another day -- its last train overnighted in Milwaukee, so that was pretty much a given -- and possibly over that weekend, but having done the best I could, I didn't go into the city for any repeats.

On Saturday

morning, when the weather was so nice, Carol and I made a 45-minute trip north to photo a preserved depot whose presence had somehow escaped me for 20-some years, the ex-C&NW building on "the Air Line" in Jackson, Wis. The track is still there, now an "isolated' CN branch to serve a customer or two in the far south side of West Bend. The CN has it because C&NW spun it off to Fox River Valley, and Wisconsin Central bought the FRV (with the GB&W) in 1993. I'd shot FRV trains there, but turns out the depot can't be seen from the Hwy. 60 crossing, its original site. It was moved only about a city block to the northeast, into the corner of a city park. Time of the photo:

10:18

.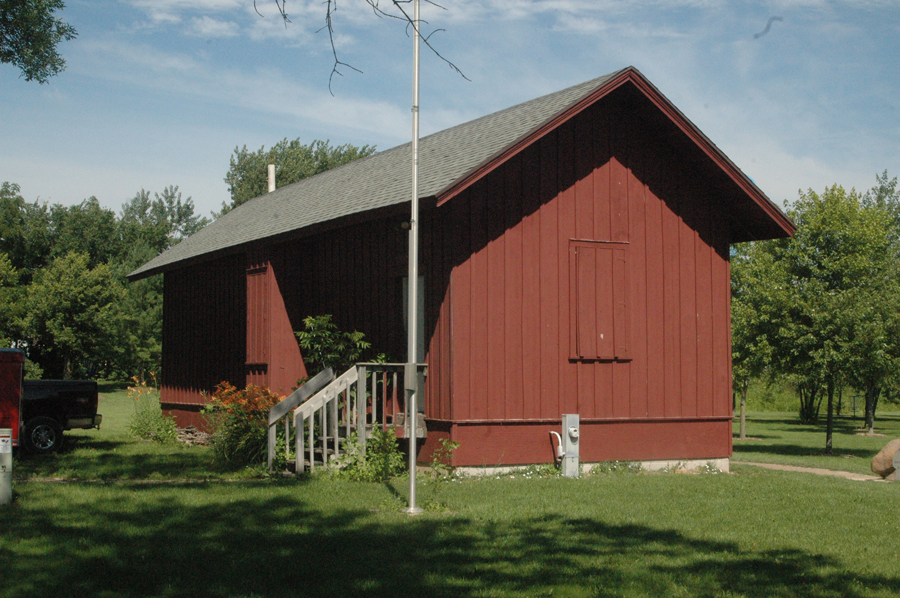 On the way back to Waukesha, we went west to be around the CN before heading south and wound up lucking into two trains, tho both were (backlit) northbounds. First was this one, which we saw as we passed over it at Ackerville; we doubled back and went up the 4-lane U.S. 41 (soon to become Interstate 41) a few miles to Addison Road, just south of Allenton, and at

10:40

made this photo of units 2685 / BCOL 4603 / 2128, the last unit an ex-C&NW UP Dash 8. Addison Rd. is the site of a gravel pit, one of two, which originates cars for the nightly "rock train" to Chicago suburban customers who send the rock out for highway construction projejcts; this explains the dust cloud in the going-away shot. The train had 127 cars.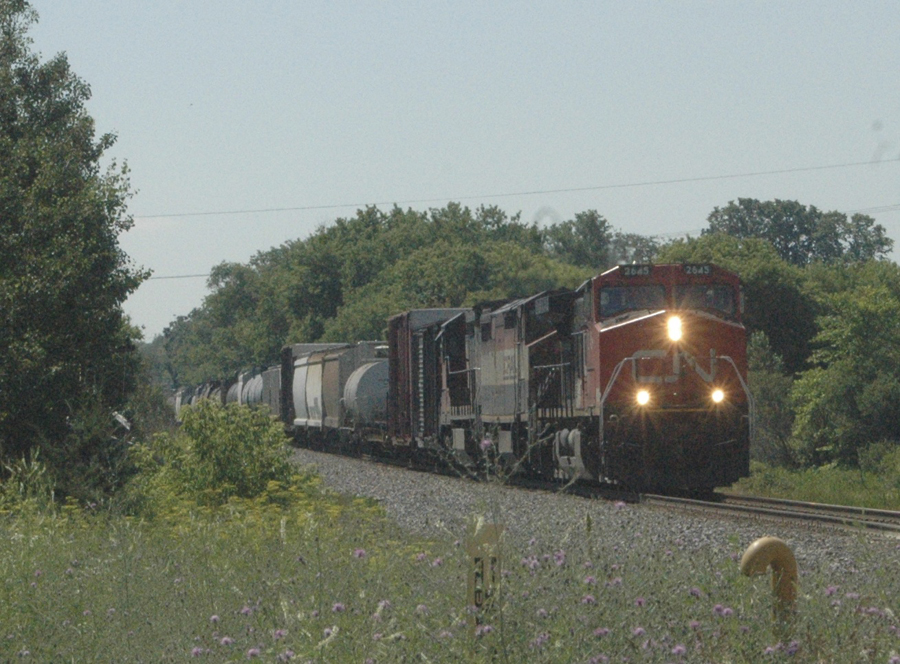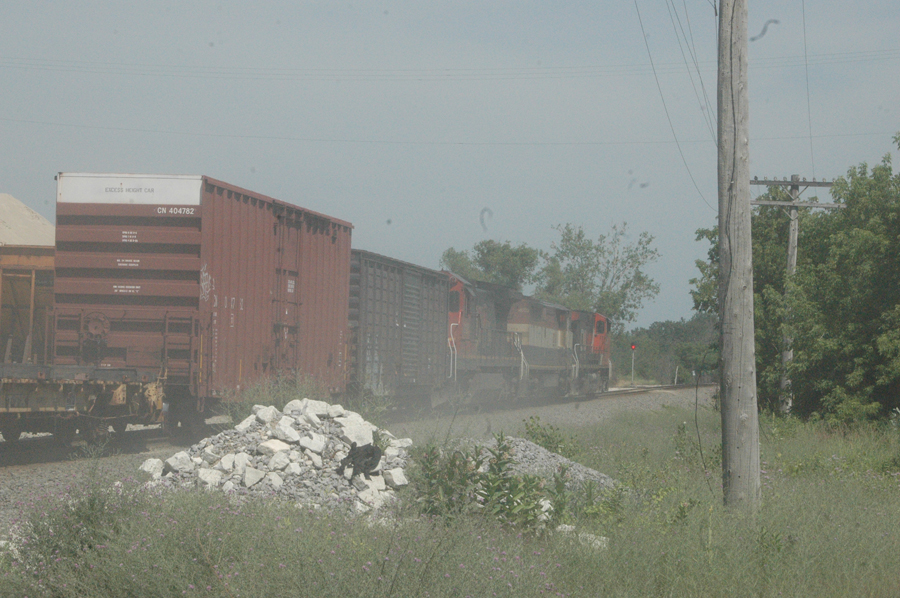 Heading back south, we checked around Rugby Jct., and found that sometimes little things take a while to be changed. CN bought WC in 2001!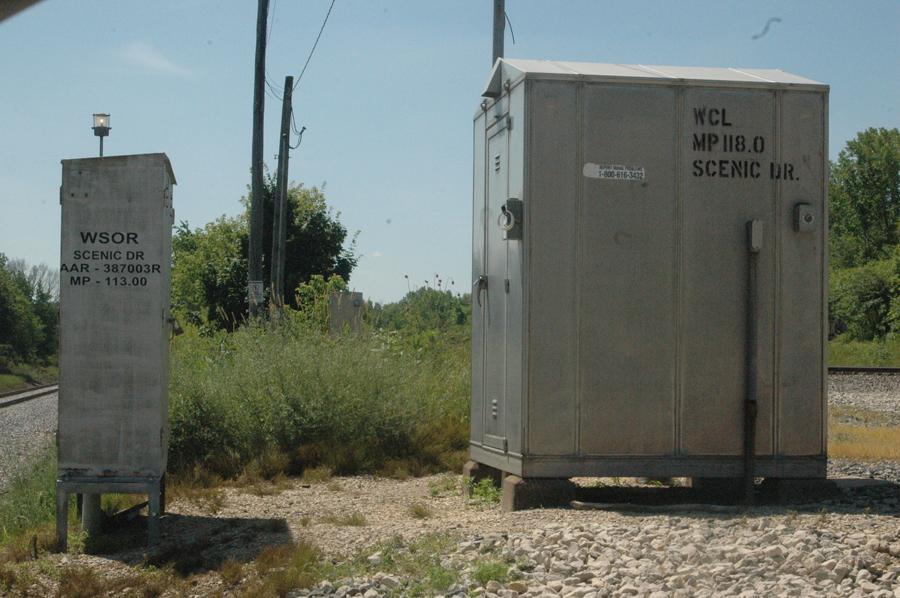 The 2nd train was pure serendipity. We were heading west on Good Hope Road and about 500 feet in front of us, the gates started going down. Fortunately there is a place to pull off the road there, still, despite there being a divider and paddles, as this is the south end of a string of quiet zone crossings, with no road paralleling the track, thru the Town of Lisbon and the Village of Richfield, all the way up to Rugby Junction. In WC days, when speeds were slower, locomotive horns were a big help on a train's progress, but no more. This guy had 5738 / BCOL 4614 with 64 cars at 11:27.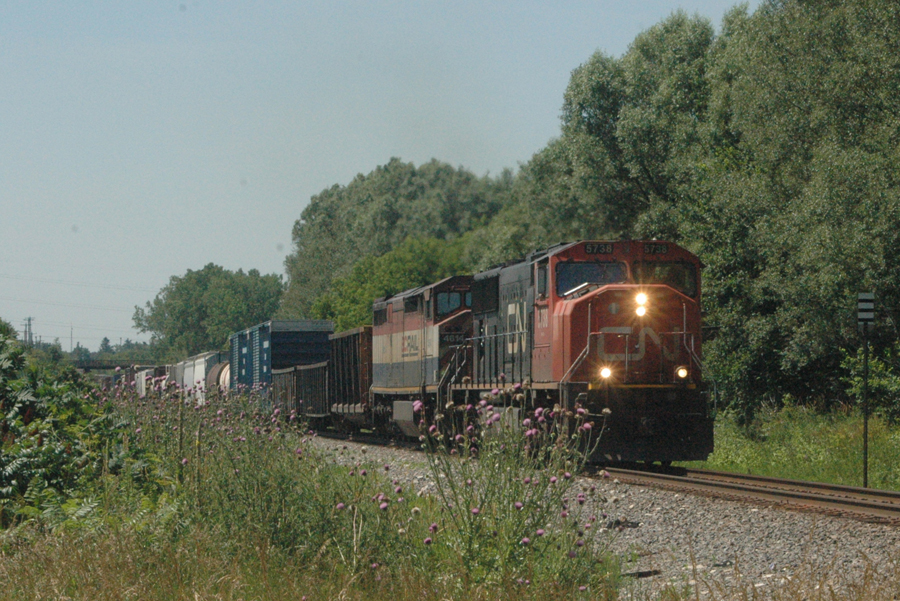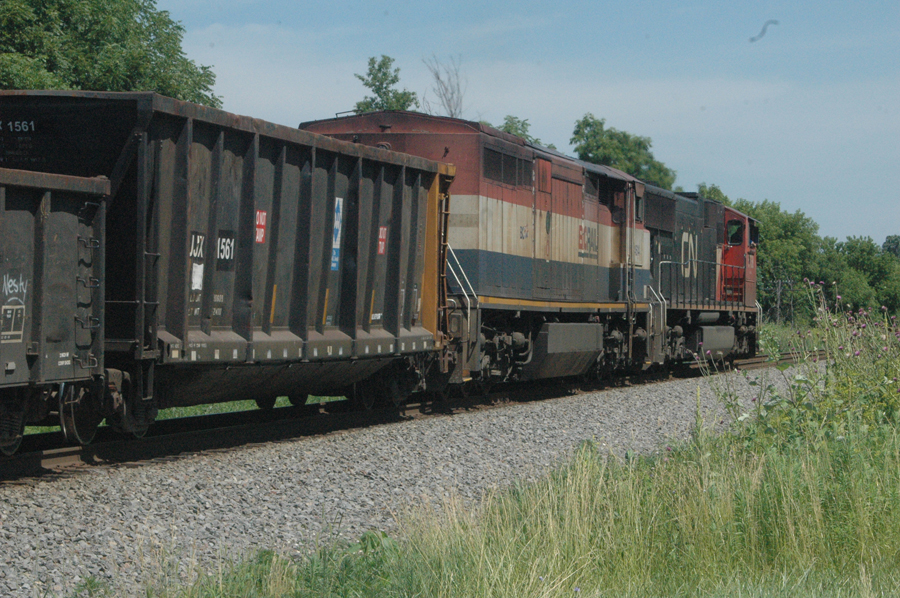 As he passed, I noticed another reminder of the 12-years-ago past and watched for a WC car as a backdrop.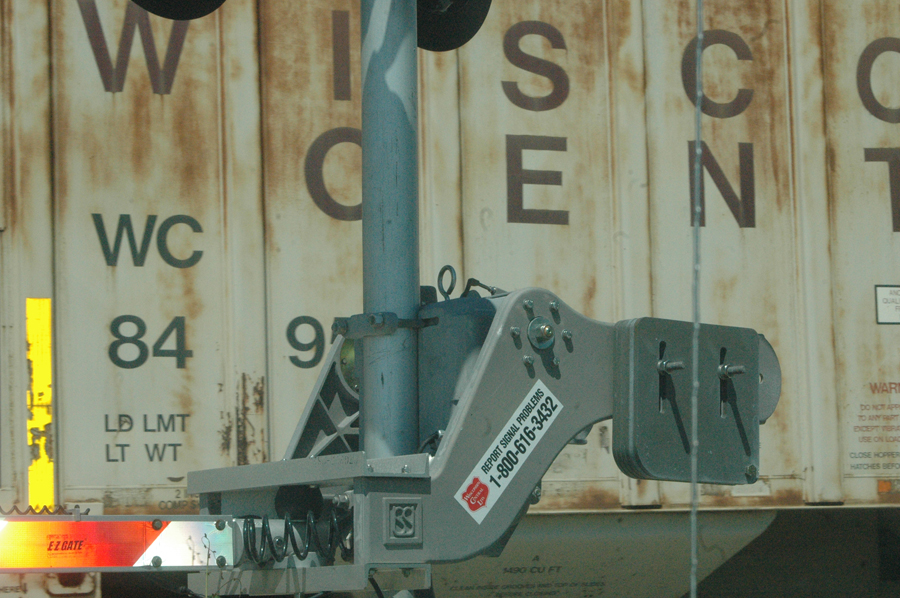 | | |
| --- | --- |
| After going home for a late lunch and other things, I went back out, with the light still good, for Amtrak #7, and got a nice sequence of him overtaking CP #281, which I'd shot a slide of east of Duplainville at 4:07. Amtrak, with engines 147/177 ant the usual 12 cars, overtook #281 at CP's current "Pewaukee" (its third spot over the past several decades, now being the end of double track at MP 104.25 or so) at 4:23, about 15 mintues late. | |
Soon, CP #281, engines 9363 / IC&E 6431 / 8957, with 62 mixed freight cars ahead of 28 vehicle trilevels for a total of 90 cars, throttled up and passed me at Forest Grove Road at 4:28.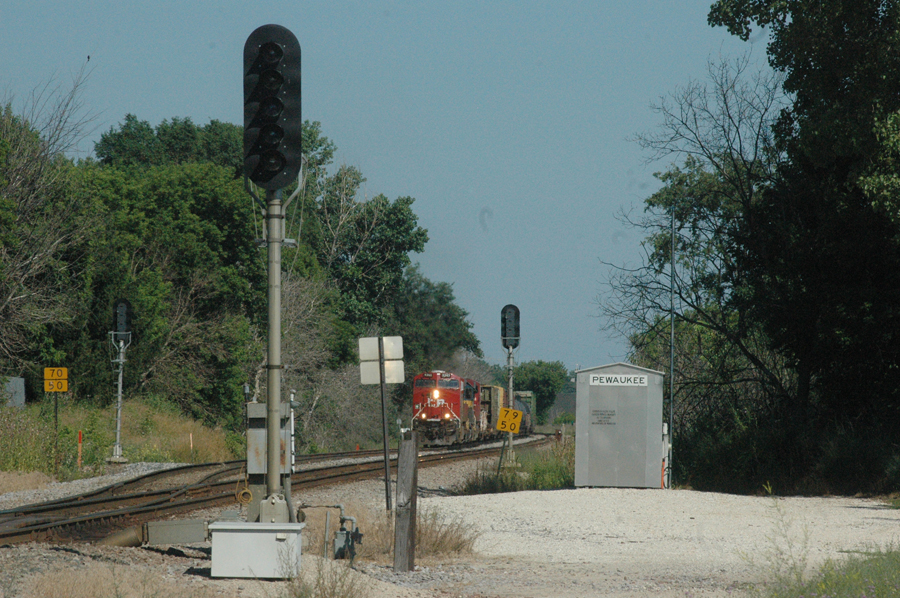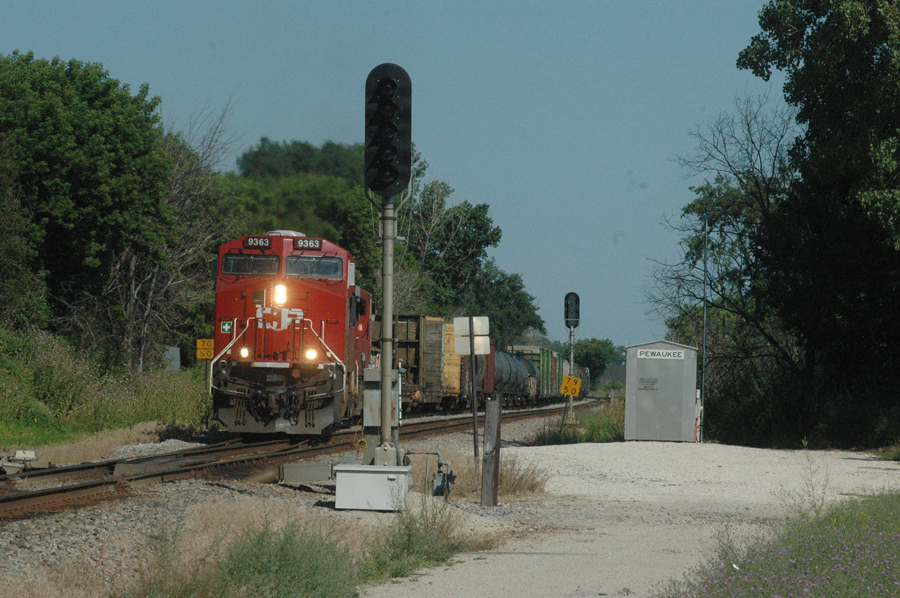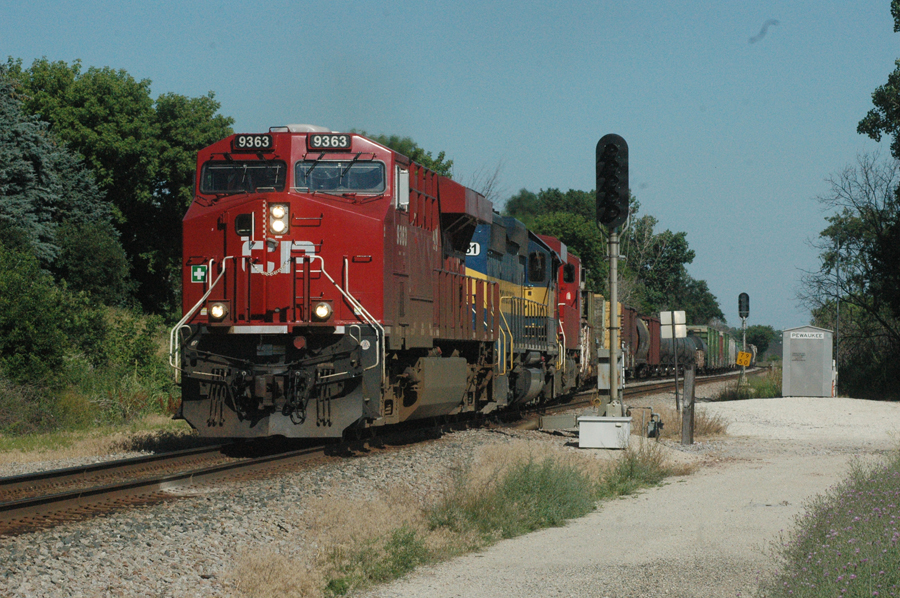 The last train of the day was this CN southbound in Waukesh, engines 8849 / IC 1011, at 5:20 p.m.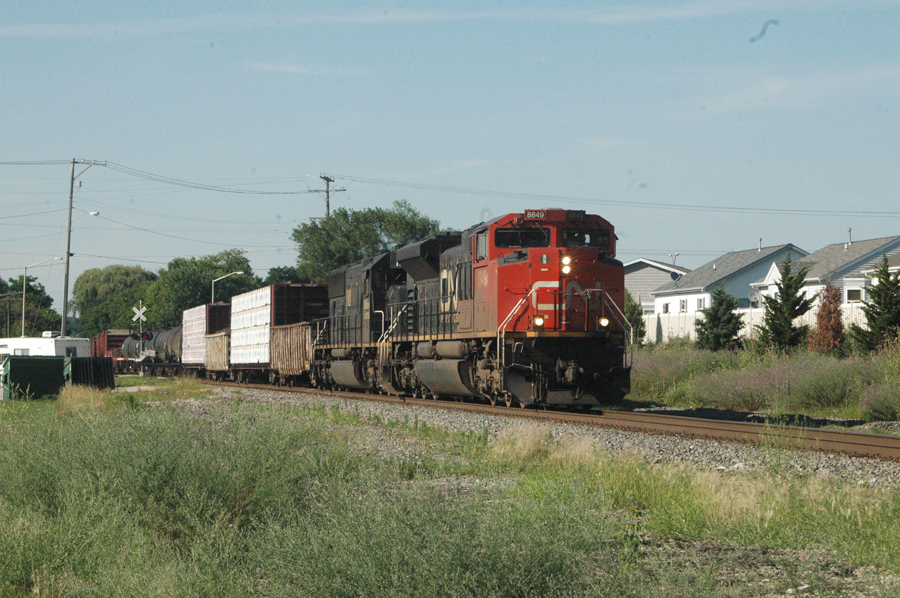 he next day, July 14, produced a coup de gras! Jeff Hampton was up at Rugby Junction shooting a WSOR train when he got caught at the wrong crossing on Pioneer Road, about 200 feet east of the CN -- meaning he looked west to CN into the sun -- and saw a southbound CN go by led by three BCOL wide-bodies and nothing else. He called me -- i was out around Duplainville as usual -- and i got the word out by phone to a few others whom I could. The BCOL's passed me -- engines 4621/4605/4611 -- at Weyer Road at 4:11. The sun was playing with the clouds, so what you see here are the 1st, heavily cropped, and the 3rd shots of my sequence. I of course blew off Amtrak #7 (due by Dupy about 4:15) and also, as it turned out, CN stack train #193 that our BCOL's met at Waukesha siding (in the woods, not accessible) at 5:12, to fight rush-hour traffic and get into Waukesha for another shot. The unexpected meet delayed m6 2nd shot, but no matter. I got the 62-car train again by the depot at 5:17, tho I shot only slides. Someone else saw #193 and reported ho-hum power, four SD75's.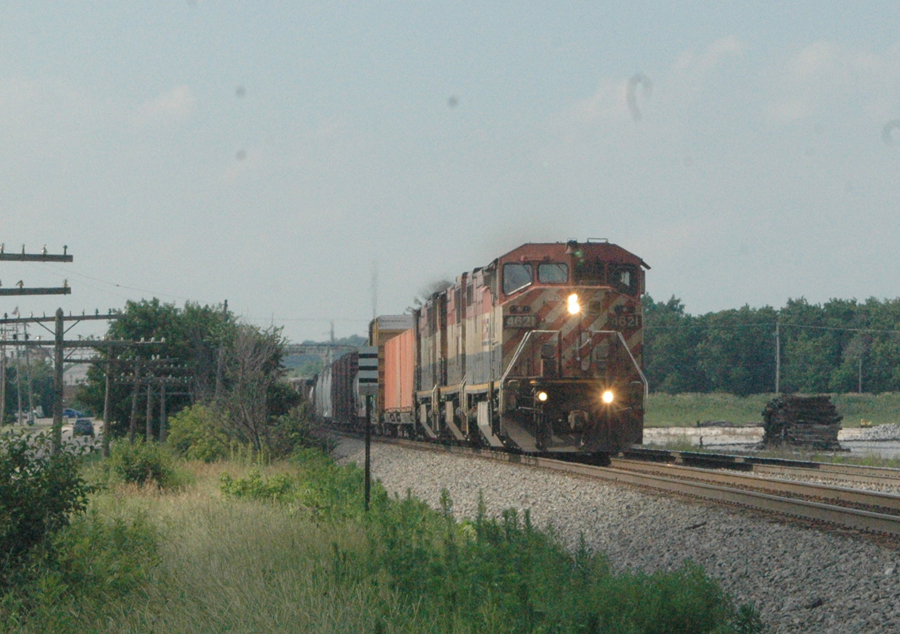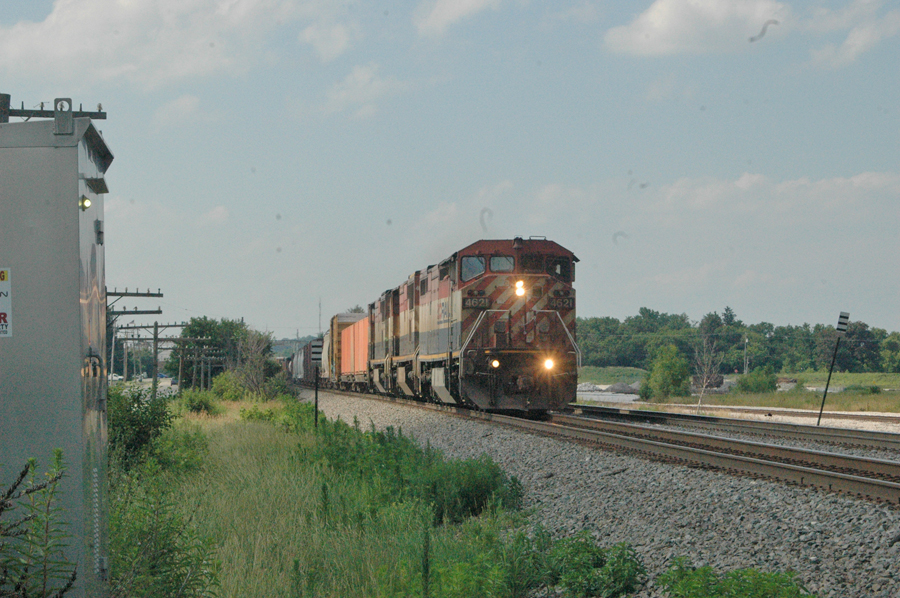 Three days later, July 17, Amtrak #7 was going to have the display train, bound for Havre, Mont., between the engines and normal consist, including the P42 #42 veterans unit and the NPCU 406. I tried for several of the usual spots where a telephoto would show most of the long train, but the weeds were so high, and so close to the tracks, that i wound up on Parkview Lane, the dead-end residential street along Lake Pewaukee's north shore toward the west end of the lake. And then I got clouded there! First, tho, #8, which was running over 3 hours late, was obviously going to meet #7 at Pewaukee, so I decided on Parkview for both trains. No. 7 came by at 4:25 with a surprise, the King Tut engine, F59 470 from the Cascades service, trailing unit 77 with 13 cars, including PV Sierra Hotel on the rear. Bright sun for #8, of course!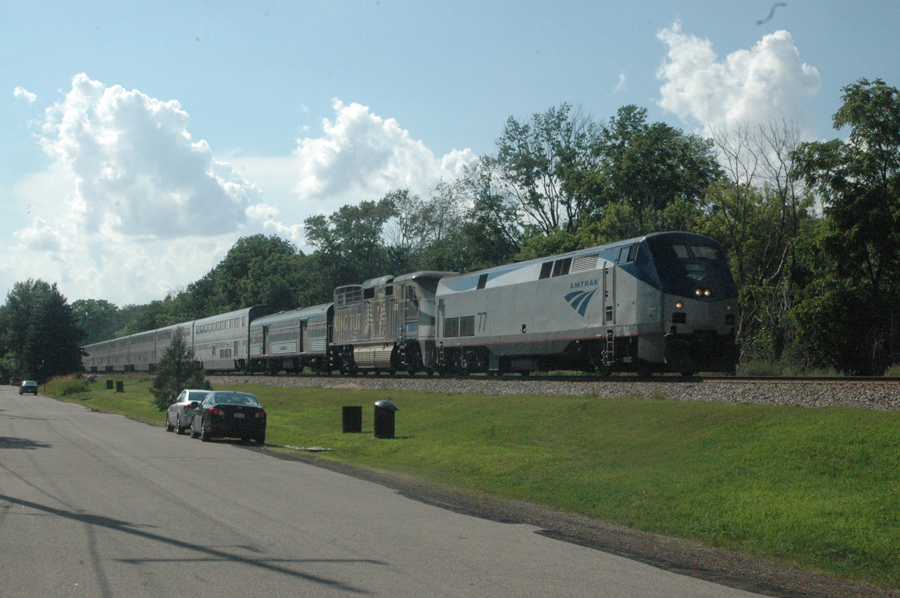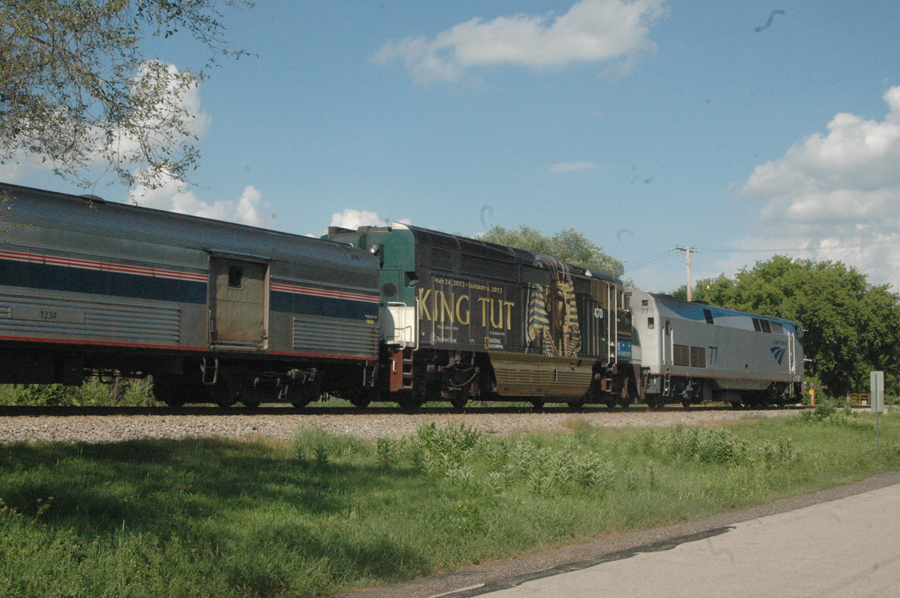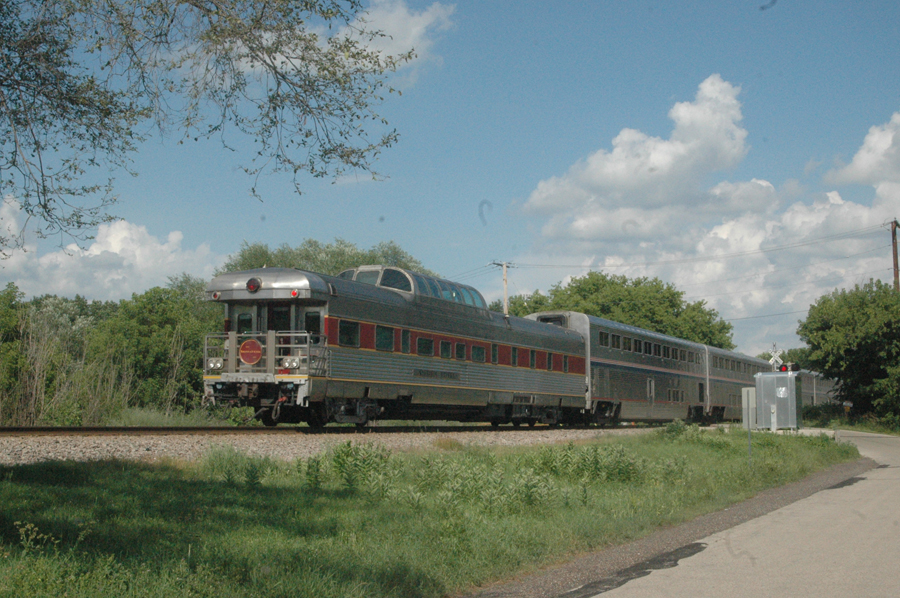 But clouds for #7, by me at 4:36 with 17 cars, as expected, behind the 204/44/42/406.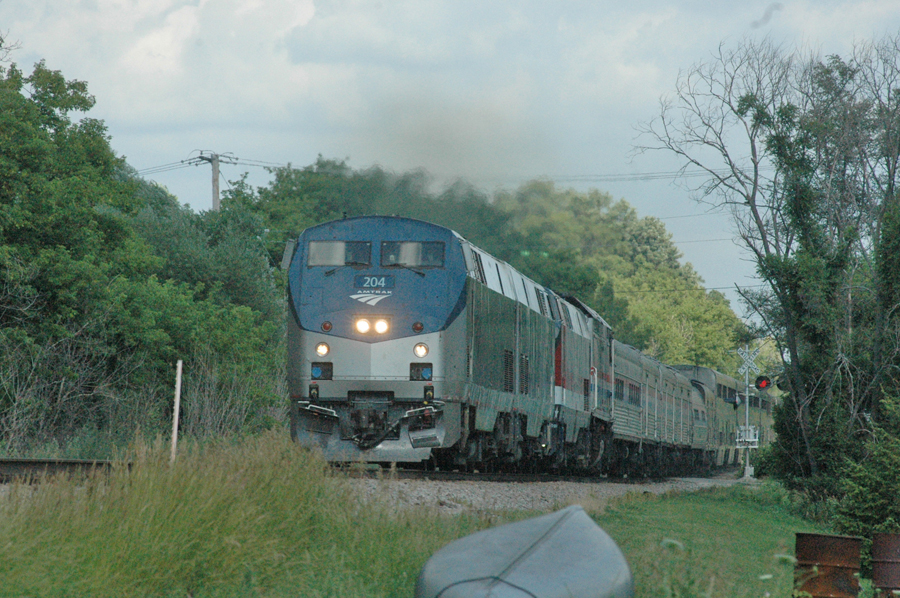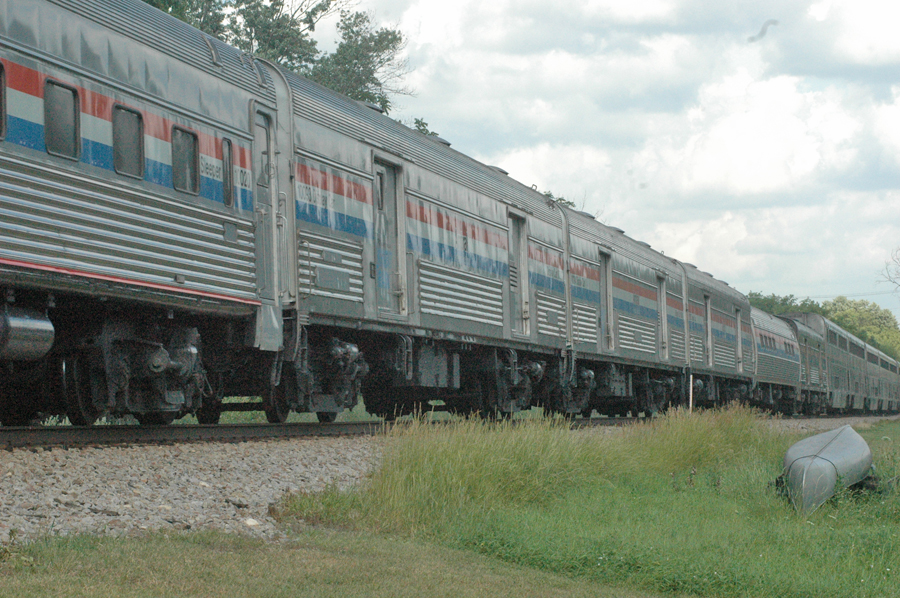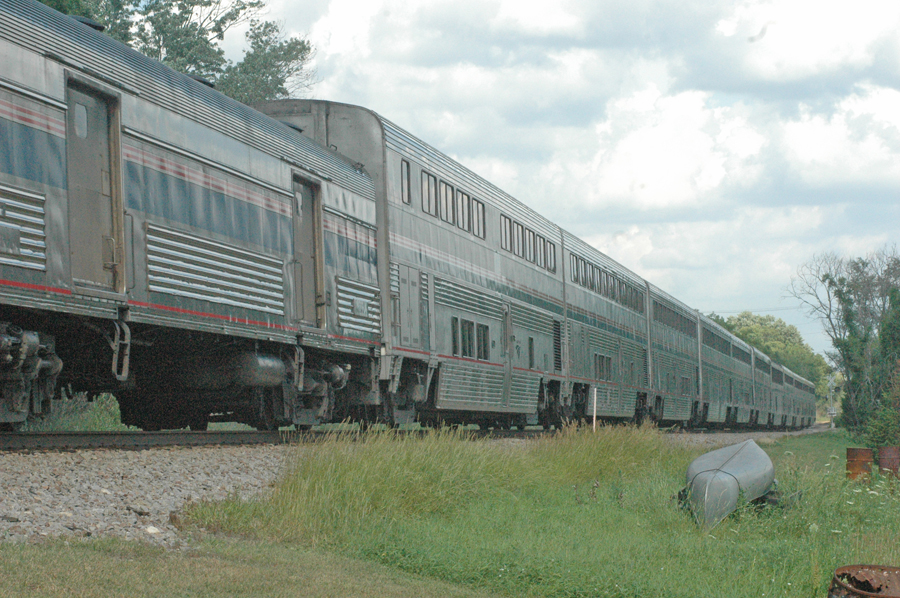 This page was designed and is maintained by Mike Condren. If you have materials
that you would like to contribute, contact me at mcondren@cbu.edu