Trip to Illinois
Feb. 2011
Photos by Dave Ingles
On Wed., Feb. 16, I drove to central Illinois for a short visit. My first stop was Rochelle, where at 12:45 p.m. UP provided me with this westbound intermodal behind 6 units. Note the snow on the ground, remnant of the Groundhog Day blizzard. This day was in the middle of a week of ideal gradual snow-melt with warmer temps, some wind, and no new precipitation.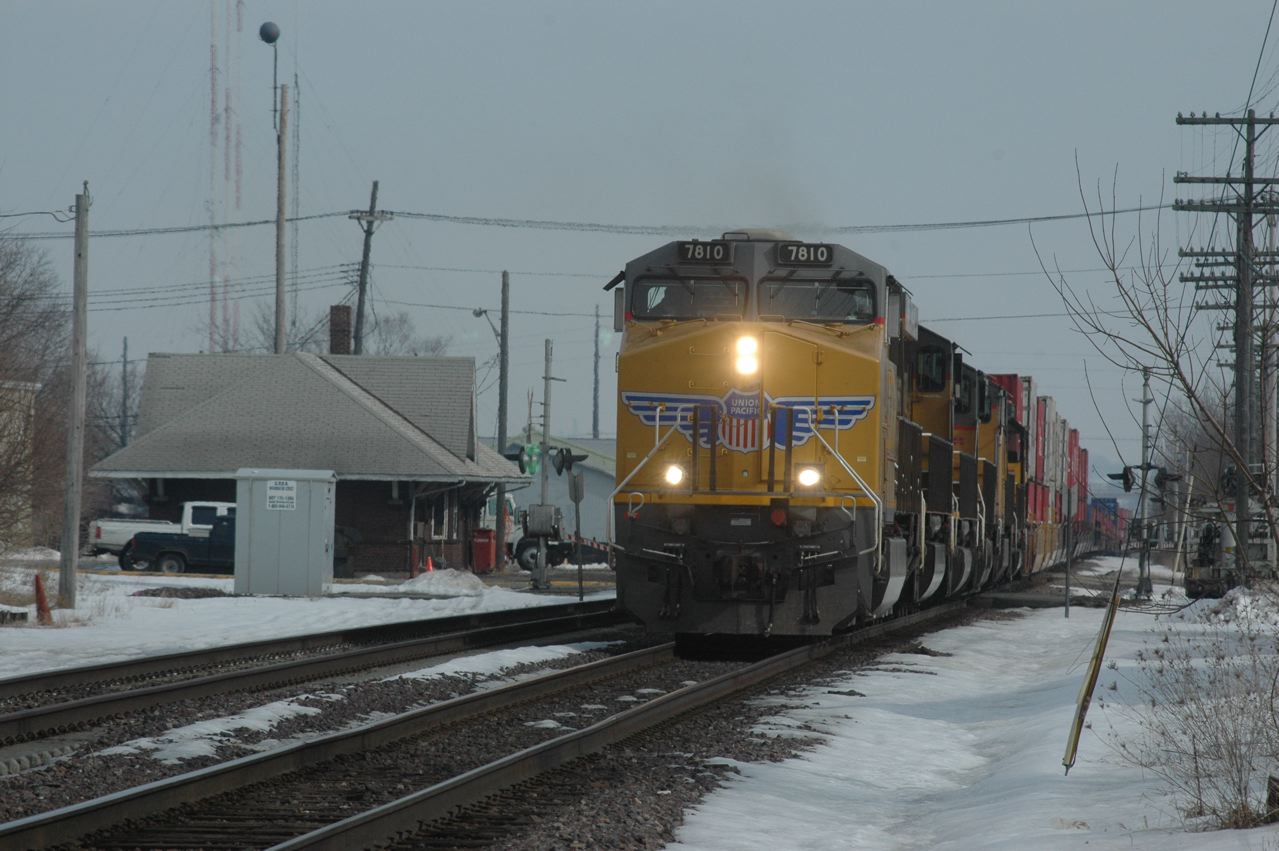 The 6th unit was a surprise, ex-C&NW SD40-2 3085.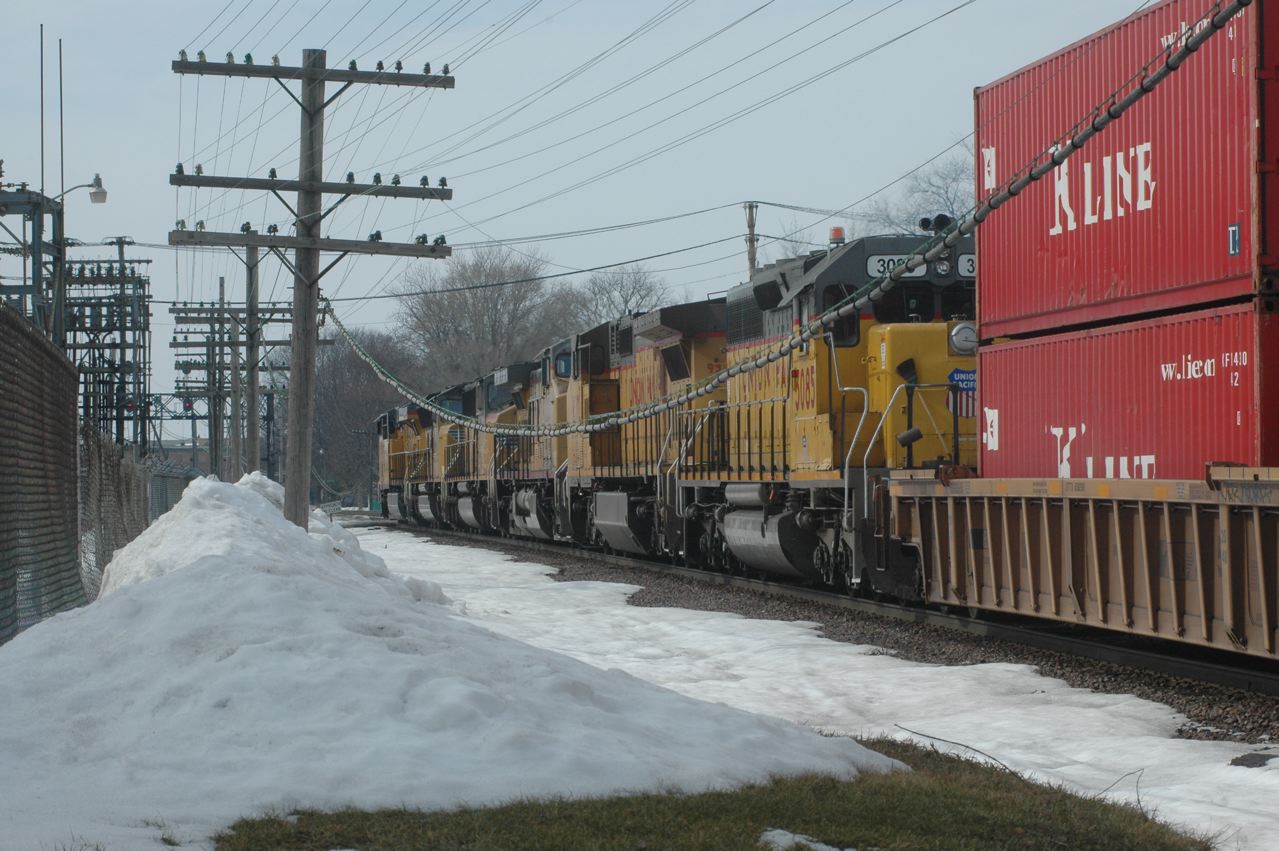 I exited on US 34 at Mendota, aiming to get the Amtrak SW Chief, which was on-time, and headed east from I-39, but this westbound coal empty beat me to Meriden, the first hamlet to the east.

The coal empty would wait for Amtrak #4, which came thru Meriden at 1:29, right on-time. Note the lead unit is 823, one of Amtrak's rebuilt P40's.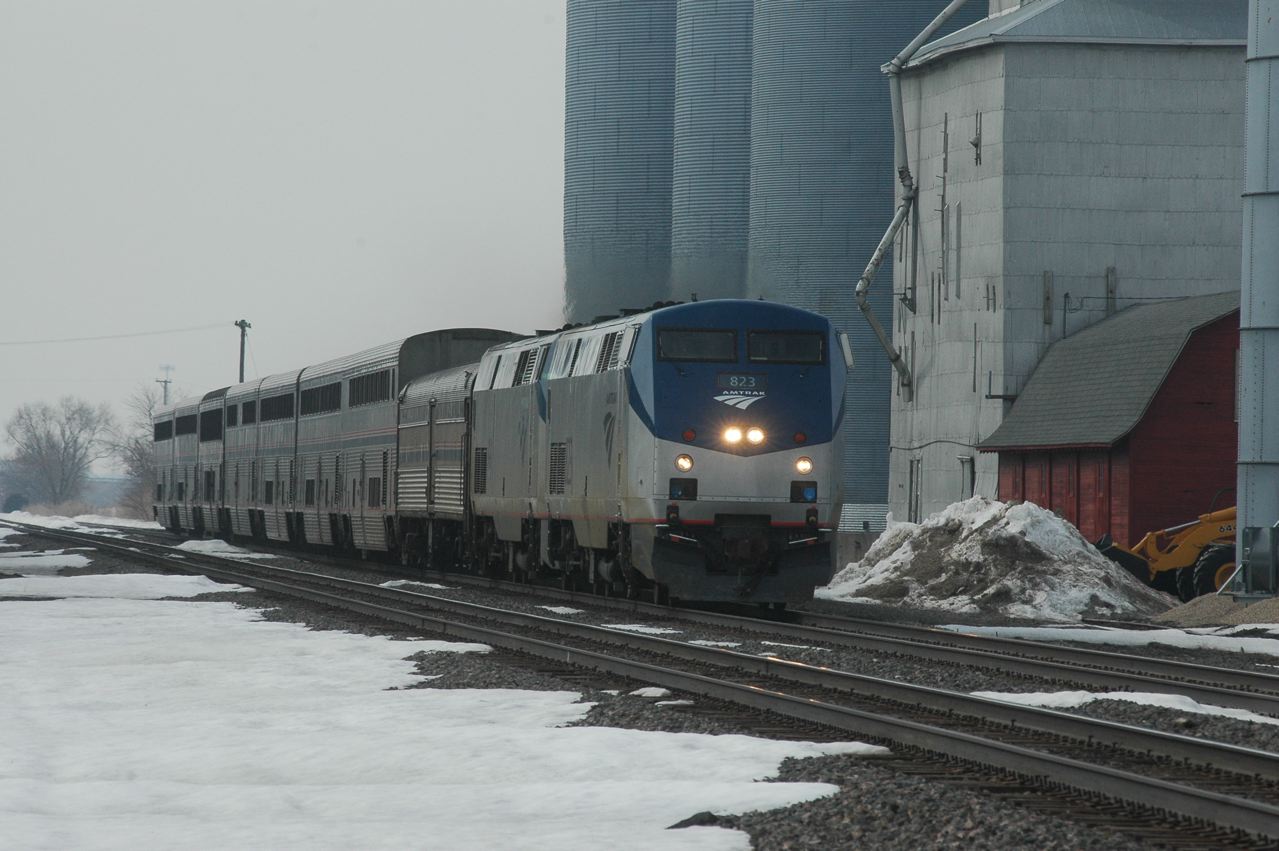 The new signals are up, but the old system is still in use.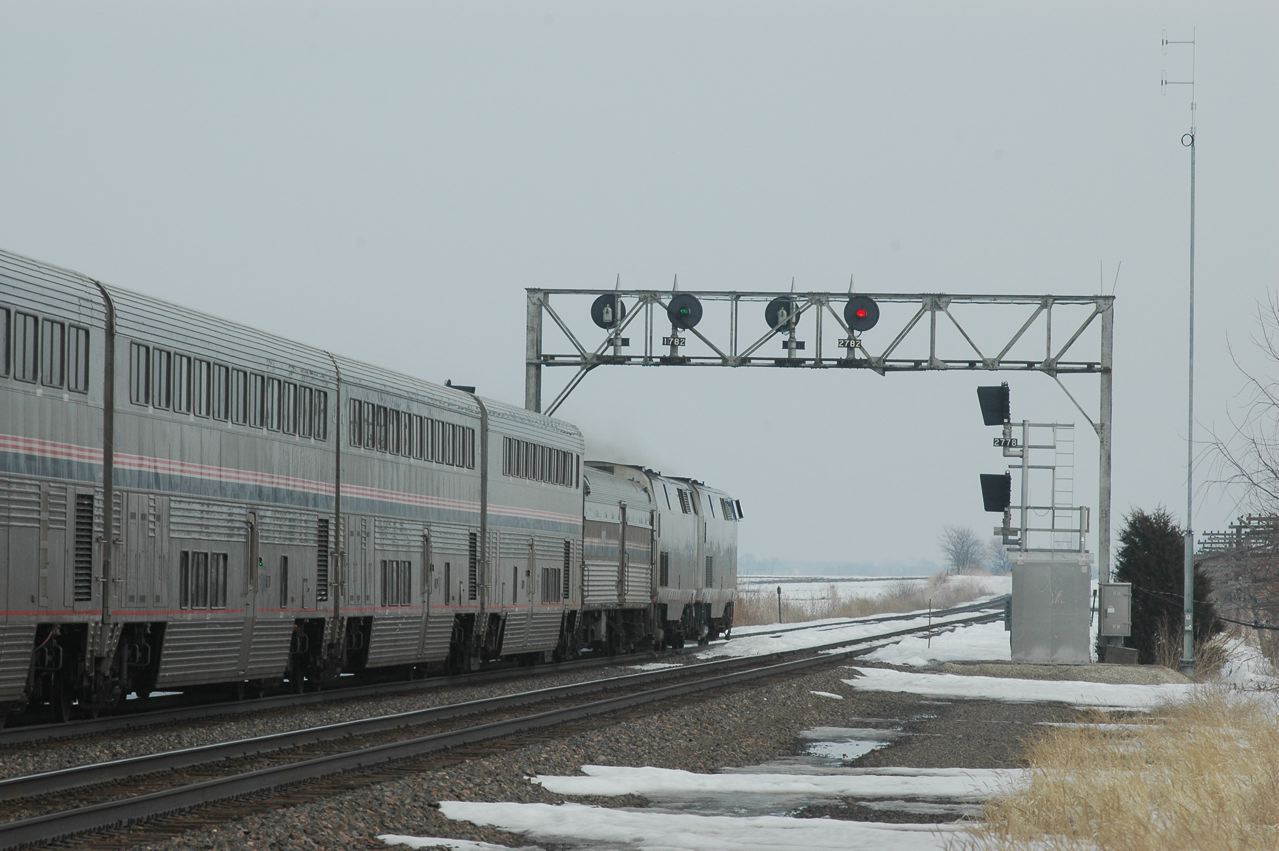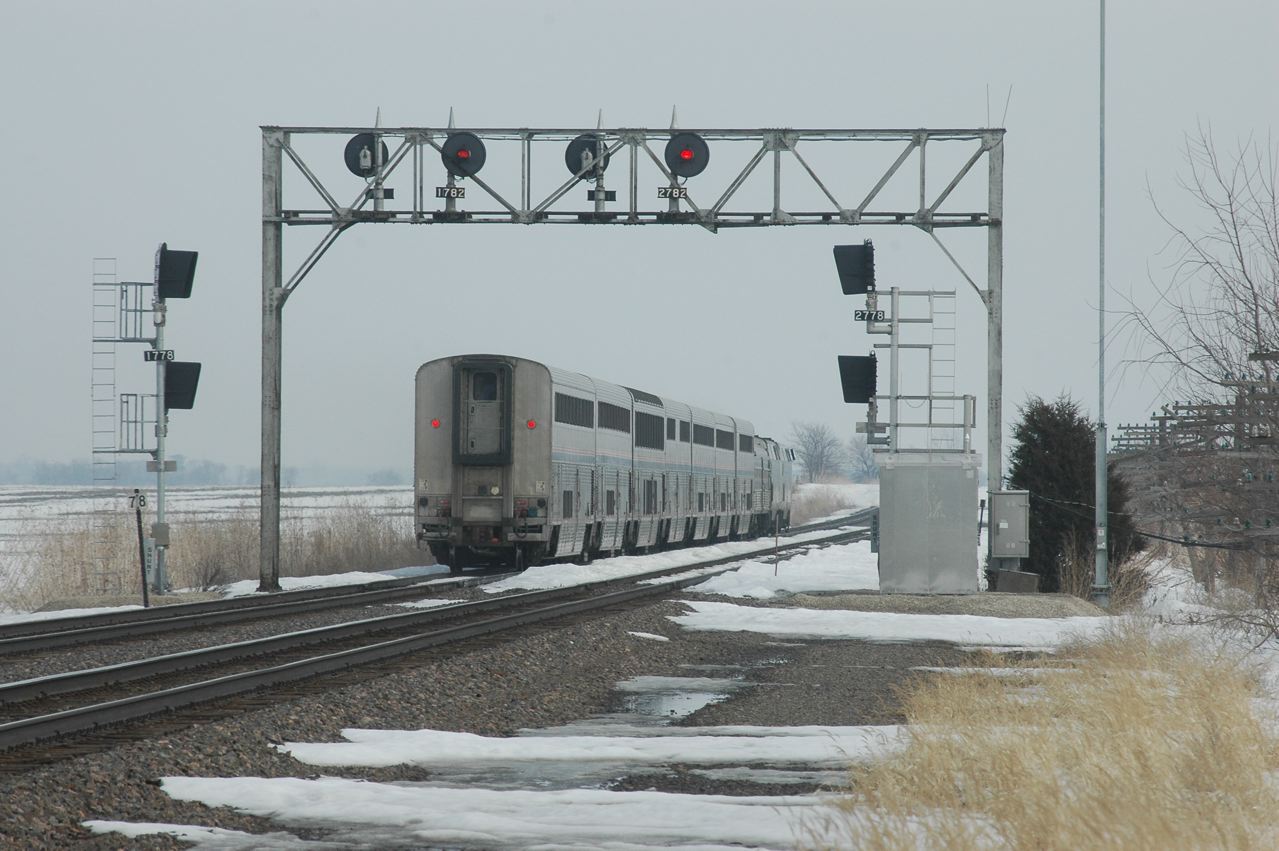 The coal empty was going to wait for the GALCHI, which was setting out for the Illinois Railway at Zearing, to the west, so I grabbed this telephoto of him waiting at "The Electrics" crossovers; units are 6399/6255; no DPU. Track 2 was still out of service thru Mendota owing to clean-up of a coal-train derailment in town a few days before.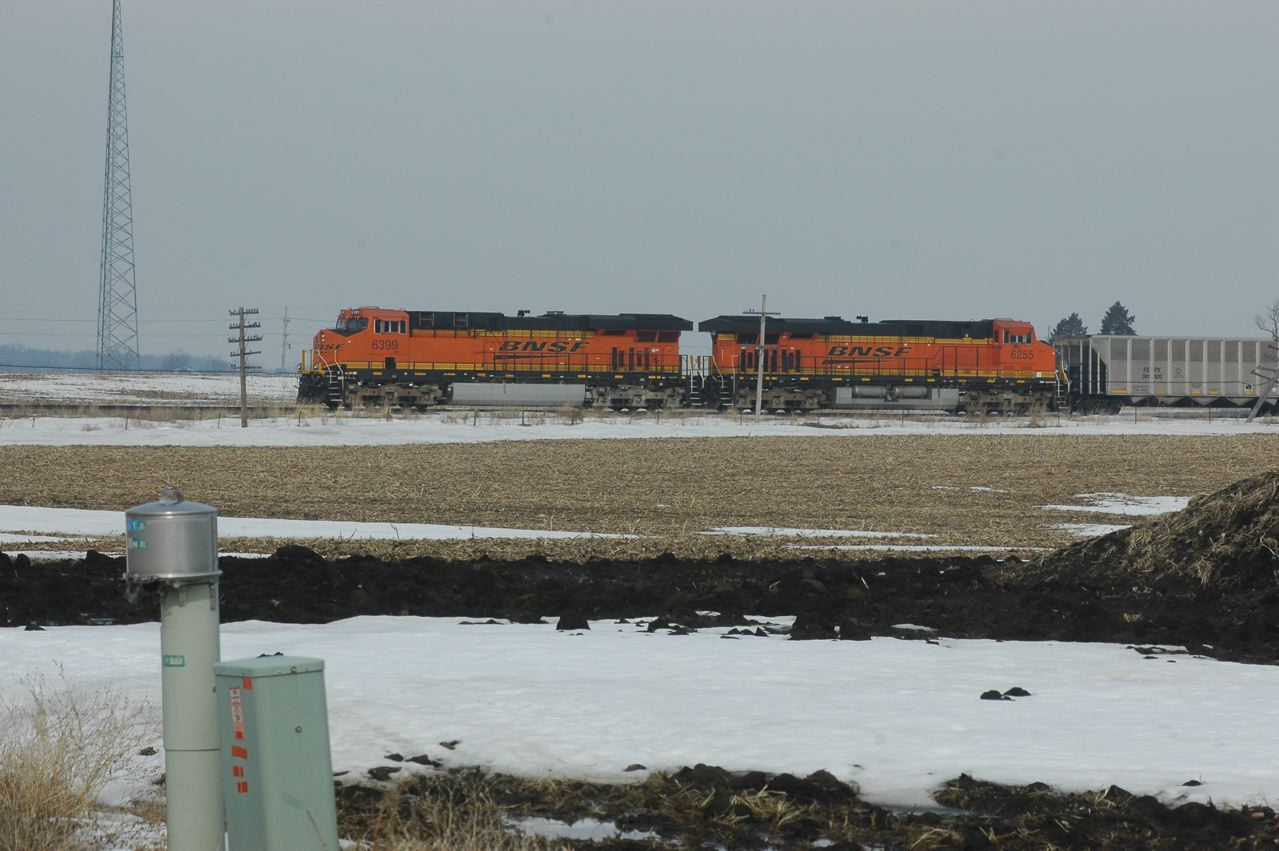 This is MP 80 from Chicago; the overpass is I-39. The elevator bins visible in the distance are the ones at Meriden. The time is 1:40 p.m.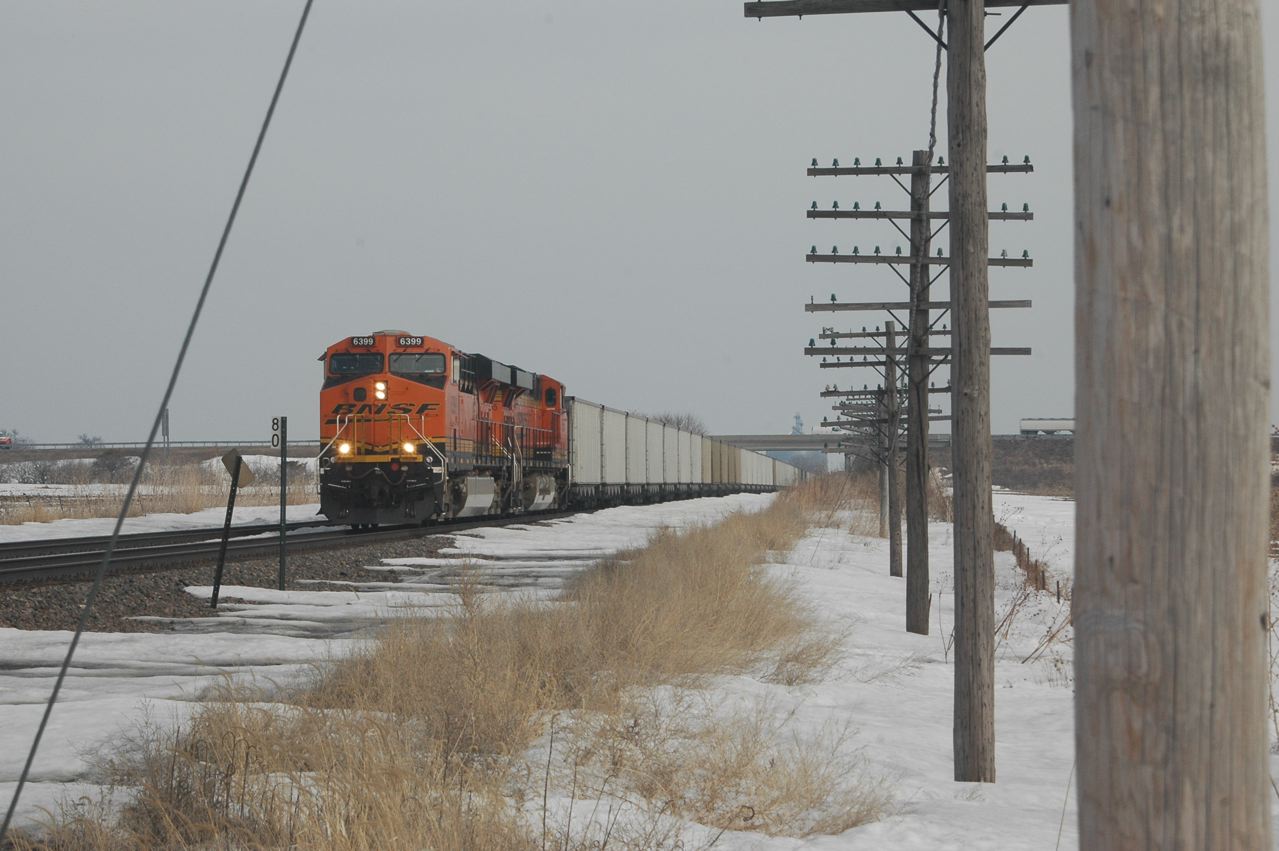 Upon arrival in Springfield, I first checked out the Illinois & Midland (old C&IM) yard, where the cars and units for the upcoming dinner train at Columbia, Mo., were parked. The equipment is from the former Grand Traverse Dinner Train in northern lower Michigan; refurbishment, and repainting of the two F units, was done in Albia, Iowa, and the equipment had been sitting in the CN (IC) yard in Springfield for several days before being moved to the I&M so the cars brakes could be serviced before further movement west. The two F units have been repainted in the old Wabash scheme. The I&M yard is all gated and fenced now, but I lucked out as an I&M local freight was just heading north, so I scooted over to the former Ridgely Tower crossing, now called "I&M Jct." by the Union Pacific. The unit, obviously an ex-ICG Paducah rebuild, is the only fully painted G&W-scheme Tazewell & Peoria unit, No. 3000. TZPR is the former Peoria & Pekin Union.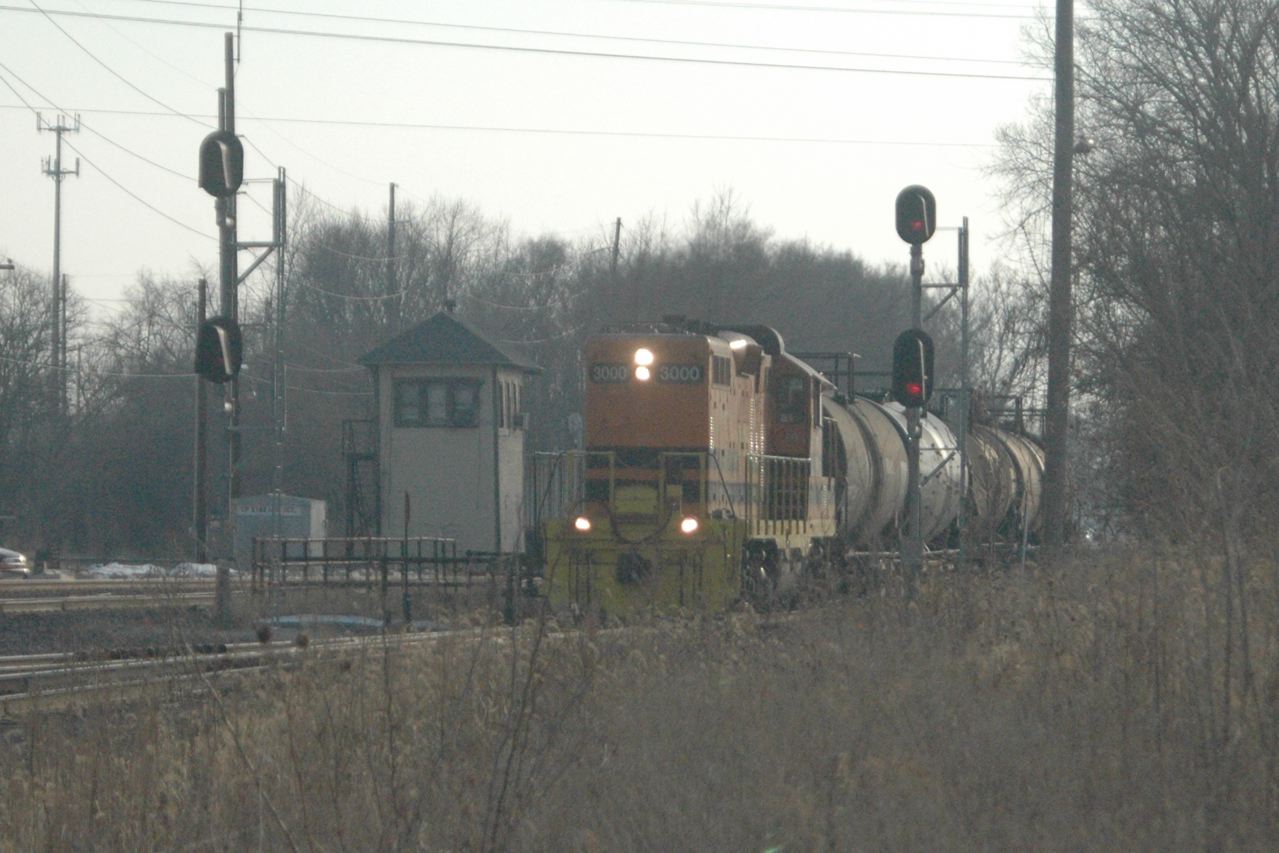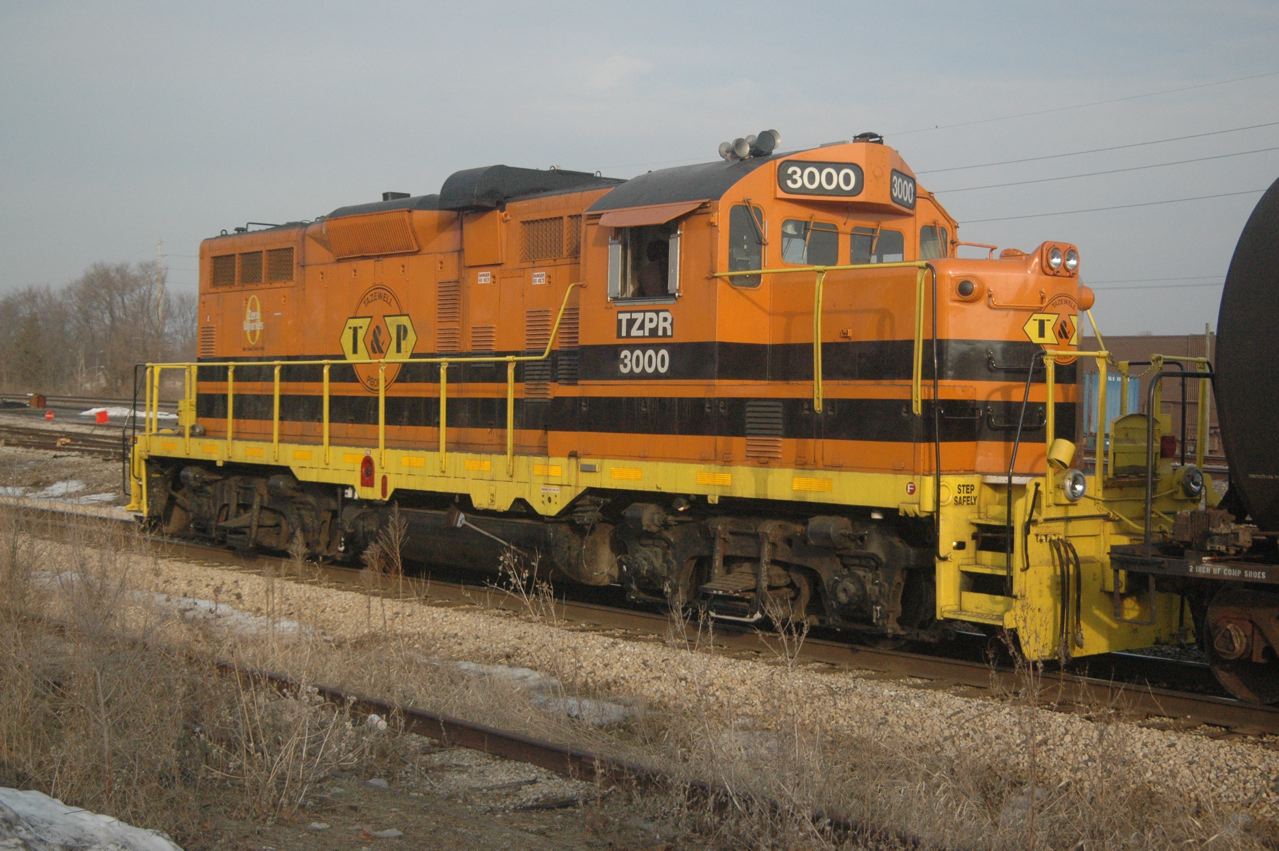 Ridgely Tower stands silent now; fencing and snow prevented a "normal" shot from the west side, but the fencing is symbolic.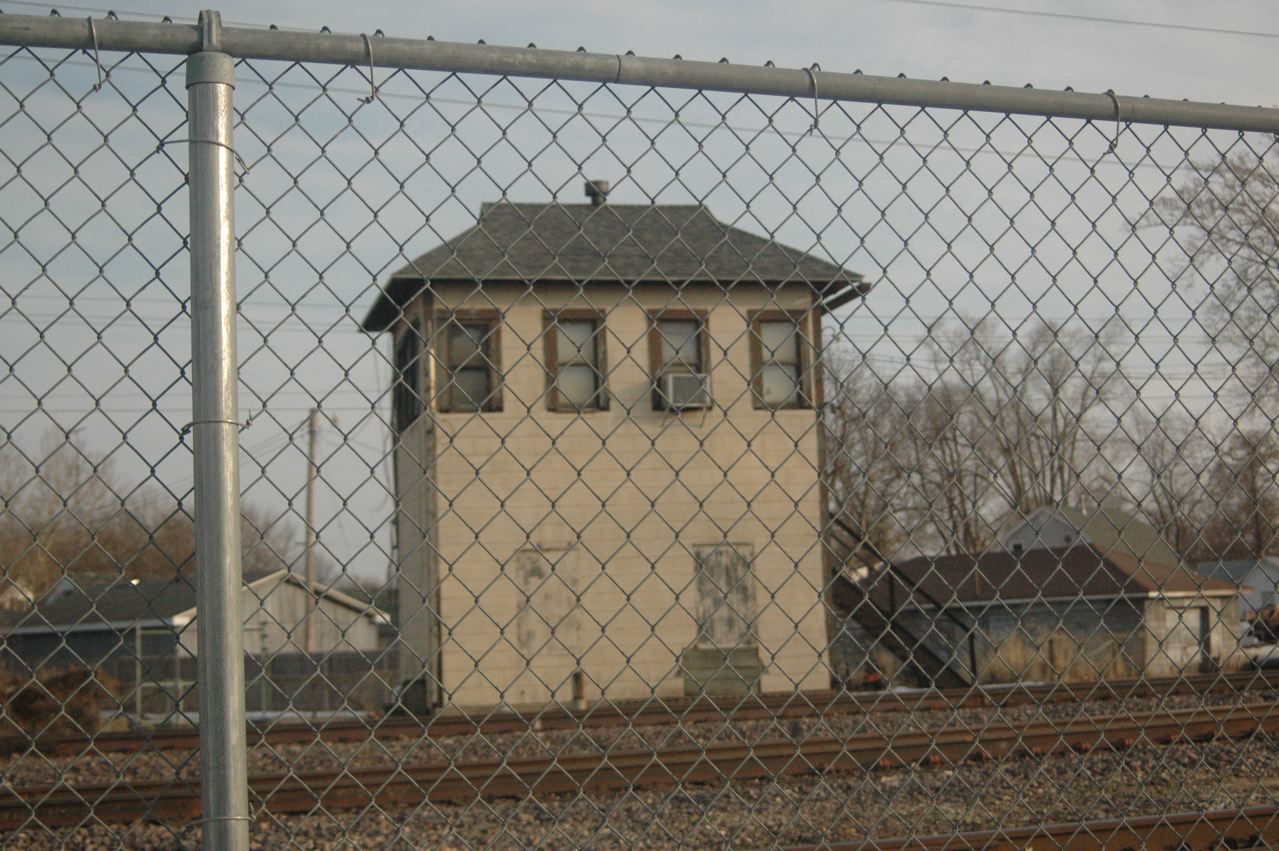 The dinner train cars are directly behind (north of) the old C&IM diesel shop, now inactive. This is the best shot I could get. The I&M unit, the only one in town, is SD18 60, ex-C&IM same. As I was ready to go on, a crew boarded the 60 and moved over to in front of the F untis, but then left, so I did too.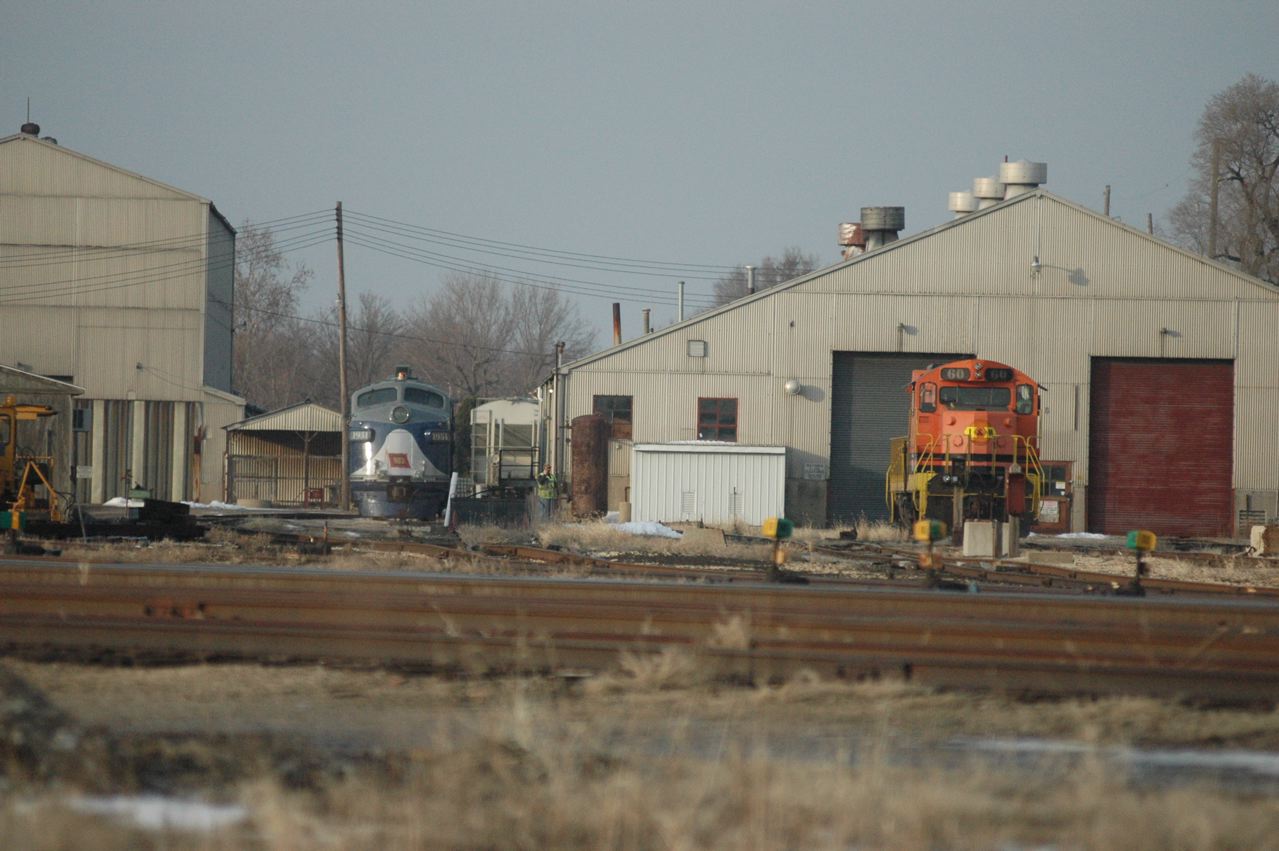 The above image as cropped.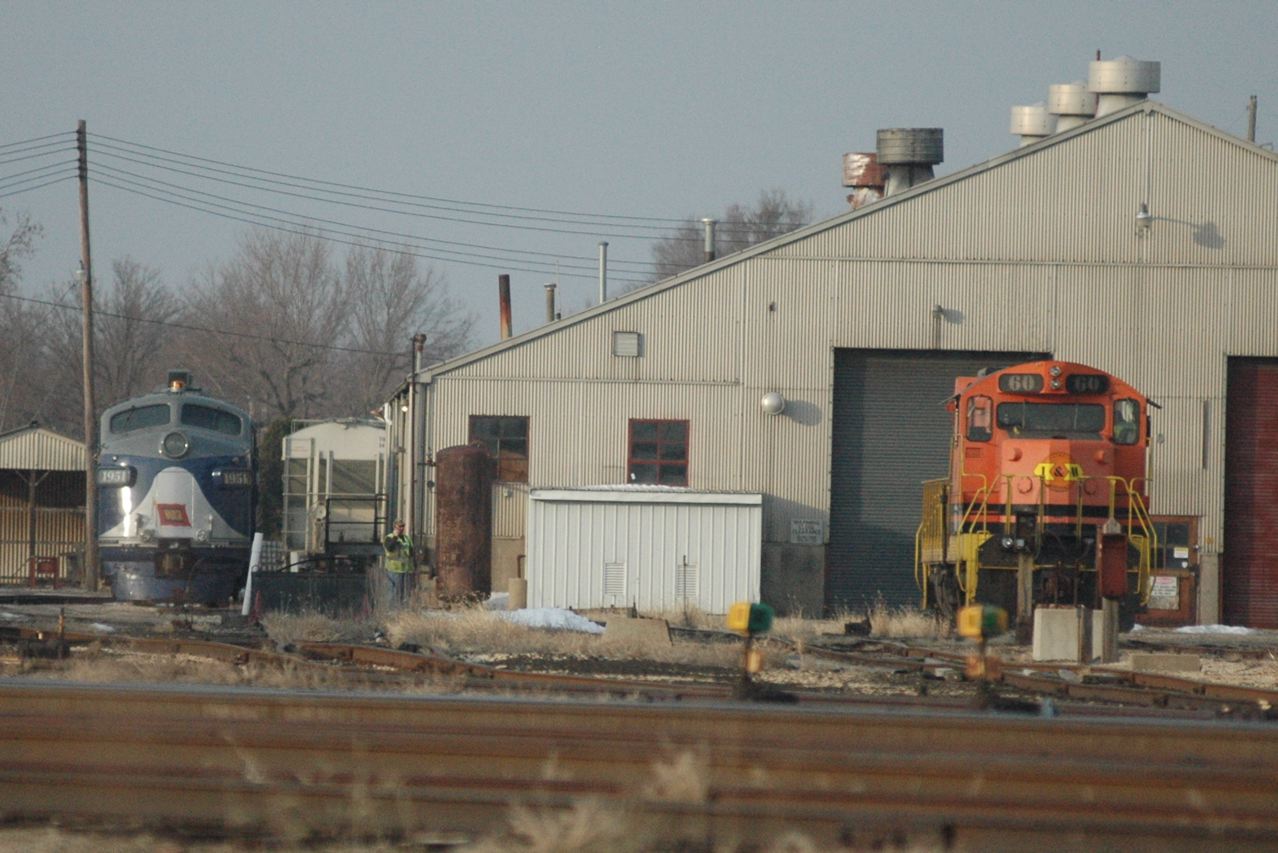 A smidge of activity with No. 60 proved short-lived.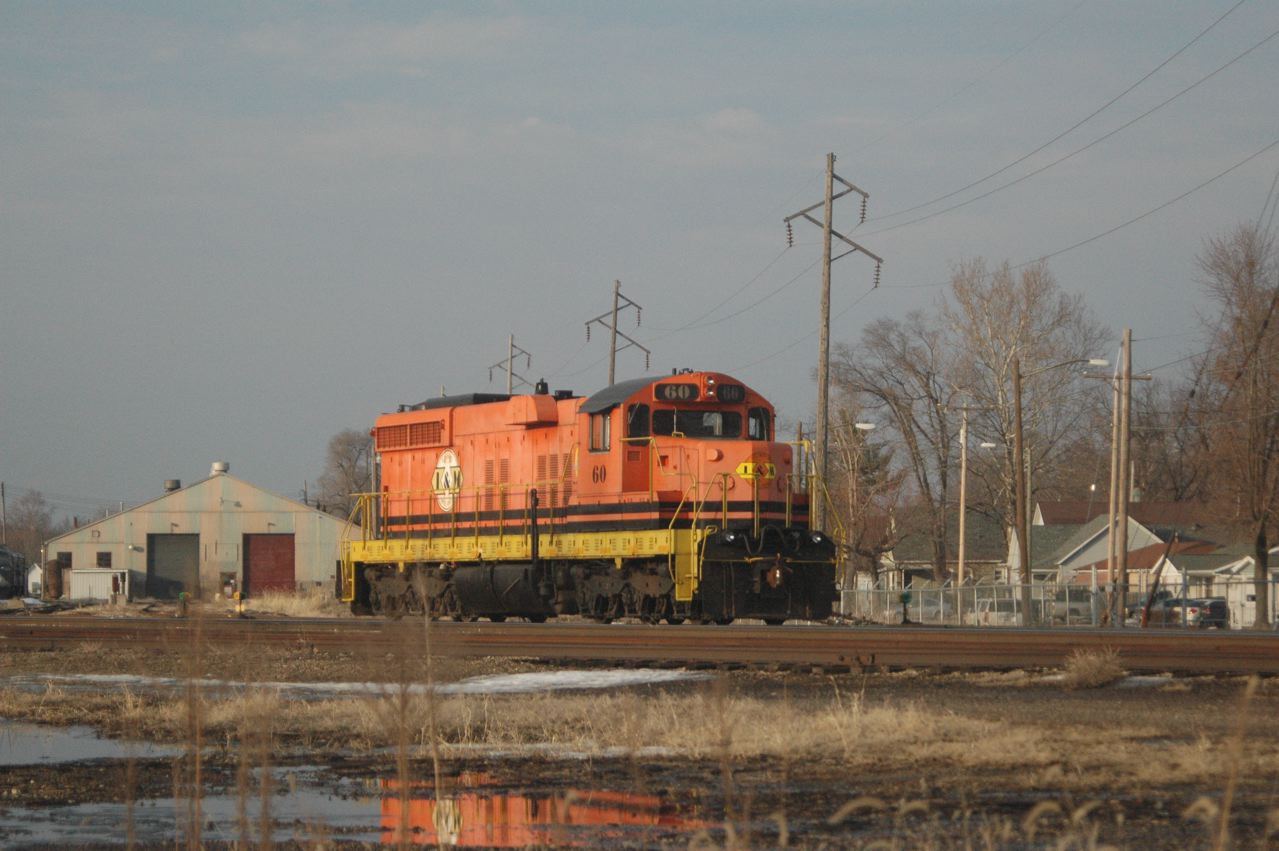 Amtrak Lincoln Service #304 heads north in Springfield, crossing North Grand Avenue here. I am standing by Converse Ave., at the intersection of 8th St. In my Springfield years (1967-1971) I lived in an apartment a block east of here at 9th and Converse. The time is 5:10 p.m., with engine No. 9.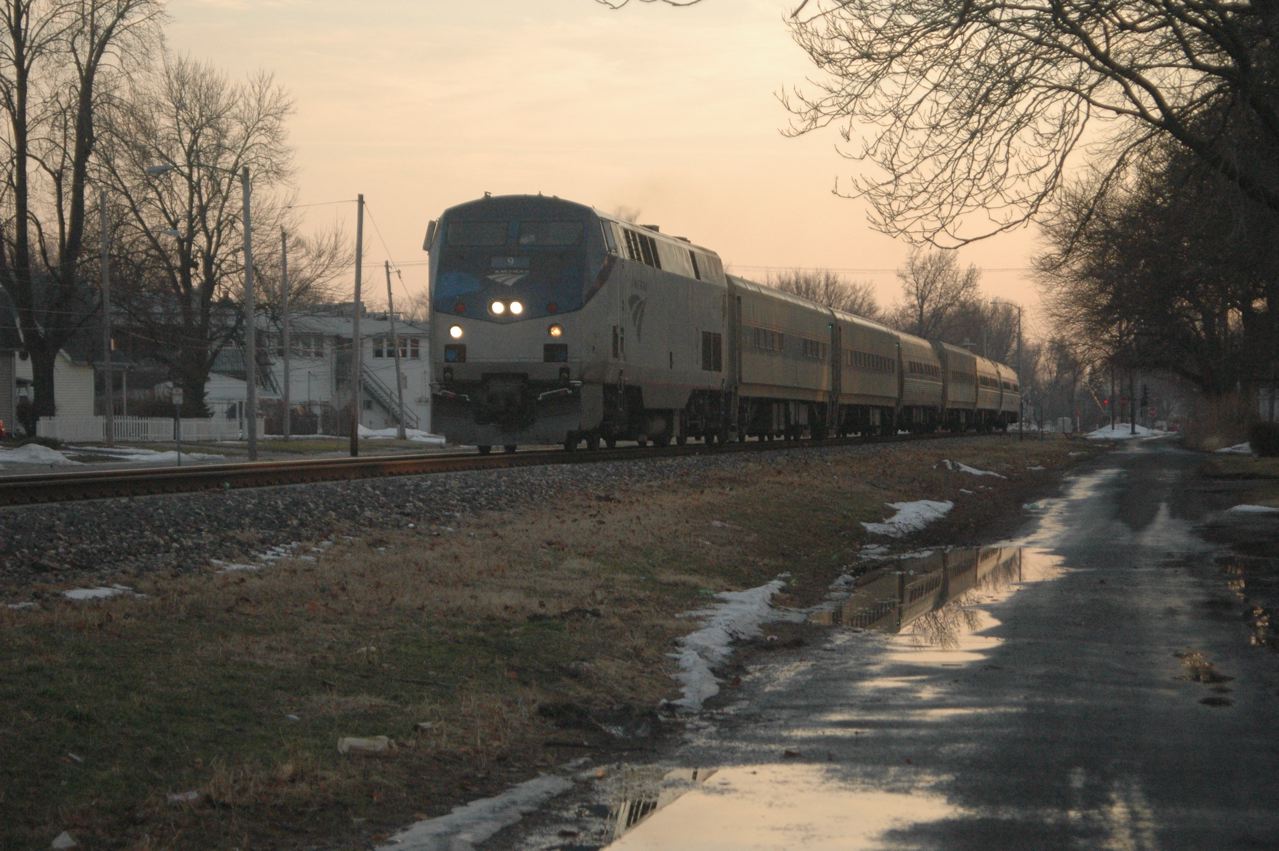 No. 304 met No. 21, the Texas Eagle, north of Ridgely Tower. I am at the Ridgely Ave. crossing just to the south, the end of the Ridgely passing track which extends across the I&M diamond and thru the entire Ridgely Yard, what little is left of it.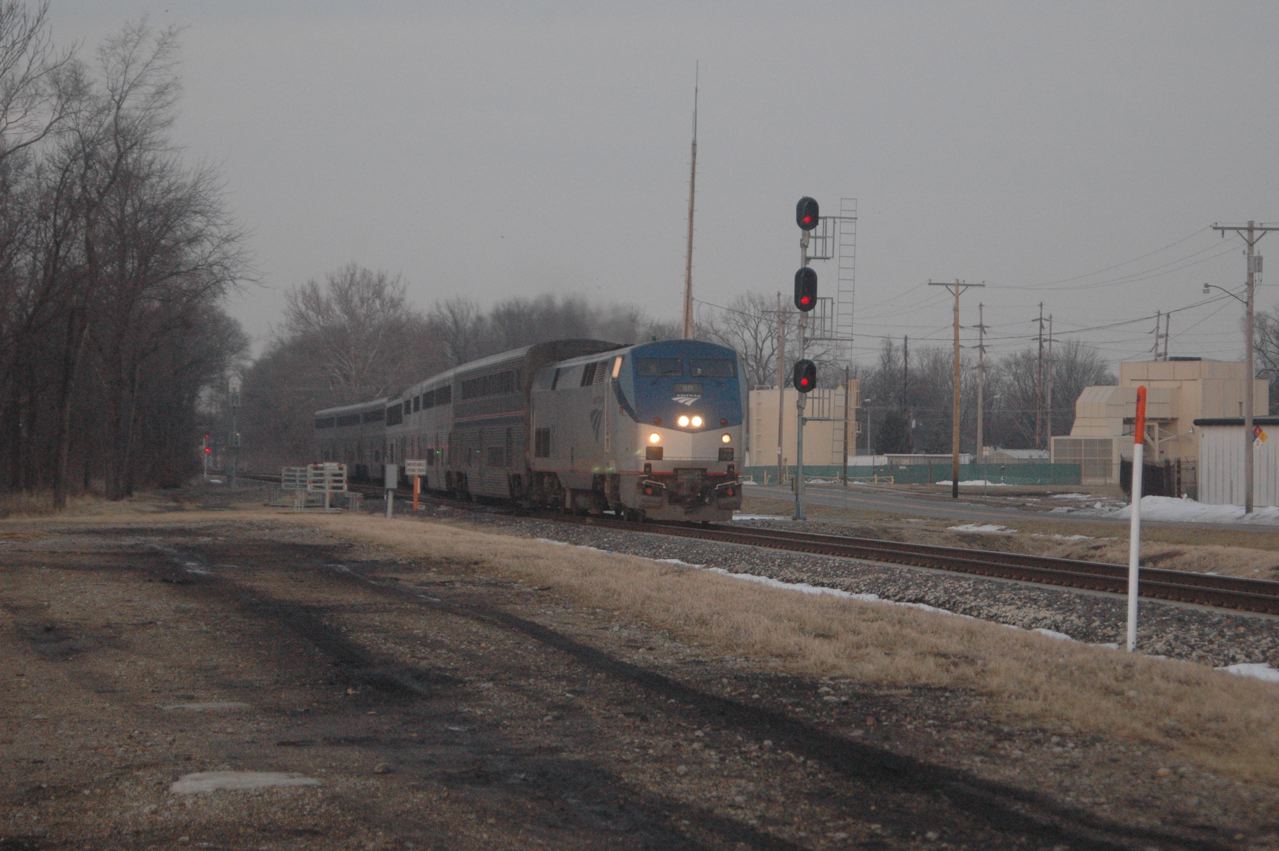 The time is 5:18; the engine is No. 80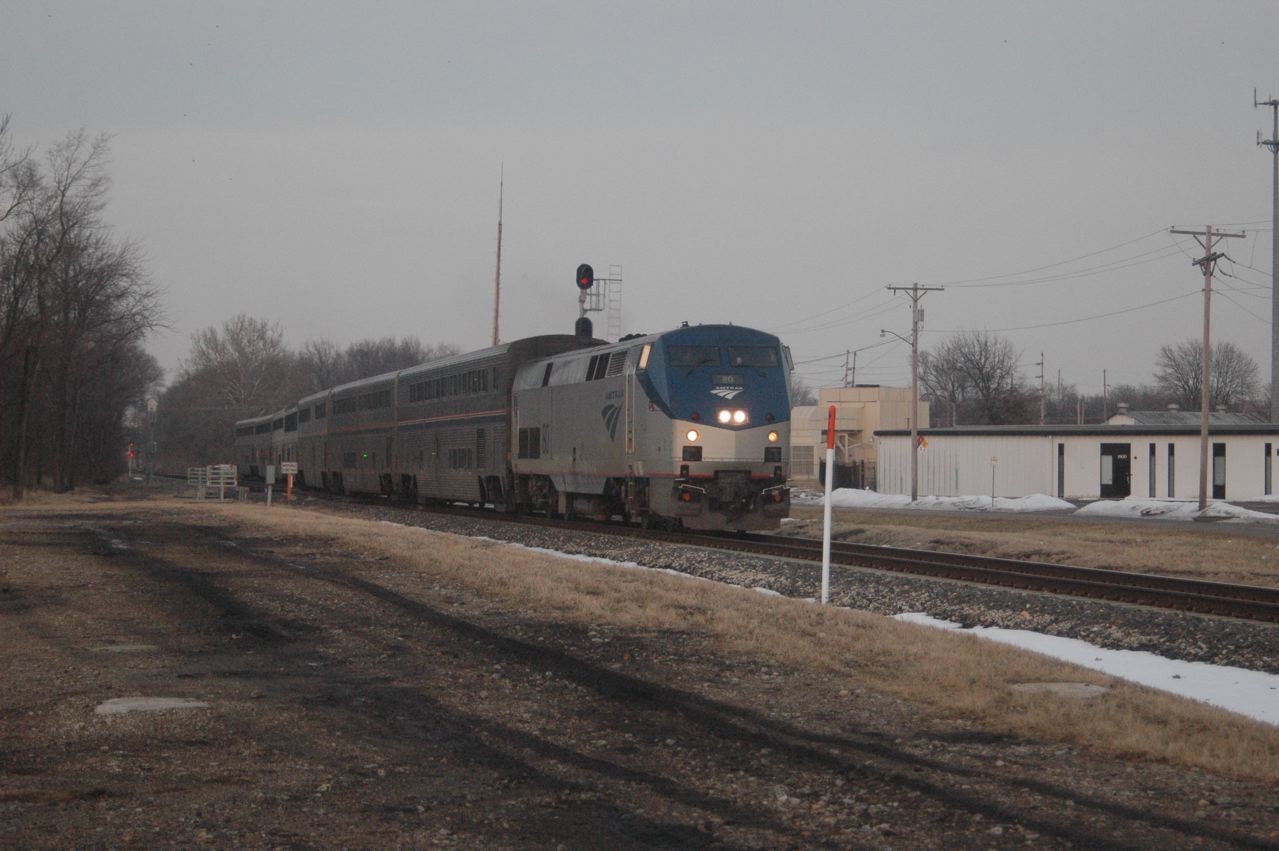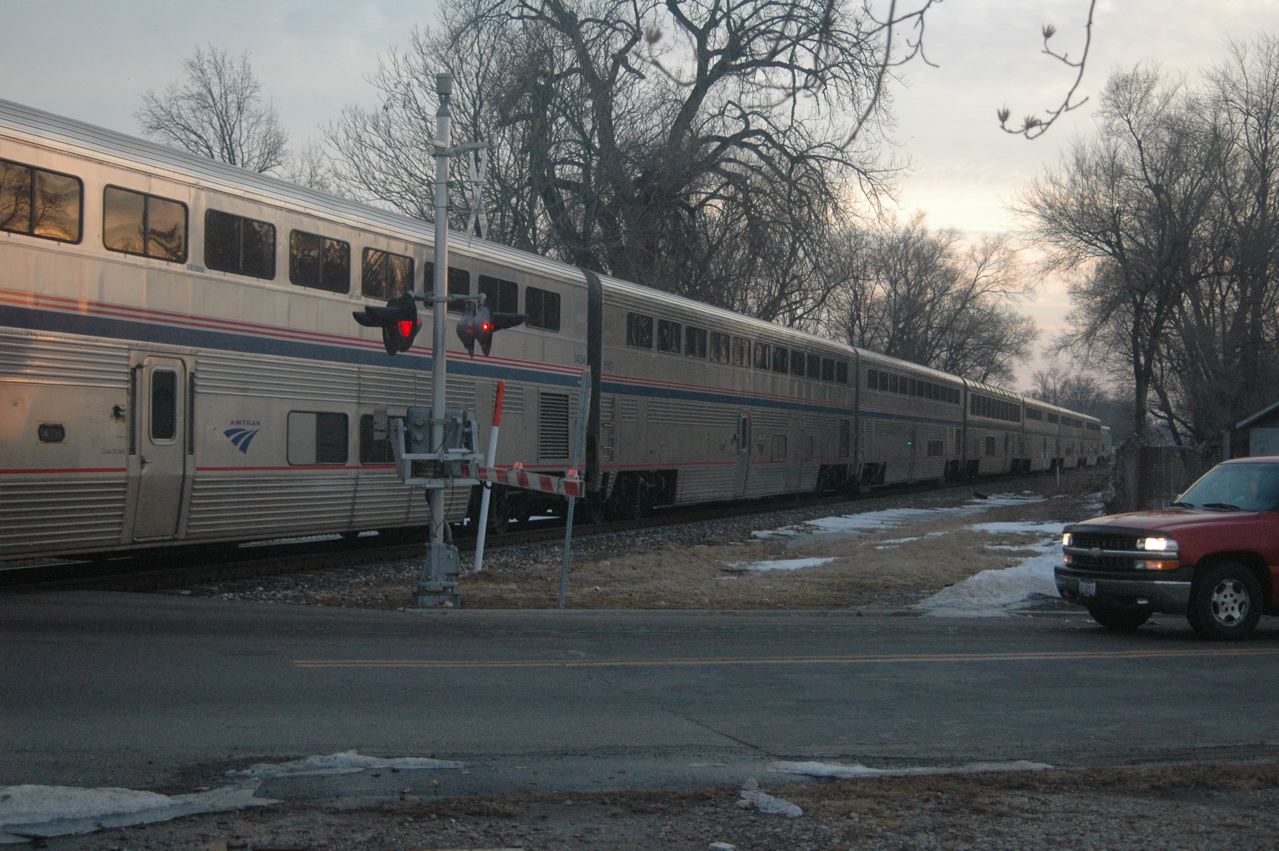 The next morning, I photographed two trains before leaving trackside for my visit with Dick Wallin, the purpose of my trip. This is Amttrak #22, the Texas Eagle, pulling out of the station at 9:55, right on-time, behind engines 87 and 184 with private car Tioga Pass, in VIA paint, on the rear. In the first photo, the 4th or 5th car is crossing Madison St., which formerly had an IC-B&O (Beardstown branch) track alongside it. Once upon a time, into the early 1960's, JA Tower guarded the diamond.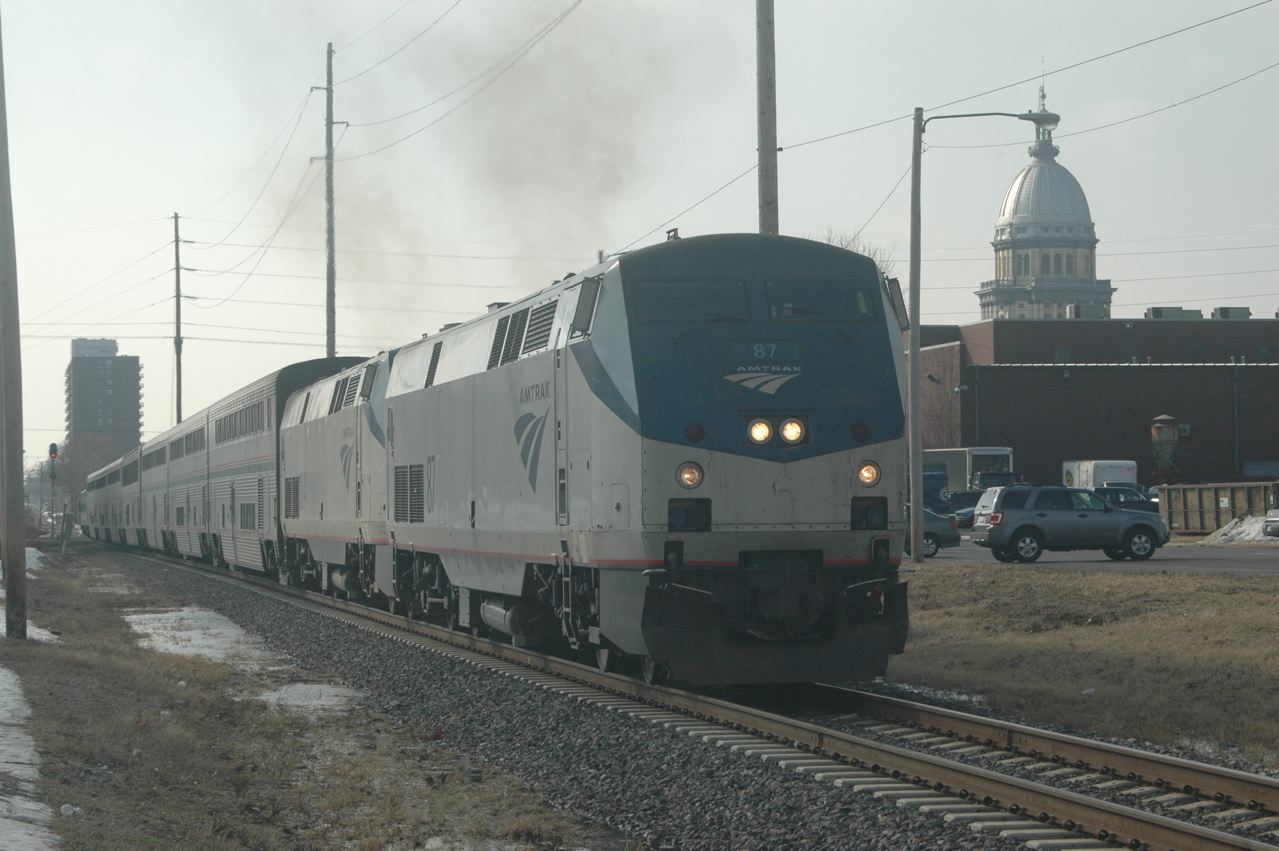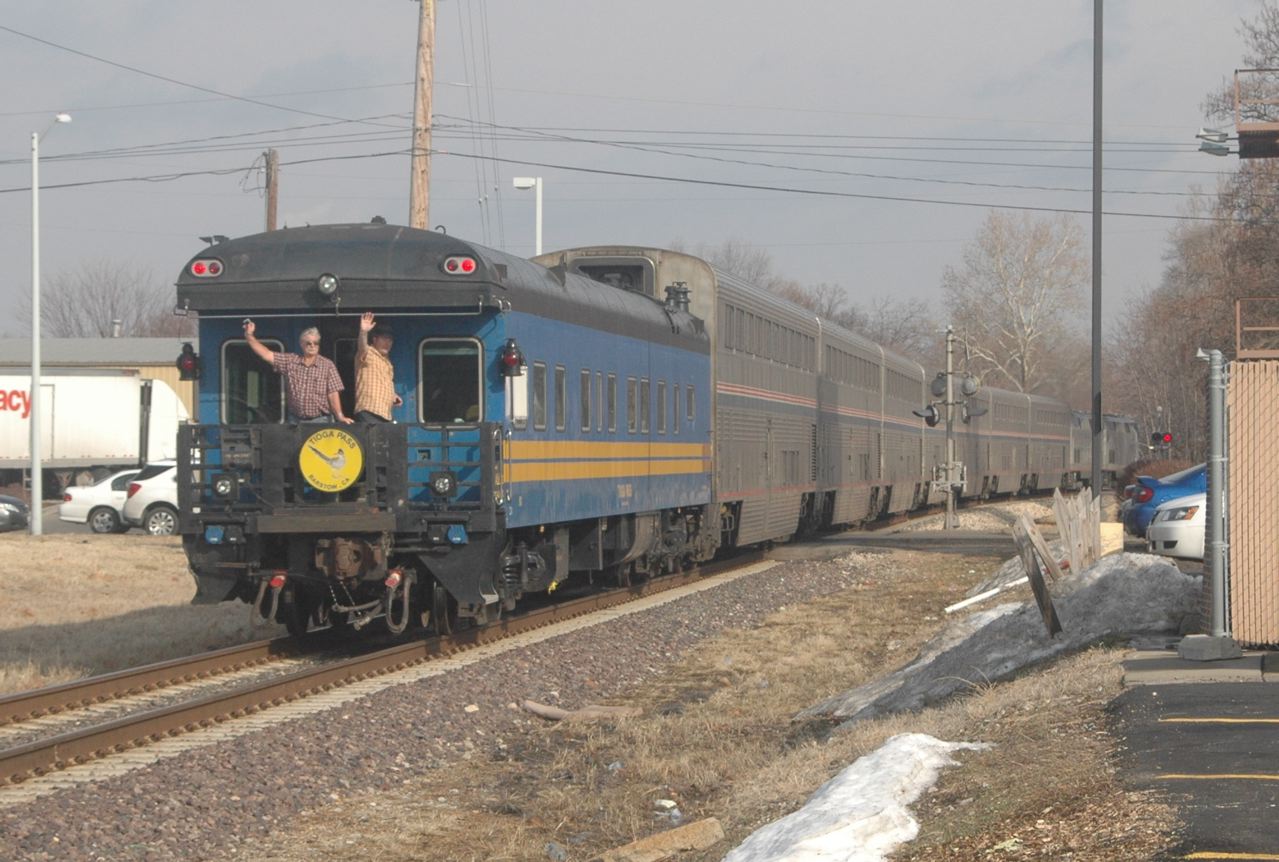 The scanner told me the UP southbound local was up at Ridgely waiting for #22 to go, so I went by there.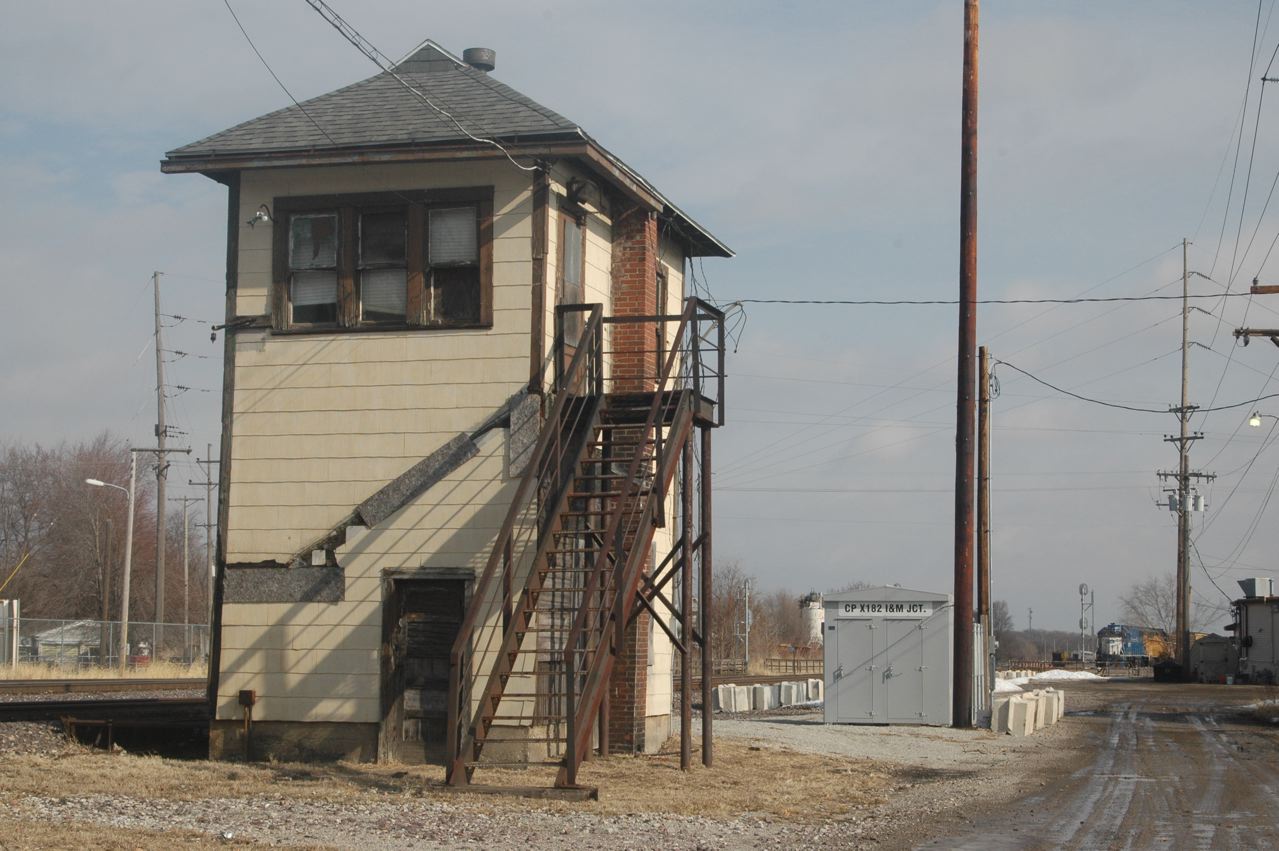 Now this place is just "I&M Jct."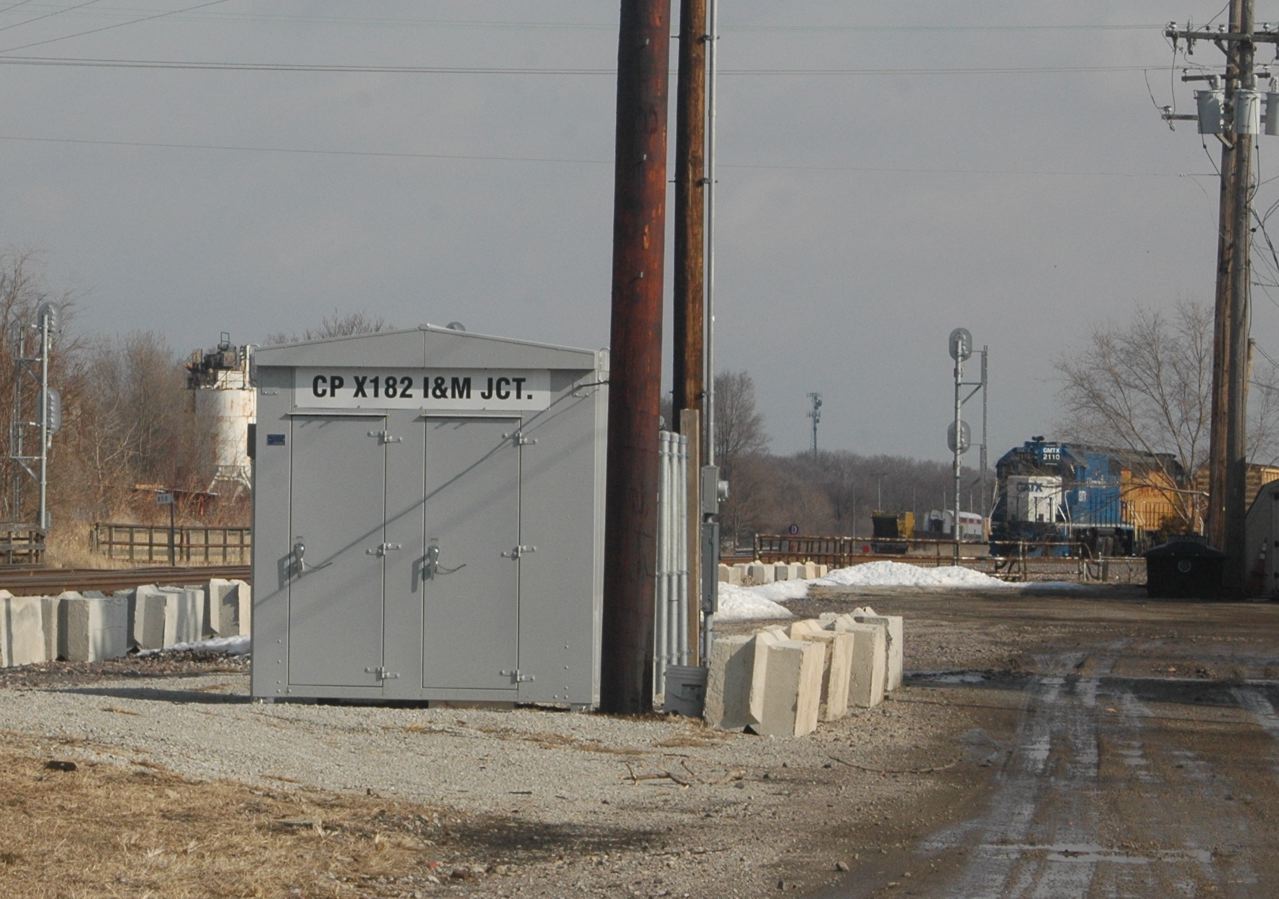 It's 10:08 as the local heads south with about 6 cars behind GMTX 2110 and UP 1419.
On Fri., Feb. 18, I got one train while going around Springfield taking digital photos of the dwellings I, my then girlfriend/fiance Carol, and local friends lived in. This southbound UP grain train was a surprise; it could have come down the old GM&O or the old C&NW (to Barr, then I&M ex-C&IM rights to Ridgely), I'm not sure which. At any rate, it has just cleared the mid-street running on 3rd St., which ends at South Grand Ave., where the signal is. I am at Cedar St., where Dick and Lorine Wallin first lived when first married in 1963. The lead unit has nothing on the nose, but note the SP patch unit trailing, with a UP shield on the corner; unit numbers are 7243/6193; time is 9:02 a.m.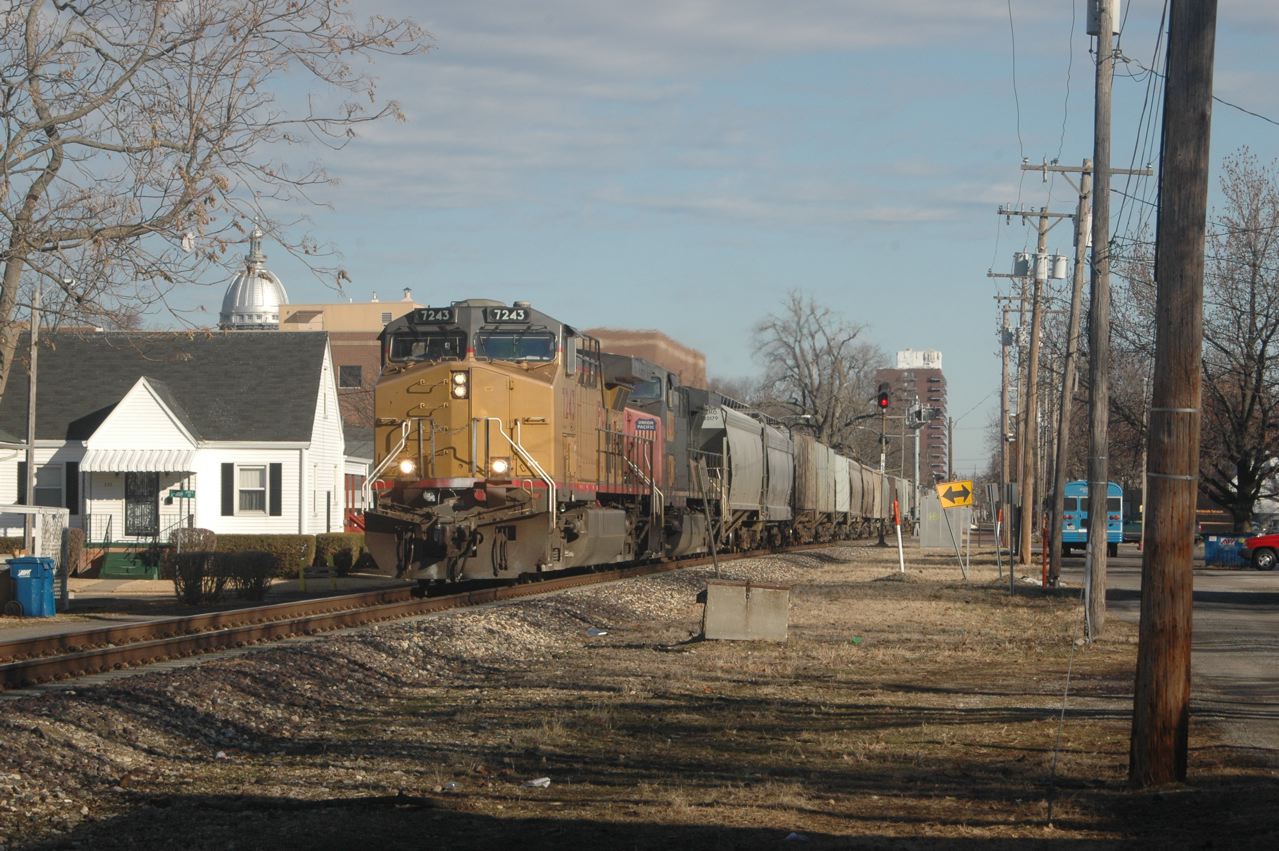 The Wallins lived upstairs here. Dick's den was in the "bay window" of what he called "Cedar St. Tower."
(Ed. Note: We watched slides there in May 1965 after exploring St. Louis.)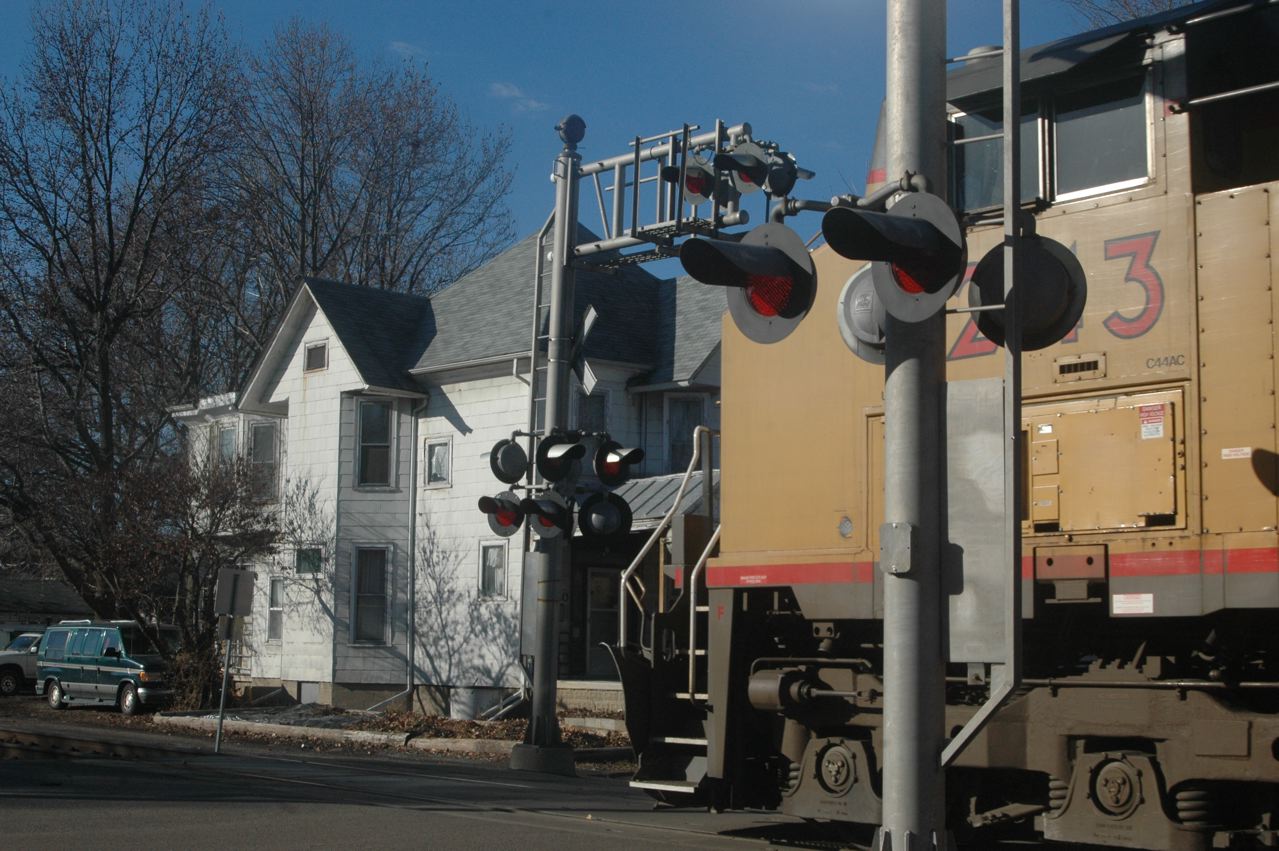 I had begun Friday at Capitol Avenue in downtown Springfield, trying to get the "looking down the street at the capitol dome" shot from 4th St., just east of the underpass of the former GM&O, but I just missed Amtrak Lincoln Service train #302, so there were no more trains on Friday. Saturday the 19th was going-home day, so I began with a retry at Capitol Ave., which was successful but with slides only since I was alone. Here is #302 pulling away from the depot, with NPCU (non-powered cab-control unit) 90215 on the front of 6 cars and P42 127 trailing. He's just a few minutes late at 8:42 here.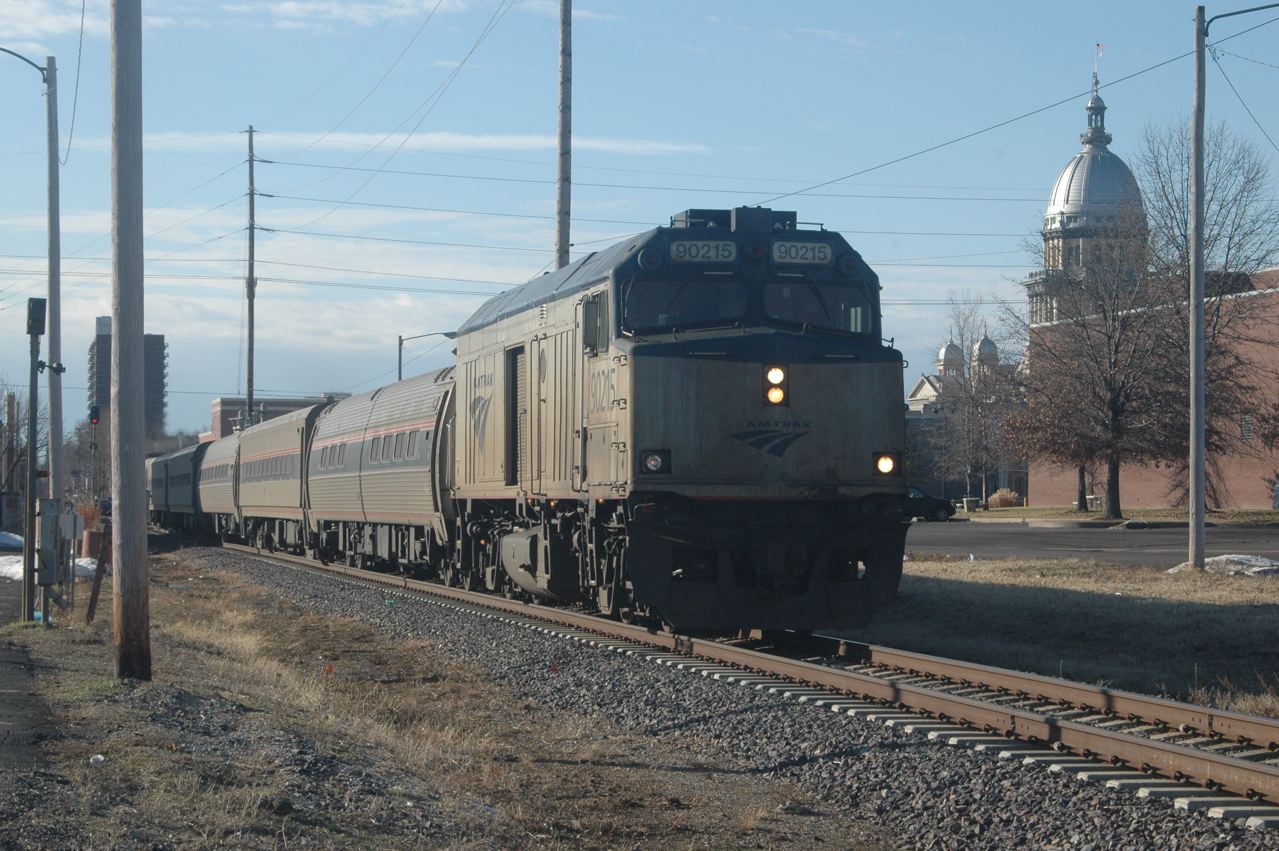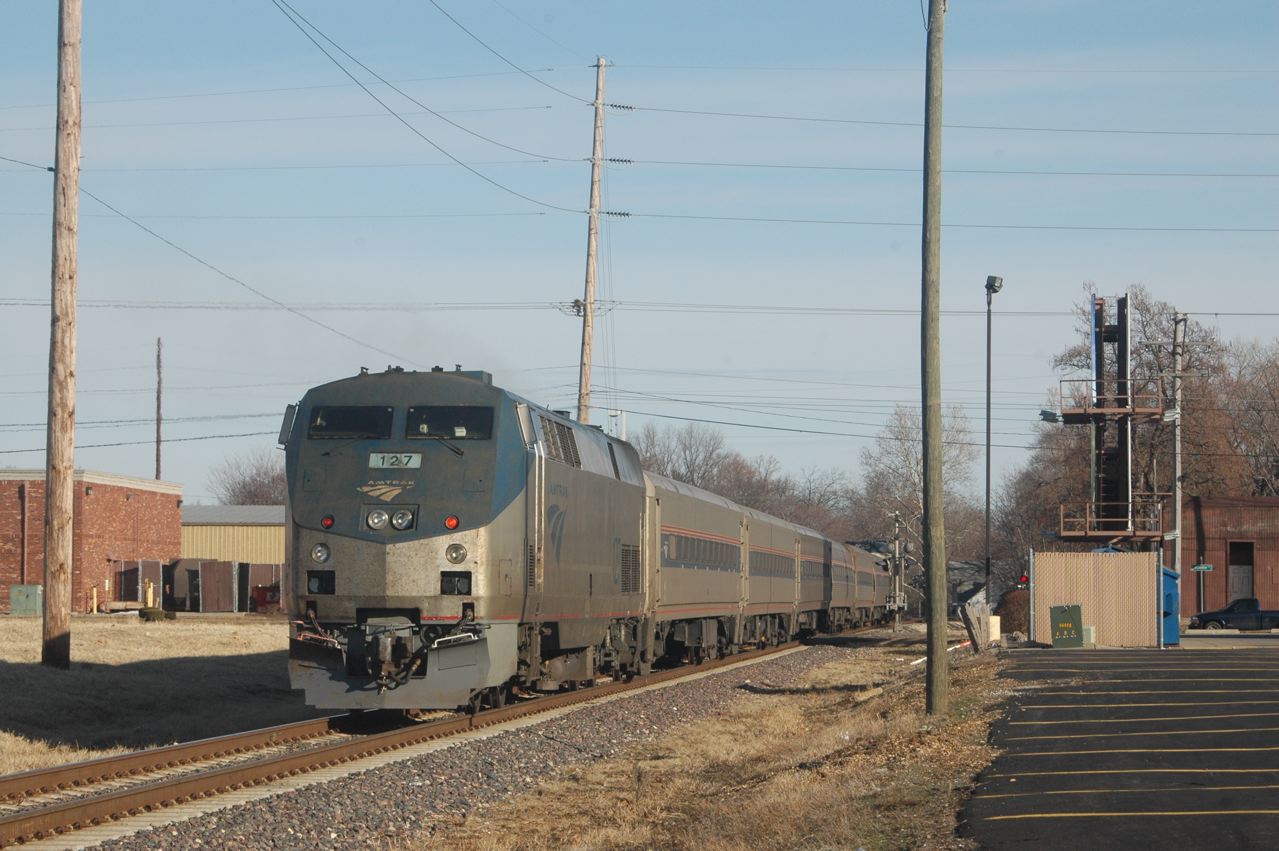 The former Union Station (IC and B&O -- we called it "the IC station") -- has been totally overhauled, had its tower put back on, and serves as the visitors welcome center for the Abraham Lincoln Presidential Library, which is to the right (southeast) of this structure on the north side of downtown. I rode IC's "Green Diamond" (later "Governor's Special") out of or into here many times. This is the south, or rear, view; the tracks were in Madison St. on the opposite side.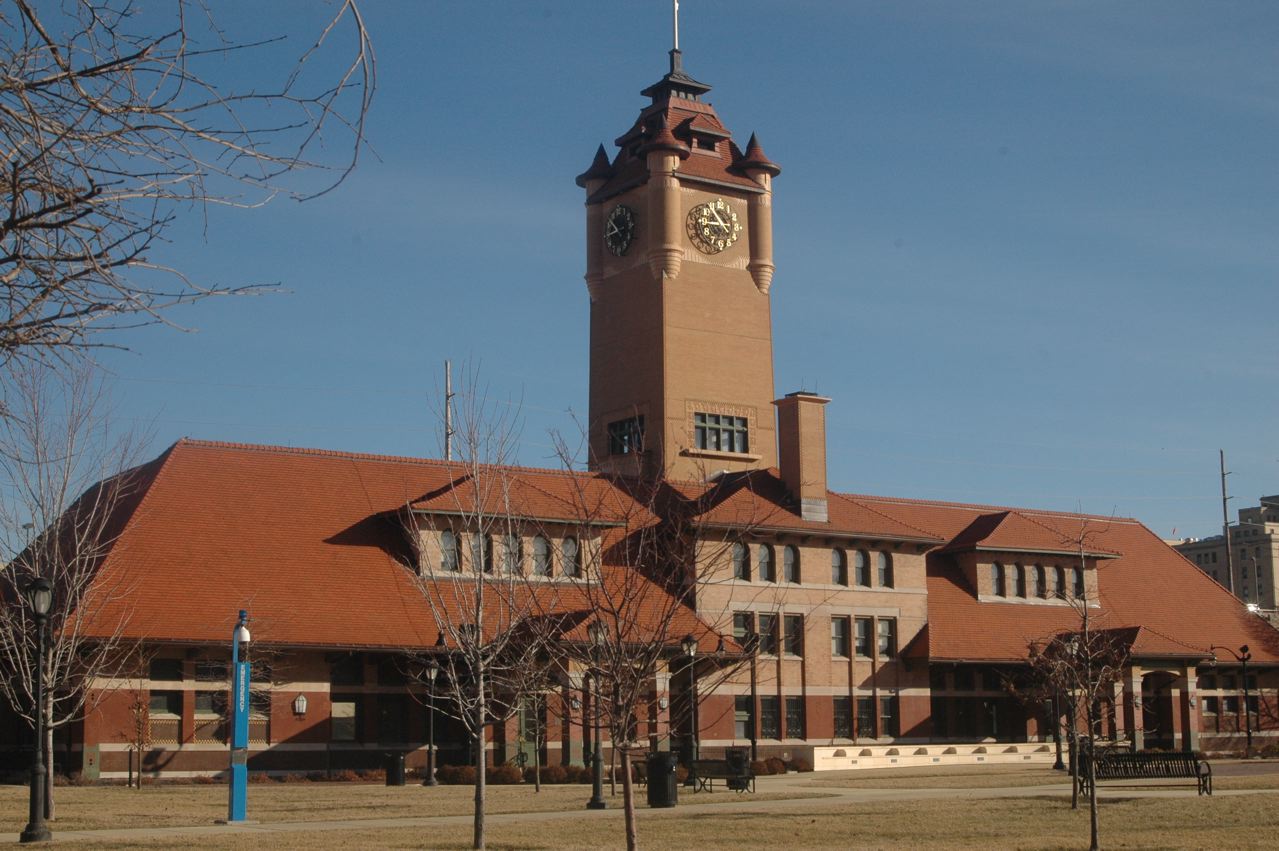 Springfield has a Frank Lloyd Wright house at 4th and Lawrence Sts. just east of the Amtrak line.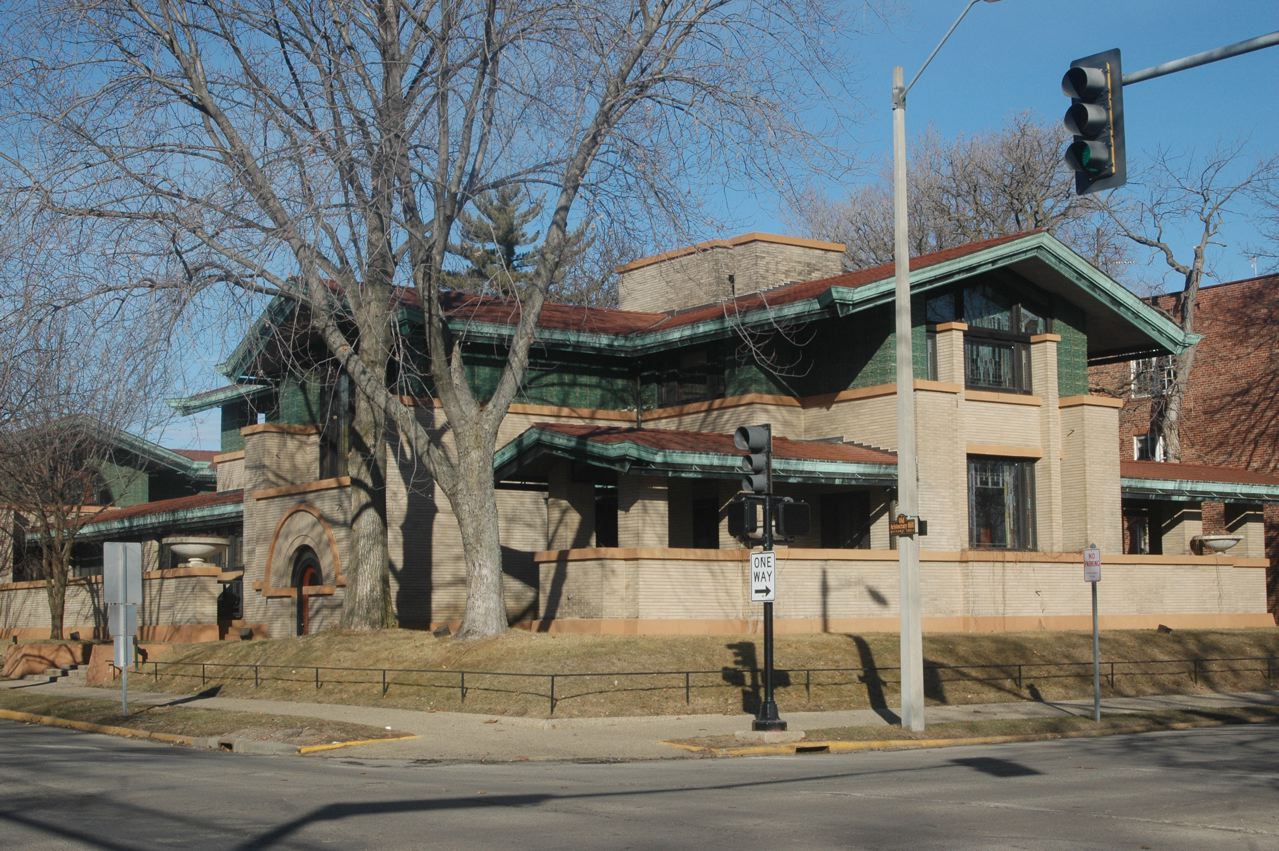 You can tell this was a Howard Johnson's restaurant; the building to the right was the motel, now apartments. This is 5th St. near Allen St. southeast of the capitol.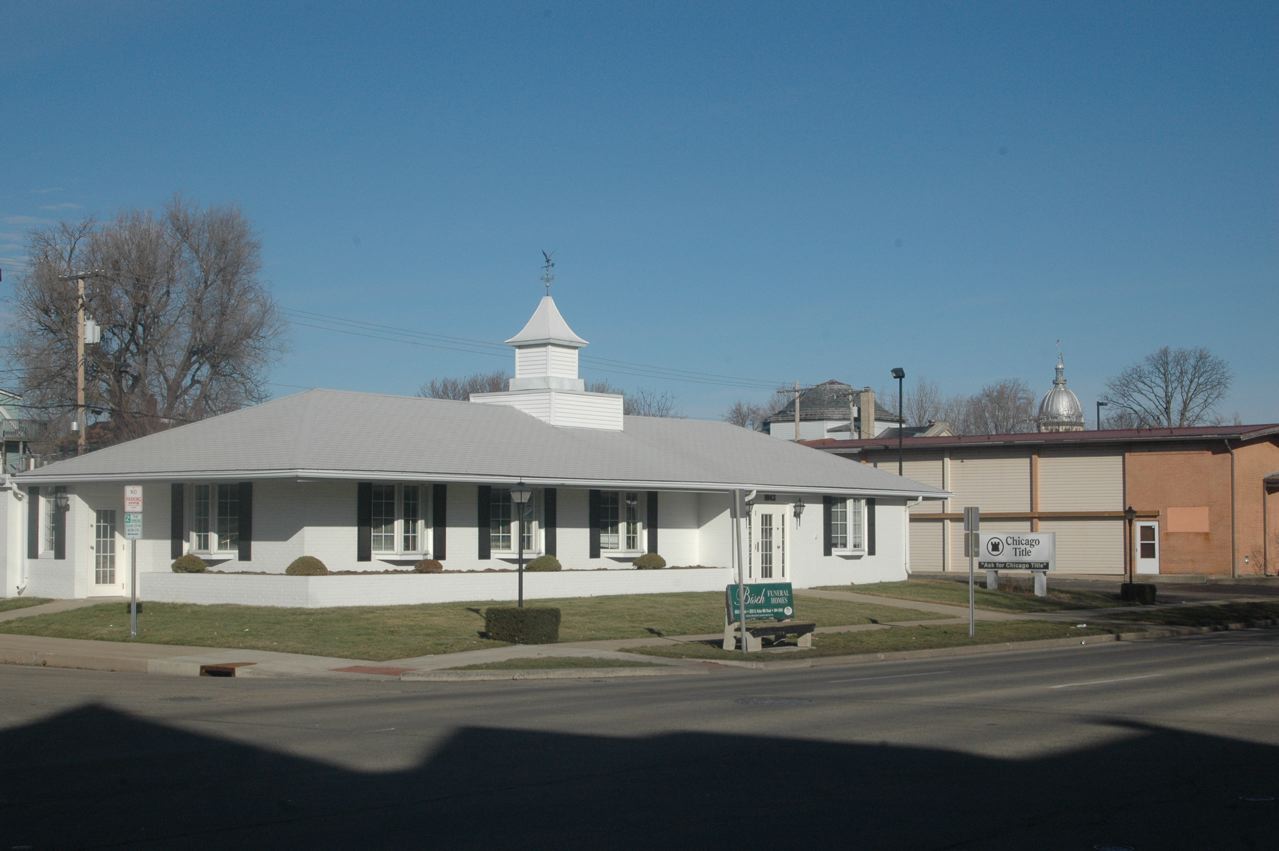 My old apartment building (1967-1971) at 9th and Converse; they were studios; mine faced the street just to the left of the front door. I'm in the parking lot of what now is the Caritas Bingo Hall. Caritas, the name of a well-traveled private car, is Latin for charity, I'm told.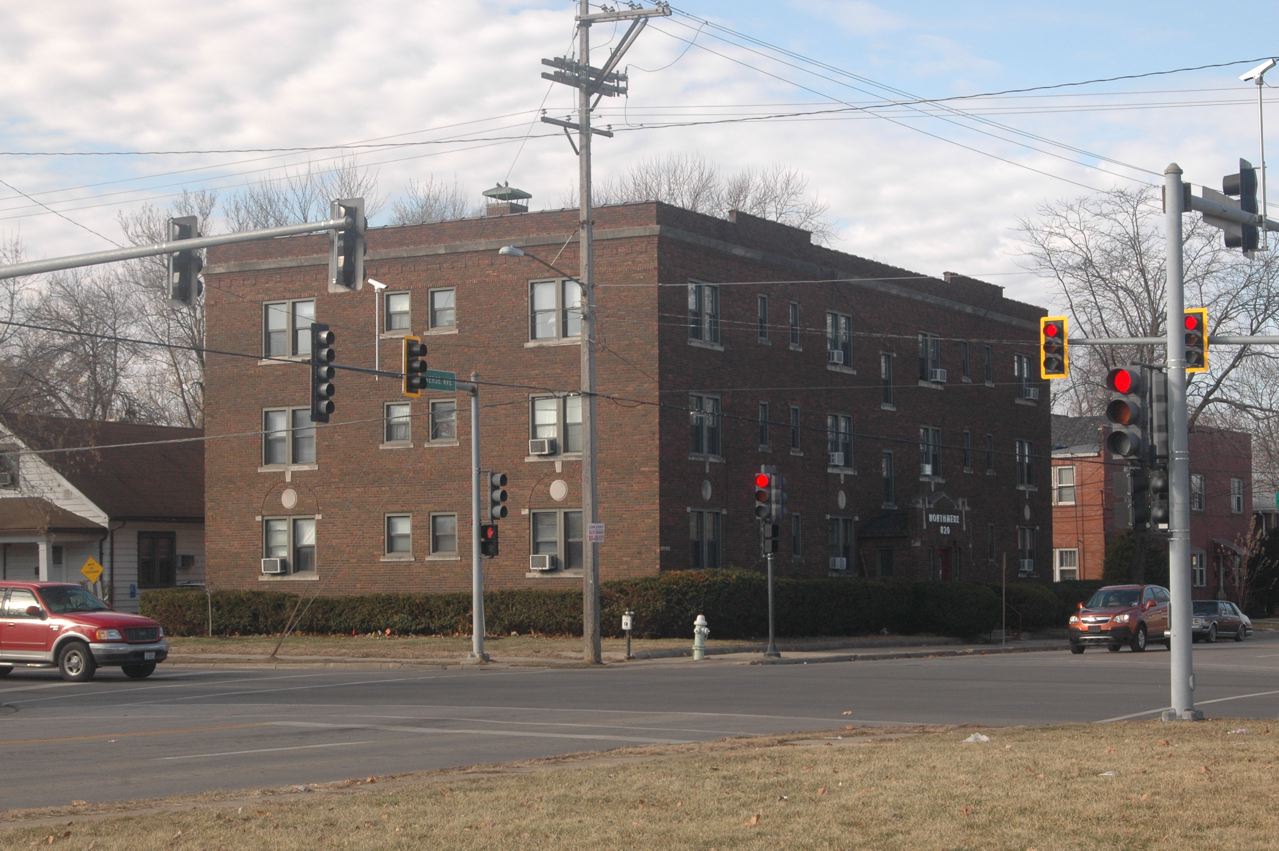 I had a meet with Amtrak Lincoln #301, with a P32 500-series unit leading 6 cars, at 9:56 south of Broadwell, near Lincoln, but the digital didn't fire in time at high speed after I took a telephoto slide. So I posed the van by today's "Alton Route" symbols, the 4-quadrant gates.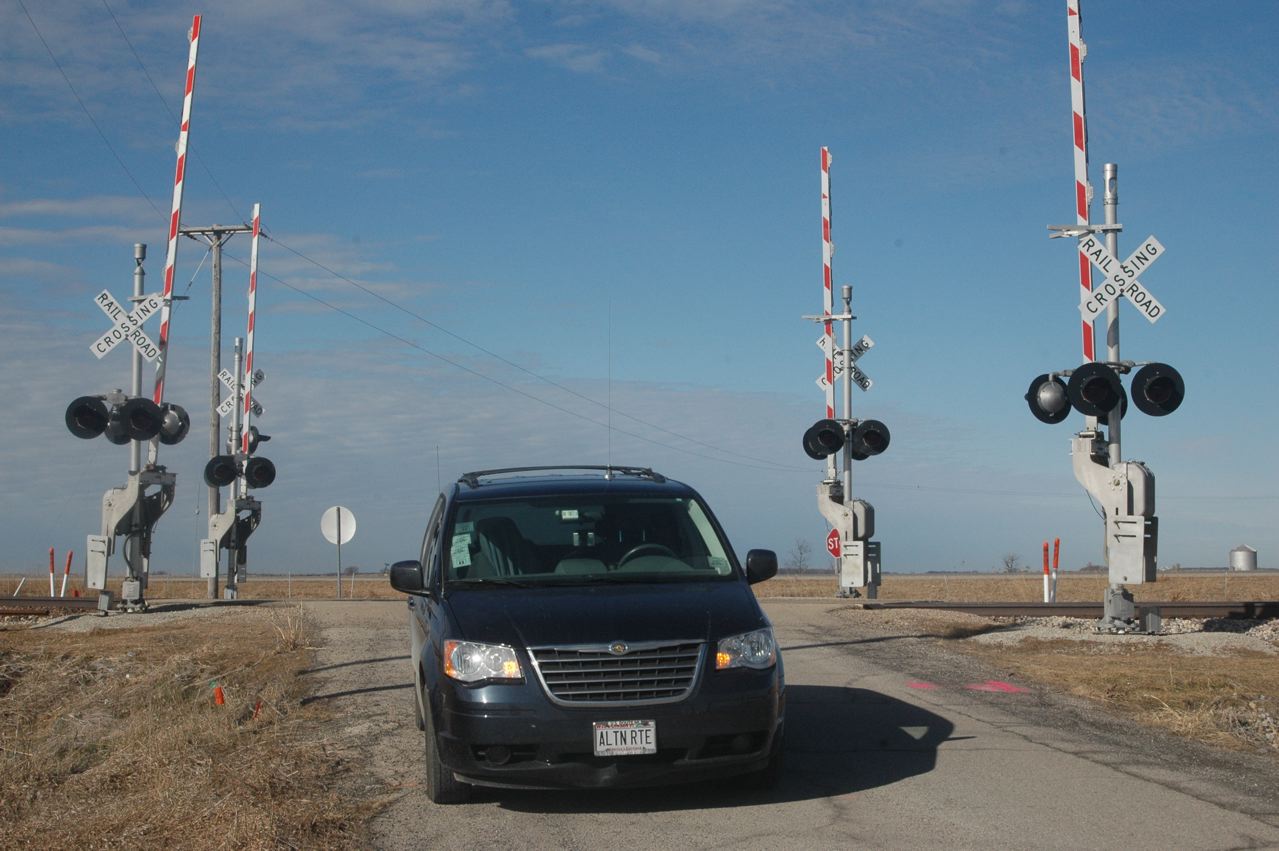 My first potty/snack/train break was at Toluca, where I spent the better part of an hour by the BNSF Chillicothe Sub (Santa Fe). I knew this eastbound was at "Chilli," but I didn't know there was a train preceding him, which I got on slides only as I returned trackside at 11:50 a.m. from a quick necessary stop at Casey's General Store. It had two NS units and perhaps 80 cars of mixed freight, and was bound for the NS connection at Streator. This guy was behind him, 5445/KCS 4512, at 12:06 p.m., with about 30 trilevels. For looks, this is my favorite kind of "unit train." East of Streator, BNSF was having signal problems at Kernan, and westbounds were stacking up, but I couldn't wait and moved on.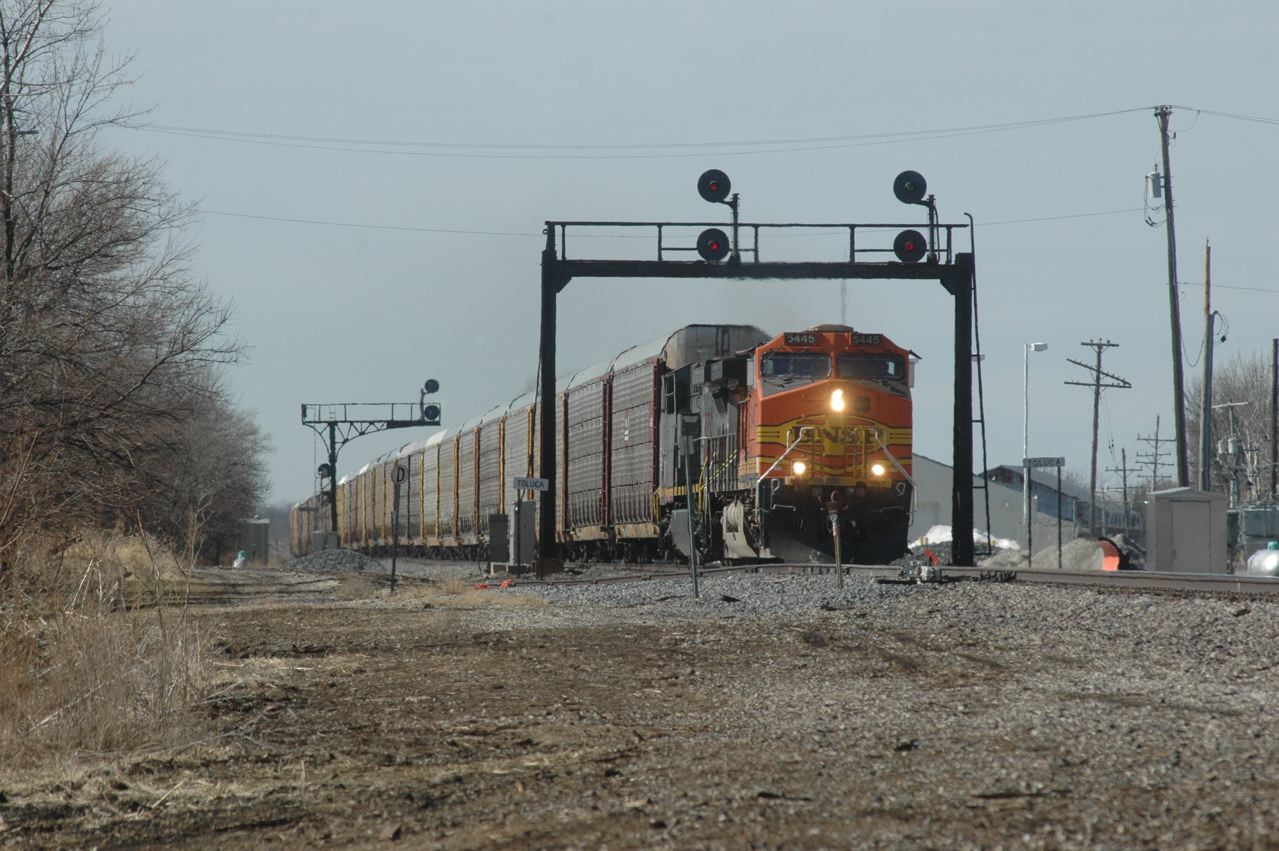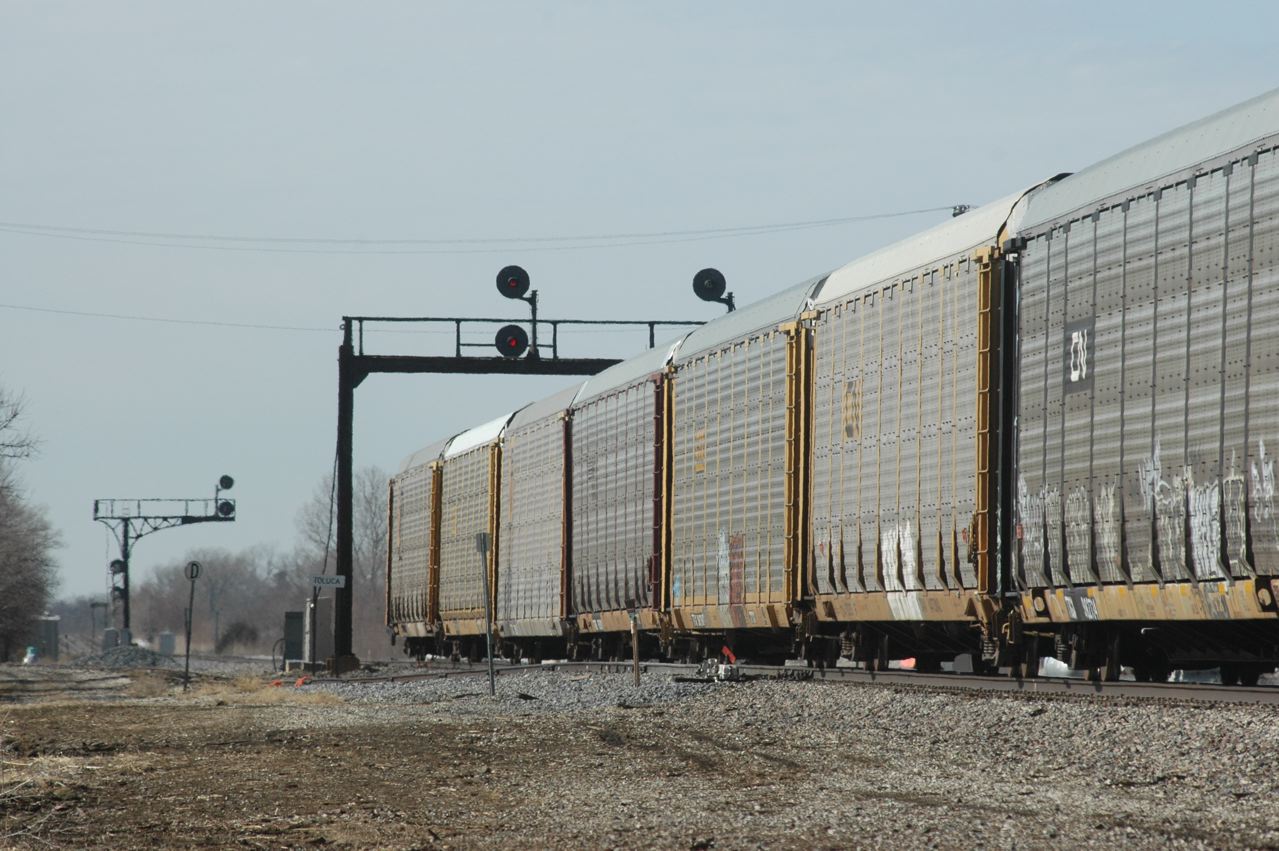 To access Toluca, one uses Route 251, the old US 51, between the Minonk and Wenona exits, so upon departure I had to take this shot (again) ...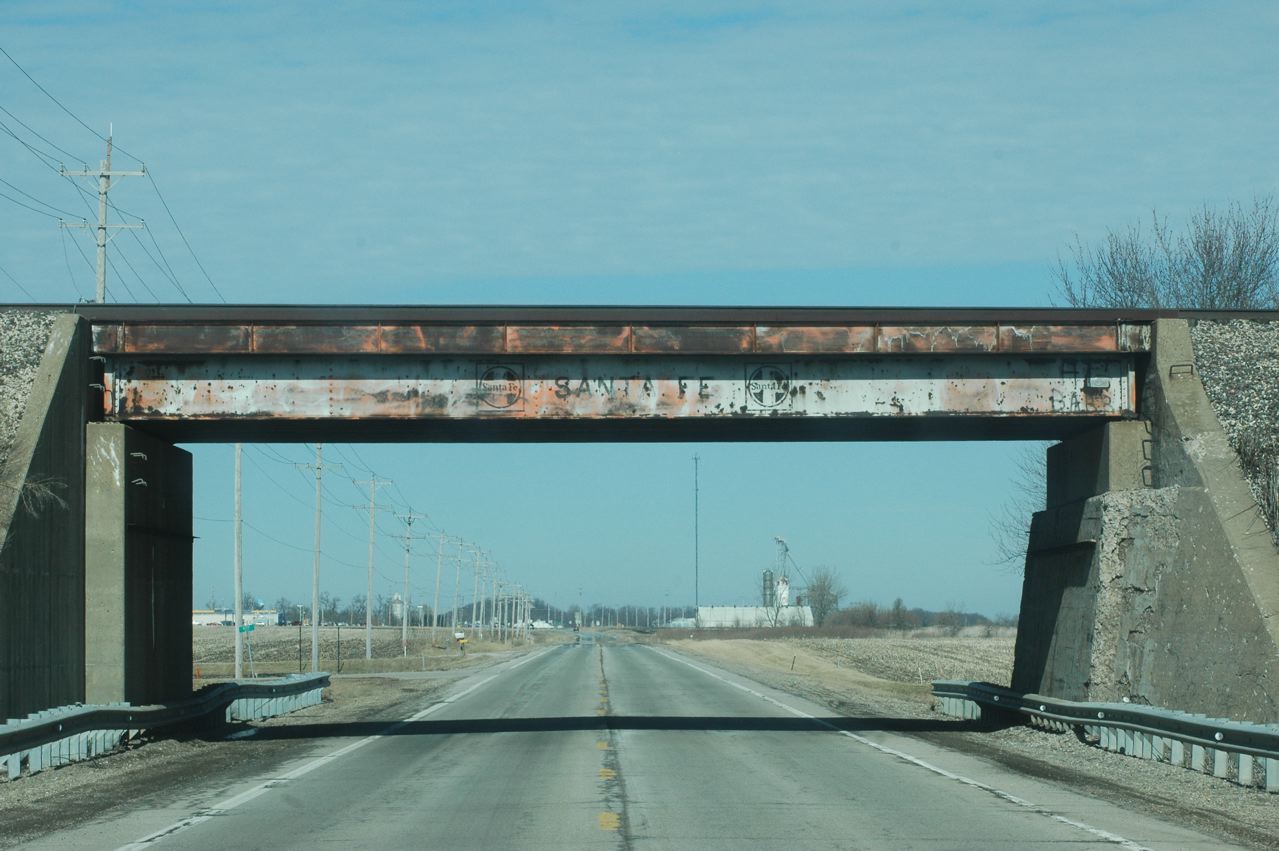 Mendota was next, as a planned gas/lunch stop, and I again was aiming to photograph an on-time Amtrak #4, the SW Chief. I didn't know any coal trains were in the vicinity, but as I got to 1st Avenue, this eastbound surprised me. I got slides, but had the wrong lens on the D70 and so took only this token going-away shot; engines are 9167/9285, 130 cars, 1:01 p.m.
The Chief fell down a few minutes, so next was this westbound coal empty, on reopened Track 2, behind two Grinstein greenies, 9737/9411, 127 cars, 1:10 p.m. At this point I parked on what I thought was a gravel lot, but to get onto it from the back street (to the right here, near the old IC/MILW right of way) turned out to be pure mud, and with all the snowmelt and ground retaining the moisture I almost got stuck, right in town, had to rock myself out to get back onto the street!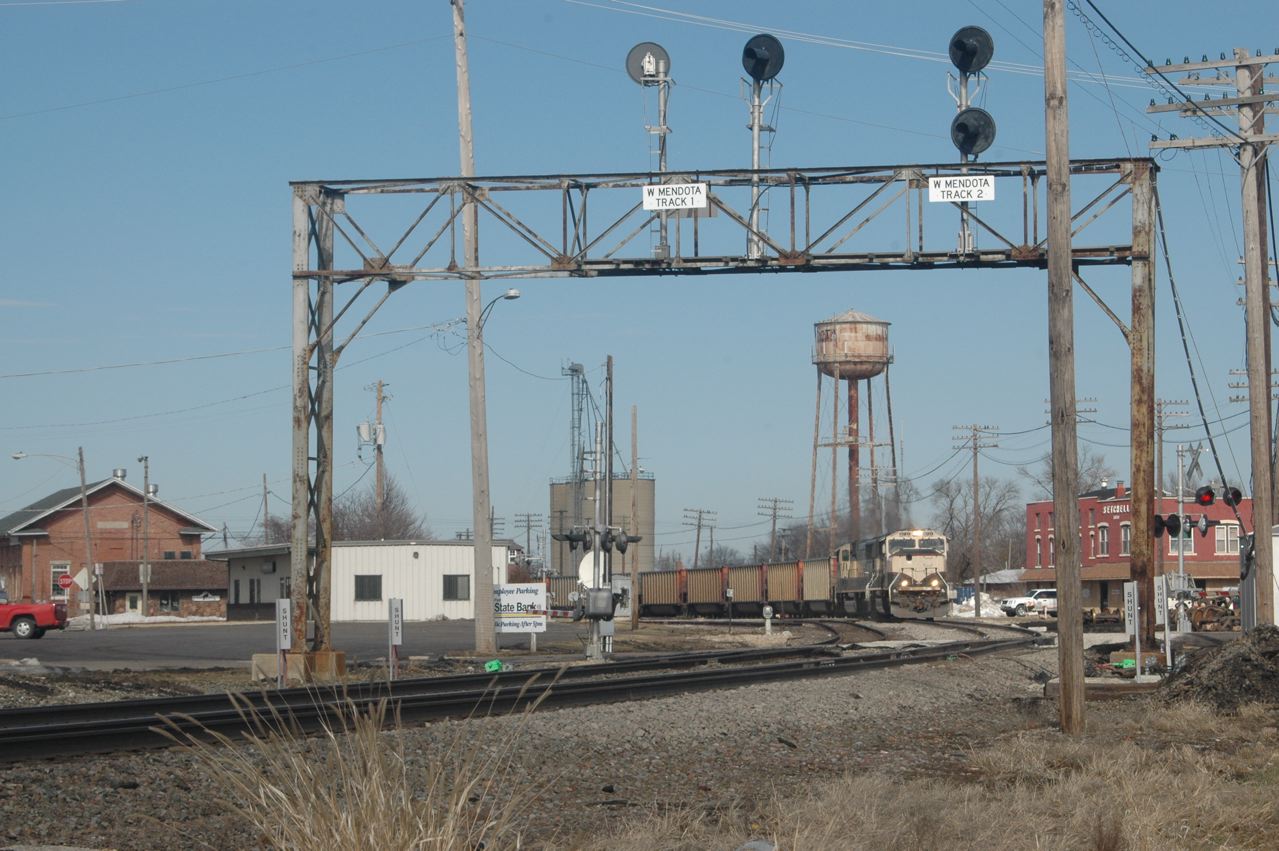 Cropped version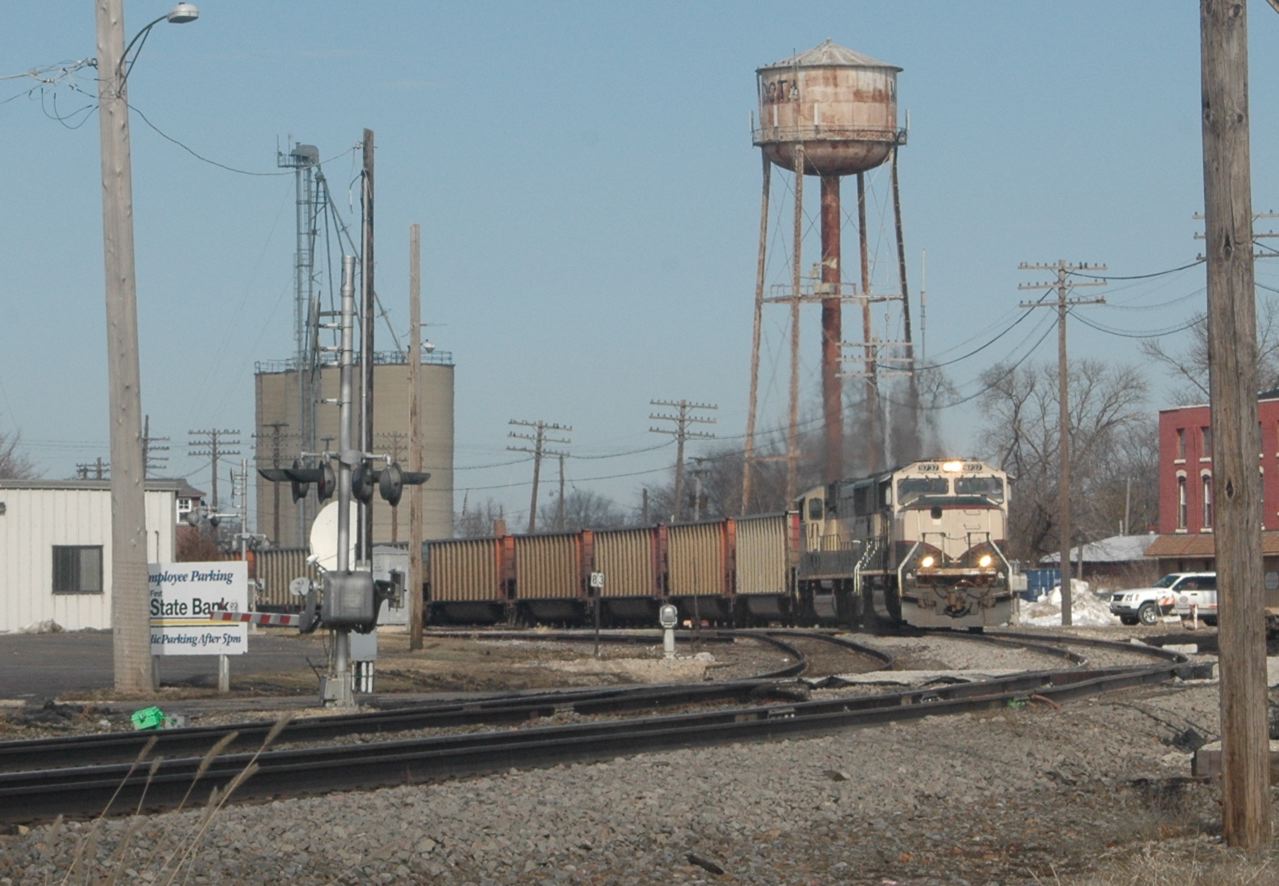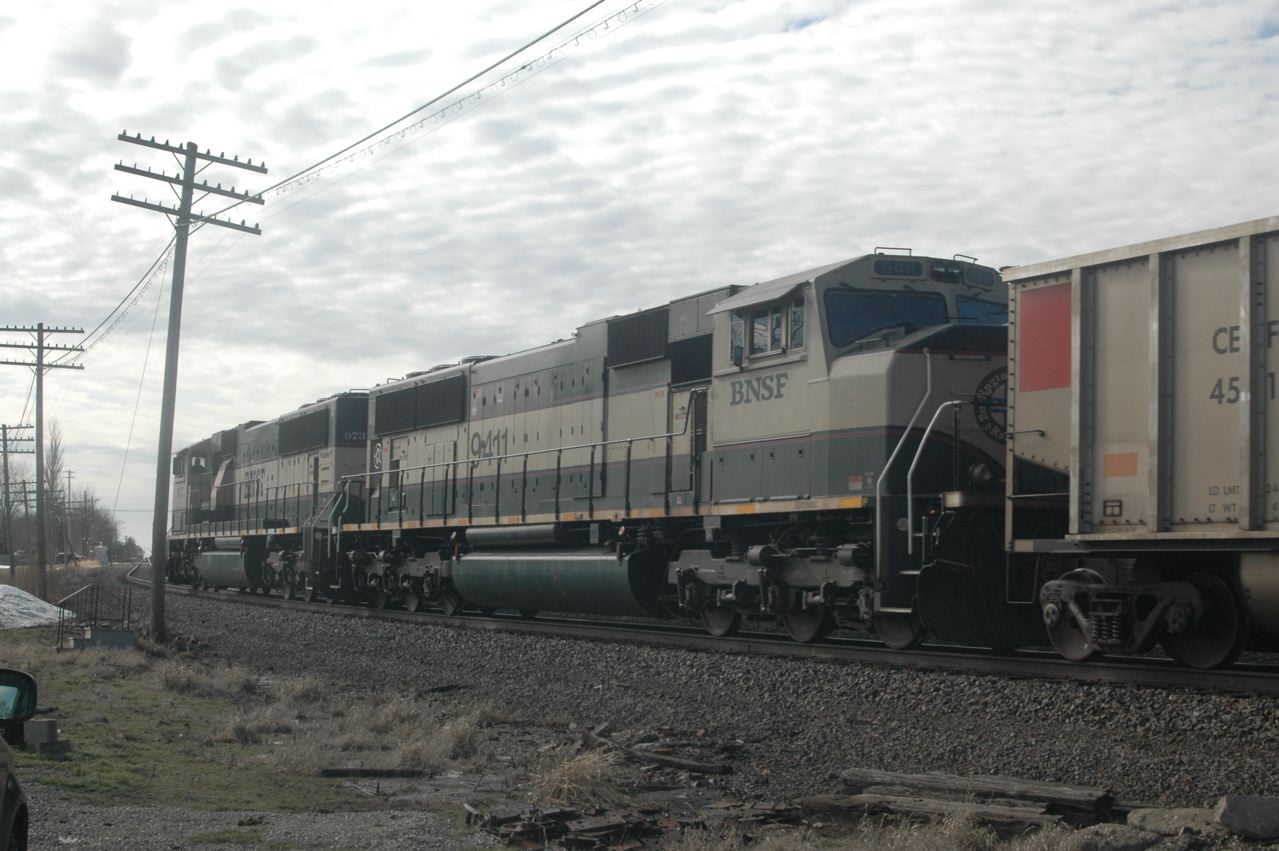 Last remnants of the recent coal-train derailment.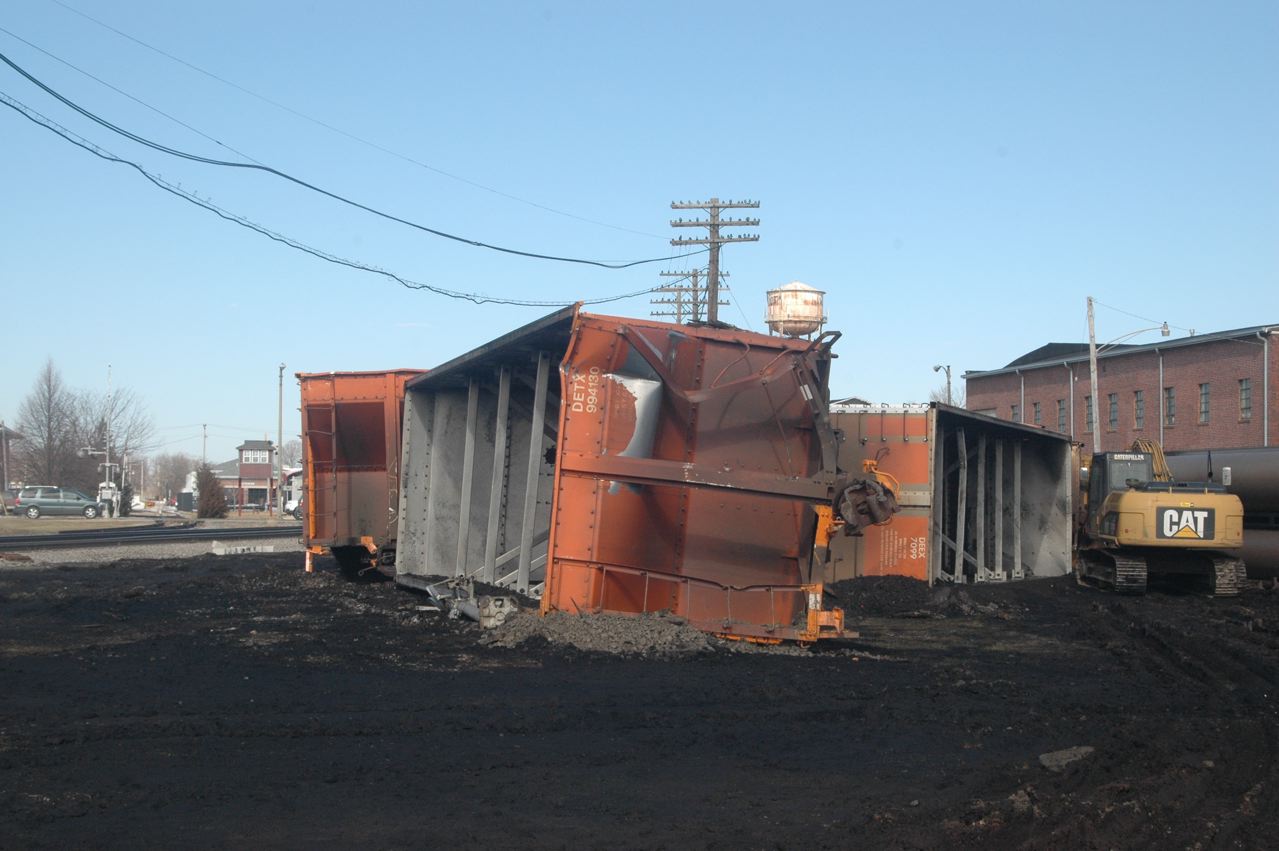 Here's #4 at 1st Avenue, engines 55/21 and 10 cars at 1:33, about 15 minutes late.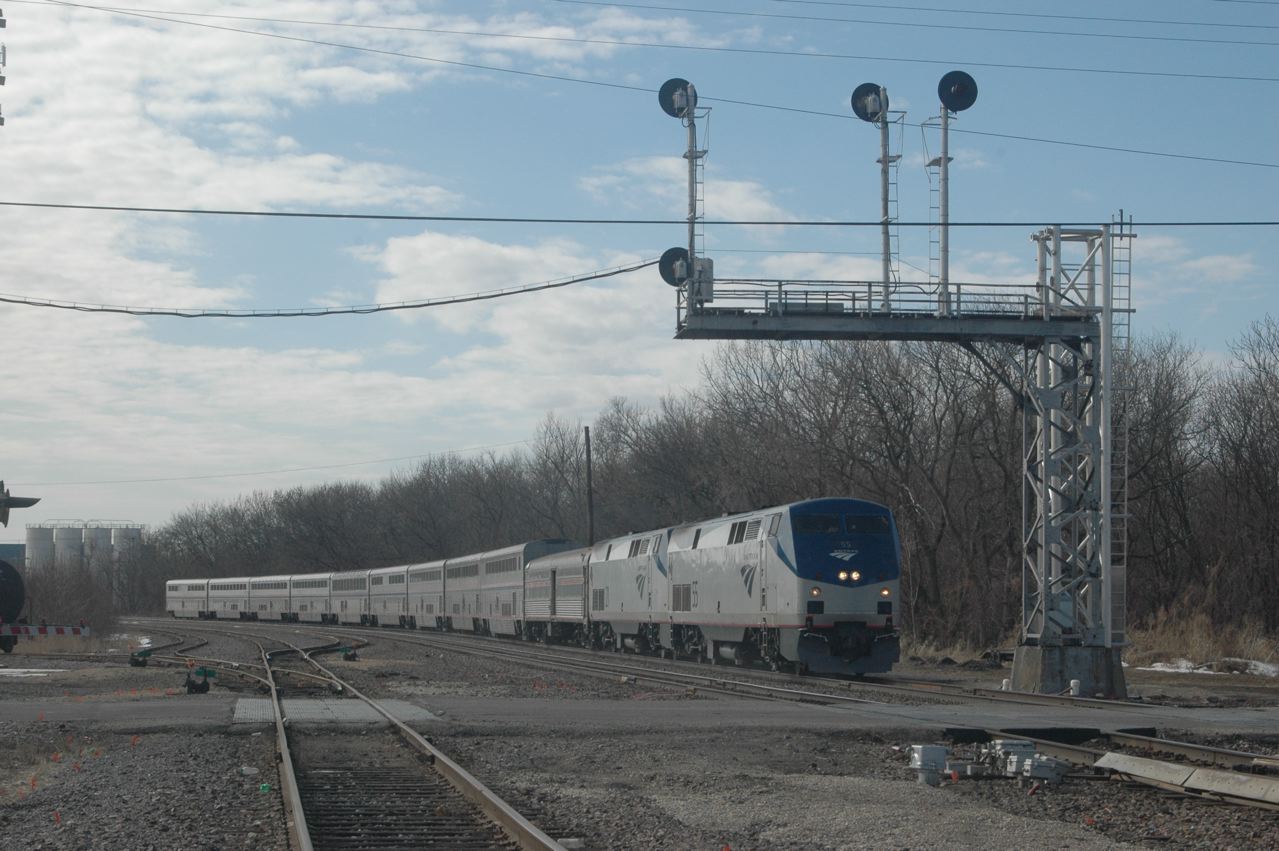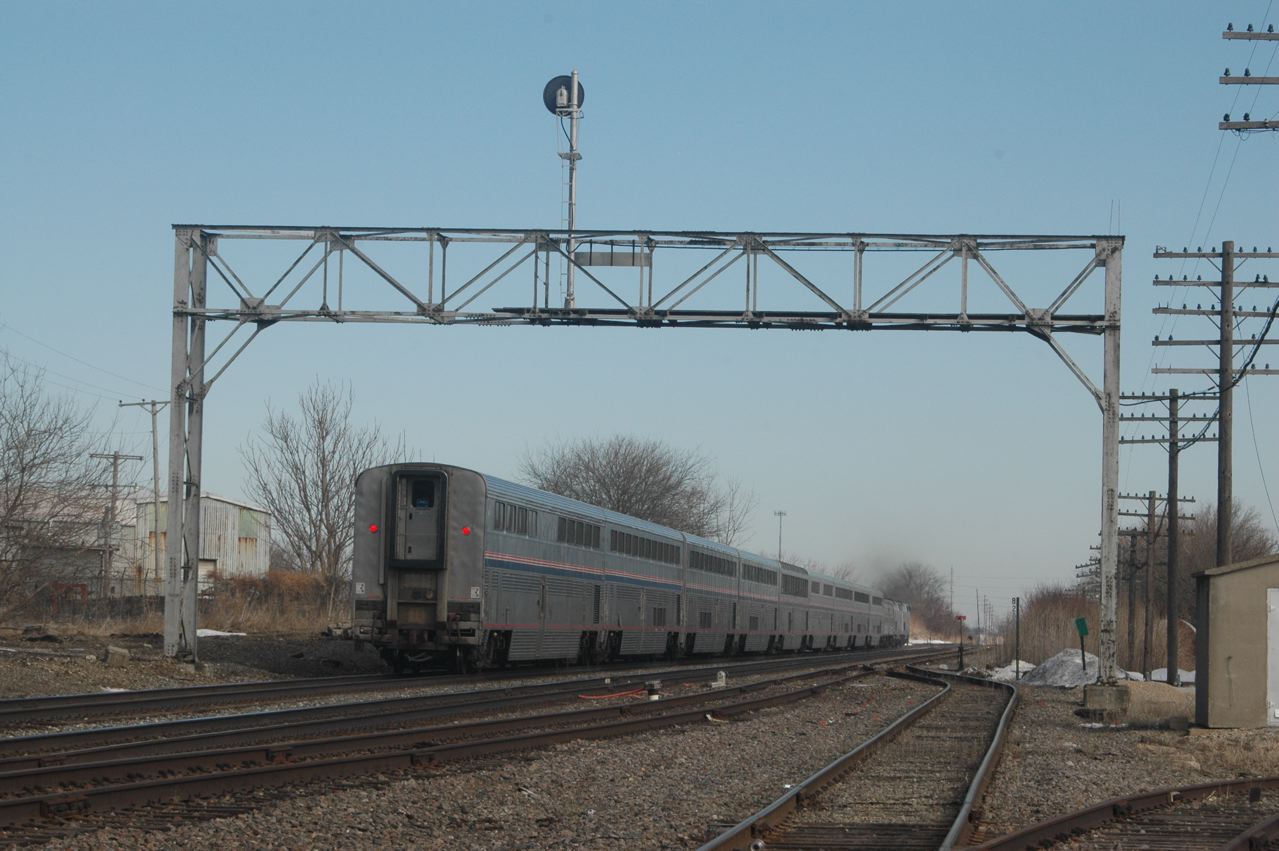 After grabbing a lunch at Subway, I planned to head for Rochelle to eat it, but the detector just west of Mendota went off, so I finished most of the sandwich out east of town at Welland Road, just west of the I-39 overpass, before this coal load came thru "The Electrics" crossover. The sign on the gantry bridge reads "Mendota Electrics," and indeed, they were the first power switches in the area, years ago. Engines 8899/6021, 115 cars, 2:18 p.m. (way past lunchtime :-).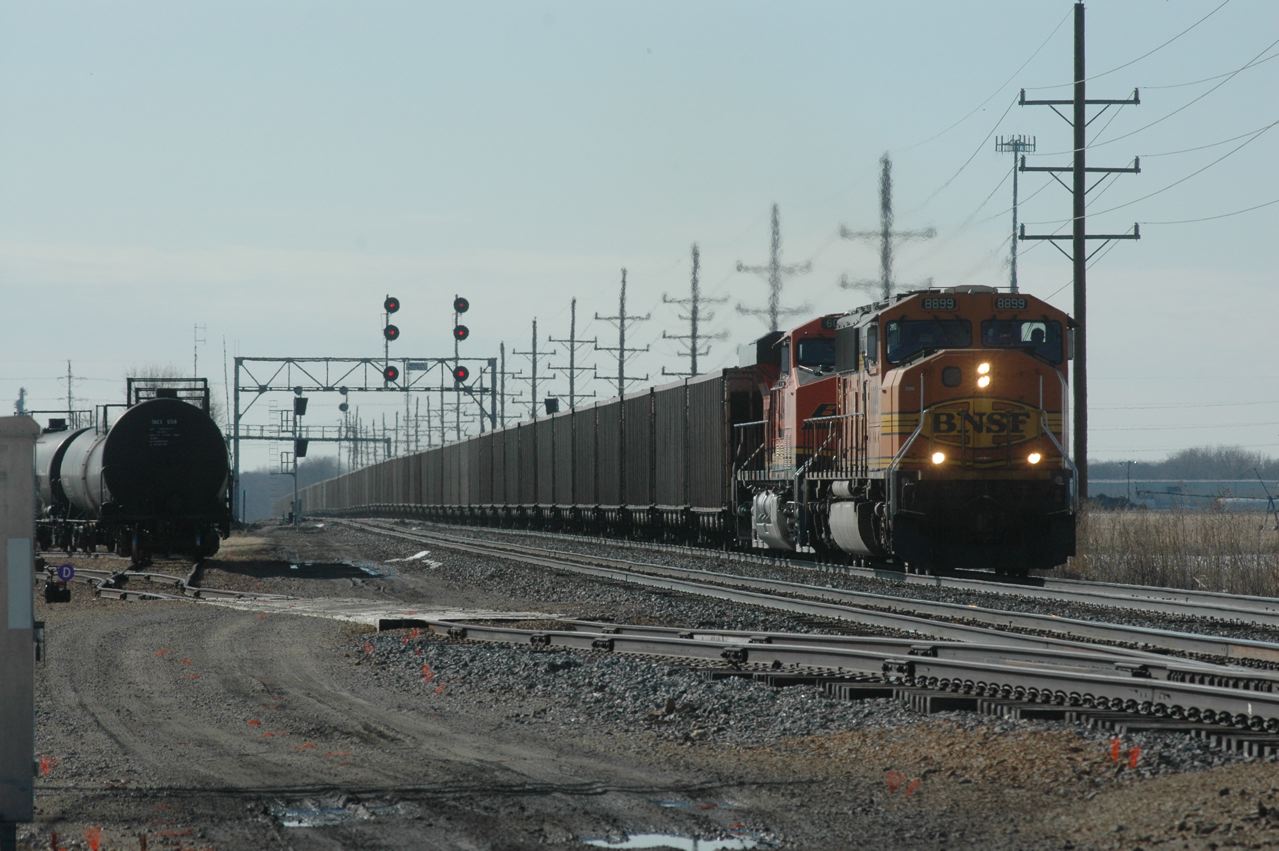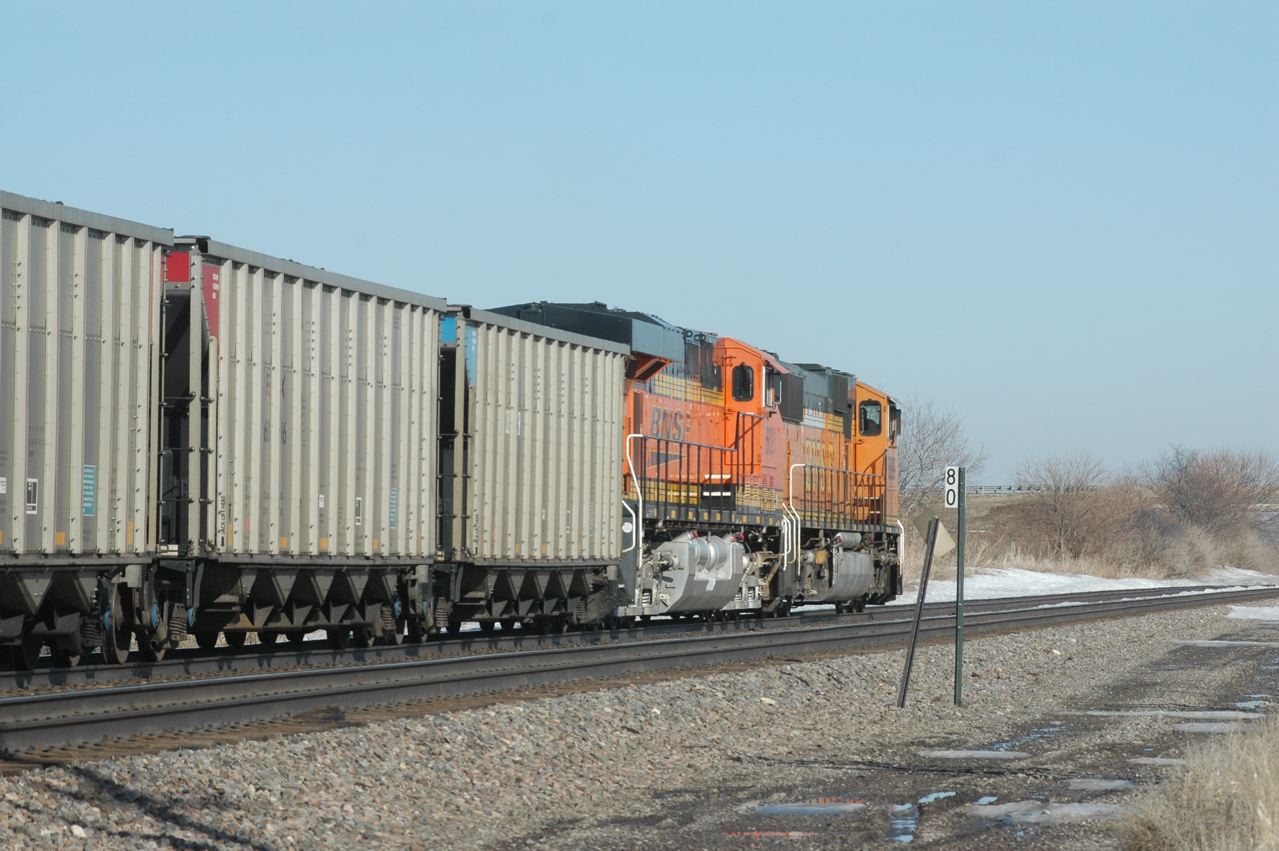 The Steward CB&Q depot has been shot many times, but since the last "break stop" of the trip, allegedly to be "Rochelle," turned out to be as much or more down near Steward toward the end of BNSF Aurora Division's C&I line double-track thru Rochelle as in town, so we'll lead off with this subject, which I hadn't done on digital. The building has been turned 180 degrees from its original site, and now fronts on a village park.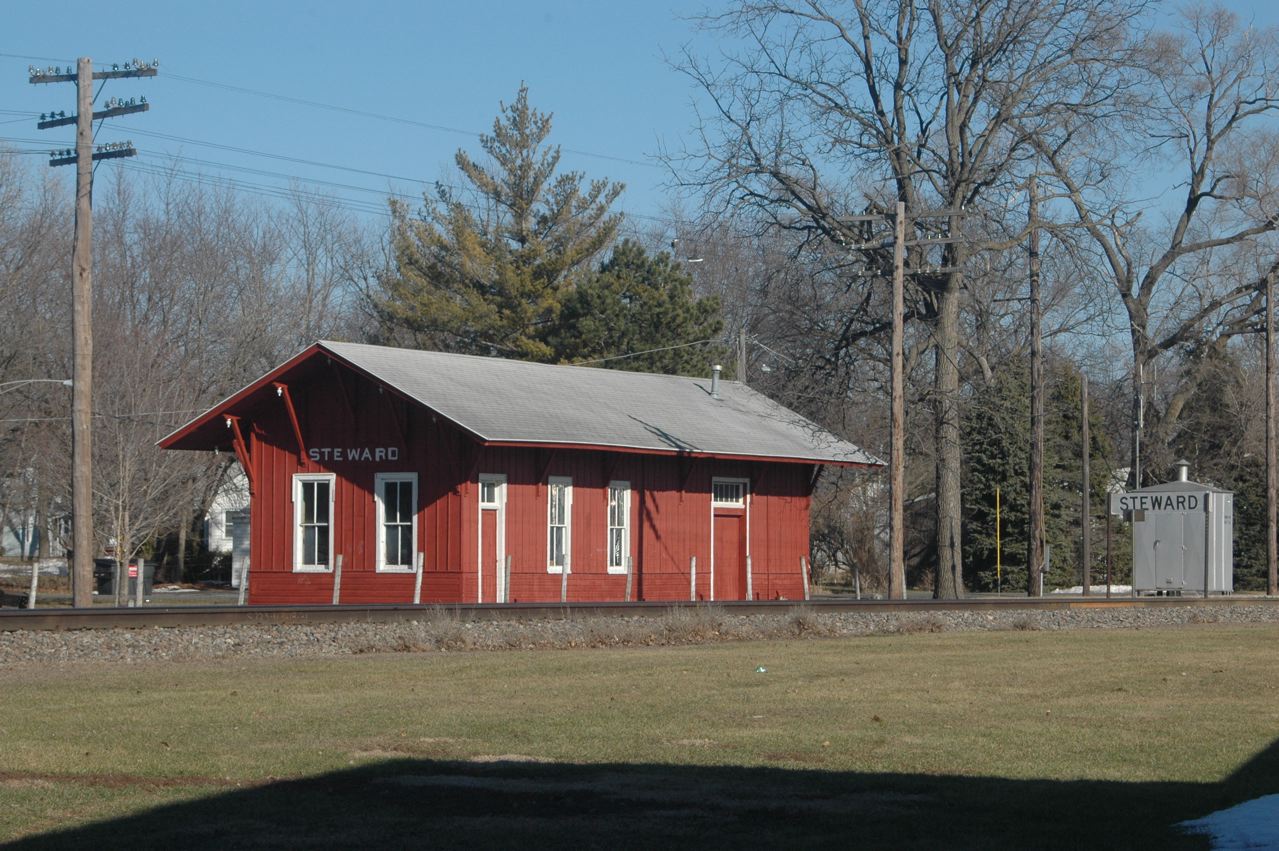 "Consist of the day" easy winner was this BNSF trio of Cascade green SD60M's parked, sans crew, on a BNSF loaded grain train between the end of double track and crossovers to the north near the Rochelle ethanol plant, which I didn't realize existed until this day. The SD60M's, renumbered to 8100's (an old SD40-2 series) to make room for more new units in their former 9200-series, have recently been pulled from storage. Here they are, parked just north of the Elva Road grade crossing. at 2:55 p.m. The plan was to shoot a few trains around Rochelle to finish the day (I was now on the 3rd and final roll of slide film I'd taken along), and get home by suppertime. Didn't happen -- well, you have to define "suppertime." That's Rochelle's ethanol plant at far right in the distance.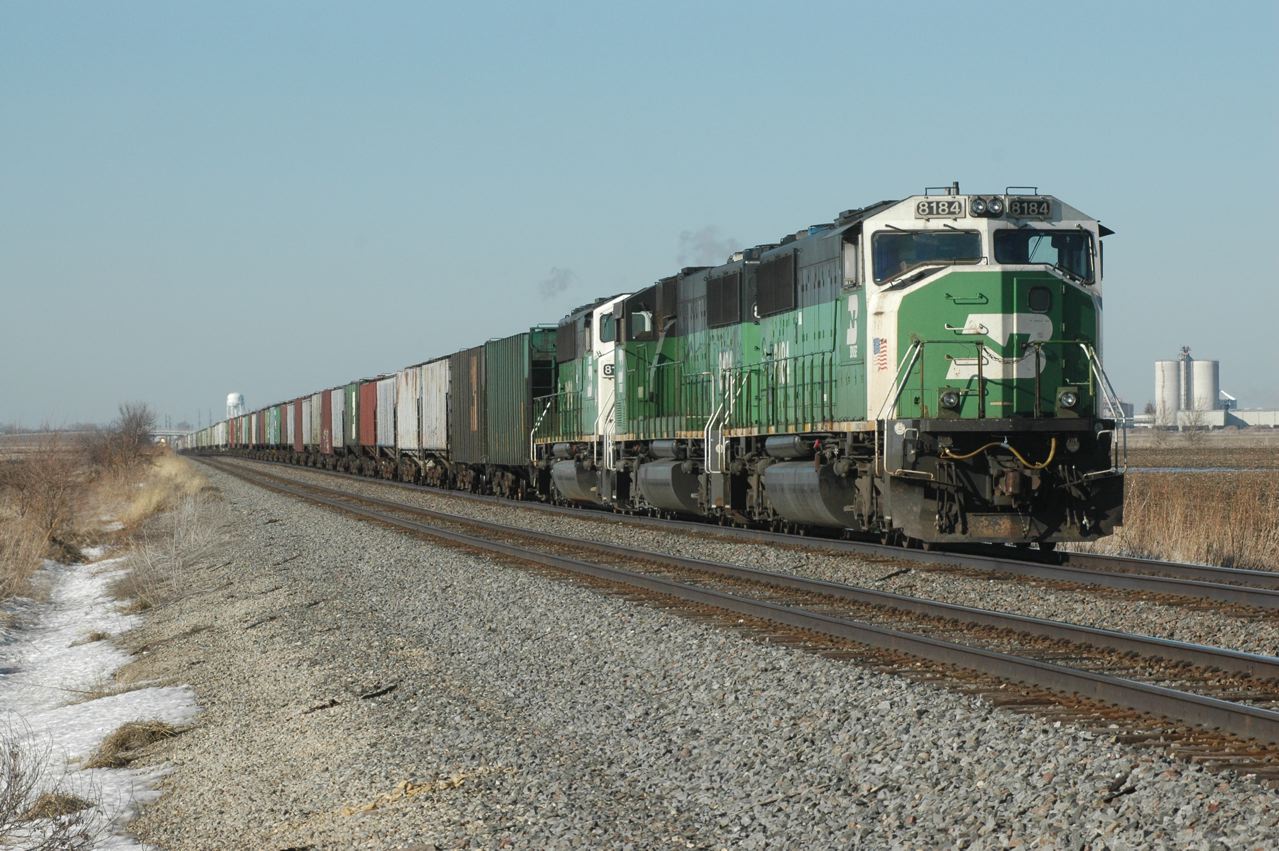 "4's are wild"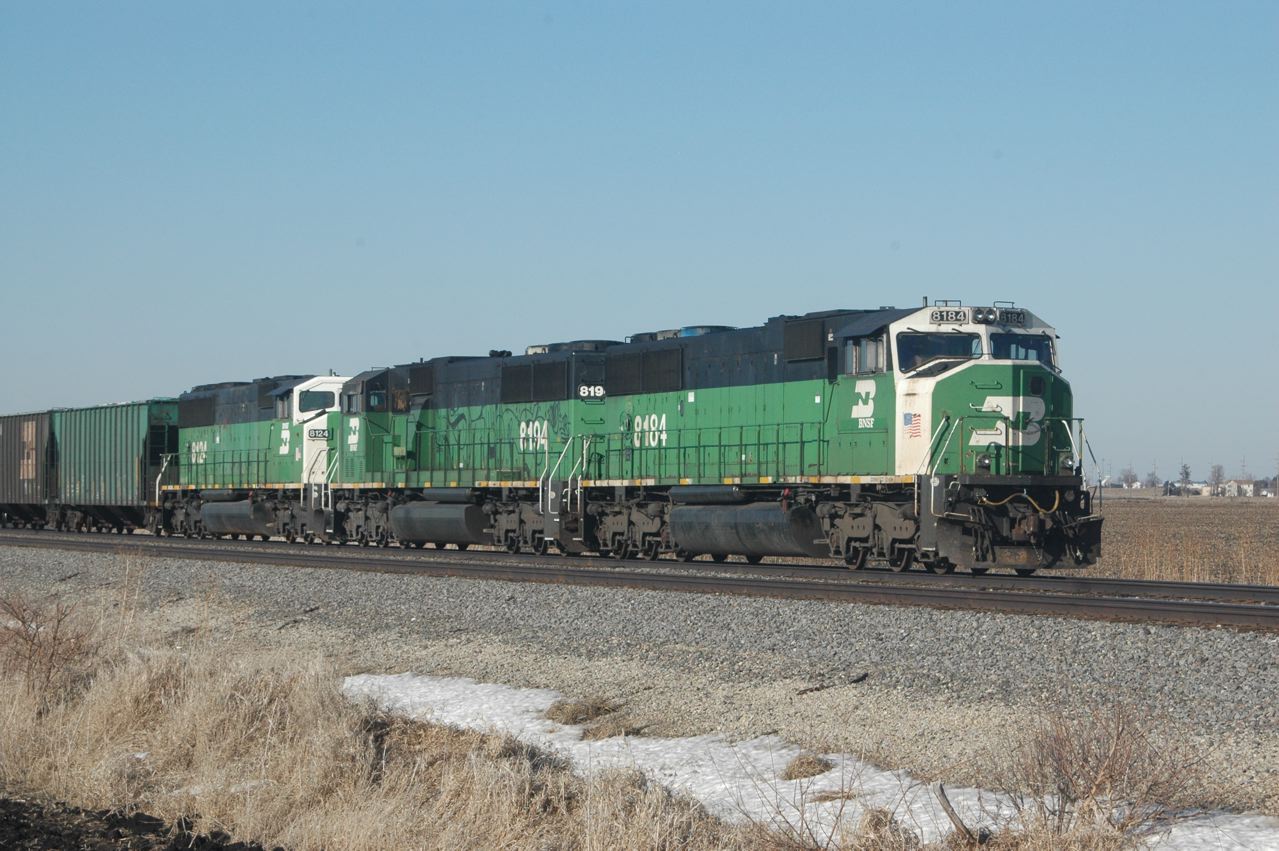 I had just missed two eastbounds, according to the scanner at Lee as I came up I-39, but here comes another at 2:59, with the 8874 and 4806 and 85 trailers or boxes.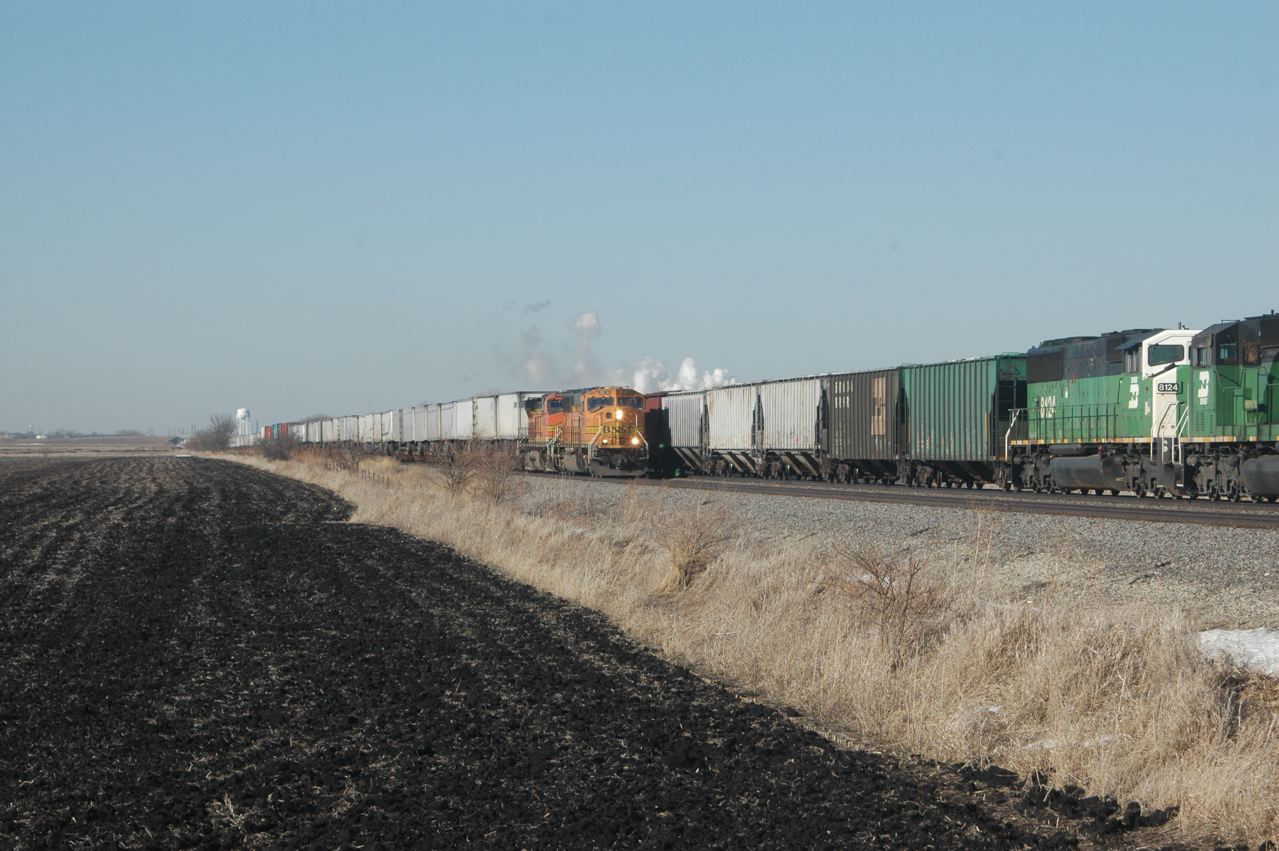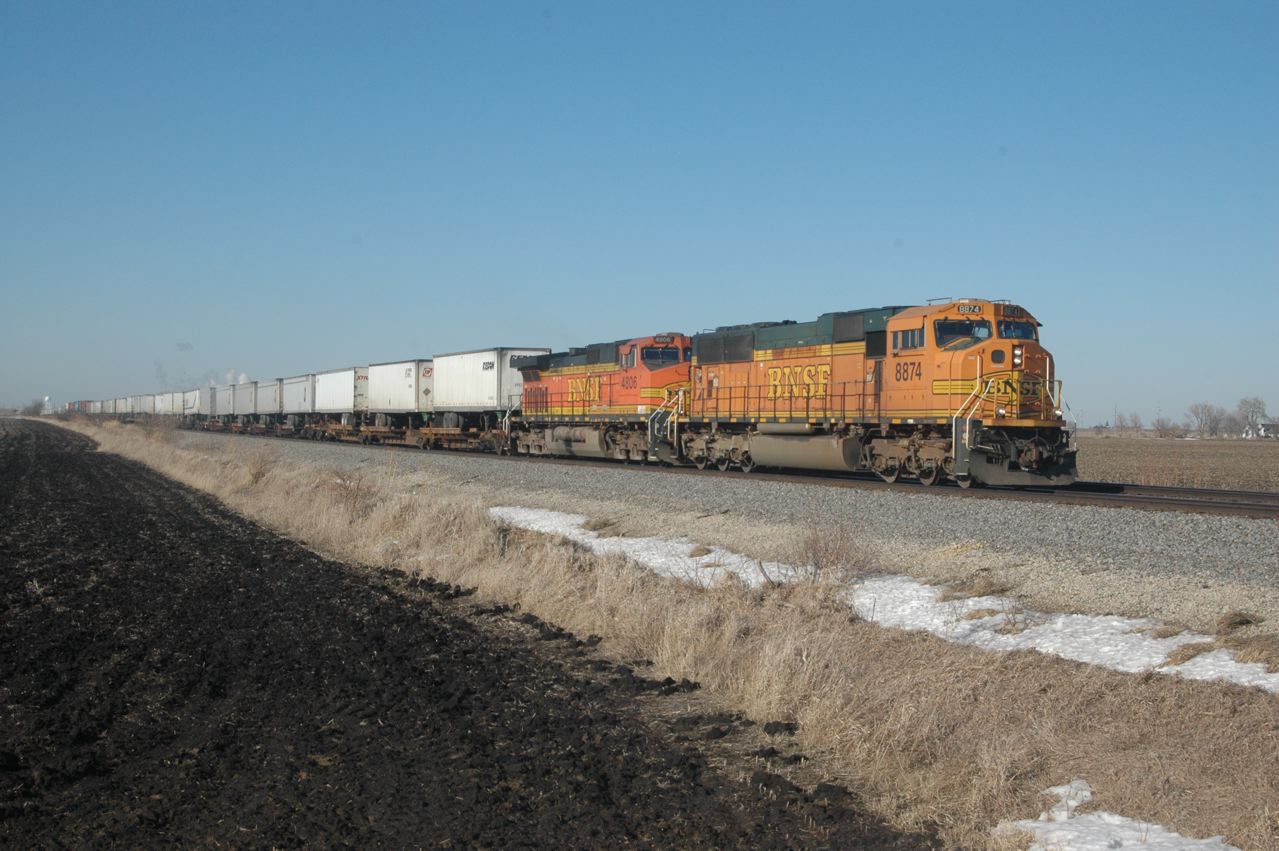 The end of double track is opposite the elevators at Steward Road, at the northwest corner of the village.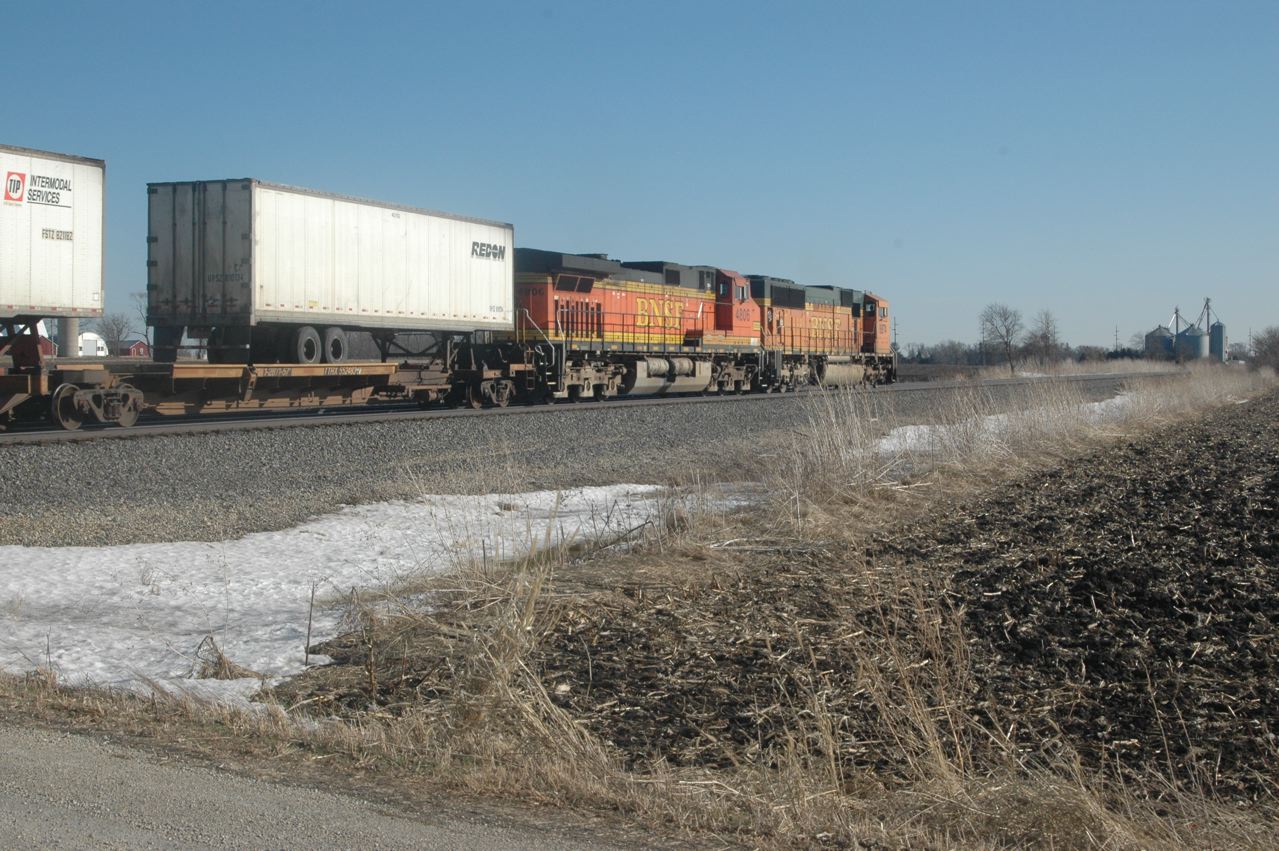 Note the ice pack in the ditch, last remnants of the Groundhog Day blizzard.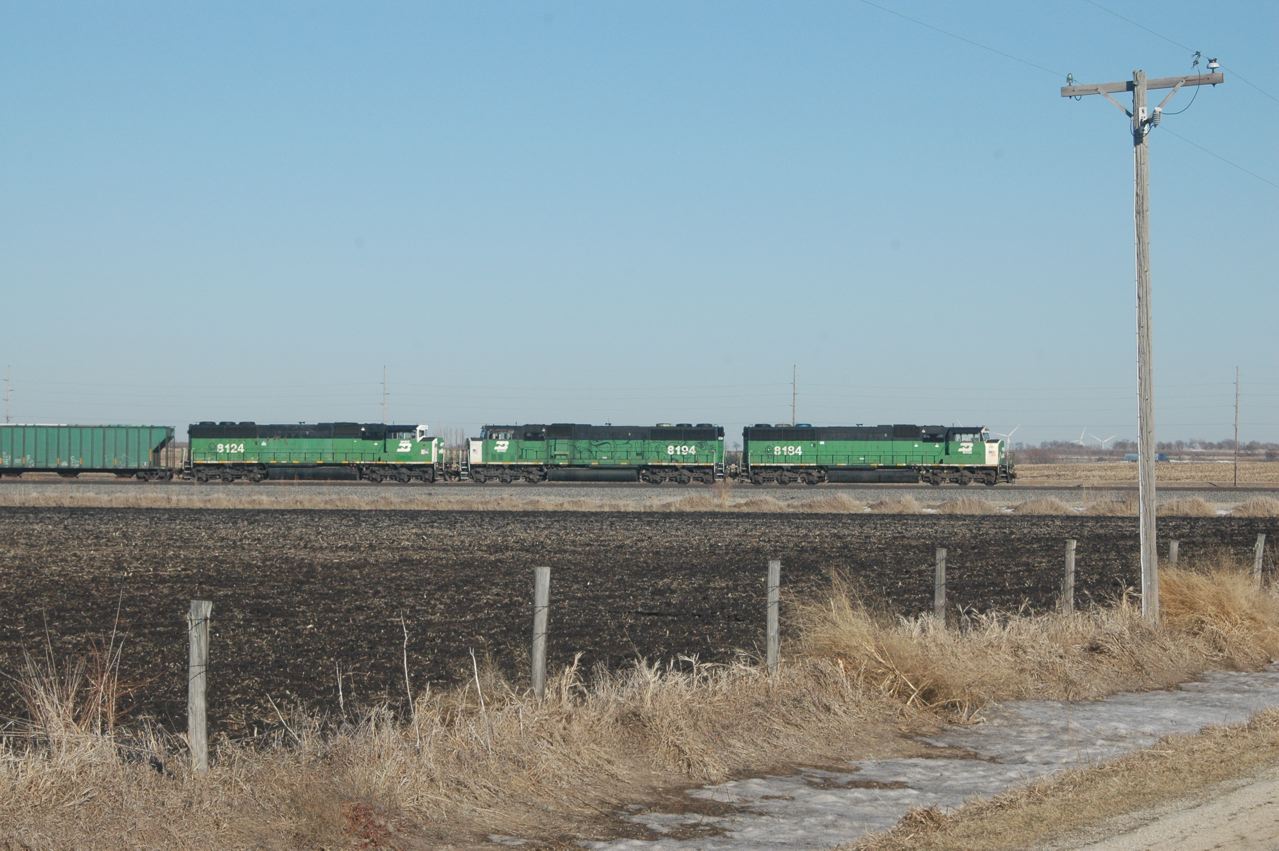 Every angle . . .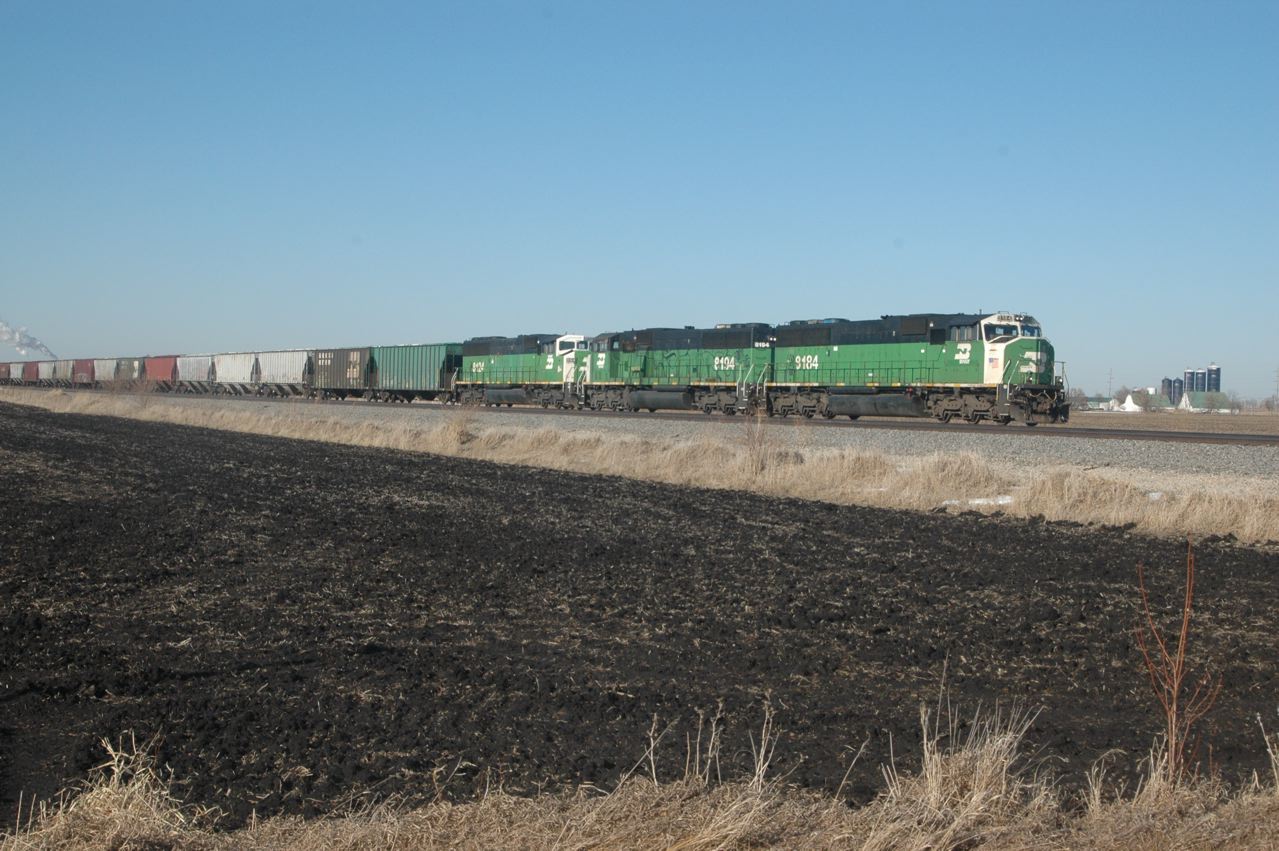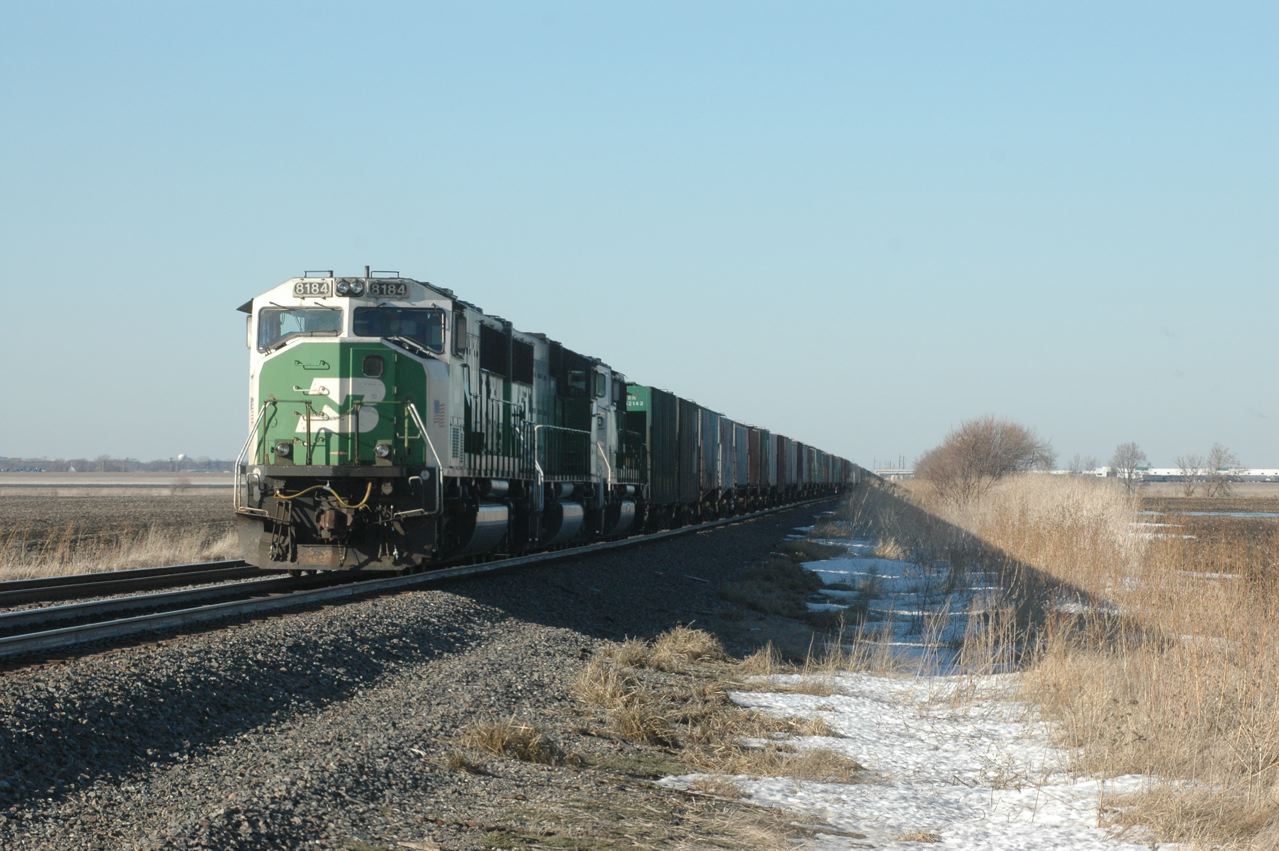 The Savanna-Eola local, having (I think) added Rochelle switcher 2016 in front of  big GE's 7584 and 5186, leaves town on Track 2 at 3:25 p.m. with 26 cars. He would go to the next siding, Shabbona (SHAB-uh-nuh), to wait for a westbound way east at Sugar Grove, so I knew i'd be around a while longer.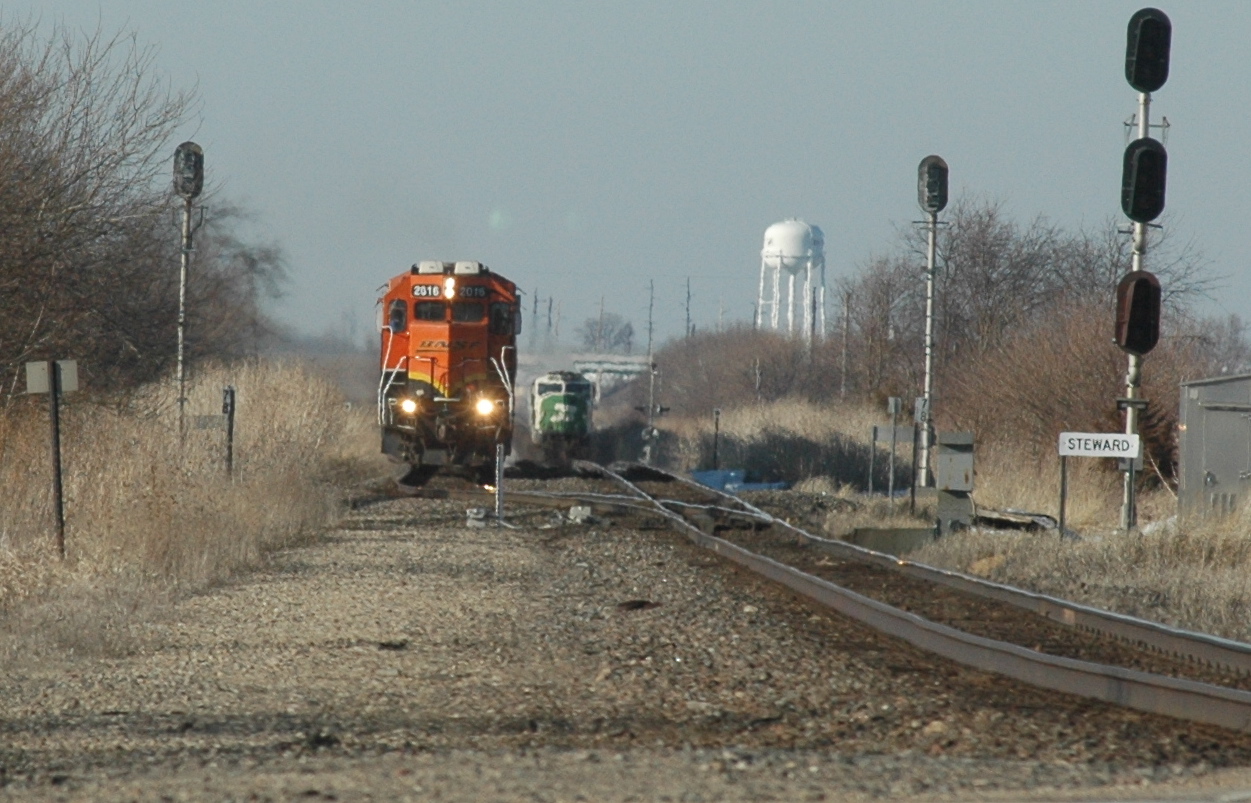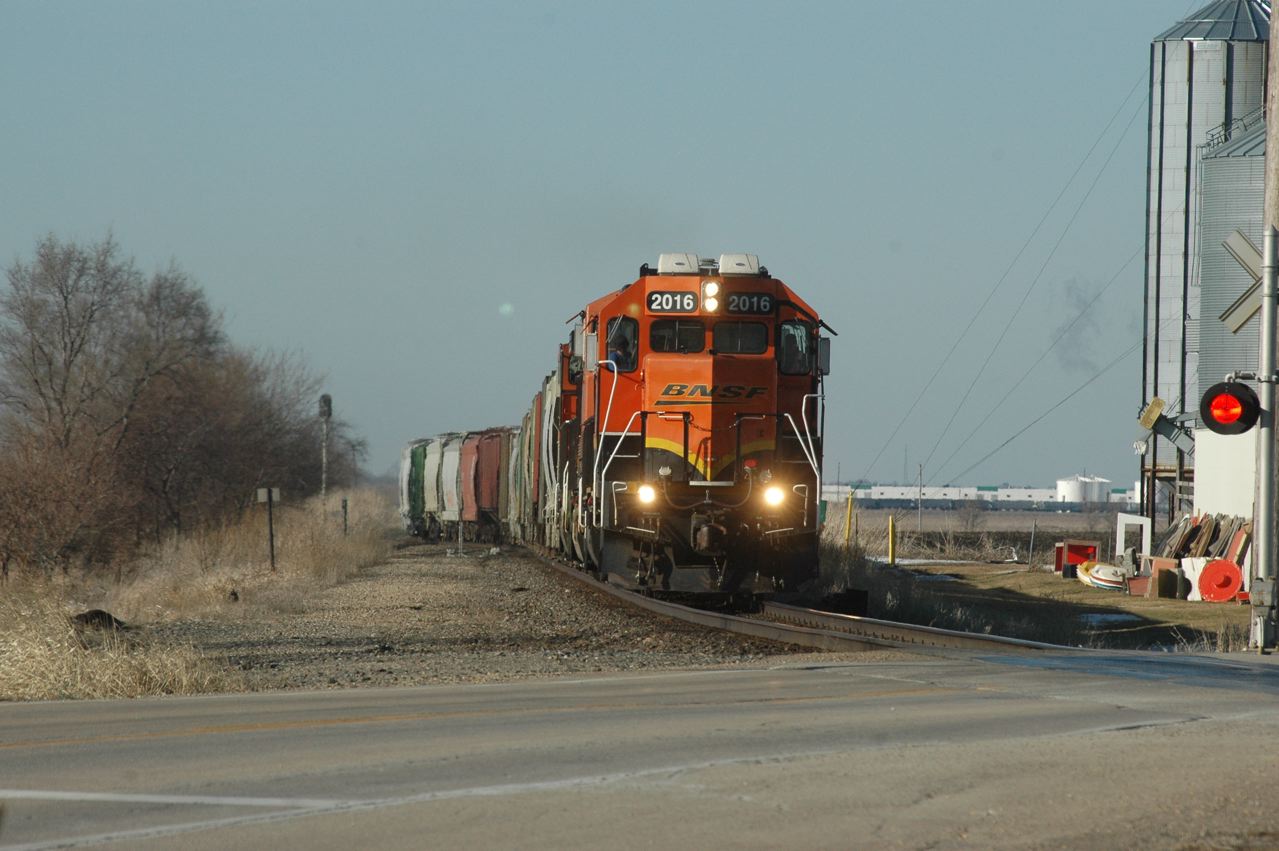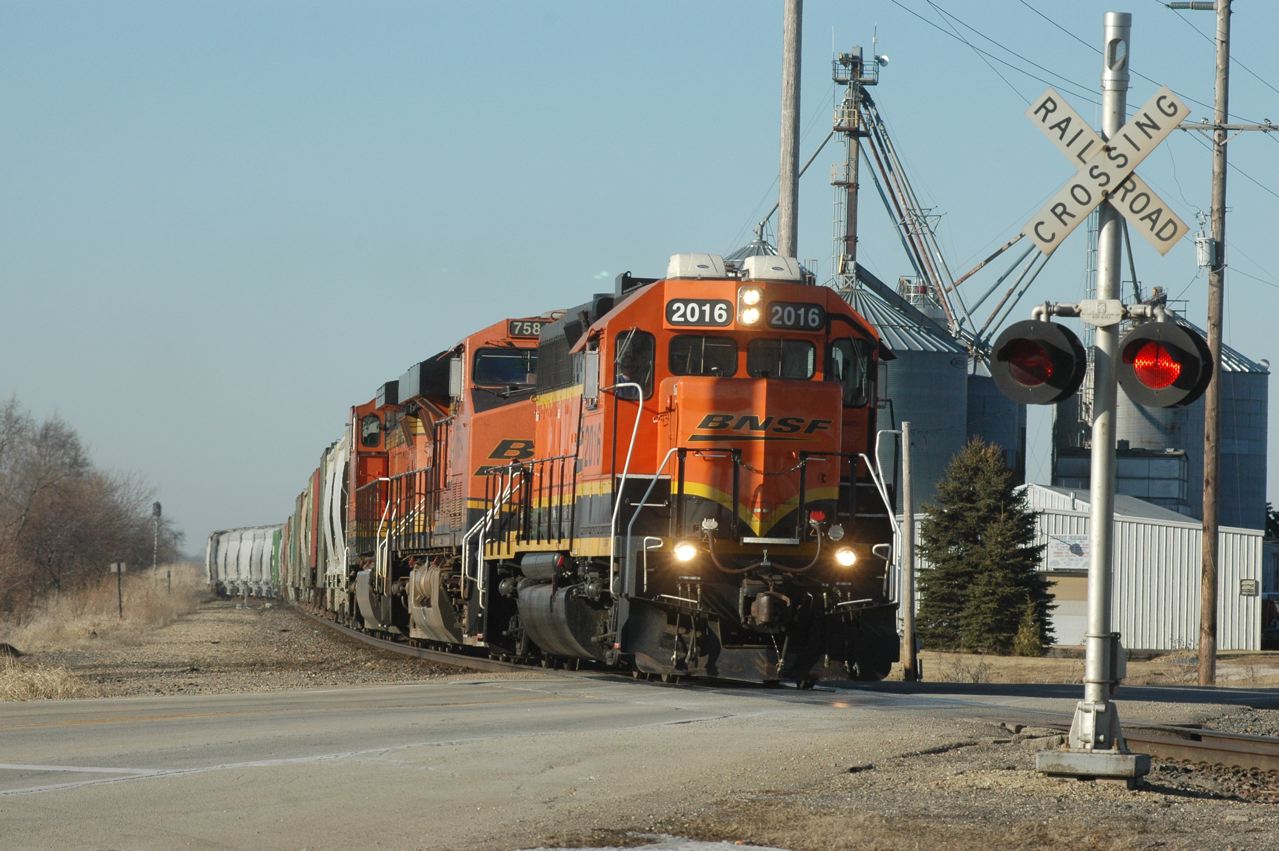 En route into town for a change of pace, I found an eastbound grain train on BNSF, with CSX power, had snuck into town, and pulled up short of the crossovers short of where the SD60M's train was (it was on Track 1, CSX on Track 2), so I knew I'd wait around until the CSX units left town, assuming they did. Meanwhile the UP was active, with this short stack train, 1 unit on each end, holding at Dement crossovers east of town. Dement is right under the Dement Road overpass south of Culver's, for those of you who know Rochelle. I made these photos from Creston Road, something you can only do when the corn is not high. This train has 7599 up front, 62 wells, and 7507 on the rear; it's 3:40 p.m., and he'd leave in 12 minutes when a westbound stacker cleared.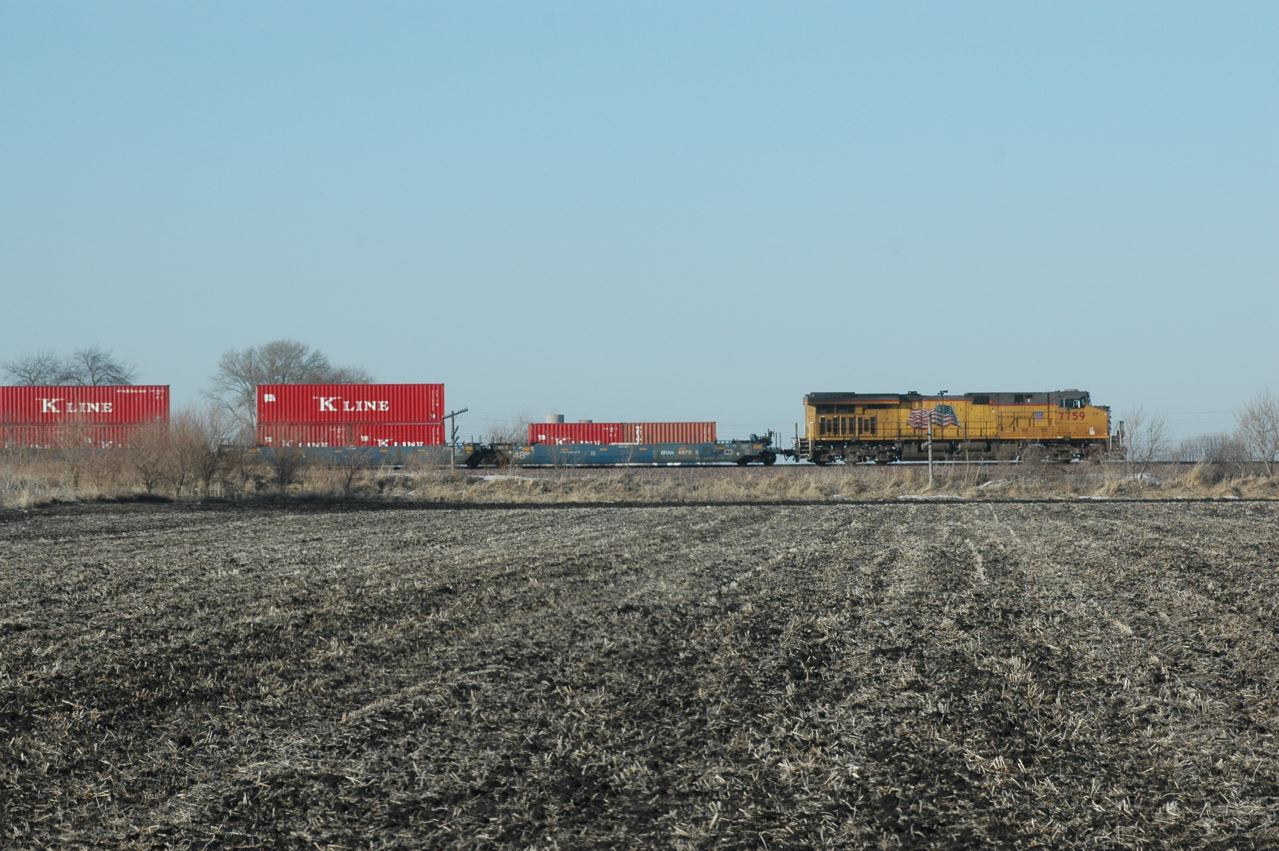 Said westbound stacker passes behind 4413/7159/4702/4606, with 328 axles on the detector west of Rochelle.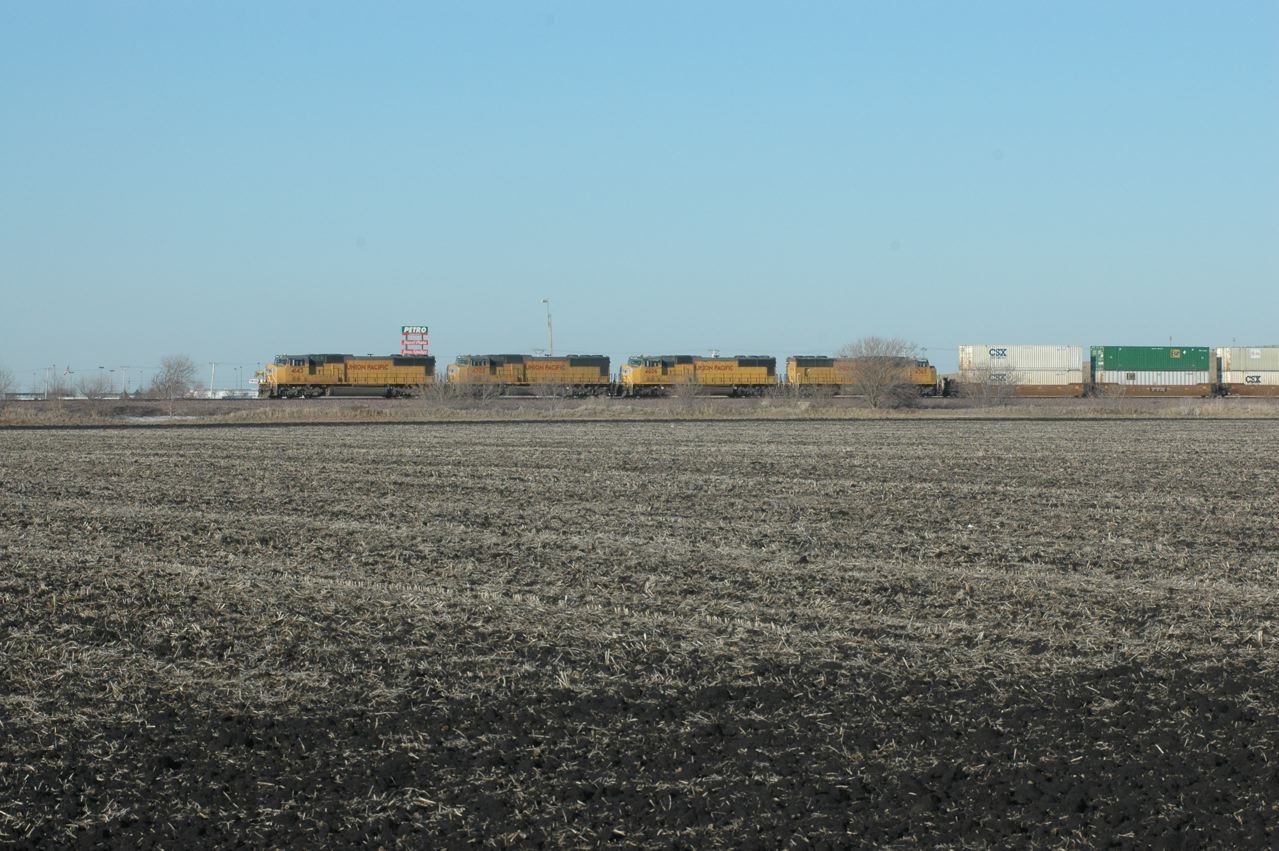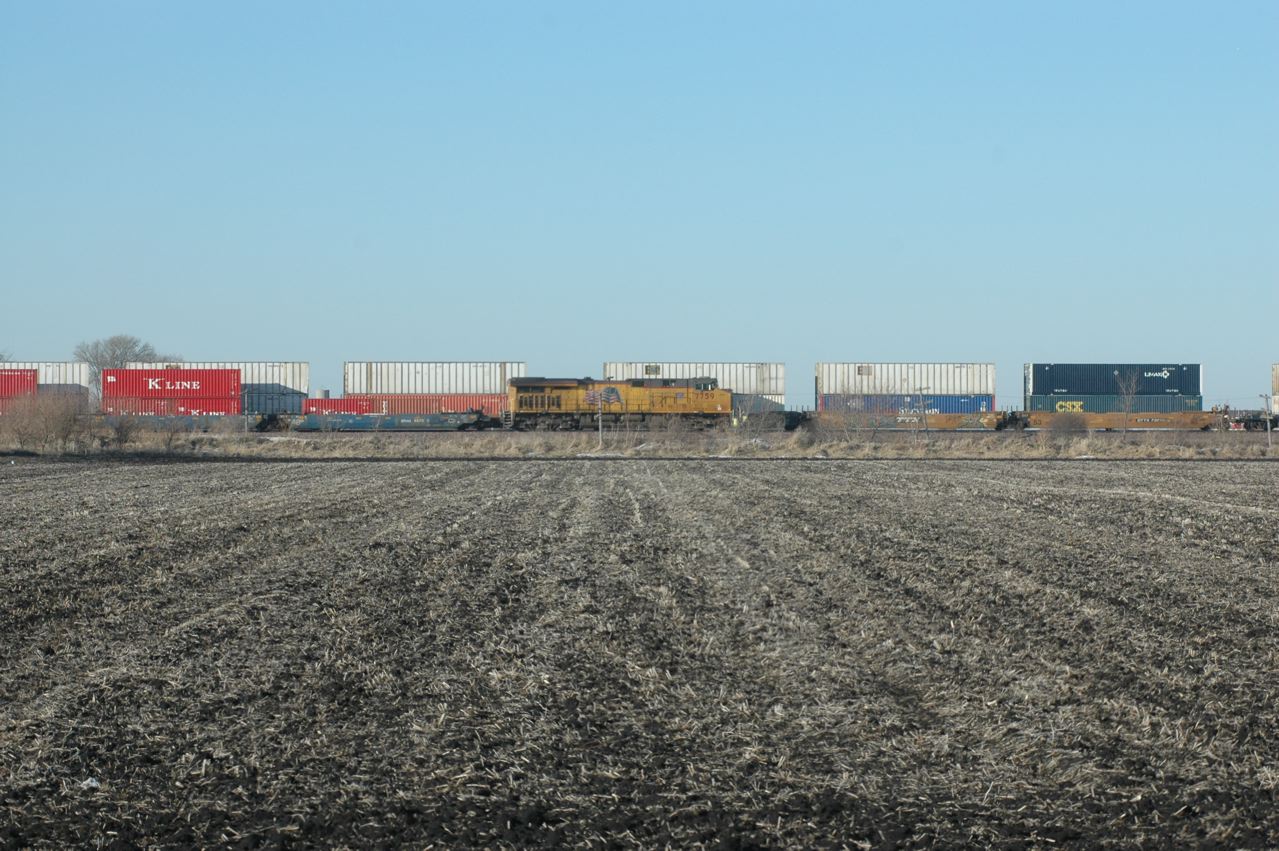 Here's DPU 7607 on the eastbound.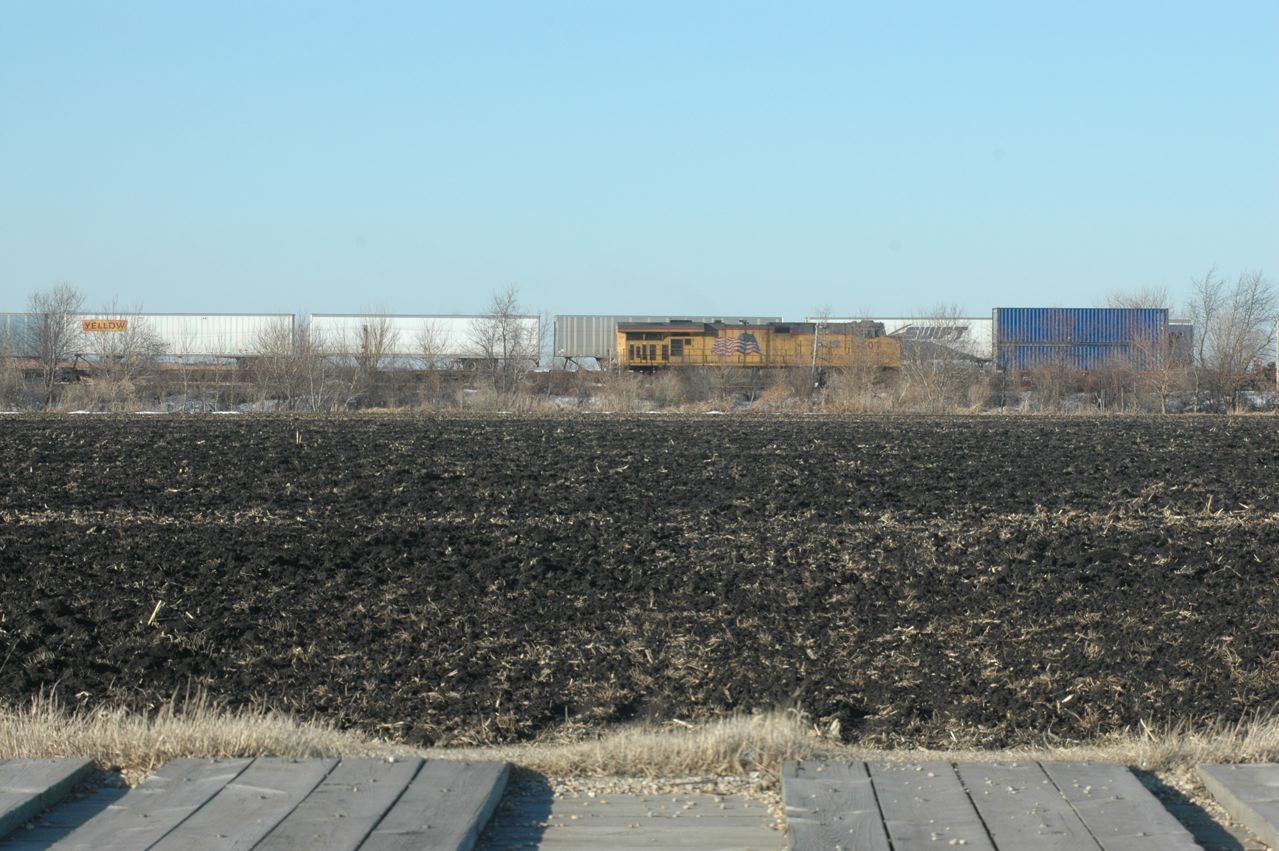 Meanwhile, behind the westbound stacker, on Track 1, the normal eastbound, comes a coal empty, having been overtaken up east of Creston by the stacker that crossed over at Dement and preceded him. This is at the Rochelle depot, 7159/6159/5795, at 4:04 pm.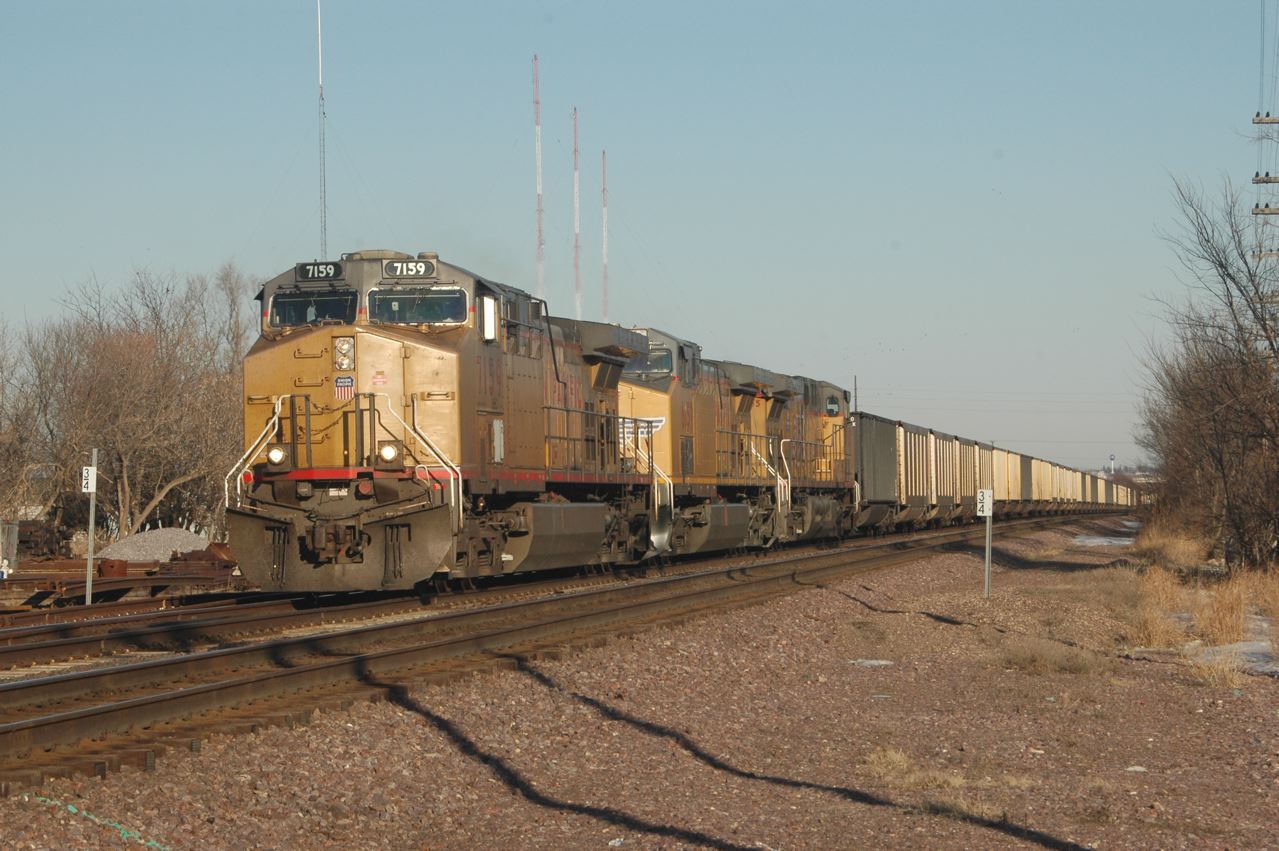 I had heard the expected BNSF intermodal pass the Lee detector as I shot that UP coal train, and did not beat him to Steward, managing only this "meet shot" with the parked grain train at 4:12 p.m. He's the 4405 West, with two more 4000-series, but even with binocs I couldn't read the unit numbers -- too far, too dark on the shady side. That is the "Elva Road tree" visible behind the lead unit. Watch for his branches in shots below. The twin vapor emissions are from the Byron power plant south of Oregon, Ill., incidentally.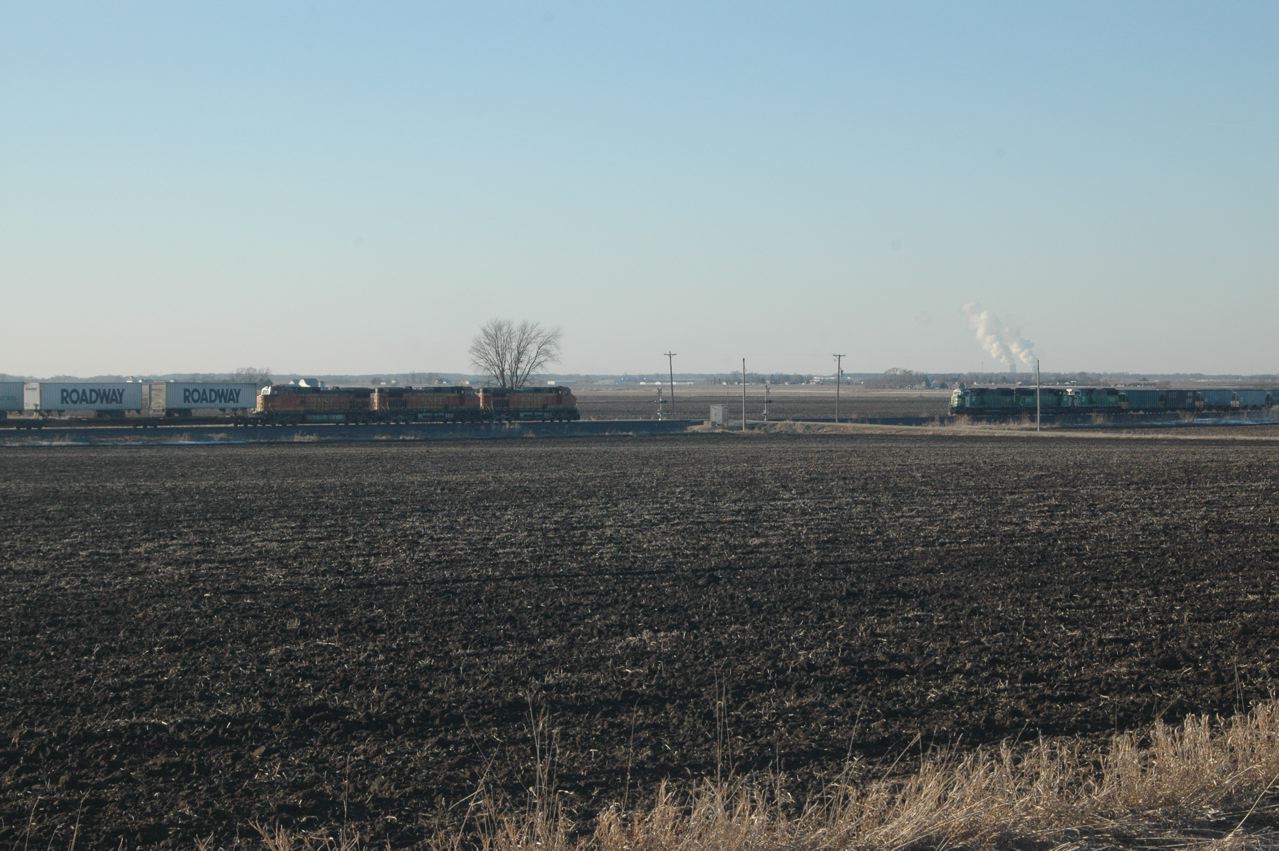 The signal west of Steward indicated another westbound was coming, lined up for him to take to Track 2, then cross over to Track 1, just like the preceding stacker did, in between the grain trains.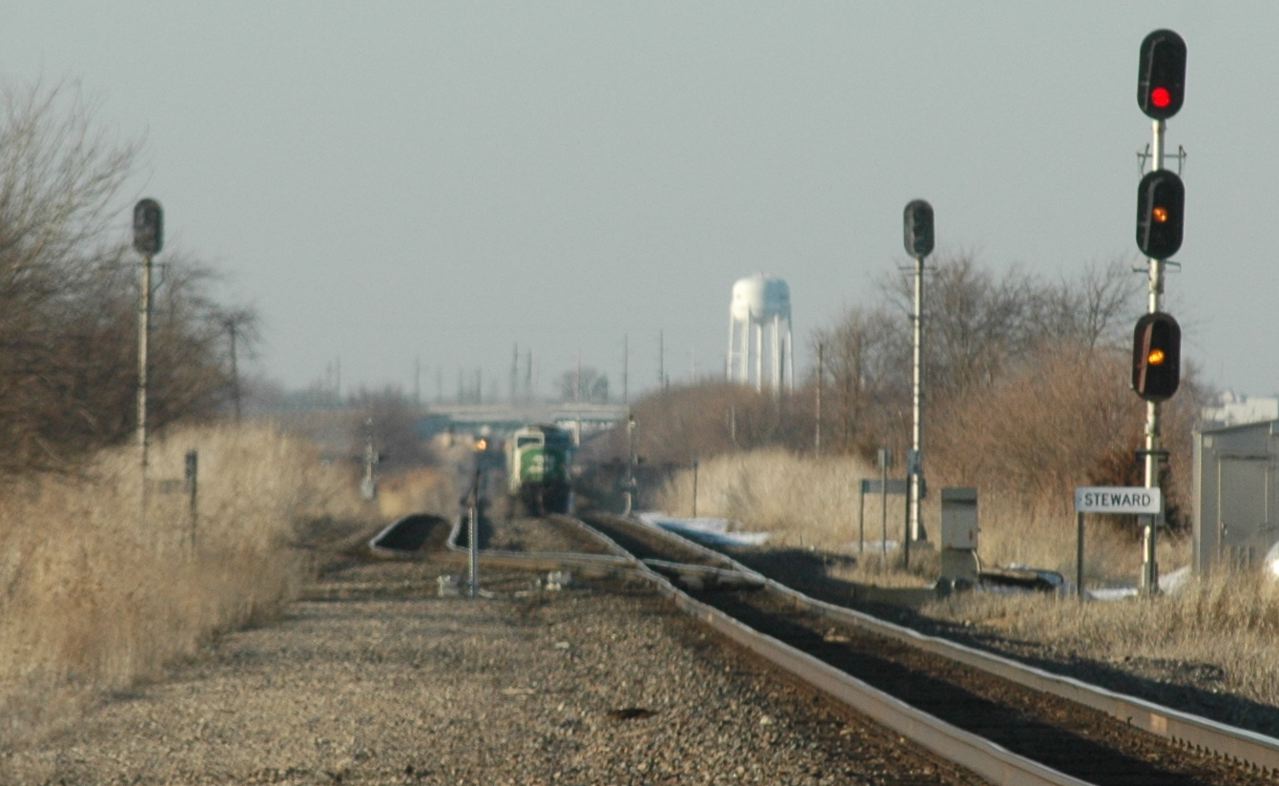 At 4:36 he swung around the curve at Steward behind 7474/5043/4707, with 57 trailers.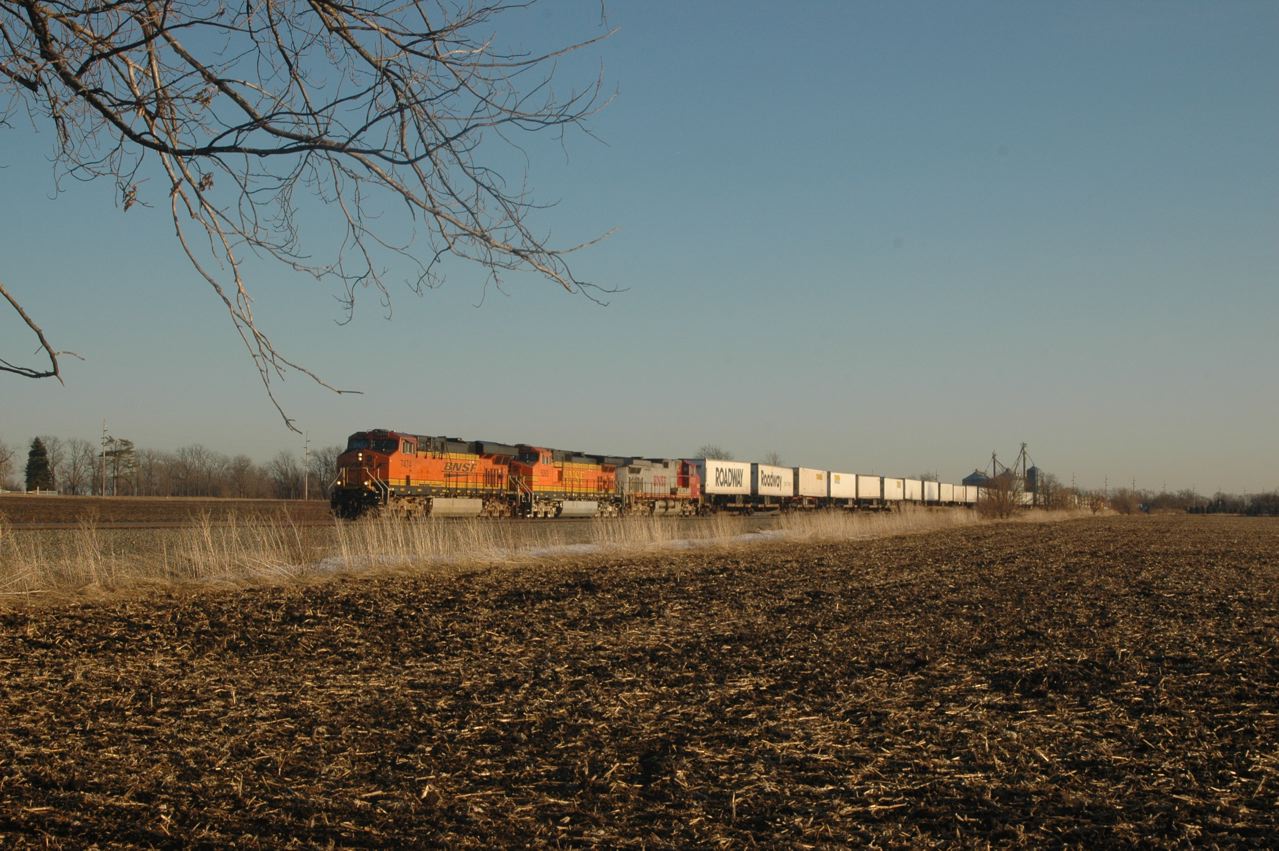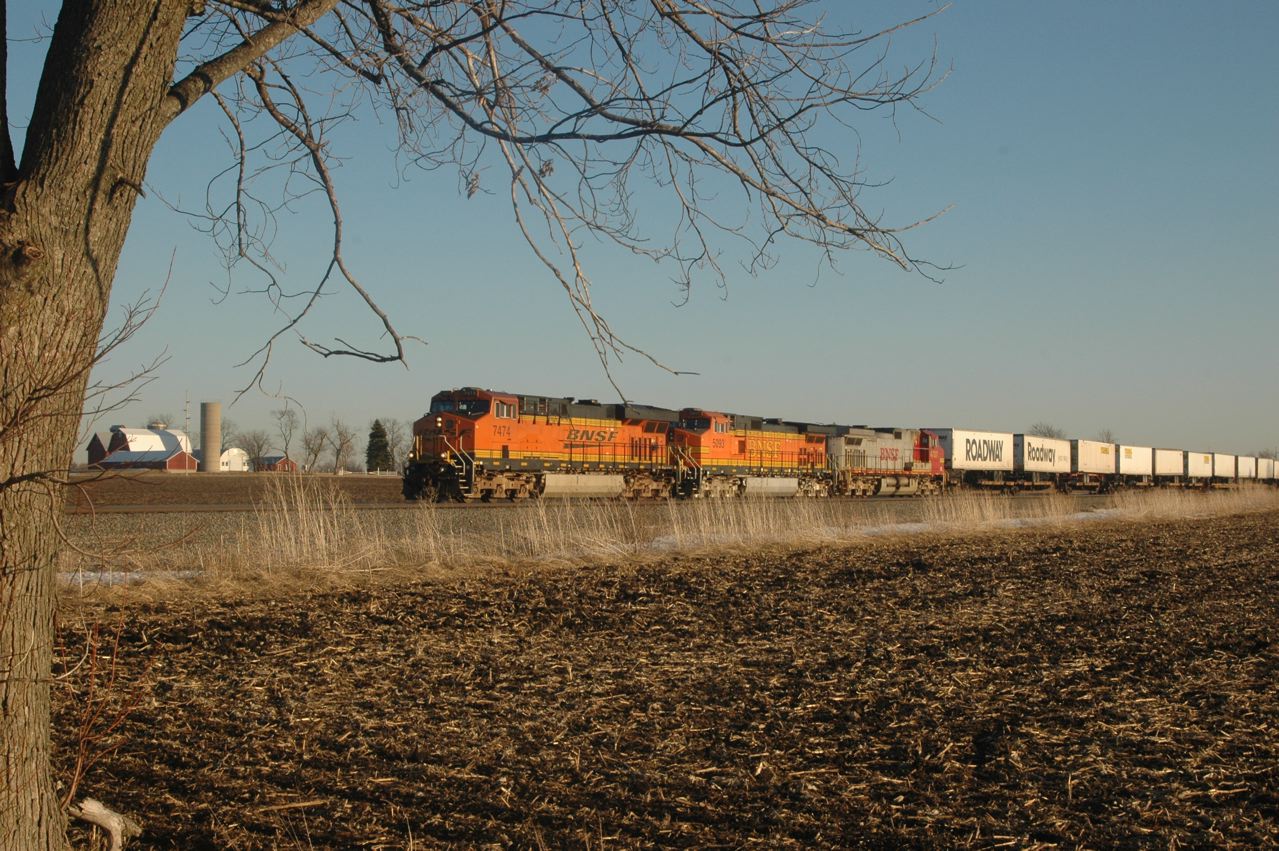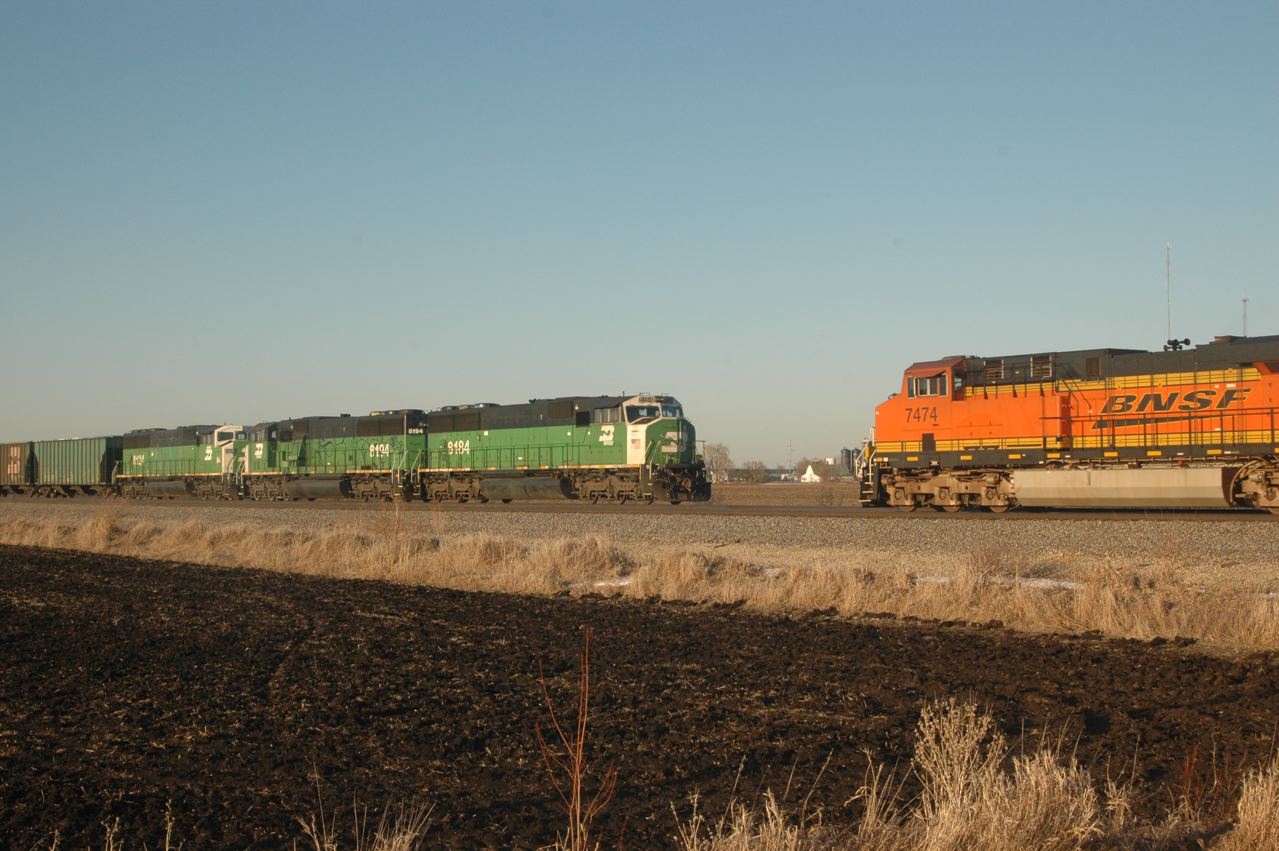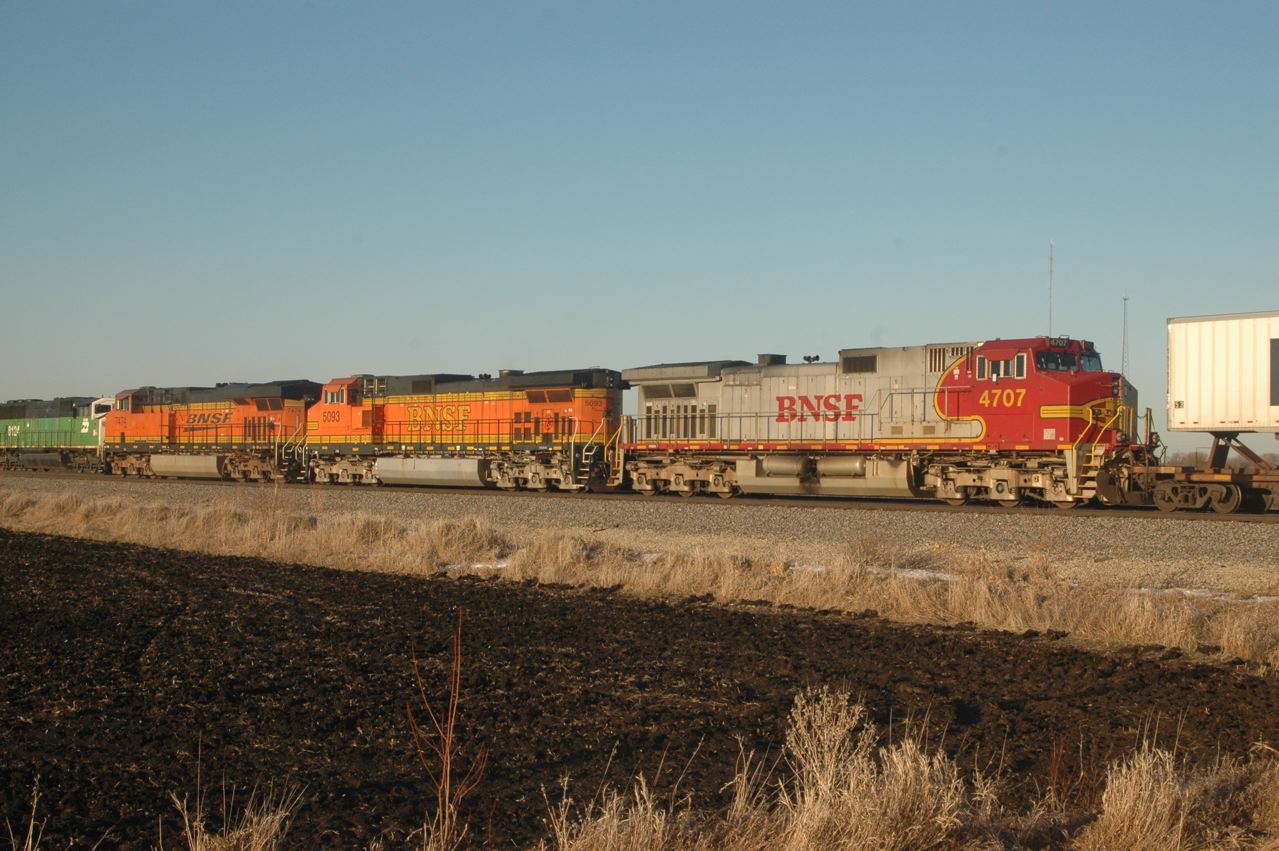 At last comes the CSX;, leaving at 4:48 behind 400/339/5478, with some old CSX family marked hoppers in the consist.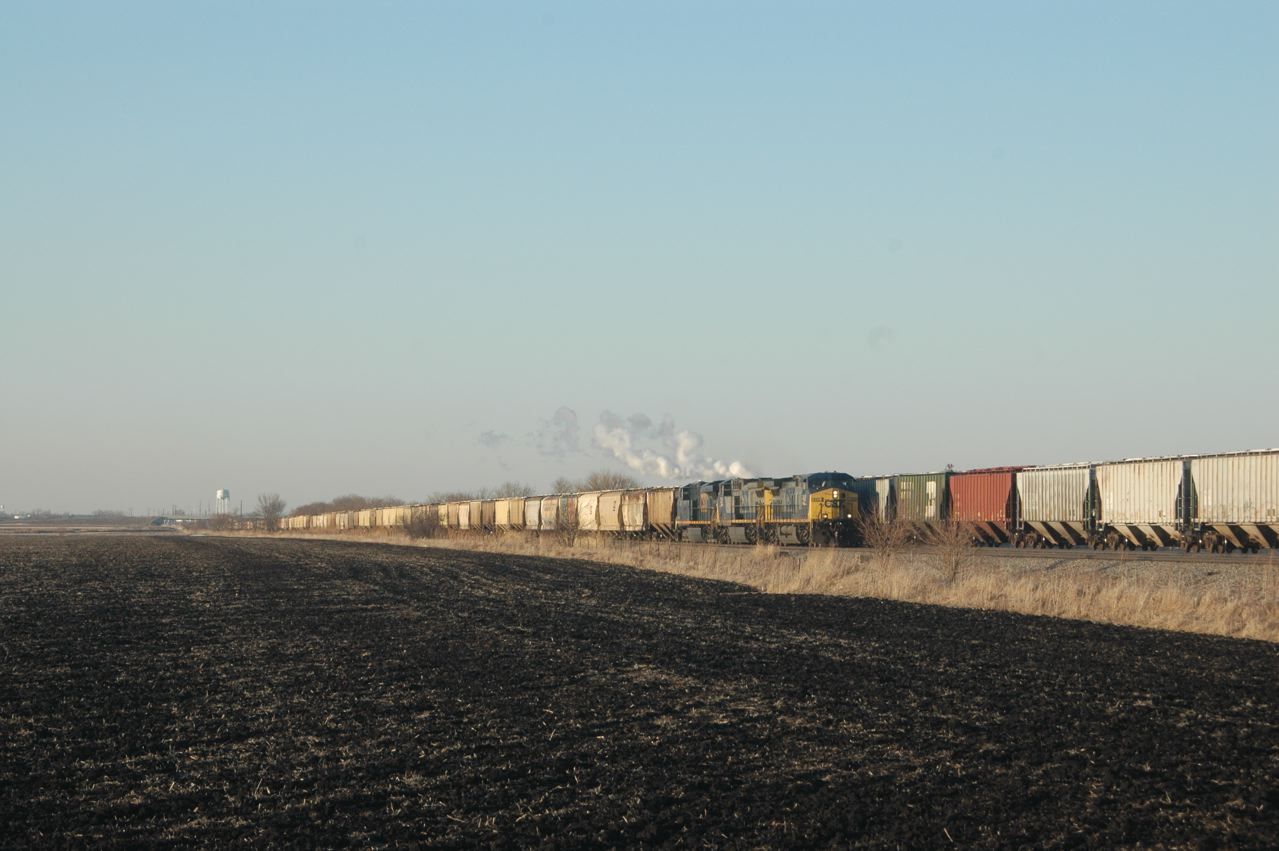 Naturally, a bunch of motor-drive slides, on my ISO 400 roll of Fuji, were exposed between these two digital frames!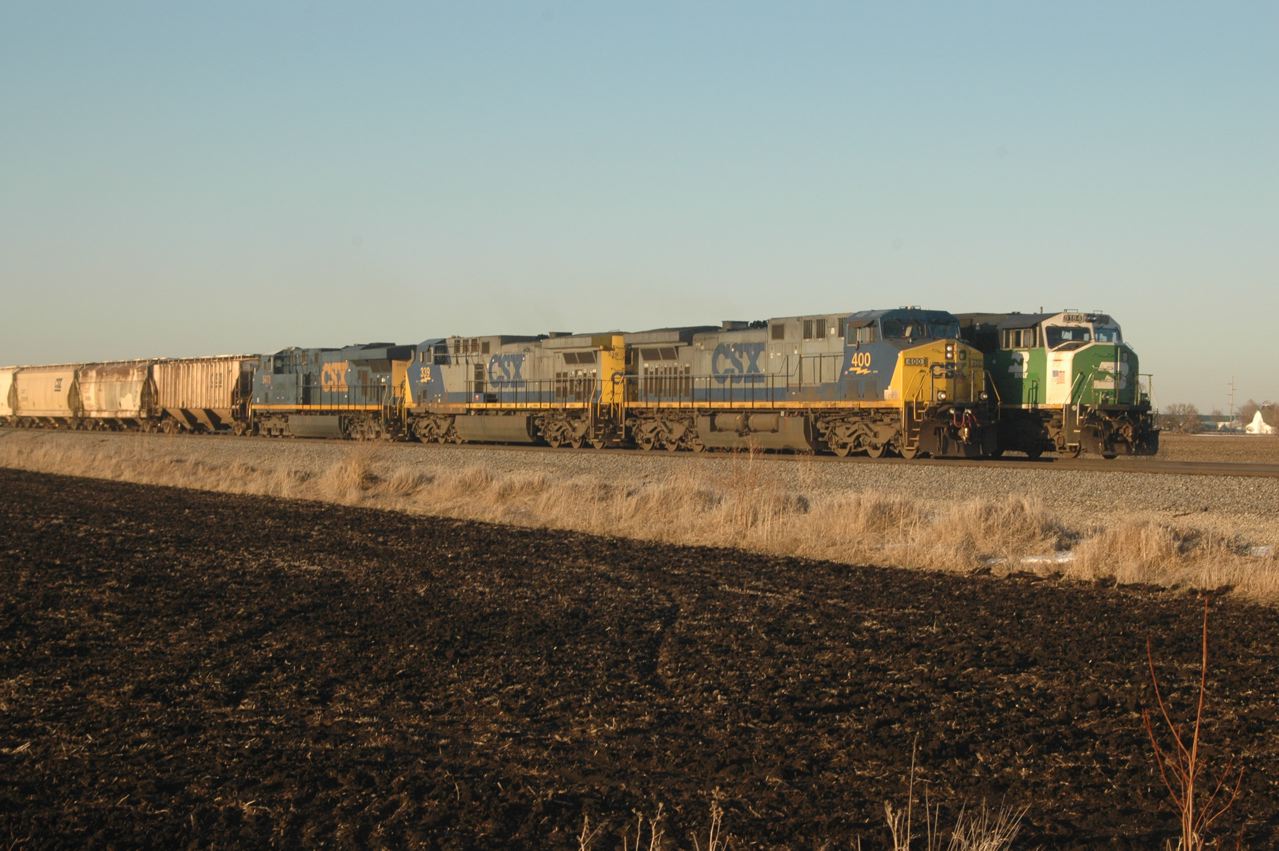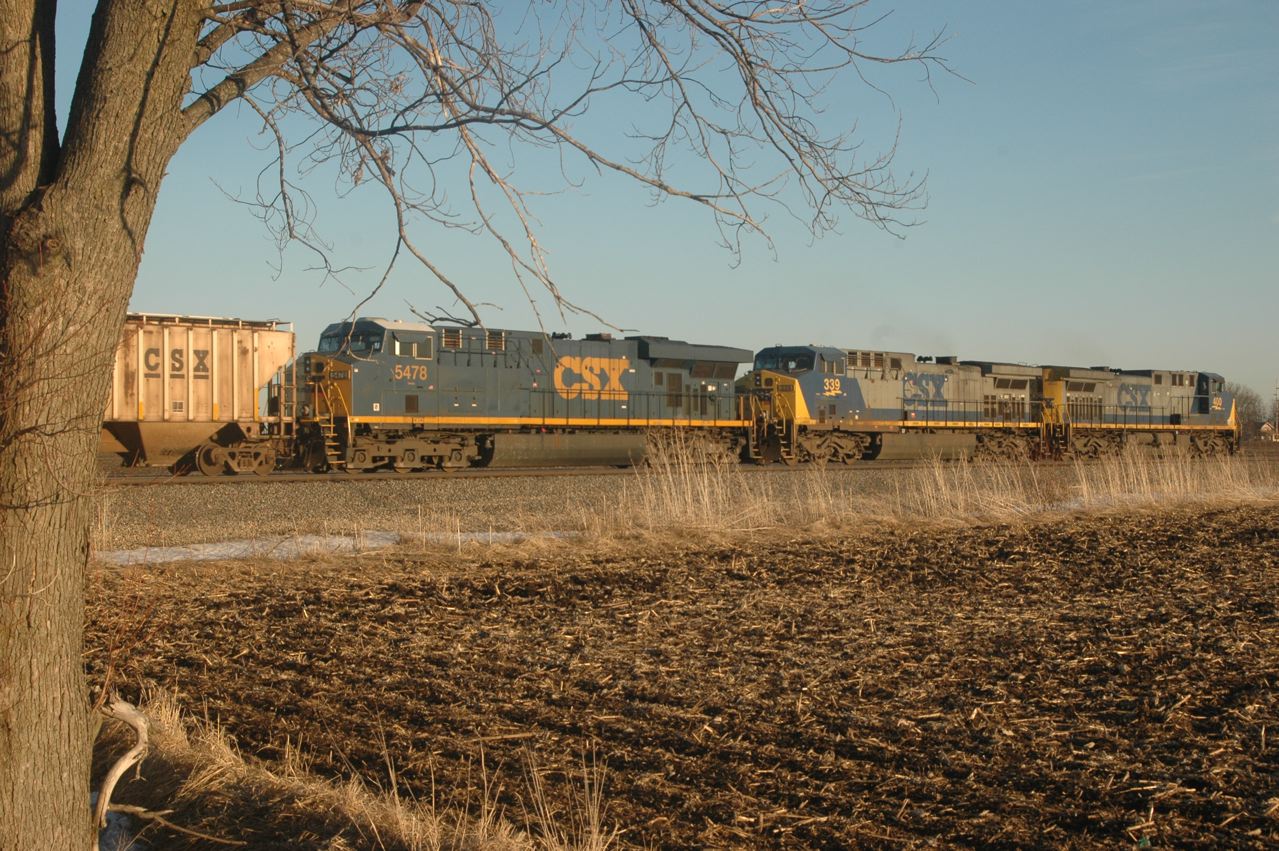 Views thru the Elva Road tree.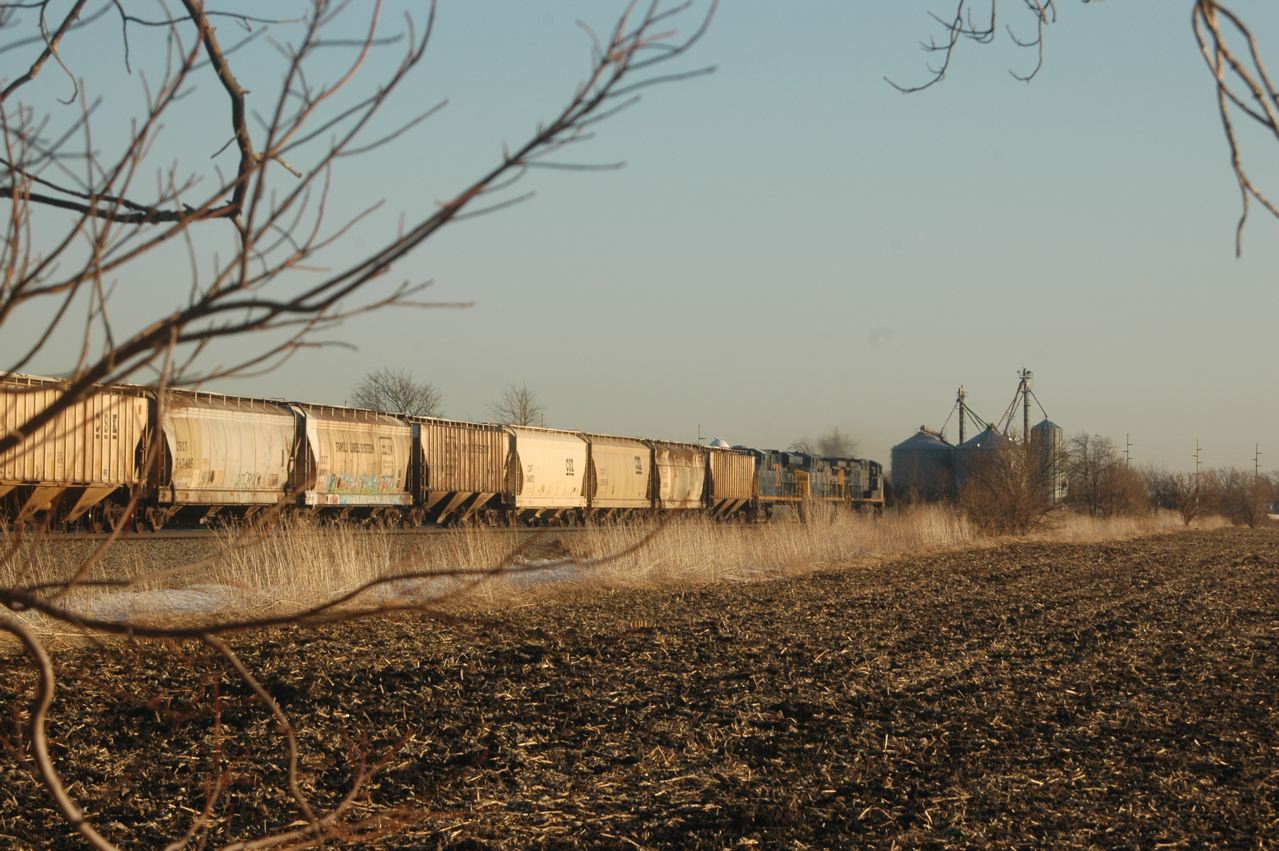 Took a slide of a car like this with L&N reporting marks.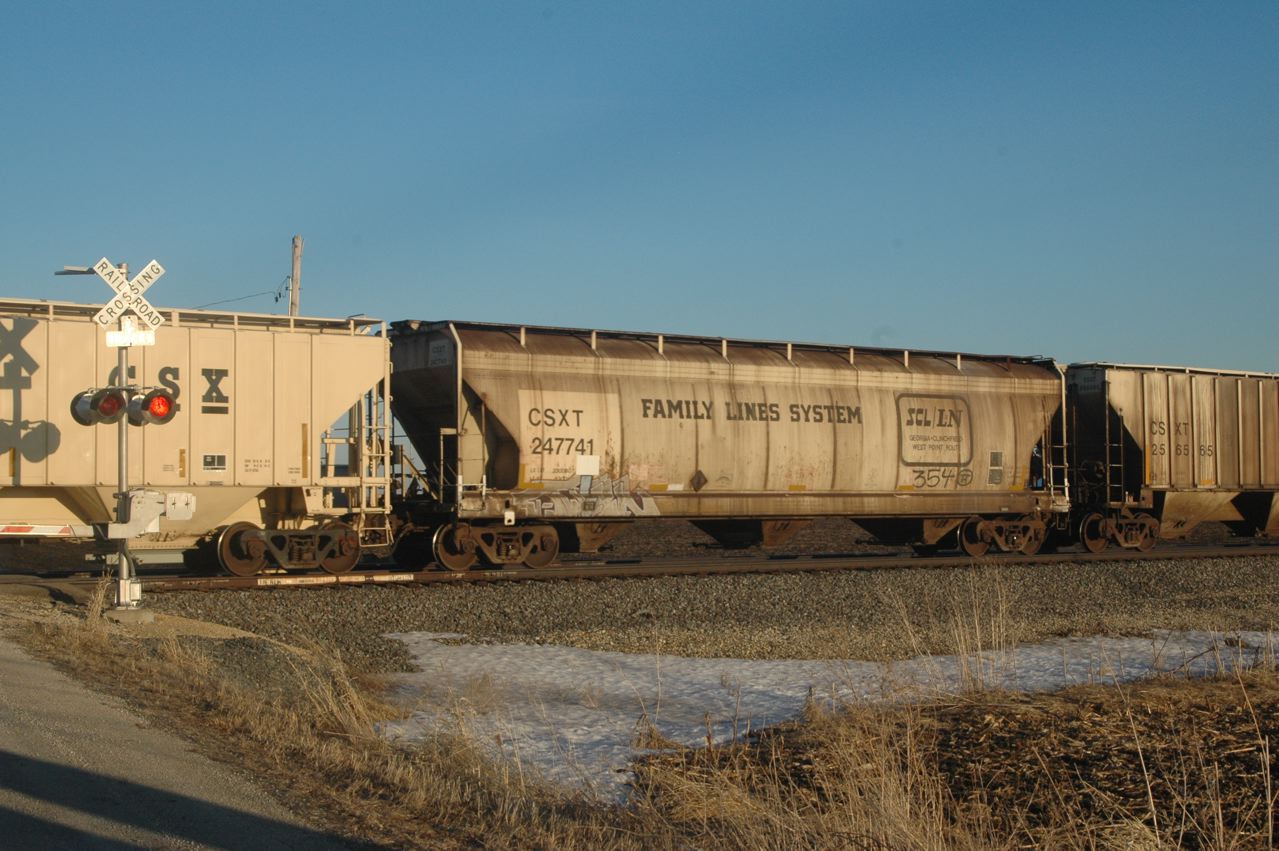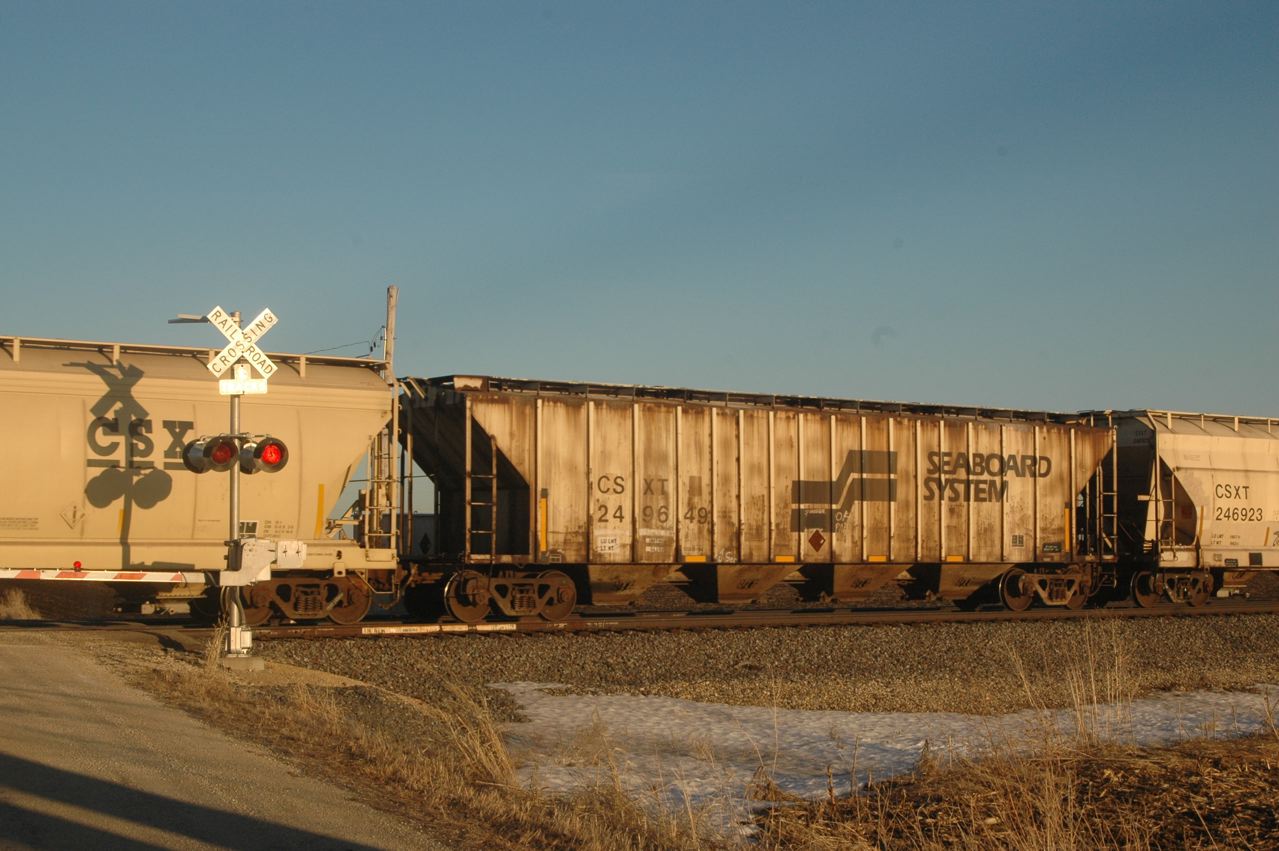 On a whim, I left via Rochelle, not Steward, to get on I-39 again, and sure enough, the UP detector went off and I barely made it to the depot for this final sequence of a bare-table eastbound, behind 4063/4284, at 5:05 p.m. One hour and 55 minutes later I pulled into my driveway in Waukesha, and that includes a 10-minute stop in Rockford to pick up dinner for me and Carol, to-go, from Steak n Shake!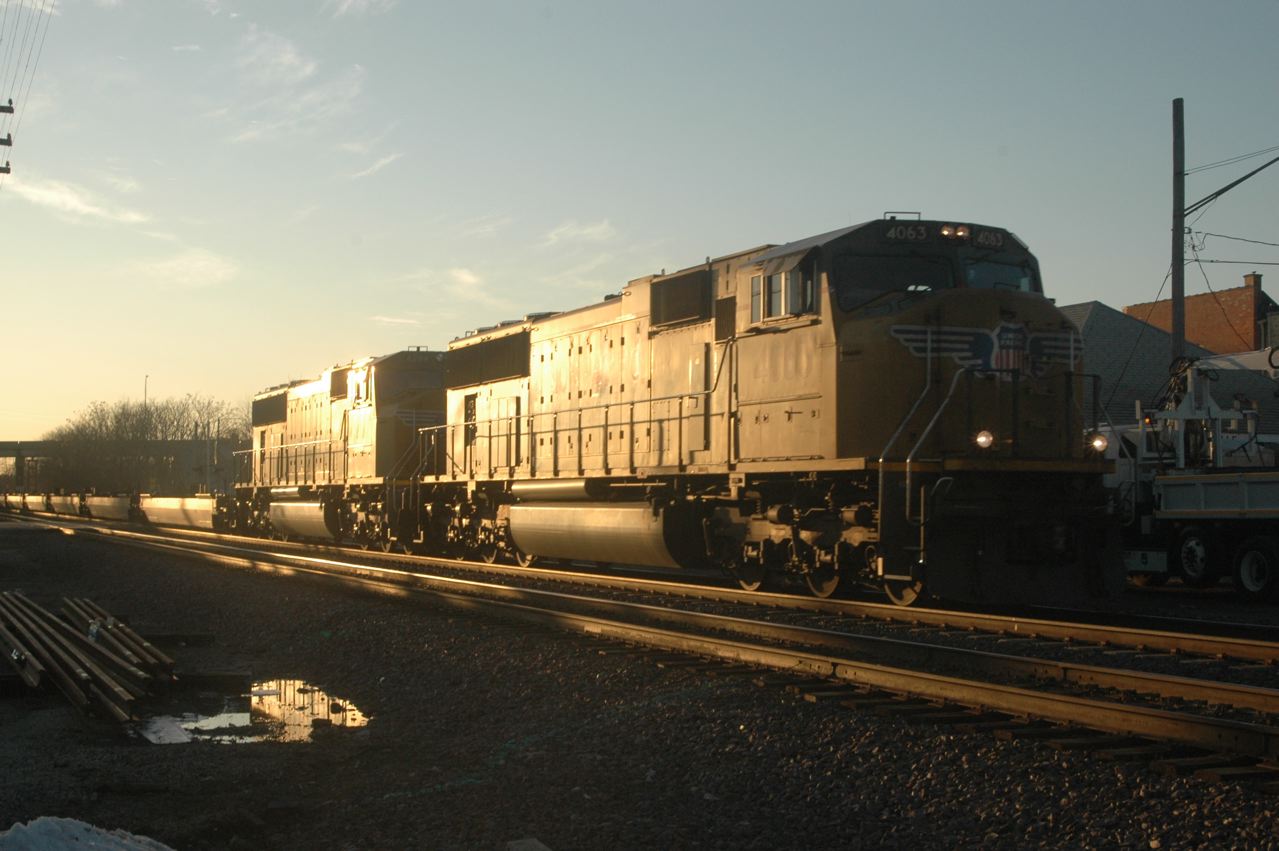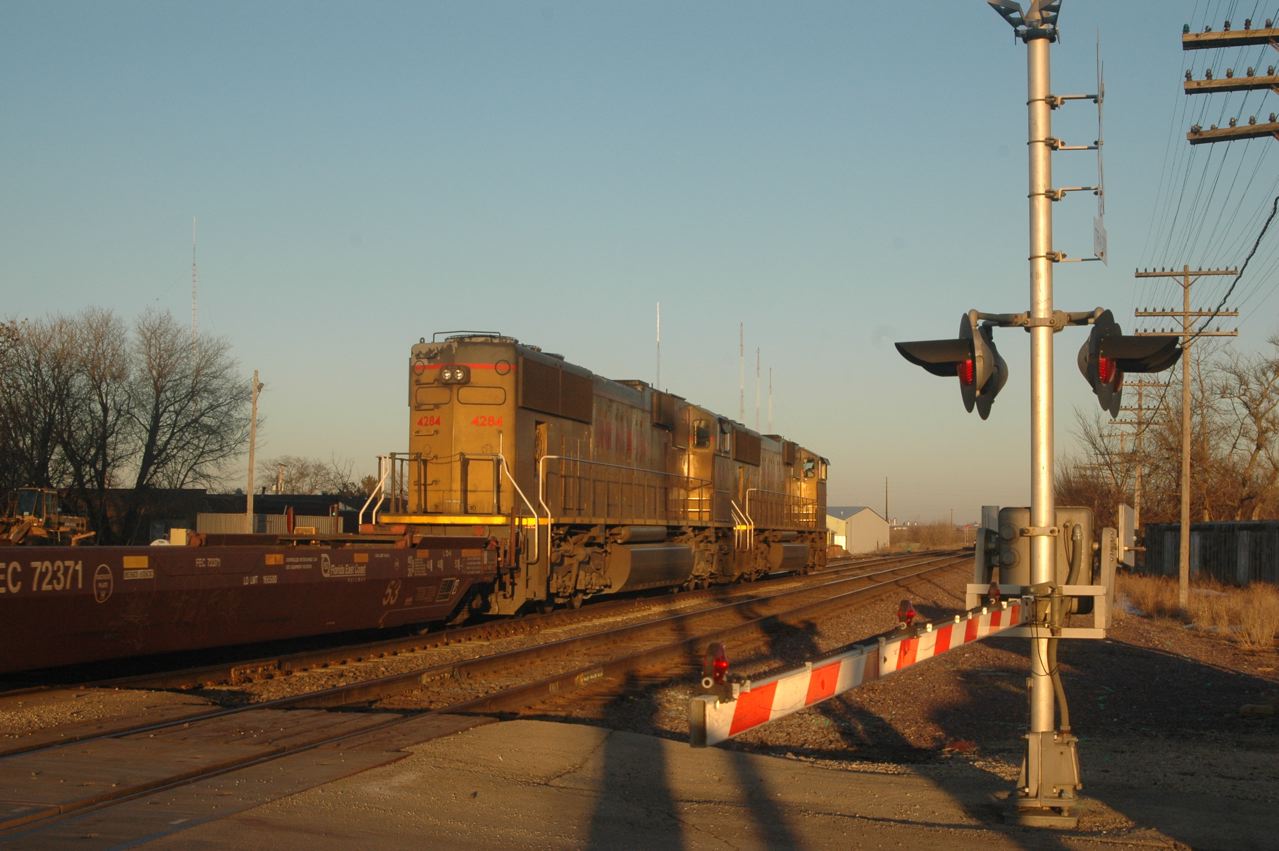 This page was designed and is maintained by Mike Condren. If you have materials
that you would like to contribute, contact me at mcondren@cbu.edu