Early 2013 Local Images
by Dave Ingles
Having had problems with my D70, and the Canon Point and Shoot acting up on telephoto shots, I shot very few digital images in early 2013, concentrating on slides. For instance, the first photo here is on January 1, 2013, and the  next one was March 18 & 19, then we skip to late April!

I try for a "last" and "first" subject each New Year's Eve and New Year's Day, and to begin with, I shot our local Waukesha switchr, L504, GTW GP38 4924, working across Moreland Blvd., U.S. 18, in town at 10:30 a.m.
My next digital image was this going-away shot of Amtrak #8 at Duplainville on

March 18th

, with a BNSF freight engine, 1119 leading the two Amtrak P42s, 170 and Heritage unit 184.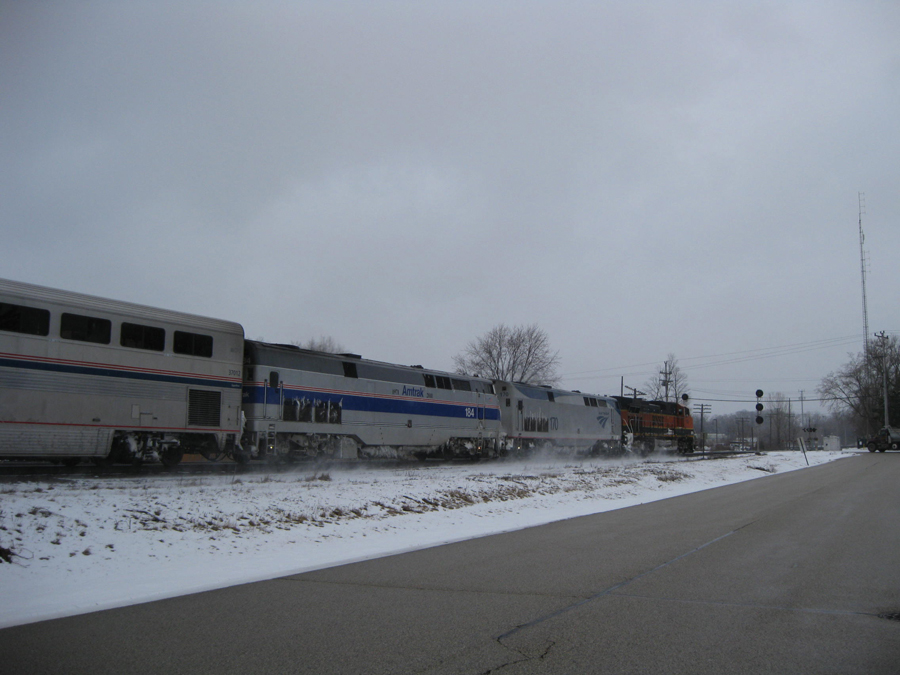 To go to a slide show in Franksville on

March 19

, I took only the little Point and Shoot Canon digital, since it had fresh batteries. So of course, when we stopped in Milwaukee to shoot Amtrak, the northbound Hiawatha #337 had two P42s leading virtually unheard-of! Units 161/197 led the usual 6-car consist with NPCU control cab 90221, ex-F40 221, trailing, at

4:36

. The venue is Maple Avenue, since ruined as a photo spot by construction of a bike trail along the old C&NW right of way to the west of the CP (straight ahead beyond the concrete barriers in the going-away photo), with a fence in between. ETTS.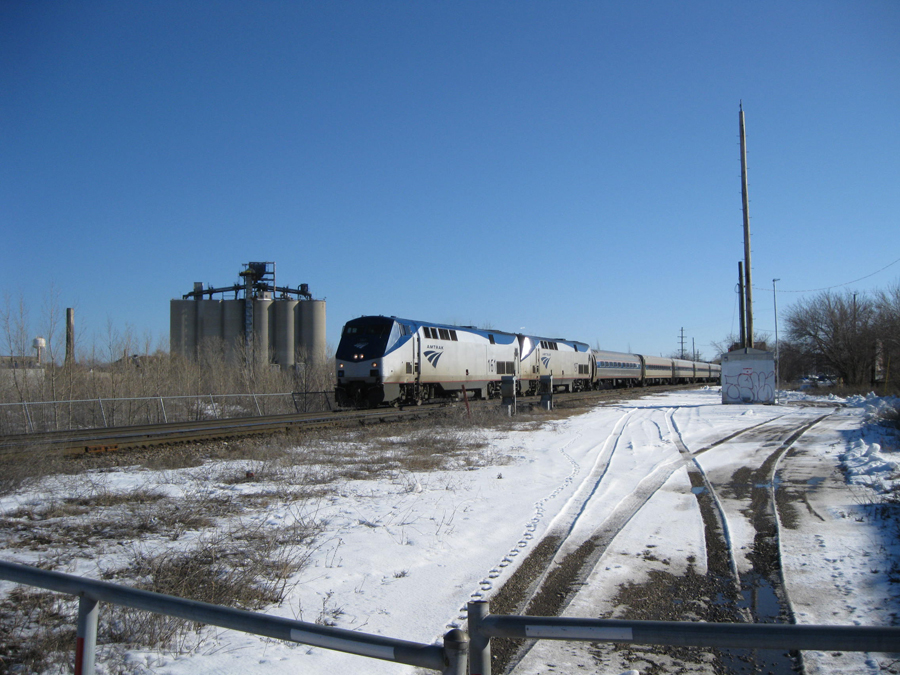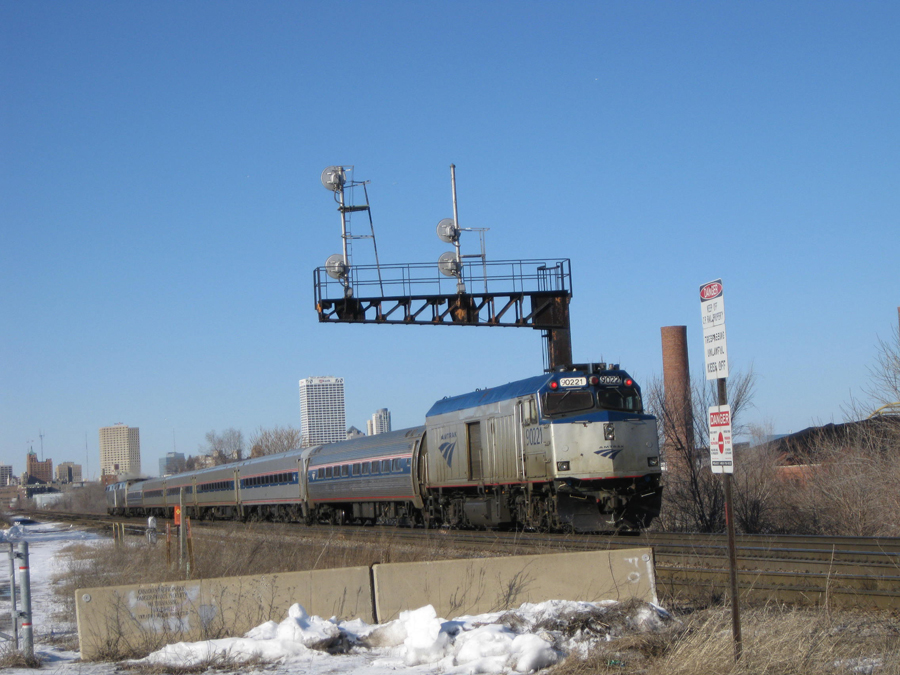 The eastbound Empire Builder, running over 3 hours late per usual, came by at 5:05, engines 123-192-19 and 11 cars.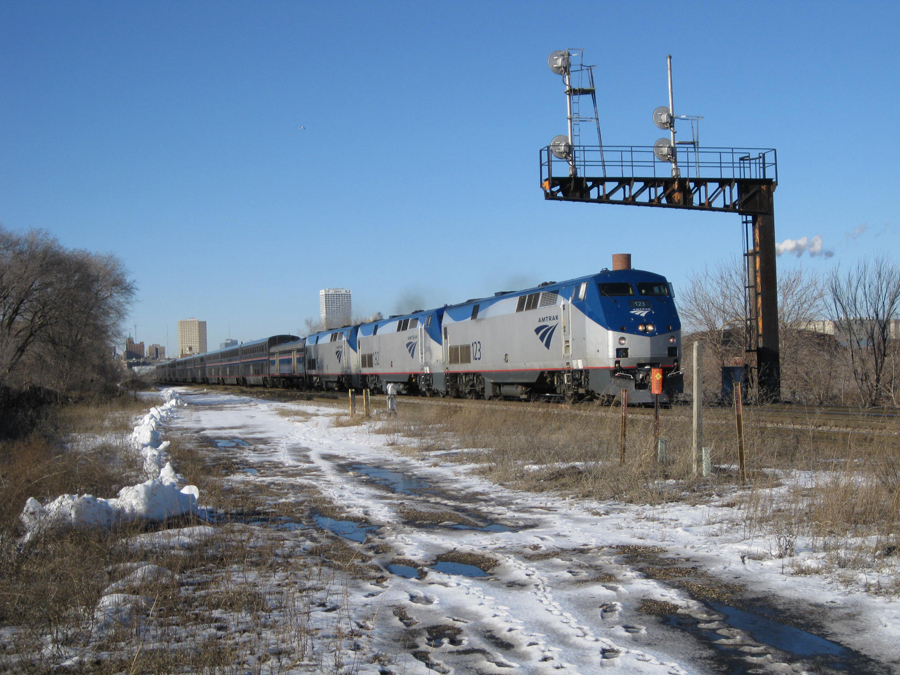 Nick Tharalson was visiting from Iowa, but didn't bring his camera, IIRC.
Jeff Madden (left) and Brian Schmidt of TRAINS huddle as #8 passes.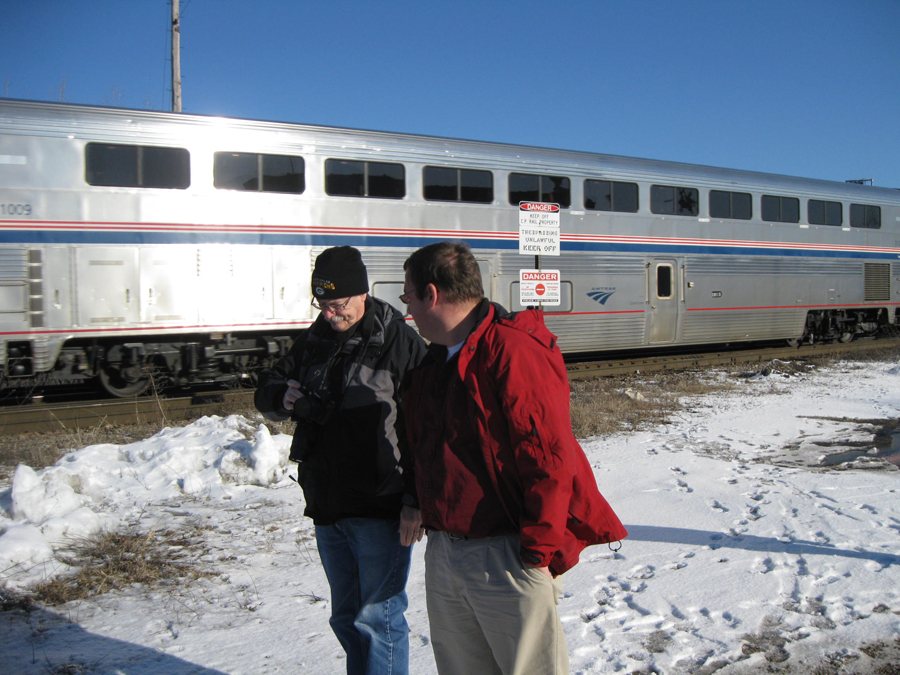 My next local digital activity was on May 4th at Nashotah siding, near Oconomowoc, on the CP as the Empire Builders met, with #8, carrying ex-Milwaukee business car Montana on the rear, pulling to a stop at the east switch at 4:24 (running 3 hours late, of course) to await #7's passage, which occurred at 4:32, pretty much on-time. Power for #8 was 83/100 with 12 cars, and on #7 were 123/135 with 11 cars. I was also shooting slides.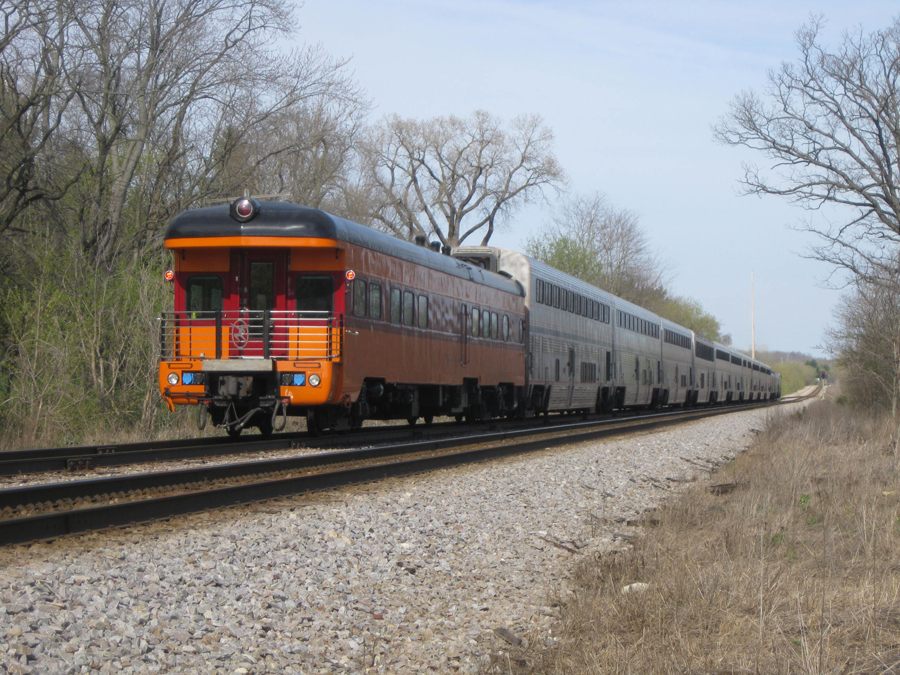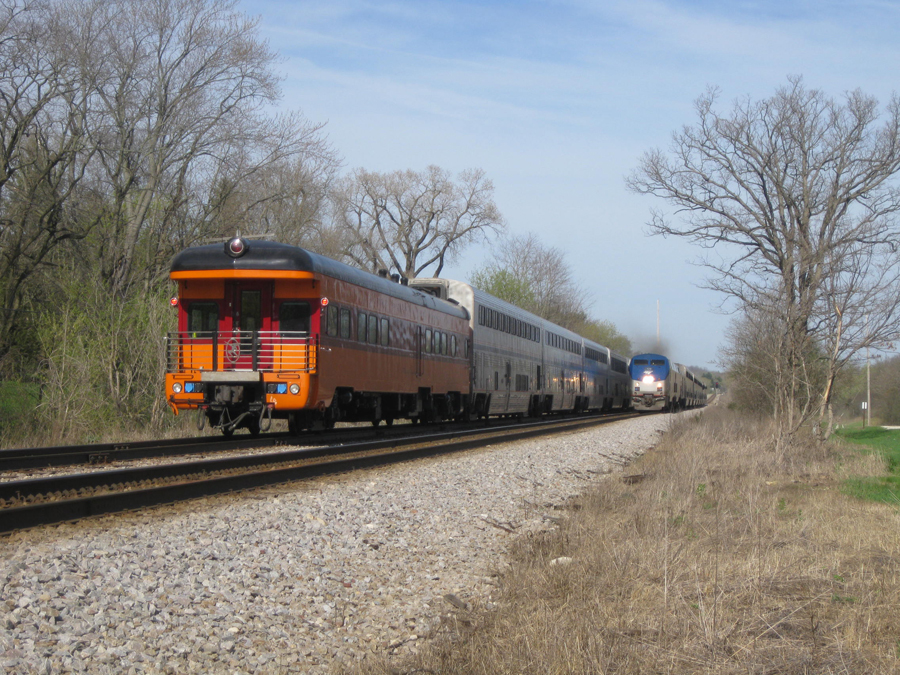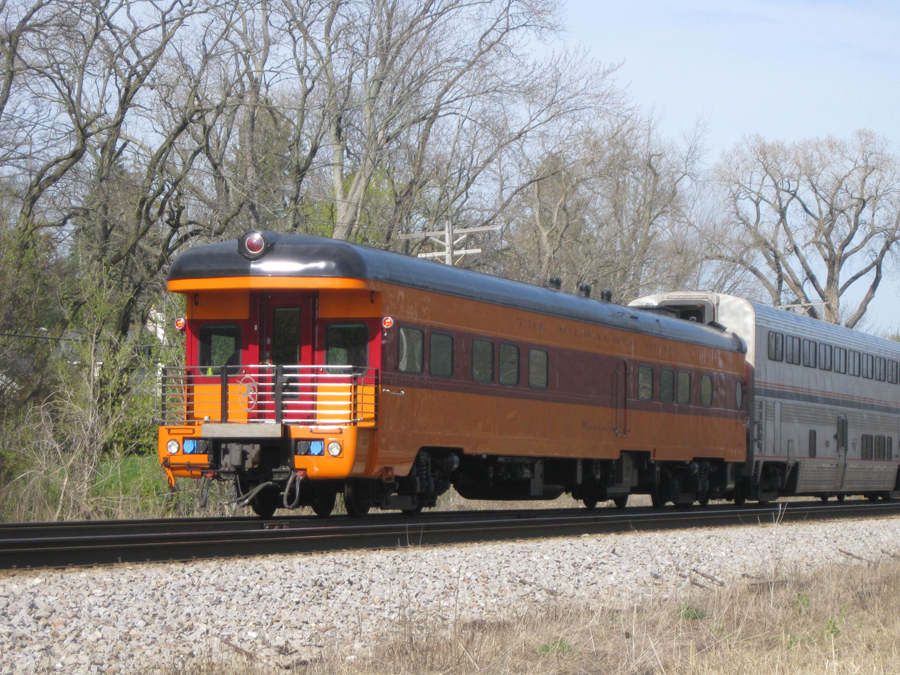 On the way home, we chanced upon a 3-car NS-Dupont safety demonstration train parked on the CN toward the north end of Duplainville siding.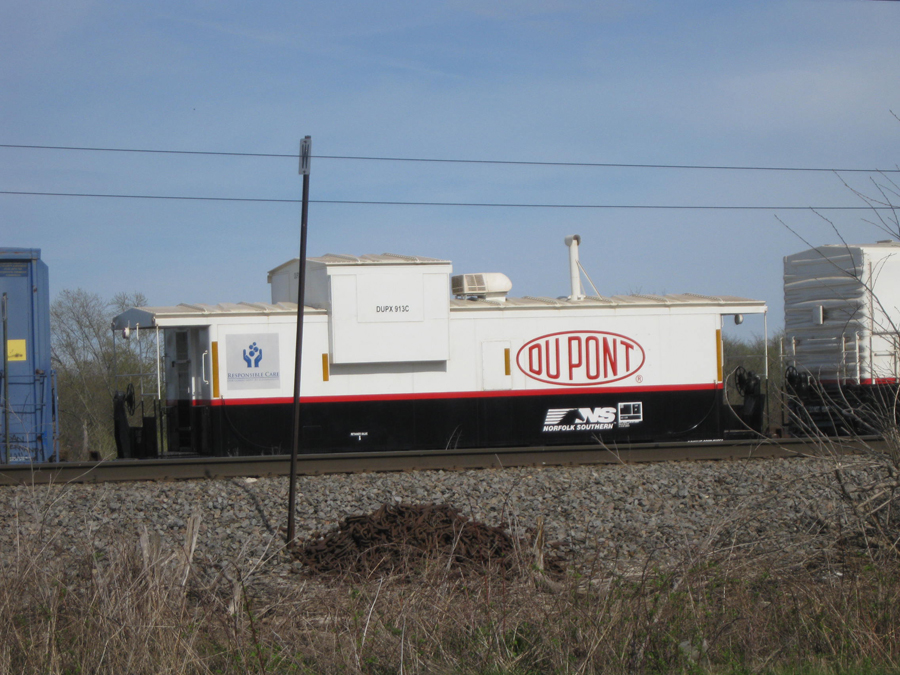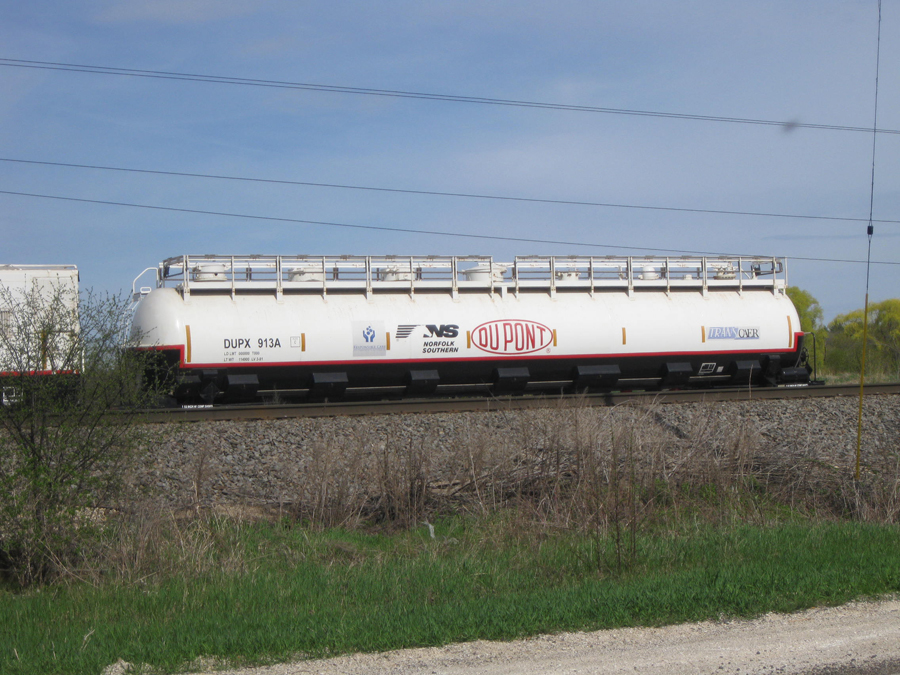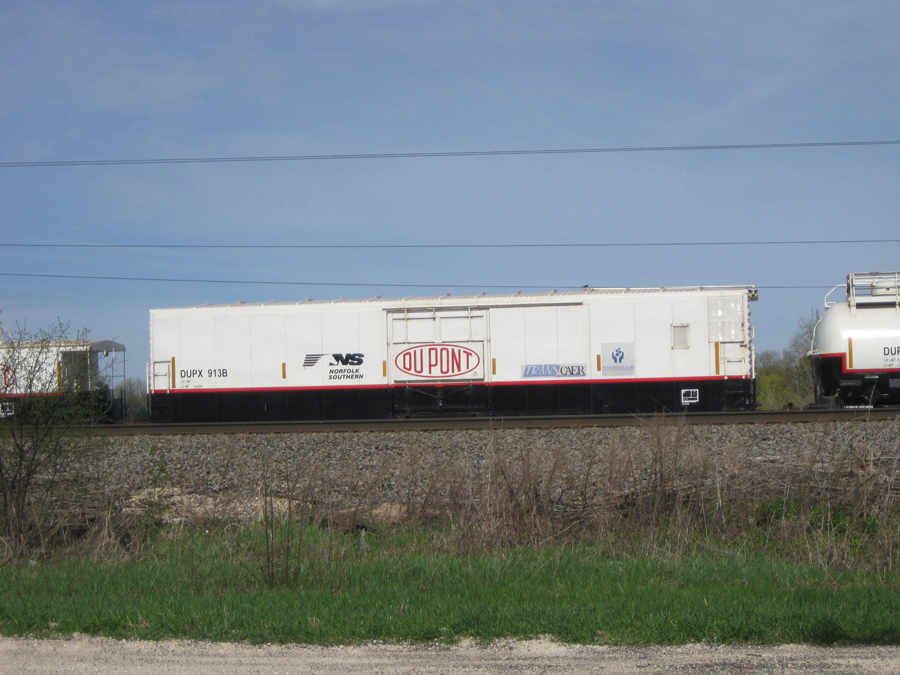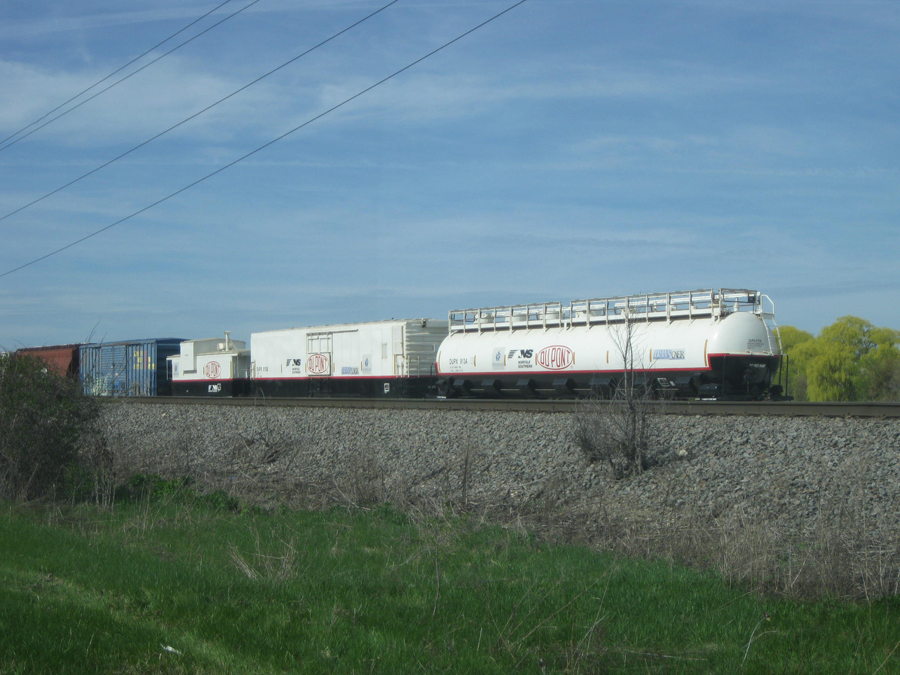 On May 11th, I happened to go to Brookfield to shoot Amtrak #8, which passed behind engines 85/130 with 12 cars at 3:07, about 90 minutes late. This was routine at the time, but we have since learned of CP's officially notifying the city that they wish to remove the depot before the end of 2013, in essence offering Brookfield a chance to preserve the building, said to be the oldest active rail station building in the state; it's used by MofW forces. The city would like to move it west across the road and to south of the tracks, on city property. We shall see how things progress.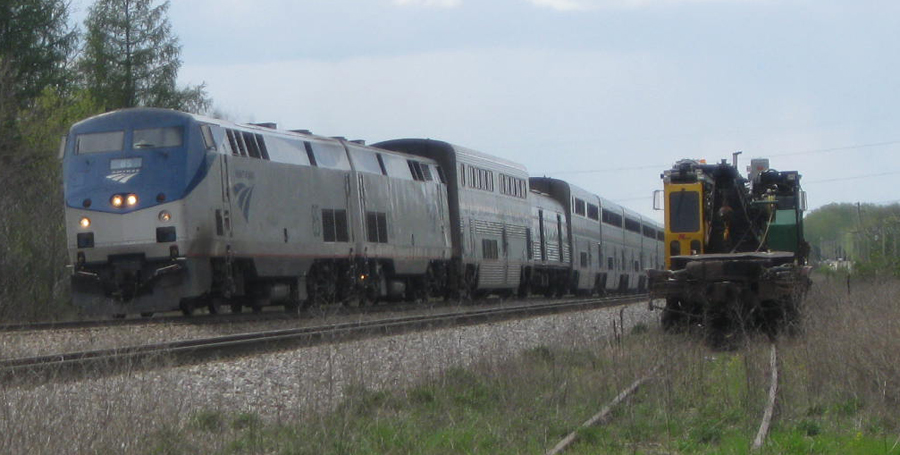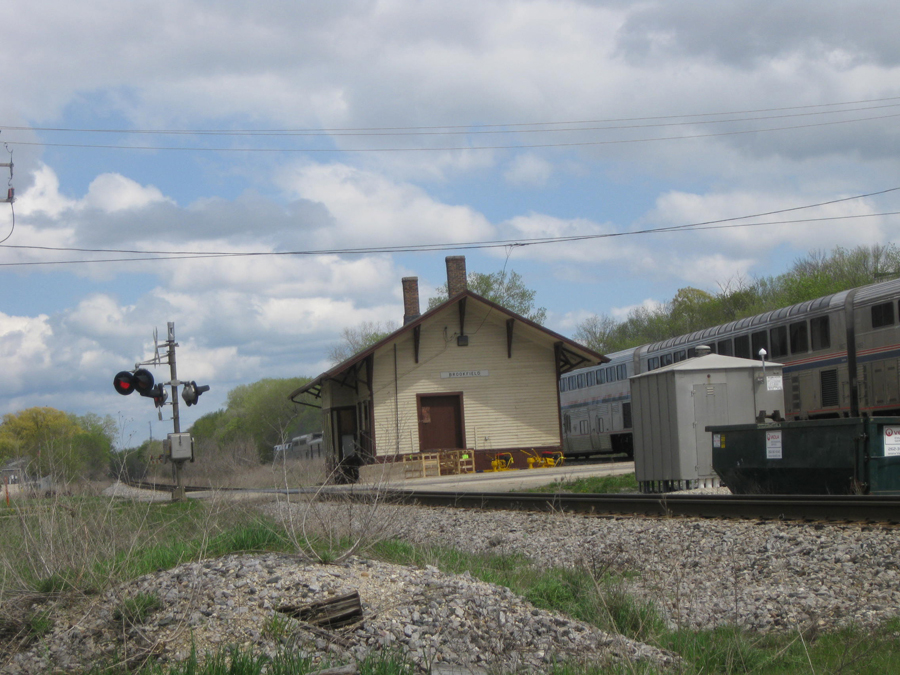 On May 14th, I surprisingly encountered Wisconsin & Southern's daily Horicon-to-Janesville train passing thru Waukesha and shot him on the short ex-C&NW stretch west of Grand Avenue, where he leaves CN trackage rights for his own rails, passing the old C&NW depot, now a Mexican restaurant, and Maple Avenue, with units 4005-4013-4050. The middle unit is one of two ex-BN SD40's (along with 4012) WSOR has not yet repainted.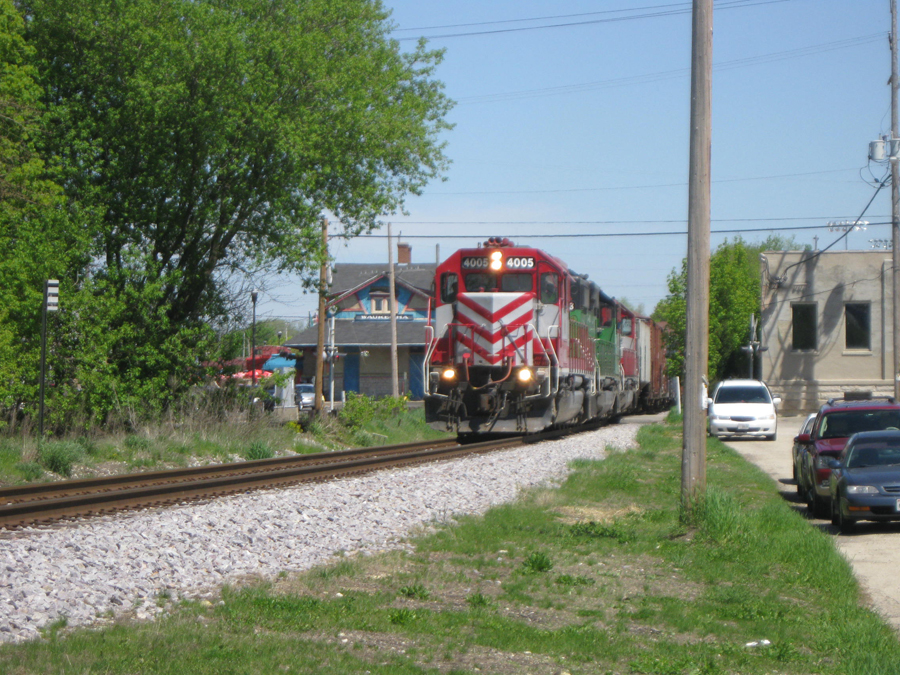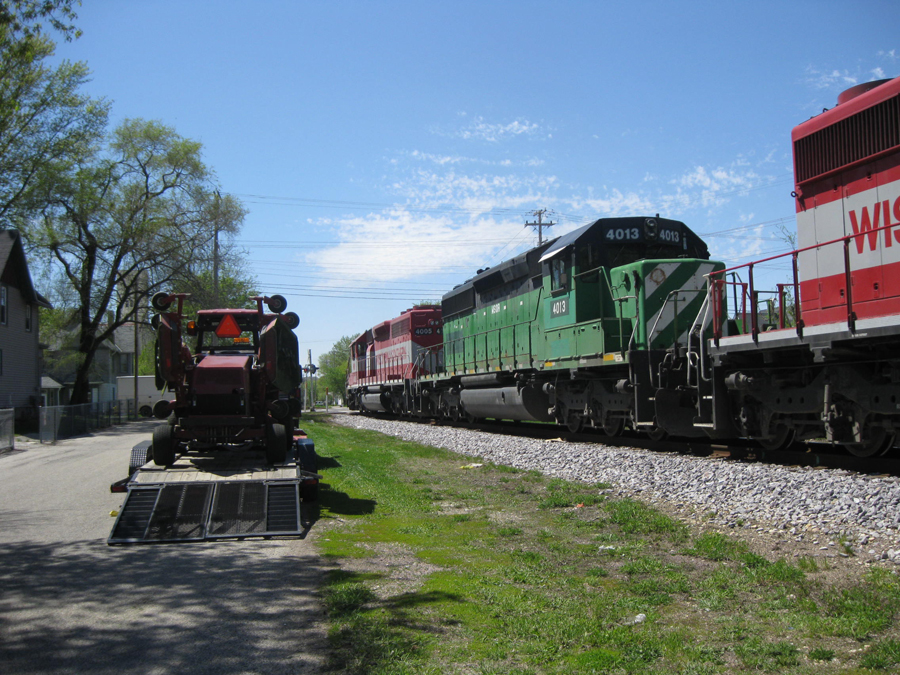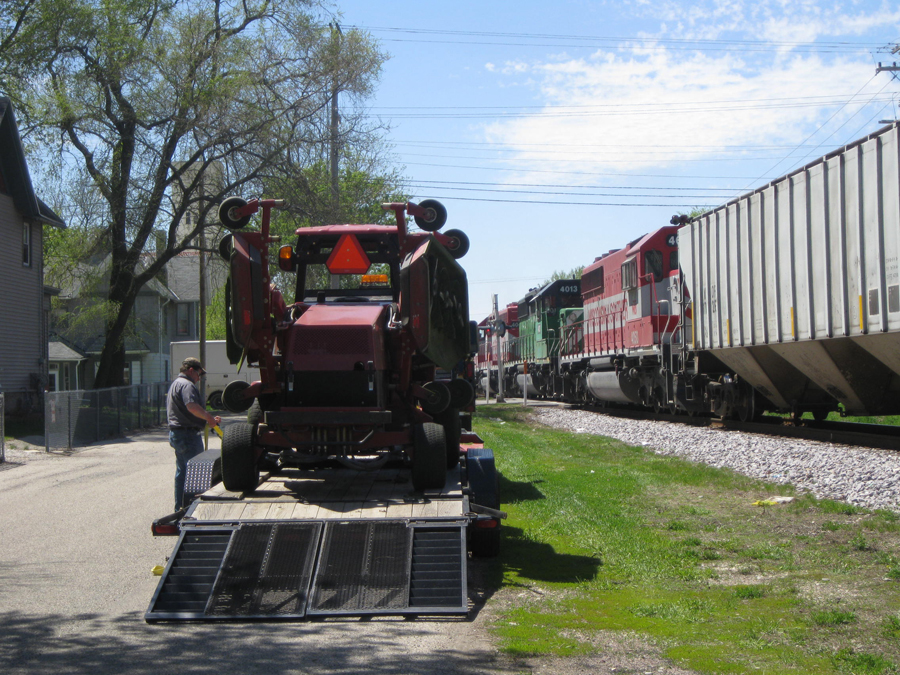 Later the same day, there was a slide show in rural Sturtevant, so Jeff Madden and I got a head start ahead of rush-hour traffic, intending to shoot action on the CP C&M (Chicago-Milwaukee) Sub, including Hiawathas. Well, it turns out that #335, engine 57 with the usual 6 cars and NPCU control cab 90413, had struck a vehicle that apparently deliberately turned south from the Kraut Road grade crossing in Franksville and driven along the tracks until a train came and smashed his car and fulfulled the man's dream of committing suicide. The train was still in place when we drove down a side road to the crossing at

4:10

, a couple of hours after the incident. All the Milwaukee news choppers were in the air.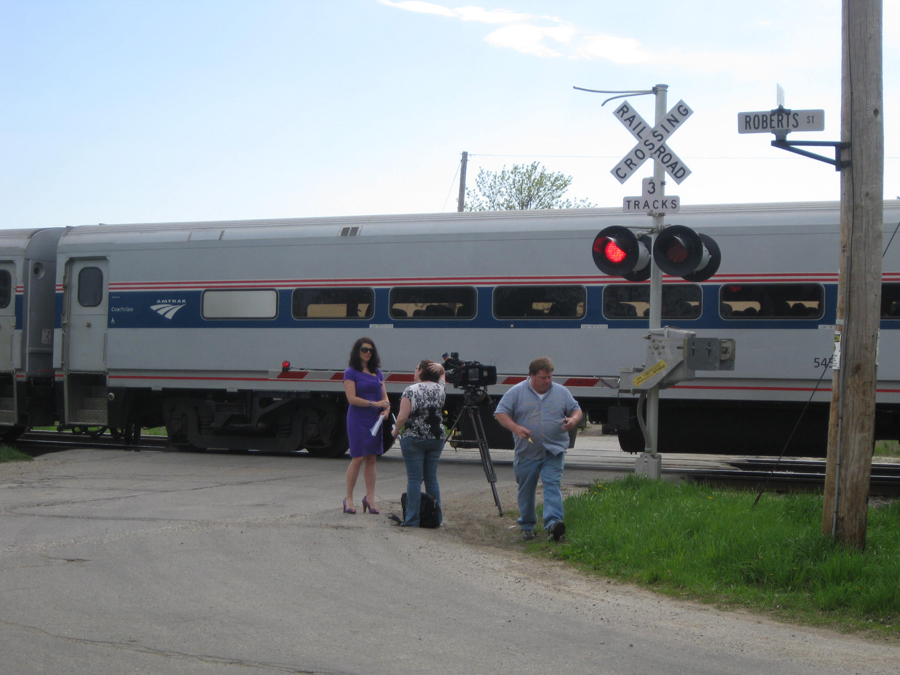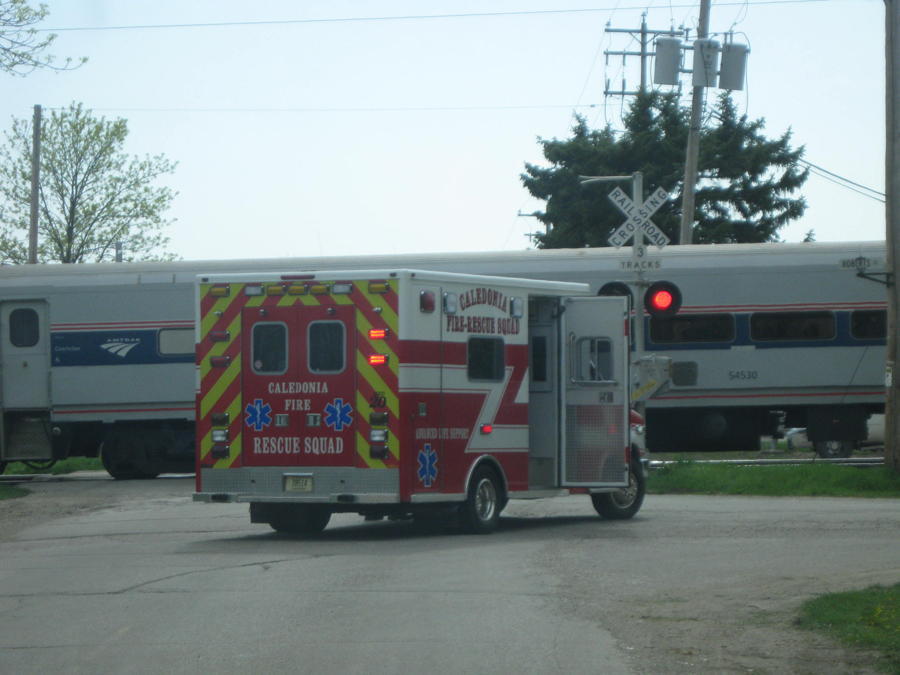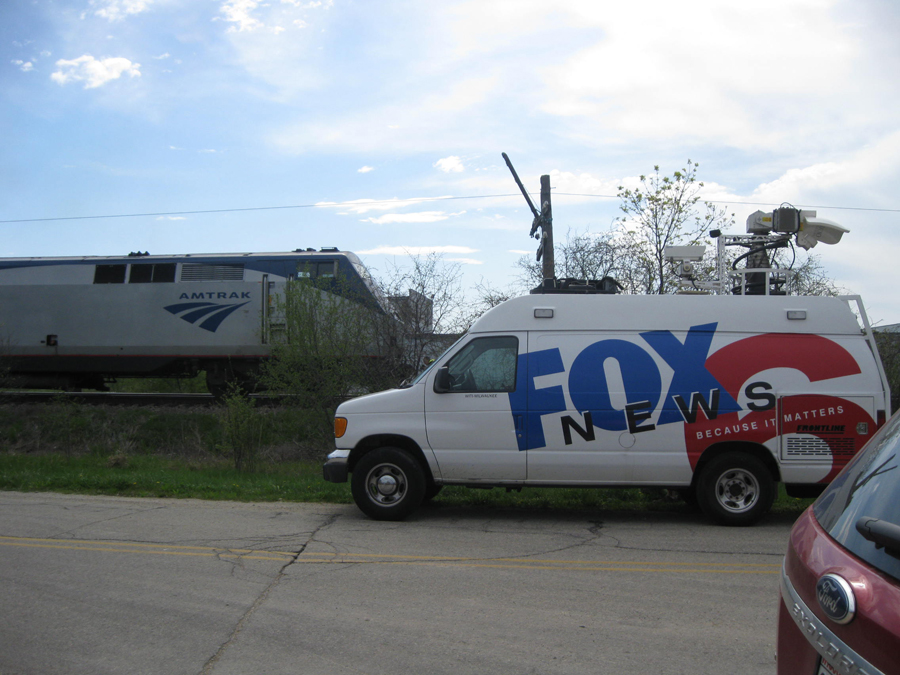 Finally at

4:52

the train was released, and we photographed it at the next crossing, Highway K in Franksville. The P42 leading showed evidence of only a couple of minor dents, from what we could tell on pictures later.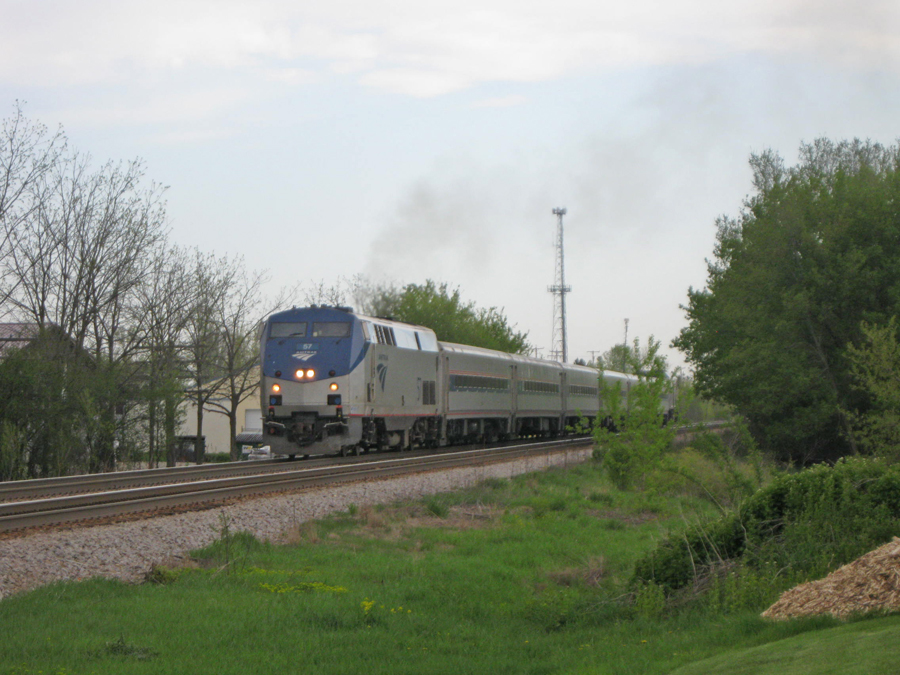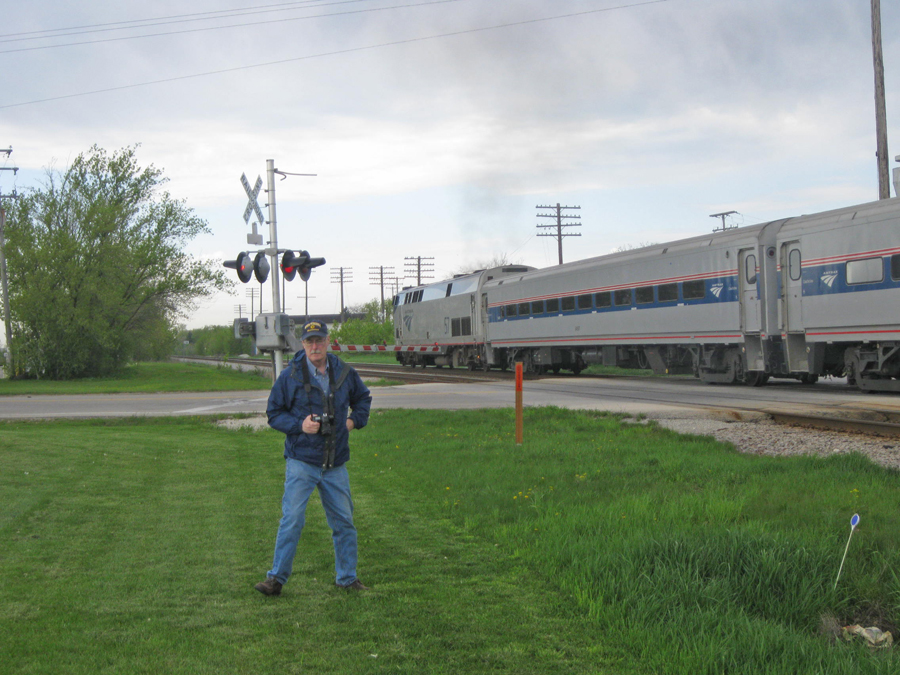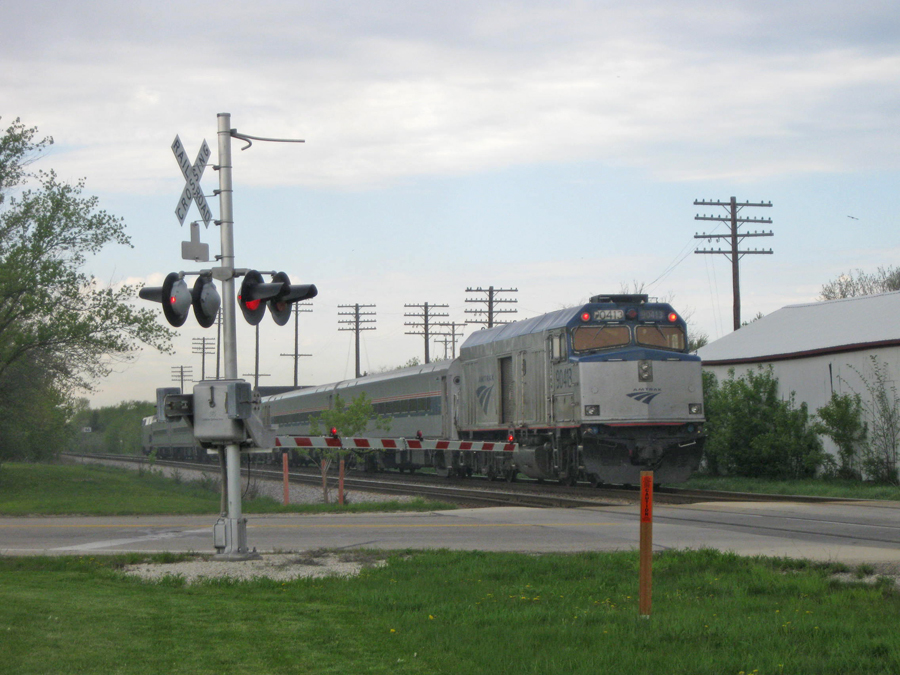 Meantime, following Hiawatha #337 had halted at Sturtevant station, about 2 miles south of the incident, and unloaded all the passengers so it could originate there eastbound as train #338, which train #335's consist would have become at Milwaukee. The Empire Builder, #7, had stopped north of the Sturtevant station, and after the make-up #338 left, would back up into the SVT station to load all the stranded #337 passengers and take them to Milwaukee. Before this happened, Jeff and I had to leave to go to the slide show.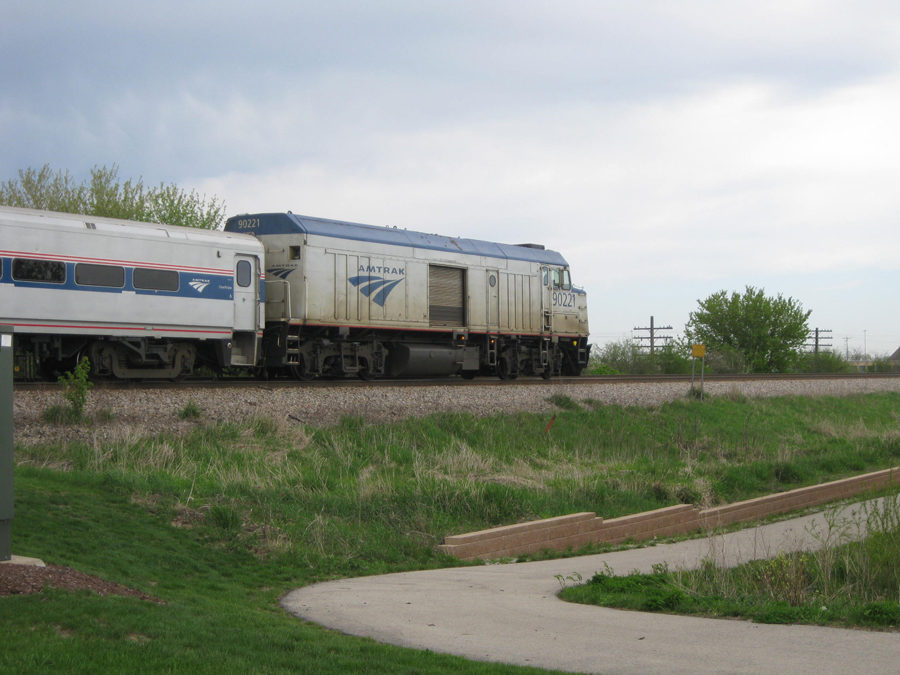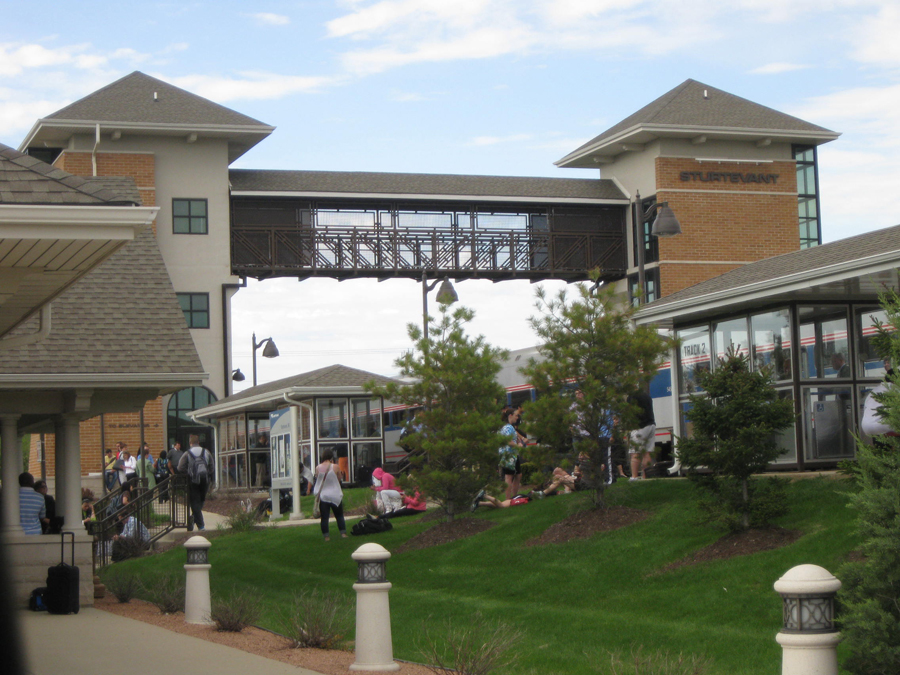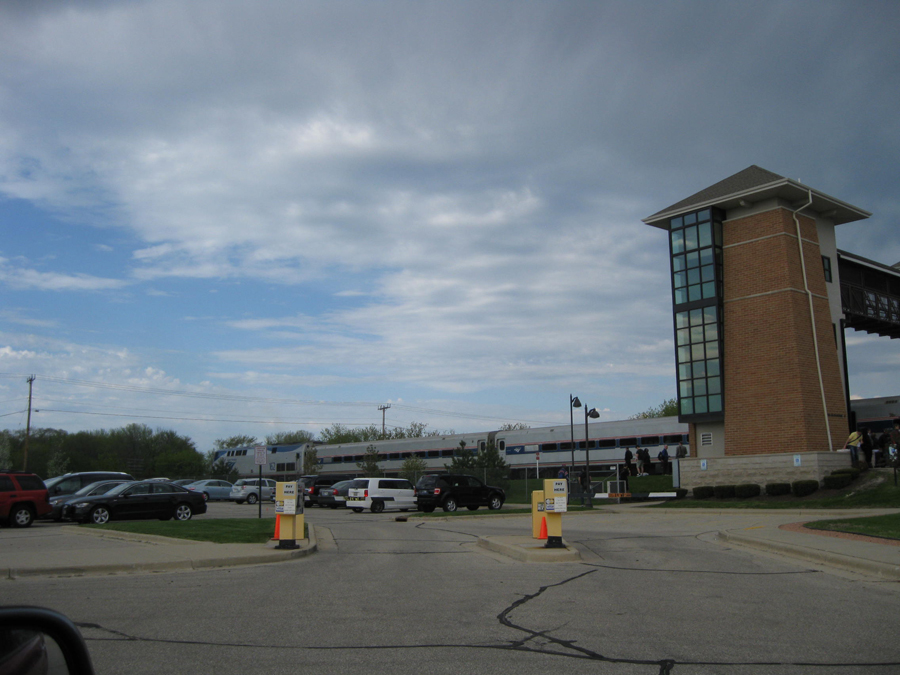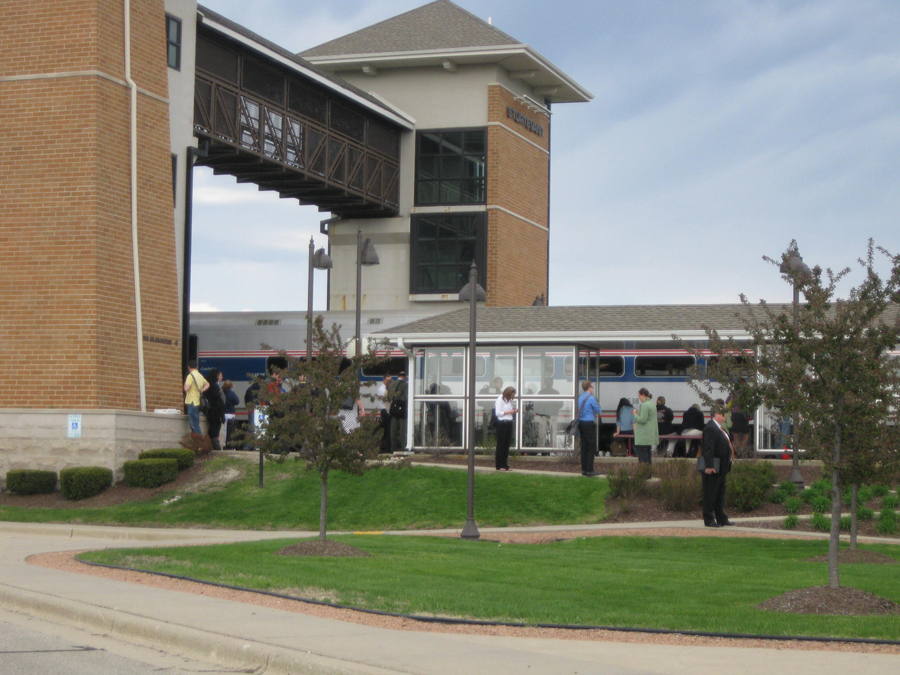 On

May 19th

, three of Steve Sandberg's (MILW 261 group) cars were to come thru on Amtrak #7, so Carol and I went trackside at Brookfield, west of the depot, for photos. A bonus arrived first, CP #281 with an unusual power set of 8556/INRD 9009/6243. The last unit is a Soo SD60 overhaul by CP, formerly Soo 6043. Interestingly, after about half, or less, of the 42 remaining units (including the 5 SD60Ms) were done, the program has been halted, and most if not all those units are in storage! Indiana Rail Road 9009 bounced back and forth thru out area for a week or more, undoubtedly paying off h.p.-hours owed to CP.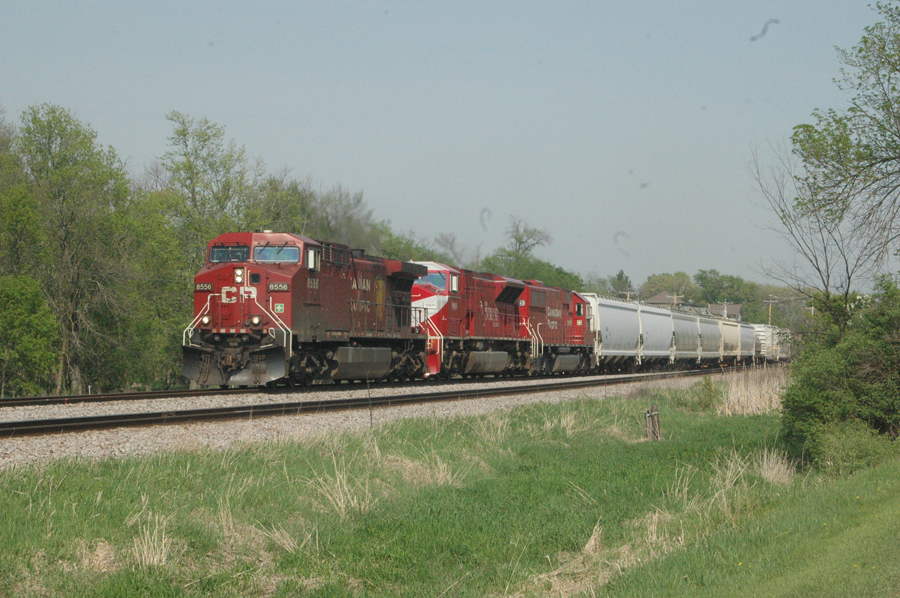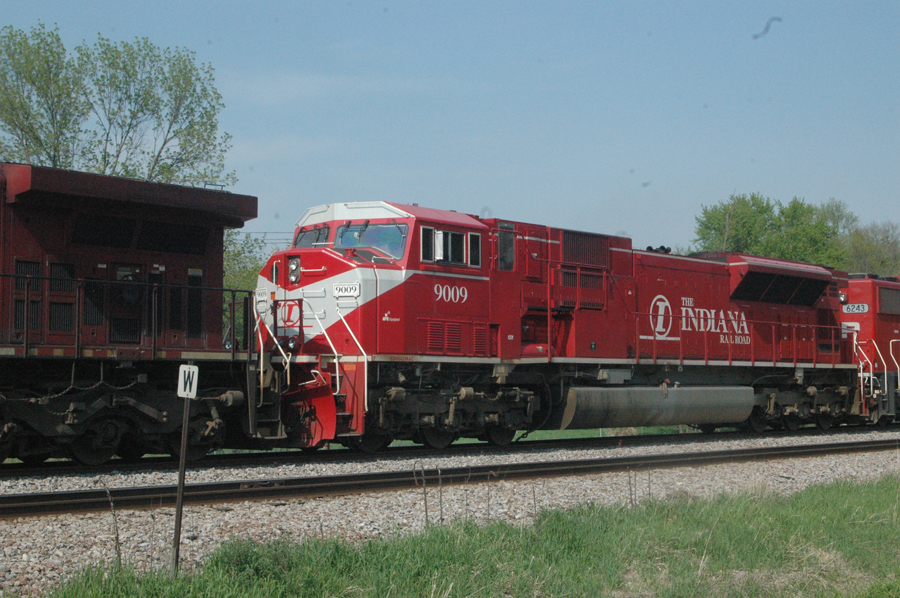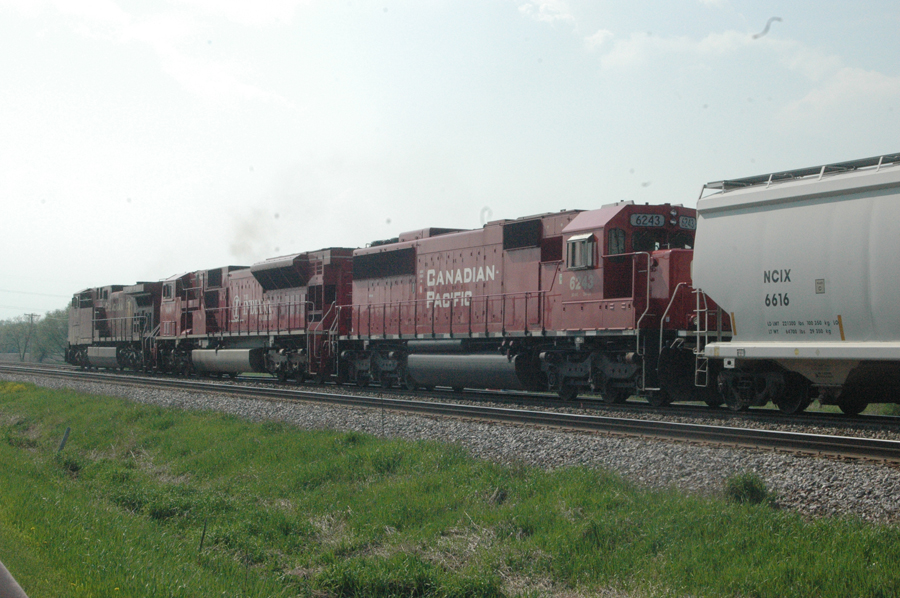 Before #281 passed, Amtrak #7 slipped upon us silently on Track 2, and I didn't bother for a front-end shot. Power was 155/200, 14 cars. Carol took slides here.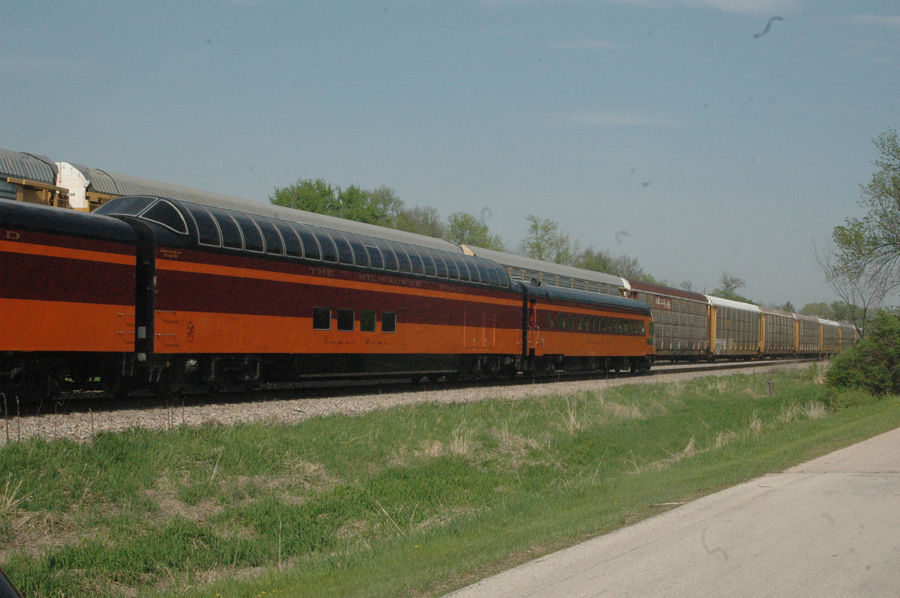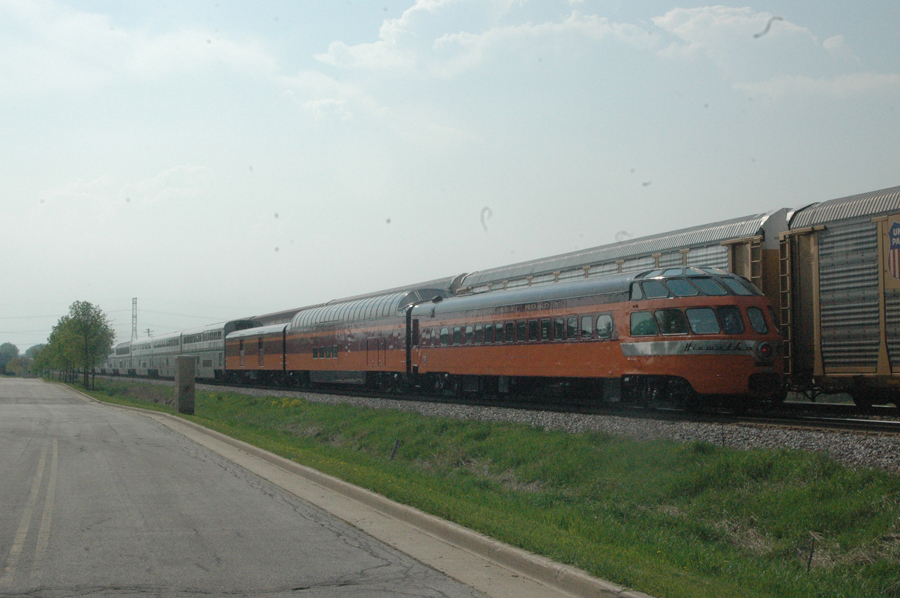 This concludes early 2013 local action, through the month of May.
This page was designed and is maintained by Mike Condren. If you have materials
that you would like to contribute, contact me at mcondren@cbu.edu