Good Days around Duplainville -- 1
Sept. 30, 2010
Photos by Dave Ingles
An unusually warm and sunny October -- Chicago and Milwaukee set an all-time record for percentage of sunshine hours for the first 20- some days of the month -- resulted in more than expected "taking rides" and hanging around Duplainville, spur of the moment, for local action. The afternoon of Thursday, Sept. 30, was oustanding with 15 trains photographed and only a final 16th one missed ... in only 4 hours. We went out expecting to shoot perhaps only Amtrak #8, the eastbound Empire Builder, and did so (slides only) on the Lake Pewaukee lakefront, at 1:43, pretty much on time, with engines 70/161 and the usual 11 cars. A train symboled #499 on CP was waiting at CP's "Pewaukee," end of two main tracks at MP 104.25 or thereabouts, so we set up to photograph at the "wooden owl" crossing, Oakton Ave. east of the lakefront, so named for the item on the pole on the north side of the tracks. This open location is the same crossing where 12 years ago the short-lived experimental "Amtrak Hiawatha Extension" trains to Watertown made their Pewaukee station stop. The coming-on photo was only slides, figuring a routine engine consist, but the makeup called for a digital, even if only going-away: CITX 3092/CITX 2792/Soo 6042, with 70 cars, at 1:47.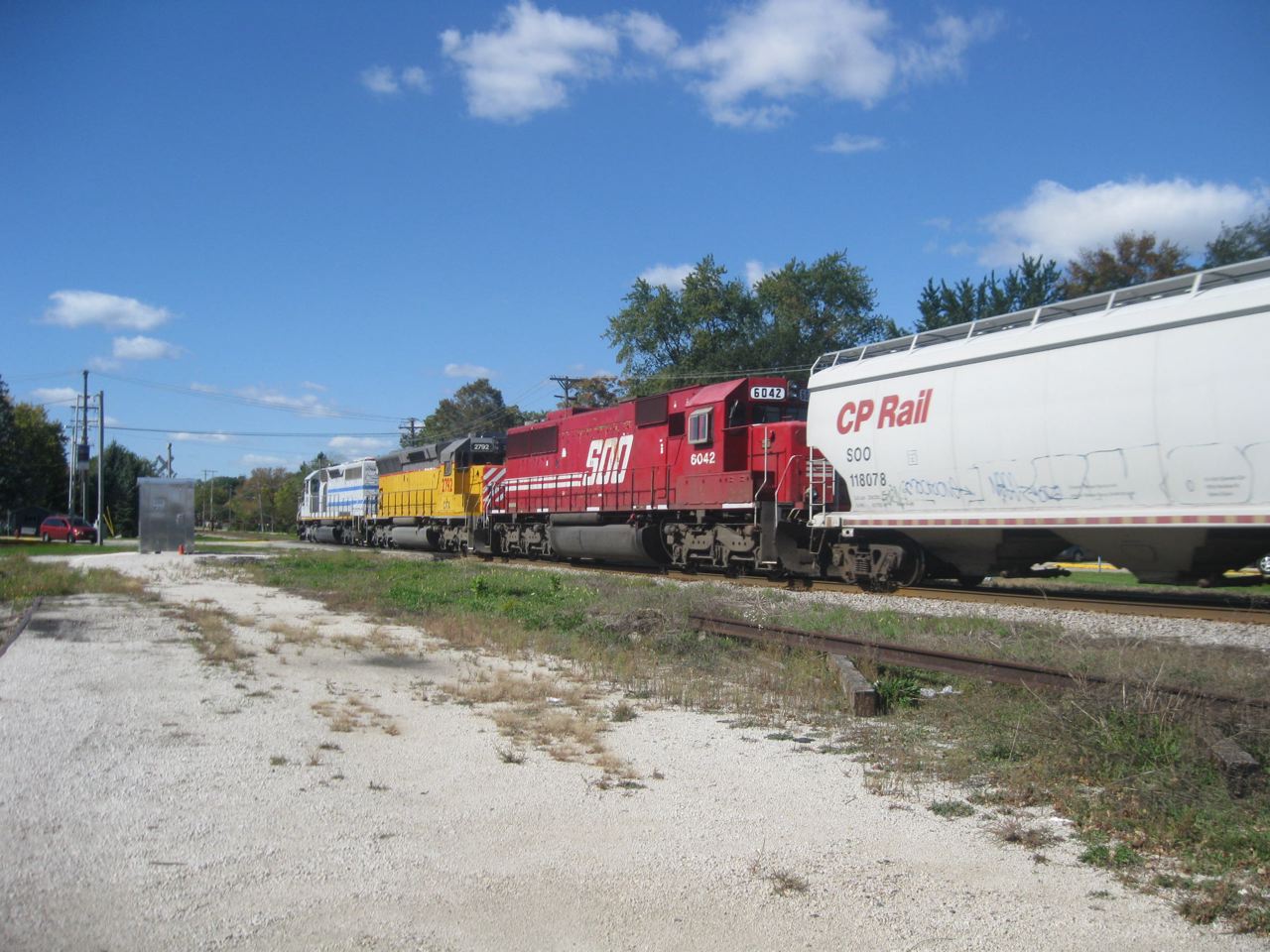 Not far behind was an apparent DM&E train, though CP called it #299. The daily Huron (S.D.)-Bensenville (Ill.) DM&E freight, rerouted via Milwaukee from via Savanna, Ill., after CP bought out DM&E, had been known as #486-487, renumbered sometime this fall to #275-276, anything to keep us railfans confused. Anyway, this train had DME 6068/ICE 6404/CITX 3072 amd 86 cars, 2:56 p.m. That's 3 trains in 13 minutes, a good omen. Note the wooden owl on the pole north of the tracks, to the left of the lead unit.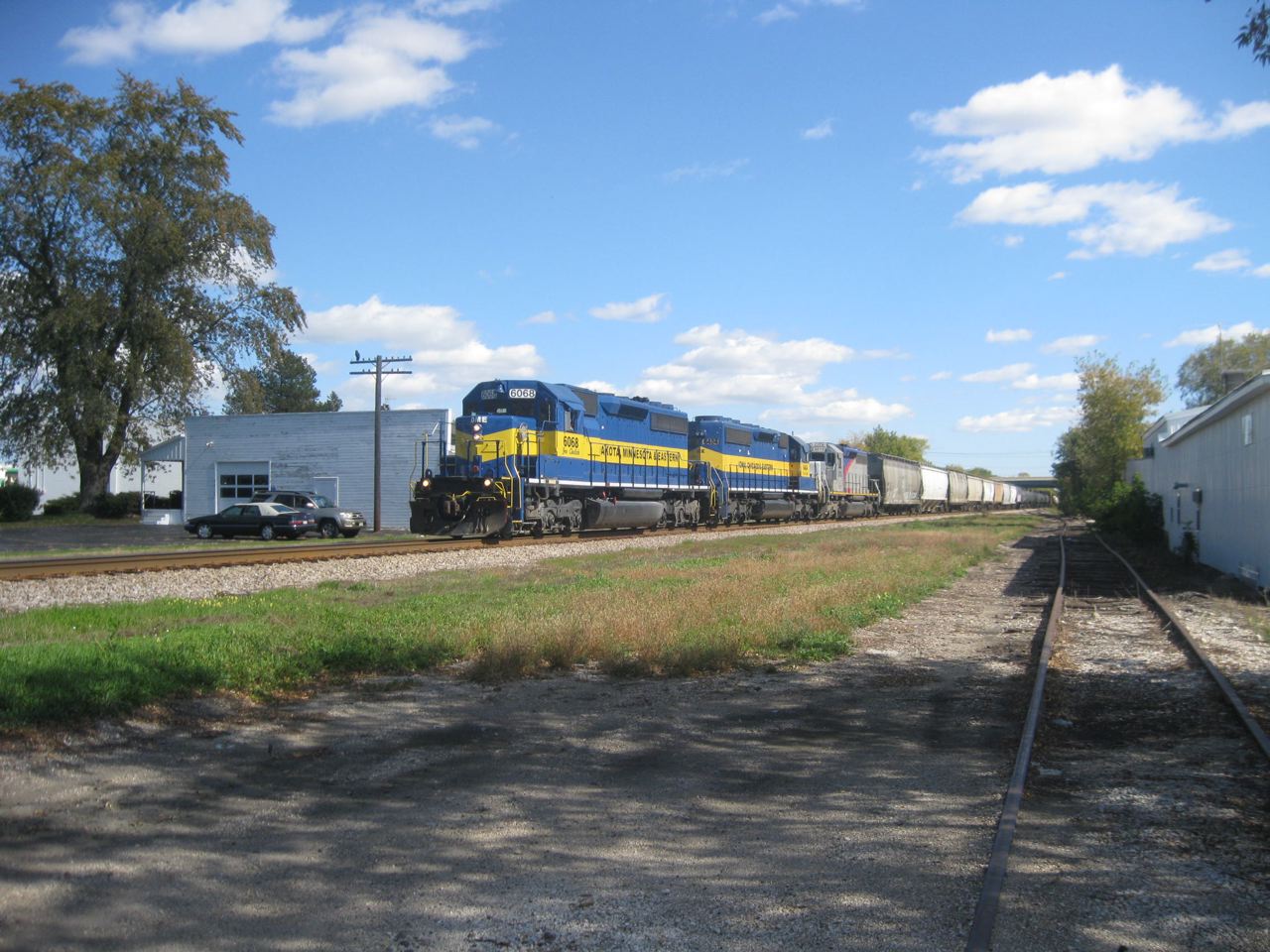 CN has been tending to keep our Waukesha local switcher (local train L504) assigned for a month, or more, and the latest one has been GT 6401, an ex-DT&I GP40 and one of only 2 or 3 left on the roster. He's working at MP 104, where the set-out track begins off the 2-mile long passing siding, at 2:30. He's actually heading south, probably for Burlington, Wis., with 13 cars.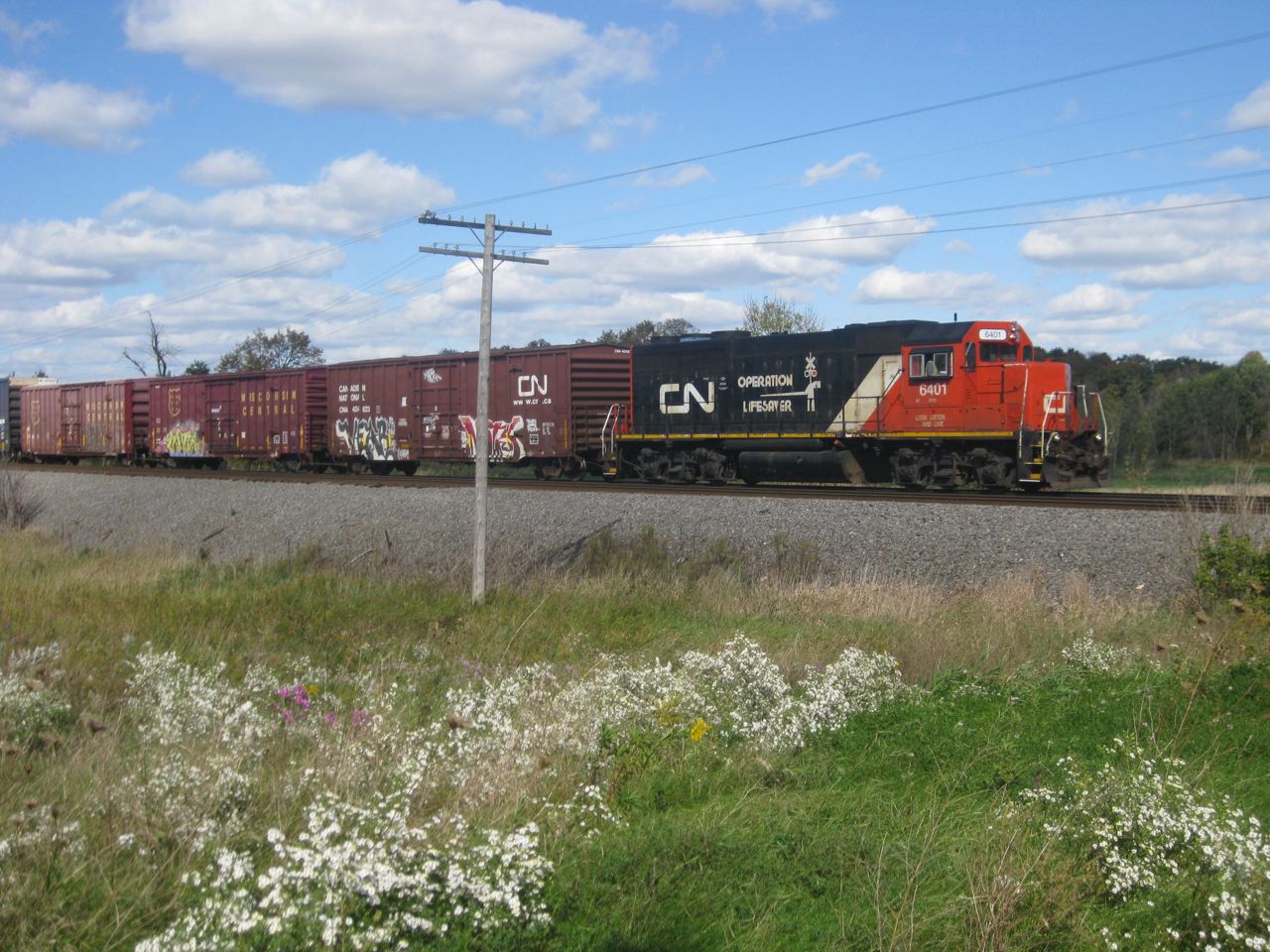 It's getting hard to find a WC boxcar without graffiti on it.
Next a northbound CN arrived on the siding, 5661/8849, at 3 p.m., to set out 21 cars and eventually depart with 52. He met L504 at Waukesha.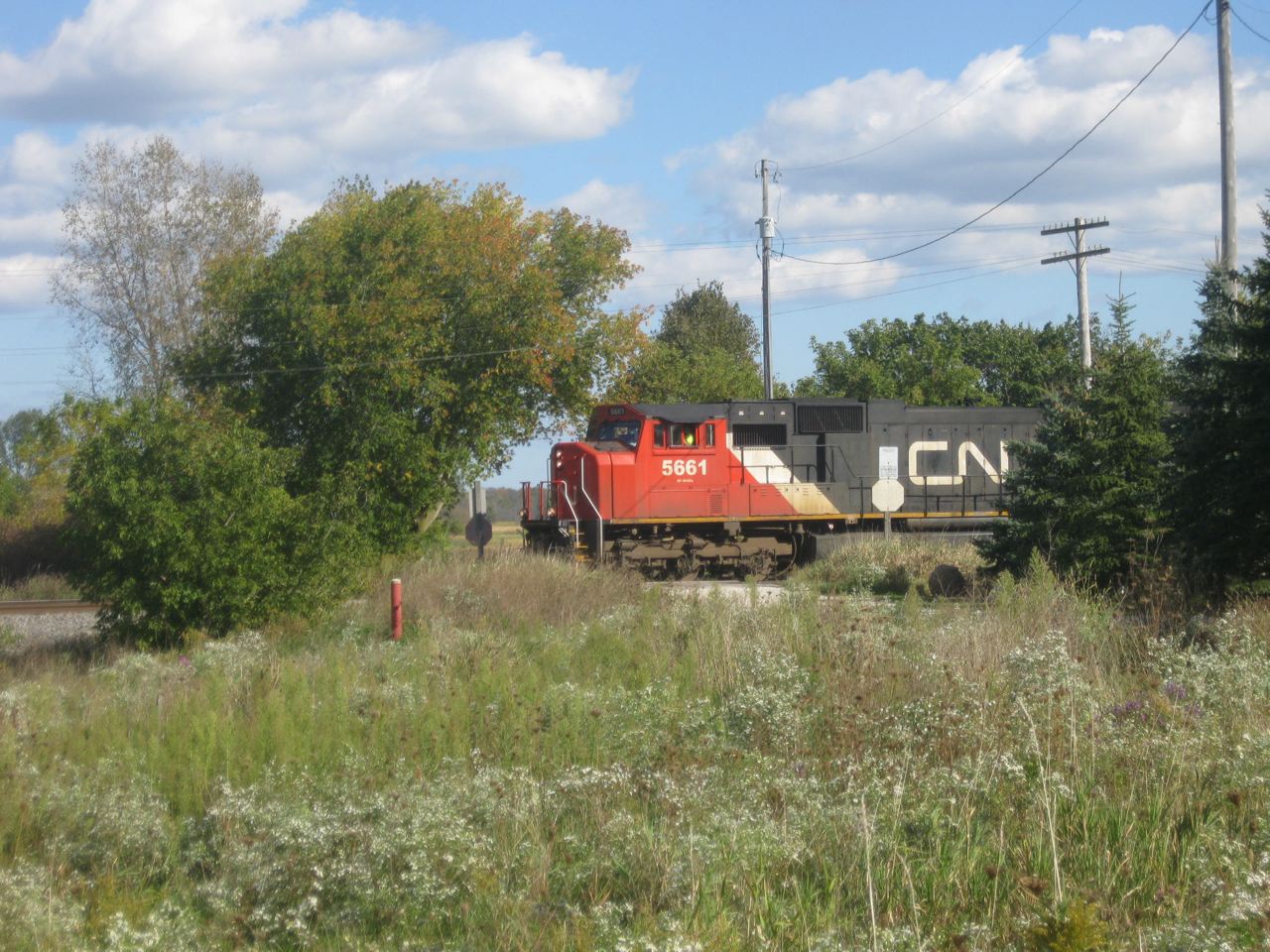 Who says "Kodachrome skies" won't survive Kodachrome?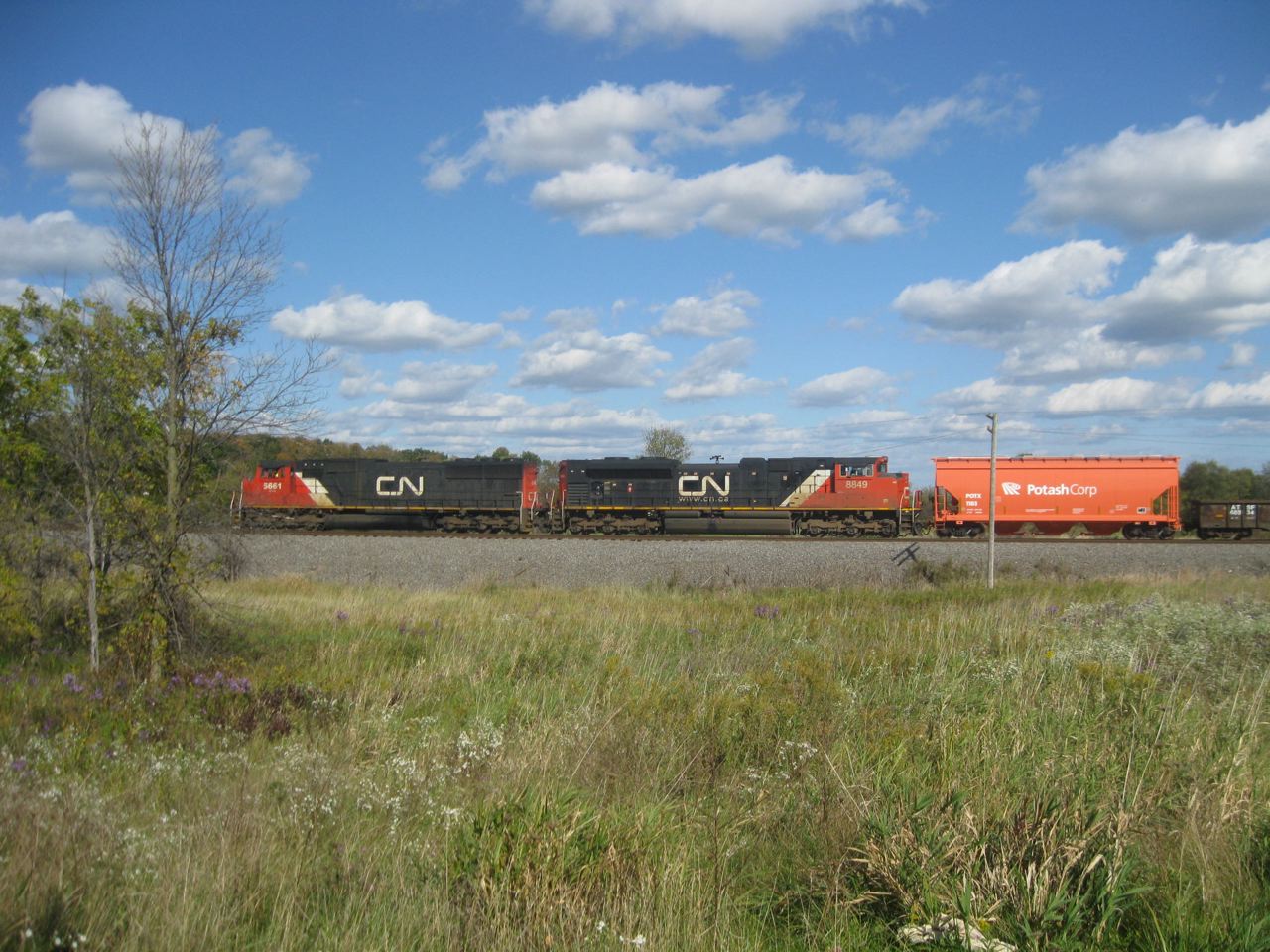 Tank cars now come with detailed instructions!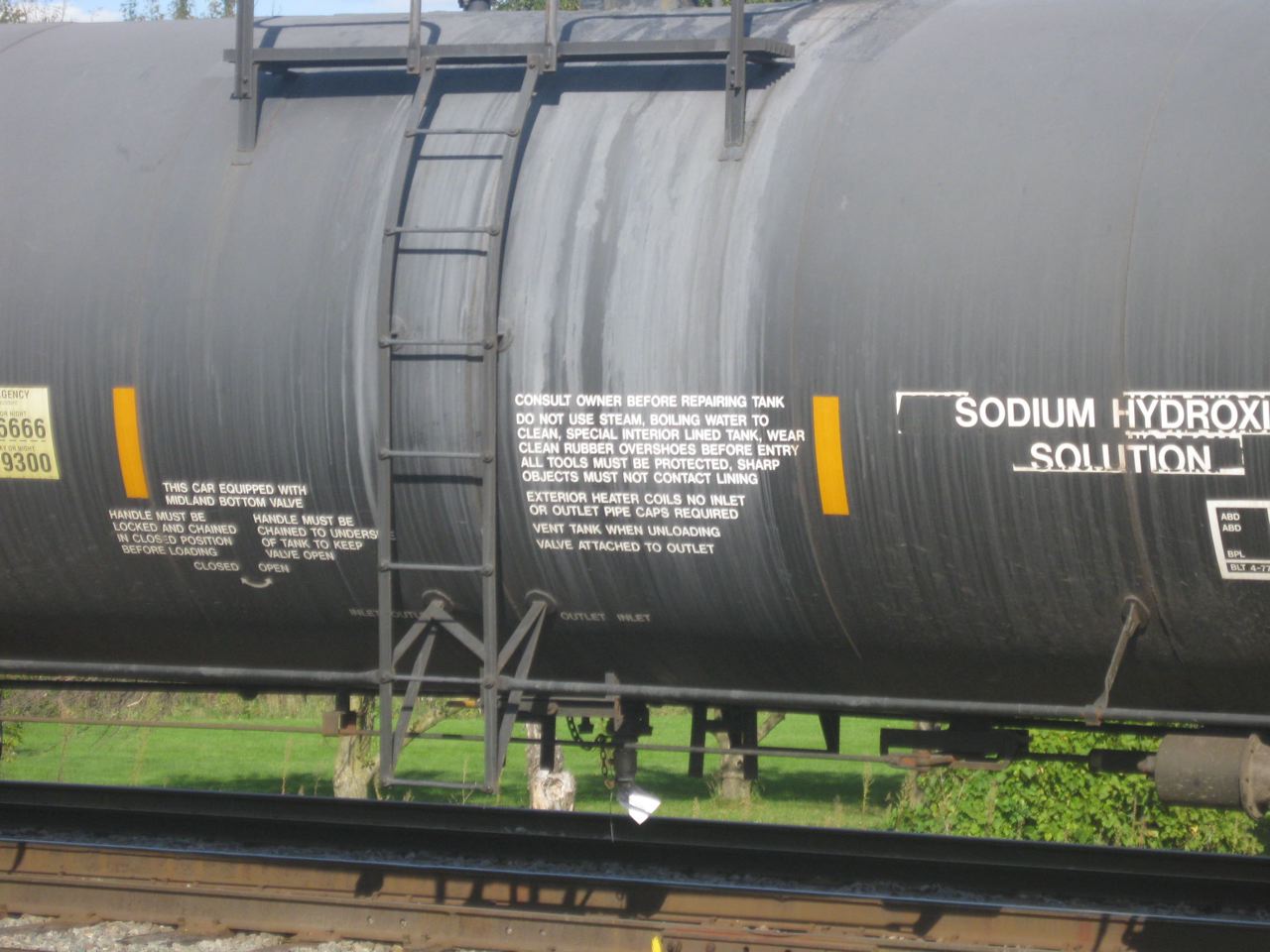 While the northbound set out, #198 comes by on the main: 5745/2414, 117 cars, at 3:18. This is a dead-end "railfan photo spot drive," formerly a private crossing to two homes until CN lengthened Duplainville siding and added the third, "set out" track. It's a great afternoon spot to park, tho the mosquitoes this year were bad.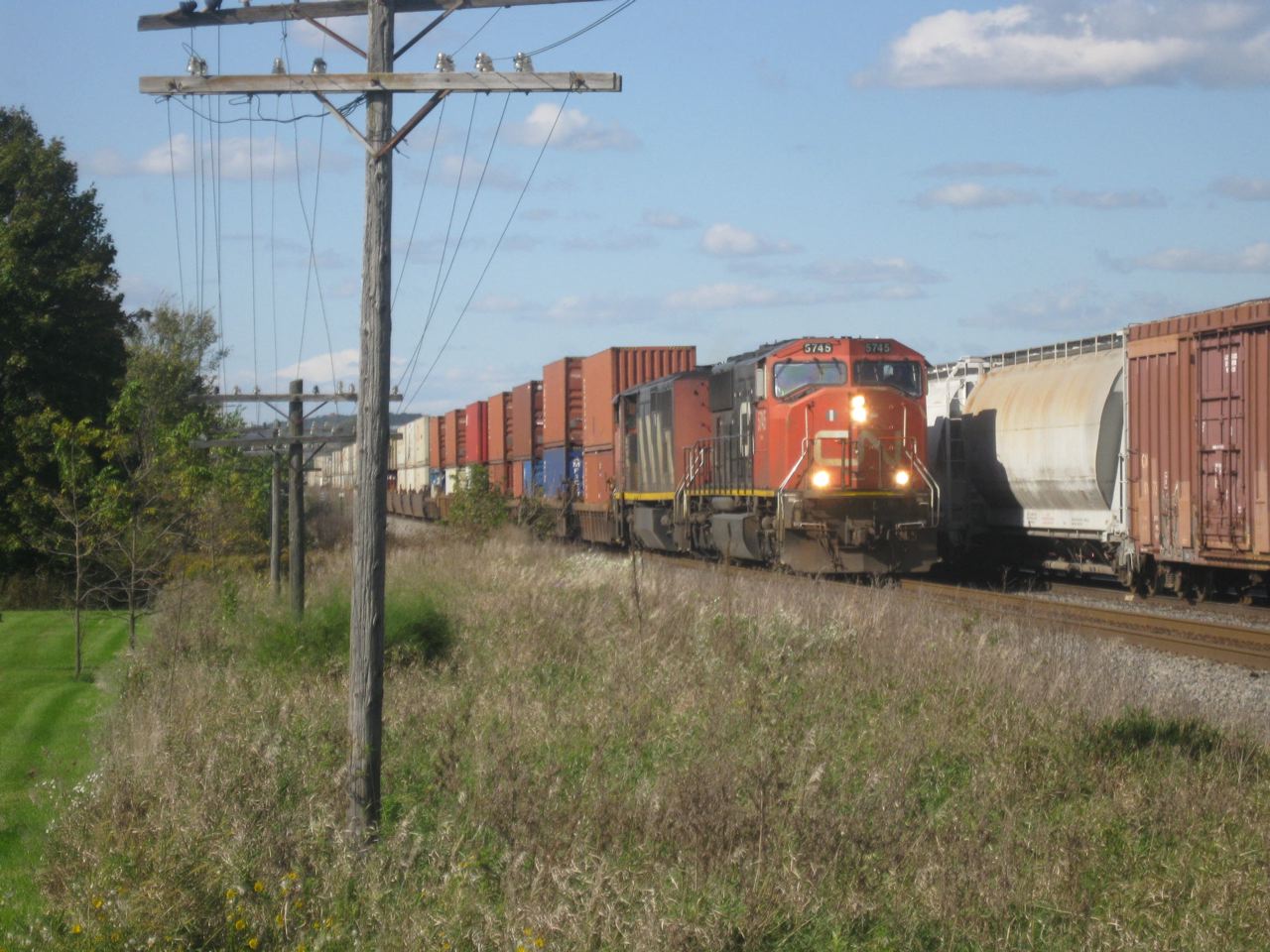 One of my favorite intermodal trailer decorations.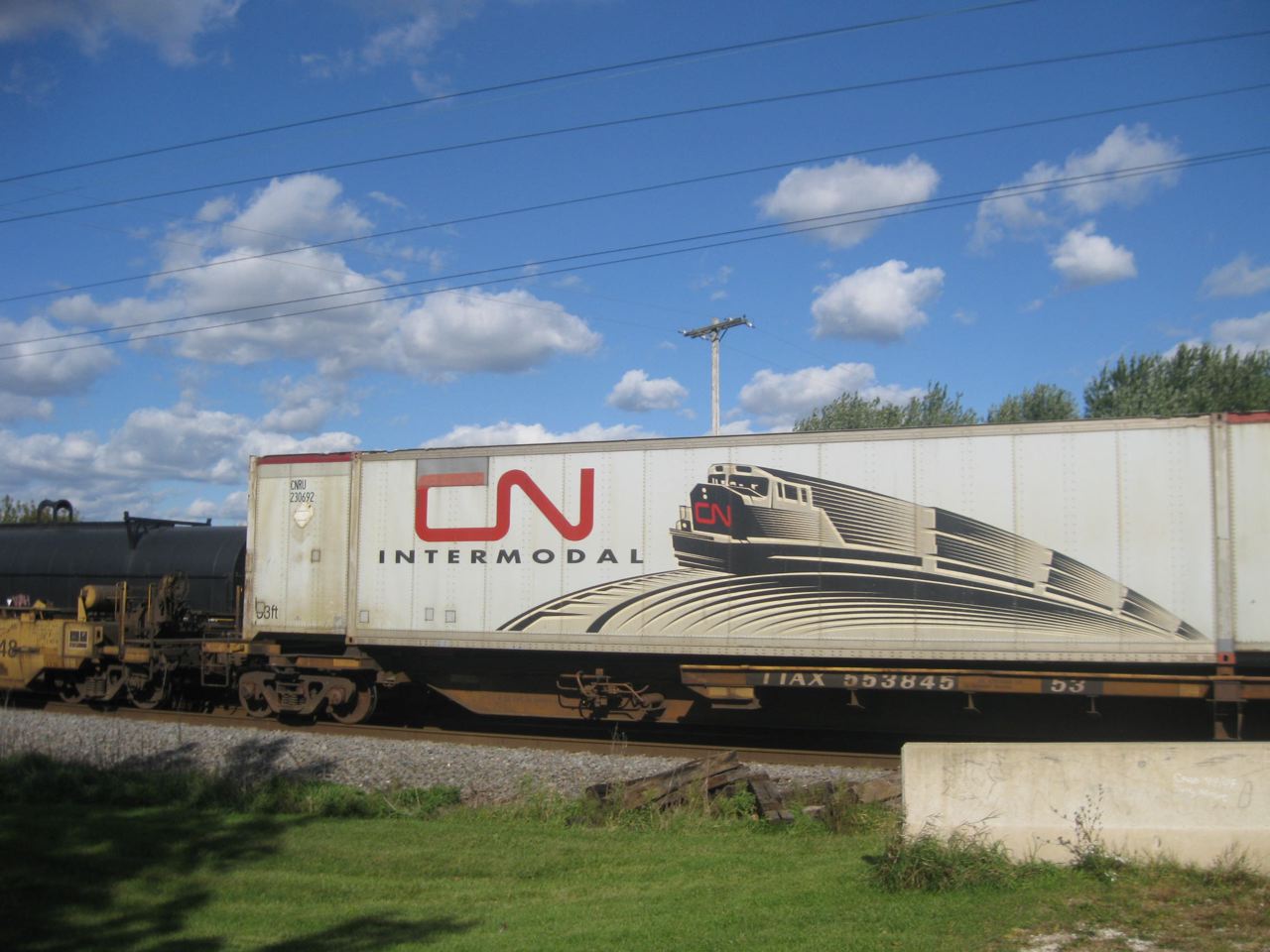 CN #198 began to slow, so we got back to the CP, and here came #276, the actual eastbound "DM&E train" (Huron-Bensenville), with nary a blue-yellow SD40 in the consist: CITX 2783/CITX 3089/CP 5965, the latter being one of 20-some CP SD40-2s DM&E had on lease when CP bought the railroad; 3:24 p.m.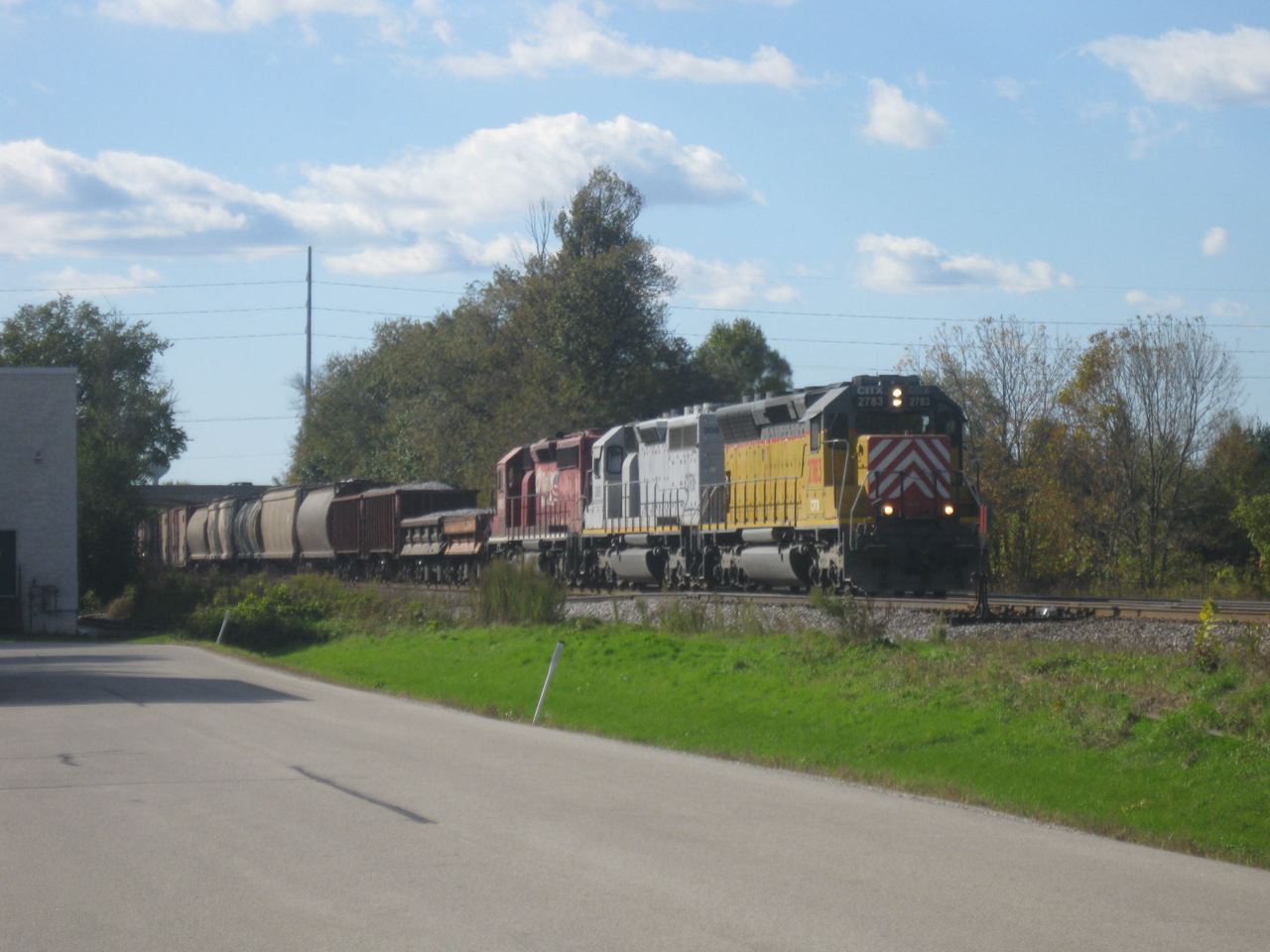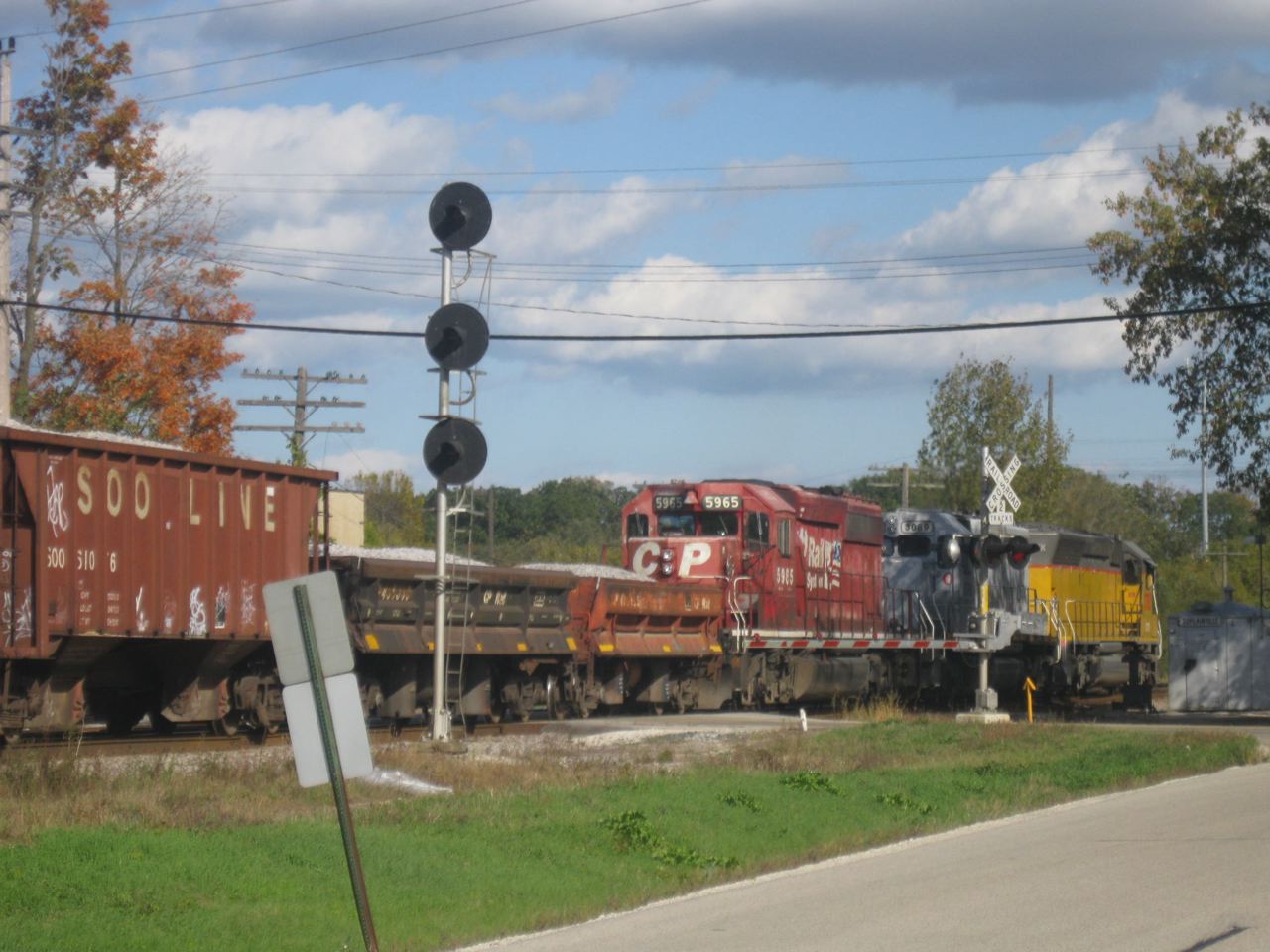 CN #198 got the board and pulled out at 3:30 or so.
Those old GE wide-bodied, Draper-taper units are still all busy. This is Green Road crossing just north of the Duplainville diamond; we park in a Quad/Graphics employees lot, which is never full.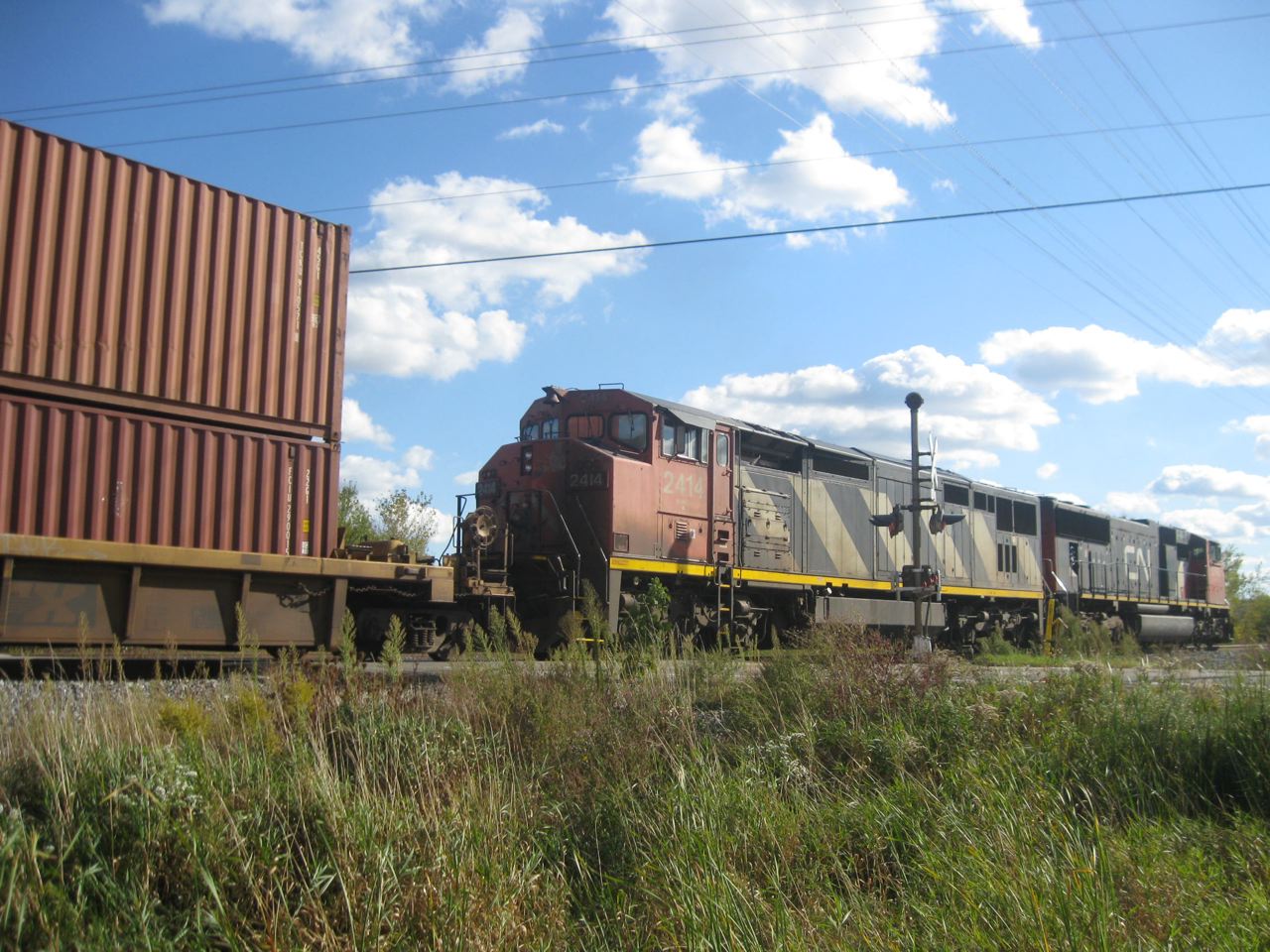 The image goes both directions.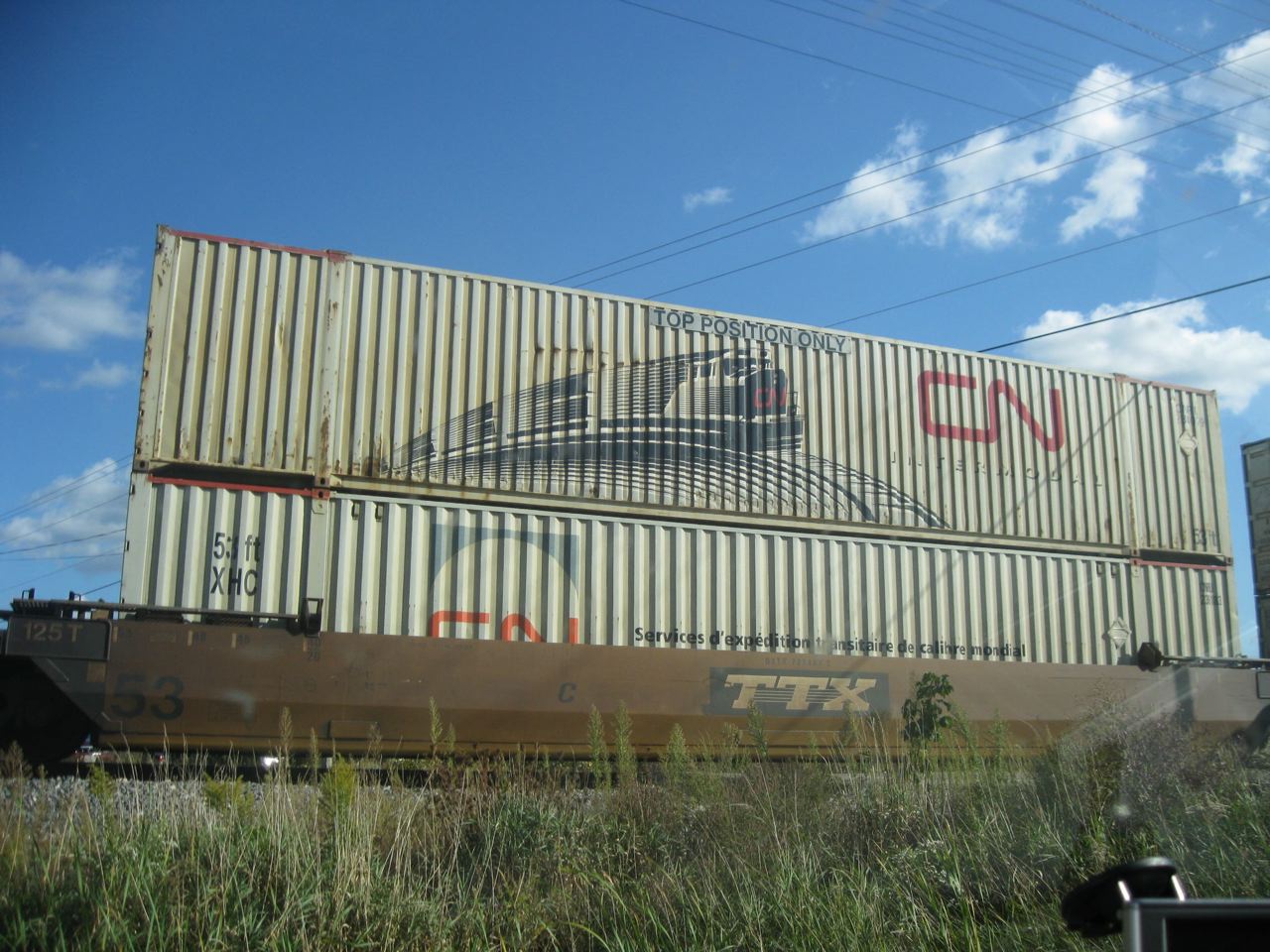 I'd been unaware and not noticed the old Union Tank Car Line slogan, but I'm told it's been around a while.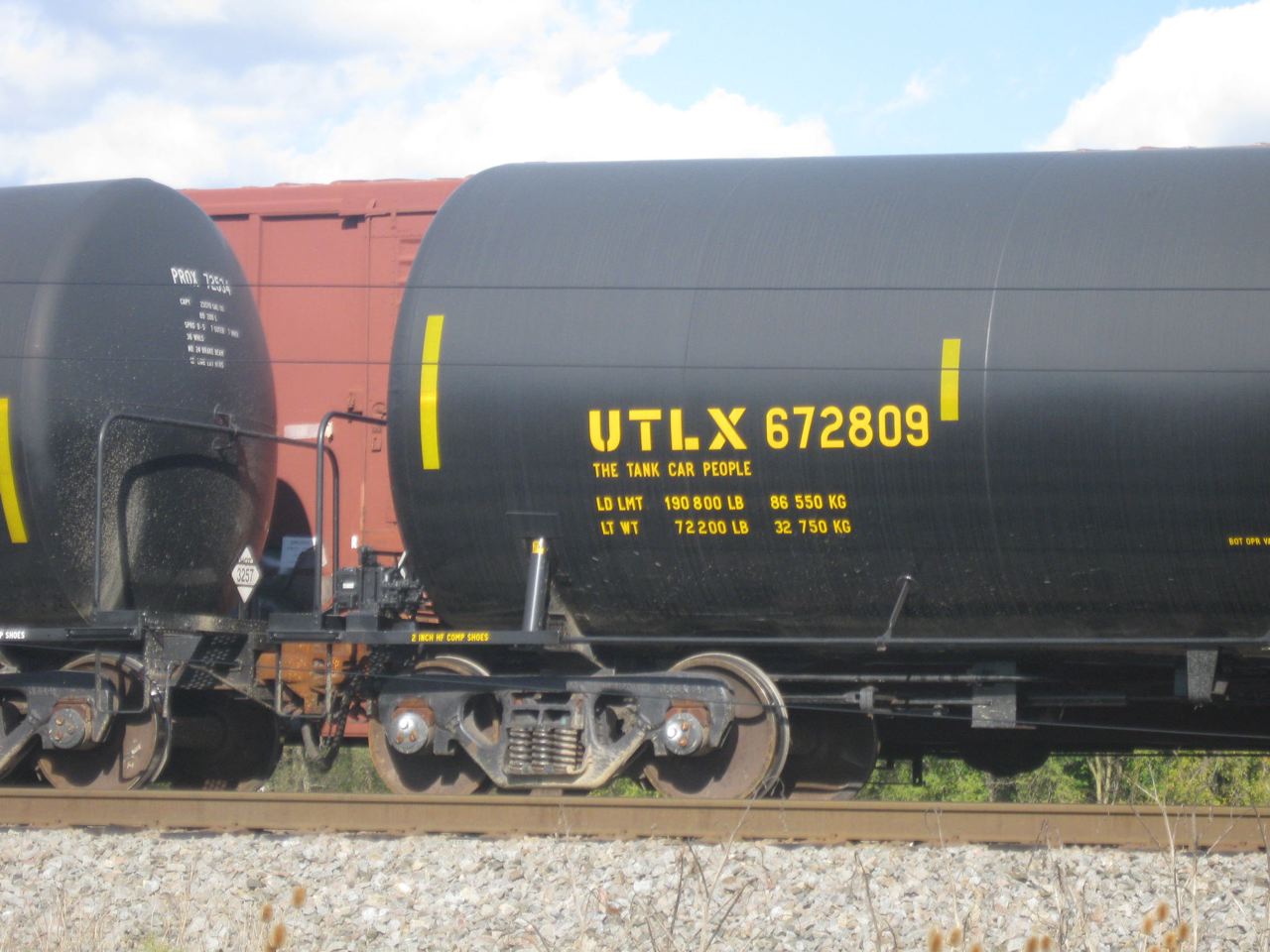 Got clouded for CP #283, so no slide: 9683 only, 105 cars, 3:56. He'll go to Nashotah to get out of the westbound Empire Builder's way, because . . .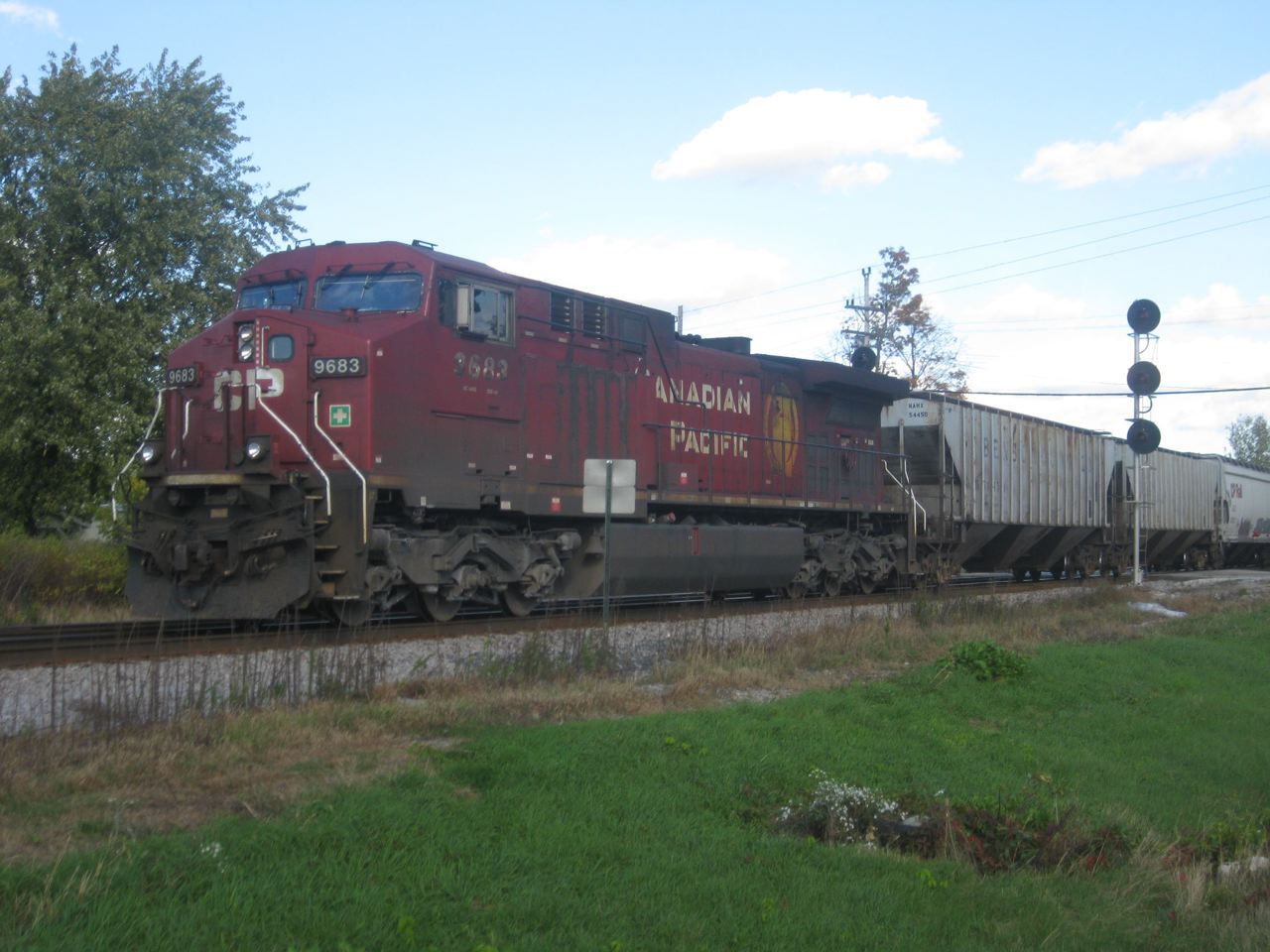 ... already occupying Track 1 between Pewaukee and Duplainville is CP #280, with CEFX 1006 only and 95 cars; he arrived at 3:54 and will leave at 4:22 after Amtrak #7 goes.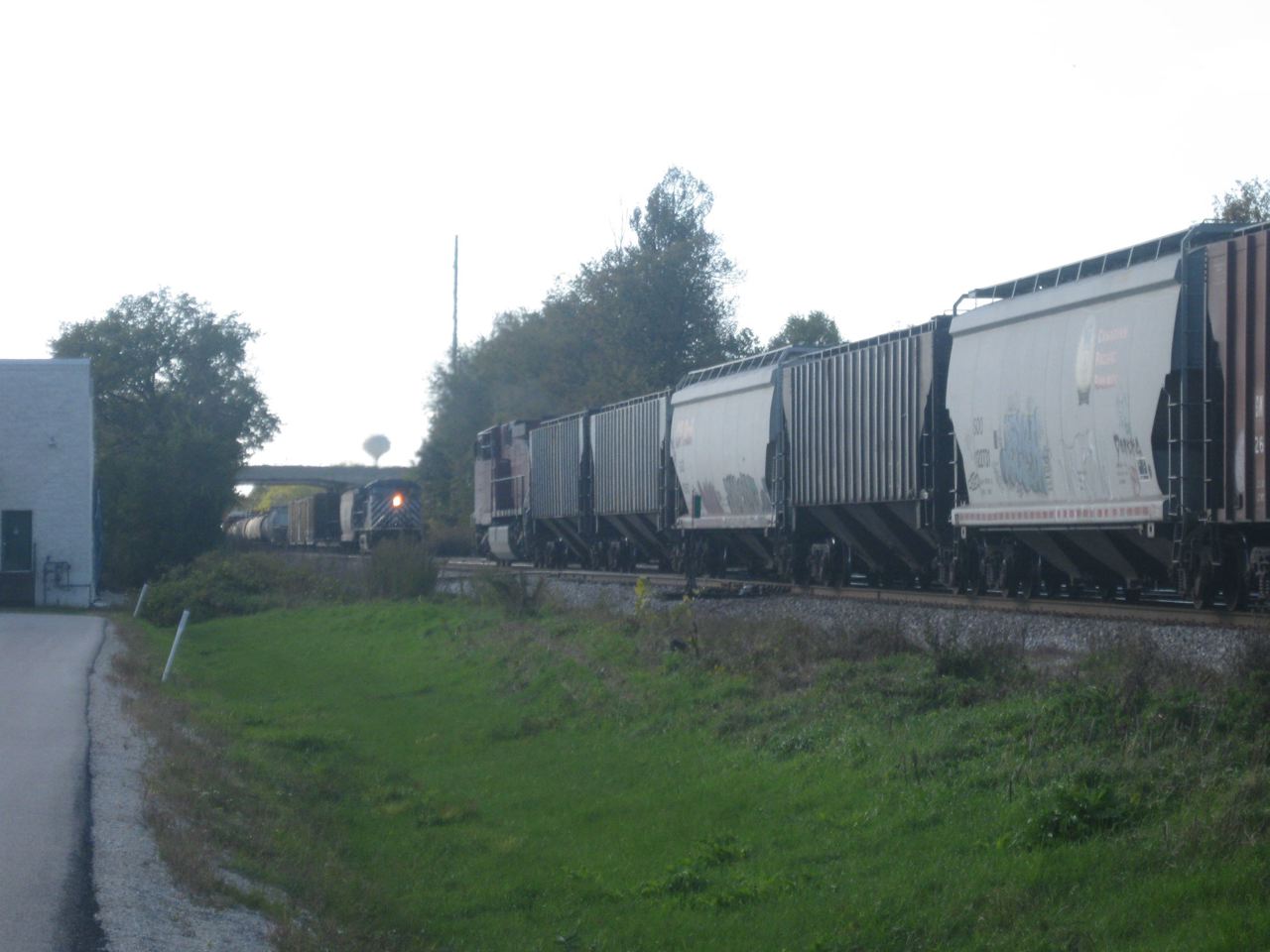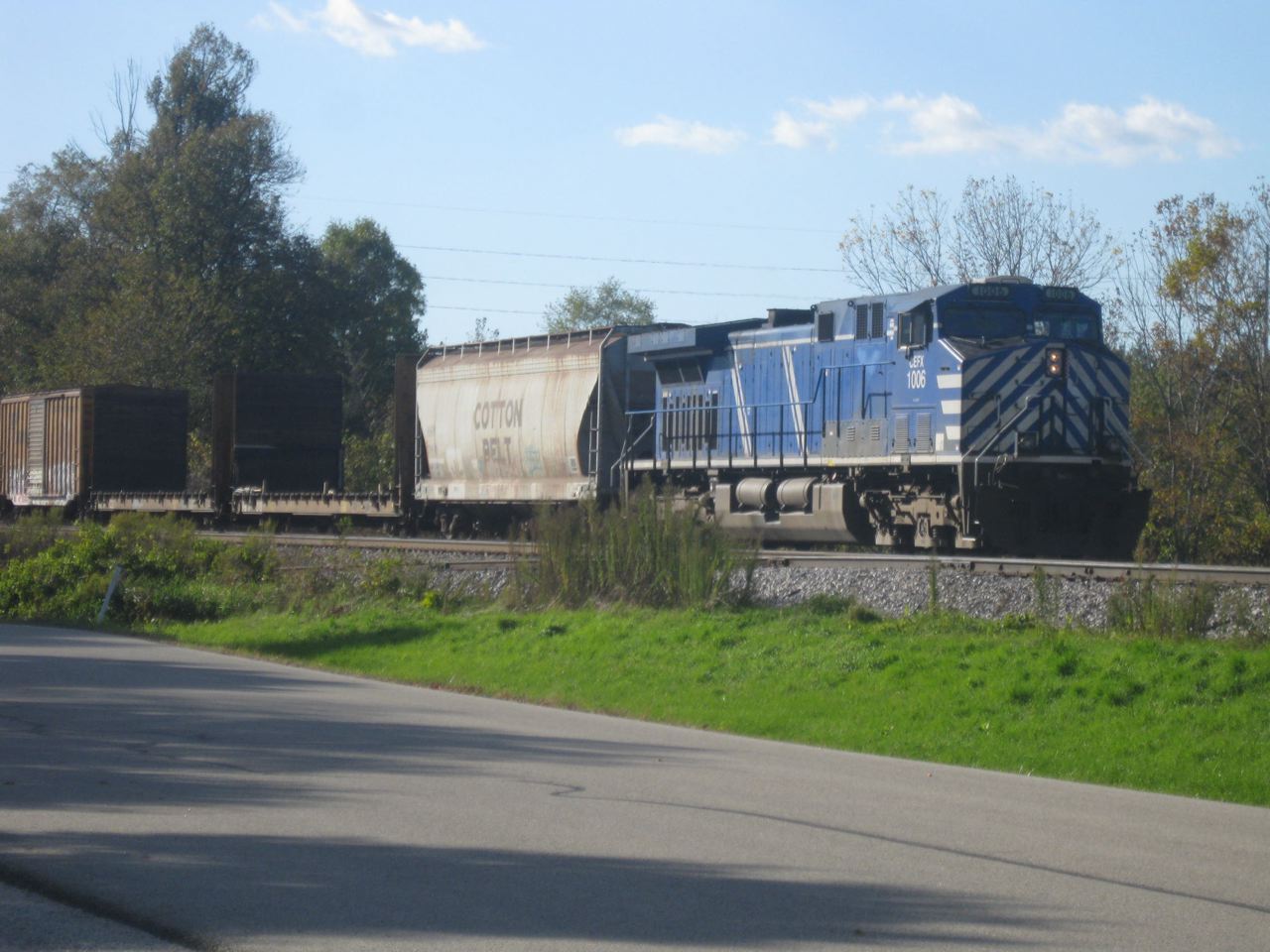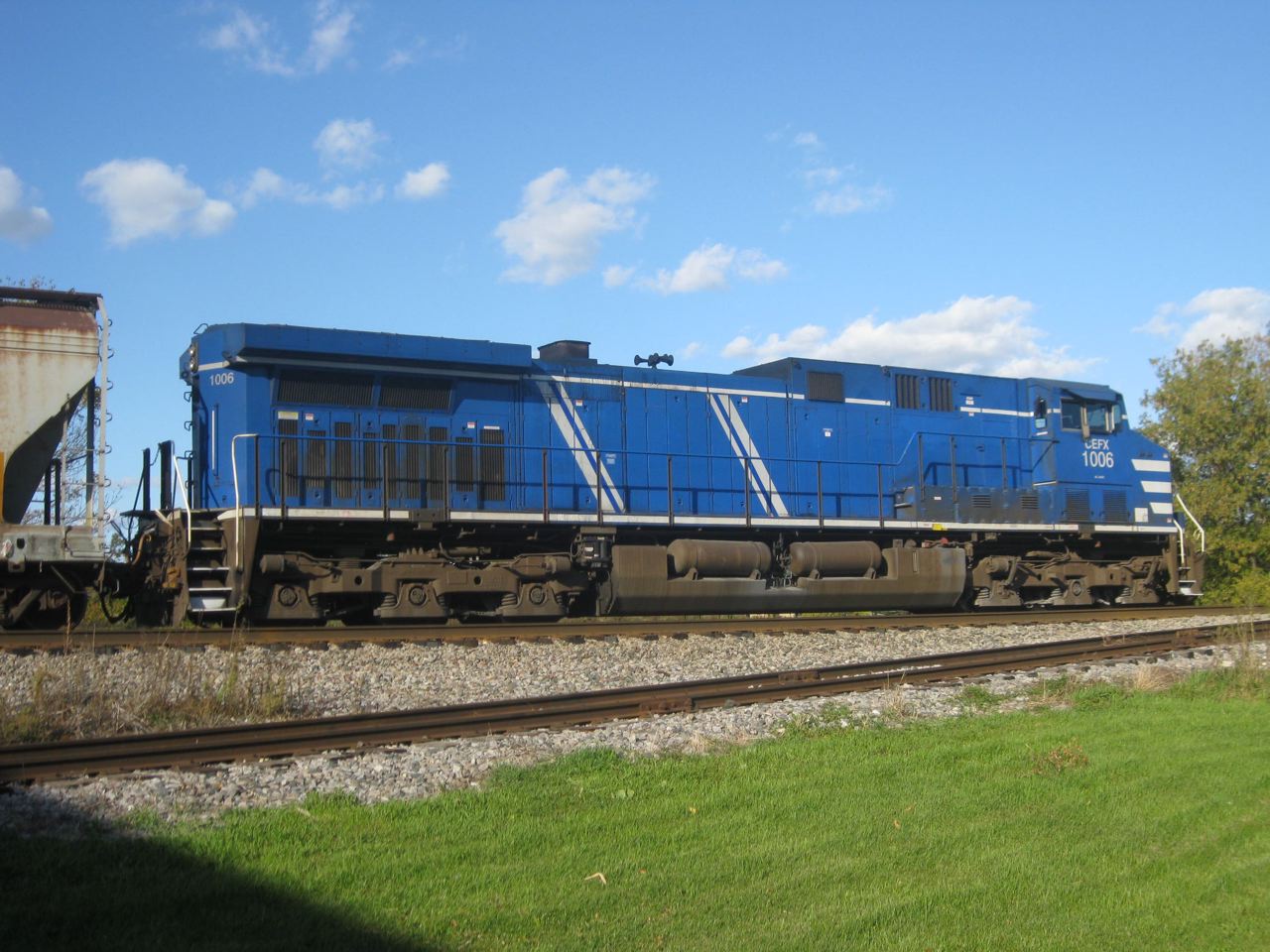 Took no slide of #7, engines 24/25 with 11 cars, at 4:17.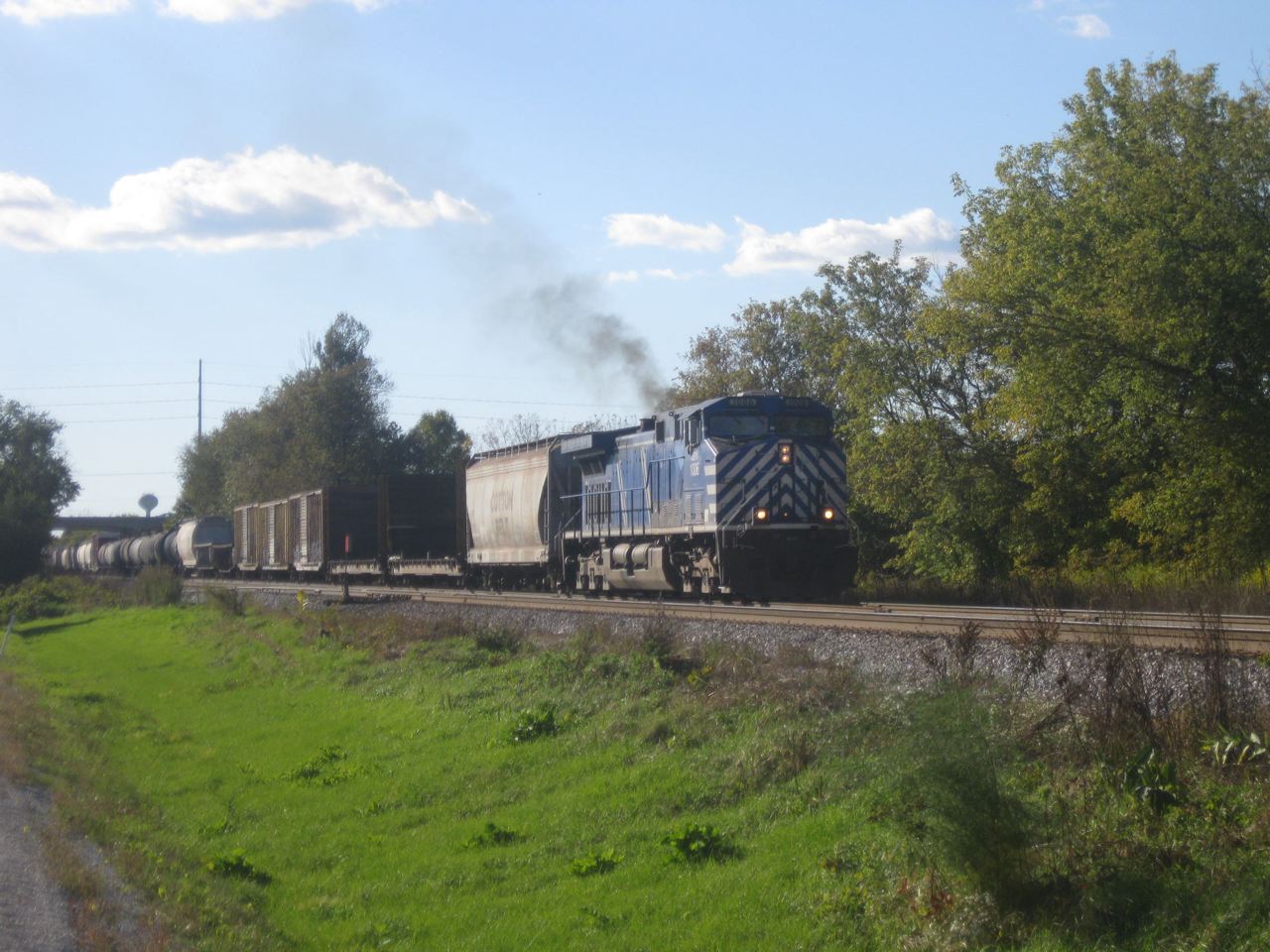 Lots of trilevels at the rear, some loaded with St. Paul Fords, some empty.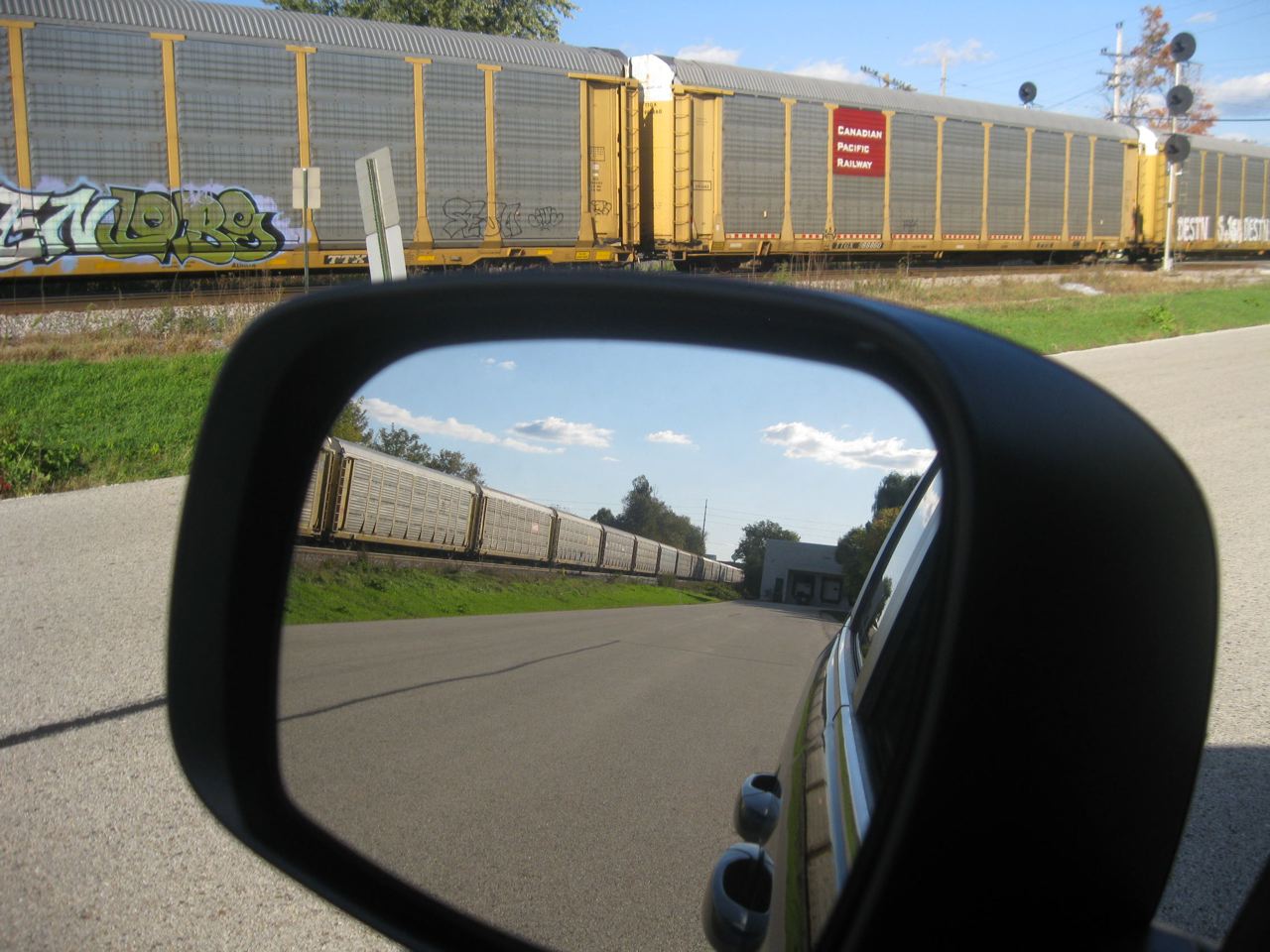 Train number 11 for us is CP #281, the old "Fast Ford" of Milwaukee Road times, with trilevels and hi-cube auto parts boxes on the back: 8574/8889 (dead) with 114 cars at 4:36.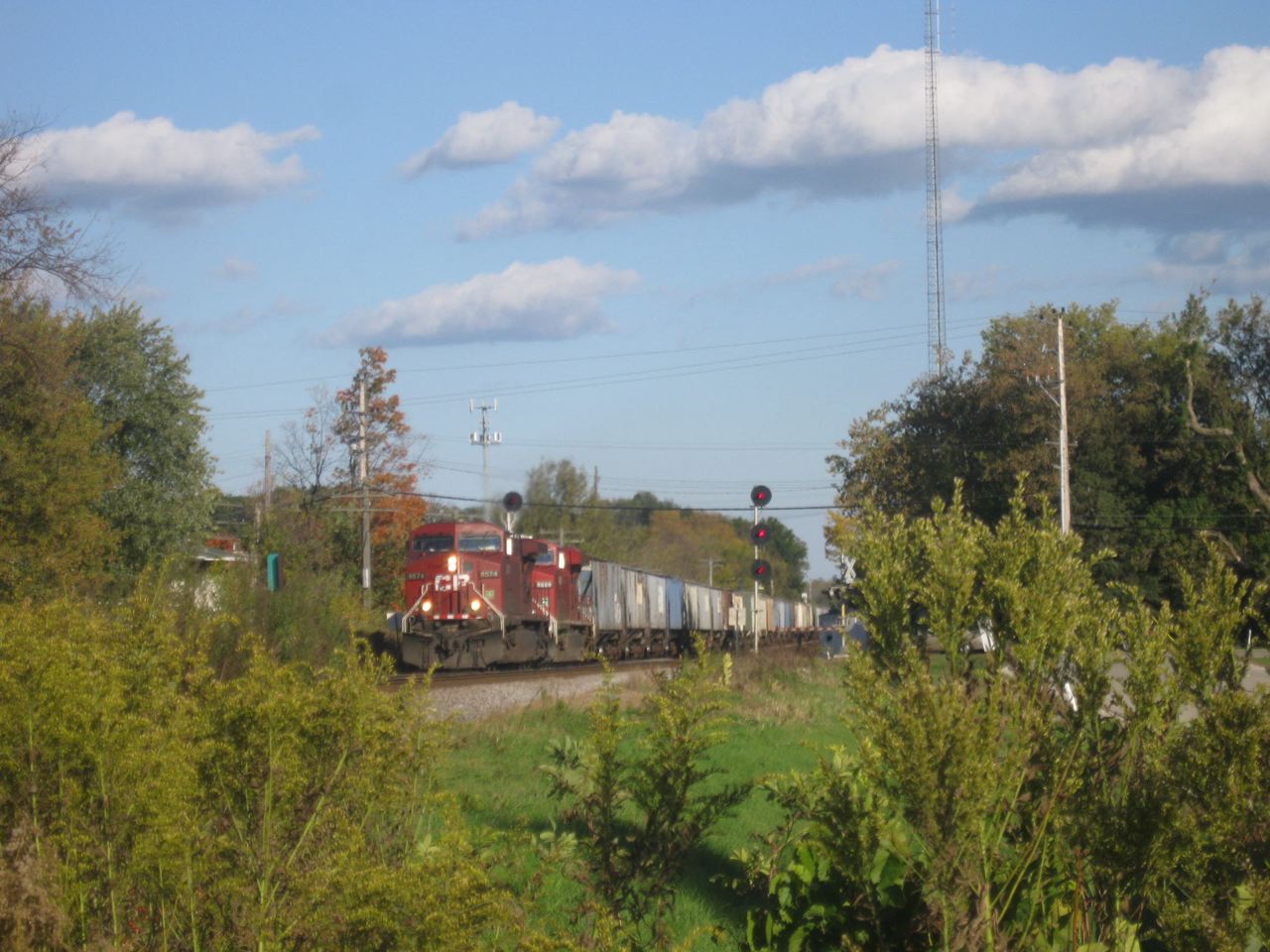 Next is CN #446, 5680/5354 with 109 cars at 4:45.
These hoppers likely contain roofing granules from a plant near the Wisconsin-Michigan border on CN's ex-WC (nee Soo) Sault Ste. Marie line; they were rebuilt during the WC era from the 81000-series, of which an HO model was made, and changed to the 84000 series.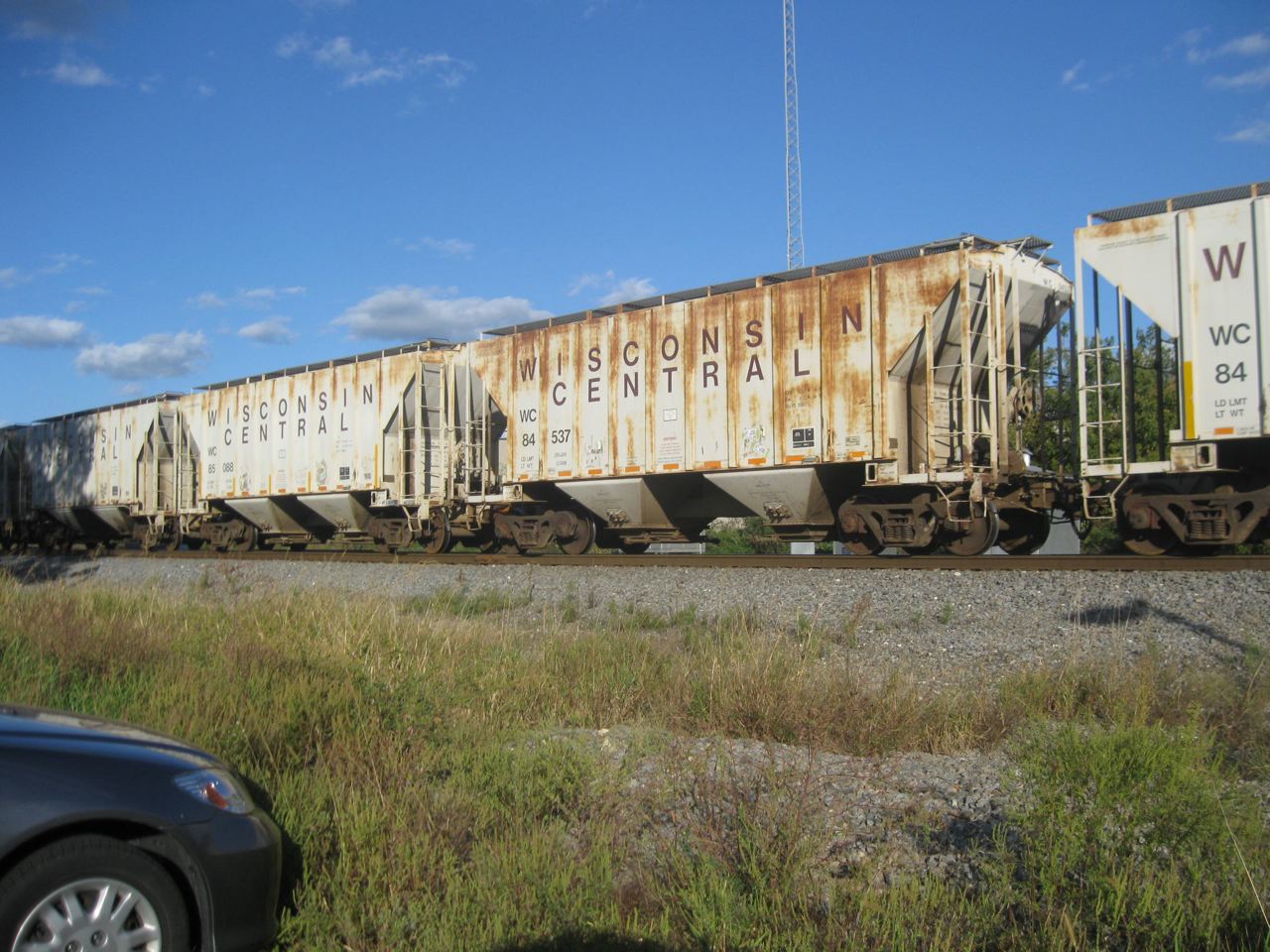 Papermaking ingredients ride these tankcars to and from NS points in Georgia, I believe.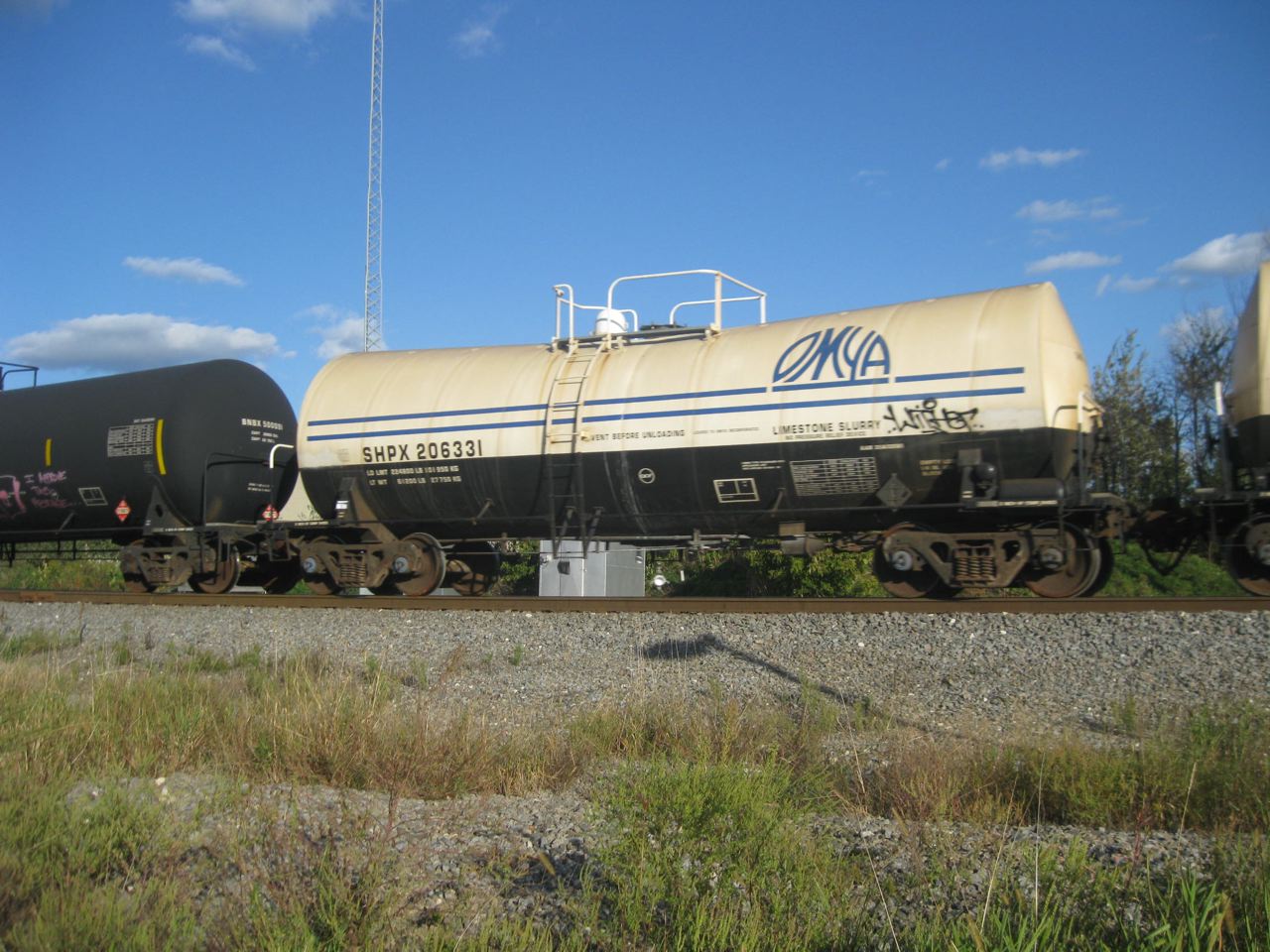 Back at MP 104.25 on CN for #347 with NS 8895/CN 8811/CN 8824 but only 45 cars, at 5:10 p.m.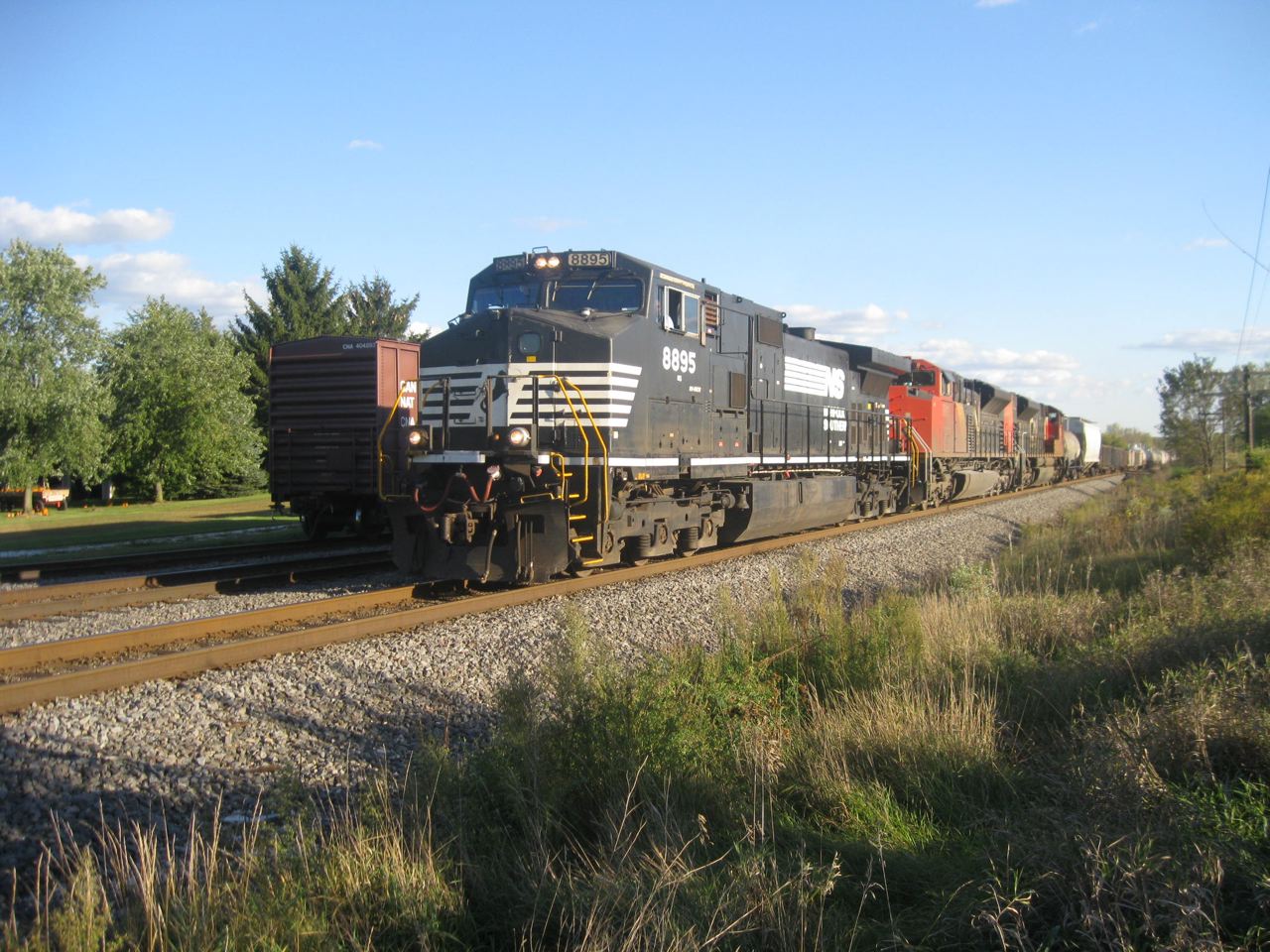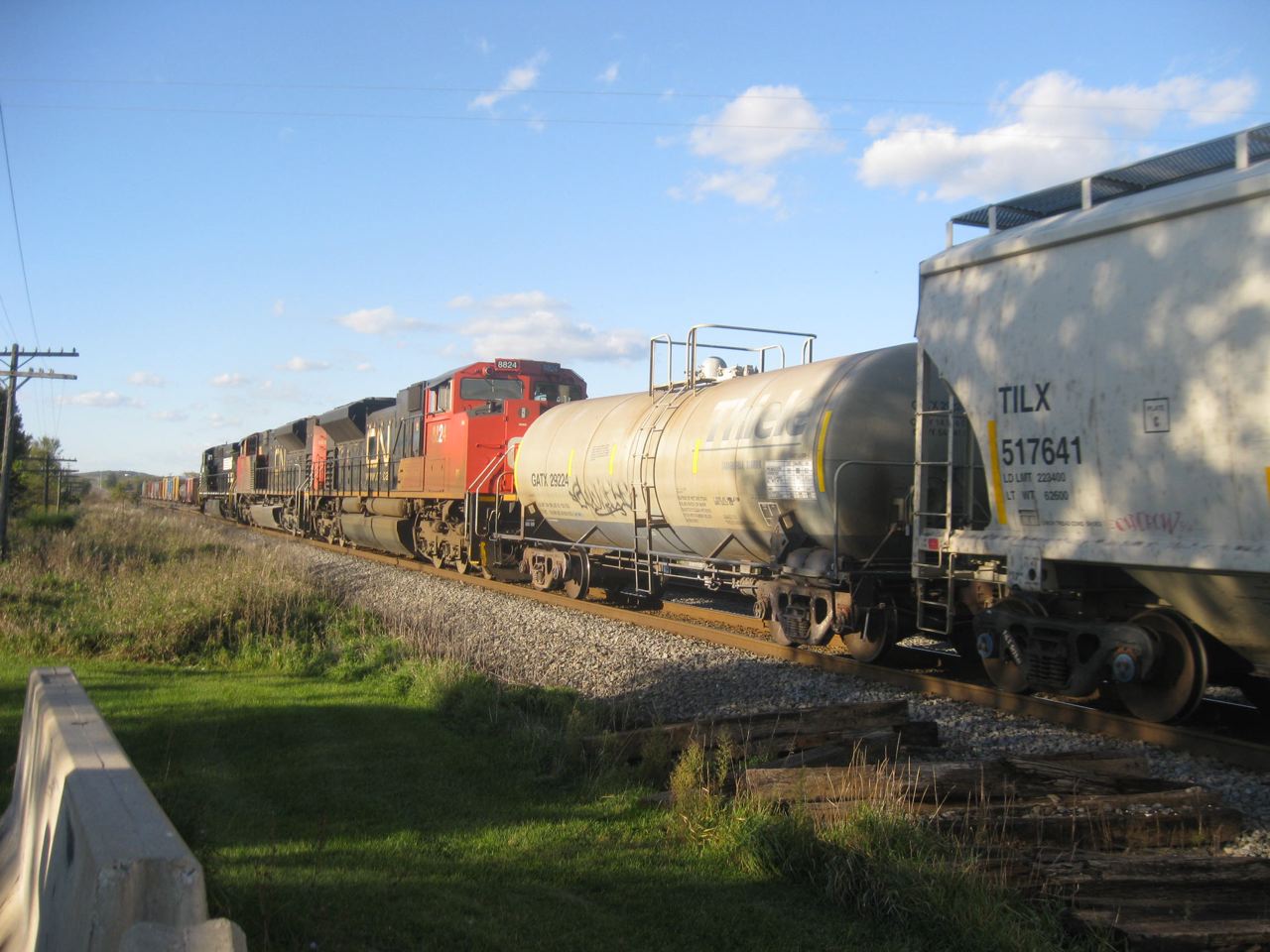 Behind him is a Green Bay coal train from the Powder River Basin, via Chicago, with the usual BNSF power: 5969/9412 and 6438 as DPU, 135 cars, 5:22 p.m.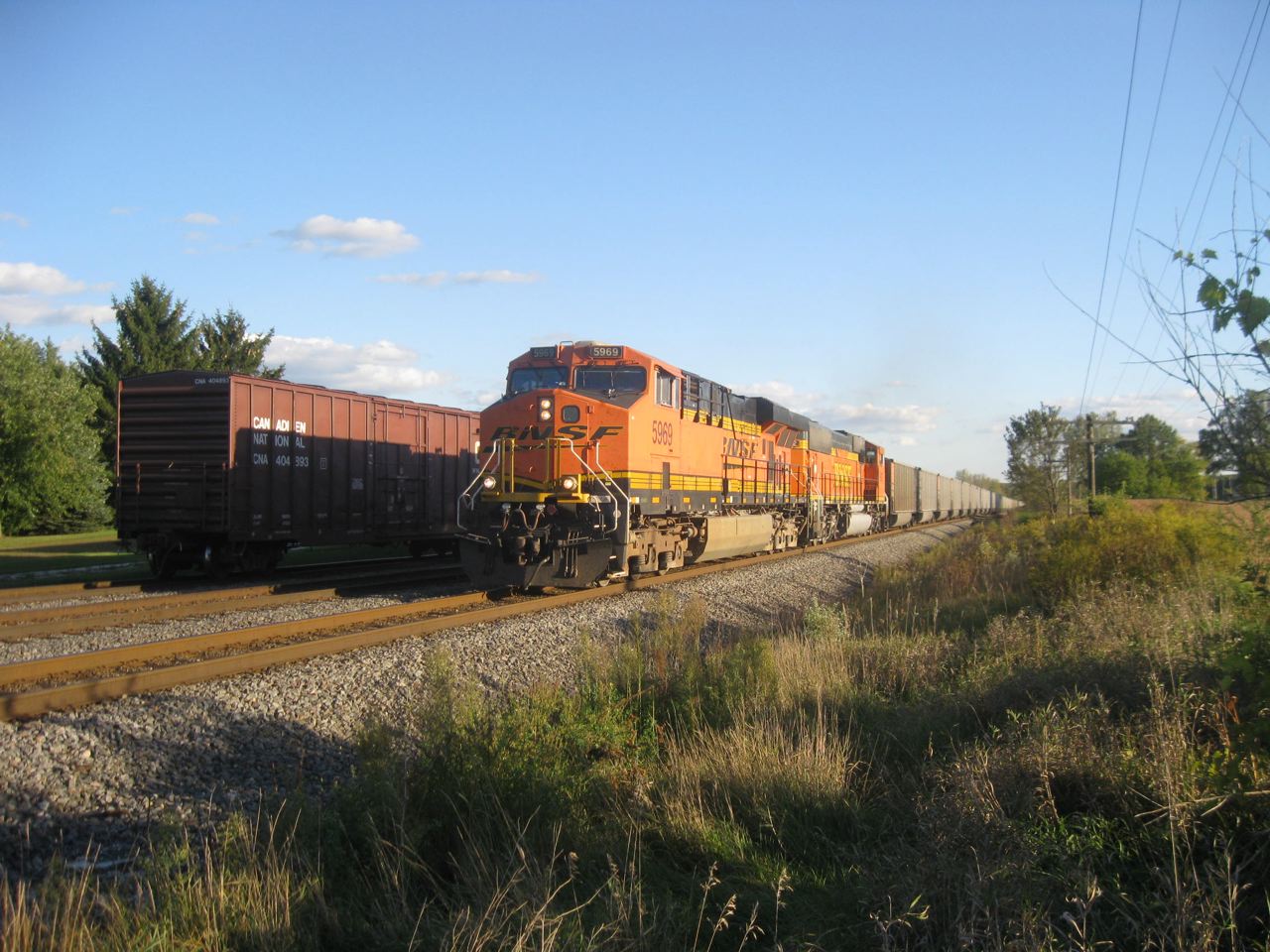 A former Grinstein Green original 70MAC. The coal gons are about a year or two old.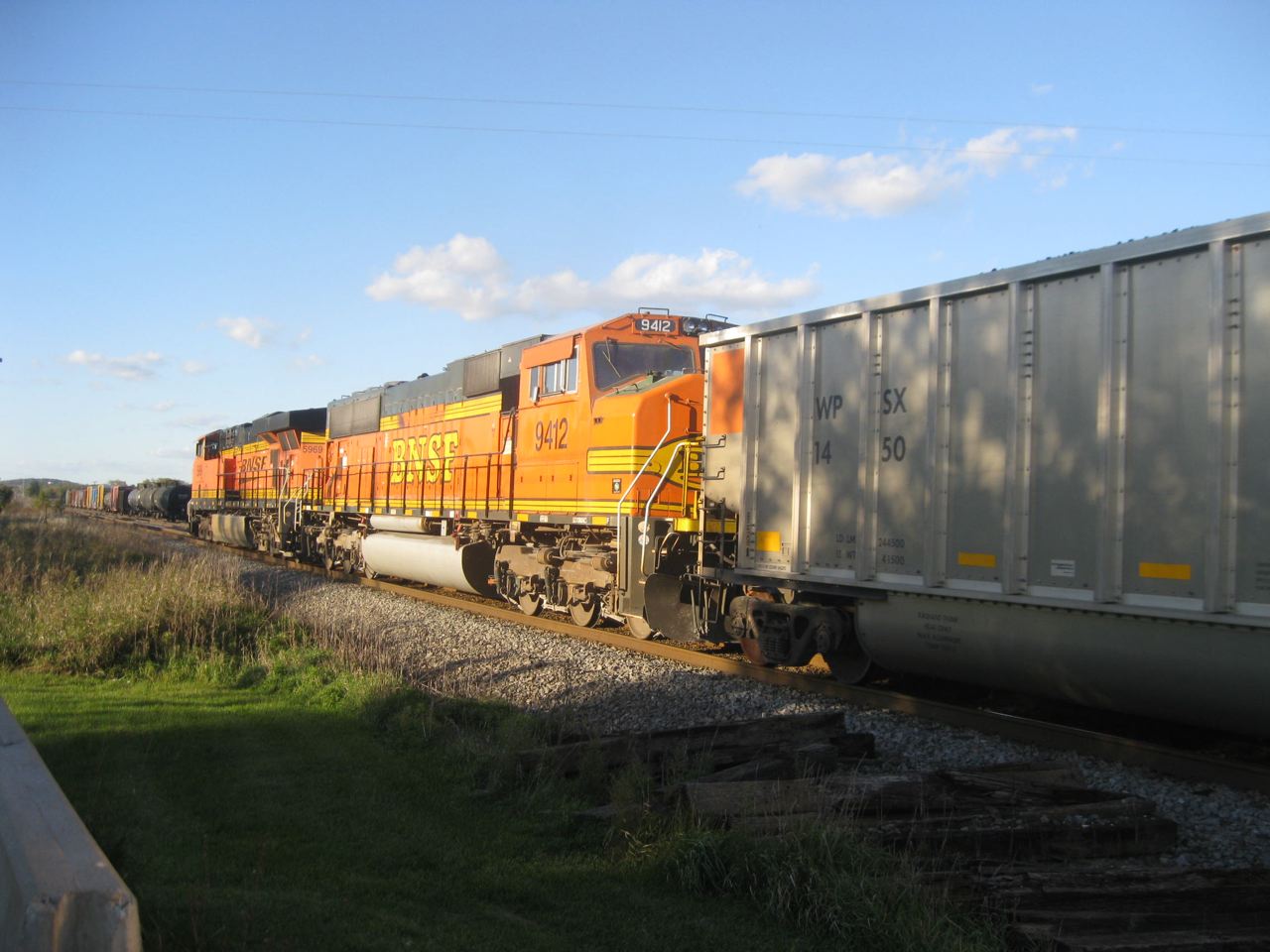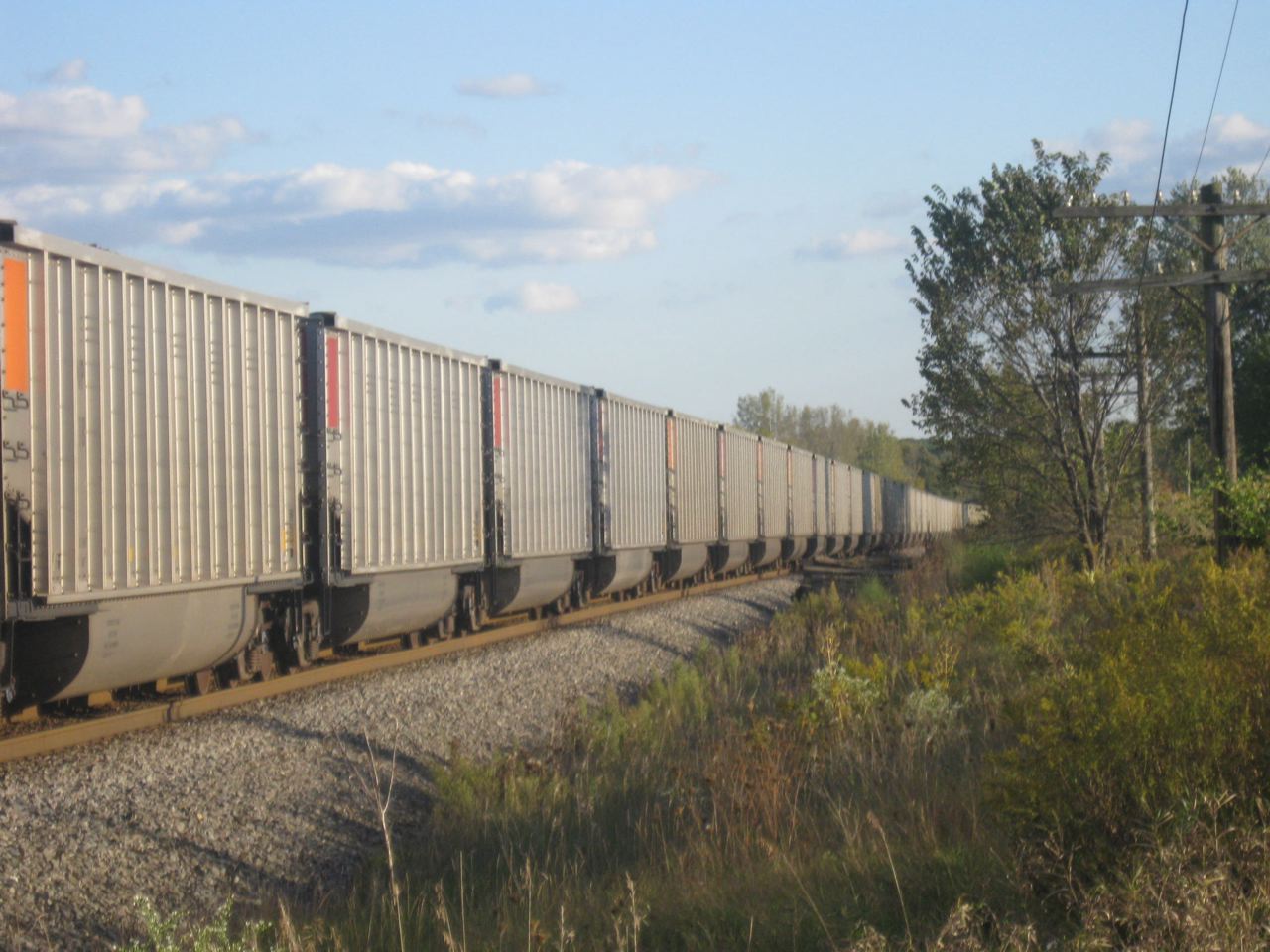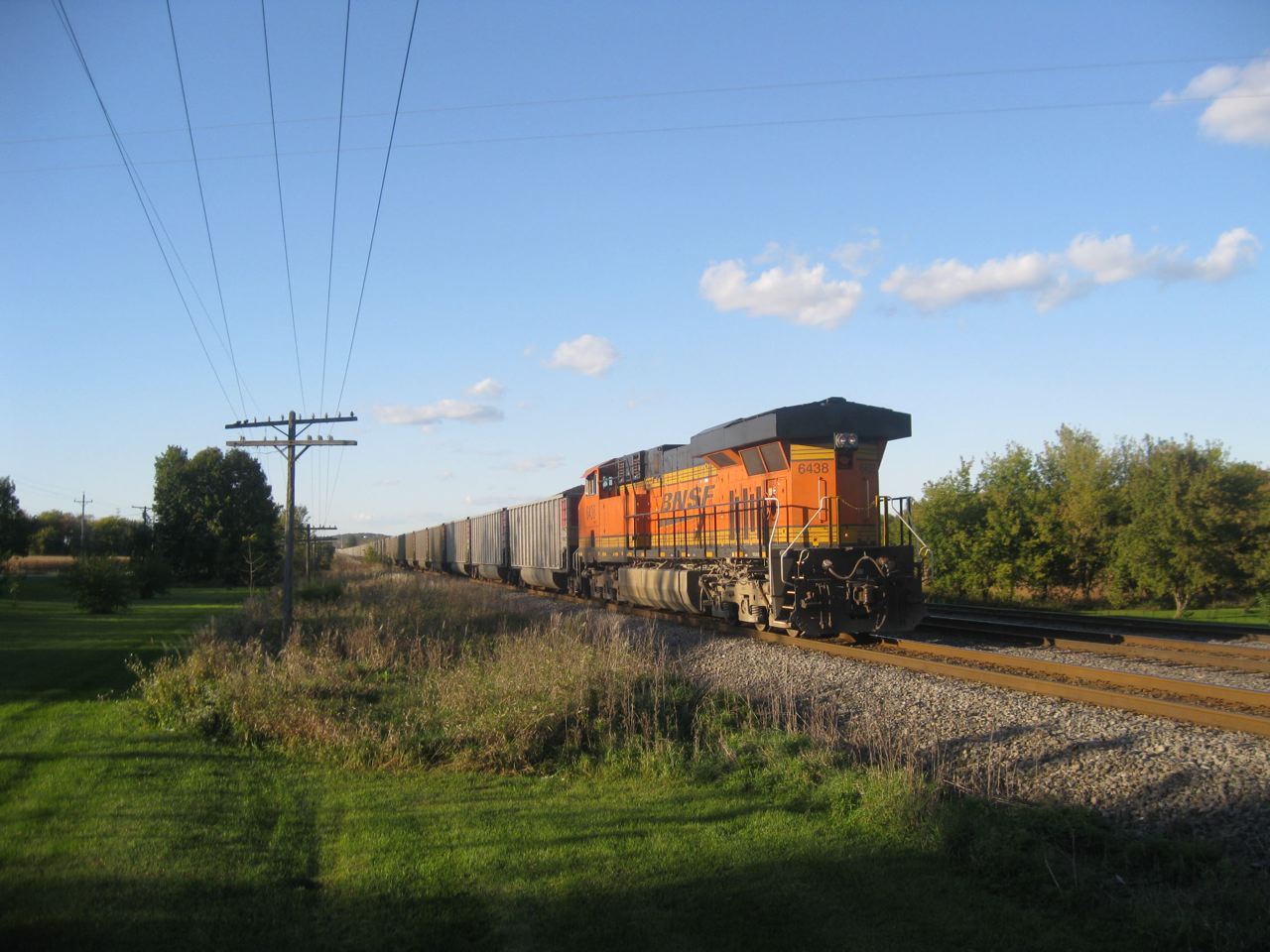 Behind the coal is #347, we think, with 2506/5791 and a whopping 179 cars, not atypical for CN any more, at 5:35. Going on home for supper, we were surprised at Springdale Road east of Duplainville by a westbound CP ethanol train, didn't see the power only the middle of the train, for our first miss of the afternoon, at 5:45.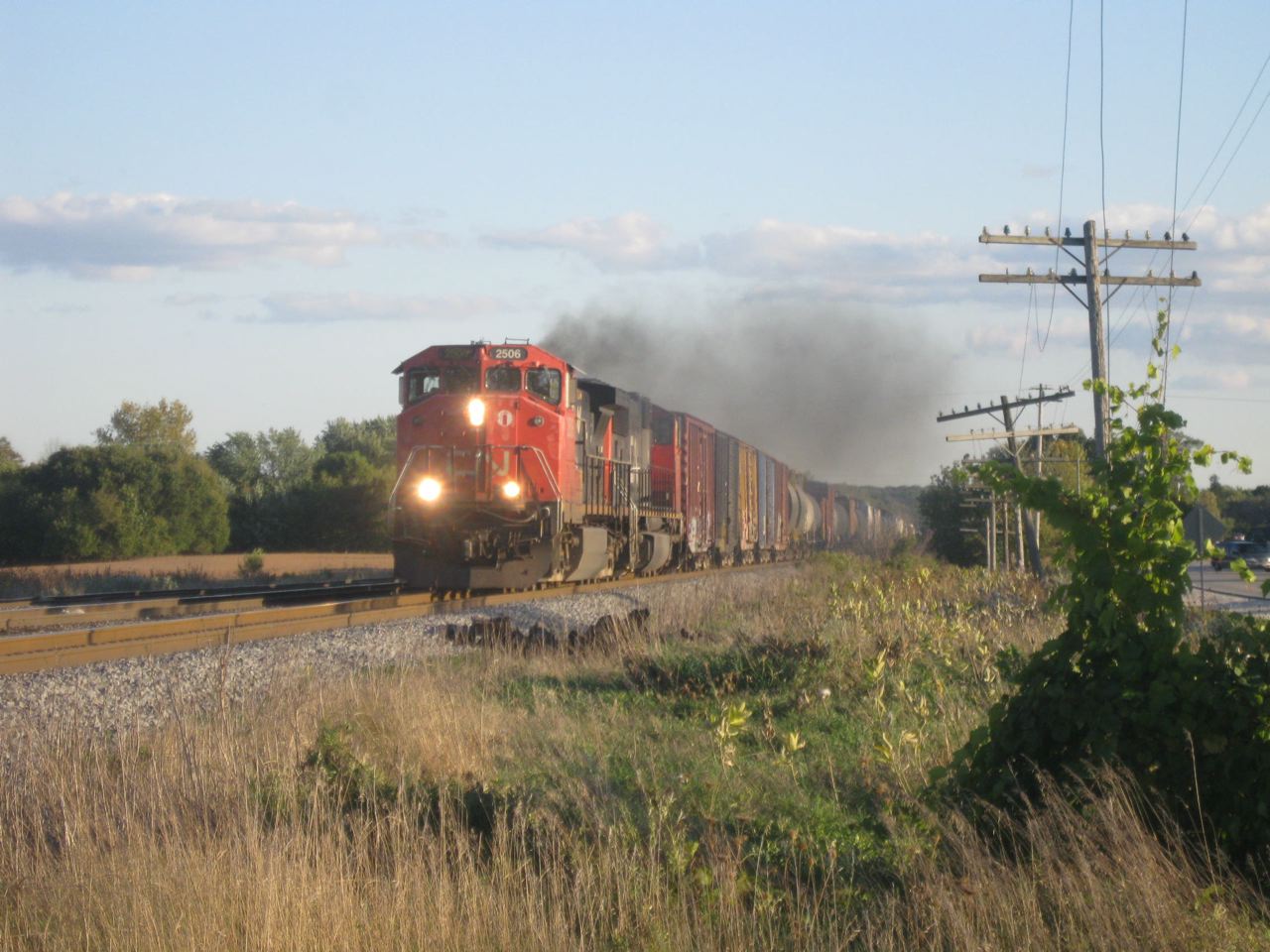 The next day. Friday, Oct. 1, I made one photo: of CN #336 at the Waukesha depot. I was about to go out the door to Kalmbach when Jeff Hampton called me, alerting me to the train passing Rugby Jct., about a half hour to the north, with a British Columbia unit leading. Having not photographed such around Waukesha, only trailing units, I set up at the depot, took one digital and a bunch of close-up slides: 4625/CN 2500, 9:19 a.m. Thank you, Jeff! That's L504 at the left, waiting to exit the "tie-up track" with a tank car or two from the south end of Waukesha the night before. Waukesha is one of the few places on the old WC where you can photo a unit parked across from an in-use, on-site depot.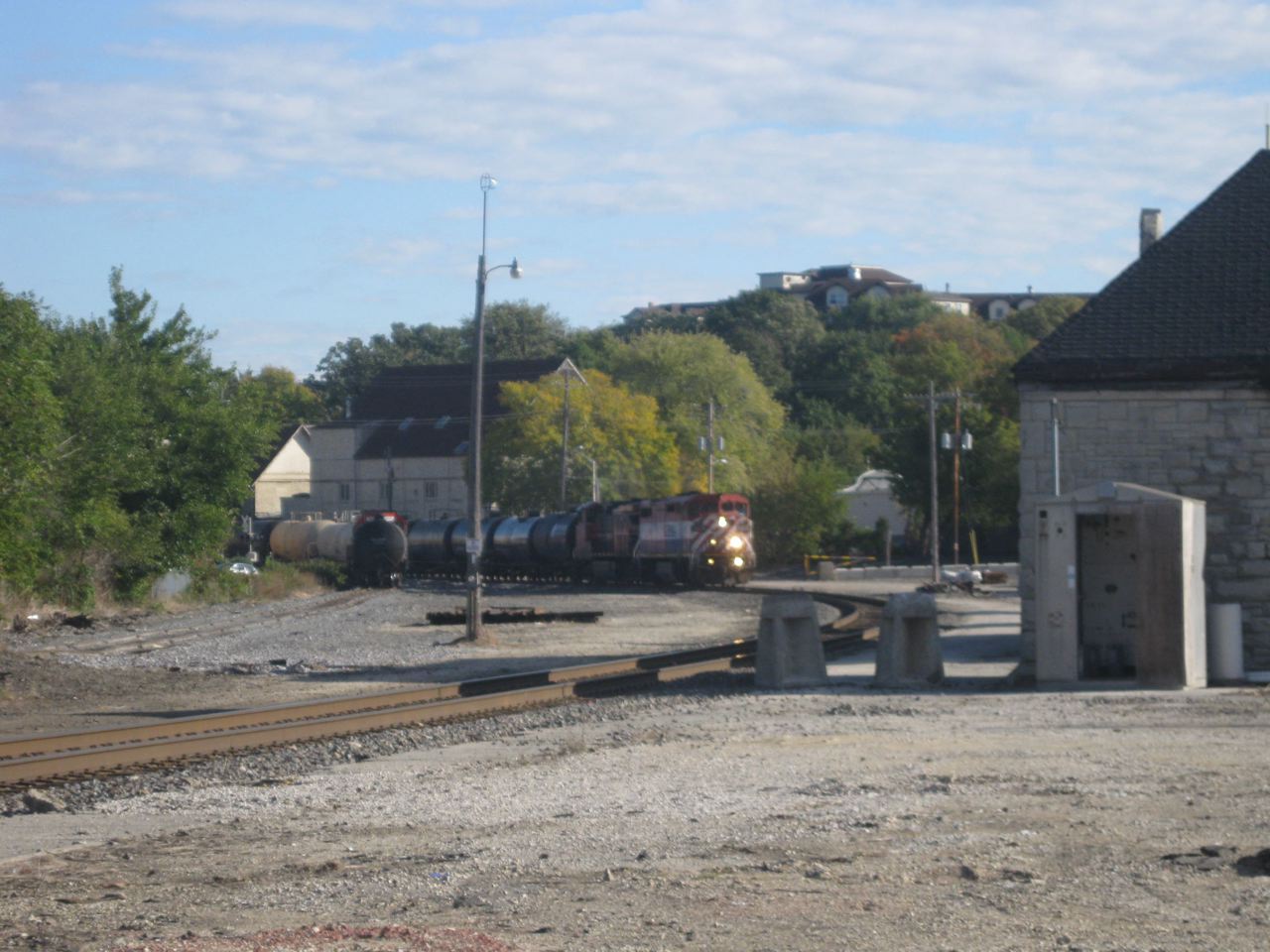 This page was designed and is maintained by Mike Condren. If you have materials
that you would like to contribute, contact me at mcondren@cbu.edu