Trip to Des Plaines, IL
June 18, 2011
Photos by Dave Ingles
My local friend Jeff Madden had an about-to-expire gift certificate he won at an S-Gauge Convention in Chicago, for Des Plaines Hobbies in that NW Chicago suburb, and called to ask me if I wanted to go along, following the railroads down and seeing points of interest around Des Plaines, which he hadn't really done. He picked me up at 930 a.m. and we followed the CN Waukesha Sub (former WC, former Soo) into the northern suburbs. The line was pretty quiet, alas, but we got a couple of trains,  plus a Metra on the MILW North Line at Prairie Crossing in Grayslake. Around Des Plaines, we got a UP NW Metra before hitting the hobby shop, and after our visit there and a quick late lunch at Steak n Shake near O'Hare, finished the afternoon in Franklin Park, which Jeff hadn't visited. Here are the few digitals I shot for the day.
Heading into Burlington, Wis., we knew two southbound CN freights were catching up to us as we traveled the back roads. The first one, #340, showed up at the north end of the old Burlington passing siding north of town. Engines IC 2713/CN 2518 and i'll bet 175 cars. We left this vantage point as the train was passing, and once into the center of town as it kept passing by us, there were 2 DPU units! Unfortunately we were not close enough to either defect detector north or south of Burlington to get an axle count. Time here was 1020 a.m.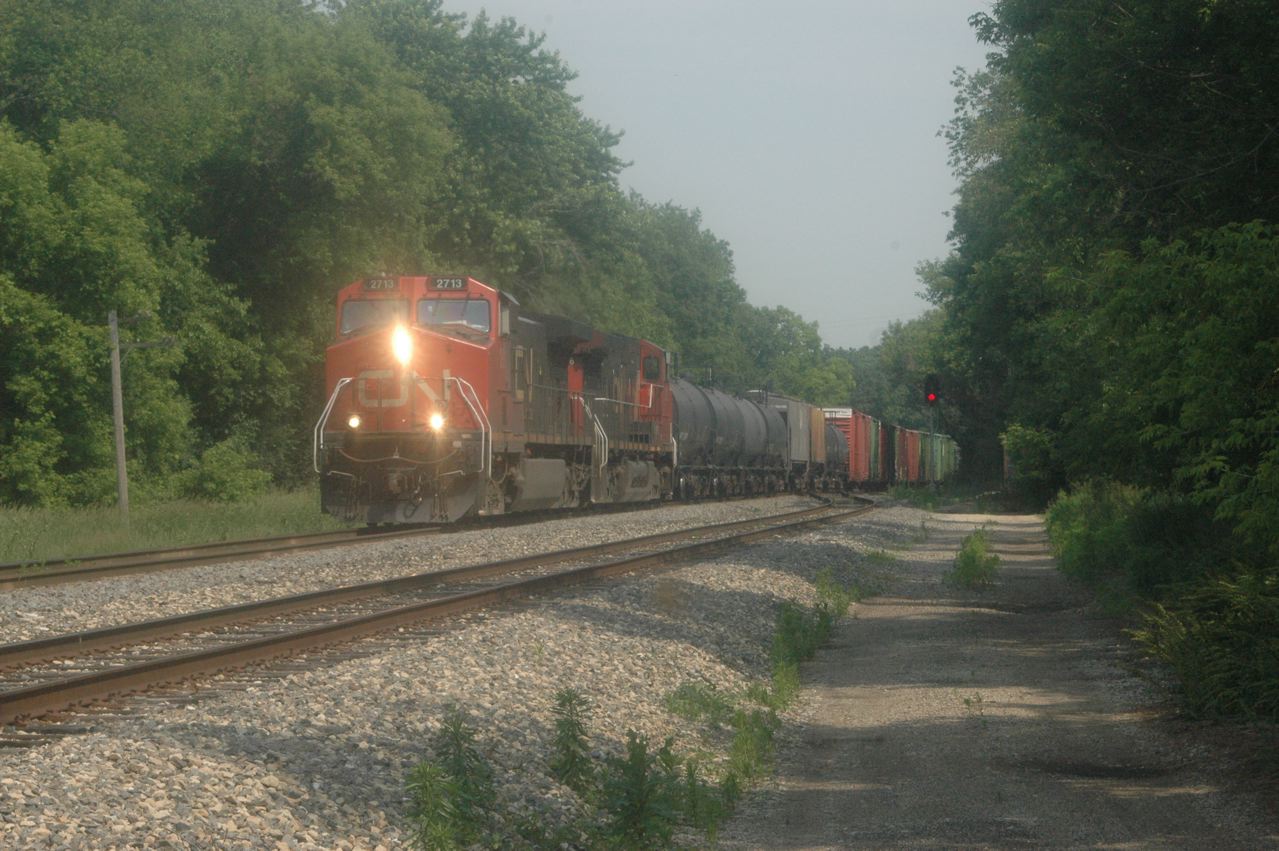 Here, in town, and from the shady side, are the DPU's, going away from us, 5510/8962 at 10:32. The D70 misfired on the 2nd train, but I got slides. That train was #342 with 5722/2255 with 65 cars at 10:38, here at the north end of the long passing siding south of town, called Nestle's for the chocolate factory nearby, but from the sunny (east) side of the tracks. For those viewers from this area, the Charcoal Grill restaurant outlet in the center of town overlooks the tracks and has many historic Burlington photos, and railroad photos and knicknacks, on the walls, an unusual RR theme for this chain, which is sort of sports-bar setup but with a large varied menu .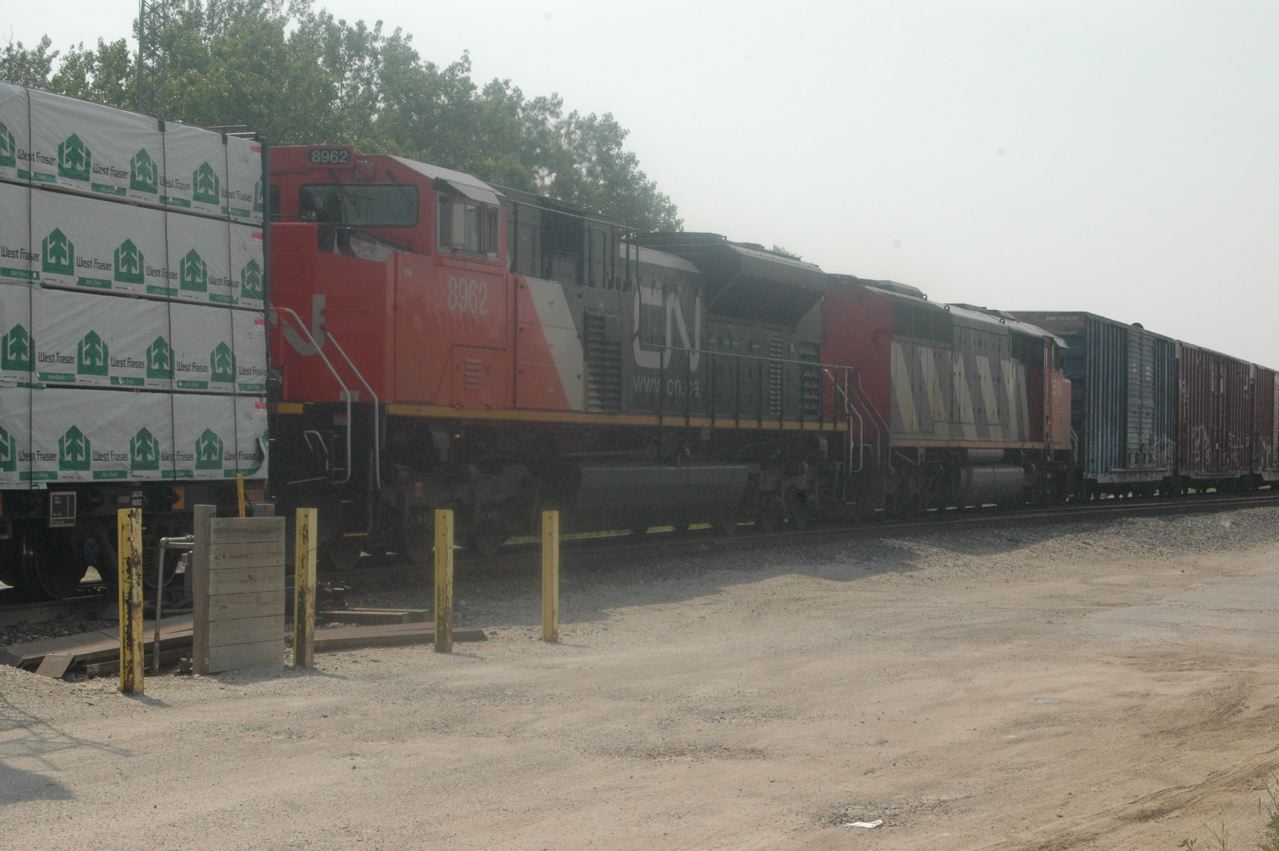 Jeff made it a point of turning off Route 83 for a few hundred feet in Grayslake so we could grab a root beer and a hot dog at this Dog n Suds drive-in, one of at least two to survive in the region. It's 11:30 a.m. The other "Arf & Barf" (as my wife and friends called theirs in Belvidere, IL, in her youth) to survive nearby is in Richmond, Ill. on US Route 12. That's Jeff's new Ford Explorer at the right. The license plate is 316 NASG; that means 3/16 scale and National Association of S-Gaugers, whose magazine he edits as a side job.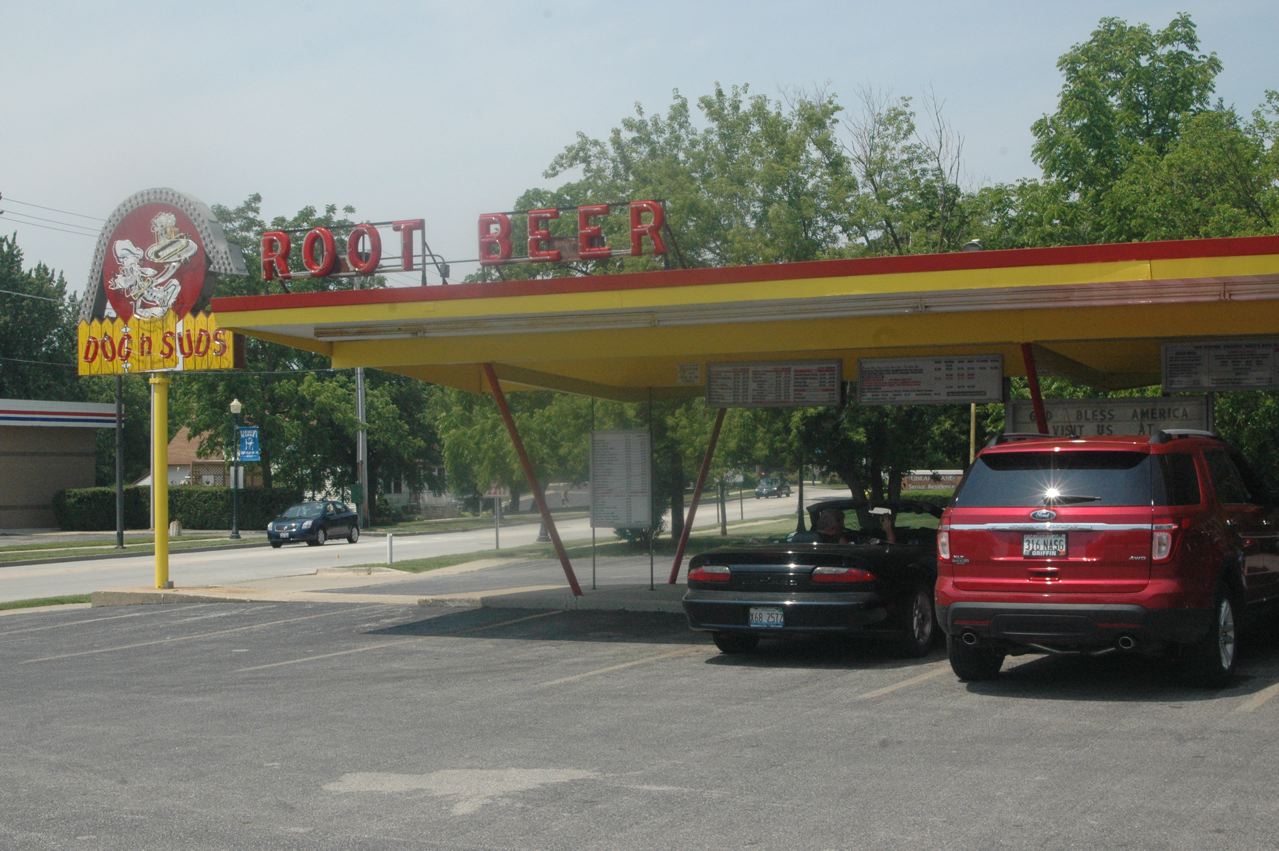 Jeff wears his Route 66 hat, tho our day would take us nowhere near that fabled road.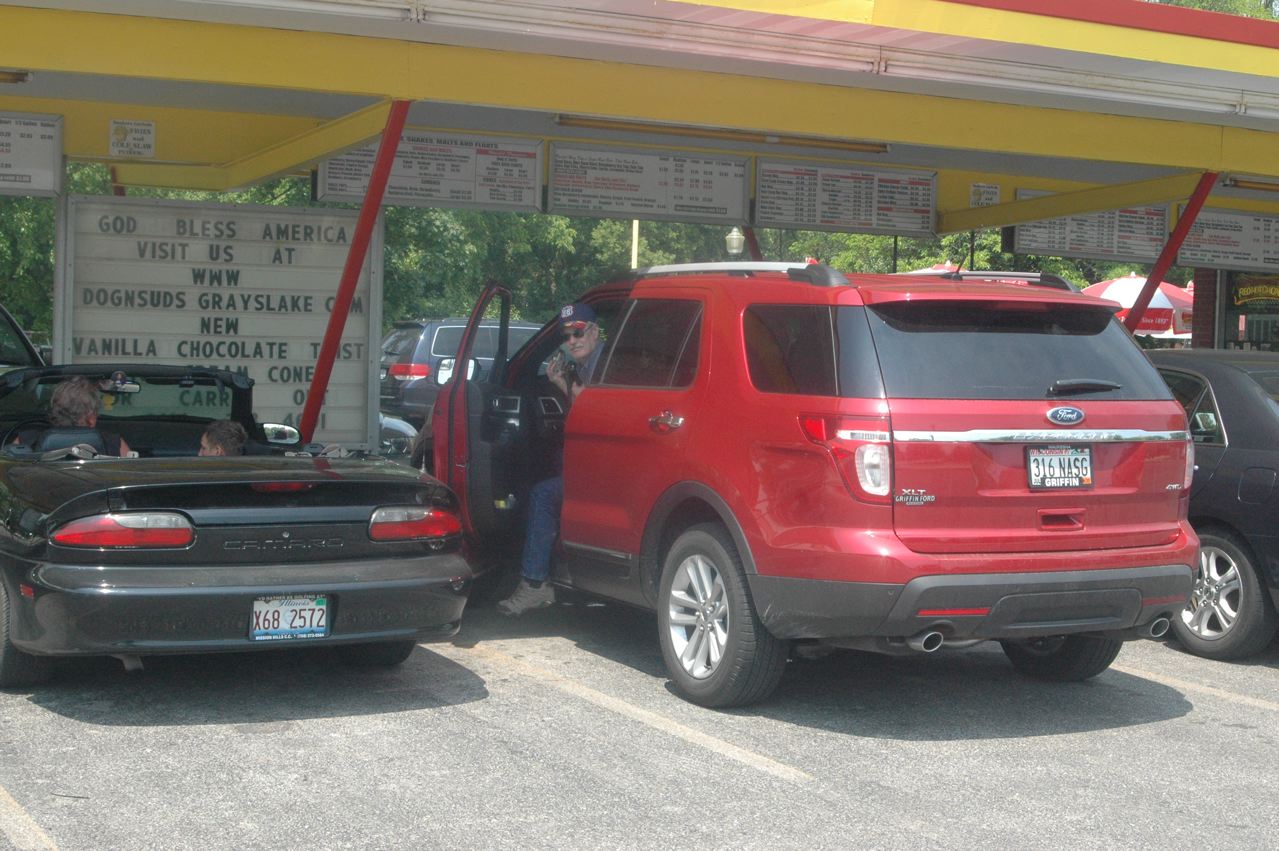 Our carhop serves the Camaro convertible next to us.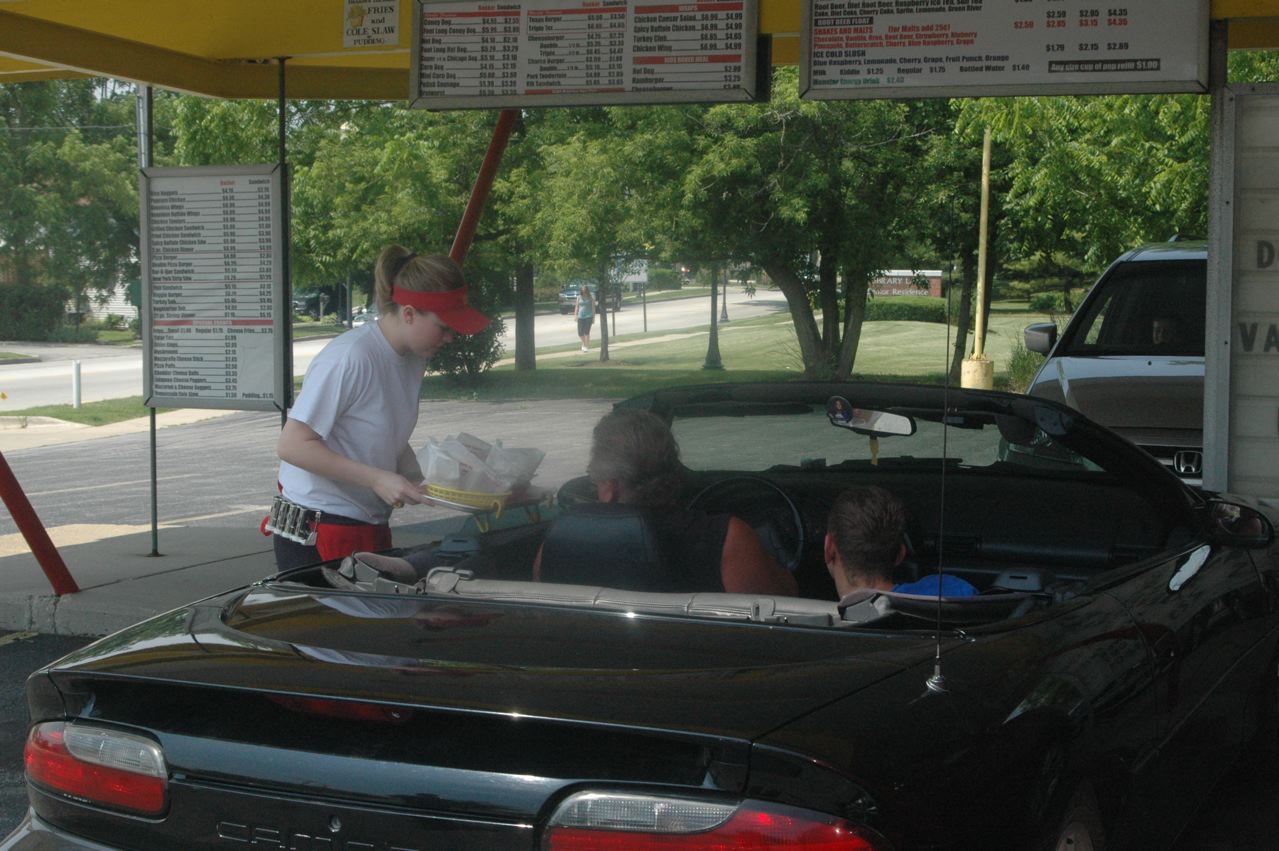 Our carhop bring us our dogs and beers.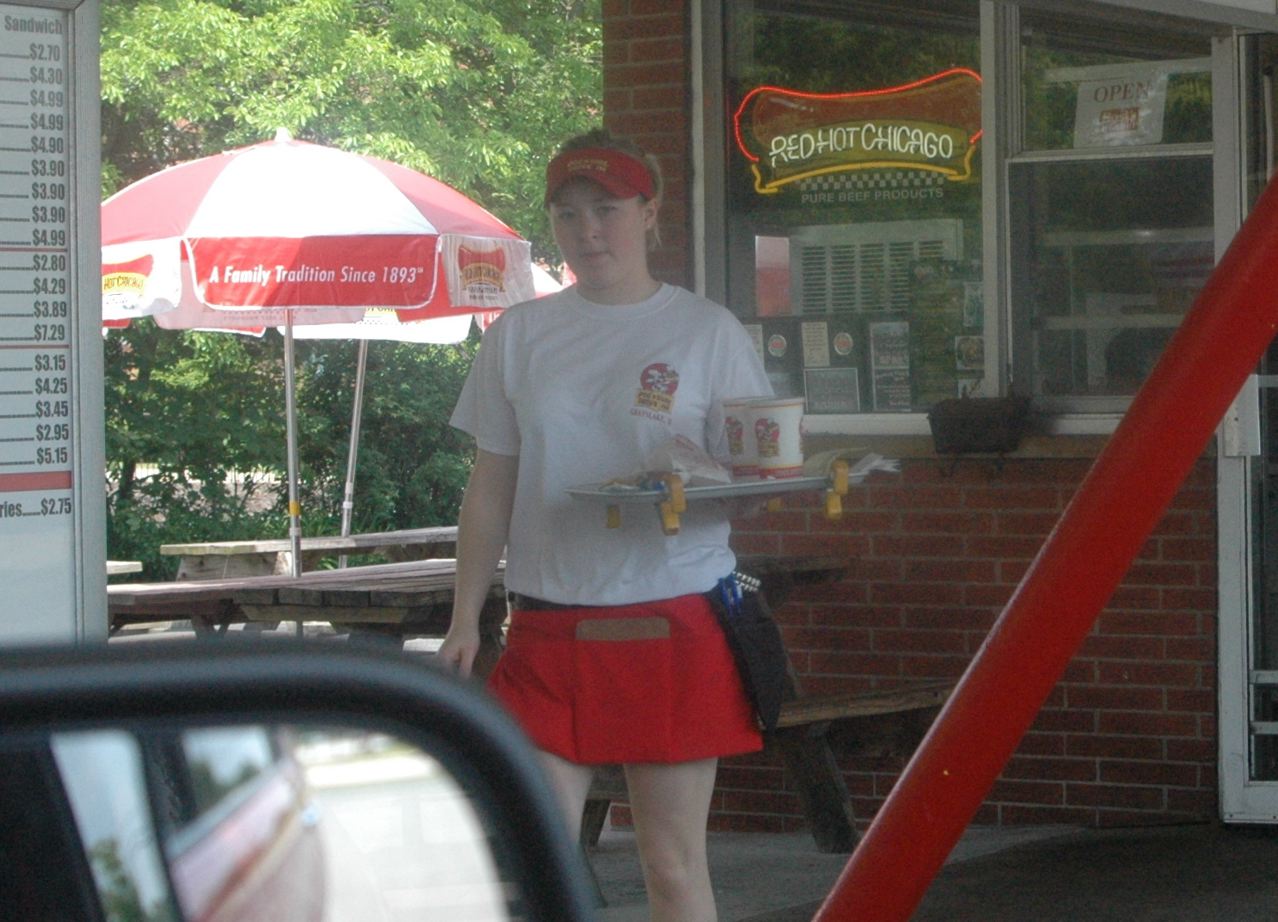 We shot Metra MILW North Line train 2610 passing nonstop thru Prairie Crossing between Grayslake and Libertyville, at 1204 pm, but it was going too fast to work both cameras, so slides only--7 bilevels pushed by F40C 611, one of two (with 614) still in regular service (the others were sold off a number of years ago).
Once into Des Plaines, we waited at the UP Northwest Line Metra station for train 707, engine 153 and 8 cars, running a bit late at 1309-1313 hours (due at 1304).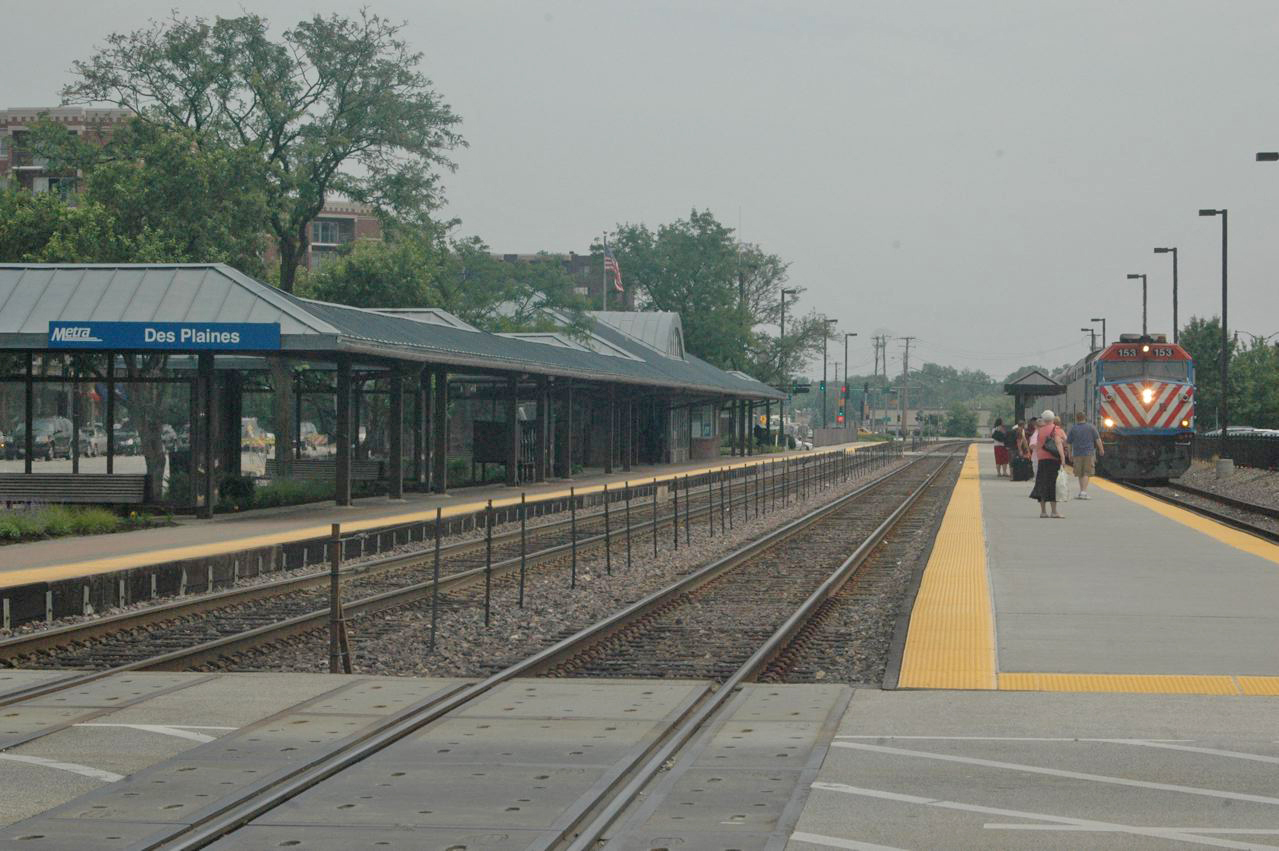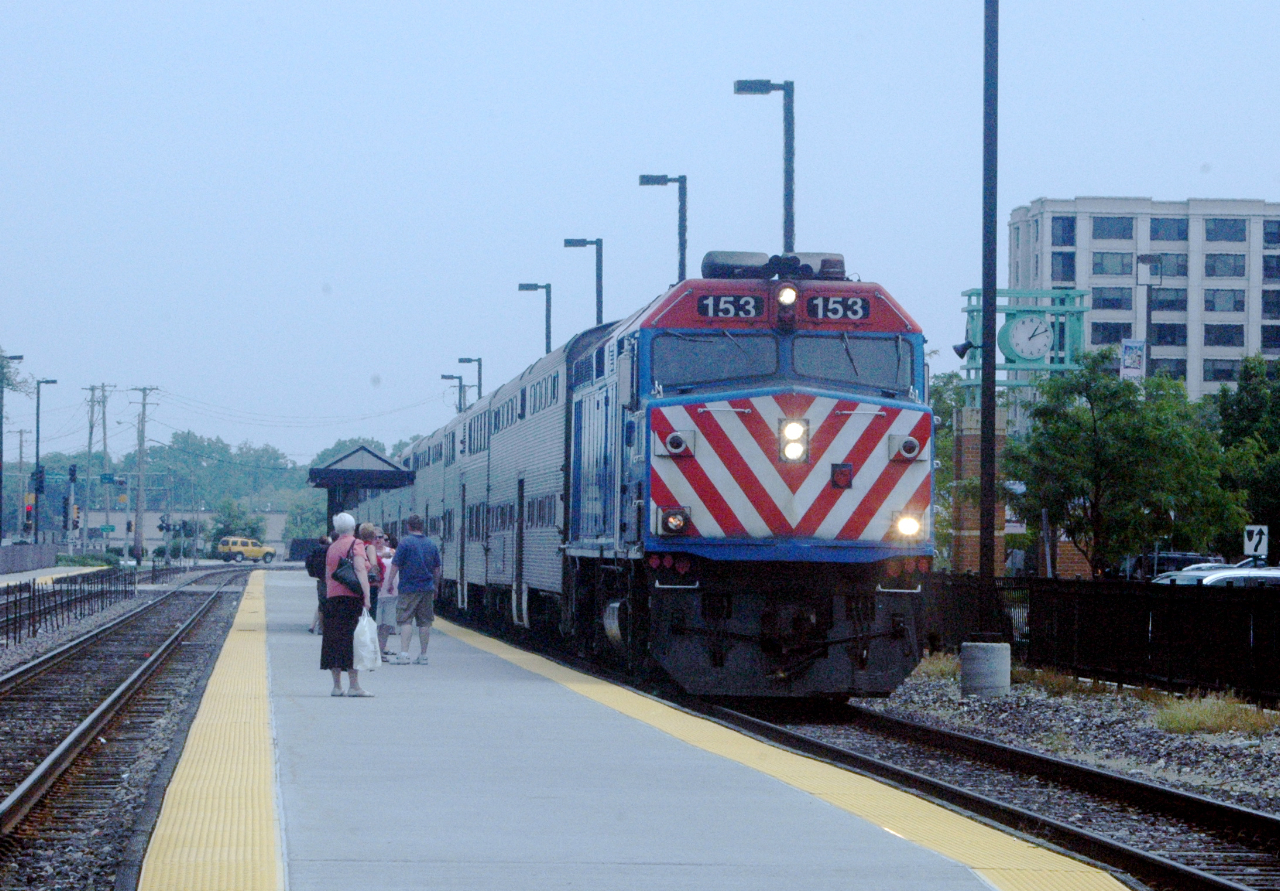 The signals in distance are home signals for Deval interlocking, crossing of the UP Milwaukee Sub (aka C&NW "New Line") and CN (former WC, Soo) mainline. The tower still stands, housing the equipt., but is controlled from elsewhere on UP. Note the old (ex-CNW?) smooth-side belevel with blue paint stripe; I had thought these all out of service by now.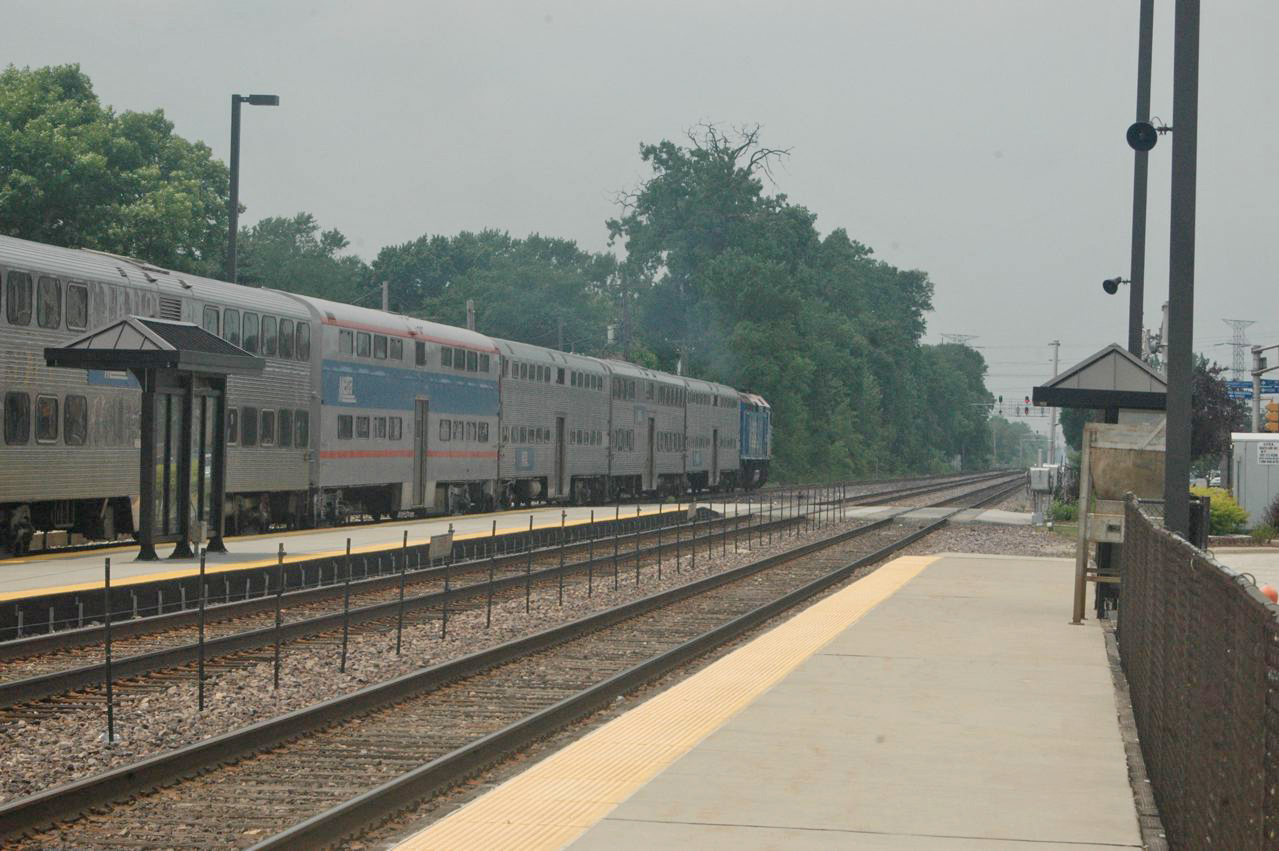 After our Des Plaines Hobbies visit, and chasing a one-unit CP freight from Deval west thru neighborhoods, we stopped here at the Des Plaines SnS for a lunch to-go, and took it to Franklin Park. The CP train was 9720, and we'd see it again. I shot only slides about 1 mile SW of Deval when we finally nailed it the 1st time. I don't recall seeing an SnS sign exactly like this.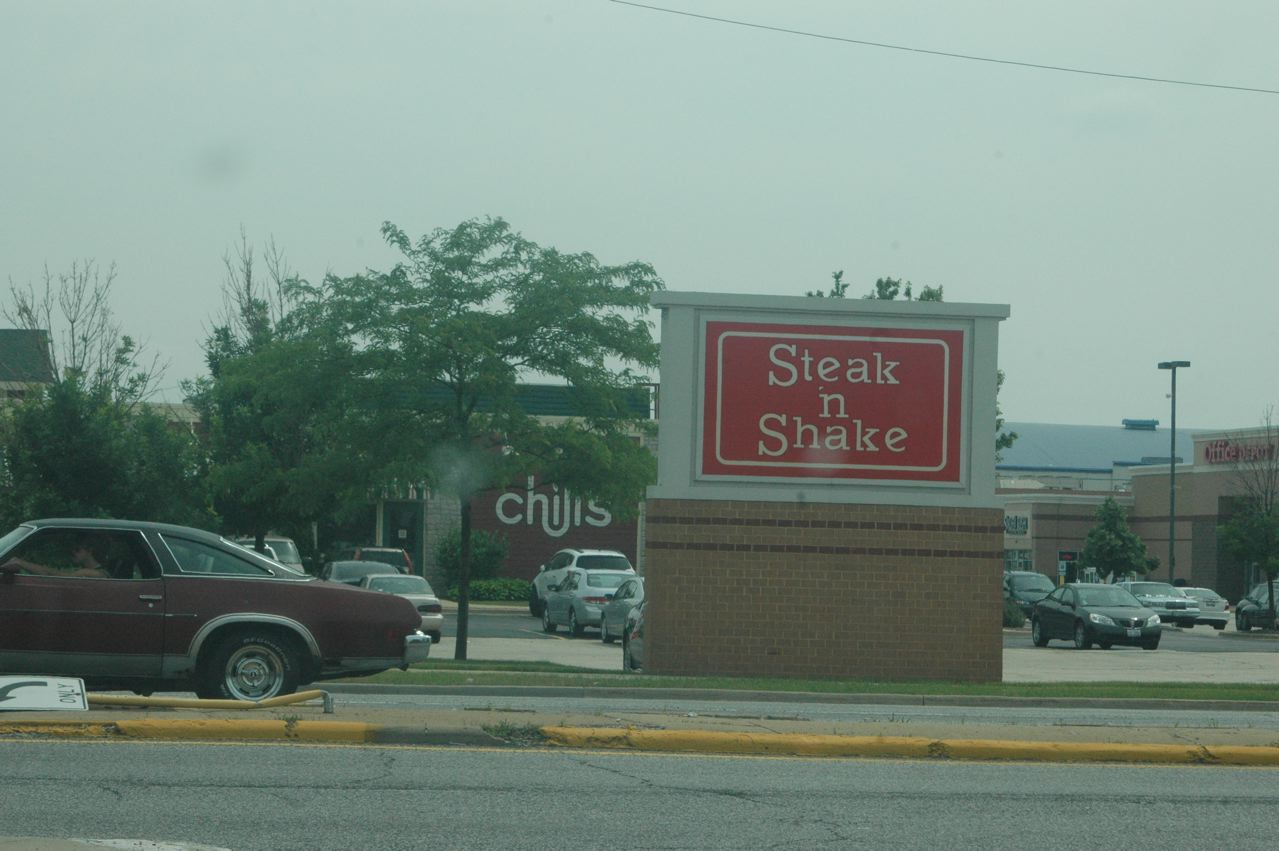 First train at Franklin Park was Metra 2711 on the MILW West Line (Elgin), 422 with 7 cars, at 1506-1507, again a few minutes late.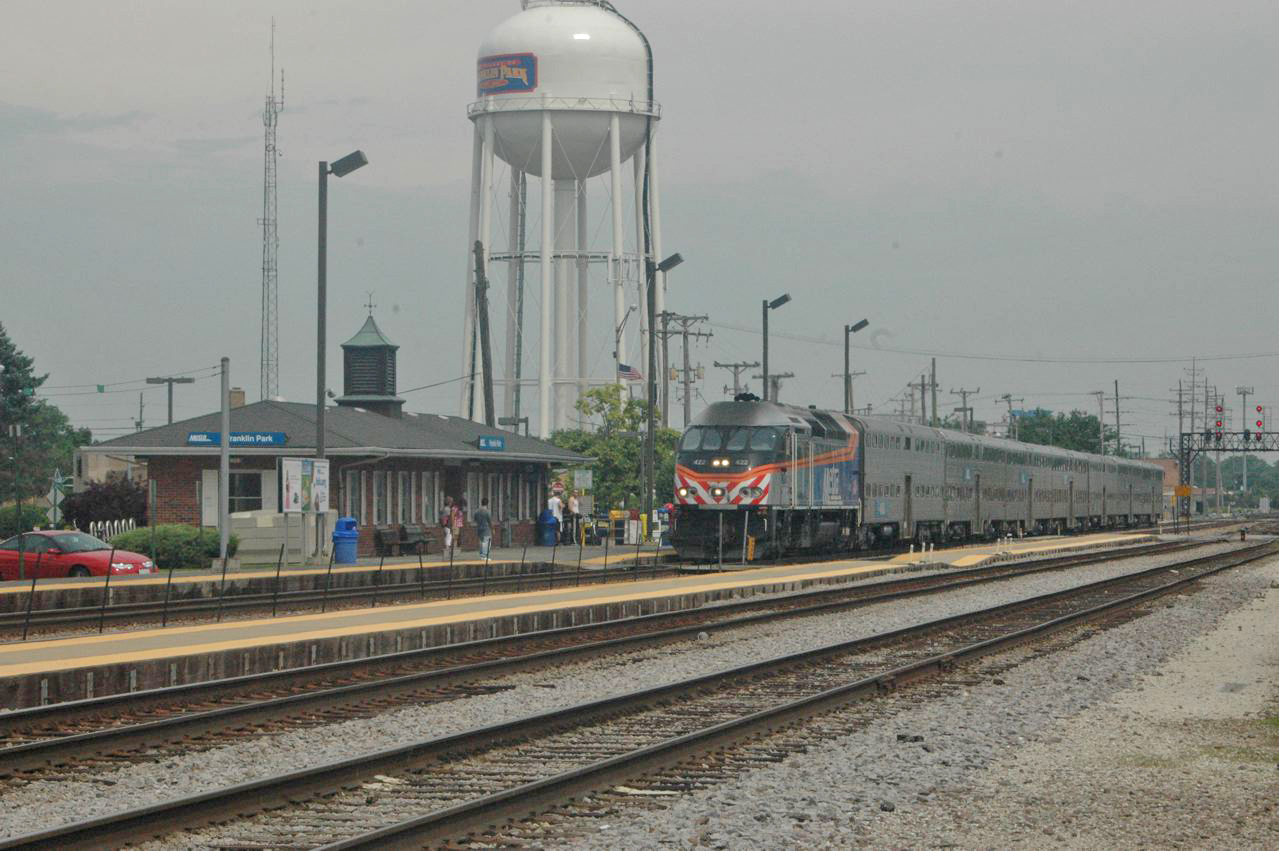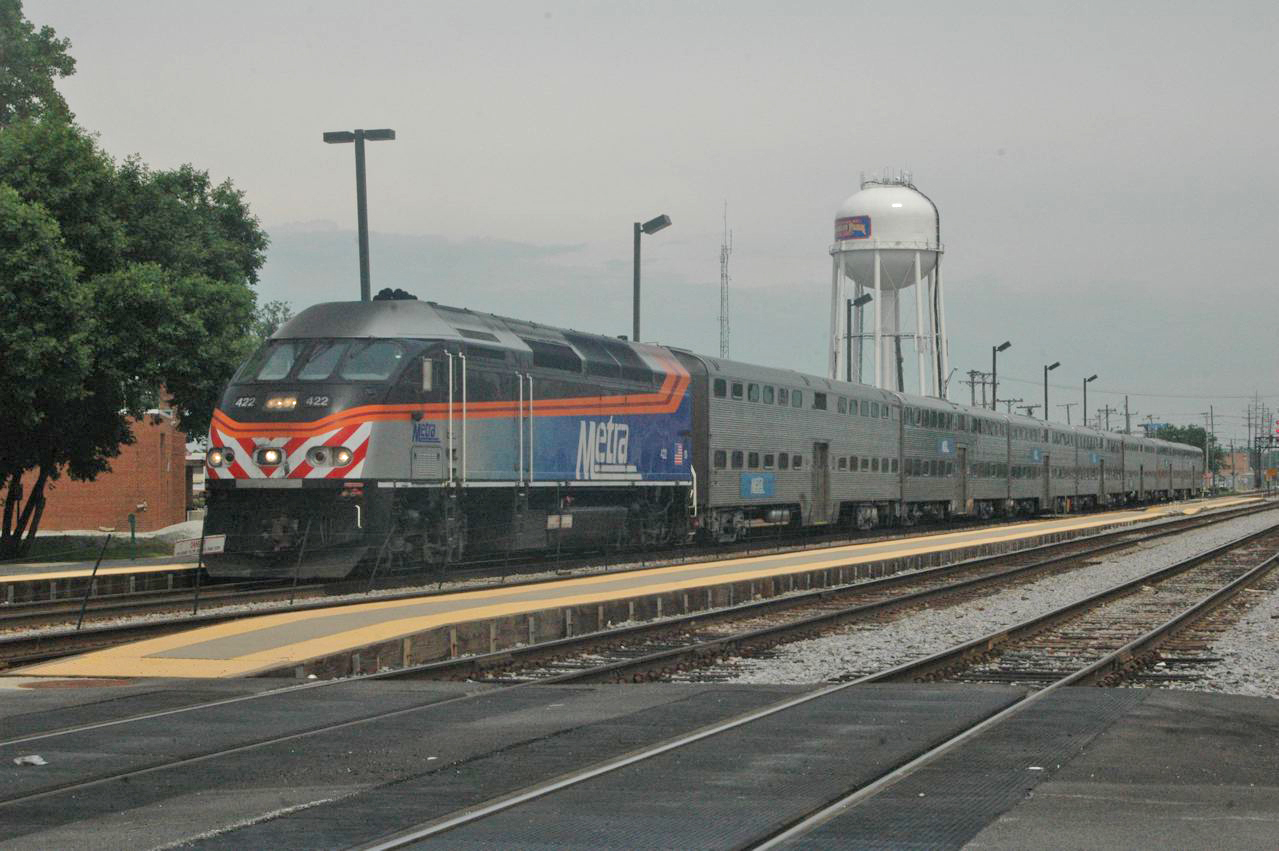 Tower B12 and a cupola MILW caboose make a nice display just west of the Franklin Park station; the tower is about 6 blocks west of its former site at the MILW-Soo (now Metra/CP and CN) diamonds. Those MP36's sure do smoke! A local fan said the annual "Railroad Days" display here was the week before, with, as usual, a lineup of local RR's units parked on the first track here at this site; units in past years have been from CP, CN, BRC, IHB, UP, and Amtrak, but they are displayed here all coupled together, so I've never gone down for the event.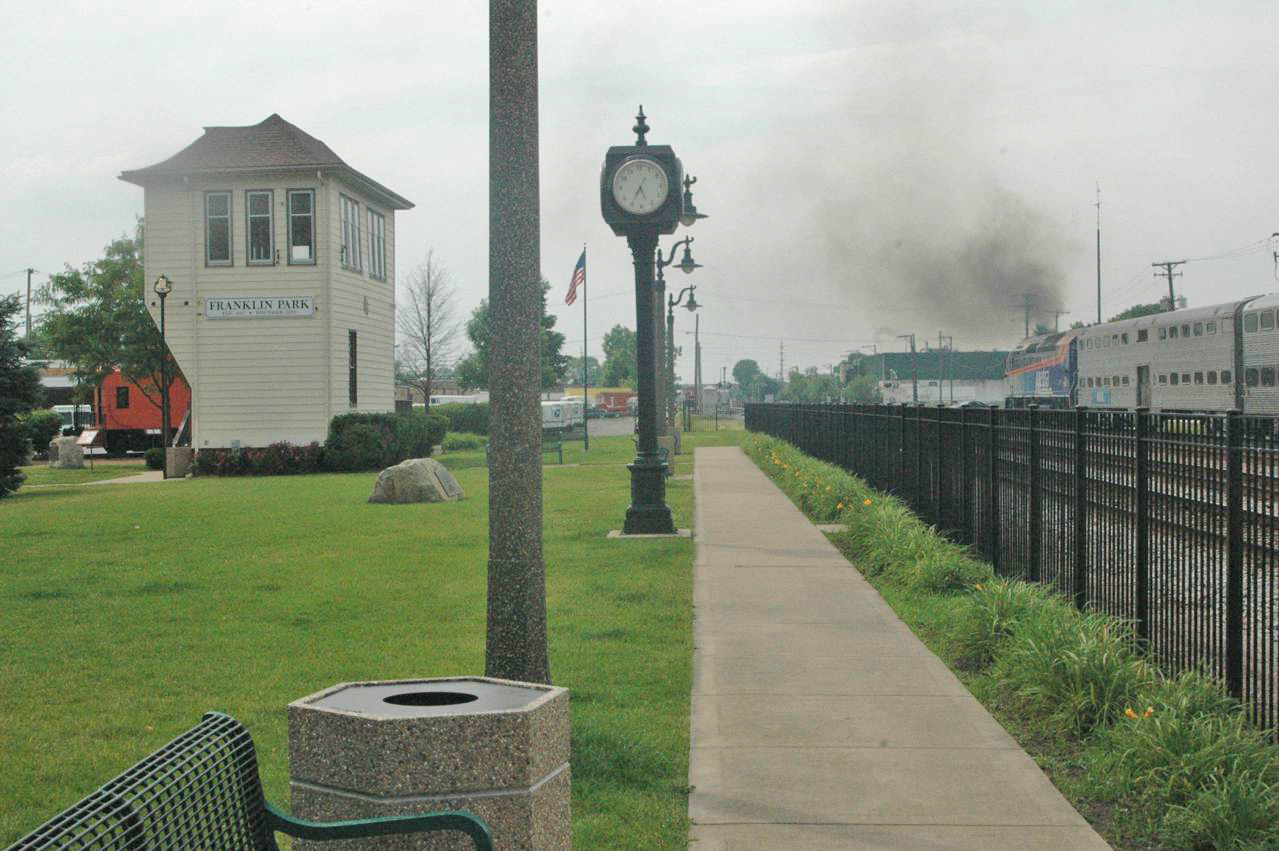 Next a wb CP transfer, probably from Galewood Yard to Bensenville Yard, showed up at the B12 diamonds, engines 4616/Soo 4441 with about 60 cars, at 1530.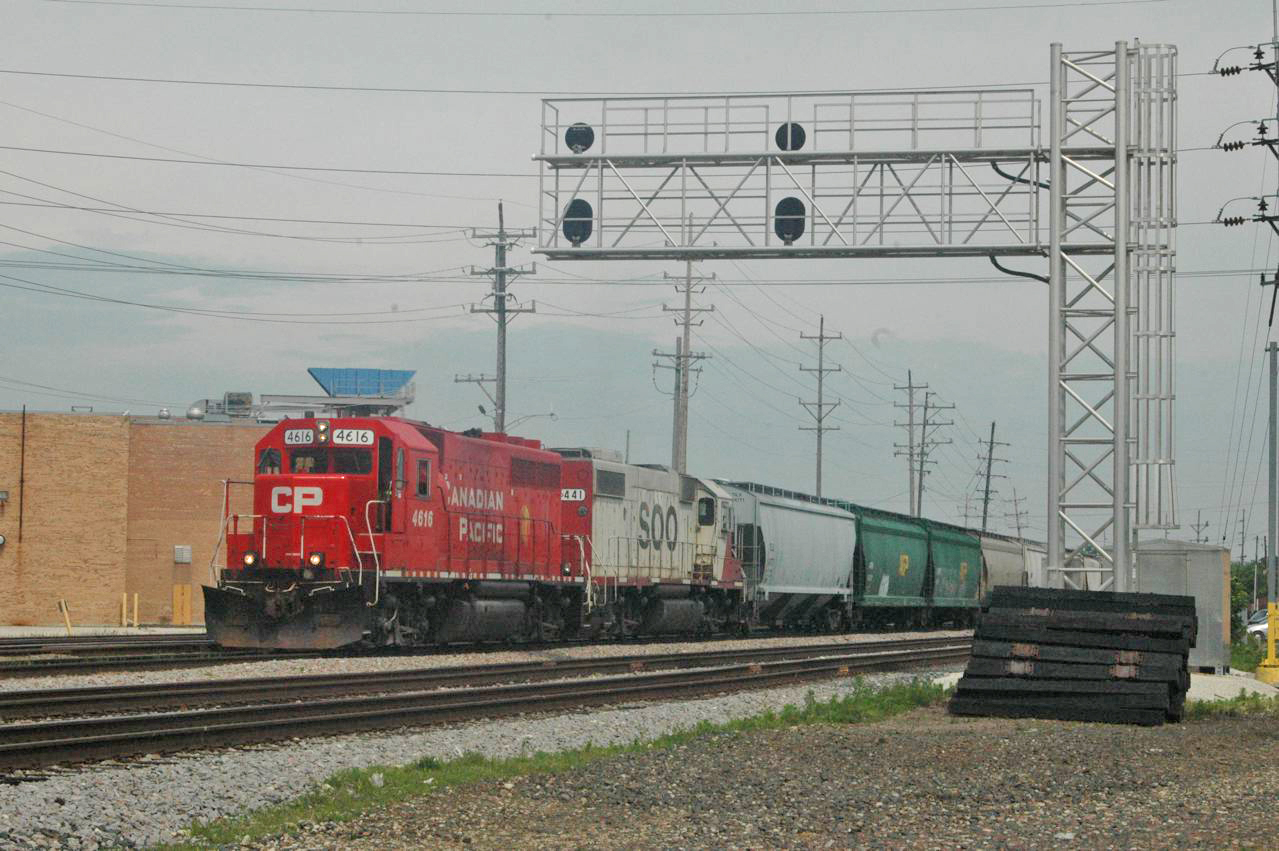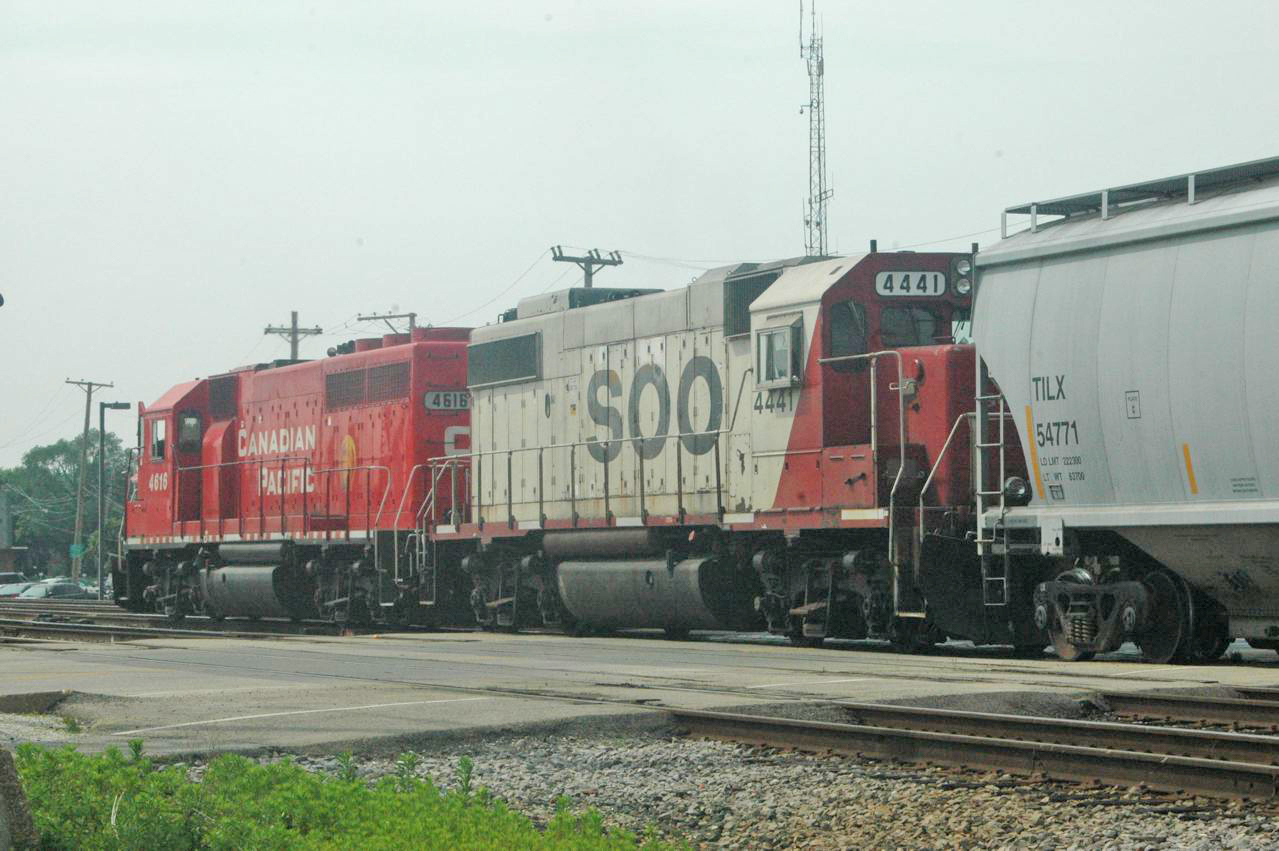 We were south of the B12 diamonds waiting for a CN in each direction to move (they did not), when our friend CP 9720 East came thru, probably headed for the Belt Railway of Chicago with its 53 car train of grain cars, tanks, and a few other misc. cars. The double-track in foreground, and the MP 39 (from Hammond, IN?) are at basically the north end of the Indiana Harbor Belt. The B12 tower used to be sited just beyond the trees at mid-left.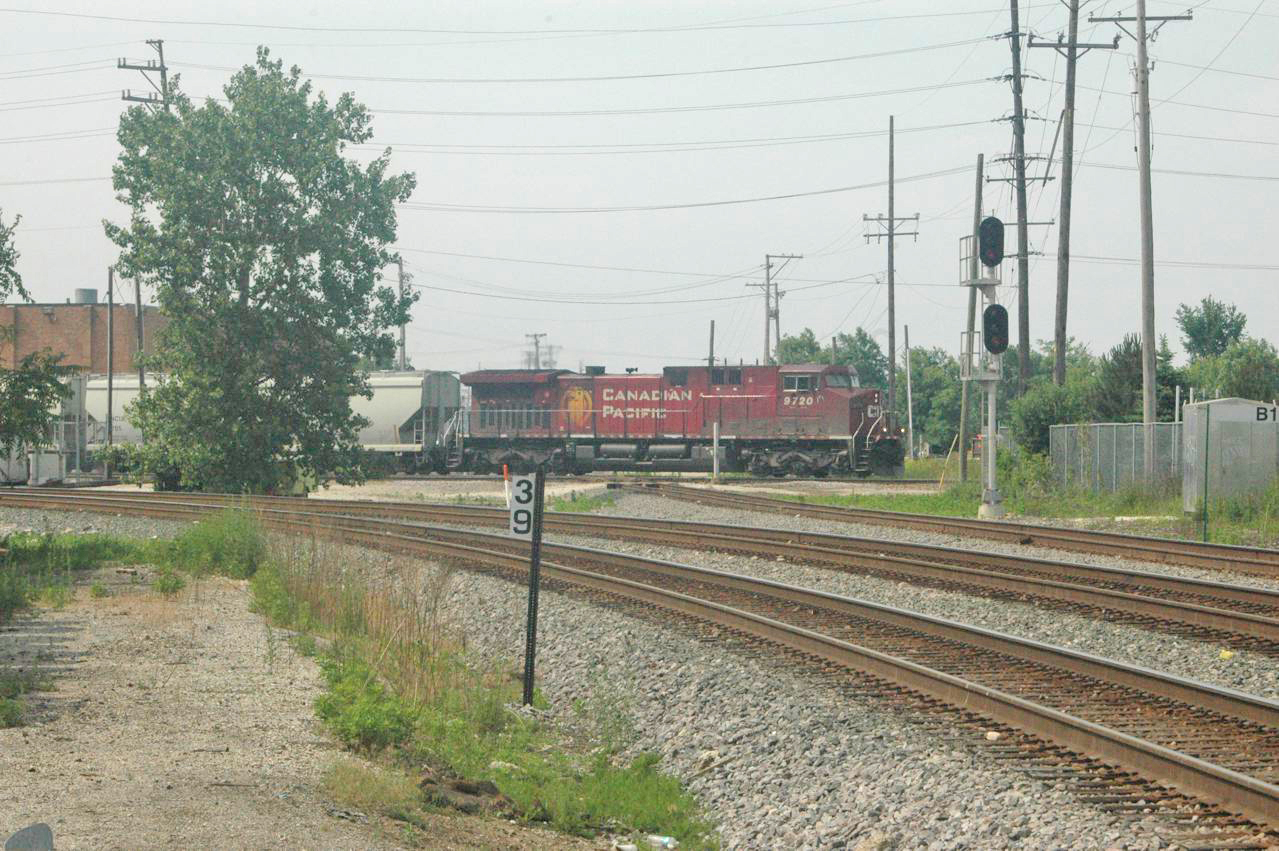 This was our last train photo of the day, CN #198, waiting at the south end of Schiller Park Yard at the Metra North Central Service commuter station at Belmont Ave. in Franklin Park. This Metra line has weekday service only. Engines 8812/2668, 1553 hours. We then drove back home, via I-294 and I-94, arriving Waukesha at 1750 hours with no delays and much 70-mph running. A nice outing on a nice day, 70's and into 80's and a bit humid and hazy, tho nothing special on the rails.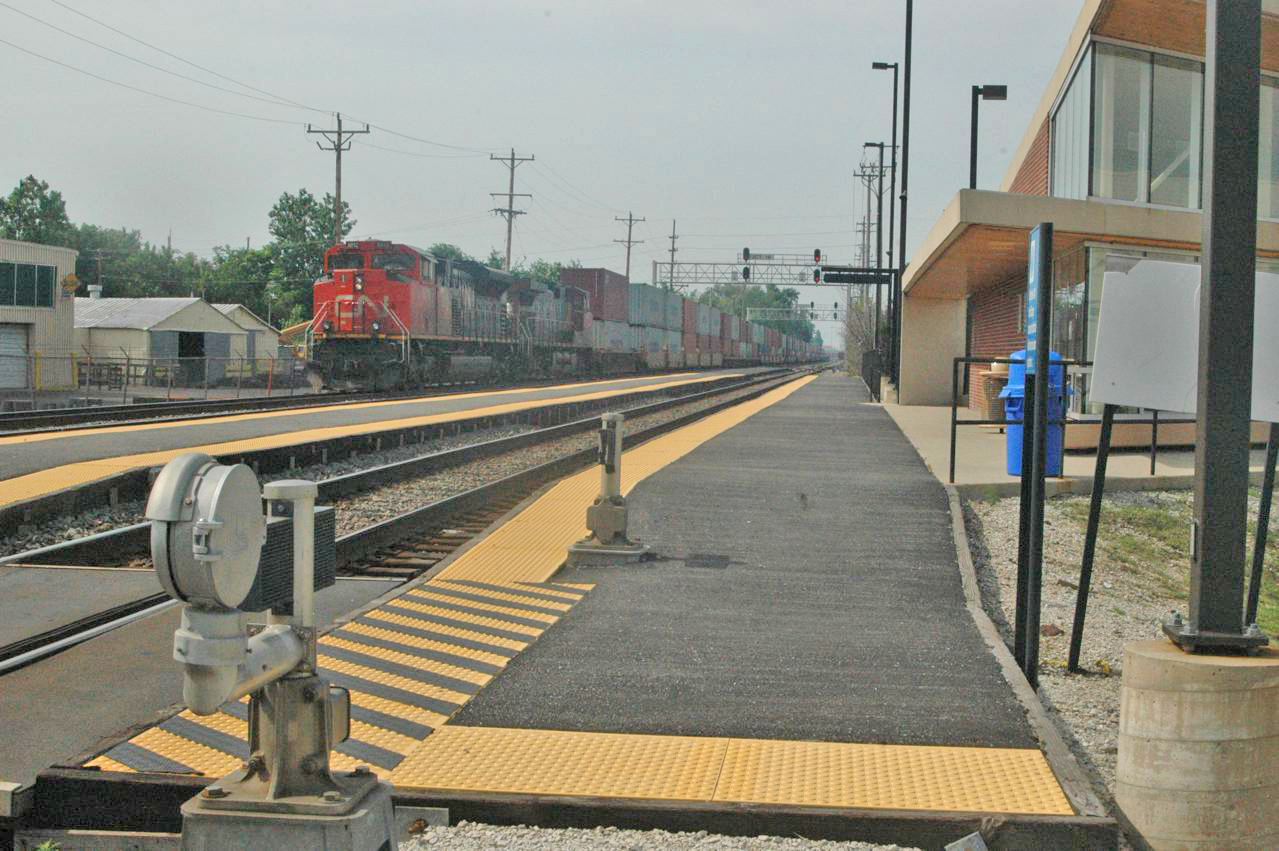 Note the jet taking off from ORD, above the end of the trackside platform at the right.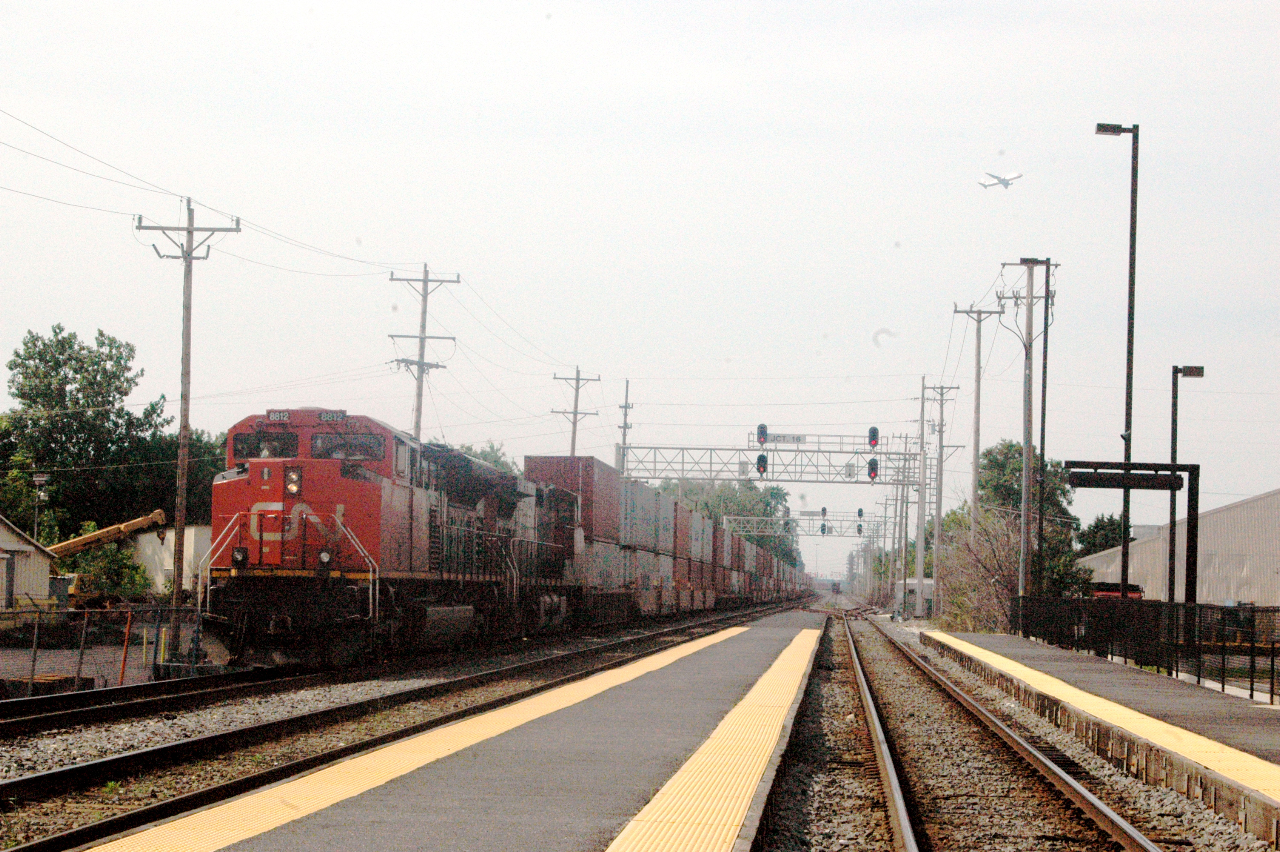 This page was designed and is maintained by Mike Condren. If you have materials
that you would like to contribute, contact me at mcondren@cbu.edu