Colorado trip for Private Car ride: Part 4
Amarillo to Albuquerque on BNSF
Sept. 24
Photos by Dave Ingles
To begin our day on BNSF's "Transcon," we pulled away from our parking place in the Zita intermodal yard just south (timetable west) of Amarillo at 7 a.m. From there until Belen, 7 hours later, we would meet or overtake well over two dozen trains. We were under sunny skies all the way, but to begin, heavy fog to the north blanketed I-40, according to John Arbuckle, who drove to ABQ that day.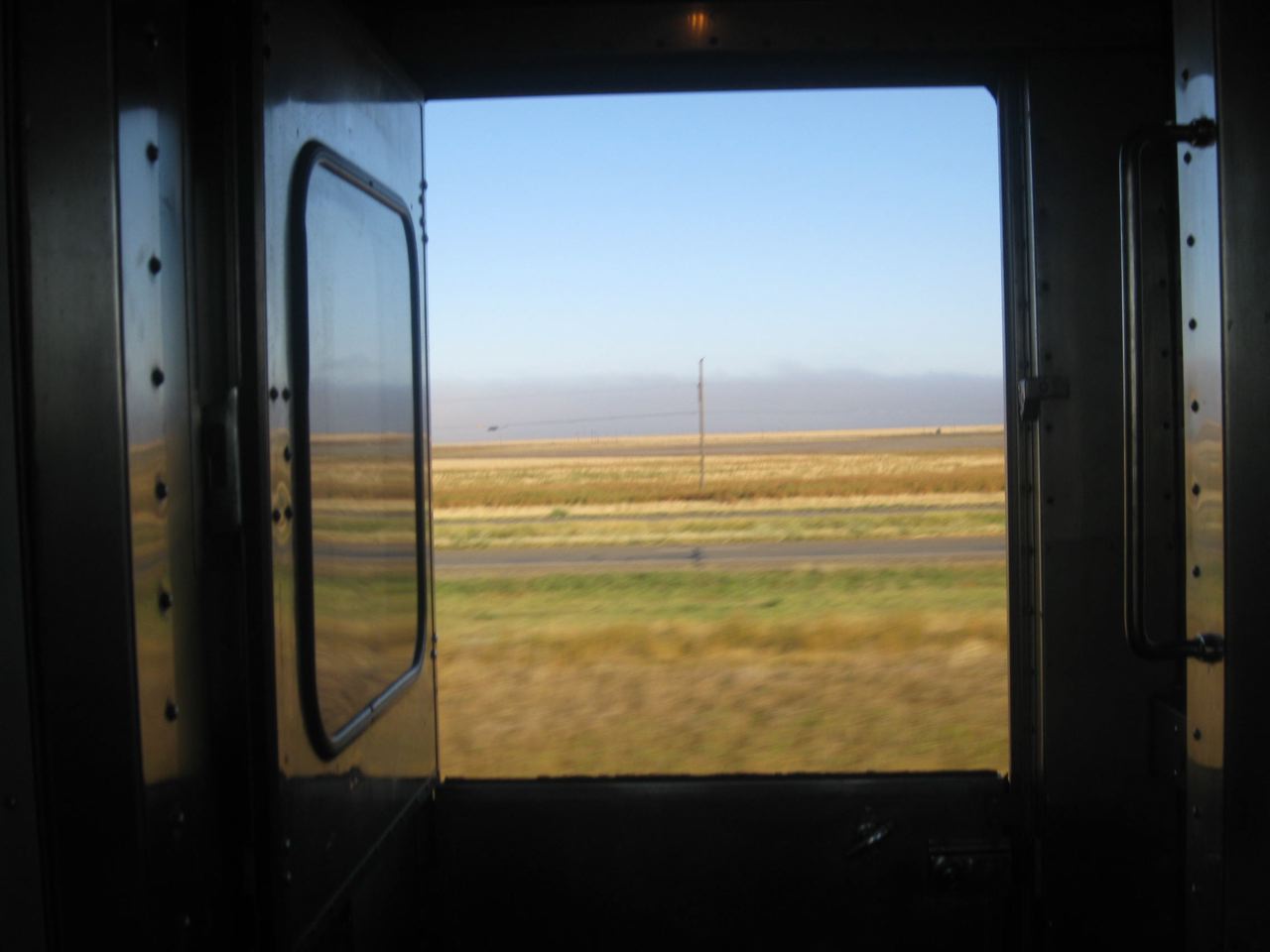 When new track construction is involved, the double-track has expanded distances between track centers. Talk about your "high iron!"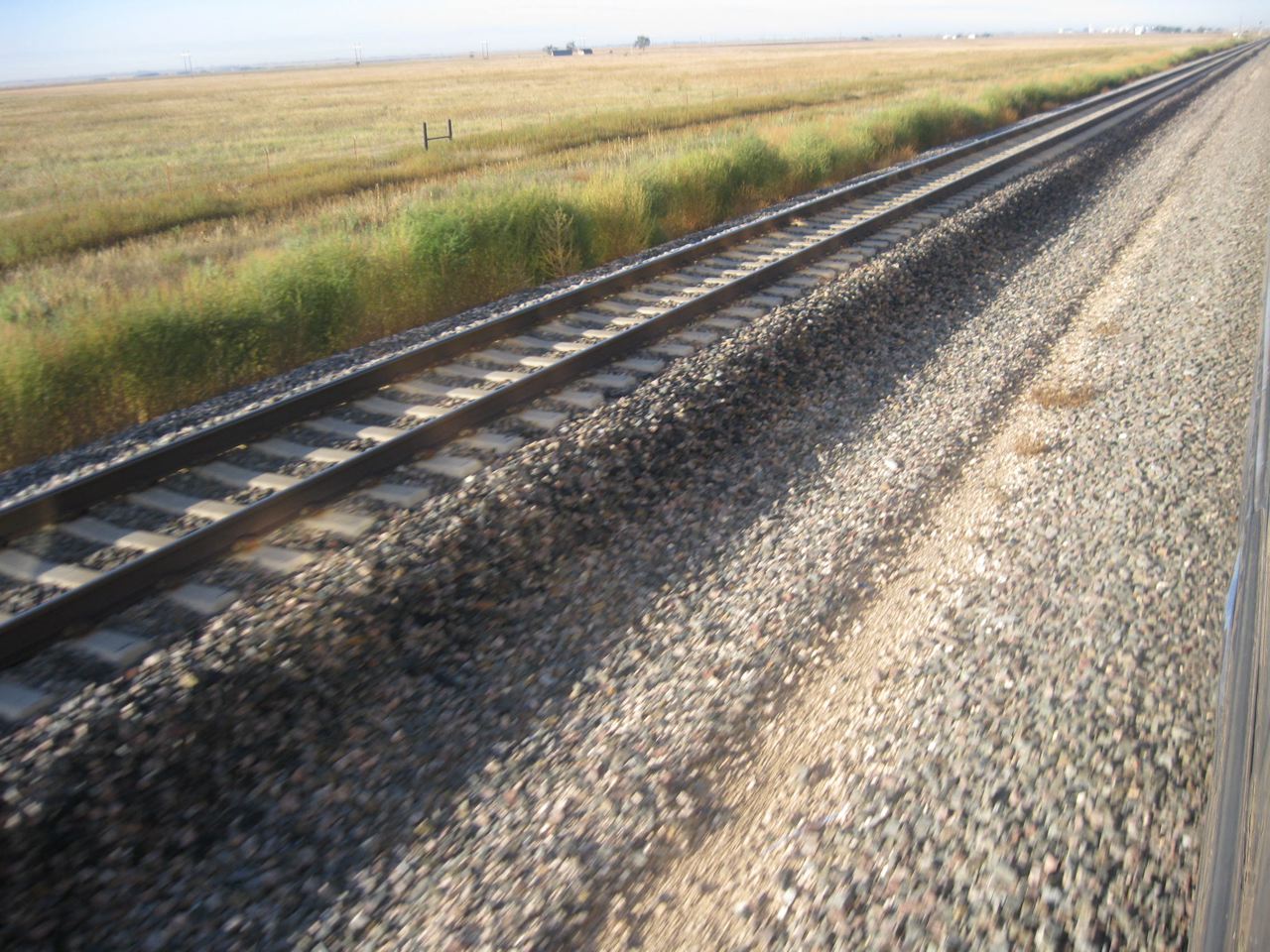 Local engines going to work at Hereford, Texas.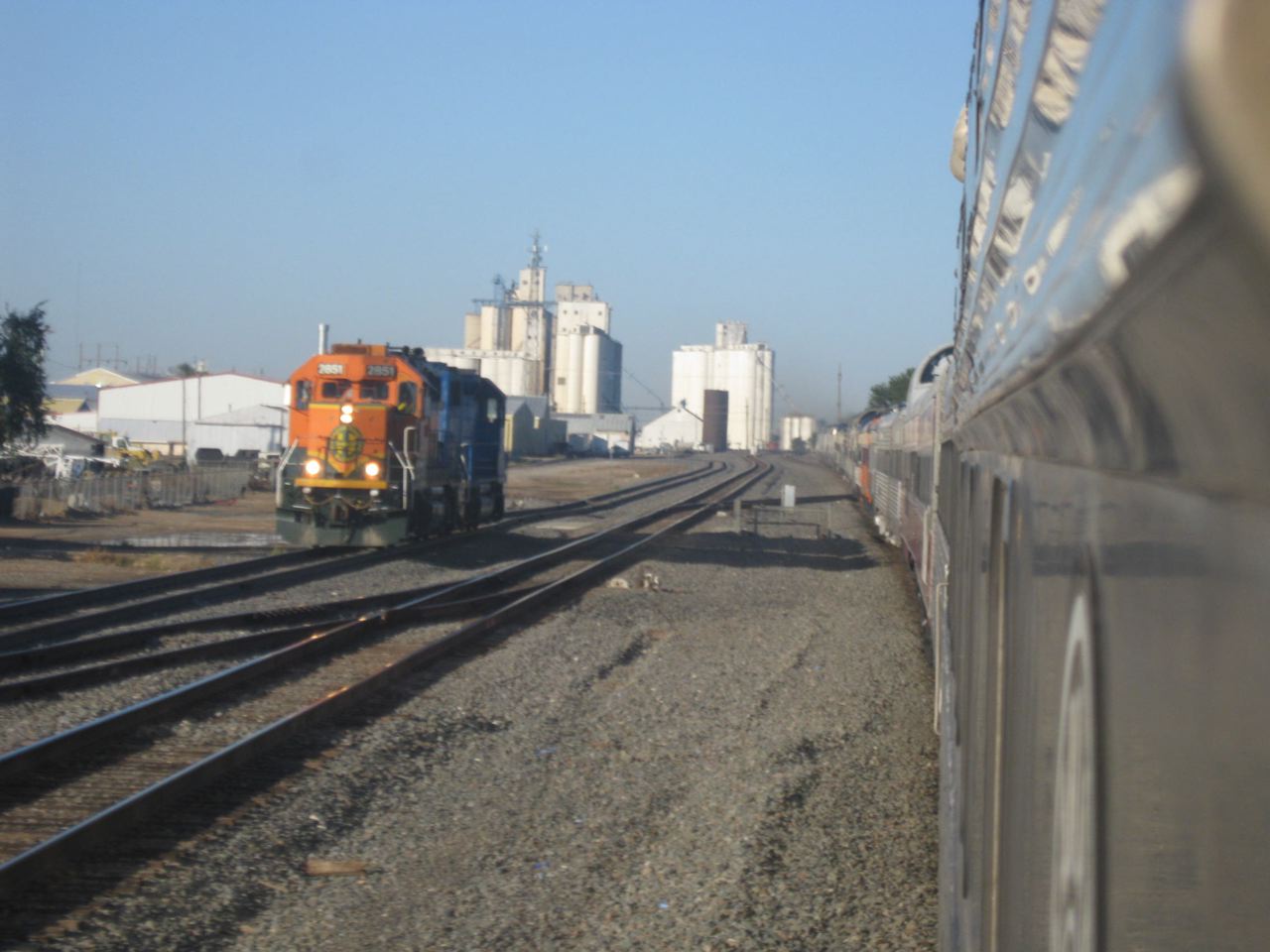 And on the north side, the well-kept depot. It's about 8 a.m., and we Cimarron River passengers have enjoyed a continental breakfast.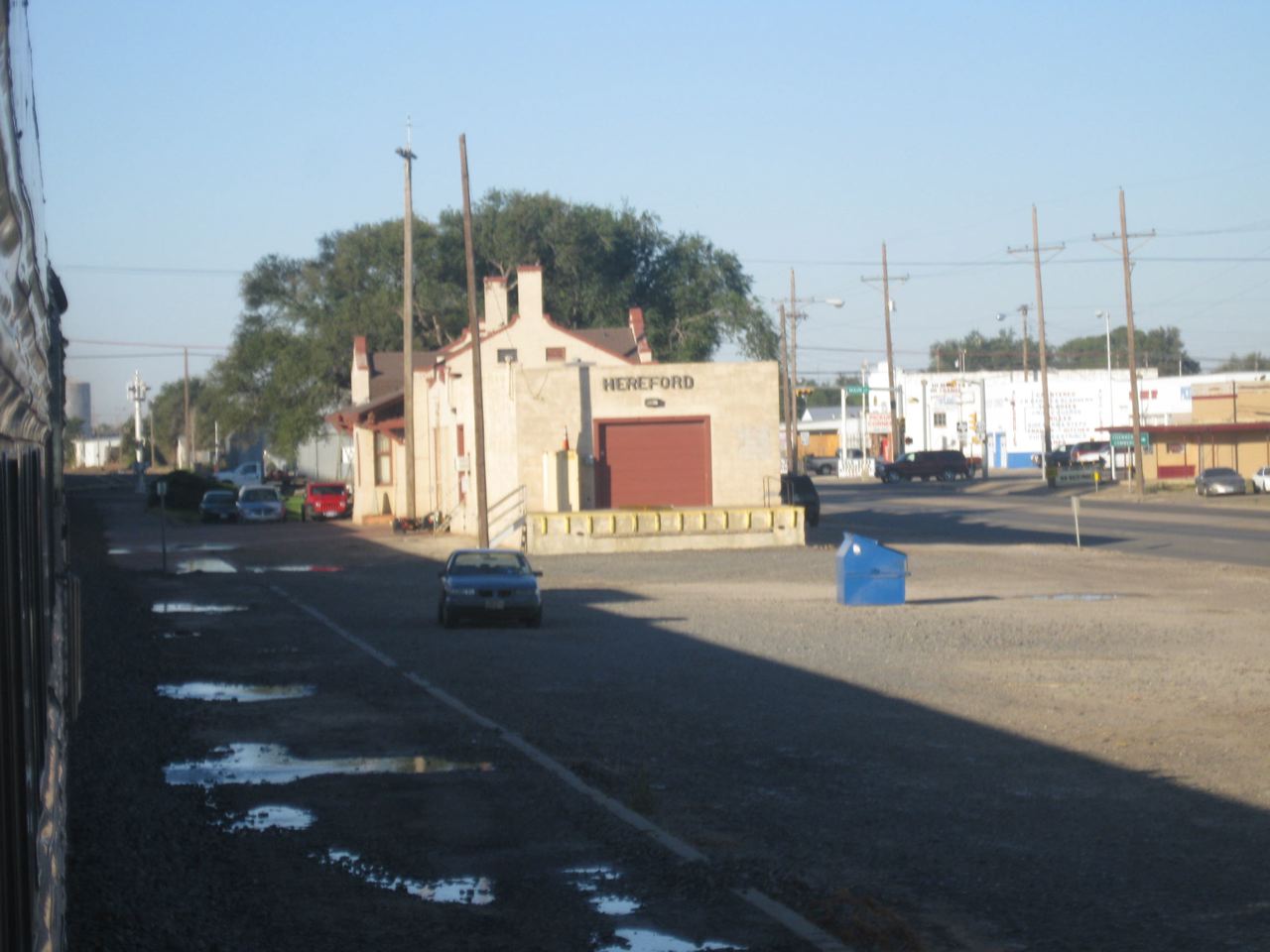 The curve at Friona, 8:19 a.m. High speed on the High Plains. We camped on the highway bridge for an hour and several trains on the way home from California in 2004.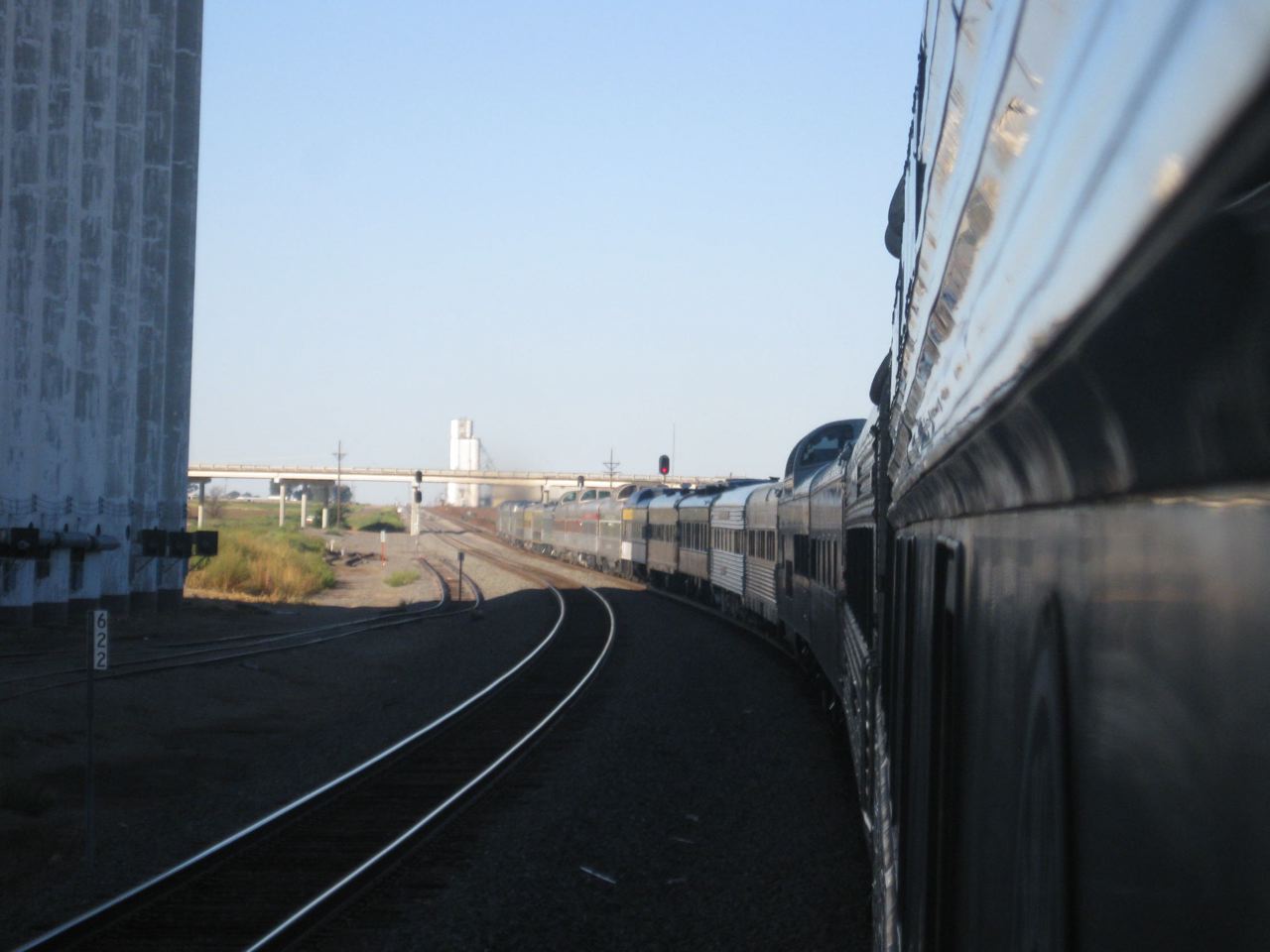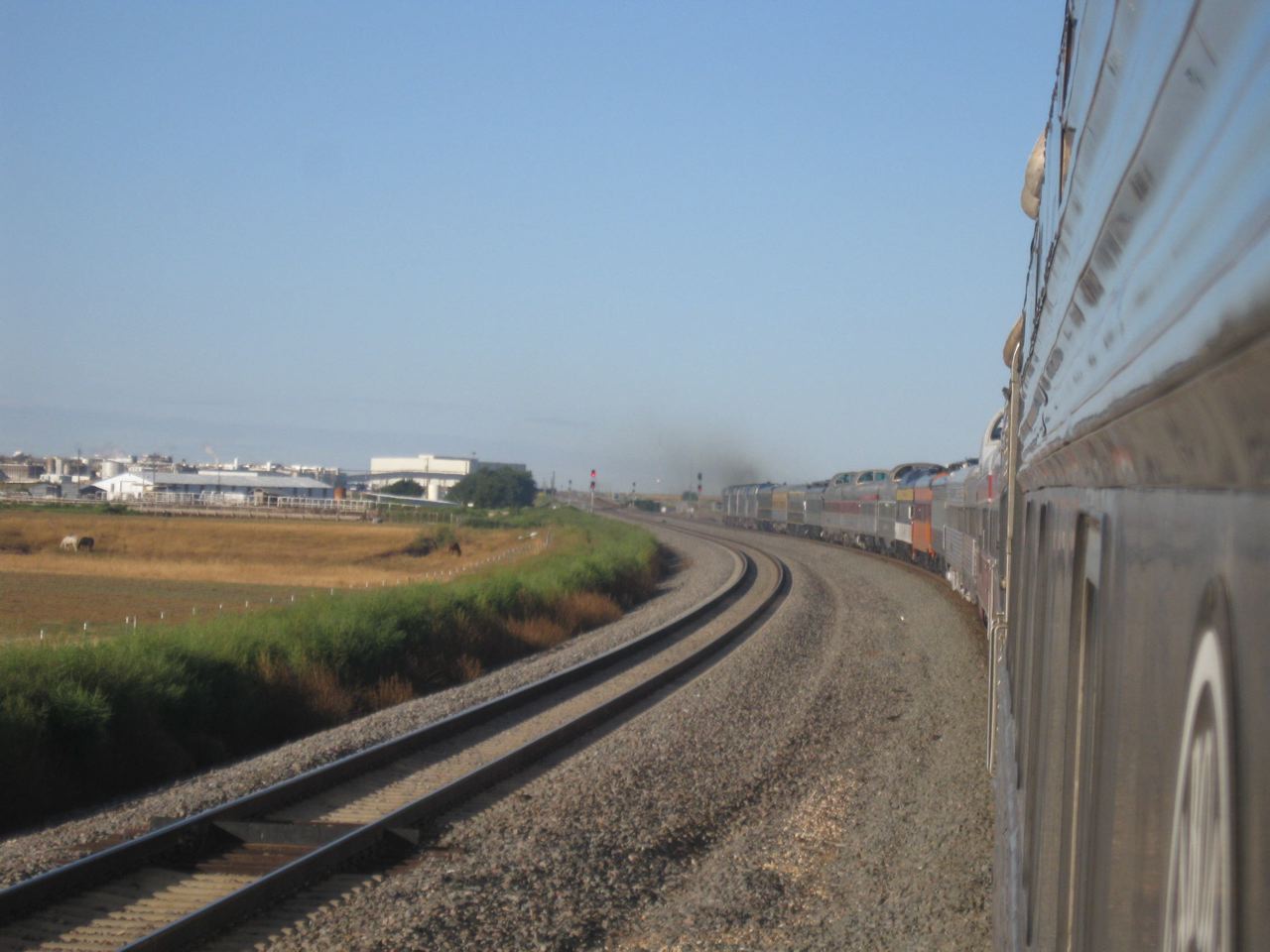 Next winter's steaks.
Overtaking an eastbound stacker as we near Texico and Clovis, N.Mex.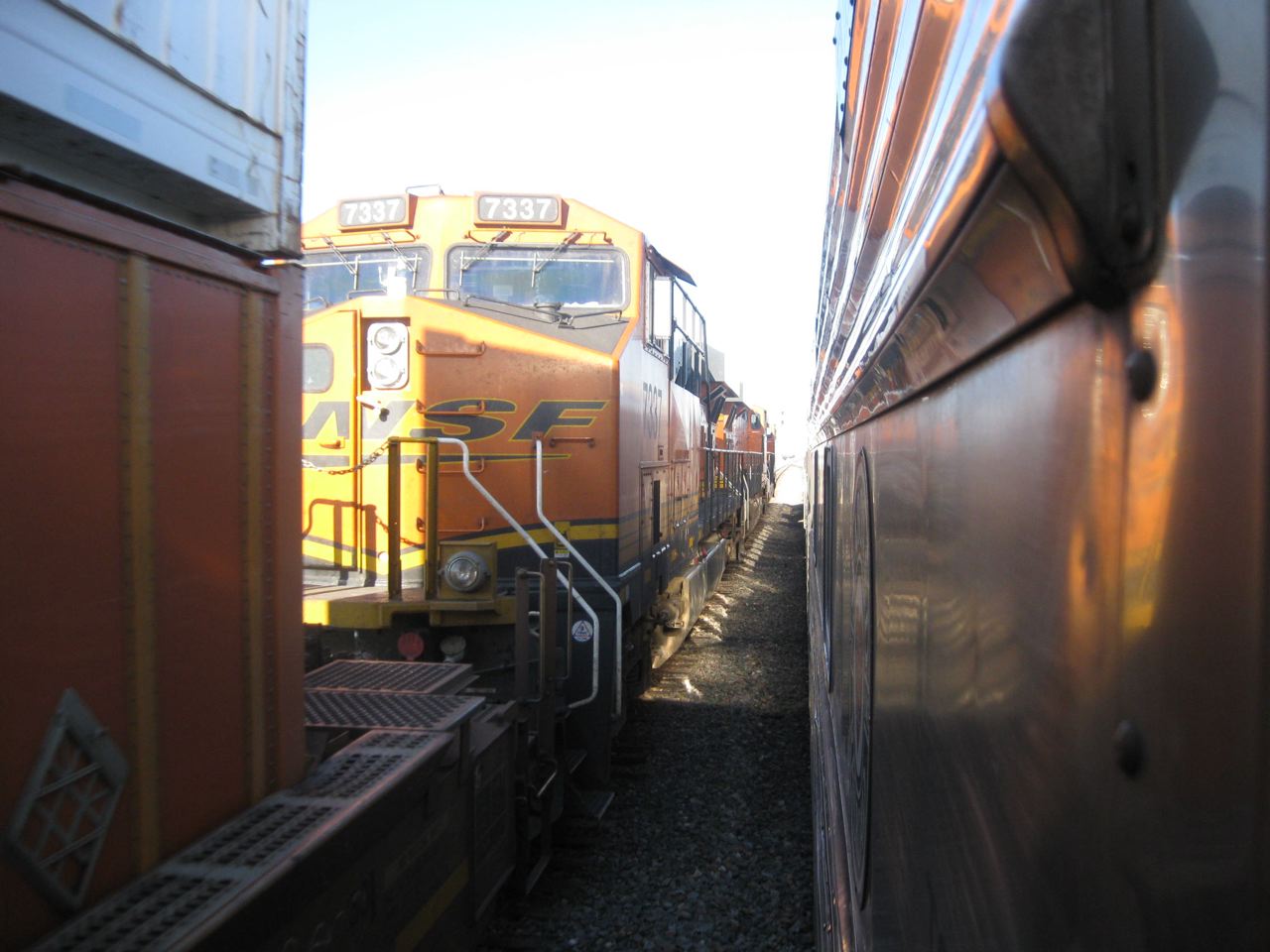 First of about 6 eastbounds seen around Clovis.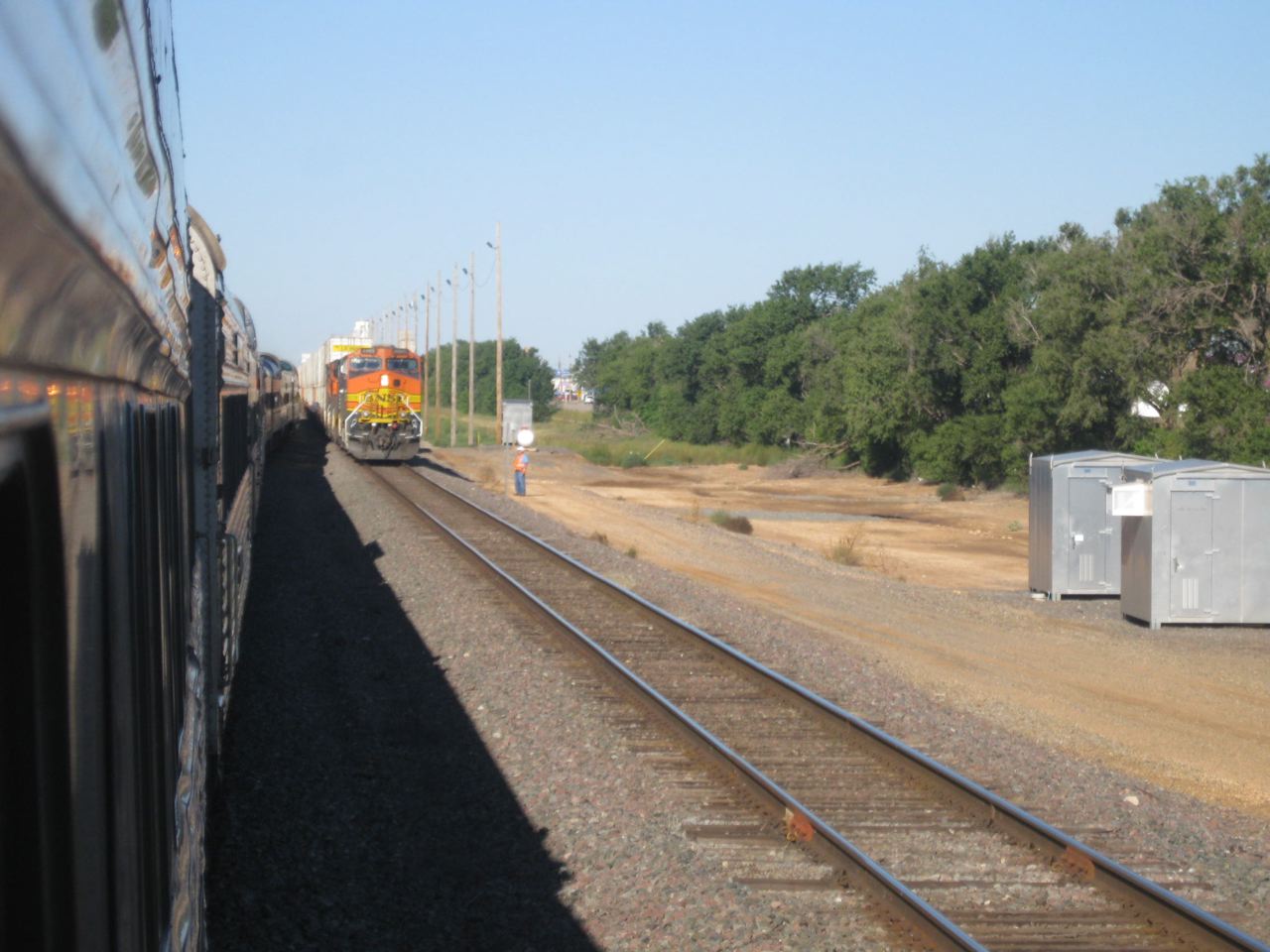 Another eastbound in the yard, which is used to marshall different blocks of stack cars on eastbounds.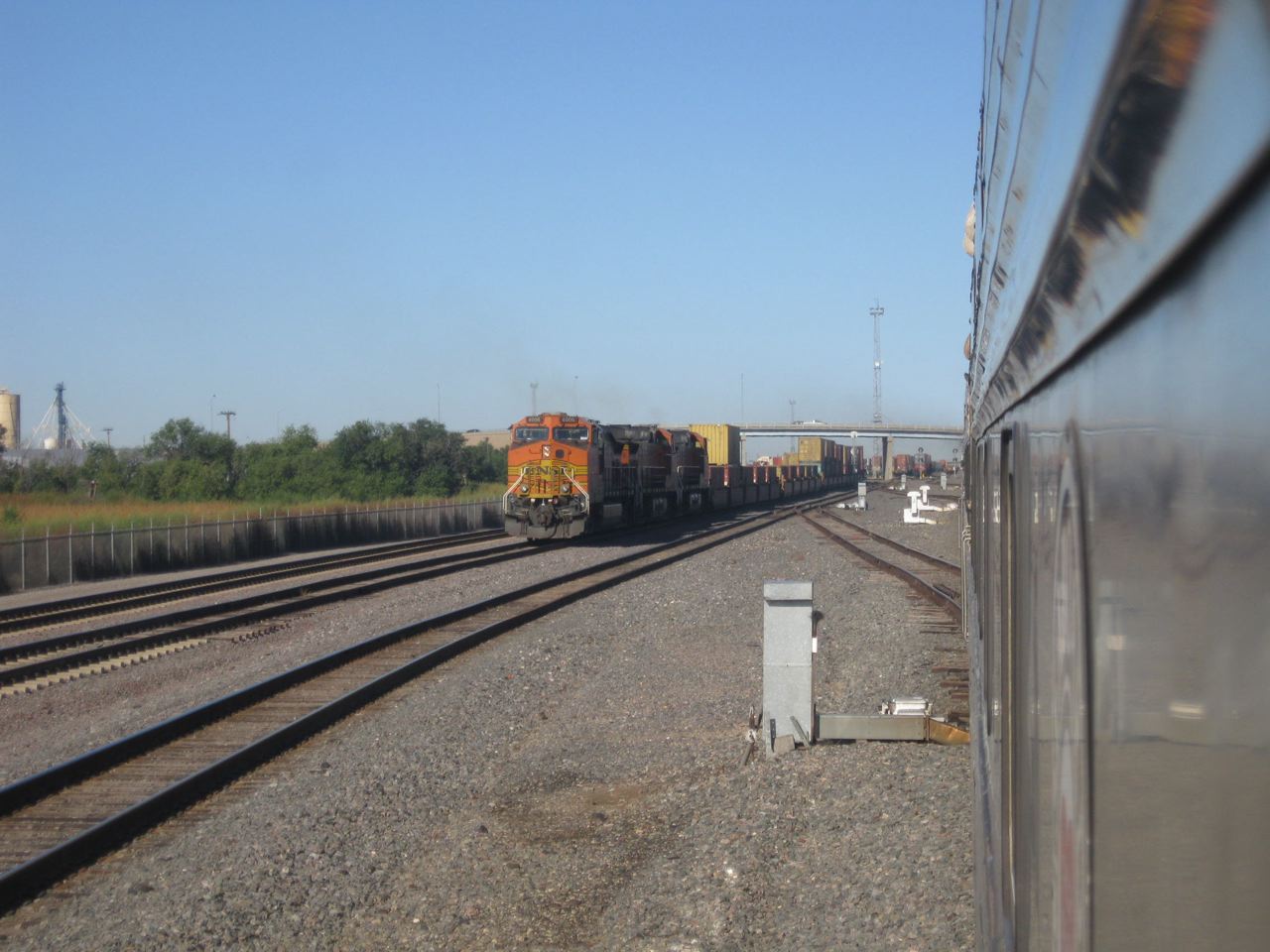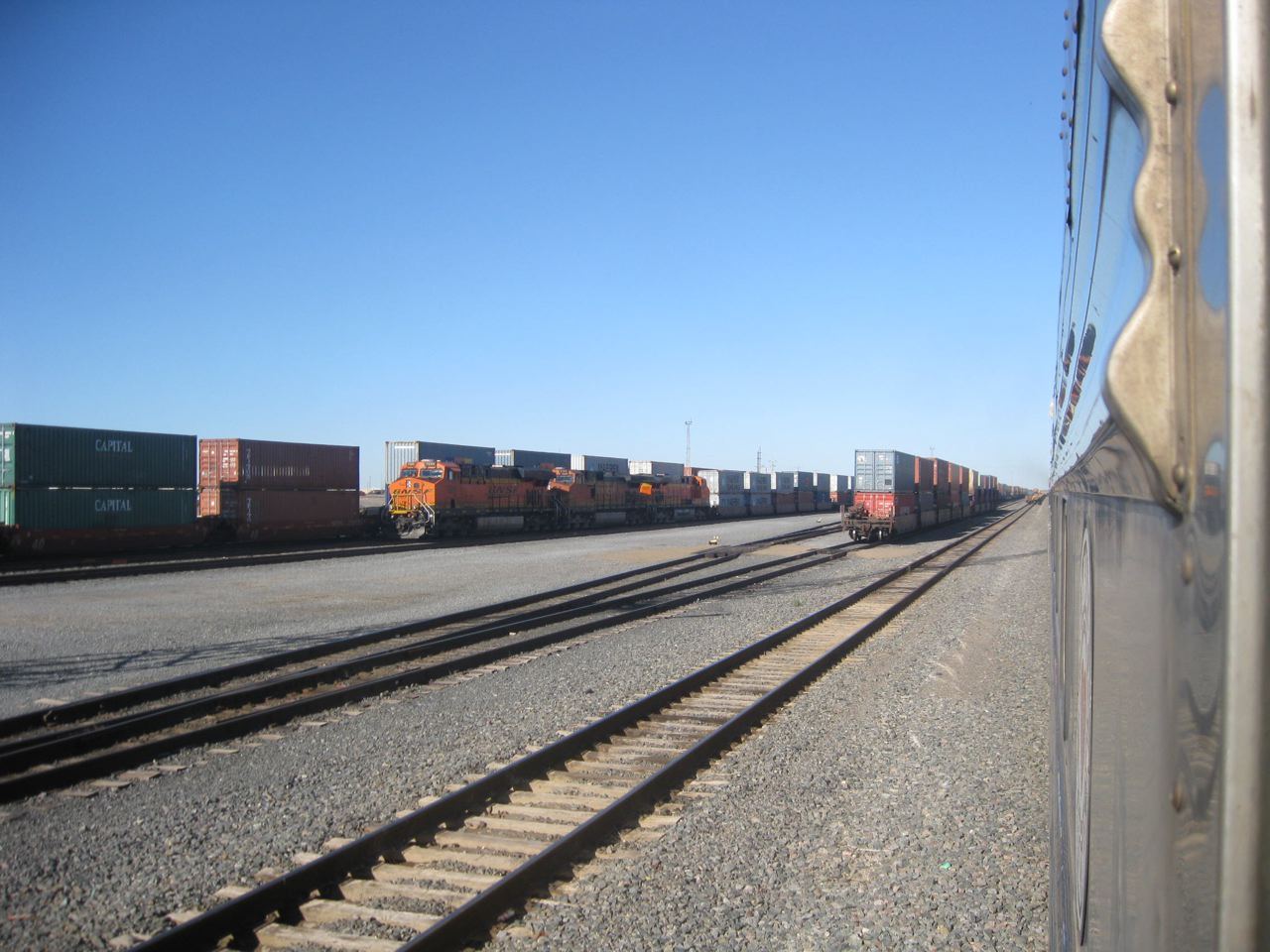 Change of pilots at the west end of the yard, about 9:30 a.m.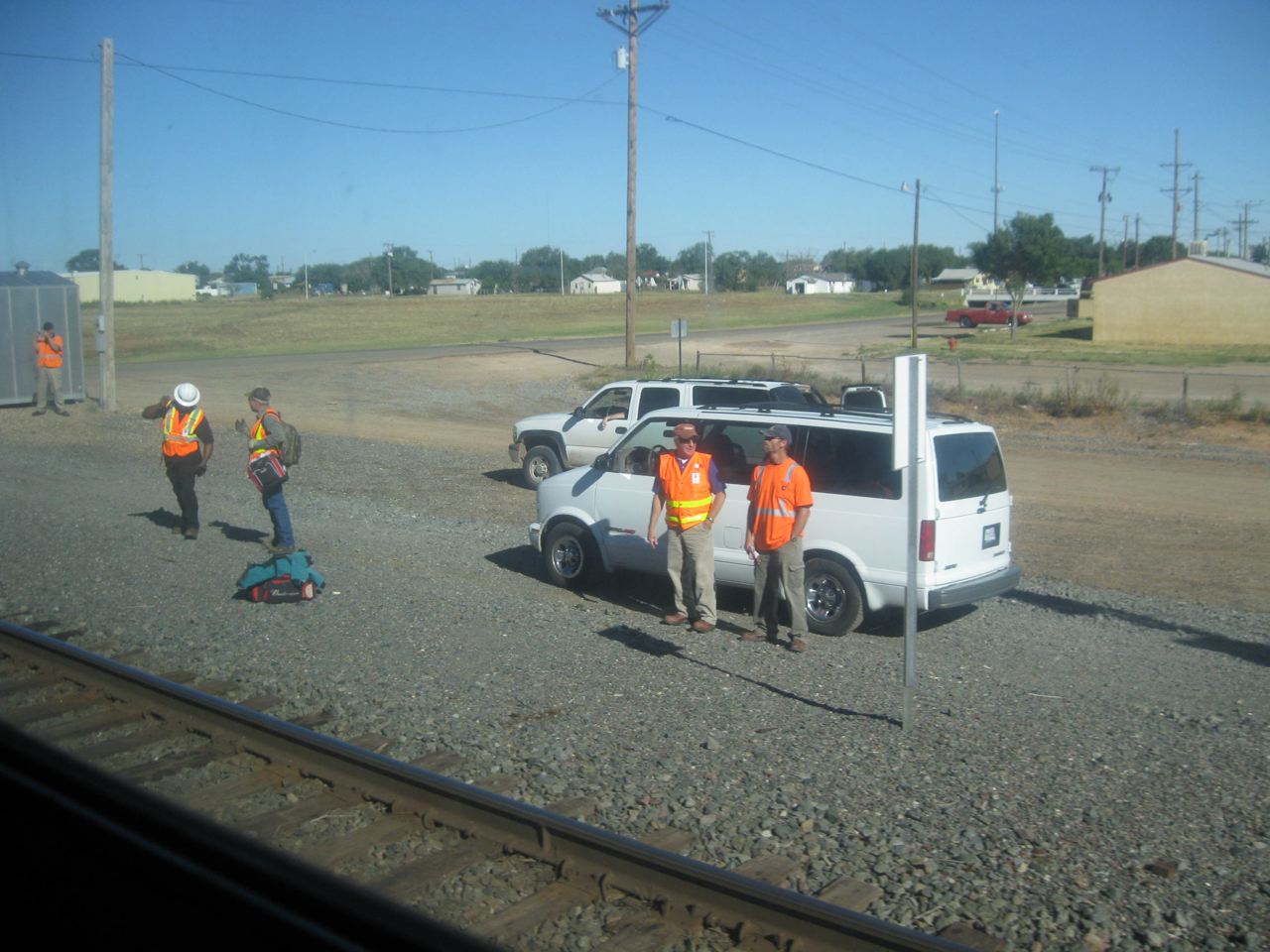 At 10:29, curving onto the Pecos River bridge at Fort Sumner, N.Mex., one of the few stretches of the Transcon still with only single-track.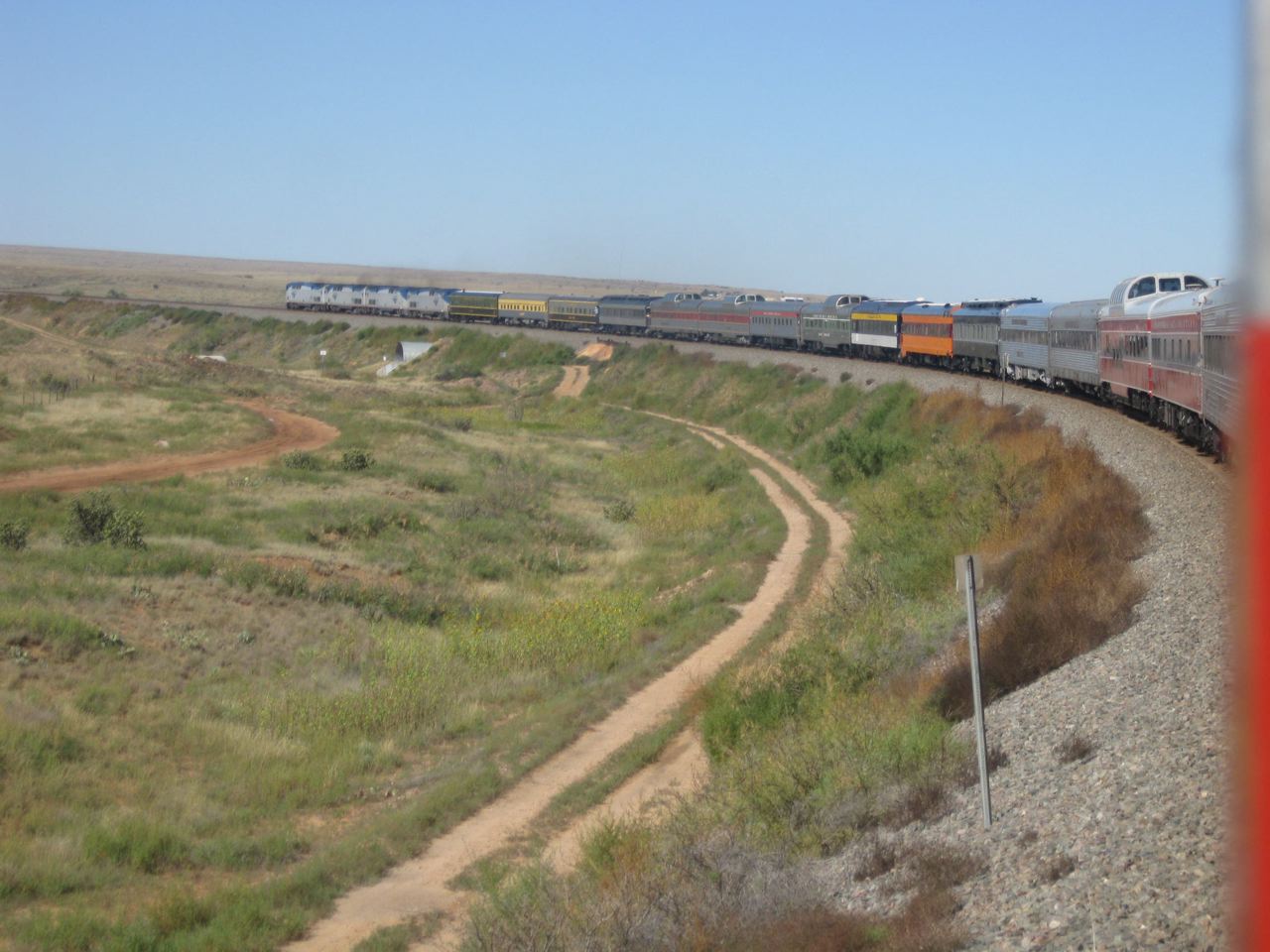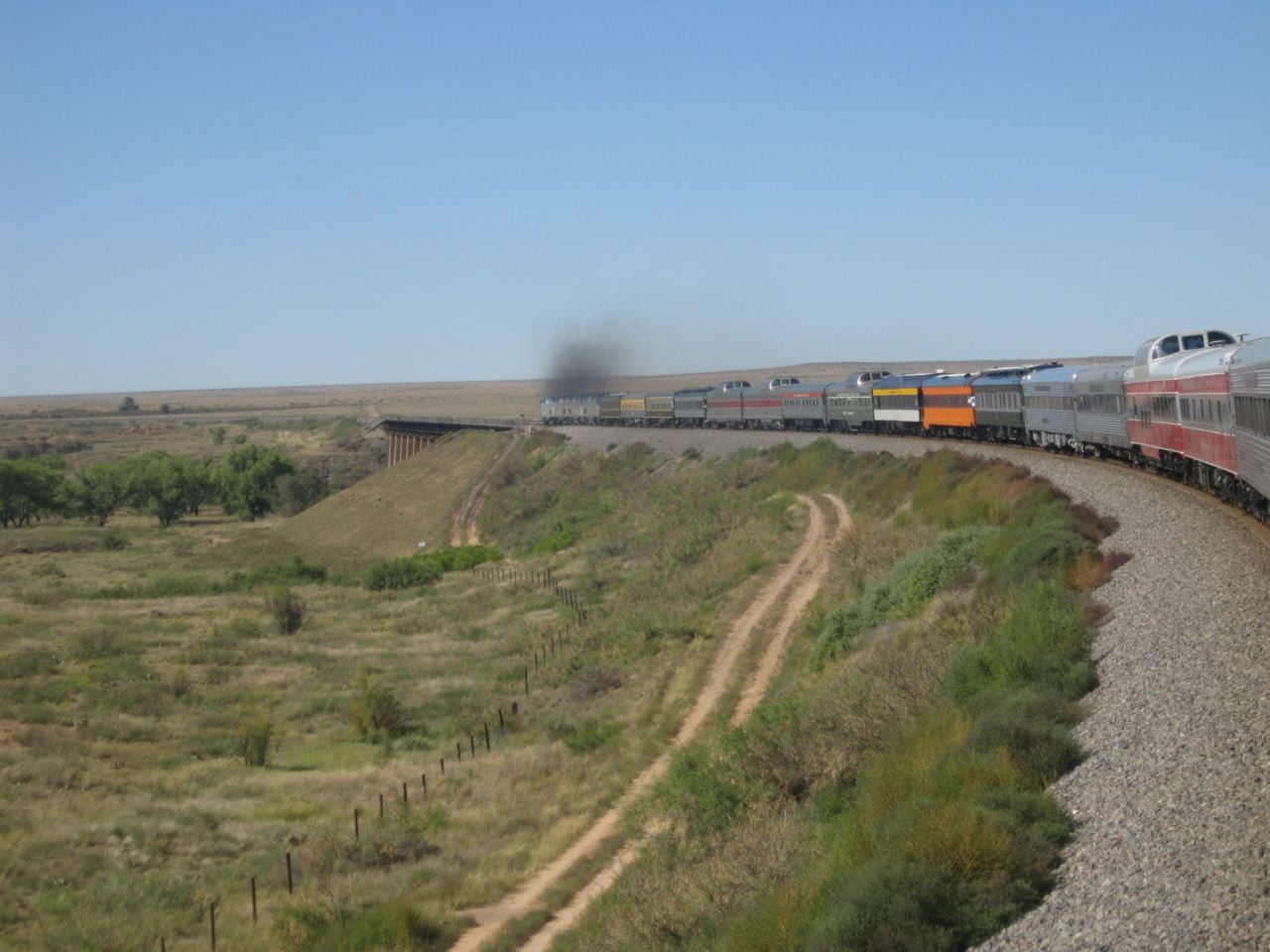 We're about to overtake intermodal 7577 East, at Buchanan, N.Mex., at 11 a.m.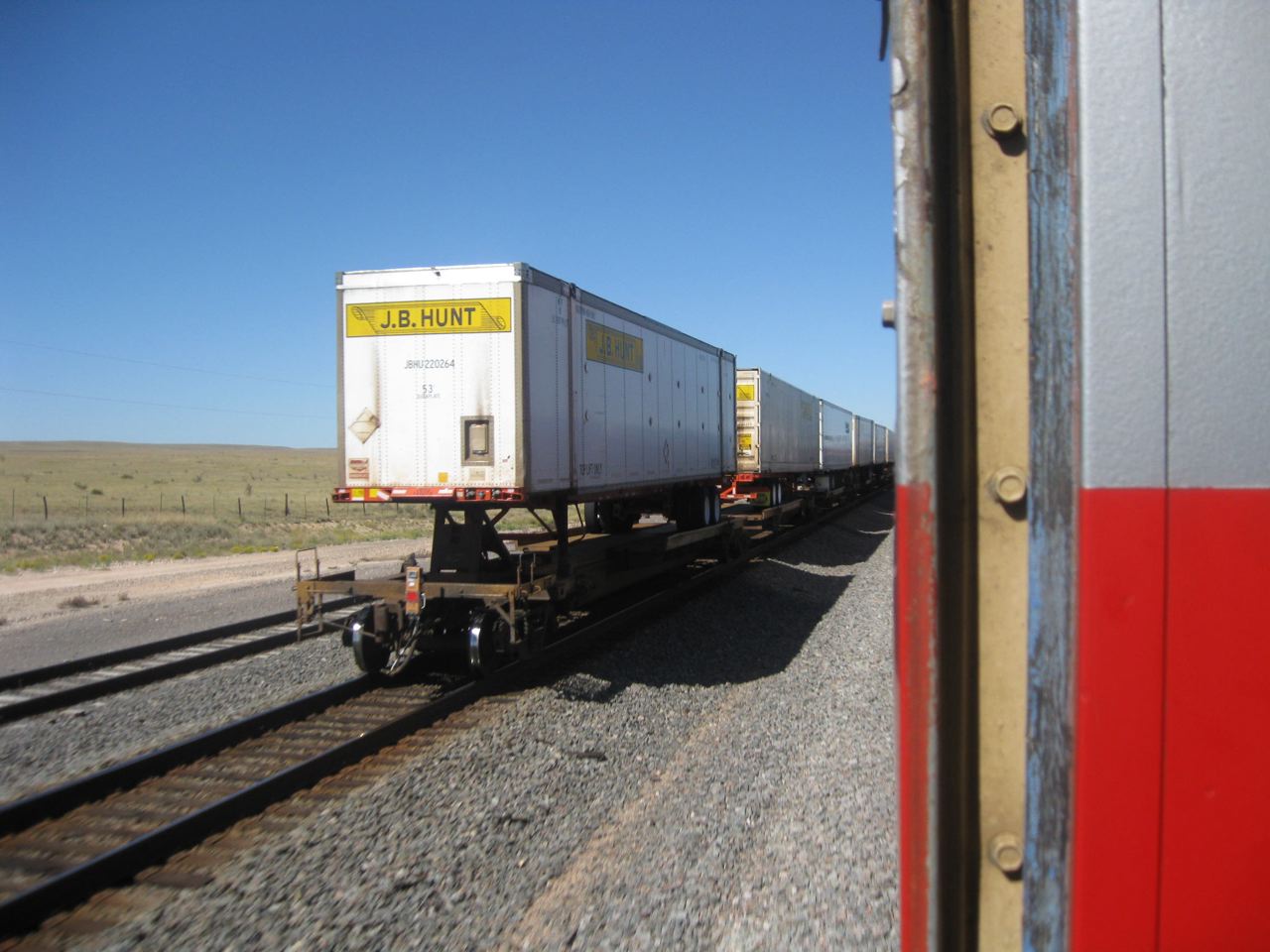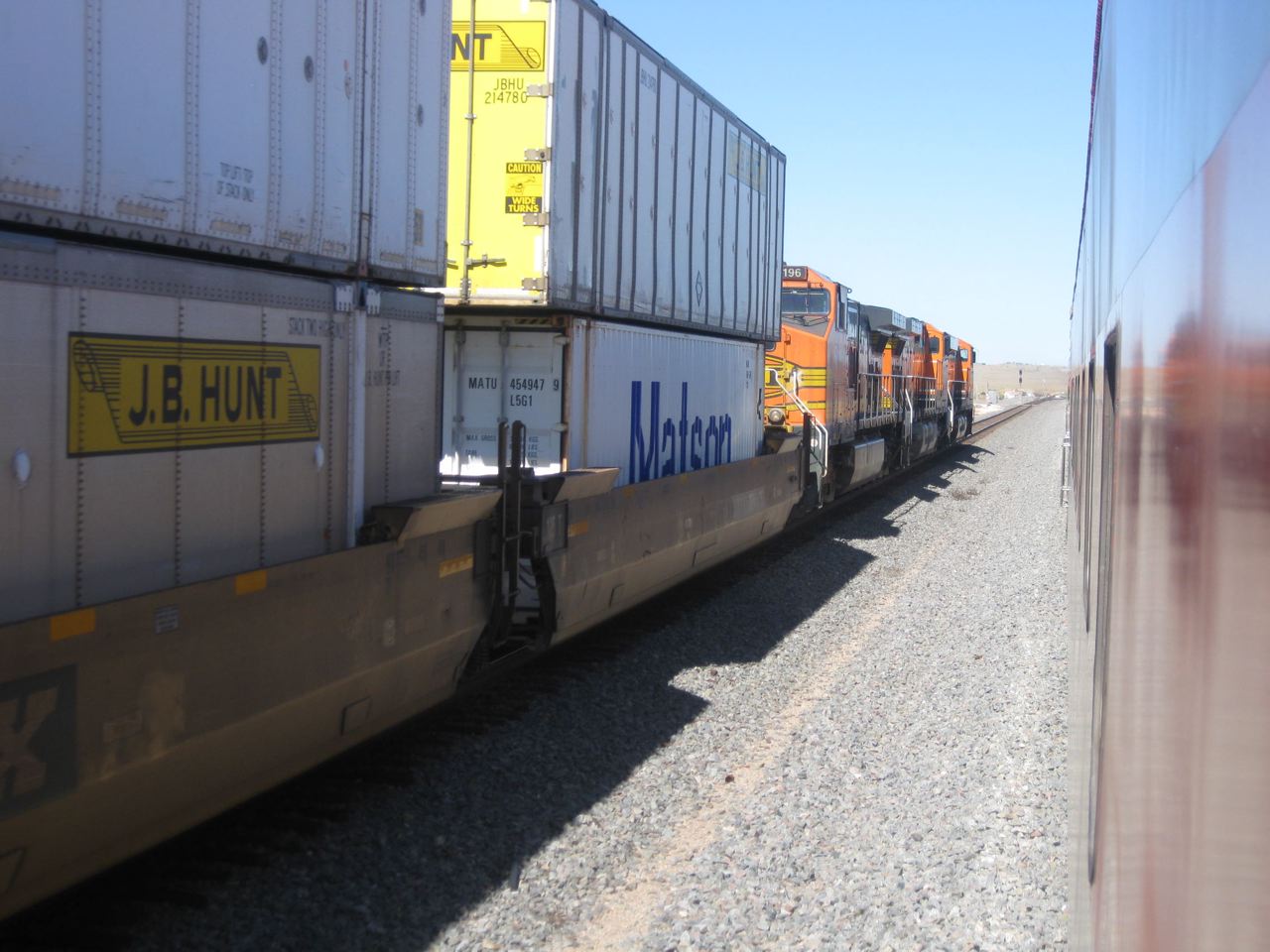 7577's conductor gives us the rollby.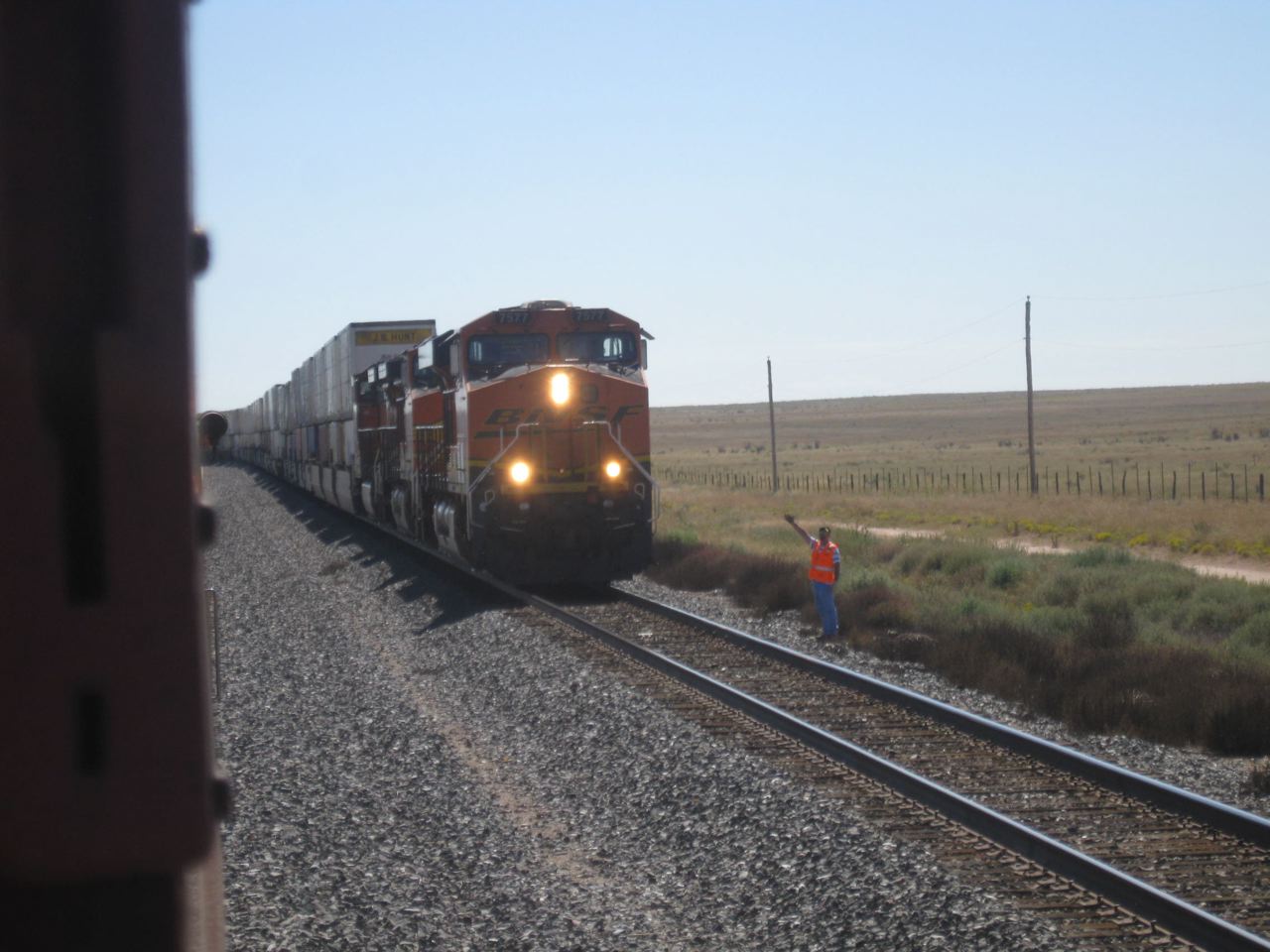 More of the new "wide track" double-iron.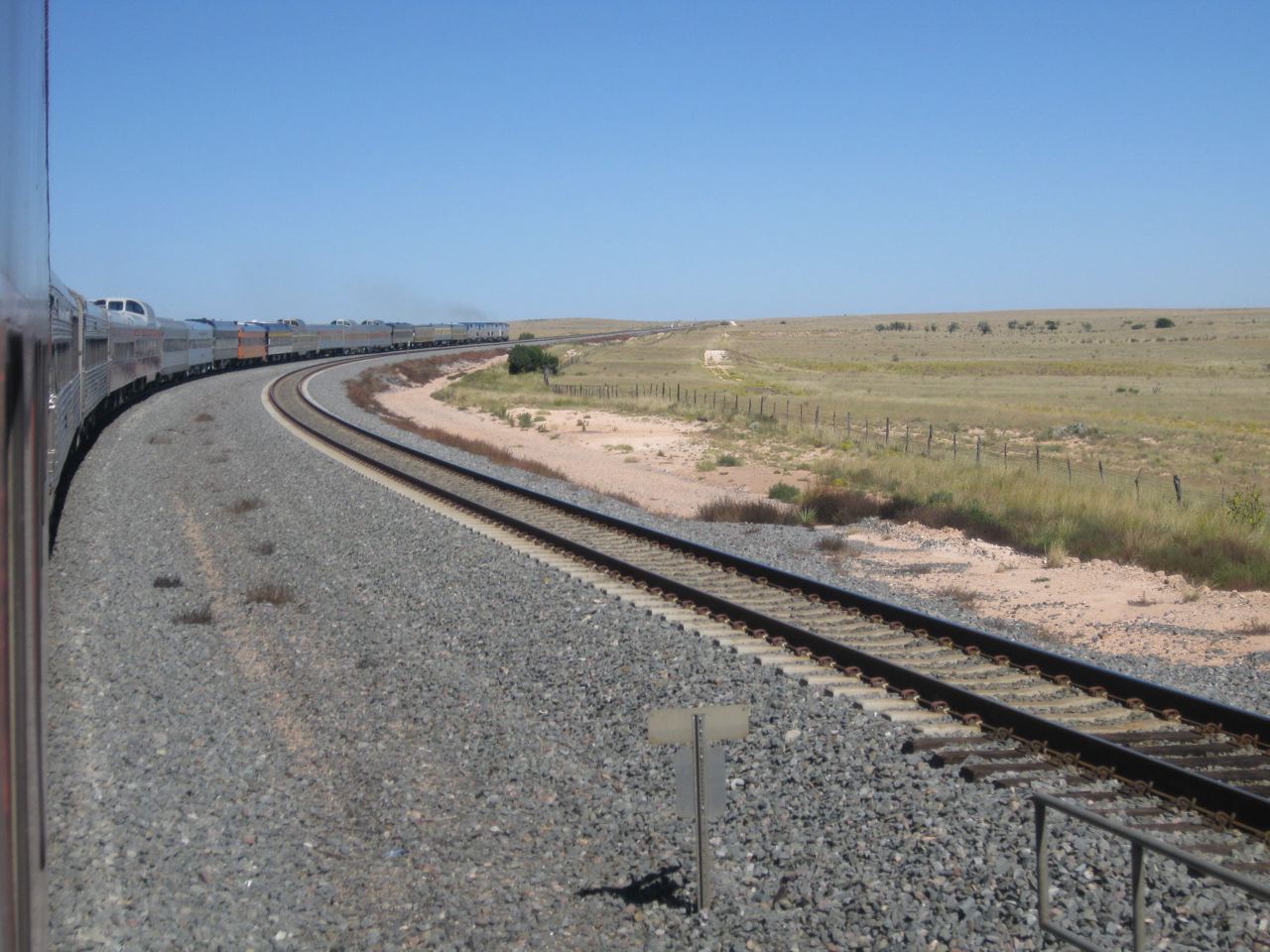 Believe it or not, two mileage collectors were counting abandoned railroad cars on farms and ranches on this trip; counting coming out from the East, they were well over 300 by this day. I guess it's not so hard to believe after all, given the odd facets of our hobby and most of us being anal-retentive to some degree :-)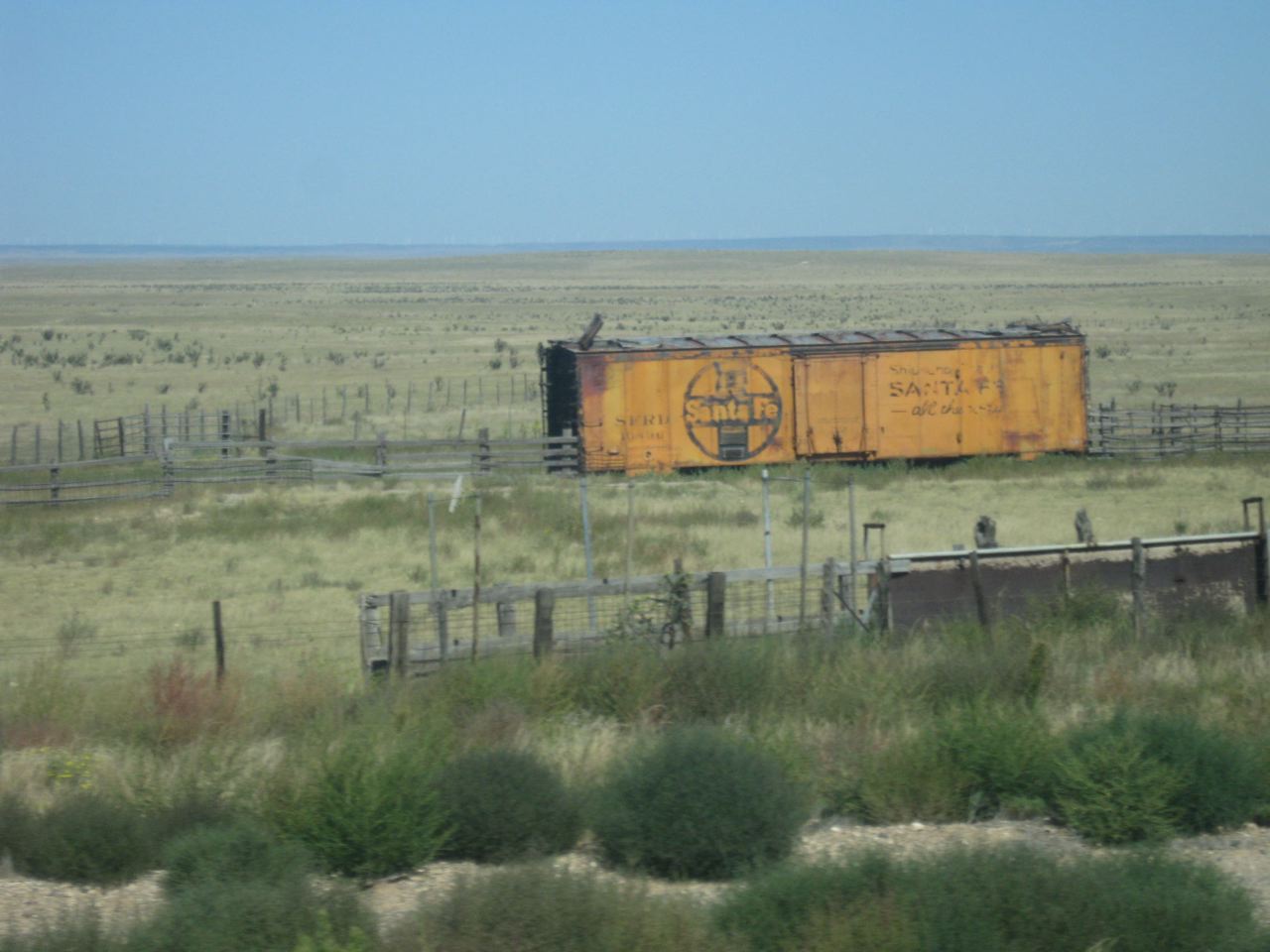 The depot at Vaughn.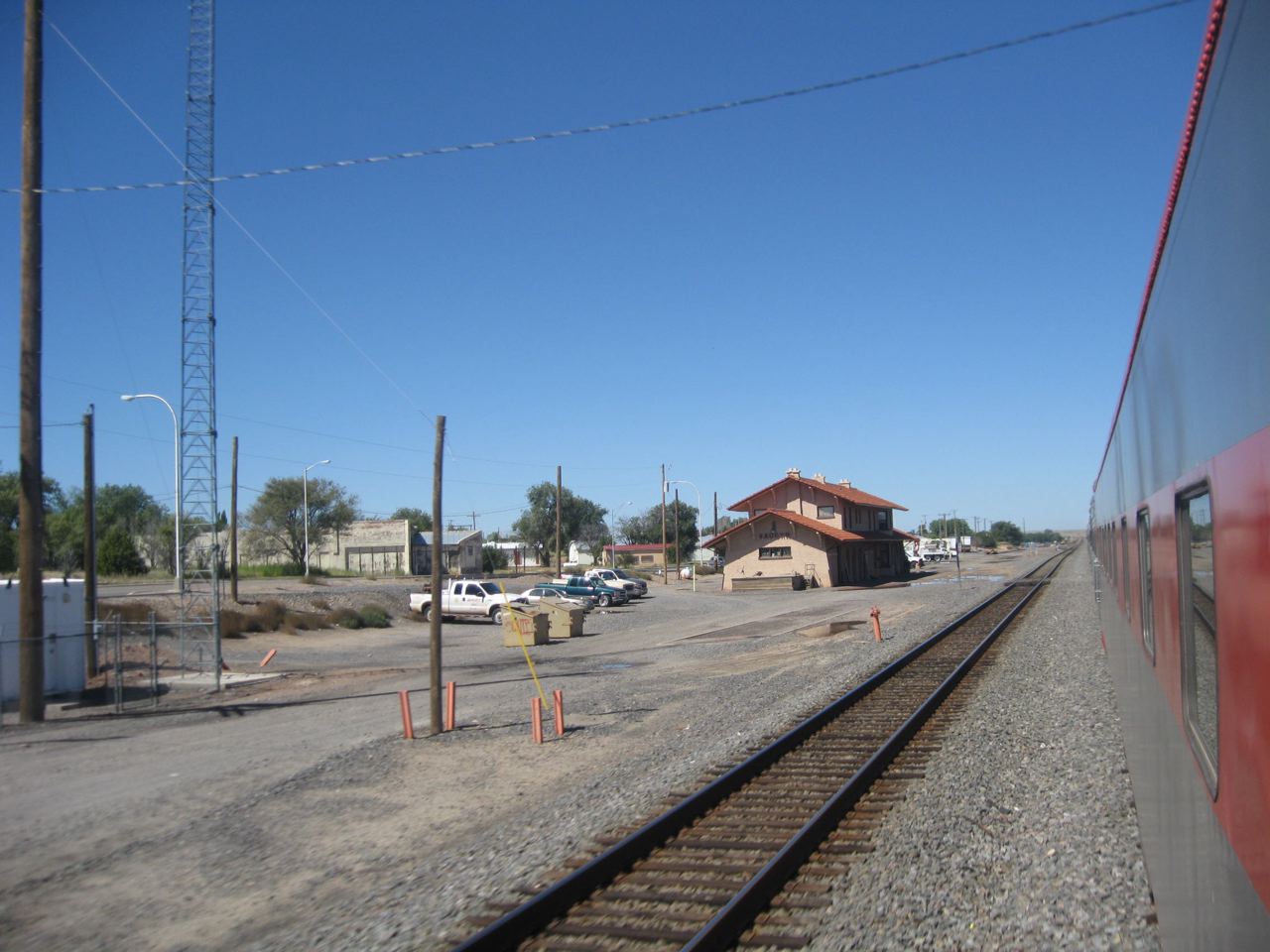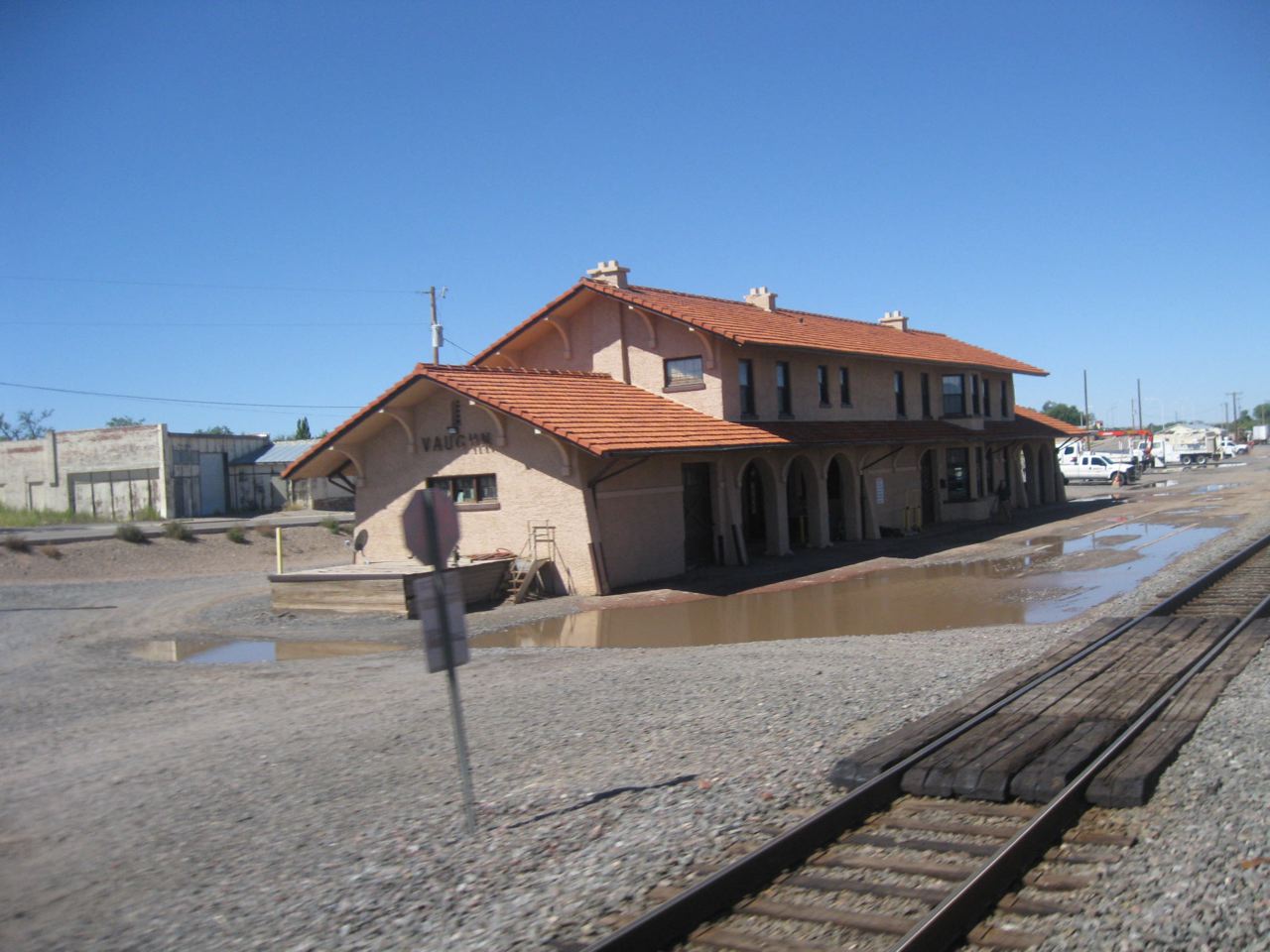 Leaving Vaughn for the single-track fill and bridge over UP's Golden State Route, former SP.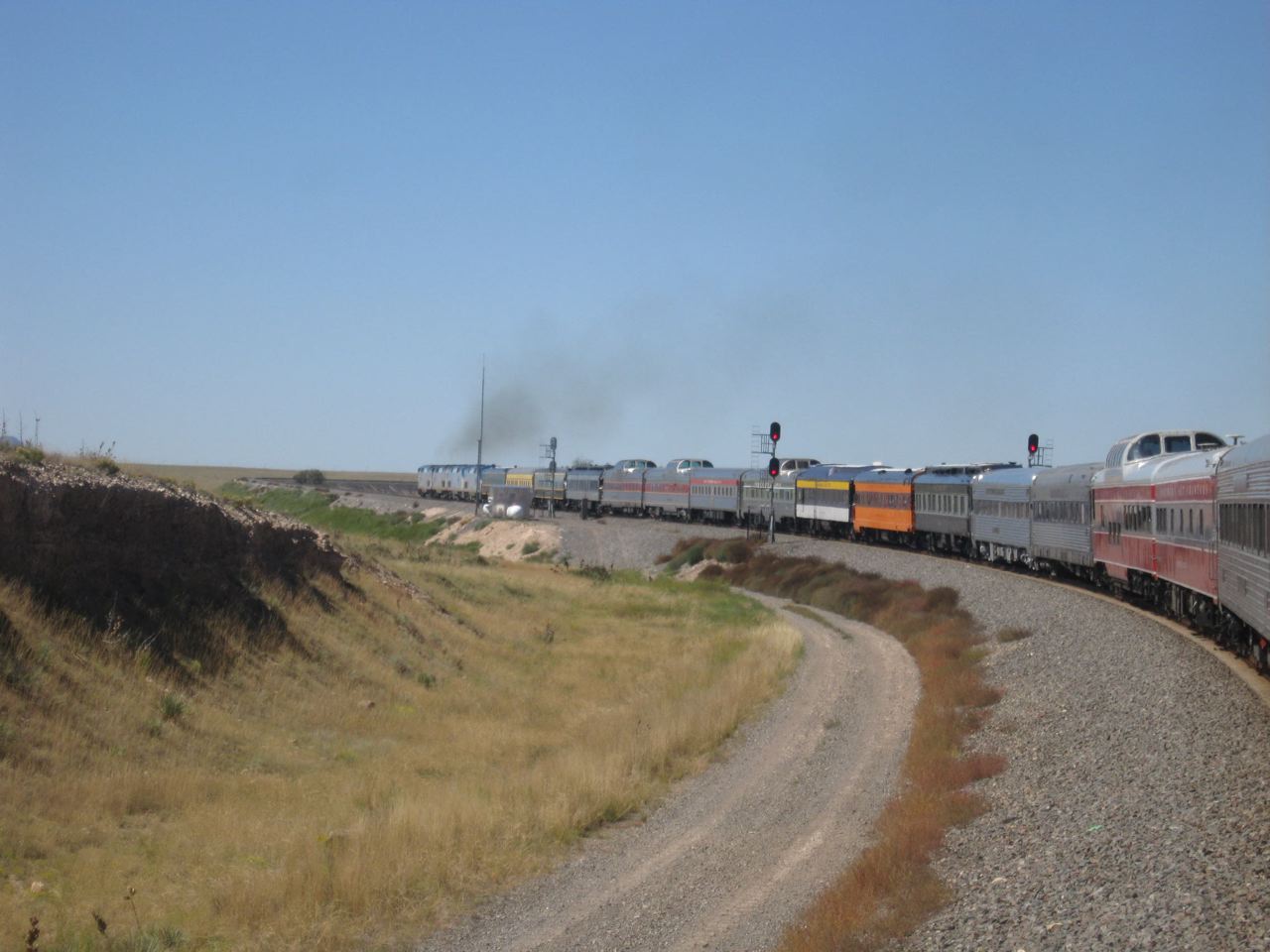 The Golden State Route is quiet at 11:42 a.m.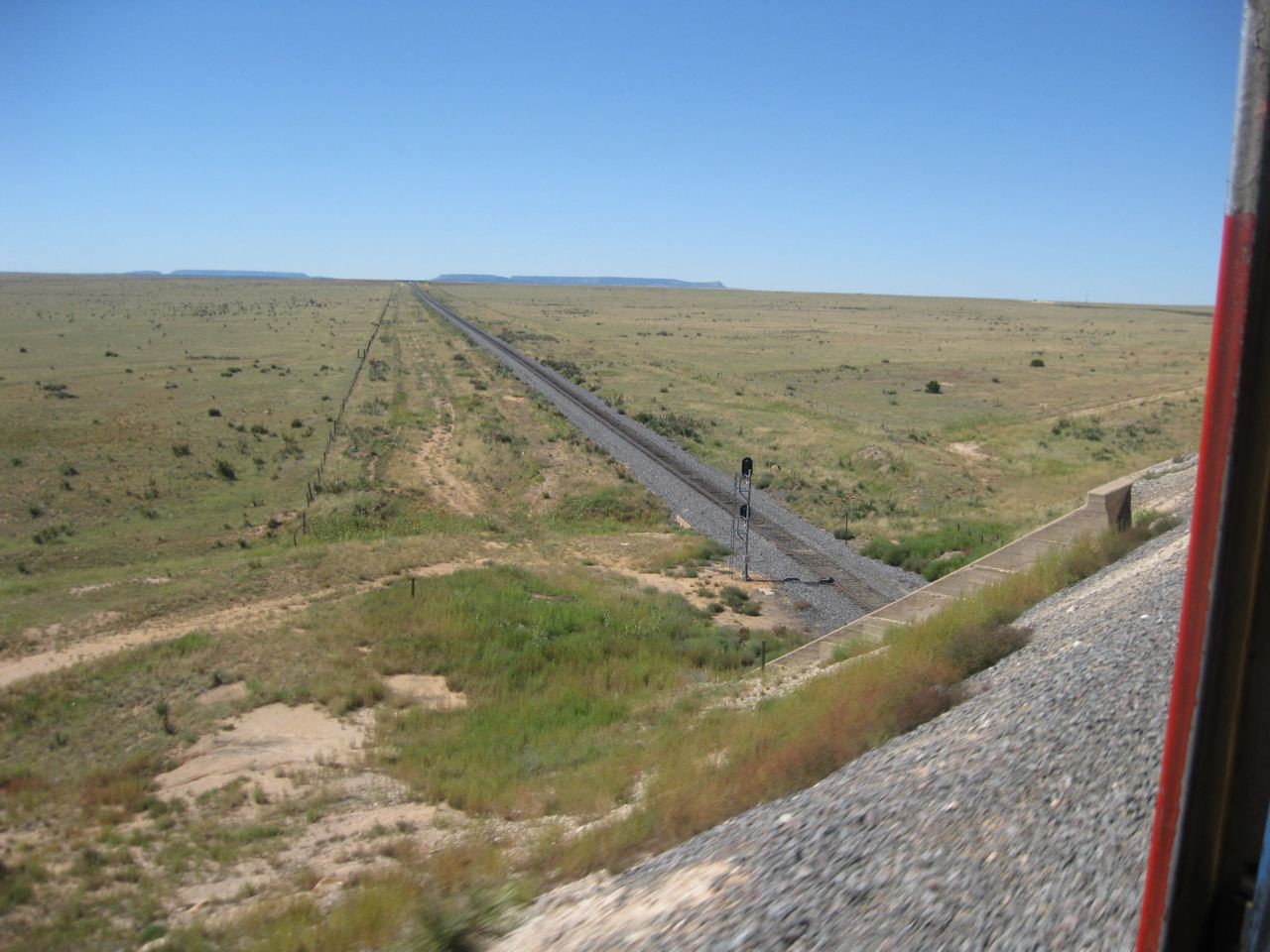 Beginning of some scenery, near Abo, N.Mex.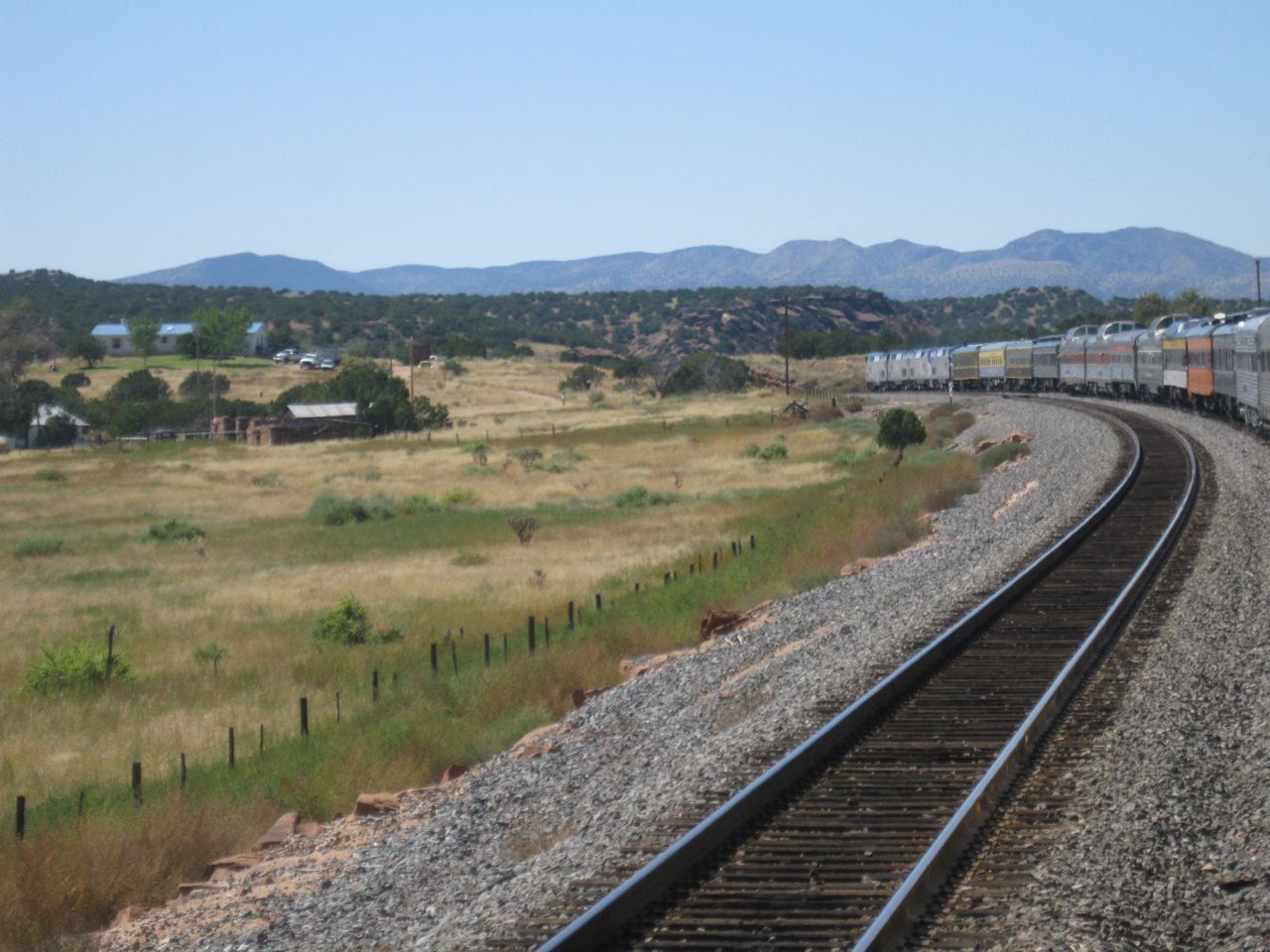 Mile 867 (from KC), at Kayser, N.Mex., nearing Abo Canyon, 1:06 p.m.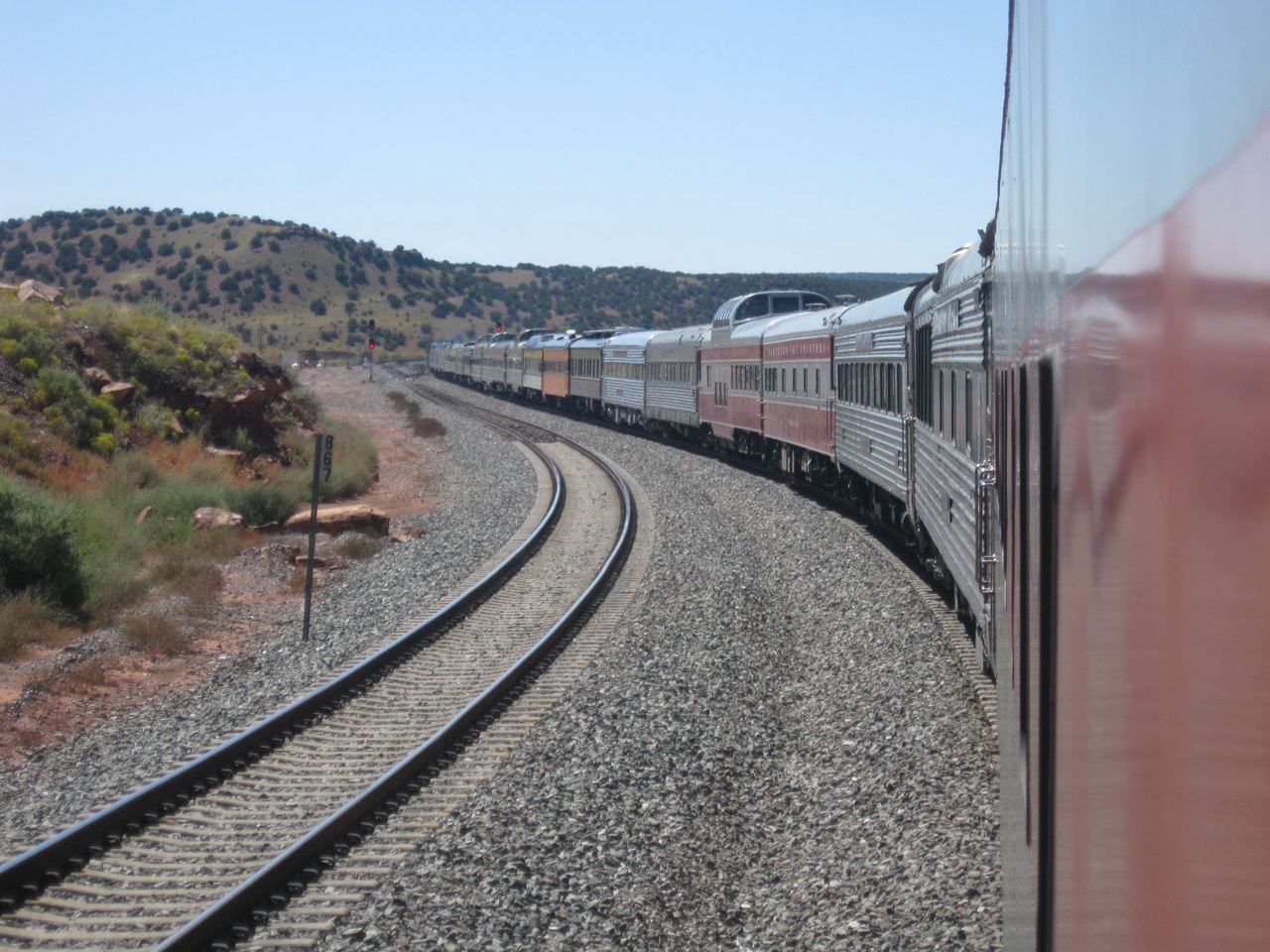 West of Scholle, thru Abo Canyon itself, BNSF is in the midst of a huge undertaking to construct double-track. From the US 60 overpass at Scholle you see only the first hill, thru which a huge cut is being made for the new south track, as the north track curves around it. The next few shots were all made as we rolled thru Abo Canyon at 1:15 p.m.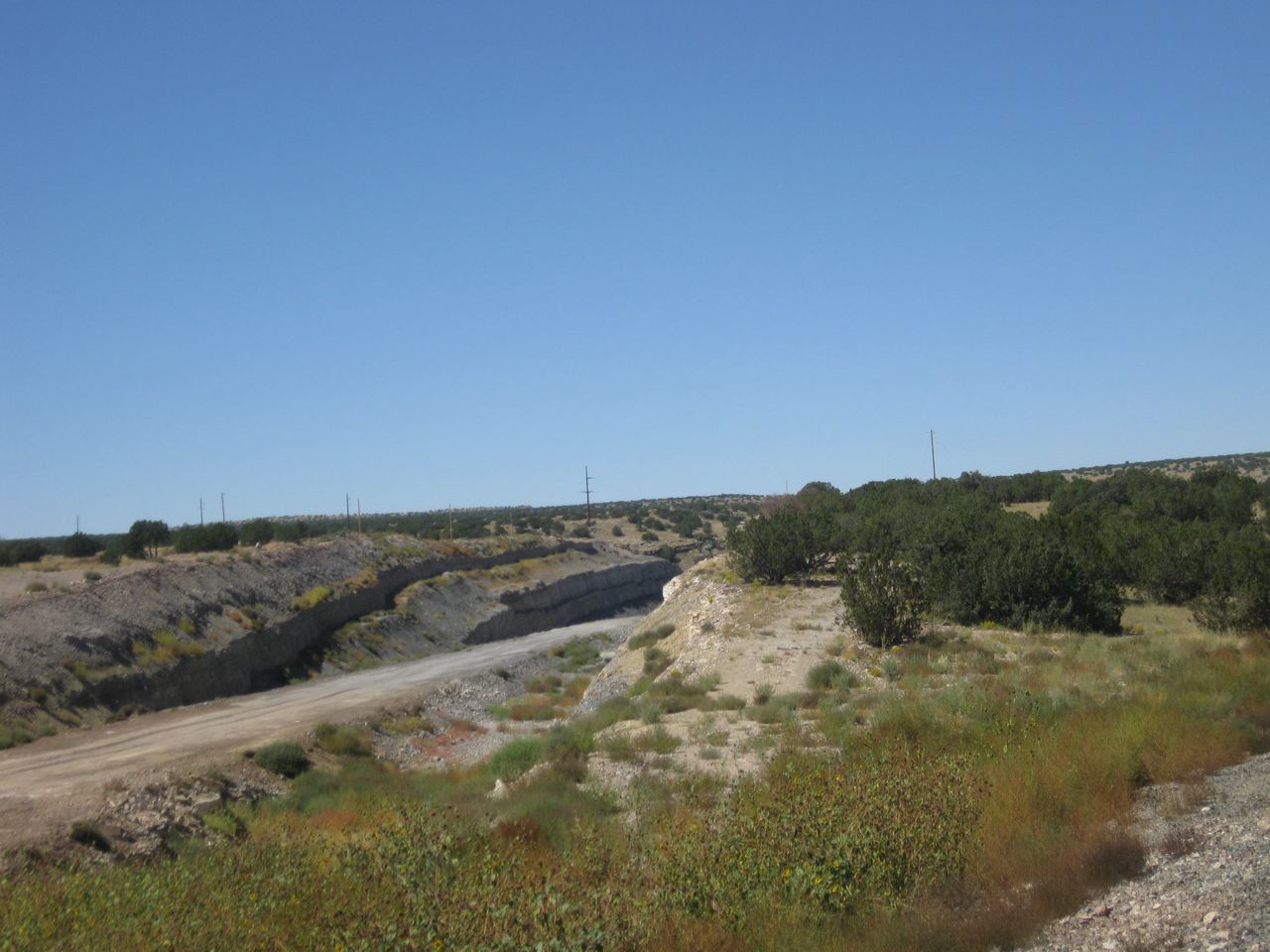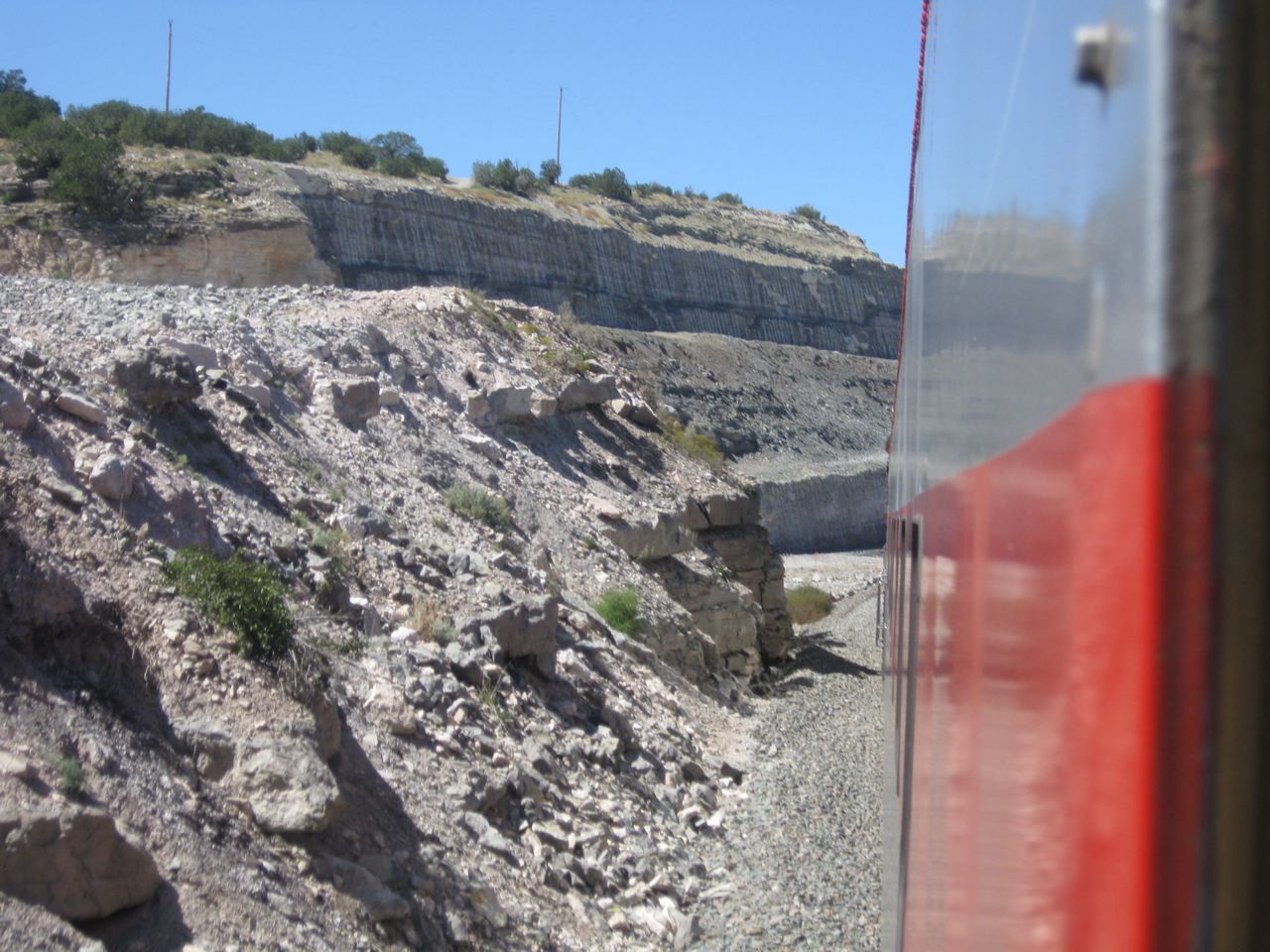 Looking back toward the US 60 bridge and Scholle.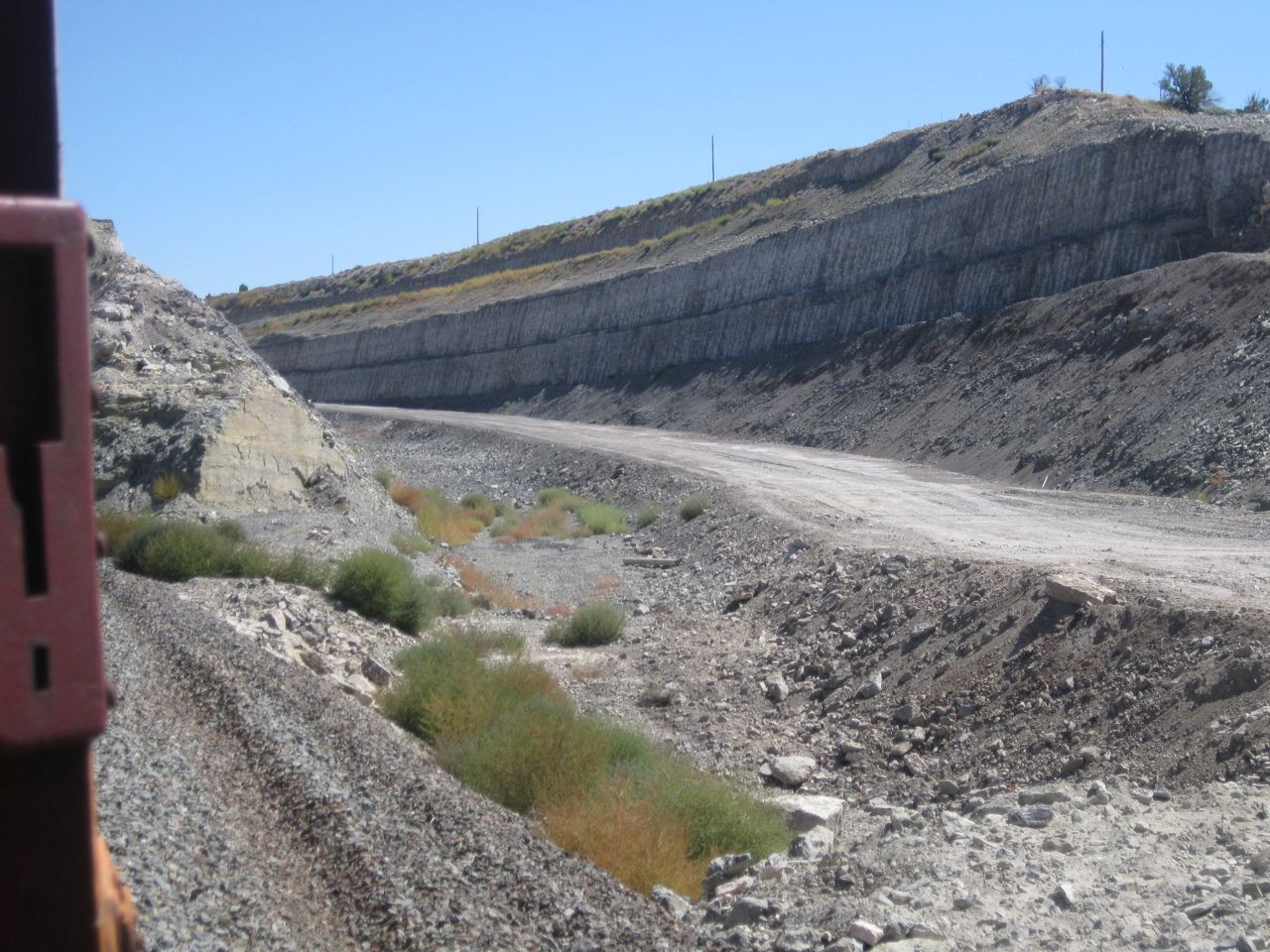 New South Track bridge over a wash in the canyon.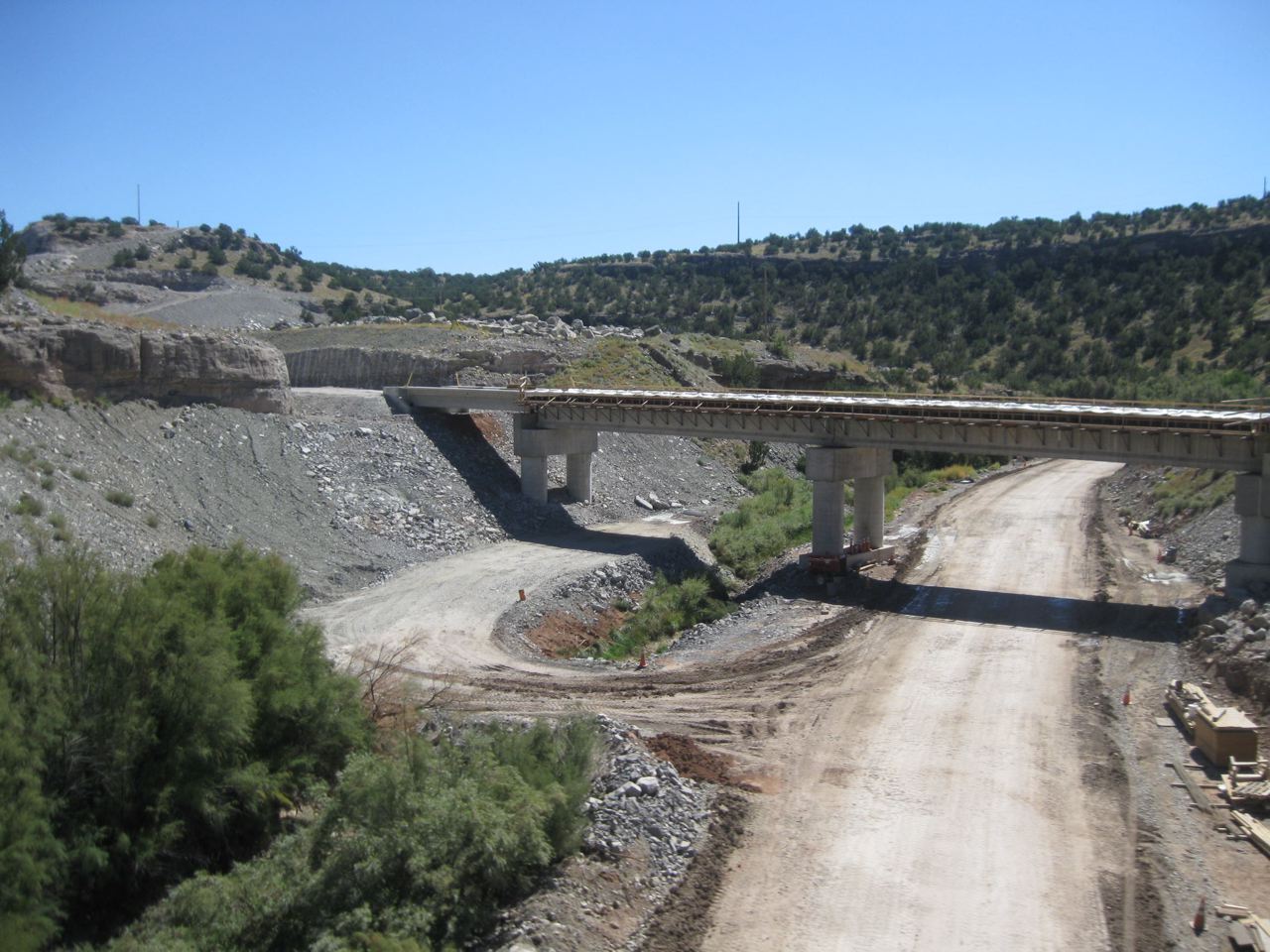 And another...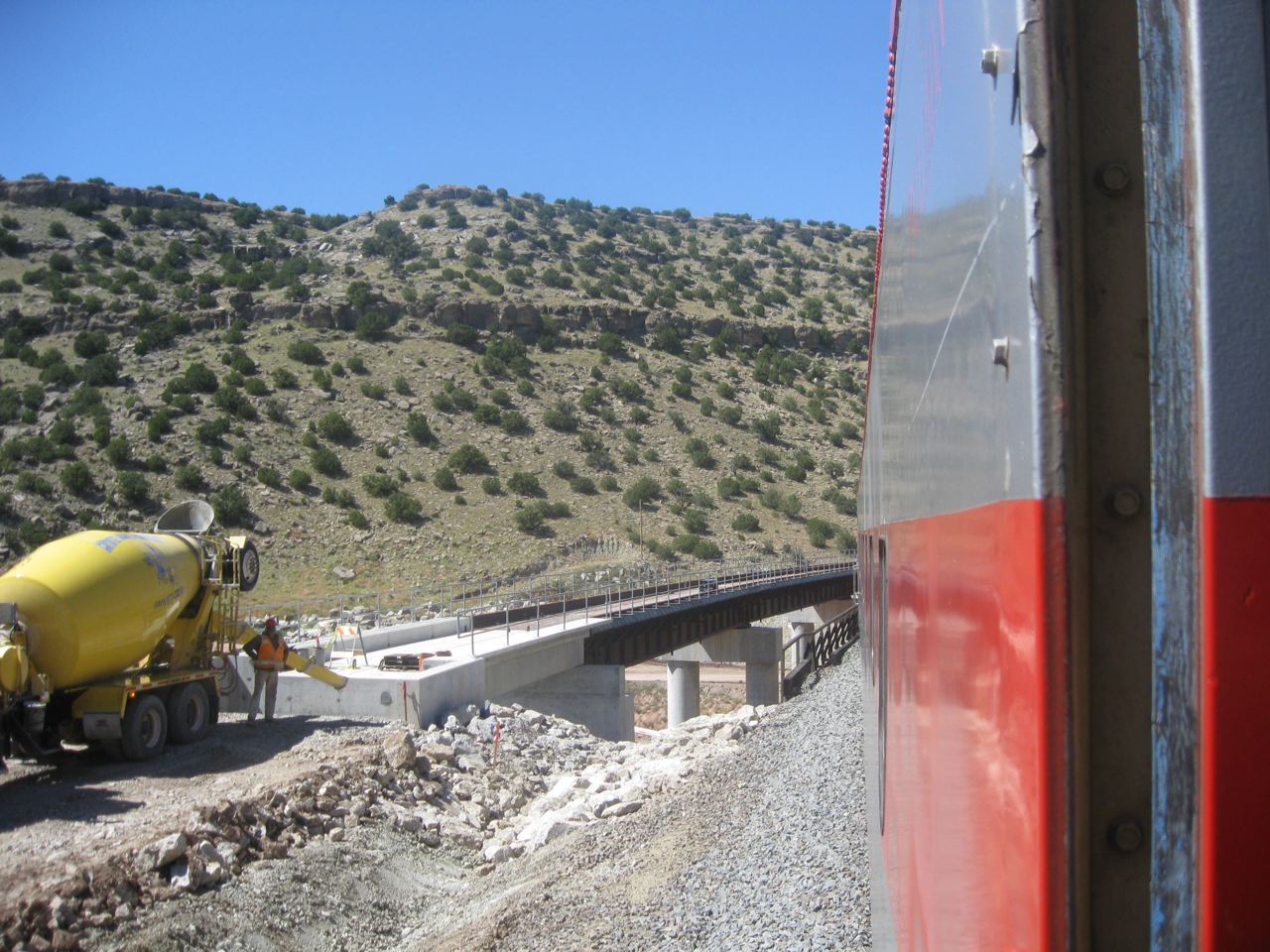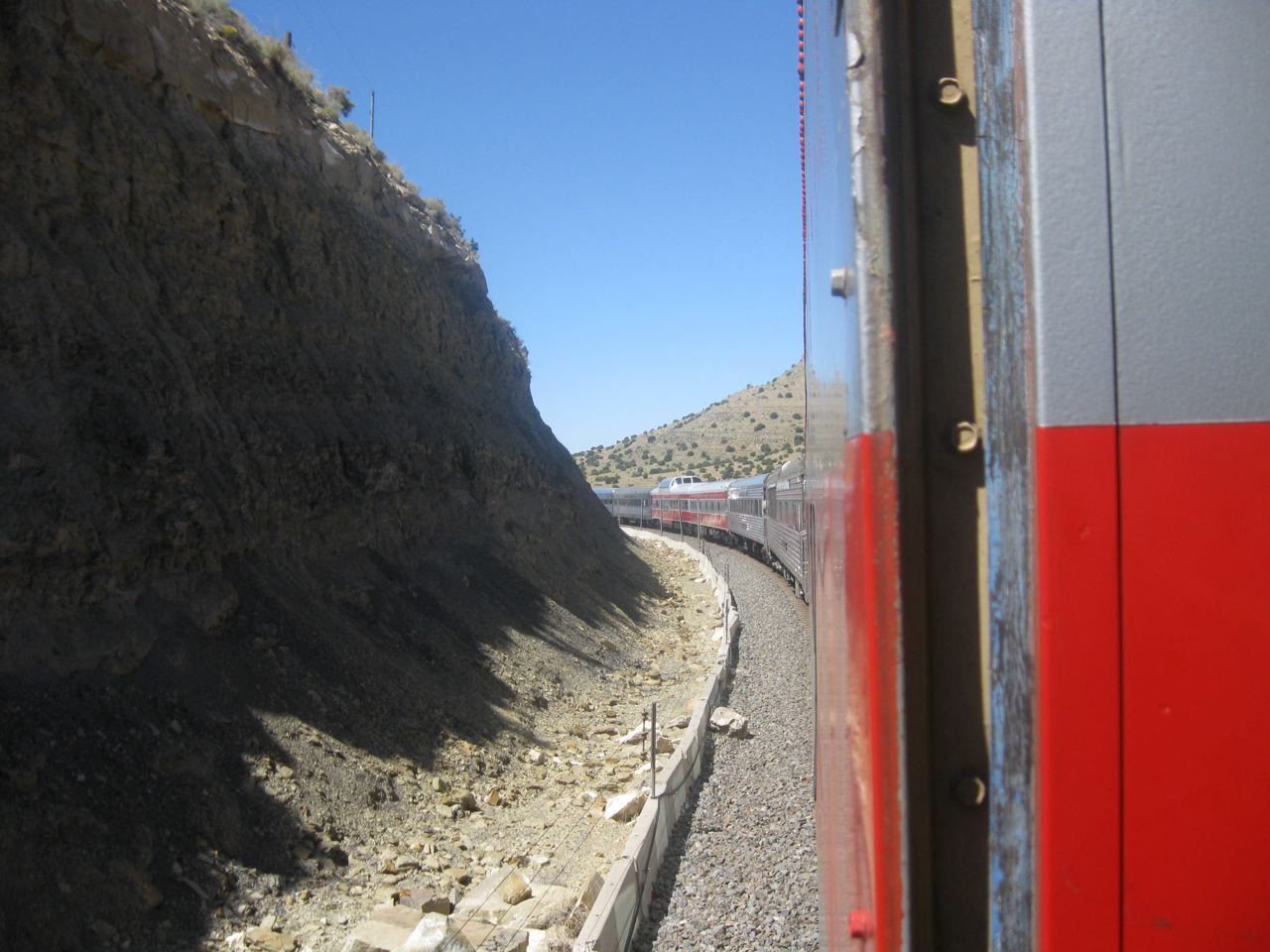 The scope of the project was astonishing and revealing.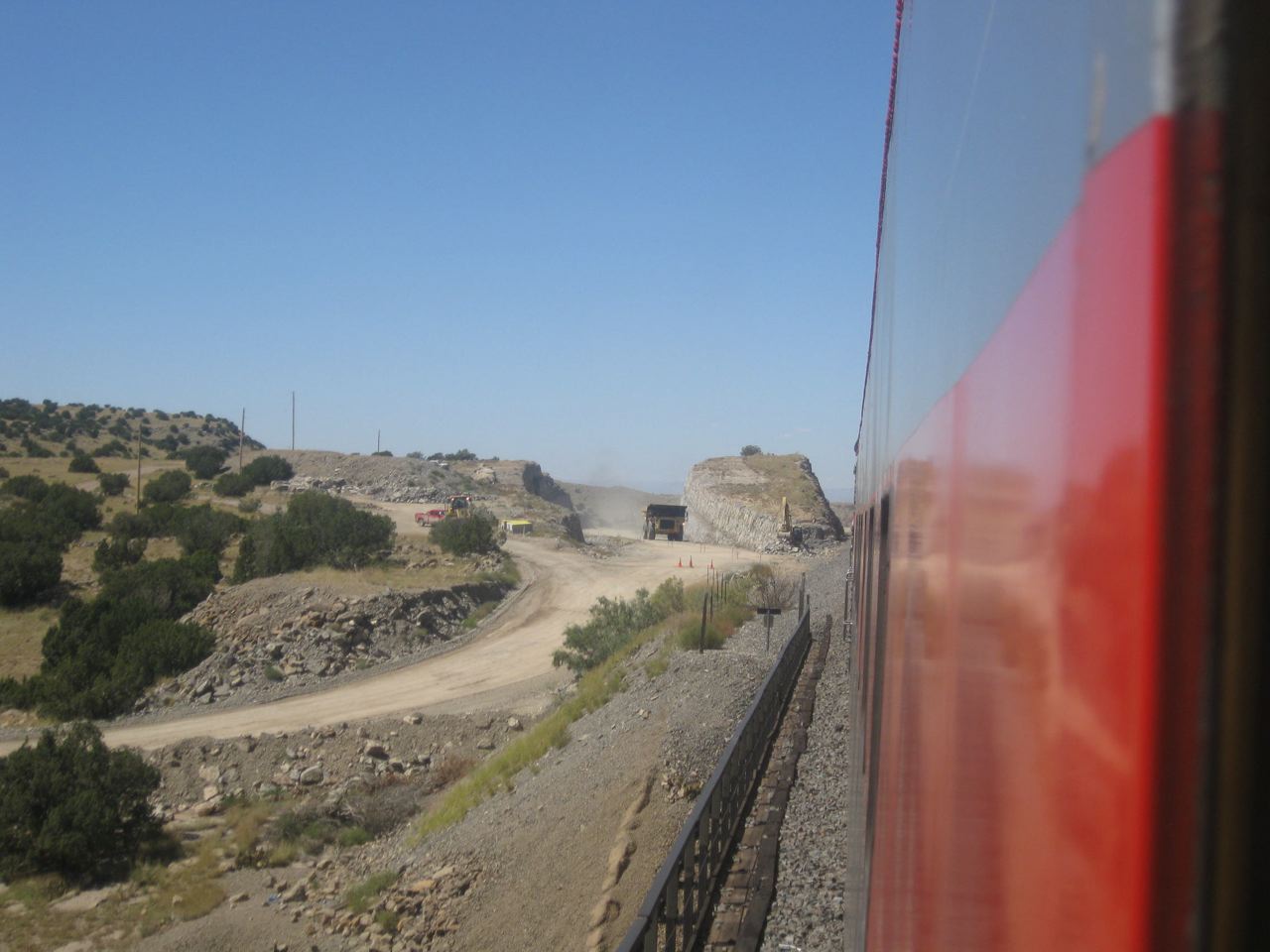 Yet another new South Track bridge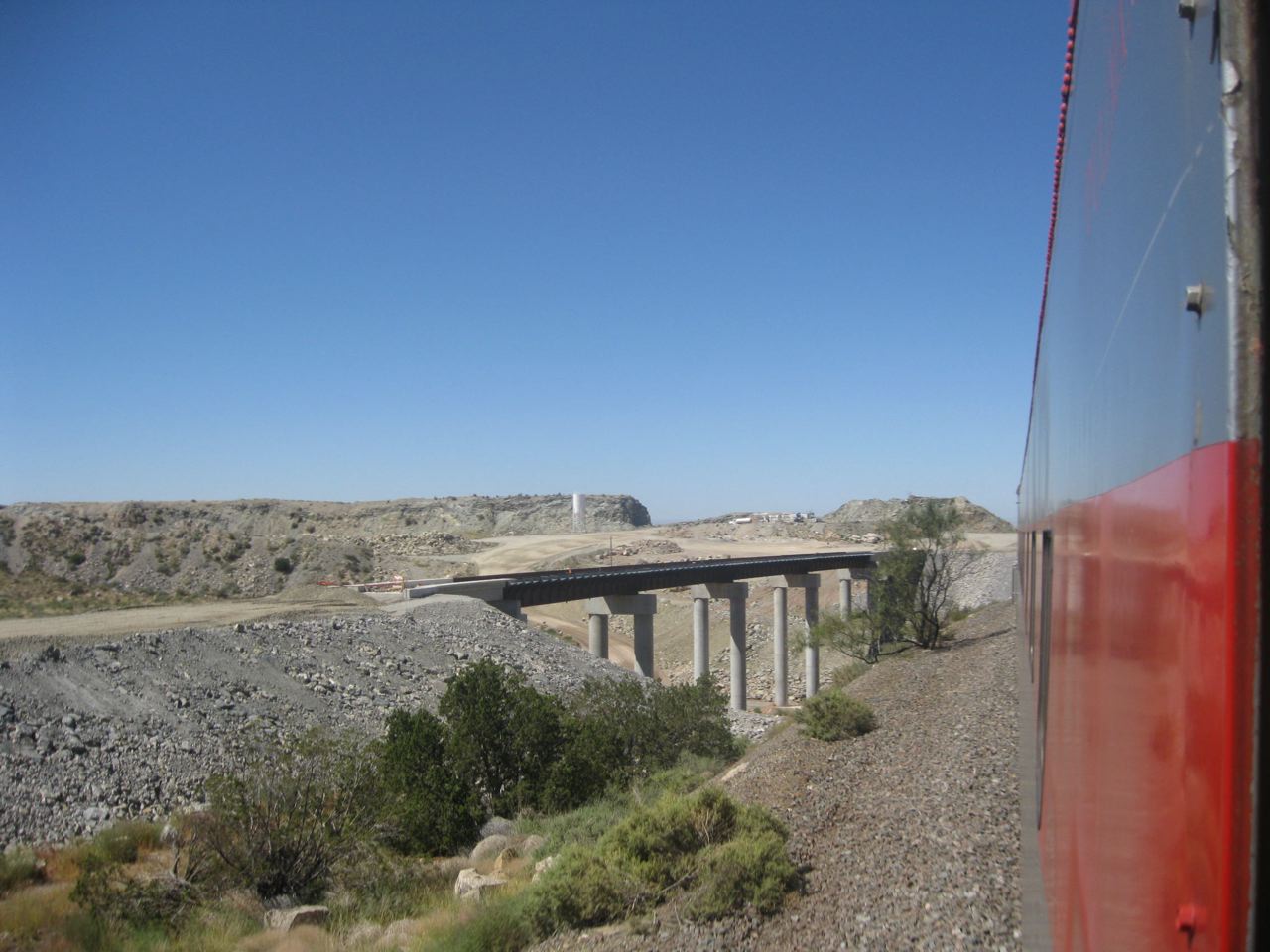 Finally thru to the west side, we see at a distance 7302 East waiting for us to leave the single track at East Sais.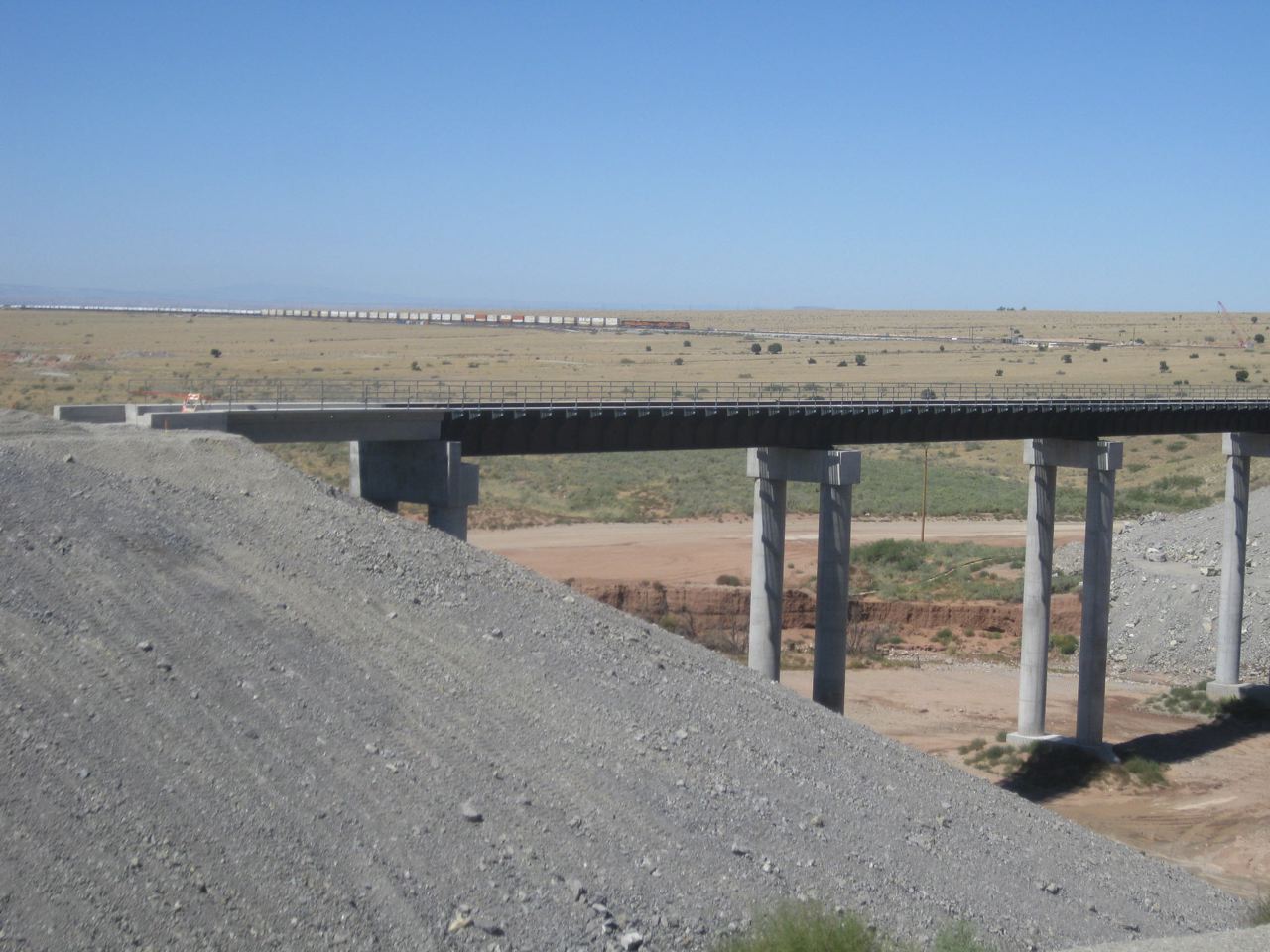 8299 East at Madrone, 1:51 p.m., and since Sais, this is third eastbound we've passed.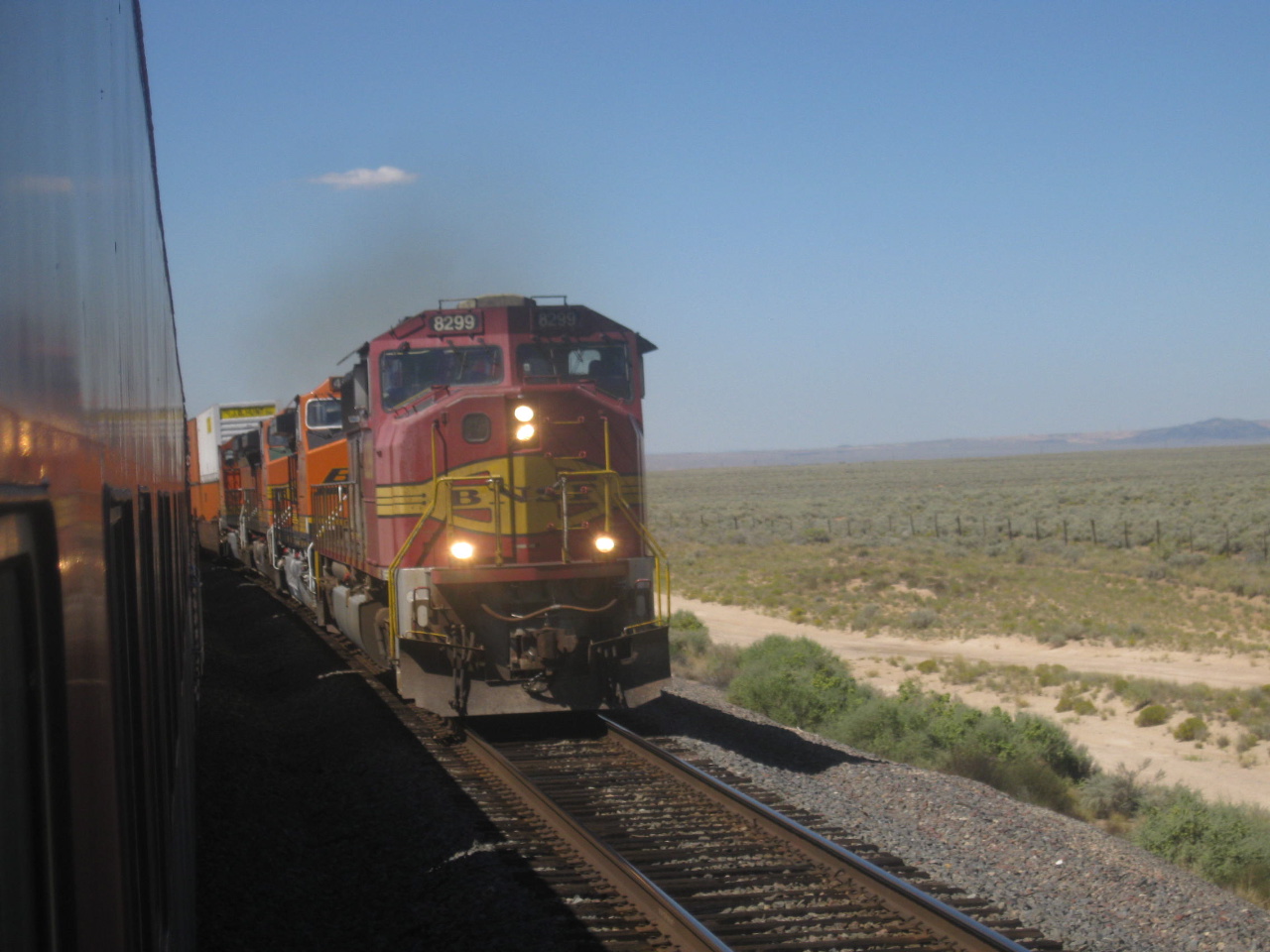 Looking back toward the Rio Grande bridge at the south (TT east) end of Belen yard, at 2:03 p.m., we see the tail end of a westbound stacker, and another waiting behind him, that we've just come by, 5306 West.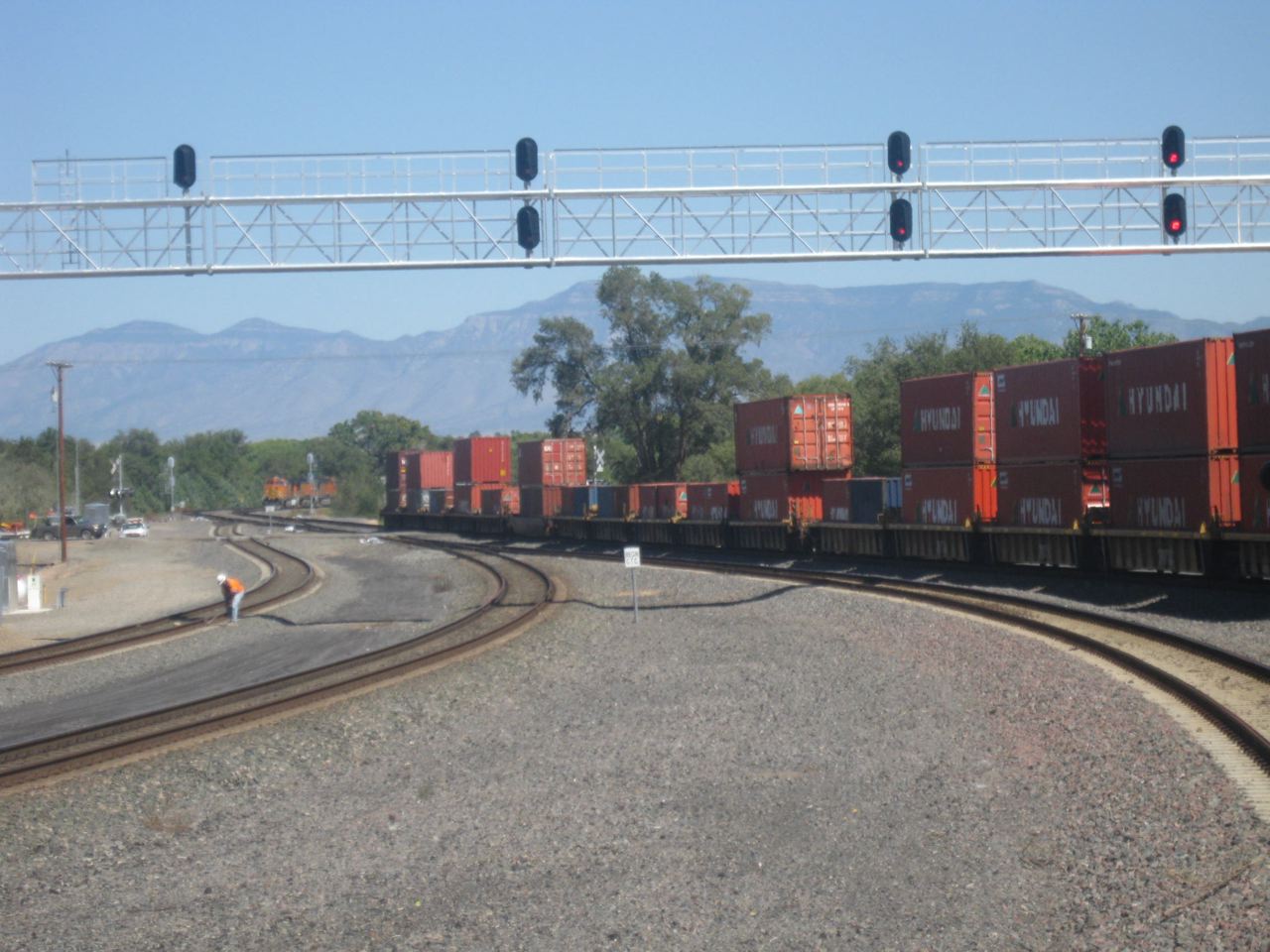 While a broken rail was being repaired at Belen Jct. in town, at the west end of the yard and where the cutoff to Albuquerque diverges, we sat for 45 minutes at the yard's east end, watching 5138 East, a UPS stack train, do some switching.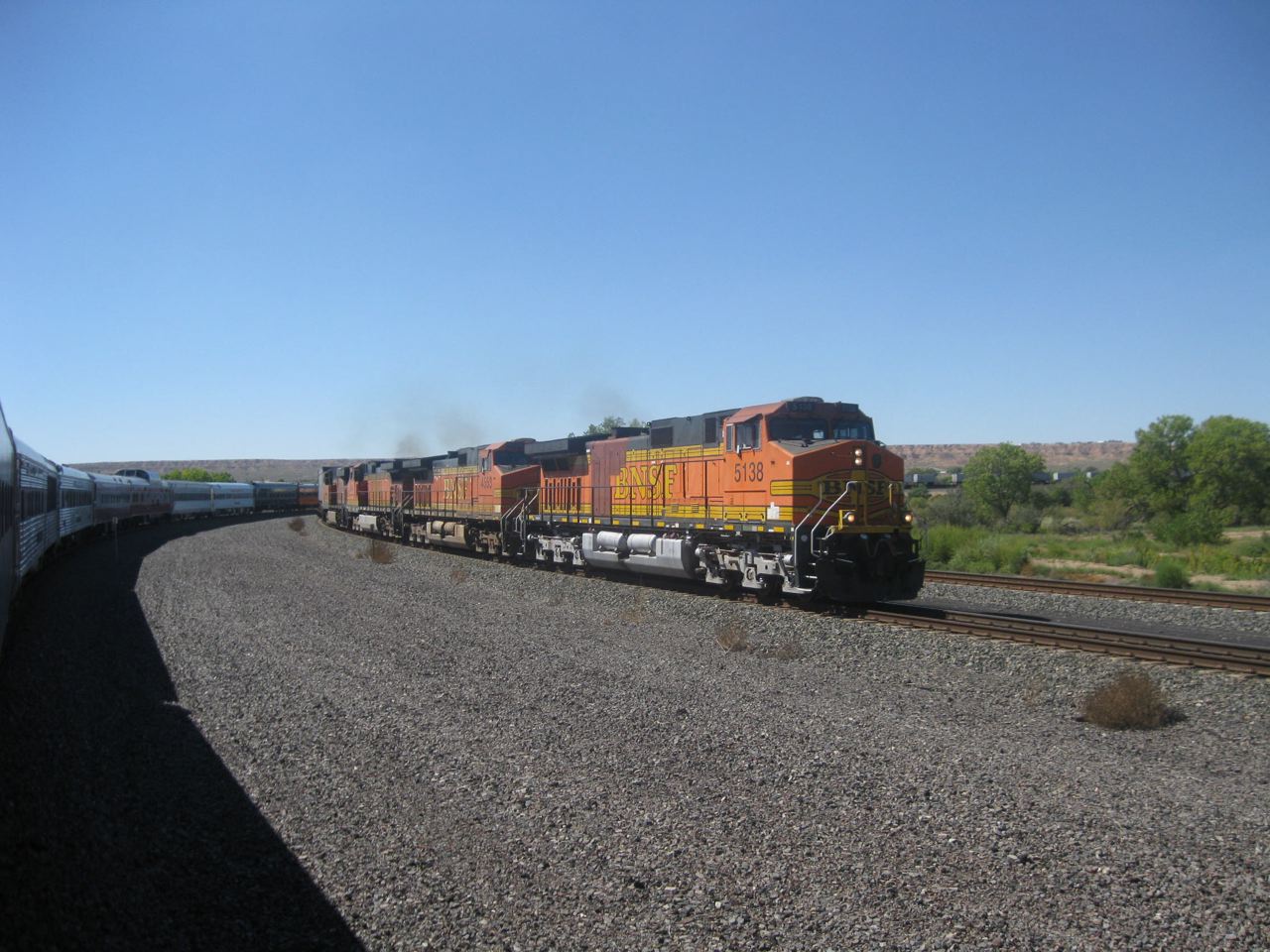 Cascade green lives on in the yard, on a pair of GP60's.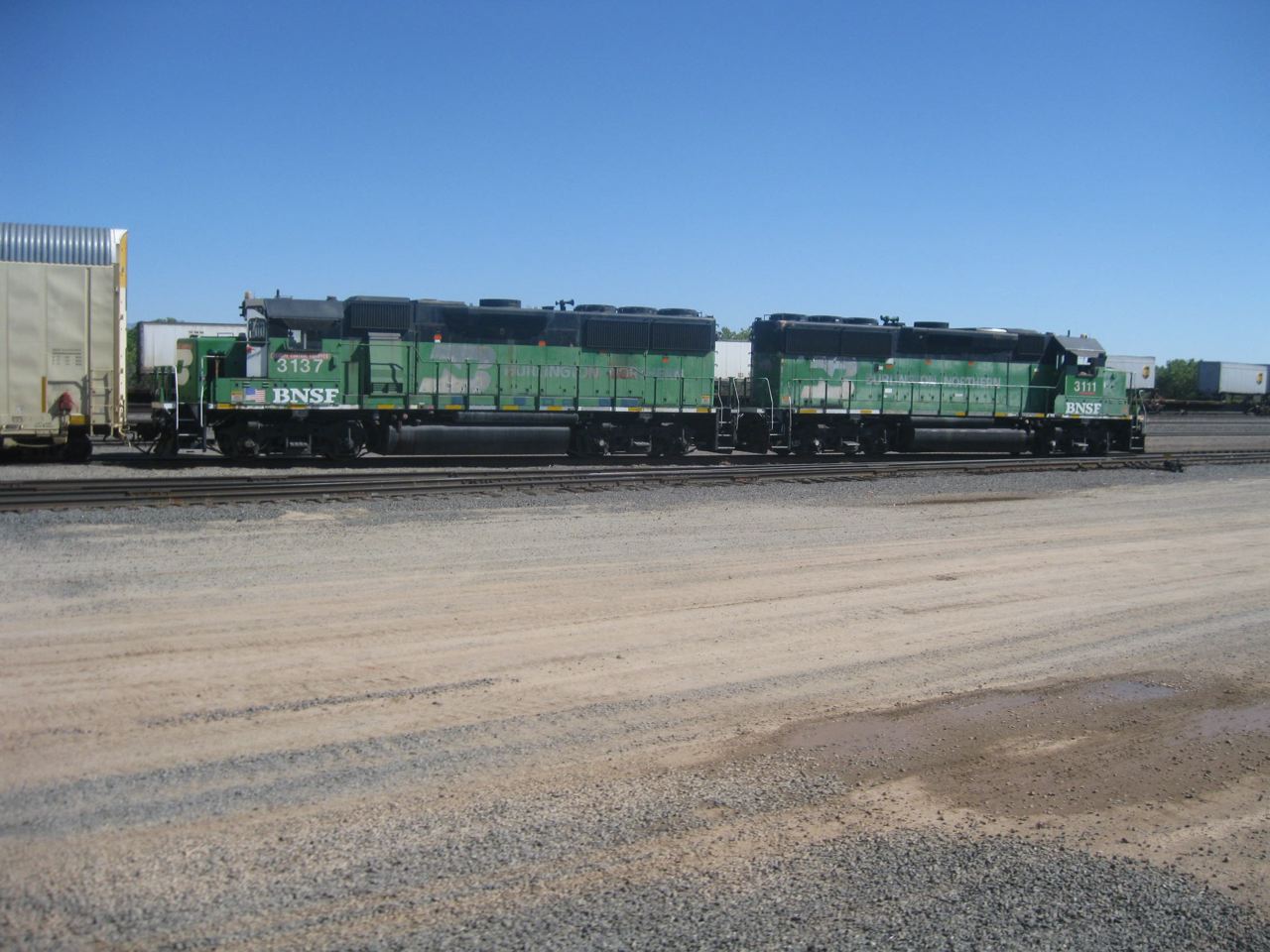 5168 West in the fuel rack as we pass thru at 3:10 p.m.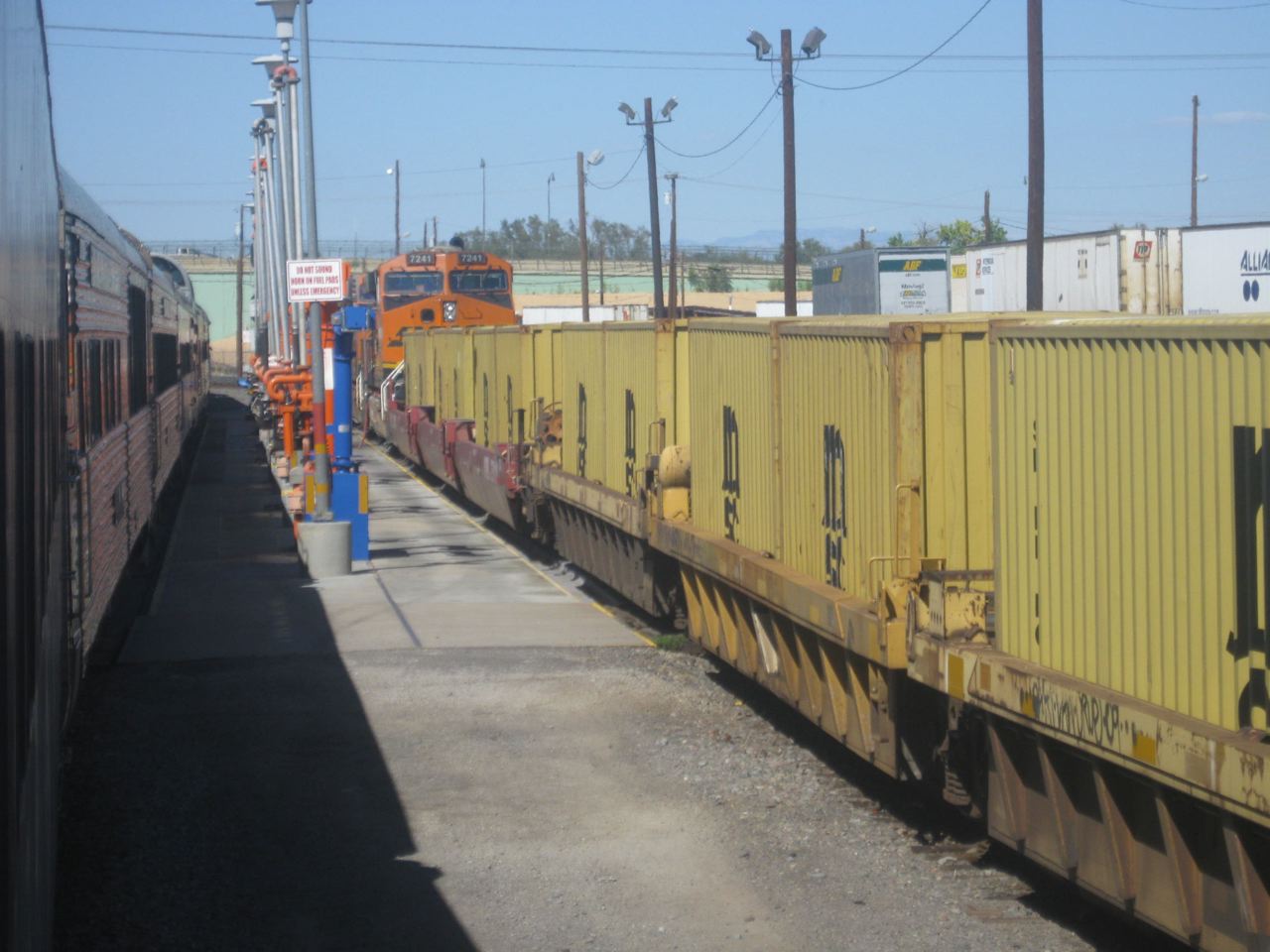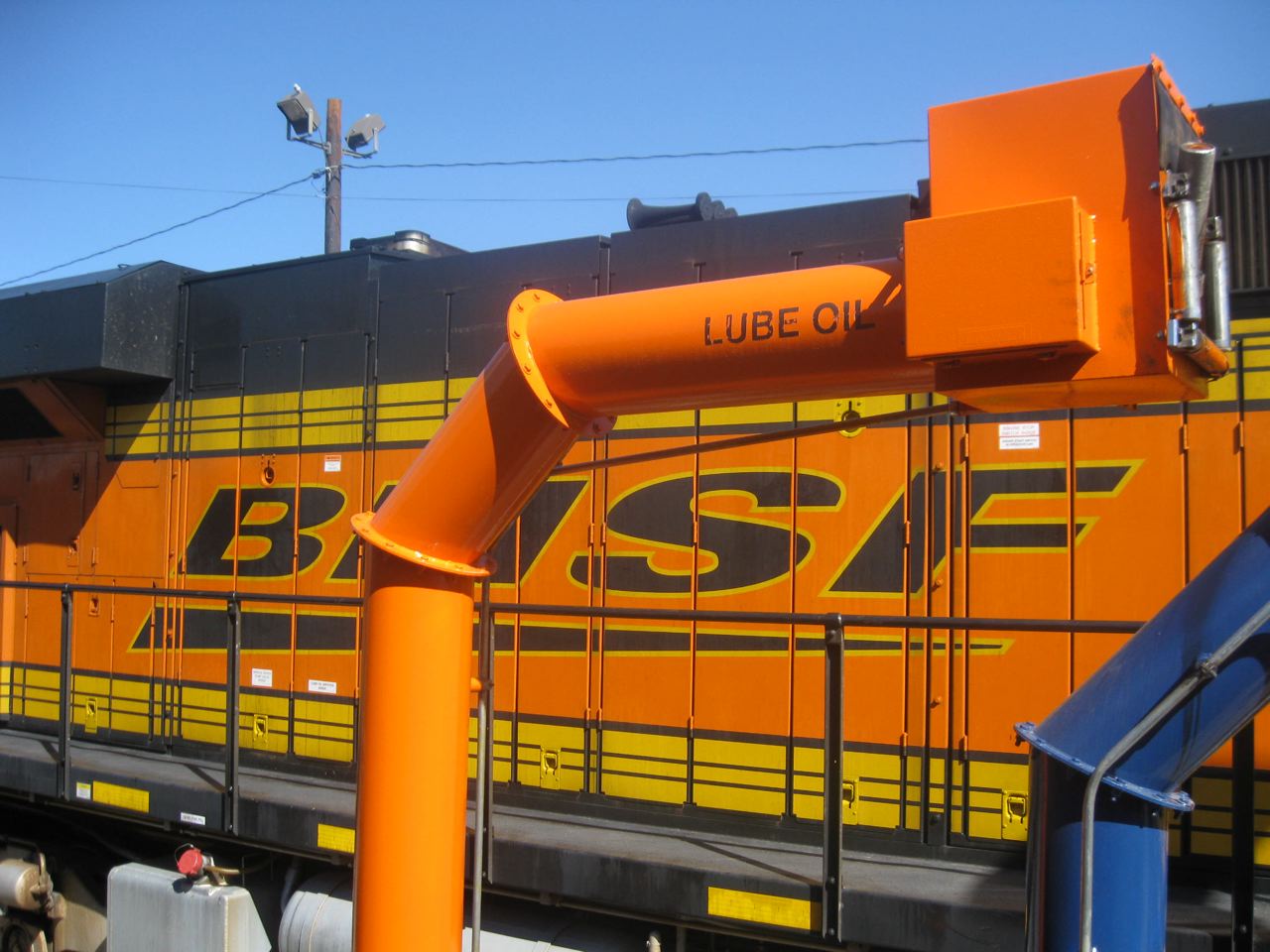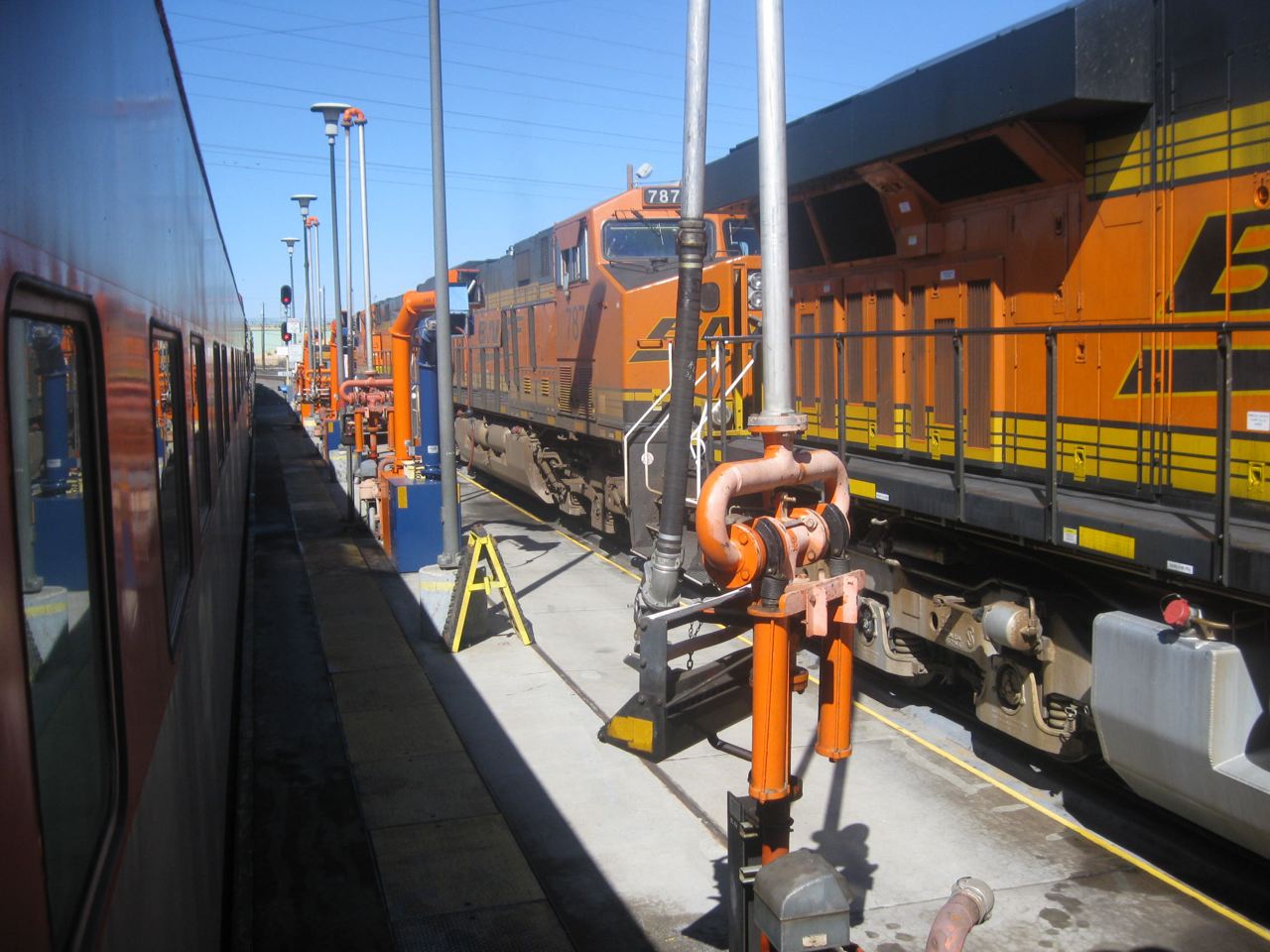 On our west side, 4976 West, a grain train, which had two DPU's on the rear.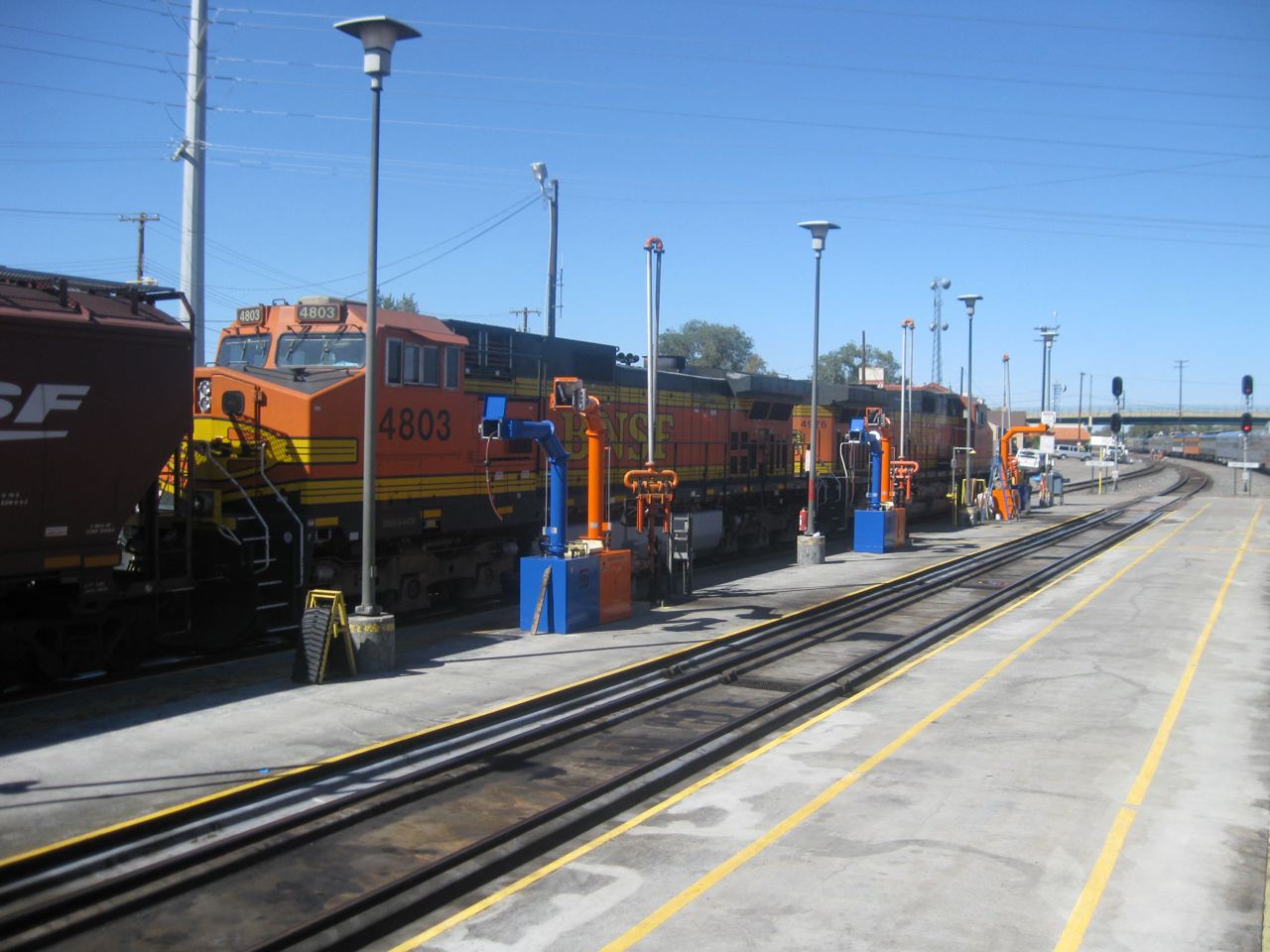 Belen Jct. is the name for the jct.; the old passenger station, turned yard office, is at the far left.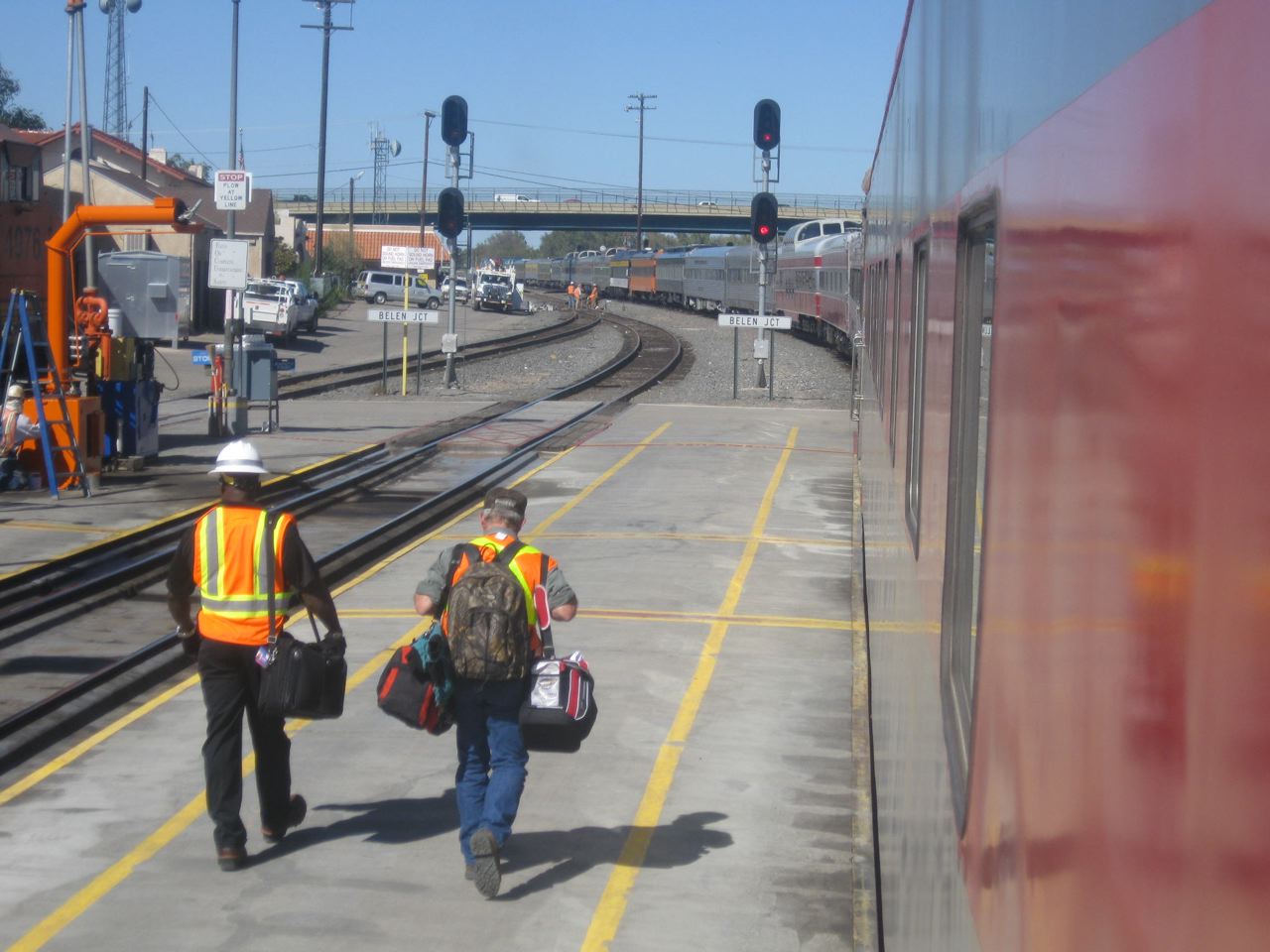 The Albuquerque Daylight Transfer (ex ATSF Belen Flyer) waiting to come out to head East to Albuquerque.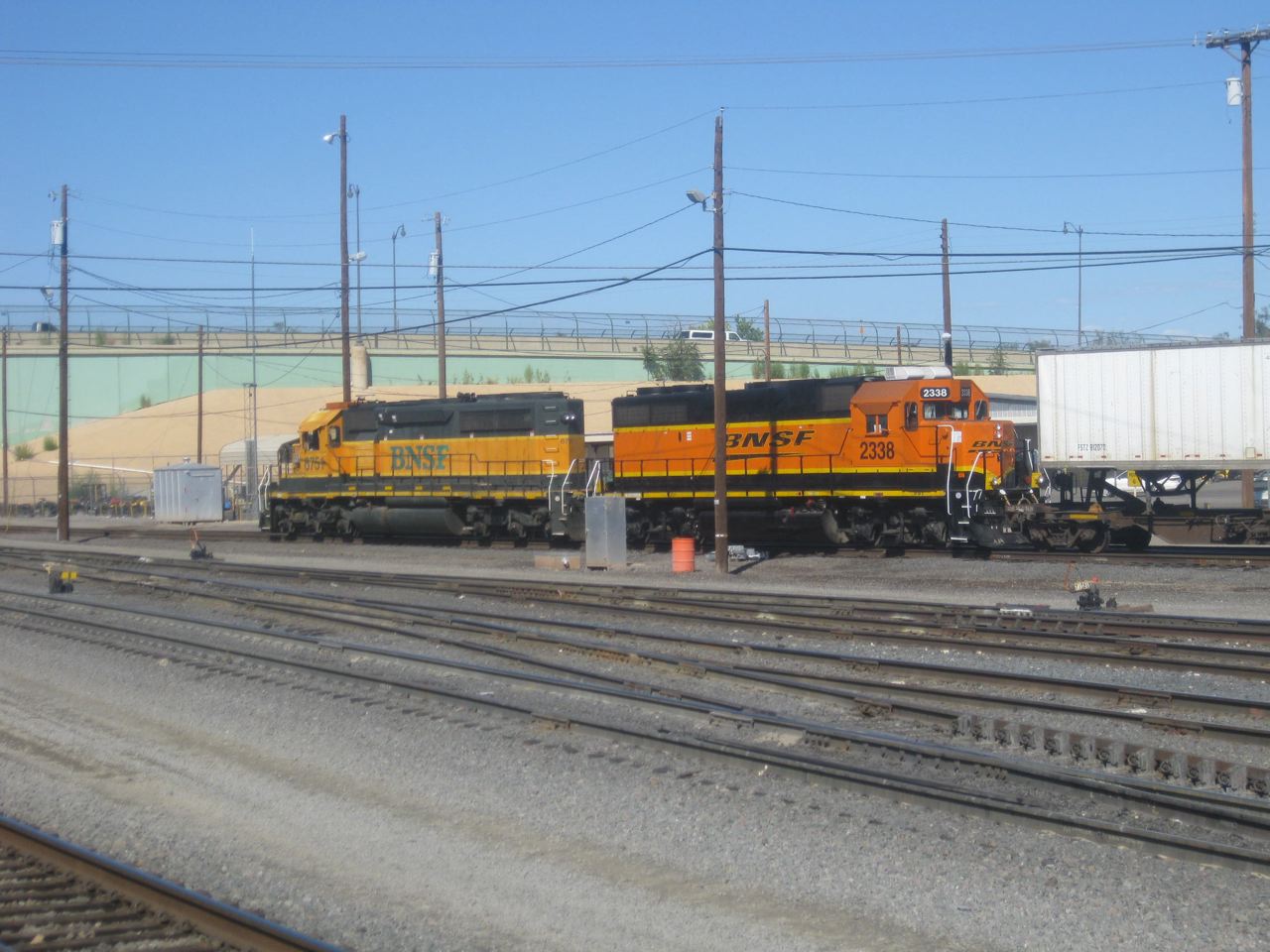 The few SD40-2's BNSF has left in service mostly serve in yard work now. Many are renumbered to 1700's, 1800's, or 1900's.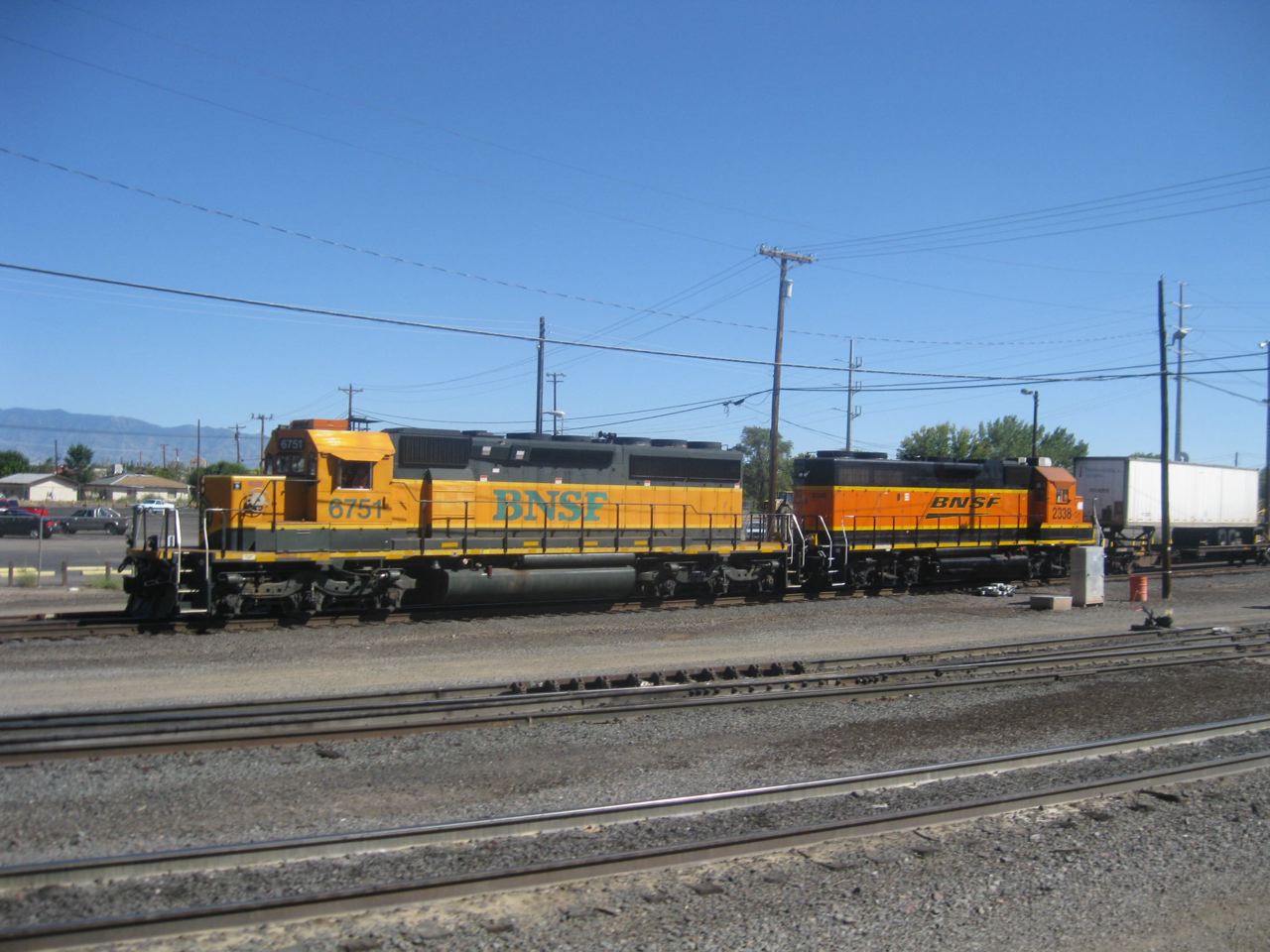 The Transcon goes left, we go right, on the state-owned line to Isleta and Albuquerque, now used by NM Rail Runner commuter trains.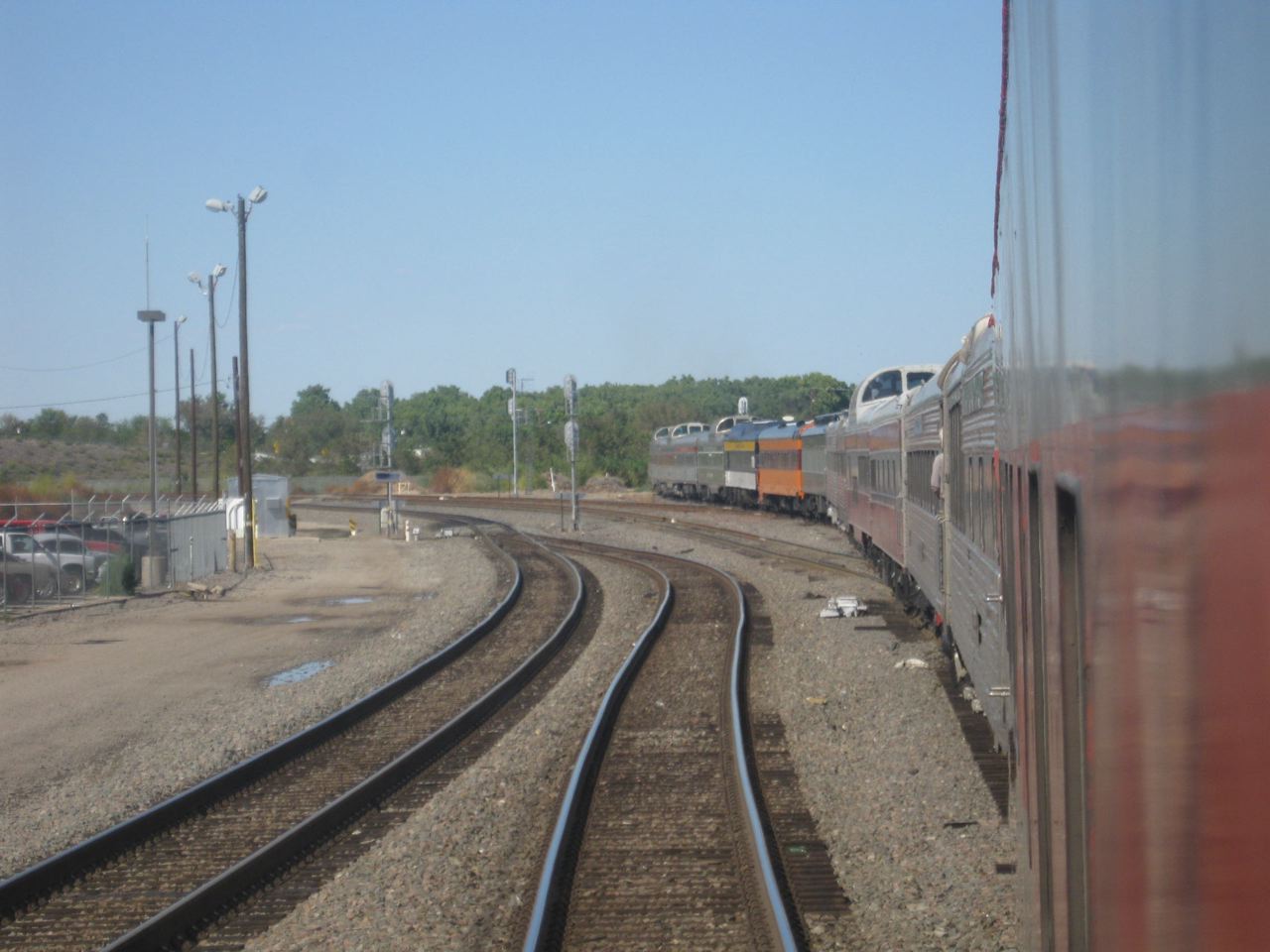 Albuquerque yard, about 3:50 p.m.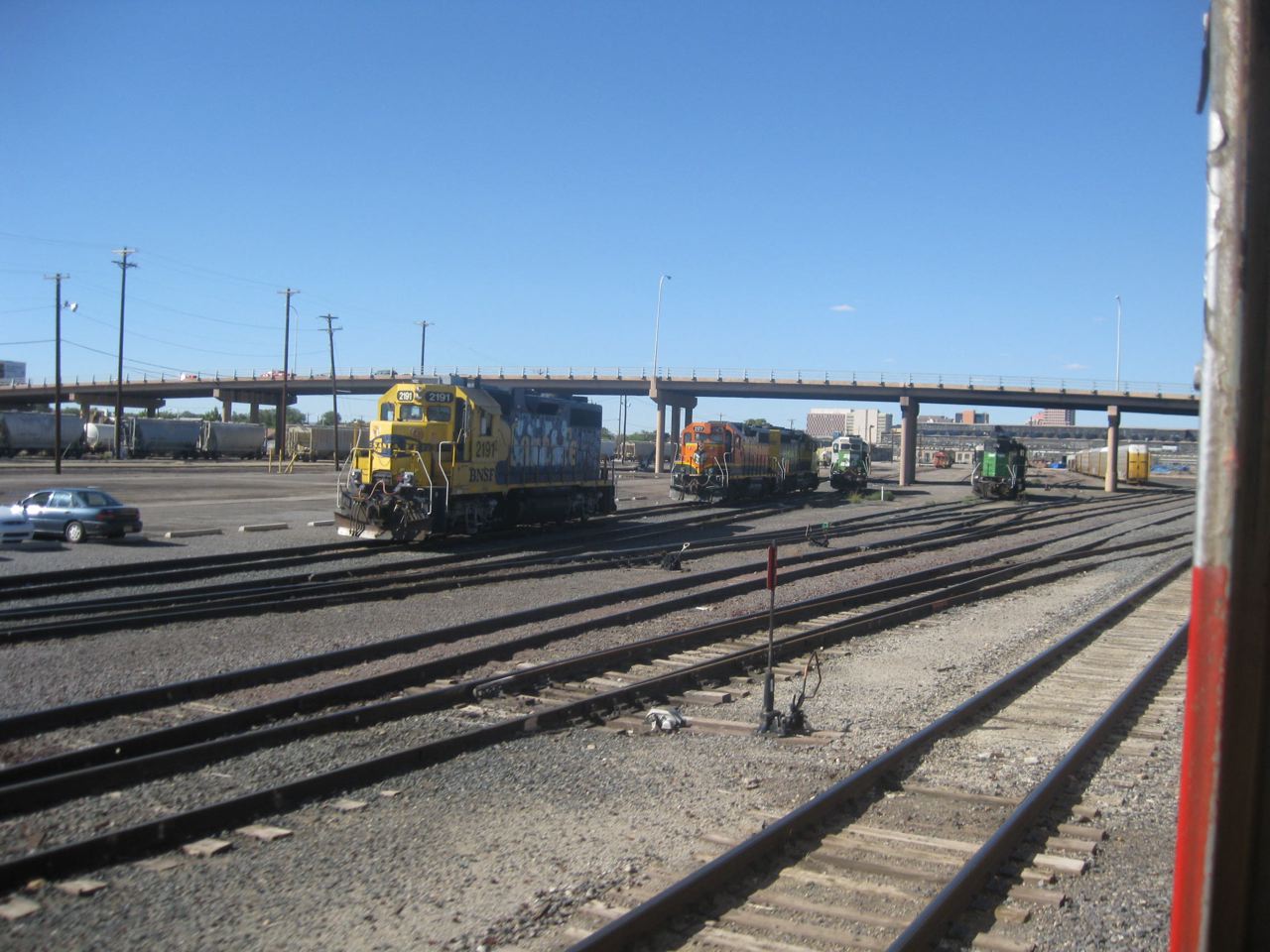 Merger components.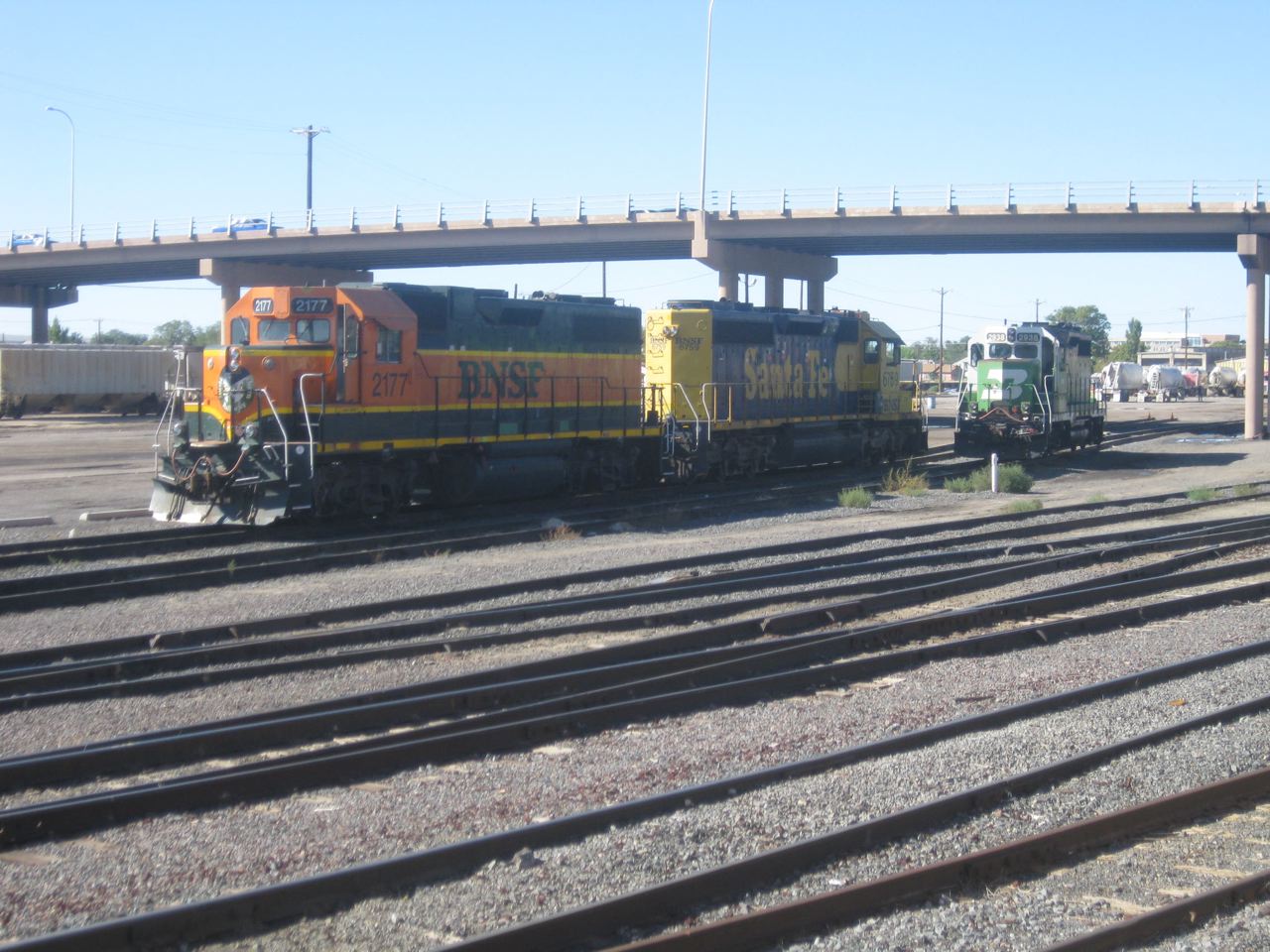 A green renumbered SD40-2.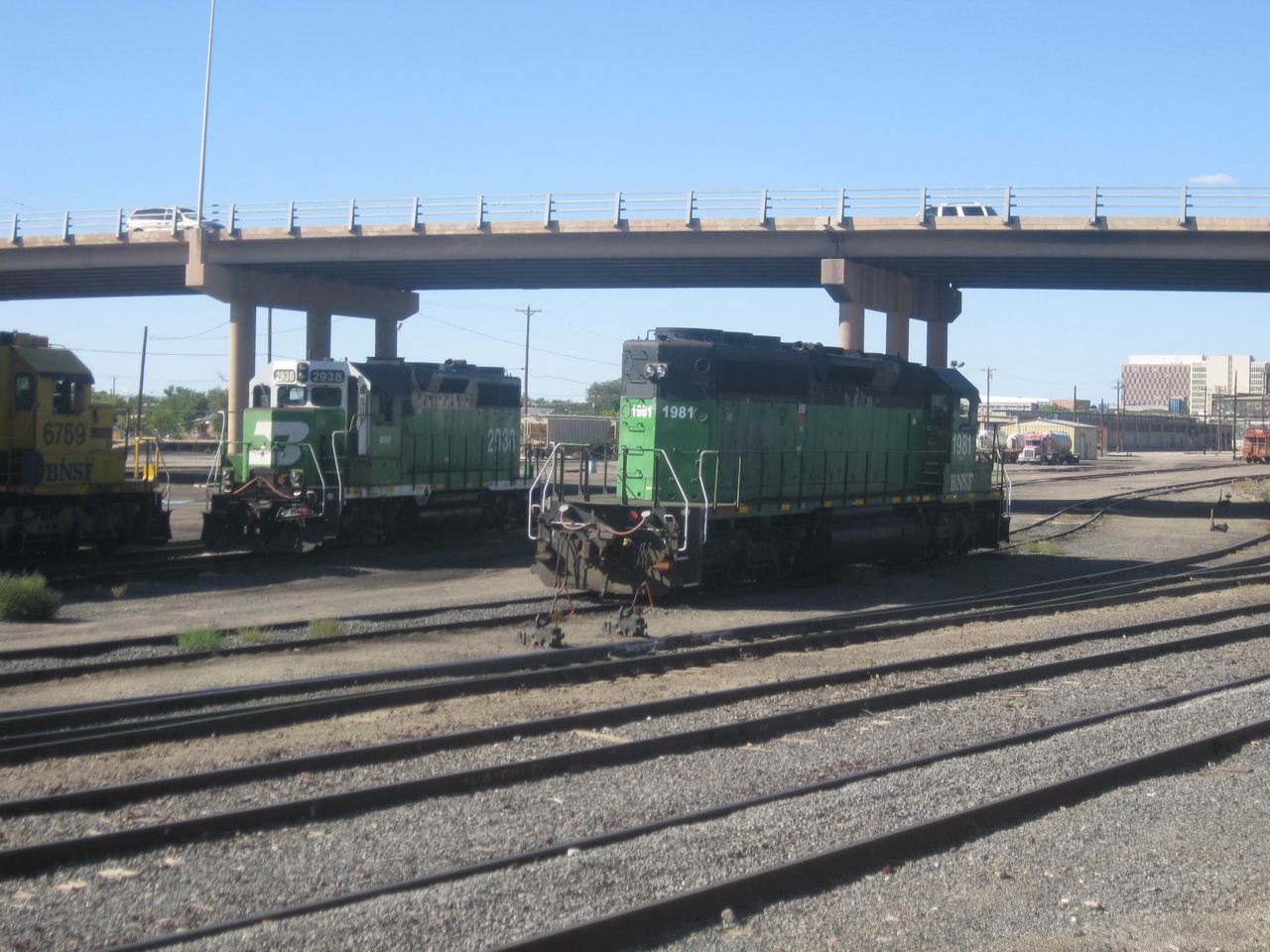 One of the most imaginative paint schemes around; we'll ride a train like this up to Santa Fe for dinner tonight.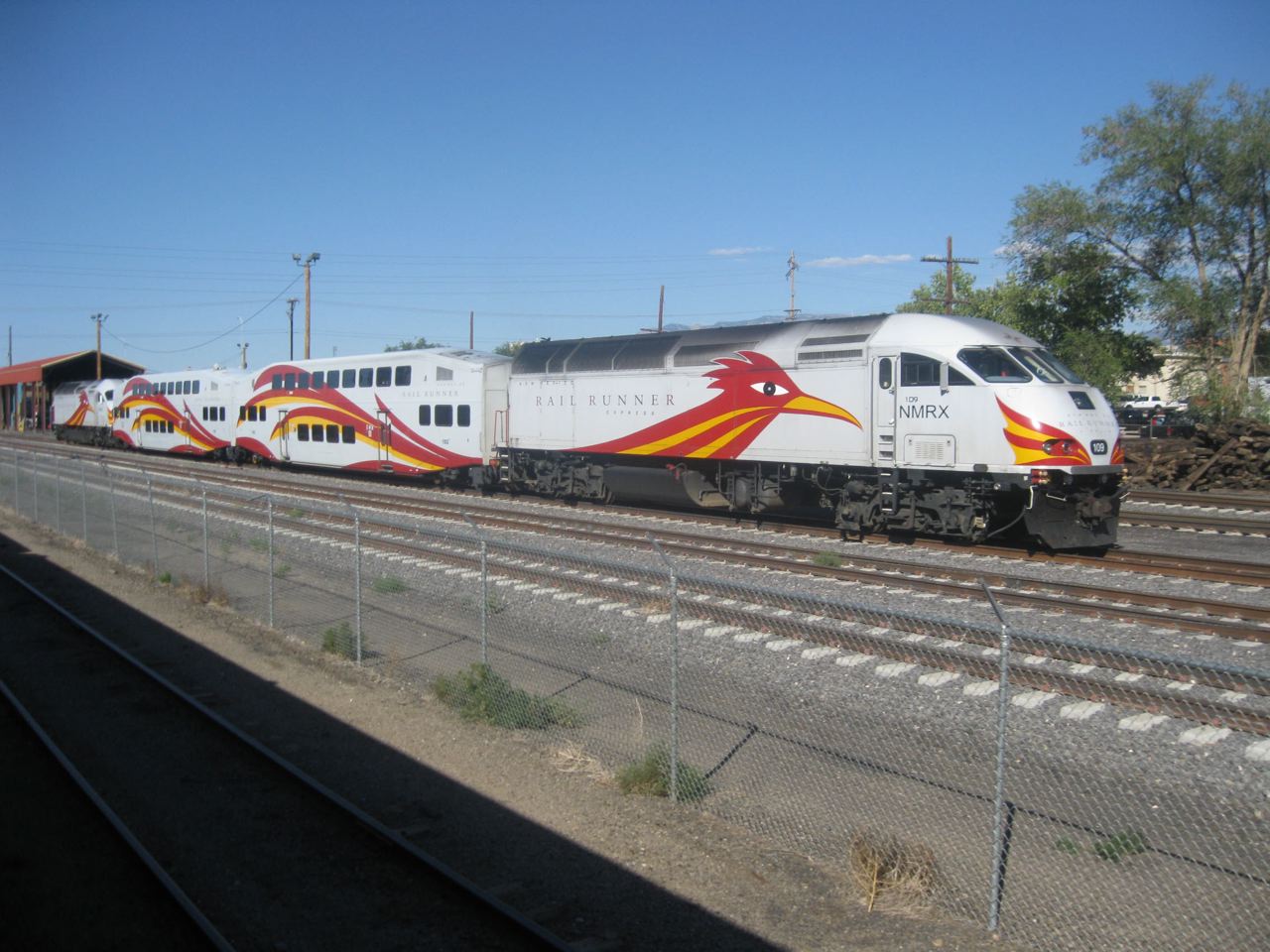 Southwest Chief #3 is in the ABQ depot as we arrive at 4 p.m., with about 340 mostly fast miles under our belt. Our train will be split into two cuts on depot tracks.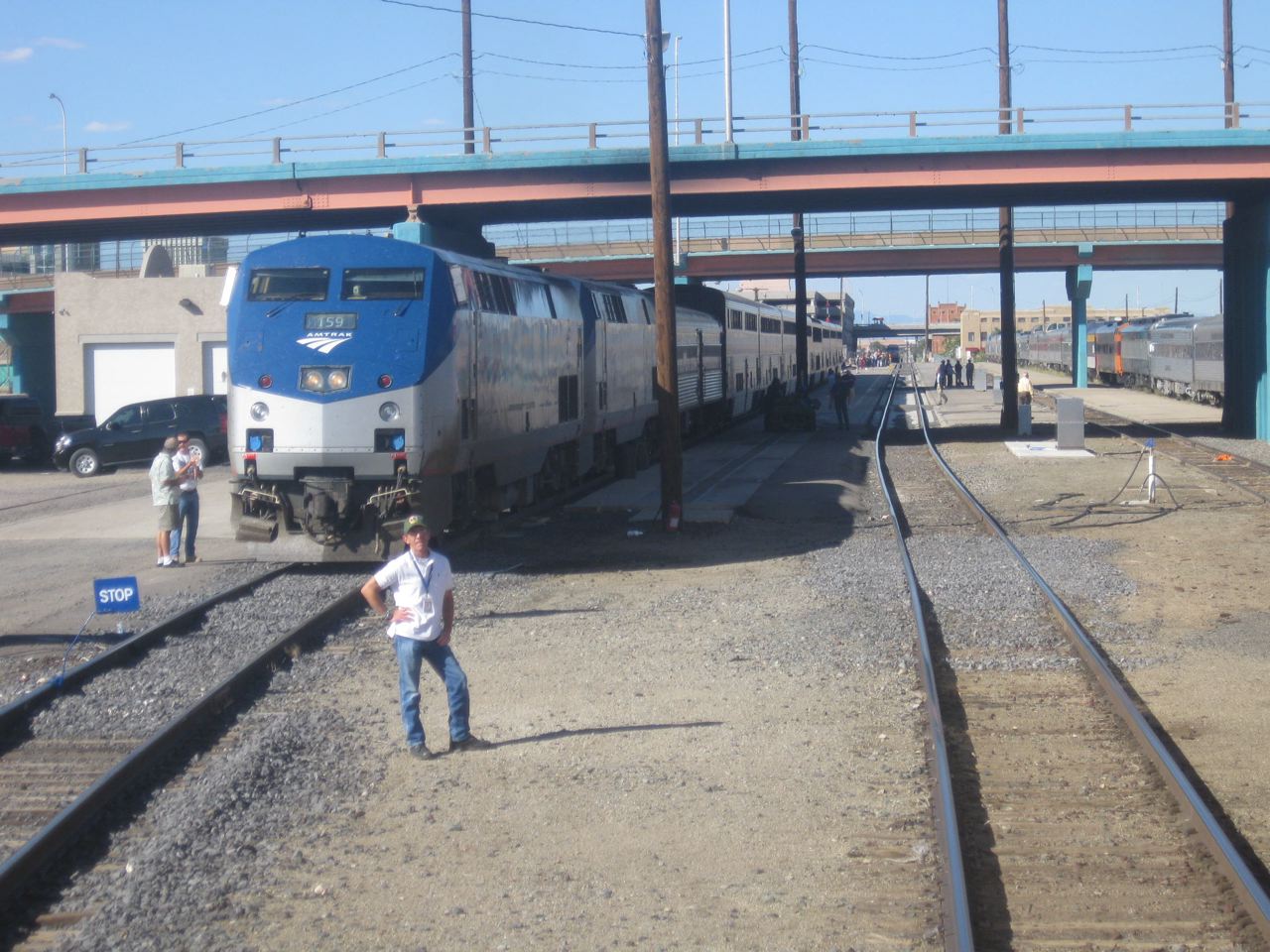 Contrasting the old and the new; the AAPRCO train has been split up into the two cuts. C&O Chapel Hill will bring up the rear of our #4 the next day. The PV with the large windows, visible at rear just to the left of the last Superliner on #3, is the ex-Seaboard bedroom- lounge car Hollywood Beach, which was just ahead of Cimarron River on the special.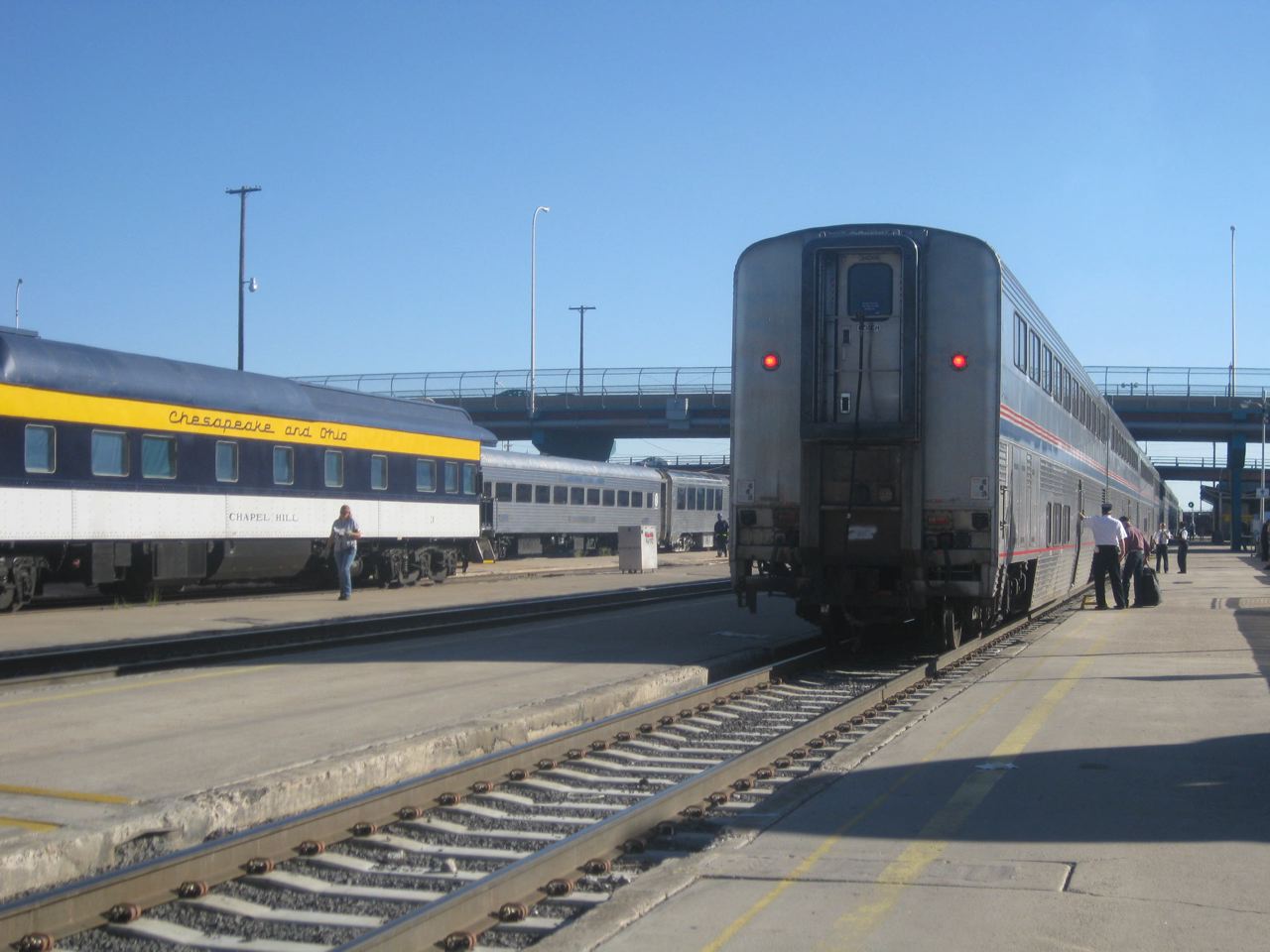 This car was last in railroad use by CN as a charter car. The "classic colors," though, were used by CN for only a decade or so.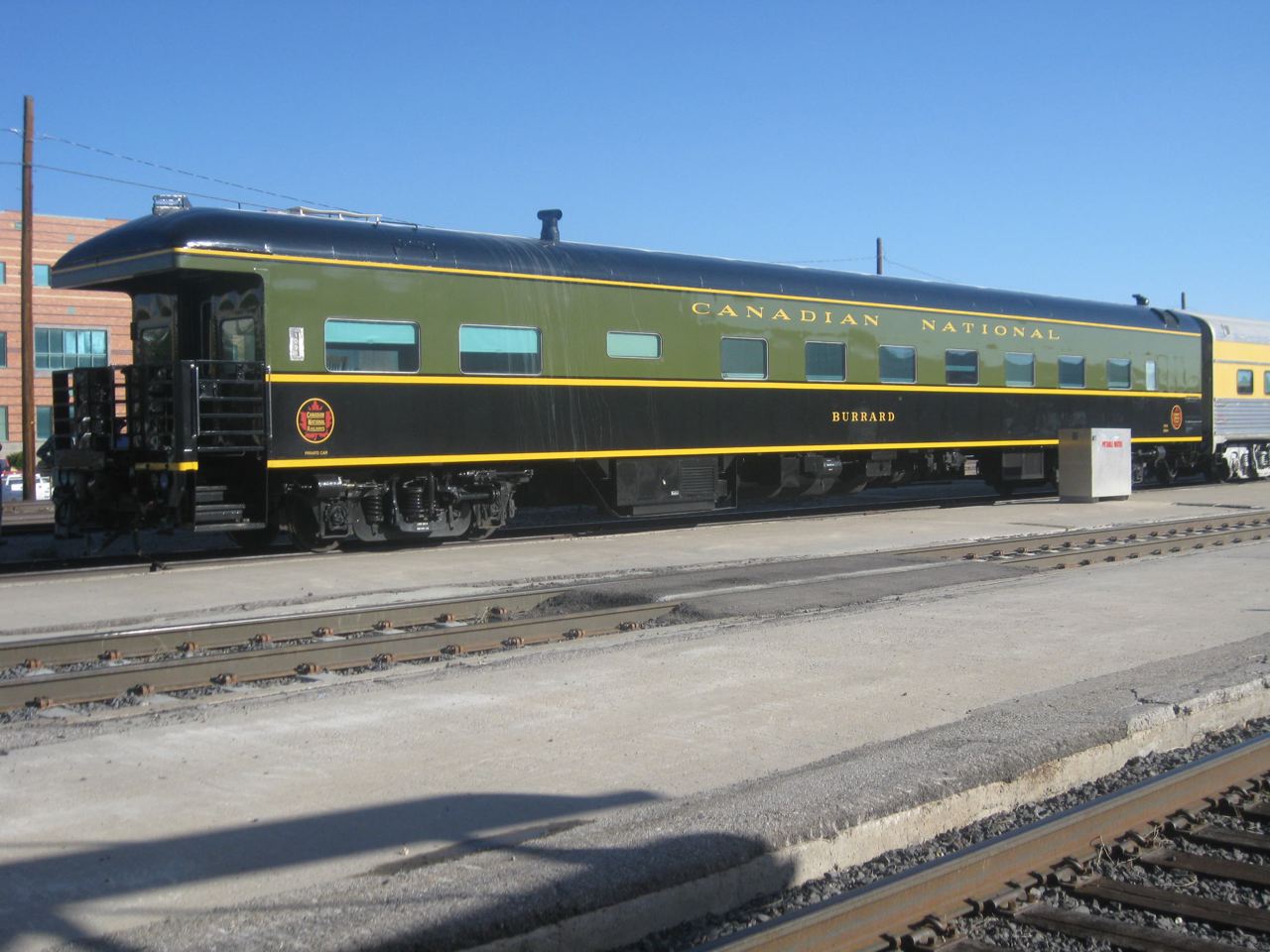 A southbound Rail Runner arrives.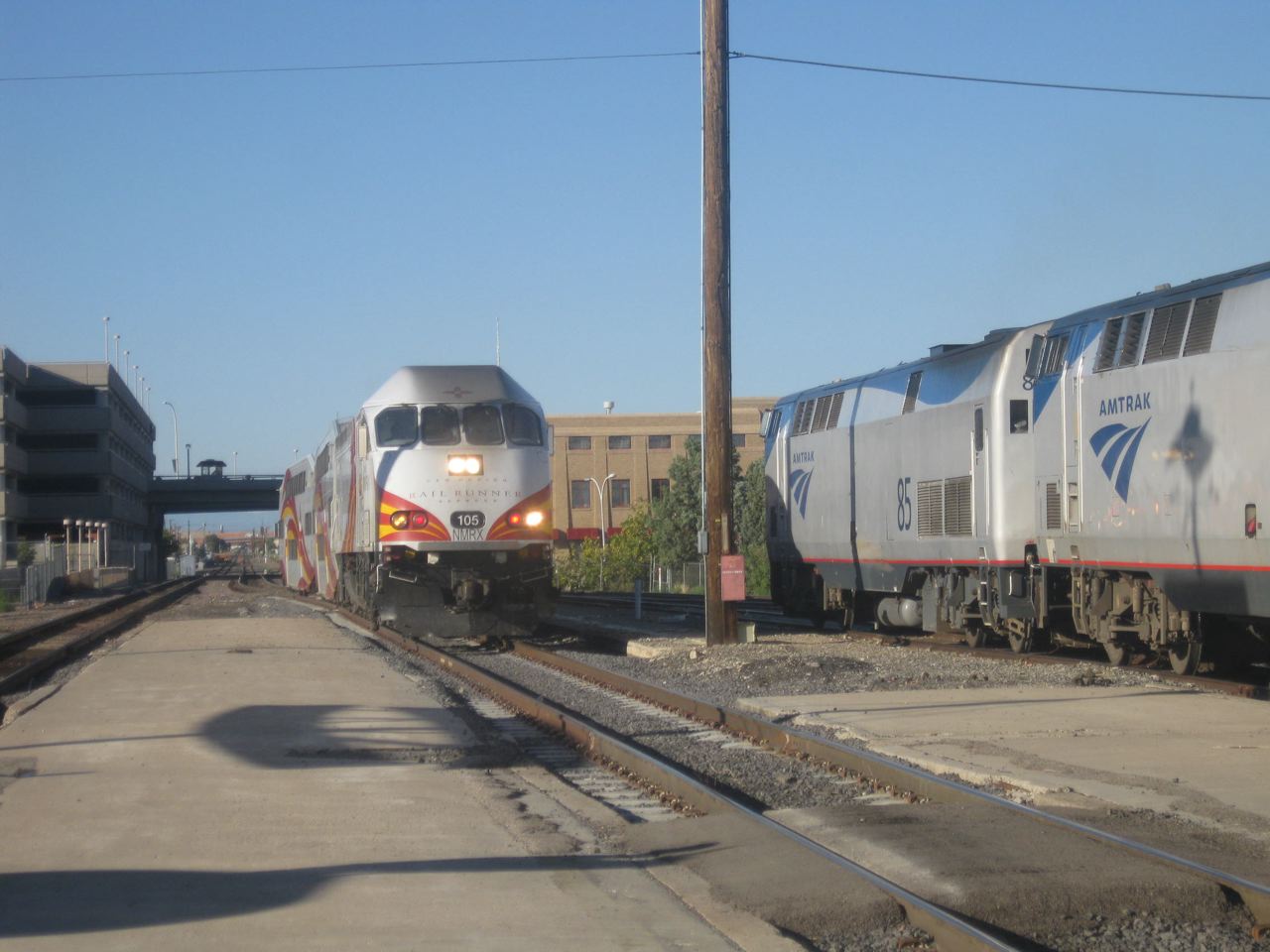 Convention chair Clark Johnson and his wife, Nona Hill, were among a dozen or more of us who took a Rail Runner to Santa Fe for dinner. We're on the upper level.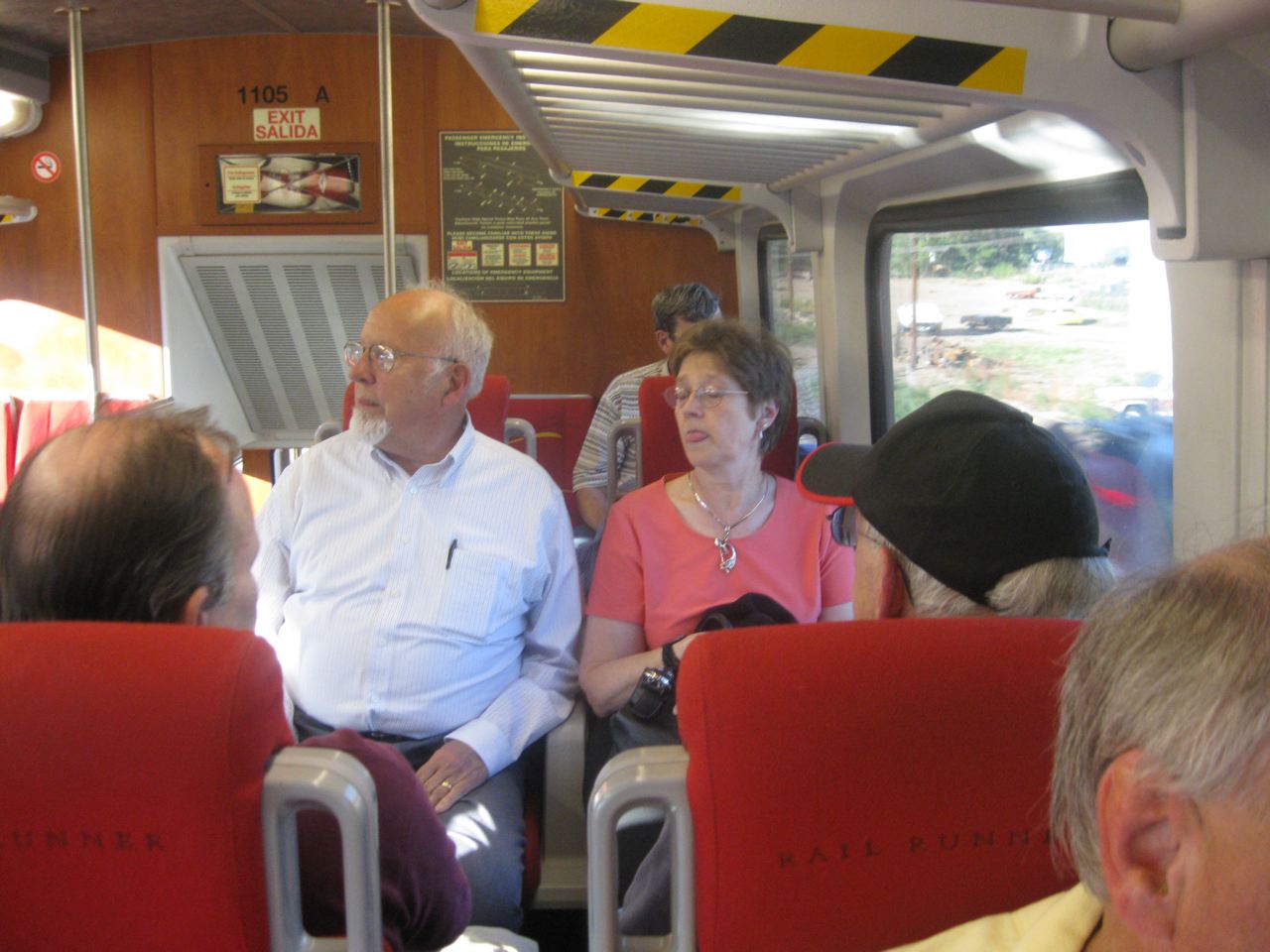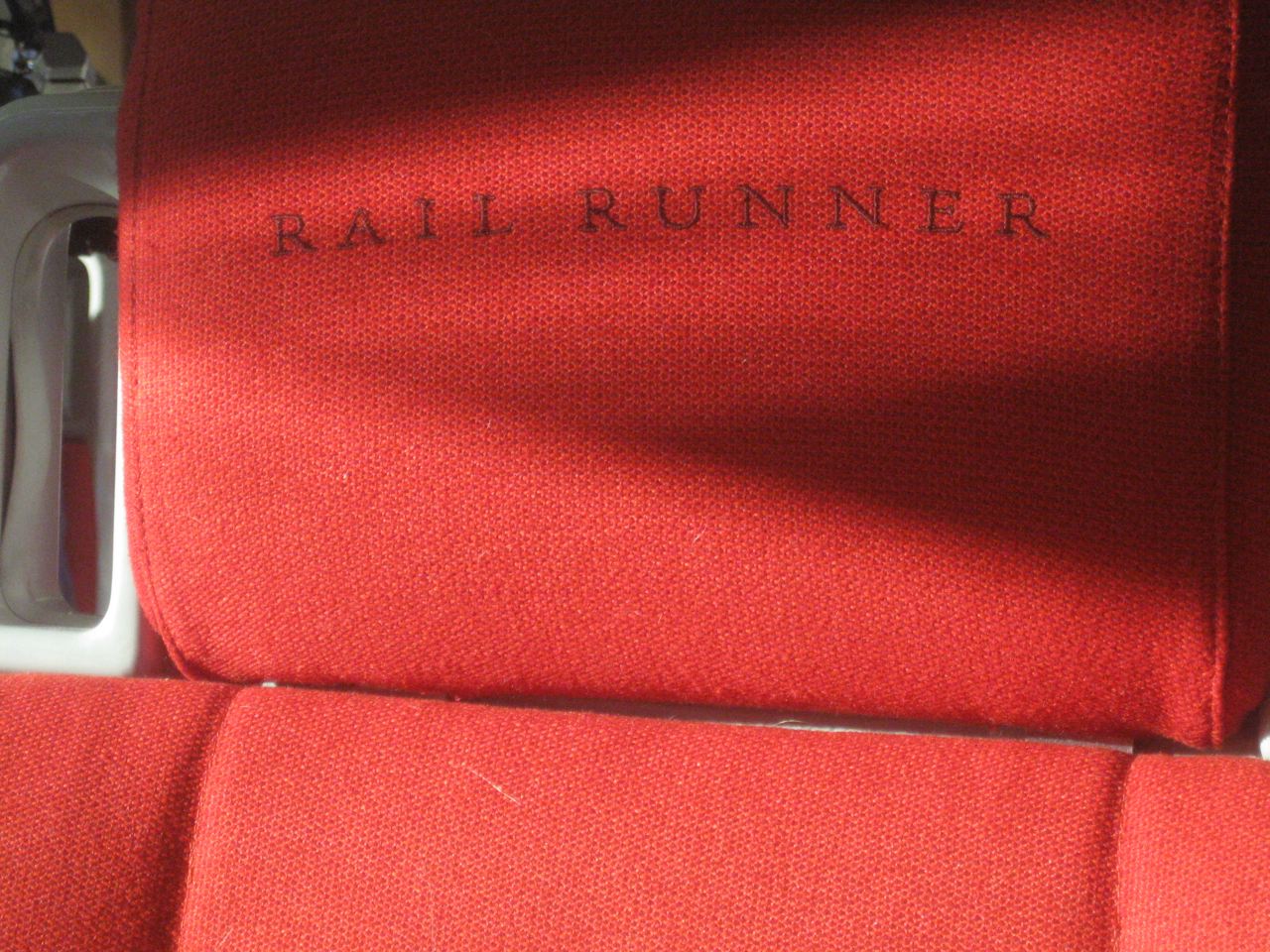 Since my February 2009 Rail Runner visit and ride, a new station has been added along the I-25 stretch south of Santa Fe, called NM 599.
The Rail Runners now pull right into the old ATSF depot in the state capital; this is the rear of our train, as we troop across the parking lot to the Mexican restaurant in the old D&RGW-New Mexico Central Union Station.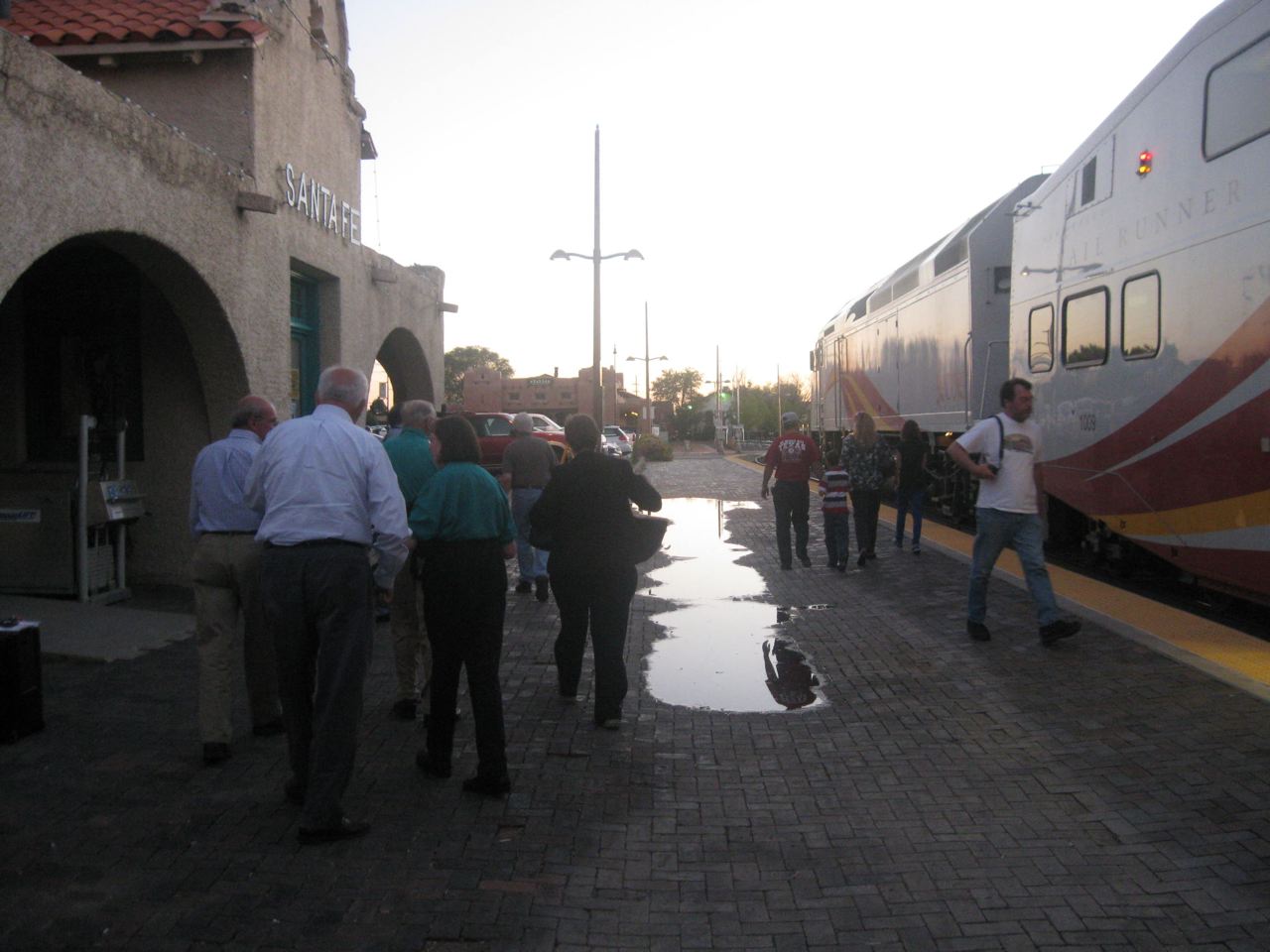 Clark Johnson's party included Tony Marchiando (center left), Nona (far left), Clark (close-up right), and Fred Springer and his wife Dale (right rear). Fred was a private car owner, is a narrow-gauge specialist, a retired oil executive from Texas, and a real gentleman.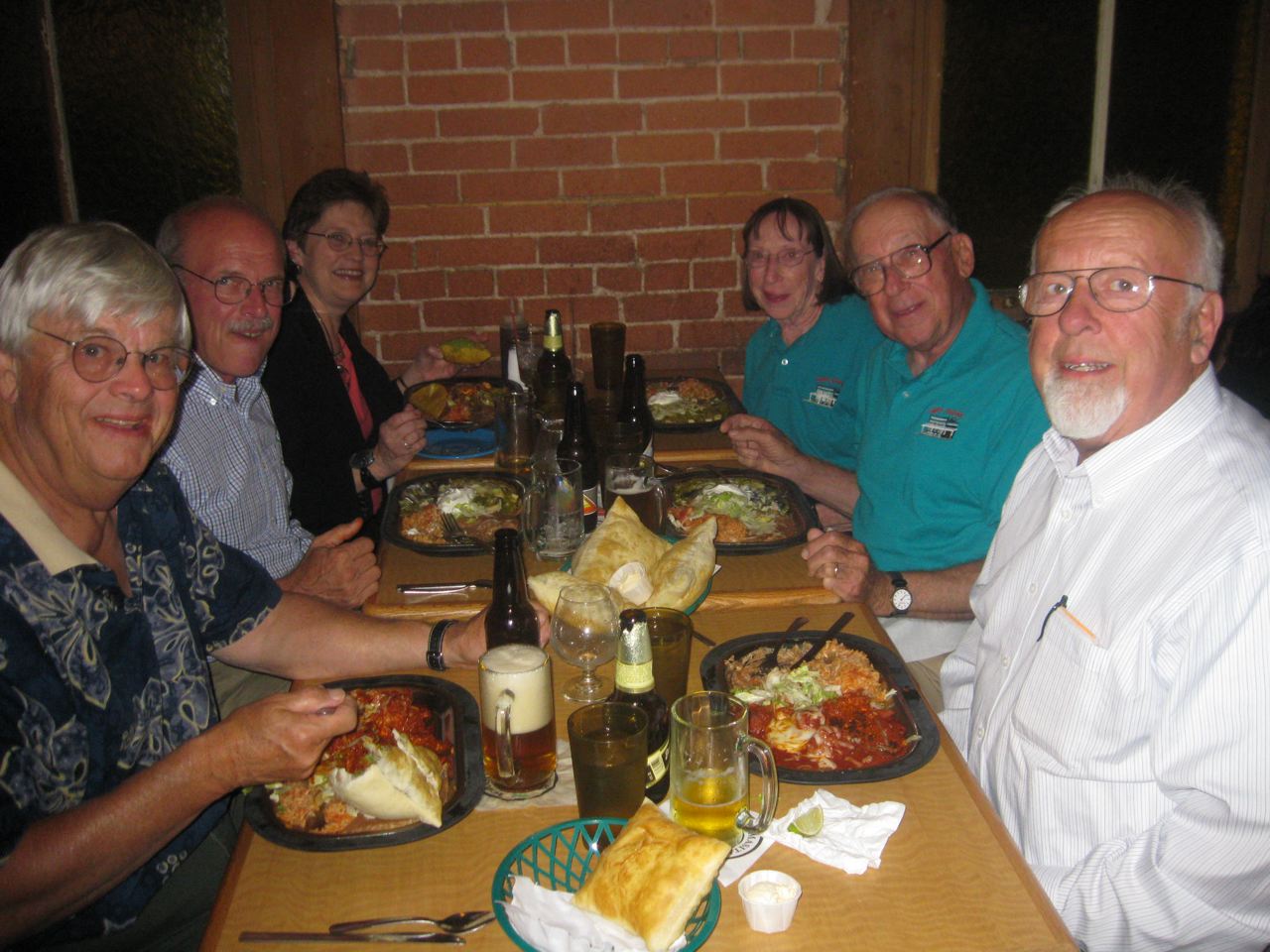 Our group included myself (center rear, then clockwise), Phil Moser, John Arbuckle, Chuck Weinstock, and Dave Arthur, an Amtrak conductor from Los Angeles.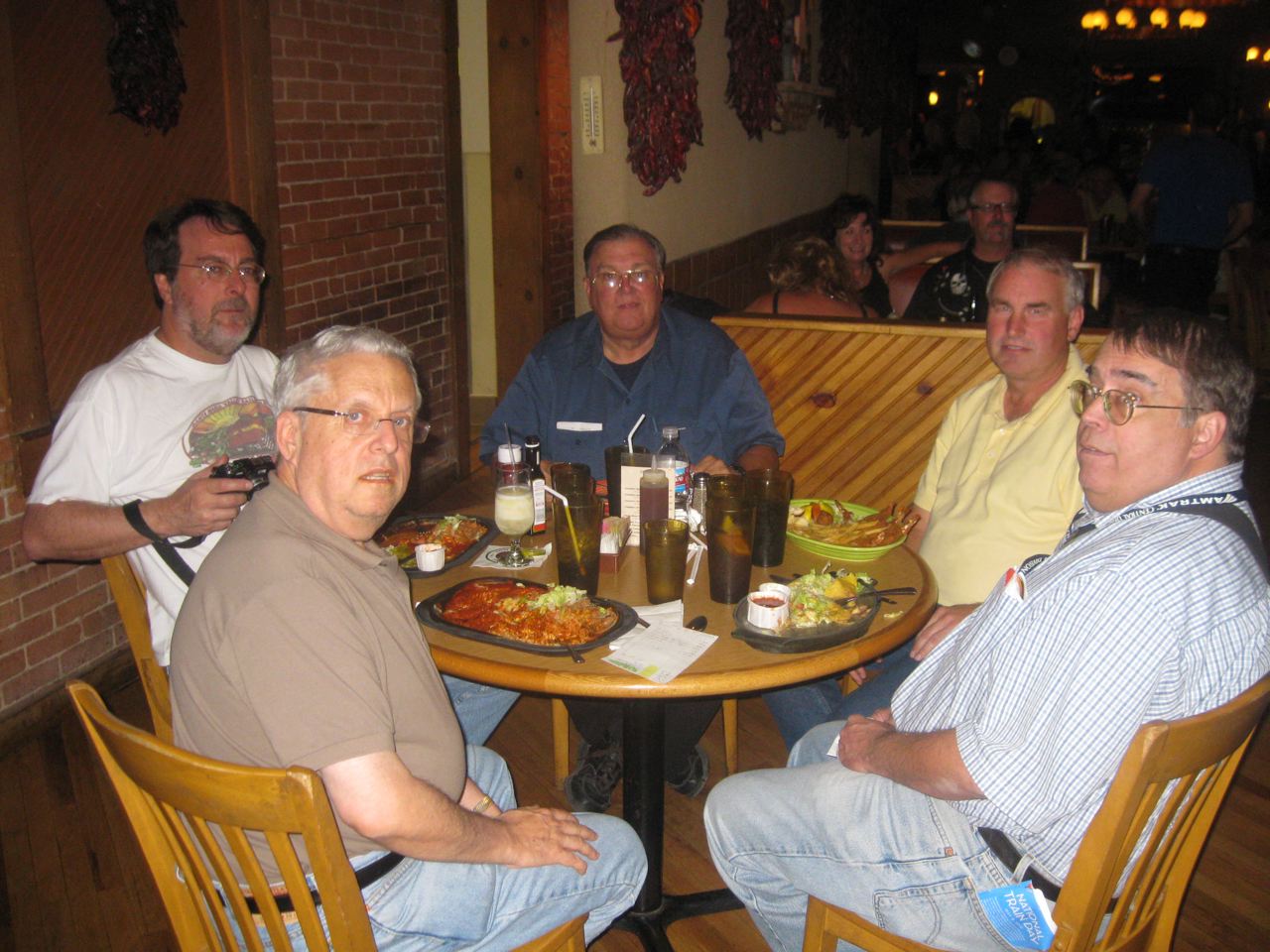 This page was designed and is maintained by Mike Condren. If you have materials
that you would like to contribute, contact me at mcondren@cbu.edu