Amtrak Trip to California
April 2011
Excursion & Trip up the Valley
Photos by Dave Ingles
| | |
| --- | --- |
| The Pacific Railroad Society excursion was scheduled to leave L.A. Union Station at 9, and we had a quick check-in for assigned seats (our foursome was in Car 4, the first Amfleet coach in back of the Amtrak dome) before 8 a.m. and began loading before 8:30. The "cloudinesss" in L.A. was really Pacific fog. There was an opportunity to get photos up front, fortunately as these Amtrak trips have no photo runby stops. We took the Sunset Route out east to Colton, making a passenger stop at Ontario. | |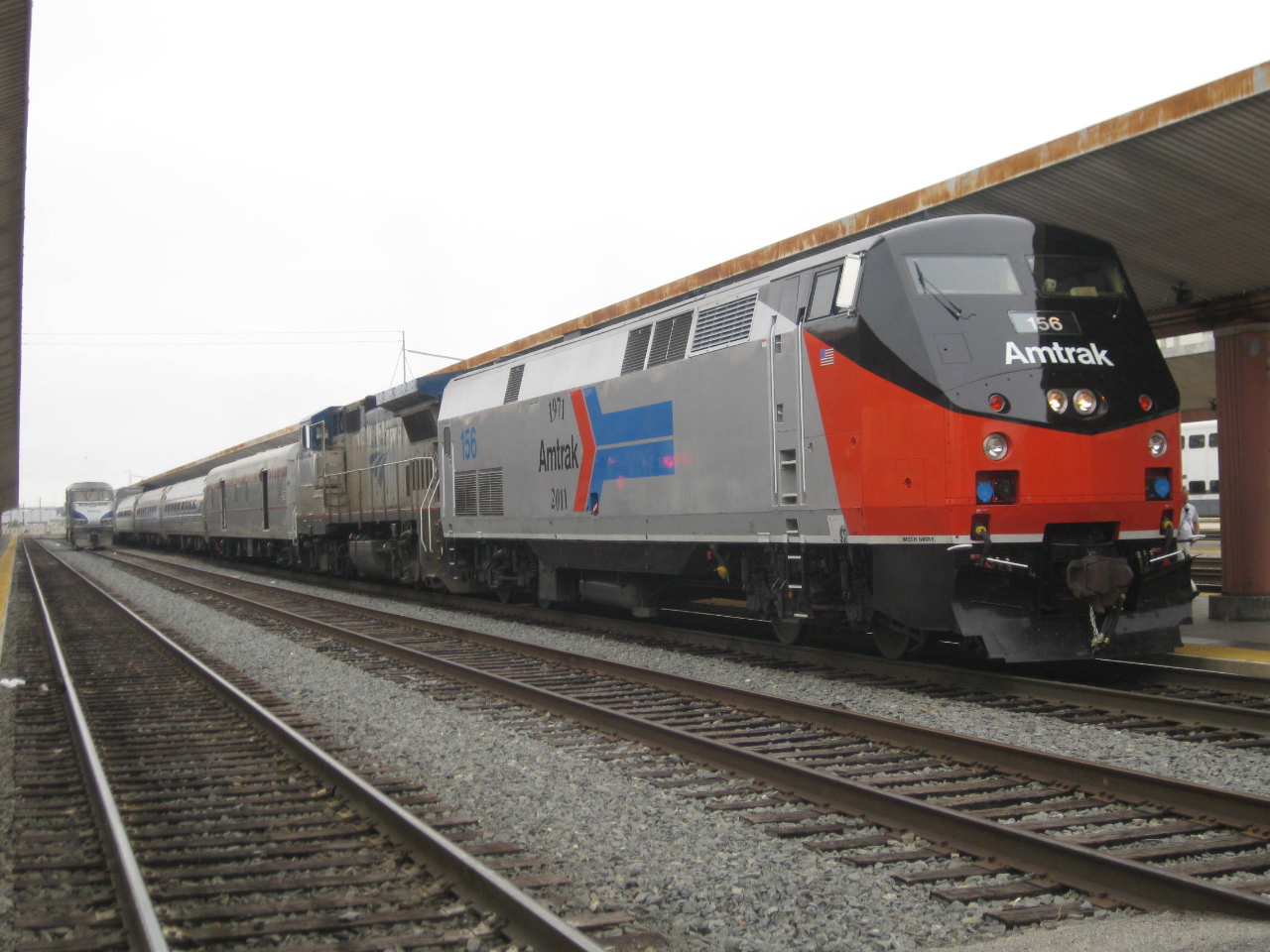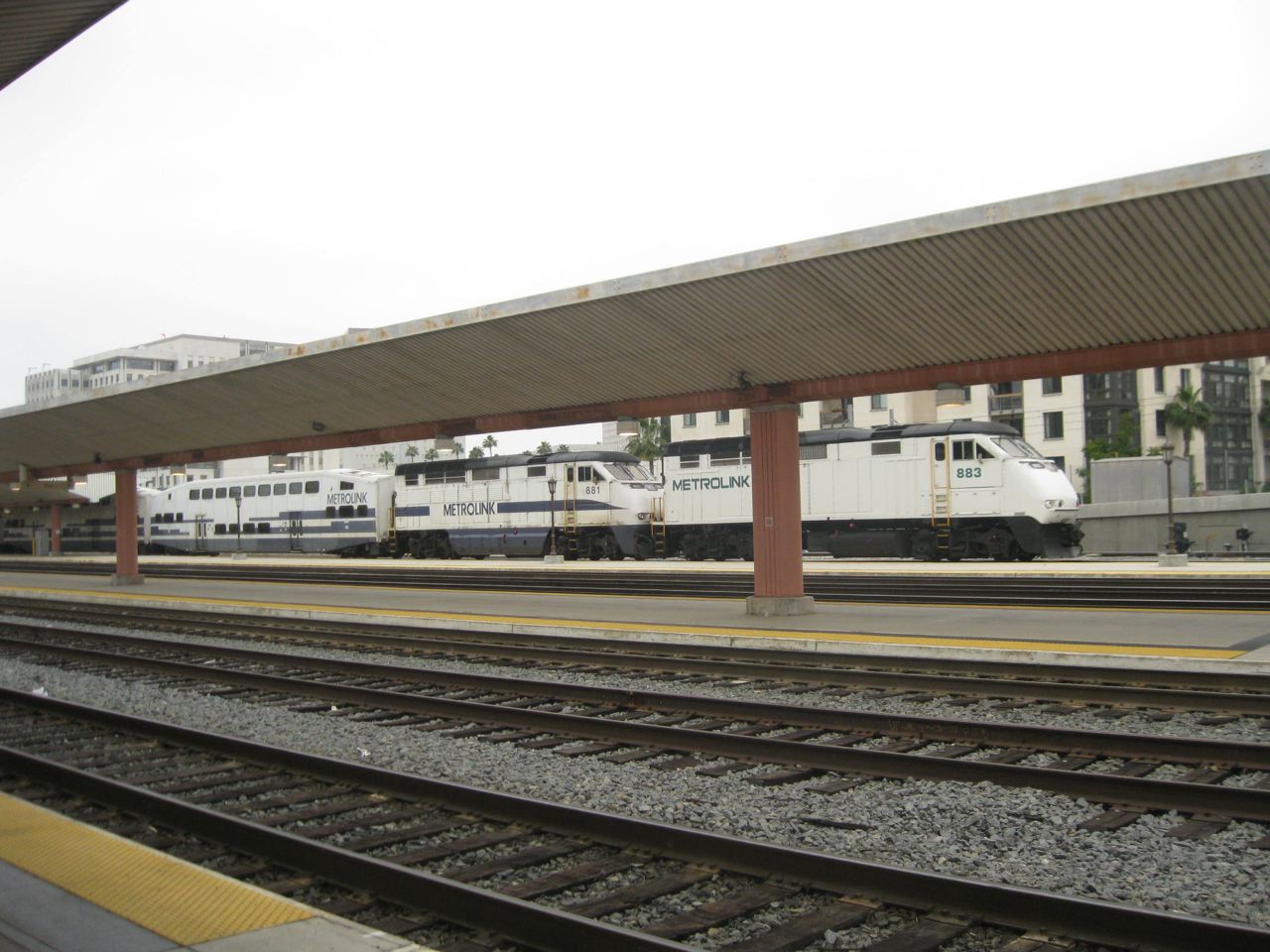 East of Colton Yard, west of the Santa Fe crossing, we turned left onto the 1967 "cutoff" to Palmdale, via Cajon Pass. Seating in the dome was first-come, first-serve, with a nominal 15-minute limit per stay, and they did issue "timecards," but the dome did not fill up completely until Tehachapi Loop, by which time I was ensconsed by a window again, with no hope of anyone navigating the center aisle, so early on, there was no need to enforce the limit and then by Tehachapi it was pointless. Many people did not even go up to the dome. There was also an open-door baggage car, CP Pony Express, behind the engines; I didn't go up there, but Rob did.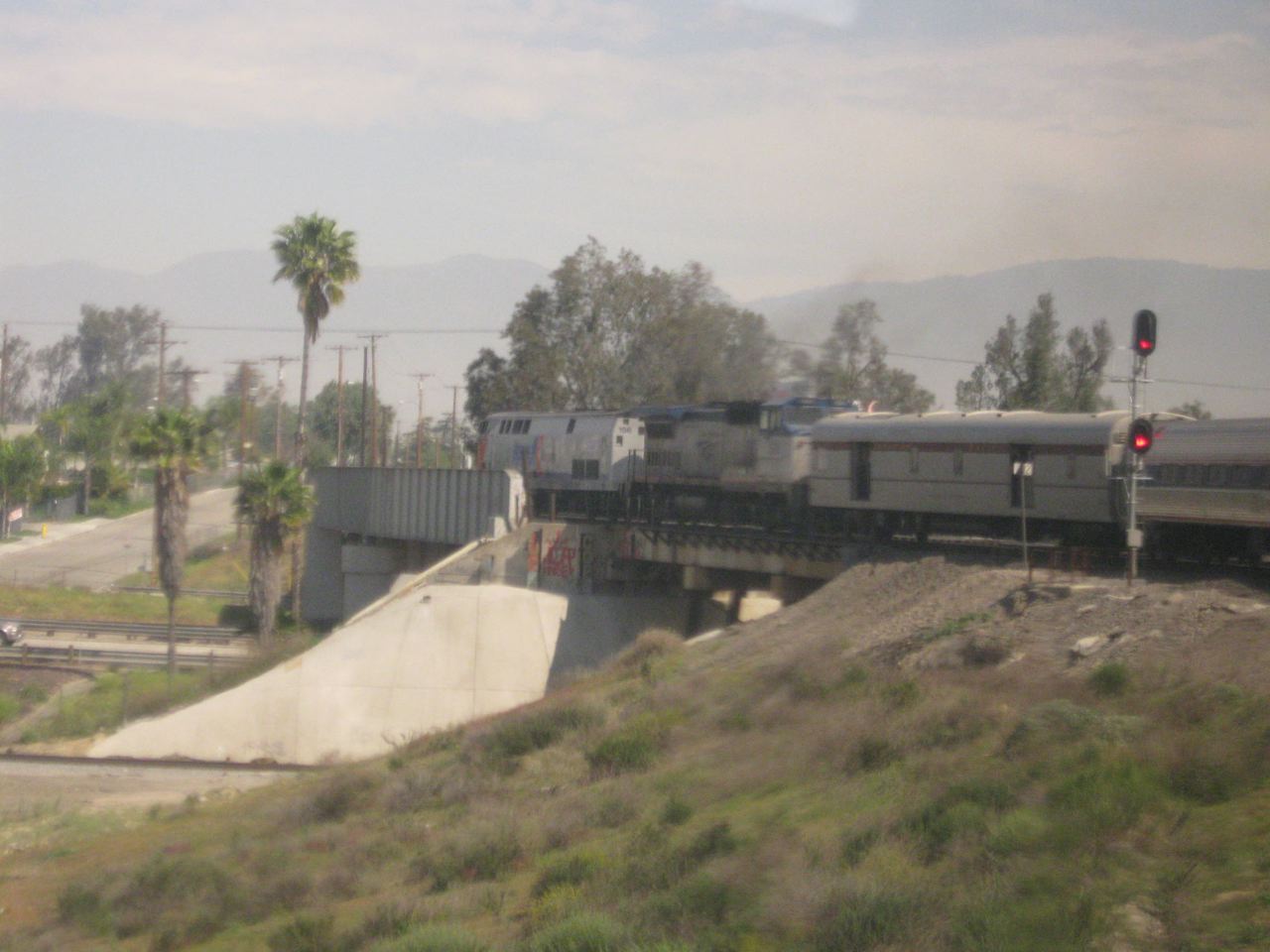 BNSF was pretty quiet on Cajon, though we did see this westbound plus, on the south track at a distance, a westbound UP freight.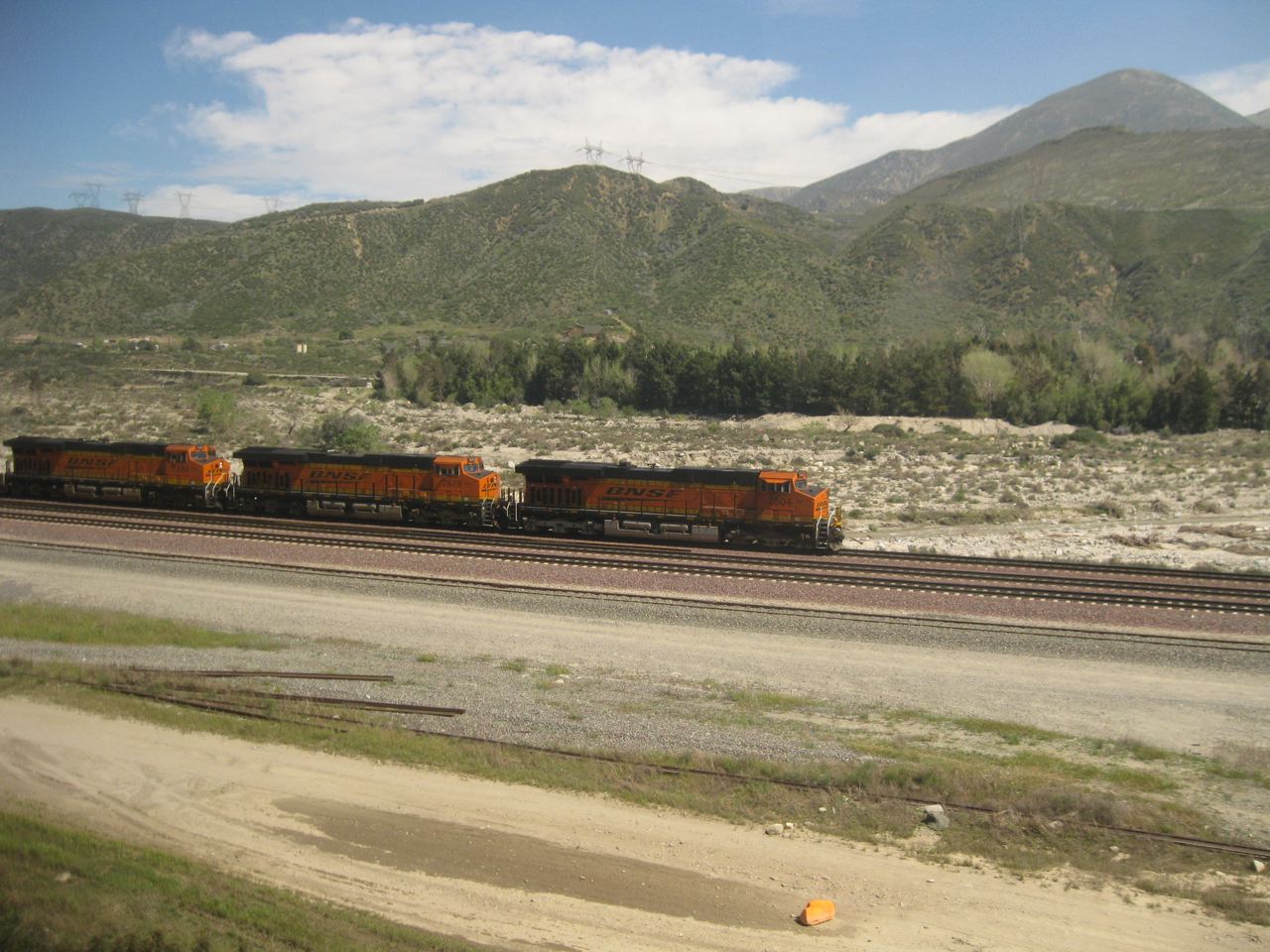 I had not seen Cajon in daylight since the completion of the triple-tracking project.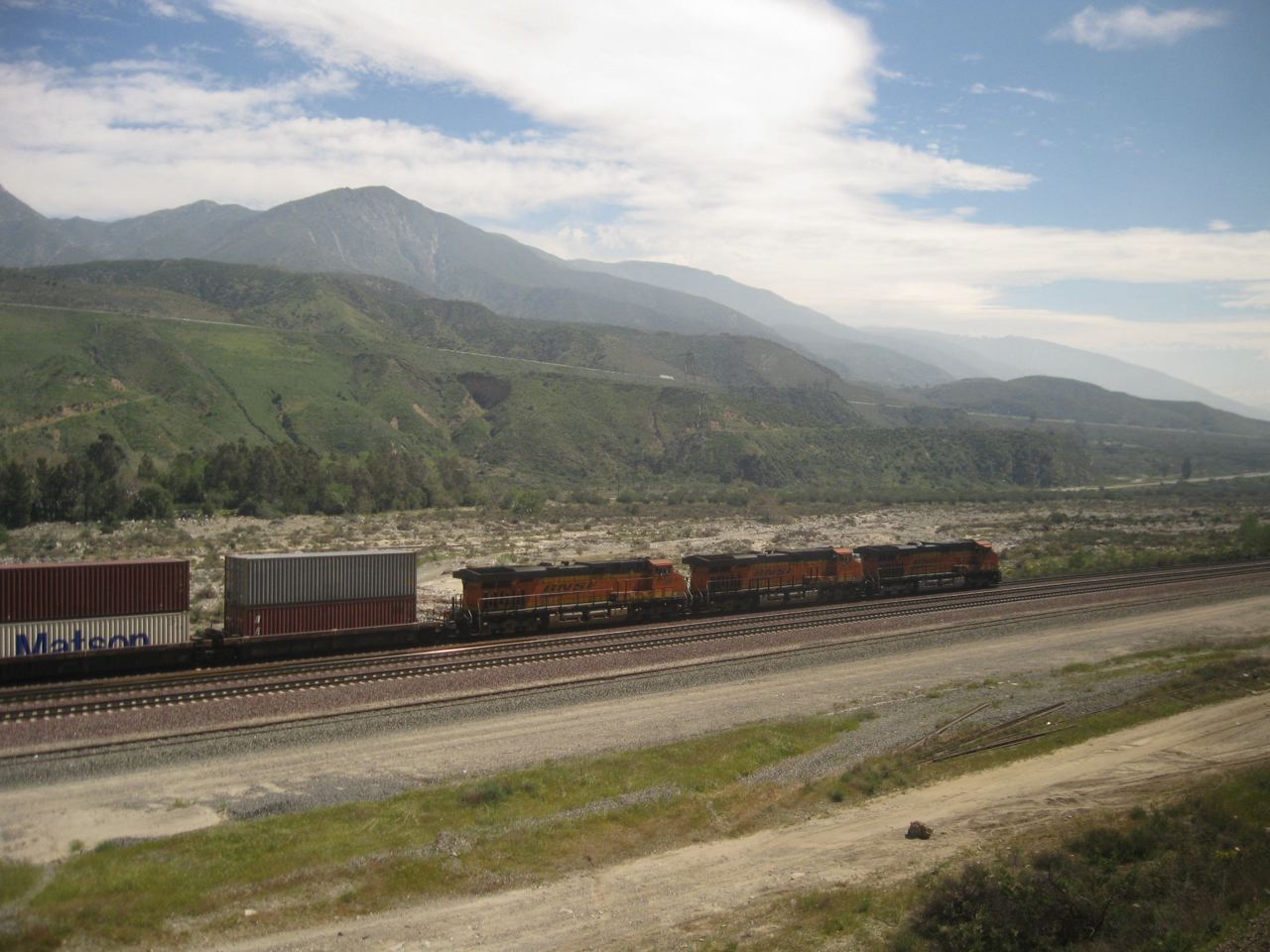 Coming up on Blue Cut (below on the BNSF), with Old U.S. 66 over yonder at right. I-15 is out of sight here to the right.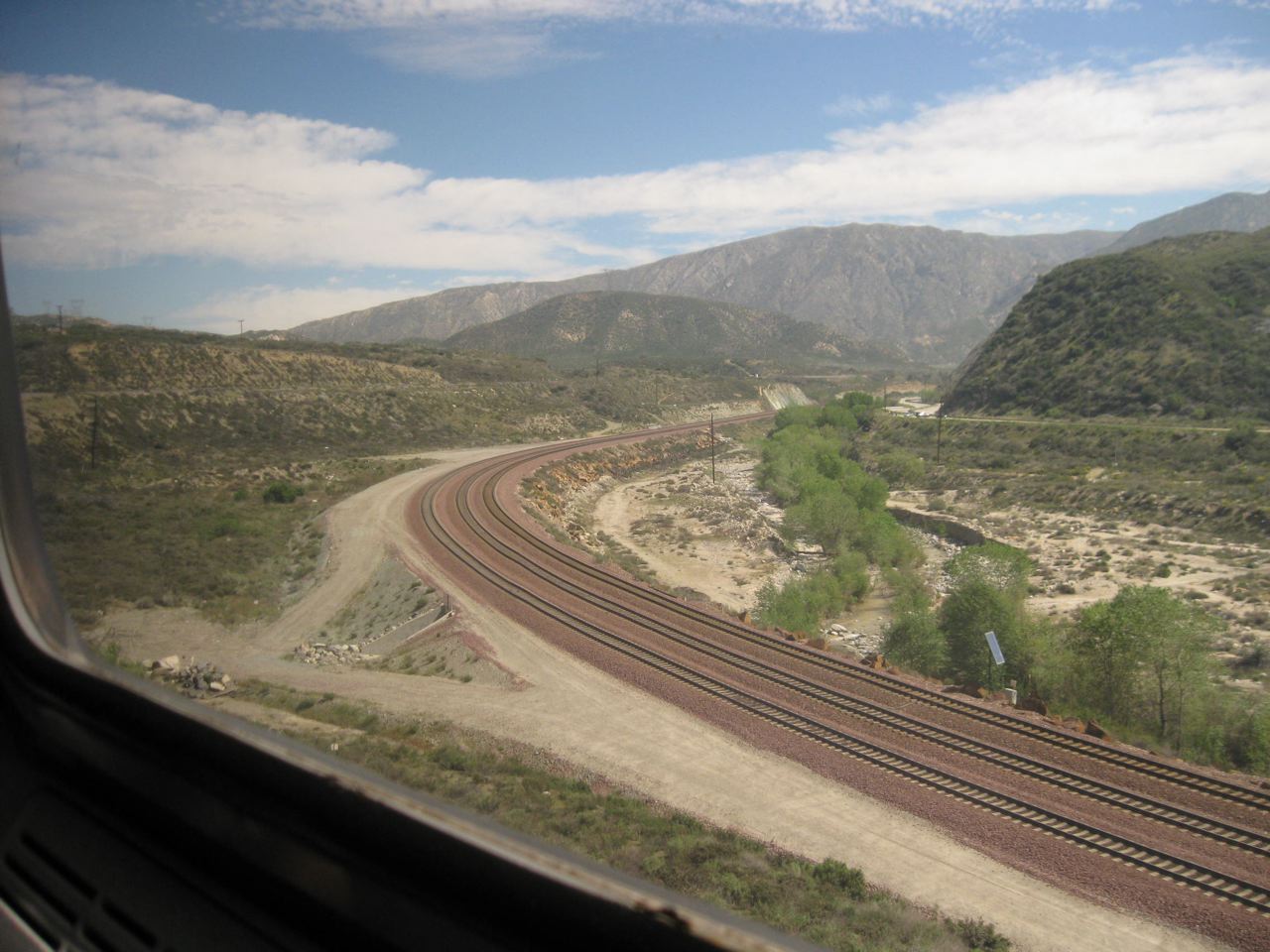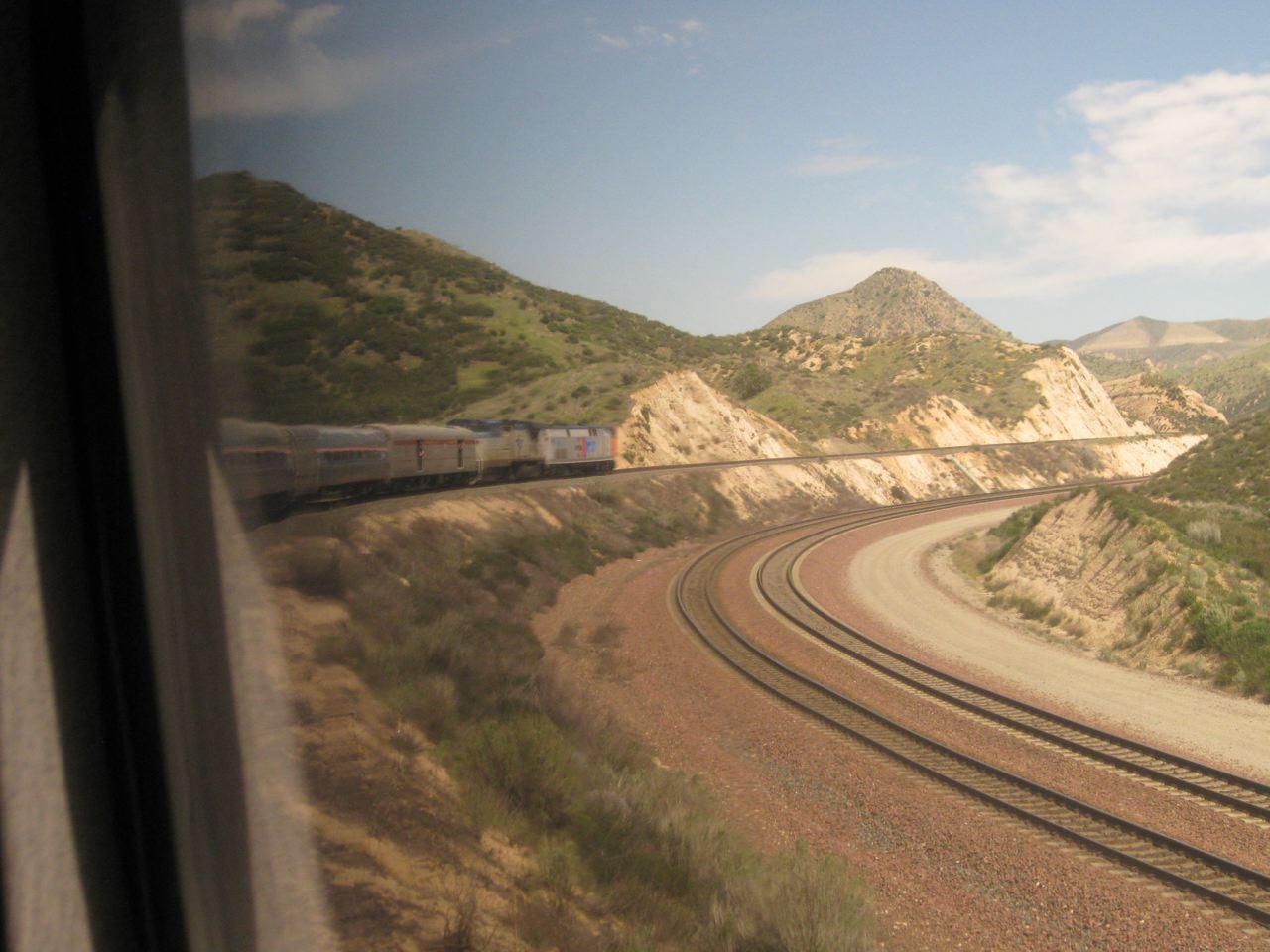 Approaching Summit (on the BNSF), named Hiland I think on this ex-SP.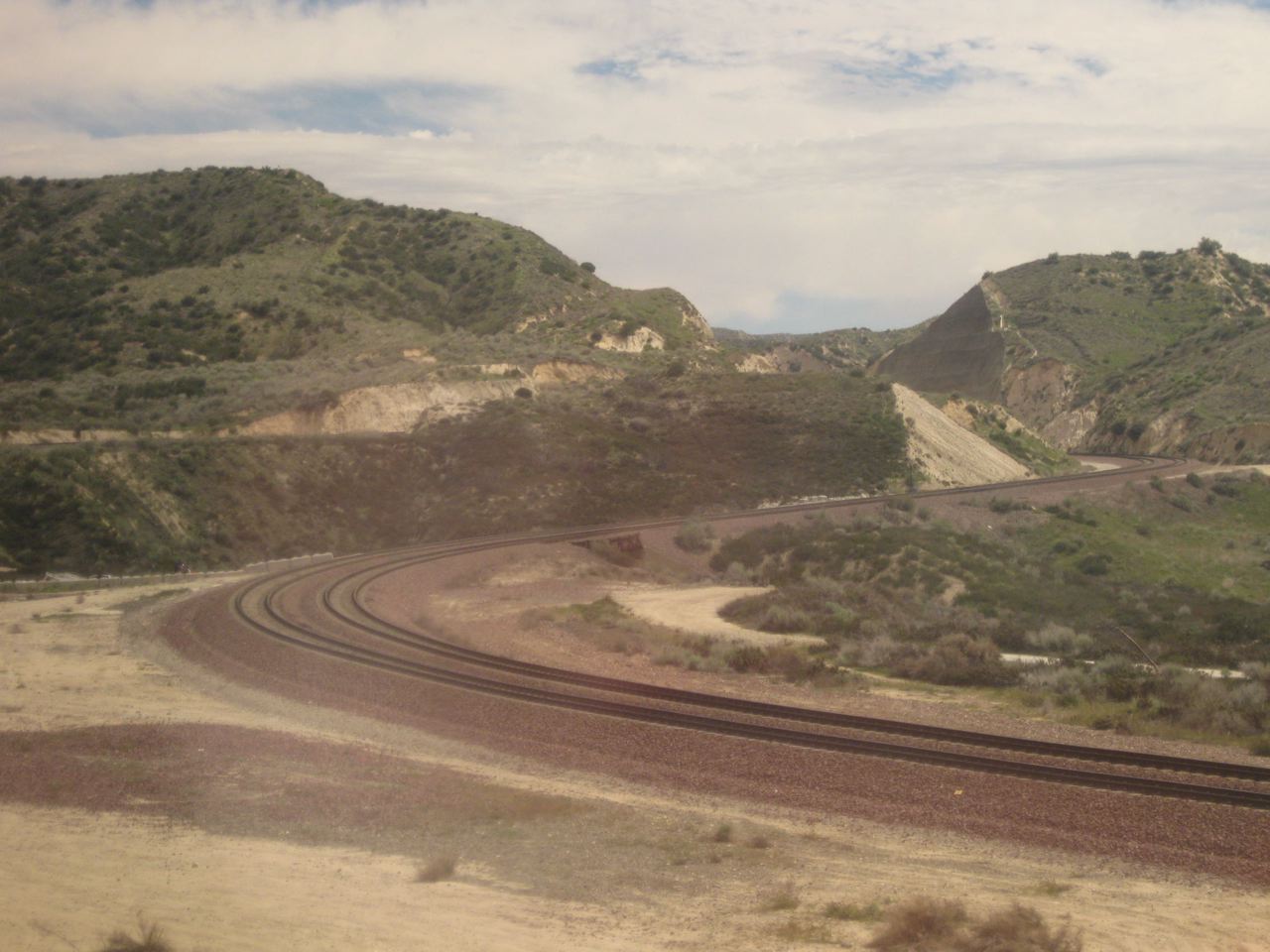 Another westbound BNSF surprised us.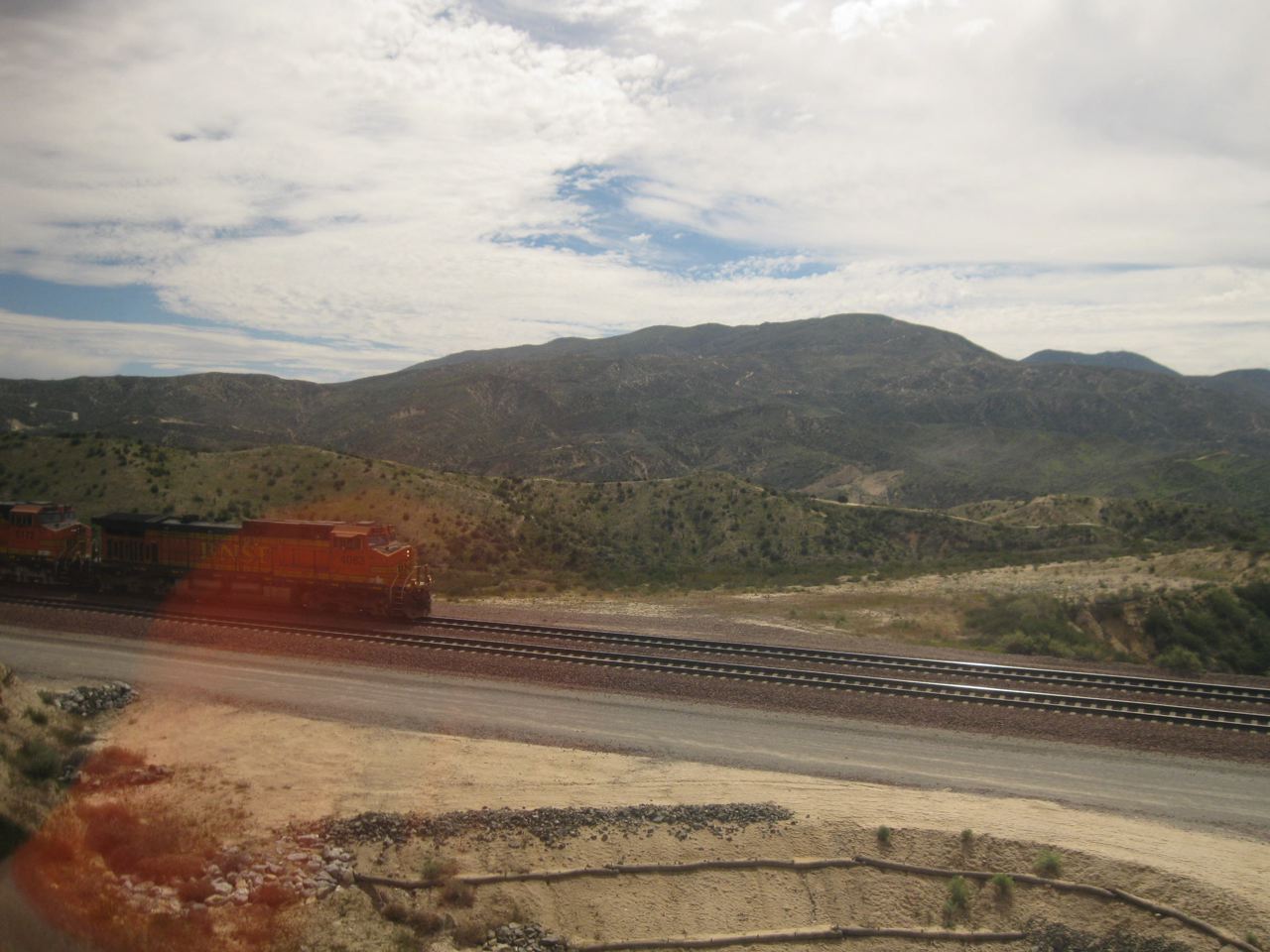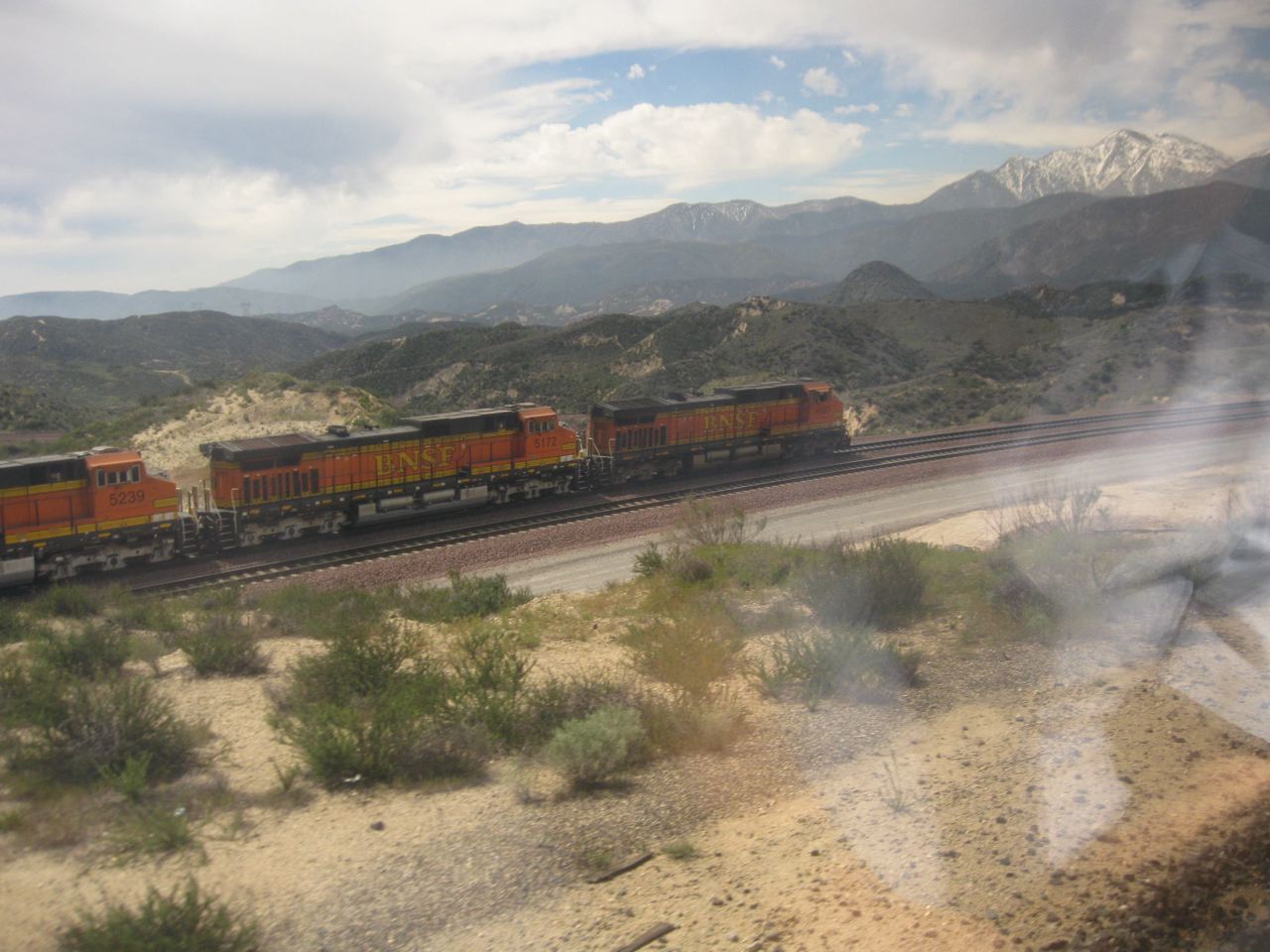 Just short of Summit, to the south there was snow on the peaks.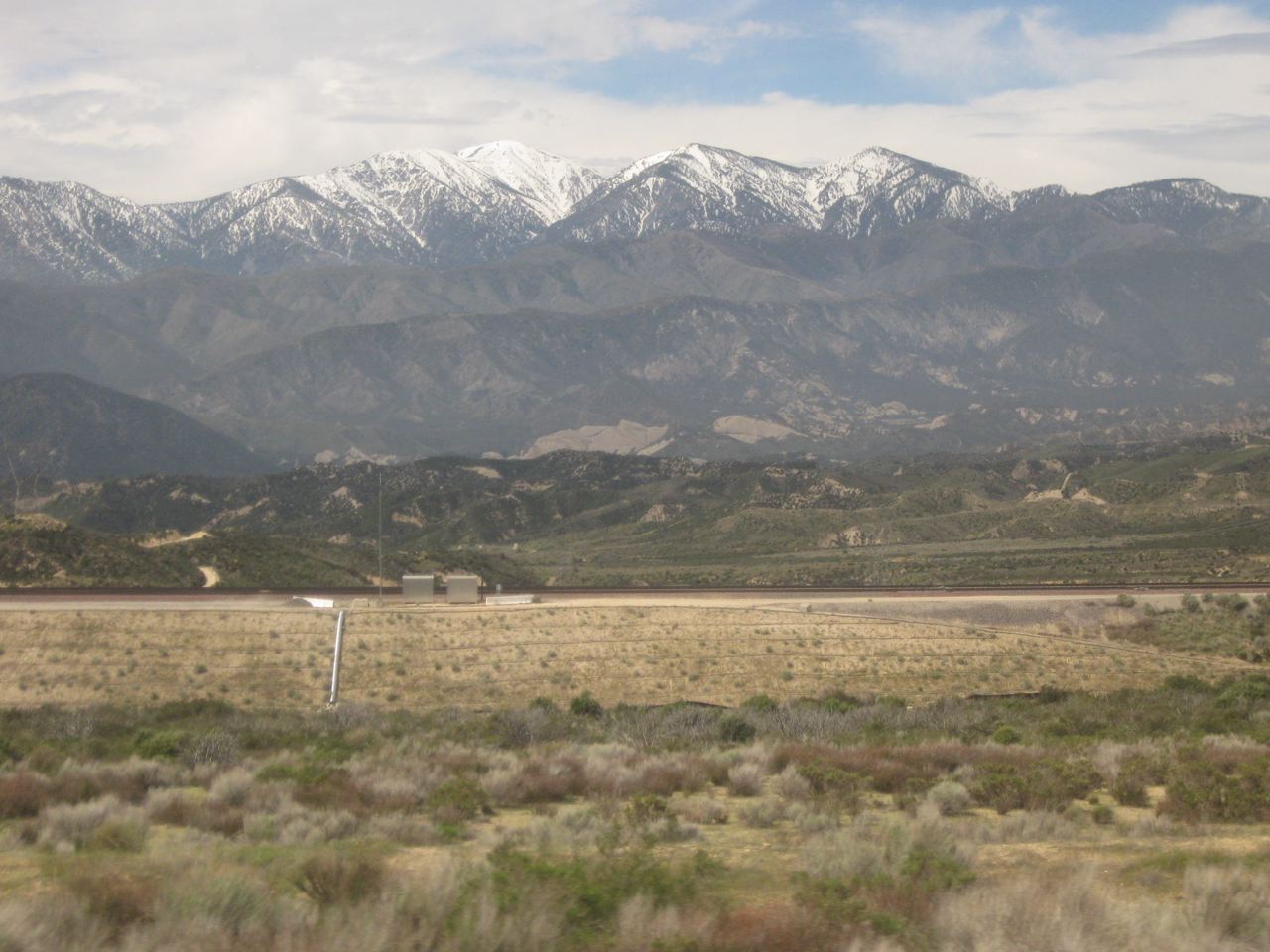 Just east of Summit another westbound showed up. All these images were with our little Canon Powershot point-and-shoot, incidentally.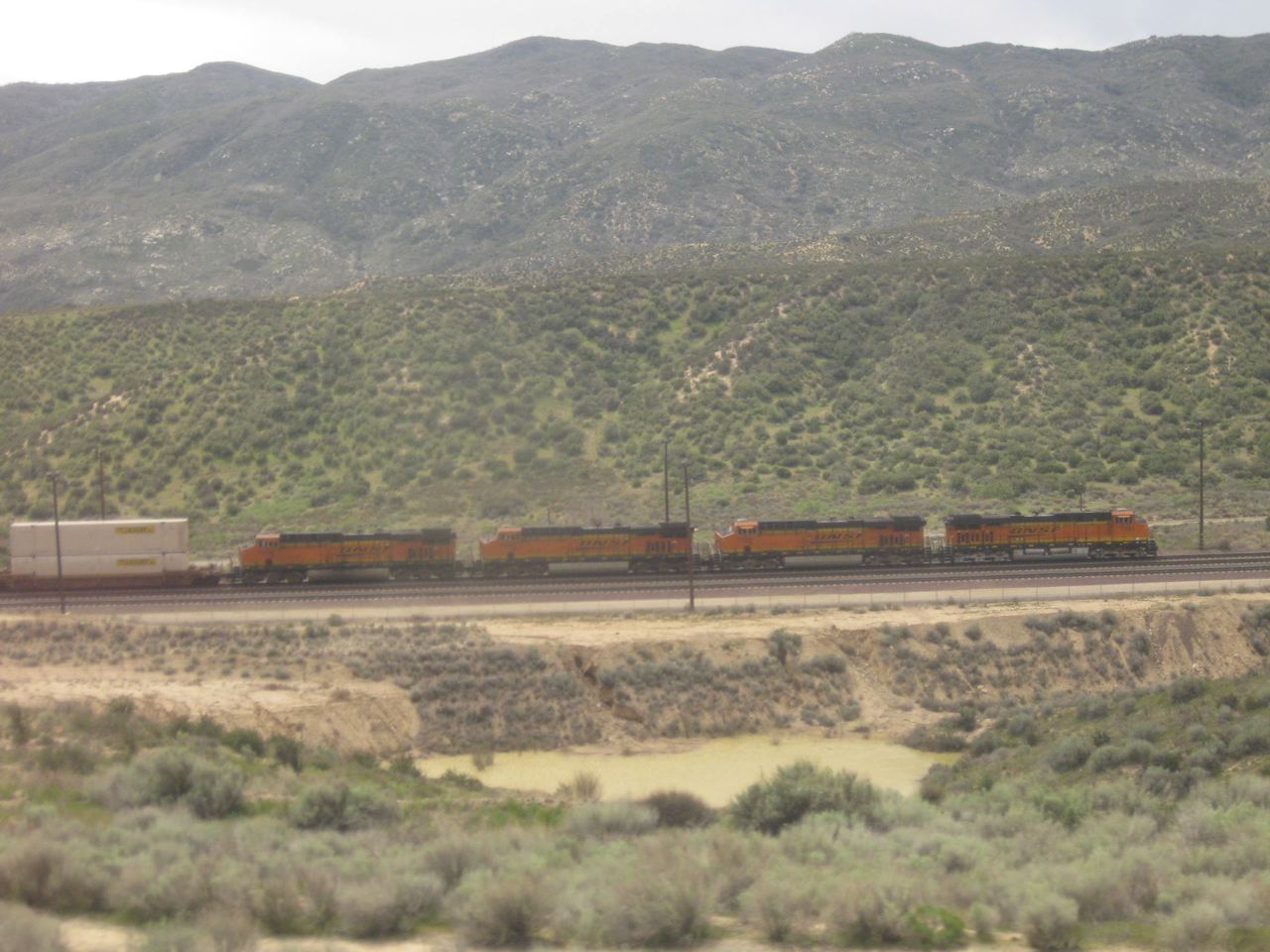 Out on the high desert beyond Cajon Pass, a chopper paced us.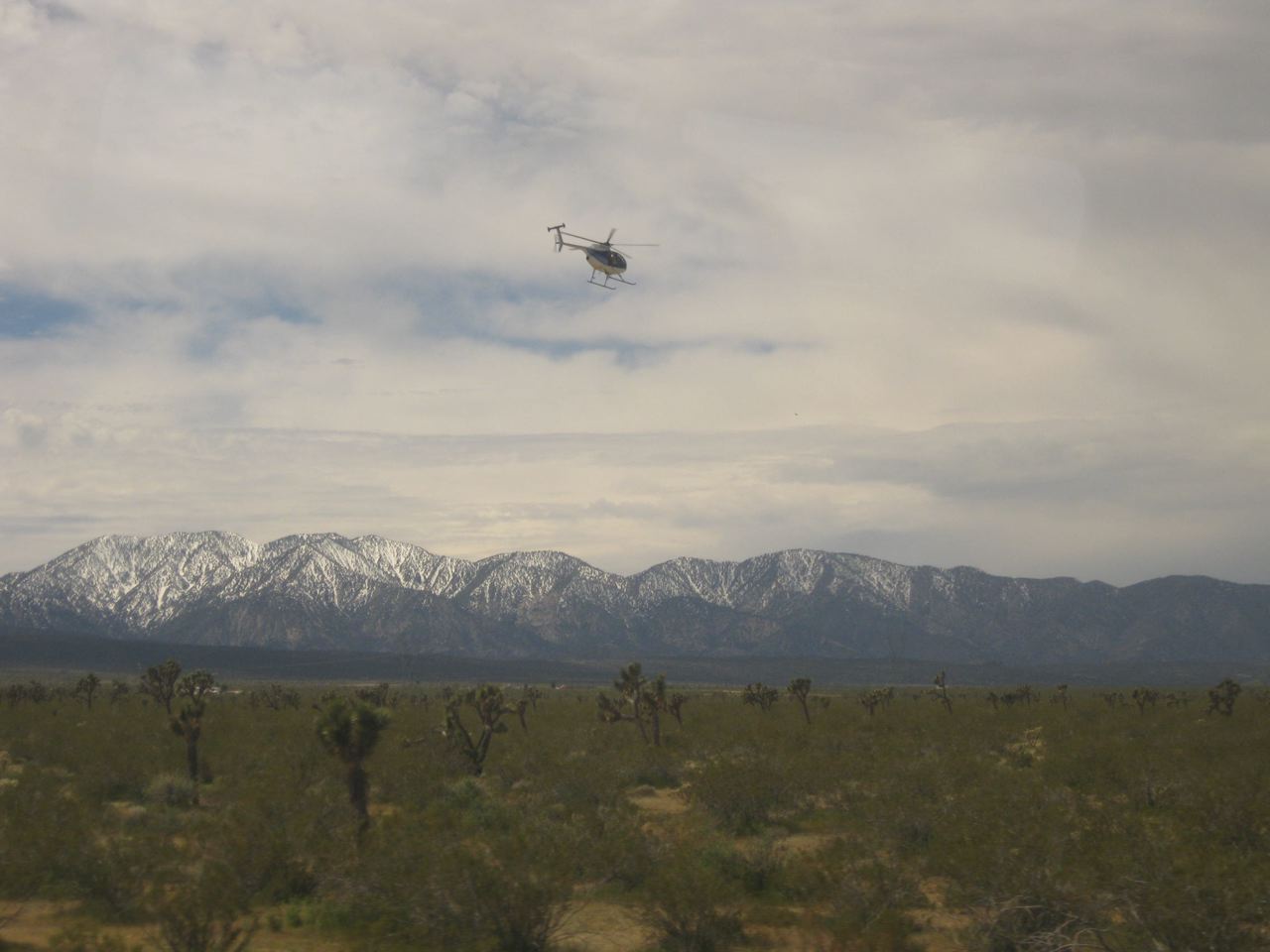 Mileage Collector Dave Miller, in engineering for BNSF, was very involved with the Cajon capacity-enhancement project. His daughter is at right as we pass parked UP units at the Vulcan quarry area, one of two sets of power there.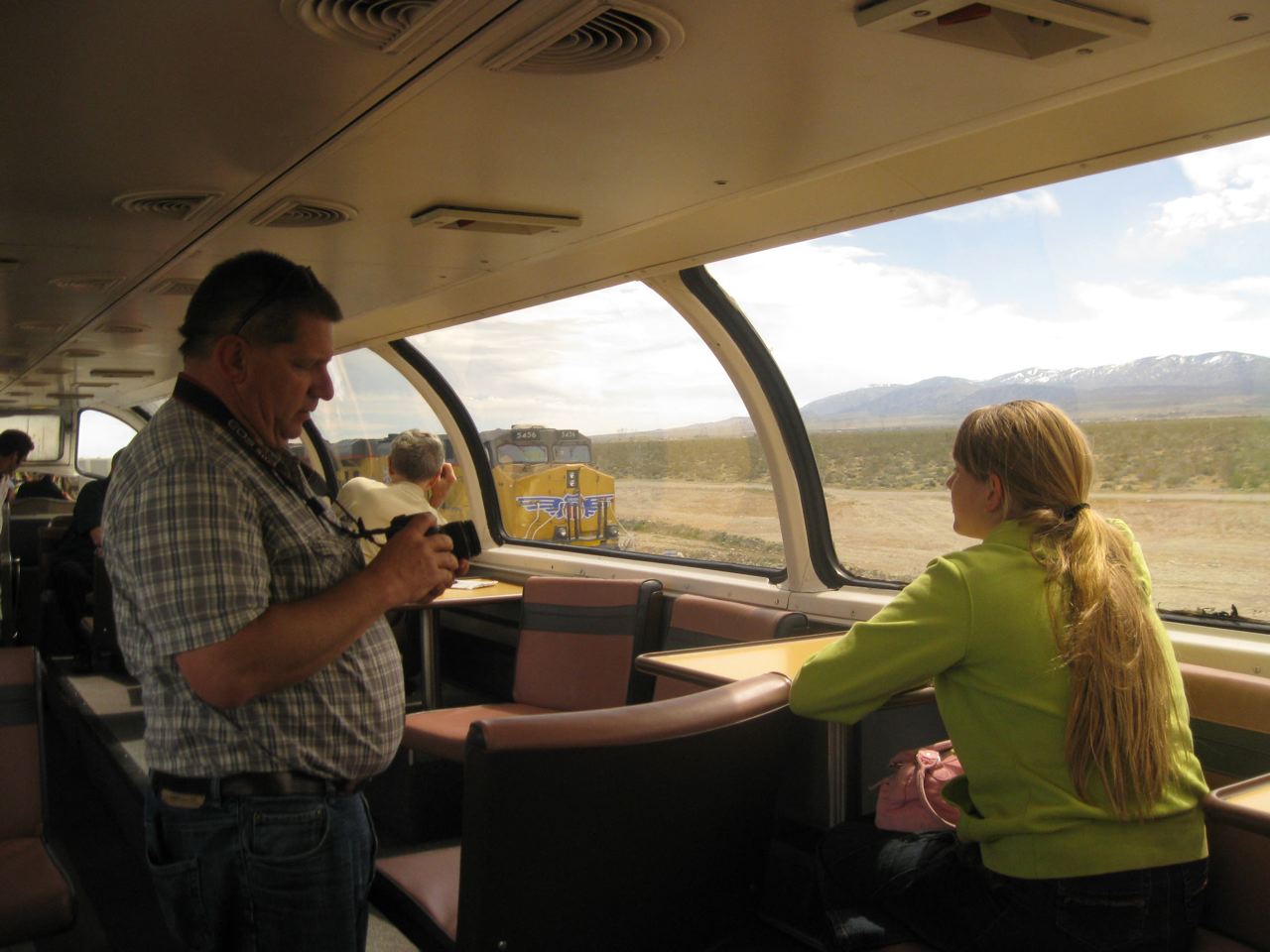 Rejoining "old mileage" at Palmdale. Metrolink commuter trains pass through here en route to Lancaster.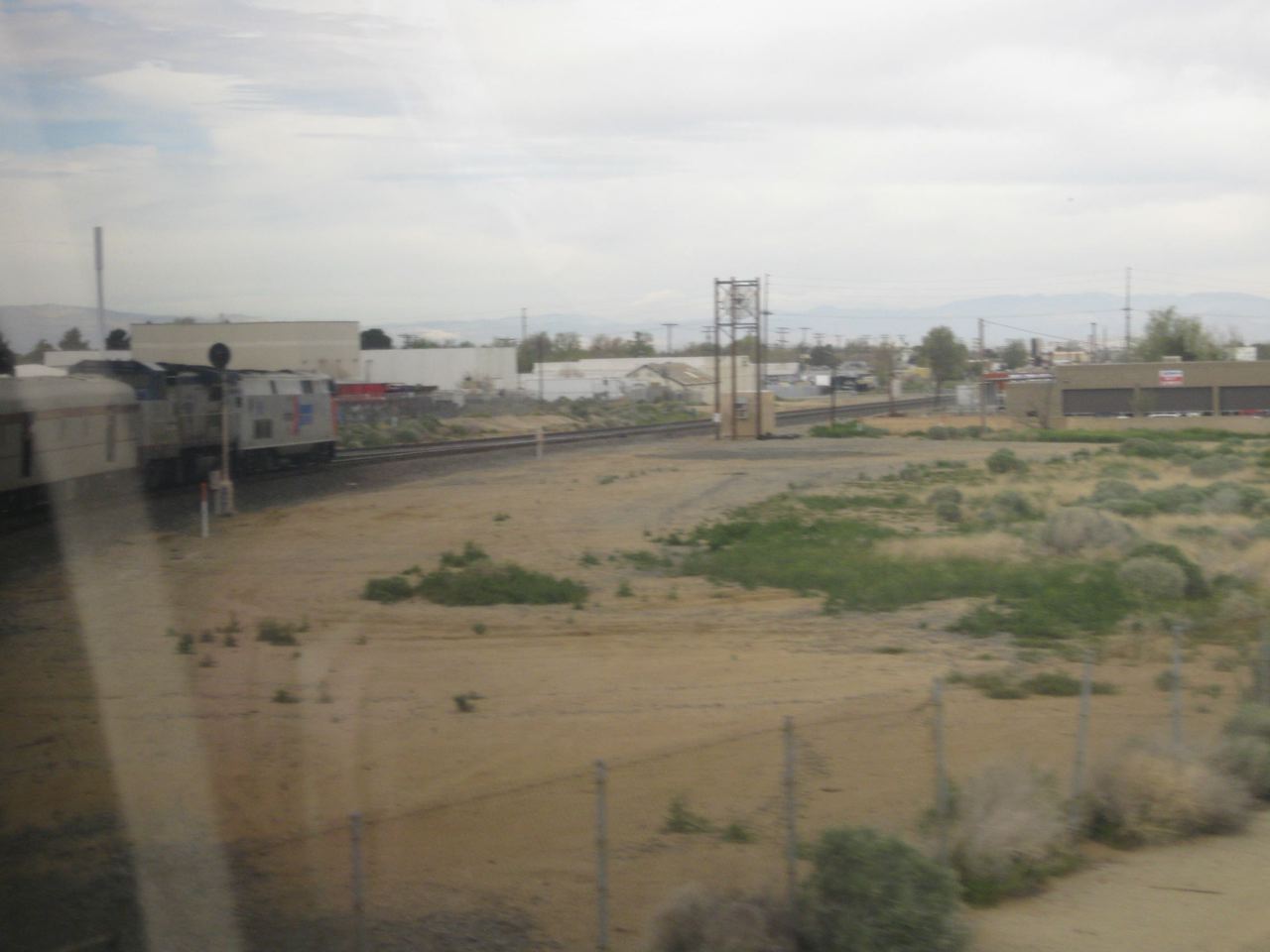 Our provided box lunches long since eaten (at our seats downstairs), I'm back in the dome west of Tehachapi town as we approach the Loop.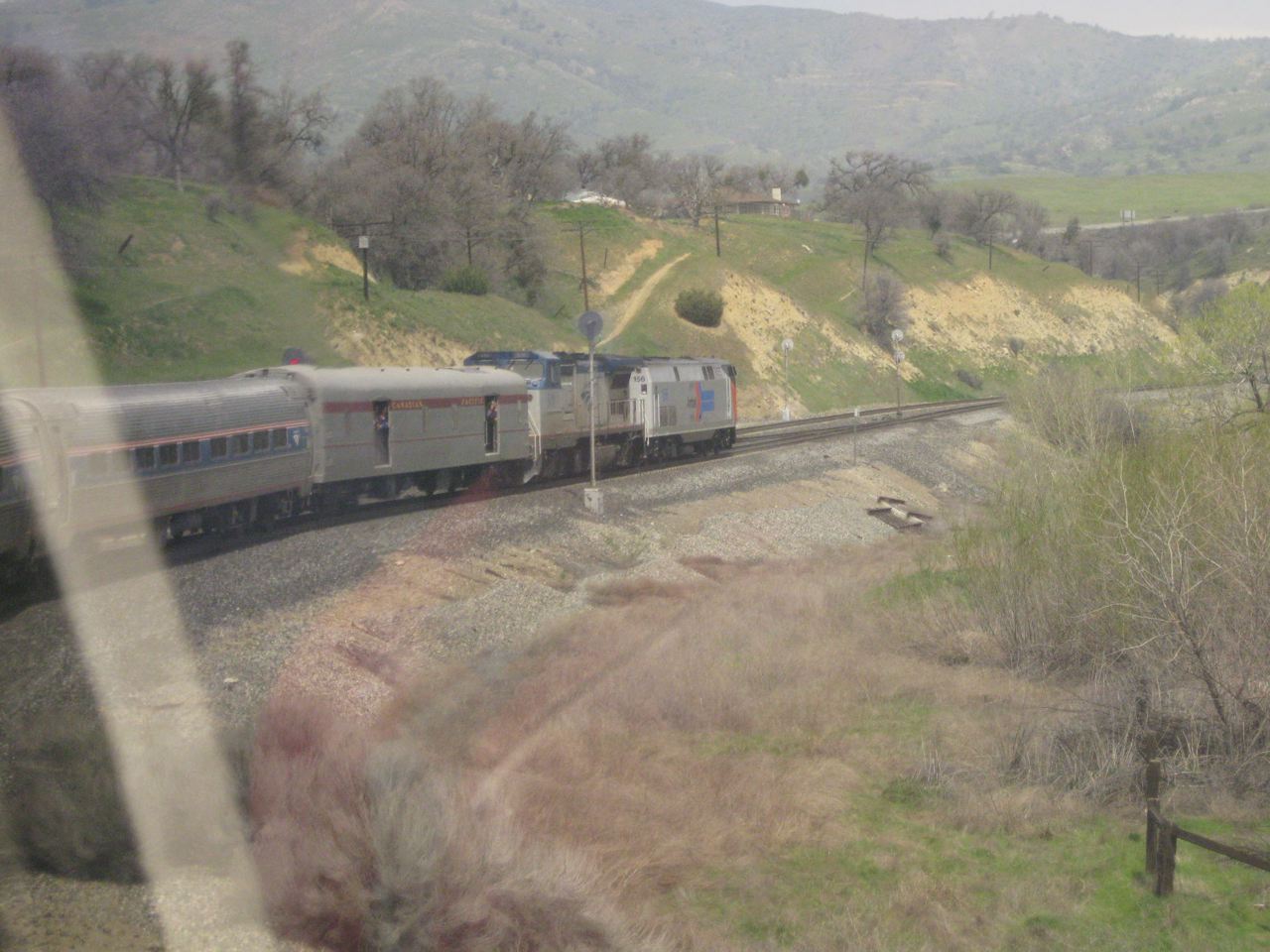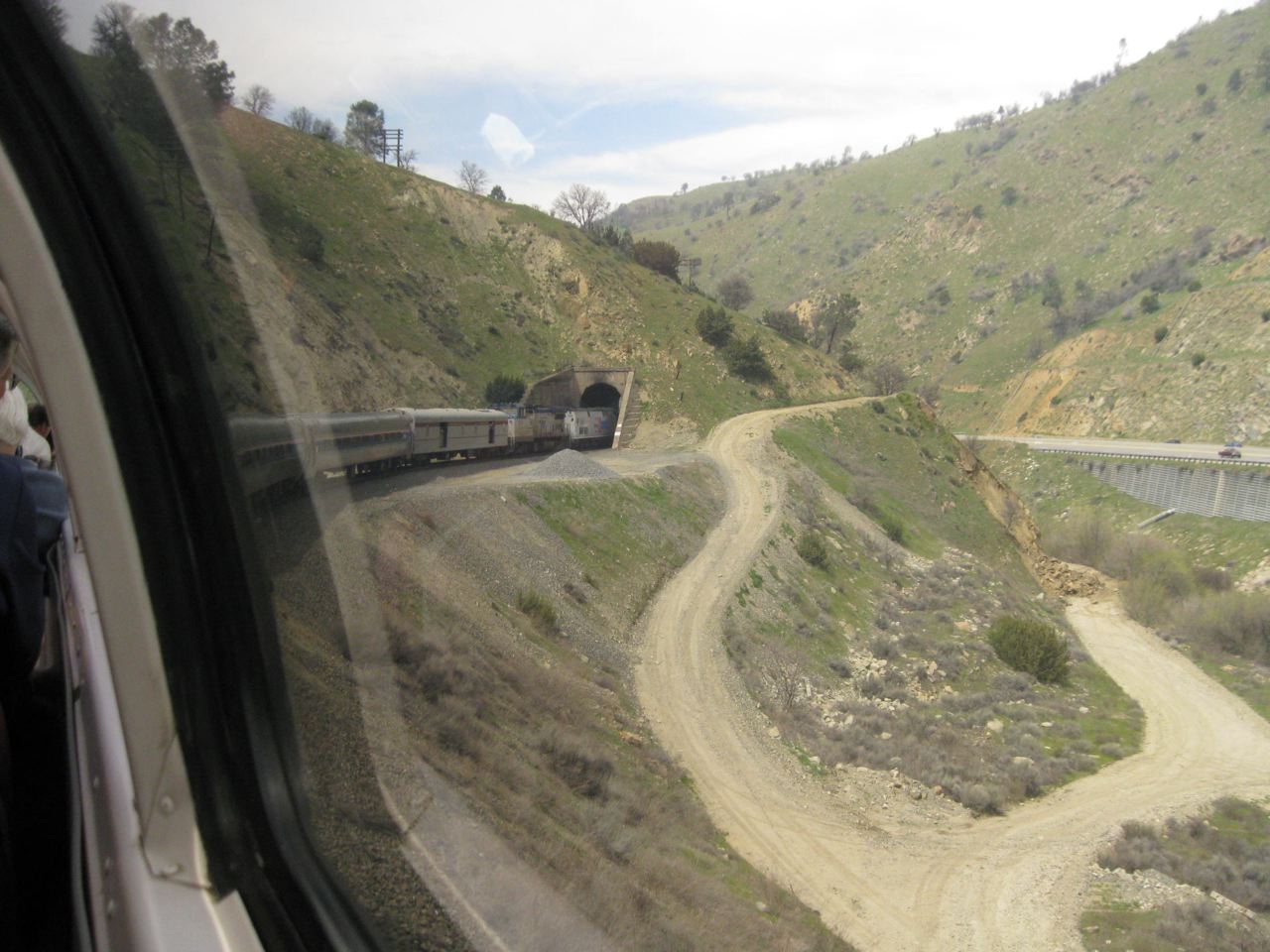 I was taking a few slides, too, of course.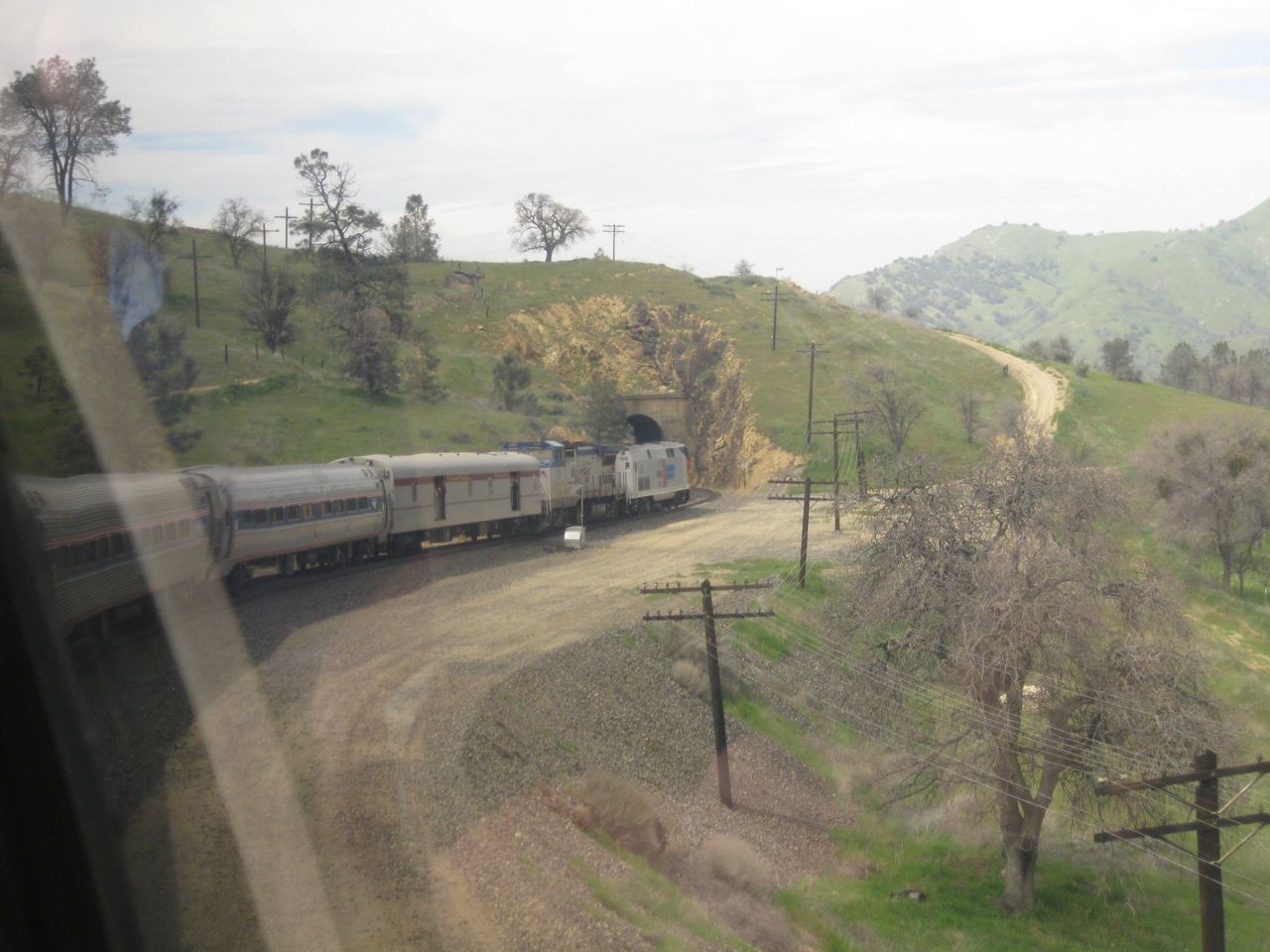 All was quiet on the Loop.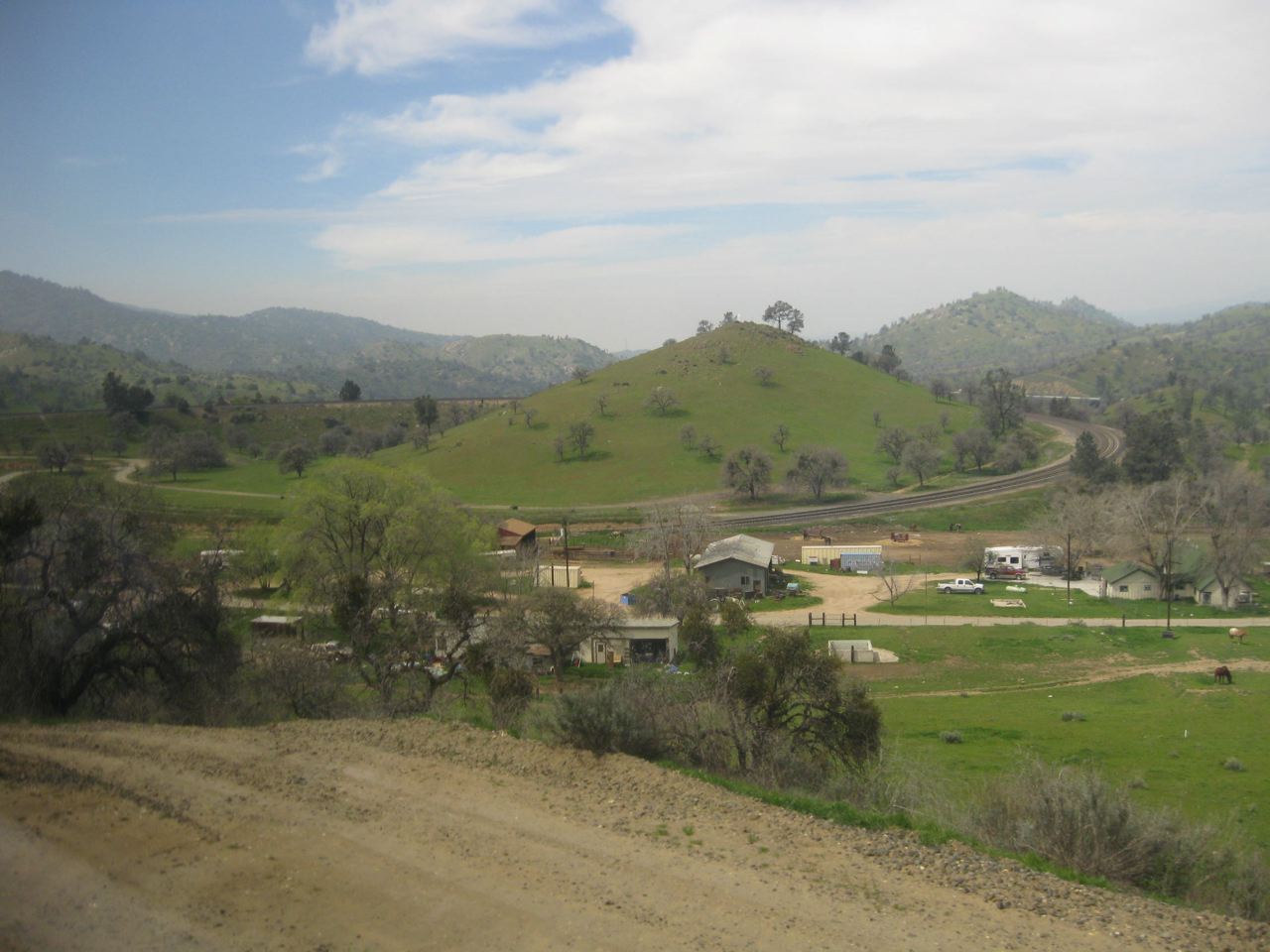 Now we're on the Loop, just passed over the line west of the Walong west switch.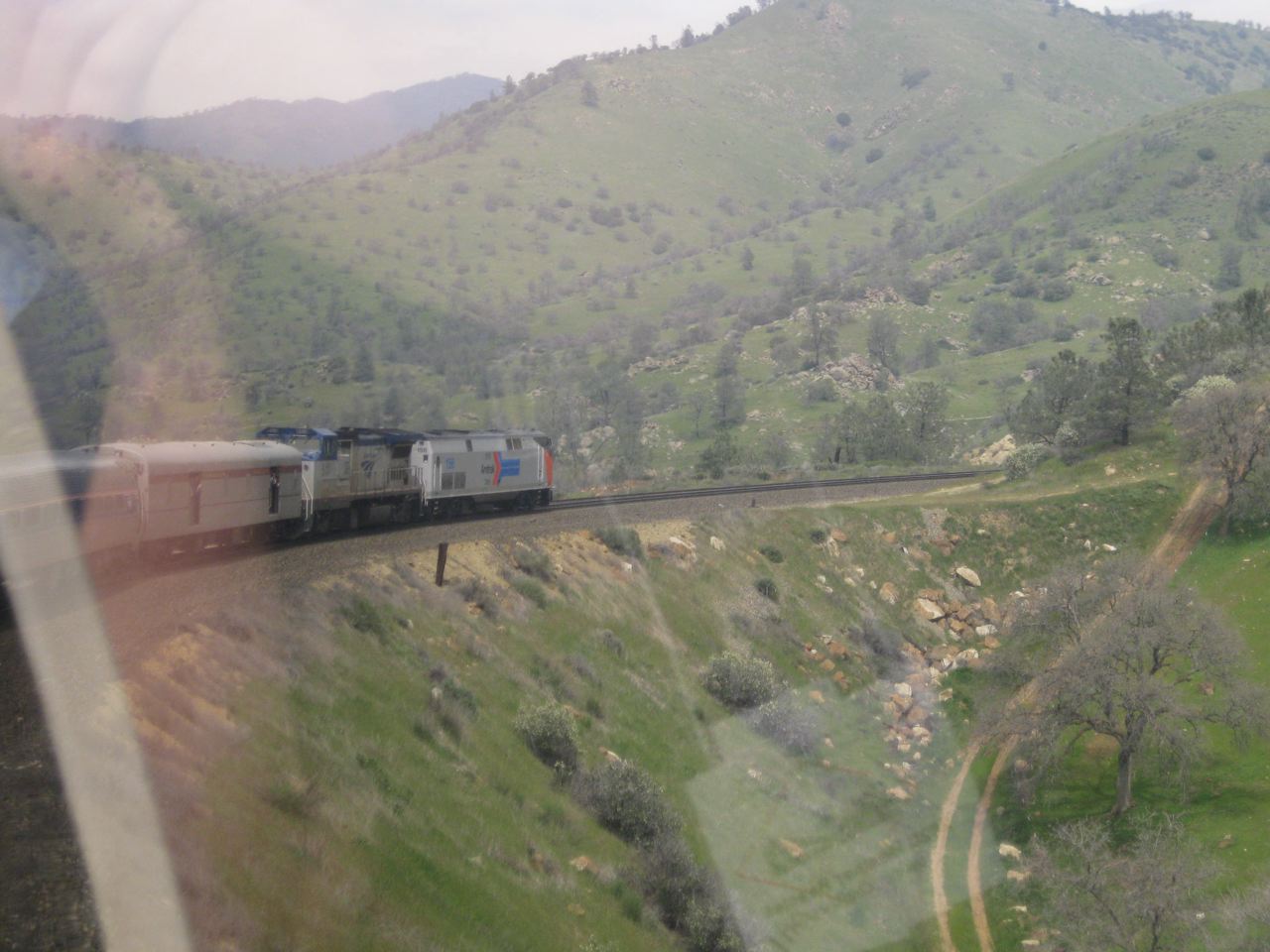 On the descent, we meet a BNSF eastbound.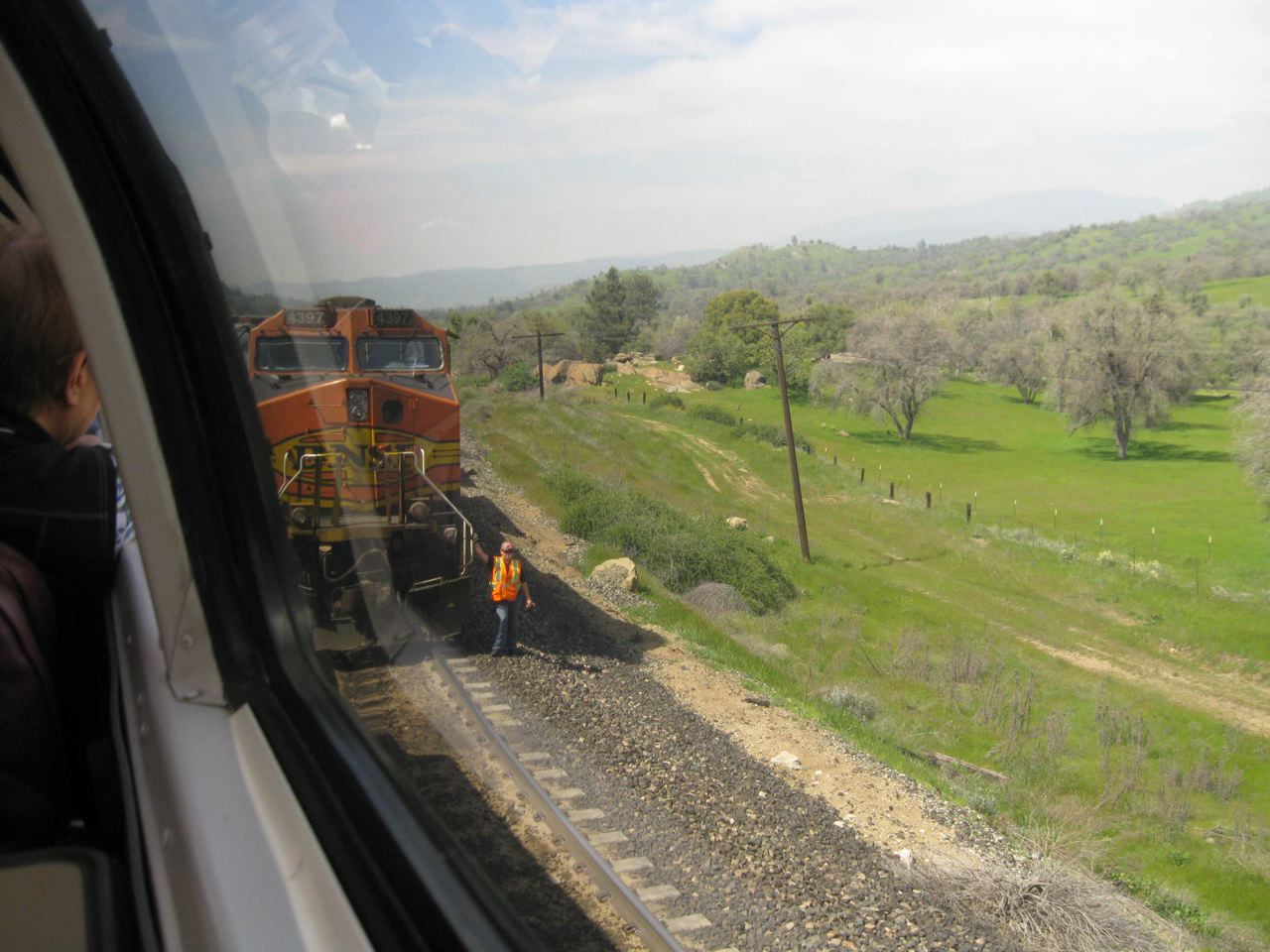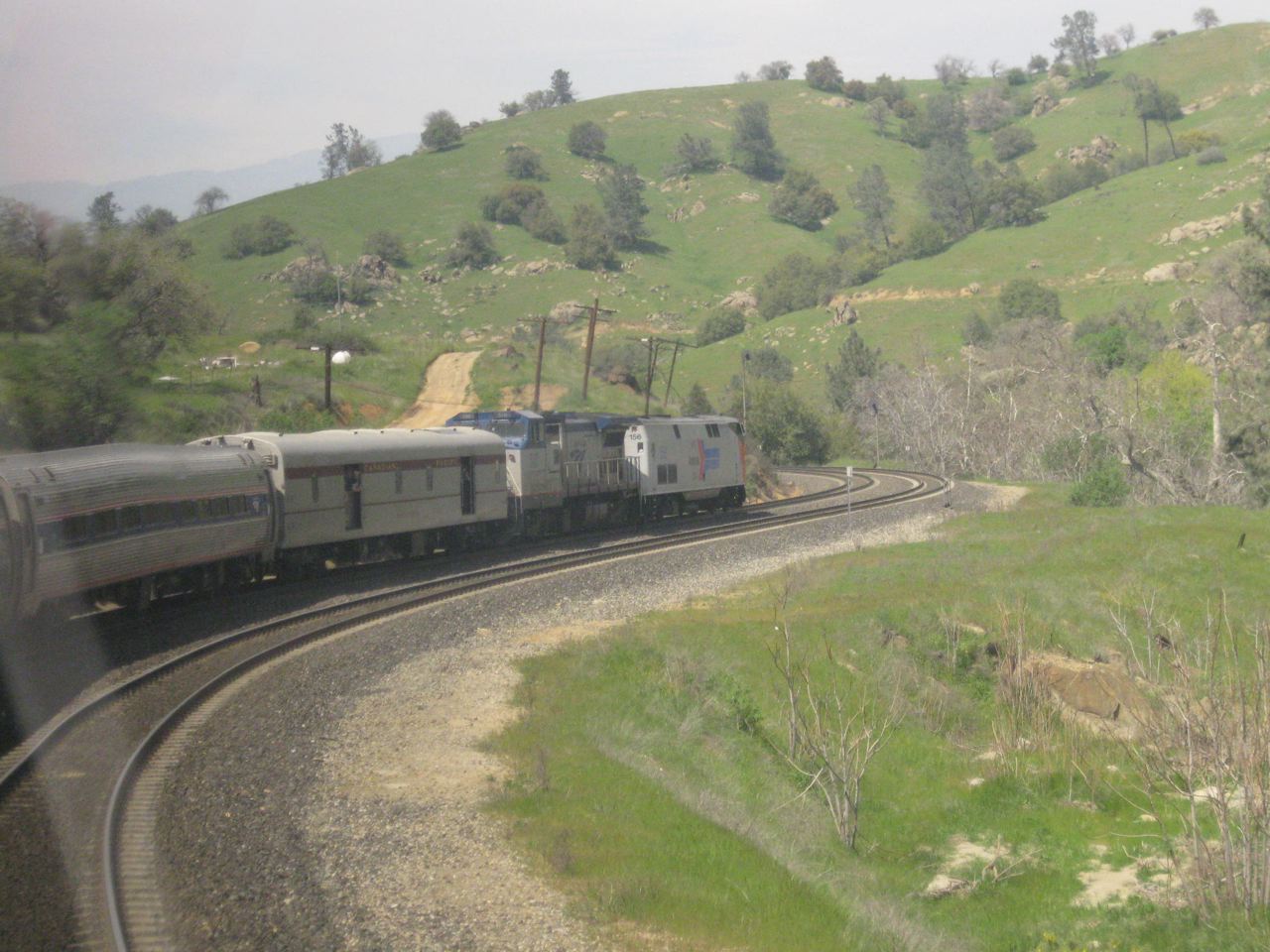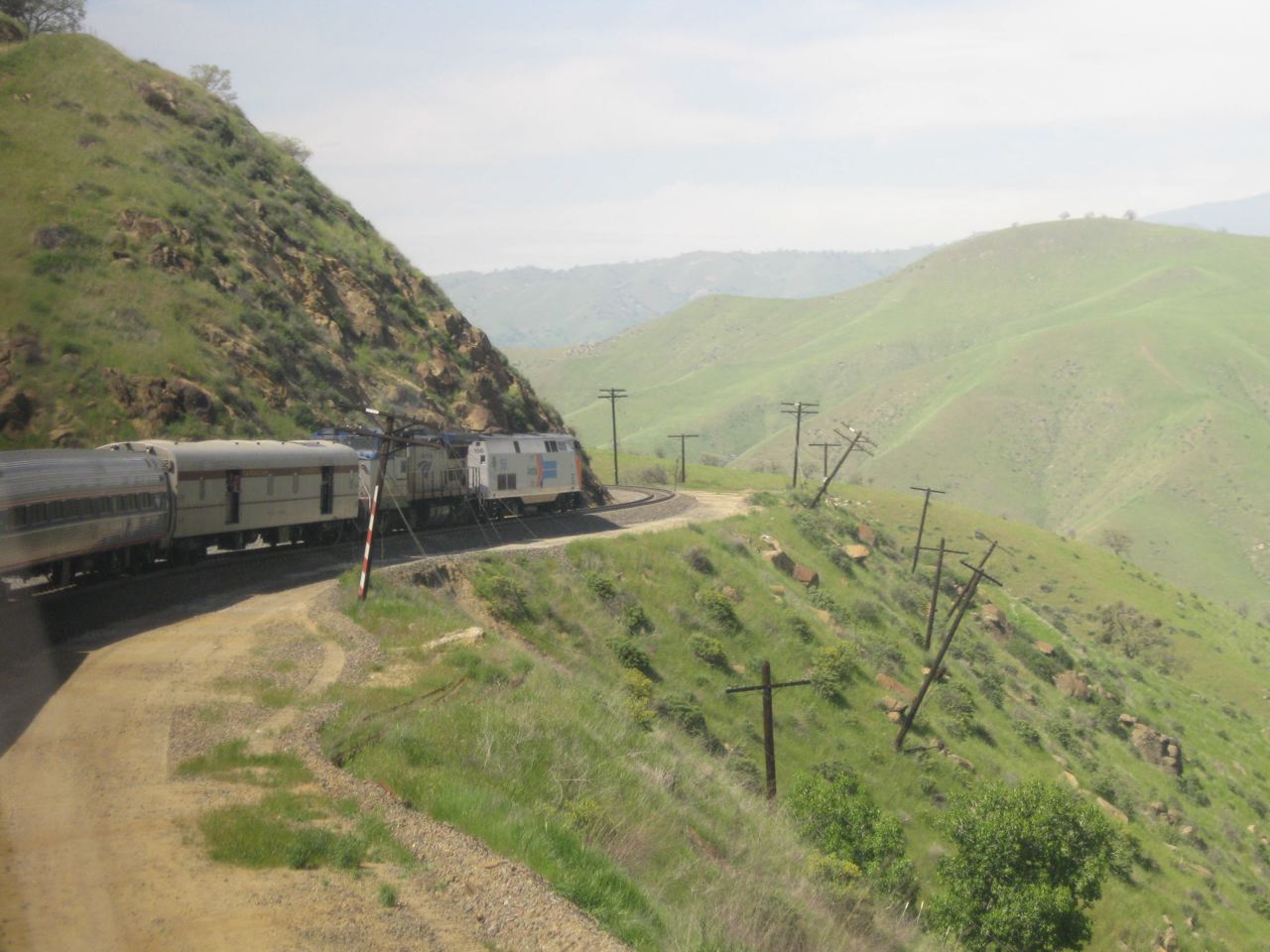 Tehachapi does not stay this green much longer in the Spring.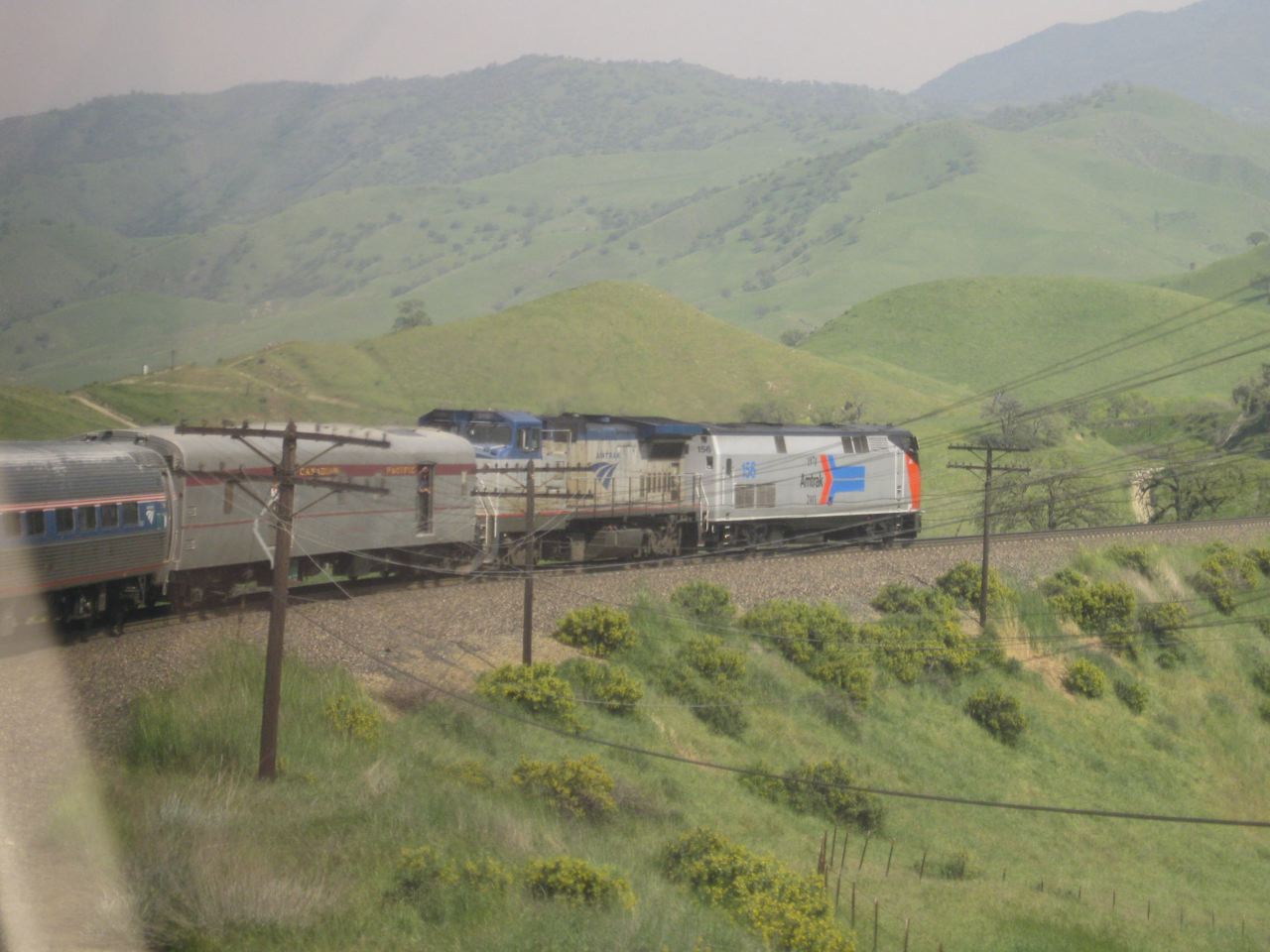 We arrived Bakersfield at 3:38 p.m. (estimated time was 3 to 6 pm, officially, but obviously rail traffic was light), and i passed up a head-end photo of our special to slowly walk the block and a half to our Marriott Hotel, then standing in the check-in line for 30 minutes. They did have all 3 clerk positions at the counter staffed and so can't be faulted. We all relaxed in our rooms, moved to the bar for some refreshment, and then, our group having not elected the $30 Italian buffet offered by PRS (we did not know it included historical photo presentations), we dined in the Marriott's very nice, tho a tad pricey, restaurant. Otto and Nancy visited and dined out with friends of hers from years back when she and her husband lived in Bakersfield, to this motley mob was (from left) Kevin Keefe, Rick Moser, Rob McGonigal, JDI, and Chuck Weinstock of Pittsburgh.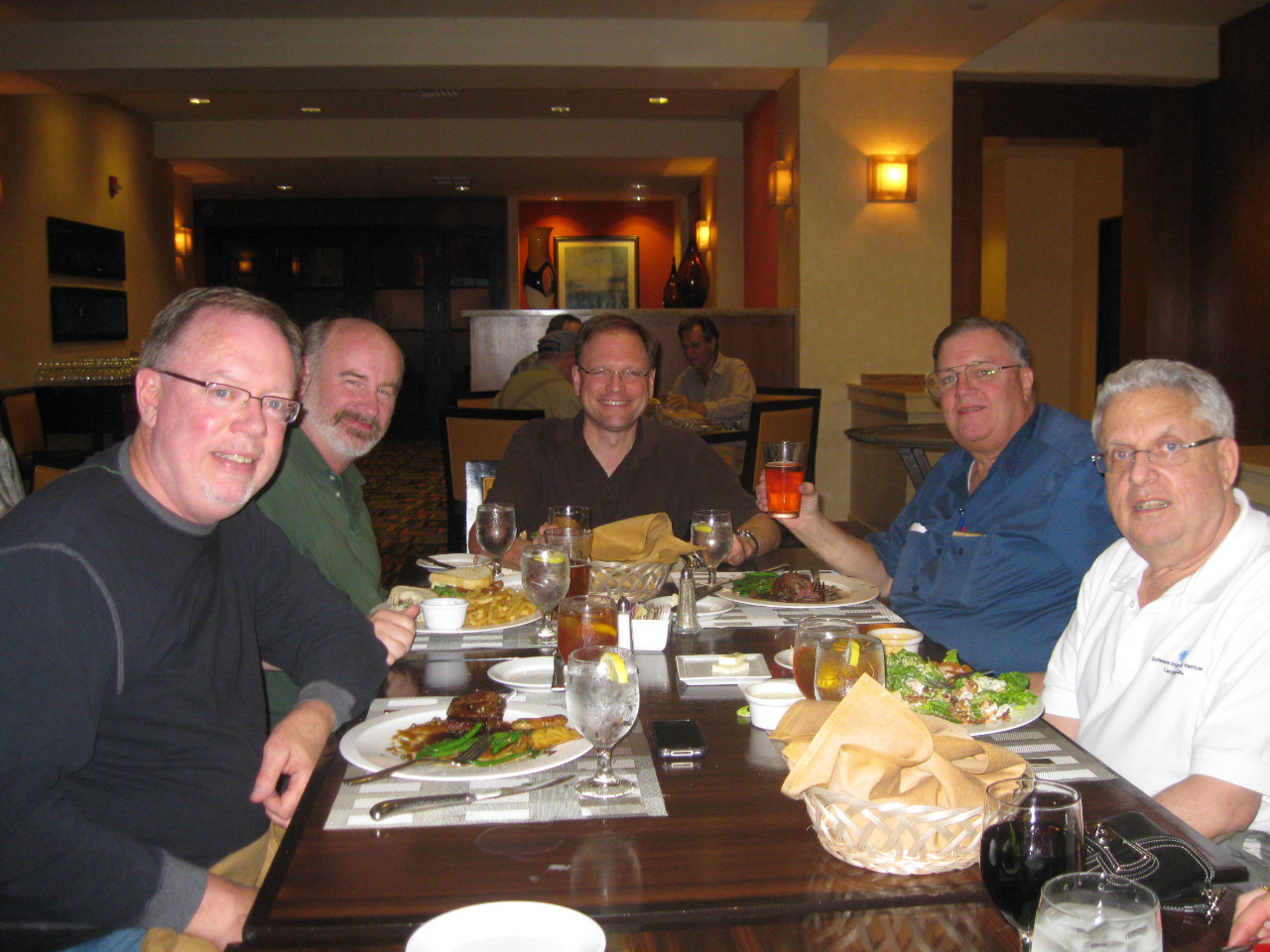 Next morning, Sunday, the excursion was due to leave again at 9, so we who were going on north waited until the breakfast crowd was done downstairs before going down. Our rooms all faced the street, not the railroad, so I went to the end hallway exit stairway (an outdoor stairs) and snapped these shots looking south, of the rear end of our excursion. The rear car is PRS's UP sleeper Pacific Union, and the dome is its CZ car Silver Lariat; ahead of that is the Iowa Pacific dome Nenana 511 (its old Santa Fe number).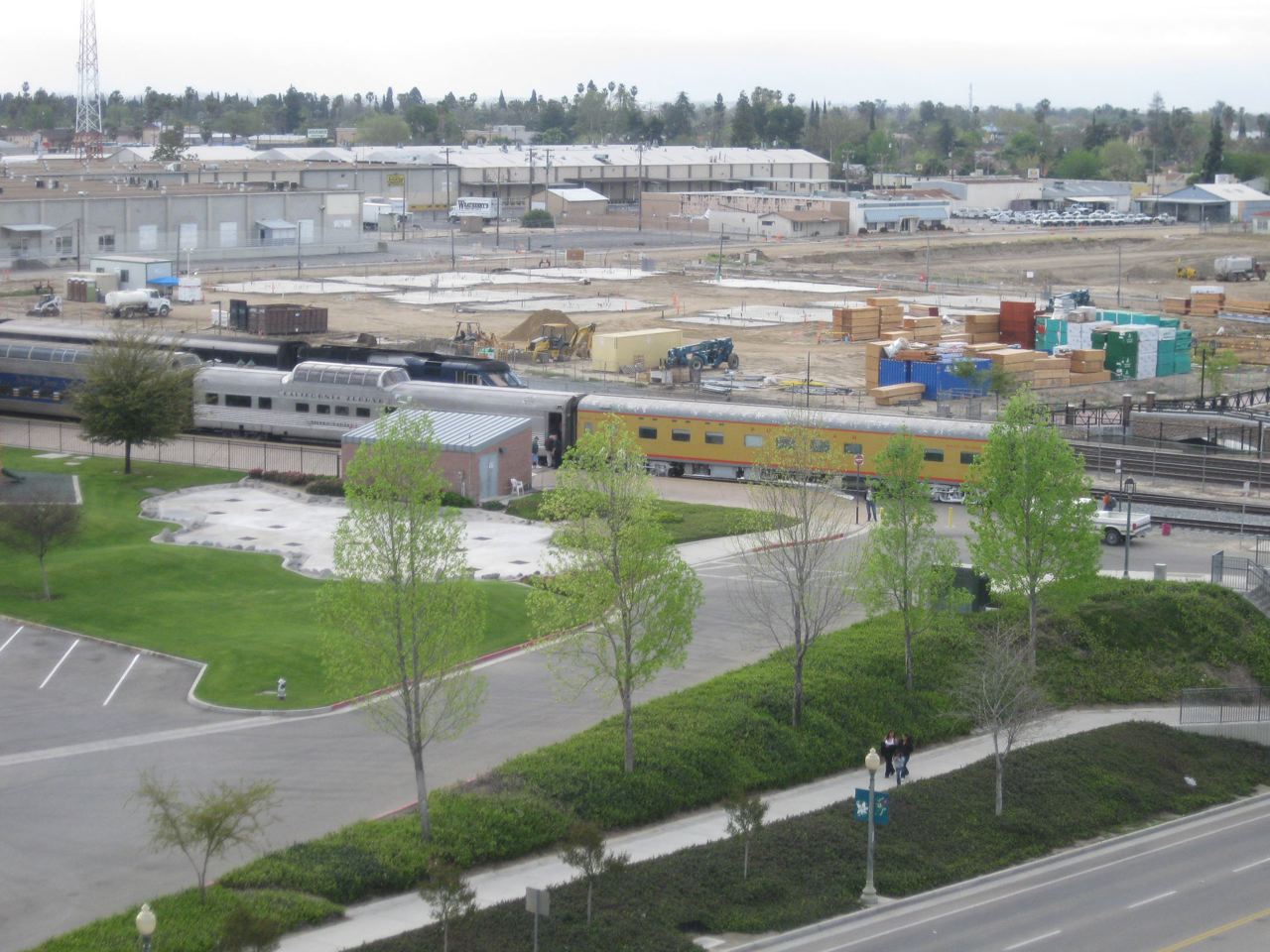 The building with the sloping roof at left center is the Amtrak station; closer to us are the Amtrak Thruway Bus bays for connections off the San Joaquins to L.A. area points, plus Barstow and even Las Vegas!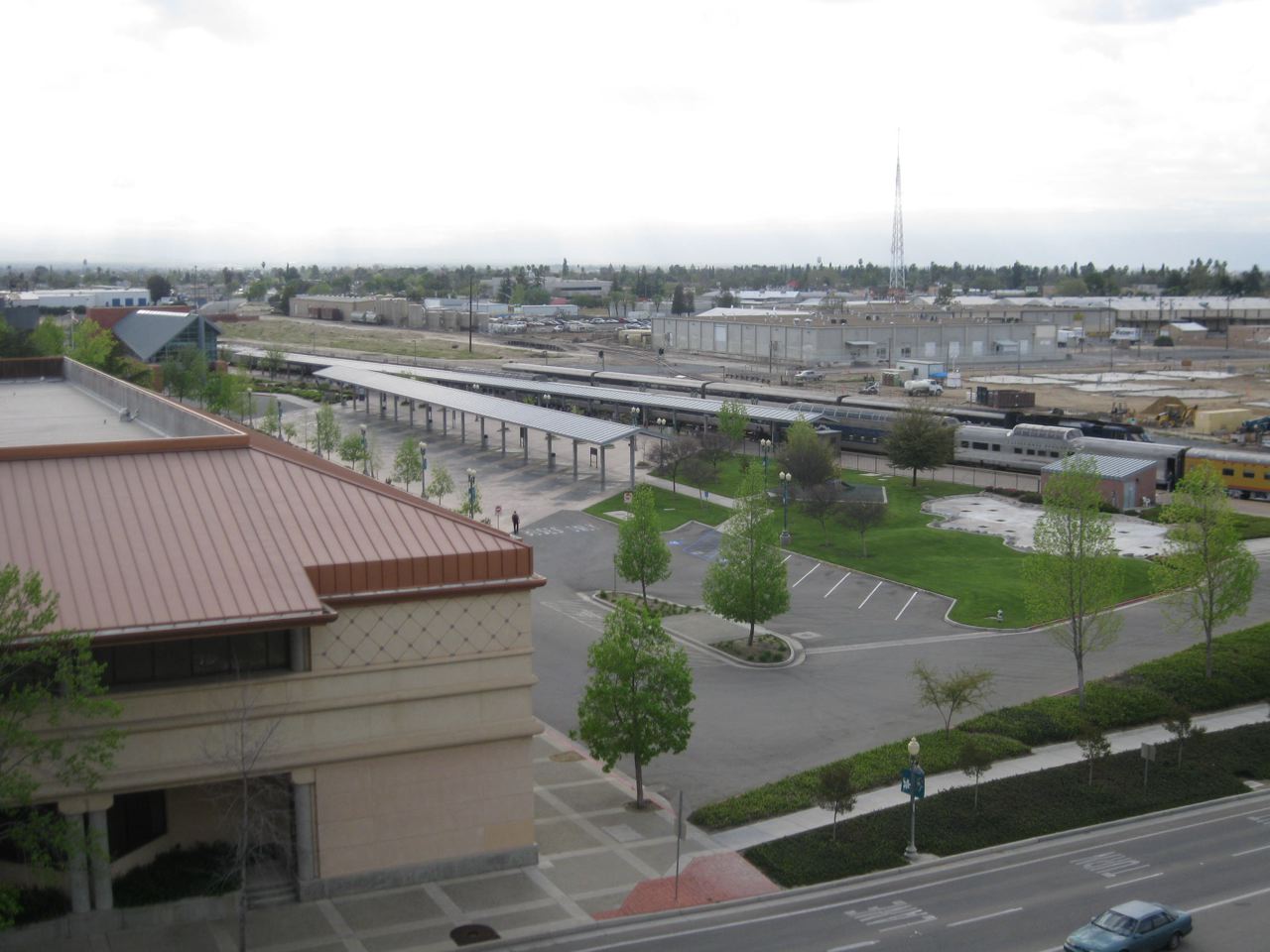 Our San Joaquin #713 was due out at 10:05 a.m., with F59 engine 2005.
Showing the proximity of the depot and our Marriott Hotel.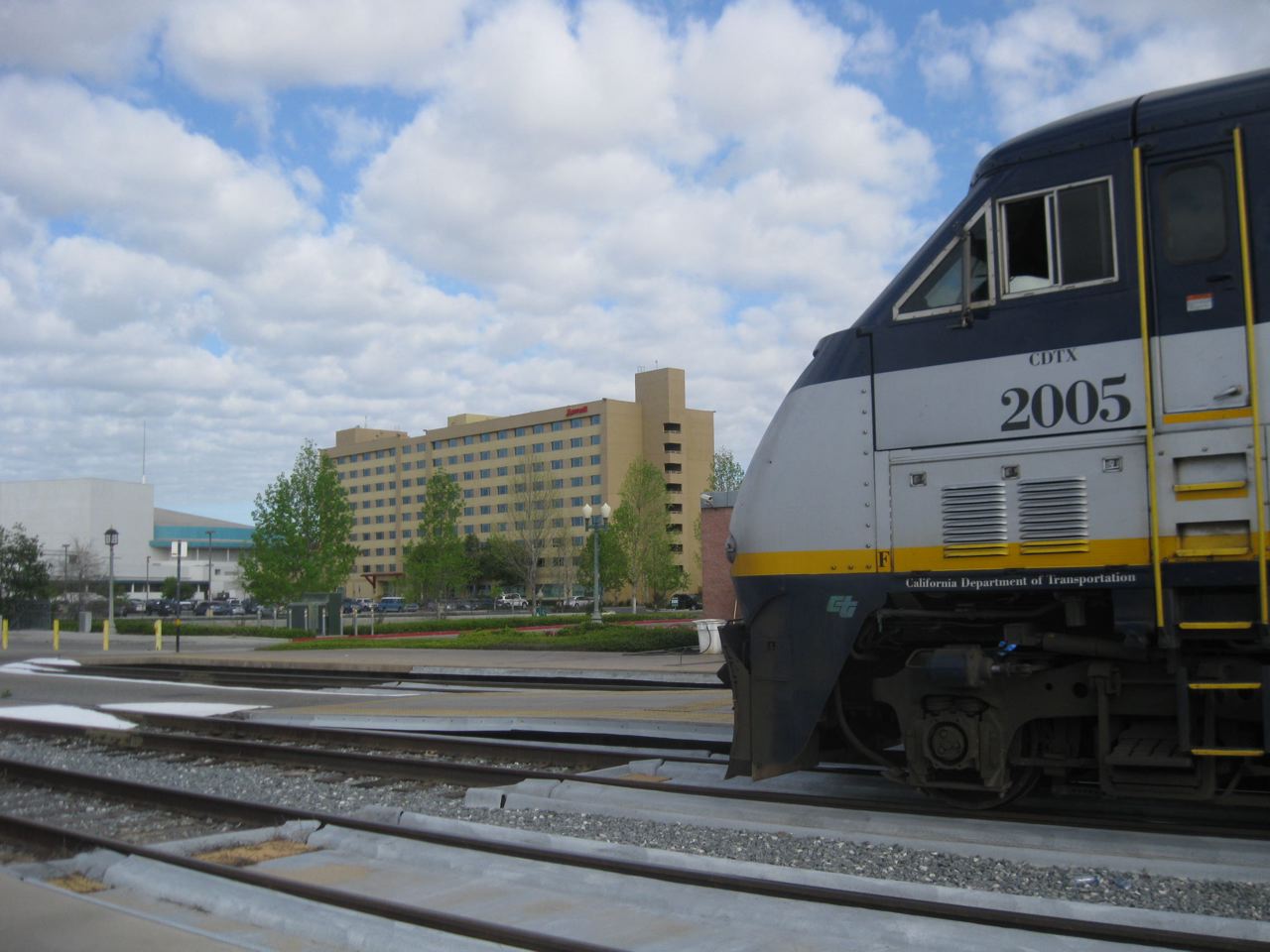 It was just cool and breezy enough for me to don my jacket , for the first time since Chicago, until we boarded.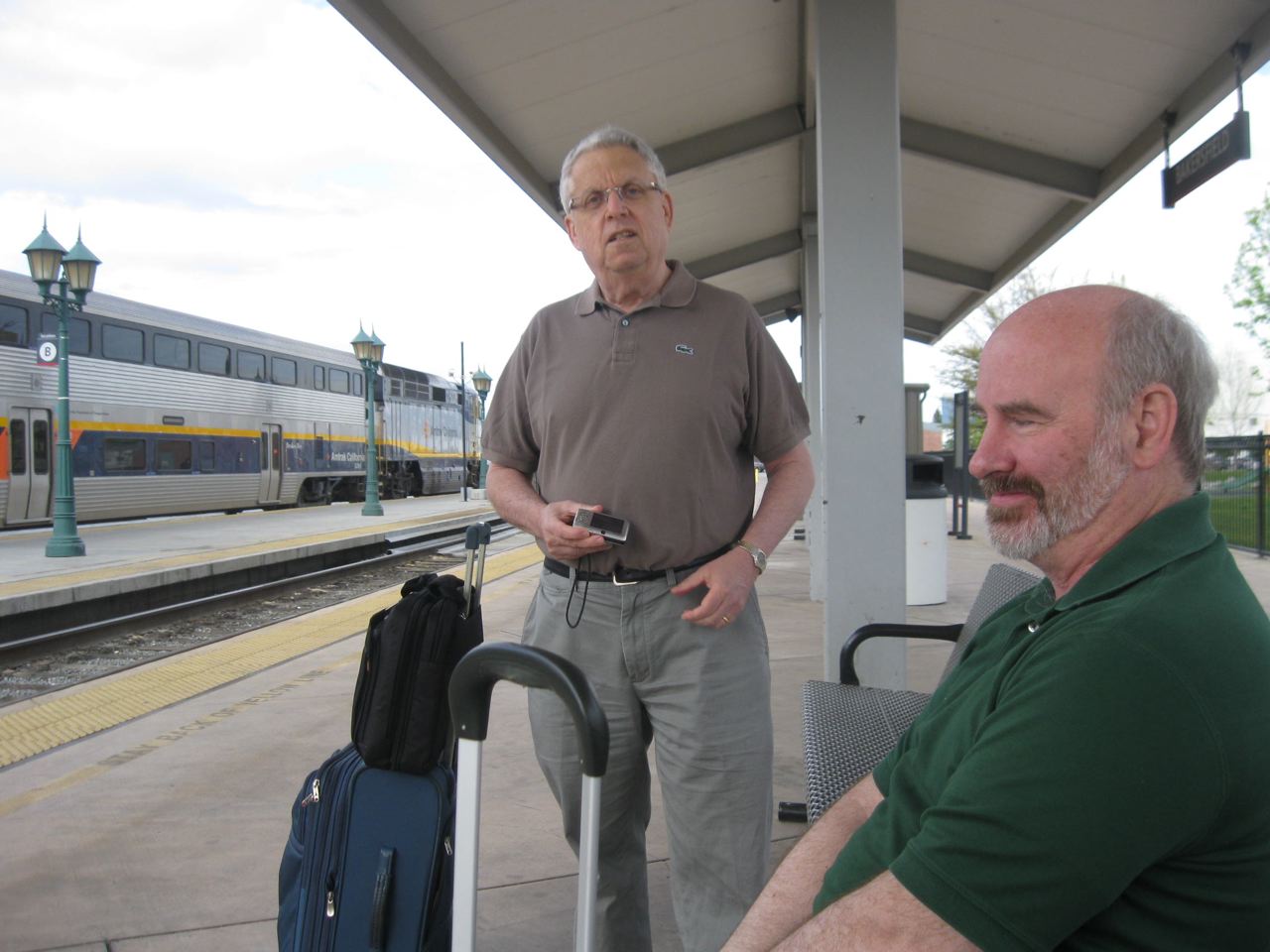 Outside the depot is one of those floating globes.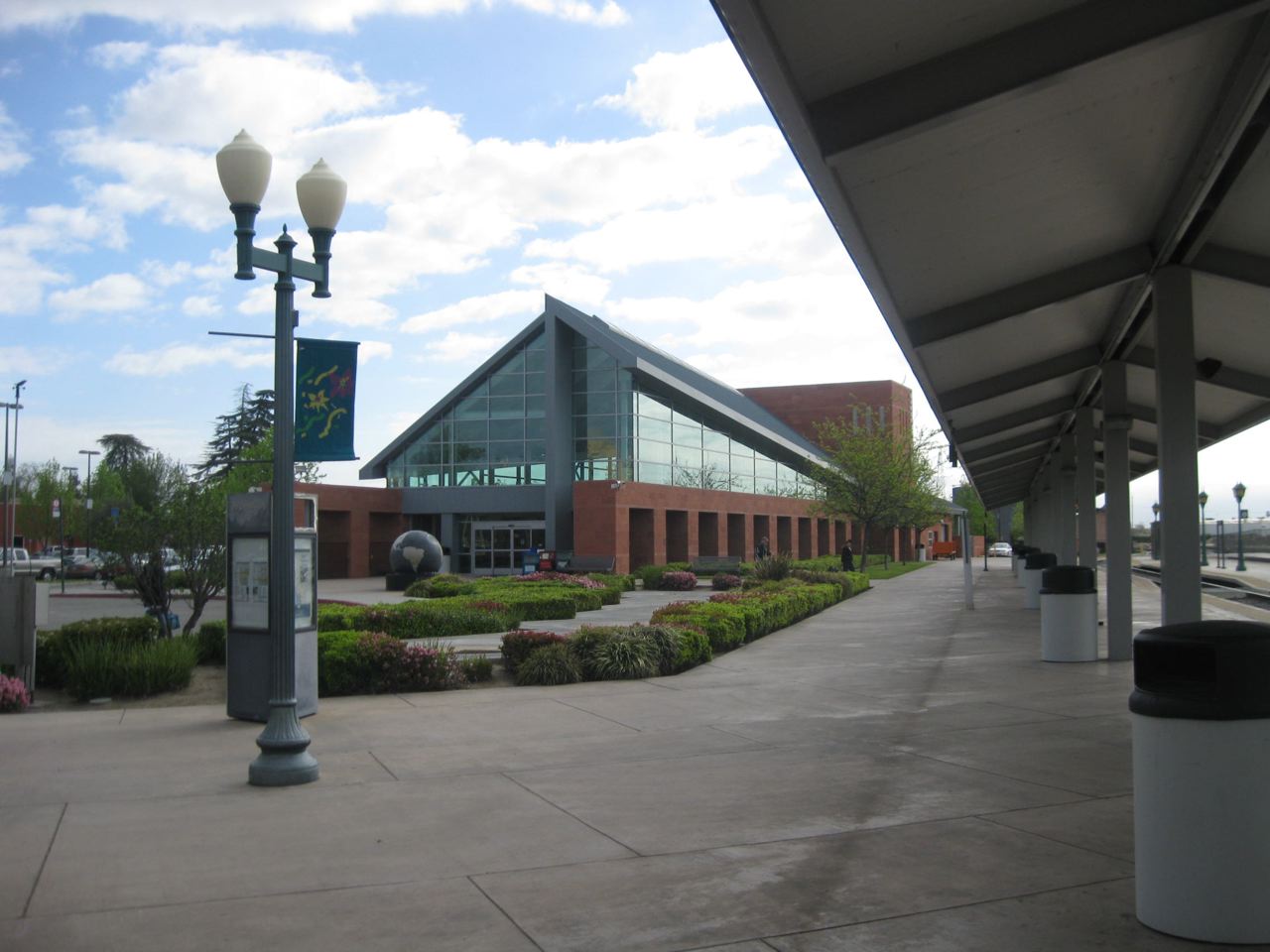 You are here.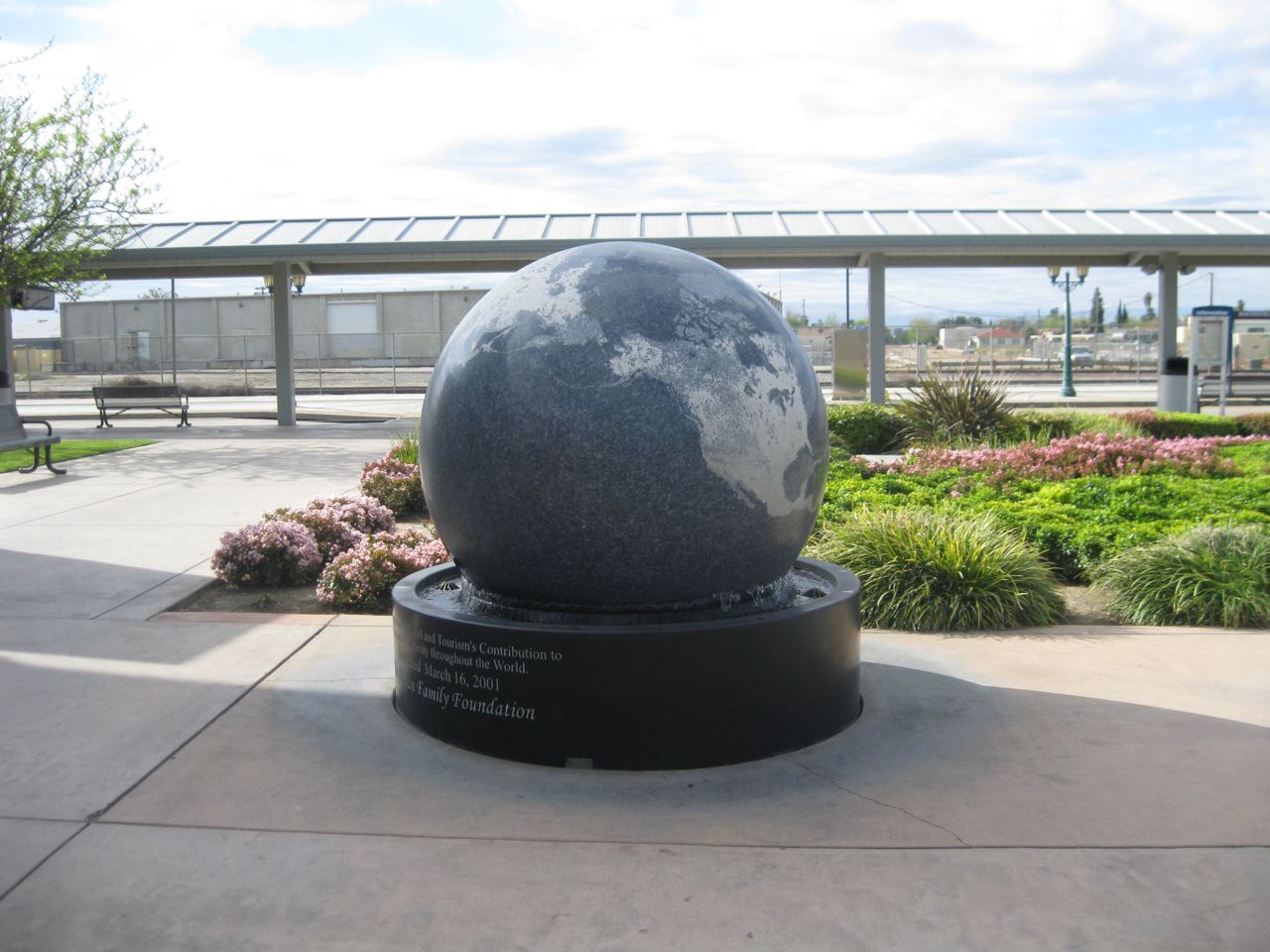 The first of several buses arrives ffrom the south.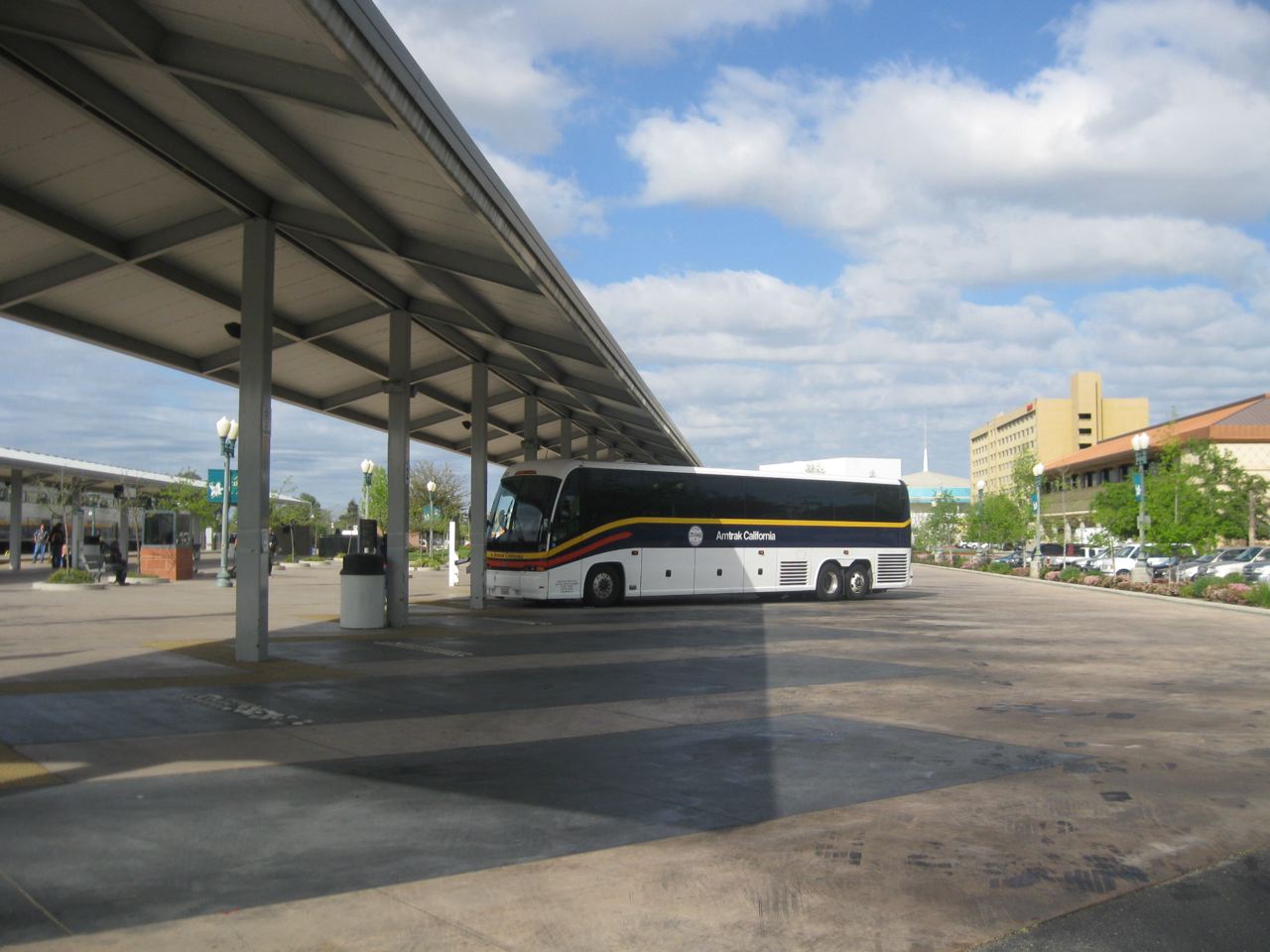 Their ranks increase. Would that the Midwestern states could cooperate on such a nicely run transportation network! California is the model.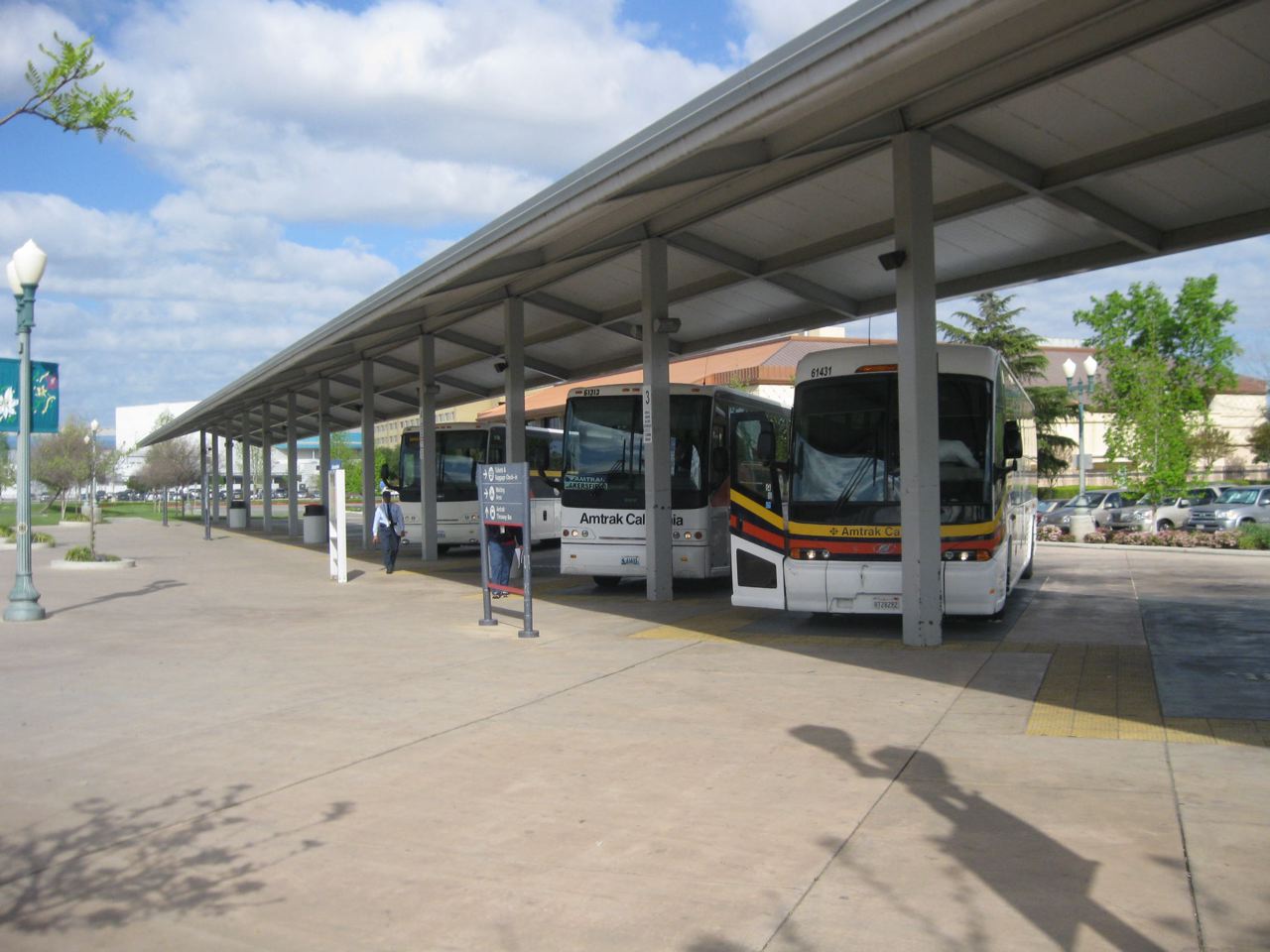 We occupied a table for four on the east side of the 2nd car from the engine. The cafe car was right behind us. The San Joaquins are all coach, no business class, but are all reserved. The train would fill up to perhaps 80 to 85% capacity until Stockton, where Thruway buses to Sacramento and north meet us, then the passenger load began to decline.
The scenic San Joaquin Valley at its finest ... err, I mean flattest.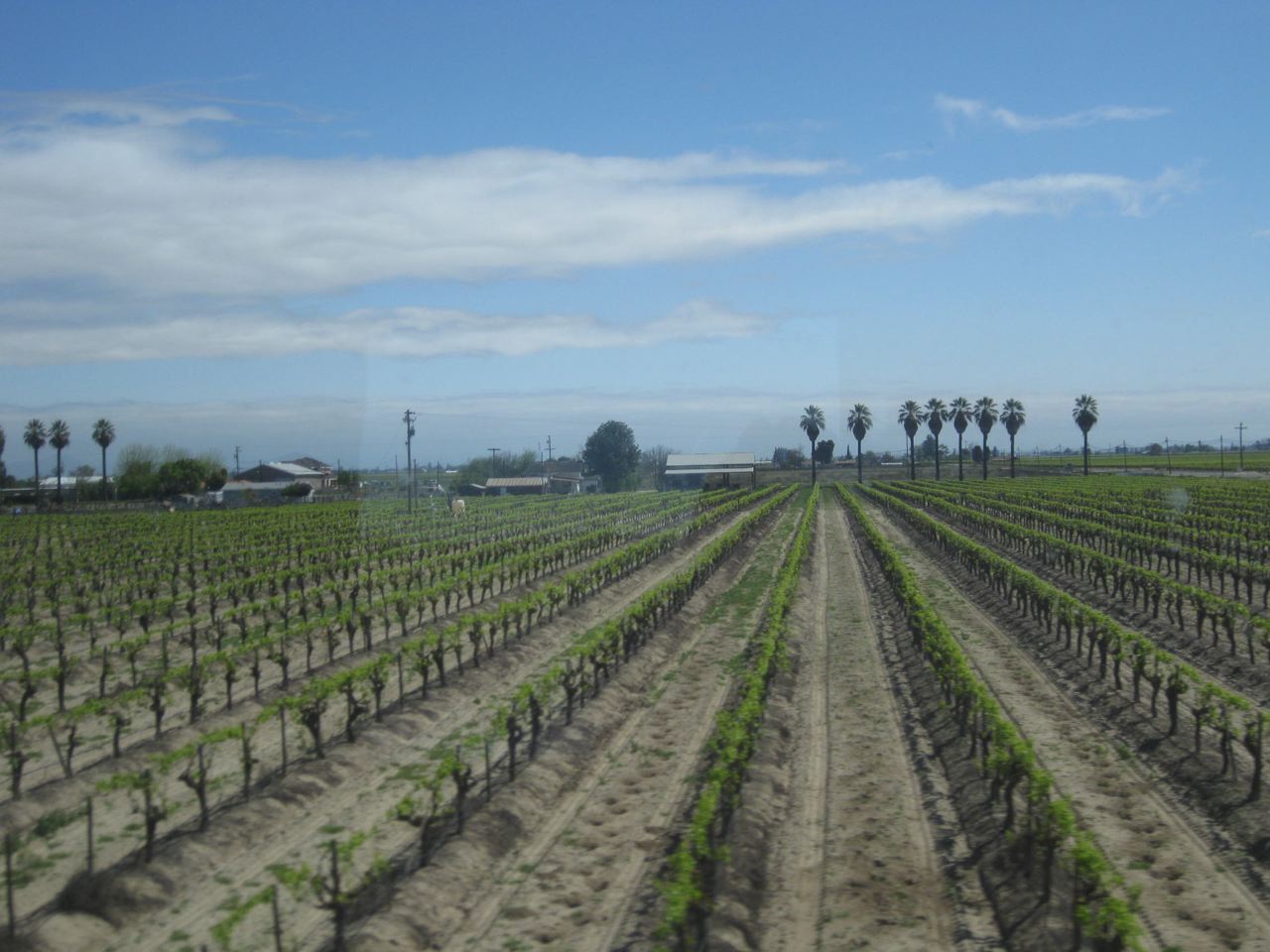 Madera has a brand-new depot platform and parking lot.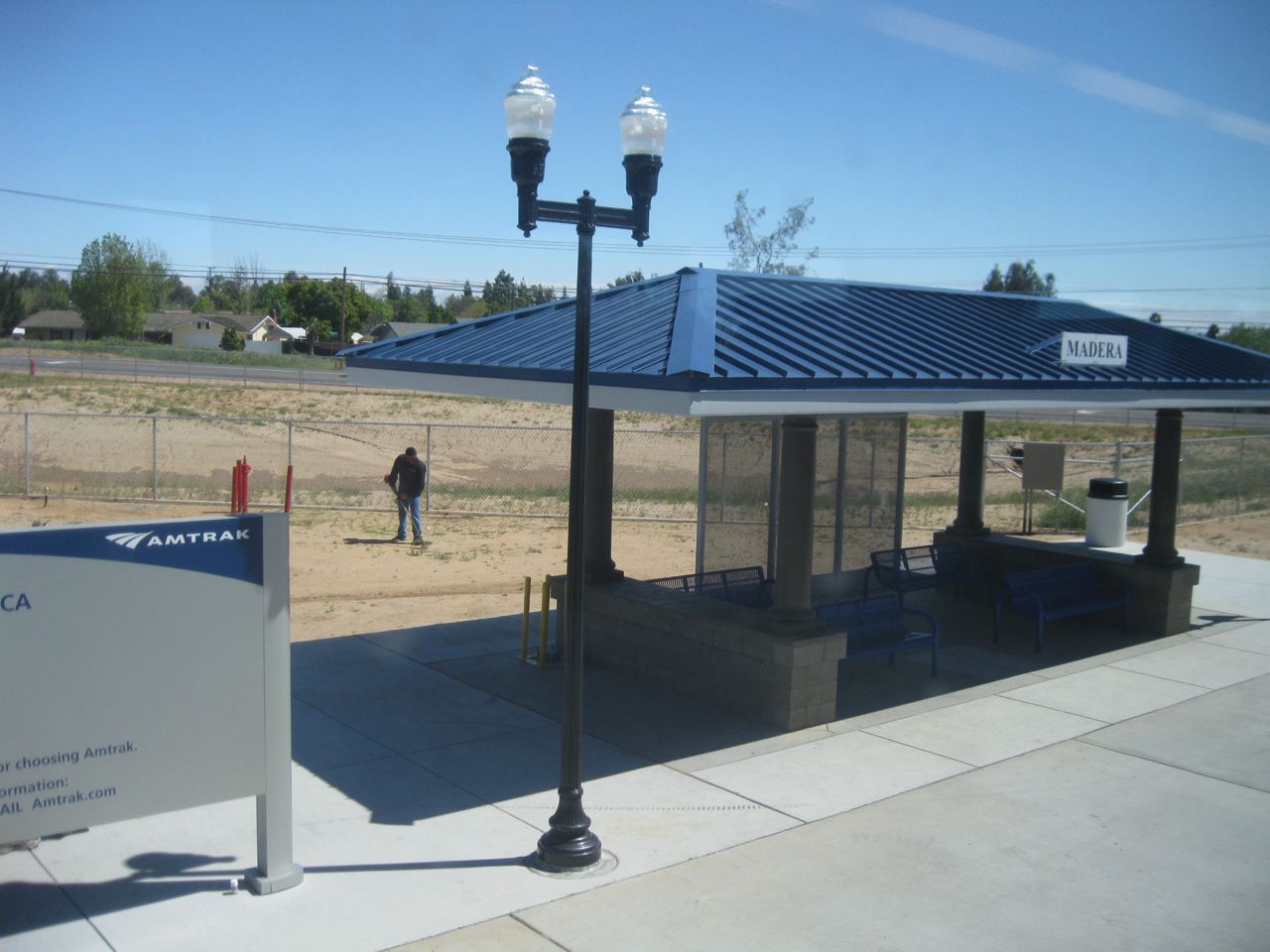 It's old mileage for all of us, so sleeping is allowed!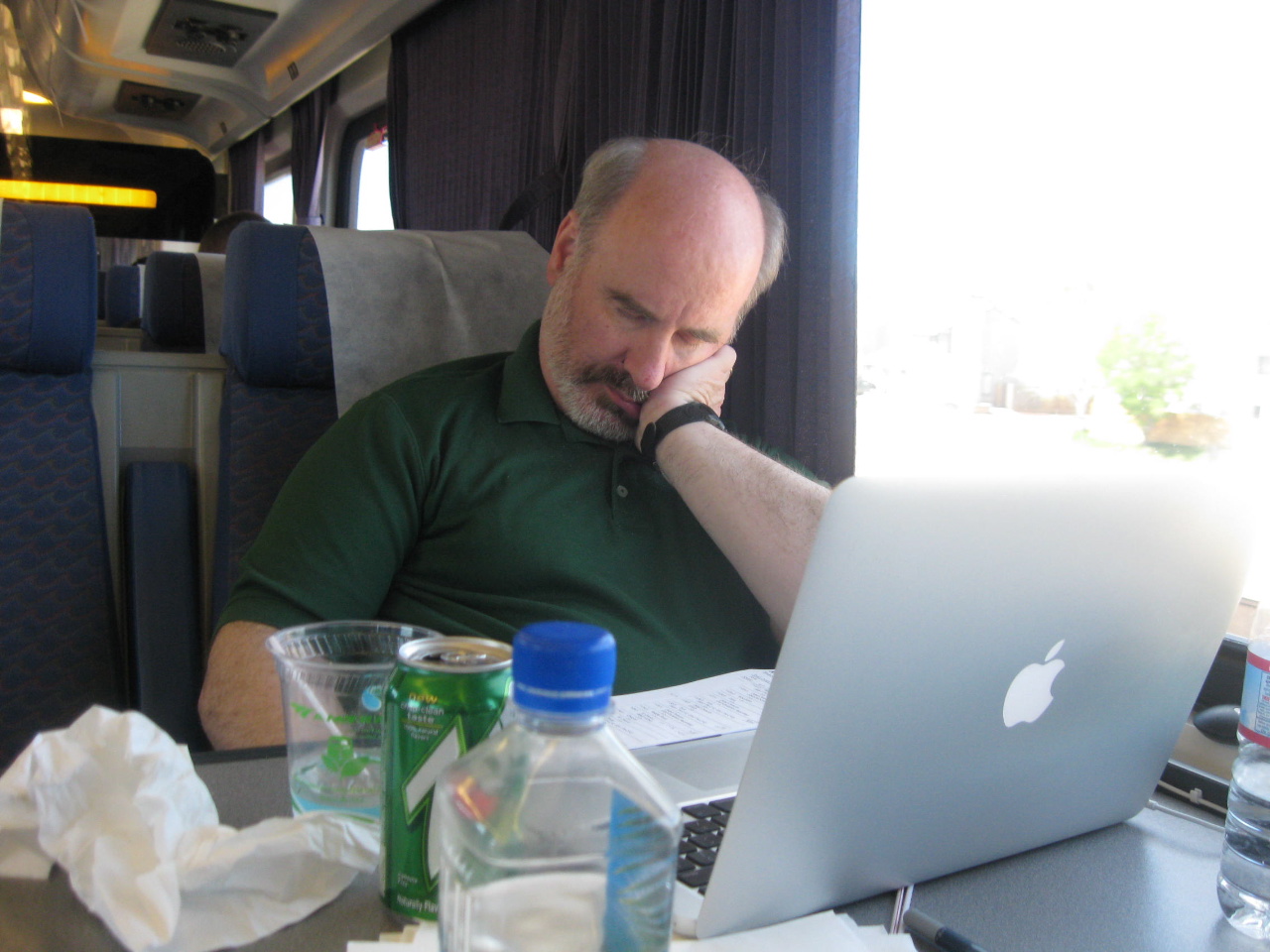 The Sacramento Delta area near Carquinez Strait, at Port Chicago, used to be filled with mothballed carriers and other big ships.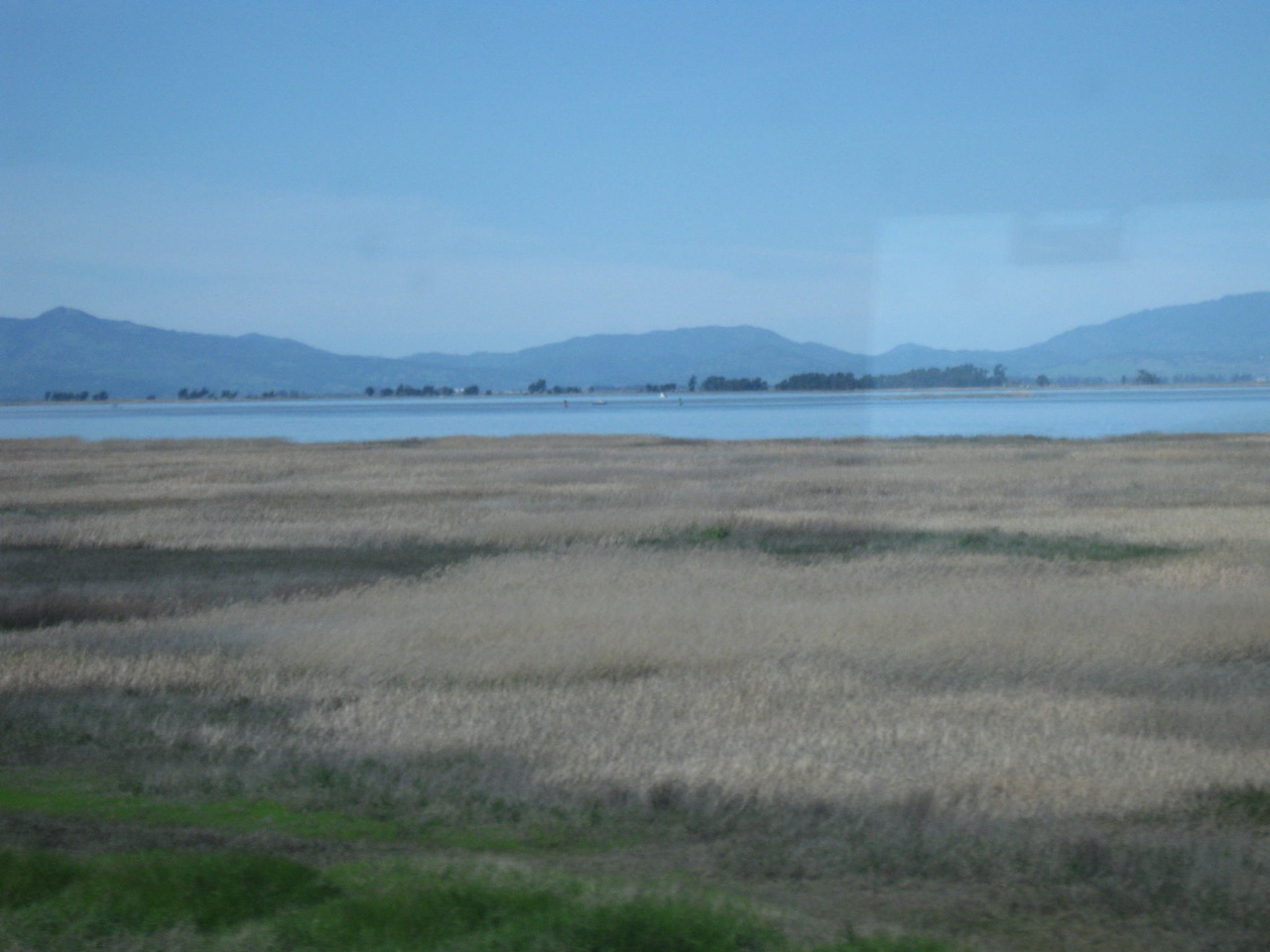 We arrived at Martinez on-time at 3:18, and two Thruway Buses awaited. Mine for Santa Rosa and points north was this rear one.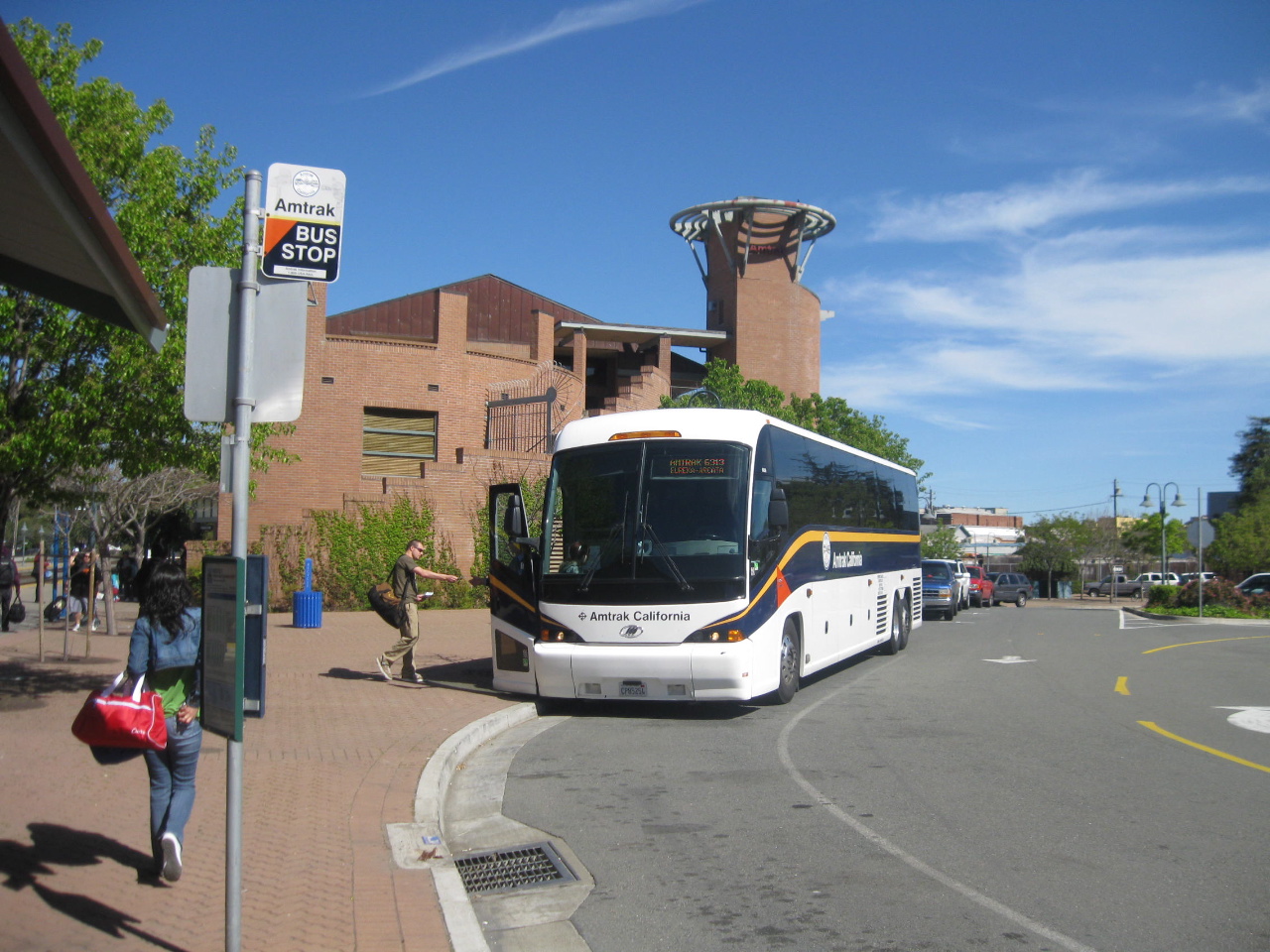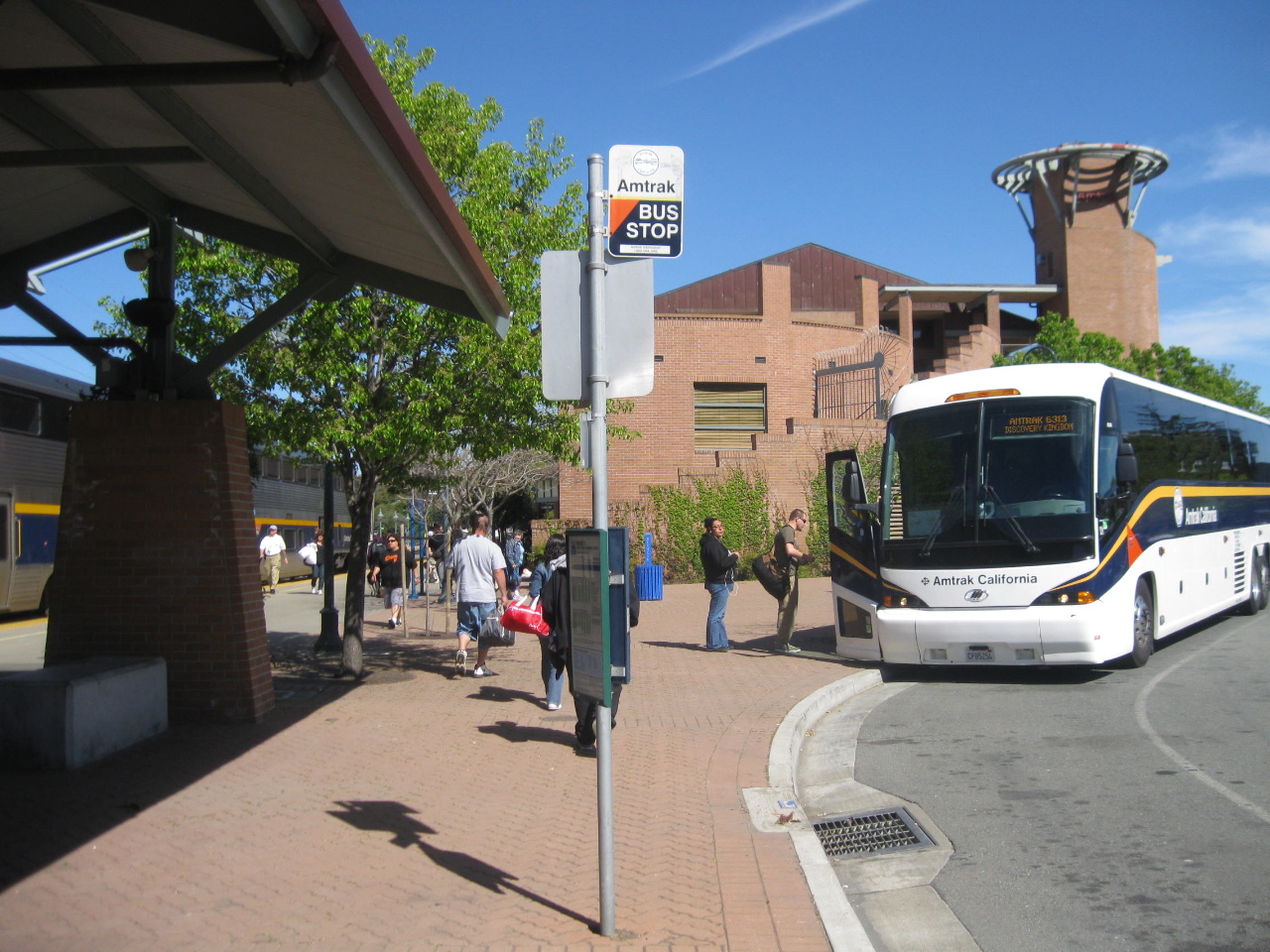 A southbound Capitol came in before #713 pulled out, and turns out, I'd learn later, that Mr. McGonigal is on board this train!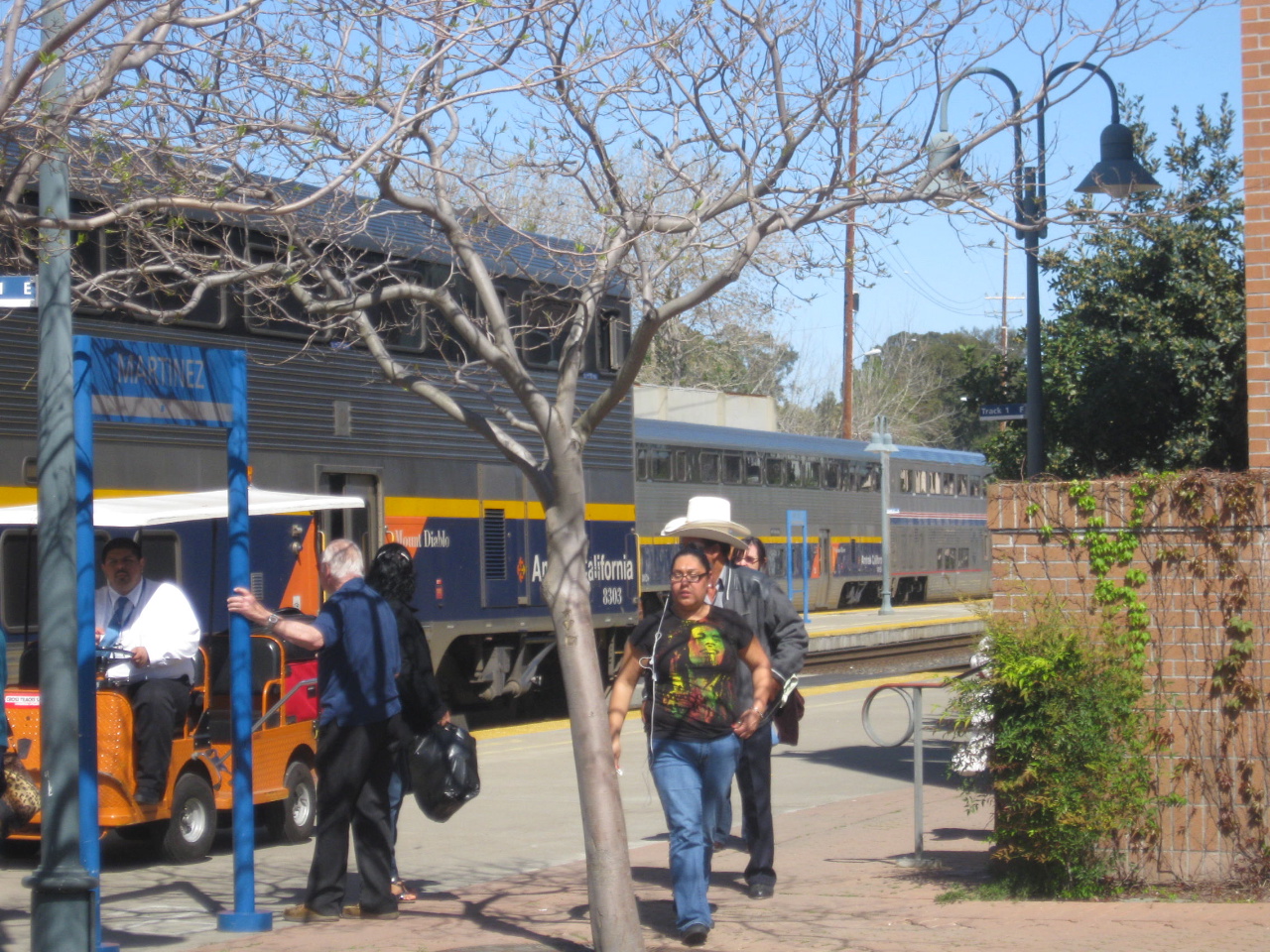 Amtrak California has obtained some surplus Superliners from Amtrak, and many are repainted, but not this one on the Capitol.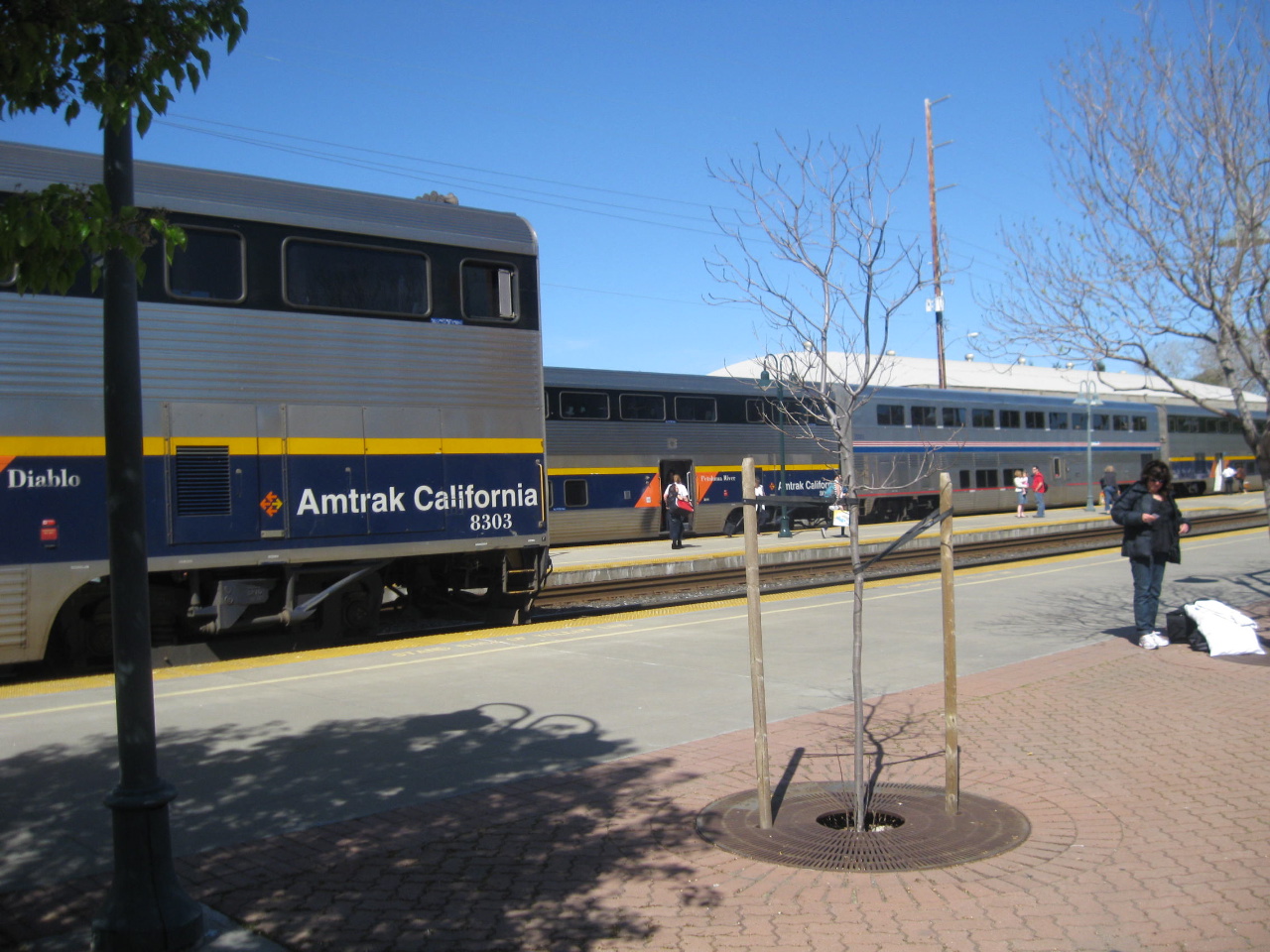 There goes #713, with the Capitol at right; #713 proceeded only to the edge of town and let the Capitol run by him.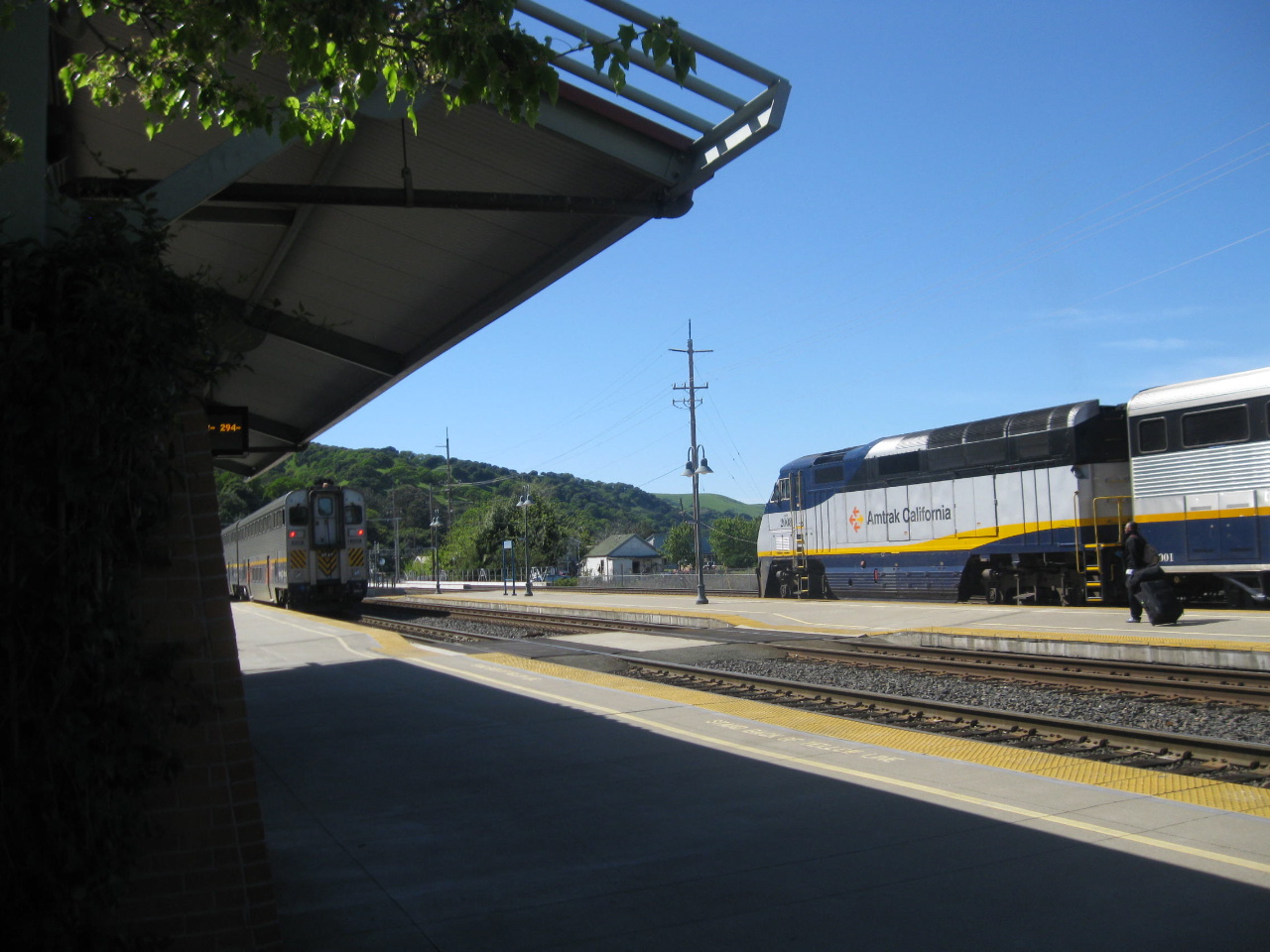 I had boarded the bus, and lo, the front seat on the right was open, so I grabbed it; what a good vantage point! As soon as the Capitol and #713 had gone, what should show up by the California Zephyr, #5, and the bus wound up holding for a passenger connecting to Santa Rosa. There are more Thruways later, and the CZ connection is not guaranteed, of course, but it was a nice gesture. Rob told me later both his Capitol and the Zephyr were held up by a boat moving through the Strait's lift bridge just outside Martinez.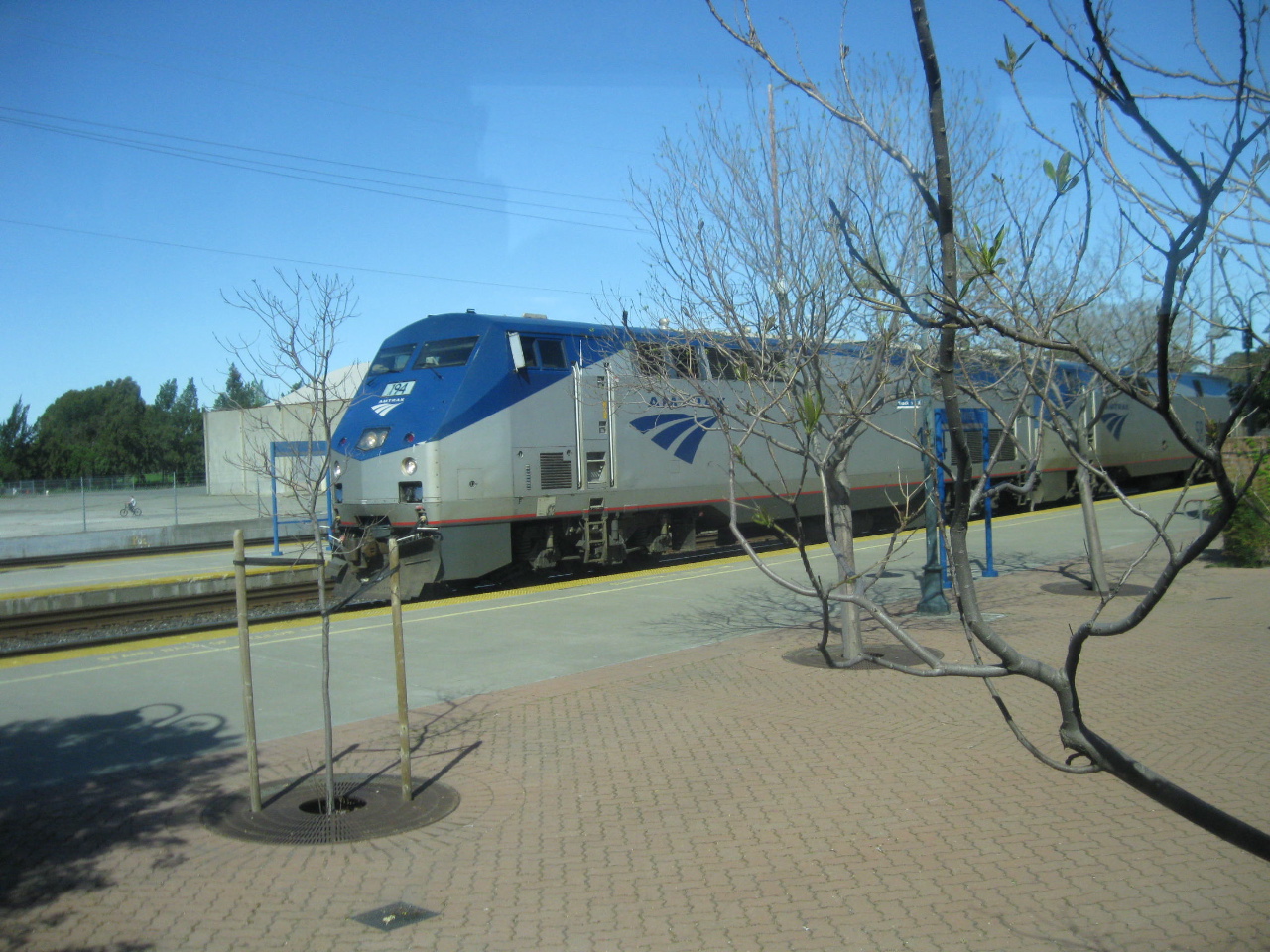 A view forward as #5 departs.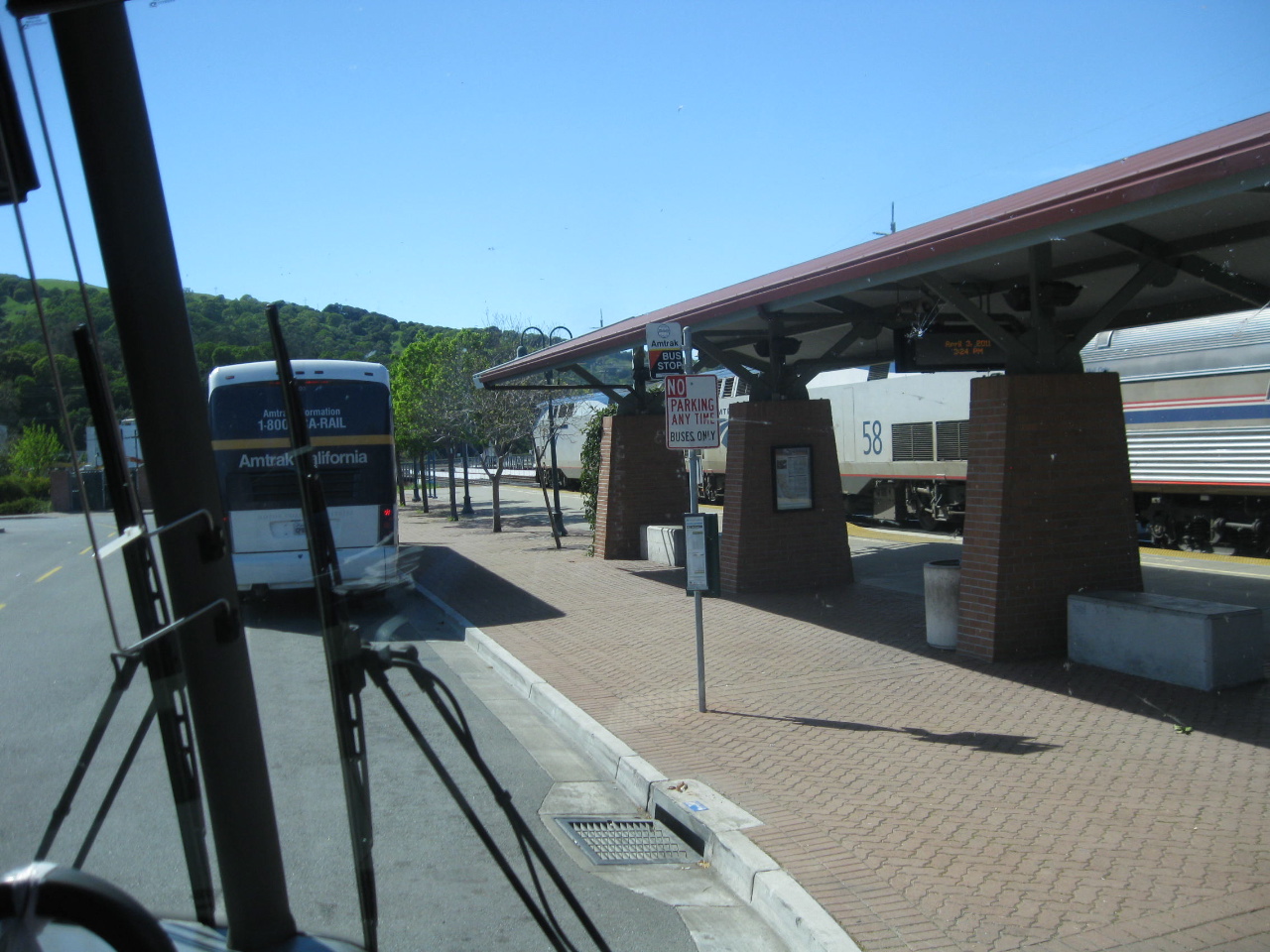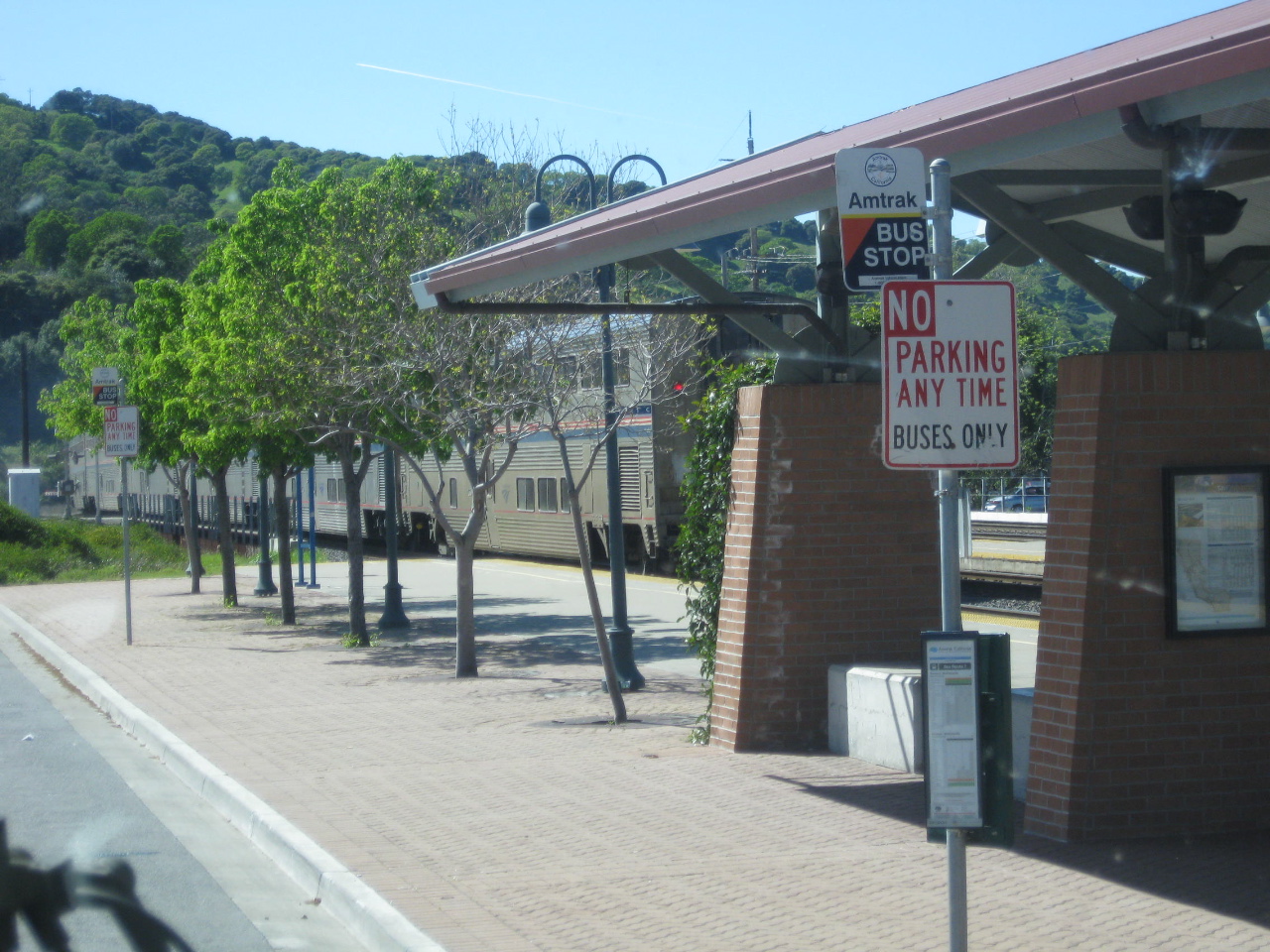 And a final picture from the bus on the northbound I-680 bridge of the SP bridge and the original Interstate bridge, now southbound only on I-680. The bus ride was about 2 hours, with passenger stops in Petaluma and Rohnert Park, and I disembarked in Santa Rosa at 5 p.m. sharp, my sister having driven in to the Marriott parking lot downtown right behind the bus (I'd phoned her en route with a couple "O.S." reports.)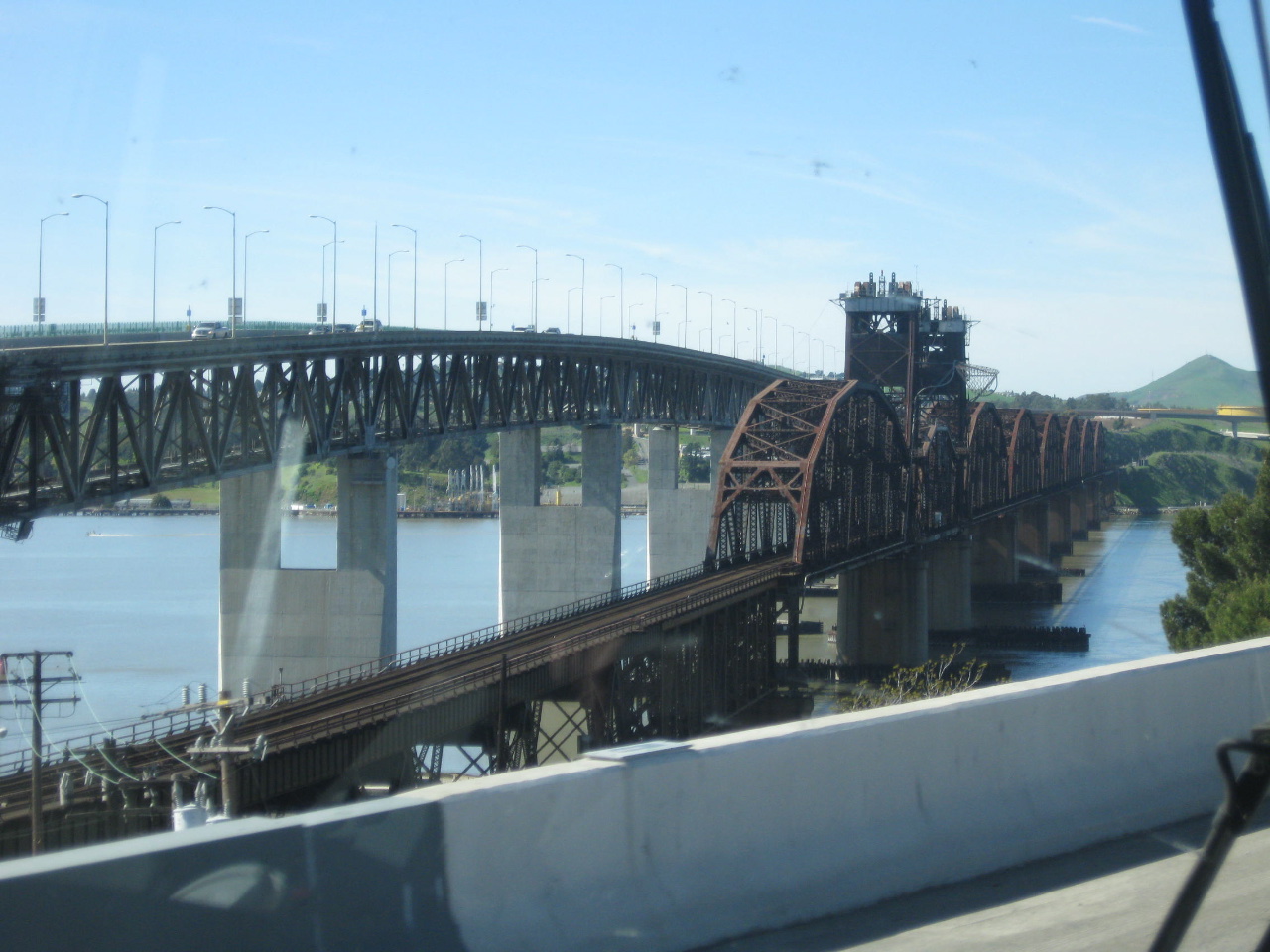 This page was designed and is maintained by Mike Condren. If you have materials
that you would like to contribute, contact me at mcondren@cbu.edu