Rochelle and Environs Revisited
Photos by J. David Ingles
The goal was Rochelle on the bright Spring day of March 26, 2010, the first post-winter getaway. Jeff Madden drove; photos are by Dave Ingles. First we stopped at Davis Jct., nothing going on, but radio talk told us that an eastbound DM&E train was heading our way on the former IC&E (I&M Rail Link, Soo, and Milwaukee before that), so we went west to intercept. This is the last of three photo stops, west of Byron. IC&E 6212/CP 5907/DM&E 6093/IC&E 4208, 117 cars, 11:35 a.m.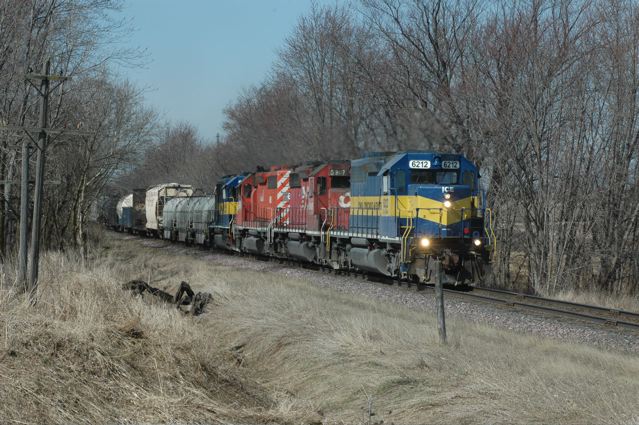 Heading for BNSF's "C&I" line, the Aurora Sub, we were in time for a meet at Oregon. BNSF 9285/9579, a 149-car empty ballast train, west off the Rock River bridge at 12:06 p.m.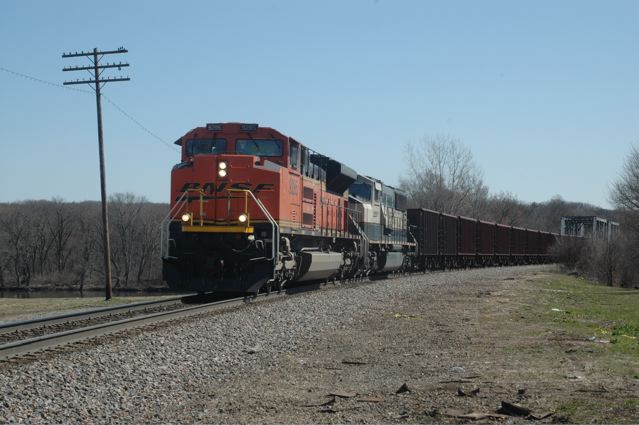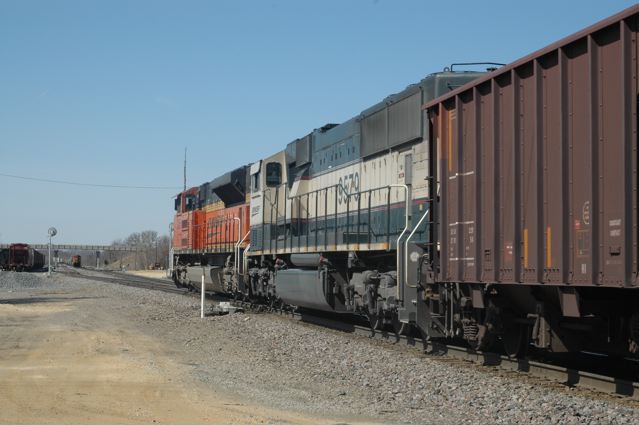 The depot is recently restored.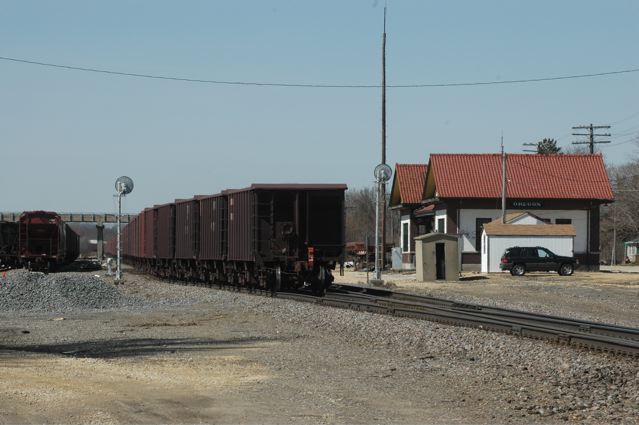 That's the Highway 2 overpass.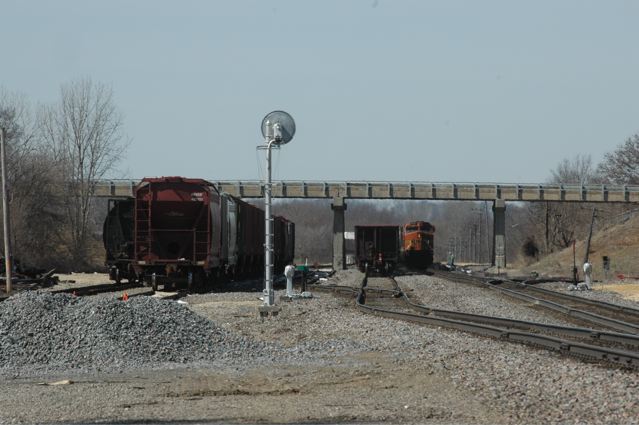 BNSF 5110/986/719 E, 110 cars, merchandise, leaves at 12:12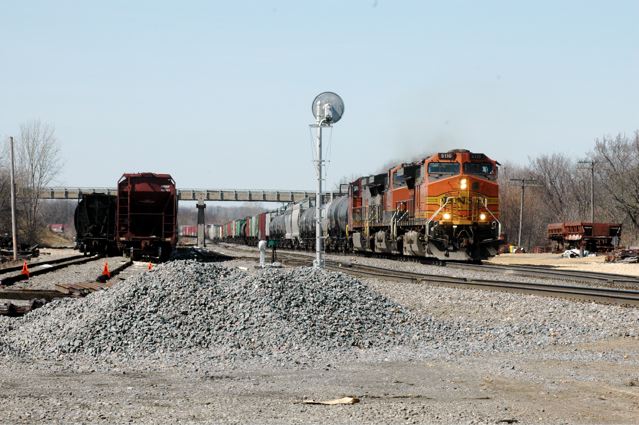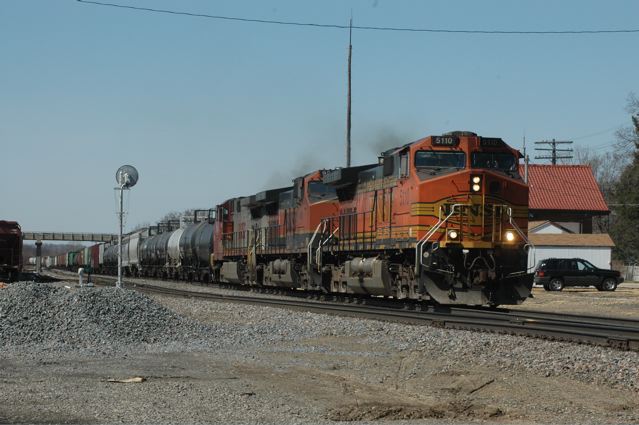 Looks like a panic stop, but no, I just didn't shut the Explorer's passenger door.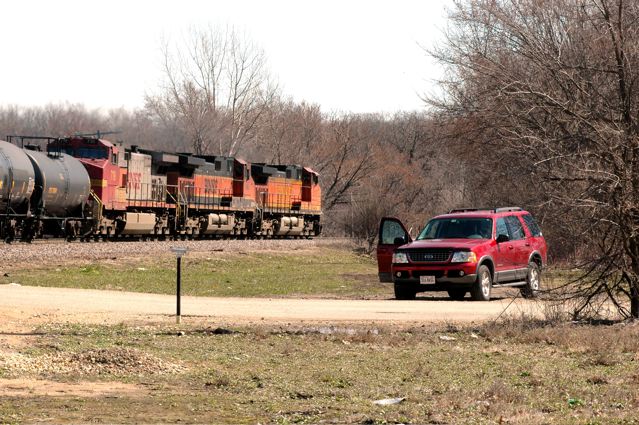 Illinois Railway B23-7 No. 4, ex-Camas Prairie, begins to go to work in the yard. The short line runs the ex-BN/CB&Q Oregon-Mt. Morris branch and switches a mainline customer west of Oregon; separate operations nearby, also ex-CB&Q/BN (and most recently Illinois RailNet), include the Flagg Center-Davis Jct.-Rockford line and the Montgomery (Aurora)-Ottawa-Streator line.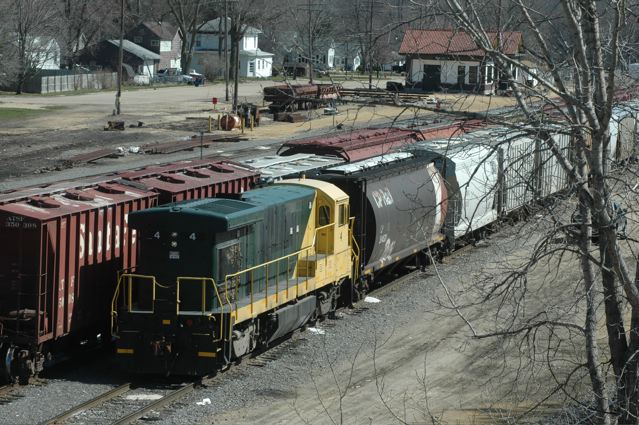 Hearing of 4 more eastbounds out of Savanna, we grabbed a McD's lunch to go and made for Chana, a hamlet with a passing siding between Rochelle and Oregon. BNSF 6041/4014 E, 39 cars of intermodal, 1:05 p.m.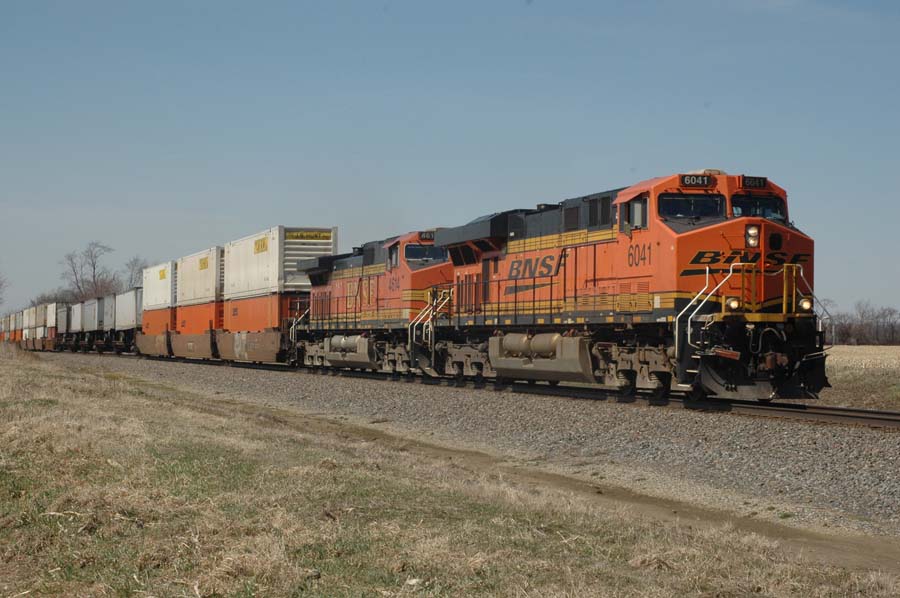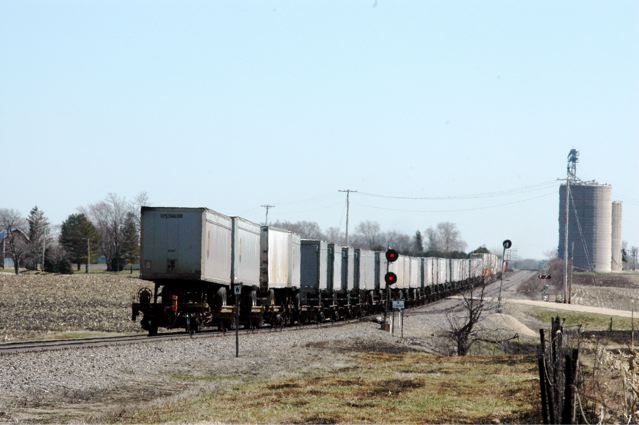 The C&I is mostly still searchlight signals. Note that of the 6 trains we shot at Chana, no two were from the exact same angle, although a couple were from the same spot. Not in the 6 was this tie train, whose crew quit work soon after we arrived. i'm told the power unit began life as an Atlantic Coast Line SW9!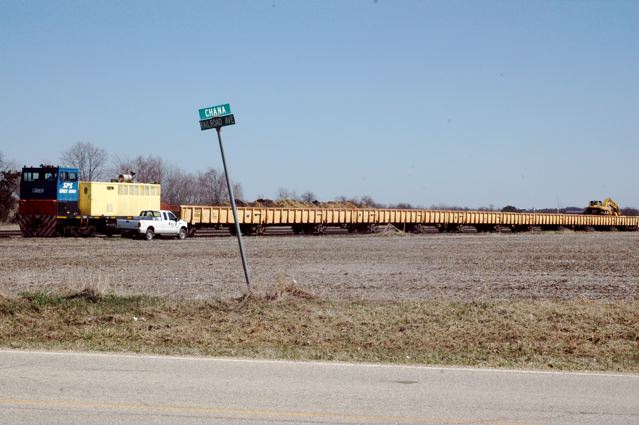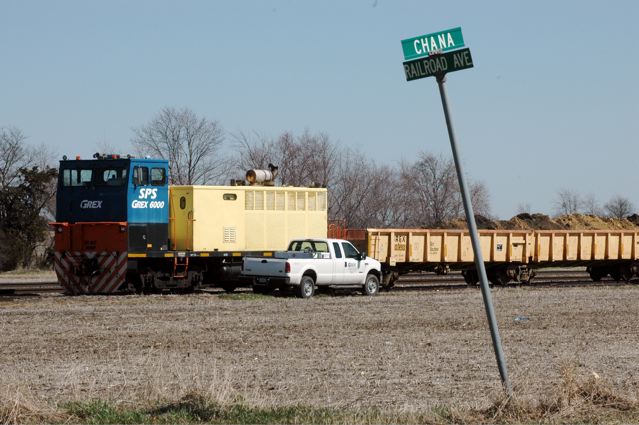 | | |
| --- | --- |
| Westward West Chana home signals. | |
BNSF 4508/4381/725 E, 1:57 pm, "the Seattle," 41 cars (1 well=1 car; car counts from axles on detector readouts)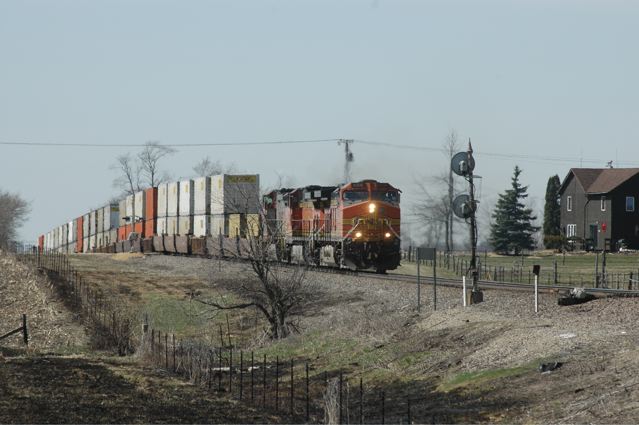 Taking siding for a meet ...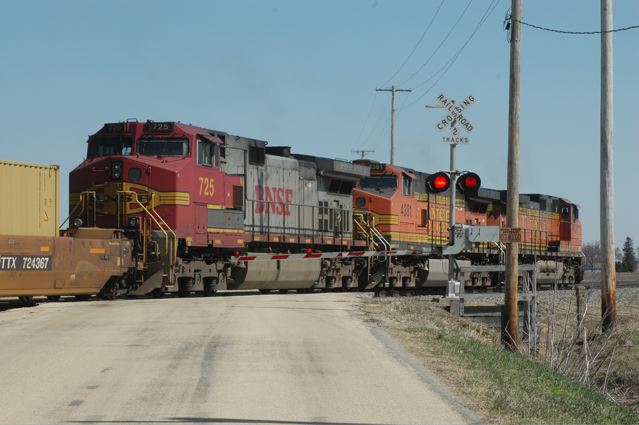 BNSF 4870/4832, 44 cars, "the St. Paul", 2:02 pm.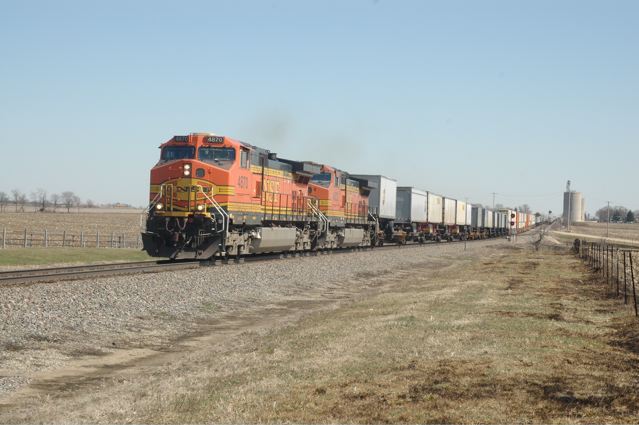 Two signs, in case a train is stopped and blocks the other sign, I suppose. It's "Chay-na"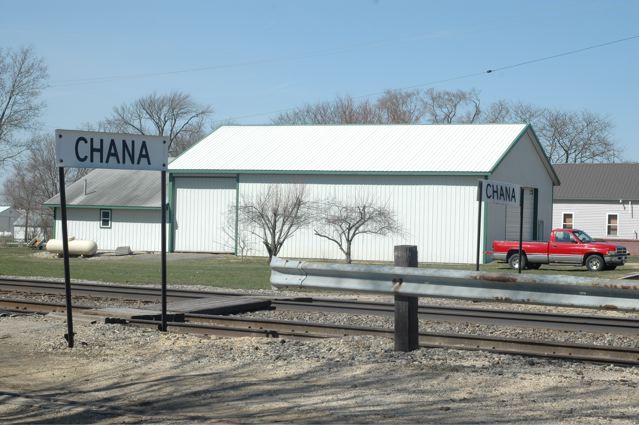 BNSF 4903/4688/4849 E, 2:44, Grist Mill Road east of Chana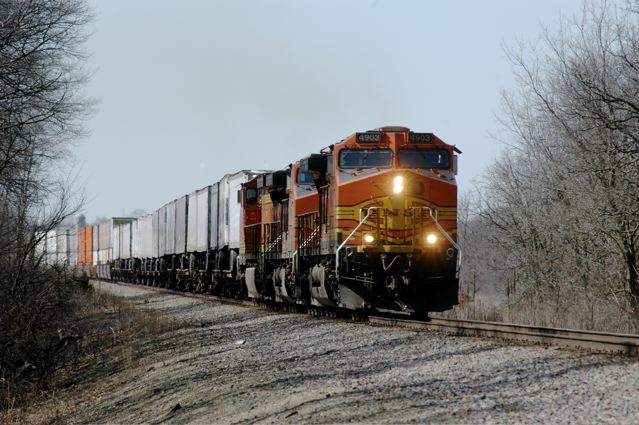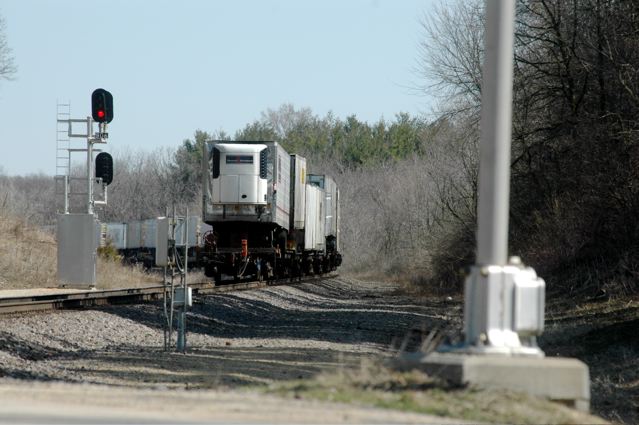 Close--up of power unit on tie train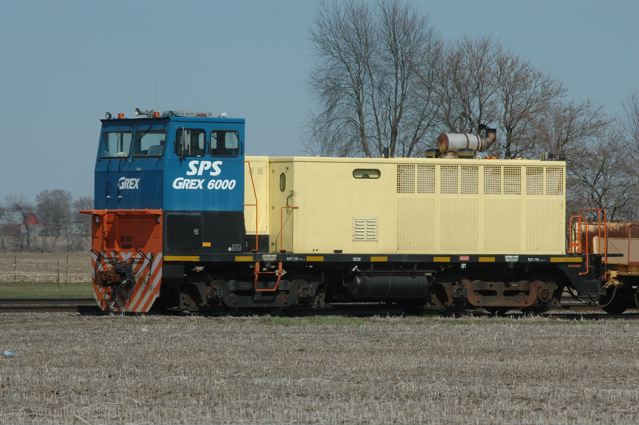 BNSF 4970/5405/1035 W, 76 cars, 3:10, in siding for a meet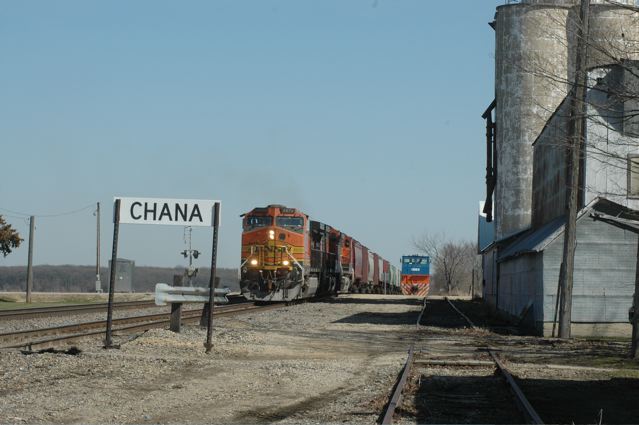 BNSF 5887/650/977 E, 85 cars, 1 mile east of Chana, 1 mile west of Grist Mill Road, 3:18 p.m.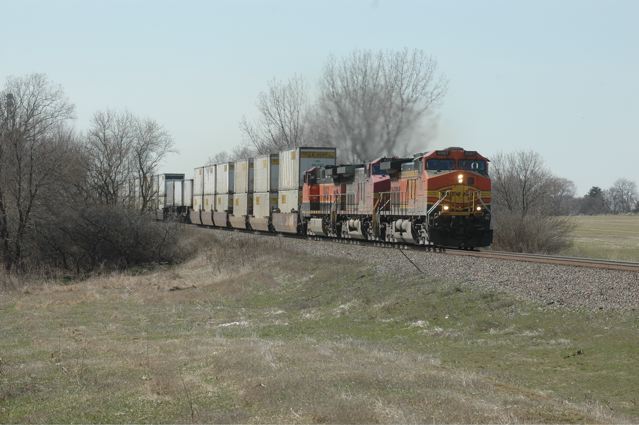 We finally reached Rochelle at 3:35. Our first train (slide only on coming-on shot) was UP 6492/6471 E, coal loads with UP 6260, patched SP, as DPU, 3:40 p.m. In distance is westbound shuttle to Global 3.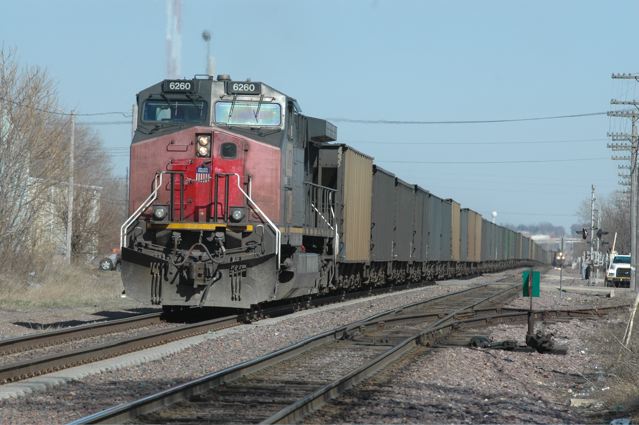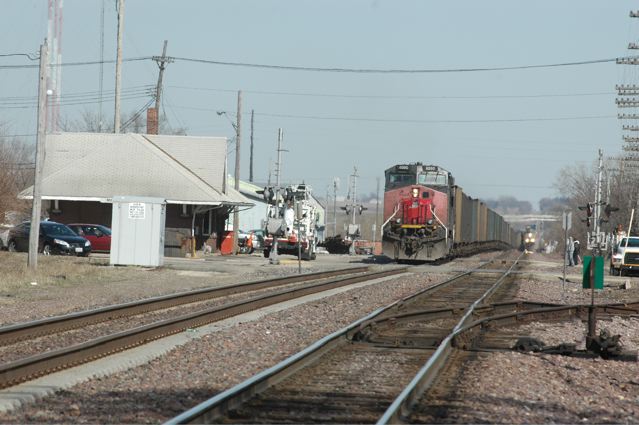 UP 5545 W, 24 cars, DPU 7453, shuttle to Global 3 from Chicago. 3:47 p.m.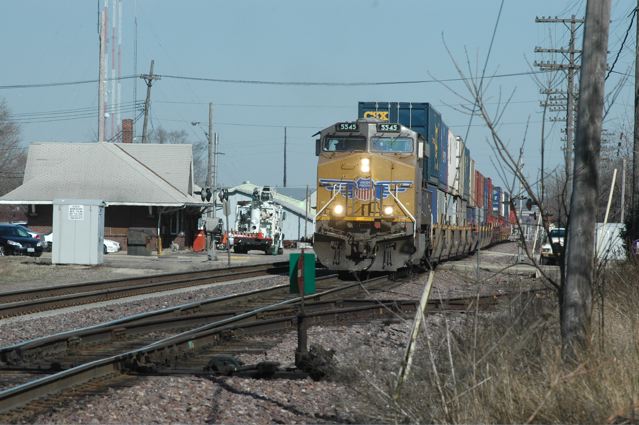 UP M/W work train, pushed by self-powered crane, moved by the Railroad Park, 4:03 pm.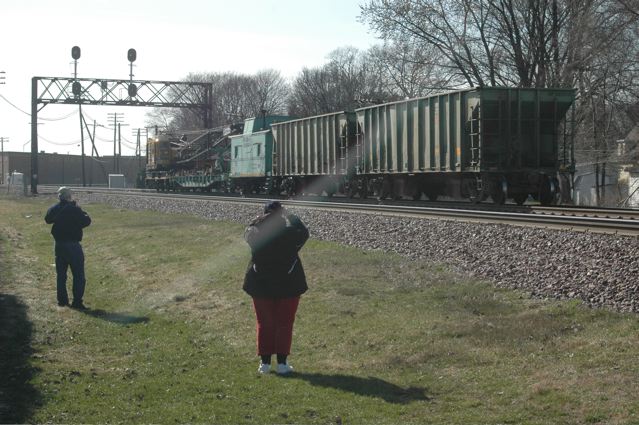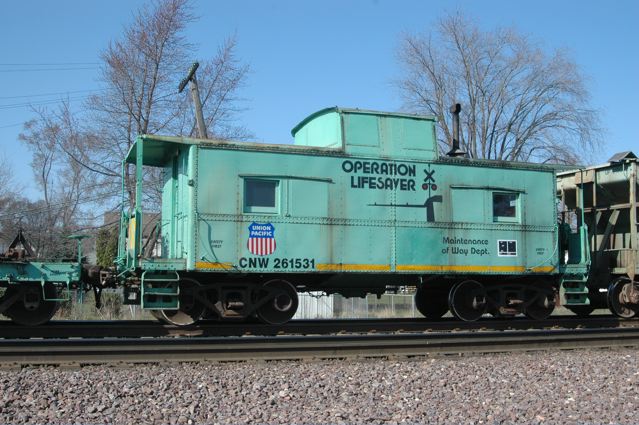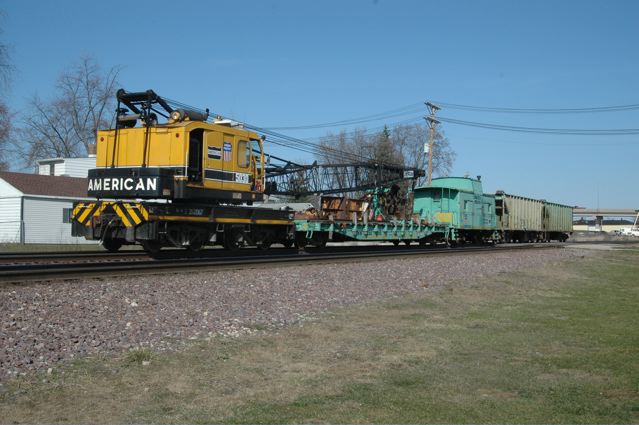 After BNSF 4387 W (slide only) at 4:08, was UP 8153/8162 W at 4:21 pm.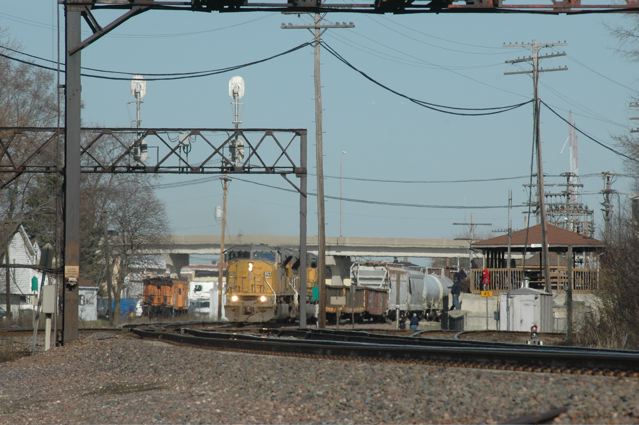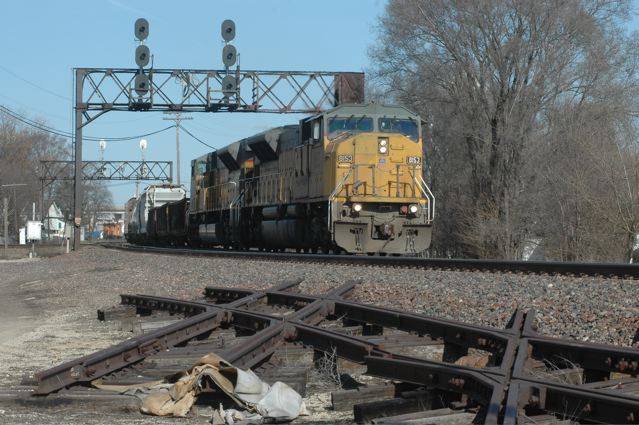 The taggers got the BNSF local engine. 4:50 pm.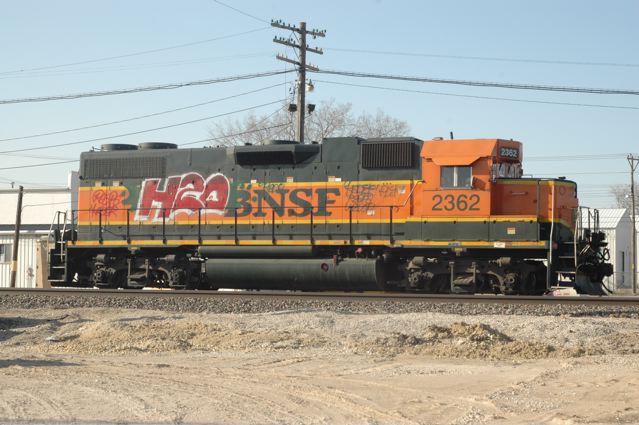 UP 6509/6719 W, DPU 5857, 4:52 pm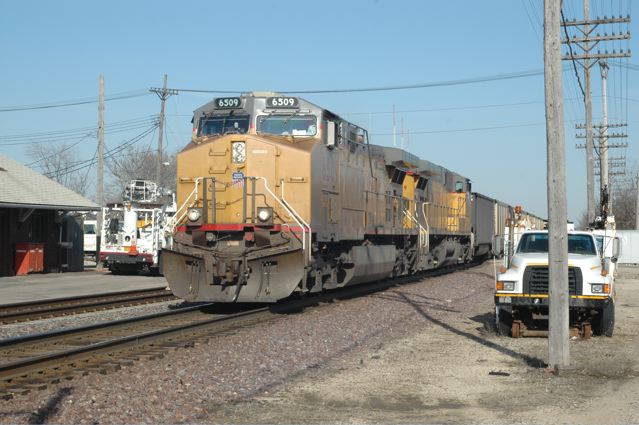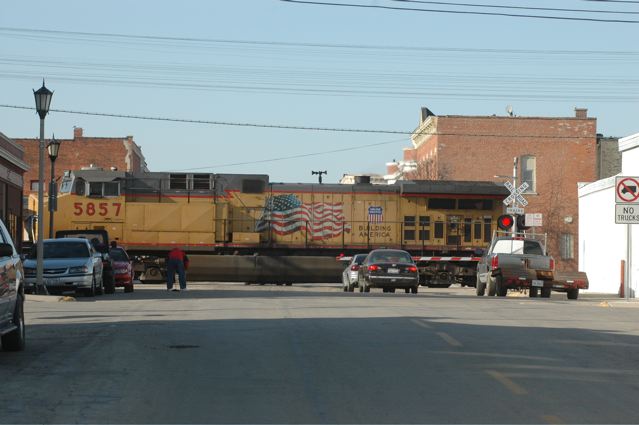 BNSF 1013/4696 W, 1st Ave. crossing, 5:02 pm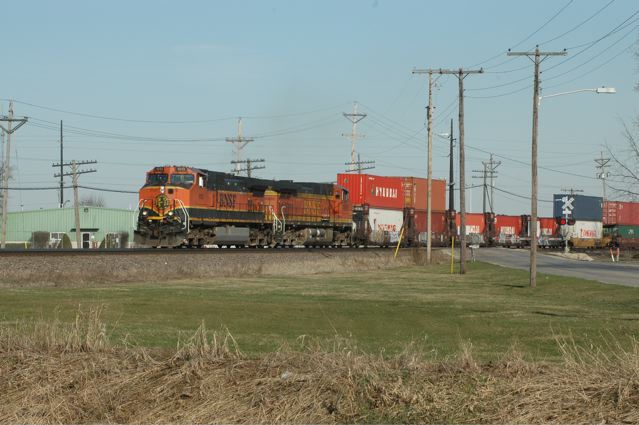 BNSF 4132/671/608, Steam Plant Road (I-88 bridge in background), 5:24 pm.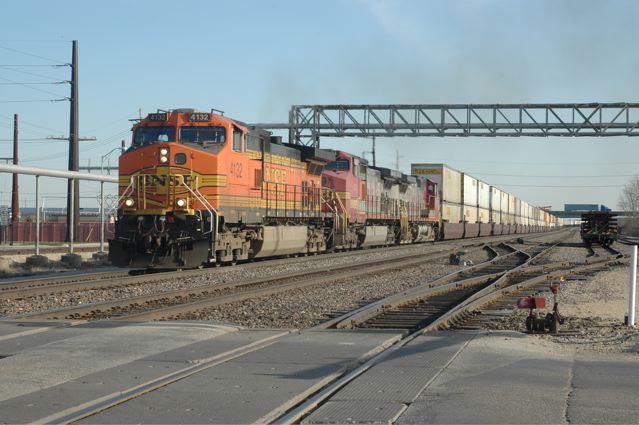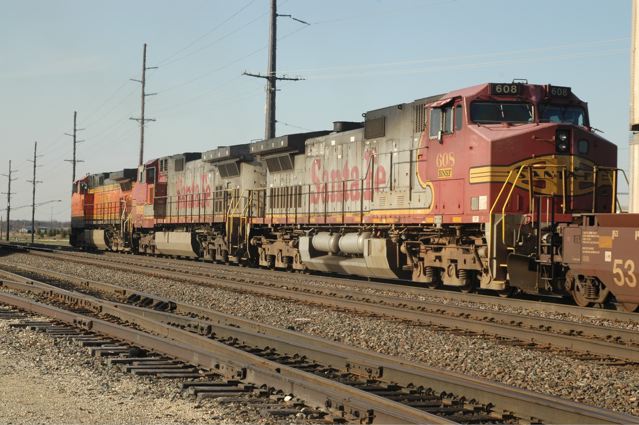 Things got quiet; we visited the industrial park where Rochelle Railroad contractor Burlington Junction parks its units, this creature and an ex-CN MLW-built Alco-style switcher, 8711.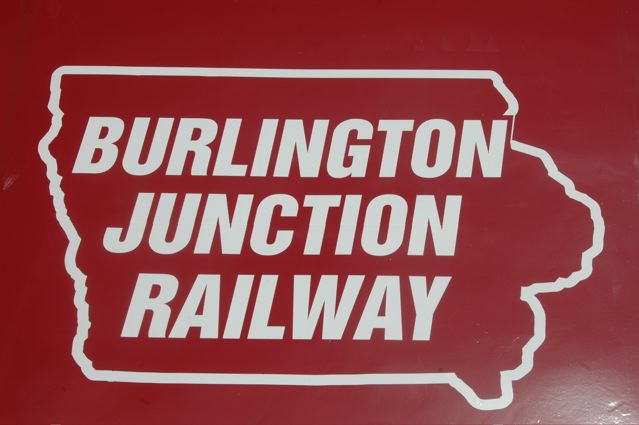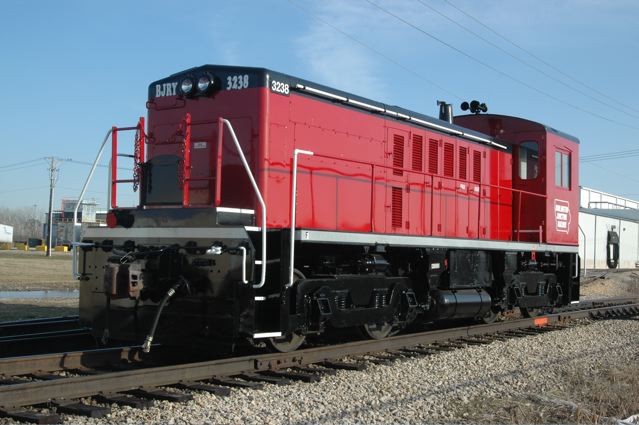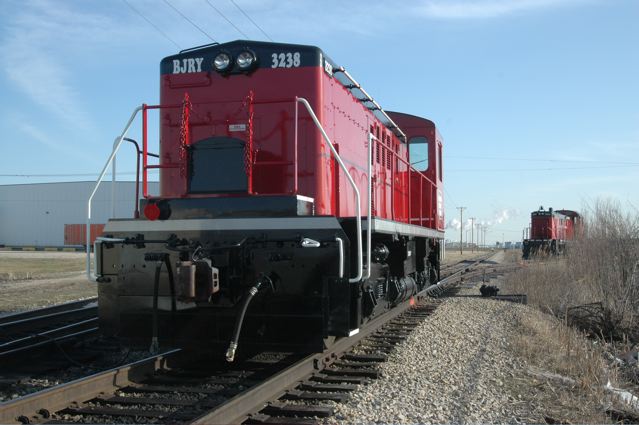 We left town after these shots at 5:30, heading for a dinner stop in Rockford and home before 9 p.m.
-- Dave Ingles
This page was designed and is maintained by Mike Condren. If you have materials
that you would like to contribute, contact me at mcondren@cbu.edu