Another Day on BNSF's C&I Aurora Sub
Oct. 15, 2010
Photos by Dave Ingles
Reprising our day trip of March 26, 2010, Jeff Madden and I headed out on Friday, Oct. 15, last day in a week that saw solid days of sunny skies, moderately nice fall color, and warm temperatures. The scanner was silent on the DM&E (IC&E) around Davis Junction, so we headed directly for Oregon, Ill., to concentrate on the BNSF's C&I portion of the Aurora Sub, between Oregon and Savanna. We never heard of an official work window, but we finally scared up our first train just east of Savanna. Our first stop was at Oregon to photo the parked units of short line Illinois Railway, which operates the 7- mile Mt. Morris branch and also switches a busy Unimin plant just west of Oregon on the main line.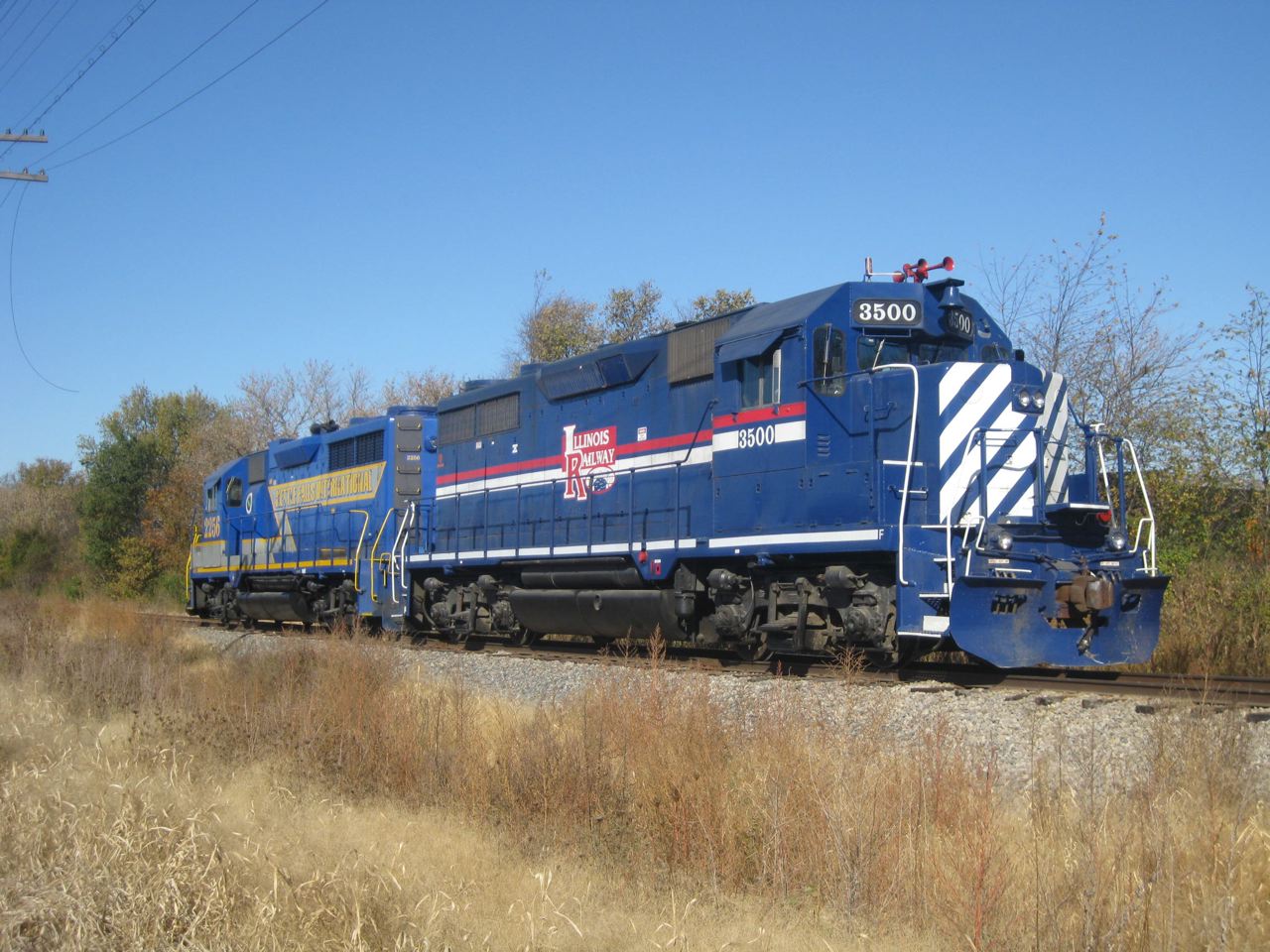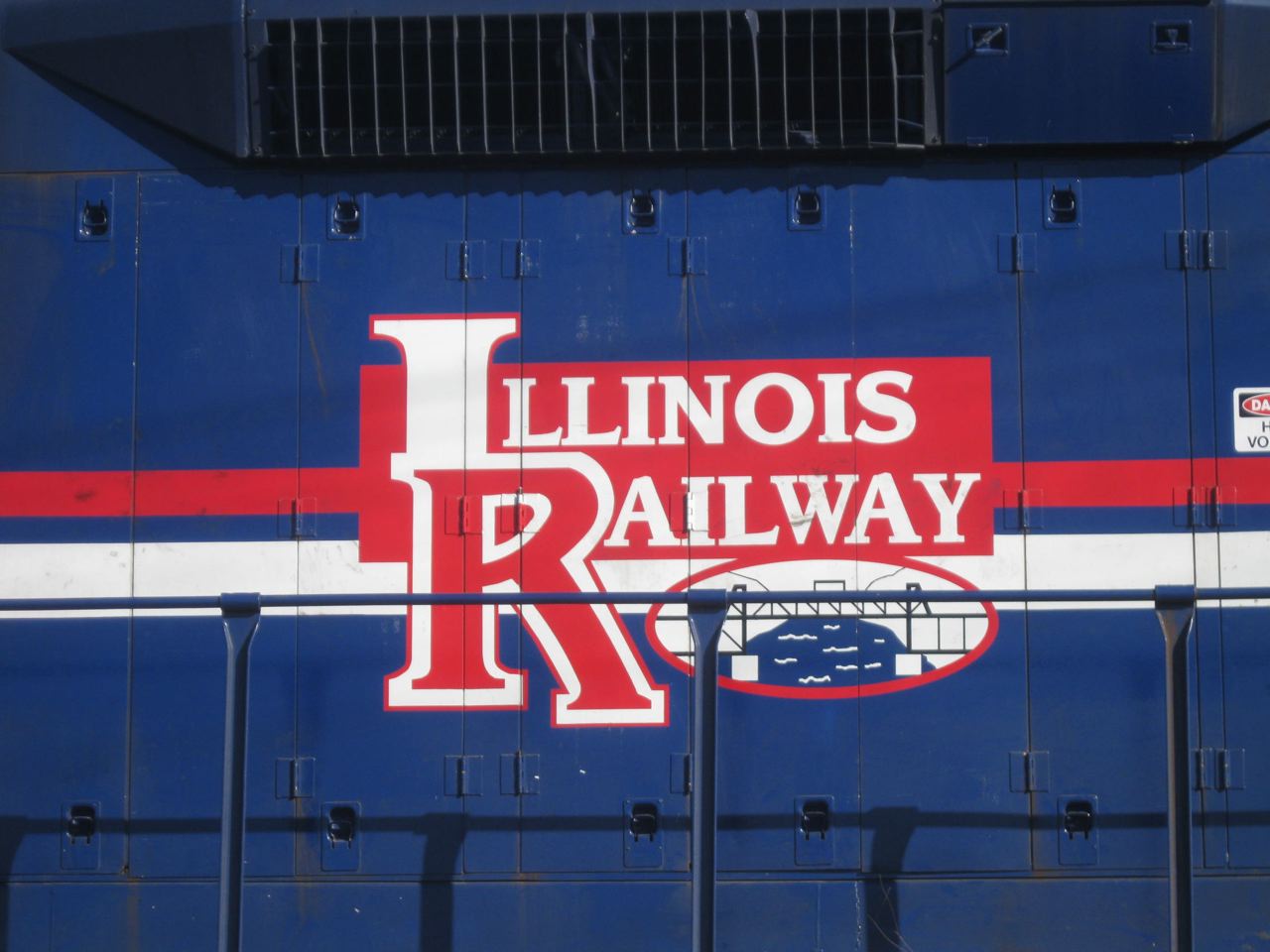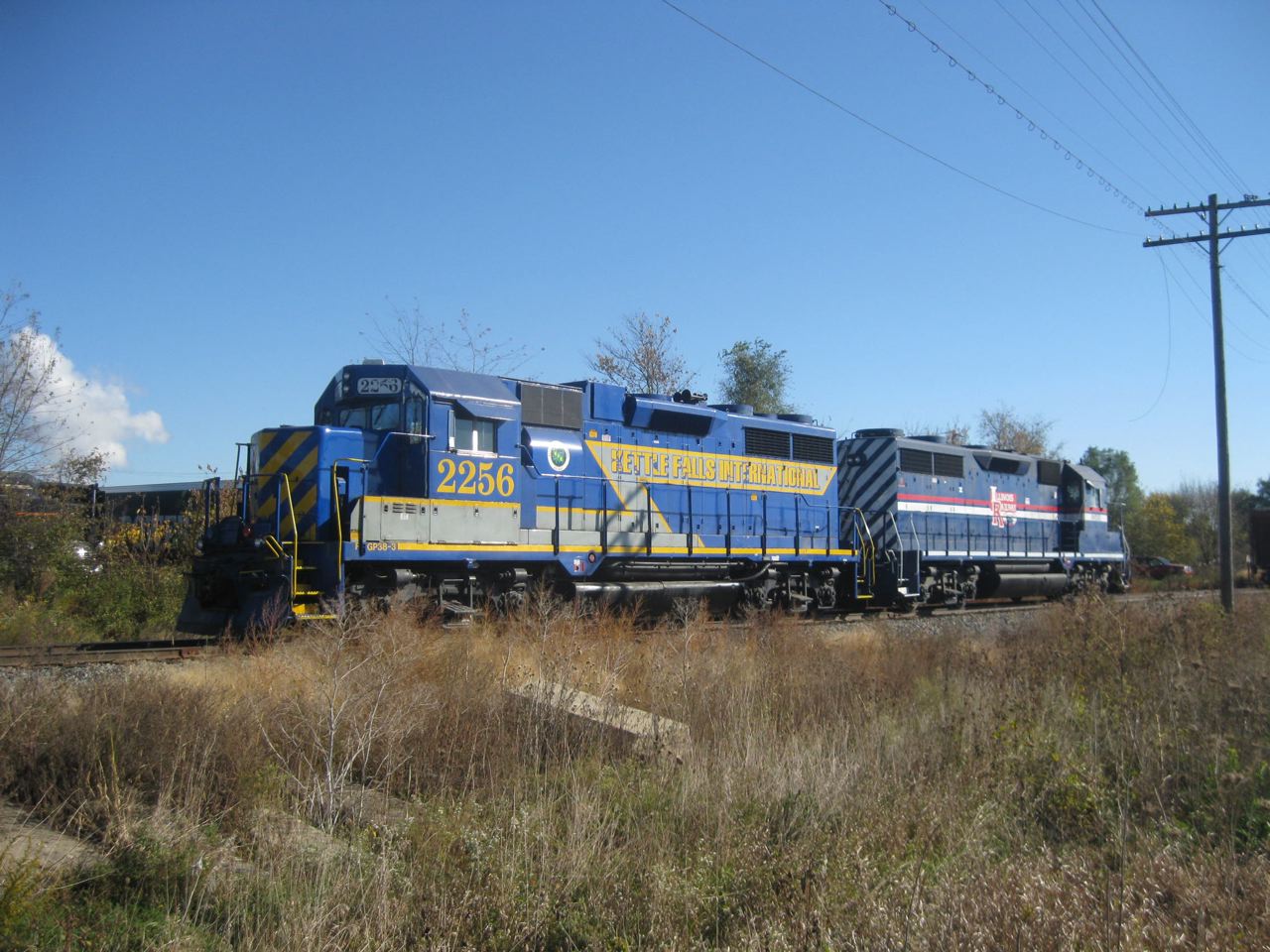 Since we had no trains, as we followed the line west we made do with "icons," such as the overpass with Burlington Route emblems and the town mural in Milledgeville.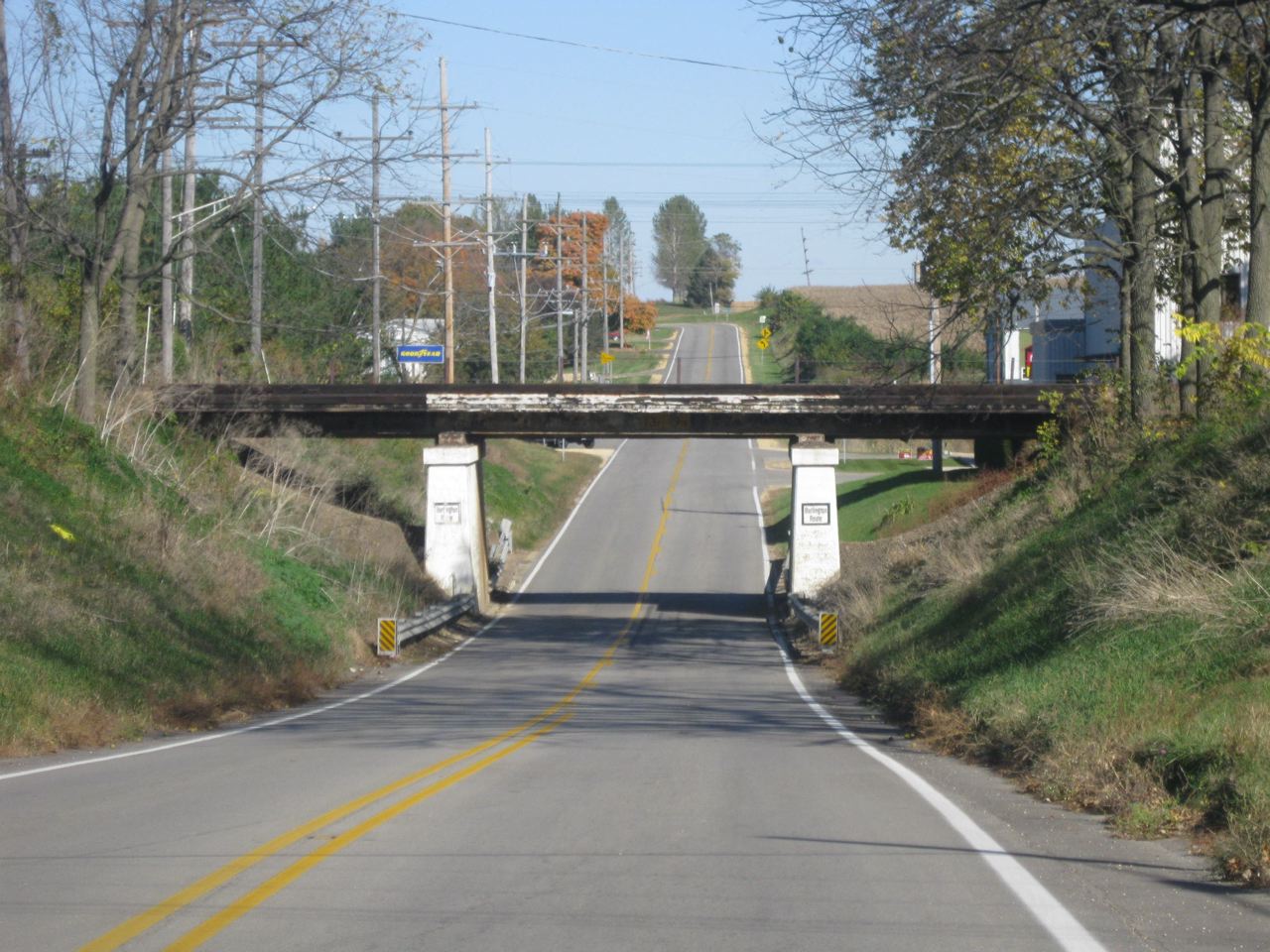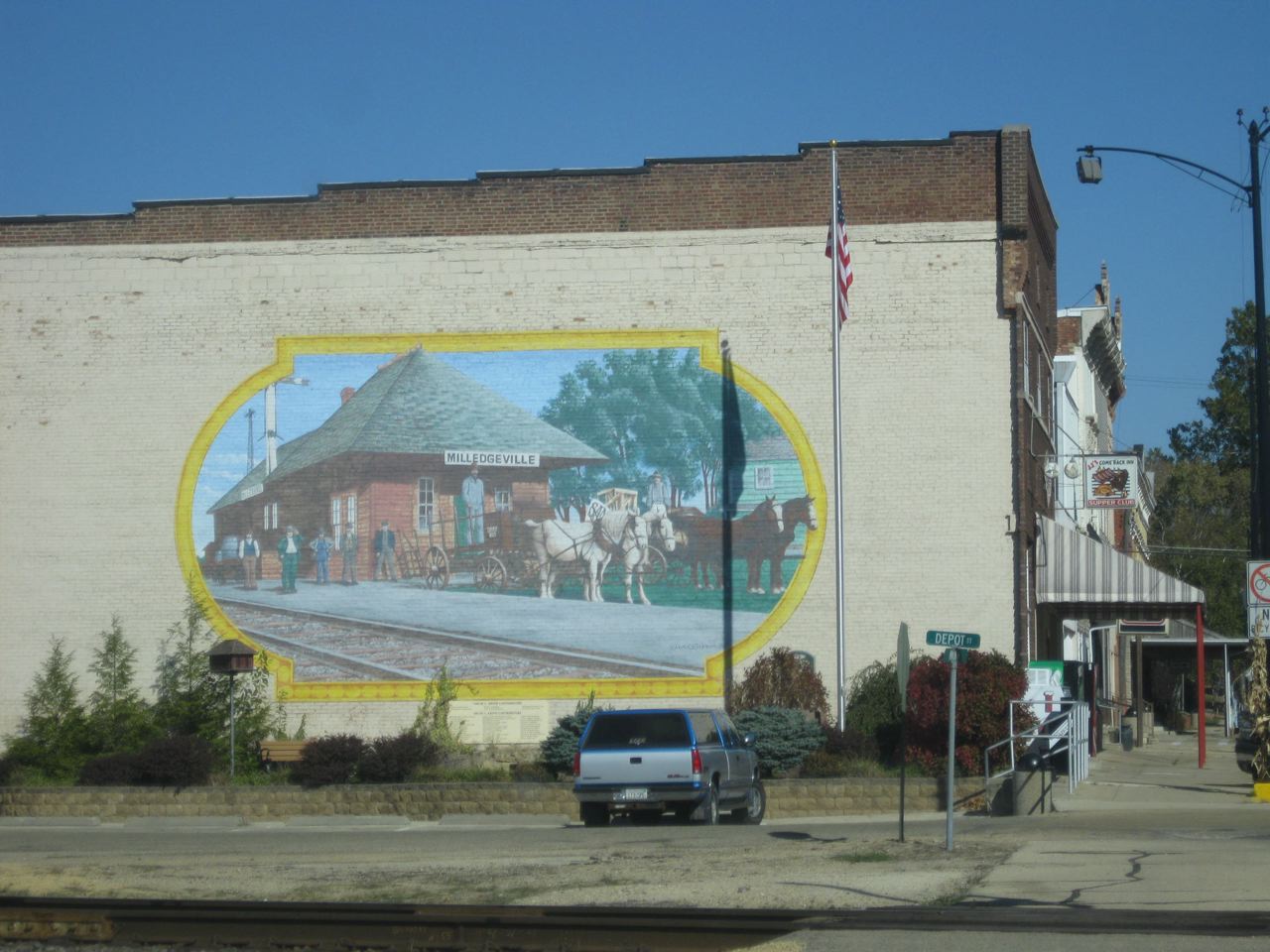 Finally, at a point just east of Burke siding, maybe 10 miles out of Savanna, we caught this intermodal going over the fill where once upon a time, on an old CB&Q alignment, there was a trestle over a Milwaukee Road cutoff branchline taking its line along the river up to the east-west line near Mt. Carroll. As always, slides take precedence, so these digital pix are not the prime frames of any train.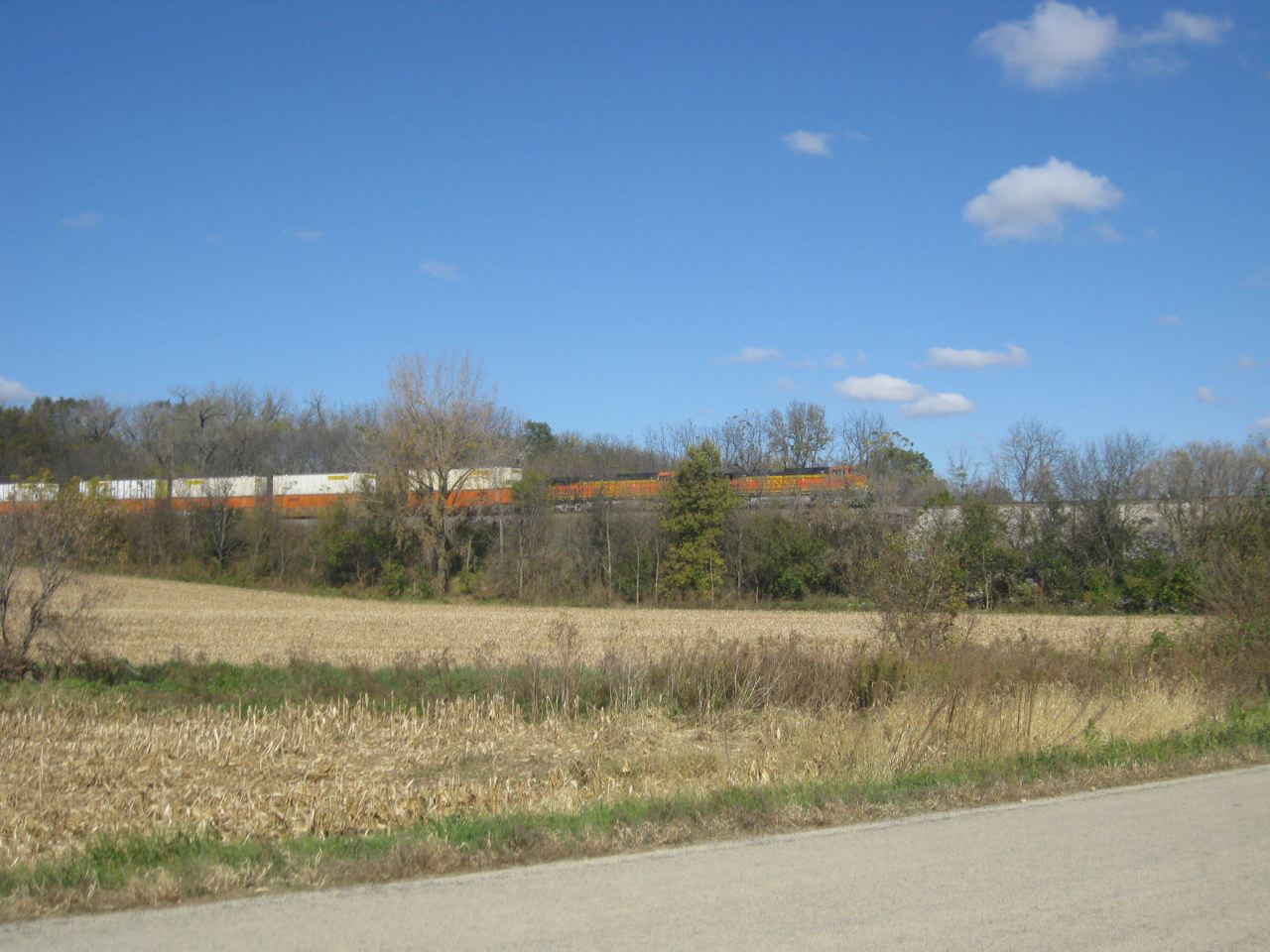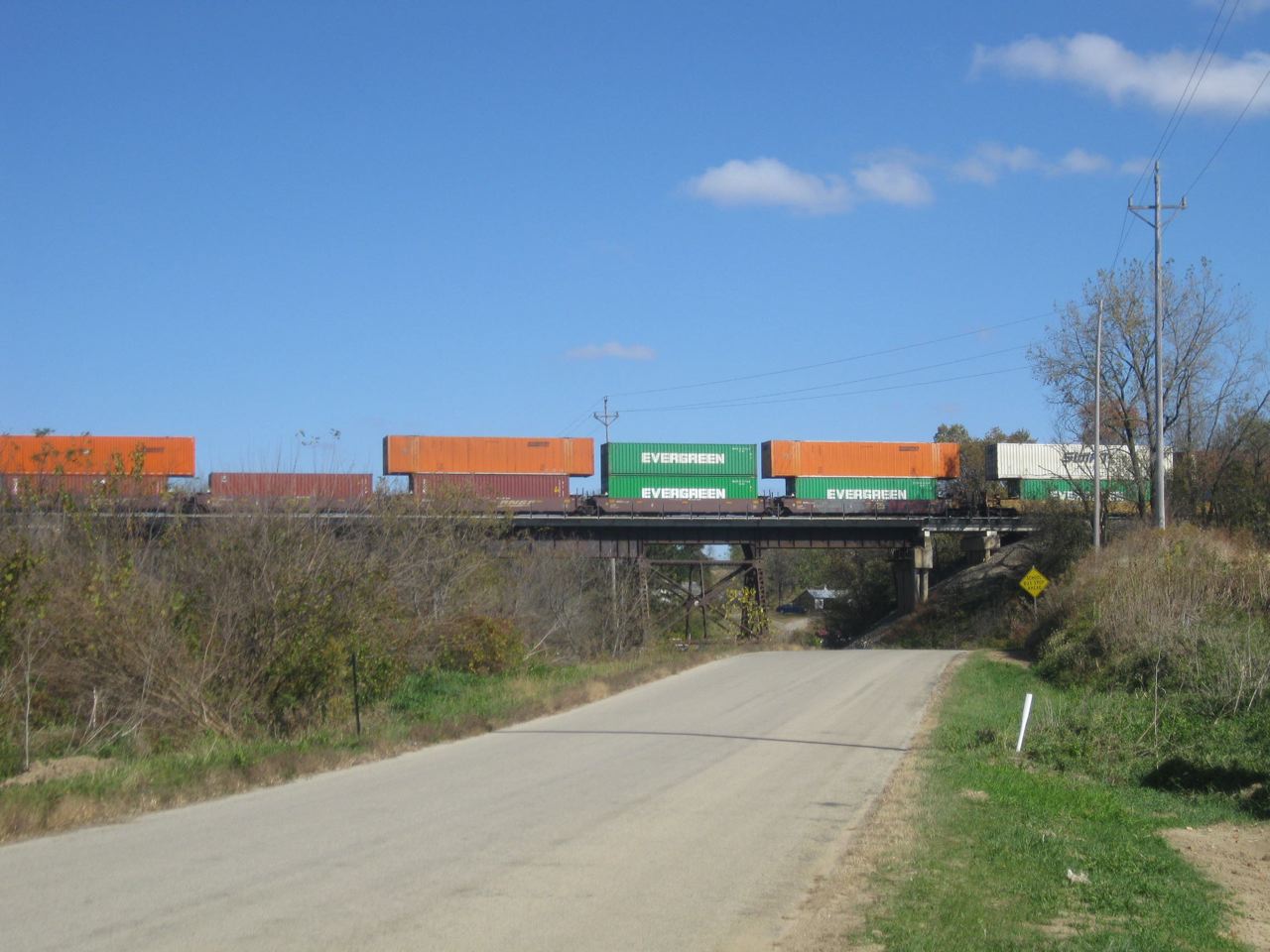 Savanna yielded one eastbound DM&E train parked west of the BNSF diamond, and another over at the wye west of Sabula, Iowa, with both main tracks in Savanna blocked with train consists without power or FRED. As the d.s. said, "We're all gummed up around Savanna." We did go over to Sabula, and as you can tell the Mississippi River water was very high. This looks north on the causeway of US 52 north of Sabula and west (south) of the Miss. River bridge.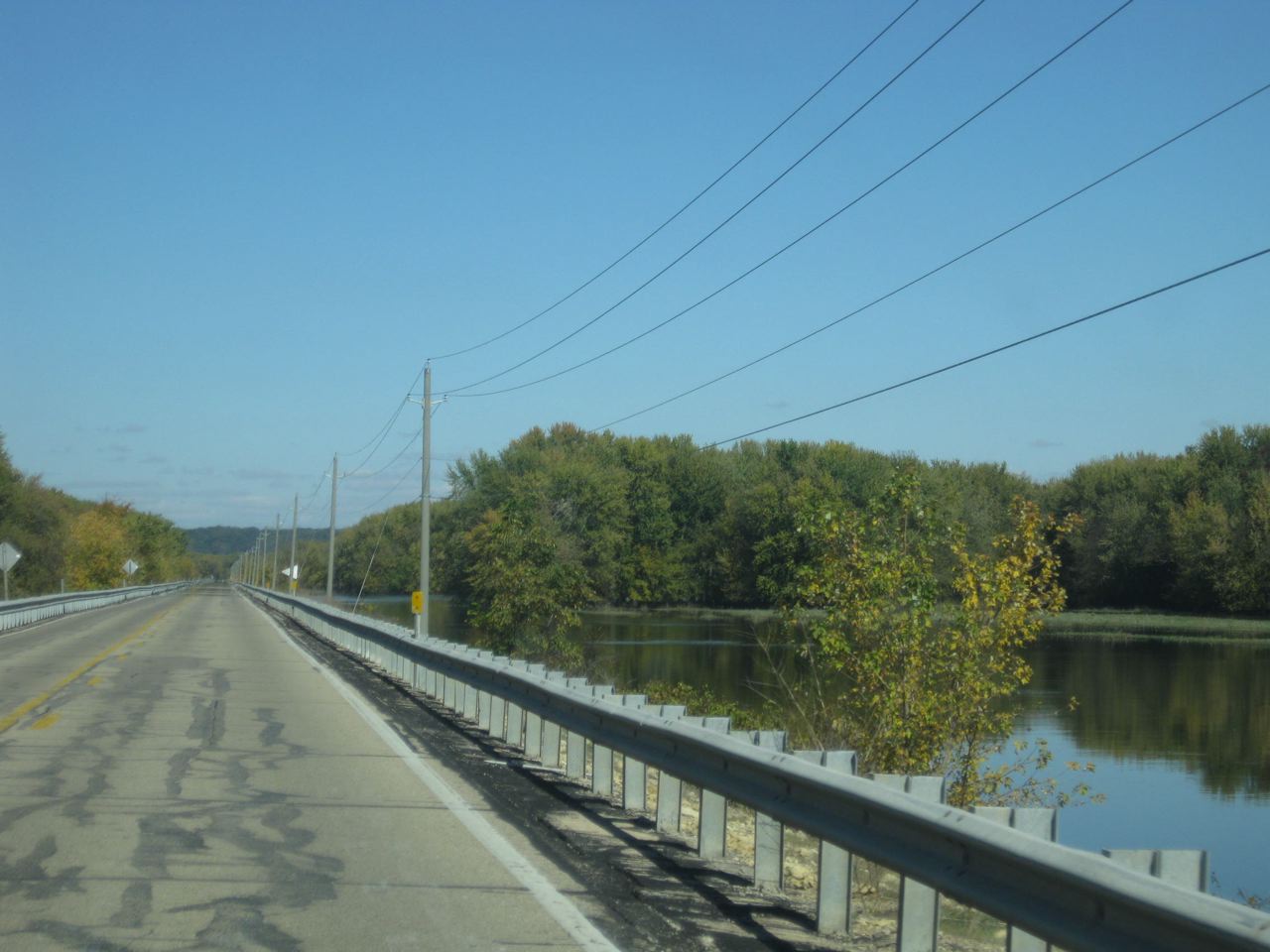 This is one of the narrower Miss. River highway bridges in the region. We're returning to Illinois.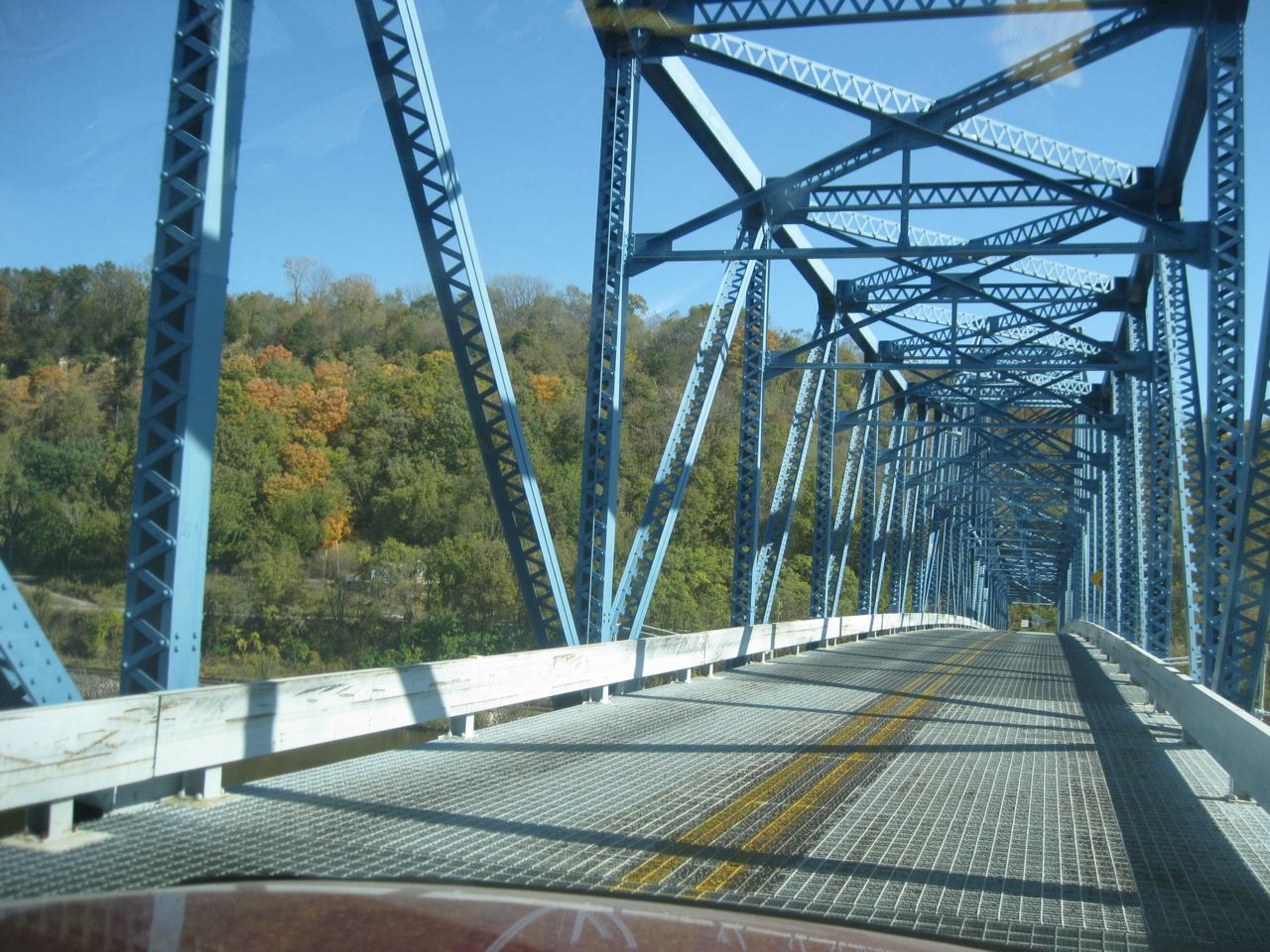 We headed east, and soon heard of another eastbound, which we photographed just east of Chadwick from a farm-road "rainbow" wooden bridge. At this train speed, no time to work both slides and digital on the coming-on photo. These look east toward Milledgeville.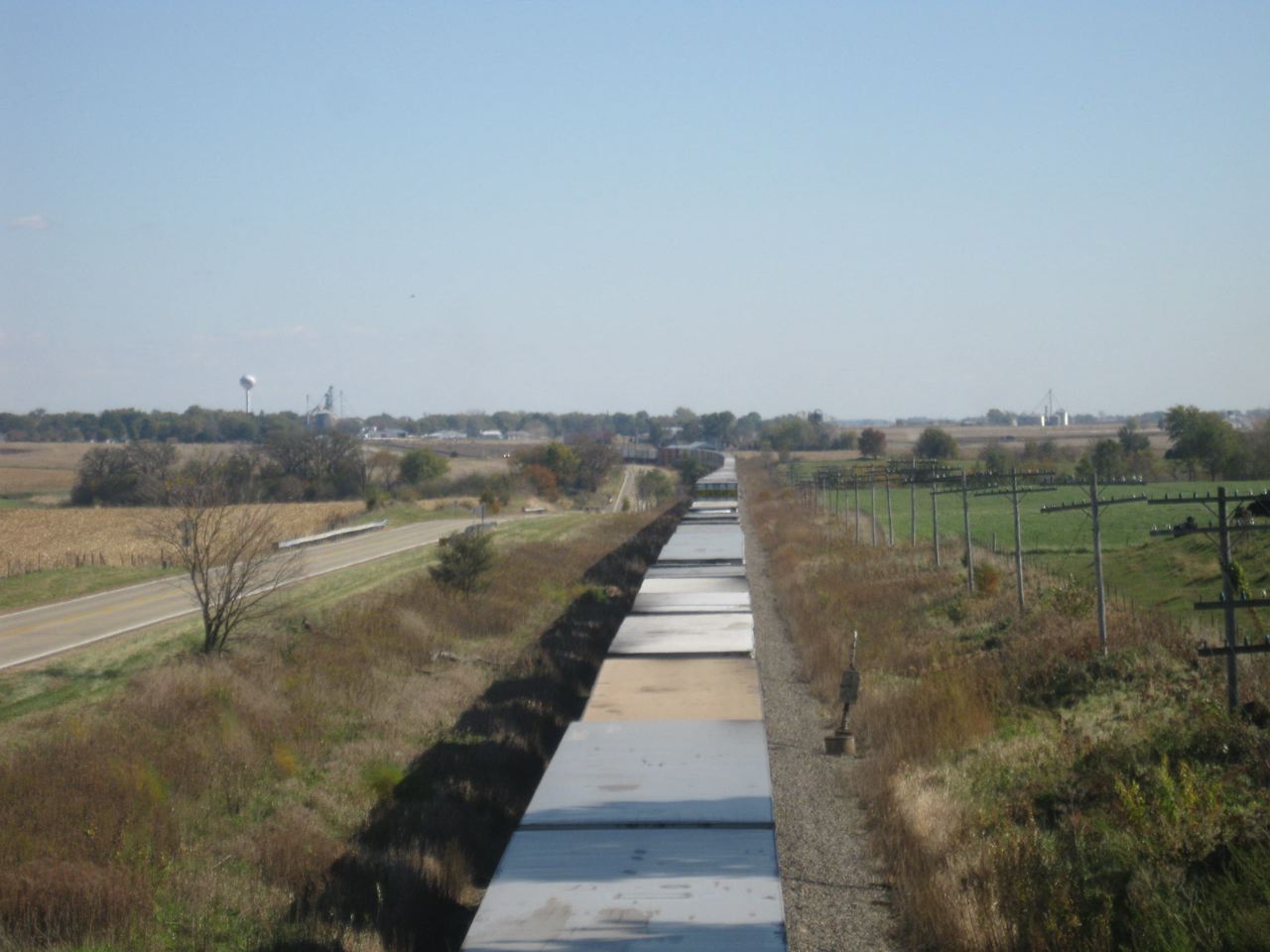 Knowing we'd have the usual three afternoon westbounds, we camped east of Polo, where there are two wooden overheads (this is the westerly one) with a grade crossing in between. Again, no digital of the coming-on view of the first train.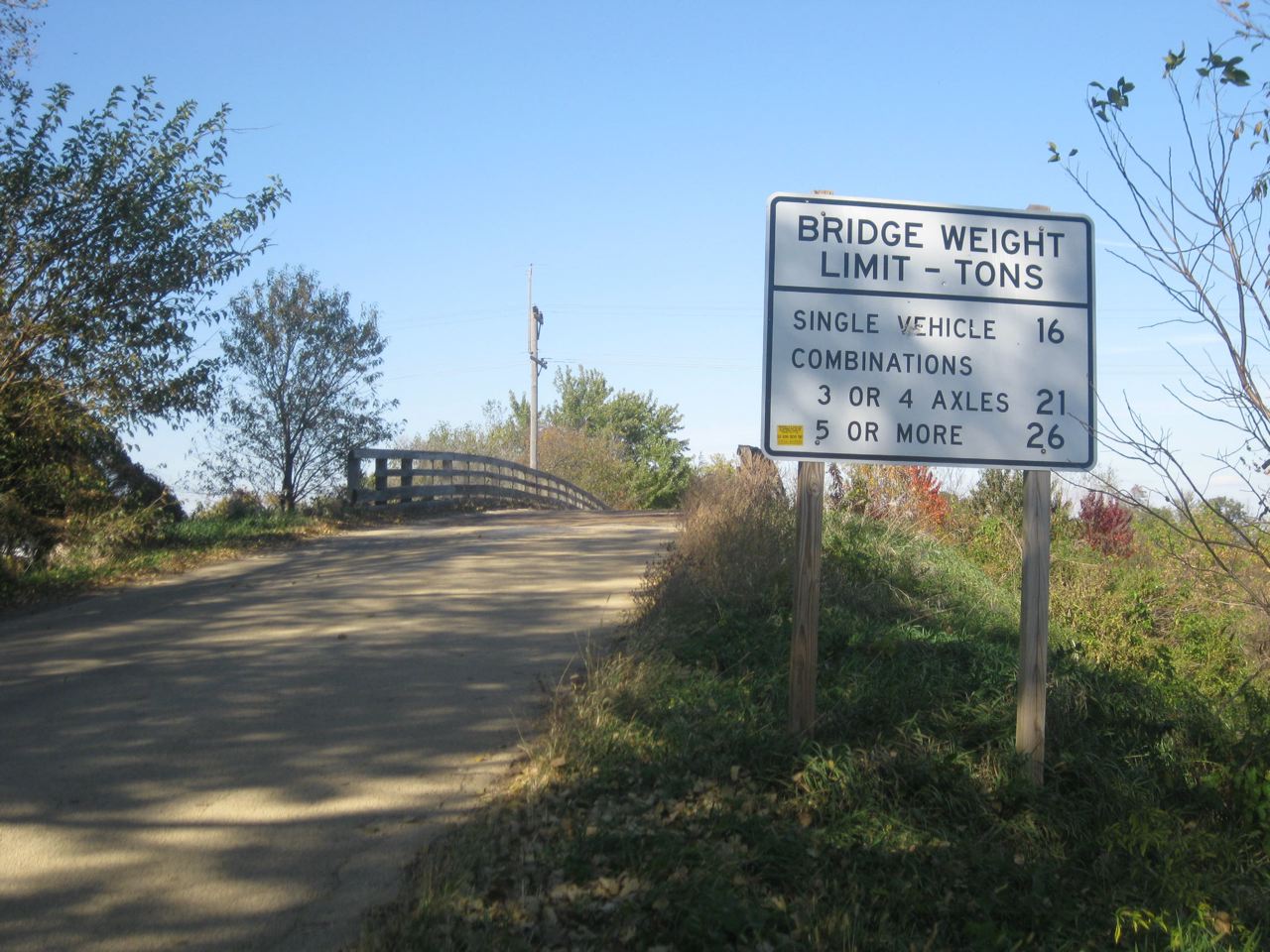 We then went over to Hazelhurst, a hamlet just east of those two bridges, for an eastbound.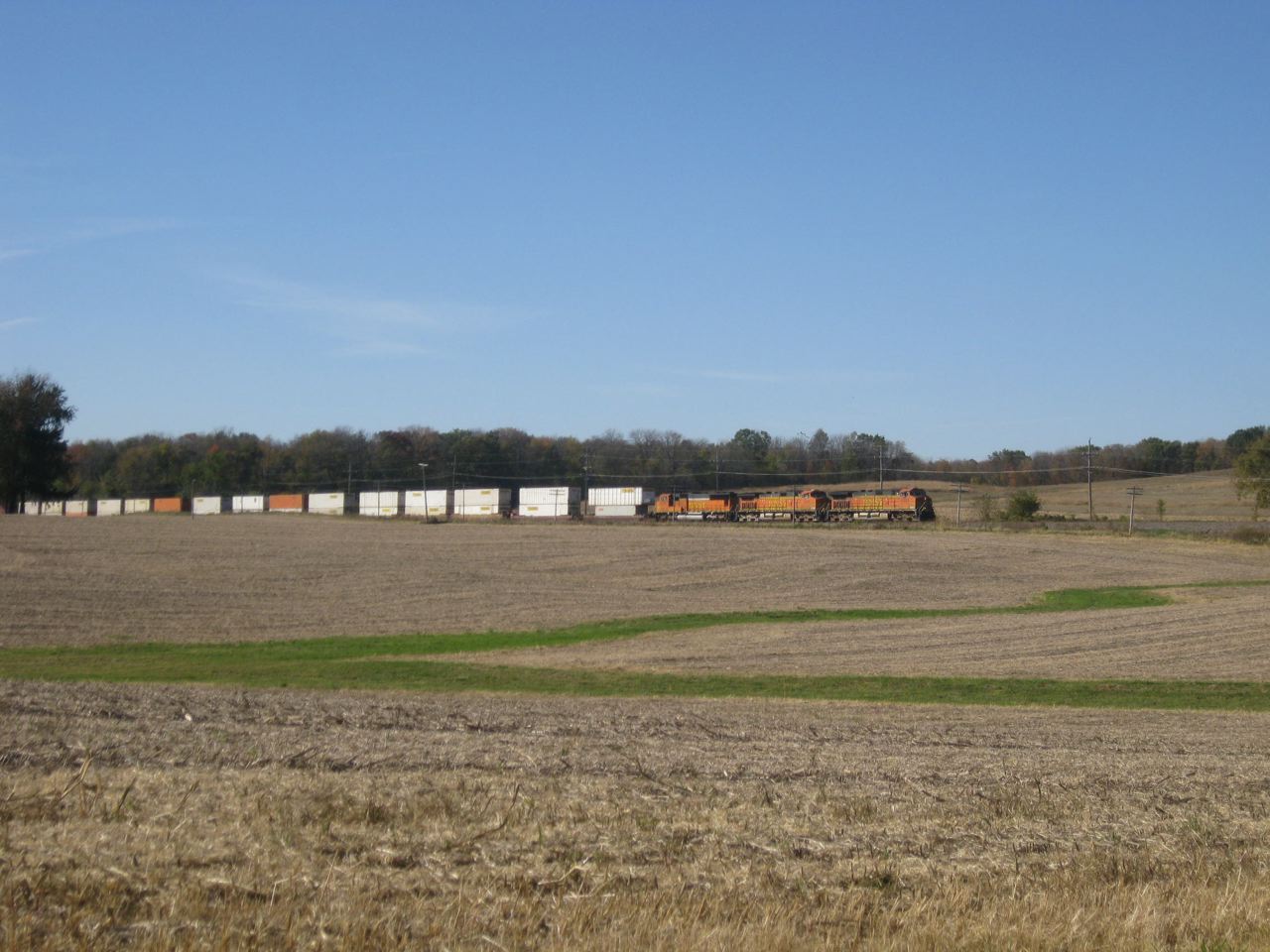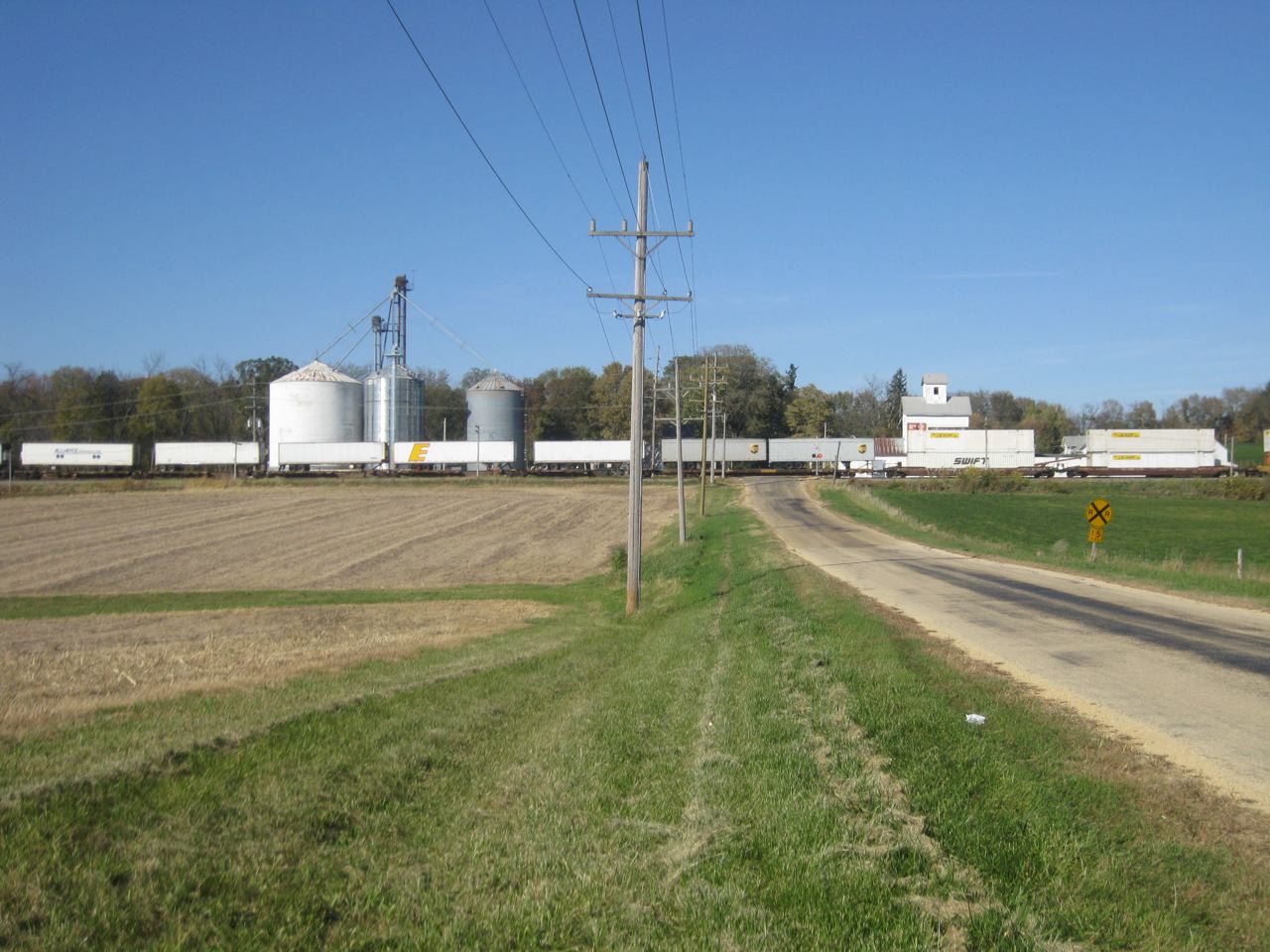 Expecting the 2nd westbound, we backtracked to Polo and camped on Highway 26 bridge, where we could see the eastward approach signal to Stratford passing siding. The abutments are the former Illinois Central "charter line" overpass, the line linking Cairo, Freeport, Galena, and East Dubuque originally. (IC later built from Chicago to Freeport and north to Madison, Wis.) The "Charter Line" is mostly gone, with small stretches in place around Vandalia, Decatur, Clinton, and La Salle.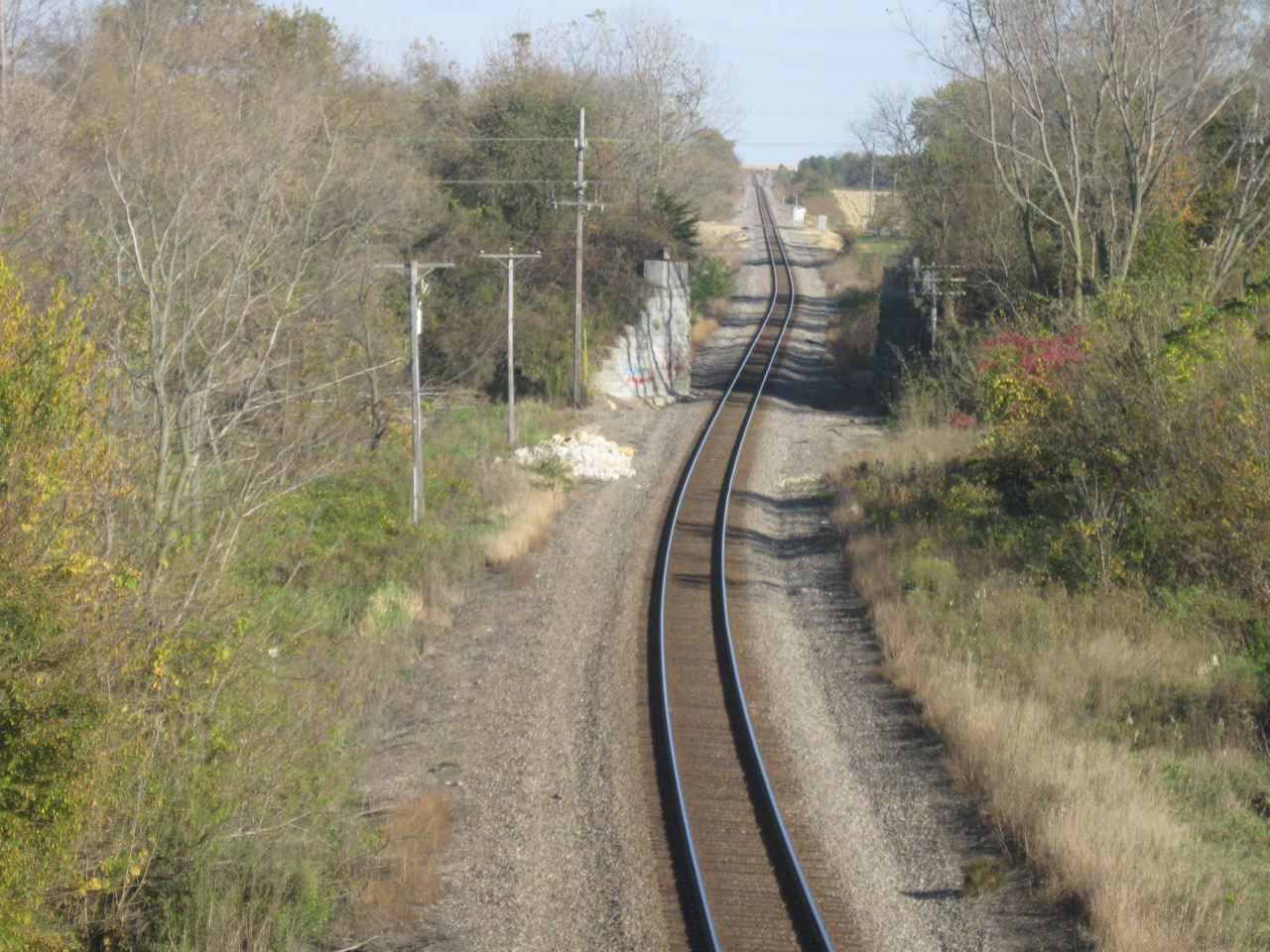 When the signal changed to "approach," we were stunned to turn and see -- already upon us -- a two-unit, 5-car local freight, which we think we saw buried in the yard at Savanna, no activity apparent.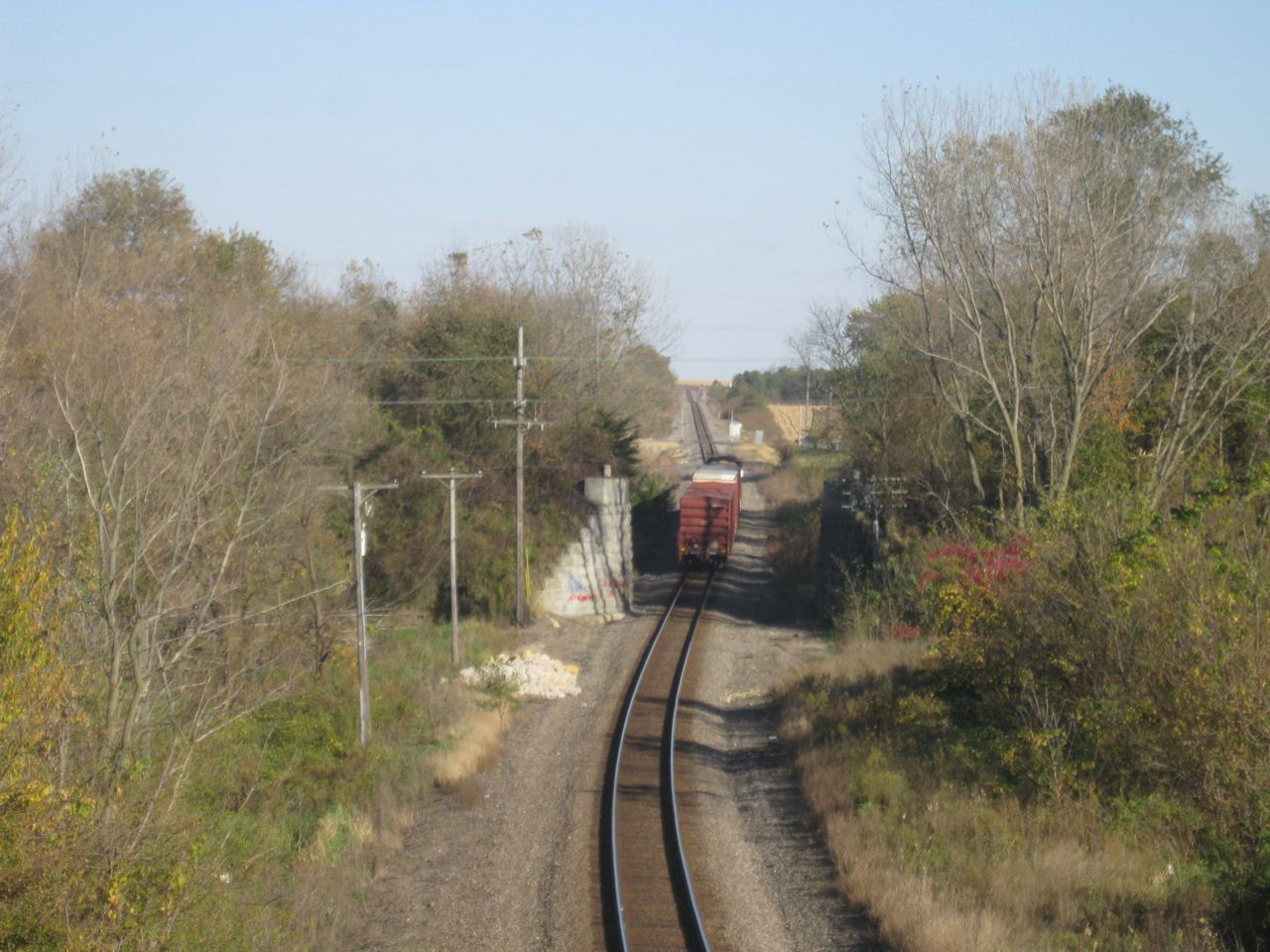 We headed for Stratford in time to get the next westbound, which radio talk had led us to believe was the last of the three. After a long wait, the one we anticipated, with a "Warbonnet" in the lead, finally showed up.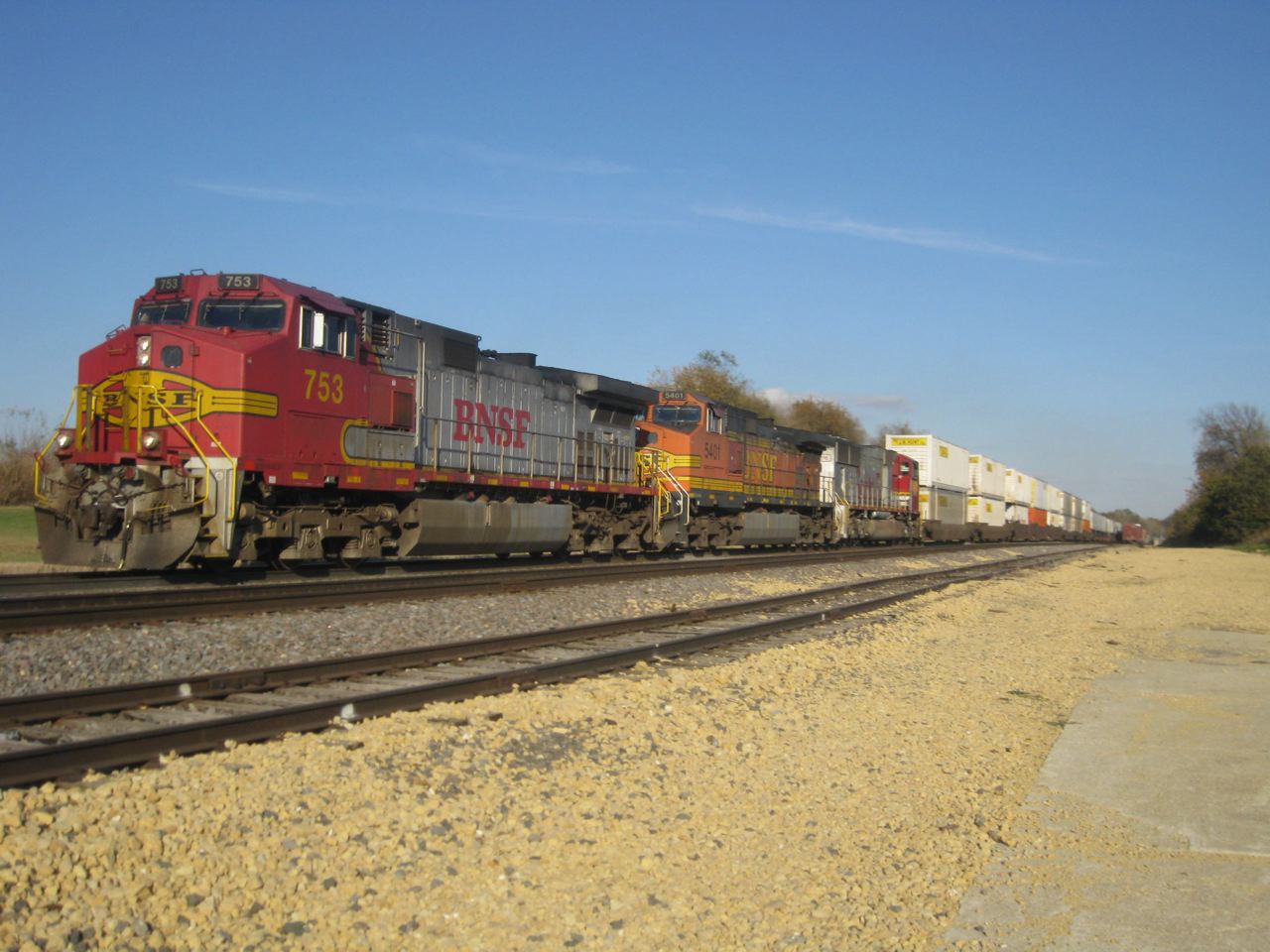 Foolishly, we left to go on east for another shot of the local. Turns out, he didn't leave after this train passed, and we missed the third westbound near White Pines State Park, didn't see the power.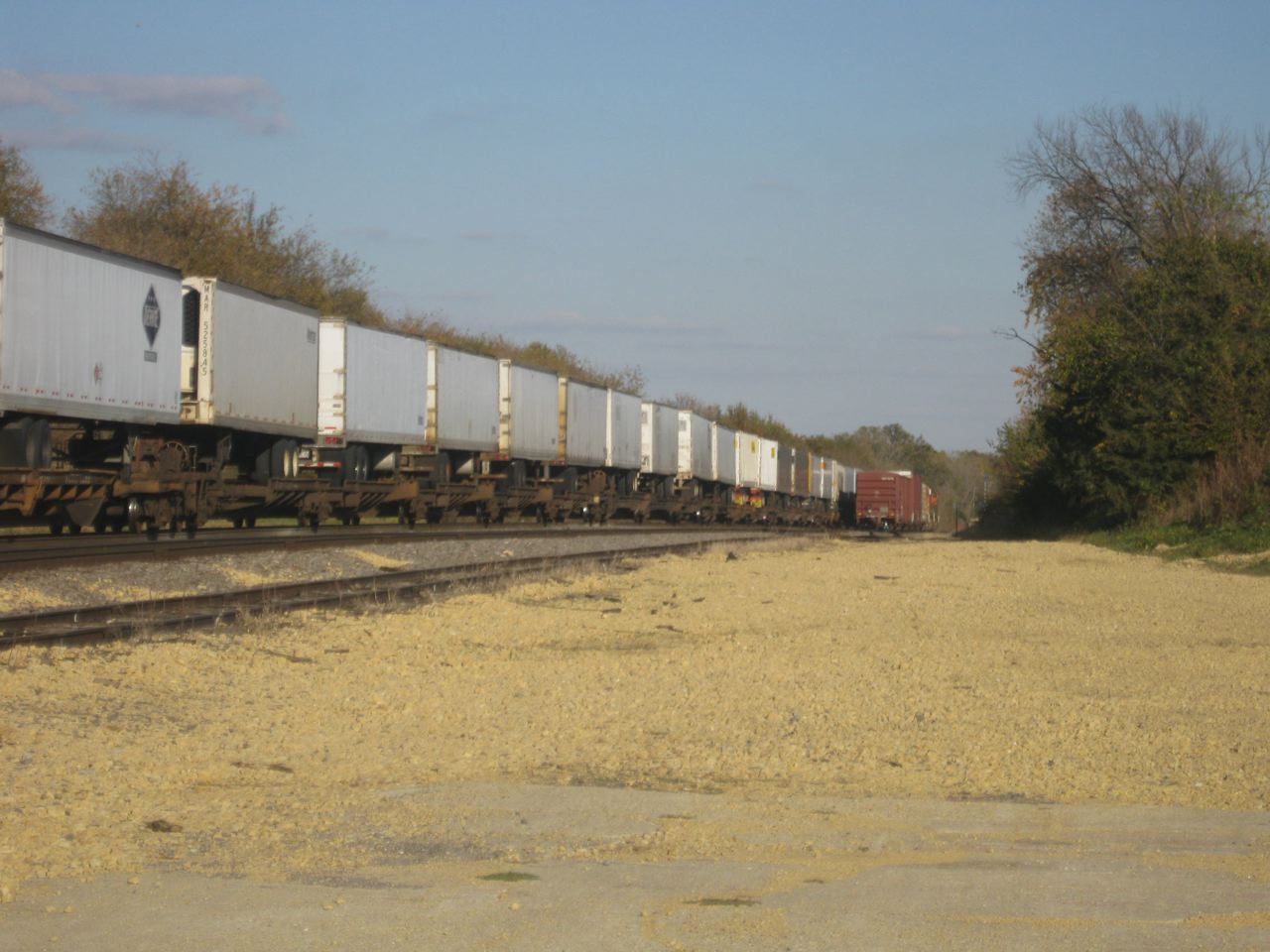 We went to Burlington Road, where the old wooden bridge has been replaced, and to my surprise, the cut widened out some to accommodate the new span. When you look east with a telephoto, it's the "nuke shot," with the Byron nuclear power plant cooling towers visible; the going-away view here doesn't quite show them, tho my telephoto slide will. But first, Jeff the mountain goat had some landscape work to do in eliminating a small bush.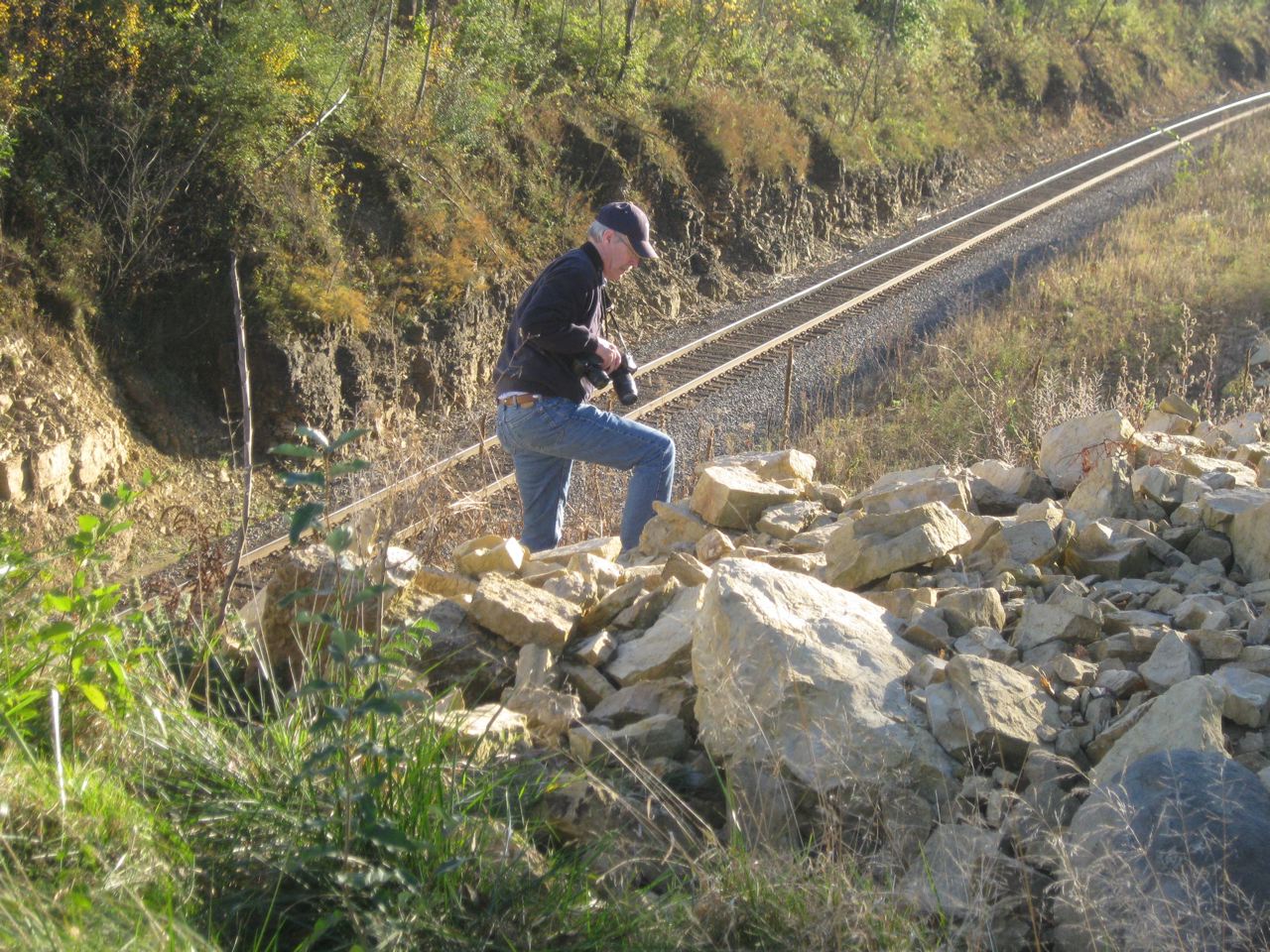 I took only a coming-on slide, since the train was short and moving fast. This train is a long local, SAVEOL, Savanna-Eola (Aurora), on duty at Eola at 1745 Mon-Fri and on duty at Savanna at 0600 Tues-Sat. They pick up at Oregon and Rochelle. The Rochelle switcher is a day job only.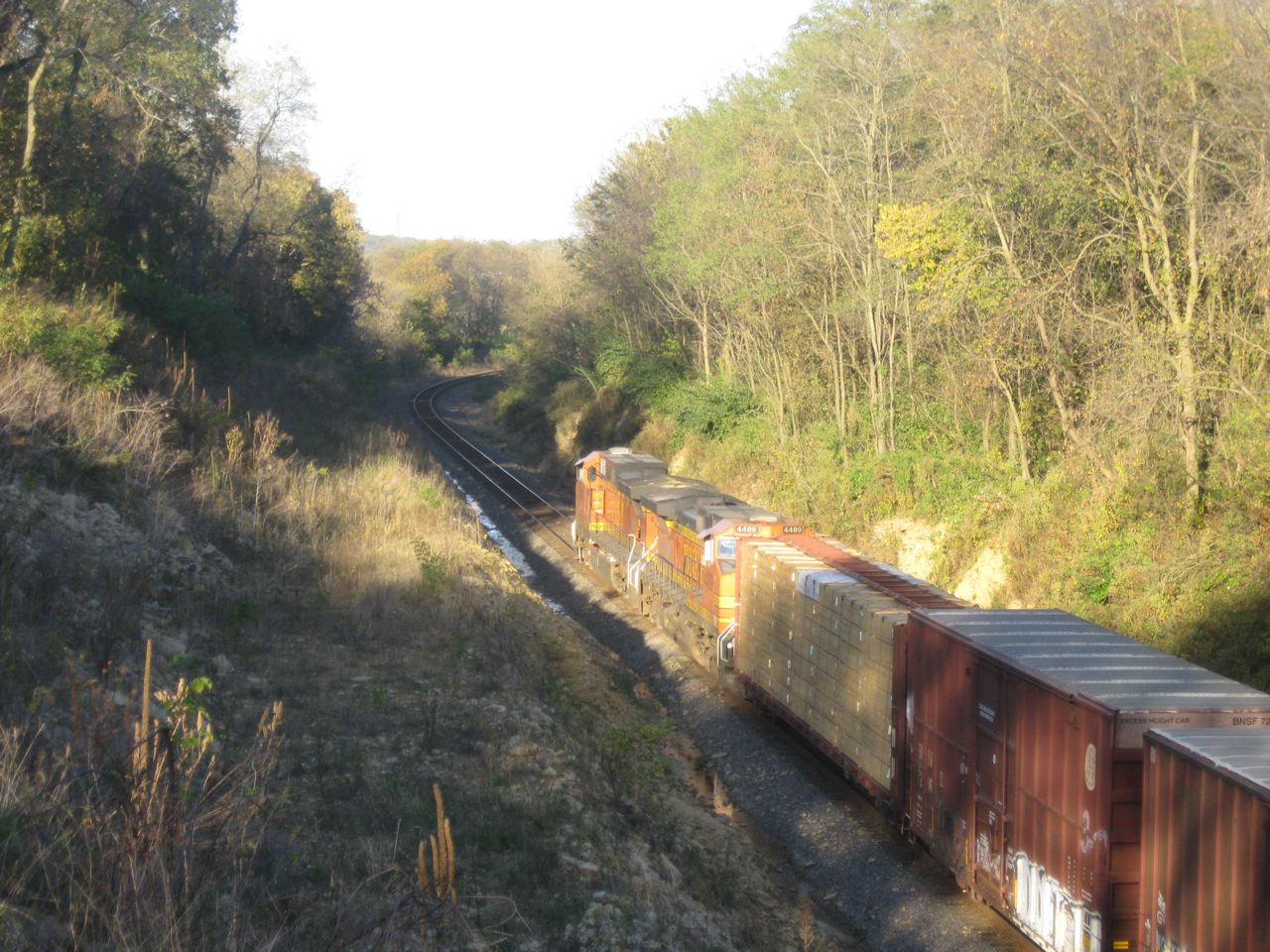 After a telephoto shot (slide only) of the Illinois Rwy engines working at Unimin west of Oregon, with maybe 45 minutes of light left, and still no radio activity on the DM&E/IC&E, we headed for Rochelle in hopes of getting something, anything, and lo, another westbound BNSF intermodal showed up; we barely beat him to this Lincoln Highway crossing in Rochelle; middle unit was an 8200-series "Warbonnet."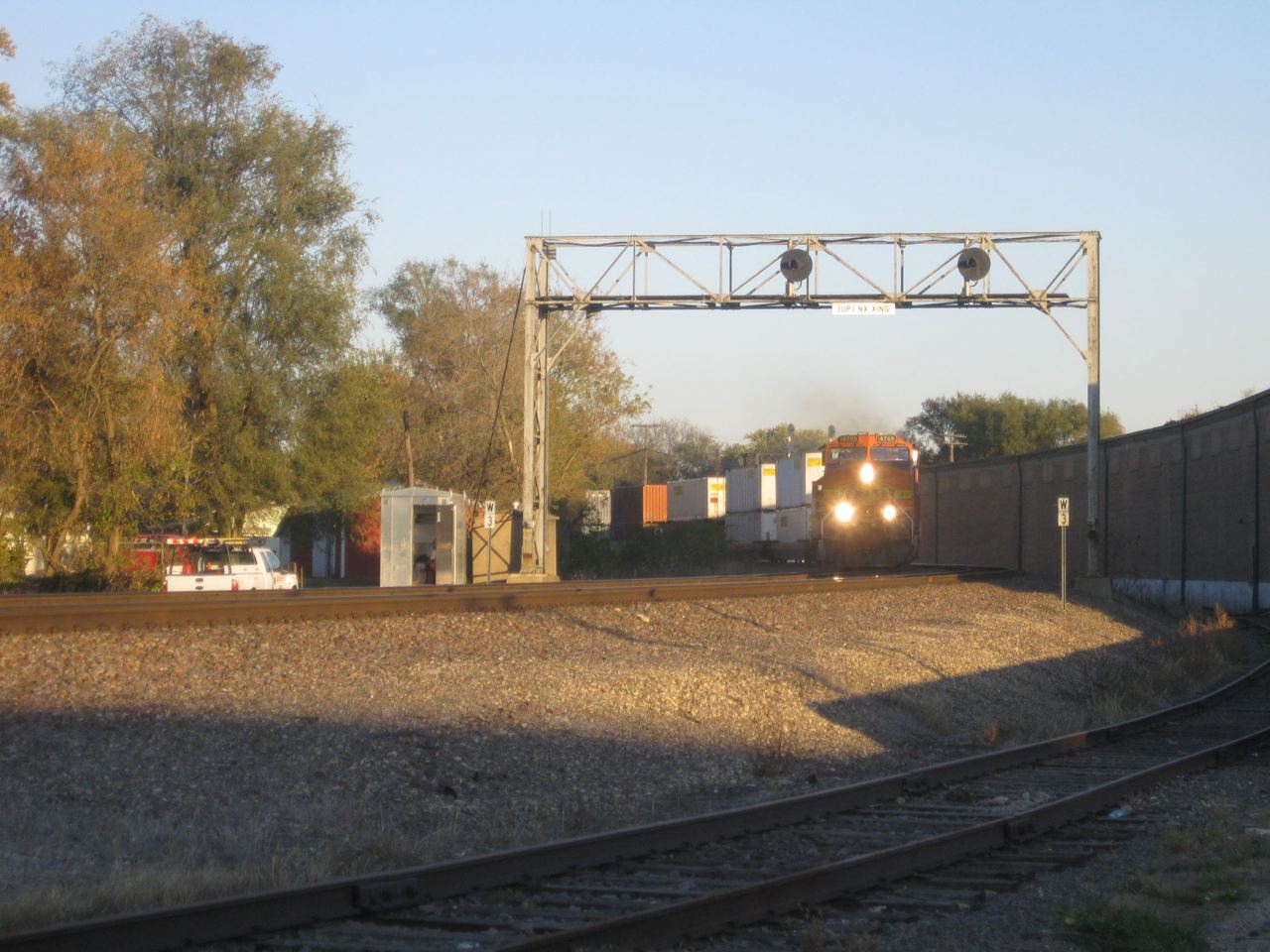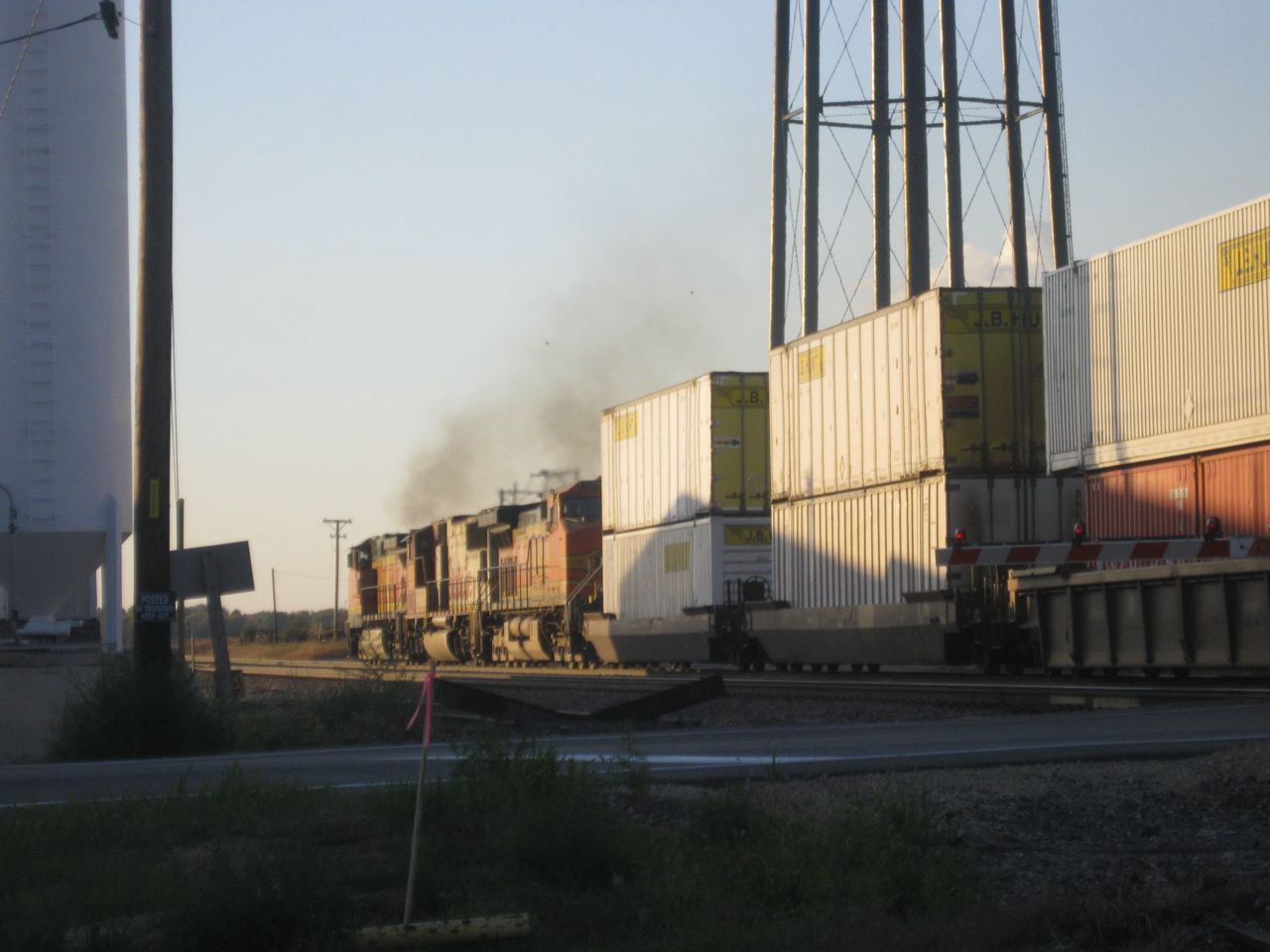 A parked local engine is better than nothing.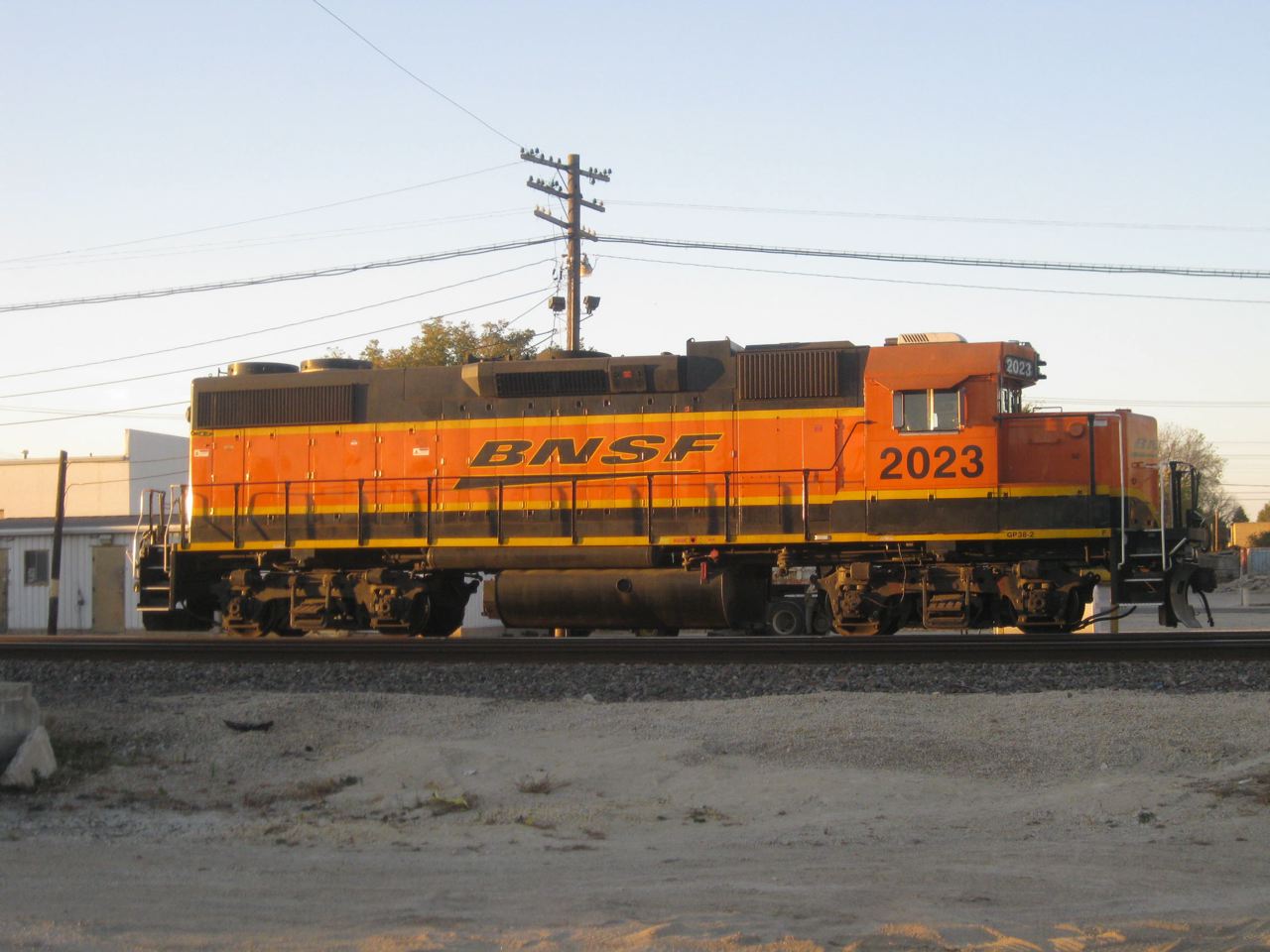 Last shot of the day, from I-39. Not a UFO or a mushroom cloud, but it IS from Byron power plant. Total trains for the day, counting the standing DM&E in Savanna, was only 9, with 1 miss (and we shot the 5- car BNSF local three times), but we had a good outing anyway in nice weather.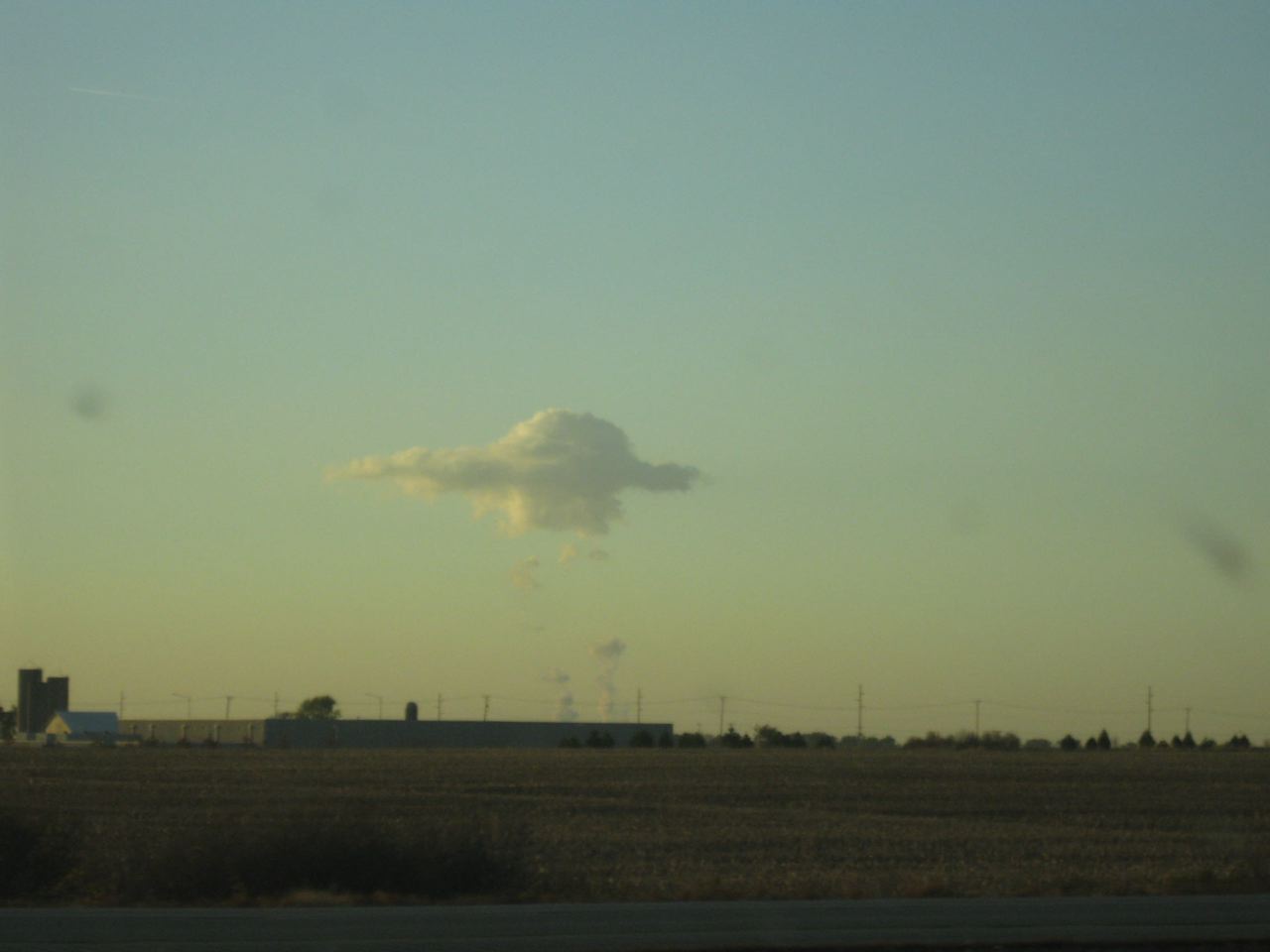 This page was designed and is maintained by Mike Condren. If you have materials
that you would like to contribute, contact me at mcondren@cbu.edu