August 2013 Local Action
by Dave Ingles
Since WATCO took over the Wisconsin & Southern, we hear "talk" of dissatisfied employees, employee defections, decline in service quality, and other "stuff" associated with change in general, and/or a change in ownership or management, typical of railroading everywhere and all through the years. One local piece of evidence is that the passage of the Horicon-Janesville daily freight, which goes between Slinger and Waukesha on trackage rights on the CN main line, has become much more unpredictable. Here's one piece of evidence, as the southbound was going thru town as I went into town on errands in late morning on August 1st, so since they go thru the Grand Avenue interlocking onto their own rails at 10 mph or less, I zoomed thru the back streets and got this shot of the train's engines, taken from the Prairie Avenue crossing, on the Fox River bridge at 10:45 a.m., units 4076/4004/4077. Used to be, only on Saturday would this train go thru Waukesha after about 8 a.m., and most days either just before, at, or after dawn. Eastbound, it's thru late in the afternoon, or even after sunset.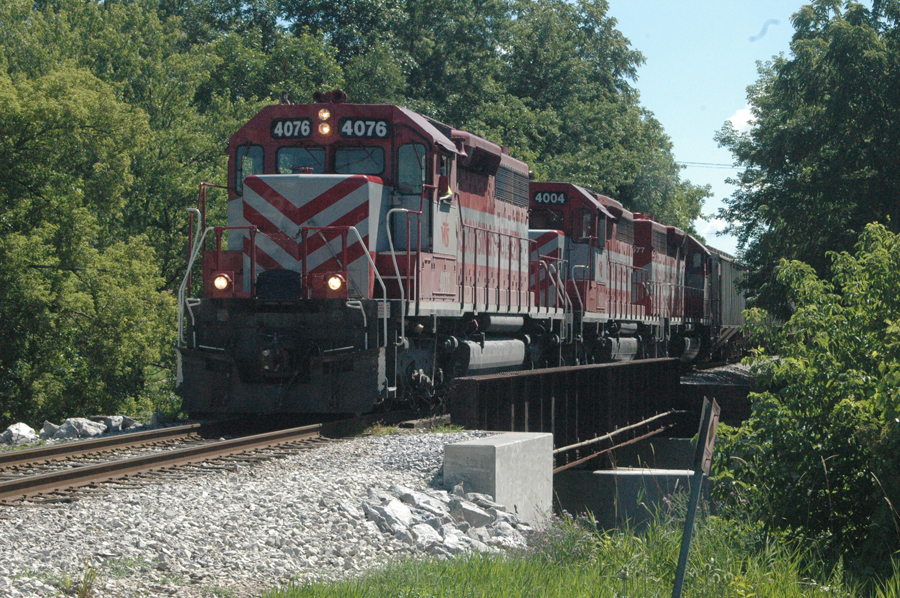 Out for my usual afternoon "patrol" when things usually heat up on both CN and CP, the latter including the Amtrak Empire Builder, later on the 1st I was over at Brookfield and discovered both Tracks 1 and 2 lined up westbound. Not wanting to be caught in between trains at the depot, I drove west a mile to Barker Road, looked back, and here came a freight on track 1. So I parked, and got this nice overtake sequence at 4:30 (about 15 minutes late for Amtrak #7), of the "Builder" overtaking CP #281, led by 9813. Amtrak's units were 199/176; in the first shot, the units are on the Fox River bridge -- the river, which rises a few miles north of here, goes thru the western Chicago suburbs and empties into the Illinois River at Ottawa. Wisconsin has another Fox River, which flows east from the middle of the state, then north through Oshkosh, Appleton, and into Green Bay at that city.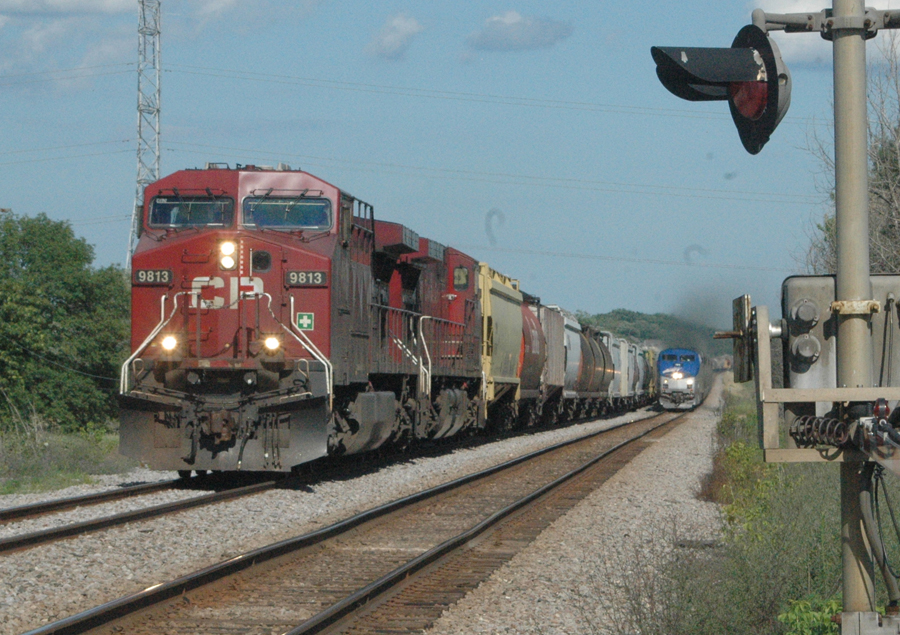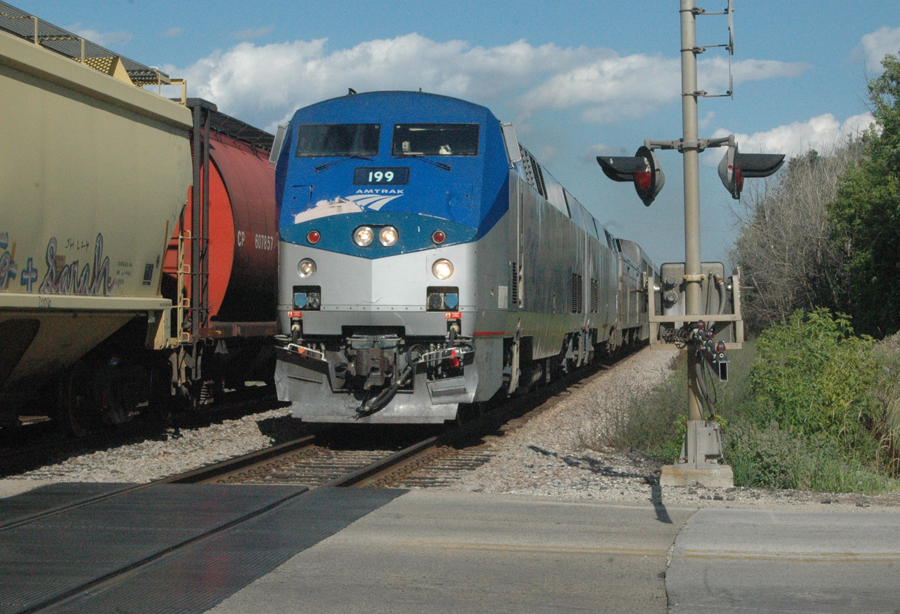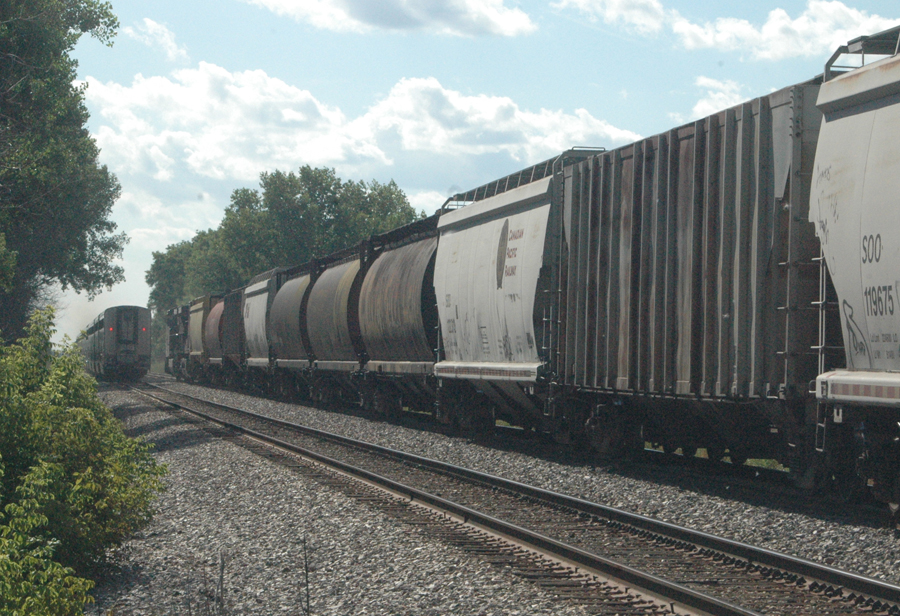 Two days later, we took an afternoon ride and for no special reason other than we hadn't been there in a while and it was a Saturday, went down to East Troy to check out the trolley museum's operation. En route along Highway ES, the old highway next to I-43 that follows the track, we stumbled into a meet of a small open car and a two-car Chicago "L" train, then found the museum's Twin Cities car entering service. The railroad, of course, is a genuine traction-era remnant, about 6 miles worth between East Troy and Mukwonago, where a connection is kept with CN (formerly Wis. Central Ltd., before that Soo Line, and originally Wis. Central Rwy.). There no longer is any freight at East Troy, but the infrastructure remains should any freight-user surface.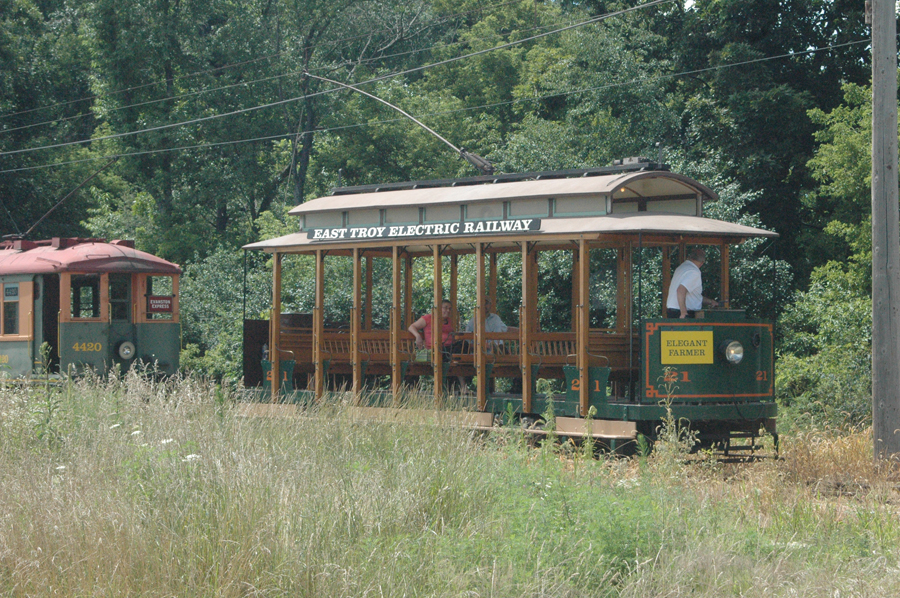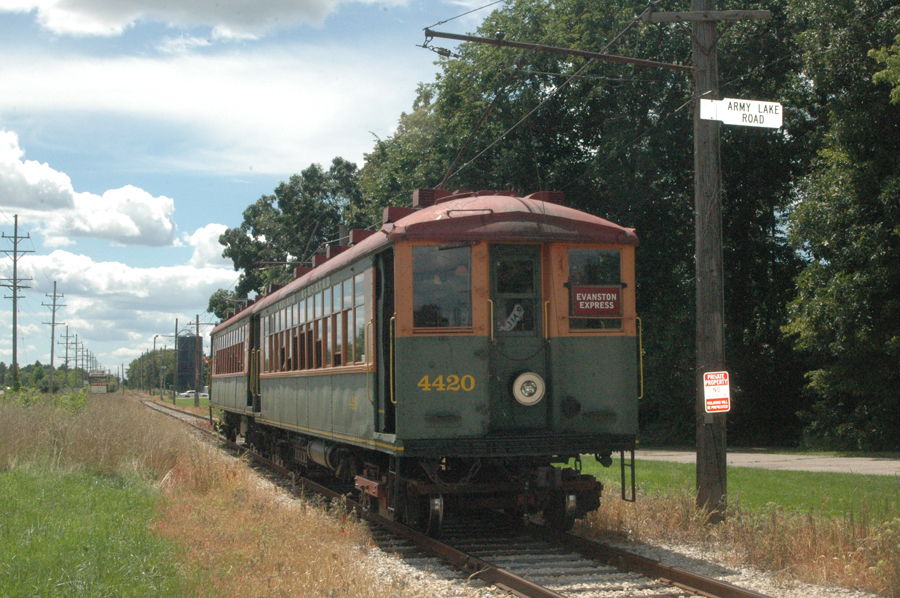 The Twin Cities car 1583 has just left the carbarn and moves to the substation loading platform. The substation also houses the gift shop.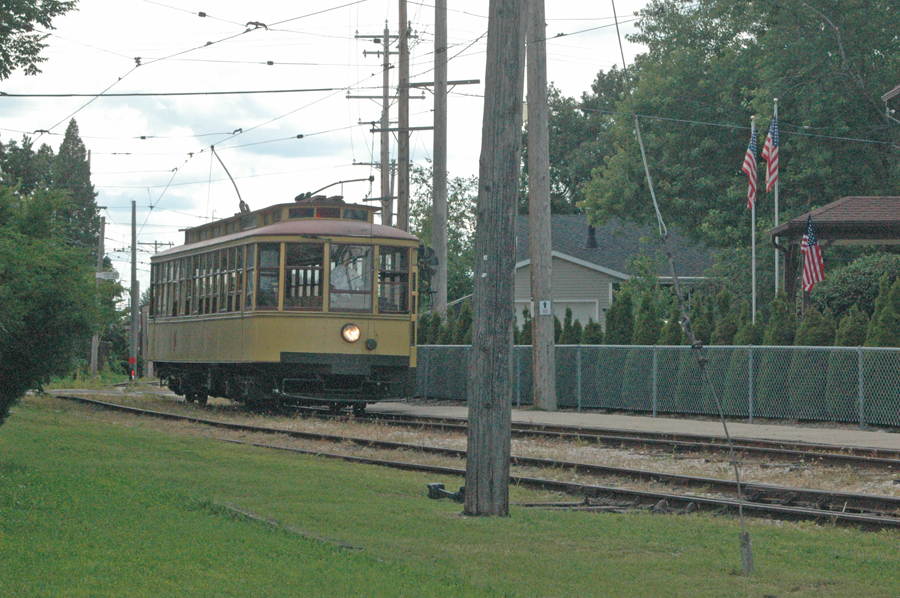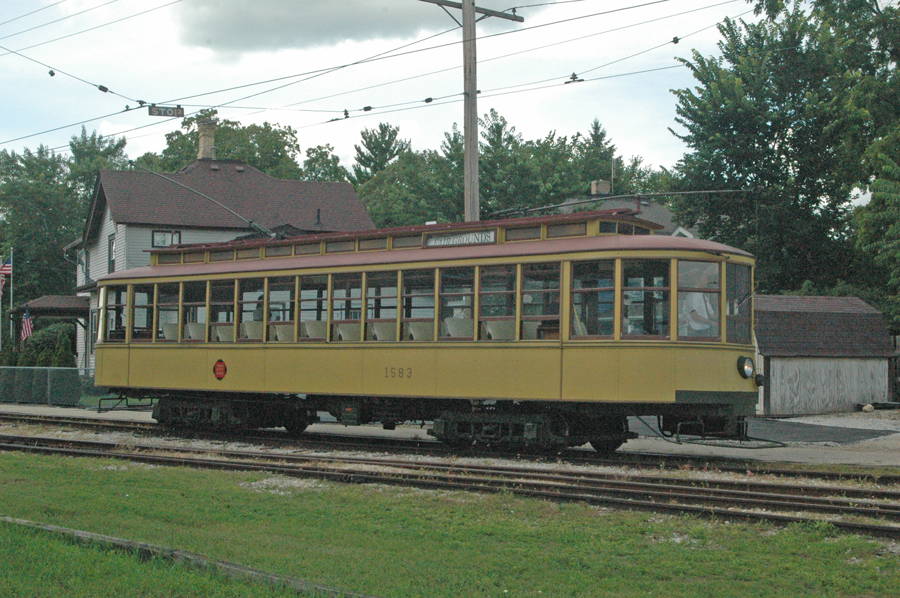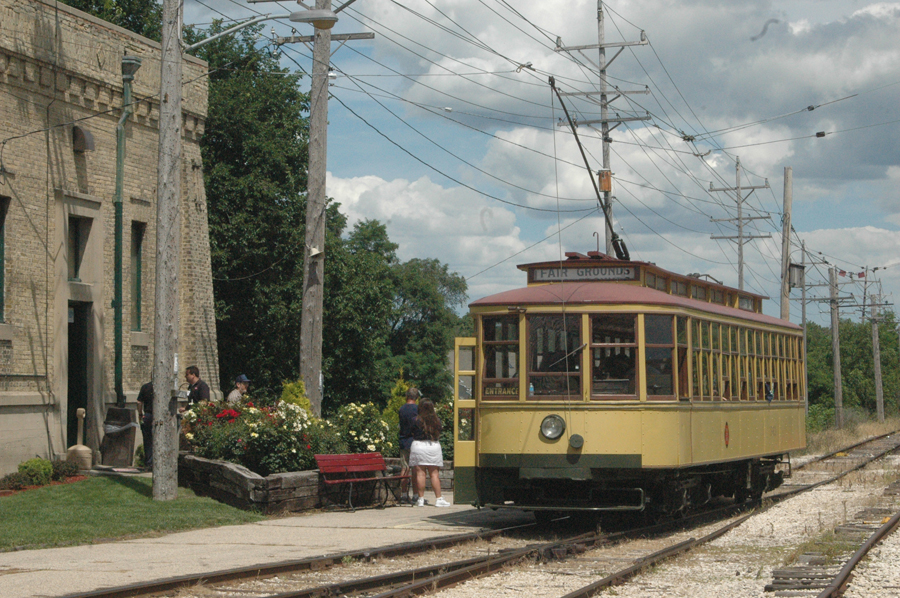 He beat us to the Highway 20 crossing; this is thru the windshield. The time is 2:10 pm, so this was probably the scheduled 2 p.m. run.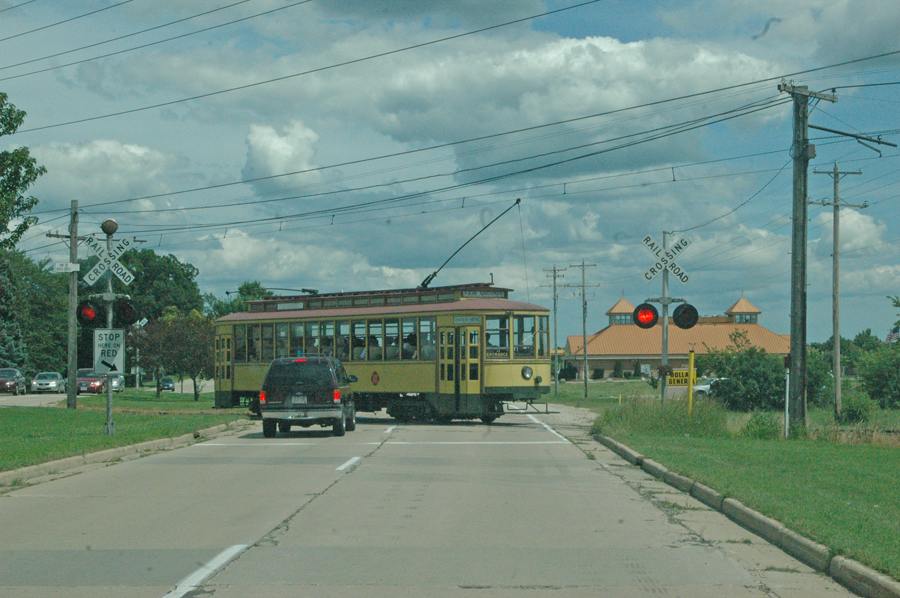 We then followed him north for one shot en route, with the sun right abut down the rail, and shot his arrival at the Elegant Farmer market, the north terminal for their regular run. Only the occasional charter will go on north a mile or more into Mukwonago.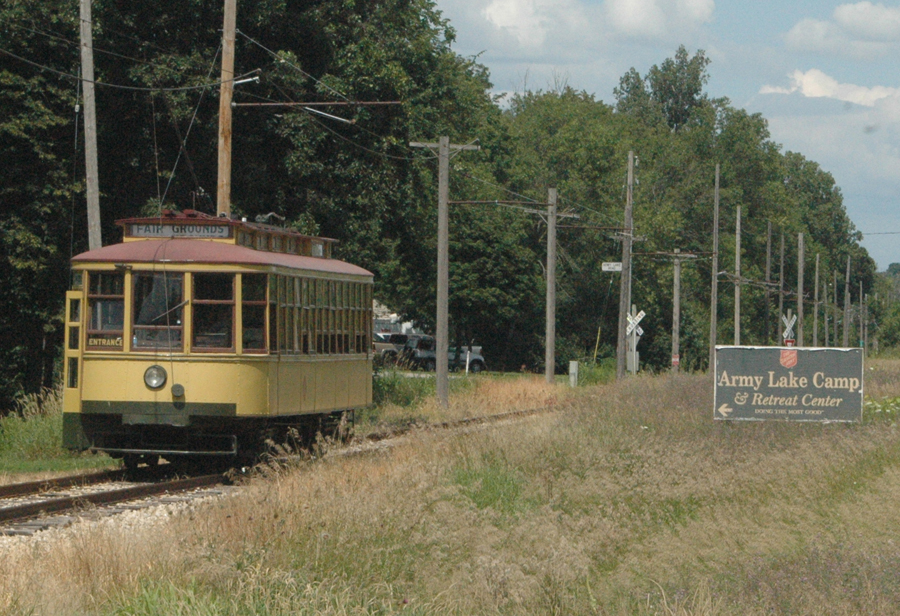 | | |
| --- | --- |
| While the 1583 was loading for its run north, I went across the street to Lauber's Ice Cream Parlor across the track from the substation/depot/gift shop, made these photos (with permission), and bought a strawberry ice cream cone. If you're ever in East Troy, a stop in this throwback store is a MUST! | |
On August 8th, I was up at Weyer Road where the "set out track" is next to CN's Duplainville passing siding. Our Waukesha-based local, L504, with IC GP40 3138 (still assigned here into October), had set out his 3 cars from Burlington (and/or Mukwonago) and was ready to return to Waukesha to tie up. Soon came a n.b. train, I believe numbered 491 at the time (CN changes numbers frequently, it seems), to make a set-out, led by 2114/2570, the lead Dash 8 unit originally C&NW. He set out 20 cars and kept the other 155 to go on north. Time: 3:45 pm.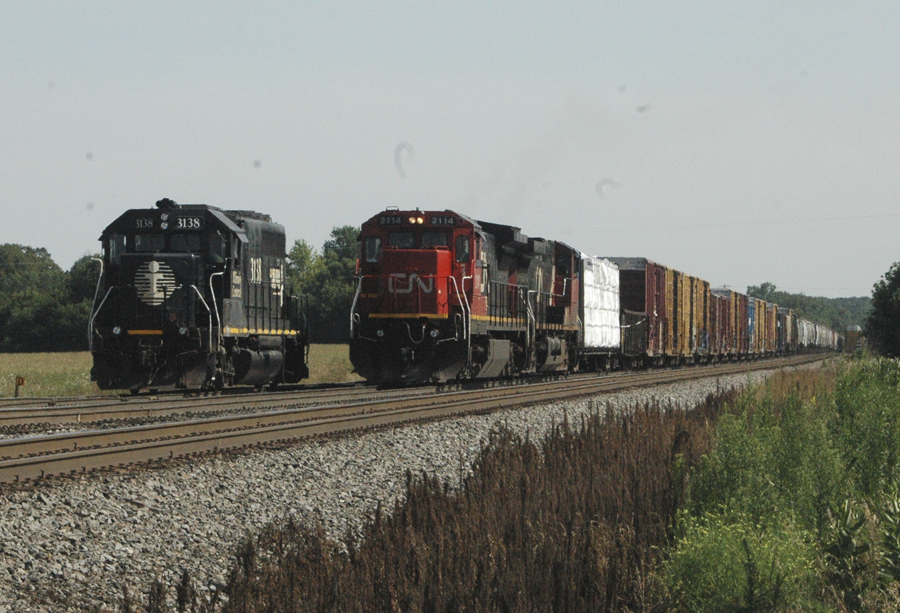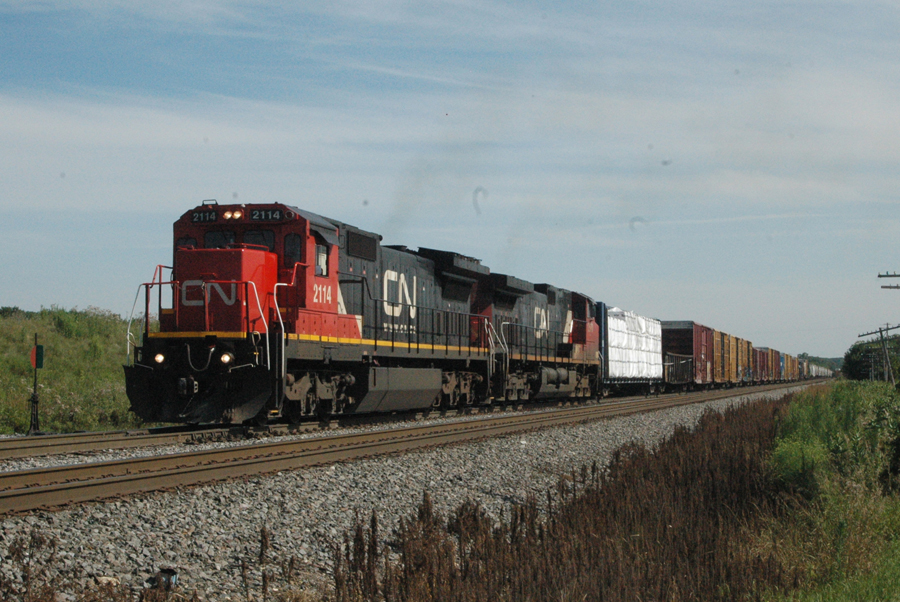 I've pretty much quit shooting freight-car images, slides or digital, since most a graffiti'ed up, but this clean Pan Am car, and a "decorated" box car seemed worthwhile. I call the 2nd car "Hunter Harrison's 'heritage' boxcar honoring CPR's old beaver emblem. I think those "SNC" initials were for Seattle & North Coast, long since defunct. Anyone know different? I don't have a modern car directory.
After the Amtrak Empire Builder went by Duplainville with engines 23/151 and a routine consist, 20 minutes later CP #391 came along, led by leaser CEFX 1052/8825 with 99 cars, at 4:37.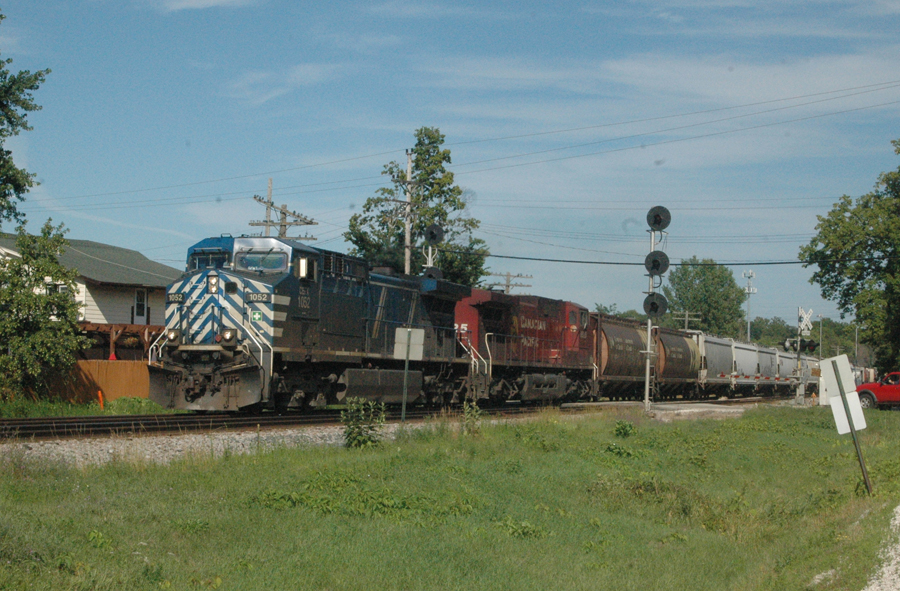 The "catch of the day," was next, CN #446 with twin BCOL units 4626/4604, passed the Waukesha depot at 4:57. I keep adding to a slide show that spans several decades of "oddities passing the Waukesha depot," so this sequence also had slides, of course. Note how the "ditch lights" are aimed "crosswise." This stems from the earliest application of such lights, by BCOL and CN in the British Columbia mountains and river gorges, where rockslides are common.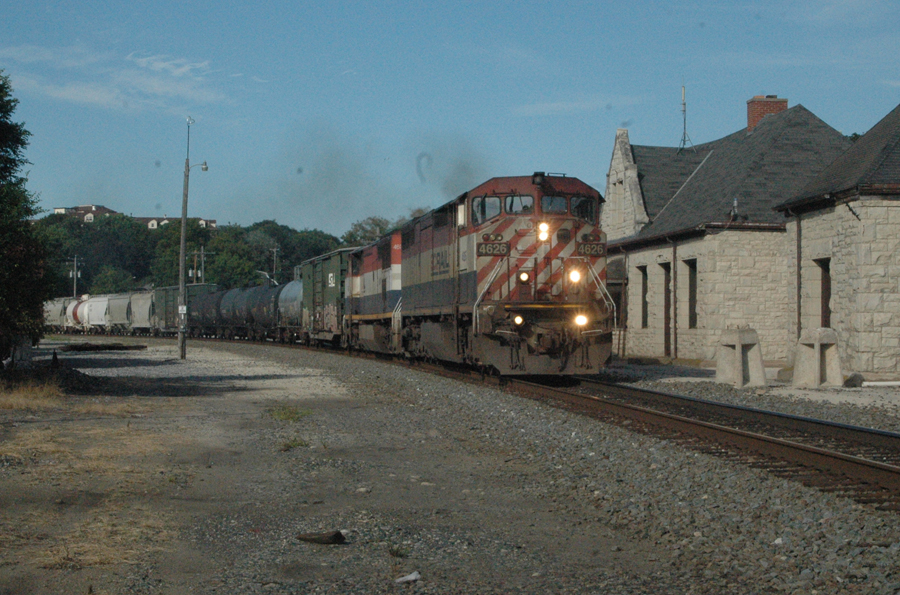 The next day, August 9th, train #446, which is the NS connection in Chicago, had NS power as it often does, crossing White Rock Avenue in Waukesha at 5:17 pm behind 8869/9355. Next to Heritage units, it's always nice to see NS early "normal cab" units in the  lead.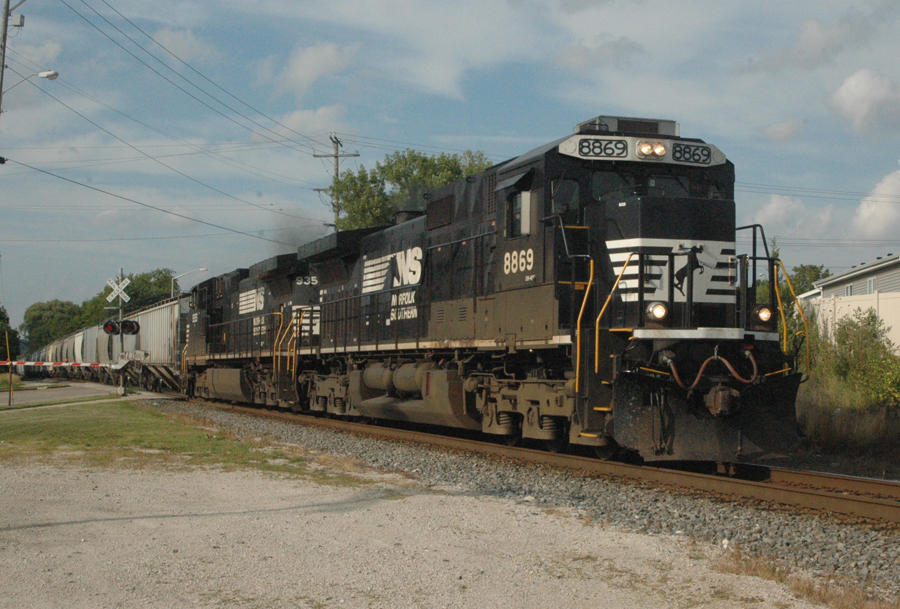 The weather on August 10th was dark, but I went to Brookfield to perhaps just watch. When both westbound CP tracks were lined up, though I paid attention, and when I began hearing horns as Amtrak's normal time approached, I went between the tracks. First came what is probably #289 behind CEFX 1036 by itself, on Track 2, and as soon as his engine passed it was time for Amtrak #7, which came blasting through behind 171/817 with the normal summer season 12 cars. I recorded the time for both as 4:14 pm, right on time for Amtrak. CP has told the City of Brookfield it has until the end of 2013 to relocate the depot building, one of the oldest, if not the oldest, still in use in the state (by M/W crews). The city has land just west of here south of the tracks where it plans to re-erect the building, but for now, I am trying more than the usual number of visits while it still is a photo prop.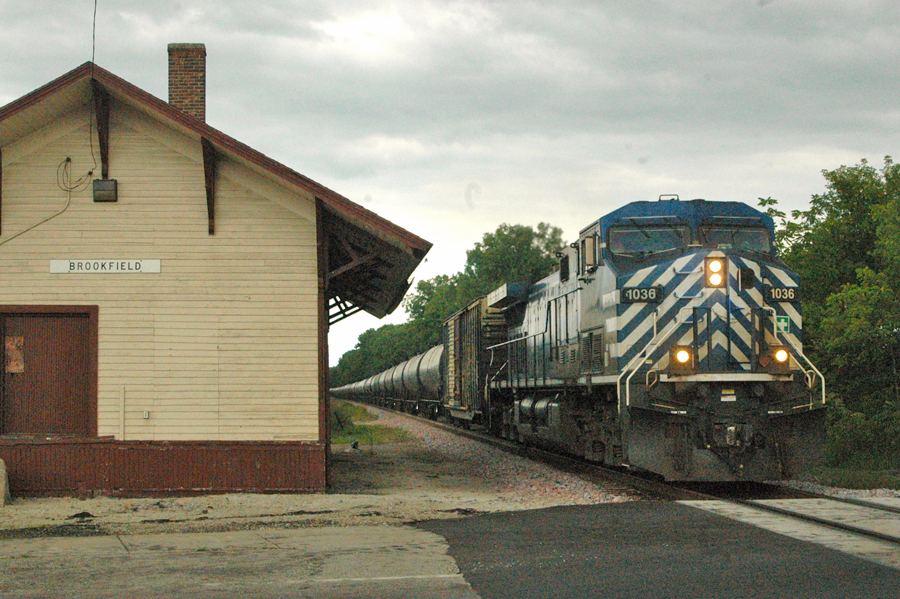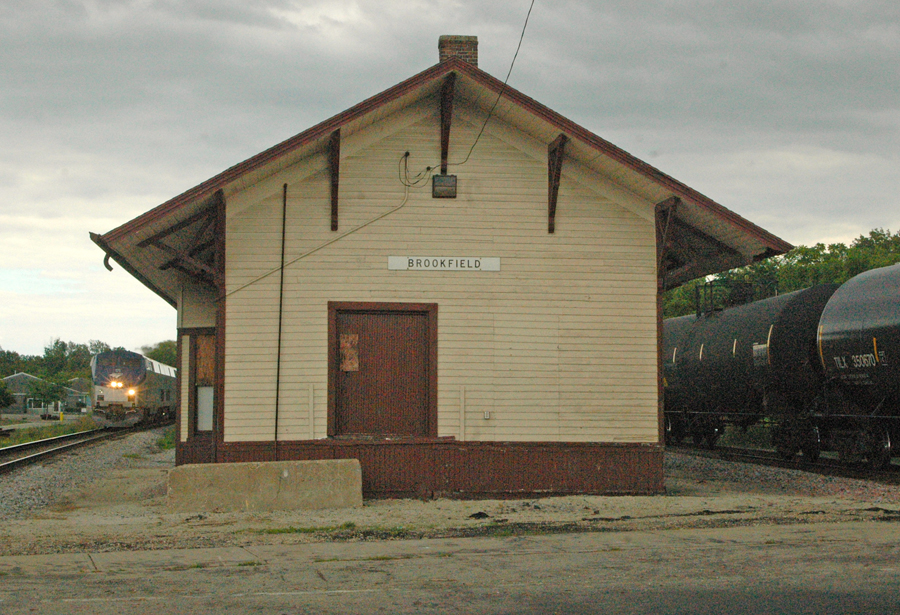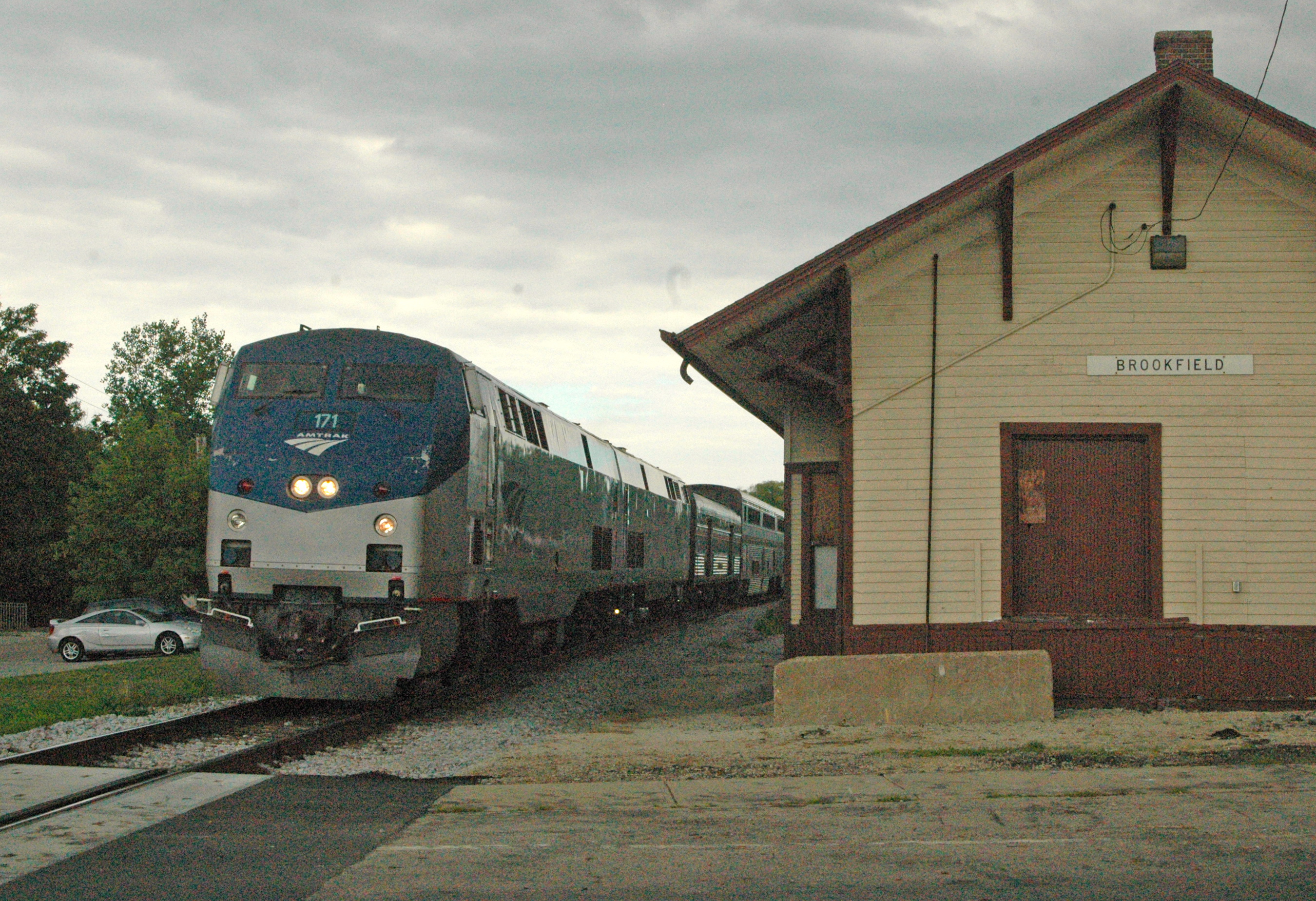 On August 14th after a routine Amtrak #7 went thru Duplainville, I went up to Sussex, Wis., for CN #347, which came by at 4:37 behind 5621/5778/IC 1026. the passenger cars belong to printer Quad/Graphics and are ex-Burlington. They move occasionally but are mostly used for entertaining clients, having meetings, etc.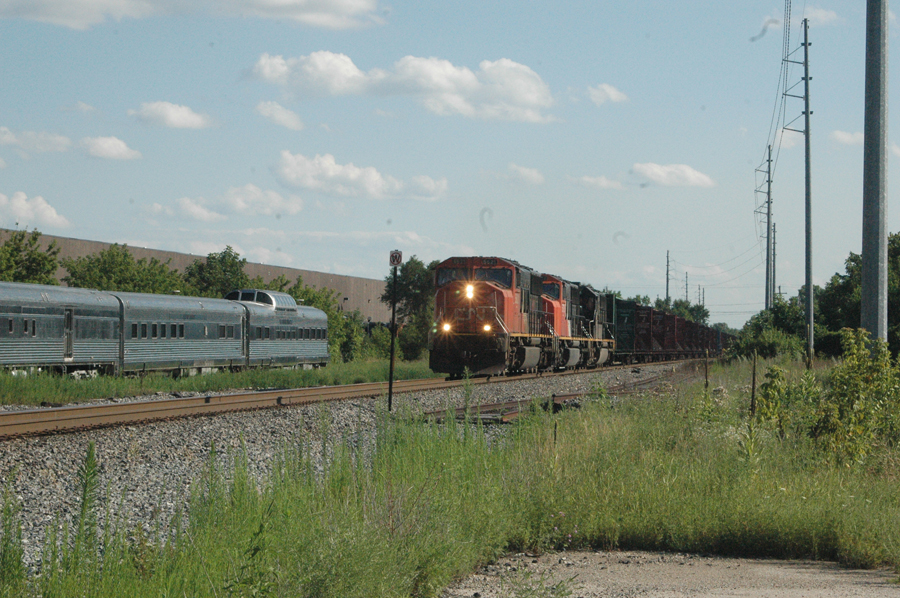 The word got out that on August 17th, Amtrak #7 would have 4 PV's on the back: Cimarron River, Warren Henry, Evelyn Henry, and Santa Fe 56, so I was at Duplainville for #7's on-time passage. Eastbound #8 was late, as it has always been for several months, and happened to show up first, engines 93/5, 12 cars, at 4:13. He passed #7 just east of the CN diamonds, for I recorded his passage as 4:14, which was spot-on-time, as early as can be for his 3:55 MKE departure 16.5 miles to the east. He had engines 84/155 and the 16 cars. Note the eastbound consist is "backwards," probably indicating he flipped back from west to east at Spokane owing to lateness.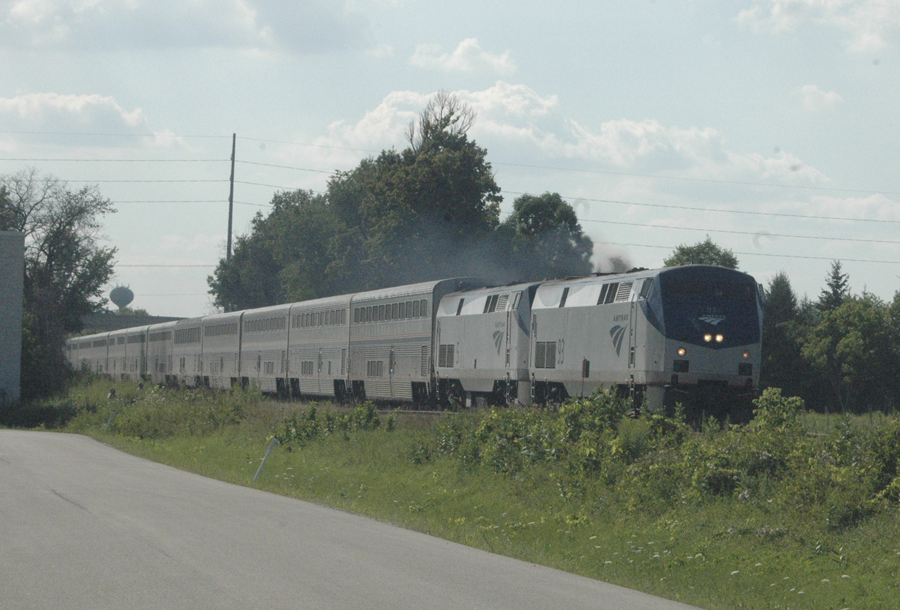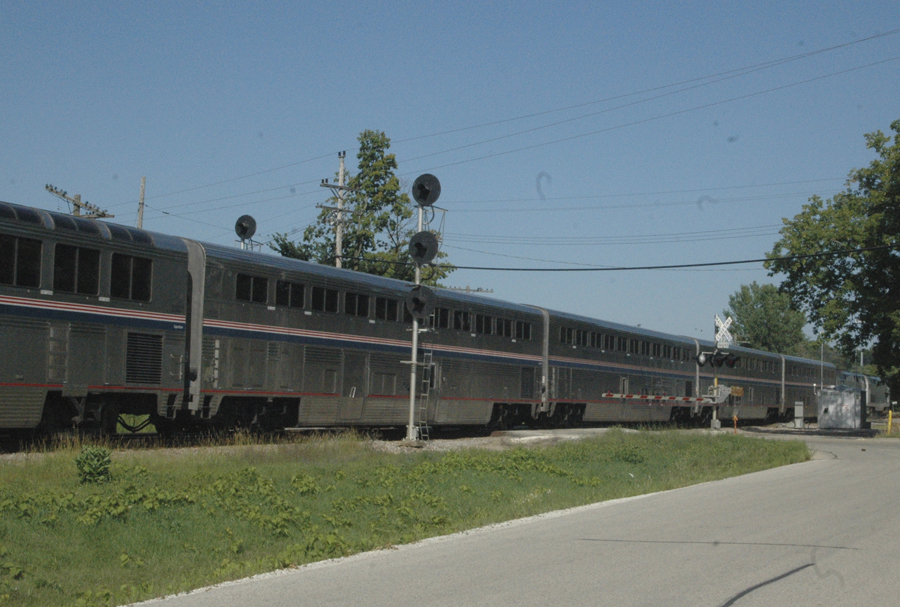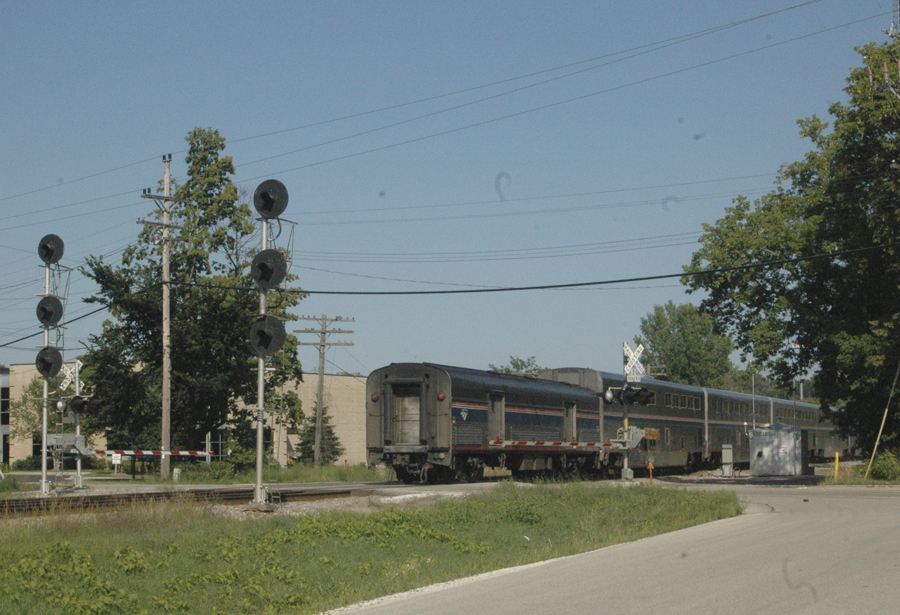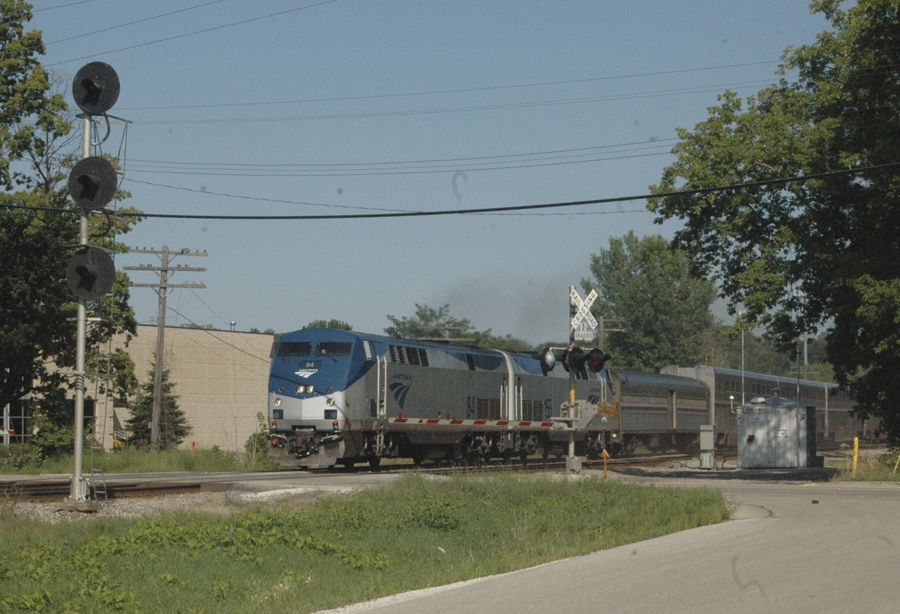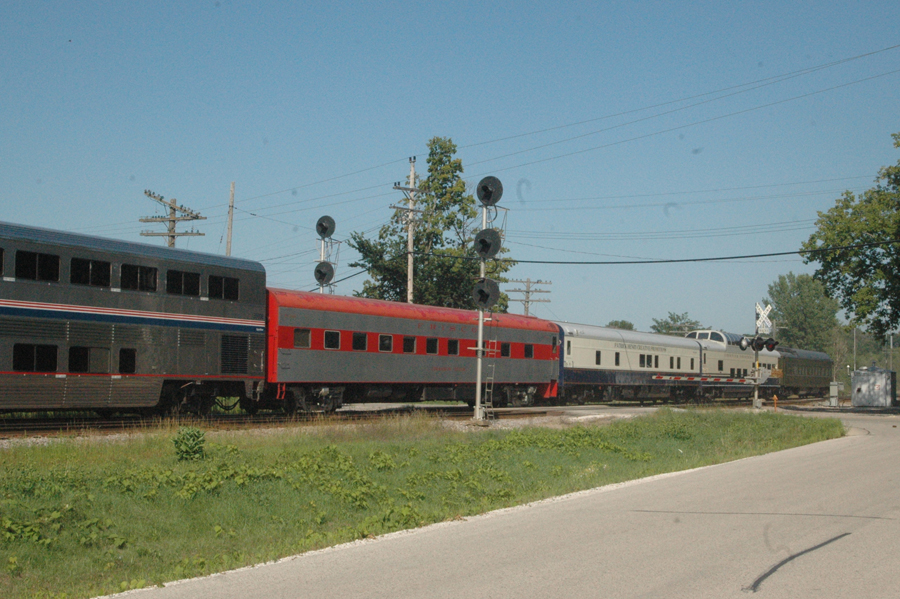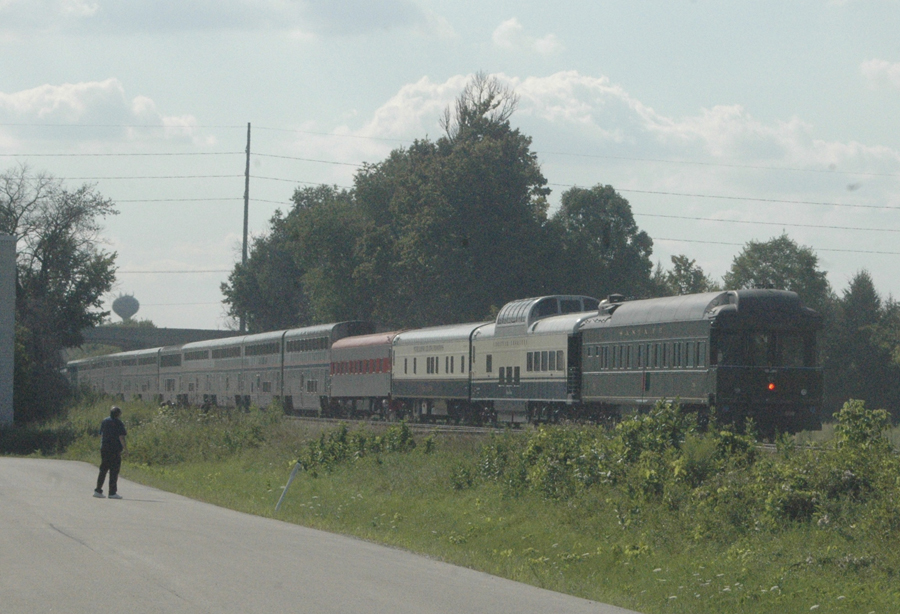 Canadian National replaced its 1899 ex-C&NW swing bridge at Oshkosh, Wis., over the Fox River outlet from Lake Winnebago in mid-August, necessitating closing the main line there and detouring certain trains over the CP between Duplainville and New Lisbon, Wis., where CN accessed its Wisconsin Valley line (ex-MILW, then WCL) up to Junction City, just west of Stevens Poinit. I was fortunate enough to catch three of the trains (perhaps a dozen total, maximum) detouring, the first two on August 18th. First was #347, which backed thru the connection beginning at 12:30 p.m. The conductor rode the rear car, and a CN trainmaster (I'm guessing) provided auto ferry service between the ends of the trains that used the connection. (The connecting track rarely sees use these days, usually only coke trains that are interchanged in Milwaukee, for which CN sends light engines downtown to fetch. This first view is from Duplainville Road crossing, showing #347 east of the CP westbound home signal, at about 12:35.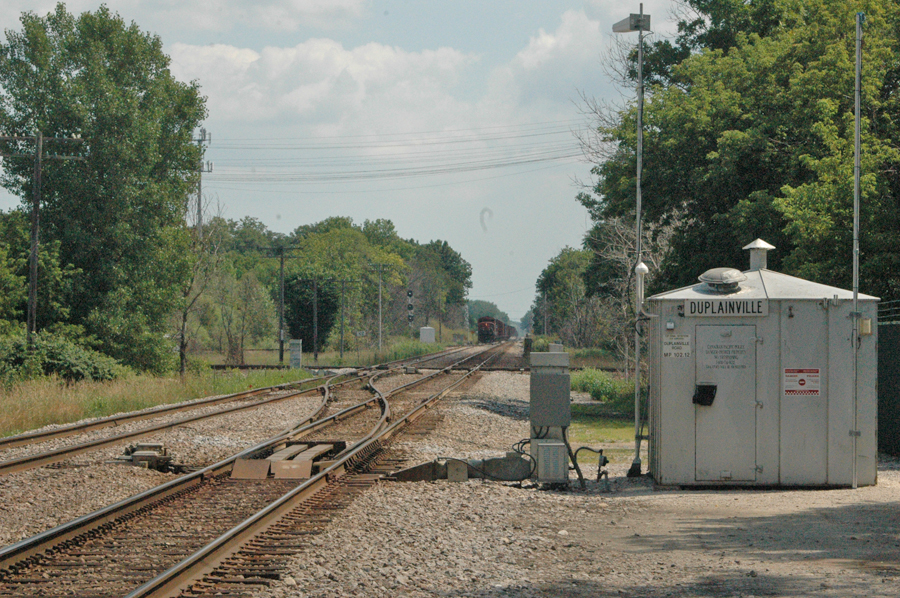 Before #347 proceeded west on CP, CN ran #446, which had come thru Oshkosh before the line closure (or it may originate with that number at Shops Yard in North Fond du Lac, I'm not sure). It often has NS power, which turns back at Shops, usually, but today its power was even more exotic: GTW SD40-2 5930 (ex-MoPac) and BCOL 4603. I shot him at Green Road, the crossing just north of the diamonds, at 12:45. Only a few of those GTW units remain in service. In the final going-away photo, that's the connection in the foreground.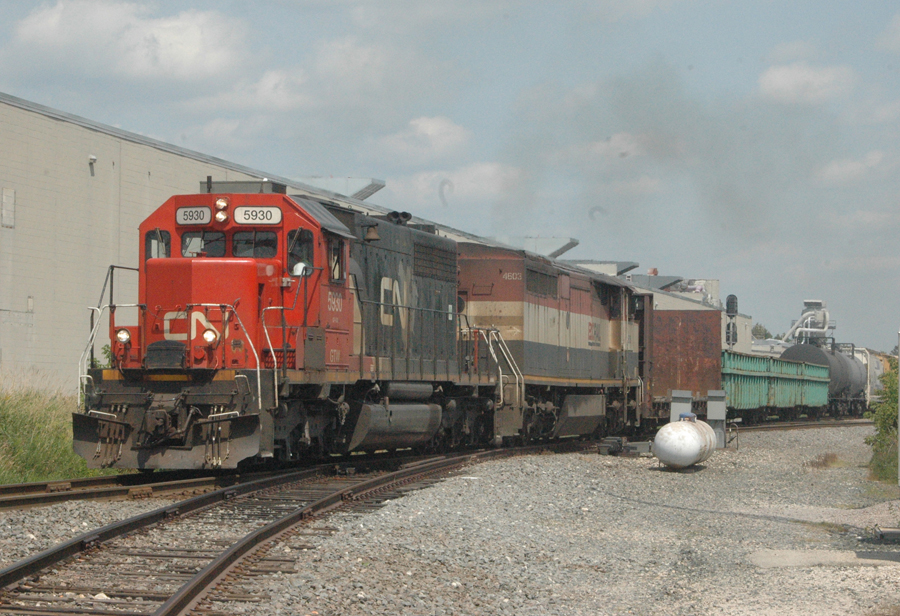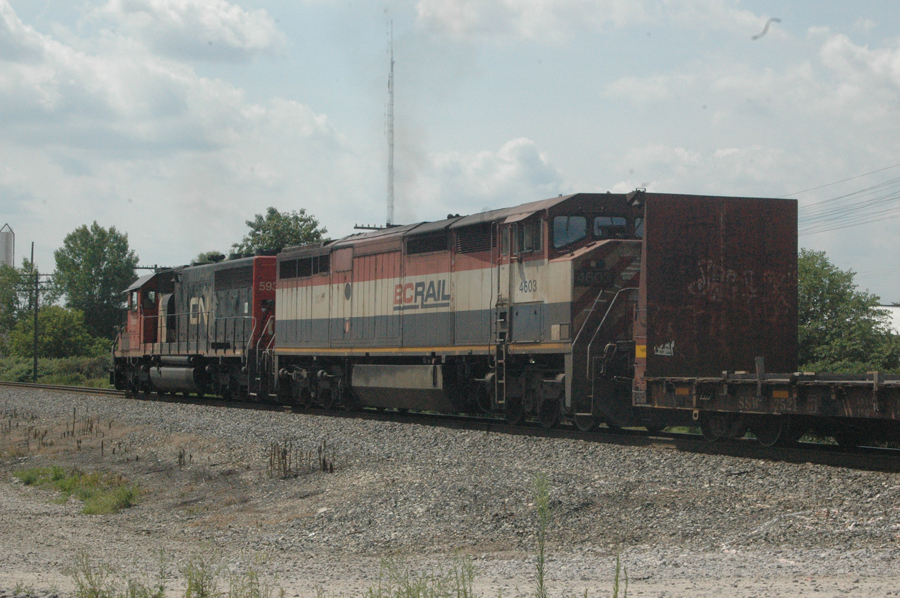 CN #347 then started up and headed west, its usual complement of dozens of empty lumber center-beam flats on the rear. That is a type of car rarely seen on the CP in these parts. Power was, at least, different than the usual Dash 9's, new GE's or EMD's, or fading-red SD75's, with Dash 8 "wide-body" 2437 leading and IC 2465, one of the ex-LMS (GE) units, still in "Conrail blue," trailing, with 123 cars. In the middle photo, that's Drew Halverson (white shirt) and Matt Van Hattem (blue shirt) of TRAINS, who were out on their lunch hour. Drew's photo appeared on TRAINS' website and perhaps in print, too. He is one of our team of designers for TRAINS and CLASSIC TRAINS.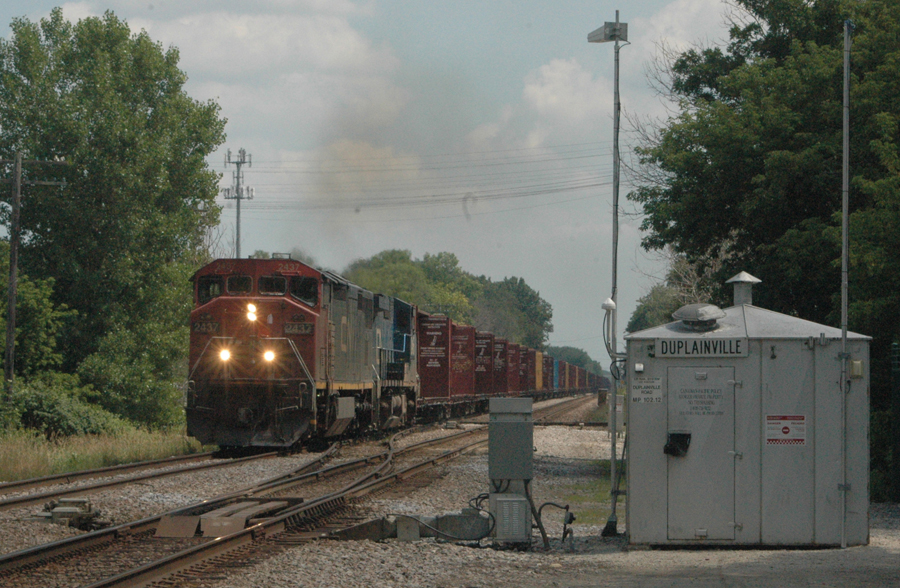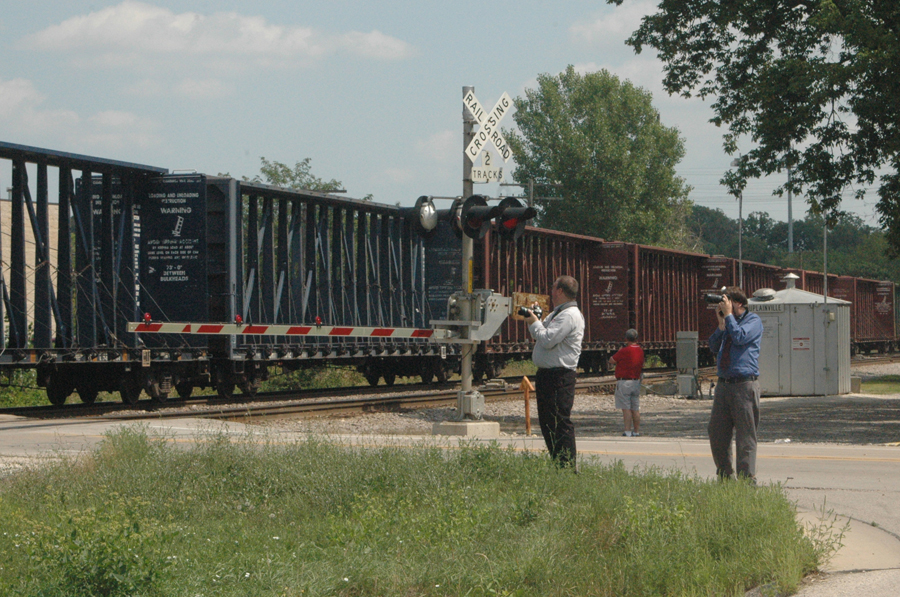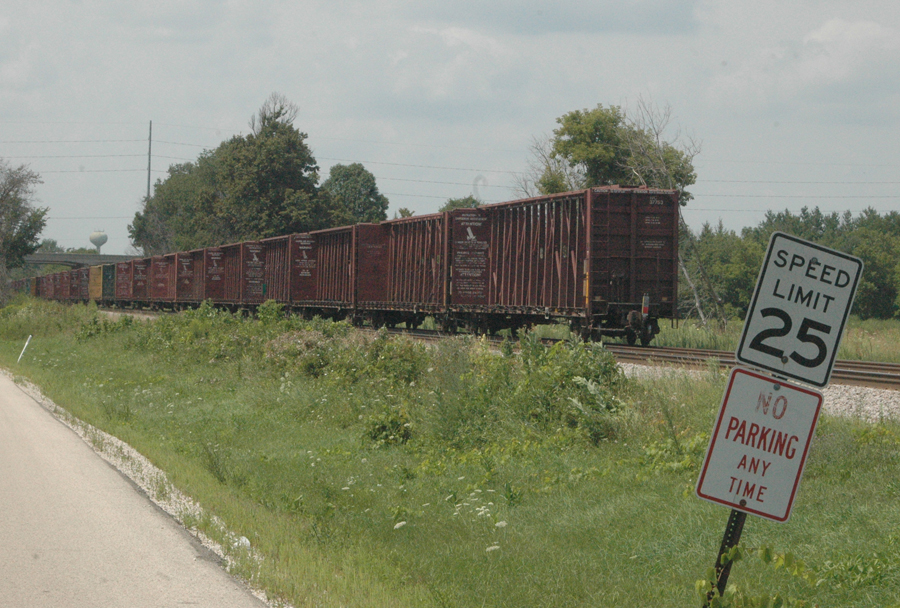 After lunch, I went into Waukesha and nabbed CN #491 coming thru the Grand Avenue interlocking at Carroll University (where WSOR enters and leaves CN's Waukesha Sub trackage rights), with engines 5467/5777 and 146 cars, at 1:26 pm. This train would detour on CP, but it would be 4 hours later before it did so.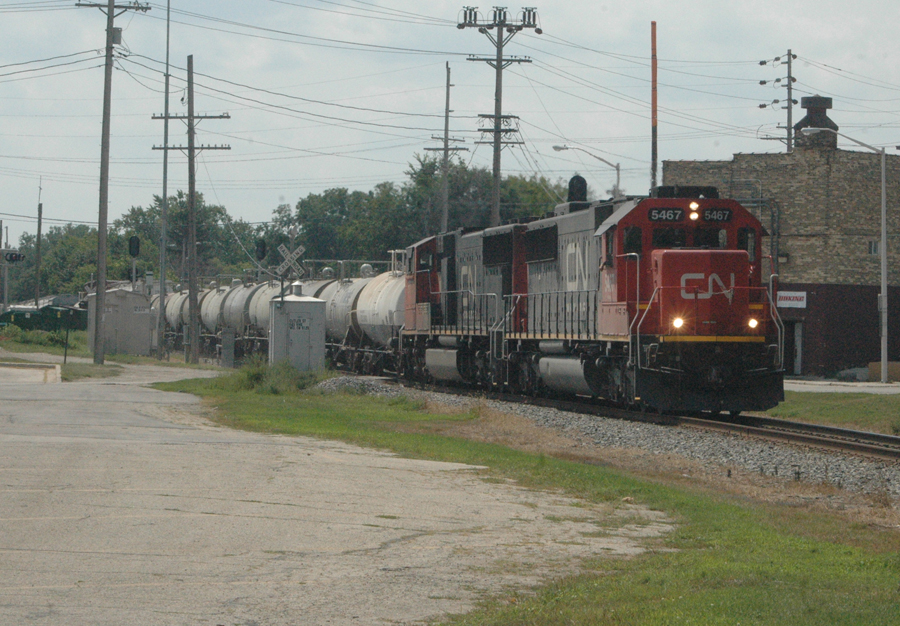 I did follow him up along Duplainville Road, shooting him stopped to set out, and re-crew, at 1:55.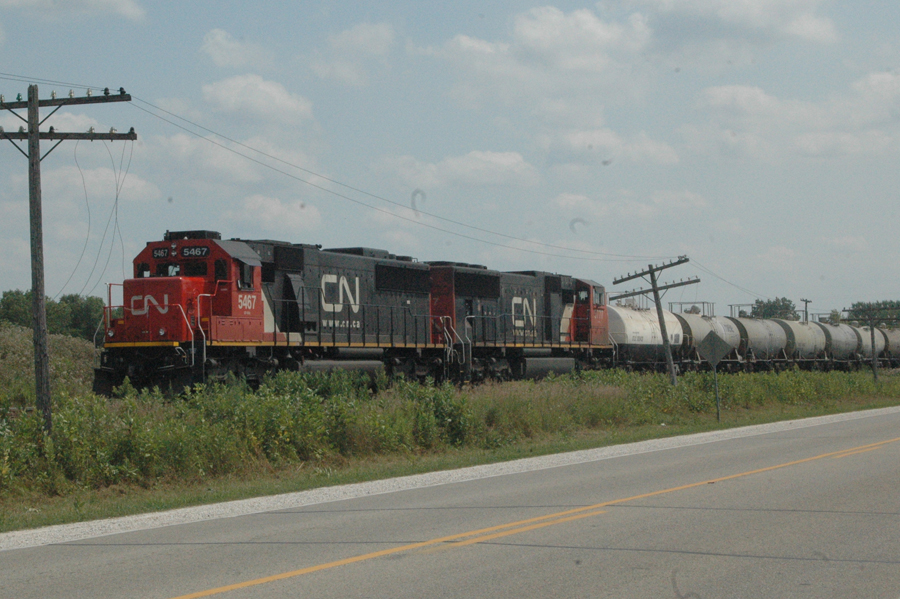 Then it was CP's turn for action at Duplainville. At 2:30, a unit tank-car empty train came thru with 9763/CEFX 1020/8610/8917 and 127 cars.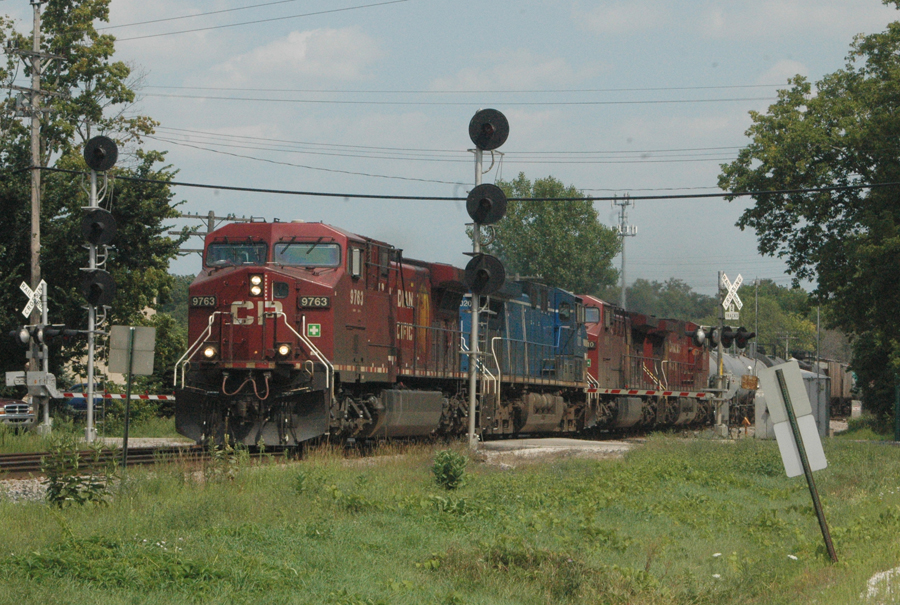 At 2:51 behind him came #281, the train with the big string of auto trilevels for the Twin Cities on the rear, behind 8553/8751/8928/8954 with 50 miscellaneous freight cars and 34 trilevels.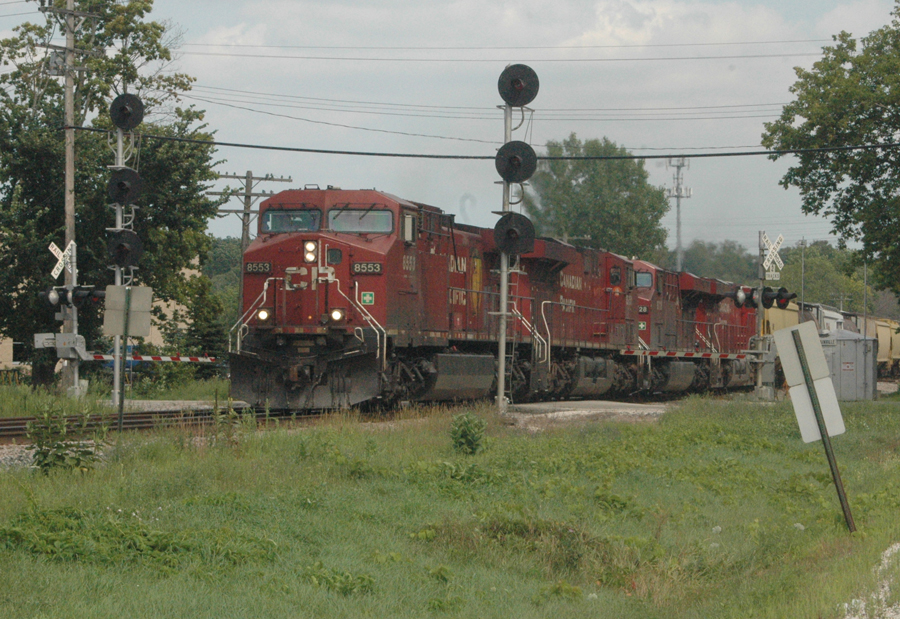 An hour later, I was over at Brookfield for Amtrak #8, running over 2 hours late as usual, with 12 cars behind 202/147 at 3:57.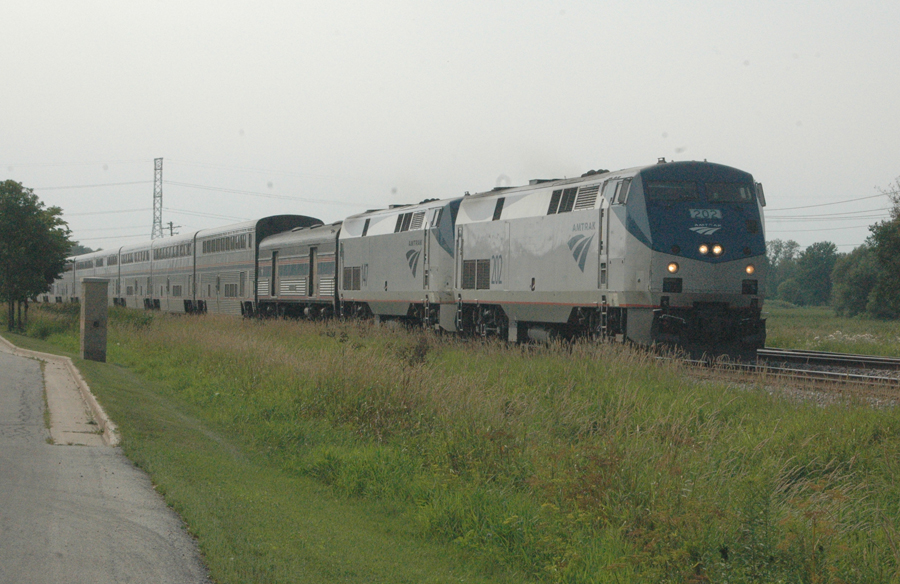 I hustled back to Duplainville for Amtrak #7, on time at 4:16, with 197/130 and 15 cars, including 3 PV's (with "Santa Fe" markings, IIRC) on the rear.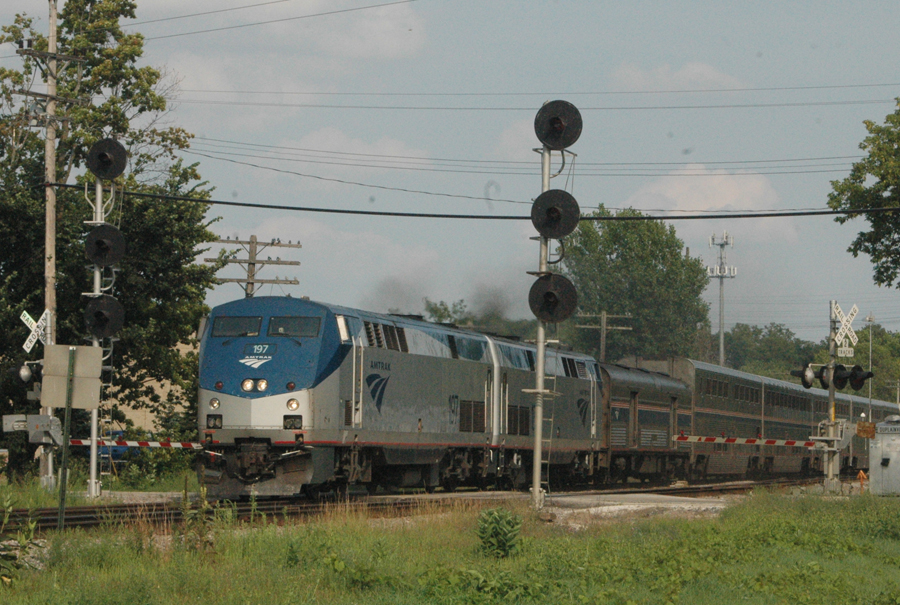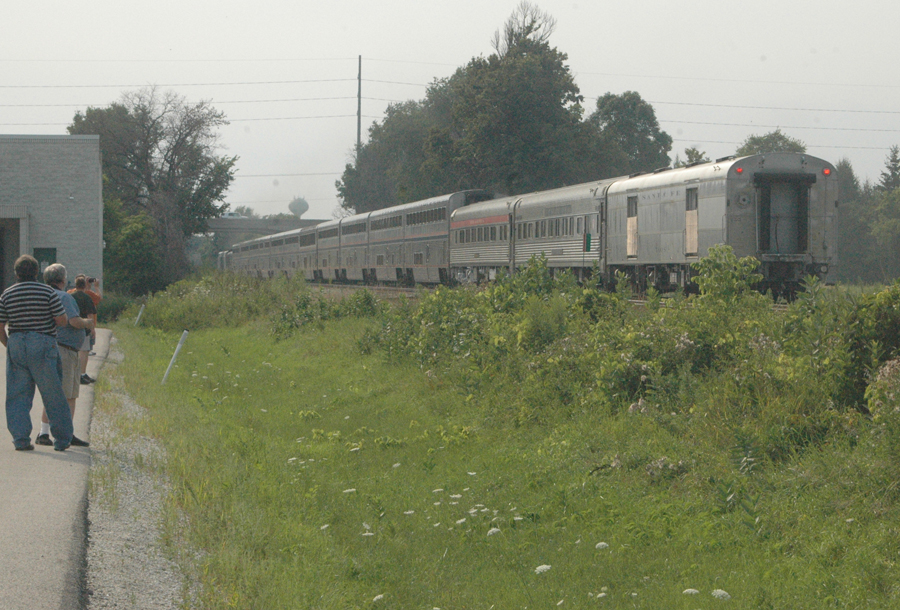 Finally, at 4:38, CN #491 began backing around the Duplainville connection to the CP. It was nice to see the old-style cab on the lead unit, one of the former Oakway (BN) SD60's CN has acquired.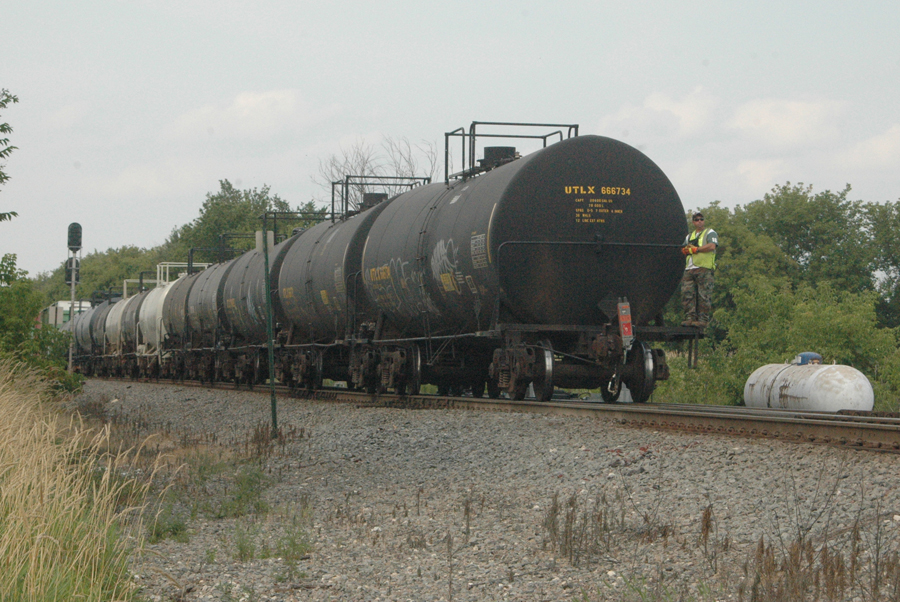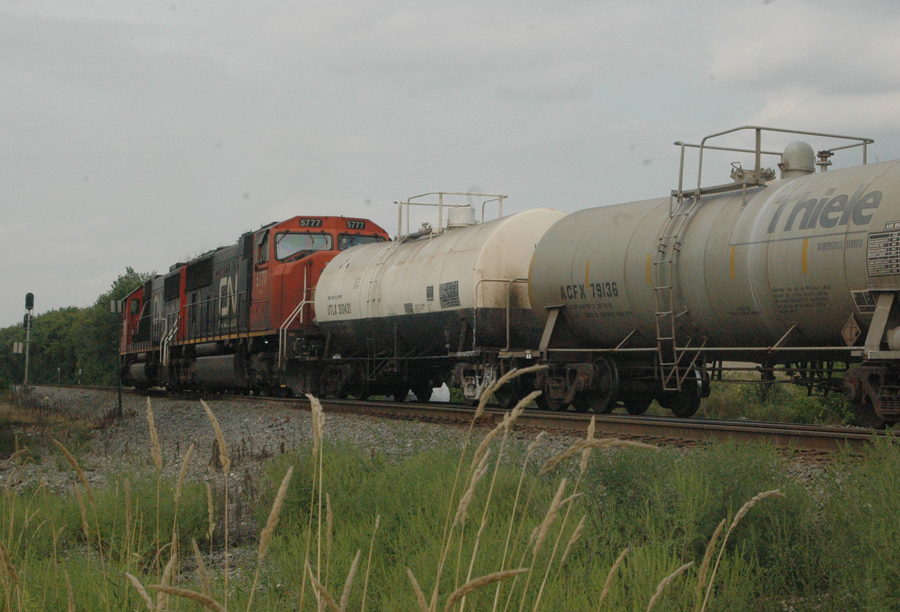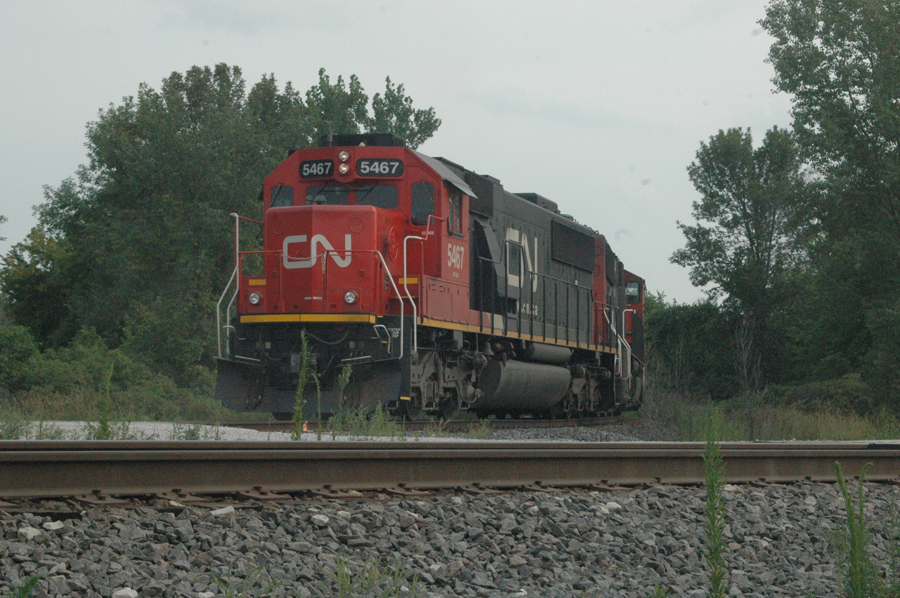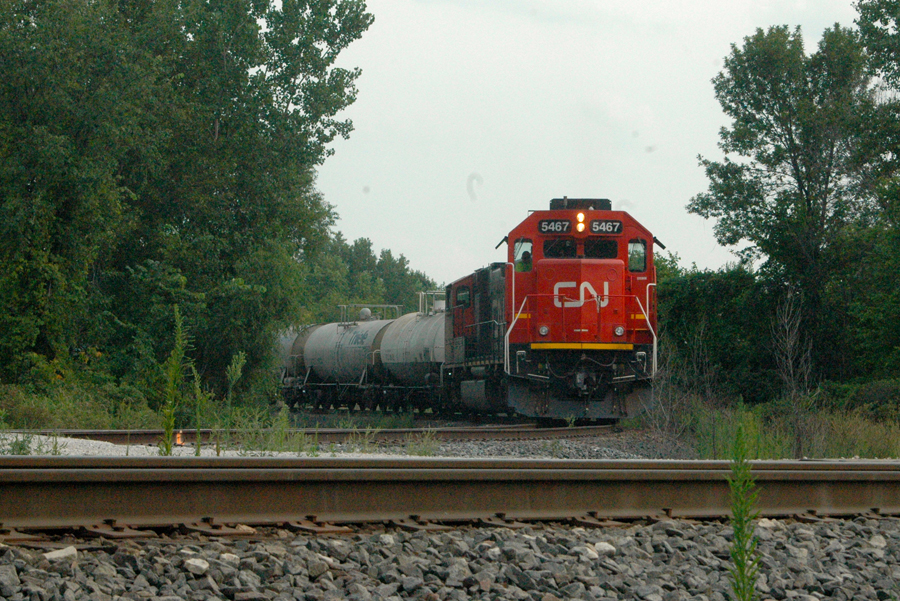 With the Amtrak and CP westbound fleet gone, detouring CN #491 headed west across the diamonds at 5:14 pm.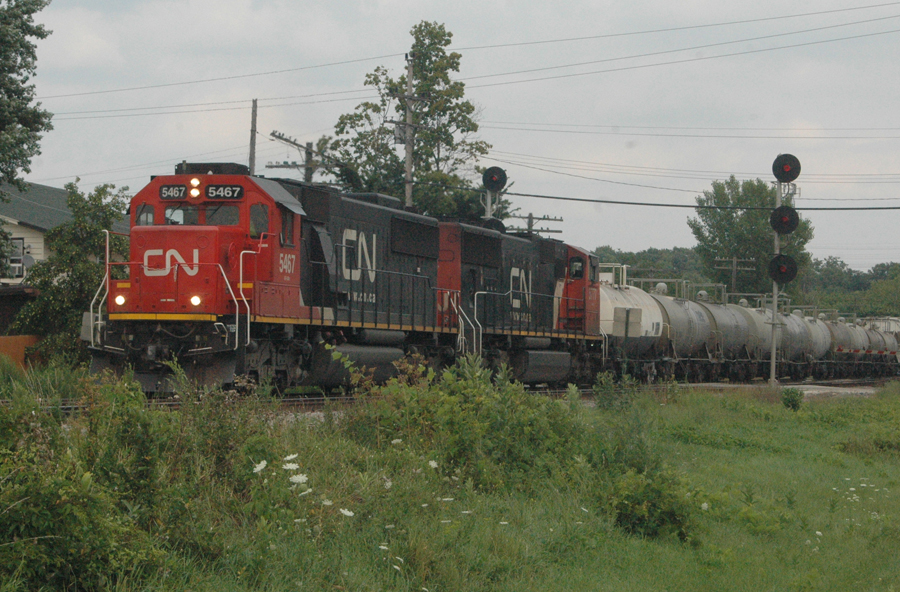 CN #491 didn't get far, only to the end of double-track at Pewaukee, however. I went to tha lakefront in Pewaukee and got CP 2nd #484 at 5:31 with 8892/CEFX 1041. My old D70 tends to pop its flash unit up, often at odd times, but on this dark afternoon it was expected, and note how the flash bounced off the reflective striping on the rear unit.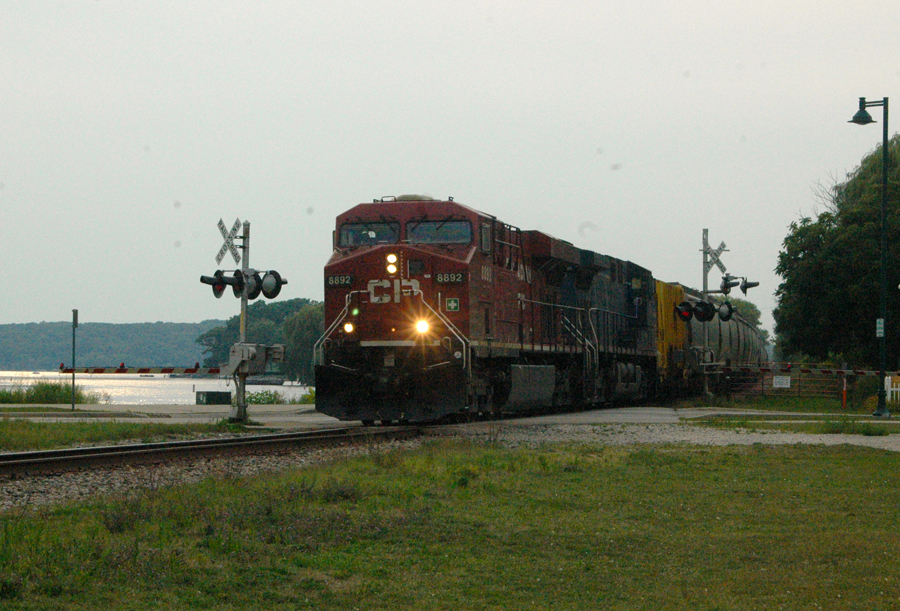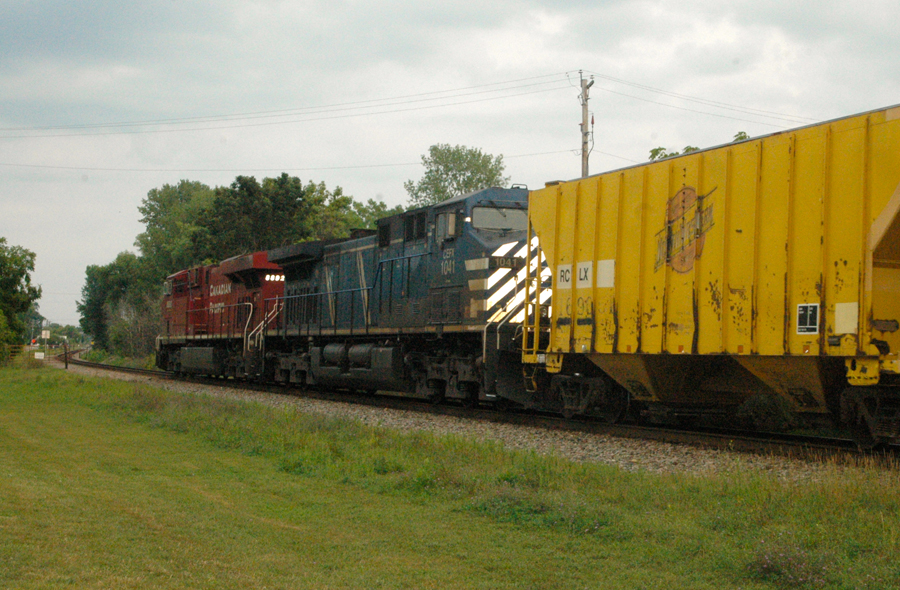 I then went to Oakton Avenue for CN #491 again, but took only slides, and had one slide left, and didn't bother with digital, for the last train of this busy August 18th, a northbound CN near Duplainville with 2145/5794, the lead unit being an ex-Santa Fe Warbonnet unit.
My third and final CN detour train was in mid-morning on Tuesday, Aug 20, when I heard about -- at the last minute -- a southbound CN stack train coming toward Duplainville. I went north on Springdale Road, east of the diamond, and found him stopped on the CP, ready to back around the connection. He had engines 2663/2155 and 148 wells. My first shots, about 10:20 am, show the rear portion of the train, and the traffic back-up on Springdale. I had turned into the residential side street to the west, just south of the tracks, and backed up into my usual parking place on the roomy shoulder.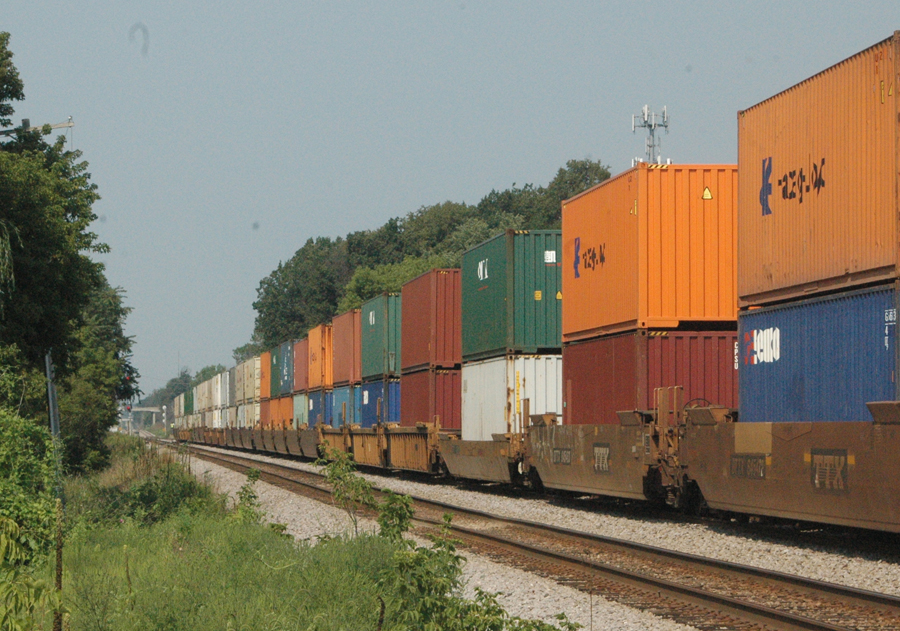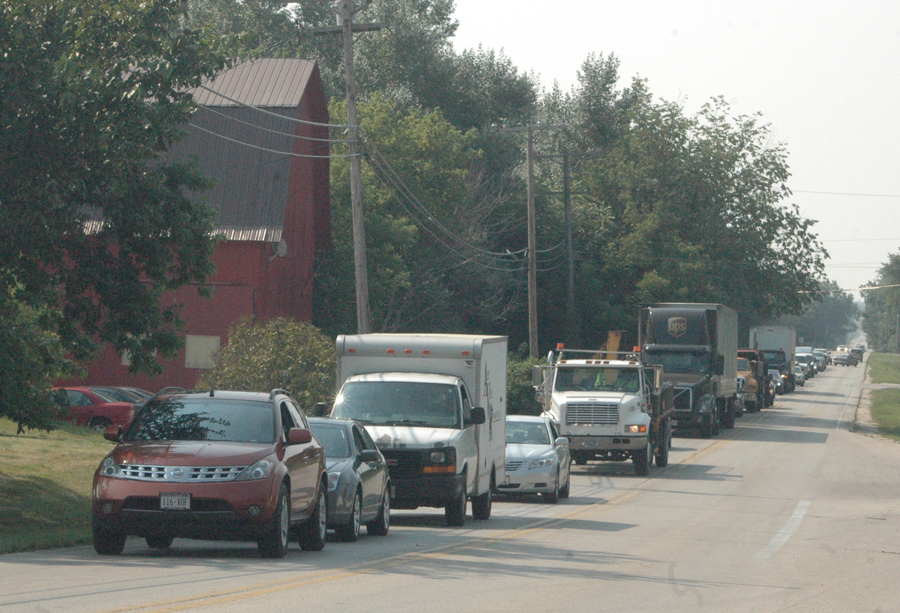 By the time the engines cleared, it was 10:34.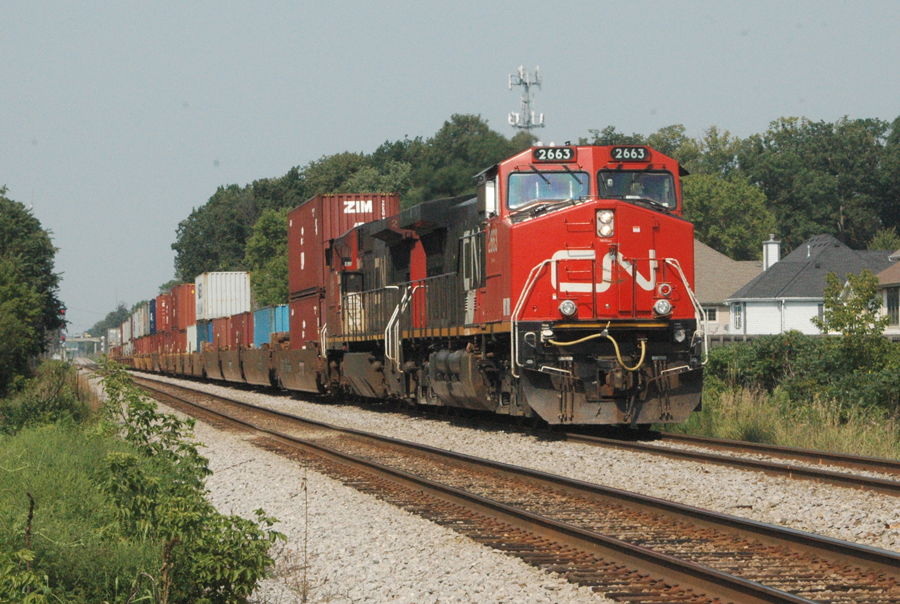 This Tuesday was "picnic day" for our local railroad slide gang, down in Sturtevant, so I left the home area early to beat Milwaukee rush-hour traffic and headed for CP's C&M Division, the old MILW main line, going first to the Sturtevant Amtrak station to shoot Hiawatha #338, due about 3:25 p.m. but running a tad late from some earlier delay with the train set. Just after I arrived and went up to the platform, here came a westbound tank-car train behind two NS units, 7524/7552 (ex-Conrail, I believe), at 3:36.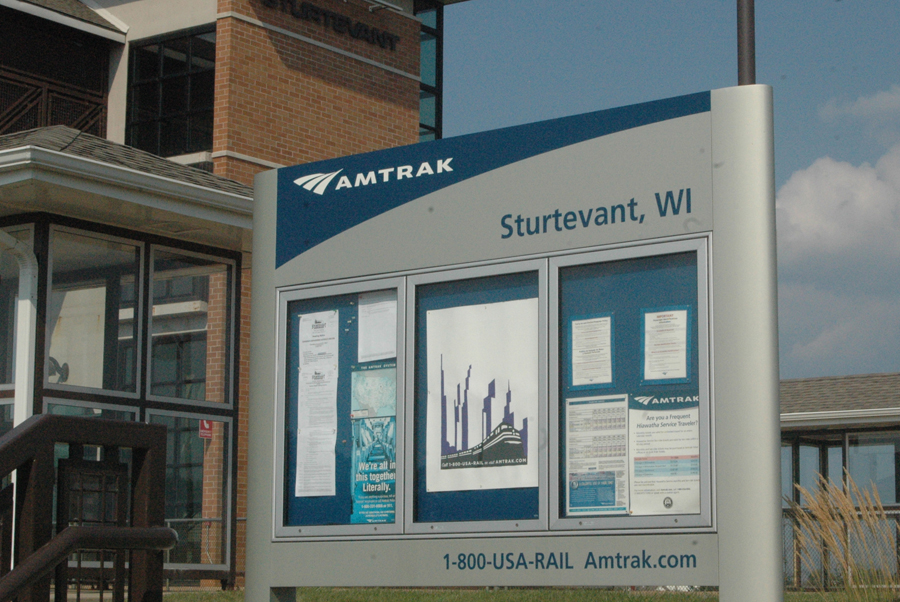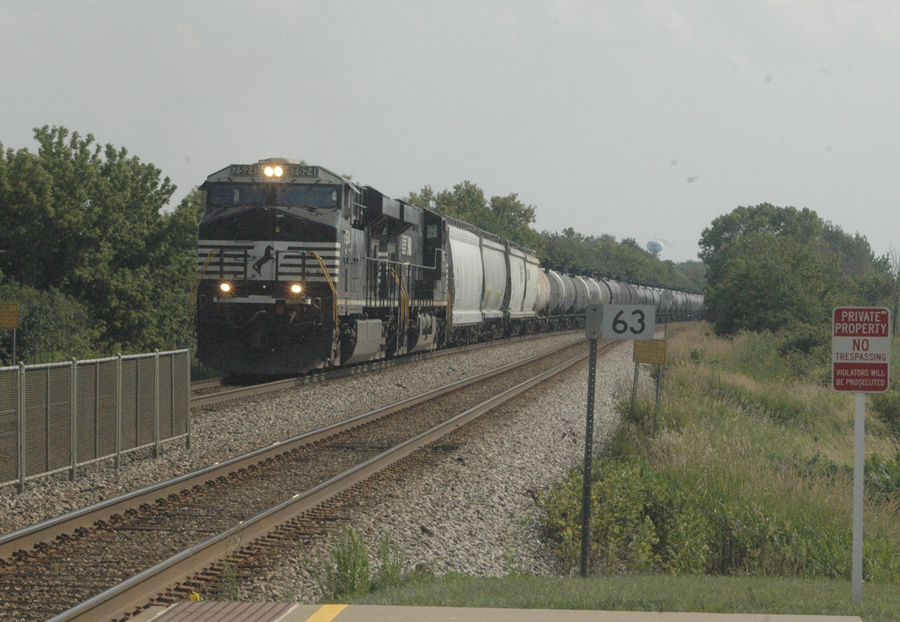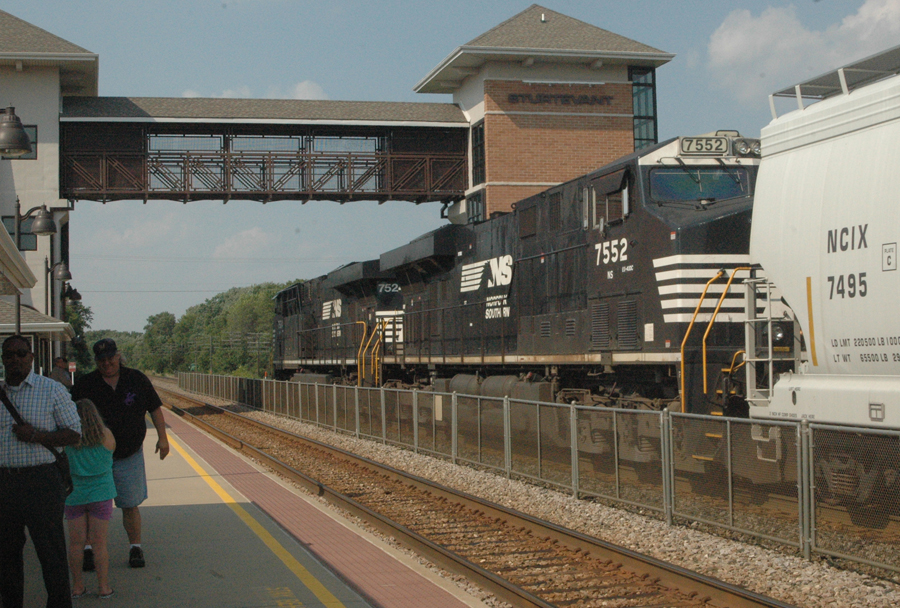 The Hiawatha arrived at 3:39, but would make a 7-minute stop because after the waiting passengers loaded and a handful disembarked, a wheelchair-bound passenger was unloaded. Normally trains stop here for only a minute or two. Instead of the usual NPCU (former F40 engine, nicknamed "F40 bags -- they are "control cab cars" with the initials meaning non-powered control unit) on the south end, it was P32 engine 500.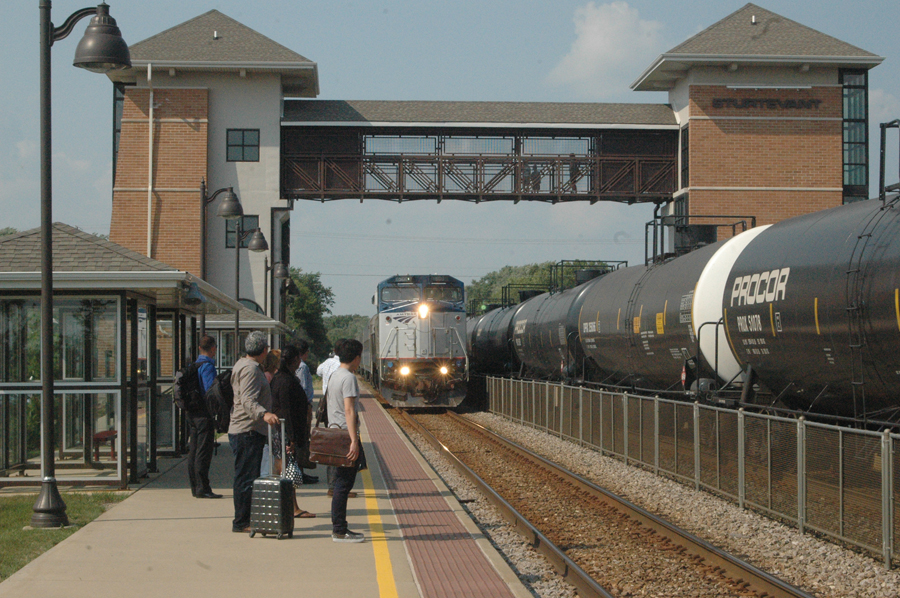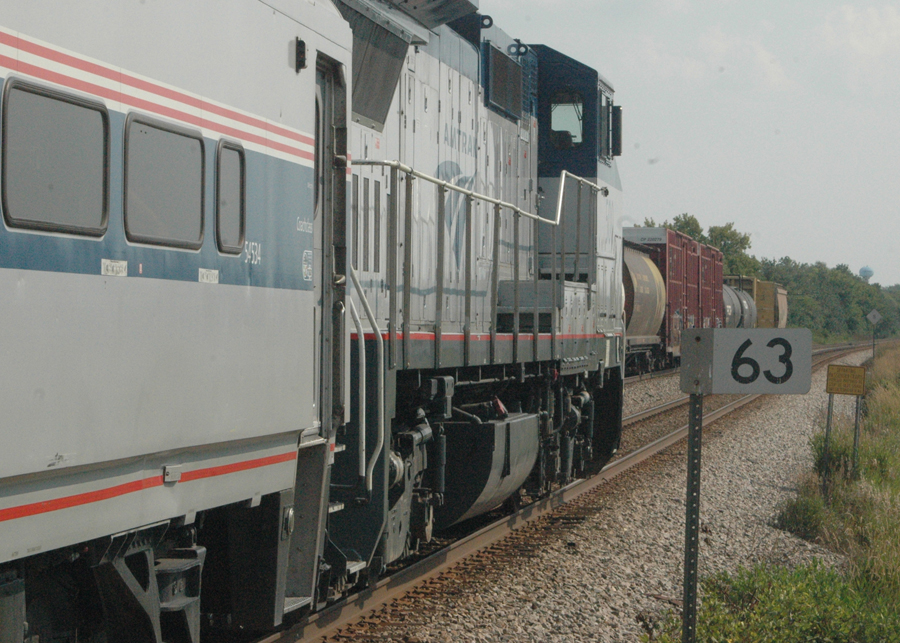 After all the unloading, the conductor had to re-lock-up the wheelchair ramp apparatus, and #338 pulled out at 3:46, engine 51 on the rear.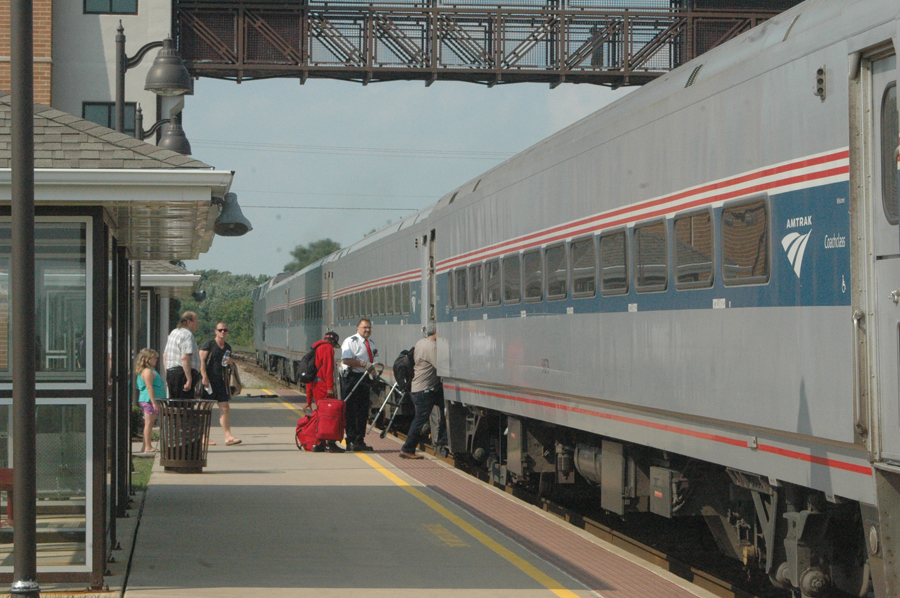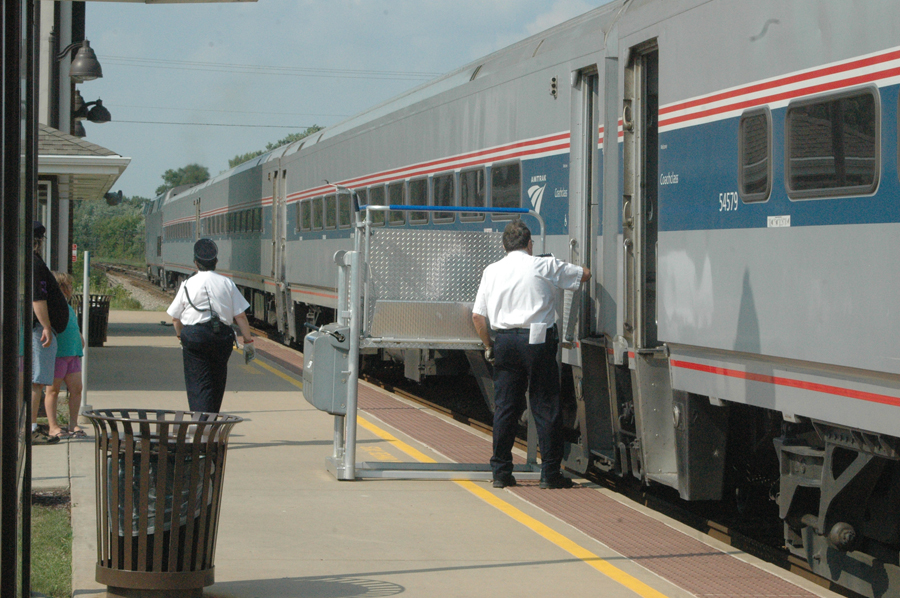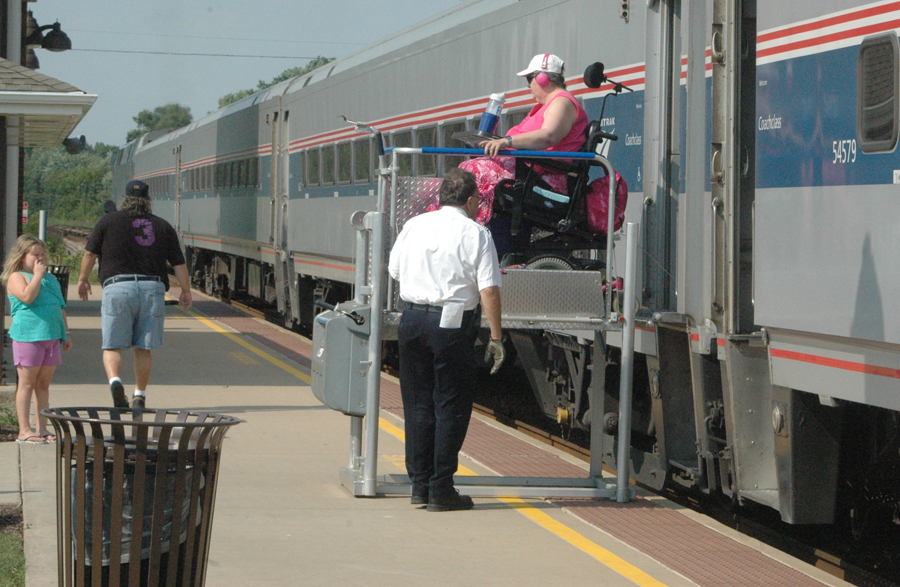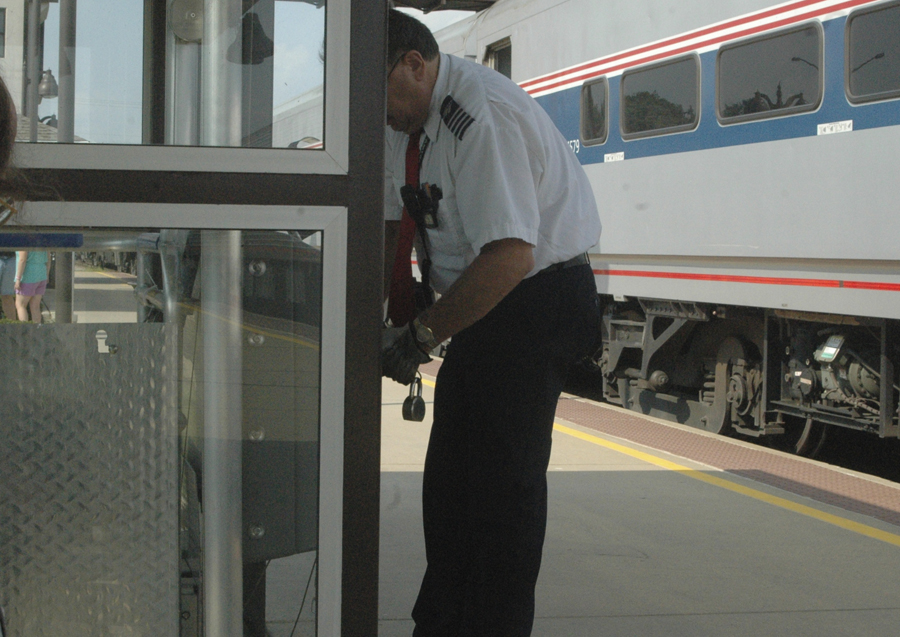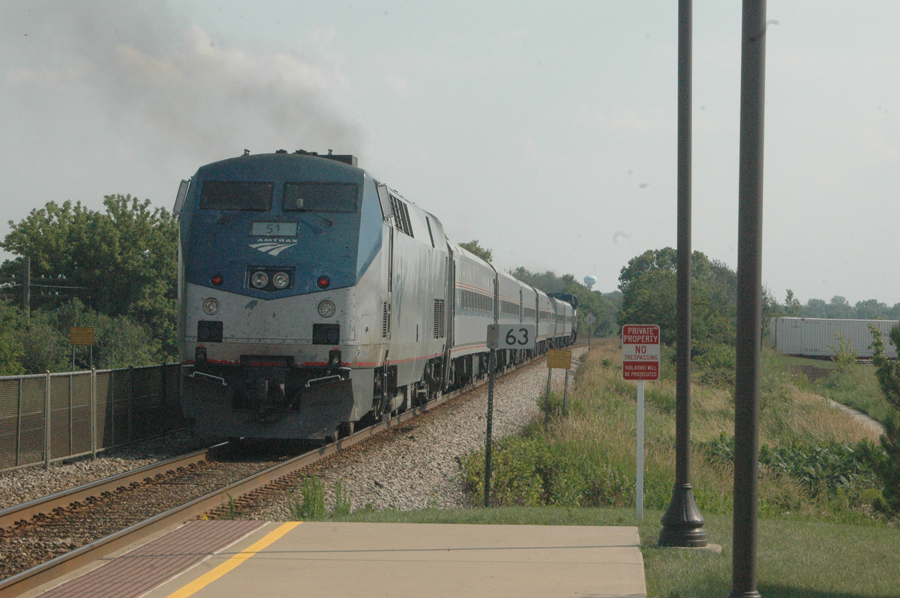 I went to the old Sturtevant station site to see the other Hiawatha set, which came by at 4:13 with engine 30, 6 Horizon coaches, and NPCU 90200, rebuilt from the first-ever F40PH, #200.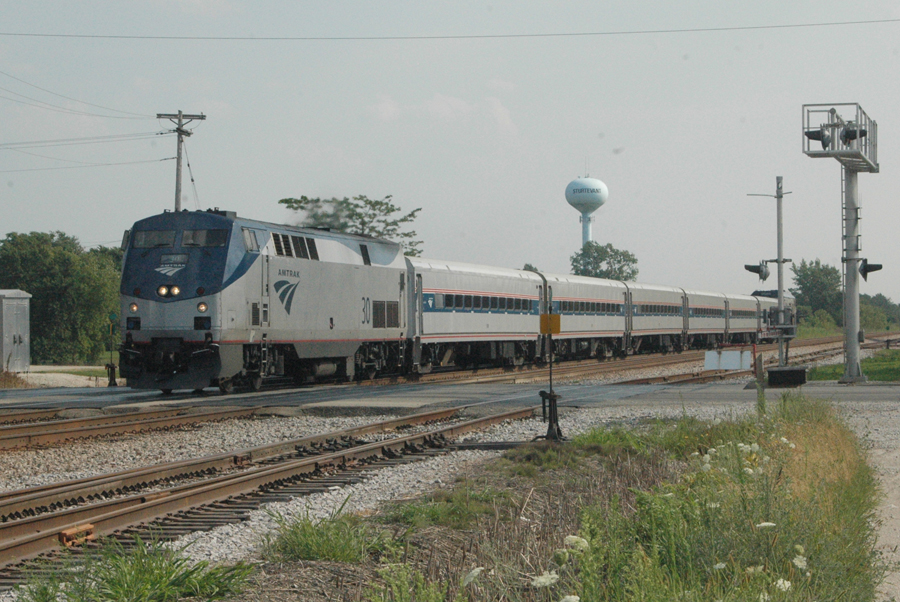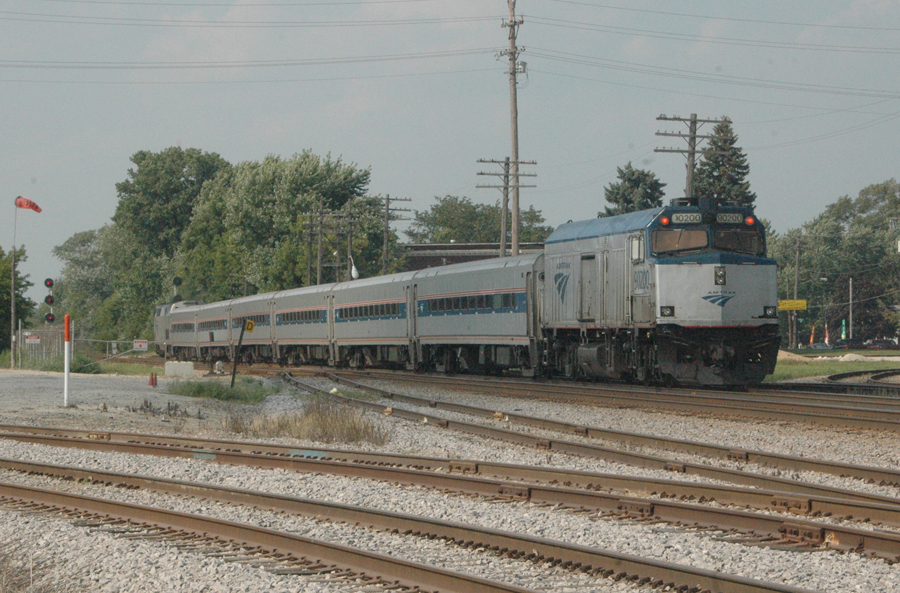 The westbound Empire Builder had been delayed in Chicago (due out at 2:15 pm) by, IIRC, a late-arriving Lake Shore Limited, and was getting later. Foolishly, I stuck it out and finally shot it at 5:16 in Franksville, engines 169/13 and the usual 12 cars.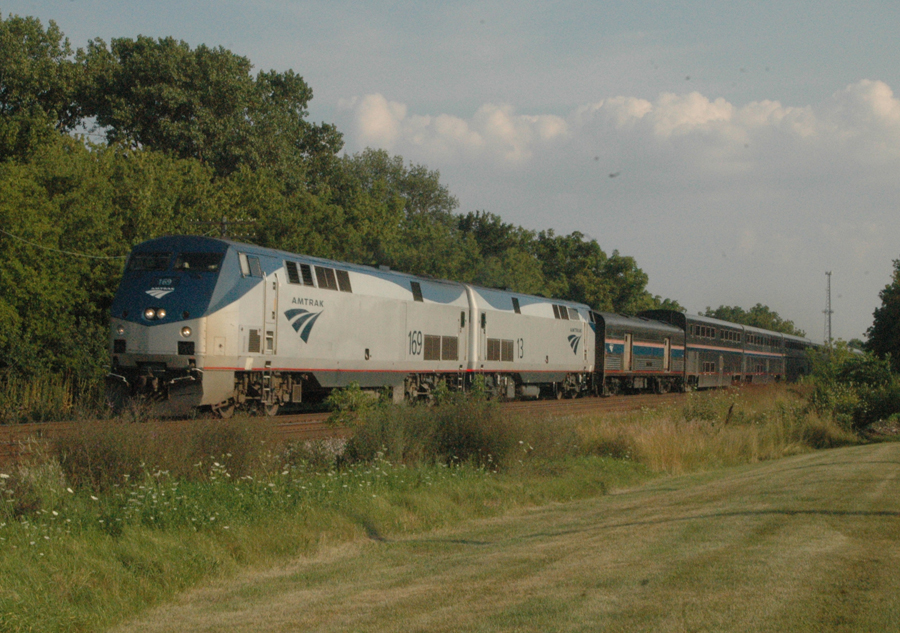 I say "foolishly," as I knew a UP Inspection Special was in the area, heading for Chicago on the Milwaukee Sub, the old C&NW "New Line," but I had no information on its exact progress out of Butler Yard in Milwaukee. Another carload of Waukesha guys headed for the picnic went over to the UP, 2 miles east of where I was waiting for Amtrak #7, and lucked-out in nabbing the special shortly after they arrived at trackside. One of them, either Otto Dobnick or Denny Hamilton, shared their photo, taken at Highway K.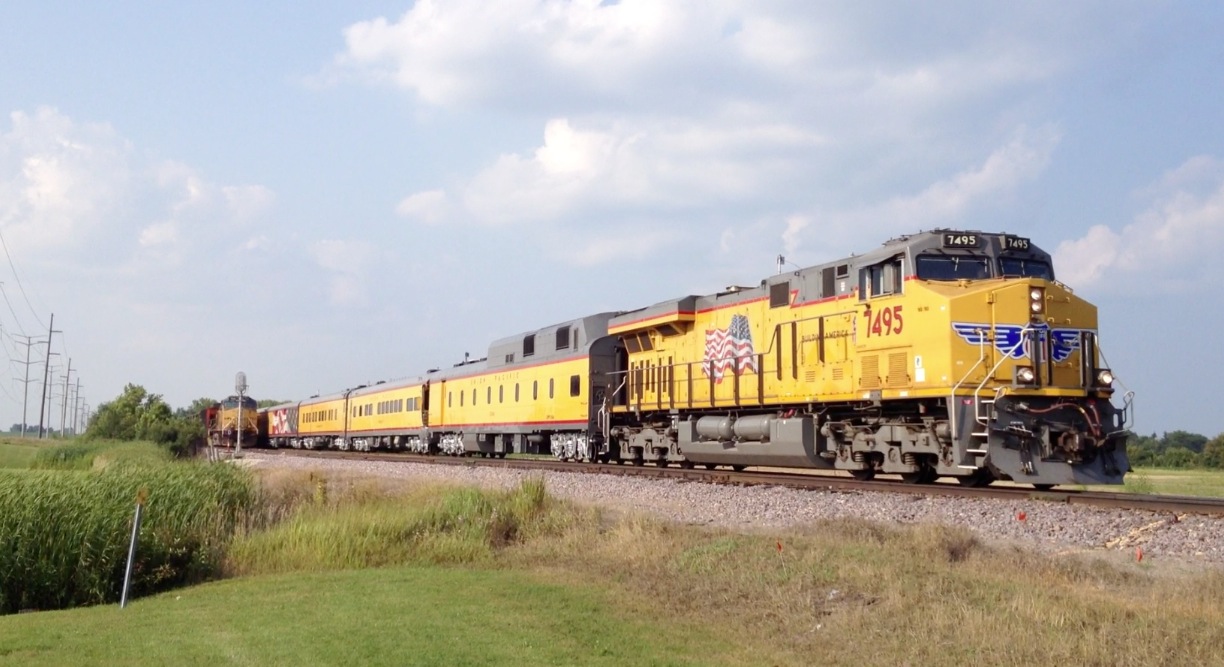 This page was designed and is maintained by Mike Condren. If you have materials
that you would like to contribute, contact me at mcondren@cbu.edu