April 2015 Local Action
by Dave Ingles
April local photography started out normally on the 2nd when I went out for a 2:45-or-so late Empire Builder at Duplainville, by me at 3:26 p.m, 176/151 and the usual 11 cars. With the new D700 the short zoom lens is about the same as with my N90 35mm slide camera, so "35mm" really is a wide-angle and with no one else at Dupy for #8 for once (not surprising on a Thursday, I guess), I parked on the road's paved shoulder and included the home signal for the diamond. With the old D70, 35mm on that zoom equated to a 50mm on the N90, so what I've lost is a true telephoto effect with it at 80mm, vs. the previous 105mm or so effect.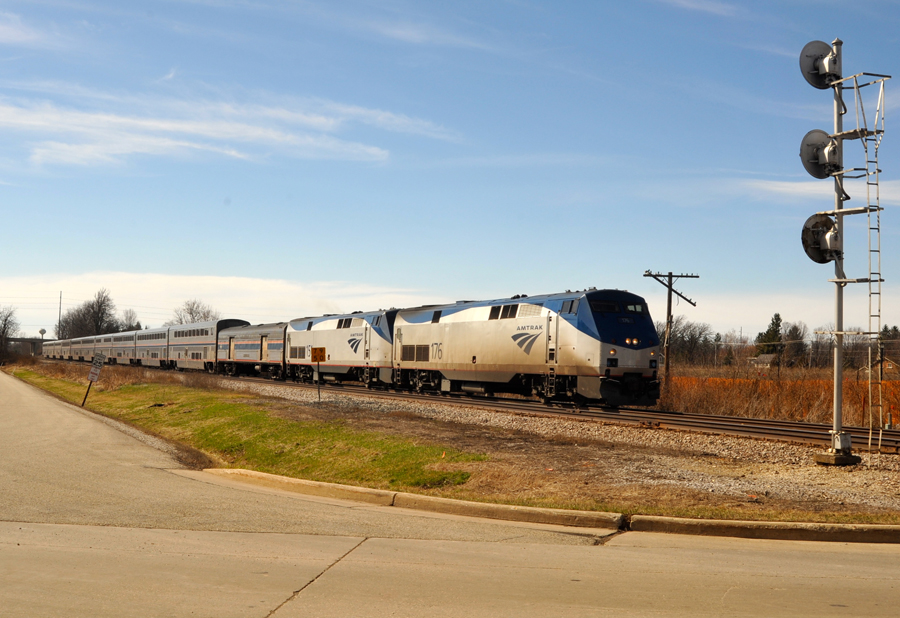 CN quickly produced a southbound, probably the old #446 the NS connection (lots of clay slurry tank cars for papermaking, for instance, returning to Georgia), units 2874/2839 up front, then 103 cars, DPU 2933, then 64 cars for 167 total. CN finally has removed the old trackside pole line, opening up a few spots along Duplainville Road with no poles compromising your view. Thus the head-end shot at Milepost 105; when he stopped for the diamond, at 3:37, I shot the DPU south of MP 104 from the side of the road.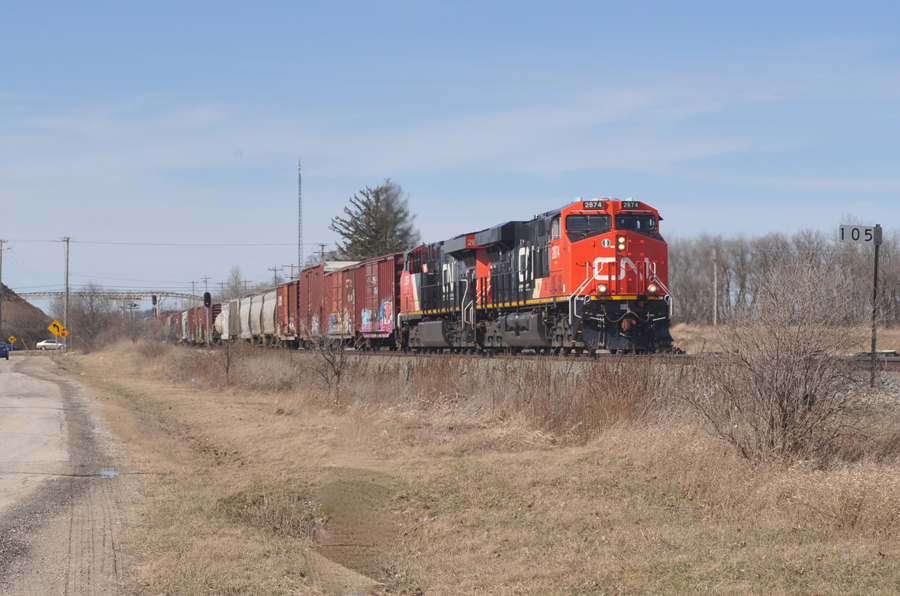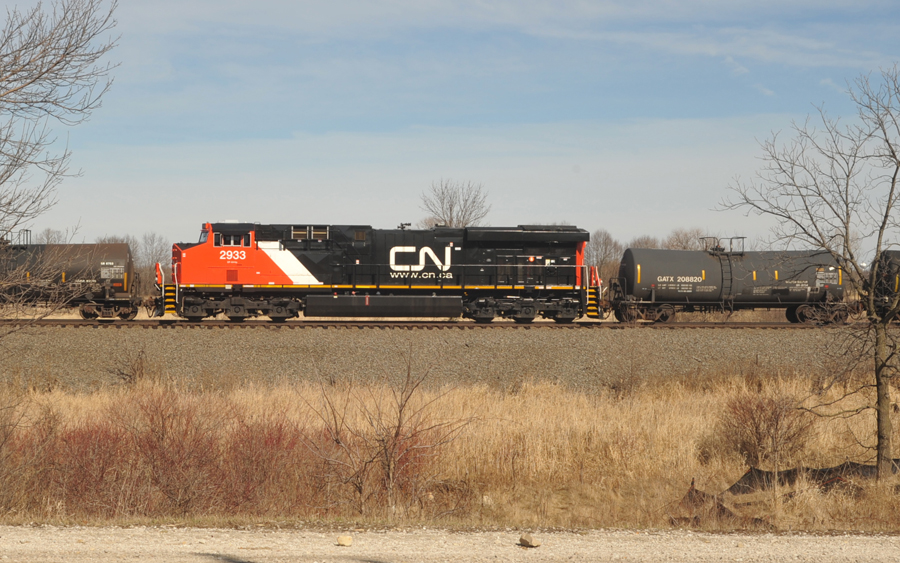 The westbound Empire Builder was next, on-time at 4:14, with PV Puget Sound on the rear making for a 12-car consist behind units 150/77.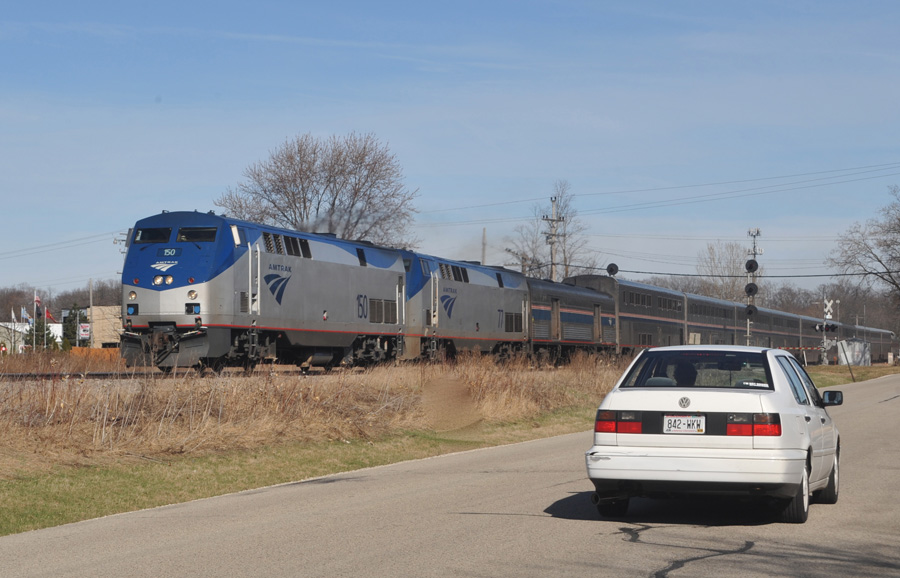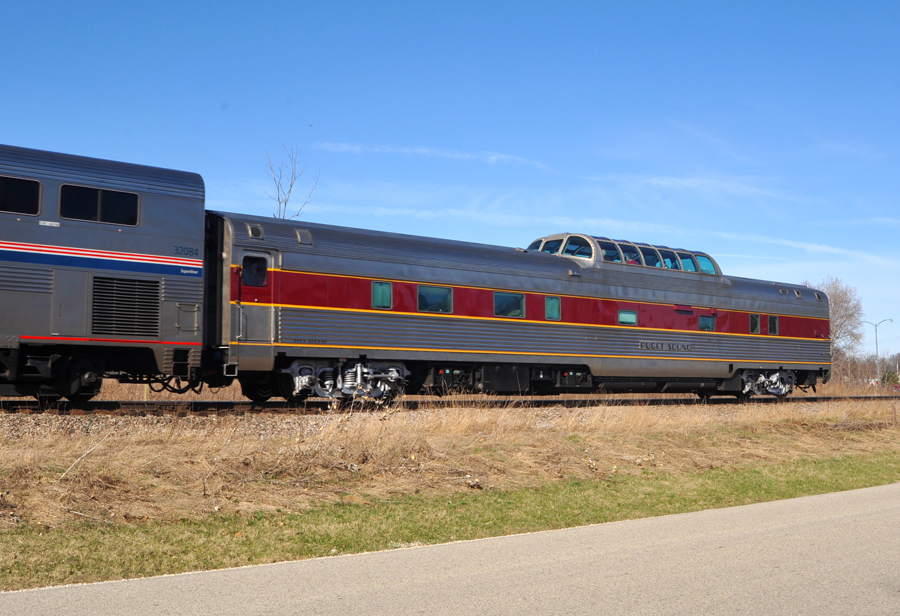 With CN #446 holding for a meet after Amtrak passed, since he was on the main I went back to the Weyer Road vicinity for this shot of northbound stacker, I think #119, passing #446's rear end, just for something a bit different, this angle from Lindsay Road looking northeast. Time here: 4:30; stacker's units are 2224/8951 with 188 container wells (the way I "count" stack-train lengths).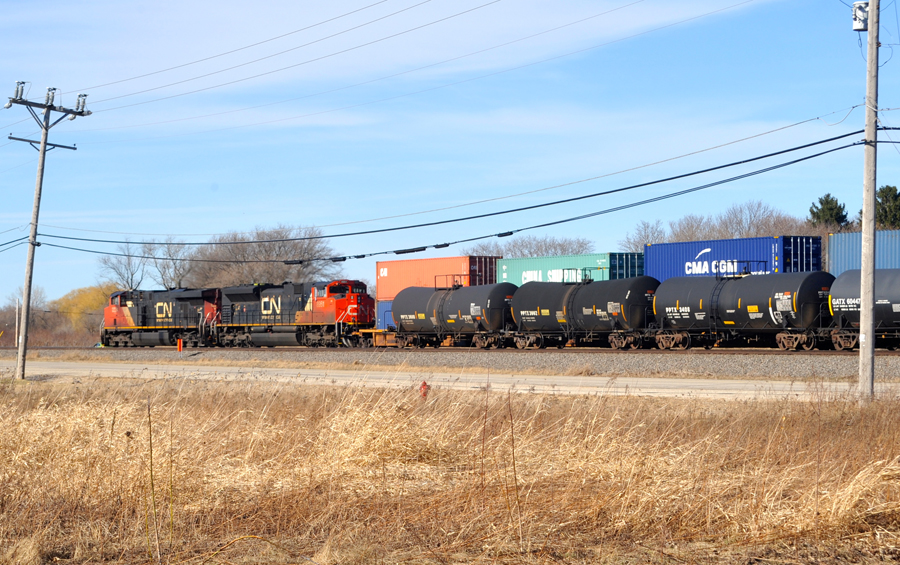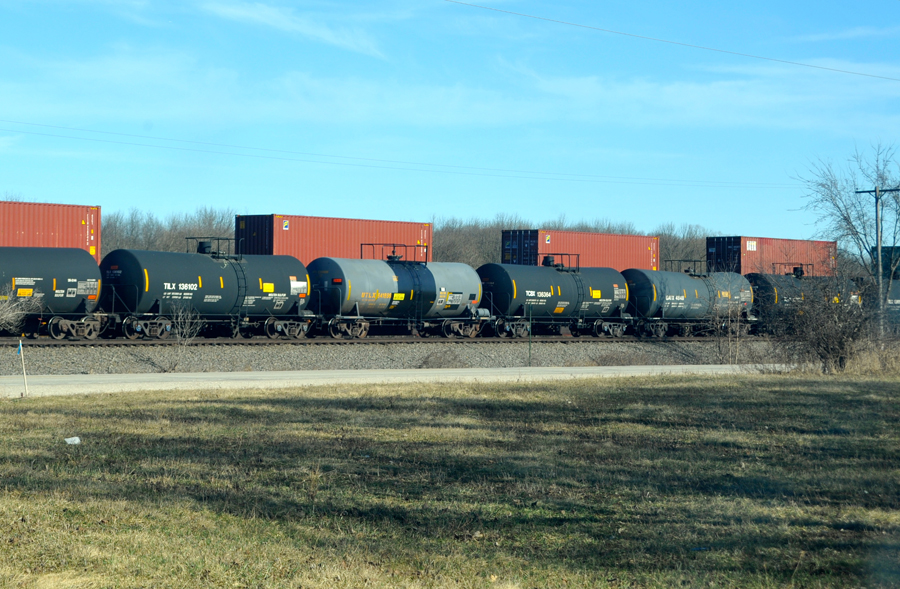 Next was a westbound CP empty tank train, units 9826/8562, at 5:50 passing the 'Wooden Owl" crossing (atop the pole at left) at Oakton Avenue in Pewaukee.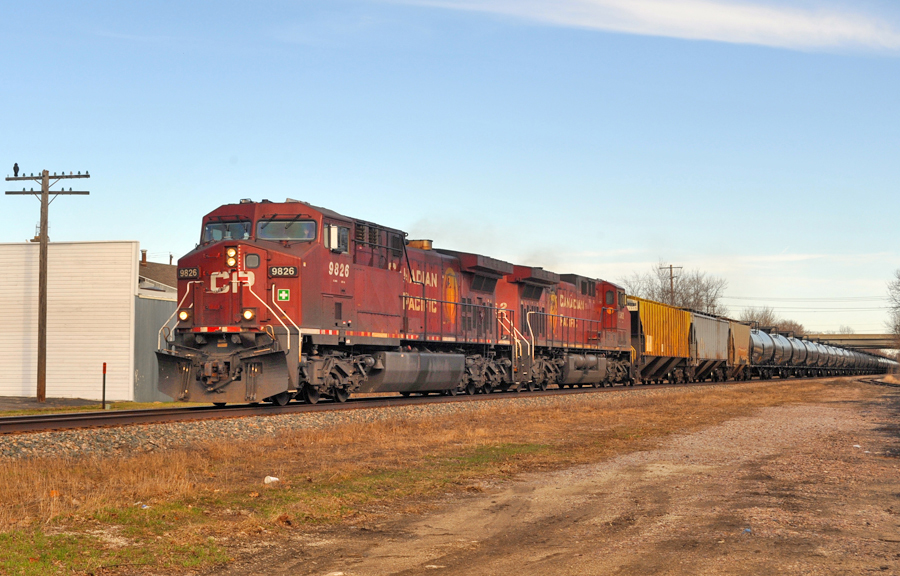 Finishing up  the action on this almost-boring (nothing different or exciting) afternoon was this CP westbound, which pulled to a stop at the "crew-change stairway" at MP104, behind a trucking firm, with leaser CEFX 1045/8505 up front at 5:38. Time to head home for supper.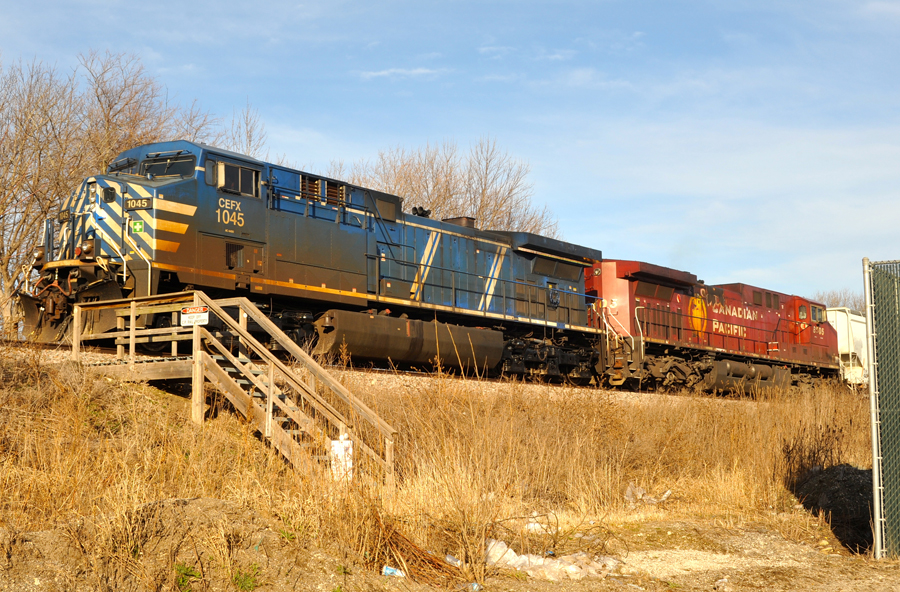 I spent some time trackside on Sat., April 4th, and had been making a habit of leaving the slide camera at home with "the same old stuff" so prevalent locally. This day would be the first in a few when I wished I had the N90 along, for the third CP freight. But first, this ho-hum pair of 9624/8918 passed Pewaukee at 12:23 pm with an empty tank-car train.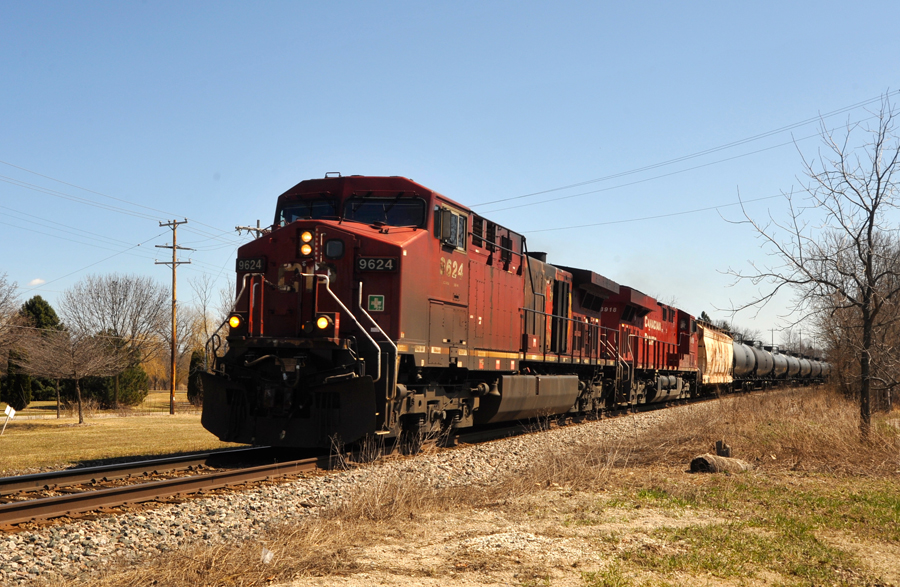 Back in Waukesha an hour and a half later, CN southbound stack train 198 passed the old Wisconsin Central Lannon Stone depot, still in use by the railroad as a crew and M/W office, at 2:19, with units 5651/2148, the trailer one of the former Santa Fe Warbonnet GEs CN bought a few years ago. Local 504's unit, idle on a Saturday, is parked at left: GTW 5854. I've been nominally collecting slides of the 2100s, ex-C&NW and Santa Fe, but this was a trailing unit.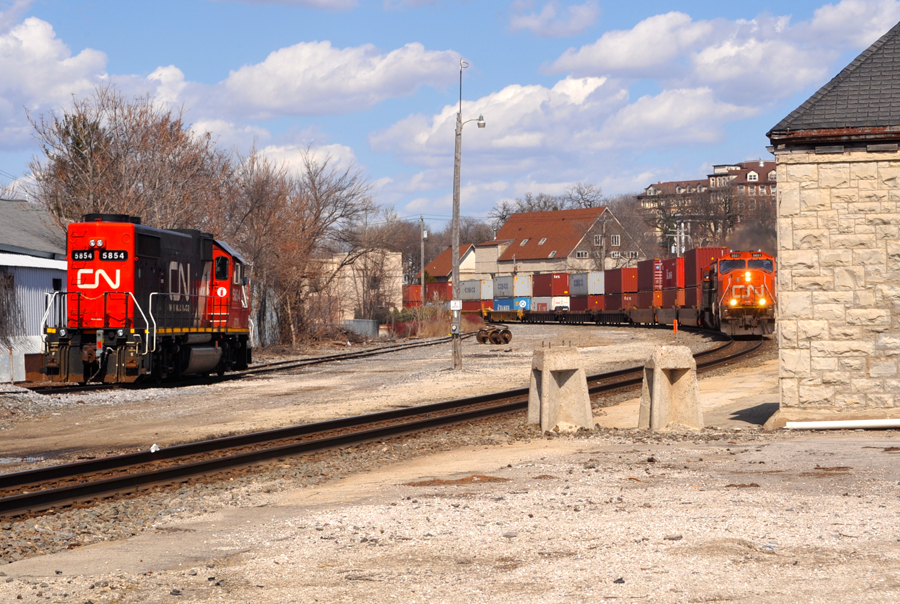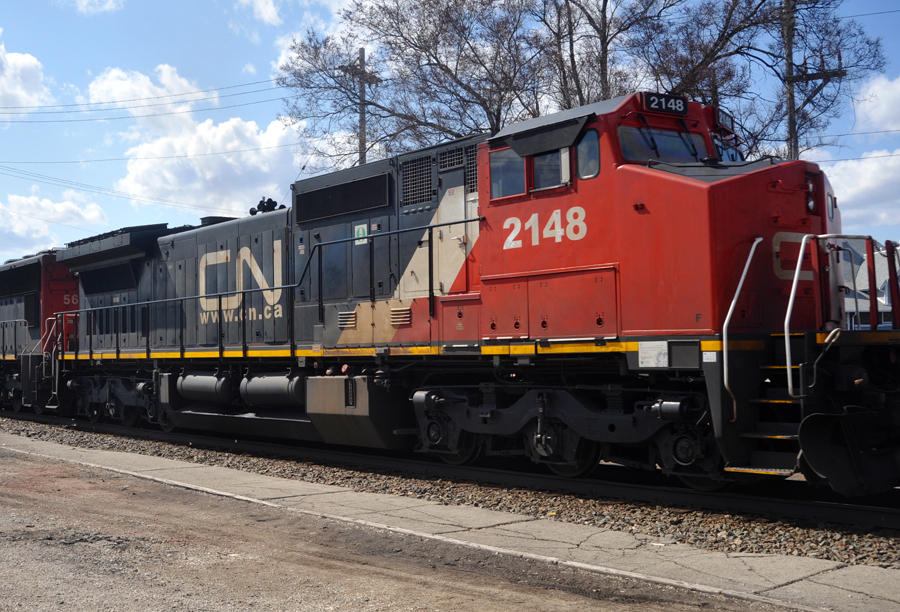 It being a weekend, I went to the office park in the City of Pewaukee at MP 103 for Amtrak #8, running about 1:45 late, passing at 3:26 with units 71/47 and the usual 11 cars. He had no more than passed when I heard a noise, and there at 3:29 went a westbound CP grain empty with 141 cars behind 6045/8592. He was slowing down so I figured he had to wait for a freight that came out from a siding to the west, Nashotah or Cooney, to follow #8, so I went to Pewaukee proper (village of) to set up. That "mosquito retention pond," as we facetiously call the bodies of water created in office parks and the like, has an aeration fountain working in the summer, making it a singular "scenic suburban spot" hereabouts.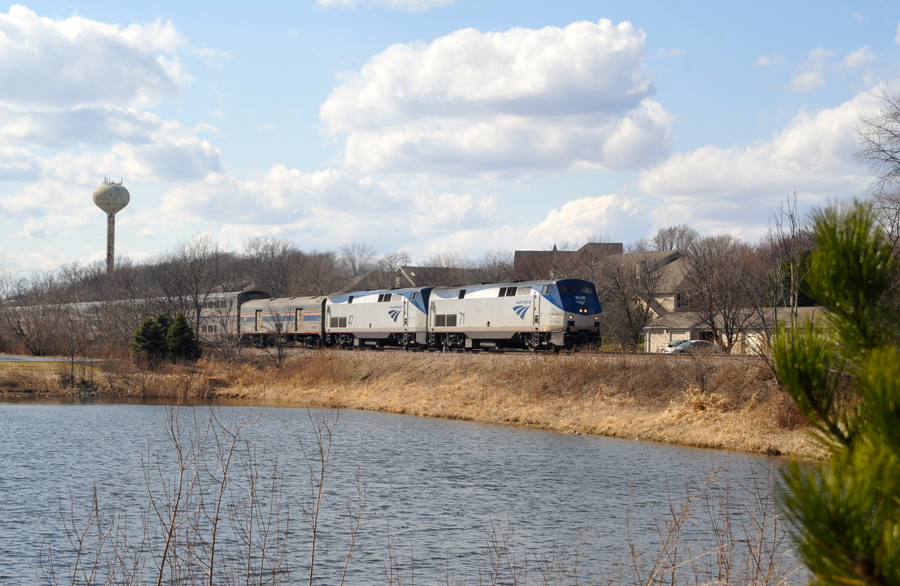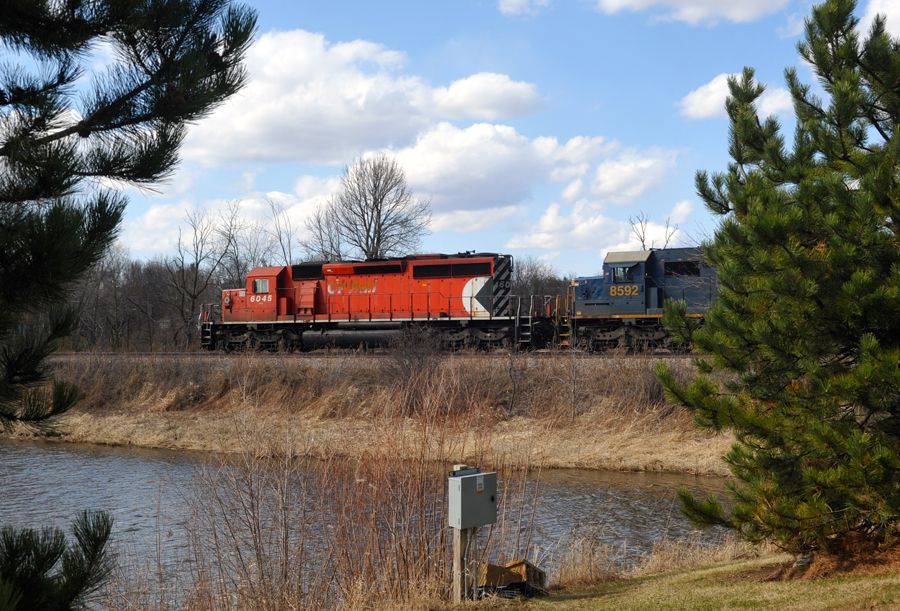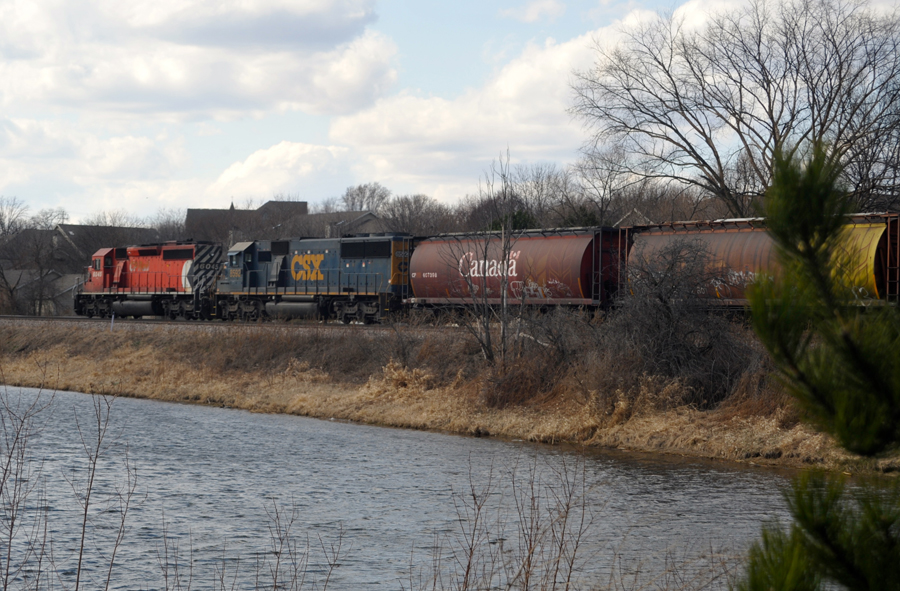 The eastbound he was waiting for was the first one I wished I had my N90 along for, because I've had rotten luck with getting the ex-Soo CP 6200-series SD60s in the lead. But here he came, at 3:38, with 6221/9603/6231 on 107 cars. Soon after he passed, the westbound grain empty entered the single track and soon passed by me, in ¾ sunlight until getting close, then again under a slight cloud. That's the Hwy. 16 freeway bridge in the background.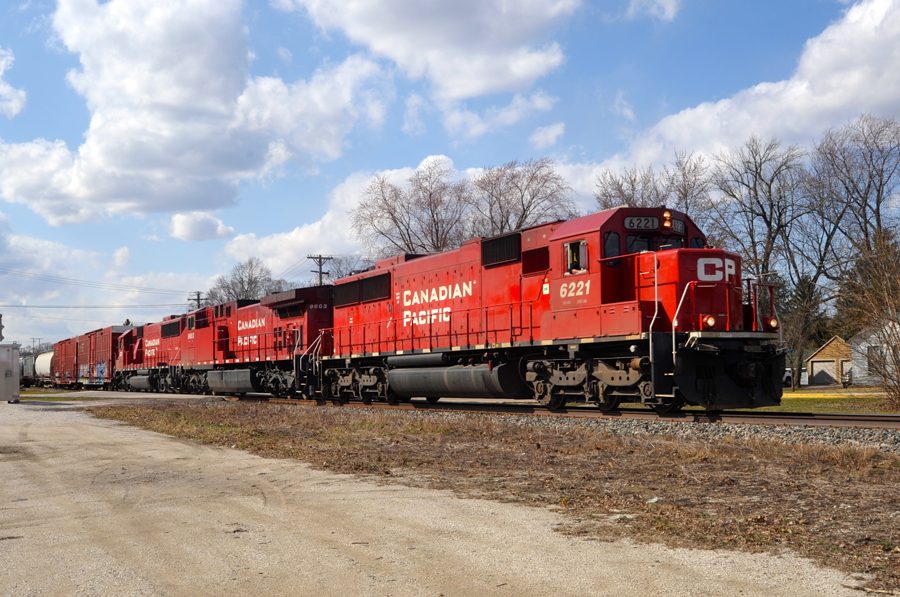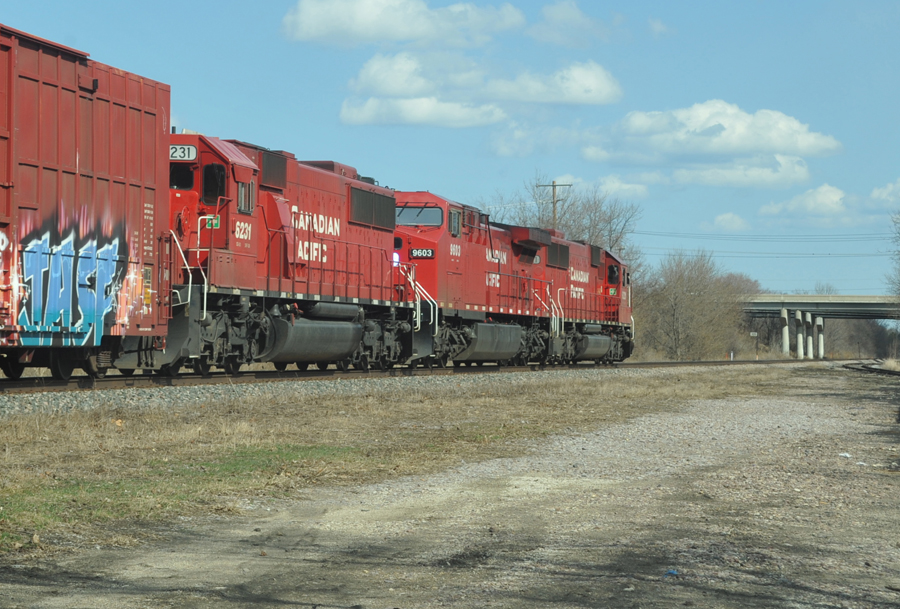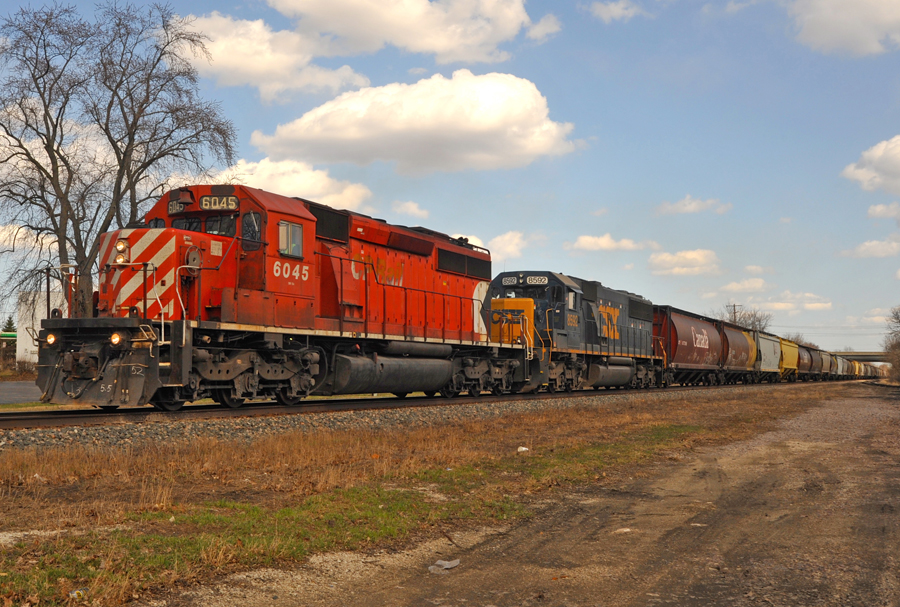 This Saturday's final action was CN stacker 119, with 8024/8007 and 171 wells, on the Spring Creek bridge at 4:08 p.m. The 8000s are somewhat unusual, numbering only 25 in the batch of SD70M-2s built in 2005-06, versus the 8800s and 8900s built beginning in 2007.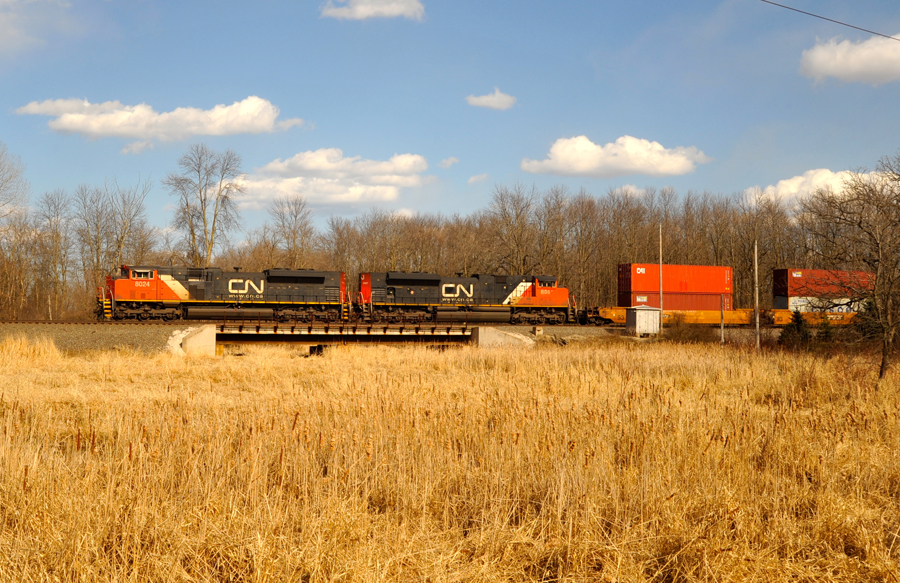 On Monday April 6th I caught my second mis-numbered CN ES44AC, 3025, leading a southbound with 2910 as trailer at 3:37 at Weyer Road and 5 minutes later at Duplainville. The train had 61 container wells and 68 tri-level auto racks.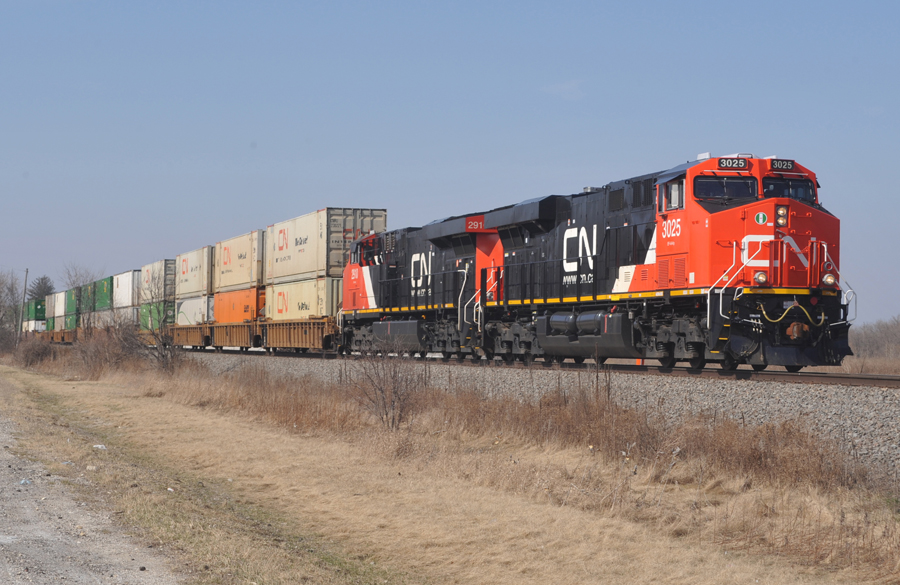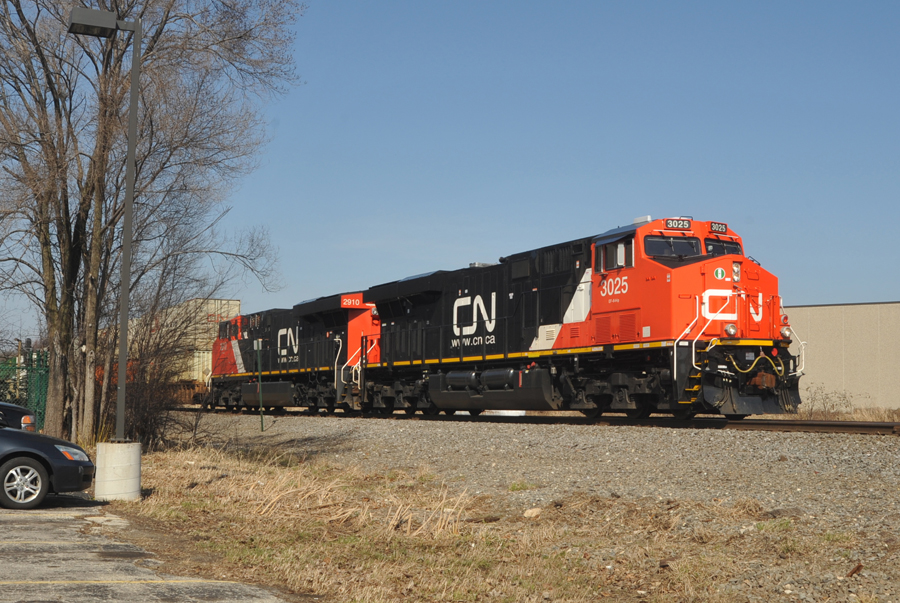 Next up were the Amtrak Empire Builders. Checking with "Julie," I sensed a possible meet around Brookfield, so headed over there. Didn't quite happen – first was #8, 2 ½ hours late, with 150/77 and 11 cars, by me at the city recycling/streets & san garage at 4:10. Counterpart #7 was about 5 minutes off, and not hearing him, I relocated for a depot shot, getting it with units 95/119 at 4:19. Allegedly the oldest in-service (M/W forces) depot in the state, the 19th-century building is due, CP says, to be replaced, and supposedly the city and CP have a deal to move the building a few hundred feet, where it could serve as a trailhead or just a historic mini-museum or something.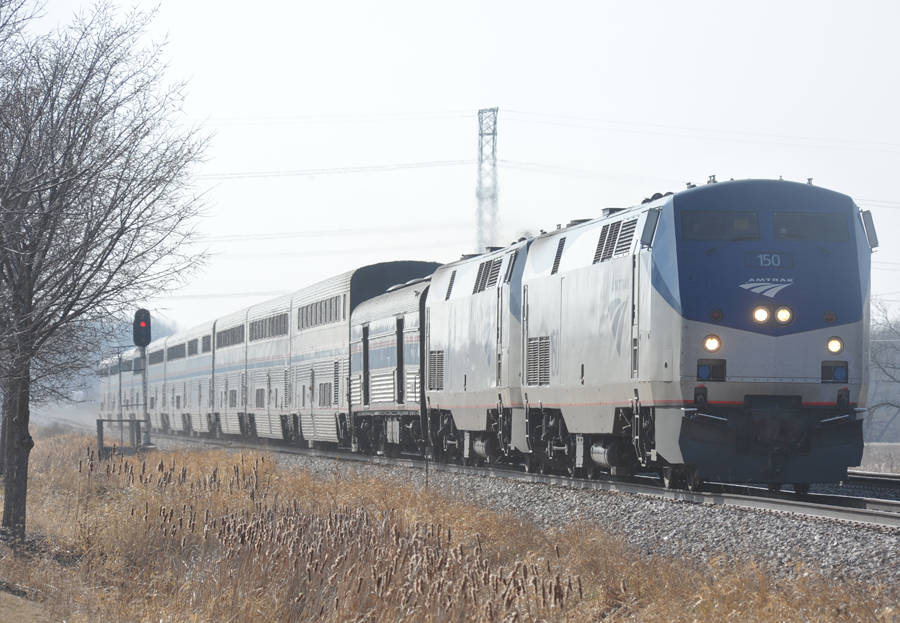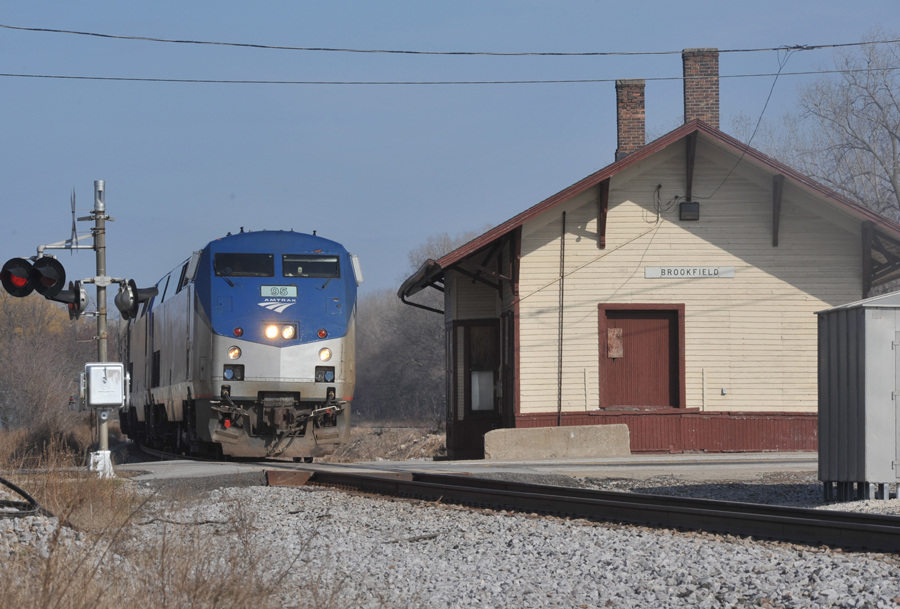 After a check on CN, and seeing local L504 returning from Burlington with 2 cars, I headed into Waukesha and at 4:42 shot my final train of the afternoon, CN stacker #119 with units 2600/BCOL 4653, passing the depot at 4:42. That BCOL class of C44-9s is a bit unusual, there being only 14, 4 built in 1995 and 10 in 2000; unlike their cowl sisters, they wear BCOL's solid-blue scheme.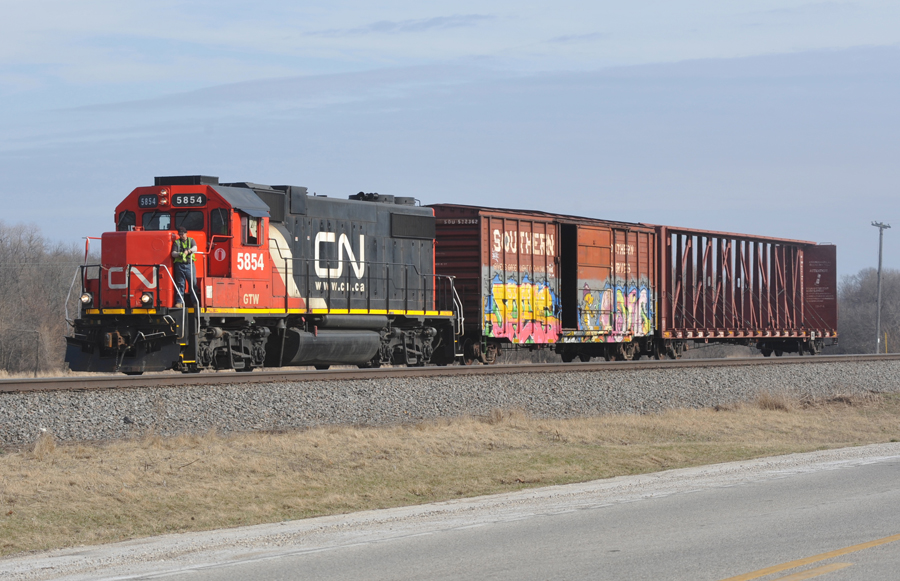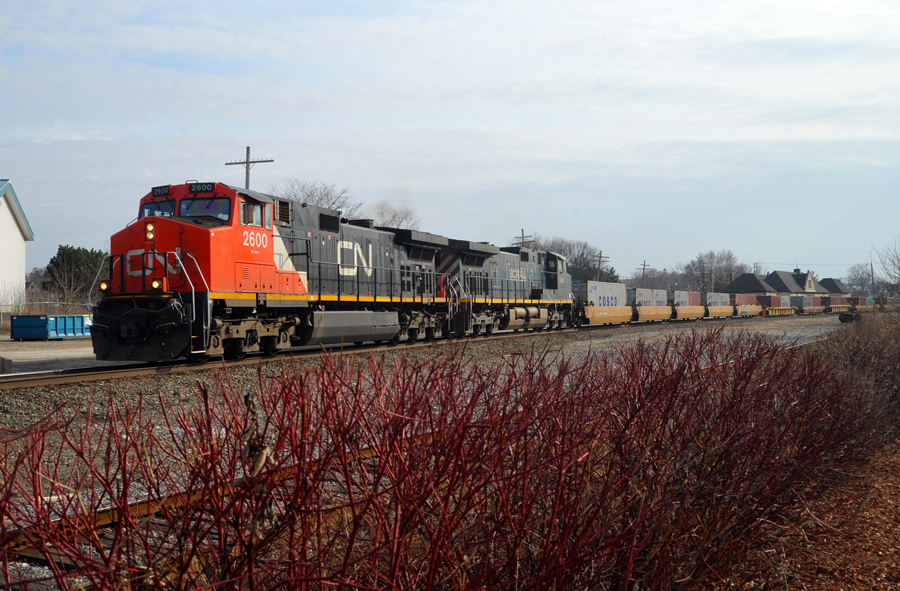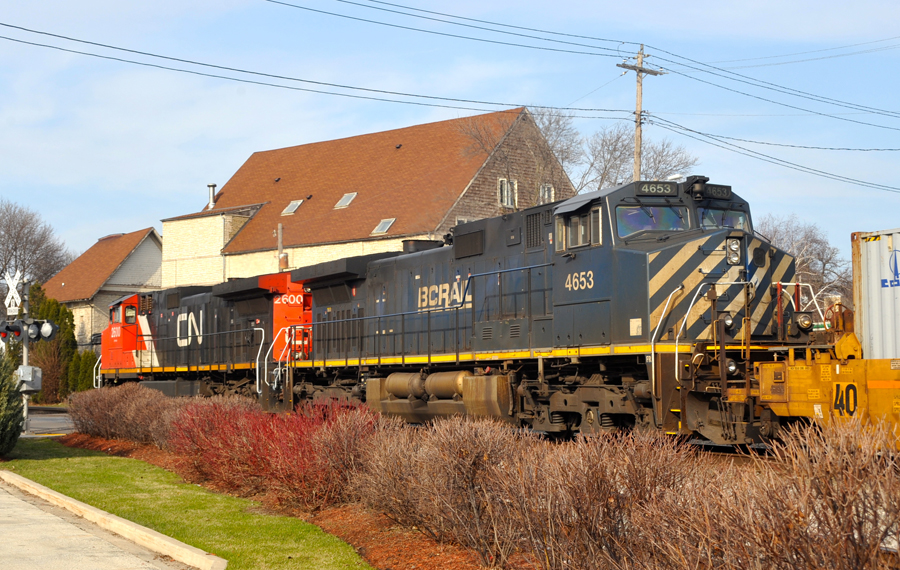 Saturday, April 11 was another nice day, with a few trains as usual to pass the afternoon.

I managed to make a U-turn and park by Spring Creek on Duplainville road just in time to photo the first train I saw, a southbound frac-sand extra, with 2541/5460, at 3 p.m.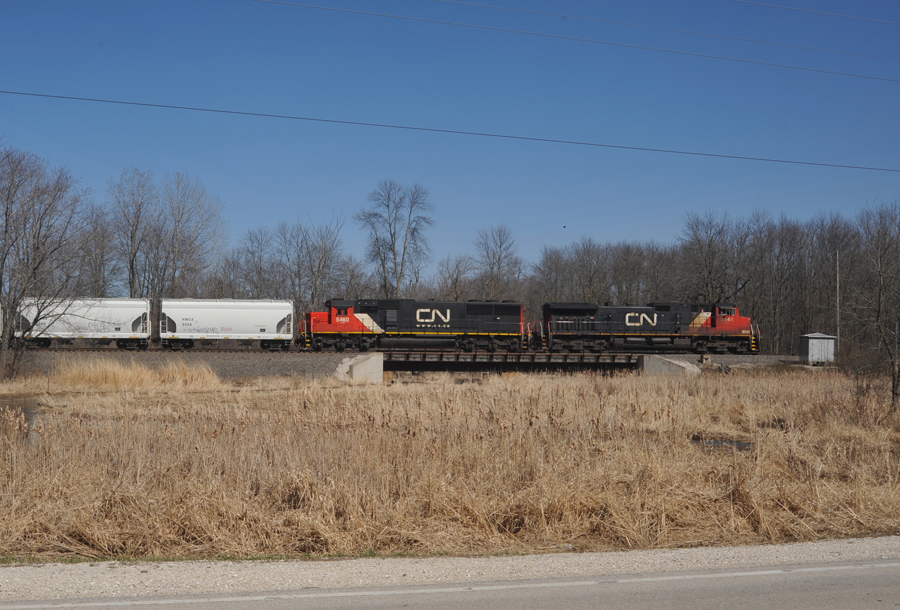 As I drove back south to Duplainville, a westbound CP freight was crossing, so I went west on Green Road to try for one "grab" shot of his power, at MP103 across the Five Fields (subdivision) park across the tracks from the office park pond where I normally shoot here. I made this shot owing to the CSX power but not knowing he would halt at the end of double track for Amtrak #8, so I wound up with 2 more shots. First he stopped at the MP104 crew-change stairway, and then after #8 went by, I got the grain empty in Pewaukee proper, CSX 5352/8350, at 3:37. Amtrak passed at 3:30 with 177/150.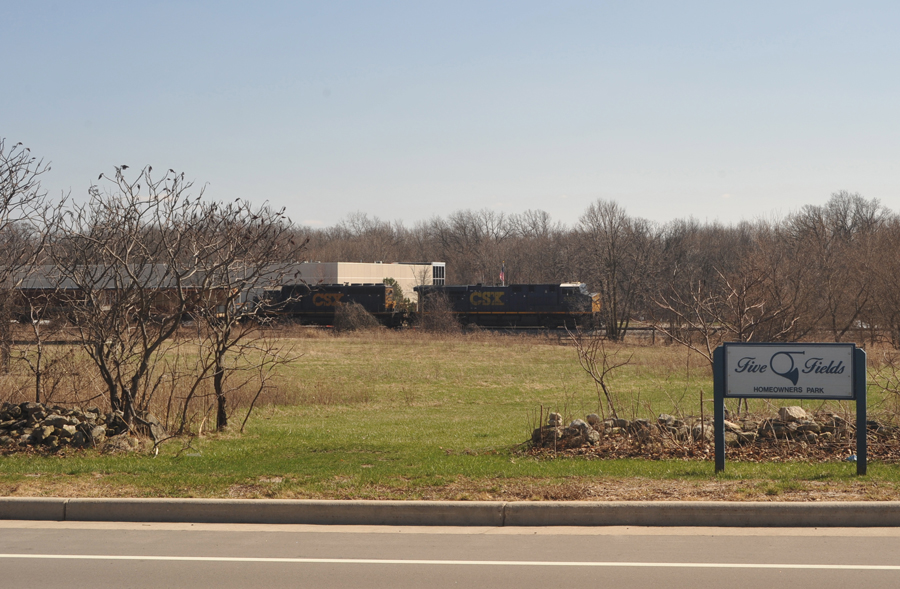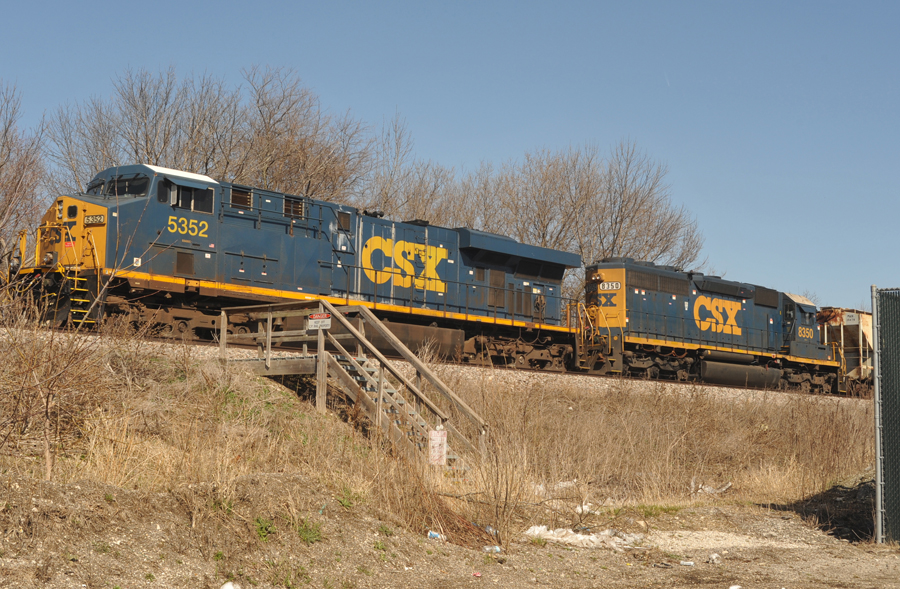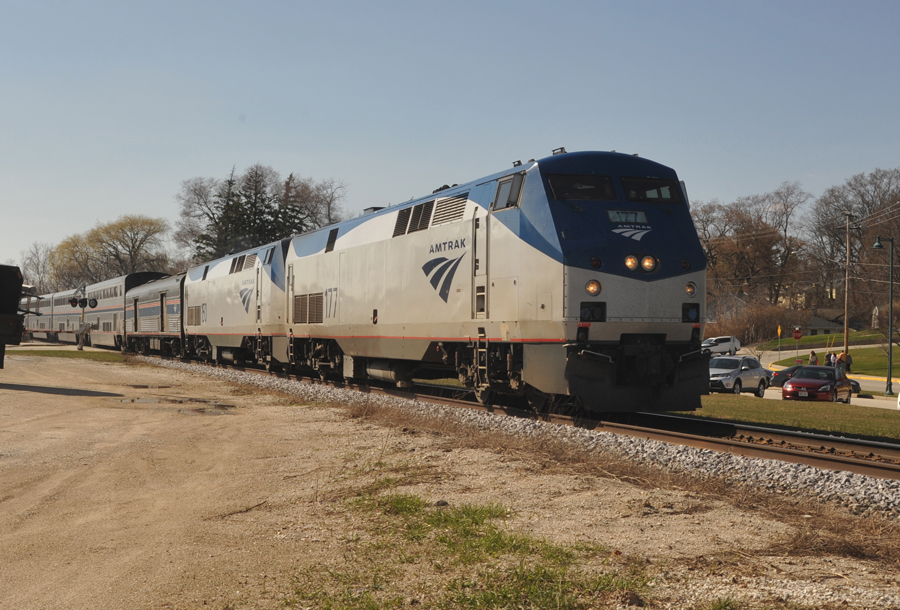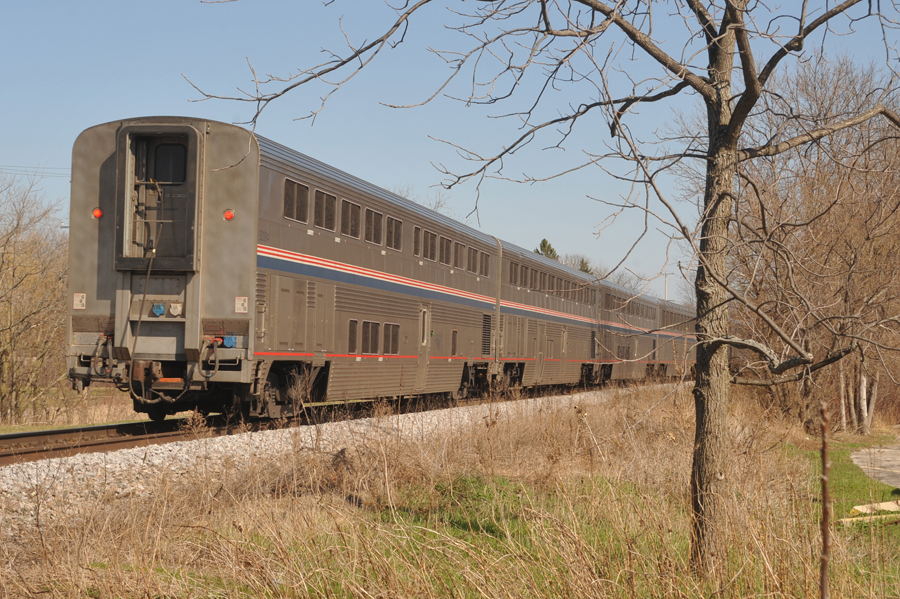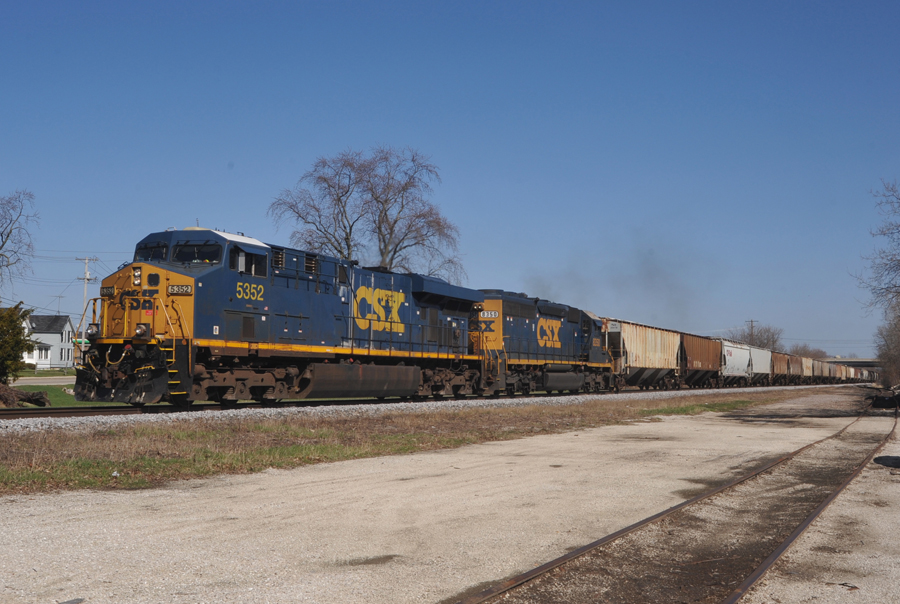 Amtrak #7 was a few minutes off thru Dupy at 4:22, engines 95/199.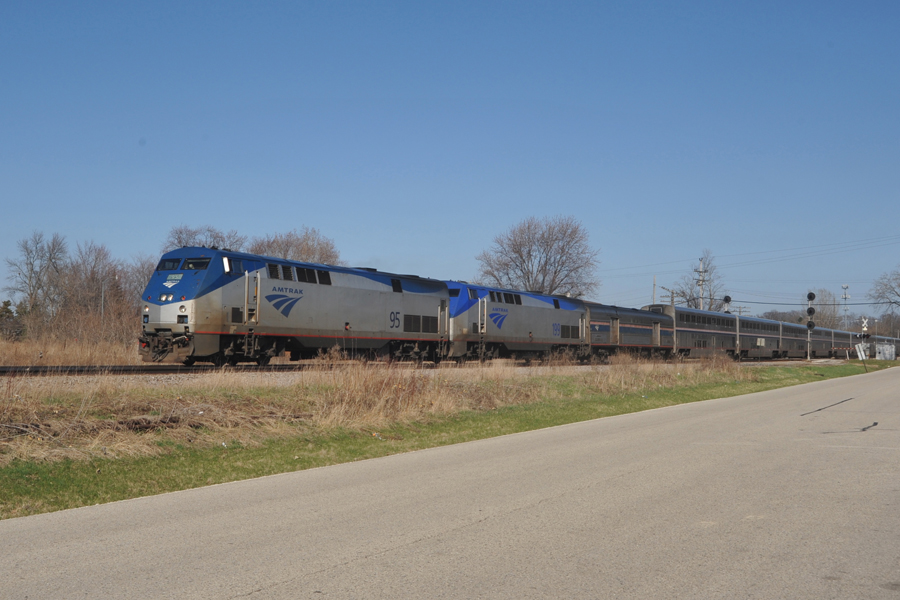 Waiting for #7 to clear was southbound CN stacker #198 with 2320/2543/2569 and 120 wells, which I shot at Joseph Road, an industrial park dead-end just south and around the curve from the diamond, at 4:31, to conclude my short outing.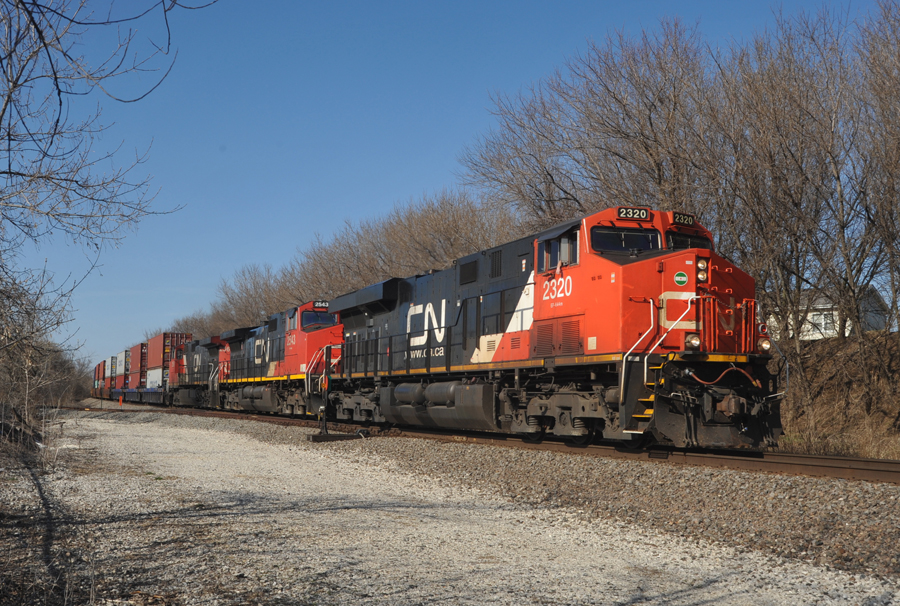 Two days later, April 13, I went out especially for only one train, having advance word from Steve Glischinski in St. Paul that Amtrak #8 was led by a P32. I got him at Dupy at 3:27, again about 1 ¾ hours late, with 503/93 on the usual 11 cars. I also took the N90 along for slides!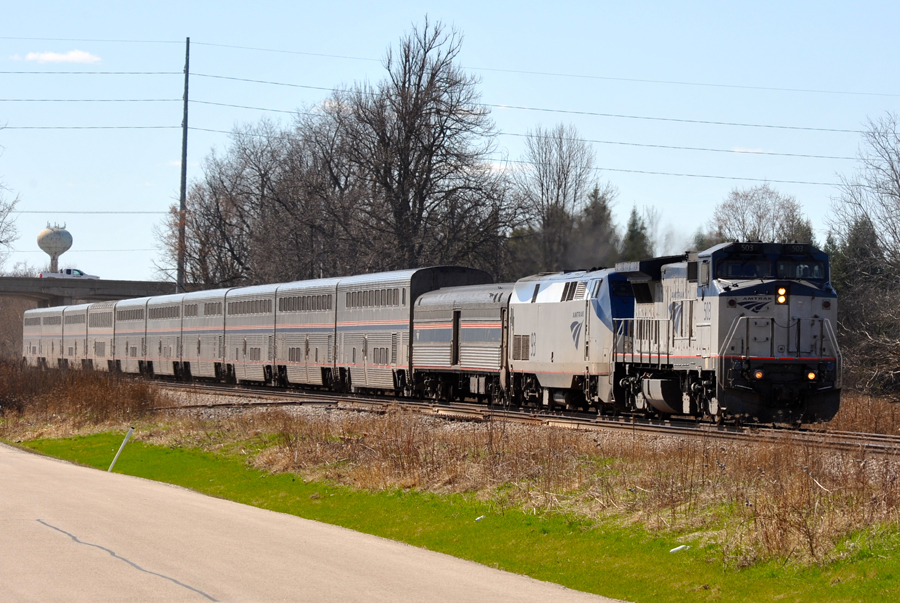 Amtrak units often turn back in Chicago from #8 to next day's #7, so I was out on

April 14

and got both at Pewaukee, first #8 at

3:47

, about 2 hours late, with 113/47 and then #7, on-time at

4:19

, with the same units but reversed in position, 93/503, both with the usual 11 cars. The open SUV door is a joke – I was with Jeff Madden, having left home early with him to go to a slide show up in Jackson, Wis. Waiting for #7 to overtake him at the end of double track, "Pewaukee" to CP, was #281, the tri-level rack train, which had a whopping 8 units: CP 9370/8543/8841/UP 9432/9498/9470/CP 2210, with 140 cars at

4:25

. Not sure how many were on-line, prob the first 3 CPs only. How did we get all those unit numbers? By wasting digital frames on their cabs as they passed, as I often do! One example is provided.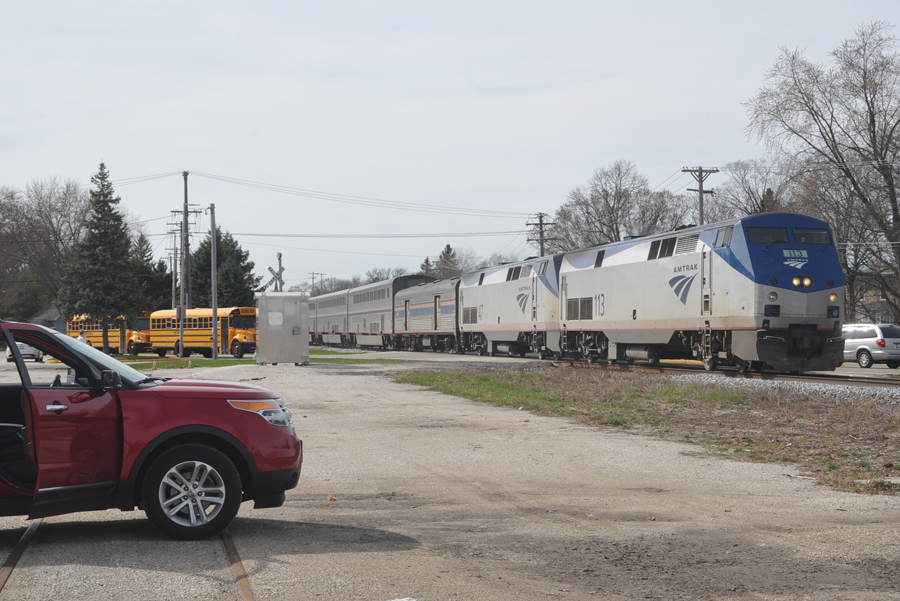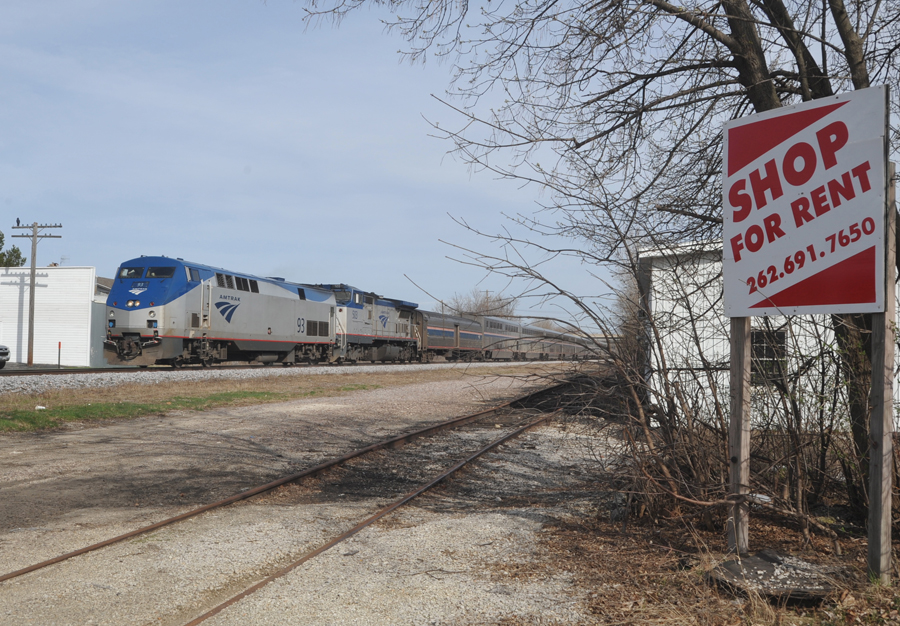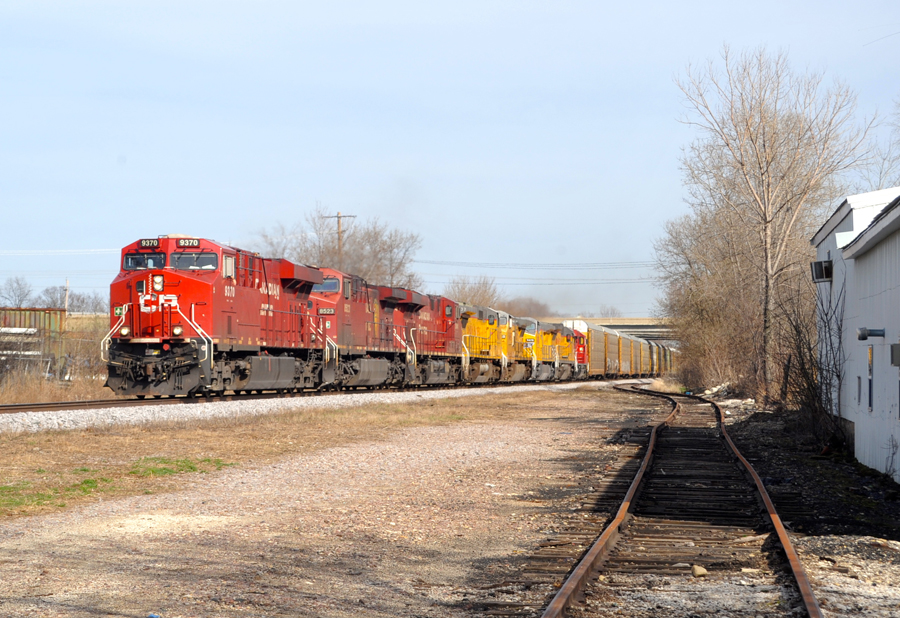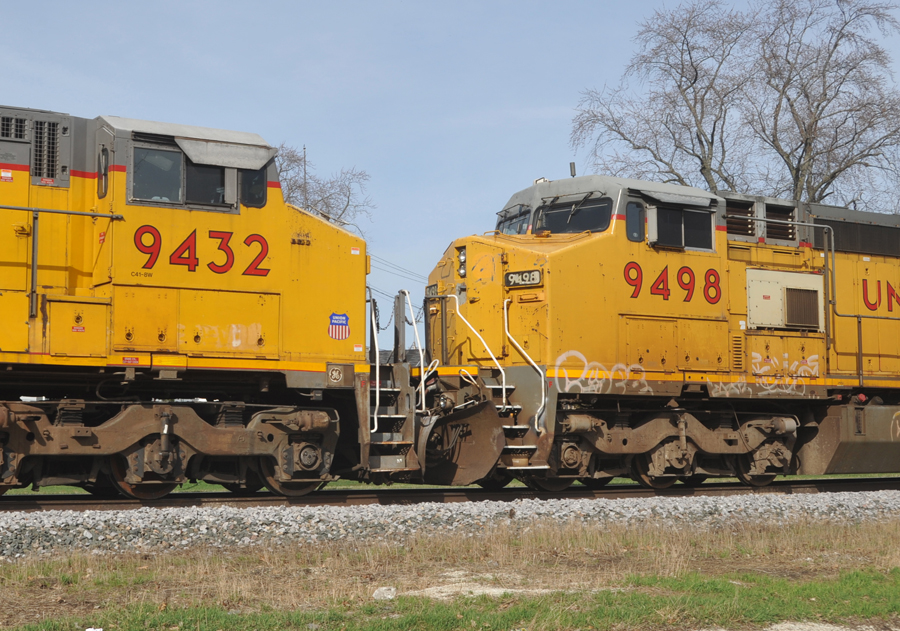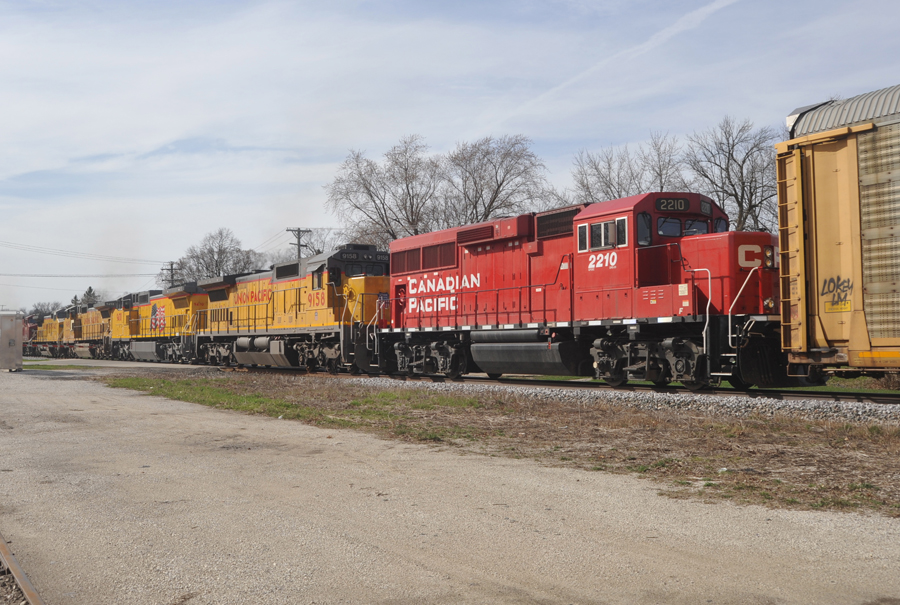 Jeff and I checked the CN north of Duplainville and got our last train of the outing, a southbound with 5551/2527/2592 with 114 cars at 4:40. It's always nice to see those SD60Fs, built in the 1980s, some like 5551 still in factory paint 30 years later (!), of which all but 2 of the 64 survive. Two days later was the beginning of the big Texas Special train trip to Texas, whose images are in a separate file. (Texas Special).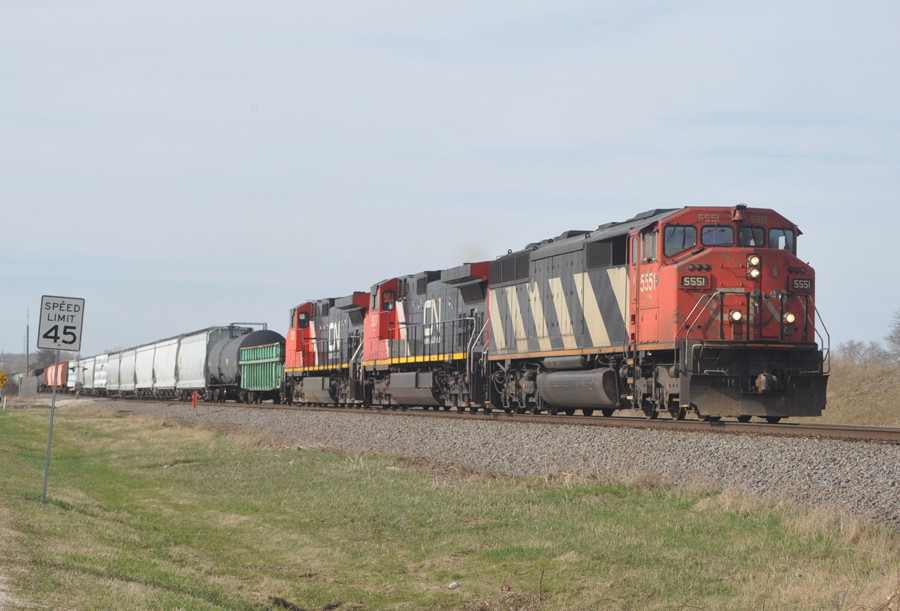 This page was designed and is maintained by Mike Condren. If you have materials
that you would like to contribute, contact me at mcondren@cbu.edu