Trip to Arkansas, Sept. 2010
From Arkansas homeward, Sept. 13-14.
Photos by Dave Ingles
Leaving Springdale on Monday morning, we looked at dark sky to the north, where we'd chased the A&M freight Friday, and were doubly glad it worked out for Friday instead of boosting us northward on Monday, as by Lowell or Rogers it was raining, sometimes heavily. This was not predicted. We never did see or hear of the Monett freight this day. Our first photo stop was to go off Mo. 37 into Exeter to photo the BN caboose on display, which we'd seen from our special.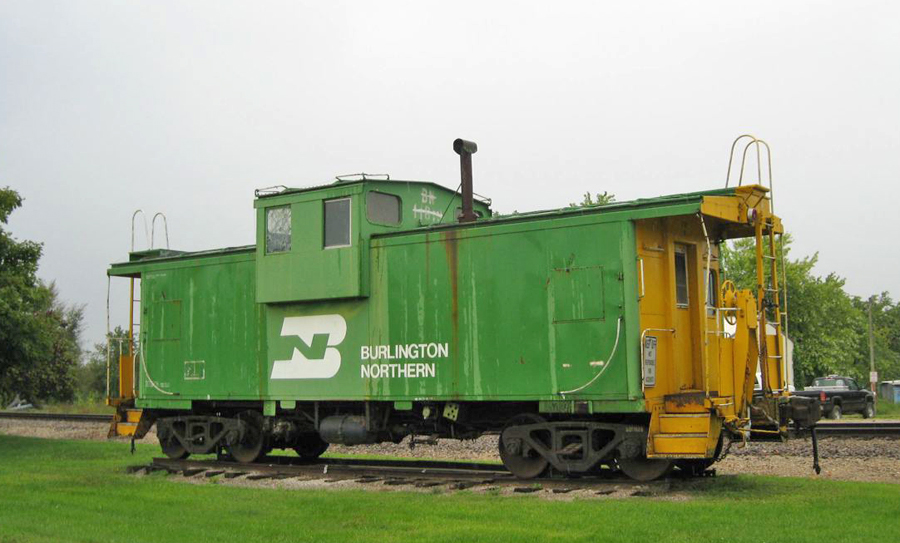 After a pit stop at Monett, we headed east, now out of the rain, and at Aurora we heard radio talk. In town we found a locally assigned M&NA GP40 tying up to wait until both the BNSF local had come to interchange and an M&NA road freight came through later. The BNSF man, bound for Monett after two stops in Aurora, soon came into town; it was he whom we'd heard working via scanner. He pulled thru town to set out for M&NA before proceeding on to Monett, so we headed east after photo'ing him come into town. The rear unit was the same as on Friday; the other two were different.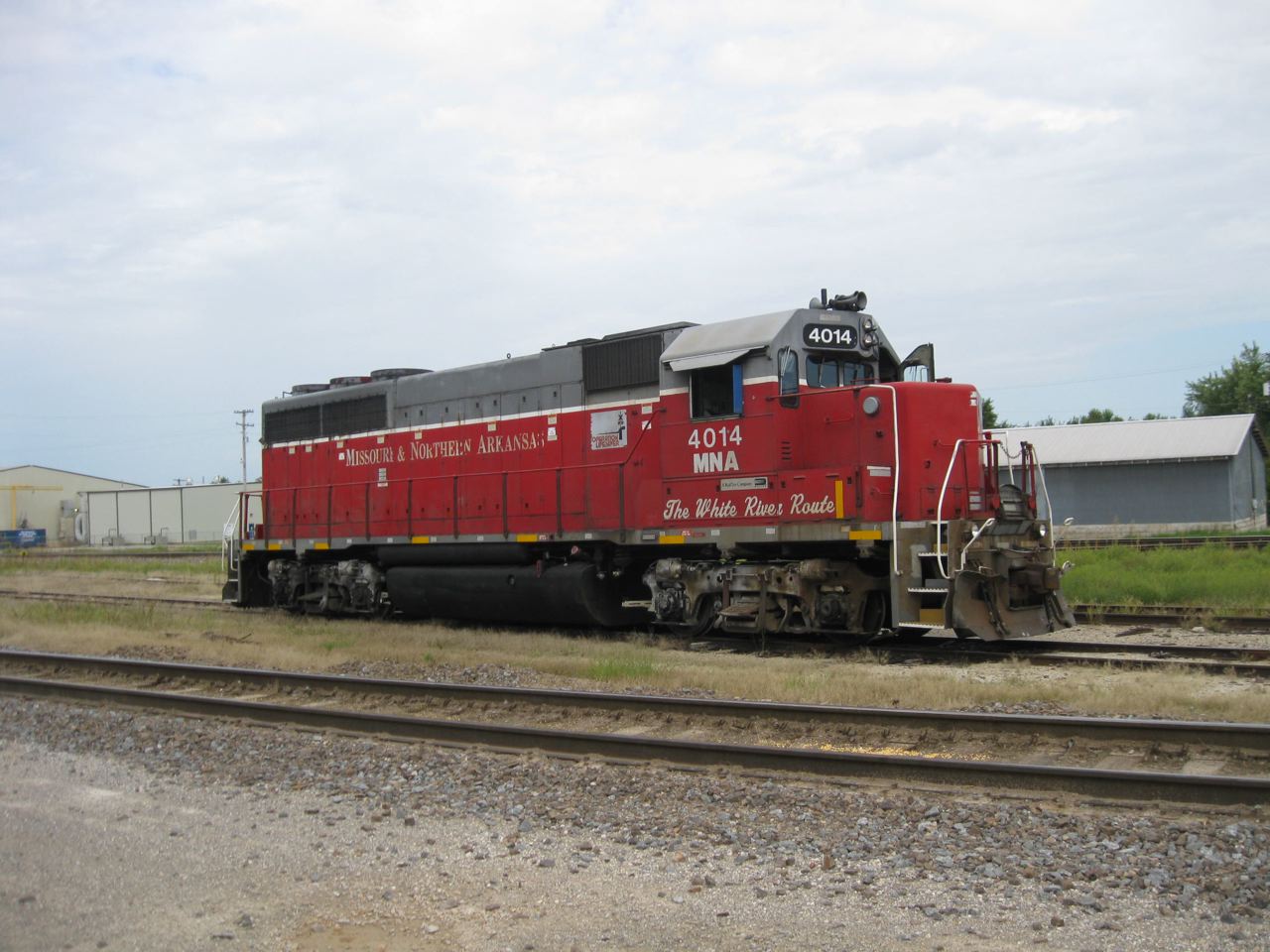 Here's the Aurora ex-MoPac depot and a caboose, along the M&NA track; it's now the chamber of commerce.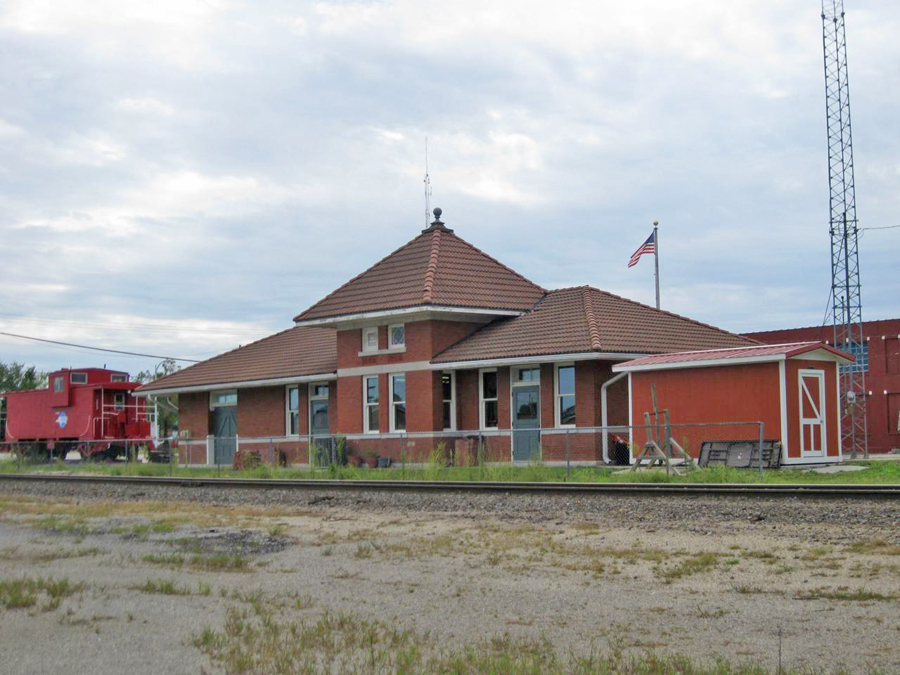 The Springfield-Monett local comes into town.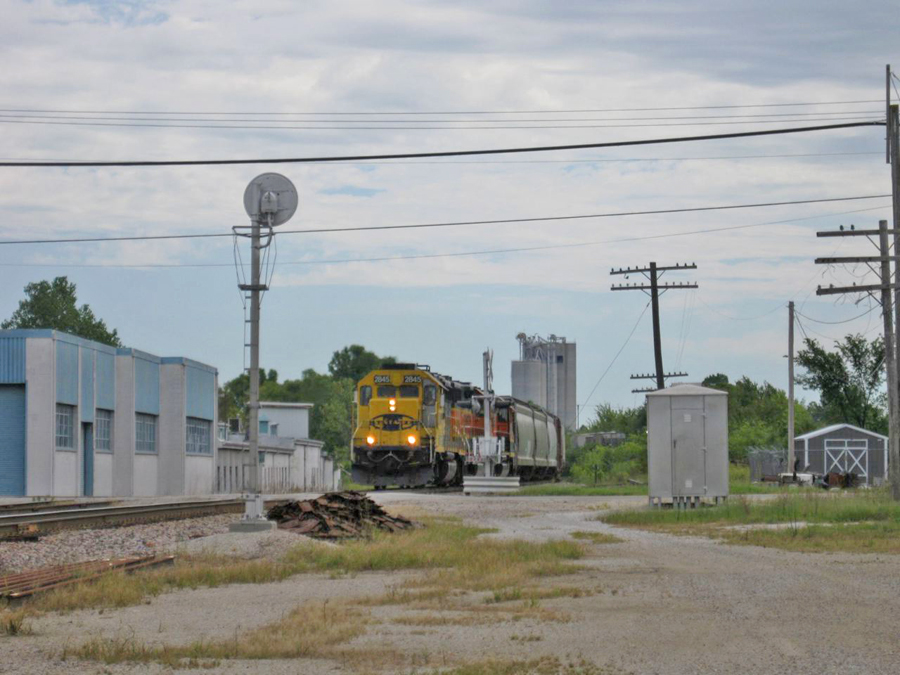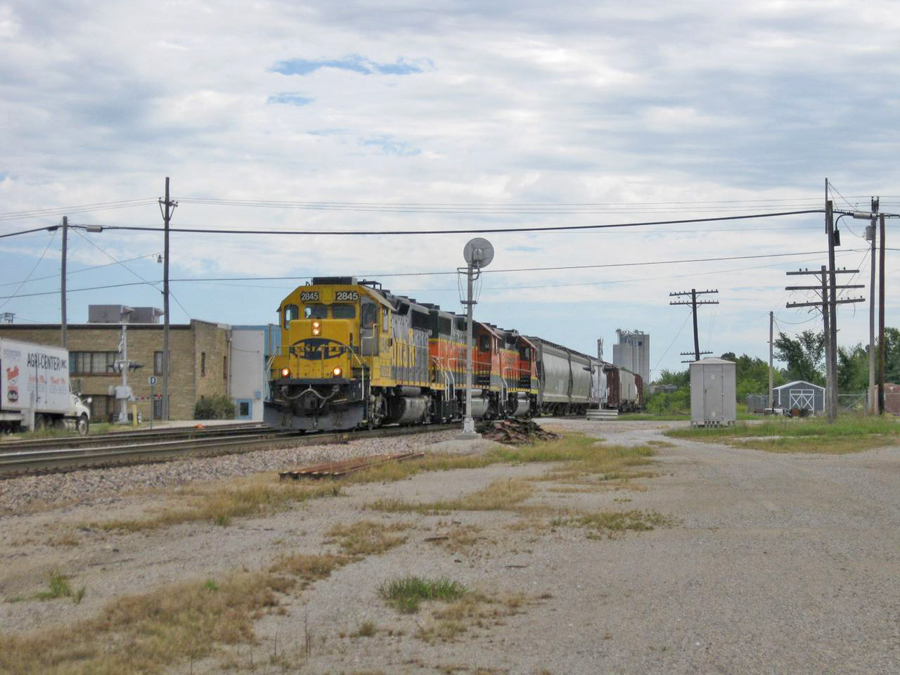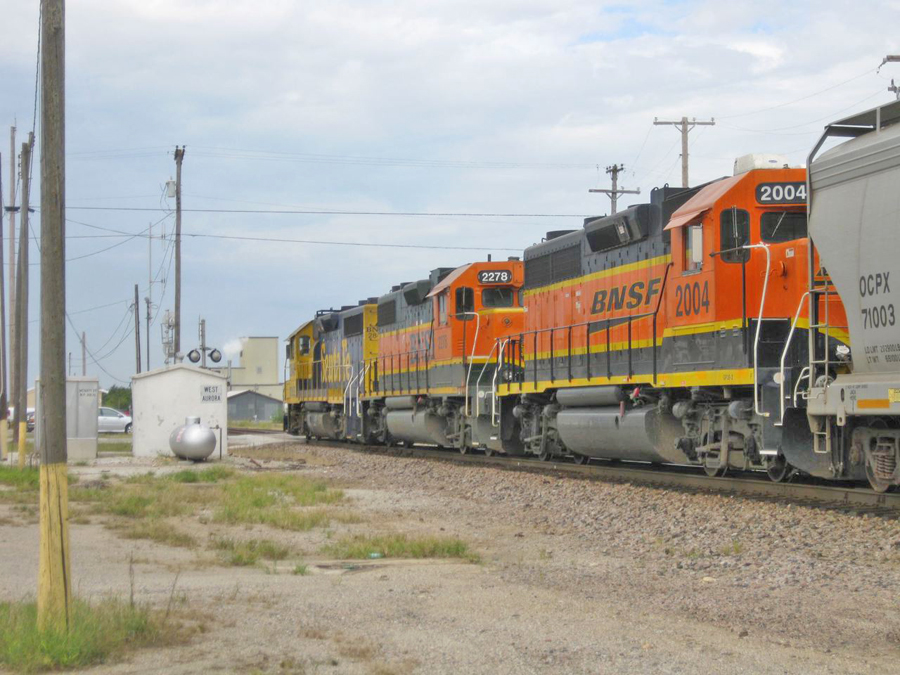 Closeup of the Aurora display caboose.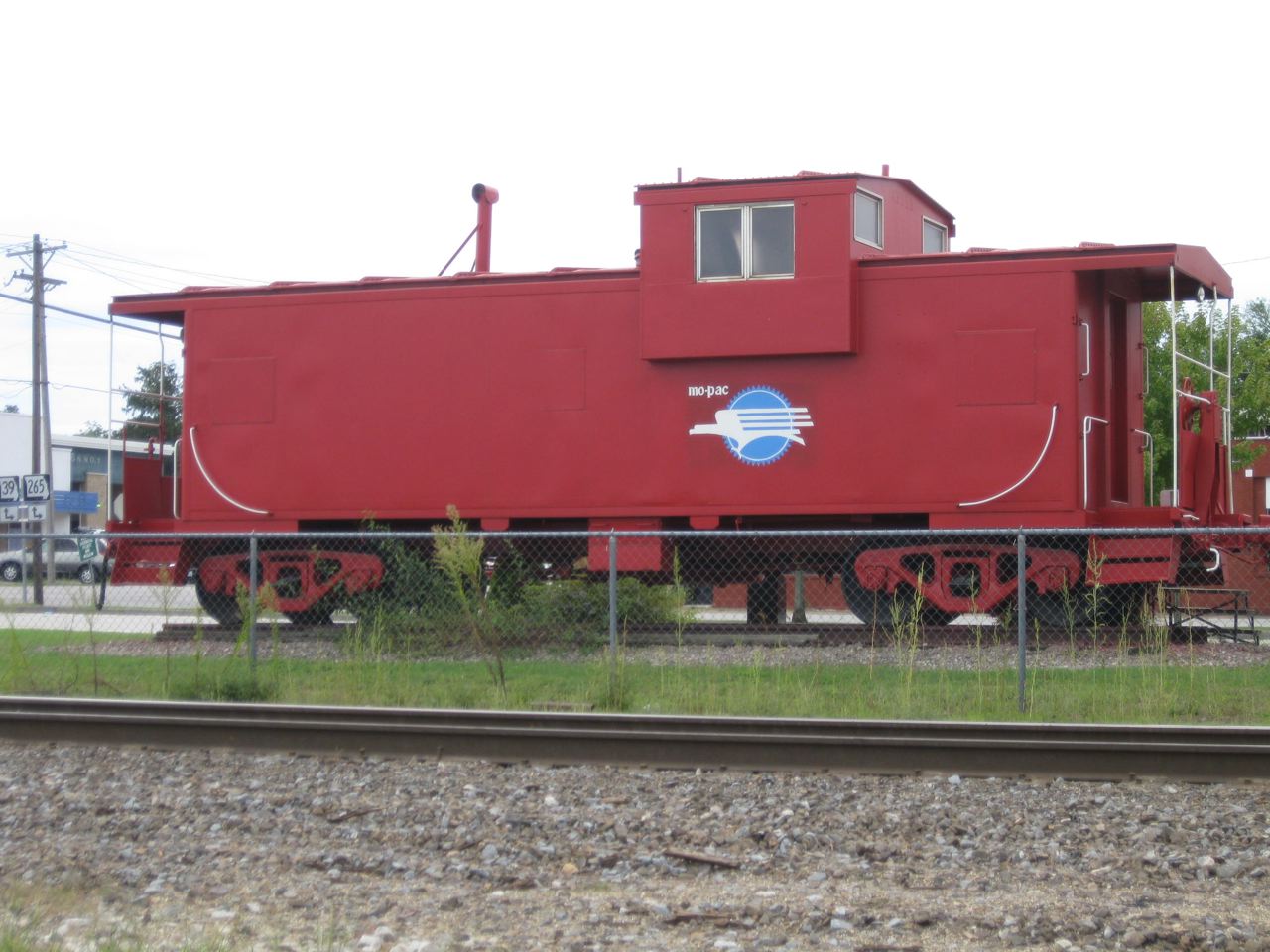 We pretty much highballed Springfield, tho did glimpse a southbound coal train DPU heading out of town. The main stop was to photo the classic Steak n Shake, kept as it has always been, and with carhops, at the corner of St. Louis and National streets; it was too early for lunch, but I did note the Walgreen's right across the corner -- daughter Suzy is a Walgreen's manager in the Milwaukee area.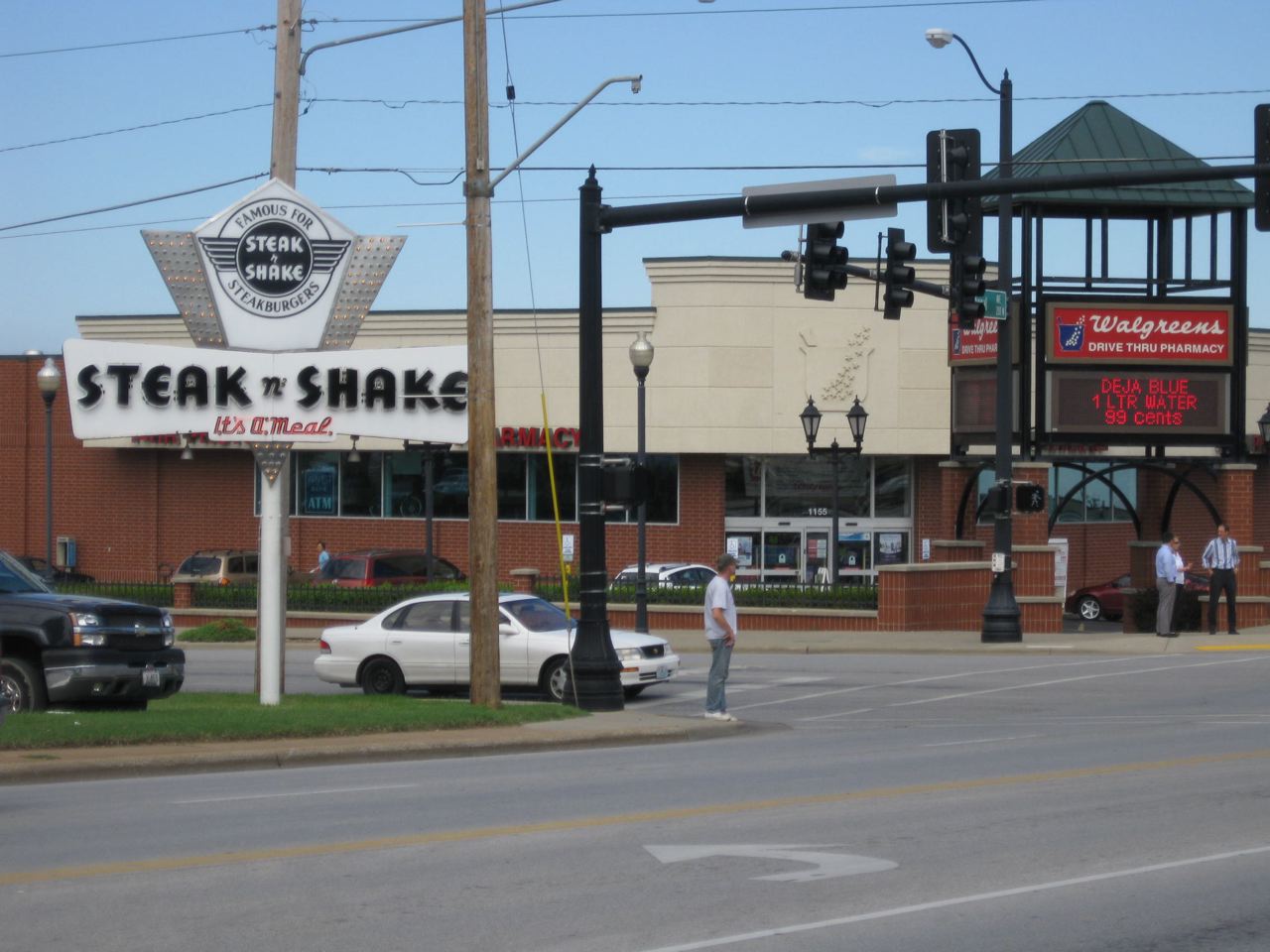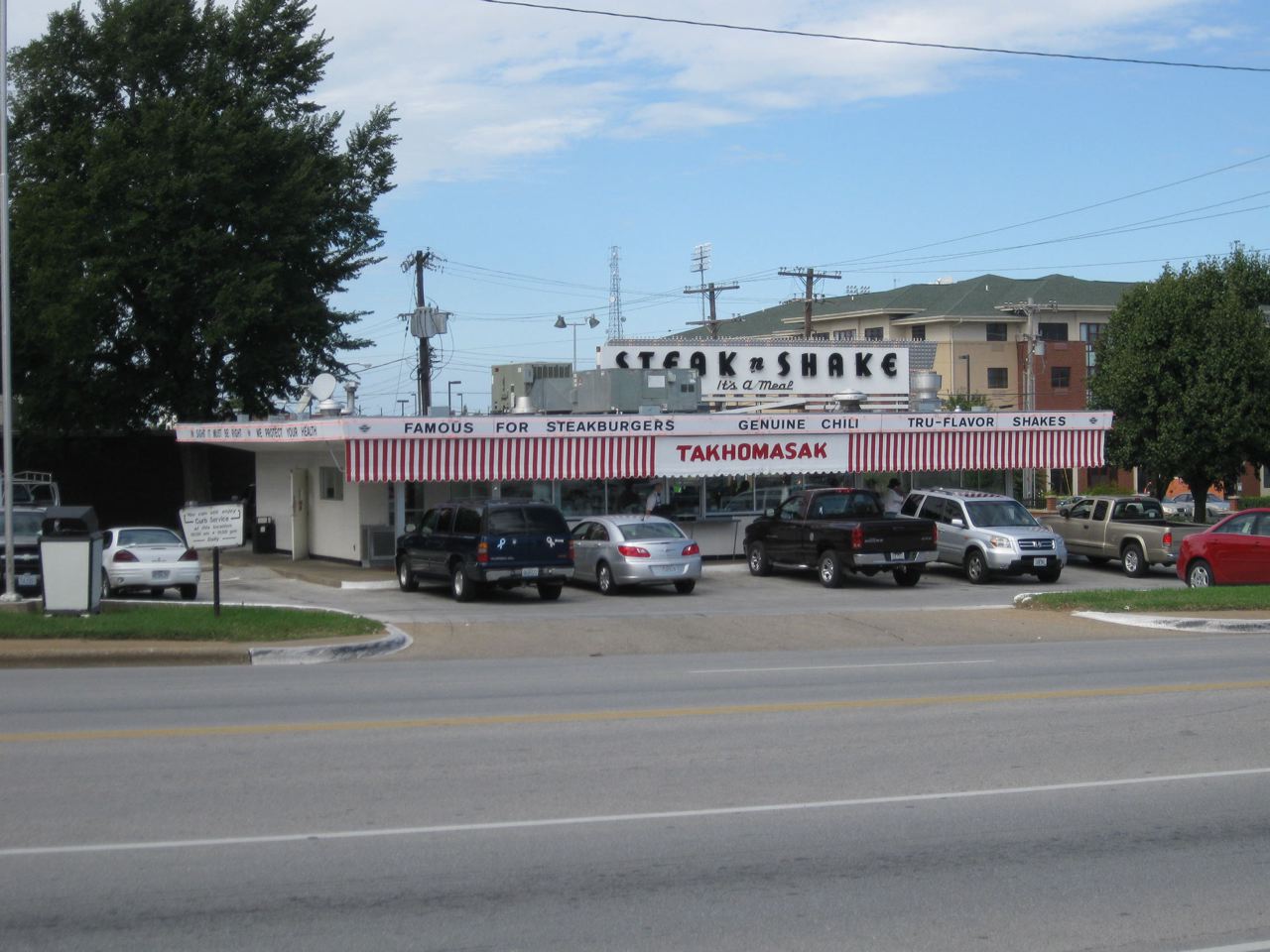 Note the male carhop at work . . .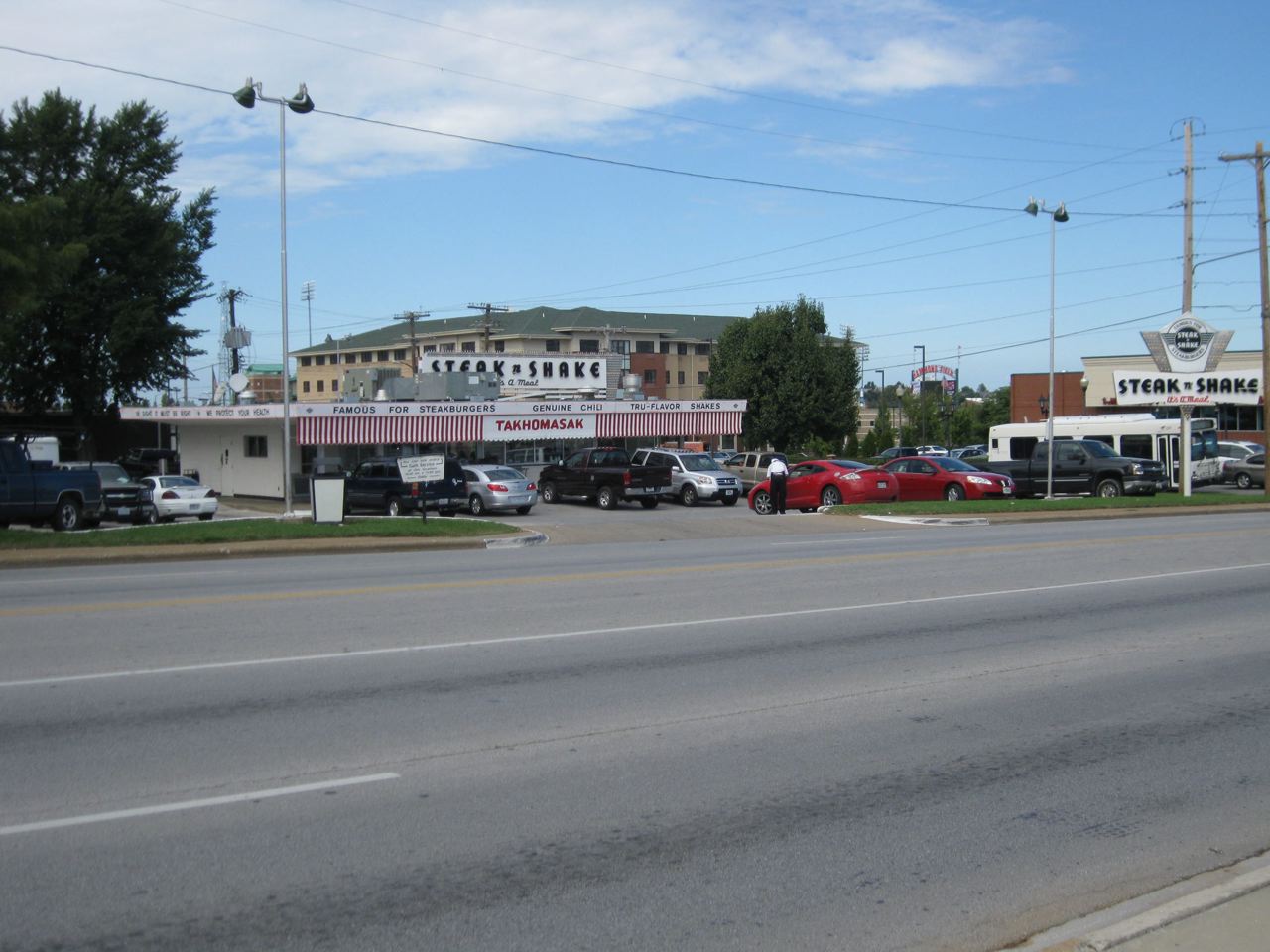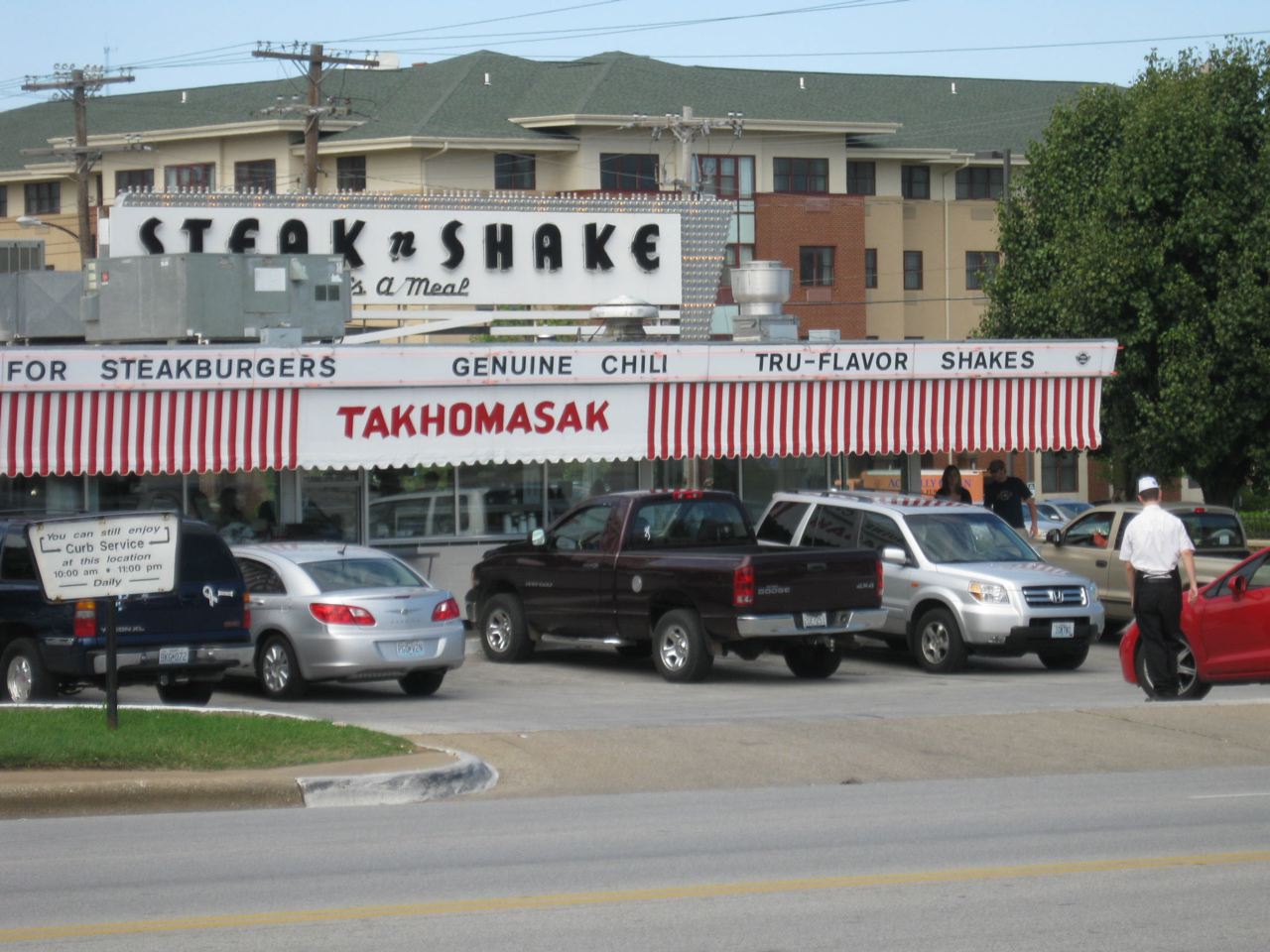 | | |
| --- | --- |
| The proper way through Springfield (Mo. here, but works for Ill. too!) | |
We did not ignore SnS for lunch, stopping at Lebanon where there is one, and wasn't when I was last thru there. The mgr. said they opened in 2007.
Finally we heard of some BNSF action, and turned in off I-44 at St. Clair and hung out west of town at the end of the passing siding for this guy.
We were running so good at Lebanon, thanks to bad weather (i.e., no photo stops) and then few trains, we changed our motel res. from Collinsville, IL to Litchfield, IL.
Then it was on to St. Louis, around town on I-255.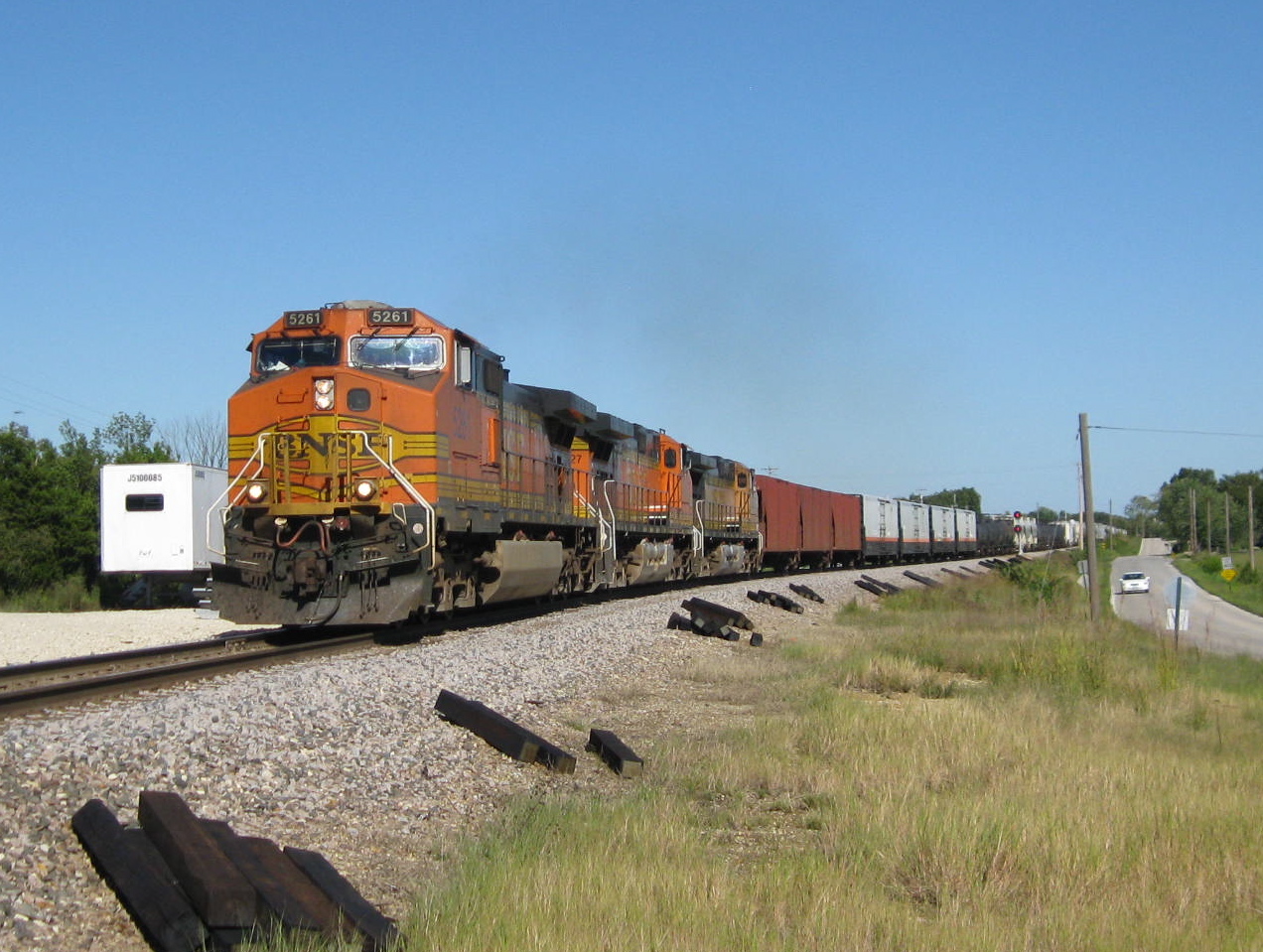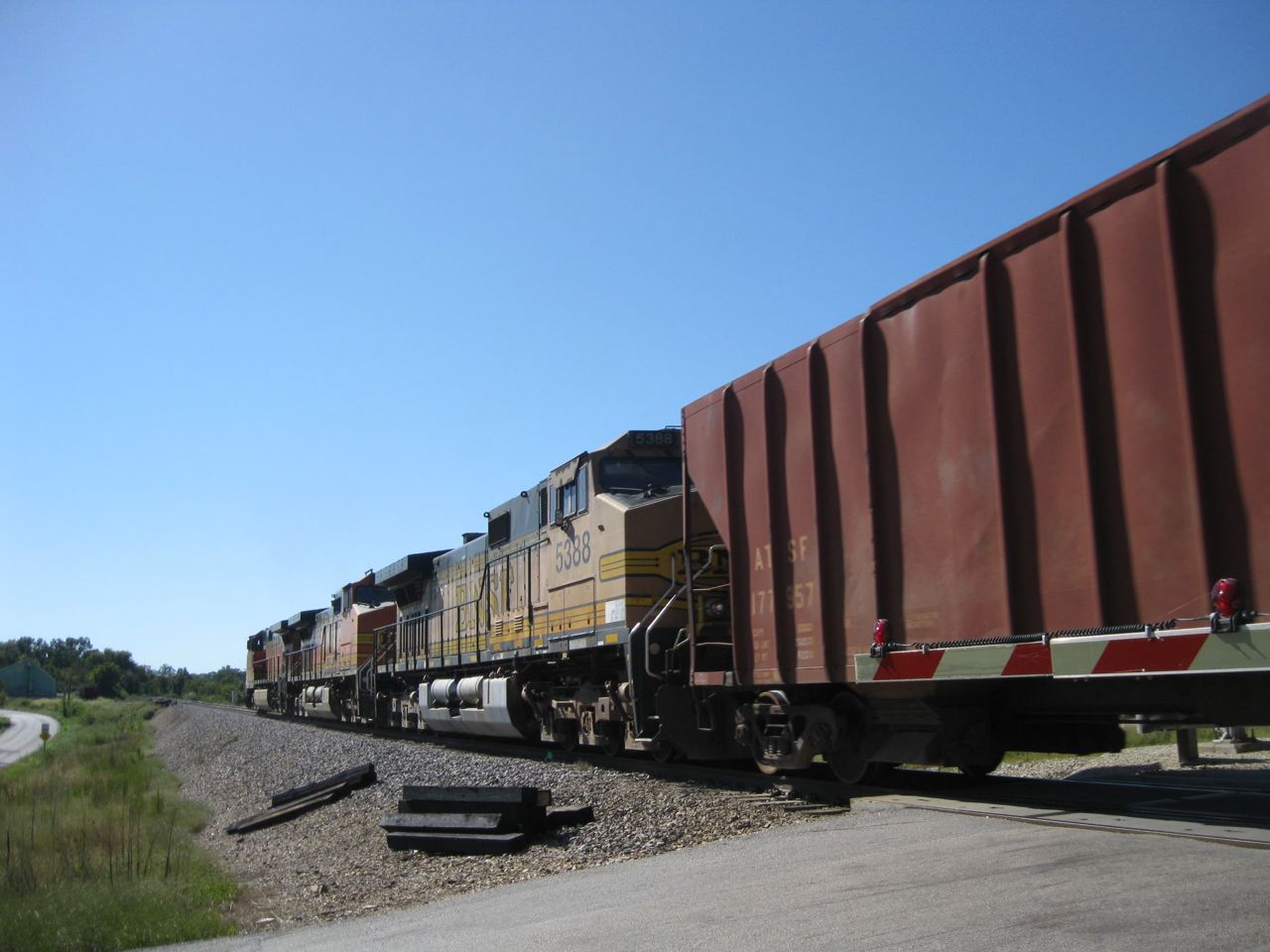 Respondek Railroad, a switching service out of St. Louis owned by a man of that name, keeps a Geep in Litchfield to switch former NYC trackage at the west end of town, off the BNSF (and perhaps NS, too). The man likes Illinois Terminal (recently lettered temporarily one of his SD40's for the IT), hence the color scheme.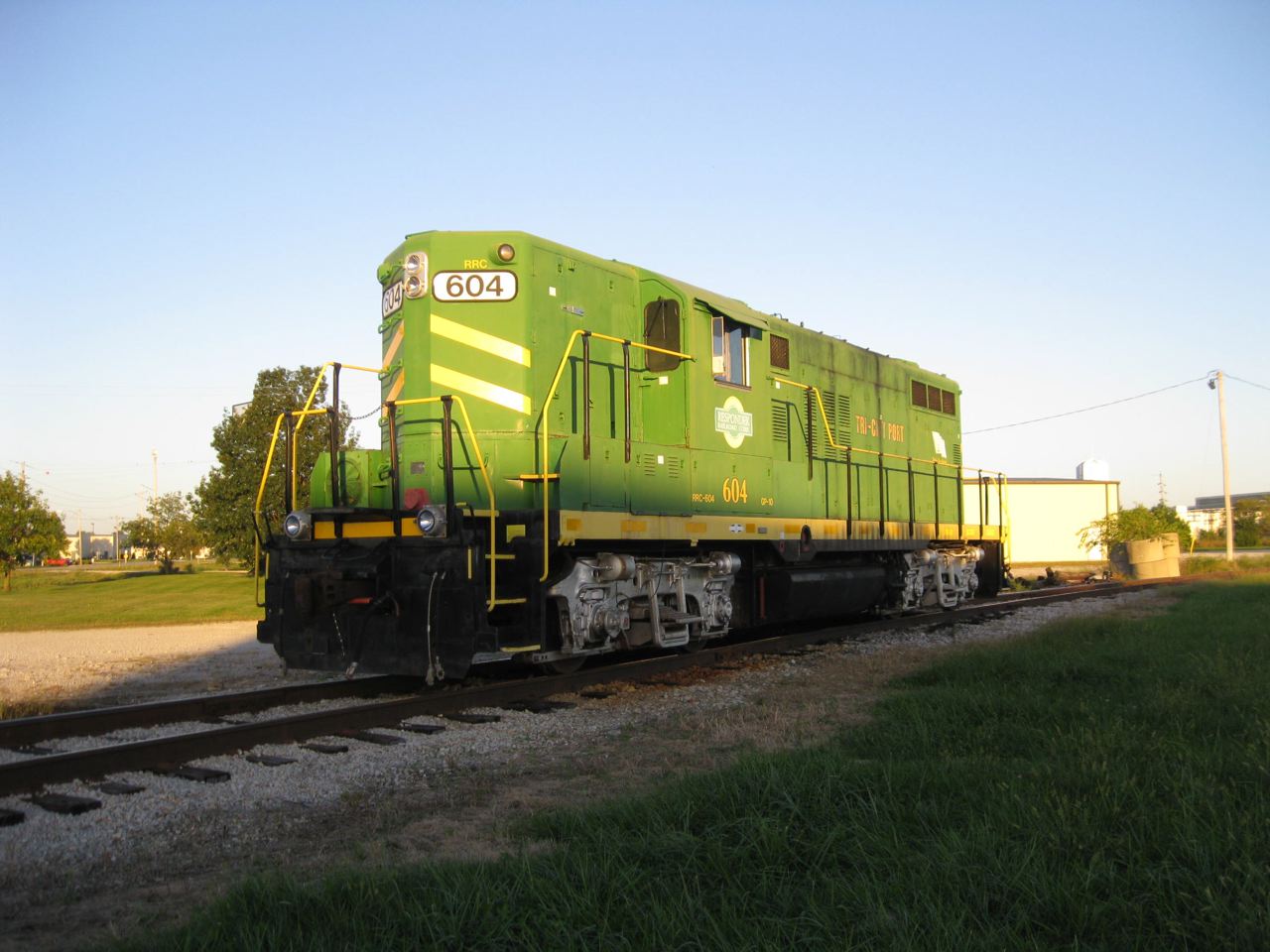 Supper at sunset here, next to our motel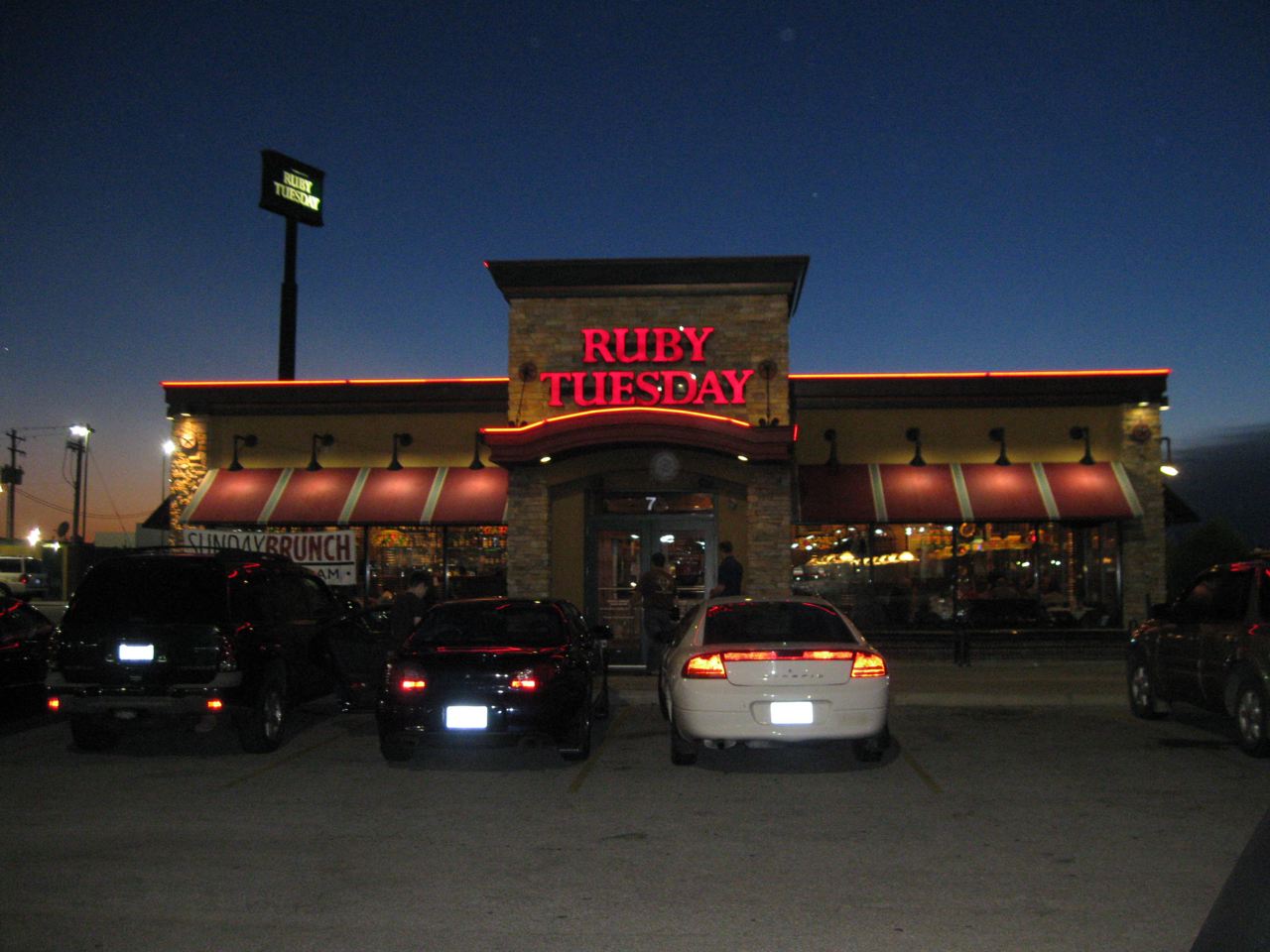 Next morning we drove on north, no trains, even tho we took a 20-min. break at Toluca on the BNSF transcon.
Grabbed a Subway lunch in Mendota, but no trains soon, so we went on up to Shabbona and Lee, where we knew two BNSF westbounds were due. Both my coming-on shots in digital didn't work, train going too fast after telephoto slides, so here's a going-away.
I transloaded my belongings to my van, and Rick and I were on the road to Naperville and Waukesha, respectively, before 230 pm. Here's the first train, with two Northerns.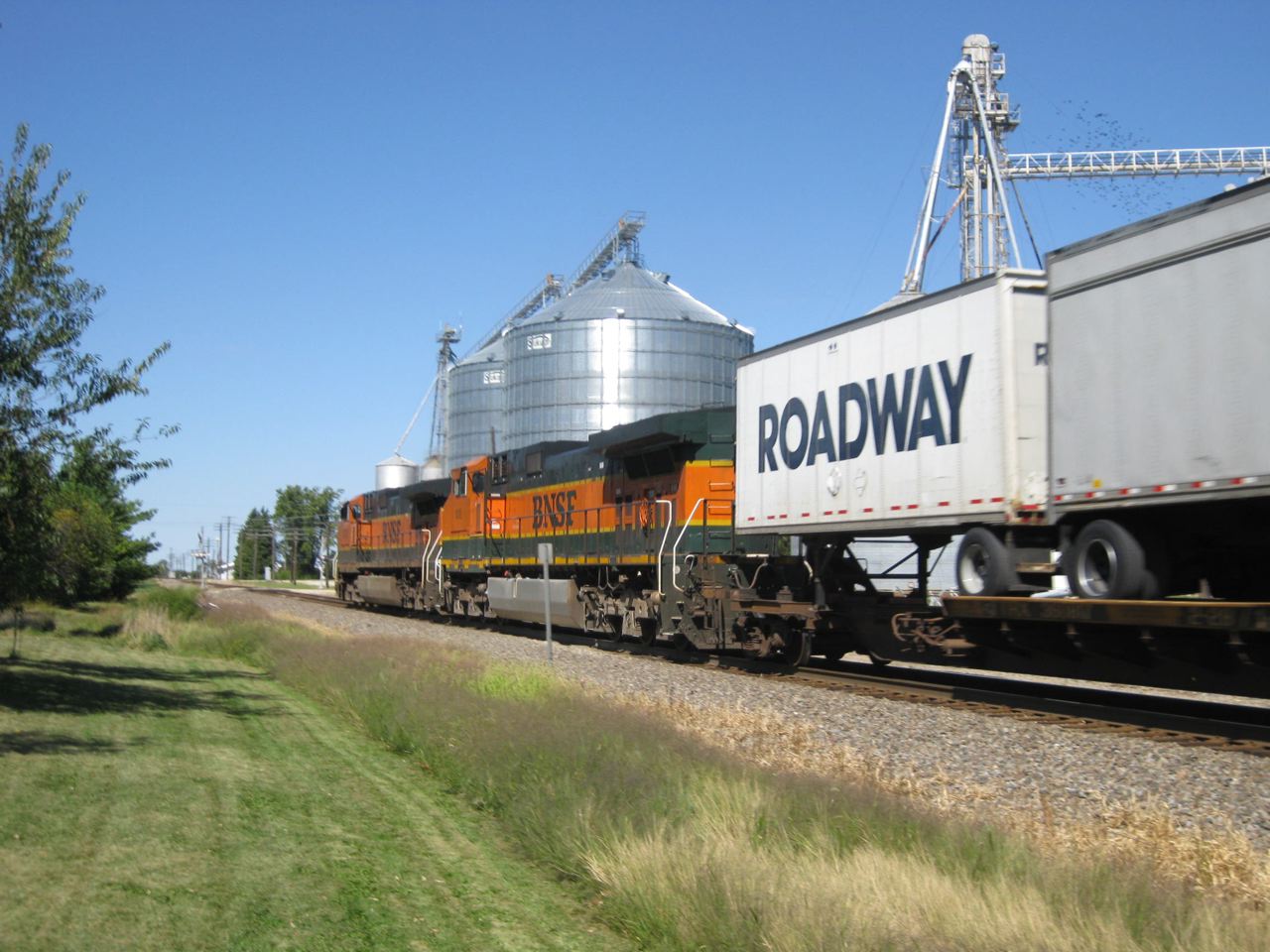 Not only was the second train also led by a Northern, but I just got to Steward too late to photo an eastbound I knew was coming somewhere, and it too was led by a Northern. Mike Schafer was supposed to send me digitals he shot, of these two, but I haven't seen them yet. I was home before 5 pm.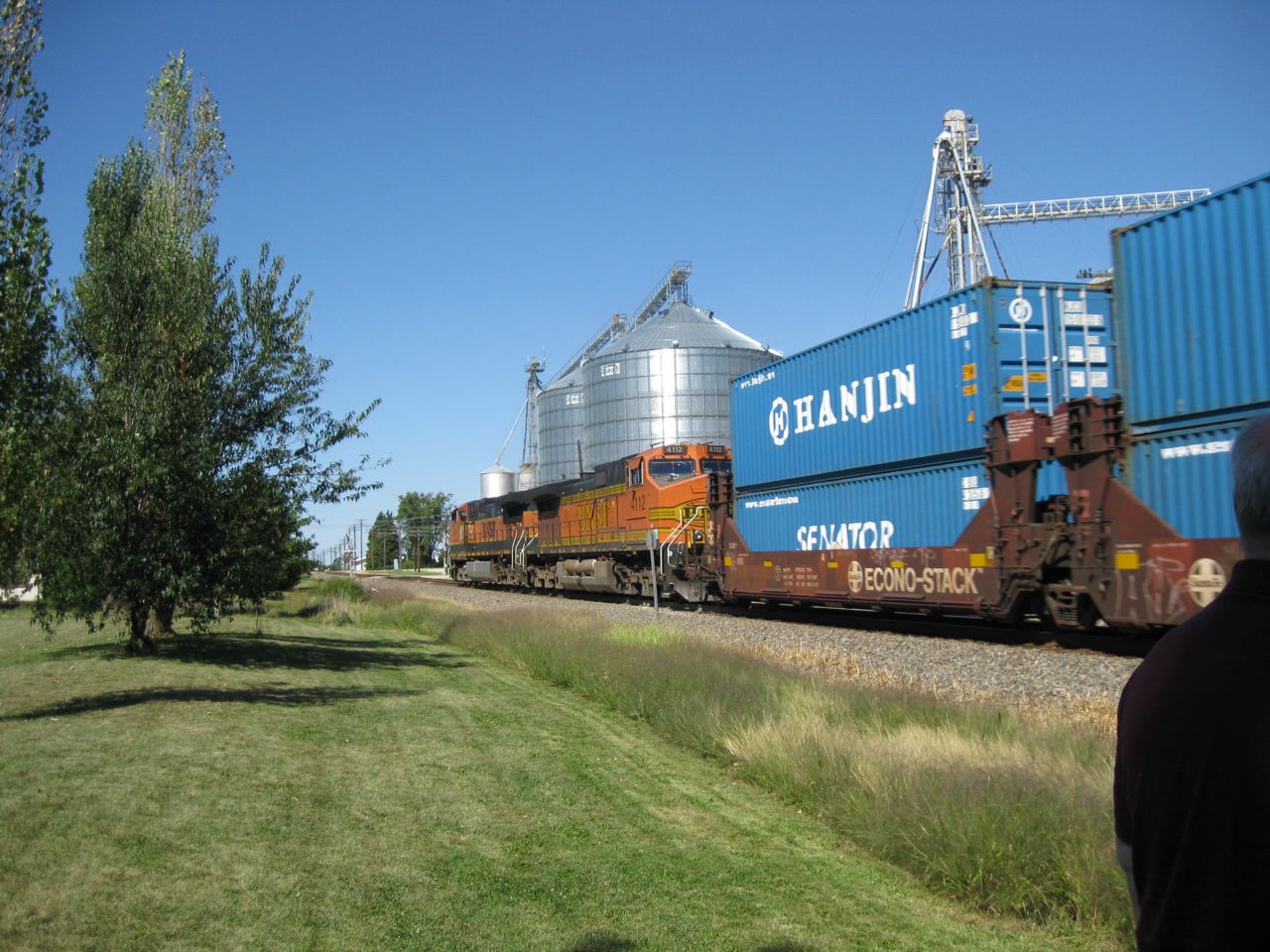 Nothing going on in Rochelle except I did shoot the other side of the 2050.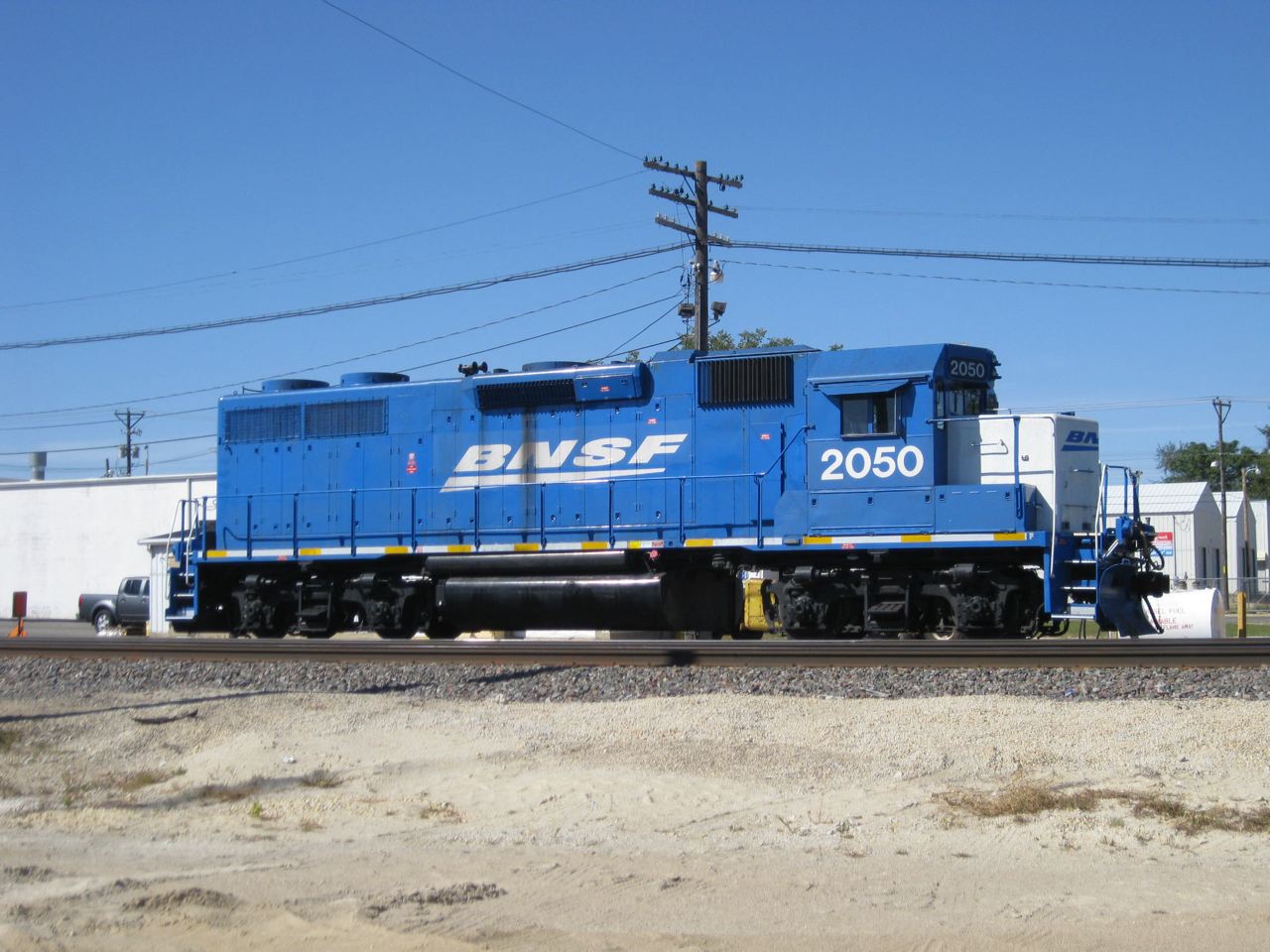 This page was designed and is maintained by Mike Condren. If you have materials
that you would like to contribute, contact me at mcondren@cbu.edu