Fort Smith & Western
Passenger Trains
FS&W engine No. 6 is at the head of a three car passenger train in their station at 1000 Garrison Ave. The engineer is Bill Matney; the conductor is Mr. Redman,and the carman is J. Coon.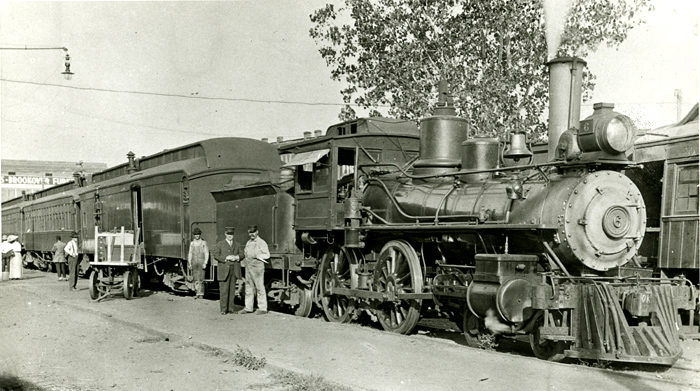 Contributed by Bill Pollard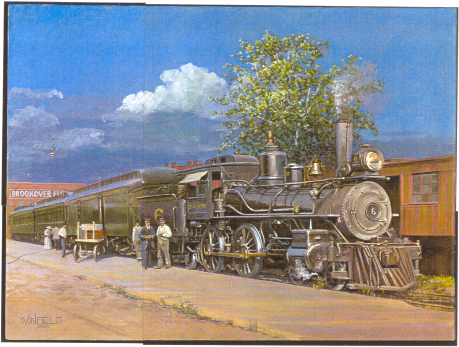 John Winfield Painting, H. E. Huber Collection, derived from image above
November 1939 Missouri Pacific Magazine
MP Trailways has opened new bus terminals at Jefferson City, Corpus Christi, Natchez and Fort Smith in the last few months.... The Fort Smith station is built entirely of tile matching the Trailways colors, presenting an attractive streamlined appearance. It stands on the site of the old Fort Smith & Western office building, with a frontage of 50 feet on Garrison Avenue, and a depth of 95 feet. The lower half of its facade is of arkitec tile, with an aluminum band at the second floor level, and with a porcelain enamel cover above. Its enclosed concourse accommodates five buses. Seats are provided for 58 persons in the main waiting room.
Contributed by Bill Pollard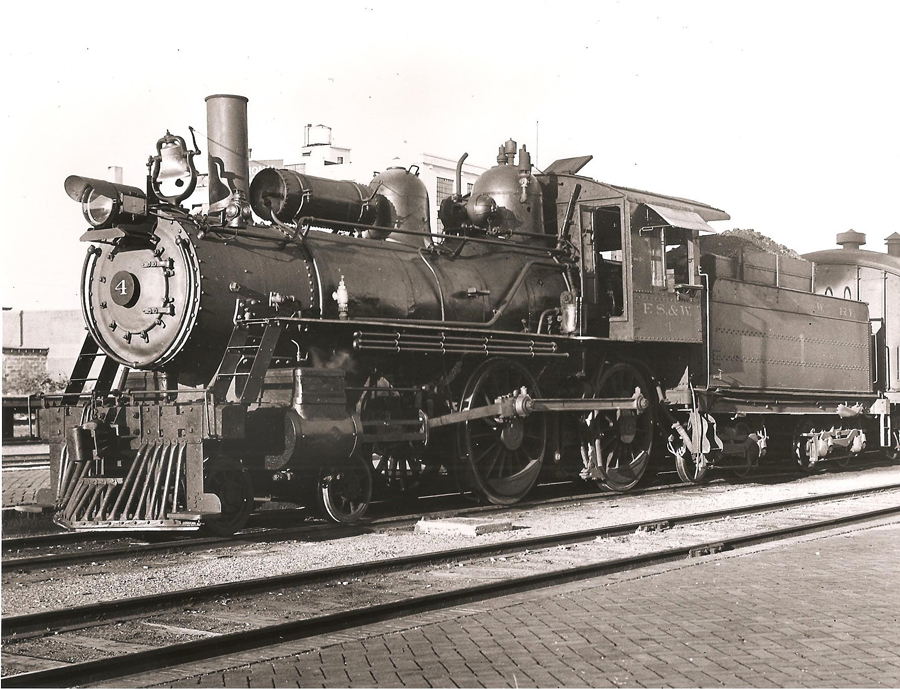 These views taken of the opposite sides of the locomotive were taken near the end of service of the railroad in Oklahoma City, OK Katy Station on Aug. 28, 1938.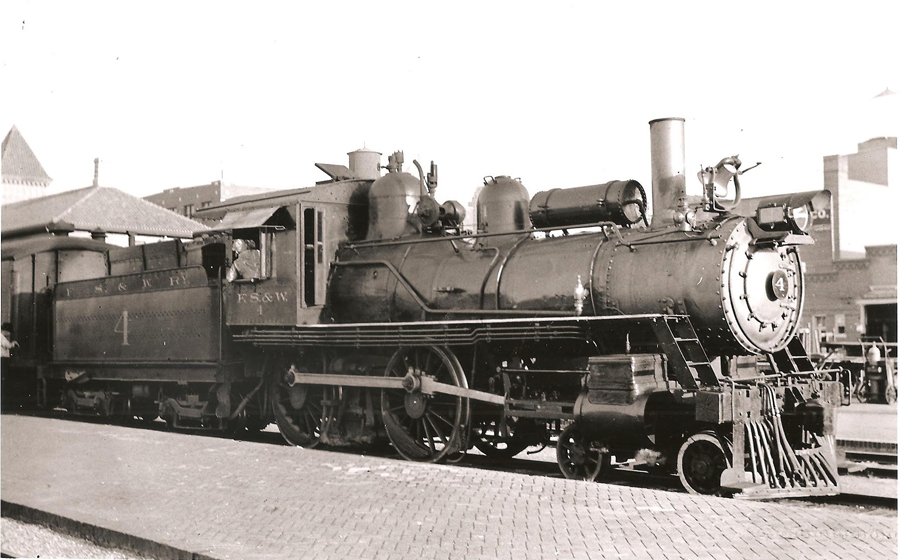 Preston George Photos, Louis A. Marre Collection
Passenger Train Wrecks
This wreck was the last run before retirement of engineer VanArsdale. It occured 5 miles east of Weleetka, OK on Feb. 19, 1921 and was caused by speeding. Engine #11 is seen still upright.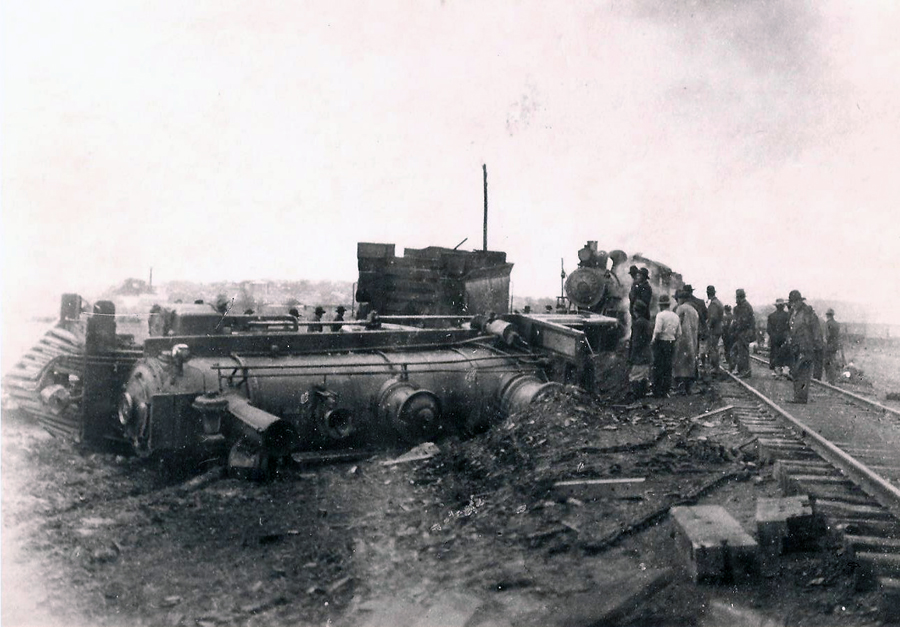 Louis A. Marre Collection
This wreck was caused by a washout at mile post 58 between Kinta and Quinton, OK in the winter of 1918. The engineer was J. McMahon and the fireman was S. Walker.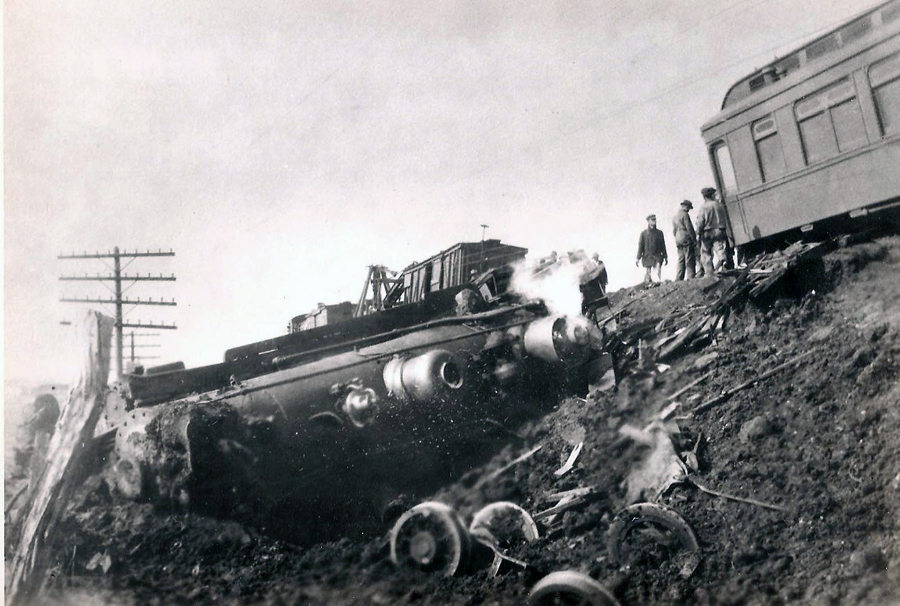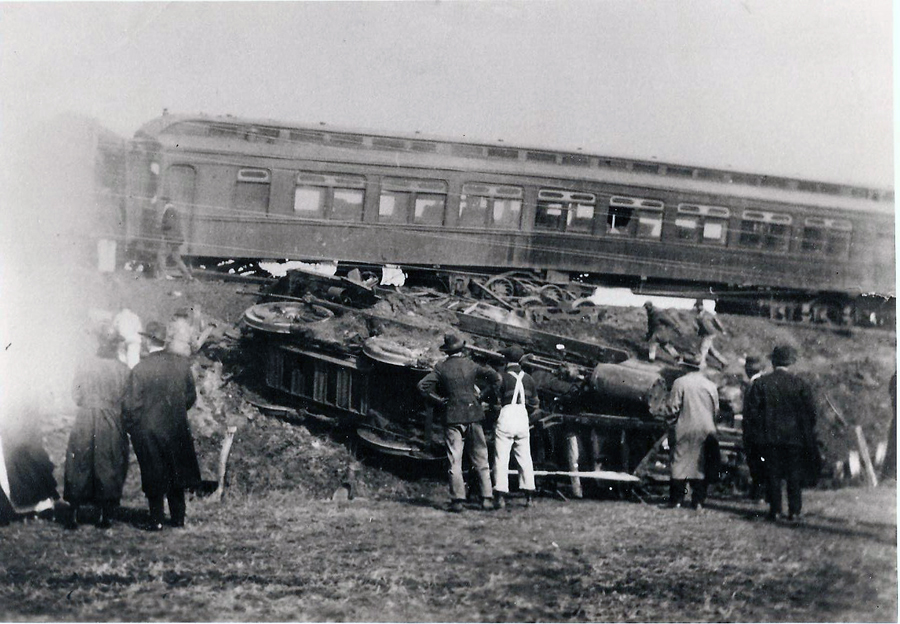 <
Louis A. Marre Collection
Pullman Car Service
1-18-1906 to 2-3-1907 -- Fort Smith-Guthrie Pullman sleeper service. Pullman line #3445
Feb 1907 to Dec 1915 -- no sleeping car service on FS&W
Dec 1915 to at least June 1916, possibly into 1917 --- non-Pullman sleeper service Joplin-Oklahoma City joint with MO&G
Dec 1915 to at least April 1932-- electric light, vestibule sleeper, Fort Smith-Oklahoma City.
By 1919, sleeper was identified as a 12-section 1-drawing room car
Café service (meals served in sleeper) ended before January 1928.
By April 1932 – passenger trains had been downgraded to mixed trains, but still offering sleeping car service
By Feb 1933 -- mixed trains no longer offered sleeping car service
Ca. June 13, 1938 -- mixed trains were briefly replaced with passenger trains, but Official Guide entries do not indicate that any sleeping car service was restored. This restoration of passenger service lasted approximately three months.
Compiled by Bill Pollard
EDITORIAL
THE OKLAHOMAN
May 15, 1916

A Live Newcomer

Announcement of new train service to be installed

next Sunday

by the Fort Smith & Western Railroad between Oklahoma City and Fort Smith and Joplin – a handsome five-coach vestibuled train, with sleepers and buffet cars – should prove no less interesting to Oklahoma City residents than to the intermediate region to which it offers great advantage. It puts Oklahoma City in immediate touch with Henryetta, Kusa and Dewar, towns in the great Henryetta mining district.

Henryetta, it is claimed, now has a population in excess of 10,000, while both Kusa and Dewar are growing rapidly. Aside from the mining industry, the district is rapidly coming to the forefront as a manufacturing section and is in close touch with the Okmulgee oil fields.

The business man of that locality hereafter can have the comfort of a sleeping car on his journey to the capital and will reach Oklahoma City at

6:45

o'clock in the morning, in good time for breakfast. If in a hurry to return, he can depart at

9:30

in the morning, otherwise he can remain in the city, transact whatever business he may have, attend a theater in the evening and secure a sleeper for the return trip on the train leaving at

11 o'clock

at night.

This new train service is but one of many manifestations of the fact that the Fort Smith line – a newcomer in Oklahoma City – is in the hands of a progressive management, and it is safe to predict that in the future it will figure large in the railway annals of Oklahoma. Colonel Roy Hoffman of Oklahoma City, an attorney for the company, recently gave an intimation of its ambitious program when, in representing it before the state board of equalization, he said that he railroad was looking for a Denver outlet. It is not a difficult matter to connect that assertion with the recent discussion of a railway right of way from Oklahoma City via Watonga to Woodward, one of the finest propositions on the railway map of Oklahoma.

Oklahoma City feels very kindly toward the Fort Smith & Western Railroad. The men of Oklahoma City who have a record of achievement are naturally appreciative of others who do things. There is every reason to believe, however, that the kindly sentiment is mutual. Already the "new railroad" has done much for Oklahoma City and Oklahoma City looms large in its program for the future.
Compiled by Bill Pollard
FS&W page from the June 1916 Official Guide.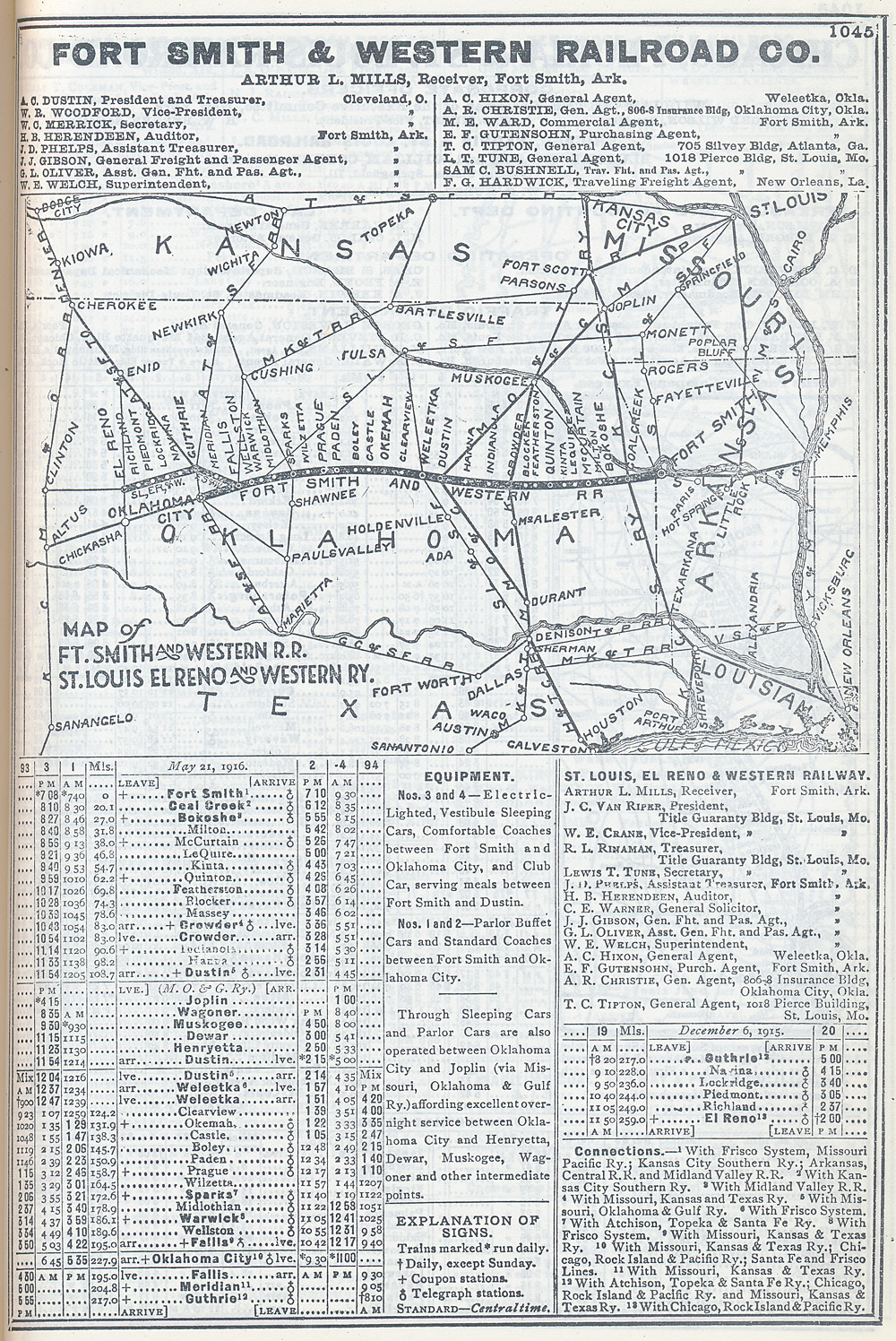 Compiled by Bill Pollard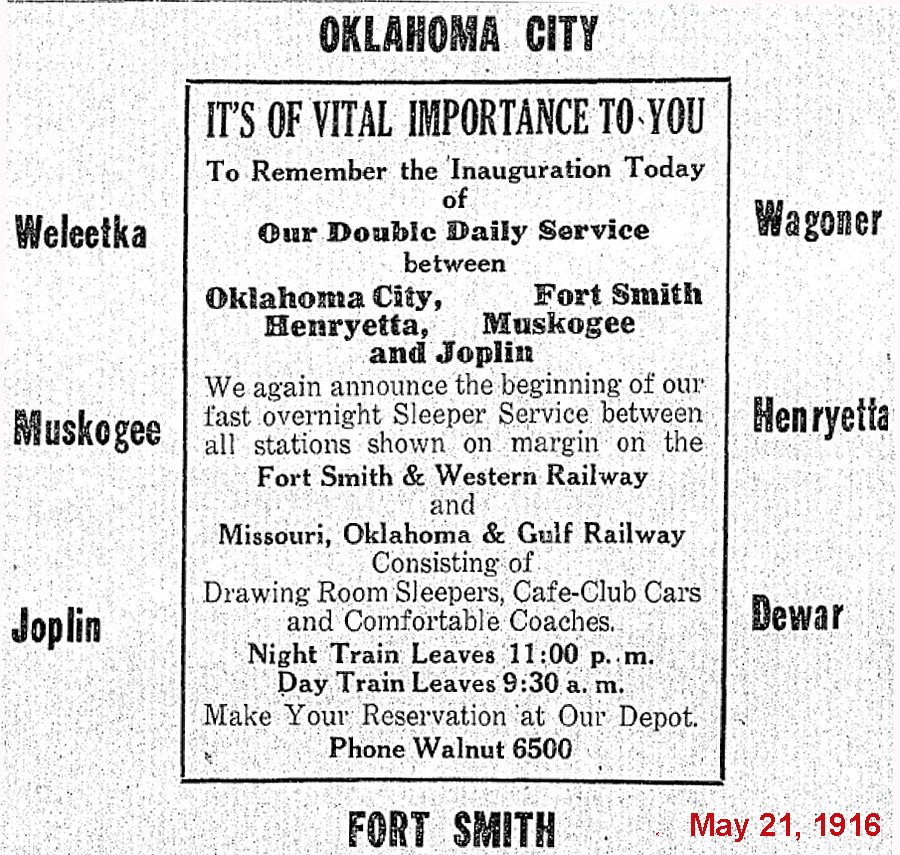 Compiled by Bill Pollard
This site is maintained by the Arkansas Boston Mountains Chapter of the National Railway Historical Society located in Springdale, Arkansas



Home of THE ARKANSAS SCRAMBLER
For questions, email arkyrail at outlook.com